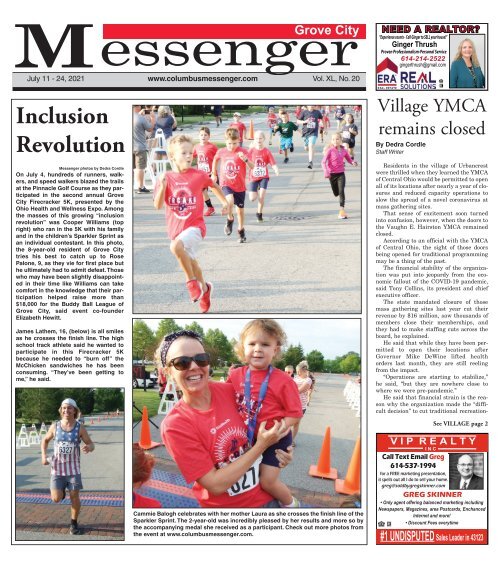 Grove City Messenger - July 11th, 2021
You also want an ePaper? Increase the reach of your titles
YUMPU automatically turns print PDFs into web optimized ePapers that Google loves.
Messenger

Grove City

July 11 - 24, 2021 www.columbusmessenger.com Vol. XL, No. 20

NEED A REALTOR?

REALTOR?

Ginger Thrush

Call Proven Professionalism-Personal Ginger Thrush Service

614-214-2522

"Experience counts - Call Ginger to SELL your house!"

gingerthrush@gmail.com

Inclusion

Revolution

Messenger photos by Dedra Cordle

On July 4, hundreds of runners, walkers,

and speed walkers blazed the trails

at the Pinnacle Golf Course as they participated

in the second annual Grove

City Firecracker 5K, presented by the

Ohio Health and Wellness Expo. Among

the masses of this growing "inclusion

revolution" was Cooper Williams (top

right) who ran in the 5K with his family

and in the children's Sparkler Sprint as

an individual contestant. In this photo,

the 8-year-old resident of Grove City

tries his best to catch up to Rose

Palone, 9, as they vie for first place but

he ultimately had to admit defeat. Those

who may have been slightly disappointed

in their time like Williams can take

comfort in the knowledge that their participation

helped raise more than

$18,000 for the Buddy Ball League of

Grove City, said event co-founder

Elizabeth Hewitt.

James Lathem, 16, (below) is all smiles

as he crosses the finish line. The high

school track athlete said he wanted to

participate in this Firecracker 5K

because he needed to "burn off" the

McChicken sandwiches he has been

consuming. "They've been getting to

me," he said.

Village YMCA

remains closed

By Dedra Cordle

Staff Writer

Residents in the village of Urbancrest

were thrilled when they learned the YMCA

of Central Ohio would be permitted to open

all of its locations after nearly a year of closures

and reduced capacity operations to

slow the spread of a novel coronavirus at

mass gathering sites.

That sense of excitement soon turned

into confusion, however, when the doors to

the Vaughn E. Hairston YMCA remained

closed.

According to an official with the YMCA

of Central Ohio, the sight of those doors

being opened for traditional programming

may be a thing of the past.

The financial stability of the organization

was put into jeopardy from the economic

fallout of the COVID-19 pandemic,

said Tony Collins, its president and chief

executive officer.

The state mandated closure of those

mass gathering sites last year cut their

revenue by $16 million, saw thousands of

members close their memberships, and

they had to make staffing cuts across the

board, he explained.

He said that while they have been permitted

to open their locations after

Governor Mike DeWine lifted health

orders last month, they are still reeling

from the impact.

"Operations are starting to stabilize,"

he said, "but they are nowhere close to

where we were pre-pandemic."

He said that financial strain is the reason

why the organization made the "difficult

decision" to cut traditional recreation-

See VILLAGE page 2

Cammie Balogh celebrates with her mother Laura as she crosses the finish line of the

Sparkler Sprint. The 2-year-old was incredibly pleased by her results and more so by

the accompanying medal she received as a participant. Check out more photos from

the event at www.columbusmessenger.com.

V I P R E A L T Y

I N C

Call Text Email Greg

614-537-1994

for a FREE marketing presentation,

it spells out all I do to sell your home.

greg@soldbygregskinner.com

GREG SKINNER

COMMERCIAL, INDUSTRIAL, HIGH QUALITY RESIDENTIAL

• Only agent offering balanced marketing including

Newspapers, Magazines, area Postcards, Enchanced

Internet and more!

• Discount Fees everytime

#1 UNDISPUTED Sales Leader in 43123
---
PAGE 2 - GROVE CITY MESSENGER - July 11, 2021

Jeffrey E. Buskirk

& Associates

Attorneys At Law

4178 Broadway, Grove City, OH 43123

Serving the Community for over 30 years

Social Security, Wills,

Estates, Probate

614-875-7220

jbuskirk2125@yahoo.com

614-875-0480 Fax

PLEASE GET VACCINATED

for Everyone's Safety

Malek &

ATTORNEYS AT LAW

Malek

Enter the

Million Dollar Drawing

www.ohiovaxamillion.com

WORKERS'

COMPENSATION

PERSONAL INJURY

WRONGFUL DEATH

SLIP & FALL INJURY

DOG BITE INJURY

Douglas, Ed, Jim

and Kip Malek

"Hablamos Español"

FREE Initial Consultation

www.maleklawfirm.com

614-444-7440

1227 S. High St., Columbus, OH 43206

By Andrea Cordle

Grove City Editor

One does not need to live near a golf course to see

golf carts driving around the community.

"The carts have increased in popularity. You can

see them in any area," said Ben Ferree, community

relations supervisor with the Grove City Division of

Police.

With the increase in use of the carts, comes an

increase in complaints.

"Most of the complaints we (the police department)

get is with people driving the carts too fast or a minor

is driving the vehicle," said Ferree.

Ferree said the division of police also receives

reports of people driving the golf carts on restricted

areas, like sidewalks and bike paths.

In October 2019, Grove City council passed legislation

to regulate golf carts and similar low-speed vehicles.

The legislation allows residents to operate the

vehicles with restrictions for operator and public safety.

Under the city's code, low-speed and under-speed

vehicles are not permitted on any street or highway

with an established speed limit greater than 35 miles

Library expands hours

Southwest Public Libraries will expand its operating

hours starting July 6. The Grove City Library and

the Westland Area Library will now be open Monday

VILLAGE

Continued from page 1

www.columbusmessenger.com

Golf carts cause complaints in city

news and notes

per hour. According to Ferree, the vehicles are not permitted

on the major thoroughfares in Grove City,

including Broadway, Stringtown Road, and London-

Groveport Road. The carts are also prohibited on sidewalks

or multi-use paths.

In order to legally operate a golf cart within the city

of Grove City, the driver must have a valid driver's

license and insurance. Ferree said the vehicle must be

registered and titled in accordance with state law.

The golf carts must also pass an inspection by the

Grove City Division of Police. An officer will check to

make sure the cart is equipped with a windshield, rear

view mirror, turn signal, head lights, brakes, steering

wheel, seat belts, license plates, taillights, and a horn.

According to Ferree, residents can call the police

department at 614-277-1735 to schedule an inspection.

He said an officer will come to the property or home to

inspect the under-speed vehicle.

The division of police has its own golf cart.

"We use it for community patrol," said Ferree. "We

find that it's more approachable than the cruisers."

The department has had the cart for seven years.

For more information on the rules and regulations

pertaining to the use of golf carts, visit www.grovecityohio.gov

and look under the 'safety and legal' tab.

through Wednesday from 10 a.m. to 8 p.m., Thursday

from 10 a.m. to 9 p.m., and Friday and Saturday from

10 a.m. to 6 p.m. For more information, visit

www.swpl.org.

al programming services at the location in Urbancrest.

"We are not able to provide (recreational) programming

at this location right now," he said.

According to Collins, it costs approximately

$150,000 annually to operate the recreational programming

at the Vaughn E. Hairston YMCA. He

added that in the past, grants or funding from more

profitable locations have subsidized the cost of operations

at this location, but they can do longer afford to

do so as they try to recover financially from the pandemic.

Collins said the YMCA of Central Ohio would like

to continue to work with the village or another entity

for funding opportunities to re-establish recreational

(or health and wellness) programming so it could be

brought back in the future.

He said right now, they are focused more on working

with the village to keep running the site as a location

for youth development programs such as afterschool

care, Head Start, and Positive Alternative

Learning for Students (PALS).

The organization's decision to close programs at the

center, however, is a point of contention for the village

and those on its YMCA advisory committee.

Unlike its other locations, the YMCA of Central

Ohio does not own the building at 3500 First Ave. — the

village of Urbancrest does. But the YMCA has been

operating programs at the center since 1998.

In 2016, another funding issue put the future of the

center's programming into question, but the two entities

were able to come to an agreement that would

bring back operational stability in 2018.

Among the items in the management agreement

was a passage under the 'term and termination' section

that states a written notice of intention to terminate

the contract would need to be delivered to either

party should that decision be made.

Village Mayor Joseph Barnes Sr. said he believes

that the YMCA's decision to cease programming operations

at the center amounts to a termination of the

current contract. He added that it is something the

YMCA has not formally requested in writing.

"We have not received anything (in writing) at this

time," he said. "So, as far as I am concerned, their decision

to not provide programming puts them into

breach of contract because they are not fulfilling their

end of the bargain."

The Columbus Messenger reached out to Collins to

ask if the association had sent a letter of termination

to the village, or whether they intended to do so. The

Messenger also reached out to village law director

Rodd Lawrence to ask if his office had received a letter

regarding an intention to terminate the contract. A

response from either party has not been received as of

press time.

Barnes said while he would like to see recreational

services continue at the Hairston YMCA, he is concerned

about the operational price.

"We already pay $76,000 a year for the utilities, and

we have to pick up any major repairs beyond $500," he

said.

He said the two parties will have to sit down and

negotiate on the future of the center.

"I don't know what the face of this center is going to

look like in the future," said Barnes. "I know it is going

to be there, I know it is going to have a face, but what

that face looks like will depend on future agreements.
---
www.columbusmessenger.com

The City Beat

City honored for 'green' efforts

By Dedra Cordle

Staff Writer

Veteran's Celebration

The Central Ohio Military Museum will

host a veteran's celebration from 10 a.m. to

5 p.m. Aug. 7 at 1010 High St. in

community events

The city of Grove City has been recognized

by a national association that honors

communities for its plans to build a more

sustainable future.

In late June, the American Planning

Association's Sustainable Communities

Division (SCD) announced that the city had

been selected to receive its annual award

for excellence in sustainability. The city

was just one of eight municipalities country-wide

to receive the award.

In a video presentation, the SCD noted

the city's "extraordinary achievements" in

developing a plan with actionable items

that allows for the growth of the community

to coincide with green initiatives to preserve

a better quality of life now and into

the future.

The award was shared among the city's

environmental sustainability committee,

its parks and development departments,

and students from the Ohio State

University's City and Regional Planning

program at the Austin E. Knowlton School

of Architecture.

Linda Rosine, the city's environmental

supervisor who also serves as the chair of

the environmental sustainability committee,

said they were all "thrilled" to have

received recognition for its local plans at a

national level.

"It is very exciting," she said. "As a city

official and as a partner with this school,

we are so thrilled to have been a recipient

of this award."

However, she added that national

acclaim and recognition was not on their

minds when they began to create the

framework for the plan to sustain the land

well into the future.

"It's nice," she said, "but it wasn't the

purpose."

The city had been working to transform

itself into a green community well before

this award-winning plan began to develop,

Rosine explained.

She noted the establishment of a citywide

recycling program, the transition to

LED lights at city buildings and public

traffic lights, and the creation of the advisory

group Keep Grove City Beautiful as

some of their earlier green efforts.

But in order to complement the massive

future land use and development plan

known as GroveCity2050, the city needed

to come up with a plan to make that growth

more equitable with nature and the changing

environment.

With the approval of the city council, an

environmental sustainability committee

was created in 2019 and they enlisted the

assistance of students at Ohio State's sustainability

studio to build on their current

programs and recommend future actions

that could be implemented.

Rosine said the plan has eight focus

areas, each with an action item to ensure

those cross-cutting goals are met. The eight

focus areas are built environment; business

practices; city operations; community

engagement; energy; natural environment;

transportation; and waste reduction and

recycling.

Under the focus area of natural environment,

Rosine said an action item could be

to plant more native species in open spaces

or utilize space for community gardens.

Alongside the action item would be a timeframe

to meet those goals.

Under the focus area of waste reduction

and recycling, Rosine said an action item

could be to install more recycling bins

around the city, or to encourage participation

in a food waste reduction program.

The city, she noted, has already implemented

a few of those goals (a community

garden has been established at Fryer Park,

and they are several months into a oneyear

pilot program to collect residential

food waste at a drop-off location behind

Brookpark Middle School, near the Big

Splash off Southwest Boulevard) and the

participation level has been a success.

"We have already collected over 5,000

pounds of organic matter (from the food

waste drop-off location)," she said.

Unlike regular recycling, Rosine said

she knows there is hesitancy to store food

waste. She said one goal under the waste

reduction and recycling action item could

be to educate the public on how to safely do

it through literature or workshops. She

said another goal would be to permanently

establish a food waste drop-off location but

added that would likely have to be funded

by the city.

Other action items include installing

additional electric vehicle charging stations,

transitioning some city vehicles over

to a hybrid fleet, and updating building

codes to coincide with the city's green initiatives.

Rosine said the city and its partners are

"proud" of the sustainable plan it has developed

thus far and they look forward to

adding onto this "live document" and meeting

its goal as they try to create a more sustainable

future.

Harrisburg. The event features reenactors,

military vehicles, kids' activities and more.

Admission is $2 and free to veterans. For

more information, call 614-992-4110 or

email bob.traphagan@thecomm.org.

July 11, 2021 - GROVE CITY MESSENGER - PAGE 3

Roby

Schottke

For Grove City Council

Councilman Roby Schottke announces he is running

for the At-Large Seat on Council

HE IS READY TO CONTINUE

SERVING YOU IN GROVE CITY

Elect Experienced Leadership

Roby Schottke: Values We Share

Roby Schottke: Civic Leader

Roby Schottke: Experienced & Involved

Roby Schottke: Listens & Responds

Roby has the Momentum, Join Him!

Vote for Schottke on November 2nd.

Contact him at 614-441-8238

Councilman Roby Schottke schottkeforgc@gmail.com

Paid for by Schottke for GC Committee

EZZO SAUSAGE COMPANY

HAS IMMEDIATE OPENINGS!!

Too Hot in the Kitchen?

Come work in our refrigerated, cool state of the art food facility!!

Wanted:

Enthusiastic Hard Workers, Line Cooks, Kitchen Staff, and Dishwashers willing to learn every

day and looking for a career in Artisan Wholesale Food Production.

Ezzo Sausage is a growing family-owned company with expanding job opportunities in

artisan dry cured pepperoni and salami production, packaging, and sanitation.

On the job training in HACCP and SQF/GFSI food safety systems, state of art food processing

and packaging equipment, and science based Standard Sanitation Operating Procedures

Be a part of our growing family and grow along with us!

Call 614-445-8841

for more information or stop by at

683 Manor Park Drive and fill out an application!
---
PAGE 4 - GROVE CITY MESSENGER - July 11, 2021

www.columbusmessenger.com

Big trucks

are big fun

Messenger photos by Dedra Cordle

Though he has his career sights set on

becoming a paleontologist, 6-year-old

Mason Flint (above) thoroughly enjoys

his time behind the wheel of this big rig

during the first annual Touch-a-Truck to

Fill-a-Truck event held on June 26 at

Byers Chevrolet in Grove City. While the

event – which was presented by the dealership

and Jimmy Jones, the Ohio Car

Guy – offered children and adults alike

the opportunity to get up close and personal

with heavy machinery and emergency

vehicles, it also served as a collection

drive to benefit the Grove City

Food Pantry. Officials said that attendees

of the four-hour fun-fest helped fill

up two pick-up trucks worth of non-perishable

goods.

Adrienne Lampkin, 2, (middle right) discovers

that her feet can finally hit the

pedals of this John Deere upon standing

up.

Mason Davis, 5, (bottom right) gets a

lesson on the inner workings of a police

vehicle from Aaron Ragland, an officer

with the Grove City Division of Police.

Davis said he wants to follow in the footsteps

of his "papaw," who was also a

cop. To see more photos of the event,

visit www.columbusmessenger.com.
---
www.columbusmessenger.com

July 11, 2021 - GROVE CITY MESSENGER - PAGE 5

Thursday, July 22nd

5pm-12pm

Alumni Tournament Drawing

begins at 5:45pm

Jackass Genius will be performing

from 7-9:30pm - Food Trucks and Beer

Pick-Up &

Delivery

C.M.T

MOWER REPAIRS

Authorized Dealers for BOBCAT Mowers

6446 HARRISBURG PIKE, ORIENT, OH 43146

614-875-5830

www.cmtmowerrepairs.com

"We have the lowest price in town!"

GENERAL MAINTENANCE SERVICES

Push Mowers $49.95 • Riding Tractors $159.95

Zero Turn Mower $159.95

Parts are additional on all units

PICK-UP & DELIVERY AVAILABLE $60.00

CHECK OUT THESE GREAT DEALS!!

• ZT 2000-42... $ 4,200.00

• ZT 2000-48... $ 4,400.00

• ZT 2000-52... $ 4,700.00

• ZT 3500-61... $ 7,900.00

2021 Alumni Softball

Homecoming Celebration

Hosted by

Grove City Kids Association

ALL ARE WELCOME!

Parking available at Murfin

Friday, July 23rd

6pm-12pm

All-Star game at 6:30pm

The Badness will be performing

from 7-10pm - Food Trucks and Beer

ZT 6000-61........... $ 10,200

ZT 6100-61........... $ 10,600

ZT 7000-72........... $ 13,300

0% Interest

Financing up to

48 months (if qualified)
---
PAGE 6 - GROVE CITY MESSENGER - July 11, 2021

www.columbusmessenger.com

Active Lifestyles

A bi-monthly feature celebrating the

wisdom, experience and contributions of our community's senior citizens

news and notes

S.A.L.T. at Evans Center

The Grove City Division of Police host Seniors and Law

Enforcement Together (S.A.L.T.) meetings at 1 p.m. the second

Tuesday of each month at the Evans Center, 4330 Dudley Ave.

Adults of all ages are welcome to attend. If you would like additional

information on other crime prevention programs visit

police.grovecityohio.gov or call 614-277-1765.

Wellness services for seniors

LifeCare Alliance provides a nurse at Grove City Church of the

Nazarene in Grove City weekly to provide free foot care and other

wellness services for seniors. To schedule an appointment or for

more information, call the wellness office at 614-437-2878.

PAID ADVERTISING

COAAA Educational Workshops

Free education opportunities are available through Central

Ohio Area Agency on Aging (COAAA).

'Medicare for Beginners' workshops are currently being

offered virtually through Zoom. The workshops, led by

COAAA's Medicare Education team, provide unbiased information

to help individuals make informed decisions toward

their Medicare. The next session is scheduled for July 21 at 2

p.m. Registration is required. To register, email Andy Haggard,

COAAA Medicare Outreach Manager, at ahaggard@coaaa.org.

For a complete 2021 'Medicare for Beginners' workshop

schedule, visit coaaa.org/medicare.

Also offered through COAAA is Healthy U, a free six-week

workshop series that helps individuals self-manage their chronic

conditions. In these workshops, participants learn about

exercise, nutrition, ways to communicate with doctors and

family, and techniques to deal with frustration, fatigue, pain,

and depression. The two-hour sessions are given once a week

over six weeks and are led by two facilitators. Attendance is

required at all sessions.

Two Healthy U workshops begin in August: Healthy U

Chronic Pain Management (Aug. 3 – Sept. 7, via phone) and

Healthy U at Home for Chronic Conditions (Aug. 3 – Sept. 7,

via Zoom).

For more information and to register, contact Jane Acri,

COAAA Community Education Program Manager, at

jacri@coaaa.org.

Even rocket scientists

ask for help!

Virtual 'Medicare for

Beginners' Workshops

614-276-8222

We specialize in short-term rehabilitation,

skilled nursing and long-term care

in the heart of Columbus' West Side.

• Respite Care

• Wound Care

• Transitional Care

• Hospice and Comfort Care

• Occupational Therapy

• Orthopedic Therapy

• Post-Surgical Rehabilitation

• Cardiac Rehabilitation

• Physical Therapy

• Stroke Rehabilitation

• IV Therapy

• Pulmonary Management

• Medication Management

• 24-Hour Skilled Nursing

2770 Clime Road, Columbus, Ohio 43223

Woodviewcareandrehab.com

Are you new to Medicare?

Registration is required. To register,

email Andy Haggard at

ahaggard@coaaa.org.

Do you need help understanding your options?

Central Ohio Area Agency on Aging's (COAAA) FREE virtual 'Medicare

for Beginners' workshops through Zoom provide down-to-earth

unbiased information to help you make informed decisions. At this

time, all presentations are virtual. Please note varying times.

Upcoming 'Medicare for Beginners' Workshops

July 21 at 2:00 p.m.

COAAA does not represent

or sell insurance products.

August 11 at 5:30 p.m.

Visit www.coaaa.org/medicare for a complete

'Medicare for Beginners' workshop schedule.

Funded in

part by:

800-589-7277 www.coaaa.org
---
www.columbusmessenger.com

Active Lifestyles

July 11, 2021 - GROVE CITY MESSENGER - PAGE 7

Franklin County Board of Commissioners: President Kevin L. Boyce • Commissioner John O'Grady, and Commissioner Erica C. Crawley

The Franklin County Board of Commissioners and The Franklin County Office on Aging join with the Messenger Newspaper in providing this update on aging issues in Franklin County.

Easing back to pre-pandemic life

As America is easing COVID-19 restrictions, you may feel an overwhelming

mix of emotions about how to move forward. This is

especially true for our older adult population, as they were highly

affected by the pandemic last year. According to Forbes, in 2020,

"the Centers for Disease Control and Prevention (CDC) reported

that eight out of 10 Covid-19 deaths in the US had been adults 65

years and older". Many people had experienced an unprecedented

amount of anxiety trying to remain safe from this virus while adjusting

to a new normal, which included working from home, no large

crowd gatherings, and even restrictions on visitation in nursing

homes. Now, the new normal we have all gotten accustomed to is

changing slightly once again. While there is not one specific way to

feel or process this change, there are tips that can help ease your

mind and continue to make you, your family, and others around you

feel safe and protected.

-Establish boundaries. Although studies have reported that the

COVID-19 vaccination is effective at keeping people safe from

COVID-19, that does not always mean vaccinated individuals will

be ready to take off their masks or gather in large groups. A study

conducted by the "American Psychological Association" found that

49% of adults reported feeling uncomfortable about returning to

in-person interactions when the pandemic ends. Even 48% of those

who have received the COVID vaccine report feeling the same

way". As we begin going back to our pre-pandemic routines, it is

understandable to abstain from any activity you do not feel comfortable

doing. You can continue to wear masks even if you are fully

vaccinated, and you can limit your interactions to include a small

pod of people. Make the best decision for your health and your associates.

-Communicate the boundaries you have made. If you have decided

to keep on a mask, social distance, or not gather at events, it is

best to articulate those boundaries with the people around you,

including family members, caretakers, or friends. Doing so will

ensure everyone is on the same page, and others will be able to

respect the boundaries you have made.

-Try one activity at a time. In a blog written by Anthem Memory

Care, the author revealed that "there is a tendency, especially with

aging loved ones who are cognitively impaired, to grow impatient

when they are slower to embrace change." When an older adult feels

comfortable to start easing back into their old routine, begin with an

activity, they used to enjoy. Be patient with them if they decide they

want to keep their mask on or don't want to participate in the activity

yet fully.

-Keep checking in on others. People will have different circumstances

that may make going back to everyday life easier or harder.

Some may have experienced or witnessed loss causing PTSD; others

may be unable to take the vaccination due to medication complications,

having an organ transplant, or other medical conditions. Some

could be adult caretakers of young children who are not eligible at

this time to receive the vaccination. All these situations can cause

extra stress associated with returning to normal. Simply checking in

on others can help them to feel less isolated and alone. Also, having

a conversation with them may help to come up with a solution for

relieving stress.

Remember, it is not a race to ease back into society. Take your time,

make sure others know where you stand, don't do anything you feel

uncomfortable doing, and keep checking in on others. If you are a

Franklin County resident age 60 years or older and may need assistance,

please contact the Franklin County Office on Aging at

614-525-6200 to learn about the programs and services available to

you.
---
PAGE 8 - GROVE CITY MESSENGER - July 11, 2021

Active Lifestyles

www.columbusmessenger.com

--

What Are Your Housing Goals?

--

--

- -

Pictorial Past

Pictured here in front of their family home are (left to right) Clara Voeller Kientz,

Lena Voeller Kientz, Flora Voeller Wright and Amalia Miller Voeller. Amalia Miller

Voeller was the first baby born June 25, 1853 soon after the newly-formed Grove

City Village was founded. At the Grove City Welcome Center And Museum, located

at 3378 Park St., there is a shadow box with pictures and Miller–Voeller family

items, including an 1853 Baptismal Dress of Amalia Fredericka Miller Voeller. The

photos and information in the Pictorial Past are provided by Don Ivers, curator of

the Grove City Welcome Center and Museum. The museum is now open Tuesday

through Friday from 10 a.m. to 4 p.m.,Tuesday until 8 p.m., and Saturday from 9

a.m. to 12 p.m.

PAID ADVERTISING

How to memorialize

a lost loved one

A memorial tells the story of your loved ones

to future generations. The experts at Hannigan

Memorials, part of the Modlich Monument

Company, have tips on choosing just the right

monument.

Plan ahead

Aim to purchase a memorial before the emotional

time of losing a loved one. Even with cremations,

there are memorial options, such as

burying cremains and erecting a monument; creating

a cut-out in a monument and sealing the cremains

inside; or using a decorative urn inside a

mausoleum.

"A memorial takes time to complete and place

in the cemetery," said Chad Sothard, branch manager

of Hannigan Memorials. "We deliver and

install every monument we build, making sure

everything is just right for our customers."

Match the memorial to your lot

Some cemeteries restrict the size, shape or

material used for memorials. "We have experience

working with a variety of budgets and different

cemeteries to help ensure your final memorial

choice fits your personal taste, budget and cemetery

regulations," said Sothard.

Personalize your memorial

"We believe a memorial is as unique as the life

it commemorates," Sothard said. "Our craftsmen

can create any type of memorial, with stones in

any type, color, shape or size." Customers can

choose their engraving, from standard sandblasting

to hand diamond-etched portraits. Hannigan

also provides computer-generated scale drawings,

so customers can easily visualize their memorial.
---
www.columbusmessenger.com

Active Lifestyles

July 11, 2021 - GROVE CITY MESSENGER - PAGE 9

Are you or a loved one approaching

Medicare Decisions

Soon?

M ed icare Annual Enroll

ment Period

Oct. 15

th

Dec. 7

• I hear on TV about dental, vision, hearing benefits are offered.

Are they available to me?

• Help you understand how your plan and benefits work!

• Do I qualify for Low Income Subsidy (LIS) to reduce my Rx copays?

You may apply anytime during the year, I can help.

Call me t today... $0 Consultation n $0 Fee

Call me t

Consultatio

$0 Fee

Terr Terri ri

Curcio Curcio 6614-460-0601

460 060

01

Terri

Curcio

614-460-0601

0601

Resident

of Ohio, a representative that i

an 800#! I can mail

you

Local repre your esentative, choice of carrier(s) I can mail

information you your preferre or we can ed carrier(s) meet via Zoom information call.

And, to review. I can enroll

Also, a

I can enrol client l a without client without a face-to-fac a face meeting to face meetin or sched ngdule or schedule a personal a mee one-on-one eting if you meeting prefer. if

you prefer.

OHIO IN. #43449 Available year round to answer questions, or

to help resolve an

issue. NO FEE

Offering different types of plans with top-rated carriers. I will work for you to find the

plan that

Review

fits your

different

needs

types

and

of lifestyle, Medicare

while

plans

offer

with

ring top-rated

the lowest

carriers.

copays.

I work for you to

find the

plan that fits your needs and lifestyle,

while offering low

copays.

OHIO IN. #43449

Do I qualify for

Low Income Subsidy (LIS) to reduce my Rx copays?

Turning 65 and new to Medicare

Or over 65 and

still working

needing answers.

Grove City Chamber Member

th

Moses-Mouser Eye Care

Dr. Joshua Morris is an Optometrist who grew

up in Bellville, Ohio. He completed his undergraduate

degree at the University of Akron, where

he graduated magna cum laude with honors.

Dr. Morris attended The Ohio State University

College of Optometry and graduated cum laude

with honors to receive his Doctor of Optometry Degree in May 2019. After

completing his studies, he was awarded the "Primary Vision Care Clinical

Excellence Award", in 2019.

Dr. Morris is a member of the American Optometric Association, the Ohio

Optometric Association, and The Ohio State Alumni Association. He is

excited to practice full scope optometry, diagnosing and treating a variety

of ocular disorders and diseases in patients of all ages, but has a special

interest in contact lenses and ocular disease.

On a personal note, Dr. Morris and his wife Tess, enjoy spending time with

their family, friends, and their Bernese Mountain dog Maverick, cheering

on The Ohio State Buckeyes, trying new foods, and exploring Columbus

breweries.

Q: What are floaters and what causes them?

A: Floaters are small dark shapes that move across your vision. They can appear

as dots, threads, squiggly lines, or even like cobwebs. Most floaters are caused

by normal changes in the eye. As you age, small strands of vitreous (gel-like fluid

that fills your eye) can clump together and cast a shadow on your retina (the

light-sensitive tissue at the back of the eye). Those shadows appear as floaters

that drift across your vision. You may notice floaters more when you look at a

bright background, like a computer screen or a blue sky.

Q: How often should someone with new

floaters get an eye exam?

A: Someone experiencing new floaters, a large increase in the number of floaters,

or flashing lights should see an eye care professional immediately. Sometimes

floaters have a more serious cause, including: infection, injury, inflammation,

bleeding, retinal tear or retinal detachment.

Someone with a few stable floaters should see an eye care professional at least

once a year for a comprehensive dilated eye exam.

Schedule your comprehensive eye exam

today with Dr. Morris

1600 Gateway Circle, Grove City, OH 43123 614-963-3820
---
PAGE 10 - GROVE CITY MESSENGER - July 11, 2021

Blood drives in Grove City

The American Red Cross will host several blood drives in Grove

City including:

Prepare for unexpected

power outages with a

Generac home standby

generator

REQUEST A FREE QUOTE!

844-334-8353

FREE

7-Year Extended Warranty*

A $695 Value!

Limited Time Offer - Call for Details

Special Financing Available

Subject to Credit Approval

Pam Brown

614-975-9462

A FREE ESTIMATE

15 10 5

YOUR ENTIRE

PURCHASE *

1-855-995-2490

% % %

OFF + OFF + OFF

*To qualify, consumers must request a quote, purchase,

install and activate the generator with a participating dealer.

Call for a full list of terms and conditions.

SENIOR & MILITARY

DISCOUNTS

YEAR-ROUND

CLOG-FREE GUARANTEE

TO THE FIRST

50 CALLERS! **

| Promo Number: 285

Thinking about

selling your home?

Call An Experienced Realtor!

42 Years of "Service with a Smile"

GREAT SELLING MARKET!

3656 Broadway Grove City, OH 43123

614.871.1000

www.era.com

Where is my....

GROVE CITY MESSENGER?

Having Poor Delivery

Service?

Let me know

Please send email to:

nopaper007@gmail.com

community events

•July 15 from 1 to 7 p.m. at Vineyard Christian Fellowship

•July 17 from 1 to 7 p.m. at the Grove City YMCA

•July 23 from 11 a.m. to 5 p.m. at the Jackson Township

Administration Office,

•July 24 from 8 a.m. to 2 p.m. at Grove City United Methodist

Church

•July 27 from 12 to 6 p.m. at Bethel Lutheran

•Aug. 4 from 1 to 7 p.m. at the Grove City Kingston Center

To schedule an appointment, call 1-800-448-3543 or visit

www.redcrossblood.org.

Pet supply drive at library

Southwest Public Libraries will host the Patrons and Paws pet

supply donation drive through July 31. Patrons can bring in donations

of pet supplies to either the Grove City Library or the

Westland Area Library. The items will be passed on to local animal

shelters.

Free food for students

The Mid Ohio Food Collective will offer free food to those 18

and under from 12 to 2 p.m. on Monday, Wednesday, and Friday

June 14 through July 30 at West Franklin Elementary School,

3501 Briggs Road. Food can also be picked up from 3 to 5 p.m. on

Monday, Wednesday, and Friday June 14 through July 30 at

Westland High School, 146 Galloway Road. The food pickup event

will be closed on July 2 and July 5.

Pathway to Literacy 5K

Friends of Southwest Public Libraries will host its second

annual Pathway to Literacy Virtual 5K. Participants can run,

walk, or ride a bike anytime between Sept. 6-18. The cost to participate

ranges from $30 to $40. Registration is open until Aug. 15.

For more information, visit

www.facebook.com/FriendsofSWPLibraries.

Economic development

manager named in Grove City

Mayor Richard L. "Ike" Stage

announced the appointment of

Stephanie Bosco as economic

development manager for the city

of Grove City.

"With more than a decade of

economic development experience

in the central Ohio area and her

understanding of state and regional

workforce resources, Bosco will

be a vital addition to the development

department team," said

Stage.

As economic development manager,

Bosco will be responsible for

attracting and retaining businesses,

supporting the city's business

incubator program and assisting

with the administration of the Stephanie Bosco

city's various economic development

policies and programs.

"Grove City has the advantage of a strategic metropolitan location,

a desirable community to raise a family and a modern and

diverse economy," said Bosco. "I look forward to advancing attraction

and retention efforts. Most of all, I want to elevate the economic

success happening every day in Grove City."

"Bosco's experience with OneColumbus and successes serving

as the first point of contact for prospective and established businesses

is precisely the expertise needed to accelerate our business

retention and expansion strategy," said Development Director

Kyle Rauch.

www.columbusmessenger.com

Pets of the Week

Tootie Frootie was

born in March

2021. She is playful,

fun, and looking

for her forever family.

She is spayed,

microchipped, and

up to date on vaccines.

Tootie

Frootie is up for

adoption through

Colony Cats and Dogs. The organization

has many kittens available for adoption

(as well as adults).

FYI: www.colonycats.org

Deidre loves other

cats, but she is still

very uneasy around

people. She will

need a patient

human, maybe with

other cats to help

her accept the love

that her new people

have for her. She

can be found in the

Juvie room at the

Colony Cats adoption

center rolling around and chasing the

other cats to play with her.

FYI: www.colonycats.org

Lily is crate trained,

house broken and

sleeps through the

night. She is receiving

basic obedience

training with a

behavior coordinator

at the county's

shelter. She enjoys

running around the

yard, playing fetch,

and rolling in the

grass. Her favorite

spot to be is on a soft bed. Adopt Lily from

the Franklin County Dog Shelter.

FYI: www.franklincountydogs.com

Jasmine, a sweet

10-year-old senior,

is looking for a calm

home where she

can relax in the air

conditioning and

wag her tail at the

occasional squirrel.

She would do best

with another calm

dog in the home.

Are you ready to

welcome a senior

into your home?

Then take the leap and meet Jasmine at

the Franklin County Dog Shelter.

FYI: www.franklincountydogs.com
---
www.columbusmessenger.com

July 11, 2021 - GROVE CITY MESSENGER - PAGE 11

Broadway

Down on Broadway

Bring in this Ad

and your first Beer, Cider, Wine,

Seltzer and a few select Bourbons is

only $ 4

4057 Broadway, Grove City, OH 43123

(Corner of Broadway and Grove City Rd.)

(614) 954-2337

Hours: Sun.-Thursday 1pm-11pm

Friday-Saturday 1pm-1am

ON THEPATIO

July 16th - Taquitos Food and Sparky with music

July 17th - Tortilla Street Food and Fox and Cary

July 22nd - Adam Todd

July 23rd - Macho Taco with Sparky Brewer

July 24th - If you Cheese with Cedar Brothers

4057 Broadway, Grove City, OH 43123

(Corner of Broadway and Grove City Rd.)

(614) 954-2337

Hours: Sun.-Thursday 1pm-11pm Friday-Saturday 1pm-1am

Check our Facebook - Book Clubs, Euchre, Cornhole Coming

BRING THIS IN FOR A

F R E E

- HERBAL TEA

- SMOOTHIE

- ALOE

- WELNESS EVALUATION

*Valid For 1st Time Guest Only*

Come See Us For A New Hairstyle

See you soon!

Grove City Nutrition

3999 Broadway

Grove City, OH 43123

Coach Abby Bova

Cell: (614) 593-5995

Website: Abova.GoHerbalife.com

RELAX WELLNESS

3663 Broadway, Grove City, OH 43123

Cathie Bernowski (614) 619-4483

Marilyn Weaver (614) 348-6670

NEW CLIENTS:

$

5 off Haircut $

10 off Color

Tammy's Pizza

Dine in AND carry-out! 2 Locations

3984 Broadway

614.875.2345

5913 Hoover Rd.

614.875.8525

www.TammysPizza.com

Tammy's Pizza

$

150 OFF

Sub Combo Meal

ANY Sub, Chips and 20oz Soda

Expires 10/31/21. Must purchase sub, chips and soda -

No substitution. Cannot combine with other offers.

Limit one coupon per customer per day and must be given to cashier.

Tammy's Pizza

$

3 OFF

Any Two 16" Pizzas

Expires 10/31/21. Cannot combine with other offers.

Limit one coupon per customer per day and must be given to cashier.

Space Available for our

July 25th Issue

Deadline: July 19th

Call Doug Henry at

614-272-5422

After visiting the

Farmers' Market stop by

Down on

Broadway
---
PAGE 12 - GROVE CITY MESSENGER - July 11, 2021

www.columbusmessenger.com

CLASSIFIED ADS

Deadlines: Groveport and West editions, Wednesdays at 5 p.m., • South/Canal Winchester, Grove City, Madison editions, Tuesdays at 5 p.m.

All editions by phone, Tuesdays at 5 p.m. • Service Directory, Tuesdays at 5 p.m.

xEmployment

NOW HIRING WAREHOUSE

OPEN INTERVIEWS

WEDNESDAY, JULY 14 TH 10am – 1pm

UP TO $ 17/HR

$

1000 SIGN ON BONUS

NO MANDATORY OT

Apply to JOBS.MSCDIRECT prior to event

Location: 1568 Georgesville Rd. Columbus 43228

**Dress is casual, NO open toed shoes**

Applicants must sucessfully pass a background check and drug screen.

Equal Opportunity Employer: Minority, female, veteran, individuals with disabilities, sexual orientation/gender identity.

Opening for deg'd & exp'd

applicants for Project Engineer

(Job Code: 1001);

Position is located in Columbus, OH

and multiple undetermined worksites

throughout the US;

Send resume by mail & include

above job code & salary req'ts to:

Jeanna Hondel, Owner

Ascension Construction Solutions, LLC

4200 Regent St., Suite 200

Columbus, OH 43219

INFORMATION

I'VE MOVED!

Come See Me At

My New Location!

Call Marilyn Weaver

For An Appt.

For a New Haircut/Color

614-348-6670

Relax Wellness

3663 Broadway

Grove City

Have Something

To Sell?

Need To Rent

That Property?

Try The

Messenger!

For Info On Placing

An Ad Call

614-272-5422

BE YOUR OWN BOSS!

INDEPENDENT

CONTRACTORS

WANTED

If you have a reliable

car and would like to

earn extra money,

then why not deliver?

• Deliver 1 or 2 days a week

• Flexible delivery hours

• Work close to home - often

in or near your neighborhood

CONTACT US

1-888-837-4342

www.thebag.com

• Deliver 7 days a week

• Delivery before dawn

• Work close to home - often

in or near your neighborhood

CONTACT US

614-461-8585

www.dispatch.com/delivery

ASSOCIATION ADS

Don't let the stairs limit

your mobility! Discover

the ideal solution for

anyone who struggles on

the stairs, is concerned

about a fall or wants to

regain access to their

entire home. Call

AmeriGlide today! 1-844-

317-5246

The bathroom of your

dreams for as little as

$149/month! BCI Bath &

Shower. Many options

available. Quality

materials & professional

installation. Senior &

Military Diiscounts

Available. Limited Time

Offer - FREE virtual inhome

consultation now

and SAVE 15%! Call

Today! 1-877-540-2780

HOME BREAK-INS take

less than 60 SECONDS.

Don't wait! Protect your

family, your home, your

assets NOW for as little as

70¢ a day! Call 866-409-

0308

Attention Active Duty &

Military Veterans! Begin a

new career & earn a

Degree at CTI! Online

Computer & Medical

training available for

Veterans & Families! To

learn more, cal 888-449-

1713.

Employment

WANTED

SCHOOL BUS DRIVERS

The South-Western City School

District is currently hiring drivers

for the 2021-2022 school year

WE WILL TRAIN

Positions are available for substitute

school bus drivers that can develop into

regular positions with benefits. Interested

individuals should submit an application

at www.swcsd.us and follow the employment

link. Applicants should have an

excellent driving record and must submit

to a drug, alcohol, and background

screening. A high school diploma or

equivalent is required.

EOE

ASSOCIATION ADS

ATTENTION DIABETICS!

Save money on diabetic

supplies! Convenient

home shipping for

monitors, test strips,

insulin pumps, catheters &

more! To learn more, call

now! 877-810-0063

Never pay for covered

home repairs again!

Complete Care Home

Warranty covers all major

systems & appliances. 30-

day risk free. $200.00 off

+ 2 free months! 1-866-

395-2490

Update your home with

beautiful new blinds &

shades. Free in-home

estimates make it

convenient to shop from

home. Professional

installation. Top quality -

Made in the USA. Free

consultation: 877-212-

7578. Ask about our

specials!

ATTENTION SENIORS:

The average funeral cost

is $9000+ Don't leave

your family to pay your

debts. State Approved,

Final Expense Life

Insurance Plans are now

avaiilable as low as $25 a

month. Hurry and call

before enrollment ends. 1-

877-761-1796. M-F 9am-

6pm EST

ASSOCIATION ADS

Wesley Financial Group,

LLC Timeshare Cancellation

Experts Over

$50,000,000 in timeshare

debt & fees cancelled in

2019. Get free

informational package &

learn how to get rid of

your timeshare! Free

consultations. Over 450

positive reviews. 888-965-

0363

Donate Your Car To

Veterans Today! Help and

Support our Veterans.

Fast - FREE pick up.

100% tax deductible. Call

1-800-245-0398

Become a Published

Author. We want to Read

Your Book! Dorrance

Publishing Trusted by

Authors Since 1920 Book

manuscript submissions

currently being reviewed.

Comprehensive Services:

Consultation, Production,

Promotion and Distribution.

Call for Your Free Author's

Guide 1-866-482-1576 or

visit http://dorranceinfo.

com/macnet

DENTAL INSURANCE

from Physicians Mutual

Insurance Company.

Coverage for 350 plus

procedures. Real dental

insurance - NOT just a

discount plan. Do not wait!

Call now! Get your FREE

Dental Information Kit with

all the details! 1-877-553-

1891

www.dental50plus.com/

macnet#6258

WANTED

• Retail Sales • Back-Up Cooks

• Dishwashers • Servers • Grill

• Host/Hostess

You Can Work 29+ Hrs. Based on

Your Availability & Performance

Immediate Full/Part-time Openings

We Offer:

• Weekly Pay

• Paid Training

• No Tip Sharing

• Paid Vacation

• Employee Meal Discount

• Position/Salary Advancement Plan

• Discount Purchase Plan

Apply online at crackerbarrel.com/careers for

Grove City Location 614-871-1444

HOME HEALTH AIDES

$13.00-$20.00 per hour

Choose your Schedule and Clients,

Benefits Available: Pay Advances,

Quarterly Bonuses, Paid Vacation,

401K w/matching, Medical/Dental/Legal

One year experience working for an employer

in caregiver role is preferred.

To apply, please visit v-angels.com

or text/call "career" to

614-80-ANGEL (802-6435)

HIRING?

Let us help you recruit the qualified employees you need to make

your business succeed. With a print and online audience of more

than 39,000 readers, our employment section is your key to meeting

local job seekers where they look first for fresh career opportunities.

Our Westside Messenger

covers Lincoln Village,

Galloway, Franklin Township

Our Grove City Messenger

covers Grove City and

Southwest Columbus

Reaches over 30,000

household in these 2 area

To list a job opportunity, contact a

recruitment advertising specialist today at

614.272.5422

or

Kathy@columbusmessenger.com
---
www.columbusmessenger.com

July 11, 2021 - GROVE CITY MESSENGER - PAGE 13

xEmployment

EARN EXTRA

$$$ $$$

MONEY

The Advertising Department at the

Columbus Messenger Newspapers

is seeking a Salesperson.

No Experience Necessary.

Base salary plus commissions, auto allowance.

Seniors welcome to apply.

Please send your resume or call:

Doug Henry, Advertising Manager

Columbus Messenger Newspapers

3500 Sullivant Ave.

Columbus, Ohio 43204

614-272-5422

or

e-mail to doughenry@columbusmessenger.com

DO YOU NEED

SEASONAL EMPLOYEES?

Call KATHY to ADVERTISE!

and reach over 40,000 homes in the

West & Grove City Messengers

614-272-5422

kathy@columbusmessenger.com

ASSOCIATION ADS

Wants to purchase minerals

and other oil and gas

interests. Send details to

P.O. Box 13557, Denver,

CO. 80201

GENERAC Standby

Generators provide

backup power during

power outages, so your

home & family stay safe &

comfortable. Prepare now.

FREE 7-yr extended

warranty $695 value!

Request a free quote

today. Call for terms &

conditions. 1-844-334-

8353

New authors wanted!

Page Publishing will help

self-publish your book.

Free author submission

kit! Limited offer! 866-

951-7214

AT&T Internet. Starting

at $40/month w/12-mo

agmt. 1 TB of data/mo.

Ask how to bundle &

SAVE! Geo & svc restrictions

apply. 1-888-796-

8850

DISH TV $64.99 FOR 190

Channels + $14.95 High

Speed Internet. Free Installation,

Smart HD DVR

Included,

Free Voice Remote.

Some restrictions

apply. Promo expires

7/21/21. 1-855-270-5098

Thinking about installing

a new shower? American

Standard makes it

easy. FREE design consulation.

Enjoy your

shower again! Call 1-

833-769-0995 today to

see how you can save

$1,000 on installation, or

visit www.newshowerdeal.com/mac

ASSOCIATION ADS

Donate your car to kids.

Your donation helps fund

the search for missing

children. Accepting trucks,

motorcycles & RV's too!

Fast free pickup - running

or not - 24 hr response -

maximum tax donation -

Call 888-515-3813

Protect your home w/home

security monitored by

ADT. Starting at $27.99/

mo. Get free equipment

bundle including keypad,

motion sensor, wireless

door & windows sensors.

833-719-1073

HughesNet Satellite Internet

- Finally, no hard

data limits! Call today for

speeds up to 25mbps as

low as $59.99/mo! $75

gift card, terms apply. 1-

844-863-4478

Train online to do medical

billing! Become a

Medical Office Professional

at CTI! Get trained

and certified to work in

months! 888-572-6790.

(M-F 8-6 ET)

Directv Now. No Satellite.

$40/mo 65 Channels.

Stream news, live

events, sports & on demand

titles. No contract/

commitment. 1-866-825-

6523

ASSOCIATION ADS

DENTAL INSURANCE-

Physicians Mutual Insurance

Company. Covers

350 procedures. Real

insurance - not a discount

plan. Get your free

dental Info kit! 1-888-

623-3036 . www.dental50plus.com/58

#6258

Want Faster & Affordable

Internet? Get internet

service today with

Earthlink. Best internet &

WiFi Plans. Call us Today

to Get Started. Ask

about our specials! 866-

396-0515

HEARING AIDS!!

Buyone/get one FREE!

Nearly invisible, fully rechargeable

IN-EAR

NANO hearing aids

priced thousands less

than competitors! 45-day

trial! Call1-877-436-0234

HEARING AIDS!! Bogo

free! High-quality rechargeable

Nano hearing

aids priced 90% less

than competitors. Nearly

invisible! 45-day money

back guarantee! 833-

669-5806

Employment

ASSOCIATION ADS

The Generac PWRcell

solar plus battery storage

system. Save money,

reduce reliance on

grid, prepare for outages

& power your home. Full

installation services. $0

down financing option.

Request free no obligation

quote. Call 1-855-

270-3785

Pest Control

Find Pest Control Experts

Near You! Don't let

pests overtake your

home. Protect your loved

ones! Call to find great

deals on Pest Control

Services - 833-872-0012

Eliminate gutter cleaning

forever! LeafFilter, the

most advanced debrisblocking

gutter protection.

Schedule a FREE LeafFilter

estimate today. 15% off

Entire Purchase. 10% Senior

& Military Discounts.

Call 1-855-791-1626

REPORTER

WANTED

Part-time Reporter wanted to cover

community meetings in the evenings and

write various feature and news stories.

Photography experience helpful.

Please send a resume and

three writing samples to:

Rick Palsgrove, Managing Editor,

Columbus Messenger Newspapers,

3500 Sullivant Ave.,

Columbus OH 43204 or email

southeast@columbusmessenger.com

No Phone Calls!
---
PAGE 14 - GROVE CITY MESSENGER - July 11, 2021

xAdult Care

A PRIVATE HOME

IS ACCEPTING NEW PATIENT

FOR ELDERLY CARE

I have years of exp. Refs., Hot Meals

Also furnish lots of things to make

patient feel comfortable.

Beautician & Foot Doctor available.

CALL BETTY FOR MORE INFO.

614-777-5850

1 Hr. up to 24 Hr. Care

We send you the Best Home Caregivers

Rates as low as $15.21 an hour!

"We Do Things Your Way"

614-80-ANGEL (614-802-6435)

Call or text for info. www.v-angels.com

Adult Care

xPreschool/Daycare

advertise

YOUR DAY CARE OR PRESCHOOL

in the West and Grove City Messengers

and reach over 30,000 homes

Call Kathy For More Info

614-272-5422

Preschool/Daycare

ASSOCIATION ADS

NEED IRS RELIEF

$10K-$125K+ Get Fresh

Start or Forgiveness.

Call 1-844-431-4716

Monday through Friday

7am-5pm PST

SELL YOUR ANTIQUE

OR CLASSIC CAR.

Advertise with us. You

choose where you want

to advertise. 800-450-

6631 visit macnetonline.

com for details.

ASSOCIATION ADS

BATH & SHOWER UP-

DATES in as little as

ONE DAY! Affordable

prices - No payments for

18 months! Lifetime warranty

& professional installs.

Senior & Military

Discounts available. Call

855-761-1725

ASSOCIATION ADS

Attention oxygen therapy

users! Inogen One G4 is

capable of full 24/7 oxygen

delivery. Only 2.8

pounds. Free info kit.

Call 877-929-9587

DISH TV $64.99 190

Channels + $14.95 high

speed internet. FREE installation,

Smart HD DVR

included. Free Voice Remote.

Some Restrictions

apply. Promo Expires

7/21/21. 1-833-872-2545

xPublic Notices

LEGAL NOTICE

The Grove City Police Department has recovered

numerous bicycles, tools, electronic equipment, clothing

and monies over the course of several months.

The bicycles are of various types and models, as are

the tools and electronic equipment. All properties are

held in a secured police facility at all times. If you

believe you have claim to any of the property and have

proof of ownership for the property, you may call the

Grove City Police Department Property Room at

614-277-1757. A review and release of any and all

property is by appointment only. All items not claimed

will be sold at public auction, turned over to the Law

Enforcement Fund, or destroyed according to Ohio

Law.

CHARITABLE DONATION

Qualified organizations may be eligible to receive

bicycles as charitable donations from the City of

Grove City. Qualified organizations must have a valid

ruling or determination letter recognizing the taxexempt

status of the organization, pursuant to Internal

Revenue Code Section 501(c)(3) or (c)(19).

Representatives may call the Grove City Police

Department Property Room at 614-277-1757 to

inquire about the donation process.

Public Notices

ASSOCIATION ADS

Looking for auto insurance?

Find great deals

on the right auto insurance

to suit your needs.

Call today for a free

quote! 866-924-2397

Life Alert. One press of a

button sends help fast

24/7! At home and on

the go. Mobile Pendant

with GPS. Free first aid

kit (with subscription).

877-537-8817 Free brochure

READY TO BUY, SELL

OR RENT YOUR

VACATION HOME OR

HUNTING CAMP?

Advertise it here and in

neighboring publications.

We can help you. Contact

MACnet MEDIA @

800-450-6631 or visit our

site at MACnetOnline.

com

VIAGRA and CIALIS

USERS! 50 Generic pills

SPECIAL $99.00 FREE

Shipping! 100% guaranteed.

24/7 CALL NOW!

888-445-5928 Hablamos

Espanol

Attention: If you or aloved

one worked around the

pesticide Roundup

(glyphosate) for at least 2

years and has been diagnosed

with non-Hodgkin's

lymphoma, you may be

entitled to compensation.

855-341-5793

ASSOCIATION ADS

Elminate gutter cleaning

forever! LeafFilter, most

advanced debris-blocking

protection. Schedule

Free LeafFilter Estimate.

15% off Entire Purchase.

10% Senior & Military

Discounts. Call 1-855-995-

2490

READER

ADVISORY

The National Trade Association

we belong to has

purchased the following

classifieds. Determining

the value of their service

or product is advised by

this publication. In order

to avoid misunderstandings,

some advertisers do

not offer "employment"

but rather supply the

readers with manuals, directories

and other materials

designed to help

their clients establish mail

order selling and other

businesses at home. Under

NO circumstance

should you send any

money in advance or give

the client your checking,

license ID or credit card

numbers. Also beware of

ads that claim to guarantee

loans regardless of

credit and note that if a

credit repair company

does business only over

the phone it's illegal to request

any money before

delivering its service. All

funds are based in US

dollars. Toll Free numbers

may or may not

reach Canada. Please

check with the Better

Business Bureau 614-

486-6336 or the Ohio Attorney

General's Consumer

Protection Section

614-466-4986 for more

information on the company

you are seeking to

do business with.

www.columbusmessenger.com

xCome & Get It!

COME AND GET IT

Deadlines are Tuesdays by 5 pm.

Call For Publication Schedule 614-272-5422

Need to Get Rid of Something Fast - Advertise It Here For FREE!

FREE Garden Straw for gardens or bedding. Call for appointment for pickup.

Circle S Farms, 9015 London-Groveport Road, Grove City, 43123

Grove City - 614-878-7980

FREE BowFlex: needs dis-assembling and moved from basement.

One cable is broken. Text for appt for pick-up.

Groveport - 614-570-8443

. Come and Get It! is a bi-weekly column that offers readers an opportunity to pass

along surplus building materials, furniture, electronic equipment, crafts, supplies,

appliances, plants or household goods to anybody who will come and get them - as

long as they're FREE. NO PETS! Just send us a brief note describing what you want to

get rid of, along with your name, address and phone number. Nonprofit organizations

are welcome to submit requests for donations of items.

Send information to The Columbus Messenger, Attention: Come and Get It, 3500

Sullivant Ave., Columbus, OH43204. Deadline is Tuesdays by 5 pm for following

Mondays publication. Messenger Newspapers is not responsible for any

complications that may occur. Please contact us when items are gone. 272-5422

ASSOCIATION ADS

VIAGRA & CIALIS! 60

pills for $99. 100 pills for

$150 FREE shipping.

Money back guaranteed!

1-844-596-4376

The Generac PWRcell, a

solar plus battery storage

system. SAVE money,

reduce your reliance on

the grid, prepare for power

outages and power

your home. Full installation

services available. $0

Down Financing Option.

Request a FREE, no obligation,

quote today. Call

1-855-900-2894

IMPORTANT

NOTICE

The following states: CA,

CT, FL, IA, IL, IN, KY,

LA, MD, ME, MI, MN,

NE, NC, NH, OH, OK,

SC, SD, TX, VT and WA

requires seller of certain

business opportunities to

register with each state

before selling. Call to

verify lawful registration

before you buy.

Donate your car to kids!

Fast free pickup running

or not - 24 hour response.

Maximum tax

donation. Help find missing

kids! 877-831-1448

GENERAC Standby Generators

provide backup

power during utility power

outages, so your home

and family stay safe and

comfortable. Prepare

now. Free 7-year extended

warranty ($695 value!).

Request a free

quote today! Call for additional

terms and conditions.

1-855-465-7624

Come & Get It!

xInformation

The Columbus Test Clinic

extends an invitation to you

to be tested

FREE of any charge.

Your intelligence and aptitude have everything

to do with your income, your future,

your personal relationships and your life.

Such tests would ordinarily cost you $50.

They are offered to you FREE OF CHARGE

if you call (614) 221-5024 to schedule or

come to the Scientology Testing Center at

1266 Dublin Road Columbus, OH 43215

HOW CAN YOU

INCREASE YOUR

MINDS POTENTIAL?

Find out BUY AND READ

Dianetics The Modern

Science of Mental Health

by L. Ron Hubbard - $25

Call (614)401-0664 Or come to

1266 Dublin Road, Columbus,Ohio

Information
---
www.columbusmessenger.com

xFocus on Rentals

July 11, 2021 -GROVE CITY MESSENGER - PAGE 15

xClassified Services

WEDGEWOOD

VILLAGE

1, 2 and 3 BR Apts.

Rent Based on Income.

Call 614-272-2800 or visit us

at 777 Wedgewood Dr.

TTY/TDD 711

EQUAL HOUSING OPPORTUNITIES

HAVE EMPTY

APARTMENTS?

RENT THEM BEFORE

SCHOOL STARTS!

Advertise It!

Call Kathy

The Columbus Messenger

614-272-5422

CHILD CARE

OFFERED

Depend. Quality Child care

in loving hm. Exp. Mom, n-

smkr, hot meals, sncks,

playroom, fncd yd. Reas.

rates. Laurie at 853-2472

HELP WANTED

PTLawn Care, Clean-up,

Paint, etc to do various

tasks. No Exp. necessary,

no tools needed. Call or

text 614-207-8933.

OFFICE needs an organized

fulltime person who can

multitask in our shop office.

Assist customers, phone,

purchasing, billing, etc.

QuickBooks exp. a plus.

Send resume with pay history

to: cewa@att.net or fax to

614-294-3731. Columbus

Electrical Works Co.

Housekeeper & Front

Desk Person needed

Call 614-991-5301

btwn 9am-2pm or stop by

4029 Marlane Dr.

Grove City

Landscape Company

looking for drivers and

non-drivers. Wage negotiable

depending on exp..

Call 614-456-9980,

Espanol 614-648-8424

WANT TO BUY

BUYING VINYL RECORDS.

LPs and 45s - 1950-80s

Rock, Pop, Jazz, Soul.

614-831-0383

We Buy Junk Cars &

Trucks. Highest Prices

Paid. 614-395-8775

Rentals

WANT TO BUY

We Buy Cars & Trucks

$300-$3000.614-308-2626

WE BUY JUNK CARS

Call anytime 614-774-6797

ANTIQUES

WANTED

Victrolas, Watches,

Clocks, Bookcases

Antiques, Furn.

Jeff 614-262-0676

or 614-783-2629

WANTS TO Purchase

minerals and other oil &

gas interests. Send details

to: P.O. Box 13557,

Denver, CO 80201

LOTS & LAND

10 Acres + utilities for sale

Good White Tail country

614-805-1644

RENTALS

2 BR Townhome

Westgate Area

CA, full bsmt, w/d hookup,

appls incl, off st parking

$800/mo-1 yr lease + dep

614-588-4669

Condo for Rent - 3BR,

Carport. No Pets - $1050.

614-557-8883

VACATION RENTALS

Englewood, Florida

Palm Manor Resort

Within minutes of white

sand Gulf beaches,

world famous Tarpon

fishing, golf courses, restaurants/shopping,

Bush

Gardens. 2 BR 2 BA

condos with all ammenities,

weekly/monthly, visit

www.palmmanor.com

or call 1-800-848-8141

AIR CONDITIONING

AIR CONDITIONING

Complete System

Clean & Check

$49.95

BLACKTOP

SANTIAGO'S

Sealcoating & Services LLC

Quality Materials Used

SUMMER IS HERE!

Driveway Seal & Repair!

Top Seal Cracks!

Residential & Commercial

Mulching, Edging & Clean-ups

"Ask for whatever you need."

BBB Accredited-Fully Insured

8/1s

Call or text for Free Est.

614-649-1200

INFORMATION

8/1 A

Free Electronic Leak Testing

All Makes • All Models

45 Yrs. Exp. • Senior Discount

614-351-9025

CITY WIDE

ASPHALT &

CONSTRUCTION

Blacktop & Concrete

Licensed/Bonded

Quality Work

Competitive Prices

7/4 W/gc

Since 1981

Call Craig Lantz

Local Resident

614-374-6217

citywideasphaltand

construction@gmail.com

BBB A+ Accredited Contractor

AGM OHIO

ROOFING &

SEALCOATING

Free Estimates

Cell 614-512-1699

CARPET CLEANING

CARPET CLEANING

Any 5 areas ONLY $75

Home Powerwash- $99-$200

614-805-1084

Specializing in Pet Odors

FOR ONLY

$74.00

You Can Reach

Over 42,000 Homes

In Our

West & Southwest

Areas

For Info Call

272-5422

CONCRETE

GALLION

CUSTOM CONCRETE LLC

Specializing in Custom Colors &

Custom Designs of Concrete.

Including Remove & Replace

43 yrs exp & Free Est.

Licensed & Insured

Reputation Built

On Quality

Ronnie

614-875-8364

See Us On Facebook

www.gallioncustom

concrete.com

EDDIE MOORE

CONSTRUCTION

Quality Concrete Work

Lt. Hauling & Room Add.,

Block Work & Excavation

Stamp Patios,

Bsmt. Wall Restoration

35 Yrs Exp - Lic & Ins.

Free Ests. 614-871-3834

Buckeye City

Concrete & Excavating

* Concrete * Foundations

* Waterlines * Drains

*Catch Basins

614-749-2167

buckeyecityconcreteand

excavating@yahoo.com

www.hastingsnsons.com

Driveways & Extensions

Patio & Walkways,

Porches & Steps,

Garage/Basement Floors

Hot Tub/Shed Pads,

Stamped/colored concrete

Sealing of new &

existing concrete.

FREE ESTIMATES

Contact Adam

614-756-1754

hastingsandsons.

columbus @gmail.com

AJ's Concrete,

Masonry

Good Work - Fair Prices

Block Foundations

Driveways • Sidewalks

Epoxy/Overlay Floors

Bonded-Ins. • Free Ests.

614-419-9932

FENCING

EAZY FENCE

Chain Link - Wood

No Job Too Big or Small

All Repairs ~ Free Est.

Insured. 614-670-2292

GUTTERS

Bates & Sons

GUTTER CLEANING

5 ★ Google Reviews

614-586-3417

HAULING

DEAN'S HAULING

614-276-1958

8/1 W/SW

8/1 A/M

8/1 A

PEST

CONTROL

TERMITE &

PEST CONTROL

614-367-9000

TORCO®

TERMINATES

TERMITES

Locally Owned & Operated. Any Pest. Anytime.

$

50 00 OFF Service

Expires July 11, 2021

Free Termite Inspection

INFORMATION

ONLY

$50.00

For This Ad In Our

West & Grove City

For Info Call

272-5422

HOME

IMPROVEMENTS

Handyman - outdoor &

indoor. Reasonable Rates

614-634-2244

SLAGLE

HOME REMODELING

Baths, Kitchen,

Plumbing and Electrical.

All your Handyman needs

No Job too Big or Small

Over 30 Yrs. Exp. Lic.-Bond-Ins.

Jerry

8/1

SW/W

614-332-3320

SINCE 1973

Phil Bolon Contr.

Windows & Siding

Decks, Kitchens, Baths

Room Additions,

Flooring, Roofing

Bsmt Waterproofing

Deal With Small Non-Pressure Co.

47 Yrs. Exp. - Refs. Avail.

Lic.-Bond-Ins.

8/1

A/M

Free Est. - Financing Avail.

Member BBB Of Cent. OH

O.C.I.E.B. ID #24273

614-419-3977

or 614-863-9912

C&JHandyman

Services LLC

Minor Plumbing

& Electric

Install Hot Water Tanks,

Dishwashers & Disposals

Also Fencing &

Interior/Exterior Painting

Free Est. ~ 18 Yrs. Exp.

CDC/EPA Approved Guidelines

614-284-2100

7/18 A

PEST

CONTROL

HOME

IMPROVEMENTS

KLAUSMAN HOME

IMPROVEMENT

Siding-Windows-

Doors-Roofing-Soffit-

Fascia-Gutters-Trim

Earn FREE Seamless

Gutters with Siding Over

1000 Sq. Ft.

FREE Shutters with

Soffit & Trim

EPA Certified

Member of BBB

Financing Available

Over 20 yrs exp. • Free Est.

Licensed-Bonded-Insured

Owner & Operator

James 614-419-7500

HOME

MAINTENANCE

NEED HOME REPAIRS?

We do it all! Fences, decks,

home repairs, more Just ask!

220-465-2602-local #

HOME

REMODELING

Handyman Remodeling

Over 35 yrs exp.

Larry 614-376-7006

LAWN CARE

The Lawn Barber

Cut, Trim, Blow away

Hedge Trimming, Edging

Garden Tilling

614-935-1466

Lawnmasters and

Landscaping

Give us a call for your

yards that need mowing,

Spring clean-up, weed

control, paver patios, etc.

Free Estimates

614-378-1237

LET US MAINTAIN

YOUR LAWN & GARDEN

FOR YOU

Summer, Spring,

Winter or Fall

WE DO IT ALL!!!!

Lawn Cuts, Edging,

Trees & Shrubs, Garden,

Mulching, Hauling,

Garden Pond &

Home Maint.

Free Ests. Low Rates

$20 & Up

Kevin - 614-905-3117

Classified Services

7/18 A

PLUMBING

CALHOUN

PLUMBING AND

BASEMENTS

We install sump pumps, perimeter

drains, french drains, as well as

repair and install plumbing.

Give us a call, we can do it all!

614-444-1712

MOVING

Aaron Allen

Moving

Local Moving since 1956

Bonded and Insured

614-299-6683

614-263-0649

Celebrating

over 60 yrs

in business

PAINTING

Moyer Construction LLC

Specialing in Painting

Insured - Free Estimate

614-378-3568

A Job Well Done Again

A lic. General Contractor

Some Skilled Services

Incl: Painting • Stucco,

Repair•Carpentry•Exterior

Drainage & Home Maint.

Call Today! 614-235-1819

PLUMBING

All About Drains & Plumb.

Will snake any sm drain

$125 + tax. 614-778-2584

CHRIS'

PLUMBING

"Plumbing & Drain Professional

That You Can Count On"

24 Hrs., 7 Days/Week

No Overtime Charges

24 Yrs. Exp. in Plumbing &

Drain Cleaning Field

Call For A Free Phone Estimate

$100.00 For Any Small Drain

614-622-4482

30% OFF with AD

ALL IN ONE

PLUMBING LLC

"One Call Does It All"

$25 OFF LABOR

7/18

With This Ad A

614-801-1508

All Major Credit Cards Accepted

8/1 A&M

7/18 A

PLUMBING

PLASTERING

DRYW

YWALL &

PLASTER

REPAIR

Textured Ceilings

614-551-6963

Residential/Commercial

BIA

POWER WASHING

7/18

A&M

MRS. POWERWASH

Any house wash $149+tax

Single deck $69+tax

2 Tier deck $99+tax

Best Wash in Town

Over 45,000 washes

Ashley 614-771-3892

Bates & Sons

Soft Wash & Powerwash

5 ★ Google Reviews

614-586-3417

MDB POWERWASH

We Specialize In Decks.

Clean, stain, reseal,

revitalize any deck.

Quality work at fair prices.

Guarantee All Work 3 Yrs.

25 Yrs Exp. Free Est.

614-327-9425

ROOFING

Robinson roofing & repairs

30 yrs. exp. Lifetime Cols.

resident. Lic./bonded/Ins.

Reas rates. Member of

BBB. Dennis Robinson

614-330-3087, 732-3100

TREE SERVICES

BURNS TREE SERVICE

Trimming, Removal &

Stump Grinding.

614-584-2164

Brewer & Sons Tree Service

• Tree Removal

• Tree Trimming 7/18

A&M

• Stump Grinding

• Bucket Truck Services

Best Prices • Same Day Service

614-878-2568

8/1 A&M

8/1 A
---
PAGE 16 - GROVE CITY MESSENGER - July 11, 2021

In Entertainment

'Fear Street' a fun throwback slasher

www.columbusmessenger.com

In 2015, the hallowed ground that was

built by the deep well of nostalgia shook as

xennials and millennials learned of plans

to develop a series of films based on R.L.

Stine's beloved "Fear Street" books.

'Would they be adapting the cheerleader

series first?' they wondered. 'Or perhaps

they would go to the start of the first horror

and then build the universe from there?'

It didn't matter so much, they collectively

agreed, because they had been teased of

big screen and small screen adaptations for

decades. Now, they could finally see this

strange world brought to life thanks to the

JEFFREY P. COMPTON

ATTORNEY AT LAW

General Practice

Personal Injury • Domestic

Probate • Wills

Power of Attorney

Healthcare Documents

FREE CONSULT & PARKING

614-875-7233 Fax: 929-474-9475

1665 London-Groveport Rd., Grove City

www.jeffreypcompton.com

Email: jcompton@jeffreypcompton.com

Looking for a small,

friendly church experience? Try

First Presbyterian Church

of Grove City

4227 Broadway, Grove City

In-person Worship 10 a.m.

Services will continue on

Facebook Live at 10 a.m. as well

www.fpcgc.org

Free Community Brown Bag Lunch Drive-through

Saturday, July 24, 11:00 am- 1:00 pm

partnership between Chernin

Entertainment and 20th Century Fox.

In the years that followed, a team of

writers and directors who were making

waves in the independent horror genre

were brought on board, and a cast of

promising teen actors combined with veteran

character actors inked deals to animate

(or reanimate, in many cases) characters of

yore.

As the development progressed, news

started to trickle out that the writing team

(Phil Graziadei, Leigh Janiak, and Kyle

Killen) would not be doing any straight

adaptations of Stine's popular trilogies:

Instead, they would create a new world

loosely based on the "Fear Street" series

that would serve as both a tribute to the

collection and a homage to the slasher films

of that era.

Though the shaking lessened, the interest

was still high.

Then, in 2020, just as the release dates

for the first of the three movies was slated

for release, the pandemic shuttered movie

theaters and put planned distributions on

hold. Not wanting to see their trilogy of terror

shelved for the foreseeable future,

EMMANUEL LUTHERAN

CHURCH

80 E. Markison Ave., Columbus, OH 43207

elclife.org

SUNDAY WORSHIP SERVICE

8:30 am & 11:00 am

BIBLE CLASS

Adult and Youth (K-5)

9:45 am

*11:00 service includes a radio broadcast

in our parking lot on FM 87.9

Be a Part of Our Local Worship Guide

Our Worship Guide is geared toward celebrating faith and helping reader connect with religious

resources in our community. Make sure these readers know how you can help with a presence in

this very special section distributed to more than 22,000 households in the Southwest area.

Contact us today to secure your spot in our Worship Guide.

614.272.5422 • kathy@columbusmessenger.com

Chernin Entertainment pulled its distribution

and inked a deal with Netflix.

Several weeks ago, Netflix started to

unveil snippets of the "Fear Street" movies

and the ground started making a little

more noise as the teasers began to generate

buzz. Not only did these films — which take

place during three specific years — look

decent, but they were also going to be

released over the span of three weeks in

July. A strange move perhaps, especially

coming from a binge-friendly service, but

one that made sense given their commitment

to releasing a new film each week for

2021.

On July 9, "Fear Street Part I: 1994"

made its debut on the streaming platform.

And while it is definitely a decent film that

is true to the spirit of the books and all of

the entertainment that was released during

that time, it is weighed down by the

fact that it serves primarily as a set up for

the rest of the trilogy.

As most of its stakes are lowered as it

serves in this capacity, "Fear Street Part I:

1994" often comes across as more of an

overlong pilot in a limited television series

rather than the first installment of an epic

thriller with a trail of terror that spans

centuries. It tries to both establish the current

timeframe while harkening back to

others, but it often gets bogged down as it

teases its succeeding films. It makes for a

frustrating view, but one with good intentions

at heart.

It begins where all of the action took

place during this time — at a mall.

Teenaged Heather (Maya Hawke) is finishing

her shift at B. Dalton bookstore when

she begins to experience an escalation of

odd events. First, she hears scuttling noises

in the silence, and then horror books

begin to fly off the shelves. Suitably

creeped, she rushes to the neon-lit store

where her friend works for safety, but

instead finds a pool of blood and then later

her demise from a Skull Faced figure who

wears the face of a recently deceased

friend.

In any other town, this murder would

have been given plenty of attention from

the media, the local police and the school

where she was a student. But this is

Shadyside, Ohio, the "Murder Capital of

the United States," and the less that is said

or written about this crime the better.

But just because the town would rather

not dwell on the trauma that took place

doesn't mean they don't acknowledge it in

some fashion. They do schedule a candlelight

vigil before an all-important football

game against their rivals at Sunnyvale, but

that too, brings out the fisticuffs.

Not wanting their altercation to end at

the stadium, a group of Sunnyvale students

race after the bus of Shadyside student

athletes and band members. Fed up

with their threatening behavior, Deena

The Reel Deal

Dedra Cordle

(Kiana Madeira)

opens the emergency

door to toss a

cooler full of water

at them but this

causes their vehicle

to crash into the

woods. Immediately

feeling contrite (but mostly because her exgirlfriend

Sam (Olivia Welch) was an

unwitting passenger), she gets the bus to

pull over the assistance but the damage

has already been done.

Though no one was harmed during this

incident, the teens manage to unearth —

and thus disturb — the burial site of Sarah

Fier, a town witch who is said to have laid

a curse on Shadyside before she was

burned at the stake in 1666.

Shortly thereafter, reanimated killers

from the town's past begin to haunt Deena,

Sam, and their friends Kate (Julia

Rehwald) and Simon (Fred Hechinger).

Though several others are on the menu as

well, (basically anyone who gets in their

way) it is this little group that the spirits

seem to be particularly angry with.

With no ideas on how to stop these spirits

before it kills them, the teens turn to

Deena's outcast brother Josh (Benjamin

Flores Jr.) who is well versed on

Shadyside's murderous past. With centuries

worth of news clips on all of the town

terrors at their disposal, they have to figure

out how they can stop the curse and the

cycle of violence that has been plaguing the

town for centuries.

Because of how trilogy series are set up,

the first installment often feels like the

weakest link among the set so it is hard to

fully judge "Fear Street Part I: 1994" in

that respect as its succeeding films have

yet to come out. ("Part II: 1978 drops on

July 16 while "Part III: 1666" drops on July

23). But it could have been more creative

with how it set up the trilogy, rather than

rely on the tried and true method of low

stakes, back-end action, and slow roll

development.

Gripes on how the creative team decided

to construct this world aside, "Fear Street

Part I: 1994" is a rather fun throwback

slasher that is entertaining enough to

watch with its 90s style, slang and music.

Though some viewers will likely be torn as

to whether they want to continue with this

series, I think I'm going to stick with it

until the end.

Grade: B-

Dedra Cordle is a Messenger staff writer

and columnist.