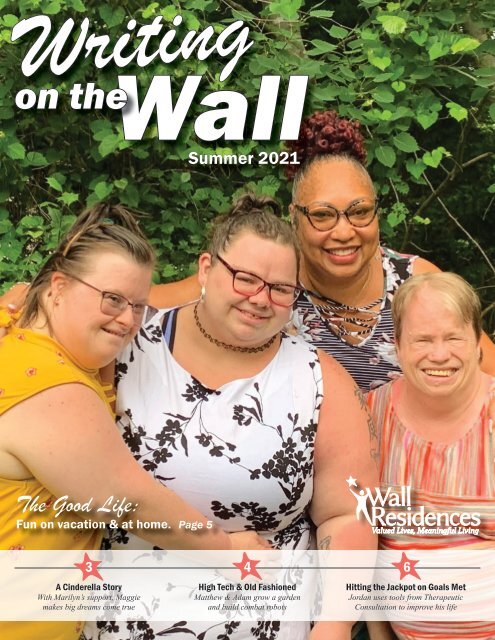 Writing on the Wall: Summer 2021
The quarterly newsletter of Wall Residences: a Virginia agency who provides services for individuals with intellectual or developmental disabilities. Services include sponsored residential, group homes, community engagement & community coaching, nursing, therapeutic consultation, and behavioral support. This issue highlights recent achievements of residents, providers, staff, and the agency as a whole during the second quarter of 2021.
The quarterly newsletter of Wall Residences: a Virginia agency who provides services for individuals with intellectual or developmental disabilities. Services include sponsored residential, group homes, community engagement & community coaching, nursing, therapeutic consultation, and behavioral support. This issue highlights recent achievements of residents, providers, staff, and the agency as a whole during the second quarter of 2021.
SHOW MORE
SHOW LESS
Create successful ePaper yourself
Turn your PDF publications into a flip-book with our unique Google optimized e-Paper software.
ong>Writingong>

on the

Wall

Summer 2021

The Good Life:

Fun on vacation & at home. Page 5

3

A Cinderella Story

With Marilyn's support, Maggie

makes big dreams come true

4 6

High Tech & Old Fashioned

Matthew & Adam grow a garden

and build combat robots

Hitting the Jackpot on Goals Met

Jordan uses tools from Therapeutic

Consultation to improve his life
---
Director's Corner

John Weatherspoon

We find ourselves in the middle of

what seems to be an unrelenting wave

of audits and reviews from DBHDS

which appear to only be increasing as

COVID restrictions are being lifted.

On top of those audits, the waiver

rebase process has started, which sets

the framework for what rates will

look like for five years.

Those of us who dealt with this when

waiver redesign began know the potential

this has to impact all services

in Virginia. Sponsored Residential

Services, in particular, was under

significant duress during the last rate

setting due to a lack of understanding

at the state level of what this service

provides to the Commonwealth. Sponsored

Families and Provider Agencies

persevered and worked to educate

DBHDS and members of the General

Assembly on how we are different here

in Virginia than in states that provide

a less regulated model. In other states

the model mostly serves individuals

who in Virginia would likely fall into

Tier 1 or 2 of Sponsored Residential

Services. In Virginia, Sponsored Residential

services were found to provide

more services to individuals who fall

into Tier 4 than other residential services

by percentage.

We need to maintain strong advocacy

for Sponsored Residential services

as we enter the rebase process. The

rebase survey was recently released to

provider agencies and we were given

17 business days to complete it for

all services. This may not be an issue

for a small agency serving under 30

individuals, but it is a massive undertaking

for larger organizations which

took months to complete last time. I

am already hearing from some agencies

that they will not be completing

it. Wall Residences will complete the

survey so we have a voice at the table

when results are back. In the meantime,

we need to prepare for meetings

with members of the General Assembly

this fall if we find ourselves in the

same situation we did after the last

rate setting. We will work to avoid

that scenario through advocacy with

DBHDS and DMAS, but should be

ready to get in front of our Delegates

across the Commonwealth if needed.

Remember, Virginia does it better!

Sponsored Services here grew up

under congregate residential regulations

and was one of the few services

that not only had to comply with those

regulations, but also a separate set

of regulations specific to the model.

Sponsored Residential Services in

Virginia serves individuals with significant

medical and behavioral needs.

The service is more individualized and

people are naturally integrated into the

community. I recently learned DOJ

was concerned about Sponsored Residential

when they first came to Virginia

due to issues in other states. DOJ

soon learned after visiting our services

that Sponsored Residential is the best

residential service option Virginia has

at getting people into the community

in the most natural environment, while

serving individuals identified as having

higher levels of need.

Sponsored families achieve this by

not only being amazing professionals

but also by having back up (or relief)

staff. Sponsored Residential Providers

hire Direct Service Professionals, who

they have to train and pay to provide

supports. Those staff are paid out of

the line item for the Sponsored Home

in the rate model which we must

protect. During the waiver refresh

DBHDS, DMAS, and Burns &

Associates recognized this and

applied the increase given to DSPs in

the Group Home Rate Model to this

line item in the Sponsored Residential

Rate Model. In a recent meeting with

the state, we learned this increase is

not guaranteed - it is up to decision

makers at DBHDS. The state will also

need to ensure when rates are developed

to match increases in minimum

wage that those measures are also

applied to the Sponsored Residential

Rate Model. Increases for Sponsored

Residential Services have to occur to

match these changes.

Regional

Summer Socials

Coming Soon!

Please watch your email for more information.

2
---
A Cinderella Story

Maggie radiates confidence as she discusses

her life with Provider Marilyn

Sumpter. It is difficult to believe this

bubbly, outgoing young woman suffered

from extremely low self esteem

just a few years ago, but she's quite

forthright about her difficult childhood

and teen years. "I was made fun of in

school. I felt sad inside… was doubting

myself… thinking I was useless."

Her world was small and it never

occurred to her to dream big. That

changed the moment she entered the

home she now shares with Marilyn.

Much like Cinderella in the classic

fairy tale, all Maggie needed was one

person to provide the support she

needed to show her true self.

This Cinderella has seen her world

expand with a new self confidence

that has led to taking on challenges

and achieving big goals. Rather than

seeing herself as limited by a diagnosis,

Marilyn worked with Maggie

to see herself as Marilyn sees her

through a process Marilyn refers to

as Weights and Wings. "Weights are

things that hurt us, hold us down, and

make us feel bad about ourselves.

Wings are what elevates us and makes

us feel good. We can't move forward

if we are looking back or down."

Marilyn notes, "We may not always

take the straight path. We may have

to use some workarounds, but Maggie

is capable of accomplishing anything

she puts her mind to." Maggie smiles

and nods in agreement.

Marilyn quizzed her on signs and

right of way when the two were out

and about. Her preparation paid off

and she passed her learner's permit

test on the first try!

She's proving to be a scholar beyond

just that one test. Maggie enrolled at

Germanna Community College, completing

her first semester with A's in

both classes! Having learned to dream

big and then work hard toward the

goals she sets herself, she's not stopping

as she looks to the future. She

wants to continue her college classes,

eventually earning a degree in Information

Technology and becoming an

IT Specialist for the government.

When not studying, Maggie and

Marilyn enjoy hanging out together

enjoying the great shopping walkable

from their neighborhood or strolling

the path to nearby Smith Lake Park.

Roller skates were a recent purchase

and the two are excited to try them out

on the basketball courts at the park.

Take out and TV have

been a favorite during

COVID. They also do

lots of cooking together,

including making

their signature dark

and white chocolate

chip cookies with

pecans from a secret

recipe.

For Maggie, support through Sponsored

Residential has meant blossoming

self-confidence, learning new

skills, and gaining a whole second

family. She says with a smile, "Now,

I feel like I can do anything I put my

mind to! Marilyn gives me positive

reinforcement when I get down on

myself." That positive support goes

both ways. Marilyn shares, "Maggie

has been just as instrumental in my

life as I have been in hers." The two

glance at each other and burst into

laughter as Marilyn confides, "She

keeps me in line!"

The two rely on honest conversation

and role playing all possible outcomes

when Maggie needs to make a difficult

decision. That work has paid off. "The

biggest change in Maggie is when

she's apprehensive or afraid, she will

advocate for herself." Mutual respect

and affection have created a beautiful

transformation and a bright future for

Maggie. A Cinderella story indeed!

~Angie Covington

This statement is abundantly clear

when Maggie shares what she's been

up to in the last year. She first decided

she wanted to get her driver's license.

"I want independence… to be able to

see my family on my own," she says.

She studied hard, making flash cards

and using apps to do practice tests.

Left: Maggie is ready to take the road.

Above: Marilyn Sumpter and Maggie

3
---
Your Turn

Does building robots for

competition sound like a fun

challenge to you?

Matthew and Adam are always

looking to add team members.

Anyone is welcome to

participate but those with

knowledge in programming

or general technology

are especially encouraged!

Outdoor & Indoor Fun

As COVID slows down and the world

begins to open back up, Matthew and

I (his in home provider Adam Lawson)

have been hard at work planning

some exciting activities. First, Matt

expressed interest in beginning a garden

in October of 2020. I have a degree

in outdoor recreation and helped

with various community gardens as

an undergraduate, so I jumped at the

chance to make this a reality.

Throughout the winter and early

spring, we obtained permission to use

a garden plot at a friend's

house, planned out exactly

Not all days are great for gardening,

but we found we share an indoor

interest too. Since about 1996, we

have both been interested in robotics,

electronics, and tinkering. This led us

both to getting hooked into the niche

sporting event of Robot Combat.

This is a sport where ordinary people

combine motors, wheels, weapons,

and armor, then throw their creation

into a heavily fortified arena to fight

other robots. The general public may

know this sport from the Discovery

Channel TV show "Battlebots." These

robots usually weigh 250lbs and can

cost well into six figures.

"

This is a dream come true. I never thought I'd get an

opportunity to participate in this sport. It's so cool!

Matthew works on constructing

a 1 lb. robot.

www.wallresidences.com

what we wanted to grow,

and researched when each

item needed to be planted.

We made several phone

calls to obtain a tiller and

then went to work on

preparing their soil for

the warm months. This

included researching

planting depths, how to till,

and other various gardening

related activities.

Though it has been hard

work, we are both excited

to see our hard work pay off. Matt

said, "I'm excited to grow tomatoes

and peppers so we can make canned

salsa in the fall." It's been a lot of fun

in watching Matt get excited over

something like this, and it's been cool

to see Matt independently do research

on gardening when I'm not around.

4

After Matt expressed interest in building

a robot himself, I found kit robots

that weigh 1 lb and are an inexpensive

way to start participating in the sport.

Together we chose the components for

the robot, compared different vendors,

and finally settled on one with a

spinning saw as a weapon. Matt notes,

"This is a dream come true. I never

thought I'd get an opportunity to

participate in this sport. It's so cool!."

Though small, these things still pack

a wallop with a weapon tip speed of

around 250mph. Because of this, we

constantly talk safety when working

on the robot. We aren't yet to the

phase where our bot is operational, but

already obtained all appropriate safety

gear and will use it the moment it is

needed. We hope to have the robot

complete by mid summer and go to

several competitions in the fall!

~Adam Lawson
---
The Good Life

"We are living the good life!" proclaims

Brittnay, and the truth of that

statement quickly becomes clear! Brittnay,

Shelley, "Ms. Shirley," and Provider

Karen Gordon chat about Pandora

rings, fun photo filters, and weekly

nail appointments, waving glittery

fingers and toes to illustrate the point.

The conversation moves to their

mutual love of eating out, something

they indulge in frequently. Shelley and

Shirley like Golden Corral best, while

Brittnay's favorite is Red Lobster.

Their Friday night tradition is to alternate

between two household favorites:

Applebee's and Anna's Pizza. During

COVID, of course, those restaurant

meals have been of the takeout variety.

The good life extends to relationships

between all four as well. Brittnay considers

Karen her godmother, Shelley

calls Karen her second mom, and of

Shirley, Karen says, "I'm her family

and she's mine."

Karen feels truly called to the provider

lifestyle and believes in the importance

of relationships, respect, and

genuine connection. She started with

a small agency over six years ago

before moving to Wall Residences

3 1/2 years ago. "I love what I do,"

she says, "It's all about giving people

chances." Karen's choice to become a

provider and extend chances to others

has turned into "the good life" for her

and these three happy ladies.

~Angie Covington

Where the good life really comes into

play is in their mutual love of travel.

Pre-COVID they took annual cruises.

They recount tales of the fun they had

on these voyages, especially dancing

with the cruise staff and playing a

Hasbro game on stage as part of the

evening entertainment. Relaxation, the

good food, and swimming are among

the things that make them cruise

fans. During COVID, cruises stayed

docked, so they enjoyed a trip to Myrtle

Beach for this year's adventure.

Above: (l-r) Shelly, Ms. Shirley, Provider Karen Gordon, and Brittnay at home.

Top: The entire household enjoyed a recent trip to Myrtle Beach.

5
---
What a Year Can Do

With the right support, a year can

make a dramatic difference as Jordan's

story proves. After years of living

in a group home, where he became

accustomed to being told what to do

and when to do it, Jordan relocated

to a Sponsored Residential service

when the group home closed. The

adjustment into the looser routines of

a family-type setting was a difficult

one for this young man who had spent

years in a less flexible setting.

When he engaged Therapeutic Consultation

Services, Jordan was dependent

on his Provider's directives and

would often find himself following

them around waiting on what was

going to happen next. He voiced low

self-esteem and was very dependent

on his caregivers to direct him to

complete daily living tasks, show him

on how to fill his day, and to guide

him on how to interact with others.

Jordan feels he learned this way of

life in the now-closed group home,

which he describes as "military like."

Jordan also desired a closer relationship

with his parents. In the summer

of 2020, Jordan temporarily moved

back in with his parents while a new

Sponsored Residential Provider was

found. With the support of Therapeutic

Consultation services during this

time, he was able to reconnect with

them, playing golf with his father and

card games with his mother. He says

he "hit the jackpot" with his current

Provider and has since soared into the

life he has envisioned for himself.

Jordan put in much hard work to overcome

the barriers keeping him from

his dream life. He worked tirelessly on

developing and engaging in socially

appropriate behaviors such as saying

"excuse me" during conversation,

referring to a schedule that he creates

with support instead of depending on

others to tell him what to do when,

engaging in positive self-talk, learning

how to speak up for himself in

a socially appropriate manner, and

bringing out the confidence buried

deep inside of him. This smart and

kind-hearted young man has the best

sense of humor. His desire to be treated

with dignity and respect drives him

to give everyone he meets the same.

Today, Jordan is happy and feels like

he belongs. After a year of hard work

on his goals, Jordan has landed a job

with Goodwill Industries, is more

independent than ever, is developing

friendships, is a valued member of

his Sponsored Residential family, has

a renewed relationship with his parents

and sister, and volunteers in the

community. He has claimed the life he

envisioned for himself. Just think….

Jordan made all this progress while

also living through a pandemic. He has

shown the difference it makes when

you set goals for yourself and work

hard to make them reality. For Jordan,

a year has made a world of difference!

~Patience Holdren

Know Someone Who Could Benefit from Our Services?

The Wall Residences Admissions team has staff in all parts of the state to respond to your referral needs and

answer questions about the services we offer. We work quickly to find the right match for longterm success

while striving for the quickest placement in services possible. The Admissions Team is here to serve you.

www.wallresidences.com

Alex Jackson

Admissions

Director

(434) 610-7578

Emily Eagle

Central Virginia, Danville,

Charlottesville, Staunton/

Waynesboro/Lexington

(434) 907-5067

Ashea Green

Northern

Region

(202) 760-6411

Brooke Keen

Roanoke, NRV,

SWVA

(540) 250-8482

Lisa Schalasny

Eastern

Region

(804) 380-4309

6
---
Katrina Ceasar-Gray

Deborah Cooper

Wanda Sue Cornett

Elizabeth Dandridge

Jennifer & Tim Farney

Jennifer & Shaun Graham

Wanda Hall

William Harper

Althea & Robert Harris

Victor Henderson

Marlene & Daryl Beckner

Carmelita Bishop

Hester Bruce

Gloria Faulkner

Janet & Jeff Gordon

HONOR ROLL

2021 Wall Residences Milestone Anniveraries

We could not do the work we do without the stellar efforts of individual people. It gives us great pleasure

to recognize providers and staff members celebrating milestone anniversaries with Wall Residences in 2021.

Thank you for your dedication and for the difference you have made and continue to make!

PROVIDERS

Five Years

Constance & Daryl Irby

Roxanna Johnson

Kellie Lynch

William Lyons

Andrew Dylan Mays

Stephanie McNulty

Cheryl Pleasant

Tracey & Mark Pugh

Angela & Ben Revely

Ten Years

Vera Hailey

Belinda & Roscoe Harris

Danny Campbell & Juniper Healy

Patti & Dennis Henderson

Charlotte & Everette Horton

Racheal & Sam Riffey

Cordine Rose

Veronica Saint

Barbara Schrader

Ellen Smith

Angela & James Snyder

Jasmine Taylor

Joseph Wade

Frances Wenger

Ana Iglesias

Abby & David Owen

Maria Sankolewicz

Carolyn & Garrett Weatherholtz

Kelly Dixon

Roxana & Joseph Hartman

Kathy Hubbard

Debra & Marvin Boyette

Larry & Barbara Hatcher

Dominique Allan

April Bourgois

Amanda Branigan

Teresa Combs

Samantha Dooley

Fifteen Years

Mary & Jeffrey Lester

Mike Robinson

Sandra & Ron Snodgrass

Twenty Years

STAFF

Five Years

Carolyn Everett

Lorrie Harrison

Cindee Layne

Kl'Methia Merriman

Tabitha Nappier

Ten Years

Kathy & Ken Wakeman

Peggy & Kenneth Wooldridge

Tabitha & Kenneth Humphreys

Jeffrey Scott McDorman

Justine Paterson

Venecia Pollard

Nancy Sizemore

Persis VanWyk

Donavin Brown Bea Cleveland Rebecca Ledingham

Fifteen Years

Jenise Burford

7
---
All About the Dough

When Little Caesars reopened after the first few months of the

pandemic, they welcomed a new staff member to their team. Russ

loves eating pizza but in the past year, he's also become an expert

in making it! Russ works several days each week at the Little

Caesar's near his home. His regular tasks include making the

dough and sauce, but his manager Crystal Chittum shares that one

of the things that makes Russ such a valuable staff member is that

"he does anything and everything asked of him."

Russ' background as an athlete helped prepare him to be a team

player at Little Caesars. He has carried the torch for Special Olympics,

playing on baseball, basketball, and bowling teams. His dad

describes him as a "one man scoring machine" in basketball, sinking

three pointers from the top of the key. These experiences also

taught him the importance of following rules for the safety of all...

critical skills for a job in food service during a pandemic.

He enjoys the time with his co-workers. The respect and camaraderie

goes both ways. Crystal notes, "Russ is a very hard worker.

He has learned and accomplished a lot!" Russ said he "likes making

the regular dough best" but here's an insider tip from this new

pizza expert... his own favorite to eat is "the thin crust!"

Russ (right) with co-worker and assistant manager

Caleb Dalton

Digital Bonus: Scenes from Spring at Wall Residences