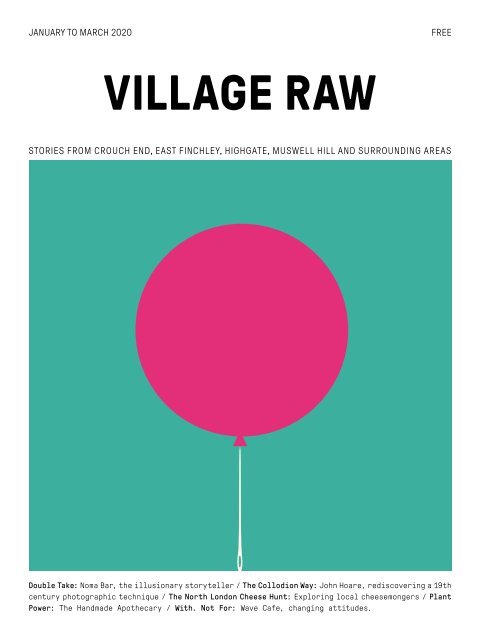 Village Raw - ISSUE 9
Village Raw is a magazine that explores cultural stories from Crouch End, East Finchley, Highgate, Muswell Hill and the surrounding areas. The magazine is created by the community, for the community. If you like this issue you can support the project through a subscription or donation. See the links below. The ninth issue of Village Raw magazine includes: DOUBLE TAKE - Noma Bar - the illusionary storyteller. SOUNDS FROM THE CITY, SOUNDS FROM THE SEA - Singer-songwriter Austel on her musical journey. MR TOMMY HILL KNOWS - A new project from the artist previously known as WILLIAM. THE COLLODION WAY - John Hoare and his 19th century collodion photographic portraits. WITH. NOT FOR. - Wave Cafe – pushing boundaries and changing attitudes. BRIGHT ORANGE TILES - Revisiting Hornsey Town Hall to see how the restoration is progressing. WHERE THERE'S A WILL, THERE'S A WAY - Planting trees for the future. PLANT POWER - The healing power of plants with Handmade Apothecary. A GREAT WASTE OF TIME - Creating a compost lasagne. THE NORTH LONDON CHEESE HUNT - Meeting the local cheesemongers and producers. AND MORE…
Village Raw is a magazine that explores cultural stories from Crouch End, East Finchley, Highgate, Muswell Hill and the surrounding areas. The magazine is created by the community, for the community. If you like this issue you can support the project through a subscription or donation. See the links below. The ninth issue of Village Raw magazine includes:

DOUBLE TAKE - Noma Bar - the illusionary storyteller.
SOUNDS FROM THE CITY, SOUNDS FROM THE SEA - Singer-songwriter Austel on her musical journey.
MR TOMMY HILL KNOWS - A new project from the artist previously known as WILLIAM.
THE COLLODION WAY - John Hoare and his 19th century collodion photographic portraits.
WITH. NOT FOR. - Wave Cafe – pushing boundaries and changing attitudes.
BRIGHT ORANGE TILES - Revisiting Hornsey Town Hall to see how the restoration is progressing.
WHERE THERE'S A WILL, THERE'S A WAY - Planting trees for the future.
PLANT POWER - The healing power of plants with Handmade Apothecary.
A GREAT WASTE OF TIME - Creating a compost lasagne.
THE NORTH LONDON CHEESE HUNT - Meeting the local cheesemongers and producers.
AND MORE…
SHOW MORE
SHOW LESS
You also want an ePaper? Increase the reach of your titles
YUMPU automatically turns print PDFs into web optimized ePapers that Google loves.
JANUARY TO MARCH 2020<br />
FREE<br />
VILLAGE RAW<br />
STORIES FROM CROUCH END, EAST FINCHLEY, HIGHGATE, MUSWELL HILL AND SURROUNDING AREAS<br />
Double Take: Noma Bar, the illusionary storyteller / The Collodion Way: John Hoare, rediscovering a 19th<br />
century photographic technique / The North London Cheese Hunt: Exploring local cheesemongers / Plant<br />
Power: The Handmade Apothecary / With. Not For: Wave Cafe, changing attitudes.
---
04<br />
06<br />
13<br />
15<br />
16<br />
20<br />
24<br />
26<br />
CONTENTS<br />
VILLAGE NOTICEBOARD<br />
Things to do and community notices<br />
DOUBLE TAKE<br />
Noma Bar - the illusionary storyteller<br />
SOUNDS FROM THE CITY,<br />
SOUNDS FROM THE SEA<br />
Singer-songwriter Austel<br />
on her musical journey<br />
MR TOMMY HILL KNOWS<br />
A new project from the artist<br />
previously known as WILLIAM –<br />
I know I know<br />
THE COLLODION WAY<br />
John Hoare – reintroducing the<br />
19th century back to Crouch End<br />
with his photographic portraits<br />
WITH. NOT FOR.<br />
Wave Cafe – pushing boundaries<br />
and changing attitudes<br />
BRIGHT ORANGE TILES<br />
Revisiting Hornsey Town Hall to see<br />
how the restoration is progressing<br />
WHERE THERE'S A WILL,<br />
THERE'S A WAY<br />
Planting trees for the future<br />
EDITORIAL<br />
Welcome to the ninth issue of <strong>Village</strong> <strong>Raw</strong>. As the UK enters ever stranger times<br />
and prepares to go it alone, we have to reflect on what this means for us. There's<br />
a cohesion to local community life that perhaps isn't reflected in the wider populace<br />
– especially in these divisive times. But do we really have that much say in<br />
local decision making? Guardian columnist, George Monbiot recently wrote about<br />
the notion of political rewilding - arguing that communities could have more say,<br />
working out together "what their communities need and how to make it happen,<br />
refusing to let politicians frame the questions or determine the answers." Do<br />
our local councils involve us, or do we feel estranged and disenfranchised? How<br />
can we engage with local government in a way that works better for the whole<br />
community? If anyone would like to explore this for the next issue of <strong>Village</strong> <strong>Raw</strong><br />
then please get in touch via: hello@villageraw.com.<br />
For this issue of the magazine Lito Apostolakou reflects on the life and work of<br />
Highgate Wood and negative space explorer, Noma Bar, who discusses losing his<br />
language and the need for diversity - his cover image somehow seems appropriate<br />
at the moment. John Hoare photographs locals using a 19th Century technique.<br />
Kate Wilson visits Muswell Hill's Wave Cafe which provides a welcoming environment<br />
for people with and without learning disabilities to socialise and have fun<br />
together. We revisit Hornsey Town Hall to see how the restoration is proceeding,<br />
while Katrina Mirpuri goes on a slightly cheesy trail of the neighbourhood. Carla<br />
Parks considers the power of plants with Handmade Apothecary and also attends<br />
a composting workshop at OmVed Gardens. Emma Svanberg looks at how to break<br />
past parenting patterns and Chris King considers the urgent need for local tree<br />
planting. While Emma Ross takes a break with her new baby, we bring in a new regular<br />
seasonal recipe column, starting with one from Dominique Woolf. For the essay<br />
Miki Lentin engages with some creative non-fiction - which has inspired us to open<br />
up a new short story column for the next issue. The sound track for this issue is<br />
provided by multi-instrumentalists Tommy Hill and Austel.<br />
David and Luciane<br />
hello@villageraw.com<br />
www.villageraw.com<br />
By subscribing you'll not only be supporting <strong>Village</strong> <strong>Raw</strong>,<br />
but the community as well. You'll also receive the magazine<br />
delivered to your door every three months.<br />
www.villageraw.com/subscribe<br />
28<br />
32<br />
34<br />
39<br />
41<br />
42<br />
PLANT POWER<br />
The healing power of plants<br />
with Handmade Apothecary<br />
A GREAT WASTE OF TIME<br />
Creating a compost lasagne<br />
THE NORTH LONDON<br />
CHEESE HUNT<br />
Meeting the local<br />
cheesemongers and producers<br />
VILLAGE RECIPE<br />
Korean-style cauliflower<br />
with Asian sprout slaw<br />
BREAKING PAST PATTERNS<br />
When we become parents<br />
we reconnect with our own<br />
memories of being parented<br />
ESSAY<br />
Reflections on Being Lost<br />
EDITORS<br />
Luciane Pisani<br />
David Reeve<br />
GRAPHIC DESIGN<br />
Luciane Pisani for Studio Moe<br />
COPY EDITOR<br />
Julie Tang-Evans<br />
ADVERTISING<br />
Emma Withey<br />
hello@villageraw.com<br />
CONTRIBUTORS<br />
Lito Apostolakou, Noma Bar, Dan Bridge, Thomas<br />
Broadhead, Sarah Deane, Alison Evans, Mischa<br />
Haller, John Hoare, Chris King, Kate Kuzminova,<br />
Miki Lentin, Lobster and Pearls, Becky Mathews,<br />
Jennifer McCord, Katrina Mirpuri, Carla Parks,<br />
Tevona Purcell-Matthews, Sindri Swan, Emma<br />
Svanberg, Francis Ware, Samantha J. Webb,<br />
Kate Wilson, Dominique Woolf.<br />
COVER IMAGE<br />
Pop Art by Noma Bar<br />
PRINTING<br />
Printed in East Finchley by JG Bryson on chlorine<br />
free paper produced by an EU Ecolabel certified<br />
mill from FSC and PEFC regulated forests.<br />
Tweet us twitter.com/<strong>Village</strong><strong>Raw</strong>Mag<br />
Like us facebook.com/villageraw<br />
Follow us instagram.com/villageraw<br />
Contact us hello@villageraw.com<br />
Subscribe villageraw.com/subscribe<br />
<strong>Village</strong> <strong>Raw</strong> January to March 2020<br />
Designed and published by Studio Moe Ltd.<br />
© 2020 Studio Moe Ltd. All rights reserved.<br />
Reproduction of any contents of <strong>Village</strong> <strong>Raw</strong><br />
magazine without prior permission of the<br />
publisher is strictly prohibited.<br />
THANKS TO:<br />
Dana Bar, Noma Bar, Seb Barre, Simon Bear, Julie<br />
Bland, Naomi Boxall, Claire Brady, Gillian Bull, Andrea<br />
Coaro, Vicky Chown, Meletios Evdokias, Christian<br />
Eldershaw, Diane Firth, Johanna Green, Tommy<br />
Hill, Augusta Hull, Regine Kandan, Doris Lam, Karen<br />
Leason, Caroline Macaskill, Andrew Major, Morgan<br />
McGlynn, Michael Moore, Rosha Nutt, Lucy Pilgrim,<br />
Joe Pitt, Joan Podel, Piers Read, Annie Rew Shaw,<br />
Freja Smith, Kelly and Andrew Shearer, Elisabetta<br />
Tonazzi, Kim Walker, Angela Walsh.<br />
03
---
VILLAGE RAW<br />
VILLAGE NOTICEBOARD<br />
THINGS TO DO<br />
The following venues tend<br />
to update their event<br />
listings regularly so<br />
please keep checking in.<br />
ART/MUSIC/CULTURE<br />
ALEXANDRA PALACE<br />
Music, theatre, sports and various seasonal<br />
events all come together in this huge venue.<br />
The newly restored theatre is also definitely<br />
worth a visit. Alexandra Palace Way, N22 7AY.<br />
www.alexandrapalace.com<br />
AVIVSON GALLERY<br />
A small gallery showcasing an impressive collection<br />
of contemporary art. 49 Highgate High St,<br />
N6 5JX. www.avivsongallery.com<br />
DOWNSTAIRS AT THE KINGS HEAD<br />
One of the oldest and best known comedy clubs<br />
in the UK. 2 Crouch End Hill, Crouch End, N8 8AA.<br />
www.downstairsatthekingshead.com<br />
HIGHGATE CONTEMPORARY ART<br />
An independent artist-led gallery that specialises<br />
in contemporary British and European paintings,<br />
sculpture and ceramics. 26 Highgate High<br />
St, N6 5JG. www.highgateart.com<br />
HIGHGATE LITERARY<br />
AND SCIENTIFIC INSTITUTE<br />
HLSI hosts numerous events, screenings, courses,<br />
talks and exhibitions. 11 South Grove, N6 6BS.<br />
www.hlsi.net<br />
HIGHGATE SOCIETY<br />
Various events for members and the general<br />
public. 10A South Grove, N6 6BS.<br />
www.highgatesociety.com<br />
JACKSON'S LANE<br />
A multi-arts venue in Highgate specialising in<br />
circus, theatre, performance, and dance, while<br />
also hosting a wide range of courses. 269A Archway<br />
Rd, N6 5AA. www.jacksonslane.org.uk<br />
JEALOUS NORTH<br />
Jealous is a contemporary gallery specialising<br />
in print. It runs two spaces, one in the east of<br />
London, and Jealous North in Crouch End. 27 Park<br />
Road, N8 8TE.<br />
www.jealousgallery.com/exhibitions<br />
KENWOOD HOUSE<br />
Free to visit, a Georgian House with an impressive<br />
art collection which includes works by Rembrandt,<br />
Turner, Gainsborough and Vermeer. Also<br />
hosts events. Hampstead Ln, Highgate, NW3<br />
7JR. www.english-heritage.org.uk/visit/places/<br />
kenwood<br />
LAUDERDALE HOUSE.<br />
Hosts a range of events, classes, music, performance,<br />
and art exhibitions. Waterlow Park, Highgate<br />
Hill, N6 5HG. www.lauderdalehouse.org.uk<br />
LUX<br />
An organisation that promotes artists' moving<br />
image practices, LUX runs a regular public programme<br />
of screenings, talks, exhibitions and<br />
other events. Waterlow Park Centre, Highgate,<br />
N19 5JF. www.lux.org.uk<br />
OFFSHOOT GALLERY<br />
Offshoot offers space to emerging artistic and<br />
curatorial practitioners across all media, with a<br />
range of exhibitions. 162 High Road, East Finchley,<br />
N2 9AS. www.offshootartspace.com<br />
OMVED GARDENS<br />
A unique space in Highgate that offers a range<br />
of events and courses. The creative space between<br />
people and nature. Townsend Yard, Highgate,<br />
N6 5JF. www.omvedgardens.com<br />
PARK THEATRE<br />
Intimate theatre with two stages to programme<br />
new dramas, musicals and experimental productions.<br />
Clifton Terrace, Finsbury Park, London N4<br />
3JP. www.parktheatre.co.uk<br />
PICKLED PEPPER BOOKS THEATRE<br />
At the back of the book shop is a space that<br />
runs children's theatre, events and other activities.<br />
10 Middle Lane, Crouch End, N8 8PL.<br />
www.pickledpepperbooks.co.uk<br />
THE RED HEDGEHOG<br />
An independently run concert and theatre<br />
space that hosts a variety of courses, perfromances,<br />
and indoor markets. Archway Rd, Highgate,<br />
N6 5BS. www.theredhedgehog.co.uk<br />
THROWN CONTEMPORARY<br />
A contemporary art gallery with a focus on ceramics.<br />
Look out for their supper clubs. 26 Highgate<br />
High Street, N6 5JG.<br />
www.throwncontemporary.co.uk<br />
UPSTAIRS AT THE GATEHOUSE<br />
A fringe theatre with a varied programme of<br />
drama, musicals, comedy and other performance.<br />
1 North Rd, Highgate, N6 4BD.<br />
www.upstairsatthegatehouse.com<br />
FESTIVALS AND MARKETS<br />
ALEXANDRA PALACE FARMERS' MARKET<br />
40 farmers, baristas, bakers and craftspeople.<br />
Every sunday at Alexandra Palace Park or Campsbourne<br />
School – check website for details:<br />
www.weareccfm.com/alexandra-palace-market<br />
BLUE HOUSE YARD<br />
Hosts a range of markets and events across the<br />
year and is also a great place to go plastic free<br />
and fill up on beer. 5 River Park Rd, Wood Green,<br />
N22 7TB. www.bluehouseyard.com<br />
EXTRAORDINARY ARTISANS MARKET<br />
A quarterly market presented by Duck Pond at<br />
Lauderdale House, featuring arts and crafts,<br />
homewares, clothing, food and ethical businesses<br />
etc. Waterlow Park, Highgate Hill, N6 5HG.<br />
www.duckpondmarket.com/highgate<br />
HIGHGATE HORTICULTURAL SOCIETY<br />
Regular quarterly exhibits from members, with<br />
plant and produce stalls, as well as tea and cake.<br />
United Reformed Church, South Grove, N6 6BA.<br />
www.highgatehorticulturalsociety.org.uk<br />
MUSWELL HILL CREATIVES<br />
Work on sale from local artists, designers and<br />
makers from Muswell Hill and surrounding areas.<br />
You'll find ceramics, jewellery, art, homewares,<br />
clothing and more.<br />
www.muswellhillcreatives.com<br />
MYDDLETON ROAD MARKET<br />
Grab a bite, beer, wine, unique gift, fresh produce,<br />
vintage items and clothing – the first Sunday<br />
of every month. Also runs larger summer and<br />
winter fairs. Myddleton Road, N22.<br />
www.myddletonroadmarket.co.uk<br />
STROUD GREEN MARKET<br />
Growers, picklers, cheesemongers, coffee roasters,<br />
cider brewers, street food, bughouse builders,<br />
clarinet players, bike fixers, beekeepers,<br />
washing-up-liquid refillers… Every Sunday. Perth<br />
Road, N4 3HB. www.stroudgreenmarket.com<br />
WOLVES LANE HORTICULTURAL<br />
AND GARDEN CENTRE<br />
Host of a range of community markets and<br />
events. A unique space that's well worth a visit.<br />
Wolves Ln, Wood Green, N22 5JD.<br />
www.wolveslane.org<br />
ZERO MARKET N22<br />
Local producers, street food, re-fill stalls, arts<br />
and crafts with a ban on single use plastic. First<br />
Sunday of the month. Blue House Yard, N22 7TB.<br />
www.zeromarketn22.co.uk<br />
ARTWORK BY ROSHA NUTT (#FAKENEWS). PHOTOS BY CHRIS KING (PLANTING TREES), MISCHA HALLER (MIDDLE<br />
LANE MARKET) AND SUJAN NANDANWAR (COMMUNITY AFTERNOONS) AND DAVID REEVE (MHFGA).<br />
#FAKENEWS<br />
From 5 to 8 March Offshoot Gallery, in East Finchley, will stage an ArtCan exhibition called<br />
#FakeNews. A group of artists will investigate, visualise and interpret contemporary society,<br />
probing language and identity, consumer culture, sustainability, climate change,<br />
inequality, and immigration. There will also be a range of performances, workshops and<br />
sitting protests. The exhibition is curated by locals Lisa-Marie Price, Rosha Nutt, Holly<br />
Collier and supported by ArtCan. They'd love to get other locals involved, using the space<br />
for workshops and talks that fit the theme. Contact: studio@roshanutt.com<br />
The Muswell Hill and Fortis Green Association<br />
has been working for the community<br />
since 1948. Run as a membership organisation,<br />
the MHFGA prints six newsletters<br />
a year alongside regular email updates.<br />
They also host events which are open to<br />
the public. Upcoming dates include talks by<br />
Muswell Hillbilly Brewers, and Haringey's Arboriculture<br />
Officer. www.mhfga.org<br />
Fortnightly taster workshops offering a variety<br />
of crafts, seasonal and charity projects.<br />
Sessions are for socialising and wellbeing.<br />
Themes have included sewing, Japanese<br />
bookbinding, crochet, origami, sashiko<br />
(mindful stitching), quilting etc. Adults of<br />
all ages welcome and sessions are free on<br />
purchase of food or drink from Aladdin's, N19.<br />
Instagram: @communitycrafternoons<br />
PLANTING TREES<br />
In his feature on p26 Chris King discusses<br />
the benefits of tree planting. If you know<br />
of an active programme in north London<br />
then please get in touch. If you would be<br />
interested in working with <strong>Village</strong> <strong>Raw</strong> in<br />
establishing a tree planting initiative, then<br />
get in touch at: hello@villageraw.com.<br />
STRENGTH THROUGH UNITY COMMUNITY CRAFTERNOONS MIDDLE LANE MARKET<br />
Born out of a dream to own their own shop,<br />
Middle Lane Market was brought to life by<br />
wife and husband team Kelly and Andrew<br />
to serve the local area with high quality<br />
cheeses, wines, kefir, and groceries. They<br />
also run a variety of workshops in the<br />
shop including seasonal cheese tastings<br />
and kefir fermentation. Read more on p34.<br />
www.middlelanemarket.com<br />
04 05
---
VILLAGE RAW<br />
ART & CULTURE<br />
DOUBLE TAKE<br />
Graphic designer, illustrator and artist Noma Bar challenges conventional<br />
wisdom through a play with visual perception.<br />
Words by Lito Apostolakou. Artworks by Noma Bar.<br />
PHOTO BY SARAH DEANE.<br />
There is an irresistible lure in Noma Bar's bold, minimalist imagery.<br />
It ensnares the viewer's gaze in a constant perceptual reversal.<br />
Within what the eye perceives as one image lies another<br />
one which exists in opposition to the first. Together they create<br />
a unity of opposites. Yet we cannot see both at the same time.<br />
Our gaze shifts from one to the other in a journey of discovery<br />
of parallel - or conflicting realities. Noma uses negative space to<br />
produce striking images whose interpretation requires a double<br />
take. He has been called a "master of visual illusion," but it is not<br />
for their illusory qualities his illustrations are sought the world<br />
over - they tell powerful stories.<br />
"I am not interested in any visual trickery," says Noma. "I am<br />
interested in the story. We are in a reality that has two sides. We<br />
are born into conflict." In his native Israel Noma became aware<br />
very early on of the polarisation and intransigence that conflict<br />
generates as each side becomes entrenched in its own beliefs<br />
and unable to entertain the other's views. The ever present Israeli-Palestinian<br />
conflict has been part of his life. And conflict is<br />
what his illustrations engage with but without becoming inflexible<br />
propositions or monolithic aphorisms. Noma deploys negative<br />
space to depict alternative versions of reality and perspectives<br />
not apparent at first glance. His illustrations contain two images<br />
interlocked with each other - forcing the mind to alternate<br />
between interpretations. Both images cannot be seen at once,<br />
and this tension and unity of opposites opens up conversations<br />
about social and political issues.<br />
Looking for images within images, Noma discovers: "things<br />
that do not exist and yet they are around us." Shapes and forms<br />
that you perceive with unseeing eyes every day - taking them for<br />
granted - hide something else. Then, one day you make the discovery.<br />
"If you look at places people don't look at, you become<br />
more aware, more sensitive to things, to social and political problems,"<br />
says Noma. It is through this process of discovery and conscious<br />
looking that a script is created and a story is built. The<br />
process of discovery is essentially a painstaking process of distillation:<br />
"to take the complexity of a political problem and to distil<br />
it to one thing, one element."<br />
If Noma's artworks initially produce a visual punch with their<br />
bold colours and economy of line, they also compel the viewer to<br />
read them. They are wordless narratives. The eye peels off their<br />
layers and reveals the story they are telling. Noma's idiom has<br />
been partly a product of his experience as a young designer moving<br />
to London some 20 years ago. Away from his country of birth<br />
and with English far from fluent, he struggled with the new world<br />
he threw himself into. His Hebrew type design expertise didn't get<br />
him far and, as his wife recalls, he grew especially quiet. "I lost my<br />
language," he remembers. Yet this uprooting acted as a powerful<br />
creative force. Noma developed a visual vocabulary and created<br />
a new "silent" language that needed no dictionary. The distance<br />
from his native environment enabled him to see beyond the familiar,<br />
to overcome the unconscious prejudices of custom and<br />
convention, crafting a visual language that cuts through cultural<br />
and linguistic barriers.<br />
Noma's art dislodges conventional ways of seeing and brings<br />
together recognisable forms to propose a different take on reality.<br />
This intellectual leap requires a space where the mind can<br />
distance itself from the mundane and discover what hides in<br />
plain sight. This space Noma finds in Highgate Woods, the ancient<br />
20 07
---
ART & CULTURE<br />
Opening image: Pointed Sense at BALTIC Centre for Contemporary Art. Oposite page: Mr Spock, cover for Esquire, 2009.<br />
This page: Image from a sketchbook and Noma at home.<br />
PHOTO BY DAN BRIDGE (TOP RIGHT).<br />
woodland which borders his house in north London. Retreating<br />
into it emulates in a way an uprooting from the familiar and helps<br />
to usher the artist into an expansive mindset. "I wouldn't be able<br />
to live in an isolated wood," Noma says, "but this environment<br />
feeds me. I feel I need to go in the wood for the ideas to flow."<br />
Noma spends more than half of his working time there - brainstorming.<br />
The wood for him is a live-in studio. "Something opens<br />
up in the wood," he says. It's his inspiration.<br />
"You don't see nature in my work," says Noma, who spent his<br />
childhood in forests. His father worked for the Jewish National<br />
Fund planting trees, and Noma was in contact with the natural<br />
environment from a young age. However, his relationship with the<br />
forest is conflicted. He felt he needed to escape from that hardworking<br />
life to a city, yet he finds inspiration inside the woodland.<br />
Displacing himself from the comforting haze of the mundane, his<br />
mind awakens to the extraordinary which lies within the commonplace.<br />
He needs a distance. "Part of what I do is criticising and<br />
looking at things from the side, with objective eyes, and if you<br />
are too involved it starts to get tricky – there is something about<br />
distance that works."<br />
He places a lot of weight in the process of creating which,<br />
he says, "is more important than the result. Most of the time, I<br />
am looking for ideas and solutions to a problem. The execution is<br />
faster than the process." His process starts with him sketching<br />
in black and white, with pen and pencil. Colour is secondary. It is<br />
rather a tool to help the viewer understand the meaning of the<br />
image. "I don't like colour so much – the main thing is the message."<br />
He has tried lots of colours but often goes back to red: "It<br />
is part of my history," he says. "You can't manipulate red - there is<br />
something about red that feels right in many places."<br />
Noma's work evolves step by step. He keeps discovering new<br />
things. He has done numerous illustrations and 90% of his output<br />
used to be editorial, which he loves because it is current and<br />
effective. He has also worked with sculpture which he sees as<br />
comparable to his 2D work in that it is based on a narrative. Then<br />
he discovered animation which recently took over. His illustrations<br />
have appeared in major publications, including the New York<br />
Times, Empire, Wired, The Guardian, Amnesty International and<br />
Time Out - and he has taken numerous commissions from advertising<br />
and private clients. Working with production company Dutch<br />
09
---
VILLAGE RAW<br />
HEALTH AND WELLBEING<br />
This page: Images from the Cut the Conflict exhibition, Rook & Raven Gallery, London 2013.<br />
Opposite page: Flora, the Cut It Out image-making machine.<br />
Uncle, Noma has created animation pieces for clients who seek his<br />
visual and narrative style "to get people to understand high technical<br />
and abstract concepts." His clients include New York-Presbyterian<br />
Hospital (on new cancer treatments), GloboNews Brazil<br />
(on corruption), Mercedes Benz (on safety systems), World Food<br />
Programme (Stop Hunger), The Testaments (Atwood's book cover<br />
animation) and Stand Up to Cancer.<br />
Noma thrives on the diversity of London and it is here he met<br />
and had a conversation with a London-based Iranian – a conversation<br />
that would never have happened had they stayed in their<br />
own countries. From that meeting of two "opposites" came the<br />
concept of Cut the Conflict which saw Bar's die cut machine in<br />
action in the Rook & Raven gallery in west London. People from<br />
nations engaged in conflict were asked to send him any material<br />
they felt represented their countries, like maps, photos, newspaper<br />
cuttings, posters. His "Cut It Out Machine" was fed with materials<br />
coming from only two countries in conflict at a time, like India<br />
and Pakistan or the US and Cuba. What came out were images<br />
of peace. The compositions Noma created were about common<br />
ground. "I started out to show how different these countries in<br />
conflict were but realised they are very similar. You look inside<br />
something that looks like a negative and you discover the love,<br />
the peacefulness." One of Noma's compositions for "Cut the Conflict"<br />
is of a handgun bearing the colours of the Israeli and Palestinian<br />
flags: look again and you see a dove flying.<br />
Noma Bar likes to be "an outsider, someone who is not in the<br />
centre of events. That keeps me fresh," he says. On some level,<br />
he longs for the time when "everything was unfamiliar, different. I<br />
don't like to know too much, you lose all the surprises." When one<br />
knows things in depth and can identify their source, one loses<br />
"this flat surface when you don't know, you are still hungry like a<br />
child who discovers things. And I try to maintain it and I think maybe<br />
part of being drawn to the woods has to do with that – staying<br />
a little bit out of society in a way. Imagination is more important<br />
than knowledge."•<br />
Noma Bar is represented by Dutch Uncle. You can keep up to date with his work on his<br />
Facebook page: @NomaBar. Prints are available from: www.outline-editions.co.uk<br />
PHOTOS BY FRANCIS WARE.<br />
10<br />
23
---
WELLBEING<br />
SOUNDS FROM<br />
THE CITY,<br />
SOUNDS FROM<br />
THE SEA<br />
Austel, aka multi-instrumentalist Annie Rew Shaw, makes dark electronic and ethereal<br />
music that wouldn't be out of place in Twin Peaks. Her 2018 debut EP, Unfold, was<br />
critically acclaimed by BBC Radio 6 Music and online magazine The Line of Best Fit.<br />
Words by Becky Mathews. Photo by Jennifer McCord.<br />
How did you start making music as Austel?<br />
About two years ago I had always performed under my own name<br />
and played in bands. But my sound was changing quite a lot from<br />
being a singer-songwriter at the piano to something more electronic.<br />
The name Austel is kind of based on St Austell, Cornwall. I<br />
grew up in Devon but I went to Cornwall a lot in the summer, so<br />
it's taking a link from the past and turning it into something new.<br />
Did you move to London specifically to pursue music?<br />
Devon's a beautiful place to grow up but it's quiet. It's such a cliché<br />
but it was always my dream to come to London and make music.<br />
I moved here at 19 instead of going to university and was really<br />
lucky to start working with some amazing musicians straight<br />
away as my education. But I really appreciate Devon and its natural<br />
beauty and I visit my family a lot. It's nice to have both worlds.<br />
Your video for Lost At Home featured you in different parts of<br />
London, including the Parkland Walk. How much do your surroundings<br />
influence or inspire your music?<br />
A lot. I spend so much time walking, it's really therapeutic. I walk for<br />
about two hours every day and I'm a big dreamer. The video features<br />
lots of places in London that were significant for me when I<br />
first moved here. I've found my own little home within the city and<br />
that's what I love about north London and this area - there are<br />
mini villages and towns within it. It's inspiring and peaceful.<br />
You've played Glastonbury as part of Get Cape. Wear Cape. Fly<br />
and toured with Fleet Foxes in Lyla Foy's band - do you like<br />
travelling with music?<br />
It's been amazing, especially as a young musician. These experiences<br />
have taught me so much and given me the confidence<br />
to do it myself. I haven't travelled as much as Austel as I'm hoping<br />
to - it's expensive but inspiring. I write a lot on journeys. You<br />
get a new energy when you go to different cities. I did a Sofar<br />
Sounds gig in Berlin last year and it was just the most incredible<br />
experience of meeting new, like-minded people and visiting new<br />
places through music.<br />
What have been the highlights of playing as Austel - and what<br />
are you looking forward to next year?<br />
Some of the headline shows in London with the full band -<br />
they're my best friends and it's great to bring the production to<br />
a live stage. I love playing solo shows too because of how you<br />
can connect with the audience. The big thing is a headline show<br />
at The Victoria, Dalston on 12 February to celebrate the release<br />
of my 2nd EP, Cold Love.•<br />
Find out more about Austel at: www.austelmusic.com<br />
12 13
---
VILLAGE ART & CULTURE SOUNDS<br />
The discerningly<br />
different<br />
estate agency.<br />
we're mr and mrs clarke.<br />
We're not like other local agents.<br />
We're different. Discerningly different.<br />
We know all great plans are made over<br />
a beverage, so whether you fancy a good<br />
old fashioned cuppa, or even a proper Old<br />
Fashioned, we would love to learn about you,<br />
your property and your hopes for the future.<br />
Give us a call on 07778 778136<br />
or visit us at www.mrandmrsclarke.com<br />
CEldershaw<br />
Christian Eldershaw, Partner<br />
MR TOMMY HILL KNOWS<br />
Tommy Hill is a one-man band with a flair for Prince-like guitar<br />
solos. He plays, records and produces his own music and is launching<br />
a new project, I know I know.<br />
Cascading Styles<br />
for creative individuals and<br />
small businesses<br />
• web design<br />
• graphic design<br />
• private tutoring<br />
• Publish, share or document a piece of work<br />
with our original web page templates<br />
• Set up an attractive website with a<br />
one-to-one tutorial to get you started<br />
• Custom web and graphic design services to<br />
cover all your design needs<br />
• Newsletter design and distribution<br />
• Private tutoring to learn graphic design and<br />
website maintenance skills<br />
• Expert advice and ongoing support<br />
• Free website hosting for all clients (save<br />
~£100/ year!)<br />
• All websites powered by renewable energy<br />
Cascading Styles is a small graphics and web design<br />
agency based in Wood Green, N22. Our services are<br />
especially suited to artists, artisans and small businesses<br />
whose unique aesthetics could be better communicated<br />
online and across other media.<br />
The company was founded by artist and designer Freja<br />
Smith. Having grown up in Ealing, she has lived and worked<br />
in London for most of her life. She graduated from Central<br />
Saint Martins with a BA in Graphic Design in 2014; she has<br />
since developed her professional and artistic practice to<br />
include a wide variety of design, practical and business<br />
skills.<br />
Freja is particularly fascinated by the visual and emotional<br />
effects of translating materials, objects, spaces and<br />
experiences to the digital realm. She takes inspiration from<br />
the natural world, with its intricate and wild beauty, and<br />
enjoys working within the confines of 2 dimensions,<br />
bounded by straight lines.<br />
Mention <strong>Village</strong> <strong>Raw</strong> before 1st May 2020 to<br />
receive £25 off your first invoice.<br />
cascading-styles.com<br />
freja@cascading-styles.com<br />
07740966430<br />
@cascading.styles<br />
Words by Becky Mathews. Photo by Tevona Purcell-Matthews.<br />
Haringey has a pretty rich musical history - do you like recording<br />
and playing here?<br />
Yeah, I have a studio in Finsbury Park. There's a lot of music heritage<br />
though that's not particularly why I live around here. I find<br />
it inspiring because I see people who have way less than me but<br />
also people who have much more than me, it's a melting pot. I just<br />
love it, the leafy vibes and sense of community - there's a bunch<br />
of other musicians that live in the area and I've got friends up in<br />
Muswell Hill like ChaChaCha - it's a cool scene. I never really had<br />
that in places I've lived in London before - and I love that there is<br />
nature and big green spaces.<br />
You played in lots of bands before going solo - how did that come<br />
about?<br />
About three or four years ago I was in a band and it was going<br />
pretty well but I left and moved back to my mum's in Brighton.<br />
There was a lot of stuff going on in my life at the time, and I didn't<br />
have anywhere to live and I felt like I had to do my own thing. While<br />
I was there I made music by myself, playing, recording, producing<br />
- no compromise.<br />
Was that as WILLIAM?<br />
Yeah, I made some demos and then put out one song, Blindside,<br />
in 2017 as WILLIAM (it's my middle name) which kind of went viral.<br />
It was pretty crazy, I got a quarter of a million streams in a week<br />
and was on New Music Friday on Spotify. I don't know how it happened,<br />
it was amazing but I didn't know how to follow it up. There<br />
was some interest but people had different ideas of how to do it.<br />
WILLIAM was a bit of a false start but I've spent a few years just<br />
getting songs together that I'm really proud of.<br />
What's the next musical chapter?<br />
I've kind of rebranded and I have a new project which is I know I<br />
know - and I'm gonna put something out in February. I have a band<br />
- we're a trio. I play guitar and loop pedal and sing and add some<br />
ambient stuff too - and there is a drummer and bass player - but<br />
it's a lot more raw live, it doesn't have to be exactly like the record.<br />
Do you have exciting things planned for 2020?<br />
I just want to get my music out. I feel like I've been sitting on this<br />
for ages, so I want to put it out and see what happens. Once I've<br />
put the first stuff out there, I'll play live too. I'd love to go somewhere<br />
remote for a month on my own with my equipment to finish<br />
the record. •<br />
Follow I Know I Know on Instagram: @iknowiknowofficial<br />
14<br />
15
---
VILLAGE RAW<br />
WELLBEING<br />
THE COLLODION WAY<br />
Photographer John Hoare is reintroducing<br />
the 19th Century back to Crouch End.<br />
Words by David Reeve. Photos by John Hoare.<br />
16 17
---
VILLAGE RAW<br />
VILLAGE IN PICTURES<br />
Opening images: Sophie Rivers<br />
(left), Simona Mannu (right).<br />
Opposite page page: Kayla Forrester<br />
This page (from top left to right):<br />
Karen Eyo, Dictynna Hood, Isher<br />
Sahota, John Cunningham, Martha<br />
Hanington, Dennis Bury.<br />
John Hoare is a director of photography for film and television, who<br />
became fascinated by the 19th century chemical technique wetplate<br />
collodion photography. He bought an 8x10 bellows camera,<br />
some antique lenses, constructed a shed and a bespoke lighting<br />
rig, and began taking photos. A glass plate is coated with collodion,<br />
sensitised in a bath of silver nitrate, and then placed in the camera<br />
in the dark. With the low sensitivity of the process the sitter has to<br />
be still for five seconds while John holds the shutter open. Once<br />
taken the plate is developed before being fixed in a curious process<br />
which sees the negative image transform into a positive one. The<br />
people in this set of photographs are all local to the area. •<br />
You can find out more about John's collodion photography on his website:<br />
www.collodion.co.uk<br />
18<br />
19
---
VILLAGE RAW<br />
COMMUNITY<br />
WITH.<br />
NOT FOR.<br />
Pushing boundaries, changing<br />
attitudes, building an<br />
accessible creative space<br />
for all. Wave Cafe, a social<br />
enterprise that promotes<br />
inclusivity is widening<br />
its reach.<br />
Words by Kate Wilson.<br />
Photos by Sindri Swan.<br />
Wave Cafe - an acronym for "We Are (all) Valued Equally" - is a<br />
social enterprise reframing our attitudes towards learning disabilities.<br />
The project provides an opportunity to develop friendships<br />
with one another, often through the arts, crafts or music,<br />
and embrace people as part of a group in an inclusive relaxed atmosphere<br />
with no pressure. The aim is to feel free to be together<br />
naturally and valued equally - all of the time.<br />
Attending a Wave Cafe event at the recently renovated United<br />
Reformed Church in Muswell Hill, the level of interaction was immeasurable.<br />
As I spoke with Ben Sudell, Development Director of<br />
the organisation, it was hard to ignore the positive impact which<br />
he, his co-workers and volunteers were having on the numerous<br />
people attending - and vice versa. Many of the visitors were<br />
weaving in and out of our conversation - popping their heads in to<br />
make their presence known. A shared appreciation of the experience<br />
was felt all around.<br />
Stephanie Buckingham, who was attending the event, reinforces<br />
this: "Wave Cafe is just what our family was looking for. It is<br />
a very friendly and inclusive space which means that my severely<br />
autistic son can take part in activities alongside his brothers. We<br />
can all just be ourselves without needing to worry about others'<br />
reactions. Wave Cafe is a ray of hope, breaking down barriers."<br />
Ben explained more about the organisation: "'Cafe' is the<br />
name but it's really a community. The cafe is the vehicle by which<br />
we are doing it - coffee, food and the creative activities. But really<br />
it is all about bringing together people with or without learning<br />
disabilities."<br />
In society it is common for people without any learning disability<br />
to help others. There are, of course, needs that require<br />
specific attention and these services are clearly necessary. But<br />
alongside this Wave Cafe aims to provide a space to do things<br />
together, where people from every part of society get something<br />
back. Unfortunately, this can sometimes prove to be difficult.<br />
Ben explains: "One of the real challenges we have is attracting<br />
people without a learning disability or who have no experience of<br />
learning disabilities. People can often feel nervous or have preconceptions.<br />
Perhaps we are also working against their previous<br />
experiences of 'inclusion' being much more 'us and them'."<br />
Running for two years, Wave Cafe has taken its vision into the<br />
wider community - currently holding weekly art workshops on<br />
Thursday evenings at the Birchwood Centre, N10 and a series of<br />
pop up events at various venues while welcoming local artists and<br />
crafters to lead enjoyable, original and creative activities. These<br />
include mosaics, screen printing and clay sculpture. A daytime<br />
community arts cafe will also be running at the United Reformed<br />
Church every Thursday from 23 January until 12 March 2020.<br />
Still being established, Wave Cafe would like a permanent<br />
space to be able to grow and offer a drop in while still maintaining<br />
the creative activities, workshops and events. "Being visible,<br />
having a face. That's what we want to change," says Ben.<br />
Administrators, trustees, treasurers and volunteers already<br />
operate a successful business model but money remains an<br />
issue for the viability of Wave Cafe. Ben says: "It's the thing we<br />
are learning about. Applying for grants, pitching at funds where<br />
money is pledged. To maintain what we have we must balance between<br />
the charitable work and something sustainable."<br />
Wave Cafe is open to all ages and all capabilities, with or without<br />
learning or physical disabilities. Sitting in the midst of such<br />
company evokes an incredibly powerful atmosphere. Another attendee<br />
concludes: "It is the people at Wave Cafe that keep me<br />
coming back. It was the craft activities that got me there and the<br />
people that keep me there. It's as simple as that!"•<br />
You can find out more about Wave Cafe on their website: www.wavecafe.org<br />
20<br />
21
---
QUALITY PERSONAL TRAINING<br />
THAT DOESN'T COST AN ARM AND A LEG.<br />
£20 PER HOUR<br />
pilateswithnaomi@gmail.com<br />
07557 223191<br />
LONDON
---
VILLAGE RAW<br />
BRIGHT ORANGE TILES<br />
<strong>Village</strong> <strong>Raw</strong> visits Crouch End's Hornsey Town Hall, the UK's<br />
first major modernist building, to check in on the restoration<br />
and construction work.<br />
Words and photos by David Reeve.<br />
In our time in the Town Hall we grew to love the building – even<br />
with its numerous leaks and broken toilets. We were sad to leave<br />
at the end of June 2019 and have been wondering since how the<br />
works are proceeding. We had the chance to visit last November<br />
- just as a meeting and site visit with Haringey Council, Historic<br />
England and the developer's project team was coming to an end.<br />
The meeting had taken place in the committee room where<br />
there was already evidence of the work underway. For example, a<br />
small patch of the chamber's wall was brighter than the surrounding<br />
veneer. "Back in the day, when it was council offices, everyone<br />
used to smoke," says Joe Pitt, construction director for contractor<br />
Ardmore. And it's not only the wall that has been tested: "We<br />
cleaned a small section of cork flooring about a month ago – totally<br />
different. It's about what it was like back in the day," says Joe.<br />
As they continue to explore and investigate architect Reginald<br />
Uren's building the team are constantly discovering new<br />
things. Whether it's the realisation of how the veneer in the<br />
assem bly hall was not prefabricated but cut and applied in situ,<br />
the discovery of a hidden room containing a safe (nothing in it),<br />
or how the wooden counters of the cashiers' booth (which was in<br />
the Ply Gallery) concealed the original bright orange tiles. As Joe<br />
reminds us: "The intention is not to change anything…"<br />
Haringey Council and Heritage England are on site to examine the<br />
progress. "Prior to the work proceeding everything has to be signed<br />
off by the London Borough of Haringey and us," says Claire Brady<br />
of Historic England. The council's conservation officer Elisabetta<br />
Tonazzi agrees: "These meetings are to ensure that works are carried<br />
out sympathetically."<br />
"We think there's going to be around 200 methodologies," says<br />
Joe. "Stone, cork board, different variances of the timber work."<br />
This stage is going to take approximately 12 months to complete<br />
which means the building work hasn't begun in earnest yet. "At the<br />
moment it's 90% planning, discussion and methodologies, and 10%<br />
construction - and slowly that will turn the other way," says Joe.<br />
FEC's Project Director Doris Lam has also sat in on all the<br />
meetings. "The building is on the 'at risk register'," she says. "And<br />
in order to de-risk it, it's not only about refurbishing, it's also looking<br />
at how the building can be looked after and can sustain itself<br />
going into the future."<br />
Last year Historic England granted permissions for the change<br />
of use to a mixed use scheme comprising an Arts Centre, a hotel,<br />
food and beverage facilities, community uses and co-working<br />
space. Works also included the rebuilding of the east wing roof<br />
extensions to a new design and the erection of new residential<br />
blocks at the rear of the Town Hall.<br />
With the restoration taking the building back to its former glory,<br />
we wondered how the additional elements would fit in. Make Architects<br />
were keen to point out that the hotel interiors would take<br />
inspiration from the 1930s Art Deco features within the Town Hall.<br />
"A simple materials palette of timber, metal and stone," explains<br />
Regine Kandan, the lead architect. "The hotel rooms will also feature<br />
herringbone patterned parquet flooring, sympathetic to the<br />
flooring in other areas of the building."<br />
The plan is for the hotel to operate in synergy with the other<br />
aspects of the building - the Arts Centre, restaurant and co-working<br />
spaces. "Guests will enjoy and participate in many of the arts<br />
centre's programmed uses such as shows in the theatre, events<br />
in the supper room or a wedding in the council chamber," says<br />
Andrew Major, Head of Space + Community for the Arts Centre<br />
operator, The TIME + SPACE Co. "The restaurant and rooftop bar<br />
will be open to all - guests and visitors alike - creating a dynamic,<br />
vibrant and diverse environment."<br />
And for us, still looking for suitable and affordable office<br />
space since we moved out in June, it seems there will be a combination<br />
of new offices and co-working spaces alongside a loft<br />
workspace. The pricing will be announced in early 2020. While we<br />
won't be able to return to our old office, which will now be a part<br />
of the hotel, we're looking forward to learning more about the<br />
spaces and opportunities as the renovation progresses and the<br />
building moves closer to reopening.•<br />
If you would like to stay informed with all the latest news about Hornsey Town Hall Arts<br />
Centre and the restoration project then follow @HTHArtsCentre on social media and join<br />
the mailing list at: www.hthartscentre.com. If you want to enquire about the residential<br />
development call the marketing suite: 020 8341 4664<br />
Clockwise from top: Hornsey Town Hall encased in its<br />
protective wrapping; the project team (left to right) -<br />
Paul Botten (Ardmore), Anusha Le Vasan (Fulkers),<br />
Regine Kandan (Make Architects), Simon Redfern<br />
(Ardmore), Nerius Rimkevicius (Ardmore), Joe Pitt<br />
(Ardmore), Claire Brady (Historic England), Doris Lam<br />
(FEC), Trevor Upright (Ardmore) and Norman Fitzpatrick<br />
(Ardmore); parquet floor patch, cleaned and revived.<br />
24<br />
25
---
VILLAGE RAW<br />
WHERE THERE'S A WILL,<br />
THERE'S A WAY<br />
In the absence of government leadership and action on climate<br />
change, we have little option but to take matters into our own hands<br />
- let's start by planting more trees.<br />
Words and photo by Chris King.<br />
Many attempts are being made to create scalable carbon capture<br />
and storage technologies to suck CO2 from the air, store it<br />
and then use it. But within nature there already exists a means by<br />
which this can be achieved that's easily scalable. Planting trees<br />
represents one of the most effective, affordable and attainable<br />
means of tackling anthropogenic climate change, by capturing<br />
and storing CO2 and locking it in the soil. Research has shown<br />
that a worldwide tree planting programme could remove around<br />
two thirds of all the human-generated greenhouse gas emissions<br />
that currently exist within the atmosphere.<br />
Of course the benefits of planting more trees, unlike carbon<br />
capture and storage technology, does not stop at potential atmospheric<br />
CO2 reduction. Trees can offer a defence against<br />
flooding, landslides and soil erosion; they can help cool down cities;<br />
they help maintain and support greater biodiversity; and can<br />
help establish natural corridors for animals and insects to move<br />
along. There are numerous other benefits from planting more<br />
trees and we have all the knowledge and tools to move forward<br />
with the programme today and reach the necessary targets in the<br />
required timeframe.<br />
The UK needs a net increase of 30,000 hectares of woodland<br />
every year over the next 30 years in order to reach net zero carbon<br />
emissions by 2050, according to the Committee on Climate<br />
Change (CCC). Or 50,000 hectares if other reduction targets are<br />
not met. That means planting at least 1.5 billion trees.<br />
If we are to reach net zero carbon by 2030 - which many local<br />
councils, including Haringey, have set as their target - then we<br />
need to be planting 150 million trees every year. This may seem<br />
a lot but is by no means unachievable - it simply requires the political<br />
will to make it happen. We are in the midst of a crisis and<br />
with the need for the trees to reach maturity in order to maximise<br />
their full CO2 capture and storage potential, we must move forward<br />
with this now.<br />
But political will has been conspicuously absent within our<br />
government. Over the past five years a total of just 44,900 hectares<br />
has been planted, which is woefully inadequate and reflects<br />
a general lack of engagement on the issue of climate change by<br />
this Conservative government. If they stick to the pledge in their<br />
latest party manifesto of "30 million trees a year" - and there are<br />
no guarantees they will - that's still 20 million trees a year less<br />
than required to meet the minimum recommendations of the CCC<br />
- the government's own advisory body.<br />
The recent election result will have an incredible impact on<br />
the path and progression towards achieving the goals set out in<br />
the Paris Agreement - and obtaining carbon neutrality. We will be<br />
lacking the leadership necessary at government level to take immediate<br />
and meaningful action in order to confront and mitigate<br />
the impact of the unfolding climate crisis.<br />
Business as usual - or indeed even less regulation and a continued<br />
unwavering belief that the market will deliver the climate<br />
action needed in a just and timely manner - is simply not an option.<br />
However, while the government's actions will most likely hinder<br />
the pursuit of a carbon neutral society, we - the people - can<br />
influence what legislation is written. It's not only about how we<br />
vote at an election that dictates how things progress but how we<br />
vote through our actions - or lack of action - every single day.<br />
Our economic and political system is broken and needs fundamental<br />
changes but this will take time that we don't have to<br />
spare. So - in the absence of a government that represents the<br />
needs of its citizens, that doesn't ignore national and international<br />
advisory committees and is willing to take the steps necessary<br />
to avert the worst impacts of the climate crisis - we must<br />
create local, citizen-led tree planting and rewilding initiatives.<br />
Let's stand up and do all we can - as if our lives and those of<br />
our children and grandchildren depend on it - because they do. •<br />
If you know of an active tree planting programme in north London then please get in touch<br />
and we will share it with our readers. If you would be interested in working with <strong>Village</strong><br />
<strong>Raw</strong> in establishing a tree planting initiative, then get in touch at: hello@villageraw.com.<br />
You can also read guidelines on how to plant trees in your garden or school here:<br />
www.forestresearch.gov.uk/tools-and-resources/urban-tree-manual<br />
26
---
VILLAGE RAW<br />
PLANT POWER<br />
Two modern-day apothecarists are helping to reintroduce people to<br />
a knowledge of plants that we've lost over time.<br />
Words by Carla Parks. Photos by Kate Kuzminova.<br />
Imagine being on a remote island in Denmark and cutting your<br />
hand, leaving a wound that requires stitches. The closest hospital<br />
is four hours away and you need to take a boat to get there.<br />
Luckily, your companion is a trained medical herbalist who knows<br />
that binding the cut with birch polypore mushroom (found nearby)<br />
will act as a natural plaster and slow the bleeding. A few days<br />
later, all that is left of your deep cut is a scab. Vicky Chown is<br />
telling this story in a pub in central London, explaining how she<br />
has helped treat many friends over the years with the knowledge<br />
she has acquired about plants.<br />
Vicky is one half of Handmade Apothecary, a pair of medical<br />
herbalists who have written two books about the power of plants<br />
in treating numerous conditions, from skin ailments to chronic allergies.<br />
It's ancient knowledge that was once handed down orally<br />
but which has been lost over the years. "We've had to pay for a<br />
degree to learn what most European grannies commonly know<br />
[about herbs]," says Kim Walker, Handmade Apothecary's other<br />
half. Kim contends that we have lost our connection to nature<br />
and the power it has to heal. "We try to introduce people to the<br />
idea that this knowledge has always existed," she explains, "and<br />
there's just been a hiccup with people remembering it - and so we<br />
show people how to reconnect with nature."<br />
This reconnection includes foraging for plants in local woods,<br />
as well as running apprenticeship workshops from spaces such<br />
as OmVed Gardens in Highgate. Participants learn basic skills in<br />
holistic herbalism – identifying edible and medicinal plants and<br />
making herbal preparations to help treat the body over different<br />
seasons. Vicky believes these workshops empower people to help<br />
themselves and have additional benefits for the planet: "Once<br />
you start to identify those plants and put importance on them,<br />
it means there is an importance on them socially which means<br />
we are more likely to protect them." Such has been the interest<br />
in what they do that these types of workshops are often sold out.<br />
Both seem a bit surprised by their success, particularly with<br />
their first self-titled book, still a bestseller after nearly three years.<br />
"We put our hearts and souls in it," says Kim, who grew up on the<br />
west coast of Scotland. Vicky adds: "When we did our university<br />
degree there wasn't a lot of emphasis on foraging and growing. We<br />
wanted to have a connection with the whole process and as we did<br />
that, we thought, hey, other people may want to learn about this."<br />
But the process of writing the book was fraught and both acknowledge<br />
that they "nearly killed each other" to meet the publisher's<br />
deadline. Fortunately, they can now laugh about it and<br />
seem to have forgiven each other for past differences: "We love<br />
each other really," smiles Vicky. "It's quite sisterly."<br />
Sitting down to talk to the pair - who met at the University of<br />
Westminster - is a bit like being at a raucous family dinner. They<br />
complete each other's sentences, interrupt one another and occasionally<br />
disagree. Despite having a lot in common on the face of it,<br />
including near-identical birthdays, they are actually very different.<br />
While Vicky likes people and runs herbal medicine consultations<br />
for clients, Kim makes it clear that she prefers plants. A medicinal<br />
plant researcher, she is currently studying for her PhD at the Royal<br />
Botanic Gardens in Kew. Her interest lies in rediscovering historic<br />
medicines, often rooted in plants, to solve modern problems.<br />
One person's weakness is often another's strength which<br />
makes for a good partnership. Kim, for example, admits to being<br />
organised and IT savvy, while Vicky is less likely to sit in front of<br />
the computer answering emails. Both, however, agree that they're<br />
not cut out for an office job. For Vicky, her "office" could be said<br />
to be Queen's Wood, where she runs the community gardens and<br />
teaches about permaculture, and food, herb and medicine growing.<br />
Although she grew up in north London, her goal is to find a<br />
patch of land outside the capital and largely be self sufficient.<br />
28
---
HEALTH AND WELLBEING<br />
Previous pages: Kim (left) and Vicky (right) in the Queens Wood community garden. This page: Photos from a herbal tea<br />
and body scrub workshop held at The Postal Museum.<br />
For now though, both have a business to run and they've seen<br />
in terest increase, particularly when it comes to foraging. They partly<br />
attribute this to what they call the "Instagram life" - millennials<br />
being more health conscious in general and more likely to embrace<br />
veganism and drink less alcohol. "People are naturally converting<br />
to other things that would help their life," argues Kim, "so I definitely<br />
think there has been a resurgence in herbal medicine as well<br />
as other lifestyle choices." Vicky agrees that trends have changed:<br />
"When I was a teenager you got an alcopop and sat in the park. Now<br />
they are all in Planet Organic with their smoothies."<br />
Both - reassuringly - are drinking red wine as they say this<br />
and you get the impression that they're not advocating an entirely<br />
hermetic existence. Up next is a short break for Vicky who<br />
wants to escape the winter, potentially in Morocco. Kim, however,<br />
isn't bothered by the dark days and the cold, which is fortunate as<br />
she has 20,000 words to write for her thesis. Later this year they<br />
will offer some of their popular workshops from their narrowboat,<br />
bought and renovated together. The renovation is another experience<br />
that nearly drove them to the brink of despair but which has<br />
seen hard work pay off. "We've done some good stuff," reflects<br />
Vicky. "We never seem to remember that when we are sitting in<br />
the woods looking at mud," Kim replies. At that, they both laugh. •<br />
To find out about workshops run by Vicky and Kim, check their social media accounts<br />
or sign up for their newsletter at: www.handmadeapothecary.co.uk<br />
Follow them on Instagram: @handmade_apothecary<br />
ELDERBERRY SYRUP<br />
Vicky and Kim swear by elderberries as a<br />
natural way to help boost the immune system.<br />
This remedy is perfect for combating flu,<br />
winter colds, coughs and sore throats.<br />
INGREDIENTS<br />
400g fresh or 250g dried elderberries / 1<br />
thumb-sized piece of ginger root / 1 cinnamon<br />
stick / 2 star anise / 6 cloves / 6 cardamoms /<br />
6 peppercorns / Zest of 1 unwaxed lemon / 500ml<br />
water / Approx. 500g sugar / 1 tsp citric acid<br />
per 500ml<br />
METHOD<br />
Place the elderberries, spices, lemon zest<br />
and water (if using dried elderberries add an<br />
extra 100ml of water) in a pan. Bring to the<br />
boil and simmer uncovered for 20-30 mins until<br />
water has reduced by 1/3. Strain the berries<br />
through a muslin-lined sieve into a measuring<br />
jug. Measure your liquid and return to the pan.<br />
For every 100ml of liquid, add 50-100g of<br />
sugar. Bring to a gentle simmer and stir until<br />
thick and glossy. Stir in the citric acid and<br />
pour into bottles, label and date. Lasts up<br />
to 1 year in a cool, dark place. Once opened,<br />
keep in the fridge and use within 1 month.<br />
Take 1 to 2 tsp as necessary or stir 2-4 tsp<br />
into hot water for a soothing drink.<br />
31
---
VILLAGE RAW<br />
PARTNER CONTENT<br />
A GREAT<br />
WASTE OF TIME<br />
OmVed is introducing more garden<br />
workshops in the spring that will<br />
teach everything from growing<br />
food to composting waste.<br />
Words by Carla Parks.<br />
Photos by Thomas Broadhead.<br />
Tucked away behind Highgate High Street, down an alleyway<br />
that appears to lead to nowhere, is OmVed Gardens. It's a green<br />
space dedicated to re-establishing our connection with nature<br />
in the middle of a dense city. A light-filled greenhouse with a<br />
minimalist kitchen acts as a focal point for events, workshops<br />
and occasional exhibitions open to the community. It's from<br />
here that Vicky Chown sips tea on a bright winter's day, a dome<br />
of delicate blue sky arched overhead. I join a small group of people<br />
gathered around her, braving the bitter cold to learn more<br />
about composting.<br />
It's OmVed's last workshop of the year but the plan is to introduce<br />
more in early spring - to be led by Vicky who is a trained medical<br />
herbalist and runs the community gardens in Queen's Wood.<br />
Blinking into the morning sun, Vicky tells us that we learn best by<br />
doing, so we are going to be building a compost and mucking in as<br />
much as possible.<br />
Karen Leason, who runs OmVed Gardens, joins us and explains<br />
some of their ambitious plans that include building a community<br />
seed bank and utilising the new kitchen garden growing below<br />
the greenhouse as much as possible. "My feeling is that people<br />
are keen to grow things, but some of us actually don't even have<br />
the basics," Karen says. She envisages OmVed as a collaboration<br />
between humans and nature. Vicky has been brought on board<br />
because of her extensive knowledge of plants and her collaborative<br />
approach.<br />
32<br />
Vicky says that the focus of the workshops will be on learning<br />
about where our food comes from, based on the seasons. One<br />
aim is to grow a variety of crops, so there will be an emphasis<br />
on slightly more unusual UK-based plants and keeping a regular<br />
diary to record how well certain plants respond. "We want people<br />
to learn the process of gardening, from composting to sowing<br />
seeds, to harvesting and saving seeds - and to just get everyone<br />
to do as much food growing as they can," she explains.<br />
Composting, Vicky continues, has big benefits that include<br />
knowing your waste will not be going to landfill, as well as providing<br />
a nourishing environment for plants to grow. "All the scraps<br />
are going into the garden to be composted and put into your<br />
plants again. You can then enjoy them as flowers, vegetables, a<br />
healthy lawn or fruit trees. It's a nice, closed loop cycle," she says.<br />
There are different methods for composting but we're learning<br />
about an open compost. The general rule is to have a ratio<br />
of one part green waste to two parts brown waste. Green waste<br />
adds nitrogen to the compost pile, encouraging microbe activity.<br />
Brown waste provides structure and is carbon rich. You alternate<br />
your green and brown layers, ensuring each one is about three to<br />
six inches deep, making a "compost lasagne". You leave this for a<br />
few weeks and then turn or aerate the pile. In the summer you will<br />
need to do this more frequently than in the winter months.<br />
It's surprisingly physical work since we need to move a huge<br />
pile of leaves. We add some of our green waste and that can in-<br />
33<br />
clude coffee grounds, nettles, grass clippings and raw kitchen<br />
waste. Our brown pile consists of old lavender twigs, cardboard<br />
and dry leaves. We also see a 'bokashi' compost, a Japanese<br />
method that uses fermentation and can be kept inside. After two<br />
hours we're ready to call it a day, warming ourselves with another<br />
hot drink and admiring our compost pile.•<br />
VICKY'S DOS AND DON'TS FOR COMPOSTING:<br />
Do make the compost pile as big as possible.<br />
The bigger it is, the faster it will break down.<br />
Do add in a variety of mixed things as you would<br />
with your own diet.<br />
Don't put perennial weeds in your compost pile.<br />
The weed roots will spread to your garden.<br />
Don't put cooked food on an open-pile compost,<br />
but you can add cooked food to a bokashi system.<br />
OmVed will be running a series of workshops starting in the spring, including composting.<br />
Check the website for updates and sign up to their newsletter at: www.omvedgardens.com<br />
or follow: @omvedgardens on Instagram
---
FOOD & DRINK<br />
THE NORTH<br />
LONDON<br />
CHEESE HUNT<br />
With cheese consumption growing<br />
we take a look at some of the<br />
local cheesemongers and producers<br />
– including a vegan option.<br />
Words by Katrina Mirpuri. Photos Mischa Haller.<br />
It was a sunny Monday afternoon in April when I found myself<br />
waiting to meet a complete stranger at Hornsey Station. I stood<br />
by the railway bridge with a few crumpled five pound notes in my<br />
pocket ready for the exchange - but it's not what you think. Yes,<br />
it sounds like the beginning of a dodgy deal in a mafia film but<br />
actually I was there to collect something much stronger and just<br />
as addictive as illegal substances. Cheese.<br />
Word was going around about an independent vegan cheesemaker,<br />
based in Haringey, who went by the name of Honestly<br />
Tasty. Like many, the one thing that undermines my resolve to be<br />
vegan is cheese. I'd been experimenting with vegan cheeses from<br />
the supermarket but they weren't cutting it so, in an attempt to<br />
reduce my dairy intake, I met with the owner of Honestly Tasty<br />
to buy some of his produce and see if this freshly made vegan<br />
cheese would be any good. It is.<br />
Studies have suggested that cheese has similar effects on<br />
the human body to Class A drugs. Cheese contains casein and casein<br />
fragments called casomorphins which are highly addictive as<br />
they attach to the same brain receptors as heroin and morphine<br />
in the process of consumption. As Dr Neal Barnard (author of The<br />
Cheese Trap) says: "They are not strong enough to get you arrested<br />
but they are just strong enough to keep you coming back<br />
for more, even while your thighs are expanding before your very<br />
eyes." Nutritionally, cheese is still a source of fat, calcium, vitamin<br />
A, protein and B12. However, people are now consuming less<br />
dairy for health and environmental reasons.<br />
Vegan cheese sales are quickly rising and with regard to the<br />
planet it's proven that a plant based diet has the biggest impact<br />
in reducing your carbon footprint. Whilst going totally plant based<br />
is too big a step for some, it's important that we look at the greater<br />
picture and consider sustainability and ethics as a whole when<br />
purchasing foods such as cheese. Elements such as packaging,<br />
importing and animal welfare are all important factors when buying<br />
fresh produce.<br />
34<br />
35
---
VILLAGE RAW<br />
FOOD & DRINK<br />
So, if cheese is so addictive and in high demand, it raises the<br />
question: how can we be more ethical about our cheese choices?<br />
When purchasing cheese from a supermarket, consider the<br />
long process involved in getting it on the shelf. Luckily, following<br />
in the footsteps of craft beer, many of us now prefer to buy<br />
our produce from smaller independent sources rather than mass<br />
produced cheese from the supermarket, as it's fresher, contains<br />
less waste and tastes better. In the pursuit of cheese that fits<br />
this criteria, I embarked on a serious cheese hunt to find the best<br />
produce in the area.<br />
North London suburbs Muswell Hill, Crouch End and Hornsey<br />
stand out as cheese positive hotspots, boasting some of the<br />
finest independent cheese shops. An obvious place to start is<br />
Cheeses in Muswell Hill. The shop is wedged between a string of<br />
boutiques on Fortis Green Road, just off the Broadway - and it's<br />
been a reliable local cheesemonger for 39 years. Yellow bitesize<br />
cubes are placed on a table outside the shop to lure cheese lovers<br />
in, like mice to a trap. On entry, a selection of jams, quince<br />
and pickles sits on top of a counter containing wheels of yellow<br />
cheese. The shop sets itself apart by supporting small cheese<br />
producers, buying directly from suppliers instead of wholesalers.<br />
Owner of Cheeses, Morgan McGlynn, spends one month<br />
out of the year individually picking the cheeses she stocks in<br />
the shop. She told us: "It's really important to me to know exactly<br />
where it's coming from, the family that's producing it, the<br />
way that they're making the cheese, the herds they're using."<br />
With regard to the farms they buy from, many producers that<br />
they work with use their own sheep, cows or goats which means<br />
they're not buying the milk in.<br />
Referring to sustainability, Morgan says: "In terms of the shop,<br />
everything we use is biodegradable, including all the bags and the<br />
cling film." A unique solution to saving energy comes in the form<br />
of an old war bunker which the shop uses to mature the cheese.<br />
It uses zero refrigeration because it's so damp and built into a hill<br />
and is just another way that they reduce energy use. Keeping food<br />
miles in mind, Cheeses relies on a single person to collect and<br />
deliver the cheese on a weekly basis, instead of having several<br />
trucks making deliveries around London. On the rare occasion of<br />
there being any leftover cheese, it is given to a local food bank.<br />
It's safe to say that when it comes to buying sustainably, Cheeses<br />
makes it very easy.<br />
Meanwhile - just down the hill in Hornsey - is Middle Lane Market<br />
which offers a variety of specialist foods, including a selection<br />
of about 40 different farmhouse and artisan cheeses. The shop's<br />
owners, wife and husband team Kelly and Andrew Shearer, focus<br />
largely on reducing waste and offer sustainable purchase options<br />
such as refill services on beer and wine - in addition to selling<br />
ethical brands in store. When purchasing cheese at Middle Lane<br />
Market you're in the hands of a professional as Andrew previously<br />
worked for five years at the famous cheesemonger, La Fromagerie<br />
- before opening his shop in Hornsey. Kelly tells us: "We keep<br />
our selection of cheese not too big so that we can make sure<br />
everything is in good condition." Whether you're buying a wedge<br />
or wheel, the cheese comes wrapped in parchment paper which<br />
keeps the cheese fresh and offers a more sustainable packaging<br />
than single-use plastic. Not only does this process help to reduce<br />
plastic waste but it also allows you to buy the correct quantities<br />
while enjoying a better taste, as plastic contains chemicals which<br />
affect the taste of the product.<br />
It's no secret that wine and cheese go hand in hand and there's<br />
no better place to enjoy both of these things than The Crouch End<br />
Cellars. No two visits can ever be the same because their cheese<br />
selection is forever rotating due to a focus on seasonal cheeses.<br />
The Crouch End Cellars offers predominantly European produce,<br />
with the majority of their 45 cheeses coming from France and Italy<br />
and the rest from the UK. Owner Andrea Coaro told us: "Many of<br />
these cheeses come from very small cheese producers who use<br />
milk from their own dairies." The Cellars have a good relationship<br />
with both wine and cheesemakers which means there's often a<br />
great tale behind each purchase and the staff are brimming with<br />
new recommendations. The Cellars doubles up as a deli or a place<br />
to relax, with a courtyard garden at the back which makes enjoying<br />
a glass of wine and cheeseboard feel a lot like being abroad.<br />
It's clear that the demand for artisan cheese is picking up and<br />
other local shops, such as Provisions on Holloway Road and Wildes<br />
Cheese in Tottenham (a well-known regular at Alexandra Palace<br />
Farmers Market) are making a name for themselves. By supporting<br />
these independent food businesses we are actively contributing<br />
to sustainable farming and cheesemaking whilst reducing waste.<br />
There's no better way to celebrate artisan cheese than by popping<br />
into your local cheesemonger and buying some of the good stuff.•<br />
Previous pages: The new kid on<br />
the block – Middle Lane Market.<br />
These pages (left to right): A large<br />
cheese wheel at Muswell Hill's Cheeses<br />
shop. Morgan behind the counter<br />
at Cheeses. Andrea cutting a wedge<br />
of cheese at The Crouch End Cellars.<br />
Find out more about the cheese shops at:<br />
Cheeses of Muswell Hill, 13 Fortis Green Road, N10 3HP. www.cheesesonline.co.uk<br />
Middle Lane Market, 226 Middle Lane, N8 7LA. www.middlelanemarket.com<br />
The Crouch End Cellars, 55 The Broadway, N8 8DT. www.thecrouchendcellars.com<br />
You can find Honestly Tasty cheeses at Harmless Store, 79 Tottenham Ln, N8 9BE.<br />
www.harmlessstore.co.uk / www.honestlytasty.co.uk<br />
36<br />
37
---
VILLAGE RECIPE<br />
KOREAN-STYLE<br />
CAULIFLOWER WITH<br />
ASIAN SPROUT SLAW<br />
The best veg you've ever tasted<br />
The humble cauliflower is arguably<br />
one of our most versatile vegetables.<br />
It lends itself brilliantly to strong<br />
and spicy flavours - not to mention<br />
lashings of cheese sauce.<br />
Recipe by Dominique Woolf.<br />
Photo by Samantha J. Webb.<br />
Call your local veg man Simon on 0208 509 2436 riverford.co.uk<br />
This dish puts cauliflower centre stage alongside gochujang<br />
- a sweet and spicy, yet umami-rich Korean chilli paste.<br />
Combined with honey, soy and garlic it makes an incredibly<br />
addictive sauce you can use as a marinade or drizzle over<br />
noodles and rice dishes. (You can buy gochujang easily online<br />
and from Asian and larger supermarkets.)<br />
Brussels sprouts - although synonymous with Christmas<br />
- are actually in season from around October to<br />
March and make a zesty slaw which complements the<br />
caramelised cauliflower perfectly.<br />
And whatever you do, don't bin the cauliflower leaves.<br />
Bake these in oil and sea salt (you may need to halve the<br />
thicker ones) until crispy - for a tasty chef's treat.<br />
INGREDIENTS<br />
For the cauliflower<br />
1 whole cauliflower, cut into florets<br />
2 tbsp olive oil<br />
Sea salt<br />
For the gochujang sauce<br />
3 tbsp gochujang paste<br />
3 tbsp honey<br />
3 tbsp soy sauce<br />
2 cloves of garlic, crushed<br />
For the slaw<br />
150g Brussels sprouts, stalks trimmed and finely sliced or<br />
shredded in a food processor<br />
1 tbsp soy sauce<br />
1 tbsp rice vinegar or white wine vinegar<br />
1 red chilli, finely chopped and deseeded if preferred<br />
1 clove of garlic, crushed<br />
Juice of a lime<br />
1 tsp brown sugar, or to taste<br />
To serve<br />
Spring onion, sliced<br />
Steamed rice<br />
METHOD<br />
1. Preheat the oven to 220°C/200°C fan/gas mark 7.<br />
2. Place the cauliflower on a baking tray. Toss in the oil<br />
and salt, then roast for 15 minutes.<br />
3. Meanwhile, in a large mixing bowl combine the gochujang<br />
paste, honey, soy and garlic. Set aside.<br />
4. Now for the slaw. Place the sprouts in a large bowl. In a<br />
smaller bowl, mix together the soy, vinegar, chilli, garlic,<br />
lime and sugar. Add the dressing to the sprouts.<br />
5. After 15 minutes, remove the cauliflower from the oven<br />
and place in the large mixing bowl with the gochujang<br />
sauce. Mix well, ensuring all the florets are covered.<br />
Place back on the baking tray and continue cooking for<br />
another 20 minutes or so, until starting to colour and<br />
caramelise.<br />
6. Serve with rice and scattered with spring onions. •<br />
Follow @thewoolfskitchen on Instagram. Check: www.villageraw.com for recipes.<br />
39
---
The Invigorating<br />
Outdoor Alternatives<br />
to the Gym!<br />
Wholesome, whole body exercise.<br />
All year round, for all the family.<br />
VILLAGE FAMILY<br />
• Functional, supportive and social<br />
• Suits reluctant exercisers and seasoned<br />
athletes alike<br />
• Great remedy for health and fitness<br />
conditions.<br />
Free Taster Classes<br />
Alexandra Palace/Park. N10. N22. N8.<br />
Alternative 'Boot Camp,' Nordic Walking,<br />
Family 'Boot Camp' Classes and<br />
Personal Training.<br />
For more information and to book:<br />
johanna@johannagreen.com<br />
07931 242358<br />
www.outdoorfitnesslondon.co.uk<br />
Johanna Green<br />
HEALTH & FITNESS<br />
BREAKING<br />
PAST PATTERNS<br />
Words by Dr Emma Svanberg.<br />
Illustration by Lobster and Pearls.<br />
Remember when you said you wouldn't turn into your parents?<br />
And yet - all of a sudden - you find yourself repeating<br />
the exact same phrase your mum/dad/caregiver said<br />
to you when you'd done something you weren't meant to.<br />
Maybe you have other sympathies with them too. You<br />
now understand why they were always so tired at the<br />
weekend. Why they sometimes had to cook dinner instead<br />
of playing with you. Why they worried about money.<br />
But there may be other things from your childhood<br />
that you can't understand quite so easily. Things they said<br />
or did which you realise - having your own children now -<br />
you would never do. Ways of thinking that you just can't<br />
relate to. Attitudes you don't share.<br />
In early parenthood and often throughout our<br />
child-rearing years, these similarities and differences<br />
with our own parents can suddenly feel quite raw. Feelings<br />
that previously seemed resolved come back with a<br />
vengeance. A relationship with your own parents or caregivers<br />
that had been going fairly smoothly might become<br />
fraught. Memories of being a teenager return, with<br />
new feelings of resentment or anger. And there might be<br />
new issues with other parental figures in your life – inlaws,<br />
grandparents, aunts and uncles – whose opinions<br />
become so much more loaded when your new baby, or<br />
child is involved.<br />
Why does this happen? Child psychoanalyst, Selma<br />
Fraiberg, wisely wrote: "In every nursery there are ghosts.<br />
They are the visitors from the unremembered past of the<br />
parents; the uninvited guests at the christening."<br />
When we become parents we reconnect with our own<br />
memories of being parented. There's something about<br />
holding our own babies in our arms which brings back long<br />
forgotten feelings from when we were babies – what Joan<br />
Raphael-Leff has called "the baby self." And this continues<br />
throughout our babies' development into children<br />
and adolescents. Any difficult feelings they raise in us are<br />
often more related to our own experiences at the same<br />
age than to their actual behaviour. We talk about our own<br />
"baggage" – and this is it. The unresolved memories, the<br />
difficult relationships, the unwanted feelings we carry<br />
around and which burst open when we become parents.<br />
Often we know that something is being played out<br />
unconsciously when we react in a way we don't expect.<br />
When we lose our temper for no reason, or react strongly<br />
to something when we are usually patient. It can feel difficult<br />
to tease apart our feelings but it's important to try and<br />
figure out what belongs to our children – and what actually<br />
belongs to us. It's only by dealing with our own baggage<br />
that we can really help our children unpack their own. •<br />
For more details about Emma's work and online courses, and to sign up to her<br />
newsletter, check: www.mumologist.com<br />
41
---
ESSAY<br />
A FEW REFLECTIONS<br />
ON BEING LOST<br />
Words by Miki Lentin.<br />
Illustration by Lobster and Pearls.<br />
I moved to London in 1996. I was excited, numb, confused<br />
by the enormity of it all. There was a tube strike and London<br />
boiled in a heatwave. The bus became my friend. Countless<br />
changes, endless stops, seats upstairs, downstairs, a cord<br />
to ring the bell - but with every day came a new perspective.<br />
Over the last 20 years my London homes have varied.<br />
As I moved from place to place and entered employment it<br />
was important to know how to get from home to work, work<br />
to home, home to gym and home again. It was easy – I rarely<br />
ventured off the beaten track. The thought of anything<br />
disturbing that routine raised anxiety - I wasn't one to deviate.<br />
If I did, I might find a part of me I didn't want to find.<br />
I've travelled the world extensively, often alone for days<br />
on end in far flung lands - Mexico, China, Kazakhstan - with no<br />
phone reception, without a care. I was sometimes reckless<br />
but never afraid. And yet, whenever I came home I'd revert to<br />
type. It made me question - what was I afraid of here? What<br />
was the feeling about getting lost in foreign lands that disappeared<br />
when I got home? Why didn't I stop to look around?<br />
Walter Benjamin, the German cultural critic and philosopher<br />
wrote in his essay, A Berlin Chronicle (1932), that:<br />
"not to find one's way in a city may well be uninteresting<br />
and banal. It requires ignorance - nothing more. But to<br />
lose oneself in a city - as one loses oneself in a forest -<br />
that calls for quite a different schooling." Rebecca Solnit<br />
quotes Benjamin in her book, A Field Guide to Getting Lost,<br />
explaining: "to be lost is to be fully present, and to be fully<br />
present is to be capable of being in uncertainty and mystery.<br />
And one does not get lost but loses oneself, with the<br />
implication that it is a conscious choice, a chosen surrender,<br />
a psychic state achievable through geography."<br />
Solnit goes on to explain that the origin of the word<br />
"lost" comes from the Old Norse los which means the disbanding<br />
of an army - a truce, as she says, with the wide<br />
world: "I worry now that many people never disband their<br />
armies, never go beyond what they know." I pondered what<br />
truce I might be after and whether it was with myself or my<br />
surroundings as I walked one morning to the Park Road Lido<br />
for an icy early morning swim. I crossed Tottenham Lane,<br />
walked down Elder Avenue and stopped - a concrete bollard<br />
had been placed across the road. People stood with<br />
clipboards monitoring something.<br />
Elder Avenue had become an "avenue" once again. It<br />
seemed wider - I could now follow its curve. My head wanted<br />
me to wander aimlessly across the road but the muscles<br />
in my legs held me teetering on the edge of the curb.<br />
Could I cross? What was I waiting for? Approval, reassurance,<br />
a flashing green person? A dog peed in the middle of<br />
the crossroad. A cyclist rode down the centre of the road.<br />
Two runners pounded the street. The clipboard officials<br />
scribbled notes. "What's going on?" I asked. "We've closed<br />
the roads. It's a two-week trial," he said.<br />
Over the coming days Middle Lane became my artery to<br />
the rest of Crouch End. My eyes rose to the trees and lowered<br />
to the detail of the Victorian carvings on manholes. I<br />
heard the rush of water below, the chatter of people sipping<br />
coffees, front doors opening and closing, rubbish bins<br />
click-clacking on the pavement - there was even a street<br />
party and the smell of curry wafted from somewhere at<br />
night. For a brief period, I thought I was somewhere foreign<br />
and it felt fine to be open to the uncertainty and directionless<br />
pleasure of being lost in my own backyard.<br />
Over time the air lifted. Things seemed clearer. I'd made<br />
a short-term truce with the wide world and others followed<br />
- some on foot or on bicycles, some with dogs or kids, some<br />
alone. A trial separation had been agreed to see if a truce<br />
could last. For a brief while there was no army. It had been<br />
disbanded. It had surrendered to a beautiful, mysterious,<br />
present "wide world". •<br />
The roads were closed in October 2019 as a part of Haringey Council's £4.8m<br />
Liveable Crouch End scheme that aims to encourage walking, cycling and the<br />
use of public transport for residents, businesses and visitors, reducing car<br />
journeys and improving health and air quality. For further information visit:<br />
www.pclconsult.co.uk/liveablecrouchend<br />
WHAT'S YOUR<br />
2020 VISION?<br />
MORE THAN JUST A GYM<br />
With an unrivalled blend of luxury, style and space, The Lab will<br />
help you get your health and fitness goals on track for 2020.<br />
The Lab offers a unique environment in which to escape the<br />
stresses of everyday life, with comprehensive facilities in a truly<br />
calm and revitalising atmosphere.<br />
MUSWELL HILL THE AVENUE, LONDON, N10 2QE<br />
JOIN TODAY<br />
WITH NO ANNUAL<br />
CONTRACT<br />
ONE MONTH FREE<br />
£200 WORTH OF VOUCHERS<br />
PERSONAL TRAINING<br />
FOLLOW UP ASSESSMENTS<br />
TO KEEP YOU ON TRACK<br />
Our members stay because<br />
they love what we offer.<br />
020 8482 3000 | enquiries@labspa.co.uk | labspa.co.uk<br />
42