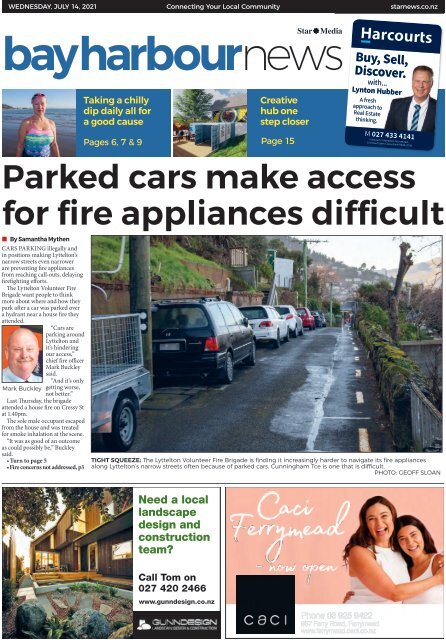 Bay Harbour: July 14, 2021
You also want an ePaper? Increase the reach of your titles
YUMPU automatically turns print PDFs into web optimized ePapers that Google loves.
WEDNESDAY, JULY 14, 2021

Connecting Your Local Community

starnews.co.nz

Taking a chilly

dip daily all for

a good cause

Creative

hub one

step closer

Buy, Sell,

Discover.

with...

Lynton Hubber

A fresh

approach to

Real Estate

thinking.

Fo

Pages 6, 7 & 9

Page 15

M 027 433 4141

Harcourts Grenadier Ferrymead -

Licensed Sales Consultant REAA 2008

Parked cars make access

for fire appliances difficult

• By Samantha Mythen

CARS PARKING illegally and

in positions making Lyttelton's

narrow streets even narrower

are preventing fire appliances

from reaching call-outs, delaying

firefighting efforts.

The Lyttelton Volunteer Fire

Brigade want people to think

more about where and how they

park after a car was parked over

a hydrant near a house fire they

attended.

"Cars are

parking around

Lyttelton and

it's hindering

our access,"

chief fire officer

Mark Buckley

said.

"And it's only

Mark Buckley getting worse,

not better."

Last Thursday, the brigade

attended a house fire on Cressy St

at 1.40pm.

The sole male occupant escaped

from the house and was treated

for smoke inhalation at the scene.

"It was as good of an outcome

as could possibly be," Buckley

said.

• Turn to page 5

• Fire concerns not addressed, p3

TIGHT SQUEEZE: The Lyttelton Volunteer Fire Brigade is finding it increasingly harder to navigate its fire appliances

along Lyttelton's narrow streets often because of parked cars. Cunningham Tce is one that is difficult.

PHOTO: GEOFF SLOAN

Phone 03 925 9422

987 Ferry Road, Ferrymead

www.ferrymead.caci.co.nz
---
2 Bay Harbour News Wednesday July 14 2021 Latest Canterbury news at starnews.co.nz

from the editor's desk

GENERAL INQUIRIES Ph 379 7100

CLASSIFIED ADVERTISING Ph 379 1100

Star Media, a division of Allied Press Ltd

PO Box 1467, Christchurch

starmedia.kiwi

THERE'S A hardy group of

people called the Scarborough

Dippers who are nearly

halfway through Wet July.

On pages 6, 7 and 8, reporter

Chris Barclay profiles dippers'

leader Kerry Newton in our

regular Our People segment.

The dippers are cold water

swimmers, who say soaking

up the super cold winter water

is therapeutic.

"The shock of the cold water

is meant to do good things,"

says Kerry.

"Plus, it's meant to be good

for mental health. There's been

quite a few stories of people

that have had depression and

things like that, they immerse

themselves in the cold water

and they've managed to get off

their antidepressants."

I think I'll save my winter

plunge for the hot pools.

– Barry Clarke

barry@starmedia.kiwi

NEWS

Samantha Mythen

Ph: 021 919 917

samantha.mythen@starmedia.kiwi

news

ADVERTISING

Jo-Anne Fuller

Ph: 364 7425

jo.fuller@starmedia.kiwi

Mural pleases pupils

Budding artists at Little River School helped design a mural for a wall

near the school. It is now finished and another wall is due for painting in

spring.

Rob Davison

Ph: 021 225 8584

rob.davison@starmedia.kiwi

The best-read local newspaper,

delivered to 10,514 homes every week.

Brookhaven • Heathcote • Ferrymead

Redcliffs • Mt Pleasant • Sumner • Lyttelton

Diamond Harbour • Governors Bay • Akaroa

Page 13

community events

Art on show

A weaving art exhibition will be held on Saturday at Akaroa School.

The event is organised by the Akaroa Community Arts Council.

Page 23

SOIL AND

HARDFILL

DUMPING

WE NOW HIRE

LANDSCAPING AND

GARDEN EQUIPMENT

DIGGERS, TRUCKS, WOOD CHIPPERS, POLE SAWS,

BREAKERS, WATER BLASTERS, ETC.

PLUS WE SUPPLY THE BEST

LANDSCAPE & GARDEN SUPPLIES

•BARKS •COMPOSTS

•AGGREGATES - CHIP, ROUND & BASECOURSE

•SCHIST PRODUCTS •PUNGAS

•DECORATIVE STONE & LANDSCAPING ROCKS

•TRAILER HIRE - FIRST HOUR FREE WITH PURCHASE

•BAG & BULK - PICK UP OR DELIVERED

DYERS ROAD LANDSCAPE & HIRE

PHONE: 03 384 6540

183 DYERS RD, BROMLEY ● OPEN 7 DAYS

Weekdays 7.30am-5pm. Weekends 8.30am-3pm

www.dyersroadlandscape.co.nz

huge demand and low in stock.

properties needed!

To find out what your property might be worth in

today's market, call Shaun or Prue for an appraisal.

Living local and working local.

Shaun Davey 027 953 8860 & Prue Dacombe 021 752 348

Harcourts Grenadier Sumner - 43 Nayland Street, Sumner

Grenadier Real Estate Ltd MREINZ. Licensed Agent REAA 2008
---
Wednesday July 14 2021 Bay Harbour News

Latest Canterbury news at starnews.co.nz

Fire concerns yet to be addressed

NEWS 3

In Brief

• By Samantha Mythen

FOSTER AND Gilmore Tce

residents in Lyttelton are

concerned about the lack of

progress to address their unease

about the fire risk in Urumau

Reserve, which borders their

homes.

Said neighbouring resident

Nick Jackman: "Who is responsible

and taking control? There

has been no clear authority at

the moment on what is going

on."

Jackman originally took the

residents' concerns to the Banks

Peninsula Community Board's

attention at the beginning of

March.

As a result, the board raised

these issues with the city council,

including the parks team

and requested a report on the

matter to come back to it.

Almost five months later and

the residents have not yet seen

an outcome to their concerns.

The city council told Bay

Harbour News a report

regarding the reserve is

scheduled to go to the

community board at an

upcoming meeting. The date

has yet to be confirmed nor can

the city council reveal the staff's

recommendations.

Brian Lodge, another Foster

Tce resident spoke to the city

council about the residents'

ACTION NOW: Nick Jackman wants his home protected

from the fire risk presented by Urumau Reserve.

concerns in May.

"Most of the councillors were

very supportive, including the

mayor who said we had to do

something about fire prevention,

particularly after the Cass Bay

fire," he said.

"But bureaucracy means it

takes a long time for things to

occur."

Lodge said their main concern

was that the Reserve Management

Committee had planted a

native belt right on the boundary

of the reserve right next to

their homes.

"There's also gorse, dead flax

leaves and long grass where the

natives are not maintained well,"

he said.

"We might as well pour petrol

underneath it."

Residents have struggled to get

answers from the RMC.

"When it comes up at the

RMC it is not talked about much

and it seems that because it is

winter, there is no need to do

anything now. There's a put-off

until spring or summer attitude,"

Lodge said.

"But we don't want to wait, we

want this done now."

Nick Jackman said he and

other concerned Foster Tce

residents had provided the RMC

with a list of the things they

have found to be "not the best

practice" according to Scion Fire

and Emergency New Zealand

•HAVE YOUR SAY: Has

enough been done to

address resident's fire

risk concerns in Urumau

Reserve? Email samantha.

mythen@starmedia.kiwi

forest fire management guidelines.

"But there has been no followup

from them on what they are

doing to address this," Jackman

said.

He believes the whole issue is

being made more complicated

than it really is.

"There are pamphlets published

for the general public

about how to mitigate fire

risk with the should do and

shouldn't dos, which take five

minutes to read," Jackman said.

Said RMC chairman Brian

Downey: "Our fire management

on the reserve follows the Urumau

Development plan, which

is dictated by the community

board. We are doing the best we

can."

Banks Peninsula councillor

and Deputy Mayor Andrew

Turner said the community

board needed to hear back from

experts including park rangers

and Fire and Emergency New

Zealand.

"It is about coming up with

a solution that everyone can

understand," he said.

PROTECTION FOR DOCK

The Lyttelton Port Company

has recently installed new edge

protection around its historic dry

dock. The dock, opened in 1883,

is listed as a Category 1 heritage

site and now features 3m long

removable sections of railing

installed around the edge.

MOUNTAIN BIKE TRACK

THe Heathcote Valley Mountain

Biking club held their second

winter dig event and saw another

30m² of soil added to the existing

jump mounds. The group has a

goal of planting 1000 natives and

has three more winter working

bees planned each second Sunday

of the month throughout winter.

BUILDING BLESSED

THe old Coastguard Canterbury

base at Naval Point has been

blessed by Te Hapū o Ngāti

Wheke ahead of its demolition

that will make room for SailGP

facilities, and a new temporary

base building for the coastguard.

PLANTING EVENTS

Volunteers have completed

planting 50 per cent of a 300m x

10m "green fire break" in Drayton

Reserve after a fire devastated the

area in January. Planting events

will continue throughout July.

Care &

Compassion

We pride ourselves on the

very highest level of service

If you are thinking about the future, we can help

you explore pre-payment and pre-planning options.

Contact us for a Free Information Pack.

We offer funeral information talks to groups.

Please call us for a speaker to come to you.

(03) 379 0196 | www.simplicity.co.nz

Mark Glanville

Manager &

Funeral Director

Make signicant

savings on your

power bill with a

heat pump system

that heats water

"You could save up to 70%*

on your hot water and heating

costs when compared to traditional

water heating."

*Estimated using COP data based on BSEN14511 standard rating conditions.

LOCALLY OWNED & OPERATED HVAC SPECIALISTS

SUMNER HEAT PUMPS & ELECTRICAL

PHONE FOR A FREE QUOTE 021 228 8127 www.allaboutheat.co.nz

FRENCH MAGAZINE

BAIJA VINYL MATS

The POTAGERS

GIFTS - HOMEWARES

CLOTHING

ENJOY SHOPPING

LO CALLY AT

THE RED HOUSE

REDCLIFFS VILLAGE

Facebook/Instagram:

thepotagersredhouse
---
4 Bay Harbour News Wednesday July 14 2021 Latest Canterbury news at starnews.co.nz

mid-Winter

deals

Ferrymead

Big range, Low Price, Local advice

Gorilla

Roofers Silicone Sealant

Fast skin formulation.

Permanently elastic after curing.

Clear. 300ml.

320741

Accent

Roller Kit 230mm

Ideal for smooth surfaces.

174931

Finish

Assorted

Dishwashing

Tablets

347489

$10.98 each

2 for $ 18

Number 8

Fan Heater

Adjustable thermostat. 2 heat settings. Tip over safety

switch. H: 110mm, W 235mm, D: 250mm. 2kW.

326998

Terms & Conditions Apply, while stocks last

Gutter Boss

2.1m Extendable

Gutter Cleaner

Extendable wand with

hose attached.

322880

$11.59 each

2 for $ 20

Terms & Conditions Apply,

while stocks last

Sistema

Storage

Was $19.98

now

$ 15 98

Jobmate

Heavy Duty Tarpaulin

140GSM. Anodised eyelets. Suitable for medium to heavy

duty applications. 3 x 3.7m.

336397

Was $24.98

now

$ 19 98

Was $66.13

now

$ 29 98

Was $41.98

now

$ 33

Fuller

82 Piece Tool Set

Composite grip handles

for comfort. Durable carry

case. Manufacturer's

lifetime warranty.

364635

Was $89.98

now

$ 49 98

Sheepskin Rug

Made from 100% NZ natural sheepskin. Warm in Winter. Cool

in Summer.

368919

Bagless Vacuum Cleaner

Multi-purpose floor head brush

with wheels. 1.6 litre transparent

dust bowl. Variable speed. 1380

Watt.

375470

$69 99 Black+Decker

Was $149

now

$ 99

3M

WorkTunes

Wireless Earmuffs

24dB noise reduction.

Bluetooth technology.

309827

Was $139

now

$ 119

Pine Firewood

This is the most popular firewood. It burns

well when seasoned but has a tendency to

crackle and pop because it is resinous and

a soft firewood.

$

12 PEr BAG $ 45 PEr ScOOP

Oregon Firewood

One of the most popular burning

firewoods as it splits easily and burns clean.

Keep the Fire Going - Firewood located in

our Landscape Zone - 987 Ferry Road.

$

14 PEr BAG $ 55 PEr ScOOP

Prices valid until July 18th or while stocks last.

Mitre 10 MEGA Ferrymead

1005 Ferry Road. Christchurch

Phone: 366 6306

Find us at: /MEGAFerrymead

Opening Hours:

Monday – Friday:

7am – 7pm

Saturday, Sunday & Public Holidays:

8am – 6pm

www.mitre10.co.nz/local/MegaFerrymead

Ferrymead
---
THIS IS what the widened

Dyers Pass Rd is looking like

in a bid to make it safer for

motorists and cyclists.

Up to 1.25m is being added to

the width of the narrowest parts

of the road.

Dyers Pass Rd is only about

5.5 to 6m wide in many areas.

Contractors Higgins Construction

is working on behalf of city

council to increase the width of

the road to a consistent 6.75m.

"The additional road shoulder

width is expected to improve

everyone's safety and reduce

conflict between road users,"

said city council acting head of

transport Lynette Ellis.

The road widening work

is part of a $7.2 million project

to improve the safety of the

road that has had a high crash

rate.

"The steep terrain means that

when crashes do happen, they

often result in severe injuries so

in addition to widening the road

we are installing guardrails in

high-risk locations. This should

Latest Canterbury news at starnews.co.nz

Wider Dyers Pass Rd takes shape

reduce the severity of crashes

that do occur where vehicles

would have left the road,'' Ellis

said.

Three kilometres of guardrail

is being installed.

Waka Kotahi NZ Transport

Agency is meeting about

three-quarters of the cost of

the of safety improvements as

part of its Safer Networks Programme.

The safety improvements are

due to be completed by the end

of August.

• From page 1

The fire affected the kitchen

and a bedroom and was contained

by about 3pm.

However, a car parked over the

nearest fire hydrant to the house

hampered firefighting efforts.

This is a theme Buckley said his

team are increasingly seeing in

Lyttelton, with cars either parking

over fire hydrants or parking

in obtrusive positions.

He wants people to be aware

and think about where and how

they park.

The appliances are much bigger

than cars and already struggle

to navigate Lyttelton's narrow

streets without cars making it

more difficult.

"We are dealing with life or

death situations and if we can't

get our appliances close enough

to the fire, it is taking our tanks

longer to get to the house and

taking longer to rescue people,"

he said.

Cunningham Tce and Reserve

Tce are the worst streets to travel

along he said.

"Cars are parked in positions

on corners or opposite cars on

the other side of the road making

narrow streets even narrower,"

said Buckley.

"We need people to really be

thinking about how appliances

are bigger than cars because right

Wednesday July 14 2021 Bay Harbour News

NEWS 5

Call for drivers to be

aware of where they park

DAMAGED: The house that

caught fire last Thursday.

now, they aren't thinking about

the implications."

There have been several instances

where the fire appliance

has got stuck on Cunningham

Tce between a fence and car

and they were unable to reach a

house.

Buckley said they do not

want to have to get the police or

parking enforcement involved

to ticket those who are illegally

parking, rather they want people

to take some responsibility on

where they park.

A fire investigator is still determining

the cause of the fire on

Thursday. There were no smoke

alarms in the house at the time of

the fire.

Fire risk management officer

Wayne Hamilton echoed

Buckley's sentiments: "It is a

reminder for people, especially in

Lyttelton, to check first and not

park in front of hydrants."

Check out our latest

deals

Winning winter

$

24 99

STEINLAGER CLASSIC

15 x 330ml Bottles

beersie dealS

$

42 99

each

HEINEKEN or STEINLAGER PURE

24 x 330ml Bottles

$

27 99

each

GORDON'S G&T

12 x 250ml Cans, 7%

GORDON'S Sicilian Lemon Gin & Soda,

GORDON'S Premium Pink Gin & Soda

12 x 250ml Cans, 4%

HOT DEAL!

$

37 99

HOT DEAL!

$

39 99

HOT DEAL!

$

44 99

1.125 LITRE

HOT DEAL!

$

49 99

Hot mix and match deals

to beat t he cold

2 for

$ 40

Single bottle

$21.99

$

49 99

$

51 99

JAMESON

1 Litre

JOHNNIE WALKER

Black Label

700ml

DEWAR'S

White Label

1 Litre

ABSOLUT Vodka

1 Litre

JIM BEAM

White Label

1.125 Litre

BOMBAY

SAPPHIRE

1 Litre

MADAM SASS

Pinot Noir

or Pinot Noir Rosé

750ml

Shop local with

AMBERLEY, ASHBURTON, BARRINGTON, BELFAST, BRIGHTON, BURNSIDE,

COLOMBO ST, EDGEWARE, ELMWOOD, FERRYMEAD, HALSWELL, HANMER

SPRINGS, HORNBY, ILAM, KAIAPOI, LEESTON, LINCOLN, METHVEN, OXFORD,

SHOP LATEST DEALS at WWW.SUPERLIQUOR.CO.NZ

NATIONWIDE PICKUP & DELIVERY NOW AVAILABLE

PAPANUI, PEGASUS, RANGIORA, SEASIDE, WOOLSTON

Exclusions may apply on some brands advertised. Offers end close of trade 18th July 2021, while stocks last. Available at participating stores only. Multi Deal only available in store. Varietals may

vary by store. Limits may apply. Wholesale (other liquor retail banners) not supplied. Terms and conditions may apply. Available 5th - 18th July 2021 inclusive. Please see www.superliquor.co.nz for details.

SUP2288_C8
---
Bay Harbour News Wednesday July 14 2021

6

OUR PEOPLE – KERRY NEWTON

Taking the daily plunge – a chilly

It's the polar opposite

of Dry July. A group

of hardy souls have

committed to taking a

daily dip off Scarborough

Beach every day this

month before dawn.

Chris Barclay goes

in-depth with Sumnerbased

ocean swimmer

Kerry Newton dreamt

up Wet July in 2017, a

fundraising concept with

complementary health

benefits

Wet July. Talk us through

why you tipped your toes into

fund-raising cold, hard cash in

the middle of winter.

I've always been a keen ocean

swimmer. It was a beautiful

winter's day in July, 2017 and I

thought: 'Look at that water out

there'. Wouldn't it be good to

be actually enjoying the water

during the winter when it's a

southerly? It's calm and it looks

so inviting. (Alcohol-free) Dry

July, the fundraising was going

on for that and I thought: 'Why

don't I set the challenge of Wet

July?' I'll see who else wants to

join me going into the water

DOUBLE DIPPING: Devoted ocean swimmer and fundraiser Kerry Newton returns to the

water off Scarborough hours after another pre-dawn immersion. PHOTO: GEOFF SLOAN

every day in July and we'll find

a charity to raise money for …

that's how it all began. I got three

other people to sign up with me

(Sandra Taylor, Bee Rueder and

Cathe Grater). We raised money

for (marine rescue organisation)

Project Jonah New Zealand. As

time's gone on more and more

people have embraced it. We've

got about 40 committed to

dipping this year. We've got a few

in their 20s and a couple close to

80 years-old. It's predominantly

female.

We're a fortnight into Wet

July. What happens when the

mercury reads 0, there's a wind

chill factor, it's sleeting and

it's dark for another hour or

so? The perfect storm. Ever

considered staying in the car or

jumping ship after 20 seconds?

Not really, because it gets

addictive. Sometimes it's actually

warmer in the water, especially if

there's a frost or you've got that

southerly. Admittedly it's not

much fun when the tide is out

and you've got to walk across the

sand with the southerly howling

at us.

So how long do you 'dip' for?

It was all kind of trial and

error at the start. We used to

get in the water, chat and laugh

and bob about. Then we decided

maybe we should try and stay in

for the number of minutes that

corresponds to the temperature.

We have a thermometer. If it's 10

degrees, we stay in 10 minutes.

We have no rules that we must

stay in for 10 minutes and things

like that, that just became a

bit more of a challenge. Some

people have found if they stay in

for 10 minutes they're cold for

the rest of the day. Some people

might stay in for five and get out.

Sometimes we're busy chatting

or whatever and we end up

staying in for longer.

sick child?

Call your General Practice

(GP) team 24/7 or visit an

urgent care clinic:

• Riccarton Clinic

8am–8pm

• Moorhouse Medical

8am–8pm

Under 14s have free medical visits after-hours

and weekends at urgent care clinics

• X-ray, fracture and wound care available

• Late-night pharmacies and parking on-site

CDHB12JULY21 ED

All clinics open 7 days a week

cdhb.health.nz/urgentcare
---
Wednesday July 14 2021 Bay Harbour News

Latest Canterbury news at starnews.co.nz

7

way to raise money for charities

What do you talk about? Are

the teeth chattering?

We have all sorts of

conversations out there. You

tend to find that while you're in

the water it's not too bad. Maybe

about 10 minutes after you get

out your body temperature

actually cools down, that's the

danger of staying in too long.

That's why you've got to know

your own body and not stay out

there too long.

What's the temperature

variance during July?

'Hypothermic' to 'penguins

wouldn't swim in this?'

In the past it has been as low as

8 deg C, at the moment it's about

10.

Has anyone ever got out of

their depth with the likes of

hypothermia?

So far we've been lucky. You

will notice your fingertips are

white and things like that. So far

we haven't had anything extreme

happen but now we're more

numbers we have to be a little bit

careful getting in if it's rough.

The benefit of Scarborough is it's

normally pretty okay. When it's

high tide and if there's a wind

blowing and you're getting down

the steps … sometimes we might

say it's a bit rough here, let's go

down the beach a bit. We have to

be careful with the age range and

HARDY SOULS: Members of the Scarborough Dippers brace themselves for another chilly

Wet July exercise.

the people that we've got.

How far do you venture from

shore?

We go out until we're waistdeep.

Our loose rules are we've

got to get our head under. By the

end of it we've kind of had to dive

under, be fully immersed, then

we get out.

Do you encounter much

marine life?

We often get bitten by crabs.

We've seen hector's dolphins a

few times, at the moment there

are quite a few seals about. It's

dark when we get in so often we

won't see things . . . then a shag

will pop its head up amongst the

group. If we wake the seagulls up

sometimes they dive bomb us.

Is there a frantic dash for the

towels and puffer jackets when

time is up? How do you ward off

the cold?

We have hot water bottles,

buckets of hot water to put our

feet in for a couple of minutes.

The beauty of it now is the cafe

at Scarborough Fare opens at 7

o'clock. It didn't use to open until

8. We don't go in there every day

but they put the heat pump on for

us and we're all in there with the

buckets (of hot water).

What happens if a committed

dipper can't make it to

Scarborough for a day or two?

Is there a degree of flexibility

built in?

I'm a prime example, I've just

been up in the North Island for

a few days. I had to go dipping

up there. There was a swim race

at Waiheke Island, a few of us

were competing in that so we

had the luxury of dipping in

about 15 degrees. We've got this

facebook page and every day we

have a group photo of what day

number we're up to and anybody

that's not there, they have to do

dipping somewhere else and

provide a photo. You might have

to find a lake or a river. It's quite

interesting where people end up.

The other day a couple had an

early yoga class so they had to

dip in an ice bath. Basically it's

7am every morning, but on the

weekend we dip (or float) a bit

later.

Do dippers try to bend the

rules. Do the hot pools at

Hanmer Springs or Waiwera

count?

No, we can't have cheating.

What about wetsuits? Do they

fit the Wet July image or are

they a bad look?

We haven't had anyone one yet

that's gone to that extreme. We

wouldn't not let them wear one.

We're just happy to wear togs.

What organisations have

benefited from the dippers'

fortitude?

Project Jonah was the first,

they basically rescue whales.

The second year we raised funds

for the Sumner Lifeboat Club,

they bought a defibrillator. In

2019 we raised money for solar

lights to be put up at Cave Rock,

unfortunately that project hasn't

really happened. The money's

still sitting there. Last year the

funds were split between the

Sumner Surf Club (binoculars

and equipment) and Taylors

Mistake Surf Club (landscaping

at new headquarters). This

year we're spreading the

donations around: The Sumner

Kindergarten needs some new

equipment, there's a surfboard

library starting up – they're

making surfboards for people to

use. We're also contributing to

life vests for disabled surfers. The

first year we raised $1000 – there

were only four of us – last year we

raised $6000.

• Turn to page 9

Redcliffs PHARMACY

LOOKING AFTER THE COMMUNITY

Purchase ANY TWO

Trilogy products

and receive

a full size Vit C

moisturizing lotion

Join the revolution and

#giveupthebottle and now

the plastic tube with Ethique's

new range of zero-waste

lip balms! @zerowastebeautiful

Redcliffs PHARMACY

87 Main Road, Redcliffs. Phone 03 384 1037

www.redcliffspharmacy.co.nz

WE DELIVER! (Small fee may apply)
---
8 Bay Harbour News Wednesday July 14 2021 Latest Canterbury news at starnews.co.nz

GENEROUS DONATIONS!

From Sumner

to Ferrymead

Donors are our lifeline to this community

helping us support groups and individuals

achieve so much!

By giving a little to the Sumner Ferrymead Foundation you will repay our unique

community, and ensure that future generations are also supported.

A donation (tax deductible) or bequest would be a wonderful gesture, or a donation –

no matter the value (tax deductible) will enable the Sumner Ferrymead Foundation to

continue to provide support, such as these recent grants:

Canterbury

University student

Lucia Rapley was a

recent scholarship

award recipient

for her second

year of humanties

studies. Presenting

her certificate SFF

Patron Allan Williams

• Providing a public AED defibrillator unit in Sumner

• Community Predator Eradication programme

• A 21-day Outward Bound leadership course

• Toddlers books at Redcliffs Library

• Purchase of a school literacy programme

• Re-cover a community garden's tunnel house

• Travel assistance to a young man attending a US baseball academy

• Funds for a surf club promotional video

• Training-camp travel for outstanding surf and cycling champions

• University scholarships – second-year study of science, health science and humanities

• Funds for community award trophies

• "Flourish" awards to three school pupils

• Funds towards replacing turf at Mt Pleasant School

Make a donation or find out more

Sumnerferrymeadfoundation.co.nz
---
Wednesday July 14 2021 Bay Harbour News

Latest Canterbury news at starnews.co.nz

NEWS 9

• From page 7

How is the money raised? Are

the dippers sponsored like the

whiskered men of Movember?

When I set this challenge I

decided I'm going to donate $10 a

day for every day I dip, so its $310

at the end of the month. If I miss

a day I'm going to have to put

$50 in. To date I've never had to

put $50 in. Other people donate

whatever or they might get

friends to donate to the challenge.

We haven't actively asked for

sponsorship, it's just amongst

ourselves. We don't force anyone

to put money in.

Money is not the only bottom

line is it? Dipping can be

enriching in other ways can't it?

The other good thing I've

enjoyed about it is a lot of

people haven't been confident

WEEKEND

WARRIORS:

The dippers

often take

the plunge

when the

sun is up

during the

weekend.

Possible health benefits

in the water before and after

they've mucked around with us,

they're now taking swimming

lessons. Some of them have done

swimming races. It's been really

great to see their love of the water

and being able to then continue

to improve themselves and really

be able to swim.

There are also perceived

health benefits from cold water

dipping aren't there?

It's meant to help your immune

system. The shock of the cold

water is meant to do good things.

Plus, it's meant to be good for

mental health. There's been

quite a few stories of people

that have had depression and

things like that, they immerse

themselves in the cold water and

they've managed to get off their

antidepressants.

Give your kilts an outing

THE AKAROA Scottish Country

Dance Club is hosting an open day

on Sunday, inviting members of the

public to get kitted out in a kilt.

Committee member Alison

Ruddenklau said the event will be

held at The Gaiety from 2-4pm.

Visitors are welcome to join in,

enjoy the music and try out a new,

playful style of dance.

"It is a family event so everyone can

give it a go," she said.

"A friendly tutor can help guide you

with the basic dancing moves."

Scottish country dancing is a style

of dance involving groups of couples

tracing patterns in a sequence.

This style of dance can be traced

back to the 18th-century.

FUN DAY: People practising

their moves at past Scottish

dancing events.

COVID-19 Vaccinations

If you're in Group 3, you should have received a text, letter, email or phone call saying you're in Group 3 or inviting you

to book your vaccination appointment.

If you think you've been missed or you don't have a GP, email COVID19@cdhb.health.nz.

Group 3 includes people aged 65 and over; people with some underlying health conditions*;

pregnant people; people with disabilities and their carers, plus older Māori and Pacific people,

the people they live with and their carers. *If you qualify for a free influenza immunisation you will be in Group 3.

There's no cut-off date to get your vaccination and there will be enough vaccine for everyone.

Check which Group you're in at www.covid19.govt.nz

CDHB12Jul21 CP

For local updates check: www.VaccinateCanterburyWestCoast.nz
---
Bay Harbour News Wednesday July 14 2021

10

Play at

BounceForBucks.co.nz

Promotion runs 28 June until 25 July 2021. One game ticket will be issued for every $25 spent on

Qualifying Purchases (exclusions apply). Max 10 game tickets per transaction. You must be 18+

and retain original game ticket and receipt. Visit foursquare.co.nz for full Terms & Conditions.

GRAND: The Lyttelton Borough School, 1874.

PHOTO: TE ŪAKA THE LYTTLETON MUSEUM COLLECTION

Treasures from the past

Bay Harbour News is running a regular

column from Te Ūaka The Lyttelton

Museum, Treasures From The Past.

The museum was closed after its

building was lost in the earthquakes and

a fundraising campaign is under way for a

new building on London St, on land gifted

by the city council, while an application

for consent is in progress. To find out more

about the new building go to https://www.

teuaka.org.nz/donate

The museum's collection is in safe storage

at the Airforce Museum at Wigram and is

available to search online at https://www.

teuaka.org.nz/online-collection

Today's column focuses on Lyttelton

Borough School, 1874.

On a fine December evening in 1874,

the children of the various divisions of the

newly built school were marched in good

order to the Colonists' Hall.

There, in front of their teachers, parents,

NUMBER ONE SUPPLIER

TO THE NZ JET BOATING

COMMUNITY FOR OVER

50 YEARS

friends, and assorted dignitaries, the very

best of them would receive a borough

council prize, presented by the newly

elected mayor, Dr Rouse.

A special mayor's prize for the neatest

girl was also presented, and after being

reminded by some ladies present that boys

might also be as tidy as girls, his Worship

declared, to cheers from the audience,

a prize for the tidiest boy (The Press

December 18, 1874).

At this time the school had about 600

students on the roll, and would continue

to service the community of Ōhinehou/

Lyttelton for another 67 years until it was

demolished in 1941 to make way for the

Lyttelton Main School.

And in the fullness of time, so too

the Main School passed into the history

books, demolished after the February,

2011 earthquake to be replaced by the

Lyttelton Primary School in 2016.

YOUR LOCAL

ACCOUNTANT

I COME

TO YOU

www.foursquare.co.nz

facebook.com/FourSquareNZ

Ends 25 July 2021. See foursquare.co.nz for full Terms & Conditions.

• Part Boats & Hulls

• Turn Key Packages

• New Jet Units

• Custom Fabrication

• Expert Advice

SERVICING

Peter Tonkin

03 962 0505

peter.tonkin@hamiltonjet.nz

• Spare Parts Retailer

• Jet Unit Refurbishment

• Engine Tune-Ups

• Insurance Repairs

• Impellor Reconditioning

Financial Statement Preparation

Tax Preparation & Compliance

Xero & MYOB Specialist

Steven Clarke Ltd. 7 Margot Lane

Mount Pleasant, Christchurch

Phone 03 384 4633 Cell 021 677 670

steven@sclarke.co.nz
---
Latest Canterbury news at starnews.co.nz

Wednesday July 14 2021 Bay Harbour News 11
---
12 Bay Harbour News Wednesday July 14 2021 Latest Canterbury news at starnews.co.nz

Serviced apartments,

the best of both worlds

The best of both worlds: Independent retirement

living with support on hand

Our serviced apartments are some of the largest

available in the Christchurch market, offering light and

spacious open plan living, a kitchenette and separate

double bedroom with a large ensuite.

Located in the heart of the village, Summerset serviced

apartments are designed to create the perfect balance

between independence and services to suit your needs.

Our homes are low maintenance, free from all the

hassles of upkeep. It's all about stress-free living, where

time is yours to live the life you choose.

Think this sounds like you or someone you love?

Take a tour of our stunning show homes and learn more

about serviced apartment living at our Open Day!

Open Day

Sunday 18 July

10am - 4pm

Summerset at Avonhead

120 Hawthornden Road,

Avonhead

Give Anne or Grace a call on

03 357 3202 to find out more

*Licence to occupy.

Serviced apartments pre-selling now!*

SUM3183_37X8
---
Wednesday July 14 2021 Bay Harbour News

• By Samantha Mythen

LITTLE RIVER has a playful

new mural created by local artist

Frankie Bakker with help from

Little River School pupils.

Bakker met with the year

4 and 5 pupils in February to

gather their ideas on how to turn

the blank wall at the tennis club

opposite their school into something

unique and colourful.

She showed them her Pop-Up

Penguin, which raised $17,500

for the Cholmondeley Children's

Centre, and another mural she

created at a zoo in Japan.

The pupils then got to work,

drawing their own ideas for

creating their own mural.

Using the children's ideas as

inspiration, Bakker put together

a final design.

Copies of this were printed for

the children to take home and

colour in.

The city council anti-graffiti

team provided Bakker with

paint and for the past five weeks,

she has been busy turning the

children's ideas into reality.

Because the school is right

next door the children have been

able to see the mural developing

each day, Bakker putting in at

least 100 hours of painting time.

"I totally adored the experience,"

Bakker said.

"The children would come out

and see what I was doing during

the day and ask me lots of questions

about the process such as

how did you blend that?"

Teacher Tara Sutherland said

it's been "an unforgettable experience"

for her class.

"Frankie encouraged the

children to free their inner

artist and let go of the need to be

'perfect'– no idea was too crazy

and everyone's contribution was

valued," she said.

"When we thought back on

the experience, the pupils said

Latest Canterbury news at starnews.co.nz

Mural provides vivid view for pupils

COLOURFUL CREATION: Budding artists at Little River School helped local artist Frankie

Bakker come up with the design of a new mural.

they loved working together,

choosing what to do for the

mural, picking the colours and

knowing it's their own work and

it will stay there for a long time.'"

The mural includes glow-inthe-dark

paint for the moreporks'

eyes, blossoms, and tree

lights.

A second mural on the other

side of the wall has been planned

out by Bakker and the pupils. It

will be painted in spring.

Bakker said the design for

this mural includes a crownadorned

pukeko, a trout holding

a lantern and eels doing somersaults.

She is also beginning art classes

next term for those students

who are eager to learn more

about art.

The Banks Peninsula

Community Board and Creative

New Zealand helped with

funding for the mural project.

NEWS 13

Playground

equipment

awaits approval

• By Samantha Mythen

THE Linwood-Central-

Heathcote Community Board

will today discuss approving new

playground equipment for Te

Papa Kura Redcliffs.

The playground equipment will

include a swing set donated by

Ruth and Jeremy Markham-Short.

They are hoping to donate the

swing set in memory of their

23-month-old son Reuben who

died in late 2020.

The parents spoke to the board

about the idea earlier in the year,

sharing their personal story of

loss.

During the meeting, board

chairwoman Alexandra Davids

said: "Everyone is very supportive

of this effort and it will absolutely

go ahead."

Reuben contracted meningococcal

disease. He loved playing

on the swings.

The parents would like to see

the swing set at the park as it is

near where Reuben went to preschool.

Alongside the swing set, there

will be a small slide, nature play,

including boulders and stepping

posts, and safety surfacing.

The city council, in a report

to the community board, is

recommending that it approves

the plan.

03 322 4548 | Easy Parking

17 Lillian Street, Halswell

www.maxwellfashion.co.nz

Open Mon-Fri 9.30am - 5.00pm

Saturday 10.00am - 1.00pm

LAYBY WELCOME

ANNIVERSARY

Do you have any

unwanted, broken

or worn out gold

jewellery?

70

UP TO

■ All forms bought,

including Alluvial

gold

■we We buy also buy Estate

and Antique

Jewellery

jewellery?

MORE DETAILS ON WEBSITE

Do you have

unwanted, broken

or worn out gold

This is a Special Customer Invitation

Tuesday 7th May 9am – 5pm

Providing you the opportunity to secure a bargain

before we open our doors to the public 9am Wednesday

10 DAYS ONLY

Gold & Silver Bullion/Coins

Wednesday 8th May – Saturday 18th May

Bought

& Sold

Gold & Silver Bullion/Coins Bought & Sold

Trusted 7 since 1967

WESTENDE JEWELLERS

W J Telephone 03 366 5475

421 Colombo Street, Sydenham

www.westendejewellers.co.nz

LIVING HISTORY SHOW

Saturday, July 24, 2021 - 9am to 4pm

Riccarton Park Raceway, Christchurch

WWI and WWII 'Lemon Squeezer'

worn by New Zealander's serving in

Europe and the Pacific theatres

Buy…..Sell…..Trade…..Displays

Firearms | Antiques | Medals

Badges | Uniforms | Swords | Bayonets

Scale Models | Books | Military Vehicles

Campsite Re-enactments

War Gaming | Hunting and Shooting

Special Features:

Military and Pioneer/Early History

Admission: Adults $10 / 16 and under free

Free parking | Free Valuations

g.barber303@gmail.com | Website: www.gunshows.co.nz

you can't beat

fresh seafood

Fresh NZ Green Lipped Mussels

Steamed in white wine and garlic

served with garlic bread

Salt & Pepper Squid

Fresh squid coated in salt and

pepper and lightly fried

39 Norwich Quay, Lyttelton

Wednesday - Sunday 12pm – 8pm

Phone: 03 328 7530

fishermanswharf.nz
---
14 Bay Harbour News Wednesday July 14 2021 Latest Canterbury news at starnews.co.nz
---
Wednesday July 14 2021 Bay Harbour News

Latest Canterbury news at starnews.co.nz

NEWS 15

Creative hub a step closer for Lyttelton

• By Samantha Mythen

A MAKERSPACE for Lyttelton

could be operating later this year

after the project received a grant.

Te Puna Auaha will be a space

where people can hang out

and work together on projects,

sharing ideas, equipment and

knowledge.

The trust behind the project

has received a $13,470 grant from

the city council's Enliven Places

Projects Fund.

Alongside this, they have

managed to purchase several

containers for the site, despite

the international container

shortage, and in 2020, the trust

raised more than $10,000 with a

successful Boosted campaign.

An application for a resource

consent has been lodged.

Te Puna Auaha Trust chairman

Paul Dietsche acknowledged

the community's support

and generosity in making the

project happen.

"A community makerspace

for everyone, celebrating

inclusive, accessible learning

and the sharing of mātauranga

[knowledge] between

generations is at the core of the

vision for this space," he said.

"We had some very kind

donations from people and

businesses in the community."

It is hoped for a soft opening of

the space in spring with working

bees to finalise the set-up.

The chosen site is at 7 Norwich

Quay, which is currently an

empty lot owned by the Lyttelton

Port Company.

Port company engagement

and sustainability general

manager Phil de Joux said:

"Having a space where people

can come together to share tools

and knowledge will be a great

benefit to the community. We

also know that a number of LPC

staff are very excited to have

these resources available on our

doorstep."

Te Puna Auaha means

"spring or pool of creativity and

innovation."

It will finally be able to place

the tools and woodworking

machines donated by Linwood

College, which have been in

storage for two years, into a new

home.

A mural, designed by Ngāti

Wheke artist James Korako,

will be painted on the wall

of a neighbouring building overlooking

the site. A depiction of

the mural has been included in

the concept render (above).

MAKERSPACE:

A concept

render by Sam

Weston of Te

Puna Auaha, a

new community

space to share

skills, tools and

knowledge,

coming to

Lyttelton this

spring. ​

Trustee Jennifer Clarke said:

"Kia whakatōmuri te haere

whakamua, 'I walk backwards

into the future with my

eyes fixed on my past' is the

whakatauki [proverb] for this

work. It will be fantastic to

have James' art up for the

community and it will provide a

powerful backdrop for the

makerspace below."

Turn everyday

essentials into

SuperGold

Find all the ways you could

stretch your money further.

Visit www.supergold.govt.nz or download

and check the SuperGoldNZ app.

SG_180x130_garden
---
Bay Harbour News Wednesday July 14 2021

16

LETTERS

Speed limits

I am emailing in regards to the

consultation to drop the speed

limit from 50km/h to 40km/h

between Lyttleton and Cass Bay.

The drivers causing the issues

around safety and excessive

speed are going to be causing the

issues no matter what the speed

limit. If it is dropped to 40km/h

it will not deter or stop these

drivers or make the road safer.

Unless the road is policed for

safety it doesn't matter if it is

50km/h or 40km/h, the drivers

causing the issues will still be

there. Yes, driving slower is safer

but also inconvenient and can

create some tension with drivers

overtaking.

I drove the road at 40km/h

and to be honest, there were a

couple of spots that could be

warranted at that speed where

the road is narrow with cars

parked, but 50km/h seems like

the correct speed. The quality

of the road is an issue and as a

community we have addressed

this with Andrew Turner.

We have asked on several

occasions what the long-term

plan is for this road with the

repairs and making the road

safer, with no response.

– Craig Shaw, Cass Bay

A lower speed limit on the

majority of Lyttelton's streets

will make no difference, since

most of the streets are short and

narrow, and I am all for making

streets safer.

SAFETY: 50km signs at Cass Bay.

But when it is proposed to put

a 40km/h speed limit on a main

thoroughfare, where there is only

one road everyone uses which is

a nearly 4km-long stretch from

the tunnel, it will make the road

less safe.

People will get frustrated stuck

behind cars doing less than the

speed limit and pass when there

are on-coming cyclists or unseen

cars coming around the bend.

What I would like to see is

an edge strip added the length

of Governors Bay Rd and only

allow parking on one side of all

bar the widest parts of Brittan

and Park Tces to make it safer

for all users and all emergency

Latest Canterbury news at starnews.co.nz

vehicles to safely get past.

– Eaon Fitzwater

Sumner, Redcliffs

villages

Congratulations to the

businesses in Sumner village

who have come to the party and

installed lighting on their street

frontages.

It is a delight to pass through

and see the village looking so

attractive in darkness. Hopefully

this is a permanent feature to

define even more Sumner as a

special and unique area.

Also, bouquets to the gardens

in Redcliffs village, regularly

maintained by a local identity

whose community spirit

deserves recognition.

– E Graham, Clifton Hill

Mayor

Much as I admire Gary

McCormick as an entertainer

I don't think his criteria for

choosing the mayor would work

very well.

Deciding to dig a ditch to

solve the flooding may be a good

idea, however it may not be the

best solution. We need a mayor

who asks questions of those who

have the knowledge, who listens

before acting.

I have heard Gary on the radio

and know he values community

and has concern for those who

are struggling, so why would he

support a right-leaning person

for mayor?

We are facing serious threats

like climate change and loss of

We want to hear your views

on issues in the

Bay Harbour News area

Send emails to:

barry@starmedia.kiwi

biodiversity; surely we need a

mayor who is prepared to show

leadership on these issues.

– Pat Scott, Lyttelton

VOTER: Radio personality

and Lyttelton resident Gary

McCormick.

Letters may be edited or rejected at Star Media's

discretion. Letters should be about 200 words.

A name, postal address and phone number should be

provided.

Please use your real name, not a nickname, alias, pen

name or abbreviation.

Got thoughts

to share?

Are you a positive person with constructive ideas and a passion

for Banks Peninsula?

You may like to help us as we design and build a new wastewater scheme

for Akaroa.

Christchurch City Council has approved a wastewater treatment system

that will reclaim and reuse treated wastewater. This will include reuse in

Akaroa and irrigation to new areas of native trees and plants in Robinsons

Bay, Takamātua and Hammond Point and a new wetland site on Old Coach

Road next to a new treatment plant.

We are setting up a community reference group for the project to ensure

community concerns are understood and, where possible, addressed.

We need up to five community volunteers to join representatives of the

Banks Peninsula Community Board, Ōnuku Rūnanga and our project team.

The group will help us in the lead-up to our irrigation consent application.

The role of its members is to suggest ways to address community concerns

and ideas to enable the project to be as beneficial as possible to the

community, through opportunities for improved recreation, heritage,

education, ecology, landscape and the like.

If this interests you and you have constructive ideas, we'd love to hear

from you.

More information is on our website:

ccc.govt.nz/akaroa-wastewater-scheme

Applications close 10am, 2 August 2021.
---
Latest Canterbury news at starnews.co.nz

Wednesday July 14 2021 Bay Harbour News 17

CHRISTCHURCH MITSUBISHI

386 Moorhouse Avenue, Christchurch

Ph: 03 379 0588

christchurchmitsubishi.co.nz

10 year / 160,000km Powertrain Warranty (whichever comes

first) (non transferable). 5 year / 130,000km New Vehicle

Warranty (whichever comes first) (non transferable).

FROM

$

33,990+ORC*

ST

ST-L

MIDNIGHT EDITION

Ti

$33,990 +orc* $41,990 +orc* $42,500 +orc* $46,990 +orc*

Stock available for immediate delivery

*Prices shown are available while stock lasts plus on road costs.. Nissan reserves the right to vary, extend or withdraw this offer. Not available in conjunction with any other offer.

CHRISTCHURCH NISSAN, 392 Moorhouse Avenue, Christchurch

Ph: 03 595 6820

www.christchurchnissan.co.nz

NISSAN 150,000 KM'S

5YR FACTORY

WARRANTY

christchurchnissan.co.nz
---
Bay Harbour News Wednesday July 14 2021

18

FOOD

Don't let pain

keep you down

Book a physio and get back to

the things you love this winter.

Winter is a time of year that invites us to slow down

to rest and renew. For some, it means getting out to

our favourite winter sports such as snowboarding or

skiing! However you choose to spend these shorter,

cooler days, it's essential to keep your body moving.

For those who experience physical pain, that is easier

said than done.

Heat plays a crucial part in helping muscles and joints relax,

so it's no surprise that the cold weather can make pain feel

worse, making it harder to stay active. Depending on what

causes your pain, there are some things you can do to help

manage it during winter. Aaron Searle, clinical lead at Habit

Health recommends the following:

• Spend a little extra time warming up before exercise.

• Get seven to eight hours of restful sleep each night.

• Eat plenty of nutrient-rich foods.

• Drink plenty of water, so you stay hydrated to help

protect your joints and muscles.

If the pain you're experiencing is a little more complicated

than just cold weather, a physiotherapist could help. Physiotherapists

are trained health professionals who help address

and treat the pain that negatively impacts your daily life. They

provide you with the tools to help manage your pain so you

can get back to the things you love doing.

Habit Health has highly skilled physiotherapists trained in

musculoskeletal (MSK) injuries and other problems causing

pain. As no two patients are the same, the Habit Health team

will assess your injury, your body, and your experience holistically

to ensure the treatment plan they provide is right for

your unique needs. The physio may also recommend and refer

you to another specialist who can support you on your pain

management journey.

Ultimately, your body is meant to move, so don't let pain

get you down this winter. Book a physio and get back to the

things you love.

From the very bottom to the tippy-top, there's a Habit Health

clinic near you. Look out for our local names, like Habit Rehab

and Southern Rehab.

Locations near you

Habit Health Forté

Level 1, Forté 2

132 Peterborough Street

Find more locations www.habit.health

Habit Health Byron Street

29 Byron Street Sydenham

Habit Health Travis Road

0800 800 288

Pesto-stuffed lamb roast. Try the whisky or mulled wine marinade

instead of your usual gravy. (Below) – Roast venison.

Jazz up your winter roast

with a tasty marinade

It's certainly the

weather for hot

roasts, try spicing

them up a bit

with ingredients

you are likely to

have at home

Pesto-stuffed lamb

roast with garlic

Serves 4

Ingredients

⅓ cup pesto

⅓ cup ground almonds

2 tbsp fresh oregano

salt and ground pepper

750gm lamb roast

2 cloves garlic

Directions

Heat oven to 200 deg C.

To make the stuffing, place

pesto, ground almonds and

chopped fresh oregano in a

bowl. Season with salt and

pepper to taste and mix to

combine.

Trim any fat or sinew

from the lamb. Season on

both sides with salt and

pepper and lay out flat on

a board, skin-side down.

Spread stuffing over the

lamb and roll it up to contain

filling. Tie pieces with

string to secure it.

Heat an ovenproof

pan, add two tablespoons

oil and sear lamb for

5min, turning to brown all

over.

Add two heads of garlic,

cut in half to the pan and

place in the oven to roast

for 25min for medium-rare,

or longer depending on

your liking towards pink

meat.

Whisky marinade for

roast meat

Serves 3-4

Ingredients

¼ cup whisky

2 tbsp prepared mustard

3-4 tbsp olive oil

400gm beef fillet (or

lamb)

freshly ground black

pepper

1 cup beef stock

1 tbsp thyme leaves

Directions

Whisk whisky, mustard

and 3 tbsp of olive oil

until well combined. Place

beef in a plastic bag. Add

marinade. Refrigerate

for 1 hour. Return to

room temperature before

cooking.

Preheat grill on high.

Remove meat from

marinade and pat dry.

Brush with remaining oil.

Season with black pepper.

Grill for about 8min each

side. To test if done, press

thickest part of meat with

your fingertip. The softer it

is the rarer it is; the firmer

it is, the more cooked. Tent

with foil and cover with a

thick towel. Rest for 10min

before slicing.

Bring marinade, stock

and thyme to the boil.

Simmer for 10min. Serve

with the meat.

Mulled wine venison

roast

Serves 3-4

Ingredients

Marinade

½ cup mulled wine

1tsp cinnamon

6 whole cloves

1 tbsp honey

Small strip orange peel

1 tbsp olive oil

Roast

400gm venison roast

Freshly ground black pepper

to taste

2 tbsp olive oil

Sauce

1 cup (250ml) meat glaze

or good beef stock

Directions

To make the marinade,

combine wine, spice,

honey and orange peel in a

saucepan. Slowly bring to

the boil. Simmer for 1min,

then cool. When cold, add

olive oil.

Place venison in a plastic

bag. Pour marinade over.

Move meat around so it is

well coated. Refrigerate for

at least 60min or up to 8

hours.

Return to room

temperature before cooking.

Preheat oven to 200

deg C.

Remove meat from

marinade and pat dry.

Reserve marinade for the

sauce. Season.

Heat olive oil in a pan.

Sear venison until lightly

browned on all sides.

Place in a small roasting

pan in the oven. Roast for

20-25 minutes for medium

rare.

Remove from oven and

tent with foil. Cover with

a thick towel and stand for

10 minutes.

Meanwhile, strain

marinade and bring to the

boil. Add meat glaze or

stock and simmer for 1-2

minutes. Serve with the

venison.

Great accompanied by

baby red jacket potatoes,

plus 4cm cubes of pumpkin

and large broccoli

florets, roasted with the

venison.
---
Latest Canterbury news at starnews.co.nz

Wednesday July 14 2021 Bay Harbour News 19

Love the

Community

Warm up with a Mid-Winter Christmas High Tea at

Summerset on Cavendish

These cooler months can make it just that little bit harder to

get out and about.

So here at Summerset on Cavendish we're hosting a Mid-

Winter Christmas High Tea and you're invited!

Just pop along to our village between 1pm and 3pm on

Friday 16 July and enjoy a range of delicious winter treats

and hot drinks on us.

Whilst you're here, why not also get a taste of the

Summerset life that our residents love so much.

Our team would love to show you around our stunning

village. We have plans and pricing available to view and

we're sure you'll meet some of our wonderful residents

along the way!

Mid-Winter

Christmas

High Tea

Friday 16 July

1pm - 3pm

Summerset on Cavendish

147 Cavendish Road,

Casebrook

03 741 3340

Find out more at summerset.co.nz/casebrook

SUM3184_8X8
---
20 Bay Harbour News Wednesday July 14 2021 Latest Canterbury news at starnews.co.nz

Allessa Sofa with Ottoman

WAS $

3299

NOW

$

2699

BE IN To win $1000!

STOREWIDE SALE NOW ON!

ENDS 02.08.21.

SCAN QR TO ENter

Lincoln 4 Seater – Grey

WAS $

2699

NOW

$

1999

Sydney 2.5 Seater

WAS $

799

NOW

$

599

ALL MAISON

ON SALE

Ramsey Single/Single

Bunk Bed

WAS $

1299

NOW

$

999

Dallas Queen Bed

WAS $

449

NOW

$

299

HEAPS of SUPER DEALS!

ALL DINING CHAIRS

ON SALE

Peyton

– Tan

$

115

Duke

$

125

Serene

Trundler Bed Set

WAS $

897

NOW

$

699

SCAN QR TO SHOP

Zest

$

140

Camille

– Rose

$

75

250 Moorhouse Ave, Christchurch

0800 TARGET (0800 827438)

targetfurniture.co.nz

Offers and product prices advertised here expire

02/08/21. Sale Excludes Accessories.
---
WESTERN NEWS Latest Canterbury news at starnews.co.nz

[Edition datE] 27

Wednesday July 14 2021 Bay Harbour News 21

keep it local

and support businesses in your community

Winter proof your skin with

bespoke facial treatments

Anytime is a good time to

replenish and revitalize your

skin. We all want our skin to

look healthy, smooth, clear and

radiant. Body Care has just the

treatments to help achieve this

goal.

"We tend to cover up in

colder months and cut back on

beauty routines, but it's actually

the best time to replenish

and revitalise the skin," said

Tina Day, Body Care owner/

operator. "At Body Care our

most important consideration

is 'you'.

Bespoke facial treatments

are tailor made specifically to

address all skin types and any

conditions/concerns.

Also Dermal Planing, Advanced

Peeling Treatments, Celluma pro LED

light therapy and Medical MicroNeedling

with the FDA Approved Exceed by Amiea

Med are effective procedures.

"Microneedling has become one of

my most requested treatments. Client

feedback has been excellent saying they've

really noticed excellent results," said Tina.

"For those also wanting to see a

change in the condition of their skin,

until the end of August I am offering a

Microneedling Winter Special. $50 off

treatments."

Amiea Med EXCEED Microneedling

is a Collagen building therapy. The FDA

approved device is clinically proven to

increase natural Collagen formation,

promote rejuvenation and improvement

of skin texture, visibly reduce fine lines

and wrinkles, treat acne scarring, and

normalise skin structure.

Internationally qualified with

Distinction, Tina has received numerous

awards for excellence and has a passion

for beauty therapy and is completely

committed to ensuring all her clients

receive an outstanding level of service.

"I attend regular training and seminars

to ensure I consistently deliver high

standards of customer care. As always,

integrity and discretion is of utmost

importance."

General upkeep services include

lash and brow tinting and shaping,

manicures, pedicures and waxing.

Beautiful Spa treatments and Massage

therapy are also very popular with gift

vouchers available to spoil someone

special.

Body Care has recently partnered with

Sustainable Salons.

"I'm very excited about this new

nationwide recycling initiative. It gives

us the opportunity to keep empties from

going to landfill and our oceans," said

Tina. "Up to 95% of the resources used

during your visit will be sent for recycling

thanks to Sustainable Salons plus you

can now return your empty Dermalogica

packaging to us and we'll give it a second

life."

Body Care Beauty & Massage, 89b

Main Road, Redcliffs. Phone 03 384

4729. Online bookings available at

www.redcliffsbodycare.co.nz or on

facebook

Lyttelton

Framing

Four good reasons to use us

to frame your artwork:

1. Know how - UK qualified

conservation framer

2. Experience - We have been

established now for eighteen years

3. Guarantee - All work guaranteed

4. Price - Very competitive prices

HIKING BOOTS

& SHOES

For men, women

and children

From

$79.95

to $250

Contact Malcolm Ph 328-7350

32 London St, Lyttelton

Mon-Fri 9am-5pm, Sat 9am-1pm

47c Garlands Road, Woolston

Phone 389 3431

www.thefootwearfactory.co.nz

$50 OFF

(Offer expires 31st August 2021)

FDA approved amiea med EXCEED

MICRONEEDLING

(Collagen Building Therapy. Normally $300)

"Tina is amazing! I have seen her for

the last 8 years and had all sort of

treatment from her - love the space

and her calm professional approach -

seeing her is pure healing for my

soul and skin!" - Signe

EXCEED by amiea med is a medical microneedling

device clinically proven to increase natural Collagen

formation, promote rejuvenation and improvement

of skin texture, visibly reduce fine lines & wrinkles,

treat acne scarring, and normalise the skin structure.

Delivering tranquil and relaxed

treatments, beauty and

massage therapy in a warm and

inviting atmosphere

89b Main Road, Redcliffs

Phone 03 384 4729

www.redcliffsbodycare.co.nz

Open Monday to Saturday

Late nights Wednesday

& Thursday.

Phone 03 384 1743 to

book your appointment.

we now have

Shop Now. Enjoy Now. Pay Later.

Phone (03) 384 1743 | 4/2 Soleares Ave, Mt Pleasant

Advertising enquiries Jo Fuller | Ph: 027 458 8590 | jo.fuller@starmedia.kiwi
---
Bay Harbour News Wednesday July 14 2021

22

PUZZLES

CRYPTIC CROSSWORD

1 2 3 4 5 6

7

8 9 10

12 13 14 15

16 17 18

19 20 21 22

23

11

16/7

Latest Canterbury news at starnews.co.nz

Across

7. Out-and-out Gringo? Oh, tough! (13)

8. Having possibility of producing oil,

patently that's wrong (11)

12. Alter one so as to sell it to the public

(6)

14. With which to dig top of trench

lower, perhaps (6)

16. Go abroad with first tune by French

composer (6)

18. There may be no rest for such

singers (6)

19. Go ahead people at top table get

promotion (11)

23. Sacrifice a meal that's been too long

in the oven? (5,8)

Down

1. Inform on a 12 Across establishment

(4)

2. The old woman was a follower of a

world revolutionary (4)

3. Such vision as builders of Channel

communication may have had (6)

4. It is economy an Alpine plant needs

(6)

5. It takes a fencer's sword to frustrate

one's plans (4)

6. Except that, this child has neither

brother nor sister (4)

9. So bound to have an adventurous

time away from home? (7)

10. The information is dishonourable (7)

11. Oh, dear: a girl has failed to finish

(4)

12. Religious performance that sounds

correct (4)

13. Put it on diamonds to hold it in

abeyance (3)

15. They rarely hold up the whisky (3)

17. After a loss, loan taken by fellow is

capital (6)

18. He is being held by posh person at

start of race (3,3)

19. It is the fever that, in part, plagues

one (4)

20. It shows which way the wind's

blowing, which sounds conceited (4)

21. The noble turned to by Lear (4)

22. Vat taken up in order to drink heavily

(4)

SUDOKU

Fill the grid so that every column, every row and 3x3

box contains the digits 1 to 9.

QUICK CROSSWORD

1 2 3 4 5 6 7

8

9 10

11 12 13

14 15 16

17 18

19 20 21

22 23 24

25

26 27

Across

1. Altercation (6)

5. Depart (3,3)

8. Circuit (3)

9. Strange person (inf)

(6)

10. Not transparent (6)

11. Points against (4)

13. Dead-end street

(3,2,3)

14. Proposal (5)

15. Greyish brown (5)

19. All people (8)

21. Hold on to (4)

22. Braids (6)

23. Foreign home help

(2,4)

25. Type of tree (3)

26. Church caretaker or

verger (6)

27. Put up with (6)

Down

2. Recite effortlessly

(4,3)

3. Mongrel (3)

4. Sit lazily (6)

5. Stolen goods (6)

6. Brand (9)

7. Animals of an area

(5)

12. Chewing gum

flavour (9)

16. First in order or

importance (7)

17. Deteriorate (6)

18. Slander (6)

20. Worth (5)

24. Block of paper (3)

CODECRACKER

QUICK CROSSWORD

Across: 1. Fracas, 5. Set off, 8. Lap, 9. Weirdo, 10. Opaque, 11.

Cons, 13. Cul de sac, 14. Offer, 15. Taupe, 19. Everyone, 21.

Keep, 22. Plaits, 23. Au pair, 25. Elm, 26. Sexton, 27. Endure.

Down: 2. Reel off, 3. Cur, 4. Slouch, 5. Spoils, 6. Trademark, 7.

Fauna, 12. Spearmint, 16. Premier, 17. Worsen, 18. Defame, 20.

Value, 24. Pad.

CRYPTIC CROSSWORD

Across: 7. Thoroughgoing 8. Potentially 12. Retail 14. Trowel 16.

Travel 18. Tenors 19. Advancement 23. Burnt offering.

Down: 1. Shop 2. Trot 3. Tunnel 4. Thrift 5. Foil 6. Only 9.

Outward 10. Lowdown 11. Alas 12. Rite 13. Ice 15. Rye 17.

London 18. The off 19. Ague 20. Vane 21. Earl 22. Tank.

TARGET

agent ages angst gannet gate

gean gene genet gent gets

gnat gnaw gnawn gnaws nags

negate negates NEWSAGENT

sage sang sewage snag stag

stage swag swage tags tang

tangs twang twangs wage

wages wags

MEDIUM HARD

EASY

TARGET

S

E

T

N N

G E

W A

Good 17

Very Good 24

Excellent 29+

ALL PUZZLES © THE PUZZLE COMPANY

How many words of four letters or more can you

make? There is at least one nine-letter word.

Each letter may be used only once and all

words must contain the centre letter.

No words starting with a capital, no plurals

ending in s unless the word is also a verb, e.g.

he fires the gun.

Mon-Thurs: 7am - 4pm

Fri-Sun: 7am - 5pm
---
Latest Canterbury news at starnews.co.nz

Wednesday July 14 2021 Bay Harbour News 23

Wā Kōrero-Storytimes

Today, 10.30-11am

Meet others in the community

when you and your pre-schooler

join in for a fun variety of

stories, songs and rhymes which

foster children's literacy. All

whānau and caregivers welcome.

Free, no bookings required.

Matuku Takotako: Sumner

Centre

Creative Wednesdays

Wednesday, 11.30am-2.30pm

All welcome and you can come

and go as you please. This group

is focused on bringing people

together and getting creative,

no matter what level your art

practice is, beginner or expert.

Go along to this event to make

connections and express yourself

freely. Taking place every

Wednesday.

The Rock, 10 Wakefield Ave,

Sumner

Heathcote Community

Morning Tea

Wednesday, 10am-12pm

Everyone is invited to pop in

for a cuppa, some fresh baking

and to get to know some of

the locals. Taking place every

Wednesday.

Heathcote Community Centre

Pottery Social Night

Wednesday, 7-9.15pm

This is a local, equitable opportunity

for those with pottery

experience to pot, have fun and

make connections with others.

They have two fully equipped

clay rooms all set up for you

to work on your own projects

and share your skills. Tuition is

not provided. The rooms have

benches, and three electric pottery

wheels, just take your own

clay, glazes, tools and ideas.

Sumner Hub, 57 Nayland St

Sumner Silver Band

Thursday, 7pm- 8.30pm

All welcome to attend the

band's regular rehearsals to either

just listen or to become part

of the band. They can provide

instruments and encourage returning

players of all ages. Phone

Peter Croft for more information

3849 534.

Redcliffs School, Beachville Rd

Community Garden Working

Bee

Thursday, 10-11.30am

Contribute time and sweat to

the Mt Pleasant community garden.

Join Jocelyn at this weekly

working bee. The garden is

located between the community

centre and the kindergarten.

Mt Pleasant Community Centre

Garden

Twinkle Tots

Friday, 10.30am

Twinkle Tots is a community

music group for Under 5's, a

delightful space where the littlest

members of the community and

their guardians can catch up for

Email samantha.mythen@starmedia.

kiwi by 5pm each Wednesday

singing, dancing and practicing

social skills. Beautiful morning

tea is provided. Gold coin donation.

St Mary's Church Village Hall,

Heathcote

Scottish Country Dancing

Open Day

Sunday, 2-4pm

All ages welcome, no experience

necessary. Go and watch,

join in, enjoy the music. Take the

family, friends and neighbours.

Comfy clothes, soft shoes - Koha

appreciated. Contact 021 425 476

for more information.

The Gaiety, Akaroa

Working Bee

Sunday, 2-4pm

This working bee is to continue

helping with clearing

and planting in the burnt area.

Access is from near the water

bin below the junction of Main

and Avery tracks (then along

the bottom of properties above

the Reserve), or via the Reserve

entrance on Omeo Cres ( just

below John Monck Lane intersection,

to halfway down to the

Main track), or up the Omeo

track (just above the Basil Place

track junction)

Drayton Reserve

Zoomers Art Exhibition

Friday-Sunday, 10am-4pm

Artists Against Slavery presents,

Zoomers; an exhibition of

work by four talented Generation

Z artists, who all live in Diamond

Harbour and are students

at Cashmere High School. They

will be donating 10% of the sale

price of their artworks sold to

Artists Against Slavery.

Stoddart Cottage, Diamond

Harbour

Sumner Bridge Club

Monday 7.15pm, Wednesday

1pm

For fun, friendly and competitive

Bridge. If you have any

questions, send an email to sumnerbridgeclub@gmail.com

57 Dryden St, Sumner

Lyttelton Harbour TimeBank

Drop-in Session

Tuesday, 10am-12pm

The Lyttelton Harbour

TimeBank exists to help build a

stronger, more connected harbour

community. Come in for

a chat - get help with joining or

managing your account, posting

WOW, woodblocks, oils,

Weaving Art Exhibition,

Saturday, 10am. The

Akaroa Community Arts

Council is taking its third

art exhibition to Akaora.

The event will open on

Saturday and then for the

three following weekends.

All will be sold by auction

with profits going to

Akaroa School. 65 Rue

Lavaud, Akaroa

an offer or request, or anything

else.

Lyttelton Library

School Holidays: Free Movies

Tuesdays and Thursdays,

10.30am

Seats will be available but kids

may want to bring their own rug

or beanbag. Drinks, popcorn

and nibbles available for sale.

Movies include Cloudy with a

Chance of Meatballs, Narnia: The

Lion, the Witch and the Wardrobe,

Winnie the Pooh, Mary

Poppins, Miss Potter and Scooter

Kidz.

Opawa Community Church,

cnr Aynsley Tce and Opawa Rd

Coffee and Conversations

Monday, 10.30am

Sumner Bays Union Trust host

Tea and Talk. Join in for a social

morning with free hot drinks

and snacks. Make yourself comfortable

and spend some time

talking to other members of the

community. Everyone welcome.

Matuku Takotako: Sumner

Centre

WORTH A LOOK.

WORTH A SECOND LOOK.

XC40. Now from just $59,900.*

The first thing you'll notice about the Volvo XC40 is its distinctive Scandinavian design. But look closer and you'll see it's brimming with intelligent technology, ingenious storage

solutions, and safety systems to protect you and those around you. All of this from a company with a world-leading approach to sustainability. So isn't it worth taking a look?

38 Tuam St,

Christchurch

Thomas Palmer - 03 377 5200 - tpalmer@archibalds.co.nz

archibalds.co.nz

*Plus on-road costs. Model shown is an XC40 B5 AWD R-Design.

For further information visit archibalds.co.nz/NewVolvoXC40
---
24 Bay Harbour News Wednesday July 14 2021 Latest Canterbury news at starnews.co.nz

Now published six times a year,

Classic Driver is giving you even

more of the exotic and the unique,

highlighting old favourites from

motoring's colourful past.

Available

in all good

bookstores &

supermarkets

classicdriver.co.nz
---
2013 Volkswagen

Tiguan TSi

h tp: /kaywa.me/8aVDQ

Download the Kaywa Qr Code reader (A p Store &Android market) and scan your code!

my Kaywa Qr-Code

w.valuecarswarehouse.co.nz

CELLULAR

See page 5 for more info!

2

h tp: /kaywa.me/8aVDQ

Download the Kaywa QR Code Reader (a p Store &android Market) and scan your code!

REVERSE CAMERAS

My Kaywa QR-Code

w.valuecarswarehouse.co.nz

PARKING SENSORS

0800 212 777

Ce l 021 855 884

GPS/TRACKING

motor vehicle purchase

See our ad on page 2

Latest Canterbury news at starnews.co.nz

Wednesday July 14 2021 Bay Harbour News 25

Rally-bred Yaris provides the thrills

TOYOTA IS no stranger to rally

success. I remember well the

heady days during the early 90s

when the amazing Celica GT-

Four dominated the World Rally

Championship.

Toyota distanced itself from

rallying for many years, it dabbled

in formula one and sports

endurance racing, however, it

came back to rallying in 2017

and the company has had success

with the Yaris, winning the WRC

in 2019 and 2020.

While the Yaris is a world apart

from the Celica as I know it –

the latter was part of the Kiddie-family

line-up for many years

– the Yaris with its hatchback

design lends itself to the WRC,

competing against other small

hatchbacks such as Ford's Fiesta,

Volkswagen Polo and Citroen

DS3.

Toyota has just introduced a

new Yaris on the New Zealand

market. It comes in many guises –

petrol-only models, hybrids and

the funky Yaris Cross. I've driven

all in recent months and can

report that they uphold the values

Toyota has in a small car.

However, there is one major

surprise within the Yaris line-up

and that is the GR model, a car

inspired by the WRC-winning

model. GR is an abbreviation for

Gazoo Racing which is Toyota's

performance arm that helped

develop the WRC car.

The GR Yaris in road-going

form is no rally car, but it doesn't

miss out by much. Firstly, it is

powered by a 1.6-litre three-cylinder

heavily turbocharged

engine, it has a six-speed manual

transmission and drives out all

four wheels and, what's more, you

can direct drive to give you that

rally feel, power can be proportioned

heavily to the rear, or to

the front, or have a 50:50 split

should you desire that.

Personally, I like the push you

get from the rear, so during my

time with the test car I drove it

in sport mode which sends 70

per cent in that direction. Under

power you can almost force oversteer,

which is immense fun, and

there is more than enough power

on tap to do that.

Putting that into context, the

engine is rated with 200kW

and 370Nm, outputs realised at

6500rpm and 3000-4600rpm

respectively, all those figures considered,

the Yaris is quick, strong

and willing under all driving conditions.

It is also eager, you know

as a driver it wants to get hunting,

the turbo boost is strong and the

engine will fly to high revolutions

if the accelerator is given any

minor provocation.

According to Toyota, the GR

Yaris will make 100km/h from a

standstill in 5.2sec, and it will also

lunge to 120km/h from 80km/h

in 4.5sec. It will also make

230km/h if laws allowed.

I had some items to pick up

from Rangiora, so the obvious

choice of roads to get home to my

city suburb was through Loburn,

Oxford and State Highway 72.

They weren't perfect roads for

the GR Yaris simply because there

THRILLING:

The GR Yaris

has the

performance

to match its

sporty looks.

TOYOTA YARIS GR: Based on World Rally Championship-winning car.

aren't enough corners, but I did

backtrack into an area where

there were some challenges and

enjoyed the feel of knowing the

driver is in command.

Just when you think it will drift

nicely out of a corner, grip comes

in from the front to pull the car

straight and it powers off until

the next corner arrives. When

that happens, huge stopping force

through a premium brake system

comes into play.

Grip is supplied by high quality

Michelin tyres (225/40 x 18in),

and with a comparatively heavy

steering feel all the ingredients

are in place for spirited motoring.

Shifts through the six-speeder

are short and direct, there's no

chance of wrong-slotting, and

clutch action, while firmish under

foot, is progressive.

There's also an intelligent

manual transmission mode that

will blip the engine on downshift,

matching the revs to the gearing,

much like we used to do with the

double de-clutch method.

The GR Yaris is an absolute

blast to drive, it feels twitchy with

its short wheelbase, but such

is the grip and control it has it

inspires confidence. It is playful,

yet safe at the same time with

traction control systems intervening

when forces are outweighing

the law of physics.

Even though the GR Yaris is

• Price – Toyota Yaris GR,

$54,990

• Dimensions – Length,

3995mm; width, 1805mm;

height, 1445mm

• Configuration – Threecylinder,

four-wheel-drive,

1618cc, 200kW, 370Nm,

six-speed manual

• Performance –

0-100km/h, 5.2sec

• Fuel usage – 7.6l/100km

based on the WRC car, I didn't

take it off the seal as such, it had

been presented beautifully and

I didn't want to risk stone chips

and be presented with a massive

clean-up job. But I did find a

couple of corners that had loose

surface seal and I was able to feel

electronics working in order to

maintain grip and acceleration.

The GR Yaris builds on the fun

angle that Toyota has pitched for

the new Yaris series and you can

glean immense pleasure from it,

it most certainly is an exhilarating

car that tugs at all the senses.

The engine has a characteristic

throb, it sounds chunky but

sings sweetly from 4000rpm

onwards letting the driver know

it is enjoying its work. There's no

point in the rev band where it

doesn't want to work freely, it will

also dawdle the city streets in tall

gears, the turbo producing huge

torque that allows the car to pull

from very low revolutions.

There is a little trade-off in

terms fuel usage. Normally, you'd

expect a 1.6-litre engine to garner

an average better than 7.6-litres

per 100km, but if you want performance

that is the price to pay.

When I took the test car back

to the dealership it was showing

9.8l/100km on the readout, perhaps

an indication of how much

I enjoyed hearing and feeling

that engine work. At 100km/h an

instantaneous reading of 5l/10kmn

can be expected (engine

speed 2500rpm). All that aside, a

generous 50-litre fuel tank means

frequent top-ups can be avoided.

In terms of fitment, the GR

Yaris has all the goods. It has

an in-cabin environment that

matches the sporty exterior

design, and has specification

that justifies a very respectable

$54,990 price tag.

My wife recently suggested we

buy a Yaris for our retirement. I'd

certainly be interested in the GR,

the only thing is she's not thrilled

with cars that have manual transmission,

I've obviously got a bit of

work ahead if I'm to convince her

the GR is the car for us.

In the interim anyone who does

get to have one in their garage on

a permanent basis will certainly

be rewarded, it is one stroppy hot

hatchback.

has motoring covered!

Incorporating

ISSUE 667 | FrIday 20 novEmbEr 2020

sherborne st, edgeware

iggest range of vehicles

location!

2011 Jaguar

XF Premium

$18,999

See inside for this week's

4WD feature!

se Ave | P: (03) 366 7768 | www.valuecarswarehouse.co.nz

See page 4 for more info!

free

best motorbuys

Incorporating

ISSUE 668 | FrIday 27 NovEmbEr 2020

275 Colombo street, Christchurch

For more see their advert on pages 6 & 7

Ce l 021 855 884

Incorporating

ISSUE 669 | FrIday 4 dEcEmbEr 2020

See inside for this week's

Classic Car feature!

PH 03 web

www.drivesouth.co.nz

One Owner!

40 Years Finance

Experience

Cannot be Beaten!

• Talk to us about finance for your next

motor vehicle purchase

Specialising in Finance for Private Purchases

Very quick approvals, sensational interest rates

• From no deposit (terms & conditions may apply)

Hiace spares

Cnr Main South Rd and Epsom Rd, Christchurch

Ph: 03 348 4129 | avoncityford.com

2015 IsuZu D-mAX

4WD Ls D/CAb

NZ new, 3.0 intercooled turbo/dsl,

auto, rare flatdeck with ladder/pipe

racks, reverse cam, service history.

$34,995 $192pw

For more see their advert on page 31

free

best motorbuys

www.drivesouth.co.nz

See inside for this week's

marine feature!

free

best motorbuys

The South Island's leading motoring resource,

filled with news, reviews and dealer listings.

From family cars to work trucks, and supercars

to SUVs. No matter what you're looking for,

you can find it all with Drivesouth.

Magazine available for FREE every Friday

at a convenient pick up point near you!

The biggest range of vehicles

in one location!

Now Available @ NZ Van Spares

www.drivesouth.co.nz

2.4 auto, alloys, ABS, twin airbags.

2005 toyota rav

$20,999

$9,990

40 Years Finance

2008 bmW 320i

2.0lt Petrol, 5 Dr Station wagon,

Climate Control, ABS Braking,

.nz

CAR AUDIO

AUDIO VISUAL

CAR SECURITY

32 Moorhouse Ave | P: (03) 366 7768 | www.valuecarswarehouse.co.nz

MOBILE INSTALLATION SERVICE

RADAR DETECTORS

DASH CAMERAS

Cannot be Beaten!

$10,974 NoW $7,974 + orC

Experience

Automatic. $34.63pw.

AERIALS

• Talk to us about finance for your next

Specialising in Finance for Private Purchas

• Very quick approvals, sensation

• From no deposit (term
---
26 Bay Harbour News Wednesday July 14 2021 Latest Canterbury news at starnews.co.nz

BE IN TO WIN

A SONY x90h ANdROId Tv WORTh $2,500!

FREE FIRST XV SEASON PREVIEW MAGAZINE INSIDE

MAY 2021

TONY JOHNSON

ON THE COMING OF

MOANA PASIFIKA

AARON SMITH

'WHY I RATE

DUPONT'

SEAN FITZPATRICK

'WE NEED MONEY TO

SUSTAIN THE GAME'

rrp $10.99

SEILALA MAPUSUA INTERVIEW: HIS VISION FOR MANU SAMOA

DAN

CARTER

CRUSADERS

FIVE OF THE BEST

REFLECTING ON A

GREAT CAREER

TONY

JOHNSON

CAN THE

SABBATICAL

JEROME

KAINO

SORTED FOR

LIFE AFTER

RUGBY

BEEGEE'S

DREAM

WHY MOANA

PASIFIKA WILL BE A

GAME-CHANGER

• PHIL GIFFORD: THE BEST

SCHOOLBOY STARS HE SAW

• DARYL GIBSON: HIS VISION

FOR THE BOP STEAMERS

JUNE 2021

SAM CANE

THE LONG

ROAD BACK

WAYNE PIVAC

FROM THE OUTHOUSE

TO THE PENTHOUSE

Subscribe to New Zealand's

premier rugby read for six

issues or more to go in the

draw. Ten lucky subscribers

will also win one of five All

Blacks jerseys, Lone Star

and Joe's Garage vouchers.

9 416770 121325

rrp $10.99

• WHERE ARE THEY NOW:

MATTHEW COOPER

• SARAH HIRINI:

BRINGING THE MANA

9 416770 121325

SIx ISSUES

$39

SAvE 41%

+ ChANCE

TO WIN A Tv

& mORE!

*Competition runs till July 31st 2021. Offer only applies to NZ residents

and subscription periods of six issues or more.

SUBSCRIBE AT RUGBYNEWS.CO.NZ OR 0800 77 77 10

AvAIlABlE AT All GOOd BOOkSTORES ANd SUpERmARkETS
---
ISSUE 94

$9.25 incl. GST

& all the varieties

in between

& where they

like to grow

MARCH-APRIL 2021

$10.50

9 416770 121332

& propagate more

of those you love

ON THE COMING OF

MOANA PASIFIKA

'WHY I RATE

DUPONT'

'WE NEED MONEY TO

SUSTAIN THE GAME'

rrp $10.99

9 416770 121325

$8.00 incl. GST

9 416770 121318

SORTED FOR

LIFE AFTER

RUGBY

• PHIL GIFFORD: THE BEST

SCHOOLBOY STARS HE SAW

• DARYL GIBSON: HIS VISION

FOR THE BOP STEAMERS

Latest Canterbury news at starnews.co.nz

Wednesday July 14 2021 Bay Harbour News 27

Classifieds Contact us today Phone our local team 03 379 1100

Finance

RW Finance

Small Loans

From $1,000 - $5,000

SPECIAL

INTEREST RATE

FOR NEW

CUSTOMERS

(limited time offer)

Beneficiaries Welcome

Friendly & Personal

Customer Service

0800 325 345

www.rwfinance.co.nz

RESPONSIBLE LENDING & CREDIT CRITERIA APPLY

Situations Floor Coverings Vacant

WATER DAMAGED

CARPET

OnE Off ClEARAnCE

Approx 250 metres (various sizes), starting at $20/m

Pick up 310 Cashel Street

KATANG

Health & Beauty

Fitness

Tues 9.15am-10.15am

FOR ALL YOUR

PLUMBING,

GAS &

DRAINAGE

• Bathroom repairs

• Renovations

• Leaks

• Blocked drains

• Gas and drainage

Sumner Community

Centre (above library)

$5 per class.

Concession cards available.

For more info

contact Katrina

381 1704 or

027 4966 845

Trades & Services

DIRTY TILES

& GROUT?

Our unique restoration

processes will make your

tiled areas look NEW again!

We specialise in professional

cost effective solutions for

all your tile & grout issues.

• Tiled shower makeovers

• Re-colouring old grout

• Mouldy silicone replacement

• Professional tile/grout

cleaning, sealing & repairs

Call today for a FREE quote on 0800 882 772

www.theprogroup.co.nz/dpc9385

Your local professional

Carol and Chris

Phone 376 5322 or email

chcheast@laserplumbing.co.nz

Gardening

& Supplies

Gardener available for

maintenance, weeding

pruning, spraying,

planting, advice. Qual &

exp.Pensioner discount

25%. Ph Richard 0274 918

234, 03 349 4022

Real Estate

HOME WANTED 3-4

bedrooms. Looking in Nor

West areas, Beckenham

or Somerfield. Prefer

permanent material brick

and post 1990 build. Don't

mind if it needs some TLC

- anything considered.

Cashed up buyer. Phone

021 372 479

Trades & Services

Trades & Services

To Let

RENT ME!

Ideal as an extra

bedroom or office.

no bond required

WINDOW TINTING

tintawindow

advanced film solutions

99% uv block

fade protection

heat control

reduce glare

25 Years Experience

Free Quotes Canterbury and Districts

03 365 3653 0800 368 468

Fully insulated and double glazed for warmth.

Three convenient sizes from $80 a week:

Standard 3.6m x 2.4m

Large 4.2m x 2.4m | Xtra-large 4.8m x 2.4m

privacy films

frosting designs

non-darkening films

Workmanship Guaranteed

Lifetime Warranties on Most Films

UV

block

Visit our website

www.justcabins.co.nz

for display cabin locations

www.justcabins.co.nz

BANJO

ELECTRICAL LTD

Registered Electrician. Ph

Tuition

Andrew 022 654 3859.

CARPET LAYING

PIANO LESSONS

Exp. Repairs, uplifting,

relaying, restretching.

Catherine Bracegirdle

Phone John on 0800

DipABRSM ATCL AIRMT

003181, 027 240 7416

jflattery@xtra.co.nz

12 Ridgeway Pl, Richmond Hill, Sumner

PH. 021 044 5102

DECKS

Fences, retaining, 2nd

www.pianoandtheory.co.nz

catherine.bracegirdle@gmail.com

hand kitchen installs

incl stone bench rework, Trades & Services Public Notices

sleepouts, alterations,

paths and more. Greg 022

STONEMASON,

475 8227

BRICK BLOCKLAYER,

ELECTRICIAN. Earthquake Repairs, Grind

JMP Electrical.

Out & Repoint, River/

Experienced & registered.. Oamaru stone, Schist,

Expert in all home Volcanic Rock, Paving,

electrical repairs & all Alterations new & old,

maintenance.Call James Quality Workmanship,

027 4401715

visit www.featureworks.

ELECTRICIAN

co.nz or ph 027 601-3145

Library

Andrew Martin Electrical.

Wanted To Buy Open meeting at

25 years experience.

Specialize in home AAA Buying goods

the library Tuesday

renovations, repairs and quality furniture, beds,

20 July, 10.30am

maintenance. Call Andrew stoves, washing machines, Come and meet others

0274 331 183

fridge freezers. Same day who want to join and

GUTTER CLEANING service. Selwyn Dealers. talk about how the

Gutter cleaning special Phone 980 5812 or 027

club will work. Your

input is welcome. No

from $99 plus gst for a 313 8156

book buying involved,

whole house clean"".

you borrow our books.

Free Quotes, call Morgan Wanted To Rent

You're welcome to

Thomas today 022 375 SEEKING Industrial bring your coffee or tea

8506

or commercial space with you to our monthly

GUTTER CLEANING to place 20ft Shipping meetings. These will be

HOUSE WASH Container Blacksmithing

from 10.30 to 12.30 on

Total gutter / spouting

the third Tuesday each

hobby workshop in

month.

clear out & clean. House Lyttelton area. Ph Bob

wash & windows. For a 03 3777 151

www.redcliffspubliclib.

professioanl & reliable

wixsite.com/

service call Greg Brown

redcliffslibrary

A1 Spouting Cleaning 027

Redcliffs Public

616 0331 or 384 2661

Library Inc

PAINTING SERVICES

Mature, reliable,

Public Notices

conscientious &

experienced, reasonable

rates, no job too small!,

call Ron 027 434-1400

Book

Club

at Redcliffs

ADD SOME

COLOUR

TO YOUR ADVERT!

Public Notices

RESOURCE MANAGEMENT ACT 1991

CHRISTCHURCH DISTRICT PLAN

PROPOSED PLAN CHANGE 7

MANAGING SIGNIFICANT INDIGENOUS VEGETATION

SUMMARY OF SUBMISSIONS FOR FURTHER

SUBMISSIONS

A summary of submissions on Proposed Plan Change 7 to the

Christchurch District Plan and a copy of the submissions, are now

available for public viewing online at ccc.govt.nz/planchange7

or during normal opening hours at any of our service centres or

libraries. For details of your nearest service centre or library,

please telephone 03 941 8999.

Further submissions in support of, or in opposition to, the

submissions received may be lodged at the Civic Offices or at any

of our service centres or libraries before 5pm on 28 July 2021.

A further submission may be made only by a person representing

a relevant aspect of the public interest or by a person who has an

interest in the plan change that is greater than the interest of the

general public and must be limited to a matter in support of, or in

opposition to, any submission made to the Council.

All further submissions must be in writing on the appropriate form

(Form 6 in the Resource Management (Forms, Fees and Procedure)

Regulations 2003). This form is available from all Council offices and

online at https://www.ccc.govt.nz/the-council/consultations-andsubmissions/haveyoursay/.

Forms not completed online should be

addressed to: Christchurch City Council, City Planning Team,

PO Box 73012, Christchurch or emailed to: PlanChange@ccc.govt.nz.

Any person making a further submission in support or opposition

is required to serve a copy of his or her further submission on the

person whose original submission is supported or opposed no

later than five working days after the day on which the further

submission is provided to the Council.

At a later date all those who have made submissions and those

who have made further submissions in support or opposition to the

proposed plan change will be advised of the hearing date and will

be sent information regarding that process.

Jane Davis

General Manager

Infrastructure, Planning & Regulatory Group

Something for

everyone

Save up to 55% when you subscribe to

your favourite magazines!

For the

motoring

enthusiasts

For the seasonal

gardeners

CLASSIC ALPINE TOUR | PELLAND COUPÉ | JIM RICHARD'S WILLMENT ESCORT | TERRY MARSHALL | VAUXHALL FIRENZA | RICHARD BROCKLEHURST MAR-APR 2021

GENTLEMAN JIM RICHARDS & THE WILLMENT ESCORT

THE MOTORSPORT

PHOTOGRAPHY OF

TERRY MARSHALL

ISSN 2423-0626

meet 20 of our Kiwi garden favourites

From abelia to

viburnum

RARA AVIS:

PELLAND COUPÉ

A SHORT TIME IN FRONT: RICHARD BROCKLEHURST

50TH ANNIVERSARY OF THE VAUXHALL FIRENZA

SOUTHERN MEN AND TALES OF THE SOUTH

Why we

like them

SOUTHERN

SOJOURN

THE CLASSIC ALPINE TOUR

COME ON, FEEL THE

NOISE: CLASSIC

RACING ENGINES

AuTumN 2021

The Shrub Hub

How to keep your

shrub in shape

FREE FIRST XV SEASON PREVIEW MAGAZINE INSIDE

TONY JOHNSON

AARON SMITH

SEAN FITZPATRICK

growing with you Issue 504 | May 2021 | 100%

A tropicAl

flock

Grow your own

bird of paradise

Capitalising

on CaCti

Faran Gillbanks

on a succulent

movement

Roses on the wishlist

Hot new releases for 2021

MAY 2021

DAN

CARTER

REFLECTING ON A

GREAT CAREER

JEROME

KAINO

Space iSSueS?

Try gardening

like the French

The lowdown on

cover crops

Why, when & how

Available in all good bookstores and supermarkets, or subscribe from as little as $20.

growing with you 100%

alliedpressmagazines.co.nz

Rugby News & Kiwi Gardener: 0800 77 77 10 Classic Driver & General: 0800 624 295

For the

rugby fans

For the green

thumbs
---
28 Bay Harbour News Wednesday July 14 2021 Latest Canterbury news at starnews.co.nz

STYLE & QUALITY

FOR LESS

WWW.AFFORDABLEFURNITURE.NZ

Elm

Collection

Table Large $979 $899

Table Small $629 $579

Buffet $1189 $1099

WAS $1999

$

1849 Bramwell

3+2 Suite

3 Seater $1199 $1099

2 Seater $839 $779

SUPER

SPECIAL SUPER

SPECIAL SUPER

SPECIAL SUPER

SPECIAL

SUPER

SPECIAL

Willow

Bar Stool

Cove

Barstool

Coronet

Bar stool

Rustic Chair

Vintage

Cognac

Linden

Bar Stool

WAS $89

$

79

WAS $139

$

129

WAS $189

$

179

WAS $189

$

169

WAS $89

$

69

Nova Bedroom

Collection

Sylvie Bedroom

Collection

Tallboy 5 Drawers $689 $639

Tallboy 6 Drawers $799 $739

Lowboy 6 Drawers $729 $679

Bedside $219 $199

Headboard From $379

Bedside $279 $249

Bedframe $1099 $999

Under Bed Drawer $189 $169

6 Drawer Tallboy $799 $779

6 Drawer Lowboy $749 $719

SUPER

SPECIAL

Lift Up Base

Single $489 $459

King Single $509 $479

Double $569 $529

Queen $599 $559

King $669 $619

FROM

$

459

SUPER

SPECIAL

5 Year Warranty

Riviera

Mattress

FROM

$

349

Single $369 $349

King Single $419 $389

Double $499 $469

Queen $549 $509

King $599 $549

California King $709 $659

SUPER

SPECIAL

5 Year Warranty

Pocket Spring,

Euro Top, Quilt Fibre,

Wave Foam & Comfort Foam

FROM

$

499

King Single $539 $499

Double $679 $629

Queen $759 $709

Cloud Rest Mattress

King $839 $779

Super King $899 $839

FREE

CARPARKING

SOUTH CITY

BATH ST

WE ARE

HERE

255 MOORHOUSE AVE

REBEL SPORT

COLOMBO ST

MON-FRI 9:30AM – 5:30PM

SAT-SUN 10AM – 5:30PM

0800 268 264

www.affordablefurniture.nz
---
Latest Canterbury news at starnews.co.nz

Wednesday July 14 2021 Bay Harbour News 29

A FRESH APPROACH T O REAL ESTATE

HOMECHRISTCHURCH.CO.NZ

HOME CHRISTCHURCH LIMITED, LICENSED REAA 2008
---
30 Bay Harbour News Wednesday July 14 2021 Latest Canterbury news at starnews.co.nz

H O M E

T H E VI S I O N OF H O M E

Our vision is simple.

To be relatable and genuine home specialists within

our chosen communities.

We operate with complete transparency, translating

into the best outcome for you and your well being. We

are about building alifetime of strong relationships.

You matter, we care.

A L O O K A T T H E MA R K E T | E D D I E & KI E R E N

What we are seeing on the ground:

At the beginning of the year, we witnessed the strongest

market Christchurch has ever seen. We had the lowest

volume on the market since post -earthquake and the

market was aflood with buyers. This drove prices up at an

incredible rate. Seven months on to July 2021 there are a

record low number of properties on the market, however

the 'flood' of buyers has somewhat decreased from the

start of this year. The media is playing their part to try to '

cool' the housing market with alot of ' click bait' but

ultimately prices are still rising, just not at the rate they

were at the end of 2020 to early 2021.

Regardless of what your plans may be with your HOME, there

has never been abetter market to know where the value of

your HOME sits. Whether it be to use your existing home as

leverage to complete that renovation you have always wanted

to complete, to purchase an investment or holiday home, or to

merely know what you're sitting on for your retirement.

Whatever your plans are, we are here to help you on your

journey whenever you may need us.

For friendly, genuine advice, contact aHOME specialist today.

WWW.HOMECHCH.CO.NZ
---
Latest Canterbury news at starnews.co.nz

Wednesday July 14 2021 Bay Harbour News 31

T H I S IS US | OU R LI F E | OU R ST O R Y | O U R HO M E

LIST WITH THE LOCALS

YOUR HOME SPECIALISTS

EDDIE SPRY

021 156 5884

EDDIE@HOMECHCH.CO.NZ

KIEREN GRAY

021 363 944

KIEREN@HOMECHCH.CO.NZ

KURT POLSON

027 465 6797

KURT@HOMECHCH.CO.NZ
---
32 Bay Harbour News Wednesday July 14 2021 Latest Canterbury news at starnews.co.nz

H O M E

RECENTLY SOLD

ANOTHER HOME SOLD

ANOTHER HOME SOLD

ANOTHER HOME SOLD

5 9 M AIN ROAD

REDCLIFFS

$420,000

6 FR E D R I C A LA N E

H E A T H C O TE VA L L E Y

$ 7 50,000

212 MAIN ROAD

MONCKS BAY

$1,460,000

ANOTHER HOME SOLD

ANOTHER HOME SOLD

ANOTHER HOME SOLD

2 5 B CE L I A ST R E E T

R E D C L I F FS

$ 5 60,000

2 / 1 6 WA K A T U AV E N U E

M O N C KS BAY

$ 7 90,000

1 1 B A Y V I E WRO A D

M O N C KS BAY

$ 7 3 0, 0 0 0 ( AS W H E R E IS )

W E CARE | YOU MATTER

1 8 6 MA I N RO A D , RE D C L I F F S

03 930 1323

HOMECHRISTCHURCH.CO.NZ

HOME CHRISTCHURCH LIMITED, LICENSED REAA 2008