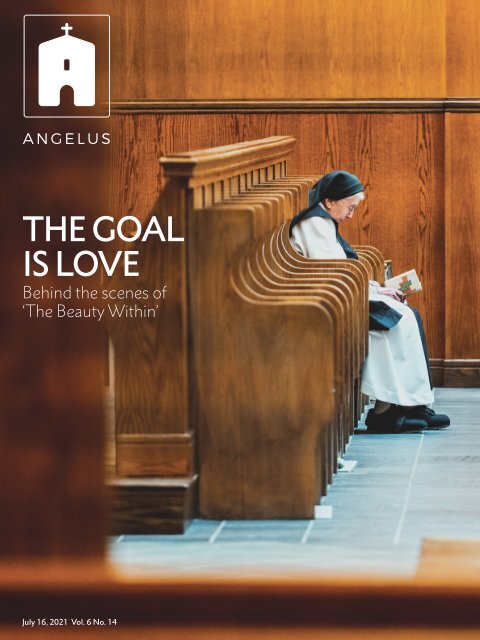 Angelus News | July 16, 2021 | Vol. 6 No. 14
On the cover: A religious sister walks the grounds of St. Mary's Abbey in Wrentham, Massachusetts. On Page 10, Ann Rodgers tells the story of a doctor's fascination with his cloistered neighbors at the abbey, a collection of nearly forgotten tapes, and the providential strokes that have led to the Archdiocese of Los Angeles' new "The Beauty Within" podcast project.
On the cover: A religious sister walks the grounds of St. Mary's Abbey in Wrentham, Massachusetts. On Page 10, Ann Rodgers tells the story of a doctor's fascination with his cloistered neighbors at the abbey, a collection of nearly forgotten tapes, and the providential strokes that have led to the Archdiocese of Los Angeles' new "The Beauty Within" podcast project.
SHOW MORE
SHOW LESS
You also want an ePaper? Increase the reach of your titles
YUMPU automatically turns print PDFs into web optimized ePapers that Google loves.
THE GOAL

IS LOVE

Behind the scenes of

'The Beauty Within'

July 16, 2021 Vol. 6 No. 14
---
July 16, 2021

Vol. 6 • No. 14

3424 Wilshire Blvd.,

Los Angeles, CA 90010-2241

(213) 637-7360 • FAX (213) 637-6360

Published by the Roman Catholic Archdiocese

of Los Angeles by The Tidings

(a corporation), established 1895.

ANGELUS

Publisher

ARCHBISHOP JOSÉ H. GOMEZ

Vice Chancellor for Communications

DAVID SCOTT

Editor-in-Chief

PABLO KAY

pkay@angelusnews.com

Multimedia Editor

TAMARA LONG-GARCÍA

Production Artist

DIANNE ROHKOHL

Photo Editor

VICTOR ALEMÁN

Managing Editor

RICHARD G. BEEMER

Assistant Editor

HANNAH SWENSON

Circulation

CHRIS KRAUSE

Advertising Manager

JIM GARCIA

jagarcia@angelusnews.com

ANGELUS is published biweekly by The

Tidings (a corporation), established 1895.

Periodicals postage paid at Los Angeles,

California. One-year subscriptions (26

issues), $30.00; single copies, $3.00

© 2021 ANGELUS (2473-2699). No part of this

publication may be reproduced without the written

permission of the publisher. Events and products

advertised in ANGELUS do not carry the implicit

endorsement of The Tidings Corporation or the

Archdiocese of Los Angeles.

POSTMASTER: Send address changes to:

ANGELUS, PO Box 306, Congers, NY 10920-0306.

For Subscription and Delivery information, please

call (844) 245-6630 (Mon - Fri, 7 am-4 pm PT).

FOLLOW US

facebook.com/AngelusNews

info@angelusnews.com

Angelus News

@AngelusNews

@AngelusNews

angelusnews.com

lacatholics.org

Sign up for our free, daily e-newsletter

Always Forward - newsletter.angelusnews.com

ON THE COVER

ISABEL CACHO

A religious sister walks the grounds of St. Mary's

Abbey in Wrentham, Massachusetts. On Page 10, Ann

Rodgers tells the story of a doctor's fascination with his

cloistered neighbors at the abbey, a collection of nearly

forgotten tapes, and the providential strokes that have

led to the Archdiocese of Los Angeles' new "The Beauty

Within" podcast project.

THIS PAGE

TOM TRACY/CNA, FLORIDA CATHOLIC

A makeshift memorial near the site of the partially

collapsed condo building in Surfside, Florida, for

those who have died and who are still missing.
---
CONTENTS

Pope Watch................................................ 2

Archbishop Gomez.................................. 3

World, Nation, and Local News....... 4-6

In Other Words......................................... 7

Father Rolheiser........................................ 8

Scott Hahn.............................................. 32

Events Calendar..................................... 33

14

18

20

24

26

28

30

The final farewell to the Long Beach deacon who 'never gave up'

John Allen: Canada and the papal apology that no one remembers

Mike Aquilina: The Church's long fight against abortion

Msgr. Richard Antall on Silicon Valley's obsession with cheating death

Robert Brennan: Surfside and the surprise of death

Kris McGregor: Spiritual battle tactics from St. Ignatius

Heather King comes to the defense of clutter

July 16, 2021 • ANGELUS • 1
---
POPE WATCH

Who am I to you?

The following is adapted from the

Holy Father's Angelus address to the

faithful gathered in St. Peter's Square on

Tuesday, June 29, the solemnity of Sts.

Peter and Paul.

At the heart of today's Gospel (Matthew

16:13–19), the Lord asks the disciples

a decisive question: "Who do you

say that I am?" It is the crucial question

that Jesus repeats to us today: "Who am

I to you?" Who am I to you, who have

accepted faith but are still afraid to set

sail on my word?

Prior to this question, Jesus asked the

disciples another one: "Who do people

say that I am?" Why did he ask the

question? To underline a difference,

which is the fundamental difference of

Christian life.

There are those who stop at the first

question and talk about Jesus; and

there are those who, instead, talk

to Jesus, bringing their life to him,

entering into a relationship with him,

taking the decisive step. This is what

interests the Lord: to be at the center of

our thoughts, to become the reference

point of our affections; to be, in short,

the love of our lives.

The saints we celebrate today took

that step and became witnesses. They

were not admirers, but imitators of

Jesus. They were not spectators, but

rather protagonists of the Gospel.

Peter did not speak about mission, he

lived the mission, he was a fisher of

men; Paul did not write learned books,

but letters of what he lived as he traveled

and bore witness. Both spent their

lives for the Lord and for their brothers.

And they provoke us, because we run

the risk of stalling at the first question:

of giving views and opinions, of having

grand ideas and saying beautiful words,

but never putting them into action.

How often, for example, we say

that we would like a Church that is

more faithful to the Gospel, closer

to the people, more prophetic and

missionary, but then, in practice, we

do nothing! It is sad to see that many

speak, comment, and debate, but few

bear witness.

Witnesses do not complain about others

and the world, but they start with

themselves. They remind us that God

is not to be demonstrated, but shown,

by one's own witness; not announced

with proclamations, but shown by

example. This is called "putting your

life on the line."

However, looking at the lives of Peter

and Paul, an objection might arise:

They were both witnesses, but they

were not always exemplary — they

were sinners! Peter denied Jesus and

Paul persecuted the Christians. But

they also bore witness to their failures.

Peter, for example, could have said

to the evangelists: "Do not write down

the mistakes I have made." But no, his

story comes out raw in the Gospels,

with all its miseries.

Paul does the same, recounting

mistakes and weaknesses in his letters.

This is where his witness begins: with

the truth about himself, with the fight

against his own duplicity and falsehood.

The Lord can do great things

through us when we are not careful to

defend our image, but are transparent

with him and with others.

Today, the Lord is questioning us.

And his question is the same one:

"Who am I to you?" It delves into us.

Through his witnesses Peter and Paul

he urges us to take off our masks, to

renounce half-measures, the excuses

that make us lukewarm and mediocre.

Papal Prayer Intention for July: We pray that, in social,

economic, and political situations of conflict, we may

be courageous and passionate architects of dialogue

and friendship.

2 • ANGELUS • July 16, 2021
---
NEW WORLD OF FAITH

ARCHBISHOP JOSÉ H. GOMEZ

The American creed

I

have always loved how, in God's

providence, the Church celebrates

the memorial of St. Junípero Serra

three days before our nation celebrates

its independence on July 4.

It is fitting, because Junípero was not

only the Apostle to California, he was

also one of America's founding fathers,

a fact that Pope Francis recognizes,

even if many of our own historians still

do not.

I am still struck at how the Catholic

beginnings of this country are ignored

in the telling of American history,

even in otherwise excellent books. As

I pointed out in my own 2013 book,

"Immigration and the Next America,"

such histories are not wrong, but they

are incomplete.

History is what holds us together as

one nation. How we remember our

past shapes how we understand where

we are in the present, and helps define

our meaning and purpose as a people.

We are in a period of deep division

in our country. Not surprisingly, our

anxieties about the present are playing

out in fierce debates — in school

boards, legislatures, and the media —

over the meaning of American history

and how to tell our national story.

Recovering the story of America's

"other" founding — which occurred

more than a century before the Mayflower,

James Madison, and Thomas

Jefferson — can help us see beyond

our present polarization.

Beginning in the 1500s, missionaries

from Spain were proclaiming the love

of Jesus Christ to indigenous peoples

from present-day Georgia and Florida

to Texas and lower California. French

missionaries were consecrating to the

Virgin Mary the lands from the Great

Lakes to the Gulf of Mexico.

It is true, these missionaries had

no hand in developing America's

founding documents or institutions.

But their mission gives witness to the

authentic American spirit that runs

through our history and finds expression

in the "letter" of our Declaration

of Independence and Constitution.

For the most part, America's Catholic

missionaries, like Junípero,

were "doers," men and women who

preached through lives of self-sacrifice

and service, rather than in eloquent

speeches and letters.

The missionaries had profound respect

for the indigenous peoples they

served, learning their languages and

traditions, and defending them against

the lusts and avarice of exploiters.

Enduring hardships and dangers,

they testified to their belief that Jesus

Christ is the greatest gift they could

ever offer to their neighbors.

They also witness to what Martin

Luther King Jr. and others have called

the "American creed" — the belief

expressed in those founding documents

that all men and women are

endowed by God with a sacred dignity

and undeniable rights to life, liberty,

and equality.

Recovering the spirit of America's

"other founding" gives us a more

solid grounding for American individualism,

which is always tempted

to fall into a kind of selfish pursuit of

one's own interests without regard to

others.

We are far more than "expressive

individuals," the missionaries would

tell us. We are creatures with bodies

and souls, born not in isolation but in

relation, in families and communities;

not only with rights but also responsibilities

to care for our neighbors and

the world around us.

The missionaries' example offers

a deeper perspective to our current

debates about race and group identity.

Individual identity for the missionaries

is rooted in being a child of God

and a brother or sister to everyone else.

The Jesuits in upstate New York and

the Franciscans in California envisioned

communities that were multiracial

and multicultural, reflecting the

Christian belief that the human race

is one family made up of a wonderful

diversity of races and languages, tribes

and peoples.

Finally, America's other founding

can help us to not become prisoners of

our past, defining the nation's future

by the hypocrisy and injustices of our

ancestors.

The missionaries' own failings

remind us that we are all sinners —

decent people who want to do the

right thing but very often do not.

In our current debates, we could use

a little of their humility and realism

about the human condition. It could

help us to realize that America is not a

nation whose founding ideals are false,

but a nation whose founding promises

have yet to be fully achieved.

The ongoing work of fulfilling

America's promise falls to you and me.

That is why I am excited for our upcoming

Jubilee Year to commemorate

the 250th anniversary of Junípero's

founding of Mission San Gabriel

Arcángel, which I announced formally

last week.

I pray this jubilee will inspire us to

continue the work of those first missionaries

— to be saints and missionary

disciples proclaiming Christ and

building an America that lives out its

founding principles of equality, freedom,

and dignity for every person.

Pray for me and I will pray for you.

And let us ask Our Lady of Guadalupe,

mother of the Americas, to help

bring a new awakening of our commitment

to the American creed.

July 16, 2021 • ANGELUS • 3
---
WORLD

French priest Regis Maurel rides his motorcycle to visit residents in Placetas, Cuba, on April 24. | ADALBERTO ROQUE/

AFP VIA GETTY IMAGES

■ Church grows ministry in Cuba

As Cuba faces its worst economic crisis in 30 years, Catholic priests are demonstrating

that the Church can be a source of aid.

Four French priests have started ministering from the town of Placetas, birthplace

of Cuban President Miguel Diaz-Canel, and have opened three day care

centers, five soup kitchens, an after-school center, a boarding school, and an

old-age home.

"In Cuba, the Church is ... putting a foot in the door so that it stays open," Father

Jean Pichon told Agence France-Presse. "The idea is not to convert people

or to seek a more prominent role, but truly to help."

This help comes as the Cuban government strips subsidies for food and other

basics to encourage more people into the workplace. Though these ministries

have increased the effect of the Church on the lives of Cubans, the island

nation of 11.2 million has only 300 priests, and Catholics are prohibited from

working various government positions.

■ Poland: More bishops removed,

sanctioned over abuse claims

Several Catholic bishops in Poland have resigned, been placed under investigation,

or sanctioned in Poland as the country's deepening clerical abuse crisis

worsens.

In mid-June, Pope Francis ordered a special commission to investigate Cardinal

Stanislaw Dziwisz, retired archbishop of Kraków and former aide to St. Pope

John Paul II, for mishandling abuse cases.

On June 25, the Vatican announced that two other retired Polish bishops had

been barred from public appearances and participating in the bishops' conference

and ordered to pay personal funds to an anti-abuse foundation as a result of

similar accusations.

The same month, two other bishops in Bydgoszcz and Legnica resigned in

response to Vatican investigations.

And on June 28, the country's Institute of Statistics of the Catholic Church

reported that 368 allegations of sexual abuse against clergy — both new and

historical — had been made in the past 2 1/2 years.

Archbishop Wojciech Polak, primate of Poland and the Polish bishops' point

person on child protection, asked for forgiveness to those "wronged and all scandalized

by evil in the Church" at a press conference responding to the report.

■ India: Catholics stand

up for 'Untouchable'

victim

Catholic advocates for the protection

of members of the Dalit class in India,

formerly known as "Untouchables,"

have raised alarm following the death

of a Dalit Catholic woman in police

custody.

Mariamma and her son were arrested

June 15 in connection with the theft

of $2,500 from a church where she

worked. Their lawyers claim that they

were tortured during their three days of

incarceration. Mariamma was transferred

to a hospital on June 18 following

complaints of uneasiness, but was

declared dead on arrival.

"For the theft of less than [$2,500] a

life is gone," Father Devasagaya Raj,

former national secretary for the Indian

bishops' Commission for Scheduled

Castes, told Crux. "The life of the Dalit

is equated with little money. Whether

Christian or Hindu or Muslim, the

lives of the Dalits are taken away just

for the loss of little money."

The perks of diplomacy — U.S. Secretary of State

Antony Blinken is accompanied by a tour guide,

right, as he visits the Sistine Chapel at the Vatican

on June 28 just before meeting Pope Francis. The

pair reportedly discussed the climate crisis, human

rights, and religious freedom in China, as well as

the humanitarian crises in Lebanon, Syria, the

Tigray region of Ethiopia, and Venezuela during

their 40-minute private meeting. | CNS/ANDREW

HARNIK, POOL VIA REUTERS

4 • ANGELUS • July 16, 2021
---
NATION

■ Texas: Suspected embezzler of church funds arrested

A church employee accused of stealing thousands from the cathedral of Lubbock,

Texas, has been arrested in Colombia.

Nathan Allen Webb began managing donations and the Venmo and PayPal

accounts belonging to the Cathedral of Christ the King in August 2019. In March

2021, Father John Ohlig, rector of the cathedral, discovered that more than

$250,000 was missing from the cathedral's bank account and alerted the diocese,

which notified the FBI.

"Webb was embezzling thousands of dollars each month by making unauthorized

transfers of money from (Christ the King's) Venmo account to his personal

Venmo account," according to the FBI criminal complaint. An arrest warrant was

issued on June 10.

Webb, who was arrested in Colombia for a visa overstay, is awaiting deportation,

but has been delayed due to a positive COVID-19 test, according to the Lubbock

Avalanche-Journal.

Though the diocese has confirmed that Father Ohlig was not involved in the embezzlement,

he has resigned as rector.

Interior Secretary Deb Haaland. | CNS/GRAEME

JENNINGS, POOL VIA REUTERS

■ US bishops welcome

probe into boarding

schools

The country's Catholic bishops will

"look for ways to be of assistance" to a

federal investigation into possible unmarked

graves of Native American children

at the sites of government-funded,

Church-run boarding schools.

The probe was announced June 22

by Interior Secretary Deb Haaland,

prompted by the recent discoveries of

unmarked mass graves at the sites of two

former residential schools for natives in

Canada.

"By bringing this painful story to light,

may it bring some measure of peace to

the victims and a heightened awareness

so that this disturbing history is never

repeated," said U.S. Conference of

Catholic Bishops spokeswoman Chieko

Noguchi in response to the news.

Haaland, who is a member of the

Laguna Pueblo in New Mexico and

is Catholic, said the new initiative will

present a final report next April.

According to the National Native

American Boarding School Healing

Coalition, more than 350 such boarding

schools operated across the country in

the 19th and 20th centuries.

Bishop Mark J. Seitz of El Paso, Texas, holds a rosary blessed during the canonization of St. Oscar Romero in 2018 to

give to Vice President Kamala Harris at their June 25 meeting. | CNS/COURTESY OF HOPE BORDER INSTITUTE

■ Bishop asks VP to work with Catholics on border

Vice President Kamala Harris met with El Paso Bishop Mark J. Seitz during her

June 25 visit to the U.S.-Mexico border, part of a larger survey of the situation at

the border and the services offered to migrants and asylum-seekers.

"Why is your visit today important?" Bishop Seitz said during the meeting, which

included other faith and nonprofit leaders. "Borders are places where the drama

of human life — its suffering and aspirations — unfolds and they put squarely

before us a moral choice: to build bridges of encounter or walls of fear."

During the meeting, Bishop Seitz issued two invitations to the vice president:

to partner with faith communities to bring relief to migrants and to join Catholic

bishops from the U.S. and Central America during an upcoming meeting in

Washington, D.C.

"I invite you to join us," Bishop Seitz said. "We need to work together, Madame

Vice President."

July 16, 2021 • ANGELUS • 5
---
LOCAL

■ It's official: San Gabriel Jubilee

Year to kick off in September

A proclamation officially announcing a Jubilee Year for Mission San Gabriel was

read at Mass in all parishes around the archdiocese the weekend of June 26-27.

In the proclamation letter, Archbishop José H. Gomez said the year will officially

begin Sept. 11, with an opening Mass at the Cathedral of Our Lady of the Angels

and conclude Sept. 10, 2022, with a closing Mass at Mission San Gabriel.

"In the tradition of the Church, Jubilee Years are designated to commemorate

important moments in the history of salvation," he wrote. "The foundation of

Mission San Gabriel is one such important moment."

Noting that the mission is the first church in what is now the Archdiocese of Los

Angeles, the archbishop stressed that "this Jubilee Year is not about the past."

"It is about the present and the future," the archbishop wrote. "I am confident

that during this holy year God will pour out many graces on our local Church and

on our families."

The Jubilee Year will take place as restoration work continues on the mission

church, which was severely damaged in a July 2020 arson fire.

Volunteers came from local charities to help at the St. Barnabas Church food drive June 26. | LONG BEACH

BACOLOD ASSOCIATION

■ Long Beach parish hosts historic food drive

More than 1,000 boxes of food were handed out to local families in need at a

June 26 drive-through event at St. Barnabas Church in Long Beach that drew

helpers from all parts of LA County, including Sheriff Alex Villanueva.

The drive was organized by the Long Beach Bacolod Association and the LA

Sheriff Department's Community Advisory Council.

More than 100 volunteers from local charities, including the Knights of

Columbus, Manny Pacquiao Foundation, Filipino American Community of

Los Angeles, Wives of the LASD, Philippine Nurses Association of Southern

California (PNASC) and the Philippine Consulate General, passed out canned

and dry goods, milk, fresh vegetables, and hand sanitizers. One-hundred fifty

boxes were earmarked for Gold Star Moms, local families whose relatives died

in the line of duty.

"We normally do festivals and exchange cultural events," said organizer Peter

Ramirez, president of the Long Beach Bacolod Association, "but because of the

pandemic, we started to concentrate on food drives."

Fox Bradley Melo. | COURTESY CATHOLIC COMMIT-

TEE ON SCOUTING, ARCHDIOCESE OF LOS ANGELES

■ St. Finbar teen scores

scouting scholarship

A local Eagle Scout is headed to

college with a $5,000 scholarship for

his outstanding service and leadership

in his Catholic community.

Fox Melo of St. Finbar Church in

Burbank was awarded the Emmett

Doerr Scholarship from the National

Catholic Committee on Scouting. He

is one of eight scouts honored with

scholarships throughout the U.S., and

the first from Los Angeles to receive

one.

As a member of Troop 118, Melo

has earned all 138 merit badges, and

held a variety of leadership positions,

including senior patrol leader and junior

assistant scoutmaster. He has also

received all four Catholic religious

emblems in the ranks of scouting.

For his Eagle project, Melo organized

a team to relandscape the patio

area at St. Finbar's, where parishioners

gather before and after Mass.

He will be attending the University

of Oregon as a Stamps Scholar, where

he plans to major in marine biology.

Y

6 • ANGELUS • July 16, 2021
---
IN OTHER WORDS...

V

An objective take on the US bishops meeting

The analysis on the USCCB June meeting "Teachers or Policymakers?"

in the July 2 issue is a great example of unbiased reporting

on the Communion debate that cannot be found in the secular media.

After reading this article, I feel that I have a better understanding of what

the bishops are faced with. It's not as simple as so many seem to think!

As someone who doesn't have a television, Angelus is my "quiet way" of

keeping informed.

— Marilyn Boussaid, St. James Church, Redondo Beach

The choice for pro-abortion Catholic politicians

Dr. Greg Polito's letter in the July 2 issue was right on the money. Nobody

who embraces the Democrat Party, whose cornerstone is the "right" of

women to have an abortion, can be a Catholic. It just isn't right. It's time

to compel politicians Biden and Pelosi to make a choice: save their jobs or

save their souls.

— Jim Patton, Arcadia

Y

Letters to the Editor

Continue the conversation! To submit a letter to the editor, visit AngelusNews.com/Letters-To-The-Editor

and use our online form or send an email to editorial@angelusnews.com. Please limit to 300 words. Letters

may be edited for style, brevity, and clarity.

(Re)open for worship

"Stop using Lebanon and

the Middle East for outside

interests and profits."

~ Pope Francis, in a statement after a day of prayer

and reflection with Lebanon's Christian leaders at the

Vatican amid the country's worsening political crisis.

"I knew I had been badly

hurt by my transition, and I

wasn't the only one."

~ Grace Lidinsky-Smith in a June 25 essay in

Newsweek, advocating for standards of care for

patients suffering gender dysphoria.

"If protecting the life of a

baby struggling to breathe,

after surviving a brutal

attack on his life, is a bridge

too far for pro-abortionrights

politicians, then I

ask again, what are we

dialoguing about?"

~ LA Auxiliary Bishop Robert Barron, in a June 28

New York Post op-ed.

"The ultimate goal seems to

be to suppress any kind of

identity — religious, ethnic,

or ideological — that

might challenge the CCP's

authority, whether now or

in the future."

"Foreign Policy" columnist Azeem Ibrahim in a July

1 essay, "The Chinese Communist Party Is Scared of

Christianity."

People leave the Cathedral of Our Lady of the Angels after Mass on June 19,

the first day that churches in the Archdiocese of Los Angeles were able to drop

COVID-19 restrictions. | VICTOR ALEMÁN

View more photos

from this gallery at

AngelusNews.com/photos-videos

Do you have photos or a story from your parish that you'd like to share? Please send to editorial @angelusnews.com.

"A law intended to fight

discrimination cannot,

and must not, pursue that

objective with intolerance."

~ Cardinal Gualtiero Bassetti, president of the CEI

conference, on Italy's proposed "Zan bill," aimed

at combating homophobia. In a historic first, the

Vatican invoked its sovereign status under a 1929

treaty to protest the legislation.

July 16, 2021 • ANGELUS • 7
---
IN EXILE

FATHER RONALD ROLHEISER, OMI

Oblate of Mary Immaculate Father

Ronald Rolheiser is a spiritual

writer; ronaldrolheiser.com.

Joy: A sign of God

is only one true

sadness, not being a saint!"

"There

French novelist, philosopher,

essayist, Leon Bloy ends his

novel "The Woman Who Was Poor"

with that much-quoted line. Here is

a less-known quote from Bloy, which

helps us understand why there is such

a sadness in not being a saint: "Joy is

a sure sign of the life of God in the

soul."

Joy is not just a sure sign of the life

of God in the soul, it is a sign of the

life of God — period. Joy constitutes

the inner life of God. God is joy. This

is not something we easily believe.

For lots of reasons we find it hard to

think of God as happy, as joyful, as

pleased, and (as Julian of Norwich

says) as relaxed and smiling.

Christianity, Judaism, and Islam,

for all of our differences, have this in

common. We struggle to think that

God is happy with our lives and, even

more important, that God is happy,

joyful, relaxed, and smiling.

Yet, how could it be otherwise?

Scripture tells us that God is the

author of all that is good and that all

good things come from God. Now, is

there a greater goodness in this world

than joy, happiness, laughter, and

the life-giving grace of a benevolent

smile? Clearly not. These constitute

the very life of heaven and are what

makes life on earth worth living.

Surely then they take their origins

inside of God. This means that God

is joyful, is joy.

If this is true, and it is, then we

should not conceive of God as a disappointed

lover, an angry spouse, or a

wounded parent, frowning in the face

of our inadequacies and betrayals.

Rather, God might be imagined as a

smiling grandmother or grandfather,

delighting in our lives and energy, at

ease with our littleness, forgiving our

weaknesses, and forever gently trying

to coax us toward something higher.

A growing body of literature today

suggests that the purest experience

of love and joy on this earth is not

what is experienced between lovers,

spouses, or even parents and their

children. In these relationships, there

is inevitably (and understandably)

enough tension and self-seeking to

color both its purity and its joy.

This is generally less true in the

relationship of grandparents to their

grandchildren. That relationship,

more free of tension and self-seeking,

is often the purest experience of love

and joy on this earth. There, delight

flows more freely, more purely, more

graciously, and mirrors more purely

what is inside of God, namely joy and

delight.

God is love, Scripture tells us; but

God is also joy. God is the gracious,

benevolent smile of a grandparent

looking with pride and delight at a

grandchild.

However, how does this all square

with suffering, with the paschal

mystery, with a suffering Christ who

through blood and anguish pays the

price of our sin? Where was God's

joy on Good Friday as Jesus cried

out in agony on the cross? As well, if

God is joy, how do we account for the

many times in our lives when, living

honestly inside of our faith and our

commitments, we do not feel joyful,

happy, laughter, when we struggle to

smile?

Joy and pain are not incompatible.

Neither are happiness and sadness.

Rather, they are frequently felt

together. We can be in great pain

and still be happy, just as we can be

pain-free, experiencing pleasure, and

be unhappy. Joy and happiness are

predicated on something that abides

through pain, namely, meaning; but

this needs to be understood.

We tend to have an unhelpful,

superficial notion of what constitutes

both joy and happiness. For us, they

are incompatible with pain, suffering,

and sadness. I wonder how Jesus

would have answered on Good Friday

as he hung on the cross if someone

had asked him, "Are you happy up

there?"

I suspect he would have said something

to this effect: "If you're picturing

happiness in the way you imagine

it, then no! I'm not happy! Today, of

all days, particularly so! But what I'm

experiencing today amidst the agony

is meaning, a meaning so deep that

it contains a joy and a happiness that

abide through the agony. Inside of

the pain, there is a profound joy and

happiness in giving myself over to

this. Unhappiness and joylessness,

as you conceive of them, come and

go; meaning abides throughout those

feelings."

Knowing this still does not make it

easy for us to accept that God is joy

and that joy is a sure sign of the life of

God in the soul. However, knowing

it is an important start, one we can

build on.

There is a deep sadness in not being

a saint. Why? Because our distance

from saintliness is also our distance

from God and our distance from God

is also our distance from joy.

8 • ANGELUS • July 16, 2021
---
July 16, 2021 • ANGELUS • 9
---
Trappistine Sisters at St. Mary's Abbey in Wrentham, Massachusetts pray the Liturgy of the Hours in the convent's main chapel.

Guests are allowed to pray and attend Mass in the visitor section of the chapel.

INSIDE VOICES OF PRAYER

For 25 years, an unlikely series of recordings made inside a cloistered

convent went unpublished — and almost forgotten. Now, a new project

is revealing 'The Beauty Within.'

BY ANN RODGERS / PHOTOGRAPHY BY ISABEL CACHO

On the way home from his

psychiatric practice, Dr. John

Masko used to stop at St.

Mary's Abbey in Wrentham, Massachusetts,

to buy chocolates that the

nuns made — and sometimes to attend

Mass. On those visits to the Trappistine

monastery in the 1990s, he discovered

something that changed his understanding

of living the faith: a gift he is

sharing through the new podcast series,

"The Beauty Within."

Glimpses of the sisters at work and

prayer led him to reconsider his assumptions

about cloistered nuns, those

who live a life of prayer inside their

monastery and don't do ministry in the

outside world. He had viewed them as

sad escapees from a loveless life. Yet

the women he met seemed radiant.

One day around 1996, he overheard

a nun laughing with such pure joy that

he resolved to investigate the disconnect

between his perceptions and their

experience. He eventually talked their

superior into allowing him to record

and publish interviews with the sisters.

He learned that their lives are designed

to draw them deeper into love

with God, love for the world, and for

everyone they encounter. They can't

hide because they are vowed to live

together.

"One of them says it's a school of love.

And so, you're confronting yourself,

you're confronting others. You can't

escape, and the goal is love," Masko

said.

Excerpts from the interviews are the

core of "The Beauty Within," with

seven episodes to be released Tuesdays

through July 13.

Trappistines are the women's counterpart

to Trappists — formally the Order

of Cistercians of the Strict Observance

— contemplatives made famous by

the spiritual writer Thomas Merton.

Their life is spent within the monastery

walls, in a rhythm of prayer and work,

with a special commitment to silence.

"It's a notion of silence that's more

like stillness," Masko said. "The sisters

I spoke with are glib. They are chatterboxes,

a lot of them. They are very

thoughtful, and have no hesitancy.

They are not what you would call shy

or quiet people."

Their cultivation of silence "seemed

more like a philosophical concept of

being available, of not being distracted

10 • ANGELUS • July 16, 2021
---
y chatter and other sorts of distractions.

It's so you can be available to

grow and to love and to pray."

In the words of Pope Francis' apostolic

constitution for contemplative women,

they "live exclusively seeking God's

face, longing to find and contemplate

God in the heart of the world."

Trappistine spirituality is designed

to remove distractions and superficial

activities, in order to be fully available

to love God and others.

Sister Maureen, a New Jersey native

who had been influenced by Thomas

Merton's writing, had first entered the

Sisters of Mercy, an order known for

hands-on service to the poor. But she

felt called to a life of intimacy with

God.

"I do believe that every human being

has desires deeper than they know,"

said Sister Maureen, who later served

11 years as mother superior. "And I

think they know some of them. But

like me and many others, it's too hard

. . . to put them into words. But sometimes,

when they see the contemplative

life or hear the contemplative witness,

"They were all so honest," said Masko of his

interviews with sisters. "They were aiming

for honesty. I wasn't used to that and our

culture isn't used to that."

they know that they know it deep

down. They know that there is something

inside them too, that is made for

the same."

A quarter century after the interviews,

the St. Mary's website shows a diverse

community of more than 30 sisters,

ranging in age from 25 to 91. Many

photos show sisters laughing as they

walk in the woods, make chocolate

candy, or tend the sheep that supply

wool for yarn and blankets that the

sisters also make and sell.

Contemplative monasteries "are really

a beating heart of prayer and holiness,"

said Sister Germana Santos, a Daughter

of St. Paul who serves as delegate

for religious in the Archdiocese of

Boston.

"These sisters leave the world for one

reason only: because they are in love

with God who has called them," she

said. "The nuns love God and the people

of God. They spend their lives contemplating

the face of God and praying

and offering their lives for others."

Though she doesn't know the individual

sisters well, their superior, Mother

Sofia Millican, is an inspirational

speaker whom Sister Germana recruited

to address Boston's men and women

religious on three occasions. At a time

of tension and division in both society

and the Church, cloistered communities

are instruments of healing, Sister

Germana said.

"They live in community, seeking to

create relationships that are a witness

Sister Maureen, former mother superior of St. Mary's Abbey, walks up the main drive to the convent.

July 16, 2021 • ANGELUS • 11
---
of goodness and mercy, and of accepting

one another and of charity. That

is a great prophetic sign to the world,

which is so bereft, so full of aggression

and lacking in mercy."

The podcast title, "The Beauty

Within," is from Sister Jean, who felt

a sudden call as a young woman who

was acutely homesick for her native

Scotland. While praying in church

for peace, she had an overwhelming

experience of being in love with and

loved by God.

She knew it was a call to religious life,

something so far from her experience

that she began by looking up "convent"

in the phone directory. Her friends

and family thought she would snap out

of it, but three decades later, the love

story continues.

"It's a life that brings you to the recognition

of the goodness and the beauty

in everything you come across," she

said. "We don't go in for a lot of flowers

and statues and so on, like in churches

and so on, because the idea was there

that . . . you look for the beauty within,"

she continued.

"The beauty within is always love."

Their silence is not isolating.

"We go together to God," she said.

"The silence is for solitude, for prayer,

it's not just to be kind of separate. ...

Our goal is prayer, as much as we can

possibly do, and so we kind of give

each other a space. You don't interfere

with the other sister by chatting."

They pray for global issues and for

personal concerns that people send to

them.

"Now, we take those prayer petitions

very, very seriously, because our life is

for prayer," she said.

"We've come away not to get away,

but to be actually more involved in the

world because you have that space to

kind of sit back and look and consider

and yearn for a better world."

Masko, whose work taught him that

most people fool themselves about who

they are, remains struck by the sisters'

authenticity.

"They were all so honest," he said.

Even if they knew that their thoughts

"might sound odd, they don't really

care. They were aiming for honesty. I

wasn't used to that and our culture isn't

used to that."

He originally sought to produce an

audiobook, so listeners could hear the

sisters' turns of phrase and tones of

voice. Publishers told him that no one

was interested in cloistered nuns.

A sister at St. Mary's Abbey adds feed to

a trough in the convent's barn. Raising

the convent's few dozen sheep are

among the sisters' regular duties.

12 • ANGELUS • July 16, 2021
---
In frustration, he went to talk to

Mother Agnes, the superior.

"She said something like, 'It's the will

of the Lord right now. Let it go. You

don't know if this is the time. And I

thought to myself, maybe she's right.

Maybe this is not the time," he said.

"I just put it on the shelf — way up

on top of a 6-foot-tall bookshelf in my

son's room."

Which is where his elder son, John

Masko IV, found it about eight years

ago, when he was in college.

In the interviews, "I started hearing

words and concepts that were part of

my upbringing," he said.

"The emphasis on love is a learning

process. To my dad, that is the ultimate

standard of human maturity — having

learned to love."

As someone used to the speed-of-light

pace of digital information, John IV

was gripped by the focused thoughtfulness

of the sisters' reflections.

"I was struck by the richness of

these women's lives. We are all sort of

trained to think that a fast pace and

extreme variety of content in our lives

is necessary in order to have a fulfilling

life. Listening to these interviews, it

really brings home how much you are

missing in a normal, fast-paced life,"

he said.

"These women stay on the same fewacre

plot of land their entire life with

the same group of people, have services

at the same time and the same jobs.

They never travel. They never buy

much of anything, and yet they seem

to have some of the most interesting

lives of anyone. They never get bored.

There is a weird, inverse proportionality.

It may actually be that the more

stuff is going on in your life, the more

unfulfilling it is because you don't

actually fully absorb anything."

He thought

Dr. John Masko is

interviewed by the LA

Catholics digital team

at his home in Cumberland,

Rhode Island, a

10-minute drive from

St. Mary's.

releasing the

interviews during

the COVID-19

pandemic would

"do a lot of good.

People were

spending so much

time alone in their

own cloisters. A

lot of people were

struggling to figure

out how to live with themselves and

actually live with the actual people

they live with but don't usually have to

spend that much time with."

A friend from California put him in

touch with the Archdiocese of Los Angeles,

whose digital communications

department produced the podcasts.

As his work comes to fruition, Masko

hopes that listeners will gain an appreciation

for the complexity of life and

the primacy of love.

"If even a soul or two is affected, that's

important," he said.

The first episode of "The Beauty

Within" podcast launched on June 1.

To listen, visit beautywithin.lacatholics.

org/.

Ann Rodgers is a longtime religion reporter

and freelance writer whose awards

include the William A. Reed Lifetime

Achievement Award from the Religion

News Association.

July 16, 2021 • ANGELUS • 13
---
The happy hero

of St. Cyprian

Handicapped and ill for much of his

life, Deacon Santiago 'Jimmy' Salas was

a force to be reckoned with, whether

ministering in the parish or the prison.

BY STEVE LOWERY

It's not unusual for people to hug

at a funeral. Of course, these are

usually hugs of consolation, the

kind offered in support and accompanied

by grim expressions, sometimes

tears.

There were hugs when they came to

say goodbye — for now — to Deacon

Santiago "Jimmy" Salas. Lots of

hugs, so many hugs before his June

25 funeral Mass that the interior of St.

Cyprian Church in Long Beach resembled

the activities of a particularly

close-knit beehive.

But these hugs were different, offered

with arms and smiles wide and accompanied

often by backslaps, sometimes

laughter. These were the kind of hugs

you'd get at a family reunion or backyard

barbecue, the kind Jimmy and

Lupe, his wife of 42 years, often threw

for friends and those they served,

including those they met through the

Kairos Prison Ministry.

"A guy would get out of prison,

Father Al [Scott] would bring him

to Jimmy's house for dinner, maybe

watch a movie and then talk about his

reentry into the world," said Deacon

Brian Conroy, who was part of

Jimmy's diaconate class and oversees

diaconate formation for the Archdiocese

of Los Angeles.

"It was beautiful: you're in prison,

Mourners embrace at the funeral for Deacon Santiago

"Jimmy" Salas at St. Cyprian Church in Long

Beach on June 25. | MIKE GOULDING

you get out, now what do you do?

You go to Jimmy's house! Just beautiful.

It's why you saw so many happy

people [at his funeral]. He did that for

so many, brought so much joy to so

many people."

A devotee of the Cursillo movement

that trains Catholic laypeople to

become active leaders and examples

of Christ's message, Jimmy embraced

the call to evangelize. Besides his

various duties as a deacon, he worked

14 • ANGELUS • July 16, 2021
---
with men in prison, incarcerated

juveniles, and delivered the Eucharist

to those trapped at home.

If he encountered someone experiencing

homelessness, Lupe said, "he

would not only give them money,

but many times food, and ask, 'Hey

brother, what's your name? Joe? OK,

hello Joe Jones.' He always respected

someone's dignity. Jimmy's favorite

saying was, 'The only time you look

down on a person is when you're

picking them up.' "

Father Scott gave the homily during

the Mass, calling Jimmy "a hero to

me," because he "never quit, never

gave up," though no one would have

faulted him if he had. Jimmy had

been afflicted by numerous ailments

and illnesses for a good deal of his life.

When he was 49, both of his legs had

to be amputated due to diabetes.

And yet, anyone who knew him

knew he was never one to complain,

never one to ask, "Why me?" If anything,

what some saw as physical challenges,

Jimmy viewed as a spiritual

advantage, especially when working

with others.

"He was such an example of faithfulness,

he never used what some

people saw as a handicap to get out of

anything; if anything, he used it as an

opportunity," said Audrey Hamamoto,

a friend and the wife of his deacon

classmate, Joe Hamamoto. "He used

to say the only time he'd used his

handicap to his advantage was to get

to the front of the line to volunteer."

Then there were those moments that

Jimmy made sure you'd never forget,

like those occasions when he would

slip off both prosthetic legs and place

them in front of himself to answer

someone who believed they had cornered

the market on hardship.

"He'd tell them, 'You think you have

problems? Let me tell you what problems

are,' " said Joe Hamamoto.

During prison ministry, Jimmy was

known to use one of the legs as a

gavel, banging it on a table to call to

order overly excited or unruly young

men at a juvenile detention center.

To those with whom he went

through diaconate training, Jimmy

served as a lesson that "we had to be

men of faith, we had to know that

we are here to serve, to always be an

example," Joe said. He could provide

that lesson because he had been

serving in numerous ministries long

before he showed up to diaconate

training at Alemany High School.

"Jimmy," Deacon Conroy noted,

"was doing deacon things long before

he became a deacon."

Lupe said that his inspiration to

serve was born after attending his first

Cursillo movement event. The pair

had met at a family get-together at

Lupe's aunt's. Her cousin had called

her over, introduced her to Jimmy,

and casually added that, "This is the

man you're going to marry." Lupe

laughed but, a year later, they were

married.

"He was so kind and patient," she

said. "You couldn't help but fall in

love with him."

Lupe described themselves as "cradle

Catholics" whose faith practice didn't

extend far past attending Sunday

Mass. But then Jimmy attended

Cursillo as a favor to someone who

asked him to, his expectations low to

nonexistent. When he returned home,

Lupe noticed the difference immediately.

"He didn't

Jimmy and Lupe Salas

with Archbishop José H.

Gomez at Salas' diaconate

ordination in 2016.

| VICTOR ALEMÁN

walk back into

the house, he

floated," she

said. "It totally

transformed him,

he was nearly

unrecognizable.

I thought, 'What

did they do to

this poor man?' I thought they had

brainwashed him."

Whatever it did to his brain, the experience

had scrubbed his heart along

the way, too. Lupe would have her

own Cursillo experience and the pair

would embark on a lifetime of serving,

most often together, Lupe saying that

Jimmy was "the brains and I was his

hands and legs."

The pair remained a team when

Jimmy became a deacon in 2016,

something common among diaconate

couples. Virtually all of the couples

July 16, 2021 • ANGELUS • 15
---
from Jimmy and Lupe's diaconate

class were at the funeral, forming an

honor guard of sorts on either side of

the aisle as Jimmy's casket passed by to

the tune of Beethoven's "Ode to Joy."

Though diaconate classes are known

to be close, this particular class was exceptionally

so, assembling for annual

getaways and often spending time at

one anothers' homes. In many ways,

Jimmy was the center from which

much of that happened. He was

beloved by them, the affection that his

brothers had for him never as palpable

as the day of his ordination.

Because of his physical limitations,

Jimmy was excused by Archbishop

José H. Gomez from having to kneel

or prostrate himself during the ceremony.

"But he really wanted to be with

everybody else in everything," Conroy

said. "So, the two biggest guys in the

class placed themselves on either side

of him. They put him down on the

ground and they picked him back up.

It was a beautiful thing to see."

Beautiful things happened a lot

when Jimmy was involved, and they

happened right up until he passed

away. Just three weeks before he died,

Jimmy had made a promise to officiate

at the baptism of his nephew's

son, but as the day approached, he'd

become so ill that he could hardly get

out of bed. The night before, Lupe

told him everyone would understand

if he couldn't do it.

"He told me he was just going to pray

really hard and see what God brings,"

she said.

The next morning, Jimmy said he

felt well enough to do it, but Lupe

said she had her doubts. "His eyes

looked sunken in. I had to help him

in and out of the car."

But once he arrived at the church,

everything changed. It was as if "the

Holy Spirit slammed into his chest,"

Lupe said. "He was alive, gregarious,

talkative. He did a beautiful job, he

even went to the after-party!

"It was like a miracle God granted, a

beautiful gift for him and us."

And for Jimmy's fellow deacon class,

there was that final gift that came in

the timing of his death: Thursday,

June 10, the night before the fifth

anniversary of Jimmy's ordination as a

deacon.

Santiago "Jimmy" Salas Jr. was 68.

He is survived by his wife, Lupe, son

Santiago "Jimmy" Salas III, daughters

Alicia Salas and Amanda Salas, and

grandchildren A.J. Cruz, Santiago

Salas IV, and Chelsea Salas.

Steve Lowery is the arts and culture

editor for the Long Beach Post and

a parishioner at American Martyrs

Church in Manhattan Beach.

Fellow deacons gather around Salas' casket for a final

farewell after his funeral Mass. | MIKE GOULDING

16 • ANGELUS • July 16, 2021
---
The honorees of this year's St. John Seminary Annual

Awards Gala, from left to right: Father Patrick Mullen,

Msgr. Jim Forsen, Christopher and Laura Meissner,

and Msgr. Tim Nichols. | ST. JOHN'S SEMINARY

St. John's gala to honor longtime

LA pastors, seminary benefactors

BY TOM HOFFARTH

a final

NG

By the time the annual gala for St. John's Seminary

returns to the Plaza at the Cathedral of Our Lady of

the Angels on Sept. 18, it will be a full two years since

supporters have been able to meet in person to celebrate the

successes of the alumni from the Camarillo campus.

COVID-19 restrictions led to a virtual event in 2020, but it

still was one that St. John's Seminary board president Dan

Schwala called "very successful" and marked by generous

contributions from benefactors throughout the archdiocese

and beyond.

That included a Daniel Murphy Foundation grant of

$250,000 to upgrade classrooms into the digital age with

technology enhancements as well as more renovations and

repairs. More than $100,000 also came from the seminary

board of directors.

Schwala is counting on having a reenergized fundraising

effort as three priests who were scheduled to be recognized

in 2020 will now be honored for their service:

• Father Patrick Mullen, the pastor at Padre Serra Church

in Camarillo, is a former St. John's Seminary faculty member.

He has a Ph.D. in biblical studies/New Testament from

the Graduate Theological Union in Berkeley after receiving

his Bachelor of Arts in philosophy and a M.Div. at St.

John's Seminary, graduating in 1985. A regular speaker at

the Religious Education Congress in Anaheim, he has also

been involved in giving retreats and continuing education

seminars to priests in Southern California and beyond.

• Msgr. James Forsen, the pastor of Visitation Church in

Westchester, was the archdiocesan vocations director for

more than 10 years, starting in 2002. This came after 12

years as the pastor at St. John the Baptist Church in Baldwin

Park. He was ordained a priest in 1979 after graduating from

St. John's Seminary and has served as an associate pastor

at St. Joan of Arc Church in West LA as well as St. Mark

Church in Venice, and Our Lady of Lourdes in East LA.

• Msgr. Tim Nichols, the pastor at St. John Vianney

Church in Hacienda Heights, was ordained in 1973 and

received his M.Div. and Master of Arts from St. John's Seminary.

He was also the head of the LA Council of Priests. One

of his great challenges at St. John Vianney was gathering his

parishioners to lead a $5 million-plus fundraising effort to

build a new church in 2018, seven years after an arsonist's

fire destroyed the longtime sanctuary.

Also, Christopher and Laura Meissner will be recognized

with the Evangelii Gaudium ("Joy of the Gospel") Award for

their longtime support of St. John's Seminary and their years

of service to the church and to the wider community. Christopher

Meissner, president and CEO of Meissner Filtration

Products, has been on the St. John's Seminary board since

2010.

For St. John's Seminary rector Father Marco Durazo, the

ways in which Catholics persevered to stay connected with

the Eucharist during the COVID-19 shutdowns has underscored

the importance of vocations to the priesthood like

never before.

"Without St. John's, there would be no formation of priests

to celebrate the Eucharist and the other sacraments and to

lead the faithful in their spiritual journey," said Father Durazo.

"Each and every one of us needs to support our seminary,

because the future of our Church depends upon it.

"The origins of the seminary's annual gala lie in the critical

need of building a deeper awareness of the paramount and

profound importance of St. John's Seminary to each and

every Catholic throughout the archdiocese and beyond."

To learn more about attending or supporting this year's

annual awards gala, visit stjohnsem.edu/Gala.

Tom Hoffarth is an award-winning journalist based in Los

Angeles.

July 16, 2021 • ANGELUS • 17
---
Acts of contrition

If Pope Francis repeats his predecessor's apology to

indigenous Canadians for abuses at residential schools, will

it stick this time?

BY JOHN L. ALLEN JR.

ROME — At one level, the

current press for Pope Francis to

apologize for the abuse of indigenous

persons at Church-run residential

schools in Canada might seem a

bit gratuitous, given that another pope

already did issue such an apology more

than a decade ago.

Pope Emeritus Benedict XVI, who

became the first pope in history to

apologize for the clerical sexual abuse

crisis during a meeting with victims in

the United States in 2008, issued the

"mea culpa" to indigenous Canadians

in 2009.

Pope Benedict met representatives of

the First Nations, groups of Canada's

indigenous population, in the Vatican

in late April 2009, roughly a year after

his trip to the U.S. Though the session

itself was private, the Vatican issued

a statement afterward indicating the

pontiff had delivered the hoped-for

apology.

"Given the sufferings that some indigenous

children experienced in the

Canadian residential school system,

the Holy Father expressed his sorrow

at the anguish caused by the deplorable

conduct of some members of the

Phil Fontaine, leader of Canada's Assembly of First

Nations, at the Vatican in 2009. Fontaine was one of the

native leaders who met then with Pope Benedict XVI

about the legacy of Indian residential schools, many of

which were run by Catholic dioceses and orders.

| MANUELA DE MEO/CNS, CATHOLIC PRESS PHOTO

church and he offered his sympathy

and prayerful solidarity," the Vatican

said.

Members of the First Nations groups

at the time called the apology historic.

"Today, to listen to the Holy Father

explain his profound sorrow and

18 • ANGELUS • July 16, 2021
---
sadness and to express that there was

no room for this sort of abuse to take

place in the residential schools, that

is an emotional barrier that now has

been lifted for many people," said

Chief Edward John of the Tlazten

First Nations.

Phil Fontaine, national chief of the

Assembly of First Nations, also said he

appreciated the apology.

"I think His Holiness understands

the pain that was endured by so many,

and I heard him say that it caused

him great anguish," said Fontaine. "I

also heard His Holiness say that the

abuse of the nature that was inflicted

on us has no place in the Church; it's

intolerable."

"What I heard," Fontaine added, "it

gives me comfort."

It was also praised by the prelate

who represented the Canadian

bishops in the session, Archbishop

Gérard Pettipas of the Archdiocese of

Grouard-McLennan.

"It was important to hear from the

one person who does speak for the

Catholic Church around the world, to

hear him say 'I am sorry. I feel for what

you people have suffered. We hope

that we can turn the page and move

toward a better future together,' " he

said.

It was well known a decade ago that

more than 150,000 native Canadian

children had been compelled to attend

these residential schools from the

mid-19th century through the 1970s,

that for most of that time the schools

had been run by the Catholic Church,

and that physical and sexual abuse had

been rampant. Thus Pope Benedict

was issuing a blanket apology for the

whole sorry story, while unambiguously

recognizing the Church's role in it.

Given that history, how does one

explain the recent press by indigenous

Canadians for more apologies,

including one from the pope, which

they now hope will come in a Dec.

17-20 audience with Pope Francis

announced this week by the Canadian

bishops?

Equally, how do we explain the

public demand for an apology by

Canadian Prime Minister Justin

Trudeau, who claimed the Church

has been "silent" and "not stepping

up"? Surely someone in the Canadian

government, or the country's bishops'

conference, could gently point out

that his claims of silence aren't quite

right?

For one thing, 12 years ago is a long

time, and it's possible that not only the

emotional impact of Pope Benedict's

apology has faded but the very memory

of it in some quarters. The fact that

Pope Benedict's papacy generally had

a reduced public and media profile

may play some role.

For another, we didn't know in 2009

that the suffering of native children

for more than a century included not

merely physical and sexual abuse, but

also deaths amid neglect and obscurity.

That reality was brought home by

the recent Kamloops discovery earlier

this year, when the remains of some

250 children, unceremoniously placed

in what amounts to a mass grave,

were found on the grounds of what

had been the country's single largest

residential school. Since that discovery

was made in late May, the finding of

remains on the grounds of other residential

schools has also been reported.

The past 12 years have also, of

course, witnessed the further unraveling

of the Catholic Church's public

standing due to further revelations of

various sorts of abuse, combined with

the sometimes anemic and unconvincing

efforts of Church authorities to

come to terms with that past.

All of that makes Pope Francis'

mid-December session with members

of three different Canadian indigenous

groups — First Nations, the Metis,

and the Inuit — which will include elders

and Knowledge Keepers, residential

school survivors, and youth from

across the country, especially fraught.

No doubt Pope Francis will deliver

the desired apology, as Pope Benedict

did before him. In this case, the session

will stretch over a full three days,

with the pontiff

meeting each

Protesters take part in a

group of indigenous

individually

march from the Ontario

provincial legislature

before bringing

in Toronto on June 6,

everyone together

after the remains of 215

at the end, and

children were found on

it strains credulity

that the Vat-

the grounds of the Kamloops

Indian Residential

ican would have

School in May. | CHRIS

agreed to such a

HELGREN/CNS, REUTERS

format without

believing the

pope will deliver.

Will the apology stick this time?

Perhaps, in all likelihood, it depends

in part on how many more gruesome

revelations the future holds, and therefore

how much previous apologies fade

from memory in the harsh light of new

truths.

John L. Allen Jr. is the editor of Crux.

July 16, 2021 • ANGELUS • 19
---
A first-century fresco from Pompeii depicting a woman in thought. Women — then as now — were often the victims of coerced abortion. | WIKIMEDIA COMMONS

An ancient social injustice

The Church's position on abortion is nothing

new. Since the days of the early Church,

Christians have fought against the practice —

even when no one else would.

BY MIKE AQUILINA

20 • ANGELUS • July 16, 2021
---
Abortion may dominate the news

cycle, but there is nothing new

about it.

Nor is the Church's response to

abortion different than it was in the

first century.

Abortion was, in fact, the first social

injustice confronted by Christians,

plainly, passionately, and without

qualification.

In time, believers would similarly

oppose slavery, capital punishment,

and other institutions of pagan society.

But the condemnation of abortion

was singular in its consistency and

vehemence from the very beginning of

the Gospel proclamation.

The Apostolic Teaching

Modern proponents of abortion

sometimes argue that the issue is

absent from the New Testament. But

that is not the case.

In his Letter to the Galatians (5:19–

20), St. Paul likely makes reference to

drugs that were prescribed to induce

abortion. "Now the works of the flesh

are plain," he says, "fornication, impurity,

licentiousness" — and next in

his list comes the Greek word "pharmakeia."

We recognize the word instantly as

the root of our English terms "pharmacy"

and "pharmaceutical." In English

it is sometimes translated as "potions"

or "drugs," but also as "sorcery" or

"magic." The range of possibilities is

real. The ancients drew no bright line

between pharmacy and sorcery, and

practitioners of one were often practitioners

of the other. When Plato used

the term "pharmakeia," he used it to

denote abortifacient drugs.

The context of Paul's usage suggests

that he intends the same meaning for

the word. He places "pharmakeia"

immediately after three words denoting

sexual sins.

Related Greek terms ("pharmakeion,"

"pharmakeusin," "pharmakoi") also

turn up in the Book of Revelation

(9:21, 21:8, and 22:15), and in every

instance they appear in lists of immoral

acts, adjacent to terms suggesting

sexual sin.

This is not an imaginative reading of

the text, propounded by conservative

Christian interpreters. It is presented

as fact in the standard academic

history of contraception and abortion,

"Eve's Herbs," written by pro-abortion

historian John M. Riddle and published

by Harvard University Press.

It is, moreover, confirmed by the

unanimous interpretation of the early

Church Fathers, beginning in the first

century.

The Next Generation

Consider the witness of the "Didache,"

whose text, according to modern

scholars, was compiled between

A.D. 49-100.

The "Didache" presents Christian

moral teaching within the sacramental

dispensation of the Church. The

opening line provides context for all

that follows: "There are two Ways, one

of Life and one of Death; but there

is a great difference between the two

Ways."

At the outset, its moral teaching

seems to be a simple recitation of the

Ten Commandments: "Thou shalt not

kill." "Thou shalt not commit adultery."

"Thou shalt not steal." But then

comes a startling interpolation. In the

midst of the familiar commandments,

the "Didache" charges its readers:

"Thou shalt not practice sorcery."

"Thou shalt not procure abortion."

Thus, this earliest Christian document

— which presents itself as "The

Teaching of the Lord by the Twelve

Apostles to the Gentiles" — places

abortion among the primordial

concerns of the Church and the most

fundamental laws of God.

For those who transgress these norms,

the early Church required repentance.

"Thou shalt confess thy transgressions,"

says the "Didache," "and thou

shalt not come to thy place of prayer

with an evil conscience." Later, the

text declares the necessity of a previous

confession of sins before eucharistic

Communion, "that your sacrifice may

be pure."

The prohibition of abortion appears

in identical language in the "Epistle

of Barnabas," which was written later

in the same century: "Thou shalt not

slay a child by procuring abortion."

The letter goes on to describe those

who commit abortion as "murderers of

children and destroyers of the workmanship

of God."

In the "Apocalypse of Peter," an

apocryphal document of the early

part of the next century, the author

claims to have seen a vision of hell

that included the souls of many who

had performed, sought, and otherwise

"caused" abortions.

The Great Apologists

In the second century arose a movement

known as the apologists, because

they provided a well-reasoned explanation

of the Christian faith. The word

comes from the Greek "apologeisthai,"

meaning "to speak in defense."

Christian doctrine regarding abortion

was something that required explanation

and defense, because it was

something that set Christians apart

from almost every other culture and

subculture on the planet. The pagan

Romans, Greeks, Phoenicians, and

Persians had no qualms about the

practice; and it was condoned and

even promoted by Socrates, Aristotle,

Seneca, and many others.

Christians (and Jews) stood alone

in their rejection of abortion. That

required explanation.

In A.D. 177, Athenagoras of Athens

addressed a respectful letter to the

Emperor Marcus Aurelius and his son

Commodus. He addressed common

misconceptions about his religion, and

he spells out the common Christian

belief about the sanctity of pre-born

life. Christians, he said, "regard the

very fetus in the womb as a created being,

and therefore an object of God's

care." Furthermore, he added, "those

who use drugs to bring on abortion

commit murder, and will have to give

an account to God for the abortion."

Another document from that time,

the anonymous "Letter to Diognetus,"

informs a Roman official that Christians

"beget children, but they do not

destroy their offspring," and this very

fact makes them different from their

non-Christian neighbors.

Yet another contemporary, Minucius

Felix, a North African practicing law

in Rome, reported: "There are some

women who, by drinking medical

preparations, extinguish the source of

the future man in their very bowels

and thus commit a parricide before

they bring forth. ... To us [believers]

it is not lawful either to see or hear of

homicide."

July 16, 2021 • ANGELUS • 21
---
These voices are joined by many others,

but none so passionately and often

as that of Tertullian, another North

African jurist, who lived at the end of

the second century.

He wrote, in his great "Apology": "We

may not destroy even the fetus in the

womb. ... To hinder a birth is merely a

speedier man-killing."

In another work, he said poetically

that those who cause abortion "pour

out the blood of the future."

It was Tertullian who first stated explicitly

what others only implied: that

human life begins at conception.

Tertullian knew the reality of

abortion. In his work "On the Soul,"

he provides shockingly graphic

descriptions of

several methods of

abortion commonly

used, while

also detailing

the instruments

involved.

"Among surgeons'

tools there

is a certain instrument,

which is formed with a nicely

adjusted flexible frame for opening

the uterus first of all and keeping it

open; it is further furnished with an

annular blade, by means of which the

limbs [of the child] within the womb

are dissected with anxious but unfaltering

care; its last appendage being a

blunted or covered hook, wherewith

the entire fetus is extracted by a violent

delivery.

"There is also a copper needle or

spike, by which the actual death is

managed in this furtive robbery of

life. They give it, from its infanticide

function, the name of ... 'the slayer of

the infant.' "

To understand and explain such

realities was a difficult but necessary

task for a Christian like Tertullian, an

intelligent believer who was active in

public life.

Councils And Discipline

Yet it was not only lay Christians who

spoke about abortion. Bishops did,

too, and with the full weight of their

authority.

The Spanish hierarchy met in Elvira

in A.D. 305 to consider a wide range

of disciplinary matters. The bishops

summarized their conclusions in a

series of canons. Two dealt specifically

with abortion, and prescribed that

anyone guilty of the sin should be

denied access to the sacraments until

the end of life.

Nine years later, bishops met at

Ancyra, the capital of Galatia, and invoked

the "ancient law" as it was stated

at Elvira, but "softened" the penalty,

imposing only 10 years of exclusion

from the sacraments.

The great churchmen of the fourth

and fifth centuries — St. Basil, St.

John Chrysostom, St. Jerome, St.

Ambrose — all condemned abortion

in the strongest terms, as had St. Cyprian,

St. Hippolytus, and St. Clement

During the early years of the Church,

Christian doctrine regarding abortion set

Christians apart from almost every other

culture and subculture on the planet.

before them. They faulted those who

performed abortion — or provided the

drugs — as well as those who procured

abortion.

This was never a local issue. Nor was

it a passing fad. It was always, and it

was everywhere.

St. Augustine wrote about the

practice in several places. He knew

nothing of embryology, and much of

his scientific speculation (like much

of Aristotle's) proved to be wrong. But

in his moral analysis he was unwavering.

He made clear in several works

that the act of intentional abortion

was always gravely sinful. Today, his

arguments are all the stronger, when

supported by modern science.

After Paganism

With the Edict of Milan in 313,

the Emperor Constantine legalized

the observance of Christian religion.

Gradually, in the century that followed,

Christian doctrine influenced

Roman law. It was no longer legal, for

example, to rape or kill a slave. And

abortion and infanticide were now

abolished.

The practice never disappeared, of

course. Because pregnancy outside

wedlock was considered an occasion

of shame, desperate women still

sought abortion, and unscrupulous

practitioners still plied the trade. The

issue continued to arise in sermons,

disciplinary manuals, and penitential

books.

But it was no longer necessary to

argue the matter. In a Christian world,

the practice was known to be grievously

sinful, like the rape or murder

of a slave. The fact that such practices

were legally condoned by pagan Rome

was no argument in their favor.

The Christian principles that protected

the unborn would eventually lead

to other notions that today we take

for granted: universal human dignity,

human equality,

human rights,

women's rights,

children's rights.

These are all

historical novelties,

made possible by

Christianity. What

makes them work

is their universality,

their catholicity, which the Christian

Way demands. But if one class of people

can deprive another of the right

to life, then all the other principles,

and all the rights and protections they

brought about, will fall in time.

The opposition to abortion is — like

all those other good things — a historical

anomaly. The medical historian

Riddle speaks of Christianity as

breaking a "chain of knowledge" that

had made it possible and acceptable to

kill children with impunity.

He is right, of course. The prohibition

of abortion was distinctive to

early Christianity and key to Christian

identity. For the first Christians — the

Fathers, the martyrs, the apologists —

this doctrine on abortion was essential,

not peripheral. Thus, it was subject to

the Church's discipline.

What seems news to the media

today — and even to some Catholic

politicians — is actually an argument

settled against brutal paganism a long,

long time ago.

Mike Aquilina is author of the book

"The Fathers of the Church," host of

the "Way of the Fathers" podcast, and a

contributing editor to Angelus.

22 • ANGELUS • July 16, 2021
---
SHUTTERSTOCK

When Silicon Thoughts on the

perils of looking

Valley doesn't

for the wrong kind

of immortality.

want to die BY MSGR. RICHARD ANTALL

imitates art," said Oscar Wilde in his essay "Decay

of Lying," turning Aristotle's saying on its head.

"Life

Sometimes Wilde was a prophet.

Case in point: a May 31 article in Bloomberg Businessweek

began by announcing, "As the tech industry has matured,

people in Silicon Valley have become obsessed with developing

ways to stop the human aging process."

It is a phenomenon that recalls Aldous Huxley's novel

of Southern California, "After Many a Summer Dies the

Swan." First published in 1939, and perhaps inspired by

the figure of William Randolph Hearst, the novel is about

a wealthy tycoon, Jo Stoyte, who pays for the research of a

quack scientist named Doctor Obispo to find the secret of

immortality.

Some of the tycoons of the Silicon Valley, according to

Bloomberg Businessweek, unnamed in the piece, began

experimenting with "really long bike rides and intermittent

fasting" and progressed to "taking dozens of pills every morning,

or injecting stem cells into their brain [sic], or infusing

their body with the blood of the young and virile."

The goal is what is called "life-extension," exactly what the

millionaire Stoyte seeks in Huxley's novel. Stoyte eventually

finds out about an English lord, the Fifth Earl of Gonister,

who discovered that eating fish viscera prolonged life. Eventually,

the millionaire finds the earl, who has shrunken to an

ape-like state and is hidden in the basement of an English

estate. He has found immortality, but it has taken a frightening

form.

The novel's title comes from a poem by Alfred Tennyson

about Tithonus, a Trojan prince in Greek mythology who

was kidnapped by Eos, the goddess of the dawn. Eos, who

was in love with Tithonus, begged Zeus to give the young

man immortality. She neglected to add eternal youth to the

request.

The man does not die but is so withered he eventually has

no strength and only babbles ceaselessly, becoming a cicada.

Tennyson's poem has Tithonus reflecting:

Man comes and tills the field and lies beneath, / And after

many a summer dies the swan. / Me only cruel immortality /

Consumes: I wither slowly in thine arms.

What price immortality? The Greek myth is really a cautionary

tale for all of us. As medicine prolongs life, vitality

24 • ANGELUS • July 16, 2021
---
ERSTOCK

becomes an issue.

Scientists are studying the aging process in dogs, the

Bloomberg article reports, because the two species have

"co-evolved" according to a woman who has a startup called

"Cellular Longevity." She has raised $11 million and projects

trials of two anti-aging drugs soon.

She is involved in a growing field of research. Part of this

involves the medicine sometimes called rapamycin, developed

from a bacteria found in the soil of Easter Island. Rapamycin

is used for cancer patients as an immunosuppressant,

but there are some people experimenting with low doses to

stop aging.

Life-extension

experimentation

with dogs is a

serious project.

We live in an age

when puppies

compete with babies

for sympathy.

So, it is natural

that some 30,000

dog owners are

cooperating

with a research

project, backed

with a grant of

$25 million from

the National Institutes

of Health

(yep, your tax dollars

at work). At

least 200 "middle

aged" dogs will

be given rapamycin

doses to see

if they can retain

their vigor. Doggy

immortality as a

national project!

If this sounds

like science fiction,

perhaps you have read or heard of the novel by Robert

Heinlein called "Methuselah's Children." In the novel, selective

breeding has produced a clan of people who eventually

have an average lifespan of 150 years. They hide this by

faking their own deaths and maintaining a secret connection

with one another.

A critic of Heinlein's writing calls the theme of "escaping

death" as very important for the science-fiction writer.

Escaping death is certainly close to denying death. As a

pastor I see that our culture has become more and more

diffident about accepting death. Even in my mostly blue-collar

parish, I see important changes in the American way of

dealing with death.

Wakes are declining, funeral Masses are, too. Cremation

has become very popular, and not just because of the

outrageous expense of some funerals. "Cremains" are kept

at home or thrown into lakes and rivers. Disneyland has

Italian artist Antonio Balestra's "Aurora Taking Leave of Tithonus," 1704. | WIKIMEDIA COMMONS

protocols to guard against people depositing the cremains

of relatives at the amusement park, a happening that occurs

about once a month according to an article published in

2018.

People are fabricating jewelry to hold ashes of relatives or

make them into some kind of crystal "death diamonds," I

call them, to be worn on your neck, fingers, or ears. I have

seen these advertised at Catholic funeral parlors.

Death is hard for people to accept and so it is disguised in

many different ways. One way is the pursuit of the Fountain

of Youth. It is a myth that Ponce de Leon sought that,

but it is certain

that many men

and women in

America, especially

the former

(I'd rather not get

into details) are

seeking eternal

youth. How much

has this to do with

the fear of death?

If you ask

people whether

they want to die,

most will say no.

The sick and

the traumatized

might express

a death wish,

and despair has

certainly gained

a bigger place in

our culture with

euthanasia activists

and increasing

suicides. But the

majority of people

want to live. That

includes Christians

who want to

live forever.

They want to go to Jesus, who, as the Swiss theologian

Hans Urs von Balthasar wrote in his book "Theological

Anthropology," never experienced old age and promises

spiritual eternal youth. We hope for an eternal life that is not

like Tithonus' immortality of withering away, but a new kind

of life, as different from this one as a seed is from a plant,

according to St. Paul.

I would recommend that some of the titans in Silicon Valley,

especially those who are getting unnecessary transfusions

of blood and hoping for some earthly paradise of the aged, to

read "After Many a Summer Dies a Swan." After that, they

should be ready to take a look at the New Testament.

Msgr. Richard Antall is pastor of Holy Name Church in

Cleveland, Ohio. He is the author of several books, including

"The Wedding" (Lambing Press, $16.95) and the forthcoming

novel "The X-mas Files."

July 16, 2021 • ANGELUS • 25
---
AD REM

ROBERT BRENNAN

Like a thief in the night

When the emperor Constantine,

through the herculean

prayer power of his mother,

unshackled the faith in the Roman

Empire, he himself put off his own

baptism. He still had much to accomplish

as the supreme leader of the

most powerful empire on earth, and

believed the responsibilities of his

station required him to perform many

un-Christian acts.

In other words, he didn't want to

"waste" his baptism and its benefit of

washing away one's sin. Luckily for

Constantine, and unluckily for his

rivals and enemies, he pulled it off and

was received into the Church on his

deathbed.

Oh, if we all could be as lucky as an

emperor of ancient Rome.

Fast forward 1,684 years. Your troubles

and sins may not be as great as

a fourth-century absolute ruler, but

maybe you had a rough day at the

office, came home thinking un-Christian

things about your boss, or took

Emergency crews in Surfside, Florida, just north

of Miami Beach, respond in the rain to the partial

collapse of a residential building June 24. | MARCO

BELLO/CNS, REUTERS

your frustration and anger out on your

wife and kids. There might be homework

that isn't getting done or bills

that cannot be paid. You might go to

bed thinking tomorrow will be better.

Tomorrow you will act kinder, more

26 • ANGELUS • July 2, 2021
---
Robert Brennan is director of

communications at The Salvation

Army California South Division.

lovingly, and more forgiving.

What if tomorrow never comes?

Jesus warned us not to put our

conversions on the layaway plan three

centuries before Constantine was

born. Just like life can sneak up on us

as we look in a mirror at gray hair, and

hair where it just doesn't belong, death

can be even more devious, resembling

that thief in the night Jesus cautioned

against.

No child recited the traditional bedtime

prayer: "Now I lay me down to

sleep, I pray the Lord my soul to keep,

and if I die before I wake, I pray the

Lord my soul will take," thinking they

were not going to see another day.

But death came to a still unknown

number of victims in the dreadful

collapse of a condominium complex

in Florida in June. It happened in the

wee hours of the morning, so it is safe

to assume most victims had already

laid their heads on their pillows.

Whether they were feeling good or ill

about their life, or whether they were

in a state of grace or not, death came,

not quietly like a thief, but loud and

roaring like a wrecking ball from hell.

The death toll from the building

collapse is yet to be tallied. Maybe,

God willing, we will hear about a miracle

and there will be someone who survived,

but more likely we will have to

satisfy ourselves with prayers for God's

mercy for both the living and especially

for the dead.

When this ghastly story begins to fade

in media interest, we will go back to

our lives as before. It is just the way

God made humans. We will climb inside

a couple thousand pounds of steel

and hurtle ourselves on freeways at

80 miles an hour. We will shuffle into

aluminum tubes with wings and zip

through the air at hundreds of miles an

hour, fully expecting to arrive safely at

our destinations.

So much of our popular culture is

about how much control we have over

ourselves and our world. Slogans like

"Our bodies ourselves" have never

been more in style. In entertainment,

we see all manner of people seemingly

in control of their lives. So-called lifestyle

shows that permeate television are

all about those who truly believe they

are captains of their own ships.

Yet, as the collapse of what seemed

like a perfectly good piece of 20th-century

modern construction has reminded

us, we really are not in control of a

lot of things. This suppressed knowledge

always has a way of creeping back

up into our conscious minds, especially

when there is a catastrophe like

the one in Florida. Earthquakes and

airplane crashes have the same effect

on us.

The apostles thought they were in

control, too. They had seen their boss

walk on water, cure the sick, and raise

the dead. If there ever were any 12

people who should have had a sense of

God's sovereignty, it should have been

them. But they had their moments

of fear and uncertainty until they all

finally realized just who was in control,

and they became fearless and faithful.

This ghastly episode in Florida can

be hammered into a blessing, if we use

it as a reminder of the Lord's advice

regarding being prepared for when and

however our age-old nemesis decides

to come to us.

July 16, 2021 • ANGELUS • 27

July 2, 2021 • ANGELUS • 27
---
INSIDE THE PAGES

KRIS MCGREGOR

Between the 'good

spirit' and the 'enemy'

Every day comes with a spiritual

struggle. Knowing our opponent's

tactics can help us win.

In "When You Struggle

in the Spiritual Life: An

Ignatian Path to Freedom"

(Crossroads Publishing,

$14.95), Father Timothy Gallagher,

OMV, addresses the

everyday challenges faced

by those seeking a deeper

relationship with God.

Drawing from the spiritual

wisdom of St. Ignatius of

Loyola and from the second

rule of his classic discernment

of spirits, Father Gallagher

breaks open the four

ways in which the "enemy"

tries to discourage people

from moving more closely

to God, and the five ways

in which the "good spirit"

is going to try to encourage

persons on their journey.

Father Timothy Gallagher, OMV

| AMAZON

"St. Ignatius of Loyola," by Juan

Martínez Montañés, 1568-1649,

Spanish. | WIKIMEDIA COMMONS

Kris McGregor: St. Ignatius truly understands that the daily

struggle in the spiritual life is real, doesn't he?

Father Timothy Gallagher: Yes, he does!

We're all well-aware that there are times of energy in the

spiritual life when God feels close and prayer is alive, and we

look forward to the new steps.

And then, for reasons we often don't understand, the bottom

seems to drop out of that energy. It's hard to even want to

pray. And if I can say this reverently, maybe we don't pray,

or pray less, or not as well as we wish we did. The energy for

those new steps and involvement in the parish and living our

vocation more deeply — all of that seems to wane.

Because we don't understand it, we don't really know how

to respond to it. Most of the time we don't even know how to

28 • ANGELUS • July 16, 2021
---
Kris McGregor is the founder of

Discerninghearts.com, an online resource for

the best in contemporary Catholic spirituality.

talk about it until Ignatius gives us a vocabulary. But it's very

real, and it matters a lot in the spiritual life. Ignatius brings

us clarity, and gives us a set of tools to know how to respond

to it.

McGregor: All the rules in the discernment of spirits are

essential gems. Why is this book primarily dedicated to the

second rule?

Father Gallagher: Every one of the rules is useful, and so in

whatever order you learn them, they're going to be a blessing.

But obviously there is a reason why Ignatius wrote them

in the order that he did, and learning them with a certain

systematic approach is going to be helpful.

He looks at the "good spirit" and the "enemy." The good

spirit is God, the Holy Spirit, the good angels, the rich work

of grace in us, good influences around us in the world. And

the enemy is Satan and his fallen angels, the wound of concupiscence,

that weakness as a legacy of original sin, and all

the harmful influences around us.

They're both real, both important, and they both need to

be understood in the spiritual life, but they are not equal

parts. The enemy is of a higher order than we are, but still no

more than a fallen creature. And the good spirit is the infinite

eternal omnipotent, endlessly faithful, present, loving Savior

and God.

This is a whole spirituality of hope. It is all about freedom.

It's about setting us free from these discouraging lies and

tactics of the enemy.

The second rule speaks to the situation of anybody who

seeks to grow in their relationship with God. A person who

sincerely loves God, who is a person of faith, who wants to be

faithful to God, who wants to live according to the teaching

of Jesus, wants to be loving. And this person will encounter

the ups and downs of the spiritual life.

McGregor: Ignatius' teachings on the four tactics of the

enemy says he will "bite, sadden and place obstacles," but

will also affect us by "disquieting with false reasons." I think

that is a really tricky one.

Father Gallagher: In this particular tactic of the enemy, the

enemy is speaking to our thoughts. It's about reasons that the

enemy brings to discourage us.

Because the enemy, as Jesus says, is the liar and the father of

lies, when the enemy brings reasons they are going to be false

reasons. There's not going to be truth in them, maybe a grain

of truth, but twisted so much that it becomes a lie, or even

just an outright lie.

The effective consequences of these false reasons that the

enemy will propose is to trouble our hearts. When we find

ourselves thinking in ways that are false, we may not see it

immediately. This is why it is important to be aware and

to understand what is troubling our hearts, to be aware of

what may appear as involuntary thoughts, temptations, and

attractions.

Realizing this as a tactic of the enemy, we can say, "Wait

a minute." That's the awareness. "You know what, this isn't

right." That's the understanding. And then we know these

thoughts are of the enemy and we say, "I'm not going to

let this stop me." That's taking action to reject. I love that,

because that's freedom in the spiritual life.

McGregor: If the enemy has four tactics, God has five. He's

never outdone! Ignatius says the good spirit will "give courage

and strength, consolations, tears, inspirations and quiet,

easing and taking away all obstacles."

It's really the power of grace and being able to receive that,

to be aware of it, to understand it, and then allowing it to

carry us, that's key.

Father Gallagher: That's the bottom line in this whole

thing. There are all sorts of nuances to this, but sometimes

we can be very aware of the enemy and the discouragement,

and not aware enough of the bigger part of the picture, and

that's the good spirit. We're on the winning side in this. And

so it really is a blessing to focus on the ways in which the

good spirit is at work every day. So to be aware of that, to

understand it for the action.

In this case, it's, "Oh. …" That's the awareness. "Oh, this

is so helpful." That's the understanding. And then thanking

the Lord, and opening our hearts to receive it. That's to take

action.

If you look at the two things — what God does in the

spiritual life and how the enemy attempts to discourage us

from that — both are important, both are real. But obviously

what is primary, absolutely, is what God is doing. And so

that's always the most

important thing in the

spiritual life.

We know by experience

that when we open our

hearts to this loving,

strengthening action of

the good spirit, we grow

so much. But having said

that, it is also very liberating

to be aware of and

name and understand

these four tactics of the

enemy and firmly reject

them, because that safeguards

and opens up the

path for the action of God

in our lives.

July 16, 2021 • ANGELUS • 29
---
DESIRE LINES

HEATHER KING

The global garage sale and the quest for more

SHUTTERSTOCK

Lately I've been reading a lot

about "stuff." How much of it we

have, what we do with it while

we're alive, what happens to it when

we die.

The latter is actually a big problem.

In the olden days, people would pass

down their heirlooms, furniture, and

household goods and the recipients

were thrilled to get them. But today

no one wants a 12-piece dinner set, or

a set of sterling silver, or a heavy oak

table with eight dining room chairs.

To me, the point isn't how many or

few belongings we own but how much

we love and care for them.

The problem is that very likely no one

else cares for them. There's a name for

the favor you're supposed to do your

relatives and friends by getting rid of

your belongings before you croak. It's

set forth in such books as "The Gentle

Art of Swedish Death Cleaning: How

to Free Yourself and Your Family

from a Lifetime of Clutter" (Scribner,

$16.99), by Margareta Magnusson.

Again, I get it — but there's something

peculiarly Western about the notion

that your person, your belongings,

and the space you inhabit are a burden

on the rest of the world.

Adam Minter considers the "death

cleaning" aspect of our belongings,

and many others, in his book "Secondhand:

Travels in the New Global

Garage Sale" (Bloomsbury Publishing,

$16.77)

Tammy Wilcox, manager of a Minneapolis,

Minnesota, company called

30 • ANGELUS • July 16, 2021
---
Heather King is an award-winning

author, speaker, and workshop leader.

Gentle Transitions, makes a living

clearing out the living spaces of people

who have permanently moved on. "I

went through pics of safaris, animals,

his whole life," she observes of one recently

deceased gent. "I told his family

they should take them. They said no.

1-800-JUNK came, and it broke my

heart."

Many people drive up from Nogales,

Mexico, to the Tucson, Arizona, Goodwill

stores daily to comb the wares

and bring them back over the border.

Though technically the practice is

illegal, U.S.-to-Mexico second hand is

a booming industry.

There are people in the U.S. who

spend their workdays running old

T-shirts and hoodies over the whirring

blades of a machine specifically

designed to make rags — rags being

another (who knew?) huge business.

Minter travels all over the world: the

U.S., Malaysia (his current home),

Benin, Canada, Japan, talking to the

people who wholesale, ship, and sort.

AMAZON

In 2016, second hand was a $16

billion industry in Japan. (People there

often die alone and undiscovered for

days if not weeks or months in their

high-rise apartments, which gives rise

to another niche business).

"Before the 1960s, Japanese had

a feeling of 'mottainai,' a difficult-to-translate

Japanese word that

expresses a sense of regret over waste,

as well as a desire to conserve," reports

Rina Hamada, editor of Japan's Reuse

Business Journal. But that was before

the living standard in Japan shot

sky-high. Now people are way more

acquisitive, though they'll buy second

hand if it's of high quality.

Humongous warehouses around the

globe house used goods destined for

global shipments. Hamaya Corporation

operates out of a small city 35

miles outside of Tokyo. Refrigerators

and washing machines stacked three

high are bound for Vietnam; pallets of

knitting machines will go to Nigeria.

Electric keyboards, PCs, boomboxes,

chainsaws: the appetite for such goods

is insatiable.

In Ghana, Minter learns that in some

parts of the world used electronics and

appliances fetch a higher price than

new: the used items are often of better

quality (because they're older) and

they're more repairable.

In fact, the decline in quality of goods

across the board is one reason for the

enormous growth in the secondhand

trade.

(Apple, by the way, purposely renders

their products unrepairable, gluing

them in such a way that they can't

be pried apart without destroying the

phone or tablet; using screws that

require a special, impossible-to-find

screwdriver.)

Clothing, for example, is now universally

acknowledged to be of such poor

quality that it's essentially disposable.

At Used Clothing Exports in Mississauga,

Ontario, as much of one-third

of the used clothing generated in the

U.S. and Canada is sorted, priced, and

shipped by "graders."

Panipat, a town in northern India, is

home to the world's largest concentration

of clothing recyclers.

There's something peculiarly Western about the notion

that your person, your belongings, and the space you

inhabit are a burden on the rest of the world.

The implications reach far beyond

what we might grab from our closets

any given morning. The secondhand

clothing industry has almost completely

wiped out the African textile

industry, in particular the manufacture

of kente cloth, the beautiful fabric that

was once the pride of Ghana and its

craftspeople.

But as Minter acknowledges, "Simplistic

explanations built on what seem

like logical correlations — used must

undermine new! — don't do justice to

the complex, very human reasons that

individual consumers make specific

choices."

German theologian Dietrich von Hildebrand

observed: "All possessions …

that have real value, that in themselves

are honorable, excellent, significant,

that fall like dew from above and

ascend to God like incense, achieve a

higher and new radiance in Christ."

So I say hang onto the things you truly

love. After you're canonized, people

will want the stuff for relics.

July 16, 2021 • ANGELUS • 31
---
LETTER AND SPIRIT

SCOTT HAHN

Scott Hahn is founder of the

St. Paul Center for Biblical

Theology; stpaulcenter.com.

Talking about our veneration

Second in a series on St. Paul.

Many Catholics are skittish about

reading St. Paul. It was his texts that

were most invoked by Luther and

Calvin during the Protestant Reformation.

And anti-Catholic propaganda

often draws heavily from the apostle.

As author Frank Sheed said, "A man

can never feel quite the same about

even the nicest book if he has just

been beaten round the head with it."

Yet the Catholic Church has canonized

Paul's letters, and we celebrate

his feasts. We honor him as a founder

of the Church of Rome.

And he deserves the respect. Yes, he

called himself "the least of the apostles"

(1 Corinthians 15:9) and "the

very least of all the saints" (Ephesians

3:8). Yet even these self-deprecating

titles imply a special dignity and

authority. The least of saints is still a

saint. And the least apostle speaks with

the "the Spirit of God" (1 Corinthians

7:40) and "the mind of Christ" (1

Corinthians 2:16).

He acknowledged an "authority"

of which he could "boast" (2 Corinthians

10:8); for he was "not at all

inferior to these superlative apostles"

(2 Corinthians 12:11). His position

merited him a "rightful claim" to respect

(1 Corinthians 9:1–12). He held

the power to "pronounce judgment"

on sinners (1 Corinthians 5:3).

By grace, he bore a dignity that

Christians were duty-bound to

observe. They looked to him as a

father: "For though you have countless

guides in Christ, you do not have

many fathers. For I became your

father in Christ Jesus through the

Gospel" (1 Corinthians 4:15). The

fourth commandment obliges us to

"honor" our fathers, and that means

give them love, respect, obedience,

and imitation.

Though he knew himself to be "the

foremost of sinners" (1 Timothy 1:15),

Paul knew also that he must serve as a

model. "Be imitators of me," he said,

"as I am of Christ" (1 Corinthians

1:11).

His favorite term for Christians was

"saints" (see Colossians 1:2–4). Yet

he also distinguished between the

saints on earth (Colossians 1:2) and

the "saints in light" (Colossians 1:12).

The Epistle to the Hebrews tells us

that the latter are "a cloud of witnesses"

around the former.

To the saints on earth, we give our

love. To the saints in light, we give

our veneration. It's not the same

honor we give God. It's more like the

respect we owe parents and grandparents.

We love them so much that

"Communion of Saints," by José Luiz Bernardes

Ribeiro, 2016, Portuguese. | WIKIMEDIA COMMONS

we frame their photos and give them

a prominent place in our homes. We

shouldn't hesitate to ask our parents

for prayer; nor should we hesitate to

ask the saints, especially the apostles.

St. Paul told the Colossians: "We

have not ceased to pray for you"

(Colossians 1:9). I believe that longago

pledge still holds true. And so we

should ask his intercession, even as

he begged the intercession of other

Christians (see Colossians 4:3).

To venerate Paul is to glorify Christ

for the grace made manifest in the

life of an apostle. The apostle himself

said, "It is no longer I who live, but

Christ who lives in me" (Galatians

2:20).

32 • ANGELUS • July 16, 2021
---
■ AVAILABLE ONLINE 24/7

"Walking with Jesus in Difficult Times" SCRC virtual event. Available to view online 24/7 for free. Event

includes teachings by Father Bill Delaney, SJ, Sister Regina Marie Gorman, OCD, and Patti Mansfield, with a

special video tribute to the late Father John H. Hampsch, CMF. Register for free at events.scrc.org.

■ FRIDAY, JULY 9

Retrouvaille: A Lifeline for Married Couples. Weekend

program runs July 9-11 in Los Angeles. Retrouvaille is an

effective Catholic Christian ministry that helps married

couples. The program offers the chance to rediscover

yourself, your spouse, and the love in your marriage.

Married couples of any faith are welcome. For more

information, visit https://www.losangelesretrouvaille.com or

call 909-900-5465.

Free COVID-19 Vaccine Clinic. Our Lady of Victory

Church, 1317 S. Herbert Ave., Los Angeles, 2-6 p.m. Free

Pfizer vaccine available. Second shot offered Friday, July 30.

Twelve- to 17-year-olds must be accompanied by an adult.

$20 Target gift card available to first 150 people. For more

information, call 323-268-9502.

■ SATURDAY, JULY 10

Little Sisters of the Poor Rummage Sale. 2100 S. Western

Ave., San Pedro, 7 a.m.-3 p.m. Call 310-548-0625 for more

information. All proceeds benefit the Little Sisters of the

Poor.

St. Vincent de Paul Church Vigil Night. 621 W. Adams

Blvd., Los Angeles, from 8 p.m. to 8 a.m., July 11. Vigil

Night will have live music, rosary, prayer, and Holy Hour,

and concludes with 8 a.m. Mass inside the building, the

first Mass celebrated inside since the beginning of the

pandemic. For more information, contact Silvia Macias at

svdpsmacias@gmail.com.

■ TUESDAY, JULY 13

Catholic Cemeteries and Mortuaries Memorial Mass.

San Fernando Mission Rey de España, 11 a.m. Mass will be

livestreamed on LA Catholics social media channels and will

not be open to the public.

Rosary Rally for a Better World. St. Louis of France

Church, 6 p.m. Mass, 7 p.m. rosary. Event held on the

13th of every month through October 2021. Contact

Margarita Acevedo at margie_therese@yahoo.com for more

information.

LA Council of Catholic Women Rosary Conference Call.

8 p.m. Call 1-424-436-6200, code 410510#. Prayer requests

open. Rosary takes place every Tuesday and Thursday in

June and July. For more information, call Carol Westlake at

661-263-0435.

■ THURSDAY, JULY 15

Children's Bureau: Foster Care Zoom Orientation.

Children's Bureau is now offering two virtual ways for

individuals and couples to learn how to help children in

foster care while reunifying with birth families or how to

provide legal permanency by adoption, 4-5 p.m. A live Zoom

orientation will be hosted by a Children's Bureau team

member and a foster parent. For those who want to learn at

their own pace about becoming a foster and/or fost-adopt

parent, an online orientation presentation is available.

To RSVP for the live orientation or to request the online

orientation, email rfrecruitment@all4kids.org.

■ SATURDAY, JULY 17

Taking the Next Step: Through COVID-19 &

Relationship Losses to Our New Lives. 1-2:30 p.m. Free

Zoom presentation sponsored by the Archdiocese of

Los Angeles Separated, Divorced & Widowed Ministry.

Presented by Christine A. Gerety, Ph.D. To register, visit

https://la-archdiocese.zoom.us/webinar/register/WN_

jzifSTW7SSuqv9ijwtmr4A. For more information, email

jmonell@la-archdiocese.org.

Free Eye/Glasses Exams. St. Bernadette Church, 3825

Don Felipe Dr., Los Angeles. July 17, 9 a.m.-4 p.m., July 18,

10 a.m.-4 p.m. In partnership with Catholic nonprofit See

the Lord and the Center for Restorative Justice Works, the

free eye clinic is open to all families. Registration required;

call St. Bernadette Church at 323-293-4877 or CRJW at

1-8180980-7714.

■ SUNDAY, JULY 18

"Pueblo Amante de Maria" Virtual Procession, Rosary,

and Tagalog Mass. Incarnation Church of Glendale will

host a virtual procession and rosary at 1:15 p.m. to celebrate

500 years of Christianity in the Philippines. Tagalog Mass

to follow. To join on livestream, visit the Incarnation Church

Facebook page. For details, call 818-242-2579.

Vox Vitae California Pro-Life Leadership Summer Camp.

Santiago Retreat Center, 27912 Baker Canyon Rd., Silverado.

Day camp for teens ages 14-19 runs July 18-23. Vox Vitae

campers explore the truth of Catholicism, the destruction of

abortion and euthanasia, the beauty of chastity and holiness,

and more. Campers also practice defending their faith

and pro-life views. Speakers include Archbishop Salvatore

Cordileone and Bishop David O'Connell, and other leading

Catholic pro-life voices. Cost: $200/camper, scholarships

available. $100/family for online camp option. For more

information or to register, visit voxvitae.com.

Racism and Youth and Young Adult Ministry Lecture.

Zoom, 3-4:30 p.m. The African American Catholic Center

for Evangelization and the LMU Center for Religion and

Spirituality will host a lecture by Dr. Ansel Augustine. To

attend, visit facebook.com/aaccfe or facebook.com/lmucrs.

■ MONDAY, JULY 19

St. Michael's Abbey Summer Camp. A Catholic camp for

boys 7-14 in Orange County. Experience great summer

activities like hiking, sports, campfires, etc., and learn more

about the faith. Camp runs July 19-24, July 26-31, Aug. 2-7,

or Aug. 9-14. Visit stmichaelsabbey.com/summer-camp or

email SummerCamp@StMichaelsAbbey.com.

■ SUNDAY, AUGUST 1

Eight-Day Silent, Directed Retreat: Jesus is Our Hope.

Mary & Joseph Retreat Center, 5300 Crest Road, Rancho

Palos Verdes. Retreat runs from Aug. 1, 6 p.m. to Aug.

8, 1:30 p.m. Led by spiritual directors Sister Pascazia

Kinkuhaire, DMJ, Father Joseph Miller, SVD, and Sue

Ballotti, the retreat is based on the spiritual exercises of St.

Ignatius. Cost: $820/person, single rooms only. Limited

to 14 guests; register by July 9. For more information or to

RSVP, call Jose Salas at 310-377-4867, ext. 250.

■ TUESDAY, AUGUST 3

Conductor 2021 C3 Conference. Hosted by the Catholic

Communication Collaboration, the 10th annual C3

Conference will be free and virtual Aug. 3-6. Register at

https://c3.leadlms.com/register. Contact April Zavala at

C3Con@la-archdiocese.org with questions.

Items for the calendar of events are due four weeks prior to the date of the event. They may be emailed to calendar@angelusnews.com.

All calendar items must include the name, date, time, address of the event, and a phone number for additional information.

July 16, 2021 • ANGELUS • 33