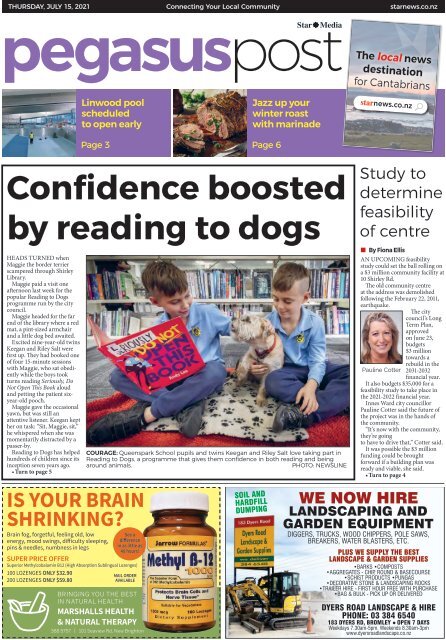 Pegasus Post: July 15, 2021
You also want an ePaper? Increase the reach of your titles
YUMPU automatically turns print PDFs into web optimized ePapers that Google loves.
THURSDAY, JULY 15, 2021

Connecting Your Local Community

starnews.co.nz

The local news

destination

for Cantabrians

Linwood pool

scheduled

to open early

Jazz up your

winter roast

with marinade

Page 3 Page 6

Confidence boosted

by reading to dogs

Study to

determine

feasibility

of centre

HEADS TURNED when

Maggie the border terrier

scampered through Shirley

Library.

Maggie paid a visit one

afternoon last week for the

popular Reading to Dogs

programme run by the city

council.

Maggie headed for the far

end of the library where a red

mat, a pint-sized armchair

and a little dog bed awaited.

Excited nine-year-old twins

Keegan and Riley Salt were

first up. They had booked one

of four 15-minute sessions

with Maggie, who sat obediently

while the boys took

turns reading Seriously, Do

Not Open This Book aloud

and petting the patient sixyear-old

pooch.

Maggie gave the occasional

yawn, but was still an

attentive listener. Keegan kept

her on task: "Sit, Maggie, sit,"

he whispered when she was

momentarily distracted by a

passer-by.

Reading to Dogs has helped

hundreds of children since its

inception seven years ago.

• Turn to page 5

COURAGE: Queenspark School pupils and twins Keegan and Riley Salt love taking part in

Reading to Dogs, a programme that gives them confidence in both reading and being

around animals.

PHOTO: NEWSLINE ​

• By Fiona Ellis

AN UPCOMING feasibility

study could set the ball rolling on

a $3 million community facility at

10 Shirley Rd.

The old community centre

at the address was demolished

following the February 22, 2011,

earthquake.

The city

council's Long

Term Plan,

approved

on June 23,

budgets

$3 million

towards a

rebuild in the

Pauline Cotter 2031-2032

financial year.

It also budgets $35,000 for a

feasibility study to take place in

the 2021-2022 financial year.

Innes Ward city councillor

Pauline Cotter said the future of

the project was in the hands of

the community.

"It's now with the community,

they're going

to have to drive that," Cotter said.

It was possible the $3 million

funding could be brought

forward if a building plan was

ready and viable, she said.

• Turn to page 4

is your brain

shrinking?

Brain fog, forgetful, feeling old, low

energy, mood swings, difficulty sleeping,

pins & needles, numbness in legs

super price offer

Superior Methylcobalamin B12 (High Absorption Sublingual Lozenges)

100 LozengeS oNLY $32.90

200 LozengeS oNLY $59.80

see a

difference

in as little as

48 hours!

MAiL orDer

AVAiLABLe

Bringing You The BesT

in naTural healTh

MarshaLLs hEaLTh

& naTuraL ThEraPy

388 5757 | 101 seaview rd, new Brighton

SOIL AND

HARDFILL

DUMPING

WE NOW HIRE

LANDSCAPING AND

GARDEN EQUIPMENT

DIGGERS, TRUCKS, WOOD CHIPPERS, POLE SAWS,

BREAKERS, WATER BLASTERS, ETC.

PLUS WE SUPPLY THE BEST

LANDSCAPE & GARDEN SUPPLIES

•BARKS •COMPOSTS

•AGGREGATES - CHIP, ROUND & BASECOURSE

•SCHIST PRODUCTS •PUNGAS

•DECORATIVE STONE & LANDSCAPING ROCKS

•TRAILER HIRE - FIRST HOUR FREE WITH PURCHASE

•BAG & BULK - PICK UP OR DELIVERED

DYERS ROAD LANDSCAPE & HIRE

PHONE: 03 384 6540

183 DYERS RD, BROMLEY ● OPEN 7 DAYS

Weekdays 7.30am-5pm. Weekends 8.30am-3pm

www.dyersroadlandscape.co.nz
---
2

Thursday July 15 2021

what's on

this week

Latest Canterbury news at starnews.co.nz

PEGASUS POST

GENERAL INQUIRIES Ph 379 7100

CLASSIFIED ADVERTISING Ph 379 1100

Star Media, a division of Allied Press Ltd

PO Box 1467, Christchurch

starmedia.kiwi

NEWS

Bea Gooding

Ph: 021 911 576

bea.gooding@starmedia.kiwi

ADVERTISING

Frank Greenslade

Ph: 364 7441

frank.greenslade@starmedia.kiwi

Your local community news

delivered to 17,598 homes

within The Star each week.

Linwood • Avonside • Richmond • Shirley • Bexley

Burwood • Dallington • Wainoni • Bromley

Aranui • Avondale • New Brighton • Northshore

Queenspark • Parklands • South Brighton

Kawhe & Kōrero

Thursday, 10-11am

New Brighton Library

Build your confidence in te reo

Māori skills with other fellow learners.

Free, no booking required.

SeniorNet

Thursday, Monday, Tuesday,

Wednesday, 10am-noon

202 Marine Pde, New Brighton

Go along and learn how to use

modern technology and the internet,

such as smartphones, tablets, laptops,

cameras and more. Bookings required.

Phone 382 6048 to register.

Dementia Partners Support

Group

Friday, 10.30am-noon

Wainoni Avonside Community

Services Trust, 58 Bassett St

The Wainoni Avonside Community

Services Trust has started a

new support group for the partners

of those who have their loved ones in

dementia care. Gold coin donation.

All welcome. Phone Betty Chapman

at 389 2285 for more information.

SAYGo Falls Prevention

Exercise Class

Friday, 10-11am, at New Brighton,

Tuesday, 10-11am, at South Brighton

New Brighton Library and South

Brighton Community Centre

Steady As You Go (SAYGo) is an

exercise class designed to help older

people reduce their likelihood of having

a fall. Free, no bookings required

Hillary's Antarctic Hut VR Experience, Thursday and Friday,

10am-3.30pm, New Brighton Library. Explore Sir Edmund Hillary's hut in

Antarctica through virtual reality to find out what life was like living in the

world's most extreme environment, and find out how to prepare for an icy

expedition. Suited for ages 9 years and up. Bookings essential, either on the

libraries website or at info@nzaht.org ​

but places are limited. Phone Age

Concern on 366 0903.

Rotary Market

Sunday, 8.30am-12.30pm

Woolston Club, 43 Hargood St

A variety of stalls will be available,

including fresh produce, jams and

preserves, and recycled clothing,

books and tools. Every fine Sunday,

with all proceeds supporting the local

community. For site inquiries, phone

Vance at 022 382 0086.

Creative Writing on Sundays

Sunday, 1.30-3.30pm

Linwood Library

Writing group leader Jennifer will

work with group members to craft,

create and develop their own stories.

Take some pens or pencils, paper, or a

laptop. This class is free.

Marshland Table Tennis Club

Monday, 7.30pm

Ouruhia Hall, 225 Guthries Rd

The Marshland Table Tennis Club

is looking for more players to join

in on the fun each week at its new

premises in Belfast. All abilities

welcome. $5 for adults, $3 for

children. Phone 021 2051 106.

North Beach Bridge Club

Wednesday, 1-4pm

St Andrews Anglican Church,

Marriott's Rd, North New Brighton

Go along and join other friendly

members of the bridge club, who

meet every Wednesday. Phone

Margaret Keall at 382 0274.

South Brighton Voices Choir

Wednesday, 7.30-9.30pm

New Brighton Methodist Church

If you love singing, go along

and join the friendly choir each

Wednesday. New members,

especially tenors and basses, are

welcome. Reading music is helpful,

but not essential. Phone 388 3727.

Not-for-profit organisations can

send their What's On listings to

pegasus@starmedia.kiwi

Up to

50 % Off

*Call for Terms

& Conditions

Off

*
---
PEGASUS POST Latest Canterbury news at starnews.co.nz

Thursday July 15 2021 3

Pool scheduled to open early

LINWOOD'S NEW pool

complex Te Pou Toetoe will

open ahead of schedule, with

construction set to finish ahead

of time and within budget.

October 1 has been earmarked

for opening the much-anticipated

$22 million facility to the

public.

Said city

council head

of recreation,

sports and

events

Nigel Cox:

"Despite the

considerable

Nigel Cox

challenges of

recent times,

CONSTRUCTION: Teams prepare the new Linwood pools in readiness for opening day on

October 1.

PHOTO: NEWSLINE

the project team has delivered

the facility ahead of the original

target opening, and within

budget.

"In preparation for the opening,

we're currently recruiting

and training the team who'll be

working there.

"A great community facility is

more than just a building – it's

the team, how they provide for

the needs of the community and

make it an enjoyable place to

visit."

Linwood Ward city councillor

Yani Johanson has welcomed the

opening date announcement.

"It is great to see the muchanticipated

facility coming

close to completion. It is a true

testament to the hard work

of so many people who have

advocated for this pool over the

past 20 years to see it become a

reality," he said.

"I am sure it will make a

positive splash in the local

community as people have

been looking forward to it

being open.

"I also want to acknowledge

the stellar work of the project

team – despite the Covid-19

challenges it has remained on

budget and ahead of time."

The facility on the corner

of Smith St and Linwood Ave

will have a multi-use 25m lane

pool, a deep water splash pool, a

family spa pool, a learn-to-swim

pool, and a pool and water deck

for toddlers.

There will also be a kitchen

and two community rooms,

while outside there will be picnic

tables, tennis, basketball and

multi-use courts, cycle stands,

parking and plenty of open

areas.

A formal opening with guests

will take place on the afternoon

of October 1, with opening

activities planned across

the weekend.

Top issues

revealed in

community

board area

DAMAGED BINS, graffiti and

littering are the top three issues

currently affecting the Coastal-

Burwood Community Board area.

A ticket report has revealed a

breakdown of issues that residents

reported to the city council between

May 22 and June 20.

During that time, 1232 tickets,

or jobs, were completed within an

average of 2.6 days.

Incidents fell into a range of

categories, including transport,

wheelie bins, parks and three

waters council assets.

Damaged bins came out on

top with 103 tickets, with graffiti

and road litter placing second

and third with 98 and 87 tickets

respectively.

Fifty-nine per cent (806) of residents

chose to report concerns by

phone, email and walk-in, while

41 per cent (549) did so online

through Snap Send Solve and

Hybris Online.

But at the conclusion of the

report last month, 355 tickets were

still open, or uncompleted.

The ticket report was included

in discussions at this week's

community board meeting.

KeeP New ZealaNders

worKiNg!

BUY NZ MADE SHOES

NUMBER ONE SUPPLIER

TO THE NZ JET BOATING

COMMUNITY FOR OVER

50 YEARS

Kids

SERVICING

Come and watch a FREE movie at Eastgate's

Pop Up mini theatre these holidays.

Get comfy and lounge around on cushions or our inflatable chairs

Kids from $115 • Adults from $195

47c Garlands Road, Woolston

Phone 389 3431

www.thefootwearfactory.co.nz

Burwood Pharmacy

11 Parnwell Street (Off Travis Road)

Open Monday to Friday 9am - 5.30pm

(Open until 6pm on Thursdays)

Phone (03) 383 4814

• Part Boats & Hulls

• Turn Key Packages

• New Jet Units

• Custom Fabrication

• Expert Advice

Peter Tonkin

03 962 0505

peter.tonkin@hamiltonjet.nz

• Spare Parts Retailer

• Jet Unit Refurbishment

• Engine Tune-Ups

• Insurance Repairs

• Impellor Reconditioning

Flu Shots

only $

19 .99

FREE to over 65 + eligible cases

your friendly local Pharmacy

Date 10am Screening 2pm Screening 6pm Screening

Monday Aladdin Scoob

19 July PG 128 minutes PG 136 minutes

Tuesday Scoob Aladdin

20 July PG 136 minutes PG 128 minutes

Wednesday How to Train Your Dragon The Croods

21 July The Hidden World A New Age

104 minutes PG 96 minutes

Thursday The Croods How To Train Your Dragon Spies In Disguise

22 July A New Age The Hidden World PG 102 minutes

PG 96 minutes

104 minutes

Friday Ferdinand Toy Story 4

23 July G 108 minutes G 100 minutes

Saturday Toy Story 4 Ferdinand

24 July G 100 minutes G 108 minutes

Sunday Shaun The Sheep Shaun The Sheep

25 July Farmageddon Farmageddon

G 87 minutes

G 87 minutes

Free small drink and snack.

Parents grab a coffee and join the kids for some relaxing holiday fun!

Children under 10 must be accompanied by an adult or older sibling.

Seats limited to 30 per session.

www.eastgate.co.nz

Snacks kindly sponsored

by Countdown
---
4

Thursday July 15 2021

Latest Canterbury news at starnews.co.nz

PEGASUS POST

Community

centre may

be rebuilt

Delays in construction of

• From page 1

the last Long Term Plan and

Funding for a community wanted to avoid a repeat of that

facility was not included in the scenario, she said.

2018 Long Term Plan and she was She was pleased with the council's

response.

pleased it was included this time.

"The fact that it is in there is "It's been a lot of work, we're

great."

really relieved," Byrne said.

"We had to work really hard She hoped the project would • By Bea Gooding

and the community had to work be brought forward as planning THE ORGANISERS behind

really hard to get it back." progressed.

a new community sports and

She thought it unlikely the issue "It's still a long way out but recreation facility in Parklands

could again fall off the council's I'm hoping that we'll have a are frustrated the project has

to-do list.

new community centre before taken so long to get started.

"The community will keep it 2030."

It's been four years since stage

above the radar."

Shirley Recreational Walkers one of the Pukeko Centre was

Joanne leader Sue Lang said she hoped a completed, yet stage two, which

Byrne, spokeswoman

for built.

now, has stayed stagnant, with

new community centre would be "ideally" should have opened by

the 10 Shirley The site was currently home funding constraints to blame.

Road group, to a pump track and playground. Stage one, consisting of a

helped organise

a petition of the needs of the whole commu-

clubrooms, has been utilised

"That's great, but it won't meet pavilion available for hire and

over 1200 signatures

which However, she did not trust the 2017, after organisers raised the

nity," Lang said.

extensively since it opened in

was presented council to pull through on the necessary $1.2 million.

Joanne

260

Byrne to the council project.

x 180

Centre chairman Andrew

in May.

"A decade is a long time to wait Weastell said building stage two,

The community was devastated for when you've already waited which is the sports and recreation

hall, will be quick and when funding was dropped from a decade."

can

be up and running within six

months from obtaining the required

funding. Overall, the next

stage costs $1.7 million.

"Ideally it would have been

[done] by now, but we are completely

constrained by funding,"

Weastell said.

"It is also frustrating as there

is so much more that can be

achieved by

having stage

two completed;

we are continually

receiving

enquiries from

interested user

groups that

Andrew

Weastell

have a need

for a hall such

as this in our

community."

To make fundraising more

manageable, stage two was

broken into sub-stages to allow

the project to be paused without

it deteriorating while more funding

was sought.

The next major sub-stage, costing

about $700,000, is to establish

the "super structure" and make it

weather-tight. So far, more than

$200,000 has been raised for this.

"We are busy working with

various funding grant providers

to raise the remainder," said

Weastell.

"Obviously we would love to

raise the full amount required to

complete stage 2 so we don't

have to pause again, but we're

trying to be as pragmatic as

possible and keep the project

moving forward."

Need Heat Fast?

The Fastest, Warmest Indoor/Outdoor Heater You Will Ever Own!

Buy One Get One Free! *

+Plus

Free

Floor

Stand!*

worth

$199.99

• Heats Up Instantly

• Suitable for Indoors or Outdoors

– In Rain, Fog, Wind or Snow

• Carbon-Fibre Bulb Technology

*Call for Terms

& Conditions

• Multi-Directional Stand

• Includes Remote Control &

Built-In Timer

• Motion Detection Function

1.8m High

• Commercial Grade

• Multi-Directional

• Easy Install

• Portable

• Indoors & Outdoors

CALL NOW! 0800 665 665
---
PEGASUS POST Latest Canterbury news at starnews.co.nz

Thursday July 15 2021 5

sports centre causing frustration

The project is a venture

between the Parklands Bowling

Club and the Parklands Rugby

Football Club, with financial

support from the community

and trusts such as the Rata

Foundation. They joined forces

following the February 22, 2011

earthquake – the bowling club

rooms were damaged beyond

repair and the rugby club was

displaced from its home base.

The outcome was a multi-use

facility serving as both a home

base for the founding clubs, while

providing much-needed sports

facilities for other grass-roots

clubs, schools and organisations

in the eastern suburbs.

In 2017, two buildings destined

for demolition from the former

Freeville School were saved, with

both relocating onto the bowling

club site on Chadbury St.

The pavilion has been a hit

ever since. Recently, it hosted a

meeting between residents, the

city council and police regarding

youth offending concerns.

Said Weastell: "From our

perspective, it has been very

satisfying given the amount of

activity that has occurred within

the facilities."

Once operational, Weastell

hoped the hall would provide

children with more things to do –

a welcome distraction away

PARTWAY: Stage 1 of the Pukeko Centre, with the target

needed for stage 2.

PHOTOS: GEOFF SLOAN

from petty crime.

"I can only speak from my

own experience, but generally

if young people are involved in

sport and recreation it gives them

something to be passionate about

and keeps them occupied," said

Weastell.

"They can make lifelong

friendships that can only be

beneficial in helping to reduce

some of the stuff that has been

going on in the community

recently."

Flyers will soon be delivered

among residents about how they

can donate.

In the meantime, email the

Pukeko Centre to get involved at:

info@pukekocentre.co.nz

Programme

a hit with

children

• From page 1

"The programme has been a

success from day one," said city

council animal management officer

Kym Manuel.

From a pilot programme

at Papanui Library, it quickly

expanded to three locations

each Tuesday, Wednesday and

Thursday during school terms,

with sessions booking out weeks

in advance.

"Our guiding principle was

that the child's confidence and

enjoyment of reading be enhanced

and their overall experience

with the dog be a happy one,

as many children have had scary

experiences with dogs in the

past," said Manuel.

Five dogs are involved in the

programme with another two in

training. All are chosen for their

exemplary behaviour around

children.

Riley and Keegan are sold on

the programme.

"I like that you get to pat the

dogs. I like that there's all different

types of dogs," they said.

And it has helped with their

reading, with teachers noticing

improvements in the pair since

they started taking part.

Turn everyday

essentials into

SuperGold

Physiotherapy

Associates

Finding Solutions

We are all unique,

we offer

INDIVIDUAL

TREATMENTS

specialised to you

Ph 03 389 7196

86A Wainoni Rd

Email: admin@physioa.co.nz

www.physioA.co.nz

Find all the ways you could

stretch your money further.

Visit www.supergold.govt.nz or download

and check the SuperGoldNZ app.

SG_180x130_grocery
---
6 Thursday July 15 2021

Latest Canterbury news at starnews.co.nz

The importance

of air quality

HOME & HEATING

Keep cosy with

RD Petroleum

this winter

PEGASUS POST

Pesto-stuffed lamb roast. Try the whisky or mulled wine marinade

instead of your usual gravy. (Below) – Roast venison.

Jazz up your winter roast

with a tasty marinade

It's certainly the

weather for hot

roasts, try spicing

them up a bit

with ingredients

you are likely to

have at home

Pesto-stuffed lamb

roast with garlic

Serves 4

Ingredients

⅓ cup pesto

⅓ cup ground almonds

2 tbsp fresh oregano

salt and ground pepper

750gm lamb roast

2 cloves garlic

Directions

Heat oven to 200 deg C.

To make the stuffing, place

pesto, ground almonds and

chopped fresh oregano in a

bowl. Season with salt and

pepper to taste and mix to

combine.

Trim any fat or sinew

from the lamb. Season on

both sides with salt and

pepper and lay out flat on

a board, skin-side down.

Spread stuffing over the

lamb and roll it up to contain

filling. Tie pieces with

string to secure it.

Heat an ovenproof

pan, add two tablespoons

oil and sear lamb for

5min, turning to brown all

over.

Add two heads of garlic,

cut in half to the pan and

place in the oven to roast

for 25min for mediumrare,

or longer depending

on your liking towards

pink meat.

Whisky marinade for

roast meat

Serves 3-4

Ingredients

¼ cup whisky

2 tbsp prepared mustard

3-4 tbsp olive oil

400gm beef fillet (or

lamb)

freshly ground black

pepper

1 cup beef stock

1 tbsp thyme leaves

Directions

Whisk whisky, mustard

and 3 tbsp of olive oil

until well combined. Place

beef in a plastic bag. Add

marinade. Refrigerate

for 1 hour. Return to

room temperature before

cooking.

Preheat grill on high.

Remove meat from

marinade and pat dry.

Brush with remaining oil.

Season with black pepper.

Grill for about 8min each

side. To test if done, press

thickest part of meat with

your fingertip. The softer it

is the rarer it is; the firmer

it is, the more cooked. Tent

with foil and cover with a

thick towel. Rest for 10min

before slicing.

Bring marinade, stock

and thyme to the boil.

Simmer for 10min. Serve

with the meat.

Mulled wine venison

roast

Serves 3-4

Ingredients

Marinade

½ cup mulled wine

1tsp cinnamon

6 whole cloves

1 tbsp honey

Small strip orange peel

1 tbsp olive oil

Roast

400gm venison roast

Freshly ground black pepper

to taste

2 tbsp olive oil

Sauce

1 cup (250ml) meat glaze

or good beef stock

Directions

To make the marinade,

combine wine, spice,

honey and orange peel in a

saucepan. Slowly bring to

the boil. Simmer for 1min,

then cool. When cold, add

olive oil.

Place venison in a plastic

bag. Pour marinade over.

Move meat around so it is

well coated. Refrigerate for

at least 60min or up to 8

hours.

Return to room

temperature before cooking.

Preheat oven to 200

deg C.

Remove meat from

marinade and pat dry.

Reserve marinade for the

sauce. Season.

Heat olive oil in a pan.

Sear venison until lightly

browned on all sides.

Place in a small roasting

pan in the oven. Roast for

20-25 minutes for medium

rare.

Remove from oven and

tent with foil. Cover with

a thick towel and stand for

10 minutes.

Meanwhile, strain

marinade and bring to the

boil. Add meat glaze or

stock and simmer for 1-2

minutes. Serve with the

venison.

Great accompanied by

baby red jacket potatoes,

plus 4cm cubes of pumpkin

and large broccoli

florets, roasted with the

venison.

RD Petroleum (RDP) is a familiar sight

for farm and rural residents around the

Canterbury region, however now days urban

residents also enjoy the same excellent

customer service for which RDP is known for

in rural communities, through their home

heating diesel.

RDP began its home heating diesel delivery

service to the lower South Island's main urban

centres of Christchurch, Timaru, Dunedin

and Invercargill a number of years ago.

Customer demand has continued to increase

year upon year, and RDP has responded

with specialised improvements to its delivery

equipment.

The trucks that deliver RDP's home heating

diesel in each urban centre are drawn from

the company's extensive vehicle fleet. This

means they have the latest communication

and GPS tracking technology on board, so

the operations team always know where they

are and how far away they are from their next

delivery stop.

RDP's home heating diesel trucks come

equipped with a specially-designed hose,

through which the diesel is pumped from

the truck into house tanks. The length of

the hose allows the trucks to access tanks

without having to enter the property, avoiding

damaging the driveway. RDP is the place to

go if you require diesel conveniently delivered

to your home and as a loyal RDP customer

you're offered discounted pricing and can

become eligible for value-added benefits.

For all enquiries please phone

0800 44 00 14, or visit the RDP website at

https://www.rdp.co.nz/home-heating or

signup at apply.rdp.co.nz/home-heating
---
PEGASUS POST Latest Canterbury news at starnews.co.nz

Thursday July 15 2021 7

HOME & HEATING

Get the balance

right this winter

Enviro Master has been helping

Cantabrians get the balance right when it

comes to choosing the perfect heat pump or

air conditioning system for their home or

office since 2002.

Their team of expert sales people, qualified

electricians, heating and refrigeration

engineers, help to supply and install

Christchurch's widest range of heat pumps,

and because they have no affiliation with any

one brand, you can be assured their advice

on the benefits and differences between each

product is unbiased.

They will recommend the most energyefficient

and cost-effective system for your

individual situation, and will have you

regulating the heat in your home or office in

no time.

Nowadays, customers are often wanting

whole home solutions to be able to maintain

even temperatures throughout the home both

in Winter and Summer. This can be achieved

by using ducted systems or multi systems

and Enviro Master are experts in designing,

installing and commissioning these systems.

Help is currently available with a

government subsidy covering 80 per cent of

the cost of a new heat pump up to $3000.

The subsidy is part of the Warmer Kiwi

Homes initiative and is available to Home

owner/occupiers with a Community Services

Card, a SuperGold combo card or who live in

a low-income area as determined by deciles

8-10 on the New Zealand Deprivation Index.

The applicant's home must also have been

built before 2008, have insulation up to code

(insulation subsidies also available) and have

no fixed heating in a living area, such as an

existing operational heat pump or fireplace.

With new regulations now in place for

Landlords to provide heating in rentals, it's

time to ensure you are meeting the new

standards.

Inadequate heating and ventilation can

lead to mould growth and dampness in your

property, leading to costlier maintenance

and an unhealthy living environment.

Providing a fixed heater with a higher heat

output and lower running costs, like a heat

pump, will enable your tenants to heat the

area effectively. Enviro Master are well

experienced with the Tenancy Services

software to ensure that you are meeting your

requirements.

To ensure you choose the right system

for your home or business, one of Enviro

Master's experts will visit to assess your

individual situation, offer advice and

answer any questions you may have. This

consultation is at no cost to the customer

and is always provided before a heat pump is

installed.

Anyone wondering about their eligibility

for a subsidised heat pump are welcome to

get in touch for details and help with the

application process. To find out more, call

Enviro Master on (03) 366 0525 or visit

their website www.enviromaster.co.nz

The importance

of air quality

The quality of the air we breathe affects

our health and ability to perform. We

breathe in and out approximately 20,000

litres of air every day. It is therefore very

important to ensure good air quality

indoors through adequate ventilation.

Ventilation is the process of air exchange

to provide the necessary air quality that

meets the needs of the occupants for clean,

fresh air. Low oxygen with high carbon

dioxide causes stuffiness in the room

and occupants can feel drowsy. Invisible

harmful substances like a high content

of dust and tobacco smoke are harmful

and can cause various diseases. Even bad

smells can cause discomfort or irritate the

nervous system.

In summer, it's easy to open windows

for cross ventilation, however as winter

approaches, we start to shut up out houses

to trap in the heat and as a result, air

quality can decline.

Ventilation includes

both the exchange of air

to the outside as well as

circulation of air within

the building. It is one of

the most important factors

for maintaining acceptable

indoor air quality in

buildings. Filtered air

supply for summer and

filtered and warmed air in

winter creates a healthy

environment in which

to live and work. In cases with poor

or insufficient air intake from outside,

the oxygen content decreases, humidity

and dustiness levels increase. If exhaust

ventilation is not provided or it is not

effective, polluted air, smells, humidity

and harmful substances are not removed.

To ensure the quality of your air, contact

the experts. Smooth-Air Products can

calculate the required air exchange for

your building requirement. Smooth-Air

offers a wide range of ventilation

equipment, from air vents to ducting

for fans, for both the commercial and

domestic markets.

They have an extensive range of fans

and ventilation components in-store but

they can also provide innovative solutions

tailored to differing requirements.

You can contact Smooth-Air on

0800 SMOOTH (0800 766684).

HEAT PUMP

SALE NOW ON!

Amazin' Winter Specials!!

80%

SubSidy

Warmer KiWi HomeS

Programme

*Eligibility criteria apply

• We will offer you the best quality brands and

option of heat pump for your home/business

• Providing Heat Pump solutions for over 19 years to Cantabrians

• We personally guarantee all our products & installs for 5 years

(providing annual maintenance has been completed)

Phone us today for your free consultation & quote

41A SHAKESPEARE RD, WALTHAM

PHONE 03 366 0525

www.enviromaster.co.nz

"A local team for local people"

Smooth-Air

Ventilation Equipment Suppliers

to

Domestic

Commercial

Industrial

trade

&

retail

ATTACK RISING DAMP

Centrifugal

inline fans

Axial fans Axial fans Bathroom fans

Window fans

Axial inline fans

the

right

for the

product

job

T. 03 376 4608 E info@foamconcrete.nz

W. www.foamconcrete.nz

0800 SMOOTH

(0800 766 684)

sales@smooth-air.co.nz

264 Annex Rd

Riccarton

Christchurch

03 343 6184

Monday - Friday

7.30am - 5pm

www.smooth-air.co.nz
---
8 Thursday July 15 2021

Latest Canterbury news at starnews.co.nz

continuing education

PEGASUS POST

Spreading

kindness

through craft

Crafting For a Cause is a group of

crafters meeting weekly at WEA to

create things people need. These clever

crafters knit, crochet, sew, and repurpose

materials generously donated to WEA

Canterbury. Creating social capital,

this group are helping reduce stash

cupboards and keep materials from

going into landfill, while sharing skills

and ideas.

Polar fleece has been turned into

kitten blankets for the SPCA and over

50 children's beanies and mittens for

It Takes a Village, who told them "The

mittens have been a life saver for our

families". Wool yarn has been knitted

up as hats, scarves and baby blankets;

handmade paper has been turned into

Thank You cards; cotton yarn knitted

and crocheted into dishcloths, facecloths

and cat toys; curtains recycled into tote

bags and net curtains into vege bags and

laundry bags and sold as a fundraiser to

members of the WEA.

To find out more or join the group,

visit www.cwea.org.nz or drop into

the WEA office at 59 Gloucester Street

between 9:30 am and 3:00 pm Monday

to Friday.

Papanui High School

Term 3, 2021 nightclasses

Whether you are wanting to learn something

new to improve your fitness, to challenge

yourself, for relaxation, or to master a new

skill Papanui High School offers plenty of

choices for everyone in their

Term 3 Adult Education Programme. Our

Term 3 classes begin week of 2 August and

we do have some weekend workshops on

offer as well. We have a wide range of classes

available from cooking, crafts, languages,

and fitness through to photography,

astronomy and cheese making. We are

confident regardless of your age, or interest,

you will find a course that will give you the

opportunity to extend your personal skills

and knowledge and meet some new people

in an enjoyable friendly environment. Our

tutors are well-qualified in their chosen field

and wanting to help make your learning

experience rewarding.

One of our new courses on offer for

Term 3 is an Introduction to Aromatherapy

taught by Rebecca Dollery. This course

will guide students through some of the

best known, most researched and effective

essential oils looking at their actions and

best mode of use. The course will be a

mixture of hands on practical preparations

with guided learning covering the basics of

what essential oils are, the safety precautions,

how to purchase, store and use oils to gain

maximum effect.

For further information and enrolment

in any of our Term 3 classes please visit our

website https://www.papanui.school.nz/

com-ed/categories or email Barbara Roper

rpb@papanui.school.nz or telephone our

office on 033520701.
---
PEGASUS POST Latest Canterbury news at starnews.co.nz

Thursday July 15 2021 9

continuing education

Risingholme's Adult and

Community Education

Courses for Term 3, 2021

now is the perfect time to learn something new, christchurch!

ever fancied learning to sew, play the guitar or learn a new

language? Whatever your interest and whatever your adult age,

learning something new is not only fun, it can also be good for you.

With Risingholme having over 80 courses on

offer, at four different locations across Ōtautahi

there is something that will spark your interest, for

sure!

We are expanding our programme by offering

some new and exciting courses from Term 3

onwards. New topics offered are in the health and

wellbeing space, sculpture, arts, Hispanic cuisine,

compassion communication, financial wellbeing

and memory keeping techniques. We have other

courses in the pipeline too, so keep an eye on our

website.

Visit our website www.risingholme.org.nz to see

our full range of courses, locations and enrolment

info. If you have any questions, please email us at

info@risingholme.org.nz or feel free to phone us for

a chat 03 332 7359.

Course brochures are available on our website,

at the Risingholme office and the CCC public

libraries. We look forward to meeting you.

Spaces are

limited in some

courses, so enrol

now to secure your

place and avoid

disappointment!

Adult and Community Education Term 3, 2021

Come learn with us

Risingholme Community Centre offers

a wide range of short courses, each

term, at a range of venues.

Risingholme Community Centre

Art (Creative Art, Mixed Media, Painting with Acrylics, Drawing &

Sketching), Fabric & Craft Skills, Guitar, Pottery, Sewing Skills, Upholstery,

Sewing Retreat, Yoga, Wood Sculpture, Woodwork, Woodwork for Women,

Zentangle, Fermented Foods, Te Reo Maori, Patchwork and Quilting, NZ

Sign Language, Reiki, Junk Journal (Memory Keeping), Picture Framing,

Pattern Drafting, Getting Yourself Out There, Compassion Communication,

Mastering Wealth & Abundance Seminar, Printmaking, Visual Merchandising.

Christchurch Girls' High School

Te Reo Maori, Drawing & Sketching, German Language, Painting with

Acrylics, Spanish & Go, NZ Sign Language, Pattern Drafting,

Watercolour Introduction.

Hornby High School

Sewing for Beginners, Te Reo Maori, NZ Sign Language, Hispanic Cuisine.

Riccarton High School

Calligraphy, Indian Cuisine Beginners, Italian Language, NZ Sign Language,

Russian Language, Te Reo Maori, Photography, Simple Healthy Meals on

a Budget, Sewing Skills, ESOL - English for Migrants & Second Language

Speakers, Tastes from Around the World, Found Object Sculpture.

Full details available on www.risingholme.org.nz

Risingholme office at 22 Cholmondeley Ave, Opawa, Chch

Phone 03 332 7359 | Email info@risingholme.org.nz

www.risingholme.org.nz
---
10

Thursday July 15 2021

Latest Canterbury news at starnews.co.nz

PEGASUS POST

If you want more information about an item or to contact a

seller, visit www.postanote.co.nz and search the ID#

Dyco 300mm Band Saw

Nitron Rear Shock

63 Phase 3 Vanguard

Pharmco Range Hood

2003 Mitsubishi Challenger

2013 Mazda 6 GLX

$199

ID 38222

$895

ID 38266

$3,500

ID 38023

$50

ID 38230

$2,000

ID 37999

$10,750

ID 38232

Canon 70d DSLR

Tannoy Home Theatre

5.1 Speaker System

2 Furrow Plough

Fi-Glass 4.5m

Morris Minor 1000

Nespresso (Breville)

Milk Fluffer

$750

ID 37788

$1,300

ID 38213

$1,000

ID 37912

$6,500

ID 37787

$6,000

ID 37861

Best Offers

ID 38258

2004 Renault Scenic

Massey Ferguson

Conventional Hay Baler

Panasonic SD2501

Breadmaker

2005 Mazda Premacy

28 Sheets Charcoal

Roofing Iron

Dyco 150mm Planer

$4,500

ID 37795

$2,500

ID 38181

$255

ID 38193

$5,000

ID 38174

$90

ID 15140

$325

ID 38221

1999 Suzuki Hayabusa

GSX1300R

Persian Bidjar Rug

Datsun 240C-P230

Small, Lady's Cabin Bag

Tangent TM 3 Monitor

Stereo Speakers

Bench Seat

$15,000

ID 37607

$3,600

ID 38155

$20,000

ID 37893

$50

ID 23258

$100

ID 38212

$60

ID 28690

Special Wallaby Timber Jack

5 Mag Wheels & Tyres

Seiko Scuba Divers Watch

Mini Compact Disc Radio

Lounge Chairs (2)

2013 Ford Fiesta ST EcoBoost

$175

ID 37970

$600

ID 38114

$200

ID 38099

$20

ID 38051

$225

ID 38044

$16,000

ID 37887

Toro All-Wheel-Drive

Lawnmower

Candy Shop Vending Machine

Fisher & Paykel Stove

Elba Model

Tandem Lawnmower

4.88m Sea Nymph GullWing

Genuine Honda CR-V

Boot Liner

$600

ID 37996

$400

ID 37875

$200

ID 37981

$50

ID 37957

$6,300

ID 37874

$70

ID 36357

2007 Mitsubishi Outlander

7-Seater

2007 Toyota Corolla

Axio Luxel

Dingy Aluminium

Parkercraft Pacific

1996 Nissan Terrano R3 M-R

2014 Volkswagen Polo

Rams For Sale

$9,500

ID 37774

$7,900

ID 36922

$3,500

ID 37801

$9,000

ID 37800

$11,490

ID 37116

$450

ID 37680

0621h07
---
$10.50

$8.00 incl. GST

PEGASUS POST Latest Canterbury news at starnews.co.nz

Thursday July 15 2021 11

Classifieds Contact us today Phone our local team 03 379 1100

Real Estate

Trades & Services

Trades & Services

Trades & Services

HOME WANTED 3-4

bedrooms. Looking in Nor

West areas, Beckenham

or Somerfield. Prefer

permanent material brick

and post 1990 build. Don't

mind if it needs some TLC

- anything considered.

Cashed up buyer. Phone

021 372 479

HOME WANTED 3-4

bedrooms. Looking in Nor

West areas, Beckenham

or Somerfield. Prefer

permanent material brick

and post 1990 build. Don't

mind if it needs some TLC

- anything considered.

Cashed up buyer. Phone

021 372 479

Wanted To Buy

TOOLS Garden,

garage, woodworking,

mechanical, engineering,

sawbenches, lathes, cash

buyer, ph 355-2045

Trades & Services

FOR ALL YOUR

★Garden Clean-ups

★Pruning

★Lawn Mowing

★Garden Maintenance

Call us today for a FREE quote

PH 0800 4 546 546

(0800 4 JIMJIM)

BRICKLAYER

George Lockyer. Over

40 years bricklaying

experience. UK trained.

Insurance work, EQC

repairs. Heritage

brickwork & stonework

a speciality. No job too

small. Governers Bay.

Home 329 9344. Cell

027 684 4046. E mail

georgelockyer@xtra.co.nz

CARPET LAYING

Exp. Repairs, uplifting,

relaying, restretching.

Phone John on 0800

003181, 027 240 7416

jflattery@xtra.co.nz

ELECTRICIAN

Prompt & reliable

registered electrician

with 24 years experience

for all residential and

commercial work, new

housing and switch board

replacements. Phone Chris

027 516 0669

VHS VIDEO TAPES

& all camera tapes

converted to DVD or

USB. Video taping

special occasions, www.

grahamsvideo.co.nz ph 03

338-1655

House & Garden

Property services Ltd

Tree & hedge trimming

Stump grinding

Gardening

Landscaping

Gutter cleaning

All aspects of

property maintenance

CALL us 021 405 277

Driveways

SWAINS

KIWI KERB

(Since 2005)

Over 22 Years Experience

Quality

Workmanship

• Driveways

• Kerb &

Channel

• Garden Edging

Freephone: 0800 081 400

swainskiwikerb@gmail.com

landscaping

Landscape

Construction and

Garden Maintenance

You can have your gardens, trees,

shrubs, plants and lawns maintained to look their best

all year round, for a great price.

Residential & Commercial Landscaping

• Maintenance • Pruning • Reconstruction & Rejuvenation

• Rental Property and Commercial Maintenance

• Pre-Sale Tidy-Ups

New Home Landscaping

Lawns • Gardens • Decks • Paving • Water Features

• Quality • Value for money • Experienced • Punctual

• Professional • Flexible • Knowledgeable • Reliable

Call Ross Legg - 027 222 0388

Email ross@revivelandscaping.co.nz

www.revivelandscaping.co.nz

ROOF REPAIRS

Locally owned & operated with

over 30 years experience.

• Extensions & repair • Roof coating

• Concrete & clay tiles • Butynol

• Malthoid • Asbestos Certified

• Coloursteel • Old iron • Guttering

Phone Dave 981 0278

or 021 223 4200

E: dave@beaumontroofing.co.nz

BEAUMONT ROOFING LTD

TREE SERVICES

CRAIGS

TREES

Our services include:

Tree felling

Branch chipping

Trimming and pruning

Crown reduction

Stump grinding

P: 027 2299 454

E: craigstrees@xtra.co.nz

www.craigstrees.co.nz

Fully insured

ADVERTISE YOUR BUSINESS HERE

Phone for further details

(03) 379 1100

Something for everyone

Available in all good bookstores and supermarkets, or subscribe from as little as $20.

GENTLEMAN JIM RICHARDS & THE WILLMENT ESCORT

FREE FIRST XV SEASON PREVIEW MAGAZINE INSIDE

CLASSIC ALPINE TOUR | PELLAND COUPÉ | JIM RICHARD'S WILLMENT ESCORT | TERRY MARSHALL | VAUXHALL FIRENZA | RICHARD BROCKLEHURST MAR-APR 2021

ISSUE 94

THE MOTORSPORT

PHOTOGRAPHY OF

TERRY MARSHALL

RARA AVIS:

PELLAND COUPÉ

A SHORT TIME IN FRONT: RICHARD BROCKLEHURST

50TH ANNIVERSARY OF THE VAUXHALL FIRENZA

SOUTHERN MEN AND TALES OF THE SOUTH

MARCH-APRIL 2021

SOUTHERN

SOJOURN

THE CLASSIC ALPINE TOUR

COME ON, FEEL THE

NOISE: CLASSIC

RACING ENGINES

9 416770 121332

TONY JOHNSON

ON THE COMING OF

MOANA PASIFIKA

AARON SMITH

'WHY I RATE

DUPONT'

SEAN FITZPATRICK

'WE NEED MONEY TO

SUSTAIN THE GAME'

rrp $10.99

9 416770 121325

MAY 2021

DAN

CARTER

REFLECTING ON A

GREAT CAREER

JEROME

KAINO

SORTED FOR

LIFE AFTER

RUGBY

• PHIL GIFFORD: THE BEST

SCHOOLBOY STARS HE SAW

• DARYL GIBSON: HIS VISION

FOR THE BOP STEAMERS

$9.25 incl. GST

ISSN 2423-0626

meet 20 of our Kiwi garden favourites

From abelia to

viburnum

& all the varieties

in between

Why we

like them

& where they

like to grow

AuTumN 2021

The Shrub Hub

How to keep your

shrub in shape

& propagate more

of those you love

growing with you Issue 504 | May 2021 | 100%

A tropicAl

flock

Grow your own

bird of paradise

Capitalising

on CaCti

Faran Gillbanks

on a succulent

movement

9 416770 121318

Roses on the wishlist

Hot new releases for 2021

Space iSSueS?

Try gardening

like the French

The lowdown on

cover crops

Why, when & how

For the motoring

enthusiasts

For the

rugby fans

For the seasonal

gardeners

For the green

thumbs

growing with you 100%

alliedpressmagazines.co.nz

Rugby News & Kiwi Gardener: 0800 77 77 10 Classic Driver & General: 0800 624 295
---
12 Thursday July 15 2021

Latest Canterbury news at starnews.co.nz

PEGASUS POST

THE ORIGINAL 'PAINTERS WAREHOUSE'

NOW ALSO

IN PAPANUI

Stocking

Paint Plus

Eco-Friendly

Paint

Interior/Exterior Paint,

Roof Paint, Fence Paint

Tinting to any colour of

your choice

No tint charge on your

order

Stocking Paint,

Accessories and much

more

Serving the Trade &

Public for 30 years

Visit: paintplus.co.nz

for more information

SHOP ONLINE

www.rstradecentre.co.nz

FREE CHRISTCHURCH DELIVERY

0800 99 99 76

LOCATIONS:

484 Papanui Road, Papanui

68 Montreal Street, Sydenham

HOURS:

Monday - Friday 7.00am - 5.00pm
---
PEGASUS POST Latest Canterbury news at starnews.co.nz

Thursday July 15 2021 13

H O M E

A FRESH APPROACH T O REAL ESTATE

HOMECHRISTCHURCH.CO.NZ

HOME CHRISTCHURCH LIMITED, LICENSED REAA 2008
---
14 Thursday July 15 2021

Latest Canterbury news at starnews.co.nz

PEGASUS POST

H O M E

T H E VI S I O N OF H O M E

Our vision is simple.

To be relatable and genuine home specialists within

our chosen communities.

We operate with complete transparency, translating

into the best outcome for you and your well being. We

are about building alifetime of strong relationships.

You matter, we care.

A L O O K A T T H E MA R K E T | E D D I E & KI E R E N

What we are seeing on the ground:

At the beginning of the year, we witnessed the strongest

market Christchurch has ever seen. We had the lowest

volume on the market since post -earthquake and the

market was aflood with buyers. This drove prices up at an

incredible rate. Seven months on to July 2021 there are a

record low number of properties on the market, however

the 'flood' of buyers has somewhat decreased from the

start of this year. The media is playing their part to try to '

cool' the housing market with alot of ' click bait' but

ultimately prices are still rising, just not at the rate they

were at the end of 2020 to early 2021.

Regardless of what your plans may be with your HOME, there

has never been abetter market to know where the value of

your HOME sits. Whether it be to use your existing home as

leverage to complete that renovation you have always wanted

to complete, to purchase an investment or holiday home, or to

merely know what you're sitting on for your retirement.

Whatever your plans are, we are here to help you on your

journey whenever you may need us.

For friendly, genuine advice, contact aHOME specialist today.

WWW.HOME.CHCH.CO.NZ
---
PEGASUS POST Latest Canterbury news at starnews.co.nz

Thursday July 15 2021 15

T H I S I S U S | OU R LI F E | OU R ST O R Y | O U R HO M E

LIST WITH THE LOCALS

YOUR HOME SPECIALISTS

EDDIE SPRY

021 156 5884

EDDIE@HOMECHCH.CO.NZ

KIEREN GRAY

021 363 944

KIEREN@HOMECHCH.CO.NZ

KURT POLSON

027 465 6797

KURT@HOMECHCH.CO.NZ
---
16 Thursday July 15 2021

Latest Canterbury news at starnews.co.nz

PEGASUS POST

H O M E

RECENTLY SOLD

ANOTHER HOME SOLD

ANOTHER HOME SOLD

ANOTHER HOME SOLD

2 0 MI L L P O N D PL A C E

WAITIKRI

$823,000

3 7 LA R N A C H ST R E E T

WAIMARI BEACH

$645,000

8 ME R I N O ST R E E T

MARSHLANDS

$734,000

ANOTHER HOME SOLD

ANOTHER HOME SOLD

ANOTHER HOME SOLD

155 SHAW AVENUE

NEW BRIGHTON

$732,000

8 ROCK INGHORSE ROAD

SOUTH SHORE

$455, 000

39BAKER STREET

NEW BRIGHTON

$ 597, 500

W E CARE | YOU MATTER

1 8 6 MA I N RO A D , RE D C L I F F S

03 930 1323

HOMECHRISTCHURCH.CO.NZ

HOME CHRISTCHURCH LIMITED, LICENSED REAA 2008