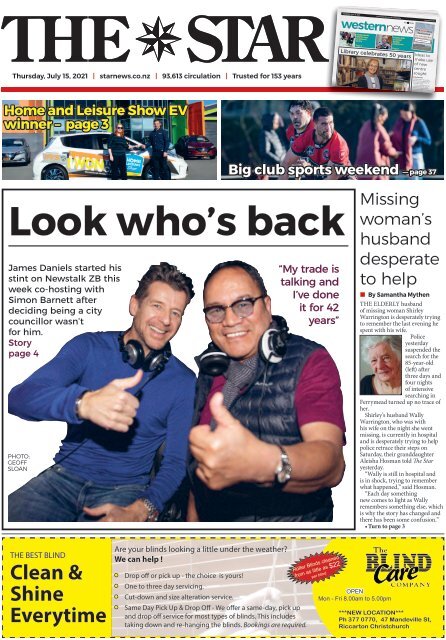 Create successful ePaper yourself
Turn your PDF publications into a flip-book with our unique Google optimized e-Paper software.
Not available in conjunction with any other offer or

promotion. Limit 1 coupon per table. Offers redeemable

Monday to Friday, Lunch & Dinner only. Valid ti l 31st of

July 2021. Discount can not exc ed $50.

Page 3 Page 8

Superior Methylcobalamin B12 (High Absorption Sublingual Lozenges)

100 LozengeS oNLY $32.90

Bringing You The BesT

in naTural healTh

388 5757 | 101 seaview rd, new Brighton

at Kyle Park is prepared for the

The city council opened public

consultation last week, with a

questionnaire listing activities

Greater Hornby Residents Association

chairman Marc Duff said

the suggestions were a mixed bag,

THURSDAY, JULY 15, 2021 Connecting Your Local Community

starnews.co.nz

The local news

Husky Heroes

lead the way

at Antarctic

Centre

Creative kids

on school

holiday

programme

destination

for Cantabrians

Thursday, July 15, 2021 | starnews.co.nz | 93,613 circulation | Trusted for 153 years

Library celebrates 50 years

Ideas to

make use

of new

centre

sought

• By Fiona Ellis

FEEDBACK ON the use of the

Hornby Centre is open as the site

$35.9 million build.

which could be offered a the pool

and library facility.

Home and Leisure Show EV

winner – page 3

MILESTONE: Ann Barsby is reflecting back on her 20 years as a library assistant in time for Spreydon Library's 50th

anniversary. PHOTO: GEOFF SLOAN

• By Bea Gooding

FOLLOWING THE birth

of her daughter, Ann Barsby

Bring this

voucher in to get

10% off your bill

didn't plan on sticking around

for very long when she snagged

a part-time job a the Spreydon

Library.

A decade later the library

assistant is taking a trip down

memory lane as the facility

celebrates 50 years since its

opening in 1971 marked a new

era of public library service in

Christchurch.

• Turn to page 6

is your brain

shrinking?

Brain fog, forgetful, feeling old, low

energy, mood swings, difficulty sleeping,

pins & needles, numbness in legs

super price offer

see a

difference

in as little as

48 hours!

with some causing him concern.

"Some of the things, the sewing,

knitting and the adults' board

games, are things we already have

a the Hornby Community Centre.

I'd hate to see our resources

split."

He hoped community consultation

would ensure there were no

double-ups.

However, it was "incredibly

exciting" to see learn-to-swim

programmes, aqua jogging and

pool parties being considered.

People could also make

their own suggestions for the

submissions.

• Turn to page 4

200 LozengeS oNLY $59.80

MAiL orDer

AVAiLABLe

MarshaLLs hEaLTh

& naTuraL ThEraPy

Big club sports weekend –– page 37

Look who's back

James Daniels started his

stint on Newstalk ZB this

week co-hosting with

Simon Barnett after

deciding being a city

councillor wasn't

for him.

Story

page 4

PHOTO:

GEOFF

SLOAN

"My trade is

talking and

I've done

it for 42

years"

Missing

woman's

husband

desperate

to help

• By Samantha Mythen

THE ELDERLY husband

of missing woman Shirley

Warrington is desperately trying

to remember the last evening he

spent with his wife.

Police

yesterday

suspended the

search for the

85-year-old

(left) after

three days and

four nights

of intensive

searching in

Ferrymead turned up no trace of

her.

Shirley's husband Wally

Warrington, who was with

his wife on the night she went

missing, is currently in hospital

and is desperately trying to help

police retrace their steps on

Saturday, their granddaughter

Aleisha Hosman told The Star

yesterday.

"Wally is still in hospital and

is in shock, trying to remember

what happened," said Hosman.

"Each day something

new comes to light as Wally

remembers something else, which

is why the story has changed and

there has been some confusion."

• Turn to page 3

THE BEST BLIND

Clean &

Shine

Everytime

Are your blinds looking a little under the weather?

We can help !

• Drop off or pick up - the choice is yours!

• One to three day servicing.

• Cut-down and size alteration service.

• Same Day Pick Up & Drop Off - We offer a same-day, pick up

and drop off service for most types of blinds. This includes

taking down and re-hanging the blinds. Bookings are required.

Roller Blinds cleaned

from as little as $22

per blind

OPEN

Mon - Fri 8.00am to 5.00pm

***NEW LOCATION***

Ph 377 0770, 47 Mandeville St,

Riccarton Christchurch
---
2 The Star Thursday July 30 2020

2 The Star Thursday July 15 2021

inside

inside

Tributes flow after death .................................. 5

'Meeting of minds' on the airwaves ........4

Man fined after docking puppies ............ 7

Quake-damaged houses in demand.....6

New hospital child care initiative ....................9

Rise

Bank

in

to

RSV

stop

cases......................................................7

cash, cheque deposits ....10

Mosque New home attacks for submissions Smiths City ......................... set......... 8-915

No Return charges to Trump, in sex tape pandemic case.................. ..............20-21 10-12

Cycling Heritage home in photos from London..................16-18

.............................................25

She Check Is Not your Your shopping Rehab into receipts prisons.....21 .............. 27

Mayor's Food .................................................................................28

column.......................................................31

ECan Gardening column..............................................................35

................................................................ 29

Puzzles............................................................................36

Sport ................................................................................. 31

Drivesouth .................................................................33

Sport..........................................................................37-39

Puzzles ..........................................................................34

DriveSouth....................................................................41

Classified ............................................................35-42

Classified..............................................................42-47

Gig guide ................................................................... 43

Gig guide..................................................................... 47

newsroom

newsroom

Louis Day Reporter

021 919 917

louis.day@starmedia.kiwi

Bea Gooding Reporter

Matt 021 911 Slaughter 576 Reporter

bea.gooding@starmedia.kiwi

021 910 788

matt.slaughter@starmedia.kiwi

Chris Barclay Reporter

Chris 021 914 Barclay 169 Reporter

chris.barclay@starmedia.kiwi

021 914 169

chris.barclay@starmedia.kiwi

Barry Clarke Editor in Chief

Barry 021 359 Clarke 426 Editor in Chief

barry@starmedia.kiwi

021 359 426

barry@starmedia.kiwi

advertising

Shane Shane Victor Victor Advertising Manager Manager

021 021 381 765

shane@starmedia.kiwi

Classified advertising: 379 379 1100 1100

General inquiries: 379 3797100

7100

REACH

REACH

MORE

MORE

.

. . .

184,000 178,000 * *

readers every week!

readers every week!

*2019 Nielsen Newspaper Readership Report

*2021 Nielsen Newspaper Readership Report

online

online

Keep up with the latest

Keep local up news with as the it happens latest

local news as it happens

www.starnews.co.nz

www.starnews.co.nz

A division of Allied Press

A Regional division of Manager: Allied Press Steve McCaughan

Regional PO Box Manager: 1467, Christchurch Steve McCaughan

PO 359 Box Lincoln 1467, Rd, Christchurch Addington

359 www.starmedia.kiwi

Lincoln Rd, Addington

www.starmedia.kiwi

The Christchurch Brick

Show Saturday and Sunday

9am-5pm

More than 200 LEGO enthusiasts and collectors will display

their designs, collections and contraptions over 4,000

square meters of floor space. Activities include building

spaces, remote control LEGO vehicles, giant ramp races and

the biggest range of LEGO sets for sale in New Zealand.

Admission: $5 per person. Christchurch Arena

Pandemonium Circus

Friday 6.30pm-7.30pm,

Saturday and Sunday 2pm-3pm

A spectacular circus presentation of the classic and delightful

story of Peter Pan. Flying fairies,

pillaging pirates, lost boys and one

colossal Crocodile. Admission:

Adults: $20, Children: $15. Roy

Stokes Hall, Seaview Rd

letters

letters

We want to hear

your

We want

views

to

on

hear

the

issues

your views

affecting

on the

life in

Canterbury.

issues affecting life in

Canterbury.

Send emails to:

barry@starmedia.kiwi

Send emails to:

barry@starmedia.kiwi

Letters may be edited

or Letters rejected may at be The edited Star's

discretion. or rejected Letters at The should Star's

be discretion. about 150 Letters words. should

be about 150 words.

A name, postal address

and A name, phone postal number address

should and phone be provided. number

should be provided.

Please use your real

name, Please not use a your nickname, real

alias, name, pen not name a nickname, or

abbreviation.

alias, pen name or

abbreviation.

Kidsfest 2021

Daily until Sunday, July 21

Looking for some family fun these winter school

holidays? KidsFest has hundreds of exciting and interactive

activities to choose from. Robots, books, costumes, paint,

puzzles, markets and more. Tickets are on sale now. Lots of

events are free, however, some do have a charge.

For details visit: https://www.kidsfest.co.nz

The Tannery Antiques and

Collectables Fair

Sunday 10am-5pm

Forage through antique furniture, china and glass. Search

amongst the silver, pottery and vintage jewellery. Marvel at

the memorabilia,

vintage tools

and collectable

ornaments.

Admission: Free.

The Tannery, 3

Garlands Rd

The Big Top Circus

Sunday 4pm-5pm

Go watch amazing aerial acrobatics, mind bending

contortion and incredible circus feats featuring the Kids

& Teen Performance Troupes of Circotica Circus School.

Tickets: $15 or $20 for the Big Top Circus and the MulletMan

& MiM Show. Richmond Village Green

Stay comfortable all year round with

Fujitsu's sleek, stylish Lifestyle Range.

Smile with confidence

HEAT PUMPS FROM $1999 inc GST INSTALLED!

2020

BEFORE

aFtER

Heat Pumps

Fujitsu's Catechin Filters are approved by

the Asthma and Respiratory Foundation

NZ's Sensitive Choice ® programme.

Full or Partial Dentures

Immediate Dentures

Winz Approved

Insurance Claims

Urgent Denture Repair & Reline

Payment Options Available

03 381 6950

info@powersmart.co.nz

powersmart.co.nz

FREE

consultation from

your local Accredited

Heat Pump Expert

914 Colombo St | Ph: 03 365 2859 | www.cosmeticdentureclinic.co.nz
---
Thursday July 15 2021 The Star

THE LUCKY winner of the

$22,000 Nissan Leaf given away at

the Home and Leisure Show has

been announced.

Dairne Hayles has won the

vehicle and was the 2198th person

to visit the HVS Motors stand.

Hayles was in disbelief when

she was told she had won the car.

After a few seconds of silence, her

first reaction was: "You're kidding

me. You've got to be kidding me."

Said HVS electric sales manager

Tom Maxwell: "[Dairne] mentioned

that they were keen on EVs,

but didn't know much about them

and entered on a whim."

• From page 1

They had travelled from their

home in Burwood to Rolleston

on Saturday, for reasons still

unknown to the family.

Hosman said it was hard to

say why they had gone.

"Unless nan had thought of

someone she used to know who

lived there and so they then

headed that way," she said.

Wally, also in his 80s, had

been driving.

The couple were stopped by

police on Main South Rd in

Rolleston about 7.30pm after a

patrol noticed the vehicle's lights

were on high beam. They were

also driving slow.

The Warrington's then drove

to Ferrymead. CCTV footage

captured their car about 8.30pm

with Shirley and Wally inside.

"They hadn't been to Rolleston

in a long time, which is how we

think they had gotten lost on

their way home and ended up in

Ferrymead," said Hosman.

At 10.20pm, footage of the car

showed just one person inside.

The family thinks when they

got to Ferrymead, Shirley had

gone for a walk and wandered

off.

"Recently, she had more

frequently been showing signs of

dementia," said Hosman.

"We were trying to figure this

Maxwell was delighted to hand

over the keys and introduce Hayles

another person to the many

benefits of owning an electric

vehicle.

The 2016 Nissan Leaf 30G

Hayles now owns boasts a full

heated leather interior, Aero

Autech styling, 360 cameras,

a Bose sound system, heated

steering wheel, LED lights and

tinted windows.

For your chance to win one of

the Home and Leisure Show's major

prizes, mark your calendars for

the show dates next year, planned

for July 1-3, 2022.

out prior to her disappearance

but nan is very independent and

stubborn."

Detective Senior Sergeant

Damon Wells said it was

believed Wally drove around

trying to find Shirley with no

luck.

He thought they had possibly

been to Ferrymead Historic

Park.

"It's been quite traumatic for

him. His recollection has helped

Latest Canterbury news at starnews.co.nz

EV winner – 'you're kidding me'

Family grateful for support

us locate an area she could be,"

Wells said.

"He's really concerned about

her."

Now the police search has

been called off, Hosman said

they were hoping the public

would help to bring Shirley

home.

"We have been going out every

day to look for her but now are

truly relying on the public to

check around their homes and

properties, even out in paddocks."

She said even if people think

they have seen someone that

looks like Shirley to not hesitate

and get in touch with the police.

"The public is our best

shot now, it's such a big

region and she could be

Searchers look for missing

85-year-old Shirley

Warrington on Tuesday.

Police are seeking sightings

of the white 2006 Toyota

Wish she and husband

Wally were in. It has the

number plate NEP981.

PHOTO: GEORGE HEARD/

NZ HERALD

anywhere," said Hosman.

"It's like finding a needle in a

haystack."

Hosman also expressed how

grateful she and her family,

including her mum and Shirley's

daughter Karen Colville, were

for the public's support in the

search for Shirley.

"It is overwhelming how the

city has bonded together to try

and bring her home," she said.

"They are helping us push

forward each day."

If you have information that

could help the case, phone

111 and quote file number

210711/8724.

Police will continue to identify

and follow-up new lines of

inquiry.

NEWS 3

in brief

Wheelie bin

driver shortage

A shortage of wheelie bin

truck drivers is impacting on

rubbish disposal and recycling

collection in the city, with a

union representative saying

drivers were deterred by 60-

hour working weeks. The city

council's rubbish collection

contractor Waste Management

NZ missed an average of 17.1

streets each working day in

April, well in excess of its target

of 1.5 streets. Eight new drivers

and five additional trucks

bolstered the service earlier this

month in a bid to address the

issue.

Visitors asked to wear

masks at hospital

People visiting Christchurch or

Burwood Hospital have been

asked to wear masks following

an increase of viral respiratory

illness in the community. It has

also made a number of changes

in response to increased demand

at the hospitals. Visiting is

restricted to one person at a

time per patient, for essential

purposes only. People are being

asked to stay home if they are

unwell, and children are not

permitted to visit unless an

exception has been granted

by the relevant charge nurse.

The changes are in place until

further notice.

• RSV, page 7

Innovation expo at

Te Pae

The 2021 Smart Christchurch

Innovation Expo will take

place at Te Pae, Christchurch's

new convention and exhibition

centre. Scheduled from October

31 to November 1, the twoday

expo will showcase new

technologies and innovations,

providing a forum for people to

share ideas with others who are

thinking outside the box. It will

also be one of the first events at

the centre that will be open to

the public to attend. More than

100 interactive exhibitions will

be on display.

Showcase your brand or product to

thousands of women at our two day expo!

2 & 3 OCT | CHRISTCHURCH ARENA

This is the perfect opportunity for you to:

• Build brand awareness • Grow your customer database

• Launch a new product • Generate sales

Find out more and book your stand at

womenslifestyleexpo.co.nz

Care &

Compassion

We pride ourselves on the

very highest level of service

If you are thinking about the future, we can help

you explore pre-payment and pre-planning options.

Contact us for a Free Information Pack.

We offer funeral information talks to groups.

Please call us for a speaker to come to you.

(03) 379 0196 | www.simplicity.co.nz

Mark Glanville

Manager &

Funeral Director
---
The Star Thursday July 15 2021

4

NEWS

Latest Canterbury news at starnews.co.nz

'Meeting of minds' on the airwaves

• By Bea Gooding

FORMER CITY councillor

James Daniels has waltzed into

his new role at Newstalk ZB this

week with no regrets.

The veteran broadcaster made

his debut on Tuesday, co-hosting

the afternoon show with Simon

Barnett, after representing the

Coastal Ward since 2019.

Following the job offer, Daniels

announced his resignation

in May, triggering a $65,000

by-election set for October to

replace his spot in the Coastal-

Burwood Community Board.

He said working with Barnett

recently has been a meeting of

minds.

"It's been fantastic, I've really

enjoyed it [so far]. I've known Si

since he was young and we've

always worked in the same city,

but never together," Daniels said.

"My trade is talking and I've

done it for 42 years, so when

something like that comes along

at my stage in life, you've got to

take that opportunity."

Daniels is no stranger to the mic

– for the last four decades he has

worked on and off in the industry,

including The Breeze from 2014 to

2018 with Hillary Muir.

"It's a form of communication

I enjoy," he said. He liked having

"the power to make a positive

difference."

Many grew up listening to

Daniels on-air with fellow

co-host Ken Ellis on 3ZM, now

known as ZM, between 1984 and

1992, and More FM later on.

More recently, while juggling

city council responsibilities, he

joined the Coast FM team to

host the Nine-to-Noon show

after being offered a part-time

role last year.

Daniels intends to carry on

with the venture while he is at

Newstalk ZB.

LEGENDARY: James Daniels in the

studio with new co-cost Simon Barnett,

(left) and with former 3ZM co-host Ken

Ellis and late Jim Anderton,

Being on Christchurch's

airwaves with Barnett presents

an opportunity to achieve something

fresh.

Said Daniels: "What we want

to do is give people a platform to

have a mature, adult conversation

about something topical,

something interesting – sometimes

both."

For someone who thrives in

leadership roles, there was plenty

to miss about working for the

city council, especially representing

the community he grew up

in.

However, Daniels does not

have future plans to return to

local government.

"I think I'll be too old."

The experience was not what

he expected, and "it's not as bad

as everyone paints it."

"I didn't want to step away

from that at all, but I couldn't

combine both roles," he said.

"I miss having that responsibility

to the city and to the community,

I revel in responsibility."

What he learned as a councillor

will also come in handy

on-air, especially having been

well-entrenched in community

matters for the past two years.

But what he most definitely

will not miss is the expectation

of being available 24/7.

Daniels was looking forward

to having a more structured

work-life balance.

"When you're a councillor,

your work is your life."

SCHOOL HOLIDAY SPECIAL

HALF PRICE ADMISSION*

NEED A

PLUMBER?

Bras and

shape Wear

ShOPPING AT ITS BEST

299 DURHAM STREET NORTH

10.00 AM TO 5.00 PM DAILY

Call us now for fast

friendly service.

Get your problems sorted out

quick smart - on time!!

Phone for a

FREE

quote now.

• No under wires

• Straps do not fall down

• Full support from beneath the bust

• Front-opening modifications

• Breast Prostheses fitted & supplied

• Esther is a registered

health provider

• Unique shape wear

Formerly

Jeunique Bra

FREE

CONSULTATIONS

& FITTINGS

*Children Free

Phone 03 377 1280

Mobile 021 898 380

Esther Rökk UnderFashions

For appointments please phone 322-6590

82 Milns Rd, Halswell • www.eru.co.nz

Make a difference

Join the Regional Water Management Committee

We are currently seeking applicants to join the Committee

as community members to help make a difference.

The Committee supports water management solutions to protect the

mana of Canterbury's precious freshwater now and into the future.

For more information, head to ecan.govt.nz/regional-committee.

Applications close 26 July 2021.
---
Latest Canterbury news at starnews.co.nz

Thursday July 15 2021 The Star

NEWS 5

Region's most stolen vehicles revealed

TARGETS: The

Mazda Demio

(above), Toyota

Hilux and

Nissan Pulsar

are among the

most commonly

stolen vehicles

in Canterbury.

PHOTOS:

GEORGE

HEARD / NZ

HERALD

• By Courtney Winter

THE TOYOTA Hilux and

Landcruiser, and Nissan Pulsar

and Terrano, top the list of the

most common vehicles to be

reported stolen in Canterbury.

The Mazda Demio also made

the cut, with the vehicle most

likely to be targeted by younger

people.

Vehicles with a less chance

of being stolen are most Ford

models, Audis and high-end cars

like Teslas.

Canterbury currently has the

highest number of car thefts in

New Zealand.

More than 366 cars have been

stolen in the region over the past

five years, an average of 73 a year.

Detective Senior Sergeant

Damon Wells said the reason

brands like Toyota and Nissan

are the most common vehicles

to be stolen is because there are

thousands of them around, so

selling them is a lot easier.

"If someone steals a rare car

and attempts to sell it or its parts,

the market is a lot smaller, and

it's more likely to be noticed as

stolen," he said.

Wells said the number of

vehicle thefts have been consistent

over the past four years, with

the only exception in 2020 when

Covid-19 hit.

About 30 vehicles have been

stolen so far this year. Over the

past four months, Canterbury

police have arrested and charged

three groups of people who were

targeting and stealing Toyotas,

Nissans and other 4WD vehicles.

One person arrested is being

charged with 15 separate thefts.

The spate of thefts come as

catalytic converters, or cat

converters, are in hot demand

for their valuable metal components,

with thieves removing the

emission-cleaning devices from

beneath vehicles.

The craze is prominent overseas,

but has now spread to New

Zealand, with police confirming

at least 50 thefts in Canterbury

alone.

Wells said police are looking

at what they can do to reduce the

demand for parts, because if the

people stealing the vehicles can't

make a profit, they will likely

stop.

He said there is a big focus

on prevention, as there is only a

50 per cent chance a car will be

found once it has been stolen.

Police recommend using a

steering lock, which is visible

from the outside of the car, having

it in a garage off the street, or

having an operating car alarm.

"People can also purchase GPS

locators for their car, making it

easier for police to locate a stolen

car."

Vehicles can remain in the

police system as stolen for years

until they are found.

The longest period for a stolen

vehicle to be returned to its

original owner in Canterbury

was 12 years. - NZ Herald

Satsuma mandarins $ ............. 3 .99

KG

loose yams $ .................................... 4 .99

kg

Gold Pineapples $ ..................... 2 .49

each

jazz apples $ ................................... 1 .99

kg

Parsnips 500g ............................. $ 2 .49

each

Orange kumara $ ........................ 2 .99

kg

Whole Beef Ribeye $ ................ 29 .99

kg

Prime Beef Mince $ ...................... 11 .99

kg

Pork Belly (bone in) $ ....... 13 .99

kg

Skinless Chicken

Breast $ ................................................. 9 .99

kg

At

we have...

FRIDAY TO

SUNDAY ONLY

Large avocados ................

$3

Lemons .......................................... Pork mince ................................

$10

Irish pork sausages .......

$12

2 for

.00

.99

kg

.99

kg

.99

kg

Check our website for

your local stores opening hours

All our fresh meat is 100% NZ FARMED. specials VAlid

12th july - 18TH July 2021.

WHILE STOCKS LAST! ONLY AVAILABLE AT RAEWARD FRESH HAREWOOD RD, TOWER JUNCTION

WWW.

.CO.NZ

Like us on

Facebook
---
The Star Thursday July 15 2021

6

NEWS

Latest Canterbury news at starnews.co.nz

Quake-damaged houses in demand

• By Chris Barclay

PROPERTY REPAIR companies

targeting earthquake-damaged

properties are cashing in as the

city's housing market remains

buoyant.

A decade on from the earthquakes,

homeowners disillusioned

by prolonged negotiations

with EQC and insurance companies

are reverting to selling their

properties on an 'as is where is'

basis.

The recent

sale of a Fendalton

property

at auction on

for $2.4 million

– more

than $600,000

above its rateable

value –

Steve Ellis

illustrated the

niche market

within a burgeoning industry.

Bidding by six prospective

buyers had opened at $1.8 million.

The previous owners purchased

the 2100 sq m property

in 1994 for $542,000 to build

a contemporary architectural

house.

Bayleys Fendalton owner Steve

Ellis said the four-bedroom

property on Clyde Rd was sold

to a buyer who specialised in

repairing "as is where is" properties.

"There's a huge amount of

people who hadn't settled (with

EQC/insurers) but there's also

a lot of people who had repairs

done of some nature but significant

damage wasn't picked up

– that's one of the biggest drivers

(to sell as is where is)," Ellis said.

"This particular one … they'd

done all the repairs, they'd taken

the cash settlement and done

significant cosmetic repairs but

the levels of the house were never

taken, which is pretty staggering.

"Levels were (subsequently)

taken by a building inspector

and they were out by a mile.

They had to go back, reopen the

claim and renegotiate.

"A lot of people are just so over

the process. The mathematics

often works out that you're going

to get as much money or sometimes

more by taking the cash

settlement and selling on an 'as

is here is' basis," Ellis said.

"It's still happening in significant

numbers. There are still

AS IS WHERE IS:

This fourbedroom

house

in Fendalton has

been purchased

by a buyer

experienced

in repairing

earthquakedamaged

properties.

easily 10 a month for sale, at

price points anywhere between

$500,000 and $3 million.

"There's a lot of people out

there with a lot of expertise who

have done a lot of repairs, a lot

of builders and developers who

look at those properties and see

an upside for them to buy 'as is'.

Ellis cited the example of a

"run down"property in Waiwetu

St, Fendalton, which sold recently

for $2.8 million.

"They were going to bowl the

house and build a brand new

home. It'll be a six or seven million

dollar home by the time they

This house at 14 Waiwetu St, Fendalton, is destined to be

replaced by a new multi-million dollar residence.

PHOTO: BAYLEYS

finish it," he said.

Other buyers on-sell, or hold

the property as an investment.

Simon Hunter, from the

aptly named asiswhereis.co.nz

estimates the company has completed

100 transactions over the

last five years.

"Unfortunately you've got a

lot of people still fighting over

their payouts with insurance

companies.

"You get some people at the

end of their tether. For some

people it's really affected their

lives, which is quite sad really."

Hunter said the company

did not bid at auctions, instead

relying on referrals for new

business before dealing with

each property on a case-by-case

basis.

"I'm only just starting my first

new development. We've always

been a firm believer that if we

can save the house we'll do that.

We hold a lot of our stuff and

turn it into affordable rentals,"

he said.

Real Estate Institute of New

Zealand chief executive Jen Baird

was relaxed about the involvement

of repair companies in the

market.

"At face value this seems

positive, as it gives homeowners

who are unable or unwilling to

get their homes up to standard,

an opportunity to sell up and

find something that they can get

insurance for and hopefully feel a

bit safer," she said.

"Because there are a number

of repair companies doing this

and sales are being made on the

open market, sellers are likely to

receive offers that reflect market

value.

"More than 10 years on from

the Christchurch earthquakes, it

is a shame to see so many property

owners still struggling to get

their properties EQC compliant,"

she added.
---
Latest Canterbury news at starnews.co.nz

Thursday July 15 2021 The Star

NEWS 7

Confirmed RSV cases continue to rise

• By Susan Sandys

RESPIRATORY illnesses are

continuing to keep preschoolers

off sick, as health authorities

forecast respiratory syncytial

virus numbers will keep rising.

Christchurch Hospital

emergency department

respiratory illness presentations

dropped yesterday to 45, from

61 on Monday, as the surge

stretches capacity and pushes out

wait times.

Kimihia Early Learning

Centre manager Radhika

Chakrabarti said there were only

about 10 children attending from

the expected roll of 43 yesterday

as low attendance continued

from the week before last. One

of the one-year-olds at the

Woolston preschool had been

hospitalised with RSV, however

she had since recovered and

returned this week.

"It's just taken a toll on the

families, it's scary for the

parents," Chakrabarti said.

"We have sent children home

when they were unwell, because

we have to keep other children

safe, because it just spreads,"

Chakrabarti said.

While some of the absences

this week could be attributed to

parents keeping children home

to spend time with their siblings

in the school holidays, it seemed

the illness was prevalent

and three of Kimihia

Early Learning Centre's

teachers had also had

symptoms and had to

take time off work.

New Beginnings

Preschool centre

manager Mandi

Hemopo said the

Linwood preschool hit

a record low attendance number

of just two from a daily roll of

Mandi

Hemopo

36 last week as children

were hit with respiratory

symptoms and some

were diagnosed with

RSV. Attendance had

climbed by yesterday

to 14.

"It was pretty rough,

but they are stating to

come back and getting

better," Hemopo said.

Canterbury District Health

Board medical officer of health

Dr Cheryl Brunton said there

had been a steep rise in the

number of confirmed RSV cases

in the past two weeks, with 114

confirmed cases between July 5

to 11.

"This likely reflects the rise

seen in other parts of the

country, and we are expecting

case numbers to continue to

rise," Brunton said.

Chief medical officer Dr

Helen Skinner said 388 people

SICK BABIES: The

respiratory syncytial virus is

continuing to affect babies

and pre-schoolers.

presented to Christchurch

Hospital ED with respiratory

illness July 5 to 11, with 118

this past weekend alone. This

compared with 243 for the same

week in 2019. Five children had

been admitted to ICU with

respiratory illness.

The ED provided care to 391

people on Monday. Of these, 61

had presented with respiratory

illness. On Tuesday it provided

care to 313. Of these, 45 people

had presented with respiratory

illness.

"We're unable to confirm

whether these are all due to RSV

specifically as viral testing is

not conducted on all patients.

Anecdotally, we are still seeing

an increased number of people

presenting to our facilities with

RSV."

While capacity had been

stretched due to a surge in

respiratory viral infections, the

only surgical deferrals to date

were four cases reported last

Tuesday.

However, average wait times in

ED had increased.

Check out our latest

deals

Winning winter

$

24 99

STEINLAGER CLASSIC

15 x 330ml Bottles

beersie dealS

$

42 99

each

HEINEKEN or STEINLAGER PURE

24 x 330ml Bottles

$

27 99

each

GORDON'S G&T

12 x 250ml Cans, 7%

GORDON'S Sicilian Lemon Gin & Soda,

GORDON'S Premium Pink Gin & Soda

12 x 250ml Cans, 4%

HOT DEAL!

$

37 99

HOT DEAL!

$

39 99

HOT DEAL!

$

44 99

1.125 LITRE

HOT DEAL!

$

49 99

Hot mix and match deals

to beat t he cold

2 for

$ 40

Single bottle

$21.99

$

49 99

$

51 99

JAMESON

1 Litre

JOHNNIE WALKER

Black Label

700ml

DEWAR'S

White Label

1 Litre

ABSOLUT Vodka

1 Litre

JIM BEAM

White Label

1.125 Litre

BOMBAY

SAPPHIRE

1 Litre

MADAM SASS

Pinot Noir

or Pinot Noir Rosé

750ml

Shop local with

AMBERLEY, ASHBURTON, BARRINGTON, BELFAST, BRIGHTON, BURNSIDE,

COLOMBO ST, EDGEWARE, ELMWOOD, FERRYMEAD, HALSWELL, HANMER

SPRINGS, HORNBY, ILAM, KAIAPOI, LEESTON, LINCOLN, METHVEN, OXFORD,

SHOP LATEST DEALS at WWW.SUPERLIQUOR.CO.NZ

NATIONWIDE PICKUP & DELIVERY NOW AVAILABLE

PAPANUI, PEGASUS, RANGIORA, SEASIDE, WOOLSTON

Exclusions may apply on some brands advertised. Offers end close of trade 18th July 2021, while stocks last. Available at participating stores only. Multi Deal only available in store. Varietals may

vary by store. Limits may apply. Wholesale (other liquor retail banners) not supplied. Terms and conditions may apply. Available 5th - 18th July 2021 inclusive. Please see www.superliquor.co.nz for details.

SUP2288_C8
---
The Star Thursday July 15 2021

8

NEWS

Latest Canterbury news at starnews.co.nz

Deadlines set for submissions to coroner

• By Anna Leask

A DEADLINE has now been

set for submissions to the chief

coroner about the Christchurch

terror attacks as she nears a

decision about whether to hold

an inquest.

Families of those murdered

in the March 15, 2019, massacre

have today been advised they

have until August 18 to make

submissions to chief coroner

Judge Deborah Marshall around

a possible inquest process.

In January Marshall said she

was yet to decide whether an

inquest would be held.

She said that each victim's

family would be supplied with a

package of information relating

to the event and the cause and

circumstances of death.

The families could then make a

submission to her to request any

further details they wanted or to

set out issues that come within

the coronial jurisdiction and

which they consider were not

resolved by either the criminal

prosecution process or the Royal

Commission of Inquiry report.

Each family received a 53-page

police evidential overview alongside

the individual information

about their lost loved ones.

The police document details

what the police investigation

showed regarding the gunman's

movements on March 15, 2019,

and the evidential basis confirming

timings, location, and the

response of the police and ambulance

service.

Marshall said she was nearing

a decision on whether or not to

hold an inquest.

"While I am continuing to

listen to and respond to the

families affected by this tragedy,

the next step in this informationsharing

process is for unanswered

questions to be identified

and a decision made about opening

an inquiry," she said.

"I am asking families of the

Shaheed, victims of gunshot

wounds and other interested

parties to contact me about issues

or concerns they consider

have not been resolved by the

prosecution process or the Royal

Commission of Inquiry report

by Wednesday 18 August 2021."

"The preference for submissions

is a brief outline of one or

two paragraphs, in order to offer

as many people as possible the

chance to submit within the time

frame.

"These submissions will help

inform my decision on whether

to hold a coronial inquiry and or

inquest."

Marshall said families could

SUPPORT: (Left) – A tribute

to mosque attack victims.

Police arrest the gunman.

pass information to her through

their lawyers, or by contacting

the office of the chief coroner

directly.

Fifty one people died and 40

were wounded in the 2019 terror

attack at two Christchurch

mosques.

The gunman pleaded guilty

to charges of murder, attempted

murder and terrorism and

was sentenced to life in prison

without the possibility of parole

after a four-day hearing at the

High Court at Christchurch in

August.

Nanny. Fetch that amazing cream! ADVERTISEMENT

KORU NUTRITION

Life can be hard when

you're young, but Pauline's

grandchildren know that

whenever they need it,

Nanny will be around with

her seemingly magic cream.

Whether it is at a big sports

game, an insect bite, or they're

just wanting some attention,

they know that their Nanny is

looking out for them.

"My Mokopuna range in age

from six to twenty-five across

four families and I make sure

they are always well stocked

with Nanny's magic cream. We

can't do without the stuff."

Pauline hasn't always had

Koru Nutrition's Koru Fx.

After an injury two years prior

caused stress on all her joints,

her anxiety was raised. "I didn't

know what I was going to do.

I am very involved with my

grandchildren and if I wasn't

going to be able to keep up with

them anymore, it would break

my heart."

"I felt stuck in a loop. Being

a woman of the land, I wanted

to find something natural and

a New Zealand made product

that I could trust. With a little

bit of looking, I came across

Koru Nutrition and Koru Fx.

Two years later, Koru Fx is

more commonly known here as

Nanny's Magic Cream."

"I started using it on myself to

test but others around, including

my husband, remained

skeptical. I always tell them

that they will come around and

even my husband now calls it

Nanny's Magic Cream."

"A friend of mine the other

morning was moaning about

feeling old. I said, 'Hold on,

I'll get my Koru Fx cream'.

Ten minutes later, I asked him

how he was feeling. He had

completely forgotten about his

complaints. I ended up giving

him the rest of my bottle."

Koru FX cream by Koru

Nutrition has become NZ's #1

fastest growing topical joint

support cream. With thousands

of happy customers, Koru

FX has set a new bar for joint

support.

"I wouldn't be without it. No

matter where I am, whether at

the grandkids' sports games or

just around at their houses, I

always carry it so I am always

ready for the inevitable!! I

laughed when I saw some

cheap knock-offs - I tell all my

friends, if it's not Koru Fx by

Koru Nutrition...it's not real.'"

New Zealand made and

containing local and imported

high quality oils like calendula,

arnica, manuka and peppermint,

Always read the label and use as directed. If symptoms persist see your healthcare professional. Koru Nutrition Ltd, Christchurch.

along with 12 others, Koru FX

provides the perfect formulation

for supporting joints and

muscles.

Countless doctors and

pharmacists are recommending

Koru FX cream due to its

natural ingredients and fast

acting delivery.

If you're looking for a fastacting

and long-lasting, natural

product, harnessing the benefits

of essential oils, then Koru FX

is for you.

Ask for Koru FX cream next

time you're in the pharmacy and

try it for yourself.

SPECIAL OFFER

FOR READERS
---
In December a report from a

Royal Commission of Inquiry

into the terrorist attacks was

released, making 44 recommendations

on a number of topics

and focused on whether there

had been an ability to prevent the

massacre.

Earlier this year Marshall explained

the purpose of providing

the families of the death with the

information package.

"The purpose of providing

these key events and timings is to

identify any outstanding issues

the interested parties may have

that fall within the jurisdiction

of the coroner," she said.

"The issues identified will

inform the coroner's decision on

the holding of an inquiry into

the deaths of those killed in the

terrorist attacks."

The overview reveals intricate

details of the gunman's trip

from his home in Dunedin to

Christchurch – including photographs

of his vehicle sourced

from cameras across the South

Island.

Police have been able to pinpoint

exactly the route he took

and where he stopped – including

a petrol station in Oamaru

where he purchased coffee and

food – before he got to the first

mosque.

– NZ Herald

Alongside the overview families have

been offered they can also request further

details including:

• Summary of known circumstances relating

to each victim.

• CCTV image of the victim entering the

mosque, if available.

• Overview map depicting the approximate

location that the victim was located.

• Verification of death.

• Coroner's certificate and telease of body

documentation.

• Post mortem report.

• Disaster victim identification report.

Latest Canterbury news at starnews.co.nz

over terror attacks at city mosques

Thursday July 15 2021 The Star

NEWS 9

HORROR: (Above left) – Police attempt to move people away from

outside the Al Noor Mosque in the wake of the shooting.

CCTV images of the police pursuit.

PHOTOS: NZME

Fund your

creative project

with the Creative

Communities Scheme

Funding is open now until 24 August

visit ccc.govt.nz/CreativeScheme
---
The Star Thursday July 15 2021

10

NEWS

Latest Canterbury news at starnews.co.nz

No charges laid in sex tape case – the

• By Anna Leask

POLICE WILL not charge a man

who uploaded a sex tape and

graphic images of a Christchurch

woman to multiple pornography

sites without her consent because

they cannot prove he intended to

cause her any harm.

Almost a year after the woman

learned her sex tape had been

shared without her knowledge –

and viewed by tens of thousands

of people around the world – police

have confirmed the man responsible

will not be prosecuted.

Under the current legislation,

even though Jacques De Koker

admitted uploading the footage

without consent and "apologised"

after being lambasted by

a civil court judge, police say

he has committed no criminal

offence.

His victim is gutted by the

decision – but more angry at the

legislation that enabled De Koker

to post the intimate content without

any consequence.

She hopes a push to change the

law by Labour MP Louisa Wall

will go through and save other

women from the same fate.

The woman, who has been

granted permanent name

suppression, met De Koker in

October 2019 and had a brief

relationship with him.

De Koker is originally from

South Africa but living and

working in New Zealand.

One night he asked if he could

film them having sex and after he

promised he would not share the

footage she agreed.

In August 2020 a friend alerted

her that her sex tape was on adult

website Pornhub.

A further search revealed the

tape was on other similar sites.

The woman has no shame

around her sexual choices or the

fact she made the tape – but said

she never would have agreed if

she thought it would be shared.

She said De Koker never asked

her if he could post it online, and

she would never have agreed.

When he published the footage

– video and still shots – he had

betrayed her trust, violated, humiliated

and disempowered her.

The woman complained to

police in August last year and in

October – hearing nothing back

from them and desperate to ensure

the man would not re-post

the footage – filed a civil case.

At the civil hearing De Koker

admitted his actions and consented

to an order to take down

or disable the material and to

never post it again.

He was ordered to pay her

$1700 in costs and reparation,

but to date has not. He failed to

appear at an debt enforcement

hearing on Friday and a warrant

was issued for his arrest.

DEVASTATED: The Christchurch woman

in the sex tape was appalled Jacques de

Koker (above) shared her image online

without her knowledge or consent.

PHOTO: GEORGE HEARD/NZ HERALD ​

After winning her civil case the

woman then went back to police.

After an 11-week silence, the

woman's file was finally assigned

to an officer in November and

last month it was formally confirmed

De Koker would not be

charged.

Canterbury district criminal

investigations manager Detective

Inspector Greg Murton

confirmed the decision and

explained why.

Arthur's pass

It's right here in Selwyn!

Arthur's Pass village is one of the best places to get up close and

personal with the world's only alpine parrot. This cheeky taonga

species is endemic to the South Island and classified as endangered.

Travel the Great Alpine Highway (state highway 73) to Arthur's Pass,

take a walk to the Devils Punchbowl waterfall, relax with a great coffee

or snack and listen to the birdsong, but be careful of little beaks trying

to steal your food!

Stay the night at one of the motels or hostels, and you will likely hear

kiwi or ruru (morepork) calling.

Share your Arthur's Pass photos

and tag us selwyn.nz

Visit selwyn.nz
---
Thursday July 15 2021 The Star

Latest Canterbury news at starnews.co.nz

NEWS 11

intent to harm 'not there', say police

He said the Police Prosecution

Service and Crown Law Office

provided legal opinions that

under the Harmful Digital

Communications Act 2015, De

Koker's actions did not meet

the "evidential test" under the

Solicitor General's Prosecution

Guidelines.

To prosecute under the act

police must be satisfied that the

person who posts the material

does so "with the intention that it

causes harm to a victim" and that

it actually "causes harm to the

victim".

"The law in its present state

is that we have to prove that

the person posting the [video]

intended to cause harm to a victim,"

Murton said.

"Proof of the intent to cause

harm is not there. Therefore

based on my assessment of the

evidence, and the legal opinions

provided by the Crown as well

as police prosecutions, and the

further inquiries [completed] we

are unable to lay a charge against

Mr De Koker."

Murton said De Koker's actions

and explanation had been thoroughly

investigated.

De Koker told police he posted

the footage "simply to make

money" and that the video did

not show her identity, despite several

of the woman's identifiable

features being clearly visible.

Although De Koker would not

ASSESSMENT: Under current legislation, proof of intent to

harm is not there, said Detective Inspector Greg Murton.

PHOTO: JASON OXENHAM/NZ HERALD

face criminal charges, police had

spoken to him at length about his

actions.

"Mr De Koker is now fully

aware of the perils and consequences

of uploading such content

to the internet without the

permission of the other party,"

Murton assured.

"He has undertaken not to do

so again.

"His intent, as he stated was not

to cause [the woman] any harm,

and he thought neither he or she

would be able to be recognised. It

turns out that was not the case."

Murton confirmed there was

an "unfortunate" 11-week delay

between the woman's initial

complaint and an officer being

assigned to investigate.

The delay was due to "a large

caseload of files awaiting investigation

and other serious crime

matters which occurred over that

period."

"I have apologised to [the woman]

for the delay in an email and

intend to meet with her in person

in the next couple of weeks," said

Murton.

"Since [the officer in charge]

took over the case it has progressed

in a timely manner.

"Much of the delay is in obtaining

the legal opinions, answering

questions – especially in a case

where the legal picture is not

clear and whether a charge can

be preferred under the existing

legislation."

Murton assured the case was

taken extremely seriously and

the victim was at the forefront of

their investigation.

"This case was somewhat

unique in respect of the legislation

available to prosecute the

case, or not – this was the main

issue," he said.

"Where there are learnings to

be taken from this case they will

be passed on to investigators.

"This case has identified a gap

in the legislation [around] the

posting of intimate visual recordings

without all parties' consent."

The victim was "disappointed"

by the decision.

"I feel like I have been failed by

the New Zealand justice system

and I am extremely hurt, upset,

humiliated, and disappointed by

every aspect of my ordeal," she

told the Herald on Sunday, and

also reiterated to police in an

email.

"While I understand the

decision, I feel there has been

no justice for what I have had to

endure throughout the last nine

months of investigation and my

exploited body and genitals will

forever be on the internet without

so much as a genuine sorry from

the offender."

De Koker told police and

Netsafe he was sorry but has said

little to the victim.

He initially maintained he did

not have to remove the footage.

"I can do whatever I want

with them. Nobody knows our

identity," he told the woman via a

Facebook message.

In the civil court hearing Judge

Tony Gilbert said De Koker had

"obviously caused a lot of distress"

to the woman.

"You need to be careful because

there's the possibility of this being

a criminal offence as well . . .

make sure you don't do it again,"

he said.

"I can well understand [the

woman's] upset at what has

occurred because while she

consented to the intimate visual

recordings being made, she very

certainly did not consent to

them being splashed about the

internet."

De Koker spoke briefly at the

hearing.

"I do apologise," he said, promising

to pay the ordered costs

"within a couple of weeks."

Judge Gilbert said the woman

would be "surprised" at how

many similar cases came before

the courts.

• Turn to page 12
---
The Star Thursday July 15 2021

12

NEWS

Latest Canterbury news at starnews.co.nz

Case highlights how

deficient act is – MP

• From page 11

"I'm sorry for what's happened

to you," he said.

The woman spoke about her

case to highlight the issue and

encourage other women to report

their experiences to police.

"Let us hope the HDCA

Amendment Bill passes, and

then the police can begin to

press charges against offenders

of image-based sexual abuse –

regardless of the intent," she said.

"I would not wish this ordeal

on my worst enemy."

MP Louisa Wall introduced

the Harmful Digital Communications

(Unauthorised Posting

of Intimate Visual Recording)

Amendment Bill this year, which

seeks to explicitly make posting

of such content without consent

illegal and punishable by up to

three years in prison.

Wall's amendment would state

anyone who posts an intimate

recording "knowing that the

individual who is the subject of

the recording (the victim) has

not expressly consented to it being

so posted; or being reckless

as to whether the victim has so

consented" has committed a

criminal offence.

She said the Christchurch case

highlighted exactly why the bill

was needed.

"This

case and

unfortunately

so many others

– including

many shared

by victims

during public

submissions

Louisa Wall

on this bill

– really does

highlight how

deficient the current act is and

how victims' rights and therefore

women's rights to access justice

have not been adequately

prioritised," she said.

"Imaged-based sexual abuse

does lead to public humiliation,

shame and mental distress that

causes some victims to contemplate

and to attempt suicide.

"And, the evidence is clear

that image-based sexual abuse

can also expose victims to the

threat of being stalked, attacked,

bullied and stigmatised and so

we must do everything we can

to hold the perpetrators of this

abuse and violence to account for

the harm caused by

their actions."

Wall encouraged victims

to keep coming forward and

speaking up – loudly.

"I salute the many women who

have shared their stories," she said.

"They are the reason we as a

parliament have been able to

demonstrate why this law reform

is needed.

"It is their bravery and

resilience that will ensure that

what happened to them will be

punished in the future because

we as a society will no longer

tolerate image-based sexual

abuse."

—NZ Herald

Do you need help?

If someone has shared an

intimate image/video of you,

report this to the police and

contact Netsafe.

Netsafe can help you get the

online content removed and

explain the options available

under the law.

Their service is free and

confidential.

For more information on

image-based abuse go to: https://

www.netsafe.org.nz/imagebased-abuse/

New international

airport at Tarras?

• By Mark Price

JUST HOW well Tarras

stacks up as the site for a new

international airport should be

a lot clearer by the end of next

month.

Christchurch International

Airport Ltd (CIAL) is proposing

the airport, and is putting the

district under the microscope

as it checks out topography and

weather.

In a recent newsletter to

residents, project director

Michael Singleton said the

project team had been ''deep in

analysis" modelling options.

''Even at this early stage it is

highly technical work and is

necessary so we can explore

different alignments, runway

lengths and approach paths

and the performance of various

aircraft on each, under a range of

conditions,'' the newsletter said.

''The overall goal is to validate

the site's suitability for aviation

and to identify which options

are best in terms of safety

and sustainability.''

Singleton said the options

would be put to residents by the

end of next month.

Residents closest to any

potential alignment would have

the chance to meet and talk to

the project team, he said.

The weather modelling

incorporated temperature, wind,

rain and visibility data gathered

over the past eight years.

''We've learnt the site has

a very low frequency of high

wind speeds [of greater than

20 knots], there are between

30 and 35 mornings per year

where temperatures are at or

below freezing and average

temperatures range from 22 deg

C in January to 6 deg C in July.''

Upper Clutha residents had

previously raised fog as an issue,

but Singleton said that was not

likely to be an issue.

The project team is also

creating a 3-D image of the

Tarras district using a scanning

camera.

—Otago Daily Times

sick child?

Call your General Practice

(GP) team 24/7 or visit an

urgent care clinic:

• Riccarton Clinic

8am–8pm

• Moorhouse Medical

8am–8pm

Under 14s have free medical visits after-hours

and weekends at urgent care clinics

• X-ray, fracture and wound care available

• Late-night pharmacies and parking on-site

CDHB12JULY21 ED

All clinics open 7 days a week

cdhb.health.nz/urgentcare
---
Thursday July 15 2021 The Star 13
---
The Star Thursday July 15 2021

14

NEWS

Latest Canterbury news at starnews.co.nz

Trainee pilot back in the air after crash

PHOTO: GEOFF SLOAN

• By Chris Barclay

A 73-YEAR-OLD would-be pilot

has brushed off a potentially fatal

training flight to return to the air over

Canterbury.

Retiree Alan Macdonald has got airborne

– in the passenger seat – since the

light plane he was learning to fly in nosedived

into a farm paddock near Glentui,

north-west of Rangiora on May 28.

"I've been up again to have a look

around," said Macdonald, who is recovering

from a smashed wrist, cuts, bruises

and whiplash.

"I still have a bit of physio from time to

time but I'm coming right."

Macdonald sought an aerial view of

the family farm at Sheffield following

floods and storm damage early last

month and was pleased to report the

property was unscathed.

"We also flew over High Peak Station

into the Rakaia Gorge, that general

area," he said.

A MOTORIST was fortunate

to escape serious injury when

the car he was driving veered

off Summit Rd on the Port Hills

and rolled before coming to rest

before a steep bluff.

"Fortunately it went off

the road in one of the few

places where the slope is relatively

gentle, around 30 degrees,"

Woolston Fire and Emergency

New Zealand station officer

Doug Platt said.

"It appears to have rolled at

least once, it stopped short of

going over the bluffs.

"He's had a very lucky escape.

If the car had stayed on its wheels

and headed downhill he was going

for the bluffs," Platt said.

"If he'd gone over the bluff he

would have been in trouble, the

car would have rolled several

times from there and who knows

how far down it would have gone."

The Subaru Legacy left the

road about halfway between

the Christchurch Gondola and

Broadmeadow Lane around

3.45am last Friday and careened

about 200m before stopping

KEEN: Alan Macdonald with the

wrecked aircraft.

Rangiora-based Macdonald had no

qualms about getting into the Italiandesigned

Tecnam aircraft, piloted by a

friend.

about 30m short of the bluffs.

There were no barriers on

that stretch of the Summit Rd,

though the car did go through a

fence line under the verge.

"Who knows whether it's inattention

or speed," Platt said.

Fire and ambulance staff

guided the driver, who was

shaken but uninjured, back to

the road. The driver had dialled

"I felt good, I was happy enough. We

obviously weren't doing simulations, it

was a scenic flight."

Macdonald crashed when flying with

the Canterbury Recreational Aircraft

Club's chief instructor Stewart Bufton,

who also avoided serious injury.

They were practising engine failure

protocols when the plane clipped power

lines and nose-dived, at low speed into

the paddock.

The Civil Aviation Authority of

New Zealand is investigating the incident.

Macdonald, who considered learning

to fly as a 'bucket list' item, is keen to

resume taking flying lessons.

"You have to get back on the horse

again. I am not going to let it (the crash)

beat me," he said.

"It is a lovely view up there. On a

fine day, it is serene. You get a view of

the countryside from another

perspective."

Car leaves road but stops short of Summit Rd bluff

• By Chris Barclay

111 after the crash.

Police are still investigating.

Platt said the incident was the

latest the station had dealt with

in that area, overnight.

"It's not unusual, we've had

a number of rescues that we've

had to do on hills with people in

cars. We've also had a number of

deliberate push-offs and burns

(torched vehicles) too," he said.

COVID-19 Vaccinations

If you're in Group 3, you should have received a text, letter, email or phone call saying you're in Group 3 or inviting you

to book your vaccination appointment.

If you think you've been missed or you don't have a GP, email COVID19@cdhb.health.nz.

Group 3 includes people aged 65 and over; people with some underlying health conditions*;

pregnant people; people with disabilities and their carers, plus older Māori and Pacific people,

the people they live with and their carers. *If you qualify for a free influenza immunisation you will be in Group 3.

There's no cut-off date to get your vaccination and there will be enough vaccine for everyone.

Check which Group you're in at www.covid19.govt.nz

CDHB12Jul21 CP

For local updates check: www.VaccinateCanterburyWestCoast.nz
---
Thursday July 15 2021 The Star 15

Love the

Community

Warm up with a Mid-Winter Christmas High Tea at

Summerset on Cavendish

These cooler months can make it just that little bit harder to

get out and about.

So here at Summerset on Cavendish we're hosting a Mid-

Winter Christmas High Tea and you're invited!

Just pop along to our village between 1pm and 3pm on

Friday 16 July and enjoy a range of delicious winter treats

and hot drinks on us.

Whilst you're here, why not also get a taste of the

Summerset life that our residents love so much.

Our team would love to show you around our stunning

village. We have plans and pricing available to view and

we're sure you'll meet some of our wonderful residents

along the way!

Mid-Winter

Christmas

High Tea

Friday 16 July

1pm - 3pm

Summerset on Cavendish

147 Cavendish Road,

Casebrook

03 741 3340

Find out more at summerset.co.nz/casebrook

SUM3184_8X8
---
The Star Thursday July 15 2021

16

NEWS

Latest Canterbury news at starnews.co.nz

Cycling 50,000km home from London by

Kylie Phaup-Stephens is

known as Camp Mum

at Papanui High School

in her role as support

administrator for the

school's seven counsellors.

Twelve years ago she

was in a very different

world – biking 50,000km

alone from London to

Christchurch through

some of the world's most

dangerous places. She

talks to reporter Samantha

Mythen

In 2009, Phaup-Stephens'

found herself lying back in a

crimson-coloured poppy field

in Macedonia, looking up at a

cerulean sky. She had nowhere

else to be.

Now Phaup-Stephens' judges

her days by how many milos

she makes and how many panic

attacks there are – the number of

which she says is unreal.

"My role is very cool and

very rewarding. It is very hard

to leave at the school gate;

dealing with suicide, overdoses

and dysfunctional families, it's

heartbreaking."

Phaup-Stephens' travels taught

her how to stay resilient, advice

she now passes on to students

who are amazed when they hear

about her daring, intrepid past.

"I resonate with some of the

students who struggle with

school. I was never the brainy

one," she said.

When she left school, Phaup-

Stephens panicked. She had no

idea what to do, so she studied

hospitality management.

After ending up with a huge

student loan, she started work in

a printing factory.

It was there she met Alex

(Sandy) McLeod.

So grew, "a bit of a crush," but

seeing as they were colleagues

nothing came of it.

Phaup-Stephens was 27 years

old when a workmate said to her:

"If you don't go on your OE now,

you'll never get the chance to do

it. You've got to go to London

now."

So she quit her job, packed her

bags and flew to London.

"I thought I would be there for

two years, but I ended up staying

for nine," she said.

Her overseas adventures are for

the storybooks.

Through joining the New

Zealand Society in London,

she had lunch with the Queen,

abseiled down Big Ben, and

attended a movie premiere on

Leicester Square with Peter

Jackson strolling down the

red carpet.

NOWADAYS: Alexander

McLeod, Paige McLeod and

Kylie Phaup-Stephens; with

'Tankini', the trusty bike

Phaup-Stephens rode from

London to New Zealand.

PHOTOS: GEOFF SLOAN ​

A job with Apple opened up

doors to festivals, meeting bands

and even a private show with the

Foo Fighters.

Each Thursday, Phaup-

Stephens would ask her

colleagues to choose a letter.

Then she would search Ryanair

for cities starting with that letter

and spend her weekend overseas.

In between working, she

bought a round-the-world ticket,

worked as a lifeguard in Russia

at the Black Sea, taught outdoor

education in Croatia, and

backpacked through Africa by

herself.

When she was younger, Phaup-

Stephens said surprisingly,

travelling had never really

captured her imagination.
---
Latest Canterbury news at starnews.co.nz

herself taught 'Camp Mum' resilience

Thursday July 15 2021 The Star

NEWS 17

INTREPID: Phaup-Stephens

en route in Europe, Turkey

and Iran.

"But then, the more I travelled,

the more I learned about

different cultures, people and

religions and I've been made a

richer person," she said.

Overland travel became her

passion.

Eleven days on the Trans-

Siberian train was an amazing

experience she said, but watching

places and people pass her

by out of the window made

Phaup-Stephens long for the

opportunity to slow her travels

down.

One day, in an English pub

with her mates, Phaup-Stephens

"shot her mouth," and said when

it was time to go home she would

bike.

"And I'm not one to go back

on my word."

Desperately missing New

Zealand's sunshine, in 2009, at

37-years-old, she set off pedalling

home.

Phaup-Stephens had never

biked more than 20km in one go,

but was aiming to bike 100km a

day. She had only £4000 for the

whole journey.

Her route was planned simply;

she carted around a metre-long

laminated world map. She

wanted to bike through new

countries she had never visited.

She had a Macpac tent and

'Tankini,' her 20-gear bike.

Tankini was "exceptionally

heavy, cheap and cheerful, and

definitely not carbon-fibre," said

Phaup-Stephens.

From London to France,

through Italy and Albania, with

side trips to Kosovo, Serbia,

Bosnia and Herzegovina, Phaup-

Stephens biked.

"I would get up at sunrise,

cycle and be at my destination

by lunchtime. Then I'd explore

the village and find where I was

going to pitch my tent," she said.

"I met so many cool people

because I'd take a wrong turn."

After cycling through Greece,

Phaup-Stephens spent seven

weeks in Turkey, exploring

Anzac Cove in Gallipoli.

Iran was where things got

"raw," Phaup-Stephens said.

The language changed and she

"stood out like a sore thumb."

"I had died my hair, I had rings

on my fingers, I wore a cycle

helmet. There were men stopping

me every kilometre wanting to

touch me."

At Phaup-Stephens' first camp,

three men tried to get into her

tent.

"I screamed and yelled and put

up a fight."

On the second night, she set up

camp by a police station, but at

3am, a local policeman tried to

get into her tent.

She spent her final nights at a

cheap backpackers but had men

banging on her door all night

and the manager locked himself

with her inside of her bathroom.

"I had a can of impulse but not

pepper spray," she said.

"In hindsight, I wish I took a

self-defence course."

Phaup-Stephens was not

deterred, however, and continued

onwards with her bike as her

only company and her own wits,

intuition, and physical strength,

built up from hundreds of

kilometres of biking, as her only

protection.

Most of the people she

met were friendly and

accommodating.

"I had the mindset that I had

more chance of being killed in

London by being hit by a bus

than something happening to me

overseas," she said.

"I thought, if I die, I die. I've

had a good life and I've made the

most of it."

• Turn to page 18

No more surprise

cold showers!

GasOwl orders your 45kg LPG gas

bottle replacements - on time

Stressed?

Sore? Tired?

Book your traditional

Thai Massage today

• Relaxation

• Deep tissue

• Couples massage

• Hot stone option

• Hot oil

aromatherapy

www.GasOwl.nz

Wairakei Thai Massage and Beauty

198 Wairakei Road

03 351 2869

www.wairakeithaimassage.co.nz

LIVING HISTORY SHOW

Saturday, July 24, 2021 - 9am to 4pm

Riccarton Park Raceway, Christchurch

Buy…..Sell…..Trade…..Displays

Firearms | Antiques | Medals

Badges | Uniforms | Swords | Bayonets

Scale Models | Books | Military Vehicles

Campsite Re-enactments

War Gaming | Hunting and Shooting

Special Features:

Military and Pioneer/Early History

WWI and WWII 'Lemon Squeezer'

worn by New Zealander's serving in

Europe and the Pacific theatres

Admission: Adults $10 / 16 and under free

Free parking | Free Valuations

g.barber303@gmail.com | Website: www.gunshows.co.nz
---
The Star Thursday July 15 2021

18

NEWS

Latest Canterbury news at starnews.co.nz

'It was my favourite country of my entire journey'

INTO ASIA: Phaup-Stephens educating the village children

in Laos about her journey, and with the NZ Army troops in

Bamiyan, Afghanistan.

• From page 17

A police escort took her the

last 200km out of Iran. She had

reached an international kidnap

zone and drug area.

She shared Pakistan with the

Black Caps.

In a small village, Phaup-Stephens,

wearing a New Zealand

cap, was pushed to the front of a

room filled with people in front

of a tiny TV screen to watch the

match between her home team

and Pakistan. Everyone believed

Phaup-Stephens when she joked

Daniel Vittori was her cousin.

The easiest visa for Phaup-

Stephens to get was for Afghanistan.

She looked up the

NZ Army website, found their

location in Bamiyan and sent an

email asking if she could call in

to say hello to the troops.

She rocked up at the base with

Tankini.

"The look on the guards faces'

were priceless."

Taken under the lieutenantcolonel's

wing – who had a

daughter Phaup-Stephens' age

– she got to meet Afghanistan's

Governor-General and Fawzia

Koofi, Afghanistan's first female

member of parliament.

She met a mother with 30

children and visited a national

park modelled on a Department

of Conservation park.

"It was my favourite country

of my whole entire journey," she

said.

"It was nothing like I had ever

thought it would be. It was nothing

like the media portrayed. The

people were so welcoming."

From India, she travelled

through Nepal.

"I got really fit but struggled

with hills, but if it got too hard,

I just got off and pushed, I was

ripped," she said.

Her staple diet during the

journey consisted of rice and

bananas, and Coke if she could

afford it.

Unable to cycle through Tibet,

she considered taking a plane.

"But at that point, someone

said to me, "Kiwi birds don't fly."'

That cemented her determination

to continue her journey

overland, and she booked a place

on a train going on the Tibet-

Qinghai railway, which took her

into China, 10 months into her

journey.

The line passed through Tanggula

Pass, which is 5072m above

sea level and is the world's highest

point on a railway.

From Laos, she went to

Thailand, Singapore and then to

Indonesia where she was stuck

for a year.

She spent months emailing

yacht clubs, harbour masters and

boat owners trying to hitch a

ride to Australia, while working

in a dive shop and as an au pair.

Phaup-Stephens travelled to

East Timor for Anzac Day on a

ferry "like one of those ones you

see on TV sinking all the time."

Crewing a superyacht, owned

by an Australian billionaire

eventually took her to Australia.

"It should have taken 12 days

to get there but it took 24," said

Phaup-Stephens.

"It was horrific. We were so

close to running out of food and

fuel."

Most of the trip was pirate

watch.

Phaup-Stephens arrived in

Australia with $84 to her name.

She got a waitressing job in

Yeppoon for three months, then

cycled and sailed down the coast.

The final jump was another

mission. Luckily, Marmite NZ

was running a competition at the

time. They were turning 100 and

were going to bring 100 Kiwis

home.

Phaup-Stephens was one of the

winners, but refused the plane

ticket home so they swapped it

for some money, which she spent

on a cargo ship, hopping off in

Tauranga on December 15, 2010.

She made it back home to

Christchurch, via train, just in

time for Christmas – 20 months

after she started.

Her old boss saw her on the

news during her "30 seconds of

fame," and she had her old printing

job back within 24 hours.

Phaup-Stephens also joined the

Army Reserves after the February

22, 2011 earthquake.

Back at work, her colleagues

helped her track down McLeod

whom she had lost touch with

after leaving New Zealand.

"I was a wee bit surprised

when I got Kylie's call but I

thought it would be good to

catch up," said McLeod.

He had seen Phaup-Stephens'

adventures on TV.

"I thought it was a pretty out

there and daring thing to do,

and it was interesting to hear all

her stories," he said.

Over Easter this year, they got

engaged.

"The Highlanders unexpectedly

thrashed the Crusaders, and

it's been a long-standing bet that

if that happens, we would get

married," Phaup-Stephens said.

McLeod was born in Oamaru

and is a "staunch Highlanders

supporter" said Phaup-Stephens,

while she is loyal to the Crusaders.

"We were sitting on the couch

when they won and Sandy said,

well, will you marry me?

"I thought, well here we go, I

finally did it," said McLeod.

Phaup-Stephens said she was

so shocked she ignored him and

McLeod had to ask again.

"I was mostly just shocked

the Crusaders had actually lost,

but of course I said yes," Phaup-

Stephens said.

Their daughter, Paige, turned

seven last Tuesday.

When the proposal happened,

Phaup-Stephens said Paige was

so excited, she was running

around the lounge saying,

"Mum's going to have the same

last name as me!"

Paige has been "a life-changer,"

said Phaup-Stephens.

And even though she would be

terrified, she hopes one day Paige

will venture out on her own big

adventures just like her mum.

Tankini is now retired in the

garden shed.

Her family go camping around

the South Island for holidays.

Although Phaup-Stephens still

prefers freedom camping, she

compromises with McLeod who

prefers caravanning and the luxuries

of power and running water.

"When we go road tripping,

my man still laughs at me

because I am so bad with directions,"

Phaup-Stephens said.

"But I'm always the sort of

person that prefers left over right

or to flip a coin for which way

I'll go."

How the Marvel Health Screening Reveals some of

the Hidden Causes of Chronic Digestive Disorders

At Marvel Health, your healthcare starts with a full-body health screening.

Our understanding of healthcare is that we need to discover the underlying

cause of diseases before recommending therapy that supports the healing of

the body.

The Marvel Health Screening examines the entire body in detail, including the

organs of the digestive system, the stomach, intestines, Liver and Pancreas. It

identifies the possible diseases of the Gut and their underlying causes.

Diseases of the Digestive System cause many symptoms such as Stomach pain,

Cramps, Constipation, Bloating, Food intolerances and Weight problems.

The Scan checks the digestive system for signs of chronic inflammation and

degeneration of organs. It reveals problems such as microbial infections and

bacterial overload, enzyme insufficiencies, nutrient deficiencies, sluggish bowel

movement, and other pathological changes that cause digestive system diseases.

In addition to investigating organs for diseases, the Scan will also look at the

impact the environment and lifestyle have on the digestive system. It checks

for food allergies, food additive sensitivities, chemical sensitivities and for the

presence of mycotoxins - toxins from moulds that cause chronic diseases of

the Gut.

A Body Composition Analysis included in the health scan checks for fat and

muscle mass, metabolism, hydration and other crucial health parameters that

are important pointers to a person's state of health.

After the Scan, the doctors and healthcare specialists at Marvel Health will

study the report and recommend targeted science-based natural treatments

and lifestyle changes to support the body's healing.

Unit 13/6 Cone Street, Rangiora | 293 Durham Street, Awly Building, Christchurch

CALL TODAY 03 669 5410 www.marvel.health

Disclaimer: The inspection from the scan is not a substitute for medical inspections. It is not designed to state the final diagnosis

ADVERTISEMENT
---
Thursday July 15 2021 The Star 19

thE containEr

has arrivEd!

nEw stock arriving daily!

all your pEtEr rabbit nEEds

$

7 .99 $

22 .99 $

32 .99

100's of

nEw titlEs

in stock

kEEp

sakE

photo

albuM

drink

bottlE

$

24 .99

$

17 .99

$

22 .99 $

16 .99 $

32 .99 $

34 .99 $

10 .99

box

writing sEt

$

24 .99

$

22 .99 $

6 .99 $

14 .99

$

22 .99

$

17 .99 $

9 .99 $

24 .99 $

24 .99

Mini notE

Mug

Matching social stationEry

flash salE

onE wEEk only

65 %

Off*

canvas

fri 16th - fri 23rd July

notEcard

& pEn sEt pEn

$

22 .99 $

14 .99 $

14 .99 $

18 .99

vintagE

footballs

50 %

fri 16th - Mon 19th July

Off*

grEEting

cards

Only

each

david walliaMs

2for$

20

* sElEctEd titlEs only

* ExcludEs onlinE salEs, profEssional,

floating and woodEn boards

tower Junction | st Martins | northwood • paper-tree.co.nz • facebook.com/papertreechch
---
20 The Star Thursday July 15 2021

official wine sponsor

FUNDRAISING FOR

presents...

27 & 28 AUGUST

7:30PM

TICKETS SELLING FAST!

WWW.EVENTFINDA.CO.NZ

FASHION SHOW INSPIRED BY ART & MUSIC

featuring runways inspired by artists:

REUBEN PATERSON

LOUISE HENDERSON

and live music performed by:

TOM RAINEY

JENNINE BAILEY

CAMERON SLOAN

PANDEMONIUM
---
• By Eleisha Foon

A NEW BOOK from the

Christchurch couple behind

the She Is Not Your Rehab

anti-violence movement will

be given to all male prisoners.

My Fathers Barbers owner/

operator Matt Brown has inspired

men – including many

from Pacific communities – to

break free from the cycle of

abuse. This led to him and his

wife, Sarah, writing the book,

She Is Not Your Rehab, which

shows how men can heal from

their trauma.

At the launch this week,

the couple announced they

had raised enough money to

purchase 9000 copies to give

away to every man behind bars

in New Zealand.

"From the very beginning

of the journey of writing this

book we knew we wanted to

make this available and accessible

where men needed it

most," Sarah said.

"We wanted it to be available

to men in prisons all over

Aotearoa, given out in courtmandated

programmes."

In the book, Matt shares

his own story and those of his

clients.

It tells of how they survived

Latest Canterbury news at starnews.co.nz

family violence and abuse, and

how they were able to heal and

turn their lives around.

He introduces the people

and concepts that have helped

him heal and gives readers the

tools they need to begin their

own journey.

People from across the country

came to support the book

launch at the Majestic Church

and community hub.

The hope is that Matt's story

about growing up in a home

with sexual and domestic

violence will help give men

some of the tools they need to

heal from their trauma like he

NEWS 21

Anti-violence campaigners will

give away book to prisoners

JOURNEY: Matt and Sarah Brown's book

gives readers the tools they need to begin

their own healing.

has done.

They also plan to launch a

book club within prisons that

will particularly aim to help

Maori and Pacific men. They

want the movement to keep

growing internationally in

order to reach more men in

prison on a global scale. – RNZ

Ballet

For quality

in dance

training

• R.A.D Syllabus

classes

• 3 Years to

Vocational

• Private coaching

• Annual

performances

Jazz and Acro

• From age 7

• Performance

classes

• APDA Syllabus

Classes

Contemporary

& Stage

Musicals

• From age 11

• APDA

Adult

Beginners

Ballet/Pilates

Thursday July 15 2021 The Star

Studio One

Director: Patricia Paul ARAD (London),

RAD RTS, APDA

Fendalton, New Brighton,

Beckenham

All enquiries phone: 372 9191

Email: info@studioone.co.nz

www.studioone.co.nz

Christchurch

Civic Awards 2021

Who will you nominate?

Each year our city benefits from the service of volunteers

and others who go above and beyond the call of duty

for Christchurch and its people.

We recognise these valued contributions with

our annual Civic Awards.

Complete our online form at

ccc.govt.nz/CivicAwards

or pick one up from any of our

service centres or libraries.

Send your nominations to us by

5pm, Tuesday 31 August 2021.
---
The Star Thursday July 15 2021

22

NEWS

• By Samantha Mythen

CARS PARKING illegally and

in positions making Lyttelton's

narrow streets even narrower

are preventing fire appliances

from reaching call-outs, delaying

firefighting efforts.

The Lyttelton

Volunteer Fire

Brigade want

people to think

more about

where and

how they park

after a car was

parked over a

hydrant near a

Mark Buckley

house fire they

attended.

"Cars are parking around

Lyttelton and it's hindering our

access," chief fire officer Mark

Buckley said.

"And it's only getting worse,

not better."

Last Thursday, the brigade attended

a house fire on Cressy St

at 1.40pm.

The sole male occupant escaped

from the house and was

treated for smoke inhalation at

the scene.

"It was as good of an outcome

as could possibly be," Buckley

said.

However, a car parked over the

nearest fire hydrant to the house

hampered firefighting efforts.

It is a theme Buckley said is

happening more often in Lyttelton,

with cars either parking

over fire hydrants or parking in

obtrusive positions.

The appliances are much bigger

than cars and already struggle

to navigate Lyttelton's narrow

streets without cars making it

more difficult.

"We are dealing with life or

death situations and if we can't

get our appliances close enough

to the fire, it is taking our tanks

longer to get to the house and

taking longer to rescue people,"

he said.

Latest Canterbury news at starnews.co.nz

Parked cars make access

for fire appliances difficult

hot

ULEBs are

Metro Ultra Insert

Pyroclassic Mini

and Pyro IV

Woodsman

Serene

Metro

Ultra

TIGHT SQUEEZE: The Lyttelton Volunteer Fire Brigade is

finding it increasingly harder to navigate its fire appliances

along Lyttelton's narrow streets. Cunningham Tce is one

"Cars are parked in positions

on corners or opposite cars on

the other side of the road making

narrow streets even narrower,"

Buckley said.

There have been several instances

where the fire appliance

has got stuck on Cunningham

Tce between a fence and car

and they were unable to reach a

house.

Buckley said they do not

want to have to get the police or

parking enforcement involved

to ticket those who are illegally

parking, rather they want people

to take some responsibility on

where they park.

ICY: Emergency services were called to a crash on

Christchurch Akaroa Rd at about 8.26am yesterday.

PHOTO: GEORGE HEARD/NZ HERALD ​

that is difficult. PHOTO: GEOFF SLOAN Black ice contributes to

crash on Akaroa road

See our range of

these ultra Low

emission Burners

on our website and

take a Virtual Tour of our

showroom online at :

www.simplyheat.co.nz

These burners comply with the

strictest clean air regulations so

you can cosy up to a wood fire

in comfort.

METRO ULTRA

InSERT

Fits existing masonry

fireplace and chimney.

• By Devon Bolger

A CAR crashed and overturned

after losing traction on black ice

on Banks Peninsula.

Emergency services were

called to the single-vehicle crash

on Christchurch Akaroa Rd at

8.26am yesterday.

Three people were injured in

the crash, they said.

Temperatures dropped to -4.6

deg C overnight Tuesday.

A St John spokesman said one

person with moderate injuries has

been transported to Christchurch

Hospital.

Seventy-five people have been

killed or seriously injured in

crashes on the Christchurch to

Akaroa road between 2011 and

2020.

Waka Kotahi system manager

Pete Connors said it is the highest-risk

route in terms of personal

safety in Canterbury.

Feedback is being sought on

whether the speed limits need to

be adjusted.

– NZ Herald

When the latest Ultra Low Emission Burners

are here, Simply Heat will have them.

PYROCLASSIC MInI

And PYRO IV

Inside colour: flame red

Exterior colours: 200+

WOOdSMAn

SEREnE

Latest in the range.

Come and see us, our showroom

has all the latest heating solutions

METRO FITS FInE

right where any old

woodburner did.

95 Byron Street, Sydenham,

next door to Rockgas

Call today 03 365 3685

www.simplyheat.co.nz

facebook.com/simplyheat

GAssoN sT

Moorhouse Ave

CArLYLe sT

BYroN sT

BrIsBANe ST

WALThAM rD overBrIDGe
---
Thursday July 15 2021 The Star 23
---
24 The Star Thursday July 15 2021

CHRISTCHURCH MITSUBISHI

386 Moorhouse Avenue, Christchurch

Ph: 03 379 0588

christchurchmitsubishi.co.nz

10 year / 160,000km Powertrain Warranty (whichever comes

first) (non transferable). 5 year / 130,000km New Vehicle

Warranty (whichever comes first) (non transferable).

FROM

$

33,990+ORC*

ST

ST-L

MIDNIGHT EDITION

Ti

$33,990 +orc* $41,990 +orc* $42,500 +orc* $46,990 +orc*

Stock available for immediate delivery

*Prices shown are available while stock lasts plus on road costs.. Nissan reserves the right to vary, extend or withdraw this offer. Not available in conjunction with any other offer.

CHRISTCHURCH NISSAN, 392 Moorhouse Avenue, Christchurch

Ph: 03 595 6820

www.christchurchnissan.co.nz

NISSAN 150,000 KM'S

5YR FACTORY

WARRANTY

christchurchnissan.co.nz
---
Thursday July 15 2021 The Star

OUR PEOPLE – KERRY NEWTON 25

Taking a chilly plunge for charities

It's the polar opposite

of Dry July. A group

of hardy souls have

committed to taking a

daily dip off Scarborough

Beach every day this

month before dawn.

Chris Barclay goes

in-depth with Sumnerbased

ocean swimmer

Kerry Newton who

dreamt up Wet July

in 2017, a fundraising

concept with

complementary health

benefits

Wet July. Talk us through

why you tipped your toes into

fund-raising cold, hard cash in

the middle of winter.

I've always been a keen ocean

swimmer. It was a beautiful

winter's day in July, 2017 and I

thought: 'Look at that water out

there'. Wouldn't it be good to

be actually enjoying the water

during the winter when it's a

southerly? It's calm and it looks

so inviting. (Alcohol-free) Dry

July, the fundraising was going

on for that and I thought: 'Why

don't I set the challenge of Wet

July?' I'll see who else wants to

join me going into the water

DOUBLE DIPPING: Devoted ocean swimmer and fundraiser Kerry Newton returns to the

water off Scarborough hours after another pre-dawn immersion. PHOTO: GEOFF SLOAN

every day in July and we'll find

a charity to raise money for …

that's how it all began. I got three

other people to sign up with me

(Sandra Taylor, Bee Rueder and

Cathe Grater). We raised money

for (marine rescue organisation)

Project Jonah New Zealand. As

time's gone on more and more

people have embraced it. We've

got about 40 committed to

dipping this year. We've got a few

in their 20s and a couple close to

80 years-old. It's predominantly

female.

We're a fortnight into Wet

July. What happens when the

mercury reads 0, there's a wind

chill factor, it's sleeting and

it's dark for another hour or

so? The perfect storm. Ever

considered staying in the car or

jumping ship after 20 seconds?

Not really, because it gets

addictive. Sometimes it's actually

warmer in the water, especially if

there's a frost or you've got that

southerly. Admittedly it's not

much fun when the tide is out

and you've got to walk across the

sand with the southerly howling

at us.

So how long do you 'dip' for?

It was all kind of trial and

error at the start. We used to

get in the water, chat and laugh

and bob about. Then we decided

maybe we should try and stay in

for the number of minutes that

corresponds to the temperature.

We have a thermometer. If it's 10

degrees, we stay in 10 minutes.

We have no rules that we must

stay in for 10 minutes and things

like that, that just became a

bit more of a challenge. Some

people have found if they stay in

for 10 minutes they're cold for

the rest of the day. Some people

might stay in for five and get out.

Sometimes we're busy chatting

or whatever and we end up

staying in for longer.

• Turn to page 26

Looking to purchase

your new home?

03 349 5050

free

denture

checks

PENELOPE YATES

027 917 7872

penelope.yates@raywhite.com

Metro Team Ltd Licensed (REAA 2008)

New Dentures > Relines > Repairs >

6 Brynley Street, Hornby, Christchurch

www.betterdenture.co.nz

Pay over 1,522

luxurious nights.

Sleepyhead Sanctuary Paris Bed

9062347

Come and try one of these ultra plush beds, and you'll want to take it home.

Fortunately, they're in stock and available for delivery. Handcrafted in New

Zealand, the Sanctuary Paris is exclusive to Smiths City. So, stop dreaming of a

good night's sleep, and take advantage of our 50 months interest free finance.

$35

Per Week on 50

months interest free.

$7199

was

$14399

Offers valid until Tuesday 23rd July 2021, while stocks last, unless otherwise stated. Some products on display in selected stores only – please call 0800 764 847 to check availability. Personal shoppers only. *Apple, selected computers, game consoles, gift cards, clearance items and some promotional items are not available in conjunction with interest free offers. Flooring available on a maximum of 18 months interest

free. Exclusions, fees, terms, conditions, and credit criteria apply. Available in-store only. Equal instalment amounts include one-off booking fee of $45.00, annual fees of $45.00 p.a. and security registration fee of $8.05, and exclude insurance. Current interest rate of 23.95% applies to any unpaid balance after expiry of (any) interest free period. See in-store or visit smithscity.co.nz/interest-free for details.
---
The Star Thursday July 15 2021

26

OUR PEOPLE

'Seagulls sometimes dive bomb us'

• From page 25

What do you talk about? Are

the teeth chattering?

We have all sorts of

conversations out there. You

tend to find that while you're in

the water it's not too bad. Maybe

about 10 minutes after you get

out your body temperature

actually cools down, that's the

danger of staying in too long.

That's why you've got to know

your own body and not stay out

there too long.

What's the temperature

variance during July?

'Hypothermic' to 'penguins

wouldn't swim in this?'

In the past it has been as low as

8 deg C, at the moment it's about

10.

Has anyone ever got out of

their depth with the likes of

hypothermia?

So far we've been lucky. You

will notice your fingertips are

white and things like that. So far

we haven't had anything extreme

happen but now we're more

numbers we have to be a little bit

careful getting in if it's rough.

The benefit of Scarborough is it's

normally pretty okay. When it's

high tide and if there's a wind

blowing and you're getting down

the steps … sometimes we might

say it's a bit rough here, let's go

down the beach a bit. We have to

be careful with the age range and

the people that we've got.

How far do you venture from

shore?

We go out until we're waistdeep.

Our loose rules are we've

got to get our head under. By the

end of it we've kind of had to dive

under, be fully immersed, then

we get out.

Do you encounter much

marine life?

We often get bitten by crabs.

We've seen hector's dolphins a

few times, at the moment there

are quite a few seals about. It's

dark when we get in so often we

won't see things . . . then a shag

will pop its head up amongst the

group. If we wake the seagulls up

sometimes they dive bomb us.

Is there a frantic dash for

the towels and puffer jackets

when time is up? How do you

HARDY SOULS: Members of the Scarborough Dippers brace themselves for another chilly Wet July exercise.

ward off the cold?

We have hot water bottles,

buckets of hot water to put our

feet in for a couple of minutes.

The beauty of it now is the cafe at

Scarborough Fare opens at seven

o'clock. It didn't use to open until

eight. We don't go in there every

day but they put the heat pump

on for us and we're all in there

with the buckets (of hot water).

What happens if a committed

dipper can't make it to

Scarborough for a day or two?

Is there a degree of flexibility

built in?

I'm a prime example, I've just

been up in the North Island for

a few days. I had to go dipping

up there. There was a swim race

at Waiheke Island, a few of us

were competing in that so we

had the luxury of dipping in

about 15 degrees. We've got this

facebook page and every day we

have a group photo of what day

number we're up to and anybody

that's not there, they have to do

dipping somewhere else and

provide a photo. You might have

to find a lake or a river. It's quite

interesting where people end up.

The other day a couple had an

early yoga class so they had to

dip in an ice bath. Basically it's

7am every morning, but on the

weekend we dip (or float) a bit

later.

Do dippers try to bend the

rules. Do the hot pools at

Hanmer Springs or Waiwera

count?

WEEKEND WARRIORS: The dippers often take the plunge

when the sun is up during the weekend.

No, we can't have cheating.

What about wetsuits? Do they

fit the Wet July image or are

they a bad look?

We haven't had anyone one yet

that's gone to that extreme. We

wouldn't not let them wear one.

We're just happy to wear togs.

What organisations have

benefited from the dippers'

fortitude?

Project Jonah was the first,

they basically rescue whales.

The second year we raised funds

for the Sumner Lifeboat Club,

they bought a defibrillator. In

2019 we raised money for solar

lights to be put up at Cave Rock,

unfortunately that project hasn't

really happened. The money's

still sitting there. Last year the

funds were split between the

Sumner Surf Club (binoculars

and equipment) and Taylors

Mistake Surf Club (landscaping

at new headquarters). This

year we're spreading the

donations around: The Sumner

Kindergarten needs some new

equipment, there's a surfboard

library starting up – they're

making surfboards for people to

use. We're also contributing to

life vests for disabled surfers. The

first year we raised $1000 – there

were only four of us – last year we

raised $6000.

How is the money raised? Are

the dippers sponsored like the

whiskered men of Movember?

When I set this challenge I

decided I'm going to donate $10

a day for every day I dip, so its

$310 at the end of the month. If

I miss a day I'm going to have

to put $50 in. To date I've never

had to put $50 in. Other people

donate whatever or they might

get friends to donate to the

challenge. We haven't actively

asked for sponsorship, it's just

amongst ourselves. We don't

force anyone to put money in.

Money is not the only bottom

line is it? Dipping can be

enriching in other ways can't it?

The other good thing I've

enjoyed about it is a lot of

people haven't been confident

in the water before and after

they've mucked around with us,

they're now taking swimming

lessons. Some of them have done

swimming races. It's been really

great to see their love of the water

and being able to then continue

to improve themselves and really

be able to swim.

There are also perceived

health benefits from cold water

dipping aren't there?

It's meant to help your immune

system. The shock of the cold

water is meant to do good things.

Plus, it's meant to be good for

mental health. There's been

quite a few stories of people

that have had depression and

things like that, they immerse

themselves in the cold water and

they've managed to get off their

antidepressants.

Pay-asyou-warm.

24

Months interest free

on heat pumps

Winter is well and truly upon us. But there's no need to sit around shivering. Save up for that heat pump,

while it keeps you warm. With our interest free finance, you can spread the cost over 24 months.

And the bonus — when you get to summer, your cooling system will already be in place.

Some products on display in selected stores only – please call 0800 764 847 to check availability. Personal shoppers only. *Apple, selected computers, game consoles, gift cards, clearance items and some promotional items are not available in conjunction with interest free offers. Flooring available on a maximum of 18 months interest free. Exclusions, fees, terms, conditions, and credit criteria apply. Available in-store

only. Equal instalment amounts include one-off booking fee of $45.00, annual fees of $45.00 p.a. and security registration fee of $8.05, and exclude insurance. Current interest rate of 23.95% applies to any unpaid balance after expiry of (any) interest free period. See in-store or visit smithscity.co.nz/interest-free for details.
---
Thursday July 15 2021 The Star 27

Serviced apartments,

the best of both worlds

The best of both worlds: Independent retirement

living with support on hand

Our serviced apartments are some of the largest

available in the Christchurch market, offering light and

spacious open plan living, a kitchenette and separate

double bedroom with a large ensuite.

Located in the heart of the village, Summerset serviced

apartments are designed to create the perfect balance

between independence and services to suit your needs.

Our homes are low maintenance, free from all the

hassles of upkeep. It's all about stress-free living, where

time is yours to live the life you choose.

Think this sounds like you or someone you love?

Take a tour of our stunning show homes and learn more

about serviced apartment living at our Open Day!

Open Day

Sunday 18 July

10am - 4pm

Summerset at Avonhead

120 Hawthornden Road,

Avonhead

Give Anne or Grace a call on

03 357 3202 to find out more

*Licence to occupy.

Serviced apartments pre-selling now!*

SUM3183_37X8
---
The Star Thursday July 15 2021

28

OPINION

Latest Canterbury news at starnews.co.nz

One year on for Judith Collins and

New Zealand

Herald senior

writer Simon

Wilson

laments at

the lack of

ideas National has

AT THE National Party's

Northern Region Conference on

May 1 this year, frontbencher

Andrew Bayly was running a

session on infrastructure when

he decided to say the name of the

Minister of Local Government,

Nanaia Mahuta.

"Nanna, manna, nan, um,

nanny, manny, man, oh dear,

whatever," said the party's

shadow treasurer, grinning

sheepishly. "There's no media

here, is there?"

I was standing at the back of

the room, in plain sight, writing

it down as he said it.

It was the same conference in

which Bayly's boss, Judith Collins,

introduced the world to He

Puapua, a discussion paper on

ways New Zealand might reset

its relationship between the state

and tangata whenua.

On the one hand, there was

Collins, shocked about the paper

and wanting to have a serious

conversation about race relations.

On the other, there was

Bayly, happy to indulge himself

in a bit of – what do we call it?

I'd say everyday racism.

It was also the conference

in which Bayly, who always

presents as an affable fellow,

explained why South Auckland

needs the Papakura-to-Drury

route known as Mill Rd to be

upgraded to a highway.

"The main reason for Mill Rd,"

said Bayly, "is that State Highway

1 is the only motorway there. If

someone blows up the bridge at

Takanini, then what?"

Resilience planning, you see.

The value of an alternative route.

But not because of the usual

things – earthquakes, floods,

major crashes. Turns out the real

risk is bombs.

I should say I admire Bayly:

he's an Ironman who has singlehandedly

pulled sledges to both

the South Pole and the North

Pole, for heaven's sake. He could

eat me for breakfast.

And yet, perhaps because he

used to be a Territorial Army

officer, he does seem to think

differently from the rest of us.

Andrew Bayly is ranked number

three in the caucus.

National

Party

leader

Judith

Collins.

PHOTO:

DEAN

PURCELL/

NZ

HERALD

Spare a thought for Judith

Collins. Her leadership turned

one-year-old yesterday and she

must sometimes wonder what

she's done to deserve the party

that got thrust on her.

But the answer's easy enough:

she wanted it.

What's not so easy is to work

out what she wants to do with

it. Take the new "demand the debate"

campaign, which feels like

every retrograde thing we know

about the National Party today,

all wrapped up in one terribly

tangled knot.

To start, demanding a debate

is weaker than taking a position.

Also, what debate are we

not having? The issues Collins

has identified, along with He

Puapua, are the feebate scheme

for electric vehicles, changes

to infrastructure projects, the

proposed new harbour bridge

for cycling and walking, the new

law to establish Māori wards and

2018's ban on new exploration

for oil and gas.

All of them are being furiously

debated, in Parliament and all

over the country.

As are other big issues of

the day, including our Covid

response and vaccine rollout,

unemployment and wage rate

issues, health and education failings

and that gnarly bundle of

crime, gangs and corrections.

"Every week, I'm contacted

by thousands of Kiwis who are

worried they just don't have a

say in the future of their country

anymore," says Collins.

But what about when they

vote? Or when they post on

Facebook, write to the paper or

ring their favourite radio host?

Debate is free and often furious

in this country.

And if Collins thinks people

aren't getting a say in their

future, how does she square that

with her support for a longer

parliamentary term?

CArE SUITES ALSO AVAILAbLE NOW!

For inquiries: Anne (Sales)

M: 027 727 4770 W: 03 943 6006

E: anneb@archer.org.nz www.archer.org.nz

$399,900

VILLA DISCOUNTED TO
---
Latest Canterbury news at starnews.co.nz

Thursday July 15 2021 The Star

OPINION 29

it's time for her party to grow up

National's shadow treasurer Andrew Bayly.

PHOTO: MARK MITCHELL/NZ HERALD

There's something else: "Demand

the Debate" reveals how

far National has drifted from

some really big debates we actually

are having now.

Take He Puapua. The reality is,

all over the country people are

engaging anew with the relationship

between Māori and the rest

of society. And in that engagement,

they're trying to work out

what "partnership" means.

There are corporates with vigorous

programmes to address the

issue, and many smaller companies

too. Government ministries

and council agencies are doing it.

Same for health bodies, schools

and other learning institutions.

Also for some sports codes and

all sorts of cultural organisations.

And media companies.

Te reo Māori classes are full to

bursting. Civic leaders and other

public speakers learn to mihi and

say their pepeha and it's widely

expected they will know how to

do it well.

Few would say we've got

everything sorted. There's a very

long way to go. But the challenge

is being accepted. The mahi is

under way.

He Puapua proposes that all of

this work shouldn't be tokenism.

We can't just do the korero and

leave the power structures the

same.

That's a challenging proposition

and we certainly need to be

debating what that means. But

aren't we?

It's very hard to see how scaremongering

about it is much help,

to anyone.

Of the six issues Collins picked

to highlight in her "Demand

the Debate" announcement,

two relate directly to Māori and

four are measures to address the

climate crisis.

It seems National is now focusing

its appeal on the disaffection

and resentment that debates on

these issues have caused. How is

that a winning strategy?

The thing about opposing

effective measures to confront a

crisis is that you make the crisis

worse. People see that. And when

you say yes to confronting the

crisis but no to every practical

way to do it, you also make matters

worse.

Also, when you know the crisis

is real and your views are trusted

by those who deny it, you have a

special responsibility to help lead

those people.

•HAVE YOUR SAY: Share

your opinion on Wilson's

views. Email barry@

starmedia.kiwi. Keep

emails to 250 words or

less.

National, however, displays no

greater ambition than to duke

it out with Act and NZ First for

a share of the disaffected. It's

politics as a juvenile sport and

the electorate knows it. We've

moved on.

New Zealanders – Kiwis, as

Collins likes to say – voted decisively

in 2020: Labour won the

party vote in every single electorate,

except Epsom.

Yes, it was a personal vote for

Ardern and a vote of thanks for

her handling of the pandemic.

Beyond that, though, most

people voted for a Government of

change.

At the regional conference in

May, a woman got up and announced,

"I'm sick of this. I'm

sick of National being seen as the

party 'for roads'. We can't keep

building roads. We can't keep

ignoring the fact that we have big

transport challenges to face and

we're pretending that's not true."

Many people applauded. Andrew

Bayly grinned and said she

was proof that "we like diversity

in the National Party".

There were climate-change

deniers in that room, and people

who just want to be free to drive

without fretting about the consequences.

But others had moved

past all that.

Why hasn't Judith Collins?

Why hasn't her party? Does National

want to become a credible

centre-right party in the third

decade of the 21st century?

It'll need a big emissions reduction

plan, linked to an urban

development plan for housing

and transport that doesn't throw

environmental goals to the

wolves. And something sensible

to say about race.

And about poverty and

economic progress. Where's

the pathway to a value-added,

export-oriented, higher-wage and

more productive economy that

benefits everyone? And whatever

happened to the social investment

approach to welfare created

by Bill English?

Now Collins' leadership is one

year old, her party needs to grow

up. Give us some proper ideas,

proper plans, some indication of

nuanced thinking. Who knows,

if they put up some plans, we

could even debate them.

• Wilson's weekly column

appears on nzherald.co.nz

on a Tuesday

JuLy HOLidAy deAL

FRee GAMe

Purchase a standard double game for

$18.50pp and get a 3rd game FRee

Monday to Friday during school holidays

Perfect for

birthday

parties

& social

functions

BOOK NOW

www.laserstrike.co.nz 03 366 7595

Level 2 Harvey Norman Centre, 250 Moorhouse Ave

Cheat at

slow cooking.

Crock-Pot Express Easy Release Multi-Cooker

9062525

When you're craving a slow-cooked meal, you can't always wait 8 hours.

The Crock-Pot Express cooks cuts of meat, like brisket, 70% faster. It's a slow cooker,

and a pressure cooker, as well as a rice cooker, saucepan, frying pan, warmer, and

yoghurt maker. Yes, eight appliances in one — now that really is cheating.

$179

$4

Less than

Per Week for

52 weeks on EasyCard.

Offers valid until Tuesday 20th July 2021, while stocks last, unless otherwise stated. Some products on display in selected stores only – please call 0800 764 847 to check availability. Personal shoppers only. * Weekly equal instalments are based on a 52 week finance period commencing 7 days from the date charged. We recommend setting up an Automatic Payment authority to avoid missed

payments and additional interest charges. Available in-store and online. Current interest rate of 23.95% applies. There are no set-up, annual, or account maintenance fees – a $19 notification fee may apply in circumstances of default. Terms, conditions, and credit criteria apply. See in-store or visit smithscity.co.nz/easycard for more details or to apply for your EasyCard.
---
The Star Thursday July 15 2021

Latest Canterbury news at starnews.co.nz

30

LETTERS

Hate speech – a real conversation needed

THANK YOU for publishing

Graham Adams' piece on hate

speech laws. Our PM has said

the proposals are a "discussion

document'' and the Ministry of

Justice's Andrew Kibblewhite

said their aim was to "have a

conversation and avoid protests.''

Personally, I find their idea

of a conversation is for them to

tell us what we should think,

not to actually listen to different

opinions.

How many people were

aware that they were allowing

submissions to be made on this

most important topic? It's not

as though they aren't capable of

advertising, one cannot escape

ads for the jab. Have they even put

out one ad for submissions to be

made?

A real conversation would be

to start with live, open public

debates with experts, for and

against, giving their opinion and

facts on all kinds of important

topics – hate speech laws, Covid

shots, climate change, CRT, to

name a few.

J L McKenzie suggested this

idea in last week's letters and

I think we need to put it into

action so that people can have

informed views and opinions,

having heard all sides of the

issue.

If Labour is truly interested in

having a conversation about

this "discussion document"

TRIBUTE: A man and his children place flowers outside

Al-Noor Mosque.

PHOTO: GETTY

they would welcome this

approach.

– D Downward

Graham Adams' opinion piece

defending freedom of speech is

the right approach. Hate speech

is a weapon used by communist

governments like China. We

cannot let Ardern take away

our right to freedom of speech,

including the ability to critique

the government. It is ironic that

this left-leaning government can

simply implement its

definition of hate speech

and impose [this] on New

Zealanders. This goes beyond the

pale. We have had enough.

– Peter Coleman

I am a very chatty friendly

immigrant who has numerous

Kiwi friends.

In recent past, when I strike up

a conversation with [someone]

in a park or mall, etc, and if

conversation drifts towards

differences in culture, I have

noticed that people stop midsentence

with fear of reaction to

their opinion.

Only when I point out that

I am not going to take their

opinion as racism and would

love to hear their perspective, do

they relax again.

It is true that there are vast

cultural differences in the world

and if we stop sharing/talking

about those differences, we are

basically not celebrating the

differences anymore, which

would be so sad.

I definitely don't want my local

friends to feel scared of voicing

their opinion for fear of their

point being considered

"hate speech."

In the past I have experienced

racism – we were standing for a

large group photo (of Sikhs) at

Victoria Park and a lady came

very close to us with her toddler.

She focused a football towards

our group and before any of us

could react, the ball came with

high speed towards our group

and hit my six-year-old on the

chest.

I went to their group with my

daughter who was asking why

the lady had deliberately focused

ball towards us. I told the lady

I wanted her to give the answer

to my child and her partner

apologised and that was the end

of it.

– Stuti Matta

Fire victim tribute

On Sunday my tiny cul-de

-sac community came together

briefly for a ceremony to pay

tribute to our neighbour, Mary,

who perished along with her cat

in a house fire here.

We had a karakia and sung

waiata for her and even the

local girls from Mary's favourite

supermarket, Woolston New

World, attended. People in turn

shared tasty food and fond

memories of her and her brazen,

irreverent wit and her fierce,

independent nature. She will be

missed. What a character.

It seems awfully ironic that

this tragedy brought us together

whereas prior to this we had all

kept to ourselves; a modern

affliction.

Bless our elderly folk and I can

only reiterate how we must look

out for one another in today's

world. Ka kite ano.

– Andy Thompson, Woolston

Vaccine

Has the Government been

lying to us? We were told that

vaccination was not mandatory.

Yet on July 7 Chris Hipkins was

saying that they will be "chasing

up all those who have not

come forward for vaccination."

Extraordinary turn-around!

I agree with your

correspondent J L McKenzie that

there needs to be a public forum

on this issue, with professionals

from both sides of the debate

explaining the truth about the

vaccines.

There is much reference

to "misinformation" and

conspiracy theories on the news

lately. But misinformation is

created through lack of actual

information.

– Chris Watkins

RecoveR youR loved fuRnituRe

Quality furniture

specialists

100s of fabrics to

choose from

www.qualityfurniture.co.nz

Hours: Mon - Thurs, 7am - 4.30pm, Fri 8am - Midday,

or by appointment with Keith 027 566 3909

424 ST ASAPH STREET PH 371 7500

RE-UPHOLSTERY SPECIALISTS KEITH HARTSHORNE 0275 663 909

Read local
---
Thursday July 15 2021 The Star

Electricity supply

There are many areas of

concerns of where this current

government is going, but there

seems to be no future planning

for power supply. Power prices are

rising and look to perhaps go up

by 30 per cent.

There is a big push on EVs, new

housing, removal of coal boilers

and all commercial business to

heat pumps. The Huntley coal

power station is now up to 23

per cent of power generation and

raising.

Worse, the coal comes from

Indonesia by oil-powered boats,

railed to Huntly from Auckland

by diesel-powered train, in spite

of the Government saying the

lakes are low – they are not.

What's the plan for our future

– should it be atomic power

stations? We need some answers.

– A J Roberts

Rubbish bins

Over recent years, I have

experienced irresponsible

behaviour by tenants not

following council instructions

over bin contents.

Despite verbal and written

communication, and despite

kerbside collection being rejected

for various reasons, some tenants

consider that paying the rent

exempts them from compliance,

and consequently spoil the

situation for all tenants and

landlords. Their attitude is often

reflected in anti-social behaviour

in the tenancy, but recent

legislation denies landlords

options to correct behaviour or

noncompliance.

On some occasions, when

changing the contents to

comply, I have been accused of

harassment or spying.

The problem is compounded

by failure to put the bins out,

resulting in four weeks between

emptying. Consequently, excess

rubbish for these bins is placed

We want to hear your views

on the issues affecting life

in Canterbury

Send emails to:

barry@starmedia.kiwi

Latest Canterbury news at starnews.co.nz

in the wrong bins [or] left lying

on the ground, creating a health

hazard.

In my experience, you can

rarely change the behaviour of

those who consider that the rules

never apply to them.

Perhaps an instant fine

programme could operate

through Tenancy Services to

register these spoilers.

– Bruce Ellis

Letters may be edited or rejected at Star Media's

discretion. Letters should be about 200 words.

A name, postal address and phone number should be

provided.

Please use your real name, not a nickname, alias, pen

name or abbreviation.

Mayor

Lianne Dalziel

I AM attending the Local

Government NZ conference

with a number of councillors

this week. There is a lot on the

agenda that is relevant to all of

us. The Three Waters Reform

Programme sits at the top of

the list, with the Government's

proposal for four water entities

to take over the important

drinking water, wastewater

and stormwater services that

are currently carried out by 67

councils across the country.

I am expecting the Government

will make further announcements

at the conference.

We have been told that

councils will be able to make the

call to opt out of this process later

in the year after consulting with

our communities. We still don't

have all the information we need

to weigh up that choice.

It's a big call, that's for sure.

We have, as a community, built

up an asset base in three waters

infrastructure that is valued

at around $6 billion, and hold

LETTERS 31

Protecting against

privatisation vital

associated debt of around $1

billion. So, the proposal relieves

us of the debt, but also of our

control over these assets.

Councillors are really clear that

protecting against privatisation

of this core infrastructure is vital.

Another point we have been

clear about from the start is that,

if our city joined forces with a

new water services entity, we

should be able to be exempt from

residual disinfection (i.e. a chlorinated

water supply) once we

meet the new water safety plan

standards. Again, this is a critical

factor for all of us.

We have also raised concerns

about the inclusion of stormwater,

given that this includes

so much "green and blue"

infrastructure, such as wetlands,

streams and stormwater basins

for drainage and flood protection.

So it will be interesting to hear

what the next stage of the process

will bring, and we will keep

you informed.

Up to

50 % Off

*Call for Terms

& Conditions

Off

*
---
The Star Thursday July 15 2021

32

Don't let pain

keep you down

Book a physio and get back to

the things you love this winter.

Winter is a time of year that invites us to slow down

to rest and renew. For some, it means getting out to

our favourite winter sports such as snowboarding or

skiing! However you choose to spend these shorter,

cooler days, it's essential to keep your body moving.

For those who experience physical pain, that is easier

said than done.

Heat plays a crucial part in helping muscles and joints relax,

so it's no surprise that the cold weather can make pain feel

worse, making it harder to stay active. Depending on what

causes your pain, there are some things you can do to help

manage it during winter. Aaron Searle, clinical lead at Habit

Health recommends the following:

• Spend a little extra time warming up before exercise.

• Get seven to eight hours of restful sleep each night.

• Eat plenty of nutrient-rich foods.

• Drink plenty of water, so you stay hydrated to help

protect your joints and muscles.

If the pain you're experiencing is a little more complicated

than just cold weather, a physiotherapist could help. Physiotherapists

are trained health professionals who help address

and treat the pain that negatively impacts your daily life. They

provide you with the tools to help manage your pain so you

can get back to the things you love doing.

Habit Health has highly skilled physiotherapists trained in

musculoskeletal (MSK) injuries and other problems causing

pain. As no two patients are the same, the Habit Health team

will assess your injury, your body, and your experience holistically

to ensure the treatment plan they provide is right for

your unique needs. The physio may also recommend and refer

you to another specialist who can support you on your pain

management journey.

Ultimately, your body is meant to move, so don't let pain

get you down this winter. Book a physio and get back to the

things you love.

From the very bottom to the tippy-top, there's a Habit Health

clinic near you. Look out for our local names, like Habit Rehab

and Southern Rehab.

Locations near you

Habit Health Forté

Level 1, Forté 2

132 Peterborough Street

Habit Health Byron Street

29 Byron Street Sydenham

Habit Health Travis Road

Find more locations www.habit.health

Travis Medical Centre

225 Travis Rd North New Brighton

Habit Health Rolleston

Rolleston Central Health

9 Masefield Drive, Rolleston

0800 800 288

Government to repay

elderly in long-term

residential care

• By Anne Gibson

ELDERLY PEOPLE in

long-term aged residential

care can claim $20 million

in state money over

the next two years for

wrongful assessment and

deprivation of financial

support.

Budget 2021 allocated

the money after the state

admitted it wrongfully

interpreted the law following

accountant Stephen

Broadbent's 2019 Court

of Appeal victory for his

mother in long-term care.

The money has now been

allocated to cover back

payments to aged people

who should have received

that residential care subsidy

– but did not because

of ministry mistakes, only

clarified by the court ruling.

On its website, the

Ministry of Social

Development says it "will

repay those who paid too

much for their residential

care. Government has

provided $20m over

two years to enable

the Ministry of Social

Development to correct

clients' financial means

assessments for residential

care".

Financial means assessments

are conducted on

people applying for a state

subsidy to work out who

pays for their long-term

residential care: Rich pay

the whole fee, the poor get

the full state subsidy.

The fees can start at

about $1200 a week, but go

higher.

The Ministry of Health

pays those fees to health

providers via district

health boards. People are

needs-assessed based on

their assets: If you have

$236,336 or more you

might need to pay the full

care yourself.

That $236,336 threshold

is all assets, including the

family home, cars, cash,

KiwiSaver, baches, boats

and other assets. But if

your partner still lives in

the family home, that is

excluded from the asset

test threshold.

The Ministry of Health

says: "The effect is that if a

resident owns assets above

the threshold and is in rest

home care, they pay the

full cost."

Care or health providers

are mainly the big

retirement village owner/

operators which have

hospitals for geriatric care,

religious orders, charities

or other entities, which run

rest home or dementia care

facilities.

In May 2019, the

Court of Appeal found

that MSD's approach to

undertaking financial

means assessment for the

residential care subsidy

were not consistent with

the legislation.

"This related to the

process for identifying and

assessing deprivation of

assets and income. MSD

has updated the financial

means assessment process

and has been using it since

December 2019 for new

clients and current clients

to ensure that they are paying

the right amount now,"

it says now.

The ministry allocated

$5 million for the

2020/2021 period and $15

million for 2021/2022.

"Funding covers repayments

to clients and/or

their estates for residential

care subsidy underpayments

following a 2019

Court of Appeal decision.

"This funding will be

used to refund clients or

their estates if they paid

too much for their care in

the past.

"MSD will monitor the

levels of uptake by clients

or their estates requesting

a review of their financial

means assessment, the

number of reviews that are

completed, the amount of

money that has been paid

out in refunds and whether

any debts have been created,"

it said.

Broadbent reacted to the

ministry's latest announcement

on the $20 million.

"The ministry admits

that my contentions were

absolutely correct and its

argument was absolute

rubbish right from the

start," he said.

"They asked the Government

to allocate $20m

in this year's Budget to

cover the back payments,

proposed to be in the

health budget labelled

'other expenses' which

people probably assumed

were something to do with

the Covid billions being

spent."

Broadbent complained

the ministry had never

sent him the latest document

admitting the errors,

saying the $20 million was

up for grabs.

"I have never received

the attached document

directly from MSD nor

have I ever received any

acknowledgment that I was

right and they were wrong

– obviously no thanks for

achieving the just legal

outcome. In fact no communication

whatsoever."

The document claims

that they will reach out to

lawyers, accountants and

financial writers to ensure

everyone who may be entitled

to back-payment has

the opportunity to apply,

he said.

"As a chartered

accountant, I have seen no

such communication. No

lawyer has advised me of

any such communication

and no financial writer has

written anything about it

as far as I know."

- NZ Herald
---
Thursday July 15 2021 The Star 33

Allessa Sofa with Ottoman

WAS $

3299

NOW

$

2699

BE IN To win $1000!

STOREWIDE SALE NOW ON!

ENDS 02.08.21.

SCAN QR TO ENter

Lincoln 4 Seater – Grey

WAS $

2699

NOW

$

1999

Sydney 2.5 Seater

WAS $

799

NOW

$

599

ALL MAISON

ON SALE

Ramsey Single/Single

Bunk Bed

WAS $

1299

NOW

$

999

Dallas Queen Bed

WAS $

449

NOW

$

299

HEAPS of SUPER DEALS!

ALL DINING CHAIRS

ON SALE

Peyton

– Tan

$

115

Duke

$

125

Serene

Trundler Bed Set

WAS $

897

NOW

$

699

SCAN QR TO SHOP

Zest

$

140

Camille

– Rose

$

75

250 Moorhouse Ave, Christchurch

0800 TARGET (0800 827438)

targetfurniture.co.nz

Offers and product prices advertised here expire

02/08/21. Sale Excludes Accessories.
---
34 The Star Thursday July 15 2021

CONNECT YOUR BUSINESS WITH VOYAGER

during July or August and we could help you disconnect with a luxury weekend away

VOYAGER.NZ/CHCH | 0508 4 VOICE
---
since Environment Canterbury

climate-change emergency

by sea-level rise this century and threatened and facing increased

our productive and protected land pressures due to river system

Environment

jeopardised by the arrival and change.

spread of new, exotic weeds and Wetlands are also ecosystems

Canterbury Chair

pests from warmer climates. at-risk nationally and regionally,

Jenny Hughey

All these eventualities have degraded by draining, damming

to be planned and prepared for, and diversion affecting their

PROJECTS:

The

and enhance that work.

fleet hybrid or long-range electric

and Environment Canterbury ability to sequester carbon,

Canterbury

IN

That

THE

work

last column

included

I spoke

setting

believing

by 2022.

it

Carbon

wouldn't

emissions

make any

from

will remain in the vanguard of cleanse freshwater and mitigate

Regional

about the value of nature-based difference – that they wouldn't

up a climate-change integration air travel across the organisation

these climate change efforts. flooding, as well as impacting on

Council works

education and engaging youth be listened to or that councillors One example is the $40 million biodiversity and mahinga kai.

to

programme

improve environmental

in the Long-term Plan

would

are offset

just do

via

what

our

they

own

wanted.

biodiversity

alongside

Waimakariri River flood

With biosecurity, we are

outcomes 2018-28, ensuring long-term. climate change

Hearing

programmes.

other

the views of the community

According is invaluable. to a Madworld It provides report

protection project, completed putting greater emphasis on the

was There actively is a special considered case to across be

councils and

late last year. The network of risks of new pests establishing

community

made workstreams, for youth, increasing but the reality visibility perspective in 2019, our and gross supports emissions our were

floodgates and stopbanks will in Canterbury. Warming

groups on

is of that the science all Cantabrians and what can we get know decision-making.

2253 tonnes of carbon dioxide

protect half a million people and temperatures, changing soils and

initiatives

involved about the to impact improve of the climate region's I (CO2) understand equivalent, that individuals compared with

$8 billion of community and new land uses mean new weeds

such as

environment. change Canterbury, There are and a couple liaising or removals groups that of speak 7883 tonnes up can of CO2-

business assets from a possible especially, will be able to gain a

cleaning up

of on ways the issue you can with do iwi this. and regional sometimes equivalent feel through like their our viewpoint

efforts has and been from ignored forestry not planting The last major flood was in More broadly, we have to

efficiency

"super flood".

better foothold across the region.

riverbanks.

partners, One way other is by local just speaking authorities up

about and central the things government. you care about. taken across seriously. 2700 hectares. This can leave December 1957, when parts curb reliance on fossil fuels and

For As instance, organisation, you could we speak have them The disillusioned changing climate or disgruntled,

many and risks reluctant to life to and have livelihood a say Whether Kainga making were swamped a submis-by river These alternatives, include things such like as electricity and Don't hesitate to get involved.

will pose But of don't Coutts stop Island having Belfast a say. and environmental find environmentally projects. suitable through in the coming weeks.

directly also made to the significant council. progress in

addressing Last week our a member own greenhousegas

emissions, told with us her our views on The we have truth seen is that how Canterbury occasional, is council, metres contacting per second a councillor (cumecs). riverbanks, transport. protecting native of the region that we keep the

of the next in time. Canterbury. In recent years sion flow on a peaking plan, presenting at 3990 cubic to planting hydrogen, initiatives, to power cleaning our up public It's in the long-term interest

community

the Christchurch damage caused building to a receiving beech a large, but and extreme, each area weather has its events own have directly

The

or

protection

attending

scheme

a community

has been

plants and

When

animals,

my predecessor

and pest

Steve

conversation going and take the

forest "market-leading" reserve by feral energy animals efficiency characteristics had huge effects and on complex residents issues

infrastructure to address, so around it's important the South is still worth something. It's an If you've got a project in to shape a thriving and resilient

and designed

meeting,

to defend

your 'two

Christchurch

cents' control.

Lowndes retired as chair of

opportunities to work together

such rating as of wallabies 5.0 out of and 6 in deer. the It's year

important to February that on we the hear National such for Island. us to hear local perspectives.

from a flood of as much as 6500 this council late last year, he

important contribution. If we mind that you're passionate region.

perspectives.

Australian Built Environment

However,

The driest

it also

parts

means

of our

that

cumecs.

highlighted some of the big

region, don't know what you think, then about, but don't know where to

Rating

Last year,

System

we conducted

New Zealand.

a survey

of Cantabrians that showed sometimes. Weighing up all the

it can

along

be

the

a real

Marlborough

balancing act

coast and we can't

Environment

consider it.

Canterbury's changes on the way. He was

start, or need expert advice or • Cr Jenny Hughey is chair

The building's features include across much of the Canterbury

Another

leadership

way

of

to

biodiversity

get involved

and

is financial

optimistic

support,

we

you

would

can get

be

in

able to

of the Canterbury Regional

just over half of residents didn't preferences within budget and by getting

biosecurity

hands-on.

programmes is also

touch with

deal with

us or

the

go to

"pressing

the 'Get

issues" Council of (Environment

even

184 solar

know

panels

that they

which

could

can

have policy

Plains,

constraints,

are expected

and

to

with

get

consideration

even

The underpinned Canterbury by Regional climate-change

Involved'

climate

page

change

on the Environment

I share his website. confidence. As a

and sustainability. Canterbury)

a

generate

say in the

more

work

than

of the

55,000

regional

drier. North-westerly

of social and cultural

storms are

Council concerns. works alongside other

council. kilowatt hours of electricity per needs predicted can be to tough. become Things more need intense,

councils and community groups Incidentally, we will soon be

year. Of those who did know, to with be prioritised, torrential meaning alpine rainstorms

Canterbury's distinct braided community, and as a council,

It's a year since Environment some who rivers want to and get unique stuck in wetlands to face Canterbury

establishing we are a taking special some fund bold to steps to

around There two-thirds has been a had 26% not reduction participated

per staff

ideas turning need our to be braided put on rivers hold or into improve many a corner challenges. of Canterbury The rivers form support ensure particular we are community in a better place to

declared

member in any way, in with emissions many scaled a roaring back. climate-change rapids, fuelling landslides that a they vital care ecological about through emergency

link and provide initiatives. cope The with details the changing will be climate

since 30 June 2010. We now have and causing widespread erosion. an abundant food supply and and the tests it will set us. But

access to JENNY electric HUGHEY and hybrid explains what Canterbury's coastal

nesting grounds for 26 species of by sea-level there will rise always this century be a need and to do threatened and facing increased

vehicles the and council hope has to have been half doing. our communities will be threatened native birds – most classified as our more. productive and protected land

The formal declaration of a

state of climate emergency across

Canterbury was one of the most

serious, and colourful, moments

in the regional council's more than

30-year history.

A year ago this Saturday,

at 11.49am, Environment

Canterbury became New Zealand's

first council to proclaim such an

emergency, formally dedicating

itself to consideration of climate

change at the heart of all it does.

The declaration highlighted

that all the work Environment

Canterbury does – from

freshwater management to

biodiversity and biosecurity,

transport and urban development

to air quality, and also regional

leadership – has a climate change

focus.

Currently, under the Resource

Management Act, regional

councils are required only to adapt

to climate change, not mitigate

it – that responsibility is the

Government's, but could change.

Even in 'adapt mode' many

of Environment Canterbury's

existing policies and plans already

contribute to reduced emissions.

In declaring the climate

emergency, the Council noted it

would continue to show leadership

on climate-change and do so

without adding new programmes

at ratepayers' expense. It also gave

staff a clear mandate to continue

and enhance that work.

That work included setting

up a climate-change integration

programme in the Long-term Plan

2018-28, ensuring climate change

was actively considered across

workstreams, increasing visibility

of the science and what we know

about the impact of climate

change on Canterbury, and liaising

on the issue with iwi and regional

partners, other local authorities

and central government.

As an organisation, we have

also made significant progress in

addressing our own greenhousegas

emissions, with our

Christchurch building receiving a

"market-leading" energy efficiency

rating of 5.0 out of 6 in the year

to February on the National

Australian Built Environment

Rating System New Zealand.

The building's features include

184 solar panels which can

generate more than 55,000

kilowatt hours of electricity per

year.

There has been a 26% reduction

per staff member in emissions

since 30 June 2010. We now have

access to electric and hybrid

vehicles and hope to have half our

Latest Canterbury news at starnews.co.nz

Environment

Canterbury Chair

Jenny Hughey

fleet hybrid or long-range electric

by 2022. Carbon emissions from

air travel across the organisation

are offset via our own biodiversity

programmes.

According to a Madworld report

in 2019, our gross emissions were

2253 tonnes of carbon dioxide

(CO2) equivalent, compared with

removals of 7883 tonnes of CO2-

equivalent through our efficiency

efforts and from forestry planting

across 2700 hectares.

The changing climate will pose

many risks to life and livelihood

in Canterbury. In recent years

we have seen how occasional,

but extreme, weather events have

had huge effects on residents and

infrastructure around the South

Island.

The driest parts of our region,

along the Marlborough coast and

across much of the Canterbury

Plains, are expected to get even

drier. North-westerly storms are

predicted to become more intense,

with torrential alpine rainstorms

turning our braided rivers into

roaring rapids, fuelling landslides

and causing widespread erosion.

Canterbury's coastal

communities will be threatened

jeopardised by the arrival and

spread of new, exotic weeds and

pests from warmer climates.

All these eventualities have

to be planned and prepared for,

and Environment Canterbury

will remain in the vanguard of

these climate change efforts.

One example is the $40 million

Waimakariri River flood

protection project, completed

late last year. The network of

floodgates and stopbanks will

protect half a million people and

$8 billion of community and

business assets from a possible

"super flood".

The last major flood was in

December 1957, when parts

of Coutts Island in Belfast and

Kainga were swamped by river

flow peaking at 3990 cubic

metres per second (cumecs).

The protection scheme has been

designed to defend Christchurch

from a flood of as much as 6500

cumecs.

Environment Canterbury's

leadership of biodiversity and

biosecurity programmes is also

underpinned by climate-change

concerns.

Canterbury's distinct braided

rivers and unique wetlands face

many challenges. The rivers form

a vital ecological link and provide

an abundant food supply and

nesting grounds for 26 species of

native birds – most classified as

OPINION 35

Speak up about the things you care about

Turn everyday

essentials into

SuperGold

Find all the ways you could

stretch your money further.

Visit www.supergold.govt.nz or download

and check the SuperGoldNZ app.

SG_180x130_grocery

Thursday July 15 2021 The Star

pressures due to river system

change.

Wetlands are also ecosystems

at-risk nationally and regionally,

degraded by draining, damming

and diversion affecting their

ability to sequester carbon,

cleanse freshwater and mitigate

flooding, as well as impacting on

biodiversity and mahinga kai.

With biosecurity, we are

putting greater emphasis on the

risks of new pests establishing

in Canterbury. Warming

temperatures, changing soils and

new land uses mean new weeds

especially, will be able to gain a

better foothold across the region.

More broadly, we have to

curb reliance on fossil fuels and

find environmentally suitable

alternatives, such as electricity and

hydrogen, to power our public

transport.

When my predecessor Steve

Lowndes retired as chair of

this council late last year, he

highlighted some of the big

changes on the way. He was

optimistic we would be able to

deal with the "pressing issues" of

climate change and sustainability.

I share his confidence. As a

community, and as a council,

we are taking some bold steps to

ensure we are in a better place to

cope with the changing climate

and the tests it will set us. But

there will always be a need to do

more.
---
The Star Thursday July 15 2021

36

PUZZLES

CHRISTCHURCH

CREMATORIUM

FUNERAL SERVICES

CROSSWORD

1 2 3 4 5 6 7 8

9 10

11 12

Latest Canterbury news at starnews.co.nz

203

SUDOKU

Every row, column and box should

contain the digits 1 to 9.

WORDBUILDER

WordBuilder

103

6

O T E

N U G

How many words of three or more letters,

How including many plurals, words can you of make three from or the more six

letters, using including each letter plurals, only once? can No you foreign

words or words beginning with a capital are

make allowed. from There's the at five least one letters, six-letter using word.

each only once? TODAY

Good 19 Very Good 22 Excellent 26

No words beginning with a capital

are allowed. There's at least one

Solution 102: chore, CHROME, come, comer, cor,

core, corm, echo, hem, her, hero, hoe, hoer, home,

six-letter homer, more, word. ochre, ohm, orc, ore, rho, roc, roe.

Good 14 Very Good 19 Excellent 25+

DEC

10

13 14 15 16 17

18 19 20

21 22 23 24

25 26

27 28

SOLUTION

No.103

14 15 16 17 18 19 20 21 22 23 24 25 26

B C K J Z U R H F Q A D M

1 2 3 4 5 6 7 8 9 10 11 12 13

T X I S W Y N O P E V G L

14 15 16 17 18 19 20 21 22 23 24 25 26

Decoder O

F

Across

1. Without purpose (7)

5. Caught (7)

9. Mistake (5)

10. Infamous (9)

11. Itemise (9)

12. Evil spirit or ghost (5)

13. Rigid (5)

15. Genius (9)

18. Forbearance (9)

19. Delete (5)

21. Employees (5)

23. Retrospective wisdom (9)

25. Consistently (9)

26. Succinct (5)

27. Perfumed (7)

28. Tiny drip (7)

A B C D E F G H I J K L M N O P Q R S T U V W X Y Z

1 2 3 4 5 6 7 8 9 10 11 12 13

22 5 6 5 26 4 24 13 17 1

5 25 23 6 7 6 13 5 18

10 11 4 9 20 7 26 19 10 9 17

Down

1. Eternal (7)

2. Temperamental (9)

3. Eagle's nest (5)

4. Feeling (9)

20 23 16 16 20 19 1 13

26 9 19 5 11 26 1 12 23 9 4

5. Church payment (5)

6. Conceit (9)

7. Picture (5)

8. Exhibit (7)

14. Vanguard (9)

16. Envious (5-4)

17. Opening, introductory (9)

18. Disposable

handkerchiefs (7)

20. Plead (7)

22. Nimble (5)

23. Clammy (5)

24. Confrontation, fight (3-2)

All puzzles copyright

6 2 10 22 17

19 6 5 26 18 20 11 5 13 7 10 20

6 23 5 22 5

T H E P U Z Z L E C O M P A N Y

www.thepuzzlecompany.co.nz

13 23 11 14 5 15 26 22 5 20 9

5 16 20 17 9 5 5 6

F

DECODER

Each number in our DECODER grid represents a different

letter - there is a number for all 26 letters of the alphabet.

Each Enter number the given represents letters into a different all squares letter of with the matching alphabet. numbers. Write the

given The challenge letters into now all squares is to work with out matching which letters numbers. are Now represented work out

which by the letters other are numbers. represented As you by the get other numbers. letters, enter As you them get into the

letters, the main write grid, them and into the the reference main grid and grid. the To reference keep track grid. Decoder of the

uses

letters

all

you

26 letters

have

of

found,

the alphabet.

cross them off the alphabet provided.

26 8 5 14 19 25 5 24 22 10 20

10 3 8 20 3 10

25 8 7 10 24 15 21 3 10 11 10 25

D O N

3 25 23 3 7 10 8

15 24 26 8 19 22 13 24 12 10 19

24 6 9 18 7 6 17 19 2 16 6

3 3 10 13 14

24 14 13 24 18 10 3 7 1 24 15 1

3 13 10 8 26

20 24 9 8 4 1 20 8 9 21 10

15 17 24 1 26 8 7

20 10 3 7 25 10 10 20 7 8 25 10

10 14 25 10 7 26

5 10 10 9 6 26 3 2 4 16 6

A B C D E F G H I J K L M N O P Q R S T U V W X Y Z

1 2 3 4 5 6 7 8 9 10 11 12 13

N O

14 15 16 17 18 19 20 21 22 23 24 25 26

D

SOLUTION

No.102

24 10 26 13 20 5 9 3 5

F

17 23 7 21 5 9 1 10 7 8

O

Each number in our DECODER grid represents a different

letter - there is a number for all 26 letters of the alphabet.

Enter the given letters into all squares with matching numbers.

The challenge now is to work out which letters are represented

by the other numbers. As you get the letters, enter them into

the main grid, and the reference grid. To keep track of the

letters you have found, cross them off the alphabet provided.

104

103

1 2 3 4 5 6 7 8 9 10 11 12 13

R T G X L Z C S E W A U O

14 15 16 17 18 19 20 21 22 23 24 25 26

J F H V N M K P Y Q D B I

Crossword

Across: 1. Aimless, 5.

Trapped, 9. Error, 10.

Notorious, 11. Enumerate, 12.

Ghoul, 13. Stiff, 15. Ingenuity,

18. Tolerance, 19. Erase,

21. Staff, 23. Hindsight, 25.

Uniformly, 26. Terse, 27.

Scented, 28. Droplet.

Down: 1. Ageless, 2.

Mercurial, 3. Eyrie, 4.

Sensation, 5. Tithe, 6.

Arrogance, 7. Photo, 8.

Display, 14. Forefront, 16.

Green-eyed, 17. Inaugural,

18. Tissues, 20. Entreat, 22.

Agile, 23. Humid, 24. Set-to.

WordBuilder

Ego, eon, gen, gent, get,

gnu, gone, got, gout, gun,

gut, net, nog, not, note, nut,

one, out, teg, ten, toe, tog,

ton, tone, tong, TONGUE,

tug, tun, tune, unto.

Sudoku

Ducted PEAD125

Heating 14.0kW | Cooling 12.5kW

$13,499

INSTALLED

Basic installation.

Conditions apply.

Quiet, unobtrusive

whole home comfort

© A.F.Shuker

Call us for a free quote

Supplied by KNIGHT FEATURES

20 Crescent Grove, London SW4 7AH

Tel: 020 7622 1467 Fax: 020 7622 1522

Read local
---
Latest Canterbury news at starnews.co.nz

BIG CLUB MATCH-UPS THIS WEEKEND

Thursday July 15 2021 The Star

SPORT 37

Hornet's roar into title contention

• By Chris Barclay

RESURGENT Halswell take

on another Canterbury Rugby

League premiership powerhouse

fresh from a dominant win over

four-time defending champions

Linwood as the title race looks

to be reduced to three genuine

contenders.

The Hornets have been a

revelation under new coach

Walter Wilson, continuing

their impressive season with a

24-16 victory over the Keas, who

needed a late converted try to

narrow the margin.

With one round remaining

Saturday's clash between playoff-bound

Hornby and Halswell

will also influence who claims

the regular season's Massetti

Cup before the Pat Smith Trophy

takes precedence.

Celebration Lions currently

occupy the fourth play-off berth,

though they face a tough assignment

against a Keas side keen

to make amends for a sub-par

effort at Halswell.

The Northern Bulldogs are

blessed with a final round encounter

with winless Papanui,

leaving them to rely on Linwood

not to suffer rare back-to-back

defeats.

Halswell drew 16-16 in their

first round clash with the Panthers

and head to Leslie Park

secure in the knowledge they

cannot finish worse than third

after several lean seasons.

"Neither of them (Hornby or

Linwood) have beaten us yet so

you'd have to take some positives

out of that," said coach Walter

Wilson, who relished the win

over Linwood.

"The boys just backed themselves,

it's been a while … 2014

was the last time our premier

side had beaten Linwood. It's

TRIPLE CENTURY: Rugby league veteran Sean Spooner celebrated his 300th premier

grade appearance with a try for Riccarton against Papanui.

PHOTO: MATTY LOUIS PHOTOGRAPHY

more a belief thing than anything

else. We've slowly been

building week by week."

Hornby effectively ended the

Eastern Eagles title aspirations

with a 38-26 victory, the Bulldogs

climbed back into play-off

contention with a 32-18 win over

the Celebration Lions while Sean

Spooner celebrated his 300th

premier grade game in style as

Riccarton beat Papanui 46-12.

Spooner, who debuted for

Papanui in 2002, won five grand

finals with Hornby before the

halfback joined the Knights last

season.

"I wanted to be a leader and

try my hand at something different,"

the 37-year-old said of his

move to Riccarton.

"It was a new challenge to really

test myself at the back-end of

my career."

Marist Albion needed a lastminute

try to eliminate HSOB

from the title race and they

endured another nail-biter with

Christchurch before progressing

to a semi-final with champions

Lincoln University, a rematch of

last year's final.

They protected a 18-15 lead for

the final half hour of a defenceorientated

clash.

Sydenham will play Burnside

for a place in the July 25 final

after they beat Linwood 24-20 in

another tense match-up.

Cashmere Technical bounced

back from their last round loss in

the Mainland Football premiership

by claiming their fourth

round tie with Christchurch

United 3-0 to book a quarterfinal

berth when the next phase

of the Cup is held on July 31 to

August 1.

The premiership champions

now switch focus to the eightteam

Southern League, which

gets underway this weekend.

Cashmere Technical, Coastal

Spirit, Christchurch United, Nelson

Suburbs and Selwyn United

are joined by Football South

winner South City Royals, Green

Island and University of Otago.

In the women's equivalent of

the Chatham Cup, Coastal Spirit

crushed Dunedin Technical 8-0

in the quarter-finals of the Kate

Sheppard Cup, Britney-lee Nicholson

led the rout with four goals.

Harewood climbed to the

top of both Canterbury Hockey

premier league competitions

with wins over previous leaders

Marist seeing the leading clubs

ACCURATE: Former

Highlanders Super

Rugby title-winning first

five-eighth Marty Banks

nailed four penalties for

Sydenham in their suddendeath

victory over Linwood.

PHOTO: BILL KING

switch positions.

In the women's competition

Marist suffered their first loss of

the campaign when they were

beaten 2-1 to slip to third on the

standings.

Harewood's men were even

more impressive, triumphing

3-0 to now also lead the regular

season table by a point after 10

rounds.

Carlton Redcliffs are six points

adrift in third; the women's

competition is together with

two points covering Harewood,

second-ranked Carlton Redcliffs

and Marist.

Marist have a bye this weekend,

with Harewood and Carlton

Redcliffs drawn against each

other in the game of the round.

Harewood and Carlton Redclifs

also meet in the pick of the

men's fixtures.

Christchurch's premier

netball competition has a break

this weekend and resumes on

Tuesday.

TOP

OF THE

TABLES

Brought

to you by

Curtains

Blinds

Shutters

99 Sawyers Arms Rd

03 365 4666 or

0800 836 587

www.venluree.co.nz

Canterbury Rugby League men's premiership

P W L D PD Pts

Hornby Panthers 13 11 1 1 224 23

Linwood Keas 13 10 2 1 254 21

Halswell Hornets 13 8 3 2 144 18

Celebration Lions 13 6 7 0 92 12

Northern Bulldogs 13 6 7 0 10 12

Eastern Eagles 13 5 8 0 -106 10

Riccarton Knights 13 4 9 0 -124 8

Papanui Tigers 13 0 13 0 -494 0

PHOTO: GEOFF SOPER

Christchurch Hockey men's premier league

P W D L GD Pts

Harewood 10 7 2 1 18 23

Marist 10 7 1 2 5 22

Carlton Redcliffs 10 4 4 2 2 16

HSOB/Burnside 10 3 5 2 12 14

Avon 9 2 5 2 6 11

Southern United 9 2 5 2 1 11

Hornby Vipers 9 0 3 6 -14 3

University 9 1 1 8 -30 1

Christchurch Hockey women's premier league

P W D L GD Pts

Harewood 8 6 2 0 23 20

Carlton Redcliffs 9 6 1 2 22 19

Marist 9 5 3 1 15 18

Avon 8 3 1 4 -4 10

HSOB/Burnside 8 2 2 4 6 8

Hornby 8 2 1 5 -12 7

Southern United 8 0 0 8 -50 0

Weekend match-ups

•Christchurch Metro Premier

Cup rugby (all Saturday at

3pm)

Preliminary Trophy finals – winners

contest final on July 25:

Lincoln University v Marist Albion,

Lincoln University; Burnside v Sydenham,

Burnside Park.

Premier Plate final –Sumner v

Shirley, St Leonard's Square.

•Canterbury Rugby League

Premiership (all Saturday at

2.45pm)

Hornby Panthers v Halswell Hornets,

Leslie Park; Celebration Lions

v Linwood Keas, Cuthberts Green;

Papanui Tigers v Northern Bulldogs,

Papanui Domain; Eastern Eagles v

Riccarton Knights, Wainoni Park.

•Canterbury Hockey men's

premiership (all Saturday)

Marist v University, Nga Puna Wai

1; Hornby v Southern United, Marist

Park @ St Bede's College; Avon v

HSOB/Burnside, Waimakariri Turf;

Harewood v Carlton Redcliffs, Nga

Puna Wai 2.

•Canterbury Hockey women's

premiership (all Saturday)

Hornby v Southern United, Marist

Park @ St Bede's College; Harewood

v Carlton Redcliffs, Nga Puna Wai 2;

Avon v HSOB/Burnside, Waimakariri

Turf; Marist bye.
---
The Star Thursday July 15 2021

38

SPORT

• By Michael Guerin

CHAMPION DRIVER Blair

Orange's New Zealand season is

all but over.

And as he sits in the Queensland

sun on a much-deserved

busman's holiday Orange says

he is satisfied with what he has

been able to achieve in his fourth

premiership victory.

Orange travelled to the

sunshine state last Saturday to

partner Krug into fourth in the

Rising Sun at Albion Park, won

by Amazing Dream.

With the travel uncertainties

he has decided to stay there until

after the Queensland Derby on

July 24 in which will be partner

Krug again, even though the star

three-year-old isn't racing this

weekend.

"I could have come back but

to be honest I need a break and

• By Chris Barclay

VETERAN horseman Kevin

Townley's recovery from a

serious race day crash is not

quite on track yet, but he is

close to making a comeback to

training.

The 70 year-old needed a hip

replacement after he was thrown

from the sulky while driving

I don't want to get locked out

of driving Krug in the Derby

in case things change," said the

his horse Murano after it was

checked by another runner at

Rangiora on April 18.

Replays indicate the West Melton-based

was propelled about

2m into the air before landing

and being run over by a trailing

horse. Murano avoided injury.

Townley said the worst accident

of his career had not guided

him into retirement.

Latest Canterbury news at starnews.co.nz

Time for reflection after premiership victory

FRESHENING UP: Blair Orange is relaxing in Queensland.

43-year-old.

"It will do me some good to

freshen up over here although I

Kevin

Townley

"If I was older

I'd consider

chucking it in,"

he laughed.

Townley, who

also copped

fractured

ribs, expected

to be holding

the reins at track work in

about a fortnight to prepare his

am available for drives at Albion

Park this week if anybody needs

me.

"But I won't go chasing them,

the main reason I am staying on

is for Krug the week after."

Covid restrictions allowing,

Orange will fly home on Sunday

July 25 and that will mean one

more meeting in New Zealand

for the season, at Addington on

July 29.

It is understandable Orange is

slightly tired as not only has he

driven 176 winners on the way to

his fourth straight premiership

but he has also driven in 1133

races, his second busiest season

after the 1321 drives he had in

the 2017-18 season.

"I am actually still really

enjoying it, the driving and I

even don't mind the travelling.

"And those numbers were even

after I got a six week holiday for

12-strong team for a return to

racing in September.

"It's all good, I'm very close to

being back to normal."

Townley was unsure when he

would return to driving during

an annual meeting, noting he

had scale back those commitments

over the years.

"The main thing for me is

the training. I gave up seriously

my drinking indiscretion, which

I have learned from."

Orange says those sort of

numbers wouldn't be possible

without the huge support of

owners and trainers and or

course his family.

He rates Krug's New Zealand

Derby as his highlight of the

season.

"That was very, very satisfying

and he has been a really good

horse to me which is another

reason I am happy to be here to

drive him in their derby."

Orange says one of his other

favourite victories for the season

was Mystic Max's win in the

Lone Star Sires' Stakes Trotting

Champs on May 21.

"I was thrilled to win that not

so much for me but for Michael

Purdon so I got a real buzz of

that."

Harness Racing Desk

Townley close to comeback after being thrown from sulky

being a driver 20 years ago and I

just do the odd one now. I don't

see anything changing from

what it was before.

"I'll do the odd one if I think

it's helpful for the trainer for me

to drive it, see what it's doing and

things like that," he said.

"It doesn't worry me whether

I'm (driving regularly) at the

races any longer, I've had my go."

OLIGHT ODIN

2000 LUMENS

RECHARGEABLE

300M BEAM

PICATINNY

MOUNT

$284.95

OLIGHT ODIN MINI

1250 LUMENS

RECHARGEABLE

240M BEAM

MLOK MOUNT

$249.95

OLIGHT PL-PRO

1500 LUMENS

RECHARGEABLE

$234.95

HOLOSUN 403R

RED DOT SIGHT

HOLOSUN 509T

RED DOT SIGHT

OLIGHT BALDR

PRO

LIGHT LASER COMBO

$269.95

HOLOSUN 407C

RED DOT SIGHT

HOLOSUN 407K

RED DOT SIGHT

$699.95 $419.95

OLIGHT PL-2

1200 LUMENS

2X CR123A

$179.95

HOLOSUN 510C

RED DOT SIGHT

$349.95 $419.95 $549.95

HOLOSUN 508T

RED DOT SIGHT

$699.95

BERETTA M9A3

THREADED

3X 17RD MAGS

$2399

BERETTA 92FS

9MM

2X 15RD MAGS

$1429.95

SIG P320 M17

9MM

2X 17RD MAGS

1X 21RD MAG

$1549.95

SIG P320 X VTAC

9MM

3X 17RD MAGS

$1849.95

BUL SAS II AIR

40S&W

3X 18 RD MAGS

FROM

$4799.95

9MM OR 45ACP

2X MAGAZINES

$2599.95

BERETTA 92A1

9MM

2X 17RD MAGS

$1859.95

BERETTA 92FS INOX

9MM

2X 15RD MAGS

$1679.95

BUL 1911 GOVT

9MM OR 45ACP

2X MAGAZINES

$1699.95

BUL SAS II UR

38 SUPER

2X 170MM MAGS

6 MOA RED DOT

$5950

BUL SAS II TAC

9MM

2X 19 RD MAGS

$2199.95

CHECK OUT THE FULL RANGE ONLINE

40S&W

3X18 RD MAGS

$3999.95

03 214 0300

@DELTAMIKENZ

WWW.DELTAMIKE.CO.NZ

2 0 1 S P E Y S T R E E T , I N V E R C A R G I L L

LANDING JULY/AUGUST

$1199.95

L I M I T E D Q U A N T I T I E S A V A I L A B L E P R E - O R D E R N O W T O R E S E R V E Y O U R S

SULUN TAC12 - 14" TELESCOPIC

GRAND POWER STRIBOG TR22

HUGLU VEYRON SPORT - GREY

HUGLU RENOVA SPORT - GREY

12 GAUGE 5+1 CAPACITY

AUTO REGULATING PISTON

SULUN TAC12 - 18" FIXED STOCK

$1199.95

12 GAUGE 5+1 CAPACITY

AUTO REGULATING PISTON

$1199.95

SULUN SG-321 TOP FOLDING STOCK

GAS OPERATED

5+1 WITH 3" SHELLS

$699.95

GAS OPERATED

5+1 WITH 3" SHELLS

$999.95

INERTIA OPERATED

5+1 WITH 3" SHELLS

$949.95

GRAND POWER STRIBOG 3 GUN

PACKAGE

KRISS DMK

KRISS VECTOR 22 CRB

22LR

2X MAGAZINES

INCLUDED

$1699.95

22LR

SUPPRESSOR &

2X MAGAZINES INCLUDED

$2099.95

22LR

1X MAGAZINE

$1649.95

22LR

2X MAGAZINES

$1599.95

WWW.DELTAMIKE.CO.NZ
---
THe European Championships

might have ended at Wembley

this week but locally there is

plenty of age group football

to savour, and play out, at the

Christchurch International

Cup. The sixth edition of the

tournament for under-10 to

under-15 grades continues

until Monday. Already more

Latest Canterbury news at starnews.co.nz

than 500 players from 48 teams

throughout New Zealand have

competed in the under-10,11 and

12 age group games, scoring at

least 700 goals in 144 matches

Thursday July 15 2021 The Star

SPORT 39

at the Christchurch Football

Centre. The under-14 grade takes

precedence until tomorrow and

then the under-13s take centre

stage. PHOTOS: JIM WATTS
---
40 The Star Thursday July 15 2021

WHY CHoose

WE ARE CURRENTLY OFFERING

$2000 MINIMUM

TRADE IN

*ON SELECTED VEHICLES! TERMS & CONDITIONS APPLY

for Your next VeHICLe?

VALUE

REPUTATION

SELECTION

TRUSTED

PLUS

REGISTRATION

2014 bMW 116i

$15,999

Stylish and sporty European RWD sports hatch,

features a 1.6L turbo engine with tiptronic trans and

idle stop, 5 star fuel efficiency, looks smart in red

with driving lights and 16'' alloys, black interior, push

button start, cruise control, rear wiper, ABS, TIC and

multiple airbags, very nice vehicle!

PLUS

REGISTRATION

2012 Skoda fabia tSi

$7,999

Stylish European vehicle, features a 1.2L turbo

engine with rare 5 speed manual transmission,

looks cool in blue metallic with chrome accents and

driving lights, black interior, cruise control, rear wiper,

parking sensors, keyless entry, ABS, T/C and 8x

airbags, great buying!

PLUS

REGISTRATION

2013 Subaru impreza Sport

$13,999

Very nice example, 2.0L chain driven engine with idle

stop, AWD, tiptronic trans with paddle shift option,

looks smart in white with driving lights and 16'' alloys,

very low kms, PBS, cruise control, collision avoidance

and lane departure warning, rear wiper, ABS, T/C and

airbags, great vehicle and great buying!

PLUS

REGISTRATION

2019 Suzuki Swift XG

$16,999

A very popular 5 door hatch and preferred in its

class by many, features an economical 1.2L engine

with automatic trans and 5.5 star fuel efficiency, low

kms, looks stunning in teal with stylish black interior,

heated drivers seat, rear wiper, rear centre shoulder

belt, ABS, T/C, and airbags, will not disappoint!

PLUS

REGISTRATION

2013 ToyoTa Spade f

$10,999

Versatile spacious hatch, the best feature is the huge

powered sliding passenger door, features a 1.5L

engine with automatic trans and 5 star fuel efficiency,

stands out finished in red, push button start, rear

wiper, low kms, ABS and airbags, the perfect vehicle

for someone!

PLUS

REGISTRATION

2013 Jaguar Xk

$59,999

Cool European sports coupe, powerful 5.0L V8 engine

with tiptronic trans and paddleshift option, white with

rear lip spoiler and 19'' black alloys, black leather

interior, heated front seats, cruise control, PBS,

parking sensors, reverse camera, Bluetooth, very low

kms, ABS, T/C and multiple airbags, impressive!

PLUS

REGISTRATION

2014 niSSan Skyline 250Gt

$16,999

Sought after sports sedan, features a high response

2.5L V6 engine with tiptronic trans, looks sleek

finished in silver with chrome detailing, rear spoiler

and 17" alloys, black partial leather interior, powered

front seats, push button start, reverse camera, ABS,

T/C and airbags, test drive won't disappoint!

PLUS

REGISTRATION

2014 ToyoTa aXio G

$14,999

Reliable, spacious and economical model of the

popular Corolla, features a 1.5L hybrid engine with

6 star fuel efficiency, automatic trans, travelled low

km, looks sharp in light blue with black interior, push

button start, rain shields, rear centre shoulder belt,

reverse cameras, ABS, T/C & 8 airbags, good buying!

PLUS

REGISTRATION

2016 ToyoTa fielder Hybrid

$15,999

Effectively the station wagon of the ever popular

longstanding and reliable Corolla, a 1.5L hybrid engine

with automatic trans, looks good in silver with dark

interior and tinted windows, lane depature warning,

collision avoidance, push button start, rear wiper, low

kms, ABS, T/C and 8 airbags, a must see!

PLUS

REGISTRATION

2010 ToyoTa wiSH S

$10,999

Very popular family wagon with room to seat 7,

features a 1.8L engine with tiptronic trans and

paddleshift option, looks smart in wine metallic

with body kit, driving lights and 16'' alloys, stylish

black interior, push button start, rear wiper, spoiler,

ABS and 8 airbags, come and inspect today!

PLUS

REGISTRATION

2018 kia SportaGe Urban lX

$32,999

NZ new SUV, features a 2.0L engine with tiptronic

trans, looks good in white with body kit, roof rails,

chrome accents, driving lights and 17'' alloys, black

interior, cruise control, Bluetooth, rear wiper, very low

kms, ABS, T/C and 8x airbags, very nice vehicle!

PLUS

REGISTRATION

2018 MercedeS-benz Gle350d

$72,999

Luxurious European SUV, 3.0L turbo diesel engine

with tiptronic trans, 4WD, stunning in black with 18''

alloys, day time running lights, PBS, idle stop, parking

sensors, heated front seats, adaptive cruise control,

hill descent, roof rails, reverse camera, Bluetooth, ABS

and multiple airbags, will not disappoint!

PLUS

REGISTRATION

2006 ToyoTa rav4

$12,999

Extremely popular, spacious and comfortable family

vehicle, features a 2.4L engine with automatic trans,

looks smart in white with driving lights and 18'' alloys,

low kms, 4WD, cruise control, push button start, rear

wiper, ABS, T/C and airbags, the Rav4 is a top pick

SUV and won't last long!

PLUS

REGISTRATION

2006 ToyoTa Harrier 350G

$12,999

Luxury inspired mid-sized SUV, features a 3.5L V6

engine with tiptronic trans, looks good in white with

bodykit, driving lights an 17' alloys, black interior, low

kms, reverse camera, rear wiper, keyless entry, ABS,

T/C and airbags, will sell quickly!

PLUS

REGISTRATION

2009 ToyoTa alpHard

$13,999

Move the whole family in style and comfort, features a

2.4L engine with tiptronic trans, finished in grey with

body kit, spoiler, chrome accents, driving lights, and

18'' alloys, room to seat 7, automatic sliding side door,

mid-row captain chairs, reverse camera, rear wiper,

parking sensors, very nice example!

Registration for 6 months is $301

Value Cars Warehouse

4.72

CANTERBURY OWNED

& OPERATED

ESTABLIShED 1993

32 Moorhouse Ave, P: (03) 366 7768 IMVDA

www.valuecarswarehouse.co.nz
---
Thursday July 15 2021 The Star 41

Mazda BT-50 an SUV in disguise

I READ recently that Mazda's

new BT-50 pick-up could well be

marketed as an alternative sport

utility vehicle.

Compelled to test that theory,

I asked Mazda New Zealand if I

could take the double cab utility

on a long South Island road trip,

leaving the vehicle in secured

parking at Bluff while my wife

and I took in a couple of days

on Stewart Island, one of our

favourite holiday destinations.

It was an unusual choice of

vehicle to travel such a distance

in but it was a good choice, it was

comfortable on that journey and

easily met our needs.

The evaluation ute was the

base model variant, although it

must be said GSX specification is

not bare, there are high comfort

levels, plenty of specification and

enough kit to satisfy. Certainly,

during our road trip there was

nothing we felt it needed.

Sure, there's just cloth trim, no

keyless entry or ignition and no

satellite navigation; however, I

could easily live without those

items, and elsewhere there are all

of the ingredients a modern ute

owner would be satisfied with.

Safety hasn't been

compromised either, all BT-50s

get a five-star Australasian New

Car Assessment Program rating,

and for the those who would

use the ute as a daily driver it

is manageable and enjoyable to

drive, I certainly felt at home

in it during the 1200km return

journey.

Regular readers will recall

my previous evaluations of the

new BT-50, and it is all-new.

The Mazda Motor Corporation

joined forces with the giant Isuzu

conglomerate to develop the

latest generation model. It shares

many components with the Isuzu

D-Max, notably the driveline.

The BT-50 here is available in

both two and four-wheel-drive,

and all have six-speed automatic

transmissions. There are six BT-

50 variants starting at $47,490

for the base model (2WD) and

ending at $60,990 for Limited

specification. The base model

four-wheel-drive I took south

lists at $54,490, if you do want a

few extra goodies but don't want

Limited specification, a mid-spec

GTX lists at $58,490 ($51,490,

2WD).

Under the bonnet sits Isuzu's

four-cylinder turbocharged diesel

engine. It's a 3-litre unit and is

rated with 140kW and 450Nm.

There are no surprises here, this

engine has been around for a few

years but it has been the subject

of a long and steady refinement

process.

Today, it is smooth and

sophisticated, and the areas where

power and torque are developed

are low in the rev band so it's a

happy low down hauler. During

my journey the rev counter was

constantly sitting at 1400rpm in

CRUISER: High levels of comfort on a highway haul.

MAZDA BT-50 GSX: According to the signwriting – five-year fixed price servicing, five-year

warranty and five-year roadside assistance .

at 100km/h, it is relaxed at that

speed and is quiet. It also returns

an 8l/100km instantaneous rating

(converted from a km/l readout).

I took the evaluation car back

to the dealership with a 9l/100km

combined average usage that

fits well with Mazda's claim of

8l/100km, proving relaxed long

distance cruising is beneficial to

economy.

Our long trip wasn't the only

use I put the evaluation car to,

it arrived at a very opportune

time. The recent weather bomb

that hit Canterbury took its toll

on the Kiddie-home. It exposed

three sheets of leaky corrugated

roofing iron that necessitated a

quick repair. Thankfully, a young

builder who is familiar with

the renovation process on our

home came at short notice and

he immediately replaced some

rusty sections. I used the BT-

50 to dispose of the waste, also

taking the opportunity to buy a

new locally-manufactured ladder

to replace an old one I had been

using at home that had become

dangerous.

It's these kinds of tasks that

make today's double-cab so

versatile, you can throw anything

on the deck and yet it still has the

family-friendly in-cabin structure

that works in the everyday role.

While most of our road trip

was on the fabulous undulating

• Price – Mazda BT-50 GSX,

$54,490

• Dimensions – Length,

5280mm; width, 1870mm;

height, 1790mm

• Configuration – Fourcylinder,

four-wheel-drive,

2999cc, 140kW, 450Nm,

six-speed automatic

• Performance – 0-100km/h,

10.5sec

• Fuel usage – 8l/100km

roads the South Island has to

offer, the few handling challenges

were met with dignity and

aplomb. The BT-50 has definite

steering feel and composure in a

corner.

It's fair to say the ladder chassis

and rear live axle set-up aren't

conducive to handling prowess,

but the BT-50 isn't awkward, it

feels balanced and controlled,

which just serves to prove if you

have a live rear axle and leaf

springs located well then the ride

and control in a corner is well

organised.

That is something the tyre

manufactures have also kept in

mind over the years, Dunlop

has developed its Grandtrek

compound to the extent where

grip is high and travel is quiet,

the big 255/65 x 17in tyres are

informative and contribute to the

balance and feel of the ute in all

conditions.

Our road trip was on a mix

of wet and dry roads, and never

at any point did I feel the BT-50

lacked ability, it feels well attached

to the road.

Route closures due to the big

South Canterbury flooding events

meant short distances on broken

and unsealed roads, the spring

and damper rates of the BT-50

have been chosen so that comfort

levels aren't jeopardised, yet

they don't compromise the load

bearing ability of the ute. On that

subject, the BT-50 is a genuine

one-tonner and has a 3500kg tow

rating.

My time in the evaluation car

was as far from its design role

as you could get, however, I was

exploring the claim that utes are

manufactured for all purposes,

and the BT-50 certainly ticked

one of the boxes – it's a genuine

open-road traveller that will

whisk the family to holiday

destinations with ease. If you

want a working ute that doubles

as family transport for the

weekend, don't be put off with the

base model BT-50, it still has the

goods.

Signwriting on the evaluation

car pointed to the after-sale

MazdaCare programme – fiveyear

fixed price servicing,

five-year warranty and five-year

roadside assistance. All in all, that

makes for a worry-free purchase.

The souTh island lifesTyle magazine

July 2021

i'm yoUrs | JUly 2021

June 2021

Wood works

old becomes New

iN arrowtowN

Plenty to see here

Start your engineS

in tauranga

The souTh island lifesTyle magazine

i'm yourS | June 2021

I'm YOURS

The PeoPle, The Places,

The Trends

Wild & free

a chef's JoUrNey from

loNdoN to dUNediN

the people. the places. the treNds.

The perfect pour

a canDle company

with no DiviDe

Kid friendly

recipe help for the

school holidays

the people. the placeS. the trenDS.

Major developments

the family act

Shaping communitieS

stylemagazine.co.nz | @StyleChristchurch

CAR REMOVALS

$$CASH PAID$$

CARS, VANS, UTES & 4X4 WANTED

NZ OWNED AND OPERATED FOR 24 YEARS

We use world class vehicle depollution systems

0800 77 80 80

www.pickapart.co.nz
---
42 The Star Thursday July 15 2021

Get the TLC experience

Call one of our Licensed Sales Consultants

today for a free appraisal:

Trish Lawrence ph 0274 350 565

'Trust in Trish'

Kay Livingstone ph 021 163 0001

Goes above and beyond'

MAKING YOUR MOVE EASIER

tlc realty limited

Licensed Agent REAA 2008 | www.tlcrealty.co.nz

LARGE SECTION

WANTED

Prefer 700m plus in the Christchurch

or surrounding area. Would look at

as is where is house. Private buyer.

Contact Greg 0272 496 988 or

email greghume126@xtra.co.nz

For more information:

Mike Fulham

P 364 7406

E mike@starmedia.kiwi

Appears every week in

EVERY THURSDAY

The Star Classifieds

New and Used

WINDOWS

& DOORS

• Extensive

range

• Aluminium &

timber

• French doors

Phone

379 6159

215 Waltham Rd

www.windowmarket.co.nz

Bicycles

best

quality

bikes

We buy, sell,

RepaiR & RestoRe

620 Ferry Rd, Woolston.

P: 03 376-6377.

aroundagaincycles@gmail.com

Building Supplies

• Exterior

sliding doors

• Single &

double glazed

• Buy and sell

Caravans, Motorhomes

& Traliers

CARAVAN Wanted to

buy. Up to $5000 cash

today 027 488-5284.

Car Parts

TYRES Secondhand,

most szs from $30 - $70

fitted, Also batteries, 217

Waltham Road, 027 476

2404

TYRES Secondhand,

most szs from $30 - $70

fitted, Also batteries, 217

Waltham Road, 027 476

2404

Here are our top four tasks for home

buyers.

1. Research the property

The real estate agent selling the property

acts on behalf of the seller, however they

are also required to tell you everything

they know about the property. They

must respond professionally to all your

enquiries and not withhold any details.

Remember that you still need to do

your own due diligence. That means

getting a title search so you can find

out all the facts about the property's

ownership, boundary and access, as

held by Land Information New Zealand

(LINZ). It's a good idea to get a Land

Information Memorandum (LIM),

which shows information held by the

local council about the property and

land. For valuable feedback on the

property's condition, get a report done

by an inspector who has professional

indemnity insurance and carries out

their work in accordance with the New

Zealand Property Inspection Standard.

Although this all costs money, it will

save you more in the long term. Sellers

may occasionally provide some of this

information for you. If this happens,

check that it is up-to-date.

2. Get legal advice

Buying property is expensive, and it

can cost even more if something goes

wrong. That's why it's important to get

legal advice before you sign anything.

Home & Property appears every Thursday, delivered FREE

throughout Christchurch

For more information and bookings, contact Mike Fulham

M: 021 300 567 E: mike@starmedia.kiwi

Four things you MUST

do before buying a home

Buying a home is a big deal. It's likely to be the most expensive thing you buy,

and it can be a complicated legal process. It might be tempting to take a few

shortcuts, but failing to do things properly could cause more problems later.

Church Notices

SYDENHAM

CHRISTIAN

SPIRITUAL

CHURCH

Sydenham

Community Centre

23/25 Hutcheson St

Address &

Clairvoyance

DAVIDA

Sunday 7pm

All Welcome

AGM

8pm, July 25th

NEW AGE CHRISTIAN

SPIRITUAL CENTRE

61 Grafton Street

Sunday 7pm

Address:

Bernie

Clairvoyance:

Bernie

Tuesday

1-1.45pm Healing

2pm Clairvoyance

All Welcome

A lawyer will handle all the paperwork

involved in the process, including the

title search, and offer impartial advice.

If you don't have a lawyer, the New

Zealand Law Society can help you find

one at propertylawyers.org.nz.

3. Understand the sale process

There are several methods of buying and

selling property, for example, tender or

auction. It's important to understand the

process for the property you are buying.

Practices can vary between agencies

so make sure you confirm details with

them. The Home Buyer's Guide at

buyingahome.reaa.govt.nz has more

helpful advice.

4. Read the sale and purchase

agreement and understand what it

means

The sale and purchase agreement is your

contract with the seller. It is crucial to

read it very carefully and get legal advice

before you sign. You can negotiate the

terms and conditions of an agreement,

but once you sign it, there's no going

back.

EVERY THURSDAY

• Phone our local team 03 379 1100 • Email star.class@starmedia.kiwi

Church Notices

Christian

sPiritUaList

ChUrCh

182 Edgeware Road

Sunday Service

7pm

Address &

Clairvoyant

Jacqueline Thompson

Visiting English

Medium from UK.

All Welcome

Community Events

ADDICTIVE EATERS

ANONYMOUS Had

enough of battling

food? Tired of under or

overeating or obsessing

constantly about food? We

have found freedom from

food addiction through the

Twelve Steps. We have

three meetings each week

in Christchurch. For more

information phone 03

662-9128 or visit www.

AEAnz.org

Entertainment

STAMP AND

POSTCARD FAIR

The Philatelic Centre

67 Mandeville Street,

Riccarton

Saturday 17th July

9am-12pm

Sellers tables available

Phone 027 6354 957

Finance

RW Finance

Small Loans

From $1,000 - $5,000

SPECIAL

INTEREST RATE

FOR NEW

CUSTOMERS

(limited time offer)

Beneficiaries Welcome

Friendly & Personal

Customer Service

0800 325 345

www.rwfinance.co.nz

RESPONSIBLE LENDING & CREDIT CRITERIA APPLY

Situations Floor Coverings Vacant

WATER DAMAGED

CARPET

OnE Off ClEARAnCE

Approx 250 metres (various sizes), starting at $20/m

Pick up 310 Cashel Street

Your

Earthquake

damaged

home!

Talk to us if you are serious about

selling your "As is Where is" home.

We have sold over

150 "As is Where is"

homes and we have

a huge database of

qualified buyers.

Phil & Holly Jones

Ph 03-382-2230

Phil 027 435 7711

Holly 027 222 0220

holly.jones@raywhite.com

Licensed (REAA 2008) Results Realty Ltd

RENT ME!

Ideal as an extra

bedroom or office.

no bond required

We have achieved

record breaking

prices recently!

Fully insulated and double glazed for warmth.

Three convenient sizes from $80 a week:

Standard 3.6m x 2.4m

Large 4.2m x 2.4m | Xtra-large 4.8m x 2.4m

Visit our website

www.justcabins.co.nz

for display cabin locations

www.justcabins.co.nz

For Sale

Phil's

secondhand

shed

• Antique furniture 1920-1930's

• Modern furniture

• Whiteware (with 3 month warranty)

• Bric a Brac

• Fishing rods and tools

5 week layby available

for goods over $200

Phone: 027 223 0948

745 Hawkins Road, Marshlands

Look for the flag outside the gate

Mon, Tues, Wed, Fri & Sat 10am-5pm

Closed Thursdays & Sunday

For Sale

STEEL for sale all

sections, off cuts cut

lengths. siteweld@ xtra.

co.nz Ph 0274 508 785

STEEL for sale all

sections, off cuts cut

lengths. siteweld@ xtra.

co.nz Ph 0274 508 785

Whitebait socknet, 5

traps, box section steel

cradle also small pot net.

Ph 3888 484

Funeral Directors

direct

cremation

$2,000 GSt inclusive

(includes committal)

0800 27 28 29

www.mainland

crematorium.co.nz
---
Funeral Directors

Direct

Cremation

No frills, No Service,

No fuss, simply

straight to the crem.

Other options

available.

Ph: 379 0178

for our brochure

or email

office@undertaker.co.nz

Gardening

& Supplies

Gardener available for

maintenance, weeding

pruning, spraying,

planting, advice. Qual &

exp.Pensioner discount

25%. Ph Richard 0274 918

234, 03 349 4022

PETE'S GARDENING

SERVICE Gardening,

rubbish removal, cleanups,

expert pruning, hedge

trimming, tree cutting,

good rates, no job too big

or too small, half the price

of a franchise. Ph 027 551

4118

Massage

LADIES enjoy a full body

sensual massage. Choice

of oils, discreet mature

gent. Outcalls available.

Ph / txt 027 251 4660

RELAXATION to

Remedial massage.

Hillmorton area. Ph 027

244 0195

Personals

MALE 59 seeks older /

larger lady for intimate

fun. 022 637 8403

Pets & Supplies

CATS UNLOVED

can help with the cost

of desexing your cat.

Ph 3555-022 or email

catsunloved@xtra.co.nz

Real Estate

HOME WANTED 3-4

bedrooms. Looking in Nor

West areas, Beckenham

or Somerfield. Prefer

permanent material brick

and post 1990 build. Don't

mind if it needs some TLC

- anything considered.

Cashed up buyer. Phone

021 372 479

Remote Controlled

WANTED to buy - old

remote control cars with

glow plug engines, any

cond PH 027 434 1014 or

03 388 5521

WANTED to buy - old

remote control cars with

glow plug engines, any

cond PH 027 434 1014 or

03 388 5521

Tours

Trades & Services

House & Garden

Property services Ltd

Tree & hedge trimming

Stump grinding

Gardening

Landscaping

Gutter cleaning

All aspects of

property maintenance

CALL us 021 405 277

EXPERIENCED

GARDENER

(Kevin Garnett)

30 Years

Christchurch Botanic

Gardens.

ALL landscape

work done.

Maintenance, pruning,

tidy up, lawn work,

landscape planning

and planting etc.

Free Quotes

Phone 348 3482

PAINTING

older painter

for older houses

50 years in trade

"All the skills"

Contact Jimmy Bell

0211221487

Coromandel East Cape Napier Taupo

11 days, departs Tues 12th October

$2,990 pp twin share

Day Trip Arthur's Pass

Wed 18th August $25 pp

Day Trip Cheviot Hills

Wed 15th September $25pp

GST FREE

30 years + experience

Older house

restorations:

no problem!

Quotes: FREE!

Rates: Reasonable

Paint supplied at

trade price!

NO JOB TOO SMALL

Light industrial also

Roger Brott

Painter & Decorator

021-1966-311

AAA HANDYMAN

licensed carpenter

LBP, all property and

building maintenance,

repairs, bathroom/shower

installations, with free

quotes 03 383 1927 or 027

245 5226 ciey@xtra.co.nz

AA SHOWER

CLEANING

Deep clean, soap scum,

water stains, mineral

deposits . Comp prices.

Gold card disc. Ph 021 022

824 85

ARBORIST

Qualified. Copper

Beach Tree Services.

Tree removal, pruning,

height reduction, hedge

trimming, shaping, tree

planting, firewood. Free

quote. Contact Angus

Edwards 027 259 6741

copperbeechtreeservices@

gmail.com

Call Reid Tours 0800 446 886

Email: reidtours@xtra.co.nz www.reidtours.com

Your guide to our LOCAL & TRUSTED

Trades & Professional Services

To advertise: Phone 379 1100 or email star.class@starmedia.kiwi

DECORATORS

ELECTRICIAN

Contact for a free quote

phone 027 331 0400

dave@davesimpsonelectrical.co.nz

davesimpsonelectrical.co.nz

Experienced Domestic Electrician

Quality Workmanship

• New Build

• Renovations

• Fault finding

New Paint • Repaints

Wallpapering • Fences

Feature Walls

Floor & Roof Painting

Spray Painting

Light Commercial

Restoring Timber

* Finance available (T's & C's apply)

Selwyn based but service the whole of Canterbury

www.andertondecorators.co.nz

www.facebook.com/andertondecorators

027 724 6846 027 PAINTIN

• Power

• Lighting

• Switchboards

PAINTING & PlAsTerING

• PAINTING • TILING

• PLASTERING

• WALLPAPERING

Phone Kevin Steel

• Interior/Exterior

• New Homes & Repaints

• Quality workmanship assured

• Correct preparation always undertaken

• 20+ years experience

• Earthquake repairs

(Painting/Plastering/Wallpapering/Tiling)

Ph 027 216 8946

www.facebook.com/kevinsteelpainters&decorators

Email: kpsteel@xtra.co.nz

ROOF REPAIRS

Locally owned & operated with

over 30 years experience.

• Extensions & repair • Roof coating

• Concrete & clay tiles • Butynol

• Malthoid • Asbestos Certified

• Coloursteel • Old iron • Guttering

Phone Dave 981 0278

or 021 223 4200

E: dave@beaumontroofing.co.nz

BEAUMONT ROOFING LTD

Driveways

SWAINS

KIWI KERB

(Since 2005)

Over 22 Years Experience

Quality

Workmanship

• Driveways

• Kerb &

Channel

• Garden Edging

Freephone: 0800 081 400

swainskiwikerb@gmail.com

LANDSCAPING

Call Aaron &

the team today!

Phone: 03 347 4422

or 021 542 402

Email: Aaron@theoutdoorspace.co.nz

PLUMBER

NEED A PLUMBER

Call us now for fast friendly service.

Get your problems sorted out

quick smart - on time!!

Phone for a

FREE

quote now.

For the Outdoor

Space of your

Dreams...

Paving, Irrigation,

Lawns, Planting,

Fences, Pergolas,

Water-features,

Outdoor fires, Raised

Vege beds, Decks,

Artificial grass,

Garden maintenance

& more...

www.theoutdoorspace.co.nz

Phone 03 377 1280 | Mobile 021 898 380

SCRAP METAL

Dominion Trading Co Ltd

• Scrap metal buyers

• Canterbury owned & operated

• Top prices paid $$$

• Open Saturday morning

Open Mon-Fri 8am – 4.30pm Sat. 8.30am-12.30pm

www.happyscrappy.co.nz

03 343 9993 333 Blenheim Rd

Thursday July 15 2021 The Star 43

DRIVEWAYS

Exposed Aggregate

Stamped Concrete Plain

Concrete Resurfacing

Things we offer...

Competitive/affordable pricing

Attention to detail

Professional service

free quotes/insurance scopes

Cell 0278 145 848

www.drivecrete.co.nz

landscaping

Landscape

Construction and

Garden Maintenance

You can have your gardens, trees,

shrubs, plants and lawns maintained to look their best

all year round, for a great price.

Residential & Commercial Landscaping

• Maintenance • Pruning • Reconstruction & Rejuvenation

• Rental Property and Commercial Maintenance

• Pre-Sale Tidy-Ups

New Home Landscaping

Lawns • Gardens • Decks • Paving • Water Features

• Quality • Value for money • Experienced • Punctual

• Professional • Flexible • Knowledgeable • Reliable

Call Ross Legg - 027 222 0388

Email ross@revivelandscaping.co.nz

www.revivelandscaping.co.nz

POWER WASH

SPECIALISTS IN HOUSE WASHDOWNS

We are a Canterbury owned power wash

company that can handle all your exterior

wash requirements.

From the driveway to the top floor, we can remove

dirt, moss, and mould, clean windows and gutters,

remove graffiti and everything in between.

Call us today

P: 022 5146 253

www.thewashdownking.co.nz

WINDOW TINTING

tintawindow

advanced film solutions

99% uv block

fade protection

heat control

reduce glare

25 Years Experience

privacy films

frosting designs

non-darkening films

Workmanship Guaranteed

Lifetime Warranties on Most Films

UV

block

Free Quotes Canterbury and Districts

03 365 3653 0800 368 468
---
44 The Star Thursday July 15 2021

The Star Classifieds

Need it?

Rent it!

No Bond

Free Delivery

Free Repair

Great Student Deals

Canterbury Owned & Operated

Free Call Now:

0800 717 000

Trades & Services

Or Apply Online:

www.a4r.co.nz

Re Roofing

Roof Repairs

Spouting

Approved Age Concern provider

Over 30 years experience

Licensed Building Practitioner

N A BARRELL

ROOFING LTD

Ph: 0275 389 415

Email: nabroofing@xtra.co.nz

"I WILL TURN UP

WHEN I SAY I WILL"

Need a certified and reliable plumber for filtration

systems or hot water cylinder replacement?

Bathroom upgrades or refurbishments?

FREE CALL

TEXT

EMAIL

0508 H2O BOY

426 269

027 245 5100

NICK@NICKJONESPLUMBING.CO.NZ

Select Services

STOP leaveS

birds, snow, hail & vermin from

blocking up your spouting

Quality materials: BHP Colorbond steel mesh

with unique patented louvre will even keep out

pine needles. Will not rust or sag with age or

load. 10 year warranty, range of colours. Proven

in Australia & New Zealand over the last 15 years.

FOR SaFe, PURe DRINKING

WaTeR FROM YOUR ROOF.

NOW avaIlaBle: STaINleSS STeel MICO MeSH

Call Rohan anytime Mon-Sat for a noobligation

assessment & quote 0800 486 532

www.gumleaf.co.nz

Trades & Services

BRICK & BLOCK

LAYING

all restoration work

and new work plus

foundations, ph 342 9340

or 021 853 033

BUILDER QUALIfIED

50 yrs exp. Bathrooms,

Kitchens, Renovations,

Repairs & Extensions

Free quotes. Discount for

pensioners. Ph Mike 03

980 9771 or 027 2266 930

BUILDER QUALIfIED

Decks, T & G Flooring,

Villa Restoring, New

Homes, Weatherboards.

Free Quotes. Bennet &

Sons Ltd Sam 027 496-

9362 or Tony 027 224-

0374

BUILDER,

HANDYMAN,

MAINTENANCE

Have peace of mind with

a fully qualified owner

operater LBP. Available

for all jobs around the

home, commercial or

rental property (extremely

experienced in Healthy

Homes Reporting and

all Remedial works) Call

Chris on 027 3888 211

BUILDER

New builds, alterations,

decks, fencing. 30 yrs in

the trade has given me

ability to build to a high

standard. Free quotes. Ph

Brent 027 241 7471

CARPET LAYING

Exp. Repairs, uplifting,

relaying, restretching.

Phone John on 0800

003181, 027 240 7416

jflattery@xtra.co.nz

CARPET CLEANING

Your Local Professional

Carpet Cleaner. No Hidden

Fees / Fully Insured /

100% Guaranteed. Call

Now 0800 672 777 www.

mrcarpet.co.nz

CARPENTER

BUILDER

• Phone our local team 03 379 1100 • Email star.class@starmedia.kiwi

Trades & Services

ELECTRICIAN

Prompt & reliable

registered electrician

with 24 years experience

for all residential and

commercial work, new

housing and switch board

replacements. Phone Chris

027 516 0669

ELECTRICIAN

Available, 30 years

experience,

start, competitive rate,

ph Brian 027 433 9548

No Call out fee

ELECTRICIAN

immediate

Registered, electrical

installation and repairs,

Gorbie Electrical, ph 021

026 73375 or 03 322 4209

fENCING

All types of fencing . Free

quotes. Ph Jim 022 137

1920

GASfITTING

N.T. Gas Services.

Domestic gas installations.

Reg Craftsman Gas Fitter.

Ph Nick 021 892 491

HANDY - DAN

General Handyman for

all your maintenance

requirements. I specialise

in fences and decking, also

do spouting cleans and

repairs and everyday home

maintenance. NO JOB TO

BIG OR SMALL I can do

it all, please don't hesitate

to call me on 022 600 7738

for a no obligation free

quote.

HANDYMAN

SERVICES

Builder / Joiner with

30 yrs exp. Small

renovations, maintenance

& odd jobs. Decks, fences

& landscaping. General

handyman for everyday

house repairs. Ph Robert

021 044 2272

HOME CLEANING

SERVICES

Regular Weekly or

Fortnightly. Ring Vivien

at 03 365 8422 for free

quotation

LANDSCAPING

Paving, Lawns, Irrigation,

Licensed Building

Practitioner no. 100981.

All carpentry & building

repairs & maintenance.

Alterations & property

upgrades.Laundries / Decking, Fencing.

bathroom / kitchens Kanga & small digger

replaced. Specialising in services. Check out Squire

replacement of all rotten Landscaping on facebook.

timber, fascia boards, FREE QUOTES. Ph

window, windowsills etc. Arthur 347-8796, 027

John Sandford, ph 329

4616, mob 027 5189 598

220-7014 Edwin 027 220-

7154

johnsandford2@gmail. MOBILE CAR

com

CLEANING SERVICES

COMPUTER REPAIRS We come to you where

fAST

ever you are. Ring us

Friendly experienced at 03 281 8054 for free

techs available to help you quotation.

now. Christchurch based. ODD JOB SPECIALIST

All work guaranteed. Small jobs specialists.

Computer Help 0800 349 eg: drippy taps, sticky

669

doors, locks, spouting/

CONCRETE CUTTING

fence repairs Discount for

Affordable Concrete pensioners.

Cutting with Quality, and

Ph 390 1565 or 022 5275

removal work. Free quote.

668. Avail now.

No job to small. Phone 027

PAINTER,QUALIfIED

442-2219, Fax 359-6052

local professional, Int /

a/h 359- 4605

Ext,roofs,wallpaper, call

ELECTRICIAN

or text Corban 027 846

All types of domestic

5035

& commercial work

PAINTING

undertaken, new housing,

Indoor / Outdoor, over 30

alterations, extensions,

yrs exp, same day quotes, Spouting

ranges, security lights,

ph Steve 021 255 7968

quick response, efficient

service, free quotes,

PAINTING

city -wide. No call out

PLASTERING

fee. M/S, 8-5. Call Pat

Free quotes. Int/ext &

Barrett 03 359 2087/ 027

roof painting Family run

7331384.

business, work guaranteed.

ELECTRICIAN

Pensioner discounts. Ph

Registered, electrical Kerin or Paul 022 191

installation and repairs, 7877 or 379-1281. Website

Gorbie Electrical, ph 021 www.swedekiwipainting.

026 73375 or 03 322 4209 co.nz

Trades & Services

PAINTING

DECORATING

All types of int/ext

painting undertaken. 30 +

yrs exp. Ph Michael 022

496 3322

PAINTING

Int painting, new & used.

2 men crew. 30 yrs exp. Ph

027 388 6125

PLASTERING (INT)

and small painting jobs

Experience and

Excellence. Small to

Medium job specialists

in all aspects of Interior

Plastering. Please call Tim

022 5380959

PLASTERER

Interior Plasterer. Quality

Paintable Finish, Gib

Cove, Cornice. New

- Renos - Repairs. Ph

Matt 0274 361 112

mattsmithplastering.co.nz

PLASTERER

Phone Finn for all your

interior plastering needs.

No job too small -

renovations, alterations,

holes & cracks. Free

quotes. I'll beat any quote

by 10% .25 yrs exp. Canty

born. Ph 022 087 4351

PLASTERER

Availabkle for mid to

small jobs. Free quote..Ph

022 430 0277

PLUMBER

A Top Plumbing job

completed at a fair price,

all work guaranteed, ph

Brian 960-7673 or 021

112-3492

QEII COLLISION

REPAIRS

Free Courtesy Cars

(conditions apply),All

Insurance work, Rust

Repairs & Private work.

Spray-painting.

Free pickup & delivery.

Ph. 03 388 5187

REMOVALS

Small furniture removals,

have own van, can fit

various types of whiteware

appliances, some furn,

bedding, boxes etc, honest

& reliable, any area

considered, ph Chch 027

517 7001

ROOfING SERVICES

Metal roofing & spouting.

Butyl rubber and flat roofs.

Repairs, reroof and new

build. 25 yrs experience.

NZ Cert and LBP

qualified. Free quotes. Call

Elliot 332-9662 / 027 237

9431

ROOfING

All Roof repairs, Roof

painting, moss treatments,

Gutter cleaning 10 + yrs

exp, free quotes 24 / 7, Ph

027 516 6609

RUBBISH REMOVAL

Van, Trailer Rubbish

Removal. Ph Gary 342-

8950, 021 529 022

SPOUTING

Select Spouting

The PVC specialist.

Repairs & replacement. Ph

022 197 2351

SPOUTING CLEANING

SPECIALIST

Entire spouting system

cleared. Single or 2 storey.

Jo 021 164 0365

SPOUTING CLEANING

Unblocked,

Cleaned Out and Flushed

Out, Call Trevor 332 8949

or 021 043 2034

STUMP GRINDING

Best price guarantee Tony

0275 588 895

TEST & TAG

NZ3760 complient (class

1 and class 2 tools). Can

travel to your work site.

Phone Jamie 022 313 9567

Situations Vacant

Make a

difference

IN YOUR

COMMUNITY

Volunteers Wanted

Papanui St John Store

As well as helping to fund our essential, lifesaving

services and community initiatives, our awesome

Op Shop team have created a friendly, supportive

community hub, offering a much-needed local

service. They even help New Zealand to be more

environmentally sustainable – more recycling

means less landfill!

If you want to be part of this great team, contact

the Store Manager, Tracey on 027 239 6963 or pop

into the store at 43 Main North Road,

Papanui.

Or you can apply online at

join.stjohn.org.nz and search

for job # 47316.

Alternatively, scan the QR Code

to take you straight there on

your mobile device.

Trades & Services

TREE SERVICES

Free quotes 20+ yrs exp.

Tree, hedge or shrub

- reduction, shaped or

removed. Ph/text Paul

The Branch Manager

0274314720

TREE SERVICES.

Specialist small tree

pruning & shaping.

Roses,fruit trees etc.

Ph Hugh 021 2755445

TREE SERVICES

Hedges, shrubs, tree

trimming & removal.

Phone for free quotes 022

540 4900

WINDOW CLEANING

Average 3 brm house

inside or out from $45.

Both from $80 Phone

Trevor 344-2170

WINDOW CLEANING

Brown & White Ltd.

Family owned since 2001.

Ph Paul 027 229 3534

Entertainment

STAMP AND

POSTCARD FAIR

The Philatelic Centre

67 Mandeville Street,

Riccarton

Saturday 17th July

9am-12pm

Sellers tables available

Phone 027 6354 957

Situations Vacant

CLEANERS

REQUIRED

Hornby Area

Monday – Friday

Early evening

for 2.5 hours

We are looking for

cleaners to join our

commercial cleaning

team.

You will need to pass a

Security Check and you

MUST have your

own transport.

Must be eligible to work

in New Zealand.

Please email your

Application to

csc@totalcanterbury.co.nz

or phone 338 9056

Visit our website:

totalcanterbury.co.nz

Please advise which job

when emailing your CV.

Tuition

COMPUTER LESSONS

avail for computer, IPad,

or Mobile. Please contact

Jobee 027 290 9246 www.

computertutor.nz

APPLY ONLINE

HERE

SCAN ME

Wanted To Buy

WANTED

SLEEPOUTS

Sleepouts Galore

Buyers and sellers of

relocatable buildings

11 Brixton Street, Hornby

Phone: 349 9633

STEVE PURCELL

ANTIQUES

BUYING

NOW

Gold jewellery,

watches, coins,

medals, scrap

gold, sterling

silver, pewter,

original paintings,

modern art.

351 9139

stevepurcellantiques.com

service. Selwyn Dealers.

Phone 980 5812 or 027

AAA Buying goods

quality furniture, beds,

stoves, washing machines,

fridge freezers. Same day

313 8156
---
Thursday July 15 2021 The Star 45

CHRISTCHURCH

ADVENTIST SCHOOL

Call for Applications

Applications for the 2022 school year at Christchurch Adventist

School are now open. If you desire quality Adventist Education for

your child or know of someone who may benefit from this, please

ensure that the school receives your application before 30 August

2021 at 3pm. As there is significant demand for positions we are

required to use our enrolment scheme which can be found on our

schools website.

All Applications for Admission currently on file are automatically

included in the enrolment process. Applications for the 2022 school

year close on 30 August, 2021 at 3pm. Enrolment will be accepted

according to the priorities in our Enrolment Scheme.

Visit cas.school.nz to find out about our school, view the complete

enrolment scheme or to download an application form.

Alternatively you can contact the school:

Christchurch Adventist School

Phone: 033529173 Email: nicholamcdonald@cas.school.nz

Wanted To Buy

A+ ALL whiteware

wanted. Same day

service, cash paid for

freezes, fridges, washing

machines, ovens. Also

buying furniture & h/

hold effects.Anything

considered. Ph Dave 960-

8440, 027 66 22 116

A1 Albums, old photo's,

postcards, coins, gold,

bank notes, badges,

medals, jewellery,

watches, china, crystal,

books, furs, vintage

clothing, paintings,

furniture, estates &

downsizing. Etcetera

Antiques, 194 Edgeware

Rd 385 5117

ACADEMY ANTIQUES

Buying estates, antiques,

old china, crystal,

art, Royal Doulton ,

Royal Albert etc. Best

prices, free appraisal.

Call Rob 349-4229

A+ Household effects,

fridges, freezers, washing

machines, ovens. Good

cash paid. Ph Paul 022

0891 671

Wanted to buy

Public Notices

Wanted To Buy

A+ Household effects,

fridges, freezers, washing

machines, ovens. Good

cash paid. Ph Paul 022

0891 671

A records and Hi-Fi

gear wanted. Pennylane

Sydenham. 7 days. Ph

366-3278

BOOKS.

Old wanted.

Anything considered incl

hunting,

mountineering,

fishing,childrens.

Ph 354 1621

CARS WANTED We buy

small Japanese vehicles,

must be tidy, cash paid

Ph Doug Drake Motors,

ChCh 03 389-1121 or 027

432 9947

MILITARIA Any

country, firearms,

uniforms, badges, medals,

memoribilia, WW2 or

earlier ph 338-9931

TOOLS, Garden garage,

saw benches, Lathes. Cash

buyer Phone 355-2045

Public Notices

Senior Citizens

Outings

with Companion Driving Service Ltd

Fri 23 July, HANMER FOR LUNCH $79.00

(pools optional)

Thur 29 July, 3 COURSE BUFFET LUNCH

at Garden Resturant $56.00

All pick ups & drop offs included with lunch.

Our popular Hokitika - Greymouth & overnight

at Punakaiki Resort Hotel is happening again.

Coach to Punakaiki & overnight then return to

Christchurch by train. Evening meal & breakfast

included also your own Tour Leader on both the

coach and train journey. Your own room (no sharing),

pick up & drop off included $494.00.

Walking sticks & walkers welcome!

Depart Christchurch Thurs 5th August

- home Fri 6th August.

Expressions of interest for next year's

Bluff Oyster Festival via The Catlins in May 2022,

also our Autumn Leaves tour of Central Otago

in April 2022.

Phone Peter on 0800 453 873

NOTICE OF BY-ELECTION FOR

THE COASTAL WARD

A by-election is required to fill an extraordinary vacancy for the

Coastal Ward of the Christchurch City Council. The vacancy has

arisen from the recent resignation of Councillor James Daniels.

Nominations

Nominations for the above position open on Thursday 15 July

2021 and must be made on the official nomination form. Copies

of the nomination form and a candidate information booklet can

be requested from the Christchurch City Council Civic Offices,

downloaded from ccc.govt.nz/elections, or from the electoral

officer (see contact details below).

Completed nomination documents must be received by the

electoral officer no later than midday on Thursday 12 August 2021.

Each nomination must be accompanied by a deposit of $200 incl

GST, payable by EFTPOS, cash or online banking (see nomination

form for requirements).

Candidates are encouraged to also submit a candidate profile

statement and recent colour photograph. The requirements for

the profile statement and photo are set out in the candidate

information booklet. All nomination documents must be lodged

together. Candidates should refer to the candidate information

booklet for further details.

Electoral rolls

A preliminary electoral roll for the by-election can be inspected

during normal office hours at the Christchurch City Council Civic

Offices, 53 Hereford Street, Christchurch, the Parklands Library,

46 Queenspark Drive, Parklands, or the New Brighton Library,

213 Marine Parade, New Brighton from Thursday 15 July to

Thursday 12 August 2021.

Electors may enrol or amend their enrolment details on the

residential electoral roll by:

• Visiting the Electoral Commission website (vote.nz)

• Calling 0800 ENROL NOW (0800 36 76 56)

• Freetext 3673

Updates to the preliminary electoral roll close at 4pm on Thursday

12 August 2021.

Applications for registration as a ratepayer elector are to be made

on the non-resident ratepayer elector enrolment form available

from the Christchurch City Council Civic Offices or from the

Council's website and must be returned to the electoral officer

before 4pm on Thursday 12 August 2021.

Election Details

If an election is required to fill this vacancy, the election will be

conducted by postal voting under the First Past the Post (FPP)

electoral system. Candidate names will be listed in random order

on the voting papers. The voting papers will be mailed out to

electors on Thursday 16 September and voting will close at

midday on Friday 8 October 2021.

Jo Daly

Electoral Officer

PO Box 73016, Christchurch 8154

jo.daly@ccc.govt.nz

03 941 8581 ccc.govt.nz

Situations Vacant

rural reporter

Central Rural Life

Canterbury (flexible location)

Do you know your Herefords from your Holsteins?

Are you a journalist with a passion for rural news?

Central Rural Life has an exciting opportunity for a

professional and enthusiastic reporter to join its team

in Canterbury. The ideal applicant will have sound rural

knowledge and journalism skills.

Central Rural Life is an Allied Press Ltd community

newspaper delivered fortnightly to more than

17,500 rural addresses between North Otago, North

Canterbury and the West Coast.

The role will require you to cover local rural issues,

events and human interest stories. Some advertising

feature work may also be required.

The successful candidate will be a self-starter, able to

juggle tasks and meet deadlines, and have a passion

for the rural sector.

Strong photography skills are required and video and

website skills are desirable. A full driver's licence is

required.

If you think this is for you, please send your CV

with a covering letter to recruitment@alliedpress.co.nz

or apply via Seek. Informal inquiries about the role are

welcome and should be directed to Sally Rae,

Allied Press Rural Editor (sally.rae@alliedpress.co.nz,

or phone 027 529 6040).

Applications for the role close on Friday 16 July 2021.

Please note you must have the right to work in

New Zealand to apply for this role.

Disclaimer: Allied Press does not accept unsolicited

agency resumes. Allied Press is not responsible for

any fees related to unsolicited resumes.

Public Notices

RESOURCE MANAGEMENT ACT 1991

CHRISTCHURCH DISTRICT PLAN

PROPOSED PLAN CHANGE 7

MANAGING SIGNIFICANT INDIGENOUS VEGETATION

SUMMARY OF SUBMISSIONS FOR FURTHER

SUBMISSIONS

A summary of submissions on Proposed Plan Change 7 to the

Christchurch District Plan and a copy of the submissions, are now

available for public viewing online at ccc.govt.nz/planchange7

or during normal opening hours at any of our service centres or

libraries. For details of your nearest service centre or library,

please telephone 03 941 8999.

Further submissions in support of, or in opposition to, the

submissions received may be lodged at the Civic Offices or at any

of our service centres or libraries before 5pm on 28 July 2021.

A further submission may be made only by a person representing

a relevant aspect of the public interest or by a person who has an

interest in the plan change that is greater than the interest of the

general public and must be limited to a matter in support of, or in

opposition to, any submission made to the Council.

All further submissions must be in writing on the appropriate form

(Form 6 in the Resource Management (Forms, Fees and Procedure)

Regulations 2003). This form is available from all Council offices and

online at https://www.ccc.govt.nz/the-council/consultations-andsubmissions/haveyoursay/.

Forms not completed online should be

addressed to: Christchurch City Council, City Planning Team,

PO Box 73012, Christchurch or emailed to: PlanChange@ccc.govt.nz.

Any person making a further submission in support or opposition

is required to serve a copy of his or her further submission on the

person whose original submission is supported or opposed no

later than five working days after the day on which the further

submission is provided to the Council.

At a later date all those who have made submissions and those

who have made further submissions in support or opposition to the

proposed plan change will be advised of the hearing date and will

be sent information regarding that process.

Jane Davis

General Manager

Infrastructure, Planning & Regulatory Group

2398062
---
46 The Star Thursday July 15 2021

'Famous for their roasts!'

To add a listing, contact

Jo Fuller 03 364 7425 or

027 458 8590

jo.fuller@starmedia.kiwi

www.star.kiwi/whatson

BRIDIE'S BAR & BISTRO

BRIDIE'S BAR &

BISTRO

SATURDAY 7.45PM

QU I Z

EVERY WEDNESDAY

FROM 7PM

RESTAURANT & CAFÉ

Cooked Breakfasts

Check out our extensive breakfast

menu from Continental to Cooked

We are open from 6.30am

Seniors SPECIAL

Two courses $23

Soup/Roast or

Roast/Dessert

Special available lunch only

Monday - Saturday 12pm - 2.30pm

P OK E R

EVERY

THURSDAY 7PM

& SUNDAY 3PM

$19

FRIDAY

MEMBER DRAW

$900

LIVE RUGBY

SATURDAY 7.05PM

ALL BLACKS

v FIJI

the meaniez

SATURDAY

31st JULY, 7.30pm

TICKETS $25

Available at the club or

online cosmicticketing.co.nz

HOU S I E

EVERY SATURDAY

FROM 12.30PM

Kid's 2 course

special

School

Holidays

We are family

friendly.

Great Kids menu

plus designated

play area.

TREAT THE

FAMILY!

$13

The

RACECOURSE HOTEL

& Motorlodge

118 Racecourse Rd, Sockburn,

Christchurch. Ph 03 342 7150

www.racecoursehotel.co.nz

D I N I N G

BAR/BISTRO

OPEN

MONDAY-SUNDAY

12 NOON - 8.30PM

NEW MENU

OUT NOW!

SUNDAY CARVERY

LUNCH & DINNER

BUFFET

12pm-2pm & 5pm-7.30pm

Woolston Club|43 Hargood St|Ph 03 389 7039|www.woolstonclub.co.nz|fb.com/WoostonclubInc

SENIOR'S GOLD CARD

SPECIALS!

From $24.50

THE ENTERTAINMENT HUB OF THE NORTH!

113 RAVEN QUAY | PHONE: 03 327 7884

AFTER THE MEMBER'S DRAW

THIS FRIDAY, 7PM

Save the date!

SUNDAY 25th JULY: AGM

SCHOOL HOLIDAYS

ARE HERE!

Treat the

Grandchildren!

Bookings Essential

PH 386 0088

fb.com/GardenRestaurantBuffet

www.gardenhotel.co.nz

THUR: FISH & CHIPS

FRI: FISH & CHIPS

SAT: CHICKEN NIB/CHIPS

SUN: ROAST MEAL

TUE: CHICKEN NIB/CHIPS

WED: ROAST MEAL

Available 11.30am-2pm

CAFE OPEN 7 DAYS 9AM - 4PM

BAR OPEN THU - SUN EVENINGS

PH 385 8880

FIND US ON FACEBOOK

fb.com/GBCCHCH

THE GARDEN HOTEL COMPLEX, 110 MARSHLAND RD

www.gardenhotel.co.nz . Phone 385 3132

facebook.com/gardenrestaurantbuffet instagram.com/gardenrestaurantbuffet

The DnD DUO

(JOJO & MARK)

BISTRO

OPEN FROM 12PM

WEDNESDAY

TO SUNDAY

SATURDAY 31st JULY, 7PM

The DnD TRIO

Nostalgia Night vol.2

PRIZES FOR BEST COSTUMES.

DOWNSTAIRS - FREE

HOUSIE

EVERY THURSDAY

12PM

EYES DOWN 12.30PM

BAR HOURS

MON 3PM-10PM

TUES & WEDS 11.30AM

THURS 11AM | FRI 11.30AM

SAT & SUN 11AM

Closing times will vary.
---
Thursday July 15 2021 The Star 47

christchurch

GIG GUIDE

Thursday 15 to Wednesday 21 July 2021

12 BAR, 342 St Asaph St: Christchurch's

smoking hot BLUES BAR. Thursday 7.30pm

- Eddie Simon. Friday 8pm - Good Habits.

Saturday 8pm - Ink & Bone Tribute feat.

Lanthanum. Wednesday 7pm - Ara Jazz &

Blues Jam.

ARMADILLO'S PREBBELTON, 587

Springs Rd: Saturday 31st July, 8.30pm -

Vague As Brothers.

A ROLLING STONE, 579 Colombo St:

Thursday 7.30pm - Laidback grooves, roots &

blues with CWB (Cathcart, Walsh & Blaikie),

free. Friday 5.30pm - Clube do Choro

Christchurch's Brazilian Jam Session, all

welcome, free; 9pm - Classic rock covers with

Plan B feat. Kevin Emmett, free. Saturday

9pm - UK79: A Post-Punk Celebration,

preformed live by Permanence, & Other

Voices, pre-sales SOLD OUT, sorry NO door

sales available. Sunday 4pm - Sunday Session

feat. Ruby Fusion; T3; & I See Tomorrow,

free. Monday 7pm - Quiz. Tuesday 8pm -

Stand-up comedy night presented by Thy

Kingdom Comedy, free; 9.30pm - Open Mic,

all gear provided, all welcome, free.

BILL'S BAR, 1 Halswell Rd: Thursday

7pm - Mickey Rat's Karaoke. Friday 7pm -

Mandi Miller. Saturday 7pm - AMPT. Sunday

7pm - Mickey Rat's Karaoke.

BRIDIE'S BAR & BISTRO, 401

Worcester St: Saturday 6.30pm - Karaoke.

Sunday 4pm - Quiz.

BOO RADLEYS, Level 1, 98 Victoria St:

Thursday 9pm - Supercat. Friday 8pm - Libby

Barker; 10.30pm - The Fillets duo. Saturday

8pm - Neil Alexander; 10.30pm - Live music.

Wednesday 7.30pm - South Street Blues Trio;

9.30pm - Open Mic Night.

CASSELS BLUE SMOKE, 3 Garlands

Rd: Thursday & Friday 7pm - Courtney

Barnett SOLD OUT.

CHRISTCHURCH CASINO, 30 Victoria

St: Friday 6pm - Stephen James; 9.15pm -

D'Sendantz. Saturday 6pm - Nyree; 9.15pm -

Cantora.

HORNBY CLUB, Carmen Rd: Saturday

7pm - Sha-low. Sunday 3pm - Marcel.

Saturday 23rd July, 7.30pm - Madsen

Promotions presents Jersey Boys & Grease

SOLD OUT. Saturday 14th August, 8pm -

Local rock covers band

Red Zone play the Miller Bar on

Lincoln Rd this Saturday night.

To add a listing, contact

Jo Fuller 03 364 7425 or

027 458 8590

jo.fuller@starmedia.kiwi

www.star.kiwi/whatson

Hornby Club cont...

DnD Showband presents Two Tribute Shows

in One feat. ELVIS & ABBA, tickets $25 at

the club office.

KAIAPOI CLUB, 113 Raven Quay: Friday

7pm - DnD Duo (Jojo & Mark). Saturday

31st July 7pm - DnD Trio Nostalgia Night

vol.2: Hits of the 70's feat. Jojo, Gigi & Mark,

prizes for best costumes, free entry.

MICKY FINNS, 85a Hereford St: Friday

10.30pm - Realignment. Saturday 10.30pm -

Smoke & Mirrors.

RICHMOND CLUB, 75 London St: Friday

7pm - Absout. Saturday 7pm - Mezzanine.

Sunday 3pm - Lissel.

RIVERSIDE MARKET, 98 Oxford Tce:

Thursday 6pm - Live jazz feat. Mitch

Thomas, $15 entry.

TEMPS BAR, 21 Goulding St, Hornby:

Friday 8.30pm - DJ. Saturday 8.30pm -

Nightwatch.

THE EMBANKMENT, 181 Ferry Rd:

Thursday 8pm - The Giant Poppies. Saturday

8.30pm - The Johnnies (Chch) '1981' album

launch with support Bernicia (Dunedin)

'Magic Pill' release; Your Face (Dunedin); 71

Drift (Chch), $10 entry. Wednesday 9pm -

Titanic (Kevin Emmett, Nick Buchanan, and

Peter K Malthus). Saturday 24th July, 9pm -

Southern Slaughter 2021 feat. Plague of the

Fallen & Stepped Out, tix $10 via Cosmic

Ticketing, $20 door sales.

THE MILLER BAR, 308 Lincoln Rd,

Addington: Friday 9.30pm - In the City.

Saturday 9.30pm - Red Zone. Sunday 6pm -

Lance Kiwi Karaoke. Tuesday 7pm - Quiz.

Wednesday 7.30pm - Lance Kiwi Karaoke.

WOOLSTON CLUB, 143 Hargood St:

Saturday 7.45pm - The Meaniez. Saturday

31st July 7.30pm - Totally 80's Show, tickets

$25 at the club or online at

cosmicticketing.co.nz.

WUNDERBAR LYTTELTON, 19 London

St, Lyttelton: Thursday - StellaVision;

Hamish Kilgour; Fleur De Lis. Friday 9pm -

Friday House. Saturday 7.30pm - HMN &

The Ellice Road Boyz 'The Vengeful

Millennial Tour' with Bad Llamas, tickets at

undertheradar.co.nz. Tuesday - Open Mic.

Wednesday - Jam Night.

LIVE MUSIC - PAVILION

Saturday 7pm:

SHA-LOW

Sunday 3pm:

MARCEL

ALL BLACKS RUGBY

SATURDAY 7.05PM: AB's v FIJI

- COMING UP -

Upstairs on the

Mezzanine

Tickets limited

Pre-sale tickets $25

available at the office.

Door sales $30

(if available).

Doors open at 7pm.

Come on down!

17 CARMEN RD. PH. 03 349 9026

WWW.HORNBYWMC.CO.NZ

WHAT'S ON AT THE RICHMOND CLUB

FRIDAY 7PM

ABSOLUT

LIVE

RUGBY

BIG SCREEN

THE JUNCTION

SATURDAY

7.05PM

ALL BLACKS

v

FIJI

SATURDAY 7PM

MEZZANINE

SUNDAY 3PM

LISSEL

75 London St, Richmond

Christchurch 8013

P: 03 389 5778

theborough.nz

richmondclub.nz
---
48 The Star Thursday July 15 2021

STYLE & QUALITY

FOR LESS

WWW.AFFORDABLEFURNITURE.NZ

Elm

Collection

Table Large $979 $899

Table Small $629 $579

Buffet $1189 $1099

WAS $1999

$

1849 Bramwell

3+2 Suite

3 Seater $1199 $1099

2 Seater $839 $779

SUPER

SPECIAL SUPER

SPECIAL SUPER

SPECIAL SUPER

SPECIAL

SUPER

SPECIAL

Willow

Bar Stool

Cove

Barstool

Coronet

Bar stool

Rustic Chair

Vintage

Cognac

Linden

Bar Stool

WAS $89

$

79

WAS $139

$

129

WAS $189

$

179

WAS $189

$

169

WAS $89

$

69

Nova Bedroom

Collection

Sylvie Bedroom

Collection

Tallboy 5 Drawers $689 $639

Tallboy 6 Drawers $799 $739

Lowboy 6 Drawers $729 $679

Bedside $219 $199

Headboard From $379

Bedside $279 $249

Bedframe $1099 $999

Under Bed Drawer $189 $169

6 Drawer Tallboy $799 $779

6 Drawer Lowboy $749 $719

SUPER

SPECIAL

Lift Up Base

Single $489 $459

King Single $509 $479

Double $569 $529

Queen $599 $559

King $669 $619

FROM

$

459

SUPER

SPECIAL

5 Year Warranty

Riviera

Mattress

FROM

$

349

Single $369 $349

King Single $419 $389

Double $499 $469

Queen $549 $509

King $599 $549

California King $709 $659

SUPER

SPECIAL

5 Year Warranty

Pocket Spring,

Euro Top, Quilt Fibre,

Wave Foam & Comfort Foam

FROM

$

499

King Single $539 $499

Double $679 $629

Queen $759 $709

Cloud Rest Mattress

King $839 $779

Super King $899 $839

FREE

CARPARKING

SOUTH CITY

BATH ST

WE ARE

HERE

255 MOORHOUSE AVE

REBEL SPORT

COLOMBO ST

MON-FRI 9:30AM – 5:30PM

SAT-SUN 10AM – 5:30PM

0800 268 264

www.affordablefurniture.nz