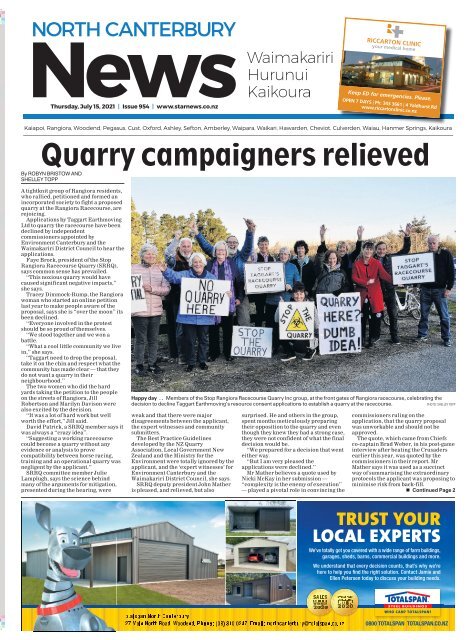 North Canterbury News: July 16, 2021
You also want an ePaper? Increase the reach of your titles
YUMPU automatically turns print PDFs into web optimized ePapers that Google loves.
Keep EDfor emergencies. Please.

Thursday,July15, 2021 | Issue954 | www.starnews.co.nz

OPEN7DAYS | Ph: 343 3661 | 4Yaldhurst Rd

www.riccartonclinic.co.nz

Quarry campaigners relieved

By ROBYN BRISTOW AND

SHELLEY TOPP

Atightknit group of Rangiora residents,

who rallied, petitioned and formed an

incorporated society to fight aproposed

quarry at the Rangiora Racecourse, are

rejoicing.

Applications by Taggart Earthmoving

Ltd to quarry the racecourse have been

declined by independent

commissioners appointed by

Environment Canterbury and the

Waimakariri District Council to hear the

applications.

Faye Brock, president of the Stop

Rangiora Racecourse Quarry (SRRQ),

says common sense has prevailed.

''This noxious quarry would have

caused significant negative impacts,''

she says.

Tracey Dimmock­Rump, the Rangiora

woman who started an online petition

last year to make people aware of the

proposal, says she is ''over the moon'' its

been declined.

''Everyone involved in the protest

should be so proud of themselves.

''We stood together and we won a

battle.

''What acool little community we live

in,'' she says.

''Taggart need to drop the proposal,

take it on the chin and respect what the

community has made clear —that they

do not want aquarry in their

neighbourhood.''

The two women who did the hard

yards taking the petition to the people

on the streets of Rangiora, Jill

Robertson and Marilyn Davison were

also excited by the decision.

''It was alot of hard work but well

worth the effort,'' Jill said.

David Patrick, aSRRQ member says it

was always a''crazy idea''.

''Suggesting aworking racecourse

could become aquarry without any

evidence or analysis to prove

compatibility between horse racing,

training and an operational quarry was

negligent by the applicant.''

SRRQ committee member Julie

Lamplugh, says the science behind

many of the arguments for mitigation,

presented during the hearing, were

Happy day .. Members of the Stop Rangiora Racecourse Quarry Inc group, at the front gates of Rangiora racecourse, celebrating the

decision to decline Taggart Earthmoving's resource consent applications to establish aquarry at the racecourse.

PHOTO: SHELLEY TOPP

weak and that there were major

disagreements between the applicant,

the expert witnesses and community

submitters.

The Best Practice Guidelines

developed by the NZ Quarry

Association, Local Government New

Zealand and the Ministry for the

Environment were totally ignored by the

applicant, and the 'expert witnesses' for

Environment Canterbury and the

Waimakariri District Council, she says.

SRRQ deputy president John Mather

is pleased, and relieved, but also

surprised. He and others in the group,

spent months meticulously preparing

their opposition to the quarry and even

though they knew they had astrong case,

they were not confident of what the final

decision would be.

''We prepared for adecision that went

either way.

''But Iamvery pleased the

applications were declined.''

Mr Mather believes aquote used by

Nicki McKay in her submission —

''complexity is the enemy of execution''

—played apivotal role in convincing the

commissioners ruling on the

application, that the quarry proposal

was unworkable and should not be

approved.

The quote, which came from Chiefs

co­captain Brad Weber, in his post­game

interview after beating the Crusaders

earlier this year, was quoted by the

commissioners in their report. Mr

Mather says it was used as asuccinct

way of summarising the extraordinary

protocols the applicant was proposing to

minimise risk from back­fill.

Continued Page 2

TRUST YOUR

LOCAL EXPERTS

We'vetotally got youcovered with awide rangeoffarm buildings,

garages, sheds, barns, commercial buildings and more.

We understand that every decision counts, that'swhy we're

here tohelp you find the right solution. Contact Jamie and

Ellen Petersentoday to discuss your building needs.

SALES

EXCELLENCE

2020

STRATEGIC

EXCELLENCE

RUNNER UP

2020

Totalspan North Canterbury

127 Main North Road, Woodend. Phone: (03) 310 0247 Email: northcanterbury@totalspan.co.nz 0800 TOTALSPAN TOTALSPAN.CO.NZ
---
NEWS

2 The North Canterbury News, July 15, 2021

Grow

customers,

salesand

profits

with North

Canterbury's

bestread

newspaper

Readership: 47,000 weekly

Circulation: 30,150copiesdelivered

to EVERY farm, RD, lifestyle block

and home inWaimakariri, Hurunui

&Kaikoura every Thursday.

news

RobynBristow

Managing Editor

027 312 1581

robyn.bristow

@ncnews.co.nz

Reporters

David Hill, Shelley Topp.

advertising

DaynaBurton

Sales Co-ordinator

027 312 0089

dayna.burton

@ncnews.co.nz

Amanda Keys

Advertising

027 536 6224

amanda.keys

@ncnews.co.nz

Kerryn Clark

Advertising

021 586 138

kerryn.clark

@ncnews.co.nz

getintouch

Editorial

info@ncnews.co.nz

Advertising

sales@ncnews.co.nz

Graphic Design

heather.hood@ncnews.co.nz

Distribution/Deliveries

03 314 8335

Rangiora: 03 313 2840 /03314 8335

14 Ashley St, Rangiora

Christchurch: 03 364 7460

www.starnews.co.nz

2386026a

Decision may be appealed

Taggart Earthmoving may appeal the

decision by Commissioners to decline

its application to quarry at the

Rangiora Racecourse.

Chiefexecutive officer Paul Taggart

said in astatement to the North

Canterbury News,that Taggart engaged

several air discharge, noise, traffic,

flooding,and groundwater experts to

prepare and present its applications to

the Commissioners and considered it

had addressed all of the

environmental and community

concerns that were required to allow

the consents to be granted.

''Groundwater was highlighted as

the main reason for declining our

application and with this in mind we

may decide to changeour strategy and

appeal the Commissioners' decision.''

Risk to groundwater paramount in decision

From Page 1

The issues associated with Section21of

the 2020Racing Industry Act were not

resolved or even consideredduring the

hearing processotherthan noting the

applicant still had aresponsibility to have

approval, he says.The land is owned by

the Rangiora Harness Racing Cluband the

Canterbury JockeyClub.However, under

Section 21 of the Racing Industry Act the

clubs do not have the authority to sell,

lease or allowanencumbrance on their

land.

''Approval would stillhave been

required from the respective Racing

Codes and their obligationsand

responsibilities under the Racing Industry

Act wouldmake giving approval very

difficult, if not impossible.''

The decision was released last Friday

with commission chairPaulRogers and

commissioner JohnEseli, saying the

potential risks to groundwater

contamination,and contamination of

drinking watersupplies down­gradient of

the sitewere unacceptable.

''If these risks eventuateweare

concerned about the consequences,

particularly for the Rangiora backup

community supplyoptions.

''We find that thefocusofthe proposal

and conditionsshould be strongly on

prevention of contamination of

groundwater in thishighly sensitive

environment,'' the commissionerssay.

The applicant hadn't clearly

demonstrated the ability to adequately

manageexcavation depth relative to realtime

groundwater levelsatthe site, or

provide sufficient information on

forecasted groundwater levels,and the

management of activitiesinresponseto

the levels.

The commissioners in their reserved

decision said they were not satisfied

evidence theyconsidered sufficiently

www.tiw.co.nz 03 313 0408

308 Flaxton Road, Rangiora

The decision had made the company's

future in Rangiora ''uncertain'',and

some tough decisions now hadtobe

made if it wasunable to obtain an

alternativelocal gravel supply at an

affordable price.

Mr Taggart said potentially gravel

may have to be imported in to the

Waimakariri District from

Christchurch.

Thiswould require up to 180,000

more heavy traffic movements in and

out of Rangiora to supply the

equivalent volumeofgravel that could

have been extracted from the

racecourse site.

Thiswould put significant strain on

the local roadinginfrastructure, and

cause huge disturbance to the local

community.

Discussing apoint .. Taggart Earthmoving Limited chief executive, Paul Taggart (right),

with Waimakariri District councillor Paul Williams, during an open information day held by

the company to discuss its proposed quarrying applications, prior to the hearing.

PHOTO: SHELLEY TOPP

demonstrated the proposal, inclusive of

conditions,would safeguard the life

supporting capacity of water,orthat

adverse effects on groundwater and

drinking water would be avoided,

remediedormitigated to theextent

required to support the granting the

consent.

Jim Gerard,chair of the Rangiora­

AshleyCommunity Board,describes the

result as ''a victory for people power''.

In his 37 years involved in the Rangiora

community he could not recall an issue

where the community had put so much

intoopposingaproposal they believed was

wrong.

''Their strong efforts, and that of the

Rangiora­Ashley CommunityBoard, in

opposition, and the efforts and inputthe

Found summer's

watering hard

work and time

consuming?

An automatic irrigation

system isnot as expensive

as you may think!

See us and be prepared to

sit back, relax and enjoy

the garden this spring.

''Ourapplication would have

reduced the impact on the roading

network, minimised the carbon

footprint by transporting gravel

locally, andcreated morejobs for the

town. However the opposite may now

happen,'' Mr Taggart said.

The company was aware gravel from

the Ashley River was becoming scarce

and decided that the Rangiora

Racecourse would be agood option to

continue to providegravel at an

affordable price to Rangiora and the

surrounding area.

The company considered the local

community and environment before

making the applications,putting strict

conditions on itself to ensure it could

continue to work in harmony with local

residents and the wider community.

community put into the hearing, hasseen

an outcome thatsurelysees people power

and commonsense prevail,''hesays. ''It

shouldbeaclearsign to the parties

involved in the application not to appeal

this decision. Their community simply

does not support aquarry on the

racecourse,'' he says.

Another opponent, Sue Johnson, says

the decision was fantastic news. ''It was a

ludicrous application anywayand if it was

approved it would have set aprecedent for

companies to put quarries anywhere,''she

says. The decision showed that ''the little

persondoes have rights anddemocracy

does work.'' She is not planning on

celebrating the result just yet. ''We are not

over the line yet because they stillhave

a15 working day right of appeal,'' Sue says.

2095268

Kaiapoi Lodge

Residential Care

Nursing Home, Hospital and

Respite

Person Centred Care,

Care that's built

around you

6Cass Street, Kaiapoi

Ph 03 327 7235
---
NEWS

The North Canterbury News, July 15, 2021

3

TAXRETURNS

Debra Jowsey

Karla Kilner

Tax &Accounting

Consultants

since 1984

Exciting opportunity .. An artist's impression of what Kaikoura's Wakatu Quay could look like.

Step forward for Wakatu Quay

Christchurch­based Warrenand Mahoney

has wonout over nine otherarchitectural

proposalstodesign Kaikoura'sWakatu

Quaydevelopment.

The Kaikoura District Council has

selected the firmtocompletethe key part

of the Kaikoura MarineDevelopment

Development Programme(KMDP).

The architectural firm'sdesignswere

developed by ateamled by locallyconnectedarchitects

Jonathan Coote and

JosephHampton.

''I havestrongconnections to Kaikoura

and it's wonderful to be helpingtodesign

suchanexciting development,'' Mr

Hampton said.

The new developmentwill revamp the

areaonceoccupied by old commercial

fishing buildings which suffereddamage

in the 2016 earthquake.

Suggestions on thepotential

development from thelocal community

wereincludedinthe conceptdesign

proposal.

''We arethrilled to havebeenselected

by the Kaikoura District Council and

excited to be contributingour team's

broad skill sets to deliveringthis

importantcommunity­basedmulti­use

project,'' Mr Coote said.

''It's aprivilege to have been selected to

reimagine andreinvigorate thequayand

we acknowledge itsunique positioninthe

landscapeand widertownshipcontext.

''We arereally lookingforward to

workingwiththe community and

stakeholders to deliver an enduring

outcomethatcan act as abeacon forits

people andits visitors.''

KMDP projectleadChris Sturgeonsays

theappointmentofWarren and Mahoney

is ''an exciting step forward'' for the

project.

''Thewinningdesigns really bring the

potential development to life. The

concept fromWarren and Mahoney mixes

IMAGE: SUPPLIED

traditional and contemporary design

while recognising the importanceofthe

location andits history.''

Concept drawingsare now underway.

Oncetheseare complete,the KMDP

willrelease thedesigns to thecommunity

in early August.

Potentialdevelopment may include a

hospitality, tourism/activity operator,

community gathering points, space to

play, fish, andwalk, and education

facilities.

The Wakatu Quay developmentis

funded by theProvincial Growth Fund,

managed by Kanoa –RegionalEconomic

Developmentand Investment Unit.

The funding will enhanceeconomic

developmentopportunities,create

sustainable jobs and boost social

inclusion andparticipation.

The development is beingmanaged

alongsidethe SouthBay Marina

DevelopmentbyKMDP.

Council backs consultation on speed limits

The Waimakariri District Council will

consult with the Oxford communityon

whether to reducethe speedlimit on

Main Street.

Councillors voted at last week's

council meeting to consult on speed

limits on roads throughout the

district.

The council receivedfeedback from

Oxford residents duringthe 2021/31

Long Term Plan processcalling for a

40kphspeed limitonMain Street, with

the Oxford­Ohoka CommunityBoard

backing areducedspeed between

Burnett Street and Bay Road.

''We have had some concerns

expressed by Oxfordresidents, so we

will test it with the community to

determine if there is adesireto

reduce the speed limit,''Mayor Dan

Gordon says.

''Therehave been concernsraised

about the safety of people whoare

partially sighted, pensioners and

children goingtoschool.They want to

see large vehicles slow down through

thetown centre.

''Wewant the community to

understand thatifit's implemented,

there will be cost implications, so

implementation wouldneed to be

deferred until the appropriate budget

is considered.''

In areport to last week'scouncil

meeting, staff indicated abudget of

$450,000 would be needed to change

the environmentand install signage,

so it would need consideration as part

of an annualplan process.

Speedlimits are also being reviewed

in the Woodend, Ashley, Oxford,

Tuahiwi, Ohoka,Kaiapoi, Rangiora,

Cust and Seftonareas.

Aproposal to reduce the speedlimit

from 60kph to 50kph through the Cust

township couldalsoincur significant

cost.

Staff will completesome preengagement

in earlyAugust, before

opening it for public consultation from

mid­August to mid­September.

Overwhelmed? Confused? With the recent IRD

changes to tax returns, GST returns, rental returns

and pay day filing A-Plus Accounting is here to help.

Give us acall. Friendly,knowledgable staff.

A-Plus Accounting

☎ 03 314 9480

2293781

AVOID THE SPRING RUSH

GET YOUR MOWER

SERVICED NOW

WE ALSO SERVICE

2STROKE EQUIPMENT

AND SHARPEN

HAND TOOLS

PICKUP SERVICE

AVAILABLE (COSTS APPLY)

360 FlaxtonRoad,Rangiora

Ph 03 313 5563

www.kingsmowersheating.co.nz

Caring for North Canterbury

Dr John Dehn

Full Mole Checks

using Dermoscopy

Surgical Management

and Aftercare

Comprehensive, Affordable, Convenient

Ph 03 9204060

52 Pegasus Main Street,Pegasus 7612

www.pegasusmedicalcentre.co.nz

Southern Cross

Affiliated Provider

For selected services

2397833

1890742

Thinking of selling

your ruralproperty?

Iwelcome your call.

PeterCrean

Ruraland Lifestyle Sales

NZ No 1RuralSalesperson

NZ No 1Unit Sales

PGG WRIGHTSON REALESTATEAWARDS2020

M 027 4344002

pcrean@pggwrightson.co.nz

www.pggwre.co.nz

PGG WrightsonReal EstateLimited, licensed under the REAA2008

Helping grow the country
---
NEWS

4 The North Canterbury News, July 15, 2021

Cutting their way to the top

Property Brokerspresents

Nigel Laa

Adventures in

Parentland

7pm,Tuesday27July,

RangioraBapstChurch

TICKETSONSALE NOW

www.eventbrite.co.nz

Brought to you by the

RangioraPromoons Associaon

www.rangiorapromoons.co.nz

TwoRangiora PAK'nSAVE butchers are a

cutabove the rest.

Samantha Weller and Maria Pio cut

their way through atwo­hourcompetition

duringthe fifth and finalheat in anational

series to find NewZealand's top butchers.

Samantha, aged27, won the Pact

Packaging Young Butcher of the Year

category,while Maria claimed first spot in

theANZCO Foods Butcher Apprenticeof

theYear category.

Butchers fromacross the upper South

Island took partinthe competition at Ara

InstituteofCanterbury last Saturday to

find grand finalists from the region.

Samantha is no stranger to

competitions, winning the Young Butcher

of the Year title last year. It is her sixth

time competing.

''Iwant the grand title so badly ­ithas

been my goal since Istartedcompeting,

andismybiggest goal for this year,'' she

says.

Shecreditsher win to hours of practice,

mentalpreparation and changingupher

displayfrom previous years.

''This year Ibrought adifferent level of

skill and creativity to the competition.

''Ichanged up my seasoningsand cuts so

that my displaywas different.

''In particularIlove my pastry products

­Ithinkthey bring abit of class and

uniqueness to my display.''

Samantha has beenaqualified butcher

forthree years.

Maria is in her thirdyear as an

apprentice and attributes her success to

thesupport and mentorsshe had during

this time.

''Ifeel very proud of what Ihave

achieved in my career so far,''she says.

''Iamsohappytohave an amazing team

behind me to support me.''

Maria thinks hercreativity is what set

herapart and helped her win on the day.

''Ilike to play aroundwith flavours and

ingredientsand to look at themeat and

Young butcher of the Year ... Rangiora PAK'nSAVE butcher, Samantha Weller with her

display of cuts.

PHOTOS: SUPPLIED

Apprentice of the Year ... Maria Pio, proud of what she has achieved.

bringideasfrom differentculturesinto my

display.''

Samantha and Maria willcompete in the

grandfinal on August 3, at theVodafone

Event CentreinAuckland, wherethey will

furthershowcase theircutting skills,

creativity and knowledgeofthe trade

againstthe bestinthe country.

Information SEMINAR

THURSDAY

29 JULY 2–4PM

RiverviewLounge

KAIAPOI CLUB

RSVP by

21 JULY

hello@thesterling.co.nz

0508 783 754

We invite you toattend aseminar

for retirement village living.

Hear from legal representativesand learn moreabout the

role of theStatutory Supervisor.

Our CEO and Directors will be present toshare with you

their experience and vision for The Sterling, in particular

the flagship retirement village in Kaiapoi.

LIMITED SEATS AVAILABLE

RSVP by email, phone, ordrop by the office!

Complimentary refreshments will be served after the presentation

LIFT ACCESS AVAILABLE

We look forward to seeing you there!

VISIT us

1/42 Silverstream Blvd,

Kaiapoi

TALK to us

0508 783 754

hello@thesterling.co.nz

LEARN more

thesterling.co.nz
---
Reforms lack clarity -Collins

By ROBYN BRISTOW

The proposed Three Water Reforms need

serious scrutiny by local government,says

National Party leaderJudithCollins.

Speaking to the North Canterbury News

in Rangiora lastweek, Ms Collins said a

lack of clarity around the Government's

proposed reformsneededtobeseriously

questionedbyMayors and councillors.

She said therewas aneed for some

reformataregulatory level, but nothing

like what the government proposed, such

as stripping councils of their

infrastructuralassets,built up over

decades, thanks to ratepayer funding.

''At what cost?And what does this mean

for ratepayers?

''Someplacesneedreform.But not

everyone,''said Ms Collins whofears the

governmentmay not provide an optionfor

councilstoopt out of the reforms.

Councils whose threewater

infrastructure was up to date,and their

policies ensured quality service to

ratepayers,should not be forced intothe

reforms.

She believessome councils weregoing

along with the proposal because the

Government had giventhem money last

year to deal with some infrastructural

issues.

Ms Collins is also concerned the reforms

are based on the Scottish model, which she

says is not equitable. Scotland had afew

large cities,was significantly smaller than

New Zealand and was not separatedby

islands.

New Zealand had huge rural tracts of

land, diverse geography,afew large cities,

and Cook Strait to deal with.

National had written to all Mayorsabout

its concerns, the lack of clarity aboutwhat

was being proposed, the issue around

ownership of council property, and what

''happens with the assets''.

Opening time .. National Party leader Judith Collins cuts the ribbon to declare Waimakariri

MP Matt Doocey's new Kaiapoi office open.

PHOTO: SUPPLIED

''What compensation will councils get,if

any?''

Ms Collins also queries whatwould

happen to any debtowing on

infrastructure. Acouncil may have

borrowedmoney to provide thethree

waters assets, so ''whathappens to that

debt'' if the infrastructure is takenover at

anational leveland administered by the

fourentities beingproposed­threeinthe

North Island plusTasman,Nelson and

Marlborough, and oneinthe South Island.

''Councils need to stand up to the

Government on behalf of their residents

and ratepayers. If you have concerns don't

be quietabout it,'' she said.

Ms Collins also expressedconcern about

the ability of farmers to farm their

properties,particularly due to increasing

numbers of regulations, including

wetlands.

Many farmers had workedhard to

restore wetlands, and had made abig

commitment to the environment. ''They

are very proudofthe work theyare doing,

But that is no guarantee that will be

enoughunder the regulations,'' she said.

Ms Collins was visiting the Waimakariri

electorate to open anew Kaiapoi officeon

behalfoflocal MP Matt Doocey.

NEWS

The North Canterbury News, July 15, 2021

Pools, spa

afinalist

5

The team behind Hurunui's alpine

thermal pool complex has gained

national recognition for

determination to keep trading in

order to support the regionduring

the Covid­19 pandemic.

HanmerSprings Thermal Pools

and Spa has been selected as a

finalist in the 100% Pure New

Zealand Experience Awards 2021.

The awards celebrate those who

demonstratecommitment towards

their people, community and place

through their actions.

HanmerSprings Thermal Pools

and Spa general manager Graeme

Abbot saysthe announcement marks

areal win after the eventsofthe past

18 months.

''We operated at aloss for some

time duetothe Level 2restriction on

numbers, but we knew remaining

closed wouldnegatively impact

other businesses in the region.

''It wasn't easy, but it was worth it

and to be recognised and celebrated

for our efforts means agreat deal.''

Mr Abbot says support received by

New Zealanders across the country

has beenexceptional, evident by the

record 93,453 people who visited in

January.

''Likemany in the industry, we've

encountered agreat number of

challenges because of Covid­19, but

we have been able to not only survive

but thrive, which benefits the

businesses in our community. Award

organisers say the entries were of an

exceptionally high standard and

reflected the enormous contribution

that tourism businesses make to

communities in which they operate.

Makeadifference

Join the Regional WaterManagement Committee

We arecurrentlyseeking applicants to join the Committee

as communitymemberstohelp make adifference.

The Committee supportswater management solutions to protect the

mana of Canterbury's precious freshwater now and intothe future.

Formoreinformation, head to ecan.govt.nz/regional-committee.

Applications close 26 July 2021.

FLOORING SPECIALISTS

Graham

&SONS

333 High St, Rangiora

www.grahamandsons.co.nz

OUR TEAM WILL FLOOR YOU WITH OVER 150

YEARS OF COMBINED FLOORING KNOWLEDGE.

We make it easy by helping you select the right product

and then personally install it to our own high standards.

COME IN AND VISIT US

03 313 8518

info@grahamandsons.co.nz

Extensive Range of Carpets

Vinyl Planks and Tiles

Timber and Laminates

Inhouse Carpet & Vinyl Installers

2399458
---
OPINION

6 The North Canterbury News, July 15, 2021

North Canterbury

Police notebook

By INSPECTOR PETER COOPER,

Area Commander ­Canterbury Rural

Driver fatigue is of concern during the

colder months particularly in our rural

communities.

Localpolice haveathree­month road

safety campaignrunningondriver

fatigue, focusing on prevention

measures,driver fatigue signsand ways

to reduce the risk.

With it becoming darkerearlier at

nightand people generallyworking

longer hours,driver fatigueisamajor

contributor to crashes within the

district.

Figures fromWaka Kotahi NZ

Transport Agencyare: In 2021, fatigue

was afactor in 21 fatal crashes, and

therewere 113 serious injurycrashes.

Fatigue is tiredness, weariness, or

exhaustion. You can be fatigued enough

for it to impair yourdrivinglong before

you ''nod off'' at thewheel.

Understanding the risks

Sleepiness contributestoahigh

percentageoffatal and serious road

crashes. When we are feeling sleepy, for

example afteranightshift, driving is

one of the most dangerous things we can

do.

Sleepiness reduces alertness, slows

reaction times,and increases the

likelihood of being involved in an

accident. Sleep­related vehicle

accidents are more likelytoresult in

serious injury, becausethey tend to

occurathighspeed, and thereislimited

braking or avoidance action.

When

Driver fatigue accidents typically occur

when our alertness is at its lowest

(betweenapproximately 0200hr –

0600hr).Research has shown that we are

50 timesmore likely to fall asleep at the

wheelat0200hrs than at 1000hr.

Driversare also at increased risk

following inadequate sleep or working

long hours. With lesshours of sleep, we

are three times more likelytobe

involved in an accident. Afterbeing at

work for 11 hours, the riskdoubles.

Where

Crashes are morelikelytooccuronlong

straight roads whereminimum driver

inputisrequired, theseare areas like

the newmotorway andour longrural

roads.

Who

Shiftworkers­Crashes typically involve

thosewho work long hourssuch as shift

workers.These peopleare at greater

risk because they may not get enough

sleep, or get poorquality sleep,

They are usuallytrying to sleep when

theirbody clock is programmed to be

awake; between 6am and noon is the

hardest time to sleep. They mayhave

problems concentratingontasks and

may suffer from increasedphysical and

mental figure.

They oftendrivewhile they are fatigued

or whentheirbody clockissaying they

should be asleep.

Youngpeople mayhave lifestylesthat

involve frequent late­night activities, not

getting enough sleep, taking risks and

beingonthe roads during night­time

hours.

Commercial drivers –have ahigh risk of

fatigue–related crashesbecause they

may work in shifts,drive at night, start

earlyinthe morning, and work in

isolation.

People with sleep disorders–Which

disrupts the quality and quantity of

sleepaperson gets.

What can you do?

Plan

Make sure you have had sufficient sleep

before driving. Most of us need 7to9

hoursofsleep everyday. If you are

sleepy, do not driveuntil you have had

some sleep, or take another form of

transport. Make amental plan for your

journey, with planned breaksatleast

every2hours.

Assess

Be awareofthe early warning signsof

driver sleepiness: repeatedyawning,

changingposition frequently, and

frequent eye blinks. Do notwait until

you are having difficulty keeping your

eyes open or your head is nodding, or if

you can't remember aportionofyour

journey, as theseare signs thatyou are

alreadyvery fatigued, or are

experiencing brief periods of sleep (

microsleeps), andare notsafe to drive.

Break

Do not be temptedtokeep driving to

reachyour destination: take breaks.

Opening the window or turningupthe

musicare not effectiveways to keep

alert.

As soon as you starttoshow signsof

sleepiness, such as yawning, pull over

and take abreak.

Park

Park somewhere safe,drink 1­2 cupsof

waterorcoffees, lock the doors, set an

alarmfor 20 minutes and takeanap. On

waking, walk aroundoutside for 10

minutes to wake up properly before

setting off again,For the nexthour or

two, you should benefit from the alerting

effects of boththe caffeine and the nap.

Stay safe.

KAIKŌURA VIEWS

MAYOR CRAIG MACKLE

Adolescent training

fun and supportive

The coolest thing I've done recently is

checkout the Kaikoura Combined

Adolescent ChallengeTraining Unit

(CACTUS).

The programme started 8weeks ago with

34 participants aged 12 and up.

Thirty­twoparticipants have now

completed the course, the highestnumber

to finish since the programme began.

Thesekids have been getting up well

before dawn, threedays aweek, and taking

part in fitness, leadership, teamwork and

resilience exercises.

All this hard work culminated in the

Longest Day challengewhichsaw them

completeseveral mental and physical

challenges over 11 hours. The highlight for

me was watching them lug logs up Ocean

Ridge!

It was great to seethem so focused,

completing hard tasks but having fun and

supporting each otheratthe same time.I

spoketoone girlwho wastaking part in

CACTUS for the third time.

Congratulations to everyone involved

and big thanks to the CACTUScoordinators.

The recent launch of the Mt Fyffe

DistilleryisanotherKaikoura success

storywith Justine Schroder winning the

Long Story Short New Zealand Emerging

Product Award.

Now that really is diversifying–from

farming to gin making.

The Mayors Task Forcefor Jobs(MTFJ)

have received another year of funding.

SinceOctober, the MTFJ has assisted 60

people into employmentand

apprenticeships.

Iamsure thatunemployment is about

half of what it could have been without

MTFJ support,and hopefully we will get

this lowerwith other opportunities that

are happening in our community.

Last week the councilunanimously

signed off the draft Long TermPlan (LTP)

2021 –2031. 273 matterswere raisedin

submissions from 71 people duringthe

consultation period.

It was good to see that the proposed

options were all well supported. It shows

we are on tracktodeliverchanges and

improvementsinline with what the

majority of the community want.

We are now looking at an overall rate

increase of 5.9% for2021/2022, and atenyear

average increase of 3.36%.This

meanswecan reallytackle some big issues

and get thedistrict up to scratch.

We'restill waitingtohear more about

the 3WatersReform before we can make

adecision on whatwould be best for the

district.

Kaikourahas benefited from significant

investment in ourpipes and water services

sincethe earthquake and our LTP shows

we are not expecting any major work for a

while.

More information should comeout over

the nextfew weeks.

The days are slowly getting longer,look

afteryourselves.

Economic opportunities for hemp

ResilientHurunui will hostguest speakers Brad Lake and Jamie Engelbrecht

from North Canterbury Growers, The Brothers Green,atthe Rewi AlleyRoom,

Amberley School, on Thursday, July15, at 7.30pm to talkonthe opportunities for

hemp.

Jamie will talk about growing hemp in New Zealand and gettingitprocessed ­the

realities, opportunitiesand limitations, while Brad will focus on the economic

opportunity for hemp products, The BrothersGreenproduct range and current

domestic and globalhemp demand.

Hurunui WestWard by election

Voterselecting anew councillortothe west ward of the Hurunui District Council

have until noon on Friday, July 16, to casttheir vote.

There has been a32.75 percentreturn to date.

Four candidates are standing for the one seat —Ross Carter, Hanmer Springs;

Karen Armstrong,Waikari;Jeff Walker,Hawarden; and Richard Roe, Rotherham.

McALPINES MITRE 10 MEGA RANGIORA -OCEAN WATCH

This

Week

Sun

Fishing

Guide

Moon

Wind

Good

Thursday Friday Saturday Sunday Monday Tuesday Wednesday

Jul 15 Jul 16 Jul 17 Jul 18 Jul 19 Jul 20 Jul 21

Rise 7:56am

Set 5:13pm

Best

Times

4:20am

4:43pm

Rise11:04am

Set 10:34pm

Gentle SW becoming

moderate SE

Good

Rise 7:55am

Set 5:14pm

Best

Times

5:06am

5:30pm

Rise 11:28am

Set 11:44pm

Moderate SE

becoming fresh NE

Good

Rise 7:55am

Set 5:15pm

Best

Times

5:53am

6:17pm

Rise 11:51am

Moderate SE

Good

Rise 7:54am

Set 5:16pm

Best

Times

6:42am

7:07pm

Set 12:56am

Rise 12:16pm

Moderate SE

becoming fresh E

Good

Rise 7:53am

Set 5:17pm

Best

Times

7:33am

8:00pm

Set 2:11am

Rise 12:45pm

Moderate SW turning

S

Good

Rise 7:52am

Set 5:18pm

Best

Times

8:27am

8:56pm

Set 3:27am

Rise 1:20pm

Gentle SW becoming

moderate S

Good

Rise 7:52am

Set 5:18pm

Best

Times

9:26am

9:57pm

Set 4:45am

Rise 2:02pm

Gentle SW becoming

moderate S

Swell

Pegasus Bay

Tide Chart

3

2

E0.9 m E1.0 m E1.1 m E1.3 m E1.7 m E1.6 m E1.3 m

3 6 9 NOON 3 6 9 3 6 9 NOON 3 6 9 3 6 9 NOON 3 6 9 3 6 9 NOON 3 6 9 3 6 9 NOON 3 6 9 3 6 9 NOON 3 6 9 3 6 9 NOON 3 6 9

1

0

Highs Lows Highs Lows Highs Lows Highs Lows Highs Lows Highs Lows Highs Lows

Waimakariri 8:33am 2.2 2:20am 0.6 9:22am 2.2 3:08am 0.6 10:12am 2.3 3:58am 0.6 11:04am 2.3 4:50am 0.5 11:59am 2.4 5:43am 0.5 12:24am 2.3 6:38am 0.5 1:22am 2.3 7:34am 0.4

Mouth

8:52pm 2.3 2:37pm 0.6 9:42pm 2.3 3:27pm 0.6 10:34pm 2.3 4:21pm 0.6 11:28pm 2.3 5:18pm 0.6

6:17pm 0.6 12:57pm 2.4 7:17pm 0.5 1:57pm 2.5 8:16pm 0.5

Amberley 8:33am 2.2 2:20am 0.6 9:22am 2.2 3:08am 0.6 10:12am 2.3 3:58am 0.6 11:04am 2.3 4:50am 0.5 11:59am 2.4 5:43am 0.5 12:24am 2.3 6:38am 0.5 1:22am 2.3 7:34am 0.4

Beach

8:52pm 2.3 2:37pm 0.6 9:42pm 2.3 3:27pm 0.6 10:34pm 2.3 4:21pm 0.6 11:28pm 2.3 5:18pm 0.6

6:17pm 0.6 12:57pm 2.4 7:17pm 0.5 1:57pm 2.5 8:16pm 0.5

8:42am 2.2 2:29am 0.6 9:31am 2.2 3:17am 0.6 10:21am 2.3 4:07am 0.6 11:13am 2.3 4:59am 0.5

5:52am 0.5 12:33am 2.3 6:47am 0.5 1:31am 2.3 7:43am 0.4

Motunau 9:01pm 2.3 2:46pm 0.6 9:51pm 2.3 3:36pm 0.6 10:43pm 2.3 4:30pm 0.6 11:37pm 2.3 5:27pm 0.6 12:08pm 2.4 6:26pm 0.6 1:06pm 2.4 7:26pm 0.5 2:06pm 2.5 8:25pm 0.5

8:44am 2.2 2:31am 0.6 9:33am 2.2 3:19am 0.6 10:23am 2.3 4:09am 0.6 11:15am 2.3 5:01am 0.5

5:54am 0.5 12:35am 2.3 6:49am 0.5 1:33am 2.3 7:45am 0.4

Gore Bay 9:03pm 2.3 2:48pm 0.6 9:53pm 2.3 3:38pm 0.6 10:45pm 2.3 4:32pm 0.6 11:39pm 2.3 5:29pm 0.6 12:10pm 2.4 6:28pm 0.6 1:08pm 2.4 7:28pm 0.5 2:08pm 2.5 8:27pm 0.5

8:39am 1.7 2:30am 0.5 9:27am 1.7 3:18am 0.5 10:18am 1.7 4:07am 0.4 11:11am 1.8 4:57am 0.4

5:49am 0.4 12:33am 1.8 6:42am 0.4 1:29am 1.8 7:37am 0.4

Kaikoura 8:58pm 1.8 2:43pm 0.5 9:50pm 1.8 3:34pm 0.5 10:43pm 1.8 4:28pm 0.4 11:38pm 1.8 5:25pm 0.4 12:06pm 1.8 6:24pm 0.4 1:02pm 1.9 7:23pm 0.4 2:00pm 1.9 8:21pm 0.4

*Not for navigational purposes. Wind and swell are based on apoint off Gore Bay. Maori Fishing Guide by Bill Hohepa. www.ofu.co.nz www.tidespy.com Graphic supplied by OceanFun Publishing Ltd.

2118223
---
NEWS

The North Canterbury News, July 15, 2021

7

Water and Birds

DearEditor,

Iagree with John McCaskeywhole heartedlyinhis articlein July 1, page 6.

He is 100percent correct in stating riversand creeks should have beenattended

to decadesago.

Take forexample theEasterncreek that flowsthrough theMcCaskeysectionof

Amberley. Whilethislandwas exclusivefarming land, the councilshould havegone

to thecost of diggingitout andpipingit, fromatleast SH­1 to the now Wineberry

bridge, before giving building consent to allow theeighthomes tobebuilt close to

it,in some cases about four metresawayfromthe creek.

Theprevious council admitted to me it should have been undertaken, but it is too

latenow.The other matter that John brings up, is wherehaveall thebirds gone?

When Ifirst shiftedtoAmberley somenineyearsago,the birdswereinabundance.

We livenearwater andnotonlyweretheyplentiful they were noisy—almost

annoying!

All the lovely clean, and flowingwater has gone, except in the exceptional

circumstances we experienced afew weeksago.

Nowit's got to thestagewhere we hardly ever see any birds. Another point is creeks

have been neglected. The eastern creek in thenineyears wehavebeenliving here

the creek has not had aminidiggercomeandclear it allout.And so it progressively

gets more clogged up.

When is the council going to realizethat if they leaveittogoonlike this,oneday

if thereis aanother huge storm thewater willjustbuild up and eventually burst.

The result wouldbeamassivefloodofwaterrushingthroughthe housingarea, and

possiblytakingout the bridges. As John pointed out, turn your head the other way

and hope that it neverhappens.

Yours,

Trevor Stanley, Amberley.

VOTE FOR YOUR

FAVOURITE BUSINESS IN THE

PEOPLE'S CHOICE AWARD

Voting is now open for the 2021 North Canterbury

Business Awards People's Choice Award.

Your vote puts you in the draw to WIN aMini Group

Pass from Hanmer Springs Thermal Pools &Spa.

Cast your vote now at

www.northcanterbury.co.nz/choice

High seas

DearEditor,

Aftertherecenthighseas, resulting in the sea wall having been breached on Golf

Links Road, at Amberley Beach,Ihad to ponder.

As this is, and, will be an ongoing issue in future years, perhaps it is timeweactually

triedtodosomethingaboutit. Isuggest that HurunuiDistrictCounciltakealook

at our westcoast neighbours andtheseawall designedand builtbylocals in

Granity.

It hasprovedtowork and has been so successful thatithasimproved shore front

structure. Withaquarry not more than 200m from thisroad andbeachfront, the

mind boggles why we have not tried such ideas.

Yours,

Jimmy Birch, Amberley Beach.

Chalk art gallery holiday fun

Childrenvisiting the RangioraLibrary are

beingencouraged to createsome chalk art

on the walls of the ChamberGallery.

The initiative has been organised by the

Waimakariri Community Arts Council

(WCAC) in collaboration with Waimakariri

Libraries. The WCAC chair, Miranda

Hales, says it is aschool holiday projectto

celebrate Matariki.

''We are setting the walls freefor

childrentodraw their heartsout over the

holidays,'' she says. ``Members of the Arts

Council and library staffwill keep a

watchful eye on proceedings.''

The gallery walls havebeen specially

prepared withchalk paint for the

initiativewhich is partofWaimakariri

Library'sKidsFest 2021 annual winter

school holiday eventsand activitiesatthe

Rangiora, Kaiapoi and Oxford Libraries.

"Exclusive"

Pellet and Wood Fire Specialists

TheJuly schoolholidays beganonJuly

10 and end on Sunday, July25. Some of the

eventsplanned for the end of thisweek

and nextweek include acraft night at

Kaiapoi Librarytonight (Thursday July15)

from5.30pm to 7pm. There will alsobea

craft night at Rangiora Librarytomorrow

night (on Friday July 16), from 5.30pm to

7pm.Next week activities include a

RangioraLibrary quiz night from 7pm to

8.30pm on Wednesday, July 21, and a

Kaiapoi Library quiz night from 7pm to

8.30pm on Thursday July 22. An Oxford

Libraryquiz nightwil run on Thursday

from7pm to 8.30pm.

On Friday next week (July 23) Brendan

Dooley the Magician will do ashowatthe

Rangiora Baptist Church Hallfrom

10.30amuntil 11.15 am, followed by onein

the OxfordTown Hall from 2pm to 2.45pm.

Ravelli ULEB Wood Pellet Fires

472 Blenheim Road

Sockburn

Phone: 03 343 1651

Open 8:30am -5pm

Sat 10am -3pm

www.heatstore.co.nz

WelcomingCaseyWalters

Family Lawyer

CaseyWalters, Senior Solicitor,

is awelcomeaddion to our

Team at KW Legal.

Caseyassists clients infamily

law. Sheenjoysthe more

personalaspectoffamily law

that requires both

understandingand

compassion,alongsidethe

abilitytothink praccallyin

ordertoachieve thebestresult

foreachclient.

Caseycan assist with:

CaseyWalters

Separaonand RelaonshipProperty;

Dissoluon ("Divorce")applicaons;

Contracng OutAgreements;

Care of Childrenmaers;

RelaonshipPropertyConveyancing;

Protecon of Personal andPropertyRightsAct applicaons; and

Wills andEnduring Powers of Aorney.

t. 03 260 4777 e. casey@kwlegal.nz e. admin@kwlegal.nz

2ndFloor,29HighStreet, Rangiora 7400

www.kwlegal.nz
---
WAIMAKARIRI DISTRICT COUNCIL

8 The North Canterbury News, July 15, 2021

Advertising feature

Better water? What about Waimakariri?

DAN GORDON, MAYOR OF THE

WAIMAKARIRI DISTRICT COUNCIL

The Government's ThreeWaters

Reforms programme is gaining traction

in the media.

You haveseenafew scary numbers,

and the massively misleading advertising

campaign,where the Government claims

that without water reform there is the

potential for astronomical increases in

household costs and awful

environmental outcomes.

As far as our councilcan tell, having

gone through their data, both of these

statements are not true and the council

and Ihave seriousconcerns about the

information and approach.

The Governmentisproposingto

remove waterservices from councils and

establish four water service entities

across the country, with one entity

proposed to coverall of the South Island

excluding parts of Nelson,Marlborough

and Tasman. Theseentities would look

afterdrinkingwater, wastewater and

stormwater.

Thereare broad statements being

made abouthugeefficiencies that will be

made and misrepresentations about the

dire stateoflocalinfrastructure.We

wanted to sharethe concerns we have so

residents get atrue feel for what's being

proposed andwhere the council stands.

Our first concern is the public relations

line,or'spin',the Government keeps

repeating which is that''there is aproven

case for change''.This simply isn't

correct. The Government are claiming

for the Three Waterssystem across New

Zealand they're going to gainefficiencies

of over 45 percent. Theyclaim without

reform water costsper household could

increase up to $3,000 annuallyby2051

and that with reform costs willonly be

Ribbon cutting ... Council staff and community members at the opening on the

Garrymere water supply.

$1640.

This despite investing an additional

$120Bto$150B and employing up to 9000

new staff. You don't savemoney by

spending billions of dollars and

employing thousands of people. It just

doesn't stack up.

It's also impossibletostatethe future

costsordollarsrequired for further

investment ahead of new standards being

released. We know the numbers in

Waimakariri. We ought to as we've

investedover $100M in water

infrastructure over the last20years and

have abudgetedplan in place for

managing these assets for the next 100.

The Governmentshould know our data

as well–wesupplied it to them –but

they've madesome exceptionally broad

and arbitrary statements about the

quality of water in Waimakariri. We have

commissioned experts to review these

statements andprovideuswith advice.

We'veasked to see the Government's

data and economic modelling, but to date

this isn'tforthcoming. They'realso not

providinginformationonhow we have

been labelled a'band 3' service provider

despite Waimakariri having someofthe

best water infrastructureinthe country.

We takegreat prideinproviding our

communities withsafe andreliable

drinkingwater. At the moment they're

not meetingtheirobligations as part of

our agreement which is 'towork

together'. This concerns us.This is why

our Council agreed last yeartotake part

in the first part of the reformprocess

(doing so also secured$8M of

Governmentinvestmentinour District).

What we want, and need, is to see the

information, not hear the PR spin.

We needthis to haveanhonest

conversation with our community about

theseproposals and to make an informed

decision. Theseare ratepayer owned

assets. Our second concern is about

representation.

People in Waimakariri careabout

having asay and knowingthereis

someone to hold accountable when

things go wrong.The recent flooding is an

example of our council being ableto

respond quicklyand make decisionsthat

protect our community. The Government

proposal takes meaningful ownership of

our assetsaway from the community.

Merging almost all of the South Island

into one entity is going to mean

Waimakariri locals have little,tono

representation,control or influence.

Thereare concerns about crosssubsidisation.

If this goes ahead,the most

likely situation is, our ratepayers will

subsidise othercouncils that haven't

properly invested in water, as opposed to

getting better outcomes.

Our hopeisthe Government takes

another lookatthe memorandum of

understanding we signed and starts

working more openly with local

government.Based on the limited

information presented so far,the view of

the councillors and myself wouldbethat

we do not join the Governments reform

programme. At thispointweare not

convinced thereare benefits for the

Waimakariri community.

We'vebeen told that this reform

programme is voluntary. Lately we are

hearing this choice may be taken away,

and government may legislate and

overrideour community'sdemocratic

rights. We expect thatthe Government to

honour its agreement and alloweach

council and communitythe choice to opt

in or out.Our website has apage withall

the informationwehave received to date

and we will keep this updated at www.

waimakariri.govt.nz.

Council has worked hard to upgrade

our 3waters infrastructure overthe last

20 years. This reform programme

appears to us to ask our ratepayers to

subsidise other communities.This isn't

fair or equitable. We see no gains but

higher costs for our community.

sick child?

Call your General Practice

(GP) team 24/7 or visit an

urgent care clinic:

• Riccarton Clinic

8am–8pm

• Moorhouse Medical

8am–8pm

Under 14s have free medical visits after-hours

and weekends at urgent care clinics

• X-ray, fracture and wound care available

• Late-night pharmacies and parking on-site

CDHB12JULY21 ED

All clinics open 7days aweek

cdhb.health.nz/urgentcare
---
AREYOUREADY FOR REVL GT?

THE NEXT REVOLUTION IN GROUP TRAINING

only at

Revl GT,NZ'snewest style of group fitness training,is

coming exclusively to Stadium Fitness Centre.

Torchcalories,get fit fast and forget boredomwith these epic full body workouts. The 30 &45minute

interval workouts arefun, social andadaptable to all skill and fitness levels.

•Revl Strength •Revl Athletic •Revl Play

Revl GT classes areFREE to members*. $18 per class forcasual visitors.

Bookyour first class from 26th Julyonthe GymMaster Apporour website.

*Revl GT classes areFREE to members of Stadium Fitness Centre, RangioraFitness Centreand Multi-Gymmembers of Kaiapoi, Oxford&Amberley Fitness Centres.

CLASSES

START

9 TH AUG

FOUNDATIONMEMBERSHIP JUST $18.50 PW

JOIN STADIUM FITNESS CENTRE BEFORE WEOPEN ON 9THAUGUSTTOSECURE TO SECURE AN

$18.50 PER WEEK MEMBERSHIP -WHICHINCLUDESYOUR FIRST TWOWEEKSWEEKS FREE

STANDARDMEMBERSHIPPRICE PRICE WILLINCREASETO$21.50INCREASE PWFROM9THAUGUST

STADIUM FITNESS CENTREISPART OFMAINPOWER MAINPOWERSTADIUM, 289COLDSTREAM ROAD.

TO FIND OUTMORE PH:03975 9755560, 5560, EMAIL: STADIUMFITNESS@SPORTSTRUST.ORG.NZ ORVISIT...

WWW.MAINPOWERSTADIUM.NZ

@stadiumtnesscentre
---
Professionals

in North Canterbury

Building Trust.

Do you havethe winter

blues, feel lethargic/out

of sorts,cravesome

some

time out?

Call us or book online for a

Hot Stone Massage

Warm stones combined with massage will

calm your nervous system, increase circulation

&leave you feeling relaxed.

2384258v2

31 Blackett Street, Rangiora

Phone 03 313 0349

Email info@head2toe.co.nz

www.head2toe.co.nz

Helmore Stewart partners ... Craig Knowles (left), Rob Andersen, Mark Russell, Lynn

Malin, Grant Edmundson, Aaron Milnes.

PHOTO:SUPPLIED

Helmore Stewart

leading the way

The explosive development and

populationgrowth in North Canterbury

and in the Waimakariri District in

particular,over the last 10 years has led to

an increased demand on professional legal

services.

HelmoreStewart was quicktorecognise

the changing landscape anumberofyears

ago. Increasing commercial opportunities,

burgeoning residentialdevelopment and

diversity in the populationdemographic

drovethe firm to boost capacity, hire

talented youngsolicitors andoffer greater

technical proficiencyintechnology and

financelaw withMark Russell and Grant

Edmundson leading the commercial

department.

With Aaron Milnesand RobAndersen

leading the charge in the agribusiness and

property sectorsrespectively, the firm has

deliberately crafted abalanced suiteof

services generallycompetitive to city ­

basedfirms. Helmore Stewart now

combines the traditional servicesoffamily

law (under Lynn Malin, the mostrecent

partner),propertylaw, Trusts, estates,

relationship property,succession

planning, employment etc guidedbyCraig

Knowles, with the ability to givelegal

adviceonmatters concerning crowd

funding, capitalraises structuring,

securities and company law advice.

The partners also recognisethat thefirm

has an important role in community

developmentsasunchecked growth, for

the sakeofgrowth in the absence of re

investment back into the community, and

its people, often leadstosectors of the

North Canterburycommunity not

receiving the support they need.

The partners actively support selected

charities, sit on variouscommunityand

schoolboards, Landcare groups and

provide advice to community­based legal

adviceforums. Helmore Stewart has deep

roots in North Canterbury and is

optimistic for the futureofthe region. The

combination of dedicated staff, seasoned

practitioners andyoung, energetic talent is

acompellingformula to positionthe firm

on astrong footingtomeet the challenges

and opportunities that lie ahead.

2373659v1

Experienced Podiatrist;

Erin Marsden BSc(Pod)

022 1726 049

www.northcanterburypodiatry.co.nz

HelpingYou Make

Your Farm

Successful

with Prosser Quirke

Accountants

Experience &BestPracticeadvice

for:

• Monthly&annual accounts

• Cashflow&budgetpreparation&

Monitoring

• Successionplanning&restructuring.

Formoreunderstandable reporting

andtoease your burden

CharteredAccountants&Business Advisors

6BlakeStreet, Rangiora |Ph313 7824

team@prosser-quirke.co.nz

2375123v3

NORTH CANTERBURY

03 311 8008

email@helmores-law.co.nz

www.helmores-law.co.nz

2373179v2
---
DEPARTMENT STOREKAIAPOI

TRUSTED SINCE 1871

Celebrating150Years
---
Family business spans the generations

Blackwellshas been serving

the Kaiapoi and North

Canterbury communitiesfor

150 years.

Founded in 1871 by George

Henry Blackwell, the

BlackwellsDepartment Store

is one of the oldest familyowned

department storesin

New Zealand and its longevity

is down to ''tradition, service,

quality and loyalty'', managing

director Andrew Blackwell

says.

GeorgeBlackwell was born

at Leamington, Warwickshire,

England in 1840 and emigrated

to New Zealand in 1863,

settling in Kaiapoi.

Eight years laterGeorge

Blackwell decided to go into

business on his own account,

opening as the RailwayStore

in Main Street,now Williams

Street, stocking''a bit of

everything'', including

groceries and hardware.

After trading for two years,

the storemoved to the corner

of Black and Hilton streets,

before moving to its present

location on the corner of

Williams Street and Raven

Quay.

JosephHenry Blackwell was

the second generation of the

familytorun the business,

joining in 1888 and working in

the storefor 77 years,before

retiring in 1956.

In the early 1900s,new

departments were added as the

business grew, including

drapery, clothing, bakery,

sawmills and dressmaking.

Like his father, Joseph

Blackwell was heavily involved

in community affairs,

including serving 11 years as

KaiapoiMayor.

In 1914 HenryHugh

Blackwell joined the family

business, after astintwith

Ballantynes, until World War 1

broke out and the youngHenry

headed off to serve, eventually

servingasaRoyal Flying Corp

pilot in France.

He returned to Kaiapoi in

1919 and eventually joined his

father as adirectorinthe

family business.

David Blackwell joined the

team in 1948, after workingat

Beaths and Co Department

Store in Christchurch.

During his time, Blackwells

added and built up the

furnishing and furniture

sections.

After takingdirectorship

from his fatherHugh, David

''continued the acumen and

sincerity whichhas guidedthe

flagshipfor so long'', Andrew

Blackwell says.

David Blackwell was actively

involvedinthe business for 71

years and handed overthe

reigns to his sons Andrew and

Michael Blackwellin1993.

Over the decades, Blackwells

has survivednumerous

challenges including world

wars, depressions, economic

downturnand floods.

George Blackwell would

have never expected the

Canterbury earthquakeof2010

to all but demolish the store or

expectedin2020 apandemic

would closethe storefor an

extendedperiod for the first

time in 149 years.

Over the years Blackwells

has stayed true to its

traditionalvalues of customer

service.

Blackwells continues to offer

customeraccountsfor

convenience as it did from the

beginning.

Saturdaytradingwas

introduced in 1986, withthe

store opening from 9.30am to

12.30pm ­and now until 4pm.

This was amajorchange

back in the 1980s, so David

Blackwell's wife Jean made

fresh scones for morning tea

every Saturday. Mrs

Blackwell's famous cheese

scones were astafffavourite.

Sunday trading startedwhen

Celebrations ... Blackwells Department Store marked its centenary in 1971.

the store reopened after the

2010 earthquakes.

Home delivery has always

been part of Blackwells'

customer service,from horse

and cart in the early days to

motorbike and sidecar, motor

vehicle and now avan for

bigger purchases.

Personal customer service by

knowledgeableand longserving

staff is another key to

success, with one presentstaff

member having worked for the

family for more than 30 years.

Blackwells buyers constantly

review international trends

and the needsofthe local

NorthCanterbury market,

whichhas grown immensely in

the past decade.

Whilethe fifth generation of

Blackwells now run the store,

thereisalso some of the sixth

generation working in the store

part time and full time,

continuing the family

tradition.

PHOTOS: SUPPLIED

Home deliveries ... In the early days home deliveries were completed

by horse and cart. Ernie Monk is pictured out on his deliveries.

KAIAPOI COMMUNITY PATROL

covers Kaiapoi, the Waimakariri

district including Oxford

and Amberley.

We congratulate Blackwell's on

achieving 150 years of business

and are pleased to assist with Fire &Ice.

We are recruiting more members for patrolling and camera

operation.

If you are interested please phone Bill 021 146 2136

Kaiapoi Museum

Preserving and Collecting

Local History

Kaiapoi museum is administrated by volunteers who are members

of the Kaiapoi District Historical Society Inc. Our collectionrelates

to Kaiapoi town and the surrounding districts. It is housed in the

RuataniwhaCivicCentre, 176 WilliamsStKaiapoi.

The museum display is open at the same times as the library.

We are open for research when volunteer staff are available orby

appointment forschool/group visits andresearchers.

Youcan contact us:

Phone: 03 311 8919 (Answer phone)

Mail: PO Box 341, Kaiapoi 7644

Email: kaiapoimuseum@gmail.com

Web: www.kaiapoimuseum.co.nz

Facebook: Kaiapoi Museum

Congratulations to

Blackwells on

150 years

St John Kaiapoi,

proud to support Blackwell's Event and all other

local community groups and events.

Newmembers and supporters . welcome

Contact:

Rob Rae

027 559 4526
---
RANGIORA

BONUS $50

PREZZYCARD *

100%LOCALLY

OWNED&OPERATED.

RANGIORA

If youfind alower priceonanidentical stocked productlocally, we will beatitby15%

If youfind thesame productfromanother Mitre10store or Mitre10website, we'll matchthatprice.Excludes trade and special

quotes,stock liquidations and commercial quantities.The in-storeprice maybelower than thatadvertised.
---
RANGIORA

WATER

FEATURE?

CHECK OUT

OUR RANGE

IN-STORE.
---
100%LOCALLY

OWNED&OPERATED.

RANGIORA

If youfind alower priceonanidentical stocked productlocally, we will beatitby15%

If youfind thesame productfromanother Mitre10store or Mitre10website, we'll matchthatprice.Excludes trade and special

quotes,stock liquidations and commercial quantities.The in-storeprice maybelower than thatadvertised.
---
STYLE & QUALITY

FOR LESS

WWW.AFFORDABLEFURNITURE.NZ

Elm

Collection

Table Large $979 $899

Table Small $629 $579

Buffet $1189 $1099

WAS $1999

$

1849 Bramwell

3+2 Suite

3Seater $1199 $1099

2 Seater $839 $779

SUPER

SPECIAL SUPER

SPECIAL SUPER

ER

SPECIAL SUPER

SPECIA

L

SUPER

SPECIAL

Willow

Bar Stool

Cove

Barstool

Coronet

Bar stool

Rustic Chair

Vintage

Cognac

Linden

Bar Stool

W A S $ 8 9

$

79

WAS $139

$

129

WAS $189

$

179

WAS $189

$

169

WAS$89

$

69

NovaBedroom

Collection

Sylvie Bedroom

Collection

Tallboy 5Drawers $689 $639

Tallboy 6Drawers $799 $739

Lowboy 6Drawers $729 $679

Bedside $219 $199

Headboard From $379

Bedside $279 $249

Bedframe $1099 $999

Under Bed Drawer $189 $169

6DrawerTallboy $799 $779

6DrawerLowboy $749 $719

SUPER

SPECIAL

LiftUpBase

Single $489 $459

King Single $509 $479

Double $569 $529

Queen $599 $559

King $669 $619

FROM

$

459

SUPER

SPECIAL

5Year Warranty

Riviera

Mattress

FROM

$

349

Single $369 $349

King Single $419 $389

Double $499 $469

Queen $549 $509

King $599 $549

California King $709 $659

SUPER

SPECIAL

5Year Warranty

Pocket Spring,

EuroTop, Quilt Fibre,

Wave Foam &ComfortFoam

FROM

$

499

King Single $539 $499

Double $679 $629

Queen $759 $709

Cloud Rest Mattress

King $839 $779

Super King $899 $839

FREE

CARPARKING

SOUTHCITY

BATH ST

WE ARE

HERE

255MOORHOUSE AVE

REBEL SPORT

COLOMBOST

MON-FRI 9:30AM–5:30PM

SAT-SUN 10AM–5:30PM

0800 268 264

www.affordablefurniture.nz
---
NEWS

North Canterbury News, July 15, 2021

15

NC clinics planned

for Covid-19 vaccine

By DAVID HILL

Kaiapoi is now on the listofvaccine

clinics, as the Covid­19 vaccination

rollout continues.

The Canterbury DistrictHealthBoard

(CDHB)says clinics are now plannedfor

Kaiapoi, followingabriefingtothe

WaimakaririDistrict Council meeting on

Tuesday, July6,onthe region's Covid­19

vaccinationprogramme.

Councillorsraised concerns about the

lack of avaccination centre in Kaiapoi,

with centres only offeredinRangiora and

Amberley. It asked the board to

reconsider where clinics were in the

WaimakaririDistrict.

In astatementtoNorth Canterbury

News,board senior responsible office for

the Covid­19response, Ralph La Salle,

says the board is rolling out vaccinations

to moreremote and rural locations so

residents can be vaccinatedclose to

where they live and work.

''Clinic locations in North Canterbury

include GP and pharmacy­based clinics in

Kaikoura, Cheviot, Rotherham, Hanmer

Springs, Waikari, Amberley and

Rangiora.

''Clinics are also plannedfor Kaiapoi,

and we plan to visit smaller areaswith

mobileclinics.''

Mayor Dan Gordon welcomedthe

decision to extend services to Kaiapoi

and was pleasedrural communities such

as Oxfordwould be covered.

''It's something we have been asking for

and we've offered to workwith the

government and CDHB with their

initiativesaroundCovid­19 to ensureour

districtiswell covered and we have

community halls which can be used.

Getting the jab ... Covid­19 vaccination

clinics will be open throughout North

Canterbury.

PHOTO:FILE

''It's in everyone's bestintereststhat

this goes smoothly.''

Mr La Sallesays the CDHB'sCovid­19

vaccination rolloutisprogressingtoplan.

''So far, we've administered over

100,000 dosesofthe vaccine and we're

now vaccinating Group 3and expecttobe

doing so untilmid­September.''

Because Group 3isalarge group ''it will

take time to get througheveryone'', Mr La

Salle says.

PeopleinGroup 4will be able to begin

booking their vaccinations from July 28

through Book My Vaccine,the national

onlinebooking system.

''Everyone aged 16 and overwill be able

to be vaccinated by the end of this year.

It's also important to remember that once

it's your turn, you can be vaccinated at any

time ­there's no cut off,'' Mr La Salle says.

''There will be enoughvaccine for

everybody, and no­one willmiss out.''

Play at

BounceForBucks.co.nz

Promotion runs 28 June until 25 July 2021. One game ticket will be issued forevery $25 spent on

Qualifying Purchases (exclusions apply). Max 10 game ticketsper transaction. Youmust be 18+

and retain original game ticket and receipt. Visit foursquare.co.nz forfull Terms &Conditions.

www.foursquare.co.nz

facebook.com/FourSquareNZ

Ends 25 July 2021. Seefoursquare.co.nzfor full Terms &Conditions.
---
NEWS

16 The North Canterbury News, July 15, 2021

Improving access

Anew brochure is aimedathelping local

businesses become more accessible.

Produced by the Waimakariri Access

Group,the brochure identifiessome areas

that can be problematic for the elderlyand

people with disabilities.

Examples to consider include outdoor

signage and obstacle free footpaths,

creatingaisles which are clearoftripping

hazards,making steps and edges more

visible with abright colour like yellow.

Other areas to check include entrances,

signage,noise, lighting,furnishings, eftpos

machines and and bathrooms,acting

chairperson Phil Humphreys says.

''Making business more accessible by

identifying and removing barriers for

people impacted by arange of limitations,

makes good sense.

''Creating amore user friendlyand

accessible shopping experience can

increasecustomertraffic (and customer

satisfaction) with the economic benefits

that brings.

''Bestofall, members of our group are

very happytotake alook at premisesto

offer barrier free ideas.''

The brochure was delivered during June

to anumber of shops and businessesinthe

Waimakariri district andthe reception

from business owners has been

overwhelmingly positive, Mr Humphreys

says.

Access group members have been

providing education and trainingtocouncil

staff and elected members, he says.

''Aswell as our own lived experience, we

know from the numbers of people

contacting us and the council that access

remains an ongoing problem for many

residents.''

The WaimakaririAccessGroup was

formed 20 years ago underthe direction of

the late Jill Waldron.

The group's aim is to promote access to

public spaces and facilities, and have a

barrier­free,inclusive environment for all

people including visitors to the district.

More than one millionNew Zealanders

are estimated to have someform of

disability, according to recent statistics.

The group is recruiting new members

and meets on the second Tuesday of the

month at the Kaiapoi Club. For more

information, contact Madeleineinthe

council's community team on 0800 WMK

GOV(0800 965468) or emailmadeleine.

burdon@wmk.govt.nz.

Road work delays continue

Work on the rockfall canopysouth of

Kaikouraisfinished.

The North CanterburyTransport

InfrastructureRecovery (NCTIR) alliance

has finally completedits work on the

stretch of road south of Peketa and has

passed the baton backtoWaka Kotahi New

Zealand Transport Agency(NZTA).

The NZTA'scontractor,Downer, will

now be responsible for its ongoing care and

maintenance, and willcontinue to make

improvementstothe roadsurface during

sealing seasonwhen weather is warmer.

Rockfall safetywork south of Kaikoura

will continue until July 23, so school

holiday drivers are advised to build in an

extra30minutes intotheir travel time

when travelling between 9am and 5pm on

weekdaysasanew pieceofrockfallsafety

work is completed, NZTA journey manager

Tresca Forrester says.

''TheInland Road route 70 via Waiau is

also open to car drivers if peopledon'twant

to wait for 30 minutes.''

Abseilers are removinglooserock south

of the Parititahi Tunnels.

Top honours for Sacrifice

Sacrifice,animage by

CathyPrice, was the

overall champion in the

latest Rangiora

Photographic Society's

portrait competition.

The judgewas Mona

de Villiers.

Sacrifice alsotook

Best in the Agrade

competitionand A

gained honours.

Garage Queen,

another Cathy Price

image, also gained A

gradehonours.

Results were:

Champion Image

Overall: Sacrifice –

CathyPrice

Best in Grades

AGrade–Sacrifice–

CathyPrice.

BGrade –Les –Martin

Kircher.

CGrade –Soul

Searching –Stuart

Taylor.

Honours

Agrade:

How Soulsignite –

Veronica Wedlake.

And in this World,Iam

my World –Veronica

Wedlake.

Mr Solomon –Steve

Lloyd.

Alayna –Steve Lloyd.

Iman –Keith Sycamore.

Sacrifice –Cathy Price.

Garage Queen–Cathy

Price.

Relaxing in Red –Lisa

Carter.

Fallen Beauty –Rosie

Coster.

Sacrifice ... Winning image by Cathy Price.

Solemn –Cindy Signal.

Al Kobah –Sandra

Fleet.

The Scream –Robyn

Carter.

BGrade:

Les –Martin Kircher.

Aday in the life of –

Masiko –Amy Boyce.

Layla–Amy Boyce.

CGrade:

Eunice –StuartTaylor.

Soul Searching­ Stuart

Taylor.

Arthur's pass

It's right here in Selwyn!

Arthur's Pass village is one of the best places to get up close and

personal with the world'sonly alpine parrot. This cheekytaonga

species is endemic to the South Island and classified as endangered.

Travel the Great Alpine Highway (state highway 73) to Arthur's Pass,

takeawalk to the Devils Punchbowl waterfall, relax with agreat

coffee or snackand listen to the birdsong,but be careful of little

beaks trying to steal your food!

Stay the night at one of the motels or hostels, and you will likely hear

kiwi or ruru (morepork) calling.

Share your Arthur's Pass photos

and tag us selwyn.nz

Visit selwyn.nz
---
NEWS

18 The North Canterbury News, July 15, 2021

Online shopping comes to Waimakariri

South Island New World and

PAK'nSAVE shoppers are set to enjoy

added convenience as the supermarkets

begin to roll out online shopping, with

New World Rangiora the first store to go

live last week.

Foodstuffs South Island stores will

begin astaggered launch of their online

offering from Motueka to Invercargill.

PAK'nSAVE Rangiora second out of

the blocks to offer online shopping from

this week, while New World Kaiapoi

follows on Monday (July 19).

All Christchurch New World stores

will offer online shopping by Christmas.

The phased roll out will continue

throughout the South Island during

2022.

As each store is owner­operated, the

intention of online shopping is for New

World and PAK'nSAVE customers to

purchase groceries based on what is on

the shelves at their local store.

Both brands are offering Click &

Collect and customers can select any

store from which to collect their order.

New World is also providing ahome

delivery option, but it will be location

dependent, as there are different

catchment areas depending on each

customer's local store.

Many New World and PAK'nSAVE

shoppers who choose Click& Collect can

also enjoy the convenience of parking in

adedicated Click &Collect car park,

where staff will bring the order out to

the customer's car.

Both New World and PAK'nSAVE

customers will be able to place orders

up to seven days in advance.

The order checkout process can be

completed up to 24 hours prior to

collection for PAK'nSAVE customers

and up to 12 hours for New World Click

For your convenience ... The New World Rangiora online team of Nadia Ollis (left), Lyn Marks, Amy Lovell, Lauren Brown, Tracey

Schroeder and Harley Weller are ready to bag your orders.

PHOTO: FILE

&Collect and home delivery customers.

''Today marks abig milestone and

we're excited to bring online shopping

to our South Island stores and provide

customers with another convenient way

to do their grocery shop,'' says Damian

Lynch, General Manager Strategy and

People at Foodstuffs South Island.

''Shoppers know PAK'nSAVE has

New Zealand's lowest food prices and

offering the choice of online shopping is

another way to provide value for our

customers. Not only will they save on

groceries, but they will also save on

time.

''Meanwhile, customers love New

World for the exceptional in­store

experience, and when they shop online

it's the same team that will prepare your

order. It's not just any New World that's

launching online, it's your local New

World.''

PAK'nSAVE Online customers can

enjoy shopping for the same great value

they find in­store, and New World

Online provides agreat opportunity for

shoppers to explore the recipe of the

week, grocery specials and dinner

inspiration.

To shop online with South Island New

World and PAK'nSAVE stores visit our

website: New World ­https://www.

newworld.co.nz/discover/onlineshopping.

PAK'nSAVE ­https://www.paknsave.

co.nz/more/south­island­online.

WORTHALOOK.

WORTHASECOND LOOK.

XC40. Now from just $59,900.*

The first thing you'll notice about the Volvo XC40 is its distinctive Scandinavian design. But look closer and you'll see it's brimming with intelligent technology, ingenious storage

solutions, and safety systems toprotect you and those around you. All ofthis from acompany with aworld-leading approach tosustainability. Soisn't it worth taking alook?

38 Tuam St,

Christchurch

Thomas Palmer -03377 5200 -tpalmer@archibalds.co.nz

archibalds.co.nz

*Plus on-road costs. Model shown isanXC40B5AWD R-Design.

For further information visit archibalds.co.nz/NewVolvoXC40
---
NEWS

North Canterbury News, July 15, 2021

19

Covid impacts on volunteering

By DAVID HILL

Covid­19 has taken its toll on

volunteersacross the region.

Several localorganisations

have experienced areduction

of active volunteers following

last year's Covid­19 lockdown.

Citizens AdviceBureau

North Canterburyco­ordinator

Theresa Evanssays her

organisation's volunteer

numbers slumped by more

than one­third when sessions

resumed at the Rangiora

Library after lockdown.

''During and after Covid we

lost alot of volunteers because

they wereworried and their

families were worried.''

CAB North Canterburyis

processing five applications

following last month's seriesof

volunteer expos, organised by

the Waimakariri District

Council community team.

''Thisisour thirdintakein

the last 12 months. Normally

we only do it once ayear and

some yearswehaven't needed

to do any recruitingatall

because normally we havea

very steadynumber of

volunteers,'' Ms Evanssays.

Volunteer numbershave

improved, but there is still

plentyofroom for more, she

says.

The CAB runsthree sessions

aday, from Monday to Friday,

with volunteersworking in

pairs,meaningthereare 30

volunteer slotstofill each

week.

New recruits ... CAB North Canterbury has just taken on its third

intake of new recruits in 12 months, following areduction of active

volunteers due to Covid­19. Pictured are Victor Paul (left),

Adrienne McGowan, Julie Cloughley, Joanna Blair and Sue

Newick, who joined CAB earlier in the year.

PHOTO:FILE

Volunteers respond to all

sorts of enquiries, from

seekingaphone number to

relationship issues,toissues

withdrains and trainingis

provided.

''You don't have to know

everything, but you need to

knowwhere to find the

information,'' shesays.

Community Wellbeing North

Canterbury's Kaiapoi team

leader, Louise Griffiths, says

her organisation has been

fortunatetohave astable

number of volunteers.

''Fromwhat I've heard,afew

volunteers and certainly older

people didn'tcome back after

lockdown, but from our point

of view, we haven't had a

problem. I've got lots of

volunteers, but you can never

have too many.

''We're always keen to hear

from prospective volunteers

and we can always steer them

somewhereelse if we don't

have the right role.''

Waimakariri District

Council community

development facilitator

Wendy Howe says there are

multiple benefits from

volunteering,including

improving self­esteemand

wellbeing, and reducing social

isolation.

It can providework

experience for youngpeople

or those returning to the

workforce, while it allows

those who have retired to

remain active.

''When you've had alife of

structure,ifyou haven't

planned for retirementyou

canfeel lost. But volunteering

allows you stayactive and to

keep using your skillsina

reallypositive way.

''Volunteeringisgoodfor

everybody. It's goodfor the

individual, it's good for the

organisationand it'sgood for

thecommunity.''

Ms Howe says she is aware

of several organisations

seeking volunteers,including

BigBrothers Big Sistersof

North Canterbury, whichis

keen for more mentors,and

IHCNorthCanterbury, which

hasvacancies for its

friendship programme.

Local organisations are

listedathttps://www.

waimakariri.govt.nz/

community/communityinformation/communitydirectories.

Volunteering positions are

advertised online by

Volunteering Canterbury,

Seek Volunteer,Let's

Collaborate and Do GoodJobs.

•Stop, Rest and Revive

•Exceptional Service

•Licensed

•Open 7Days

Monday -Thursday 8am –4pm

Friday -Sunday 8am –5pm

Main Rd, Culverden

Ph 03 315 8492

2383133

COVID-19 Vaccinations

If you're in Group 3, you should havereceived atext, letter, email or phonecall saying you're in Group3orinviting you

to book yourvaccination appointment.

If youthink you've been missed or youdon't have aGP, emailCOVID19@cdhb.health.nz.

Group 3includes people aged 65 andover; people with some underlying health conditions*;

pregnant people; people withdisabilities and their carers, plus older Māori andPacific people,

the people theylivewith and their carers. *If youqualify for afreeinfluenzaimmunisation youwill be in Group 3.

There'snocut-off date to get yourvaccination and therewill beenough vaccine foreveryone.

Checkwhich Group you'reinatwww.covid19.govt.nz

CDHB12Jul21 CP

Forlocal updates check: www.VaccinateCanterburyWestCoast.nz
---
NEWS

20 North Canterbury News, July 15, 2021

Don't let pain

keep youdown

Book aphysio and get back to

the things youlovethis winter.

Winter is a time of year that invites us to slow down

to rest and renew. For some, it means getting out to

our favourite winter sports such as snowboarding or

skiing! However you choose to spend these shorter,

cooler days, it's essential to keep your body moving.

For those who experience physical pain, that is easier

said than done.

Heat plays a crucial part in helping muscles and joints relax,

so it's no surprise that the cold weather can make pain feel

worse, making it harder to stay active. Depending on what

causes your pain, there are some things you can do to help

manage it during winter. Aaron Searle, clinical lead at Habit

Health recommends the following:

• Spend a little extra time warming up before exercise.

• Get seven to eight hours of restful sleep each night.

• Eat plenty of nutrient-rich foods.

• Drink plenty of water, so you stay hydrated to help

protect your joints and muscles.

If the pain you're experiencing is a little more complicated

than just cold weather, a physiotherapist could help. Physiotherapists

are trained health professionals who help address

and treat the pain that negatively impacts your daily life. They

provide you with the tools to help manage your pain so you

can get back to the things you love doing.

Habit Health has highly skilled physiotherapists trained in

musculoskeletal (MSK) injuries and other problems causing

pain. As no two patients are the same, the Habit Health team

will assess your injury, your body, and your experience holistically

to ensure the treatment plan they provide is right for

your unique needs. The physio may also recommend and refer

you to another specialist who can support you on your pain

management journey.

Ultimately, your body is meant to move, so don't let pain

get you down this winter. Book a physio and get back to the

things you love.

From the very bottom to the tippy-top, there's a Habit Health

clinic near you. Look out for our local names, like Habit Rehab

and Southern Rehab.

SPORTS RESULTS

Rangiora Bridge Club:

Oxford Pairs: North/South:Noreen

Thompson/Fern McRae1,Junette

McIntyre/SueMcIlroy 2, Anne Dorans/

Robyn Dawson 3. East/West: Margaret

Fraser/David McRae 1, Beverley Brain/

Heather Waldron 2, Pat Green/Selwyn

Green 3.

Winter Pairs:N/S: Elizabeth Alabaster/

Marion Lomax 1, JudyBruerton/Jenny

Shore 2, Heather Waldron/ColleenAdam

3. E/W: KenJohns/Jan Roose 1, Janet

Apperley/Gaynor Hurford 2, Pat Green/

Helen Paterson 3.

Junior Evening:N/S: Anne Bagrie/Kate

Whitehead 1, Kerryn Lange/Karen

Manson 2, KK/Lindsay Sigglekow 3. E/W:

Desley Simpson/JudithRobinson 1, Stuart

Atkinson/WayneHutchings 2, Murray

Davis/SharynDavis 3.

Premier Pairs:N/S: Robin Hassall/Jenny

Hassall 1, SarahWaldron/Shirley Symns

2, DaveTocker/Sue McIlroy 3. E/W: Nikki

Luisetti/Richard Peter 1, Lynda Cameron/

Barry Smart 2, Owen Evans/Tony

Biddington 3.

Rangiora Golf Club:

9Hole competition, Stroke/ LGU/ Hills

and Thomas Trophy Round4:Ladies: Lyn

Muir 34 c/b, Sarah Rutherford 34, Jan

Moffatt 35, RitaMoore36.Men:Colin

Bowman 36 c/b, Ralph Sinclair 36,

Howard Thomas 37 c/b,John Gregan37,

Ray Terris38.

AmberleyGolf Club:

Men: DSmith 71,PCumming 72, RHack

73, WVan Zuylen 75, MHarris 75, N

Rhynd 75, KRayner 75. Ladies: J

Cumming74, JBishop 74, BScott 75.

Twos: JCumming, IHolding. Nett Eagles:

SPratt. ExcelDesign Longest Putt: B

Scott.

Mid Week Men: KGussetee 38, BYates35,

NReeves 35, SMilne 35. Twos: BGill, S

Milne.

Mid Week Women:BPettigrew72, J

Bishop 77, DYates 81. Longest Putt: J

Bishop. Nine holders: RKemp16putts,D

Edwards 17.

Waimakariri GorgeWomen's Golf:

LGU &Putting: 18 Holes: Silver: JCollins

74.

Bronze I: LScott 75, JBlatch 76, LSteele

76, LSmith 76, MTeAwa 77,RPilbrow 78.

Bronze II: HChamberlain 78, VMcKenzie

80, KBush81, PRivers 82, GPottinger 82,

SGillespie 82.

Putting: IBeets­Huchshorn 29.9Holes:J

Jenkins 37, SFarrar 37, JSmith 41.

Putting: JJenkins 16.

AmberleySmallbore Rifle Club:

DQuigley 100.4, KQuigley99.6, MQuigley

99.6,KBrown99.6, PWisheart 96.3,C

Rhodes 96.3, OMitchell 96.4, IFrazer 95.1,

MParker 93.2, CKelland 93.1,WParker

88.1,GHeaven79.1,MPalmer 79.1, G

Jennings 68.0.Everyone welcome with

gearsupplied.

Lost and found -NCpolice

The following property has been

reported to the police as lost in North

Canterbury ­have you seen it? Mitsubishi

car key with two house keys, awhite

Turn everyday

essentials into

SuperGold

iPhone 7plus in protection case, aMazda

push button car key on ared/orange

crystal car key, ablack Samsung AO2S

phonewith alight pink case.

North Canterburylocations

Habit Health Forté

Level 1, Forté 2

132 Peterborough Street

Habit Health Byron Street

29 Byron Street Sydenham

Habit Health Travis Road

Find morelocations www.habit.health

Habit Health Methven

Garage Gym, 27 Forest Drive

Methven

03 3774356

Habit Health Rolleston

Rolleston Central Health

9 Masefield Drive, Rolleston

0800 800 288

Find allthe ways you could

stretch your moneyfurther.

Visit www.supergold.govt.nz or download

and check the SuperGoldNZ app.

SG_200x130_garden
---
Allessa Sofa with Ottoman

WAS $

3299

NOW

$

2699

BEINTowin$1000!

STOREWIDE SALE NOW ON!

ENDS 02.08.21.

SCANQRTOENter

Lincoln 4Seater –Grey

WAS $

2699

NOW

$

1999

Sydney 2.5 Seater

WAS $ 799

NOW

$

599

ALL MAISON

ON SALE

Ramsey Single/Single

Bunk Bed

WAS $ 1299

NOW

$

999

Dallas Queen Bed

WAS $

449

NOW

$

299

HEAPSofSUPERDEALS!

ALL DINING CHAIRS

ON SALE

Peyton

–Tan

$

115

Duke

$

125

Serene

Trundler Bed Set

WAS $

897

NOW

$

699

SCANQRTOSHOP

Zest

$

140

Camille

–Rose

$

75

250 Moorhouse Ave, Christchurch

0800 TARGET (0800 827438)

targetfurniture.co.nz

Offers and product prices advertised here expire

02/08/21. Sale Excludes Accessories.
---
Serviced apartments,

thebestofbothworlds

Thebestofboth worlds:Independentretirement

living withsupport on hand

Ourservicedapartments aresomeofthe largest

available in theChristchurch market,offering lightand

spacious open plan living, akitchenette andseparate

double bedroom withalarge ensuite.

Locatedinthe heart of thevillage, Summersetserviced

apartments aredesigned to create theperfect balance

betweenindependenceand services to suit your needs.

Ourhomes arelow maintenance, free from allthe

hasslesofupkeep. It's allabout stress-freeliving, where

time is yourstolivethe lifeyou choose.

Thinkthissoundslikeyou or someone youlove?

Take atourofour stunning show homesand learnmore

aboutservicedapartmentlivingatour Open Day!

Open Day

Sunday 18 July

10am -4pm

SummersetatAvonhead

120HawthorndenRoad,

Avonhead

Give Anne or Grace acallon

03 3573202 to find outmore

*Licence to occupy.

Servicedapartmentspre-sellingnow!*

SUM3183_37X8
---
Call for lifestyler funding

By DAVID HILL

LIFESTYLE BLOCK LIVING

The North Canterbury News, July 15, 2021

23

Waimakariri Mayor Dan Gordon

has called on the government to

consider the plight of lifestylers

following the recent flood event.

Lifestyle block holders were

left out of the government's $4

million relief package to assist

with the costs of repairing

uninsurable land damage from

the May 31 flood.

Mr Gordon took the opportunity

to discuss the matter with Prime

Minister Jacinda Ardern in

Ashburton last month, including

raising the fact Waimakariri is

thought to have the largest

number of lifestyle blocks of any

district in New Zealand.

''We have asignificant number

of lifestyle blocks in our district

and the Prime Minister was quite

taken by that. She indicated she

would look into it further.

''I just don't want them to be

forgotten about and I've been in

conversation with the North

Canterbury Rural Support Trust,

who are available to offer support

to lifestylers as well as farmers.

''The Ministry of Primary

Industries (MPI) does areally

good job of supporting farmers,

but there is really no­one to

advocate for lifestylers.''

Agovernment spokesperson

says lifestyle blocks do not ''meet

current criteria for funding

assistance'', but funding has been

made available to the Mayoral

Relief Fund.

Lifestyle advocate Cr Niki

Mealings established the Waimak

Lifestyle Block Group on

Facebook three years ago and

began holding regular meetings,

but says lifestylers continue to be

overlooked.

''I think they are often an

afterthought whose purpose is

still poorly understood. Also,

they're fairly unquantified at

present on anational level, so that

may explain why the sector is so

under­resourced.

''MPI has recently begun to turn

its mind to lifestylers' needs,

publishing guidance on feed

pressure and animal welfare

issues as well as mental health

support and financial support

options through WINZ and Inland

Revenue.''

During last year's lockdown Cr

Mealings began communicating

with MPI's Canterbury animal

welfare officer, which is apositive

step.

Flood damage ... There are concerns lifestyle blocks are being forgotten

about in the wake of the recent flood event.

PHOTOS: FILE

''But they're not really geared

up for them. They are after all, the

Ministry for Primary Industries.''

Since the beginning of last year

the Waimak Lifestyle Block

Group has been working on a

community based action to help

lifestylers to be better prepared

for future events.

In the meantime Cr Mealings

encourages lifestylers to sign up

for North Canterbury

Neighbourhood Support's

(NCNS) ''North Canterbury Gets

Ready''.

''The NCNS team did agreat job

helping disseminate important

information during the flood

event to those already registered

on Gets Ready. I'd like to see their

reach improve and really make

use of North Canterbury Gets

Ready's capabilities.

''When we were looking to

incorporate North Canterbury

Gets Ready into our lifestyle block

community­based Civil Defence

plan, we found it wasn't quite

configured for how we needed to

use it, but we worked with NCNS

to find asolution that now means

that people can be connected into

the lifestyle block community

while still being part of their local

street group.''

Niki Mealings

Simply choose ''Waimak

Lifestyle Block Group'' under

the''resource'' tab when setting

up an account on the Gets Ready

website.

Mr Gordon says he intends to

follow up with the Prime

Minister's office .

Residents needing assistance

following the flood are

encouraged to contact the

Waimakariri District Council as

there may be limited funding

available through the Mayoral

Relief Fund.

Matariki market ... Sue, Hayden and Damien Ditford, from

Blenheim, make s'mores at Matariki Makete at the Amberley

Farmers' Market in 2019.

PHOTO: SUPPLIED

Farmers' market

celebrates Matariki

The Amberley Farmers'

market has aspecial

Matariki Makete planned

for Saturday.

After akarakia at 9am

there will be hot treats to

enjoy, competitions and an

abundance of food and

produce to buy.

Market manager Nicky

Brooker says soup made

with meaty bones and veges

from the market, served

with kumara sourdough

bread and s'mores

(marshmallows toasted over

afire and sandwiched

between homemade

bikkies) will be available

during the market.

''We want to share their

bountiful market kai to

show our gratitude for the

support given to Amberley

Farmers from the North

Canterbury community,''

she says. ''Gather your

whanau and friends and

join us for this free kai and

we will feast together.''

There will be Matariki

colouring pages available to

do on the spot or to take

home, a''guess how many

hazelnuts'' and ''guess how

many olives'' in the jar

competition for some added

fun.

''We hope you will use this

opportunity to give gifts to

our local food banks who

are such agreat support to

families in need in our

community. There will be

boxes available for your

koha at the market,'' Nicky

says.

Matariki is the season of

the first rising of the star

cluster, in late June or early

July. This is the marker of

the beginning of the Maori

New Year.

It is atime to reflect, give

thanks for the harvest, to

feast and share the bounty

with family, friends and

community.

Residential and Commercial

Installation, Repairs, Maintenance &Alterations

Services we offer for all door types:

New Garage doors: Sectional, Roller,Tilt&

Cedar

Partsand Maintenance

Door Upgrades

Supply and install automatic door openers for

sectional tilt &roller doors

Phone 027 207 6128 |03310 6577

hamish@abelgaragedoors.co.nz

www.abelgaragedoors.co.nz

2257749v1

Let Brett give you afree quote to

get those interior jobs booked in and

completed over the winter months.

Day Bros

Painters and Plasterers rs are

able to

handle your whole job -Nomore dealing with

two different trades!

We offer free quotes and service Canterburywide.

Residential and commercial

properties.

We specialise in: painting

plastering roof spraying

specialised coating system

airless spraying

water blasting

Local, family owned business who has been in business

for over 30 years. Members of master painters.

Please contact Brett on 0275 340 878

Email: office@daybrospainters.co.nz

www.daybrospainters.co.nz

2324391v6

✓

✓

Don't know where to start orhow to do it?

Gardens &Lawns doing their own thing –

not your thing?

✓ Property maintenance falling behind?

✓ No time for life on alifestyle block?

CALL IN THE EXPERT

LET AL-MOW AND MORE FOR YOU!

Regular maintenance or one off work

No job too big or small

Call Al Today!

P: 021 249 9495 |E:al@almows.co.nz

www.almows.co.nz

2325634v1

If you're SERIOUS about QUALITY

We seriously meet YOUR NEEDS!

Affordable,Prompt, Friendly consultativeservice

&qualityproduct–Guaranteed!

Shade Sails,Canopies

&Screens

2264883

Custom design, manufacture&install

•Agricultural &MachineryCovers

•BoatCovers,Caravan Awnings

•TransportCovers and Upholstery

•Canvas&PVC goods at FactoryDirectPrices

DESIGNER CANVAS

M021 114 0767

P312-9889

Pears Rd,Sefton

email designercanvas2016@gmail.com
---
Love the

Community

Warm up with aMid-WinterChristmas High Teaat

SummersetonCavendish

Thesecoolermonthscan make it just that littlebit harder to

getout andabout.

So here at Summerset on Cavendishwe're hostingaMid-

Winter Christmas High Teaand you're invited!

Just popalong to ourvillage between1pm and3pm on

Friday 16 July andenjoy arange of delicious winter treats

andhot drinks on us.

Whilstyou'rehere, whynot also getatasteofthe

Summersetlifethatour residentslove so much.

Ourteamwould love to show youaroundour stunning

village. We have plansand pricingavailable to view and

we're sure you'llmeetsomeofour wonderful residents

along theway!

Mid-Winter

Christmas

High Tea

Friday16July

1pm -3pm

Summerset on Cavendish

147CavendishRoad,

Casebrook

03 7413340

Find outmoreatsummerset.co.nz/casebrook

SUM3184_8X8
---
EARTHMOVING

The North Canterbury News, July 15, 2021

Freight Free for purchases over $100.00

25

AUTHORISED NZ STOCKISTS OF LEADING POWER TOOL BRANDS

Amberley

59 Carters Road

Ph 03 314 7007

amberley@thetoolshed.co.nz

www.thetoolshed.co.nz

2241178

Fact finding ... Waimakariri District Council staff and councillors were joined by their

Environment Canterbury colleagues for atour of flood damage around the district recently.

Flood work under way

Flood repair works are

well under way, following

the recent rain event.

Environment

Canterbury staff have

completed repairs to a

return bank on the

Rakahuri /Ashley River at

Waikuku, which was

breached, while repair

work is expected to begin

next week at the south

bank, where the primary

Ashley River stopbank

meets the coast.

The lower section of the

existing stopbank will be

raised, along with the two

car park access points to

form acontinuous bank to

the coast.

Work is expected to take

about two to three weeks.

Access to the car park

and beach will be

maintained throughout the

project.

Staff do not anticipate

that any trees will need to

be removed for this

project, but some

trimming will be required

for machinery access.

Further upsteam there

was some heavy erosion at

groyne 25, at the south

bank end of Golf Links

Road and repairs are

under way.

Other groynes sustained

damage, mainly along Mt

Excavation & Cartage Ltd

•Auger attachment for Excavator for

post hole boring

•All dairy farm maintenance

•Effluent pond &track construction

•Pivot rut filling

•Tree stump removal •Root raking

•Siteworks -Grader available

•Foundations –Ribraft &Engineered

Gravelraft

•Roading –Culverts -Driveways

•Asphalt, chip sealing, kerbing

•Hardfill -Riverrun, Ap65, Cap40 &

Cap20 •Screened soil

P: 313 3419 M: 027 433 6993

E: hurleyexcavation@xtra.co.nz

1999714

PHOTO: WAIMAKARIRI DISTRICT COUNCIL

Stopbank ... Repairs to astopbank at Waikuku are due to

get under way next week.

PHOTO: ENVIRONMENT CANTERBURY

Thomas Road and will also

need to be repaired.

The main areas of

damage on the

Waimakariri River

included some erosion to

the berm close to the

stopbank, downstream of

McIntosh's Drain, which

has now been repaired.

Works are under way to

repair some erosion

upstream at Poyntzs Road

on the north bank and to

fix the damaged Beach

Road floodgates.

Peak flow in the

Waimakariri River was

about 2500 cumecs, which

is about half the design

capacity of the scheme and

stopbanks were not

breached.

At Eyre River, staff have

assessed heavy berm

erosion throughout the

flood protection scheme

from Island Road near

Oxford down to the

Waimakariri confluence,

but have found no

stopbank damage.

But there has been

considerable damage to

areas upstream of the

river, outside the rating

district, notably at Coopers

Creek.

For all your general

farm and forestry

earthmoving

requirements

Baden Ryan: 027 229 1579

Pam Ryan: 027 381 2741

e: ryanearth18@hotmail.com

w: ryanearthmovingltd.co.nz

ryan earthmoving ltd

2372099

For All Your Earthmoving Needs

•Irrigation

•River protection

•Forestry preparation

Bulldozer •Root raking

•Discing

•Fence lines

•Effluent ponds

•Dams &Ponds

•Ground breaking

•Pipe laying

•Digging, bulldozing &grading tracks

•Quarries: Lime, rotten rock and shingle supply

&cartage

•Residential &commercial building sites

•Maintenance for sheep, beef &dairy farms

2393299

YOURLOCALHURUNUIEARTHMOVINGCONTRACTOR&QUARRYSUPPLIES

LHU U UIE IN CONTRACTOR T U LE

BRAND EARTHMOVING

• Land Clearing

• Road maintenance/

Construction

• General Cartage

• Driveways/house sites

• Tree trimming and

removal

• We buy standing trees

Rangiora

We have been Contracting in

Canterbury for 35 years

We have available for

hire with operators -

• Excavators from 2to30ton

• Bulldozer -20ton

• Tip trucks from 5to45ton

GVM

• Wheel Loaders -Bucket

and forks

• Transporter -can cart up to

15 ton

For anoobligation estimate

or quote, contact -

2374408

Tony Brand 0274 360 338

Simon Brand 0274 279 455

Office 03 313 8224
---
RANGIORA MITSUBISHI

321 High Street, Rangiora | 03941 3175 | rangioramitsubishi.co.nz

10 year /160,000km Powertrain Warranty(whichevercomes

first)(nontransferable). 5year/130,000kmNew Vehicle

Warranty(whichevercomesfirst)(nontransferable).

FROM

$

33,990+ORC*

ST

ST-L

MIDNIGHT EDITION

Ti

$33,990 +orc* $41,990 +orc* $42,500 +orc* $46,990 +orc*

Stock available for immediate delivery

*Prices shown are available while stock lasts plus on road costs.. Nissan reserves the right to vary, extend or withdraw this offer. Not available in conjunction with any other offer.

RANGIORA NISSAN, 321 High Street,Rangiora

Ph: 03 941 3175

www.rangioranissan.co.nz

NISSAN 150,000 KM'S

5YR FACTORY

WARRANTY

rangioranissan.co.nz
---
Leadership role for Victoria

Oxford farmer Victoria Trayner

has been appointed to anew

role of associate director for

meat processor Alliance Group.

The new role has been

established to develop the next

generation of leaders and is for

12 months, beginning in August,

Alliance Group chairperson

Murray Taggart says.

''Alliance Group is committed

to supporting the future growth

of the rural sector, and we need

to create the next generation of

leaders in order to do so.

''Victoria impressed us with

her desire to learn and develop,

her commitment to farming

sustainably, and the leadership

role she plays in her community.

''She certainly represents the

future of our industry and we

are pleased to have her on board

for the next 12 months.''

The Alliance Group board was

delighted with the calibre and

number of shareholders who put

themselves forward for the new

associate director role and was

excited about the depth of talent

within the sector, he says.

Victoria and husband Glen are

fifth generation farmers,

sharemilking 650 cows near

Oxford.

They are also actively

involved in their family's wider

farming enterprise across pig

farms, cropping, dairy and an

Angus beef stud.

Besides lecturing in

agribusiness and production

management with Primary ITO,

Victoria chairs the Waimakariri

Next generation farming leader ... Victoria Trayner has anew role with

the Alliance Group.

PHOTO:SUPPLIED

District's Primary Sector Plan

Change 7Committee and is a

Waimakariri Irrigation Ltd

director.

Victoria is adescendant of

Waitaha and Ngati Mamoe, both

of which are represented by the

Ngai Tahu iwi, and is proud to

be raising her three daughters

as the next generation of

guardians of the land.

''I am looking forward to

gaining deeper experience in

board governance practice

within aco­operative structure

and gaining insight into the

complexities of the meat

industry beyond the farm gate,''

Victoria says.

''I want to use this knowledge

to contribute to the future

success of our sector and make a

better New Zealand for the next

generation to grow up in.''

RURAL LIFE

The North Canterbury News, July 15, 2021 27

NZ Ag Show on track

for November return

By DAVID HILL

The New Zealand Agricultural

Show is on track to make a

return in November.

Planningisunder way for the

return of the country's largest

agricultural show from

November 10 to 12, afterthe

eventwas cancelled last year

due to Covid­19.

Whilethe main eventwas

cancelled, the Canterbury A&P

Association managed to host

several events at the

showgrounds, in central

Christchurch and on­farm last

November.

EventdirectorGeoff Bone

says the show has been able to

bounce back quickly due to

community support.

''Support and community

have been two wordsthat

continuetobepillars with the

NZAG Showand the Canterbury

A&P Association.

''Thank you to everyone who

volunteeredtheir time to help

us in one of our most

challenging periods.Tothose

who donated moneyinour

'Savethe Show' campaign,

thankyou.

''We wereable to raise over

$100,000 towards saving the

show.Thanks to the support

within the Canterbury and the

A&P community, we are very

proudtoannouncethat the

show is happening this year and

that we have some very exciting

announcements to revealover

the months leading up to

Livestock competition ...

Oxford farmer Andrew Stokes

convened the beef cattle

competition held at Canterbury

Agricultural Park last year.

PHOTO: FILE

November.''

Morethan 80 percent of the

trade sites havealready been

booked for the three­dayshow,

indicating thatsupport for the

event is as strong as ever.

The CanterburyA&P

Association's annual meeting

willbeheld on July30from 3pm

at the Te HapuaHalswell

Library's Hao meeting room,

whenpresident Chris Herbert

willfinallystep down after

spending an extra year in the

roledue to Covid­19.

Livestockcompetitionentries

opennext month,while tickets

willgoonsale in September.

Follow The NZAGShow on

Facebook, or for more

information go to theshow.co.nz.
---
2191656

FENCING

• Post Driving

• Stock Fencing

• Stockyards

• Post and Rails

• Lifestyle etc

Ph Andy Horn

021 214 1201 or

(03) 314 9460

Built to your budget!

-All types of fencing including:

-deer, sheep and cattle yards

-Retaining walls –Timber gates

-Full range of specialised equipment for farm fencing and

lifestyle blocks, offers you the complete land package.

Ashley: 0274 364 776 ah: 314 8541

e: A.Duckworth@xtra.co.nz

www.duckworthfencing.co.nz

Post &Rail Fencing -Looks great &

makes life easy for the Rural Lifestyler!

TRUCK DRIVER

Class 2

We are looking for atemporary person tojoin our

team from 26 th July until 10 th September (7 weeks)

to help with our bobby calf pickups.

Key requirements:

•Have aclass 2license (small truck)

•Befit and capable of handling calves up to 30kg

•Enjoy working in arural area with arural

•Local knowledge is abenefit but not essential

The hours are varied but the hourly rate will reflect

the successful candidate's level of experience and

the short term nature of the contract.

If this sounds like ajob you are interested in call or

txt Marco on 0274 965 850.

2395385

2258760

2354936

RURAL LIFE

28 North Canterbury News, July 15, 2021

Stud breeding passion grows

By DAVID HILL

When the Holland family first moved to

Culverden in 2000, running sheep and

cattle studs was not on the horizon.

Alistair and Lissa Holland purchased

the 955 hectare Hemingford property in

2000 and moved to North Canterbury

from Manapouri to take over commercial

Corriedale ewes and Angus cows.

Fast forward two decades and

Hemingford has agrowing reputation for

Charolais bulls, and Texel, Romtex and

Suftex rams.

''When we first came here the sheep

were Corriedale, but the performance

wasn't very good, so we bought 100 ewe

lambs from the Turanganui Romney stud

in the North Island and put them out with

the Corriedale ewe lambs and compared

notes,'' Alistair says.

''As two­tooths, the Romney were just

so far ahead, so we decided to go with the

Romney. We had aRomney stud down

south so Iknew the breed, but Ihad done

my thing with studs.''

The couple's son Sam returned home

from overseas in 2001 and it ultimately

led to achange of direction.

Almost by accident the Holland family

began breeding Charolais cattle as a

neighbour asked them if they could look

after his cattle.

''We share­farmed them for him and

when he died more than 10 years ago we

bought out his share,'' Alistair says.

''We decided if we were going to be in

it, we might as well build it up. The stud

is really Sam's thing. He's absolutely

passionate about his stud stock and it just

went from there.''

The Hemingford Charolais stud was

established 15 years ago and the 12th

annual sale was held last month.

''The Charolais is afantastic marker.

The calves finish quick and they've got all

the attributes that you need in aterminal

cattle beast,'' Sam says.

''Terminals are well used in sheep, but

they're under­used in cattle, although the

Charolais is getting abigger and bigger

following.''

Stud bull Hemingford Next Direction

already has agrowing following, with

semen sold to studs in Canada and

MEAT2U.NZ

HOME KILL

&WILD GAME

MEAT PROCESSING

313 0022

Final inspection ... Alistair Holland checks up on aCharolais bull ahead of the Hemingford

Charolais on­farm bull sale last month.

PHOTOS: DAVID HILL

Australia and his first crop of bulls sold

at last month's bull sale.

The Holland family got into breeding

Texel sheep after astock agent

approached them about aTexel stud

being up for sale.

Since then Hemingford Texel rams

have twice topped the sale at the

Canterbury A&P Association Elite Ram

and Ewe Fair.

Two rams were live exported to Japan

recently as the Hemingford reputation

continues to grow, Sam says.

Romtex (Romney and Texel­cross) and

Suftex (Suffolk and Texel­cross) sheep

have since been added and now all stock

on the property is registered stud and

performance recorded.

Of the original 955ha property, 270ha is

downs and flats with the balance steep

hill country.

A215ha irrigated property, The

Willows, has since been added to the

operation to be used for finishing stock,

which made abig difference this summer

with ensuring the bulls were in good nick

ahead of the bull sale.

While the farm looked green for last

month's bull sale, Sam acknowledged

prospects did not look as bright afew

weeks earlier.

''It's greened up well and we've had a

great June which has got us out of

trouble, it was very, very dry. Like most

places it's been atough run for alot of

people with drought and floods, so

hopefully the winter is reasonably kind

to most people.

''The irrigation makes abig difference

and with the genetics we're trying to

Team work ... Viki Holland was on duty at

last month's bull sale.

focus on amore meaty style of Charolais

as they are easier fleshed and an easy

finishing animal.

''We've got the irrigation on afair bit of

our farm now, so we've got the hard hill

country for the cows and the ewes and the

irrigation to bring out the rams and the

bulls.''

Today Sam and wife Viki are

responsible for the day to day running of

the operation, which comprises 265 stud

Charolais cows and 2500 stud ewes and

nearly 1000 ewe hoggets.

There are plans to increase to 300

Charolais cows to provide some scale for

culling and to build up the breed.

20COC003

BARMOWERS

FROM2.4MTO3.5M

GMD 240 GMD 310 GMD 355

GMD 280 GMD 315

• PROTECTADRIVE cutter bar

safety system

• Fast-Fit blades as standard

• Hydraulic headland lift

Contact

us today

Leeston 03 324 3791 Amberley 03 314 9055 Ashburton 03 307 8027 Timaru 03 688 2179

www.cochranes.net.nz
---
IT'S TIMETOSTEP UP

FROM 5IN1TO

COGLAVAX8 VACCINE

The health and welfare of our

animals is really important to

us, so we use products that

achieve results

Hayden Ashby

Livestock Operations Manager,

Brownrigg Agriculture

STEP UP TO 8 IN 1 PROTECTION

When you're running big numbers of sheep and cattle… there's one number you want

to keep really low. And that's unnecessary losses from Clostridial disease.

That's why Brownrigg Agriculture have stepped up from 5 in 1 to Coglavax8

vaccine to protect against 8 Clostridial diseases present in New Zealand.

ONLY AVAILABLE FROM YOUR VET

CEV0001 APFP

coglavax8.co.nz

Ceva Animal Health (NZ) Limited. P: 09 972 2853 ACVM No. 7528 References: 1. JS Munday, HBentall, DAberdein, MNavarro, FAUzal &S Brown, Death of aneonatal lamb due to Clostridium perfringens type B

in New Zealand, New Zealand Veterinary Journal 2020. 2.West, Dave M., Bruere, A. Neil and Ridley, Anne L.The Sheep, Health, Disease and Production. Auckland: Massey University Press, 4th ed., 2018. Print.
---
SPORT

30 The North Canterbury News, July 15, 2021

Opportunity lost for Rangiora div 1teams

Rangiora's division 1men's and women's

hockey teams were disappointed to

come away without any points last

weekend, given their Harewood

opposition had lost several players due

to the national under­18 tournaments.

It showed the depth bigger clubs have,

with Harewood able to pull in players

from other grades, (including former

Canterbury representative players), to

field strong sides.

The Rangiora CBK women pushed

hard and created chances but couldn't

overcome atwo goal deficit.

Meanwhile Harewood showed its

experience in converting half chances

into goals, scoring three of its five goals

from penalty corners against the

Rangiora CBK men.

In lower grade action Rangiora

Korimako held off Southern United for a

narrow win in the Sunday super league

(SSL) championship, while Rangiora

Piwakawaka grabbed its best result of

the season in beating UC Athenians 3­0.

In the men's SSL championship

(division 3), two goals to Rik Roberts

gave the Rangiora Oddfellows awell

deserved draw against Waikirikiri

(division 2) in its league crossover game,

while the Colts went down to UC

Apache. The Rangiora­Hurunui Hares

missed achance to solidify aplace at the

top of the mid­week open (MWO)

women's division 1competition, paying

the price for taking the HSOB /Burnside

to team too lightly.

The Rangiora­Hurunui Hawks played

well in its 1­all draw with Hinemoa­

Kaiapoi, ateam several places higher on

the table.

The MWO women's division 3

competition is proving to be aclose one

with only 6points separating the teams

in 2nd (Hinemoa­Kaiapoi) and 6th

(Hawks).

The Rangiora AMWO men's team also

played alocal derby against Hinemoa­

Kaiapoi, prevailing in atight contest 3­2.

Meanwhile an out­of­sorts Allsorts team

had all the luck go against them in its

battle with Waikirikiri in the MWO

men's division 2competition.

Nothing seemed to go right at either

end of the turf. While creating some

good chances the team was unable to

close the gap after Waikirikiri built a

good lead.

Despite dominating for long periods of

the game, Rangiora's Platinum women's

Ateam couldn't find the back of the net

against Waikirikiri. The visitors got

their goal from abreak out against the

run of play, and while Rangiora created

numerous chances, including several

penalty corners, they couldn't find their

way through the Waikirikiri defence and

their strong keeper.

Results

Division 1: Men ­Rangiora CBK 2

(Lachlan Miller 1, Damian Allerby 1) lost

to Harewood 5. Women ­Rangiora CBK

1(Claudia Petrie 1) lost to Harewood 2.

MVP: Malia Parsons.

Sunday Super League Championship:

Men ­Rangiora Colts 1(Justin Meyers 1)

lost to UC Apache 2. MVP: Joshua Ball.

Rangiora Oddfellows 2(Rik Roberts 2)

drew with Waikirikiri 2. MVP: Mike

Roberts. Women ­Rangiora Korimako 1

(Skye Trowbridge 1) beat Southern

United 0. MVP: Poppy Griffith­Jones.

Rangiora Piwakawaka 3(Sharlene Bush

1, Maddi Plimmer 1, Kala Ryan 1)

defeated UC Athenians 0. MVP: Tina

James.

Mid Week Open: Men ­Rangiora A3

beat Hinemoa­Kaiapoi Kauri 2.

Rangiora Allsorts 2(Jon Green 1, Shaun

Maxwell 1) lost to Waikirikiri Petrels 6.

On attack ... Kara Cairns signals for apass from Janayha Johnstone in the Platinum A

girls' game against Waikirikiri Herons.

PHOTO: SUPPLIED

Women ­Rangiora Hurunui Hares 1

(Kelly Nicholson 1) lost to HSOB/

Burnside 2. Rangiora Hurunui Hawks 1

drew with Hinemoa­Kaiapoi Totara 1.

Platinum: Men ­Rangiora A1(Sam

Firth 1) lost to Avon Gold 15. MVP: Sam

Firth. Rangiora B2lost to Harewood 6.

Women ­Rangiora A0lost to Waikirikiri

Herons 1. MVP: Ella Kelman. Rangiora

B0lost to HSOB/Burnside 6.

Kwik Sticks 11­a­side: Boys ­Rangiora

Renegades 1(Logan Austin 1) lost to

Waikirikiri Harriers 6. MVP: Jonathan

Myall. Girls ­Rangiora Rascals 2

(Felicite Antoniuk­Newall 1, Olivia

Lander 1) drew with Avon/St Michaels

Swans 2. MVP: Cate Ambury.

Kwik Sticks 7­a­side: Boys ­Rangiora

Rampage 0lost to St Andrews Prep

School 5. Rangiora Rangers 3(Seth

Anders 1, Jamie Ryan 1, Josh Godinet 1)

defeated Avon/St Michaels Titans 2.

MVP: Jamie Ryan. Girls ­Rangiora

Rebels 1(Meg Dunn 1) beat Harewood

Dodgers 0. MVP: Danielle Petrie.

Rangiora Rainbows 4(Angie Mones­

Cazon 3, Ruby Taylor 1) beat Hornby 0.

MVP: Sophie Cartwright. Rangiora

Rubies 1lost to Southern United

Snapper 5.

Kiwi Sticks: Boys ­Rangiora Rogues 0

lost to Harewood 1. MVP: Benji Mones­

Cazon. Girls ­Rangiora Rabbits 6

(Catherine McKellow 5, Ashlee Harkess

1) beat Harewood 1. MVP: Athena

Vernall. Mini Sticks: Boys ­Rangiora

Roadsters 0lost to Marist Gorillas 5.

MVP: Fletcher George. Girls ­Rangiora

Rockets 11 (Shaylee Eastmond 4, Aimee

Dunlop 3, Adele Ferguson 2, Hazel

O'Steen 1) beat HSOB/Burnside Piglets

2. MVP: Shaylee Eastmond. Rangiora

Rock Stars 6(Anita Mones­Cazon 4, Cleo

Holloway 1, Charlotte Hawes 1) beat

Harewood Dynamos 1. MVP: Violet

Hecken.

Checkout ourlatest

deals

Winning winter

$

24 99

STEINLAGER CLASSIC

15 x330ml Bottles

beersiedealS

$

42 99

each

HEINEKEN or STEINLAGER PURE

24 x330ml Bottles

$

27 99

each

GORDON'S G&T

12 x250ml Cans,7%

GORDON'S Sicilian Lemon Gin &Soda,

GORDON'S Premium Pink Gin &Soda

12 x250ml Cans,4%

HOT DEAL!

$

37 99

HOT DEAL!

$

39 99

HOT DEAL!

$

44 99

HOT DEAL!

$

49 99

1.125LITRE

$

49 99 $

51 99

Hot mix and match deals

to beat thecold

$ 40

2for

Single bottle

$21.99

JAMESON

1Litre

JOHNNIE WALKER

Black Label

700ml

DEWAR'S

White Label

1Litre

ABSOLUT Vodka

1Litre

JIM BEAM

White Label

1.125Litre

BOMBAY

SAPPHIRE

1Litre

MADAM SASS

Pinot Noir

or Pinot Noir Rosé

750ml

Shop local with

AMBERLEY, ASHBURTON, BARRINGTON, BELFAST, BRIGHTON, BURNSIDE,

COLOMBO ST, EDGEWARE, ELMWOOD, FERRYMEAD, HALSWELL, HANMER

SPRINGS,HORNBY, ILAM,KAIAPOI, LEESTON, LINCOLN, METHVEN, OXFORD,

SHOP LATESTDEALS at WWW.SUPERLIQUOR.CO.NZ

NATIONWIDE PICKUP &DELIVERYNOW AVAILABLE

PAPANUI, PEGASUS, RANGIORA, SEASIDE, WOOLSTON

Exclusions may applyonsome brandsadvertised. Offers end close of trade 18th July 2021, while stockslast. Available at participating stores only. MultiDealonlyavailable in store. Varietals may

vary by store. Limits may apply.Wholesale (otherliquor retail banners) notsupplied.Termsand conditionsmay apply.Available 5th -18thJuly 2021 inclusive. Pleasesee www.superliquor.co.nz fordetails.

SUP2288_C8
---
Kaiapoi family store endures

Blackwells Department Store

has weathered many storms

overthe years,none more so

thanthe 2010 Canterbury

earthquake.

Brothers Andrew and

Michael Blackwell were told at

5pm on September 4, 2010, that

their ''1921 brickbuilding is

buggered'', by structural

engineer WarrenLewis.

It could havemeant the end of

an era, but closing the storewas

never an option, managing

director Andrew Blackwell

says.

Andrew joined the firmin

1980, followed by his brother

Michael in 1988.In1993 the pair

became the fifth generationof

the familytorun the store.

Overthe years they have

continued to retaintheir loyal

customerbase and attract new

ones, overcoming somemajor

challenges along the way,

includingthe 2010 and 2011

earthquakes and lastyear's

Covid­19 lockdown.

Following the September 4,

2010, earthquake, the store

temporarilyrelocated to two

locations in Kaiapoi,including

ashop on the Williams and

Hilton streetscornerand a

warehouse for the flooring

departmentatthe Shell garage,

now Mobile.

It took two years to build the

new building,with Bushnell

Builders, Wilkie&Bruce

Architects and Lewis &Barrow,

structuralengineers, as key

partners. The new storewas

finally opened in September

2014.

Lastyear'sCovid­19 lockdown

meant the storehad no choice

but to close its doors for the first

timeinits life for more than six

weeks.

But Andrew and Michael

haveshowntenacity and

determination, never losing

sight of their policyofproviding

customers with awide selection

of goodswith the emphasison

qualityand value.

Blackwells continues to have

strong links to the local

community, through sports,

local community groups,

business association and

servicegroups,and supporting

communityfundraising

initiatives.

Three generations ... George Blackwell (left), his grandson Henry

and son Joseph were the first three of the five generations to have

run Blackwells Department Store in its first 150 years. PHOTO: SUPPLIED

Since the inception of the

Kaiapoi Art Expo 16 years ago,

Blackwells has been one of the

sponsors,with Andrew

Blackwellserving on the

founding committee.

Celebrations

to mark 150th

Blackwells Department Store is planning to

mark 150 years in business withaweek of

celebrations.

Events will be heldinstore all week from

September4to12, alate nightonThursday,

September9,with fashion parades, abest

dressed and other competitions.

For this celebrationyear, there will be

new brands andnew lookdepartments in

store.

Amuseum will be set up in store

showcasing the historyofBlackwells, and

the staff are keen to hear fromthe wider

community.

What storiesdoyou have?

Has your familyshopped with

Blackwells for generations?

How many?

Who is our oldest customer?

Do you have any stories to tell?

Blackwells would alsolike to hear from

any ex­staffmembers.

To mark its 150thanniversary,

Blackwells is sponsoring asculpture from

well­known New Zealandartist Andrew

Drummond, which will be placed alongthe

Kaiapoi River bank.

If you haveany storiestotell, contact

Blackwells Department Store on (03)

3278029 or email

enquiry@blackwellsdeptstore.co.nz.

2397689

WINTER SALE

NOW ON

Open 7Days

178a Williams St, Kaiapoi

shoetherapy.co.nz

Come &see our new homeware store, for the

latest of fashion and on-trend home décor.

We stock major brands including French Country, Le Monde, LeForge,

CC Interiors.Top of therange giftware,indoor /outdoor furniture,artwork,including

artwork by local artist Christine Watton, unique pots, candles and much more

Proudly serving Canterbury's finest freshly

roasted espresso coffee since 1996.

Beautiful floristry range includes fresh, dried and silk flowers, pre-designed or

custom made to your needs. For all your floral fare &gifts for all occasions

121 RAVEN QUAY,KAIAPOI

(03) 327 7255

coffeeculture.co.nz

2397692

178 Williams Street, Kaiapoi

Phone 03 327 0033

@loveyourhomekaiapoi

@kaiapoiflorist
---
2021 NORTH CANTERBURYSPORTS AWARDS

Celebrating the Sporting Achievements of our localAthletes,

Administrators, Officials&Supporters during 2020 &2021

Nominations in the 2021MainPowerNCSports Awards aresought for 13 categories:

•Sportsman •Sportswoman •Administrator

•Sports Team •Coach •Sports Official

•Junior Sportsman •Junior Sportswoman •Masters Sportsperson or Team

•Athlete withaDisability •ServicetoSport(x3) •Sports Event

•Sports Club of the Year

Applicationsarealso soughtfor 10 Youth Sports Scholarships,each worth $2000 to go towards

developing an individual's sportingtalent. From the finalists awinner and tworunners up will be

selectedtoreceiveanadditional $5000 and $2500 respectively.

Official Media Partner of the 2021

North Canterbury Sports Awards

Nominations close 17th September. Enter at...

www.sportstrust.org.nz

Phone: 03 975 5560

or Email: roliver@sportstrust.org.nz

SPORT

North Canterbury News, July 15, 2021

31

Saracens claims the silverware

RUGBY

By LINDSAY KERR,

PETER WILLIAMS

AND DAYLESUTHERLAND

Positionsswappedatthe top of

the North Canterbury division

one rugby table when Saracens

beat Kaiapoi 20­18on

Saturday.

The shock of the round was

Ashley beating Glenmark­

Cheviot 27­32. The combined

side's presence in the semi

finals is nowslim. Hurunui

kept itself in contention

beating Ohoka, while Oxford

beat Woodend by default.

Points afterround six of

seven: Saracens 26, Kaiapoi 25,

Oxford 19,Ashley16, Hurunui

15, Glenmark 11,Ohoka 10,

Woodend 1.

Kaiapoi vSaracens

Placards along the Saracens

supporters' sideline

congratulating 'Goody' was

inspiration not only to flanker

Nathan Goodwin,playing his

150thmatch, but for the whole

team.

He turnedinan

inspirationalperformancein

an enthralling top­of­the­table

encounter, withthe lead

changingthroughoutthe

match.

Saracens was the first to

score, courtesy of aRicky Allin

penalty, but Kaiapoi hitback

when fullback Reuben Tiweka

collected an attacking

Saracens kick, usedhis speed

to beat one player and then put

LoganBell in the clear to run

half the lengthofthe field to

score.

Apenaltyonthe strokeof

half­time gaveKaiapoi at 8­3

lead at half time.

Kaiapoipaid dearly for a

number of errors in the second

half.After twicefailing to find

touchafter being awarded

defensive penalties, the

Saracens backscontrivedto

put the hard­running Hadrian

Jackson into ahole for atry

whichAllin converted.

Kaiapoistruckback when

Tiweka scored in the corner

with aspectacular dive as he

grounded the ball millimetres

from the corner.

Corey Simpson replaced

Allin and took over the goalkicking,

scrambling the ball

over thecrossbar to tie the

match up 13­all.

Kaiapoitookthe leadwhen

substitute Lance Taylorcross

for atry, but Kerran Jenkins

scored atry for Saracens

leavingSimpsontoconvert for

a20­18 win.

Thetireless Jarred Gilmore

was the pick of the Kaiapoi

forwards, matching Goodwin's

effortsfor Saracens. But it was

the visitors who took away the

valued silverware winning the

covetedDeansTrophyand the

Bates Cup,whichisplayedfor

annually between the two

teams. Barring amajor upset

next week, Saracens will

almost certainlyadd the Colin

Rowlands Trophyfor the

North Canterbury only

competition.

Scoreboard: Kaiapoi 18

(Logan Bell, Reuben Tiweka

and Lance Taylor, tries,Taine

Jacobs­Lawson apenalty) lost

to Saracens20(Hadrian

Jackson and Kerran Jenkins,

tries.Ricky Allinapenalty and

conversion,Corey Simpson 1

penalty, 1conversion.

Glenmark­Cheviot

toppled

Glenmark­Cheviotlooked

comfortably placed with a

24­10 half­time advantageover

Ashley at Loburn Domain.

The combined side

dominated the opening

exchanges, scoring threefirsthalf

tries, withtwo to John

Broad and onetoJordie Gray.

Brook Retallickconverted all

three tries and added apenalty

as Glenmark­Cheviot raced out

to a24­3lead and thingslooked

ominous for Ashley. Nobody

told live wirefullback Luke

Gold, who latched on to a

backline movement, one that

started50metres from the

Glenmark line and scorednear

the postsfor KorbynGray to

convert. The new momentum

never leftthe Ashley unit as

they played as acomplete unit.

Gray scoredfive minutes

into the secondspellbefore

Gold was backinthe action,

this time backing himself 30

metres out withlittlewriggle

room to workin.

On the run ... Inspirational Saracens flanker, Nathan Goodwin on

the burst in his 150th match for his team.

PHOTO: LEONIE HANCOX

Moments laterJosh

Duckworth bullied his way

over to score and Gray added

the conversionasAshley had

grabbed thelead.

Predictably Glenmark­

Cheviotfoughtits way backand

with full time beckoning

camped in the Ashley 22, but

Ashley's defenceheld.

Gold was again astar in the

Ashley performance, while

Hooker LouisJames was

always in thethick of it and

substitute loosieNick Sim

made an immediate impact.

Returning from injury, Jacob

Vincent was astand out player

in the Glenmarkeffort while

Mike Keane in the centres was

always dangerous when

gaining the ball.

Scoreboard: Ashley32(Luke

Gold 2, Josh Duckworth tries.

Korbyn Gray atry, 3

conversions, 2penalties) beat

Glenmark­Cheviot 27 (John

Broad2,JordieGray tries,

BrookRetallick 3conversions,

2penalties).

Hurunuiwins

Alarge crowd assembled at the

Culverdengroundsto

celebrate Club Day and

Hurunui'slatest centurion

Andrew Murdoch's 100games.

But the visitors soon

silenced theFlintoff

Contracting stand and shottoa

14­pointlead.

Ohoka dominatedpossession

and territory and was ableto

capitalise on the space

generated out wide with three

tries sharedbyoutside pairing

Ethan McDuffand Jade

Nukunuku.

The home sideclung on and

fought backwithtwo tries,one

to Murdoch.

Ohoka was verysettled in its

gameand pushedontoextend

the lead 24­14 at the break.The

homeside regrouped,and the

lockingduo of LukeRomano

and Flynn Crean started

rolling down the field.

Enjoying much needed

possession and territory and

being spurredonbyavocal

homecrowd, centreHunter

Johnson crossed to narrow the

margin. Apenalty shortly after

hadthe scoredlocked up at

24­all. Ohoka's ScottAllin was

unlucky not to score after being

held up over the line

Hurunuigained lead with a

penalty to Digby Heard and in

thefinalmoments Hurunui

crossed again to pushout the

score to 34­24,inwhatwas an

otherwise tightly contested

match.

Scoreboard: Hurunui 34

(Andrew Murdoch, Cale Dobby,

Hunter Johnson, Jack Philips

tries, Digby Heard 4

conversions, 2penalties)beat

Ohoka 24 (Jade Nukunuku 2,

Ethan McDuff tries, ScottAllin,

3conversions, 1penalty) .

NOMINATE

YOUR LOCAL

SPORTING

HEROES NOW

NOMINATE

YOUR LOCAL

SPORTING

HEROES NOW

Nominations /Applications close

5pm Friday 17th September 2021

NORTH CANTERBURY

RUGBYSUB UNION DRAW

17 th July 2021

Luisetti SeedsCombined Div 1

Glenmark CheviotVOhoka,

02:45 PM, Chev1.

HurunuiVOxford,

02:45 PM,Cul 1.

WoodendVSaracens,

02:45 PM,Wood 1.

Kaiapoi VAshley,

02:45 PM,KaiOv.

CombinedColts (Section A)

Celtic: EuroAgriVAshley: SOL

Colts,01:00 PM,Celtic: 1.

Lincoln RedColts VGlenmark

Cheviot, 01:00 PM,Linc:3.

Forup-to-date drawinformation visit

Seniors:

www.sporty.co.nz/

northcanterburyopengradedraws

Juniors:

www.sporty.co.nz/

northcanterburyjunior/Home-1

SUPPORT NORTH

CANTERBURY

RUGBY!

Printed draw proudly supported by

Four SeasonsRealty

Your home forlocal property

0800 789 1011

Four Seasons Realty 2017 Ltd|Licensed Agent REAA 2008

For all draw information and updates

please keep up to date with

North Canterbury Rugby

2364200
---
North CanterburyNews

PROPERTY

Make your move, and make your mark!

75 Park Terrace. Waikuku Beach

Boasting plenty of potential, this home holds massive appeal for families, first home buyers and investors alike.

And, with the property already vacant, it's ready to be lived in straight away!

Accommodation is provided by three bedrooms and is complemented by awell-appointed kitchen and bathroom

space, while the open-plan living area is afforded winter comfort thanks to the presence of awood fire.

Outside, the grounds are large enough to offer flexibility without necessitating endless hours of maintenance, while

the sun-drenched deck is the ideal spot to relax and unwind with friends and loved ones. The double garage with

an attached sleepout (including bathroom with toilet and shower) adds to the appeal of this character home.

The lifestyle opportunities on offer in Waikuku Beach are abundant, to say the least. While it's just ashort commute

to Rangiora there are plenty of walks, cycleways, and beach activities to keep you active on the weekends.

There is still plenty of potential to enhance this warm and inviting home, increasing its value in the process. Our

vendors are determined to sell, and achange of ownership is inevitable. Immediate action is recommended -

contact me now for further details.

To request further information on this property, copy and paste this link:

https://sallydavies.propertybrokers.co.nz/request-information-files/RU91260

Web

AUCTION

Friday 16 th July 2021

at 1.00pm

3 1 2

View

by appointment

pb.co.nz/RU91260

Sally Davies

027 359 5509

sally.davies@pb.co.nz

Arealchange in

real estate.

The Property Brokers and Farmlands partnership means

great things forprovincial real estate*

Together our combinedstrengths complement

eachother to createbiggernetworks, more

buyers andbetterresults.

For more informationcall0800367 5263

orvisit pb.co.nz/together

Proudtobetogether

2399459

*Farmlands will continue to administer its property management portfolioand its West Coast real estatesites, pendingCommerce Commission clearance.

Property BrokersLtd Licensed REAA 2008
---
North Canterbury

Greta Valley 12 Valley Road

Hororata Bealey Road

Home with astunning view!

Elevated property, with exceptionalviewsover farmlands-stretching

down the Scargill Valley. Whetheryou aresearchingfor aholiday

retreat for the family, an Air B'n'B for the portfolio, or apermanent

place to callhome,thischarming propertyissuretocatch your

attention! Inside, this sun-drenched three-bedroom home featuresa

generous family bathroom,awell-appointed kitchen and versatile

living areas. Awood burner adds to the welcoming ambience,

promising year-round comfort. Outside, there is plenty of room for the

kids to play in the park below theproperty,with well-considered

landscapingincludingasmall hobby vineyard.

3 2 1

Deadline Sale closes Thursday 22nd

July, 2021 at 4.00pm

View Sun 18 Jul 1.00 -2.00pm

Web pb.co.nz/RU92302

Victoria McKenzie-Browne

M 021 413 883

Land Bank Opportunity

Ararely available 29 acreblock just astones throwfrom Hororata

School and residential Hororata, as well as being within 40 minutes of

ChristchurchInternational Airport. Subdividedinto threemain

paddocksoffree-draining Eyre ShallowSilt and Eyre Stony Silt Loam it

wouldbeideal for horses and there is ample room for atraining track.

Alternatively youcould put the whole areainlucerne for the lucrative

hay market. With fantastic ruralviews, power near bothboundaries,

and the possibility of putting in abore, there maybeachance of

building, subject to aresource consent,but it is not apermitted activity

at this time. It is fencedwith amixture of postand wire and post ...

Deadline Sale closes Wednesday 4th

August, 2021 at 4.00pm, (unless sold

prior)

View By appointment

Web pb.co.nz/RR93035

Maurice Newell

M 027 240 1718

Hamish Anderson

M 027 678 8888

Rangiora 31 Melford Close

The Party is Free!

Book your free appraisal today, then list and sell your house with

me, and the house warming party is free!

So much space -ahidden gem!

Hiddeninasought after cul-de-sac,thisfive bedroom brick homehas

enough space for two families!Built in the 2000s, it combines modern

materialswith the comfort of being located in aquiet established

streethandy to allRangiora amenities.Enjoy all daysun in the large

open plan family room, diningand breakfast bar area, or retreattothe

spacious second lounge for relaxation.Apelletfire, heat pumps and

double glazing ensureabsolutecomfort. All five bedroomsare large

with double wardrobes, withthe master bedroom featuring anensuite

withshower, toilet andlarge bath. There are three toilets for comfort

and aseparate laundry with lots of storage.

5 2 2 4

Auction 4.00pm, Fri 30th Jul, 2021,

(unless sold prior), On site

View Sun 18 Jul 1.00 -1.45pm

Web pb.co.nz/RU87554

Kirstyn Barnett

M 021 312 230

Includes food, refreshments and set up of the party up to $1,000

incl. GST* with up to 30 people at your new home.

Foryourpersonalised property appraisal and specialist advice,

Call me -YourProperty Expert -Today!

LindaMcCarthy Residential/Lifestyle Sales Consultant

M 022 692 6090 lindaselznzproperty

E linda.mccarthy@pb.co.nz

*Terms &conditions apply based on per person basis. Property Brokers Ltd Licensed REAA 2008 |PB050049

Property Brokers Ltd Licensed REAA 2008 |pb.co.nz

Proudtobehere
---
Four SeasonsRealty
---
Renovations ... Hanmer Springs Bowling Club is all smiles, standing on the soon to be

renovated bowling green.

PHOTO: SUPPLIED

New green coming soon

Alocal bowling club's dream became a

reality after overcoming its last financial

hurdle for acommunity development

project.

Hurunui District Council has agreed to

underwrite aloan for the Hanmer

Springs Bowling Club (HSBC) for $70,000,

allowing the club to start the revamp of

its bowling green.

Club president Tina Steele says the

redevelopment will be agame­changer.

''We are over the moon to have the

council's support.

''If we didn't get the loan, we wouldn't

know where to go next, or if this project

would have been possible. We are

stoked.''

The club plans to have its new allweather

green with surrounding

greenery, finished by the end of the year.

It received funding from Rata

Foundation, Mainland Foundation and

TAB New Zealand, along with $65,000 it

raised through community fundraising.

"An incredible amount of work went

into the fundraising for this project. It

just goes to show what asmall community

can achieve and what we can overcome

together,'' Tina says.

''We raised ahuge amount of money.

The support we had from the wider

community was amazing.

''We had several obstacles to overcome,

some thought we would never make it

when faced with the costs and Covid­19,

but we kept pushing.''

Waikari

Hospital

Centennial

The Waikari Hospital will celebrate its

100th birthday on September4.

Plans by the Friends of the Waikari

Hospital to mark the milestone last

yearwere derailed by Covid­19.

But with alittle morecertainty in

2021, the organisers have decided to go

ahead with the celebrationsthis year.

The hospital has been providing

extra comforts for patients and

improving facilities since 1984.

Aluncheon will be held in the

Waikari Memorial Hall.

The hospital will be open to the

public for anyone who wants to walk

through it in the morning.

To register go to sites.google.com/

view/Waikari­hospital­100 or email

waikari100@gmail.com.

Culverden

club day

Culverden hosted its final club day

for the 2021 season last Saturday.

In Senior Section 1Waiau Awas

too strong for Glenmark B, winning

31­21.

Astrong Cheviot Abeat Culverden

A31­16.

Results for Senior Section 2:

Hawarden A39Cheviot B17, Waiau

Black 32 Hanmer B12, Hanmer A40

Waiau White 14.

NEWS

The North Canterbury News, July 15, 2021

Wanted To Buy

35

ANTIQUES &COLLECTABLES

WANTED TO BUY

FROM $10 TO $100,000

Collections, EstateLots, SingleItems

payuptofollowing prices:

Old Hotel Beer Signs, DB, Speights, etc. $300.

Petrol Pumps $10,000. Oil Bottles, Petrol Oil Hand

Pumps, Enamel advertising signs $3,000. Metal

tractor seats $100. ArcadeGames, Pinball, Flipper

Ball Games, One Arm Bandit Poker Machines

$1,000. Ships Lights andBrass Port Holes $500.

Ships Wheels $2,000. Glass Buoys, Life Rings,

Oars, small Clinker Dinky $1,500. Joinery and

Builders Tools, Glue Pots, Oil Cans, Scribes, Levels,

Plum Bobs, Screwdrivers, Chisels, Lath, Brace

Bits, Screws, old boxes screws, Vice Workbench,

TacHammers, Levels. Gold and Silver Jewellery,

Sovereigns $700. Gold $2,500 ozs. Bracelets,

Chains, Silver Tea Service $5,000. Candlestick,

Statutes, marble and bronze $3,000. Paintings,

Oak Gilt frames, Furniture.

Old Toys, Dinky, tin

plate, wound-up Money Boxes, collections, etc.

PhoneMurray anytime

021441 400

For Sale

HONEY 4kg bucket

cooking honey, $30 special.

Available at Gracebrook,

Amberley. Telephone 03

314 7076.

2392200

$$$

Amalgamated Scrap Metal

Ltd. Specialists in farm

machineryand farm clean

ups, old vehicles etc.

100% locally owned.

Ph 0800 030 712 or

027 695 0480.

2312759

How the Marvel Health

Screening Reveals some

of the Hidden Causes of

Chronic Digestive Disorders

At Marvel Health,yourhealthcare starts with afull-body

health screening. Ourunderstandingofhealthcare is

that we need to discover theunderlyingcause of diseases

before recommendingtherapy that supports thehealing

of thebody.

The Marvel Health Screeningexamines theentirebody

in detail, includingthe organs of thedigestive system,

thestomach,intestines, Liverand Pancreas.Itidentifies

thepossiblediseasesofthe Gutand their underlying

causes.

Diseases of theDigestive Systemcause many symptoms

such as Stomachpain, Cramps, Constipation,Bloating,

Food intolerances andWeight problems.

The Scan checks thedigestive systemfor signs of chronic

inflammation anddegeneration of organs.It

revealsproblemssuchasmicrobialinfections

andbacterial overload,enzyme insufficiencies,

nutrientdeficiencies, sluggish bowelmovement,

andother pathological changes that cause

digestive systemdiseases.

In addition to investigating organs fordiseases, the

Scan will also look at theimpactthe environment

andlifestyle have on thedigestive system. It checks

forfood allergies, food additive sensitivities, chemical

sensitivities andfor thepresenceofmycotoxins-toxins

from moulds that causechronic diseases of theGut.

ABodyComposition Analysisincludedinthe health

scan checks forfat andmusclemass, metabolism,

Total Health MOT

Disclaimer: The inspection from the scan is not asubstitute for medical inspections. It is not designed to state the final diagnosis

ADVERTISEMENT

hydration andother crucial health parameters that are

importantpointerstoaperson'sstate of health.

After theScan, thedoctors andhealthcare specialists

at Marvel Health will studythe report andrecommend

targetedscience-based naturaltreatmentsand lifestyle

changestosupportthe body'shealing.

Whole Body Diagnostic Scan,

Report, Consultation and Therapy

All included: • Detailed Examination of All Organs & Systems • Diseases Present and Complications

• Detection of Viruses, Bacteria & Fungi • Food Allergies & Sensitivities • Non-invasive Blood Test

• Detection of Lead, Mercury & other Environmental Toxins • Body Composition Analysis

Unit 13/6 Cone Street, Rangiora | 293 Durham Street, Awly Building, Christchurch

CALL TODAY 03 669 5410 www.marvel.health
---
What's happening in your

community…

Waimakariri Libraries Ditch Overdue Fines

Anyone with asecret stash of overdue library books

can breathe asigh of relief, with Waimakariri

Libraries permanently removing late fines for all

members. All outstanding fines for returned books

have also been wiped from library cards.

District Libraries Manager, Paula Eskett says that

by erasing overdue fines, they hope to welcome

back many hibernating library members.

"As librarians, our value is providing great service

and opportunities for our community to connect,

not chasing and processing fines.

"When we looked at the staff time taken to process

charges wefound that in alot of cases, the cost

of dealing with fines and taking payment was as

much or more than the fine was actually worth."

Most libraries in New Zealand have dropped late

fines for under 18's, however Waimakariri joins a

small but growing number to extend apermanent

fines free scheme to all ages.

Paula says that library staff will be ringing

members who still have overdue or lost books

on loan, with the good news that charges will be

waived once items are returned.

Some charges and fees will remain in place for

permanently lost or damaged items, as well as

DVDs, music CDs and new release books for adults.

Rangiora Racecourse

Resource Consent Declined

Commissioners have declined the Taggart

Earthmoving Ltd Rangiora Racecourse resource

consent application.

Thecommissionerswere consideringaresource

applicationfrom Taggart EarthmovingLtd who

applied to EnvironmentCanterbury (ECan)and

Waimakariri District Council forconsents to establish,

maintain and operate an aggregatequarrylocated at

theRangiora Racecourse in Rangiora.

The resource consent applications were jointly

notified on 31 October 2020 and 404 submissions

were received. Sixty two submitters wished tobe

heard in support of their submission, 394 were in

opposition, nine supported and one was neutral.

The decision from commissioners is in line with the

recommendation from the external planning officer

for both ECan and the Council applications who

recommended the consents be declined.

The commissioners noted: "Primarily we have

concluded that the risks and potential risks to

groundwater contamination and contamination of

drinking water supplies down-gradient of the site

are unacceptable."

Full information can be found on ECan's website -

ecan.govt.nz

2021 MULTICULTURAL COOKINGCLASS SERIES

Want to learn to cookdifferent

and interesting dishes from

other cultures?

Global Locals ofWaimakariri (GLOW) in apartnership with

the Waimakariri District Council are hosting a10-week

MulticulturalCooking Class Series.

26 July –29September2021 | 5.30-7.30pm

‣Kaiapoi High School

‣ RangioraNew Life School

If cost is a concern,phone CarolynBoswell on 027 293 3407

or email globallocalsofwaimakariri@gmail.com todiscuss a

possible discount.

Register at humanitix.com

English Language Classes

Is English your second language?

Come along toour classes to improve

your speaking and listening skills.

We cover some interesting topics in afriendly

and welcoming space with opportunities to

socialise with your classmates too.

When

31 July to 25 September 2021

10am-1pm

Where

Rangiora Town Hall Function Room

303 High Street, Rangiora

Cost

Classes are free

For more information or to register

Julie Cloughley |Tutor

Email: cloughju@hotmail.com

Phone: 027 403 8245

For more info

waimakariri.govt.nz/migrants-and-newcomers

$20

per class

&student

Have You Registered

Your Dog Yet?

By now you should have received your

2021-22 dog registration application.

If you haven't please contact us on0800 965 468

or email office@wmk.govt.nz toupdate your records.

To avoid penalties, pay your annual dog registration

by 31 July 2021.

All dog registrations can be paid online at

waimakariri.govt.nz or at our service centres in

Oxford, Rangiora and Kaiapoi.

If youare paying by internet banking, please use the first

animal ID numberlisted on theform as areference.

Register now at:

waimakariri.govt.nz/dogs

KAIAPOI LIBRARY GAMING CLUB

Enjoy amix of board, cardand

console gamesinawelcoming

environment foreveryone!

EveryThursdayfrom15July

3.00pm –4.30pm

Upstairs in Meeting Room 1

Find out more

libraries.waimakariri.govt.nz

03 311 8901
---
CLASSIFIED &NEWS

North Canterbury News, July 15, 2021

37

Give usyour

feedback

The Great

At Kaiapoi Domainand

Pearson Park, Oxford

For more information go to:

www.kidsfest.co.nz/event/the-great-fairy-huntnt/the

*Facepainting subject to weather.

Check the Beyond The Faerie Tree

Facebook page for updates.

Waimakariri Libraries presents a

DINOMITE two weeks of KidsFest Fun.

Come on in for some ROARSOME

entertainment for the whole family!

From magicians toquizzes tocraft -

you name it we got it.

For more details look for the online

KidsFest booklet at kidsfest.co.nz

or visit us at the library!

Eventsrun from 10July to 25 July

Find out more

libraries.waimakariri.govt.nz

Saturday 10 July -

Sunday 25 July 2021

Free

Face Pa inting

Free

Face Pa inting

with Snowdrop at

the Kaiapoi Domain

Friday 16 July

11.00 am -1.00 pm

Friday 23 July

11.00 am -1.00 pm

PUBLIC NOTICE OF

APPLICATION FOR ON

AND OFF-LICENCES

SECTION 101, SALE

AND SUPPLYOF

ALCOHOL ACT 2012

Scott Management Services

Ltd t/as New World Kaiapoi

has made application

to the District Licensing

Committee at Rangiora for

the renewal of an On and

Off Licence in respect of

the premises situated at

52 Charles St, Kaiapoi or

the Supermarket known as

New World Kaiapoi.

The general nature of the

business conducted (or to

be conducted) under the

licence is Supermarket.

The days on which and the

hours during which alcohol

is (or is intended to be) sold

under the licence are 7am

to 10pm, 7daysaweek.

The application may be

inspected during ordinary

office hours at the office

of the Waimakariri District

Licensing Committee at 215

High Street, Rangiora.

Any person who is entitled

to object and who wishes

to object to the issue of

the licence may, not later

than 15 working days after

the date of the publication

of this notice, file anotice

in writing of the objection

with the Secretary of

the Waimakariri District

Buying,

Selling,

Wanted

Whatever

you're

after, you

can findit

in our

classified

section -

advertise

today!

Phone

Amanda on

313 2840

PUBLIC NOTICE OF

APPLICATION FOR

OFF-LICENCE

SECTION 101, SALE

AND SUPPLYOF

ALCOHOL ACT 2012

Alexandra Asset Holdings

Ltd has made application

to the District Licensing

Committee at Rangiora

for the renewal of an Off

Licence in respect of the

premises situated at 52

Main St, Oxford known

as Fresh Choice Oxford.

The general nature of the

business conducted (or to

be conducted) under the

licence is Supermarket.

The days on which and

the hours during which

alcohol is (or is intended

to be) sold under the

licence are Monday to

Sunday 7am to 10pm.

The application may be

inspected during ordinary

office hours at the office

of the Waimakariri District

Public Notices

WarMemorial Hall

1AlbertStreet, Rangiora 7400

PO Box 351, Rangiora 7440

www.bsnc.org.nz

Covid-19 and Level 1–Keeping everyone safe

Dear Clients and prospective clients,

•WeARE open and ready to provide you with

budgeting supportand advice.

•WeARE able to meet with you face-to-face. Strictly

by appointment only.

•Wewillbeabletosee walk-in clients. Please phone

first

•Home visits are by arrangement only.

•Wewill trytocontinue advocating on your behalf

with WINZ, banks, creditors etc.

•Weregularly workwith other supportagencies and

food banks; to provide you with additional

assistance.

Phone: 03 313 3505

(please leave amessage and we'll get back to you)

Email: servicemanager@bsnc.org.nz

Monday to Thursday 09:00 am to 4:00 pm

• However, Ifyou cannot wait to talk with us, then

please call the MoneyTalks helpline on 0800 345 123

KAIAPOI CHRISTADELPHIANS

Licensing Committee

at 215 High Street,

Rangiora.

• Confirmation of Officers • General Business 2400414

Any person who is

entitled to object and

who wishes to object to

the issue of the licence

"The Key of Knowledge .."(Luke 11:52)

may, not later than 15

working days after the "GOOD NEWS"

date of the publication of

In Exodus33:18 Mosesaskedthe LORD God to show

this notice, file anotice

him HIS glory.Whatreally is GOD'sglory?

in writing of the objection

In verse19GODreplies"Iwillmake allmygoodness

with the Secretary of

Licensing Committee the Waimakariri District

pass before you, and Iwill proclaim the name of the

at Private Bag 1005, Licensing Committee LORD before you, and willbegracioustowhomIwill

Rangiora.

at Private Bag 1005, be gracious, and will show mercy on whom Iwill

No objection to the renewal Rangiora.

showmercy". There is thereforemoretoGOD'sglory

of alicence may be made No objection to the than just abrightlight.

in relation to amatter other renewal of alicence may

2399651

than amatter specified in

section 131 of the Sale and

be made in relation to a

matter other than amatter

Supply of Alcohol Act 2012. specified in section 131

This is the second of the Sale and Supply of

publication of this notice. Alcohol Act 2012.

Wanted To Rent

This notice was first

This is the firstpublication

published on 8th July 2021.

2397237v2

of this notice.

URGENTLY REQUIRED

2399939v1

Farm cottage or similar,

North Canterbury Mini Bus Trust 2-3 bedroom, by responsible,

AGM

mature, professional female

The Annual General Meeting of the North Canterbury with clean, tidy habits.

Mini Bus Trust will be held in the Meeting Room

Long term and not prepared to

Rangiora Public Library at11.00am on Thursday 5 th

August 2021.

share. Also require 3-4 acres

Business

for grazing sensible horses.

• Apologies • Minutes of last AGM

• Chairman's report • Annual Accounts to 31/3/21

Ph 027 472 6391.

2395366

Cars Wanted

CARS, vans, 4WD's

wanted for dismantling or

repair. Phone 027 258

8366.

WANTED to buy Ford,

Holden, Chrysler or

Chev's, Classic cars. Any

other types considered, any

condition. Please phone

Tony 027 313 5000.

Firewood

SPLIT Old Man Pine 3.7m

@$260, Split Hardwood

Mix 3.7m @$360. Mobile

021 993 497 Paul.

Garage Sales

OTAKI Street, Kaiapoi,

Saturday 17th and Sunday

18th July. Massive garage

& household clean out,

signs out 9am each day.

The Widest Music Variety

Tune in nowtolistenon104.9 North Canterbury

and103.7 Hanmer Springs andKaikoura

2300807

Pets

BICHON HOMESTAY

for smaller dogs. We look

after your dog in our home.

"No kennels". Phone today

03 314 6110.

Gardening

A+ GARDEN hedges cut

to perfection. Tree &arbor

work. Also spraying. Free

quotes. Ph 03 312 0668 or

021 111 4322.

Firewood

DRY WATTLE two years

old, $700 6m2. Dry old

man pine, $550 6m2. Phone

03 312 8726 Rangiora.

FREE firewood from trees

that are felled in Rangiora

area. Suit retired men with

chainsaw. Ph021 358 593.

Cars Wanted

ANY old cars, anything pre

1990, unfinished Hot Rods,

Classic Cars. Please call

027 258 8366.

CASH 4CARS

and 4WD'S

Phone

Automotive

Parts

03 313 7216

Wanted To Rent

MATURE woman seeks

long term, nicely kept 2-3

bdrm, spacious home in

Rangiora or surrounding

areas, max rent $370, excel

refs. Ph Julie 020 420 2712.
---
CLASSIFIED

38 The North Canterbury News, July 15, 2021

rural reporter

CentralRural Life

Canterbury(flexiblelocation)

Do you know your Herefords fromyour Holsteins?

Areyou ajournalist with apassionfor ruralnews?

Central Rural Lifehas an excitingopportunityfor a

professional and enthusiasticreportertojoin itsteam

in Canterbury.The ideal applicant willhavesoundrural

knowledgeand journalism skills.

CentralRural LifeisanAllied Press Ltdcommunity

newspaper deliveredfortnightlytomorethan

17,500rural addresses between North Otago,North

Canterburyand the West Coast.

The role will requireyou to cover localrural issues,

eventsand human intereststories. Some advertising

featureworkmay also be required.

The successful candidate willbeaself-starter,ableto

juggletasks and meet deadlines,and haveapassion

for theruralsector.

Strong photography skillsare required andvideoand

website skillsare desirable. Afull driver's licence is

required.

If youthinkthis is for you, pleasesendyour CV

withacoveringletter to recruitment@alliedpress.co.nz

or apply via Seek.Informalinquiriesabout the role are

welcomeand should be directedtoSallyRae,

AlliedPress Rural Editor(sally.rae@alliedpress.co.nz,

or phone 027 529 6040).

Applications forthe role close on Friday 16 July 2021.

Please noteyou musthavethe right to workin

New Zealand to applyfor this role.

Disclaimer:Allied Pressdoesnot acceptunsolicited

agency resumes. AlliedPress is not responsible for

any feesrelatedtounsolicited resumes.

JOBS JOBS JOBS. Want

local work? We service all

industries, Administration,

Construction, Manufacturing,

Labouring Roles and

more. Register with us.

Phone Tina 03 310 7285.

Elevate Recruitment, 113A

High Street, Rangiora.

ACCOUNTING SUPER-

STAR Intermediate

Chartered Accountant must

have at least 3years experience.

Contact Donna 03

310 7285 or 027 636 6960.

Send your CV to

info@elevatetalent.co.nz.

Elevate Recruitment, 113A

High Street, Rangiora.

CHICKEN SHIFTERS

required for 2weeks work,

starting 19th July and 30th

August, 8am starts. Call us

to see what other roles we

have. Contact Superior Personnel

313 6180, unit 1/6

Cone Street, Rangiora.

www.superiorpersonnel.co.nz

Property Wanted

WANTED TO BUY

2/3 bedroom

house in Kaiapoi

urgently wanted

by motivated cash

buyers who are

willing to pay you

agood price. Save

yourself the hassle

of open homes and

real estate fees.

2393289v2

Ph: :021 101 4046

WANTED TO BUY: lifestyle

block, any size house,

anywhere considered, privacy

is key, preferably won't

have to sell akidney for.

Text/leave amessage with

details to 027 787 9648 and

will call back.

PUT YOUR

HAND UP

VOLUNTEER FOR

CITIZENSADVICE BUREAU

NORTH CANTERBURY

2393749

Being aCAB volunteer is challenging and rewarding.

If you're:

• agood listener

• willing to learn

• confident using acomputer

• happy to research client enquiries

then you are apotential CAB volunteer

We provide our volunteers with extensive and

ongoing training, and amentorship programme.

Formore information phone us on 03 313 8822,

email northcanterbury@cab.org.nz or visit our

website www.cab.nz/location/cab-north-canterbury

Applications close on 26 July 2021

North Canterbury

Situations Vacant

MOBIL AMBERLEY

8hour parttime positionfor amotivated

&well presented person that would suit

semiretired or University Student.

Includescashier duties,sales &

assisting customers.

Computer &communication skills

wouldbeanadvantage.

Phone Andrew 021 355 890

2398062

2400151

Landfill -

Operator/Driver

Canterbury Waste Services provides resource

recovery, waste transport and waste disposal

services in Canterbury.

Canterbury Waste Services is seeking a

fit, versatile team player, preferably with

heavy plant operating experience, willing to

learn all aspects of waste disposal and civil

construction works at the Kate Valley Landfill

in North Canterbury. The position is part ofa

dedicated team involved in the operational

aspects of earthworks construction and waste

disposal, in asafeand environmentally secure

manner.

If you areanexperienced multi-skilled operator,

driver or relatively new to the construction

industry, thenwewouldliketohearfrom you

Youwill need thefollowing attributes:

• Possess appropriate licences tooperate

heavymachinery–Classes 1&4.

• Ideally have experience in the operation

of heavy earth moving machinery.

• Bephysically fit.

• Bereliable and trustworthy.

• Haveinitiative andapositive attitude.

• Haveawillingnesstolearn.

• Enjoy working as part of a productive

team.

• The ability and willingness to work within

the variable timeframes required by the

CWS operation.

• Apositive, friendly attitude andoutlook.

Theclosing datefor applicationsis5.00 pm on

Monday 26 July 2021. To obtainanapplication

form andjob description, pleasecontact:

CanterburyWasteServices

PO Box 142, Amberley 7441

Attention: Linda Chandler

or email: lindac@cws.co.nz

or telephone03359 1800

CanterburyWaste Services has aZero

Tolerance to drugs and alcohol in the

workplace and undertakes preemployment

andrandom testing.

Community Service Programme

Supervisor –Part time

The R13 Youth Development Trust is looking for

a'Part-time Programme Supervisor'

Job Responsibilities will involve:

•Supervision of up to four at risk youth/

rangatahi

•Saturday or Sunday, may include week days

school holidays, starting in Kaiapoi at 8.30am

providing supervision from 9am till 1pm

•Anadditional hour will be provided on return

to clean and wash vehicle

•Toestablish asupportive relationship with the

young person.

Afull NZ Driver's license is essential, and aNZ

Police check will be required.

Please email your CV and Covering Letter by

Friday 30 th July to Craig Reynolds:

renno@xtra.co.nz

R13 Youth Development Trust

Livestock

HOMEKILL

&Wild Game

Meat Processing

313 0022

2309602MEAT2U.NZ

Educational

2400471

2399448

TUITION available. Primary

and secondary up to

NCEA level 3. In centre

(Rangiora) or interactive

online from your home.

Each student on an individually

tailored programme.

Kip McGrath Rangiora has

been serving the local community

for 30 +years. Give

us acall (03 313 3638) or

book your free assessment

online https://www.kipmcgrath.

co.nz/rangiora

Trade Personal

DECKS AND SHEDS

Looking to build that

new deck or shed?

CHRIS GABITES

CONSTRUCTION LTD

have got you covered!

Our timber decks and

pole sheds are built to last.

Contact us today for a

free no obligation quote at

cgconstruction@

outlook.co.nz

or 022-619-8163.

You can also visit

our website:

www.chrisgabites

construction.co.nz

Trade&Services

ABEL &Prestige Chimney

Cleaning. Nth Cant owned

& operated. Covering all

areas from Waimak to Hanmer.

Professional, guaranteed,

service. Firebox

repairs, carry most parts. Ph

0800 661 244.

AFFORDABLE concrete

cutting with quality and

removal work. Free quotes.

No job too small. Ph 027

442 2219, Fax 03 359 6052

or A/H 03 359 4605.

ALL TREE SERVICES,

arbour work, pruning, tree

removal. Affordable &

friendly service. Telephone

021 111 4322.

ARBORIST qualified.

Copper Beech Tree

Services. Tree removal,

pruning, height reduction,

hedge trimming, shaping,

tree planting, firewood.

Free quotes. Contact Angus

Edwards 027 259 6741

copperbeechtreeservices@gmail.com

BRIAN'S Tree Services.

Tree felling, topping,

shaping, firewood cut, rubbish

removed, stump grinding,

branch chipping.

Affordable rates. Phone 03

327 5505 or 021 124 4894.

BUILDERS Father &Son

team. Amac Builders are

available to help you with

your building needs. High

standards, low overheads.

No job too small. Check us

out on fb. Amac Builders

Ltd. Ph 027 318 4400.

PAINTERS

Reg Tradesman

Interior,exterior.

North Canterbury Painters

specialising in decorating for

over 65 at adiscount rate.

Free quotes.

Covering Nth Canty,Oxford,

Kaiapoi, Rangiora, Amberley.

Rob 03 327 7899

or 027 432 3520 2227597

DIRTY TILES &Grout?

Professional tile cleaning,

tiled shower restoration,

mouldy silcone, shower

glass & we can even

recolour your old grout!

For all your tile and grout

issues call Grout Pro for a

free, no obligation quote.

Ph Darryl 0800 882 772.

METAL WORX. Flashing,

Sheetmetal Fabrication,

Wrought Iron,

Welding, Custom Trailers,

General Metalwork. No job

too big or too small. Ph 021

265 5428 or 03 314 6908.

Find us on facebook/

Glenmark Metal Worx.

glenmarkmetalworx.ltd@gmail.com.

Log Fires

Pellet Fires

Heat Pumps

Sales

Service

Installations

Free Quotes

03 343 1651

472 Blenheim Rd

www.heatstore.co.nz

KITCHEN, bathroom,

renovations,decking,

pergolas,fencing. Honest

reliable licenced builders.

Ph Don 027 727 9162.

PAINT & wallpaper

services. Wayne Bryant,

exterior, interior. Qualified

tradesman. Free quotes. Ph

313 5337 or 027 654 4568.

PAINTER & Decorator.

25 + years experience.

Interior /exterior, roofs &

waterblasting. For a free

quote, please ph Steve 03

314 4620 or 027 477 1930.

PAINTER. Qualified local

professional, Int / Ext,

roofs, wallpaper. Call or

text Corban 027 846 5035.

POWER TOOLS repairs,

parts &sales for over 40

years. All main brands serviced.

Grossman Trade

Tools, 23 Watts Road,

Christchurch. Ph 389 9230.

House &Garden

Property Services Ltd

All aspects of Property

Maintenance

Tree trimming and

removal

Stump grinding

CALL US 021 405 277

RANGIORA Rubbish

Removal and RRR skips.

Wheelie bins any frequency

and skips from 1.5 cube to

9cube. Skips and wheelie

bins for any use, rubbish,

greenwaste, building sites

or just cleanups. Give us a

phone call 313 6957 or for

skips 021 313 255.

ROOFER. All roof repairs,

roof painting, water blasting,

moss treatment,

repointing, gutter cleans &

snow straps. And more.

Free quotes. Phone Nathan

027 516 6609.

SCREEN PRINTING.

For all your printing

requirements. T-shirts,

Hoodies, Hi-Vis vests and

polos, Overalls, Caps etc.

Please phone Heather 03

313 0261 or email heather.

norstar@gmail.com.

SHEARER. Hap's Farm &

Lifestyle Services. Shearing,

crutching, drenching,

tailing, feet trimming &

health check. — Ph. 03-

423-3713 or 021-267-4025.

SUMMERFIELD

FENCING

IN YOUR AREA NOW.

Lifestyle or farm, sheep, cattle,

horse, all types of animals.

Fences, yards, sheds, arenas,

shelters, runs.

30+ years contract fencing.

Steve is available to help with

your design &planning.

Ph office03312 4747

2091848

ANTHONY SYMONDS

Forall your painting &

plastering requirements

Local with 30 years

experience

All workmanship

Guaranteed.

Phone 021 344 023

2220615

SEPTIC TANK

CLEANING

Bill's Liquid

Waste

Blair Tavendale

Ph 03 314 9371

0275 379-694

Pride &Quality Painting

&Decorating Services

20 yrs exp, fast and friendly

service. For all your painting

needs, phone: Martin 310

6187 or 021 128 9867

2362002

REMOVALISTS

Movemen Ltd

2Men &agood sized truck.

From $150 plus GST per

hour.Kaiapoi based.

Call Gerard

027 668 3636

2343272

You dump it...

Blair pumps it...

027 216 0000

2225862

VALUATION -

Specialising in North Canterbury.

Contact Geoff at

Maxwell Valuation. Phone

03 310 8541 or email

geoff@maxval.co.nz.

WINDOW TINTING

tintawindow

advanced film solutions

99% uv block

fade protection

heat control

reduce glare

25 Years Experience

Trade &Services

privacy films

frosting designs

non-darkening films

Workmanship Guaranteed

Lifetime Warranties on Most Films

UV

block

Free Quotes Canterbury and Districts

03 365 3653 0800 368 468
---
Trusted Trades &

Professional Services

Guide

To book your spaceinthis guide,phoneAmanda Keys 313 2840 or email amanda.keys@ncnews.co.nz

Automotive &Recovery

Builder Builder Butchery

2070788

• WOF Cars &Trailers

• Vehicle Servicing &

Repairs

• Tyres &Punctures

• Jump Starts

•

Towing &Salvage

• Courtesy Car Available

Ph Aaron Rowlands

0272 588 366

13 Stone Eyre Place,

Swannanoa

Eftpos available Mon –Fri 8am –5pm, Sat 9am –1pm

• New Builds

• Light Commercial /Re-strengthening

• Renovations

• Bathrooms

• Farm Buildings

• House Lifting Re-piling

• Shop Fit Outs

2397995

40+ years experience

027 222 5078

markw.hills@xtra.co.nz

OxfordButchery

Shane and Leanne Frahm

We cankill&process yourstock

FourGenerations of Frahms

since 1957

Ph 312 4205

Oxford

1680439

Number one

old-fashioned bacon

&ham curing.

A/H 312 4709

Construction &Concrete

DENTURE CLINIC

Digger Hire and Construction

All Construction & Concrete Work

•Driveways, patios &paths

•Bridges and Culverts

•Floors, foundations

•Sheds and buildings

•Dairy Sheds, Herd homes

•Silage pits, effluent ponds

•Excavation and cartage

•Precast concrete

•Insulated panels

Ear Health

• Ear Health checks.

• Wax removal using Microsuction

• Removal of foreign bodies

• Basic hearing aid care

Daryl Power

027 230 9401

concretepower@scorch.co.nz

www.concretepower.co.nz

• ACC provider

• WarVeteran provider

• No medical referral

required

Clinics in Rangiora, Amberley and Kaiapoi

Rest homes/retirement villages, booking by prior arrangement.

Bookings: Online www.earcare.nz |Phone 020 4124 25 25

Email alison@earcare.nz | Ear Care Canterbury

2324849

Landscaping

STEWART CONTRACTING

Landscaping -Fencing

& Earthworks

ENJOYABLE STRESS FREE LANDSCAPING

03 313 9375 •027 369 3974

www.stewartcontracting.co.nz

contact@stewartcontracting.co.nz

Painter /Plasterer

HURUNUI Painting

• Qualified tradesmen, quick, neat and friendly.

• Reasonable rates. • Interior /exterior painting.

• Interior plastering &wallpapering.

• Spray painting &water blasting.

P: Rod Hermes 027 414 0830 or 03 314 2391

E: r.hermes@xtra.co.nz

2394026

2273277

2136148

RANGIORA

DENTURE CLINIC

Garry WMechen

Registered Clinical DentalTechncian

Phone (03) 313-9192

38a Ashley Street, Rangiora

NEW N W DENTURES D ES

*RELINE * *REPAIRS

* I S

HOURS

8.30am -12noon

- Monday to Friday

FREE E CONSULTATION O

AND ADVICE

A V C

For a/h repairs

phone (03) 310-3044

✓ Mowing

✓ Edging

✓ Trimming

2360356

Mowing &Gardening

✓ Blowing

✓ Pruning

✓ Cleanups

And much

more ...

CALL US NOW: 027 294 8279

elitemowingandgarden

Scrap Metal

CASH PAID FOR SCRAP

•Car Bodies •Scrap Steel•Specialists in Farm

Machinery•All non Ferrous

MAINLAND

METALS LTD

Ph (03)338 7000

Mike0274 818544 •Robbie 0274818 027

Locally owned and operated

1902273

ECOM Digger Hire

and Construction

•9 ton Komatsu with rubber pads.

•Excavotor can be dry hired or with

one of our expert operators.

•Attachments available:

•Post driver

•Concrete/rock breaker

•Grab bucket

•Tilt bucket

•Rock bucket

No job

too big

–Nojob

too small

admin@ecomconstruction

www.ecomconstruction.co.nz

Plumbing

For all

general

aspects of

plumbing

Discounts for over

65 years old

Fast friendly service

All work guaranteed

Aaron McCartney

Certifying Plumber

Cell 027 366 9091

A/H 03 310 2137

Free Call:

0508 44EVER

EMAIL:

plumber_27@yahoo.com

2172994

2384249

2089195v2-4/4-S

Seamless Spouting

Seamless Spouting

Landscaping

For all your landscaping needs

All Landscaping, Retaining Walls (Engineered and

Non-Engineered), Timber Fences, Landscape Structures

and more...Lifestyle Block, Rural and Residential.

Phone Jeremy 021 169 9394

www.blackhill.co.nz

www.facebook.com/blackhillltd

2372616v2

Supply and Install

of Seamless Gutters

10 year no leaks

guarantee

• Continuous spouting made on site,

large colour range available

• High grade and thicker material used

• Repair or replace any type of gutter

• Undertake all insurance work

• Independently owned and operated

• Competitive pricing

Servicing North CanterburyDistricts

Call Danie 021 875 462

2359362

YOU

COULD

BE

HERE

Advertise

your business

in our Trades

and Services

Phone

Amanda Keys

on

03 313 2840

Thursday,August 2, 2018 | Issue 808 | www.ncnews.co.nz

HAVE YOU BEEN TO

OUR WEBSITE LATELY?

www.ncnews.co.nz

Visit now toview the paper online &more!

Trellis

Proud specialists in enviro-friendly

timber manufacturing trellis from

premium Macrocarpa &treated Pine

2351878

•Trellis •Outdoor Living

•Outdoor Furniture •Gates

550 Oxford Road, Fernside |sales@kaiapoitrellis.co.nz

Ph 027 575 4511 |www.kaiapoitrellis.co.nz

Windows & Doors

WINDOW MARKET PLACE

• New & Used

• Timber & Aluminium

• Windows & Doors

8am-5pm Weekdays

8am-2pm Saturday

215 Waltham Rd, Sydenham

Ph (03) 379 6159 info@windowmarket.co.nz

Fax (03) 962 1012 www.windowmarket.co.nz

ncn1242200aa

To book your spaceinthis guide,phone Amanda Keys 313 2840 or email amanda.keys@ncnews.co.nz
---
RangioraToyota

WANTED

Quality used late

modelToyotas.

Contactus today

if you'relooking

to sell!

2012TOYOTA COROLLAGX

•1.8L petrol, auto

•Alloys,Bluetooth

•Cruise Control

2009 MazdaDemio

•1.5LPetrolAuto

•Alloys, ReverseCamera

•91,350km

$

13,995

$

8,995

2013Toyota Prius C

•1.5LHybrid Petrol, Alloys

•Camera, Satnav

•69,100kms

2015Toyota Ractis

•1.3LPetrolAuto

•45,550km

NOW

•CD/AUX/USB Connectivity

$ •Climate air

14,995 $

11,995

$

14,995

2014 TOYOTA PRIUS

•1.8L hybrid petrol,auto

•Only3.3L/100kms

2014 TOYOTA SPADE

WAS$15,995

•1.5Lpetrolauto,

• 4-door/ left side door

•Climate, 5-seater

$

13,995

2018 Corolla Sedan GX

•1.8L PetrolAuto, Alloys

WAS$21,995

•Bluetooth, ReverseCamera

•45,800kms

NOW

$

19,995

2011 Toyota Sai

•2.4LHybridPetrol, Auto

•Camera,Keyless NOW

•43,300km

2010 Toyota SaiG

WAS$15,995 •2.4LHybridPetrol, Auto

•Camera, Cruise Control NOW

•Alloys, 62,550km

$

12,995

WAS$15,995

$

12,995

2011 HyundaiElantra Elite

•1.8L PetrolAuto, Alloys

•Leather,Sunroof

•Camera

$

12,995

2014 Toyota Corolla GX

•1.8L PetrolAuto,

•NZNew,Bluetooth,

•Cruise Control

$

13,995

2016 Corolla GX Sedan

•1.8L PetrolAuto, Bluetooth

•ReverseCamera&Sensors

•60,000kms

$

19,995

2019 CamryHybrid GX

•2.5LPetrolHybrid, Alloys

•SafetySense,Camera

•16,250km

$

36,995

2019 CamryGXHybrid

•2.5LPetrolHybrid, Alloys

•Bluetooth, Safety Sense

•15,250kms

$ 36,995

2011 Toyota Avensis Wagon

•2.0L PetrolAuto,

•Alloys, Camera

•Bluetooth, Keyless

$

14,995

2018 Corolla GX Hatch

•2.0L PetrolAuto, Alloys

•Satnav,Bluetooth,Camera

•78,850kms

$

22,995

2019 TOYOTA YARISGX

•1.3Lpetrol, auto

•Camera, Bluetooth

•Only 18,700kms

$

18,995

2011 Toyota Wish Z

•1.8L PetrolAuto, 6-Seater

•Sunroof,Alloys, Camera

•82,300kms

WAS$15,995

2019 Toyota RAV4 GXL

•2.5LPetrolAWD,Latest Model

2009 Toyota Wish Z

•2.0L PetrolAuto, 6-seater

•Alloys, Keyless NOW

•88,500km

NOW $ •Satnav,SafetySense

14,995

$

41,995

$

13,995

•41,400km

WAS$14,995

2010 Mitsubishi Lancer VRX

•2.4LPetrolAuto

•Alloys, Leather

•80,750kms

$

12,995

2016 HiluxSR5 4x4

•2.8L Turbo Diesel Auto

•Sat Nav

•Cruise &ClimateControl

$

46,995

2017 LandCruiser PradoVX

•2.8L Turbo Diesel, Leather

•NZ-new,Sat Nav

•Only 43,500km

$

71,995

2000 TOYOTA HIACEMINIBUS

•2.4Lpetrol, auto

•Aircon, 10-seater,4-door

• Only 51,900kms

$

17,995

2018 HIGHLANDER GXL

•3.5LV6petrol, auto

•7-seater, leather, Satnav

• Only 52,600kms

$

51,995

2018 Nissan Navara RX

•2.3LTurbo Diesel Manual 2WD

•Camera, Tonneau

•Only 13,600kms

$

35,995

2013Toyota AlphardSC

•2.4LPetrolAuto, 7-Seater

•DualElectricDoors

•25,250kms

2014 Ford Ranger XLT

2018 Nissan Navara RX4x4

•2.3LTurbo Diesel Manual

•Alloys, Bluetooth

•Only 58,100kms

2018 Landcruiser PradoTZ-G

•2.8L turbodieselauto

•KDSSsuspension, 7-seater

•40,250km

2016 LandCruiser PradoTZ-G

•2.8L Turbo Diesel

•ReverseCamera, Bluetooth

•Sat Nav

•3.2LTurbo Diesel 4WD

$

36,995 •Bluetooth

$

33,995

$

41,995

$ $

•ParkingSensors

71,995

57,995

Percival Street,Rangiora • Ph (03) 313-8186any time • www.rangiora.toyota.co.nz

2391723

Signature

CLASS

FINANCE &INSURANCE AVAILABLE
---
Art expo returns to Waimakariri

The Corcoran French Kaiapoi Art Expo

is back this year with an event filled

weekend on July 24 and 25.

The popular art expo will be joined by

Blackwell's Fire &Ice Festival on

Saturday. Last year's expo went virtual to

meet Covid restrictions.

Organisers are looking forward to

hosting the 4000 visitors that attend the

weekend show, and the Saturday Have­

A­Go where members of the public can

try their hand at avariety of art mediums.

Felting, printmaking, pottery, painting

and weaving are just some of the

activities that visitors can have agoat.

This year's guest artist is Kim

Henderson, aceramic artist who creates

clay masterpieces using aunique method

developed from her background in

design.

Kim creates colourful surface designs

with glazes painted on to ahard surface.

Sheets of paper clay are then pressed

on to the glaze and the patterned sheets

are shaped into vessels.

Big pots are her speciality but she also

creates jewellery and tiles.

''The influence of my design

background comes through strongly,'' she

says.

''Much of my past work has reflected

the seaside upbringing Ihad in Golden

Bay, with sea /water themes being at the

Featured artist ... Guest artist Kim

Henderson in her Fossil Point Cafe and

Gallery with one of her pots.

PHOTO: SUPPLIED

forefront, but more recently Ihave mixed

it up with the pure enjoyment of using

bold patterns and colour­play.''

Kim has won many awards for her

ceramic work in New Zealand and the

United States.

Paintings by Kim will also be available

at the expo as well as over 800 artworks

from 125 artists.

Among the 125 artists are 83 returning

artists with four artists who have

exhibited at every single expo since its

inception 15 years ago.

Look out for panels from Paul Smith,

Ruby Whitty, Elizabeth Ross, of Kaiapoi,

and Karin Werner, of Loburn.

They are all painters, but there the

similarity ends as all display unique

qualities that help to make their work a

source of admiration and will no doubt

sell well on opening night.

To add to the festivities of this special

annual event the town will be lit up for

the occasion by All Together Kaiapoi

with the ''Light Up Kaiapoi'' project

providing lights for every retail business

and across the bridge.

The Pak'n'Save Rangiora Kaiapoi

School Art Expo has 14 schools entered

this year, ensuring awelcome

opportunity to see the talent amongst the

district's youth.

Selecting the John Rhind People's

Choice Award will be apopular activity

for visitors once again along with the

raffle with artworks donated from Ruby

Whitty, Angela Mole, Quilliam Collister,

Kay Whiting and Elizabeth Ross.

FESTIVAL CALENDAR

Saturday24thJuly

10am to 2pm:

Art on the Quay,

Kaiapoi Museum,

Ruataniwha Kaiapoi Civic Centre.

10am to 5pm:

Kaiapoi Art Expo,

Kaiapoi ClubRiverviewLounge.

12.30pm to 3.30pm:

IceSculpting,

Blackwell's car park.

5pm to 8pm:

NightMarket,

Food&CraftStalls,

Christchurch Fire Poi Performers,

Live Latin Guitar Music,

Blackwell'scar park.

Sunday25th July

10am to 5pm:

Kaiapoi Art Expo,

Kaiapoi ClubRiverviewLounge.

1pm to 4pm:

Art on the Quay,

Kaiapoi Museum,

Ruataniwha Kaiapoi CivicCentre.

Both evenings:

All TogetherKaiapoi is running

the ''Light Up'' project, providing

lanterns forretail business on

Williams Street.

Kaiapoi

Your local for Books,

Toys and Stationery

Copy &Print Centre

Come in and meet our

friendly team Today!

Post your Parcels,

Pay Your Bills and for

Vehicle Registration

Services

125 Williams Street,Kaiapoi

kaiapoi@paperplusselect.co.nz

www.paperplus.co.nz

2397696
---
CORCORAN FRENCH

KAIAPOI ART EXPO

SATURDAY 24&SUNDAY 25JULY •10AM -5PM

RIVERVIEW LOUNGE, KAIAPOI CLUB

GUEST ARTIST KIM HENDERSON •GOLD COIN ENTRY

Come check out over 800 artworks from 125 artists all

under one roof including painting, photography, ceramic,

woodwork and more. PLUS for something alittle different

Have-A-Go yourself at weaving, painting, pottery and

more onSaturday all at the Kaiapoi Club.

www.kaiapoiartexpo.co.nz

PAK'N SAVE RANGIORA SCHOOL EXPO

Ashley Rakahuri

Ashgrove

Kaiapoi Borough

Kaiapoi High

Kaiapoi North

North Loburn

Oxford Area

Rangiora Borough

Rangiora New Life

St Joseph's

Catholic Rangiora

St Patrick's

Swannanoa

Te Kura oTuahiwi

Woodend
---
NIG

SATURDAY 24 JULY from 5PM-8PM

OUTSIDE BLACKWELL'S DEPARTMENTSTORE
---
Warming up aKaiapoi winter'sevening

Blackwells Department Store is

lighting up winter in Kaiapoi

once again with the Fire &Ice

Festival.

After last year's event was

called off due to Covid­19, the

Blackwells Fire &Ice Festival

is back on Saturday, July 24, to

coincide with the Kaiapoi Art

Expo.

The event has become an

annual fixture to light winter,

since Blackwells reopened in

its new building after the 2010

earthquakes.

Auckland artist Victor

Cagayat will once again ''weave

his magic'', by turning blocks of

ice into sculptures in the

Blackwells car park between

12.30pm and 3.30pm, Andrew

Blackwell says.

Then in the evening from 5pm

to 8pm, the sculptures will be lit

up and the Blackwells car park

will be lined with awide variety

of food and craft stalls. There

will also be Santiago playing his

popular Latin guitar music and

fire performers, to ensure afun

night out for all ages.

Andrew has long been afan of

art and has served on the

Kaiapoi Art Expo organising

committee, so is pleased to be

able to offer the Fire &Ice

Festival for the community, to

coincide with the art expo.

The expo is agood way to

celebrate the talented artists in

Kaiapoi and in the wider

district, while the festival offers

achance for the community to

get together at atime of year

when there are not as many

much happening.

''It makes it agood evening

out for the family, and

especially the children in the

middle of winter, and there's

mulled wine for the adults to

warm everything up on acold

evening,'' Andrew says. ''It's a

really good weekend for art

lovers in the community with

the art expo on next door (in the

Kaiapoi Club).''

Victor Cagayat has been a

regular in Kaiapoi since the

Fire &Ice Festival was

established.

''He's amazing. He originally

comes from South East Asia

and used to carve in wood.

These days he gets flown all

over New Zealand and works

with ice,'' Andrew says. ''But

not just any ice. It has to be able

to withstand the chainsaw and

chisel.

''We initially used to get it

from Auckland and then we

brought it up from Queenstown,

but now we source it from

Christchurch and Kaiapoi New

World, over the river from us, is

kind enough to store it in its

freezer.''

The fire performers will

provide acombination of

spinning fire poi, fire sticks,

fire hula hoops and fans.

Andrew has organised the food

stalls to ensure there is awide

variety of options to suit

different tastes.

Family affair ... Andrew (left)

and Michael Blackwell admire one

of Victor Cagayat's ice sculptures

at aprevious Blackwells Fire &Ice

Festival.

PHOTO: FILE

WE WELCOME NEW MEMBERS

TO THE KAIAPOI CLUB.

Situated in the Heart of Kaiapoi

•Two large openareabars •Bottlestore •TAB •Sky TV with largescreens •Pool &snooker tables

•18gamingmachines •Bistro•Restaurant•Function &meeting rooms •Courtesy vehicle available

Proud to support

Blackwell's Fire &

Ice Festival

2397675

113 RavenQuay, Kaiapoi|Ph 03 327 7884

Members, Guests &Affiliates Welcome

178 Williams Street, Kaiapoi

Phone 327 2157

www.crazefashion.co.nz

www.facebook.com/crazekaiapoi

2397677