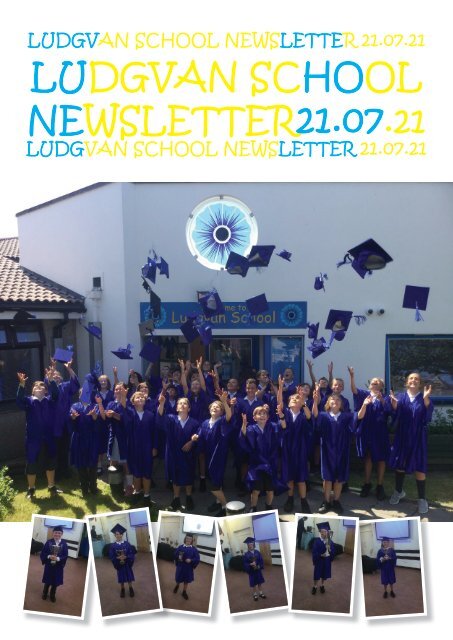 Final Newsletter of the Year - July 21
Do you know the secret to free website traffic?
Use this trick to increase the number of new potential customers.
LUDGVAN SCHOOL NEWSLETTER 21.07.21

LUDGVAN SCHOOL

NEWSLETTER21.07.21

LUDGVAN SCHOOL NEWSLETTER 21.07.21
---
A word from the Principal...

Welcome,

Welcome to the last newsletter of the year! Again, it's been quite a year but thanks to the way in

which we live out our values – look what we have achieved. After a time of such ups and downs for

us all, it's vital that we stop and reflect on the successes. Our children have been at school for the

longest time in 18 months. For us, being happy, healthy, learning, laughing and loving is key – they

have shown all of these things and they are successes that we should all be proud of.

It's been another year of changes for us all and our School and Trust have had to move quickly and

put in some changes and make decisions that we know haven't always worked for everyone, but I

trust that you know that every decision we make is with our children at the heart. Thank you for the

patience, understanding and support you have shown.

We have ended the year with some lovely events and whilst we haven't been able to welcome audiences

and crowds to our Sports Days and Leavers' Assembly, the children still got to experience

these events, even if there weren't in the format we would have liked. Our classes have also spent

time with their teachers and support staff for next year during our transition events and we have

welcomed our new reception class into school as well, so that they are familiar with the surroundings

ready for September.

It has been lovely to welcome our new intake into Ludgvan School, but we also have to say goodbye

to two members of staff. Miss Williams and Miss Steiner are both leaving Ludgvan, but the exciting

news is that they are both about to start a new chapter in their career. From September, they will

both be starting their teacher training, so we may see them again soon which is brilliant news!

Have a super summer and we look forward to seeing you on Wednesday 8th September.

Kind regards,

Mr Adam Anderson

Principal
---
Useful information...

Procedures for Next Year

This year, we have made a great number of alterations to our daily procedures to

ensure our environment has been as safe as possible. We have found that many

of these changes have resulted in an improved environment for our children. From

September, we will be retaining the following procedures:

Arrive at school: 0845-0900

Drop off and collect children at their outside classroom door.

Staggered playtimes and lunchtimes so only two classes are outside at any one

time.

End of the school day: Reception and KS1 - 1500; Y3+Y4 – 1510 and Y5+Y6 –

1520 (for those families with multiple children, all can be collected at the later

time).

Start of Term September 21

School will return on Wednesday 8th September.

Breakfast Club open as usual from 0730

Class doors open at 0845

School Gate

Please be reminded that our school gate will be closed between 0830-0900 and

1500-1530.

This is to create a safe environment for our children to enter school. Thank you for

your support.

Term Dates 21-22

Autumn Term 6 Sep - 17 Dec (Half term 25-29 Oct)

Spring Term 4 Jan - 8 Apr (Half term 21-25 Feb)

Summer Term 18 April - 26 July (Half term 30 May - 3 June)

INSET DAYS: 6 & 7 Sep, 4 Jan and 25 & 26 July

Additional Bank Holiday for Platinum Jubilee 6 June

Truro and Penwith College

Please find information regarding the adult Childcare and Education courses for

September 2021.

https://issuu.com/truroandpenwithcollege/docs/tpc_pt_brochure_autumn_2021_

web
---
Staffing for Next Year...

We are delighted to be able to announce our full staffing arrangements for next year.

As always, the placement of staff throughout the school has been made with the best

interests of our children in mind. Our staff team is incredibly strong and we are looking

forward to a fantastic year in which we are able to resume all of the wonderful

curriculum opportunities that have been restricted this year.

Class Based Staffing for 21/22

Year Group

Staff

EYFS

Rosie Patrick

Aimee Wheeler

Yvonne Ford

Lynn Richards

Rose Wheeler

1

Tracy Cutter

Angela Emery

2

Sophie Law

Sue Winn

Julie Thomas

3

Hayley Wherry

Leah Burlton/Caden Berwick

Siobhan Kennedy (CD)

4

Diane Cahill

Leah Burlton/Caden Berwick

5

Grace Wright

Jenni Rome

Bev Peters

Harri Hocking (BS)

6

Mr Uren

Mr Fletcher
---
Uniform...

From next year, we will be making a slight tweak to our uniform expectations. Because

children wearing their PE kit to school has resulted in much less PE time being

lost to changing, lost PE kit etc, we will be continuing with this next year. We will

also be increasing the profile of our farm learning and forest school provision, both of

which will be led by Mr Richards. We appreciate that for days that your children will

be doing much of their learning outside, with a greater likelihood of getting muddy

etc, our traditional uniform may not be the best option. Therefore, our uniform expectations

from September, will be as follows:

Normal School Days

PE Days

Forest School/ Farm

Days

Ludgvan School sweatshirt/cardigan

White Polo shirt (with or without logo)

Grey trousers/shorts/skirt/dress

Blue/White gingham dress

Black shoes

Ludgvan School sweatshirt/cardigan or hoodie

Ludgvan School PE t-shirt (in team colour)

Black shorts/jogging bottoms (with or without school logo)

Trainers (not plimsolls)

Ludgvan School sweatshirt/cardigan or hoodie

Ludgvan School PE t-shirt (in team colour)

Black shorts/jogging bottoms (with or without school logo)

Sensible shoes

All uniform is available from our supplier https://www.exhibit1clothing.com/ludgvan-school.html
---
Would you like to be a Governor?

Would you like to help ensure the continued success of Ludgvan School by becoming

a Governor?

We would like all families to be aware of an opportunity to be involved in shaping

the strategic direction of our school. Our Local Academy Committee (LAC)

is looking for new members. In more traditional terms, this is the Board of

Governors.

Would you be interested in becoming a member of the LAC? It involves six

meetings per year with some keeping in touch work in between. We are looking

for members of our community with a range of skills and abilities who can

have an overview of School policy and strategic direction. Previous experience

in an educational setting is not required for this role and we would welcome

applications from all sectors of our community.

If you would like to help us make a difference to children's lives we would love

to hear from you. For an informal conversation about what the role entails and

how you can help move Ludgvan School on to even greater success, please get

in touch with our Chairperson, Michael Payne by email: m.payne@ludgvan.

cornwall.sch.uk
---
A word from the Principal...

Salary: Voluntary – expenses reimbursed

Trustee Vacancies

Leading Edge Academies Partnership (the 'Trust') is a local partnership of academies in south west Cornwall

and the Isles of Scilly, formally established in August 2018 and currently consists of two secondary schools

(Mounts Bay Academy and Fowey River Academy), one all through school (Five Islands Academy) and three

primary schools (St Hilary School, Ludgvan School and St Buryan Academy).

We wish to recruit new members to join our Board of Trustees. Trustees are responsible for leading the

strategic direction of the Trust and their primary role is that of governance, as the executive leadership team

is responsible for the operational matters.

The ideal candidate will have experience of contributing to board or committee meetings and be able to

make a commitment to the Trust and devote the necessary time. The full board meet three times per year

on a termly basis, as do the Education, Finance & Resources and Audit & Risk Committees, usually in the

evening between 5-7 pm.

We are looking for Trustees who have strategic but sensitive leadership and authority, with the ability to

innovate, challenge assumptions and contribute views and experience. The new Trustee will also have skills

and experience in one or more of the following areas:

• Finance and Accounting

• Human Resources

• Business

• Risk Management

We are looking for Trustees who have:

• Integrity

• A commitment to the organisation, its objectives, vision and values

• An understanding and acceptance of the legal duties, responsibilities and liabilities of trusteeship

• A willingness to devote the necessary time and effort to their duties as a trustee

• Strategic vision

• Good independent judgment

• An ability to think creatively

• Willingness to speak their mind

• An ability to work effectively as a member of a team

We are particularly keen to achieve a more diverse Board of Trustees and welcome applications from all

sectors of the community. Previous experience in an educational setting is not required for this role.

If you have the motivation and experience to help us make a difference to people's lives, please contact Laura

Sadler, Clerk to the Trust Board for an application form:

( 01736 352397 or email: lsadler@leadingedgeacademies.org

For an informal discussion about the role of Trustee, please contact Jackie Eason, Chair of the Trust Board

on 07713 328706.

Leading Edge

Academies Partnership

is committed to

safeguarding and

promoting the welfare

of students and expects

all staff to share this

commitment

For further details about the Trust, please visit our website:

www.leadingedgeacademies.org

Please send your completed application form to Laura Sadler at Leading Edge

Academies Partnership, Boscathnoe Lane, Heamoor, Penzance, TR18 3JT.

The successful candidate will be subjected to reference checks with previous

employers and an enhanced DBS disclosure check.
---
Ludgvan Show 2021

Saturday 7th August

Doors open at 2pm

Now at Ludgvan Church

Flowers &

vegetables

Home

produce

handicrafts

Art &

photography

Childrens

classes

Floral Art

Entry forms available at :

Crowlas Post Office / Long Rock Post Office

or online at

www.ludgvanhorticulturalsociety.org
---
SCOTT SPORTS FOOTY DAYS!

Tuesday 27th July Lelant TR26 3DL

Tuesday 3rd August Lelant TR26 3DL

Thursday 5th August Ludgvan TR20 8ES

Tuesday 10th August Lelant TR26 3DL

Thursday 12th August Ludgvan TR20 8ES

Thursday 19th August Ludgvan TR20 8ES

Tuesday 24th August Lelant TR26 3DL

Thursday 26th August Ludgvan TR20 8ES

Tuesday 31st August Lelant TR26 3DL

Thursday 2nd September Ludgvan TR20 8ES

From 10am – 2pm

(registration from 9.30am)

Ages 5–14-year-olds, £10 per child.

Boys and girls, all abilities welcome.

Please bring football kit, boots, packed lunch and drinks.

To book, ring or text Scott Goodchild with your Child's Name and Age to

07763171524.
---
SUMMER SOCCER CAMPS

12 Camps Available

Mounts Bay Football Development Centre

Dates

'Mondays, Wednesdays & Fridays every week throughout August'

Week 1 : Mon 2nd, Weds 4th, Fri 6th August

Week 2 : Mon 9th, Weds 11th, Fri 13th August

Week 3 : Mon 16th, Weds 18th, Fri 20th August

Week 4 : Mon 23rd, Weds 25th, Fri 27th August

Soccer Tots (3-6yrs)

10am - 12pm

£6 per day | £10 for 2 days | £13 for 3 days | £25 for 6 days | £50 for all 12 dates

Soccer Pros (7-13yrs)

10am - 3:30pm

£15 per day | £25 for 2 days | £35 for 3 days | £65 for 6 days | £130 for all 12 dates

Venue

Mounts Bay Football Development Centre

Mounts Bay Academy Sports Centre, Penzance, TR18 3JT

Other Info

All players welcome from any school or club

Coaching staff are UEFA / FA / DBS qualiÞed

Pre-booking only, register & pay online

Visit the website for further information - www.mbfdc.co.uk

Contact

Kevin Lawrence - Head of Football Development

Message us on facebook - www.facebook.com/MBFDC

Email - klawrence@mountsbay.org

Website - www.mbfdc.co.uk