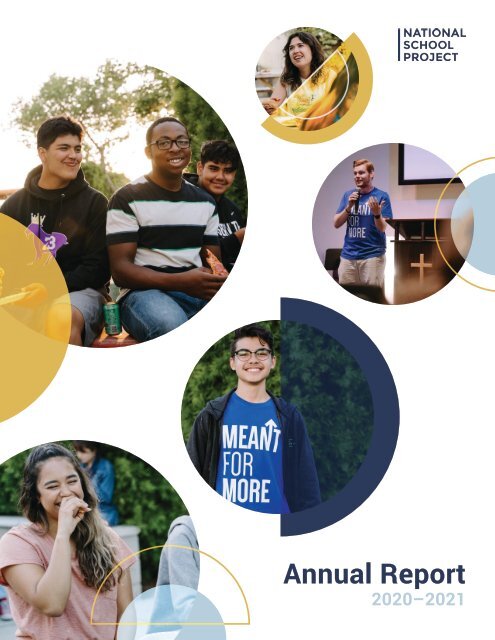 NSP 2020-21 Annual Report
National School Project is an evangelical non-profit ministry that equips students to share Jesus with their peers and classmates. Our vision is to see a student-led, church supported campus awakening to the love of Christ at every public school.
National School Project is an evangelical non-profit ministry that equips students to share Jesus with their peers and classmates. Our vision is to see a student-led, church supported campus awakening to the love of Christ at every public school.
SHOW MORE
SHOW LESS
Create successful ePaper yourself
Turn your PDF publications into a flip-book with our unique Google optimized e-Paper software.
Annual Report

2020–2021
---
Vision + Mission

The vision of National School Project is to see a student-led, church-supported

campus awakening to the love of Christ at every public school. Since 2004, NSP

has seen nearly 10,000 students from more than 385 schools give their lives to

Christ through on-campus, student-led outreach events.

Meant for More, our three-year initiative launched during the summer of 2019, is a

nationwide movement of students sharing Jesus with students at school.

Our goals for this campaign are to give 1 million students the chance to hear the

gospel before they graduate, and see the mission expand to 12 major cities and

450 high schools.

In this report, we are pleased to update you on our second year of the campaign

structured around three pillars of progress: Mission Expansion, Digital Multipliers,

and Capacity Builders.
---
What's Inside

Greetings from NSP

Letter from the President..................................... 1

Campaign Progress

Mission Expansion..............................................5

New Frontiers...............................................................5

Mapping Growth..........................................................7

Stories of Impact from Our Current Areas..............9

Expansion Cities...........................................................9

Tucson........................................................................ 11

Dallas-Fort Worth Area............................................ 13

Los Angeles................................................................ 15

Chicago....................................................................... 17

SF Bay Area................................................................ 19

Digital Multipliers.............................................. 21

Digital Outreach......................................................... 23

Capacity Builders.............................................. 25

Finances & Leadership

Financial Update............................................... 26

Letter from the Founder & CEO.......................... 27

Leadership Team............................................... 28
---
A Letter

from the

President

It's been two years since

we launched our Meant for

More Campaign. Today, I'm

excited to update you on the

progress the Lord has given

since launching, especially

how He has been at work

even in this challenging year.

God sustained the ministry.

God advanced the gospel.

God moved the mission

forward in new areas.

1
---
God Sustained the Ministry

God provided all we needed during a difficult year. There were some lean months in the early

days of the shutdown, but we praise God for keeping our doors open and the mission moving

forward. Thank you for standing with us as, together, we raise up young people to bring the

hope of Christ to students across the country.

Given the impact 2020 had on school closures across the nation, we decided to extend our

Meant for More Campaign by one year, taking us into 2023 instead of 2022. We are confident

that the Lord is still leading us towards our original goal of giving 1 million students at

450 schools in 12 cities the opportunity to hear the gospel, and that this is a reasonable

adjustment to keep us on track with those goals.

God Advanced the Gospel

Last summer our staff studied Philippians together. In it, the Apostle Paul was candid about

the challenges he was facing. He wanted to be preaching the gospel in stadiums around the

world, but he was confined to a small prison cell. From a human perspective, that's a setback.

But Paul assures them in Philippians 1:12 saying, "I want you to know what has happened has

actually advanced the gospel." Throughout the chapter, we see 3 ways God advanced the gospel

through the "setback" Paul faced.

1. Believers became bolder to witness.

2. More believers stepped up to lead and preach.

3. People were reached who would not otherwise have been reached.

We have seen God use this year in similar ways in our own ministry. Students grew in boldness

and more students stepped up to share the gospel with their peers. As many of the normal

ways of reaching their peers were unavailable, we saw students step up and share Christ in

ways that have required even more skin in the game for them.

Let me share a few ways students have stepped out in faith this year.

Online Christian

Club Meetings and

Outreach Events

Personal

Witnessing

Gospel

Conversation

Groups

Evangelistic

Surveys

2
---
First, students took their Christian club meetings and outreaches online. The world was still reeling

from the early days of 2020 and students were hungrier than ever for truth and hope. We even saw

students from other faith backgrounds join these online events.

Second, students continued reaching out through personal witnessing. In addition to personally

witnessing to their classmates, students went a step further by recording their testimonies and posting

the videos on their social media—no small feat for a young person!

Third, while large in-person outreaches on campus weren't an option for every student, many led

small group evangelistic Bible studies and gospel conversation groups at local parks and even in their

backyards! Here their classmates had the space to ask some of life's biggest questions about God.

Fourth, students sent out evangelistic surveys to their entire schools. These digital surveys prompted

questions about God, gauged students' spiritual interest, and provided a natural way for student

leaders to reach out to students who expressed interest in God. Students diligently gathered the email

address of everyone at their school, divided the list between their leaders, and personally wrote to each

student. The surveys asked questions like "In your opinion, what makes life meaningful or purposeful?"

and "If you could ask God one question, what would it be?"

One of our student leaders who took this challenge is Xavier, a senior and Christian club president from

Green, OH. His leadership team sent surveys to every student on their campus and over 200 responded.

Many of these students went on to attend the club's Meant for More Week in May.

One of the most unexpected ways that God advanced the gospel to reach students who otherwise

would not have been reached was through a new online outreach initiative. As our

mission field became restricted overnight, God simultaneously opened new doors to reach students

with the gospel online.

This year, we launched a brand new outreach site for our Meant for More Campaign at MeantForMore.

us. The website is full of testimonies from students and influential believers. It also provides students

the opportunity to chat with someone who cares. Trained "gospel coaches" are available 24/7 to

connect with students and share the hope of Christ with them.

In conjunction with this site, we also launched a series of social media ads featuring William Green,

former NFL running back for the Cleveland Browns and one of our most requested guest speakers.

In the ads, William speaks directly to young people and shares his story. Scan the QR code below to

view one of William's ads now. In the last 6 months, William's ads were seen by over 1.5 million people!

As these ads invite young people to click to hear more, they are brought to MeantForMore.us where

they can listen to William not only share his full testimony and present the gospel, but also personally

invite them to repent and believe. Head to our Digital Multipliers section to read more about the impact

our evangelistic content has had on social media this year, including the testimonies of students who

repented and were baptized as a result of it!

All told, by God's grace and your partnership,

the evangelistic content we've put on social

media has been seen over 18 million times!

3
---
God Moved the Mission Forward

God sustained the mission, He advanced the gospel, and, finally, He moved the mission forward.

This year, we reinvented our entire playbook, trained students in brand new outreach strategies,

and did all of this in a context we've never seen before. While these new strategies didn't fit within the

parameters of our standard tracking mechanisms, we are excited to share about the way the Lord

moved this year through the many powerful stories you'll find throughout this report.

This year, our staff in LA, the Bay and Chicago worked diligently to keep their schools moving

forward in the midst of ongoing shutdowns, while launching ministry with new schools. At the same

time, God provided full-time staff for two of our expansion cities—Dallas, TX, and Tucson, AZ. Within

months of these new staff joining, we were able to launch ministry with students from 14 new

schools in these areas! And we've been able to partner with churches and coach students in our

target cities of Phoenix, Sacramento, and Minneapolis.

By God's grace, we've also been able to break ground in two more of our target cities—Tulsa and

Oklahoma City, OK—while unexpectedly launching ministry in San Antonio, TX, and Boston, MA, as

well. To top it all off, God opened doors for us to challenge thousands of students at three major

Christian youth camps in Oklahoma, Colorado, and Ohio to join the Meant for More Movement and

commit to reaching their schools for the very first time this summer.

In this year's Annual Report, we celebrate what God has done and we're profoundly grateful for the

way He has sustained and advanced the mission this year. With that, we have a strong urgency

to continue moving the mission forward. We look around today and see students hurting and

more hopeless than ever before. We see so many working zealously to promote lifestyles that are

destructive and deadly to students' lives, and see cultural forces at work that would love to limit

or prohibit free expression of faith on campus, but we also see a huge opportunity. Schools are

reopening and student leaders are ready.

Thank you for your partnership throughout 2020-21, and for all that you've done to help reach

students with the life-changing news of Jesus Christ.

Sincerely,

Mark Hopson

President, National School Project

4
---
Mission

Expansion

New Frontiers

This year, our ministry continued to expand in our

current and target areas. In this section, we're

specifically spotlighting our "New Frontiers":

areas in which we broke ground this year, and

areas where we're excited to see the Lord

continue to establish us in coming years.

This map highlights the schools of all

the students who attended our Meant

for More breakout sessions at Super

Summer. Students from the schools

marked in yellow expressed interest

in learning more!

5

After Super Summer, students attended a

vision lunch to learn more about the Meant

for More Movement. The students pictured

here officially signed up and are excited to

be student leaders this fall!

Oklahoma

This year, we partnered with Barry Williams and Next

Generation IMPACT (NGI) as we broke ground and began

building key ministry relationships in Oklahoma. NGI is

a like-minded ministry whose vision is "to see each next

generation set its hope on God."

In June, we had the opportunity to challenge hundreds of

students at the Super Summer youth conference to join

the Meant for More Movement and reach their campuses

with the gospel. For 3 weeks in a row, our team led a

Meant for More workshop at the camp. 222 students said

they want to learn more and 60 said they're interested in

joining the movement.

When asked what brought him to the workshop, one

student said, "I heard about Meant for More from another

student at Super Summer. I'm here in the hopes that

Meant for More will help me reach more people at my

school. I heard that they were able to create a club that

helped save other students at their school."
---
San Antonio, Texas

This summer, we took our first steps towards launching

ministry in San Antonio, TX. We are honored to have a

brother in Christ with over 40 years of ministry experience

with Cru and Jesus Film International relocating to San

Antonio to take a leading role in this project.

In June at Oakwood Church in New

Braunfels, TX, Josh McDowell (far left)

challenges local pastors to partner with

the Meant for More Movement.

To help us get things underway, world-renowned Christian

author, speaker, and leader, Josh McDowell, will be

partnering with us through the fall. In June, Josh spoke at

two local churches in San Antonio, sharing the ministry and

vision of National School Project with nearly 250 pastors

and church members.

Massachusetts

The Lord blessed us with a strategic connection with

the Massachusetts Family Institute this year. Through

them, we've already made strong connections with

students and youth pastors in the area. Eric Campos,

an assistant pastor at Westgate Church in Weston, MA.

who volunteered with NSP as a college student, joined us

during our virtual Boston Gathering on June 29.

"Thinking about NSP in Massachusetts is really exciting,"

said Eric. "This could be the spark for a transformational

generational impact. Let's get into the high schools...

Let's get the gospel out there. Let's see what God can do.

I would love to see this take off in multiple directions for

all of our churches."

Pastors and youth leaders

gather together over Zoom

during our virtual Boston

Gathering on June 29.

6
---
Mission Expansion

Mapping Growth

During our Meant for More Campaign, our goal is to give 1 million students

from 450 schools across 12 cities the opportunity to hear the gospel before

they graduate. The map below highlights these 12 cities and our progress in

each. Head to page 9 to read stories of impact from our some of our current

and target areas.

Minneapolis

Ottawa

Worcester

Irvington

Boston

Sacramento

Chicago

Green

San Francisco

Los Angeles

Phoenix

Tucson

Oklahoma City

Tulsa

Dallas-Fort Worth

Hinesville

San Antonio

Map Key

Current Areas

Target Areas

Distance Areas

7
---
Distance Areas

Beyond our current and target areas of ministry, students from across the

country stepped up to join the Meant for More Movement and receive training to

share the gospel at their schools. Here are stories spotlighting just a few of our

"distance areas" this year.

Ottawa, Canada

Sylvane and Lois joined the Meant for More Movement in December of 2020. They utilized

gospel surveys to begin gospel conversations with their friends and worked to leave the Bible

club at their school in capable hands after they graduated.

Worcester, MA

Tyra joined the Meant for More Movement last fall after participating

in a Digital Cohort. Over the past six months, Tyra has led two

conversation groups, used gospel surveys to share the gospel with

her friends, and is working to start a Bible club at her school.

Irvington, NJ

Derrick, a freshman, participated in our very first round of Digital Cohorts this year. "I'm hyped

to be in a cohort! I'm excited that this is a program that enlightens us to spread the gospel of

God! This is helping me to be more confident in myself and telling people that Jesus is the

only way, and there is no other way."

Green, OH

Green High School's Christian club not only ran regular club meetings

on campus, organized a Meant for More Night at a local church,

and sent gospel surveys to hundreds of their classmates via email,

but they also hosted a full-blown Meant for More Week on their

campus! Over 150 students heard the gospel at the event and dozens

expressed interest in taking their relationship with God to the next

level through baptism, attending a local church, and more.

Hinesville, GA

Ashley and Teyah, co-presidents of the Bible Club at Bradwell Institute

joined the Meant for More Movement in December of 2020 and have

since fully adopted the mission of reaching their school for Christ. In

the past six months, they've led two conversation groups and have

used gospel surveys to initiate conversations with their classmates.

8
---
Stories of Impact from

our Current Areas

Kicking off our "Stories of Impact" section are Sacramento, CA, and Phoenix, AZ—two cities that

we were blessed to launch ministry in this year. On the coming pages, you'll also read stories

from Tucson, AZ, and Dallas-Fort Worth, TX—two cities where, this year, we saw God answer

our longstanding prayers for full-time staff. Lastly, you'll read stories from our current areas of

ministry including Los Angeles, Chicago, and the San Francisco Bay Area, where students and

staff are still going strong.

Sacramento and Phoenix |

Meant for More Nights Hit the West Coast!

Meant for More Nights are one of the outreach strategies our team launched this year to give

students a new way to share the gospel despite school closures. Not only do Meant for More Nights

give students the chance to host large-scale outreach events at their local church, but they also give

youth pastors a powerful opportunity to come alongside their students and help them take the next

step in their faith.

This year, students across the U.S. hosted Meant for More Nights at their local churches. Two of

these events were in Phoenix, AZ, and Sacramento, CA.

Sacramento, CA

Abby and Brooklyn are sophomores at Lincoln High School in Sacramento, CA, and returning

members of the Christian club at their school. At the end of April, both girls shared their

testimonies at a Meant for More Night hosted by their club, Foothills Bible Church, and The Salt

Mine Church.

"Our main focus this year was to spread the gospel in a way that God would want it to be spread,"

said Brooklyn. She and Abby actively shared about the event on their social media accounts

leading up to it, and they even reached out to a Latter-Day Saints (LDS) classmate, personally

inviting him to attend.

That night, not only did their LDS friend attend, but he also prayed to give his life to Christ!

"I had been praying for him a lot before that night," said Abby, "so it was really cool." In addition to

their LDS classmate, two middle school students also accepted Christ during the event.

"One of the things I love about the gospel is that when you share it, you feel this happiness

that compares to nothing else. Abby and I call it 'Jesus Joyful'," said Brooklyn. "I definitely felt

'Jesus joyful' that night. Seeing people receive the gospel is so encouraging—it makes you

want to go tell everybody!"

9
---
Carlos (second from right), poses with the team of student

leaders who organized their Meant for More Night this

spring. The students are joined by their Youth Leader and

Coach, Jason Hussong (second from left), and NSP's

Expansion Director, Devin Long (far left).

Phoenix, AZ

Carlos is a junior at Millennium High School in Phoenix, AZ, where he served as the vice president of

the Fellowship of Christian Athletes (FCA) this year. In May, Carlos and the FCA Club hosted a Meant

for More Night at Desert Springs Community Church with the help of a handful of other students at

the church who attend nearby Desert Edge High School. Over 150 students attended the event and

16 recommitted their lives to Christ.

"It was a little nerve-wracking putting so much time and energy into the event and not knowing how

many people would show up," said Carlos, who shared his testimony at the event. For two months,

the FCA club met every other week as the five club leaders and their Meant for More Coach worked

to plan the event together.

"After sharing my testimony, one student came up to me and said, 'I didn't know that other people

felt the way I did. It's comforting to know that other people are with me in this.' Just that one

student's response was enough to make everything worth it."

The event received tons of positive feedback from both Christian students and seeker students, said

Carlos, and they are looking forward to hosting another Meant for More Night soon.

10
---
Tucson |

Students Launch First Christian Club On Campus!

Last year, God answered our longstanding prayers for a full-time staff member in the Tucson

area through Breanna Loveland. Despite joining staff in the midst of one of the most unusual and

challenging years, Breanna did amazing work establishing ministry in the Tucson area as our firstever

Tucson Chapter Director. A highlight for Breanna was coaching a student to start the very first

Christian club on her public school campus.

Hallie is a senior at Catalina Foothills High School (CFHS) in Tucson, AZ. She and her friend Lauren

felt called to shine the light of Christ on their affluent campus where many students have easy

access to drugs and alcohol. After connecting with Breanna and Misha, a Lead Coach in Tucson,

through their local church, the girls began receiving coaching to help them start a Christian club on

their campus.

"Through Breanna and Misha, we were really encouraged, blessed, and

emboldened to start a Bible study at our school," said Hallie.

Hallie and Lauren named the club "Club Hope"—a nod to the "Club Hope" that Breanna founded

back when she was a senior in high school. As they prayed for the Lord to provide them with a

teacher advisor to make their club official, Hallie and Lauren started hosting a weekly Bible study in

Lauren's backyard and inviting their classmates to attend. To their surprise, they had 10-15 students

coming every Friday night, many of whom did not know Jesus.

Although their club wasn't officially recognized on campus yet, Hallie and Lauren wasted no time

getting started sharing the gospel and making an impact in the lives of their classmates. In May,

they helped organize a Meant for More Night at Hope Community Church (Hallie's home church)

alongside Christian students from four other public schools in the area. 62 students attended the

event!

"It was awesome to see God working in the hearts of those students

and get to be used by God in that," said Hallie. "Although Lauren and

I are graduating this year, we are excited about what God's going to

continue to do through the club!"

Just before the school year ended, God answered Hallie and Lauren's prayers through Ms. Perez,

a teacher at CFHS who is "all in" to sponsor and support the students leading Club Hope next year.

Hallie and Lauren's younger siblings, Loni and Kaden, are excited to take over Club Hope this fall.

For their very last club meeting of the school year, Club Hope was able to meet on campus in Ms.

Perez's classroom as an officially recognized club. Praise God!

11
---
Breanna, our new Tucson Chapter Director,

moved to Arizona with her husband, Eric, in the

fall of 2020 when she felt God calling her to join

full-time staff with NSP.

Club Hope meets together in Lauren's backyard

during a Friday night Bible study.

(From left), Breanna, Lauren, Hallie, and Misha,

meet together during a coaching session this year.

This year, our Tucson team coached students at the schools

marked with blue icons. Schools marked with yellow icons represent

our "target" schools that our team is actively praying and working to

begin coaching next year.

12
---
Jonathan and Katie Medina felt the Lord calling them to

join full-time staff with NSP in 2019. With over 10 years of

youth ministry experience under their belts, we were blessed

to have them come on-board as our first Dallas-Fort Worth

Chapter Directors this year!

This year, our Dallas-Fort Worth team coached students at

the schools marked with blue icons. Schools marked with

yellow icons represent our "target" schools that our team is

actively praying and working to begin coaching next year.

Emily (far right) and David (second from left) pose for a photo

during a Meant for More Night at her local church. This event took

place just two weeks before David accepted Christ.

13
---
Dallas-Fort Worth |

Deaf Student Accepts Christ

Despite joining staff the week before the world "shut down," Jonathan and Katie Medina, our firstever

Dallas-Fort Worth chapter directors, went above and beyond connecting with churches and

coaching students this year. One student they had the opportunity to coach this year is Emily, a

senior at Weatherford High School in Weatherford, TX.

While most of her classmates were coming down with "senioritis," Emily felt called by God to do

something big before she graduated. During her last semester of high school, Emily started the

first Christian club on campus, gathering the needed signatures and finding a teacher advisor all

in a single afternoon.

One day at lunch, Emily noticed David, a deaf student, sitting by himself. Knowing that she and a

few of her friends could sign, Emily invited David to sit with them. They quickly became friends.

In the following weeks, David regularly asked Emily and her friends questions like "Why are you

a Christian?" which created some amazing witnessing opportunities. As the club members took

turns answering, David's school-appointed interpreter (who is not a believer), would have to sign

each and every word of their responses!

Before long, David started attending youth events at Emily's church. At one event, Emily was

singing on stage with the worship band when she looked into the audience and saw David

approach their youth pastor. David signed, "I want to be a Christian."

After the service, Emily had the chance to connect with David and talk about the life-changing

decision he had just made. David signed, "I wouldn't be a Christian right now if you hadn't

invited me to lunch. Thank you."

"It would've been an easier choice for Emily to want to just 'get

through' her senior year," reflected Katie. "For her to make a different

choice shows a lot of people, not just high school seniors, that it's not

too late to really have an impact for the Lord and to really make the

most of the platform that you have in the season you're in."

Emily is excited to continue being part of the Meant for More Movement after graduation and

be there for the underclassmen carrying the club forward in the fall.

14
---
Los Angeles | Lighting the Way at Glen A. Wilson

Our team began coaching the Christian club at Glen A. Wilson High School back in 2019. For two

years, the club was led by the same core group of leaders...and then Covid-19 hit. By the grace of

God, the club survived despite school shutdowns, but it was now being led by seven brand new club

leaders during one of the most uncertain seasons yet. These seven leaders were from seven different

churches, but they were all united around the shared vision to see their club, Campus Light, grow and

help people follow Jesus.

Chris, a junior and club president, launched Campus Light before administration had officially

announced its guidelines for student-run clubs during the digital learning period. Because of their

early action, Chris and his two advisors helped push for certain policies that enabled Campus Light to

meet early and often.

Campus Light quickly launched seven bible studies where they equipped other Christian students to

share the gospel and initiate gospel conversations with their friends. Through their efforts, several

non-Christian students said "yes" to learning more about Jesus this year. They began meeting weekly

to watch the Alpha Series together. This 11-week discussion-based program walks students through

the basics of Christianity, including topics like Jesus, sin, the Bible, and the purpose of life.

Joseph, a sophomore and Campus Light leader, led a conversation group that several of his non-

Christian friends, including an atheist and a Muslim student, attended. When asked about their

experiences in the conversation groups, many seeker students shared that these discussions were

the first meaningful and interesting "religious" experiences they had ever been a part of.

"At first, I was apprehensive about talking to my friends about Christ,"

said Joseph. "After I took that first step and just went out and invited

them, God and Christianity have become topics brought up way more

in our conversations. As a byproduct, I feel way more confident talking

about my faith to not only my friends, but anyone."

In addition to leading gospel conversation groups, Campus Light continued weekly club meetings to

which students constantly brought new friends to come and hear about Jesus and the gospel. They

even recorded and shared their testimonies on the club's Instagram!

Campus Light's club leaders (Chris, Delaney, Joseph, Jake, Jen, Karsten, and Kaitlyn) are excited to

return in the fall and be some of the first to greet students back to campus!

15
---
Chris, a senior and president of Campus Light, shares the

Word live on their club's Instagram page as part of the Pray 5

Challenge. His video was seen 59 times by his peers!

Joseph, a sophomore at Glen A. Wilson High School, led a

gospel conversation group with several of his non-Christian

friends this year, including a Muslim and an atheist student.

This year, our LA team coached

students at the schools marked

with blue icons.

16
---
Chicago sophomore, Angelina, felt called by God to launch

a Bible study at her school this year.

Angelina (second from left) sits down with her parents and

Jon Cox, IL State Director, during a filming day this spring.

Angelina shared her story during our Meant for More Virtual

Fundraiser in May.

This year, our Chicago team

coached students at the schools

marked with blue icons. Schools

marked with yellow icons represent

our "target" schools that our team

is actively praying and working to

begin coaching next year.

17
---
Chicago | Angelina Discovers Her Purpose

Angelina is a sophomore at Kennedy High School in the southwest suburbs of Chicago. This

spring, she felt called by God to launch a Bible study at her school and do more to make an

impact for the gospel.

"When I first got the idea to start a Bible club at my school, I didn't know how it was going to

look," said Angelina. "But, through the help of NSP, I learned that leading a club means serving

those in my club."

Kate Cordova, one of our new staff members this year, personally coached Angelina as she took

the first steps to start her club. Before long, she started seeing students from many different

walks of life come to the club. She especially noticed a spiritual hunger in two of her friends,

Mayerlyn and Kaitlyn, whom she invited to attend Easter Sunday service with her.

"They both ended up coming and I could just see how God was touching their hearts through

the service. At the end, our pastor asked if anyone would like to receive Jesus and they both

raised their hands! Marilyn rededicated her life to Christ and Caitlyn gave her life to Christ for

the first time."

Angelina's friends have continued to come to youth group and church since Easter Sunday, and

they're hungrier than ever to grow in their relationships with God. The three girls meet every

Sunday to study the Bible together at a local park.

"Through this whole experience, I now believe that I have a greater

purpose. God is working through many students and many friends,

and that encourages me to want to spread the gospel. It's grown my

compassion for others in wanting to see them grow, too! I'm very

grateful to NSP for giving me the resources to share the gospel and

for that I'm forever grateful."

This fall, Angelina is excited for the club to be able to start meeting in-person and on-campus.

"I hope that we can spread the gospel to more students, even those who don't attend our club,

and teachers as well."

18
---
SF Bay Area | Muslim Student Accepts Christ

It's no coincidence that "Youth Alive" is the name of the Christian club at Irvington High School.

From the very beginning of the shutdown through the 2020-21 school year, the leaders of Youth Alive

hardly skipped a beat and eagerly embraced new ways to share the gospel with their classmates.

Irvington's Youth Alive Club is led by three powerhouse students: Sarah,

a senior and club president; Helen, a junior and vice president; and Sena,

a senior and worship leader.

Youth Alive kicked off the school year by going through the Alpha Series together (more on this

series on pg. 15). After a few sessions, Sarah realized that one of their club members might not

completely understand the gospel, although she calls herself a Christian. Sarah took the time to talk

with her, and the student gave her life to Christ for the first time!

"We have a huge chance to share the gospel with students we think already might know Jesus," said

Sarah. "Since my classmate accepted Christ, she told me she sees everything differently. She doesn't

just know God. She understands what He's done for her and it has changed the way that she lives

her life."

After the Alpha Series, Youth Alive put on a "witnessing blitz" during the fall semester and was able

to share the gospel with 60 people! This was a powerful moment for Helen, who was born and

raised in a Buddhist family. With the help of her NSP coach and fellow club members, she personally

shared the gospel with her mom and dad. Helen tells the full story in her Meant for More Story, which

she shared on social media. Scan the QR code below to watch!

Sena also had a great experience during Youth Alive's "witnessing blitz."

During the blitz, Sena was able to share the gospel with a Muslim classmate.

While he did not accept Christ right away, he continued to engage in gospel

conversations with Sena and asked big questions—he even had a dream

where he felt the Lord really speaking to him! On New Year's Day, this

student gave his life to Christ. Praise God! Since that day, he has been

attending online church services and has read through all four of the

Gospels.

This fall, Youth Alive is excited to continue sharing the gospel and making the

name of Jesus known on Irvington's campus. Helen will be leading the club

as president.

19
---
This year, our Bay Area

team coached students at

the schools marked with

blue icons.

Irvington High School's Youth Alive club enjoys a

sunny afternoon in the park during their end-ofthe-year

team event on June 5th. For most of the

students, this was their first time being together

in-person all year!

Left: Sena is a senior at Irvington High School in Fremont, CA.

This year, she served as the worship leader for the on-campus

Christian club, Youth Alive.

Middle: Helen is a junior at Irvington High School in Fremont, CA.

This year, she served as the vice president of the on-campus

Christian club, Youth Alive.

Right: Sarah is a senior at Irvington High School in Fremont, CA.

This year, she served as the president of the on-campus Christian

club, Youth Alive.

20
---
Digital Multipliers

Training and Reaching Students Online

Our focus during year one of Meant for More was establishing strategies and resources for equipping

and reaching students with the gospel online. This involved launching MeantForMore.org, filming a series

of online training videos to give students anywhere in the country the chance to receive coaching, and

creating opportunities to both train and reach students online.

We continued to build on the success of these pillars this year, which you can read about below! These

pillars were made possible with the help of Groundwire and Nonprofit Megaphone. Groundwire is a likeminded

ministry that hosts our live gospel chat at MeantForMore.us and helped us launch many of our

social media ads this year. You can learn more about them at groundwire.net.

Nonprofit Megaphone equipped us to maximize the impact of our live chat, websites, and social media ad

content online through a process called Search Engine Optimization (SEO). Grant Hensel, CEO of Nonprofit

Megaphone, is a longtime supporter and friend of the ministry.

"In a year marked by isolation and fear, NSP is reaching people where they are spending more and more

time: online," said Grant. "Thousands of people turn to the internet for answers to life's biggest questions

and NSP is there to share the hope we have in Christ."

Training Students

Social Media—Recruiting Ads

With many campuses still closed at the start of this school year, we knew we needed to meet students

where they were in order to inspire and challenge them to join the Meant for More Movement. To this end,

we ran a series of ads on social media, sharing the Meant for More vision and inviting students to apply.

Through these ads, we were able to connect with students from all over the nation. One of these students

is Siani, a middle school student in Phoenix, AZ.

As she looks forward to beginning her freshman year of high school this fall, Siani is excited to join the

Christian club at her school and actively share the gospel on campus. You can read more stories of

students who were connected to the mission through our social media ads on pages 8 and 23-24.

Digital Cohorts

Digital Cohorts are a revolutionary outreach tool for our

ministry. These 6-week online cohorts teach students

how to lead a Bible study with friends, share their

testimony, and take the Pray 5 Challenge. They allow

students from any city to receive personalized coaching,

tangible next steps to share the gospel and reach their

school, and the ability to be part of the nationwide

Meant for More community.

21
---
Last spring, we invited student leaders from across the country to gather together online for regular

times of prayer and encouragement that we called National Student Gatherings.

This year, our Digital Cohorts built off these events, giving students all over the nation the chance to

receive small group-style coaching while building relationships with like-minded Christian teens.

"I enjoyed the Digital Cohort because it gave me a lot of assistance as to how to study

the Bible and share the word of God!" said Siani, a rising ninth grade student from Tucson,

AZ. Siani joined a Digital Cohort after discovering the Meant for More Movement through a

digital ad. She is excited to share the gospel at her high school this fall.

Reaching Students

MeantForMore.us—Live Gospel Chat

MeantForMore.us is home to our seeker-friendly

resources including an apologetics page, resources

for finding a local church, and a library of testimony

videos. It's also home to our 24/7 live chat where

people can talk with a trained gospel coach online

and hear the gospel.

119,420 7,180 6,868 1,550

Visited our chat landing page

and had the opportunity to

hear the gospel.

Engaged online

gospel chat.

Indicated a decision for

Christ after visiting our site

and/or engaging in a chat

(includes first time decisions

and recommitments).

Made first-time decisions for

Christ through our live chat

(approximate).

Social Media—Evangelistic Ads

Last summer, we hosted our Digital Tour, a series of online events during which nationally recognized

Christians like Bethany Hamilton and Nick Vujicic shared the gospel and the Meant for More message

live on social media. We re-purposed the content into a series of evangelistic ads on Facebook and

Instagram that help drive users to our live chat at MeantForMore.us. Our ads featuring former NFL

running back and long-time friend of NSP, William Green, were an instant hit.

21,050,877

Impressions

223,696

Clicks

124,360

Sessions

Times our ads have been

viewed since September

Times users have

clicked on our ads

Times users visited MeantForMore.us

as a result of the ads

22
---
Digital

Outreach

Stories of Impact from

our Digital Multipliers

In 2020-21, the impact of our digital

multipliers exceeded our expectations and,

as a result, we saw God move in some

incredible ways. We saw lost students not

only receive the gospel online, but, through

the diligent efforts of our NSP team, we also

saw them get plugged into local churches,

discipled, and baptized—praise God! We

also saw Christian students catching the

vision of the Meant for More Movement for

the very first time, and our team was able

to begin coaching several of them to start

reaching their campus for Christ.

1

Seeker Students Find Help—and Hope—Online

In March, Diana, a young girl who was struggling to feel understood by her parents, went online

and searched for a place where she could "chat with someone." Diana found the Meant for More

website and got connected to an NSP staff member in the live chat. She shared that she grew up

in a Buddhist home, that she had never heard of Jesus before, and that she was in 6th grade. Here

is what Diana said in response to hearing the gospel:

"I never heard stories about Jesus so it was all new and interesting to me...

I understand. I 100% believe in [the gospel]."

Afterwards, our team member was able to connect Diana to a church down the street from her

and help Diana download a Bible app so she could start reading the Bible and get plugged into

a local church community.

2

Online Evangelism Leads to

Real-World Discipleship

Yourdanos accepted Christ through our live chat

on MeantForMore.us on November 27th, 2020. In

January, we were able to chat with a local church

pastor in Yourdanos' hometown, introduce her as a

new believer, and help her get plugged into the local

church. In early March, we were able to celebrate with

Yourdanos as she made a public declaration of faith

and was baptized (pictured left)! Sharing about her new

conviction and hope in life, Yourdanos said...

"I want to understand what God's will is for

my life. I want to motivate people to walk with

God the right way and I want to serve God to

the best of my ability."

23
---
3

Christian Students Respond to God's Call Online

We first connected with Lincoln, a sophomore from the Chicago area,

through our evangelistic social media ads. Lincoln visited our site,

MeantForMore.us, and filled out our response form to let us know that he

was already a follower of Jesus and excited to receive materials to grow in

his faith.

After seeing his response, a team member reached out to him via text and

told him about our Meant for More Movement. Lincoln was immediately

interested in becoming a student leader and learning more about reaching

his school for Christ.

Since then, Lincoln has worked to start an after school Bible study where

they will be reading through the Book of John. He's currently working on

expanding the leadership team at his school, while also planning to start

witnessing this summer.

4

Christian Students United by

Online Community of Leaders

"The message of the Scripture… is not

that in following Him everything is going

to go right, but that He is enough no

matter what happens to you."

These are the words that Creatione, an eighth

grade student from Sacramento, CA, shared

with her peers in a video on the popular social

media platform, Tik Tok. We first connected with

Creatione after she responded to one of our

social media ads. We learned that, early-on in

the shutdowns, Creatione accepted Christ after

overcoming a battle with drugs and alcohol.

However, she was still desperately searching

for a Christian community to call home.

Creatione joined our second session of Digital

Cohorts, during which she gathered online with

a small group of Christian teens from around

the nation for six weeks of in-depth training

and discipleship.

Today, Creatione is being discipled and poured

into by a local church family, and is excited to

share the gospel with her classmates this fall.

Creatione, an 8th grade student from

Sacramento, CA, began sharing the gospel

with her peers on the social media app,

Tik Tok, before joining a Digital Cohort this year.

24
---
Capacity Builders

Updating Our Staff Support Raising Model

This year saw a subtle, but significant, change to the way our staff members go about fundraising.

Instead of raising personal support to cover their own salary and ministry expenses while also separately

raising money for the schools they're reaching, we've united all fundraising efforts under one goal.

All NSP staff are still involved in fundraising, but now, when they ask for funding partnership, they're

raising funds for their whole area (Chicago, Los Angeles, Dallas, etc.) rather than only their personal

support. This shift is a marked improvement and opens up many new advantages as we grow and care

for our team:

• Enabling us to pay staff their full salary from the get-go, it opens doors for recruiting staff who are

called, qualified, and ready to fundraise, but would have a hard time making the "jump" to full-time

staff under the old model.

• It continues to provide financial stability to hard working staff members as they focus on their

areas of ministry.

• It unites all our vision and fundraising on the key point of our mission: sending bold student

leaders to reach their schools for Christ.

Visit nationalschoolproject.com/partner to learn more about our new funding model.

New Staff

One of our constant prayers at National School Project is for the Lord to raise up workers for the

harvest (Luke 10:2). This year, the Lord was faithful to bring several new staff members to join the

mission. Please keep the Cordovas, Kristen, and Edwin in your prayers as they push hard to raise

their full support this summer and prepare to launch into ministry this fall.

Jonathan Cordova

Moody Bible Institute Chapter Director

Breanna Loveland

Tucson Chapter Director

Kate Cordova

Chicago Campus Ministry Staff

Edwin Martinez

Los Angeles Campus Ministry Staff

Kassandra Cox

Administrative Assistant

Jonathan Medina

Dallas-Fort Worth Chapter Director

Kristen Harper

Los Angeles Campus Ministry Staff

Katie Medina

Dallas-Fort Worth Chapter Director

25
---
Financial Update

TOTAL

Jun 2020–May 2021

TOTAL

Jun 2019–May 2020 (PY)

INCOME

40000 DONATION INCOME $ 3,277,806.28 $ 2,652,525.84

44000 IN-KIND DONATIONS $ 15,000.00 $ 2,500.00

44200 NON-DONATION INCOME $ 2,466.59 $ 7,560.95

Total Income $ 3,295,272.87 $ 2,662,586.79

EXPENSES

70000 ADMINISTRATIVE EXPENSES

60940 Tax & licenses 52.00 14.00

70100 Accounting - Admin 57,440.00 54,945.75

70107 Digital Outreach - Admin 2,769.24 --

70110 Depreciation Expense 13,342.00 30,407.75

70115 Dues and subscriptions - Admin 41,092.73 25,432.56

70120 Equipment - Admin 7,989.70 2,771.66

70130 Gifts - Admin 1,173.28 109.90

70135 Health insurance - Admin 5,106.38 277.45

70140 Insurance - Admin 8,380.73 2,674.19

70145 Meals - Admin 5,095.96 1,290.14

70150 Mileage - Admin -- 266.80

70155 Miscellaneous Expense - Admin 2,491.80 -6,501.01

70160 Payment Processing Fees 31,019.09 30,723.13

70165 Postage - Admin 4,807.98 9,894.85

70170 Printing - Admin 2,985.61 9,113.91

70180 Printing Supplies 312.39 --

70185 Rent - Admin 51,769.00 19,879.50

70190 Repairs and Maintenance 400.00 66.00

70195 Software - Admin 164.00 --

70200 Subcontracting - Admin 44,921.88 18,282.34

70205 Supplies - Admin 5,692.39 7,813.16

70210 Telecommunications - Admin 2,518.11 856.59

70215 Transaction fees - Admin 209.67 228.50

70220 Travel - Admin -1,561.80 1,068.48

70225 Utilities - Admin 973.61 818.73

70230 Housing - Admin 1,275.57 --

TOTAL $ 290,421.32 $ 210,434.38

90000 FUND RAISING EXPENSES

90100 Conference Center Fees - F.R. -7,465.00 17,760.00

90110 Dues and subscriptions - F.R. 10,914.88 66,244.05

90115 Equipment - F.R. -- 2,468.38

90120 Equipment rental - F.R. -- -143.38

90125 Event Fee - FR 761.50 2,837.37

90130 Gifts - F.R. 2,984.77 2,017.89

90135 Insurance - F.R. 6,908.67 3,818.57

90140 Advertising - F.R. 10,000.00 9,680.00

90145 Meals - F.R. 2,865.28 10,690.47

90150 Mileage - F.R. 1,651.57 3,092.38

0160 Postage - F.R. 4,108.65 8,798.49

90165 Printing - F.R. 7,521.99 23,984.16

90170 Rent - F.R. 7,984.56 14,570.41

90175 Software - fund raising 594.15 -577.59

90180 Subcontracting - FR 5,025.00 40,732.68

90185 Supplies - F.R. 2,141.42 1,085.94

90190 Telecommunications - F.R. 140.56 1,110.16

90195 Travel - F.R. 4,213.45 9,154.00

90200 Utilities - F.R. 246.42 340.05

TOTAL $ 60,597.87 $ 218,664.03

PAYROLL EXPENSES

Benefits 46,301.42 30,792.68

Gross Payroll 1,647,483.56 1,641,345.50

Payroll Taxes 122,155.18 117,643.21

TOTAL $ 1,815,940.16 $ 1,789,781.39

80000 PROGRAM EXPENSES

80100 Conference Center Fees 3,936.52 35,236.26

80106 Digital Advertising - Program 25,041.44 --

80107 Digital Outreach - Program 133,544.63 --

80110 Education & training - Program 1,734.07 12,920.15

80115 Entertainment - Program 358.35 9,037.22

80120 Equipment - Program 6,985.78 14,657.93

80130 Event Fee - Program 2,350.68 8,753.20

80135 Gifts - Program 15,278.82 8,076.22

80140 Health Insurance - Program 26,141.89 17,515.27

80145 Honorarium - Program 2,850.00 19,990.00

80150 Housing - Program 815.38 49,996.17

80155 Insurance - Program 12,740.65 5,048.11

80160 Internet Presence - Program 18,011.09 40,575.20

80165 Literature - Program 1,132.74 2,198.54

80170 Meals - Program 16,207.79 55,803.41

80175 Mileage - Program 3,917.48 23,463.06

80180 Miscellaneous - Program -- 1,232.50

80185 Postage - Program 2,576.96 3,202.54

80190 Printing - Program 4,236.11 38,959.67

80195 Rent - Program 41,078.44 58,576.47

80200 Subcontracting - Program 64,557.50 21,835.50

80205 Supplies - Program 3,315.04 24,566.90

80210 Telecommunications - Program 13,522.29 10,946.33

80215 Travel - Program 20,483.27 68,465.88

80220 Utilities - Program 1,280.68 1,965.00

80225 Advertising - Program 282.01 --

TOTAL $ 422,379.61 $ 533,021.53

Total Expenses $ 2,589,338.96 $ 2,751,901.33

Net Operating Income $ 705,933.91 -$ 89,314.54

OTHER INCOME

70600 Unrealized Gains and Losses 473.38 --

70700 PPP Loan Forgiveness Income 169,378.68 133,056.32

Total $ 169,852.06 $ 133,056.32

OTHER EXPENSES

In-kind donations expense 15,000.00 --

Total $ 15,000.00 --

Net Other Income $ 154,852.06 $ 133,056.32

Net Income $ 860,785.97 $ 43,741.78

90182 Honorarium - FR -- 1,000.00

26
---
Letter from the

Founder & CEO

"I want you to know, brothers, that what has happened to me has really served to advance the gospel" - Philippians 1:12

I was reminded of the Lord's ability to use any and every circumstance to advance the gospel when I was involved in

a 7-car pile-up earlier this spring while waiting for a stoplight. The driver who caused the accident went into a diabetic

shock and blacked out at the wheel. Thankfully, I was the only person in my vehicle and paramedics were able to free me

without needing the "jaws of life."

At the hospital, the young man in charge of the CAT scan machine said to me, "Don't worry, sir. We'll get you where you

need to go." I reached into my shirt pocket, pulled out one of the gospel booklets I always keep on-hand, and said to the

young man, "You won't believe this but I have in my hand a booklet that shows where you need to go!" He looked at the

cover which said, "Would You Like to Know God Personally?" and said with a smile, "This is exactly what I need!"

Here I am in the ER and can't move in any direction without enormous and excruciating pain, and this guy is telling

me this is exactly what he needs! I was in this wreck and came out with an L-1 compression fracture in my lower

back so this young man could receive the gospel.

Later, the orderly who pushed me back to the ER from the CAT scan was staring at me in a funny way so I said,

"Would you like a booklet too?" His face immediately lit up and he said, "Thank you, Sir, do you have one for me?"

It is clear to me that many today are hungry for the hope and truth that Christ brings. On my second visit to the same ER,

one nurse thanked me after I handed her a gospel booklet, saying she had heard about "the booklet man" from the CAT

scan operator. Amazing! If the booklets had not been in my shirt pocket….

At National School Project, we are so often inspired and encouraged by the stories of bold student leaders who are

putting everything on the line to share the gospel on their public school campuses—and for good reason! But does it

just stop at inspiration, or are we also sharing our faith boldly at every opportunity?

2 Corinthians 5:20 says, "We are therefore Christ's ambassadors, as though God were making his appeal through us.

We implore you on Christ's behalf: Be reconciled to God."

Without a doubt, we have been called to be ambassadors and share the good news of Jesus Christ with the world.

As our nation begins to reopen and communities come back together, I want to leave you with a challenge to not only

continue to support the National School Project through your prayers and financial giving, but also to consider who the

Lord has given you to reach with the message that Christ died for the sins of the world and that the Kingdom of God is

near to them as you share the truth of the gospel with them.

Thank you for your continued support of this mission. It is an honor to serve the Lord alongside our students, staff, and

each and every one of you.

Sincerely,

Warren Willis - Founder & CEO, National School Project

27
---
Leadership Team

Governing Board

FOUNDER & CEO

Warren Willis Ph.D.

Flower Mound, Texas

Chief Executive Officer, National School Project

CHAIRPERSON

Richard W. Sherwood, PMP

Trophy Club, Texas

Senior Vice President of Operations,

The Martis Group, Inc.

SECRETARY

Michael Winter D.D.S.

Whittier, California

Owner, Michael Winter D.D.S.

Greg Thompson

Burson, California

President, Thompson Media Company, Inc.

Heinrich Johnsen

Bloomingdale, Illinois

Owner, Christian Art Gifts, Inc.

Executive Staff

FOUNDER & CEO

Warren Willis Ph.D.

Flower Mound, Texas

PRESIDENT

Mark Hopson, M.A.

Wheaton, Illinois

VP OF PUBLIC RELATIONS

Kellee Popp

Long Beach, California

VP OF MOBILIZATION &

ADMINISTRATION

Ben Flemming

Whittier, California

VP OF ADVANCEMENT

Don Sivesind

Dallas-Fort Worth, Texas

Phil Nussbaum

Wheaton, Illinois

Co-founder & Chairman of Performance Trust

Capital Partners

*We are thankful for Heinrich Johnsen's leadership

as he served on the board from

Jan 2019–May 2021. We are excited to

welcome Phil Nussbaum as a board

member for the 2021-22 academic year.

28
---
PO Box 1118

Wheaton, IL 60187

nationalschoolproject.com

Change service requested

'TIL

EVERY

STUDENT

HAS

HEARD

NSP is a 501(c)3 non-profit organization

(Tax ID: 20-3226605)