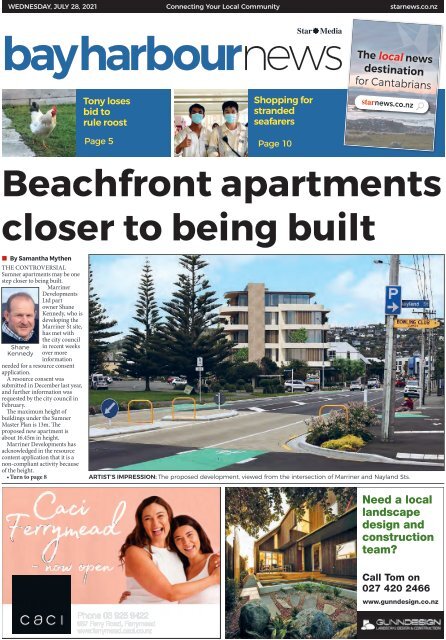 Bay Harbour: July 28, 2021
Create successful ePaper yourself
Turn your PDF publications into a flip-book with our unique Google optimized e-Paper software.
WEDNESDAY, JULY 28, 2021

Connecting Your Local Community

starnews.co.nz

The local news

destination

for Cantabrians

Tony loses

bid to

rule roost

Page 5

Shopping for

stranded

seafarers

Page 10

Beachfront apartments

closer to being built

• By Samantha Mythen

THE CONTROVERSIAL

Sumner apartments may be one

step closer to being built.

Marriner

Developments

Ltd part

owner Shane

Kennedy, who is

developing the

Marriner St site,

has met with

Shane

Kennedy

the city council

in recent weeks

over more

information

needed for a resource consent

application.

A resource consent was

submitted in December last year,

and further information was

requested by the city council in

February.

The maximum height of

buildings under the Sumner

Master Plan is 13m. The

proposed new apartment is

about 16.45m in height.

Marriner Developments has

acknowledged in the resource

content application that it is a

non-compliant activity because

of the height.

• Turn to page 8

ARTIST'S IMPRESSION: The proposed development, viewed from the intersection of Marriner and Nayland Sts.

Phone 03 925 9422

987 Ferry Road, Ferrymead

www.ferrymead.caci.co.nz
---
$15,999

32 Moorhouse Ave | P: (03) 366 7768 | www.valuecarswarehouse.co.nz

h tp: /kaywa.me/8aVdQ

download the Kaywa QR Code Reader (A p Store &Android market) and scan your code!

my Kaywa QR-Code

w.valuecarswarehouse.co.nz

Ce l 021 8 5 84

Incorporating

ISSUE 652 | FrIday 7 aUgUSt 2020

2016 NIssAN LeAf 24s

$17,990 FACELIFT MODEL

LEd headlights, heated seats &

steering wheel, Bluetooth/USB

1996 toyota Landcruiser

Prado $8,990

• Talk to us about finance for your next

motor vehicle purchase

Specialising in Finance for Private Purchases

Very quick approvals, sensational interest rates

• From no deposit (terms & conditions may a ply)

Cnr Main South Rd and Epsom Rd, Christchurch

Ph: 03 348 4129 | avoncityford.com

best motorbuys

See inside for this week's

h tp: /kaywa.me/8aVdQ

download the Kaywa Qr Code reader (a p Store &android Market) and scan your code!

My Kaywa Qr-Code

w.valuecarswarehouse.co.nz

Ce l 021 8 5 84

FROM

ONLY:

www.drivesouth.co.nz

Incorporating

h tp: /kaywa.me/8aVDQ

Download the Kaywa QR Code Reader (A p Store &Android Market) and scan your code!

My Kaywa QR-Code

w.valuecarswarehouse.co.nz

2 Bay Harbour News Wednesday July 28 2021 Latest Canterbury news at starnews.co.nz

from the editor's desk

GENERAL INQUIRIES Ph 379 7100

CLASSIFIED ADVERTISING Ph 379 1100

Star Media, a division of Allied Press Ltd

PO Box 1467, Christchurch

starmedia.kiwi

NEWS

THE ARTIST'S impression

of the planned apartments in

Sumner looks great (see

page 1).

We reveal today the latest

step in the long-running

saga over the apartments,

which were wrecked in the

earthquakes.

Marriner Developments

Ltd wants to put up eight

apartments, and a wine bar on

the ground floor.

A sticking point is the height

of the complex – it is higher

than the Sumner Master

Plan allows for. That won't be

the be-all-and-end-all as to

whether a resource consent

gets over the line. But it will

be a point any objectors to the

development could use to try

and stop it.

The apartment complex

looks like a great asset for

Sumner. Time will tell whether

it gets over the line.

– Barry Clarke

barry@starmedia.kiwi

Samantha Mythen

Ph: 021 919 917

samantha.mythen@starmedia.kiwi

news

ADVERTISING

Jo-Anne Fuller

Ph: 364 7425

jo.fuller@starmedia.kiwi

Birdlife to benefit from saltmarsh regeneration

More than 2000 bushes have been planted as part of the Tunnel Rd

saltmarsh regeneration project.

Rob Davison

Ph: 021 225 8584

rob.davison@starmedia.kiwi

The best-read local newspaper,

delivered to 10,514 homes every week.

Brookhaven • Heathcote • Ferrymead

Redcliffs • Mt Pleasant • Sumner • Lyttelton

Diamond Harbour • Governors Bay • Akaroa

Page 12

community events

Conversations and cuppas

Join the Ferrymead Sumner Men's Probus Club monthly meeting

tomorrow at 9.50am to hear speakers, including city council head of

three waters and waste Helen Beaumont.

Page 18

PICK IT UP...

DRIVE AWAY

free

Incorporating

ISSUE 651 | FrIday 31 JUly 2020

best motorbuys

www.drivesouth.co.nz

7 seater, 3.0 litre diesel,

very rare find!

free

261 stanmore road, Christchurch For more, see their advert on page 25

audio, 21,000km with Japanese

service history. Includes New

NZ charging cable & OrC.

4WD feature!

The biggest range of vehicles in one location

2015 mazda demio

See page 4

for more info!

40 Years Finance

Experience

Cannot be Beaten!

free

ISSUE 653 | FrIday 14 aUgUSt 2020

Discovering Te Aratai College

During August, the Principal of Linwood College,

Mr Richard Edmundson, is holding a series of

meetings in the community for whānau who are

wanting to learn more about Te Aratai College

(ex-Linwood College) as a choice of secondary

school for their child in 2022 and beyond.

Members of the community who are interested

in the school's redevelopment are welcome to

attend these meetings.

2 August 7pm – 9pm Ōpāwa School

9 August 7pm – 9pm Redcliffs School

11 August 7pm – 9pm Lyttelton School

Enquiries to Richard Edmundson

027 622 1090

GET THAT

PEACE OF MIND

VEHICLE INSPECTIONS

$149

FROM

ONLY:

www.gRCAudIO.CO.Nz

Dyna spares

PH 03 web

C h r i stC h u rCh

331 blenheim road, Christchurch For more, see their advert on page 25

Now Available @ NZ Van Spares

The biggest range of vehicles in one location

2006 mitsubishi outlander

$11,999

location: 68 Falsgrave Street, Woolston, Christchurch

email: nzvanspares@hotmail.com | phone: 03 379 3932 / 0508 698 267

See page 5

for more info!

32 Moorhouse Ave | P: (03) 366 7768 | www.valuecarswarehouse.co.nz

2004 BMw 530d Nz NEw

151, 0kms, black leather interior, very

economical, reliable vehicle, in exce lent

A fordable new parts available for BMW / MERCEDES BENZ / AUDI

454 St Asaph Street, 03 378 1818 or 021 480 201

41 Sandyford Street

0800 400 040

• www.kickthetyres.co.nz

condition. Exce lent buying at only

$11,999

INCLudINg ORC

CAR AUDIO CAR SECURITY

AUDIO VISUAL CELLULAR

PH 03 web

REVERSE CAMERAS PARKING SENSORS

RADAR DETECTORS AERIALS

MOBILE INSTALLATION SERVICE 0800 212 777

see inside for this week's

Hybrid & electric feature!

40 Years Finance

Experience

Cannot be Beaten!

• Talk to us about finance for your next

motor vehicle purchase

Specialising in Finance for Private Purchases

Very quick approvals, sensational interest rates

• From no deposit (terms & conditions may a ply)

Cnr Main South Rd and Epsom Rd, Christchurch

Ph: 03 348 4129 | avoncityford.com

Hilux, Hiace &

everytHing in between

68 Falsgrave Street, Woolston W: nzvanspares.co.nz

E: nzvanspares@hotmail.com Ph: 03 379 3932 / 0508 698 267

GET THAT

PEACE OF MIND

VEHICLE INSPECTIONS

See inside for this week's

motorcycle feature!

CHRISTCHURCH

MOTORCYCLES LTd

The biggest range of vehicles in one location

2013 peugeot 4008

$19,999

See page 5

for more info!

32 Moorhouse Ave | P: (03) 366 7768 | www.valuecarswarehouse.co.nz

$149

USED CARS | TRUCKS | VANS

COMMERCIAL VEHICLES | SUVS

MOTORCYCLES | CARAVANS

BOATS | AUTOMOTIVE SERVICES

Available for FREE every

Friday at convenient

pick up points near you!

PLUS check out this week's

edition, plus past issues

online now at

bestmotorbuys.co.nz

INCORPORATING besT mOTORbuys

www.drivesouth.co.nz

DASH CAMERAS

GPS/TRACKING

See our ad on page 2

best motorbuys

Ce l 021 8 5 84

PH 03 web

www.drivesouth.co.nz

For more, see their advert on page 22

40 Years Finance

Experience

Cannot be Beaten!

• Talk to us about finance for your next

motor vehicle purchase

• From no deposit (terms & conditions may a ply)

Specialising in Finance for Private Purchases

• Very quick approvals, sensational interest rates

Cnr Main South Rd and Epsom Rd, Christchurch

Ph: 03 348 4129 | avoncityford.com

Hilux, Hiace &

everytHing in between

68 Falsgrave Street, Woolston W: nzvanspares.co.nz

E: nzvanspares@hotmail.com Ph: 03 379 3932 / 0508 698 267

41 Sandyford Street

0800 400 040

• www.kickthetyres.co.nz

2008 Victory Vegas

Customised x USa

arlan Ness themed

$12,999

NOW ONLY

$75.00

03 322 4548 | Easy Parking

17 Lillian Street, Halswell

www.maxwellfashion.co.nz

Open Mon-Fri 9.30am - 5.00pm

Saturday 10.00am - 1.00pm

LAYBY WELCOME
---
Wednesday July 28 2021 Bay Harbour News

Bid to remove graffiti from museum

• By Samantha Mythen

WORK TO remove graffiti

covering the Torpedo Boat

Museum in Lyttelton will start

today, weather dependent, after

10 complaints were received this

year by the city council.

Resident Dudley Jackson said

he had complained to the city

council several times this year

and had been told the graffiti

would be removed months ago.

City council

spokesman

Wolfgang Bopp

said the council

met with a

contractor last

week to discuss

Wolfgang

Bopp

removing

the extensive

amount of

graffiti.

"A combination of staffing and

contractor availability, as well as

the specialised training required

for this type of graffiti removal,

has led to the delay in sorting

this particular site," he said.

It took six months and numerous

continued complaints for an

"apocalyptic" graffiti poem on

the historic Lyttelton Gaol wall

to be removed.

The delay was because of similar

reasons, the city council said.

Lyttelton artist River Jayden

has suggested creating a mural

on the wall to hopefully deter

future graffiti work.

However, due to the historic

nature of the building, Bopp

said an option like that was not

usually supported.

"Visual obtrusiveness

and impact on the external

appearance of a heritage

building, potential damage

from paint on the fabric, and

it possibly viewed as adverts/

messages are some of the

concerns," he said.

Latest Canterbury news at starnews.co.nz

VANDALISM: The Torpedo Boat Museum has been covered in graffiti for months.

Weather dependant, the graffiti will be removed from today. PHOTO: DUDLEY JACKSON

The old powder magazine

building hosts sections of

Torpedo Boat No. 168, Defender.

In 1885, the British Empire

expected a war with the Russian

Empire, after Russia had

captured the Panjdeh region – in

what is now Turkmenistan – in

March 1885.

All naval vessels across the

British Empire were ordered

to standby for deployment,

including the Defender, a 2nd

class Thornycroft spar torpedo

boat.

The boat shed that housed the

Defender was constructed in

1874.

The latest city council "Graffiti

Snapshot" on the Banks

Peninsula has increased in the

last two months.

Thirteen tickets for graffiti

removal were issued in May

compared to 27 tickets issued

in June.

NEWS 3

In Brief

NEW PLAYGROUND

EQUIPMENT APPROVED

The Linwood-Central-Heathcote

Community Board has approved

new playground equipment for

Redcliffs Park, including a swing

set donated by Jeremy Smith and

Ruth Markham-Short in memory

of their 23-month-old son Reuben

Smith who died of meingococcal

disease in late 2020.

AKAROA CITY COUNCIL

SERVICES MOVING

City council customer services in

Akaroa will move back to the Old

Post Office and begin resuming

operations in the building from a

planned date of September 1. The

service centre has been operating

out of a shared space with Akaroa

library.

TREATMENT PLANT

UPGRADE PLANNED FOR

DUVAUCHELLE

The treatment plant at

Duvauchelle will be upgraded

as part of the Long Term Plan.

This will reduce the requirement

that tankers be used to supply

drinking water to the area, which

currently occurs when water is

in short supply or when there are

concerns about the water quality.

The upgrade is currently in the

planning and design phase and

construction is expected to begin

in 2023.

YOUR LOCAL

ACCOUNTANT

I COME

TO YOU

NUMBER ONE SUPPLIER

TO THE NZ JET BOATING

COMMUNITY FOR OVER

50 YEARS

French magazines · Baija vinyl

floor & placemats · Linen clothin

Cushions. · French cutlery

Jigsaws and much more

Financial Statement Preparation

Tax Preparation & Compliance

Xero & MYOB Specialist

Steven Clarke Ltd. 7 Margot Lane

Mount Pleasant, Christchurch

Phone 03 384 4633 Cell 021 677 670

steven@sclarke.co.nz

• Part Boats & Hulls

• Turn Key Packages

• New Jet Units

• Custom Fabrication

• Expert Advice

SERVICING

Peter Tonkin

03 962 0505

peter.tonkin@hamiltonjet.nz

• Spare Parts Retailer

• Jet Unit Refurbishment

• Engine Tune-Ups

• Insurance Repairs

• Impellor Reconditioning

Care &

Compassion

We pride ourselves on the

very highest level of service

If you are thinking about the future, we can help

you explore pre-payment and pre-planning options.

Contact us for a Free Information Pack.

We offer funeral information talks to groups.

Please call us for a speaker to come to you.

(03) 379 0196 | www.simplicity.co.nz

Nick Allwright

Funeral Director

SUMNER HEAT PUMPS

& ELECTRICAL

LOCALLY OWNED &

OPERATED

HVAC SPECIALISTS

RESIDENTIAL &

COMMERCIAL

INSTALLATIONS

AND REPAIRS

DUCTING SPECIALISTS

QUALIFIED ELECTRICIAN

AVAILABLE FOR ANY JOB

PHONE TODAY FOR A

FREE QUOTE

021 228 8127

www.allaboutheat.co.nz
---
4 Bay Harbour News Wednesday July 28 2021 Latest Canterbury news at starnews.co.nz

SOME

HOT

NEW BOOKS

To get you

through

the Winter

months

INSTORE NEW RELEASES NOW!

The Nine

The True Story of a Band of Women Who Survived the Worst of

Nazi Germany by Gwen Strauss

The Nine follows the true story of the author's great aunt Hélène Podliasky, who led a band

of nine female resistance fighters as they escaped a German forced labor camp and made a

ten-day journey across the front lines of WWII from Germany back to Paris.

The nine women were all under thirty when they joined the resistance. They smuggled arms

through Europe, harbored parachuting agents, coordinated communications between regional

sectors, trekked escape routes to Spain and hid Jewish children in scattered apartments. They

were arrested by French police, interrogated and tortured by the Gestapo. They were subjected to

a series of French prisons and deported to Germany. The group formed along the way, meeting

at different points, in prison, in transit, and at Ravensbrück. By the time they were enslaved

at the labor camp in Leipzig, they were a close-knit group of friends. During the final days of

the war, forced onto a death march, the nine chose their moment and made a daring escape.

Drawing on incredible research, this powerful, heart-stopping narrative from Gwen Strauss is

a moving tribute to the power of humanity and friendship in the darkest of times.

House of Kwa

Wild Swans meets educated in this riveting true story spanning

four generations by Mimi Kwa

Mimi Kwa ignored the letter for days. When she finally opened it, the news was so shocking

her hair turned grey. Why would a father sue his own daughter? The collision was over the

estate of Mimi's beloved Aunt Theresa, but its seed had been sown long ago. In an attempt to

understand how it had come to this, Mimi unspools her rich family history in House of Kwa.

One of a wealthy silk merchant's 32 children, Mimi's father, Francis, was just a little boy when

the Kwa family became caught up in the brutal and devastating Japanese occupation of

Hong Kong during World War II. Years later, he was sent to study in Australia by his now

independent and successful older sister Theresa. There he met and married Mimi's mother,

a nineteen-year-old with an undiagnosed, chronic mental illness. Soon after, 'tiger' Mimi

arrived, and her struggle with the past - and the dragon - began ... Riveting, colourful and

often darkly humorous, House of Kwa is an epic family drama spanning four generations, and

an unforgettable story about how one woman finds the courage to stand up for her freedom

and independence, squaring off against the ghosts of the past and finally putting them to rest.

True Believer: The Rise and Fall of Stan Lee

by Abraham riesman

Stan Lee—born Stanley Martin Lieber in 1922—was one of the most beloved and influential

entertainers to emerge from the twentieth century. He served as head editor of Marvel for three

decades and, in that time, launched more pieces of internationally recognizable intellectual

property than anyone other than Walt Disney: Spider-Man, the Avengers, the X-Men, Black

Panther, the Incredible Hulk, Iron Man, Thor . . . the list seems to never end. On top of that,

his carnival-barker marketing prowess more or less single-handedly saved the comic-book

industry and superhero fiction. Without him, the global entertainment industry would be

wildly different—and a great deal poorer. But Lee's unprecedented career was also filled with

spectacular failures, controversy, and bitter disputes. Lee was dogged by accusations over

who really created Marvel's signature characters—for whom Lee had always been suspected

of taking more than his proper share of credit. A major business venture, Stan Lee Media,

resulted in stock manipulation, bankruptcy, and criminal charges. And in his final years, after

the death of his beloved wife, Joan, rumors swirled that Lee was a virtual prisoner in his own

home, beset by abusive grifters and issuing cryptic video recordings as a battle to control his

fortune and legacy ensued.

A Runner's High

by dean Karnazes

The iconic superhuman endurance runner embarks on his toughest challenge yet-the Western

States 100-offering insights into why running is so challenging and rewarding.

Dean Karnazes has pushed his body and mind to inconceivable limits, from running in the

shoe-melting heat of Death Valley to the lung-freezing cold of the South Pole. He's raced and

competed across the globe and once ran 50 marathons, in 50 states, in 50 consecutive days.

In A Runner's High, Karnazes chronicles his return to the Western States 100-Mile Endurance

Run in his mid-fifties after first completing the race decades ago. The Western States, infamous

for its rugged terrain and extreme temperatures, becomes the most demanding competition

of his life, a physical and emotional reckoning and a battle to stay true to one's purpose.

Confronting his age, wearying body, career path and life choices, we see Karnazes as we

never have before, raw and exposed. A Runner's High is both an endorphin-fuelled page-turner

and a love letter to the sport from one of its most celebrated ambassadors.

Ethel Rosenberg: A Cold War Tragedy

by Anne Sebba

Ethel Rosenberg's story has been called America's Dreyfus Affair: a catastrophic failure of

humanity and justice that continues to haunt the national conscience, and is still being played

out with different actors in the lead roles today.

On 19th June 1953 Ethel Rosenberg became the first woman in the US to be executed for a

crime other than murder. She was thirty-seven years old and the mother of two small children.

Yet even today, at a time when the Cold War seems all too resonant, Ethel's conviction for

conspiracy to commit espionage on behalf of the Soviet Union makes her story still controversial.

This is an important moment to recount not simply what FBI Director J. Edgar Hoover called

the 'trial of the century', but also a timeless human story of a supportive wife, loving mother

and courageous idealist who grew up during the Depression with aspirations to become an

opera singer. Instead, she found herself battling the social mores of the 1950s and had her

life barbarically cut short on the basis of tainted evidence for a crime she almost certainly did

not commit. Ethel's tragic story lays bare a nation deeply divided and reveals what happens

when a government motivated by fear tramples on the rights of its citizens.

1005 Ferry rd

Ph 384 2063

while stocks last (see instore for terms and conditions)

Barry & kerry
---
Wednesday July 28 2021 Bay Harbour News

• By Samantha Mythen

HEATHCOTE residents have

slept soundly for the past few

mornings now Tony the rooster

has been captured.

Last Tuesday, a "pretty vicious

looking" rooster suddenly appeared

in Jeremy McTear and his

family's backyard.

"He was

rather large and

confident and

very quickly

made himself at

home, digging

up the lawn and

hiding in the

bushes," McTear

said.

"He was all feather, talons

and large beak with a bright red

comb."

The family's "guard" dog, Ziggy,

who patrolled the garden, was

out of action recovering from

surgery.

Over the next few days, Mc-

Tear and his sons, Oliver, Jamie

and Leon, attempted to catch

Tony.

However, he was quite the

escape artist and at each attempt,

he managed to flee and fly over

a fence to terrorise their neighbour.

"He was incredibly quick and

able to escape through gaps that

seemed impossibly small," said

McTear.

"An hour or two later he'd appear

at the door or window and

taunt us or the dog. Sometimes

he'd just sit in the neighbour's

gutter and glare."

Ziggy eventually took an

interest, but only to "wandering"

over to see what all the fuss was

about. At seeing the rooster, Ziggy

chickened out from his guard

dog duties.

They posted on the

community Facebook page,

Latest Canterbury news at starnews.co.nz

Tony loses bid to rule the roost

Jeremy

McTear

attempting to find Tony's family,

but to no avail.

Tony had decided his new

home was in their backyard.

Each morning last week, Tony

rudely woke the family and

neighbours up at 5.20am, crowing,

said McTear.

Tony was finally captured on

Thursday, when McTear, his

wife Tina and three sons armed

themselves with blankets, fishing

nets, bread and a cat carry cage.

TEAM EFFORT: (From

left) – Oliver, Jamie and

Leon successfully captured

Tony, a rooster that was

terrorising the family's

backyard.

"It was a team effort (chase),"

McTear said.

Afterwards, with Tony safely

secured in the cat cage, McTear

said he was either in shock or

playing dead.

But he soon perked up

when being transported to the

SPCA, joining Simon, a chicken.

"Staff said he was quite

grumpy on arrival."

McTear said his sons asked for

KFC on the way home.

"We didn't have a problem

with that," he said.

"On Friday we all had a great

sleep in."

Tony will be put up for

adoption this week.

NEWS 5

Four Square

opening

date set

• By Samantha Mythen

THE FOUR Square will open

in the new Church Bay retail

development on August 10.

Owners Laura Palmer and

James Grant, who also run On

The Spot, said they had been

working for nearly four years to

open the store.

"It was always our goal to get

a Four Square here and for it to

finally happen is so exciting," said

Grant.

"Yes, it's daunting, yes, we're

nervous, but the excitement absolutely

overcomes this. The shop

is starting to finally look like a

supermarket."

A spokesperson for Spence

Developments, which own the

buildings, said the Four Square

will be the most modern in the

South Island.

The supermarket is one of six

tenancies in the Church Bay

development.

A cafe design is being developed

for the last area and 80 per

cent of the landscaping has been

completed.

"Final car park works are under

way with lighting poles put up late

last week," said the spokesperson.

"Footpaths have received

asphalt and the car park will also

be completed this week, weather

permitting."

Check out our latest

deals

Twice as nice

at a great price!

THE NED Range

750ml

Includes Chardonnay, Pinot

Gris, Sauvignon Blanc, Rosé

2 for

$ 30

SQUEALING PIG Range

750ml

Includes Pinot Gris, Sparkling

Rosé, Sauvignon Blanc, Rosé

Excludes Pinot Noir

LONG WHITE

VODKA Range

15 x 320ml Bottles,

4.8%

Includes Lemon &

Lime, Apple & Pear,

Raspberry

$

39 99

each

HOT DEAL!

$

34 99

each

HOT DEAL!

$

37 99

HOT DEAL!

$

39 99

HOT DEAL!

$

41 99

ASAHI

SUPER DRY

24 x 330ml

Bottles

$

41 99 $

41 99

STEINLAGER

CLASSIC

24 x 330ml

Bottles

LARIOS or

RUSSIAN

STANDARD

1 Litre

BELL'S

1 Litre

CORUBA

Original

1 Litre

Also

available:

Gold

JIM BEAM

White

Label

1 Litre

0%

alcohol

NEW

PRODUCT

75%

less carbs

$

21 99

each

SPEIGHT'S SUMMIT ZERO or SPEIGHT'S SUMMIT

ULTRA LOW CARB LAGER

12 x 330ml Bottles

Shop local with

AMBERLEY, ASHBURTON, BARRINGTON, BELFAST, BRIGHTON, BURNSIDE,

COLOMBO ST, EDGEWARE, ELMWOOD, FERRYMEAD, HALSWELL, HANMER

SPRINGS, HORNBY, ILAM, KAIAPOI, LEESTON, LINCOLN, METHVEN, OXFORD,

SHOP LATEST DEALS at WWW.SUPERLIQUOR.CO.NZ

NATIONWIDE PICKUP & DELIVERY NOW AVAILABLE

PAPANUI, PEGASUS, RANGIORA, SEASIDE, WOOLSTON

Exclusions may apply on some brands advertised. Offers end close of trade 1st August 2021, while stocks last. Available at participating stores only. Multi Deal only available in store. Varietals may

vary by store. Limits may apply. Wholesale (other liquor retail banners) not supplied. Terms and conditions may apply. Available 19th July - 1st August 2021 inclusive. Please see www.superliquor.co.nz for details.

SUP2298_C9
---
6 Bay Harbour News Wednesday July 28 2021 Latest Canterbury news at starnews.co.nz

GENEROUS DONATIONS!

From Sumner

to Ferrymead

Donors are our lifeline to this community, helping

us support groups and individuals achieve so much!

By giving a little to the Sumner Ferrymead Foundation you will

repay our unique community, and ensure that future generations

are also supported.

A donation (tax deductible) or a bequest – no matter the value

would be a wonderful gesture,and will enable the Sumner

Ferrymead Foundation to continue to provide support, such as

these recent scholarships and awards:

• Three second-year university scholarships:

- Isobel Gould – for science study, in memory of Michael

McMullan BVetSci

- Sarah Cody'Mandell – for health science study, funded by

the OA Brauer Family Trust

- Lucia Rapley – for humanities study

• Awards:

- Outward Bound 21-day Course sponsored by SBS Bank -

awarded to Julia Coppens

- Environment & Sustainability Award – to Predator Free

Redcliffs Group

• Providing a public AED defibrillator unit in Sumner

• Toddlers books at Redcliffs Library

• Purchase of a school literacy programme

• Re-cover a community garden's tunnel house

• Travel assistance to a young man attending a US baseball academy

• Funds for a surf club promotional video

• Training-camp travel for outstanding surf and cycling champions

• Funds for community award trophies

• "Flourish" awards to three school pupils

• Funds towards replacing turf at Mt Pleasant School

Julia Coppens was awarded the

Outward Bound Leadership Course.

Pictured with her parents Janet

Brookes and Frank Coppens.

Make a donation or find out more

Sumnerferrymeadfoundation.co.nz
---
Platform for coastal suburbs proposed in

response to new ward boundaries

• By Samantha Mythen

THE SUMNER Community

Residents' Association is worried

new ward boundaries will mean

coastal suburbs facing similar

coastal hazard adaptation issues

will be unable to work together

efficiently.

In light of the city council's

representation review, the

Heathcote Ward, including

Sumner and Redcliffs, will be

merged into Spreydon-Cashmere

for the 2022 election.

The residents'

association is

concerned about

the move, as the

new ward does

not face "similar

Charlie

Hudson

vulnerabilities of

coastal issues,"

said Sumner Hub

co-ordinator

Charlie Hudson.

It has written to Linwood-Central-Heathcote

chairwoman

Alexandra Davids to highlight

the concerns.

"We have asked them to assist

the coastal wards to have a platform

to come together to discuss

and respond to upcoming city

council and government advice,"

said Hudson.

It is hoped the community

board will request a collaborative

platform where coastal wards

can "come together to share ideas,

concerns and resources."

The residents' association

would like this platform to be

set up prior to the city council's

working group recommendations

on coastal hazards and advice

being released later this year.

Latest Canterbury news at starnews.co.nz

UNITY: When it comes to coastal hazards, the Sumner Community Residents' Association

would like coastal suburbs to have a united voice.

PHOTO: GEOFF SLOAN

It would mean representatives

could better interpret the issues

and relay them clearly to their

communities, said Hudson.

Hudson said it is important

and necessary the coastal communities

have a united voice.

"Hopefully, this will balance

our move into the Cashmere-Spreydon

Ward, which will

not be as affected," she said.

Davids said she had yet to

discuss the idea with the community

board but thought it was

fantastic.

"Obviously different communities

in coastal areas are dealing

with the same issues and having

a platform for them to come together

and discuss would be very

meaningful," she said.

The idea will be discussed

Wednesday July 28 2021 Bay Harbour News

NEWS 7

Have Your Say: Would

you like a group to be

established for coastal

suburbs to discuss increasing

coastal hazards? Share your

thoughts with samantha.

mythen@starmedia.kiwi

at the next community board

meeting in August.

Redcliffs Residents' Association

Secretary Pat McIntosh said

they had supported the amalgamation

rather than establishing a

coastal board.

"Most Redcliffs people feel

an affinity with the corridor in

and out of town as we are all at

the foot of the Port Hills," said

McIntosh.

However, she said the residents'

association had not yet

discussed the Sumner Community

Residents' Association

coastal ward platform idea.

The Sumner residents' association

had raised its concerns

about the Heathcote Ward being

separated from other coastal

wards during consultations on

the representation review.

The review was adopted by the

city council on June 18 and was

open to appeals and objections

from June 25 to July 26.

get injured?

Take your sprain, cut, break or

head bump to be treated at an

urgent care clinic

• Parking and late-night pharmacies on-site

• X-ray and casts available

• Free medical visits for under 14s at urgent

care clinics after 6pm weekdays and all-day

during weekends

All clinics open 7 days a week:

• Riccarton Clinic 8am–8pm

• Moorhouse Medical (free ACC wound care) 8am–8pm

CDHB26JULY21 ED

Unsure what you need? Call your GP team 24/7 for advice

cdhb.health.nz/urgentcare
---
Bay Harbour News Wednesday July 28 2021

8

NEWS

BEACHFRONT: An artist's impression of the new development proposed

for the old Cave Rock apartment complex site (below).

Pams Fresh Avocado

3 Piece Prepack

Product of New Zealand

Pams Fries 1kg

FREE OLA

FREE COCA-COLA

MES OLYMPIC GAMES

COOLER COOLER BAG BAG

A-COLA ES

COOLER BAG

$

2 29 ea

$

2 99 ea

A-FOUR-DABLE

EVERY DAY

Pams Fresh

Carrots

1.5kg Prepack

Product of New

Zealand

$

3 29 ea

WHEN YOU BUY ANY 2 X COCA-COLA 600ML PRODUCTS.

WHEN Promotion YOU BUY to run ANY 26/07/21 2 X — COCA-COLA 08/08/21. While 600ML stocks last. PRODUCTS.

2 X WHEN YOU BUY ANY 2 X COCA-COLA 600ML PRODUCTS.

Promotion COCA-COLA to run 600ML 26/07/21 PRODUCTS.

— 08/08/21. While stocks last.

08/08/21. Promotion

Promotion

While to

to

stocks run

run 26/07/21

26/07/21

last.

— 08/08/21.

08/08/21. While

While stocks

stocks last.

last.

GAMES

X COCA-COLA 600ML PRODUCTS.

8/08/21. While stocks last.

AG

ANY 2 X COCA-COLA 600ML PRODUCTS.

/07/21 — 08/08/21. While stocks last.

Pams Marinated NZ

Greenshell Mussels 375g

www.foursquare.co.nz

Pams Fresh NZ

Oven Ready

Chicken

1.5kg

$

11 99 ea

$

5 49 ea

A-FOUR-DABLE

EVERY DAY

Pams Fresh

Potatoes

2.5kg Prepack

Product of New

Zealand

$

6 49 ea

BUY any 3* Continental soup

BUY any 3* Continental BUY or Pasta any 3* 85-105g Continental soup Products soup

BUY any or 3* Pasta Continental 85-105g BUY or = A Pasta any free Products soup 3* 85-105g Continental mug Products soup

or Pasta 85-105g Products or Pasta 85-105g Products

= A free = mug A free mug

= A free mug

free mug

facebook.com/FourSquareNZ

Specials available South Island only from Monday 26th July until Sunday 8th

August 2021 or while stocks last. Wine and beer available at stores with an off

licence. Wine and beer purchases restricted to persons aged 18 years old and over.

Eight apartments and

a wine bar planned

• From page 1

The company will need to show

that there will only be minor adverse

environmental effects or that the activity

will not be contrary to the objectives of the

relevant plan.

The apartments will be built on what

was formerly known as the Cave Rock

apartment complex, which was badly

damaged in the earthquakes.

A long battle followed between the

owners of the 49 apartments and an onsite

tavern with their insurer. Then there was

more conflict over how to divide the $21

million payout among apartment owners.

That dispute was eventually settled in

the High Court in 2019.

Kennedy would not say how long his

company had owned the site.

The city council requested numerous

information for the resource consent

application, including issues related to

flood hazards, zone-specific noise rules,

sensitive activities near roads and railways,

outdoor lighting, signs, minimum number

of car park and cycle parking rules,

manoeuvring for parking and loading

areas, access design, earthworks, Ngāi

Tahu values and the natural environment,

and building height.

Kennedy said is currently working on

finalising a response to the city council. A

date to hear the resource consent has not

been set.

He was hopeful building would start

this year.

"The apartment will be built at the

entrance to Sumner and it's a statement

point," said Kennedy.

"The whole area was previously

downgraded and old, it will be nice to

give Sumner what it deserves with this

Have Your Say: What do you think

of the new apartments planned

for Marriner St? Email samantha.

mythen@starmedia.kiwi

Keep reponses to 200 words or

less

new build."

The proposed build will be four levels,

comprised of eight units and a wine bar on

the ground floor.

Kennedy has lived in Sumner for

two years. He is planning to retain an

apartment for himself.

The apartment building design has

drawn some criticism on the Sumner

Community Facebook page.

Kennedy said he had received mostly

positive feedback, but understood people

had different opinions.

"If we all built the same house, Sumner

would all be the same and that would be

boring," he said.

"I didn't expect everyone to like it."

Most negative comments focused on the

height of the proposed apartments. The

application site is zoned under the District

Plan as residential medium density,

with predominately two or three story

buildings.

Other people commented that they were

just happy something was being built.

A city council spokesperson said

the owners had yet to formally finalise

their response to the request for further

information in regard to the resource

consent.

"Once this is received, it will be fully

assessed and a recommendation made in

relation to notification," they said.
---
Latest Canterbury news at starnews.co.nz

Wednesday July 28 2021 Bay Harbour News 9

caring for your

houseplants

Big range, low price, local advice

Houseplants pots decor/accessories maintenance

Castle Rock

Assorted Cacti

305839

Enrich with

Nature

Dain Indoor

Stone Pots

379113, 379114,

379115, 379116

Plant N Grow

Indoor Plant Growing

Frames Assorted

379971, 379972

Thrive

Indoor Natural

Fertilizer

382241

$6 97 $3 99

$13 98 $29 99 $15 99

each

each

Red Fox

Kalanchoe Pot

10.5cm Red/

White

296879

Terrariums are a fun way to display

plants and create some art with nature.

There are a variety of shapes and sizes

you can make, and they're easy as to

make yourself. Typically, foliage plants

and plants that grow slowly work best.

Small succulents, cacti, and air plants are

perfect for dry terrariums.

from

$14 99

each

each

each

Nouveau

Polished

Garden

Stones

322223, 322224

each

Yates

Leafshine Aerosol 225g

142727

each

Living Interiors

Maidenhair

Fern 15cm

149174

each

Botanicals Collection

Assorted Terrariums

352982, 352983, 352984, 352985, 352986

MEGA only

from

$14 99

each

Indoor plants produce oxygen and are

great at purifying the air in the home

or office. Spathiphyllums, Zamioculcas

zamiifolia, Anthuriums & Calatheas

are all great houseplant options which

have exceptional air purifying qualities.

These plants are also great at getting

rid of toxins & unpleasant odours.

Yates

Gnat Barrier

4.5 litre

382891

MEGA only

$24 99

each

$9 98 $9 98

$24 97 $12 98

Most indoor plants love high

humidity. It's a great idea to mist

your indoor plants once a week to

create a humid environment. This

helps avoid brown tips on leaves

and is especially important during

winter when our heating sources

often dry the plants out.

Enrich with Nature Ceramics

Praslin Indoor Basket 15cm

385131

each

Botanicals

Collection

Artificial

Three-Stem

Orchid 75cm

White

364624

$79 99

each

Avoid using icy cold water when

watering your houseplants through

winter. Either mix a small amount of

warm water in to create tepid water or

leave your water out for a few hours

before using. Most houseplants come

from the tropics where it is much warmer

& using cold water can shock the plants

causing damage to roots & the leaves.

Living Colour

Indoor Flowering

Cyclamen 140mm

Assorted

149053

Enrich with

Nature Ceramics

Bora Bora

Hanging Indoor

Pot 12cm Assorted

385133

Botanicals Collection

Coco Fibre Indoor

House Plant Poles

376801, 376802, 376803

Yates

Thrive Indoor

Potting Mix

10 litre

362740

$12 98

each

each

$5

from

98

each

$11 98

each

Use your airpoints

dollars to pay in-store

on purchases over $75

Shop now. Pay later.

Always interest-free.

Keep up to date on

whats new instore

by following us on

instagram at:

@MEGACanterbury!

Prices valid until August 22nd or while stocks last.

Mitre 10 MEGA Ferrymead

1005 Ferry Road. Christchurch

Phone: 366 6306

Find us at: /MEGAFerrymead

Opening Hours:

Monday – Friday:

7am – 7pm

Saturday, Sunday & Public Holidays:

8am – 6pm

www.mitre10.co.nz/local/MegaFerrymead

Ferrymead
---
Bay Harbour News Wednesday July 28 2021

10

NEWS

Latest Canterbury news at starnews.co.nz

Shopping for stranded seafarers

DELIVERY

DRIVERS: Sailors

stuck on ships

are giving the

Lyttelton Seafarers'

Centre about

$10,000 each

month to shop for

them.

PHOTO: NZ

HERALD

• By Samantha Mythen

THE NEW Uber Eats.

That's how Lyttelton Seafarers'

Centre chaplain Reverend John

McLister describes the centre,

which is delivering up to $10,000

of groceries and personal items

to sailors stuck on ships in the

port each

month.

All fully

vaccinated

and wearing

personal

protective

equipment,

McLister

and his

John McLister

helpers

provide the

ships with

Wi-Fi and SIM cards, assisting

the seafarers to contact friends

and family back home.

Last month, they visited 45

stores to meet the shopping

requests.

Common personal items they

buy include toothpaste, vitamins

and supplements, and souvenirs.

The most popular items

are Whitakers and Cadbury

chocolate bars.

Another regular request is for

PlayStations and video games.

The most oddball request was

for a portable swimming pool,

because the seafarers were bored,

said McLister.

The seafarers' centre does

not buy alcohol or cigarettes.

However, it does stop off for

takeaway orders such as pizza.

"They just want a treat," said

McLister.

Before Covid-19, seafarers

would come ashore for rest and

recuperation.

However, border controls now

restrict entry for most sailors.

Those who are exempt from

the border restriction are those

who have been on a boat that

has taken 14 days to get to New

Zealand. Once here, they are

given a Covid-19 test and if that

comes back all clear, they can

disembark.

Due to border closures around

the world, McLister said many

seafarers have been stuck on

ships for up to 12 months.

"Most seafarers are unable

to come off their boats and all

the things they used to do, they

are no longer able too," said

McLister.

That is where the seafarers'

centre comes in.

In June, there were 61 foreign

ships that docked at port, and

the seafarers' centre visited those

ships 84 different times.

From June 2020 to April this

year, more than $100,000 was

received for shopping requests,

and the 638 ships in port during

that period were visited 888

times by the seafarers' centre.

McLister also offers pastoral

care for the seafarers, chatting

about problems and concerns.

In May 2020, the Government

determined seafarers' welfare

supporters, such as chaplains,

were essential workers.

Lyttelton was the first port

where a seafarers' centre was able

to visit ships.

"Lyttelton became a model for

other New Zealand ports," said

McLister.

"The Government realised we

needed funding, which was a

big win."

McLister is proud of the

work the Lyttelton Seafarers'

Centre does.

"These people keep New

Zealand alive. Giving [the

seafarers] a warm welcome can

help to alleviate some of the

immense mental pressure they

face."

The efforts are greatly

appreciated by those on the

ships.

M.V Erisort captain C.M.

Ranaweera wrote to the New

Zealand seafarers' centres

to express his and his crews'

gratitude for them "going that

extra mile."

"Lyttelton is a port town,

founded on people who live

and work at sea. Most Lyttelton

people know someone in the

past or present who has done

so. Helping is part of Lyttelton's

DNA," said McLister.

"This is a natural response of

being in a port town.

"It would be a shame if it

was forgotten."

SOIL AND

HARDFILL

DUMPING

WE NOW HIRE

LANDSCAPING AND

GARDEN EQUIPMENT

DIGGERS, TRUCKS, WOOD CHIPPERS, POLE SAWS,

BREAKERS, WATER BLASTERS, ETC.

PLUS WE SUPPLY THE BEST

LANDSCAPE & GARDEN SUPPLIES

•BARKS •COMPOSTS

•AGGREGATES - CHIP, ROUND & BASECOURSE

•SCHIST PRODUCTS •PUNGAS

•DECORATIVE STONE & LANDSCAPING ROCKS

•TRAILER HIRE - FIRST HOUR FREE WITH PURCHASE

•BAG & BULK - PICK UP OR DELIVERED

DYERS ROAD LANDSCAPE & HIRE

PHONE: 03 384 6540

183 DYERS RD, BROMLEY ● OPEN 7 DAYS

Weekdays 7.30am-5pm. Weekends 8.30am-3pm

www.dyersroadlandscape.co.nz
---
Latest Canterbury news at starnews.co.nz

Wednesday July 28 2021 Bay Harbour News 11

OMG 3.8" Doll Assortment*

Usually up to $69.99

SAVE

$

70

$

59 99

Surprise Remix

Super Surprise

Usually up to

$249.99

ea

Present Pets

Assortment*

Usually up to $129.99

*Styles will vary from store to store.

wow!

SAVE

$

100

$

149 99

ea

50 % OFF

$

9 99

ea

Micro City World

Pack Assortment*

60% OFF

Usually up

to $24.99

15cm Figure

Assortment*

Usually up to $27.99

$

7 99

ea

$

9 99

ea

Expanding Playset Assortment*

40% OFF Usually up to $34.99

wow!

UP TO

60 % OFF

$

19 99

ea

wow!

70 % OFF

ALL

AT LEAST

40 % OFF

Peppa's

Wooden

Playhouse

Usually up

to $69.99

WOODEN

TOYS

wow!

SAVE $

39 99

$

30

$

39 99

ea

40 % OFF

$

39 99

ea

OMG Remix Doll

Assortment*

Usually up to $69.99

Peppa Pig

Wooden

School Bus

Shape Sorter

Usually up to

$59.99

40 % OFF

ea

wow!

60 % OFF

$

23 99

ea

Potion

Dress Up

Assortment*

Usually up to

$19.99

wow!

50 % OFF

FEATURED

Magical

Potion Surprise

Usually up to $5.99

50 % OFF

$

2 99

ea

Toy Story XL

Capsule

Usually up to

$7.99ea

(Contains 1 Ooshies

XL pencil topper.)

65 % OFF

4 for

$

10

$

9 99

ea

Kitchen Creations Cheesy Sandwich Playset, Slime

Snotty Scotty or Animal Crew Naybelle Show Pony

Usually up to $19.99

Surprise

Creation Kit

Usually up to

$44.99

Snack Time Friends Doll

Summer Peaches or Donatina

Usually up to $59.99

50 % OFF

$

29 99

ea

40 % OFF

$

24 99

ea

$

12 49

ea

Animal Crew Cluck

a Dee or Sherrie

Shearin Sheep

Usually up to $24.99

$

4 99

ea

Slime Cereal themed Slime Assortment*

Usually up to $9.99

$

12 49

ea

Kitchen Creations Noodle Party

Playset or Doctor Drill n Fill

Usually up to $24.99

TOWER JUNCTION

NZ's Biggest TOYWORLD

Clarence St, Riccarton, Ph 03 343 0330

MARSHLAND

199 Marshland Rd,

Ph 03 982 8697

Valid from Thursday 29th July until Tuesday 10th August 2021.

HORNBY

Chalmers St,

Ph 03 281 8127

LOOT BAG

*Terms and conditions:

1) Pictures are indicative

only, contents may vary.

2) Limited quantities,

strictly while stocks last.

3) One loot bag per

transaction. 4) The prize

is non-exchangeable, nontransferable

and is not

redeemable for cash or

other goods.
---
Bay Harbour News Wednesday July 28 2021

12

NEWS

Latest Canterbury news at starnews.co.nz

Urumau track upgrades approved

UPGRADES: The diagonal track's official approval means it can

now be upgraded for better-shared use by both mountain

bikers and walkers.

PHOTO: GEOFF SLOAN

• By Samantha Mythen

THE DIAGONAL track in

Urumau Reserve has been

approved after almost three

years of campaigning by the

Lyttleton Mountain

Bike Club.

Joshua Merriam,

on behalf of the club,

initially requested

the Banks Peninsula

Community Board

approve the track

upgrades at the

reserve entrance

during a meeting in

March.

The board then

requested a report

from city council on

whether there were

enough resources to improve

the track.

On Monday, the community

board discussed the report,

Joshua Merriam

and unanimously approved the

track. Said Merriam: "I am

very glad this was approved

and it can move forward

with the city council rangers

handling it."

Board chairwoman

Tori Peden said it was

good to finally move

forward with the

track and she hoped

it would receive the

upgrades by late spring

or early summer.

The track in

question is a

component of the 2018

Urumau Development

Plan. After the plan

was passed, city

council staff had put

aside money and

resources for the track to

become official.

However, no progress had

been made since then to

approve the access track into

the reserve.

Instead, it was still classified

as a "proposed track," in

spite of being used by both

mountain bikers and walkers

to access the track.

Inaction from discussions

with the Lyttelton management

reserves committee had

prompted Merriam to take

this project to the community

board, including a petition

with more than 100 signatures

in favour of formalising the

entire track.

The reserves committee

opposed the track's

formalisation, saying it had

other priorities for track

development and improving

the diagonal track would

distract them from other work.

Merriam said there was still

work to do on formalising the

second half of the track.

Birdlife to benefit from saltmarsh regen

• By Samantha Mythen

MORE THAN 2000 bushes are

being planted in a bid to restore

the Tunnel Rd saltmarsh.

The habitat restoration

project is situated in the area

alongside the Heathcote River,

immediately downstream of the

Tunnel Rd bridge.

City council parks biodiversity

and regional parks ranger teams

are working with the Ferrymead

Heathcote saltmarsh group,

which comprises of residents and

interested people.

The area had been partially

filled in decades ago due to

construction of the motorway,

and then by earthquake

liquefaction.

More than half a hectare was

burnt as a result of arson attacks.

City council ecologist Andrew

Crossland said excavation and

new planting will enable the

shallow inflow of tidal water to

regenerate saltmarsh vegetation

and enable self-colonisation of

marsh plants over the burnt

KEEN VOLUNTEERS: Ferrymead and Heathcote residents helping to regenerate the saltmarsh.

PHOTO: FERRYMEAD HEATHCOTE SALTMARSH GROUP

ground.

Pied stilts, white-faced

herons, marsh crake and the

nationally critically endangered

Australasian bittern are native

bird life that will benefit from

the habitat restoration.

"Habitat restoration projects

like this in locations where

the tide can reach is the only

way we can preserve and

protect our estuaries and the

internationally significant bird

populations they support,"

said Crossland.

The latest planting day was

earlier this month, with more

than 800 plants put in.

An initial planting day

was held in April, which was

attended by about 15 volunteers

who planted about 180 native

shrubs and grasses.

Future working bees will

meet regularly to continue

the work that has been

started.

If you would like to get

involved, check out the

Ferrymead Heathcote

Saltmarsh group on Facebook.

Fall in love

before

with your favourite

furniture all over again!

• Recover your chairs and couches

and save money!

• Excellent range of fabrics

• Quality workmanship guaranteed

• Free quotes available

• Over 30 years experience

Somerfield Upholstery welcome you to email a

photo for a quote online: somerfielduph@gmail.com

after

Somerfield Upholstery Ltd

FURNITURE RECOVERY SPECIALIST

6/47 Sonter Road, Wigram | Ph 021 251 6200 | 349 0456

Read local
---
Latest Canterbury news at starnews.co.nz

Wednesday July 28 2021 Bay Harbour News 13
---
14 Bay Harbour News Wednesday July 28 2021

In Brief

TREE PLANTING AND

WORKING BEES

A number of community

planting events in the Banks

Peninsula area are coming

up over the next month.

On Saturday, there will be a

working bee at Barnett Park,

starting at 1pm. On Sunday,

there will be another working

bee at Orton Bradley Park,

beginning at 10am. Visit Trees

for Canterbury's Facebook page

for more information.

MORE CONSULTATION

PLANNED FOR DIAMOND

HARBOUR PROPERTIES

The city council has resolved to

undertake additional targeted

consultation regarding the

properties at 27 Hunters Rd

and 42 Whero Ave in Diamond

Harbour. Planning is currently

underway and the city council

aims to begin community

consultation from mid-August.

The land was originally in

the Long Term Plan for fast

track disposal for property

development, but submissions

called for community

consultation prior to sale.

Treasures

from the

past

HMAS Sydney (D48) at Lyttelton in 1946

PHOTO: Te Ūaka The Lyttelton Museum

collection

​

HMS TERRIBLE was one of

six majestic class light aircraft

carriers commissioned for the

British Royal Navy during World

War 2.

Laid down in 1943, launched

late 1944, she was too late for war

service.

Acquired by the Royal Australian

Navy in 1948, she was

renamed His Majesty's Australian

Ship Sydney (III) in honour of

the light cruiser HMAS Sydney

(II) that sank in 1941 with the

tragic loss of all aboard.

HMAS Sydney (III) finally

sailed from Devonport in the

UK in early 1949, bound for

Australia with a complement of

Hawker Sea Furies on board.

HMAS Sydney visited New

Zealand several times over the

next two decades, although the

photograph shown here, docked

at Lyttelton Port, is somewhat

ambiguous as to the date.

The reverse of the photo

reads '17 G082 / HMAS Sydney

berthed at Lyttelton / (about

1946) / photographed by / F E

McGregor / Z236.'

The estimated year 1946 is

obviously too early as the carrier

remained in the UK until 1949.

However, if you look closely, the

planes on deck appear to be Sea

Furies, indicating she was in

active carrier service at the time.

Sydney's first visit to New Zealand

was in February 1950, when

she called at Milford Sound,

Akaroa, Lyttelton and Wellington,

arriving in Auckland on

March 15.

The next recorded visit to

our shores was between March

and August 1953, but only to

Auckland on return from the

coronation of Queen Elizabeth

II, with representatives of all

three branches of the Australian

and New Zealand defence forces

on board.

Finally, it appears that it

was only after Sydney's refit

as a training ship, minus Sea

Furies, that she returned to New

Zealand on her first training

cruise in May 1955.

In the years afterward, HMAS

Sydney trained in our fair waters

several times.

She also served as a troop

transporter, which included

transporting the first New

Zealand infantry force sent to

the Vietnam War in May 1967.

Decommissioned in 1973,

she was sold for scrap to South

Korea.

Given this brief history, it

would seem certain then that the

arrival in Lyttelton Port pictured

above would have to date from

sometime between February and

mid-March 1950.

If you can corroborate or

correct that date for us please

email Te Ūaka Lyttelton

Museum: info@teuaka.org.nz

Vashti Johnstone

Little River Gallery 31 July – 24 August

Vashti Johnstone is a contemporary New Zealand painter,

new to Little River Gallery, but not new to exhibiting. Living

and working on the South Island's West Coast she has been

a student of visual language forever, formalising her innate

need to express and articulate with a Diploma in Painting,

Aoraki Polytechnic (2001)

Johnstones's oeuvre applauds the vitality and importance

of making art. Respectful of and roused by the lineage of

creators who have gone before her and create alongside her,

she pushes her practice in energizing and innovative ways,

layering her charcoal and her paints into a colourful language

that transcends beyond words.

Echoing men and women known to Vashti, people who are

present and others who have gone before her, Authentic

Whisperings explores the tranquillity of people as they expose

their flaws and vulnerabilities to the light, attaining wisdom,

legitimacy and peace within the authenticity of their own skin.

Authentic Whisperings

31 July – 24 August 2021

littlerivergallery.com

Main Rd, Little River | 03 325 1944

art@littlerivergallery.com

Vashti Johnstone

Authentic Whisperings

31 July – 24 August 2021

✓ Co-educational, Years 1-8

✓ Small classes

✓ Specialist teachers

✓ Traditional classrooms

✓ Academic rigour

✓ Musical excellence

✓ Christian values

✓ Before & after school care:

7.30am - 5.30pm

✓ Central city location

Taking enrolments for 2023.

Some places available for 2022.

St Michael's

Your school at the heart

of the city since 1851

littlerivergallery.com

Main Rd, Little River | 03 325 1944

art@littlerivergallery.com

OPEN DAY: WED 4 AUGUST

www.saintmichaels.school.nz 249 Durham Street 379 9790
---
Latest Canterbury news at starnews.co.nz

Wednesday July 28 2021 Bay Harbour News 15

RUNOUT

OUTLANDER LS 2.4L 2WD

$32,990+ORC *

The 7 seater Mitsubishi Outlander

brings everything you would need in a

family SUV: safety, technology, comfort,

unrivaled economy and that all important

space, plus a 10 Year Powertrain Warranty † .

Call 03 379 0588 or visit

christchurchmitsubishi.co.nz

RRP WAS $41,990 +ORC

*Price listed is for Outlander LS 2.4L 2wd and excludes on road costs of $650 which includes registration, WoF and a full tank of fuel. Available while stocks last.

†

Visit mmnz.co.nz for full Diamond Advantage warranty conditions.

CHRISTCHURCH MITSUBISHI

386 Moorhouse Avenue, Christchurch | 03 379 0588 | christchurchmitsubishi.co.nz

DRIVE A NEW

NISSAN

STOCK AVAILABLE TODAY

AGILITY MEETS SMARTS

AVAILABLE FROM

$33,990 *

STOCK AVAILABLE NOW

*Price shown is for the Nissan Qashqai ST excludes on road costs of $1,250 which includes registration,

WoF and a full tank of fuel.

CHRISTCHURCH NISSAN, 380 Moorhouse Avenue, Christchurch

Ph: 03 595 6820

www.christchurchnissan.co.nz

THE ALL-NEW

PRO-4X

IN STOCK NOW

christchurchnissan.co.nz
---
16 Bay Harbour News Wednesday July 28 2021 Latest Canterbury news at starnews.co.nz

STYLE & QUALITY

FOR LESS

WWW.AFFORDABLEFURNITURE.NZ

SUPER

SPECIAL

CHRISTCHURCH'S MOST AFFORDABLE

NZ MADE LOUNGE SUITES

CUSTOMISE TO YOUR REQUIREMENTS

WAS $2229

$

2069

Valley Corner

Storm

Raisin

SUPER

SPECIAL

Reef Recliner Suite

3 Seater + 2 Recliners

SUPER

Adair Lounge Suite

3 + 2 Seater

SPECIAL SUPER

SPECIAL

WAS $2989

$

2399

SUPER

SPECIAL

WAS $1889

$

1529

Elm Bedroom

Collection

Fauna Denim

1 Seater $359 $289

2 Seater $579 $469

3 Seater $749 $599

Maple Bedroom

Collection

Queen Lift Up Base

Mattress not included

WAS $599

$

559

Lowboy - Six Drawers $999 $929

Tallboy - Six Drawers $1129 $1049

Tallboy -Five Drawers $879 $819

Head Board $699 $659

Desk $439 $399

Tallboy 4 Drawers $559 $519

Lowboy 3 Drawers $509 $469

Lingerie Chest 5drw $489 $449

Comet

Mattress

FROM

$

189

Single $229 $189

King Single $249 $219

Double $279 $229

Queen $319 $279

Melody

Mattress

FROM

$

239

Single $299 $239

King Single $349 $279

Double $399 $319

Queen $439 $349

King $469 $379

Super King $679 $549

Riviera

Mattress

FROM

$

299

Single $369 $299

King Single $419 $339

Double $499 $399

Queen $549 $439

King $599 $479

California King $709 $569

FREE

CARPARKING

SOUTH CITY

BATH ST

WE ARE

HERE

255 MOORHOUSE AVE

REBEL SPORT

COLOMBO ST

MON-FRI 9:30AM – 5:30PM

SAT-SUN 10AM – 5:30PM

0800 268 264

www.affordablefurniture.nz

OFFERS END 1 AUGUST 2021
---
Wednesday July 28 2021 Bay Harbour News

Latest Canterbury news at starnews.co.nz

CONTENT MARKETING

17

Tobogganing on real snow captivated the youngsters at last year's festival.

WHILE WE may be experiencing

a very chilly winter this year, that's

all the more reason to get the

family together and head into the

city for this year's Winter Festival

'Chill in the City'.

Run by the Central City

Business Association with support

from the city council and many

of the city's businesses, it follows

last year's very successful event,

which attracted thousands to

the central city with a range of

exciting winter-themed events and

activities.

This year there will be even

more to enjoy, from ice skating,

hug a husky and Hagglund rides,

to Disney's frozen bouncy castle,

tobogganing on real snow, and

Hillary's Hutt VR Experience, all

taking place in and around the

City Mall area. Real-life winter

fairies will be there for the kids,

along with activities for everyone

to enjoy.

These include ice skating

starting tomorrow and running

right through the weekend, with

all other winter activities running

on Saturday and Sunday from

10am to 5pm daily.

There is a small donation cost

Hagglund rides should again prove a popular attraction at this year's event.

Winter-themed festival offers family fun in the city

for some of the activities and all

money raised is being donated to

the Christchurch City Mission.

Last year's festival raised just

over $12,000 and the business

association hopes with the

community coming in to support

the festival, it can do more this year.

While most of 'Chill in the

City' activities are aimed at

family enjoyment, Saturday night

offers something a little different,

with 'Chill in the City' After

Dark on New Regent St starting

early evening and featuring live

entertainment, mulled wine, hot

toddies and delicious food.

•Full details of Winter

Festival 'Chill in the City' can

be found on the website

www.chchcentral.co.nz.

Need To Get Fit Fast?

Tone Up or Body Build, Get A Total Body Workout

One Machine...

That Does it All

Easy Storage

Easily Folds Away

Effective Workout

Fun, low impact workouts.

For All Ages

Personalised Settings For

Beginners and Advanced

Includes

Pilates Kit

& DVDs

Up to

50 % Off

*Call for Terms

& Conditions

Off

*

Call Now! 0800 665 665
---
18 Bay Harbour News Wednesday July 28 2021 Latest Canterbury news at starnews.co.nz

Creative Wednesdays

Wednesday, 11.30am-2.30pm

All welcome and you can

come and go as you please. This

group is focused on bringing

people together and getting

creative, no matter what level

your art practice is, beginner

or expert. Go along to this

event to make connections and

express yourself freely. Every

Wednesday.

The Rock, 10 Wakefield Ave,

Sumner

Lyttelton Community

Garden

Wednesday, 10am-12.30pm

Over at The Lyttelton

Community Garden, after

a really productive growing

season, the garden is planted

up and ready for winter. There

is real momentum in the

garden to share food and to

widen the definition of what

a "community" garden can

be – food for the community,

education, working with the

school and early childcare

centres as well as producing

seedlings and other resources

for the community. Visit the

garden from 10am with a shared

lunch at 12.30pm. Everyone is

welcome.

58 Oxford St, Lyttelton

Heathcote Community

Morning Tea

Wednesday, 10am-12pm

Everyone is invited to pop in

for a cuppa, some fresh baking

and to get to know some of the

locals. Every Wednesday.

Heathcote Community Centre

Sumner Silver Band

Thursday, 7pm- 8.30pm

All welcome to attend the

band's regular rehearsals to

either just listen or to become

part of the band. They can

provide instruments and

encourage returning players of

all ages. Phone Peter Croft for

more information 3849 534.

Redcliffs School, Beachville Rd

Community Garden Working

Bee

Thursday, 10-11.30am

Contribute time and sweat

to the Mt Pleasant community

garden. Join Jocelyn at this

weekly working bee. The

garden is located between the

community centre and the

kindergarten.

Mt Pleasant Community

Centre Garden

Zoomers Art Exhibition

Friday-Sunday, 10am-4pm

Artists Against Slavery

presents, Zoomers; an exhibition

of work by four talented

Generation Z artists, who all

live in Diamond Harbour and

are students at Cashmere High

School. They will be donating 10

per cent of their artworks sold to

Artists Against Slavery.

Stoddart Cottage, Diamond

Harbour

Email samantha.mythen@starmedia.

kiwi by 5pm each Wednesday

The Temple of Flora –

Botanical Assemblage

Saturday, 1.30-4pm

Create a plant-based artwork

using botanical specimens from

the Banks Peninsula and explore

the traditions of Botanical Art,

Vanitas and Memento Mori,

with Botanic Artist, Sarah

Amazinnia. Book at https://

www.eventbrite.co.nz

Stoddart Cottage, Diamond

Harbour

Riding the Wave Art Group

Saturday, 10am-1pm

We're painting mountains,

raising our vision. Donation

appreciated. Materials supplied.

Phone Beth 022 678 1252

Nayland St Chapel, Sumner

Re-greening of Barnett Park

Saturday, 1-3pm

Join your fellow Redcliffs

neighbours, along with Regional

Parks and Trees for Canterbury

volunteers, to plant 1000 native

plants in Barnett Park. This first

planting, along the western edge

of the dog exercise area, will

be the start of more planting

planned to create a lowland

podocarp forest. Take spade,

gloves, sturdy footwear, warm

clothing, rain gear if needed as

the event will still go ahead.

Meet end of Bayview Rd

Ferrymead Sumner Men's Probus Club, Thursday, 9.50am.

This week's speakers are Helen Beaumont, who is the

current head of the city council's three waters and waste,

and Pamela Richardson from the Akaroa-Wairewa

Community Board. Visitors welcome. For membership

information phone Ian on 021 196 3737. Redcliffs Mt

Pleasant Bowling Club, 9 James St.

Mt Pleasant Community

Consultation

Saturday, 12-5pm

Go along to the Mt Pleasant

Community Centre's

community consultation.

Hear about their recent survey,

discuss their current plans and

activities, contribute towards

their ongoing planning and

development. Discuss what you

would like from the community

centre.

Mt Pleasant Community

Centre

Sumner Bridge Club

Monday 7.15pm, Wednesday

1pm

For fun, friendly and

competitive Bridge. If you

have any questions, send an

email to sumnerbridgeclub@

gmail.com

57 Dryden St, Sumner

9 for 9 Group Art Exhibition

Tuesday-Friday, 11am-5pm,

Saturday, 1-4pm, Sunday, 11am-

4pm

Nine artists feature for the

ninth annual container art

exhibition. It includes Philip

Trusttum, who was recently

awarded an ONZM for services

to art. Runs until the end of July.

LEstrange Gallery, 17 Marriner

St, Sumner

Coffee and Conversations

Monday, 10.30am

Sumner Bays Union Trust host

Tea and Talk. Join in for a social

morning with free hot drinks

and snacks. Make yourself

comfortable and spend some

time talking to other members

of the community and your local

librarians. Everyone welcome.

Matuku Takotako: Sumner

Centre

NEW JAGUAR E-PACE

STRIKING FROM

EVERY ANGLE

New Jaguar E-PACE. Restyled on the outside with new bolder looks and an even more dynamic

stance. The newly crafted interior has a beautifully detailed, modern feel, while the next-generation

infotainment system - with 11.4-inch HD touchscreen – keeps you connected, informed and entertained.

The new E-PACE. Every curve and contour, carefully considered. Striking from every angle.

To book a test drive, please contact Archibalds.

38 Tuam Street, Christchurch | Corey Gray | 03 377 5200 | cgray@archibalds.co.nz

archibalds.co.nz

*Terms and conditions apply. The standard Scheduled 5 Year Servicing is included. Speak to Archibalds for more details or visit archibalds.co.nz/new-jaguar-e-pace
---
Latest Canterbury news at starnews.co.nz

Wednesday July 28 2021 Bay Harbour News 19

Now published six times a year,

Classic Driver is giving you even

more of the exotic and the unique,

highlighting old favourites from

motoring's colourful past.

Available

in all good

bookstores &

supermarkets

classicdriver.co.nz
---
Bay Harbour News Wednesday July 28 2021

20

PUZZLES

CRYPTIC CROSSWORD

1 2 3 4 5 6 7

8

9 10

11 12 13

14

15 16 17

18

19 20 21 22

23

24 25

26 27

QUICK CROSSWORD

1 2 3 4 5 6

30/7

Latest Canterbury news at starnews.co.nz

Across

1. A sense of which enables one to see

the joke (6)

4. A crazy person in a mac is turned

out (6)

9. Ten, on joining, need this to fit into (7)

10. Emerald is the thing to go for (5)

11. The original Arkwright? (4)

12. Fifty in an English river that's making

no waves (4)

13. It is also undesirably in excess (3)

15. What some pictures show is a long

story (4)

16. Card game fiery monster will have in

the garden (4)

19. A curtsy one takes swimmingly (3)

21. In which one is camping, or has

mind set on it (4)

22. An unaccompanied game of cards?

(4)

24. One more rate-change including

ten (5)

25. In Pietro's sin, Iolanthe discovered a

composer (7)

26. The spirit is one I leave going east

(6)

27. The middle put out not long ago (6)

Down

1. The milk of it makes mortals

agreeable (5,8)

2. A resort where mother meets the king

on the way in (7)

3. Is not well, and heartless, for one

thing (4)

5. Reasoning it's a row (8)

6. It is still in a muddle as to how to

bury one (5)

7. In no too strict a fashion for one tying

himself in knots (13)

8. Settle the loan concerning one's

wages (5)

14. Girl's religious pamphlet may take

one's attention away (8)

17. Once it's made, it can be kept or

broken (7)

18. Be sound asleep? (5)

20. Walter took father to be a writer (5)

23. Man is involved in a tennis lesson

(4)

SUDOKU

Fill the grid so that every column, every row and 3x3

box contains the digits 1 to 9.

7

8 9

10 11

12 13 14 15

16

17 18 19 20

21 22

23 24

Across

1. Happen again (5)

4. Whole (6)

8. Hurried and chaotic

(7)

9. Abrupt (5)

10. Matter (5)

11. Popular cocktail (7)

12. Four score (6)

14. Ancient unit of

distance (6)

17. Add to, enlarge (7)

19. Lively dance (5)

21. Greased (5)

22. Neither here nor

there (7)

23. Off target (6)

24. Liquid consistency

(5)

Down

1. Kitchen appliance

(12)

2. School group (5)

3. Withdraw (7)

4. Earnings (6)

5. Private teacher (5)

6. Game played on

ice (7)

7. On purpose (12)

13. Protective eyewear

(7)

15. Authorise (7)

16. Miserly (6)

18. Church official (5)

20. Get up late (3-2)

CODECRACKER

QUICK CROSSWORD

Across: 1. Recur, 4. Intact, 8. Frantic, 9. Terse, 10. Issue, 11.

Martini, 12. Eighty, 14. League, 17. Augment, 19. Polka, 21. Oiled,

22. Nowhere, 23. Astray, 24. Runny.

Down: 1. Refrigerator, 2. Class, 3. Retreat, 4. Income, 5. Tutor, 6.

Curling, 7. Deliberately, 13. Goggles, 15. Empower, 16. Stingy, 18.

Elder, 20. Lie-in.

CRYPTIC CROSSWORD

Across: 1. Humour 4. Maniac 9. Mortise 10. Green 11. Noah 12.

Calm 13. Too 15. Epic 16. Snap 19. Dip 21. Tent 22. Solo 24.

Extra 25. Rossini 26. Sprite 27. Recent.

Down: 1. Human kindness 2. Margate 3. Unit 5. Argument 6. Inert

7. Contortionist 8. Repay 14. Distract 17. Promise 18. Snore 20.

Pater 23. Isle.

TARGET

atom iota mart matt

mitt moat moot mort

MOTIVATOR motor motto

omit otto ratio riot root rota

taro tarot tart tiro tomato

toot tori tort trait tram trim

trio trot vomit

MEDIUM HARD

EASY

TARGET

V M A

T T O

R I O

Good 15

Very Good 22

Excellent 27+

ALL PUZZLES © THE PUZZLE COMPANY

How many words of four letters or more can you

make? There is at least one nine-letter word.

Each letter may be used only once and all

words must contain the centre letter.

No words starting with a capital, no plurals

ending in s unless the word is also a verb, e.g.

he fires the gun.

Mon-Thurs: 7am - 4pm

Fri-Sun: 7am - 5pm
---
Newly constructed and enjoying the

irrefutable tranquillity offered by an ocean

outlook, this contemporary Clive Barrington

build offers the ultimate in townhouse

living in the heart of Redcliffs.

Intelligently arranged across two floors, the

open-plan living area has been prominently

placed upstairs to take advantage of the

sublime sea view over the estuary and Shag

Rock.

The designer kitchen is sleek and practical,

featuring high-end European appliances and

the ease of an instant hot-water tap. The

living layout also incorporates areas for

dining and relaxation, with sliding doors

leading you to the balcony where you can

unwind or entertain beneath the sun with

the water as your backdrop.

The master bedroom is also conveniently

located upstairs and includes a walk-in

wardrobe and ensuite, while another two

bedrooms and a modern bathroom are

Latest Canterbury news at starnews.co.nz

REAL ESTATE

Brand New - What a View!

1/115 Main Road, Redcliffs

Auction 12 August (USP)

3 bedrooms 2 bathrooms 1 kitchen/living

/dining 1 car garage - Listing No. FM5728

Open Homes: Weds, Sats & Suns 1-1:45pm

located on the ground floor.

Further functional highlights include two

heat pumps, a dedicated laundry room and

a wide single garage with internal access.

Occupying a freehold title and subtly

attached to just one other townhouse, this

home is remarkably private and only

moments from the local shops, Barnett Park

and Redcliffs School, while it's also a short

stroll along the coastal walkway around to

the beach and amenities in Sumner.

Bringing a level of sophistication only

offered by a brand-new build, this is a great

easy care lock up and leave townhouse.

A must Sea!

Alison Carter

Mob. 0274 318 960

Ferrymead Office

Phone 03 384 7950

(Licensed Agent REAA 2008)

Wednesday July 28 2021 Bay Harbour News 21

ADVERTISING FEATURE

VOTE

nOw!

PEOPLE'S CHOICE AWARD 2021

YOUR VOTE

MATTERS MOST!

For the first time, the

Kiwi Gardener Bird Photo

Competition includes a

People's Choice Award,

where your vote matters

the most. The winner

will have their bird pride

of place in a stunning

2022 calendar.

?

PHOTO CREDIT:

KAREn

MOfFATT-MCLEOd

SELECT UP TO THREE FAVOURITES!

VOTE OnLInE AT KiwIgARDEnERMAgAzinE.CO.nz

*Terms and conditions apply, voting ends August 11, 2021.
---
2013 Volkswagen

Tiguan TSi

h tp: /kaywa.me/8aVDQ

Download the Kaywa Qr Code reader (A p Store &Android market) and scan your code!

my Kaywa Qr-Code

w.valuecarswarehouse.co.nz

CELLULAR

See page 5 for more info!

2

h tp: /kaywa.me/8aVDQ

Download the Kaywa QR Code Reader (a p Store &android Market) and scan your code!

REVERSE CAMERAS

My Kaywa QR-Code

w.valuecarswarehouse.co.nz

PARKING SENSORS

0800 212 777

Ce l 021 855 884

GPS/TRACKING

motor vehicle purchase

See our ad on page 2

22 Bay Harbour News Wednesday July 28 2021 Latest Canterbury news at starnews.co.nz

Palisade makes all the right sounds

EVEN THOUGH my wife

entertains me with a piano

recital nearly every evening, I'm

not really into classical music,

nor am I a big fan of television

advertisements.

With a combination of those

two factors it's a wonder then that

I spotted the clever advertisement

for Hyundai's new sport utility

vehicle – the Palisade.

The advertisement goes

something like this – a group of

musicians playing instruments

slowly climb into the Palisade

demonstrating how spacious

it is on the inside. It's a simple

message that illustrates perfectly

the capability of the Palisade, it is

a big vehicle – seven or eight seats

– all with armchair-like comfort.

Hyundai has made no secret

of its target market for Palisade,

it's largely destined for theUnited

States where I would expect it

to sell very well. Downunder,

well that's a different story, the

Palisade will only appeal to a

small number of buyers, those

who like big and are comfortable

driving something that stretches

to almost 5m and weighs over

two-tonne.

In New Zealand the Palisade

comes in five variants. If you

want eight seats then you have no

choice but to purchase the Elite,

it comes with either a 3.6-litre

petrol-powered V6 driving

through the front wheels, or an

all-wheel-drive model powered

by a 2.2-litre four-cylinder diesel

engine. The Elite lists at $99,990

and $106,990respectively.

If you are satisfied with seven

seats, then Limited specification

is the model for you, the same

engine options are available and

you have got an extra choice of

nappa leather. The Limited V6

sits at $107,990, while the diesel

is priced at $114,990 (nappa adds

$5k). The evaluation car was the

latter, sans nappa.

It must be remembered both

engines are similar to those that

power one of Hyundai's bestselling

models, the Santa Fe, and

whereas I expected the weight of

the Palisade to burden the diesel,

I'm happy to report that that is far

from the case. That is one of the

reasons why I've been so smitten

with the big four-potter over the

years, it's largely a continuation

of the R-Series diesel that I have

a lot of affection for. It is strong,

smooth and silent and powers the

big Palisade with gusto.

Saying that, the Palisade is not

a vehicle that you should expect

to do things quickly, while it does

cover distance capably, it does so

with relaxed motion, it performs

in a subdued manner, and that

is the measure of a good vehicle,

something that carries out its

purpose without strain or fuss.

Hyundai rate the turbocharged

oil burner with 147kW and

HIGH COMFORT: The Palisade comes with the choice of

seven or eight seats.

HYUNDAI PALISADE LIMITED: Sport utility vehicle with large car luxury.

440Nm, both outputs realised

very low in the rev band (3800

and 1750rpm). It feels strong

beneath the accelerator, powerful

enough to surge to 100km/h in

9.5sec and will lunge through a

highway overtake in 6sec (80-

120km/h).

The engine is also rated with

a 7.3-litre per 100km combined

cycle fuel usage average. That's

a bold claim and one that I

couldn't replicate, however, my

evaluation average of 8.8l/100km

wasn't that far distant and was

helped by an amazing 6.3l/100km

figure showing instantaneously at

100km/h, the engine very relaxed

turning over at just 1600rpm.

Both engines drive through a

fabulous eight-speed automatic

transmission. There's a paddle

shift mechanism should the

driver so desire, but I far

preferred just selecting the drive

button and letting the engine

and gearbox do its own thing,

something that delivers smooth

shifts through a seemingly

endless supply of ratios.

The push-button gear selection

process is part of an intuitive yet

comprehensive array of controls

the driver has command over,

the all-wheel-drive Palisade has

genuine off-the-seal capability, it

has 203mm of ground clearance

and the drive to all corners will

get you in an out of very sticky

situations. My first thought was

how capable it would be on the

skifield access road, although

• Price – Hyundai Palisade

Limited, $114,990

• Dimensions – Length,

4980mm; width, 1975mm;

height, 1750mm

• Configuration – Fourcylinder,

four-wheel-drive,

2199cc, 147kW, 440Nm,

eight-speed automatic

• Performance – 0-100km/h,

9.5sec

• Fuel usage – 7.3l/100km

finding a spot in a crowded car

park may be a bit more of a

challenge.

Mid-winter meant it was

another wet weekend highway

evaluation, however, the Palisade

imparts a well-connected feeling

on drenched roads.

That has a lot to do with the

way the four-wheel-drive system

works. While there are a host

of driver-selectable individual

terrain control modes, in

standard drive mode power will

be distributed proportionally

between front and rear, and

individual wheels depending on

how grip is best determined.

On that subject, huge

Bridgestone Dueler sport

specification tyres (245/50 x 20in)

offer prodigious grip in the first

instance, they are both quiet and

informative, just what you want

in a large luxury car.

The driveline systems work

seamlessly and are part of an

extensive safety network both

passive and active. It's not only

the safety features that make

the Palisade attractive, it's got

everything on-board that will

satisfy all occupants. A multitude

of clever devices provide

individual settings between front

and rear, all designed so that each

occupant can have his/her own

freedom.

If you don't need the rear row

of seats upright, they fold down

to provide a cavernous load area.

There's no shortage of choice in

New Zealand's seven-seat SUV

market. Where the Palisade has

a point of difference is that it is

not utility-based, it doesn't have a

body over ladder chassis design,

instead the fully monocoque

structure has a platform

engineered for one purpose

from the ground up and that is

occupant comfort. Stability and

capability are additional benefits

that are a by-product of that type

of design.

That being the case, the

Palisade will conquer sales

with its all-round functionality

and, dare I say it, its luxury

features blending with all-road

capability sets it apart from the

competition.

Not forgetting that if you don't

need four-wheel-drive and want

the benefit of that extra seat,

the Palisade is a people-mover

that will transport those from

all walks of life, including the

orchestra.

has motoring covered!

Incorporating

ISSUE 667 | FrIday 20 novEmbEr 2020

sherborne st, edgeware

iggest range of vehicles

location!

2011 Jaguar

XF Premium

$18,999

See inside for this week's

4WD feature!

se Ave | P: (03) 366 7768 | www.valuecarswarehouse.co.nz

See page 4 for more info!

free

best motorbuys

Incorporating

ISSUE 668 | FrIday 27 NovEmbEr 2020

275 Colombo street, Christchurch

For more see their advert on pages 6 & 7

Ce l 021 855 884

Incorporating

ISSUE 669 | FrIday 4 dEcEmbEr 2020

See inside for this week's

Classic Car feature!

PH 03 web

www.drivesouth.co.nz

One Owner!

40 Years Finance

Experience

Cannot be Beaten!

• Talk to us about finance for your next

motor vehicle purchase

Specialising in Finance for Private Purchases

Very quick approvals, sensational interest rates

• From no deposit (terms & conditions may apply)

Hiace spares

Cnr Main South Rd and Epsom Rd, Christchurch

Ph: 03 348 4129 | avoncityford.com

2015 IsuZu D-mAX

4WD Ls D/CAb

NZ new, 3.0 intercooled turbo/dsl,

auto, rare flatdeck with ladder/pipe

racks, reverse cam, service history.

$34,995 $192pw

For more see their advert on page 31

free

best motorbuys

www.drivesouth.co.nz

See inside for this week's

marine feature!

free

best motorbuys

The South Island's leading motoring resource,

filled with news, reviews and dealer listings.

From family cars to work trucks, and supercars

to SUVs. No matter what you're looking for,

you can find it all with Drivesouth.

Magazine available for FREE every Friday

at a convenient pick up point near you!

The biggest range of vehicles

in one location!

Now Available @ NZ Van Spares

www.drivesouth.co.nz

2.4 auto, alloys, ABS, twin airbags.

2005 toyota rav

$20,999

$9,990

40 Years Finance

2008 bmW 320i

2.0lt Petrol, 5 Dr Station wagon,

Climate Control, ABS Braking,

.nz

CAR AUDIO

AUDIO VISUAL

CAR SECURITY

32 Moorhouse Ave | P: (03) 366 7768 | www.valuecarswarehouse.co.nz

MOBILE INSTALLATION SERVICE

RADAR DETECTORS

DASH CAMERAS

Cannot be Beaten!

$10,974 NoW $7,974 + orC

Experience

Automatic. $34.63pw.

AERIALS

• Talk to us about finance for your next

Specialising in Finance for Private Purchas

• Very quick approvals, sensation

• From no deposit (term
---
p $10.99

rrp $10.99

Latest Canterbury news at starnews.co.nz

Wednesday July 28 2021 Bay Harbour News 23

Gardening

& Supplies

KATANG

Real Estate

HOME WANTED 3-4

bedrooms. Looking in Nor

West areas, Beckenham

or Somerfield. Prefer

permanent material brick

and post 1990 build. Don't

mind if it needs some TLC

- anything considered.

Cashed up buyer. Phone

021 372 479

Classifieds Contact us today Phone our local team 03 379 1100

Health & Beauty

Fitness

Tues 9.15am-10.15am

To Let

RENT ME!

Ideal as an extra

bedroom or office.

no bond required

ADD SOME

COLOUR

TO YOUR ADVERT!

Fully insulated and double glazed for warmth.

Three convenient sizes from $80 a week:

Standard 3.6m x 2.4m

Large 4.2m x 2.4m | Xtra-large 4.8m x 2.4m

Visit our website

www.justcabins.co.nz

for display cabin locations

www.justcabins.co.nz

Tuition

Gardening

& Supplies

Gardener available for Gardener available for

maintenance, weeding maintenance, weeding

pruning, spraying, pruning, spraying,

planting, advice. Qual &

exp. Ph Richard 0274 918

234, 03 349 4022

planting, advice. Qual &

exp. Ph Richard 0274 918

234, 03 349 4022

Sumner Community

Centre (above library)

$5 per class.

Concession cards available.

For more info

contact Katrina

381 1704 or

027 4966 845

PIANO LESSONS

Catherine Bracegirdle

DipABRSM ATCL AIRMT

12 Ridgeway Pl, Richmond Hill, Sumner

PH. 021 044 5102

www.pianoandtheory.co.nz

catherine.bracegirdle@gmail.com

Trades & Services

DIRTY TILES

& GROUT?

Our unique restoration

processes will make your

tiled areas look NEW again!

We specialise in professional

cost effective solutions for

all your tile & grout issues.

• Tiled shower makeovers

• Re-colouring old grout

• Mouldy silicone replacement

• Professional tile/grout

cleaning, sealing & repairs

Call today for a FREE quote on 0800 882 772

www.theprogroup.co.nz/dpc9385

Your local professional

FOR ALL YOUR

PLUMBING,

GAS &

DRAINAGE

• Bathroom repairs

• Renovations

• Leaks

• Blocked drains

• Gas and drainage

Carol and Chris

Phone 376 5322 or email

chcheast@laserplumbing.co.nz

WINDOW TINTING

tintawindow

advanced film solutions

99% uv block

fade protection

heat control

reduce glare

25 Years Experience

privacy films

frosting designs

non-darkening films

Workmanship Guaranteed

Lifetime Warranties on Most Films

UV

block

Free Quotes Canterbury and Districts

03 365 3653 0800 368 468

Trades & Services

BANJO

ELECTRICAL LTD

Registered Electrician. Ph

Andrew 022 654 3859.

CARPET

LAYING

Exp. Repairs, uplifting,

relaying, restretching.

Phone John on 0800

003181, 027 240 7416

jflattery@xtra.co.nz

DECKS

Fences, retaining, 2nd

hand kitchen installs

incl stone bench rework,

sleepouts, alterations,

paths and more. Greg 022

475 8227

ELECTRICIAN

JMP Electrical.

Experienced & registered..

Expert in all home

electrical repairs &

maintenance.Call James

027 4401715

ELECTRICIAN

Andrew Martin Electrical.

25 years experience.

Specialize in home

renovations, repairs and

maintenance. Call Andrew

0274 331 183

GUTTER CLEANING /

HOUSE WASH

Total gutter / spouting

clear out & clean. House

wash & windows. For a

professioanl & reliable

service call Greg Brown

A1 Spouting Cleaning 027

616 0331 or 384 2661

PAINTING

SERVICES

Mature, reliable,

conscientious &

experienced, reasonable

rates, no job too small!,

call Ron 027 434-1400

PAINTING

High quality professional

service. Residential int/ext.

Large & small jobs.Ring

Brent 021 363 432. www.

baileypaintingcontractors.

com

Wanted To Buy

AAA Buying goods

quality furniture, beds,

stoves, washing machines,

fridge freezers. Same day

service. Selwyn Dealers.

Phone 980 5812 or 027

313 8156

Public Notices

Governors Bay

Community

Association

ANNUAL

GENERAL

MEETING

Sunday 22 August 2021

5pm Otoromiro Hotel,

Governors Bay

SPEAKERS: Zane Lazare

CCC Red Zone Ranger

Brent Barrett Boffa Miskell

– Predator control

Audience participation

is essential

Platters will be provided

AGM will follow

Come and participate…

Situations Vacant

CLASS 5 DRIVER We are

a small transport business

looking for a casual driver

to help out driving a bulk

tipping unit mainly carting

from Lyttelton Port. This

position may suit a semi

retired person. Contact

Malcolm on 0274356253.

Malcolm Love Transport

Ltd.

Vehicles Wanted

ADVERTISE YOUR

BUSINESS HERE

Public Notices

Sorry, we are

no longer accepting

cheques

Star Media wish to advise

we no longer accept cheques as

payment for advertising, events

or accounts due to changes in

bank processes.

We do offer a range of other

payment options including cash,

EFTPOS, Visa, Mastercard, debit

card and online.

www.starnews.co.nz

Phone for further details

(03) 379 1100

CAR REMOVALS

$$CASH PAID$$

CARS, VANS, UTES & 4X4 WANTED

NZ OWNED AND OPERATED FOR 24 YEARS

We use world class vehicle depollution systems

0800 77 80 80

www.pickapart.co.nz

BE IN TO

WIN

A SONY X90H ANdROId Tv WORTH $2,500!

9 416770 121325

FREE FIRST XV SEASON PREVIEW MAGAZINE INSIDE

MAY 2021

SEILALA MAPUSUA INTERVIEW: HIS VISION FOR MANU SAMOA

JUNE 2021

TONY JOHNSON

ON THE COMING OF

MOANA PASIFIKA

AARON SMITH

'WHY I RATE

DUPONT'

SEAN FITZPATRICK

'WE NEED MONEY TO

SUSTAIN THE GAME'

CRUSADERS dAN

FIVE OF THE BEST

CARTER

TONY

REFLECTING JOHNSON ON A

CAN GREAT THE CAREER

SABBATICAL

SAM CANE

JEROME

THE LONG

KAINO

ROAD BACK

SORTED FOR

LIFE AFTER

RUGBY

BEEGEE'S

DREAM

WHY MOANA

PASIFIKA WILL BE A

• PHIL GAME-CHANGER

GIFFORD: THE BEST

SCHOOLBOY STARS HE SAW

• DARYL GIBSON: HIS VISION

FOR THE BOP STEAMERS

9 416770 121325

WAYNE PIVAC

FROM THE OUTHOUSE

TO THE PENTHOUSE

• WHERE ARE THEY NOW:

MATTHEW COOPER

• SARAH HIRINI:

BRINGING THE MANA

Subscribe to New Zealand's

premier rugby read for six issues

or more to go in the draw. Ten

lucky subscribers will also win

one of five All Blacks jerseys, Lone

Star and Joe's Garage vouchers.

SIX ISSUES

$39

SAvE 41%

+ CHANCE

TO WIN A Tv

& mORE!

*Competition runs till July 31st 2021. Offer only applies to NZ

residents and subscription periods of six issues or more.

SUBSCRIBE AT RUGBYNEWS.CO.NZ OR 0800 77 77 10 | AvAIlABlE AT All GOOd BOOkSTORES ANd SUpERmARkETS
---
24 Bay Harbour News Wednesday July 28 2021 Latest Canterbury news at starnews.co.nz

BE IN To win $1000!

Lincoln 4 Seater – Grey

WAS $

2699

NOW

$

1999

STOREWIDE SALE NOW ON!

FINAL WEEK!

ENDS 02.08.21.

SCAN QR TO ENter

Brix Light /Peyton Grey

7 Piece Dining Set

WAS $

1569

NOW

$

1149

Riley 3 Seater – Grey

WAS $

1199

NOW

$

899

VIVA WHITE

ON SALE

Buffet

NOW $

799

Entertainment Unit

NOW $

699

Zara Playhouse Single

Bunk Bed

WAS $

999

NOW

$

699

TIPAZ

ON SALE

Side Table

NOW $

249

HEAPS of SUPER DEALS!

ALL DINING CHAIRS

ON SALE

Camille

– Grey

$

75

Jersey

– Grey

$

65

Duke

$

125

SCAN QR TO SHOP

Camille

– Rose

$

75

Camille

– Sage

$

75

ALL

MATTRESSES

ON SALE

250 Moorhouse Ave, Christchurch

0800 TARGET (0800 827438)

targetfurniture.co.nz

Offers and product prices advertised here expire

02/08/21. Sale Excludes Accessories.
---
Latest Canterbury news at starnews.co.nz

Wednesday July 28 2021 Bay Harbour News 25

a new chapter

Te Aratai

College

Linwood High School 1954 – Te Aratai College 2022
---
26 Bay Harbour News Wednesday July 28 2021 Latest Canterbury news at starnews.co.nz

Dreams into Reality

Te Aratai College

From Linwood High School 1954 to

Te Aratai College 2022, our school

continues its proud history.

Next year we return to Aldwins Rd and our

completely rebuilt and stunning new school.

We thank our architects, Architectus; our

construction company, Southbase; our project

managers RDT Pacific and the Ministry of

Education. Architectus and Southbase are the

designers and builders of a number of prominent

Christchurch buildings including the Central Bus

Exchange and Tūranga, the central library. We

are fortunate to have such a team.

Te Aratai College is inspiring from the 650 seat

theatre-standard auditorium to the sunny student

centre and the student-friendly courtyards. Our

design is for community-whanaungatanga,

kōrero-conversation and personalised student

success. It reflects the new name gifted to us by

Ngāi Tūāhuriri, Te Aratai College, Pathway to the

Sea.

In 2016 there was extensive community

consultation about what the community wanted

for their new school. The key summary point

from this community voice was:

The school should nurture individual excellence

by providing varied opportunities to meet

individual needs. It should foster a 'love to learn'

culture that returns high levels of achievement

and success at a cost that is accessible for all.

Reflecting this, our classroom design is based on

responsiveness to the needs of the students at

that moment. Our classrooms are the standard,

time-honoured size but with the flexibility to open

up. This is because there are occasions when

learning can be more open but equally there are

times for some students when this is a learning

disaster. Te Aratai College also has smaller

rooms for students who learn best in reduced,

very quiet environments, and bigger spaces for

larger student gatherings. The building design

has flexibility for staff and students to respond to

the many factors that personalise success.

Of course, new buildings alone do not

necessarily improve education. The relationship

with the teacher - he tāngata, he tāngata, he

tāngata - and the personalisation of learning

are the key for this. However, there is also no

doubt that new, purpose-built buildings and

spaces that arise from these community values

of relationships and personalisation contribute

hugely to student success. This is Te Aratai

College.

Southbase Construction is a leading construction management

company, recognised for building state-of-the-art educational

facilities where our tamariki can learn and grow.

We are proud partners delivering Te Aratai College.

www.southbase.co.nz
---
Latest Canterbury news at starnews.co.nz

Wednesday July 28 2021 Bay Harbour News 27

Linwood College through the years

Science Lab

1965

Samoan

Culture Club

1989

Production

1991

New uniform

1954

Bookbinders in the library

1963

School Fire 1975

Emily Hough,

Year 10

"I'm excited to see how

the new kura is going

to look. The plans

look great and we

are looking forward to

returning to Aldwins Rd

and Te Aratai College."

Alexsandra Laufiso,

Year 11

"Moving to Te Aratai and seeing the

new school is going to be amazing. Te

Aratai means a lot to me because there

are going to be new students attending

and the new design is exciting. And no

more sitting on the floor for assembly!"
---
28 Bay Harbour News Wednesday July 28 2021 Latest Canterbury news at starnews.co.nz

Te Aratai College - A New School for our Community

When Linwood College reopens its doors in term two, 2022 it will be

known as Te Aratai College.

Te Aratai College is the name gifted to us by Ngāi Tūāhuriri and means Pathway to the

Sea. This name builds on Linwood College's history of being the local secondary school

for communities from Linwood-Woolston, the eastern hill suburbs, and out to the coast.

The 780 students and 120 staff are excited about this wonderful opportunity.

The school's initial fitout budget however will not stretch to all the equipment and

services identified as needed.

To help make our new school a centre of excellence we now call upon our community,

past pupils and local businesses to support this amazing new educational opportunity by

donating to the Linwood College Foundation. Please join with us in making the vision of

a well-resourced school for our community a reality.

Together let us create a school which will provide every educational opportunity for all

students. Let us help each one to succeed to their potential.

It is only through education and by supporting where

there is need, that we can transform our communities and

create exciting futures for all our students.

Items requiring funding:

• Technology and creative courses -

specialised equipment

• The new Performance Centre fit out

including retractable seating, lighting

boards, stage curtains and sound system

• Commercial kitchen specialist equipment

• Playgrounds for Year 7 and 8 students

• Furniture and equipment for the Kimihia

Parental College, the teen parent unit

• Music recording equipment

• Bouldering – a rock climbing wall

• Whakairo (carvings) for the whare

(meeting house)

• Pastoral care resourcing

• Trees, shrubs and general planting

Dick Edmundson has been Principal at Linwood College since 2016. He taught

English at Linwood in the 1990s. He was previously Principal at Hornby HS and

has taught in a variety of schools in New Zealand and overseas.

"As a current Linwood College parent, I

know how great this school is and would

love your help to make the new Te Aratai

College amazing. Let us support our young

people to become the best they can be."

Sara Templeton,

Christchurch City Councillor –

Heathcote Ward

"I know that people are clear on how

important a strong, local school is for strong,

local communities. Donating to the new

school will be a way for many people to help

make this a reality."

Dick Edmundson

Principal

Linwood College

Donate: Please make your gift today by going to www.givealittle.co.nz/cause/linwood-college-rebuild-fund or

direct to the Linwood College Foundation Charitable Trust bank details: SBS 031369 0312180 00 All donations

tax deductible. The Linwood College Foundation Charitable Trust www.linwoodcollegefoundation.org.nz was

established in 2018 to enable the community to support the development of the new school and its students.

Foundation enquiries: 021 2398946