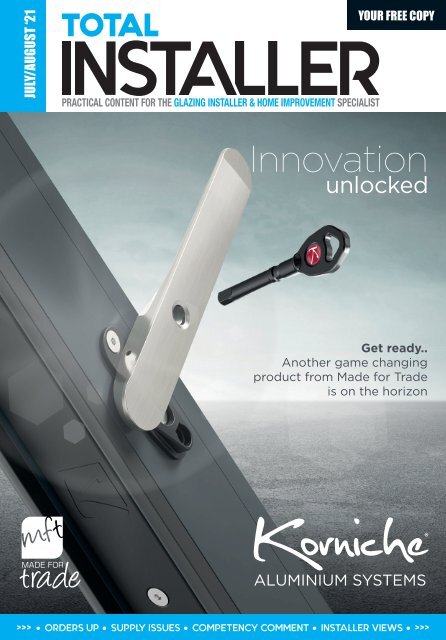 Create successful ePaper yourself
Turn your PDF publications into a flip-book with our unique Google optimized e-Paper software.
JULY/AUGUST '21

PRACTICAL CONTENT FOR THE GLAZING INSTALLER & HOME IMPROVEMENT SPECIALIST

Innovation

unlocked

Get ready..

Another game changing

product from Made for Trade

is on the horizon

ALUMINIUM SYSTEMS

Total Installer Cover May/June 2021.indd 1 27/04/2021 07:

>>> • ORDERS UP • SUPPLY ISSUES • COMPETENCY COMMENT • INSTALLER VIEWS • >>>
---
NEW SLIDING DOOR - 35mm Interlock

+ Slim Sightlines

+ Double or Triple Glazing

+ Modern-Square Look

+ Max Transparency

+ Max Thermal Efficiency

+ Enhanced Security

+ SITE DELIVERY

+ ACCURATE LEAD TIMES

+ MARKET-BEATING PRICES

+ ORDER NOW!

Watford: 01923 803 923

London: 020 8889 6821

arkaywindows.com

sales@arkaywindows.com
---
CONTEMPORARY, HIGH-PERFORMANCE BI-FOLDING DOOR

Slim Sightlines PAS24: 2016 Tested Colour-Matched Hardware

Fully Open Corners Modern Square Look Fully Adjustable Jamb

SITE DELIVERY, ACCURATE LEAD TIMES

MARKET-BEATING PRICES, ORDER NOW!

Watford: 01923 803 923

London: 020 8889 6821

arkaywindows.com

sales@arkaywindows.com
---
Glazing Installers,

Grow your business!

JOIN OUR NETWORK

SALES LEADS

PARTNER WEB PAGE

QUOTE & ORDERING SOFTWARE

SHOWROOM SUPPORT

SAMPLES

DOWNLOADS

BROCHURES

Watford: 01923 803 923

London: 020 8889 6821

arkaywindows.com

sales@arkaywindows.com
---
Editor's Comment

SOPHIE STEVENS

EDITOR

SOPHIESTEVENS@MEDIA-NOW.CO.UK

Innovation

unlocked

Get ready..

Another game changing

product from Made for Trade

is on the horizon

Installers are busy, with consumer demand and supply issues continuing to

pile on the pressure; but it seems this might just be the tip of the iceberg.

Urging installers to choose a fabricator that's 'ahead of the game', AluFold

Direct's Russell Yates is predicting a 'tsunami of orders' in the third and fourth

quarters of this year (see page 6), stating that "if we all think we're busy

already, we've really seen nothing yet"...

This sentiment is echoed by Business Pilot's Neil Cooper-Smith (see page 12),

who says we could expect to see another significant increase in demand –

starting in late August and stretching through to October – in his analysis of the

latest Business Pilot Barometer.

ALUMINIUM SYSTEMS

Total Installer Cover May/June 2021.indd 1 27/04/2021 07:10

Cover courtesy of Made For Trade: Read more from Made For Trade

on page 18 and find out more at www.madefortrade.co

FOLLOW US @INSTALLERTOTAL

SIGN UP FOR YOUR REGULAR E-BLAST AT

WWW.TOTAL-INSTALLER.CO.UK

As we all know, the current boom is largely driven by consumers spending

more time at home throughout the pandemic, and one product that continues

to thrive as a result is the garden room. Providing much needed extra space

– and perhaps a touch of healthy separation from the main house for those

working from home – this growing trend continues to dominate our Glazed

Extension section (see pages 52, 54 & 56).

Garden rooms are just one of the products set to be featured in the FIT Show's

new 'Outdoor Living' zone, so, if you can spare the time away from the tools, it

will be well worth a visit when the event returns to the NEC this September.

England might have missed out on Euro glory, but with legal Covid-19

restrictions lifting, we can rest assured that FIT's coming home, and you can

find out more about what's in store, for installers specifically, on pages 42 & 44

of this issue. According to the show's organisers, it's not to be missed!

Read on for all of this and much, much more...

I hope you enjoy the issue.

find us on facebook

Sophie

FROM

ONLY

£345

per leaf

Including

delivery

Aluminium Bi-Fold

make the smarter choice

Doors

* Per leaf price is unglazed and may vary depending on size and specification of

the door. Lead time is based on a standard colour. Postcode restrictions apply

*

Editorial Director: Matt Downs

DD: 01892 732047

Mob: 07963 330774

Email: mattdowns@media-now.co.uk

Advertising:

Publishing Director: Andy Dunn

DD: 01892 732047

Mob: 07963 330777

Email: andydunn@media-now.co.uk

Quote turnaround

within hours

Up to 1200mm sash

widths

Stock colours:

White, Black, Grey,

Grey on White

Call: 01642 610799

www.madefortrade.co

* Discount applies to new trade customers and first,

single item purchase only of the Korniche Roof Lantern.

Commercial Manager: Jake Roxborough

DD: 01892 732047

Mob: 07956 133314

Email: jakeroxborough@media-now.co.uk

The content of Total Installer magazine (and website) does not necessarily reflect the views of the editor or publishers and are

the views of its contributors and advertisers. The digital edition may include hyperlinks to third-party content, advertising, or

websites, provided for the sake of convenience and interest. The publishers accept no legal responsibility for loss arising from

information in this publication and do not endorse any advertising or products available from external sources. No part of this

publication may be reproduced or stored in a retrieval system without the written consent of the publishers. All rights reserved.

Registered office: 1 Forstal Road, Aylesford, Kent, ME20 7AU

Supported by:

NEW

CUSTOMER

10%

DISCOUNT

QUOTE REF:

TI-B01

CONTRACTOR NOW_66x190mm_Bifold 2020.indd 1 17/12/2020 07:29

PRACTICAL CONTENT FOR THE GLAZING INSTALLER & HOME IMPROVEMENT SPECIALIST

JULY/AUGUST 2021 TI 3
---
Contents

ISSUE HIGHLIGHTS

24

20 COMMUNICATION IS KEY

Liniar advises on managing customer

expectations amid the current high demand for

home improvements

34 'BEST PVC PATIO EVER'

Limerick-based Costello Windows shares its

experience of fitting Aluplast's Smart-Slide

48 RIGHT FIRST TIME

Jon Vanstone gives Total Installer his insights

for the future of construction, and the possible

implications for installers

32

FEATURES

24 MAXIMISE YOUR MANPOWER

Cut out glass bonding and you cut out a host of

complexities in R9 installation, says HWL

32 SOFTWARE AS A SERVICE

Tommy Trinder's Chris Brunsdon tells Total Installer

how buying software has moved on, and why window

installers should care

42 FIT'S COMING HOME

With 'freedom day' on the way, FIT Show is within our

grasp, and there's plenty to celebrate according to the

event's organisers

46 HELP TO BUILD BENEFITS

Origin's Ben Brocklesby examines the Help to Build

scheme and the opportunities for the company's

installer partners

42

52 GARDEN ROOM GROWTH

Abcell's Neville Gleed discusses how installers can

expand their product offering with garden rooms

62 LOCKDOWN LOSSES?

Installers lost money in lockdown, but could they be

about to lose more in the continuing home improvement

boom? Business Pilot's Ryan Breslin ponders...

4 T I JULY/AUGUST 2021 PRACTICAL CONTENT FOR THE GLAZING INSTALLER & HOME IMPROVEMENT SPECIALIST
---
REGULARS

12 THE BUSINESS

PILOT BAROMETER

Will we see a third wave of demand later this

year? Neil Cooper-Smith thinks it's quite possible

16 KEV'S TOP TIPS

Kev offers up his top tips to toe-and-heel a bi-fold

– and explains why a little refresher goes a long way

18 MFT: IN GEAR

Made For Trade's Tommy Fielding shares the

thrills and spills from his recent race weekends

58 INSTALLER INSIGHTS

We catch up with Sternfenster installer, Patrick

Smyth, managing director of A1 Glass and Glazing

in Brighton

INDUSTRY NEWS

6 'TSUNAMI' OF ORDERS?

AluFold Direct's Russell Yates says current high demand

is just the tip of the iceberg, predicting a 'tsunami of

orders' later this year.

8 EARNINGS INCREASE

Over eight in 10 (82%) of tradespeople have seen an

increase in earnings following the most recent UK

lockdown, says Direct Line

SECTIONS:

WINDOWS

24

DOORS

34

GLAZED

EXTENSIONS

52

HOME

IMPROVEMENTS

62

VEHICLES, TOOLS

& WORKWEAR

6

70

PRACTICAL CONTENT FOR THE GLAZING INSTALLER & HOME IMPROVEMENT SPECIALIST

JULY/AUGUST 2021 T I 5
---
News Roundup

IICC APPOINTMENT

The Health and Safety Executive (HSE) has

appointed Jon Vanstone as Chair of the

Interim Industry Competence Committee

(IICC) which will advise on and support the

work being undertaken by Government to

establish the Building Safety Regulator (BSR).

The Industry Competence Committee (ICC)

is one of three advisory committees provided

for in the draft Building Safety Bill, which will

deliver advice to the BSR and the industry on

all competence-related matters.

As Chair of the Competent Persons Forum

and a member of the Building Regulations

Advisory Committee, Jon is well-placed to

bring expert knowledge and advice to this

interim forum, supporting the development

of a new regulatory framework for safe,

sustainable buildings.

Dame Judith Hackitt, who led the Government

review on building regulations and fire safety

said: "I was encouraged to hear the strong

commitment made by Jon Vanstone on his

appointment as Chair of the Interim Industry

Competence Committee as he takes up his

role in supporting the BSR in delivery of more

competent people throughout industry."

Read more from Jon about his new role on

page 14, plus in our interview on page 48.

For more news and the latest updates, visit www.total-installer.co.uk

'TSUNAMI' OF ORDERS ON THE WAY?

Russell Yates, managing director of AluFold

Direct, is urging installers to choose a

fabricator that's 'ahead of the game', amid

ongoing supply chain pressures and 'a tsunami

of orders' predicted for later in the year.

Russell says: "The Bank of England has just

raised its estimate for UK GDP growth in 2021 to

7.25% – up from the 5% it forecast in February.

Further easing of restrictions, it says, will pave

the way for a boom in pent-up demand. Alongside

that, construction industry data from the

Purchasing Managers' Index shows that orders

in the construction market are already increasing

at the fastest rate since it started reporting the

figures in 1997.

"Clearly then, if we all think we're busy already,

we've really seen nothing yet. Up until now, it's

been fairly easy for suppliers who are struggling

to cope with demand to argue that no one could

have predicted the current market and, to an

extent, that's true. But, more than a year since

the end of the first lockdown, those excuses are

wearing a bit thin.

"Certainly, this is the point at which installation

businesses need to look at how well their

suppliers have been able to secure their supply

chain up until now; and make careful judgments

about whether that feels robust enough to

withstand what we all know is on its way.

Russell Yates: "If

we all think we're

busy already,

we've really seen

nothing yet"

"As we look ahead at what is still to come and

hear from builders and installers who have full

order books well into 2022, I think we could

potentially see a tsunami of orders in the third

and particularly the fourth quarter of this year. If

that is the case, then it will be the suppliers who

had the financial strength and the confidence to

invest during the worst of the crisis in 2020 who

will best be able to cope.

"I've heard plenty of people from right across

the industry saying that they are so busy at the

moment that there's just no breathing space

and no opportunity to take stock and do what's

necessary to increase capacity and reduce lead

times. My advice to installers then is not to

choose a fabricator who is playing catch up with

the market, but to choose one that's already

ahead of the game."

'MATERIALS SHORTAGE MUST BE ADDRESSED TO STOP DECLINE'

Government and industry must address the

national shortage of building materials to

reverse the decline in construction output,

according to the Federation of Master

Builders (FMB) in response to recently

released ONS data on construction output.

According to ONS, the 0.8% fall in construction

output in May 2021 represents a fall of £115m in

monetary terms compared with April 2021.

Brian Berry, chief executive of the FMB, said:

"Construction output fell in May, pointing to a

fragile economic recovery for Britain's builders.

I am particularly concerned by the drop in repair,

maintenance and improvement activities, given

the high demand for home improvement works

that builders are reporting.

"Action must be taken to address the national

building materials shortage, as this is restricting

builders' ability to build back better and greener.

A recent FMB survey found that 93% of builders

reported material price increases in Q1 2021,

which is an untenable situation. Manufacturers,

merchants and builders must work together to

maintain the supply of products to independent

merchants so that smaller builders can continue

to improve, upgrade and green the nation's homes."

While the latest Construction PMI data recorded

the fastest rise in construction activity since

1997, Berry warned this risks being undermined

by price increases and material shortages: "It's

very encouraging that activity in the construction

sector is increasing at its fastest rate in over

20 years, but given that confidence is rapidly

dropping away, the lack of materials needs

addressing before jobs and business continuity

start to be compromised," he said.

6 TI JULY/AUGUST 2021 PRACTICAL CONTENT FOR THE GLAZING INSTALLER & HOME IMPROVEMENT SPECIALIST
---
ROOF

LANTERN

FITTED

IN

MINUTES

SUPPLY & INSTALL

THE MULTI-AWARD

WINNING ALUMINIUM

LANTERN

STRONGER

3m x 2.5m possible with no mid rafters

Premium seals, class leading thermals

SLIMMER

Uninterrupted SLIMMER Sight Lines

Seamless joints and cappings

SUPPORT

The best trade lantern

www.madefortrade.co

Tel: 01642 610799

10%

NEW CUSTOMER

DISCOUNT

QUOTE CODE

TI-K01

FASTER

Average installation under 30 mins

WARMER

Easy installation

Competitive pricing, reliable, fast

lead times & delivery

find us on facebook

* Discount applies to new trade customers and first, single item purchase only of the Korniche Roof Lantern.
---
News Roundup

TAX BILL WARNING

For more news and the latest updates, visit www.total-installer.co.uk

GGF RECYCLING SCHEME IS LAUNCHED

A top accountant is warning construction

workers who have accessed financial

support from the government through Covid

to brace themselves for the possibility of a

significant tax bill this year.

Stephen Chapman, senior tax manager at

tax specialist, Brian Alfred, is urging workers

to get their self-assessment forms in as

early as possible (ahead of the deadline of

31st January 2022) to fully understand what

money they might owe HMRC.

He warned workers expecting an annual

tax rebate – as would often be the case for

those that are Construction Industry Scheme

(CIS) registered – that they may not be due

any money back if they have accessed the

government's Self Employed Income Support

Scheme (SEISS).

Stephen said: "We're now more than a year on

from the introduction of SEISS, but many selfemployed

construction workers are yet to fully

appreciate the impact that these government

grants will have on their tax liabilities.

"For those that have received a SEISS grant

in the 2020/2021 tax year, this money will

be deemed as taxable income, and this is a

crucial factor that all sub-contractors need to

be aware of."

The Glass & Glazing Federation (GGF),

together with two brands from its Commercial

Division FENSA and BFRC, has partnered

with Middlesbrough-based window and door

recycling specialist, CNC Recycling, to launch

a new PVC-U recycling scheme for installers

and manufacturers.

The new scheme will initially be rolled out across

Scotland, Wales, and the North and Midlands of

England, with plans to expand throughout the UK

as demand increases. GGF members, together

with FENSA and BFRC approved installers and

manufacturers, can book to have de-glazed old

frames and offcuts collected from site free of

charge and taken away to be recycled.

FENSA head of Membership, Chris Beedel, said:

"As a society, we are all becoming increasingly

concerned by the impact of plastic waste on

the environment, so diverting window and door

frames from landfill with this scheme will not

only save installers the significant cost of skip

hire, but it will also be an attractive proposition

for environmentally-conscious consumers.

FENSA are delighted to move forward with this

scheme in partnership with CNC Recycling. It will

certainly be of huge benefit to the installers and

manufacturers who participate."

According to the GGF, the 'vast majority' of

materials recycled will remain in the industry to

create new fenestration products.

82% SEE INCREASE IN EARNINGS FOLLOWING UK LOCKDOWN

Over eight in 10 (82%) of tradespeople

have seen an increase in earnings following

the most recent UK lockdown, beginning in

January 2021, according to new research by

Direct Line business insurance.

For many, the windfall has been significant, with

a third (33%) seeing their income rise between

11 and 20%. The financial boost comes as the

result of a spike in workloads for tradespeople,

with over half (54%) seeing a surge in their

volume of jobs.

14% said their workload had vastly increased,

while 40% said that it had risen somewhat.

Promisingly for some tradespeople, the

heightened demand is set to last. One in ten

(10%) are fully booked for six months and

beyond, while nearly one quarter (24%) have a

packed schedule for the next two to three months.

Tradespeople are feeling optimistic about the

future, with three in ten (30%) feeling very

positive about the rise in their workloads. With

the average tradesperson working an extra 4.2

hours a week, a minority are feeling exhausted.

12% said that they are feeling burned out due

to the busy period, even though they feel broadly

positive about the rise in their workloads.

Norwich, Liverpool and Nottingham were the

top three cities for consumer spending on home

improvements and maintenance, suggesting that

tradespeople in these areas could be particularly

busy over the coming months.

8 TI JULY/AUGUST 2021 PRACTICAL CONTENT FOR THE GLAZING INSTALLER & HOME IMPROVEMENT SPECIALIST
---
VISOFOLD 1000

BI-FOLD DOORS

from

£345

PER

LEAF

10%

NEW CUSTOMER

DISCOUNT

QUOTE CODE

TI-B01

EASY INSTALLATION

Market leading trade Bi-fold Door

LARGE SASH WIDTHS

Up to 1200mm wide

STOCK COLOUR CHOICE

White, Anthracite Grey, Black & Dual Colour

PRE-HUNG & QA CHECKED

SLIMMER

Safer Uninterrupted site delivery Sight Lines

www.madefortrade.co

Tel: 01642 610799

SUPPORT

The best trade lantern

Competitive pricing, reliable,

fast lead times

find us on facebook

* Per leaf price is unglazed and may vary depending on size and specification of the door. Lead time is based on a standard colour. Postcode restrictions apply

* Discount applies to new trade customers and first, single item purchase only of the Visofold Bifolding Doors
---
Company News

NO KEY REQUIRED

Mirage from VBH greenteQ is a robust

short shackle padlock that uses fingerprint

recognition rather than a key for locking

and unlocking.

According to VBH, operation is very quick with

an average recognition time of half a second.

As well as the convenience of not needing a

key, Mirage can be programmed with up to

20 fingerprints so is ideal in situations where

many users need access.

Power is provided by a simple charge via

a USB socket that is protected by a rubber

cover when not in use. Depending on how

often the padlock is used, a single charge will

typically last for approximately 200 days.

When the charge is running low a beep will

sound. An LED around the fingerprint pad will

also illuminate.

Setting up users is very simple, without the

need to connect to a computer. The first three

users to be set up are classed as 'admins'.

An admin is then required to set up further

users. All users can be easily deleted by an

admin, using the setting needle provided. Full

instructions are provided with each product.

www.vbhgb.com

ARKAY LAUNCHES INSTALLER SCHEME

Aluminium and PVC-U fabricator, Arkay

Windows, is seeking to grow its network of

partners throughout the UK with the launch of

its Approved Partner Scheme.

While the partner programme offers incentives such

as showroom discounts, local sales leads, branded

marketing collateral and access to a cloud-based

quoting and ordering system, Arkay's mantra of

'giving loyalty to gain loyalty', means 'supporting

customers directly' is what drives the scheme.

Nick Paraskeva, sales director, said: "With

the challenges around Brexit, global Covid

vaccinations and the increased pressures on the

cost of raw materials, businesses need all the

help they can get.

"The Approved Partner programme is built with

customers in mind and a key area that we wanted

to focus on is leveraging the high levels of service

that we offer as a business. At the same time,

we wanted to provide customers with product,

technical, software and marketing support."

With more than 45 years of experience supplying

the trade, Arkay Windows offers what it describes

as 'a comprehensive range of high-end trade

fenestration products' for commercial and

domestic markets, using trusted brands such as

AluK, Schüco and Pirnar.

Arkay's Approved Partner Scheme is now open

to customers looking for support to increase their

business opportunities. Further information on the

Partner Scheme can be found at:

arkaywindows.com/join-our-network

FRAMEPOINT SUGGESTS RECORD DEMAND

The market shows no signs of cooling

according to latest figures released by Tommy

Trinder, as quotes prepared by installers on

its Framepoint platform hit a record high of

£150m in the second quarter of 2021.

Founder and CEO, Chris Brunsdon, said: "We

continue to be amazed by the numbers. £150m is

an eye-watering amount of install business to be

quoted in just three months - a 13% increase on

quarter one."

For more company news and updates, visit www.total-installer.co.uk

year, the average quote prepared for a homeowner

on Framepoint stood at £5,300.

The firm reports that average quote values are

also on the rise. In the first three months of the

In the second quarter, this rose by over 11% to

£5,900. www.tommytrinder.com

QUICKSLIDE IN 'DIGITAL TRANSFORMATION' WITH ICAAL

Brighouse-based PVC-U window and door

fabricator, Quickslide, is set to transform its

online presence after teaming-up with internet

consultancy, ICAAL.

The collaboration aims to significantly improve the

VS sash window specialist's digital offering and

marketing resources for its Trade Partners.

Digital expert ICAAL will assist Quickslide with

improvements to its website including a CRM

dashboard, as well as product-designers to help

retail customers submit their enquiries directly to

Quickslide's Trade Partners.

ICAAL will also use its digital expertise to manage

and optimise SEO and PPC campaigns for Quickslide.

One significant development is the enhanced 'Find

an Installer' function on the Quickslide website,

helping Quickslide Trade Partners to pick-up even

more business. www.quickslide.co.uk

10 TI JULY/AUGUST 2021 PRACTICAL CONTENT FOR THE GLAZING INSTALLER & HOME IMPROVEMENT SPECIALIST
---
VetroMount

Quick. Simple. Safe.

Call Bohle

today on:

0800 616151

for further

information

The all glass balustrade system from Bohle, tested to BS 6180,

offering fast, simple installation and adjustment.

Bohle Ltd Fifth Avenue Tameside Park Dukinfield Cheshire SK16 4PP T +44 161 3421100 info@bohle.ltd.uk www.bohle.com
---
Contract The Business Talk Pilot Barometer

THIRD WAVE OF DEMAND?

We could expect to see another significant increase in demand from late August through

to October, says Neil Cooper-Smith, senior analyst at Business Pilot...

Business Pilot Barometer Edition 18: April/May/June 2021

"Having seen a drop of 12% in May on April, average sales jumped by 14% in June on May,

putting the window and door sales back firmly on an upward trajectory. Conversion rates were

also up marginally month on month from 35.8% to 36.9%.

"Leads were also up 12% June on May, for the most part cancelling out the 14% drop in leads

seen the previous month.

"While there is little sign of the market cooling anytime soon, there was, however, a significant

drop (32%) in average order values from around the £6,400 mark to £4,400. This may be

attributable to seasonality, with more single product purchases e.g., bi-folding and entrance

doors, flowing through the sales pipeline. We do, however, think that it's something to watch

and may suggest that the spend generated by the first round of Stamp Duty completions at the

end of March may have flowed through the sales pipeline.

"That doesn't necessarily mean the boom is running out of steam, with a second stampede

seen last month ahead of changes to the relief at the start of this month. This sees the previous

break on the first £500,000 of a home purchase, which has driven the housing boom, drop to

£250,000, ahead of being phased out entirely from the 1st of October. In real terms that means

that anyone completing this side of the cut-off point will see their potential Stamp Duty saving

drop from £15,000 to £2,500.

"While we wouldn't want to nail our colours to the flag on this, if demand follows from the

same pattern as seen from the previous cut-off point in March, we could expect to see another

increase in demand late August and through to October.

"After that, while some of the savings made in Stamp Duty by house buyers may continue to

trickle through, we believe new consumer spend on home improvements may start to slow.

Continuing supply issues and extended order books mean that this will not, however, translate

into any significant slowdown in the market this year.

"Supply chain security remains the sector's greatest challenge in the immediate term. Steel

and resin prices have continued to rocket and glass supply remains disrupted. This has been

compounded by national shortages post-Brexit in delivery drivers, and additional complexity

at ports.

"Economists warn that despite positive order books now, wider disruption to component,

material and product supply in the economy as a whole – not only construction – has the

potential to derail recovery.

"We'd add that closer to home, installers are losing margin on jobs because of supply

challenges. Understanding those and pricing them into the job is more important than ever."

The Business Pilot Barometer offers a monthly analysis of the key trends

defining window and door retail, drawing on real industry data collated

by the Business Pilot customer relationship management system (CRM).

Business Pilot uses cloud-based technologies to give installers complete

visibility of every element of their operation from leads and conversions to

job scheduling, cost of installation, service calls, and financial reporting.

www.businesspilot.co.uk

www.businesspilot.co.uk/barometer

12 T I JULY/AUGUST 2021
---
Be a part of something greater…

Become a Guardian Certified Installer and join a respected

nationwide network to deliver the Guardian Warm Roof, the

original conservatory roof conversion to homeowners in your

area.

With over 20 years' experience, Guardian Building Systems

continue to revolutionise homeowner living spaces across the

United Kingdom with Guardian Warm Roof and other bespoke

home solutions.

New Certified Installer Scheme

As market leaders, Guardian Building Systems have launched a brand

new Certified Installer scheme with the aim to set the highest standard

for home improvements across the nation.

As a Guardian Certified

Installer you will receive:

* Industry reputation

* Greater homeowner offering

* Full training

* Technical support

* Marketing support

* Homeowner leads

Alongside industry partners LABC, VELUX, and Certified Fabricators,

they're calling you to be a part of something brilliant…

Don't miss the opportunity to join a respected brand, grow your business and

be a part of something greater.

Become a Guardian Certified Installer and get in touch today:

Call us: 0800 066 5832

Email us: customerservices@guardianbuildingsystems.co.uk

Visit online: www.guardianbuildingsystems.co.uk
---
Contract The View Talk from Certass TA

TIME FOR CHANGE

With regulatory changes on the way, Jon Vanstone, Chair at Certass Trade Association, says

'time is up' for those that give the rest of the industry a bad name…

With the commencement of the Health

and Safety Executive (HSE)'s Interim

Industry Competence Committee (IICC)

and continuation of the review of MTCs for those

registering work through competent person

schemes, we know industry is heading into a

period of regulatory changes and tightening.

Many will say now is not the time, but the existing

structure does not create enough good work

on-site and particularly in the glazing industry.

Whether it be in domestic properties or on home

building sites, generally the return to site rate for

fitters is far too high.

There have been several arguments over recent

years concerning the value of qualifications, and

although I believe in their position as regards

to learning, they are not all that we need to be

assured of competent work. This is proven by

those who hold certain qualifications yet seem

to be short on required knowledge both technical

and regulatory.

No longer can construction rely on a simple piece

of paper or a card that is gained purely through

holding a qualification or doing some health &

safety site training.

There is a concern that 'over regulation' can lead

to good firms working outside the rules, however

those who do so and rely on such practises as

indemnity insurances are excluded from many of

the opportunities that the rule players can and

will be eligible for.

No new Government scheme to fund work in

the industry will do anything but require proof

of competence and no home building or major

construction site will accept a lack of evidence

of ability to undertake work. The requirements

are being updated to ensure such installers can

do the work properly, with many holders of large

contracts talking about the need to focus on ability

over the current market baseline of lowest price.

Jon Vanstone

We know that local authorities wish to increase

enforcement and related penalties, and the HSE

will certainly demand much greater scrutiny

with the advent of the Building Safety Regulator,

currently in shadow form, which can and will

undoubtedly impact all areas of industry.

Stop hiding poor performers

In the domestic market, we need large associations

to stop hiding poor performers under slogans that

promote quality to homeowners when they know it

is not the case. Only by reviewing the competence

of an individual on-site and combining that with a

review of the business can you start to develop the

industry to a new level.

We need to gather the evidence of our performance

at a business and association level, so we can

easily recognise those who are good and separate

them from those who need to improve.

The frameworks that work for a large business do

not do justice for an SME, and Certass has shown

its benefit in this space as it focuses only on the

local tradespeople who are facing an industry

designed by the big-boys for the big-boys and the

way they operate.

Certass installers have been operating to a

slightly different model than others and it is good

to see that the greater insight we have demanded

for some time will need to become the norm, as

regards compliance checking.

The value of the MTC has been questioned

publicly in our sector due to how poorly some

have operated the requirement and more and

more installers have expired MTCs which does no

good for our sector. Closer monitoring of our work

needs to be done, whether the installer is present

or not. Without traceability we cannot help those

who are struggling to deliver better work.

Consumer wall

This whole scenario when combined with

numerous poor products in the market and rising

prices, will potentially lead us to a wall with the

consumer, as often there are reactions to such

poorly managed growth booms.

Put simply, we need to step-up and stop

focussing on those who do not work to the rules,

as the consumers that trade with such people

are only accepting a short-term gain for a longterm

much bigger problem and there will be no

backstop to support them.

Comms is critical when getting consumers,

home builders and large contractors to hire

the right people. And there is a real focus from

Government to ensure that the message is heard.

If our regulated industry performed better, it

would be much easier to persuade consumer

groups and media to highlight our positives.

However, too much focus is on poor work by

supposedly leading businesses and our industry

has a large question mark over it because of this.

Time, for them, is up.

Read more from Jon on these issues following

his appointment as chair of the IICC in our

exclusive interview on pages 48-50 of this issue.

Contact Certass Trade Association:

01292 292 095

certassta.co.uk

@CertassTa

14 T I JULY/AUGUST 2021 PRACTICAL CONTENT FOR THE GLAZING INSTALLER & HOME IMPROVEMENT SPECIALIST
---
AS COMMITTED TO YOU,

AS YOU ARE TO THE TRADE.

DAKEA

ROOF WINDOWS

ARE BUILT

FOR THE TRADE.

At Dakea, we pride ourselves on delivering

high-quality, affordable roof windows that

are easy to install and backed with a 20-year

guarantee.

Find out more at dakea.co.uk

Or give us a call +44 20 3970 5080 to discuss your project.

DakeaChannel

@HiDakea

Dakea_UK
---
Kev's Tech Tips

IT'S NEVER TOO LATE TO LEARN

Sternfenster's technical sales manager, Kev Wallis, offers up his top tips to toe-and-heel a

bi-fold door – and explains that while you might be an experienced installer, a little refresher

goes a long way...

In my first column for Total Installer, I made a

point of saying that fitters could quite often make

their lives a whole lot easier if they were just

prepared to read the manual.

It's not something that comes naturally to many

of us, but it can save huge amounts of time and

money by preventing silly mistakes. This column

follows up on that advice, but for those that are

still unwilling to swallow their pride and study the

instructions – you can watch YouTube instead!

Don't get too excited, I'm not saying you should

waste precious time on site, glued to your

smartphone watching football highlights, when you

should be fitting Mr & Mrs Jones' new windows and

doors – I'm suggesting that you take advantage of

the comprehensive range of tutorial videos that

we have produced at Sternfenster.

These cover everything from how to correctly fit a

cill, why it's important to take your time to adjust

door heights and hinges and the right way to install

an aluminium bi-fold.

I know many of you reading this will be thinking,

'what do I need to do that for, I've been fitting

windows and doors for years'. That might be the

case, but as I said in my last column, I've had calls

from installers with years of experience claiming

they've got an issue with one of our products, when

in fact, the problem has been caused by a simple

oversight that could have been avoided altogether

if they'd spent a few minutes to remind themselves

of the proper procedure.

You could think of it a bit like passing your driving

test. Most of us will have spent hours with an

instructor learning how to parallel park or reverse

around a corner, but I guarantee that most of

that tuition will go out the window once you've

been given your licence. Nobody likes to be told

that they are a bad driver, but we all pick up bad

habits over time and the longer you've been on

the road, the harder it will be to shake them.

"For those unwilling to

swallow their pride and

study the instructions –

you can watch YouTube

instead!"

The moral of the story is, there's no harm in

occasionally treating yourself to a little extra

tuition. However, if you're still not convinced,

then don't forget that our videos can also be

used to help less experienced members of

your team. You can find them by searching for

Sternfenster on YouTube, or you can download

them from Sternfenster Plus – an online

portal that also allows you to access technical

documents, marketing material, information on

your quotes, contracts and deliveries, and even

a live production capacity feed from our PVC and

aluminium factories.

How to toe-and-heel a bi-fold door

My top tip this month, is make sure you know how

to properly toe-and-heel a door. This is a vital part

of the installation, no matter the style or material of

the door you are fitting, but it's especially important

on bi-folds in order to ensure the full function and

smooth operation of the door.

If you don't do it properly, then the doors won't

work as they should and you will most likely end

up pulling the gaskets out.

We have produced a video explaining exactly how

to do it properly, so there should be no excuses!

Alternatively, you can follow these simple pointers:

• Before installing the glass, carefully remove

the beading, remove any dust from frame and

drainage holes. And don't mix the beads up

as they need to go back in the same position.

• The glass units will all be the same width

unless there is a master traffic door, so

remember the unit for that will be 6mm

narrower so it does not interfere with the

door lock.

• Starting with the first leaf, insert a glazing

packer on the bridging packer that will come

pre-fitted.

• Place the glass onto this packer. You will

notice that there is a gap between the edge

of the glass and the bridging packers. This

is to enable you to insert glazing packers in

the bottom corner of the hinge side and the

top of the D handle side to secure the glass

in place.

• This is the toe-and-heel process, and when

done correctly, it transfers the weight of the

glass to the hinges and allows the top hinge

to hold the sash in place.

• Once you've positioned the packers in the

right location, secure them with silicone.

Once the unit is in square and the sash is

parallel in the outer frame, re-fit the beads

in the sash

• You can then move onto leaf two, repeating

the process.

Contact Sternfenster:

01522 512525

www.sternfenster.com

@Sternfenster

16 T I JULY/AUGUST 2021 PRACTICAL CONTENT FOR THE GLAZING INSTALLER & HOME IMPROVEMENT SPECIALIST
---
Over the last 12 months we've been working hard behind

the scenes. Making big improvements to our business on

both an operational and digital level. All with you in mind.

Now enabling you to order bigger volumes on the same industry leading turn

around time, as well as a suite of digital tools that put the power in your hands,

helping you to quote quicker and install faster, any colour, any time, anywhere.

So, enable your business to grow today with Alufold Direct.

ALUFOLDDIRECT.CO.UK
---
MFT: In Gear

GAINING PACE WITH EVERY RACE

Made For Trade's aspiring motorcycle racer, Tommy Fielding, shares the thrills and spills

from his recent race weekends at Oulton and Cadwell...

Having raced at Oulton Park last year, it was

immediately obvious that although it is one

of the scary traditional UK circuits, with

lumps, bumps and undulations, the challenge

is enjoyable from a racing perspective. It has

everything: track layout with high-speed corners,

chicanes, crests (where the bike just wants to

wheelie!) and even a NASCAR-style banked

corner… very exciting.

And the heavy rain showers, which made an

appearance at random times throughout the

weekend, were sure to throw a good amount of

trepidation into the mix. Qualifying got underway with

a very wet track, which only adds to the challenge.

Usually I ride well in these circumstances but the

problem arises when the track is a mix of wet

and dry. Qualifying in 2nd place on a set of wets,

when really the tyres were past their best, was a

good result, achieving front row.

Riding with self-belief, race one was excellent.

The plan for this race was to ride outside of my

comfort zone on the first laps to ensure getting

away with the front pack, as toward the end of

the race, pace would be the defining factor to

Tommy in the Korniche-branded gazebo

On the grid at Oulton Park

"Qualifying got

underway with a very

wet track, which only

adds to the challenge"

be in contention for a good result. A brilliant

scrap took place between myself, Steven

Gagg and Andy Smart, the championship

leader, coming home a narrow 2nd place to Andy,

after not quite being able to make a safe pass.

Race 2 was not a great performance, bringing it

home in 5th place after a bad first couple of laps.

I finished the final race in 3rd place, rounding off

a good weekend without any dramas. This was

a result – as last time racing at Oulton Park, I

crashed twice!

Firm favourite

Cadwell Park is a firm favourite for UK bike

racers. It's very similar to Oulton Park, with an

average speed of around 90mph, despite one

corner being around 25mph. I had only previously

raced here once before, with a torn medial

ligament in the left knee after a coming together

with a slower rider on the Friday test day. This,

along with a pre-season crash, stretching all the

ligaments in my right shoulder, shows how badly

this track can bite when it goes wrong.

First, Friday test day: The pace of the front

runners would be strong here. For the second

session, with a new rear tyre in place, conditions

were perfect: low wind, with around a 20º

ambient temperature. Obliterating my previous

best race lap, I posted a 1:35.5 on a lap which

felt safe. Going even faster by pushing the

envelope further in a race was on the cards and

with this pace, the top step of the podium would

be within my grasp.

Qualifying did not go exactly to plan. Trying to get

out early, I sat in the holding area with a clear

view in front, and no riders to get in the way. The

marshal moved the gate and the bike coughed

before stalling, and would not restart. All the

bikes were squeezing either side to get past with

18 T I JULY/AUGUST 2021 PRACTICAL CONTENT FOR THE GLAZING INSTALLER & HOME IMPROVEMENT SPECIALIST
---
Contract Talk

the bike sat on the grid. I tried all sorts of on-off

routines with the ignition to get the bike to come

to life - but all attempts were futile. Luckily,

friends from the paddock assisted with a push

to bump-start the bike, and get out on track.

Unfortunately, this meant all the bikes were now

in front trying to set lap times of their own, and

in the way. I managed to qualify in 4th place with

the lap time over 2 seconds slower than in testing

the day before.

As with Oulton Park, there were rain showers

on and off all day at Cadwell on the

Saturday and the Sunday. Sunday

went from fully dry, to wet and back to

dry again four times in one day, which

makes choosing the correct tyres and

getting them heated up (which takes

40 minutes) a near impossibility. With

wet tyres on the bike for the first race,

having had biblical levels of rain just

an hour previously, the track seemed

to have a dry line on the first part

of the lap, which made a somewhat

uncomfortable ride out. However, once out of the

trees it became immediately apparent that dry

tyres should have been the choice ... the track

being bone dry!

Leading the race

at Cadwell Park

Race 1: Making a rocket-like start from 4th on

the grid and laying the bike across the leader

around the outside of the first corner at 110mph,

I managed to take the lead. I'd never ridden a

bike with such a vague feeling, tyres begging for

mercy, the super-soft compound melting and

moving around. The most experienced man in the

race, Jon Woodcock, came past after two laps and

cleared-off into the distance. Andy Smart got past

"The win continues to be

elusive, but for how long?"

after another. We had a great battle for a couple of

laps before I managed to put a good bit of daylight

between us to come home in second place.

Race 2: Another rapid start delivered a lead for

four laps, before slowing down with the dreaded

arm-pump to come home in third.

Race 3: Leading Woodcock and struggling with

a back marker, we battled for the entire race. I

eventually followed him home by a slender 0.158

over the line, happy but gutted to miss out on the

first win by such a narrow margin.

Race 4: Another great start and leading the

opening laps, before Andy passed with Woodcock

in hot pursuit. Making a small mistake during the

race and having to take to the grass to correct,

meant I dropped placement to 7th, eventually

bringing it home in a lonely fourth place, after

carving through the slower riders.

All in all, a fantastic two weekends, with pace

improving with every race! The win continues to

be elusive, but for how long?

Contact Made For Trade:

01642 610799

www.madefortrade.co

@MadeForTrade1

PRACTICAL CONTENT FOR THE GLAZING INSTALLER & HOME IMPROVEMENT SPECIALIST

JULY/AUGUST 2021 TI 19
---
Customer Service

COMMUNICATION IS KEY

As global shortages of key construction materials – from PVC-U resin, hardware and glass

to sand and concrete – continue, together with increasing price inflation, Liniar advises on

managing customer expectations amid the current high demand for home improvements...

1Be choosy

The uplift in demand means more potential

work than ever before – and while many

installers will be tempted to make hay while the

sun shines, it's worth considering being more

selective than you may have in the past.

Don't be afraid to turn down jobs – you know,

the awkward ones or those you're doing for a

pittance. If you're experiencing higher numbers

of enquiries and better conversion rates than

usual, now's the time to pick and choose which

customers you actually want to work with. Select

the jobs where you know you can deliver excellent

results – which will help your future reputation.

2Plan ahead

It's important to remember that most

installers are in the same boat, no matter

which fabricator they use or which window

system they install. Raw material shortages aren't

limited to a select few – everyone is dealing with

longer lead times and surcharges.

Planning ahead can be difficult in times such as

these. While it makes sense to order products

as soon as possible, prices may increase – and

there have also been stories of homeowners

choosing to cancel after learning of longer lead

times. That's why communication is critically

important… leading us onto the next point.

3Manage expectations

Set yourself up for success by committing

to having open, honest communication with

both customers and suppliers. Communication

is crucial to managing expectations and could be

the difference between surviving this particular

storm… or not.

As an installer, you're no doubt aware of the

current challenges facing the industry (and the

world) – but your customers may not be, so it's

your job to keep them informed. They may have

heard about shortages on the news but might

not realise this may impact their window or door

installation.

Informing consumers about industry issues will

set the scene if you do need to adjust prices

or extend timelines on projects. Additionally, if

"Customers may have heard about shortages on

the news but might not realise this may impact

their window or door installation"

windows and doors are part of a bigger building

project, it's helpful for them to know about other

potential shortages, as timelines could negatively

affect the overall length of the job.

4Protect your business

While it's great to work on trust and via

handshake deals, in the current climate it's

best to make sure your business isn't exposed if

prices and lead times change.

To avoid potential cancellation issues, consider

asking homeowners for a deposit and getting a

signed agreement from them before you place

any orders with your fabricator. While this wasn't

necessarily commonplace prior to Covid, it's

becoming more popular and there are contract

templates available to assist with this.

As well as flexible lead times, it's also smart to

write into your contract the possibility of price

Continued on page 22

20 T I JULY/AUGUST 2021 PRACTICAL CONTENT FOR THE GLAZING INSTALLER & HOME IMPROVEMENT SPECIALIST
---
VISOGLIDE PLUS

SLIDING DOORS

NEW

SAVE

GET A

PRICE

COMPARISON

10%

NEW 1st ORDER

INTRODUCTORY

DISCOUNT

FROM

QUOTE CODE

TI-VG01

THERMALLY BROKEN ALUMINIUM

Slim profile, Lipped outer frame, Sobinco locks

INDUSTRY LEADING CUSTOMER SERVICE

Comprehensive install guide & support

LARGE SASH WIDTHS

Up to 6.5m wide in 2 panes. 2-4 panes available

www.madefortrade.co

Tel: 01642 610799

SLIMMER

Uninterrupted Sight Lines

STOCK COLOUR CHOICE

White, Anthacite Grey & Black, Dual Colour

FROM

SUPPORT

The best trade lantern

2 WEEK LEAD TIMES

Reliable safe site delivery

find us on facebook

* Per leaf price is unglazed and may vary depending on size and specification of the door. Lead time is based on a standard colour. Postcode restrictions apply

* Discount applies to new trade customers and first, single item purchase only of the Smart Visoglide Plus Sliding Doors | Image for representation ony
---
Customer Service

changes, to avoid margin dilution if prices surge

before delivery of the order – or you could plan

ahead by including higher surcharges within your

quote. Both of these will help you with point 2,

planning ahead.

TRIPLE SHORTLISTING

5Be honest

If the price you originally quoted needs

amending before it's even been ordered,

be up-front with the customer. Point them in

the direction of articles that explain the issues

impacting the construction industry. By making

sure you're well informed about the latest situation,

you can help your customers to understand that

last-minute changes are not only possible but

inevitable given the current circumstances.

6Communicate, communicate, communicate

We can't say it enough. Good

communication is the foundation of any

successful business. Whenever you receive an

update from your suppliers, it's essential to

digest it and understand how it may impact on

your business and the service you can give to

your customers… then tell them.

Most people will be understanding if their

expectations have been managed – it's usually a

lack of communication that leads to frustration.

Even if you're not due to start a job until two

months away, but your current work is starting

to over-run, it's wise to give the future job a

heads-up that it may be delayed.

7Work together

If you need something to share with your

customers and can't see anything from your

supplier, feel free to point them to this statement

on the Liniar website: www.liniar.co.uk/globalsupply-chain-disruption/.

Our final advice is to stay loyal to your suppliers.

If their service has always been exemplary in the

past, we can guarantee they're not causing you

pain deliberately right now – if they haven't, of

course, then it's up to you! As an industry, if there

ever was a time to pull together, it's now!

Contact Liniar:

01332 883 900

www.liniar.co.uk

@Liniarprofiles

Liniar, has been shortlisted three times at

this year's East Midlands Chamber of

Commerce Business Awards for Derbyshire,

in the categories of Excellence in Innovation,

Community Impact and Environmental Impact.

Group managing director, Martin Thurley,

said: "Being shortlisted for these awards is

a huge honour and well-deserved recognition

for everyone across our business – especially

after the last 18 months, which have been

challenging for us all.

"These three categories are especially

gratifying, as innovation, community

and sustainability are amongst the very

foundations of our company ethos. To be

chosen as finalists by the judging panel really

does mean a lot!"

The Excellence in Innovation award recognises

companies which have used innovation to

strengthen their operations. While Liniar's new

product development pipeline usually results

in products for the construction industry, the

shortlisted entry highlights the development

of a protective face shield and the work

Liniar's teams carried out in order to donate

thousands to key workers as the Covid-19

pandemic reached crisis point in the UK.

The Community Impact award shortlisted

businesses which have gone above and

beyond in their efforts to help those within

their area. For Liniar, that work not only

includes its PPE project, but also regular

initiatives to raise money or collect items for

impoverished groups within the community.

A 'greener' company

The Environmental Impact award shortlisted

companies that put environmental

sustainability at the core of their business.

Liniar says its has 'worked tirelessly' for

several years to lower its carbon emissions

and be a 'much greener company'. In its

most recent ISO 14001 audit, the company

announced it had beaten its Climate Change

Agreement target by over 54% and saved

20,400 tonnes of CO 2 .

Martin Thurley added: "Sustainability and

reducing our impact on the environment are

things we're incredibly passionate about at

Liniar. We review sustainability all the way

through our supply chain and have many more

initiatives in the pipeline."

The 2021 East Midlands Business Awards

(Derbyshire) winners will be announced this

November. See the full list of shortlisted

businesses by visiting: www.emc-dnl.co.uk/

businessawards2021/derbyshire/.

22 T I JULY/AUGUST 2021 PRACTICAL CONTENT FOR THE GLAZING INSTALLER & HOME IMPROVEMENT SPECIALIST
---
" I save 30

hours a month

on quoting with

Framepoint"

Liam Best,

Kalico Home

Improvements

...and it's as simple as

sketching on a pad.

book a demo - www.tommytrinder.com
---
Article Installation Efficiencies

MAXIMISE YOUR MANPOWER

Cut out glass bonding and you cut out a host of complexities in R9 installation, making

the system far easier to fit. HWL Trade Frames' Mark Haley tells Total Installer why such

installation efficiencies are more important than ever in the current climate.

not going to find anyone moaning

about not having enough leads," says

"You're

Mark Haley, managing director, HWL

Trade Frames. "But I'd wager there are a lot of

installers who are looking at their order books and

schedules and wondering how they're going to get

product fitted!"

The first half of this year has been defined by the

explosion in demand for home improvements.

According to the latest figures from cloud-based

CRM and business management tool, Business

Pilot, sales of windows and doors were up 18% in

May on the same time last year.

This has been driven by continuing high levels of

consumer confidence and a supercharged housing

market, which saw average house prices climb

to £333,564 in May. According to Rightmove, this

represents a 1.8% increase on April.

"The thing is, you have to be able to capitalise on

it," continues Mark. "It's less about selling the job

right now than it is about getting it fitted. That's

why we did what we did. We knew R9 had masses

of market appeal, but we also knew that it wasn't

the easiest system to fit, because it was glass

bonded. Take glass bonding out of the equation and

the opportunities just roll out in front of you."

"Take glass

bonding

out of the

equation and

the opportunities just

roll out in front of you"

It was this revelation that drove HWL's pioneering

development of its non-glass-bonded 90°

jointed R9 window. This uses a ground-breaking

application of Timberweld manufacturing

technologies to replicate a traditional 90°

mechanical joint.

"The key point here is that we're welding it, rather

than 'actually' mechanically jointing the sash. You

glass bond because if you're gluing and screwing

a product you're reliant to a point of the strength

in the unit. You get that 90° joint but not the

strength in the frame alone," says Mark.

"That puts the average handling weight of an R9

window at around 100kg. Fitters don't like handling it,

there are a lot of things that can go wrong, and you're

looking at a minimum two-man team per window.

The digital business

management tool designed by

installers for installers.

0333 050 7506 info@businesspilot.co.uk

Drag-and-drop' job scheduling | Your office, anyw

24 T I JULY/AUGUST 2021 PRACTICAL CONTENT FOR THE GLAZING INSTALLER & HOME IMPROVEMENT SPECIALIST
---
"Weld R9 and it's the same as any other PVC-U

system to manufacture and install, you don't

need to glass bond the sash, but you lose the butt

joint. Using Timberweld we deliver both."

This is where the HWL boss believes that the

specialist trade fabricator can offer its customers

access to a sweet spot in the market, that allimportant

90° mechanical joint but without the

'catches' that, he argues, go with it in installation.

"You have a USP when you're selling it [R9],

because you have that aesthetic. The joint that

everyone wants if they're buying R9 or a flush

casement. You also get to capitalise on the

installation efficiencies because you aren't having

to handle the weight in installation."

This, he argues, has increased poignancy now,

as installation companies try to capitalise

on opportunities, while keeping up with

unprecedented demand and limited resource.

This includes low availability of fitters, with more

than 1,100 vacancies for installers live on job

sites at the start of May.

"Have you tried to recruit a good fitter?" Mark

says. "They aren't around for love or money. If

you can increase your output from your existing

team, you can increase margin and get through

more work."

Increase your margins

This he adds, is the other major benefit to

switching to non-glass bonded R9 products.

According to modelling by HWL, you get to

increase your margins. This includes by as much

as £500 back on a three-day fit on an average

property with ten windows and doors.

"The weight associated with fitting larger glass

bonded R9 windows almost always leads to more

manpower, increasing the fit cost. Taking out the

glass, a two-team job becomes just a one team job.

That could deliver savings of around as much as

£120 per day or £360 on an average three-day

install," Mark says.

"More importantly that second team can get on

with the next job. You're potentially doubling your

installation capacity."

HWL has also continued to expand its Timberweld

R9 range, with the addition of an open-in door,

earlier this year (see page 36).

"It delivers the same benefits. You can buy

your glass in from whoever you want to; it's got

reduced weight in handling; but most importantly

you can match-in to windows.

"We see it as an important development because

it gives our customers another USP. As I said, lead

generation is the last thing on anyone's mind right

now, but it's going to become important again at

some point and the ability to match doors into

windows, is going to win our customers business."

Contact HWL Trade Frames:

0113 2449006

www.hwlwindows.co.uk

@HWLWindows

Claim your instant

one-month free trial at

businesspilot.co.uk/free-trial

SCAN ME

here! | A single system for all your admin | Understand profitability on every job

PRACTICAL CONTENT FOR THE GLAZING INSTALLER & HOME IMPROVEMENT SPECIALIST

JULY/AUGUST 2021 TI 25
---
PVCu & ALUMINIU
---
CALL:

EMAIL:

VISIT:

M LEAD TIMES FROM JUST 5WORKINGDAYS!
---
Updates

R2: 'DISTINCTLY SQUARE' AND FULL OF FLAIR

The Residence Collection reports that its R2 system is experiencing a surge in demand, as both consumers and trade

partners look to embrace what The Residence Collection describes as 'the ultimate aluminium alternative window and

door system, packed with unique design features and outstanding performance credentials'.

Described as ''the architectural highlight of The Residence Collection, R2 shares R9's 100mm platform front to back, nine

chambers and the same external dimensions. But instead of a period-inspired outer frame, there's one that's 'distinctly square'.

Boasting what The Residence Collection describes as 'outstanding' sound reduction and energy efficiency credentials, R2 also

features gaskets to the sash only, leaving the glazing rebate on the frame 'clean'. There are a number of coloured and grained

options including both solid and dual foiled finishes on a coloured rebate. The Eclectic Grey finish is said to provide 'the ultimate

design statement' as 'the only true aluminium alternative window and door system', according to the Residence Collection.

Bead options include square, decorative and staff in 28 and 44mm. www.residencecollectiontrade.co.uk

For further window updates visit www.total-installer.co.uk

SHEERLINE 'THOUGHT PROCESS' SETS IT APART

South West manufacturer Belvedere Products believes the 'thought process' behind Sheerline,

Garnalex's innovative aluminium window and door system, really 'sets it apart' from competitors.

Russell Jones, director of Belvedere Products, said: "Demand for aluminium windows is definitely

growing. The sleek look and large areas of glass that aluminium offers is very popular. I call it the 'Grand

Designs' effect... For me, the thought process in the product development sets it apart from other systems.

Roger Hartshorn, CEO of Garnalex, said: "We're extremely pleased to have Belvedere Products with us on our

journey of growth and development. Our innovative system has been built with the end-user in mind, and

we've transformed the experience of fabricating and installing aluminium windows for fabricators and installers by

designing a product that's easy and quick to manufacture and install." www.belvedereproducts.co.uk

NEW CLOUD-BASED CUSTOMER PORTAL

HWL Trade Frames has introduced a full suite of cloud-based customer service and business management

systems, including 24/7 ordering, using Window Designer from First Degree Systems.

HWL's customers can take advantage of the latest Fengo2 system to price and process orders for the specialist fabricator's

complete range of products, including its portfolio of market leading heritage windows and doors. In addition to the ability to

generate and process quotes remotely, from any device, customers can also check on the status of orders and delivery times,

as well as access and download any related documents.

HWL's Director, Graham Howatson, said: "It represents a step change in service. The introduction of bar code scanning

points on the factory floor has introduced another level of quality control into our production processes, and Window Designer

makes it so much easier for our customers to manage their businesses more efficiently." www.hwlwindows.co.uk

TIMBER-LOOK WELD JOINS FLUSH PVC-U RANGE

Everglade Windows' trade customers can now offer homeowners timber-look joints on flush PVC-U

windows, after a significant investment in a new Quad Welder.

The London fabricator recently invested more than £1m in new machinery, including a new Rotox SVK 508

Quad Welding machine which manufactures PVC-U windows with traditional 'butt' joint aesthetics to replicate

traditional handcrafted timber.

Jay Patel, director at Everglade Windows, said: "Our new welding machine means we can create PVC-U windows

with timber-look welds, giving installers a fantastic new product upgrade to offer homeowners. This option is perfect

for OC-Flush windows, part of One Collection which was launched in 2019 [and features] beautiful, modern

timber-look windows with the performance and maintenance benefits of PVC-U." www.evergladetrade.co.uk

28 T I JULY/AUGUST 2021

PRACTICAL CONTENT FOR THE GLAZING INSTALLER & HOME IMPROVEMENT SPECIALIST
---
SKYFORCE.

Stylish look,

great view.

Fully customised to match the finish of your

windows and doors, SKYFORCE is the Juliet

Balcony that doesn't compromise on style.

Using specially designed extra strength REHAU

steel reinforcements, as well as REHAU stainless

steel installation screws, the REHAU TOTAL70

SKYFORCE is not only safe, strong and long

lasting but will make sure you'll always have

the best view in the house.

Windows. Reinvented for modern life.

www.rehau.uk/skyforce
---
Updates

KEYLITE WINS TAYLOR WIMPEY CONTRACT

Roof window brand, Keylite Roof Windows, has secured a three-year partnership deal with national housebuilder,

Taylor Wimpey, in a multimillion-pound contract.

According to Keylite, 'ease of installation, quality performance and customer satisfaction' sealed the deal with the

housebuilder giant, with the brand's commitment to product quality and innovation, along with its expansive range and

guaranteed capability, 'providing the perfect fit'.

Colin Wells, Keylite head of technical, commented: "Keylite has a range of unique and sought-after features that also come

as standard, including our maintenance free hinges, Flick-Fit brackets, Click-Fit streamlined flashing and sash hinge finger

springs. These all help contribute to a more cost-effective and efficient installation process."

Matthew King, sales director, added: "To be working with such a stalwart in the housebuilding industry and contribute towards the

building of beautiful homes across the UK is something everyone at Keylite is very enthused about." www.keyliteroofwindows.com

For further window updates visit www.total-installer.co.uk

OPTIMA TRANSFORMS LODGE

Profile 22 fabricator, A & D Joinery, has manufactured and fitted 43 new arched Optima windows for the

sympathetic landmark refurbishment of Hindley Cemetery Lodge in Hindley, Greater Manchester.

The sensitive importance of Hindley Cemetery Lodge meant the new windows needed to complement the

existing historic building design, and fit into the double-arched stone façade of the building.

Following a detailed feasibility study undertaken by A & D Joinery, the decision was made to replace the

ageing timber windows with 'architecturally sensitive' double glazed versions. Profile 22's award-winning

Optima windows with arched top design were quickly identified as the window that would deliver the

solution required. In this case, the windows were manufactured with black external and white internal

foiling to replicate the heritage aesthetics and enhance the building's appearance. www.profile22.co.uk

QUICKSLIDE'S LEGACY VS PASSES THE TEST

Heritage specialist, Quickslide, reports that its Legacy VS window has, once again, passed the rigorous testing regime

for the PAS 24:2016 security standard, as well as the latest weather resistance performance requirements.

Based on the Spectus vertical slider and described by Quickslide as a 'true heritage' window, Legacy has been

enhanced with additional reinforcement and longer screws to secure location, side extrusion blocks, sash locators, and

upgraded locks, keeps, latch and aluminium tilt arms, all supplied by hardware and security specialist, ERA.

Quickslide's MD, Ben Weber, said: "Attention to detail is paramount at Quickslide and this latest PAS 24 and weather

testing success is testament to the superior quality of our products. For us, it's not just about passing the tests, but

ensuring that we uphold these high standards by manufacturing each and every frame with consistent performance,

quality and production efficiency." www.quickslide.co.uk

SHEERLINE ADDS NEW GLOSS FINISH TO RANGE

Garnalex has introduced a new gloss finish, HIPCA White, to its range of stocked colours for Sheerline

aluminium windows and doors.

HIPCA White, RAL 9910 is an additional white option, alongside the existing Pure White, RAL 9010, bringing the

total stocked colours for Sheerline's colour range to 12. The new coating will be the first of Sheerline's range to be

available in a gloss finish, and will be available on all Sheerline's profiles with matching ancillaries.

Roger Hartshorn, CEO of Garnalex, said: "Our new white gloss was a direct result of customers telling us what

they wanted from an aluminium system... We offer very short lead times, just five days, to fabricators, so they,

and their installer customers can keep up with increasing demand from homeowners. This is revolutionary in

the aluminium sector." www.sheerline.com

30 T I JULY/AUGUST 2021

PRACTICAL CONTENT FOR THE GLAZING INSTALLER & HOME IMPROVEMENT SPECIALIST
---
Software

SOFTWARE AS A SERVICE

Chris Brunsdon, founder and CEO of Tommy Trinder, tells Total Installer how buying

software has moved on, and why window installers should care.

L

aunched 18 months ago,

Framepoint from Tommy

Trinder has been shaking

up the software market, with

its 'pay as you go' pricing

model. From under £100 a

month, window companies can

access the firm's cutting edge

Framepoint Technology to price

and order their windows and

doors, with no upfront cost and

no tie-in.

CEO Chris Brunsdon,

himself a former window

installer, explains the thinking behind bringing

the subscription concept to double glazing:

"Historically, you've needed a bag of cash

and nerves of steel to invest in decent quoting

software in our industry. You'd have to stump

up thousands of pounds upfront, only to be

faced with the trauma of getting it installed and

configured, then the rigmarole of training and

getting people to actually use it. And even then

you'd find yourself paying for updates forever and

a day. To manage all this on top of the day job

of selling and fitting windows was beyond most

smaller window firms. We just felt there had to be

a better way."

Supplying software tools on a subscription basis

(commonly known as 'Software As A Service' -

or 'SaaS' for short) is nothing new. SaaS is big

business in the UK and the market for software

delivered over the internet for a monthly fee is

expanding rapidly. By 2025, the global spend

on SaaS products is predicted to have grown

by a further $100bn. But asides from saving on

upfront investment, what other benefits does

SaaS bring to the glazing industry?

"Speed is key," says Chris. "With no complicated

set up, the time to get going with SaaS products

"'If you can use an

etch-a sketch you can

use Framepoint', as one

of our customers put it"

is so quick. Even if you're not tech savvy we can

have you selling with Framepoint within the hour.

In their first month with us, many subscribers

report a saving of around 30 hours on quoting.

That can be a game changer in a buoyant market

when there's not enough hours in the day."

An emphasis on ease of use, driven by the fact

that customers can give up and walk away

anytime, is a common feature of SaaS, explains

Chris: "In SaaS businesses, the responsibility

for getting users to love the software remains

with the software creator," explains Chris. "If the

product is not easy to use and quick to add value,

customers are free to walk, and they will."

This hard truth has driven Tommy Trinder to invest

heavily in designing an interface that is as userfriendly

as possible; windows and doors can be

free sketched on Framepoint, just like drawing on

a pad. It's point and touch to show off different

colours, ironmongery and glass. And one tap to

Contact Tommy Trinder:

overlay designs onto a photo of

your client's house.

"'If you can use an etch-a sketch

you can use Framepoint', as one of

our customers put it," says Chris.

Updates and product

development are another weapon

that SaaS businesses have

to hold on to customers. New

features that make a subscriber's

life easier need to be shipped

regularly in order to retain and

excite clients.

"You really need to listen to installers," says Chris.

"They are at the sharp end and want tools that

work in the real world. Last month, by popular

demand, we shipped our Magic Paintbrush feature,

for instance. This allows subscribers to re-colour

all items in a quote (aluminium, PVC or timber)

in one click and instantly see the results on the

elevation. A simple device that wows customers

and saves hours."

But doesn't the prospect of customers cancelling

at any time, make for a stressful existence?

"I love the challenge," says Chris. "Every month

I have to create so much value that all my

customers want to renew, and a load more want

to join. It definitely makes for a dynamic and

exciting business."

With an annual growth rate at over 150%, clearly

Tommy Trinder is doing something right. Installers

can find out more about Framepoint and book a

free demo at: www.tommytrinder.com

0117 3637370

www.tommytrinder.com

@sellmorewindows

32 T I JULY/AUGUST 2021 PRACTICAL CONTENT FOR THE GLAZING INSTALLER & HOME IMPROVEMENT SPECIALIST
---
Aluminium done

the Emplas way

• New range of AluK windows, doors, bi-folds and patios

• Get instant quotes and order online 24/7 using EVA

• Single source supply for PVC-U and ali

• Complete customer support package including WindowCAD

Find out more 01933 674880

info@emplas.co.uk www.emplas.co.uk
---
PVC Patio Doors

'BEST PVC PATIO WE'VE EVER FITTED'

Smart-Slide from Aluplast is said to have been designed to be technically superior to any

other PVC patio door on the market. Total Installer talks to Barclay Costello, MD at Limerickbased

Costello Windows, about the company's experience of using the product.

been in business for over 40

years, and I can honestly say that

"We've

Smart-Slide is the best PVC-U

patio we have ever fitted," says Barclay Costello,

managing director of Costello Windows.

"We have a 2.5m tall Smart-Slide installed in

our showroom, and we don't have to work very

hard in order to sell it. The quality of the system

speaks for itself – we can spend as little as five

minutes with a customer and that's it, they've

bought it!"

Established in 1979 by Barclay's parents, Costello

Windows has grown over the years from a small

firm operating out of a modest workshop, to one

that now produces a comprehensive range of PVC,

aluminium and timber products from a 13-acre site

near Limerick on the West Coast of Ireland.

Supplying predominantly to retail customers but

also to the trade, Costello Windows' investment in

"From a fitter's point of

view, it's also very easy

to install"

manufacturing includes a glass processing facility

as well as the capacity to foil products in-house.

"We have been an Aluplast customer for three

years, and we offer a wide range of its products,"

continues Barclay. "We brought in Smart-Slide a

little over 12 months ago, not long before lockdown.

The response we've had has been outstanding.

"It looks and feels like a high-end contemporary

Barclay Costello

product, homeowners love the aesthetics, and

the price point is also very attractive – especially

when compared to the equivalent aluminium

offering which would be prohibitively expensive to

some of our customers.

"They also like the way that it can be locked on

all four sides of the sash. Being able to leave the

door part open, for ventilation, while knowing

that's also completely secure is really appealing.

Easy to install

"But from a fitter's point of view, it's also very

easy to install," he adds. "With a standard,

sliding PVC patio door, the biggest issue

is ensuring that it's airtight. That can be

exaggerated with bigger sashes and especially

if you're installing in an area that's prone to

extreme weather – where we are for instance, on

the West Coast, it can be a real problem!

"In the past, the solution was to compress the

door as tight as it would go, but then you might

struggle to operate it. But Smart-Slide is so much

34 T I JULY/AUGUST 2021 PRACTICAL CONTENT FOR THE GLAZING INSTALLER & HOME IMPROVEMENT SPECIALIST
---
more secure, it just works. We've not had a single

call from homeowners asking us to come back

and fix an issue, and that speaks volumes about

the standard of the fit and finish."

Smart-Slide is the next generation 70mm PVC-U

sliding patio door system from Aluplast. The

company says it has been designed from a blank

piece of paper to be technically superior to any other

PVC patio on the market, the majority of which are

still based on older designs and are compromised on

aesthetics and performance as a result.

Available in Aluplast's full range of 40 finishes,

including the new aludec and woodec foils

that accurately replicate the look and feel of

aluminium, one of the key advantages Smart-

Slide has over its competition is the size at which

it can be manufactured.

Whereas a traditional PVC patio would be limited to

a maximum pane size of 1,800mm and 2,100mm,

Smart-Slide is capable of spanning 4.5m at 2.5m

with just a sliding sash and a fixed panel.

"We don't have to work

very hard in order to

sell it. The quality of the

system speaks for itself"

Thanks to the use of advanced hardware, it can

accommodate individual sash weights of up to

200kg and by eliminating the requirement for

brush seals, the doors operate with just the

lightest of touches.

Tested to PAS24 – which extends its reach

beyond retail and into new build specification – it

also meets BS6375 for weather tightness and a

DER of A+ depending on glass specification.

High demand

"We are incredibly busy at the moment, it

feels like everyone has been putting off buying

new windows and doors for the last 10 years,

lockdown has come along and they've all decided

to get things done," says Barclay. "Demand has

been very high and I can see it staying high for

the next 18-months, and while that's causing

some problems with material supply for others

in the industry, we've not experienced any real

issues, at least not with our PVC profile, thanks to

the service we have from Aluplast.

"Smart-Slide has given us a great opportunity

to tap into that demand, including the ability to

sell into projects that might normally have been

reserved for aluminium," concludes Barclay.

"15% of our Smart-Slide installs are over 3m

wide and they average 2,150mm in height. 90%

of orders include a foiled finish, the majority of

those are for a grey.

"In contrast to traditional PVC patios, Smart-Slide

is head and shoulders above the rest. There's just

no comparison."

Contact Aluplast:

01684 273401

aluplast.co.uk

@aluplastsystems

PRACTICAL CONTENT FOR THE GLAZING INSTALLER & HOME IMPROVEMENT SPECIALIST

JULY/AUGUST 2021 TI 35
---
Updates

For further door updates visit www.total-installer.co.uk

UNLOCKING INNOVATION WITH KORNICHE BI-FOLDS

Made For Trade (MFT), the company behind the design and manufacture

of the award-winning Korniche lantern roof system, says it is bringing a

'big USP' into the bi-folding door arena with the Korniche bi-fold.

Pre-gasketed aluminium clip bead

Anyone that has spent any time on-site fitting an aluminium bi-fold door,

says MFT, 'will be all too familiar with the struggles associated with fitting,

cutting and installing wedge gasket'. According to MFT, it is probably one of

the most time-consuming parts of the install, and once it's in, the longevity

of the install can depend heavily on the experience of the installer. We've all

seen shrunken gaskets!

Ashley Gaunt, technical director at MFT, said: "For installers, the big

innovation on the Korniche bi-fold door is our patented pre-gasketed clip

bead. We have paired an aluminium bead profile with a rolled-in polyamide

clip. Aluminium and polyamide behave in a very similar way under

temperature changes, and this is an important factor when designing a

composite bead. We have also designed a custom bead gasket that is factory

fitted to the bead before it's delivered.

"Due to the way it is manufactured with a polymer backing, it cannot

shrink. The new system is simple, fool-proof and truly upholds our 'glazed in

seconds' promise"

Minimal assembly

MFT maintains that all its bi-folding door quotes include delivery and unless

you ask specifically for kit form, all doors will arrive fully assembled. Once

everything is on-site, MFT says it should be a case of 'screwing in the frame,

offering up and packing the glass units and then "clipping" in the bead. Job

done.' www.korniche.co.uk

NEW R9 OPEN-IN DOOR WITH TIMBERWELD JOINT

Specialist trade manufacturer HWL has

launched a new R9 open-in door with a

Timberweld 90° joint.

The product of an extensive research

and development programme, it gives

installers what HWL describes as 'a unique

opportunity to pitch a fully matched R9

window and door offer to homeowners'.

"It's not about volume manufacture. It's

about the opportunity that it gives our

customers to win business at point of

retail," explained Graham Howatson, director HWL Trade Frames.

"It means that they can go in and sell the end user a door which matches

into a Timberweld 90° window, and every time that wins them the

business, because that's what the end user wants – homeowners want

the finish on their windows and doors to match."

HWL launched its pioneering non-glass-bonded 90° jointed R9 window

in 2017. This uses a ground-breaking application of Timberweld

manufacturing technologies to replicate a traditional 90° mechanical joint.

In welding rather than mechanically jointing the sash, HWL effectively

eliminates the pre-existing requirement to glass-bond the sash, reducing

weight and simplifying handling and

installation by allowing installers to glaze

windows in the same way as any other

PVC-U system.

Graham continued: "The benefits to the

installer are massive. You don't have the

weight in the product, it's easier to fit and

you still replicate that traditional 90° joint."

According to modelling by HWL, simpler

installation and handling allows installers

to save as much as £500 on a three-day fit

on an average property with 10 windows and doors.

"The launch of the Open-in door solves a problem for installers. It

delivers the product match between windows and doors that homeowners

want," Graham added.

"Ask yourself if it was your house, which company would you go with? The

one that could give you doors and windows with a consistent traditional 90°

joint on the window and door sash, or the one that couldn't?

"Then ask yourself the question as an installer. Which would you rather fit,

glass bonded sashes or unglazed frames? The answer to both is going to be

unanimous." www.hwlwindows.co.uk

36 T I JULY/AUGUST 2021

PRACTICAL CONTENT FOR THE GLAZING INSTALLER & HOME IMPROVEMENT SPECIALIST
---
Membership

just £24.95 +VAT

per month

Job registrations

from £1.50 +VAT

It's time to switch to

The certification body that's on your side

Direct line to our Chair through

Facebook forum

Heads-up on future regulation &

Government position

Free Certass Trade Association

membership

Free listing on our

"Find an Installer" search

Free unique company profile

page

Free customer ratings

Legal, Tax, HR & Health and

Safety advice

Technical & installation advice

Free Covid secure procedure pack

JOIN US

TODAY

Call

01292 502 398

Email

info@certass.co.uk
---
Updates

For further door updates visit www.total-installer.co.uk

TACKLING OPPORTUNIST BURGLARIES WITH FAST LOCK

With the summer months approaching and warmer weather meaning we can spend more time in the garden,

Kenrick is urging fabricators and installers to choose high security hardware products and help protect

homeowners from opportunist burglaries.

Steve Williams, Kenrick's sales and marketing director, said: "Opportunist burglary is becoming increasingly common

with figures from the Office for National Statistics showing that 64% of burglaries in England and Wales happened

while residents were at home. People need to be vigilant and guard against this invasive crime, so we want to prompt

everyone to think about how vulnerable they are to sneak-in thefts and to take measures to secure their homes properly.

"It's so easy to leave doors and windows unlocked while you sit out in the garden in the sun, but this gives a burglar

the perfect opportunity to sneak into your home and steal your valuables without you even knowing about it. Perhaps

even more sinister is home invasion burglary, where a burglar physically forces their way into someone's home as they

open their front door.

"Falling victim to this type of crime is very upsetting, especially when so many of us have been affected one way or another by coronavirus. It is, however,

easy and cost-effective for homeowners to protect themselves from these types of crime with the proper security products."

Designed to combat against opportunist burglary and home invasion burglary, Kenrick's Excalibur Fast Lock is a high security door lock that provides fast,

secure locking on the front door – the route into the house for more than 75% of burglaries.

The Excalibur Fast Lock operates in the same way as a standard lever/lever lock. Its main difference is when closing the door; the user simply lifts the lever

as they enter through the door and it is then securely locked from both sides without having to use a key. To unlock the door, the user turns the key and pushes

the handle down. www.kenricks.co.uk

£2,000 SECURITY GUARANTEE FROM ENDURANCE

Endurance Doors says it boasts 'arguably the most secure composite door', thanks to a number

of product innovations – and now the security guarantee from its own-branded ABS dimpled key

3-Star cylinder has been increased to £2,000.

This 'unrivalled' 3-Star cylinder, developed in partnership with ABS, is a standard offering with all Endurance

Doors, and it carries the Sold Secure Diamond mark and is Kitemarked. With the door slab itself having survived a

heavy sledgehammer test, courtesy of Hunter from '90s TV series Gladiators, a feat which has been widely shared

on social media, Endurance Doors says its security proposition is now 'stronger and more robust than ever before'.

Each Endurance Door is supplied with five dimple keys as standard and additional keys can be cut at hundreds of

outlets across the UK. The cylinders are also manufactured outside of China, on 'cutting-edge', automated production

lines, and they have endured an extended cycle test to ensure they have a life expectancy well in excess of ten years,

while the precision engineered key has been designed to last a lifetime. endurancedoors.co.uk

GET AHEAD OF THE CURVE WITH ALUTECH SYSTEMS

'Aluminium doesn't have to be so square' according to Alutech Systems, who says its latest product

launch is set to be a big hit with 'trend-setting homeowners wanting something a bit different for their

property to stand out from the rest of the street'.

The Yorkshire-based systems house has just introduced a new curved edge aluminium profile as a premium

option to its BF73 systems for bi-folding doors, French doors and single doors.

The rounded edge of the external facing sash gives the illusion of even slimmer sightlines, which, says

Alutech, are already slimmer than 68% of the market. Available in all the same colours as the standard BF73

profile, Alutech says the new curved sash gives fabricators and installers the opportunity to increase their

margin per door leaf. The BF73 system has been designed to be quick and easy to fabricate and install. The

system offers a unique adjustable jamb feature for maximum adjustability during the installation stage. The

optional adjustable jamb offers easier installs with 4mm tolerance. www.alutechsystems.co.uk

38 T I JULY/AUGUST 2021

PRACTICAL CONTENT FOR THE GLAZING INSTALLER & HOME IMPROVEMENT SPECIALIST
---
REFRESHING

NEW BRAND.

'WINSDAYS'

NOW WE HAVE YOUR ATTENTION...

DISCOVER WHAT WE

REALLY DO IN GLASS.

We're celebrating our 'refreshing' new look with

'Whitesales Winsdays'! We'll be giving away some

great prizes every Wednesday from 2nd June to

25th August – visit winwithwhitesales.com (T&Cs apply)

GET MORE IN YOUR GLASS!

whitesales.co.uk | sales@whitesales.co.uk | 01483 917580
---
Updates

Gripcore, the new, solid core composite door from Doorco, is now available with an exclusive design portfolio which

includes new and updated door styles, 25 new colours and seven exclusive glass choices. The collection is available

to view in a dedicated brochure, which also showcases Flip, Doorco's own door glazing cassette system.

Ben Aspinall, marketing & IT manager, said: "Gripcore is an important addition to the Doorco product portfolio… It is truly

the most engineered door we've ever produced and therefore deserves a fresh set of design options too.

"Gripcore was launched earlier this year around the same time as Flip, our exclusive new door glazing cassette system. With

Flip, the possibilities are endless, and we've made the most of the new options on Gripcore. We've given some of our best-selling

styles a facelift. For example, contemporary styles like Links Oakmont, Square, and the Augusta range have been transformed with

the use of Flip Flat Stipple. We've also introduced some new designs, like Pinehurst, which rather than traditional twin tops, has

square glazing cassettes on a 6/4 Combi door blank." View the brochure online at: https://bit.ly/3xACoqc. www.gripcore.com

For further door updates visit www.total-installer.co.uk

NEW DESIGN OPTIONS FOR DOORCO'S GRIPCORE

GET 'IN AND OUT' WITH SENIOR'S ALI DOORS

Restrictions may be easing but working in private homes can still be a challenge, which is why Senior

Architectural Systems says it has made its aluminium residential doors quick and easy to install.

Senior's Ali Slide aluminium sliding doors and Ali Fold aluminium folding doors have been developed to

provide 'the perfect solution' for busy installers, allowing them to complete work quickly and efficiently,

and sure to leave their customers happy with the end result. Both doors are supported by a simple-to-use

installation guide and a range of flexible features. With adjustable rollers for a 'perfect fit,' Senior says

the Ali Slide aluminium patio door is easy to work with, even at its largest leaf size of up to 2000mm x

2616mm. Helping to maximise daylight and offer wider views, a slimline version of the system is also

available which has an interlock of just 50mm. www.seniorarchitecturalsystems.co.uk

STELLAR OPPORTUNITIES WITH LIFT & SLIDE

Epwin Window Systems says its Stellar lift & slide door 'supports current market trends perfectly' with

its 'slimline, clean aesthetics and quick fitting innovations'.

With the recent resurgence in sliding door popularity driven by consumer demand for a larger glazed area, Epwin

says the Stellar Lift & Slide door is fast becoming 'the sliding door of choice with installers'.

Philip Parry, business development director at Epwin, said: "The lift & slide door continues the Stellar innovation

of utilising pre-gasketed profiles and our recently patented pre-gasketed aluminium knock-in beads. Not only is it

quick and easy to glaze minimising installers' time on site, it also delivers a neat, clean gasket line for a superior

overall finish and eliminates common issues associated with systems relying on old fashioned and time-consuming

installation techniques which can often deliver poor aesthetics further down the line." www.stellaraluminiun.co.uk

FLIP CASSETTE SYSTEM BROCHURE NOW AVAILABLE

Composite door supplier, Doorco, has launched a new brochure to showcase the wide range of

options available for Flip, its new door glazing cassette system that offers 'revolutionary Foam

in Place technology' and 'unrivalled aesthetic freedom'.

Ben Aspinall, IT & marketing manager at Doorco, said: "When we started exploring the options for

a new glazing cassette, we knew we needed to create a system that was not only easy to install, but

also offered customers choice. With Flip the possibilities are endless and the best way to showcase

this is in a brochure. Rather than adding Flip to our already extensive door catalogue, we've created

something bespoke to help our customers really understand the new options available to them."

The new brochure is available online at: https://bit.ly/3hTOUul. www.flip-uk.com

40 T I JULY/AUGUST 2021

PRACTICAL CONTENT FOR THE GLAZING INSTALLER & HOME IMPROVEMENT SPECIALIST
---
Do the maths!

Co-extruded

pre-inserted gasket.

Glaze leaves in as little

as 5-minutes per unit

x2 fully adjustable

jambs offer up to 14mm

tolerance for out of

square brickwork

Heavy duty rollers.

Individual sash

weights of up to 200kg

Marine grade finish.

Textured and dual

colour options

Win more business. Fit and glaze

2hrs!

doors start to finish, in less than

Decalu by Deceuninck Aluminium

Call 01249 816 969 or email info@deceuninck.co.uk to find out more.

DUAL

COLOUR

AS STANDARD

FAST

FIT

PRE-INSERTEDGASKETINFRAME,VENTANDGLAZING BEADS

Deceuninck Aluminium

Stanier Road • Porte Marsh • Calne • Wiltshire SN11 9PX

T +44 (0)1249 816 969 • F +44 (0)1249 815 234

info@deceuninck.co.uk • www.deceuninck.com

Aluminium Hardware PVCu Hardware Composite Door Hardware Tools & Consumables

OUR NEW WEBSITE HAS LANDED

You talked. We listened.

20

YEARS

OF OUR

ONLINE STORE

Now we've made it even faster and simpler to find

the hardware you need!

Visit windowware.co.uk now

FINALIST

Call 01234 242724

E: sales@windowware.co.uk

W: windowware.co.uk

PRACTICAL CONTENT FOR THE GLAZING INSTALLER & HOME IMPROVEMENT SPECIALIST

JULY/AUGUST 2021 TI 41
---
FIT Show 2021

GET FIT SHOW 2021 BOOKED IN

As FIT Show returns to the NEC this September, you may be wondering whether to attend or

not. Here, the show's organisers explore some of the questions around this year's event and

make the case for why it's an event not to be missed – with a little help from 'Ian' and 'Dave'.

Ian and Dave are two installers from Yorkshire.

They've been having a heated debate about

whether or not to visit FIT Show 2021.

Dave's busier than ever and doesn't think it's

worth taking time off the tools to visit the UK's

number one event for the glass and glazing

industry, when it returns to the NEC, from Sunday

26 - Tuesday 28 September 2021.

Ian's already got the biggest business days of

his year locked in his calendar. He'll be visiting

FIT Show when it opens for the first time on

a Sunday, so he doesn't need to worry about

moving any jobs around during the week.

Dave's still umming and ahhing about it. Will it be

worth the trip to the NEC? Will there be anything

new to see? He's got loads of jobs booked in, does

he need any more? Will he have to wear a mask

and keep his distance?

We don't want to see Dave and Ian fall out about

this, so to settle their dispute, here's a roundup

of the top reasons why FIT Show 2021 is not to

be missed:

It's FREE!

It sounds basic, but lots of people don't realise

that FIT Show is completely free to attend.

We don't charge visitors to enter the show, all

you need to do is get yourself to the NEC between

Sunday 26 and Tuesday 28 September. We'll do

the rest.

This is your free ticket to see more than 200 of the

industry's leading brands, showcasing the latest

products on the market for the first time since

2019. What more of an incentive do you need?

New Sunday opening

You asked, we listened. We know that the last

12 months have been a slog. With bulging order

books and supply chain issues, time is precious.

And that's why we're opening on Sunday for the

first time ever – no need to disrupt your week or

take time off the tools to visit. It's time to start

planning ahead.

Get yourself ahead of the competition by

comparing the latest products on the market,

side-by-side, at FIT Show.

New, new, new!

There's a theme here. As well as lots of new and

exciting show features, such as our 'Outdoor

Living' feature, with products and accessories

to complement your portfolio, there's also lots of

new brands.

Continued on page 44

42 T I JULY/AUGUST 2021 PRACTICAL CONTENT FOR THE GLAZING INSTALLER & HOME IMPROVEMENT SPECIALIST
---
We do things differently

At Kestrel our supply of quality aluminium extrusions for the fabrication of windows

and doors is a little different. With our advanced powder coating facility we can not only

offer more than 1000 colour options but do so far quicker than the industry norm.

Whatever your requirements Kestrel's technical knowledge, developed over more than 30 years,

enables us to produce a variety of gloss levels and dual colours, all providing the highest standard

of durability and colour retention to guarantee lasting performance.

WINDOWS DOORS ROOFING SHOPFRONT CURTAIN WALL BRINGING LIGHT INTO LIVING

www.kestrelaluminium.co.uk
---
FIT Show 2021

Continued from page 42

"We are working

closely with the NEC

to ensure that safety

measures are in place"

These are brands who have launched since our

last event in 2019, or who are dipping their toe

into FIT Show water for the first time. In fact,

over 40% of our exhibitors are brands that you

will never have seen at FIT Show before, such as

UK Doors Online, Rockdoor, Wendland, Exlabesa,

Solar Calibre, Storm Building Products, TIMCO

and Adminbase.

FIT Show stalwarts such as Veka, Haffner Murat,

Kommerling, Renson, Smart Ready, Korniche, Camden

Group, Business Pilot, Victorian Sliders, Roseview

Windows, Doorco, Morley Glass and Hormann UK

are all set to have a prominent presence.

Late Night Monday

If a Sunday visit isn't an option for you, and

you're struggling to find time on the Tuesday,

we will be running Late Night Monday. You can

visit FIT Show after a full day on the tools with

the doors open until 8pm. As well as being able

to see all of the latest products on offer, you'll

be able to kick back in a relaxed party style

environment with lots of our exhibitors putting on

entertainment and refreshments for visitors to

their stands. It's a win, win.

Time is money

We know that time is money. And that's why we

are working harder than ever to ensure that a

visit to FIT Show works harder than ever for you.

We'll be putting on a showcase of everything you

need to deliver the very best projects, all under

one roof, across three days.

200 industry leading brands. 3,000 cuttingedge

products. Expect to see windows, internal

and external doors, orangeries, conservatories,

skylights, hardware, tools, sealants, smart

technology and much more.

As well as connecting you with the latest products

on the market, we'll also be delivering 30+ hours

of CPD approved content to help you upskill and

be more profitable after your visit.

Exclusive offers and discounts

Our exhibitors are gearing up for more giveaways

and show offers than any previous FIT Show. You

can expect exclusive FIT Show discounts and

savings on purchases made at the show, and you

could even win £10,000 just for attending with the

Glass Times FIT Show passport. You can only be in

it to win it if you pre register before visiting though.

So there you have it, just some of the reasons

why FIT Show 2021 should be an essential fixture

in your calendar.

If you want to grow your business, compare

the latest products side-by-side, learn about

the latest fenestration legislation and see live

demonstrations, like Ian, you'll be there.

Safe & secure

We understand that the extended period of Covid

restrictions may have left some people feeling

apprehensive about attending a large-scale

event. But we assure you, we are experts in

delivering safe events – it's what we do.

We are working closely with the NEC to ensure

that measures are in place to keep our exhibitors

and visitors safe when we open the doors on FIT

Show in September.

Finally, this is YOUR FIT Show

FIT Show is the industry's flagship event, and

that's because of the support it has received from

"Don't 'do a Dave', get

FIT Show 2021 locked in

and register to visit, for

free, today"

everyone in the sector.

From its first beginnings back at Telford in 2013,

to our home at the NEC, you've been with us

every step of the way. FIT Show isn't FIT Show

without you. Show your support for YOUR industry

event by joining us at the NEC this September.

Don't 'do a Dave', get FIT Show 2021 locked in

and register to visit, for free, today at:

www.fitshow.co.uk

Contact FIT Show:

0207 886 3100

fitshow.co.uk

@fitshow

44 TI JULY/AUGUST 2021 PRACTICAL CONTENT FOR THE GLAZING INSTALLER & HOME IMPROVEMENT SPECIALIST
---
Innovation comes built-in

Find out more at

NEC BIRMINGHAM

26-28 SEPTEMBER 2021

WE'RE POSITIVE YOU'LL

LOVE THE NEW SV

Exclusive to Morley Glass, the SV+ is a completely symmetrical version

of the highly popular ScreenLine SV (sliding venetian) Uni-Blind system

thanks to the addition of a slim dummy rail on the opposite side to the

sliding operating system.

Morley Glass & Glazing Ltd

Unit 3

Leeds 27 Industrial Estate

Bruntcliffe Way

Leeds LS27 0HH

morleyglass.co.uk

0113 277 8722 sales@morleyglass.co.uk
---
Spotlight

HELP TO BUILD BENEFITS

Ben Brocklesby, director at Origin, explores what the Help to Build scheme is and how Origin

will support its partners in maximising opportunities as a result of the initiative.

T

he recently announced,

Government funded Help to Build

scheme is set to change the

way homes are built in the UK, for the

better. The initiative will see £150m

of funding made available to make

self-building more accessible and

affordable. The Government predicts

the initiative could contribute an

additional 30,000-40,000 new homes

in the UK per year, presenting a huge

opportunity for those working in the

fenestration industry.

At present, big construction companies hold the

monopoly over housebuilding in the UK. However,

there is reported to be a 250,000-home deficit,

meaning demand is significantly outstripping

supply. The Help to Build scheme will address

this deficit by empowering individuals to build

their own properties instead of having to rely on

big housebuilders.

If the initiative is successful and there is a

considerable uptake in self-building, there will be

increased demand for the industries involved in

housebuilding. This can only be a positive thing.

However, the industry can only keep up with this

demand if manufacturers and installers are there

to fulfil it, and the suppliers are supporting in the

delivery of it.

So, how does Origin help its partners keep up with

a surge in demand?

Quality

At Origin, our partners are central to our business,

and we offer them an unrivalled level of support

across every area of their business, ensuring

they continue to deliver the very best to their

customers on time, in full.

At the forefront of this unrivalled support is the

product itself. As a British manufacturer, we

Origin's Ben Brocklesby

"We anticipate a

busy summer for our

partners, and we will be

there to support them

every step of the way"

have complete control over our operations, from

sourcing and design, through to manufacturing

and delivery, ensuring that every product we

produce is of the highest quality. We reinforce this

by offering an unrivalled guarantee of up to 20

years – double the industry standard. This means

Partners have confidence in the system and can

specify with confidence every time.

Every product is also available to order on our

innovative, online ordering and quoting system,

OSS, which allows partners to create customer

projects incorporating all Origin products in just five

minutes. With all customer information together in

one place, it saves time on admin. Our intelligent

cascade system drastically speeds up the ordering

process too – whereby a change (such as colour)

can be applied to all products at once, rather than

having to do it individually and manually.

Lead Times and Service

Alongside offering an industry-leading product

range, we also pride ourselves on our gold

standard of service. This means our

partners can depend on us, which

is essential during periods of high

demand. We promise to ensure a

partner never misses an install date,

offering them complete peace of mind

that the product will be delivered to

them on time, in full. We can do this

because of the confidence we have

in our manufacturing processes, the

significant investment we have made

in our stock and the great relationships

we have with our supply chain.

Our unrivalled lead times help improve our

partners' cash flow and allow them to be more

accurate when planning future projects, and

our dedicated customer service teams are also

always available to answer any query. Vital during

the pandemic and when looking to keep up with

high demand.

Additionally, when partners are pitching to

property developers, we have a dedicated

commercial team who will work with the partner

to optimise the pitch – working together to meet

building regulations and offering the developer

direct contact with the manufacturer throughout

the whole process.

Final Thoughts

The Help to Build scheme is set to revolutionise the

housebuilding process in the UK, which presents a

huge business opportunity for those working in the

fenestration industry. We anticipate a busy summer

for our partners, and we will be there to support

them every step of the way.

Contact Origin:

0808 168 5816

www.origin-global.com

@Originbifolds

46 T I JULY/AUGUST 2021 PRACTICAL CONTENT FOR THE GLAZING INSTALLER & HOME IMPROVEMENT SPECIALIST
---
CERTIFICATE 12/4895

TM

liveconfigurator

®

PRO-RAILING

REAL TIME DEsiGN

Liveconfigurator is an amazing tool which can save you valuable time and help

avoid costly mistakes designing with Pro-Railing ® stainless steel components.

Providing you a quote and detailed accurate FREE CAD drawings within minutes.

CHOOSE A PRO-RAILING ® SYSTEM, SELECT A TEMPLATE AND CONFIGURE

PRE-ASSEMBLED

POSTS

FRAMELESS GLASS

BALUSTRADE

GLASS

SPIGOTS

GLASS

STAND-OFFS

• Get a quote in minutes

• Save hours of time drawing

• Provides accurate, detailed layout drawings FREE

• A choice of styles, layouts & components

Give us a try now!

helping people

embrace light,

air and space.

rooflights.com is a proud UK manufacturer and supplier of

architectural quality rooflights and roof windows. With over 25 years

worth of knowledge, rooflights.com can offer you a selection of high

quality products at online prices.

Flat & Pitched Rooflights

Over 25 Years Experience

Free UK Nationwide Delivery

BBA Approved

LPS 2081: Issue 2

Cert/LPCB ref: 1347a

Secured by Design

CALL US: 0333 016 4176

EMAIL: info@rooflights.com

rooflights.com Half Page Ad Design - 2020.indd 1 14/06/2021 10:32:24

PRACTICAL CONTENT FOR THE GLAZING INSTALLER & HOME IMPROVEMENT SPECIALIST

JULY/AUGUST 2021 TI 47
---
Contract Competence Talk

TAKING PRIDE IN GETTING IT RIGHT

Following his recent appointment as Chair of the Interim Industry Competence Committee,

Jon Vanstone spoke to Total Installer, providing his insights for the future of construction,

and the possible implications for installers...

B

esides his role as Chair of Certass Trade

Association, where he can often be found

offering guidance and advice to members

online, via the organisation's Facebook Forum,

Jon Vanstone is a familiar face on various

construction industry committees.

With involvement in the Competent Persons

Forum (CPF), the National Home Improvement

Council (NHIC) and the Building Regulations

Advisory Committee (BRAC) to name a few, the

latest string to his bow is his recent appointment

as Chair of HSE's Interim Industry Competence

Committee (IICC).

Set up to deliver advice on all competencerelated

matters in relation to the

establishment of the Building Safety

Regulator (BSR), the IICC is an

integral element in the Government's

efforts to make buildings safer for the

people that inhabit them – and it's this

aspect that really struck a chord with Jon.

Reflecting on his reasons for taking up the new

role, his motives are clear: "We want to know that

when our children leave home, and they go off and

live somewhere else, that they're safe," he says.

"Unfortunately, too often, people need to lose

their life for things to change. But we've had

that with Grenfell, and we've still got the inquiry

going on, and the more that comes out about our

industry, the more embarrassing it is to actually

be part of that. And the more we have to say:

'Okay, enough is enough'."

As far as Jon is concerned, "pride in getting it

right" is currently lacking, but he hopes that the

unified approach from Government, in the form of

the IICC, is a good start.

"The fact that four Government departments are

working together on our new committee is a really

good step up," he says.

"Instead of it being just a BEIS (Department for

Business, Energy & Industrial Strategy) initiative,

like the Green Homes Grant for example, this

committee is being led by the Health & Safety

Executive (HSE) but BEIS, MHCLG and the Home

Office are all involved – and they all play a role."

The installer's perspective

"We want to know that when our

children leave home, and they go off and

live somewhere else, that they're safe"

While Jon maintains that his appointment to the

IICC bears "no direct correlation" to his involvement

with installers, he believes there are certainly

"positives from the installer's perspective".

Appointed on the basis of "trying to help enact

change" in the construction sector as a whole,

Jon can use his links with the installer community

to help ensure the viability of any future

developments.

"I have a fair understanding of installers and

the pressures on them," he says. "I speak to a

lot of [installers] on a regular basis, in forums

and in meetings, which has given me a really

good insight into their pressures. And I suppose,

at least, I can try and make sure that nothing is

brought in that the industry can't deal with."

With initiatives such as the IICC and the BSR

being potential catalysts for change in the wider

construction industry, what, exactly, could this

mean for installers in the fenestration sector?

Whatever is coming, Jon assures Certass

installers that the transition will be as smooth as

Continued on page 50

48 T I JULY/AUGUST 2021 PRACTICAL CONTENT FOR THE GLAZING INSTALLER & HOME IMPROVEMENT SPECIALIST
---
Competence

Continued from page 48

possible: "From a Certass Trade Association

perspective," he says, "we're obviously going

to be paying as much attention as we can to

the direction of travel, to make sure that local

installers can see any changes coming.

"We'll slowly implement change, so by

the time anything new comes in, [Certass

installers] don't actually need to do much,

because they're already doing it without

realising. That's the job of trade associations.

Not just to say: 'This is coming, good luck'.

It's actually saying to members: 'Don't worry about

it… we're working on it…' and slowly feeding any

changes over time."

While it's clear that Certass Trade Association

members will be well-prepared for any future

changes, a shake-up of competence-related

matters will pose an issue for those in the wider

market that may be operating less diligently,

according to Jon.

For those that want to "cut corners", he hopes

that future developments will "make it harder for

them", eventually making rule-bending behaviour,

or worse, "a thing of the past".

"If to be deemed competent, you have to be

annually assessed," he says, "and you're

not, because you've just been living off an old

qualification – suddenly you've got to prove

yourself a bit more."

Rapid-fit wrongs

Referring to those businesses with "a very high

return-to-site ratio", who "do jobs as quickly as

they can, move on to the next one and go back

and fix it when the consumer complains", the

message from Jon is clear:

"It is your job to get it right first time; not to

get it right eventually", and for this reason,

"businesses that are designed with rapid fit

teams, and a very decent repair team that goes

around afterwards and fixes all the problems,

won't be in the right territory.

"Also, if a company that operates that way

suddenly goes out of business, they leave a lot

of work that is not good enough. So, we have to

make sure that structurally, such activities [are

not] so prosperous."

"It is your job to get it

right first time; not to

get it right eventually"

Summing up on the matter, Jon says: "I think it

depends what type of business you are. If you're

there to install as quickly as possible, no matter

what the consequences, I think you will hit a wall at

some point.

"Fundamentally, the message to construction is:

We have to be doing a lot better... We have to be

making sure that the people on-site know what

they're doing; know about the environment in which

they're working; about the risks of fire and structure

and having an appreciation for other trades…"

Calling for a more collaborative approach to the

construction process, Jon says: "[We] need to get

construction working together. We need to get that

pride back into the industry."

And it's this lack of pride that is currently 'failing'

the fenestration sector particularly, according to

Jon. "We don't make the job of being a glazier, or a

glazing installer something that people are proud

to say they do," he says.

"And I think that's where we have a problem.

We've got a history of some poor work being done

and [in some cases] it's still being done, and

we've got to stop this happening, because one

company can actually ruin it for everyone else.

And the certification bodies and those that do

accreditation or inspections need to make sure

that we [clamp] down on that."

Making it easier for installers to do things 'right',

as opposed to focussing time and effort on the

rogues, is a high priority for Jon. "A lot [of

installers] just want to do it right first time

and they want to learn, but you have to

make sure you help them."

Suggesting that too much energy has been

spent worrying about those companies

determined to flout the rules in the past, Jon

says: "We're not interested in helping [those

companies who want to bend the rules]. "If

you don't want to play the game, then we

just want to make life a bit more awkward for

you… and make it harder for you to trade."

According to Jon, it's this unscrupulous minority

that have sullied the industry's reputation, which

has, in turn, led to problems attracting new

people into the sector, "so we have to make that

all change," he says.

No more excuses

And while change is often resisted, Jon indicates

that this time, it's inevitable: "I think government

will not put up with us holding on to the past

and saying, 'it's too difficult', or 'we can't do it',

because if we can't make safe buildings, what's

the point of our industry? I think we we've run out

of excuses, haven't we?

"I think one of the problems, in the UK, is we've

had an industry driven by price. And yet we want

standards, and we want quality of work, and we

want all these positive things. They don't go hand

in hand.

"And our history of trading and giving contracts to

those who do it cheapest has put us in a position

where we need to unlearn that. And it's going to

be tough.

"But we need to step up. We need to take pride in

getting it right.

"We have to deliver buildings that people feel

safe to live in – and it's something we have to do

critically fast."

Contact Certass Trade Association:

01292 292 095

certassta.co.uk

@CertassTa

50 TI JULY/AUGUST 2021 PRACTICAL CONTENT FOR THE GLAZING INSTALLER & HOME IMPROVEMENT SPECIALIST
---
"We choose

Freefoam cladding

for our new homes.

The subtle colours

compliment the

brick and render

perfectly."

Gavin Warr | Director

11:11 Property

#HelpingCustomersGrow

We're a leading roofline, rainwater and

cladding manufacturer committed to

working with stockists, installers and

property developers across the country.

Our Stockists provide you with the

products and support you need to

guarantee your customers an unrivalled

service to help build your business.

So, as your business grows, we grow too.

We offer...

• 50 year guarantee

• Colour to give you an edge

• National supply at local level

• Certified Accreditations

• Comprehensive customer support

• Dedicated Area Sales Manager

Call 01604 591110 freefoam.com info@freefoam.com | BUILDING PARTNERSHIPS
---
Garden Rooms

GET INTO GARDEN ROOMS

With the pandemic leading to increased demand for glazed extensions, Neville Gleed,

operations director at Abcell, discusses how the company can help installers expand their

product offering with garden rooms.

W

e're all aware of the significant impact

that the pandemic has had on the home

improvement and construction industry.

With the increased time spent indoors and money

saved from cancelled holidays freeing up more

available cash, there has been a clear rise in

home investments.

More time indoors and a shift from employers

towards long-term remote working has led to

homeowners wanting to create extra space in their

homes, with 25% of people wanting to move to a

property with more space in the next year, according

to Rated People's Home Improvement Report.

With the survey also reporting an 89% increase

in skylight installation in 2020, it's clear that

in addition to extra space, there is still a huge

demand for natural light.

One of the most popular ways to combine extra

light and space in the home is through glazed

extensions. Whether it's newly built conservatories,

orangeries, or adding wide-span patio doors or

skylights, there are several ways to transform living

spaces by adding light and space.

These extension products are not new to the

glazing industry, and will probably already be in

your product offering, but one option which has

certainly shot up in popularity since the pandemic

is the garden room. The rise in remote working

has led to a massive 190% increase in garden

room enquiries since the first lockdown, showing

the huge market for these types of projects.

With this rise in demand, we're starting to see

more and more installers take advantage of this

by adding garden rooms to their product range.

Ultraframe Garden Room Kits

As the glazed extension merchant, Abcell is

always looking to help installers provide the

Abcell now offers Ultraframe

Garden Room Kits

best products to customers, which is why we

have recently decided to offer easy-to-install

Ultraframe Garden Room Kits.

Available in four styles, with the option of

integrated rooflights and bi-fold or French doors,

these kits are the perfect option for installers

looking to add the latest on-trend glazed

extension product, providing homeowners with

light and space.

Adding this to your range is a great way to take

advantage of the demand for garden rooms and

helps you stand out from competitors with this

unique product.

Easy to install

Although it may seem like a step into the

unknown for installers, Abcell makes life as easy

as possible for you to get into garden rooms. All

the kits are offered with a choice of doors and

windows, so you can offer your customers a wide

range of options.

We offer AluK and Warmcore aluminium windows,

perfect for if you're looking for glazed walls, or

Deceuninck PVC-U windows, Graf-welded for an

almost seamless finish.

There are also several options for you to customise

your doors. If you want bi-folding doors to

completely open up your garden room, then you can

choose from thermally efficient Warmcore or AluK

options. If you want a simpler, French door option

then you can choose from 30 different Deceuninck

colour options for full design flexibility.

Contact Abcell:

0121 356 3376

www.abcell.co.uk

@AbcellLtd

52 T I JULY/AUGUST 2021 PRACTICAL CONTENT FOR THE GLAZING INSTALLER & HOME IMPROVEMENT SPECIALIST
---
GREAT

PROFIT MARGINS

REPLACEMENT ROOF MARKET,

A PERFECT OPPORTUNITY FOR INSTALLERS.

QUICK LEAD TIMES

EASY TO INSTALL

COMPETITIVE PRICES

FREE TRAINING DAYS

REGISTERED SCHEME

MARKETING SUPPORT

ADVANCED PRODUCTS

MARKET LEADING SYSTEM

01772 828060 | SALES@SUPALITEROOF.CO.UK | WWW.SUPALITEROOF.CO.UK
---
Garden Rooms

For further garden room updates visit www.total-installer.co.uk

LEADING THE WAY FOR GARDEN ROOMS

Leads 2 Trade is set to add garden rooms

to its existing range of lead type offerings

so suppliers and installers can take

advantage of the garden room explosion of

the last 12 months.

The Stockport-based company is looking

for suppliers and installers of garden rooms

throughout the country to register their interest

on a postcode-by-postcode basis.

Andy Royle, co-founder and managing director

of Leads 2 Trade, said: "Garden rooms are

proving a hassle-free and cost-effective

alternative for homeowners who would like to

increase their living space but don't want a

traditional full extension.

"We have had a lot of interest from our existing

conservatory companies who have diversified

into the garden room market to capitalise on

the popularity of them since lockdown as more

and more people need an office to work from

home, or a separate space for a home gym.

"So, we thought the time was right to add them

to our comprehensive sales lead types and

we are looking for installers to register their

interest now and reserve their postcodes to

be able to take advantage of the garden room

boom and win more business."

Leads 2 Trade has been providing doublequalified

sales leads to installers in the

home improvement sector for 15 years,

including windows, doors, and conservatories,

conservatory roof replacements, boilers and

central heating, and solar panels.

To register your interest and reserve your

postcode for garden room leads visit:

https://leads2trade.co.uk/products/gardenroom-sales-leads/

HIGH-RES 3D GRAPHICS SERVICE FROM WINDOWLINK

With BBC news reporting that some

companies have seen a 300% rise in

garden room sales, a service from software

specialist, Windowlink, is helping installers

secure high-profile garden building projects.

Recent studies have shown that 60% of the UK

population were working from home in the peak

of the pandemic, and that is set to continue with

companies reaping the benefits of employees

being more productive in their own workspace.

This has resulted in a massive rise in garden room

sales, as homeworkers look to create a space that

separates home and work environments.

Specialising in creating software to help

builders and installers visualise projects to

customers, Windowlink is able to create 3D

images for garden rooms with their Vector

software programme.

The design package allows users to provide

customers with a visual example of the final

project by creating high-resolution 3D graphics

of garden rooms and superimposing them

onto images of the existing property or garden.

Vector also guides users through the pricing

process, allowing you to provide quotes and

prevent mistakes, which can help save time

and money.

From the Vector package there is also

the additional option of the 4Site Imaging

Bureau, which transforms these images

into 3D 'fly-through' videos. It also includes

detailed personalisation features to

provide homeowners with a truly realistic

representation of how the completed building

will look from every angle.

"Our Vector programme allows users to

create high-resolution 3D images of their

glazed extension or garden room projects –

perfect for those looking to provide realistic

representations to customers," says Mark

Dudley, Windowlink managing director.

"When homeowners are looking to make a big

investment, they want reassurance of how it

will look, and our Vector package is a fantastic

resource to do this.

"The extra 4Site service is the next step for

installers working on large projects, as the level

of personalisation allows customers to see how

the project will look from different angles and

different times of the day, in the form of a highresolution

fly-through video."

For more information on the 3D video service visit:

www.windowlink.com/4site-imaging-bureau/

54 T I JULY/AUGUST 2021

PRACTICAL CONTENT FOR THE GLAZING INSTALLER & HOME IMPROVEMENT SPECIALIST
---
sales@britmet.co.uk | 01295 250998 | www.britmet.co.uk | #TheBritmethod

Low-Pitch

Lightweight

Sustainable

Liteslate

designed with the environment in mind

Lightweight Composite Slate | Lightweight Granulated Tile Panels | Lightweight Tile Effect Sheets | Flat-to-Pitch Roof Systems

Structural Liner Trays | Door Canopies | Decorative Exterior Paint

RAISING THE STANDARDS IN LIGHTWEIGHT ROOFING
---
Updates

FIT TO SHOW

Ultraframe will be showcasing and launching its

latest innovations in roofing technology at the FIT

Show, from 26th – 28th September, 2021.

The Clitheroe-based company says it will be

launching a number of new innovations that

will help installers and builders to create the

'Grand Designs' demanded by today's discerning

homeowners, as well as showcasing its recently

launched range of contemporary garden rooms.

The products will be on display on a large,

prominent stand where the Ultraframe team

will be on hand to explain more about the latest

additions to their product portfolio.

Commenting about the company's return to the

industry's premier show, Ultraframe marketing

director, Alex Hewitt, said: "After the restrictions

of the last 12 months, we are thrilled to be able to

interact with the industry on a face-to-face basis

at the FIT Show. While it's been a challenging

time for us all, it has also been a busy period

for most of us in the industry, and we have seen

new trends emerging as consumers' needs have

changed during the pandemic and beyond. We

have already provided a fantastic solution to the

huge demand for a space in which to work from

home with our range of garden rooms, which

people will be able to see and touch for the first

time at the show.

"We will also be launching a number of exciting

new roofing systems and innovations which our

R&D Team have been working hard on over the

last year. It's no exaggeration to say that these

systems are ground-breaking innovations that

will change the way that installers and builders

add space to homes forever, and we're extremely

excited to share them with visitors to our stand."

To see the latest roofing innovations from

Ultraframe, visit stand H6 at the FIT Show.

If you already sell and install garden

rooms, or are thinking about getting

involved in this booming area of the

market, RoofWright says it has the software

to enable you to create beautiful designs

for your customers.

The building-design software company has

added a garden room option to its growing

portfolio of design tools, tailored for those in

the trade looking to offer their customers 'the

most realistic and detailed designs' as a part

of their selling proposition.

RoofWright says its garden room software

helps customers to quickly create fullycustomised

3D presentations for homeowners,

with the option to amend them live 'so that

their dream living or working space can come

to life in front of their eyes'.

RoofWright, managing director, Dave

Blakeman, said: "We are really delighted

to have launched this next development of

our software suite. It is really topical at the

minute with everything that has happened,

and we believe the market for garden rooms will

For further glazed extension updates visit www.total-installer.co.uk

NEW GARDEN ROOM SOFTWARE

continue to grow for many years to come. Our

new software enables our trade customers to

reduce the design process from approximately

an hour, to just a few minutes, and gives them

the widest range of options to enable their

customers to see their exact specification

come to life in front of their eyes.

"Purchasing a garden room is a big

commitment and in every sense a dream for

many, and the fact that we can bring that

dream to life is a great feature of our incredibly

intelligent software."

www.roofwright.com

ULTRAROOF 'MAKES LIFE EASIER'

In addition to offering 'stunning good looks and classleading

performance', the Ultraroof solid roof system from

Ultraframe also offers 'complete peace of mind', thanks to

the reassurance of LABC and LABSS certification, along with

components that are BBA approved.

According to Ultraframe, approvals by these bodies means that

a project featuring an Ultraroof is much easier for the builder

or installer, as much of the red tape is already taken care of.

Ultraroof installers can also reassure the homeowner that the

roof system being used is independently accredited to perform

past minimum regulatory requirements.

Commenting about Ultraroof, and the various accreditations

it holds, Ultraframe marketing director, Alex Hewitt, said: "We

know that many installers and builders are aware of the technical features of Ultraroof, but not all

are aware of the accreditation it holds that can make their life so much easier."

Ultraroof users also benefit from free on-site training for all first builds from the dedicated Ultraroof

support team. To find out more about the Ultraroof system, visit: Standoutwithultraroof.com

56 T I JULY/AUGUST 2021

PRACTICAL CONTENT FOR THE GLAZING INSTALLER & HOME IMPROVEMENT SPECIALIST
---
NEW SLIDING DOOR - 35mm Interlock

+ Slim Sightlines

+ Double or Triple Glazing

+ Modern-Square Look

+ Max Transparency

+ Max Thermal Efficiency

+ Enhanced Security

+ SITE DELIVERY

+ ACCURATE LEAD TIMES

+ MARKET-BEATING PRICES

+ ORDER NOW!

Watford: 01923 803 923

London: 020 8889 6821

arkaywindows.com

sales@arkaywindows.com
---
Contract Installer Insights Talk

'DON'T BE AFRAID TO TAKE RISKS'

We caught up with Sternfenster installer, Patrick Smyth, managing director of A1 Glass and

Glazing in Brighton, who provided his advice and insights on what it takes to run an installation

company, and how modern technology has transformed the way he does business...

Q. What was your path into the glazing sector?

I started off as an apprentice glass cutter at a

company called Solarglass at the age of 16. From

there I went on to work for various other glazing

companies until eventually I had a call from one

of the guys that I was working for, who offered me

the opportunity to start up a new company with

him. That was A1 Glass and Glazing and I'm still

going strong 39-years later!

I remember my dad saying to me when I first

started out, 'people will always need glass, if you

stick at it, you'll do well'. He was right, I did stick

at it and it's worked out really well for me – it's

not been the easiest career path at times, but I

wouldn't change it for the world.

Q. If you had one piece of advice about

starting a glazing installation business, what

would it be?

Work hard and don't be afraid to take risks. If

you're prepared to do that, to commit yourself

fully to do what it takes to succeed then it will

change your life. But try not to get too stressed

while you're doing it!

A decent work ethic is also really important. I

work hard, sometimes I start at 5am and I'm still

going at 8pm. It can be a slog but I absolutely

believe that when it comes to work and life, you

reap what you sow! If you have an opportunity to

start a business in this industry, then you should

grab it with both hands.

These days however, I'm afraid that lots of young

people don't want to put the effort in. That might

be because there's less of an incentive to learn a

trade, with schools promoting the route to university

instead, or it might be because some other trades

are more attractive because they pay more.

"It's not been the easiest career path at times,

but I wouldn't change it for the world"

Basic labouring can earn you £400-500 a week,

and that's more than you'll get as a trainee

window fitter which involves learning a skill.

Young people will take the easier route or one

that gives them more money to start with, even

if they could earn much more in the long run

in the window industry – ultimately, it's more

rewarding, but you need that work ethic if you

want to succeed.

Q. Tell us about a recent project

We've just completed a really nice job for the

Malmaison Hotel in Brighton. That was worth

around £60,000 and included aluminium

windows and doors that we sourced from our

supplier, Sternfenster.

Projects like the Malmaison Hotel are always

great to be involved with because Sternfester

has invested a lot of money into their aluminium

factory. That means the quality of the product is

excellent and they have the capacity to deliver at

short notice if we need it.

Q. What is the most difficult/challenging

project that you've worked on?

We've been in the business a long time now, so

apart from having to deal with the occasional

tricky customer, we're able to handle most

installations without too much bother.

If I had to single out a particular challenge

then I would say handling glass at height can

sometimes be problematic. We do a lot of work in

London fitting glass balustrades so access can be

difficult. But we've invested in machinery to help

"These days, I'm afraid that lots of young people

don't want to put the effort in"

with this, which makes the job a lot easier.

Q. What's the biggest change you've

experienced in your business?

There's been a few but I would say that modern

technology has transformed the way we operate

on a day-to-day basis. With Sternfenster we use

a CRM system called EasyAdmin and I'm not

exaggerating when I say it's the best thing that's

happened to my business. I use it for everything,

it saves me so much time.

We use it as a quoting system, to place orders online

and if I need to check on those orders then I can just

look them up on my phone. Everything is much more

efficient, there's less chance of making mistakes

and we can run a much more professional

company. It's really made a massive difference.

Q. What's the biggest issue currently affecting

you as an installer?

Keeping up with demand. Like most others, we've

been flat out over the last year or so, and it's only

getting busier. We've had delays getting orders

in, but we're not the only ones. Again, we work

closely with Sternfenster so we're aware that

demand is outstripping supply across the industry

and we know that they will always do everything

they can to help us out. That level of support

makes a big difference.

The conditions we're seeing at the moment won't

last for ever, but I don't see demand slowing down

anytime soon – there's still a lot of money about

and we're busier now than we've ever been.

Contact Sternfenster:

01522 512525

www.sternfenster.com

@Sternfenster

58 T I JULY/AUGUST 2021 PRACTICAL CONTENT FOR THE GLAZING INSTALLER & HOME IMPROVEMENT SPECIALIST
---
Glaze Tube: Video Content

PRESS PLAY ON QUALITY

CONTENT FOR YOUR SECTOR...

Glaze Tube is the new platform for digital content from the leading players in your sector.

Easily accessible on any device, Glaze Tube is packed full and constantly updated with

practical, informative and entertaining video content, including how-to's; project and

product focuses; installation advice; training and webinars; plus interviews and opinions

from those operating throughout the glazing and associated products supply chain.

Explore the make-up of

Supalite's market-leading

tiled roof system...

See how you can be 'fitting in

minutes, glazing in seconds… and

having a brew before you know it'

with a demo of Made For Trade's

Korniche Lantern...

E

TUBE

PRACTICAL CONTENT

INTERVIEWS & OPINIONS

INSTALLATION ADVICE

THE ONLINE

COMMUNITY FOR

INSTALLERS AND

FABRICATORS

60 T I JULY/AUGUST 2021 PRACTICAL CONTENT FOR THE GLAZING INSTALLER & HOME IMPROVEMENT SPECIALIST
---
See how Rehau's

investment in Runcornbased

PVCR is boosting

recycling capacities to

improve sustainability

throughout the supply

chain....

'Catch up with your new

best Mates', as Geocel

relaunches its popular

portfolio of professional

sealants and adhesives...

So head over to www.glaze-tube.co.uk to view all these videos and so much more, or

if you'd like to make the most of your digital content, contact Andy or Jake on

01892 732 047 to put your company and products in front of your potential customers.

GLAZE

TUBE

FIND US AT WWW.GLAZE-TUBE.CO.UK

PRACTICAL CONTENT FOR THE GLAZING INSTALLER & HOME IMPROVEMENT SPECIALIST

JULY/AUGUST 2021 T I 61
---
Article CRM Systems

ARE YOU MAKING THE MOST OF IT?

Installers lost money in lockdown, but could they be about to lose more in the continuing

home improvement boom? Business Pilot co-founder, Ryan Breslin, says the key to success

lies in a 'game-changing' status progression tool...

Installers are busy, and with high demand

and continuing disruption to supply, they're

borderline overstretched. This, argues Ryan

Breslin, co-founder, Business Pilot and MD

Cherwell Windows, makes sustainable growth

difficult to achieve, and could be losing installers

a lot of money along the way.

"Companies who hadn't digitised their processes

struggled to trade during lockdown. If we

[Cherwell Windows] hadn't had the facility

to work remotely from home, we would have

struggled too. As it was things didn't really

change that much for us. Business Pilot allows us

to keep on trading.

"It's even more important to us now

during a period of very high demand

from the end-user. Installers are

seeing all this work come through, it's

all great, it's all glossy, but staying on

top of where each customer is in the sales

pipeline is incredibly difficult if you're working

off multiple systems and Excel spreadsheets.

"Installers are seeing all this work

come through, but staying on top of the

sales pipeline is incredibly difficult if

you're working off multiple systems and

Excel spreadsheets"

"That's where things like the status progression

have been a massive gamechanger for us

[Cherwell]. It allows you to take a snapshot, to

pinpoint where each customer is in the buying

cycle and in turn drive good cultures in your

business by understanding the customer journey

better, eliminate bottlenecks, and deliver a more

consistent and better service."

Business Pilot was launched in 2019. The

product of a collaborative project between

Cherwell Windows and Thames Valley Windows,

and a two-year development programme with

their digital partners.

It mobilises the power of cloud-based

technologies, giving installers complete visibility

of each and every element of their operation from

leads and conversions, to job scheduling, cost of

installation, service calls, and financial reporting.

Status progression tool

It also features a new status progression tool,

something which Breslin argues has delivered

significant benefits to his own installation business.

"As we're in the glazing business too, we're

able to take direct feedback from within our

own businesses and keep evolving the product

[Business Pilot] so that we deliver more benefits

to our customers. Status progression is a product

of that development," continues Ryan.

The new Business Pilot status progression tool

allows installers to map their lead-to-contract

or contract-to-delivery process. It's made up of

three elements, a 'pipeline' or process - what you

need to do to get from 'A' to 'B', lead to contract, or

contract to delivery; 'status', where you are in that

process; and 'tasks', what you need to do before

moving on the next step in the process or pipeline.

The system can be adapted to the specific

business processes of each individual company

that it's used by, allowing business owners and

managers to digitise the processes they use every

day and in doing so, guarantee that their teams

are following them.

"When you have a lot of growth you have a lot

of customers, a lot of people managing them

Continued on page 64

62 T I JULY/AUGUST 2021 PRACTICAL CONTENT FOR THE GLAZING INSTALLER & HOME IMPROVEMENT SPECIALIST
---
QUITE SIMPLY, THE

UK'S MOST AUTHENTIC

TIMBER-ALTERNATIVE

SASH WINDOW

Seamless

run-through

horns

Seamless

no horn

option

True

mechanical

joints

Optional

deep

cill

01234 712 657

trade@roseview.co.uk

www.roseview.co.uk
---
CRM Systems

Continued from page 62

and multiple touch points in their journey, which

are all key to making sure that each individual

customer has a positive experience. Status

progression creates accountability at each step

that that person is responsible for," adds Ryan.

THE HEAT IS ON FOR NEW BUSINESS

For example, according to Ryan, the lead pipeline

showcases the status of each job instantly, either

as created, followed up, demo booked, quoted,

mark as sold, sold or lost; each status including

tasks and steps that must be completed before

moving to the next stage of the progression.

This data can also be searched and cut against

each step, so that you can see at any one time

how many jobs have been quoted or demos

booked etc. providing a headline overview of your

likely onward order book or where each job is

within the contract.

Even more powerful

Ryan continues: "It's even more powerful in the

operational end of the business. This is where

your customers are much more focused on getting

a good experience. They've committed money and

they now want to see what you're really about.

"Inside a contract, if you build out the pipeline

correctly, you can even build-in key performance

indicators. In my business for example, we have

a time parameter for how long the team has to

process an order, so we might say the survey to

order process needs to be done within two weeks.

"If we can see the survey date was 1st April and

now order processing is the 22nd April, then

we can see that that particular customer has

potentially lagged in the pipeline, we can find out

why and address it.

"While everyone is busy right now, people are still

a little bit nervous about parting with their money.

When they deal with you as a company with the

infrastructure that Business Pilot gives you, it

gives them a far higher degree of confidence in

your ability to deliver," Ryan concludes.

Contact Business Pilot:

0333 050 7560

www.businesspilot.co.uk

@BusinessPilotUK

Business Pilot has launched new map

functionality, allowing system users to see

which areas of their patch provide the best

hunting ground for new business.

The new capability also allows users to

pinpoint each sales appointment, survey, or

installation against a geographical location,

providing a quick visual reference for who in

their team is where, and doing what, helping

them to allocate resource more effectively.

"We've taken information that already exists

within the system and laid it over a series

of maps. That makes that information far

more accessible," explained Ryan Schofield,

director, Business Pilot.

"It's an instant visual reference tool. If you

want to know where your fitting teams are or

how close they are to one another because

you need to split the team to bring more

support onto a job, you can see at a glance

where everyone is. It's the same for remedial

work. You can see instantly who you can pull

off a job based on location."

Each job is represented by a different

coloured pin. These can be filtered to show

only certain areas, or a single area of activity,

for example surveys.

To get more information about each job, the

user simply has to hover over the pin to pull

up job details including who is on site, the

address and who the customer is.

For fitting, sales and installation teams, it

also includes a time and distance to site

reference and confirmation status, allowing

them to plan their visits more effectively.

This can also be accessed through a new

map view from Business Pilot's drag and

drop schedule board, with everything instantly

updated as and when any changes are made.

The new map functionality also includes

a new zoomable heat map which allows

installers to identify which geographical areas

deliver the best returns, highest values and

conversion rates, colour coding hot spots and

representing them by location.

Ryan explained: "The map shows you the

geographical areas that deliver most sales

and value to your business. This gives you the

option of retargeting them because they deliver

more conversions or applying resource to target

other areas, which may be under exploited. For

companies with a proactive approach to lead

generation it's a very effective way of seeing

where your hit rates are highest."

64 T I JULY/AUGUST 2021 PRACTICAL CONTENT FOR THE GLAZING INSTALLER & HOME IMPROVEMENT SPECIALIST
---
MISS

UK'S BIGGEST AND BEST TRADE SHOW

FOR THE WINDOWS, DOORS, GLAZING & COMPONENTS INDUSTRY

+4000

+200

SEE THE BEST IN THE INDUSTRY, BE THE BEST IN THE BUSINESS.

NEC BIRMINGHAM, 26-28 SEPT 2021

Register for a FREE ticket today by scanning

the QR Code or visiting www.FITShow.co.uk

#FITShow21
---
Updates

ONLINE INVESTMENTS AT ALUFOLD DIRECT

For further home improvement updates visit www.total-installer.co.uk

AluFold Direct has launched a new brand and a new website, featuring an online quoting tool to help customers win

more business in aluminium.

The new tool at https://alufolddirect.co.uk/ enables customers to get an instant trade price for nearly every product in the

AluFold Direct range – from windows, entrance doors and bi-folds to lanterns, sliders, rooflights and commercial doors.

All that users need to do is enter in their sizes, select glazed or unglazed and standard or non-standard colours and the tool

will calculate the price and send it instantly by email. There's a step-by-step guide included which walks users through the

quote builder tool, a handy guide to help them choose the right spec for each project and a survey template to make sure they

don't miss anything.

The tool sits on the trade section of the new website. Retail buyers who visit the site are directed to a dedicated 'Find

An Installer' section and prompted to enter their details to help generate additional leads for AluFold Direct customers.

alufolddirect.co.uk

A 'BEST IN CLASS' VIRTUAL SHOWROOM

Based in Newton Abbot, ambitious start-up Estuary View has 'hit the ground running' with Framepoint

quoting software from Tommy Trinder.

The team at Estuary View have opted to enter the market without a physical showroom, leveraging Framepoint to

present customers with a 'best-in-class' virtual showroom instead.

Peter Hambleton, sales lead at the firm, said: "Not having a showroom can leave you relying on the customer to use

their imagination. The Framepoint software bridged that gap. It's great to be able to visually show exactly what the

customer wants, superimpose those options onto their property, and show a very clear likeness of what they're looking to

achieve. It was a bit of a guessing game until we started to use this software."

Framepoint is subscription based and billed monthly. www.tommytrinder.com

'SPA-LIKE LUXURY AT HOME' WITH CRL

With people spending more time at home, CRL says its range of shower hardware 'helps bring that touch of

luxury into the domestic bathroom'.

From hinges and U-channels, to minimalist hardware for sliding shower doors, CRL has solutions 'for all projects

and all spaces', with popular finishes including Chrome, Brass, Brushed Nickel, Matte Black and Oil Rubbed Bronze

featuring across the different systems. The range includes frameless options such as Cambridge and Serenity sliding

shower doors, 'for the ultimate in wet-room style luxury', that also maximises accessibility in the modern bathroom.

Another highlight of the range is the CRL Geneva hinge, available in a wide choice of finishes and suitable for bespoke

applications, enabling the shower area to be tailored to fit any space. CRL says this is ideal when working with

awkward shapes and sizes in rooms such as in corners and under eaves. www.crlaurence.co.uk

.

STEVENSWOOD EXPANDS IN SOUTH EAST ENGLAND

Dedicated PVC-U and aluminium window, door and conservatory supplier, Stevenswood, is expanding

its trade counter network with two new branches in South East England.

The recently opened Crawley branch will soon be joined by one in Dartford this August, with a number of

other new branches planned in the coming months. The new branches will mean that Stevenswood will

have 24 branches across the country from Inverness to Gosport. The 3,400ft 2 Crawley branch is based at the

Oakwood Trade Park, on Gatwick Road, and is managed by Jay Geary, who was previously a branch manager for

Eurocell. He'll be supported by area manager Dave Choppin and business development manager Neil Murray.

The new branches will stock PVC-U profiles (Rehau & Duraflex), Real Aluminium, Atlas lantern roofs,

Ultraframe and Supalite roofs, and a range of roofline and ancillary products. stevenswood.co.uk

66 T I JULY/AUGUST 2021

PRACTICAL CONTENT FOR THE GLAZING INSTALLER & HOME IMPROVEMENT SPECIALIST
---
Introducing the ultimate marketing blueprint.

Only from Purplex - the PR, digital and

creative agency for ambitious companies.

Discover why more companies choose Purplex as their marketing

and digital partner. Book a Zoom call, telephone 01934 808 132,

email grow@purplexmarketing.com

or visit purplexmarketing.com

Scan here to book your

free Zoom marketing

consultation
---
Updates

For further home improvement updates visit www.total-installer.co.uk

BOHLE LAUNCHES NEW VETROMOUNT OPTION

Bohle has added a third profile option to its easy-fit balustrading system, Vetromount.

Developed by Bohle specifically for the growing residential and light commercial market, Vetromount simplifies balustrade

installation, eliminating the requirement for specialist tools and reducing fixing costs.

Already available in a standard and flush-finish option, the glass hardware specialist has added a third 'Y' shaped channel

(pictured right) to its range. This tapers down to the face of the substrate, to create a clean minimalist finish.

Dave Broxton, managing director, Bohle, said: "Developed for face fixing, Vetromount Y is the third and latest option in the

Vetromount range and sits alongside our standard offer, which is suitable for either face or floor fixing, and Vetromount F, which

offers a flush finish to the edge of the substrate in a floor-fixed option. Each minimises fixings while making installation simple using

our patented zip-fix technology and cradle to hold the glass firmly in the channel, while making alignment easy."

Available in standard 2.5m and 5m lengths, VetroMount accommodates glass thickness of up to 21.5mm. It's also

counterbored, which means its suitable for use with standard, rather than more expensive counter-fix fixings. www.bohle.com

CANAL-SIDE TRANSFORMED WITH BRUNDLE DECKING

When one installer was tasked with transforming a neglected stretch of the historic Leeds and Liverpool

Canal to make the most of its scenic potential, he turned to F.H. Brundle for help.

30m 2 of Brundle's mould-resistant, easy-maintenance, teak-look Rinato Classic composite decking boards and fixings

were used for their ability to withstand wet conditions without rotting, warping, or becoming slippery underfoot.

Offering 'a perfect balance of safety and aesthetics', the installation also used 18m of F.H. Brundle's elegant

Pro-Railing balustrading, with toughened monolithic standard glass panels and corrosion-resistant stainless steel

components and plain top posts.

Installer Liam Atkins said: "With a great range of products, and a reliable delivery network, I find F.H. Brundle

one of the best companies I deal with." www.fhbrundle.co.uk

FREEFOAM: THE TOP CHOICE FOR WATTS

Excellent customer service and a wide choice of colours are just some of the reasons why stockist Watts

Roofing says it looks to Freefoam for all its cladding requirements.

Watts Roofing was set up in 2010 and sells a wide range of roofing supplies. It currently operates across three branches

in Stevenage, Cambridge and Baldock, and began stocking Freefoam cladding and other products four years ago.

Company director, Shane Watts, said: "Freefoam is a leader in the cladding market and their level of service is

backed up by price, which in turn is backed up by quality. It really caters to what we need."

As well as Fortex cladding, Watts Roofing also sells a range of other Freefoam products, including fascias and soffits.

The company recently installed Fortex cladding to the front counter of its Stevenage branch (pictured right), reporting a

boost in interest and sales of the product, as a result of the installation. www.freefoam.com

NEW SV+ SYSTEM ADDED TO UNI-BLIND RANGE

Integral blinds manufacturer Morley Glass & Glazing is giving customers even more

choice with the launch of the SV+.

Exclusive to Morley Glass, the SV+ is a completely symmetrical version of the ScreenLine SV

(sliding venetian) Uni-Blind system, thanks to the addition of a slim dummy rail on the opposite side

to the sliding operating system. The SV+ works the same way as the SV System, using a manually

operated magnetic slider on either the left or right-hand edge of the sealed unit to raise, lower and

tilt the slats of the blind. It is a cordless system that is particularly safe for houses or projects with

children or pets. The SV+ is available in a choice of 10 colours and can be delivered in just 12

working days from orders placed by 10am on a Thursday. www.morleyglass.co.uk

68 T I JULY/AUGUST 2021

PRACTICAL CONTENT FOR THE GLAZING INSTALLER & HOME IMPROVEMENT SPECIALIST
---
The

Sponsored by Epwin Window Systems

100 Cycling Challenge

COULD YOU:

GATHER a team of 6 riders?

CYCLE 100 miles in a day?

FUND a £1,000 per company

entry fee?

RAISE a minimum of

£1,200 in additional

sponsorship per team?

GIVE UP a day on 8th

August 2021 to take part?

in aid of

Hope House

Childrens Hospice

Proud Sponsors

Epwin

Window Systems

Think you've got what

it takes to enter a team?

Email Gary now

gary@gmfundraising.co.uk

Terms and Conditions

Company entrance fee of £1,000

A minimum of £1,200 from individual/team sponsorship

Minimum of 6 people per team

100 mile(s) cycle ride. This can be done collectively or individually or both

Just Giving pages will be set up for your company representation

T Shirts and drinks bottles for riders and photography

Share your training and the actual event on social media channels

Certificates for Company and individuals
---
Xpert Advice

SILICONE RAINBOW

In his regular column for Total Installer, Window Ware business development manager, Karl

Williamson, looks at why now more than ever there's a need for different silicone colours –

and how Window Ware has the on-trend tones you want.

The desire to have Instagramworthy

digs has had a profound

effect on the current home

improvement boom, and is bringing

huge growth to the industry as more

and more homeowners choose to

invest in their homes. Whether it be

new windows and doors, an extension,

garden office, or garage conversion, the

whole market is benefiting from this

increased demand.

The trend for colour is also something

that has evolved over the last 10

years. Gone are the days when

window frames only came in white and woodgrain

finishes. Nowadays, whether it's PVC-U, timber,

or aluminium, or standard 70mm flush sash

or bi-fold – windows and doors are available

in a huge variety of colours – perfect for the

discerning homeowner looking for ways to make

their property stand out.

With the veritable rainbow of door and window

finishes, however, comes the need to find

hardware and accessories to match, including

fabricating and fitting essentials like silicone.

It's a good job, therefore, that Window Ware can

meet this demand with a wide choice of coloured

silicones to suit.

More silicone choice

We're a world away from when 99% of windows

sold were white PVC-U casements. So you'd think

by now the standard silicone offering would have

caught up with the industry's growing fascination

with colour. Yet despite this trend, the choice of

off-the-shelf silicone colours in the UK has often

been extremely limited.

Our distribution partnership with DL Chemicals,

"You'd think by now,

the standard silicone

offering would have

caught up with the

industry's growing

fascination with colour"

the manufacturers of our reXon and Parasilico

ranges, has allowed us to tackle this gap in the

market. They were quick to react to the growth

in coloured profiles and made the necessary

investment early on to allow them, and us, to offer

silicone products in a range of different tones.

On your window colour wavelength

In addition to the staple white and clear finishes,

we actively stock our neutral curing LMN and

hi-grade silicones ready for next-day delivery in

13 other colours, which should prove particularly

useful to customers and save them from having

to fall back on translucent sealant all the time.

These include slate grey RAL 7015, Chartwell

Green RAL 6021 and two different shades of

cream (RAL 9001 and RAL 1015) in the Parasilico

AM85-1 hi-grade silicone, plus black,

grey RAL 7016 and a red-tone RAL

8017 brown in the reXon LMN 117

silicone that's a great match for

rosewood. This is just a sample of the

standard coloured silicones available.

We can also get hold of metallics and

multiple shades of blue, green, beige,

brown, every tone of grey and more.

The coloured silicone market has

undoubtedly evolved from the early

days of standard white, clear, black

and one type of grey, into an eclectic

and multi-tonal palette of shades and

finishes that are much sought after.

The manufacturers have even developed sealants

and mastics in numerous shades of grey

designed specifically with aluminium fabricators

in mind.

A colour for every job

At Window Ware we believe there is a tool for

every job and, when it comes to construction

staples like silicones and sealants, trade

professionals can never have too much choice,

especially when the products offer highperformance

to boot.

We make sure our ranges are always in tune

with our customers' needs and our expanding

colour scheme of silicones and adhesives totally

reflects the way the door and window market

is moving now, as coloured doors and windows

really take off.

Contact Window Ware:

01234 242 724

www.windowware.co.uk

@WindowWare / @XpertTools

70 T I JULY/AUGUST 2021 PRACTICAL CONTENT FOR THE GLAZING INSTALLER & HOME IMPROVEMENT SPECIALIST
---
Does your secondary glazing supplier

leave you in the dark?

Switch.

Secondary glazing is simplicity itself.

It's simple to sell, survey and install. It offers great acoustic and

thermal performance. It has great profit margins. And it gets you

into projects you couldn't normally get into.

So why make it more complicated? Call Roseview today and ask

about adding Incarnation secondary glazing to your range.

phone: 01234 712657 | email: hello@roseview.co.uk | web: roseview.co.uk
---
Site lights

LET THERE BE LIGHT ON-SITE

Summer is here, but it's an ideal time to start preparing for the return of those long winter

nights, says Kevin Brannigan, marketing manager at Makita UK. Here, he explores the key

lighting options that professionals should consider to brighten the darkest of work spaces.

There are some staples that you need

to keep in your van all year round and

a high-performing site light is a useful

addition to that list to navigate dark and poorly

lit workspaces. Thanks to advances in battery

technology, cordless site lights offer wider site

flexibility, not only eliminating the nuisance of

needing to connect to an on-site power source

but also removing the trip hazard presented by

trailing cords and cables, while in turn offering

high levels of illumination and long run times.

Makita has several solutions to suit different

tasks on-site and we've recently expanded our

LXT cordless range with a wide selection of new,

high-powered site lights and self-righting lighting

solutions to suit all demands.

Task flashlights

Choose portable compact task lights for bright

illumination, versatility and convenience such as

the 18V LXT DML812 LED flashlight. This features

a useful bracket hook, so users can hang the

light from joists, pipes or scaffolding and has

an adjustable head that can be repositioned

at any angle up to 90°. Depending on the work

environment, users can choose from four lighting

settings - flood (up to 1,000lm and 7.5 hours

run time), spot (up to 600lm and 10.0 hours run

time), spot and flood (up to 1,250lm and 6.0

hours run time) and strobe.

Area work lights

Built for daily use, these LED area lights utilise

Makita's cordless technology to increase

productivity and effectively illuminate the work

area without the high heat of halogens.

The 18V DML811 and DML809 LXT Site Lights

are constructed with dust and water-resistant

(IP65 rated) technology for improved operation

in harsh job site conditions and can be mounted

on an optional tripod stand (sold separately) for

flexibility on site.

At full brightness, the DML811 provides 3,000lm

of light and 750lm on low mode, with up to 13.0

hours of continuous illumination, when operated

on the low setting with a 6.0Ah 18V LXT battery.

The DML809 delivers up to 10,000lm on its

highest setting and up to 8.5 hours of continuous

illumination when operated with two 6.0Ah 18V

LXT batteries on its lowest setting.

As well as providing exceptional illumination, the

two solutions offer excellent flexibility. For one,

users can rotate the lights' angle 240°, so even

dark corners and crevices can be illuminated.

Furthermore, both the DML811 and DML809 are

light and compact, making them very easy to

transport from site to site and use in small spaces.

The DML809 and DML811 are compatible with

the portable tripod light stand (GM00002073),

offering a durable and convenient elevated stand

to keep up to two of these work light models at

the desired height. The collapsible tripod stand

is constructed with durable metal for longer life

and a sturdy three-legged design for maximum

stability. The tripod stand telescopes up to 76"

and allows for easy 360° rotation of the light to

successfully illuminate work areas.

Site work lights

When working in conditions where the light source

may get knocked or placed on uneven surfaces,

consider self-righting lights. As the name

suggests, these solutions feature a self-balancing

design that keeps the light in an upright position.

For tradespeople, self-righting lights, such as Makita's

LXT DML810 system offer an exciting solution. Not only

can this product deliver luminous power of between

1,500lm to 5,500lm for up to 18.0 hours, but is IP54

certified as dust and water-resistant.

The DML810 has been designed to keep users

working for longer as two LXT 18V batteries can

be fitted but this area light operates using one

18V battery at a time, so when the first runs out

of charge the second will automatically take over

to double the run time. When connected to mains

power, the DML810 has the unique ability to

connect to up to 8 other units, in a "daisy chain"

formation, to light larger, low lit space

To keep you working safer and for longer when

the days get shorter, Makita has a wide choice

of lighting solutions ranging from small pocket

torches, handy flashlights to tall tower work

lights, as well as a useful collection of lighting

accessories that provide further mobility within

workspaces and keep your hands free. These

accessories are made of durable materials for

long life, easily attach to Makita's lights and

include light stands, clamps, tripods and strap

hooks to place the light where you need it most.

Contact Makita:

01908 211678

www.makitauk.com

@MakitaUK

72 T I JULY/AUGUST 2021 PRACTICAL CONTENT FOR THE GLAZING INSTALLER & HOME IMPROVEMENT SPECIALIST
---
USE INSIGHT DATA TO

DISC

VER

THE BEST

CUSTOMERS

CONNECTWITH

DECISION MAKERS

PERF

RM

WITH

BUSINESS INTELLIGENCE

01934 808 293

hello@insightdata.co.uk

@insightdata

www.insightdata.co.uk

502 Worle Park Way, Weston-super-Mare, BS22 6WA
---
Workwear

For further vehicle, tool & workwear updates visit www.total-installer.co.uk

'SUPERIOR, ERGONOMIC KNEE PROTECTION'

Snickers Workwear's Kneeguard is a fully certified, trademarked system for knee protection against kneeling

injuries and everyday knocks at work.

According to Snickers, the combination of Kneeguard pads and the Kneeguard PRO positioning system in Snickers

workwear trousers is a ''crucial combination for reliable knee protection.

In Snickers Workwear trousers kneepad pockets, you can adjust the kneepads to different heights to ensure correct

positioning for you, ensuring maximum protection.

There's also different types of Kneepads to fit different types of trousers to suit different jobs on site. Such as the

specialist kneepads for the Floorlayer trousers and the slim-fit Kneepads specially for the slim-fit trousers.

Snickers says the unique design features also make the kneepads 'extremely flexible when you walk, yet they close

around your knees when you kneel down – without your knees sliding off when you move around'. With 'superb'

impact protection, the D30 Ergo kneepads are made of a unique material that moulds around your knee to provide

enhanced impact protection.

www.snickersworkwear.co.uk

GLOVES DESIGNED FOR DEXTERITY AND COMFORT

Snickers Workwear now has an extensive collection of work glove styles in a wide range

of sizes, developed for different workplaces and tasks – designed for dexterity, durability,

comfort and precision.

With advanced features and material combinations, Snickers says there's something to suit a

wide variety of trades and workplaces, weather conditions and hazardous environments.

The advanced ergonomic designs ensure strong, secure grips, while 'sophisticated patterns',

vents and ribs combined with durable materials deliver cut-protection, ventilation, waterproofing

and insulation.

What's more, for specialist use where health and safety standards are key requirements, the gloves

are EN certified for performance and protection in 'hazardous and foul weather environments'.

www.snickersworkwear.co.uk/products/109

MAKING LITE WORK OF SUMMER

Snicker says the 2021 LiteWork clothing range delivers 'great thermal comfort in warmer months

with light, quick-drying fabrics that will keep you cool and comfortable all day'.

The new range of 'Rip Stop' shirts are stretchy and breathable, offering UPF50+ sun protection for

craftsmen who work long hours outdoors. In addition, 37.5 fabric technology in the mid-and base-layer

garments have features for efficient ventilation and moisture transport 'to keep you comfortable all day'.

The ergonomic, body-mapping trousers, shirts, shorts, jackets and windproofers have all the comfort

and functionality of other Snickers Workwear stretch garments, delivering extra freedom of movement

and improved performance on site.

Snickers says that 'just like high-performance sportswear, they'll also keep you feeling cool and looking

smart whatever you're doing and wherever you are on site this summer'.

www.snickersworkwear.co.uk

74 T I JULY/AUGUST 2021

PRACTICAL CONTENT FOR THE GLAZING INSTALLER & HOME IMPROVEMENT SPECIALIST
---
SCAN THE QR

CODE TO SUBMIT

YOUR JOKE

We are raising money

for GM Fundraising and

We Mind & Kelly Matters.

by creating 'The Little Pink

book of Jokes' & 'The Super

Widgets Children's Activity

Book' but we need your help!

Please submit your hilarious

jokes by scanning the QR

code and you can help us

reach our £21,000 target.

#widgets21 #widgetscomedy

To find out more about the amazing charities,

we are raising money for please visit their websites:

GM Fundraising|gmfundraising.co.uk

We Mind & Kelly Matters | wemindandkellymatters.org.uk
---
Innovation

unlocked

Get ready..

Another game

changing product from

Made for Trade is on

the horizon

ALUMINIUM SYSTEMS