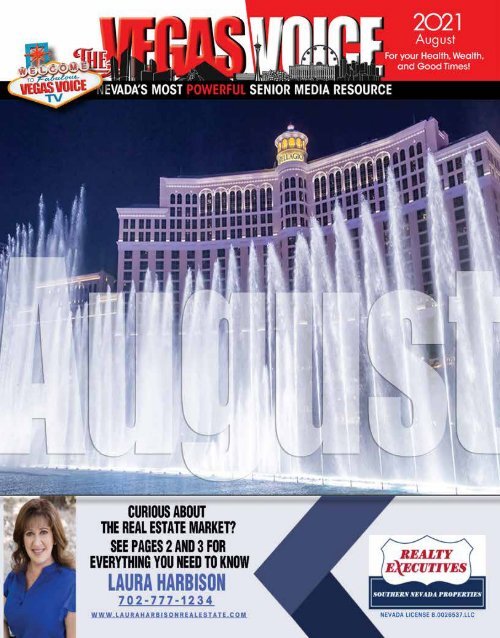 Create successful ePaper yourself
Turn your PDF publications into a flip-book with our unique Google optimized e-Paper software.
2

August 2021
---
3
---
PUBLISHER/EDITOR

PRESIDENT

VP ADVERTISING

EXECUTIVE DIRECTOR

ANY CONTENT EDITOR (ACE)

ENTERTAINMENT EDITOR

NIGHT LIFE EDITOR

TRAVEL EDITOR

RADIO HOST

GRAPHICS EDITOR

DIGITAL MEDIA

VIDEO PRODUCTION

WEB DESIGN

Pat Alexander

Adrea Barrera

John Bielun

Liz Breier

Yvonne Cloutier

Dianne Davis

Sandi Davis

Chuck Dean

Jan Fair

Howard Galin

Susan Goldfein

www.thevegasvoice.net

www.vegasvoicetv.net

OUR 18th YEAR

OUR FANTASTIC COLUMNISTS

Linda Gomez

Ali Guggenheim

Dianne Hahn

Dan Hyde

Pat Landaker

Mike Landry

Heather Latimer

Gayla Kalp

BJ Killeen

Kathy Manney

Kyo Mitchell

Dan Roberts

dan@thevegasvoice.net

Ray Sarbacker

ray@thevegasvoice.net

Debbie Landry

debbie@thevegasvoice.net

Bill Caserta

bill@thevegasvoice.net

Rana Goodman

rana@thevegasvoice.net

Evan Davis

evan@thevegasvoice.net

Sam Wagmeister

Stu Cooper

Rich Natole / Jon Lindquist

Michael Roberts

Ross Roberts

Jason Roberts

Success City Online

Liz Palmer

Judy Polumbaum

Mary Richard

Samantha Rivero

Renee Riendeau

Crystal Sarbacker

Moish Tombosky

Jim Valkenburg

Beverly Washburn

Vicki Wentz

Kate Wind

4

August 2021

PROUD

MEMBERS OF:

About The Vegas Voice

In 2020 The Vegas Voice received six national awards from the North

American Mature Publisher's Association. The awards were for our investigative

articles, front-page design, editorials and columns.

As the judges stated (and we humbly agree): The Vegas Voice gets

credit for pulling no punches, striking hard… with its articles.

It's unequivocal style leaves no room for readers to wonder where

it stands on senior issues.
---
We're Not Her Spittoon

By: Dan Roberts / Roberts Rules

"

Just let it go. It's not important."

I heatedly ignored my PILL's (partner in

love & life) statement.

I was beyond furious.

President Harry Truman is credited

for saying, "It's amazing what you can

accomplish if you do not care who gets the

credit." And to a great degree that's true.

It was certainly true for our Vegas Voice

political editor Rana Goodman. Her

tireless efforts to expose, report and reform

the guardianship laws in Nevada speak for

themselves.

But there's another quote that entered my

mind. This one from Will Rogers – "If you

don't blow your own horn, someone else

will use it as a spittoon."

And this publisher refuses to allow

Channel 13 KTNV-ABC reporter Darcy

Spears to turn Rana's accomplishments

into her spittoon.

Darcy's report last month concerning

entertainer Brittany Spears was the final

straw. This reporter was taking sole and

complete credit for "exposing" the Nevada

guardianship scandal.

Her claim of revealing the guardian

problems as she single-handily uncovered corruption and greed in the

system is shameful and total BS.

Even the Las Vegas Review Journal (the RJ for god's sake!) in its

claim of taking credit for the newspaper's guardianship reporting, at

least acknowledged and had the honesty to give some credit to The

Vegas Voice.

But Darcy? No TV segment. Not even a paragraph, a sentence or even

one damn word. No siree… it was all her.

Despite Darcy's breath-taking claims that she exposed the

guardianship issues to the public in February 2015, did she simply

ignore Rana's first column in September the year before?

That's a full 6 months before Darcy ever heard of guardianship.

And her so-call "breaking news" came out after our February 2015

Vegas Voice Special Report, that was not only distributed across the

valley, but placed in over 30,000 senior mailboxes in Southern Nevada.

You might be asking yourself, how did Channel 13 and Darcy ever

get the information about guardianship issues in the first place? Here's

a hint - check out the photo.

I can't even begin to count the number of times Rana served as

Darcy's source. But now it's "Rana who?"

It was Darcy's reporting that forced guardianship reform? Come on,

it was Rana's grass-roots petition drive that started the movement.

Did you see Darcy walk the Nevada legislative halls in Carson City

reporting on guardianship reform efforts? No, but there was our Rana

sitting with Senator Becky Harris when the senator introduced the

guardianship reform bill.

And where was Darcy when Governor Brian Sandoval signed the bill

into law? I don't see her in the photo with

our Vegas Voice staff, do you?

And let's not forget private guardian April

Parks. How do you think Darcy found out

about Parks' criminal activities? Once again,

it was Rana Goodman.

And last but not least, as I get angrier

and angrier at Darcy's patting herself on the

back for her so-call exclusive investigation,

The Vegas Voice challenges her to back up

her claim that "as a direct result of her

investigation" a Guardianship Compliance

Office and new state laws were implemented

- like that Guardianship Nomination Form.

You think it was Darcy, or more like the

Guardianship Commission chaired by Judge

James Hardesty? By the way, my Ladylove

was a member of the Commission.

As for that Guardianship Nomination

Form, guess who was the first person to sign

up? Yes, it was our Rana.

I guess Darcy's exclusive reporting missed

that one as well.

I will concede there is one thing that Darcy

has that Rana does not. It's her Emmy. There

is, however, one thing that our Rana has that Darcy will never have.

It's called class.

What Do

You Think?

Do you agree with our

columnists? Did anyone get

you angry, make you think

or simply put a smile on

your face? Please tell us by

forwarding your comments,

thoughts or suggestions to

Publisher Dan at: dan@

thevegasvoice.net.

5
---
Diary of a Las Vegas Summer

By: Bill Caserta / Bill's Blurbs

Editor's Note: With the Las Vegas

summer heat in full force, we've

been asked by numerous readers to replay

the following for your amusement.

June 1 st : We just moved to Las Vegas. Now this

is a City that knows how to live! Beautiful sunny

days and warm balmy evenings. Mountains and

deserts blend together.

What a place! Watched the sunset from the

park. It was beautiful. I've finally found my

home. I love it here.

June 14 th : Really heating up. Got to 100

today. Not a problem. Live in an air conditioned

home and drive an air conditioned car.

What a pleasure to see the sun every day like

this. I'm turning into a real sun worshipper.

June 30 th : Had the backyard landscaped with

western plants today. Lots of cactus and rocks.

What a breeze to maintain. No more mowing

for me. Another scorcher today, but I love it here.

July 10th: The temperature hasn't been below 100 all week. How do

people get used to this kind of heat? At least it's nice and windy though.

But getting used to it is taking longer than I expected.

July 15th: Fell asleep by the pool. Got 3 rd degree burns over 60% of

my body. Missed 2 days of work – what a dumb thing to do. I learned

my lesson. I really have to respect the sun in a climate like this.

July 25 th : This wind sucks. It feels like a giant freaking blow dryer.

And it's hot as hell!

The home air conditioner is on the fritz and the AC repairman

charged $200 just to drive by and tell me he needed to order parts.

July 30th: Been sleeping outside by the pool for 3 nights. $1,200

in damn house payments and we can't even go inside. Why did I ever

come here?

August 4 th : It's 115 freaking degrees. Finally got the air conditioner

fixed. It cost $500 and gets the temperature

down to about 90. I hate this stupid place.

August 8 th : If another wise guy cracks: "Hot

enough for you today" I'm going to tear his

throat out. Damn heat. Will it ever get below 115

again?

August 9 th : Tried to run some quick errands.

Wore shorts and sat on the car's leather seat. I

thought I was on fire. Lost 2 layers of flesh.

August 10 th : The weather report might as

well be a damn recording: "Hot and sunny."

It's been too hot to do anything for over 2

months and the weatherman says it will really

warm up next week. By the way, does it ever rain

in this damn desert?

With the water rationing, $2,500 worth of

cactus just might dry up. Even a cactus can't live in this heat.

August 19th: WELCOME TO HELL. Temperature got to 121 today. If

I had wanted to live in Death Valley, I would have moved there.

Forgot to crack the window and blew the damned windshield out

of the car. The installer came to fix it and said: "Hot enough for you

today?" My wife had to spend the $1,200 house payment to bail me out.

If I don't end up in prison, I'm putting the house up for sale and

moving back to Buffalo!

6

The Heat Is On!

By: Mary Richard / Health Fitness

Welcome to our Las Vegas heat! We've

recently broken all kinds of weather

records. So what do we do to keep cool? First of all,

lots of water!

The rule of thumb is to drink as many ounces equal to one-half of

your weight! No cheating, now! A person weighing 120 pounds, for

example, should drink 60 ounces of water each day.

Sounds like a lot - but please realize this is from the time you wake

up until bedtime. I have to force myself sometimes to remember to drink

water, but I do. I always keep a full glass of water on the counter to

remind me to drink up!

I also keep my house at a comfortable 78 degrees, both for my comfort

and for my two kitties. I noticed they like to lay on the cool tiled floor

more often during the summer.

We all need to be aware of heat exhaustion and/or heat stroke. What

are the first signs of heat exhaustion?

1. Heavy sweating.

August 2021

2. Cold, pale, and clammy skin.

3. Fast, weak pulse.

4. Nausea or vomiting.

5. Muscle cramps.

6. Tiredness or weakness.

7. Dizziness.

8. Headache.

At the first sign of heat exhaustion, it is important to take the following

steps to help get your temperature down and cool your body:

1. Move to an air-conditioned location

2. Take a cold shower or use cold compresses.

3. Drink plenty of fluids.

4. Remove tight or extra clothing layers.

The Vegas summers are brutal, and with the added need to be safe

from Covid, we must always be aware of staying safe from excessive heat.

POSITIVE ATTITUDE AND HAPPY HEALTH TO ALL!

Mary Richard is a long term supporter of senior fitness. She

teaches Zumba, toning and dance classes throughout the Las Vegas

Valley. She can be reached at zumbaqueen@cox.net.
---
7
---
Family Inspires Scinta

By: Sam Wagmeister / People & Places

When Frankie Scinta returned to the South

Point stage in late June, the family show

that ruled The Strip for over a decade was down

to a solo act.

Ten years ago, the quartet became a

trio when sister Chrissi developed vocal

cord issues. Three years ago, brother Joey,

master bassist and comic foil, was taken

by a fatal stroke.

Last year, uncertainties surrounding

Las Vegas' reopening after Covid forced

the band's 35-year veteran drummer,

Pete O'Donnell, to accept a job in Florida.

Gone too, was Frankie's favorite fan,

Mary, known to audiences as Mama Scinta, whom he lost 19 months

ago.

Each time, Frankie found the strength to reach inside himself to

fulfill what's become a lifelong commitment to his audiences.

The night Joey died, Frankie performed before a sold out audience. He

lovingly paid homage to his brother's spirit that night, stepping to the

back of the stage to retrieve Joey's bass guitar for one last song for the

audience. "God told me, 'You gotta go out there. It's your time.'"

Every time Scinta had been dealt a bad hand, he's rolled with the

punches. "God has put this in my lap. I didn't want to be alone. My

family left me."

When the pandemic struck, Frankie asked, "How are we going to get

through this as a family?" The Scintas rallied.

Frankie, wife Jackie, their kids and

grandkids gathered each night for

dinner, "10-12 at the dinner table each

night," he says. "We all got Covid, but we

all got through it together. My wife, kids

and family, they carried me through."

They worked to convert granddaughter

Vivienne's loft playroom at Frankie's

house into a makeshift studio. "It all

started with an I-phone and an amp."

Sunday night Facebook broadcasts

have become 'appointment shows',

attracting up to 15,000-18,000 viewers reminiscent of families gathered

around the TV for Ed Sullivan. Son Frankie Jr handles production and

daughter Danielle Mackin mans social media requests and comments.

"To work with family again has meant so much to me."

"I can feel the audience through the lens," he says after the

90-minute show, wiping tears from his eyes, "but there's nothing like

a live audience."

"I was put on this earth to perform," he adds. "The audience means

simply everything to me. I want them to know I'm just like them."

By: Dianne Davis / That's Entertainment

Normally, I share MY show reviews with you,

but these are not normal times. That's why

I was so pleased to be at the Smith Center for the

Performing Arts when, after 486 days, they turned

the lights back on.

At a press conference held on the stage of Reynolds Hall last

month, Myron Martin, Smith Center CEO said, "It's time to celebrate

- intermission is over and The Smith Center's second act is about to

begin. We invite everyone to take their seats and join us as we reopen

the heart of the arts this fall."

Then, there was a ceremonial dimming of the ghost light before the

lights went on.

The Smith Center is ready to welcome us back to live quality theater

performances. In addition to Broadway shows, live performances at the

Smith Center beginning in September will include featured headliners

in music and dance across a wide variety of genres.

Members of the press were treated to a preview of An Officer and

a Gentleman, one of the six shows of the 2021-2022 Broadway Las

Vegas Series lineup. This new show will be staged in Las Vegas in late

October, prior to its Broadway premiere.

Broadway shows now on sale at The Smith Center include CATS

8

Tickets On Sale - World Premiere Scheduled

August 2021

(Oct. 12-17), the musical

spectacular by Andrew Lloyd

Webber, AN OFFICER and

a GENTLEMAN (Oct. 26-31)

and A CHRISTMAS CAROL

(Nov. 23-28), The Tony

Award-winning hit comedy

THE PLAY THAT GOES

WRONG returns November

9-14.

In addition, upcoming performances include Broadway icons

including Kristin Chenoweth and Patti Lupone; music legends Paul

Anka and Johnny Mathis; acclaimed jazz performers Wynton Marsalis

and Boney James; internationally renowned dance groups Ballet

Folklorico and Les Ballets Trockadero de Monte Carlo; and notable

speakers Neil deGrasse Tyson and Garrison Keillor.

The first live performance is set for September 14, when Vegas

favorite Frankie Moreno takes the stage again at Myron's Cabaret Jazz.

For more information about The Smith Center for the Performing Arts,

visit www.TheSmithCenter.com.

Dianne Davis is delighted to once again share her opinions of

local performers and shows. She is the lead reporter for SCA-TV

and Associate Editor of lasvegas.splashmags.com.
---
Bathroom Remodeling

Made Effortless

$450 OFF

Tub or Shower Remodel

Not to be combined with any other offer. Expires 8/31/2021.

Schedule your free in-home design consultation today.

702-509-7503

Complete Bathroom Remodeling • Tub & Shower Updates • Aging & Accessibility Solutions

3655 East Patrick Lane, Las Vegas, NV

NV Lic # 81688, 81689, 81690

9
---
Take a walk

through history.

Our history.

Under the Big Top

By: Beverly Washburn / Hollywood Memories

In 1952 I was in a movies called "The Greatest

Show on Earth." It won the Oscar that year

for the Best Motion Picture.

The movie was directed by the legendary Cecil B. DeMille. It starred

Charlton Heston, James Stewart, Cornel Wilde, Betty Hutton, Dorothy

Lamour and Gloria Grahame.

Interestingly, the role of Angel, played by Gloria Grahame, was

originally supposed to be played by Lucille Ball. She had to decline the

role when she found out she was pregnant with her first child.

The Neon

Boneyard

Featuring restored

and unrestored signs

and the history

behind them.

Brilliant!

Experience

A 30-minute nightly

show that magically

brings unrestored signs

back to life, accompanied

by a soundtrack of

some of the greatest

musical performers in

history to transport guests

into Las Vegas' past.

10

BOOK A TOUR

NeonMuseum.org

August 2021

That's me, sitting under the Big Top with "Buttons the Clown,"

portrayed by Jimmy Stewart. At the time I didn't know he was the Jimmy

Stewart but talking with a clown was great fun for me. He was also

extremely nice to me.

Although I only had a small role, I loved every minute of it and as

I became an adult, I realized just how fortunate I was to have been

directed by the Cecil B. DeMille.

I'm going to share with you something that was pretty funny on the

day we filmed my scene. As I'm sure you all know, the word "Hollywood

Stage Mother" can have a very adverse connotation and present a

virtual nightmare to cast and crew.

There was a young boy who had been hired as an extra to sit in the

bleachers a few rows behind me. During the course of filming my scene,

suddenly the mother of the young boy yelled "cut" in a very loud voice.

Obviously, only the director makes that decision. The Stage Mother,

however determined that her son couldn't be seen by the camera as she

felt he was being blocked from view by a man sitting in front of him - so

she took it upon herself to stop the filming!

Needless to say, that didn't sit too well with the crew and especially

Mr. DeMille! The mother (and the boy) were promptly escorted off the

set.

I was always proud of my mother as she sat quietly in the background

and let everyone do their job.

Until next time, remember… Kindness is a language which the deaf

can hear and the blind can see.

Beverly Washburn graced the silver screen as a child actress and

is the author of Reel Tears. You can contact Beverly at: bjradell@

hotmail.com.
---
Things Have Definitely Changed

By: Liz Breier / This & That

Now that many of us feel comfortable going

out and about, especially without masks, I

often hear "things are back to normal." To me –

No, they are not!

A recent trip to the dentist for basic hygiene reminded me that some

venues still require masks, and of course, I did not have one with me.

I wasn't sure of the purpose since I spent nearly an hour in a chair

with my mouth wide open for all the germs to escape or enter at their

pleasure.

I assume everyone is aware that masks are still required on airline

flights. What a joy sitting with that on for hours.

Then there is the situation with services. Waiters are still wearing

masks in some restaurants, but not others. Speaking of dining out,

the service is generally deplorable and when I questioned why, I was

advised that they just cannot get enough help.

I always enjoyed getting out early and getting to the store before they

got too busy, but now, most (that are still in business) don't even open

until 11:00 am. I recall when 10:00 was the standard.

We used to enjoy going to dinner and then window shopping (which

of course included entering the business establishments) to make

purchases. Well, if I want to continue that tradition, I have to eat extra

early because I find many local shops are now closed by 7:00 pm. Gone

are the days of 9:00 pm or even 10:00 pm closures.

Many TV news

and interview

shows used to

include several

individuals on

the set. Postpandemic

(if we

are even there

yet) I have to get

used to watching

individuals on

a "split screen"

because they are

afraid to get into

the same studio. It

is just not the same as the face-to-face interaction and comradery of

on-air personalities.

Yes, in some ways we can say our lives have returned to "normal",

but it is a new normal. One that will take some getting used to is to

stop longing for the way things used to be (just a year and a half ago)

because it seems that is not likely to happen any time soon - if ever.

Liz Breier is an ex-New Yorker who retired to Florida for 24 years

before deciding that Nevada means home to her. You can contact

Liz at: bluesky090372@gmail.com.

Urgent Medical Care

When You Need It

Where You Need It

Most insurance accepted, including Medicare and

Medicare Advantage. The average out-of-pocket

cost is just $5-$28.

Request Care Today:

702-848-4443

DispatchHealth.com/Las-Vegas

Open 7 days a week, including holidays.

8 a.m. to 10 p.m.

For life-threatening and time-sensitive injuries and illnesses, call 911 or go to the nearest

emergency room. ©2021 DispatchHealth. All Rights Reserved.

11
---
By: Evan Davis / Entertainment Editor

As we've turned the corner on 2021 and

heading into the hottest month of the year,

I would like to tell you a little about the sizzling

show we have in store for you. In September, as

Vegas cools down, our Vegas Voice production heats up once again.

On September 11 th Chadwick Johnson brings his "Celebrating

the Piano Men" to Sun City MacDonald Ranch. This will be a premier

event as Chadwick is making his first appearance at MacDonald Ranch.

Besides being a wonderful singer/songwriter, he will be "Celebrating

the Piano Men", such as Elton John, Stevie Wonder, Ray Charles,

Billie Joel and More!

You will also be treated to some of Chadwick's original awardwinning

songs.Now we're not the only game in town. From the west

side there are places like Chianti Italian Restaurant, La Casa Cigar Bar,

Siena Italian Deli and many others.

The east side has The Nevada Room, Italian American Club plus

many restaurants offering spectacular local entertainment.

I would like to mention the performers that have made our Vegas

Voice 2021 shows, nothing short of spectacular. There's been, Mark

OToole, Rich Natole, Genevieve, Michael Ross Nugent, the

Folk Legacy Trio, Bill Fayne, Kellie Wright, Denise Clemente,

Rita Lim, Chase Brown, Amanda King, Jonathan Karrant,

Samantha Rivero, Chadwick Johnson, Tony Arias, Ruby

Lewis, John DiDomenico, Cali Tucker, Jassen Allen, Jonny

12

Coming Attractions

In the Heights

By: Renee Riendeau / Movie Revelations

"

In the Heights" fuses Lin-Manual Miranda's

kinetic music and lyrics with director Jon

M. Chu's lively

authentic eye for storytelling to

capture a world very much of its

place, but universal in its experience.

This PG 13 film is highlighted by

the main cast of Anthony Ramos,

Corey Hawkins, Melissa Barrera and

Olga Merediz. It was released in June

with an acceptable overall rating of

an A- rating.

"In The Heights" is based on the

2008 Tony winner for Best Musical

that put Lin-Manual Miranda on the map. The film follows characters

from the largely Latin upper Manhattan neighborhood of Washington

Heights.

"Suenitos", or "little dreams" are pursued with hard work and

perseverance and are achievable, although not without their obstacles.

The movie benefits by being shot on the streets of Washington Heights.

This area of New York is referred to as Little Dominican Republic.

August 2021

Bird, Phillip Officer,

Kelly Vohnn and

Michelle Johnson.

Whew.

The next four months

will bring another dozen or

so performers to the stages

around town. Compliments

of The Vegas Voice.

I do need to mention

another venue, the Library

Theaters. A couple of

Smooth Jazz Icons, Brian

Simpson and Steve Oliver,

will be headlining at

The Summerlin Library

Performing Arts Center and

The Windmill Library.

Let us not forget The Flamingo Library, Judy Bailey Theater and soon

to reopen, The Smith Center.As we always have, and will continue to

do, our mission is to bring you the best in local entertainment here in

Vegas.

Because What Happens Here, Only Happens Here!

You can read Evan's entertainment blog and sign up to receive

his free email weekly Calendar of Events at www.EvanDavisJazz.

com. Email him at: evan@thevegasvoice.net.

In this film, Chu goes for a slightly dated Disney channel vibe

complete with a flash mob dance number. Chu may not be Latin but is

very sensitive to the themes.

Miranda's lyrics come fast and

furious for more than two hours. The

special effects, great cinematography,

and fantastic dance routines

enhanced this spectacle.

For me, a few things stood out that

were of concern; the huge cast was

overwhelming, much of it was too

fast, and a confusion of colors on

outfits. Am I getting old?

There is Oscar buzz regarding

this movie and only time will tell.

It's definitely worth finding it on Netflix to watch at home, or going

out to the big screen, big chairs, reserve seating, snack bar, and air

conditioning as you do the theater experience.

Renee Riendeau is the movie critic for "Renee's Revelations"

on Anthem Alive SCA-TV. As a dog sitter she operates " Renee's

Roommates" out of her home and can be reached at

rriendeau@aol.com.
---
13
---
By: Sandi Davis / Fashion "Cents"

How do I really look? Before leaving the

house, my usual final check is with my

spouse.

Is my hair okay? Do these pants, this dress, this top make me look

fat, paunchy, wrong? The usual spousal response: "It's OK", or "you're

wearing that!" or "I'm not sure, what do you think?"

And now that we have a puppy who is almost six months old, she has

an opinion too.

How do we really know for sure?

I look in the mirror, and I think

I look better than I really do. And

when I find pictures online of me,

I am surprised and dismayed that I

did not look as good as I thought.

So, to alleviate the not so helpful

spousal responses, and surprise

Facebook pics, I have started doing

selfies. They tell the truth!

My checklist is whole outfit first.

I do one of those mirror selfies, so

I cover my face with the phone so

I'm not distracted, and I can see

how the outfit looks from a side

and a front view. Shoe check is

considered too.

If the outfit is good, then onto

closeup of hair and makeup.

In the mirror again, phone held

high with your back to the mirror,

you can get a good shot of your

hair from all sides. Tweak, change,

smooth and spray, as necessary.

Is my eyeliner straight and dark

enough? Is the mascara OK, with

no clumping? Is my blush subtle?

And is my foundation covering

nicely and smooth? If all this is good, then onto lipstick selection. This

usually takes a few attempts since I must consider my outfit color.

Only after all this is good to go do I select jewelry. Always earrings,

but sometimes a no to a necklace.

And then I ask Ruby – our Bichon puppy, how I look. I always get an

approving tail wag.

What I am recommending is a good self-check using your phone's

camera. You might even get a great photograph that you may want to

keep.

So, go ahead and snap away. And if the outfit is truly not good on

you, I recommend donating it.

14

How Do I Look?

Sandi Davis is the Fashion Style columnist and Behind-the-Scenes

Research Analyst for The Vegas Voice. She welcomes all questions

and opinions. You can contact her at Sandidavis@cox.net

August 2021

Drive-Thru Hands

By: Adrea Nairne-Barrera / Senior Moments

You know you're really bored when you're in

a drive-thru line and make a point to look

at how people use their hands while waiting for

their order.

There are the ones who dance to whatever the radio is playing,

tapping wildly on the side of the car and amusing themselves. They

don't really get too impatient even when the guy behind them is doing

heavy sighs. Inevitably their order is for the 12 people in their office

that have lunch orders.

Then we move on to the quiet ones who just hang the hand over the

side view mirror and stare. Not much more I can say about them.

And when it's time to pay at the window, practically no one has their

wallet out and ready. They're scrounging for the exact change that has

fallen in the seats and so we wait.

I'm very happy they now ask if you want to round up your payment

for charity. It saves a lot of time.

What about special orders? These guys actually act out the order with

hand motions to describe what "no pickle" looks like. They shake back

and forth, point and perform a routine to entertain us.

Many of us, me included, just hang our hands out the window waiting

for someone to hand us food. Then in my case, I notice something

weird on my hand or a nail polish chip and I move it around, so the

side mirror has a better angle. I'm kind of like a puppy who thinks if

he looks away, you can't see him anymore.

Driving through the pharmacy for drugs is a whole different matter.

You get your bag and have to dig around for the credit card they put

in the bag.

Now you have to put it away and then they ask if you have any

questions. These movements require one hand organizing the card,

receipt and wallet while the other is reading the labels. After a minute

or two, you see both hands gesture success and they drive away.

Obviously, I'm bored.

Adrea likes to opine and find the lighter side of life as a senior.
---
Get the Care YOU Deserve

From the Providers

Patients LOVE.

NOW

ACCEPTING

NEW

PATIENTS.

TRICIA AGUSTIN, MD

SCHADREY BONDS, FNP-C

MAILO BRANTNER, DNP,

FNP-C

WENDELL BURRIS, MD

TAMMY COLLANDER,

NP-C

ROOPA DANI, MD

CAROLYN DECHAINE,

PA-C

EDWARD M. HARDING, MD TERESA HONG, MD LINDA JOHNSON, MD

ANA KARAMANIDES, MD

MARIA VERA LEON, PA-C

ASHLEY MCDOWELL, PA-C

MARY M. NARA,

DNP, FNP-C

JULIA NAVALTA, FNP-BC

ROWENA PANGANIBAN,

FNP

CARMELITA PAYOS, MD

ROBERT RITCHEY, MD

SUSAN SHIELDS, PA-C

EVANGELINA SNOW, MD

J. KATE TUTTLE, FNP-C FOLUKE UCHE, MD

CRISTINA VICERAL, FNP

KELLY WATTERS,

DNP, NP-C

TAWNI YARDLEY, DNP

Learn more about the care we give to

patients at P3MG.org.

Call us TODAY to schedule an

appointment at (702) 333-4700.

P3MG_2103 - All Doctors Ad - Vegas Voice_6.16.21.indd 1

7/16/21 4:47 PM

15
---
46

A Table By the Window

By: Dianne Hahn / Back in the Days

1965, Eastern Airlines, Kennedy Airport, New

York. My first day as a Ground Hostess.

My navy skirt and jacket, white blouse and

gloves were spotless. My six-inch heels shone and

the Navy pill box hat with the Eastern emblem sat primly on my head.

It's an easy job, they told me. Just smile and answer questions. Oh,

and occasionally drive the golf cart with the blue and white canopy to

pick up VIP's.

16

August 2021

"I can't do that," I murmured. "I don't drive."

"Sure, you can! Nothing to it!" They gave me a demonstration and I

watched carefully, took notes, and prayed I wouldn't be called.

Sometimes, prayers aren't answered! My first call was "Ground

Hostess with cart to gate 19."

My legs turned rubbery as I sat in the cart.

"Nothing to it," I murmured, turned the key and stepped on the gas.

The cart lurched forward, and I almost annihilated a Japanese tour

guide with his flag held high. His fellow tourists scattered.

I turned sharply to see one of the huge columns in the lobby coming

towards me! I swerved, turned left, and proceeded down the concourse

at an alarming speed.

Gate 19 loomed before me and I spied my VIP. He was a huge man

with a 10-gallon cowboy hat and a Texas accent.

"Hello Little Lady," he said with a drawl. "Take me to the restaurant.

I have two hours before my connecting flight. I want a seat by the

window to watch the planes land and take off."

We took off with a jerk. He hung on to his hat and clutched the side

of the cart. "Hey Little Lady, what's the hurry?"

I was too busy steering to answer. The thick glass swinging doors

of the restaurant were suddenly in front of us. We sailed through the

closed doors and one of them slammed to the floor with a deafening

crash.

The Maître d' and his podium were directly in front of us! I finally

found the brakes, exhaled, and said. "This gentleman would like a

table by the window."

P.S. They didn't fire me!

A former schoolteacher, Dianne Sebis Hahn writes for children

too. Presently, Dianne has eight books available on Amazon.com.

You can also see her on SCA TV.
---
Impossible

By: Gayla Kalp / Life is Laughter

Lately, I have been frustrated and angered

about people that say "Oh, that's

impossible" when you try to help them out of

their unemployment or life situation caused by

the Covid crisis.

I hear "I can't work because

I am a plumber, waitress, car

salesman, medical technician,

etc. and I can't find a job that

will pay me what I am worth or

meets my job skill. I am too old

to start learning a new trade or

to go back to school.

"There are no full-time jobs

that pay what I want, etc., etc.,

etc. It's impossible!"

I, for one, was left by my husband in my ninth month of pregnancy,

had given up my full-time job to have my baby and no one would hire

a woman about to give birth or with a newborn.

I took on five part-time jobs to put food on the table (no welfare) and

went back to school to learn another trade. No….it is possible!

I went back to school again at 52 years of age to learn another trade

to make more money and better myself.

I don't tell you this to get a standing ovation. I say this to wake up the

"Poor is me" in all of us. You can make your life much better.

Sometimes, it is true. Bad things happen to us. Don't let it kick you in

the teeth. Stand up with fists bared and punch away.

In a word: WIN!

Muhammad Ali was a great

fighter. He also made many

colorful statements in his life.

One thing that he said has stuck

with me all my life: "Impossible

is just a big word thrown around

by small men who find it easier

to live in the world they've been

given than to explore the power

they have to change it.

"Impossible is not a fact. It's

an opinion. Impossible is not a

declaration. It's a dare. Impossible is potential. Impossible is temporary.

Impossible is nothing."

So, get off your "Duff" and explore all the possibilities that are out

there waiting for you. Do something you thought was impossible. Prove

yourself wrong and you might just better your life!

Gayla is a speaker, author, psychologist and humorist. She also

happens to be Ms. Sr. California, Nevada and Universe England.

ADA Compatibility

Grab Bars + Ramps

Curbless Showers + More

17
---
Raindrops Kept Falling on his Head

By: Yvonne Cloutier / Musical Moments

Billy Joe Thomas was one who knew his

music and what people wanted to hear.

He was the winner of 5 Grammy Awards and the

singer of Raindrops Keep Fallin' On My Head, in the 1969 movie

Butch Cassidy and the Sundance Kid.

The song spent 4 weeks at the top of the pop chart in 1970s, making

it possible for Thomas and the song to be inducted into the Grammy

Hall of Fame in 2014.

Did you know that Thomas didn't write the song? Burt Bacharach

and Hal David did.

You probably know Bill Joe as B. J. Thomas, and the singer of

other well-known songs: Hey Won't You Play Another Somebody

Done Somebody Wrong Song (1975) or Hooked on a Feeling (1968).

He educated himself in music and the music business. He knew what

his audiences liked as well.

Thomas was born in Hugo, Oklahoma, the middle child of three.

He sang in a church choir as a teenager, joined the musical groups

The Triumps & Traits, and participated in Battle of the Bands events.

It could be said that his genres were Country, Pop, Contemporary

Christian and Rock.

As with many people, he unfortunately became involved with

substance abuse. His family was poor, and his father's violent temper

and drinking exacerbated this.

Mr. Thomas's

recordings however

stayed constantly

productive. He began

to recover from

substance habits

after converting to

Christianity.

He and wife, Gloria,

also a singer and

composer, had separated several times, but returned to each other

again and again. His quote was, "I love many women, but I'm in love

with only one."

Thomas sang at Elvis Presley's funeral, and other religious events

including Billy Graham's. He claimed to be sober since his last

reconciliation with Gloria in 1976.

His net worth was estimated to be $6,000,000. B.J. Thomas is survived

by his wife of 53 years, Gloria and 3 daughters.

He said his greatest compliments were when people sang along to

his songs.

Yvonne Cloutier, a former teacher/principal, with a music

background, specializes in ragtime piano. She researches and

reports about music on SCA-TV.com/Anthem Alive! You can

contact her at www.mytimeisragtime.com.

18

August 2021
---
19
---
I Think I Can, I Think I Can

By: Pat Alexander / Art of Entertaining

Today I spent the whole day smiling. Why,

you ask? Because for several months, each

time I entered my house through the front door –

usually it's through the garage, the condition of the front door bothered

me.

The paint was dingy, scratched and faded. I certainly didn't want

what I call a "disposeahouse", named for those people who buy a

house, live in it without maintaining it, then sell. Ugh, what was I

waiting for?

Yesterday I said, "no more." Since I tend to jump in when I want

something done and didn't have patience for researching HOA approved

colors, I went to Lowe's and purchased paint I thought matched the

existing hues. Yes! Colors are spot on.

The paint police won't be visiting me! Another thing to be happy

about.

Today, I set up a table with paint, mini rollers, tape, etc. All the

paraphernalia needed to get the job done. At 8:30 I opened the front

door, washed it down, and in our 113 degree heat it dried instantly.

I went to work taping, then painting. First the door then the trim.

Since it was staring at me saying "me too, me too", I even painted the

trim around the little window next to the door.

By 11:00 I was done. It was perfect! And I am so pleased! Such a little

thing to bring such great pleasure.

I could have called someone to do the job, but I've decided that as

long as I'm able, if I think I can, I will. Talk about empowerment!

As you might guess, I didn't feel much like cooking after, so I made

one of my favorite hot weather meals, my version of Salad Nicoise. So

easy and I always have the ingredients on hand.

20

August 2021

Speedy Salad Nicoise

Microwave and peel a medium potato, then cut into chunks.

Microwave a handful of haricots verts (Trader Joe's is your friend here.)

Hard boil an egg and quarter it.

Break up contents of one can of tuna onto a platter, add potato, green

beans, egg, black olives, quartered tomato and torn Romaine lettuce

leaves. Top with anchovies and dressing.

I use olive oil, vinegar, Dijon mustard, mashed garlic, salt, pepper

and honey and mix until thickened.

Pat Alexander writes about all things home. She is well known for

her cooking, parties and interior design, and consults on kitchen

and bath remodels.
---
So Many Things Are Possible

By: Pat Landaker / Positive Aging

Aging happens so quickly. One day you're

raising kids, working, buying a home and

sending kids off to college.

Then, before you have a

chance to catch your breath, you're filling out

Medicare forms, adjusting your lifestyle, and

waking up to new aches and pains.

It's called aging and many of us arrive at it

kicking and screaming and refusing to accept the

inevitable, and that is: You're aging - and that's not

going to change!

So why not try letting go and embracing it. It's

called Positive Aging, and it's your best friend and

partner!

Positive aging begins with self-acceptance and ends in selfempowerment.

You have all the control. When you don't embrace

aging you spend your time in a negative battle with something you

can't change.

Accepting aging means you decide how you want to age. You decide

your age relevance. You determine your boundaries and limits. You

choose for yourself.

So you shift, adjust, accept, get out of your own way and give yourself a

whole new set of opportunities that can enhance your aging experience.

One possible adjustment to consider is how you communicate.

Many of us want things to remain the same. You'd rather a phone

call to a text, or a written note to an email.

I remember how my Mom refused to text or

email her grandkids. She felt they should write or

call her.

Well, they never did because those weren't their

modes of communication, simple as that! And trust

me; we all begged our kids to call or write her, but

all they replied was, "Why can't she learn to email

or text?" They weren't bad kids, just kids today!

Eventually, Mom made the shift and met them

on their communication platforms. It didn't take

long before she was flooded with photos and words of love and support

and instantly turned her negative experience into a positive one!

What shifts, adjustments or acceptances can you make in your life

that might enhance your aging experience? So many positive things

are possible when you let go and get out of your own way.

Pat Landaker is a Certified Senior Advisor (CSA) and a Senior

Lifestyle Consultant. She is owner of the Living La Vida Senior

brand, serves on the City of Henderson's Senior Citizens Advisory

Commission and teaches Positive Aging at UNLV/OLLI. Contact her

at positiveaging54@gmail.com.

EAST WEST

F I N A N C I A L

TRUSTS WILLS ANNUITIES

Short Term

Annuities with

NO CAP

ON RETURNS,

SKYS THE

LIMIT!

LIFE INSURANCE

888-437-0882

EastWestFinancialServicesLLC.com

$

99 OFF FREE

LIVING TRUST

Trusts drawn by an attorney.

JACK D. MAFARA JR.

BACHELORS DEGREE IN BUSINESS LAW OVER 30 YEARS EXPERIENCE

ANNUITY EVALUATIONS

& CONSULTATIONS

NV INS. LICENSE #80477

21
---
Purpose Driven Care

By: Samantha Rivero / Senior Life Specialist

Some folks may think of an Activity Director

in Senior Living as someone who calls

bingo. That's a stereotype I'd like to eliminate.

An Activity Director's job far extends past

the days of calling out numbers. I believe

they're matriarchs of a community; the raw

diamonds that accentuate and showcase a

building's true colors.

This comes with a cutthroat "To-do List,"

deadlines and showmanship to be a step

above (and never behind) when planning

events and creating a wow factor.

It takes a creative spirit to paddlewheel a

community's engagement and cheerlead an

army on a daily basis. And don't forget the

residents that need a motivational speech to

come out of their apartments.

It's that last bit of spark you have when you've reached your limits

towards the end of your shift, but you still open the door when you hear

your resident's voice on the other side asking if you're still in there.

Activity professionals are filled with personality. They aren't afraid to

dress in crazy costumes or sing the same karaoke songs.

In a pinch, they pull from the barrel and use their talents to

satisfy a large volume of needs and preferences on a daily basis.

Like mastering a Picasso painting, these pros tailor their calendars to

each person, and in the end, it comes together.

I'm representing their voice as a

Lifestyle professional who understands

the foundation around successful aging.

When great care blends with great lifestyle

programming it ensures your loved one's

overall wellness.

Activity professionals infuse the core

principles of emotional, physical, spiritual,

educational and social guidelines as a

formula to enhance lives. The goal is to

harness a purposeful environment while

nurturing mind, body and soul.

My mission is to level the margins and

create a balance where purpose driven care can take centerstage. After

all, that's what builds a healthy spirit. You can't serve the body without

a healthy state of mind.

Samantha Noelle Rivero is a Lifestyle Director with over ten years'

experience in Senior Living and specializes in Purpose Driven

Care. Contact her at: Seniorlifespecialistusa@gmail.com.

22

August 2021
---
Dr. Laura Addis

• Board Certified in Internal Medicine

• 18 years of healthcare experience

• Practices at the Henderson location

Discover primary care

centered on you

CenterWell Senior Primary Care is

the doctor's office you've been

searching for. Our Care Team

supports your physical, emotional

and social wellness – and helps you

live a healthier, happier life.

Become a new patient today

Call 702-919-5233

or visit SeniorFocusedLasVegas.com

Monday - Friday, 8am - 5pm

Do you have trouble getting in to see your doctor?

Call to schedule or stop by today for your personalized tour

and learn how our patients have access to care when they need it.

8 locations throughout the Valley!

CenterWell Senior Primary Care is now

accepting select Medicare Advantage

plans from Aetna, Alignment

Healthcare, Allwell and Humana.

Follow us @CenterWellPrimaryCare

to learn about activities and events

CenterWell does not discriminate on the basis of race, color, national origin, age, disability or sex. ATENCIÓN: Si

habla español, tiene a su disposición servicios gratuitos de asistencia lingüística. Llame al 1-877-320-2188 (TTY: 711).

1-877-320-2188 (TTY: 711).

GCHKUA7EN

23
---
Publisher Dan likes telling me that the

guardianship nightmare is over. My retort

is always "like hell it is."

Of course, I'm right and, once again, he's incorrect. Just like I was

in 2014 when he was initially opposed in

pursuing the guardianship problems we

uncovered.

It looks like Brittany Spears' nightmare

with her father's conservatorship of her

finances and others acting as conservator

of every other aspect of her life has

brought the topic right back to "the front

page."

Some people seem to be unaware that

guardianship and conservatorship is

the same concept, except California and

some other states use one term, others

like Nevada use the term guardianship.

In both instances, the guardian, (or conservator) literally becomes the

"ward" (or as Nevada now calls it) "protected person." The guardian

makes all decisions.

What kind of America would prohibit adults from marrying, having

children, and make any meaningful decisions in their own lives?

When my parents received their American citizenship, they believed

24

Free Brittany

By: Rana Goodman / On My Soapbox

Resuscitation

By: Heather Latimer / Heather's Self-Help Tips

If you gave a Do Not Resuscitate statement to

your hospital, you may believe that situation

is covered. Yet EMS personnel responding to a 911

call to your home have no access to those documents. If your condition

warrants it, they will promptly commence chest compressions and

other life-sustaining procedures.

To counteract that happening, there is a Do Not Resuscitate

Certificate available that's designed to be instantly recognizable by

EMS personnel. It's easily obtainable and you can place it in a highly

visible spot where you live.

Here's how:

1. Enter "Do Not Resuscitate" in your browser. Scroll down to

Southern Nevada Health District bearing the Nevada seal. You'll find an

application form to print. Or request a "DNR Application" by telephone

– 702/759-1050.

2. The simple one-page form requires: (a) your name, address,

gender, birthdate, (b) either your signature or of your agent, (the

person with your power of attorney if you have one), (c) Taking the

completed form to your doctor for signature, (d) Mailing the form with

$5 check payable to Division of Public and Behavioral Health.

The certificate you'll receive includes a removable wallet-card. Place

August 2021

that they had sworn allegiance to the "land of the free and the home

of the brave." A place where you had "the right to life, liberty and the

pursuit of happiness."

No one ever assumed that if your mind became "cloudy," or perhaps

a lapse of judgement for a time, you might just have all those things

snatched away from you forever.

If you have not been keeping up with

our guardianship series, or the Spears

case, you might believe that a person not

happy in guardianship/conservatorship

can always appeal to the court to overturn

or dismiss it.

But remember all "protected persons"

no longer have any rights and in fact,

those rights now belong to their guardian.

And their funds are in the control of the

guardian. Thus, how do you get to make

that appeal?

Any legal fees for any court action

contesting about the situation are charged to the "protected person"

for both the guardian and "protected person." And the cases can go on

for an undetermined length of time. Do you know how expensive the

legal fees are?

We have resumed our guardianship protection seminars and would

be happy to speak and answer questions for any group that reaches out

to us at The Vegas Voice. Call 702/251-4441.

the card next to your driver's license.

Most people place the certificate over their bed. However, be aware

the wording on the certificate advises that if EMS personnel do not

see the certificate, or you're unable to produce the wallet-card, they'll

immediately apply standard resuscitation procedures.

Heather Latimer is a nationally recognized specialist in making

difficult subjects easy and author of 17 books. See amazon.com/

heather latimer/how to overcome.
---
Unlock Your Home Equity

with a Reverse Mortgage

With a reverse mortgage from Finance of America Mortgage, you put your hard-earned

home equity to work, so that you can maintain or elevate your lifestyle during retirement.

By leveraging the strength of your greatest asset – the unlocked equity in your home, you

can look forward to all of the possibilities that await you in retirement, such as:

• Paying off your current home loan and

eliminating monthly mortgage payments*

• Supplementing your retirement income with

tax-free funds**

• Funding home improvement projects

• Purchasing a more suitable home to better

fit your lifestyle

• Establishing a line of credit to offset any

future expenses

• Fulfilling your travel dreams

• Covering medical or long-term care needs

We are your trusted,

local reverse

mortgage team,

with over 35 years

of combined reverse

mortgage experience.

Doris Batty

NMLS-420458

George Lagarde

NMLS-18581

Sandy Rhody

NMLS-1427216

To get the simple facts about reverse mortgages – call or email us today for a free,

confidential, no obligation consultation in your home.

(702) 620-4005 | reverseteam@financeofamerica.com

This material is not from HUD or FHA and has not been approved by HUD or any government agency.

* The borrower must meet all loan obligations, including living in the property as the principal residence and paying property charges, including property taxes, fees, hazard insurance. The borrower

must maintain the home. If the borrower does not meet these loan obligations, then the loan will need to be repaid.

**Not tax advice. Please consult a tax professional.

©2019 Finance of America Mortgage LLC is licensed nationwide | EHL Logo | NMLS ID #1071 (www.nmlsconsumeraccess.org) | 300 Welsh Road, Building 5, Horsham, PA 19044 | (800) 355-

5626 | AZ Mortgage Banker License #0910184 | Licensed by the Department of Business Oversight under the California Residential Mortgage Lending Act | Georgia Residential Mortgage

Licensee #15499 | Kansas Licensed Mortgage Company | Licensed by the N.J. Department of Banking and Insurance | Licensed Mortgage Banker -- NYS Banking Department | Rhode Island

Licensed Lender | Massachusetts Lender/Broker License MC1071.

25
---
Scam of the Month

It started out somewhat suspicious but by

the time a loyal Vegas Voice reader checked

all his emails, it became ridiculous.

Check out this month's stupid email.

Having won a "free reward worth $90" sure

sounds like a good way to start the day. "All"

you needed to do is click on the "Confirm

Here" box to collect your winnings.

You think it's true? And to compound

matters, after our reader received this email, he received the exact

same email – only this time it came from Walgreens, Starbucks and

"CashApp" (whatever that is).

And for a moment it even looked legit since it had the corporate

logos. But you know the rest.

So what do you do?

DELETE, DELETE and DELETE from your emails. And remember

our No. 1 Vegas Voice Scams, Schemes & Safety rule: Never, Never,

Never give out ANY personal information.

Stay safe – and as that boxing referee said: "Protect yourself at all

times!"

More Questions & Answers

By: Jim Valkenburg / Insurance Insight

Last month, I answered three common

insurance question. Here are 3 more:

Q: I am confused about the amount of property

insurance I should have on my home. How much

is enough or too much?

A: Insurance companies usually require that you have the amount

that it would take to rebuild your home. This amount is NOT:

(1) the market value of your home,

(2) the assessed value of the house or

(3) the value the mortgage company used as it's worth.

For example, a 2,000 sq. ft home might cost $145/sq ft to rebuild

($319,000) but you could sell it today for $450,000. Insurance

companies use "replacement cost estimators" that are used to figure the

replacement cost so you would need to have coverage in the amount of

$319,000. You have to think rebuilding cost to properly insure a house.

* And for shameless plugs, check out our Scams Segments on our

Vegas Voice YouTube channel (YouTube.com/VegasVoiceTV).

Working with our Bill Blurb's columnist (and my Bronx brother Bill

Caserta) see how you can outsmart "Dr. Corona" or that government

bureaucrat from ripping you off and taking your money.

Q: I have coverage on my homeowners policy for specific jewelry

items. The insurance company wants to replace these items and are not

allowing me to go out and buy them myself. Can they do that?

A: Yes, they can. Insurance companies have better buying power than

individuals and can often save money by providing you the replacement

(if they are not unique pieces).

A true example we had once was a stolen Rolex watch. The appraisal

was for $8,000. The insurance company gave the client a new Rolex

– same make and model but they only paid $4,000. One moral of this

story is to beware of inflated appraisals.

Q: What can I do to lower the cost of my homeowners insurance?

A: There are a number of things you can do to lower the cost. The

first thing is to see what deductible you have. If you've had the policy

for a long time, you may have a $500 deductible which you could raise

to $1,000.

You may have installed a security system and not let your carrier

know. You should ask your agent about every 4-5 years to do a new

replacement estimator to see if you are either under or over-insured.

Or you can ask your agent to "shop" your home insurance with other

companies to see if he/she can find a lower premium.

26

August 2021

Jim Valkenburg is a retired military officer and insurance executive.

He and his wife owned and operated their own insurance agency for

over 16 years. His primary purpose is to give out real information

that can be used to make intelligent insurance decisions.
---
Is Your Email Address Telling on You?

By: Susan Goldfein / Susan's Unfiltered Wit

Are you reluctant to share your age? Are

you reluctant to share your email address?

If you answered "yes" to the first question, and

"no" to the second, and are an AOL user, you're

screwed!

According to popular wisdom proffered by millennials, if AOL appears

after the @, you're fat, over 80, a technology dinosaur and live in the

suburbs. Furthermore, AOL users are clinging to an antique and should

never be taken seriously.

About anything. Because we're blithering idiots.

Back in the day, if you wanted an email account and internet access,

AOL was it. Their disks were everywhere, free for the taking.

So we took. It was simple to establish an account, and soon the little

yellow man was running across the computer screen, assuring you that

your dial-up was working.

That's when I began using AOL. I did have a free "Hotmail" account

for a while, but true to its name, it flooded my inbox with enticing ads

for penile implants, pills to enhance my sexual prowess, and numbers

to call if I was interested in a three-way.

Eventually, Hotmail left me cold.

Despite the fact that AOL email shaming is rampant, I won't be

intimidated. So to people who say, "Why do you still use AOL?" I say,

"Why not?"

If something's been working for 20 years, why change? Why go

through the trouble of contacting every person and entity you know or

have been doing business with for two decades?

AOL has good security, adequate storage, spam protection, friendly

interface, and access to mail on my other devices.

Do I really need more? If someone invents an email account that

vacuums and washes windows, I might consider switching.

I am aware that cooler alternatives to AOL do exist, like the popular

"gmail." But I find Google so pushy. They always want to know where I

am and are constantly offering to store my passwords.

Frankly, I think they're up to something. And what makes Google so

cool anyway? Big deal that everyone shows up for work wearing T-shirts.

And there's "Yahoo." But do I really want an email address that has

the resonance of a drunken cowboy slapping his horse?

Therefore, I will stand up to the derision, keep my AOL and continue

to take comfort from the familiar voice informing me that I've got

mail.

But I can foresee a time in the future, perhaps when I meet my

maker, that I might have to switch. Because in heaven, the only choice

may very well be the "Cloud."

Susan Goldfein's newest book, How to Complain When There's

Nothing to Complain About, is available at Amazon.com, BN.com,

Read her blog at: www.SusansUnfilteredWit.com. Email Susan:

SusanGoldfein@aol.com.

27
---
Letter to the Editor

Publisher's Note: As we have stated on numerous editions, The

Vegas Voice asked readers: "What do you think?" We received

the below from reader GREGORY STANSBURY in opposition to our

columnist Dan Hyde's July column "Climate Change – Revisited."

We thank Mr. Stansbury for taking the time to contact

us as we, once again ask: "What do you think?"

Climate hoax - it used to be called "global cooling" before the 80s,

then it was called "global warming" then when they couldn't prove

that- it was " climate change." Zero scientific proof.

This is not about the weather or carbon dioxide; it is about greed

-2 trillion dollars' worth

brought to you by "the

new green deal." They

say it "may" lower the

temperature 1 degree

centigrade. Your tax

dollars at work.

Renewable energy

sources: solar, wind,

& batteries are made

from non-renewable

resources. It will increase

our waste by millions of

tons a year.

Mining efforts will

be enormous causing

massive deforestation.

These efforts use conventional energy.

A typical 100mw wind farm (run 75,000 homes) requires 35k tons of

iron ore, 50k tons concrete, & 900 tons on non-reusable plastic. Solar

farms need 150 percent more.

Average life span is 20 years (Chinese solar lasted 5). It will also need

a 200% to 2000% increase for mining rare earths that mostly come

from other countries.

Maximum rate to change sun into energy is 33% (currently 26%),

wind is 60% (45%). Not real efficient.

Keep in mind they don't work on cloudy, snowy days or at night.

Prepare for black outs.

Lake Mead is low for a couple of reasons: drought conditions that

have been cyclic for millennia & they are using water generating

hydroelectric energy. Last figures - 22% NV, 19% AZ, 59% So Cal.

Wonder who gets that money.

Most of this info comes from Prager University.

Love Our Magazine?

Support Our Advertisers!

And don't forget to say

you saw their ads in

Climate Change - Rebuttal

By: Dan Hyde / Call to Action

Last month I revisited a hot topic – Climate

Change. I anticipated it would be a

lightning rod issue, and, true to form, a reader

had a negative response.

As a columnist, it is always gratifying to know that your articles are

being read. Even when readers vigorously oppose your position and

take the time to write a response to the editor.

Per the attached, he claimed that CLIMATE CHANGE IS A HOAX!

Without question he, as

well as anyone else who

shares his position, is

entitled to his opinion.

My response is: What

if they're wrong? What

if Climate Change is

not only real but we are

running out of time to

reverse the problem

The real issue as

I wrote last month is

that we should avoid,

at all costs "stifling

innovation."

I wrote: "There

is no question our

quest to perfect these

new technologies (electric vehicles, solar power) is going through

exasperating growing pains… and that there is no silver bullet, yet."

But the one thing we must not do is pull the plug out from under those

innovators. Moving from an agricultural economy to the Industrial

Revolution didn't occur because they accepted what the naysayers said.

It was a step-by-step process that took years to create. We are all,

however, all better for it!

In 2010 a film was made entitled "Who Killed The Electric Car?" The

then answer was the same company who created it - General Motors.

The CEO at the time was asked, as he departed the company, what

was the one thing he regretted and would have done differently. His

response, "I wouldn't have killed the electric car!"

GM were among the very first to produce and deploy what was then

called EV1 and EV2 electric vehicles. For a first generation novelty, it

worked surprisingly well.

In 2009, GM destroyed every single unit produced. Since then,

visionary foreign companies like Toyota and Honda took all of

the multi-million dollar research done by GM and plowed all that

information into current technology.

They are now well on their way to creating the electric vehicle, the

Silver Bullet!

28

August 2021

Dan Hyde is a passionate and effective advocate for the senior

community. He can be reached at: dhyde9@cox.net.
---
One-on-one

Medicare

help is here

UnitedHealthcare® Medicare

services are now in store

at Walgreens

If you're an existing UnitedHealthcare

Medicare member, stop in to get help

understanding how to get the most out

of your Medicare plan. From plan and

billing questions to scheduling doctor

appointments, we're here to help.

If you're turning 65 or new to Medicare,

we also have local licensed sales

representatives available to answer your

Medicare questions and talk about plan

options. Agents are in store Tuesdays

and Thursdays from 10 a.m.–2 p.m.

UnitedHealthcare Medicare member services at the following

Walgreens locations:

7599 W Lake

Mead Blvd

Las Vegas, NV

8 a.m.–4:30 p.m.,

Monday–Saturday

9415 W Desert

Inn Rd

Las Vegas, NV

8 a.m.–4:30 p.m.,

Monday–Saturday

8500 W

Cheyenne Ave

Las Vegas, NV

8 a.m.–4:30 p.m.,

Monday–Saturday

All clinical and other resource center services provided at UnitedHealthcare at Walgreens locations are provided by employees or

agents of United HealthCare Services, Inc. or one of its subsidiaries or affiliates, and such individuals are not employees or agents

of Walgreen Co. or any of its subsidiaries or affiliates. Other pharmacies are available in our network. Plans are insured through

UnitedHealthcare Insurance Company or one of its affiliated companies, a Medicare Advantage organization with a Medicare

contract and a Medicare-approved Part D sponsor. Enrollment in these plans depends on the plan's contract renewal with Medicare.

© 2021 United HealthCare Services, Inc. All Rights Reserved.

Y0066_62583_51921_C

SPRJ62583 29
---
No Pain, No Gain

By: Liz Palmer / NSG

Heat got you down? Hard to stay active? I feel

your pain!

I'm lucky

to have access to a gym, but

during heatwaves our gym

can get crowded. A few

weeks ago I went to the

gym and all the treadmills

were occupied!

I spotted this strange

looking machine in the far corner of

the gym, and no one was using it. It was an ergometer, also known as a

rowing machine and I decided to give it a try.

I adjusted the settings, settled in, and began to pull. At first, I thought,

"no problem!" but after around 10 minutes my arms began to tire, and

I was breathing heavily.

That simple looking machine was throwing down a challenge. I kept

going for another 10 minutes before I decided I was done.

But I vowed we would face off again.

Since that time, the rower and I have become good friends. Well, it's

a kind of love/hate relationship to be sure, but I make certain that we

visit at least twice a week for a good workout.

I'm up to 6,000 meters for my "long row" session, and my arms,

chest, shoulders, back, as well as my aerobic capacity are reaping the

benefits. If you have access to a rower, give it a try because we've got to

keep up our training for this fall's senior games!

Have you registered yet? There's still time! Our 20 different sports start

up on September 3 and end October 30. Visit www.nevadaseniorgames.

com to register.

Liz Palmer is the Executive Director of the Nevada Senior Games.

For more information on how you can participate, contact Liz at:

702/242-1590 or by email: Nevadaseniorgames@outlook.com.

Fun Starts 9/3

Sign Up Today!

State

Qualifier!

Presented by

20+ Competitive Sports

for Active Adults Age 50+

Go for Glory, a P.R. or Just for Fun!

All abilities, experience welcome

THIS SEPT. & OCT. in Las Vegas Area

Online Registration, Sports Calendar & More Info:

NEVADASENIORGAMES.COM

Did You Know?

This month's Top Ten interesting but useless facts!

1. Fonzie's motorcycle in Happy Days was the same one Steve

McQueen rode in film The Great Escape.

2. Aa is a type of volcanic ash. It is also a great word to use in playing

Scrabble.

3. When bookkeepers and brothers Hendry and Richard Bloch

decided to start a company that specialized in tax preparation they

feared that customers would mispronounce their last name as

"Blotch," so they smartly changed the "H" to "K" and added their first

initials, starting the business - H &R Block

4. The abbreviation for pound is "lb." because in ancient Rome

weight was measured in Libras; in Latin records, the libra is written

as "LB."

5. The "funny bone" didn't get its name because it makes you

laugh, but because its real name is the Homarus.

6. Former Secretary of State Colin Powell grew up in a

predominately Jewish neighborhood in the Bronx; as a result, he is

highly proficient in speaking Yiddish.

7. The only Major League Baseball teams with names that don't end

with the letter "S" are the Boston Red Sox and the Chicago White

Sox.

8. According to numerous pediatric dermatologists, duct tape is an

effective, non-painful way to remove warts.

9. Alexander Graham Bell never set out to invent the telephone.

It was a by-product of his efforts to create a device that might help

his wife and mother, both of whom were deaf, hear and communicate

better.

10. The inspiration for Post-it Notes came to a 3M scientist, not

while on the job, but while singing in the church choir… after the

pieces of paper he used to mark his place in his hymnal repeatedly

fell out.

30

August 2021
---
Online Synergy

By: Judy Polumbaum / Our View

In mid-July, I joined two other authors for

a reading and discussion at my favorite

independent bookstore in the Midwest town where

I lived for thirty years. We weren't actually there.

We were virtually there. Prairie Lights bookstore in Iowa City has

been hosting Zoom presentations throughout the pandemic and has

yet to go back to in-person events.

The three of us had recently published books that explore the life

stories of relatives – two fathers, a great-uncle, a grandfather – set

against the backdrop of tumultuous times in which these individuals

lived. Our works are very different from each other in substance and

tone, yet these family stories overlap in interesting ways.

Each of us read a short excerpt, followed by some comments about

the research and writing process and thoughts about the contemporary

relevance of these historical accounts. Then we fielded a few questions

from our unseen audience (only the three speakers and a moderator

were on video).

Our online conversation flowed easily. We made for a congenial

group – two of us longtime friends, the third a new friend hitherto

known only through email.

We couldn't have done such a session in person – we live in different

places and operate on different schedules. It took a pandemic to prompt

us to come up with this new way of sharing our work.

We also thought a three-fer

might help the bookstore by

tripling the titles on offer. And

we added a little bonus – a small

photographic print included

with each copy of any of the three

books bought from the shop.

Which brings us to Amazon.

A bookstore can sell more books

at an in-person event because

people are right there facing

volumes by the stack.

At an online event, those

inclined to buy a book might

go to Amazon for the discounts

rather than shopping at the indy.

The pandemic drove Amazon's business to new heights, making

Jeff Bezos the richest man on earth. Online shopping went from

convenience to necessity, and it's clearly here to stay.

Even as we savor some of the new ways we're using the Internet, let's

save some of our patronage for the little guy.

Judy is a professor emerita of journalism and a transplant to

Las Vegas from New England via China, the West Coast and the

Midwest.

31
---
What We Do

By: Carol Chapman

You've no doubt seen FAS vans delivering durable medical

equipment to seniors and veterans in our community. Or perhaps

you've heard about our HowRU nationwide wellness check program

that has saved 11 lives.

But then again, you may not know about The Foundation Assisting

Seniors and our services until you need to use them for yourself, a

family member, or someone who is under your care.

In September, you'll most likely receive a letter from us asking for

your support for the coming year. We want you to know that should you

decide to support us, your money will go to help neighbors and friends

in your own community - and someday, perhaps it will help you.

The Foundation is operated by dedicated volunteers who answer

phones, fulfill requests for durable medical equipment and home

maintenance, and deliver and pick up that equipment. Your generous

donations underwrite the cost of storage of that equipment and the

vehicles that deliver throughout the entire Las Vegas Valley.

Contributions pay for cleaning, sanitizing and disinfecting the items

that are loaned to folks like you. Your generosity funds telephones

and computers that keep track of the more than 35,000 requests for

assistance that we fulfill each year.

When you receive that letter, we hope you'll give it careful

consideration and reach out to us with questions about our services

or ways you can help. Our phone number is (725) 244-4200 and our

email is FASsca@coxbusiness.net. We'd love to hear from you.

Celebrating His Parents

Publisher Dan proudly displaying his Foundation Assisting

Seniors' commemorative hand-painted tile honoring his parents. The

Foundation introduced a new program called Celebrate a Senior to

show appreciation for the special senior(s) in your life. The tile will be

mounted to the Celebrate Wall at FAS headquarters.

Pictured with Dan is his Rana and FAS president Carol Chapman.

32

August 2021
---
Automotive Podcasts

By: BJ Killeen / Down the Road

Podcasts are one of the best forms of

entertainment to come along in years. You

can listen to people who share your interests, as

well as learn just about anything.

A recent study from Edison Research finds that there are currently

two million podcasts available, with over 48 million episodes. What's

great about podcasts is that you can listen at home, in your car, while

exercising, or even going to sleep.

For those who love cars and the automotive industry, here are a few

automotive podcasts worth checking out:

Motor Week: You've seen John Davis on Motor Week's TV show, and

his voice sounds just as good on the podcast. JD keeps you up to date on

news and new cars.

Car Stories: Listen to interviews and automotive stories from

celebrities, racers, and enthusiasts around the world.

The Drive with Alan Taylor: My favorite, because I'm a regular

contributor. Alan is irreverent and entertaining, but with a lot of

automotive background and knowledge. Guests range from celebrities

to racing royalty, and current road tests of new vehicles.

Autoblog Podcast: The team from Autoblog.com talks about the

industry, new cars, and all things automotive.

Talking Cars: This podcast is sponsored by Consumer Reports,

the Bible for car ratings. They

discuss technology, new vehicles

and automotive industry news.

Automotive News Daily

Drive: Automotive News is the

industry magazine that's focused

on covering the automotive

industry from a business

viewpoint. This daily broadcast

will keep you up to date.

Automotive Insight: This is a quick, one-minute listen with

Detroit's WWJ news radio station auto expert John McElroy. Short but

informative.

Hemmings Hot Rod BBQ: Hemmings is the go-to for collector car

prices and information. Hosts Dan Stover and Mike Musto talk about

industry news, classic car information, along with top hot rod designer

interviews.

NPR Car Talk: One of the original automotive podcasts featuring

Click and Clack, better known as Ray and Tom Magliozzi. This podcast

focuses on the best of Car Talk, and replays of past great episodes. The

show is as still as entertaining as ever.

BJ Killeen has been an automotive journalist for over 30 years.

She welcomes all questions and inquiries, and can be reached at

bjkdtr@gmail.com

33
---
Jupiter retrograded back into Aquarius at

the end of July, removing the rose-colored

glasses. We got a sneak preview of Jupiter in Pisces

from May to mid-July which had us resuming life as we knew it.

With Jupiter settling back into the sign of the collective until

December, a spike in numbers and old precautions coming back to

everyday life is likely.

With that said, we

may have extra time in

our homes again, so let's

talk about wealth and

prosperity in the home.

To identify this sector of

your home, stand at the

front door of your home,

office or bedroom facing

into the space.

Find the back left

corner of the space, where the two exterior walls meet; this is your

financial corner! You want to look inside the home as well as outside

the home in this area.

Using a critical eye, examine what is in this space. Do you use it?

Who gave you the items that occupy this space?

Is everything in working order? What symbolism is in the artwork?

Are the items in this area telling you a story that matches your financial

situation?

For example, a client had a trampoline occupying the back left

corner of her backyard. Upon seeing it, I asked if her finances were in

a "trampoline state" of being in extreme up's and down's. She shared

their financial state was hard to balance.

Another client had a painting of a lighthouse being engulfed in

water. I asked the client what happened around the time she hung the

picture. She shared that she had a domino-effect of setbacks that left

her filing for bankruptcy.

Although these may sound extreme, sometimes the stories are more

subtle. Use this month to make a small improvement to this area.

Fix the door handle, deep clean or add a strong plant. This area

should represent how you want to feel about your finances, so strong,

sturdy items are ideal!

To learn more, tune in to Episode 30 of the Mom and Me Astrology

Podcast.

34

Wealth & Prosperity in

the Home

By: Kate Wind / Kate's Insight

August 2021

Alaskan Bermuda

Triangle

By: Ali Guggenheim / Psychic Phenomenon

The Alaskan Triangle is the state's most

unforgiving and pristine wilderness. It

connects Alaska's largest city of Anchorage in the south, to Juneau in

the southeast panhandle, to Barrow a small town on the state's north

coast.

There are actually a number of places like the Bermuda Triangle

where people are known to dissolve into an abyss, but none more than

Alaska's Triangle where a staggering amount of people, boats and

planes disappear without a trace.

Despite government warnings regarding the environment, weather

conditions, wildlife sightings, etc., tourists still flock to experience these

lingering mysteries.

One of the many theories surrounding these disappearances is a

belief that dates back 11,000 years to the native Tingit (people of the

tides) about a shape-shifting demon named Kushtaka, that lures lost

people to their doom by portraying distressed screams of women and

children in order to steal their souls.

An additional theory for disappearances has to do with alien

abductions. The pilot of a Japanese plane flying from Iceland to

Anchorage (1986) encountered three UFOs, one of which was twice the

size of an aircraft.

They followed the plane for approximately 400 miles right through

Alaska, appearing, disappearing and stopping abruptly. This was

witnessed by air traffic controllers on their radar screen for 32 minutes.

One astounding theory is that on May 22, 1992, the Chinese set

off their biggest nuclear explosion weapons testing program. A huge

underground pyramid was identified during this test.

There have been many other claims that the Alaska Triangle is

located on extreme electric, magnetic and electromagnetic anomalies

and vortexes (or "vile vortices") which are electromagnetic currents.

Energy vortexes can cause instrument malfunctions.

People can be effected positively or negatively, emotionally, mentally,

and/or physically. Some experience disorientation, hallucinations,

and/or visions and acquiring healing powers.

Other examples of such vortexes are Giza Pyramid, Easter Island,

Stonehenge, etc. Therefore, locating this ancient pyramid is not that

unusual since it is believed that well-known monuments were built on

vortexes whenever possible.

It's also believed that vortexes can open doorways to the spiritual

world (or another realm) which could possibly explain why so many

people disappear in those regions.

To contact Ali or for spiritual consultations, coaching, workshops

and readings, email: alivegasvoice@yahoo.com.
---
August Heat Challenges

By: Howard Galin / Happy Gardening

August, because of its high temperatures

and many hours of direct sun, present us

with major challenges in keeping our gardens

well-protected. Therefore, several steps are needed to safeguard our

landscapes until more moderate weather

arrives.

The most important step is maintaining

proper irrigation for our plants and root systems.

Numerous non-native plants require

adequate water to replenish lost moisture

caused by evaporation. These plants go into "summer dormancy" to

preserve water and protect against dehydration.

One way to conserve soil moisture and to lower ground temperature

is to surround your landscaping with organic mulch. In addition, it is

important to schedule your watering periods before sunrise and/or after

sunset to prevent excessive evaporation and leaf burn.

During the hottest months, you will notice an increase in damage

due to animals seeking out water. Rabbits and rats are notorious for

eating the leaves and fruits of many of your plants.

Safe ways to discourage these four-legged interlopers from using

your landscaping as a buffet include sprinkling strong scented spices

and herbs on your plants' leaves, flowers and fruit. I use powdered

cinnamon, cloves or red pepper.

Do not do extensive pruning of non-native plants until Labor Day.

Pruning will stimulate growth that can be become damaged from the

high temperatures and grueling sun.

Also, stop any application of fertilizers until

early September. This will limit new growth as

well.

New plantings need milder temperatures and

less direct sunlight in order to establish strong

root systems and to stimulate new growth.

Therefore, wait until the middle of September to start your replanting.

During long periods of record-breaking temperatures, it may become

necessary to augment your regular irrigation schedules with additional

watering by using your garden hose or watering cans. Do this after the

sun goes down so that the addition water has a chance to saturate the

soil and reach the roots.

Have any gardening questions? Contact me at: Theplantwhisperer28@

gmail.com

Howard Galin, a/k/a: "The Plant Whisperer" is a retired NYC

school administrator, transplanted in Las Vegas who devotes his

time to communicating with and lecturing about our native

plants.

35
---
When Your Elbows Hurt

By: Kyo Mitchell / A Healthier You

As many people retire, they partake in physical

activities, such as golf, tennis or pickleball

to keep themselves in shape and healthy. As

enjoyable as these activities may be, they can sometimes lead to injuries

- including elbow pain.

Tendonitis is a common injury to the elbow for individuals who play

golf or some form of game involving a racquet. Tendinosis basically

translates to pain of the tendon.

Tendons are the means by which muscles attach to bones. To

understand their structure better, think of tendons as a big rope made

up of smaller strings. The rope itself is fairly strong but the individual

strings are much more vulnerable.

When a person returns a tennis serve or drives a golf ball, the impact

trauma of these motions is felt at the tendons crossing the elbow. Small

fibers within the tendon begin to become damaged. The tendon as

a whole is still intact but some of its fibers are now damaged. This is

tendinosis.

One of the symptoms an individual experiences with tendonitis

is pain. This is a protective measure by the body. Pain will dissuade

an individual from using that body part, keeping them from further

damaging the tendon while the body attempts to heal it. Healing,

however, takes time.

Unlike muscle tissue which has a rich supply of internal blood

vessels, tendons, ligaments and certain other body structures have no

direct blood supply. All materials needed for tendon repair must reach

the damaged tissue via diffusion. This characteristic means that it will

take them much longer to heal.

While there are certain medical procedures and aids which can

decrease healing time, activities which may further damage the tendon

should be avoided until it has had time to heal.

Dr. Kyo Mitchell served as faculty at Bastyr University in Seattle

and Wongu University in Las Vegas for over a decade. Dr. Mitchell

practices in Summerlin and can be reached at 702-481-6216 or

rkyomitchell@gmail.com.

36

August 2021
---
The Tribal Community

By: Chuck Dean / Vet 2 Vet

When we spend months, or years, with

other warriors in a war zone doing

wartime activities, we automatically become a

team-working community. We became a tribe.

Such a community is not merely a group, because a "group" of

people does not necessarily mean they work together, or even know

one another. To be a group does not require affiliation, but community

does. A tribal community is comprised of tried-and-true partners who

are involved with each other and follow the same rules and customs.

For most veterans, one of the most regretful aspects of coming

home from military service is leaving the tribal community. It was a

time and place where we were forced to carve out a life for ourselves -

sometimes with blood, sweat, and tears.

Within that tribe, each

member had changed within

themselves according to

the demands placed upon

them, both as individuals

and as participants of a true

community. As a tribal team

we learned how to live through

extraordinary hardships, and

we cared that everyone made it through.

We passed around the same soggy, rain-soaked cigarettes from man

to man, and no one was left out. Together we learned to like C-rations

or MREs.

We found it okay to snuggle up and sleep together in the driest parts

of a foxhole, and we hardly gave any thought to being crammed like

sardines in bunks aboard a ship.

In the most basic ways, we came to know one another's characters.

We did this through many shared hardships, and in the middle of it

all we saw each other's human weaknesses.

No matter how bad the conditions were, or how often we dreamed

of coming back to a normal life, leaving that close knit and intimate

community was very difficult.

What we had experienced with those comrades for all those long

months will always be unchanged in our hearts, and leaving that

comradeship is a tough thing to do.

Most veterans long for this "community" when we get home and

sadly many never find it again.

I truly believe that if, and when, that community gets re-established

in our civilian lives it will handle many of the re-adjustment issues

that we face.

And no matter how old you are, I hope you find that community

and enjoy the unique peace it can bring.

Chuck Dean served as an Army paratrooper in Vietnam and

through that experience was led to address the many transitional

issues veterans struggle with. He is the author of several

important books for veterans. All can be found on Amazon at:

http://www.amazon.com/author/chuckdeanbooks

Stay up to date on all the subjects

of interest to seniors...

Entertainment

Travel • Social

Political • Health

Financial • Good

Guardianship

Email address

First Name

Last Name

Fill this out and mail to our address below, or go to our

website and fill it out online. You'll be glad you did!

2880 Bicentennial Pkwy Ste 100-244, Henderson, NV 89044

702/251-4441• Fax: 702/666-0427

www.thevegasvoice.net

37
---
Beauty Conventions are Back!

By: Linda Bateman-Gomez / Timeless Beauty

Las Vegas is open for business and that

means the beauty conventions are back too!

I recently attended the International Beauty Show

(IBS) and loved the new finds!

Two of my favorite products were Lock Strip Extensions and The

Good Patch.

Lock Strip Extensions are made by ADK Hair. The founder, Michele

Jazwinski, is considered an expert in the industry - specifically in hair

extensions.

She invented Lock Strips for people looking for a quick, easy solution

to apply at home, as well as for industry professionals. They are

reusable, with no need for tape, tools or glue.

Whether someone is dealing with hair loss due to age, medical

conditions, or just looking for a little added glamour, she has something

for everyone. Her extensions are beautiful and come in every color you

can imagine.

Additionally, she has a full line of hair products. So, if you've been

considering adding a little extra volume, check out her website: www.

hairadk.com

My second great find, The Good Patch, are wellness patches. I spoke

with Betsy Scanlan, one of the co-founders of the company, who was as

wonderful as her product!

The patches are made in the USA, and are plant based. They are

designed to be easy to use, convenient to carry and help you feel better.

There are patches to give you an energy boost, help fight anxiety, or

help with insomnia to name just a few. They offer patches with and

without hemp.

You simply put them on (usually on the wrist) and they are good for

8-12 hours. They are already in many stores and available online at

their website. It's $16 for 4 patches. Their website:

www.thegoodpatch.com

It was a definitely a successful convention. And I am so glad to see

Vegas welcoming them back!

Linda Bateman-Gomez has an international beauty company

based in Las Vegas that specializes in cosmetics and other beauty

products. Contact Linda at TimelessBeauty2020@gmail.com or

through her website www.fullips.com.

38

August 2021
---
August 9, 1945

By: John Beilun / Time Traveler

Marshall of the Soviet Union Aleksandr

Vasilevsky hung up the phone. It was

Stalin. The Communists had just declared war on

Japan.

At one minute past midnight on August 9, 1945, Vasilevsky gave the

order to invade Japan's territories in China. His plan was simple but

brutal. Pincer movements simultaneously began on three separate

fronts over a landmass larger than Western Europe itself.

After exactly three months to the day Germany was defeated, the

Marshall had finished organizing and transporting 1.5 million men

over thousands of miles of frontier, along with 5,500 tanks and self

propelled guns - approximately 85,000 vehicles and nearly 4,000

aircraft.

The Japanese were taken by surprise. In addition to the frontal attack,

Vasilevsky harassed his opponent's rear with amphibious landings and

paratrooper assaults that seized airfields and strategic positions deep

behind the front.

Within a few days, the Soviets had overrun hundreds of miles of

Mongolia and Manchuria, both of which had been invaded and

occupied by Japan in the early 1930s.

More than 100,000 of the enemy were already dead or captured,

along with a million more made homeless.

Capitalizing on the hard won lessons learned in Europe, the Russians

never let up. On the other hand, the Japanese forces, unaccustomed to

such a massive attack, simply crumbled.

To put events in perspective, just before and immediately after the

Soviet invasion, America had dropped two atomic bombs on Japan's

mainland; one at Hiroshima on August 2, 1945, and another at

Nagasaki one week later. An estimated 150,000 people were killed.

However, this hardly compared to the losses the Japanese had suffered

in the firebombing of Tokyo earlier that year – at which time, it still

had no compunction to surrender.

Although Hiroshima and

Nagasaki were horrendous, they

were essentially isolated events.

The Communist onslaught on the

other hand was so abrupt and all

encompassing that it much more

seriously affected the Japanese

national psyche.

And, it was not just the sudden

loss of territory and lives, but also

the expectation of much worse

to come in the weeks ahead. The

Japanese simply could not deal with

the Soviets, who were as barbaric as they were.

Especially while also fighting the war in the Pacific and preparing

the home islands for invasion.

In addition, 55% of Japan's fuel supplies and most of its military

production facilities were only days away from being taken over by the

Communists. To continue the war was not just suicidal, but futile.

Japan unconditionally surrendered on August 15, 1945 – less than a

week after the Soviets had beaten them to a pulp.

Historians will forever argue about whether it was the Yanks or the

Russkies who actually landed the fatal blow.

39
---
Just PLEASE Don't Take My Lobster!

By: Vicki Wentz / Vicki's Voice

So the world's going in the tank, apparently.

Well, not the whole world, just our particular

country.

And, probably mostly in my specific corner of

our country because that's just typical...

not that your corner is automatically

better, but I'll bet it is, simply because it's

not MY corner.

I'm watching a Congressional Budget

Debate. Which Congressional Budget

Debate, you ask? And well you should,

because I believe this is officially

Congressional Budget Debate number

13,486 - and that's just since last week!

(There have been so many that they're

thinking of not capitalizing the B and D

in budget debate anymore.)

And none of them have had much impact with Joe Public, who may

not know who Chuck Schumer is ("Was he, like, on Dancing With the

Stars?") but is mad as hell about gas prices.

In a nutshell:

1. We (and by "we" I mean NOT ME) have been spending not just

like drunken sailors, but like sailors who are so drunk they've developed

alcohol poisoning, been rushed to the hospital, pronounced dead,

brought back to life, and are headed right back to the nearest vineyard.

That's the kind of spending "we" have been doing.

2. Most of our spending has gone to fund programs to "help" people.

Again, NOT ME and now folks are hooked on these programs and are

clutching them like a toddler biting down on his pacifier so Mommy

can't take it out of his mouth - even for the Christmas picture!

3. These programs comprise 62% of our budget, people. And there

is another 12% for all other government programs or agencies (most

of which, in my humble opinion, should

be literally dropped off a cliff anyway, but

nobody asked me).

4. So say we're a typical American

family sitting around the dinner table

at a "family meeting" talking about Dad

losing his job as CEO of a newspaper

company and getting a new job as a

newspaper delivery boy. His income has

dropped from like a zillion a year, to, say,

$4,000.

And Mom's income - from raising

rabbits part time which is all she is fit for

as a stay-at-home Mom who, for 15 years, has had little opportunity to

speak "grown-up" words - brings in around $10,000.

For years, they've taken huge vacations; they've bought an oceanfront

mansion on a cliff in Maine, where it's like never hot, and you can

eat lobster every single day at every single meal if you want to!...

(ahem)...sorry. And each child has his/her own car, and the kids go to

private schools.

Now the family income is around $14,000, but the family expenditures

- if they continue to live this lifestyle, (which, please, who wouldn't) are

around $250,000.

This means...got a pencil?...the family is $236,000 short!

For a while, the father borrows that $236,000 from China, a country

with a robust economy, and fabulous Mu Shu Pork. But they will

charge astronomical interest rates because China is our ever-smiling

enemy…plus, making Mu Shu Pork ain't cheap.

Hence: Family meeting, just like in Congress, where they freak and

whine and demand and refuse to cut anything, which means they need

to "raise taxes" on the kids, who have already been babysitting, cutting

lawns and selling lemonade as hard as they freakin' can and, even if

the kids gave every penny they made to Mom and Dad, it wouldn't be

enough to fund this "drunkenness."

And at some point very soon, China is going to show up at the door

with Mr. Fore and Ms. Closure.

I ask you, is this rocket science?

Think we can do without just a LITTLE of what we THOUGHT we

were ENTITLED to? I think we can. Because "we" aren't just drunken

sailors,"we" are alcoholics.

And it's time for a "Come-to-Jesus" meeting for every "we" in our

government. I'll bring the Mu Shu Pork.

40

August 2021

Vicki Wentz is a writer, teacher and speaker living in North

Carolina. Readers may contact her - and order her new children's

book! - by visiting her website at www.vickiwentz.com.
---
OK,

OK!

So maybe it's NOT the WORLD CUP!

But in the publishing world

NAMPA

AWARDS

2020

© Cosmin Iftode

NAMPA AWARDS are BIG stuff!

Best Banner

First: The Vegas Voice

One of the best banners in the business.

The use of familiar Vegas hotel graphics

blended with the boldness/juxtaposition of

black, red and white make this banner pop.

Front Cover (Illustration)

Second: The Vegas Voice

(8//19 Woodstock)

It only takes a glance to understand the

story. The white bird standing on a guitar

against a backdround of psychsdelic colors

screams Woodstock to anyone from the

Boomer generation.

Self-Promotion - In house

Second: The Vegas Voice

(5/20 Edition, Media Ad)

Nice use of photos to personalize the

talent. The red headline draws your attention

immediately to the Vegas Voice and is reinforced

below in the same bold red. Overall

very solid layout.

Special Section

Second: The Vegas Voice

(6/20 Edition)

An investigative piece that takes on the tough

topic of an estate takeover and probate court is

definitely a story that is useful to this audience.

Editorial Opinion

Third: The Vegas Voice

(12/19 Edition)

Dan Roberts gets credit for pulling no

punches, striking hard with an editorial

condemning the performance of a Family

Court judge caught up in a scandal involving

guardianship cases, and the local newspaper's

recommendations.

Self-Promotion - Awards

Third: The Vegas Voice

(12/17 Edition Winner, 11 Awards)

Oversized Number 11 forces the reader to

explore more of the page. Several covers add

a bit of pop to the text which clearly convey

the achievement and quality of the product. 41
---
I'm a Lucky Guy

By: Stu Cooper / Happy Adventures

I am about to celebrate by 68th birthday. I am a

certified senior citizen. And I am a very lucky

guy.

I say this because as I get ready to celebrate another year, I will do

so with my family - my wife, my children, my grandchildren. But most

especially, my mom.

My mom recently turned 93 years young, and while

I admit she's not moving as fast as she once did, her

mind, reasoning, long-term

and short-term memory is

100%. She remembers facts

and figures (she balances her

checkbook to the penny every

week), that I could never do. Heck, I don't even

remember what I had for lunch come dinner

time.

I suppose birthdays cause a time to pause and reflect. In doing so, I

think of all the wonderful travels I've enjoyed just with my mom.

I started the tradition of traveling with my parents when I took my

father on a four night trip to Iceland in 1992. We had a blast - glaciers,

hot springs, the history of democracy. Iceland was wonderful.

So when my dad passed away in 1994, I decided to continue the

tradition with my mom. Over the

past 27 years, I've traveled with

my mom to Iceland (again),

Luxembourg, Belgium, and

Germany.

We escorted a group to Israel in

2000. In fact, she helped me escort

Vegas Voyagers to Hawaii, Mexico

and California.

There have been

others, but these trips

really stand out.

I have previously written about the wonder and

enjoyment of generational travel. However, I always did

so from my point of view - Grandpa taking the grandkids

and watching them see the world from their perspective.

But seeing the world through my first generation

American mom's eyes has also been inspiring. Whether it was visiting

the religious sites in Israel, or Pearl Harbor, or walking the steps where

her husband, my dad served in Europe in World War II, our time

together experiencing these events is truly extraordinary.

I cannot express how precious this time together has been. They

really are memories for a lifetime.

As always, Happy Adventures.

42

August 2021
---
Welcome Back! "Let's do it Again!"

Featuring TWO Special Private

Performances and Cocktail Party

The Phat Pack

• Bruce Ewing • Philip Fortenberry

(Musical Director)

• Randal Keith

• Kevan Patriquin

www.Vegasvoyagers.Com

Email: Fairtravel@Aol.Com

"Let's do it Again!"

Cruise with the Phat Pack

7 night Pacific Coastal Cruise

Mar. 20,-27, 2022

"Bus to the Boat"

•

PRINCESS CRUISES

come back new ®

Itinerary:

San Francisco, Santa Barbara, San Diego,

Ensenada, Mexico

Inside Cabin

Obstructed Balcony

Deluxe Obstructed Balcony

Balcony

Deluxe Balcony

Mini Suite

$1,499 pp

$1,599 pp

$1,699 pp

$1,799 pp

$1,899 pp

$2,199 pp

Price is based on double occupancy and subject to availability. A deposit of $250

is due at the time of booking and fully refundable until Dec.15, 2021 when the final

payment is due.

PRICE INCLUDES:

1) The cruise

2) All port charges, taxes and fees

3) Round trip bus trans. from LV to the pier in LA

4) Fully escorted group leader

5) Two Phat Pack private group only performances

6) One group private reception

7) Premium beverage package

8) Free wifi service, one device per person

9) Gratuities for cabin steward and all main dining

516/485-3200

room wait staff

DISCOVERY PRINCESS

43
---
Amalfitano Lemons

By: Kathy Manney / Around Our World

Amid rock terraced gardens and footpaths

leading toward the Mediterranean, Italy's

Amalfi Coast offers an

impression of a world standing still. Positioned

on the Tyrrhenian Sea and in the Gulf of Salerno,

the Amalfi Coast was listed as a UNESCO World

Heritage Site in 1997.

With a sheer drop over the ocean below

and pastel buildings clinging to hillsides, the

picturesque town of Positano is an hour drive

south of Naples along the Amalfi Coast. The

road is famously narrow, steep and kinked with

hairpin turns.

Within a temperate climate, plants thrive. The

Amalfi Coast is bountiful with lemon trees laden

with blossoms and the fruit on the hills cradling

them. Olive, grapefruit, orange, fig and pomegranate are cultivated too,

and fuchsia-hued bougainvillea extends nearly everywhere. Amalfitano

lemons are the world's finest. Lemoncello is the popular native drink

made from lemon peels, water, sugar and grain alcohol. Sweeter than

California lemons, Amalfitano (lemons) are unique to this region of

Italy. Being a finer strain lemon renders them more suitable to use in

Lemoncello and in chocolate.

Chocolates are a universal language. Rich chocolates filled with the

brightness of lemon filling, and others with nuts are popular.

During the 1800s when cocoa was difficult to obtain, an enterprising

Torino, Italy chocolatier grounded up hazelnuts to extend his cocoa

supply. Nut filling became so popular, it grow into

a hallmark of Italian chocolate making.

The scents of chocolate mixed with other rich

ingredients fill the air and shops offer freshly

made and exquisitely flavored formed chocolates.

Amalfi has been a vital trading port, dating

back centuries into antiquity. The world's first

maritime export transpired with the commerce

of Amalfitano lemons. Ancient world mariners

sailing in search of silk and spices selected these

lemons in their trade abroad.

To be sure, lemon groves climb the Amalfi

mountain slopes. This region of Italy has much to

offer visitors and lemon taste tours are available.

The glossy green leaves and sunny yellow fruit frame the azure ocean

beyond. Nonetheless here, as elsewhere, changing climate is affecting

the prized Amalfitano lemons.

Kathy Manney enjoys visiting interesting places and being an

Adventure Diva. Her "Must See" travel journeys continue - always

with enthusiasm.

By: Crystal Merryman-Sarbacker / Out & About

Ray and I were early, because we wanted to

get good seats at this special press event.

Our instructions were to go to

the Stage Door at the Smith

Center.

The theatre staff quickly directed us to the main

stage which was bare due to the recent absence

of productions, but it was still impressive because

of its large size and the tiny theatre graffiti that

graced its walls.

It was obvious the Smith Center honors an old

Broadway tradition that cast members should

autograph stage walls to memorialize their

performances.

Otherwise, there were no sets or decorations. Just

a few simple folding chairs had been placed on the stage facing the

audience for journalists.

As I waited for the presentation to begin, my mind wandered back to

my first visit to NYC with my mom, dad and two little brothers. We had

been on a tight budget, but we wanted to see a Broadway musical.

The only tickets we could afford were to a new show based on Romeo

and Juliet. None of the music was familiar, so we walked out of the

44

The Smith Center Comes Alive!

August 2021

theater wondering if this musical had much future. I

always smile when I remember we had just seen "West

Side Story" with the original cast!

Memories can be such fun, but the arrival of

Myron Martin, president and CEO of the Smith

Center, quickly caught my attention. He pointed

to a single ghost lamp which was ceremoniously

dimmed in Reynold's Hall.

He explained it had been the only illumination

in the theatre for 482 days. Now, finally, the theatre

was ready to announce its new season, and he

flipped the switch to turn on the house lights in

the Hall.

The effect was instantly dazzling, and everyone

broke into applause. The rest of the program

featured performers who will be appearing in a

new musical based on the 60s movie hit, "An Officer and a Gentleman."

Set to debut October 26, this new musical "Up Where We Belong" is

sure to deliver a good time. The musical season, though, will actually

be launched October 12, with the Andrew Lloyd Webber classic, "Cats."

Crystal Merryman-Sarbacker is a travel agent and the owner of

Vegas Vacationers Inc. She can be reached at:

Merryman2@aol.com
---
45
---
46

August 2021
---
47
---
Speaking to and for Las Vegas

Valley Seniors since 2003

#####ECRWSS EDDM#####

POSTAL CUSTOMER

PRSRT STD

U.S. POSTAGE PAID

LAS VEGAS, NV

PERMIT #3235

"Serving Southern Nevada Seniors for over 15 years"