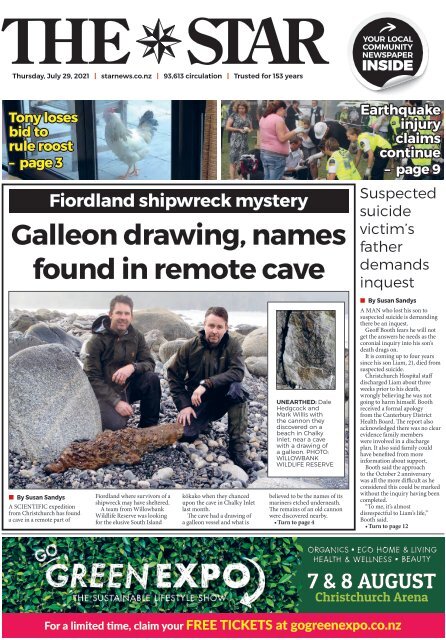 Create successful ePaper yourself
Turn your PDF publications into a flip-book with our unique Google optimized e-Paper software.
Thursday, July 29, 2021 | starnews.co.nz | 93,613 circulation | Trusted for 153 years

Tony loses

bid to

rule roost

– page 3

Fiordland shipwreck mystery

Galleon drawing, names

found in remote cave

Earthquake

injury

claims

continue

– page 9

Suspected

suicide

victim's

father

demands

inquest

• By Susan Sandys

A SCIENTIFIC expedition

from Christchurch has found

a cave in a remote part of

Fiordland where survivors of a

shipwreck may have sheltered.

A team from Willowbank

Wildlife Reserve was looking

for the elusive South Island

kōkako when they chanced

upon the cave in Chalky Inlet

last month.

The cave had a drawing of

a galleon vessel and what is

UNEARTHED: Dale

Hedgcock and

Mark Willis with

the cannon they

discovered on a

beach in Chalky

Inlet, near a cave

with a drawing of

a galleon. PHOTO:

WILLOWBANK

WILDLIFE RESERVE

believed to be the names of its

mariners etched underneath.

The remains of an old cannon

were discovered nearby.

• Turn to page 4

• By Susan Sandys

A MAN who lost his son to

suspected suicide is demanding

there be an inquest.

Geoff Booth fears he will not

get the answers he needs as the

coronial inquiry into his son's

death drags on.

It is coming up to four years

since his son Liam, 21, died from

suspected suicide.

Christchurch Hospital staff

discharged Liam about three

weeks prior to his death,

wrongly believing he was not

going to harm himself. Booth

received a formal apology

from the Canterbury District

Health Board. The report also

acknowledged there was no clear

evidence family members

were involved in a discharge

plan. It also said family could

have benefited from more

information about support.

Booth said the approach

to the October 2 anniversary

was all the more difficult as he

considered this could be marked

without the inquiry having been

completed.

"To me, it's almost

disrespectful to Liam's life,"

Booth said.

• Turn to page 12

7 & 8 AUGUST

Christchurch Arena

For a limited time, claim your FREE TICKETS at gogreenexpo.co.nz
---
2 The Star Thursday July 29 2021

inside

inside

2 The Star Thursday July 30 2020

Motorists nabbed using bus lanes..............5

Controversial Tributes flow properties.........................................6

after death 5

Sumner Man fined development after docking closer.........................7

puppies 7

VC New recipient's hospital child grave care restored.......................12

initiative ....................9

Building Bank to stop site thefts cash, cheque on the rise...................15

deposits ....10

Our New People........................................................... home for Smiths City 16-17 15

How Return quakes to Trump, work..................................................18

pandemic ..............20-21

Shopping Heritage in for photos stranded .............................................25

seafarers.............19

Mayor's Check your column, shopping letters..................................20

receipts 27

Winter Food .................................................................................28

festival...........................................................22

Puzzles..............................................................................24

Gardening 29

Sport..................................................................................25

31

DriveSouth...................................................................27

Drivesouth .................................................................33

Classified...............................................................

Puzzles ..........................................................................34

29-31

Classified ............................................................35-42

Gig guide...................................................................... 33

Gig guide ................................................................... 43

newsroom

Louis Day Reporter

Bea 021 Gooding 919 917 Reporter

021 louis.day@starmedia.kiwi

911 576

bea.gooding@starmedia.kiwi

Matt Slaughter Reporter

Chris 021 Barclay 910 788 Reporter

021 matt.slaughter@starmedia.kiwi

914 169

Chris

chris.barclay@starmedia.kiwi

Barclay Reporter

Barry 021 Clarke 914 169 Editor in Chief

021 chris.barclay@starmedia.kiwi

359 426

Barry barry@starmedia.kiwi

Clarke Editor in Chief

021 359 426

barry@starmedia.kiwi

advertising

advertising

Shane Victor Advertising Manager

Shane 021 381 Victor 765 Advertising Manager

shane@starmedia.kiwi

021 381 765

shane@starmedia.kiwi

Classified advertising: 379 1100

General Classified inquiries: advertising: 379 7100 379 1100

General inquiries: 379 7100

REACH MORE .... .

183,000 178,000 * *

readers every week!

*2021 *2019 Nielsen Newspaper Readership Report

online

Keep up with the latest

local news as it it happens

www.starnews.co.nz

A division division of of Allied Press Press

Regional Regional Manager: Manager: Steve Steve McCaughan

McCaughan

PO

PO

Box

Box

1467,

1467,

Christchurch

Christchurch

359

359

Lincoln

Lincoln

Rd,

Rd,

Addington

Addington

www.starmedia.kiwi

www.starmedia.kiwi

Winter Fun - Chill in the City

Thursday, Friday, Saturday and

Sunday 10am-5pm

Chill in the City celebrates Winter with a series of outdoor

activities in central Christchurch including Hagglund rides,

selfies with huskies and tobogganing down a mound of real

snow. Admission: Gold coin donation. Ice skating: $5 per

person (30 minutes). City Mall, Christchurch Central

Winter Magic Springfield

Saturday 9.30am-3.30pm

Wear your fairy wings, masks, sparkly pants and

nail polish to Springfield's Winter Magic. Singers, dancers,

magicians and a puppet theatre will perform on stage, and

about 50 market stalls will sell everything from art and

colourful socks to antiques and pottery. Admission: Free.

Tawera Hall, 5657 West Coast Rd, Springfield.

letters

letters

We want to hear

We your want views to on hear the

your issues views affecting on the life in

issues Canterbury. affecting life in

Canterbury.

Send emails to:

Send barry@starmedia.kiwi

emails to:

barry@starmedia.kiwi

Letters may be edited

Letters or rejected may at be The edited Star's

or discretion. rejected Letters at The Star's should

discretion. be about 150 Letters words. should

be A name, about postal 150 words. address

A and name, phone postal number address

and should phone be provided. number

should

Please

be

use

provided.

your real

Please name, use not your a nickname, real

name, alias, pen not name a nickname, or

alias, abbreviation. pen name or

abbreviation.

Light The Lamp

Saturday 8pm-11pm

Light the Lamp showcases many fantastic

performers together for a superb night of entertainment.

Featuring burlesque, lyra, silks, aerial net, corde lisse,

boylesque, vocals, hoops, and illusion. Tickets: from $35

eventfinda.co.nz (R18).

Halo Bar and Lounge, 66B Wharenui Rd

BLACKCAPS Mace Tour

Saturday, 1pm-3pm

Celebrate the Blackcaps World Test Championship

victory by getting a photo with the side's Canterbury players

Henry Nicholls, Matt Henry and Todd Astle and the Mace

trophy. Admission: Free. Christchurch Town Hall

Beyond Humanity

Saturday 7pm-9pm

A charity show like no other. Watch as local artists

explore the spectrum of humanity through dance and circus

arts. Proceeds go to the City Mission. Tickets: $25.

Christchurch Circus Trust, 146 Seaview Rd

Stay comfortable all year round with

Fujitsu's sleek, stylish Lifestyle Range.

Smile with confidence

HEAT PUMPS FROM $1999 inc GST INSTALLED!

2020

BEFORE

aFtER

Heat Pumps

Fujitsu's Catechin Filters are approved by

the Asthma and Respiratory Foundation

NZ's Sensitive Choice ® programme.

Full or Partial Dentures

Immediate Dentures

Winz Approved

Insurance Claims

Urgent Denture Repair & Reline

Payment Options Available

03 381 6950

info@powersmart.co.nz

powersmart.co.nz

FREE

consultation from

your local Accredited

Heat Pump Expert

914 Colombo St | Ph: 03 365 2859 | www.cosmeticdentureclinic.co.nz
---
• By Samantha Mythen

TONY THE rooster's bid

to rule the roost in a quiet

neighbourhood has come to an

end.

Tony, described as "pretty

vicious looking", appeared in

Jeremy McTear's backyard in

Heathcote last week.

"He was rather

large and confident,

and very

quickly made

himself at home,

digging up the

lawn and hiding

in the bushes,"

McTear said.

"He was all

feather, talons

and large beak with a bright red

comb."

The McTear family's "guard

dog", Ziggy, who likes to

patrol the garden, was out

of action recovering from

surgery, allowing Tony took full

advantage of the situation.

Over the next few days, Mc-

Tear and his sons, Oliver, Jamie

and Leon, attempted to catch

Tony.

But he was quite the escape

artist, managing to evade their

clutches and fly over a fence to

terrorise their neighbour.

"He was incredibly quick and

able to escape through gaps that

seemed impossibly small," said

McTear.

"An hour or two later, he'd appear

at the door or window and

taunt us or the dog. Sometimes

he'd just sit in the neighbour's

gutter and glare."

Ziggy eventually took an interest,

wandering over to see what

all the fuss was about. When he

Latest Canterbury news at starnews.co.nz

Less than half the average rainfall this month

CHRISTCHURCH has so

far had less than half its usual

rainfall for July with 25mm.

The latest MetService data

also shows the city has had

145 hours of sunshine, slightly

above its average of 129 hours,

this month.

Westport was more than

likely the wettest place in the

Family crowing after

finally bagging Tony

Jeremy

McTear

country this month. But forecasters

can't say for sure because

the rain gauge broke during the

recent flooding event.

Hokitika has had a whopping

315.6mm of rain so far in July,

up from the month's average of

233.2mm.

Wellington has had 79 per

cent more rain than average so

far this month, with 175.3mm,

while Auckland had 87mm,

compared to an average of

117mm.

New Plymouth continues to

be the sunniest spot in New

Zealand with 1479 sunshine

hours so far this year, 149 of

which were this month.

The place with the least

sunshine this month was

Taumarunui, which had 98

hours.

The least sunniest place so

far this year was Gisborne.

While its sunshine hours have

been about average for July, it

has been much cloudier than

normal, with only 993 total

sunshine hours recorded.

saw Tony, Ziggy would chicken

out from his guard duties.

A post on the community

Facebook page failed to trace

Tony's owner. The McTear back-

TEAM EFFORT: Ziggy the

"guard dog" was out of

action after surgery when

Tony arrived. Above – Oliver,

Jamie and Leon captured

the rooster.

yard had become his new home.

Each morning last week, Tony

woke up the family and neighbours

at 5.20am.

Finally, Tony was captured

on Thursday, after McTear, his

wife Tina and three sons, armed

themselves with blankets, fishing

nets, bread and a cat carry

cage.

"It was a team effort," McTear

said.

Tony was despatched to the

SPCA, where he is being put up

for adoption.

"Staff said he was quite

grumpy on arrival," said McTear.

He said his sons asked for KFC

on the way home.

"We didn't have a problem

with that," he said.

"On Friday we all had a great

sleep in."

Thursday July 29 2021 The Star

NEWS 3

in brief

New classrooms for

Hillmorton High

An upgrade to Hillmorton

High School will make it one of

the fastest growing schools in

Christchurch. Wigram MP and

Housing Minister Megan Woods

yesterday announced four

shovel ready projects will be fast

tracked and 17 new classrooms

will be created at six schools

and kura across the Canterbury,

West Coast and Tasman regions.

The projects include five shortterm

roll growth classrooms

at Hillmorton High School

to meet the growing demand

for schooling in the area.

The school's roll will grow by

more than 100 when the new

classrooms have been completed.

More houses

being built in city

An analysis of building

consents in Christchurch

shows the city gained 2792

new dwellings over the past 12

months. That was a 12 per cent

increase on the previous year

and the highest annual housing

gain in the city since 2000. The

housing gain is calculated by

taking into account the number

of new houses built and the

number of houses removed or

demolished. Most of the new

homes were built in the southwest

of the city, particularly

Halswell. Prestons and Yaldhurst

also experienced large increases.

Museum gets consent

for redevelopment

Canterbury Museum has

resource consent to proceed with

a proposed multi-million dollar

redevelopment of its Rolleston

Ave premises. The consent was

granted by the city council

on Monday after a hearing in

June. The museum's proposed

redevelopment is estimated to

cost about $195 million, but

it is still $70 million short.

Museum representatives are

talking to possible funders and

have developed a business case

to seek Government funding.

Director Anthony Wright said

the proposed redevelopment is

critical to the museum's ability

to remain open at its current site.

$10

BREAKFAST

SPECIAL

FREE RANGE EGGS

STREAKY BACON

HOMEMADE TOAST

COFFEE

85 Hereford St | Ph 03 374 9461

www.therockpool.co.nz

Care &

Compassion

We pride ourselves on the

very highest level of service

If you are thinking about the future, we can help

you explore pre-payment and pre-planning options.

Contact us for a Free Information Pack.

We offer funeral information talks to groups.

Please call us for a speaker to come to you.

(03) 379 0196 | www.simplicity.co.nz

Nick Allwright

Funeral Director
---
The Star Thursday July 29 2021

4

NEWS

Latest Canterbury news at starnews.co.nz

Exciting discovery hints at unknown shipwreck

UNCOVERED: Writings in the cave at Chalky Inlet, discovered while searching for the elusive South Island kōkako.

PHOTOS: WILLOWBANK, DOC, GETTY

• From page 1

"You can't help but wonder the

history behind those names, why

those men were there and what

happened to them," Willowbank

managing director Michael

Willis said yesterday.

He said the exciting discovery

hinted of an unknown

shipwreck, perhaps dating back

to the age of exploration when

Dutch, French, English, Spanish

and Russian ships sailed New

Zealand waters.

"If it had been in the later

stages of exploration, people

would have been more likely

to know about it. The fact that

people don't know about it would

suggest it is in the early days,"

Willis said.

Stressed?

Sore? Tired?

Book your traditional

Thai Massage today

• Relaxation

• Deep tissue

• Couples massage

• Hot stone option

• Hot oil

aromatherapy

Wairakei Thai Massage and Beauty

198 Wairakei Road

03 351 2869

www.wairakeithaimassage.co.nz

He believed it could be from as

long ago as the very early 1800s

or even the 1700s.

Willis and fellow expedition

members Mark Willis and Dale

Hedgcock unearthed the cannon

late last month. They were at a

Chalky Inlet beach when they

spotted a small, deep orange

patch among the stones.

They moved the surrounding

rocks with their bare hands.

"It was sheer luck that they saw

it, it was a patch of rust and they

knew that there was something

underneath," Willis said.

The discovery followed Willis

exploring a cave he happened

to see the previous month while

walking along the same beach,

and finding the scrawlings of

NEED A

PLUMBER?

Call us now for fast

friendly service.

Get your problems sorted out

quick smart - on time!!

Phone for a

FREE

quote now.

Phone 03 377 1280

Mobile 021 898 380

names underneath the drawing

of an old ship.

The cave and the cannon are

only about 100 metres apart,

pointing to the possibility the

cannon is from the ship that is

drawn on its wall. The drawing

of the ship is not detailed

enough, however, to see if it has

cannons or not.

Willis said there are at least

four names. They are hard to

read, but one appears to say

"Jamie Rasmussen." Rock

underneath had fallen off, and

it appeared that originally there

may have been more names.

There is also a date, which may

be a year. It says 18 then a line

then a zero, which could signify

1810, 1870 or 1890.

Willis said the mariners could

have perished in the area of the

beach. It was also possible they

were seen by local Māori or

sealers. However, these potential

rescuers would not be in the area

very often due to its extreme

remoteness.

Willis and his fellow team

members, which also included

Taranaki farmers Terry

and Heather Nelly who are

Willowbank supporters, were

at Chalky Bay to install and

then retrieve birdsong and

trail camera equipment used to

try and find the South Island

kōkako.

The cannon find has followed a

tradition for the team of making

great discoveries while searching

for something completely

different.

The Nellys sighted a kōkako

about four years ago as the team

searched the area for evidence of

an obscure pig population.

"Fiordland is just full of

mysteries, there is so much going

on there that no-one knows

about," Willis said.

Willis said team members

were now waiting for the

Ministry of Culture and Heritage

to get back to them about how to

go about retrieving the cannon.

It had been too heavy to lift into

their helicopter when they found

it.

He said Willowbank hoped

to obtain custodianship of the

cannon and display it.

Bras and

shape Wear

ShOPPING AT ITS BEST

• No under wires

• Straps do not fall down

• Full support from beneath the bust

• Front-opening modifications

• Breast Prostheses fitted & supplied

• Esther is a registered

health provider

• Unique shape wear

Formerly

Jeunique Bra

FREE

CONSULTATIONS

& FITTINGS

Esther Rökk UnderFashions

For appointments please phone 322-6590

82 Milns Rd, Halswell • www.eru.co.nz

Showcase your brand or product to

thousands of women at our two day expo!

2 & 3 OCT | CHRISTCHURCH ARENA

This is the perfect opportunity for you to:

• Build brand awareness • Grow your customer database

• Launch a new product • Generate sales

Find out more and book your stand at

womenslifestyleexpo.co.nz

free

CONSULTS

At Better Denture

we have a range

of services and

options available. New Dentures > Relines > Repairs >

6 Brynley St, Hornby, Christchurch

Phone: 03 349 5050

www.betterdenture.co.nz
---
Latest Canterbury news at starnews.co.nz

Thursday July 29 2021 The Star

news 5

More motorists nabbed using bus lanes

• By Chris Barclay

Bus drivers on routes

through Riccarton don't just

have to deal with of one the city's

busiest roads, they are often

required to make unscheduled

stops behind errant motorists.

Riccarton Rd features prominently

as a target area for enforcement

of bus lane infractions

by the city council.

Stretches of the road occupy

three of the top five locations for

vehicles either driving or caught

parking in a designated special

vehicle lane.

Figures obtained by The Star

indicate the number of motorists

nabbed driving in bus lane has

escalated from 1870 in 2018 to

4731 in 2020.

They are fined $150.

Ticket revenue generated

$280,500 in 2018, jumping to

$690,300 in 2019 (4602 offences)

and $709,650 last year.

The number of cars found

parked in bus lanes has fluctuated

from 2018, with 751 tickets

issued worth $69,860.

There were 1941 tickets issued

in 2019 ($129,260). Numbers

were down in 2020 (1475 –

$104,018), with roads not as busy

due to Covid-19 restrictions

enabling more people to work

from home.

The latest figures for 2021 –

to the end of March – reveal

1062 motorists being ticketed

($159,300) for driving in bus

lanes, while there were 375 cars

parked in bus lanes, raising

$25,873.

Revenue collected from infringement

notices is diverted to

the parking compliance budget.

Riccarton Rd featuring prominently

is not surprising given

the bus lanes are operational 24

hours a day, seven days a week,

and are monitored by two enforcement

cameras.

A camera has also been

installed to monitor the lanes

on Main North Rd between

Langdons Rd and Sawyers Arms

Rd outside Northlands Shopping

Centre.

Other lanes are monitored by

parking compliance officers.

"Our enforcement activity is

not about revenue gathering; it's

about ensuring the transport

network is operating as it is

designed to. I would be thrilled

if we weren't giving out any

fines because that would mean

that nobody is misusing the

bus lanes,'' said city council

transport operations manager

RISKY

MANOEUVRE:

A motorist risks

a $150 fine

for driving in

a bus lane on

Riccarton Rd.

PHOTO: GEOFF

SLOAN ​

Steffan Thomas.

"The only reason they should

be driving in a bus lane is if they

are making a turn. Even then,

you can only drive in the lane

for less than 50 metres – that's

the length of an Olympic-sized

swimming pool or half a rugby

field,'' Thomas said.

Christchurch currently has

17 bus lanes. The latest was

introduced on Cranford St

in St Albans to ease public

transportation through peak

hour congestion to and from the

Northern Corridor.

Top-5 Bus Lane infraction

locations (driving)

Riccarton Rd – Mona Vale

Ave to Deans Ave

Riccarton Rd – Division St to

Matipo St

Main North Rd – Cranford

St to Northcote Rd

Papanui Rd – Leinster Rd to

Heaton St

Riccarton Rd – Picton Ave to

Clarence St

Top-5 Bus Lane infraction

locations (parking)

Riccarton Rd – Deans Ave to

Bartlett St

Papanui Rd – Various

locations

Main North Rd – Various

locations

Riccarton Rd – Bartlett St to

Mandeville St

Riccarton Rd – Mona Vale

Ave to Deans Ave

Red Kumara $ ..................................... 1 .99

KG

Large Avocados $ ...................... 1 .49

each

Gold Kiwifruit $ ............................ 2 .49

KG

Loose Carrots ...........................79 c

kg

Loose Brown Onions .........79 c

kg

Winternelis Pears $ ................. 1 .99

KG

Corned Beef Silverside $ ... 10 .99

KG

Beef Ribeye Steak $ .................. 31 .99

KG

Pork Shoulder Roast

(bone in) $ .......................................... 7 .99

KG

Pork Leg Steak $ ......................... 10 .99

kg

Chicken Wings or

Nibbles $ .............................................. 5 .99

kg

At

we have...

FRIDAY TO

SUNDAY ONLY

cauliflower ........................

$2

.99

each

Braeburn Apples ..........99 c

kg

Premium Beef Mince .....

$14

.99

kg

Check our website for

your local stores opening hours

All our fresh meat is 100% NZ FARMED. specials VAlid

26th July - 1st August 2021.

WHILE STOCKS LAST! ONLY AVAILABLE AT RAEWARD FRESH HAREWOOD RD, TOWER JUNCTION

WWW.

.CO.NZ

Like us on

Facebook
---
The Star Thursday July 29 2021

6

NEWS

• By Ben Leahy

IN AUCKLAND, $2 million can

get you a rundown villa with no

toilet.

In Christchurch, a few million

dollars might just net you an elegant

11-bedroom mansion with

sweeping city views.

The 1928-built Hackthorne

Gardens home in the suburb of

Cashmere has just been listed for

sale and sits on a huge 4034sqm

hilltop site in the lower Port

Hills.

Yet despite being an historically

important, three-storey timber

home with views over Christchurch,

the ocean and Southern

Alps, the city council valued it at

only $2.6m in 2019.

The home's marketing site

doesn't have a sale price listed,

but some property websites estimate

its current value at around

$3.6m.

Boasting a "colourful" history,

the mansion has served as home

base for a famous city businessman

and philanthropist, residence

for intellectually disabled

children, and a boutique hotel.

"The brief from its original

owner, Archibald Henry Anthony,

to renowned architect

William Trengrove was for a

family home in the style of an

'Englishman's stately residence',"

the home's advertisement by

agents Harcourts said.

"The resulting home, built in

1928, certainly delivers on that

brief, incorporating elements of

the Art Deco style of the day to

create an unforgettable blend of

romance and grandeur."

That has led the city council to

declare the home as socially and

culturally important.

A council district plan said the

mansion sits among a "precinct"

of posh timber bungalows straddling

the lower Port Hills that

Latest Canterbury news at starnews.co.nz

A few million might net you 11 bedrooms

ELEGANT: Hackthorne Gardens has gone on sale in Cashmere with sweeping views, 11

bedrooms and bathrooms and a rich history. ​

chart "the evolution of domestic

architecture in the city during

the first three decades of the 20th

century."

And – as the flashy home of

prominent 1920s businessman

Anthony, who worked first as a

car salesman before becoming

a lawyer – its architecture also

helps illustrate "the habits, tastes

and lifestyle of the time."

Its other important role came

when Anthony sold it in 1964 for

a "modest gratuity."

The mansion then became

"the Grace and Shirley Hohepa

Home, (named after his late wife

and daughter), a boarding school

for disabled children based on

Steiner principles" emphasising

creative learning.

The property was sold to

private owners in 1987 before

opening in 1994 as a luxury bedand-breakfast,

the council report

said.

Recently, the mansion has been

running as a luxury hotel after

a China-based owner bought it

in 2015 to serve as a private residence

but later decided to open

it up and "share it with others",

according to the hotel website.

The mansion comes with 11

bedrooms and bathrooms, a

commercial kitchen, bar, grand

entrance hall with "beautifully

crafted staircase" and a wide terrace

that runs the length of the

home, giving city vistas and opening

onto a "sprawling" garden.

Investment in the property

"is underpinned by 4034sqm of

blue-chip real estate that remains

as desirable today as it was when

Archibald Henry Anthony first

commissioned his magnificent

new home", Harcourts marketing

material states.

"This is a one-of-a-kind

opportunity to secure a slice

of history – and an exciting

commercial or residential

property."

—NZ Herald

Southern Alps escape

It's right here in Selwyn!

Selwyn is home to six of the best Canterbury ski fields, all within two

hours of Christchurch. Craigieburn, Porters Alpine Resort, Cheeseman,

Mt Olympus, Temple Basin and Broken River offer a mix of family-friendly

runs and challenging off-piste skiing.

Plan your Southern Alps getaway. Stay on the mountain and roll out of

bed and hit the ski fields early, catching the first of the morning snow.

Plenty of parking – no queues – awesome fun!

Share your Southern Alps photos

and tag us selwyn.nz

Visit selwyn.nz
---
VALUE: The flat in St Albans last sold in 1981 for $30,000. ​

$30,000 buy in 1981

could sell for 500k

A TINY St Albans flat could

fetch about 16 times what it was

last sold for.

The tidy two-bedroom property

in Radnor St has just gone

on the market, with a real estate

agent headlining its listing as:

"Last Sold for $30,000 in 1981."

"Incredibly 40 years on, the

time has arrived for the family to

sell 1/24 Radnor St," it says.

The 1970s-built 90sqm flat goes

under the hammer at auction on

August 12.

With a 2019 rating value of

$365,000, and property information

site homes.co.nz estimating

its worth around $505,000, the

"front north-facing townhouse"

is expected to be popular with

first-time buyers.

"This is a nice home with great

neighbours, and a real community

feel," the listing says.

"Yes; you could do some

upgrading but alternatively, live

in it and consider these options

later."

But the listing has attracted

widespread comment online,

with a Reddit thread titled "Real

estate agents rubbing it in"

getting more than 120 comments.

"Taking into account inflation,

that $30,000 in 1981 is equivalent

to $142,000 now," one poster says.

Another says: "I'm trying to

think of all the things I could

possibly do with the spare cash

I'd have if my mortgage was a

mere $142,000. I keep coming

back to "Scrooge McDuck pool of

money."

—NZ Herald

Latest Canterbury news at starnews.co.nz

• By Samantha Mythen

NEW APARTMENTS in

Sumner may be one step closer to

being built.

Marriner Developments Ltd

part owner Shane Kennedy, who

is developing the Marriner St

site, has met with the city council

in recent weeks over more information

needed for a resource

consent application.

Eight units, including a top

floor penthouse, and a ground

floor wine bar are planned.

A resource consent was submitted

in December last year,

and further information was

requested by the city council in

February.

The maximum height of buildings

under the Sumner Master

Plan is 13m. The proposed new

apartment is about 16.45m in

height.

The apartments will be built on

what was formerly known as the

Cave Rock apartment complex,

which was badly damaged in the

earthquakes.

A long battle followed between

the owners of the 49 apartments

and an onsite tavern with their

insurer. Then there was more

conflict over how to divide

the $21 million payout among

apartment owners.

That dispute was eventually

settled in the High Court in

2019.

Kennedy would not say how

long his company had owned the

site.

The city council requested

numerous information for the

resource consent application,

including issues related to flood

hazards, zone-specific noise

rules, sensitive activities near

roads and railways, outdoor

lighting, signs, minimum number

of car park and cycle parking

rules, manoeuvring for parking

Thursday July 29 2021 The Star

NEWS 7

Developer and city council

in talks over Sumner plan

ARTIST'S IMPRESSION: The proposed development,

viewed from the intersection of Marriner and Nayland Sts.

and loading areas, access design,

earthworks, Ngāi Tahu values

and the natural environment,

and building height.

Kennedy said is currently

working on finalising a response

to the city council. A date to hear

the resource consent has not

been set.

He was hopeful building would

start this year.

"The whole area was previously

downgraded and old, it will

be nice to give Sumner what it

deserves with this new build,"

said Kennedy.

Check out our latest

deals

Twice as nice

at a great price!

THE NED Range

750ml

Includes Chardonnay, Pinot

Gris, Sauvignon Blanc, Rosé

2 for

$ 30

SQUEALING PIG Range

750ml

Includes Pinot Gris, Sparkling

Rosé, Sauvignon Blanc, Rosé

Excludes Pinot Noir

LONG WHITE

VODKA Range

15 x 320ml Bottles,

4.8%

Includes Lemon &

Lime, Apple & Pear,

Raspberry

$

39 99

each

HOT DEAL!

$

34 99

each

HOT DEAL!

$

37 99

HOT DEAL!

$

39 99

HOT DEAL!

$

41 99

ASAHI

SUPER DRY

24 x 330ml

Bottles

$

41 99 $

41 99

STEINLAGER

CLASSIC

24 x 330ml

Bottles

LARIOS or

RUSSIAN

STANDARD

1 Litre

BELL'S

1 Litre

CORUBA

Original

1 Litre

Also

available:

Gold

JIM BEAM

White

Label

1 Litre

0%

alcohol

NEW

PRODUCT

75%

less carbs

$

21 99

each

SPEIGHT'S SUMMIT ZERO or SPEIGHT'S SUMMIT

ULTRA LOW CARB LAGER

12 x 330ml Bottles

Shop local with

AMBERLEY, ASHBURTON, BARRINGTON, BELFAST, BRIGHTON, BURNSIDE,

COLOMBO ST, EDGEWARE, ELMWOOD, FERRYMEAD, HALSWELL, HANMER

SPRINGS, HORNBY, ILAM, KAIAPOI, LEESTON, LINCOLN, METHVEN, OXFORD,

SHOP LATEST DEALS at WWW.SUPERLIQUOR.CO.NZ

NATIONWIDE PICKUP & DELIVERY NOW AVAILABLE

PAPANUI, PEGASUS, RANGIORA, SEASIDE, WOOLSTON

Exclusions may apply on some brands advertised. Offers end close of trade 1st August 2021, while stocks last. Available at participating stores only. Multi Deal only available in store. Varietals may

vary by store. Limits may apply. Wholesale (other liquor retail banners) not supplied. Terms and conditions may apply. Available 19th July - 1st August 2021 inclusive. Please see www.superliquor.co.nz for details.

SUP2298_C9
---
8 The Star Thursday July 29 2021

Midwinter Christmas - Friday 30 & Saturday 31 July, 11am-3pm

Come to our merry

Midwinter Christmas

celebration!

Park Lane is celebrating midwinter Christmas this Friday and Saturday,

and you're invited! Enjoy a mulled wine with a delicious spread of

Christmas goodies. There's a gift on the Christmas tree for you with

vouchers for Natter and Five Acres Café or Good Friends beauty salon

Gorgeous George. While you're here, check out our new Living Well

apartments and the amazing Arvida Good Friends Living Well Centre,

complete with gym, pool, café and beauty salon.

Friday 30 & Saturday 31 July, 11am-3pm

35 Whiteleigh Ave, Christchurch. Call Tara 021 489 784

or visit parklaneretirement.co.nz
---
• By Chris Barclay

A DECADE on from the

earthquakes, 103 people

who received physical and

psychological injuries – or

both – still have active claims

with ACC, with financial

commitments still significant

despite numbers gradually

decreasing.

Figures obtained by The Star

reveal there were 20 fewer claims

on the ACC's books for the 2020-

2021 financial year, compared to

2019-2020.

From the existing claims,

82 were classified as physical

injuries and nine as mental

injuries, while a dozen claims

were a combination of both.

ACC paid out $3,050,959

for those claims, compared to

$2,636, 894 during 2019-2020.

The amount needed for

physical injuries dropped from

$1,926,237 to $1,808 – 805 with

17 claims resolved.

But that reduction was offset

by mental injuries ($350,653 to

$571,008) and physical/mental

injuries ($360,004 to $671,146)

requiring a greater financial

commitment.

Unsurprisingly, the 2011/2012

financial year produced the

highest expenditure on claims

from the February 22, 2011

earthquake: $12,140,380, with

the bulk devoted to physical

injury treatment ($10,618,068).

There were 5996 claims in

2011-2012. Minor physical injury

claims appear to have been

resolved swiftly – 7879 physical

injury claims were made in 2010-

2011, while 12 months later the

number had reduced to 5904.

The greatest number of

physical injury claims became

inactive in 2012-2013, when 4715

dropped off the books.

Meanwhile, the number of

Latest Canterbury news at starnews.co.nz

ACC earthquake claims continue

ONGOING: The Latimer Square triage centre after the February 22, 2011 earthquake.

Today many people still receive financial assistance to live with physical and mental

injuries caused by the disaster.

PHOTO: GEOFF SLOAN

claimants receiving weekly

compensation relating to the

earthquake peaked in 2010/2011

at 327 (306 physical, 13 mental,

eight physical/mental),

although the bill amounted

to $1,337,393.

In the following financial year

the claimants had reduced to 240

– the only category to increase

was mental injury from 13 to 30

– but the expenditure surged to

$2,796,151.

There are currently 20

claimants across all three

categories, absorbing $1,337,658.

The bulk of the money is

required for death benefits –

weekly compensation ($830,487)

followed by support for

independence care ($357,664).

Conveyance for medical

treatment was the smallest cost

for the 2020-2021 financial year:

$1227.

• Quake research page 18

Thursday July 29 2021 The Star

NEWS 9

Exploring

trauma

A NEW exhibition at

Christchurch Art Gallery will

reflect on how we cope with

trauma and the ways it can

transform a community.

All of the featured artists have

documented the aftermath of

traumatic events using photography,

moving image and graphic

design. Several explore the years

following the 2010 and 2011

earthquakes.

Said art gallery director Blair

Jackson: "From a starting point

of examining what the people of

Ōtautahi Christchurch have been

through in the last decade, Things

That Shape Us spreads its focus

to look at the trauma caused by

racism, inequality, climate change

and indigenous politics, from the

colonisation of Aotearoa to the

bombing of Nagasaki."

Christchurch photographer Tim

J. Veling documents the structures

that were installed to support damaged

buildings, "echoing the care

and empathy people had for each

other," said Jackson.

Miranda Parkes captures the

anxiety caused by the earthquakes,

Ella Sutherland considers

the future of the art gallery

building itself, and John Miller

has been photographing protests

across New Zealand for 50 years.

The exhibition runs until

November 7.

get injured?

Take your sprain, cut, break or

head bump to be treated at an

urgent care clinic

• Parking and late-night pharmacies on-site

• X-ray and casts available

• Free medical visits for under 14s at urgent

care clinics after 6pm weekdays and all-day

during weekends

All clinics open 7 days a week:

• Riccarton Clinic 8am–8pm

• Moorhouse Medical (free ACC wound care) 8am–8pm

CDHB26JULY21 ED

Unsure what you need? Call your GP team 24/7 for advice

cdhb.health.nz/urgentcare
---
The Star Thursday July 29 2021

10

NEWS

Latest Canterbury news at starnews.co.nz

Council snubs own venue for expo

• By Chris Barclay

THE CITY council's decision

to stage a technology and

innovation expo at the new

government-owned Te Pae

convention centre ahead of

its own Venues Otautahi-run

facilities is under scrutiny.

City

councillor

Yani Johanson

hoped the Smart

Christchurch

Innovation

Expo 2021

would not create

a dangerous

Yani

Johanson

precedent

as Venues

Otautahi faces

intense competition from Te Pae

when it opens in late October.

Venues Otautahi chief executive

Caroline Harvie-Teare said

it was not aware of a bidding or

lobbying process for the expo

and admitted Te Pae had the

potential to adversely impact on

the operation.

"Venues Otautahi is acutely

aware of the shift in focus of Te

Pae to the local and national

market as a result of Covid-19

border restrictions," she said.

"Heightened awareness of

environmental issues associated

with business travel and

increased venue supply in

Christchurch at a time when

event demand is contracting

means the opening of Te Pae has

the potential to result in a loss of

revenue for Venues Otautahi."

The two-day Expo, run by the

council's Smart Cities Christchurch

initiative, will showcase the

convention centre when it is held

from October 31 to November 1.

"The concern is this will be an

ongoing thing and, in a few years

time, we're just funding event

after event at the convention

centre while our own facilities

are suffering from a lack of use,"

Johanson said.

He believed the city already

had ample conference space,

given the emergence and longterm

effects of Covid-19.

"You've got the (Christ

Church) Cathedral building, a

new function space, you've got

the town hall, the library was

bookable function space, the

convention centre . . . I can't

personally see where the demand

where these conferences is going

to come from, That (view) was

even 10 years ago, before Covid,"

he said.

Like Harvie-Teare, Johanson

said Te Pae, which is run by

United States-based events and

management heavyweight ASM

Global, would now target smaller

events that impact on the town

hall and Christchurch Arena,

key components of Venues

Otautahi's portfolio and revenue

stream.

"Since Covid, it's not actually

about the big events, there will

be a few of those, but probably

the greater opportunity is to

poach the events off the council

facilities," he said.

"It's going to be a huge challenge

and the worst outcome is

ratepayers and taxpayers pay

to compete against each other's

venues – the council-owned

facilities against the governmentowned

convention centre."

Mayor Lianne Dalziel would

not comment, directing The Star

to Smart Cities manager Michael

Healy.

"We're open to hearing any

feedback and thoughts on where

future expos might be held," he

said.

"In this instance, being one

of the first public-facing events

at this exciting new venue was a

great fit for the expo, which is all

about showcasing Christchurch

to residents, industry and the

rest of the country as New Zealand's

innovation hub.

"We considered a range of

venues, as we did in 2019 when

the expo was held in the newly

reopened Christchurch Town

Hall."

Healy would not reveal the

venue fee for the expo but said it

would not be a cost to ratepayers

as the event was covered by

sponsorship and exhibitor fees.

There are no other councilproduced

events scheduled at Te

Pae.

"People say I look young..." ADVERTISEMENT

KORU NUTRITION

"People are always surprised

when they find out my age. 'You

can't be seventy-nine! You look

so much younger.' Well what

can I say, I'm not too bad for my

age."

Life for Anneke has been full;

from raising a family to running

a Bed and Breakfast with her

husband, she has had no end of

adventures.

"My husband and I moved

here from Holland in our

twenties and never looked

back. We are kiwis and love it so

much that we wanted to share it

with others. We ran a Bed and

Breakfast for seventeen years.

People came from all over the

world, Iceland to South Africa,

the Middle East to Brazil, we

shared our love of New Zealand

with them all"

Running a business that

impacts people, upkeeping

your house/work, and raising

a family creates its own stress

and for Anneke, she would find

that it would often impact the

health of her skin.

"For years, whenever we

were extra busy, tension and

stress levels heightened, my

skin would redden and would

become awfully rough. When

you're constantly engaging

with people it is somewhat

embarrassing having blotchy

skin but I had to learn to deal

with it."

After retiring five years ago,

she has been loving life with

her five grandchildren. Her

skin, though, was continuing to

irritate her.

During lockdown last year,

she was on Facebook talking

to her children, when she

came across Skin Fx by Koru

Nutrition.

Unlike other health creams

that simply moisturize, Skin Fx

is designed to soothe, nourish,

protect and moisturize skin.

Dermatologically tested for

safety, Koru's Skin Fx is a nongreasy

formula made in New

Zealand without any nasty

chemicals, fillers or steroids.

Impressed by what she saw,

and finding out her neighbour

was already using the product,

she ordered one online and has

not looked back.

"I am very happy now. When

you retire you have to look after

yourself, and with an all-natural

product you cannot go wrong."

"It keeps the skin soft, and

feels like I have less of that

weathered look. It has even

helped soothe the redness in my

face, which I had given up on

ever being able to be rid of. I am

impressed and very happy with

the help in looking so youthful.

I so wish I had found this years

ago."

Always read the label and use as directed. If symptoms persist see your healthcare professional. Koru Nutrition Ltd, Christchurch.

With nineteen all-natural

ingredients and no chemicals,

fillers or nasties, Skin Fx

soothes, nourishes and protects

your skin with fast results.

Made in New Zealand from

local and imported ingredients,

Skin Fx is setting the bar

for naturally soothing skin

irritations. If your skin is prone

to irritation, redness, dryness

or flaking, then don't just take

our word for it. Ask for Skin

Fx cream next time you're in

the pharmacy and try it for

yourself.

SPECIAL OFFER

FOR READERS

33% OFF

Koru Skin

3 for

$49.99

Save $25

WWW.KORUNUTRITION.CO.NZ

0800 99 99 80

Available in

good pharmacies.
---
Thursday July 29 2021 The Star 11
---
The Star Thursday July 29 2021

12

NEWS

Call for support

• From page 1

Booth is among bereaved

family members calling for

a reduction to the years-long

delays. They want more coroners,

access to free legal representation

and medical experts during the

inquest process, as well as more

support.

His friend and fellow parent

Corinda Taylor is still waiting

after more than eight years since

she lost her son Ross to suspected

suicide.

Said Booth: "It's like

waiting on a birthday

but you don't know

what the date is. You

don't know how long

you have to wait, you

don't know whether it's

next week, next month

or next year."

Booth fears that

the there is so much

backlog in inquiries,

that the coroner will make their

finding on Liam's death following

a hearing "on the papers." These

are not public hearings, and

family members, witnesses and

other parties do not attend.

Booth wanted the hearing,

which happens towards the end

of the inquiry, to be an inquest.

Inquests are generally held in

court and the coroner can hear

from witnesses in person.

He said this would give him the

opportunity to question health

authorities and personnel about

what he believed was a failure in

their duty of care.

"I want to look them in the eye,

so they can see the end result of

not doing their job correctly,"

Booth said.

Coroner Bruce Hesketh told

The Star every death reported to

the coroner was different, and

coroners must consider evidence

from a range of sources.

"While a coroner will also

typically seek medical

information, they

may put their inquiry

on hold pending the

outcome of another

agency's investigation,"

Hesketh said.

This was the case

for Liam's death,

where the Health and

Geoff Disability Commission

Booth is conducting an

investigation.

"Once the investigation is

complete (in these sorts of cases),

a decision can be made about

whether an inquest will be held,"

Hesketh said.

Chief coroner Judge Deborah

Marshall said a programme of

work was underway to address

average time frames for the

completion of coroners'

inquiries.

Booth welcomed the work

underway and initiatives

being planned.

Latest Canterbury news at starnews.co.nz

Successful campaign to

clean up VC family's plot

MEMORIALS to Charles

Upham, New Zealand's

most decorated soldier, and

Sergeant Henry Nicholas,

Canterbury's first Victoria Cross

recipient, have been restored

in Christchurch – thanks to

an English-born Korean War

veteran and a war-graverestoring

charity.

The Star has followed Ken

Wright's plea in recent weeks to

repair Sergeant Henry Nicholas'

earthquake-damaged family

plot in Bromley cemetery, before

Upham's resting place was also

spruced up in Papanui.

Masons conscripted by the

New Zealand Remembrance

Army righted the toppled Nicholas

headstone; volunteers repainted

the lettering and affixed

ceramic poppies recognising the

service of Nicholas and his two

brothers in World War 1.

The Lincoln-born 27-year-old

was awarded the VC for an attack

on a German stronghold in

Belgium in December, 1917.

He was killed in France on

October 23, 1918, shortly before

the armistice.

Frederick Charles and Ernest

Nicholas, who also served in the

conflict before returning home.

Upham, who was born in

Christchurch in 1908, is one of

only three people to be awarded

the VC twice – for actions in

Crete in 1941 and Egypt a year

later. He died in 1994 and is

buried with wife Molly.

New Zealand Remembrance

Army chief executive Simon

Strombom was proud to have

answered Wright's call for assistance.

"There's hundreds of these

graves in New Zealand to repair

like this. With $2 million we

could do all the graves across the

country," he said.

"We think two out of three

New Zealanders – more, potentially

more – who were killed in

REPAIRED: Ken Wright

waged a successful

campaign to clean up the

graves of VC recipients

Captain Charles Upham

(above) and Sergeant Henry

Nicholas.

action have a memorial grave

from World War One.

"They're a real problem because

sometimes the families

have ceased to exist, no one looks

after them. We've put about 2500

poppies on memorial graves."

A re-dedication ceremony for

the Nicholas plot is expected to

be held by the end of August.

Army volunteers also spruced

up the Upham grave at St Paul's

Anglican church after being

alerted by The Star.

"The lettering on the plaque

was faded so we gave it a refresh,"

Strombom said.

• Read more about Ken

Wright on pages 16-17
---
Thursday July 29 2021 The Star 13

OMG 3.8" Doll Assortment*

Usually up to $69.99

SAVE

$

70

$

59 99

Surprise Remix

Super Surprise

Usually up to

$249.99

ea

Present Pets

Assortment*

Usually up to $129.99

*Styles will vary from store to store.

wow!

SAVE

$

100

$

149 99

ea

50 % OFF

$

9 99

ea

Micro City World

Pack Assortment*

60% OFF

Usually up

to $24.99

15cm Figure

Assortment*

Usually up to $27.99

$

7 99

ea

$

9 99

ea

Expanding Playset Assortment*

40% OFF Usually up to $34.99

wow!

UP TO

60 % OFF

$

19 99

ea

wow!

70 % OFF

ALL

AT LEAST

40 % OFF

Peppa's

Wooden

Playhouse

Usually up

to $69.99

WOODEN

TOYS

wow!

SAVE $

39 99

$

30

$

39 99

ea

40 % OFF

$

39 99

ea

OMG Remix Doll

Assortment*

Usually up to $69.99

Peppa Pig

Wooden

School Bus

Shape Sorter

Usually up to

$59.99

40 % OFF

ea

wow!

60 % OFF

$

23 99

ea

Potion

Dress Up

Assortment*

Usually up to

$19.99

wow!

50 % OFF

FEATURED

Magical

Potion Surprise

Usually up to $5.99

50 % OFF

$

2 99

ea

Toy Story XL

Capsule

Usually up to

$7.99ea

(Contains 1 Ooshies

XL pencil topper.)

65 % OFF

4 for

$

10

$

9 99

ea

Kitchen Creations Cheesy Sandwich Playset, Slime

Snotty Scotty or Animal Crew Naybelle Show Pony

Usually up to $19.99

Surprise

Creation Kit

Usually up to

$44.99

Snack Time Friends Doll

Summer Peaches or Donatina

Usually up to $59.99

50 % OFF

$

29 99

ea

40 % OFF

$

24 99

ea

$

12 49

ea

Animal Crew Cluck

a Dee or Sherrie

Shearin Sheep

Usually up to $24.99

$

4 99

ea

Slime Cereal themed Slime Assortment*

Usually up to $9.99

$

12 49

ea

Kitchen Creations Noodle Party

Playset or Doctor Drill n Fill

Usually up to $24.99

TOWER JUNCTION

NZ's Biggest TOYWORLD

Clarence St, Riccarton, Ph 03 343 0330

MARSHLAND

199 Marshland Rd,

Ph 03 982 8697

Valid from Thursday 29th July until Tuesday 10th August 2021.

HORNBY

Chalmers St,

Ph 03 281 8127

LOOT BAG

*Terms and conditions:

1) Pictures are indicative

only, contents may vary.

2) Limited quantities,

strictly while stocks last.

3) One loot bag per

transaction. 4) The prize

is non-exchangeable, nontransferable

and is not

redeemable for cash or

other goods.
---
14 The Star Thursday July 29 2021
---
Latest Canterbury news at starnews.co.nz

Thursday July 29 2021 The Star

NEWS 15

STOLEN: Building materials and an outboard motor were taken during an overnight theft from a building site in West Melton.

PHOTO: GEOFF SLOAN

Building cost increase sees rise in theft

• By Susan Sandys

THE THREAT of building

materials being stolen from

building sites is increasing as

costs rise, says Master Builders.

Construction costs have

skyrocketed: Reports in recent

days have revealed the price of

steel and timber is up 15 per

cent, brickwork is up 20 per cent

in two months, cedar cladding is

up 50 per cent in three months,

while steel is up 60 per cent in

eight months.

Last week about $8500 of

materials were stolen from two

neighbouring homes under

construction at West Melton.

This followed a burglary,

reported to police on July 16, of a

residential address in Somerfield

where building work was taking

place.

Canterbury branch Master

Builders New Zealand president

John Hamilton said the threat

of theft was increasing with the

market for building materials

affected by rising costs and

supply issues.

"It's always been around, but

now the materials are becoming

very expensive. Before it was

white ware and tools, but now

everything is on the table,"

Hamilton said.

He urged builders to make

things difficult for opportunist

thieves. They could invest in

a portable security camera

system, tie up or bolt down

packs of timber on site, or pick

up building materials in smaller

portions from merchants and

use them as they went.

For the West Melton theft,

the thieves struck overnight

on Tuesday at the Wilfield

subdivision, stealing an outboard

motor from a boat, and building

materials.

Builder Jessie de Wys said

about $5000 of materials

including 30 sheets of plywood,

six sheets of six-metre roofing

iron, about 30 metres of 6x2

timber framing, and fixing

componentry was stolen from

the site where his company JD

Homes was building a house.

"How do I feel about it? I don't

think you can put that in the

paper," de Wys said.

The neighbouring home had

an outboard motor stolen from

a boat, and an entire delivery of

materials for the pre-clad stage of

the home stolen, costing

about $3500. The items –

including building paper,

cavity batons, surfeit sheets,

PVC mouldings, and timber

– had been taken from where

they were stored in the home's

uncompleted garage.

For the Somerfield theft,

items taken included tools,

building materials and

plumbing equipment.

Whooooooooo

wants to see how much

gas they have left?

oN sAle Now!

183,000

readers...

Now only

$35.80

Plus $5 P&H per copy

www.GasOwl.nz

AvAilAble from stAr mediA:

Level One, 359 Lincoln Road

Addington, Christchurch

Phone 379 7100

RUN OUT SALE | RUN OUT SALE | RUN OUT SALE

GL50 Heat Pump

Heating 5.8kW | Cooling 4.8kW

$2,599

That's almost as many

people as campervans

doing 60km/h on

the motorway last

Queen's Birthday.

INSTALLED

Basic back-to-back installation.

Conditions apply.

Call us for a free quote

Source: Nielsen National readership survey y/e Q3 2020 - y/e Q1 2021 (Star Max, one ad)
---
The Star Thursday July 29 2021

16

our people – ken wright

From The Blitz to Bromley – armed

Able Seaman

Ken Wright put

interservice rivalries

aside when he found

the damaged family

plot of Canterbury's

first Victoria Cross

recipient, Sergeant

Henry Nicholas, on

a wander through

Bromley cemetery.

The Korea War veteran

then launched a

successful campaign to

repair the earthquakedamaged

resting place.

Chris Barclay revisits

Wright's wartime

experiences and his

peaceful transition

to Christchurch via

Dunedin

SERVICE: Ken Wright today and at 15, three weeks into

Royal Navy training, which saw him spend 2 1/2 years on

the HMS Ceylon (below). As a child in London he was sent

north during The Blitz (top right). Later, he was part of the

barrack guard that lined Fleet Street for Princess Margaret's

wedding.

PHOTO: GEOFF SLOAN

You're from London, innit?

So there must be a football team

you follow?

Queens Park Rangers. I was

born round Kingsbury but I lived

in Willesden, northwest London.

I had a trial for their nursery

team. It was a lovely day and I

played a blinder. I got the call

to go to another one and it was

piddling with rain. I played like a

clown and needless to say I didn't

get another call.

But you took to another

profession like the proverbial

duck to water at age 15 when you

managed to join the Royal Navy

in 1950?

Dad didn't like the idea, I had

to fill in some of the papers and

sign for him. They accepted me.

I put 17 down, but they crossed it

out. They knew I was lying. I had

13 months at HMS St Vincent, a

training establishment for boys

and juniors in Portsmouth. I

always wanted to join the navy.

Backtracking, you were born

in 1935. Do you still have vivid

memories of World War 2?

There's things you never forget,

especially the bombing. The V2s

(flying bombs) and all that stuff.

Having to go down to a shelter in

the courtyard of our estate that

was covered in piss. They didn't

care, some of the people. They'd

use it as a toilet and bugger off.

Sometimes mum would stick us

in a cupboard under the stairs.

We had a little bed there. I was

four when it started, you grew up

very quick. We were bombed out

(with incendiaries) three times,

twice in 1941 and also 1943.

Were you evacuated to safer

ground during The Blitz?

After the second (family

home was destroyed) dad said:

'You're going up north'. I went to

Birmingham when I was seven

with my brother (Stan was 10)

for about two months. Although

the people were nice who put

us up, we thought we belonged

at home. We went to school one

morning and went straight to

the A5 and down to London. A

truck driver dropped us all the

way home. I won't tell you what

mum (Dorothy) said, the old

man (Frank) was dead cross. He

was a fireman; mum worked in a

munitions factory.

Despite the death and

destruction, to some extent

did you feel bulletproof at that

age? You used to pursue the

Doddlebugs when they were

whistling by and dropping from

June 1944.

We were the second site for

the V1 and 2s (unguided jetpropelled

missiles) to come in,

north-west London. The East

End had a hell of a battering. You

heard them first, they made a hell

of a noise, then they'd go silent.

We got on our bikes and we'd

chase after them. Then we just

stood back and watched or they'd

go off before we got there. To see

someone's house blown up wasn't

very nice really.

You were obviously too young

to enlist in World War 2, but

by 16 you were experiencing

another conflict, thousands of

nautical miles from home.

I'd never even heard of the

Korean War and it had been

going eight months. We were

only kids, you didn't even read

a newspaper. One day we were

told we were going to Liverpool

by train and we're going to

catch a troopship out towards

the Mediterreanan. We got out

to the Med and they put us in

the picture, we weren't here

for a holiday. We were to join

(the crew) of two cruisers. I

started on the Belfast, we did

bombardments, mainly at night,

off the west coast. We actually

hit a train. The captain was well

pleased. We were hit once, a

shell from a shore battery went

through and killed one of the

cooks.

There were confronting sights

too, weren't there, involving

downed enemy pilots or sailors?

Some bodies swelled up, they

were bloated. The Royal Marines

used to go up to the fo'c'sle end,

the sharp end, and shoot holes in

them so they'd go down. It was

just the same as giving them a

burial at sea.

Speaking of imagery, there's

some tattoos on your arms,

when did you embark on that

seafaring rite of passage?

The first one ever in Singapore

– 1951. That's when they were

using a needle, not electric or

nothing, just a plain needle in a

holder. They'd dip it in ink. This

was in a village in Singapore, a

right out of the way place. What

does it signify? 'Mum and Dad',

because we were all mum and

dad boys.

How long was your tour of

duty in Korea?

We were there for 15 months,

three on the Belfast, the rest on

the Ceylon.

Move over dots.

Here come the

yellow squares.

Queen. King. Super King.

Same price.

Sleepyhead

Limited Edition Bed

$2499

Up to

68% off

Love every detail.

Especially the price.

In-store and online now.

LG 48" 4K Smart OLED TV

48OLEDA1 9070152

$2199

100 ONLY

Offers valid from Wednesday 28 July 2021, end dates may vary, while stocks last or unless otherwise stated. Some products on display in selected stores only
---
Thursday July 29 2021 The Star

our people 17

service and war grave restoration

TOGETHER: Ken and Bronwyn have been married for 31 years; Ken next to the repaired

grave and headstone of Canterbury's first VC recipient, Sergeant Henry Nicholas, which he

was instrumental in getting restored.

Photos: GeoFF Sloan

You also steamed into other

troubled waters north of the

38th parallel during your decade

on the high seas.

We did the Suez Crisis (second

Arab-Israeli war). That only

took six days (October 29 –

November 7, 1956). Then we had

the Cyprus Emergency, we used

to do the patrol round the island

trying to catch (Greek Cypriot)

gunrunners.

Before those confrontations

the Ceylon was engaged in escort

duty, which brought you to New

Zealand just before Christmas

1953.

After Korea we went down

to Hong Kong. We were told to

clean up the ship because we were

going to escort Queen Elizabeth

II (the first reigning monarch to

visit New Zealand). We got to

Auckland on December 23. When

he got to Dunedin we anchored

outside Port Chalmers because

the harbour was too small. We

got shore leave and took the train

to Dunedin, that made my day.

It was beautiful, I just fell in love

with the place. It was a great

difference for people like me who

lived in a bombed-out bloody

London to a place so peaceful like

that. I always said I'd come back

to Dunedin.

The Queen boarded the Ceylon

during that tour to show her

appreciation. Tell us about your

dealings with her sister, Princess

Margaret.

I was drafted into the barrack

guard at St Vincent, it was all

ceremonial stuff. We lined Fleet St

for Princess Margaret's wedding

(to Anthony Armstrong-Jones

in May 1960). It was part of the

parade route. If anyone came

forward we pushed them back. A

few years later I was working in

a timber yard; Princess Margaret

and Armstrong-Jones were

building a pagoda on the little

lake at their place in Reigate. We

had tea and buns with them. Tony

was a nice bloke, very sociable.

He'd be be working alongside us,

banging nails in.

What other employment

occupied your time as a

landlubber?

I learnt to drive an electric milk

float, then I was a conductor and

driver on the London buses. I had

the 52 out of Victoria up to Mill

Hill and the 6 to Brixton. I did

that for two years then I got a bit

fed up arguing with people who

didn't want to pay the fare. Then

I took on window cleaning and

decorating.

British sex comedy movie

Julie Walters

Confessions of a Window Cleaner

was released in 1974. Anything

you'd be willing to divulge?

I was cleaning the windows

in Chelsea/Fulham one day, just

casual, and there's (actress) Julie

Walters in the nuddy, standing

there like a goddess. She was quite

a star in them days. I cleaned that

window twice over.

You fulfilled the pledge to

come back to Dunedin, because

an Otago lass on her OE in

1988 started pulling pints

at your local in Surrey, The

Blackamoor's Head.

I met Bronwyn in Chessington.

She was only there by chance. She

was staying with a friend and one

day decided she'd walk one way to

Chessington instead of the other

way to Tolworth. She went into

the pub and got a job.

There's a 30-year age gap, that

must have been a talking point

in the boozer?

We got a bit of ridicule in the

beginning in England, not sure so

much here. It was more: 'Good on

you'. We've been married 31 years.

We had Hayley and Samantha

when I was 56 and 58. Being an

older father didn't hold me back

much, I was fit and healthy back

then. Window cleaning and the

decorating kept you in pretty

good nick. The age difference

means a bit more now, I'm getting

lazy, which is a shame really.

After flitting between the

UK and Dunedin since 1990,

you settled in Mosgiel in 2001.

During a visit to Christchurch

soon after you found Henry

Nicholas' family plot in Bromley

cemetery. The headstone was

upright then, but not when you

moved to Christchurch last

November to be closer to your

daughters.

It was a bloody mess and for

a chap that's got the VC, he

deserves a lot better than that.

Being an ex-serviceman I revere

the Victoria Cross. Fortunately

the (New Zealand) Remembrance

Army stepped up to repair it.

We've donated to (the army)

and we encourage other

people to do the same for things

like this.

Does the UK do a better job

commemorating their war dead?

They have war graves (The

Commonwealth War Graves

Commission), they cover all of

that. They go into Europe and

cover France, Belgium . . . it's

quite a big outfit. On one of our

trips over there we went to the

cemetery (Kensall Green All

Souls') to see my parents' and

there's a site (immaculate) there

with New Zealanders.

You've got a fresh

commemoration inked on your

right forearm two months ago to

illustrate your time at sea, don't

you?

It's a bottle of Pusser's British

Navy Rum, you had a tot every

day at lunchtime. Sailor's grave?

I hope to be buried at sea. Ashes,

over the top. I'm happy to be off

the coast of New Zealand.

A little bit will be saved and

taken back to England. They'll tip

them off the Belfast, into

the Thames.

Like finding money down

the back of the sofa.

Show your dishes

who's Bosch.

yellow

square

deals

Emory 2 Seater Sofa

& 3 Seater Sofa

9065545 / 9065547

Over

40% off

Limited stock at this price

Bosch Series 4

14 Place Setting

Dishwasher

SMS46GI01A 9040211

$999

130 ONLY

— please call 0800 764 847 to check availability. Personal shoppers only. Trade not supplied. Limits and other exclusions may apply, ask in-store for details. Discount is off our full retail price. Not available in conjunction with any other offer.
---
The Star Thursday July 29 2021

18

NEWS

Latest Canterbury news at starnews.co.nz

Understanding how earthquakes work

Scientists have

reconstructed 2016's 7.8

Kaikōura Earthquake in

unprecedented detail

to reveal fascinating

new insights about one

of the most complex

shakes observed

anywhere in the world.

Jamie Morton reports

KICKING OFF near Culverden

just after midnight on November

14, the two minute-long quake

shook the country with the

equivalent energy release of 400

atomic bombs and triggered a

seismic ripple that set off more

than 20 faults.

Nowhere was this domino

effect more dramatic than along

Marlborough's Kekerengu Fault,

which, in some places, appeared

at the surface as raised-up folds

of earth stretching across farmland.

Several years, tens of thousands

of aftershocks and nearly

$2b of insurance claims later, scientists

have been left with many

lingering questions to answer.

Among them: Precisely how

the quake started, why it was

that so many faults were involved

and why the quake ended at

Cape Campbell, 216km away

from its epicentre in the heart of

north Canterbury.

A yet more intriguing question

was its potential link to our largest

geological hazard – the huge

tectonic plate boundary that is

the Hikurangi Subduction Zone

– and its interface deep beneath

the northern South Island.

"All of these questions have

received attention prior to our

work, but they have not yet been

conclusively solved," said Dr

Calum Chamberlain, a seismologist

at Victoria University in

Wellington and lead author of

the study, just published in the

journal JGR: Solid Earth.

It was the sheer complexity

of faulting, he explained, that

made the earthquake so difficult

to understand, nearly five years

later.

"Although we have an excellent

understanding of what the faults

look like at the surface, thanks

to an incredible effort by New

Zealand geologists, this mapping

doesn't directly tell us what is

happening at depth – which is

where most of the slip happens

in earthquakes."

After building a decade-long

dataset of precise earthquake

locations and magnitudes, the

study team drew on a technique

allowing them to link known

quakes with others that were so

small they hadn't been included

in GeoNet's catalogue.

They then computed accurate

locations of each of the 33,328

quakes in their database between

2009 and 2020, and modelled the

faulting style of 1,750 of these

events.

"This provided the most detailed

and complete view of faulting

at depth beneath the faults

that ruptured in the Kaikōura

earthquake to date."

As had earlier been suspected,

they were able to confirm the

event began as a simple slip

of the Humps Fault, before

propagating northward across

the South Island, as well as out

onto offshore thrust faults, which

were likely the main source of an

associated tsumani.

The Papatea Fault, unmapped

before the quake and running

along a similar path to the lower

Clarence River in Marlborough,

produced a 19km-long surface

rupture and shunted a large area

of mountainous country up by

SHUNTED: The Papatea

Fault, unmapped before

the quake, produced a

19km-long surface rupture.

PHOTO: MARK MITCHELL

8m in a matter of seconds.

"We suggest that fault-linkages

between the offshore thrust

faults and the Papatea Fault help

to explain the unusually high

slip on the Papatea Fault, by

providing it with more area to

accommodate this slip," Chamberlain

said.

The study team, including scientists

from GNS Science, Victoria

University, the Massachusetts

Institute of Technology (MIT) in

the US and the Swiss Seismological

Service, also added a further

fault to the tally of more than 20

already identified.

That was a previously unknown

one that linked the

Papatea Fault to the Clarence

Fault, which was another major

component of the wider Marlborough

Fault System.

"All of these structures play an

important role in explaining the

strongly variable deformation

and slip around this fault junction,"

Chamberlain said.

"Our earthquake catalogue

also shows that the Kaikōura

aftershock sequence reactivated

the faults that ruptured in the

2013 Cook Strait and Lake

Grassmere earthquakes.

"This suggests that the rupture

could have continued past those

faults, but they likely slowed

it down as they had recently

slipped a few years earlier."

But when they analysed related

activity along the underlying

Hikurangi subduction interface,

they found almost no

aftershocks.

"By learning how

faults in the Kaikōura

earthquake linked

together, we will

develop a better

understanding of

the range of possible

earthquakes here."

—Dr Calum Chamberlain

UPHEAVAL: A stretch of earth raised up

when the Leader Fault ruptured became

know as the "Wall of Waiau" (left), while

State Highway 1 was left out of action

for months after the Kaikōura earthquale.

PHOTOS: KATE PEDLEY/NELSON

MARLBOROUGH HELICOPTER RESCUE/NZ

HERALD

"We have shown that the

Hikurangi subduction zone

here hasn't generated significant

aftershocks, despite slipping after

the earthquake," he said.

"This suggests that the interface

here may be less likely to

be a direct source of earthquake

shaking.

"However, this is now the subject

of ongoing research to look

at more data and try and identify

whether there are any other

earthquakes on the interface."

Interestingly, they also confirmed

that there'd been few

aftershocks on the Papatea and

Kekerengu Faults, despite their

dramatic parts in the event.

"We infer that these faults

released close to all of the stress

accumulated on them, resulting

in very little or no slip happening

on them after the earthquake."

Ultimately, Chamberlain said

the study highlighted the scrambled

nature of faulting in the top

half of the South Island.

"Kaikōura remains a very

complicated earthquake, but

by resolving fault structures at

depth through mapping of aftershocks,

we can understand how

these complicated earthquakes

work," he said.

"New Zealand has a lot of

faults, and the potential for linking

of these faults in rupturechains

during single earthquakes

is currently poorly understood.

"By learning how faults in the

Kaikōura earthquake linked

together, we will develop a better

understanding of the range of

DESTROYED: This building

at Banks Peninsula's Little

Pigeon Bay was knocked off

its foundations.

PHOTO: NZ HERALD

possible earthquakes here."

Meanwhile, another team of

researchers who took a sharper

look at the earthquake's accompanying

tsunami say that event

left plenty of its own questions to

explore.

While the quake might be best

remembered for the destruction

it wrought to highways – not to

mention the thousands of landslides

and kilometres of coastal

uplift it caused – the tsunami

that it triggered was also a major

feature of the late-night event.

Over 25 minutes after the

quake, the tide level at the

Kaikōura tide gauge dropped

about 2.5m, before the water

level rose by about 4m and a

series of waves began rushing in

over several hours.

It was later found to have

reached a height of about 7m at

Goose Bay, about 17km south of

Kaikōura, and at nearby Oaro,

left marine debris scattered

across the river floodplain.

Further south in Banks

Peninsula, the only building at

Little Pigeon Bay, an unoccupied

holiday home, was knocked off

its foundations by a tsunami estimated

at 5m high.

In a studypublished in the New

Zealand Journal of Geology and

Geophysics, Niwa hydrodynamic

scientist Dr Emily Lane and her

colleagues analysed five years

of research carried out in the

tsunami's wake.

While much had been learned,

they found many open questions

remained.

They included what the best

rapid modelling approach was in

a tsunami – on the night, simpler

models were found to perform

as well or better than more complete

ones – and how the lessons

of that local event might be used

to better understand the characteristics

of ancient ones.

"Learning as much as we can

from modern events is crucial

to progressing these areas of

tsunami research; such efforts

might even lead to questioning

previous scientific deductions."

They said a key challenge

ahead was finding more effective

ways of increasing local community

capability to respond to

local tsunamis.

During the Kaikōura tsunami

itself, they found there was

confusion in some areas, due to

"a combination of the complex

and evolving nature of the event

and inconsistent messages from

different levels of the responding

agencies and the media."

"This led to multiple evacuation

phases as people were unsure

if, when or where to evacuate."

Particularly, they suggested

more could be learned through

mutually-driven relationships

and co-designed research

with iwi, hapū, whanau and

communities.

"This is especially pertinent to

remote, exposed, and vulnerable

communities."

—NZ Herald
---
Latest Canterbury news at starnews.co.nz

Thursday July 29 2021 The Star

NEWS 19

Shopping for stranded seafarers

DELIVERY

DRIVERS: Sailors

stuck on ships

are giving the

Lyttelton Seafarers'

Centre about

$10,000 each

month to shop for

them.

PHOTO: NZ

HERALD

• By Samantha Mythen

THE NEW Uber Eats.

That's how Lyttelton Seafarers'

Centre chaplain Reverend John

McLister describes the centre,

which is delivering up to $10,000

of groceries and personal items

to sailors stuck on ships in the

port each

month.

All fully

vaccinated

and wearing

personal

protective

equipment,

McLister

and his

John McLister

helpers

provide the

ships with

Wi-Fi and SIM cards, assisting

the seafarers to contact friends

and family back home.

Last month, they visited 45

stores to meet the shopping

requests.

Common personal items they

buy include toothpaste, vitamins

and supplements, and souvenirs.

The most popular items

are Whitakers and Cadbury

chocolate bars.

Another regular request is for

PlayStations and video games.

The most oddball request was

for a portable swimming pool,

because the seafarers were bored,

said McLister.

The seafarers' centre does

not buy alcohol or cigarettes.

However, it does stop off for

takeaway orders such as pizza.

"They just want a treat," said

McLister.

Before Covid-19, seafarers

would come ashore for rest and

recuperation.

However, border controls now

restrict entry for most sailors.

Those who are exempt from

the border restriction are those

who have been on a boat that

has taken 14 days to get to New

Zealand. Once here, they are

given a Covid-19 test and if that

comes back all clear, they can

disembark.

Due to border closures around

the world, McLister said many

seafarers have been stuck on

ships for up to 12 months.

"Most seafarers are unable

to come off their boats and all

the things they used to do, they

are no longer able too," said

McLister.

That is where the seafarers'

centre comes in.

In June, there were 61 foreign

ships that docked at port, and

the seafarers' centre visited those

ships 84 different times.

From June 2020 to April this

year, more than $100,000 was

received for shopping requests,

and the 638 ships in port during

that period were visited 888

times by the seafarers' centre.

McLister also offers pastoral

care for the seafarers, chatting

about problems and concerns.

In May 2020, the Government

determined seafarers' welfare

supporters, such as chaplains,

were essential workers.

Lyttelton was the first port

where a seafarers' centre was able

to visit ships.

"Lyttelton became a model for

other New Zealand ports," said

McLister.

"The Government realised we

needed funding, which was a

big win."

McLister is proud of the

work the Lyttelton Seafarers'

Centre does.

"These people keep New

Zealand alive. Giving [the

seafarers] a warm welcome can

help to alleviate some of the

immense mental pressure they

face."

The efforts are greatly

appreciated by those on the

ships.

M.V Erisort captain C.M.

Ranaweera wrote to the New

Zealand seafarers' centres

to express his and his crews'

gratitude for them "going that

extra mile."

"Lyttelton is a port town,

founded on people who live

and work at sea. Most Lyttelton

people know someone in the

past or present who has done

so. Helping is part of Lyttelton's

DNA," said McLister.

"This is a natural response of

being in a port town.

"It would be a shame if it

was forgotten."

153 years trusted...

That's almost as long as we've spent listening to Dave

Dobbyn & Crowded House while on hold with the IRD.
---
The Star Thursday July 29 2021

20

OPINION

Latest Canterbury news at starnews.co.nz

The new multi-use arena: It's not just for rugby

LAST WEEK the council

decided to proceed with the

preliminary design of our

city's purpose-built, multi-use

arena.

There has been a lot of

commentary on the decision.

There is a point that seems to

have been missed by some of the

commentators. We are building

a purpose-designed, multi-use

arena – not a rugby stadium.

This means it will be covered,

which will enable it to be used

for a range of events, including

concerts, with a capacity for just

over 36,000 people.

This will be the best place to

go for an amazing experience,

regardless of the weather.

Remember the rugby final

in the fog at Lancaster Park?

And Auckland seeing Adele

bedraggled

in the rain?

Mayor

Lianne Dalziel

Ours will offer a premium

arena experience all year around.

The world is changing.

Attendances at rugby matches

were falling prior to COVID-19.

Do we build the seating capacity

to 30,000 by increasing the

budget by $88 million, so we can

fill those seats once a year?

That is if our bid for an All

Blacks match is successful in

any year. Our national team is

a professional corporate entity

that is debating selling shares to

overseas investors.

And do we really want to delay

progress while we find

the budget?

I find it gut wrenching each

evening on the TV news to see

the picture of Constable Matthew

Hunt who was shot in cold

blood. The incidents are ramping

up week by week. Being in the

South Island doesn't make us

immune.

–Dini Ariaans

Government's $55m

media fund

Thank you very much for

publishing that excellent and

important article by Graham

Adams.

At present, there seems to be

something of a groundswell of

reaction against the Government's

shameful, arrogant, and

deluded abuse of power.

At some point, Jacinda Adern

will need to wake up to the fact

that, even though she is (unfortunately)

temporarily the Prime

Minister, she is not an emperor.

It is clear that the money given

to the media has strings attached

– whether directly or by implication

– and this is corruption of a

very dangerous kind.

I hope Graham Adams' prediction

about Winston Peters making

hay comes to fruition.

–Steve Schapel

Adams' column was excellent.

How refreshing to have an analytical

and differing viewpoint

to what has increasingly become

dull, predictable psychophantic

burble.

–Rob Davies

Congratulations to The Star for

remaining true to the people of

Christchurch, by printing readers'

letters, and for writing articles

on sensitive issues deemed

inappropriate by other papers.

Graham Adams opinions on

media manipulation and hate

speech were extremely well written.

Mr Adams opinion on the

vast funds the media received

from the Government can't be

ignored, nor the $50 million

package received a year ago 'for

Covid support'. Result, unbiased

reporting? Never.

–J.L. McKenzie

The recent opinion piece by

Graham Adams exposes yet

again the continuing duplicity

Things have changed. And

Covid-19 has reminded us of the

fragility of our planet and the

risks we face.

Our decision, based on

the advice we received,

including from what is an

incredibly experienced

contractor team, was that

we needed to focus on the

experience, not what is a

marginal difference in the

number of seats which might be

used one night a year.

That's why this multi-use arena

will be the 'go to' experience for

the future.

And that is why we should get

on with it.

with our so-called transparent

Labour Government.

This is what happens in China,

they infiltrate and control the

media messages and content to

support the party line. Failure to

do so and they are excluded or

closed down (Hong Kong is finding

that out now).

–Ian McInnes

I read with interest the article

in The Star re the the questions

addressed to the PM and her

deputy about the money being

supposedly given to the media.

Have any media outlets dipped

into the fund yet? It is blatantly

obvious TV1 and RNZ either

have or are about to, because it is

difficult to [hear] any criticism

of the Government's actions or

non-actions on either.

We have, after many years of

watching or listening to them,

made a change to TV3 as we get

a much more balanced version

of what is actually happening in

the political world and not what

the Government wants us to see

or hear. Others should do the

same and we are sure you will be

pleasantly surprised.

–R Lucas

Covid-19 jab

I was notified by txt a couple of

weeks ago that I was booked in

for my Covid-19 vaccination on

the evening of July 20 at the vaccination

centre in Orchard Rd.

I went half an hour early in case

there were problems with delays

etc caused by all the people coming

and going, arriving about

7pm.

I was met at the door by a

smiling, happy, young man in a

yellow vest and politely asked to

We want to hear your views

on the issues affecting life

in Canterbury

Send emails to:

barry@starmedia.kiwi

PROPOSED: An artist's

impression of the Canterbury

multi-use arena, which

would have a roof and

seat 25,000.​

Poto Williams: Arming the police and who she represents

Poto

Williams.

PHOTO:

GETTY ​

ISN'T THE arming of police an

operational matter and not the

political matter Minister of Police

Poto Williams surmises it is?

I am of the belief that the

police should be given the tools

they need to do the job and not

be dictated to by policies or by

the public. After all, it is only

the police that fully understand

what is happening out there

and what tools they need for the

job. Supporting them on their

decisions would seem to be the

role of their minister.

–Lindsay James

As the Police Minister, I

thought Poto Williams was to

represent the police, not Maori

and Pacific Island people as they

have their own ministers. My

mistake.

As Poto is concerned about

those she represents – Maori and

Pacific Islanders – and they do

not want armed police, I think

she should take it a step further

and have no police in areas

with large populations of her

people. That way the people she

represents will be kept safe from

police shootings.

For the greater part of New

Zealand, I think the police need

extra training with the ability to

carry a handgun, as there is no

time to go back to the car when

a situation suddenly goes sour.

Having a handgun wouldn't have

protected Constable Hunt as the

attack was totally unexpected, but

it would have enabled his partner

to respond more quickly.

–D Downward

Poto Williams needs to

remember her job as a politician

is to represent the people of New

Zealand, not just a small segment

of the community – unless that

is her job. This should be done

without bias; if she's unable to

do that, then perhaps she's the

wrong person for the job.

New Zealand in not the Wild

West, but police officers still need

to protect themselves and the

public from a steady increase in

violent crime – some of which is

fuelled by alcohol and/or drugs,

and is not likely to decrease any

time soon.

The police need tools to do

their job safely and return home

after their shift. I strongly believe

the police should be carrying a

sidearm on patrol.

–Victor Brown

Fully arm the police.

If you go to a mechanic, surgeon,

an electrician you expect them to

have the tools to do the job

The police take their oath of

allegiance to the Crown and

its laws seriously.

Do the villians?

–Len Harris

I am frankly appalled at the

comments by Poto Williams.

I believe if that is Poto Williams'

opinion then she should resign as

Minister of Police.

Each day we are reminded

of ethnic diversity and racism

in New Zealand. The mere fact

that Ms Williams makes her

decision on the Maori and Pacific

communities she represents do

not want it (the arming of police)

is outright despicable.

Does Ms Williams, as an

MP, not represent all her

constituents and New Zealand

as a whole?

–David Gale

sign in then go on in and join a

small queue.

Within a couple of minutes,

I was giving my particulars to

a friendly lady then forwarded

to a line of chairs. After playing

musical chairs for 10 minutes

I was sitting outside one of the

many 'jab' cubicles for a couple

of minutes then called in for

my vaccination. Another very

friendly lady asked a few questions

about any meds that I was

on then did the deed, which was

painless.

I asked about a certificate

proving that I had been vaccinated

as it may be required

for future travel plans and was

given all the details in writing.

I was then escorted down to

the final part of the procedure

where my details were noted

and a Covid-19 vaccine record

was filled out and given to me by

another very friendly and helpful

person.

All this was completed within

less than half an hour as I was

sitting in the post-jab waiting

area before the time of my scheduled

appointment.

Such a smooth, efficient and

friendly procedure. Many thanks

to all the staff involved at Orchard

Rd centre.

–Brian Sowman

I wonder if the CDHB have

though of giving staff a paid

break to get their flu shot and

Covid vaccine.

Having spent time in hospital,

I know from experience how

hard the staff work and there

seems to be little real care from

those highly paid officials that

rule their lives in their welfare.

–Trevor Sennitt

Letters may be edited or rejected at Star Media's

discretion. Letters should be about 200 words.

A name, postal address and phone number should be

provided.

Please use your real name, not a nickname, alias, pen

name or abbreviation.
---
Thursday July 29 2021 The Star 21

RUNOUT

OUTLANDER LS 2.4L 2WD

$32,990+ORC *

The 7 seater Mitsubishi Outlander

brings everything you would need in a

family SUV: safety, technology, comfort,

unrivaled economy and that all important

space, plus a 10 Year Powertrain Warranty † .

Call 03 379 0588 or visit

christchurchmitsubishi.co.nz

RRP WAS $41,990 +ORC

*Price listed is for Outlander LS 2.4L 2wd and excludes on road costs of $650 which includes registration, WoF and a full tank of fuel. Available while stocks last.

†

Visit mmnz.co.nz for full Diamond Advantage warranty conditions.

CHRISTCHURCH MITSUBISHI

386 Moorhouse Avenue, Christchurch | 03 379 0588 | christchurchmitsubishi.co.nz

DRIVE A NEW

NISSAN

STOCK AVAILABLE TODAY

AGILITY MEETS SMARTS

AVAILABLE FROM

$33,990 *

STOCK AVAILABLE NOW

*Price shown is for the Nissan Qashqai ST excludes on road costs of $1,250 which includes registration,

WoF and a full tank of fuel.

CHRISTCHURCH NISSAN, 380 Moorhouse Avenue, Christchurch

Ph: 03 595 6820

www.christchurchnissan.co.nz

THE ALL-NEW

PRO-4X

IN STOCK NOW

christchurchnissan.co.nz
---
The Star Thursday July 29 2021

22

CONTENT MARKETING

Latest Canterbury news at starnews.co.nz

Tobogganing on real snow captivated the youngsters at last year's festival.

Winter-themed festival offers family fun in the city

WHILE WE may be experiencing

a very chilly winter this year, that's

all the more reason to get the

family together and head into the

city for this year's Winter Festival

'Chill in the City'.

Run by the Central City

Business Association with support

from the city council and many

of the city's businesses, it follows

last year's very successful event,

which attracted thousands to

the central city with a range of

exciting winter-themed events and

activities.

This year there will be even

more to enjoy, from ice skating,

hug a husky and Hagglund rides,

to Disney's frozen bouncy castle,

tobogganing on real snow, and

Hillary's Hutt VR Experience, all

taking place in and around the

City Mall area. Real-life winter

fairies will be there for the kids,

along with activities for everyone

to enjoy.

These include ice skating

starting tomorrow and running

right through the weekend, with

all other winter activities running

on Saturday and Sunday from

10am to 5pm daily.

There is a small donation cost

Hagglund rides should again prove a popular attraction at this year's event.

for some of the activities and all

money raised is being donated to

the Christchurch City Mission.

Last year's festival raised just

over $12,000 and the business

association hopes with the

community coming in to support

the festival, it can do more this year.

While most of 'Chill in the

City' activities are aimed at

family enjoyment, Saturday night

offers something a little different,

with 'Chill in the City' After

Dark on New Regent St starting

early evening and featuring live

entertainment, mulled wine, hot

toddies and delicious food.

•Full details of Winter

Festival 'Chill in the City' can

be found on the website

www.chchcentral.co.nz.

Need To Get Fit Fast?

Tone Up or Body Build, Get A Total Body Workout

One Machine...

That Does it All

Easy Storage

Easily Folds Away

Effective Workout

Fun, low impact workouts.

For All Ages

Personalised Settings For

Beginners and Advanced

Includes

Pilates Kit

& DVDs

Up to

50 % Off

*Call for Terms

& Conditions

Off

*

Call Now! 0800 665 665
---
Thursday July 29 2021 The Star 23

STYLE & QUALITY

FOR LESS

WWW.AFFORDABLEFURNITURE.NZ

SUPER

SPECIAL

CHRISTCHURCH'S MOST AFFORDABLE

NZ MADE LOUNGE SUITES

CUSTOMISE TO YOUR REQUIREMENTS

WAS $2229

$

2069

Valley Corner

Storm

Raisin

SUPER

SPECIAL

Reef Recliner Suite

3 Seater + 2 Recliners

SUPER

Adair Lounge Suite

3 + 2 Seater

SPECIAL SUPER

SPECIAL

WAS $2989

$

2399

SUPER

SPECIAL

WAS $1889

$

1529

Elm Bedroom

Collection

Fauna Denim

1 Seater $359 $289

2 Seater $579 $469

3 Seater $749 $599

Maple Bedroom

Collection

Queen Lift Up Base

Mattress not included

WAS $599

$

559

Lowboy - Six Drawers $999 $929

Tallboy - Six Drawers $1129 $1049

Tallboy -Five Drawers $879 $819

Head Board $699 $659

Desk $439 $399

Tallboy 4 Drawers $559 $519

Lowboy 3 Drawers $509 $469

Lingerie Chest 5drw $489 $449

Comet

Mattress

FROM

$

189

Single $229 $189

King Single $249 $219

Double $279 $229

Queen $319 $279

Melody

Mattress

FROM

$

239

Single $299 $239

King Single $349 $279

Double $399 $319

Queen $439 $349

King $469 $379

Super King $679 $549

Riviera

Mattress

FROM

$

299

Single $369 $299

King Single $419 $339

Double $499 $399

Queen $549 $439

King $599 $479

California King $709 $569

FREE

CARPARKING

SOUTH CITY

BATH ST

WE ARE

HERE

255 MOORHOUSE AVE

REBEL SPORT

COLOMBO ST

MON-FRI 9:30AM – 5:30PM

SAT-SUN 10AM – 5:30PM

0800 268 264

www.affordablefurniture.nz

OFFERS END 1 AUGUST 2021
---
The Star Thursday July 29 2021

24

PUZZLES

CHRISTCHURCH

CREMATORIUM

FUNERAL SERVICES

CROSSWORD

1 2 3 4 5 6

7 8 9

Latest Canterbury news at starnews.co.nz

205

SUDOKU

Every row, column and box should

contain the digits 1 to 9.

WORDBUILDER

WordBuilder

105

6

T A L

L W E

How many words of three or more letters,

How including many plurals, words can you of make three from or the more six

letters, using including each letter plurals, only once? can No you foreign

words or words beginning with a capital are

make allowed. from There's the at five least one letters, six-letter using word.

each only once? TODAY

No Good words 17 beginning Very Good 20 with Excellent a capital 23

are allowed. There's at least one

Solution 104: cep, cop, cope, coper, COPPER, cor,

core, crop, orc, ore, pep, per, pop, pope, pore, prep,

six-letter pro, prop, rep, word. roc, roe, rope.

Good 12 Very Good 16 Excellent 21+

10 11

12 13 14

15 16 17

19 20 21 22

23 24

18

25 26

SOLUTION

No.105

14 15 16 17 18 19 20 21 22 23 24 25 26

N A I P C Z F E T L H G Q

1 2 3 4 5 6 7 8 9 10 11 12 13

K S W J R M U Y B D V X O

14 15 16 17 18 19 20 21 22 23 24 25 26

Decoder M U

Across

7. Extremely hungry (8)

9. Informal gathering (6)

10. Filth (4)

11. Puppet (10)

12. Indulge (6)

14. Commendation (8)

15. Coffin (6)

16. Tests (6)

19. Gather (8)

21. Stable (6)

23. Shabby (4-2-4)

24. Loot (4)

25. Rough shelter (4-2)

26. Abandoned (8)

A B C D E F G H I J K L M N O P Q R S T U V W X Y Z

1 2 3 4 5 6 7 8 9 10 11 12 13

15 9 4 9 2 15

21 5 16 19 3 1 13 1 11 20 1 2

21 1 22 4 16 11 8

Down

1. Thin layer or sheen (6)

2. Despatched (4)

3. Trade (8)

4. Accompany (6)

5. Emphasise (10)

6. Wary (8)

8. Stringent (6)

13. Perceptive (10)

15. Client (8)

17. Uneasy (8)

18. Myth (6)

20. Underside (6)

22. Numb (6)

24. Father (4)

3 4 8 1 13 10 24 20 10 8 3 26

11 3 1 16 11 9 10

All puzzles copyright

23 18 3 9 22 14 3 4 17

8 25 25 12 9 23 1

4 3 4 1 19 20 9 8 9

T H E P U Z Z L E C O M P A N Y

www.thepuzzlecompany.co.nz

1 3 6 19 3 2 18

16 3 4 3 16 20 16 13 1 2 3 26

M U M

DECODER

Each number in our DECODER grid represents a different

letter - there is a number for all 26 letters of the alphabet.

Each Enter number the given represents letters into a different all squares letter of with the matching alphabet. numbers. Write the

given The challenge letters into now all squares is to work with out matching which numbers. letters are Now represented work out

which by the letters other are numbers. represented As you by the get other numbers. letters, enter As you them get into the

letters, the main write grid, them and into the the reference main grid and grid. the To reference keep track grid. Decoder of the

uses letters all you 26 letters have of found, the alphabet. cross them off the alphabet provided.

18 13 18 15 16 14 21 9 5 13 13 6

24 8 14 23 1 21

21 2 17 8 15 11 16 15 22 5 16 12

15 24 18 16 14 15 16

17 5 21 20 21 5 21 14 18 21 18

2 1 20 5 3 1 4

V

I

E

5 14 10 6 10 15

2 3 21 15 22 8 18 15 2 21 16 14

13 10 16 18 14 2

4 15 25 25 5 21 25 15 22 21 2

13 20 5 7 21 5 15

7 14 15 3 15 5 21 2 11 13 16 10

5 19 10 22 8 23

14 16 21 18 21 2 26 7 16 2 24 8

A B C D E F G H I J K L M N O P Q R S T U V W X Y Z

1 2 3 4 5 6 7 8 9 10 11 12 13

V

14 15 16 17 18 19 20 21 22 23 24 25 26

I

E

SOLUTION

No.104

3 4 7 3 8 1 5 6 1 4 2 15

10 1 9 9 22 2

Each number in our DECODER grid represents a different

letter - there is a number for all 26 letters of the alphabet.

Enter the given letters into all squares with matching numbers.

The challenge now is to work out which letters are represented

by the other numbers. As you get the letters, enter them into

the main grid, and the reference grid. To keep track of the

letters you have found, cross them off the alphabet provided.

106

105

1 2 3 4 5 6 7 8 9 10 11 12 13

G K Z P E L T J I H B Q R

14 15 16 17 18 19 20 21 22 23 24 25 26

Y V M O N C S W D U F X A

Crossword

Across: 7. Ravenous,

9. Social, 10. Dirt, 11.

Marionette, 12. Pander, 14.

Citation, 15. Casket, 16.

Trials, 19. Assemble, 21.

Steady, 23. Down-at-heel,

24. Swag, 25. Lean-to, 26.

Deserted.

Down: 1. Patina, 2. Sent,

3. Commerce, 4. Escort, 5.

Accentuate, 6. Cautious, 8.

Strict, 13. Discerning, 15.

Customer, 17. Restless, 18.

Legend, 20. Bottom, 22.

Deaden, 24. Sire.

WordBuilder

Ale, all, ate, awl, eat, ell, eta,

lat, late, law, lea, leal, let,

tael, tale, tall, taw, tea, teal,

tell, wale, wall, WALLET,

weal, well, welt, wet.

Sudoku

153 years trusted...

That's before the first game of rugby in New Zealand.

© A.F.Shuker

We've seen a lot.

Supplied by KNIGHT FEATURES

20 Crescent Grove, London SW4 7AH

Tel: 020 7622 1467 Fax: 020 7622 1522
---
Thursday July 29 2021 The Star

Latest Canterbury news at starnews.co.nz

BIG CLUB MATCH-UPS THIS WEEKEND

SPORT 25

Bulldogs rise above 'horrendous year'

Frank Endacott has

dealt with an extensive

injury toll this year, but

the loss of a non-playing

member of the Northern

Bulldogs has hurt this

Canterbury Rugby league

premiership campaign

the most. Chris Barclay

reports

THE DEATH of club stalwart

Glenn Scott in April, following

a battle with bowel cancer,

continues to cast a shadow over

this season, though the 50 yearold

is also a motivating factor

as the Kaiapoi-based side strive

to improve on last year's grandfinal

defeat to Linwood.

Snaring the final play-off

spot by beating Papanui in the

final round of the

regular season,

the Bulldogs, like

Hornby, Linwood

and Halswell,

rested up last

weekend before

the race to the

Frank

Endacott

August 15 tussle

for the Pat Smith

Trophy.

Halswell host Hornby on Saturday,

with the loser dropping

out. The winner then plays either

Hornby or Linwood, who meet

at Leslie Park.

"The death of our No 1 man

at the Bulldogs, Scotty . . . we've

really had a horrendous year.

It's a real achievement for these

guys to finish in the top four,"

said Endacott, the Bulldogs head

coach.

The Bulldogs fashioned a

seven-win, seven-loss regular

season record, with Endacott believing

two of those defeats could

have been avoided in normal

'NO 1 MAN': The loss of club stalwart Glenn Scott (centre)

has been a motivating factor for the Bulldogs. Right –

Marist Albion claimed their first Christchurch Metro Cup

title since 2003.

circumstances.

"That week of the funeral and

the week after we lost two games

we believe we should have, and

could have, won (against Riccarton

and Hornby)," he said.

"It took a while to get them

(the players) back because they

thought so much of him as a

person. To be honest, we'd love

to do it for him this year. That's

always at the back of our minds."

Injuries have also been a constant,

with Endacott estimating

he was down six to seven firstchoice

players most weeks.

"We've been riddled with

injuries from day one, there's too

many to really mention. They're

experienced players, too, good

players that weren't short-term

injuries," he said.

On a positive note, Endacott

was pleased to enter sudden

death on the back of two wins,

while a depleted Halswell were

thrashed 64-12 by top seeds

Hornby in their latest outing.

The Bulldogs beat Halswell

28-18 in May while the Hornets

turned the tables with a 30-16

victory earlier this month.

"It's a 50/50 game, right up the

middle. Halswell are definitely

a better side than that (loss to

Hornby)," Endacott said.

While league approaches the

business end, it was job finally

done for Marist Albion when

they edged Burnside 20-13 after

extra time to claim their first

Metro Cup premier title since

2003 at Rugby Park on Sunday.

Marist Albion made amends

for their narrow loss to Lincoln

University in last year's final by

chipping away at a 13-5 half-time

deficit having played into the

wind.

James Hawkey levelled the

scores with a 74th-minute penalty

and then Dom Gardiner,

who missed the preliminary final

win over Lincoln University due

to New Zealand under-20s duty,

powered over under the posts

in the final minute of the first

10-minute period of extra time.

Burnside, who were on a fivematch

winning streak, pressed

late, but Marist Albion managed

to clear from a defensive scrum

feed hard on their line, with Jack

Esenbach's gleeful kick dead

sparking wild scenes for the

squad that qualified sixth for the

play-offs.

Replacement hooker Rowan

O'Gorman, the only active

player remaining from the 2003

triumph, poked his head up just

in time to see the ball spiralling

to safety.

O'Gorman reckoned the road

to glory actually started when

they stared down a 21-0 deficit

after 35 minutes against HSOB

in week one of the finals series.

"James Hawkey scored and

one of the boys on the bench

said: 'We're starting our run for

the final'. Trent (Lawn) made

the call and he's come right,"

said O'Gorman, who scored

the match-winning try against

HSOB to keep the season alive.

"It's been a long-time coming.

The boys put in a 100-minute

shift. Credit to Burnside as well

for where they've come from

over the last 12 months."

PHOTO: BRIDGITT ROBINSON

Meanwhile, Coastal Spirit

made a belated – and successful

– start to the Southern League,

upsetting Mainland Football

premiership champions Cashmere

Technical 1-0. Michael

Hogan scored the only goal from

the penalty spot in the 73rdminute

following a hand ball.

They now play their postponed

week one clash with Nelson

Suburbs on Saturday.

Coastal Spirit's women's team

capped an outstanding weekend

for the club when they claimed

their premiership for a fifth successive

season.

Cashmere Technical will seek

to bounce back in the Chatham

Cup quarter-finals away at Hamilton

Wanderers.

There has been no change at

the top of Canterbury Hockey's

men's premier grade. Harewood's

6-1 win over Southern

United maintained their onepoint

lead over Marist.

The Harewood women have a

handier four-point buffer in their

competition over Carlton Redcliffs,

thanks to a 10-0 drubbing

of Southern United.

Lincoln University and University

of Canterbury are the

only unbeaten teams in section

A of Christchurch premier

netball after wins over Kia Toa

and Technical A respectively on

Tuesday night.

TOP

OF THE

TABLES

Brought

to you by

Curtains

Blinds

Shutters

99 Sawyers Arms Rd

03 365 4666 or

0800 836 587

www.venluree.co.nz

Southern League football

P W D L GD Pts

Otago University 2 2 0 0 3 6

Cashmere Technical 2 1 1 0 3 3

South City Royals 2 1 1 0 2 3

Coastal Spirit 1 1 0 0 1 3

Selwyn Utd 2 1 1 0 -1 3

Nelson Suburbs 1 0 0 1 0 1

Christchurch Utd 2 0 1 1 -1 1

Green Island 2 0 2 0 -7 0

Christchurch Hockey men's premier league

P W D L GD Pts

Harewood 12 8 3 1 23 27

Marist 12 8 2 2 10 26

HSOB/Burnside 12 4 6 2 13 18

Carlton Redcliffs 12 4 6 2 2 18

Avon 12 4 5 3 15 17

Southern United 12 2 5 5 -7 11

Hornby Vipers 12 2 4 6 -8 10

University 12 0 1 11 -48 1

Christchurch Hockey women's premier league

P W D L GD Pts

Harewood 10 8 2 0 34 26

Carlton Redcliffs 10 7 1 3 25 22

Marist 10 5 3 2 11 18

Avon 10 5 1 4 0 16

Hornby 10 3 2 5 -11 11

HSOB/Burnside 10 2 2 6 4 8

Southern United 11 0 1 10 -63 1

GEOFF SOPER PHOTOGRAPHY

Weekend match-ups

•Canterbury Rugby League

Premiership play-offs

(2.45pm Saturday)

Hornby Panthers v Linwood

Keas, Leslie Park: winner advances

to August 15 grand final; Halswell

Hornets v Northern Bulldogs, Halswell

Domain: loser eliminated, winner

to play either Hornby Panthers

or Linwood Keas on August 7 for a

place in grand final.

Southern League football

Coastal Spirit v Nelson Suburbs,

Linfield Park, Sunday 12pm (catchup

game after weather-related

postponement).

Chatham Cup quarter-final

Hamilton Wanderers v Cashmere

Technical, Porritt Stadium, Saturday

2pm.

•Canterbury Hockey men's

premiership (all Saturday)

Avon v Marist, Marist Park @ St

Bede's College, 1.15pm; Carlton

Redcliffs v Hornby, Waimakariri

Turf, 1.15pm; Southern United

v University of Canterbury, Nga

Puna Wai, 2.45pm; HSOB/Burnside

v Harewood, Nga Puna Wai 1,

4.15pm.

•Canterbury Hockey

women's premiership (all

Saturday)

Avon v Marist, Marist Park @ St

Bede's College, 11.45am; Carlton

Redcliffs v Hornby, Waimakariri

Turf, 11.45am; HSOB/Burnside

v Harewood, Nga Puna Wai 1,

2.45pm. Southern United bye
---
26 The Star Thursday July 29 2021

WHY CHoose

WE ARE CURRENTLY OFFERING

$2000 MINIMUM

TRADE IN

*ON SELECTED VEHICLES! TERMS & CONDITIONS APPLY

for Your next VeHICLe?

VALUE

REPUTATION

SELECTION

TRUSTED

PLUS

REGISTRATION

2020 suzuki swiFt XG

$17,999

Popular 5 door hatch and preferred in its class by

many, features and economical 1.2L engine with

automatic trans and 5.5 star fuel efficiency, looks

stunning in teal with stylish black interior, rear wiper,

push button start, super low kms, ABS, T/C, and

airbags, never lose your vehicle in the carpark again!

PLUS

REGISTRATION

2013 Mitsubishi Galant Fortis

$13,999

Very cool family lift back, features a 1.8L engine

with tiptronic trans, looks very smart in silver with

factory body kit, driving lights and 18'' alloys,

keyless ignition, rear wiper, cruise control, ABS,

T/C and 8x airbags, inspection will impress!

PLUS

REGISTRATION

2015 Mitsubishi MiraGe

$10,999

Surprisingly spacious 5 door hatch, features an

economical 1.2L engine with automatic trans, idle

stop and 5.5 star fuel efficiency, looks great in blue

with bodykit and 15" alloys, black interior, push

button start, Bluetooth, reverse camera, rear wiper,

ABS, T/C and airbags, perfect round town vehicle!

PLUS

REGISTRATION

2019 honda Fit

$18,999

The Fit is a popular, versatile, economical and spacious

5 door hatch, features 1.3L engine with automatic

trans and 5.5 star fuel efficiency, looks good in grey

with chrome detail, stylish black interior, push button

start, rear wiper, rainshields, travelled very low kms,

ABS, T/C and airbags, fantastic buying!

PLUS

REGISTRATION

2013 Mazda deMio 13s

$10,999

Very popular 5 door hatch, features a 1.3L engine

with skyactiv i-stop technology and automatic

trans with 5.5 star fuel efficiency, finished in white

with spoiler and 14'' alloys, low kms, keyless

ignition, rear wiper, ABS, T/C and airbags, very

nice vehicle!

PLUS

REGISTRATION

2006 nissan FuGa 250Gt

$8,999

Luxurious family sedan, features a 2.5L V6 engine

with tiptronic trans, looks smart in silver with

driving lights and 17'' alloys, partial black leather

interior, reverse and side blind camera, very low

kms, push button start, electric seats, ABS, T/C

and airbags, won't last long at this price!

PLUS

REGISTRATION

2014 Jaguar XF luXury

$25,999

Luxurious European sedan, features a 2.0L ecoboost

turbocharged engine, automatic trans with idle stop,

looks very sleek in grey with chrome detail and 18''

alloys, full leather interior, heated/electric front seats,

cruise control, parking sensors, reverse camera, low

kms, ABS, T/C and 10 airbags, inspection will impress!

PLUS

REGISTRATION

2009 Lexus hs250h

$10,999

Sleek family sedan, features a 2.4L hybrid engine

with automatic trans, finished in silver with driving

lights and 17'' alloys, black interior, cruise control,

powered front seats, push button start, reverse

camera, Bluetooth, ABS, T/C and 9x airbags, come

and view!

PLUS

REGISTRATION

2008 nissan skyline 370Gt

$17,999

Well sought after sports coupe, features a high

response 3.7L V6 engine with tiptronic trans, RWD,

looks sleek finished in black with chrome detailing,

rear spoiler and 18" alloys, brown leather interior,

powered/heated seats, push button start, reverse

camera, ABS, T/C and 6x airbags, won't disappoint!

PLUS

REGISTRATION

2010 honda insPire

$10,999

Luxurious 4 door sedan loaded with features, 3.5L

VTec engine with variable cylinder management, auto,

sleek white with driving lights, rear lip and 17" alloys,

black leather with woodgrain trim, cruise control,

keyless ignition, heated/powered front seats, reverse

camera, ABS, T/C & 8 airbags, won't disappoint!

PLUS

REGISTRATION

2010 toyota wish X

$10,999

Very popular family wagon with room to seat 7,

features a 1.8L engine with tiptronic, looks good in

wine with stylish black interior, rear wiper, keyless

entry, spoiler, ABS and 8 airbags, upgrade your

family wagon today!

PLUS

REGISTRATION

2014 Mazda cX-5

$24,999

A modern, tech savvy SUV, 2.0L skyactiv engine with

i-stop and tiptronic trans, looks smart in white with

black factory body kit, driving lights and 17" alloys,

stylish black interior, push button start, rear wiper,

reverse camera, rear vehicle monitoring, LIM cruise,

ABS, T/C and multiple airbags, hurry – won't last long!

PLUS

REGISTRATION

2013 nissan X-trail

$21,999

Popular and spacious SUV, features a 2.0L engine

with automatic trans, looks good in red with body

kit and 17'' alloys, push button start, black leather

interior, reverse camera, heated front seats, rear

wiper, push button start, ABS, T/C and airbags,

hurry – come and view today!

PLUS

REGISTRATION

2009 nissan skyline crossover

370Gt $18,999

3.7L engine with twin throttle bodies, tiptronic

trans, driving lights and 18'' alloys, brown leather

interior, powered/heated seats, memory drivers

seat, PBS, lane departure and collision warning,

cruise control, reverse and side blind camera, very

low kms, ABS, T/C and 6 airbags.

PLUS

REGISTRATION

2016 toyota landcruiser

Prado tZ-G $59,999

Highly sought after family 4WD, 2.8L diesel

turbocharged engine, tiptronic trans, white with

chrome detail, running boards, driving lights and

17'' alloys, black leather interior, cruise control,

heated front seats, drivers memory seat, parking

sensors, reverse camera, ABS, T/C and 8x airbags.

Registration for 6 months is $301

Value Cars Warehouse

4.72

CANTERBURY OWNED

& OPERATED

ESTABLIShED 1993

32 Moorhouse Ave, P: (03) 366 7768 IMVDA

www.valuecarswarehouse.co.nz
---
2013 Volkswagen

Tiguan TSi

h tp: /kaywa.me/8aVDQ

Download the Kaywa Qr Code reader (A p Store &Android market) and scan your code!

my Kaywa Qr-Code

w.valuecarswarehouse.co.nz

CELLULAR

See page 5 for more info!

2

h tp: /kaywa.me/8aVDQ

Download the Kaywa QR Code Reader (a p Store &android Market) and scan your code!

REVERSE CAMERAS

My Kaywa QR-Code

w.valuecarswarehouse.co.nz

PARKING SENSORS

0800 212 777

Ce l 021 855 884

GPS/TRACKING

motor vehicle purchase

See our ad on page 2

Thursday July 29 2021 The Star 27

Claim a rebate on MG electric vehicle

MY WIFE AND I arrived home

at 5pm after a normal day at

work, but from then on things

were far from normal.

The chicken went in the oven

for dinner and veges were being

prepared. I had a few tasks to

complete before plugging in the

electric evaluation car for an

overnight charge, but before I got

to that the house lights dimmed

and before we knew it the power

went off.

The emergency electrician was

called. On arrival, he explained

that a corroded wire from the

street had shorted and it would

be the following day before parts

could be sourced and electricity

restored.

We improvised as well as we

could for the very cold night

but it meant the MG ZS electric

car would have to go back to

the dealership running on

low charge. For someone who

gets range anxiety I found the

early morning commute rather

harrowing; however, I'm pleased

to report we made it.

Yes, the electric vehicle was

an MG, that nameplate having

links back to the company named

Morris Garages, established in

1924. MG has since defied the

odds and has survived amidst

takeovers, mergers and years

when production was barely

enough to stay buoyant, today

it is still a proud brand in the

automotive market.

MG is now under ownership of

the giant Shanghai Automotive

Industry Corporation, in China,

and that's a good thing, it has

stable foundations and it has the

benefit of a vast manufacturing

enterprise. SAIC is a wellestablished

conglomerate with

long-term involvement with

Volkswagen, General Motors

and a host of heavy vehicle

manufacturers.

Add in the design work that

is still carried out in the United

Kingdom and it would appear

MG is here to stick around

for a lot longer yet. At a local

level it's also heartening to see

a considerable number on our

roads, thanks to a new dealership

and showroom boosting the

brand's image.

The manufacturer of MG

has also joined the global rush

towards satisfying demand for

EVs. Its trendy and popular ZS

sport utility vehicle is now even

more interesting with the electric

option appealing to the many

who are flocking to that part of

the market. As an aside, a hybrid

version of the MG HS SUV has

also just landed in New Zealand.

It's timely to note as well, the

fully electric ZS at $48,990 easily

ON CHARGE: The ZS' batteries can be powered from

domestic supply or charge station.

MG ZS: Fully electric or petrol power depending on your preference.

qualifies for the Government's

recently introduced electric

vehicle rebate of $8625.

The ZS EV is powered by a

high output 44.5kWh lithium-ion

battery, and that is significant, it's

a battery that will give you range,

according to the distributors up

to 263km between charges. In

normal EV fashion charging can

be done in two ways, but you will

need two different cables. One is

a type 2 to type 2 that would be

used at a DC rapid charging point

taking about 45min to charge

from low to 80 per cent. The

other is a three-pin cable that can

be plugged in from a domestic

supply, MG claims an estimated

seven hours to fully charge.

On the subject of figures, the

ZS EV has an electric motor that

is rated at 105kW with 353Nm

of torque, the latter is available

instantly, consequently, the

vehicle feels lively, power and

acceleration is vivid. According

to the manufacturers it will reach

100km/h from a standstill in

8.2sec, which, with its urge from

the line, is quite satisfying.

Not only does the ZS EV buyer

get the benefits of seamless

power, there is also plenty of

specification on offer. All the

necessary items we have come

to expect for comfort and

convenience are fitted, along with

a substantial amount of safety

features, something that SAIC has

been very pro-active with.

The ZS is a relatively new

• Price – MG ZS EV, $48,990

• Dimensions – Length,

4314mm; width, 1809mm;

height, 1644mm

• Configuration – Electrosynchronous

motor,

105kW, 353Nm, one-speed

automatic

• Performance –

0-100km/h, 8.2sec

design both in the chassis and

through its styling. It is compact

at just over 4.3m, but it is

relatively tall, which provides a

roomy, spacious interior.

At city speeds the ZS EV

dawdles with the traffic without

taxing the driver, it is light

to operate and with dynamic

motor braking the driving feel

is very involving. The kinetic

energy system is adjustable so

that braking strength can be

moderated, although I preferred

the heavy setting, it's almost

like you can drive and slow up

without actually using the brake

pedal proper. Of course, you do

need to do that, but the KERS

system is there to add braking

impetus.

On the highway the ZS EV is

quiet, no surprises there, and the

handling is predictable with good

information through the steering

as to how it is reacting to the road

surface.

Riding on 215/50 x 17in

comfort specification Michelin

tyres there is direct turn-in when

the corners arrive and there is

favourable response to steering

input.

On an inland run through to

Darfield and its surrounds, the

ZS pleased with its eager nature

and controlled feel. Driving

it is relaxing and somewhat

rewarding, especially if you are

of the belief that electric vehicles

are the way of the future and

the environment is your first

consideration.

However, the MG ZS is also

there for those who want an

affordable SUV, electric or petrol.

If you want the latter there are

two 1.5-litre, four-cylinder petrolpowered

variants that list at a

tempting $22,990 and $27,490.

If you are one of the many new

car buyers who today are viewing

an electric vehicle as the preferred

choice, the MG ZS is a worthy

consideration, it is affordable

and being an SUV it fits with

the direction the many new car

buyers are steering to. It must be

said the evaluation car felt tight

and had a solid, secure feeling

along with a build quality that

presented no flaws.

I can see many other

manufacturers playing catch-up

now that electric vehicles are the

big talking point and demand

constantly outstrips supply.

However, I've been informed

MG is meeting the expectation

for ZS EV, although first choice

for colour options may be a little

more problematic.

has motoring covered!

Incorporating

ISSUE 667 | FrIday 20 novEmbEr 2020

iggest range of vehicles

location!

2011 Jaguar

XF Premium

$18,999

See inside for this week's

4WD feature!

sherborne st, edgeware

se Ave | P: (03) 366 7768 | www.valuecarswarehouse.co.nz

See page 4 for more info!

free

best motorbuys

Incorporating

ISSUE 668 | FrIday 27 NovEmbEr 2020

275 Colombo street, Christchurch

For more see their advert on pages 6 & 7

Ce l 021 855 884

Incorporating

ISSUE 669 | FrIday 4 dEcEmbEr 2020

See inside for this week's

Classic Car feature!

PH 03 web

www.drivesouth.co.nz

One Owner!

40 Years Finance

Experience

Cannot be Beaten!

• Talk to us about finance for your next

motor vehicle purchase

Specialising in Finance for Private Purchases

Very quick approvals, sensational interest rates

• From no deposit (terms & conditions may apply)

Hiace spares

Cnr Main South Rd and Epsom Rd, Christchurch

Ph: 03 348 4129 | avoncityford.com

2015 IsuZu D-mAX

4WD Ls D/CAb

NZ new, 3.0 intercooled turbo/dsl,

auto, rare flatdeck with ladder/pipe

racks, reverse cam, service history.

$34,995 $192pw

For more see their advert on page 31

free

best motorbuys

www.drivesouth.co.nz

See inside for this week's

marine feature!

free

best motorbuys

The South Island's leading motoring resource,

filled with news, reviews and dealer listings.

From family cars to work trucks, and supercars

to SUVs. No matter what you're looking for,

you can find it all with Drivesouth.

Magazine available for FREE every Friday

at a convenient pick up point near you!

The biggest range of vehicles

in one location!

Now Available @ NZ Van Spares

www.drivesouth.co.nz

2.4 auto, alloys, ABS, twin airbags.

2005 toyota rav

$20,999

$9,990

40 Years Finance

2008 bmW 320i

2.0lt Petrol, 5 Dr Station wagon,

Climate Control, ABS Braking,

.nz

CAR AUDIO

AUDIO VISUAL

CAR SECURITY

32 Moorhouse Ave | P: (03) 366 7768 | www.valuecarswarehouse.co.nz

MOBILE INSTALLATION SERVICE

RADAR DETECTORS

DASH CAMERAS

Cannot be Beaten!

$10,974 NoW $7,974 + orC

Experience

Automatic. $34.63pw.

AERIALS

• Talk to us about finance for your next

Specialising in Finance for Private Purchas

• Very quick approvals, sensation

• From no deposit (term
---
28 The Star Thursday July 29 2021

Get the TLC experience

Call one of our Licensed Sales Consultants

today for a free appraisal:

Trish Lawrence ph 0274 350 565

'Trust in Trish'

Kay Livingstone ph 021 163 0001

Goes above and beyond'

MAKING YOUR MOVE EASIER

tlc realty limited

Licensed Agent REAA 2008 | www.tlcrealty.co.nz

"I WILL TURN UP

WHEN I SAY I WILL"

Need a certified and reliable plumber for filtration

systems or hot water cylinder replacement?

Bathroom upgrades or refurbishments?

FREE CALL

TEXT

EMAIL

0508 H2O BOY

426 269

027 245 5100

NICK@NICKJONESPLUMBING.CO.NZ

Get smart with your money to achieve

your dream home without compromising

on what's really important.

Consider buying a large plot of land with

friends or family which you can split into

smaller lots. Many great locations tend to

cover more ground, so get the stunning

harbour view you dream of by sharing

the cost with someone you don't mind

having as a neighbour.

Opting for lowmaintenance

building

materials, like vinyl siding

and metal roofing saves in

the long run. Although

they may be more

expensive to install you

will save money on future

repairs, replacement or

repainting.

Using salvaged and

recycled materials and

componentry from the

abundance of demolition

sites around the city

not only adds valuable

character to new builds,

but can save money, too.

For the safety and security of your home,

don't skimp on structural elements, doors

and windows. Buy the very best you can

afford and, together with your architect

or builder, determine other areas you

could save on to allow for a few luxuries.

It's important not to waste valuable cash

on overbuilding. Look carefully at the

existing properties in the area and be

Home & Property appears every Thursday, delivered FREE

throughout Christchurch

For more information and bookings, contact Mike Fulham

M: 021 300 567 E: mike@starmedia.kiwi

Building on a budget

Building your own home is one of the biggest investments

of a lifetime and with a few clever tips we show you how to

make the most of what you can afford.

Deciding exactly

what you want

and then sticking with

it will ensure you stay

on budget, on time,

and all with

minimal stress.

aware that building a home that is bigger

and better than those of your neighbours

will not necessarily equate to a fair price

if and when it's time to sell. instead, the

value of your build will be determined by

the lower-priced homes around it.

The experience of a well-qualified

contractor is an invaluable asset in any

building project. Not only will you have

recourse should anything go

wrong, but their experience

in the industry means

they will have established

relationships with suppliers

and subcontractors, whom

they trust to deliver the best

workmanship possible.

Keep a close eye on

construction allowances as

your home is being built to

ensure you are getting what

you asked for and what you

paid for. if you had initially

agreed on using a specific

brand, for example, then

don't settle for less, unless

you discuss a cost adjustment

with your builder or

contractor.

Many a building project has snowballed

out of control in the financial department

due to changes being made to the design

and materials once building is already

underway. Deciding exactly what you

want and then sticking with it will ensure

you stay on budget, within your expected

time frame, and all with minimal stress.

Your

Earthquake

damaged

home!

Talk to us if you are serious about

selling your "As is Where is" home.

We have sold over

150 "As is Where is"

homes and we have

a huge database of

qualified buyers.

Phil & Holly Jones

Ph 03-382-2230

Phil 027 435 7711

Holly 027 222 0220

holly.jones@raywhite.com

Licensed (REAA 2008) Results Realty Ltd

RENT ME!

Ideal as an extra

bedroom or office.

no bond required

We have achieved

record breaking

prices recently!

Fully insulated and double glazed for warmth.

Three convenient sizes from $80 a week:

Standard 3.6m x 2.4m

Large 4.2m x 2.4m | Xtra-large 4.8m x 2.4m

Visit our website

www.justcabins.co.nz

for display cabin locations

www.justcabins.co.nz

The Star Classifieds

Bicycles

best

quality

bikes

We buy, sell,

RepaiR & RestoRe

620 Ferry Rd, Woolston.

P: 03 376-6377.

aroundagaincycles@gmail.com

Cars Wanted

CARS WANTED We buy

small Japanese vehicles,

must be tidy, cash paid

Ph Doug Drake Motors,

ChCh 03 389-1121 or 027

432 9947

Caravans, Motorhomes

& Traliers

CARAVAN Wanted to

buy. Up to $5000 cash

today 027 488-5284.

Car Parts

TYRES Secondhand,

most szs from $30 - $70

fitted, Also batteries, 217

Waltham Road, 027 476

2404

TYRES Secondhand,

most szs from $30 - $70

fitted, Also batteries, 217

Waltham Road, 027 476

2404

Curtains

A1 CURTAINS &

DRAPES.

Roman blinds, tie backs,

cushions, nets & voiles,

plus alterations. Free

quotes. Ph Kay 980 1501

or 021 257 1823. kay.

tainui88@gmail.com

Church Notices

Christian

sPiritUaList

ChUrCh

182 Edgeware Road

Sunday Service

7pm

Address

Joyce

Clairvoyant

Joyce

All Welcome

SYDENHAM CHRISTIAN

SPIRITUAL CHURCH

Sydenham

Community Centre

23/25 Hutcheson St

Sunday 7pm

Address

Carol

Clairvoyance

Carol

All Welcome

Church Notices

NEW AGE CHRISTIAN

SPIRITUAL CENTRE

61 Grafton Street

Sunday 7pm

Address:

Gaynor

Clairvoyance:

Gaynor

Tuesday

Healing 1-1.45pm

Clairvoyance 2pm

All Welcome

For Sale

STAMP SALE: ex estate

and stock accumulation

clearance. Saturday 31st

July 10.00 - 3.00pm.

Philatelic Centre, 57

Mandeville Street,

Christchurch.

STEEL for sale all

sections, off cuts cut

lengths. siteweld@ xtra.

co.nz Ph 0274 508 785

Garage Sales

HALSWELL 23

Caulfield Ave, Sat 8am -

1pm. Declutter. Wall units,

outdoor furniture, h/hold

goods, games, dart board,

chilli bins etc. All good

and cheap - no rubbish.

EVERY THURSDAY

• Phone our local team 03 379 1100 • Email star.class@starmedia.kiwi

Funeral Directors

Direct

Cremation

No frills, No Service,

No fuss, simply

straight to the crem.

Other options

available.

Ph: 379 0178

for our brochure

or email

office@undertaker.co.nz

Gardening

& Supplies

Gardener available for

maintenance, weeding

pruning, spraying,

planting, advice. Qual &

exp. Ph Richard 0274 918

234, 03 349 4022

PETE'S GARDENING

SERVICE Gardening,

rubbish removal, cleanups,

expert pruning, hedge

trimming, tree cutting,

good rates, no job too big

or too small, half the price

of a franchise. Ph 027 551

4118

Health & Beauty

HEALTH, BODY, MIND

& WELLBEING. Offering

weight loss, healthy eating,

anxiety, stress reduction,

life style coaching. Ph / txt

Nick 021 222 0754

Massage

LADIES enjoy a full body

sensual massage. Choice

of oils, discreet mature

gent. Outcalls available.

Ph / txt 027 251 4660

Personals

GENT

5ft 11in,single, older,

indep, easy going,

witty. Living a simple

& uncomplicated life

in own home seeks a

similiarly placed spunky

well presented, happy,

warm, tactile lady for

company, outings,

romance & other exciting

activities that might be

among your intrests.

If you think this is you

Ph/txt 027 659 4425

Pets & Supplies

CATS UNLOVED

can help with the cost

of desexing your cat.

Ph 3555-022 or email

catsunloved@xtra.co.nz

Real Estate

HOME WANTED 3-4

bedrooms. Looking in Nor

West areas, Beckenham

or Somerfield. Prefer

permanent material brick

and post 1990 build. Don't

mind if it needs some TLC

- anything considered.

Cashed up buyer. Phone

021 372 479

Real Estate

Wanted To Buy. First

home cash buyer looking

around $500,000 mark

in Hoon Hay, Spreydon,

Sydenham & Somerfield

areas. Ph Les 339-0234

Remote Controlled

WANTED to buy - old

remote control cars with

glow plug engines, any

cond PH 027 434 1014 or

03 388 5521

So

GOOD!

Still

FREE

It's

FANTASTIC!

Thanks to the

support of our

advertisers

PH 379 7100

www.star.kiwi

Tours

Coromandel East Cape Napier Taupo

11 days, departs Tues 12th October

$2,990 pp twin share

Day Trip Arthur's Pass

Wed 18th August $25 pp

Day Trip Cheviot Hills

Wed 15th September $25pp

Call Reid Tours 0800 446 886

Email: reidtours@xtra.co.nz www.reidtours.com

Need it?

Rent it!

No Bond

Free Delivery

Free Repair

Great Student Deals

Canterbury Owned & Operated

Free Call Now:

0800 717 000

Trades & Services

Or Apply Online:

www.a4r.co.nz
---
Thursday July 29 2021 The Star 29

Trades & Services

House & Garden

Property services Ltd

Tree & hedge trimming

Stump grinding

Gardening

Landscaping

Gutter cleaning

All aspects of

property maintenance

CALL us 021 405 277

EXPERIENCED

GARDENER

(Kevin Garnett)

30 Years

Christchurch Botanic

Gardens.

ALL landscape

work done.

Maintenance, pruning,

tidy up, lawn work,

landscape planning

and planting etc.

Free Quotes

Phone 348 3482

PAINTING

older painter

for older houses

50 years in trade

"All the skills"

GST FREE

Contact Jimmy Bell

0211221487

30 years + experience

Older house

restorations:

no problem!

Quotes: FREE!

Rates: Reasonable

Paint supplied at

trade price!

NO JOB TOO SMALL

Light industrial also

Roger Brott

Painter & Decorator

021-1966-311

Trades & Services

AAA HANDYMAN

licensed carpenter

LBP, all property and

building maintenance,

repairs, bathroom/shower

installations, with free

quotes 03 383 1927 or 027

245 5226 ciey@xtra.co.nz

AA SHOWER

CLEANING

Deep clean, soap scum,

water stains, mineral

deposits . Comp prices.

Gold card disc. Ph 021 022

824 85

ARBORIST

QUALIfIED.

Copper Beach Tree

Services. Tree removal,

pruning, height reduction,

hedge trimming, shaping,

tree planting, firewood.

Free quote. Contact Angus

Edwards 027 259 6741

copperbeechtreeservices@

gmail.com

BATHROOM TILER

wet area waterproofing,

underfloor heating, soap

boxes, old to new, for best

results, call Devon on 021

375-888 or 03 329 5511

Trades & Services

BRICK & BLOCK

LAYING

all restoration work

and new work plus

foundations, ph 342 9340

or 021 853 033

BUILDER QUALIfIED

50 yrs exp. Bathrooms,

Kitchens, Renovations,

Repairs & Extensions

Free quotes. Discount for

pensioners. Ph Mike 03

980 9771 or 027 2266 930

BUILDER

QUALIfIED

Decks, T & G Flooring,

Villa Restoring, New

Homes, Weatherboards.

Free Quotes. Bennet &

Sons Ltd Sam 027 496-

9362 or Tony 027 224-

0374

BUILDER, HANDYMAN

MAINTENANCE

Have peace of mind with

a fully qualified owner

operater LBP. Available

for all jobs around the

home, commercial or

rental property (extremely

experienced in Healthy

Homes Reporting and

all Remedial works) Call

Chris on 027 3888 211

BUILDER

New builds, alterations,

decks, fencing. 30 yrs in

the trade has given me

ability to build to a high

standard. Free quotes. Ph

Brent 027 241 7471

CARPET

LAYING

Exp. Repairs, uplifting,

relaying, restretching.

Phone John on 0800

003181, 027 240 7416

jflattery@xtra.co.nz

CARPET

CLEANING

Your Local Professional

Carpet Cleaner. No Hidden

Fees / Fully Insured /

100% Guaranteed. Call

Now 0800 672 777 www.

mrcarpet.co.nz

CARPENTER

BUILDER

Licensed Building

Practitioner no. 100981.

All carpentry & building

repairs & maintenance.

Alterations & property

upgrades.Laundries /

bathroom / kitchens

replaced. Specialising in

replacement of all rotten

timber, fascia boards,

window, windowsills etc.

John Sandford, ph 329

4616, mob 027 5189 598

johnsandford2@gmail.

com

COMPUTER REPAIRS

fAST

Friendly experienced

techs available to help you

now. Christchurch based.

All work guaranteed.

Computer Help 0800 349

669

CONCRETE CUTTING

Affordable Concrete

Cutting with Quality, and

removal work. Free quote.

No job to small. Phone 027

442-2219, Fax 359-6052

a/h 359- 4605

ELECTRICIAN

All types of domestic

& commercial work

undertaken, new housing,

alterations, extensions,

ranges, security lights,

quick response, efficient

service, free quotes,

city -wide. No call out

fee. M/S, 8-5. Call Pat

Barrett 03 359 2087/ 027

7331384.

Trusted Trades & Professionals

To advertise: 379 1100 or star.class@starmedia.kiwi

DECORATORS

PLUMBER

NEED A PLUMBER

Call us now for fast friendly service.

Get your problems sorted out

quick smart - on time!!

Phone for a

FREE

quote now.

New Paint • Repaints

Wallpapering • Fences

Feature Walls

Floor & Roof Painting

Spray Painting

Light Commercial

Restoring Timber

* Finance available (T's & C's apply)

Selwyn based but service the whole of Canterbury

www.andertondecorators.co.nz

www.facebook.com/andertondecorators

027 724 6846 027 PAINTIN

ELECTRICIAN

Contact for a free quote

phone 027 331 0400

dave@davesimpsonelectrical.co.nz

davesimpsonelectrical.co.nz

Experienced Domestic Electrician

Quality Workmanship

• New Build

• Renovations

• Fault finding

• Power

• Lighting

• Switchboards

Phone 03 377 1280 | Mobile 021 898 380

SCRAP METAL

Dominion Trading Co Ltd

• Scrap metal buyers

• Canterbury owned & operated

• Top prices paid $$$

• Open Saturday morning

Open Mon-Fri 8am – 4.30pm Sat. 8.30am-12.30pm

www.happyscrappy.co.nz

03 343 9993 333 Blenheim Rd

DRIVEWAYS

Exposed Aggregate

Stamped Concrete Plain

Concrete Resurfacing

Things we offer...

Competitive/affordable pricing

Attention to detail

Professional service

free quotes/insurance scopes

Cell 0278 145 848

www.drivecrete.co.nz

landscaping

Landscape

Construction and

Garden Maintenance

You can have your gardens, trees,

shrubs, plants and lawns maintained to look their best

all year round, for a great price.

Residential & Commercial Landscaping

• Maintenance • Pruning • Reconstruction & Rejuvenation

• Rental Property and Commercial Maintenance

• Pre-Sale Tidy-Ups

New Home Landscaping

Lawns • Gardens • Decks • Paving • Water Features

• Quality • Value for money • Experienced • Punctual

• Professional • Flexible • Knowledgeable • Reliable

Call Ross Legg - 027 222 0388

Email ross@revivelandscaping.co.nz

www.revivelandscaping.co.nz

POWER WASH

SPECIALISTS IN HOUSE WASHDOWNS

We are a Canterbury owned power wash

company that can handle all your exterior

wash requirements.

From the driveway to the top floor, we can remove

dirt, moss, and mould, clean windows and gutters,

remove graffiti and everything in between.

Call us today

P: 022 5146 253

www.thewashdownking.co.nz

TRADES

Advertise your

business & services

in Christchurch's

best read &

largest circulation

newspaper

Delivered into over 93,000

Christchurch homes every week.

Ask us about our fantastic

cost affordable packages.

Phone: 03 379 1100 | www.star.kiwi

Driveways

SWAINS

KIWI KERB

(Since 2005)

Over 22 Years Experience

Quality

Workmanship

• Driveways

• Kerb &

Channel

• Garden Edging

Freephone: 0800 081 400

swainskiwikerb@gmail.com

PAINTING & PlAsTerING

• PAINTING • TILING

• PLASTERING

• WALLPAPERING

Phone Kevin Steel

• Interior/Exterior

• New Homes & Repaints

• Quality workmanship assured

• Correct preparation always undertaken

• 20+ years experience

• Earthquake repairs

(Painting/Plastering/Wallpapering/Tiling)

Ph 027 216 8946

www.facebook.com/kevinsteelpainters&decorators

Email: kpsteel@xtra.co.nz

ROOF REPAIRS

Locally owned & operated with

over 30 years experience.

• Extensions & repair • Roof coating

• Concrete & clay tiles • Butynol

• Malthoid • Asbestos Certified

• Coloursteel • Old iron • Guttering

Phone Dave 981 0278

or 021 223 4200

E: dave@beaumontroofing.co.nz

BEAUMONT ROOFING LTD

WINDOW TINTING

tintawindow

advanced film solutions

99% uv block

fade protection

heat control

reduce glare

25 Years Experience

privacy films

frosting designs

non-darkening films

Workmanship Guaranteed

Lifetime Warranties on Most Films

UV

block

Free Quotes Canterbury and Districts

03 365 3653 0800 368 468
---
30 The Star Thursday July 29 2021

The Star Classifieds

Re Roofing

Roof Repairs

Spouting

Approved Age Concern provider

Over 30 years experience

Licensed Building Practitioner

N A BARRELL

ROOFING LTD

Ph: 0275 389 415

Email: nabroofing@xtra.co.nz

EMAIL

Trades & Services

NICK@NICKJONESPLUMBING.CO.NZ

Trades & Services

PAINTER,QuALIFIED

local professional, Int /

Ext,roofs,wallpaper, call

or text Corban 027 846

5035

PAINTING

Indoor / Outdoor, over 30

yrs exp, same day quotes,

ph Steve 021 255 7968

PAINTING

PLASTERING

Free quotes. Int/ext &

roof painting Family run

business, work guaranteed.

Pensioner discounts. Ph

Kerin or Paul 022 191

7877 or 379-1281. Website

www.swedekiwipainting.

co.nz

PAINTING

DECORATING

All types of int/ext

painting undertaken. 30 +

yrs exp. Ph Michael 022

496 3322

PAINTING

Int painting, new & used.

2 men crew. 30 yrs exp. Ph

027 388 6125

PLASTERING (INT)

and small painting jobs

Trades & Services Trades & Services

ELECTRICIAN

HANDYMAN

Prompt & reliable SERVICES.

registered electrician Builder / Joiner with

with 24 years experience 30 yrs exp. Small

for all residential and renovations, maintenance Experience and

commercial work, new & odd jobs. Decks, fences Excellence. Small to

housing and switch board & landscaping. General Medium job specialists

replacements. Phone Chris handyman for everyday in all aspects of Interior

027 516 0669

house repairs. Ph Robert Plastering. Please call Tim

ELECTRICIAN

021 044 2272

022 5380959

Available, 30 years

HOME CLEANING

PLASTERER

experience, immediate

SERVICES

Interior Plasterer. Quality

start, competitive rate,

Paintable Finish, Gib

ph Brian 027 433 9548 Regular Weekly or Cove, Cornice. New

No Call out fee

Fortnightly. Ring Vivien - Renos - Repairs. Ph

at 03 365 8422 for free Matt 0274 361 112

ELECTRICIAN

quotation

mattsmithplastering.co.nz

Registered, electrical

PLASTERER

installation and repairs, LANDSCAPING

Phone Finn for all your

Gorbie Electrical, ph 021 Paving, Lawns, Irrigation, interior plastering needs.

026 73375 or 03 322 4209 Decking, Fencing. No job too small -

FENCING

Kanga & small digger renovations, alterations,

All types of fencing . Free services. Check out Squire holes & cracks. Free

quotes. Ph Jim 022 137 Landscaping on facebook. quotes. I'll beat any quote

1920

FREE QUOTES. Ph by 10% .25 yrs exp. Canty

GASFITTING

Arthur 347-8796, 027 born. Ph 022 087 4351

N.T. Gas Services. 220-7014 Edwin 027 220- PLuMBER

Domestic gas installations. 7154

A Top Plumbing job

completed at a fair price,

Reg Craftsman Gas Fitter. MOBILE CAR

all work guaranteed, ph

Ph Nick 021 892 491 CLEANING SERVICES

Brian 021 112-3492

HANDY - DAN

We come to you where QEII COLLISION

General Handyman for

ever you are. Ring us REPAIRS

all your maintenance

at 03 281 8054 for free Free Courtesy Cars

requirements. I specialise quotation.

(conditions apply),All

in fences and decking, also

Insurance work, Rust

do spouting cleans and ODD JOB SPECIALIST

Repairs & Private work.

repairs and everyday home Small jobs specialists. Spray-painting.

maintenance. NO JOB TO eg: drippy taps, sticky Free pickup & delivery.

BIG OR SMALL I can do

doors, locks, spouting/ Ph. 03 388 5187

it all, please don't hesitate

fence repairs Discount for REMOVALS

to call me on 022 600 7738

pensioners.

Small furniture removals,

for a no obligation free Ph 390 1565 or 022 5275 have own van, can fit

quote.

668. Avail now.

various types of whiteware

appliances, some furn,

Trades & Services

bedding, boxes etc, honest

& reliable, any area

considered, ph Chch 027

517 7001

ROOFING

All Roof repairs, Roof

painting, moss treatments,

Gutter cleaning 10 + yrs

exp, free quotes 24 / 7, Ph

027 516 6609

RuBBISH REMOVAL

"I WILL TURN UP Van, Trailer Rubbish

WHEN I SAY I WILL" Removal. Ph Gary 342-

8950, 021 529 022

SPOuTING

Need a certified and reliable plumber for filtration

Select Spouting

systems or hot water cylinder replacement? The PVC specialist.

Bathroom upgrades or refurbishments? Repairs & replacement. Ph

022 197 2351

SPOuTING CLEANING

SPECIALIST

FREE CALL 0508 H2O BOY

Entire spouting system

426 269

cleared. Single or 2 storey.

Jo 021 164 0365

TEXT 027 245 5100

SPOuTING

CLEANING

Spouting Unblocked,

Cleaned Out and Flushed

Out, Call Trevor 332 8949

or 021 043 2034

• Phone our local team 03 379 1100 • Email star.class@starmedia.kiwi

Trades & Services

STuMP GRINDING

Best price guarantee Tony

0275 588 895

TEST & TAG

NZ3760 complient (class

1 and class 2 tools). Can

travel to your work site.

Phone Jamie 022 313 9567

TREE SERVICES

Free quotes 20+ yrs exp.

Tree, hedge or shrub

- reduction, shaped or

removed. Ph/text Paul

The Branch Manager

0274314720

TREE SERVICES.

Specialist small tree

pruning & shaping. Roses,

fruit trees etc. Ph Hugh

021 2755445

TREE SERVICES

Hedges, shrubs, tree

trimming & removal.

Phone for free quotes 022

540 4900

WATERBLASTING

Housewash, Drives, Paths,

Decks, Moss kills, Gutter

cleans. Ph 020 410 67205

WINDOW CLEANING

Average 3 brm house

inside or out from $45.

Both from $80 Phone

Trevor 344-2170

WINDOW CLEANING

Brown & White Ltd.

Family owned since 2001.

Ph Paul 027 229 3534

Tuition

COMPUTER LESSONS

avail for computer, IPad,

or Mobile. Please contact

Jobee 027 290 9246 www.

computertutor.nz

Wanted To Rent

MALE WANTING

ONE, TWO or THREE

BEDROOM Apartment

or flat.With garage.

$270-$350 Call Dan 021

02217486

Wanted To Buy

WANTED

SLEEPOUTS

Sleepouts Galore

Buyers and sellers of

relocatable buildings

11 Brixton Street, Hornby

Phone: 349 9633

STEVE PURCELL

ANTIQUES

BUYING

NOW

Gold jewellery,

watches, coins,

medals, scrap

gold, sterling

silver, pewter,

original paintings,

modern art.

351 9139

stevepurcellantiques.com

AAA Buying goods

quality furniture, beds,

stoves, washing machines,

fridge freezers. Same day

service. Selwyn Dealers.

Phone 980 5812 or 027

313 8156

A+ ALL whiteware

wanted. Same day

service, cash paid for

freezes, fridges, washing

machines, ovens. Also

buying furniture & h/

hold effects.Anything

considered. Ph Dave 960-

8440, 027 66 22 116

Wanted To Buy

A1 Albums, old photo's,

postcards, coins, gold,

bank notes, badges,

medals, jewellery,

watches, china, crystal,

books, furs, vintage

clothing, paintings,

furniture, estates &

downsizing. Etcetera

Antiques, 194 Edgeware

Rd 385 5117

ACADEMY ANTIQUES

Buying estates, antiques,

old china, crystal, art,

Royal Doulton , Royal

Albert etc. Best prices,

free appraisal. Call Rob

349-4229

A+ Household effects,

fridges, freezers, washing

machines, ovens. Good

cash paid. Ph Paul 022

0891 671

A records and Hi-Fi

gear wanted. Pennylane

Sydenham. 7 days. Ph

366-3278

BOOKS.

Old wanted.

Anything considered incl

hunting,

mountineering,

fishing,childrens.

Ph 354 1621

MILITARIA Any

country, firearms,

uniforms, badges, medals,

memoribilia, WW2 or

earlier ph 338-9931

MILITARIA Any

country, firearms,

uniforms, badges, medals,

memoribilia, WW2 or

earlier ph 338-9931

Wanted to buy

Wanted To Buy

STAMPS Buyer of NZ

+ UK + Australian mint

stamps good condition.

Top Cash Prices paid. Sell

before stamps are, one

day, abolished for ever.

Can visit if required. Tony

0274 321 297

TOOLS, Garden garage,

saw benches, Lathes. Cash

buyer Phone 355-2045

Call us

and we'll

help you

place

your

classified

advert

(with no

hassles!)

Nobody knows

Christchurch

like a local

We're local,

we're in

Christchurch

and we speak

your language!

Ph: 379 1100

Vehicles Wanted

Classifieds

Situations Vacant

CLEANER

PAPANUI AREA

Night cleaners required for Medical Facility

Monday - Friday 9pm - 11pm,

extended hours available

Must be able to work in a team

environment or on your own as required

Full onsite training given

Must be reliable, honest

and undergo a police check

Please text or phone 027 2589 824

QUALIFIED MECHANIC

Motivated and reliable Full Time

Mechanic wanted to join our small but

friendly organised team.

Must be Trade Cert qualified and WOF

certification, full NZDL required.

Competitive wage with good

opportunity and the possibility of

future shareholding for successful

applicant.

We service all makes and models and

carry out a full range of automotive

services. Good diagnostic and time

management skills a must.

Please email CV to simon@

rollestondieselandpetrols.co.nz

or phone Simon on 027 272 9213

Situations Vacant

CLASS 5 DRIVER We are

a small transport business

looking for a casual driver

to help out driving a bulk

tipping unit mainly carting

from Lyttelton Port. This

position may suit a semi

retired person. Contact

Malcolm on 0274356253.

Malcolm Love Transport

Ltd.

PART TIME RETAIL

PERSON. Immediate

start, must be honest and

have own transport, and do

online facebook work, Ph

027 223 0948

PART TIME RETAIL

PERSON. Immediate

start, must be honest and

have own transport, and do

online facebook work, Ph

027 223 0948

ADD SOME

COLOUR

TO YOUR ADVERT!

CAR REMOVALS

$$CASH PAID$$

The Star is published every

Thursday, is home delivered

free into 93,000 households and

is available at over 500 pick up

points throughout Christchurch

CARS, VANS, UTES & 4X4 WANTED

NZ OWNED AND OPERATED FOR 24 YEARS

We use world class vehicle depollution systems

www.starkiwi

0800 77 80 80

www.pickapart.co.nz

Situations Vacant

CLEANERS

REQUIRED

Orchard Road

Airport Area

Monday to Friday

4.30pm / 5.30pm

Start time

Total 8 hours per week

We are looking for cleaners

to join our commercial

cleaning team.

You will need to pass a

Security Check and you

MUST have your

own transport.

Must be eligible to work

in New Zealand.

Please email your

Application to

csc@totalcanterbury.co.nz

or phone 338 9056

Visit our website:

totalcanterbury.co.nz

Please advise which job

when emailing your CV.
---
$15,999

h tp: /kaywa.me/8aVdQ

download the Kaywa QR Code Reader (A p Store &Android market) and scan your code!

my Kaywa QR-Code

w.valuecarswarehouse.co.nz

Ce l 021 8 5 84

Cnr Main South Rd and Epsom Rd, Christchurch

Ph: 03 348 4129 | avoncityford.com

h tp: /kaywa.me/8aVdQ

download the Kaywa Qr Code reader (a p Store &android Market) and scan your code!

My Kaywa Qr-Code

w.valuecarswarehouse.co.nz

Ce l 021 8 5 84

FROM

ONLY:

h tp: /kaywa.me/8aVdQ

download the Kaywa Qr Code reader (a p Store &android Market) and scan your code!

My Kaywa Qr-Code

w.valuecarswarehouse.co.nz

The Star Classifieds

Public Notices

Public Notices

Thursday July 29 2021 The Star 31

• Phone our local team 03 379 1100 • Email star.class@starmedia.kiwi

Public Notices

Public Notices

Senior Citizens

Outings

with Companion Driving Service Ltd

TRANZ ALPINE EXPERIENCE:

A few seats left on our coach to Hokitika - Greymouth

then overnight at The Punakaiki Resort Hotel

(dinner & breakfast included).

We depart Christchurch Thurs 5th August

by coach & return Fri 6th August on

The Tranz Alpine Express (fare included.)

Your own Tour guide included on our Coach

& also the train - your own room (no sharing)

free pick up & drop off included. Walkers & walking

sticks welcome. Our price $494.00

COASTAL PACIFIC EXPERIENCE:

Departs: Fri 20th August - return Sun 22nd August

Day 1: Travel in our coach to Kaikoura -

stay overnight (dinner & breakfast included).

Day 2: Travel to Picton and after lunch we board the

Perlorus mail boat and cruise the Marlborough Sounds

delivering the mail. Boat has tea/coffee facilities -

comfortable seating for seniors and also a toilet

on board. Walking Frames accepted on boat.

Dinner & accommodation at

The Picton Yacht Club Hotel (included).

Day 3: Return to Christchurch on The Coastal

Pacific train (included) - we meet you in Christchurch

and return you home. Our price $996.00

Phone Peter on 0800 453 873

for further details or bookings

PICK IT UP...

DRIVE AWAY

Incorporating

ISSUE 651 | FrIday 31 JUly 2020

The biggest range of vehicles in one location

See page 4

for more info!

32 Moorhouse Ave | P: (03) 366 7768 | www.valuecarswarehouse.co.nz

GET THAT

PEACE OF MIND

VEHICLE INSPECTIONS

free

best motorbuys

261 stanmore road, Christchurch For more, see their advert on page 25

2015 mazda demio

$149

FROM

ONLY:

www.gRCAudIO.CO.Nz

PH 03 web

www.drivesouth.co.nz

Incorporating

ISSUE 652 | FrIday 7 aUgUSt 2020

2016 NIssAN LeAf 24s

$17,990 FACELIFT MODEL

lEd headlights, heated seats &

steering wheel, Bluetooth/USB

audio, 21,000km with Japanese

service history. Includes New

NZ charging cable & OrC.

1996 toyota Landcruiser

Prado $8,990

7 seater, 3.0 litre diesel,

very rare find!

See inside for this week's

4WD feature!

40 Years Finance

Experience

Cannot be Beaten!

• Talk to us about finance for your next

motor vehicle purchase

Specialising in Finance for Private Purchases

Very quick approvals, sensational interest rates

• From no deposit (terms & conditions may a ply)

Dyna spares

C h r i stC h u rCh

Now Available @ NZ Van Spares

location: 68 Falsgrave Street, Woolston, Christchurch

email: nzvanspares@hotmail.com | phone: 03 379 3932 / 0508 698 267

41 Sandyford Street

0800 400 040

• www.kickthetyres.co.nz

CAR AUDIO CAR SECURITY

AUDIO VISUAL CELLULAR

free

best motorbuys

REVERSE CAMERAS

RADAR DETECTORS

PH 03 web

MOBILE INSTALLATION SERVICE 0800 212 777

www.drivesouth.co.nz

331 blenheim road, Christchurch For more, see their advert on page 25

The biggest range of vehicles in one location

2006 mitsubishi outlander

$11,999

See page 5

for more info!

32 Moorhouse Ave | P: (03) 366 7768 | www.valuecarswarehouse.co.nz

2004 BMw 530d Nz NEw

151,000kms, black leather interior, very

economical, reliable vehicle, in exce lent

condition. Exce lent buying at only

454 St Asaph Street, 03 378 1818 or 021 480 201

$11,999

A fordable new parts available for BMW / MERCEDES BENZ / AUDI

INCLudINg ORC

40 Years Finance

Experience

Cannot be Beaten!

• Talk to us about finance for your next

motor vehicle purchase

Specialising in Finance for Private Purchases

Very quick approvals, sensational interest rates

• From no deposit (terms & conditions may a ply)

Cnr Main South Rd and Epsom Rd, Christchurch

Ph: 03 348 4129 | avoncityford.com

PARKING SENSORS

AERIALS

see inside for this week's

Hybrid & electric feature!

Hilux, HiAce &

eVerytHiNg iN betweeN

68 Falsgrave Street, Woolston W: nzvanspares.co.nz

E: nzvanspares@hotmail.com Ph: 03 379 3932 / 0508 698 267

GET THAT

PEACE OF MIND

VEHICLE INSPECTIONS

Incorporating

ISSUE 653 | FrIday 14 aUgUSt 2020

See inside for this week's

motorcycle feature!

CHRISTCHURCH

MOTORCYCLES LTd

The biggest range of vehicles in one location

2013 peugeot 4008

$19,999

See page 5

for more info!

32 Moorhouse Ave | P: (03) 366 7768 | www.valuecarswarehouse.co.nz

$149

USED CARS | TRUCKS | VANS

COMMERCIAL VEHICLES | SUVS

MOTORCYCLES | CARAVANS

BOATS | AUTOMOTIVE SERVICES

Available for FREE every

Friday at convenient

pick up points near you!

PLUS check out this week's

edition, plus past issues

online now at

bestmotorbuys.co.nz

INCORPORATING besT mOTORbuys

www.drivesouth.co.nz

DASH CAMERAS

GPS/TRACKING

See our ad on page 2

free

best motorbuys

Ce l 021 8 5 84

PH 03 web

www.drivesouth.co.nz

For more, see their advert on page 22

40 Years Finance

Experience

Cannot be Beaten!

• Talk to us about finance for your next

motor vehicle purchase

• From no deposit (terms & conditions may a ply)

Specialising in Finance for Private Purchases

• Very quick approvals, sensational interest rates

Cnr Main South Rd and Epsom Rd, Christchurch

Ph: 03 348 4129 | avoncityford.com

Hilux, HiAce &

eVerytHiNg iN betweeN

68 Falsgrave Street, Woolston W: nzvanspares.co.nz

E: nzvanspares@hotmail.com Ph: 03 379 3932 / 0508 698 267

41 Sandyford Street

0800 400 040

• www.kickthetyres.co.nz

2008 Victory Vegas

Customised x USa

arlan Ness themed

$12,999

"Those who fail to learn

from history's mistakes, are

destined to repeat them."

Jesus' disciples sought world situation at

his return. Reply: (Luke 17 verses 26-30),

'History repeats itself '. Noah's and lot's

apathetic times combined.

Reader. Pay yourself a compliment.

Read Genesis 6...corruption and FILLED

with VIOLENCE. Punishment. Rainstorms,

millions died. Understand rainbow's colour

prophecy. Chinese character for boat is chuan.

Contains ba (8) and kou (mouth) saved.

Ark's fragments seen on Mt Ararat, Armenia.

Genesis 19. Gross sexual licence. Immoral

passions inflamed. God's punishment fitted

crimes. Incineration by firestorms. Three saved.

Sodom's remnants found. Lesson. Avoid those

lifestyles and prepare for Christ's return.

www.keytothebible.org

SCHOOLS. SPORTS CLUBS OR CULTURAL EVENTS

OUTSTANDING

Fundraising opportunity

The Star has a fantastic opportunity that is an ideal way

to fundraise while at the same time helps to profile and

promote your team and their goals and ambitions.

Call now to find out more about how you can fundraise

those hard to get dollars, while at the same time

promoting some of the great positive work being done

in the community. It also offers exceptional value for

your supporters and sponsors.

Contact:

Mike Fulham

379 7100

mike@starmedia.kiwi

Read local

Sorry, we are

no longer accepting

cheques

Star Media wish to advise

we no longer accept cheques as

payment for advertising, events

or accounts due to changes in

bank processes.

We do offer a range of other

payment options including cash,

EFTPOS, Visa, Mastercard, debit

card and online.

www.starnews.co.nz

Disposal by Christchurch

City Council of material

salvaged from heritage

buildings demolished after the

Christchurch earthquakes

This Notice is to advise previous owners of the Christchurch

heritage buildings listed below, that the Council will be disposing

of material salvaged from these buildings after 31 August 2021.

Following the 2010 and 2011 earthquakes, Council staff negotiated

with building owners, the Canterbury Earthquake Recovery

Authority and demolition contractors to recover materials from a

number of significant heritage buildings about to be demolished.

Ownership of the building material was transferred to the Council

and it has been stored in a Council facility since that time. This

storage space will soon be unavailable.

The material includes stone, timber joinery and other building

components.

The buildings from which material was salvaged include (but is not

limited to) the following:

124-126 Cashel, Guthrey Centre/Bells Arcade; 50 Cathedral Square,

Warner's Hotel; 134-140 Gloucester, Star/Lyttelton Times; 209 High,

Kennett's Jewellers; 280-282 High, Fisher's; 32 Cathedral Square,

The Press; 118 Hereford; 148-154 Gloucester, Old Theatre Royal;

181 Barbadoes, Community of the Sacred Name; 107 Cambridge,

former Public Library; 154-158 Cashel, former DIC/Cashfields; 144

Gloucester, former Coachman Hotel r; 56 Cathedral Sq, former

Lyttelton Times; 109 Cashel, former Weekly Press; 281 High,

Triangle Chambers; 127-139 Manchester, Smith's Bookshop Block;

211 Oxford, former Fire Station/Plunket; 42 Phillips, Church of the

Good Shepherd; 122 Avonside/Lychgate Pl, Holy Trinity Church;

190-192 Hereford, Kenton Chambers; 173 Cashel, Highlight House;

100 Bealey; 236 Cashel, former St Paul's Presbyterian Church; 151

Cashmere, Cracroft House; 90 Hereford, Gough House; 24 Norwich

Quay; 30 Norwich Quay, Royal Hotel; 31-33 Kilmore/350 Montreal,

former Cranmer Courts/Normal School; 78 Worcester/158 Oxford,

former Clarendon Hotel façade; 2 Sumner Road, former Lyttelton

Borough Council Library & Fire Station; 31 Cathedral Square, former

Chief Post Office; McCormack's Bay Causeway (tram rail parts); 120

Manchester, Excelsior Hotel; 392 Moorhouse, Christchurch Railway

Station.

During demolition, materials were recovered for re-use on the

original site, or for use in the repair and conservation of other

heritage buildings. Some salvaged material has been successfully

reused. The Council is now seeking to dispose of the remaining

items, and before this is inviting previous owners who may wish to

reclaim some of the material to come forward.

Any materials that are not reclaimed by former owners by

31 August 2021 will be disposed of at the discretion of the Council.

Please contact the Council Heritage Team at

heritage@ccc.govt.nz or phone Gareth Wright on

03 941 8026 if you would like to discuss the reuse of this

material further.
---
32 The Star Thursday July 29 2021

To add a listing, contact

Jo Fuller 03 364 7425 or

027 458 8590

jo.fuller@starmedia.kiwi

www.star.kiwi/whatson

QU I Z

EVERY WEDNESDAY

FROM 7PM

P OK E R

EVERY

THURSDAY 7PM

& SUNDAY 3PM

BUFFET CARVERY

NOW OPEN

7 DAYS!

FRIDAY

MEMBER DRAW

$1100

SATURDAY 7.30PM

IN THE HALL

TICKETS $25

Available at the club or

online cosmicticketing.co.nz

HOU S I E

EVERY SATURDAY

FROM 12.30PM

D I N I N G

BAR/BISTRO

OPEN

MONDAY-SUNDAY

12 NOON - 8.30PM

NEW MENU

OUT NOW!

BUFFET CARVERY

MONDAY - SUNDAY

5.00-7.30PM

SUNDAY LUNCH

12pm-2pm

Woolston Club|43 Hargood St|Ph 03 389 7039|www.woolstonclub.co.nz|fb.com/WoostonclubInc

GRAND NATIONAL

Festival of Racing

7, 11, 14 AUGUST

RICCARTON PARK RACECOURSE

We are proud to sponsor the

NZ Grand National Steeplechase

on Saturday 14th August

Party after with us! LIVE MUSIC

Saturday 7th August

Code Red

SUNDAY MUSIC IS BACK!

THIS SUNDAY : DnD TRIO

SPORTS BAR, 5PM

Wednesday 11th August

DnD BAND

Start your day with us!

We are open from 6.30am

RACE DAY BREAKFASTS

COOKED

BREAKFASTS

$19

Saturday 14th August

Medium Rare

The

RACECOURSE HOTEL

& Motorlodge

118 Racecourse Rd, Sockburn,

Christchurch. Ph 03 342 7150

www.racecoursehotel.co.nz

THE ENTERTAINMENT HUB OF THE NORTH!

113 RAVEN QUAY | PHONE: 03 327 7884

SATURDAY 7PM

SENIOR'S GOLD CARD

SPECIALS!

From $24.50

THUR: FISH & CHIPS

FRI: FISH & CHIPS

SAT: CHICKEN NIB/CHIPS

SUN: ROAST MEAL

TUE: CHICKEN NIB/CHIPS

WED: ROAST MEAL

Available 11.30am-2pm

CAFE OPEN 7 DAYS 9AM - 4PM

BAR OPEN THU - SUN EVENINGS

Bookings Essential

PH 386 0088 PH 385 8880

@GardenRestaurantBuffet

@GBCCHCH

BISTRO

OPEN FROM 12PM

WEDNESDAY

TO SUNDAY

DOWNSTAIRS

FREE ENTRY

HOUSIE

EVERY THURSDAY

12PM

EYES DOWN 12.30PM

PRIZES

FOR BEST

70's COSTUMES

BAR HOURS

MON 3PM-10PM

TUES & WEDS 11.30AM

THURS 11AM | FRI 11.30AM

SAT & SUN 11AM

Closing times will vary.
---
Thursday July 29 2021 The Star 33

christchurch

GIG GUIDE

BRIDIE'S BAR & BISTRO

Thursday 29 July to Wednesday 4 August 2021

12 BAR, 342 St Asaph St: Christchurch's

smoking hot BLUES BAR. Thursday 7.30pm

- Steph McEwin. Friday 8pm - All Girl Big

Band, tickets at events.humanitix.com.

Saturday 8pm - RFrequency; Rezination;

Sugar James.

ARMADILLO'S PREBBELTON, 587

Springs Rd: Saturday 8.30pm - Vague As

Brothers.

A ROLLING STONE, 579 Colombo St:

Thursday 7.30pm - Laidback grooves, roots &

blues with CWB (Cathcart, Walsh & Blaikie),

free. Friday 5.30pm - Clube do Choro,

Christchurch's Brazilian Jam, all welcome,

free; 9pm - Classic rock covers with

Th'Goonz, free. Saturday 9pm - Christchurch

Pride hosts 'Snow Hoes Winter Party', tix

$20+bf at humanitix.com. Sunday 5pm -

Molly's Remedy Farewell Concert, tickets $15,

phone 03 377 4787 to book. Monday 7pm -

Quiz. Tuesday 8pm - Stand-up comedy night

presented by Thy Kingdom Comedy, followed

by Musicians' Open Mic, all gear provided, all

welcome, free.

BILL'S BAR, 1 Halswell Rd: Thursday

7pm - Mickey Rat's Karaoke. Friday 7pm -

Misfitz. Sunday 7pm - Mickey Rat's Karaoke.

BRIDIE'S BAR & BISTRO, 401

Worcester St: Saturday 6.30pm - Karaoke.

Sunday 4pm - Quiz.

BOO RADLEYS, Level 1, 98 Victoria St:

Thursday 9pm - Dan Pfeifer. Friday 8pm -

Connor Hartley; 10.30pm - Mirrors Duo.

Saturday 8pm - Lauren Marshall; 10.30pm -

Chilton House. Wednesday 7.30pm - South

Street Blues Trio; 9.30pm - Open Mic Night.

CASSELS BLUE SMOKE, 3 Garlands

Rd: Friday 8pm - French For Rabbits 'The

Overflow" single release tour, tickets at

undertheradar. Sunday 8pm - Daniel

Champagne, tickets at eventbrite.com.au.

CHRISTCHURCH CASINO, 30 Victoria

St: Friday 6pm - Peter Cairns; 9.15pm -

Smooth Talk. Saturday 6pm - Lonesome Sue;

9.15pm - X-Files Duo.

HORNBY CLUB, Carmen Rd: Saturday

7pm - Rockabella. Sunday 3pm - Peter

Cairns. Friday 14th August, 8pm - DnD

Showband presents Two Tribute Shows in

One feat. ELVIS & ABBA, tickets $25 at the

club office.

JAZZ AFTER WORK, Ara Music Arts

Auditorium, 130 High St: Friday 6.10pm -

Under The Kitchen, $10 entry.

KAIAPOI CLUB, 113 Raven Quay:

Saturday 7pm - DnD Trio Nostalgia Night

vol.2: Hits of the 70's feat. Jojo, Gigi & Mark,

prizes for best costumes, free entry.

Soulful songstress Steph McEwin is back

at 12 BAR tonight performing a blend

of bluesey acoustic covers and originals.

MICKY FINNS, 85a Hereford St: Friday

10.30pm - Uncovered. Saturday 10.30pm -

Shadow Puppet.

RACECOURSE HOTEL, Racecourse Rd:

Sunday 5pm - DnD TRIO (Jojo , Gigi &

Mark).

RICHMOND CLUB, 75 London St: Friday

7pm - The Britz. Saturday 7pm - The Mule.

Sunday 3pm - Pistons.

RIVERSIDE MARKET, 98 Oxford Tce:

Thursday 6pm - Live jazz feat. Quintessance

feat. Jody Keehan (vocals); Mike Bickers

(trumpet); Katie Martin (keys); Mike Kime

(double bass); Lou Moverley (drums), $15

entry.

TEMPS BAR, 21 Goulding St, Hornby:

Friday 8.30pm - DJ. Saturday 8.30pm -

Misfitz.

THE EMBANKMENT, 181 Ferry Rd:

Thursday 8pm - Live music. Friday 7.30pm -

Open Mic & Jam. Wednesday 9pm - Titanic

(Kevin Emmett, Nick Buchanan, and Peter K

Malthus).

THE MILLER BAR, 308 Lincoln Rd,

Addington: Friday 9.30pm - Flat City

Brotherhood. Saturday 9.30pm - Awesome

Source. Sunday 6pm - Lance Kiwi Karaoke.

Tuesday 7pm - Quiz. Wednesday 7.30pm -

Lance Kiwi Karaoke.

THE PIANO, 156 Armagh St: Thursday

7pm - NZ's finest vocal opera quartet, The

Shades 'The Gratitude Tour', tickets at

eventfinda.co.nz

THE ROCKPOOL, 85 Hereford St:

Thursday, Friday, Saturday, Sunday, Monday,

Tuesday, Wednesday 8pm - DJ's.

WOOLSTON CLUB, 143 Hargood St:

Saturday 7.30pm - Totally 80's Show, tickets

$25 at the club or online at

cosmicticketing.co.nz.

WUNDERBAR LYTTELTON, 19 London

St, Lyttelton: Friday 9pm - 80's Forever

Party. Saturday - Wax Chattels. Tuesday -

Open Mic. Wednesday - Jam Night.

BRIDIE'S BAR &

BISTRO

Saturday 7pm:

ROCKABELLA

Sunday 3pm:

PETER CAIRNS

FRIDAY 13 AUGUST 8PM

Upstairs on the Mezzanine. Tickets limited.

Pre-sale tickets $25 available at the office.

Door sales $30 (if available). Doors open at 7pm.

Come on down!

17 CARMEN RD. PH. 03 349 9026

WWW.HORNBYWMC.CO.NZ

WHAT'S ON AT THE RICHMOND CLUB

FRIDAY 7PM

SATURDAY 7PM

SUNDAY 3PM

75 London St, Richmond

Christchurch 8013

P: 03 389 5778

THE BRITZ

THE MULE

PISTONS

theborough.nz

richmondclub.nz
---
34 The Star Thursday July 29 2021

BE IN To win $1000!

Lincoln 4 Seater – Grey

WAS $

2699

NOW

$

1999

STOREWIDE SALE NOW ON!

FINAL WEEK!

ENDS 02.08.21.

SCAN QR TO ENter

Brix Light /Peyton Grey

7 Piece Dining Set

WAS $

1569

NOW

$

1149

Riley 3 Seater – Grey

WAS $

1199

NOW

$

899

VIVA WHITE

ON SALE

Buffet

NOW $

799

Entertainment Unit

NOW $

699

Zara Playhouse Single

Bunk Bed

WAS $

999

NOW

$

699

TIPAZ

ON SALE

Side Table

NOW $

249

HEAPS of SUPER DEALS!

ALL DINING CHAIRS

ON SALE

Jersey

– Grey

$

65

Duke

$

125

Camille

– Grey

$

75

SCAN QR TO SHOP

Camille

– Rose

$

75

Camille

– Sage

$

75

ALL

MATTRESSES

ON SALE

250 Moorhouse Ave, Christchurch

0800 TARGET (0800 827438)

targetfurniture.co.nz

Offers and product prices advertised here expire

02/08/21. Sale Excludes Accessories.
---
'CEREC' & cosmetic dentistry

Wisdom tooth removal

Painless, high quality dentistry

Experienced, conscientious team

www.stalbansdentalcentre.co.nz

54 Studholme Street, Somerfield - Auction 12 August

LICENSED SALES CONSULTANT REAA 2 08

two living rooms, three good sized bedrooms along with

We l sited on the section, the house a lows you to

The St Albans School safety

initiative comes after months of

concern abou the difficulty of

traversing the school route, as

reported by The Star in June.

City council transport

operations manager Steffan

Thomas said the vinyl 'Safe Routes

to School' stickers are currently

St Albans teacher Niamh

O'Connor said changes to the

Northern Motorway created

more traffic around the

school, with the Cranford and

Products made by our own

P 03 359 1020 E mabaker@mabaker.nz

Also at 1066 Colombo St, Edgeware

THURSDAY, JULY 29, 2021 Connecting Your Local Community

starnews.co.nz

The local news

Best friends

mark 75

years together

Page 3 Page 5

Rhythmic

gymnasts

take gold

destination

for Cantabrians

Thursday, July 29, 2021 | starnews.co.nz | 93,613 circulation | Trusted for 153 years

Moriarty strikes at Willowbank

NOSEY: Nor West News reporter Fiona Ellis

went to Willowbank to interview Nick Ackroyd,

who has been looking after kea and other

native species for 12 years. Moriarty decided to

stick his beak in. To read about Ackroyd's

work, go to page 7. PHOTO: GEOFF SLOAN

School pupils

targeting

motorists

with sticker

campaign

• By Fiona Ellis

PRIMARY SCHOOL pupils

are taking safety measures

into their own hands at a busy

intersection plagued by red

light-runners.

Big stickers

encouraging

motorists to be

aware of school

pupils will be

placed on 10

light poles along

Cranford St, near

English Park and

Westminster St.

Steffan

Thomas

being printed and will be put up

in August.

Time to Say Goodbye

Westminster Sts crossing a

particular concern.

•Turn to page 5

3 bedrooms | 1 bathroom | 1 living room | 1 dining room | 1 o fice | 2 car garaging | 2 o f street | Listing: BE193757

Sedation dentistry

after sixty five happy years in this loved home, it is time

to let another family enjoy living here.

Located in the heart of Somerfield this home o fers you

Simply great kiwi cuisine

100% owner operated

Experienced hygienists

a modern kitchen and bathroom. room here to add

your own touches to the house and enhance.

team of qualified bakers

OPEN SATURDAYS

355 9380

144 Cranford Street

maximise the area. Space here for the children to play,

plant some vegetables and grow flowers for your vase.

an opportunity for you to secure a holding in this highly

sought after area. Literally a minute from Somerfield

School and a few minutes walk from Cashmere high you

wouldn't need to move again. Perhaps you may even

stay for sixty five years too.

Your agent, Your home, Your future

Classic kiwi

cuisine at an

affordable

price is our

formula for

success

P 027 777 0411

135 Farrington Ave, Bishopdale

KEVIN HICKMAN RETIREMENT VILLAGE

SHOWHOME

Open Weekend

SATURDAY 31 JULY & SUNDAY 1 AUGUST, 10AM - 3PM
---
A new way of living

SHOWHOME

Open Weekend

SATURDAY 31 JULY & SUNDAY 1 AUGUST, 10AM - 3PM

We're delighted to invite you to view

our brand-new townhouse showhome,

at our newly named Kevin Hickman

Retirement Village.

Our architecturally designed townhouses

offer stylish interiors, including kitchens

that feature stone benchtops with

waterfall edges and bathrooms with

Italian-designed floor and wall tiles.

Natural light filters through a

picturesque window in the living area,

and the master-bedroom offers plenty

of storage in the walk-in-wardrobe.

Call Wendy or Anthea to find out more

KEVIN HICKMAN RETIREMENT VILLAGE

25 Steadman Road, Riccarton Park, 342 4755

rymanhealthcare.co.nz