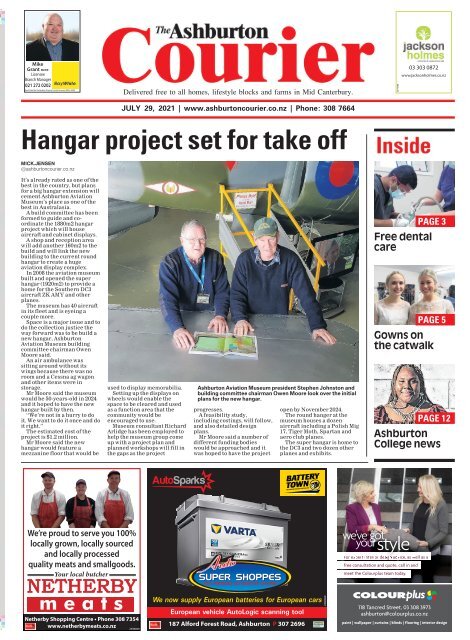 Ashburton Courier: July 29, 2021
You also want an ePaper? Increase the reach of your titles
YUMPU automatically turns print PDFs into web optimized ePapers that Google loves.
Mike

Grant ncre

Licensee

Branch Manager

021 272 0202

Real EstateMid CanterburyPropertyLimited Licensed (REAA 2008)

Delivered free to all homes, lifestyle blocks and farms in Mid Canterbury.

2379686

03 303 0872

www.jacksonholmes.co.nz

JULY 29, 2021 |www.ashburtoncourier.co.nz |Phone: 308 7664

Hangar project set for take off

MICK.JENSEN

@ashburtoncourier.co.nz

It'salreadyrated as oneofthe

bestinthe country, but plans

for abig hangarextension will

cement AshburtonAviation

Museum'splaceasone of the

bestinAustralasia.

Abuild committeehas been

formed to guideand coordinate

the1880m2 hangar

project whichwill house

aircraftand cabinetdisplays.

Ashopand reception area

willadd another160m2tothe

build andwilllink the new

building to the currentround

hangar to create ahuge

aviation display complex.

In 2008the aviation museum

built and openedthe super

hangar (1920m2)toprovide a

homefor the SouthernDC3

aircraftZKAMY andother

planes.

Themuseum has 40 aircraft

in its fleetand is eyeing a

couplemore.

Space is amajorissueand to

do thecollection justice the

way forwardwas to be build a

new hangar, Ashburton

AviationMuseumbuilding

committee chairman Owen

Moore said.

An airambulance was

sittingaround withoutits

wings becausethere was no

roomand aCessnaagwagon

and otheritemswere in

storage.

Mr Moore said the museum

would be 50­years­old in 2024

and it hoped to have the new

hangar builtbythen.

''We're not in ahurrytodo

it. We want to do it once and do

it right.''

Theestimatedcostofthe

project is $1.2 million.

Mr Moore saidthe new

hangar would feature a

mezzanine floor that would be

usedtodisplay memorabilia.

Settingupthe displayson

wheels wouldenable the

space to be cleared andused

as afunction area thatthe

community wouldbe

encouraged to use.

Museum consultant Richard

Arlidge hasbeen employed to

helpthe museum group come

up withaproject plan and

plannedworkshops will fill in

the gapsasthe project

Ashburton Aviation Museum president Stephen Johnston and

buildingcommittee chairman Owen Moorelook over the initial

plans for the newhangar.

progresses.

Afeasibilitystudy,

including costings,will follow,

and also detaileddesign

plans.

Mr Moore said anumber of

differentfunding bodies

would be approached and it

washoped to havethe project

open by November 2024.

Theround hanger at the

museum houses adozen

aircraft including aPolish Mig

17,TigerMoth, Spartanand

aero clubplanes.

The super hangar is hometo

theDC3 and twodozen other

planesand exhibits.

PAGE 3

Free dental

care

PAGE 5

Gowns on

the catwalk

PAGE 12

Ashburton

College news

We'reproud to serve you100%

locally grown, locally sourced

and locally processed

qualitymeats and smallgoods.

Your localbutcher

NETHERBY

meats

Netherby Shopping Centre •Phone 308 7354

www.netherbymeats.co.nz

2396009

NZ'S PREMIUM AUTOMOTIVE CENTRES

We now supply European batteries for European cars

European vehicle AutoLogic scanning tool

187 Alford Forest Road,Ashburton P 307 2696

2396460

For expert interior design advice, as well as a

free consultation and quote, call in and

meet the Colourplus team today.

118 Tancred Street, 03 308 3973

ashburton@colourplus.co.nz

paint |wallpaper |curtains |blinds |flooring |interior design

*
---
NEWS

2 Ashburton Courier, July 29, 2021

www.ashburtoncourier.co.nz

BUSINESS OWNERS

Build customers,

sales and profits

with us ...

Delivered

to all homes,lifestyle

blocks and farms in

MidCanterbury

and Geraldine

news

Daniel Tobin

Editor

308 7664

027 628 7679

daniel.tobin@ashburtoncourier.co.nz

Reporters

Mick Jensen

mick.jensen@ashburtoncourier.co.nz

Toni Williams

toni.williams@alliedpress.co.nz

advertising

Jann Thompson

Sales Manager

308 7664

027 587 6351

jann.thompson@ashburtoncourier.co.nz

Karen Gane

Sales Account Manager

308 7664

021 510 804

karen.gane@ashburtoncourier.co.nz

getintouch

Editorial

daniel.tobin@ashburtoncourier.co.nz

Advertising

info@ashburtoncourier.co.nz

CreativeManager

murray.thompson@ashburtoncourier.co.nz

Accounts

accounts@alliedpress.co.nz

Distribution/Deliveries

mary.summerfield@ashburtoncourier.co.nz

Office

office@ashburtoncourier.co.nz

03 308 7664

199 Burnett Street,Ashburton

www.ashburtoncourier.co.nz

2388023

Majorupgrades ahead for

Methvenwater supply

MICK.JENSEN

@ashburtoncourier.co.nz

Methven will get anew

water reservoirand new

treatmentplantnext year

to help alleviate the water

woes faced by residentsin

recent weeks, and future

proof thesupply.

Residents connected to

the Methven and Methven­

Springfield water schemes

have needed to boil water

for anumberof days

recently due to sedimentinfected

water infiltrating

intakegalleries.

Both schemes take and

treat shallowgroundwater

from the north branchof

the AshburtonRiverbut

turbiditylevels have

triggeredboil water

notices.

AshburtonDistrict

Council infrastructure

services managerNeil

McCann said the May flood

andrecent heavyrain have

resulted in sediment­laden

water overwhelming the

intake galleries.

Mr McCann said therain

eventscombined with

higherdrinking water

standards imposed after

the 2016 Havelock North

water contamination

incident werethe drivers

for the boilwater notices.

Nine boil water notices

have been issued over the

last 14 years, but they

would be athingofthe past

with the proposed

upgrades,hesaid.

Mr McCannsaid

upgrades to Methven's

water resources werea

priority for Ashburton

District Council,were

budgeted in the Long Term

Planand were happening.

The recommendation to

council at yesterday's

meeting, (whichtook place

after thepaper had gone to

print), was that adetailed

STEVE HANSEN: THE LEGACY

The making of aNew Zealand

coaching greatbyGregor Paul

Win12Month SubscriptiontoSky Sports!

Buyacopy of Steve Hansen: TheLegacy on

pre-order or afterrelease,use your Big Deal

ClubCardand go in the draw to win a12

monthsubscriptiontoSky Sports!

PRE-ORDER YOUR COPY NOW!

Available in-store

from 4August

212 East Street,Ashburton. Phone 308 8309

Flood damage on the

ground layers above the

Methven intake gallery,

which is 4m below the

surface. The gallery has

chambers and pipes which

collect water filtered

through the ground layers

above.

PHOTO SUPPLIED

designofatreatment

upgradesolution forthe

Methven and Methven

Springfield schemes

continued on thebasis of a

single treatment facility.

It was also recommended

that physical works

budgets for both upgrades

be brought forward to the

2021/22 financialyear.

In alater, closed

meeting, council

considered tenders for a

newMethvenwater storage

reservoir. An

announcement on that

decision andscaleofthe

project is expected soon.

Most on boardbacksolutions

Most Methven Community Board

(MCB)members voicedtheir support

for AshburtonDistrict Council's

planstoprogress water upgrades in

Methven, but one, RonSmith,

remainedunsurethat theproposed

reservoirupgrade was the best

solution for the township.

Mr Smith, whohas longargued that

there are better andcheaper water

sources available to Methven, saidhe

wantedthe reservoir project tender

put on hold and apublic meeting

called.

He said other water sourceslike

the Pudding HillStream, Lyndhurst

or awell option belowMethven could

save millions.

Mr Smith was shot downbyfellow

board membersand Western Ward

councillor Rodger Letham.

Cr Letham said he had confidence

in the decision making of council

staffand their ability to firm up a

tendercontract that was the best for

Methven.

He said health and safety triggered

alot of what council was doing with

Methven Community Board members in discussion at this week's meeting.

water in the township.

MCB chairman DanMcLaughlin

said it had beenalongroadtoget to

thispoint.

Therehad been public meetings,

workshops andMCB had onlybeen

able to achievesomuch.

''A lot of work has gone intothis and

now it'stime getonand get it done.''

Mr McLaughlin said he waskeento

see the water treatment upgrade for

the Methven and Methven

Springfield schemes brought forward

to 2021/22.

Kelvin Holmes saidsubmitters had

had inputeverystep of the way in the

water process.

Thereservoirwas onepart of the

upgrade and that should have been

done five years ago.

He said Methven neededtomake

the best of what council decided.

2396013
---
www.ashburtoncourier.co.nz

NEWS

Ashburton Courier, July 29, 2021

3

Free dental care offered to Community

Services Card holders

DANIEL.TOBIN

@ashburtoncourier.co.nz

Free dental care is being

offeredatDentistry on

Parkside for two days next

month.

Smile NZ free dentaldays,

managed by the New Zealand

DentalAssociation, offer to

solve adentalissue of

Community Service Card

holders free of charge.

Dentistry on Parkside

practice co­ordinator Bernie

Jopson said usually Community

Services Card holders were

only eligiblefor emergency

treatment. ''So the freedental

days give the opportunity to get

afilling done or checkup that is

not covered underthe

emergency treatment,'' she

said.

Arun Velusamu, Michael

Holdaway and AmandaSia are

volunteeringthis year at the

clinicdays on August14and 21.

People wishing to book an

appointment are asked to call

0800 373 376 and have their

current Community Services

Card on hand when they ring.

It was something Dentistry on

Parkside like to support and

give their time to, ''but we

would also like to encourage

school children to have

checkups,'' she said.

Year 9toage 18 dental care is

covered undergovernment

funding.

''So we really encourage

parents to enrol their

children,'' she said. For adults,

an annual checkup was

recommended to prevent any

surprises ''prevention is better

thancure.''

Principal dentist Arun

Velusamy (left)and assistant

Dani Drummond workona

patient.

Flood

insurance

claims

Insurancecustomers through the

Canterbury region lodged 3538 claims

costingover $43.8 million for insured losses

following the May 29 ­June 1floods.

Provisional figuresreleased by the

InsuranceCouncil of NewZealand show

there were2327 house andcontents claims,

288 claimsfor motor,842 commercialand

business­related claims, and 77 crop and

other claims,which can include claimsfor

livestock.

ICNZ chief executive TimGraftonsaid the

figures reflected the vastdamage floods

leave behind, andhow importantitistohave

insurancetohelpyou get back on your feet

when the unexpected happens.

Mr Grafton said the recent floods were the

start of what is provingtobeastormy winter

for the country.

While insurance played avital roleto

support communities managerisks, both

centraland local government played akey

roleto supportour adaptation to achanging

climateand building more resilient

communities.

That could mean improving infrastructure

such as stormwater systems, not consenting

new properties in higher risk areas, as well

as buildingmore resilientresidential and

commercial buildings,MrGraftonsaid.

Great prices!- Great local service!

Sensor Dryer

Washing Machine

BONUS

WITH THIS OFFER

c

3 5 OFF

SENSOR DRYING

43''SmartTV

8KG

75''4KSmartTV

Was $1149

$596

Was $1699

$1084

Was$4999

$3547

$4.21

WEEKLY

• 5.5kg,medium sizeloads

• Sensor drying,easy and

convenient

• Front or rear venting,position

wherebest foryou

• H795mm W600mm D560mm

IMMEDIATE

DELIVERY

$7.40

WEEKLY

• 8kg,large capacity

• Heavy dutycycle,helps remove

stains etc.

• Delaystartopion, set to finish when

it suits you

• H1076mm W670mm D680mm

IMMEDIATE

DELIVERY

IMMEDIATE

DELIVERY

$23.67

WEEKLY

Range

Fridge Freezer

Was $1299

$898

Was $1599

$1297

55''4KSmartTV

$699 Was $999 $1188

Was $1599

$4.88

$8.08

WEEKLY

WEEKLY

• Full high-definition screen

resolution forgreat picturequality

• SmartTVallowsyou to watch

Netflix, YouTube and Apple TV from

atouch of the button

• UHF and SatelliteFreeview TV

• 4Kresolution offers amazing

vibrantcolours foramazing

picturequality

• Easy to use remoteand

operating system make it easy

to access

your favouriteapplications

• UHF and

Satellite

Freeview TV

IMMEDIATE

DELIVERY

BONUS

WITH THIS OFFER

c

3 5 OFF

8COOKING FUNCTIONS

LIMITED STOCK

325 litres

85''QLED SmartTV

Was $6999

$5998

$6.18

WEEKLY

• 8cooking functions,create

amazing meals

• 4xEgo elements,durable and

reliable

• Storage drawer, greatfor those

extratrays etc.

• H900mm W600mm

D600mm

IMMEDIATE

DELIVERY

$8.79

WEEKLY

• 325 litres (220 fridge/

105 freezer)

• Safetyglass shelves,easy to

clean

• Frost free freezer,convenient

and savestimes

• H1479 mm

W600 mm

D696 mm

IMMEDIATE

DELIVERY

• 4kresolution offers amazing vibrant

colours foramazing picturequality

• Samsung user friendly remoteallows you

to access all of Samsung's greatonline

contentlike Apple TV and Netflix and so

much more

• UHF and satellite

tuner allows you

to watch Freeview

straightfromthe TV

IMMEDIATE

DELIVERY

$39.51

WEEKLY

• Samsung's QLED technology

givesfull colour range and an

incredible picture

• Smart TV allows youtowatch

Netflix,YouTube and Apple TV

from atouch of abutton

• UHF and

Satellite

Free TV

IMMEDIATE

DELIVERY

2395660

Flooding in the Hinds area.

PHOTO SAM ANDERSON
---
NEWS

4 Ashburton Courier, July 29, 2021

www.ashburtoncourier.co.nz

Working hardtoachieve great results

"Kirsty is amazing! She is personableand funbut

remains professional throughout theprocess. She

hasmadethe sale of our property so easyfrom

start to finish and is always available to take acall

with anyquestions we have.IrateKirstyasan

agent andshe is just agenuinelygreat personto

deal with.Thanks once again

forall ofyourhelp Kirsty."

-Nathan Tewand Tyler Pereira

Kirsty Clay

Residential/Lifestyle Sales Consultant

M 027 308 7557

pb.co.nz

Property Brokers Ltd Licensed REAA 2008

Ashburton

September8,9,10,

13, 14, 15

2404022

Ashburton College seniorAboysplayers (fromleft) BradDouglas, Riley Sa andCaleb McNulty faceoff with

invitationalteam players Ashlee Strawbridge, Paul 'Bait' Robinson and Mark 'Roasty' Douglasin preparationof a

fundraiser game next month.

PHOTO TONIWILLIAMS

Lines drawn forgamefundraiser

TONI.WILLIAMS

@ashburtoncourier.co.nz

The battle lines have been drawn for

afundraising basketball match

pitting the youth,speed and agility of

the Ashburton College senior Aboys

team against an experienced

invitationalside.

Those invitedtoplay in the

invitationalteam include veterans

Doug Coley, Brian Kerr and Bob

Scammell, Phill Hooper, as well as

the experienced Pip Johnstone,

Kampbell Stills and NewZealand

age­group representative Ashlee

Strawbridge.

College coach Mark'Roasty'

Douglas, who also is on the

invitationalteam, said game was to

raise fundsfor the college team

heading to the South Island

SecondarySchools Tournament in

Invercargill in September.

The side, which includes

Canterbury age­group

representative RileySa, has been

performing well in the Canterbury

Secondary Schools top grade

Thompson Trophycompetition and

were hoping to build on that in the

upcoming tournament.

An 11­strong squadwill head

south,along with Roasty, assistant

coach Paula Strawbridge and

manager Suz Burns.

Those in the invitational side have

just two weekstoget in to their

heyday playing condition with the

game being played at the Mid

Canterbury Basketball stadium, on

OxfordStreet, in Ashburton on

August 14.

Roasty, who has been coachingthe

gamefor many years, last played

around four or five years ago and will

face his son, Brad on the college

team.

Roasty has aplan to take early

possession,show his skills against

the younger Douglas and then sub

out.

Specialistguard Paul 'Bait'

Robinson is also seeking areturn to

the court after acalf injury suffered

in his then­return to play four years

ago.

Prior to that it has been around20

yearssince he last played.

Aguest referee will control the

match whichisset for tip­offat5pm.

It costs $5 entry for spectators.

There will also be asausage sizzle

runningfor purchase and plentyof

ice on site for thosewith muscle

injuries after the game, Roasty said.

Old

ReviewedbyRowenaHart

This movie was based on agraphic novel byM.

NightShymalam.

It is athriller thatalmost movesintohorrorand sci

fithemes.

It startswith afamily arriving at abeach resortfor 3

days in the sun.

On the first daythey decide to go with others on an

excursion to agorgeous secluded beach.

But very quickly weird things start happening

and they find they are all ageing by the minute.

They have actually been lured in to ascientific

experiment.

The music and the location with steep cliffs and

rogue waves pounding on to the beach really

enhances the feeling of impending doom.

We started squirming in our seats and looking

around the theatretosee whatothers were doing.

And Ithink there was adeeper message as well,

showing us we do grow old quickly and should

make the most of everyday.

So hereisathriller thatisquitedifferenttoanything

youwould have seen before!

bookings ph 307 1230

www.regentcinema.co.nz

2395731

Zonta supports women's refuge

Members of ZontaAshburtonhave

runaempowerment andpamper

dayfor women through Mid South

CanterburyWomen'sRefuge and

Family Services.

Thewomen,all completinga

programme for thepast few weeks

through the service,spentthe day

learningself defence skills,

strengtheningtheir relationships

with othersand enjoying

themselves.

Zontaspokeswoman JudithEarly

said the special day for eight women

washeld in the community lounge at

RosebankRetirementVillage.

It startedwithagreeting and

morningtea which was followed by a

lesson in somebasic self defence

moves courtesy of Mid Canterbury

Taikwondo MOWA and Tangsodo

MMA clubofAshburtonmembers.

Fashion advicewas then offered

by Christine Todd andCynthia

Downswho shared tipsondressing

with confidence, and how to tie

scarves andhow colour can change

or lift an outfit.

Donated scarves and jewellery

were also available for thewomen to

takehome.

''Thiswas followed by alovely

lunchprovidedbythe Ashburton

Zontaclub members andthen there

wassomereal pampering with Sue

fromBridge to Beauty doing

makeup,JanefromJane Moore's

Beauty Treatmentshelping with

nails andmakeup, Kat from

Bellissimo Day Spa doing nails,

Debbieand Katyafrom DNA

Women enjoying some hair cuts and styling during an empowerment and

pampering day run by Zonta Ashburton members.

PHOTO SUPPLIED

Hairdressingdoing haircutsand

styling, Karen from Capelli Hair

Designalso doing haircuts and

styling, Rebecca fromAdagio

Massage gave shoulder massages

andBarma from BK Hair and

Beauty Salon did eyebrow threading

andhaircutsand styling.''

''It was aniceway to end the

programme with thewomen leaving

feeling good,'' Judithsaid.

All servicesonthe day were

provided free of charge fromthe

businessesinvolvedand Zonta

membersalso presented adonation

to Women's Refuge.
---
www.ashburtoncourier.co.nz

NEWS

Ashburton Courier, July 29, 2021

Vintage wedding gowns on the catwalk

5

TONI.WILLIAMS

@ashburtoncourier.co.nz

Vintagewedding gownshad a

moment to shine again last

week whenthe Mid Canterbury

Federation of Women's

Institutes (WI) held awedding

dresses and gowns parade

duringtheir annual federation

cup day.

Teenager Maddie Page wore

the wedding gownofher great

grandmother MaryPage, from

1946, teamedwiththe veil of

her own grandmother Isabell

Page,(from 1976), nine­year­old

Amelia Brockhurst andher

mother, Emma each woreblue

wedding gowns and Heidi

Wilkins wore the weddingdress

of her mother MavisWilkins

(from 1973).

Amelia was wearing the blue

linen wedding gown of her

great, great, great grandmother

from 1871, and Emma,her own

wedding attire from 2009.

Amelia offsether wedding

gownwith delicate Victorianstyled

leather boots of her

great, greatgrandmother.

The WI's annual cupday

traditionally sawmembers

vying for the RugbyCup, in cup

day entries in sectionsacross

cooking, floral works,craft,

knitting/crochet and

photography.

Butthis year members

introduced anovelty wedding

gowns paradefor fun, and it

drew acrowdtothe Ashburton

Senior Centrewith onlookers

keen to see thefashions of the

day.

There were 31 wedding

dresses andninebridesmaid's

gownsinsilks, satin,linen and

delicate fabrics withintricate

beading, lace or buttonworks of

their times,made by brides and

professionaldressmakers,

eitherwornbymodels such as

Bella Dawson, or MillyChristie,

or carried in the parade such as

Jude Vaughan(1879) and Rona

McConnell(1946).

Manyof thegowns were the

WI members own, but some had

come from past generations.

The heirloom gown worn by

Ameliawas ownedby20­yearoldSarah

Ann Winifred Clark

when she wedWilliam Hiley,at

theTredegar parish churchin

Bedwellty, Wales on August, 28,

1871.

It had separate bodiceand

skirt, which by coincidenceso

didAmelia's mother Emma's

linen design, which wasthe

fashion of the1865s­style.

Brianna Sloper (left) and Milly

Christie, both 16, back stage.

PHOTOS TONI WILLIAMS

(from left) Isabell Page, Maddie Page, Heidi Wilkins, Bella Dawson and Mavis

Wilkins get ready backstage.

Maddie Page wearing the gown of her great grandmother

teamed with the veil of her grandmother.

Eight­year­old Amelia Brockhurst with mother

Emma Brockhurst and grandmother Sue

Butterick­Kent.

After-school art club ahit with creative kids

The creativejuiceswereflowingon

MondayatSue Yearbury's new after­school

art club.

Aimed at those aged seven to 12 years, the

art sessions run for an hour from3.30pm

eachMondayand classes are booked full

this term.

Theart clubwillexplore clay, painting,

drawing,stamping,sculpting,art

journalling, creativecard making,

bookmarks andcollage over the coming

weeks.

Students willkeepajournal of simple

notes of whattheylearn and will takehome

worksheets and their art creations.

They will also discuss techniquesand

willlook at New Zealand artists.

Sue YearburysaidCreative Kids Art Club

Ashburton was about providing apositive

and encouraging environment withall the

tools and materials required to design and

create individualworks of art.

Shewas aselftaughtphotographerand

facepainter andafacilitatorofart rather

thanateacher.

She providedthe space thatallowedthe

children to explore art activitiesand

expressthemselvesthoughtheir own art

works.

With amindtorecycling, classes will

paint over re­use old canvases and other

resources where possible reuse them.

Sue Yearburyislooking to addasecond

artclass next termthatwillrun from

5.30pm until 6.30pm.

She can be messagedthrough the

CreativeKids Art Club Ashburton

Facebookpagefor more information.

Sue Yearbury (right) checks out the efforts of

her students at the clay making class.

PHOTO MICK JENSEN

Orson 2.5 seater leather couch $5399

Orson 3seater leather couch

$6499

NOW

IN-STORE

Harrison 3seater leather couch

$5799

Burnett Street,Ashburton l Phone (03) 308 5269 l www.redmonds.co.nz

2398010
---
NEWS

6 Ashburton Courier, July 29, 2021

Youth survey out

The YMCA South &Mid

Canterbury YouthSurveyisback

again for2021–with adifference

aimed at enticing more complete

responses fromthe region's

young people.

Thetwo­yearly survey seeksto

give avoice to youngpeople ages

12­24years living in the Mid and

South Canterbury region.

This yearthe survey has been

splitinto three parts, each of

which takesonly about five

minutes to complete.

Thethreeparts fcous on

attitudes, education and

employment, andwell­being. All

threeparts are now live online

and can be completed in any

order and until August 22.

Survey projectmanager

MichèleKeggenhoff saidthe

movetoathree­part survey was

designed to ensure agreater

proportionofcomplete responses

to all sections of the survey.

"Sinceour firstYouth Surveyin

2014we'vealways gotten areally

goodnumberofyoungpeople

taking part.

''But it's along survey–about 15

minutes to answer all 40

questions–and not everyone

makes it all the waytothe end. So,

we thought we'd makethings abit

more youth­friendly and split the

survey into shortersections that

takeonly about five minutes to

complete," she said.

If ayoungperson only had afew

minutes,theycould answer one

partand return later to complete

the other parts.

Newquestionsthis yearask

about the effects of the Covid­19

pandemic on youngpeople,

behaviours around drugs,

alcohol, vaping, sextingand

pornography, andwork

readiness.

Areportofthe survey results

willbemadepublic in early

September.

"Wesharethe results widely

withdecision­makers in the

government, business, health,

education andsocialsectors so

thatthe collective youth voiceof

our entire regionisrepresented,"

Ms Keggenhoff said.

The survey is conducted bythe

YMCA as apublicservice to both

the region's young people and the

wider community. It covers the

Ashburton, Timaru, Mackenzie

and Waimate districts.

www.ashburtoncourier.co.nz

Funds for Methven promotion

Methven Community Borad

(MCB) will use $4300ofsundry

expenditure to continue to

promote business and events

through the MethvenNZ domain

name.

The money will be used to

further develop the website and

social media pages and in the

general promotion of local

events.

An incorporated society, or

something similar may alsobeset

up to protect the domain name.

MCB chairman Dan

McLaughlin saidfunding would

be used to build credibility of

MethvenNZ and to support and

provide returns for Methven and

the wider community.

He said75per cent of those

using the events page were not for

profit organisations and event

listings would remain free.

Paul Sparrow (left), of New Zealand Sock Company, with Lexi Moore, 8, and her specially

designed Red Nose Day appeal socks.

PHOTO TONI WILLIAMS

Red Nose Day socks

Crypto Mentor

Cryptocurrency education for beginners

MISSION: To teach and help people get started in stocks and cryptos.

Iwill teach you step by step how to understand Cryptos, from choosing

your wallet, to where and how to safely buy your currency. Call metoday

and let me show you how to get started on your Cryptos journey.

Howard Mahere 021 130 5962

FORTUNE FAVOURS THE BOLD

Disclaimer - the information Iprovide is not financial

advice and Iamnot afinancial advisor.

2402940

TONI.WILLIAMS

@ashburtoncourier.co.nz

Eight­year­old Lexi Moore's

rainbow coloured, striped

Red Nose Day socks are

helping raise money for Cure

Kids.

Thelimited editionmerino

wool socks were designed by

Lexi as partofanationwide

competition and made by

New Zealand Sock Company.

Both Lexi andthe sock

company are based in

Ashburton butLexi's winning

design waschosenbyCure

Kids, who were impressed

with the choiceofcolours in

her design and the use of the

red nose dots.

It was a"crazy drawing",

Lexi said, using bright

colours whichjustflowedat

the time and earned her, and

her family,pairs of limited

edition RedNoseDay socks.

And, asanadded bonus,

had helpedtoincrease sales

of the socks forthe appeal.

New Zealand Sock

Company sales executive

Paul Sparrow said the

company hadanongoing

relationship with Cure Kids

and Lexi's specially designed

socks were the latest Red

Nose Day product to support

the annual appeal; last year it

was Red Nose Day facemasks.

This year marks aspecial

occasion for bothCure Kids

and NewZealand Sock

Company who celebrate their

50th and120th anniversaries,

respectively.

The socks, which come in

childrens,womens and mens

sizes can be boughtdirect

from the company in

Ashburton or viathe company

website, with $5 from each

pair sold donated to theRed

Nose Day appeal.

The RedNose Day appeal

which has been running

through July, was seeking to

raise $1million to help with

research into awide range of

child health conditions. A

number of fundraising

activities have been held

nationwide.

Mid/South CanterburyContinuous Spouting

TM

Askabout our large capacityspouting for

commercial and farmbuildings

The Original

Spouting Specialists

Serving

Mid/South

Canterbury

for over

26 years

SAVE

$10

WINTER WELLNESS

EARN 40

REWARD

POINTS

90s NOW

$39 99

was$49.99

15%

OFF

TM

TM

TM

Residential –fascia, gutter and downpipes

Snowprotection our specialty

Your new spouting proudly installed by

Craig or Josh

John Tull ...providingoutstandingservice,

afterinstallation care and pricing requirements!

Phone him on 021 288 8290

Email: john@canterburycontinuous.co.nz

2344842

60s

NOW$49 99

was $59.99

SAVE

$10

EARN 33

REWARD

POINTS

45s NOW

$33 15

was $39.00

www.continuous.co.nz Freephone 0800 50 1993

2396001
---
www.ashburtoncourier.co.nz

Round two of

fund to support

tourist events

People organising Mid Canterbury events attracting

visitors fromoutside the districtare being encouraged

to applyfor up to $10,000 fromaregional event fundset

up by the Ministry of Business, Innovationand

Employment.

MidCanterbury has $230,000 to spendoverfouryears

to helpthe district attract domestic tourists. Nine

eventswere allocated about $50,000 in the firstround

earlier this year and now the second round is openfor

applications, with $36,000 to distribute.

TheSouth Island Secondary Schoolsmountain bike

championships werehosted at the Mt Hutt bikepark

this year by Bike Methven and organisers were

allocated $3,764 fromthe regional fund to help run the

event.

Thechamps attractedseveral hundred riders, and

theirsupport crews, whostayed in the district for

several days.

Theorganisers of athree­daynationalpickleball

tournament heldinthe EA Networks Centre earlier this

month werealso among those ninefirst­round events

andwere allocated $5,000 for their sportingevent.

AshburtonDistrict Mayor NeilBrownsaid anyone

with agreat event ideaand aplan to makeithappen

should applyfor funding,especially if it wouldattract

visitors to the districtfor an overnight stay.

''Thisisanopportunity forour community to put our

district on the mapwith events thatwill be areal

drawcard for visitors and drive spending in our local

economy.''

To be eligible forfunding,events need to havea

duration of between two andfouryears andmust

demonstrate how theywill attract out­of­regionvisitors.

Applications for the secondround of the regional

event fundopen on September 1and closeon

September20.

Eventorganisers can applyfor up to $10,000per event

to be heldbetween 1February and 30 June2022.

To apply for funding, visit the council's website

ashburtondc.govt.nz.

Bantam wins

for George

Ashburton man George Whyte has

taken out top prizes at multiple

events with his young bird Molly

in his first season of showing

bantams.

Molly impressed judges at the

Ashburton Fanciers Society

annual show in June, and won the

best mottle pekin female award.

At the South Island Poultry

Pigeon and Caged Bird

Association Championships in

Christchurch the same month, the

bird was awinner again.

The trifecta of wins continued

with success again at ashow in

Oamaru earlier this month.

The novice showman has

trophies and certificates to

remember his memorable first

year of bantam showing.

George bought Molly and three

other birds from Mosgiel breeder

Kaye Sangster earlier this year.

He plans to allow her to breed

soon and is hoping her shape and

markings will be passed on to her

offspring

George said he had enjoyed his

first season on the show circuit.

NEWS

Ashburton Courier, July 29, 2021

7

George Whyte with trophies and

certificates from his first

successful seasonofbantam

showing.

He had not expected to win

prizes, but success had cemented

his interest in showing.

George also has ayoung male

bantam called Charlie that he

bought locally from breeder

Russell Smith and plans on

pairing him up for breeding as

well.

Checkout ourlatest

deals

HOT DEAL!

$

34 99

each

Twice as nice

at agreat price!

$ 30

THE NED Range

750ml

Includes Chardonnay,Pinot

Gris, Sauvignon Blanc, Rosé

HOT DEAL!

$

37 99

HOT DEAL!

$

39 99

2 for

SQUEALING PIG Range

750ml

Includes PinotGris,Sparkling

Rosé, Sauvignon Blanc, Rosé

Excludes PinotNoir

HOT DEAL!

$

41 99

ASAHI

SUPER DRY

24 x330ml

Bottles

LONG WHITE

VODKA Range

15 x320ml Bottles,

4.8%

Includes Lemon &

Lime, Apple &Pear,

Raspberry

$

39 99

each

$

41 99 $

41 99

STEINLAGER

CLASSIC

24 x330ml

Bottles

LARIOS or

RUSSIAN

STANDARD

1Litre

BELL'S

1Litre

CORUBA

Original

1Litre

Also

available:

Gold

JIM BEAM

White

Label

1Litre

0%

alcohol

NEW

PRODUCT

75%

less carbs

$

21 99

each

SPEIGHT'SSUMMITZERO or SPEIGHT'S SUMMIT

ULTRA LOW CARB LAGER

12 x330ml Bottles

Shop local with

AMBERLEY, ASHBURTON, BARRINGTON, BELFAST, BRIGHTON, BURNSIDE,

COLOMBO ST, EDGEWARE, ELMWOOD, FERRYMEAD, HALSWELL, HANMER

SPRINGS,HORNBY, ILAM, KAIAPOI, LEESTON, LINCOLN, METHVEN, OXFORD,

SHOP LATESTDEALS at WWW.SUPERLIQUOR.CO.NZ

NATIONWIDE PICKUP &DELIVERYNOW AVAILABLE

PAPANUI, PEGASUS, RANGIORA, SEASIDE, WOOLSTON

Exclusions may applyonsome brands advertised. Offers end close of trade 1st August 2021, while stockslast.Available at participatingstoresonly.MultiDealonlyavailable in store. Varietals may

vary by store. Limits may apply.Wholesale(other liquor retail banners)not supplied.Termsand conditions may apply.Available 19th July -1st August 2021 inclusive. Please see www.superliquor.co.nz fordetails.

SUP2298_C9
---
NEWS

8 Ashburton Courier, July 29, 2021

www.ashburtoncourier.co.nz

Survey for community transport service

The Mid Canterbury Connector

community transport serviceisseeking

volunteers as its user numbers slowly

increase.

Inductionand training as avolunteer

for the service is provided.

The servicerecently carried out an

online survey and the results will be

analysed to help decide apossible new

future operating model.

The service runs two days aweek and

brings peopleliving in the more rural/

remote areasof the districtinto

Ashburton township ­for medical and

dental appointments, to do business

with council,see familyand friends,

access government and socialservices,

shopping and more.

It is co­ordinated by Safer Mid

Canterbury andisrunning for atrial

period to see if there is demand for it to

continue.

The serviceuses volunteer drivers.

Every Tuesday the connector

operates from Mt Somers, Staveley,

Methven, Winchmore and Wakanui to

Ashburton.

EveryWednesday it runs from Rakaia

to Chertsey, Fairton/Hakatere Marae

and down to Hinds, dropping peopleoff

in Ashburton for afew hours before

taking them home.

Drop off points in Ashburton are at

Ashburton Hospital, Ashburton District

Council offices/library, EA Networks

Centreand WINZ/Community House

MidCanterbury.

For more information on becoming a

volunteer, the service routes, fares or to

makeabooking,call 308 1395 ext 225.

FOR ALL YEAR ROUND COMFORT

Ducted heatpump/ air conditioningunit

•Whole home centralheating

and cooling

•Cost effectiveand energy

efficient

•Whisper quiet with discreetly

positioned ventsintorooms

•Can be installed in new homes

or retrofitted into existing

homes

PHONE 308 7182 ON CALL 021 597 517

211/D Alford Forest Rd,Ashburton

MAJORSUPPLIERS OF

HEATPUMPS

2404125

Ifound my

place!

Krista became a

Caci clinicowner

andyou could too.

We'recomingsoon!

My Caci dream started 20 years ago while living in an

apartment upstairs from Caci PonsonbyinAuckland.

The brand, image, professionalism and the leadership

in the industryalways appealed to me. Idreamed of

Caci, but instead Iwent tomycorporate job each day.

Fast forward 20 years to2016, Irelocated to

Blenheim with my husband and two young boys for

alifestyle change. This was also as an opportunity to

reinvent mycareer and find myhappyplace. When I

saw that Caci Blenheim was opening in October 2019,

Ipersisted until, the owner gave meajob! Since then I

have never enjoyed going to "work" so much.

Working alongside ateam who are the best in the

industryand so passionate about results and having

extensive resources and systems supporting us meant

Caci Blenheim could bloom.

Ithen had the opportunitytobuy the business and

continue to grow it. Imayjust pinch myself now! Most

rewarding of all is getting to know our members,

seeing their results and their confidence grow. Ilove

all the glowing skin and sparkly eyes and warm smiles

in the clinic. Ifound my happy place!

Interested in joining NZ'sbestlooking

business? Becoming your ownboss?

We have opportunities and support forthose

interested in franchising and for Registered Nurses

and Beauty Therapists to become successful owners.

We are bringing Caci to the following hotspots, and

you could be the clinic owner:

-Oamaru -Timaru -Ashburton

-Greymouth -And more!

We would love to meetyou over coffee tochat:

Oamaru

Tuesday August 3

Ashburton

Thursday August 5

Timaru

Wednesday August 4

Christchurch

Friday August 6

Book yourmeeting: franchisesales@fabgroup.co.nz

Visit caci.co.nz/franchising to find out more.

BOOST assistant co­ordinator Angela Muckle with Lachie, 5.

PHOTO DANIEL TOBIN

Reading boost

for children

Areadingprogrammethat

supports andimproves

children'sliteracyislooking for

morevolunteers.

The BOOST literacy

programme wasat the

Ashburton Librarylastweek

takingsessions of reading

games.

Boostprogramme coordinator

JudithSommerville

saidthe school holidays were

goodtime to showthatreading

games outsideofschool are fun.

''It's important forchildren to

readathome because the prereading

things are paramount to

be abletorhymeand

understandsyllablesand the

LETTER TO THE EDITOR

Aotearoa­Landofthe Long

White Cloud, what apleasant

and awe inspiring country we

live in, untilpolitics raised its

uglyheadNew Zealandwas once

the envy of the world, apeaceful

nation with little or no animosity

between varying sectorsofofthe

community.

Now we havealeft leaning

dictatorship determined to

wreak havocinall sectors of the

community.

soundoflanguage,soits really

important before theygoto

school to be readytoread.''

Nine­year­old Genevieve who

was taking part in the session,

alsohas BOOSTtuitionat

LauristonSchooland thoughtit

wasreally fun and helped with

her school work. ''It makes it a

lotbetter in class, but thisisstill

better than school,''she said.

Theprogrammerelies on

volunteers, ''wehave63

volunteers thatgointoschools

and help,''Judithsaid.

Full training is provided to all

volunteers, formore

information contactJudith at

winterviewfarm@gmail.com

An attempt to nullify the

farmingindustry as previous

Labour governmentshave done

since the1940's

Whosaved thecountry during

Covid­19? Farming.

Thisgovernment hasborrowed

billions of dollars and as interest

rates rise worldwide, future

generations will be left with a

legacy of debt repayments for

decades.

AAndrews
---
NEWS

Ashburton Courier, July 29, 2021

9

Building consents

second highest

Ashburton District Council

received building consents with

avalue of $212 million for the

financial year ended June, its

second highest total on record.

Of those, consentswere

issued for building and

development projects worth

$162 million.

The number of consents

received for the yearwas 751,

compared to 593 the previous

year.

Council strategy and

compliance managerJane

Donaldson said economists had

predicted an economic

downturn because of covid, but

like other councils around the

country,this district wasseeing

highlevels of building activity.

It would take another three

monthsfor the surge to be

processed and councilwas

processing justover half the

number of building consentsin

the statutory20workingday

timeframe.

"Generally we receive

consentsfor 12 housesamonth

but in March and April we

received 50 –they are normally

more spread out, "Ms

Donaldson said.

While home­ownersand their

builders arewaitinglonger for

consents, theyalso face supply

chain issues.

Nearly 600 birds

counted at lakes

BY MARY RALSTON

Stunning weather greeted bird

watchers at the Ashburton

LakesonSaturday for the

annual winter birdsurvey.

After meeting at Mt Somers,

small teams dispersedtothe

different lakes armed with

binoculars andnotebooks. All

the lakes are visited at about

the sametime to minimise the

chancethat some birdswill fly

from one lake to another and be

counted twice.

There wasabit of ice on some

of the lakes, but probably not

enough to send the birdsto

alternative sites at lower

elevations. If ice cover is

substantial, the birds may leave

the area and go to Lakes

Ellesmere or Forsyth.

Across all species and lakes,

numbers weregood and

counting conditions were

perfect, so the count was

probably fairly accurate. Atotal

of 5909 birds was recorded.

It is always atreat to see

Australasian crested grebes.

These arespecial birds

sometimesseenatLake Heron,

the Maori Lakes, Lakes

Clearwater or Camp.This year

though, grebe numbers were

low: only eight werespotted,

NATURE MATTERS

which is the third lowest tally

since the survey beganin1984.

Numbersofother species

thoughwerehigh: this year 517

coots were counted, all on Lake

Heron.

This is the second highest

number of coots sincethe

surveys were started, only

surpassed in 2008 with 725

birds.Another very numerous

duck is the New Zealand scaup,

anative duck often seeninthe

high country.

This year there were 2437

counted across all lakes.

Otherwaterfowl include

blackswans,Canada geese,

mallards, paradise ducks,grey

teal and shoveller.

There's alsoseveraldifferent

species of shags, and some

wadingbirds such as piedstilts

usually turn up to be counted,

alongwith skylarksand

harriers.

Thesurvey has been running

for 37 years, making it one of

the longest­runningbird

surveys in the country.

Even thoughnumbers

fluctuate year to year

depending on the conditions,

it's avaluable record of bird

life in the high country.

PamsFresh Avocado

3Piece Prepack

Product of New Zealand

PamsFries 1kg

$ 2 29 ea

$

2 99 ea

A-FOUR-DABLE

EVERY DAY

Pams Fresh

Carrots

1.5kg Prepack

Product ofNew

Zealand

$

3 29 ea

PamsMarinatedNZ

Greenshell Mussels 375g

PamsFresh NZ

OvenReady

Chicken

1.5kg

$

11 99 ea

$

5 49 ea

A-FOUR-DABLE

EVERY DAY

PamsFresh

Potatoes

2.5kg Prepack

ProductofNew

Zealand

$

6 49 ea

FREE COCA-COLA

OLYMPIC GAMES

COOLER BAG

WHEN YOUBUY ANY 2X

COCA-COLAA 600ML PRODUCTS.

BUY any 3*

Continental soup

or Pasta 85-105g

Products

= A free mug

www.foursquare.co.nz

facebook.com/FourSquareNZ

Conditions were perfect for the annual bird survey at the

Ashburton Lakes.

PHOTO VAL CLEMENS

Specials availableSouthIslandonly from Monday26th Julyuntil Sunday 8th

August2021orwhile stockslast.Wineand beeravailable at stores withanoff

licence. Wine and beer purchases restrictedtopersonsaged 18 years oldand over.
---
Family Notices

NEWS

10 Ashburton Courier, July 29, 2021

Deaths

ALBON Frank Robert (Bob),

passed away on Friday July

23, 2021, aged 87 years.

Peacefully in his sleep,

surrounded by his loving

family, atRosebank Lifecare,

Ashburton. Loved husband

of Heather. Loved father

and father-in-law ofGraeme

and Glenda, David and Ree,

Peter and Karine, and Bruce.

Much loved Grandad to his

grandchildren and greatgrandchildren.

Loved son

of the late Jean and Frank.

Loving brother of Jean and

brother-in-law of the late

Rowley. Messages to the

Albon family c/- POBox 472,

Ashburton 7740. At Bob's

request aprivate service has

been held.

Paterson's

Ashburton

FDANZ

03 3077433

CRUM, Michael Ralph, on

July 24, 2021. Passed away

peacefully at Tuarangi Home,

Ashburton, aged 77 years.

Dearly loved husband of

Karine. Much loved father

and father-in-law of Sarah

and Steve Duder, Joand Ben

Needham (London), and

Amy and Brian Lowe. Very

special Grandad of Lois; Riley,

Kinneir, Archer, and Hazel.

Our heartfelt thanks to the

staff of Tuarangi Home for

their kind and compassionate

careofMichael andhis family.

Messages to the Crum family

c/- POBox 472, Ashburton

7740. Aprivatefamily service

has been held.

Paterson's

Ashburton

FDANZ

03 3077433

Deaths

DICKSON, Alan George

– Passed away peacefully

at Ashburton Hospital, on

Monday 19 July, 2021. Loved

husband of Bev. Loved Dad,

father-in-law and Grandad of

Lana, Jonesy, Josh and Jack;

the late Darryn; Vanessa and

Peter; Mark, Jo-Ann, Brayden

and Sarah; and Brent, Hayley

and Kyle. Loved brother and

brother-in-law of Murray and

Catherine. Loved uncle of

all his nieces and nephews.

A special thank you to

the caring staff of Ward

1 at Ashburton Hospital.

Messages to 13 Nelson Street,

Ashburton 7700. At Alan's

request a private cremation

has been held.

Paterson's

Ashburton

FDANZ

03 3077433

EVEREST Owen Wilfred -on

July 25, 2021, at Ashburton.

Passed away peacefully after

ashort illness,aged 86 years.

Adored and much loved

husband of Robin (Bridget)

for 63years. Loved father and

father-in-law ofPhill and Jos,

Di and Nev (Australia) and

Sue and Phil. Loved Grandad

of Mark and Mel, Anna and

James, Paul and Sarah, Loz

and Jacob, Brit, Lucy, and Ben

and special great Grandad of

Arthur,Emma,William, Patrick,

Frank and Max. Messages

to the Everest family c/- PO

Box 472, Ashburton 7740. In

lieu of flowers donations to

Ashburton St John would

be appreciated and may be

left atthe service. Aservice

to celebrate Owen's life

will be held at St David's

Union Church ,Allens Road,

Ashburton on Monday

August 2nd, commencing at

11.00am, followed byprivate

cremation at the Ashburton

Crematorium.

Paterson's

Ashburton

FDANZ

03 3077433

Complete

Local Care

Since 1982

Acknowledgement

ELDER, PeterRonald Sinclair –

06-08-1945 –27-05-2021

ELDER, Hazel Ann(nee Bond)

01-01-1948 –28-06-2021 –

Carlene, Cameron, Greg

and their families want to

sincerely thank everyone for

their overwhelming support

in so many ways during the

last 12 months.The love, visits

and kindness expressed to

Peter, Hazel and their family

has given them strength,

comfort and companionship,

your caring will always be

remembered.

Thank you to DrTarry and

Eastfield Health staff, Dr

Cox and Ashburton Health

First staff, Life Pharmacy

Ashburton, The staff at

Ashburton and Christchurch

Hospitals, Palliative Care

Team, District Nurses, The

Cancer Society, Karen Daws,

Kirsten Jones, Maggie

McEwan, Ashburton

Community Mental Health

team, Stepping Stones

Christchurch, Mary Gluyas,

Chris Harrison, St John

Ambulance staff, Bernard

Egan, Paterson's Funeral

Services, DJ Dave King,

Lester Banks, staff at the

Hotel Ashburton and the

RSA. Please accept this as a

personal acknowledgement

from Peterand Hazel's family.

Acknowledgement

SCOTT, Donal Thomas (Don)

1-10-1929 –4-6-2021

Doreen and Ross, Peter and

Alison, Stephen, Keith and

Flaron and their families

wish to express our sincere

thanks to everyone for their

support and sympathy in our

sad loss of a much loved dad,

granddad and great-grandad.

Our grateful thanks to those

who sent flowers cards and

baking. To everyone who

attended Don's funeral

service, Paterson's, and David

Brown, thank you. Special

thanks to Methven Rugby

Club, Search and Rescue,

David Wightman and Murray

Harrison for your touching

tributes.

Thanks to Don's wonderful

caring neighbours. A true

gentleman, family and

community man greatly

missed.

Please accept this as our

personal thank you toall.

SYMONS, Sydney Osburne

(Ossie) - 12July 1918 - 29

May 2021. The Symons family

sincerely thank everyone

for expressions of sympathy

following the death of Ossie.

Thank you for the thoughtful

cards,letters,food, telephone

calls, visits, and flowers, and

to those who attended Ossie's

funeral. Specialthanks to the

carers of Dad over the past

fewyears.

WHITE, Bruce Douglas –

31.7.41 –20.5.21: Noeline,

Kim, Robert and Lynda with

their families wish to sincerely

acknowledge everyone for

their expressions of love and

support in so many ways

throughout Bruce's illness

and his passing. To the

many who attended Bruce's

farewell, family, and friends

from his sporting career of

Cricket, Rugby, Indoor and

Outdoor Bowls and Racing,

thank you. To the Medical

Day Care team, Palliative

Care team, Dr Cox, Dr Emma

McDonald and the Netherby

Pharmacy, thank youfor your

careofBruce.

To Bruce's "Mates" who

supported him through his

journey,abig thank you.

To Paterson's Funeral Services

and Bernard Egan, thank for

your support during our sad

time.

"Bruce was areal Gentleman,

gone but never forgotten".

Please accept this as a

personal acknowledgement

from all of us.

In Memoriam

HART, Elizabeth Jane (Jane)

18.07.1936 –27.07.2013

HART, PenelopeJane (Penny)

22.10.1960 –28.07.2019

In loving memory ofour dear

mum and sister.

Though your smiles havegone

forever

Andyour hands wecannot

touch

We havesomanymemories

Of the ones welovedsomuch

Your memoryisour keepsake

With which we'llnever part

God has youinhis keeping

We haveyou in our heart

May the winds of heaven blow

softly

Andwhisper in your ear

Howmuch we love and miss

you

Andwish that youwerehere

Love and miss youboth

dearly

~Chris &Mary-Jean, Anthony

&Kirsty, Michelle &Andrew

and families

ORSBORN, Noel Raymond

31/7/2020:

Remembering youiseasy we

do it everyday,

Missing youisheartache that

never goes away.

We were blessed to know you

and will treasurethe time

we had together.

Itsbeen ayear nowand you

will be in our hearts always.

~Weller, Ellison & Maisey

Families

Birth notices listed by

parents will continue to be

free in the Family Notices

column. The initial death

notice lodged by afuneral

director will be listed

without charge.Therewill

be asmall charge of $15

for subsequent notices

related to the same death,

up to a maximum of

35 words and on aperline

basis after that. The

same low charges apply

to other family notices,

such as engagements,

acknowledgements, in

memoriam notices and

anniversaries.

Family Notices

Enquiries phone

Mary,Jann or Karenon

308 7664

or call into

199 Burnett Street.

Watercolourwins

Awatercolour work by Svetlana Orinko's

named Sally Holmes Roses has received

the most votes and receives the People's

Choice Award at this year's Ashburton

Society of Arts annual exhibition. The

artwork was named the winner of the

Scott Automotive watercolour award on

the opening night of the long­running

exhibition, which closes tomorrow.

Business

networking

AshburtonDistrict Councilishostinga

business networking eventatthe

AshburtonTrustEvent Centre (4pm until

6pm)onAugust 6tospreadthe word about

the ANZBusiness of the YearAwards.

The inaugural business awards havejust

beenlaunched and entries arenow being

encouraged. The networking event willbe

achance to tell people more about the

differentaward categories and whatis

involved.

Council communityservicesgroup

managerSteve Fabish said businesses will

be abletoask questions, talktothose

involved and register for theawards,

making the wholeprocess easier.

"This is thefirst timetheseeventshave

beenheld andit's agreatopportunity to

showcase you and your business within

the region.

"Weknowthings have been tough and

we want to spread the successes, wins, and

goodnewsstories of the district."

ANZhas justbeen announced as the

platinumsponsor for the awards,which

include aPeople's Choice award for retail

thatisdecided by public textvote.

Retailers enteringthat category at the

networkingevent willreceive aposter

with theiruniquevoting code thattheycan

share withcustomers and encourage them

to vote–the voting period isfrom August

1toNovember 30.

All votesare by freetext to 4196. There

is also aFuture BusinessLeader award

and aSupremeWinner, chosenfrom the

winners of categories for primary

industries, export, tourism,

manufacturing, not­for­profit, and

technologyand innovation.

Winners will be revealedatagala

eveningonFebruary 18 nextyear.

Supporting thecommunity

96 Tancred Street, Ashburton.

Phone 307 8317

Real Estate MidCanterburyProperty Limited Licensed (REAA 2008)

Cricket

volunteers

Family owned,

locally owned

22 MooreStreet,

Ashburton

0800 263 6679

2379731

Volunteers,aged 17 and over,are being

soughtfor up to 750various roles at the

International Cricket CouncilWomen's

Cricket World Cup2022, beingheld in New

Zealand.

Games willbeheldinsixcities

nationwide, including Christchurch and

Dunedin,from March4until April 3.

Volunteers canapplyatthe icc­cricket.

com website,with interviews for

successful candidates being carried out

until August.
---
Ashburton College

Individual Excellence in aSupportive Learning Environment

News

Issue 23

29 July 2021

Acting Principal Message

EnrolmentWeek and OpenNight

This week the College has conducted its annual

Open Evening. This is an opportunity for our

students who will becoming toCollege next

year to visit and go for aguided tour with their

whānau.

They meet some teachers and have an

opportunity to get involved in some fun,

interactiveactivities.

It is always apleasuretowelcome people on to the College and thanks go

out to the manystudents who helped as tour guides.

Next week is Enrolment Week. This is where each and every student

coming to College forYear 9in2022has ameetingand interview with a

member of College staff.Itisanopportunityfor anyquestions to be asked

and forthe school to meet our incoming cohort.

This is aweek that Ialways look forward to, and it is filled with smiles,

anticipation and alittle nervous energy.

SubjectSelection/Career PathwayPlanning

It is at this time ofyear that students and their whānau begin to look

ahead to the subjects or pathways they intend to pursue in 2022.

It is an exciting time, that can also be daunting. Inselecting subjects,

students need to consider factors such as possible career pathways and

more importantly, what they enjoy. With many options available, itis

importantthat, in selecting subjects,students speak with their parents or

caregivers and make use of the opportunities foradvice that exist within

the College.

In addition toour Careers Advisor, students are also able to access help

and support from their Ako teacher, Dean, Head of School and Subject

Teachers.When thinking about whatsubjects to study,itisimportant for

students to bear in mind that, while they may have aclear idea of what

they would like to pursue,this maychange.

There are also many opportunities beyond school that they are unlikely

to have ever heard of, or may not even exist yet! We do not know what

the future will bring with regard tothe work force but we do know that

change is acertainty.

Thebest adviceIcan give to students is -whateversubjects youpursue,

do your best, asmotivation and determination will be valued wherever

the futuretakes you.

Goals

ThestartofTermThree is agood time to take aminutetostopand reflect.

Early in the year,students were supportedtoset goals forwhatthey would

like to achieve in 2021. Taking the time to check on what your goals are,

whatactions youhaveundertaken, andhow youare progressing towards

the goal,will supportfuturesuccess.

Whāia ekoe te iti kahurangi ki te tūohu koe, me he maunga teitei

Pursue excellence–should youstumble,let it be to alofty mountain

Jono Hay

Acting Principal •Tumuaki

Coming Events

July

30 Hockey 1st XI Boys –Christchurch

German DayatUniversityofCanterbury

Junior Boys'Aand B, Junior Girls'Aand Senior Boys'BBasketball -

South Canterbury WinterBasketball Competition,

SouthernTrustEventsCentre, Timaru

31 Crusaders Region 1st XV MCCvNelson College (away)

August

01 AshColl Aand BNetball,AorakiNetball Tournament, Waimate

NZSS Rogaine Championships,Christchurch

01-07 Cook Islands'Language Week

02 Year 12 and Year 13 UniversityofCanterburyand Ara Campus Tour,

Christchurch

EnrolmentWeek,atCollege

03 Year 11AGS Group 1, Farmbikes Day2,AshburtonShowgrounds

Year 12 Rafting,Peel Forest Outdoor Centre,Rangitata

Senior Girls'Basketball,Whelan Trophycompetition, Christchurch

Senior Boys'Basketball,Thompson Trophycompetition,

Christchurch

04 Australian Maths Competition

CanterburySecondary Schools'Snowand SkiChampionships,

Mt Hutt

Year 11AGS Group 2, Farmbikes Day2,AshburtonShowgrounds

Year 13 Electors -Auditorium

Hockey 1st XI Girls,Christchurch

College AGirls'Netball,SuperNet,Christchurch

06 Hockey 1st XI Boys –Christchurch

Year 11 Rafting,Peel Forest Outdoor Centre, Rangitata

Junior Boys'Aand B, Junior Girls'Aand Senior Boy'sBBasketball -

South Canterbury WinterBasketball Competition,

SouthernTrustEventsCentre, Timaru

07 Crusaders Region 1st XV MidCanterburyCombined v

Timaru Boys'Hgh School(home game)

Information

Please Note: Forthcoming KeyEvents

forYour Diary

College Closed Tuesday10August

forthe purpose of an ACCORD Teacher Only Day

Pleasenotethatthe College willbeclosed fornormal instruction

on thisday,inorder to undertakeanACCORD Teacher Only Day.

These TeacherOnly Days were allocated in the Accord

between the MinistryofEducation,NZEI Te RiuRoa,

and PPTATeWehengarua, and arebeing held throughout

New Zealandonset days forregions.

Thedaysare setasidetosupportthe implementationofchanges to NCEA,

and wider strengthening of curriculum,

progress andachievement practice.

We do ask thatyou make alternativearrangements foryour

sons/daughters on thisday and thank youfor your support.

Events

Office Closureat3:20pm,Thursday19August

Please note: the CollegeOffice will be closed

from 3:20pmonThursday 19 August.

This is to allowall staff to attend aStaff Briefing

relatedtothe Collegere-build programme.

We thank youfor your supportofthis timing.

Year 9-12 Course Information Expo, HotelAshburton

Wednesday11August,6:00pm-8:00pm

This evening is forcurrentYear9-12 students,

or forany students enrollinginYear 10-13 in 2022,

and parentsand caregivers.

Staff will be available at their subjectdisplaytotalk

about subject choices for2022.

Mid-Term Break -Friday27August

PleasenotethatCollege is closed forinstructionthisday.

This is aBoardofTrustees-approved leave day.

AshburtonCollege Library/TeWhare

PukapukaMatauranga Celebrates

Volunteer Appreciation Week.

Towards the end of Term Two the Library celebrated Volunteer

Appreciation Week, with Teacher Librarian Anne Williams, advising

that the Library staff very much appreciate the contribution of the

Libraryvolunteers,who are averyvaluedpartofthe Libraryteam.

This year Ashburton College Library has

twenty-two volunteers who helpthe Librarians

in avarietyofways.

TheCollege Library is recognised as averybusy

space supporting teaching and learning, and

promotingliteracyand researchskills.With high

issue numbers,staff would struggle to caterfor

all of thestudents withoutour volunteers.

Our Year 13 volunteers run the front desk

during one of their study periods, issuing and

returning books and laptops, and dealing with

studentenquiries.

Our adult volunteers cover books, sort the

archives,help with studentenquiries and much

more.

Anne said they are very grateful for this help

and enjoy the contributions our volunteers

maketoour librarycultureand service.

2021 marks the first ever celebration of Solomon

Islands Language Week in Aotearoa. The week

lasted from Monday 05-Sunday 11 July, falling in

the first week of this month in order to coincide

with the 43rd year ofthe nation's Independence

celebrations.

The Solomon Islands is acomplex country with

over eighty different local languages plus over

300 dialects. Ithas six major islands and over 900

smaller islands in Oceania, to the east of Papua

New Guinea and northwest of Vanuatu.

The Solomons has aland area of 28,400 square

kilometres and apopulation of 652,858 people.

(Pictured right): Year 10 studentDoreen Awaikera,

our College student ofSolomon Islands descent,

very proudly wearing cultural dress during the

Solomon Islands'Language Week.

(Pictured left): Our twenty-two Library

volunteers.are acknowledged.

Solomon Islands' Language Week

Events

StudentVolunteers Assist Further With

Farm Clean-up

On the lastThursdayofTermTwo,08July,agroup of studentvolunteers

undertook community service work for neighbouring farms impacted

on byy

the recent floods.

Students involved were: (Pictured above, back row, left to right):

Simon Moore, Logan Johnson, Aidan Watson, Jake Lawson, Ben Sheppard,

Alex Mackle, Matthew Binnie, Ollie Strawbridge, Casey Flett, Bailey May.

(obscured).

(Front row, left toright): Matt Pearce, Elizabeth Hastie, Will Rollinson,

Teagan Cameron, LauraWalsh, SamRoberts.

Thank YouAshburtonPakekeLions fora

GreatDay Out

Te WhareManaakistudentsand staff hadagreat dayatthe AntarcticCentre

in Christchurch, on Tuesday 06 July, courtesy of theAshburtonPakeke Lions

Club.

Teacher-in-Charge Cheryl Hardy said that Te Whare Manaaki students and

staff have awonderful association with this Community Service Club that

has beeninvolved with theCollege over many years.

They are warmly thanked for their generosity and interest in this group of

students at Ashburton College.

In Christchurch students learnt about Antarctic exploration, sat in aplane

simulator and experienced araging southern storm with temperatures

down to -15.5degrees celsius.The Little Blue Penguins were really cuteand

patting thehuskies wasagreat sensory experience.

Ahighlight was the 4D movie of Antarctica where, courtesy of special

glasses,thebirds almost flew into the audience's faces,plus water spraying

over studentsasthe ship sailed theturbulentseas. The all-terrain Hagglund

vehicleridesimulateddriving over the harsh Antarctica landscape.

(Pictured right):

Delta Taeauga watching

DomWayman (left) and

Kaleb Moodie (right)

riding thesnowmobiles.

(Pictured left): Chattingto

ahuge EmperorPenguin

and chick are

Niesje Burgerhout (left)

and Jacob Olsen (right).

(Pictured above): In the Ice Room are (back row, left to right):

Jonathan Hardy, Kirsty Fortune (Learning Support Assistant - obscured),

Delta Taeauga, Jenny Oliver (Learning Support Assistant), Raglan Patrick

(partly obscured).

(Middle row, left toright): Chelssea Cheesman, Jacob Olsen (obscured),

Nathaniel Stenton, Julieann Wairepo (Learning Support Assistant),

Cody Robin, Kim Sinclair-White (Learning Support Assistant),

DominicWayman.

(Front row, left toright): Kaleb Moodie, Alex Blackley, Rebecca Wilson,

Stacey Cooper.

Cheryl said this wasafantastic daythatwas enjoyedbyall and,again, avery

special thankyou is giventothe PakekeLions.
---
Ashburton College

Individual Excellence in aSupportive Learning Environment

News

Issue 23

29 July 2021

Events

Year 12PhysicsClass to RutherfordBuilding

With information input from Lana Clark-Powell and Heer Giroti

On Wednesday 16June, MrBell's Year 12 Physics class of close to thirty

students went to the Rutherford building at the University ofCanterbury

(UC), Christchurch, to gain further knowledge about radioactivity.

We worked with experts in the Physics field and built on the knowledge

about the origin of atoms, how radioactive material can be identified and

howitworks.

(Pictured above): Students enacting Rutherford's Gold Foil experiment

where he discovered the structure of an atom. (Left back, left to

right): Conner Stewart (back to camera), Cairo Hawkes, Dillon Rogers.

(Students sitting/standing, left to right): Heer Giroti, Lana Clark-Powell,

Maddy Young (standing).

(Studentsinhi-vizvests/hats,lefttoright):MatthewAshdowne,CharlesSavage,

Mitchell Taylor.

Our favourite part ofthis trip was the demonstrations of the bed of nails,

how momentum affects aspinning chair, playing ping-pong with ahandmade

air hoverboardand howliquid nitrogen works.

(Pictured right): Howoften

doyou getthe chance

tostand on your teacher

(BryanBell) who is lying on

a bed of nails?

Charles Savage got this

honour,while Luke Pasion

(left) and Neiv Sol (right)

look on, with Graeme Plank,

UCTutor,managing the

activity.

(Pictured below, lefttoright): Measuring the radiation absorption of organic

material (a carrot) are Matthew Ashdowne, Hamish Lyth, Amy Stilgoe

(obscured), and Matthew Wong.

We would like to thank the staff of Ashburton College who made this trip

possible as well as the tutors from Canterbury University -Cliff Franklin,

Graeme Plank and those from the Christchurch Arts Centre -who took the

time to help us understand moreabout radioactivityand nuclear physics.

The NewRutherford Centre

At the centre of UC's SciencePrecinct, the new Rutherford Regional Science

and Innovation Centre (RRSIC) creates ahub for Canterbury's science and

innovation network.

Stage 1 of the $220 million RRSIC, the Ernest Rutherford building,

was opened in early 2018. Named for renowned UC Alumnus Ernest,

Lord Rutherford, it includes specialist teaching and research laboratories for

physics,astronomy, chemistry, geology,geographyand biological sciences.

The Centre has been purposefully designed to encourage innovation and

supportflexible learning and teaching methods,with key features including

state-of-the-art laboratories, UAV/drone room, 3D medical imaging; cloud

chamber; radioactivity lab; superconduction magnet lab; herbarium;

informal social and study spaces.

The building's design enables easy interactions between departments,

and supports face-to-face teaching methods, individual and small

group investigative laboratory work, online research, and learning either

individually or in groups.

Year 11 Students on Field Trip to Christchurch

As partofThe Foundation Studies Course,Year 11 students areencouraged

andsupportedtoconsider optionsfor further education.

Liz Carrick -Assistant Head ofSenior School/Senior Dean and Head of

Department for Foundation Studies –advised that, on Thursday 08July,

coursestudents travelled to Ara Institute Christchurch, andwereintroduced

to some of the courses available.

One group (pictured below) visited the Woolston Campus tosee different

Trades courses; while the second group viewed Hospitality at the Madras

Street Campus. These visits werethenfollowed with agroup activityfor one

of theirassessments, requiring students to work as ateam.

Students were

teamed up to

take partin

Laser Tagand

had to come up

with aplan, and

then tryand

defeatthe other

team.

(Pictured right): The

team building stage,

before working outteam

strategies,showing

(lefttoright):

James Emerson,

Sophie Livingston

(obscured),

TasmynCameron-

Neighbour,

Alastair Kilgour,

HenryGoodes,

Jonathan Kilgour.

Teachers KarenStrijbis and Liz Carrick were very impressed with this group

of young people who representedthe College extremely well.

Congratulations

Strong CyclingResults forMaddiLowry

South IslandSchools'Road Championships

Maddi rode well at these Championships, held at Ruapuna Raceway in

Christchurch on Saturdayand Sunday10-11 July.

Maddi, as aYear 12 sixteen-year-old, was competing in the Under 20 Year

Girls,representing AshburtonCollege.

Maddi's results were -

5th placed in the Individual Time Trial.

Bronze Medal in the 31km Road Race, achieving this from abunch sprint

at the end of the race.

(Pictured above, centre): Maddi during the

Road Race.

National Schools'Track Championships –

4th Placing Overall

Straight after the Road Race, Maddi flew

to Auckland to compete in the above

championships held at the Avantidrome in

Cambridge,onMondayand Tuesday12and

13 July, making for abusy and competitive

fewdays.

Racing wasoverthree events in the Omnium

style, where points are awarded for each

race in relation to finishing positions, to

then determine overall points.

Maddi's results were as follows,also in the

Under 20 Year Girls:

• 5th 5kmScratchRace

• 4th Keirin Heats

• 9th Keirin Final

• 2nd 30 lap Tempo Points Race

Being competitive in all races enabled

Maddi to secure 4th placeoverall.

(Pictured above): Maddi ready forthe startofthe Keirin.

(Pictured above): Maddi

with her BronzeMedal.

Congratulations

Roncalli Netball DevelopmentTournament

Ashburton College Year 10A, 9A and 9B teamscompeted inthis tournament,

held in Timaru on Sunday 27 June, whereafoggy, cold startheralded in the

day, but the players reportedly enjoyed the challenge of playing outside,

and the tournamentwas enjoyable and well-run.

College Year 10A Team

In the Year 10A Grade, six teams competed: being Ashburton College,

St Hilda's Collegiate, Timaru Girls' High School, Waitaki Girls' High School,

Roncalli College and Craighead Diocesan School.Each game was20minutes

long,comprised of twoten minutehalves.

As for all teams the Year 10A team had to battle against the cold, wet and,

at times, windyweatherintheirgames. Allplayers playedtotheir potential

in these elements that they are completely unused to, due tobeing so

privilegedastoplayinsideatthe EA Networks CentreinAshburton.

The team took losses with each game but Coach Sarah Lassen said they

playedhardand were able to walk away withtheir heads heldhigh, adding

that it was a wonderful opportunity

to play against teams of their own age

group, including some which had boys

playinginthe team.

Team membersare – ChloeBraas,

BriarClark, Sophie Gibson,

Izzy Harris,Selaima Loloma, Holly Ngutu,

Siasini Satui, Pairu Teokotai,

MoungaUlupano,Sasha Williams,with

ManagerMichelle Adams.

(Pictured right): Goal Attack Chloe Braas

putting up the shot, with Goal Shoot

Sophie Gibson ready for arebound, if

needed.

(Pictured above, left toright): In action against Craighead Diocesan School,

aredefences Siasini Satui (GK),SelaimaLoloma (GD) and Izzy Harris(WD).

College Year 9A Team –Second Placed

The Year 9A team competed against St Hilda's Collegiate School, Columba

College,Roncalli College,Timaru Girls'HighSchool and Craighead Diocesan.

Coach Jasmin Strawbridge said the team was quite successful, winning

three games,losing one,and drawing one.

These results placed them in the topthree teams. Jasmin said they started

off well with astrong warm-up in the morning,leading to the first three wins,

but thatfatigue didcome into playinthe afternoon forthe last twogames.

However, the girlswerecredited forgiving it 100%, as always.

Team members are – Grace Johnston, Taylor Lamont, Meg Lill,

Milla Overend,PennySmollett,Makeleta Ula, Marnell Vaaelua, Lucy Williams,

RubyWilliams,Torry Wilson-Brown, with Manager Leisel Lambert.

Special mention was made ofMarnell Vaaelua, who slipped on ice/water a

couple times,for getting straightback up with asmile on her face.

Overall, agreat day was had and the day 'definitely prepared'the girls for

what toexpect when playing outside, and in preparation for the South

Island TournamentinChristchurch.

The players appreciated the yoga session Sarah Lassen organised for the

following Mondaytoreplacetraining!

College Year 9B Team

Coach and Manager, Paula Strawbridge and Ellie Hill said the players

were disappointedtowin only the one game,but took heartfromkeeping

the other scored to within only afew goals,which is encouraging forfuture

competition matches. Congratulations were given toCraighead Diocesan

School,winners of the six-team grade.

Team members are – Isla Hart (Captain), Sabrina Cassineri,

Zoe Dalton, Sophie Davis, Hariett Hill, Kelly Paterson, Kaedia Reuben,

Lucy Rotch, Faith Tait,Elsie Vlaanderen.

Results –Animpressive14-4 win over WaitakiGirls'High School,while the

losses were against Craighead Diocesan School (7-12), Timaru Girls' High

School (8-13), St Hilda'sCollegiate School (6-10) and Roncalli College(5-11).

(Pictured left): Goal Attack

Elsie Vlaanderen reaches fora

high ball,inthe game against

Timaru Girls'HighSchool,

while Wing Attack Harriet Hill

prepares to move forwardfor

the next stage of play.
---
NEWS

14 Ashburton Courier, July 29, 2021

www.ashburtoncourier.co.nz

Pupils get ataste of garage work

DANIEL.TOBIN

@ashburtoncourier.co.nz

Budding mechanics were hard

at work at Fairton School

checking tyres, tightening bolts

and polishing headlamps.

Theschool's new entrant/

Year 2pupils camebackfrom

the holidaystoagarage

workshop in the corner of their

classroom.

Fairton School junior

teacherAndrea Smallsaiditis

all part of the structured playbased

learning.

''It's learningthrough play

howeveritisin contextand

structured, so children don't

just free play, everythingis

planned and purposeful, they

are learning incidentally

through play.''

This year Andreamadea

designated play­basedlearning

corner with adifferent theme

each term.

Term one wasahome corner

with kitchen, cafe and acot

with babies, term two a

veterinary surgery, this term it

is transport.

''The kids were pretty excited

whenthey saw the garage,the

boys werestraightinand had

the nuts and bolts in the vice,''

she said.

Play­basedlearning islinked

to the school's curriculum

objectives, pupils experience

making choices anddecisions,

setting goals and usingtheir

initiative.

It encourages discovery,

invention, imagination,

experimentation and

exploration as ameans of

learning.

''The workshop iscool

becausethere wasall rusty

stuff likeinreal cars,'' said

Year2 pupil Jackson,who was

working on aheadlight.

Fairton School pupils (from left) Jackson, 6, Chance, 5, and William,

8, hard at work in their classroom garage. PHOTO DANIEL TOBIN

Tourism funds for

scenic reserves

Ashburton District Council

hasreceived$158,328fromthe

Tourism Infrastructure Fund

for enhancementstorestareas

at Taylors Stream and Awa

AwaRata Reserve.

The proposed

enhancements include new

replacementtoilets and

landscaping and furnitureat

bothlocations.

Taylors Stream camping and

picnicking area is located

on theInlandScenic Route

north of Staveley,and is

used by picnickers and

freedom campers.

Awa Awa Rata Reserve is

anotherpopular picnicarea

14km fromMethven and

2kmfrom theMtHutt ski

field turnoff. It is widely

knownfor its springdisplay

of rhododendrons.

Arhododendron in

bloom at the popular

Awa Awa Rata

Reserve.

Move over

dots. Here

come the

yellowsquares.

In-storeand online now.

Queen. King. Super King.

Sameprice.

Sleepyhead

Limited Edition Bed

$2499

Up to

68% off

Loveevery detail.

Especially the price.

LG 48" 4K SmartOLEDTV

48OLEDA1 9070152

$2199

100 ONLY

Offers validfromWednesday 28 July 2021,end dates mayvary, whilestockslastorunless otherwisestated. Some products on displayinselectedstoresonly
---
Ashburton bridge works to resume

The recent rain and higher

river levels delayed planned

repairstoAshburton's SH1

bridge over the Ashburton

River/ Hakatere, says Waka

KotahiNZTransport Agency.

However, this workwill

continue next week, early

August, weather dependent.

One of the bridge's piers

settledslightly in the high

rainfall flood and bank to bank

river flows at the end of May/

early June. Thisrequireda

day's closure while it was

assessed andtestedwith heavy

loads.Subsequently the bridge

reopened to all traffic.

"Given the currentriver

flows, ourrepair crew cannot

get close enough to the

damagedpier. However, we

are working to divert the main

flow away from this pier this

week," says John Keenan,

Waka Kotahi Maintenance

Contract Manager, South and

Mid Canterbury.

"Monday, 2August, is the

proposed first nightfor three

nights of single laneStop/Go

traffic management with afull

nightclosure anddetour

pushedout to Sunday,15

August."

Emergency Services

vehicleswill still be able to

passoverthe bridgeonthis

night.

Planned closures

Three overnight single­lane

closures are planned on August

2, 8and 9.

There is afull bridge closure

proposed for August 15, from

9pm to 5am.

Work on Ashburton bridge is set to resume.

Little Mermaid Junior next show

Mid Canterbury Children's Theatre is back

on stage and will present Disney's The

Little Mermaid Junior in October.

Some 52 children have begun rehearsals

for the show and are being supported by a

host of helpers backstage.

The long­running theatre group took a

break from the stage last year due to covid,

but the cast and crew came together for

their first rehearsal on Sunday, following

registrations and auditions last term.

Rehearsals are being held in Variety

Theatre Ashburton rooms and will be

ramped up as the show dates get closer.

The production will be directed by

Cherie Livingstone, with Jo Castelow as

musical directors and Jessie Thomson as

choreographer.

Disney's The Little Mermaid is a1989

American animated movie based on an

1837 Danish fairytale.

Like most fairytales, the story is full of

larger than life characters, including ared

headed mermaid, her trusty friends

Flounder and Scuttle the seagull, a

Caribbean crustacean Sebastian, an evil

minded ambitious sea witch Ursula.

Shows at the Ashburton Trust Events

Centre will be performed on October 8

(7pm), October 9(5pm) and October 10

(2pm).

Tickets are available from the venue or

website ateventcentre.co.nz

Photo: Some of the The Mid Canterbury

Children's Theatre cast this week in

rehearsal.

PHOTO DANIEL TOBIN

NEWS

Ashburton Courier, July 29, 2021

15

OUT AND ABOUT

JULY30

Mighty musterers from the

mountainstakeonthe Methven

Senior Brugby teaminthe annual

Rakaia Gorge Musterers vs

Methven RugbyClub annualcharity

match at Methvenshowgrounds.

Kick off at 7pm.

JULY31

The Geraldine Floral Art Group is

hosting the SouthCanterburyArea

Floral Art Society (FASNZ) annual

FloralDesigner of theyear

competition at St AndrewsChurch

hall. Viewing is from 1.30pm to

4.30pm.

Admissionis$10 andincludes

refreshmentsand demonstrations.

AUGUST 1

The South Island HalfMarathonis

beingheld at Lake HoodAshburton.

The lakewill host the South Island

Half Marathonand 1/6 marathon

and caters for all runners from

beginners to elite runners.

AUGUST 7

The NewZealand Mountain Film

FestivalatAshburtonTrust Event

Centre.Featuringselectionoffilms

either made in NZ or madebyNew

Zealanders.Adults $25 /Youth 14

years and under $15 (feesincluded)

AUGUST 8

The Ashburton MusicalClub is

delightedtoagain host The

ChaperonesPiano Trio(Jane

Jarrett, Jillaine Watsonand

MargaretMaw), 6hands on one

pianoattheirAugust concert in the

Sinclair Centre, ParkStreet. The

second halfofthe concert will

feature the At Violinos Piano Trio -

RuthHall (violin), Alan Bower(cello)

and DeborahSloper(piano).

Afternoontea willbeserved after

the concert. Public admission by

'Open Hat'. Starts at 2pm.

AUGUST 29

Model Train and Hobby Swap Meet

with model trains,scenery itesm

diecastcars,trucksand planesplus

kitset models.Gold coin entryat

Tinwald MemorialHall, Graham

RoadinTinwald from 10amto4pm.

SEPTEMBER 25

Fifthannual BiteNite event at EA

Networks Centre. Featuring Kadodo

African Drummers, Reiand Gio

Talents. Runsfrom 5pmuntil 8pm.

Entry $5 or $10 for families. Tickets

from bitenite.nz

Likefinding money down

the backofthesofa.

Show yourdishes

who's Bosch.

yellow

square

deals

Emory 2Seater Sofa

&3SeaterSofa

9065545 /9065547

Over

40% off

Limited stock at this price

Bosch Series4

14 PlaceSetting

Dishwasher

SMS46GI01A9040211

$999

130 ONLY

— pleasecall0800764 847tocheck availability.Personalshoppersonly. Trade notsupplied. Limits andother exclusions mayapply,ask in-store fordetails.Discount is offour full retail price. Notavailable in conjunctionwith anyother offer.
---
RURAL

16 Ashburton Courier, July 29, 2021

Five Star Beef Feedlot, at Wakanui,has been notedasapossible source of Mbovis infection.

Bufferarea for feedlot

Acattle­free buffer areahas

been placed aroundFive Star

Beef feedlot at Wakanui to

prevent anyrecurrencesof

Mycoplasma bovis in

Canterbury.

It is one of the changes put in

place after recommendations

fromthe Technical Advisory

Group (TAG), who found New

Zealandwas on track to

eradicateMycoplasmabovis.

Genomic information still

traced the outbreaktoasingle

source introduced aroundlate

2015.

MbovisProgramme director

Stuart Anderson said TAG

found themostrecent

Canterbury clusterwas likely

fromunrecorded animal

movements, and also

recommended Five StarBeef

Feedlot at Wakanui, near

Ashburton was ''apossible

source of infection to be

examined closely''.

''Since the TAGfirst

considered information in

December, we have looked into

this property closely, tested

animals andtracedmovements.

''Inthe Programme's view

thereare more likelysources

from withinthe clusterof

infected farmsitself, such as

animalmovements, shared

grazing,insecure boundaries

between neighbouring

propertiesandsharing ofdairy

platforms.

Acattle­free buffer area

around the feedlot would

remain in place, along with

strict biosecurity measures

being adhered to,untilitwas

PHOTO SUPPLIED

cleared of Mbovis.The

programme would work closely

withthefeedlotowner ANZCO

on depopulation,although the

exact timing of thathad still not

beendetermined. It will be

planned well in advance, he

said.

''The feedlot is ofsignificant

economicimportance to the

local communityand careful

consideration is required to

minimise the impact of the

depopulation exercise on all

those connectedtoit,'' hesaid.

"This includesnot only the

feedlot'sstaff andcontractors,

but also the farmers nationwide

whosupply it with livestock and

feedgrains."

The group made14

recommendationstothe Mbovis

Programme­all wereaccepted.

www.ashburtoncourier.co.nz

Mbovis on track

for eradication

It's been four years since the

bacteria Mycoplasma bovis was

first found in New Zealand

cattle, and plans to become the

first country in the world to

eradicate the disease are on

track.

There are just three active

properties in Canterbury, all

located in Mid Canterbury, but

about 100 properties

nationwide under active

surveillance. More than $200

million has been paid out to

farmers in compensation to

date and more than 170,000

cattle culled.

Massey University Professor,

and vet, Scott McDougall, said

there was cautious optimism

that eradication was

achievable, but long­term

surveillance would be

required.

The eradication programme

had evolved significantly over

the four years, and had

significantly impacted on

affected farmers.

However improvements in

the process, shortening of

turnaround times for

compensation, as well as

support from numerous

organisations had helped to

reduce impacts.

"Not unexpectedly, due to the

at­times cryptic nature of

infection with this bacteria,

combined with unrecorded

cattle movements, cases have

been detected outside of

tracing networks via the

background surveillance

system,'' he said.

''The recent Canterbury

cluster, and anumber of

recent bulk milk test positive

samples, reinforce the need

for ongoing care with cattle

movements and National

Animal Identification and

Tracing (NAIT) recording,''

he said.

Bovis causes untreatable

mastitis in dairy and beef

cows, severe pneumonia in

up to 30 per cent of infected

calves, and other symptoms

and was first identified in

July 2017.

In May 2018 the

government committed to

investing $880 million over 10

years to eliminate the

disease in New Zealand,

including farmer

compensation, something

never attempted elsewhere.

Southern Alps escape

It's right here in Selwyn!

Selwyn is hometosix of the best Canterburyski fields, all within two

hoursofChristchurch.Craigieburn, Porters Alpine Resort, Cheeseman,

Mt Olympus, Temple Basin and Broken River offer amix of family-friendly

runs and challenging off-piste skiing.

Plan your Southern Alps getaway.Stay on the mountain and roll out of

bed and hit the ski fields early,catching the first of the morning snow.

Plenty of parking –noqueues –awesome fun!

Share your Southern Alps photos

and tag us selwyn.nz

Visit selwyn.nz
---
www.ashburtoncourier.co.nz

Early season lambsenjoying thesun

Early season lambs at Windermere, just south of Ashburton, are enjoying some drier weather compared to when they were born

in early June. The six week old lambs, (pictured) are on the dryland property of Dave and Rose Thomson.

Co-op valuing staff wellbeing

Ruralco has joined the

WorkWell workplacewellbeing

initiative and is well on its way

to silver afterrecently

completing bronze

accreditation.

The free initiative,developed

by Toi Te Ora Public Health,

provides practical tailored

workplacehealthand wellbeing

support and mentoring for staff,

with resources, workshops,

networkingopportunitiesand

recognition through

accreditation.

Ruralco's group manager of

peopleand capability Sarah

Green saidWorkWellformally

acknowledgedRuralco's

working policies and practices,

and gave opportunity to network

and join forces withother likemindedbusinesses

with

successes and continual growth

to supporttheir teaminthe

workplace.

''WorkWell is afree initiative

for businesses and has become

part of Ruralco's broader

wellbeing strategy,'' she said.

''Wellbeinghas always been

business as usual for Ruralco,

however it was historically

drivenfrom the top.

''Ruralco wanted a

mechanism to empower its

wellbeing committee and to

support them to make a

difference. Workwell has done

just that,'' she said. Ruralco's

bronzeaccreditation

recognised the focus the cooperative

was puttinginto

developing ahigh level of

wellbeing for its staff in its goal

to achieving an all­round

healthyworkplace, she said.

The initiative, whichcan be

adaptedtoany workplace,

provided astrong framework

and the supporttosucceed.

''It has enabledour committee

to feel empowered to make a

difference,"Sarah said.

WorkWell's goal is to work

better through wellbeing and

help createahappier, healthier

and more productive

workplacesacrossNew

Zealand. Any businesses

Ruralco's Sarah Green, left, receives the WorkWell bronze

accreditation from adviser Carly McDowell, of Community

Public Health.

PHOTO SUPPLIED

interestedinthe programme

can contact Mrs McDowell via

email at carly.mcdowell@cdhb.

health.nz or check out the

website www.workwell.

health.nz

RURAL

Ashburton Courier, July 29, 2021

IN BRIEF

17

HINDS PLOUGH

National championBob Mehrtens

continued his winning form taking

outthe Silver classtitleinthe recent

Hinds Ploughingmatchat Hinds.

Thematch,onJune 27, startedin

extremely foggy conditions but

turned out to be agood day of

ploughing.

Thevintage plough was won by

Alistair Chambers,the horseplough

by John Chynoweth andthe open

by John Stalker.

Full results: Silverfirst R

Mehrtens,second RCasey,thirdM

Ridge; Vintage:AChambers,P

Watson, CBoon; Horses: J

Chynoweth,JBooth(A), JBooth

(B); Open: JStalker, CBegg,L

Parnham.

WORKABLE PLANS

Farmers and growers have been

askedtoprovidepracticalideasto

help develop high-quality and

workable freshwaterfarm plans, in

line withgovernment freshwater

goals. Ministershavereleased

consultation documents for

freshwaterfarmplansand stock

exclusion low slopemaps andare

seekingcommentonnew,more

accurate,mapping approach for

stockexclusion to reflect what

farmers see on-the-ground.

The discussion document and

submission forms are on the

Ministry for the Environment and the

Ministry for Primary Industries

websites.

Public consultation, which

includes farmers, agriculturalsector

groups,iwi, councilsand

environmentalgroups, will run until

September 12.

SPREADER AWARDS

Georgia Voice, of Philip Wareing

Group, was runnerupinthe annual

New Zealand Groundspread

FertilisersAssociation awards.It

was wonbyTobyEvans, of Brooks

Spreading Ltd.

The awards were presented by

association president Graeme

Martin at the recent conferenceat

Aoraki,MtCook.

Other winners wereJohn

Whitehead, of JWELtd, who won

the Innovation Award andThe

President's Award.

The runnersupfor those

categories (respectively), were

Travis Churchill, of SpreadTest NZ

and MatthewBlomfield, of

Transport ServicesSouthland Ltd.

Nick Hyslop,ofHyslop

GroundspreadingLtd,was awarded

the Health and Safety Award,and

runner wasspreader operator,

Anne-Marie Davison, of Wealleans.

Farm sales down, price

per hectare increases

Therewere 392 farm salesnationwide in

thethree monthsended June 2021,

compared to 450salesfor the three months

ended May 2021.

Data fromtheRealEstateInstituteof

NewZealand (REINZ)showstherewere

1748farms sold in the yeartoJune2021,

which was 51.5percent more than were

sold in the previous year.

The median price perhectare forall

farms sold in thethree monthstoJune

2021was $27,181, compared to $23,678 for

the same period last year.

REINZ rural spokesman Brian

Peacocke said sales figures for the three

monthsendingJune2021reflectedan

easing on the previous quarter, as to be

expectedfor theearly part of winter,but

nevertheless, was astrong result and

significantly aheadofthe equivalent

periodsin2019and2020.

''Grazing and finishing properties

tussledfor topspot in the numbers game,

withdairyfarm sales comingadistant

third. Putting the statistics to one side,

on­farmconditions in manyregions

reflected acontinuation of the late

autumnwith mild weather and

surprisingly good grass­growing

conditions,'' he said.

In Canterburythere were strong prices

for finishing properties throughout the

Hurunui,Waimakariri, Selwynand

Timaru regions, but it wasquieterinthe

Ashburtonand Mackenziedistricts.

For the three months ended June 2021,

the median sales price per hectare for

dairy farmswas $34,282, for finishing

farms was$35,747 and for grazing farms

was $11,284.

• DairyNZ accredited

EffluentPondDesign

andConstruction

• Pond Constructionand

Irrigation Development

• Hedgeand Stump

Removal

• Farm Conversions

• DairyTracks–

Lime or Gravel

• PumpHire

• Wellsand Galleries

• Bulk Earthworks

• Subdivisions

• Site Works

• Tree Shear

• Transportation

2390162
---
2402979
---
"SUCCESS IN LEARNING, SUCCESS IN LIFE"

Close to Ashburtonthereisauniquely

rurallearning environmentfor Y1-6 students.

At Fairton School not only do we have aBIG HEART, we also have two classrooms, alibrary, large

well maintained grounds and agreat Staff team who provide

aquality education which is enhanced by small class sizes.

Relationships are at the core of apositive and rewarding learning journey and with our family

atmosphere the children thrive and develop into confident, curious and connected learners.

Huts

Play based Learning

Parents vKids Challenges

We understand that not all children

learn the same and encourage learning

through play for all ages.

Whiska

AgriDay

It's cool when we get to play

against our parents. The

competitions are really fun and

the barbecue is yummy.

PIES

We're not catering for

ageneration of "Cotton

wool kids." We still climb

trees and think huts

and treehouses are the

ultimate in recycling!

Whiska is my favourite

–heisalways happy to

stop for asmooch and

we love having him in

the classroom.

Sports

AgriDay is so much fun!

In the morning we go and

visit afarm to see what

they do. After lunch we

have apet parade and we

do cool activities.

Community Pool

At our School we love PIES! Pies often get

alot of undeserved bad press. Children that

exhibit one or more of our four school values of

Pride, Integrity, Excellence and Strength can

receive aPIE voucher, kindly donated by Harveys

Bakehouse. These pies provide adelicious

incentive to action our core values. Its what

inside that counts; both for Pies and for People!

We're proud to offer our

ongoing support to Fairton

School – the small school

with the big heart!!

Ilove all the sport we get to play

at school, especially against other

schools. It's cool when mum and

dad come to watch.

Feel free to check out and explore our

website and Facebook page to get an

understanding of how our school "ticks."

If you have any questions or would like

to come out and visit us,

you'd be most welcome.

Please give us acall to arrange atime.

It's awesome having apool

because we get to swim on hot

days inthe summer. Sometimes

we meet other families here at

the weekend for aswim and a

picnic.

• Talleys

• Harveys Bakehouse

• Netherby Meats

• Stan's Mobile Mower Service

• Rural Business Accountants

• Canterbury Long Run Roofing

Ashburton

• Cullimore Engineering

• Manu Otene – RENZ

• Dynamic Computer Services

• DRE Electrical Ltd

• BL Plumbing Ltd

• Hunts Auto Parts

• From The Ground Up

• Bellissimo

03 308 9205 14 Fairfield Road, Fairton www.fairton.school.nz

2399273
---
AFLAWLESS FINISH EVERYTIME

• All insurance &privatework

• All vehicle types including boats/caravans/motorhomes

• Collision repairs

• Computerised 3D measuring

• Classic car and vehicle restoration

• Hand craftedpanelsand parts

• Panel beating

• Spot Welding

• Sandblasting

• Repair certificationwork

• Autospray painting

• Panel and paintrepairs

• Loan cars /Pickupanddropoffservice

• Locally owned and operated

FREE

COFFEE WITH

YOUR FREE

QUOTE

Approved repairer for:

PANELCRAFT

COLLISION REPAIR CENTRE

104 South Street,Ashburton

03 308 5238 / 027 283 1513 www.panelcraft.co.nz

UBEND IT.....WE MEND IT

ONE CALL AND YOU'RE HOOKED

• Break down services

• Accidentrecovery

• Specialised 4x4 recovery

• Vehiclerelocation

• Insurancecompanies approved

• Securestorage yard

• Locally owned and operated

2403.543

104 South Street,Ashburton

027 431 8598 gouldstowing@gmail.com
---
15,268 reasonss

to advertise

with us!

You can trust us to deliver what we promise!

20,000

2021

15,268

circulation

10,000

0

Ashburton

Courier

2021

Did not

release

audit.

Ashburton

Guardian

Last

Audit

2019

4306

circulation

Ashburton

Guardian

The latest NZ Audit Bureau of

Circulations report is out and

it shows that the Ashburton

Courier is the highest circulating

newspaper in our region.

Get our proven circulation working for your business today.

Call usnow for afree advertising consultancy —grow more

customers, sales and profits for your business.

Here's what our customers have tosay:

Advertising is effective and hassle-free with

the Ashburton Courier. Thanks totheir large

distribution, we are able to advertise locally

throughout Mid Canterbury, as well as in

Selwyn and Timaru. In our business, it's

important to attract customers from out

of town as much as it is locally. Being able

to deal with just one person while having

the ability to promote our events out of Mid

Canterbury soeasily, isadefinite advantage.

-Casey, Ashburton Trust Event Centre

With the Ashburton Courier

being delivered from Rakaia to

Geraldine, Ireceive total coverage

in the Mid Canterbury region,

making it anobrainer that I

choose to spend my advertising

dollars with them.

Iknow itworks due to the amount

of people who mention the

advert, or bring it in with them.

-Keith, AtoBAutos Ltd

We utilised the AshburtonCourier to

advertise our newSmithsCitystore

opening recently and have to saywewere

extremely pleasedwith the response.

Theresponse from the Ashburton

Courier really put our store on the map

and customers were coming in with the

paper, asking for the specials, our sales

surpassed our expectations.

-DaveBoyte Marketing Manager, Smiths City

Phone 308 7664

Email jann.thompson@ashburtoncourier.co.nz

Office 199 Burnett street, Ashburton
---
COUNCILBRIEF

5Baring SquareWest,Ashburton |POBox 94, Ashburton, NewZealand 7740 | Telephone (03) 307 7700 | Website ashburtondc.govt.nz

Ashburton District Community HonoursAwards

Nominations are being sought

for the 2021 Community Honours

Awards, whichrecognise individuals

and/or organisations who have

carried out meritorious voluntary

communityserviceinthe Ashburton

District.

Ashburton District Mayor Neil Brown said

the awards areanopportunitytopublicly

acknowledgethe valuable and important

workofour volunteers.

"We have a lot of incredible people

from diverse backgrounds who work so

selflesslyfor the benefitofothersand it's

important toshow them how much the

community appreciates what theydo."

People can be nominated from four

categories: the Mayor's Award for Public

Service, the Ashburton Medal, Civic

Awards, andHonoraryCitizens.

Selecting the recipients from the

nominations will be Mayor Brown, Deputy

Mayor LizMcMillan, and Councillors Leen

Braam, Angus McKay,and Stuart Wilson.

"The awards' sub-committee is looking

for individuals and/ororganisations who,

through their volunteer work, make this

community more welcoming, vibrantand

inclusive," Mayor Brown said.

"I know thereare many people who work

tirelessly to support othersand thosenew

to our community to settle and feel more

at home. Many are volunteers from a

variety of cultures whooffertheir skills and

timetosupport community members.

"As our district continues to welcome

peoplefromdiversebackgrounds,itwould

be greatto see some of these volunteers

rewarded forthe work they do."

Volunteering can include being

involved in organisations like school

boards, managing or coaching sports

teams, assisting with church activities,

conservation projects, helping in the

health, elderly, or social service sector,

being aleader or helper with ayouth

organisation orgiving your time in the

area of art,cultureorheritage.

Individuals or organisations can be

nominated in any of the following four

categories:

Mayor's Award for Public Service -The

Mayor's Award for Public Service is the

highest civic honourbestowedbyCouncil.

Mayor's Awards are rare awards given to

people who have madeasignificant and

sustained contribution to the district.

The award recognises the recipients as

stewards ofthe district and as people of

special note. Nominees must have made

asignificant contribution to the district

formorethan 20 years. This civic honour

is bestowed upon anindividual for their

lifetime. There isnolimit to the number

of people recognised as worthy of the

Mayor's Award for Public Service. Worthy

nominees areidentified andassessed on a

case-by-case basis.

Ashburton Medal -The Ashburton Medal

honours the significant achievement of

individuals or teams who havebeen very

successful in their chosen field and who

have made an outstanding contribution

to the district as awhole, or outstanding

national or international achievements.

Only one Ashburton Medal may be

awardedeachyear.

Thursday,29July 2021 | ISSUE 39

CivicAwards-CivicAwardsareawardedin

recognition of substantial service, usually

of avoluntary nature or beyond normal

employment, benefiting Ashburton

Districtand its people. Thenominees will

have generally carriedout predominantly

voluntary work but payment for services

will not necessarily disqualify receivingan

award. Substantial service includes shortterm

or long-term projects or activities

that have benefited the whole of the

district, adding tothe quality of life of

residents.Inexceptional circumstances an

awardmay be granted to anon-resident of

Ashburton, if the servicehas beencarried

out in Ashburton District. Nomore than

five CivicAwardsmay be madeeachyear.

HonoraryCitizens -Honorarycitizenship

is an extraordinary honour granted to

individuals who have given great service

to Ashburton. Honorary citizenship is a

symbolic gesture. It does not grant any

legalrightstocitizenship of NewZealand.

Honorarycitizenship maybegranted to an

individual, organisation or aposition/title.

Honorary citizenship may beawarded at

any time.

Nominations can be made by

organisations, associations, societies, or

clubswith two membersasnominators.

Nominations areopenuntil Friday 20

August and volunteersofany agecan

be nominated.

HamishRiach -Chief Executive

Newbusiness awards need

your backing

The health of adistrict's economy

canoftenbeseen in thenumberof

businesses that trade within its

boundaries - from farmers to

manufacturerstocoffee shops.

Growth in the number of businesses

showsentrepreneurs arepreparedto

take risksand start newventures.

The good news here is the number of

businesses in the Ashburton District

rose to just over 5,300 in 2020. Go

back 20 years, and the number was

3,738.

Most of those businesses aresmall to

medium enterprises but collectively,

they employ nearly 20,000 people,

abouttwo-thirdsofour population.

Thosebusinessesthatbreathelifeinto

all parts of our community arebeing

toastedatthe inaugural ANZBusiness

of the Year Awards, and Council is

partnering with eventmanagersRiRa

to stagetheseawards.

We hope that the Mid Canterbury

community will geton board-thisis

yourplace, and you have plenty to be

proudabout.

Twoimportanteventshavehappened

in the past seven days inthe life of

these awards. ANZ has joined as a

platinum sponsor and the first halfdozenentries

have been received.

We are keen to spread the word

and encourage as many entries as

possible, so next Friday, 6August,

Council is hosting anetworking event

at the Ashburton TrustEventCentre.

It'll be achancetolearn moreabout

the different categoriesand register.

We know things have been tough

for some businesses over the last

18 months, but these awards are an

opportunity totalk about some of

oursuccesses, those businesses-big

andsmall -that have adapted, grown,

changed, or completely pivoted to

survive in this challenging pandemic

environment.

Resilienceisacommon theme.

One ofthe categories isthe People's

Choice Award, and people in the

community have asignificant role in

selecting the winner. Theywill be able

to votebytext,solook out forsigns on

retailers' shop windows with details

of voting codes.

As well as the People's Choice, there

is also a Future Business Leader

Awardand aSupremeWinner,chosen

from the winners ofcategories for

primary industries, export, tourism,

manufacturing, not-for-profit, and

technologyand innovation.

Entries must bereceived by 5pm

on 30 November, and winners will

be revealed at agala evening on 18

Februarynextyear.

Thebusinessnetworkingeventwillbe

at the Ashburton Trust Event Centre

on Friday, 6August, from 4pmto

6pm.

We'd love to seeyou there.

1 ashburtondc.govt.nz

Thursday,29July 2021 |ISSUE 39
---
Flood relief

RECOVERY

UPDATE

Landowners who suffered fresh

flood damage this month are being

encouraged to apply for financial

help from fundsset up especially to

help them.

Almost 250 flood-damaged properties

have been assessed following May's big

rain event but the Ashburton River broke

out again in places after high flows mid-

July.

Farmers and those who live next to the

river have been cleaning updebris and

shingle deposits and dealing with lost

fences, pastureand crop damage.

The Ministry for Primary Industries is

reminding people that applications from

its Canterbury Flood RecoveryFund close

on Friday, 30 July.

Council's Mayoral Fund remains open for

emergencyrelieffunding.

It is estimated 13,000 hectares in the

districthas been affected by the flooding

eventsand while work is being carriedout

in the river byEnvironment Canterbury

to create shingle bunds for protection,

propertiesremain vulnerable.

Flood-affected properties who have not

yetcompletedaneedsassessment, that is

part of the financial aid criteria,shouldcall

Federated Farmers on 0800 327646.

Mid Canterbury Rural Support Trust is also

available to help on 0800 787 254.

Ashburton's new welcoming mural

has been described as a positive

and happy addition to the urban

landscape.

The mural was officially finished on

Saturday (24 July) when artist Koryu

Aoshima added his signaturetothe street

art that stretches 27 metres along the

southern side of the Armadillo's building

on thecorner of Burnettand CassStreets.

The final flourish was witnessed by

Ashburton District Deputy Mayor Liz

McMillan, mural panel members, and

others who have been involved in its

evolution.

Koryu said it was significant to him that

the mural waslaunched at the same time

as the opening of the Olympicgames in his

homelandJapan.

He saidseeing theflags of the worldcome

together was aligned with his inspiration

to paint arainbow flag on the mural,

representing people around the world

comingtogetherinAshburton.

Building owner Brian Davidson praised

Koryu'stalent and saidhehad spentalot

of time watching him work; others had

watchedthe muralprogresswithinterest

tooand beeninspired.

He said street art had come along way

Newevent fundinground

abouttoopen

People organising Mid Canterbury

events that will attract visitors

from outside the district are being

encouraged to apply for up to

$10,000 from aregional event fund

set upbythe Ministry ofBusiness,

Innovation and Employmenttohelp

boost domestic tourism.

Mid Canterbury has $230,000 to spend

overfouryears.

Nine events wereallocatedabout$50,000

in the first round earlier this year and

the second round will open soon for

applications,with $36,000 to distribute.

The South Island Secondary Schools

mountain bike championships were

hosted atthe Mt Hutt bike park this year

by Bike Methven and organisers were

allocated $3,764 from the regional fund to

help run theevent.

The champs attracted several hundred

riders, and their support crews, who

stayed in the district forseveral days.

The organisers ofathree-day national

pickleball tournament held in the EA

Networks Centre earlier this month

were also among those nine first-round

events and were allocated $5,000 fortheir

Artistsigns welcoming mural,

completesbeautiful additionto the CBD

Welcoming mural panel members (from left) building owner BrianDavidson, AshburtonArt

Galleryand Heritage Centre director Shirin Khosraviani, Council'sWelcoming Communities'

Janice McKay, artist KoryuAoshima,Ashburton YouthCouncil memberJohn Magyaya and

Tiipene Philip,ofHakatereMarae.

in 30 years and was pleased tosee the

mural had been painted in collaboration

with the Ashburton District Council and

Government.

Tiipene Philip of theHakatereMarae said

the Maori name Hakaterehad been used

to describe Ashburton at least 800 years

agoand he waspleasedtoseethe artwork

respect that connection.

The mural was described by those at

the celebration ceremony asabeautiful

addition to the CBD and street art that

captured asense of belonging and invited

sportingevent.

The tournament attracted over 100

players from outside the district, from as

farawayasAuckland and Gore.Another 20

local players also took part in the national

event.

Ashburton District Mayor Neil Brown

said anyone with agreat event idea and

aplan to make ithappen should apply

for funding, especially if it would attract

visitorstothe district foranovernight stay.

"This is an opportunity forour community

to put our districtonthe map with events

that will be arealdrawcardfor visitorsand

drive spending in our local economy."

To be eligible forfunding, eventsneedto

have aduration of between twoand four

yearsand mustdemonstratehow theywill

attract out-of-regionvisitors.

Applications for the second round of the

RegionalEventFundopenon 1September

and close on 30 September.

Event organisers can apply for up to

$10,000 per event to be held between

1Februaryand 30 June 2022.

To apply for funding, visit the Council's

website(ashburtondc.govt.nz).

people to engage, with its film frame for

selfies andphotographs.

The Welcoming Communities project

sought ideas for the mural from the

community and then invited artists to

submit designs. Over600 people took part

in apublic vote and Koryu's design was

selected.

The Ministry for Business, Innovation

and Employment supplied funding for

the project and it was also supported

by Resene, Armadillo's, Gordon Harris,

Steeltech, and Spraymarks.

PUBLIC NOTICE

PROPOSED ROAD

CLOSURE

Ashburton District Council gives public

noticeofaproposal to temporarily

closeroads to ordinaryvehicle traffic

to enable theholdingofacommunity

event–AshburtonCar Club'Winslow

Willowby Road StandingQuarter Mile

Sprint'.

Roadproposed to be closed:

• WINSLOW WILLOWBY ROAD,from

the Longbeach Road intersection

to approximately500mfromthe

intersectionwith StateHighway 1

Period of Closure: From 9.00am until

5.00pm on Saturday,04September

2021.

Detourswillbeavailable on adjacent

roads and these will besignposted.

This proposed closureismade

under theLocal GovernmentAct

1974-Schedule 10 (11(e))and will be

consideredatthe Council meeting on

18August 2021.

Any person objecting to the proposal

should lodgenotice of theirobjection

andthe grounds fortheirobjectionin

writing by postoremail to the Council,

5BaringSquareWest,Ashburton by

4.00PM, Friday 06 August2021.

NEIL McCANN

Group Manager InfrastructureServices

PUDDINGHILL BRIDGE

TO CLOSE FORREPAIRS

Arundel Rakaia GorgeRoadatthe

Pudding Hill stream bridge will be

closedfor fivedaysnext week for

emergencyrepairwork on the bridge

andbridgeapproach.

Theapproach was temporarily

reinstatedafterbeingwashed out in

theMay flood because theroadwas a

detour when the SH1 Ashburton bridge

wasclosed.

Contractorsnow need to permanently

repair the approach and the side rail of

thebridge, which werealso damaged in

the flood.

The bridgeapproach will be completely

rebuilt.Thisinvolvesbuilding up a

strong foundationinlayers from the

riverbed to the bridgedeck withlarge

rocks,thenconstructing the road on top

of thatstrong foundation.

Kerbing and railingthat was damagedin

the flood will alsobereplaced.

Detourswillbeinplacefor the length of

theclosure, from 6am Monday

2August untilcompletion on Friday

6August,weather dependent.

NEIL McCANN

GroupManager Infrastructure Services

STOCK IMPOUNDED

Ashburton District Council was

dispatched to wandering piglets on

Pannetts Roadon17July 2021. Two

piglets arebeingkept in atemporary

stock pound. Theyare saddleback

piglets, whiteand blackand theother

is pink. If you arethe ownerofthis

stock,please contact poundkeeper

Rick CatchpowleatAshburton District

Councilregardingfees and release of

this stock.

Wherestock hasnotbeenreleased from

the pound beforethe time fixed forthe

sale thereof in the notice referred to in

subsection(2) of Section 46,the stock

shall be soldbypublic auction. Stock

must be claimed by Monday 1August

2021.

Rick Catchpowle

EnvironmentalMonitoringManager

ashburtondc.govt.nz Thursday,29July 2021 |ISSUE 39

2
---
NEWS

24 Ashburton Courier, July 29, 2021

www.ashburtoncourier.co.nz

Do the job, but get home safely

This profile is partofaseries from WorkSafe

New Zealand.

FMG Young Farmer of the Year winner

Jake Jarman is working with ANZ's rural

lending team in Ashburtonand sees real

value in good health and safety practices.

"In my experience, afarmthatmakes

health and safety apriority is aproductive

and profitable farm," he says.

Jake'sown health and safety focus

began with asolid grounding on his

family's dairy farm andcontinuedthrough

his studiesatLincoln and Massey

universities and practical farm

placements.

"Mum and Dad were keenfor us to be

out on farmwith themfromanearlyage,

but wewere verywellsupervised," says

Jake.

"Therewere always strictly'no go' areas

and veryclear expectations around

behaviour. As we got older and started

using farm bikes and equipment, they

made sure we understood how to use

everything safely.

"Therewerevery strict rules around the

bikes. Never use them on unevensurfaces

and be very aware of wet or muddy

ground. The approach was always, if in

doubt 'get offand walk –check overthe

next rise, check for things like creeks,

before youget back on'.

"Therewere also strong rules around

speed and wearing seat belts in all

vehicles, and if you were taking something

like atractoronthe road, use flashing

lights and bevery visible and always have

the forks pointing down.

"Therewas training about towing or

lifting heavy loads and checking guards

and behaviour around things like PTO

shafts.Itwas verymuch sequential

learning, learningaswewent butwith

very good supervision."

Jake believesall parts of afarm's

structure can play arole in goodhealth

Jake Jarman in action during the FMG Young Farmer of the Year, in Christchurch.

PHOTO SUPPLIED

andsafety. Fromyoung staffthrough to

roles like his, as consultantsoradvisers.

"Sometimes you getsoboggeddown

with theday­to­day graft that it is hard to

see wheresmall improvements can make

abig difference. If we stop seeing health

andsafety as compliance and look at it as

productive farming with thriving staff, we

might see an improvementinour pretty

miserabletrack record of injuries and

deathsonfarm."

Jake has aBachelor of Agricommerce at

Lincoln University and then aMasters in

Agricultural Science, throughMassey

University –completinghis studies in

Hamilton with the support of aDairyNZ

post­graduate scholarship. He then spent

time working part­timefor Dairy Trust

Taranaki and on the family farm before

joiningANZ in February 2021.

Those experiencescontinued his health

andsafety learning.

Jake won his FMG YoungFarmer

regional title at his first attempt, and

enjoyed acleansweep, winning the most

points in allfour contest strainers.

Tourism

contract

'tighter'

Ashburton District Council has

more effectivekey

performanceindicators (KPIs)

in place and a''tighter''

contractlined up for district

widetourism promotion.

Speaking at Methven

community Board (MCB)

meeting this week council

economic development

managerSimon Worthington

said it washoped to penanew

three year contract with

ChristchurchNZ very soon. The

contractwas worth $195,000 per

year,as per the previous year.

Mr Worthington said the

contractcontained KPI's that

would allow better

benchmarking and progression

moving forward.Itwas hoped

thatthrough adigital marketing

specialist at ChristchurchNZ

more traffic could be driven

throughthe Mid Canterbury

eventswebsite

(midcanterburynz.com) and

online platforms.

Mr Worthington said atighter

contractwith ChristchurchNZ

would give more uplift to local

tourism events.His team

plannedtoupdate and tidy up

the midcanterburynz.com

website over the next couple of

weeksand therewould be local

rather thanregional control

overit.

He urged tourismoperators,

like those in Methven, to upload

their events and use the free

site.

Need To Get Fit Fast?

Tone Up or Body Build, Get ATotal Body Workout

One Machine...

That Does itA

All

Easy Storage

EasilyFodsAway

Folds Effective Workout

Fun, low impact workouts.

ForAll Ages

Personalised Settings For

Beginners and Advanced

Includes

Pilates Kit

&DVDs

Up to

50 % Of

Off

*

*Call for Terms

&Conditions

Call Now! 0800 665 665
---
NEWS

25 Ashburton Courier, July 29, 2021

Bright plans dimmed

There's been ahitch with plans to

lightuptwo big oaks in the

Methven township thiswinter.

Theoaksoutside the BluePub

and Methven MedicalCentre were

lineduptohave colour changing

lightsput up in them, butmajor

upgradestothe electrical supply

arenow needed andthe cost of the

worklooks likely to make

installing them prohibitive.

Speakingatthe Methven

CommunityBoard(MCB) meeting

on Monday,Ashburton District

Councileconomicdevelopment

managerSimon Worthingtonsaid

the electrical supply needed abig

overhaul and the healthofthe two

trees was also ''not great''.

He saidthe cost of upgrading

electrics was $9000for oakone

and $9600 for oak two.

One of the trees was around 100

years old andthe other was

younger.

He saidthe cost of the project,

includinglight costs of $2330,was

now $21,600 and farhigher than

expected.

MCB initiallyagreed to use

discretionaryfunds to payfor half

of the costs of the lights,uptoa

maximumvalueof$3500, withthe

Ashburtoncouncil paying the rest.

MCB has deferred its decision

on the treelightsand other

options willnow be investigated.

Transport health

and safety project

Across­sectorproject between

WorkSafe NZ and industry

representatives hasbeen

established to help improve

health and safetyoutcomes across

the Transport,Postaland

Warehousing sectors.

WorkSafe data also shows that

in Transport, Postal, and

Warehousing in 2019 therewere

57 fatal crashes, 170serious

injuries and521 minorinjuries

involvingtrucks.

"These numbersare

concerningly high,and it was

clearthere wassomework

needed to be donetotry and

create solutionstoreduce

vehicle­relatedrisks," says Ruth

Cook, WorkSafe Engagement and

Implementation Lead.

MackieResearch were tasked

by WorkSafe to helpfind

solutions andhave made 13

recommendations to improve

vehicle­relatedhealth andsafety

and actively managesupply chain

pressurestominimisevehiclerelated

risks.

"A collaborative approach

between WorkSafe and the

industry wasneeded to gain

insight into who wasbest placed

in the transport and logistics

chain to improve health and

safety outcomes.

The research involved reviews

of existingresearch and

initiatives, and intensive

engagement with industry

stakeholders.Itwas carried out

over11months anddesigned to

build on existing andnew

programmes of workby industry

andNew Zealand government

agencies.

The 13 recommendations to

minimisevehicle­related harm

across supply chainsrepresent a

mixoffive broad, enabling

initiatives, with eight targeting

specificareas of focus. "We're

hopeful this research contributes

to astep change in greater shared

responsibility for safety by all the

partiesinfluencing thesupply

chain," says NickLeggett, Chief

Executive at RoadTransport

Forum New Zealand.

"The research's findings

support our view that typically

harmisnot the resultof

individual behaviour but rather

the symptom of asystemthat is

notworkingwell."

WorkSafe is leading the

establishment of the System

Group as outlined in

recommendation 1ofthe report.

This work hascommenced.

Want to get

paid for your

weeklywalk?

I'mMarythe Delivery

Supervisorfor the Courier.

I am looking for reliable

people to deliver the

Courier each Thursday.

If you are keen to find out

more about this opportunity,

please send me an email or

give me a call and we

can talk further.

Please email mary.summerfield@ashburtoncourier.co.nz

or phone Mary on 03 308 7664

forfurther details.

2366378

BOARDING SCHOOL

Discover, challenge and

extend at Nelson College

Youngmen want to explore.

Theywantlearningtobefunand

challenging;aplace wheretheycan

question andtestnew ideas, as well as

acquirethe skillsand knowledgethey

need to succeed in thenext chapter

of their educationand in lifebeyond

college.

At Nelson College, ourcurriculum

andteachingisdesignedfor boys. We

want ourstudents to be excitedabout

lifeand to discover andpursuetheir

dreams.School shouldbesomewhere

that provides thespacesand support

foryoung mentolearn andfind their

passion. Aplace to be encouragedand

extendedtosucceed in learning.

Ourfocus is on buildingstudents'

keycompetenciessuchasliteracy, selfmanagement,

andcriticalthinking;to

buildafoundationfor furtherlearning.

As aspecialistinboys' education, we

provide thestructure,opportunities

andpastoralcarethatwill see your son

succeed at school andbeyond.

Nelson CollegeBoardingiswell-known

forits welcomingfamilyenvironment.

'Wehaveboysfromall around New

Zealandand overseas,' says Director

of BoardingSamme Hippolite. 'and we

know howimportant it is forthemto

have asense of belongingwithin our

community.

We want ourboystothriveand

succeed in theseformulative years,

so we ensure that they'resupported

throughout theirstudies, as well as

encouraged in their owninterests

andendeavours. Becauseour two

hostelsare on theschool grounds,

it's easy forthe boys to getinvolved

in extracurricular school activities.

We want them to safely have fun,

make lifelongfriendshipsand create

incredible memories of their life at

Nelson College.

StartyourlegacyatNelsonCollege.

Nelson College offers theverybestinboarding. Talk to us

about life-changing opportunitiesfor your son.

•Welcoming family environment

•High-levelacademic &leadership programmeswith

tutorsupport

•35differentsportsoptions

•Year-round outdoor activitiesacrossthe Nelsonregion

•Competitive rates&no school fees

Educatingfor the futuresince 1856.

Contact us forenrolmentinformation or aBoarding Prospectus:

boarding@nelsoncollege.school.nz |03548 3099 |www.nelsoncollege.school.nz
---
BOARDING SCHOOL

The experience ofalifetime

SammyHoodisakeenadvocateofall

that boardinghas to offer.

She'sbeenboardingatStMargaret's

Collegesince she startedinYear9.Now

in Year 13, Sammyisthe school's Head of

Community Relations.

"I wasbuzzingwithexcitementtostart

boardingatSMC.Itwas awhole new

experience butitdidn'ttakemelongto

getusedtothe boardinglife. The friendly

andcompassionate staff definitely made

thetransitionfromhomeinAshburton to

boardingmucheasier.They helpedusall

adjust to thenew rules andtolivingwith

othergirls.

"Livinginthe dormsduringmyfirst

twoyears made it very easy to form

newfriendshipsand theseconnections

definitely helpedwhenIdid feel home

sick."

The boarding communityisatthe

heartofStMargaret'sand theculture is

closelyalignedwiththe school's vision

of aholisticeducation,embracing the

spiritualand emotionalwellbeingofthe

girls,aswellastheir academic growth

andtheir developmentinsport andthe

arts.

The threeboardinghousesare arranged

in year groups andstructuredtothe

specific needsofeach developmental

stage. In Julius House(Years7-10) the

environment is structured andnurturing

forthe girlstomakethe transitioninto

boarding. KilburnHouse (Years 11-12)

encouragesthe girlstobegin personally

integratingthese skills.Cranmer House

(Year13) allowsfor more freedomto

helpthemdevelop lifeskills andbecome

driven, self-managed youngwomen, all

in amonitored setting. These seniorgirls

thrive astheybecomethe leadersofthe

boardingschooland the'oldersisters'of

theyoungergirls.

SammysaysboardingatSMC has

helped hertobecomemore independent.

"Asyou progressthrough theyear

levels,yourindependence grows. The

connectionsand relationshipsyou

build in theSMC boardingcommunity,

whetheritbegirls in your year group or

thestaff, areall valuableand also helpyou

grow as aperson. The academic support

andpastoralcareprovidedbystaffis

exceptional.Ithelps thegirls to strive to

their full potential. At thesametime, staff

are always keepingacloseeye on each

girl's wellbeing.

"I'vebuilt strongfriendshipsthatwill

last alifetime, andit'salot of fun! Youget

to meet adiverse range of people from all

backgrounds andeveryoneistreated as

equals."

To learnmoreabout lifeat

St Margaret's College, visit

www.stmargarets.school.nz or call

03 379 2000 to arrangeapersonal tour

of the BoardingHouse andCollege.

Empowering Girls

to Learn, Live &Lead.

Learnmoreabout aStMargaret's

Collegeeducation foryourdaughter

–bookapersonaltourtoday.

Contact Susie Campbell,

Admissions Manager

(03) 353 2563

enrol@stmargarets.school.nz

Balanced

foundations,

bright futures.
---
BOARDING SCHOOL

Aboarding home

with heart at Selwyn

House School

Selwyn HouseSchoolisanall girls'

school forYears 1to8.Weare an

InternationalBaccalaureateschool, with

afuture-focused curriculum basedon

interculturalunderstandingand respect.

Ourfocusison developing inquiring

andempatheticminds andbuilding

strong knowledgefoundations so that

ourstudentswill face thefuturewiththe

skillsand confidence to be empowered

global citizens.

Selwyn HouseSchoolisproud to offer a

safe,nurturing,family-orientedboarding

housefor girlsinYears 4to8(ages 7to

13). OurBoardingHouse is conveniently

locatedwithin theschool grounds,

offeringahomeawayfromhomefor up

to 29 students.

Ourboarderscomefromaround

NewZealand, particularly ruralareas

of Canterbury,and internationally, and

casual boardingarrangements arealso

abletobemade.Weare proudofthe

diversityinculturalbackgrounds that our

bordersbring to this community,which

promotes tolerance, trust, friendliness,

understandingand respect.

We valuethe special characterthateach

girl brings to ourcommunity,and we

supporteachgirls'passions andinterests

with variousactivitiesofferedbothonsite

andoff-site.

The girlsare supportedbyacaring

andprofessionalteam, whotakehuge

pride in helping each girl reachher full

potential. OurBoardingHouse Managers

will provide awarmwelcome foryour

daughter andoversee herwellbeingand

developmentthroughout hertimein

theBoardingHouse.Our full-timeChef

will ensure that she receivesahealthy,

balanced diet, andmakeprovisions

forany dietaryneeds. Ateamoftutors

supportthe girlswiththeir homework

andfulfil abig sister role to ourboarders.

We believe boardingisaunique

opportunity foreachgirland we

pride ourselvesoncreatingapositive

environmentwhere thegirls areableto

developtheir academic, socialand life

skills. With theright combinationof

nurture, supportand encouragement,

ourboardersare giventhe toolsand the

environmenttothrive.

Come andsee what we have to

offer at ourOpenDay on Wednesday

20 October, 9am-12pm, or contact

enrolments@selhouse.school.nz or

phone(03) 355 7299 to arrangea

personal tour on anotherdate.

BOARDING

OPTIONS

AVAILABLE

OPEN DAY: WEDNESDAY 20OCTOBER

9AM TONOON, 122 MERIVALE LANE, CHRISTCHURCH

PHONE (03) 3557299 EMAIL office@selhouse.school.nz

122Merivale Lane,Merivale,Christchurch

WWW.SELWYNHOUSE.SCHOOL.NZ

An International

BaccalaureateSchool
---
SPORT

28 Ashburton Courier, July 29, 2021

www.ashburtoncourier.co.nz

New MSA Club snooker room awinner

Players in the Ashburton Club

andMSA Billiardsand Snooker

Section haveanew snooker

roomabove the Noble 600

restaurant.

Snooker sectionsecretary/

treasurer Al Benfell said it was

abeautiful largeroom.

''It is abig improvementas

the cue would hit awallinthe

previous room.''

The club currently has

around 20 membersand were

always keen to welcome new

players with coaching offered.

On July 17 the snooker room

hostedthe top six available

players from theAshburton

MSA, Timaru SA and Kaiapoi

Club.

At stakewas the Plains

Trophy with theAshburton

MSAteam winning thetrophy

again this year.

TheAshburton team of John

Ruakere, Noel Green,Liam

Young, Al Benfell, Tony

Benfell,and Greg Fattorini all

contributedtothe successwith

the highest breaksbeingmade

by Tony Benfell (35) andLiam

Young (33)

Anybodyinterested in taking

up snooker or billiards can

contact Al Benfellon027 319

2512.

Below: the Ashburton MSA snooker team (from left) Tony Benfell,

Liam Young, Alister Benfell, John Ruakere and Noel Green. Right:

The new snooker room.

Study tackles head collision risks for young rugby players

Astudy investigatingheadgear protection

in juniorrugbyplayers kicks offnextyear

amid growing concern abouthealthand

safety in the sport.

The two­yearstudy, beingcarried out by

University of Canterbury education,

health and human development Professor

Nick Draper, has been givenmore than

$100,000 by the Canterbury Medical

ResearchFoundation.

It will look into headcollisionsin junior

rugby andthepotential of World Rugbysanctioned

headgear to reduceimpacts.

Professor Draper,who is an experienced

junior rugbycoach and afather of three

young rugby­playing sons, saidthe study

was timely due to rising concern from

parents andthe rugby union community

about thehealth risks associated with

head collisions.

"Thereare parents whoare choosingnot

to let their children play rugbyasmore

concussioncasescometolight, and Ithink

as researchers and as auniversity, we have

aresponsibility to the community to find

ways to makethe game safer forour

children.

The new research,starting early next

year, would seek to find out if protective

headgear helped reducepeak

accelerations in collisions.

It will use 40 junior male players from

Waihora Rugby Club during two seasons;

2022and 2023.

Half the players willwear approved

headgear,and theother half without.

There wouldalso be special

mouthguards equippedwith sensors to

measure peak accelerations which occur

duringcollisions at training andin

matches, video recordings andMRI scans

done pre­season,post­season and afterany

concussive collision as partofthe

research.

Mid Canterbury Combined (MCC) First XV in

action during the recent Selwyn Schools

Combined First XV match.
---
Keep up with the

latest Council news

by followinguson

social media!

ISSUE 2021 JULY

MEETING WRAP

To start off this month's

meeting, we were joined

by Poppy and Stacey from

the YMCAwheretheyran us

through some team building

activities and explained

about their roles at the YMCA

and what importance they

hold.

Then wehad Helen and Marlon come

from the Electoral Commission to help

with our understanding of elections

and how all ages have different views

so having adifference when it comes to

voting ages is important.

Helen andMarlon also taught us about

voting differences from around New

Zealand.

We then had Steve Fabish speak on

behalf of the Plains Museum Trust

where we learned that the trustwas set

up by theCouncil to oversee thePlains

Museum, that everyone who helps

there are volunteers and that they are

short of volunteers.

To helpthis issue they will be holding an

open day to recruit new volunteers of

any skilllevel.

Finally we finished with general

business where our topics this month

werefeedback from designingthe skate

park bins, who would beinterested in

being an MC for the NZ Mountain Film

Festival on the 7th of August and we

wereassigned our articles.

Wearelookingforwardtoourupcoming

events this year and hope to see you

there.

MADDIE PAGE

Secretary

Let'sget social

Keep up with thelatestYouthCouncil

news by followinguson social media!

ENTERTAINMENT

The Ashburton Youth Council is

delightedtohosttheNZMountain

Film Festival on 7August, forthe

thirdyearrunning.

We would welcome the support from the

community by buying tickets and coming

to view the amazing selection ofKiwi-made

adventure films.

The range of films covers traversing the

Southern Alps onskis, climbing the airport

wall in Fiordland,atrip through theGarden of

Eden, acontemplationofart and adventurein

the Southernwilds, aself-filmedfreeclimbof

Aoraki/Mount Cook'sEast Ridgeand ayoung

up and coming surfershowing off hisfavourite

spots aroundNew Zealand.

This isanimportant event for us, as it is our

major fundraising occasion that allows us to

hostBiteNight CultureFest.

Bite Night Culture Fest is our biggest event

of the year, where families can experience a

variety of activities and enjoyment. Wewill

have live sport demo games, aselection of

food stallsfromdoughnutstoIndian cuisine,

live music,inflatables andadragshow.

This is a family-friendly event for the

community with entertainment to suit all

ages. This is an opportunity for the Youth

Councilto givebackto theyouthofAshburton.

facebook.com/AshYouthCouncil

Support AYCand come to the NZ

Mountain Film Festival National Tour

7

TH

SAT

AUGUST

Screening at7pm (doors open 6.30pm)

There will be two selectionsoffilms from the

2021 NZMountain Film festival. There's the;

Award Winning Selection and the Kiwi Made

Selection.

KIWI MADE SELECTION

Apopular package of amazing home grown

films. Agreat second evening,oralternative

to themostlyinternationalfilmsabove. 123

minuterun time.

Canterbury Alps Ski Traverse (10 mins)

Director Alastair McDowell, NZ. Traversing

the Southern Alps on skis... now that sounds

like an adventure; through the heart of

Canterbury's wild yet withering glaciers, peaks

and passes, from Arthur's Pass to the Godley

Valley.

Airport Wall (15 mins) Director Allie Rood,

NZ.Dan andMerryhavebothbeenlooking at

theAirportWall in Fiordland forover 20 years.

As almost aculmination oftheir careers as

climbers, this is the story ofhow these guys

achieved afirstascent of thismassive big wall

climb. Itexplains in detail what ittakes, and

what it means,for people interestedingoing

thereand tryingtoclimb it themselves.

Newton Peak (25 mins) Director Nick

Kowalski, NZ.Four Canterburyclimbersset off

ASHBURTON

Acelebration ofadventurous sports &lifestyles

ashburtondc.govt.nz/filmfestival

ADULTS:

$25

YOUTH: (14 yrs &under)

$15

(including fees)

Supporters:

Ashburton Trust

Event Centre

211 Wills Street, Ashburton

into theheart of theSouthern Alpstoexplorea

rarely climbedpeakwiththehopeofclimbing

anew route. Their journeytakes them through

the infamous 'Garden of Eden' iceplateau and

through thethick,wildvegetationofthe West

Coast bush.

In theTheatreofthe Gogs (19mins) Director

Richard Sidey, NZ. Acontemplation of art

and adventure in the southern wilds ofNew

Zealand by two Wanaka locals: landscape

photographer Christopher David Thompson

andadventurefilmmaker Richard Sidey. This

film is the unexpected result of their two

unique perspectives.

PilgrimagetoPilgrim (17 mins) Director Emil

Hansen, NZ.Aself-filmedfreeclimbofAoraki/

Mt Cook's East Ridge. Apilgrimage tothe

recently discovered route 'Pilgrim' -the last

unclimbed routeonMtCook.

Made in Aotearoa (37 mins) Directors Andy

Deere and Ryan Heron, NZ. Young up-andcoming

surfer Kehu Butler shows us his

favourite spots around NZ as we learn about

hisfamily anddeepconnections to friendsand

ocean. Thisisthe first timeanNZfilm has won

this award,EPIC!

HENRYGOODES

DeputyChairperson/

EventLiaison

PO Box94, Ashburton, NewZealand 7740 | Telephone (03) 307 7700 | Website ashburtondc.govt.nz |facebook.com/AshYouthCouncil
---
SPORT

30 Ashburton Courier, July 29, 2021

Ashlee aiming for spot at

Commonwealth Games

Basketballer Ashlee Strawbridge is shooting for aspot this

weekend to represent New Zealand at the 2022

Commonwealth Games.

PHOTO TONI WILLIAMS

Watters Cup final time

Celtic and Southern go headto­head

this weekendinthe

Lusetti Seeds Watters Cup

senior rugby final at the

showgrounds oval in

Ashburton.

Thefinalists in the district

competition came from semifinal

play when Southernbeat

Rakaia 21­19; andCeltic beat

Methven20­13 at Celtic.

Thefinal,which will be

officiated by referee Glenn

Peddie,starts at2.15pm.

Thecurtain­raiser will

featureColts teamsCeltic

playingMethven Combined,

on the oval from 12.30pm.

TherefereeisHamish

Grant.

On Friday nightinthe

Methven, mighty musterers

from the mountains will take

on the Methven Senior Brugby

team in theannual Rakaia

Gorge Musterers vs Methven

Rugby Clubcharity match.

Themusterers teaminpast

Southern and Rakaia battle it out in the Lusetti Seeds Watters

Cup senior rugby semi­final last weekend at Hinds. PHOTO GRAHAM SHAW

had been made up from

players working up the Rakaia

Gorge but in recent years

players had beengathered

from Rakaia and Ashburton

gorges,both sides of the

MidCanterbury basketballer Ashlee

Strawbridge is aimingfor amuch­sort

after spot representingNew Zealand

at theCommonwealth Games in

Birmingham, England next year.

Therising basketballstarisata

Tall Fernscamp in Auckland this

weekend to compete in 3x3

basketballevent, which will help

form therepresentative team

selection.

Theevent starts tomorrow and runs

untilSunday.

Strawbridge gotthe unexpected

call­up to play on Monday night and

took in an impromptu training

session this week withthe Ashburton

College senior boys team before

flying north.

She has also been invited to play in

an exhibition fundraiser invitational

team againstthe boys in Ashburton

on August 14.

Prior to the call­up Strawbridge, a

NewZealand age­group

representative and also former

Ashburton College baller who is on

break from college basketball in the

United States, had been doing alot of

running, cardio and gym work

between helping with sessionsof

Girls Got Game basketball

programme in Ashburton.

Rakaia River andalongthe

Foothills to Mt Somers.

It will be playedat the

Methven showgrounds

tomorrow night(July 30). Kick

off at 7pm.

DRAWS

HOCKEY

Div 1 Women Monday 2 Aug 6.00 pm

Tinwald v Wakanui (C Hastie, M Marshall)

7.30 pm Methven vHampstead (J Gray, S

Read)

Div 1 Men Tuesday 3 Aug 6.00 pm

Wakanui Black vWakanui White (C Watson, S

Muir)

7.30 pm Allenton vTinwald (S Mealings, B

Gray)

Kwik Sticks Wednesday 4Aug 3.45 pm

Allenton vTinwald Engineering Solutions (B

Greer, SGeeson)4.55 pm Wakanui Black v

Collegians/Rakaia (E Shapland, LEllis) 6.05

pm Wakanui Blue vMethven White Wakanui

Div 2Men Allenton Div 2Men

7.15 pm Methven Black vTinwald Bonnington

Painting (Hampstead Lowcliffe Div 2

Men, Tinwald Div 2Men)

SSL Girls Div 1Championship Nga Puna

Wai 5.05 pm Lincoln High School 1st XI v

Ashburton College 1st XI (Umpires supplied)

SMALL STICKS DUTY CLUB: Allenton

(Olympic Theme &BBQ) Kiwi Sticks (Yr 5)

Wednesday 4Aug 4.00 pm Methven vTinwald

The Tool Shed -MtHutt (Coaches) Friday 6

Aug 3.45 pm Allenton/Hampstead vWakanui

-Turf a(SFrench, TEllis) Tinwald Foothills

(BYE)

Kiwi Sticks (Yr 6) 4.30 pm Methven v

Tinwald Smith & Sons - Turf a (HKidd, R

Pearce) Tinwald Foothills vRakaia Blue -Turf

b(KMcDonnell, RKidd) 5.15 pm Wakanui

Blue v Allenton - Turf a [K McDonnell, R

Pearce) Wakanui Black vCollegians/Rakaia -

Turf bMethven Div 2Women, Hampstead/

Tinwald Div 2Women)

Div 2 Women 6.15 pm Methven v

Hampstead/Tinwald (Wakanui Div 1Women,

Hamsptead Div 1Women) 7.30 pm Wakanui

Black vWakanui Purple (Wakanui White Div 1

Men, Tinwald Div 1Women)

SSL Boys Div 1Marist Park @StBedes

College 7.10 pm Cashmere High School 1st XI

vAshburton College 1st XI (Umpires supplied)

SMALL STICKS DUTY CLUB: Allenton

(Olympic Theme &BBQ) Saturday 7August

Mini Sticks 10.00 am Methven Black v

Tinwald Skip-2-It -Turf a(Coaches) Methven

White v Wakanui Blue - Turf b (Coaches)

Wakanui Black vAllenton Mini Magic -Turf c

(Coaches) Allenton Golds vTinwald Mayfield

Transport (Coaches)

Snr Men (Canterbury Div 1Men Champs)

Mainpower Waimakariri Turf 4.15 pm Mid

Canterbury v Avon Robbies Riccarton

(Umpires supplied)

Div 2 Men Sunday 8 August5.00 pm

Tinwald Black vWakanui (Tinwald Div 1Men,

Methven Div 1Women) 6.30 pm Allenton v

Tinwald Orange (Wakanui Black Div 1Men,

Allenton Div 1 Men) Hampstead Lowcliffe

(BYE)

RUGBY

Friday 30th July

Methven SBs vRakaia Gorge (Annual

Gorge Game) Methven #3 7.00pm

Jeremy Robinson

Saturday 31st July 2021

Seniors –Watters Cup Final

Southern vCeltic Showgrounds Oval 2:15

pm Glenn Peddie –AR1 Kalifa Faalogo –AR2

Hamish Grant -Subs1 Simon Bennett –Subs2

Nathan Forbes –Time Mike Southby

COLTS Combined

Celtic vMethvenCombined Showgrounds

Oval 12:30 pm Hamish Grant –AR1 Geoff

Barr – AR2 Gary Clement – Subs Mike

Southby

1st XV Miles Toyota Cup

Nelson v Mid Canterbury Combined,

Nelson1, 12:00 pm

Under 18 Combined

TBHS vAlps, Timaru Boys High1, 2:00pm

Under 16 –NORUGBY

Under 14.5

MCRU Final

Plains v Methven Showgrounds 2

www.ashburtoncourier.co.nz

12:45pm Tololima Senetenari

Playoffs:

MC Alps vLeeston Tinwald 111:30am

Greg Jopson

Under 13

Collegiate v Celtic White Coll1 12pm

Moon Tuilaepa qq

Rakaia vMethven Rakaia1 12pm Liz Bell

Southern BYE

Under 11.5

Celtic Green v Southern, Ashburton

Showgrounds 3A 12:00 pm

Collegiate /Rakaia vCeltic White, Collegiate2,

12:45pm

Methven Red v Allenton, Methven1A,

12:00pm

Methven White vMethven Black, Methven1B,

12:00pm

Tinwald v Hampstead, Tinwald3, 12:30

pm

Under 10

Celtic v Southern, Ashburton Showgrounds,

12:00 pm

Hampstead vTinwald, Hamp1A, 1:00pm

Methven v Collegiate, Methven2A,

12:00pm

Rakaia vAllenton, Rakaia4, 12:00pm

Under 9

Celtic White v Southern, Ashburton

Showgrounds 2A, 11:45am

Methven vTinwald Metvhen2B, 12:00pm

Methven/Mt Somers v Allenton, Methven4,

12:00pm

Rakaia v Hampstead, Rakaia 2A,

12:15pm

Celtic Green BYE

Under 8

Celtic v Southern White, Ashburton

Showgrounds 2B, 11:45am

Collegiate v Southern B, Collegiate2,

11:45am

Methven v Methven/Mt Somers, Methven5,

12:00pm

Allenton Gold v Rakaia, Rakaia 2B,

12:15pm

Tinwald v Allenton Maroon, Tinw4,

12:45pm

Under 7

Celtic Green v Southern R, Ashburton

Showgrounds 3A, 1;00pm

Celtic White vSouthern Blue, Ashburton

Showgrounds 3B, 1:00pm

Collegiate v Southern W, Collegiate3,

12:30pm

Hampstead v Allenton, Hamp1A,

12:15pm

Tinwald BvMethven, Tinwald4, 12:00pm

Tinwald O v Rakaia , Tinwald 2A,

12:45pm

Mt Somers BYE

Under 6

Rakaia White vAllentonGold, Rakaia 3B,

12:15pm

Rakaia Black vAllenton Maroon, Rakaia

3A, 12:15pm

Celtic Green v Southern S, Ashburton

Showgrounds Oval East 12:45pm

Celtic White vSouthern Red, Ashburton

Showgrounds Oval East, 12:00pm

Collegiate v Methven Black, Colleg3,

1:15pm

Hampstead v Methven White, Hamp1,

12:15pm

Tinwald Black vSouthern White, Tinwald

2A, 12:00pm

Tinwald Orange vMtSomers, Tinwald2B,

12:45pm

Tinwald Blue v Southern B, Tinwl2B,

12:00pm

2403600
---
New location –same greatservice

Portraits

Whether it is afamilysitting,beforeand

afterlook,orcorporateimagesIwilltakethe

perfect shot foryou.

Personal branding

We always need to look our best when we arethe face of a

business –let me takeprofessional marketing shots that you

will love!

Commercial

Ican work with youand your companyto

capturethe best images forpromotional and

websiteuse.

Pictureframingcompletes abeautiful image.Ihave awiderange of

colours,texturesand finishes to make your perfect frame.

NOWLOCATED AT 106B VICTORIASTREET, ASHBURTON

—pleasecall0800 7648

2399815

By

appointment

only

106B Victoria Street (The Triangle), Ashburton

0800 881 122

www.emmilyharmer.co.nz
---
www.ashburtoncourier.co.nz

PUZZLE PAGE

Ashburton Courier, July 29, 2021

33

CRYPTIC CROSSWORD

1 2 3 4 5 6 7

8

9 10

11 12 13

14

15 16 17

18

19 20 21 22

23

24 25

26 27

30/7

Across

1. Asense of which enablesone to see

the joke (6)

4. Acrazypersoninamac is turned

out (6)

9. Ten, on joining,needthis to fit into (7)

10. Emerald is the thingtogofor (5)

11. TheoriginalArkwright? (4)

12. FiftyinanEnglish riverthat'smaking

no waves(4)

13. It is also undesirably in excess (3)

15. What some pictures show is along

story (4)

16. Cardgame fierymonsterwill havein

the garden (4)

19. Acurtsy one takes swimmingly (3)

21. In which one is camping,orhas

mindset on it (4)

22. An unaccompanied game of cards?

(4)

24. Onemore rate-changeincluding

ten(5)

25. In Pietro's sin, Iolanthe discovered a

composer (7)

26. Thespirit is one Ileave going east

(6)

27. Themiddleput outnot long ago(6)

Down

1. The milk of it makes mortals

agreeable(5,8)

2. Aresortwhere mother meets theking

on the way in (7)

3. Is notwell, andheartless, forone

thing(4)

5. Reasoning it'sarow (8)

6. It is still in amuddle as to howto

buryone (5)

7. In no too strictafashion for onetying

himself inknots(13)

8. Settle theloanconcerning one's

wages(5)

14. Girl'sreligious pamphlet maytake

one's attentionaway(8)

17. Once it's made,itcan be kept or

broken (7)

18. Be soundasleep? (5)

20. Walter took father to be awriter(5)

23. Man is involved in atennislesson

(4)

SUDOKU

Fill the grid so that every column, everyrow and 3x3

box containsthe digits 1to 9.

QUICK CROSSWORD

1 2 3 4 5 6

7

8 9

10 11

12 13 14 15

16

17 18 19 20

21 22

23 24

Across

1. Happenagain(5)

4. Whole (6)

8. Hurried and chaotic

(7)

9. Abrupt (5)

10. Matter (5)

11. Popular cocktail(7)

12. Four score (6)

14. Ancientunitof

distance(6)

17. Addto, enlarge(7)

19. Lively dance (5)

21. Greased (5)

22. Neither here nor

there(7)

23. Off target (6)

24. Liquidconsistency

(5)

Down

1. Kitchenappliance

(12)

2. Schoolgroup (5)

3. Withdraw (7)

4. Earnings(6)

5. Privateteacher (5)

6. Game played on

ice(7)

7. On purpose (12)

13. Protective eyewear

(7)

15. Authorise (7)

16. Miserly(6)

18. Churchofficial(5)

20. Getuplate(3-2)

CODECRACKER

QUICK CROSSWORD

Across: 1. Recur,4.Intact, 8. Frantic, 9. Terse, 10.Issue, 11.

Martini, 12.Eighty,14. League,17. Augment,19. Polka, 21.Oiled,

22. Nowhere,23. Astray,24. Runny.

Down: 1. Refrigerator, 2. Class, 3. Retreat,4.Income,5.Tutor, 6.

Curling, 7. Deliberately,13. Goggles, 15.Empower, 16. Stingy,18.

Elder,20. Lie-in.

CRYPTIC CROSSWORD

Across: 1. Humour 4. Maniac9.Mortise 10. Green11. Noah12.

Calm13. Too15. Epic 16. Snap 19. Dip 21. Tent 22. Solo24.

Extra25. Rossini 26.Sprite 27.Recent.

Down: 1. Humankindness2.Margate 3. Unit 5. Argument6.Inert

7. Contortionist 8. Repay14. Distract 17. Promise18. Snore20.

Pater 23. Isle.

TARGET

atom iota mart matt

mitt moat moot mort

MOTIVATOR motor motto

omit otto ratio riot root rota

taro tarot tart tiro tomato

toot tori tort trait tram trim

trio trot vomit

MEDIUM HARD

EASY

TARGET

V M A

T T O

R I O

Good 15

Very Good 22

Excellent 27+

ALL PUZZLES ©THE PUZZLE COMPANY

How many words of four letters or more can you

make? There is at least one nine-letter word.

Each letter may be used only once and all

words must contain the centre letter.

No words starting with acapital, no plurals

ending in sunless the word is also averb, e.g.

he fires the gun.

Kim

Miller

Meet Kim Miller, owner of RayWhite Mid

Canterbury for one year.Sales specialist for

12 years, aMum of two for 23 years and

living her best life for 52 years. Kim's positive

and professionalapproach is infectious, and

along with her talentedteam, Kimisalways

getting the best results for her clients.

027 236 8627 •kim.miller@raywhite.com

Ashburton•Tinwald•Methven •rwashburton.co.nz •03307 8317

Real Estate Mid CanterburyProperty Limited Licensed (REAA 2008)
---
CLUB NEWS

34 Ashburton Courier, July 29, 2021

www.ashburtoncourier.co.nz

Ashburton Electronic and

Keyboard Club­July 2021

Welcome to our visitors and

apology from Margaret and

Bernard Reddecliffe.

Our July Club night was

organised by the lovely Irene

Williams. Playinwas Iris Taylor

on the keyboard.

Irene is one talented lady. She

writes her own songs and music.

That's very clever to say the

least. Shehas been doing this

foranumber of years. Iris

entertained us with aselection

of toe tapping tunes.

First up was BevListeronthe

keyboard. Irene had to twist her

armtoplayfor us.Idon'tknow

why, as she played beautifully.

Some of thepiecesshe played

were "Amazing Grace", "I'm

look over", "The Rose", "Sailor"

and more. Thanks Bev, we are

looking forward to her next

performance.

Next up was Rose Stead on

thePiano and Irene Williams on

thePiano Accordion. Rose has

such abubbly personality and

shehas awee giggle while

playing. PoorIrene wasn't

feeling so well, butthatdidn't

stop her playing or organising

theprogramme. They played a

dance medley, "Schon 1st Die

Jugend" and "Curtains of the

Night". Thanks Ladies, it was

lovely.

Then Margaret Twamley

played the Technics GA3.Well it

takes two hands andtwo feet to

play!

Margaretplayeditsowell. We

enjoyed thefour super tunes

sheplayed forus.

Raffles were drawn and the

winners were: JeanTilson, Kate

Tilson, David Ford,Alison

Shearer. I'll tell you asecret ­

David Ford is 89 year old andhe

took number 89. Good on you

David.

Next up was Karen Smith on

thekeyboard. Sheplayed a

super medley plus "Hopscotch

Polka", "Castle on aCloud",

please others. Areally good

choice of songs. The members

were singing along and enjoying

themselves.

MichaelKingsbury played the

pianoaccordion. He doesn't

usuallyplay solo, but it was

delightful to say theleast.

Michael played ascottish and

irishmedley, "The Umbrella

Man", "Wheels" and"In the

mood" just to name afew. No

music for some of them! He is

tooclever.

Last up wasAnn Allott on the

piano. Annalso teaches the

piano. Areal pleasuretolisten

to her professional

performance. She played

"Alone butnot lonely", "Wishing

you were somehow here again"

and "Always there". Irene

then joined Ann. Irene played

the piano accordion and Ann

played the Melodica (reminded

me of my school days). They

played "Pokarekare" and "The

long white cloud".

Really good duet.Special

thanks to Irene for agreat

programme.

Supper was served by Lyn

Peterson and Janet Smith.

Thank Ladies.

Rona Haywardhas Richard

Hore C.D,'s for sale. If anyone

would liketopurchase one,

please phone

Rona on 3080189.

Our next club night is at 7.30

pm on the16th August at the

Senior Centre, 206 Cameron

Street. All arewelcome.

Ashburton Citizen's

Association 2021 Annual

General Meeting

Thursday 22nd July ­Greer

Ricketts was reappointed,

unopposed as chairperson.

Thegroup was delighted to

welcome guest speaker

Michelle Brett –Chair of

Hakatere Marae. While

significant progress and

development has occurred at

Hakatere Marae during

Michelle's chairmanship, the

group wasparticularly

interested in understanding the

role that the Marae played, as a

Welfare Centre, during the June

floods.

It was reassuring to hear how

prepared andwell organised

the Marae Komiti and

Volunteers were. The Marae

were immensely humbled by the

communitysupport and

offerings of food, time and the

very generous donations from

both HarveyNorman and Noel

Leemings. It was arevelation,

that the Ashburton Hospital had

supported with laundry and

laundering services. It is never

too early to startpreparing for

the next State of Emergency

response –contact the Marae

directly, to clarify their needs.

Interest was shown for the

Marae Te Tiriti OWaitangi ­

Treaty of Waitangi workshops ­

Friday 30th July (10.30am­

12.30pm) and Tuesday 3rd

August (5.00pm­7.00pm).

Ashburton Citizen's

Association priority for the next

twelve months is to become

better informed on Civic

matters, Civil Defence and

Transport Solutions –for the

betterment of the people of the

Ashburton District.

Ashburton Woodworkers

ChairDaveStrong welcomed

Zonta Ashburton members Carolyn Bruce (left) and Linda Petrie

(centre) get some self defence advice.

our 16 members to theJuly

meeting then reported on the

progress of the extension to our

clubrooms andadvised that

Noel Graham, from the

Christchurch club will be next

month's demonstrator.

Show and Tell

Dave Strong; walnutbowl.

Les Mattingley; modelcar

with fine detail and several

display works of pyrography.

Bill Healey; bowl, with apaua

embellished epoxy rim.

RogerScammell; another

example of marvellous

segmented jewelleryboxes.

ClarrieBrake then gave us an

illustrated talk on the finer

points ofphotographing our

wood turnings then

demonstrated howadjusting the

image using the computer

coming up with adesired finish.

RogerScammell showed us

the results of restoring old

family photos, for prosperity,

and how to store on USB sticks,

thus no photos, albums,slides.

Thanks to Clarrieand Roger.

Ashburton Combined

Friendship Club

Our first speaker was Sue

Abel recently whotookoverthe

role of Ashburton

NeighbourhoodSupport coordinator.

Neighbourhood

Support aims to foster

connections and community

between neighbours andso

reduce isolation. It helps

neighbours to work together to

keep themselves andtheir

properties safe. It is about

neighbours looking outfor each

other.

Sue is also working on the

"Ashburton Gets Ready"

programme. Thisisthe Civil

Defence system that enables the

Council to quickly communicate

to residents in times of

emergency by way of texts. It

came into its own duringthe

recent flood events when

subscribers received timely

updates as conditions changed.

More information can be found

by Googling "Ashburton Gets

Ready".

Our main speaker wasFather

DanDoyle, aretired Catholic

Priest who has made many trips

to the AmericanMcMurdo

Station andthe other American

bases in Antarctica.

Theday he spoketous, theNZ

Airforce had just returned from

asuccessful winterrescueflight

to McMurdo so he explained

how amission like this would

operate. He explained that ifa

plane needed to land on the ice

runway in winter the graders to

clear the snow would be

operated remotely from the

USA; drivers were not needed.

He told us aseries interesting

and amusing anecdotes from his

many trips south. The big

military planes they flew south

in were not always wellset up

for passengers and couldbe

very cold. Sometimes if vehicles

were being transported it was

possible to get amore

comfortable seatinacab.

Thecoldest temperature he

encountered was ­100 degrees,

the South Pole moves afew

metres from year to year and a

new marker is put in every year.

Back in the day there was an

arrangementwith the

Americans for Catholic

Chaplaincy services to be

supported from Christchurch

and anumber of priests were

rostered on for amonth at atime

over thesummer season.

Meetings second Tuesday of

month, Senior Centre, 206

Cameron Street, 9.30 am.

Phone Joe 0274 339 018 or

email to ashcomboclub@gmail.

com

Canterbury Central

Friendship Club

President Ken welcomed 69

membersand 1visitortothe

meeting andreceived13

apologies.

He alsoinducted Mervyn

Cochrane andBrian Collinsinto

the club.

Our mini speakerwas John

Waugh, aretiredhydrologist,

who gave his viewsonthe recent

flooding in the district and

showed graphs on the amount of

rainfall around the foothills. He

said when the water escaped

upstream it released pressure

on the flood banks lower down

and probably saved the town

from flooding.

The only part of Ashburton

that would be safe would be

upper part of Allenton and

down to thehospital.Inthe 48

hrs of the flood, theriver moved

as much sediment as in thepast

10 years. This was the largest

flood since 1951 andall the

places where damage that was

donethen, was doneinthe same

places this time.

Our main speaker was Craig

Wiggins who has had many

vocations.Hegrew up in

Raetihi and through the love of

riding rodeo made some quick

money.

This lead to also

commentating the sport round

NewZealand and in Canada.

After involvement with the

administrationhetookgroups

of NZ high school rodeo teams

to Australia to compete.

Involvement with jet sprinting

led to commentating forthem

which included threeworld

series competitions.

After marrying alocal girl and

settling down in Mid­

Canterbury he became involved

with Young Farmer of the Year,

auctioneering,and writingfor

the Farmers Weekly.

This lead to testingfarmers

physical andmental health from

the back of ahorse float at sale

yards and ewefairs.

Surprisingly as many as

26­28% tested in poor health.

He alsostarted up Zoom

meetings with farmers to

discuss their problems.

As an escapefrom work

pressure he rides as clerk of the

courseatharness racemeetings

between Timaru and Rangiora.

Recently he was presented

with the "Ravensdown

Agricultural Communicator of

the Year'' award.

Craig was thanked for histalk

by Roger Paterson.

OPEN

DAY

THURSDAY

5August

WELCOMED

Enrolling Nowfor 2022 •

Out-of-Zone places available •

Co-ed years 7to13•

Come and see foryourself at our

Open Dayon5August from

10.30am-12.30pm.

93 McKenzie St,Geraldine. 03693 0017 office@geraldinehs.school.nz geraldinehs.school.nz
---
NEWS

35 Ashburton Courier, July 29, 2021

Nitrate testing

results aconcern

Greenpeace is calling on

EnvironmentCanterbury

(ECan)to be upfrontabout

health risks of nitrate

contamination, following the

release of new data that shows

nitrate contamination in

drinking water is rising.

ECan has released the

results of its annual

groundwater quality survey for

2020.Some322 wells were

tested, with the highest nitrate

reading of 22mg/L being almost

double the current health limit

for drinking water (11.3mg/L).

Twenty wells tested by ECan

wereabove the11.3mg/L limit,

with 13 of thoseinthe

Ashburtonarea.

Greenpeace conducted free

watertesting in Ashburtonon

the July 10, testing 101

samples, with 10 being over the

current healthlimit and

around 90 percent overthe

nitrate concentration linked to

bowel cancer.

Greenpeace says ECan's

data is consistent with

Greenpeace's own results from

free nitrate water testing days

across Canterbury,with both

datasets showing concerningly

high and worsening levels of

nitrate.

Greenpeace senior

campaigner SteveAbel says

ECan's comments on the data

do nottell thewhole story

aboutthe risks of nitrate

contamination.

''The current message from

ECanisthat if your water is

anywhere under that

extremely highcontamination

rate of 11.3mg per litre of

nitrate, then it's safe to drink.

That denies the emerging

science showing adverse

health effects wellbelow that

limit,'' Mr Abelsaid.

Amajor2018 Danish study

has shown asignificantly

increased riskof bowel cancer

at just0.87mg/L of nitrate

contamination in drinking

water.

At 5mg/L, nitrate

contamination in drinking

waterhas been shown to

increase risk of premature

birthsbyhalf, prompting the

NZ College of Midwivestocall

on the Government to lower

the current 11.3mg/L limit.

''This emerging research is

tellingus that there's ahealth

risk with nitrate

contamination in water at

much lower levels than

previously thought. With

nitrate contamination steadily

worsening acrossCanterbury,

ECan needs to be upfront with

communities about the chronic

healthrisks of nitrate

contamination in drinking

water,'' he said.

Greenpeacehas now tested

over 450 water samples across

the Canterbury region and is

calling on the Governmentto

take the nitrate health risk

seriously by lowering the limit

for nitrate permitted in

drinkingwater, from 11.3mg/L

to 0.87mg/L.

Anna Jemmett and daughter Freya painted this red mini artwork on aChoruscabinet early this year.

Cabinet artists needed

Local budding artists arebeing

asked to send in designs that

will bring somecolour to their

neighbourhoodsthrough the

Chorus cabinet art programme.

Chorus is working with the

AshburtonDistrict Council to

deliver the programme, which

will see new fivecabinets in

town painted.

One of them will be a

Rainbow cabinet,which will

celebrate andsupport diversity

andinclusioninthe

community.

The idea behindthe artworks

is that they willtell astory

about the community and help

foster pride.

Having art on the cabinets is

alsoseen as away to discourage

graffiti.

Designs on other local

cabinets painted in recent

monthsinclude afavourite red

mini, asacred tree, native

birds, asnapshot of what the

district has to offer andand

lawn bowls.

Design ideas can submitted

online through the Chorus

website and close on

September 1.

Chosen artists need to be able

to complete their workbythe

end of Marchnext year.

77 Grove Street, Tinwald 2 1 2

Do you want afabulous home where all the hard work has already been done and you can just

move in? This home has been renovated to a very high standard. New carpet, vinyl, drapes,

blinds, wall colours, downlights, ultra low emission Masport Logbunrner (2020), DVS system,

new wiring (2021), double glazed and tinted aluminium windows throughout the entire home.

Two generous double sized bedrooms run off the central hallway and an office nook has

been cleverly made at the end of the hallway. This home has a double garage with auto

door and plenty of space for the children or pets to run around on this large 840m2 section.

Deadline sale closing Tuesday17th August 2021 at 3:00pm(Unless SoldPrior)

Ray White Mid Canterbury 03 307 8317 96 Tancred Street, Ashburton 7700 rwashburton.co.nz

Real Estate Mid Canterbury Property Limited Licensed (REAA 2008)

Contactmefor

moreinformation

or aprivate

viewingonthis

property.

Cheryl Fowler

0274 612614

cheryl.fowler@raywhite.com
---
SATURDAY 31ST JULY

14 Walshs Road, Ashburton 10:00am -10:30am 3 1 0 AHB23155

Ashbury Grove,Tinwald 10:00am -12:00pm Sections AHB23099

39 McMurdo Street, Tinwald 11:00am -11:30am 3 1 2 AHB23152

77 Grove Street,Tinwald 11:15am -11:45am 2 1 2 AHB23163

25 King Street,Ashburton 11:45am -12:15pm 3 1 1 AHB23149

26 Charles Street,Ashburton 12:15pm -12:45pm 4 2 2 AHB23166

SUNDAY 1STAUGUST

24 Bathurst Street,Ashburton 11:15am -11:45am 3 1 2 AHB21653

25 King Street,Ashburton 12:30pm -1:00pm 3 1 1 AHB23149

24 Bathurst Street, Ashburton

If it's aSuperDesirable Allenton location you're afterwith

immaculate presentation both inside and out then here itis!

An extremely well maintained 1970s DOUBLE GLAZED

Summerhill Stone home with three double bedrooms, all

with built inwardrobes, full size family bathroom including

modern showerwith showerdome and separate bath,

heated towel rail, heaterand new vinyl flooring. The layout

is superb and will suit the modern buyerwith its open plan

flowthrough the kitchen, dining and living areas.

SetDate of Sale

closing 10 August 2021, at

3:00pm (unless sold prior)

View

Sunday11:15 -11:45am

3 1 2

Armandvan derEik

021 597 527

rwashburton.co.nz/AHB21653

Real Estate Mid Canterbury Property Limited Licensed (REAA 2008)

Agent on Site

AshburyGrove, Tinwald

Stage 1-SELLING FAST

Ashbury Grove consists oflots ranging from approximately

600m2 to1130m2 and priced to sell from $170,000, with

titles due 2022.

Be quick to secure your place inthis new community.

ForSale

Sections from $170,000

View

Saturday10:00 -12:00pm

[Agent on Site]

BruceMcPherson

027 438 4250

Kim Miller

027 236 8627

rwashburton.co.nz/AHB23099

Real Estate Mid Canterbury Property Limited Licensed (REAA 2008)

77 Grove Street, Tinwald

*Updated kitchen with Fisher &Paykel appliances

*Updated bathroomwith wheelchair access shower

*Immaculately presented home both inside and out

*Beautifully landscaped with feature kwila decking front &

back on aLarge 840m2 section.

rwashburton.co.nz/AHB23163

Real Estate Mid Canterbury Property Limited Licensed (REAA 2008)

SetDate of Sale

closing 17 August 2021, at

3:00pm (unless sold prior)

View

Saturday 11:15 -11:45am

2 1 2

Cheryl Fowler

0274 612 614

25 King Street, Tinwald

*Third bedroom has previously been used as additional

dining/living space

*Spacious kitchen,separate lounge area with log fire &heat

pump

*Single garage (as is where is)

rwashburton.co.nz/AHB23149

Real Estate Mid Canterbury Property Limited Licensed (REAA 2008)

SetDate of Sale

closing 2August 2021, at

2:00pm (unless sold prior)

View

Saturday11:45am -12:15pm

Sunday12:30 -1:00pm

3 1 1

Kim Miller

027 236 8627

Kim Miller

Sales Consultant

027 236 8627

Denise Russell

Sales Consultant

027 432 9717

ChrissyMilne

Sales Consultant

027 290 6606

Cheryl Fowler

Sales Consultant

027 461 2614

Margaret Feiss

Sales Consultant

021 751 009

ShirleyFitzgerald

Sales Consultant

027 220 1528

Denise McPherson

Sales Consultant

027 242 7677

Janene McDowell

Property Manager

027 287 3388

Armandvan der Eik

Sales Consultant

021 597 527

Lynne Bridge

Sales Consultant

027 410 6216

Mike Grant ncre

Sales Consultant

021 272 0202

Mark Totty

Sales Consultant

021 664 113

BruceMcPherson

Sales Consultant

027 438 4250

JustinWaddell

Sales Consultant

027 437 1111

Carey VonLubke

Property Manager

027 697 6948

96 TancredStreet, Ashburton 03 307 8317 Main Road,Tinwald 03 307 8317

rwashburton.co.nz

36 McMillan Street,Methven 03 303 3032
---
RayWhite Property Managers

Takingcare

of your property

investment.

RayWhite Property Managers CareyVon Lubkeand Janene McDowell are here to

takethe worry out of being alandlord. They're onto it. And theyhavetobe.

This great team of two makeittheir business to be on top of everything alandlord

needs to know.From whoa to go, they can manage thenutsand bolts of renting your

property.From advertising, conducting viewings, vetting tenants and background

checkstomanaging maintenance and property inspections. "We're theexperts,

and we'vegot allthe tools. Our clients tell us theycan sleep at night knowing we're

handling it."

Let ustake care ofitfor you. Talk to the team today on 03 307 8317.

CareyVon Lubke

PROPERTY MANAGER

027 6976948

rentals.ashburton@raywhite.com

Janene McDowell

PROPERTY MANAGER

027 2873388

rentals2.ashburton@raywhite.com

Real Estate Mid Canterbury Property Management Limited Licensed (REAA 2008)
---
CnrKermode &

William Streets,Ashburton

Check out this exciting

newdevelopment!

OPEN HOME

This Saturday, July 31

10:30am to11:30am

Amixtureof2&3bedroom houses to be constructed

by one of the premier building companies in Mid

Canterbury. Construction is well under wayfor these

stunning newtownhouses.

Easy walking distance to the newshopping complex on

South Street that is currently beingbuilt,orifyou want to

stroll into the Town Centre, that is also an easy commute

by foot.

These houses will have ahigh qualityoffinishes.

Looking forthat turnkey property,then look no further

than these.

2bedroom units arepriced from $492,000 and 3

bedroom unit from $537,000.

Units currently under construction sizes:

•Unit 4-117sm •Unit 5-126sm •Unit 6-136m

Don'tmiss this opportunitytosecureatop qualityhome

in agreat location.

Sample Floor Plans

SOLD AT AUCTION

13 LakeViewTerrace, Ashburton

Premium Lifestyle Section • Residential lifestyle section

4876m²land area

POA

Premium Lifestyle Section with elevated Mountain and Lakeviews on aquiet cul-de-sac.

This is the only lifestyle block leftonthe marketatLakeHood.

Build your dream home with wonderful views looking out to the SouthernAlps.

Close to Tinwald amenities with LakeHood on your door step.

Easy Care Family Favourite

17 ANormanbyStreet,Rakaia

*4beds *2 baths

*212m2 floor *1045m2land

This well configured relocated showhomehas neverbeen lived in so is likeabrand newhomeminus the price

tag! Boasting 4well sized bedrooms including amaster bedroom with walk-in wardrobe and ensuite, this home

ticks all the boxesfor youand your family.

Thefully fenced,easy careback section is plentybig enough forthe family pet and the kids to have their

trampoline,completewith aprivateoutdoor area -perfect forentertaining guests.

Jarrod Ross

Your Auction Specialist

Ph 027 259 4644

jarrod.ross@remax.co.nz

Remax.co.nz

Town to CountryReal Estate

35b Archibald Street,Ashburton

027 259 4644

LicensedREAA 2008

Each officeindependently ownedand operated

2403438
---
www.ashburtoncourier.co.nz

RESULTS

CYCLING

Mid-Canterbury Social Wheelers.

26 riders,July 24 -1st. Mark Summerfield

25m 03s. 2nd. Noel Henderson 25m

11s. 3rd. Pam Harcourt 28m 39s. 4th.

Brent Kircher 28m 39s. 5th. Janette

Hooper 31m 49s. 6th. Liz Wylie 31m 50s.

7th. Andy Skinner 31m50s. 8th. Paul

Hands 31m 55s. 9th. Charlotte Cox 26m

14s. 10th Don Sutton 26m 14s. 11th.Nick

Grijns 25m 55s. 12th. Ged Wall 26m 32s.

13th.Jelle Hendricksen 29m 37s. 14th.

Larry Neal 23m 11s F/T. 15th. Rob Hooper

23m 12s 2f/t. 16th. Tony Ward 23m 12s

3f/t. 17th. Michael Gallagher 23m 13s 4f/t.

18th. Mike Hansen 23m 13s 5f/t. 19th.

Doug Coley 26m 02s. 20th. Ross Templeton

26m 09s. 21st. Neil Wylie 27m 31s.

22nd. Debbie Skinner 31m 21s. 23rd.

Flynn Beeman 27m 13s. 24th. John Uden

28m 26s. 25th. Kenny Johnston 33m 06s.

26th. Ron Kennedy 33m 34s.

Tinwald Cycling U17 Development.

Sunday July 25 -Open Handicap 4km.

1st. Katie Rollinson CT. 9.46. HT. Go. RT.

9m 46s. 2nd. Charlotte Neal CT.11.15.

HT.2m. RT. 9m 15s. 3rd. Logan McKnight

CT.11.20. HT.2m. RT.9m 20s. 4th. Ryan

Gallagher CT,11.38. HT.3.45m. RT. 7m

53s F/T. 5th. Eliza McKenzie CT.11.39.

Ht. 3.45m. RT. 7m 54s 2f/t. 6th. Cody

Rollinson CT.11.43. HT.3m. RT. 8m 43s.

Graded Results, A. 1st. Ryan Gallagher,

2nd. Eliza McKenzie . B. 1st. Cody

Rollinson. C. 1st. Charlotte Neal , 2nd.

Logan McKnight, D. Katie Rollinson. Open

Time Trial 1.6km. 1st, Ryan Gallagher 3m

08s. 2nd. Eliza McKenzie 3m 11s. 3rd.

Cody Rollinson 3m 30s. 4th. Charlotte

Neal 3m 34s, 5th. Logan McKnight 3m

51s. 6th. Katie Rollinson 4m 02s. Graded

Results. A. 1st. Ryan Gallagher. 2nd. Eliza

Mckenzie .B.1st. Cody Rollinson, C. 1st.

Charlotte Neal 2nd. Logan McKnight. D.

1st. Katie Rollinson. Mystery Teams Open

1.6km. 1st. Eliza McKenzie, Charlotte

Neal, Logan McKnight, 10m 36s. 2nd.

Ryan Gallagher ,Cody Rollinson, Katie

Rollinson 10m 40s. Graded Results. A.

1st. Eliza McKenzie 2nd, Ryan Gallagher.

B. 1st. Cody Rollinson, C.1st. Logan

McKnight, 1st.+ Charlotte Neal, D. 1st.

Katie Rollinson, Next Week 1st Aug 21,

Races will be on Fords Road.

SPORT

Ashburton Courier, July 29, 2021

Mid Canterburytoplayin

blockbuster day of rugby

MidCanterburywill play South

Canterbury in atelevised rugby

triple header in Christchurch

on September 4.

It is tipped to be ablockbuster

dayofrugby withthe

Canterbury NPC clash against

rivals Tasman sandwiched

between Heartland rugby

matches: Mid Canterbury

versus South Canterbury, and

Buller upagainst WestCoast.

Thegames will allbeheldat

Orangetheory Stadium.

CRFU chief executiveTony

Smailsaid the day was an

opportunity to offerthe rugby

lovingpublic something

different and celebrate all

rugby in the upper South Island.

"When we saw that their

rivalry round coincided with us

taking on one of our closest

neighbours Tasman, then itall

just made sense.

''We've been givenagood

indication that ourbroadcast

partnerSky is on board and

they'llbeshowing both

Heartland games live too,which

will add to theoccasion."

Mid CanterburyRugbychief

executive Ian Patterson said it

wasanexciting opportunity for

thewhole regiontocome

togetherand celebrate

39

something thatmeans alot to us

all.

''Itshould be awhole lot of

fun,'' he said.

South Canterburychief

executive Craig Calder said it

was agreat opportunity for our

fanstoget to watchall of those

teams in one location."

South Canterbury versus Mid

Canterbury will kickoff the

tripleheader at 2:05pm on

September 4beforeCanterbury

take on Tasman at 4:35pm.

Buller willhostWestCoast in

the later game kicking off at

7:05pm. Tickets go on sale early

August from Ticketek.

trusted

2021 GUIDE

trades &services

To book your spaceinthis guide,phone KarenGane 308 7664 or email karen.gane@ashburtoncourier.co.nz

PROFESSIONAL

PORTRAIT AND

COMMERCIAL

PHOTOGRAPHER

PICTURE FRAMING

ashburtoncranes2015@gmail.com

GALLERY &STUDIO

THE TRIANGLE, VICTORIA STREET

0800 881122

emmily@emmilyharmer.co.nz

www.emmilyharmer.co.nz

2372098

2379102

Shane James Contracting

•FIREWOOD

TREES WANTED

•Hedgerow removal

•Rootraking

•Conversions

•Money backonmillablelogs

PHONE SHANE 027611 3334

TA LBOT SEC URIT Y GROUP

E - info@t al botsecuri ty .co.nz

-Alarm Response and Patrols

-Alarm

Monitoring

-Alarm and CCTV Installa tion

-Alarm and CCTV Serv ic ing

BRANZ Appraised

Low Maintenance

Eco-friendly

Family-safe

25 Year Warranty

Contact Reece Trotter

P: 027 273 7313 E: canterbury.south@biform.co.nz

62c Dobson Str eet, As hbu rton

canterburysouth.biform.co.nz

-Data and Netw orking

-Fire

Ex tin gu is hers

-Key

Cu ttin g

-Loc ksmithing

Ashburton' s only 100% loc ally ow ned and operated security company

2396649

P - (03 ) 307 2409 Anytim e 24/7

2375720

JukeBox Hire

Weddings,21st,

PrivateFunctions

Sound Systems &Lighting Hire

Phone DJ Dave

03 308 5106

027 251 0015

www.soundmanagement.co.nz

FOR ALL YOUR ADVERTISING

REQUIREMENTS, GIVE

Jann or Karen acallon

308 7664

2396045

Our authorised techniciansns

service and repair all

makes and models of

sewing machines and

overlockers

OPEN 7DAYS9.30am -4.30pm

Main South Road, Tinwald Ashburton | Phone 307 6277

www.anniesquilts.co.nz

Your Digital

TV Experts

• Aerial/Dish installations and repairs

• Prewirefor TV/Audio and controlsystems

• TV wall mounting • Cell phone aerials

• Home theatreinstallation

• Authorised SkyTVtechnician

Servicing

Ashburton Geraldine

Methven Rakaia

andeverywhereinbetween

ASHBURTON

TV &AUDIO

PH 308 7332 /027 277 1062

ashburtontvandaudioltd.co.nz

2371987

2372825
---
trusted

2021 GUIDE

trades &services

To book your spaceinthis guide,phone KarenGane 308 7664 or email karen.gane@ashburtoncourier.co.nz

2401537

FREE LEGAL HELP

Help in person by appointment

Thursday9.15am -1.45pm

Ph 0508 CANLAW

(0508 226 529) to makean

appointment.

Help by phone Infoline

03 371 3819 or 0508 226 529

215 Tancred Street,Ashburton

2379134

GODSELL

BRICKLAYING

•Houses

•Feature Walls

•Fences

•Blocklaying

Chris Godsell

027 274 2533

AH 308 7117

godsell@xtra.co.nz

2379139

Lubes WOF

Allmechanical repairs

TRIANGLE

GARAGE LTD

Victoria Street,

TheTriangle,Ashburton

Phone: (03) 308 6772

2379285

RESIDENTIAL &

COMMERCIAL SPECIALISTS

Phone Quentin andPhil on

027 282 8908 or 027 2828909

Interior and Exterior Painting

Interior Plastering

Wallpapering

2379104

Letthe team at

Insideout takecareof

all your painting and

property maintenance

• Painting

• Carpentry

• Renovations

• Projectwisdom

• Maintenance&repairs

2010 LTD

Call Shanetodayon03307 7071

2372182

WILSONS

GLASS

Wilsons Windscreens 2018 Ltd

We areyour one stop glass shop for

AUTO and HOUSE

REPAIR or REPLACE

"Your placeorours"

2373623

152 Wills Street,

Ashburton

Ph.308 8485

ALL THINGS CANVAS &PVC

*Awnings/Shade sails/Dropblinds*Auto seat covers &repairs

*Hay&bin covers *PVC covers &repairs

*Ute tonneau covers *Furnitureupholsteryrepairs

*Commercial

PHONE TRAVISHOWDEN 027 922 4544

2379146

GREAT

RATES

PC Repairs, Set-up and Tutoring

Icome to youday or evening!

2379279

NewPCs

and Laptops

forsale

•PCRepairs/Sales •Networks/Servers

•Firewalls/Security •Spyware Clean-up •Training

20 YearsExperience Microso Cerfied Professional

NETWORKS FIREWALLS AND PCS LTD

Robin Johnstone 67 Aitken Street, Ashburton

P: 03 308 1440 C: 027 768 4058

robinbj@xtra.co.nz

2379245

Phone 308 1366 Mobile 027 433 3601

E: patsumm@xtra.co.nz

•All domestic and commercial wiring

•New build andalterations

•Freequotes

NEAT GARDENS

Does your garden need monthly

maintenancetokeep it tidy and

looking good through the seasons?

Or perhaps just need aone off tidy

or pruning completed?

We can help!

Allgarden wasteremoved

ContactCAROLYN Phone: 027 2675403 or 3082333

Email: cccolt@xtra.co.nz

FOR ALL YOUR ADVERTISING

REQUIREMENTS, GIVE

Jann or Karen acallon

308 7664

2379247

2379231

We offer the following:

• Gutter and DownpipeCleaning • Weed Spraying

• Moss,Mould andLichen Spraying • Spider Proofing

• Gorse and BroomSpraying • FenceLineSpraying

• Chimney/Flue Cleaning $75 • Heat Pump Service$90

MENTION THIS AD WHEN BOOKING FOR A10% DISCOUNT

ON GUTTER AND DOWNPIPE CLEANING

Call Allan on 027 209 5026 an let us know howwecan help

TOTAL LAWN CARE SERVICES

Lawnmowing and

Lawn Maintenance

Hedges

Garden tidy

Dethatching

David &Debbie Sewell

Phone 027 4171732 l evenings 3078355

•CARS •4WDs •CAMPERVANS

Automotive

Diagnostics &

Servicing

03 308 6646

•Automotiveservicing,repairs

and diagnostics

•Latest scan tools and

servicedata

•All makes and models including

European and Japanese

•Vehicle transportand recovery

TheBig Blue Shed

CnrJohn &McLean Street,Ashburton

2378913

2399842

2382531
---
trusted

2021 GUIDE

trades &services

To book your spaceinthis guide,phone KarenGane 308 7664 or email karen.gane@ashburtoncourier.co.nz

"we clean to a

standard,

not aprice"

UNDER NEWAshburton

OWNERSHIP

Same exceptional CleaningServices

level of service

&quality cleaning

• regular full house cleans

• one off spring cleans

• farm houses

• builders cleans

•

100% LOCAL

03 307 2656

www.ashburtoncleaning.co.nz

2379098

•Manufacturer and supplier of

Rylock aluminium windows and doors

•Retrodouble glazing installers foradrier,

warmer,quieter home

Forafreequote, contactDavid &Lorayne Oakley

PHONE 308 8493. EMAIL: owdrylock@gmail.com

8A John Street,Ashburton

2396040

Sales l Service l Repairs

E-BIKES l MOTORCYCLES

P 03 308 7982 - E cliff@mckayanddonaldson.co.nz

W www.mckayanddonaldson.co.nz -734 East Street,Ashburton

2376525

2396257

•Restoration

•Modifications

•Rust Removal

•Custom Fabrications

•WOF Reports

• MagWheel Repairs &Painting

16 Cass Street,Ashburton. 03 308 0387

johnsons.panelpaint@gmail.com

www.johnsonpanelpaint.co.nz

Ashb

hbut

rton,R Rolles

leston

ton&Ch

Chrit

ist chu rch

•Paving •Irrigation •Lawns

•Planting •Fences •Pergolas

•Water features •Outdoor fires

•Raised planters •Decks

•Stonework•Brick &blockwork

•Artificialgrass and more...

Email –Aaron@theoutdoorspace.co.nz

Phone0800 688 365 /021 542 402

www.theoutdoorspace.co.nz

2344420

QualityRepairs &Manufacturing

ENGINEERING

Ashburton

General engineering and

mobile workshop

ALL YOUR PLUMBING NEEDS

•Bathroom/

kitchen renovations

•New homes

•24/7emergencycall out

Ewan Cairns

0274354 031

Integritybuilds agood reputation

Phone James 022 463 4606 l 03 308 8865

office@premierplumbing.co.nz

2396248

Premier

Plumbing

Ltd

2372238

Electrician

Residential and Commercial

Repairs and renovations

Kitchens and bathrooms

Sheds,garages,workshops

Tagand test

Competitiverates, free quotes

Simon 021 576 044

simon@simonthesparky.co.nz

Fast, Friendly &Reliable

Forall your tyre requirements,

see the localexperts

•Wheel alignments

•Wheel balancing

197 Wills Street,Ashburton l www.neumannstyres.co.nz

Phone 03 308 6737 (24 hrs –after hours call out applies)

2372186

FOR ALL YOUR

ADVERTISING

REQUIREMENTS,

GIVE

Jann or Karen

acall on

308 7664

2371984

ASHBURTON

GLASS LTD

Experts in glass

308-3918

214Wills Street

Ashburton

www.ashburtonglass.co.nz

office@ashburtonglass.co.nz

UNDER NEW LOCAL OWNERSHIP

2376763

Integrity Estate Services specialise in;

• Full interior house clean, including carpets

• Full exterior service

• Preparing/de-cluttering houses

• Packing

• Re-homing furniture

Complimentary 30 minute walk through consultation

"Professional co-ordination of your relocation needs"

Kate Webster 027 500 1033

Kate.IES@hotmail.com

"IntegrityEstate

Services"

Protect what

youvalue the

smartway

Manage your

safety&security

anywhere, anytime

Call 0800 788 393

57 Dobson Street,Ashburton

www.masterguard.co.nz

HartleyCurd 021 328 301

Keeping our communitysafefor over25years

2403225

Ash Solar Power

South Island

www.ashsolarpower.com

115 Archibald Street,Tinwald,Ashburton

Phone /Fax: (03) 307 2354

Email tincanup@xtra.co.nz www.tinwaldcanvas.co.nz

2375756

2396047

2395712

Bridgestone

Tyre Centre

Ashburton

• New tyre sales

• Wheel alignments

• Wheel balancingand

puncturerepairs

24 HOUR CALLOUTSERVICE

03 307 8438

ForPassenger,Commercial

and Farm Vehicles

Proudly locallyownedand operated

CnrCox &East St.

Book nowon03 307 8438

Conditions apply.Includes up

to 4.5 litres of Penriteoil and a

standardoil filter.

Seein-storefor details
---
Connecting

COMMUNITIES

Local

people

Local

news

Local

team

Local

opinion

Free every week

PLUS ...more news and digital editions at

www.ashburtoncourier.co.nz

The Ashburton Courier.

Your community newspaper,

part ofthe independent community newspaper network.

www.cna.org.nz

2330953
---
www.ashburtoncourier.co.nz

2395862

ENTERTAINMENT ENTERTAINMENT ENTERTAINMENT ENTERTAINMENT

Jesus Christ Superstar

Monday 30th August –Saturday 4th September 7-30pm

Sunday 5th September 2pm;

Adult $65* /Senior $55*/ Student up to 18

$49* /Saturday 4th Last Supper ticket $95*

The Ashburton Trust Event Centre in

collaboration with Variety Theatre Ashburton

and presented by More FM and The Breeze

bring you the global phenomenon that has

wowed audiences and now celebrating it's

50th anniversary.

TheMerryLittle Christmas Market

28th November 11-30am until 4pm

Gold Coin Donation

Join us for the Merry Little Christmas

Market this November.Agreat event to

purchase unique Christmas presents with

awide array of stalls. We are now taking

registrations. Please email

casey@ateventcentre.co.nz

or phone 027-292-2601.

BOOK

NOW

03 3072010 211A Wills Street, Ashburton 7700 admin@ateventcentre.co.nz

Being in

business and

not advertising

is likewaving in

the dark....

...youknowyou'retherebut

no-one else does!

Don't be leftinthe dark,

TheCourier Newspaper has

the key to your event,

productor

business advertising.

Phone Jann or Karen on (03) 308 7664

Email: office@ashburtoncourier.co.nz

DO YOU HAVE

SOME NEWS

TO SHARE?

Drop into our office

or call Daniel, Mick or Toni on

308 7664

or email

office@ashburtoncourier.co.nz

199 Burnett Street,Ashburton

For more information

www.ateventcentre.co.nz

Wonderland Glow Show – Little Green ManProductions

Monday 13th September

0-5 years 10am. All Tickets $13.50*

6-12 years 11-30am. All Tickets $15.50*

Join the Glow Show team with a'Kiwified'

interpretation ofAlice and Wonderland. Let

your imagination soar as you are transported

into another world of giant scale glow-in-thedark

puppetry for tamariki, educators and

whanau. Come along and see the 8metre

caterpillar, giant flowers and March hare on

the loose!

ACeltic Christmas

Saturday 4th December 7-30pm

Premium from $84.90* /

AReserve from $74.90* /

BReserve from $64.90*

$15 off normal pricing until 11th August

ACeltic Christmas by aTaste of Ireland is set

to tour New Zealand this Christmas. Watch

two star-crossed lovers twirl beneath the

mistletoe as award winning Irish musicians

complement the world's best Irish Dancers to

deliver aheart-warming performance.

*Service fees apply

URGENT CARE CLINIC

WEEKEND DUTYDOCTORS

IN THE EVENT OF AN EMERGENCYPHONE 111

Forall othermedicalassistance outside of normal

hoursplease phone your generalpracticeteam,24/7,

to speak withahealth professional whowill giveyou

free health advice on what to do or wheretogoifyou

need urgentcare.

If youdon't have aregular generalpractice, call any

GP team 24/7 forfreetelephone health advice.

All non-residents and visa holders please bring your

passporttoyour surgeryappointment.

New Zealanders'tobringsome form of ID.

TheAshburtonDutyPractice for ...

Saturday31st July is

ThreeRivers Health, 7-11 Allens Road,Ashburton

Consultations will be by appointmentonly.

To make an appointmentcallyour regular GP 24/7.

Sunday1st August is

ThreeRivers Health, 7-11 Allens Road,Ashburton

Consultations will be by appointmentonly.

To make an appointmentcallyour regular GP 24/7.

Methven and Rakaia: Formedical attention on the

weekend and public holidays please telephone

MethvenMedical Centre on 03 302 8105

or Rakaia Medical Centre on 03 303 5002.

Details foraccessing the afterhoursservices will be

on the answer phone.

PHARMACIES

Wises Pharmacy,CountdownComplex,

East Street will be open on ...

Saturday from 9.00am until 1.00pm

Sunday from 10.00am until 1.00pm

At Geraldine: TheGeraldine Pharmacywill be open

normal trading hours during the week,and on

Saturdaymorning from 9.30am to 12.30pm.

Closed Sundays and Public Holidays

Forfree24hour Telephone Health Advice

Phone the healthline on 0800 611 116

Brought

toyouby

CountdownComplex, East Street, Ashburton

Phone: 03 308 6733 Fax: 03 308 6755

PHOTOGRAPHS

FORSALE

Have youhad your photo

taken by our reporters?

Order aPhotoToday!

¼Page*

$6

*approx 6x4

A5

$8.50

A4

$16

Ph: 308 7664

199 Burnett St,Ashburton

2376126

FOR LEASE

AWESOME OFFICE space

for lease, rent or hire. Park

like setting. Indoor and outdoor

areas. North West

town boundary. Must view.

Phone 0274 754 241

STORAGE available, Ashburton.

Self storage, variety

of sizes. Phone Rainbow

Storage 03 307 0401

STORAGE: Secure self storage

units available, long or

short term. Ashburton Storage

Facilities. Contact us

on 0274 362 636 or www.

ashburtonstoragefacilities.

co.nz

FOR LEASE

RENT ME!

Ideal as an extra

bedroomoroffice.

Fully insulatedand

double glazed forwarmth.

Threeconvenientsizes:

Standard3.6m x2.4m,

Large 4.2m x2.4m

Xtra-large 4.8m x2.4m.

Visit our displaycabin

418WestStreet or callfor a

freebrochure.

www.justcabins.co.nz

2379729

0800 58 78 22

WANTED TO BUY

ASHBURTON Scrap Metal

Recyclers buy heavy metal

etc. Free light-grade metal

in-yard dumping 9am-5pm

weekdays &9.30-11.30am

Saturdays. 117 Alford Forest

Rd, (behind

PlaceMakers). Phone 03

308 8033 or 027 249 6625.

SELL

LPG REFILLS

9kg cylinders

$27.50

Askaboutour

deliveryservice

Anysizecylinder filled

17 Grey St,Ashburton

Phone 307 2707

LPG

REFILLS

Small LPG cylinders

Off Street Parking

Available

Arthur Cates Ltd

26 McNally Street

Ph 308 5397

Riverside Industrial Estate

FIREWOOD

FIREWOOD

SPECIAL

OFFCUTS

$140 PER CORD

FIREWOOD

SLABWOOD

3cordgreen

$330

1cordgreen

$110

C.O.D. in town

2379300

2379296

Adams Sawmill

Malcolm McDowell Rd

Phone

308-3595

2395886

CLASSIFIEDS

Ashburton Courier, July 29, 2021

TRADE &SERVICES

CHARLIES Blind Cleaning

Service -same day service

and repairs. Charlie can

supply new blinds and

tracks and will hang

drapes. Ph 03 307 1936 or

020 4169 0342

CHIMNEY Sweep - for a

professional service call

Dan McKerrow Chimney

Sweep and Repairs on 021

118 7580

COMPUTER Problems? For

prompt reliable computer

servicing and laser engraving,

contact Kelvin, KJB

Systems Ltd, 4 Ascot

Place, Ashburton. Phone

308 8989. SuperGold discount

card accepted.

COMPUTER repairs, sales,

training, setup wirelessnetworks,

spyware

cleanup. On-site day or

evening. Low fees. Call

Robin Johnstone, Networks

Firewalls and PC's Ltd, 308

1440 or 027 768 4058

DENTURES; Dr Peter

Rumping repairs existing

dentures and also provides

new dentures. Phone 027

220 9997.

DRIVEWAYS, Patios and

Paths, Plain Concrete, Coloured

Concrete or Exposed

Agregate Concrete.

Paveco, 13 Robinson

Street. 100% local. Phone

307 6466 for aquote.

ENGINEERING repairs, fabrication,

farm equipment

service and maintenance,

WOF repairs, machining

and welding. Odd jobs a

speciality. Mobile workshop.

Can collect. Phone

Malcolm 0274 754 241.

FLY control and spider

proofing. For all your

domestic and industrial

pest control needs phone

AJ Kerr at Ashburton Pest

Control on 03 308 8147 or

027 432 5447

FURNITURE Removals. For

all your household removal

needs - urban, rural lifestyle,

office relocations -

call Nudges Furniture

Removals, phone 027 224

0609.

43

TRADE &SERVICES

ALTERATIONS. Sewing, GARDENING, mowing,

mending and trouser hemming,

pruning, fertilising, projects

curtain alterations or general spruce ups? Call

and curtain making. Call

Michelle on 027 352 7248.

Andrew at Spruce Gardens

to get the job done right.

027 765 2899 or 03 307

BUILD work to do? Contact 1693.

Kiwi Building and Maintenance

Ltd. Alterations,

sprucegardens@xtra.co.nz

Renovations, New builds. GUTTER Cleaning. Using a

Qualified Tradesmen. vacuum system to clean

Phone Cawte 027 418 out the debris is a faster

7955.

and cleaner process. Call

CARPET cleaning. Powerful

Allan on 027 209 5026

equipment and fast drying. LOCKSMITH/Door repairs.

Upholstery, mats and rugs. Keys/locks, sliding and bifold

door roller repairs.

Experienced owner/operator.

Phone John Cameron Mobile service. Call Nigel at

at Supersucker. 027 435 Doors and More. Ph 027

1042 or 308 1677.

516 7104

CARR'S Chimney Cleaning,

servicing Ashburton and

PAINTER for all your painting

surrounding districts, $60

needs. No job too small,

per chimney. Phone

inside or outside. Professional

friendly service.

Rodney on 03 324 2999

and leave amessage.

Phone Pete 03 308 1672 or

027 200 1619

SITUATIONS VACANT

PLASTERING

&COATINGS

Rockcote. Waterproofing.

Texture/Specialist

Coatings.

The Finishing Company

03 307 8870 2390672

POTATOES; Nadine and

Agria $1.25kg, or preordered

10kg bags $10.

Standard peastraw bales,

$5 pick up or $6 delivered.

Phone 03 308 3195 or 027

531 9103. 81 Elizabeth

Street, Ashburton.

SUN Control Window Tinting:

Privacy, UV, glare, heat

control for homes, offices

and cars. Phone Craig

Rogers 307 6347, member

Master Tinters NZ. www.

windowtinter.co.nz

TINT-A-WINDOW, fade, UV

block, glare, heat control,

safety, security, privacy,

frosting films, solar protective

window films. Free

quotes, 20 years local service.

Phone 0800 368 468

now, Bill Breukelaar, www.

tintawindow.co.nz

FIREWOOD

DRY Bluegum, Old Man

Pine, 50/50mix 6m 3

$675.00. Old Man Pine 6m 3

$575.00. WINZ accredited.

Free delivery to most of

Mid-Canterbury.

027 297 7563.

SITUATIONS VACANT

SPRAY PAINTER/PREPPER

Afull time position has become available in our

Panel and Paintshop foraQualified Spray Painter.

Theposition requires

• Good work ethics

• Have ahigh standardindetail and finish

• Tobereliable

• The abilitytoworkunsupervised

• Toworkinateam and meet production deadlines

• NZresidencyorvalid NZ work visa

Please send resume and coverletter to

TheGeneral Manager

Bus and Truck Body Work Ltd

PO Box51, Ashburton7740

Phone Keith on 0274 274 007 or 307 0378

Email busandtruckbodywork@xtra.co.nz

Phone

DRY Bluegum firewood;

3.6m 3 $450. or 1.8m 3

$250.00. Free delivery

within 30km of Ashburton.

Contact Dave 0274 920

875

EveryHome

EveryWeek-that's

Phone 308 7664

199 Burnett Street

Ashburton

2376123

2395842
---
CLASSIFIEDS

44 Ashburton Courier, July 29, 2021

www.ashburtoncourier.co.nz

SITUATIONS VACANT SITUATIONS VACANT SITUATIONS VACANT

PUBLIC NOTICE PUBLIC NOTICE PUBLIC NOTICE

PUBLIC NOTICE

Sales /

Administration /

Special Projects

The Ashburton Courier is thebest-readand largest circulating communitynewspaper

in Mid Canterbury.Weare owned by Allied Press,aNew Zealand owned and operated

companyproducing qualitynewspapers,magazines and on-linemedia.

We arelooking for anew teammember to join us, who is an excellentcommunicator,to

helpgrow our business, throughsalesand administrationsupport.

Thispositionis30hoursaweek basedinour Ashburtonoffice with the opportunity forit

to grow to afull-timeposition if the applicant required this.

In order to be successful in this role,itisessential that you have:

• Excellent computerskillsand havethe abilitytoconfidently learn newprogrammes

and systems.

•Asolid workethic and enjoythe excitementofadeadline driven position.

•Sales hunting skillsand adesire to succeed.

•The abilitytolistentoclient needs and provide effective solutions(with

support from us).

•Previous mediaexperiencewould be an advantage

Keypersonality attributes:

•Passionate,positiveand proactive.

•Flexible and able to work as partofateam.

•Creative and enjoydiscussing new ideas with customers.

•Enjoybeing partofour workfamily team.

Youwillbejoining abusiness that is passionate aboutlocalnews, caresaboutour

customersand our team.

To apply for this role, aNZdriverslicence is essentialand you must have the righttolive

and work in NZ.

Apply in confidence withyourCV

and covering letterto:

JannThompson

jann.thompson@ashburtoncourier.co.nz

Trainee Concrete Placer

Full-time permanent position

•Company health scheme

•Apprenticeship opportunity

•Highly respected local company

•Monday to Friday, Saturdays optional

Contact Martyn Wheeler, General Manager

0274 508 196 or email admin@paveco.co.nz

Paveco Ashburton Ltd

13 Robinson Street, Ashburton

Office Administrator

We require afull time Office Administrator tojoin

our friendly support team in our busy Ashburton

Accountancypractice.

The role includes duties which will range from

managing the frontofficetomorechallenging tasks.

To be successful you will need to pride yourself on

accuracy and attention to detail and have excellent

communication and customer service skills and

ability todeal with people across the business and

externally.

Responsibilities include, but not limited to,

liaison and assistance with the Directors and staff,

management of external communications, office

payables and receivables,and HR assistance.

Youshould possess: -

• Sound time management.

• Be abletoworkwell autonomously

• Have aflexible attitude

• Possessclear and concise communication skills

• Have an affiliation fornumbers

• Advanced knowledge of the Microsoft Office

suiteofapplications

Interested persons should apply in writing with their

C.V to swallis@gabitesltd.co.nz

2404429

2402332

2398978

No experienceneeded,

just agoodattitude!

We've gotanumber

of jobs availablefor

agriculturallabourers.

Excellentworkhours

Part-time or full-time

hours available

Short-term roleswith

opportunity to longtermworkonoffer

Great rates

Great fit for semi

retired, dayworkers, or

working around school

hours

Email us your CV

jobs@agstaff.co.nz

or call us on

0800112211

SELL

WEATHERBOARD house,

separate garage and small

sleepout for removal/relocation.

Large open plan

living area, 3 bedrooms.

Enquiries Ph 027 543 7632.

HOME SERVICES

ROOF COATINGS: All roof

types, specializing in

Decramastic and Long Run

Iron, Coloursteel etc, steep

roofs not a problem. —

Spraymaster 027-433-7780.

GARDEN SUPPLIES

GARDENERS Specials.

Sheep or Cow manure

$8/bag. Medium-square linseed

straw $50. Mediumsquare

pea straw $60.

Phone Alan 027 496 7136,

Ian 027 286 3697. AHinds

Lions Project.

2398939

2403710

PUBLIC CHRISTIAN meetings

Methven Public Library

Thursdays 7.30pm - 8.15

pm, also Waihi Lodge

Function Centre Shaw St

Geraldine Sundays 4pm

-5pm. Simple reverent

meetings. All welcome.

More information Maree

0274239876

MEETINGS

Ashburton

Returned

&Services

Association (Inc)

Noticeishereby

giventhat theAnnual

GeneralMeeting of the

Association will be held

in the MooreLounge,

R.S.A. Clubrooms,Cox

Street,Ashburtonat

10.00am on Sunday

5th September 2021

Merv Brenton

PRESIDENT

2403212

AshburtonBranch

Manchester Unity

Annual General

Meeting

Tuesday, August 3,

2021 –5pm at

St John meeting room

241 TancredSreet,

Ashburton

Allmembers

welcome to attend.

Followedby

subsidised dinner at

the MSA

RSVP 022 356 5573

2401423

ASHBURTON HORTICUL-

TURAL Society, Annual

General Meeting and Pot

Luck lunch. Friday, 20th

August, at 12.30pm, in the

Domain Pavilion, Walnut

Avenue. New members

welcome.

Ashburton

Pigeon RacingClub

AGM

Sunday, 1August 2021

at 11.30am

DevonTavern

All welcome

GARDEN SUPPLIES

2404444

HospiceMid Canterbury

Dealing withalifelimiting illness?

We can supportyou and

your family to make

everyday count.

Allservices arefree.

Phone 307 8387 or 027 227 8387 email manager@hospicemc.nz

www.hospicemc.nz facebook hospicemidcanterbury

Dr Christopher McGrath

PhD(Otago), MSc, DO(UK)

Expert

musculoskeletal care for your pain

Consulting Osteopath, Ashburton

Appointments/contactthrough web site

021 0222 6378

www.countrypractice.nz

Ecumenical Day of Reflection

Saturday, 7th August 2021

9.45am – 3pm

Ashburton Parish Centre

Cnr Winter and Burnett Streets

Speaker: Kirsten Challies

Spiritual Director & Retreat Leader

Experience a mix of talks, prayer and reflection

on the Spirit of God at work in your life.

Bring a pen, paper and your own lunch.

Tea and coffee provided.

For more information contact

Ann/Don 03 308 5747

WANTED TO RENT

LONGTERM Rental required

by mature professional

couple with own business.

Modern 3/4 bedroom, 2

bathroom, double garage

and heat pump. Prefer

Lake Hood, but all areas

considered. No children,

pets or smokers. Ph 0274

399 396 or email

oldskiers55@gmail.com

GARDEN SUPPLIES

MUSHROOM COMPOST

Nowisthe time to dig in our topqualitymushroom

compost to your vegetable garden. Ideal to replenish nutrients

used by previous crops and improvethe soil structure.

It also adds beneficial micro-organisms to thetired soil.

$50 per cubic metreor$10 bag.

Freedelivery within town boundary.

Open 6daysaweek at our Tinwald yard,

208 Maronan Road. Phone 021 129 8936 or 03 308 3331

All welcome

2404460

Nellie

and Sally

6month old

friends.

Desexed,

microshipped

and vaccinated.

2346051

2404075

2386391

Thurs 29th

10.00 Dream Horse

10.00 Antoinetteinthe Cevennes

11.45 TheHitmansWifes Bodyguard

12.00 Jungle Cruise

1.50 Old

2.10 Escape Room 2

3.40 Spacejam 2

3.45 Fast &Furious 9

5.50 Jungle Cruise

6.15 Antoinetteinthe Cevennes

8.00 Old

8.10 Snake Eyes GI Joe Origins

PG

M

R16

M

M

M

PG

M

M

M

M

M

Fri30th

10.15 Antoinetteinthe Cevennes M

10.30 Dream Horse

12.00 Old

12.40 Fast &Furious 9

PG

M

M

2.00

3.20

Black Widow

Jungle Cruise

M

M

4.30

6.15

Antoinetteinthe Cevennes M

Snake Eyes GI Joe Origins M

8.15

8.30

Jungle Cruise

Old

M

M

Sat31st

10.00

10.00

11.40

11.40

1.25

2.00

3.25

4.10

5.45

6.00

8.00

8.20

Sun 1st

10.00

10.00

11.40

11.40

1.25

2.00

3.25

4.10

5.45

6.00

8.00

8.00

Spirit Untamed

Moonbound

Jungle Cruise

Antoinetteinthe Cevennes

Dream Horse

Spacejam 2

Fast &Furious 9

Escape Room 2

Snake Eyes GI Joe Origins

Black Widow

Jungle Cruise

Old

Spirit Untamed

Moonbound

Jungle Cruise

Antoinetteinthe Cevennes

Dream Horse

Spacejam 2

Fast &Furious 9

Escape Room 2

Snake Eyes GI Joe Origins

Old

Jungle Cruise

Black Widow

Mon2nd &Tues 3rd

10.00 Dream Horse

10.00 Antoinetteinthe Cevennes

11.45 TheHitmans WifesBodyguard

12.00 Jungle Cruise

1.50 Old

2.10 Escape Room 2

3.40 Spacejam 2

3.45 Fast &Furious 9

5.50 Jungle Cruise

6.15 Antoinetteinthe Cevennes

8.00 Old

8.10 Snake Eyes GI Joe Origins

Wed4th

10.00

11.00

11.45

12.00

1.50

3.40

3.45

5.50

6.15

8.00

8.10

6.00

7.50

8.15

Antoinetteinthe Cevennes

Queen Bees

TheHitmans WifesBodyguard

Jungle Cruise

Old

Spacejam 2

Fast &Furious 9

Jungle Cruise

Antoinetteinthe Cevennes

Old

Snake Eyes GI Joe Origins

Snake Eyes GI Joe Origins

Fast &Furious 9

Old

PG

PG

M

M

PG

PG

M

M

M

M

M

M

PG

PG

M

M

PG

PG

M

M

M

M

M

M

PG

M

R16

M

M

M

PG

MMMMM

M

PG

R16

M

M

PG

MMMMMMMM

NO COMPS

Jungle Cruise,Old,Queen

Bees,Snake Eyes GI Joe Origins

Food donations appreciated.

Tuesday-Saturday

Kindly sponsored by

9:30am -noon

Phone 308 4432 or

027 332 9286

180216

2395587
---
EXPLORE OUR EIGHTVILLAGECOMMUNITIES

IN CANTERBURY

Retire with views of the Alps

ANTHONY WILDING VILLAGE

5Corbett Crescent, Halswell

CallSusie03 338 7696

Modern village, rural feel

CHARLESUPHAM VILLAGE

24 CharlesUphamDrive, Rangiora

CallTracy 03 310 8644

Friendly community,handy location

DIANA ISAACVILLAGE

1Lady Isaac Way, Mairehau

CallAdrienneorChris 03 3853518

ThebestofBeckenham close by

ESSIE SUMMERS VILLAGE

222 Colombo Street,Beckenham

CallLynne 03 337 6500

Unique design meets pictureperfect

KEVIN HICKMAN VILLAGE

25 Steadman Road, Riccarton Park

CallWendy or Anthea 03342 4755

ArtistImpression

Aboutique villageinaprimelocation

MARGARET STODDARTVILLAGE

23 BartlettStreet, Riccarton

Phone Lynne03337 6500

Convenientyet tranquil

NGAIO MARSH VILLAGE

95 Grants Road, Papanui

CallDanielle03354 6608

Boutique villagewith abig heart

WOODCOTEVILLAGE

29 Woodcote Ave, Hornby

CallSusie03 338 7696

rymanhealthcare.co.nz
---
SKIP-2-IT

CARPET • VINYL • TILES • LAMINATE • BLINDS www.flooringxtra.co.nz

SKIP-2-IT FLOORING XTRA 68 Cass Street, Ashburton P: 03 308 0266 Book your free in-home measure and quote
---
Mike

Grant ncre

Licensee

Branch Manager

021 272 0202

Real EstateMid Canterbury Property Limited Licensed (REAA 2008)

Delivered free to all homes, lifestyle blocks and farms in Mid Canterbury.

JULY29, 2021 l www.ashburtoncourier.co.nz l Phone 308 7664

YOUR LOCAL

COMMUNITY

PAPER

INSIDE

2379686

03 303 0872

www.jacksonholmes.co.nz

ADVERTISEMENT

"There'salways somethinggoingontohelp

people get together anddothings."

Maureen, Myrtle and Sybil, Ryman residents

HAVE YOUCONSIDERED RETIRING IN CANTERBURY?
---
Andrew

Sam James Hamish Andre Kerry Tony

James Hamish Tony Kerry

Jaco Andrew Mike Callum Mitch Kieran Jack Elliot David