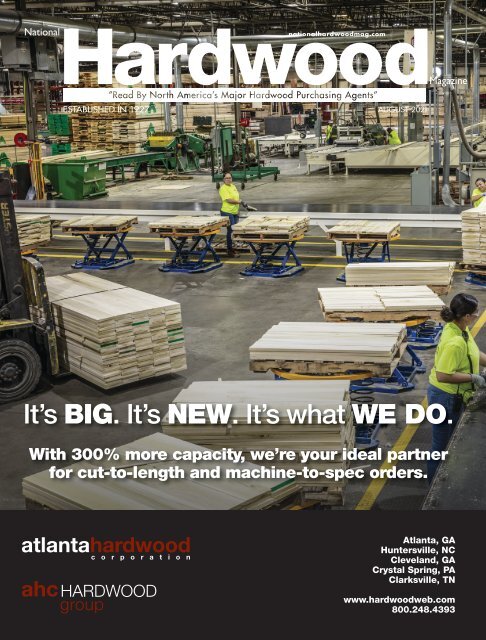 National Hardwood Magazine - August 2021
The August issue of National Hardwood Magazine features stories on U-C Coatings, Peterman Lumber, Cornerstone Moulding and much more.
The August issue of National Hardwood Magazine features stories on U-C Coatings, Peterman Lumber, Cornerstone Moulding and much more.
SHOW MORE
SHOW LESS
You also want an ePaper? Increase the reach of your titles
YUMPU automatically turns print PDFs into web optimized ePapers that Google loves.
It's BIG. It's NEW. It's what WE DO.

With 300% more capacity, we're your ideal partner

for cut-to-length and machine-to-spec orders.

Atlanta, GA

Huntersville, NC

Cleveland, GA

Crystal Spring, PA

Clarksville, TN

www.hardwoodweb.com

800.248.4393

AUGUST 2021 n NATIONAL HARDWOOD MAGAZINE 1
---
Load Part 1

Order 10056

Load Part 2

Order 10056

Load Part 3

Order 10056

Load Part 4

Order 10056

3 MBF

WEST 4/4

ALDER

PREMIUM S2S

6 MBF

APP 4/4

SOFT MAPLE #1

COMMON SAP RGH

4.5 MBF

GLA 6/4

RED OAK

PRIME WHEAT S2S

1.5 MBF

EXOTIC 5/4

SIPO SEL &

BTR KD RGH

Customer #1010

Mixed Load

Order 10056

Delivery: Elkhart, IN 6/25/21

Getting what you need can be complex. We make it feel easy.

You should not be spending your time chasing down the parts and pieces of an order. That's our job. As the nation's

largest hardwoods provider, we handle everything as quickly and efficiently as it should be. Species, supply,

specialized production and logistics, we are a single source with the infrastructure to deliver exactly what you need.

We make working with hardwoods as simple as can be.

We make it feel easy.

northwesthardwoods.com

2 AUGUST 2021 n NATIONAL HARDWOOD MAGAZINE AUGUST 2021 n NATIONAL HARDWOOD MAGAZINE 3
---
Clarksville, TN

Contents

National Hardwood Magazine AUGUST 2021 Volume 95 No. 7

Features & Industry Events

20

22

30

Cornerstone Moulding

Reinvests in Manufacturing

for Quality and Consistency

Peterman Lumber Providing

Quality Hardwoods and

Superior Service For 40+ Years

U.S., Canada Furniture Makers

24

at High Point Report Strong

Sales in 2021

Penn-York Celebrates Return

26

to In-Person Meetings with

Penn-Sylvan as Host

NELA Reinstates Meetings with

Abenaki Hosting

Departments

4 Hardwood Calendar

6 U.S.A. Trends

8 Canadian Trends

10 News Developments

12 HMA Update

32

36

38

14 AHEC Report

16 NWFA Review

18 NHLA News

56 Who's Who

60 Trade Talk

Guide Updates Hardwood Log

Grading Standards

Sawmill Safety Part 2: Taking a Deeper

Dive into Sawmill Operations and

Personnel Safety

Q&A - Company Culture, Productivity,

Recruitment and Retention: How Does

Your Company Measure Up?

U-C Coatings: Offering Solutions to the

40 Forest Products Industry for 50 Years

20

66 Classified Profit

Opportunities

68 Advertisers Index

It's BIG. It's NEW. It's what WE DO.

With 300% more capacity, we're your ideal partner

for cut-to-length and machine-to-spec orders.

About The Cover

Atlanta Hardwood Corporation

and AHC Hardwood Group

Since 1952, Atlanta Hardwood

Corporation, along with AHC Hardwood

Group, has specialized in providing

premium domestic and exotic hardwoods to

customers throughout the U.S. and around

the world. For the second year in a row,

we have made a strategic move to meet the

growing demand for value-added secondary

manufacturing. Our 2021 expansion at

AHC Clarksville (Clarksville, Tennessee)

has allowed us to increase capacity by 300%, producing cut-tolength

S4S boards and mouldings, with a specialty in trim, cabinet

components, and window and door parts.

In 2016, we introduced VikingWood TM -- a natural, chemical-free

hardwood treated under extremely high temperatures (400 degrees

F+). Structurally stable and resistant to weather-related decay,

the deep, rich-colored wood is excellent for exterior applications.

VikingWood (www.hardwoodweb.com/viking-wood/) is produced

in our facility in Cleveland, Georgia, which houses the first closed

thermal modification kiln in the U.S. VikingWood is available in

a variety of domestic hardwoods for both exterior and interior

applications.

Offering more than 50 species of domestic and imported

hardwoods, we are able to address the needs of architects,

designers and manufacturers, making available some of the most

desired hardwood species. For more information about AHC

Hardwood Group and our affiliate companies, visit hardwoodweb.

com, or call 800-248-4393.

When you think of wood, think of us.

Founded in 1927 by: O.L. Miller – 1894-1963

Publisher: Paul J. Miller – 1963-2010

• Forest Products Export Directory • Imported Wood Purchasing Guide

• Import/Export Wood Purchasing News • Hardwood Purchasing Handbook

• Green Books's Hardwood Marketing Directory

• Green Books's Softwood Marketing Directory

• The Softwood Forest Products Buyer

Paul J. Miller Jr. – President

Terry Miller – Vice President

Zach Miller – Sales

Sue Putnam – Editor

Matthew Fite – Staff Writer

Lydian Kennin – Who's Who Coordinator

Rachael Stokes – Graphic Artist

Pamela McFarland – Graphic Artist

Tammy Daugherty – Production Manager

Jennifer Trentman – Green Book Market Sales

Lisa Carpenter – Circulation Manager

Lexi Hardin – Subscription & List Services

ADVERTISING OFFICES:

5175 Elmore Rd., Suite 23, Memphis, TN 38134

901-372-8280 FAX: 901-373-6180

Reach us via the Internet at: www.nationalhardwoodmag.com

E-mail addresses:

ADVERTISING: tammy@millerwoodtradepub.com

EDITORIAL: editor@millerwoodtradepub.com

SUBSCRIPTIONS: circ@millerwoodtradepub.com

EDITORIAL CORRESPONDENTS:

Chicago, Los Angeles, High Point, Grand Rapids, Portland, Toronto

Controlled circulation postage paid at Memphis, TN

(USPS #917-760)

The NATIONAL HARDWOOD MAGAZINE (ISSN 0194-0910) is published

monthly, except for two issues in December, for $55.00 per year and

$65.00 (U.S. dollars) per year for Canada by National Hardwood Magazine, Inc.,

5175 Elmore Rd., Suite 23, Memphis, TN 38134. Periodicals Postage paid at

Memphis, TN, and at additional mailing offices.

POSTMASTER: Send address changes to National Hardwood Magazine,

P.O. Box 34908, Memphis, TN 38184.

Publications mail agreement No. 40739074.

Return undeliverable Canadian addresses to:

P.O. Box 503, RPO W. Beaver Cre., Rich-Hill, ON L4B 4R6.

The publisher reserves the right to accept or reject editorial

content and Ads at the staff's discretion.

Save 10-25%

on your monthly

saw blade purchases

by using Lubie ®

Lubie® Saw Lubes for all species

• Non-flammable

• No odor

• Biodegradable

Lubie® Spray System installed on:

• Head Rigs

• Line Bars

• Edgers

• Pallet Saws

• Gang Rips

• Finger Jointers

BIOLUBE

The home of Lubie® saw lubricating systems and Lubie® lubricants.

www.biolube1.com

email: sales@biolube1.com • 260-414-9633

4 AUGUST 2021 n NATIONAL HARDWOOD MAGAZINE AUGUST 2021 n NATIONAL HARDWOOD MAGAZINE 5

Atlanta, GA

Huntersville, NC

Cleveland, GA

Crystal Spring, PA

www.hardwoodweb.com

800.248.4393
---
HARDWOOD CALENDAR

EASY

Live in 100+

Locations

August

Appalachian Hardwood Manufacturers Inc.,

2021 Summer Conference, The Greenbrier, White

Sulphur Springs, WV.

www.appalachianhardwood.org. Aug. 1-4.

SFPA Expo, Georgia World Congress Center,

Atlanta, GA. www.sfpaexpo.com. Aug. 11-13.

Western Hardwood Association, Annual

Convention, Hilton Garden Inn, Eugene, OR.

www.westernhardwood.com. Aug. 18-20.

Wood Component Manufacturers Association,

Monthly Virtual Round Table, Open to WCMA

members and companies eligible for membership.

Topic: "Tips and Tricks for Sanding Operations,"

Presented by: Timesavers Inc. Learn more at

www.wcma.com. Aug. 26.

September

Penn-York Lumbermen's Club, Meeting, Host:

Walker Lumber and Forcey Lumber in conjunction

with Pennsylvania Forest Products Assoc., State

College, PA. www.pennyork.org. Sept. 13

National Hardwood Lumber Association, Annual

Convention, Palm Beach County Convention

Center, West Palm Beach, FL. www.nhla.com.

Sept. 22-24. n

nationalhardwoodmag.com

End Tally with

ARTIFICIAL INTELLIGENCE

Accurate

After extensive testing

TallyExpress proves to be

within 1% of a perfect tally.

The app "learns" as it's

used, which makes it even

more accurate over time.

Fast

Start to finish – completed

end tally takes 60-90

seconds.

"We put a tape measure to each

board and wrote the width on

the end. Overall we were 99.5%

accurate to these tape measure

tallies, some sites were seeing

99.8 to 99.9%."

– Northwest Hardwoods

Easy to use and easy on the

body. TallyExpress means no

"One more day crouching we were and backed measuring up

with each 12 board bundles one on at a our time line. for

Normally, it would have taken a

hours on end. All you need to do

very stressful 30 minutes to get

is take a picture of the bundle,

those tallied and moved. With

TallyExpress, let the A.I. program we did measure all 12

bundles each board in about for you ten in minutes seconds, and

it make was a few stress-free adjustments, experience." and

– you're Granite done. Hardwoods, Inc.

Easy

Not only can

TallyExpress be taught in

minutes, it is less

physically-demanding

than having to measure

each board.

"I "The wanted training this is product almost for nothing. its

speed People and take accuracy pictures but with I also their

smartphones noticed a big morale every day. boost It's

very in my familiar yard. Anyone technology. who has

Basically, hand tallied you knows show it's someone pretty

how unpleasant. to use it TallyExpress on one bundle is so

and easy they're to use, ready my guys to go. are It happy really

does to tally only now." take a couple of

- minutes Granite to Hardwoods, train someone." Inc.

– Allegheny Wood Products

Contact DMSi, your exclusive TallyExpress reseller, to start your free 30-day trial.

6 AUGUST 2021 n NATIONAL HARDWOOD MAGAZINE

(402) 996-2710 | tallyexpress.com

TallyExpress

by
---
U.S.A. TRENDS

Supplier news about

sales, labor, prices, trends,

expansions and inventories

LAKE STATES

Lumber manufacturers in the Lake States region are

reporting a steadier market compared to six months

ago, but the industry is still busy.

"I think it's a little slower now than it's been," said a

source in Indiana. "It depends on what you have available,

because it seems like only certain products are really

moving."

Her company manufactures Walnut, Hard and Soft

Maple, White and Red Oak, Ash, Basswood and Cherry

and specializes in Grade Walnut lumber from 4/4 to

16/4. "Walnut and White Oak are the items that are moving

and the things people are looking for," she said. "But

overall, as far as inquiries go, I think it's slowed down

some."

This source sells to both end users and distributors in

the region, with trucking availability steadily improving.

"Transportation is a little better than what it was," the

contact explained. "It seems we're not warehousing as

many orders for a long time now."

In Michigan, a sawmill representative described the

market as "very busy" and comparable to how it was in

the spring season.

"I would say demand hasn't slowed down a ton. Maybe

a little bit," he explained. "We're about hand-to-mouth,"

he added. "If we run something, it seems like it ships out

pretty quick, and what's still available – it's not a whole

lot."

This sawmill processes White Hard and Soft Maple,

Red and White Oak, color sorted Hickory, Heart Cherry

and Heart Walnut in thicknesses ranging from 4/4 to 8/4.

The source stated that he sells to a split between

end users and distributors. "Our biggest end users are

flooring and cabinets," he said. When asked if his customers

have given comments on the current market, he

responded, "Everybody's pretty busy."

Transportation has been a struggle for this sawmill,

which uses trucks, containers, rail and LTL to move product.

"Taxation – as far as shipping lumber to our customers

– has been a challenge," he said. "Rates went up."

A lumber provider in Wisconsin reported that the mar-

NORTHEAST

Lumber suppliers in the Northeast are still reporting a

strong market – one of whom described it as "red hot."

A source in Pennsylvania stated that despite the market

for Hardwood in his area standing "quite strong," kilndried

and green material are still "relatively undersupplied."

Compared to six months ago, he said that supply

is getting "a little better."

This provider's company offers Hard and Soft Maple,

Cherry, Ash, Red and White Oak, and its main product

- Poplar. He added that White Oak is currently the species

in highest demand for the company's varied customer

base of end user manufacturers, distributors, and

resellers.

"They've been saying how hard it is to find material for

some time now," he said. "Like I said, I think it's getting

a little bit more available than what it was, so we'll see

how that develops over the summer. It'll be interesting,

really."

This source has experienced issues with trucking

throughout the year, but he said "at the moment, it might

be slightly better." Ease of transportation appears to fluctuate

with no definite trend.

In New York, a source reported that market trends

have been "about the same" as they were six months

ago, with "pretty good" sales. His company sells Red and

White Oak in One Face and Better, No. 1 Common and

No. 2 Common, mostly to distributors.

Transportation issues have subsided for this provider

because of a lot of determination. "We don't take no for

an answer. Someone tells us no, we keep on looking,"

he explained. He believes that trucking prices are at their

peak, and does not see them going up much higher.

"Red hot" is how a contact in New Hampshire described

the market in his area. "It hasn't slowed down

since November," he said. "Everyone's out of everything.

None of our sawmills have much in back inventory."

Before the Hardwood market became this strong, his

company had no problem building inventory with logs

ranging from 10 to 16 feet. "Now, we get what we get,"

he said.

Please turn to page 46 Please turn to page 46

SOUTHEAST

The markets for Hardwood lumber are strong in the

Southeast.

A lumber provider in Mississippi stated, "Our markets

have been outstanding because of the trustworthiness of

the mills we deal with and the trust we have from them.

It's been a great year for us.

"Six months ago was a great time for us," he continued.

"After that, it was good. It's been pretty steady till now.

This month is a little slower than it has been, due to the

amount of material available to sell. A lot of people don't

have logs to sell; there's just not the inventory that there

was. Freight of course is an issue. But the biggest thing I

see slowing us down is supply."

He sells the most common Hardwoods from the North,

South and Southeast. "We sell from pallet lumber to

FAS," he stated. Selling best are industrial grade lumber

and frame stock.

"I think we're going to be looking at this market having

an adjustment," he observed. "Prices have climbed as

high as they could go, and there's some push-back now.

It just can't keep going up and up and up. People will say,

we just can't afford that lumber. But we haven't had that

problem yet."

Customers include end users in flooring, pallet manufacturing,

crating, and furniture manufacturing. "Our

customers' markets are strong," he noted. "The furniture

market is good. We're selling as much or more lumber

than we have but at higher prices."

On the down side, he said, "Transportation's been a

problem all year. This year is the worst year for freight

that I've seen, including rising costs. But we've fought

through it."

A Hardwood flooring manufacturer in Arkansas stated

that his market has been "very strong since June of

2020." Compared to several months ago, he assessed

the current market as better.

He handles Red and White Oak in Nos. 1A-3A. His

product is sold to distributors. He said "their business is

wide open. Nobody can get enough lumber, but there's

a lot of business out there, and there's been a strong

increase in demand."

WEST COAST

On the West Coast, the markets are good, but different

factors are presenting problems to lumber providers.

According to a wholesaler in California, "I would say,

it's been a really good market but it seems to be cooling

off a bit. We've noticed in the last two weeks it has

slowed down.

"It's worse than it was six months ago, for sure, due to

pricing and availability," he observed. "Keeping goods to

sell has been challenging. As for pricing, my opinion is

that some people are choosing to put jobs on hold because

of material costs."

He sells "almost everything in Hardwoods," he said.

Ripped White Oak and Walnut are the hottest, he stated.

Widths of 4/4 to 16/4 are the most common for this firm.

"We sell primarily to end users," he noted. "Activity is

cooling off for some folks, but some customers are really

busy."

Transportation is an issue for him. "It's hard to get

trucks and costs are skyrocketing. It's been pretty tough"

he observed.

Another California lumberman, who operates a distribution

yard, said his market is "pretty good. It's probably

one of the better markets, really. It's better than six

months ago."

He sells Poplar, Cherry, Red and White Oak, Maple,

Ripped White Oak, Walnut and Ripped Walnut in all uppers.

Appalachia is the source of this lumber, and he

notes that that region has a diverse timber base.

This distribution yard sells to lumber yards and end users.

"Everybody I talk to, among our customers, is busy

– from larger plants to smaller cabinet shops." He noted

that lumber yards deal with contractors who have had

jobs cancelled on them. His thought is that this will help

lower demand in the market which could "help out a little

bit."

Then there's the matter of transportation. Trucks bringing

lumber from Washington and Oregon are not a problem,

he said. His firm has dealt with the same trucking

company for 25 years, and they do good work, he commented.

On the other hand, containers for rail shipment

are problematic. "The most terrible thing," he explained,

Please turn to page 47 Please turn to page 47

8 AUGUST 2021 n NATIONAL HARDWOOD MAGAZINE AUGUST 2021 n NATIONAL HARDWOOD MAGAZINE 9
---
ONTARIO

CANADIAN TRENDS

News from suppliers about prices, trends, sales and inventories

There were the usual slowdowns due to vacation periods

and the July 1st Canada Day celebrations over the

early part of summer. The province started to ease restrictions

and businesses reopened to return to a more

normal way of life. With vaccines being delivered and

inoculation numbers rising, people were more hopeful

of seeing an end to the COVID-19 pandemic in the near

future. Contacts in the industry felt cautiously optimistic

for a better fall season. Contacts noted that there were

more logs available to sawmills, but production had not

increased significantly from spring through summer.

There is still the struggle of getting qualified workers

in the industry to boost production and meet demand.

Some contacts noted that kiln-dried sales are good,

while green sales were fair to good. Most species are

performing well. There is still a high demand for Hard

and Soft Maple, Walnut and White Oak, with demand

outpacing production. It was noted that the industrial

markets were strong.

Ash is selling well on international and domestic markets,

but sales have abated since the beginning of the

year. Wholesalers note that their kiln-dried inventories

are thin, with higher prices being noted. Green Ash production

is low, they add. Consumers are still demanding

Hard and Soft Maple, so the push is to produce as much

of these two species as possible. Aspen production has

not seen a rise in demand, even though there was ample

supply of this species. However, it is reported there is

demand for it in the traditional and new markets.

Basswood production has also seen a slowdown due

to sawmilling of other species such as Hard and Soft Maple.

However, with warm weather conditions, whitewood

log decks must be renewed on a regular basis, which

includes Basswood. Volumes are low for this species,

with demand outpacing supply. Kiln-dried Basswood

markets are good with inventories thin for most grades

and thicknesses. Business is best for the upper grades,

with prices seeing some gains.

Demand for Birch relies heavily on Canadian and U.S.

QUEBEC

The COVID-19 restrictions across the province are

slowly being lifted and businesses are gradually reopening

and getting back to a semblance of normal. The economy

is doing better than expected, and with new home

construction and renovation markets still on a high, it is

very favorable news for the Hardwood industry. The Chinese

market is still a bit slow, but the domestic market

is doing well, as well as other export markets. Industry

is trying to respond to the increased demand, however

labor shortages are impeding the progress. It is reported

that there are some gaps in supplies for some species

while others are doing very well.

Ash sales to end users and wholesalers are good,

while purchases from China have moderated for this

species. Demand from other export markets are balancing

this out. Prices were noted as having risen slightly.

Demand for Cherry from China had increased in late

spring, but has since seen a slight slowdown. Those who

export are adding incentives with modest price concessions

to boost sales. Demand on the domestic front is

steady due to residential construction.

Flooring manufacturers have reduced their Hickory

demand, even though flooring sales remain active. Contacts

say they have ample inventories. There is also a

decent demand from millwork, moulding and cabinet

manufacturers, and the export market is also faring well,

noted contacts.

The regionally important Hard Maple species is still in

great demand. However, the gap between supply and

demand has not decreased, as it has for other species.

Sawmills are producing as much Hard Maple as possible

and as logs are available, but it is still not enough to supply

secondary manufacturers and wholesalers, resulting

in climbing prices. Soft Maple sales reports are positive

as well, with upper grades going to cabinet, furniture and

moulding companies.

Demand from residential wood and truck trailer flooring

manufacturers are keeping the Red and White Oak markets

high. They are struggling to get additional volumes

Please turn to page 48 Please turn to page 49

RESERVE YOUR AD SPACE NOW FOR THE 51 ST EDITION

OF THE HARDWOOD PURCHASING HANDBOOK

4,000 COPIES ARE SENT TO BUYERS OF 100,000 BOARD FEET OR MORE…

Such as manufacturers of:

Kitchen Cabinets • Furniture • Hardwood Flooring • Millwork

As well as…Distribution/Concentration Yards and Exporters of Hardwood Lumber

Atlanta Hardwood Corp./

AHC Huntersville

Allegheny Wood Products, Inc.

American Lumber Company

Baillie Lumber Company

Banks Hardwoods, Inc.

Bingaman & Son Lumber, Inc.

M. Bohlke Veneer Corp.

Cardin Forest Products LLC

Clark Lumber Company

Cole Hardwood Inc.

Collins

Robert S. Coleman Lumber

Co., Inc.

W.M. Cramer Lumber Co.

Cummings Lumber Co., Inc.

Deer Park Lumber, Inc.

Devereaux Sawmill, Inc.

Frank Miller Lumber Co., Inc.

G.F. Hardwoods, Inc.

Graf Bros. Flooring & Lumber

Graf & Thomas Lumber Co.

Granite Valley Forest Products

88% Renewal in 50 th Edition

Greentree Forest Products, Inc.

GTL Lumber Inc.

Hartzell Hardwoods Inc.

Hermitage Hardwood Lumber

Sales, Inc.

HHP, Inc.

Hoskins Lumber Co.

Kepley-Frank Hardwood

Co., Inc.

Maine Woods Co. LLC

McClain Forest Products LLC/

Legacy Wood Products LLC

Midwest Hardwood Corp.

Neff Lumber Mills, Inc.

Newman Lumber Co.

Northwest Hardwoods, Inc.

Nyle Systems LLC

OHC

O'Shea Lumber Company

Ram Forest Products, Inc.

RJ Lumber LLC

Carl Rosenberry & Sons

Lumber, Inc.

Hardwood

Purchasing

Handbook

Fiftieth Edition/2021

Featuring HARDWOOD:

• Lumber Manufacturers • Wholesale Suppliers

• Distribution Yard • Phone, Fax, Email

• Plywood Suppliers and Web Page Directory

(See Contents Page 4)

Somerset Wood Products, Inc.

Stoltzfus Forest Products LLC

Tropical Forest Products

Wagner Lumber Company, Inc.

Wheeland Lumber Co., Inc.

York Legacy Mill, Inc.

Full Page: $2,150 • 1/2 Page: $1,700

Color Additional

Note: All advertisers must carry a position in the Christmas Buyer's Guide Issue of

National Hardwood Magazine to reserve space in the Hardwood Purchasing Handbook.

$175.00 US/CN

$225.00 FOREIGN

For more information call 1-800-844-1280 or

email hph@millerwoodtradepub.com.

50th HARDWOOD PURCHASING HANDBOOK 2021 www.hardwoodpurchasinghdbk.com

Carl Rosenberry & Sons Lumber, Inc.

Celebrating 100 Years!

Since 1920, Carl Rosenberry & Sons Lumber, Inc. has been producing the finest

Pennsylvania Hardwoods for three generations. We are located in a small valley nestled

in the heart of the Appalachian Mountains.

Our tree length harvesting and milling system allows us to cut our logs to length inside

the mill permitting us to maximize yield, and cut specific lengths requested by our

customers – ranging from 4' to 16', at a production rate of 35,000 BF a day. We have a kiln

capacity of 350,000 BF with one million feet of dry storage and one million feet of air-dried

and green storage area. All lumber is graded after kiln drying. We offer S2S and width

sorted lumber for your specific needs.

www.rosenberrylumber.com

10 AUGUST 2021 n NATIONAL HARDWOOD MAGAZINE AUGUST 2021 n NATIONAL HARDWOOD MAGAZINE 11
---
NEWS DEVELOPMENTS

KINDEL ADDS WORK-FROM-HOME

FURNITURE

Kindel Grand Rapids, located in Grand Rapids, MI, has

announced the expansion of their Facets program to include

'Work from Home' category products. The additions

A Complete line of Machinery,

Controls and Software to fit your Mill.

sales@tsman.com | tsman.com

705.324.3762 | 24/7 Support 1-844-44-TSSVC

RUGGED | DEPENDABLE | INNOVATIVE

12 AUGUST 2021 n NATIONAL HARDWOOD MAGAZINE

add to the program consisting of configurable chests and

credenzas, bedroom, dining, occasional and bar products.

The program brings a range of luxury options to work

at home products. The additions to the collection include

table desks, bookshelves, file cabinets and a new mobile

work unit/occasional table named the

Multi-Facet. Each of these pieces pull

from components and parts from the

Facets chest and credenza program,

an important aspect of Facets.

This new furniture uses solid U.S.

Hardwoods, specifically Maple, and

is manufactured only in the United

States.

Facets has broad appeal because

of the range of luxury choices, especially

with the chest, credenza and

nightstand products, according to

Kindel Grand Rapids. The new work

from home products offer options including

hand painted fine lines, multiple

species options, dual finishes,

and 68 hand rubbed wood and paint

finishes. The finishes include a collection

of artistic, hand applied finishes

that showcase the multi-step finishing

process that is prized within Kindel

Grand Rapids brands.

Kindel Grand Rapids is known for

high-level craftsmanship and is made

in the USA. The company's streamlined

process combined with efficiencies

of design, enables lower opening

price points.

The Facets Collection additions

were launched at the June, 2021

High Point Market. For more information,

go to kindelfurniture.com.

SINGLE-FAMILY STARTS

STEADY IN MAY

Overall housing starts increased

3.6 percent in May to a seasonally

adjusted annual rate of 1.57 million

units off of a downwardly revised

April reading, according to a report

from the U.S. Department of Housing

and Urban Development and the

NEWS ABOUT NORTH AMERICAN INDUSTRIAL

HARDWOOD CONSUMERS INCLUDING MERGERS,

PLANT EXPANSIONS & ASSOCIATION ACTIVITIES

U.S. Census Bureau contained in a press release from the

NAHB, the most recent data available.

The May reading of 1.57 million starts is the number of

housing units builders would begin if development kept

this pace for the next 12 months. Within this overall number,

single-family starts increased 4.2

percent to a 1.10 million seasonally

adjusted annual rate. The multifamily

sector, which includes apartment

buildings and condos, increased 2.4

percent to a 474,000 pace.

"Single-family starts held firm in

May as demand remains strong

despite recent gains in new home

costs," said Chuck Fowke, chairman

of the National Association of Home

Builders (NAHB) and a custom home

builder from Tampa, FL. "However,

single-family permits posted a decline

as higher construction costs are deterring

some residential construction

activity. Policymakers need to help

the industry's supply-chains in order

to protect housing affordability."

"Single-family permits declined to

the lowest pace since September

2020 as the home building market

cools somewhat to adjust to higher

prices and longer delivery times of

building materials," said NAHB Chief

Economist Robert Dietz. "The count

of single-family homes permitted but

not started construction is up 53 percent

over the last year due to both

gains for home construction since the

onset of the 2020 virus crisis and the

delay of some building projects due to

higher costs for materials and labor."

For more information, go to www.

nahb.org.

U.S. TRADE DEFICIT

IMPROVES

According to Manuel Gutierrez,

Consulting Economist to the National

Kitchen and Bath Association,

"There was a modest improvement in

the U.S. trade position in April, which

UPGRADE YOUR

OPTIMIZATION EXPERIENCE

BIG enough to support your operation; small enough to care.

09 Members on

the software team

13 Members on

the controls team

24/7Support

with experts

in 3 time zones

across the globe

40+Optimization

systems

700+ Control

Systems installed

worldwide

is the most current data available at presstime, with the

negative balance falling from $75 billion in March to the

current $69 billion. Despite this positive movement, the

balance has been worsening since the beginning of the

704.200.2350

sales@automationelecusa.com

automationelecusa.com

Please turn to page 52

AUGUST 2021 n NATIONAL HARDWOOD MAGAZINE 13
---
HMA UPDATE

TACKLE CLIMATE CHANGE – USE WOOD!

Never a dull moment for the Hardwood

industry. Just as Pandemic panic begins

to ease, climate change concerns are

getting the headlines. And rearing its

ugly head, for the umpteenth time, is

the cry from the environmental lobby

that forests should be "preserved," with

little emphasis on management and

utilization.

The Hardwood Federation is already addressing this;

meeting with the powers that be in the Administration and

on Capitol Hill; discussing the benefits of active forest

management; and presenting the scientific facts regarding

the sustainability of American Hardwoods. (Thank you!)

But the situation requires our involvement, too!

With Hardwood's significant environmental credentials,

it is up to us all to present our industry, and the

magnificent material and products we produce, as part

of the solution to the climate change crisis. Honing

in on a succinct account of the 'science' behind our

Hardwood credentials, however, can be challenging. So,

I'm suggesting CORRIM's (Consortium for Research on

Renewable Industrial Materials) Factsheet, "Reducing

Carbon Emissions by Using Wood Products."

You'll find it at www.corrim.org. Have it at your

fingertips, even present it to your local representatives,

so that when (and if) our industry comes under attack,

you can confidently respond with this factual information:

All materials have a carbon footprint, even

wood and wood products. And the increase

of "Greenhouse Gas (GHG) emissions

– from the extraction, manufacturing,

transportation, construction, and even

disposal of building materials, at the end

of their useful lives" – is at the heart of the

environmental crisis. However, only one

building material can aid in resolving the

issue – and that's WOOD!

•"Healthy, living trees store carbon. Harvesting trees

transfers carbon from the forest to wood products.

Wood products can store carbon for decades and

using wood products mitigates carbon emissions. At

the end of its useful life, wood in products can often

be recovered and recycled into other products.

•Sustainably harvesting forest carbon not only

provides significant opportunities for carbon storage,

but also mitigation when wood products displace

fossil fuels and fossil-fuels intensive products."

Here's how we know

For decades, the Consortium for Research on

Renewable Industrial Materials (CORRIM) has been

conducting Life Cycle Assessment (LCA) research on the

environmental impacts of production, use, and disposal of

forest products.

BY LINDA JOVANOVICH,

EXECUTIVE VICE PRESIDENT,

HARDWOOD MANUFACTURERS ASSOCIATION,

PITTSBURGH, PA

412-244-0440

WWW.HMAMEMBERS.ORG

Please turn to page 53

BE PART OF

BUILDING

SOMETHING

BIG

Where We've Been

It's no secret, the hardwood industry has been losing market share to

products that look like wood, but have none of the natural benefits or

authentic attributes of Real American Hardwood. In order to recapture

market share and improve industry stability, hardwood organizations

united to form the Real American Hardwood Coalition.

Where We Are

The goal is to develop a national consumer promotion campaign on a

scale that's never been seen before. And a lot has been accomplished

in a short period of time—including the completion of an extensive

consumer research initiative, establishing brand guidelines, registering

trademarks, and launching social media profiles.

Where We're Going, Together

The next steps will have the largest impact on the industry and require

buy-in from all industry stakeholders. The Coalition is preparing to

launch a comprehensive promotion campaign—including a consumeroriented

website, in-store promotion at top big box stores, a broad

media relations campaign, social media influencer partnerships, print

and web advertising, and much more.

How You Can Get Involved

Moving the campaign forward and expanding its reach will take the

support of the entire industry—for the benefit of the entire industry.

■ Make a voluntary contribution to help fund the consumer

promotion campaign.

■ Use the Real American Hardwood logo on your sales and

marketing communications, facilities and vehicles, products,

and website.

■ Follow @RealAmericanHardwood on Instagram and Facebook,

and tag #RealAmericanHardwood in your social media posts.

14 AUGUST 2021 n NATIONAL HARDWOOD MAGAZINE

Visit RealAmericanHardwood.org to learn more and get on board.
---
AHEC REPORT

AHEC SUBMITS FUNDING APPLICATION FOR 2022

The American Hardwood Export Council

recently submitted its 2022 funding application

that outlines our international market

growth strategy for the upcoming year. Below

is our "Executive Summary" of this proposal

and includes our plan to advocate for

American Hardwoods overseas.

The principal long-term strategy employed

by AHEC has always been to create a positive

environment for the U.S. Hardwood industry

to promote their business and make

sales. AHEC works to provide support in

ways that may not be easy or possible for

individual companies in ways such as influencing

wood fashion, highlighting environmental policies

and developments and responding to them, creating promotional

tools, and anticipating market developments.

We are constantly asking ourselves what we can do

for the industry that helps to strengthen their own marketing

efforts? A perfect example is the focus on architects

and designers. While not direct customers of our

industry their influence on the decision-making process

in terms of how materials are chosen and used, is vital

for sustained growth and finding new applications. If

these programs can create new demand for American

Hardwoods, the world's Hardwood sector will turn to our

industry for supply. Year on year we have demonstrated

that this tactic works to deliver new demand.

The program strategy is achieved through a wide range

of creative activities and by generating significant levels

of media publicity, thus keeping the U.S.

Hardwood industry and American Hardwood

as a material, constantly in the public eye.

AHEC is a very recognized brand around the

world for Hardwood communication, which

enables the program to deliver its messages

more effectively. Some of these messages

have remained constant, such as the variety

of species available and the strong environmental

credentials. What changes annually

are the specific details of the messages and

the methods of delivery.

Programs are based on a combination of

activities to pull demand through the "wood

chain" with designers and manufacturers, while also

working to push information into the "wood chain" by

working with, and targeting, timber trade and industry.

In order for this strategy to be effective it is important

to "bridge the gap" in order to create a stronger link between

specifiers and the Hardwood sector in each market.

AHEC has spent years creating relationships with

and cooperating with many global wood trade federations

and manufacturer associations to encourage them

and their member companies to play a more active role

in AHEC promotional activities. Working with these global

user organizations as well as their respective specifier

communities is absolutely vital to the effectiveness and

reach of AHEC's messaging.

Promoting underutilized species - The program will

continue to give a focus to underutilized species such

WORLD

MAKING OUR HARDWOOD

FAMOUS.

Dave Bramlage, Sales Manager, size 11

BY MICHAEL SNOW,

EXECUTIVE DIRECTOR,

AMERICAN HARDWOOD EXPORT

COUNCIL,

STERLING, VA

703-435-2900

WWW.AHEC.ORG

Please turn to page 54

Dave's gone through a lot of shoes traveling to a lot of countries,

meeting the needs for Cole hardwood across the globe. No matter where

you are, Cole means quality, fair price and on-time delivery.

Right, Dave? Dave? Where did he go now?

SOLID HARDWOOD.

SOLID PEOPLE.

Call 800-536-3151 for a quote, or visit www.colehardwood.com.

16 AUGUST 2021 n NATIONAL HARDWOOD MAGAZINE AUGUST 2021 n NATIONAL HARDWOOD MAGAZINE 17
---
NWFA REVIEW

KEEPING CURRENT ON THE LACEY ACT MATTERS;

NWFA CAN HELP

The Lacey Act is a United States

federal conservation law that was enacted

in 1900. Initially, the Lacey Act

was designed to protect wild game

and birds. At the time, illegal commercial

hunting threatened many species

in the United States. The law made wildlife poaching

a federal crime, prohibited the transport of illegally captured

species, and outlawed the introduction of non-native

species into native ecosystems.

In 2008, the Lacey Act was amended to include plants

and plant products, which includes wood. As it relates

to the Hardwood industry, the Lacey Act generally deals

with issues having to do with illegal logging. Fortunately,

in the United States, illegal logging is not a common

practice. Unfortunately, the same cannot be said for the

rest of the timber-producing areas of the world. Because

of this, the Lacey Act is an attempt by the United States

to reduce the impact of illegal logging world-wide. Specifically,

the legislation prohibits the import, sale or trade

of illegally harvested wood and other forest products in

the United States.

As a Hardwood professional, you need to know how

the Lacey Act impacts your business, and understand

the steps that must be taken to ensure compliance. For

example, Lacey states that all wood flooring imported

into the United States must include an import declaration.

Whether a product must be accompanied by a declaration

is determined by three questions:

1. Does it contain plant material?

Wood is considered plant material,

so the answer to this question is yes.

Which leads to question 2

2. Is it a formal entry? If it is being

imported into the United States, as opposed

to hand-carried, the answer to this question is yes.

Which leads to question 3.

3. Is the Harmonized Tariff Schedule (HTS) code on

the Schedule of Enforcement of the Plant and Plant

Product Declaration? For Hardwood, the potential HTS

code products could include:

•Wood in the rough

•Wood sawn or chipped lengthwise

•Sheets for veneering

•Plywood, veneered panels

If any of these products are included, the answer is

yes. Which means that an import declaration is required.

Import declarations can be filed both electronically and

by hard copy. Both forms require the same information:

•Estimated date of arrival

•Entry number

•Container number

•Bill of lading

Please turn to page 55

BY MICHAEL MARTIN,

PRESIDENT & CEO,

NATIONAL WOOD FLOORING ASSOCIATION,

CHESTERFIELD, MO

800-422-4556

WWW.NWFA.ORG

18 AUGUST 2021 n NATIONAL HARDWOOD MAGAZINE AUGUST 2021 n NATIONAL HARDWOOD MAGAZINE 19
---
NHLA NEWS

INDUSTRIES

CONTROLS

HARDWOOD LUMBER GRADING RULES CHANGES TO BE

DISCUSSED AT NHLA CONVENTION

The National Hardwood Lumber Association

was formed in 1898 to create a uniform

standard of "grading" Hardwood lumber.

Since then, NHLA has been the keeper

and teacher of the North American Hardwood

Lumber Grading Rules. Every four

years, the membership of NHLA evaluates

the Hardwood Lumber Grading Rules and

accepts Rules change proposals for consideration.

The deadline for submitting proposals to the

NHLA Rules Committee was March 31, 2021.

On June 8, 2021, the NHLA Rules Committee met with

eleven committee members and four guests in attendance.

In all, twenty-one Rules change proposals were

submitted for consideration, with seven Rules change

proposals making it to the final list to be presented to the

NHLA membership.

The list of Rules proposals that will be voted on are

as follows: (Numbered and lettered as proposed to the

Rules Committee, each lettered submission will require

a vote)

#3 (Standard Inspection by Species & Standard

Grades)

c. Page 24, Basswood: Remove "Note: Dormant

twig buds to be considered as burls."

e. Page 66, Select Car Stock: Change split limitation

from - "SPLITS: Shall not exceed 6" in length in

any one end or the aggregate equivalent in one or

BY RENEE HORNSBY,

DIRECTOR OF MARKETING & COMMUNICATIONS,

NATIONAL HARDWOOD LUMBER ASSOCIATION,

MEMPHIS, TN

901-399-7560

www.nhla.com

both ends of the piece." To – "SPLITS:

Shall not exceed 12" in length in either

end of the piece of Standard or specified

length."

f. Page 67, Common Dimension:

Change Split limitation from – "SPLITS:

Shall not exceed 12" in length in any

one end or the aggregate equivalent

in one or both ends of the piece." To –

"Splits shall not exceed in the aggregate in inches

in length twice the surface measure of the piece of

Standard or specified length, except when one foot

or shorter"

h. Page 14, FAS, paragraph 53., Change minimum

width to 5"

#4 (Cypress Rules)

a. Page 48, paragraph 90, Selects & Btr. –

•Add "Pith is limited to aggregate in inches,

boxed or showing, to the nominal width of the

piece."

•Change from "A. Pieces 4" and 5" wide must be

clear allowing slight wane on one edge. (Par. 80)"

To – "A. Pieces 4" and 5" wide must be clear

allowing slight wane on one edge (Par. 84), except

that pieces 12' in length and over allow 1 medium

knot (Par. 39)."

Please turn to page 65

CLEEREMAN The most trusted name in carriages

n Over 1175 Carriages sold

n Lowest cost of ownership

n All parts in stock and reasonably priced

n In-house engineering department

n Everything from single piece equipment to

turn-key mills

20 AUGUST 2021 n NATIONAL HARDWOOD MAGAZINE Sales

AUGUST 2021 n NATIONAL HARDWOOD MAGAZINE 21

STEFAN DRACOBLY

President Of

Controls

CLEEREMAN LUMBER COMPANY 1930's CLEEREMAN INDUSTRIES 1955 CLEEREMAN CONTROLS 2019

CLEEREMAN

Now, TWO ENTITIES TO SERVE YOU BETTER!

PAUL CLEEREMAN

VP Cleereman

Industries & Controls

DAN TOOKE

Senior Optimization

& Controls Engineer

TODAY

For optimal efficiency. . .

knows what a sawmill needs:

CLEEREMAN the newest name in sawmill controls and optimization

n Simple easy to use touch

screen with additional

tactile buttons

n Remote access for

troubleshooting

n No custom electrical

hardware, all parts are

off-the-shelf components

n Industry Standard

JoeScan X6 heads

n 3D data used for

opening the log and

estimating the back of

log profile

n Realistic views of the log

n Sure Grip Joystick

handles

n Operational statistics and

reports

Cleereman Industries

and Cleereman Controls

715-674-2700

www.cleereman.com

info@cleereman.com
---
Cornerstone Moulding Reinvests in

Manufacturing for Quality and Consistency

"When you run a clean operation, you get

a quality product. It's as simple as that.

We strive on cleanliness and first impressions.

We specialize in on-time delivery and, if the

customer is expecting to pick it up, it's ready

when they get here. We try not to carry back

orders; we always try to get the best quality

wood so that we can have a good finished

product offering."

By Michelle Keller

–Daryl Yoder,

Vice President and General Manager,

Cornerstone Moulding Inc.

Photos by Cari Clark Photography

Established in March of 2004, Cornerstone

Moulding is located between Nappanee and

Bremen, IN.

Bremen, IN–Cornerstone Moulding Inc., based here,

manufactures residential mouldings and serves both

the RV and cabinet manufacturing industries. The

company purchases approximately 1.3 million board feet

annually of Hard and Soft Maple, Red Oak and Poplar in 4/4

and 5/4 thicknesses (No. 1 Common and Better).

The company was established in 2004 by President Eddie

Ray Borkholder and Vice President and General Manager

Daryl Yoder. The two men saw a need for a moulding operation

in their area and decided to fulfill it. "My brother-in-law

Eddie Ray and myself had no prior experience in moulding

and we met some challenges along the way," Yoder explained.

"We had to learn the trade from top to bottom. We

knew if we learned the trade, the rest would come, and it did.

Our father-in-law had moulding experience and he helped

us get the company started by sharing his knowledge. We

took training on the moulding end and had a technician from

Weinig come down and teach us how to use the moulders.

We've reinvested over the time we've been in business and

we've seen positive results every time." A family owned and

operated business, Yoder said the brother-in-laws added a

third brother-in-law to the team in 2006 when Sales and

Customer Service Manager Fred Miller came aboard.

From a 31,000-square-foot facility, Cornerstone

Moulding Inc. continues to reinvest in equipment to improve

the manufacturing process. Yoder explained, "We

started with an Ogam gang rip saw and we upgraded in

2007 with a Raimann rip saw with a movable blade. By

2015, we replaced that gang rip with another Raimann

rip with two variable blades. We upgraded our moulders

to a faster pace. We began with one Unimat Gold moulder

and we added a second Unimat Gold in 2012. By 2016

we replaced the first Unimat with a Weinig P1200, which

is twice as fast."

Yoder said Cornerstone Moulding rips about 6,000

board-feet per day. "Six thousand feet is about an average

day," he continued. "We rip it and we mould it and

then it goes into bundles and goes into the finish room

where it gets hand-selected for orders. We do all orders

on a day-by-day basis. After it gets finished or painted

it goes into our drying tunnel, and after it comes out of

Sanding and pulling of daily orders are carried out in the prep

area before going to the finish shop at Cornerstone Moulding.

Cornerstone Moulding is powered

and heated by a natural

gas power generation and

heat recovery system.

the drying tunnel it goes into shipping and gets boxed.

The packages are then put on skids and loaded into

semi-trailers for shipment."

The people at Cornerstone work diligently with precise

attention to detail on each part of the process. Yoder

said, "No single part of the process is overlooked. Our

goal is to maintain excellence, quality and consistency

for every order, every time. We keep operations clean

and we move orders on a daily basis. Orders are processed

immediately and ready for shipment or pick-up

as soon as the next day or in some cases the same day,

depending on the job."

Yoder said the entire operation is powered by natural

gas generators. "We have a 300kw generator, and we

do all of our heating off the exhaust. The exhaust goes

through a heat exchanger and it heats the water and,

in exchange, we're heating the entire complex for about

$12 an hour for heat and electric combined. We're very

efficient in our energy and the resources that we utilize."

Please turn to page 42

In the milling department, mouldings are inspected for defects,

cut to length and stacked on carts. On an average day, Cornerstone

Moulding runs about 28,000 lineal feet of moulding.

22 AUGUST 2021 n NATIONAL HARDWOOD MAGAZINE AUGUST 2021 n NATIONAL HARDWOOD MAGAZINE 23
---
Peterman Lumber

Providing Quality Hardwoods and Superior Service For 40+ Years

By Michelle Keller

Fontana, CA–Peterman Lumber Inc., headquartered

here, is a Hardwood distribution yard that specializes

in architectural lumber including domestic and

exotic Hardwoods and VG softwoods. Product offerings

include: Hardwood moulding, glue ups, shutter components,

veneers, melamine, laminates, doors, cabinetry

and decorative hardware.

Purchasing approximately 6 million board feet of Hardwood

annually, Peterman Lumber Inc. operates from

three facilities. The corporate location in Fontana encompasses

14.4 acres with 80,000 square feet under cover

and 40,000 square feet of open shed space. In Las Vegas,

NV, the company operates an 80,000-square-foot distribution

and storage center along with a 40,000-squarefoot

additional distribution center in Phoenix, AZ, which

also has 10,000 square feet of laminating and storage

space. Peterman is one of the few large-scale distributors

that is open to the public and lets customers come

in to hand-select their own lumber.

Domestic Hardwoods carried by the company include:

Alder, Ash, Basswood, White, Red and Natural Birch,

Cherry, Hickory, Hard and Soft Maple, Red and White

Oak, Poplar and Walnut (4/4 through 16/4, FAS and No.

1C). Most species are offered flat cut, quartered cut and

rift cut.

Imported Hardwoods available include: African Black

Limba, Afromosia, Anigre, European Beech, Bloodwood,

Bubinga, Cumaru, Goncalo Alves, Ipe, Iroko, Jatoba,

Lacewood, African (Genuine and Santos) Mahogany,

Makore, Morado, Padauk, Purpleheart, Sapele, Spanish

Cedar, Teak, Wenge and Yellowheart and Zebrawood

(FAS, SEL and FEQ, 4/4 through 8/4 depending on the

specie).

With over 40 years of experience, providing top quality

s Peterman Lumber Inc. operates three facilities. The corporate location

in Fontana, CA encompasses 14.4 acres with 80,000 square feet under

cover and 40,000 square feet of open shed space. In Las Vegas, NV, the

company operates an 80,000-square-foot distribution and storage center

along with a 40,000-square-foot additional distribution center in Phoenix,

AZ, which also has 10,000 square feet of laminating and storage space.

Darlene Peterman, Pete Peterman, who founded the company in 1979,

and Bret Peterman stand ready to help customers choose from a diverse

selection of Hardwoods. They include: Alder, Ash, Basswood, White, Red

and Natural Birch, Cherry, Hickory, Hard and Soft Maple, Red and White

Oak, Poplar and Walnut (4/4 through 16/4, FAS and No. 1C).

Hardwood lumber, plywood, and moulding, Peterman Lumber

Inc. takes pride in being among the largest, most efficient suppliers

of architectural lumber products.

"Peterman Lumber is the resource for our customers to find

premium solutions in the modern age where craftsmanship,

quality, and efficiency are essential to thriving," said Regional

Sales Manager Jeremy Peterman. "Our vision is to continue to

offer the classic materials of today and invest in the cutting-edge

materials of tomorrow."

Not only does Peterman Lumber focus on architectural grades

of domestic and imported Hardwoods but also softwoods for use

in cabinetry, interiors and furniture. "We pride ourselves in having

a full line of offerings with the largest selection of Hardwoods in

the southwest to be able to provide our customers a selection to

choose what works best for their projects," Peterman explained.

Founded by Pete Peterman in 1979, the operation originally

carried Hardwoods, custom milling and panel products. "In 1981

we moved into our Fontana headquarters that was developed

out of an olive grove off of the 10 freeway," Peterman said. "We

partnered with Specialized Milling in 2000 to be able to be involved

with our customers' orders so selecting the lumber, millwork,

and delivery is on premises. Today we continue to have

them operate on our Fontana yard. In 2006 we opened up our

yard in Las Vegas, NV and we obtained the KML Melamine line

and Nevamar Laminates in 2009."

By 2013 Peterman Lumber became the exclusive distributor of

Formica in Las Vegas and Phoenix. "In 2015 we purchased our

cold lamination press to layup HPL and veneer and we brought

in Decorative Surfaces from the European market as easy finish-

"Being family owned

and operated and having

employees that are like family,

we can personally stand

behind all of our materials and

make sure that our customers

receive service equal or better

than the quality we offer."

Jeremy Peterman,

Regional Sales Manager,

Peterman Lumber Co. Inc.

Please turn to page 44

24 AUGUST 2021 n NATIONAL HARDWOOD MAGAZINE AUGUST 2021 n NATIONAL HARDWOOD MAGAZINE 25

s

ing solutions for our customers in 2017."

In 2018 Peterman brought in made-to-order

doors, European hardware styles, and a full line

of coordinating materials to open up cabinetmakers

to European trends.

When asked about the longevity of Peterman

Lumber Co. and what has allowed them to maintain

a large presence in the Hardwood market,

Peterman said, "Being family owned and operated

and having employees that are like family, we

can personally stand behind all of our materials

and make sure that our customers receive service

equal or better than the quality we offer.

"All products that we carry are either because

a customer asked for them directly or we think

they would create an advantage for our customers,"

he said. "With materials designed to save

time, reliability that puts their mind at ease, and

Becky, Jeremy and Tim Peterman are among the three

generations involved in the continuing operation of Peterman

Lumber Co., of Fontana, CA, which purchases

approximately 6 million board feet of Hardwood lumber

annually.
---
U.S., Canada Furniture Makers at High Point

Report Strong Sales In 2021

By Tom Inman

Dovetail, pictured, was a major introduction from Vaughan-Bassett Furniture, made of White Oak with rustic features.

High Point, NC–Furniture manufacturers from the United

States and Canada are having a very good business

year and the Spring High Point Furniture Market

just added to their success.

Most domestic manufacturers are reporting record sales

in 2021 as consumers have spent disposable income upgrading

their living arrangements. COVID restrictions have

kept people home and they want new furniture.

These manufacturers have reaped the benefit of COVID

lockdowns interrupting supply chains for many import companies.

Products from China and Vietnam are delayed 16-

24 weeks and consumers do not want to wait so they seek

out retailers who have inventory.

These retailers and designers came to High Point recently

to see product, check availability and

buy. Most exhibitors who opened

their doors were successful.

Virginia-based Vaughan-Bassett

(VB) Furniture has increased sales

more than 30 percent in the past year

as they focus on bedroom groups

made from solid Appalachian Hardwoods

and engineered veneer over

solids. Their suppliers have kept pace

with their demand for lumber.

"We certainly have an advantage

over the import companies because

we can deliver in days if our trucking

partners do their part," said VB President Doug Bassett.

"We have retailers coming to us now who need product and

that has been great."

VB had $62 million in sales in 2019 and is on pace to top

$99 million in 2021. They shifted 70 workers from a particleboard

plant into the furniture factory and have hired another

35 people to meet demand.

"Like everyone else, we could be doing more if we had

more workers but we are really good right now," Bassett

said. The company has reduced the number of product

groups from 19 to 11 and is focused on profitable manufacturing.

Hard Maple was the top species for VB in 2021, but an introduction

at the market was Dovetail, a bedroom collection

in rustic Appalachian White Oak with

three finishes. The groups feature

6"X6" blocks in the footboard and

use of character marked lumber.

Hard and Soft Maple were the leading

species at Country View Furniture,

based in Millersburg, OH. One of the

few Amish companies that exhibit in

High Point, the company has found

success with both traditional and contemporary

designs.

This Hard Maple bedroom group from

Vaughan-Bassett Furniture, displayed at

the recent High Point Furniture Market, is

a top seller.

Large scale contemporary designs in Maple have a growing audience

with U.S. consumers. This group was from Durham Furniture.

Two bedrooms groups were unveiled in Hard Maple and

consumers had a choice from six-drawer front designs and

three stain colors. The pieces were well-received, said a

marketing representative, as well as new dining room

groups in Hard Maple and Elm.

Durham Furniture of Ontario, Canada showcased Hard

Maple in two groups at market. Officials said retail buyers

liked brown and gray finishes and were focused on availability.

"Our customers want to know what we have and

when they can receive it," one marketing person said.

Simply Amish President Kevin Kauffman agreed that retailers

and designers are busy finding furniture that is available.

The Illinois company was working overtime to meet

the demand and did not have introductions this market because

they did not need it.

"The live edge dining continues to be popular and people

want the solid wood furniture in Maple, Oak and Cherry,"

he said.

Furniture importers said they were extremely concerned

with the short supply of containers and the costs of freight.

Furniture Today reports that Ashley Furniture Inds. is the

fifth-largest importer of containers to the U.S. market for

any sector, trailing only Walmart, Target, Home Depot and

Lowe's, according to the Journal of Commerce. Even with

that buying power of shipping some 290,000 containers a

year, Ashley remains exposed to ocean-freight price volatility.

"We have the contracts, but that doesn't mean they'll get

it to you," said Ashley President of U.S. and Canadian Sales

Rick Coppola. "And now they just want to drop (containers)

at the port, so it's hard to get them inland since they don't

want to do the complete fulfillment."

Those factors should continue to help domestic manufacturers.

The next High Point Market is scheduled for October 16-

20, 2021. n

Learn more at

www.highpointmarket.org.

Retailers report that homeowners are buying higher quality furniture

in solid wood with natural finishes like this group from Simply

Amish.

Hard Maple and Elm solids were the latest designs from Country

View Furniture of Ohio.

Pictured at High Point, this Amish-made solid Oak dining group

from Country View Furniture has contemporary flair.

Brown stain finishes are trending at the High Point Market, marking

a slight shift from gray and painted.

26 AUGUST 2021 n NATIONAL HARDWOOD MAGAZINE AUGUST 2021 n NATIONAL HARDWOOD MAGAZINE 27
---
Penn-York Celebrates Return to In-Person

Meetings with Penn-Sylvan as Host

Titusville, PA–Penn-Sylvan International recently

hosted a Penn-York Lumbermen's Club meeting

here at Cross Creek Resort.

Sawmill representatives in attendance overall reported

good sales, with stable prices on some species, but challenges

regarding transportation, both domestically and

in the export market.

One attendee noted that while he still sees pushback

on Red Oak, White Oak and Walnut "are still extremely

hot. Poplar, too, is also still hot and the spread between

green Poplar and kiln-dried Poplar is about the biggest

I've ever seen in my career. It's $600 to $800 a thousand

spread, which is huge."

Another lumber representative commented that, at the

time of this Penn-York meeting, White Oak sales were

still good. He added that while it remains at an all-time

high, he believes it is starting to settle some. Red Oak is

predicted to be strong all summer.

Log decks are improved throughout Ohio, Pennsylvania,

New York, Virginia, West Virginia and Maryland

according to another sawmill spokesman. "Production is

probably as good as it is going to be based off the fact

Photos by Gary Miller

that nobody can put on a second shift," he explained.

To that point, labor shortages continue to plague these

sawmills. One lumberman commented, "The consistent

comment I hear from the folks I deal with in Wisconsin,

Iowa, Georgia, North and South Carolina, and up into

New England, is that they can't find enough people to

work. But, I can't blame them really. I've worked in the

lumber business for 20-some odd years now and it's a

hard labor job. You can make more money in some of

these positions if you work at McDonald's, or in my area

Amazon is hiring people at $22 per hour. By comparison,

in my geographic area, for just an unskilled lumber

stacker the pay is $11 to $13 an hour. For the industry

to compete, I think it needs to be quite a bit higher than

that."

Regarding transportation, one Penn-York attendee

simply called it "atrocious."

One elaborated, "Trucking is still very difficult. We

were paying $2.50 to $3 a load a mile over a year ago

and now, today you will be lucky if you can get a truck for

$5 a load a mile. So trucking costs have actually doubled

in the last year."

Please turn to page 28

Burt Craig and Wayne Wilson, Matson Lumber Co., Brookville,

PA; Jerry Puckly, Summit Hardwoods Inc., Waterford, PA; and

Rob Matson, Matson Lumber Co.

Andy Nuffer, DMSi Software/Tally Express/eLIMBS, High Point,

NC; Brandon Ferman, Meridien Hardwoods of PA Inc., Pittsfield,

PA; Jay Reese, Penn-Sylvan International Inc., Spartansburg, PA;

and Nick Skudlarek, Salamanca Lumber Co. Inc., Salamanca, NY

Shawn Donovan and Jimmy Irwin, Penn-Sylvan International Inc.,

Spartansburg, PA; and John Wadding, Allegheny Veneer Co. Inc.,

Corry, PA

John Pysh, Pennsylvania Hardwoods LLC, Titusville, PA; and Ted

Korn, Matson Lumber Co., Brookville, PA

Christopher Strang, Alan McIlvain Lumber Co., Marcus Hook, PA; Marty James, Penn-Sylvan International Inc., Spartansburg, PA;

Steve Jones, Ron Jones Hardwood Sales Inc., Union City, PA; and Greg Ochs, Hickman Lumber Co. Inc., Emlenton, PA

Reza Reese, Mitra Reese, Jay Reese, Bill Reese, Patty Wagner, Marc Reese, Mike Reese, and Sonya and Marty James, Penn-Sylvan

International Inc., Spartansburg, PA

28 AUGUST 2021 n NATIONAL HARDWOOD MAGAZINE

AUGUST 2021 n NATIONAL HARDWOOD MAGAZINE 29
---
PENN-YORK LUMBERMEN'S CLUB Continued from page 26

Nick Skudlarek, Salamanca Lumber Co. Inc., Salamanca, NY; and

Brandon Ferman and Dan Ferman, Meridien Hardwoods of PA

Inc., Pittsfield, PA

Reza and Jay Reese, Penn-Sylvan International Inc., Spartansburg,

PA; and Gregg Reese, PNC Bank, Erie, PA

Jeff Winslow, Nydree Flooring, Clearfield, PA; Sharon Clevenger,

U.S. Lumber Group LLC, Youngstown, OH; and Sid Clevenger,

Retired, Youngstown, OH

Dan Ferman, Meridien Hardwoods of PA Inc., Pittsfield, PA; and

Patty Wagner and Bill Reese, Penn-Sylvan International Inc.,

Spartansburg, PA

Regarding the export market, a shortage of containers

has plagued the industry. A lumberman stated, "Containers

are very difficult to get because 75 percent of the

containers were leaving our country empty going back to

China and they weren't coming inland to load up with low

grade lumber and to be sent back."

China was reported strong for North American log exporters

and Vietnam was noted as improving for log exporters

as well.

A different sawmill represented summed up the overall

industry this way: "The market is starting to fill up and I

think we are going to see some market changes here. I

think the prices are going to start to correct themselves

and we are going to see a stabilized market."

Golf winners were as follows: 1st low gross, Marty

James; 2nd low gross, Mike D'Angelo; 1st low net, Sean

Kacznyski; 2nd low net, Wayne Wilson; long drive, Harry

Parateshes; closest to the pin #3, Nick Skudlarek; and

closest to the pin #16, Mason Kauffman.

Bill Reese of Penn-Sylvan was honored at the meeting

with a pictorial presentation. Additionally, a dinner and

golf game were held.

The keynote speaker for the evening was Marc Reese

who addressed overweight traffic permits.

Penn-Sylvan is headquartered in Spartansburg, PA.

Known as a leading lumber manufacturer, Penn-Sylvan

has produced all thicknesses of Hardwood lumber for

decades.

Learn more about Penn-Sylvan at www.american

hardwoodexport.com.

The next Penn-York Lumbermen's Club meeting is set

for Aug. 23 and will be hosted by Emporium Hardwoods

of Emporium, PA. n

Learn more at www.pennyork.org.

Brian Sexton, Wagner Lumber Co., Owego, NY; and Gary Miller,

National Hardwood Magazine, Memphis, TN

Sean Kaczynski and Bill Baker, Wheeland Lumber Co. Inc., Liberty,

PA; Joycelyn Suydan, Mitcheltree Brothers Logging and Lumber

Inc., Pulaski, PA; and Matthew Lowry, Woodcraft Industries

Inc., Greenville, PA

Nate Jones, Steve Jones and Trevor Vaughan, Ron Jones Hardwood Sales Inc., Union

City, PA

Wayne Wright, Blue Ox Timber Resources Inc., Titusville, PA; Paul Kephart and Scott Holley, Northwest Hardwoods Inc., Beachwood,

OH; and Randy Flament, Emporium Hardwoods Inc., Emporium, PA

30 AUGUST 2021 n NATIONAL HARDWOOD MAGAZINE

AUGUST 2021 n NATIONAL HARDWOOD MAGAZINE 31
---
NELA Reinstates Meetings with

Abenaki Hosting

Photos by Leslie Brienza

pping, NH–Members of the New England Lumbermen's

Association (NELA) met here recently for

an in-person summer meeting, which kicked off at

Abenaki Timber Corp. Though a facility tour was not part

of the meeting, NELA attendees enjoyed the networking

opportunity this get-together provided.

Barbecue for lunch was provided by Goody Cole's

BBQ on-site, followed by a NELA business meeting,

which was moderated by incoming club president David

Hubbard of GMC Hardwoods.

NELA announced that the association is easing back

into hosting meetings again on a regular basis and this

abbreviated gathering launched that effort.

The fall NELA meeting is scheduled to be held in

Northampton, MA. The date has not been set as of this

writing.

Information or questions regarding NELA can be addressed

by emailing Chris Castano, NELA secretary/

treasurer, at ccastano@mainewoods.net. n

C.J. Manchester, Manchester Lumber Co., Johnson, VT; Russell

Shamblen, Premier Hardwood Products, Syracuse, NY; Chris

Castano, Maine Woods Co., Portage Lake, ME; and Eric Porter,

Abenaki Timber Corp., Kingston, NH

Rob Hill, Holt & Bugbee, Tewksbury, MA; Andy Godzinski, Rex

Lumber, Acton, MA; and Shawn Collins, Tioga Hardwoods Inc.,

Berkshire, NY

Benjamin Hull and Jon St. Jean, Hull Forest Products, Pomfret

Ctr., CT; and Chris Breen, A. Johnson Lumber Co., Bristol, VT

Laura Bryer and Jeremy Turner, Meadowsend Timberlands, New

London, NH; and William Cafiero, Sackett Lumber, Wassaic, NY

Philip Bibeau, Wood Product Manufacturers Association, Westminster,

MA; Peter Broderick, Cape Lumber Co., South Yarmouth,

MA; and Peter Irish, Woodline Lumber Co., Alburg, VT

Roger Feltner, Atlantic Plywood Corp., Rochester, NY; Greg

Devine, Abenaki Timber Corp., Kingston, NH; and Parker Dukas,

Abenaki Timber Corp., Portsmouth, NH

Christine McGowan, Vermont Sustainable Jobs Fund, Montpelier,

VT; David Hubbard, GMC Hardwoods, Norwich, VT; Dave Doucette,

Keiver-Willard Lumber Corp., Newburyport, MA; and Jason

Aplin, Allard Lumber Co., Brattleboro, VT

Loren Voyer, Kennebec Lumber Co., Solon, ME; and Nathalie

Crane and Christine Pefine, HHP Inc., Henniker, NH

Dave Lupsha, Associated Hardwoods, Granite Falls, NC; Peter

Irish, Woodline Lumber Co., Alburg,VT; David Hubbard, GMC

Hardwoods, Norwich, VT; and Jeff Durst, Hull Forest Products,

Pomfret Ctr., CT

32 AUGUST 2021 n NATIONAL HARDWOOD MAGAZINE

Steven French, Abenaki Timber Corp., Kingston, NH; Joey Goudreau,

J.M. Champeau, Saint-Malo, Québec; and Karla Allen,

Goodfellow Inc., Manchester, NH

C.J. and Alan Manchester, Manchester Lumber Co., Johnson, VT;

Cliff Clune, Clune Lumber Co., Elkin, NC; and Jeff Poirier, Maine

Woods Co., Portage Lake, ME

Marco Carrier, HHP Inc., Henniker, NH; Chantal Callahan, Kennebec

Lumber Co., Solon, ME; and Russell Shamblen, Premier

Hardwood Products, Syracuse, NY

AUGUST 2021 n NATIONAL HARDWOOD MAGAZINE 33
---
"The 2020 Guidelines reflect

the reality of today's

Hardwood industry and

that provides a level of

uniformity in log grading

and scaling that is lacking

in the marketplace for

Hardwood logs."

–Curt Hassler,

Appalachian Hardwood Center

and Guidelines author

Log scaling and grading are integral components of Hardwood sawmilling and effectively set the bar for generating mill profits or

losses.

Guide Updates Hardwood

Log Grading Standards

By Tom Inman

Tom Inman, president, Appalachian Hardwood Manufacturers Inc. and Curt Hassler,

Appalachian Hardwood Center and author of the 2020 Guidelines.

used by the Hardwood industry. Instead, the Hardwood

industry has informally gravitated to an ad hoc system

that is primarily based on species, scaling diameter, and

clear faces…resulting in a cornucopia of log grading and

scaling rules that lack uniformity among and between

Hardwood mills.

"The 2020 Guidelines reflect the reality of today's

Hardwood industry and that provides a level of uniformity

in log grading and scaling that is lacking in the marketplace

for Hardwood logs," said Curt Hassler of AHC and

Guidelines author.

In order for the 2020 Guidelines to be applied uniformly

and accurately, it is important for mills to establish policies

that enable the log inspection activities to function

efficiently and effectively. Some of the ways to facilitate

the log inspection function are:

3. Avoid payment policies, such as payment at time

of delivery, that force grading/scaling to occur in an

environment where speed trumps accuracy.

4. Educate log inspectors about the manufacturing

process so that they have a reasonably good understanding

of how log defects impact both the

breakdown of logs and the production of grade

lumber.

5. Establish an in-house quality control system where

loads of logs can be checked, scaled and graded

at random, to ensure log inspectors are adhering

to the established log scaling and grading system.

A new guide to update Hardwood

log grading and scaling standards has

been produced to help foresters, landowners

from individual logs and the lumber

produced from those logs, the USFS

developed and refined a standardized

Certain conditions such as the existence of stain, mineral,

gum, and excessive bird peck can negatively impact

the production of higher-grade lumber. The 2020

and buyers.

Hardwood log grading system that was

1. Ensure that logs are not bunched tightly together Guidelines recommend that be left to the mill's discretion

Appalachian Hardwood Manufacturers

Inc. and the Appalachian Hardwood day needs of the USFS in managing

designed foremost to satisfy the day to

for the inspectors when they are unloaded onto the to adjust log grade based upon the existence of these

yard. It is critically important for the inspector to observe

the maximum surface of each log, minimizing in grade are limited to no more than two reductions in

various conditions. It is recommended that reductions

Center (AHC) at West Virginia University

published "Guidelines for the Scal-

With the final revisions of the USFS

National Forests.

the assumptions he/she must make, and thereby grade for any given log.

ing and Grading of Hardwood Logs" system occurring in 1966, no additional

documented development has oclines

should be directed to Tom Inman, President, Appa-

minimizing any grading and scaling errors.

Technical issues and questions regarding these guide-

in 2020. It is the first comprehensive

review of general standards since the curred or sustained.

2. Conduct log grading and scaling with a 2-person

lachian Hardwood Manufacturers Inc., at info@appalachianhardwood.org

or phone at 336-885-8315. n

mid-1960s.

Beyond internal use of the system by

team so that log length can be accurately determined

using a tape and end conditions can be visu-

Log scaling and grading are integral the USFS, the system has seen widespread

components of Hardwood sawmilling

and effectively set the bar for generating

mill profits or losses. The first efforts

to establish standard log grading rules

occurred during the early 20th century,

but were not formalized.

Beginning in the 1940s, the U.S.

Forest Service (USFS) implemented

a major effort to document Hardwood

log grading. Based on data gathered

use by the research community,

as a means of classifying logs for analysis

purposes.

There is little or no documented evidence

that the USFS Hardwood grading

system has been adopted or even

adapted for use by the Hardwood industry.

In fact, there is no universal Hardwood

log grading and scaling system

ally assessed. A 2-person team, although requiring

additional labor cost, can improve both inspection

time and recognition of scaling and grading defects.

34 AUGUST 2021 n NATIONAL HARDWOOD MAGAZINE AUGUST 2021 n NATIONAL HARDWOOD MAGAZINE 35
---
Additional photos on next page

36 AUGUST 2021 n NATIONAL HARDWOOD MAGAZINE AUGUST 2021 n NATIONAL HARDWOOD MAGAZINE 37
---
Sawmill Safety Part 2:

Taking a Deeper Dive into

Sawmill Operations and

Personnel Safety

cidents in sawmills. Anyone driving a forklift should be

trained and qualified and should receive refresher training

on a regular basis, at a minimum every three years.

Following any accident, refresher training should be provided.

When it comes to forklift operations, two types of

training are necessary. Employees should be trained in

general forklift safety and trained on the specific equipment

they will be operating. Further, sawmill employees

should be trained on industry specific tasks, including

moving lumber around the yard, as well as in moving

chips, dust and bark with a loader.

COMMERCIAL AUTO AND TRANSPORT RISKS

EQUIPMENT SAFETY

(Article Follows: Sawmill Safety: Addressing the Issues to Protect Your Business)

By Michael Culbreth, Loss Control Services Consultant,

Pennsylvania Lumbermens Mutual Insurance Company

Sawmills have been around for hundreds of

years helping to build modern society and fuel

our economy. While these institutions have

long histories of keeping America humming,

they also are no strangers to tragic injuries,

deadly accidents and fires that have literally

brought down the business.

In part one of this two-part series, we talked

Unfortunately, the more comfortable we get with operating

equipment – whether it's a household toaster or

an edger machine in a sawmill – the more likely safety

rules are pushed to the back of the mind. Keeping safety

concerns a priority for everyone is critical to operating a

safe sawmill. This means both implementing equipment

safety procedures and ensuring workers are properly

trained in their daily work tasks.

Inadequate safety measures on or around equipment

can lead to worker injuries, lost work time and costly

workers' compensation claims. To protect employees,

ensure that machine guards are kept in place on equipment.

Employees should also be sure to maintain a safe

distance from moving blades and wear personal protective

equipment including ear plugs, safety glasses, hard

hats and proper shoes. Some may argue that the equipment

is more accurate without these guards or operations

move faster without the need for safety equipment,

to you about risks related to poor housekeeping

and maintenance, inadequate welding/hot

work precautions and electrical issues at sawmills.

We also offered tips to mitigate those

risks. In this article, we'll look at additional

risks related to equipment, forklifts, lumber

transport, general employee safety and more.

but the risk is certainly not worth the reward in this case.

Regular employee training is also critical for new and

existing employees. This training should be designed

to familiarize and reacquaint workers with the risks of a

sawmill. Common sawmill accidents leading to workers'

compensation claims often stem from slips and falls, cuts

and lacerations due to machine accidents and sprains,

muscle and back injuries related to lifting and stacking

lumber. More automated facilities tend to report fewer of

these injuries as they have automated lumber sorters.

Further, if a worker notices a failing or inoperable

machine, they should report it immediately so that the

machine can be powered off and blocked from use. The

machine should be locked out and properly tagged.

Sawmills failing to implement a reliable lockout tagout

program are often cited by the Occupational Safety and

Health Administration (OSHA).

Forklifts/loaders are also a common source of ac-

According to the National Highway Traffic Safety Administration,

one in every 4,000 fatalities and more than

400,000 police-reported crashes involve heavy commercial

vehicles. In recent years, insurance claims related to

commercial auto accidents have been on the rise across

all industries, including lumber.

What can make things particularly risky for sawmills is

the fact that many don't have a large fleet of commercial

vehicles. This smaller fleet may lead to a more casual

approach to commercial auto safety. However, these

trucks are often busy transporting lumber, sawdust, bark

and logs and without proper training, the drivers of these

trucks may have less than optimal vehicle safety qualifications.

Aside from road safety and defensive driver training,

drivers should also be trained in proper loading and unloading

techniques. Drivers should be in a safe location

while loading or unloading is performed (outside the cab

and in a designated safe location if logs are being unloaded

or any other material is moved overhead). Not

knowing where a truck driver is when they are on your

property can lead to a general liability risk.

PROPER IMPLEMENTATION IS KEY

Drivers should also be reminded repeatedly about the

impact and dangers of distracted driving and instructed to

never use their mobile phone while operating a vehicle.

A good insurance partner, with experience in the wood

niche, can assist policyholders with fleet safety resources

including streaming safety training videos, continuous

monitoring of driver MVR's (Motor Vehicle Reports) and

fleet telematics/vehicle camera technology.

Unfortunately, some commercial auto accidents are

caused by unlicensed drivers or those who have been

previously cited for DUI or aggressive driving. All businesses

including sawmills should have a comprehensive

driver safety program that incorporates driver training,

qualifications, accident and incident reporting guidelines,

vehicle use policies and more. Further, sawmills can

consider motor vehicle record monitoring services and

telematics to improve driver safety. With a good telematics

program, managers will be able to learn more about

employee driving habits like hard braking, hard accelerations,

speed limit violations and other data. This creates

a valuable opportunity to address and modify unsafe

driving habits before an accident occurs.

A good sawmill safety plan should have many components

but designing such a plan and implementing it

doesn't have to be difficult. As mentioned above, working

with a good insurer who knows the wood niche, can

significantly ease the burden. They can offer risk assessments,

as well as loss control tips and programs. A simple

professional risk assessment of the facility can go a long

way. While your sawmill may have been operating without

a significant incident for years, it's always a smart decision

to evaluate your risk and do what you can to reduce

that risk exposure for the safety of your employees and

the future of your business.

Michael Culbreth, Pennsylvania Lumbermens Mutual

Insurance Company, is a loss control services consultant

based in Inman, South Carolina who joined PLM in

2002. He protects businesses in territories including North

Carolina and South Carolina. Michael can be reached at

mculbreth@plmins.com or by phone at (267) 825-9146. n

38 AUGUST 2021 n NATIONAL HARDWOOD MAGAZINE AUGUST 2021 n NATIONAL HARDWOOD MAGAZINE 39
---
Company Culture, Productivity, Recruitment

and Retention:

How Does Your Company Measure Up?

(National Hardwood Magazine is reaching out to company leaders across the industry to solicit their input on key issues

that impact overall business success. In this publication, Burt Craig shares his insights.)

Q:

A:

Company culture is a top priority for any CEO.

What factors contribute to your company's culture

and how is your company's mission defined?

We have a vision statement that we review regularly,

which reads in part "we are known globally for

exceptional yield, presentation, and consistency,

as well as our commitment to excellent customer service".

My personal mission is for the company to be as profitable

as possible. At Matson Lumber we believe the only way to

achieve either is by producing a high quality product that

meets and exceeds our customers' expectations. To carry

it down further, we maintain that our mission is only achievable

through an engaged workforce that focuses on that

objective, and strives to do it effectively and efficiently. The

initial opportunity for us is educating all of our employees on

the significance of the contribution they make. We ensure

that we spend ample time with a new lumber piler to make

every effort to convey to him that the first thing our customer

is going to see when their load is delivered is the package

that they made. A similar undertaking is made with those

that lay sticks, and explanation is given as to the magnitude

of loss if done incorrectly. A quality control department

serves to provide consistent feedback that functions to

keep us focused.

But quality is not only an attribute that we want to apply

to describing our product. There are so many other facets;

how our logging jobs look when we complete them, the accuracy

of our shipping documents, our stewardship status

in the community and in the industry to name some, and

of most importance would be the working environment we

create for our employees. Our operations are hot in the

summer, and cold in the winter, but that doesn't negate our

responsibility to treat every employee with dignity and acknowledge

the value of their contribution.

Burt Craig, President, Matson Lumber Company, Brookville, PA

www.matsonlumber.com

About Matson Lumber Company:

With three facilities in Pennsylvania, Matson

Lumber Company is a vertically integrated organization

that provides over 20 million board feet a

year of high quality kiln-dried Hardwood lumber

Q:

A:

both domestically and abroad. From the management

of company lands, through all aspects

of the production process, down to a distribution

segment providing less than truck load quantities,

the focus is always on customer satisfaction.

How important do you believe it is for company

leadership to lead by example in creating a

positive, productive, cohesive workforce?

I would not choose to describe it as important, I

would choose to describe it as imperative. Years

ago I first heard a concept defined by Tom Peters

in his book In Search of Excellence when he coined the

phrase "management by walking around." Since that time

others in academia have attempted to capitalize on the

concept and I more recently see it portrayed as management

by wondering around. At Matson Lumber we believe

the principle is solid; you have to be approachable and receptive

to the input of all that work in a corporation, and

success is often better when it occurs on the employee's

home field. I refuse to believe that somebody can do a job

eight to ten hours a day, and not know more about it than

I do. Conversely, if a dedicated tenured employee's livelihood

is linked to the performance of the company, you bet

he wants to know the state of the business, what the future

looks like, what impact will state COVID regulations have

on our operations, do we have more logs coming, why do

we keep changing the container bookings, and a continual

multitude of questions of that nature. At Matson we believe

it is our obligation to force and maintain that open dialogue

and understand that a conversation involves both talking

and listening.

Over the years there are other adages that I have heard

that have resonated with me. The one that says that in the

absence of information people create their own, and my

all-time favorite is that if you haven't heard a rumor in the

sawmill by ten o'clock, it's your job to start one. Constant

conversations, continual feedback, information postings

and distributions, one on one discussions, and activities as

simple as buying pizza and showing up to eat it with the

gang all contribute to foster the climate that we all want to

be a part of.

Q:

A:

We choose not to discount the value of an "at-aboy"

and try to reinforce good performance when

we note it, but admittedly we probably miss a lot

of opportunities. That is why we believe it is essential to

share macro performance numbers periodically and speak

at groups as to what their combined efforts have resulted in.

Ours is a team effort.

As much as I believe that compliments are appreciated,

money still remains the preferred form of flattery. Toward

that end, we give out gift cards for good performance, we

pay for safety suggestions, we provide bonuses for those

that mentor new hires, we award vacation time for participating

on the safety committee, we buy lunch for those that

help us catch up on Saturdays; small ways to hopefully instill

the quality aspect that we continually pursue.

Q:

A:

What programs and/or incentives do you have

in place to motivate employees so they are not

simply "going through the motions"?

Briefly describe any recruitment/retention programs

that your company offers.

Regretfully, like so many others, we are developing

into a two tier organization. The majority of our

employees are our seasoned veterans that are undeniably

the reason behind the success of our company,

yet we still have many entry level positions that seem to be

that revolving door and the source of turnover at our facili-

ties. With new employees we offer a sign on bonus, share

with them the fact that the overwhelming majority of management

and skilled positions in our company started working

on a chain, we put them into a training program, and

we meet with them through the course of their onboarding

process. We formalize and structure portions of these programs

by adhering to a 90-day review process that provides

feedback from supervision, both positive and negative. We

schedule time to have upper management go to meet with

new hires toward the conclusion of their review period to

reiterate the importance of their position, meet more of the

management of the company, and solidify our open door

policy. Our commitment remains to this effort, and we are

convinced it is the right path, yet it is not as rewarding as

we want with the unemployment stimuluses' as lucrative as

they are today. In the difficult times, it has reaffirmed the

value and contribution that our tenured employees make.

About Burt Craig:

I'm a simple man that was blessed to marry out of my

league to my wife of many years, JoAnn. Duck hunting is my

only passion which I enjoy two months out of the year with

my wife's support and encouragement, but for that liberty

she requires the other ten months to utilize at her discretion.

If I'm lucky I find enough time to golf a dozen times a year,

try to stay rooted in church, and am most at peace when

I'm out to eat with my wife, or we are floating down a creek,

or riding through the woods – life's small pleasures are my

greatest. n

BINGAMANLUMBER.COM

PO Box 247, Kreamer, PA 17833

☎ 570.374.1108 | 570.374.5341

40 AUGUST 2021 n NATIONAL HARDWOOD MAGAZINE AUGUST 2021 n NATIONAL HARDWOOD MAGAZINE 41
---
U-C Coatings:

Offering Solutions to the Forest Products Industry for 50 Years

Buffalo, NY—U-C Coatings LLC, headquartered

here, is celebrating its 50-year anniversary in 2021.

"Since our founding in Buffalo in 1971, we have

been proud to serve the wood products industry," stated

CEO Eric Degenfelder. "Wood is a beautiful, sustainable

resource, and we offer solutions across the value chain:

from logs, lumber and plywood to finished products such

as flooring, decking, and siding.

"This anniversary is a good time to look back at all

we have done, and look forward for the good things to

come," Degenfelder said. U-C Coatings' roots started

in the eastern Hardwood industry, with the invention of

Bates® glue release by Red and Norm Murray for furniture

makers and wood fabricators. Shortly after that

U-C Coatings invented Anchorseal®, specially designed

to end-seal lumber for protection from checking, and

then the company invented Gempaint® – formulated for

strong color and hiding in lumber branding.

Over the following years U-C Coatings continued to

expand its solutions with ShadeDri, Flitchsavers, Log

Dawgs and other specialty products to help its customers

process and protect wood. U-C Coatings' manufacturing

in Buffalo expanded accordingly from a few drums per

day early on to over two million gallons per year today.

The U-C Coatings sales and marketing team has broad experience

in the industry.

"Our drive to expand led to acquisitions that fit well

with our strategy of wood protection," Degenfelder said.

In 2016 U-C Coatings acquired the Seal-Once® product

line of environmentally friendly waterborne stains

and sealers for decking, siding, docks, and log homes.

Since then, the company has introduced new products

and spread the Seal-Once line from its origins in New

England to across the country.

U-C Coatings acquired Contechem® in late 2018, which

brought sapstain and mold protection, and strengthened

the firm's presence in the western U.S. U-C Coatings'

Contechem protects lumber from sapstain and mold.

latest acquisition of Eco Chemical® in 2019 added several

new stain and coatings technologies, with a strong

customer base in value-added prefinished wood applications

such as decking and fencing. This acquisition expanded

the company's manufacturing capability on the

West Coast with their plant in Seattle.

"While our products are outstanding, people are the

core of our company," Degenfelder observed. "As we

have grown, U-C has maintained our culture of customer

focus, teamwork, integrity and mutual respect. Our team

brings industry experience with strong capabilities in

product knowledge and service. Even during the COVID

pandemic, our team has responded well to service and

supply our customers while expanding our business.

"We thank our customers for our long-standing rela-

Eco Chemical stain pre-finishing adds value to decking, fencing

and other wood applications.

tionships, friendships, sense of community and support

throughout our history," Degenfelder continued. "Looking

forward, our mission is to protect, enhance and conserve

forest resources while supporting the expanding use

of wood. We continue to invent products for wood protection

and beautification that help customers increase

productivity, and bring exciting products to market. Our

markets are expanding across Hardwood and softwood

lumber, pressure treated wood, plywood, engineered

wood, furniture, cabinets, flooring, and many more. U-C

Coatings truly is 'The Leader in Wood Protection.' " n

To learn more, go to www.uccoatings.com.

Always Shows Up To Work

Quick, easy

installation

Simple,

Dependable,

Affordable

Cut ties, grade,

timbers, mats,

you name it

45 years of

engineering

design

MADE IN USA

MOSCOW

TN

All parts in

stock -

ready to ship

Hurdle Automatic Sawmill

Low

maintenance

Fast

payback

5-man

operation

8hrs -

20,000 to

25,000+

bd/ft

www.hurdlemachineworks.com

www.facebook.com/HurdleMachineWorks

www.youtube.com/HurdleMachineWorks

CALL US NOW!

901.877.6251

42 AUGUST 2021 n NATIONAL HARDWOOD MAGAZINE AUGUST 2021 n NATIONAL HARDWOOD MAGAZINE 43
---
CORNERSTONE MOULDING INC. Continued from page 21

All staining, sealing and top-coating is carried out in the finishing

area. Next, the product goes into the drying tunnel.

Cornerstone Moulding products can be found in some

interesting places. Yoder said that while the installation

was done by another company, Cornerstone Moulding's

products are in Notre Dame. "One of the most unusual

requests that we have fulfilled was manufacturing rafters

for looks alone."

When asked about the various species utilized, Yoder

said Cornerstone's business previously consisted of

mostly Oak products. "When we started in 2004 everything

requested was mostly Oak," he explained. "We've

In the inline spray area at Cornerstone Moulding, an employee

uses the Stanza spray machine and Makor stacker to prime and

paint mouldings. Sixty percent of all product is painted.

seen a turn in the market and now we are leaning heavily

to the Maple's. In 2019 we started running Hard Maple

because Soft Maple wasn't readily available."

With a focus on quality, service and consistency, Yoder

said one of the things their customers recommend

Cornerstone Moulding for is their cleanliness. "When you

run a clean operation, you get a quality product," he explained.

"It's as simple as that. We strive on cleanliness

and first impressions. We specialize in on-time delivery

and, if the customer is expecting to pick it up, it's ready

Quality control, boxing and skidding are done in Cornerstone's

shipping department.

when they get here. We try not to carry back orders; we

always try to get the best quality wood so that we can

have a good finished product offering."

With 23 full-time employees, key personnel include

President Eddie Ray Borkholder; Vice President and

General Manager Daryl Yoder; and Sales and Customer

The Raimann rip saw with two moveable blades and an optimizing

infeed is used at Cornerstone Moulding to rip about 6,000

board feet per day.

Service Manager Fred Miller. Wyman Hochstetler, John

Troyer and Jose Borkholder all have leadership positions

that make it all happen along with the rest of the company's

dependable workforce.

The company would also like to thank their lumber

suppliers and vendors for stepping forward and supplying

them with a quality product at a fair price and serving

with integrity at a time when things seemed out of control

this past year. n

For more information, contact Daryl Yoder at

574-546-4249 or FAX: 574-546-4211.

KENTUCKY

WOOD EXPO

September 17 & 18,

2021

Make plans to participate in the 34th Kentucky

Wood Expo, the two-day event is designed to

accent the forest products industry. The show

will attract loggers, sawmill and pallet operators,

manufacturers of forest products and related machinery, retailers and wholesalers, and consumers of wood

products.

Outdoor & Indoor Exhibits ~ Equipment Demonstrations ~ Lumberjack &

Logging Contests ~ Chain Saw Carving ~ Forestry Education ~ Wood Crafts

Masterson Station Park, Lexington, KY

kywoodexpo.com | 502-695-3979

Merchandising System

for Logs or Poles

Board and Cant Edgers -

Optimized Too!

Muliple Scragg

Options

When you need a

solution to your

mill issues

THINK COOPER!

From Merchandising Systems,

Edgers, Gangs, Scraggs,

Sorters and more...

Cooper Machine has solutions.

Give us a call to find out

what's new for your mill.

We look forward to

seeing you at the

Atlanta Expo

August 11-13th!

Give us a call to find out more at 478-252-5885

INFO@COOPERMACHINE.COM WWW.COOPERMACHINE.COM

44 AUGUST 2021 n NATIONAL HARDWOOD MAGAZINE AUGUST 2021 n NATIONAL HARDWOOD MAGAZINE 45
---
PETERMAN LUMBER INC. Continued from page 23

Peterman Lumber takes pride in having a full line of offerings with the

largest selection of Hardwoods in the southwest to be able to provide

its customers a selection to choose what works best for their projects.

quality that they can pass onto their customers, it adds to their

bottom line to make them more successful."

He continued, "We are a third generation, strong family

owned and operated company – so we stand behind all of our

products and understand it is our business to support yours.

"We source our materials from sustainable mills as we realize

the longevity of our business is directly tied to our

ability to take care of our planet and our customers."

According to Peterman, the company's most

important assets are its employees. He said, "Our

people are dedicated professionals who have

been trained and are thoroughly qualified for their

specific areas. All of our employees are driven to

help find the right material for our customers from

specifications-based solutions for commercial jobs

to helping our will call customers hand select just

the right piece of lumber."

He continued, "We maintain a wide inventory of

materials like lumber, Hardwood moulding, layup

services like veneers, adhesives, and panel products

to be able to offer our customers materials that

they would need for all styles of cabinetry jobs."

Customer service is a priority at Peterman Lumber

Inc.

Peterman explained, "Our level of service doesn't

stop at the selection of lumber we offer. We deliver

lumber to Southern California from Los Angeles

County to San Diego County, Southern Nevada,

Southern Utah, and most of Arizona with our fleet

With over 40 years of

experience, providing top

quality Hardwood lumber,

plywood, and moulding,

Peterman Lumber Inc.

is among the largest,

most efficient suppliers

of architectural lumber

products.

of semi-tractor trailers and mid-size flatbed trucks. We

have experts at Peterman Lumber that are ready to assist

our customers with all of their architectural material

needs."

Forest Stewardship Council certified, Peterman Lumber

Inc., is a member of the National Hardwood Lumber

Association, Hardwood Distributors Association, Indiana

Hardwood Lumbermen's Association and the Woodwork

Institute. n

For more information visit www.petermanlumber.com.

Domestic

Freight

More than your Logistics Partner

We are your Ally

International

Export

Transportation

Management

Pride in Quality from

the Forest to you...

HHP, INC.

World Class Northern Hardwoods

Specializing in 4/4 & 5/4 Production of

Red Oak • Ash • Hard & Soft Maple • Yellow Birch

781.544.3970

sales@allygloballogistics.com

WEYMOUTH, MA • JACKSONVILLE, FL

www.allygloballogistics.com

bdahn@hhp-inc.com • lumbersales@hhp-inc.com

14 Buxton Industrial Drive, PO Box 489,

Henniker NH 03242

603-428-3298 www.hhp-inc.com

Premium Quality Northern Hardwoods

Sawmill • Kilns • Export Prep • Container Loading

13 Million Board Feet Annual Production

46 AUGUST 2021 n NATIONAL HARDWOOD MAGAZINE AUGUST 2021 n NATIONAL HARDWOOD MAGAZINE 47
---
LAKE STATES Continued from page 6

ket "is very good right now," even going as far to say that

it "is considerably better than six months ago."

This sawmill carries Red and White Oak, Hard and

Soft Maple, Ash and Basswood at thicknesses ranging

from 4/4 to 16/4, with Hard and Soft Maple moving

quickest, according to him.

"We're a green sawmill here at this location," the contact

explained. "So, the demand for green lumber is very

good. Demand for 3B or our pallet material and cants,

much better. All across the board, everything's much

better." However, the source described transportation as

"a bit of a challenge" due to the trucking shortage.

A contact in Illinois described the market as "really

good" with "better" prices compared to six months ago.

"It's a blessing with the market being the way it is right

now," he said.

This mill manufactures Red and White Oak, Hickory,

Ash, Hard and Soft Maple, Cottonwood, Poplar, Walnut

and Cherry in thicknesses ranging from 4/4 through 8/4.

The source's customers include distribution yards with

a few end users. "They're saying the market's wide open

for them," he explained. "Basically, anything we can get

a hold of is moving good."

Church 14_Layout 1 4/17/18 3:43 PM Page 1

We at Bryant Church Hardwoods, Inc., located in Wilkesboro, NC, are proud of our modern Hardwood

concentration yard facility that we constantly update to better serve our customers with the finest

Appalachian Hardwood and Eastern White Pine lumber available. Call us at (336) 973-3691 when we can

be of service.

Some facts about our company are, we:

•Have a 30 acre Hardwood and Eastern White Pine lumber concentration yard

that exclusively represents one sawmill.

•Specialize in all thicknesses of kiln dried Eastern White Pine lumber.

•Deal in Appalachian Hardwood species such as Red and White Oak, Poplar,

Ash, Hard and Soft Maple, Steamed Walnut, Cherry, Basswood, Beech and

mixed Hardwoods.

•Market our Appalachian Hardwood lumber in 4/4 through 8/4 thicknesses that

is green, air dried and/or kiln dried.

•Specialize in mixed truck loads.

He mentioned that Hickory is "a little slower," but is

also "wide open." Transportation for this lumber supplier

is "okay," according to him. "It's hard to find trucks, but

it's alright." n

NORTHEAST Continued from page 6

This source's company provides upper-grade lumber

in FAS or Better, including quartered-rift White Oak,

plain-sawn White Oak, and quartered-rift Poplar, with

Poplar being the "number one." "We sell to architectural

millwork firms and retail Hardwood lumber yards," he

stated.

Trucking is currently a "huge challenge" for this lumber

supplier. "The cost has doubled for freight in two years,"

he explained. "As we call it in the industry, watermelon

season is just now getting started. Once you have perishable

freight, we could have a load of Cypress coming

out of North Carolina and it's all set to go, and that

trucker will get a call from someone who wants to ship

'watermelons,' and they'll pay more money and we'll lose

the load." n

This is an aerial view of our modern

Hardwood concentration yard where we

process quality Appalachian Hardwood

and Eastern White Pine lumber.

•Have 9 steam dry kilns that have a combined dry kiln capacity of 630,000 bd.

ft. per charge.

•Own a Newman 382 planer.

•Usually carry about 4,000,000 bd. ft. on our air drying yard.

•Usually carry about 1,500,000 bd. ft. of kiln dried lumber in inventory.

•Offer export preparation, container loading and package tally.

•Offer the service of sorting lumber at special lengths, widths and grades

according to customer specifications.

•Use our own trucks and contract trucks for prompt delivery of your orders.

•Have over 75 years of combined experience in the lumber business.

Tim Church

Mason Church

Bus.: (336) 973-3691

FAX: (336) 973-7993

(800) 973-3380

Web site: http://BCHI.com

P.O. Box 995 • Wilkesboro, NC 28697

Distribution Yard: 683 Buck Road • Wilkesboro, NC 28697

Because we've been in business since 1953, we have many years of experience that helps us to ship your orders right the first time.

SOUTHEAST Continued from page 7

The biggest challenge his firm faces is employee

availability, "lack of willing participants to join the workforce,"

he noted.

In Virginia, a source said her market is good, but there

is "some resistance on kiln-dried Red Oak overseas."

Her business is better than it was a few months earlier,

she noted. She handles Red and White Oak and Poplar,

with White Oak being the best seller. She sells lumber to

"mostly distribution yards," she said. These customers

are doing well business-wise, she stated, "as far as I

know, because they're still buying." Transportation is not

a problem for her company at this time. n

WEST COAST Continued from page 7

"is ocean freight. There's nothing pretty about it." Ships

from Estonia, Germany and Spain bring lumber to this

distribution yard. "They get through the Panama Canal

OK," he remarked, "but they get up to Long Beach

and Port of Los Angeles and they have a long wait to

unload. Then they'll come up to Oakland, where we unload

our containers, and they'll sit in the Bay sometimes

two weeks before they get called to the dock to unload.

Ocean freight's horrible. It's just like the weather, though.

It'll change."

Up in Oregon, a source stated, "The market is good.

The problem is keeping supplies coming in, having delays.

"I see that the Hardwood lumber market is getting better

as far as supply goes," he noted. "It might be that

they're getting more labor back.

"I'm a little concerned about the remodel market," he

added. "It has been very active but there's a concern

because there are other ways people can spend their

money, such as travel and other activities. It may impact

certain areas of remodel. In the housing market, there is

only so much capacity, only so many carpenters to go

around. We're seeing that builders are being methodical.

They used to put out quite a few foundations and come

back later and build on them. Now they lay foundations

and complete homes in one area. They're not pricing a

lot of homes till they're 75-80 percent complete because

of all the price increases they've had, not just in lumber

or wiring or appliances."

Considering the market a few months ago, he stated, "I

would say it's probably the same."

The lumber he handles includes all domestics including

Red and White Oak, Poplar, Hickory, Cherry and

Walnut. The best-seller by volume is Poplar. "We have

Please turn the page

The Leader in Wood Protection

for 50 Years

ANCHORSEAL ®

Anchorseal® is proven to prevent up to 90%

of end-checking on logs and lumber.

BRITEWOOD ®

Britewood® XL is a powerful fungicide for protection

against mold and sap stain.

SHADE-DRI ®

Shade-Dri ® is a versatile covering to keep harmful

sunlight and excessive wind from damaging logs and lumber.

1-888-363-2628 | sales@uccoatings.com

www.uccoatings.com

Buffalo | Portland | Seattle

48 AUGUST 2021 n NATIONAL HARDWOOD MAGAZINE AUGUST 2021 n NATIONAL HARDWOOD MAGAZINE 49
---
EXPERIENCE QUALITY DEPENDABILITY

975 Conrad Hill Mine Rd. ~ Lexington, NC 27292

Phone 336-746-5419 ~ Fax 336-746-6177

www.kepleyfrank.us

Facilities:

3 Sawmills Processing 50 Million' • 750,000' Dry Kiln

Capacity • 600,000' Fan Shed Capacity

2 382 Newman Planer Mills • 50 Bay Bin Sorter

Products Available:

4/4-8/4 Appalachian Lumber • 6/4-8/4 Ship Dry Capacity

Crossties (100,000 BF per week) • Timbers up to 18'

1,000,000+ Average KD Inventory • 12,000,000+

Average AD Inventory

Species:

White Oak • Red Oak • Poplar • Ash • Hickory

Elm • Beech • Gum • Hackberry • Pecan

Jimmy Kepley, owner, and Bart

Jenkins, lumber sales

The firm manufactures 4/4 through 8/4 thicknesses.

Sales:

Bart Jenkins

bjenkins@kepleyfrank.us

Jimmy Kepley

jkepley@kepleyfrank.us

WEST COAST Continued

seen a shift," he observed. "It used to be that Alder was

way up there in sales but not so much anymore."

Customers include cabinet manufacturers, display and

fixture providers and retailers. "They're booked out about

as far as they can go," he said.

"Transportation is tough," he noted. "It takes a lot longer

to receive containers from the East and Midwest.

Within our region, we have our own trucks. That investment

has certainly paid off." n

ONTARIO Continued from page 8

demand, and with both countries experiencing a strong

housing market there is a need for more of this species.

Secondary manufacturers and wholesalers are in need

of more Birch. As a result, prices are on the rise. Contacts

note that premium color stock is doing better than

unselected or off-color material.

Sawmills are processing as much Hard Maple as possible,

and it is being absorbed on the markets, but supplies

are not sufficient to meet demand. Prices continue

to rise for most grades and thicknesses, due to it being

buoyed by strong U.S. and Canadian housing and renovation

markets. This has boosted sales of Hardwood finished

goods. Prices are rising for kiln-dried stocks due to

high demand and limited availability. The same is said for

Soft Maple: sawmills are processing this species quickly

to prevent stain and to meet demand, but supplies are

not satisfying market needs. Competition is pushing prices

higher.

Demand is readily absorbing Red Oak production.

Kiln-dried inventories haven't significantly increased, but

some thicknesses are more readily available, and there

are price variations. On the other hand, competition for

White Oak logs is intense and prices have increased

substantially. Log decks are thin say sawmillers, with

green lumber production being low. Due to strong demand,

prices are at record highs. Kiln-dried markets for

this species are also strong, with low inventories.

The Minister of Natural Resources and Forestry and

MPP for Renfrew-Nipissing-Pembroke on behalf of Monte

McNaughton, Minister of Labour, Training and Skills

Development, and joined by Mike Harris, Parliamentary

Assistant to the Minister of Natural Resources and Forestry

and MPP for Kitchener-Conestoga, announced details

of a partnership with the Wood Manufacturing Council

(WMC) to help people in Ottawa, Kitchener-Waterloo

and the Greater Toronto Area (GTA) prepare for good jobs

in the wood manufacturing sector. With an investment of

$885,000, the WMC leads an innovative skills training

project with local employers to help 72 workers and job

seekers gain the skills and work experience needed by

wood manufacturing partners in these regions.

"This partnership with our government provides opportunities

for people and businesses in Ontario," said Minister

Yakabuski. "Ontario's forestry sector continues to

thrive with support from Ontario's Forest Sector Strategy,

and employers need to hire and train skilled employees

to keep up with demand for their products."

Funded through SkillsAdvance Ontario, the program

will train six trainee cohorts, with two cohorts each taking

place in Ottawa, Kitchener-Waterloo, and the GTA. The

in-person training includes an introduction to hand tools,

power tools, and woodworking machinery as well as

safety rules and safety training. WMC will also develop

a curriculum for the mass timber industry, using the existing

Wood Employee Readiness Curriculum (WERC).

The first training started in Ottawa this past June.

Ontario's 2021 Budget, Ontario's Action Plan: Protecting

People's Health and Our Economy, includes

measures to help workers and families recover from

COVID-19 by investing an additional $614.3 million

during 2020–21 and 2021–22 for employment and training

supports, and proposing the new Ontario Jobs Training

Tax Credit, a one-time credit that would provide up

to $2,000 for workers who enroll in an eligible course or

training program in 2021. n

QUEBEC Continued from page 8

of lumber to satisfy growing demand. There is also competition

from tie and pallet manufacturers for this species,

thus prices are inching higher. Red Oak demand

from China has slowed, but other markets are taking up

the extra production.

Domestic markets for Poplar are good, as are exports

to the U.S. There is strong demand from end users as

they reported an increase of Poplar finished goods, including

mouldings, furniture and millwork. Those who

supply Poplar say their inventory is low and are anxious

to get more. There is also competition from the wood pallet

and container manufacturers as there is a shortage

of denser woods, and furniture manufacturers are also

seeking products for their frames. It was noted that Poplar

exports had been down compared to recent years,

although demand has started to climb from Vietnam. Demand

for green lumber supplies are priced higher for all

grades and thicknesses, while kiln-dried prices are firm.

Demand for Walnut is strong in the U.S., especially

from the flooring sector. Production has increased to

supply demand of this species. Over the summer, Walnut

was being set aside to cut species prone to stain,

resulting in a less abundant supply of Walnut.

The Conference Board of Canada recently published

a report entitled The Pandemic's Lingering Effects will

Haunt Canada's Long-Term Prospects – Canada's Out-

Please turn the page

Family Owned And Operated Since 1976.

A.W. Stiles Contractors providing a full line of

Modern Day Lumber Drying Equipment. New

Installations and Complete Rebuilds on Existing

Equipment. Hardwood Package Kilns, Predryers,

Walnut Steamers. Also manufacturing softwood

kilns, including Dual Path Continuous Kilns.

Our kilns are all manufactured in

McMinnville, Tennessee.

Complete Kiln and Predryer Rebuilds

•Roof Replacements

•Heating Coils and Complete Steam Systems

•Doors and Carriers

•Structural Repairs

•

seals, etc.

•Protective Coatings

•Complete line of replacement parts

Providing replacement control installations

and upgrades for existing kilns and pre-dryers.

Screen shot above. User Friendly, Reliable,

Compatible with Existing Equipment.

Contact: Lee Stiles Cell: (931) 409-0144

286 Bass Lane, McMinnville, TN 37110

Email: lee@awscontractorsinc.com

Website: www.awscontractorsinc.com

50 AUGUST 2021 n NATIONAL HARDWOOD MAGAZINE AUGUST 2021 n NATIONAL HARDWOOD MAGAZINE 51
---
QUEBEC Continued

look to 2040. Here are some of the outlook's findings. It

forecasts that the Canadian economy will rebound by 5.8

percent this year and 4.0 percent in 2022 due to the ongoing

rollout of vaccines and improving labor markets. Over

the long term, real GDP is expected to expand by 1.7

percent annually. Their long-term outlook sees modest

economic growth, with immigration and better productivity

gains helping to counter the impact of the last wave of

retiring baby boomers on labor force growth. It notes that

inflation will rise over the near term but return to the 2.0

percent range and remain at this level through the long

term. This will enable the Bank of Canada to keep interest

rates at historically low levels through 2040. Fiscal

deficits will persist over long term, as the federal government

will find it challenging to contain spending due to

rising health care expenditures and demands from provinces

and cities for funding. The pandemic has added to

the trend toward deglobalization, which emerged during

the Trump administration and could persist over the long

term to the detriment of Canada's exporters.

The Conference Board's long-term forecast remains

driven by demographic factors, although some lingering

effects from the COVID-19 pandemic could affect economic

growth through 2040. The nation's population will

age and also grow more slowly, thus moderating labor

force growth. Policy-makers hope higher immigration will

solve this demographic problem. Economic challenges

include modest productivity growth, various risks facing

energy exporters, booming housing markets, and international

trade tensions. Several sectors of the economy

could be affected by the pandemic over the long term.

The report states the rebound in the global economy

will boost Canada's international trade sector over the

near term. It expects the global economy to expand by

5.6 percent this year and 4.2 percent in 2022—slightly

higher than their December 2021 projections. The

Asia-Pacific region will continue to lead the world economy

in growth thanks to the strong rebound in China,

which has also boosted economic prospects in the region

overall. Once the world economy recovers from the

pandemic, economic growth will slow down through the

long term, as many of the demographic factors affecting

Canada's economy are present in major trading partners,

such as China, the United States, the European Union,

the United Kingdom, and Japan. Slower global growth

will restrain demand for Canada's exports through 2040.

Canada's aging population will have a substantial impact

on Canada's labor markets over the next 20 years.

Today, many of the older baby boomers have already left

the workforce, and the younger boomers, those aged 55

to 60, are nearing retirement age. Also, the pandemic

led some baby boomers to retire sooner than expected,

implying that growth in Canada's labor force will slow

sharply over the long term, placing significant downward

pressure on Canada's potential economic growth.

Employment dropped by 975,000 last year because of

the pandemic and the ensuing shutdown of numerous

businesses and factories. However, the gradual reopening

of the economy this year thanks to the rollout of vaccines

will lead to a gain of 809,000 jobs.

Beyond 2022, employment growth will slow sharply to

annual gains below 1.0 percent per year due to the ongoing

retirement of the baby boomers. By 2040, annual

job gains will be in the 180,000 range.

Thanks to ongoing government income support programs

and the rollout of vaccines, the Conference Board

estimates that real household consumption will increase

by 3.5 percent this year and 6.3 percent in 2022. Spending

will continue to recover over the following few years

as labor markets rebound, but increases will subsequently

slow down to average annual gains of about 1.7

percent through 2040. Consumer spending growth will

be limited over the long term by population aging and by

high household debt loads.

The biggest change to household spending resulting

from the pandemic—and one that could persist through

2040—is the growing trend to online purchases at the

expense of brick-and-mortar outlets. Online sales were

increasing rapidly prior to the pandemic but exploded

in the second quarter of 2020 due to widespread shutdowns

and stay-at-home orders across the country.

Shoppers have become more comfortable with technology

required to buy goods online, and many will continue

to do so even after life returns to normal.

The report notes that some of the recent boost in

household income has ended up in the housing sector.

Canadian resale markets are red-hot, fuelled by low

interest rates and a desire for more living space. Residential

demand has also been sustained by relatively

pandemic-resistant employment among higher-income

households, which tend to be homebuyers, and prospects

for an eventually strong economic recovery fostered

by federal commitments to supportive fiscal and

monetary policy.

Despite the pandemic, housing starts increased by 4.3

percent in 2020 and are expected to post another gain

this year. However, starts will then gradually decline over

the next two decades, from 220,000 in 2021 to about

160,000 by 2040. As the population ages, more Canadians

will move from single-family homes to condominiums

and assisted living accommodations. They expect

single-detached housing starts to drop at a quicker pace

than multiple-unit starts over the long term. n

52 AUGUST 2021 n NATIONAL HARDWOOD MAGAZINE AUGUST 2021 n NATIONAL HARDWOOD MAGAZINE 53
---
NEWS DEVELOPMENTS Continued from page 11

pandemic in March 2020, when the deficit was $47 billion.

"In fact, the balance of trade had remained relatively

stable throughout the decade from 2010 to 2019, ranging

between $33 billion and $56 billion, with a monthly average

of $45 billion.

"One reason for the improvement in trade since the beginning

of last year is that the U.S. economy has recovered

faster than most of its trading partners. This has led

to increases in U.S. imports, driven by Americans' needs,

which are rising faster than U.S. exports that are dependent

on the strength of foreign economies.

"Exports rose in April, up by 1.1 percent to $205 billion,

but still remain below the historically high levels reached in

2019, when the U.S. economy was booming.

"Trade data includes imports and exports of both Goods

and Services. The vast majority of trade dollars are in the

form of Goods, accounting for 79 percent of the value of all

U.S. exports and imports combined."

For more information, go to www.nkba.org.

Bottom Line

All materials have a carbon footprint, even wood and

wood products. Yet no other building material can boast

an environmental solution. "The best uses of wood

provide an advance 'carbon negative technology.'"

Note: This information was compiled from CORRIM's

Factsheet 2, October 2020, "Reducing Carbon

Emissions by Using Wood Products," and based upon

work supported by the Department of Energy's Office of

Efficiency and Renewable Energy, under the Bioenergy

Technology Office. n

NWFA HELPS PROVIDE CUS-

TOM HOUSE FOR WOUNDED

U.S. Navy Senior Chief Petty Officer (Ret.)

Kenton Stacy, his wife Lindsey, and their

VETERAN

four children: Logan, Mason, Annabelle,

The National Wood Flooring Association

(NWFA), headquartered in St.

and Sadie.

We're honored to partner with WD

Lumber:

Louis, MO, has provided flooring for

Wheeland Lumber:

Flooring and West Coast Flooring to

its 56th home in support of the Gary

provide beautiful wood floors for his Responsible, Renewable & Sustainable

Since 1888, we have focused on providing durable

Sinise Foundation R.I.S.E. program

Responsible, Renewable && Sustainable

new home."

sawmill machinery built on a foundation of trust.

(Restoring Independence Supporting

Empowerment). The R.I.S.E.

The National Wood Flooring Association

is a not-for-profit trade organization,

with more than 3,200 member

For all of your resaw, edger, band mill, gang, carriage program builds custom, specially

and material handling needs,

adapted smart homes for severely

companies world-wide, dedicated

McDonough is the choice for the best.

wounded veterans and first responders.

The home dedication for United

to educating consumers, architects,

designers, specifiers and builders in

States Navy Senior Chief Petty Officer

(Ret.) Kenton Stacy took place

the uses and benefits of wood flooring.

The NWFA can be contacted at

on May 21, in Poway, CA. Flooring

800-422-4556 (USA & Canada), 636-

for the project was donated by NWFA

519-9663 (local and international), or

member WD Flooring. Installation of

at www.nwfa.org. n

the flooring was donated by NWFA

With other specialized services including:

With With other other specialized services services including:

• Veneer Logs & #1 Saw Logs

member West Coast Flooring.

• Veneer • Veneer Logs Logs & #1 & Saw #1 Saw Logs Logs

• Kiln Dried Lumber

Senior Chief Petty Officer Stacy

HMA UPDATE

• Kiln • Kiln Dried Dried Lumber Lumber

• Clear Strips

Continued from page 12

• Clear • Clear Strips Strips

served as an Explosive Ordinance

• Surfacing-2-Sides

• • Surfacing-2-Sides

• Gang Ripping / Parallel Sawing

Disposal technician. He was injured

•"The LCAs show the fundamental

• Gang • Gang Ripping Ripping / Parallel / Parallel Sawing Sawing

• Straight Line Ripping

• Straight • Straight Line Line Ripping Ripping

by an improvised explosive device

differences in GHG impacts between

• Optimized Cross Cut

• • Optimized Cross Cross Cut Cut

• End Matching

(IED) in 2017 while stationed in Syria.

using wood products, compared with

• End • End Matching Matching

• Edged & Face Glued Products

The explosion resulted in the loss of

other building materials that have

• Edged • Edged & Face & Face Glued Glued Products Products

• Molding Millwork

• Molding • Molding Millwork Millwork

both legs and both arms, as well as

higher fossil fuel inputs.

his left eye.

•LCAs also measure net carbon

"Senior Chief Petty Officer Stacy

stores – the amount of sequestered

joined the Navy shortly after marrying

his high school sweetheart," says

or stored carbon – in forests and in

We are FSC

We are ® Certified by NEPCon,

We are FSC FSC ® by a partner of the Rainforest ® Certified by NEPCon,

Alliance

wood products, as well as the impacts

of substituting wood products

a partner partner of the of the Rainforest Alliance

NWFA President and CEO Michael

Martin. "He initially planned to serve

for equivalent non-renewable building

products."

four years before enrolling in college,

Wheeland Lumber

but he loved both the military community

and his job, so chose to continue

Company, Inc. Inc.

The research consistently shows

Company, Wheeland

Inc.

Lumber

"that both living trees and wood

Ask for our FSC® Certified Products

3558 Williamson Trail

Ask for Ask our for FSC® our FSC® Certified Certified Products Products

3558 3558 Williamson Trail Trail

his military career. He received numerous

awards during his years of

storing carbon. And that using wood

Phone: 570.324.6042

products offer opportunities for

Liberty, PA 16930-9065 USA

Liberty, Liberty, PA PA 16930-9065 USA USA

www.mcdonough-mfg.com

Phone: Phone: 570.324.6042

Fax: 570.324.2127

(715) 834-7755

service, including a Purple Heart, a

products, instead of other building

Fax: Fax: 570.324.2127

WheelandLumber.com

Bronze Star, and three Navy Achievement

medals. He also was named

is beneficial in terms of lower GHG

materials like steel and concrete,

WheelandLumber.com

the USO Sailor of the Year in 2010.

emissions."

19WLC-PFC-NationalHardwoodsMag-ProgramAd-G

19WLC-PFC-NationalHardwoodsMag-ProgramAd-G

54 AUGUST 2021 n NATIONAL HARDWOOD MAGAZINE AUGUST 2021 n NATIONAL HARDWOOD MAGAZINE 55

19WLC-PFC-NationalHardwoodsMag-ProgramAd-G
---
AHEC REPORT Continued from page 14

as Red Oak, Maple, Cherry and Tulipwood not only in

order to create a balance between market demand and

resource availability, but also because these abundant

species represent the best opportunities to create export

growth. For example, AHEC's recent Tulipwood promotion

has helped create greater interest in this species

and seen it being used for a wider range of applications

and stocked, traded and used by an increasing number

of companies.

SYSTEMS &

SOLUTIONS

Mellott Solves Your

Debarking Systems

Log Trough with Metal Detection

Lumber Conveyor Systems

Mat Drilling, Tie Dapper,

Sorting & Stacking Systems

Mellott Manufacturing Co., Inc.

13156 Long Lane

Mercersburg, PA 17236

FAX: 717-369-2800

sales@mellottmfg.com

LOG &

LUMBER

From Concept

to Blueprint,

Manufacturing

to Production

Handling Challenge!

Band Headrig and Resaws

Resaw Run-Around Systems

Trimmer and Grading Systems

Tilt Hoist Systems

717-369-3125

www.mellottmfg.com

Special projects and creative marketing - In order to

achieve very high levels of publicity for American Hardwoods,

AHEC has developed a very creative strategy

towards activities through the delivery of "experimental

design projects" using American Hardwoods. These

"special exhibit" projects, often involving collaborations

with well-known architects and designers, have been

an increasing feature of recent programs. These designers

become ambassadors for the material thus amplifying

the impact of the marketing

messages. These high-profile activities

strengthen the media appeal

of AHEC and U.S. Hardwoods as a

material and enhance their credibility

in terms of design and product performance,

but they are also leading

directly to new business for American

Hardwood exporters.

Create Networking Opportunities

for U.S. Exporters - In 2022

AHEC will create a number of opportunities

for U.S. exporters to engage

with overseas buyers, manufacturers

and specifiers. We represent U.S.

Hardwood exporters in more than

20 trade shows around the globe

in the building, furniture and design

industries. This includes several

AHEC-sponsored U.S. Hardwood

pavilions where individual small U.S.

companies exhibit at leading global

trade shows such as Interzum

Guangzhou, the Dubai Wood Show,

IndiaWood in Bangalore, SylvaWood

Shanghai, Intermob Turkey, VietnamWood

and FMC Shanghai. Additional

trade promotion trips will be

led by the AHEC team to connect the

U.S. industry to potentially untapped

markets like the Rajasthan region of

Northwest India.

AHEC's new approach to environmental

communication - We

have identified the need to enhance

and strengthen our communication

strategy regarding the environmental

credentials and sustainability of U.S.

Hardwoods. Working with the industry

over the past decade we have de-

veloped a unique and innovative sustainable marketing

strategy focusing on risk assessment and LCA, creating

tools such as independent risk assessments, an interactive

forest map, grown in seconds, online LCA tool

and the consignment based AHEP. AHEC is planning to

launch a new look in communication strategy called the

Sustainable Hardwood Program. The aim is to deliver

key environmental messages into the mainstream media

at the same time working more closely with the European

Hardwood trade to find ways

to address procurement barriers.

This approach could then potentially

evolve over time into a risk-based

standard for sustainable Hardwood

supplies, such as U.S. Hardwoods,

that extract principally from non-industrial

landowners, where certification

is less relevant or not practical.

Developing new market applications

- Seeking out and promoting

new uses for American Hardwoods

has become a key element in the

AHEC strategy to increase market

share for American Hardwoods

around the globe. Exterior and structural

applications of wood products

are two examples of market uses

where the use of American Hardwoods

share is still relatively small,

but the market potential is huge.

AHEC will continue to push development

and adoption of new technologies

like cross-laminated timber

(CLT), laminated veneer lumber

(LVL), and thermally modified timber

(TMT) to provide exciting opportunities

for U.S. Hardwoods in exterior

markets. n

NWFA REVIEW

Continued from page 16

•Merchant Identification (MID)

number

•Importer name and address

•Purchaser name and address

•Description of merchandise

•Harmonized Tariff Schedule

(HTS) number

•Material value

•Scientific plant name

•Country of origin

•Quantity of material

All wood imported into the United States must comply

with the Lacey National Consensus Due Care Defense

PREMIUM NORTHERN

HARDWOOD LUMBER

Ryan Peterson – Sales Manager

(715) 533-6193

rpeterson@northernhardwoods.com

Matt Grube

(920) 740-9140

mgrube@northernhardwoods.com

Atlantic Mine, MI

Newberry, MI

Please turn to page 59

www.northernhardwoods.com

56 AUGUST 2021 n NATIONAL HARDWOOD MAGAZINE AUGUST 2021 n NATIONAL HARDWOOD MAGAZINE 57
---
WHO'S WHO

IN HARDWOOD PURCHASING

A BRIEF SKETCH OF THE LEADING

PURCHASING EXECUTIVES IN

THE HARDWOOD INDUSTRY

DAN BESEN is Senior Vice

President of Hardwoods Specialty

Products U.S. (Hardwoods).

He is the primary liaison

for the key lumber suppliers and

is responsible for all 25 of the

company's Hardwoods U.S. operations,

11 of which are in California.

Dan Besen Hardwoods purchases an estimated

100 million board feet

annually of kiln-dried Hardwood species including Alder,

Ash, Basswood, Beech, Birch, Cherry, Hickory, Hard

and Soft Maple, Red and White Oak, Walnut and Poplar,

as well as a variety of imported species with a range of

thicknesses from 4/4 to 16/4, as well as specialty width

sorts and grades from both rough and surfaced material.

Hardwoods is the recognized premier distributor of

decorative architectural building products in North America,

with products including architectural-grade plywood

and veneers, laminates, acrylics, synthetics, composites,

and Hardwood lumber (both domestic and import)

for both commercial and residential applications. The

company owns 34 distribution centers located across the

U.S. and Canada.

Hardwoods is a member of the National Hardwood

Lumber Association and Architectural Woodwork Manufacturers

Association of Canada (AWMAC).

Besen attributes Hardwoods' success to a focus on

continuous improvement and creating value throughout

the supply chain by working collaboratively with all stakeholders.

When asked what he's most proud of in his time with

Hardwoods, he stated, "the company I started with in

1984 still espouses the same values and culture today

as it did then: Integrity; Company Success Driving Individual

Success; Hire to Retire; and a Passion to Win."

Besen began working for Hardwoods over 37 years

ago starting as a sales trainee. In 2021, he was promoted

to Senior Vice President of U.S. operations. Besen

graduated from the University at Albany, NY in 1979 with

a Bachelors in Education/Mathematics.

During his free time, Besen enjoys spending time with

family and friends, entertaining, listening to music, and

traveling overseas.

For more information, contact Besen at dbesen@

hardwoods-inc.com.

JASON GILBERT is both a sales manager and lumber

buyer at AWP Wood Products, based in Little Rock, AR.

AWP is a Hardwood moulding manufacturer and distributor

of lumber and plywood that purchases an annual

board footage volume of seven to eight million. The company

buys 4/4 Northern and Appalachian KD, FAS Red

Oak, Poplar, Hard and Soft Maple. AWP also annually

Please turn the page

"Everything You'll Ever Need From The Forest "

MERIDIEN HARDWOODS OF PA., INC.

Manufacturers of approximately 170 million bd. ft. a year

of Southern Hardwood and Cypress lumber products

45,000 ft. steamer loaded with 4/4 Face &

Better Walnut

Shade-Dri ® Protection

n 18 Acre Concentration Yard

n 2 Trim Lines (50 Sorts)

n Straight Line Ripping and S2S Facilities

n We Offer Export Preparations, Container Loading,

Mixed Species & Thicknesses

n Custom Walnut Steaming Available

n 800,000' Dry Storage • Dry Kiln Capacity 250,000'

n All KD lumber pick-a-pack tallied

BUILD YOUR OWN LOAD

Linwood Truitt and John Stevenson are in charge of kiln-dried lumber sales at Beasley Forest Products / Thompson Hardwoods; and Ray Turner

is in industrial sales at Beasley Forest Products / Thompson Hardwoods. Contact Ray at (912) 253-9001, or by e-mail at ray.turner@beasleygroup.com.

4/4 Face & Better Walnut ready

for shipment

Brandon Ferman

Dan Ferman

Office: 814-563-4614 Office: 814-563-4614

Cell: 814-688-6691

Email: brandonferman@hotmail.com

Michael Songer

Office: 814-486-1711

Cell: 814-594-0827

Email: mjs@zitomedia.net

(800) 780-3187 FAX: (800) 292-5773

Website: www.meridienpa.com • Email: meridien@penn.com

Yard Address: Old Pittsfield Rd., Pittsfield, PA 16340

Jeff Childs

Office: 740-392-7727

Cell: 740-398-3474

Email: jeffchilds7@yahoo.com

For you, we at Beasley Forest Products / Thompson Hardwoods offer:

• sorted and random widths in Red Oak (4/4), White Oak (4/4), Poplar (4/4 & 8/4), Ash (4/4 & 8/4)

and Cypress (4/4 & 8/4) for export or domestic shipment.

• 1.7 million bd. ft. kiln capacity.

• Cypress framing timbers and manufacture various tongue-and-groove patterns.

• pallet components (cut stock) and pallet cants.

• cross ties and industrial timbers.

• crane mats for the pipeline industry.

• prompt delivery with company trucks and local trucking companies.

Beasley Forest Products, Inc.

P.O. Box 788 • Hazlehurst, Georgia 31539

Phone: (912) 375-5174 ext. 4303 • Fax: (912) 375-9191

Web Address: www.beasleyforestproducts.com

SALES: Linwood Truitt Cell: (912) 253-9000

E-mail: linwood.truitt@beasleygroup.com

Thompson Hardwoods, Inc.

P.O. Box 788 • Hazlehurst, GA 31539

Phone: (912) 375-5174 ext. 4384 • Fax: (912) 375-9191

Web Address: www.thompsonhardwoods.com

SALES: John Stevenson Cell: (912) 375-8226

E-mail: john.stevenson@beasleygroup.com

58 AUGUST 2021 n NATIONAL HARDWOOD MAGAZINE AUGUST 2021 n NATIONAL HARDWOOD MAGAZINE 59
---
WHO'S WHO

Continued

purchases 40-45 truckloads of

Red Oak and Poplar gang ripped

blanks, 475-500 truckloads of

Hardwood plywood, and 50-75

truckloads of MDF. The company

also buys 50-55 containers of

exotics annually.

The company's moulders and

distribution yard cover all or parts

Jason Gilbert of Texas, Alabama, Arkansas,

Missouri, Tennessee, Mississippi,

Oklahoma, and Louisiana. AWP has 508 of its own

moulding profiles, with the ability to match or create any

additional profiles.

Gilbert started his career in the forest products industry

at Hogan Hardwoods in 1996 pulling lumber and loading

trucks.

AWP is a member of the Indiana Hardwood Lumbermen's

Association, National Hardwood Lumber Association,

Hardwood Distributor's Association and the Cabinet

Makers Association.

Gilbert is an avid Arkansas Hogs fan and enjoys hunting

in his spare time.

For more information, visit www.awpwoodproducts.

com.

GERALD LASHWAY JR. is the owner and President

of Ponders Hollow Custom Wood Flooring & Millwork

Inc., located in Westfield, MA.

Ponders Hollow is a manufacturer that specializes in

custom wood flooring, interior and exterior mouldings,

stair treads and custom glue-ups. The company pur-

chases upward of 1.7 million board feet of lumber annually

including Poplar, Red and White Oak, Hard and Soft

Maple, Eastern White Ash, Walnut and Cherry (from 4/4

up to 16/4, live-sawn, No. 1 Common, FAS and other

grades, including Character).

Ponders Hollow offers additional services, including

priming moulding, wire-brushing and hand-scraping

floors. According to the company, 2021 has brought a lot

of exciting growth to the business, including a brand-new

showroom that opened in May.

Lashway graduated from Hampshire Regional High

School located in Westhampton, MA, in 1995 and studied

forestry at Paul Smith's College located in Paul

Smiths, NY. He has held his position at Ponders Hollow

since September 2005 when the company was founded,

with responsibilities including daily operations and

most of the lumber purchasing. Lashway's first position

in the forest products industry was working at the 4th

generation family sawmill, Lashway Lumber, located in

Williamsburg, MA.

Ponders Hollow is a member of the National Wood

Flooring Association, Architectural Woodwork Institute,

Wood Products Manufacturers Association and the

Commonwealth Quality Program.

In his spare time, Lashway enjoys spending time with

family, snowboarding, mountain biking and hiking. He

and his wife Heather have been married 15 years. Together,

they have one son and two daughters.

For more information, please visit www.pondershol

low.com. n

NWFA REVIEW Continued from page 55

Standard as well. The intent of this standard is to identify

measures that companies can take to demonstrate due

care when importing wood.

There is no clear definition of what constitutes "due

care" compliance under Lacey, but in an extremely simplified

explanation, it requires a complete chain of custody

for the wood being imported, starting at the forest

of origin.

There are guidelines available to help companies

comply with Lacey Due Care requirements. One

of the most comprehensive is available at: www.

laceyduecare.com/Lacey_Due_Care_Standard_

Technical_Requirements_Summary.pdf.

Please turn to page 64

York Legacy Mill Inc.

225 NEEDHAM ROAD • PO BOX 117

MARROWBONE, KY 42759

Specializing in Appalachian Hardwood

Poplar • Red Oak • Soft Maple • Ash • Cherry • Hickory • White Oak • Hard Maple • Walnut

Matthew York

Owner

Cell (270) 459-0294

Erika York

Sales Associate

Cell (270) 459-2569

3

3

3

3

3

3

Manufacturing quality Appalachian

Hardwood lumber, cants & railroad ties

Cutting 4/4 through 8/4 thicknesses

of lumber that are sold green

Specializing in producing high grade

White Oak lumber

2 Mill Locations Grade & Cedar

In House Transportation

We Purchase Standing Timber &

Land Tracts

Located in

South Central Kentucky

PH: (270) 864-3134

yorklegacymill@gmail.com

60 AUGUST 2021 n NATIONAL HARDWOOD MAGAZINE AUGUST 2021 n NATIONAL HARDWOOD MAGAZINE 61
---
TRADE TALK

AN UPDATE COVERING

THE LATEST NEWS ABOUT

HARDWOOD SUPPLIERS/VENDORS

HENNIKER, NH—HHP, located

here, has been laser-focused

over the last 12 months, positioning

for the new era of customers'

buying needs while staying hyper

focused on the world around

them, according to Joseph Carrier,

general manager and co-owner.

Carrier stated, "Continuous

Joseph Carrier

improvement is a key part of

our mission statement. With that

said, we are thrilled to announce the completion of four

additional, massive state-of-the-art Hardwood kilns, increasing

our capacity by 3.6 million KD board feet each

year. We are thankful to our long-time partners at Nyle

Systems, our friends to the north, in Maine for joining

hands in creating this amazing addition.

"We choose to work again with Nyle, being a New England-based

company that is on top of their game and

an industry leader. Nyle understands the crucial need to

reduce emissions for a sustainable future, and there was

no better team to turn to. Their origins date back to 1978

when they patented the XDH Dehumidification system

which became the core of a very successful line of dehumidification

lumber dryers for the Hardwood market."

For more information, go to www.hhp-inc.com and

www.nyle.com.

NEWALD, WI–Cleereman Industries,

headquartered here,

recently performed these installations,

according to Vice President

Paul Cleereman:

•Rock Wood Products of Dillwyn,

VA recently got a Cleereman

Linear Tilt Lp-42 Carriage,

a Cleereman Modular Track

Paul Cleereman Frame, a Cleereman Sawyer

Booth, Cleereman Carriage

Controls with 3-D Optimization, a Cleereman 150 H.P.

Hydrostatic Carriage Drive, a Cleereman Cable Tensioner,

a Cleereman 42" Log Turner, a Cleereman Drop Belt

with Cant Pins, a Cleereman Headrig-Rollcase and a

Mellott Manufacturing 640 Tilt Bandsaw.

•Cardwell Lumber of Novelty, MO recently received a

Cleereman 848- Dual Headed Debarker with Cleereman

Controls package.

Rich in logging and sawmill history, Cleereman Industries

has developed and manufactured sawmill machinery

for over 60 years using three guiding principles:

•Manufacture high quality products built for high production,

increased yield and years of trouble-free operations.

•Use simple yet highly functional designs to minimize

the number of moving parts while maximizing the performance

and functionality.

•Provide unequaled service and support to its customers.

For more information, please visit www.cleereman.

com.

PLESSISVILLE, QC—Carbotech

has introduced a new lineshaft

trimmer, which meets two

important needs in the industry,

according to Eric Michaud, VP of

Sales and Marketing:

•Performance – because this

new equipment is designed to

trim precisely and, if necessary,

fast, according to Carbotech.

Eric Michaud

The mechanisms of the whole

machine have been studied so that the movement of

each saw is smooth and vibration-free at whatever

speed it runs.

•Simplicity – because the whole system has been designed

to minimize the variety of mechanical and electrical

components, meaning that hydraulics have finally

been replaced with electrical devices, Carbotech reports.

"We're not 100 percent electric yet, but we're getting

close," stated Michaud. "We are offering our best

to the market: systems that millwrights and electricians

are comfortable to work with in order to minimize downtime

when something wrong happens. So far, we have

installed four of these trimmers, and the customers are

all very happy with the trimming results and the performance

of the machines."

Please turn the page

Commitment, Quality,

Customer Service

Premium Northern Appalachian

Hardwood Lumber

Established in 1983

Family-owned &

operated for over

35 years

Experienced & Close

To The Source

2 East High St.

Union City, PA 16438

sales@ronjoneshardwood.com

Phone (814) 438-7622

Fax (814) 438-2008

62 AUGUST 2021 n NATIONAL HARDWOOD MAGAZINE AUGUST 2021 n NATIONAL HARDWOOD MAGAZINE 63

RJH-NHM-HalfVertical-3.75x10.indd 1

5/24/21 9:47 AM
---
At O'Shea Lumber,

your needs are our

highest priority.

TRADE TALK

Continued

Untitled-2.indd 1

Whatever your hardwood needs, our experienced

sales staff will be happy to assist you with all of

your lumber inquiries. Call for a complete list of our

wood products.

SERVICES

n Direct mill, export and import shippers

n Wholesale, distribution and dry kiln centers

MILLING CAPABILITIES

n S2S, carbide straight-line rips and gang rip

n Custom mouldings

SHIPPING OPTIONS

n Our own trucks ship all quantities of lumber, from

bundle lots to full tractor-trailer loads.

n Our common-carrier network also enables us to

quickly ship lumber all over the United States.

www.oshealumber.com

We maintain a 3.5 million

board foot inventory of

foreign and domestic

hardwoods. Call to

experience our excellent

customer service.

Since 1971

Main Office and Yard

11425 Susquehanna Trail

Glen Rock, PA USA 17327

1.717.235.1992 phone

1.717.235.0200 fax

E-mail: anton@oshea.com

1.800.638.0296

NEW

AND

IMPROVED

• User friendly

features

• More content

• Up-to-date

information

Follow us on Facebook

and Instagram

millerwoodtradepub.com

1/11/18 3:10 PM

Installations have been made at:

Rembos (two machines in a reman

plant) in Ontario, GDS Marsoui (sawmill)

in Eastern Quebec and Arbec St-

Roch (sawmill) in northern Quebec.

This new trimmer can be installed

in sawmills with fixed saws, in planer

mills with moveable saws and in

Hardwood mills with special saw configurations.

For more information, go to www.

carbotech.ca.

Mike Ballard

CRESTVIEW, FL–Sawmill MD, located

here, has announced that Madison

County Wood Products in Fredericktown,

MO recently started up a

SiCam ResawX Scanning system

to maximize the efficiency and yield

from their LineBar Resaw.

The ResawX system provides

Madison County cant sizing detail

and recommended sawing solutions

to the operator quickly and accurately,

according to Sawmill MD.

The ResawX system will improve

the Resaw operating results by reducing

wasted lines and measurably

reducing shims. ResawX allows the

management to set sawing pattern

recommendations based on size and

grade, which improves the ability to

maximize the output of desired products

based on current requirements,

Sawmill MD notes.

Two weeks after the startup, when the customer was

asked how the system was doing, Sawmill MD received

this reply: "It's working great."

Contact Mike Ballard or Duncan Ferguson at

SawmillMD@mindspring.com for more information on

the SiCam ResawX Scanning System or go to www.

sawmillmd.com.

LOUISVILLE, MS—Robert

Taylor, Chief Operating Officer of

the Taylor Group, headquartered

here, recently welcomed Tim

Gerbus as the new Allied Equipment

Product and Sales Manager

for Taylor Machine Works, Inc.

"I welcome Tim as a member of

the 'Big Red' team and look forward

to seeing the growth he

Tim Gerbus

brings to our allied product lines

as we continue to expand in different market segments,"

remarked Taylor.

Hal Nowell, Director of Sales, stated, "Tim was the

Director of Key Accounts for LiuGong North America.

Prior to his tenure at LiuGong, he served as Director of

Sales for Terex overseeing their material handling brand,

Fuchs. He brings many years of experience from the

OEM perspective and we are excited to have him join

us."

Gerbus has had a successful tenure thus far in Sales,

Marketing, and Operations for growing companies. He

brings an energetic talent for team building and a desire

for helping others, according to the Taylor Group.

Gerbus and his wife reside in Louisville, KY, and have

three children. Outside of work, he enjoys his time on

their family farm.

For more information on Taylor's allied products or the

Taylor product line, visit www.taylorforklifts.com.

WOODRUFF, WI—The Lake States Lumber Association

(LSLA Education Inc.) and the Wisconsin Department

of Natural Resources are sponsoring a class about

marketing forest products, Sept. 23, 2021 from 8 a.m.

to 4 p.m. at Kemp Natural Resources Station, located

Please turn the page

64 AUGUST 2021 n NATIONAL HARDWOOD MAGAZINE AUGUST 2021 n NATIONAL HARDWOOD MAGAZINE 65
---
JOSEY (JOCO) 2018 Christmas REV .qxp_Layout 1 11/19/18 2:42 PM Page 1

Dwight Lewis

Co., Inc.

Hillsgrove, PA 18619 • Phone 570-924-3507

FAX 570-924-4233

Kilns • Export Preparation

Container Loading

Company Owned Timberland

3rd Generation Since 1941

Appalachian Hardwoods

Specializing in Cherry 4/4 thru 16/4

Hard & Soft Maple

Red & White Oak

National Hardwood Lumber Association Certified

TRADE TALK Continued

here. Topics to be covered include: an overview of the

forest products industry; a review of what marketing is;

the marketing mix – products, pricing, promotion and

distribution; marketing strategy; trends in the industry;

marketing research, and international marketing.

According to LSLA Education Inc., marketing has

been called the backbone of successful forest products

companies. Yet many companies struggle with the marketing

concept. Those attending this workshop will learn

about the products of the forest products industry, marketing

as it relates to these products and how to gain a

competitive advantage in the industry. The program is

designed for business owners, managers and new marketing

personnel and/or those wishing to brush-up on

the marketing aspects of the forest products industry.

The instructor will be Bob Smith, professor and associate

dean for the extension department of sustainable

biomaterials/CNRE Virginia Tech.

The fee – which includes all class materials and lunch

– is $150 for LSLA members and $250 for non-members.

Lodging is available at Kemp Natural Resources

Station for $40 per person, per night. To register for the

class, call LSLA at (920) 884-0409 or e-mail LSLA@

LSLA.com to receive a form. n

nwfa-university.aspx. The National Wood Flooring

Association is a not-for-profit trade association whose

mission is to unify and strengthen the wood flooring

community through technical standards, education,

networking, and advocacy. Contact the NWFA at

800-422-4556 (USA and Canada), 636-519-9663

(international), or www.nwfa.org. n

NHLA NEWS Continued from page 18

•Under section B: Change from "• 6" wide – 1

medium knot • 7" – 9" wide – 2 medium knots" To

"Pieces 6" to 9" wide will admit 1 medium knot

(Par. 39) in pieces 10' and shorter, pieces 12' and

longer will admit 2 medium knots (Par. 39)."

b. Page 43, paragraph 15, Warp & Cup – Add

"Side-bend shall not exceed to the extent that the

piece will not produce the standard finished width

in its full length, in all grades."

c. Page 50, paragraphs 98 & 99, No. 1 & No. 2

Peck – Combine paragraph 98 & 99 to create "Peck"

as follows – "Each piece must contain peck, with a

minimum area of 10% of the Surface Measure, well

distributed on one side. Each piece must be suitable

for ordinary handling and construction without

breakage."

JoCo Lumber, Inc. is a division of

Josey Lumber Company, Inc.

Tripp, Logan, and Joey Josey

Our company offers:

• 10,000,000 BF of annual production from

our 6' band headrig and 6' band resaw.

• Red and White Oak, Soft Maple, Ash,

Poplar and Cypress in 4/4 through 8/4

thickness.

• rough, surfaced, air-dried and kiln-dried

lumber in random widths and lengths.

• export prepping, container loading of logs and lumber,

anti-stain dipping and end coating lumber.

• 500,000 BF of dry kiln capacity.

• 65,000 SF of enclosed warehouse for storage and loading of

kiln-dried lumber.

For Quality Appalachian Lumber Contact:

JOsey Lumber COmpany, InC.

JoCo Lumber, InC.

476 Lees meadow rd. • p.O. Drawer 447

scotland neck, nC 27874

TeL: (252) 826-5614 • FaX: (252) 826-3461

COnTaCT:

emaIL: joseylbr3@gmail.com

saLes: Logan Josey

Your support changes

hearts and minds

about wood, for good.

Harvesting the Future through Education

DONATE TODAY @ NorthAmericanForestFoundation.org

JOIN THE CONVERSATION

NWFA REVIEW Continued from page 59

It is important to note that all parties in the supply

chain are subject to penalties and fines for noncompliance

with Lacey. In addition, fines can be assessed for

both civil and criminal violations. The maximum civil fine

is $10,000 per violation, with possible imprisonment of

one year. The maximum criminal misdemeanor fine is

$10,000 per violation, with possible imprisonment of one

year. The maximum criminal felony fine is $20,000 per

violation, with possible imprisonment of five years.

The best way to ensure the materials you are using

comply with Lacey is to ask for a chain of custody for all

wood used, especially those species that are not native

to the United States. In this way, you can refuse to use

any wood that does not have a chain of custody, and will

be practicing due care as required by Lacey.

It is also important to note that Lacey compliance may

change from time to time, and it is your responsibility

as a Hardwood professional to stay informed. For

specific and up-to-date regulations regarding the Lacey

Act, visit www.fws.gov/international/laws-treatiesagreements/us-conservation-laws/lacey-act.html.

The National Wood Flooring Association has more

information about the Lacey Act available through

NWFA University, an online training platform that is

convenient and affordable. Learn more at nwfa.org/

As per the NHLA bylaws, an Open Forum will be held

during the 2021 NHLA Annual Convention in West Palm

Beach, Florida, on Thursday, September 23. During the

meeting, NHLA members will have the opportunity to

discuss these proposed changes in detail prior to the

vote by the membership. Chief Inspector Dana Spessert

and Rules Committee Chairman Sam Glidden will

be available during the meeting to answer questions.

In the final step of the process, ballots containing new

Rules change proposals will be sent to all Active Members

after the 2021 NHLA Annual Convention. Each

Active Member may vote for or against the proposed

Rules change provided such ballot is returned to and

received by NHLA within 30 days from the date on the

ballot. Rules change proposals that receive a favorable

vote on a two-thirds majority of the votes properly cast

by the Active Members will be adopted and become effective

January 1, 2023.

To register to attend the 2021 NHLA Annual Convention

& Exhibit Showcase, visit www.nhla.com.

If you have questions regarding the Rules change proposals,

please contact Dana Spessert at 901-399-7551

or by email at d.spessert@nhla.com. n

66 AUGUST 2021 n NATIONAL HARDWOOD MAGAZINE AUGUST 2021 n NATIONAL HARDWOOD MAGAZINE 67
---
CLASSIFIED PROFIT OPPORTUNITIES

To: Anyone involved in the sawmill controls industry

There are many stories and people that have been

involved in the sawmill controls industry.

This fascinating history should be preserved. I want to write

a book about this industry and would appreciate any stories

or comments you might want to add. I am willing to meet in

person if needed.

Please contact me, Jeff Hurdle, at:

hurd2575@gmail.com

● 2 Grade Lines

● Planer

● 2 Gang Rips

● 300,000' Kilns

HELP WANTED

Bingaman & Son Lumber, Inc., a leading wood products manufacturer, is seeking

a full-time Forest Technician & Forester at our St. Marys Lumber Company

location [135 Aviation Way, St Marys PA 15857 (814)834-1209].

Forester Tech - This position is responsible for accurate timber cruise numbers,

timber harvest logistics, and aiding procurement foresters in road bonding/permitting.

Must be proficient in species identification and log grading rules. Prefer an

Associates Degree in Forestry.

Forester - We prefer a 2 year Associates degree in Forestry, 1-3 years sawmill

experience, knowledge of industry software & Microsoft experience. In addition,

the successful candidate will have a strong work ethic, self-motivated and experience

working in a team setting. A valid PA driver's license required.

We offer competitive wages and some of the best benefits in the area – health

insurance, 401K, ESOP, vacation, etc. If you are interested, please email your

resume to Aimee Bowersox at abowersox@bingamanlumber.com. E/O/E

Hardwood Sawmill and Dry Kilns For

Sale in the Midwest

● Wood Waste Boiler

● 3 Dry Storage Sheds

● 1 Air Drying Shed

● 15,000' Capacity Steamer

Sawmills and Resaws Capable of 150,000' Per Week Production.

Reply to: CMP #3577

c/o National Hardwood Magazine

PO Box 34908, Memphis, TN 38184-0908, or

email nhm@millerwoodtradepub.com – put CMP #3577 in the subject line

nationalhardwoodmag.com

USED MACHINERY FOR SALE

●USNR 4TA30 Top Arbor Three Shifting

Saw Edger

●Infeed Landing Deck

●USNR – Lunden Cam Unscrambler

S/N 41419

●Even Ending Rolls

●Queuing Hooks (2) ahead of Scanner

●Queuing Hooks (2) after Scanner

●Edger Infeed Model 600 Maximizer

S/N 2951-A

●USNR 4TA30 Edger with 200 HP Arbor

Drive Motor

●Outfeed Belt with Shifting Edging Shears

●Specs – Hardwood 1" to 4" Thick x 4" to 24"

Wide x 6' to 16' Long

●Saw Kerf .160" x Saw Plate .120"

●Two Hydraulic Units

●Water Mizer Oil Mist Guide System

●Set of Babbitt Guide Tools

Contact: Jenness Robbins

Cell: (207) 745-2223

Email: jenness57@gmail.com

SERVICES

901.767.9126

or visit us at

www.hmr.com

Benchmark pricing and market

commentary on the North American

hardwood lumber industry.

Go online at hmr.com for a sample copy.

EQUIPMENT FOR SALE

2000 Optimil 6ft Twin Bandmill

Never used. Bandsaw with covers. $150,000.

Please call Jenness for more information at

207-745-2223 or Jeff at 207-342-5221.

USNR 4TA30 Top Arbor Three Shifting Saw Edger

200 hp drive motor, includes unscrambler, control

cab, infeed and outfeed. $95,000. Please call Jenness

for more information at 207-745-2223 or Jeff

at 207-342-5221.

Phone: (207) 342-5221

Fax: (207) 342-5201

PO Box 9, Ghent Road

Searsmont, ME 04973

Contact: Jenness Robbins

HELP WANTED

Pike Lumber Company, Inc. is seeking a supervisor for their Milan, Indiana sawmill. This is a full-time position with responsibilities

including sawmill operations, maintenance, quality control and scheduling that reports to the Milan Regional Manager.

Job Description

Essential tasks, duties, and responsibilities include, but are not limited to the following:

- Coordination and management of production operations at the Milan, IN facility

- Must be proficient in operation of all equipment used in and around the sawmill

- Responsible for daily work schedules and reporting to corporate office

- Assist in the training of machine operators and back ups

- Fill in for key operators

- Responsible for quality control and adherence to production standards

- Work with maintenance to develop proper preventative maintenance schedules

- Ensure preventative maintenance measures are being completed

- Assist maintenance and operators when any station is down for repairs

- Assist in the recruitment and hiring process of necessary plant personnel

- Enforce all company policies including any safety procedures

- Must be able to climb, squat, stoop, lift 50lbs and sit or stand for long periods of time

Skills & Experience

- Minimum 5 years of experience in the Lumber industry as equipment operator, inspector or equivalent

- Knowledge of sawmill production equipment and process flow

- Ability to demonstrate proficiency in applying NHLA lumber inspection rules

- Knowledge of computers (Word, Excel, Outlook, etc.…)

- Must possess valid vehicle operator's license and meet safety requirements of company's insurance provider

- Knowledge of pneumatic, hydraulic, mechanical, and electrical systems and controls

- Strong written and verbal communications skills

- Strong critical thinking and problem-solving skills

- Must have a commitment to quality manufacturing

- Detail oriented

- Ability to work with all personnel and show strong leadership skills

- Strong organizational and time management skills

Salary & Benefits

Competitive salary based on experience and qualifications. Profit sharing and 401k are offered. Paid time off (PTO) policy

with time off earned from date of hire. Full medical, dental and vision benefits available after 60 days of employment.

Relocation assistance will be available.

To learn more about Pike Lumber Company, please visit www.pikelumber.com

To apply, please send resume to employment@pikelumber.com or mail to:

Pike Lumber Company

785 E. Carr Street

Milan, IN 47031

ALL CLASSIFIED ADS MUST BE PAID IN ADVANCE

$45.00 PER INCH - BLIND BOX NUMBER FEE: $10.00

DEADLINE: 30 Days Preceding Publication Month

800-844-1280

Classified advertising will not be accepted for Hardwood products such as lumber,

dimension, turnings, veneer, carvings, new dry kilns or dry kiln equipment, etc.

68 AUGUST 2021 n NATIONAL HARDWOOD MAGAZINE AUGUST 2021 n NATIONAL HARDWOOD MAGAZINE 69
---
ADVERTISERS

INDEX

Abenaki Timber Corporation......................

Air Systems Mfg. of Lenoir, Inc..................

Ally Global Logistics...............................44

Atlanta Hardwood Corporation............. FC

Autolog Sawmill Automation......................

Automation & Electronics USA..............11

Baillie Lumber Co.......................................

Beard Hardwoods.......................................

Beasley Forest Products, Inc.................57

Bingaman & Son Lumber, Inc.................39

BioLube, Inc..............................................3

Breeze Dried Inc.........................................

Carbotech International.............................

Cardin Forest Products LLC.......................

Church, Bryant, Hardwoods, Inc............46

Clark Lumber Co.........................................

Cleereman Controls................................19

Cleereman Industries.............................19

Cole Hardwood, Inc................................15

Collins.........................................................

Cooper Machine Co., Inc........................43

Corley Manufacturing Co......................IBC

Cramer, W.M., Lumber Co...........................

Cummings Lumber Co., Inc......................4

Deer Park Lumber, Inc................................

Devereaux Sawmill, Inc..............................

Distribution Management Systems, inc.

(DMSi)........................................................5

Fitzpatrick & Weller Inc..............................

GF Hardwoods, Inc.....................................

Graf Bros. Flooring & Lumber....................

Graf & Thomas Lumber, Inc.......................

Granite Hardwoods, Inc.........................50

Granite Valley Forest Products..................

GTL Lumber Inc..........................................

GW Industries.............................................

Hardwood Forestry Fund............................

Hardwood Manufacturers Assoc ..............

Hartzell Hardwoods, Inc.............................

Hermitage Hardwood Lumber Sales, Inc..

HHP, Inc...................................................45

Hurdle Machine Works Inc.....................40

Irving, J.D., Limited....................................

ISK Biocides, Inc........................................

JoCo Lumber, Inc....................................65

Jones, Ron, Hardwood Sales, Inc..........61

Josey Lumber Co., Inc............................65

Kentucky Forest Industries Assoc.........42

Kepley-Frank Hardwood Co., Inc...........48

King City Forwarding USA, Inc.............. BC

King City/Northway Forwarding Ltd...... BC

Kretz Lumber Co., Inc.................................

Lawrence Lumber Company Inc................

Lewis Controls, Inc...............................IBC

Lewis, Dwight, Lumber Co., Inc.............64

Limbo..........................................................

Lucidyne Technologies Inc........................

Lumber Resources Inc...............................

Lussier, Simon, Ltd.....................................

MacBeath Hardwood Company..................

Maine Woods Company..........................51

Mars Hill, Inc...............................................

Maxwell Hardwood Flooring......................

McDonough Manufacturing Company....52

Mellott Manufacturing Co., Inc...............54

Meridien Hardwoods of PA., Inc.............56

Messersmith Manufacturing, Inc...............

Midwest Hardwood Corporation............63

Miller, Frank, Lumber, Inc...........................

MillTech Inventory Management

Solutions.....................................................

MO PAC Lumber Company..........................

Mueller Bros. Timber, Inc...........................

Neff Lumber Mills, Inc................................

New River Hardwoods, Inc.........................

North American Forest Foundation........64

Northern Hardwoods..............................55

Northwest Hardwoods, Inc.................. IFC

Nyle Systems, LLC..................................17

Oakcrest Lumber, Inc.................................

OHC | Overseas Hardwoods Company.......

O'Shea Lumber Co..................................62

Paw Taw John Services, Inc......................

Pennsylvania Lumbermens Mutual

Insurance Company....................................

Peterson, Keith D., & Co., Inc. ..............65

Pike Lumber Co., Inc..................... 34 & 35

Prime Lumber Company.........................60

Primewood..................................................

Ram Forest Products, Inc...........................

Real American Hardwood Coalition.......13

Rosenberry, Carl, & Sons, Lumber, Inc......

Sawmill MD.................................................

SII Dry Kilns................................................

Sirianni Hardwoods, Inc.............................

Smithco Manufacturing, Inc.......................

Snowbelt Hardwoods, Inc..........................

Southern Forest Products Assoc...............

Stiles, A.W., Contractors, Inc.................49

Taylor Machine Works, Inc.........................

Thompson Hardwoods, Inc....................57

Tigerton Lumber Co....................................

TMX Shipping Co., Inc............................41

Tropical Forest Products..........................1

TS Manufacturing...................................10

Tuscarora Hardwoods, Inc.........................

U-C Coatings, LLC...................................47

USNR...........................................................

Western Hardwood Association.................

Wheeland Lumber Co., Inc.....................53

White, Harold, Lumber, Inc.........................

Williams, R.J., Inc...................................59

York Legacy Mill Inc...............................58

Note: Advertisers with no page number carry an alternating Ad schedule.

70 AUGUST 2021 n NATIONAL HARDWOOD MAGAZINE AUGUST 2021 n NATIONAL HARDWOOD MAGAZINE 71
---
Contact us today for competitive rates and - Unparalleled service since 1977!

Lloyd Lovett - llovett@kingcityusa.com

Peter Lovett - plovett@kingcitynorthway.com

72 AUGUST 2021 n NATIONAL HARDWOOD MAGAZINE AUGUST 2021 n NATIONAL HARDWOOD MAGAZINE 73