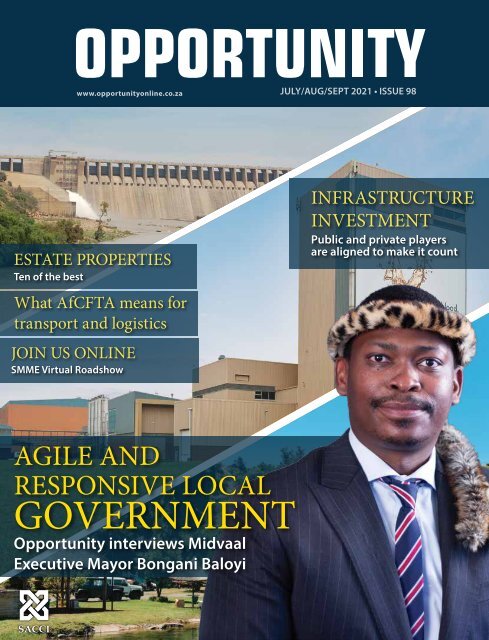 Opportunity Issue 98
Opportunity magazine is a niche business-to-business publication that explores various investment opportunities within Southern Africa's economic sectors and looks to provide its readers with first-hand knowledge about South African business. Opportunity also looks to present South African business to international markets that may have interests in investing in South Africa. The publication is endorsed by the South African Chamber of Commerce and Industry (SACCI).
Opportunity magazine is a niche business-to-business publication that explores various investment opportunities within Southern Africa's economic sectors and looks to provide its readers with first-hand knowledge about South African business.

Opportunity also looks to present South African business to international markets that may have interests in investing in South Africa. The publication is endorsed by the South African Chamber of Commerce and Industry (SACCI).
SHOW MORE
SHOW LESS
Create successful ePaper yourself
Turn your PDF publications into a flip-book with our unique Google optimized e-Paper software.
www.opportunityonline.co.za JULY/AUG/SEPT 2021 • ISSUE 98

ESTATE PROPERTIES

Ten of the best

What AfCFTA means for

transport and logistics

JOIN US ONLINE

SMME Virtual Roadshow

INFRASTRUCTURE

INVESTMENT

Public and private players

are aligned to make it count

AGILE AND

RESPONSIVE LOCAL

GOVERNMENT

Opportunity interviews Midvaal

Executive Mayor Bongani Baloyi
---
AUTOMOTIVE

Toyota's newest

passenger model

is to be built

in Durban

The Toyota Corolla Cross to be built at the Prospecton Plant in Durban will

generate around R 2.85-billion a year in local component purchases.

Toyota South Africa Motors (TSAM) announced earlier this

year that it would be manufacturing and selling the brandnew

Corolla Cross... The model reveal, made by TSAM

President and CEO Andrew Kirby at the annual State of

the Motor Industry (SOMI) address in January, follows the

company's announcement in 2019 that it was investing R2.43-billion in

the production of a new passenger

vehicle in South Africa.

"As announced at the Presidential

Investment Summit in November

2019, Toyota pledged to invest

R2.43-billion in the production of a

new passenger model, and I am so

pleased to say that we are making

good on that promise. We will be

manufacturing this very model

[Corolla Cross] in both right- and left-hand drive… on schedule… for South

Africa and the rest of Africa… right here at Prospecton! The Corolla Cross

is based on the acclaimed new Corolla TNGA platform and will be built on

our passenger car production line alongside the Corolla Quest," says Kirby.

_________________

Corolla Cross aims to build on the

legacy of Hilux Toughness and will be

exported to 43 countries in Africa.

________________

TSAM's Executive Vice President of Manufacturing and

Manufacturing Support Group, Nigel Ward, adds that the

manufacturing of the new model will also include the development of

three new Tier 1 and a number of Tier 2 suppliers, which is a significant

step towards the transformation of the automotive value chain.

A significant milestone

In addition to the investment, the

local production of the Corolla Cross

also ushers in a couple of "firsts" for

TSAM's manufacturing team at the

Prospecton Plant. "This is a significant

milestone for Toyota South Africa. It's

not often that we get to produce a

brand-new body shape in our factory;

plus, it is the very first time that we will

be manufacturing a Hybrid model which I believe will fast become

a very popular choice. And it's the first time for us to manufacture

using the Toyota New Global Architecture (TNGA) – which allows us

to keep up with global technology and trends," says Ward.
---
AUTOMOTIVE

From a skills and manufacturing

point of view, TSAM believes

that – besides being a crisis of

unparalleled proportions – Covid-19

has inadvertently encouraged

plant production teams to be more

self-reliant. According to Ward,

"Restriction on international travel

_________________

Covid-19 has

inadvertently

encouraged plant

production teams to

be more self-reliant.

________________

due to Covid-19 necessitated that

we rely on local expertise on many

elements of the project instead of

flying in engineers from Japan and

Thailand. To ensure that we are on

schedule to commence production

in October, we have had to do a lot

of things ourselves, in addition to

receiving support virtually from

Japan and Thailand on some

occasions.

In terms of strategy, Corolla Cross aims to build on the legacy

of Hilux Toughness and will be exported to 43 countries in

Africa. The new model is also expected to push Toyota export

volumes to about 15-20% per annum. Toyota is projecting

growth of 7% per annum in the SUV market in Africa – offering

significant growth opportunities to expand production of this

new model. With the Prospecton-built Hilux already dubbed

"built for Africa" in some parts of the continent, the Corolla Cross

has been strategically positioned to expand the local SUV line-up

of Fortuner and C-HR.

According to Kirby, "This is an ideal vehicle for our market. It provides

an exceptional balance between drivability, roominess, comfort

and high-tech features – truly a game-changing SUV. It combines

everything you love about Corolla with the utilitarian and rugged

aesthetics of a segment-leading SUV. Overall, the expectation is that

the Corolla Cross will not only contribute significant sales towards

the Toyota brand, but also accelerate the growth of the mini-SUV

segment, increase the overall size of the passenger market in South

Africa and give momentum to electrification technologies."

The project will generate more than 500 jobs at Toyota.

Toyota has invested R2.43-billion in the Corolla Cross project.

www.opportunityonline.co.za | 1
---
Contents

ISSUE 98 | JULY / AUG / SEPT 2021

06

08

10

16

18

24

30

38

46

SACCI FOREWORD

Banishing corruption and building a competent state

NEWS & SNIPPETS

What has been and what is to come

ABILITY, AGILITY AND SUSTAINABILITY: WHAT MODERN GOVERNMENT CAN LOOK LIKE

The Executive Mayor of Midvaal Local Municipality, Alderman Bongani Baloyi, is proud of seven

consecutive clean audits and believes that stability and good systems are vital in attracting investors

GUIDING THE TRANSITION

A recent special meeting of the South African Local Government Association (SALGA)

focussed on renewal in the runup to elections

THE KEY TO A SUCCESSFUL ECONOMY IS A BETTER BALANCE OF SMES

As financier Business Partners Limited marks its 40th anniversary milestone, Managing Director

Ben Bierman reflects on how the local SME sector has still not reached its full potential

ACHIEVING ECONOMIC RECOVERY THROUGH A BRICKS-AND-MORTAR PATH

Researcher and writer Sello Mabotja investigates how infrastructure investment is set to play a leading role

in reversing the effects of the Covid-19 pandemic and weathering the simmering economic maelstrom

SOUTH AFRICA'S PETROLEUM BILL: WILL IT RETAIN AND ATTRACT INVESTORS?

Nonkululeko Zondo and Callie-Jo Bouman of Bowmans run the rule over the latest draft of the

Upstream Petroleum Resources Development Bill which has come before parliament

POLICY NEEDS TO MATCH INFRASTRUCTURE FOR AFRICA'S TRADE TO THRIVE

Hubs around ports and links to transport corridors will enable the newly-minted African

Continental Free Trade Area to thrive, as a recent report by Dianna Games shows

INVESTMENTS IN ESTATE PROPERTIES ARE PROVING THEIR WORTH

A new review by New World Wealth selects 10 of the best lifestyle estates in the world, with

three South African estates listed

www.opportunityonline.co.za

Quarterly journal for business and industry in South Africa

JULY/AUG/SEPT 2021 • ISSUE 98

10

30

46 38

ESTATE PROPERTIES

Ten of the best

What AfCFTA means for

transport and logistics

JOIN US ONLINE

SMME Virtual Roadshow

INFRASTRUCTURE

INVESTMENT

Public and private players

are aligned to make it count

AGILE AND

RESPONSIVE LOCAL

GOVERNMENT

Opportunity interviews Midvaal

Executive Mayor Bongani Baloyi

ABOUT THE COVER:

Three significant assets in the Midvaal Local Municipality are shown on the

cover: the wall of the Vaal Dam (Credit: Vaal Explorer); the Heineken brewery

(Credit: Heineken); Bass Lake (Credit: Burnesseo Internet Marketing Service: www.

burnesseo.co.za)
---
ADVISORY SERVICES

Mint Fresh

Advisory Services

Founder Thuli Magubane reflects on the popularity of innovation

workshops for entrepreneurs and small businesses.

When Thuli Magubane bought a shelf company in 2010, she liked the "Mint

Fresh" part of the name and so that's what this 100% black women-owned

and managed boutique management consulting firm became, and it's a

name that's become a trusted brand over the last 11 years.

Mint Fresh Advisory Services arose out of Thuli's desire to expand her

horizons, something she's been doing ever since she switched from studying politics to

commerce. "I knew I was going to go into business from that time," says Thuli.

Her first business was in BEE consulting but because she didn't want to get boxed in,

she had a five-year stint in banking with Absa and Investec before launching Mint Fresh.

The company offers a wide range of services from strategic and business planning, project

management and market and customer strategies to financial advisory services.

When the company evolved over the years, Thuli found that she had come full circle. "I

found myself back in the BEE space with the focus on enterprise and supplier development."

In the early days, getting clients' trust was tough. "'Who is this Mint Fresh?' It takes time to

build trust and a rapport." As the company built up a portfolio of work, Thuli found she could

use successful projects as a reference point. "The more you do, the easier it becomes," she says

of those early days. A successful programme with Sasol showed what can be achieved. Young

people were selected for an Entrepreneurship programme programme which was run by Mint

Fresh while Sasol donated equipment and made facilities available at an incubator at Sasolburg.

Thuli Magubane

Biography

Recognised in 2018 by the Entrepreneur

Magazine as one of the top 50 businesswomen

to watch in South Africa, Thuli was also selected

by Money Today SA as one of the country's Top

12 businesswomen in 2019. Thuli is a graduate

of UCT, having majored in Political Science, and

holds a Postgraduate Diploma in Management

(PDM) from the Wits Business School. She

completed a Master's programme in Leadership

and Strategy at Instituto de Empresa (IE) Business

School in Madrid, Spain.

Services

Sometimes corporates ask the company to find a small business as a supplier, but Mint Fresh is also

asked to assist or train SMMEs that the larger company has already identified. In the case of a taxi

association in the Northern Cape, Mint Fresh helped the group register as a company (as a prerequisite

for trading with the mining company) and advised it on systems and compliance issues.

Clients include Nedbank, Standard Bank, Tata, South32, Sasol, the National Empowerment Fund

(NEF) and Transnet.

The fastest-growing aspect of Mint Fresh's business is the series of workshops that it runs on

innovation. "We focus on getting small businesses to think more about innovation and helping

those with an idea but who don't know how to implement it," says Thuli.

These sessions are generally sponsored by government or corporates, who contract Mint Fresh

to offer the service, which is about to be rolled out in rural areas. There are practical benefits. As

Thuli asserts, "At the end of the workshop, participants walk away with a concrete action plan."

Thuli credits mentors who have helped her as an individual and supported her in her career

path. Now mentorship is built into programmes that Mint Fresh offers to entrepreneurs. "We work

with people who are currently running their own business and are willing to make the time to

mentor," she says.

Having mentors spread around the country is an advantage because participants on Mint Fresh

programmes can then "engage with someone who can direct them and they can introduce them

to a network".

Mint Fresh Advisory Services

Office: 63 Braam Fischer Drive, Ferndale, Randburg | Tel: +27 (011) 086 0629

Email: info@mintfreshas.co.za | Website: www.mintfreshas.co.za
---
EDITOR'S NOTE

Midvaal

shows the

Delivery and accountability are buzzwords that take on extra weight in

the time of elections. With local elections due to take place across South

Africa in 2021, Covid-19 permitting, citizens are increasingly becoming

aware of how directly their lives are affected by the performance of

local government.

The decision by Clover to close its cheese-making factory in the North West town

of Lichtenburg was a depressing but predictable reminder that the quality of local

government is vital to business. Although the town is the administrative centre of

the Ditsobotla Local Municipality, services had deteriorated to such an extent that

the company felt it had no choice but to move operations to KwaZulu-Natal. The

resulting job losses will be felt hard in the small town.

Astral Foods recently won a court order to force the national government and

Treasury to come up with a financial recovery plan for the Lekwa Local Municipality.

The company's poultry factory in Standerton has been badly affected by electricity

outages and water shortages.

In this context, it is heartening to read about the successes of the Midvaal Local

Municipality, not only in attracting and working creatively with a major investor such as

Heineken, but in consistently delivering services to its citizens and racking up a shining

record in achieving clean audits.

To read of Midvaal's achievements is to be reminded that there are many public

officials in South Africa who take pride in their work and who understand that they

have a responsibility to provide for the common good.

Infrastructure programmes have been touted as a possible economic saviour

ever since the 2010 World Cup was held in South Africa. Could current plans actually

start to bear fruit? Sello Mabotja interrogates this issue from page 24. Elsewhere in

this magazine, the implications of parliament's approval of the Upstream Petroleum

Resources Development Bill are outlined (page 30) and an extract from a recent report

by Africa-expert Dianna Games (page 38) looks at what the newly-minted African

Continental Free Trade Area agreement (AfCFTA) will mean for the transport and

logistics sectors.

Africa and South Africa are seldom short of plans. The Mayor of Midvaal and his

council have shown that plans can be turned into reality, and that's good to know.

John Young, Editor

4 | www.opportunityonline.co.za

way

www.opportunityonline.co.za

Editor: John Young

Publishing director: Chris Whales

Managing director: Clive During

Online editor: Christoff Scholtz

Designer: Tyra Martin

Production: Aneeqah Solomon

Ad sales:

Venesia Fowler

Joy Peter

Norman Robson

Gabriel Venter

Tennyson Naidoo

Tahlia Wyngaard

Administration & accounts:

Charlene Steynberg

Kathy Wootton

Distribution and circulation manager:

Edward MacDonald

Printing: FA Print

PUBLISHED BY

Global Africa Network Media (Pty) Ltd

Company Registration No:

2004/004982/07

Directors: Clive During, Chris Whales

Physical address: 28 Main Road,

Rondebosch 7700

Postal address: PO Box 292,

Newlands 7701

Tel: +27 21 657 6200

Fax: +27 21 674 6943

Email: info@gan.co.za

Website: www.gan.co.za

No portion of this book may be reproduced without written consent of

the copyright owner. The opinions expressed are not necessarily those of

Opportunity, nor the publisher, none of whom accept liability of any nature

arising out of, or in connection with, the contents of this book. The publishers

would like to express thanks to those who support this publication by their

submission of articles and with their advertising. All rights reserved.
---
Welcome to South Africa's

fabled diamond fields

Frances Baard District Municipality is nestled in the north-eastern corner of the Northern Cape Province,

and contains four local municipalities, namely Sol Plaatje, Dikgatlong, Magareng and Phokwane Municipality.

In 1870 diamond diggers proclaimed it the Republic of Klipdrift.

Other towns in the area include Delportshoop, Longlands, Kutlwano,

Sydney on Vaal, Ulco and Windsorton. Dikgatlong is the site of the

first alluvial diamond digging in the region and is renowned for its

excellent fly-fishing spots and luxury game lodges. The adventurous

are encouraged to go in search of the Gong-Gong waterfall on the

Vaal where the quiet river suddenly tumbles into a gully and fills

out into a tranquil pool.

PROFILE

SOL PLAATJE MUNICIPALITY

This municipality is named after the first secretary-general of the

African National Congress and writer, Solomon "Sol" Plaatje. At

the heart of Sol Plaatje Municipality is the bright metropolis of

Kimberley, the capital city of the Northern Cape. The municipality

also includes the towns of Modder River, Ritchie, Riverton,

Beaconsfield, Kenilworth, Ronald's Vlei and Spytfontein.

Kimberley is a diverse city with a vibrant, colourful history. The

city is renowned for its Big Hole and Mine Museum, the largest

excavated hole on earth, and important archaeological discoveries;

Kamfers Dam, a wetland that supports the largest permanent

population of lesser flamingos; Wildebeest Kuil Rock Art Centre, a

premier rock art centre with over 400 San rock engravings; and

the sprawling and vibrant Galeshewe Township, the first and oldest

township in South Africa.

MAGARENG MUNICIPALITY

The name Magareng is a Setswana word meaning "The Middle" and

is derived from the fact that this region is literally in the middle of

the country. Warrenton is an agricultural town located 70km north

of Kimberley on the Vaal River and is the administrative centre of

the municipality.

Diamonds were first discovered in Warrenton in 1888. The town

was originally known as Stanger's Rest, then Fourteen Streams, but

was finally named Warrenton after Charles Warren in 1880.

PHOKWANE MUNICIPALITY

Phokwane embraces Hartswater, Pampierstad and Jan Kempdorp,

originally named Andalusia. Hartswater is home to Olives South

Africa and boasts a variety of nuts and local wines from Hartswater

Wine Cellar. The town offers accommodation, leisure activities and

historical attractions such as the burial site of Chief Galeshewe and

the Women's Memorial building. The town of Jan Kempdorp hosts

two World War II concentration camps and lies in the heart of the

Vaalharts Valley and irrigation area.

DIKGATLONG MUNICIPALITY

Dikgatlong is a Setswana name meaning "confluence", referring to

the place where the Harts and Vaal Rivers flow into one another.

The hub of Dikgatlong Local Municipality, Barkly West, was founded

as a mission village in an area known as Pniel, "Face of God".

____ ___ _

FRANCES BAARD DISTRICT MUNICIPALITY

Tel: +27 (0) 53 838 0911 | www.visitdiamondfields.co.za
---
FOREWORD

Banishing corruption

and building a

competent state

The virtues of meritocratic government are obvious.

Credit: Sasol

More so, now than ever, South Africa needs

competent bureaucrats running the state, from

the municipalities right through to the top tiers

of national government. Citizens are crying out

for a competent state.

Mint Fresh Advisory Services arose out of Thuli's desire to expand

her horizons, something she's been doing ever since she switched

from studying politics to commerce. "I knew I was going to go into

business from that time," says Thuli.

Reeling this back to the national lockdown in March 2020,

the country has witnessed tender corruption in the Covid-19

procurement process.

SACCI has publicly advocated for the principle of a competent

state and officials being appointed because they can do the job.

The country cannot continue to operate in a situation where jobs

for pals, nepotism and cadre deployment practices continue to

prevail to the detriment of the country, its taxpayer base and its

international image. The image is of a corrupt system which has

attracted an international status of a country with junk-bond

status, not investment grade status.

During 2020, various pronouncements were made by SACCI

calling for current practices to be reviewed.

In December 2020 government listened to SACCI and

published a government gazette which espoused the virtues of

a meritocratic government.

In recent weeks we have seen the President and even cabinet

ministers talking to this subject. The Minister of Police has supported

the principle of competency within the force.

The first hurdle was always going to be bringing about a mind-set

change from the top down and this is now starting to materialise.

But this is not something that is going to happen overnight. It's a

_________________

The years of patent corruption in

government appear to be gradually

coming to an end as the legal system is

slowly catching up with the culprits.

________________

process which requires a gradual phasing out of people who are

offered generous packages to step down, and for new best-ofbreed

bureaucrats to be appointed.

The argument that this is going to cost the taxpayers

significantly needs to be brought into perspective. Government

and state-owned enterprises currently deploy hundreds

of billions of rand annually to consulting houses to buy the

expertise to manage their

projects. Having this expertise

in-house will cost a fraction of

this amount annually. Clearly, this

does not require political savvy –

it just makes business sense.

The years of patent corruption in

government appear to be gradually

coming to an end as the legal

system is slowly catching up with

the culprits.

Generally, we believe this augers

well for South Africa, the economy

and a bureaucracy we can all be

proud of going into the future. Alan Mukoki, SACCI CEO

Credit: Hannelie Coetzee/Brand SA
---
SMME VIRTUAL

ROADSHOW

PRACTICAL AND USEFUL

INFORMATION ON SMALL,

MEDIUM AND MICRO-BUSINESS

IN SOUTH AFRICA.

TO REGISTER:

Visit www.gan.co.za

and then SMME Virtual

Roadshow

Since 2014, the SMME Roadshow has supported small

business in South Africa. Following the unprecedented

challenges of 2020, Global Africa Network is relaunching

the SMME Roadshow in a fully virtual, nationwide format.

The SMME Virtual Roadshow, brought to you by Global

Africa Network Media with Nemesis Accounting, SME

Warrior and Aurum Wealth Creators, takes the form of

presentations and practical guidance from thought

leaders and experts in their fields.

Presentations are pre-recorded for quality and convenience

and presenters and their teams will be on hand to engage

and interact with delegates. Delegates will also be able to

network with other delegates.

Who should attend?

SMMEs requiring support and guidance on the following

topics should attend:

ABOUT GLOBAL AFRICA NETWORK

Global Africa Network Media (GAN) is an established

authority on business development in South

Africa's nine provinces. GAN's online products

include its well-established B2B portal, www.

globalafricanetwork.com, and its monthly business

and investment e-newsletters, with a reach of over

53 000 subscribers.

Each of the nine titles and the national journal,

South African Business, has been utilised by all

levels of government, parastatals, corporates,

and national and provincial businesses. GAN is a

specialist in small and developing business, and the

company is a trusted partner of business chambers

and other representatives of organised business in

each province.

• Access to funding

• Access to markets

• Business revival

• Training and skills development

• Compliance and regulatory

• Technology support

• Running a business

Each of South Africa's nine provinces will be represented at

the Roadshow, and will showcase incentives, services and

opportunities available to SMMEs.

For information on sponsorship opportunities, email

info@gan.co.za
---
News & snippets

Industry insights from

the past quarter

Mamonkwe Trading is seizing the moment

Mamonkwe Trading, a 100% black-owned company with a permanent staff complement of more than 150, is growing

its footprint in a range of fields.

Mamonkwe Trading is the mother body for a number of subsidiary companies trading under the same banner with the

main focus being plant hire, mining rehabilitation, coal transportation and logistics.

The business philosophy of founder and CEO, Robby Mogashoa, can be summed up as, "An opportunity presents itself for

a moment to be seized by a prepared person." The company was founded 14 years ago by this dynamic son of Limpopo's soil.

Says Robby, "We offer the right solution at a compatible rate. We distribute and deliver only high-quality products and

services through reliable and efficient solution systems." Clients of Mamonkwe Trading include Pan African Resources, Evander

Gold Mine, Manana Chemicals, Eskom and Universal Coal.

Robby Mogashoa has been going

beyond expectations since moving

from a rural area to Kinross

in Mpumalanga to look for

opportunities. He started selling cars

but then started a business providing

services to Evander Gold Mine.

John Deere expands across Africa

John Deere, the agricultural giant, announced in April 2021 that it will bring its construction and forestry

product line back into its Africa Middle East branch. This expansion marks the first time that the John

Deere construction products will be sold under the John Deere name in these 18 countries: South Africa,

Botswana, Zimbabwe, Swaziland, Namibia, Zambia, Kenya, Uganda, Mozambique, Angola, Malawi,

Tanzania, Ethiopia, Egypt, Rwanda, Burundi, South Sudan and Sudan. John Deere is taking full control

of the marketing and support of its own branded construction products.

"This expansion provides an opportunity for us to increase our global footprint in the

construction industry, as we build upon our existing presence in Africa and deliver our product

portfolio under the John Deere brand for the first time to these key markets," says Jaco Beyers,

Managing Director for John Deere Africa Middle East. "As we move into these new countries, we

are delivering on what customers expect from the John Deere brand."

ocial

e in

nergy

)

ENT

le energy to

o-economic

ng social

ners?

/ 06-07am EDT

Inspiring the renewable energy sector

Many energy projects have community

participation and CSI projects but a

new initiative wants to ensure that

a real impact is made. INSPIRE (the

Initiative for Social Performance in

Renewable Energy) aims to ensure that

Africa's just energy transition delivers

transformational

socioeconomic

benefits. The initiative was virtually

launched in June by several companies

in partnership with the renewable energy industry associations SAWEA and SAPVIA

and entities in the energy sector. The participants in the venture are

supported by Actis, Lekela and Biotherm

Synergy Global Consulting, Actis, Lekela Power, Biotherm, the South African

Wind Energy Association (SAWEA) and the South African Photovoltaic Industry

Association (SAPVIA).

DRA Global lists on the JSE

The trading of DRA Global's shares commenced on the Johannesburg

Stock Exchange (JSE) in July, giving South African investors an

opportunity to invest in the diversified global engineering, project and

operations management company.

Founded in South Africa in 1984, but headquartered in Perth, Australia,

DRA Global operates mainly in the mineral resources sector, where it

provides end-to-end integrated engineering, project and operations

management services to customers developing and operating mining

assets. The company's primary listing is on the Australian Stock Exchange

(ASX), and it also has operations across several key markets spanning

Europe, Middle East and Africa, Asia-Pacific and the Americas.

Valdene Reddy, Director of Capital Markets at the JSE, says DRA Global

is the sixth company to list on the JSE in 2021, supporting the appeal of

the Johannesburg-based bourse as a capital-raising platform.

JULY/AUG/SEPT 2021 • ISSUE 98

www.opportunityonline.co.za
---
JULY/AUG/SEPT 2021 • ISSUE 98

Momentum boosts women-owned businesses

The country's official unemployment rate currently stands at 32.6% and the Covid-19 pandemic will cause more job losses. In the spirit of bolstering small and

medium enterprises (SME) in order to increase job opportunities, Momentum recently chose five women-led businesses to receive a share of R1-million as well

as some invaluable coaching as part of its Budget Speech #AdviceForSuccess competition.

Charlotte Nsubuga-Mukasa, Head of Momentum Brand at Momentum, says that SMEs make up 98.5% of formal businesses

in South Africa, which means that successful SMEs can have a significant impact on our economy. The latest Momentum | UNISA

Household Financial Wellness Insights shows that women were hardest hit by the lockdown. Just over a million either lost their

jobs or were prevented from working. The Budget Speech #AdviceForSuccess competition asked people to nominate deserving,

local woman-owned businesses. One of those chosen was The Trea Garden, an outdoor area and café based in Midrand (Gauteng),

owned and run by Amanda Yoyo.

Vodacom's launches VodaPay Super App

Vodacom's VodaPay Super App aims to be a game-changer for driving financial inclusion and economic growth in

South Africa. Developed by Vodacom Financial Services in partnership with digital lifestyle services platform Alipay,

VodaPay is an all-encompassing mobile payments solution that has been customised to meet the specific lifestyle

and payment needs of consumers, businesses and tech developers.

Developers and businesses of all sizes are invited to join the VodaPay ecosystem by building their own Mini

Programmes. This allows them to leverage off world-class technology to accelerate digital engagement and increase

access to market. The VodaPay Super App offers endless possibilities in acquiring new customers, trading, and advertising.

These third-party downloadable sub applications run within the VodaPay Super App and are available to all consumers to

enhance their lifestyle. Shameel Joosub, Vodacom Group Chief Executive Officer, says, "Since we announced the VodaPay

Super App in July last year, we have made significant strides in developing this technology solution that will transform

the fintech ecosystem in South Africa.

Fortress REIT kickstarts logistics strategy

Fortress Logistics Real Estate's

commitment to develop over a

million square metres of logistics

assets over the next two to three

years, effectively transforming the

weighting of its portfolio to two-thirds

big box logistics, came into its own in

2020/2021.

"The strategy equipped South Africa's largest supplier of logistics real estate

with the ready-built runway to support key clients' new supply and logistics

strategies in response to the Covid-19 pandemic," said Jason Cooper, Head of

Development at Fortress REIT.

Fortress Logistics Real Estate's focus combined with its commitment to

developing quality infrastructure at prime locations close to the airport and the

Port of Durban saw all of its speculative buildings let.

Increased roof heights and yard dimensions in logistics parks meeting

increased global fire regulation, security and insurance standards underpinned

Fortress Logistic Real Estate's success throughout the Covid-19 period.

Fortress's Clairwood Logistics Park (pictured) concluded large deals with Kings

Rest Container Group and African Sugar Logistics. The development of a 56 000m²

container terminal within Clairwood for Kings Rest to be completed in September

2021 will extend the ability of King Rest's existing container facility within the

port of Durban.

Rand-Air aims for best fit

Rand-Air has announced a fleet renewal programme to ensure customers

receive the best fit possible: "the right fleet, at the right time and at the

right price".

Rand-Air, a supplier of air, nitrogen, power, flow (pumps), steam

boiler and lighting solutions, is part of the global Atlas Copco Specialty

Rental division. Having an up-to-date fleet allows for operational agility

and is critical to the success of customers.

"Continuous fleet renewal is imperative, as this practice enables

Rand-Air to retain and effectively manage a constantly updated fleet

of equipment – featuring the latest world-class technologies, improved

lifespans, efficiencies, reduced environmental impacts and increased

user-friendliness. Such a fleet reflects our ethos and tagline of "making

agility count" for our customers, by ensuring lower operating costs,

efficient production and sustainable profitability," says Rand-Air Sales

and Marketing Manager, Byrone Thorne.

While the "best fit" offer is effective for short-term rental solutions,

longer-term rental solutions may be more customised according to

requirements. With more specific factors

taken into consideration, such as energy

consumption, Rand-Air's products may

feature variable speed drives (VSDs) for

enhanced energy efficiency over longer

periods, Thorne explains.
---
INTERVIEW

Ability, agility and sustainability:

what modern government

can look like

The Executive Mayor of Midvaal Local

Municipality, Alderman Bongani Baloyi, is

proud of seven consecutive clean audits

and believes that stability and good

systems are vital in attracting investors.

Midvaal is a local municipality within the

Sedibeng District Municipality in Gauteng.

10 | www.opportunityonline.co.za
---
What are the main economic activities of Midvaal?

The main activities centre around manufacturing in the steel industry and

manufacturing components, followed by some financial services and government

services and trading. The manufacturing sector is positively linked to the steel

industry with companies linked to downstream beneficiation. They tend to be

small engineering companies and the mining sector has been a key contributor

with Afrimat Mines and a few other quarries.

Has your economy been affected by the problems in the steel industry?

We struggled a bit when there were the challenges caused by the import of cheaper

products from China. The immediate impact was that manufacturing production

went down. Coupled with the unreliable electricity from Eskom and also the price

of electricity, companies complained that it was making them uncompetitive. Our

municipal income decreased because some companies went from running four

premises to two premises so electricity revenue was reduced.

What is council doing to assist existing businesses?

Firstly, we must do our work, that is the most important thing for us to keep and

retain or even attract businesses. I must ensure that efficient services are given

which people are paying for. There is reliability and stability.

When you go to a bigger company, then you can start intervening in specific

ways. They might say, "Can we do a reservoir if the municipality does not have the

money?" They build it and then donate it to the municipality. Then the municipality

can look at a longer-term deal for water and electricity, assisting them to remain in

the municipality. This is how we come up with practical solutions for growth.

At most there must be two people and an executive committee which

ultimately makes the decision to ensure that we remain competitive and agile in

our ability to make decisions.

Agile is not a word one often hears with regard to government.

We often say to our businesses they must engage directly with our Head of

Development and Planning. That is the first touch point.

When there's an escalation, it goes to myself and the Municipal Manager. That may

result in a requirement for a decision by the mayoral committee or council so it goes

back to the two people and one committee and a decision is to be made.

If you are running at such a pace you make it nearly impossible for people not to

want to invest in the area. Through word-of-mouth people say, in our area we had two

calls and the issue was resolved, we met with the mayor. We made a compromise and

we are moving ahead and a decision has been made.

That type of agility is needed to ensure that we set the bar and ensure what a

modern government can look like insofar as its ability, its agility and its sustainability.

Biography

Repaying a debt

Bongani Baloyi grew up on the East Rand and

clearly remembers the bloodshed of the 1990s.

He can remember the smell of teargas.

His commitment to public service had its origins

in those years. Says Baloyi, "I think it has been

frustration from a very young age that things were

moving very slowly. I realised that society is not the

way it should be."

He quickly worked out that his mother having

to work as hard as she did for little return was "a

function of human control". It became "important

for me to change the one thing" that could improve

the lives of people, and decided that politics was

the vehicle.

He was schooled at well-resourced, formerly

white schools, partly through the drive of his

mother to ensure that her first-born had access to

education and partly through the generosity of

sponsors.

Many times someone came forward to assist.

Throughout my school education various people

assisted. The difficult part for me is that there are

many people whom I don't know how to say

thanks today to, because they wanted to remain

anonymous.

"So much of my approach to help those who

can't help themselves is to try to repay this debt.

I would not be who I am today without that help

from those who assisted me through schooling."

And start-ups?

What we can do with regard to start-ups is very limited. We can streamline some of

the procedures and the key question is which leg of these applications don't require

a permanent change of a land use. We might be able to go the consent route.

What are the main economic sectors you are targeting?

Residential has grown significantly. Farm portions are now settlements but that has also

meant that the agriculture sector has declined. So we believe that with agro-processing

and beneficiation down the value chain, we can harness the jobs that we need for the

skill level of the unemployed. That way, it can be much more sustainable.

The second part is tourism: with the biggest nature reserve in Gauteng and

attractive water bodies, we can combine the wonders of nature with the political
---
INTERVIEW

heritage. We are not doing that very well at this stage; it is just a

20-minute drive from Johannesburg to enjoy all of these things.

Please tell us the story of Heineken in Midvaal.

Is this an example of partnership?

Heineken is a great development. To date they have spent in

excess of R7-billion in the municipality upscaling their facility

and really gearing themselves to compete progressively.

It was a flagship development. Now if you look around there's so

many other industries and businesses that have moved, some are

part of the value-chain for Heineken. This is getting development

going along the R59.

Heineken has been a really good corporate citizen. We have

partnered on some incredible CSI projects which have left a lasting

legacy in the municipality from primary healthcare, monitoring vehicles

and others.

From the bulk services point of view there have been some

interesting solutions. We are currently in a discussion with them

about a 10MW solar plant.

What is the R59 development?

This is an iconic part of the municipality, demonstrating our intention

to draw and attract business. The R59 is a major regional route which

goes through the municipality from Johannesburg to the Free State.

The route also hosts two-way infrastructure, one is a Sasol pipeline,

the second part is the Rand Water pipeline that feeds Gauteng. We

want to help industry develop along that spine. The R59 today is

what Midrand was 10 or 15 years ago.

These nodes have been identified for projects: Wildebeest

Fontein, De Deur, Mamello, Waterval and Sicelo.

Midvaal has received international awards for "excellence

in investment and innovation" – what are the factors that

won that award?

It reflects the idea of service to the community, the strength

of our governance in Midvaal that has created the stability

and predictability and our agility in making decisions. In the

Heineken experience, we had to work within different time

zones when the executives from Heineken were sitting in

Holland. We even signed an agreement which had penalty

clauses where if we could not make decisions in a timeframe,

then we would pay penalties.

My predecessors started a very different strategy compared to

everyone else. We started to operate outside of what people see as

normal limitations.

We started saying what do you need, let's see how we can make

it possible, and go the extra mile because we understand the

importance of these developments.

What are the most attractive opportunities for future

investors?

We want to engage with unlocking access to industries that are

important for the future. Energy is incredibly important, whether

it is through the traditional means or alternatives means or

through waste-to-energy.

The Heineken brewery has expanded operations several times in recent years.

Credit: Esaba Consulting Engineers

I believe grey water is the liquid platinum of the future. We should

have innovative mechanisms to reutilise water in various stages in an

efficient and effective manner.

Finance is linked to technology and I think that municipalities should

venture into integrating research and development in those industries.

If a fintech company wanted to invest, would you have

enough bandwidth?

It has to start with finding a partner who is prepared to lay the

foundation of the infrastructure. With Heineken we did not have a

reservoir and a sub-station at first. We need an initial partner, then

we would be able to get in other players later.

How did your organisation achieve seven consecutive clean

audits?

Fortunately, I am head of a stable municipality which has the basic

policies all in good working condition and the right institutional memory.

What I had to do was build and improve the systems and processes.

You need to worry about the thing that delivers consistency. It has

brought the culture of performance, accountability and transparency but

also we have a deeply embedded culture of compliance.

On average, we are achieving 94% with our audits, year-on-year, so the

system is also able to deliver.

We are strengthening our governance: every year we are finding

flaws and the Auditor General is assisting us to say you could improve

in specific areas. This an opportunity to improve our systems.

Are your staff proud of their record?

Oh absolutely. All of them they would walk around with their medal if

medals were presented every year! I think they know the public appreciates

them. My responsibility is to remind them of the goal. When people tell us

how wonderful and fantastic we are, I am the guy to remind them of the

road still ahead, and what we still need to achieve. The worst thing is to

believe the hype and drop your performance and your integrity and the

respect that you have for the system and for the consumer we are working

for. Those are the things we must guard against.

12 | www.opportunityonline.co.za
---
PROFILE

Midvaal Local

Municipality

Inclusively serving the needs of the community.

Contact details

Customer Services: 0861 643 8225

Fax: +27 (16) 360 7519

Email: via website

Website: www.midvaal.gov.za

Midvaal Local Municipality is one of three local municipalities within

the Sedibeng District Municipality, located in the Southern region

of Gauteng Province.

The principal towns in the municipality are Meyerton, where the

municipal offices are located, Daleside, Randvaal, Henley on Klip,

Walkerville and De Deur.

Natural features include the Vaal River and Dam, Klip River and

the Suikerbosrand Nature Reserve.

Fast facts

Size: 1722km²

Population: 111 600

Major sectors

Manufacturing: 29.5%

Financial and business services: 18.5%

Trade: 14.5%

Major routes

R59 freeway (Midvaal's major development corridor); N1; N3; R82

Awards

2021 Golden Arrow award, PMR Africa

2021 Most proactive Mayor award in Sedibeng District

2020 Seventh consecutive clean audit

2018 Best Performing Municipality: service delivery satisfaction,

GCRO survey

Vision

To inclusively serve the needs of our community.

Mission

We strive daily to enrich the lives of our people, by:

• Adopting a mindset of innovation to revolutionise the way we

operate

• Leveraging partnerships to realise our full potential

• Driving sustainability within the local ecosystem

• Growing the economy in Midvaal, premised on incubating

entrepreneurship, socio-economic growth and environmental

responsibility

• Providing excellent and standardised service delivery for all

• Prioritising the upliftment of our youth

• Being an ethical and proactive local municipality

• Elevating Midvaal to be the best and most attractive municipality

in the country

Credit: Property24

www.opportunityonline.co.za | 13
---
LOCAL GOVERNMENT

Promoting women in

business and giving

youth opportunity

The Midvaal Local Municipality is committing

resources to uplifting women and young people.

Junior Council

The Junior Council Programme is one of the ways

in which the municipality contributes towards

educating and developing the youth in Midvaal. It

helps to fosters and create a sense of civic awareness

and pride among youth.

This programme has helped to promote

tolerance by introducing leaners to various cultures,

languages and practices.

Midvaal Junior Council meets monthly to cater for academic

activities from participating schools. After every meeting, the

Junior Council debate different topics with an emphasis on

citizen responsibility.

Youth Council activities include but are not limited to: computer

training programmes; learners' licence preprogramme; "Donate

67 minutes" to cleaning up the results of illegal dumping;

report-writing skills; life skills; active participation in community

development programmes; conservation.

14 | www.opportunityonline.co.za
---
Sebenza Mbokodo Women's Project

The Sebenza Mbokodo Women's Project was established in 2019 by

the Midvaal Local Municipality Executive Mayor, Alderman Bongani

Baloyi. Its primary focus is to provide access to funding, specifically

to qualifying women-owned businesses that operate in the informal

trading sector of the municipality. Through this project, womenowned

businesses will not only be provided with funding but access

to development where needed.

Midvaal Local Municipality

and Standard Bank Enterprise

Development will fund the

Sebenza Mbokodo Women's

Project. Both parties will

contribute towards a fund

which will be established by

Standard Bank for the sole

purpose of supporting this

project. This collaboration is a result of both parties sharing the same

sentiments and focus where business development is concerned.

The partnership is built on the premise that the municipality intends

to empower, capacitate and support women-led informal businesses.

Funds from the Sebenza Mbokodo Women's Project Fund will be

provided to qualifying women-owned businesses so that they can:

• Grow their business

• Be able to compete with formal business

• Obtain materials and equipment for their business

• Prepare business plans for future expansion

• Provide goods and services to the current markets and to new markets

• Obtain relevant training and experience to grow their business.

Potential beneficiaries of the fund are all informal traders

(unregistered women-owned businesses) operating from the

township or town within the informal trading sectors operated by

women with spaza shops, fruit and vegetables, food preparation

and selling, hair salons, sewing and dress-making.

Standard Bank is proud to be part of this project and will continue

providing a zero-percent interest-free loan of R10 000 to qualifying

SMMEs for 24 months. Through this partnership, the bank wants to see

women entrepreneurship thrive through local economic empowerment.

As a municipality that cares, the Midvaal Local Municipality is

committed to creating a conducive environment for growth and

development for all its inhabitants, businesses, residents, investors

and other relevant stakeholders.

Kgatelopele Youth Development Programme

Midvaal is committed to promoting and supporting the development

of the youth within its municipal jurisdiction through programmes that

are aimed at:

• Skills development and training

• Entrepreneurship

• Business development

• Support for co-operatives and small, micro and medium enterprises

• Support graduates who can't find employment.

The Executive Mayor has identified youth development as one

of the critical areas that needs intervention to alleviate the high

unemployment rate, poverty and socio-economic ills.

The programme trains youth in skills development, business

administration and management, entrepreneurship, and sectorspecific

technical skills.

About R1-million was used for training and development, and

R30-million worth of opportunities was set aside for this programme.

Youths who graduate from the programme are considered

and linked to job opportunities for further training programmes.

The Kgatelopele Youth Development Programme was

conceptualised and implemented with an objective to

empower and capacitate the youth so that they can compete

fairly within the municipality's procurement processes and

other business interests.

Kgatelopele companies are continuing to express interest

in municipal procurement opportunities and some have

been awarded tenders. Some of the Kgatelopele companies

participated in the "War on Leaks" programme which was

implemented across the municipality.

The municipality will continue to explore opportunities for

Kgatelopele companies.

Tenacity brings success

In the early days of the Kgatelopele Youth Development

Programme, success rates were low but the drive of one

enterprising entrepreneur to build a good business shows what

can be done.

When Alfred Taikie Ngaloshe (also known as Wes) decided to sign

up for the programme, he didn't just sit on his hands. Executive Mayor

Bongani Baloyi remembers being "hounded" by the garden services

entrepreneur, but also being hugely impressed by his "tenacity".

"He wanted a response on consecutive days. How do I do this,

why is this like this, why is this like that," recalls Baloyi. "He wouldn't

just wait for things to happen. He was really empowered and this is

why this fellow is successful; the differentiator is the attitude."

In the 18 months since Wes joined the programme

Woodpeckers Garden has

expanded operations, bought

new equipment and taken

on staff. The company has

also expanded into the

construction sector.

As Mayor Baloyi puts it,

"When you see the passion and

the drive then you realise why

he is successful compared to

the others in the group."

www.opportunityonline.co.za | 15
---
LOCAL GOVERNMENT

Guiding the transition

A recent special meeting of the South African Local Government

Association (SALGA) focussed on renewal in the runup to elections.

Credit: SALGA

SALGA President Councillor

Thembi Nkadimeng called

for practical plans for

improvement in municipal

performance as the South

African Local Government Association

(SALGA) convened for a special National

Members Assembly (NMA) in May.

The hybrid two-day event brought

together people from government, heads

of Chapter Nine institutions, civil society

and the research community with a limited

number of delegates attending in person

at the Radisson Blu Gautrain Hotel in

Sandton, Johannesburg.

The event was held under the theme,

"Guiding the Transition: An opportunity

to renew as we usher in the 5th Term of

Democratic and People-Centred Local

Government." The aim of improving

service delivery was at the centre of

deliberations.

Councillor Nkadimeng (pictured)

stressed that practical actions plans

would strengthen municipal capacity

and performance, which in turn will help

improve service delivery outcomes over

the next five years of local government.

"As we are all aware, the local government

elections are scheduled to take place

towards the end of October this year. It has

therefore become necessary to prepare

for the transition that municipalities will

experience before, during and post the

elections," Cllr Nkadimeng said.

As the fourth term of democratic local

government nears an end, the NMA

assessed preparations for the upcoming

local government elections on 27 October

and adopted a management and transition

framework for the fifth term of democratic

local government.

"Our intention is to ensure the development

of a comprehensive programme of

guidance and support, in response to

potential challenges that may be faced by

municipalities during the transition."

Cllr Nkadimeng also announced

that the Statutory Affairs Committee

of SALGA was tasked with the role of

drafting governance and reputation

management protocols that will guide

the organisation's handling of National

Executive Committee (NEC) and

Provincial Executive Commitee (PEC)

members facing serious allegations of

impropriety and unethical conduct.

She added that the NMA would take

these protocols a step closer to reality.

Delivering the keynote address, Chairperson

of the National Council of Provinces (NCOP)

Amos Masondo pointed out that many

countries across the globe and international

institutions such as the United Nations (UN)

regard South Africa as having one of the most

progressive constitutions in the world.

He said South Africa's constitution

enjoys high acclaim for how it defines

a constitutional democracy with a

three-tier system of government and an

independent judiciary.

"Under our constitution, a municipality

has the right to govern, on its initiative, the

local government affairs of its community,

subject to national and provincial legislation,"

said Masondo.

Panel discussions triggered an exchange

of ideas, collaboration and engagement on

a broad range of topics in the field of local

government. Panel moderators Sakina

Kamwendo and Clement Manyathela were

tasked with the responsibility of keeping

the conversations on track throughout the

two-day event.

16 | www.opportunityonline.co.za
---
LOCAL GOVERNMENT

A critical reflection on the fourth term of

democratic local government

During discussion on this topic, SALGA

President Nkadimeng outlined the role

of SALGA in supporting, promoting and

improving local government in line with

the organisation's mandate. She honed in

on SALGA's efforts to improve the financial

reporting quality and processes of their

members' municipalities across the country.

After noting SALGA's eight clean audits

in a row she stated, "With the limited

resources we have, we'll adopt

10 municipalities per financial

year, and take our expertise as

SALGA to municipalities to assist.

We can't be bystanders when we

realise that there's a problem."

Masondo said that despite the

numerous critical local governance

challenges that needed immediate

attention, local government has

made meaningful progress in

transforming the lives of the country's

black majority, who had been

denied participation in political and

economic life under apartheid.

"People who are saying that

there's nothing at all that has been

done are removed from reality. If

you open a tap, there's water, there's

electricity. There may be problems

about supply and outages, there

are roads, rubbish gets picked up

regularly," said Masondo

"This is not to say that there

are no problems, problems are

there but we must not also deny

the reality of things and progress that has

been made since 1994."

Professor Jaap de Visser, Director of

the Dullah Omar Institute, University of

the Western Cape (UWC), recommended

political parties to improve their candidate

selection lists ahead of the 27 October

municipal elections, where councils

for all district, metropolitan and local

municipalities in each of the country's nine

provinces will be elected.

"Political parties would have to

distinguish the opportunists from the

real leaders," Prof De Visser said. "Political

parties must ask themselves what should

disqualify a person to run for election."

Lechesa Tsenoli, Deputy Speaker of

the National Assembly (NA), emphasised

the importance of SALGA's Integrated

Councillor Induction Programme (ICIP),

which caters for newly elected and

returning councillors with the aim of

improving professional practice and

institutional capacity in local government.

The state of readiness for the electoral

transition

Thabo Manyoni, chairperson of the Municipal

_________________

"This Special NMA has witnessed

an unprecedented and major

convergence of views that is groundbreaking

for local government.

Despite the complexity of using

this hybrid format of engagement,

from a content perspective we

all agree that we must not only

adopt and embrace the Special

NMA Declaration, but also take

bold and proactive steps to

implement and accelerate it."

________________

Demarcation Board (MDB), briefed the NMA

on the delimitation of the municipal wards in

preparation of the 2021 municipal elections.

Wards are delimited every five years in

metropolitan and local municipalities for

electoral purposes caused by changes in

the number of registered voters as a result

of migration and the enrolment of new

voters on the voters' roll.

"On the 1st of December 2020, the MDB

handed 4 468 ward boundaries to the

IEC to prepare for the Local Government

Elections in 2021," said Manyoni.

July 17-18 has been announced as the voter

registration weekend for the local government

elections taking place on 27 October.

On these days, all 23 146 voting

stations around the country will open

from 8am to 5pm to assist new voters

to register and existing voters to check

and, where necessary, update their

registration details.

Managing the transition

Nkosinathi Mthethwa, Minister of Sports, Arts

and Culture, spoke about the transformation

of South Africa's heritage landscape. He

emphasised that to build a truly non-racial,

non-sexist, democratic and prosperous

society, processes of removing the

vestiges of colonialism and apartheid

racism were important.

He also spoke on how certain

monuments, symbols, signs and

statues in public spaces carried a

history of oppression and tyranny

and that it was important for South

Africans to begin having conversations

on what their role should be in a

democratic dispensation.

"Do we create a concentration

camp of unwanted statues with a

narrative or do we leave it to those

who still value them to preserve

them thus running a risk of reigniting

old right-wing nationalism by

privatising public property. Do we

allow for a juxtaposition of these

statues as it is the case in the Union

Building where President Mandela

is given prominence and centrality

while Hertzog was moved to a less

prominent space?" he asked.

Dr Nkosazana Dlamini-Zuma,

Minister of Cooperative Governance

and Traditional Affairs (COGTA), spoke

about the feasibility of conducting free

and fair elections in the shadow of the

Covid-19 pandemic.

She emphasised that while the country

was ready to hold elections in October,

several other considerations, including the

legal, socio-political, health and practical

would also be assessed.

Cllr Nkadimeng brought the NMA to a

close, saying she was confident that the

discussions emanating from the NMA

would translate into actionable strategies

to improve service delivery outcomes over

the next five years of local government.

www.opportunityonline.co.za | 17
---
SMALL BUSINESS

The key to a successful

economy is a better

balance of SMEs

As financier Business Partners Limited marks its 40th-anniversary

milestone, Managing Director Ben Bierman reflects on how the

local SME sector has still not reached its full potential.

The positive role that small and medium enterprises

(SMEs) play in the local economy has been raised

time and time again and is largely undisputed. From

providing employment opportunities, to solving business

challenges, these businesses can offer an innovative and

agile approach oftentimes lacking in larger companies.

SMEs have, however recently had to overcome economic

headwinds, even pre-Covid-19, due to a sluggish economy

and, added to the recent challenges of the pandemic, will likely

continue to face challenges such as the high cost of running

a business, excessive red tape, access to markets, financing

and technical knowledge. This is according to Ben Bierman,

Managing Director of Business Partners Limited, a specialist risk

finance company for formal small and medium owner-managed

businesses, reflecting on the company's past four decades in the

local SME financing landscape.

"Looking at various first-world economies, it's clear that a good

balance of different-sized businesses and equally distributed

wealth in the business sector is crucial to a thriving economy,"

Bierman points out. "In South Africa, most of the economic

power has for too long been held by the large corporates, and

for our economy to grow and thrive, a larger base of mediumsized

businesses is required. This key shift, however, requires an

ecosystem that better supports these businesses."

Bierman adds that Business Partners Limited is proud of the

contributions made to the SME ecosystem, albeit more remains to

be done. The year 2021 marks the company's 40th anniversary, and

to date Business Partners Limited has provided R20-billion in finance

to South African business owners via more than 71 000 transactions,

which has in turn assisted in facilitating over 671 000 jobs in the

country.

Bierman says that over the past 40 years some of the key

challenges that were facing the industry have remained and include

a lack of financial literacy among business owners, non-compliance

with legislation and the availability of collateral which hinders access

to much-needed financing opportunities. The challenges are even

more pressing today as SMEs battle to survive the current pandemic.

He highlights some of the key changes he has witnessed, as

well as urgent efforts that need to be taken by both South Africa's

government and private sector, in order to better support SMEs as

the country paves the road to recovery:

Tshepo Mekoa's business Brima Logistics was expanding until Covid-19 hit, then

he had to adapt and show resilience. One of the sources of support finance for

the business was an emergency loan from Business Partners Limited.

18 | www.opportunityonline.co.za
---
THERE ARE MANY

BUSINESS FINANCIERS OUT THERE.

BUT NONE LIKE US.

So, who are we?

We're the company that's been supporting and financing

business owners for over 40 years. That's longer than some

of Africa's largest banks have existed. We've provided over

R20,5 billion in tailor-made finance to small and medium

businesses. Helped facilitate over 658,000 jobs and

counting. With finance from R500,000 to R50 million,

imagine the potential we can unlock in your business.

Apply for our specialised business finance at

businesspartners.co.za

MINIMUM 2 YEARS

IN BUSINESS

R500K TO R50M

BUSINESS FINANCE

UP TO 100%

PROPERTY FINANCE
---
SMALL BUSINESS

_________________

"As a business, this

responsiveness has

contributed greatly to us

remaining relevant over four

decades. With the disruption

caused by Covid-19, we

have had to respond to

what our clients tell us and

introduced a variety of relief

initiatives aimed at SMEs."

________________

Harness technology to become more client-centric and give support

quicker and more efficiently

There have been great forces of change in the macroeconomic environment

and the biggest driver of change in the past few years has been technology.

Due to improvement and access to technology, we have had to adapt to

doing things quicker to meet client demand in terms of decision-making

and support. Big data, fintech and systems play an ever-increasing role in

shaping the way financial institutions operate, especially to improve the

understanding of the client's needs and the ability to assess business risk.

Red tape to be trimmed to increase ease of doing business

SMEs often lack resources within their organisation to deal with legislative red

tape. Often the entrepreneur or business owner spends more time jumping

through administrative hoops rather than focus on running their businesses.

Cumbersome legislation often becomes the biggest stumbling block for SMEs

to develop access to markets, improve the ease of doing business, grow their

businesses, or create much-needed jobs.

It's more important now than ever to invest capital and other resources into

SMEs, as well as cut some of the red tape that exists in the legislative environment

that makes it difficult to grow and create jobs. In comparison to big corporates,

SMEs can often create more jobs at a lower cost.

Innovate and adapt to meet needs of SMEs

In this ever-changing and uncertain environment, it is difficult for any business

to commit to a long-term plan. By staying close to and prioritising SMEs, both

government and the private sector can better respond to SME needs and thereby

contribute to a greater survival rate for these vital businesses.

About Business

Partners Ltd

Business Partners Limited

(Business Partners Ltd) is

a specialist risk finance

company for formal small

and medium ownermanaged

businesses in

South Africa and selected

African countries.

The company actively

supports entrepreneurial

growth by providing

financing from R500 000

to R50-million, specialist

sectoral knowledge,

Ben Bierman, Managing Director,

Business Partners

business premises and added-value services

for viable small and medium businesses. Since

its establishment in 1981, Business Partners Ltd

has provided business finance worth over R20-

billion in over 71 600 transactions facilitating

over 671 000 jobs. Business Partners Ltd was

named the 2019 Gold winner in the SME Bank

of the Year – Africa category at the Global SME

Finance Awards.

Visit www.businesspartners.co.za for more information.

20 | www.opportunityonline.co.za
---
www.opportunityonline.co.za | 21
---
SMALL BUSINESS

Fuel for growth

Why access to capital is important for SMEs

Regardless of the size of your company or how

great your product might be, at some point

every business will need more finance than they

have immediately available. When this happens,

accessing additional funding will help to give

your company the fuel it needs to grow.

It may seem counterintuitive, but Trevor Gosling, co-founder

and CEO of Lulalend – financing partner to South Africa's smallto-medium

enterprises (SMEs), explains that fast access to capital

plays an important part of any business growth strategy.

Gosling says that there is often a misconception that all debt

is bad or that it is only used by struggling companies. "In fact,

the opposite is often the reason why some of the world's largest

companies routinely seek capital infusions to drive growth,

keep profits within the company and assist with short-term

financial obligations."

When raising funds, the financing option selected will play an

important role in determining how a business accesses capital

and its long-term profits.

"For business owners, debt can help to improve the bottom

line of a company because it makes expansion possible. It can

enable increased marketing efforts or the purchasing of new

equipment and products," says Gosling.

Loans can also support seasonally-driven companies that are

often extremely profitable during peak-season trading but need

the extra cash to buy inventory and supplies during the quieter

months. This is where debt can help to bridge the gap and

balance out uneven cash flows throughout the year.

Generally, the two most common ways in which debt is raised

are through selling equity in the business or with debt financing.

For many of South Africa's burgeoning SMEs, what matters

most is the overall cost of business funding and the speed at

which it can be acquired. While both financing options can help

to give access to capital, using debt to support growth rather

than equity is generally preferred.

As Gosling explains, "While you will owe interest on debt,

unlike equity, the funding that it provides doesn't mean you will

have to lose a stake in your business. Any profits that are made

will be yours to keep."

Additionally, if you choose to take on a partner to increase

capital, it will also mean that you lose full control of your business

and you will be asked to share profits in the future, which for

many fast-growing start-ups is not an attractive option.

While fixed-term loans are a great tool to finance inventory

or equipment purchases, an increasingly popular debt

instrument is a business line of credit, or Credit Facility.

Gosling says that a Credit Facility is one of the best ways to

manage cash flow, especially if a business needs immediate

access to funds to cover short-term expenses while waiting

for customer payments.

Have a plan to use additional funding

If you manage your debt responsibly by making on-time payments,

this can also help to improve a business's creditworthiness. In turn,

these smart credit habits can help to increase your overall spending

limit, lower future borrowing costs, and help you to obtain better

terms for future loans.

"The critical step that business owners need to consider before

taking on any form of debt is to ensure that they have a plan

on how to use any additional funding to generate a return and

improve profits," Gosling explains.

"If you don't have a plan, or if you feel that the company is

struggling financially, taking on debt for the wrong reasons can

cripple your business," he adds.

To assist businesses to recover and grow during these difficult

times, Lulalend is offering its first-time customers the opportunity

to take out funding but only start repaying after 60 days, which

gives them two months of cost-free capital.

"It is not just about your bottom line. If done correctly,

responsible debt can grow your company and give it the strategic

advantage needed for a profitable future," says Gosling.

22 | www.opportunityonline.co.za
---
INFRASTRUCTURE

Researcher and writer Sello Mabotja investigates how infrastructure investment

is set to play a leading role in reversing the effects of the Covid-19 pandemic and

weathering the simmering economic maelstrom.

_________________ ____

"Government recognises that infrastructure investment is a critical

driver for the future growth of the South African economy. South

Africa requires a catalytic kind of infrastructure investment that

will contribute to higher long-term growth, and address spatial

disparities, transform the economy and create much-needed jobs."

- The Presidency

____________________

24 | www.opportunityonline.co.za
---
INFRASTRUCTURE

ACHIEVING ECONOMIC

RECOVERY THROUGH A

BRICKS-AND-MORTAR PATH

Giant cranes shift thousands of tons of coal every year at the Richards Bay Coal Terminal. Credit: RBCT

The ubiquity of the "I" word in South Africa's economic

recovery lexicon permeates almost all plans when

strategies about how to arrest the decline plaguing the

domestic economy are mooted and discussed.

Infrastructure-led economic growth and development

appears to be on the cusp of being the in thing and it is often touted

as a key driver of envisaged economic recovery.

But this newfound panacea will not be a plain-sailing exercise as

there are hurdles which still need to be overcome.

In the next three years, an amount of R791-billion has been

allocated to spending on infrastructure and this includes

expenditure by State-Owned Enterprises (SOEs). This is in line with

the objective of shifting expenditure from consumption to investment

and over the medium term, expenditure on capital assets is intended

to grow by an estimated 12.5%.

Infrastructure spend has over the years declined below 20% of total

spending but government aims to increase its level to 30% by 2030 in

order to achieve the targets set in the National Development Plan (NDP).

A precipitous fall in investment has been the Achilles' heel

of infrastructure development, which according to a Business

Leadership South Africa report, has declined from 20.3% of GDP in

2015 to 17.9% in 2019. The report notes that public sector spending

was 27% or R70 billion below budget in the 2019/20 financial year

compared to the previous year.

www.opportunityonline.co.za | 25
---
INFRASTRUCTURE

One of the major areas of focus of the national infrastructure programme is student

accommodation, as illustrated by this new development at the University of Fort

Hare. Credit: Stag African

Addressing Chatham House, the London-based

think-tank, on prospects for the growth of the

domestic economy, especially in the aftermath

of the Covid-19 pandemic, Mashatile noted that

the current health crisis has exposed gaps in the

provision of infrastructure and basic needs such

as healthcare, education, public transport, roads,

water and housing. Unofficial estimates are that

the country may need about US$100-billion to

recover from the coronavirus outbreak.

"Our point of departure is that the new economy

we are building must be more inclusive, resilient

and sustainable. We have taken the view that in

building a post Covid-19 economy, we need to go

back to the fundamental insights contained in the

Reconstruction and Development Programme

(RDP) of the early 1990s."

Increased spending on infrastructure is therefore a sure signal

that the domestic economy is on an expansion trajectory and

economic activity is on the rise. In the long run, improvements

in productivity may be achieved and this will drive sustainable

economic growth, which leads to a faster pace of job creation.

The ultimate result is to achieve stabilisation and recovery of

government finances.

Amid a mixture of economic misfortunes include worsening

unemployment, rising poverty and inequality, and sovereign

debt downgrades by three rating agencies, South Africa also

experienced a record contraction of the Gross Domestic

Product (GDP) in the second quarter at the worse-thanexpected

51% at seasonally adjusted annual rate — which is

disconcertingly the fourth consecutive quarterly contraction.

Enter the Covid-19 pandemic era and a major spanner is thrown

into these works, already in disarray.

Unlike in the past where a smorgasbord of unrelated avenues

were being touted as the panacea for the ailing economy, there

is now a single view that massive investment in infrastructure

will undoubtedly turn the fortunes of the economy around.

Some of growth path alternatives punted as a saving grace

for the near-parlous economic situation included the tourism

and hospitality, beneficiation and trade sectors. However, none

of these have delivered as expected.

There are strong indications that players in both the public

and private sectors agree on this issue. The ruling party has

been among the leading proponents of this bricks-and–mortar

approach as a way of negotiating the economic pathway.

Paul Mashatile, ANC Treasurer-General, recently went public

and punted infrastructure spending as the main tool that will

ensure that the ruling party keeps most of its electoral promises

and thus fulfils its mandate.

"When voters cast their votes, it is not so much about what a

party promises to deliver but they are actually looking at what

has been done," he said.

Private sector role

Against this background, government has engaged the private sector

and the multilateral development banks and designed an infrastructure

project pipeline totalling more than $20.5-billion (an estimated R350-

billion), focusing on network industries such as rail and ports, energy,

ICT, water, sanitation and human settlements.

In the 2021 Budget the government's Infrastructure Fund was

allocated a whopping R18-billion over the next three years, This is part

of the R100-billion committed by government over a period of 10 years.

Managed by the Development Bank of Southern Africa (DBSA), the

fund intends to leverage R10 from the private sector for every R1 spent

by government. The ultimate aim is to achieve a R1-trillion infrastructure

spending programme and transform public infrastructure financing

through this blended finance approach.

The DBSA advanced close to R635-million as part of the capital to set

up this R100-billion fund. An estimated 177 projects across the public

and private sectors are already under consideration.

Having taken some time prior to being established after being mooted

by the President in September 2018, work has now started on three major

projects: student housing, water infrastructure and digital infrastructure.

The establishment of the Infrastructure Investment Office (IIO) last year

by President Ramaphosa is further evidence that economic recovery may

hinge overwhelmingly on big investment in this area and adds further

impetus to the infrastructure spending drive. Led by Dr Kgosientsho

Ramokgopa, the former Gauteng MEC for Economic Development,

this agency hit the ground running with the hosting of the Sustainable

Infrastructure Development Symposium (SIDS) in June 2020.

Notwithstanding all these laudable initiatives on the part of

government, the main challenge appears to be the details of the

financing of infrastructure spending. While experts are upbeat about

this economic direction, some have expressed concerns that the tight

national purse may affect the efficacy of this drive.

Says Siyanda Mflathelwa, Senior Infrastructure Finance Transactor at

Rand Merchant Bank, "The government has stated that infrastructure

development is one way to revive the ailing economy. Given the fiscal

26 | www.opportunityonline.co.za
---
YOU SEE

AN INDUSTRY BEING

TRANSFORMED

PPC CETA ACCREDITED TRAINING COURSES

129 years

EXPERIENCE

WE SEE

WHAT WENT

INTO THAT

Putting eager minds in touch with the

training that can change their lives and

transform an industry is a passion at PPC.

That's why we are training the next

generation of bricklayers and plasterers

to fill an urgent industry need,

and it's why we say:

Together We're Stronger

- BRICKLAYING

- PLASTERING

- CONSTRUCTION MANAGEMENT

SHORT SKILLS PROGRAMME

130 hours

CLASSROOM

TRAINING

80 HOURS

ONSITE

TRAINING

www.ppc.africa

0800 236 368
---
INFRASTRUCTURE

constraints the government is facing, it seems that public-private

partnerships may just be the appropriate tonic."

Shawn Hagedorn, an independent strategy adviser, argues that

a feasible growth plan should be the main anchor of the country's

economic recovery if infrastructure is to have the desired effect.

"None of our leaders has produced a viable growth plan, yet

many support ramping up infrastructure projects to spark jobs

and growth. While it is unrealistic for any country to expect

infrastructure investment to spur growth without a plan, SA has

special challenges. If we view the global economy as a computer

network, the cost of upgrading SA's hardware is high, whereas

exceptional performance gains are to be realised through better

network integration," says Hagedorn.

Hagedorn's main concern is what he calls South Africa's "central

political-economic disconnect", which he explains as a situation that

is a diametric opposite of all successful economies worldwide which

thrive through extraordinary integration into the global economy.

He blames the failure of the domestic economy's ability to take

off on the ruling ANC's strong emphasis on redistributive economic

policies which focused predominantly not on global competitiveness

but redressing economic inequities without concomitant growth,

failure to embrace possibilities due to focus on correcting legacies as

well as an incessant debate of the imperfections of successful policies

as opposed to adopting and adapting those prescriptions.

"The country's meagre growth prospects are due to overreliance

on domestic spending, despite most households being

poor. Government efforts to induce growth have been expensive,

ineffective and unsustainable in the decade preceding the Covid-19

pandemic, households and government became over-burdened

with servicing expensive debt, while GDP growth barely tracked

population growth. We are far along the path of triggering mutually

reinforcing debt and poverty traps."

Notable successes for PPP

The exploration of the infrastructure-led economic growth path is,

however, not a novelty.

In 1998 the new public-private partnership framework was

inaugurated with the view to boosting the overall wellbeing of the

domestic economy. Using a hybrid mix of private and public sector

funding, estimates are that R90-billion has to date been procured via

Private steel fabricator and steel erector Betterect has recently invested

in semi-portable cranes by RGM Cranes. Credit: Betterect

this framework and government contributed at least R30-million to the

kitty. The model allows for the crowding in of public sector investment

and the acute shortage of funds on the part of government is

addressed as a result. Among the most notable successes of the PPP

framework is the Gautrain Rail Link Concession.

Although there appears no dissonance regarding this

developmental paradigm, some hurdles along this laudable

recovery path need to be tackled. For instance, the market should

not be forced to invest in low-yield, high-risk projects but those

which link funding to performance. Also, the use of any sort of

legislative instruments to force the market to direct its investments

into a sector for which its appetite is next to nothing may create

a huge disincentive. In a nutshell, any form of a prescribed assets

regime may seriously stifle the investment spending drive.

According to infrastructure investment expert, Jurie Swart, CEO of

African Infrastructure Investment Managers (AIIM), the private sector

has an appetite to partner with the government on its massive and

unprecedented infrastructure investment drive. However, he points

to the urgent need for high-level discussions to iron out the finer

details of the initiative, especially the governance procedures.

He adds that his organisation will, as the most experienced

private equity investment partner on infrastructure development

on the continent, with an estimated $2.1-billion under its

management in seven savings funds, be meticulous before it

commits funds to any project.

"We are the custodians of South Africa's savings and it makes

sense that these savings are committed to sustainable projects that

offer appropriate risk-adjusted returns. These should improve the

economic wellbeing of the savers," says Swart.

Despite concerns about rampant malfeasance and shoddy corporate

governance, government has in some instances notched up an

impressive record in managing PPPs. A case in point is the Renewable

Energy Independent Power Producer Procurement Programme

(REIPPPP), which boasts an estimated R7-billion in investments to

date. Commercial banks have also added close to R90-billion in this

programme in a bid to ameliorate the funding challenge.

As infrastructure spending gains impetus, construction and

engineering group WBHO is among its earliest beneficiaries and has

been awarded a R1.88-billion public-private partnership contract to

build a new accommodation office for the Department of Rural

Development and Land Reform.

Maybe government has finally found a path that will navigate the

domestic economy out of the doldrums and enable it to take off to

greater heights of prosperity. As KH Plant, a specialist construction

equipment company, noted in its 2021 Outlook for the South

African Construction Industry about the prospects of government's

infrastructure endeavours coming to fruition and powering the

domestic economy to the long-awaited recovery:

"Despite the country's economic standing, the fundamental need

for infrastructure remains. Demand is high for better and more roads

and other transport options, housing, power and other utilities and

so on. Government has already committed to using infrastructure

projects to drive post-Covid-19 economic recovery."

28 | www.opportunityonline.co.za
---
Delivering high-quality

services and products

Mamonkwe Trading goes beyond expectations.

CONSTRUCTION

Mamonkwe Trading is a supplier of topquality

products and services within the

industries of logistics, plant hire and

projects, contract mining and mining

services. With specialised skills in these

sectors, we offer the right solution at a compatible price.

We distribute and deliver only high-quality products and

services through reliable and efficient solution systems.

Mamonkwe Trading is a black-owned multi-dimensional

services and products supply corporation based in Mpumalanga,

with offices on Winkelhaak Farm, Evander. Mamonkwe Trading

is a distinctive beacon in the industry because we go beyond

expectations in delivering a service to our clients.

Based on our humble beginnings, we are committed to

giving back to our community as part of our social responsibility.

Our Mission

Is to provide high-quality products and services that meet

our clients' specific needs and provide valuable advice on our

products to assist our clients to save on operational costs.

Furthermore, we aim to deliver back to our communities as

part of our social responsibility obligations through outreach

initiatives.

Our Vison

Is to be a leading corporation that provides a diversified service

offering in the various fields such as distribution, logistics and

equipment supply in South Africa. Through tireless provision of

high-quality products and services, we will ultimately grow our

business into our neighbouring countries and beyond.

Heavy-duty equipment

We offer high-quality heavy-duty machinery:

• Compaction equipment

• Demolition equipment

• Drill rigs and rock drills

• Moving equipment

• Crushing and screening (bulk material handling)

• Generators and lighting tower plants

Transport

We specialise in the transportation of aggregates, earthmoving

equipment and access equipment.

Our services

We have a diversified service offering which is provided to various

industries such as the energy industry, the mining industry, the logistics

industry, earth moving, rehabilitation and the construction industry.

Earth moving

Plant hire, construction, transportation, excavation, crushing, screen

plant and dry bulk material handling.

Civil construction

• Mining and mining reclamations

• General building

• Mass excavating

• Conveyor-belt maintenance

• Bulk water supply and dam cleaning

• Shaft plugs

• Shaft demolition

• Concrete works and road works

• Rehabilitations

Our team

Mamonkwe Trading is a young, dynamic and adventurous company

that was established by young professionals who saw an opportunity

to establish a company that will empower young professionals

while contributing to the economy. We encourage the idea and

fundamental purpose of black empowerment in the new era of

entrepreneurship.

The main goal of Mamonkwe Trading is empowerment and

contribution to the economy of South Africa and also to the global

economy in the transportation/logistics, mining and plant-hiring

industries with a new dynamic way of doing business.

We have over 10 years of collective experience and skills in

leadership and senior management positions, in both small and large

businesses, and are therefore geared to tackle the transportation/

logistics, mining and plant-hiring industries head on.

Mamonkwe Trading CC

Address: Portion 54-55, Winkelhaak Farm, Evander | Tel: 017 200 2018 } Fax: 086 591 5155 | Email: info@mamonkwe.co.sa | Website: www.mamonkwe.co.sa

www.opportunityonline.co.za | 29
---
ENERGY

South Africa's

Petroleum Bill

Will it retain and attract investors in the sector?

By Callie-Jo Bouman and Nonkululeko Zondo, Bowmans

The latest draft of the Upstream Petroleum Resources

Development Bill has come under scrutiny since its

publication in June 2021. The bill comes at a time when

South Africa's upstream oil and gas industry shows

promise, as evidenced by the Brulpadda and Luiperd prospects

discovered in 2019 and 2020, respectively. Simultaneously, the role

of fossil fuels in the future of energy is under question in light of

the global aspiration to reach net-zero carbon emissions by 2050.

Notwithstanding the mounting pressure to reduce reliance on fossil

fuels, the upstream oil and gas sector still plays a vital role in South

Africa's energy policy and goals to achieve an "energy mix" that is

not reliant on coal.

The objectives of the bill include:

• expanding opportunities for meaningful black participation

• promoting local employment and skills development and

• creating an enabling environment for the acceleration of

exploration and production of the nation's petroleum resources.

Some of the bill's key features include mandated state participation

of 20%, 10% participation by black persons, and the empowerment

of the Petroleum Agency of South Africa to administer the

development of the upstream petroleum industry. Existing

rightsholders will perceive the bill differently from those new

entrants to the industry who will be governed entirely by the bill

once it comes into operation. Existing rightsholders will be guided

by the detailed transitional schedule, which will guide current asset

holders' compliance and ensure the security of tenure in respect of

existing rights.

Credit: Anton Swanepoel

The impact of state participation

Under the Upstream Petroleum Resources Development Bill

(UPRDB), the state has 20% right to a carried interest in petroleum

rights, including both the exploration and production phase. The

state's participation includes a cost-recovery mechanism, which will

allow the exploration company to recover 50% and 100% of the

state's proportionate share of exploration and production costs. This

cost recovery mechanism is indicative of the state's willingness to

accept some of the risks associated with the exploration efforts that

involve high sunk costs, which are often upwards of $100-million,

and often no guaranteed return. The challenge, however, is that

these costs must be recovered from the state's share of production

30 | www.opportunityonline.co.za
---
ENERGY

or revenue generated from the project. Where the project does not

move to the production phase and generate revenue, there will be

no cost recovery. Even where the project generates revenue, it is

debatable whether the entire portion of the state's returns will be

capable of being allocated to cost recovery, which will extend the

repayment period.

National Treasury has not yet commented on the bill and we

expect that the exact cost-recovery mechanisms will be detailed

in subsequent regulations. Still, it will be interesting to see how

these cost-recovery mechanisms will interact with the capital

uplift and other tax deduction provisions in the Income Tax

Act's Tenth Schedule for oil and gas. The interplay between the

Income Tax Act and the cost-recovery mechanisms presents a

further opportunity to introduce a more attractive fiscal package

to potential investors.

A further change proposed by the UPRDB includes giving the

state an active role through joint operating agreements (JOAs)

that must be entered into with the state. The state is entitled

to voting rights corresponding to their 20% participation.

Depending on how the voting processes of the JOA are

structured, this may encumber the exploration company's

interests. While creating more transparency and reducing the

asymmetry of geological and commercial information available

to the state, this active participation may be perceived as being

more cumbersome to the companies' commercial decisionmaking

processes.

For current rightsholders whose rights do not provide for state

participation, these state participation provisions will only kick

in when the company applies for approval to progress to the

production phase in terms of the new bill.

BEE participation

In terms of the UPRDB, every petroleum right (which includes the

exploration and production phase) must have a minimum of 10%

undivided participating interest by black persons. The BEE participation

is on full commercial terms, and BEE partners will be expected to fully

fund their involvement at both the exploration and production phase.

Whilst this is welcome news for investors, there is a limited pool of BEE

companies and partners that would be able to field the costs associated

with exploration and production. As mentioned, exploration activities

are often estimated to be upwards of $100-million, and a BEE company

participating on full commercial terms will be expected to fund 10% of

those costs (approximately $10-million).

There may be instances where investor companies will have to

provide nominal funding to structure their ventures to comply

with the BEE provisions. In recognition of some of the funding

challenges, the bill permits the dilution of the BEE interest to

no less than 5% to raise capital. This dilution will not trigger any

requirements to "top up" the BEE participation to 10% leading

us to conclude that the "once empowered, always empowered"

principle will likely apply to BEE participation.

The Upstream Petroleum Resources Development Bill is a

welcome intervention in the sector and moves towards creating

certainty and clarity in the upstream regulatory environment. The

bill also introduces greatly expanded and tightened regulatory

processes for the industry. Still, it remains to be seen if investment

communities will find this attractive and whether it achieves its

objective to create an enabling environment that also meaningfully

expands opportunities for black participation in the sector.

ABOUT BOWMANS

Bowmans helps clients overcome legal complexity and unlock

opportunity in Africa. Our track record of providing specialist legal

services in the fields of corporate law, banking and finance law and

dispute resolution, spans over a century. With eight offices in six

African countries and over 400 specialist lawyers, we draw on our

unique knowledge of the business and socio-political environment

to advise clients on a wide range of legal issues. Our clients include

corporates, multinationals and state-owned enterprises across

a range of industry sectors as well as financial institutions and

governments.

Nonkululeko Zondo is an associate in the Corporate M&A

practice at Bowmans, and is completing a PhD on oil and gas law

at UCT. Callie-Jo Bouman is a candidate attorney in the Corporate

M&A practice.

Credit: PASA

www.opportunityonline.co.za | 31
---
INTERVIEW

Making investment in the

South African oil and gas

sector as attractive

as possible

Dr Phindile Masangane, CEO of Petroleum

Agency SA, outlines PASA's new strategic

objectives as interest in South Africa's

resources grows internationally.

What is the thrust of PASA's new five-year strategy?

The Agency has identified five new strategic objectives to

enable it to effectively deliver on its mandate by capturing

the opportunities presented by the changes in the

environment as well as ensure that the Agency overcomes

the challenges that it faces.

These are:

• Increasing exploration activity: to move the industry from

a predominately exploration phase to development and

production phase

• Sustainability: to ensure the company has sufficient

financial and human resources to carry out its

responsibilities into the foreseeable future

• Advocacy: to provide input into policy and regulations

• Digital transformation: to adopt new, more efficient

technologies

• Operational excellence: to ensure efficiency of our process.

These five strategic objectives will position the

Agency as a strategic entity of government in its goal of

diversifying the energy mix and developing the domestic

gas market, embracing digitisation and automation to

improve efficiency, rising to the requirements of the new

legislation and finding a place in the global transition

towards a low-carbon future.

What is the mandate of PASA in terms of being

a "custodian" of the country's oil and gas rights?

PASA's mandate is threefold. Firstly to attract

investment to South Africa's upstream industry,

secondly to regulate the activities of oil and gas

explorers and producers, and thirdly to act as the

national archive and database for all data and

information produced in the process of oil and gas

exploration and production. The upstream oil and

gas exploration industry requires technological

capacity and is extremely high risk in terms

of capital investment and needs long-term

investment of resources. Many countries share the

risk of oil and gas exploration and production with

private companies, and South Africa follows this

model. Government has designated PASA as the

custodian of South Africa's oil and gas resources.

Its role is to attract these companies to our

investment opportunities and facilitate their entry

into operations in the upstream industry.

When will the moratorium on new applications for

rights be lifted and PASA be open for new bids?

As of December 2020, there is no longer a moratorium

on applications for rights onshore, other than those for

shale gas in a specified area covering the central Karoo.

Other onshore applications continue to be received and

processed in terms of the MPRDA. The moratorium for

shale-gas rights and new offshore applications remains

in place and is expected to be lifted with the enactment

of the hydraulic fracturing regulations (for environmental

management and water use) for the shale-gas extraction

technologies.

With a strong international focus on decarbonisation,

what is PASA's position on the continued exploitation

of fossil fuels?

The transition to cleaner fuels and renewables is inevitable

if the world is to reduce the negative impact of climate

change. South Africa is a signatory to the Paris Agreement

and has committed to a "Peak-Plateau-Decline" carbon

emission trajectory. Government policy is to diversify the

country's energy mix which is currently coal-dominated,

to a lower-carbon future by introducing proportionately

higher renewable energy resources such as wind and solar,

into the energy mix as well as gas-to-power. Gas burns with

less than half the CO2 emissions than coal and additionally

has no SOx emissions. It is thus a suitable transition fuel

32 | www.opportunityonline.co.za
---
INTERVIEW

Is there international interest in South Africa's oil and

gas resources?

The exploration map on our website shows that international

companies such as Total, Shell, ENI, Kosmos, Africa Energy

Corporation, Azinam, Impact Oil and Gas, CNR, Qatar

Petroleum, New Age and others all hold interests in

exploration acreage. In addition, we have agreements in place

with international service providers to acquire seismic data.

towards a lower-carbon economy for South Africa

especially since gas-to-power technologies are flexible

and would therefore complement the intermittent

renewable energy being added to the national grid.

What is PASA doing to attract investment and

promote new drilling projects?

PASA continues with its programme of promoting

investment opportunities at local and international oil

and gas conferences and exhibitions. South Africa has

a history of political stability. The new administration

is widely regarded as business-friendly and the

new UPRD bill will assist the Agency in expediting

exploration through close management of acreage

allocation and work programmes. The bill also

empowers the Agency to commission multi-client or

speculative surveys, enabling the acquisition of data

to attract investment. South Africa currently offers

an attractive fiscal framework. These positive factors

create a conducive environment for the Agency to

pursue its mandate of attracting investment into the

upstream petroleum industry.

Does PASA have a strategy to retain existing

investors?

All investors want to see a return on their investment

and a reward for taking on risk. PASA's approach is

to facilitate their activities and guide them through

compliance and regulatory requirements to achieve the

best outcome for both government and the investing

companies. Advocacy plays an important role and PASA

is concentrating on communicating the role that the

upstream industry can play in reconstruction and

development. A recent example was the facilitation

of logistics for the drilling of the Luiperd well during

Covid-19 lockdown.

What are the implications of the passing of the Upstream

Petroleum Resources Development Bill (UPRD) by the

South African parliament?

Oil and gas exploration and production is currently

regulated under the Mineral and Petroleum Resources

Development Act, 2002 (MPRDA). The UPRD will repeal

and replace the relevant sections pertaining to upstream

petroleum activities in the MPRDA.

The draft bill therefore provides greater policy certainty

and a stable environment for investment in the South

African oil and gas sector. The bill provides security

of tenure by combining the rights for the exploration,

development and production phase under one permit.

What changes are envisaged in the amendment to

the National Environmental Management Act of 1998

(NEMA)?

The National Environmental Management Laws Amendment

Bill, which was revived in June 2020, proposes various

amendments to the National Environmental Management

Act, 1998. Proposals that may positively impact upstream

petroleum operations include the provisions

empowering the minister responsible for

mineral resources to delegate to any

organ of state and designate as an

environmental petroleum inspector

any staff member of any other organ

of state that executes a regulatory

function. The minister may delegate

certain competent authority functions

to the Petroleum Agency SA, which

may improve the turnaround timelines

for making decisions on EA applications.

Furthermore, designating staff members

of the Agency as environmental petroleum

inspectors means that all compliance monitoring

and enforcement functions prescribed in the act

as far as upstream petroleum operations would

be efficiently executed.

Dr Phindile Masangane,

CEO of Petroleum

Agency SA
---
ENERGY

William Price, Country Manager of Enel Green Power South Africa, explains to Opportunity

how the company brings extensive global experience to multiple renewable technologies.

What is Enel's footprint in South Africa?

Our footprint in South Africa includes 12 renewable

energy projects, using diverse technology, wind,

and solar. Our office in South Africa also supports

developments in Kenya, Ethiopia, and an operating

solar project in Zambia. Our structure is such that

we have three business units: Business Development,

Engineering, and Construction, as well as Operations

and Maintenance.

Our Business Development group has successfully

won tenders for the development of 1 260 MW, as well as

developing a pipeline for future growth. Once a successful

tendered project has achieved financial close, it is handed

over to our Engineering and Construction (E&C) team

who have, to date, built nine projects with a capacity of

800 MW and are nearing the completion of another three

projects with a capacity of 420 MW this year.

What does Enel bring to South Africa in terms of

expertise and technology?

Enel brings global experience and expertise in the

management of projects and in growing teams,

consistently; globally, we're operating in over 30 different

countries. We have expertise in many aspects; however,

sustainability is one of our key drivers. The solar farms

and wind facilities that Enel is building are assisting the

South African market to transition to a renewable energy

future. Enel believes in creating shared value where we

have project sites. We also look at the impact on the

communities in which we operate.

From a renewable energy technology perspective,

there are not many companies like Enel. We are a multitechnology

company and constantly strive to improve

and learn from the projects where we employ cuttingedge

technology.

_____

Solar farms are helping

South Africa transition to

renewable energy while

creating shared value

with local communities.
---
What is Enel's view on the state of the REIPPPP?

The REIPPP programme is among the best – if not the

best – renewable energy and Independent Power

Producer programme in Africa. It aims to accomplish

many goals that are commonly misunderstood. The

programme is not just about the procurement of green

power and renewable energy. Local content is also

significant, as is local manufacturing, local ownership,

a sustainable contribution to the community and

preferential procurement. If there's a negative, it relates

to time frames. Now that frequent load-reduction is

being implemented, we need the energy to come

online and there's a lot of fine-tuning and tweaking in

the programme which may cause significant delays.

Although there's definitely been an improvement in

the realisation that we need greater power capacity and

delivery, rather urgently.

Is renewable energy on the rise globally in terms of

markets, prices and sustainability?

The uptake of renewable energy is certainly on the rise,

because the world is finally 'getting it'. Government

entities are finally seeing the value of renewable energy

and its impact on the environment.

There's the transportation of the coal, the heavy

truck emitting pollution, and damage to the road

infrastructure as well as the environment. People are

getting that.

Renewable energy prices have come down.

Independent Power Producers and manufacturers are

trying to figure out how to produce more with the

available resources they have. As equipment efficiencies

improve and the ability to produce energy improves, the

project tariffs will continue to drop.

Technological improvements have led to Enel

installing 4.2 MW wind turbines, which are currently the

largest onshore units in Africa, and soon even larger units

can be available.

All these things have an impact on the pricing and on

sustainability. We understand the value of doing projects

in a sustainable way, as well as providing value in the

communities in which we operate. It's an important

distinction which we pride ourselves on.

What can be done to accelerate the 'global transition'?

It has a lot to do with the government's policies,

regulatory markets and opening up transmission

access. There are many Independent Power Producers

and energy companies that would like to establish

these projects. They don't require the same degree

of specifications that combined cycle, coal plants or

nuclear power plants do.

To know how to run these projects and to build

technical knowledge is important. All renewable

The Local Control Room of Operation and Maintenance South Africa in

Johannesburg allows for real-time updates on energy production, the resources

available, and any issues that require attention. An intern programme has been

running since 2017.

projects have various types of technology and varying

levels of required skills, but many companies can build a

solar plant, so that creates competition – it opens up the

markets. Pricing is re-established through a procurement

process. A transparent credible tender will determine the

market pricing. To do that requires government actions

in establishing the regulatory policy and transmission

access. More clarity on the opening of South Africa's

transmission structure is needed. There is some open

access, but the operating rules are somewhat unclear.

The cost mechanism is a key aspect that needs to be

ready for the time that open access is achieved. A good

comparison can be made with road infrastructure. The

government initially established the roads infrastructure.

The same thing should occur with the transmission so

that entities can enter into the transmission line just like

a road and deliver products to any customer along the

'freeway'. There are technological challenges with that,

but it has been done in other places in the world.

Is Enel supporting local business and suppliers?

Certainly, it is in Enel's and the local economies' best

interest to do so – a locally manufactured product

carries less issues from a logistics point of view. It makes

business sense, rather than getting components and

labour externally, we can positively contribute to the

empowering of the local community.

In terms of corporate social responsibility, what are

the focus areas for Enel?

Sustainable businesses create shared value. In its Strategy, Enel

addresses the UN Sustainable Development Goals – some

of which are education, healthcare, and access to electricity.

Overall, the Group is significantly growing its renewable

capacity, while gradually decommissioning its coal fleet.

_____

The Local Control

Room of Operation and

Maintenance South Africa

in Johannesburg allows

for real-time updates on

energy production, the

resources available and

any issues that require

attention. An intern

programme has been

running since 2017.

_____

William Price,

Country Manager of Enel

Green Power South Africa

www.opportunityonline.co.za | 35
---
in the atomosphere

2.6 TWh each year

o Enel Green Power:

ower.com

PROFILE

ENEL GREEN POWER

SOUTH AFRICA

As a global leader in renewable energy, Enel Green Power's greatest mission is to

empower sustainable progress.

Global reach

Founded in December 2008 as part of Enel Group,

Enel Green Power develops and manages activities

for the generation of energy from renewable sources

worldwide. Enel Green Power is present in more than 30

countries on five continents with a managed capacity

of over 48GW and over 1 200 plants. The Group's

production mix includes the main renewable sources:

wind, solar, hydroelectric and geothermal.

We are one of the world's main renewable operators

with an annual production of about 82TWh, produced

mainly from water, sun, wind and heat from the earth.

African growth

Wind Projects

Solar Projects

Avoiding an

in Operation

www.enelgreenpower.com

in Operation

emissions of

According to the forecasts of the International Energy

2.7-million ton

energy, is to ensure the future of the planet.

CO

Agency (IEA), renewable energy will have a key role in

in the atm

Solar and Wind Operations

African development, with growth of installed Global: power Founded in December 2008 as part of Enel Group, Enel Green Power develops and manages activities for the

estimated at 100GW by 2030.

of energy from renewable Enel Green sources Power worldwide. South Africa Enel Green Power is present in 29 countries in five continents with a m

EGP is now the main private operator in the Enel Green Power arrived in South Stay Africa Connected in 2011 to as Enel a Green Power:

Introduction to Enel

capacity

Green

of over

Power

43 GW

South

and over

Africa

1,200 plants. The Group's production mix includes the main renewable sources: wind

renewables sector in Africa in terms of installed hydroelectric MW, and partner geothermal. of the Worldwide, REIPPPP (Renewable we are one Energy of the Independent

main renewable operators with an annual production of a

produced mainly from water, sun, wind and heat from the earth.

with a stable presence in South Africa, Zambia, Ethiopia, Power Producer Procurement Programme), the first

Wind Projects

Solar Projects

Avoiding annual

Five wind pr

Kenya and Morocco. Our greatest mission, African programme as for the development

www.enelgreenpower.com

in Operation a global leader in of Operation renewable of renewable

emissions of roughly

expected

199MW

323.5MW

2.7-million tonnes of

produce aro

energy with a competitive tender system. Enel Green

CO 2 in the atmosphere

energy, is to ensure the future of the planet.

2.6TWh each

Power South Africa (EGP RSA) has built a significant

presence in the local market with more than 520MW of

Global: Founded in December 2008 as part of Enel Group, Enel Green Power develops and manages activities for the generation

of energy from renewable sources worldwide. wind Enel and Stay Green solar Connected projects Power is in to present operation Enel Green in 29 and countries Power: a further in five five continents with a managed

capacity of over 43 GW and over 1,200 plants. The in progress. Group's production mix includes the main renewable sources: wind, solar,

hydroelectric and geothermal. Worldwide, we are one of the main renewable operators with an annual production of about 82 TWh,

produced mainly from water, sun, wind and Sustainability

heat from the earth.

www.enelgreenpower.com

Wind Projects

Solar Projects

Avoiding annual

Five wind projects

Total

in Operation

EGP is committed

in Operation

to meaningful socio-economic

emissions of roughly

and

expected to produce

Awarded Pro

= 199 MWenterprise development, 323.5 MWpreferential 2.7 procurement, million tonnes of and CO 2

in the atomosphere

job creation in communities surrounding our projects,

involving local businesses as suppliers in all its operations

and projects in execution.

around

2.6 TWh each year

700 MW of ca

Stay Connected to Enel Green Power:

______________

ENEL GREEN POWER SOUTH AFRICA

Tel: +27 10 344 0200 | Wind General Projects email: communications.egprsa@enel.com

Solar Projects

Business development: egprsa.bd@enel.com 199MW

| 323.5MW Website: www.enelgreenpower.com

2.7-million tonnes of

Enel Green

South Afric

Solar and W

Introduction to Enel Green Enel Green Power

South Africa (EGP

Solar and Wind O

Global: Founded in December 2008 as p

of energy from renewable sources world

Introduction to Enel Green Power South Africa

Enel Green Power

capacity of over 43 GW and over 1,200 p

hydroelectric and geothermal. Worldwide

produced mainly from water, sun, wind a

South Africa (EGP RSA)

Solar and Wind Operatio

Our greatest mis

energy, is to ensu

Our greatest mission, as a g

energy, is to ensure the futu

Global: Founded in December 2008 as part of Enel Group, Enel Gr

of energy from renewable sources worldwide. Enel Green Power is

capacity of over 43 GW and over 1,200 plants. The Group's product

hydroelectric and geothermal. Worldwide, we are one of the main r

produced mainly from water, sun, wind and heat from the earth.

Introduction to Enel Green Power South Africa

Enel Green Power

South Africa (EGP RSA) Wind Projects

in 199MW

Solar and Wind Operations

Enel Green Power

South Africa (EGP RSA)

in Operation

Our greatest mission, as a global lead

energy, is to ensure the future of the p

Solar Proj

in Operat

323.5MW

Global: Founded in December 2008 as part of Enel Group, Enel Green Power develops and

of energy from renewable sources worldwide. Enel Green Power is present in 29 countries

capacity of over 43 GW and over 1,200 plants. The Group's production mix includes the main

hydroelectric and geothermal. Worldwide, we are one

Stay

of

Connected

the main renewable

to Enel Green

operators

Power:

with

produced mainly from water, sun, wind and heat from the earth.

Introduction to Enel Green Power South Africa

Our greatest mission, as a global leader of renew

www.enelgreenpower.com

Avoiding annual

in Operation

emissions of roughly

CO 2 in the atmosphere

Five wind projects

expected to

produce around

2.6TWh each year

Total

Awarded Projects

700MW of capacity
---
Power

a (EGP RSA)

ind Operations

wer South Africa

RSA)

perations

sion, as a global leader of renewable

re the future of the planet.

Renewable energy

for for a a sustainable future

art of Enel Group, Enel Green Power develops and manages activities for the generation

wide. Enel Green Power is present in 29 countries in five continents with a managed

lants. The Group's production mix includes the main renewable sources: wind, solar,

, we are one of the main renewable operators with an annual production of about 82 TWh,

nd heat from the earth.

lobal leader of renewable

re of the planet.

ns

We We seek seek out out energy energy around the the globe: globe:

in in the the power power of of wind wind and and water, water, in the in the heat heat of of the the sun, sun,

in in the the depths depths of of the the earth earth and, and, above above all, all, in people. in people.

een Power develops and manages activities for the generation

present in 29 countries in five continents with a managed

ion mix includes the main renewable sources: wind, solar,

enewable operators with an annual production of about 82 TWh,

er of renewable

lanet.

ects

Avoiding annual

ion

emissions of roughly

2.7-million tonnes of

CO 2 in the atmosphere

manages activities for the generation

in five continents with a managed

renewable sources: wind, solar,

an annual production of about 82 TWh,

able

nual

roughly

nes of

osphere

generation

anaged

, solar,

bout 82 TWh,

Five wind projects

expected to

produce around

2.6TWh each year

Five wind projects

expected to

produce around

2.6TWh each year

Total

Awarded Projects

700MW of capacity

Total

Awarded Projects

700MW of capacity

ojects

to

und

year

Total

Awarded Projects

700MW of capacity

jects

pacity
---
TRANSPORT

Policy needs to match

infrastructure for

Africa's trade to thrive

Hubs around ports and links to transport corridors will enable

the newly-minted African Continental Free Trade Area to

thrive, as a recent report by Dianna Games shows.

Credit: Transnet National Ports Authority

An extract focussing on transport and logistics from the discussion paper "The African Continental Free Trade

Area: A Pipe Dream or Silver Bullet?" by Dianna Games. First published by The Brenthurst Foundation, May 2021.

In May 2021, the bridge across the Zambezi River linking Botswana

and Zambia was opened by the presidents of the two countries.

The construction of the bridge, which replaces the longstanding,

slow ferry service across the river, means trucks on regional routes

can now cross the river in a few hours, or less, rather than the

previous three days to a week. It also means they can avoid using the

biggest crossing between the ports and factories of South Africa and

the rest of Southern Africa – Beit Bridge, which is also one of the most

congested borders in Africa. A one-stop border post at the bridge will

allow easier thoroughfare.

This project embodies the benefits that good infrastructure and

joined-up bureaucracy offer regional trade, both of them generally in

short supply. More than 250 trucks a day should be able to cross the

Zambezi instead of the handful that were able to cross before, bringing

down costs, increasing the security of cargo and providing an alternative

route for trade to the sea for inland markets.

Travelling by road across Africa can be a sobering experience,

characterised by delays, inefficiency and overzealous bureaucracy. There

are a range of literal and figurative potholes that are major constraints to

trade. Even as trucks battle with bad roads and congested border posts,

they also need to navigate a host of other issues such as roadblocks

designed mostly to extort money from drivers. Transport costs make

Africa one of the least competitive regions for exports and trade.

The continent's import dependence and colonial trade patterns are

reflected in traffic movements – trucks laden with minerals and other raw

materials heading for the sea, returning either empty or loaded with imports.

This is the reality that faces Africa as it unrolls its flagship project, the

African Continental Free Trade Area (AfCFTA), which started trading under

the agreement in January 2021. The initiative brings together a potential

market of more than a billion people and has a lofty ambition of increasing

intra-African trade from under 20% currently to more than 30% in just a

few years by attracting investment into manufacturing, agriculture and

other sectors and building regional value chains.

What could go wrong?

The report details five areas where problems could arise. These are non-tariff

barriers; rules of origin; manufacturing and industrialisation; connectivity

and infrastructure deficits. This extract focusses on the final one.

Infrastructure deficits

Africa's infrastructure backlog, regarded as the biggest constraint to

improving trade, is well known. The funding gap for addressing the

38 | www.opportunityonline.co.za
---
LET'S BUILD

AFRICA

TOGETHER.

John Deere now offers the continent

with a fitted range of construction equipment

Believe in greater

Check out our latest

promotional offer

Visit our dealerships for more info or contact our Sales Manager directly:

MakgateGriffiths@JohnDeere.com

*Terms and conditions apply (available at www.deere.com/sub-saharan)

www.deere.com/sub-saharan I africa@johndeere.com I Client Service: 0800 983 821

JohnDeereAfrica
---
TRANSPORT

Credit: Group Five

deficit is estimated at between $68bn and $108bn, says the African

Development Bank (AfDB). Factors affecting infrastructure rollout

include onerous lending processes by multilateral banks, poorly

prepared projects on the ground, a lack of sufficient off-takers and

commercial viability for lenders. China has stepped into the gap, with

the value of loans to Africa increasing from less than $1bn to more

than $30bn between 2000 and 2016. Although much of this funding

lacks transparency and is costly for African states, it is helping to fill

the gaps in areas such as roads, railways and airports.

Poor maintenance of existing infrastructure is proving to be costly with

colonial railways barely functioning in many countries and historical trade

routes suffering from years of under-investment and over-use.

Only 0.8-million of Sub-Saharan Africa's 2.8-million kilometres of

roads are paved and only half of these roads are in good condition. The

roads are battered because dilapidated rail infrastructure has pushed

most of Africa's trade onto these roads. Only 84% of the 82 000km rail

network is operational and most of these are low-speed, small-scale,

undercapitalised and poorly managed networks.

Up to 90% of Africa's trade is conducted by sea but there are few deepwater

ports to handle large cargo volumes, resulting in long waiting times

for ships, which is compounded by limited berth and docking facilities,

weak terminal freight and handling management, and an oversupply of

government agencies that delay clearing processes. Few countries have

inter-modal infrastructure linking ports to road and rail infrastructure.

The African Development Bank maintains that transport costs alone

are 63% higher in Africa than in developed countries, with transport costs

representing between 30% and 50% of total export in value, which is

higher for the region's 16 landlocked countries.

Energy deficits are also significant, with up to 70% of people in Sub-

Saharan Africa lacking reliable grid access. One-third of the continent's

total installed capacity is in South Africa and yet it is suffering frequent

power outages as a result of under-investment and poor management

of its state-owned power utility. Renewable power is not yet being rolled

out at scale, with many governments reluctant to loosen regulation in

this key sector.

Border posts across the continent are a significant part of Africa's

competitiveness challenge. The average waiting time for trucks

to cross borders with goods in Africa is 97 hours or four days.

Electronic pre-clearance procedures are often ignored by overzealous

border officials, who continue to search vehicles. Electronic

payment systems can be frustrated by poor Internet connectivity.

New systems and technology put in place by trade facilitators hardly

dent age-old ways of managing border crossings by officials on the

ground, even at one-stop border posts.

The busiest crossings are often the least efficient. These include Beit

Bridge, the gateway from South Africa to the region, Chirundu between

Zimbabwe and Zambia, and Kasembulesa, a chokepoint between Zambia

and the DRC. Efforts to upgrade infrastructure and processes have yielded

few improvements. The new Kazungula bridge offers logistics companies

options as do improving conditions in Beira and Dar es Salaam.

These factors go some way towards explaining why the cost of

moving a forty-foot (FEU) container from Beira to Lilongwe in Malawi

is about $4 750, including port and handling charges totalling $2 000

– nearly 10 times the cost through Antwerp, for example. The cost of

moving a container through Beira and on to Harare is $3 800, Beira-

Lusaka is $5 300, and Beira to the Congo a hefty $9 000. The comparative

cost of shipping an FEU 10 000km from Shanghai to Beira is $6 000.

+++

Choices: moving the afcfta forward

Given the realities on the ground described in this report, is it realistic

to expect the AfCFTA to be the game-changer that it is widely

expected to be? In a likely scenario of clear winners and losers, will

the free trade tide eventually lift all boats?

Given the complexity of existing trade arrangements, and the effort

to simultaneously simplify and expand them, a big task lies ahead.

The AfCFTA does provide a template for change, with a raft of support

structures and mechanisms to address problems of economic asymmetry,

trade disputes and issues of unfair trade practices, among others.

The odds are stacked against significant change, given the history. But

there are many reasons to be optimistic of incremental improvements.

For example, trade agreements can do more than lower tariffs and make

trade more efficient. They can improve transparency and create a legal

framework more hospitable to trade and investment from both within

and outside the region.

40 | www.opportunityonline.co.za
---
Geo Hydraulic and

Environmental Technology (Pty) Ltd

Specialists in groundwater and environmental services.

Credit: Luis Tosta on Unsplash

Supported by decades of experience in the industry

and in the fields of consulting and research, we are

committed to providing our clients with high-quality

and cost-effective solutions to their groundwater and

environmental challenges.

Our technical expertise is the basis of our pride in providing safe,

technically sound and environmentally sensitive services.

Our team combines geological, hydrogeological, geophysical

and hydrological skills, and our skilled operatives are ready and

able to meet our clients' needs. Managing Director John Kalaka

Ngeleka has over 20 years of fieldwork and project management

experience in the research, mining and oil and gas sectors, firstly

as a geologist in the Democratic Republic of Congo and following

completion of his MSc in South Africa, as a hydrogeologist. He is

SACNASP (Water Resources Science) registered.

Geo Hydraulic and Environmental Technology (GET) specialises in:

• Groundwater development and supply, monitoring and

management

• Soil and groundwater risk assessment and management at

contaminated sites

• Geophysical investigations using imaging systems

• Numerical groundwater flow and transport modelling

• Basic assessment, scoping, Environmental Impact Assessment

(EIA) and Environmental Management Plan (EMP)

• Water-use licence and waste-management licence applications.

Vision

GET aims to actively support local and international communities in

maintaining and enjoying a safe and sustainable water provision and

limited human health-risk environment.

Mission

To provide clients with innovative, cost-effective and sustainable services

related to water and the environment. GET is committed to train young

professionals, advise government regulators and private companies

and organisations, and to provide technical skills and capabilities to

overcome water and environmental challenges.

Values

Employee and client safety, client satisfaction and innovative costreduction

skills.

Clients

Our clients include companies in the oil and gas, mining, agriculture,

manufacturing and construction industries, international and nongovernmental

organisations, government and municipalities. Current

clients include:

• Eskom, Two Rivers Platnium Mine

• Palabora Copper (Pty) Limited

• West Australia Drilling

• German Development Cooperation

• Institute of Natural Resources

Geo Hydraulic and Environmental Technology (GET)

25 Trichy Road, Raisethorpe, Pietermaritzburg 3201 | Tel: +27 (0) 33 391 0707 | Cell: +27 (0) 78 884 5263

Fax: +27 (0) 86 241 1879 | Email: info@get-sa.co.za | Director: johnkalala.ngeleka@get-sa.co.za | Website: www.get-sa.co.za
---
TRANSPORT

Listed below are a few recommendations that may assist in the

success of the initiative.

Political continuity. African business leaders have shown great

appetite for the AfCFTA but they need to remain committed to

its success.

Policy choices. There is no universal recipe for industrialisation. It will

require smart policy choices backed by supportive regulations and

frameworks – and may need a lighter bureaucratic touch than African

governments are willing to give. Africa's internal trade is more diversified

and technology and manufacturing driven than its global trade, providing

a platform to build on.

Connectivity and corridors. This requires matching policy with

infrastructure and creating hubs around ports and linked to transport

corridors. As neighbouring markets grow interdependent, their

requirements are likely to improve export sophistication and develop

regional industrial clusters. This requires improved connectivity by road,

rail and air, to support growing demand.

Africa, while it also requires large infrastructure projects, also needs

to invest in joining up existing infrastructure – stretches of rail to each

other, roads to rail, bridges at strategic junctures and so on. Improving

Africa's main trade highways should be a priority: removing roadblocks,

fixing roads, building supporting infrastructure and services along routes

and ensuring better management of border posts, with outputs closely

monitored.

Business climate. Improving the business climate is a critical element of

competitiveness and attracting investment. Governments need to build

meritocratic institutions that focus on reducing the cost of doing business.

The greater use of technology in improving trade and the capacity of

people to trade is critical, as well as a more decisive shift to e-government.

Keeping business on board.

Best – and worst – practice. Stakeholders need to look to success and

failure at home and elsewhere for how to change the trade trajectory.

Financing trade. The banking sector will play a vital role in supporting

the AfCFTA and Africa's development generally.

Flag success stories. No matter how small, these may create momentum

and aspirational sentiment among businesses in Africa. The big success

stories may do the same, possibly prompting African governments to

analyse the constraints to their own success nationally, and possibly to

act on them.

About the author

Dianna Games is Chief Executive of Africa

@ Work, an advisory company focusing on

African business. She is a leading commentator

on business issues, trends and developments

in Africa and has travelled extensively around

the continent. She specialises in corporate

engagements across Africa and has done

research into regional economic developments,

corporate and government investment trends,

sector analysis for private clients and tracks

business developments in Africa's key markets.
---
ADVISORY SERVICES

Understanding Government's

Tendering Process

Tendering and procurement is a uniform process

and tender forms are standardised.

The tendering process in government is primarily

driven by instructions found in the Constitution and in

particular in Section 217, which prescribes that a tender

system must at all times be "Fair, equitable, transparent,

competitive and cost-effective".

It further instructs government to create a "Framework",

giving preference to historically disadvantaged individuals and

the Preferential Procurement Policy Framework Act (PPPFA) is

a response to that instruction. It introduces a preferential point

system, which is either the 80-20 equation for tenders with a

value of below R50-million or the 90-10 equation for tenders

with a value of above R50-million. The greater part of the point

systems is always afforded to the lowest-priced tender as a

maximum point, whereas the smaller part is allocated for B-BBEE

points, for each bidder.

The actual procurement process is either governed by the

Public Finance Management Act (PFMA) and Treasury Regulations

which is applicable to organs of state above local government,

or the Municipal Finance Management Act (MFMA) and Supply

Chain Management Regulations, which govern the process at local

authority level, which could be a municipality, a water board or

even a zoo or a museum.

Committee system

The regulations of the PFMA and MFMA prescribe a committee

system, which must be implemented to manage the whole of

the tender process. Committee members are appointed by the

Accounting Officer of the specific organ of state.

The first structure is the Bid Specifications Committee (BSC),

which is tasked with approving the actual requirement of the

goods and services as well as the stipulated specifications or

scope of works, depending on whether it is a tender for purchases

or works.

The next structure is the Bid Evaluation Committee (BEC), which

is tasked with conducting a technical evaluation on all valid,

Gerrit Davids

qualified and responsive tenders, either by using an "apples vs apples"

approach or applying the functionality methodology, which is a points

system requiring a minimum score that must be achieved by all bids

that have graduated to this stage of the process. Bidders will also be

afforded points for price and for B-BBEE.

The last structure of the system is the Bid Adjudication Committee

(BAC), which will consider a shortlist of potential bidders as compiled

by the BEC and has the authority to reject its recommendations, send

it back for review and where in agreement, select a recommended

bidder for consideration by the Accounting Officer, who will eventually

contract on behalf of the organ of state with the successful bidder.

According to Gerrit Davids, Lead Advisor at tendering agency

TaranisCo Advisory, Tendering and procurement within the

government sphere is a uniform process and tender forms are

standardised, as issued by National Treasury. Bidders should be aware

that, irrespective of where they tender, the process is exactly the

same for all organs of state.

"Also, as per the prescript in Section 217, bidders have a right to

access a decision made by any of these committees and they have a

constitutional right to object, lodge a dispute or an appeal, if they are

unhappy with such decisions," says Davids.

TaranisCo Advisory CC

Mobile: +27 (0) 82 496 1657 | E-mail: gerrit@taranisco.co.za | Website: www.taranis.co.za

www.opportunityonline.co.za | 43
---
Rail regulator embracing change

A

strong brand is one of the

most valuable assets an

organisation owns. The

Railway Safety Regulator (RSR) has

undergone a major facelift with the

development and adoption of its

new corporate identity (CI). The new

CI was rolled out at the end of July.

Since its promulgation in 2002

and subsequent establishment

in 2005, the RSR has experienced

tremendous growth, becoming

a trusted safety authority in the

rail sector. The RSR is bigger and

better today, having expanded its

footprint to three regional offices

in the Western Cape, KwaZulu-Natal

and Gauteng, not with standing the

Head Office.

The evolution of the RSR's CI

marks a significant milestone in the

Regulator's journey to ensure that

"rail safety is on the right track".

Gone is the sky-blue swoosh that

represented the old RSR; the new

look is adorned with a warm, vibrant,

bright orange that stands out just like

the organisation's vision to promote

safe, reliable, and sustainable railway

operations recognised globally. It is

the same trusted Regulator, but with

a brand-new look, fresh, modern,

distinguished, and memorable. The

new RSR logo is an energetic and

timeless design which invokes joy,

dependability, and safety. Several

months were spent collaborating

with staff and a brand design agency

to redesign the RSR's new look and

feel.

"This has been a very exciting

project which has involved

participation from various

stakeholders, both internally and

externally, to conceptualize and

develop possible logos and taglines.

Even though the logo is but one

element of the project, it is the most

important element by far. Therefore,

staff members as primary custodians

of the CI, were roped in to assist

by voting for their favourite logos,"

said Media and Communication

Executive, Madelein Williams. A

corporate video was also produced

with the help of staff members

who eagerly gave insight into

their areas of responsibility such as

inspections and audits led by the

RSR inspectorate teams across the

country.

In the next couple of months, the

new logo will feature prominently

in and around our buildings in

Midrand, Durban and Cape Town

including the RSR website . To follow

and keep track of this new and

exciting journey, follow us on our

website and social media platforms

on:

www.rsr.org.za

RailwaySafetyRegulator

@Rail_Safety

Railway Safety Regulator

Remember although we are

changing track, safety is still our

number one priority.
---
GOVERNANCE

Investments in estate properties

are proving their worth

A new review by New World Wealth selects 10 of the best lifestyle estates in

the world, with three South African estates listed. With increasing numbers

of South Africans choosing to invest in estate living, options that include

apartments, wildlife, eco-estates and retirement estates are proving popular.

Yellowstone Club in the US state of Montana nestles in the Rockies. Credit: Yellowstone Club

South Africans are continuing to choose estate living

in greater numbers. The main drivers for the increase

in the popularity of estate living in South Africa

are safety, shared facilities, communal parks and

controlled traffic flows.

This is according to Andrew Amoils, wealth analyst and head

of research at New World Wealth. New World Wealth has been

rating the top lifestyle estates in South Africa for the past five years

and has recently published a review in which it shares its top 10

lifestyles for 2021 from around the world. Both South Africa and the

United States secured three estates on the list, with estates in the

UAE, Mauritius, Italy and New Zealand also featuring in the top 10.

New World Wealth's top 10 lifestyle estate

picks for 2021are as follows:

• Yellowstone Club in USA.

• Val de Vie in South Africa.

• Bighorn Golf Estate in USA.

• Steyn City in South Africa.

• Kukio in Hawaii, USA.

• Fancourt in South Africa.

• Anahita in Mauritius.

• Jumeirah Golf Estate in the UAE.

• Jacks Point in New Zealand.

• Toscana Castelfalfi in Italy.

46 | www.opportunityonline.co.za
---
PROPERTY INVESTMENT

The top estates scored strongly in the following areas: appeal to high

net worth individuals (HNWIs), maintenance, communal areas (parks),

design, location, scenery, security and facilities.

A global trend

Estate living is already popular in USA, South Africa, Spain and Portugal

and is starting to take off globally, especially in the UAE, New Zealand

and Mauritius. Reasons for its rising appeal:

• Lifestyle and community: parks, playgrounds and schools.

• Facilities: in-house gyms, spas, golf, horse-riding, tennis and cycling.

• Limited and controlled traffic: safer for children.

• Security and privacy: access gate and private security personnel.

Kukio Golf and Beach Club is a gem on Hawaii's Big Island.

_____________________

"Estate living is becoming

increasingly popular among

the world's HNWIs as they

search for more privacy and

safety," says Andrew.

____________________

Spotlight on the Yellowstone Club

The Yellowstone Club is one of the more impressive lifestyle estates

globally. It is situated in Big Sky, Montana (USA), and features a top

golf course and its own private ski slopes. The houses on the estate

start from a base price of around US$10-million, making it only

for the super-rich. The estate is set on 15 000 acres of mountain

wilderness with two large rivers that flow through the property.

Activities available on the estate include fly-fishing, golf, horseriding

and river-rafting during the summer and snowmobiling and

skiing for the winter.

There is also a move away from traditional golf estates towards

wildlife and eco-estates. Retirement estates (for over 60s) have

also become more popular.

Estate properties are good value as investments. As Andrew says,

"Over the past 20 years, estate properties have outperformed freestanding

homes in terms of price growth."

With regard to the value of estate properties during a time of crisis (such

as the Covid-19 pandemic), Andrew makes the point that buyers seeking

open spaces are being attracted to estates with parks and wilderness.

"Many people have chosen to work remotely and live in smaller

towns," reports Andrew. "For instance, a large number of people are

now working remotely from affluent small towns such as Hermanus,

Plettenberg Bay and Franschhoek. Lifestyle estates in these towns

have benefitted."

About New World Wealth

New World Wealth has been tracking the spending habits of the

world's wealthy for over seven years. The company's research covers

90 countries and 150 cities worldwide. New World Wealth are the

researchers and authors of the Africa Wealth Report and the Global

Wealth Migration Review.

Website: www.newworldwealth.com

South African trends

South Africa is a global pioneer in estate living and is home to

many of the world's best lifestyle estates, including the likes

of: Val de Vie, Steyn City, Fancourt, Pezula, Steenberg, Arabella,

Atlantic Beach, Simbithi, Zimbali, Whale Rock Ridge, Leopard

Creek, Waterfall Equestrian Estate, De Zalze, Domaine des Anges

and Silverhurst Estate.

Buyers in SA are increasingly moving towards apartment

blocks or estates that have apartments. In line with this, most

new luxury developments in the country focus on apartment

living rather than houses; notable examples include: Brookfield

at Royal, Umhlanga Arch and Steyn City's "104 on Creek".

www.opportunityonline.co.za | 47

Steyn City offers a green lung in the heart of the big city.

Credit: Steyn City
---
PROPERTY

Delivering satisfying returns

Steyn City is proving a popular property investment.

Interest in gated communities and lifestyle

estates continues to rise. That's not

surprising, given the drivers behind the

trend: for a start, security is a significant and

ongoing concern, with crime in the suburbs

showing no signs of abating. Added to this, many

South Africans are attracted to the idea of living

in a place that speaks directly to their interests,

such as golf, cycling or horse-riding.

Not all developments are equal, and even

those which boast of creating the consummate

"lifestyle" may be guilty of offering slightly

less than residents expect, either in terms of

accommodation which falls short of true luxury

standards, or limited amenities.

Wary of disappointing residents, Steyn City

Properties made every effort – from the time

of the development's initial planning stages

in developing a masterplan – to ensure that

this was not the case. The result is a luxury

parkland residence which redefines lifestyle,

and in so doing, has ensured it is perfectly

matched with consumers' current demands.

After all, location, location, location is no

longer seen as the most critical investment

criterion; it's now the lifestyle available which

determines whether people are prepared to

invest, especially as remote working makes

it possible for investors to move away from

city centres.

Take the issue of security, for example.

Steyn City ensures complete peace of mind

with a highly advanced security system,

which includes a 24/7 security nerve centre

and round-the-clock patrols of the parkland.

Would-be buyers wondering about

investment value are reassured by

the developer's lifelong investment

in infrastructure. Indeed, all amenities

were developed by the time of launch,

so that buyers could experience the

reality they were purchasing, rather than

setting their hopes on a dream that may

fail to materialise. This approach means

that Steyn City is a low-risk investment

which has already delivered very

satisfying returns.

Many people living in developments

value the community which often arises.

The community feeling that pervades

throughout the parkland residence is

further enhanced by the existence of open

spaces and a lack of boundary walls where

residents get to know their neighbours.

The development's culture is a contributing

factor. Steyn City was designed with an outdoororiented,

family-centred lifestyle in mind, so

that residents are able to access a broad array

of amenities, catering to a variety of interests,

without leaving the estate. Having these

facilities right outside one's front door means

that a great deal of time is saved – especially

since AAA-grade offices and a world-class

educational campus (accommodating grades

000 to matric) are available on-site, too, with

the soon to be launched helistop presenting

the ultimate convenience for executives who

have little time to switch between venues.

Shorter commutes translate into less stress, and

a better overall lifestyle.

More than this, the variety of amenities – from

hundreds of kilometres for walking, jogging

or trail-running to a purpose-built mountainbike

track; from outdoor gym stations to an

18-hole Nicklaus design golf course; from an

indoor gym to an indoor aquatic centre and an

equestrian centre – means that residents can

access so many activities or leisure pursuits with

their added convenience.

The final drawcard is, of course, Steyn

City's 2 000-acre indigenous parkland: a

back garden without compare for every

resident, offering space to roam and explore

with complete peace of mind. To feed the

connection with nature that forms the basis

for complete wellbeing is a different kind of

investment: an investment in the way you

choose to live your life.

www.steyncity.co.za

48 | www.opportunityonline.co.za
---
Experience limitless luxury

STANDS FROM

R3.3-18m
---
ANCHORED IN THE PURSUIT

OF NAMIBIA'S VISION.

In today's world, we acknowledge that change is the only constant. That is

why at the Namibian Ports Authority, our vision to be the best performing

seaports in Africa is embedded in our passion to drive our mission and

adhere to our values.

As we grow, we maintain our commitment to serve, our desire to connect,

and most importantly, to care for our staff and wellbeing of all Namibians.

NAMPORT.

Africa's Ultimate Ports Experience.