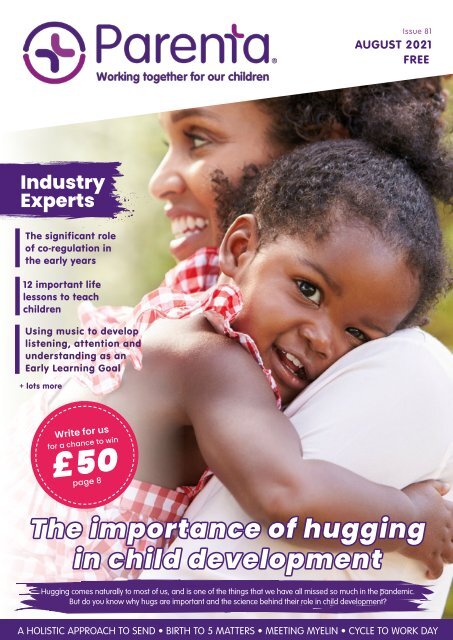 August 2021 Parenta magazine
Create successful ePaper yourself
Turn your PDF publications into a flip-book with our unique Google optimized e-Paper software.
Issue 81

AUGUST 2021

FREE

Industry

Experts

The significant role

of co-regulation in

the early years

12 important life

lessons to teach

children

Using music to develop

listening, attention and

understanding as an

Early Learning Goal

+ lots more

Write for us

for a chance to win

£50

page 8

The importance of hugging

in child development

Hugging comes naturally to most of us, and is one of the things that we have all missed so much in the pandemic.

But do you know why hugs are important and the science behind their role in child development?

A HOLISTIC APPROACH TO SEND • BIRTH TO 5 MATTERS • MEETING MYELIN • CYCLE TO WORK DAY
---
hello

welcome to our family

JUNE AUGUST 2020 2021 ISSUE ISSUE 67 81

IN THIS EDITION

Regulars

Hello and welcome to the August edition of the Parenta magazine!

With all COVID-related restrictions now lifted, the subject of hugging is on many people's minds! So, what better

month than August to take a look into the importance of appropriate hugging in child development? Turn to

page 10 to find out the science behind just how much difference hugging can make to a child's physical and

emotional progress.

We were lucky enough in May to have an exclusive interview with early years expert, Tamsin Grimmer, on the eagerly

awaited Birth to 5 matters guidance. Tamsin was part of the Steering Group and a member of the Inclusive Practice

and Equalities Working Group.

Despite Birth to 5 matters being warmly received by so many across the sector and being hailed as a great resource, settings continue

to seek guidance through these unprecedented times; and we are so pleased to be able to bring you another exclusive interview on

this very hot topic; this time with Dr Kathryn Peckham, early childhood consultant, researcher and author, who headed up the Birth to 5

matters Learning Environments Working Group. Turn to page 20 for her comprehensive guide.

We have so much fantastic advice this month from many industry experts, specifically about early child development: Helen Garnett

talks to us about the significant role of co-regulation, Gina Bale teaches us about the pivotal role that myelin plays in our brain, Stacey

Kelly gives us her 12 important life lessons to teach children, Tamsin Grimmer looks at mark-making in relation to school readiness, and

Frances Turnbull explores how music can be used to develop listening, attention and understanding as an Early Learning Goal.

As always, everything you read in our magazine is written to help you with the efficient running of your setting and to promote the health,

happiness and well-being of the children in your care.

Please feel free to share the magazine with friends, parents and colleagues – they can sign up to receive their own copy here!

Please stay safe, everyone.

Allan

8 Write for us for the chance to win £50!

8 Guest author winner announced

19 Congratulations to our learners

34 Brain box

35 Pineapple fried rice

News

4 Childcare news and views

6 A round-up of some news stories

that have caught our eye over the

month

Advice

10 The importance of hugging in child

development

14 A holistic approach to SEND

18 Top 5 holistic development activities

26 The art of mentoring in the early years:

part two

30 The importance of sensory bags

38 Cycle To Work Day

The art of mentoring in the early years: part two 26

Meeting myelin 28

Celebrating difference and neurodivergence: part 5 32

The significant

role of

co-regulation in

the early years

Co-regulation is vital for

young children because it

provides crucial support.

12

Birth to 5

Matters - an

exclusive interview

with Dr Kathryn

Peckham

20

Kathryn covers the scope

and quality of the Birth to

5 matters materials.

Using music to develop 24

listening, attention and

understanding as an Early

Learning Goal

Listening is a skill that is fundamental

to learning.

Industry Experts

12 The significant role of co-regulation in

the early years

16 12 important life lessons to teach

children

20 Birth to 5 Matters - an exclusive

interview with Dr Kathryn Peckham

24 Using music to develop listening,

attention and understanding as an

Early Learning Goal

28 Meeting myelin

32 Celebrating difference and

neurodivergence: part 5

36 Making their mark!

Making their mark! 36
---
Childcare

news & views

Use snack breaks to teach

maths: Education Endowment

Foundation

The Department for Education has

advised Nursery staff to use everyday

activities like snack times and story time

to teach children about counting, addition,

subtraction, time and sharing.

Early years staff need well-being

policies and more transparency

in the workplace

The Anna Freud Centre has published

its findings from a survey about staff

well-being, alongside NDNA's sample

well-being policy.

Key points from the survey are:

- Nursery staff love their work, and many

feel their settings are actively engaging

with staff mental health and achieving

positive results

- However, less than half (47%) were

aware of whether their nursery had a

mental health and well-being policy in

place, and where no known policy was

reported, staff stress levels were also

found to be highest

- Nursery staff also said that the pandemic

had taken its toll on their mental health,

with 50% reporting that they felt unwell

as a result of work-related stress during

the past year and 66% reporting that the

pandemic had impacted their well-being

and mental health

Stella Ziolkowski, NDNA's Director of

Quality and Training, said: "We welcome

this report because nursery practitioners

are the lifeblood of the setting and

make all the difference to the quality of

a child's early learning experiences. The

relationships between a child, their key

person and parents are absolutely crucial

and based on trust and affection.

Read the full story on the Parenta website

here.

Updated early years guidance

and rules from DfE ahead of

lockdown restrictions easing

The Department for Education has

updated its guidance for early years

providers on operating during the

pandemic ahead of Step 4 of lockdown

easing, which will happen on 19th July.

In an updated version of Actions for early

years and childcare providers during

the COVID-19 pandemic, which sets out

what will be possible once Step 4 of the

roadmap has started, some restrictions

have been removed, including those on

children attending more than one setting,

parental drop-offs and pick-ups, trips to

indoor and outdoor spaces and messy

play.

The guidance also states that there is

no longer a requirement for children to

be kept in small, consistent groups – but

this may need to be introduced if local

outbreaks happen.

Settings will no longer need to carry

out contract tracing – as from 19th July,

close contacts will be identified via NHS

Test and Trace.

Face coverings will no longer be

recommended for staff and visitors in

communal areas, although this may

be recommended in instances of local

outbreaks.

The guidance also confirms that parent

and toddler groups will be able to operate

as normal, with no restrictions on attendee

numbers, or the number of people who

can sing, when Step 4 of lockdown easing

takes place.

The government has confirmed that from

Monday 16th August, children under 18

years old and adults who are double

vaccinated will no longer be required

to self-isolate if they are identified as a

close contact of someone who has tested

positive. Instead, close contacts of a

positive case will be informed by NHS Test

and Trace and advised to take a PCR test.

Read the full story on the Parenta website

here.

A report published by the Education

Endowment Foundation (EEF) recommends

early years settings and schools boost the

maths skills of three to seven-year-olds.

The report says early years practitioners

should 'take advantage of such time to

support mathematical development' in a

bid to close the numeracy attainment gap

particularly for disadvantaged children.

Professor Becky Francis, Chief Executive

of the Education Endowment Foundation

(EEF) said: 'It is crucial, then, that we start

early and make sure that all young people

- regardless of background - have access

to great mathematics teaching in the early

years and at primary school.

'Not all children learn the skills they

need to succeed. In 2018, just 66% of

disadvantaged children achieved at least

the expected level of development for

numbers at the end of the Early Years

Foundation Stage compared to 82% of

their peers.'

'Once children fall behind, it is hard for

them to catch up and they are likely to fall

further behind throughout school.'

Early years staff are encouraged to use

storybooks, games, songs and rhymes

to help young children with maths. For

example, the guidance urges staff to

ask children to count the feet of different

animals in a picture book and show them

with their fingers.

The report recommends seizing chances

to reinforce children's mathematical

vocabulary. Staff are encouraged to

use everyday objects as well as maths

resources, to help children develop their

understanding of concepts like addition.

Read the full story on the Parenta website

here.

Boris Johnson urged to 'level up'

for young children by 2030

Thousands of children are "falling behind

in their first five years of life", are not ready

to learn and struggle with their health

and well-being, reveals an early years

manifesto that urges Prime Minister Boris

Johnson to "level up" for young children

with post-lockdown support.

The stark truth facing the early years

sector 'obstructs' England's path to a more

prosperous future and "we will never truly

level up if we don't recognise this", states

the cross-party Early Years Commission's

manifesto, published by think tank the

Centre for Social Justice and the Fabian

Society.

Almost all (99%) of the 3,023 adults polled

in England last December believed that the

early years sector has not been prioritised

by the Government during the pandemic,

and the Early Years Commission calls for

post-COVID-19 support for young children

and their parents with action taken by

2030.

More than two million families with children

under five live in poverty, and poverty is

rising fast in young children, according to

the Department for Work and Pensions.

At three years old, children in poverty are

almost one and a half years behind their

more affluent peers when it comes to

language development.

Read the full story on the Parenta website

here.

Department for Education's

latest figures show fall in

demand for 'free childcare'

The DfE has released figures which reveal a

fall in demand for 'free childcare' places.

- The number of eligible two-year-olds

registered to receive funded early

education entitlements has fallen by 13%

to 124,500 in 2021

- The number of three and four-year-olds

registered to receive from funded early

education has fallen by 5% to 1,212,000 in

2021

- The number of three and four-year-olds

registered to receive from extended early

education has fallen by 5% and is

now similar to the number in 2019

The decrease in the number and proportion

of children registered to receive funded

entitlements reflect the impact of COVID-19

uncertainty on supply (providers) and

demand (parents) for early years provision

in January 2021.

Purnima Tanuku OBE, Chief Executive of

National Day Nurseries Association (NDNA)

said: "These newly released statistics are

really worrying, not least because of the

substantial drop in numbers of eligible

two-year-olds taking up places.

Read the full story on the Parenta website

here.

4 August 2021 | parenta.com

parenta.com | August 2021 5
---
A round-up of some news stories that

have caught our eye over the month

Source and image credits to:

Government website, Nursery World, The Standard,

Daily Echo, Day Nurseries, Bishops Stortford

Independent, In Your Area

Parenta FREE webinar -

Clarification and navigation

around the new EYFS

All the changes in the new EYFS have led

to quite a bit of confusion despite all the

advice and guidance available. In this

month's webinar, our guest speakers

discuss what the changes mean for

practitioners. Click here to watch their

experience and advice for navigating

around the new EYFS.

HMRC are offering a childcare

top-up for working parents

HM Revenues and customs are

sending out reminders that working

parents can use Tax-Free Childcare to

pay for childcare costs over the

summer holidays.

Top tips for early years

potty training

Children seem to be wearing nappies

for longer. Annette Rawstone explores

the reasons for the trend and tips to help

children become fully potty trained.

Little Explorers Nursery use

several fundraising events to

help fund future events

The nursery raised £2,460 by taking part

in a fun run and by selling football cards.

The money will be used towards a

well-deserved nursery graduation party.

Dean Park Day Nursery raise

£1,500, for the Round Table

charity, Children's Wish

100 pupils from babies to pre-schoolers

all took part by walking 100 laps of the

field over four days.

Chief Executive of London Early

Years Foundation shares planet

friendly tips for settings

Co-author of '50 Fantastic Ideas for

Sustainability', June O'Sullivan, claims

"we are not asking people to become

eco warriors".

Early years chief states

nurseries must be included in

plans to scrap self-isolation

Grove Cottage presented

with £800 donation from

Hertfordshire Freemasons

Tribute to inspirational nursery

owner, Kath Winstanley

Co-op Childcare are opening two

new settings in early 2022 based

in Bristol and Cheltenham

Marston Day Nursery receive

'bear-illiant' donation from local

housebuilder

Click here to send in

your stories to

hello@parenta.com

Early Years leader, Mr Williamson, is

calling for the government to include

nurseries in the easing and removal

of COVID restrictions.

The donation was given to Natasha

Rayner, Deputy Manager of the special

needs nursery. The nursery heavily rely on

donations due to lack of central funding.

Tributes have been paid for Kath, owner

of Overndale Nursery, Bristol after

dedicating 40 years of her life to her

family-run setting.

Little Pioneers brand start £1.5 million

builds to provide two new childcare

settings after seeing how important

nurseries are to their communities.

The nursery received 88 teddy bears for

their picnic from David Wilson Homes.

The children enjoyed the outdoors and

felt lucky to have large green spaces.

6 August 2021 | parenta.com

parenta.com | August 2021 7
---
Write for us!

We're always on the lookout

for new authors to contribute

insightful articles for our

monthly magazine.

If you've got a topic you'd like to write about,

why not send an article to us and be in with a

chance of winning? Each month, we'll be giving

away Amazon vouchers to our "Guest Author of

the Month". You can find all the details here:

https://www.parenta.com/sponsored-content/

Congratulations

to our guest author competition winner, Stacey Kelly!

GINA BALE

'PICNIC ON THE MOON'

SESSION GIVEAWAY

Congratulations to Stacey Kelly, our guest author of

the month! Her article "Teaching children the true

meaning of the word sorry" encouraged us to look

at how we approach children when apologising and

what we can do to model this. Well done Stacey!

A massive thank you to all of our guest authors for

writing for us. You can find all of the past articles

from our guest authors on our website:

www.parenta.com/parentablog/guest-authors

To get your free session pack visit

www.littlemagictrain.com. Pop the

"Picnic on the Moon" pack in your

basket and at checkout use the 100%

free coupon code below.

The FREE session pack includes:

• Introduction and How to guide

• Session plan/adventure and

Illustrations

• Practitioner notes and guidance

• Music for the adventure

• 'Picnic on the Moon' certificate

100% Discount Code

LMTFREE

Valid until the 31/08/21

8 August 2021 | parenta.com

Winner need updating

parenta.com | August 2021 9
---
The importance of hugging

in child development

"Hi, I'm Olaf, and I like warm hugs!"

Remember the little snowman from "Frozen", who, contrary to his cold exterior, admits freely that he

loves the feeling that a warm hug gives? Hugging comes naturally to most of us, and is one of the

things that we have all missed so much in the pandemic. But do you know why hugs are important

and the science behind their role in child development?

Research on hugs is not as bounteous as

we might expect, perhaps because we

feel it's a natural thing that most of us do

without thinking. However, recent research

is now deepening our understanding of

the role of hugs in child development, and

early years practitioners need to be aware

of this and use it in a practical way.

We all know how comforting it is to receive

a hug, especially if we are upset or are

physically hurt. Having someone else take

some of the strain, and physically wrap

you up in a safe, warm genuine hug is like

nothing else. Our stresses melt away and

somehow, it calms our mood and puts us

into a better state of mind. But researchers

have recently revealed that children who

get more hugs, also have more developed

brains, compared to children who receive

fewer hugs. 1

As long ago as the 1950s, John Bowlby's

research pointed to the importance of a

mother's touch, and his experiments were

fundamental in forming his theories of

attachment, showing the negative effects

that being deprived of physical affection

can bring. 2

Touch is one of the first senses we use.

Our sense of smell, taste, sight, and

hearing function, but we need time to

understand what the inputs mean for us,

for example recognising the difference

between our mother and a stranger.

However, the sense of touch can have a

calming influence from birth.

In an article on the benefits of hugging 1 ,

Dr Susan Crowe, an obstetrician from

Lucile Packard Children's Hospital,

explained that as soon as it is physically

safe for the mother and baby following

birth, doctors and midwives place the

baby on the mother's chest, often with

skin-to-skin contact, guiding the baby

towards the breast to start the process

of breastfeeding. However, regardless of

whether breastfeeding is possible at this

stage, the fact that the baby is being held

by its mother within the first hour, can help

normalise the baby's body temperature,

heartbeat and breathing pattern. The

mother's body releases hormones that

cause more relaxation for her too after the

exertions of birth.

This is the beginning of parental bonding

and is not confined to the mother. If other

partners hold the baby at this time, then

their bonding with the infant starts too. The

article also explains some of the benefits

of infant massage for babies and how

this can bring a wide range of benefits

including: 1

• Better sleep patterns for the baby

• Baby appears more aware of being

loved, secure, and accepted

• Improved digestion and bowel

movements

• Babies demonstrate more comfort by

less fussy behaviour

• Weight gain improves

• Mother and baby appear more

relaxed

• Neurological function in babies is

improved

Another review published on PubMed,

outlining the results from various studies,

showed that children in orphanages who

had been deprived of positive touch, had

detrimental effects, but when they received

only 20 minutes of daily tactile stimulation,

over 10 weeks, they increased their

developmental scores. 3 Premature babies

who had their limbs stroked and mild limb

movement, gained weight, had longer

alertness, and more mobility. After one

year, these premature infants scored high

on growth and motor skills. 4

One reason that researchers believe that

positive touch and hugs are beneficial is to

do with the release of oxytocin, which is a

hormone and neurotransmitter produced

in the hypothalamus and released from

our pituitary gland. Oxytocin is responsible

for the bonding between mother and

baby. During breastfeeding, orgasm, and

hugs, the levels of oxytocin rise leading

to participants feeling trust, a maternal

instinct and care, and it has sometimes

been dubbed the 'love' hormone. Oxytocin

has complex physiological interactions, and

other physical effects in the body (such as

aiding contractions in labour), but in the

brain, is now thought to have beneficial

effects on our emotional and social

behaviours, affecting in some way, who we

trust and see as safe. So hugging children

can help them to feel safe and cared for by

people they trust. 5-11

This link between development and

positive touch sensations extends into

early childhood too, and children who

have less tactile contact with their mother

(either through a touch aversion on the

part of the mother or the child), can lead

to a condition known as 'failure to thrive' or

FTT. 12 However, when the children receive

more hugs and positive touch, (which

could be through interactions during play

sessions such as a hand on an arm or

a touch on a shoulder), the children can

move from having FTT to being healthy and

thriving, very quickly. Again, this is thought

to be a result of the complex interactions

of oxytocin which can also stimulate the

release of growth hormones.

As well as affecting physical development,

children's emotional development is

affected by hugs too as hugging has

been shown to stop tantrums 13-14 . Many

adults think that hugging a child having a

tantrum will reinforce unwanted behaviour

but as we understand the reasons

behind children's emotional outbursts

better, and are beginning to see them

as communication, this view is being

challenged.

Children who are hugged when they are

upset and cannot express their feelings,

need reassurance and to feel safe again.

A hug can be the quickest way to calm

their fears and help them regain a balance

in their emotions that they have not yet

learned to control in other ways. Outbursts

and temper tantrums are a sign that the

child is stressed, which releases cortisol into

the body. Too much cortisol has negative

implications but a hug in difficult times can

trigger the release of oxytocin, to counteract

this. A hug will also teach them that you are

there as a trusted adult, so can help them

develop trust and resilience, knowing that

ultimately 'everything will be alright'.

So appropriate hugging is important in

child development and can really make

a difference to a child's physical and

emotional development.

References

1. The benefits of touch for babies and

parents. https://med.stanford.edu/

news/all-news/2013/09/the-benefitsof-touch-for-babies-parents.html

2. Origins of attachment theory.

https://cmapspublic2.ihmc.us/

rid=1LQX400NM-RBVKH9-1KL6/the%20

origins%20of%20attachment%20

theory%20john%20bowlby%20and_

mary_ainsworth.pdf

3. Casler L. The effects of extra

tactile stimulation on a group of

institutionalized infants. Genet Psychol

Monogr. 1965;71:137-175. https://www.

ncbi.nlm.nih.gov/pubmed/14279691

4. Preterm Infant Massage Therapy

Research: A Review. https://www.

ncbi.nlm.nih.gov/pmc/articles/

PMC2844909/

5. https://www.exchangefamilycenter.

org/exchange-family-centerblog/2020/4/2/the-science-behindhugging-your-kids5-benefits-for-youand-your-child

6. Smith AS, Wang Z. Salubrious effects

of oxytocin on social stress-induced

deficits. Hormones and Behavior.

Published online March 2012:320-330.

doi:10.1016/j.yhbeh.2011.11.010

7. Uvnas-Moberg K, Petersson M.

[Oxytocin, a mediator of anti-stress,

well-being, social interaction,

growth and healing]. Z Psychosom

Med Psychother. 2005;51(1):57-80.

https://www.ncbi.nlm.nih.gov/

pubmed/15834840

8. Cohen S, Janicki-Deverts D, Turner

RB, Doyle WJ. Does Hugging Provide

Stress-Buffering Social Support?

A Study of Susceptibility to Upper

Respiratory Infection and Illness.

Psychol Sci. Published online

December 19, 2014:135-147. https://

www.ncbi.nlm.nih.gov/pmc/articles/

PMC4323947/

9. Saphire-Bernstein S, Way BM, Kim

HS, Sherman DK, Taylor SE. Oxytocin

receptor gene (OXTR) is related to

psychological resources. Proceedings

of the National Academy of Sciences.

Published online September 6,

2011:15118-15122. doi:10.1073/

pnas.1113137108

10. Buchheim A, Heinrichs M, George

C, et al. Oxytocin enhances the

experience of attachment security.

Psychoneuroendocrinology. Published

online October 2009:1417-1422.

doi:10.1016/j.psyneuen.2009.04.002

11. Kosfeld M, Heinrichs M, Zak PJ,

Fischbacher U, Fehr E. Oxytocin

increases trust in humans. Nature.

Published online June 2005:673-676.

doi:10.1038/nature03701

12. Role of the Mother's Touch in Failure

to Thrive: A Preliminary Investigation:

https://www.jaacap.org/article/S0890-

8567(09)64114-9/fulltext

13. The science behind your child's

tantrums. https://www.nytimes.

com/2020/10/15/parenting/kidstantrums-advice.html

14. Infants Show Physiological Responses

Specific to Parental Hugs. https://www.

sciencedirect.com/science/article/pii/

S2589004220301802

10 August 2021 | parenta.com

parenta.com | August 2021 11
---
The significant role of

co-regulation in the early years

"Developing self-regulation, like many elements of development and learning, is not

something children do by themselves. It is a process that grows out of attuned

relationships where the caregiver and baby or child are closely attentive to each

other and engage in sensitive, responsive exchanges."

I love this. The truth is that co-regulation

– our attuned, attentive, and loving

exchanges with children - are key to their

emotional growth and ultimately support

children in growing and strengthening

their self-regulation skills over the years.

On the other side of the coin, those

children who are not adequately coregulated

may well become overwhelmed

by their feelings. Where does this leave

them? Unregulated, they struggle to cope

with the daily challenges of life, unable to

navigate the feelings or behaviours that

are so intrinsically linked.

Co-regulation is vital for young children

because it provides the crucial support

that helps them to understand powerful or

unpleasant feelings and return to a place

of calm. It makes sense that co-regulation

is placed firmly at the heart of our practice

in the early years.

Brain development and co-regulation

Co-regulation is the warm interaction

between adult and child (or between

adults!) where adults help children to

understand their feelings and behaviours.

Co-regulation needs to be tender,

intentional, and focused. As early years

practitioners, we must pay the closest of

attention to children's emotional cues,

understanding their body language,

and responding swiftly, consistently, and

sensitively to these. Part of co-regulation's

complexity is giving the right amount of

support at the right time and knowing

what each child needs at any given time.

Promptness and consistency are key.

Birth to 5 Matters 2021

Jack is 2. He is playing at the water tray

with another child. He cannot reach a

bucket on the other side of the water

tray. He shows small signs of frustration,

banging the spoon he is holding. A

teacher is sitting a short distance away

and is observing his cues. She waits to

see what he will do next, not jumping in

straight away.

Jack tries to reach the bucket again, but it

is too far away. He drops the spoon on the

floor and is beginning to look distressed.

The teacher comes over immediately, and

gently speaks to Jack, 'You look sad. Do

you want the bucket? Shall we get it?"

Jack says nothing but allows her to take

his hand and lead him to the other side

of the water tray where he is able to pick

up the bucket for himself. "Good lifting!"

says the teacher. Jack smiles and fills the

bucket with water. The teacher continues

to observe Jack carefully as he plays.

Jack was frustrated and unable to

help himself. He needed an adult to

acknowledge his powerful feelings,

suggest a solution, and help him to move

towards that solution.

Through the teacher observing, waiting,

modelling and coaching, Jack learns that

his frustrations will be supported and that

there are ways of achieving what he wants

to do, even when there are difficulties

involved.

The more confident children are at

understanding their emotions and

challenges, the more likely they are to

make sense of their environment and

pursue their goals.

Co-regulation, then, is an ongoing cycle of observation, interaction and

collaboration:

Solution reached together,

with feelings acknowledged

and supported

3

4

Adult observes and reaches out

promptly to support and model

1

Child is helpless, overcome

with difficult feelings

2

Child cannot find a solution

to the difficulty or challenge

A pedagogy of connection

Settings that put co-regulation at the heart of their pedagogy will significantly support

children in developing self-regulatory skills.

We can best achieve this through:

• Connectivity – a culture of tenderness

towards children builds warm,

responsive relationships. Such a

culture has a powerful impact on

children's capabilities, helping them to

feel loved and comforted, as well as

supported and respected

• Predictability – when we are

consistently and reliably kind, children

An environment of connection

feel able to meet challenges and

difficult feelings more readily, feeling

supported in each circumstance

• Enablement – supporting children

through observing, modelling and

suggesting strategies helps children to

build their emotional intelligence and

practice their self-regulation skills

There needs to be a solid framework into which co-regulation sits comfortably. This means

that each day we provide:

• A predictable and enjoyable daily

routine and schedule

• Careful observation of children's

emotional cues - any child in a place

of tension and anxiety will clearly

find it more difficult to find solutions to

everyday challenges

• Plenty of fresh air and physical activity

– research demonstrates over and

over that fresh air and exercise helps

children's self-regulatory abilities (and

adults!)

• Time and place for adults to

encourage each other – supporting

children is rewarding but draining

Helen Garnett

Helen Garnett is a mother of 4, and

a committed and experienced early

years consultant. She has a wealth

of experience in teaching, both in

the primary and early years sectors.

She co-founded a pre-school in 2005

where she developed a keen interest

in early intervention, leading her into

international work for the early years

sector. Helen cares passionately

about young children and connection.

As a result, she wrote her first book,

"Developing Empathy in the Early Years:

a guide for practitioners" for which she

won the Professional Books category

at the 2018 Nursery World Awards, and

"Building a Resilient Workforce in the

Early Years", published by Early Years

Alliance in June 2019. She also writes

articles for early years magazines, such

as Nursery World, Early Years Teacher

Organisation, QA Education, Teach Early

Years, and Early Years Educator.

Helen is the co-founder and Education

Director at Arc Pathway, an early years

platform for teachers and parents.

Helen can be contacted via LinkedIn.

Co-regulation has a vital role because it helps grow children's emotional competence, self-direction, and executive function. And yet

co-regulation isn't just about building self-regulation skills. It is about building capable and confident children. Children become

increasingly more capable the more we understand them, and progressively more confident the more we show them the exciting

possibilities and options in their world. And the wonderful thing is that any child can become an expert in their own world when adults

understand their needs, observe their emotional cues and support their search towards solutions or goals.

Through co-regulation, children can become powerful learners and competent thinkers.

12 August 2021 | parenta.com

parenta.com | August 2021 13
---
Consider:

A holistic

approach to

• Are there ways to combine

interventions to get the best outcome?

• Are you considering health issues?

• Are you considering social issues?

• How will your work impact on other

areas of the child's life?

• Can you involve others to help?

SEND

Partnering with others

The first thing you learn when working with SEN children it that there

is never a 'one-size fits all' approach and it is important that all your

efforts are focused on the very individual needs that each child has.

Just because they have a diagnosis of dyslexia, for example, doesn't

mean that you can get away with giving them a coloured overlay

and hope it will solve all their problems. It won't, and only a poorlyinformed

practitioner would think it could.

Special educational needs are just that

– they are special and unique to the

individual child and need to be tailored

accordingly. A lot of settings and schools

talk about promoting holistic education,

but what does that actually mean, and

how can you deliver this in your setting?

The term 'holistic education' is much more

than just offering some extra-curricular

trips once in a while, or a token attempt at

inclusion every term, but it is often what

a lot of places suggest counts as 'holistic

education'.

According to one online dictionary,

holistic has two meanings:

1. In philosophy -

characterised by the belief that the

parts of something are intimately

interconnected and explicable only by

reference to the whole.

2. In medicine (and education) -

characterised by the treatment of the

whole person, taking into account

mental and social factors, rather than

just the symptoms of a disease.

This means really understanding that

there are many contributing factors that

affect all of our lives, and you cannot easily

separate them out if you want to improve

the whole person. You need to think

differently and consider how each one

impacts on others.

In the SEND Code of Practice: A guide for

health professionals, it states:

'Our vision for children and young people

with special educational needs and

disabilities (SEND) is the same as for all

children and young people – that they

achieve well in their early years, at school

and in college and make a good transition

to adulthood, to lead contented and

fulfilled lives. This hasn't always been the

case. The SEND reforms introduced by

the Children and Families Act 2014 aim

to change this, with a focus on two key

themes: greater cooperation between

education, health and social care and a

greater focus on the outcomes which will

make a real difference to how a child or

young person lives their life. For too long,

health has been the missing partner in the

SEND system. These reforms change that

– they implement a holistic approach to

supporting children and young people with

SEND in all aspects of their life.'

Taking a holistic approach means looking

at the person as a whole and trying to

balance any interventions that are offered

in a way that benefits that person's entire

being and how they live their life, not just

in nursery or at school, but beyond into

adulthood. It means considering various

other factors in conjunction with their SEN,

and which may be in addition to those

factors listed in the EYFS, including:

• Social situation and family life

• Community issues

• Mental health

• Confidence and self-esteem

• Emotional intelligence

• Physical development

• Social confidence and friendships

• Creativity and self-expression

• Empathy and appreciation

• Individuality

• And many more – the list will be

endless!

As early years practitioners, we understand

that 90% of brain development occurs by

age 5, so it is vital that our settings provide

experiences that support the whole child,

including the above bullet points, and it is

why we should provide multiple areas of

stimulation through enriched and diverse

environments, but understand how each

affects the other.

In many educational settings, children

with special needs are often taken out of

subjects they do well at (such as Art or

Drama), in favour of studying Maths or

English, but this can impact negatively on

their self-esteem when they feel they are

missing a subject that supports them in

other ways. This is just an example, but it

raises questions about whether the child's

preferences could be taken into account

in a more holistic approach, that doesn't

impact negatively on their mental health to

serve an academic outcome. In early years,

we may fall into the trap of focusing on one

small thing at the expense of a larger other.

Many children with special needs also

have more than one learning difficulty -

people with autism can also have sensory

issues, and people with dyslexia may have

dyspraxia. The challenge here is to try to

try to meet all of the needs in the best way

possible. This is where good planning and

communication are vital.

To provide a holistic approach to SEND, it

is vital you form partnerships with other

people and agencies. When information is

shared appropriately, instead of having just

one piece of the jigsaw, everyone will begin

to see the whole picture.

Parents are obviously the first port of call

and will have insights that you do not, and

vice versa, so setting up regular sessions to

talk to the parents will help you understand

what their child needs; you can also tell

parents what is working well in the setting,

so they can continue the practice at home.

Remember too that many parents of

special needs children are under enormous

stress themselves, which can impact their

own mental health and wellbeing, and

subsequently, that of the child. Offering

help and support to parents via advice/

support groups, meetings or just passing

on relevant information that could be useful

to them, will have an impact.

You should also develop partnerships with

health and social care services, and they

should be contacting you for updates,

reviews and progress reports. By working

together, plans such as EHCPs can be

drawn up effectively to really support the

whole child, but ensure they are regularly

reviewed and amended to grow with the

child.

Supporting your SENCo

Your SENCo will have ultimate responsibility

for the outcomes and provision for

children with special needs, but could

you support them better by training your

staff or increasing cooperation between

colleagues? There are many CPD courses

which raise awareness of SEND issues and

there is no substitute for regular meetings

with colleagues to check on a child's

progress across the board to consider

holistic issues.

14 August 2021 | parenta.com

parenta.com | August 2021 15
---
12 important life lessons

9. To use positive traits as a

superpower

to teach children

When I became a parent, I knew that I wanted to help my children as much as I could to use each

and every challenge they faced as a lesson, to see each failure as a stepping-stone to success

and to know their worth so that from a young age they learned to love, accept and believe in

themselves in a way that many of us struggle to do.

I started writing and illustrating stories when my first baby was just 4 months old and as time went by, I realised how powerful

books could be to not only teach children about different moral concepts but to also plant positive seeds in their minds that can

then contribute to their inner beliefs and values.

As a former teacher, I know how important a child's early years are, and because of this I wanted to do everything I could to support my

children to cope with their emotions, to believe in themselves, and to be the best that they could be. Knowing how powerful stories are

and how much children absorb the key messages, I decided to create storybooks to help them through different developmental stages

and to teach them values that will help them to step into their brilliance and to most importantly, be happy in their own skin.

Here are the 12 key messages of the Memory Box Collection storybooks

that I think will help every child to thrive:

1. Most of the things that we

worry about never happen

How many times have we felt anxious

about situations and played them up in

our minds to then realise that we had

nothing to fear in the first place? In a

child's early years, their imagination is

developing, which gives them the capacity

to anticipate bad things happening. It is

important for us to acknowledge children's

worries and to show them that although

we understand how they feel, that

everything will be okay.

2. Things don't have to be

perfect to be brilliant

Many of us struggle with perfectionism

and often our self-worth can take a hit

when we get things wrong. Things are

rarely perfect because we live in an

imperfect world and trying to live up to this

standard is exhausting. How many people

are held back from their brilliance because

they wait for perfection before they take

the leap into something new? We need

to teach children that there's beauty

in imperfection, to enjoy the imperfect

journey that is life, and to take each flaw

as a lesson leading us to greatness.

3. To talk about feelings

Sadness, anger, and frustration need to

be accepted and normalised. We all have

moments when we feel this way, yet as a

society, we tend to struggle to see these

emotions in ourselves and others. It's not

the anger, sadness, or frustration that is

the problem, it's how we manage them

that contributes to the outcome. How

many times have we bottled something

up and then taken it out on someone

who doesn't deserve it? We need to teach

children that it's okay to feel this way,

but that by talking about our feelings we

dilute the intensity and give ourselves the

opportunity to work through them without

unintentionally hurting anyone else.

4. It's okay to ask for help

So many people don't like asking for help

because they don't like to be seen to have

weaknesses. However, the truth is that we

all have different abilities and can achieve

so much more when we pull together.

How many times have we struggled

alone and stayed stuck or in pain, rather

than asking for help? We need to teach

children that it's okay to ask for help if they

need it and that they never need to isolate

themselves in a problem and feel alone.

5. That we all have our

unique strengths and shine

in our own way

How many times do we compare

ourselves to others? The problem with

this is that we are all completely different

and shine in our own way. In the words

of Albert Einstein 'If we judge a fish by its

ability to climb a tree, it will live it's whole

life thinking it is stupid'. We need to teach

children that it's okay to not be good at

everything and to focus on and harness

their own unique strengths.

6. To keep trying when things

get tough

Quite often, the feeling of wanting to quit

comes right before a big breakthrough. The

reason not everyone reaches huge success

is because they give up when things get

too much. What they don't realise is that

brilliance lies just around the corner from

an overwhelming challenge. How many

times in life have we quit because we

haven't seen the results we want? We need

to teach children that failure is a steppingstone

to success and that resistance brings

opportunities to learn and grow.

7. To accept differences in

themselves and others

Every single one of us is unique and our

differences make us who we are, yet so

many people struggle to accept themselves

and strive to fit into a false 'norm' created

by a society driven by perfection. How

many people struggle to accept themselves

fully or subconsciously judge others for

being different in some way? We need to

teach children to see the beauty in their

differences and to accept themselves (and

others) for who they are. The world would

be a kinder place if we all saw greatness in

uniqueness.

8. To believe in themselves

The actions of others can have a huge

impact on us and can often affect how

we feel about ourselves. How many of us

have had the wind knocked out of us by

someone we care about or have allowed

someone else's opinion to make us doubt

ourselves? We need to teach children that

their actions do impact others and that as

much as other people can impact them

too, their own confidence and self-belief

will always give them the strength to

overcome it.

Politeness, kindness, honesty, patience,

and positivity cost nothing. Can you

imagine a world where everybody had

these attributes? We need to teach children

that these simple traits can have a huge

impact on the world around us and the

people in it.

10. Gratitude and appreciation

In this fast-paced, digital world that we live

in, it can be easy to forget to appreciate

the small things in life. How many people

search for happiness in external, material

objects? We need to teach children that

happiness comes from within and to be

grateful for the simple things. In times of

darkness, there are always things to be

grateful for if we look for them. If children

are taught to look for these things from a

young age, they will be more able to see a

light in dark times when they are older.

11. That the word 'sorry'

means nothing if we don't

change our actions

How many of us know someone who

always says 'sorry', but then does the same

actions repeatedly? We need to teach

children that 'sorry' is a meaningless word if

our actions don't change.

12. To be brave and to try new

things

Our brilliance is rarely found inside of our

comfort zone. Trying new things can be

scary. However, it can also lead to amazing

opportunities and experiences. How many

people have held themselves back through

fear of the unknown? We need to teach

children to be brave and to try new things

because in the words of Jack Canfield

"Everything you want is on the other side

of fear".

Stacey Kelly

Stacey Kelly is a former French and

Spanish teacher, a parent to 2 beautiful

babies and the founder of Early Years

Story Box. After becoming a mum, Stacey

left her teaching career and started

writing and illustrating storybooks to help

support her children through different

transitional stages like leaving nursery

and starting school. Seeing the positive

impact of her books on her children's

emotional wellbeing led to Early Years

Story Box being born. Stacey has now

created 35 storybooks, all inspired by her

own children, to help teach different life

lessons and to prepare children for their

next steps. She has an exclusive collection

for childcare settings that are gifted on

special occasions like first/last days,

birthdays, Christmas and/or Easter and

has recently launched a new collection

for parents too. Her mission is to support

as many children as she can through

storytime and to give childcare settings

an affordable and special gifting solution

that truly makes a difference.

Email: stacey@earlyyearsstorybox.com or

Telephone: 07765785595

Website: www.earlyyearsstorybox.com

Facebook: https://www.facebook.com/

earlyyearsstorybox

Twitter: https://www.twitter.com/

eystorybox

Instagram: https://www.instagram.com/

earlyyearsstorybox

LinkedIn: https://www.linkedin.com/in/

stacey-kelly-a84534b2/

16 August 2021 | parenta.com

parenta.com | August 2021 17
---
Top 5 holistic

development activities

Holistic learning, together with mindfulness practices, develops children's memory and focus skills.

The creative practices enable children to exercise their imagination and problem-solving skills.

Here are 5 of our top holistic development activities that you can do with the children in

your setting – we hope you enjoy them!

They can have some fun and explore with

poses such as downward dog, using their

leg to wag their tail and practice their

balance. As children advance their poses

and physical strength towards tree pose,

they can try standing on one leg and using

their arms to create their chosen tree form

and counting their breath to 10.

Congratulations

to all our Parenta learners!

Congratulations to all these Parenta learners who completed their apprenticeship

in June and have now gained their qualifications.

These range from Childcare Level 2, Childcare Level 3 and Team Leading

to Level 3 and Level 5 Management – that's a huge achievement in the

current climate.

All that hard work has paid off – well done from all of us here at Parenta Training!

1. Sensory play

Using clay (or play doh, or even bread

dough) is a fantastic activity to do for a

sensory experience. Children learn how to

mould and manipulate the mixture, which

has calming effects. As children develop

their fine motor skills and dexterity, they

can go on to form shapes and letters,

and even create clay characters! Children

will explore how to use new tools when

moulding and shaping, which taps into

their lateral thinking.

2. The sound of music

Singing and music, combined with

movement, develops a child's

self-confidence, and allows them to

express themselves through the sound

of their own voice. Encouraging children

to participate will help them develop mind

and body co-ordination and stimulate

brain development, giving them a strong

sense of self-belief.

3. Mirror, mirror on the wall

Mirroring is a firm favourite with most

children because they can really express

themselves without even realising it! It's

a music and movement technique which

is also used to grow a child's self-esteem

and communication skills. With mirroring,

children can lead - or follow - a sequence

of sounds or movements to express an

area of their life and is a wonderful activity

to do with children who otherwise have

difficulty with self-expression.

4. Yoga: not just for adults!

Practicing yoga regularly will help the

children develop their concentration skills,

gross-motor skills, hand-eye coordination

and of course, their balancing skills too!

5. Being at one with nature

Nature is used as an exploration for

learning and is often described as our

'best teacher' By discovering everything

they can about nature and the seasons,

children are exposed to change, growth

and the cycle of life. Summer and autumn

are the perfect seasons to explore and

connect with nature. The bright colours of

flowers and fruits around us at this time

of year; and in contrast, when the leaves

start to change their colour before falling

off the trees give children a wonderful

opportunity for exploring different textures

and following the life cycle of the flowers

and plants!

Source: SensationalTutors.co.uk

Did you know?... Parenta has trained over 20,000 apprentices within the early years sector!

Our Level 3 success rate overall is almost 10% higher than the national average.

That's down to great work from you, our lovely Parenta learners!

If you have a learner with us who has recently completed their apprenticeship, please send in

a picture to hello@parenta.com to be included in the magazine.

A. Sandulescu

A. Thantrige

B. Burdett

C. Faulkner

C. Grimsey

C. Hogue

C. Gibbons

E. O'Loughlin

June's wall of fame!

E. Stewart

L. Fox

F. Fryett

H. Wilkes

C. Hollinshead

J. Chenot

K. Hilton

K. Lamb

L. Pearce

L. Alexander

L. Ellam

R. Munro

S. Devlin

H. Tum

V. Amos

18 August 2021 | parenta.com

parenta.com | August 2021 19
---
Birth to 5 Matters

-an exclusive interview with Dr Kathryn Peckham

On 31st March, the eagerly awaited Birth to 5 Matters curriculum guidance was launched.

Despite being warmly received by many across the early years sector, this is a very unusual

time for us all. As settings and practice seek to continue through these unprecedented times,

we can all use a little extra guidance. So for those of you who have yet to find this great resource

or the time to get to grips with it, please read on as I share with you some of the scope and

quality of the materials that have been produced.

You will know the tagline… "Created by

the sector, for the sector". But having been

part of the writing team producing the

Birth to Five documents, I experienced firsthand

the benefit that came from drawing

on the wealth of expertise and experience

we have in the early years. Heading up the

working group on Learning Environments,

it was my privilege to work with and

coordinate experts, academics, and

practitioners. Drawing together a collection

of materials that are both underpinned

with expertise and packed full of robust

evidence, whilst at the same time, being

exactly what practitioners in busy settings

told us they need.

While we have a statutory framework,

the guidance offered within the EYFS is

intentionally thin. A skeleton that needs

filling out and bringing alive through our

practice. We have Early Learning Goals

that the government are clear we have a

duty to "support children to work towards,"

however these are not intended to shape

the curriculum, and many practitioners are

left confused, requiring some additional

level of guidance.

Birth to 5 Matters is then a non-statutory

guide to practice, intended to offer up-todate

support that reflects recent research

and the current priorities of the industry.

Unlike the EYFS, there is no expectation for

you to follow it. Instead, as with previous

non-statutory guidance, it runs alongside

the statutory framework, familiar in layout

and focus to avoid confusion or add

additional burden.

A core part of the development of Birth

to 5 was to ask practitioners what

they would want from a new source of

guidance. And through consultations

and reviews of the early drafts, requests

and recommendations were sought and

heard. The industry wanted support with

observation, assessment and planning

that avoided the use of checklists. Help

with ongoing assessment of progress,

avoiding prescriptive age bandings

or expectations. More support and

information for SEND, EAL and recognition

of the importance of wellbeing. And

all of this can be found within the new

documents.

But this guidance was not just intended

"For the sector" – but also "By the sector",

drawing on the wealth of expertise within

the profession. Sharing in the experiences,

beliefs and training of the industry, a

central bank of CPD, rooted in the shared

values and understanding gained, has

then been created.

So with all that said – what is it, where is it and how can

you use it?

Firstly there is the 'Practice guidance' – the core document that you can download for free.

In addition to this are a wealth of materials available on the website. Presented using the

familiar layout of the EYFS, you will find guidance on the 'Principles of the EYFS', along with

additional sections offering the support and guidance practitioners told us they would

benefit from.

• Play

• Characteristics of effective learning

• Inclusive practice and equalities

• Care

• Child development

• Self-regulation

• Attachment and the role of the key

person

• Quality improvement and leadership

• The wider context – communities,

sustainability

• Technology

• Holistic development and learning

Each of these sections offers information

and materials at a series of different

levels, allowing you to access and

engage with them at the depth of detail

you need. Whether you are supporting a

new practitioner, speaking to a parent or,

developing setting-wide training.

One of the key areas requesting more

support was in understanding child

development. This is then a key section

within the materials, offering explanations,

illustrations, and practical tools. Along

with guides you can use them to support

parents or inexperienced practitioners.

Another area receiving a great deal of

debate and revisions was in the linking of

ages to observations of children and what

they can and cannot do. And what this

might be saying about progression and

development. This has been sensitively

handled within the materials, with

explanations and guidance placing the

child – not an expectation – firmly at the

core.

More support was also requested for

the 'Characteristics of effective learning'.

Highlighted using a familiar layout, you

will be able to jump right in, however,

additional layers of support are included.

And with information and guidance

included in a variety of formats, including

case studies and films, there is so much for

you to explore as a staff team.

Although the EYFS divides development

and learning into three 'Characteristics' and

seven 'Areas of Learning and Development',

it does this to clarify what is a complex

subject. This is one way of looking at things

– there are many others. If you are familiar

with my work, you will know of the 16

features of lifelong learning that I work with.

However you frame children's progress,

it is important to remember that learning

is not compartmentalised within any

child's experience of it. Within the Birth to 5

document, you will find the inter-connected

nature of development and learning

presented within a wheel, recognising

learning as a constant process. Influenced

by everything and everyone around the

child.

Building on previous guidance, observation,

assessment, and planning still resides at

the heart of early years practice. Within

Birth to 5 we expanded this to include

additional factors that must be considered

when making professional decisions, such

as interactions and wellbeing.

There is then so much to be learnt and

utilised within these free materials, so do

check out my interactive Birth to 5 course on

MyCPD where I will take you through these

documents in more detail. With activities

and materials to support your ongoing

practice and training, we will explore the

different layers of support and the many

types of resources available to you.

All of my training on MyCPD is certified

by the DfE Standards for professional

development, and comes with a certificate

for your completion. Along with the

opportunity to join a dedicated community

group, these courses are designed to be

used within your CPD and appraisal cycles,

as well as in guiding continuous reflection

and development of practice at all levels.

However you work with children during

these highly formative years, and whichever

guidance you reach for, you must be

Kathryn Peckham

As a passionate advocate for children's

access to rich and meaningful experiences

throughout their early years, Kathryn

delivers training, seminars and short

courses for local councils, private

nurseries and schools. Seeking to identify

and celebrate the impact of effective

experiences on children, as preparation

for all of life's learning, she guides

practitioners, teachers and parents in

enhancing the experiences they offer

through her consultancy, research,

writing, teaching and conferencing. A

highly acclaimed author and member

of parliamentary groups, Kathryn also

teaches a Masters at the Centre for

Research in Early Years (CREC) and is

currently gaining her PhD.

For more information and practical

guidance on developing the features of

lifelong learning, Kathryn has published

a book: "Developing School Readiness,

Creating Lifelong Learners".

Get in contact at www.kathrynpeckham.

co.uk or email info@kathrynpeckham.

co.uk.

mindful of the lasting impressions of every

experience. Along with any learning goal

or characteristic they might be gaining

from you, children are learning so much

about themselves and what it means to

be a learner during these formative years.

With a huge bearing on their progression

to school and throughout their lives. This

is a special interest of mine, and the focus

of much of my research, and I really look

forward to working with you soon.

20 August 2021 | parenta.com

parenta.com | August 2021 21
---
3

£

Paediatric First Aid Course

Parenta is always looking at new ways to support the Early Years Sector. We

are pleased to announce that we now offer Paediatric First Aid training to all

those who work in early years, in partnership with Co-operative Childcare.

The course meets the requirements of

Ofsted, under DfE's guidance (April 2017),

complying with the framework for the Early

Years Foundation Stage

The certificate is valid for 3 years from

date of issue

This course offers a blended approach

(6 hours online + 6 hours face to face

training)

It costs only £120 per learner

Nationwide training venues are

available. Alternatively, we can

deliver the training in your setting

(minimum 6 students)

PARENT PORTAL

FREE

Parent Portal is a FREE APP that works hand-in-hand with Parenta's other

software solutions. Used in conjunction with Parenta's software, it gives parents:

A newsfeed of their child's day including

photos and videos

Their account balance and invoice

breakdown

The ability to download invoice and

payment receipts

A calendar view of past, present and

future sessions booked

View and request changes for information

about their child including allergies,

illnesses and medication

+ lots more!

Support your staff by ensuring they

have the right skill sets and training

to maintain the safety of all children

within your care.

We've worked with thousands of settings, so we

know exactly what tools you need to make your

business successful. We believe delivering great

childcare means working closely alongside

parents; and with Parent Portal, they can stay

involved in their child's day.

Book your Paediatric First Aid Training today

For as little as £120 + VAT you can get the qualification you need to be Ofsted ready and

maintain the highest level of safety within your setting.

Interested? Speak to our team to find

out more on 0800 002 9242 or email

us at hello@parenta.com.

0800 002 9242 hello@parenta.com
---
Using music to develop

listening, attention and

understanding as an

Early Learning Goal

Listening is a skill that is fundamental to learning. It is

necessary to develop listening before speaking, writing,

and reading skills can be introduced, so this is especially

important in the pre-school years. The ability to listen

covers a variety of skills beyond hearing, including the

ability to pay attention and understand. These skills all

work together when taking in information in order to react

with a suitable response. Music often involves a wide variety

of listening aspects. Music from pop to classical pieces

combine different musical instruments and multiple voices

that come in at different times. Musicians must be able to

not only hear but also respond appropriately to musical cues.

The ability to follow different voices or timbres of musical

instruments helps musicians to follow printed music, and studies

have shown that musicians are often able to hold successful

conversations in the busiest, most distracting situations.

In a study published last year, Hashim et

al (2020) used the Fuzzy Delphi Technique

with experienced teachers and lecturers

to identify the most important skills

needed in order to successfully develop

listening skills in pre-schoolers. Fifteen

expert teachers were asked to assess a

number of skills involved in the delivery of

teaching listening in the early years. Using

a questionnaire and Likert scale (rating

level of agreement to statements from 1-5),

the scores given indicated the sequence of

important factors involved in listening.

The most important skill was identified

as the clarity and volume of the adult's

voice. The clearer the adult's voice, the

more effectively children were able to

engage their attention and listen to the

adult. The next was making the activities

fun and exciting. By doing this, children

were more likely to take part, take risks

and retain information more successfully.

The third element involved using actions

and expressions through body language,

as children are naturally adept at reading

body cues. Finally, the use of ageappropriate

language allowed children to

more easily understand their adult.

The following traditional children's songs

and rhymes reference listening:

A Wise Old Owl

A wise old owl sat in an oak

The more he heard the less he spoke

The less he spoke the more he heard

Why can't we all be like that bird?

This lovely rhyming poem is a traditional

children's verse with a clear message:

listening can be more useful than talking

for the sake of talking. Learning verse by

rote has benefits including remembering

story sequences using rhyme as cues,

getting to know the rhythm and pace of

different words, as well as the ebb and

flow of sentence formation.

Three Little Kittens

Three little kittens they lost their mittens,

and they began to cry,

"Oh mother dear, we sadly fear that we

have lost our mittens."

"What! Lost your mittens, you naughty

kittens!

Then you shall have no pie."

"Meeow, meeow, now you shall have no

pie."

"Meeow, meeow, now we shall have no

pie."

The three little kittens they found their

mittens, and they began to cry,

"Oh mother dear, see here, see here for

we have found our mittens."

"Put on your mittens, you silly kittens, and

you shall have some pie"

"Meeow, meeow, and you shall have

some pie."

"Meeow, meeow, now let us have some

pie."

The three little kittens put on their mittens

and soon ate up the pie,

"Oh mother dear, we greatly fear that we

have soiled our mittens."

"What! Soiled your mittens, you naughty

kittens!" then they began to cry,

"Meeow, meeow," then they began to sigh.

"Meeow, meeow," then they began to sigh.

The three little kittens they washed their

mittens and hung them out to dry,

"Oh mother dear, do you not hear that we

have washed our mittens."

"What! Washed your mittens, you are

good kittens, I smell a rat close by,"

"Meeow, meow, I smell a rat close by."

"Meeow, meow, we smell a rat close by."

This little ditty is another traditional song

with a moral, and mentions listening in the

context of the story. This could be used to

introduce listening to animal sounds, and

what animal behaviours may mean.

http://nurseryrhymesforbabies.com/thehistory-of-three-little-kittens/

Little Bo Peep

Little Bo Peep has lost her sheep

And doesn't know where to find them.

Leave them alone and they'll come home,

Bringing their tails behind them.

Little Bo Peep fell fast asleep

And dreamt she heard them bleating,

But when she awoke, she found it a joke,

For they were all still fleeting.

Then up she took her little crook

Determined for to find them.

She found them indeed, but it made her

heart bleed,

For they left their tails behind them.

It happened one day, as Bo Peep did stray

Into a meadow hard by,

There she espied their tails side by side

All hung on a tree to dry.

She heaved a sigh, and wiped her eye,

And over the hillocks went rambling,

And tried what she could,

As a shepherdess should,

To tack again each to its lambkin.

This traditional song appears to have

originated in the 18th century about a

short shepherdess who lost her sheep,

hoped they'd return, and then went to find

them. One reference to the verse links it

to wool smugglers in Chelsfield, Kent –

another to the stocks where criminals were

said to be "playing bo-peep through a

pillory". However, there are references in

Shakespeare to a 16th century children's

game called 'Bo Peep': saying "Bo" and

placing a blanket over baby's head,

and then saying "Peep" when lifting the

corner. In fact, in the northwest of England,

many parents still play "Peep-Bo", more

commonly known as peek-a-boo.

• http://www.dover-kent.com/2014-

project-b/White-Hart-Chelsfield.html

• http://nurseryrhymesforbabies.com/

history-little-bo-peep-2/

• https://interestingliterature.

com/2018/10/a-short-analysis-of-thelittle-bo-peep-nursery-rhyme-originshistory/

Listening attentively is a personal skill that,

like many others, develops best within the

home environment. Being aware of ways

that can allow us to create an appropriate

environment to encourage listening gives

adults an ongoing opportunity to allow

children to succeed.

Frances Turnbull

Musician, researcher and author,

Frances Turnbull, is a self-taught guitarist

who has played contemporary and

community music from the age of 12. She

delivers music sessions to the early years

and KS1. Trained in the music education

techniques of Kodály (specialist singing),

Dalcroze (specialist movement) and Orff

(specialist percussion instruments), she

has a Bachelor's degree in Psychology

(Open University) and a Master's degree

in Education (University of Cambridge).

She runs a local community choir, the

Bolton Warblers, and delivers the Sound

Sense initiative "A choir in every care

home" within local care and residential

homes, supporting health and wellbeing

through her community interest

company.

She has represented the early years

music community at the House of

Commons, advocating for recognition

for early years music educators, and her

table of progressive music skills for under

7s features in her curriculum books.

Frances is the author of "Learning with

Music: Games and activities for the early

years", published by Routledge, August

2017.

www.musicaliti.co.uk

24 August 2021 | parenta.com

parenta.com | August 2021 25
---
The art of mentoring in the

early years: part two

In the first part of this short series, we looked at how mentoring can help in early years settings and how

different staff members may need mentoring, be they new starters, apprentices or more established

staff taking on new roles. We also looked at the quality of the feedback that mentors give and how

that can be improved by being more targeted to the situation and more specific for the person.

Mostly, these conversations are pleasant, consisting largely of 'even better if' suggestions. However,

occasionally, you may have to have a more serious, or difficult conversation with the mentee, and

we've given you some pointers below about how to do this successfully.

3

Do they just need more practice to

master the skill?

If this is the case, then remember that

everyone is different and learns in different

ways and at different rates. Remember to

praise their effort rather than focus solely

on the outcome and tell them what they do

well first, not just that they put the nappy on

the wrong way round. Did they do a good

job of building rapport with the child first,

putting them at ease? Did they clean the

child well and follow your procedures for

nappy disposals etc? If they did, then you

can praise that, then ask them to practice

what they need to do better – perhaps on

a doll so that they feel more confident.

Each of these approaches recognises

that there is something missing from the

trainee's knowledge or skills, but all are

couched in terms that also offer a solution,

and a solution that you can work through

together. It will not feel like you are pointing

the finger of blame at them, which can

cause a lot of distrust, ill will and ultimately,

a breakdown of the relationship.

a better job and to work together to find a

solution. Even if you feel that the solution

is that the person would be better suited

to working in a different job entirely, your

approach should be that you are helping

them, in a similar way that you would help

a child to manage their poor behaviour

from a place of compassion, not revenge.

3

Take time to understand the facts in the

full situation and collect information from

colleagues if you need to.

4

Listen to all sides of the story and really

seek to understand what went wrong

without jumping to conclusions and

looking at your own actions too – were

there policies that were missed, not fit for

purpose, or was your training inadequate

in some way?

6

Depending on the situation, you may want/

need to have another neutral observer

in the room as a witness to what is said

and/or to record the details for your

records. In certain circumstances, the other

person may request or have a right to

this too, such as having a union or legal

representative with them.

7

Make sure you follow your own policies

and procedures for any disciplinary action

you need to take, which means you should

already have robust and appropriate

policies in place for dealing with staff,

complaints, or disciplinary procedures in

advance.

Hopefully, mentoring will be a positive and

productive working relationship for early

years settings that benefit everyone, and

with good training, effective mentoring,

and support, difficult situations will be rare.

What is the problem?

Inevitably, even with the best trainees,

there will come a time when you

need to address an issue, correct a

misunderstanding, or draw something to

their attention that you or they may feel is

a negative or serious issue. Safeguarding

issues cannot be left to resolve

themselves, for example, and need to be

picked up straight away and dealt with

properly. But there are many reasons why

trainees may get something wrong or

not do it exactly as you would like, and

the trick here it to try to understand the

whole situation so that you can unpick any

misconceptions and redress any lack of

knowledge before wading in with a tirade

of everything they did wrong! People don't

start apprenticeships knowing everything

you need them to know – they are on a

learning journey with you.

So, if you need to deal with a

delicate issue, consider these

questions first:

1

Was the trainee's actions/ behaviour

due to a lack of knowledge?

If you put someone in a car and tell them to

drive, but you haven't told them which is the

brake, clutch, or accelerator, you can't expect

them to stop at a red light! If this is the

case, then you can approach this from the

standpoint of "I think we may have a slight

misconception here that we need to clear

up" or "We may need to go over some of

our previous training again to make sure

that you have remembered all the relevant

things here."

2

Was the intention behind the

unwanted action a good one?

A lot of us do things from time to time

with the right intention, but the way we

go about doing them is perhaps not the

best one. If this is the case, then you can

approach the situation from the point of

view of "I can see what you were trying

to do here, and that was good, but

perhaps you might consider XYZ

instead because ..."

How to handle serious

misconduct

If there has been a serious breach and the

apprenticeship or the person's employment

is in jeopardy, then you should still use the

above criteria, but think also about the

following:

1

Do you need to include other people in the

discussion, such as a line manager, setting

owner, or Designated Safeguarding Lead?

Make sure you are prepared to answer

questions about your own role as mentor,

as well as that of your mentee.

2

Remember the reason you need to have

the conversation is to help the person do

5

Keep your composure and remain

professional, using a calm tone of voice

and choosing your words carefully. Avoid

emotive language and talk about the

behaviour rather than attacking them as

a person.

Mentoring is always about helping

someone get from where they are

currently, to where they want to be,

whether that is about their skills,

experience, or knowledge, and good

mentoring will undoubtedly play a large

part in determining the successful outcome

for the mentee.

26 August 2021 | parenta.com

parenta.com | August 2021 27
---
Meeting myelin

Did you know how much of a pivotal role myelin plays in the early years of child development?

At birth the brain

has 200 billion cells

(Neurons)

The cells communicate at

their fastest accross

different regions of the

brain during the first 2 yrs

At the age of 2 yrs, the brain

has more than 100 trillion

cell connections (synapses)

the most it will ever have

develop physical literacy. The feedback

included improved speech and language,

relationship building, knowledge and the

world around them, well-being and of

course, physical literacy. Little did I know

at the time, that I had actually developed

the sessions in a way that helped to build

myelin.

Grows 1.7 grams a day

At 2 yrs is 75% of

adult weight

At 2 yrs the structure looks

like an adult brain

0 - 1 1 - 2 2 +

The big question "What is

myelin?"

The best way to describe myelin is as

insulation (electrical tape) that tightly

wraps around and around our nerve

fibres. Each time we practise something,

it wraps the myelin, like electrical tape

to prevent any leaks, around that part of

the circuitry we used in the brain. Myelin

increases the speed and accuracy of the

signal strength in our brain i.e. the upload

and download speed of our brain.

Some people talk about 'muscle memory'

but they are actually talking about myelin.

myelin has been attributed as the key "to

talking, reading, learning skills and even

being human."

Would you have ever thought that

something that looks like a humble

sausage (I know it really has been

described like that) around our nerve

fibres is so important?

When you put it into context with early

years, you will see how important it is.

For example, we all know when a child is

engaged and focused through play on the

learning process, they develop their skills,

and the reason for this is they are building

and laying down myelin around the circuit

for that activity.

Q. Why is targeted, mistake-focused

practice so effective?

A. Because the best way to build a

good circuit is to fire it, attend to the

mistakes, then fire it again, over and

over. Struggle is not an option: it's a

biological requirement.

Coyle, D, (2009); The Talent Code, page 34

If myelin was part of our town, it would be

the tarmac on our roads and pavement

getting you from A to B. I admit, that does

seem really dull, as to be honest, have

you ever stood in awe admiring tarmac? I

know I certainly don't, but we really should

be admiring and nurturing the myelin in

our own circuitry while helping to develop

it in our little ones.

Did you know?

Myelin initially builds on the sensorimotor

white matter and the Heschl gyrus (the

structure containing the human primary

auditory cortex in the brain) and then

extends to the language-related areas.

The vital aspect of physical literacy in the

early years is that it helps with speech

and language, and this is looked at in the

'Myelination of language-related areas

in the developing brain' by J. Pujol, et al,

2006.

My personal lightbulb moment

with myelin

When I created the Littlemagictrain

sessions, I was intrigued by the feedback

from nurseries and pre-schools especially

as it had originally been created to

When I attended a teaching course in

2016, focusing on physical movement,

our reading list included Daniel Coyle's

book "The Talent Code". He describes the

importance of myelin in training athletes,

dancers and musicians and the book

concludes that it's not about practice but

"good practice".

Q. Have you ever wondered why passion

and persistence are the key ingredients

for success and talent?

A. Wrapping myelin around a big circuit

requires immense energy and time. If

you don't love it, you'll never work hard

enough to be great.

Coyle, D, (2009); The Talent Code, page 34

"Good practice" is vital in early years as

everything the children do, and learn,

is creating all those amazing neural

connections in the brain and myelin is

working overtime to wrap itself around their

nerve fibres.

When a neural pathway is made and

fully myelinated (covered in electrical tape

without any leaks), your brain doesn't

change the pathway or make amends, it

just rebuilds elsewhere. For example, if you

have made a connection going from 'A to

B' and you need to correct this mistake,

your body has to create a totally new neural

pathway and start again. Unfortunately,

this means the brain has to find a new way

of getting from 'A' to 'B' and to get there it

may have to go via 'W'. A lot of extra work

for the child and you!

This very simple graphic shows how hard

the brain is working in the early years,

growing connections and pathways and at

the same time wrapping myelin around all

those pathways.

'Meeting our hero, Mr Myelin'

Mr Myelin is in fact Professor George

Bartzokis (1956-2014), a neuroscientist

and Professor of Psychiatry. Bartzokis

originated the theory that the degeneration

of the brain's myelin contributed to many

developmental and degenerative diseases,

such as schizophrenia and Alzheimer's.

This research shows the importance of

myelin in the brain and how it ensures

everything runs smoothly.

'If you don't use it you lose it!'

This phrase says it all, as the brain will

prune away pathways that aren't used. The

brain is continually growing and pruning

neural pathways. To help children learn, we

need to ensure the correct neural pathway

is built so they don't have to relearn, rebuild

and prune. I always visualise a gardener

attacking a rose, that has grown along a

wall in the wrong direction. The gardener

must prune the poor rose which then has to

find all that energy and make the effort to

grow all over again in the right direction.

'Something to think about'

Q. "Why can't monkeys – which

have every neuron type and

neurotransmitter we have – use

language the way we do?"

A. "Because we've got 20% more myelin.

To talk like we are now, takes a lot of

information-processing speed, and

they have no broadband.

Q. "Why can horses walk immediately

on being born while humans take a

year?"

A. "A horse is born with its brain fully

myelinated, online, and ready to go.

Coyle, D, (2009); The Talent Code (p 67-

68)

How to help myelin building in

the early years

• Chunk it up (small bites)

Movement skills and vocabulary are

developed in small, bite-sized chunks.

• Model correctly

Correct modelling from the grown-ups to

help with learning.

• Slow it down

The speed of your actions/development

will depend on your little one's needs.

• Repeat it

Engage them to allow for repetition with

the fun of 'what next?'

Click here to get a FREE

'Picnic on the moon' session

pack with the code: LMTFREE

Gina Bale

Gina's background was originally

ballet, but she has spent the last 27

years teaching movement and dance

in mainstream, early years and SEND

settings as well as dance schools.

Whilst teaching, Gina found the time to

create the 'Hi-5' dance programme to

run alongside the Australian Children's

TV series and the Angelina Ballerina

Dance Academy for Hit Entertainment.

Her proudest achievement to date is her

baby Littlemagictrain. She created this

specifically to help children learn through

make-believe, music and movement.

One of the highlights has been seeing

Littlemagictrain delivered by Butlin's

famous Redcoats with the gorgeous

'Bonnie Bear' on the Skyline stage.

Gina has qualifications of teaching

movement and dance from the Royal

Ballet School, Trinity College and Royal

Academy of Dance.

Use the code 'PARENTA' for a 20%

discount on Littlemagictrain downloads

from 'Special Editions', 'Speech and

Language Activities', 'Games' and

'Certificates'.

References:

• Coyle, D., 2010. The Talent Code. Crawley:

Arrow Books (ISBN 9780099519850)

• Pujol. J, Sorian-Mas. C, Ortiz. H,

Sebastian Galles. N, Losilla. J.M. &

Deus.J., 2006. Myelination of languagerelated

areas in the developing brain'.

March 2006. Neurology 66 (3): 339-43;

PubMed.

28 August 2021 | parenta.com

parenta.com | August 2021 29
---
The importance of

sensory bags

A sensory bag is really an umbrella term that means a collection of items that children can either

use to stimulate their senses, isolate them or soothe children in distress, and within this article, we

have used the term 'bag' to encompass other objects such as jars, bins, or even whole rooms. You

could use a cardboard/plastic box that is full of items that children can touch or play with; it could

be things that make different noises at different levels, or it could be ways that children can learn

how to manage their balance and motor skills such as objects to climb or crawl under.

All children need sensory input to develop

fully, but for some, these objects can be a

lifeline.

In recent years, you may have noticed a

burgeoning of information about sensory

play, sensory issues, and the importance

of meeting the challenges of children who

have sensory needs. There is no doubt

that there is more awareness of the issues

such as sensory processing disorder,

which according to The Sensory Processing

Disorder Foundation, affects at least 1 in

20 children's daily lives in the US 1 . There

is little incidence data and research in the

UK but another population-based study 2

suggests that 1 in 6 children experiences

sensory challenges sufficient to disrupt

their academic, social, and/or emotional

development.

The concept of Sensory Processing

Disorder (SPD) has been talked about in

clinical circles since it was first described

in the 1960s by occupational therapist, A.

Jean Ayres, PhD, although it took until the

late 1990s and the publication of Carol

Stock Kranowitz's "The Out-of-Sync Child"

before clinicians really started to diagnose

the condition.

What is sensory processing?

Sensory processing is how we all make

sense of the world – our senses take in

information from the world around us and

our brains then translate the data allowing

us to respond and react accordingly. It is a

"subconscious and automatic neurological

process that occurs in every person at all

stages of life". If you touch something hot

for example, your sense of touch will relay

this, along with a pain signal to your brain,

which will then respond telling you to pull

your hand away quickly. It usually happens

in milliseconds and for most people,

this process works well, keeping them

protected and feeding them the information

they need to move on and process other

more intellectual or conceptual ideas.

Our eight senses are:

• Visual (sight)

• Auditory (sound)

• Taste (gustatory)

• Smell (olfactory)

• Touch (somatosensory)

• Proprioception (muscle and joint

movement)

• Vestibular (balance and head

movement)

• Interoception (our sense of basic

primary functions like needing the toilet

or feeling hungry

People with sensory processing

impairment/disorder, may have difficulty

with one or more of these, and their

sensory processing may not develop as

efficiently as it should. The child can then

develop behavioural and social difficulties

that can affect many daily activities such as

getting dressed or walking down a street,

which can then affect their experiences

at nursery, school, and their academic

achievement.

For sensory modulation disorders, children

struggle to tolerate the level of sensory

input that others do, so they may be

oversensitive to some things, or actively

seek out other sensory feelings to fulfil a

sensory need. Many people who have

normal sensory processing often find it

hard to understand or empathise with

people who have disorders, dismissing

their distress as them being 'fussy' or

unreasonable. However, most of us can

understand the distress of hearing nails

scraping down a blackboard, or having an

itch that we just can't scratch. Everything

else seems to take second place, and if

we wanted to focus on other things (like

learning or schoolwork), we would have to

either stop the input (i.e. the nails on the

blackboard), or be soothed and satisfied

(like the itch). Now imagine your world

was full of things you either couldn't stand

or couldn't be satiated by, and you will go

some way to understanding the problems

that children with sensory disorders face

every day.

This is where sensory bags, bottles, jars,

and bins can help as they can provide

stimulation or be soothing to the child.

The important thing to remember here

is that the individual needs of the child

should always be taken into account

and practitioners must have a good

understanding of each child's particular

needs in order to meet them. That said,

children with sensory needs may not

have all received a full diagnosis or have

a sensory activity profile/plan in nursery,

so there is something to be said for

experimenting and seeing what works best

with each child.

Remember that sensory stimulation is not

just for the children with sensory disorders

too. All children need sensory inputs from

a variety of different items and they will

need you, the practitioner, to help them

understand them.

Benefits of sensory bags

Using sensory items, children can:

• Build neural connections within the

brain

• Develop fine motor skills handling and

manipulating objects

• Learn social skills by sharing or playing

• Be calmed and soothed

• Fulfil sensory needs

• Maintain their focus and attention

• Practise skills (mark-making e.g. in

sand, paint)

• Develop language skills and

vocabulary – especially if they receive

input from early years practitioners

who can label objects, adjectives and

feelings

• Develop maths/science skills by

manipulating objects, measuring or

counting for example

Sensory play

Sensory play is any activity that also

stimulates a child's senses, and can help

them find their own sensory regulation

levels but it doesn't need to be limited to

items you can put in bag. Playing music

counts too, as would messy play or playing

in the sandpit, and an all-time favourite of

jumping in muddy puddles also engages

many senses.

Make your own sensory bags

We have run different articles over the

years that give you advice on how to make

sensory bags, bottles, pathways and even

sensory corners, rooms, and outdoor areas,

some of which are relatively expensive

and some of which are very cheap or can

be made from recycled materials. They

can be anything that is filled with items

that stimulate any of the 8 senses. What's

important is that the children in your care

have access to a range of sensory things

to ensure that they develop their senses

well or have therapies and interventions

that can address any needs that they have,

and remember, it is often the practitioners

interacting with the child that brings the

most benefit.

More information:

• https://www.spdfoundation.net/index.

html

• https://www.nhslanarkshire.scot.nhs.

uk/services/occupational-therapy/

learning-disability/sensory-processingand-learning-disabilities/

• https://otsimo.com/en/sensoryprocessing-disorder-definition-types/

• https://www.thechaosandtheclutter.

com/product/sensory-bins

• https://parenting.firstcry.com/articles/

sensory-bags-for-children-importanceand-easy-diy-crafts/#What_Are_

Sensory_Bags

References

1. Ahn, Miller, Milberger, McIntosh, 2004

2. Ben-Sasson, Carter, Briggs-Gowen,

2009

30 August 2021 | parenta.com

parenta.com | August 2021 31
---
Celebrating difference and

neurodivergence: part 5

Different brains mean different skills

This article is the fifth article in a series of six from Sensory Engagement and Inclusion Specialist,

Joanna Grace. The activities described in each article build up to form a toolkit for celebrating

difference and neurodivergence within your setting in a way that will benefit both the children and

the adults. Joanna runs online training courses focused on strategies for supporting differently-abled

children and promoting inclusive practice. Click here for more information.

Through these articles, we have been

approaching conversations about

differences in our physical appearance

and differences in the way we think and

feel in a non-judgemental way. I know

it's been a challenge but you've been

doing well! At first, the small adjustments

in language can seem pretty pointless,

but once you start and realise the power

of it you find yourself combing through

the minutia of your daily exchanges to

find what else you could tweak. You are

creating a culture that understands and

accepts difference and that is empowering

to the children and the adults….but…

But I expect there is one difference that

is still taboo in your setting. Even with all

the activities, we have explored, and how

open and non-judgemental we have

been. I bet there is still one difference you

avoid mentioning! And there is a reason

for this too. But it is important we talk

about it. So, what is it?

The difference I am thinking of is that

of perceived educational failure. So

whilst we are very likely to publicly

praise a child who achieves in

an educational landscape we

are very unlikely to speak

about the child who fails

to achieve. "Look Sia has written all her

numbers to 10, well done Sia!" Meanwhile

Jake hasn't managed to write any of his

numbers.

Of course, I am not suggesting we hold

up failure in the same way as we hold

up success "Sia has written her numbers,

Jake hasn't!" No that would cause harm.

But actually, the harm is still there as we

speak about Sia and do not mention Jake.

It is implied. It is felt.

We used to shame children who failed

academically. Children were once sat in

corners of classrooms and made to wear a

dunce hat. The idea being that the shame

of failure would drive them to succeed next

time. The idea didn't work, and thankfully

we have moved on. But we have not

moved on as far as we might think.

We have moved from shame to taboo.

We do not shame them for failing, but we

also do not mention it. And we do mention

the success, so if you are not being

mentioned, if you are not a part of the

conversation, you are very likely to feel left

out, rejected, to feel you have failed.

The narratives around educational success

and failure are usually about concentration

and effort. Sia was able to write all her

numbers because she concentrated and

tried. Jake was not because he didn't

concentrate, he didn't try hard enough.

What about if we considered a different

starting point to our narratives? What if we

said all children try equally hard.

All children want to succeed as much as one

another. If we start from this presumption of

equality what do we say next?

"Sia has written all her numbers, you're

brain must be so good at numbers Sia, well

done"

"Jake you haven't written all your numbers,

your brain must find numbers tricky, I can

help you."

Now Jake is a part of the conversation too.

And actually, it's not just Jake this benefits,

it's Sia too, because it is unlikely that she is

good at everything, so the patterns we are

establishing through using language like

this will inform her too. When tomorrow she

tries to skip with her friends but her feet get

tangled in the ropes perhaps she will think

"My friends are good at skipping but my

body finds it hard maybe someone can help

me." You can see the power in these stories

we create!

In articles two and three we made

reveal pictures to give children a handson

experience of hidden difference. In

conjunction with this article you can make

brain boxes,(page 34) not only are these

great for fine motor development they are

once again the opportunity to have a

hands-on experience that relates to

something abstract we are talking about.

Each child's brain box will look the same

from the outside, but when explored they

will respond in different ways. What we

can do is determined by the brain we

have. How much we achieve is in part

determined by the brain we have and in

part determined by how we use it. If we can

understand our differences then we can

each play to our own unique strengths.

Joanna provides in-person and online

training to settings looking to enhance their

inclusive practice for more information visit

www.TheSensoryProjects.co.uk where you

can also find resources to help you include

children of all abilities. Jo is active on social

media and welcomes connection requests

from people curious about inclusive

practice.

Joanna Grace

Joanna Grace is an international

Sensory Engagement and Inclusion

Specialist, trainer, author, TEDx speaker

and founder of The Sensory Projects.

Consistently rated as "outstanding" by

Ofsted, Joanna has taught in

mainstream and special school settings,

connecting with pupils of all ages and

abilities. To inform her work, Joanna

draws on her own experience from her

private and professional life as well as

taking in all the information she can

from the research archives. Joanna's

private life includes family members

with disabilities and neurodiverse

conditions and time spent as a

registered foster carer for children with

profound disabilities.

Joanna has published four practitioner

books: "Multiple Multisensory Rooms:

Myth Busting the Magic", "Sensory

Stories for Children and Teens",

"Sensory-Being for Sensory Beings"

and "Sharing Sensory Stories and

Conversations with People with

Dementia". and two inclusive sensory

story children's books: "Voyage to

Arghan" and "Ernest and I". There is

new book coming out soon called '"The

Subtle Spectrum" and her son has

recently become the UK's youngest

published author with his book, "My

Mummy is Autistic".

Joanna is a big fan of social media and

is always happy to connect with people

via Facebook, Twitter and LinkedIn.

Website:

thesensoryprojects.co.uk

32 August 2021 | parenta.com

parenta.com | August 2021 33
---
BRAIN Box

Pineapple fried rice

This activity is great for developing fine motor skills as well as for providing the hands-on

experience that links to the topic of discussing hidden differences.

You will need

A box with a closure

mechanism (that isn't

immediately obvious to the

children) or a plastic tub with

a lid that you can screw on.

Rope, cord, ribbon, wool. A

selection of different small

items to stimulate the child's

curiosity.

This recipe has been

kindly supplied by

Katherine Houghton, from

her wonderful cookbook

"Early Years Recipes for

Children", available to

purchase here.

What do you need?

• Pineapple

• 3 eggs

• 1/2 bowl of frozen peas

• 1/2 bowl of cooked rice

• Garlic

• Soy sauce

• Chinese 5 spice powder

1. Make holes in the side of

the box, thread the ribbon,

cord, rope or wool through

the holes, and knot together

on the inside. I tied all of

mine onto a curtain ring

to make it easier for me.

On the outside of the box

fasten a different curiosity

inducing object on the end

of each thread.

2. Prepare several boxes and

vary the lengths of the

different threads, so that,

for example, if on one box

Instructions:

the large button is on a

long thread, on another

box the large button is on a

short thread.

3. Before sharing the activity,

open the box and pull all

the threads from the inside

so that all of the curiosity

objects are pressed against

the outside walls of the box.

4. To share the activity:

Simply offer the boxes

for exploration. Allow the

children to discover for

themselves that the boxes,

although appearing similar,

have different properties

inside which means

that they get a different

experience on the outside.

5. Decorate the lids of the

boxes with pictures of

brains. Talk about how all of

our brains work differently

on the inside, meaning that

some of us are good at

some activities and others

of us are good at other

activities.

Instructions

1. Heat some oil, crack 3

eggs and add into a wok

2. Mix the eggs, then leave

to cool until it forms an

omelette

3. Remove onto a board and

chop the omelette into

small pieces. Leave this to

one side for now

4. Ask an adult if they can

prepare the pineapple

ready for you to chop

5. Chop the pineapple

fingers into pieces. Then

leave the pineapple to the

side

6. Cut the ends off the garlic

and crush the segments

into a garlic crusher

7. Put the garlic into the wok

and fry on a medium heat

8. Add one teaspoon of

Chinese 5 spice powder

9. Pour in a tablespoon of

soy sauce and add to

cooked rice

10. Add the frozen peas then

mix

11. The rice should be a lovely

brown colour. Mix and put

on the hob on a high heat

and keep stirring

12. Add the chopped

pineapple and the

chopped omelette

13. Mix it all together and

cook on a high heat for

around 5 minutes

14. Serve this into a bowl

34 August 2021 | parenta.com parenta.com | August 2021 35
---
Making their mark!

Thinking about mark-making in relation to school readiness

Being school-ready is about being ready to learn, even during a pandemic. For me, the practical

application of the term 'school readiness' is summarised within the characteristics of effective

learning. Children who are interested, excited and motivated to learn will be more ready for school

because we know that children's future success in school and beyond is directly linked to their

learning to be a learner.

Interestingly, I don't like the phrase school

readiness! You may think it strange that

someone who has written a book called

"School Readiness and the Characteristics

of Effective Learning" would write this but

it is the emotional response people have

when they hear the phrase that spurred

me on to choose this title. Although using

the contested phrase might have put many

people off reading the book, I wanted

to spark a debate and claim the phrase

'school readiness' in an appropriate way

for young children and defining it within

the context of them being ready to learn.

There is no nationally recognised definition

of school readiness in England, yet school

readiness regularly hits the headlines

and is stated as one of the purposes of

the EYFS. It also means different things

to different people. If you are a reception

class teacher the most important skills and

abilities that you want children to have on

entering school may be very different from

others. For example, a child who can take

themselves to the toilet independently is

worth their weight in gold in those first few

weeks of term and may be the difference

between cleaning up a puddle on the floor

36 August 2021 | parenta.com

or not! For a parent, a child who is school

ready might be a child who can separate

from them for the whole day, whereas

policy makers might consider a child to be

school ready if they can write their own

name or count reliably to 10. A childminder

or early years practitioner might consider

a child to be school ready if they are able

to be independent in their learning or

perhaps have good social skills.

You may have come across this analogy

before – we're all in the same storm

but not all in the same boat - and this

is particularly true when thinking about

mark-making. All our children are from

different backgrounds and cultures and

will have had very different experiences

over the past eighteen months. If we think

about their writing experiences, some may

not have seen adults writing, whilst others

may have. Not everyone will have had the

opportunity to mark-make and we may

find this to be a particular issue for boys.

Girls still outperform boys in all areas of

learning and development in the EYFS

Profile, which is the assessment at the end

of the reception year in England, writing

being the largest gap, although the gap is

closing slightly. We know that boys are not

any less clever than girls at this age, it's

just that girls are better suited to the ways

that schools teach and assess children

and may enjoy sitting and mark-making

more than boys. In addition, boys' spoken

language and fine motor control develops

slightly later than girls and they tend to be

more active and find sitting still harder. Of

course, I am generalising here, but this

makes a huge difference to their ability to

sit still and concentrate, a skill which, sadly,

many schools require young children

to master! With this in mind, schools

need to be ready for children and think

about making their expectations more

developmentally appropriate.

So in order to create a more even playing

field for our children, and in particular our

boys, we need to focus on developing

an environment that is so engaging and

inspiring, we can't stop our children from

mark-making and writing! We need to

offer them writing materials and access

to different media that will start the ball

rolling in relation to mark-making. Put

simply, they need to want to write!

Here are some ideas of

how we can encourage

mark-making and

writing in our settings:

• Create a language-rich environment

and support speaking and listening

• Provide lots of opportunities for fine

motor skill development, for example,

using tools, locks and keys, tweezers

• Role model being a writer and explain

why we write on a daily basis

• Offer opportunities for mark-making in

every area of our continuous provision

• Think about how children can

mark-make with media other than

pencils and pens, for example,

charcoal, sticks in mud, cars in gloop,

paintbrushes on walls, chalk on

tarmac…

• Ensure that our role-play area always

has a writing element within it

• Offer plenty of mark-making

opportunities outside

• Create a writing or graphics area

which includes interesting resources

and media, for example, cards,

notelets, exciting pens, and shaped

paper

• Demonstrate that we value children's

mark-making by displaying it in our

setting

• Provide opportunities for large scale

mark-making projects inside and

outside

• Consider offering opportunities for

children to mark-make on different

surfaces; wood, stone, paper, card,

brick, mud

• Offer messy mark-making

opportunities - the messier the better

as this is often very attractive to our

children

• Think about opportunities to write

whilst lying down, standing up, under

tables, or on the move

• Create 'writing on the move'

resources, for example, clipboard/

pens, backpacks, toolkits, lunchboxes

(Cigman, 2014)

• Provide examples of writing for

exciting purposes, for example, secret

messages, invisible writing, codes to

crack, maps, stories, and books that

link with children's interests

So let's encourage our children to markmake

in whatever format they can

throughout the day and, as children

leave our settings and move onto school,

encourage our children to really make their

mark!

Tamsin Grimmer

Tamsin Grimmer is an experienced early

years consultant, author and parent who

is passionate about young children's

learning and development. She believes

that all children deserve practitioners

who are inspiring, dynamic, reflective

and loving. Tamsin particularly enjoys

planning and delivering training and

supporting early years practitioners and

teachers to improve outcomes for young

children.

Tamsin has written four books –

"Observing and Developing Schematic

Behaviour in Young Children", "School

Readiness and the Characteristics

of Effective Learning", "Calling All

Superheroes: Supporting and Developing

Superhero Play in the Early Years"

and "Developing a Loving Pedagogy

in the Early Years: How Love Fits with

Professional Practice". She is currently

working on her next two, "Supporting

Behaviour and Emotions" and "Self-

Regulation in Early Childhood".

You can connect to Tamsin via Twitter

@tamsingrimmer, her Facebook

page, earlyyearsconsultancy, website

www.tamsingrimmer.com or email

tamsingrimmer@hotmail.co.uk.

parenta.com | August 2021 37
---
Cycle To Work Day

Summer's here and it's time to 'get on your bike' – literally. Yes, Thursday 5th August is Cycle

To Work Day where everyone is encouraged to cycle to work… or round the park, or in their back

garden! It doesn't matter where you are, how old you are or if you are a complete beginner, a

'cycling-rememberer', or Tour de France veteran, this day is for you. It's about getting in the

saddle, keeping yourself fit, helping the environment and having some fun!

Cycle To Work Day is officially promoted

at cycletoworkday.org where you can

find lots of useful information and advice.

There are posters to download to help

advertise the day to your staff and parents

as well as advice and information on

how the Government's cycle-to-workscheme

works which allows employees

to get a discount on cycling equipment

through their workplace. You can also find

a handbook for employers here which

explains the benefits, eligibility, equipment

and how it works. Employers can set up

their own scheme or work with a thirdparty

to administer the scheme.

What are the benefits of

cycling?

The Government recommends that cycling

and walking should be the natural choices

for shorter journeys, or as part of a longer

journey by 2040. The "Cycling and Walking

Investment Strategy", published in 2017,

sets out the Governments goals, and the

strategies and finance needed to achieve

them. The benefits include:

• Better health

• Reduced air pollution

• Cheaper travel

• Increased productivity for businesses

• Increased footfall near shops

• Vibrant and attractive environments

designed for healthy living

The health benefits of cycling for

individuals are well understood as it can

increase fitness, improve mental health

and help people maintain a healthy

weight. Physical inactivity is estimated

to cost the NHS up to £1 billion per year,

with further indirect costs calculated at

£8.2 billion 1 – a substantial amount of

the NHS budget, yet many of us remain

largely inactive but could easily increase

our activity by cycling or walking to work/

school.

According to government research 2 :

• Two out of three personal trips are

less than five miles

• Over 90% of school children live within

15 minutes of a primary school on

foot or by public transport

• Three-quarters of children live within

15 minutes cycle of a secondary

school

If we want to improve our health, our

lifestyles and look after the planet, then

cycling (and walking) more is one way that

we can all help.

Top tips for Cycle To Work Day

1. Be prepared and check your bike for

safety following the ABCD code:

A. Air

B. Brakes

C. Chain

D. Direction

2. Wear the right protective clothing

including a well-fitting helmet

3. Plan your route – choose a quieter

route if you are less confident

4. Carry some snacks, bicycle repair kit

and change of clothes if necessary

5. Wear supportive and sturdy shoes

6. Give yourself plenty of time

7. Follow all road safety rules

8. Stay safe – if you are not confident or

sure at junctions, get off your bike and

walk it across or round the junction

Encouraging young children to

cycle

According to a YouGov poll by Cycling UK,

82% of parents have taught their children

to ride a bike, and 70% said they believed

it to be a "vital life skill", but the number of

journeys made by bike remains very low

at only 2%. Encouraging young children

to cycle and learn to ride a bike is one

thing that early years settings can do to

encourage more cycling.

Bikeability is another Department for

Transport scheme that teaches cycling skills

and cycling safety to millions of children

each year. Bikeability has 3 levels which are

suitable for children who can already ride

independently without stablilisers, and a

lot of primary schools run Bikeability Level 1

and Level 2 courses for their students. But

did you know that they also run sessions

for children aged 4 – 7 years as part of the

Bikeability Plus programme that includes a

Balance course and a Learn to Ride course?

The Balance course encourages children

to balance on a bike before worrying

about pedalling and higher skills.

It can be done on a balance bike,

or just by removing the pedals

and stabilisers from a normal

bike. This is a great way to help toddlers

become more confident on two wheels,

and you could also include scooters too as

many younger children begin on these first.

Ensure that children are wearing protective

clothing and a well-fitting helmet at all

times when either scooting or cycling.

There are also more resources aimed at

early years settings on the Bikeability site

which you can access here. These include

lesson plans and information on the

following topics:

• Picture This! An Understanding the

World activity about cycling

• On our Bicycles – a PSHE & Physical

development activity about Bikeability

Balance

• "Red, Amber, Green – Roundabout!" A

fun activity to do in PE teaching pupils

about traffic lights, roundabouts and

road safety

• Let's All Cycle collage – using art and

design skills

• A 'Magic Bicycle-Pencil' Adventure

which encourages the development of

fine motor skills and covers a variety of

EYFS areas

Involve parents

You could also run a parental advice and

information session and incorporate some of

the advice from the Bikeability information for

families. One of the main areas of concern

they are trying to address is to get parents

to cycle behind, rather than in front of their

children, saying:

"You often see families cycling with the

parent in front and the kids dangling

behind; what we're actually trying to do

with Bikeability Family is reverse that. When

children lead and cycle in front of the adult,

the parent can always see the situation and,

as a result, parents feel much more in control

and much more confident as well."

The idea behind Cycle to Work Day is to

encourage people to cycle more consistently,

not just on one day, so why not make it a

week- or even a month-long activity? You

could even create a fund-raising opportunity

and organise some sponsorship for your

setting or other charity too. Whatever you

decide, we'd love to hear what you've been

up to, so please send us your pictures and

stories to hello@parenta.com.

References

1. NICE report (2013)

2. DfT (2015) Investing in Cycling and

Walking: The economic case for action;

National Travel Survey 2014; Living

Streets (2013) The Pedestrian Pound

38 August 2021 | parenta.com

parenta.com | August 2021 39
---
CPD courses….

Whether you're a manager looking to support your staff by enhancing

their knowledge, or looking at developing your own career, when you

study one of Parenta's online CPD courses, you study in your own time

and at your own pace – all from the comfort of your own home!

Improve staff morale

and motivation

Maximise individual

potential and promote

development

Allows you and your

team to gain brand new

qualifications in many

different policies,

procedures and

practices

Enables you to keep

abreast of industry

changes by constantly

updating skill sets

By ensuring your team undergoes relevant, regular refresher training, they'll always be up-todate

with the latest policies, procedures and practices – and it doesn't need to be expensive!

With CPD courses from Parenta costing as little as £7,

what are you waiting for?

Log on and learn today!

0800 002 9242 hello@parenta.com