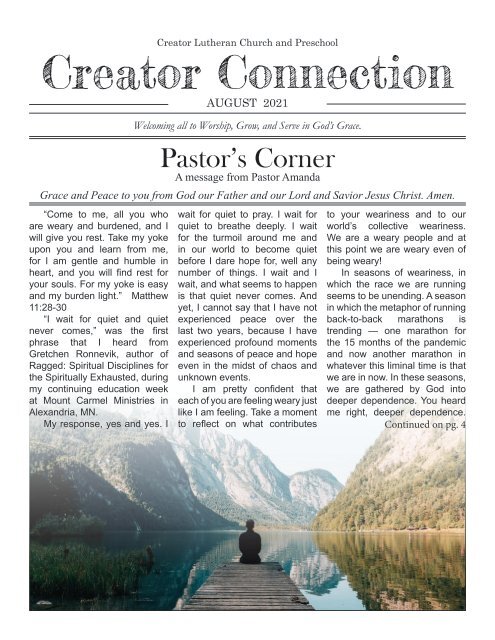 Creator Connection August 2021
The official newsletter of Creator Lutheran Church & Preschool.
The official newsletter of Creator Lutheran Church & Preschool.
SHOW MORE
SHOW LESS
Create successful ePaper yourself
Turn your PDF publications into a flip-book with our unique Google optimized e-Paper software.
Creator Lutheran Church and Preschool

Creator Connection

AUGUST 2021

Welcoming all to Worship, Grow, and Serve in God's Grace.

Pastor's Corner

A message from Pastor Amanda

Grace and Peace to you from God our Father and our Lord and Savior Jesus Christ. Amen.

"Come to me, all you who

are weary and burdened, and I

will give you rest. Take my yoke

upon you and learn from me,

for I am gentle and humble in

heart, and you will find rest for

your souls. For my yoke is easy

and my burden light." Matthew

11:28-30

"I wait for quiet and quiet

never comes," was the first

phrase that I heard from

Gretchen Ronnevik, author of

Ragged: Spiritual Disciplines for

the Spiritually Exhausted, during

my continuing education week

at Mount Carmel Ministries in

Alexandria, MN.

My response, yes and yes. I

wait for quiet to pray. I wait for

quiet to breathe deeply. I wait

for the turmoil around me and

in our world to become quiet

before I dare hope for, well any

number of things. I wait and I

wait, and what seems to happen

is that quiet never comes. And

yet, I cannot say that I have not

experienced peace over the

last two years, because I have

experienced profound moments

and seasons of peace and hope

even in the midst of chaos and

unknown events.

I am pretty confident that

each of you are feeling weary just

like I am feeling. Take a moment

to reflect on what contributes

to your weariness and to our

world's collective weariness.

We are a weary people and at

this point we are weary even of

being weary!

In seasons of weariness, in

which the race we are running

seems to be unending. A season

in which the metaphor of running

back-to-back marathons is

trending — one marathon for

the 15 months of the pandemic

and now another marathon in

whatever this liminal time is that

we are in now. In these seasons,

we are gathered by God into

deeper dependence. You heard

me right, deeper dependence.

Continued on pg. 4
---
Table of Contents

Ministry

Pastor's Corner...............................................

Terri's Two Cents...........................................

Pastor's Corner cont., Creator Covid Update

........................................................................

Fellowship

Church in Society..........................................

Church Council Highlights...........................

Hope After the Storm Events........................

Children, Youth, and Family

One on One...................................................

Confirmation, Children's Book of

the Month, Prayer Chain...............................

1

3

4

5

6

7

8

9

Staff

Pastor:

Amanda Olson de Castillo

pastoramanda@creatorlutheran.net

Children, Youth,

& Family Director: Terri Heckroth

creatorterri@comcast.net

Office Ministry: Donna Reynolds

office@creatorlutheran.net

Communications Coordinator:

Marion Gil

communications@creatorlutheran.

net

Bookkeeper: Marcie Reid

creatorbooks@creatorlutheran.net

Custodian: Leslie Noborikawa

Nursery Attendants: Debbie

Eikland and Cynthia Lowe

Preschool News........................................... 10

News and Education..............................

Birthdays and Reminders.......................

11-13

Calendar............................................................ 15

14

Sunday School Coordinator:

Terri Heckroth

creatorterri@comcast.net

Preschool Director:

Andrea DeDominces

Preschool Teachers:

Andrea DeDominces, Ragan Allen

& Cheri Farrer

Baptism Coordinator:

Briana Halaas

Funeral Coordinator:

Janee Theleman

2

Ministry teams and program leaders, please think ahead about what is coming up and

submit information, pictures or stories of impact to office@creatorlutheran.net by the 20th

of each month. Our Office Ministry Coordinator, will collect, format, and get the newsletter

out to the congregation by the first of each month. If you have any further questions,

please feel free to call the office (253) 862-7700.
---
Terri's Two Cents

I have recently acquired

several new house plants.

Like many others, I took on

this new hobby during the

pandemic to keep me busy.

I love all my new plants and

spend time every day caring

for them.

I read ample literature

about indoor plants and how

to best nurture them. After

testing the soil, I give them

water and fertilizer. Some

plants need more light, so I put

them in southern facing winder

sills. For the plants that need

less light, I find a good corner

to display them so that I can

see them and appreciate their

beauty. I shopped around

to find the best plant food to

give them and wait until my

new phone app tells me to

feed them. I even check each

plant's progress on a daily

basis to make sure my plants

are healthy and thriving in

their environment.

As hard as I try to protect

my plants, some bad things

have happened to them. Fungi

gnats have invaded most of

my beautiful plants. I read

that the irritating bugs do not

hurt the plants (or humans),

but I wanted to rid my home

of these infuriating pests.

After some intense research,

I attempted to exterminate

the bugs by placing a thin

layer of aquarium rocks on

the soil of each pot. That only

caused severe stress on my

plants. So, I quickly removed

the rocks and added a "safe"

pesticide. More stress. My

plants were wilting and turning

brown. I finally repotted the

plants that were in danger

and revived them. Then, the

extreme heat caused more

stress, browning, and wilting.

But I continued to care for

each plant.

As I desperately try to

keep my plants healthy, I think

about God's love and care for

me. It gives me hope when I

compare God to a gardener,

loving and caring for me

(and you too). God loves us

and wants us to be healthy

Photo credits: thesill.com

and happy. Occasionally,

bad things happen to us—

that's life. We may not get

infested with bugs, but other

traumatic things happen to

us sometimes. God gives us

what we need and replants us

when things get too bad. God

takes us from our stressful

lives and transplants us into

God's loving embrace where

we will be revived and take

root. With God's love and

strength, we, again, thrive.

I am not the gardener that

God is, so please pray for my

plants.

You, LORD, are my

shepherd. I will never be in

need. You let me rest in fields

of green grass. You lead

me to streams of peaceful

water, and you refresh my life.

– Psalm 23: 1-3

3
---
Ministry

Continued from pg. 1

The goal of faith, church and

life is not to reach a point, the

end of the race if you will, and

realize you no longer need God.

It may be your goal, but it is not

God's goal and more importantly

it is not possible. We need

God. We will always need God.

Growing in our understanding of

our dependence upon God is a

growing and deepening of faith.

God is not afraid of our

weaknesses. God is not afraid of

our needs. God is not afraid of

our weariness.

Instead, God comes into

these and all moments of our lives

and gives us rest. How does God

give us rest? God gives us rest

in God's word, in the community

of saints, in the forgiveness of

our sins and burdens. I invite you

to reflect on that as well. How

has God brought you hope and

peace in the midst of weariness?

In what way does Creator, your

church home, provide that place

and community of rest and

wholeness?

"Therefore, since we are

surrounded by such a great

cloud of witnesses, let us throw

off everything that hinders and

the sin that so easily entangles.

And let us run with perseverance

the race marked out for us, fixing

our eyes on Jesus, the pioneer

and perfecto of faith." Hebrews

12:1-2

Peace be in your hearts and

minds,

Pastor Amanda

"Come to me,

all you who

are weary and

burdened, and I

will give you rest.

Take my yoke

upon you and

learn from me,

for I am gentle

and humble in

heart, and you

will find rest for

your souls. For my

yoke is easy and

my burden light."

Matthew 11:28-30

Creator Covid Protocol Update

As Washington and the Department of Health has moved into a Washington Ready COVID response,

Creator will be easing some of our COVID-19 protocols.

As of August 1st, there will be no registration for worship or temperature checks upon arrival. We

will shift to a mask as you are comfortable policy. We will keep seating in sections with 6ft of distance in

order to offer options for congregants to maintain distance if desired; you may sit with people from other

households if mutually agreed upon. We will begin communing at two stations by the altar. The pre-filled

communion cups will be available for those who wish to remain in your seats for communion distribution.

Food and beverages will not be served at large gatherings. Worship will continue to be available livestreamed

via Zoom and Facebook Live and posted after worship on YouTube. As always, if you are

experiencing any symptoms of illness, or have been in contact with someone who is experiencing

symptoms, please stay home. Symptoms might be:

• Fever or chills

• Cough

• Shortness of breath, difficulty breathing

• Fatigue

• Muscle or body aches

• Headache

• New loss of taste or smell

• Sore throat

• Congestion or runny nose

• Nausea or diarrhea

Our Creator COVID team and Council will be connecting to review guidelines and protocols and will

provide an update to the congregation as changes occur. Thank you for your understanding and care

for one another.

4
---
Fellowship

food items for this event.

• Food bins have been delivered to

Creator in support of Bonney Lake Food

Bank. The food items needed are as follows:

granola bars, macaroni and cheese cups,

and full-size personal hygiene items like

toothpaste, shampoo, body wash and diapers,

etc. The bins will be in the Narthex from July

19 to August 22.

• On July 10 we had a "Hope after the

Storm" event to beautify the flower beds

around the library and Administration Bldg. at

PLU. We made a lot of progress in cleaning

up/weeding, which was followed by a pizza

lunch at Farrelli's.

Church

In Society

As many of you may know, Church in

Society and the Missional Church Team have

merged. We welcome anyone who would

like to join our group to help people in our

community.

We did not have a formal meeting in July

but have spent time planning what our focus

will be in the coming months in giving and

service to our community.

There are several events that are

already underway:

• New Hope luncheon is scheduled for

August 6th. Please sign up if you can provide

Here are some items we will be

discussing in our August meeting:

• Assess New Hope and see other ways

we can help. For example, they now have

mobile units that stop at various churches

with food, laundry services and showers.

• White River Family Support. We will

be looking into purchasing Target gift cards

for back-to-school supplies, etc.

• Living Stones Prison Ministry. Living

Stones is a "congregation of incarcerated

men dedicated to bettering each other and

the world through the work of the Spirit

gathering with volunteers and visitors." We

will be researching ways in which we can give

support.

• Auburn Pregnancy Aid – they have a

need for car seats. We will discuss how we

can help.

• Summer/Bonney Lake Food Banks

and backpack programs

Thanks to our congregation for Sunday

offerings that enable us to help our community

in these ways.

In His Name,

Church in Society Team

5
---
Fellowship

Church Council Highlights

Following are highlights from our Council meeting held on Tuesday July 20, 2021. These are

not the official meeting minutes, but a brief summary to aid communication. Approved minutes

will be posted on the bulletin board across from the office.

Council Reports:

From Treasurer

General Fund Balance

• Total cash from Balance

sheet. Line 1000

.........................$ 168,104.71

• Less Balance Sheet Total

Designated Funds. Line

3010....................$61,182.55

• General Fund Balance

.........................$ 106,922.16

Profit and Loss Details

• Total Contributions / Giving

............................$27,313.46

• Total Expenses....$29,549.19

• Net income...........$-2,235.73

Giving

• Local benevolence 6%

.............................$ 1,638.81

• Synod benevolence 4%

.............................$ 1,092.54

• Total Benevolence 10%

.............................$ 2,731.35

Council Reports:

Personnel Committee

Is actively interviewing for our new church music

coordinator. We are encouraged with this round of interviews

and hope to have some good news in the near future.

Finance Committee

Deon Knickerbocker reported in as our new treasurer.

Our income is still trailing our expenses, which appears to

be a trend. We are looking at ways to keep the congregation

informed of our financial status on a more frequent basis.

Pastors Report

Pastor Amanda is excited to move to re-establishing

in person Communion for those who are comfortable in

the coming weeks. We will still have distance communion

available for those of us comfortable doing it that way.

We have had three baptisms in the last month and one

more coming soon. We have also celebrated the lives of two

people with funeral services.

Covid-19 Committee

We had made a decision to mask as comfortable,

however, that was before the new CDC guidelines. There

may be changes to that decision.

6
---
Fellowship

Hope After

the Storm

Events

Creator Lutheran is

looking to bring members

back together in person this

summer with small group

gatherings.

If you can host a small

group gathering in your

backyard, lead a group for

a walk, or anything similar,

please contact the office

and let us know.

There is hope after the

storm church family, in

God's grace.

SUNDAY PICNIC AT THE KIRNS'

SUNDAY, AUGUST 8TH, 12:30 PM - 3:00 PM

The Kirn family has invited us to join them at their home in Lake Tapps for a summer picnic!

Everyone can bring their own picnic food, favorite chair, and swimsuits. Beverages will be

provided, and there will be kayaking and water toys available along with yard games. If it is cloudy

and cool, we will have a bonfire going.

All ages are welcome but we only have room for 30 people, so please register for the event! You

can register by clicking here or by copy and pasting the following URL: https://www.signupgenius.

com/go/20F044FA8AC2EA5F85-sunday

MANDALA ROCK PAINTING

SATURDAY, AUGUST 14TH, 1:00 PM - 3:00 PM

Sandra Mead is hosting a Hope After the Storm Mandala Rock Painting event here on Creator's

own lawn! Join us and paint together as a church family, learn some tips and let those creative

instincts flow.

Paint and rocks will be provided, but you are always welcome to bring your own. Make sure to

bring something to sit on, a lawn chair is good but a lawn blanket is even better.

7
---
Children, Youth, and Family

One on One

AUGUST 2021

A monthly interview with one of

our church members to help get

to know each other

Name: Sandra Mead

Profession: Environmental

Laboratory and Handmade

Jewelry Business

What are your hobbies? Crafting of all kinds,

landscaping, gardening, hiking, biking, reading,

and home improvement projects.

Where have you lived? I grew up in Michigan,

moved to Eastern Washington for graduate

school, then lived north of Seattle (Lynnwood/

Everett area) until moving to Lake Tapps in late

2019.

What is your favorite food? Papa Johns Pizza

:)

Who is one person who has influenced your

life decisions? My husband Mat because

we've been together for 19 years and have built

our lives together from the start of adulthood.

What three things do you value the most?

My family, quiet time alone, and time exploring

nature.

8

What do you like most about Creator? The

genuine and charming atmosphere, welcoming

to young families, inclusion of children in worship

and education, active events, and positive

biblical messages for spiritual growth.

Where do you see God in your life? I've

always felt God's presence the most when I'm

facing big decisions in my life, whether during a

physical home relocation or job change. I have

been thankful God has always given me clarity

in times of uncertainty and has been patient as I

tried following His guidance.

What is the biggest challenge you face?

In short: trying to "do it all." Working at home,

raising three young children, and trying to keep

up with normal life demands. It's a balancing act!

How do you relax/recharge? In solitude alone

with some good books or out hiking and biking

as a family. Both bring me peace.

Who is your favorite super hero?

Aqua Man! he is the Superman for underwater!
---
Children, Youth, and Family

Confirmation Program

Returning this Fall

All students entering 6th-8th

grade (or higher if you have never

been confirmed) are invited to

join Creator's AMAZINGLY FUN

Confirmation program this fall.

We plan to meet with students

in person to learn and grow in

faith and to build relationships

by playing fun games, serving

together, and going on exciting

retreats! If you know of anyone

interesting in joining this funloving

group, please contact Terri

Heckroth this summer.

Children's Book of the Month!

Cheri Farrer, one of the

Pre School teachers

at Creator loves the

book, Ricky, the Rock

That Couldn't Roll by

Mr. Jay (Author), Erin

Wozniak (Illustrator).

"This is a hilarious

story of friendship and

overcoming challenges."

Our Confirmation and High School Students are constantly

praying! If you have a specific prayer you would like to include in

out prayer chain, please email Terri Heckroth creatorterri@comcast.

net. We will attach it to the growing paper prayer chain hanging in

the sanctuary.

9
---
Preschool

Preschool News

AUGUST 2021

ARE YOU READY?? WE'RE ALMOST THERE!!

Summer is almost over and the staff of Creator Preschool is enthusiastically preparing for our 2021-

2022 school year. Please mark these special dates on your calendar. The parent meeting is optional for

returning families. If you choose not to attend, we will give your Creator Preschool Handbook and class

information to you at Open House. If you have any questions or concerns, please don't hesitate to ask.

We are looking forward to a wonderful school year! If you have any questions or concerns, please don't

hesitate to ask. - Andrea DeDominces, Director, Creator Preschool (markandrea222@gmail.com)

IMPORTANT DATES!!!

Parent/Guardian Meeting

Wednesday, September 8th 10:00 am – 11:00 am

OR

7:00 pm – 8:00 pm

All questions will be addressed, as well as an informational booklet given. PLEASE,

NO CHILDREN

Parent/Guardian and Child Drop–In Open House

Thursday, September 9th 9:00 am – 10:00 am Tues/Thurs class

10:30 am – 11:30 am Tues/Wed/Thurs class

Friday, September 10th 9:00 am – 10:00 am Wed/Fri class

10:30 am -11:30 am Mon/Fri class

The Drop-In Open House is a time to become comfortable with the teachers, classes,

classroom and new

friends without the worry of separation. Parents, please plan to stay with your child.

Stop by any time during your child's 1 hour time period.

First Day of School

September 13th Mon/Fri class 12:30 pm – 3:00 pm

September 14th Tues/Thurs class 9:00 am – 11:30 am

Tues/Wed/Thurs class 12:30 pm – 3:00pm

September 15th Wed/Fri class 9:00 am – 11:30 am

10
---
Women's Summer

Fellowship Book Club

We're going to getting back together in person

again!! Over the summer we'll take a pause from

our Zoom fellowship meetings on the 1st and 3rd

Mondays and we'll move back to getting together

for a book study.

We will meet just once a month and discuss the

book that is selected for that gathering. A Zoom

option will be scheduled for those who prefer to

meet that way. Links out closer to the date. We

will meet on Mondays, 6:00pm - 6:30pm will be

time for food and fellowship, then 6:30pm - 8:00pm

we will begin book discussion and prayer request.

Please bring only individually portioned food to

avoid using serving utensils. Hopefully we can

be outside and distanced. While inside we'll wear

masks and distance ourselves when eating. Below

you can find the schedule for our meetings as well

as the book we will be discussing.

For addresses and directions to each home,

or if you have any questions or concerns, please

contact Janice Pendergast at 253-202-4460 or

janicepend@yahoo.com.

News and Education

Upcoming Meetings

Monday August 16th: Book- Dear Church a Love

letter from a black preacher.... by Lenny Duncan

6:00pm – 8:00pm at Tammy and Jochen Funk's

Cell: 253-468-1472

Adult Education

I Love to Tell the Story

Pastor Amanda will be posting a

short video each week diving into

the Bible Narrative and specific

readings for the upcoming Sunday.

The videos will be posted on

Facebook, YouTube and linked

to our website. If you have any

questions or comments about the

bible study please send them to

pastoramanda@creatorlutheran.

net.

11
---
News and Education

Allowing for the national

holiday, the next meeting

of the Creator Men's Club

will be Monday, August 2

Tim's Chicken and Burger

Restaurant, 114 Washington

Ave. S.( Across from the

Downtown Park), Orting, 6

p.m. In addition to the meal

and fellowship, the group

will discuss work projects at

the church campus and in the

community. Besides current

members, the meeting is open

to new members.

12

• Monday, August 2

Tim's Chicken and

Burger Restaurant,

114 Washington Ave.

S.( Across from the

Downtown Park),

Orting, 6 p.m.

• Monday, September

13- Jochen Funk Host,

16816 43rd St. Ct. E.,

Bonney Lake, (2 blocks

east of Creator), 6 p.m.

New Hope Resource Center Meal

THANK YOU to everyone who donated food for New Hope

Resource Center in July. Our next lunch will be August 6th.

Creator will provide cooked lasagna, rolls, fruit cups and cookies.

All food should be dropped off at the church no later than Friday

morning at 10:00 AM (everything except hot dishes can be left

at church on Thursday during office hours). Lasagna should be

cooked and delivered to the church on Friday Morning by 10:00

AM and everything will be transported to New Hope. Volunteers at

New Hope will serve the meal. Please sign up below. You will get

a reminder email.

Volunteer sign up link: https://www.signupgenius.com/

go/20f044fa8ac2ea5f85-newhope

**** On the sign-up sheet click the "sign up button" next to what

you want to bring, then go to the very bottom of the page and click

"Submit and Sign up" and there you will enter your information.
---
News and Education

Creator Sunday

School Is Back!

Family Sunday School returns with

A Rally Day celebration!

Sunday, September 12 at 10:30am

Thursday

Morning

Bible Study

The Thursday Bible Study has

completed the book of Exodus

and is taking the months off

until September. Please stay

tuned as to the start date and

new study material. Have a

joyous, safe summer.

Join Zoom Meeting

https://us02web.zoom.us/j/9668

069876?pwd=MlAvSUcxeFpUa

nlFdWJKekNHemZvUT09

Meeting ID: 966 806 9876

Passcode: 1DMKSi

One tap mobile

+Dial by your location

+1 253 215 8782 US (Tacoma)

Meeting ID: 966 6 9876

Passcode: 419391

Men's

Fellowship

During "All things Covid"

the Wednesday night

Men's group has been

using Zoom. The meetings

start at 7:00 PM and get

over by 9:00PM. If you

are interested in joining

the meeting please contact

Scott Perkins with your

email address and he will

send you a link for Zoom.

Scott.perkins@hotmail.

com or 253-230-3416

Everyone is welcome! We will have

games for the kids, individually

wrapped snacks, and time to

reconnect.

Prayer Walk at Creator

You are invited to come to Creator

throughout the month of August for a

prayer walk. There will be a map with

a suggested path by the front doors for

you to meander and pray at several

stations throughout our gardens.

13
---
Birthdays and Reminders

Remote Worship

Worship will continue to be live-streamed on Facebook Live and

Zoom. To join via Zoom, follow the link below:

https://us02web.zoom.us/j/89375602512?pwd=M3hPK0pIMGIz

Z2M0eEhmTitoM3NQdz09

Meeting ID: 893 7560 2512 Password: 435230

One tap mobile:

+ 12532158782,,89375602512#,,,,0#,,435230# US (Tacoma)

Call in option: Zoom offers the option to call in to listen to the

service. Call into worship while it is open - usually a minimum of

five minutes before 9:30am until 11:00am - +1 253 215 8782 and

enter the meeting number: 89375602512 when prompted. You

will be able to hear the worship service.

Pastoral Emergency Fund

Creator has a fund available to be used at the discretion of Pastor

Amanda to support congregation members and the community

as needed. If you or a member another member of the Creator

Community has a particular financial need at this time, please

reach out to Pastor Amanda for support. We are here for one

another at this time. This fund is also open for additional

donations from the congregation.

Recycle Your

Ink Cartridges

Don't throw away those printer cartridges or used cell phones.

The Youth will recycle them for you. It's good for the

environment and the youth program receives a small concession.

Just deposit old cartridges in the drawer in the narthex.

Are You Looking for a Little Serenity?

I now have four special places for those who need a quiet time apart.

Come and experience water, trees, roses and the mountain as you sit

and pray. There is a guided meditation for each serenity station if you

wish. Or, just come and "Be still and know that God is God." Please

call in advance and we will plan around the weather. Elaine Swigart

253-431-1086.

14

August

Birthdays

02 - Jeff Lovin

04 - Frankie Hruza

04 - Marcie Reid

05 - Erik Jacobsen

06 - Kenn Green

06 - Mitchell

Morrow

07 - Teri Hayford

08 - Van

Shackelford

09 - Olivia Hurley

11 - Andrea

DeDominces

12 - Dale Olson

12 - John Pollastro

12 - Blair Russell

13 - Joaquin Olson

De Castillo

14 - Dean Ramberg

15 - Amanda Olson

De Castillo

15 - Stephanie

Parton

15 - Judi Richardson

16 - Don Hayford

16 - Susan

Thompson

17 - Shawn Reid

18 - Tammy Cooley

22 - Abigail Olson

De Castillo

22 - Mountfort

Euston

22 - Aaron

Kronlund

23 - Margaret Hall

25 - Brandon Hall

27 - Samuel

Bruckbauer

27 - Connie Sanford

29 - Charles

Brossow

29 - Adalyn

Fitzgerald

29 - Sandra Mead

29 - Nikole Spenny

30 - Beth Budinich

31 - Anastasia Davis

July Membership Updates:

Baptisms:

• Ian Celedon Sandoval, Zoe Gabrielle

Sandoval and Lucas Jeffrey Clingan

(July 3)

• Sofia Claire Cornejo (July 25)

Funerals:

• Jesse Lawrence Beringer (July 2)

• Elinor Maria Pedersen Valenta (July

15)

Deaths:

• Nancy Thorpe died on July 10.
---
AUGUST

Sunday Monday Tuesday Wednesday Thursday Friday Saturday

1 9:30am Sunday Worship Online

and In person w/

2

Communion

6pm Creator

Men's Club

Meeting

7pm Men's

Fellowship

3 4 5 6 New Hope Lunch 7

9am Morning

Devotions

10am Thursday

Morning Bible Study

8

9:30am Sunday

Worship Online

and In person w/

Communion

12:30pm Hope After

the Storm: Sunday

Picnic at the Kirns'

9

7pm Adult Bible

Study

10

6pm Finance

Team Meeting

11

7pm Men's

Fellowship

12 9am Morning

Devotions

10am Thursday

Morning Bible Study

13

14 1pm Hope

After the Storm:

Mandala Rock

Painting

15 9:30am Worship

Online and In

person w/Communion

16

Club

6pm Women's

Summer

Fellowship Book

17

6pm Church

Council Meeting

18

7pm Men's

Fellowship

19

7pm CYF Ministry

Meeting via Zoom

20

21

22

9:30am Worship

Online and In

person w/Communion

23

24

6pm Church

Council Meeting

25

7pm Men's

Fellowship

26

27

28

29 Palm Sunday

9:30am Worship

Online and In person

w/Communion

30

31

15
---
Creator Lutheran

Church and Preschool

Welcoming All to Worship, Grow, and Serve in God's Grace

creatorlutheran.net (253) 862-7700 office@creatorlutheran.net

Office Hours: Mon-Fri 9:00AM - 3:30PM

16702 South Tapps Drive East, Bonney Lake, WA 98391