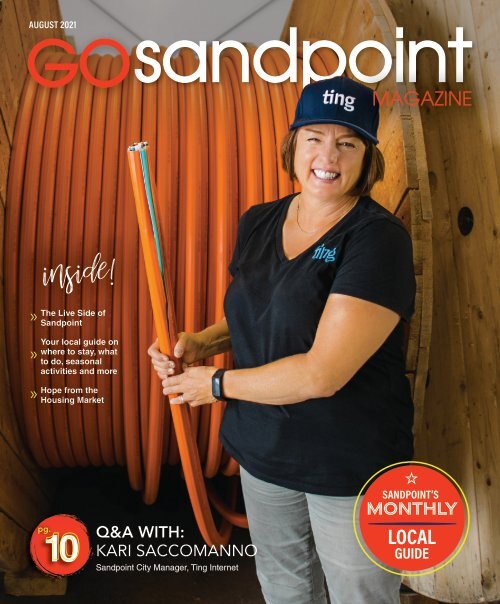 August 2021 GO Sandpoint Magazine
August 2021 GO Sandpoint Magazine
August 2021 GO Sandpoint Magazine
SHOW MORE
SHOW LESS
You also want an ePaper? Increase the reach of your titles
YUMPU automatically turns print PDFs into web optimized ePapers that Google loves.
AUGUST 2021

MAGAZINE

inside!

The Live Side of

»

Sandpoint

Your local guide on

where to stay, what

»

to do, seasonal

activities and more

Hope from the

»

Housing Market

pg.

10

Q&A WITH:

KARI SACCOMANNO

Sandpoint City Manager, Ting Internet

SANDPOINT'S

MONTHLY

LOCAL

GUIDE

1 Go Sandpoint Magazine
---
SANDPOINT'S HOME

LOAN EXPERT

LEE HARDIN

VP of Mortgage Lending

+ I have lived in North Idaho since 2007.

+ I have been doing mortgages for 20 years,

and I still love it!

+ My family means the world to me, and I am

fortunate enough to provide for them while

helping other families with one of the

biggest purchases of their lives.

+ My strength is developing long-term

relationships with my clients and with agents,

and those relationships are the cornerstone

of my business.

100%

Customer

Satisfaction Rate

"Top service from start to finish, Lee Hardin,

Robyn and the whole team were responsive to

messages, kept us in the loop the whole time and

were very professional and friendly throughout."

–Danielle B. 2020

113 Cedar St., Sandpoint, ID 83864

O: 208.714.0958 | C: 208.946.0850

Rate.com/LeeHardin | Lee.Hardin@rate.com

Guaranteed Rate cannot guarantee that an applicant will be approved or that a closing can occur within a specific time frame. All dates are estimates and will vary based on all involved parties level of participation at any stage of the loan process. Contact Guaranteed Rate for more information.

NMLS ID: 707780, LO#: AZ - 1000900, HI - HI-707780, ID - MLO-21376, IL - 031.0048735, OR - Licensed, WA - MLO-707780, WI – 707780 | Guaranteed Rate Inc.; NMLS #2611; For licensing information visit nmlsconsumeraccess.org. Equal Housing Lender. Conditions may apply AZ -

14811 N. Kierland Blvd., Ste. 100, Scottsdale, AZ, 85254, Mortgage Banker License #090707 HI - Lic#HI-2611 ID - Guaranteed Rate, Inc. Lic #MBL-5827 IL - Residential Mortgage Licensee - IDFPR, 122 South Michigan Avenue, Suite 1900, Chicago, Illinois, 60603, 312-793-3000, 3940 N. Ravenswood Ave.,

Chicago, IL 60613 #MB.0005932 #ML-3836 - 3940 N. Ravenswood Ave., Chicago, IL 60613 , Licensed under the Oregon Consumer Finance Act WA - Lic #CL-2611

2 Go Sandpoint Magazine
---
Going above & beyond

is our standard.

JEREMY DUNN

208.610.5501

MARK JENSEN

307.760.8863

KILEY FOURNIER

208.290.0200

TOBY ATENCIO

316.305.5599

TODD BRADSHAW

208.304.1000

NEDRA KANAVEL

208.610.4624

JON NASS

208.920.0998

JAN DYER

209.988.9075

JOHN ERICKSON

208.597.5367

CYNDI NOE

208.920.3145

STEVE HOLLY

208.610.7037

MCCALL MILLER

208.946.7750

ELIZABETH STRUBE

208.512.5357

KEN GEDDE

208.721.0730

208.265.7362 | 113 N. First Ave., Sandpoint, ID | www.SandpointIdahoRealEstate.com

Go Sandpoint Magazine 3
---
MARKETING

MARKETING & SALES EXECUTIVE

Denise Ripatti | 208.620.5455

denise@like-media.com

MARKETING & SALES EXECUTIVE

Alyssa Koberstien | 208.620.5456

alyssa@like-media.com

EDITORIAL

EDITOR IN CHIEF

Jillian Chandler | jillian@like-media.com

STAFF WRITERS

Colin Anderson | Taylor Shillam

DESIGN

CREATIVE DIRECTOR | Maddie Horton

LEAD GRAPHIC DESIGNER | Darbey Russo

GRAPHIC DESIGNER | Kennedy Pew

GRAPHIC DESIGNER | Marisa Inahara

DIGITAL CREATIVE DIRECTOR | Whitney Lebsock

ACCOUNTING/ OPERATIONS

DIRECTOR OF OPERATIONS | Rachel Figgins

EXECUTIVE DIRECTOR | Steve Russo

MANAGING PARTNER | Kim Russo

DIRECTOR OF MARKETING | Allyia Briggs

HARDWARE

FOR ANY PROJECT

Sandpoint Super Drug includes an ACE Hardware

outlet with a huge selection of stock on hand. Our

products and expertise will make whatever you're

working on a breeze!

CONTRIBUTORS

Abigail Thorpe

PHOTOGRAPHY

Rachel Adair pg. 10, Schweitzer pg. 18, Diane Fetzner pg. 36,

219 Lounge pg. 16, Matchwood Brewing Company pg. 17,

Pend d'Oreille Winery pg. 17

Advertising Agency

sandpoint

Living Local

gigharbor

Living Local

coeurd'alene

Living Local

bonnersferry

Living Local

Voted Best Hardware Store!

604 N. 5th Ave., Sandpoint, ID • 208.263.1408

SandpointSuperDrug.com

Go Sandpoint Magazine is published monthly and

distributed freely throughout North Idaho. Opinions

expressed in articles or advertisements do not necessarily

reflect the opinions of the publisher. Go Sandpoint

Magazine is not responsible for omissions or information

that has been misrepresented to the magazine. Go

Sandpoint Magazine is produced and published by Like

Media, and no part of this publication may be reproduced

or transmitted without the permission of the publisher.

4 Go Sandpoint Magazine
---
September 16-18, 2021

Join us for this unique event, hosted by Sandpoint's own hit

songwriters Thom Shepherd and Coley McCabe, featuring

nationally recognized hit songwriters performing their

original music, as well as songwriters and artists from the

Inland Northwest.

Celebrating the songs and the stories behind them!

Thom Shepherd - "Redneck Yacht Club" • "Riding with Private Malone"

Coley McCabe - "Lucky 4 U (Tonight I'm Just Me)"

Steve Azar - "I Don't Have To Be Me Til Monday" • "Waiting on Joe"

Leslie Satcher - "Troubadour" • "When God Fearing Women Get the Blues"

Jim Collins - "Big Green Tractor" • "Are You Gonna Kiss Me or Not" • "The Good Stuff"

...and many many more!

Tickets on sale now

www.SandpointSongFest.com

Go Sandpoint Magazine 5
---
08

10

08 FINANCIAL FOCUS

How does Social Security fit into retirement?

10 Q&A: KARI SACCOMANNO

Taking care of customers and the community

14 THE LIVE SIDE OF SANDPOINT

Concerts, tasting nights and more

18 SANDPOINT REAL ESTATE

20-22 Hope from the Housing Market

24 Market Report

26 Sandpoint Real Estate Trends

34 CALENDAR OF EVENTS

Calendar of great local events, arts

and entertainment

36 FUN FACT

Sandpoint's Own Lady Liberty

14

18

38 LOCAL GUIDE

38 Places to Stay

38 Real Estate

40 Venues

40 Health & Beauty

40 Services

42 Things To Do

42 Top 10 Things To Do

44 Local Eats

46 CITY MAP

Get to know the places within

Sandpoint's city limits

47 LAKE PEND OREILLE MAP

Explore all of the awesome places along

the shores of Lake Pend Oreille

AUGUST 2021

MAGAZINE

34

36

»

»

»

inside!

The Live Side of

Sandpoint

Your local guide on

where to stay, what

to do, seasonal

activities and more

Hope from the

Housing Market

10

pg.

1 Go Sandpoint Magazine

Q&A WITH:

KARI SACCOMANNO

Sandpoint City Manager, Ting Internet

SANDPOINT'S

MONTHLY

LOCAL

GUIDE

6 Go Sandpoint Magazine

38

44

ABOUT THE COVER

Ting Internet has been changing the way Sandpoint

has been doing business, with its fast fiber internet

for both residents and businesses alike. This month,

Go Sandpoint Magazine had the opportunity to

meet with Kari Saccomanno, Ting's Sandpoint city

manager, to discuss its impact in the community

and how Ting provides much more to the local

community, in addition to its internet services. Read

more in this month's Q&A on page 10.

Cover photo by Rachel Adair.
---
an m3 companies

masterplanned community

Camp Bay

Private Docks for Primary & Secondary Waterfront Lots

4.38

Acres

4.61

Acres

Closed

4.76

Acres

4.68

Acres

10.93

Acres

2.49

Acres

Pending

Pending

2.79

Acres

2.38

Acres

1.62

Acres

2.18

Acres

1.97

Acres

2.91

Acres

2.26

3.70 Acres 2.53

Acres Acres

3.20

Acres

3.42

Acres

Closed

57.44

Acres

Closed

4.58

Acres

Closed

Closed

4.05

Acres

3.09

Acres

228' WF

225' WF

189' WF

265' WF

250' WF

275' WF

345' WF

10.65

Acres

Pending

4.17

Acres

Camp Bay

on Lake Pend Oreille

Primary and Secondary waterfront lots with lake access and stunning

views of the Cabinet Mountain Range and Lake Pend Oreille. Paved

Roads, High Speed Internet, Community Trails and Lake Access.

Community waterfront lot with recreation center, repits and

community beach.

Waterfront Lots with private boat slips

Community docks with boat slips for each secondary lot

Community Beach (472 feet of community waterfront)

Community Boat Launch

Community Pavilion with bathrooms, fire pits, event lawn

Eric Skinner, Associate Broker

Century 21 RiverStone

(208) 290-6314

Common Area Family Tree House (Ask for Details)

Lots from 1.7 to 60 acres - low density

Gated Entry

Rec Center

Eric.Skinner@Sandpoint.com

Brent Stevens, REALTOR®

Century 21 RiverStone

(208) 290-0502

BStevens@Sandpoint.com

Lake Access

Go Sandpoint Magazine 7
---
F I N A N C

I A L F O C U S

and

tment.

How Does Social Security Fit Into Retirement?

Why? Because we're built for

This article was written by Edward Jones for use by your local Edward Jones

Financial Advisor Caleb Bowman

So what's important t

Here's something to think about: You could Another key consideration is spousal benefits. If

spend two, or even three, decades in your own full retirement benefit is less than 50

retirement. To meet your income needs percent of your spouse's full retirement benefit,

for all those years, you'll generally need a sizable you would generally be eligible to claim spousal

amount of retirement assets. How will Social benefits, provided you're at least 62 and your

Security fit into the picture?

spouse has filed for Social Security benefits.

as been committed to providing

alized service to individual

For most people, Social Security won't be enough to

cover the cost of living in retirement. Nonetheless,

Social Security benefits are still valuable, so you'll

want to do whatever you can to maximize them.

Your first move is to determine when you should

start taking Social Security. You can begin

collecting benefits when you reach 62—but should

you? If you were to turn 62 this year, your payments

would only be about 71 percent of what you'd get

if you waited until your full retirement age, which

is 66 years and 10 months. ("Full retirement age"

varies, depending on when you were born, but for

most people today, it will be between 66 and 67.)

Every month you wait between now and your full

retirement age, your benefits will increase. If you

still want to delay taking benefits beyond your full

retirement age, your payments will increase by 8

retirement age, your benefit will be reduced by $1

and face-to-face meetings

for each $2 you earn above a certain amount, which,

in 2021, is $18,960. During the year you reach full

retirement age, your benefit will be reduced by $1

for each $3 you earn above a set amount ($50,520

nt Philosophy

in 2021). But once you hit the month at which you

focuses on quality investments

attain full retirement age, and from that point on,

To percent each year, until you're 70, when they "max you can keep all of your benefits, no matter how

of

learn

responding

about the different

clients. Visit jdpower.com/awards.

out." Regardless of when you file, you'll also receive much you earn (although your benefits could still

options for your retirement

an annual cost-of-living adjustment.

be taxed).

Make your

Member SIPC

financial

future a

Make priority. your

financial

Ken Wood

Financial Advisor

.

477100 Highway 95 Suite B

future Ponderay, ID 83852 a

208-255-2613 Caleb L Bowman

priority.

www.edwardjones.com Financial Advisor

b L Bowman

cial Advisor

accounts, call my office today.

d to your individual edwardjones.com

needs

ine Street

point, ID

4

255-7405

e B

MKT-11677-A-AD-JDP

Contact me at 208-255-7405 to ge

Ken Wood

Financial Advisor

.

477100 Highway 95 Suite B

Ponderay, ID 83852

208-255-2613

www.edwardjones.com

Member SIPC

So, when should you start claiming your benefits?

There's no one "right" answer for everyone. If you

turn 62 and you need the money, your choice

might be made for you. But if you have sufficient

income from other sources, you're in good health

and you have longevity in your family, or you're

still working, it might be worthwhile to wait until

your full retirement age, or perhaps even longer, to

start collecting.

Survivor benefits are another important

consideration. When you pass away, your spouse

would be able to receive up to 100 percent of

your benefit or his/her own retirement benefit,

whichever is higher. Thus, delaying Social Security

could not only increase your own benefit, but also

the benefit for your surviving spouse.

Edward Jones - It's Time for Investing to F

An additional issue to think about, when planning

for how Social Security fits into your retirement,

is your earned income. If you're younger than full

You're Retired.

Your Study Money based Isn't. on responses from more than 4,629 investors who primarily inv

the 18 firms included in the study. The majority of the study was fielded in D

Your experiences may vary. Rating may not be indicative of future performa

be representative of any one client's experience because it reflects an avera

303 Pine Street, Sandpoint, ID

208-255-7405

Caleb L Bowman

Financial Advisor

303 Pine Street

Sandpoint, ID 83864

208-255-7405

One final point to keep in mind: The more you

accumulate in your other retirement accounts,

such as your IRA and 401(k) or similar employersponsored

plan, the more flexibility you'll have

in managing your Social Security benefits. So,

throughout your working years, try to contribute

as much as you can afford to these plans.

edwardjo

Member SIP

8 Go Sandpoint Magazine
---
THE BEST QUALITY PRODUCTS

SHOP OUR EXTENSIVE ORGANIC SECTION

Purcell Mountain Farm is family operated and located on one of

the high benches above the Kootenai River Valley at the foothills

of the Purcell Mountain Range.

We are working together with several farms to give you a greater

variety of products you may not find in your local store. Please

check out our Online Farm Store for great quality products.

208.267.0627 | PurcellMountainFarms.com

info@purcellmountainfarms.com

Go Sandpoint Magazine 9
---
Q&A WITH

KARI SACCOMANNO

SANDPOINT CITY MANAGER, TING INTERNET

TAKING CARE OF CUSTOMERS AND THE COMMUNITY

BY ABIGAIL THORPE

10 Go Sandpoint Magazine
---
Kaniksu

Kaniksu

Health

Health

Services

Services is

is

now

now

In In 2002, 2002, a a dream was was born from the idea that every person in in North

Idaho, regardless of of their circumstances, should have access to to quality

&& affordable healthcare. That same mission still drives us today.

Imagine, integrated healthcare that treats people, not symptoms.

That's whole health.

Now, imaging that same integrated care through all phases of of life.

That's whole health, for your whole life.

That's Kaniksu Community Health.

Why Why the the new new name? Because community is at the center of of everything we we do. do.

Your Your wellbeing wellbeing starts starts with with you, you, but when it comes to to maintaining or or improving improving

your

your

health,

health,

start

start

with

with

us,

us,

your

your

partner

partner

in

in healthcare.

healthcare.

www.kchnorthidaho.org

www.kchnorthidaho.org

kaniksucommunityhealth

kaniksucommunityhealth

Sandpoint's Neighborhood Mexican Restaurant!

Margarita Monday - All Day | Taco Tuesday - All Day

Our deck is open for the summer!

Call in your to-go order! 208.263.2995 | f | 314 N. Second Ave. Sandpoint, ID

Go Sandpoint Magazine 11

Go Sandpoint Magazine 11
---
"Our Ting team is all about our

community and customers. We

want and do provide a quality

product and service, but the

importance we place on people

makes us unique. We are happy

to help out however we can,

wherever we can."

12 Go Sandpoint Magazine
---
In 2015, Ting Internet (a division of

Tucows) "lit up" its first customer in

Charlottesville, Virginia, launching

a mission to bring fast internet and

great customer service to others across the

country in efforts to correct the challenges

of an outdated internet industry. Today,

Ting operates in more than a dozen towns,

bringing best-in-class, fast fiber internet

to both residents and businesses—one of

those towns being Sandpoint.

Kari Saccomanno saw an ad for the Ting

Sandpoint city manager on Facebook,

thought "What the heck," and applied. As

she found out more about Ting's vision and

values, and the importance of community

to the company, she fell more in love with

the position.

Today, Ting helps our community not only

by providing reliable, fast, free and open

internet, but by giving back through time,

donations and incredible customer service.

Q. How has Sandpoint been instrumental in

Ting's growth, and what makes this area such a

special place to live and work?

A. Ting decided to build in the Sandpoint area

because of its lack of reliable, fast internet (and the

fantastic pie from The Pie Hut didn't hurt either).

Internet isn't a luxury anymore; it is a necessity for

everyday life, and not all internet is equal. We knew

that we had a service that could benefit the residents

and businesses in our community.

Sandpoint has been an instrumental region in

Ting's portfolio since 2018. Since first launching

in Sandpoint, we have expanded our services to

Dover, Ponderay and soon Kootenai, thanks to the

incredible support from our community. Today we

have a full roster of local employees who help with

marketing, fiber installation and customer support.

We are also active members within the community,

supporting dozens of local nonprofits, events and

business organizations.

We love the Sandpoint region and are so proud to

call it home—both for our business and for our

team.

Q. How is Ting actively involved in giving back

to the community?

A. In our three years of being in Sandpoint, our

team has supported hundreds of local events

and organizations, charities and fundraisers.

We are always looking for ways to give back

to the community, whether that's installing

free Wi-Fi hotspots; sponsoring special events

like Kinderhaven's Festival of Trees; sitting on

local councils or boards like Bonner General

Health Advisory Board and Ponderay Rotary; or

volunteering locally, like we've done as a team with

the Bonner Community Food Bank.

Our Ting team is all about our community and

customers. We want and do provide a quality

product and service, but the importance we place

on people makes us unique. We are happy to help

out however we can, wherever we can.

Q. How is community central to the work and

mission of Ting?

A. We believe so strongly in the benefits of reliable

internet access. Fiber internet benefits all of our

local shared services, including schools, hospitals, the

local economy and overall quality of life. Notably, fiber

internet: retains and attracts new businesses; stimulates

economic development and growth; and helps reduce

costs and increases access to, and quality, of education,

public safety, health care, transportation, energy and

government services.

With everything Ting does, we have the community

in mind, whether that involves better internet, better

customer service, or being a better community member.

Q. What does Ting hope to accomplish in the future?

A. We want to continue to offer a world-class internet

product and spectacular customer service everywhere

we go while also being a positive contributor to

society. Locally, we're busy preparing to light up Dover,

Kootenai and Ponder Point—a big undertaking for a

short amount of construction time due to the weather

and seasons.

Q. What basic tenets or values is the company

founded on, and how is this reflected in the work you

do here is Sandpoint?

A. The basic values of Ting—and why I love being

a part of Ting—are to offer a quality product, be real

people, treat others well, and help our customers and

our communities to the best of our abilities.

Over the years, Ting has been involved with and/or

helped to sponsor the Sandpoint Rotary Club CHAFE

150; Music Conservatory of Sandpoint; 7B Women;

Pend Oreille Arts Council Art Walk; Selkirk Realtors

Association Affiliate; Festival at Sandpoint; Bonner

Community Housing Authority; 24 Hours for Hank;

Bonner County Fair & Rodeo; Ponderay Easter Egg Hunt;

Kootenai Easter Egg Hunt; Pend Oreille Bay Trail Fun

Run; Ponderay Neighbor Days; Ponderay Bike Rodeo;

Jacey's Race; Kinderhaven Festival of Trees; PFLAG Pride

Festival.

They have also provided donations to Sandpoint Elks,

Habitat for Humanity, Panida Theater and the Bonner

Community Food Bank. Kari serves as a board member

on the Bonner County Economic Development Corp

and the Ponderay Centennial Rotary Club, plus holds

advisory or ambassador roles for Bonner General Health

Advisory Council and the Greater Sandpoint Chamber

of Commerce.

Go Sandpoint Magazine 13
---
THE LIVE SIDE OF

SANDPOINT

14

14 Go

Go

Sandpoint

Sandpoint

Magazine

Magazine
---
CONCERTS, TASTING NIGHTS

AND MORE

BY ABIGAIL THORPE

W

hen it comes to live music and unique events,

Sandpoint might be small—but it is mighty. Our

lakeside town is home to a number of incredible

restaurants, bars, breweries and wineries that play host

to a wide variety of events, inviting residents and visitors alike to

get out and explore the vibrant culture and warm hospitality the

community has to offer.

From concerts on the lawn to cornhole tournaments, live music

throughout the week and paint-and-sip nights, there's something

for everyone, and then some. While you're soaking up the last

weeks of the summer sun, here are some top spots to take in an

upcoming event throughout August and September.

Jump on a bike and take a weekend cruise from one spot to the

next to catch a sampling of it all, or liven up your calendar with

the events you don't want to miss. Whether you just pop in for a

few minutes, or enjoy the fun from start to finish, taking a tour of

our town's music and outdoor (and indoor) event scene is a funpacked

time!

"Lettuce Turnip the Beet" is the witty theme of the 2021 Bonner

County Fair—and turn up the beat you can on Thursday, August

19, when Copper Mountain Band will be performing an outdoor

concert at the fair. Enjoy walking through the fair for free (you'll

just pay parking) August 19 through 22, and grab your boots and

cowboy hats for the Challenge of Champions Bullriding on Friday

and the Sandpoint Smash Demolition Derby on Saturday (tickets

are required for both).

There's always some delicious barbecue and food trucks to quench

your hunger and thirst, and don't forget to come early and take

the opportunity to wander some of the barns and exhibitions and

see what's happening. From pigs and cows to chickens, artwork

and more, there's something for everyone. It's an end-of-summer

tradition at Sandpoint that never disappoints, and there's fun the

entire family can enjoy while taking in the sun and some good oldfashioned

fun.

Just down the street … in an old warehouse in Sandpoint's historic

Granary Arts District you can find live music and a cold craft brew

at Matchwood Brewing—nestled along a selection of other local

favorites like Evans Brothers Coffee. Head out and grab a beer and

some bites, and settle onto the large outdoor patio for the Sounds

Under the Silo: Summer Music Series, featuring local artists

from the Sandpoint community on select Thursdays, Fridays and

Saturdays throughout August.

Catch SongFest on August 5, Birds of Play on August 6, Truck Mills

August 19, Jackson Roltgen on August 20, Bright Moments August

21 and BareGrass Friday, August 27. As the days start to get darker

and colder, head indoors for some ongoing weekend live music and

Go Sandpoint Magazine 15
---
a warm, inviting space to connect with friends and sample

a variety of delicious English, German and American ales

crafted right here in Sandpoint.

Keep the craft brew train going … and head downtown to

MickDuff 's Brewing Co. Catch some live music at the Beer

Hall on Cedar Street Thursday, Friday and Saturday nights

while you sample some brews. When the weather's nice,

you'll find bands playing outside by the grassy biergarten

while cornhole players toss in the background. When you're

hungry, grab a bite from the local food truck, or head over

to MickDuff 's second location in the old Sandpoint Post

Office on 2nd Avenue for some delicious grub to go with

your beers.

Mark your calendars for September 9 through 11, when The

Sandbagger Open cornhole tournament will take over the

beer hall. For two days you can test your cornhole abilities

against some of the best in the area. What's better than a little

competition with a beer in hand and the crowd cheering you

on? In addition to live music and some friendly cornhole

competition, keep an eye out for special tasting events and

beer festivals throughout the year.

With names like Tipsy Toe Head Blonde, Lake Paddler Pale

and Duffleupagus Triple IPA, who can go wrong? If beer

is not your go-to, they've got a variety of wines, ciders and

canned cocktails to keep you happy.

For the wine-lovers out there … head across the street to

Pend d'Oreille Winery. You'll find some of the best wines

in the area (with several gold medal winners in the lot),

and several nights of the week there are plenty of events to

entertain. Live music indoors on Friday and Saturday nights

always draws a crowd, but with the large windows and open

space of the restored historic Belwood Building, you'll feel

right at home.

Grab a glass (or tasting when live music isn't happening), and

pull up a chair to make a new friend. Drop in on Sundays for

Bingo and occasional piano! And every third Tuesday of the

month it's time to bring your creative skills to the table. Sign

up for Paint n' Sip and enjoy a glass (or two) while you paint

with a professional—whose art is probably hanging on the

large brick walls surrounding the tasting room.

For an experience … head into Eichardt's Pub and Grill on

Cedar Street, where it seems there's something happening

most nights of the week. A fantastic menu, unique interior

and variety of great beers, wine and canned cocktails aren't

the only draw. Sit outside and take in the street activity, or if

you're ready for a fun time head inside for some live music.

Monday Night Blues Jam will help prevent those workweek

"blues," and on Thursday nights you can even catch dollar

beer night—when one random beer is only $1 a pint until

the keg is empty.

Jake Robin & Special Guest will be playing August 4 and

September 1, and keep your eyes open for a collection of

other local artists on the weekends and even throughout

the week. As you enjoy the music, take a look around—you

never know what new little knickknack you'll find adorning

the walls, rafters and beams.

WHATEVER YOUR STYLE OR PACE

MAY BE, THERE ARE PLENTY OF

SPACES TO EXPERIENCE LIVE MUSIC,

FUN OUTDOOR EVENTS AND INDOOR

ACTIVITIES AROUND SANDPOINT.

CATCH SOME LIVE MUSIC AT THE BEER HALL ON CEDAR STREET

THURSDAY, FRIDAY AND SATURDAY NIGHTS WHILE YOU

SAMPLE SOME BREWS. WHEN THE WEATHER'S NICE, YOU'LL

FIND BANDS PLAYING OUTSIDE BY THE GRASSY BIERGARTEN

WHILE CORNHOLE PLAYERS TOSS IN THE BACKGROUND.

16 Go Sandpoint Magazine
---
When it's time to close out the night … make your way down

to Sandpoint's oldest bar, where a full bar awaits you, along with

a friendly staff. The large outdoor patio offers fire pits, along with

murals from local artists. Throughout August and September, come

in and enjoy live music at the 219 Lounge on Saturdays.

"As far as music in general, we were very careful about spacing music

out and focused on when we could use the patio," says 219 Manager

Mark Terry. "Giving people room to spread out, enjoy the space

and music is important to us. Even though we're only focusing on

Saturday music, we are so pumped that people choose to spend their

time with us."

The big "farewell to the summer" event will feature a concert from

Laney Lou and the Bird Dogs indoors on Sunday, September 5.

"We're fortunate that even though they are blowing up, they are still

making a point to drop into North Idaho," says Terry.

Keep your eyes open for some fun ski/snowboard video premieres

and other events at the 219 through the winter season.

Whatever your style or pace may be, there are plenty of spaces to

experience live music, fun outdoor events and indoor activities

around Sandpoint. You're guaranteed to have a fun time, and you'll

be supporting the businesses that make our town so special. What are

you waiting for? Get out, have fun and head somewhere new!

*Events may change; make sure to check venue websites before visiting.

Go Sandpoint Magazine 17
---
SANDPOINT, IDAHO

EAL E

18

18 Go Sandpoint Magazine
---
STATE

Go Sandpoint Magazine 19
---
20 Go Sandpoint Magazine

REFERRED TO AS SCHWEITZER'S

LONG-AWAITED ADDITION, THE 5

NEEDLES AT WHITE PINE IS SET TO

BE A 26-RESIDENCE, MOUNTAIN-

CONTEMPORARY ADDITION WITH

INCREDIBLE VIEWS AND A MIX OF

RESIDENTIAL SELECTIONS AVAILABLE.
---
hope from the

HOUSING

MARKET

Schweitzer's new developments on the way, and more hopeful

news for local buyers

By Taylor Shillam

As the North Idaho real estate market sets record after record, it's

time for some good news. The recent North Idaho Market Report by

Tomlinson and Sotheby's reflects the housing market is seeing inventory

improvements that are expected to last.

The summer of 2021 has seen visitors and new residents flooding to Sandpoint,

with sales soaring in both Bonner County and its neighboring counties Kootenai,

Boundary and Shoshone. Considering the steady influx of new residents and

increased housing demands, it's hopeful to see that available housing is on the rise.

An exciting example of new housing opportunities in the area are the unique,

experiential housing opportunities set to arrive at Schweitzer Mountain in the

near future.

Sandpoint locals can soon find a new home at Schweitzer Mountain with a

selection of several new developments in the works.

"There's never been a better time to become part of the Schweitzer family," the

resort states. New developments include the 5 Needles at White Pine, and a new

neighborhood, Crystal Wood.

Referred to as Schweitzer's long-awaited addition, the 5 Needles at White Pine is

set to be a 26-residence, mountain-contemporary addition with incredible views

and a mix of residential selections available. With everything from studios to often

penthouses, each residency is set to provide views of both the mountain and Lake

Pend Oreille.

The 5 Pines at White Pine will add to the mountain's existing White Pine Lodge,

which prides itself on offering families the opportunity to stay in the heart of the

village. White Pine offers units with one, two and three bedrooms, set with full

kitchens, gas fireplaces, underground fireplaces, and easy access to both ski lifts

and hot tubs. It provides families a long list of amenities to make residents feel at

home while staying just steps away from the mountain's famous slopes.

For its new developments, Schweitzer is working with an interior designer

to provide a selection of furnishing packages that will follow the guidelines of

Schweitzer's rental program.

Go Sandpoint Magazine 21
---
As homes come on the rise, buyers need to be ready to go and make quick offer

decisions in order to have the best opportunity to make a purchase.

The resort is also set to bring residential Cross Laminated Timber

construction to the mountain. Cross Laminated Timber construction

is a large-scale, solid engineered wood panel system known to be both

lightweight and strong, while having a low environmental impact,

generating almost no onsite waste. Their advantages over concrete,

steel and masonry have made the panels widely adopted across Europe

and now increasingly popular in the United States.

Schweitzer also has Crystal View in the works: a new ski-in, ski-out

neighborhood that will sit just below the terrain park.

More information on the new developments, along with the chance

to subscribe to Schweitzer's real estate development newsletter, can be

found online at Schweitzer.com.

Schweitzer's Master Plan, formed in 2017 at a meeting between

stakeholders and documented on its website, has cited the resort's

unique ability to build on the mountaintop as a key piece of its ability

to offer real estate solutions that many other mountain resorts cannot.

"This is a huge advantage—owning the land you operate on can make

any vision of unlocking the true potential of a property much more real,

much sooner," the resort states.

If you're ready to find a home on the slopes, Schweitzer Resort is

working on opportunities to make that dream a reality. But whether

you're seeking housing on the mountain or at a lower elevation, you can

take comfort in the news that North Idaho's housing opportunities are

on the rise.

Even when faced with promising news, it's important to stay alert,

especially as a buyer in such a hot market.

"As homes come on the rise, buyers need to be ready to go and make

quick offer decisions in order to have the best opportunity to make a

purchase," the Market Report advises. For Sandpoint buyers, it's a time

to stay hopeful, stay focused, and move quickly to successfully emerge

from a challenging season in real estate.

22 Go Sandpoint Magazine
---
PROPERTY AVAILABLE!

Power | Well | Liveable Apartment | Lake Views | 120 Acres in Cataldo, ID

208.450.5336

loganlucia.com

logan.lucia@exprealty.com

MAKE WISE CHOICES.

CHOOSE EXP REALTY.

Do you have an empty lot or home? Give us call to see

what the value is ... You may be SURPRISED.

MONARCH MARBLE & GRANITE

GRANITE • QUARTZ • SOAPSTONE • DEKTON • QUARTZITE

(208) 263-5777 • www.SandpointGranite.com

Go Sandpoint Magazine 23
---
MARKET REPORT

In a time of record-breaking highs within the North Idaho real estate market, local

homebuyers can take comfort in the confirmation that inventory is now on the rise.

While the improvement is small, it's expected to stay on track. Boosting the market's

inventory is Schweitzer Resort, with impressive new developments on the way that

will provide the opportunity to settle not only into beautiful Sandpoint, but in the

midst of its scenery on the slopes. With inventory numbers seeing promise and new

developments on the rise, buyers can stay hopeful, while remaining alert and ready to

make a quick decision to secure the home they desire.

24

24 Go Sandpoint Magazine

Are you curious about current real estate trends in Sandpoint, Idaho? See page 26!
---
RENT EVERYTHING

UNDER THE SUN

With over 35 years of service, we offer consistently reliable

equipment and reasonable rates! There are no hidden charges

or gimmicks (such as damage waiver/damage insurance), so

you can rest easy when looking for a rental. Our Scheduled

Preventative Maintenance program ensures our equipment

is safe, clean, and operates to factory specifications.

* Bring in this ad to receive 10% off any 1 day rental!

RENT WITH US TODAY!

Hourly | Daily | Weekly | Monthly

Built on a foundation of integrity and common sense.

208.263.9531| 612 Pine St., Sandpoint, ID | SunRental-Inc.com | Mon - Sat: 7AM-5PM

Go Sandpoint Magazine 25
---
Sandpoint Real Estate

TRENDS

MEDIAN PRICE PER SQ FT

$460

$420

$380

$340

$300

Feb 2021

Mar 2021

Apr 2021

May 2021

Jun 2021

Jul 2021

INVENTORY

100

75

50

25

0

Feb 2021

Mar 2021

Apr 2021

May 2021

Jun 2021

Jul 2021

MEDIAN HOUSE SIZE FOR SALE

2.3K

2.1K

1.9K

1.7K

1.5K

Feb 2021

26

26 Go Sandpoint Magazine

Mar 2021

Apr 2021

May 2021

Jun 2021

Jul 2021
---
L O C A L E X P E R T

WORLD - CLASS REAL ESTATE PROFESSIONAL

REAL Market Update - Brought to you by Jackie Suarez, Associate Broker

What is the current real estate market climate in North Idaho?

Recently more sellers have entered the market.

Buyers are evaluating carefully. With more properties to choose from, we are seeing greater days on market overall

and some price adjustments.

Mortgage lenders are still offering extremely low rates.

Three tips for navigating this market:

1. Engage the help of a local agent and full-time professionals who are experts in the market you are entering. Get

their advice on aspects that affect use and value.

2. Sellers, devise a strategy for timing your sale, price your home or land accordingly and know your next step.

3. Buyers, be ready. Approach your search with proof of your purchasing ability and keep an open mind to a

property's long-term potential.

Is now a good time to buy or sell?

I always say when the time is right for you, the time is right.

Our market is constantly changing.

What is important to me remains the same - God, Family and Relationships.

Contact Jackie Suarez, your local expert for help with your real estate needs.

What Jackie's clients are saying

"I would highly recommend Jackie Suarez as a Realtor. During the lissng of our

property she kept us informed of the process, answering any quessons we had.

She used a variety of ways to adversse our property and provided us with

material and links to view. I truly cannot thank Jackie enough for all that she has

done. Mark and I truly appreciate it! Kathy and Mark G., Sagle, ID

"Jackie is an enthusiassc and energesc Realtor. Her posisve and forward-leaning

demeanor makes her a pleasure to work with. Not only did she find me a house,

she found one for my kids as well! All this in an excepsonally challenging

market. She has earned my highest level of trust and confidence!

Jesse, Naples, Idaho.

"Thank you, Jackie for making our dreams come true! We are very happy

clients! Mark and Diane B., Sandpoint, ID.

"Professional x 100…Excepsonal Customer Service…Excellent."

Ken R., Sagle, ID

2020

Honored to be voted Sandpoint's nest 2017, 2018, 2019 and 2020

Jackie Suarez, Associate Broker | 208-290-5888 | JackieSuarez.com

Go Sandpoint Magazine 27
---
Digital Marketing - Print Marketing

Social Media Management

W E BUILD YOUR

M A R K ET ING

S O YOU CA N BUILD YOU R

BUS INESS

DIGITAL MARKETING • PRINT MARKETING

SEO SERVICES • SOCIAL MEDIA MARKETING

BRANDING & CREATIVE • WEBSITE DEVELOPMENT

Visit our website for more services!

www.Like-Media.com

28 Go Sandpoint Magazine

SCHEDULE A CONSULTATION TODAY!

Denise Ripatti

Marketing & Sales Executive

denise@like-media.com | 208.620.5455

sandpoint

Living Local

NORTHWEST LIVING
---
newly listed

502 SANDPOINT AVENUE

Sandpoint, Idaho 83864

amenities

• Heated year-round outdoor pool and hot tub

• Private beach

• Fitness center

• Great room

• Dining alcove

• Catering kitchen for group entertaining

• Exclusive pricing at Wildflower Spa

• Private Marina slip

• Landscaping and grounds maintenance

• Heated driveway and sidewalks

• Exterior maintenance

• Two window washings a year

description

This one-of-a-kind home on beautiful Lake

Pend Oreille is like nothing you've seen

before. Residing on Seasons' largest corner

space, it's an oasis of calm, luxury and natural

beauty. From incredible panoramic views

to expansive open spaces infused with the

sparkling blue light of the lake and green

from the mountains, this home is a musthave.

Come see what the perfect blend of

luxury and North Idaho living has to offer!

NEDRA KANAVEL

Associate Broker

Luxury Marketing Specialist

ReMax Collection

113 North First Avenue, Sandpoint, ID

Cell: 208.610.4624 | Office: 208.265.7363

nedra@nedrakanavel.com | nedraknowshomes.com

Go Sandpoint Magazine 29
---
FEATURED VACATION HOME

LOCATION: Sandpoint, Idaho

BEDROOMS: 5 | BATHROOMS: 4.5 | SLEEPS UP TO: 12 | KITCHENS: 2 | MASTER SUITES: 2

This lakeside getaway is in a picturesque setting at the edge of Lake Pend Oreille. You cannot

beat this spectacular view! Bring your boat or rent one nearby and enjoy a quick trip to all of

Sandpoint's finest restaurants. This home comes complete with updated furnishings and offers

only the finest in amenities.

GO SANDPOINT

30 Go Sandpoint Magazine

Jackson Russo

208.610.4416 GoSandpoint.com Jackson@GoSandpoint.com

vacation homes
---
JOIN OUR TEAM!

Stable & Consistent Career Opportunities

in Spokane, WA & Sandpoint, ID

REACH OUT TODAY!

SUPERINTENDENTS | SKILLED CARPENTERS | LABORERS

• Competitive Pay: $16-$32 DOE

• Generous Benefits Package:

> Comprehensive Medical

> Sick Pay

> Life Insurance

> Group Accident & Hospital Benefits

> Long-Term Disability

> Matching 401k

Spokane Office

509.483.9000

Sandpoint Office

208.597.7071

INFO@RAMEYCO.COM

WWW.RAMEYCO.COM/EMPLOYMENT

RAMEY CONSTRUCTION SPECIALIZES IN COMMERCIAL, MEDICAL & CUSTOM RESIDENTIAL CONSTRUCTION

• Root Nutrient Injection

• Fruit Tree Pruning

• Tree Removal/Pruning

• Brush & Field Mowing

• Masticating

• Light Hauling

• Lot Development

• Fire Prevention

• Property Clean-Up

SCHEDULE YOUR 2021 WORK NOW!

Call us for a free quote or to book your tree removals, stump grinding or other services that we offer.

NOW SERVING BOUNDARY, BONNER AND LINCOLN COUNTIES.

Shawn Smith, Owner/Operator 208.946.6772 | 1605 Crossport Rd., Bonners Ferry, ID | CDAStumpGrinding.com | fCDAStumpGrinding

Go Sandpoint Magazine 31
---
YOU ARE WORTH A

WHOLE LOT MOOOOORE!

TOP 3 SIGNS IT'S TIME TO MOVE ON FROM YOUR CURRENT PROPERTY MANAGER:

1. You are treated like a number, not a person!

2. Your investment property isn't being treated as such!

3. You are being "nickel and dimed" on a regular basis!

32 Go Sandpoint Magazine
---
GO SANDPOINT

vacation homes

For Bookings, Inquiries & Homeowner Information:

GoSandpoint.com | 208.610.4416 | Jackson@GoSandpoint.com

Go Sandpoint Magazine 33
---
ENTERTAINMENT

AUGUST 2021

5-8

8

FESTIVAL AT SANDPOINT

AUGUST 5 - 8

After a successful first week of live musical performances, the second weekend of The Festival

at Sandpoint is sure to be just as impressive, with the weekend lineup to include Gladys Knight

Thursday, August 5; Young the Giant Friday, August 6; and REO Speedwagon Saturday, August

7. Gates open at 6pm for these concerts, with the show starting at 7:30pm. The 2021 event will

conclude Sunday, August 8, with the Family Matinee "Music from the Movies," with gates opening

at noon followed by music 1 to 2pm. Gates will reopen at 5pm for the Grand Finale. There will be

a wine tasting from 5 to 7pm, followed by the final concert of the season starting at 7:30pm. It's not

too late to get tickets to these performances. Visit FestivalatSandpoint.com/line-up to purchase

tickets today.

HUCKLEBERRY COLOR FUN RUN & WALK

AUGUST 8

This colorful family event returns to Schweitzer Mountain on Sunday, August 8. A great way to

start your day, children and adults alike can run or walk through the forest while getting covered

with color tossed by the forest urchins. This is a great family event, and participants can choose the

2.5k or 5k course. All paying participants will receive a custom multi-use bandana/face covering,

gourmet hotdog lunch, sunglasses, powder pack for the color toss, and a complimentary lift ticket

for after the run. Registration is $40 for adults, $37 for juniors Kids 12 and younger) in advance;

$45 and $42 respectively the day of, if space allows. Kids 6 and younger are free with an adult.

Register online at Schweitzer.com.

28

2ND ANNUAL LAZY A .08K

AUGUST 28

Angels Over Sandpoint invites the community to their second annual Lazy A .08k: Straight Outta

Quarantine. Registration begins at noon on August 28 at MickDuff 's Beer Hall, with the kids'

race starting at 1pm, followed by the adults. Runners will hydrate before the start of the race

with only the highest quality beer (root beer for the kiddos) before facing numerous obstacles

and carbo-loading halfway through the event. Racers will cross the finish line at the Beer Hall,

where participants young and old can celebrate victory and take photos. General entry is $25 and

includes pre-race beer and swag bag. If you opt for VIP registration, entry is $50 and includes preand

post-race beer, special VIP treatment, transportation across the course, and a VIP swag bag.

There will be live music, food onsite and additional games after the race. Register online today at

Eventbrite.com and search Lazy A .08k.

*Please note, as of press time, these events were still scheduled to take place as planned. Due to the

continuing pandemic, there is the possibility that event schedules may change or events canceled

completely. Be sure to visit event websites to stay up to date with current information.

SUBMIT YOUR EVENT ONLINE!

Want your event to appear on the largest event site in the Northwest? Submit your events to us

online at Events.DirectoryNorthwest.com 24/7, 365 days a year!

34 Go Sandpoint Magazine
---
Strong ~ Happy ~ Healthy

Missi Balison Fitness

WOMEN'S BOUTIQUE FITNESS STUDIO

MissiBalisonFitness.com

FITNESS

NUTRITION

ACCOUNTABILITY

SMALL GROUP TRAINING

PRIVATE TRAINING

ONLINE TRAINING

Missi Balison – Personal Trainer & Exercise Physiologist - Certified Precision Nutrition Coach

208-290-2081 | 1250 Gooby Rd., Sandpoint, Idaho | www.missibalisonfitness.com

Katie Sweeney Amorebieta, FNPC

Sandpoint's

Hometown

Medical

Clinic

Anna Mena Schaures, FNPC

Chronic Disease Management | Family Wellness Exams | Sports Physicals | Acute Care | Pediatrics

Minor Surgical Procedures | Gynecology | DOT Physicals | IV Vitamin Therapy | And More!

ACCEPTING NEW PATIENTS - VISIT US AT OUR NEW LOCATION!

1555 Ontario St., Sandpoint, ID | 208.597.7910 | provider.kareo.com/katie-sweeney | f alpinefamilymed7b

Go Sandpoint Magazine 35
---
AUGUST

fun fact

Sandpoint's Own

Lady Liberty

As you walk across the grassy expanse

of City Beach at the end of Bridge

Street, and your toes hit the sandy

beach, you'll notice a pier jutting out into

Lake Pend Oreille with none other than a

miniature Lady Liberty at its end, faced in

with its torch raised to the city of Sandpoint.

A bit larger than a human, this Lady Liberty

is smaller than her New York namesake, but

she still brings visitors to pose for pictures

beneath her upraised torch. Sandpoint's

Lady Liberty made her way to City Beach

in 2003, as a gift from the estate of Lee

Turner, a local who owned the Cowgirl

Corral in Ponderay and the Captain's Table

in Bayview.

The statue stood for many years in Ms.

Turner's garden, until it was donated by the

family and has since become an iconic focal

point of City Beach, gracing its shores with

the dramatic mountain backdrop behind.

SANDPOINT'S

MONTHLY

LOCAL

GUIDE

Your business MATTERS and DESERVES to be recognized. In every edition of Go Sandpoint Magazine, your business

can be featured and seen by thousands. Are you ready to be a part of our local guide? Sign up online today to reserve

your spot.

GoSandpointMagazine.com/Sandpoint-Local-Guide-Sign-Up • Contact us for more information! info@like-media.com

36 Go Sandpoint Magazine

36 Go Sandpoint Magazine
---
Join the ride. Make a difference.

SEPTEMBER 11, 2021

Registration is open!

Learn more at CHAFE150.org

208.265.2782

www.AquaPlumbingID.com

Licensed & Insured

WATER HEATERS - TANK OR TANKLESS

WATER FILTRATION • DRAIN CLEARING

REPAIR • INSTALLATION

NPN EXCAVATION

&

LAND DEVELOPMENT

Foundations | Roads

Retaining Walls | Ponds

Utilities | Tree Removals

Land Prep | Septic Tanks

OUR SPONSORS MAKE IT HAPPEN. WE THANK YOU!

PRESENTING SPONSOR:

GOLD SPONSORS:

SILVER SPONSORS:

CALL NICK TODAY!

sandpoint

Living Local

ORGANIZED BY:

68 Porterhouse Rd. Sagle, ID | 208.946.7434 | NPN.excavation@hotmail.com

BONNER COUNTY

DAILYBEE.COM

Go Sandpoint Magazine 37
---
WHERE TO STAY

WATERFRONT

SPA/SAUNA

POOL

RESTAURANT/BAR

FREE BREAKFAST

KITCHEN/ETTE

SUITES

PETS

FITNESS CENTER

MEETING SPACE

PRICING

Best Western Edgewater Resort

Best Western Kootenai River Inn Casino & Spa

Best Western Plus Ponderay

Bottle Bay Resort & Marina

Dover Bay Waterfront Resort

Go Sandpoint Vacation Homes

208.610.4416 • GoSandpoint.com

800.780.7234 • 208.263.3194

BestWesternEdgewater.com

208.267.8511 • 888.875.8259

KootenaiRiverInn.com

800.780.7234 • 208.255.4500

BestWestern.com

208.263.5916

BottleBayResort.com

208.265.159

DoverBayIdaho.com

$$

$$

$$

$$

$$

Renting out your vacation home can be taxing, stressful, and doesn't always

feel worth it. Go Sandpoint Vacation Homes lets you LIVE BETTER and rent

your home stress free because you know it will always be taken care of.

$$

Hotel Ruby Sandpoint/Ponderay

La Quinta Inn & Suites

Lodge at Sandpoint

Schweitzer Mountain Resort

Sandpoint Vacation Homes

Seasons at Sandpoint

Sleep's Cabins

Talus Rock Luxury Lodging

Twin Cedars Camping & Vacation Rentals

Western Pleasure Guest Ranch

208.263.5383

HotelRubyPonderay.com

800.753.3757 • 208.263.9581

LaQuintaSandpoint.com

208.263.2211

LodgeAtSandpoint.com

208.263.9555

Schweitzer.com

208.610.4416

SandpointVacationHomes.com

877.594.3550

Seasons.life

208.255.2122 • 866.302.2122

SleepsCabins.com

208.255.8458

TalusRockRetreat.com

208.920.1910

TwinCedarsSandpoint.com

888.863.9066 • 208.263.9066

WesternPleasureRanch.com

$

$$

$$

$$

$$

$$$

$$

$$$

$$

$$

REAL ESTATE

Jackie Suarez Century 21 208.290.5888 Jackie@JackieSuarez.com JackieSuarez.com

Eric Skinner Century 21 208.290.6314 Eric.Skinner@Sandpoint.com IdahoRealEstateListings.com

Julina Skinner Century 21 208.290.6315 Julina.Skinner@Sandpoint.com IdahoRealEstateListings.com

Jake Oliver RE/MAX In Action 208.290.5233 Jake@JakeTheRealtor.net JakeTheRealtor.net

38 Go Sandpoint Magazine
---
Sandpoint's Historic

Home Town Bar

80+ YEARS & COUNTING

WWW.219.BAR

SUMMER

EVENTS

8/6 TBA 9PM - 12AM

8/7 JASON PERRY BAND 9PM - 12AM

8/14 BARE GRASS 1PM - 4PM

8/14 DAMMIT LAUREN & THE WELL

9PM - 12AM

8/21 B RADICALS 9PM - 12AM

8/27 MIAH KOHAL BAND 9PM - 12AM

BRINGING THE SUNSHINE

TO SANDPOINT

Physical Therapy • Hand Therapy

Medical Massage Therapy

Additional Services

Arthritis Relief Program

Yoga Therapy • Stretch Therapy

Pain Relieving 830 Cold Laser

Vertigo/Dizziness • Sports Injuries

Dry Needling

$ 19.95

Oil

Change

*CAN NOT be used in conjunction with any other coupon.

Up to 7 quarts. No diesels. No synthetic oil.

No complimentary wash.

Must Mention this ad. Expires 08.31.21

Front End Alignment

$ 59.95

*Some restrictions apply.

Must mention this ad. Expires 08.31.21

PAIN-RELIEF SESSION

WITH A LICENSED THERAPIST

- A Screening for Root Cause of Pain -

- In-Clinic Treatment -

- A List of Self-Help Steps -

$49 Sports Injury Special Offer

Call to Book Today!

No Insurance? No Problem!

We have affordable solutions for those

without insurance or who have high deductibles

or copay, and we accept medical insurance.

WE SERVICE ALL

MAKES AND MODELS!

866.783.0047

208.263.4212

Full Service Parts & Sales

3 Minutes S. of Sandpoint in Sagle on HWY 95

30 Gun Club Road, Sagle, ID 83860

PIERCEAUTOCENTER.COM

Ponderay Medical Village

30544 Highway 200, Ponderay, ID

208.205.9559

kit-therapy.com

Go Sandpoint Magazine 39
---
VENUES

CATERING

LODGING

MEETING ROOM

MAX CAPACITY

219 Lounge

208.263.5673 • 219.bar

Sandpoint's hometown lounge and live music venue for over 87 years featuring 20 beers on tap, wine and classic

cocktails. Enjoy the outdoor patio and bar during the summer months.

Best Western Plus Ponderay 800.780.7234 208.255.4500 BestWestern.com

80

Dover Bay Waterfront Resort 208.265.159

-

DoverBayIdaho.com

200

Heartwood Center 208.263.8699

-

HeartwoodSandpoint.com

170

Lodge at Sandpoint 208.263.2211

-

LodgeAtSandpoint.com

30

Ponderay Event Center 208.263.0271

-

PonderayEvents.com

65

Schweitzer Mountain Resort

208.263.9555 ext.2820

-

Schweitzer.com

225

Sandpoint Business & Event Center 208.263.7770

-

SandpointEventsCenter.com

700

Talus Rock Luxury Lodging 208.255.8458

-

TalusRockRetreat.com

30

The Idaho Club 208.265.2345

-

TheIdahoClub.com

50

HEALTH & BEAUTY

Litehouse YMCA Fitness Center 208.263.6633 YMCA@YMCAINW.org YMCAINW.org

Natural Fitness Fitness Center 208.263.0676 Shawn@NaturalFitnessGym.com NaturalFitnessGym.com

Signature Aesthetics Medical Spa 208.627.6869 Info@SignatureAesthetics.com SignatureAesthetics.com

Missi Balison Fitness • Personal Trainer

MissiBalisonFitness.com

208.290.2081 • Missi@MissiBalisonFitness.com

A small group and private training studio for women only, Missi Balison Fitness provides certified personal trainers who will keep you exercising

safely and motivated in a fun environment. Small group training allows a maximum of eight participants per session.

Idaho Pain Clinic Medical Clinic 208.263.9757 DrSorin@IdahoPainClinic.com IdahoPainClinic.com

Sandpoint Super Drug Pharmacy 208.263.1408 SPTSuperDrug@Gmail.com SandpointSuperDrug.com

SERVICES

Omni Carpet & Window Cleaning • Cleaner

208.920.1282

217 Cedar St., Ste. 260, Sandpoint, ID 83864

Locally owned and operated, Omni Carpet and Window Cleaning is your professional and affordable cleaning and building maintenance service

company. Specializing in both professional and residential services, with 100 percent green cleaning available, their experienced team offers

carpet cleaning, window cleaning, pressure washing, gutter and downspout cleaning, stripping and waxing, and more.

C&M Cleaning Cleaner 208.610.8645 - SandpointCleaningService.com

Satisfaction Painting Painter 208.290.3753 Office@SatisfactionPainting.com SatisfactionPainting.com

Aqua Plumbing Plumber 208.265.2782 - AquaPlumbingID.com

40 Go Sandpoint Magazine
---
Go Sandpoint Magazine 41
---
THINGS TO DO

Arts & Crafts Fair Art / Music Event Summer 208.263.6139 ArtinSandpoint.org/arts-crafts-fair

Art Walk Art / Music Event Summer 208.263.6139 ArtinSandpoint.org/artwalk

Festival at Sandpoint Art / Music Event Summer 208.265.4554 FestivalatSandpoint.com

Sandpoint SummerFest Art / Music Event Summer 208.263.2217

Schweitzer Fall Fest

Festival

Experience some of North Idaho's most scenic views along this

33.4-mile drive. VisitIdaho.org/things-to-do/scenic-bywaysbackcountry-drives/pend-oreille-scenic-byway

Eureka-Institute.org/sandpointsummerfest.html

Fall 208.263.9555 Schweitzer.com

The Idaho Club

Sandpoint Elks Golf Course

Geo Hali Sandpoint Helicopter Charters

Golf Courses

Golf Courses

Tours / Charters

Spring / Summer / Fall 208.265.2345 TheIdahoClub.com

Spring / Summer / Fall 208.263.4321 -

Summer 509.795.1311 GeoHeliSpokane.com

Go Fish! Charters Tours / Charters Summer 208.597.5020 GoFishCharters.org

Lake Pend Oreille Cruises Tours / Charters Summer 208.255.5253 LakePendOreilleCruises.com

Bottle Bay Resort & Marina

Dover Bay Resort

Marina

Marina

Summer 208.263.5916 BottleBayResort.com

Summer 208.265.1597 DoverBayIdaho.com

Sandpoint Marina Marina

Summer 208.263.3083 SandpointWaterfront.com

Western Pleasure Guest Ranch

Action Water Sports

Sandpoint Watercraft Rentals

Take a Brewery Tour

Outdoor /

Mountain Activities

Water Recreation /

Rentals

Water Recreation /

Rentals

Year-Round

888.863.9066

208.263.9066

Spend a Day at City Beach

WesternPleasureRanch.com

Summer 208.255.7100 ActionWaterSportsLessons.com

Summer 208.265.9672 SandpointWaterCraftRentals.com

Sandpoint Watersports

Water Recreation /

Summer 208.920.9292 SandpointWatersports.com

Rentals

TOP 10 THINGS TO DO

Sandpoint is home to four great breweries. Bike to each, or

take a walking tour: Matchood Brewing Co., Utara BrewingCo.,

MickDuff's Brewing Co., Laughing Dog Brewing

Catch a Show at the Panida Theater

Stop in the historic theater for an independent feature or short

film. Panida.org

Enjoy fun in the sun at the sandy, grassy downtown public

beach on the lake. SandpointIdaho.gov

Visit Schweitzer Mountain

Explore the village dining and shopping and enjoy the

adventures in summer and winter. Schweitzer.com

Shop the Sandpoint Shopping District

Explore the many unique shops in charming downtown.

DowntownSandpoint.com

Explore Local Galleries

Walk the downtown and stop in at several local galleries to

enjoy local and regional art.

Drive The Pend Oreille Scenic Byway

Relax with a Spa Day

Visit the Wildflower Spa at Seasons Resort or Highlands North

Day Spa for a day of rejuvenation.TheWildflowerDaySpa.com |

HighlandsNorthDaySpa.com

Stop in Cedar Street Bridge

Explore various shops and restaurants in the downtown

bridge spanning Sand Creek. CedarStreetBridge.com

Do a Tasting at the Local Winery

Enjoy local sips from Pend d'Oreille Winery. POWine.com

42 Go Sandpoint Magazine
---
Were coming to big sky country —

'

looking forward to seeing you in Helena

Bradley Insurance is opening an office in Helena, Montana. Bringing you our professional expertise along with policies

that work for you and your family and the first rate service you should expect from your insurance agent. Scottie Van Diest

is our agent in Helena working out of the office located at 2711 Airport Road. You can reach Scottie at 406-202-1127.

Also serving Idaho, Washington and Oregon.

3

R A D L E Y

INSURANCE

401 Bonner Mall Way, Suite I

in Ponderay

208 265-1888

Enhanced Concealed Carry Classes:

• Ability to carry concealed in 40 states

• On-Site Range - No travel from classroom to range

• Heat, Rain, Snow - No Problem - All Indoors

• Monthly Classes - Visit our website for details / dates

North Idaho's only full-service indoor range, training facility, firearm servicing/custom work and retail store.

Tuesday - Friday 10am-6pm, Saturday 11am-5pm

www.WrencoArms.com | 208.265.6737 | One mile north of Walmart on Hwy 95 | 478338 Hwy 95, Ponderay, ID 83852

Go Sandpoint Magazine 43
---
TRINITY AT CITY BEACH SWEET LOU'S JALAPENOS

LOCAL EATS

BREAKFAST

LUNCH

DINNER

LOUNGE

WATERFRONT

KIDS' MENU

PARTIES

CATERING

PRICING

219 Lounge Sandpoint

208.263.5673

Bar

$$

Arlo's Ristorante

Sandpoint

208.255.4186

Italian

$$

Baxter's on Cedar

Sandpoint

208.229.8377

New American

$$

Beet and Basil

Sandpoint

208.920.6144

Fusion

$$

City Beach Organics

Sandpoint

208.265.9919

Organic / Vegan

$$

Dish at Dover Bay

Dover Bay

208.265.6467

American /

Seafood

$$

Chimney Rock Grill

Schweitzer

208.255.3071

American

$$

Eichardt's

Sandpoint

208.263.4005

Pub

$-$$

Fat Bass Bar & Grill Priest River 208.265.8854

Forty One South

Sagle

208.265.2000

Steakhouse /

American

Fine Dining

$$

$$

Hoot Owl Cafe

Ponderay

208.265.9348

Cafe

$-$$

Ivano's Ristorante Sandpoint 208.263.0211 Italian

$$

Jalapenos Mexican Restuarant

Sandpoint

208.263.2995

Mexican

$-$$

Joel's

Sandpoint

208.265.8991

Mexican

$-$$

MickDuff's Brewpub

Sandpoint

208.255.4351

Pub / American

$$

Panhandler Pies

Sandpoint

208.263.2912

American

$-$$

Pend d'Oreille Winery

Sandpoint

208.265.8545

Modern Cuisine

$$

Second Avenue Pizza

Sandpoint

208.263.9321

Pizza

$-$$

Secret Thai

Sandpoint

208.263.9960

Thai

$$

Shoga Sushi

Sagle

208.265.2001

Seafood

$$

Sky House Schweitzer 208.263.9555 American

$$

Spuds Waterfront Grill

Sandpoint

208.265.4311

American

$$

Sweet Lou's

Ponderay

208.263.1381

American

$$

Thai Nigiri

Sandpoint

208.265.2587

Thai/Sushi

$$

The Hydra

Sandpoint

208.263.7123

Steakhouse

$$

Trinity at City Beach Sandpoint 208.255.7558 Seafood

$$

44 Go Sandpoint Magazine
---
Andy's

Frameshop

We have been open for business

for over 40 years!

Open Monday-Saturday, 8:30am-6pm

501 Oak Street | Sandpoint, Idaho | 208.263.7331

- Ready-Made -

- Custom -

- Pre-Cut Mats -

Festival Ready

and Barn Wood

Frames in Stock!

10% OFF Sandpoint

Panoramas

Available!

*Expires August 31, 2021

Tues-Fri 9:30-4:30 | Sat 10-3 | Sun-Mon Closed

Pioneer Square

819 Hwy 2, Suite 101, Sandpoint | 208.255.1010

208.255.2686

337 Olive Ave. in Sandpoint

$

20 OFF

ROCK CHIP REPAIR & AUTO GLASS REPLACEMENT*

*Expires 08/31/2021. In store only.

10% OFF*

*Excludes firearms, ammunition and sale

items. Expires August 31, 2021.

Omni Carpet

& Window Cleaning

"We Keep It Clean!"

HELLO SUMMER

TIME TO CLEAN YOUR WINDOWS?

Window cleaning includes:

Glass (two-sides), window tracts,

frames, sills & screens (hand-wiped!).

Get on the schedule soon; call today!

Self-Serve Wash Proceeds are donated to build the

new Sandpoint City Dog Park!

HELP WANTED

WINDOW & OFFICE CLEANERS

- WILL TRAIN -

FROM NEW CONSTRUCTION

TO NECESSARY REPAIRS

WE DO IT ALL

Dixie with Angie Henry,

Owner of Uptown Bagel Company

Move-Out Cleans • New Home Cleans

Final Cleans • Pressure Washing

Gutters & Down Spouts • Strip & Wax Floor Care

Commercial Janitorial Services

Call For Your Free Estimate

208.920.1282

LICENSED. INSURED. BONDED. WORKERS COMP.

NOW HIRING!

208.304.3883 | TYLERCASE@GMAIL.COM

BONNER COUNTY • KOOTENAI COUNTY

BOUNDARY COUNTY

Food/Supplies

Pet Shop

SHOP LOCAL! STOP BY

AND SEE US TODAY.

Nutrition Specialist

208.263.8899 | ShakaPaw.com

120 Cedar St., Sandpoint, ID

Shop Now

Go Sandpoint Magazine 45
---
Baldy

DIVISON

200

Ponderosa Park

farmin stidwell

Chestnut

lake pend oreille

high school

2

sand creek

bike path

Sand Cree k Byway

Spruce

Larch

Hickory

MAIN

hickory street park

Larch

Fir

dover bike path

visitor center

sand creek

pend oreille

bay trail

Poplar

Madison

Haley

Monroe

library

sandpoint middle

school

playing fields

Richland

Washington

CEDAR

Elliot

Jefferson

Garden

Lake

Ella

park

Ruth

Florence

Forest

PINE

pine st. park

Oak

park

Alder

Superior

6th

Euclid

Farmin park

cedar street bridge

panida theater

4th

3rd

Church

NIC &

Events Center

2nd

1st

Bridge

Dearborn

marina

city beach

marina

sandpoint high

school

Madison

Monroe

Ontario

Olive

Ella

Erie

Michigan

Marion

Florence

Lavina

Boyer

St. Claire

Lakeview Blvd

Antoine

Huron

memorial field

Pacific

Idaho

3rd ave. pier

95

Lily

Lake Pend Oreille Dr.

Northshore Dr.

46 Go Sandpoint Magazine

Lakeview park

SANDPOINT

on Lake Pend Oreille
---
Schweitzer Mountain Resort

Pnr

Snpn

D

Pend Oreille River

2

Kn

City Beach

Contest

Point

200

Snyi

Bot

B

Anderson Point

Warren Island

Cottage Island

Tes C

H

Eas H

95

Sa

Gl

B

Grouse Mountain Point

Long

Point

Camp Bay

Mineral

Point

Pearl Island

Memaloose

Island

Cl F

Tla

Maiden Rock

Kilroy

Bay

Windy

Point

Indian

Point

Deadman

Point

Clark

Fork

River

Granite

Point

Whisker Rock Bay

Lake

Ced C

B

Cape Horn

Scenic Bay

Pend

Buttonhook

Bay

Idlewilde

Bay

Echo Bay

L

Oreille

Go Sandpoint Magazine 47
---
are you ...

a graphic designer

creative

innovative

hard working

go getter

team player

adobe proficient

APPLY TODAY

info@like-media.com

48 Go Sandpoint Magazine
---
POLE BUILDINGS • GARAGES • SHOPS • BARNS

NORTHWEST'S LARGEST

POLE BUILDING CONTRACTOR

• 3D Renderings

• Over 10,000 Buildings Built

• In-house Engineer

VISIT US DURING OUR NEW OFFICE HOURS: 9AM-5PM!

• •

Jess Magnus

208.770.9061

askmagnus@findssa.net

1-800-833-9997 | WWW.STEELSTRUCTURESAMERICA.COM

OPTIMIZE, UPDATE AND SHOW OFF YOUR BRAND

PRODUCTS LIKE NEVER BEFORE

STARTING A FAMILY | EMPTY NESTING | RETIREMENT

HEALTH INSURANCE PLANS

FOR EACH PHASE OF LIFE!

WWW.LIKE-MEDIA.COM | INFO@LIKE-MEDIA.COM

208.265.2026 • CareySpears.com

Call today to request a consultation, or visit our website to learn more!

Go Sandpoint Magazine 49
---
AWARD-WINNING TEAM OF

PROFESSIONALS.

CoolSculpting® is FDA-cleared to treat visible fat bulges

in 9 areas of the body. Some common side effects

include temporary numbness, discomfort and swelling.

Discover the power of deciding for yourself. In a world where you're

constantly being told how to look and how to feel if you don't look

that way, nothing is more powerful than getting to decide for yourself

what beauty means. Signature Aesthetics works with you to make

your vision of beauty a reality, from small touch-ups to life-altering

improvements. Call or visit us today for a personal consultation to

determine how we can bring out the beauty you see in yourself.

102 S 1st Avenue Suite 202

Sandpoint, ID 83864

50 Go Sandpoint Magazine

208.627.6869

SignatureAesthetics.com

1130 W Prairie Avenue

Coeur d'Alene, ID 83815
---
Rhapsody power reclining sectional

with power headrests , custom order

in your own configuration

Rhapsody power reclining sectional

with power headrests , custom order

in your own configuration

Enhance the Warmth and Beauty of Your Home! Big Savings on the Entire Flexsteel line!

Enhance the Warmth and Beauty of Your Home! Big Savings on the Entire Flexsteel line!

Kingman swivel glider,

available in fabric,

Kashmira, Nuvo Leather,

and Genuine Kingman Leather swivel glider,

available in fabric,

Kashmira, Nuvo Leather,

and Genuine Leather

Bay Bridge Sofa,

available in over

1,200 fabrics and

over 80 leathers

Bay Bridge Sofa,

available in over

1,200 fabrics and

over 80 leathers

Pricing subject to

configuration and

cover choice

Pricing subject to

configuration and

cover choice

See us at Sandpointfurniture.com!

FRESH NEW 2021 STYLES

IN STOCK AND READY FOR

DELIVERY!

See us at Sandpointfurniture.com!

www.SandpointFurniture.com

Working hard to be your hometown furniture store for 75 years!

401 Bonner 401 Bonner Mall Way, Mall Ponderay, Way, Ponderay, Idaho Idaho

401 Bonner Mall Way, Ponderay, Idaho

208-263-5138

208.263.5138

208-263-5138

SANDPOINT SANDPOINT FURNITURE FURNITURE STORE STORE HOURS: HOURS:

Mon-Fri Mon-Fri 9am-6pm 9am-6pm, | Sat

Mon-Fri 9am-6pm, Sat 9am-5pm, Sat 9am-5pm 9am-5pm, | Closed

Closed Closed Sundays

Sunday

Go Sandpoint Magazine 51
---
*****************ECRWSS****

Please Deliver By August 6, 2021

Local Postal Customer

PRSRT STD

U.S. POSTAGE

PAID

Post Falls, ID

PERMIT NO. 32

WELCOME NEW PATIENTS

Mention this ad to receive a New Patient

Complete Exam, Full Mouth X-Rays, Oral Cancer

Screening and Basic Cleaning for only $89.00!

Tom Davies, D.D.S. PLLC | 208.263.8514

103 W. Superior | Sandpoint, Idaho | Walk-Ins Welcome • Gentle Care • USC'77

WINNER

52 Go Sandpoint Magazine