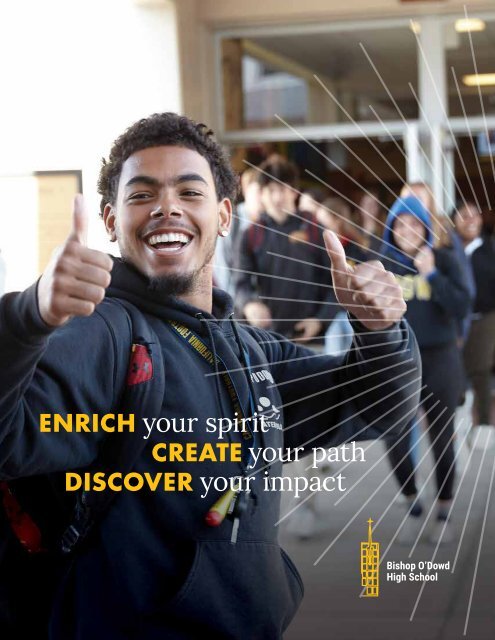 Bishop O'Dowd High School Viewbook
You also want an ePaper? Increase the reach of your titles
YUMPU automatically turns print PDFs into web optimized ePapers that Google loves.
ENRICH your spirit

CREATE your path

DISCOVER your impact

Bishop O'Dowd

High School

1 | BISHOP O'DOWD HIGH SCHOOL VIEWBOOK
---
At O'Dowd, we nurture the whole student.

Our faculty and staff partner with families to

support students in discovering their best selves

and unlocking their potential and aspirations.

Our holistic academic program, including

hands-on learning experiences, challenges

students to explore and take risks, uncovering

their interests and passions to chart a rewarding

scholastic path that prepares them to make a

difference in the world.

Our celebrated co-curricular opportunities —

spanning athletics, visual and performing arts,

environmental programs, a diverse array of

clubs, advanced leadership teams and more —

create dynamic, life-changing experiences for

students to find and hone their strengths and

embrace the power they have to make an impact

within the O'Dowd community and beyond.

Welcome to

O'DOWD!

We are a college preparatory community, guided by

the Catholic educational tradition, to engage students

in a rich curriculum that encompasses mind, body and

spirit, and emboldens our graduates to lead and serve

for a more just, joyful and sustainable world.

Our religious education, service learning,

community Masses, peer retreats, and

opportunities for faith, reflection, and personal

development guide our students to connect

with enduring values and take action for the

common good.

Above all, we are guided by our Charism —

spiritual gifts of the Holy Spirit — to find God in

all things. We embrace our diverse community.

We honor strength of character. We rise to

academic excellence. We cherish the earth and

all living things. We stand for social justice.

We seek and hold onto joy.

We welcome you to find your place at O'Dowd.

You belong here.

President

J.D. Childs

Interim Principal

Lisa Lomba, Ed.D.

2 | BISHOP O'DOWD HIGH SCHOOL VIEWBOOK

BISHOP O'DOWD HIGH SCHOOL VIEWBOOK | 3
---
AT A GLANCE

1,250 20

Student Body Acre Campus

14:1

Teacher/

Student Ratio

26

Average

Class Size

4 27

Acre Living Lab AP and Honors

Courses

.4%

1%

Student Ethnicity

.3% ■ Black or African American

16.3% 9.9% ■ Asian

■ White

21.1%

■ Latino

■ Middle Eastern

41.1% ■ Multiracial

9.9%

■ American Indian or Alaska Native

■ Native Hawaiian or

Other Pacific Islander

College Acceptances

Last 5 Years

1%

17%

22%

21%

26%

11%

■ University of California

■ California State Universities

■ California Private Universities

■ Out-of-State Private Universities

■ Out-of-State Public Universities

■ International Universities

For a full list, see: bishopodowd.org/

collegeacceptances

BISHOP O'DOWD HIGH SCHOOL VIEWBOOK | 5
---
JOY | STRENGTH OF CHARACTER | COMMUNITY IN DIVERSITY | ACADEMIC EXCELLENCE | SOCIAL JUSTICE | KINSHIP WITH CREATION

ENRICH

your spirit

AT O'DOWD, our dynamic connection to the Catholic faith is instilled in

every fiber of our community. We offer lively values-based teaching, joyful

Masses and faith celebrations, formative retreats for each grade, and a long

tradition of engaged service learning. Students of all religious backgrounds

form their own, unique connection to O'Dowd's charism of finding God in

all things, and support each other to build a community culture grounded in

meaning and purpose. We encourage our students to contribute in making

O'Dowd a place of belonging for everyone, and to use their voices to build a

more equitable, connected world.

6 | BISHOP O'DOWD HIGH SCHOOL VIEWBOOK

BISHOP O'DOWD HIGH SCHOOL VIEWBOOK | 7
---
ENRICH

your spirit

PROGRAM

HIGHLIGHTS

Religion Courses for

Spiritual, Ethical and

Personal Development

✝ The Catholic Experience

✝ World Religions

✝ Atheism and Faith

✝ Peace and Justice

✝ Ethics and Media

✝ Spiritual Ecology

✝ Feminism, Christianity,

and Society

✝ Church and the African

American Experience

Spiritual Formation

✝ Community Mass and Liturgies

✝ Campus Ministry Team

✝ 9th Grade Welcome Retreat

✝ 10th Grade Superhero Retreat

" I see faith wherever I go at

O'Dowd. I see it when we're

in the Living Lab, caring

for creation. I see it when

we pray together before a

game, and when we see the

expressions on the crowd's

faces when we score. I see

it when we have food and

supplies drives. I see it in

the classroom, when we're

learning together. I see faith

everywhere, and that's what

builds and strengthens

our community."

✝ 11th Grade Kairos Retreat

✝ 12th Grade

Discernment Retreat

Social Justice and Joy

✝ 9th-12th Grades

Service Learning

✝ Service Immersion Trips

✝ Living Lab

✝ Spirit Week

✝ Multicultural Celebrations

✝ Health and Wellness

✝ Affinity Groups

✝ 9th Grade Advisories

✝ Giving

8 | BISHOP O'DOWD HIGH SCHOOL VIEWBOOK

—YSABELLA, 11th Grade
---
JOY | STRENGTH OF CHARACTER | COMMUNITY IN DIVERSITY | ACADEMIC EXCELLENCE | SOCIAL JUSTICE | KINSHIP WITH CREATION

CREATE

your path

AT O'DOWD, we are committed to offering students a wide breadth

of unique courses and relevant learning opportunities to explore their

interests, nurture their passions, and develop their own academic path.

Our teachers, alongside our robust college counseling department, create

a supportive environment that guides students to think critically, engage

their subject material, and bring their learning into the world. We believe

strong teaching relationships are the gateway to growth, and O'Dowd

students form lasting bonds with their teachers, creating a culture in

which students feel safe to take academic risks and ultimately succeed.

Our students make an impact in their communities — bringing more

justice, joy, and sustainability to our world!

" I took Science and the Environment as a freshman. And I

really enjoyed that. So the next year I took Biology and Honors

Chemistry. And this year I'm taking AP Biology and Environmental

Science. It's cool how we can customize our course load at O'Dowd,

because I've been able to see how much I like science and to keep

exploring that."

—WILLIAM, 11th Grade

10 | BISHOP O'DOWD HIGH SCHOOL VIEWBOOK

BISHOP O'DOWD HIGH SCHOOL VIEWBOOK | 11
---
CREATE

your path

SAMPLE COURSES

✝ Experiential Science

Research Trips

(Galapagos, Costa Rica,

Belize, Yosemite, Montana)

✝ Marine Biology

✝ Introduction to

Sports Medicine

✝ Computer Science

✝ Robotics

✝ Engineering Physics

✝ Digital Arts and Animation

✝ Drawing and Design

✝ Urban Art

✝ The Art of Film and Video

✝ Photography

✝ Identity and Literature

✝ Creative Nonfiction

✝ Science Fiction

✝ AP Art

✝ Hip Hop and Society

✝ World Languages

(French, Mandarin, Spanish)

✝ Immersive World Language

Trips (Madrid, Barcelona,

Paris, Quebec)

✝ Psychology

✝ Race and the Law

✝ Holocaust Studies Course

and European Historical

Site Visit

✝ War and Diplomacy in the

20th Century

✝ The Contemporary

Middle East

✝ Black Nationalist

Movements

✝ 10th and 11th Grade Science

and English College-Based

Research Projects

Check out our course catalog for an extensive list

" I came to O'Dowd because I could see that the art program was

strong. I'm focused on graphic design and painting. My art

teachers have given me a lot of freedom to express myself. It's

empowering. I've been able to share my work in The Muse, which

is the student-edited art and literary journal. My dream career is

to work at Pixar and make short films about climate change."

—DORIAN, 11th Grade

Over

75%

of faculty

hold advanced

degrees

SUPPORTING OUR STUDENTS

✝ Academic Coaching (Goal

Setting, Organizational Skills)

✝ Peer Tutoring

✝ S.M.A.R.T. Sessions

✝ Support for Learning

Differences

✝ Dragon Success (Group

Based Study Skills and

Executive Functioning)

✝ Academic Support for

Student Athletes

✝ Final Exam Prep

✝ Career Development

Counseling

12 | BISHOP O'DOWD HIGH SCHOOL VIEWBOOK

BISHOP O'DOWD HIGH SCHOOL VIEWBOOK | 13
---
JOY | STRENGTH OF CHARACTER | COMMUNITY IN DIVERSITY | ACADEMIC EXCELLENCE | SOCIAL JUSTICE | KINSHIP WITH CREATION

DISCOVER

your impact

O'DOWD BELIEVES that when students find what sparks their curiosity,

they discover who they are meant to be. We offer inspiring co-curricular

programming, from athletics and visual/performing arts, to clubs and

leadership groups. Through these opportunities, students explore their

interests, discover their individual strengths, build lasting friendships, gain

self-confidence, develop strong collaboration and communication skills, and

tap into their greater purpose. As students connect to what they care about

most, they connect to the greatest, most joyous ways to make a contribution

- on our campus and in our society. Our co-curricular programs are designed

to ensure that O'Dowd students understand who they are and how they may

use their gifts to better the world.

" I love the opportunities at O'Dowd. My AP Environmental Science

course made me passionate about global justice and I got inspired

to start a student-led organization called ImpactZ. I'm so proud

to see my peers speaking up about the issues that matter to them.

Through ImpactZ, I've learned not to be afraid to take risks, and

that's made me a stronger leader."

—MARY, 11th Grade

14 | BISHOP O'DOWD HIGH SCHOOL VIEWBOOK

BISHOP O'DOWD HIGH SCHOOL VIEWBOOK | 15
---
DISCOVER

your impact

" I've learned so much about leadership as the captain for the

volleyball team. Before O'Dowd, I didn't see myself as a leader.

But now I know how important it is to be part of something bigger

than myself, how it feels to help others. In college, I'm going to

study economic and political science. I want to be a progressive

politician and give back to my community."

—SAM, 11th Grade

PROGRAM HIGHLIGHTS

Academic

Co-Curriculars

✝ Debate

✝ Mock Trial

✝ Robotics Team

✝ Mathletes

✝ Yearbook

✝ Student Newspaper

✝ Student Literary

Journal

Leadership Groups

✝ Eco Leaders

✝ Solidarity in Action

✝ Health and Wellness

Leaders

✝ Peer Tutoring

✝ Campus Ministry

Team

✝ Associated Student

Body

✝ Dragon

Ambassadors

✝ Student Athletic

Leadership Team

Clubs

✝ Black Student Union

✝ Latinos Unidos

✝ Italian Club

✝ Jewish Club

✝ Polynesian Club

✝ Desi Club

✝ Asian Student

Alliance

✝ Filipino Club

✝ Middle-Eastern Club

✝ Unity Club

✝ Disney

✝ Surf Appreciation

✝ Baking

✝ Ultimate Frisbee

✝ Chess

✝ Mountain Biking

✝ Computer

✝ Dance

✝ Dumbledore's Army

✝ Girls Who Code

✝ Outdoor

Adventure Club

✝ Photography

✝ Relax and

Recuperate

Social Justice

✝ Dragon Talks

✝ Feminist Club

✝ O'Dowd Climate

Coalition

✝ Bring Change to

Mind

✝ Women's Circle

✝ IGNITE

✝ Bay Area Student

Activist Club

✝ Activism and

Media Club

Athletics

✝ Baseball

✝ Basketball

✝ Cross Country

✝ Football

✝ Golf

✝ Lacrosse

✝ Rugby

✝ Soccer

✝ Softball

✝ Swimming

✝ Tennis

✝ Track and Field

✝ Volleyball

✝ Water Polo

✝ Cheerleading

✝ Advanced Athletics

✝ Mental Skills

Coaching

Visual and

Performing Arts

✝ Symphonic Band

✝ Jazz Band

✝ Advanced Jazz Band

✝ String Orchestra

✝ Chorus

✝ Digital Music

✝ Drama

✝ Photography

✝ Ceramics

✝ Painting

✝ Drawing

✝ Computer Arts

16 | BISHOP O'DOWD HIGH SCHOOL VIEWBOOK

BISHOP BISHOP O'DOWD O'DOWD HIGH HIGH SCHOOL SCHOOL VIEWBOOK | 17
---
THE O'DOWD COMMUNITY WELCOMES YOU

Come take a tour, meet our students, talk with

teachers and administrators, visit our website.

bishopodowd.org

Admissions@bishopodowd.org

510.553.8631

BE CHALLENGED

BE A LEADER

BE NURTURED

BE SCHOLARLY

BE BOLD

BE FAITHFUL

BE CONNECTED

BE PASSIONATE

BE A CHANGEMAKER

BE JOYFUL

YOU BELONG HERE.

18 | BISHOP O'DOWD HIGH SCHOOL VIEWBOOK BISHOP O'DOWD HIGH SCHOOL VIEWBOOK | 19
---
Bishop O'Dowd

High School

9500 Stearns Ave, Oakland, CA 94605

P: 510.577.9100 | F: 510.638.3259

www.bishopodowd.org

20 | BISHOP O'DOWD HIGH SCHOOL VIEWBOOK