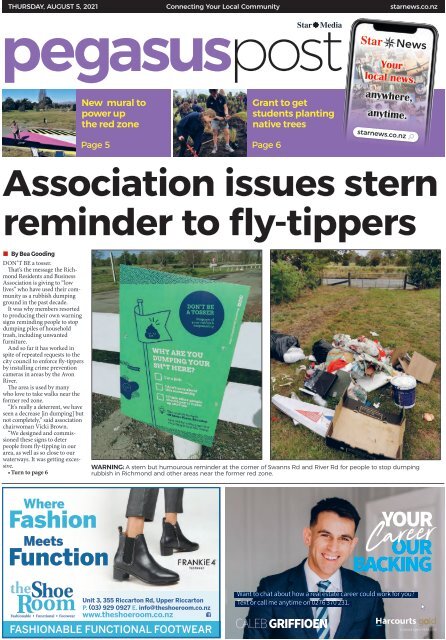 Pegasus Post: August 05, 2021
Create successful ePaper yourself
Turn your PDF publications into a flip-book with our unique Google optimized e-Paper software.
THURSDAY, AUGUST 5, 2021

Connecting Your Local Community

starnews.co.nz

Your

local news.

New mural to

power up

the red zone

Grant to get

students planting

native trees

anywhere,

anytime.

Page 5 Page 6

Association issues stern

reminder to fly-tippers

• By Bea Gooding

DON'T BE a tosser.

That's the message the Richmond

Residents and Business

Association is giving to "low

lives" who have used their community

as a rubbish dumping

ground in the past decade.

It was why members resorted

to producing their own warning

signs reminding people to stop

dumping piles of household

trash, including unwanted

furniture.

And so far it has worked in

spite of repeated requests to the

city council to enforce fly-tippers

by installing crime prevention

cameras in areas by the Avon

River.

The area is used by many

who love to take walks near the

former red zone.

"It's really a deterrent, we have

seen a decrease [in dumping] but

not completely," said association

chairwoman Vicki Brown.

"We designed and commissioned

these signs to deter

people from fly-tipping in our

area, as well as so close to our

waterways. It was getting excessive.

• Turn to page 6

WARNING: A stern but humourous reminder at the corner of Swanns Rd and River Rd for people to stop dumping

rubbish in Richmond and other areas near the former red zone. ​

Where

Fashion

Meets

Function

Fashionable • Functional • Footwear

Unit 3, 355 Riccarton Rd, Upper Riccarton

P. (03) 929 0927 E. info@theshoeroom.co.nz

www.theshoeroom.co.nz

FASHIONABLE FUNCTIONAL FOOTWEAR

YOUR

Want to chat about how a real estate career could work for you?

Text or call me anytime on 0276 370 231.

CALEB GRIFFIOEN

Career

OUR

BACKING

Licensed Agent REAA 2008
---
2 Thursday August 5 2021

Latest Canterbury news at starnews.co.nz

what's on

this week

PEGASUS POST

GENERAL INQUIRIES Ph 379 7100

CLASSIFIED ADVERTISING Ph 379 1100

Star Media, a division of Allied Press Ltd

PO Box 1467, Christchurch

starmedia.kiwi

NEWS

Bea Gooding

Ph: 021 911 576

bea.gooding@starmedia.kiwi

ADVERTISING

Frank Greenslade

Ph: 364 7441

frank.greenslade@starmedia.kiwi

Your local community news

delivered to 17,598 homes

within The Star each week.

Linwood • Avonside • Richmond • Shirley • Bexley

Burwood • Dallington • Wainoni • Bromley

Aranui • Avondale • New Brighton • Northshore

Queenspark • Parklands • South Brighton

Kawhe & Kōrero

Thursday, 10-11am

New Brighton Library

Build your confidence in te reo

Māori skills with other fellow

learners. Free, no booking required.

SeniorNet

Thursday, Monday, Tuesday,

Wednesday, 10am-noon

202 Marine Pde, New Brighton

Go along and learn how to use

modern technology and the internet,

such as smartphones, tablets, laptops,

cameras and more. Bookings

required. Phone 382 6048 to register.

Dementia Partners Support

Group

Friday, 10.30am-noon

Wainoni Avonside Community Services

Trust, 58 Bassett St

The Wainoni Avonside Community

Services Trust has started a new

support group for the partners of

those who have their loved ones in

dementia care. Gold coin donation.

All welcome. Phone Betty Chapman

at 389 2285 for more information.

SAYGo Falls Prevention

Exercise Class

Friday, 10-11am, at New Brighton,

Tuesday, 10-11am, at South Brighton

New Brighton Library and South

Brighton Community Centre

Steady As You Go (SAYGo) is

an exercise class designed to help

older people reduce their likelihood

Reading to Dogs, Wednesday, 3.30-4.30pm, New Brighton Library. A

relaxed, non-threatening event designed to encourage children to practice

reading skills and develop a love for reading. Registration required. Phone

941 7923 to register. ​

of having a fall. Free, no bookings

required but places are limited. Phone

Age Concern on 366 0903.

Rotary Market

Sunday, 8.30am-12.30pm

Woolston Club, 43 Hargood St

A variety of stalls will be available,

including fresh produce, jams and

preserves, and recycled clothing,

books and tools. Every fine Sunday,

with all proceeds supporting the local

community. For site inquiries, phone

Vance at 022 382 0086.

Creative Writing on Sundays

Sunday, 1.30-3.30pm

Linwood Library

Writing group leader Jennifer will

work with group members to craft,

create and develop their own stories.

Take some pens or pencils, paper, or a

laptop. This class is free.

Marshland Table Tennis Club

Monday, 7.30pm

Ouruhia Hall, 225 Guthries Rd

The Marshland Table Tennis Club is

looking for more players to join in on

the fun each week at its new premises

in Belfast. All abilities welcome. $5

for adults, $3 for children. For more

information phone 021 205 1106.

North Beach Bridge Club

Wednesday, 1-4pm

St Andrews Anglican Church, Marriotts

Rd, North New Brighton

Go along and join other friendly

members of the bridge club, who

meet every Wednesday. Phone

Margaret Keall at 382 0274 for more

information.

South Brighton Voices Choir

Wednesday, 7.30-9.30pm

New Brighton Methodist Church

If you love singing, go along

and join the friendly choir each

Wednesday. New members, especially

tenors and basses, are welcome.

Reading music is helpful, but not

essential. Phone 388 3727 for more

information.

Not-for-profit organisations can

send their What's On listings to

pegasus@starmedia.kiwi

SLIDE IN-STORE FOR COOL

AUGUST DEALS

$15.99

EACH

Woodstock (incl Zero)

7% 330ml 6pk cans

Smirnoff Ice

5% 10pk bottles

Coruba & Cola Zero

330ml 10pk cans

Coruba & Cola

7% 250ml 12pk cans

$41.99

EACH

$26.99

EACH

Scapegrace Vodka/Gin

250ml 4pk bottles

JD's & Cola Double Jack

375ml 4pk cans

$29.99

EACH

Cody's

7% 18pk cans

$42.99

EACH

$15.99

EACH

Woodstock

7% 250ml cans

5% 330ml bottles all 18pks

$47.99

EACH

$32.99

EACH

$16.99

EACH

Jim Beam Gold / CC

Premium

7% 330ml 6pk cans

$51.99

EACH

$38.99

EACH

Long White

15pk bottle range

$21.99

EACH

Cruiser

5% 12pk bottle range

$13.99

EACH

Stoneleigh

Marlborough /

Lighter ranges

$21.99

$54.99

EACH

EACH

Tui Hard Soda

330ml 10pk cans

$13.99

EACH

19 Crimes

range

$54.99

EACH

$21.99

EACH

Jim Beam & Cola/CC

(incl zero) 4.8% 10pk cans

Jim Beam Gold 7% 8pk cans

$13.99

EACH

Lindauer Classic

& Enlighten

ranges (ex reserve)

$22.99

EACH

ODD Company

10pk can range

$21.99

EACH

Jules Taylor range (ex

Reds) Rua Pinot Noir

Canterbury

Cream

$9.99

EACH

2 FOR

$25.00

$22.99

EACH

Jack Daniel's &

Cola Double Jack

250ml 10pk cans

$36.99

EACH

Malibu/ Kahlua

(incl salted caramel) 1L

$12.99

EACH

$23.99

EACH

Major Major

10pk can range

$36.99

EACH

Blackheart /

Woodstock 1L

$13.99

EACH

$37.99

EACH

$24.99

EACH

Gordons G&T, Gin & Soda

(pink/sicilian) 12pk 250ml cans

Smirnoff Seltzers

12pk 250ml cans

Gordons Pink /

Sicilian Lemon 700ml

Gordons & Smirnoff

1L

$22.99

EACH

$25.99

$37.99

EACH

EACH

Effen Vodka

JB / CC

4.8% 10pk bottle range

Teachers / Russian

Standard 1L

Stolen Gold Rum

700ml

Canadian Club

(incl spiced) 1L

Absolut/

Ballantines

Beefeater 1L

Beefeater 24 700ml

JB 1.125ml /

JB Devils Cut /

JB Black 1L

Makers Mark

700mls

Malfy 700ml range

Jameson 1L

JB Double Oak 1L

Haku Vodka /

Roku Gin / Ratu Rum

range 700mls

Jack Daniels 1L

Woodford

Reserve 700ml

Chivas Regal 12yr $51.99

Chivas Regal 15yr $74.99

Chivas Regal 18yr $89.99

all 700ml

Old Mout

1.25L cider range

Kingfisher

Strong

6pk cans

Monteiths

6pk bottle range

$21.99

EACH

Panhead

6pk range

Sol

12pk bottles

$22.99

EACH

$24.99

EACH

$25.99

EACH

$26.99

EACH

$31.99

EACH

$36.99

EACH

$41.99

EACH

$41.99

EACH

$26.99

EACH

$37.99

EACH

Somersby

12pk bottle range

Heineken

12pk bottles

Carlsberg

15pk bottles

Promotion period between 1/08/2021 to 31/08/2021. While stocks last. Promotion only available at participating stores – please contact your local store to confirm

whether they are participating in the promotion and check the pricing in-store prior to purchase. Online pricing will vary.

THIRSTY LIQUOR LINWOOD

21 ALDWINS ROAD, LINWOOD

03 982 1753

Tui/Export Gold/Extra/

DB Draught

15pk bottles

Export 33

15pk bottles

Haagen

24pk bottles

THIRSTY LIQUOR BURWOOD

9 PARNWELL ST, BURWOOD

03 383 2564

Lion Red / Waikato /

Speights or Summit

24pk bottles

Speights Summit

Ultra Low Carb

24pk bottles

thirstyliquor.co.nz

Asahi

24pk bottles

ASK ABOUT

LOYALTY CARD

BENEFITS &

GIFT VOUCHERS

Steinlager

24pk 330ml bottles
---
PEGASUS POST Latest Canterbury news at starnews.co.nz

Thursday August 5 2021 3

High school band vies for

Rockquest national title

A FIVE-PIECE R&B band from

Shirley Boys' High School has

stood out from more than 750

musical acts for a chance to snag

the Smokefreerockquest national

title.

After winning the regional

finals in May, the Single Malt

band was invited to apply for a

spot to compete at the national

final in Auckland next month.

Comprising of Cooper Gibb-

Faumuina, Ryan Diggs, Jed

Rimmer, Robin McGregor and

Javaan Gribben, the students

have been selected by judges

to join the top 10 school bands

across the country based on

their video submission.

Single Malt is one of two

Christchurch bands to perform

at the finals, with hard-rock

band Kenring of Middleton

Grange School also making the

cut.

Judge Ash Wallace said she

was incredibly impressed with

the top acts this year.

Judges had to consider 30 acts

that made the last stage of selection

for a chance to be chosen to

compete at nationals

CHANCE: Shirley Boys' High School students and Single Malt band members Cooper

Gibb-Faumuina, Ryan Diggs, Jed Rimmer, Robin McGregor and Javaan Gribben were

chosen to compete at the Smokefreerockquest national finals. ​

"There was always going to be

a unique energy and enthusiasm

this year after such a hard year

for the music community in

2020," she said.

"The top 30 this year, all of

them, submitted videos that were

of an incredibly high standard.

All the acts had written awesome

songs, and were obviously having

so much fun performing and

sharing their craft.

"That is what music is all

about so it has just been such a

thrill to see that."

The top 10 includes seven

bands and three solo-duo acts.

In its 34th year,

Smokefreerockquest is

recognised as a launching pad

for many great Kiwi musicians,

including Marlon Williams,

Broods, Kimbra and Alien

Weaponry.

Call to keep

70km/h

speed limit

• By Samantha Mythen

LINWOOD-Central-Heathcote

Community Board member

Darrell Latham wants the city

council to keep Humphreys Drive

at 70km/h.

He is concerned the proposed

speed reduction will increase

commuter times for motorists

driving into the city.

"Given the recent speed reductions

from 50km/h to 30km/h

through the Woolston Village,

transit times for residents commuting

to the city are likely to

increase," he said.

"The route via Humphreys

Drive provides an alternative and

quicker option for many coastal

residents."

The city council is proposing

to reduce the current 70km/h

speed to 60km/h in an effort to

make it safer for both cyclists and

motorists who share the road.

City council transport

operations manager Steffan

Thomas said the speed limit

reduction would also "better

reflect the safe and appropriate

speed recommended by current

speed management guidance

from Waka Kotahi New Zealand

Transport Agency."

Working towards a positive future

FREE

PRESCRIPTIONS *

No $5 prescription charge

YOUR ONE STOP SHOP!

TYRES

NEW & USEd

WoF

FLAGS

TYRES

bOOk

IN NOW

FULL MECHANICAL

SERVICES

WHEEL

ALIGNMENTS

SPECIALISTS$49

Wigram - 341 1226 104 Hayton Rd

Woolston - 384 0000 49 Garlands Road

*Other charges relating to partially funded or

unfunded medicine prescriptions may apply.

EASTGATE PHARMACY

Phone (03) 963 7910

Eastgate Shopping Centre
---
4 Thursday August 5 2021

Latest Canterbury news at starnews.co.nz

PEGASUS POST

School Update

Manukura Kōrero

He kākano ahau i ruia mai i Rangiātea

I am a seed which was sewn in the heavens of Rangiatea

Kia Ora Koutou Katoa, ngā mihinui ki te whānau o Haeata.

The greatest gift we have as a community is our tamariki,

because our tamariki are our past, our present and our

future. As a community we must ensure that above all

things our tamariki and rangatahi are

always our first priority.

Another gift Aranui whānau have is

Haeata. A gift given and deserved to

ensure that tamariki and rangatahi in the

East have access to quality education

framed by innovative ako/teaching and

learning and supported by one of the

most sophisticated modern learning

environments in the country.

There are some who attempt to describe

Haeata's building design as 'nothing

more than a 'giant barn.' Nothing could

be further from the truth and I need to

make clear here that you as whānau can

be assured that our learning environment

caters for the best in innovative curriculum

delivery and design. With the introduction

of He Korowai manaaki, our 'better

behaviour for learning' strategy, our tamariki and rangatahi

can now focus on their core business - the business of

quality ako experiences.

Our next wero is to raise attendance rates for all ākonga.

Our tamariki and rangatahi, like those around the motu,

sometimes find it hard to engage. So much that is

challenging for them lies outside the kura gate, and outside

our control. On-line bullying, social media overload,

unhealthy 'friendships' and a newly

emerging 'apocalypse anxiety,' around

issues to do with climate change burden

ākonga unnecessarily.

We need to free ākonga from these

constraints and let them be kids. While

they might demand to be treated like

adults, theirs is not yet an adult world.

Right now they don't need to worry

about paying the power, the phone, the

food, the rent or the mortgage - they

have years ahead of them to do that.

What they do need to do is grow - in

a nurturing and safe environment - at

home and at kura.

So, as their whānau, at home and at kura,

let's commit to letting them be kids for as

long as they can be, and to ensuring they

get to enjoy their school years; because some would say

our school days are the best days of our lives.

Let's make it so for all of our tamariki and rangatahi!

Kia kaha, kia toa, kia manawanui.

Arohanui

Whaea Peggy

Recycle a Device

Kick Off Haeata 2021

Recycle a Device started

a programme at Haeata

at the end of Term 2 that

we are very excited to

share with you!

This was a very important

door that has been

opened today for some

of our ākonga and for

our kura. Providing an

experience of working

within an IT field for our

ākonga is something that

we are so happy to be

achieving, in partnership

with Digital Futures

Aotearoa.

Our ākonga got an opportunity to see how a laptop works,

and how to pull them apart and put them back together. This

programme will continue throughout lunchtimes as our ākonga

get sent more and more devices to recycle and repair. These

devices can then be used at Haeata or be sent to whānau who

need them. What an exciting initiative for our ākonga to be a

part of to both learn and give back to the community.

Te Mātāpuna Mātātahi | Children's University

Te Mātāpuna Mātātahi | Children's University aims to raise young

people's aspirations for higher education and encourage lifelong

learning. The University of Canterbury and Lincoln University are

working in partnership to deliver the programme, which is the first of

its kind in New Zealand.

They fill the passport with hours

of learning or volunteering

outside the school classroom.

The passport is stamped by

registered Learning Destinations

or volunteering organisations.

Once 30 hours of learning or volunteering are reached, students

are invited to attend a graduation ceremony to celebrate their

achievements.

We were so excited to see the success in 2020, that this year we have

managed to get 40 spots for 2021. This is an exciting opportunity for

our ākonga to experience success in 2021!

At the end of term 2 we had a trip to Lincoln University. A day of

new experiences into university life.

• Looking after animals and the impact on agriculture and farming -

all about sheep 101.

• What makes a plane?

• Activity: Ocean Science, conservation. What happens to plastics in the sea?

• Soil Food, Web/Venomous Spiders: had the chance to speak to NZ's experts.

Such a great experience for our ākonga to see what a university is all about!

We also gained 3 hours towards our November graduation.

Taking enrolments, please email enrol@haeata.school.nz for any enquiries or phone us on 03 930 0110

Haeata Community Campus

240 Breezes Road, Wainoni

Reception Hours: Mon - Fri 8am - 3pm

Contact 03 930 0110 • enrol@haeata.school.nz

www.haeata.school.nz
---
PEGASUS POST Latest Canterbury news at starnews.co.nz

Thursday August 5 2021 5

New mural to power up the red zone

A VIBRANT new road mural

is brightening up mid-winter

days in the former red zone,

with the artist hoping it will help

encourage people to explore the

space.

'Crossings' by New Brighton

artist Nathan Ingram, also

known as Dr Suits, is an abstract

artwork painted on Burwood's

Corserland St.

The street leads through

a range of public activities

facilitated by landowners

Toitū Te Whenua LINZ and

leaseholders Life in Vacant

Spaces.

The mural features geometric

shapes that play on the way roads

remain in the red zone in spite

of the absence of the houses they

once served.

A collaboration between Dr

Suits and arts facilitators Watch

this Space, it is one of a series

of creative additions to a ninehectare

area known as East x

East.

"It heightens the impact of

the road markings to a more

purely aesthetic level, while

also encouraging the viewer to

enter the work and play across

its shapes and lines," said Watch

this Space's Dr Reuben Woods.

"It also plays on the natural

environment by aligning with

REIMAGINED: New Brighton artist Nathan Ingram has painted a mural in the former red

zone that complements other artwork encouraging people to play games in the area.

the shadows cast by nearby

power poles."

The mural is complemented

by another 80s-inspired artwork

by local artists Porta and

Bols – the latest addition to

their 'Power Up!' interactive

installation.

Painted onto a shipping

container, the new artwork uses

a pixelated style reminiscent of

a video game screen, inviting

people to play the nearby 'Power

Up!' treasure hunt game.

'Power Up!' includes retro

arcade game rewards – such as

coins, potions, treasure chests

and swords – that are distributed

around the area for people to

seek out and power up.

"The game not only adds to the

idea of playing in the red zone,

but also draws on the history

of the area as a site for family

homes where children grew up

playing," said Dr Woods.

All the artworks and games

ultimately aim to encourage

people to explore and reimagine

the area.

Said Dr Woods: "The red

zone is loaded with associative

meanings and memories, but at

the same time needs to speak

of the future and what we can

do with these spaces. Adding

creative interventions is a

good way to encourage

people to think about their

surroundings and how to engage

with [them]."

A grant from the city council's

Red Zone Transitional Land Use

fund was approved by Te Tira

Kāhikuhiku to help fund the

creation of the new murals.

Delicious

Homestyle Food

• Cabinet food - sandwiches, rolls, slices, cakes, scones etc

• All day breakfast (2 sausages, 2 slices of bacon, 2 eggs any style,

tomatoes, hash brown & toast for $15!) • Toasted sandwiches

• High teas • Coffee (any style) • Tea • Cold drinks

All at affordable prices, great friendly service

JEZEBELLS CAFÉ

Monday - Friday 8am - 3pm, Saturday 9am - 2pm

Shop 7, 317 Pages Rd, Wainoni. Ph 382 0660

SOIL AND

HARDFILL

DUMPING

WE NOW HIRE

LANDSCAPING AND

GARDEN EQUIPMENT

DIGGERS, TRUCKS, WOOD CHIPPERS, POLE SAWS,

BREAKERS, WATER BLASTERS, ETC.

PLUS WE SUPPLY THE BEST

LANDSCAPE & GARDEN SUPPLIES

•BARKS •COMPOSTS

•AGGREGATES - CHIP, ROUND & BASECOURSE

•SCHIST PRODUCTS •PUNGAS

•DECORATIVE STONE & LANDSCAPING ROCKS

•TRAILER HIRE - FIRST HOUR FREE WITH PURCHASE

•BAG & BULK - PICK UP OR DELIVERED

DYERS ROAD LANDSCAPE & HIRE

PHONE: 03 384 6540

183 DYERS RD, BROMLEY ● OPEN 7 DAYS

Weekdays 7.30am-5pm. Weekends 8.30am-3pm

www.dyersroadlandscape.co.nz
---
6 Thursday August 5 2021

Latest Canterbury news at starnews.co.nz

PEGASUS POST

Problem started 10 years

ago after earthquake

• From page 1

"The council don't do any enforcement

of fly-tipping and rely

on locals to Snap Send Solve for

disposal of rubbish."

A city council spokesperson

said the residential red zone team

has spoken with residents about

fly-tipping deterrent options,

including CCTV.

But they said a business

case was needed

to support the install,

repair, maintenance, and

operational costs.

"Occasional fly-tipping

would not trigger this

expense normally," they

said.

"CCTV was trialled by the

Canterbury Earthquake Recovery

Authority when they managed

the residential red zone, but it

wasn't cost-effective."

The joint venture was between

the Riverlution Eco Hub and We

are Richmond – the association's

official name.

Initially, "normal" looking

signs were installed, but when

they were ignored, the groups

decided to amp it up with signs

that delivered the message loud

and clear.

The improved signs were put

up at several spots across the area

in the last few months. One can

Vicki Brown

be found at the corner of Swanns

and River Rds.

They said the community has

had to put up with the problem

as far back as the February 22,

2011, earthquake when the area

became the residential red zone.

"We have had praised from

the city council parks

department, our community

boards and other

resident's associations

for pushing forward with

initiatives to better our

community," said Brown.

The city council

spokesperson said it

was difficult to identify

offenders, especially as the Litter

Act 1979 requires observation

of a person committing an offence

or a reasonable cause for

suspicion.

It is currently working on engaging

with community boards

for help in targeting identified

hot spots and wider community

education.

"This is a national issue that

is known to be on the rise," they

said.

"Even in cases where there is

something in the dumped contents

that could lead us to who

may have been involved, this is

not sufficient evidence to positively

identify the offender."

Grant to help more students

get involved in native planting

A CHARITABLE trust that

is working with 16 schools to

populate parts of the former red

zone with native plants is getting

a $61,400 grant to expand its

operation.

The money will come from

the Red Zones Transitional Use

Fund that was set up by the city

council to provide support to

projects and events

Ahead of their longer-term

regeneration, the projects will

help create activity and vibrancy

in the former red zone areas.

Some of the schools involved

include Linwood College, Rawhiti

Primary, St Andrew's College,

Burnside Primary, Christ's College,

Avonside Girls' High School,

Christchurch South Intermediate

and St Margaret's College.

"The Eco-Action Nursery

Trust is doing an amazing job at

both connecting young people

with the former red zone area

along the Ōtākaro Avon River

Corridor and educating them

about the process for endemic

native revegetation,'' sustainability

and community resilience

chairwoman and city councillor

Sara Templeton said.

The trust was set up two years

ago.

It collects endemic native plant

VOLUNTEERS: The Eco-Action Nursery Trust, which works

with 16 schools across the city, has received a grant, allowing

it to teach more young people about native planting.

PHOTO: NEWSLINE ​

seeds, under permit from Travis

Wetland and Riccarton Bush,

propagates seedlings and grows

plants at a central nursery at

Christ's College, using volunteer

school students and supervisors.

It is working with the schools

to help them establish satellite

nurseries, providing start-up kits

of 500 to 1000 plants and all the

equipment they need to successfully

grow them.

Eco-Action Nursery Trust

chairwoman David Newton

said the grant will allow it to get

more schools and young people

involved in the growing and

planting process.

"The native trees and plants that

are being grown by the students

through the nursery programme

provide much-needed food and

habitats for native birds and lizards,

which is another important

focus for us,'' Newton said.

The trust has a five-year

lease on a parcel of land off

Chimera Cres, in the Ōtākaro

Avon River Corridor which it

has started planting with the

help of volunteers. It also has a

lease on another area of land off

Gayhurst Tce that will be ready

for planting in winter next year.
---
PEGASUS POST Latest Canterbury news at starnews.co.nz

Thursday August 5 2021 7

We're rolling out

COVID-19 vaccinations

to Aotearoa New Zealand

Everyone aged 60+ can book their vaccination now

New Zealanders aged 60+ can book now at BookMyVaccine.nz or call

0800 28 29 26. If you're in one of our priority groups (Groups 1, 2 and 3)

and haven't been vaccinated, don't worry, you can still make your booking.

We're rolling out Group 4 in age bands

Everyone in Aotearoa New Zealand will be able to get the vaccine – it's free and there's enough vaccine for everyone.

With more than 2.5 million people aged under 65, to make the process flow smoothly, we're breaking it down by age bands.

We're starting with the oldest and working our way down to the youngest.

Important dates

28 July Everyone 60+ Can book now

11 August Everyone 55+ Bookings open

Bookings will open soon to the rest of Aotearoa in age bands,

from oldest to youngest. Remember, once you're eligible to be

vaccinated, you can book at any time. There's no cut off.

60 +

55 + 45 + 35 + 16 +

When it's your time to book a vaccination

Step 1: Receiving an invitation

When you're eligible, you'll receive a letter inviting you to book

at BookMyVaccine.nz. We'll follow up with an email and text.

Step 2: Make your booking

Once you've received your invitation, or when your age band is

open, go to BookMyVaccine.nz to book your appointments.

If you're unable to book online, you can ring the COVID Vaccination

Healthline on 0800 28 29 26 (8am to 8pm, 7 days). We'll make the

booking for you and answer any questions. Interpreters are available

if you need them.

You can expect to have your first vaccination six to eight weeks after

you make your booking. Depending on where and when you'd like to

be vaccinated, you might find an appointment earlier. You'll need

to leave at least three weeks between your first and second doses.

Step 3: Get your vaccination

We'll send a reminder the day before each appointment. It's very

important to get two doses of the vaccine – this will give you the

best protection.

Other ways to get vaccinated

There are other ways to be vaccinated, including workplace

vaccinations and other vaccination events around the country.

In many remote rural communities, we will vaccinate all age groups

at the same time.

Many GPs are also providing COVID-19 vaccinations and are taking

bookings directly. To find out if your GP is offering this service,

visit healthpoint.co.nz/covid-19-vaccination

The stronger our immunity, the greater our possibilities.

Find out more at Covid19.govt.nz
---
8

Thursday August 5 2021

Latest Canterbury news at starnews.co.nz

PEGASUS POST

Hilux, Hiace and

everytHing in

between

68 Falsgrave Street, Woolston

W: nzvanspares.co.nz

E: nzvanspares@hotmail.com

Ph: 03 379 3932 / 0508 698 267

100% Canterbury Owned

NZ's favourite home for

Recycled Hilux & Hiace Parts

WEEK OnE

DaTE / GamE WHERE REsUlT

friday 6 aUgUST

Manawatu v Counties Manukau

SaTUrday 7 aUgUST

Taranaki v Hawkes Bay

Wellington v Northland

Otago v Southland

Palmerston North

New Plymouth

Wellington

Dunedin

WEEK TWO

PrO

RUG

DaTE / GamE WHERE REsUlT

friday 13 aUgUST

Counties Manukau v North Harbour Pukekohe

SaTUrday 14 aUgUST

Tasman v Auckland

Hawkes Bay v Otago

Canterbury v Manawatu

Nelson

Napier

Christchurch

SUNday 8 aUgUST

Bay of Plenty v Tasman

North Harbour v Waikato

Auckland v Canterbury

Tauranga

North Harbour

Auckland

SUNday 15 aUgUST

Southland v Bay of Plenty

Waikato v Wellington

Northland v Taranaki

Invercargill

Hamilton

Whangarei

WEEK fivE

WEEK siX

DaTE / GamE WHERE REsUlT

DaTE / GamE WHERE REsUlT

friday 3 SEPTEmBEr

Southland v Northland

Invercargill

friday 10 SEPTEmBEr

Hawkes Bay v North Harbour

Napier

Visit us: oemaudio.co.nz

www.youtube.com/OEMAUDIONZ

18 Coleridge Street, Sydenham

Email: sales@oemaudio.co.nz

SaTUrday 4 SEPTEmBEr

Bay of Plenty v Waikato

Canterbury v Tasman

Wellington v North Harbour

SUNday 5 SEPTEmBEr

Counties Manukau v Taranaki

Manawatu v Hawkes Bay

Otago v Auckland

Tauranga

Christchurch

Wellington

Pukekohe

Palmerston North

Dunedin

SaTUrday 11 SEPTEmBEr

Taranaki v Southland

Tasman v Wellington

Auckland v Manawatu

SUNday 12 SEPTEmBEr

Canterbury v Bay of Plenty

Northland v Counties Manukau

Waikato v Otago

Inglewood

Blenheim

Auckland

Christchurch

Whangarei

Hamilton

• W.o.F

• all insurance Work

• paint & repair

• restoration

• mechanical

• Free no-oBliGation Quotes

• Free courtesy cars & Vans

Free workplace drop oFF

and pick up within the cBd!

46 Battersea st, sydenham

03 366 1809 | hammonds.nz

WEEK ninE

DaTE / GamE WHERE REsUlT

friday 1 OCTOBEr

Canterbury v Counties Manukau

SaTUrday 2 OCTOBEr

Northland v Waikato

Manawatu v Otago

Bay of Plenty v Wellington

SUNday 3 OCTOBEr

Auckland v Hawkes Bay

Taranaki v North Harbour

Tasman v Southland

Christchurch

Whangarei

Palmerston North

Rotorua

Auckland

Inglewood

Blenheim

WEEK TEn

DaTE / GamE WHERE REsUlT

friday 8 OCTOBEr

Wellington v Canterbury

SaTUrday 9 OCTOBEr

Waikato v Auckland

Hawkes Bay v Tasman

Otago v Taranaki

SUNday 10 OCTOBEr

North Harbour v Northland

Southland v Manawatu

Counties Manukau v Bay of Plenty

Wellington

Hamilton

Napier

Dunedin

North Harbour

Invercargill

Pukekohe

CITY SOUTH VAN SPARES

SERVICE CENTRE

WOFS & TYRES

159 MACES ROAD

FOR ALL YOUR

MECHANICAL

REPAIRS
---
PEGASUS POST Latest Canterbury news at starnews.co.nz

Thursday August 5 2021

ViNCiaL

BY 2021

GamE

sCHEDUlE

Firewood &

landscape

supplies

we supply & deliver

9

WEEK THREE

DaTE / GamE WHERE REsUlT

friday 20 aUgUST

North Harbour v Southland North Harbour

SaTUrday 21 aUgUST

Canterbury v Hawkes Bay

Waikato v Taranaki

Auckland v Bay of Plenty

SUNday 22 aUgUST

Northland v Otago

Tasman v Counties Manukau

Manawatu v Wellington

Christchurch

Hamilton

Auckland

Whangarei

Nelson

Palmerston North

WEEK fOUR

DaTE / GamE WHERE REsUlT

friday 27 aUgUST

Otago v Canterbury Dunedin

SaTUrday 28 aUgUST

Hawkes Bay v Waikato

North Harbour v Tasman

Southland v Counties Manukau

SUNday 29 aUgUST

Bay Of Plenty v Northland

Taranaki v Manawatu

Wellington v Auckland

Napier

North Harbour

Invercargill

Tauranga

Inglewood

Wellington

Open 7 days Mon-Sat 7.30am-5pm Sun 8am-4pm

4 Parkhouse Rd, Sockburn

Phone: 03 341 5688

www.gardenmakers.co.nz

Hook up witH

tHe snow cHain

specialist

WEEK sEvEn

WEEK EiGHT

wE sEll & Fit

snow CHains

to anY

VEHiClE

DaTE / GamE WHERE REsUlT

friday 17 SEPTEmBEr

Auckland v Southland

Auckland

DaTE / GamE WHERE REsUlT

friday 24 SEPTEmBEr

Tasman v Waikato

Nelson

FREE FittinG

& aDViCE

bUYinG

snow CHains

FRoM Us

is as CHEaP

as HiRinG

SaTUrday 18 SEPTEmBEr

Taranaki v Wellington

North Harbour v Manawatu

Northland v Tasman

SUNday 19 SEPTEmBEr

Hawkes Bay v Bay of Plenty

Waikato v Canterbury

Counties Manukau v Otago

Inglewood

North Harbour

Whangarei

Napier

Hamilton

Pukekohe

SaTUrday 25 SEPTEmBEr

Southland v Canterbury

Counties Manukau v Auckland

Manawatu v Northland

SUNday 26 SEPTEmBEr

Otago v North Harbour

Wellington v Hawkes Bay

Bay Of Plenty v Taranaki

Invercargill

Pukekohe

Palmerston North

Dunedin

Wellington

Tauranga

tHe cHain Man ltD

100% nZ owneD anD opeRateD

keeping your family safe

Unit 1 - 1 Cass st. sYDEnHaM. CHCH

PH: 03 366 1528

E: sales@chainman.co.nz • www.chainman.co.nz

WEEK ElEvEn

sEmi finals

DaTE / GamE WHERE WHERE

friday 15 OCTOBEr

Bunnings NPC Semi Final 1

DaTE / GamE WHERE WHERE

SaTUrday 16 OCTOBEr

Bunnings NPC Semi Final 2

Bunnings NPC Semi Final 3

Bunnings NPC Semi Final 4

automotive window film

A COOL AND RACY TINT EXCLUSIVE

TO TINT A CAR THAT INSTANTLY

DARKENS YOUR WINDOWS

for ultimate privacy, maximum heat and glare reduction

WEEK TWElvE finals

DaTE / GamE WHERE WHERE

friday 22 OCTOBEr

Bunnings NPC Championship Final

DaTE / GamE WHERE WHERE

SaTUrday 23 OCTOBEr

Bunnings NPC Premiership Final

MAY CAUSE

SEVERE BOUTS

OF JEALOUSY

AMONGST PEERS

Home and Office

Christchurch, 40 Buchan Street, (03) 3777717

Timaru, 224 North Street, (03) 6888666

FRAME YOUR

MEMORIES

We have the perfect frame for you!

NUMBER ONE SUPPLIER

TO THE NZ JET BOATING

COMMUNITY FOR OVER

50 YEARS

FLIP FLY GLIDE

TRAMPOLING | ICE SKATING

6 Main North Road | Ph 352 7594

Open Mon-Fri 9am-5pm

www.artworkspictureframing.co.nz

• Part Boats & Hulls

• Turn Key Packages

• New Jet Units

• Custom Fabrication

• Expert Advice

SERVICING

Peter Tonkin

03 962 0505

peter.tonkin@hamiltonjet.nz

• Spare Parts Retailer

• Jet Unit Refurbishment

• Engine Tune-Ups

• Insurance Repairs

• Impellor Reconditioning

Family Entertainment Centre

• Birthday Parties

• Play Group for Pre schoolers

• Trick Jam Classes

Groups & Events Welcome

www.movex.co.nz

P: 03 384 8244 | info@movex.co.nz | 230 Maces Rd, ChCh
---
10 Thursday August 5 2021

Latest Canterbury news at starnews.co.nz

PEGASUS POST

A new way

to connect

NEW

Enjoy affordable

luxury with our

new Unwind for

Two package.

For those looking to enjoy

some quality time with that

special someone (without

having to break the bank to

do so), it doesn't get better

than this!

Escape to New Zealand's

most popular alpine village,

enjoying the vibrant cafes

and restaurants, and indulging

in a decadent trip to the

Hanmer Springs Thermal

Pools and Spa.

Buy your gift

voucher today!

• A night's accommodation at one of Hanmer Springs' 3-star

properties or equivalent (additional nights $150 per night)

• 2 x 30-minute Unwind Revival Massage or Refresh Facial at The Spa

• 2 x 1-Day passes to the Thermal Pools

JUST $

349

FOR TWO

PEOPLE

Just a 90 minute drive from Christchurch

hanmersprings.co.nz/experiences

0800 4 HANMER

Open seven days

HC HST2528
---
PEGASUS POST Latest Canterbury news at starnews.co.nz

Thursday August 5 2021 11

Discover

New Brighton

A local reflects on the

pleasures of New Brighton

It has been reported that one of the great

pleasures of living in New Brighton, is getting

out on the weekends or after work and selecting

one of the many options available in order to

relax and unwind.

Commonly known activities include the

beach, library, pier, and the new hot pools

which each showcase the prominent central

area. Less known activities include cycle rides.

One of them being the ride along the stretch of

beach between Southshore north to Waimairi.

To bike along its length is a stunning

experience. It is a reminder of why the coastal

area is referred to as an amazing place. Starting

off from Southshore and passing the almost

completed very impressive New Brighton surf

club under a blue sky and calm conditions, it is

quickly evident how much the beach is used in

the height of winter.

Hundreds of people are walking or running

along the beach and dunes or cycling along

the coastal track as they express their delight.

Pedalling northwards along the flat wide beach,

the landscape changes where storms have eaten

into the sand banks and created mini cliff faces,

and the sun-lit landmark buildings along the

way act as a guide posts.

Other landmarks include the North Brighton

Community centre, the iconic North Beach,

Waimairi and Spencer Park surf clubs.

Scattered across areas are children on

ponies, wind surfers, colourful kites, and

powered hang gliders. Nearing the river

mouth, the amount of woody debris increases

along the sand dune fringe as piles line the

banks of the Waimakariri River which have

resulted from the recent flood surge.

The 18km ride starting along the Southshore

spit displays white pristine seascape and is a

great winter activity to explore as one of many

pleasures of New Brighton.

seaside treasures

A BIG THANK YOU

We are open

to our customers for

Monday to

Saturday from

supporting us over the

11am to 3pm

last seven years.

(winter

timetable),

and have

layby for your

convenience.

We welcome everyone to

our Treasures shop for your

haberdashery items, babies

and children's clothing

toys, games and puzzles,

household and kitchen

items along with gifts

and knick knacks

for every one.

SPECIAL ON ZIPS

All 50 CENTS

Assorted sizes & colours

Pop in and have

a browse or

phone Shirley

022 098 5877

for further info.

133 The Mall, New Brighton | Phone 022 098 5877

• Key Cutting

• Trophies

• 21st Keys

• Zippo Lighters

The best in the business

since 1988

• Shoe Repairs

• Engraving

• Watch Services

• Bag Repairs

121 New Brighton Mall Ph: 03 382 0399

Web: happyfeetchch.co.nz

Plus we stock

a full range of

polishes, dyes

and laces

Email: info@happyfeetchch.co.nz

TradeMe: 1249562/mothersuperior

FREE ScOOp

OF chIpS

When you buy

two hoki

fillets

*with this coupon. Expires 31st August 2021.

3 Battered

Mushrooms

only $4.50

GOURMET SEAFOODS QEII

Ph: 388 2531, QEII Shopping Centre, 251 Travis Rd

Mon - Wed 11.30am - 8.30pm (Tues from 4.30pm), Thurs - Sat 11.30am - 9.00pm

Sun 12noon - 8.30pm, Daily break 3.15 - 4.30pm
---
12 Thursday August 5 2021

Latest Canterbury news at starnews.co.nz

Easy to prepare mains

with plenty of taste

Chicken

drumsticks will

appeal to all the

family, try this

tangy sweet chilli

sauce recipe to

dress them up

Sweet chilli chicken

drumsticks

Serves 4

Ingredients

8 chicken drumsticks

2 tbsp citrus juice

4 tbsp sweet chilli sauce

2 garlic cloves

Fresh ginger, sliced

1 lemongrass, crushed

Directions

Put the drumsticks in a

baking dish, allow 2-3 per

person. Glug over them

sweet chilli sauce, soy or

oyster sauce, citrus juice,

a bit of oil and any or all

of the following that you

happen to have on hand –

crushed garlic cloves, sliced

fresh ginger, crushed lemon

grass, fresh chillies (if you

like it hot) slices of whatever

citrus you have juiced.

Place the chicken in the

oven and braise until the

drums are cooked.

Meanwhile, make a salad.

Mix any greens with fresh

herbs such as mint and

basil, fresh tomatoes and

cucumber. Try to use a

crunchy lettuce.

Serve it all in bowls on

the table or plate it.

Butterflied Lamb

Serves 4

Ingredients

1 butterflied boneless leg

of lamb

2 tsp fresh rosemary

1 tsp dried oregano

1 lemon

1 tsp lemon juice

¼ cup oil

2 garlic cloves

Salt and freshly ground

pepper

Directions

Place the lamb in a shallow

dish and sprinkle over

rosemary, dried oregano,

lemon rind(grated), juice,

garlic and oil. Season with

pepper.

Refrigerate overnight if

possible. Remove the lamb

from the fridge at least 1

hour prior to cooking.

Lift lamb from the marinade,

season with salt and

cook on a hot barbecue for

15min each side or longer if

you like.

Rest for 10min prior to

serving.

Salmon and spinach

packets

Serves 2

Ingredients

1 tbsp orange, finely

grated rind

3cm fresh ginger, peeled

and julienned

1 tbsp extra virgin olive oil

3 tbsp orange juice

4 cups baby spinach,

washed and drained

1 tbsp wholegrain mustard

2 salmon fillets, about

150g each,

Freshly ground black pepper

Directions

Cut two pieces of baking

paper to about 30cm x

30cm.

Place two cups of baby

spinach in centre of each

piece. Top with orange

rind, salmon, ginger, orange

juice, mustard and pepper.

Drizzle with a little oil.

Bring long sides of paper

together and fold over a

couple of times to make a

neat seam. Tuck ends under

parcel.

Microwave on high for

about 5min or bake in a

200 deg C oven for about

15min.

Serve with steamed vegetables

or a salad depending

on whether it is a cold

or warm day.

HOME & HEATING

Keep cosy with

RD Petroleum

this winter

RD Petroleum (RDP) is a familiar sight

for farm and rural residents around the

Canterbury region, however now days urban

residents also enjoy the same excellent

customer service for which RDP is known

for in rural communities, through their

home heating diesel.

RDP began its home heating diesel

delivery service to the lower South Island's

main urban centres of Christchurch, Timaru,

Dunedin and Invercargill a number of years

ago. Customer demand has continued

to increase year upon year, and RDP has

responded with specialised improvements to

its delivery equipment.

The trucks that deliver RDP's home

heating diesel in each urban centre are

drawn from the company's extensive

PEGASUS POST

vehicle fleet. This means they have the latest

communication and GPS tracking technology

on board, so the operations team always

know where they are and how far away they

are from their next delivery stop.

RDP's home heating diesel trucks come

equipped with a specially-designed hose,

through which the diesel is pumped from

the truck into house tanks. The length of

the hose allows the trucks to access tanks

without having to enter the property, avoiding

damaging the driveway. RDP is the place to

go if you require diesel conveniently delivered

to your home and as a loyal RDP customer

you're offered discounted pricing and can

become eligible for value-added benefits.

For all enquiries please phone

0800 44 00 14, or visit the RDP website at

https://www.rdp.co.nz/home-heating or

signup at apply.rdp.co.nz/home-heating

Read local
---
PEGASUS POST Latest Canterbury news at starnews.co.nz

Thursday August 5 2021 13

HOME & HEATING

Ground moisture barrier

under low sub-floor

Now with the colder and wetter weather on

its way, home owners are focusing on ways

to make their homes comfortable, warm

and healthy for their families throughout

winter. Rising damp is an issue that affects

many of our older properties which suffer

from poor, or no, ground moisture barrier.

In Canterbury especially, post-quake, many

people have relocated to homes that suffer

from rising damp which can be associated

with health problems. Independent tests have

shown that up to 40 litres of water can rise

from the ground and enter a house every day,

leading to mildew, mould, condensation and

musty smells. Moulds can produce various

allergic reactions and the frail, elderly and

very young are especially vulnerable.

Canterbury Foam Concrete Ltd is a

locally owned and operated firm. The team

understands the problems caused by rising

damp and are there to help. They will come

to your damp home and pump a lightweight,

flowable foam concrete under your timber

floored home.

While insulation is important, it has been

recognised that it is dampness that is the real

villain in the house. The new Healthy Homes

Standards introduced by the government

effective from the 1st July 2019 now has

a requirement to install ground moisture

barriers, a key element in the armory to fight

moisture in the home.

Dr Larry Bellamy BE (hons) PhD in a

report dated 1988: Foam Concrete Under

Timber Floors: An Energy Analysis assessed

the effects of placing Foam Concrete over

damp soil and had this to say: Condensation

on the underside of a timber floor can occur

where the floor is suspended over damp

ground and the inside air temperature falls

close to the crawl space air temperature.

Much energy is required to vaporize moisture

that penetrates the structure. By avoiding

underfloor condensation, foam concrete can

reduce floor heat losses by up to 90%.

• Canterbury Foam Concrete Ltd can in most

cases, install a Ground Moisture Barrier

under the suspended wooden floor of your

home, even when there is no crawl space.

• BRANZ Appraised; Appraisal Number 961

• Members of the Insulation Association of

New Zealand.

• We offer a free measure and quote in the

Canterbury region with no obligations.

• Assessments can be made in all other

regions by arrangement.

Contact Canterbury Foam Concrete Ltd

now for your free, no obligation quote and

complimentary appraisal of your underfloor

ground moisture barrier needs.

Phone 03 376 4608, 0508FOAMCO or

www.foamconcrete.nz for more information.

Zone Control for your

Ducted heat pump

Ducted heat pumps are a highly efficient

way to heat (or cool) your home. The

air from the heat pump is ducted to

several rooms or zones in your house.

Using a zone control system makes your

ducted heat pump even more efficient, by

specifying the amount of heat required

in each area, so not wasting energy to

overheat or overcool any room.

The AirTouch4 zone control system

from Smooth-Air takes ducted heat pump

air zoning to a whole new level of comfort

and energy efficiency.

AirTouch4 - The Ultimate Zone

Control

Have total control of your comfort zone:

AirTouch4 lets everyone enjoy a different

level of conditioned air in the room they

are in.

Save money on the power bill, without

compromising on comfort, by only

running the heating or cooling where

you need it with Smart Zoning. Plus with

runtime tracking, energy and airflow

management technology, you can enjoy

greater efficiency and savings from your

family's ducted heat pump.

The AirTouch4 can also connect to

Google Home and Amazon Alexa.

Not every home is designed equal. Not

every room is either. 60 % Temperatures can

often fluctuate from one room to the next

because of sunlight, room activity or other

factors.

With AirTouch4's Individual

Temperature Control Technology (ITC),

the AirTouch monitors temperatures

and smartly adjusts airflow as needed

around your home with the aid of multiple

wireless temperature sensors instead of a

single sensor in one location. When some

rooms get too hot or cold, the AirTouch

will adjust airflow to maintain your desired

temperature, without wasting conditioned

air on rooms already comfortable.

Contact Smooth-Air on 0800

SMOOTH or sales@smooth-air.co.nz

for more information on the AirTouch4

zone control.

ATTACK RISING DAMP

Smooth-Air

Ventilation Equipment Suppliers

totrade

retail

Ducted Heatpump zone control

Adapt your home to

YOUR IDEA

OF COMFORT

&

www.airtouch.co.nz

T. 03 376 4608 E info@foamconcrete.nz

W. www.foamconcrete.nz

HEAT PUMP

SALE NOW ON!

Amazin' Winter Specials!!

80%

SubSidy

Warmer KiWi HomeS

Programme

*Eligibility criteria apply

• We will offer you the best quality brands and

option of heat pump for your home/business

• Providing Heat Pump solutions for over 19 years to Cantabrians

• We personally guarantee all our products & installs for 5 years

(providing annual maintenance has been completed)

Phone us today for your free consultation & quote

41A SHAKESPEARE RD, WALTHAM

PHONE 03 366 0525

www.enviromaster.co.nz

"A local team for local people"

Adapt your home to

YOUR IDEA

OF COMFORT

OFF

60 23º

% OFF

75 %

80 % 50 %

100 21º

%

60 % OFF

100 %

18º 80 % 50 22º

%

OFF

75 20º

%

Adjust the airflow around your home in 5% increments so everyone enjoys their own comfort zone.

Adjust the airflow around your home in 5% increments so everyone enjoys their own comfort zone.

0800 SMOOTH

(0800 766 684)

sales@smooth-air.co.nz

264 Annex Rd

Riccarton

Christchurch

03 343 6184

SMART

INTEGRATIONS

INTELLIGEN

WITHOUT W

INTELLIG

WASTAGE

WITHOUT

INTELLIGENT

& WITHOUT

Save money on

your power bill

Monday - Friday

7.30am - 5pm

www.smooth-air.co.nz
---
14 Thursday August 5 2021

Latest Canterbury news at starnews.co.nz

PEGASUS POST

152,504 reasons

to advertise with us!

2021 ABC average issue circulation — Star Max vs Press

200,000

The Star

Max *

152,504

circulation

100,000

The Press *

The latest NZ Audit Bureau of

Circulations report is out and

it shows that The Star Max

provides you more circulation

than any other newspaper in

New Zealand.

0

30,256

circulation

Grow more customers, sales and profits for your business,

Call us now for a free advertising consultancy.

Here's what our customers have to say:

We advertise Affordable Furniture specials in The Star every

week and are extremely pleased with the results.

We find that the large circulation and readership, really works

for reaching our target market and growing our customers.

We get people coming in with our ad and asking about the

specials we advertise. We have been benefiting from the

Christchurch Star and Community papers for 20 years and

see no end to it.

Andrew Idour – Managing Director,

Affordable Furniture

After 4 years advertising in the Bay

Harbour News, I decided to widen

my audience by using the Star.

I am very happy with new ad

placement. My husband Tim was

in the shop today and 2 ladies had

come in to check us out because

they had seen the ad!!! Oh yes they

did buy some goodies!!

Rose Lindley – Mumma Bear

Phone 03 379 7100

Email shane@starmedia.kiwi

Office Level 1/359 Lincoln Road, Addington

*Source: 2021 ABC Audit Report — Star Max vs Press ANP average total circulation each issue

*Star Max — The Star, Bay Harbour News, Selwyn Times, North Canterbury News
---
PEGASUS POST Latest Canterbury news at starnews.co.nz

Thursday August 5 2021 15

Classifieds Contact us today Phone our local team 03 379 1100

Health & Beauty Health & Beauty Health & Beauty

Trades & Services

Trades & Services

KATANG

Fitness

Held at St Faiths Church Hall,

46 Hawke Street, New Brighton

Sit & Be Fit

Monday 1 – 2pm

$4 per class

Movement to Music

Thursday

9.30 – 10.30am

$5 per class

For more info contact Katrina 3811704 or 0274966845

Real Estate

HOME WANTED 3-4

bedrooms. Looking in Nor

West areas, Beckenham

or Somerfield. Prefer

permanent material brick

and post 1990 build. Don't

mind if it needs some TLC

- anything considered.

Cashed up buyer. Phone

021 372 479

Situations Vacant

CLASS 5 DRIVER We are

a small transport business

looking for a casual driver

to help out driving a bulk

tipping unit mainly carting

from Lyttelton Port. This

position may suit a semi

retired person. Contact

Malcolm on 0274356253.

Malcolm Love Transport

Ltd.

Wanted To Buy

TOOLS Garden,

garage, woodworking,

mechanical, engineering,

sawbenches, lathes, cash

buyer, ph 355-2045

Trades & Services

FOR ALL YOUR

★Garden Clean-ups

★Pruning

★Lawn Mowing

★Garden Maintenance

Call us today for a FREE quote

PH 0800 4 546 546

(0800 4 JIMJIM)

ADD SOME

COLOUR

TO YOUR ADVERT!

Trades & Services

HALSWELL

GLASS & GLAZING 2017 LTD

THE PET DOOR SPECIALIST

• PET DOORS

• NEW GLAZING

• FRAMELESS SHOWERS

• MIRRORS

• INSURANCE CLAIMS

• RETRO GLAZING

• BALUSTRADING

ALL SUBURBS COVERED FOR

ALL YOUR GLAZING NEEDS

PHONE GAIL ON

322 7999 OR 021 CAT DOOR

(228 3667)

ROOF REPAIRS

Locally owned & operated with

over 30 years experience.

• Extensions & repair • Roof coating

• Concrete & clay tiles • Butynol

• Malthoid • Asbestos Certified

• Coloursteel • Old iron • Guttering

Phone Dave 981 0278

or 021 223 4200

E: dave@beaumontroofing.co.nz

BEAUMONT ROOFING LTD

WINDOW TINTING

tintawindow

advanced film solutions

99% uv block

fade protection

heat control

reduce glare

25 Years Experience

privacy films

frosting designs

non-darkening films

Workmanship Guaranteed

Lifetime Warranties on Most Films

UV

block

Free Quotes Canterbury and Districts

03 365 3653 0800 368 468

BRICKLAYER.

George Lockyer. Over

40 years bricklaying

experience. UK trained.

Insurance work, EQC

repairs. Heritage

brickwork & stonework

a speciality. No job too

small. Governers Bay.

Home 329 9344. Cell

027 684 4046. E mail

georgelockyer@xtra.co.nz

CARPET LAYING

Exp. Repairs, uplifting,

relaying, restretching.

Phone John on 0800

003181, 027 240 7416

jflattery@xtra.co.nz

ELECTRICIAN

Prompt & reliable

registered electrician

with 24 years experience

for all residential and

commercial work, new

housing and switch board

replacements. Phone Chris

027 516 0669

VHS VIDEO TAPES

& all camera tapes

converted to DVD or

USB. Video taping

special occasions, www.

grahamsvideo.co.nz ph 03

338-1655

House & Garden

Property services Ltd

Tree & hedge trimming

Stump grinding

Gardening

Landscaping

Gutter cleaning

All aspects of

property maintenance

CALL us 021 405 277

ADVERTISE YOUR BUSINESS HERE

Phone for further details

(03) 379 1100

Need To Get Fit Fast?

Tone Up or Body Build, Get A Total Body Workout

One Machine...

That Does it All

Easy Storage

Easily Folds Away

Effective Workout

Fun, low impact workouts.

Includes

Pilates Kit

& DVDs

Up to

50 % Up to

Off

For All Ages

Personalised Settings For

Beginners and Advanced

50 % Off

*Call for Terms

& Conditions

Off

*

*Call for Terms

& Conditions

Off

*

Call Now! 0800 665 665

by

ADJUSTABLE MASSAGE BED

by
---
16 Thursday August 5 2021

Latest Canterbury news at starnews.co.nz

PEGASUS POST

NPD Ferry Road

Now Open!

100 Plus Performance Petrol

Discount Fuel*

Self Serve

*typically lower pump prices compared

to the standard prices of full-service

fuel retailers in the same area.

609 Ferry Rd, Woolston, Christchurch

www.npd.co.nz