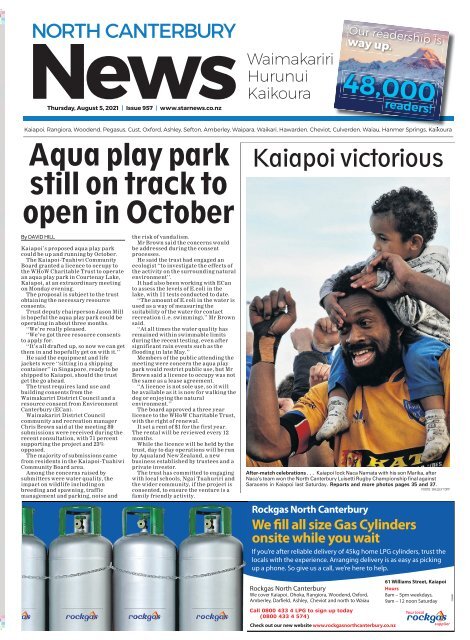 North Canterbury News: August 05, 2021
You also want an ePaper? Increase the reach of your titles
YUMPU automatically turns print PDFs into web optimized ePapers that Google loves.
Our readership is

wayup.

Thursday,August5,2021 | Issue957 | www.starnews.co.nz

48,000

readers!

Aqua play park

still on track to

open in October

Kaiapoi victorious

By DAVID HILL

Kaiapoi's proposedaqua play park

couldbeupand running by October.

The Kaiapoi­Tuahiwi Community

Boardgranted alicence to occupyto

the WHoWCharitable Trust to operate

an aqua play park in Courtenay Lake,

Kaiapoi, at an extraordinary meeting

on Monday evening.

The proposalissubject to the trust

obtaining the necessary resource

consents.

Trustdeputy chairperson Jason Mill

is hopefulthe aqua play parkcouldbe

operating in about three months.

''We're really pleased.

''We've got threeresourceconsents

to apply for.

''It's all drafted up, so now we can get

them in and hopefullyget on with it.''

He said the equipmentand life

jackets were''sittinginashipping

container'' in Singapore, ready to be

shipped to Kaiapoi, should the trust

get the go ahead.

The trustrequires land use and

buildingconsents from the

Waimakariri District Council and a

resource consent from Environment

Canterbury (ECan).

Waimakariri District Council

communityand recreation manager

ChrisBrownsaid at the meeting 89

submissions were receivedduring the

recent consultation,with 71 percent

supportingthe project and 23%

opposed.

The majorityofsubmissions came

from residents in the Kaiapoi­Tuahiwi

CommunityBoard area.

Amongthe concerns raised by

submitters were water quality,the

impact on wildlife including on

breeding and spawning, traffic

managementand parking, noise and

the risk of vandalism.

Mr Brownsaid the concerns would

be addressedduring the consent

processes.

He said the trusthad engaged an

ecologist ''to investigate the effects of

the activity on the surrounding natural

environment''.

It had alsobeen workingwith ECan

to assessthe levels of E.coli in the

lake, with 11 testsconducted to date.

''The amount of E.coli in the water is

usedasaway of measuring the

suitability of the water for contact

recreation (i.e. swimming),'' Mr Brown

said.

''Atall timesthe waterquality has

remained within swimmable limits

during the recent testing, evenafter

significant rain events suchasthe

flooding in late May.''

Members of the public attending the

meeting wereconcern the aquaplay

park would restrict publicuse, but Mr

Brownsaid alicence to occupy was not

the sameasaleaseagreement.

''A licence is not soleuse, so it will

be available as it is now forwalking the

dog or enjoyingthe natural

environment.''

The boardapproved athree year

licence to the WHoW CharitableTrust,

with the right of renewal.

It set arent of $1 for the firstyear.

The rental will be reviewedevery 12

months.

Whilethe licence willbeheld by the

trust, day to day operations will be run

by Aqualand New Zealand, anew

business establishedbytrusteesand a

private investor.

The trust has committed to engaging

with local schools, Ngai Tuahuriri and

the wider community, if the project is

consented, to ensure the venture is a

family friendly activity.

After­match celebrations ... Kaiapoi lock Naca Namata with his son Marika, after

Naca's team won the North Canterbury Luisetti Rugby Championship final against

Saracens in Kaiapoi last Saturday. Reports and more photos pages 35 and 37.

PHOTO: SHELLEY TOPP

Rockgas NorthCanterbury

We fill all sizeGas Cylinders

onsite while youwait

If you're afterreliabledeliveryof45kghome LPG cylinders,trust the

locals with the experience. Arranging deliveryisaseasyaspicking

up aphone.Sogive us acall,we're heretohelp.

61 Williams Street,Kaiapoi

Hours

8am –5pm weekdays,

9am –12noonSaturday

2286893

Check out our newwebsite www.rockgasnorthcanterbury.co.nz
---
NEWS

2 The North Canterbury News, August 5, 2021

Grow

customers,

salesand

profits

with North

Canterbury's

bestread

newspaper

Readership: 47,000 weekly

Circulation: 30,150copiesdelivered

to EVERY farm, RD, lifestyle block

and home inWaimakariri, Hurunui

&Kaikoura every Thursday.

news

Robyn Bristow

Managing Editor

027 312 1581

robyn.bristow

@ncnews.co.nz

Reporters

David Hill, Shelley Topp.

advertising

DaynaBurton

Sales Co-ordinator

027 312 0089

dayna.burton

@ncnews.co.nz

AmandaKeys

Advertising

027 536 6224

amanda.keys

@ncnews.co.nz

Kerryn Clark

Advertising

021 586 138

kerryn.clark

@ncnews.co.nz

Private wells need to be tested

By DAVID HILL

Raisingpublic awareness around

nitratecontaminationinprivate wells

is agoodthing, saysMichael Blackwell.

The WaimakaririZone Committee

chairpersonwas responding to

Environment Canterbury's (ECan)

latestgroundwaterquality survey,

which found E.coliand nitrate

contamination in someprivatewells.

''I thinkraising publicawareness is a

goodthing. We havesuch abig number

of lifestyle blocksinour districtwith

privatewells, so we needtobe

engaging withthose peopletoget their

wells tested,'' Mr Blackwellsaid.

The presenceofnitrate

contamination has been attributed,in

part, to theinflux of dairy farming on

lightersoils over the last 20 years,he

said.

''Tobefair,10years ago nobody

really knewabout nitrate

contamination in drinking water.

''It's something everybody should be

conscious off,but we're waitingon

Plan Change 7toaddress that,soit'san

ongoingprocess.''

Samples were collected from322

wells in spring2020 to help scientists

understandthe state of the resource

Hurunui Garden Festival scholarship on offer

By ROBYN BRISTOW

A$2000 scholarship is on offer for

students living in the Hurunui District

to study horticulture, agriculture, or

landscape design or arelated field at

tertiary level.

The scholarship is being offered by

Hurunui Garden Festival Inc (HGF), and

is open to any students in their final year

of schooling from Year 11 to 13, and

whose family home is in the Hurunui

District.

The HGF is offering the scholarship

for next year, as part of its commitment

to invest back to its community if it

makes aprofit from its annual Hurunui

Garden Festival.

Chairman Gary Mitchell says HGF is

united in following its ethos of being

''inspirational and supportive to the

residents of the Hurunui''.

The scholarship is aimed at helping

the successful applicant with fees

associated with their course, such as

tuition fees, text books, and any course

related costs or living costs.

It is open to home schooled students,

local high school students, and those

who may live in the district, but attend a

high school or boarding school outside

the district.

Applications, which must include a

brief letter, and two references with

contact details, can be emailed to

and assess changes in water quality

overtime,ECan groundwater science

managerCarl Hansonsaid.

''The resultsinthe latest reportare

whatweexpected.Groundwater is

vulnerabletocontamination, including

E. coli and nitrate.''

E. coli was detected in samples from

37 wells (11 percent),while samples

from20wells (6%)had nitrate

concentrationsabovethe national

drinking water standardof50

milligrams perlitre or 11.3mg/Lof

nitrate­nitrogen.

All of the wells withnitrate andE.

coliabove the nationaldrinking water

standard were privatelyowned, with

ownersbeingnotified.

Nitrate concentrations in

groundwater havebeenincreasing for

manyyears, duelargelytonutrient

lossesfrom agricultural land,Mr

Hansonsaid.

''Canterburyhas someofthe strictest

land­userulesinNew Zealandto

protect theregion's water quality.Over

time, these steps willhelp ensure that

lessnitrate entersCanterbury's

water.''

Greenpeace hascalledonECan to be

upfrontabout health risks of nitrate

contamination, as the new datashows

Spacious surrounds ... Christchurch couple Noel Nicholson and Ann de Puis admire Vicki

Collett and Andrew Dalzell's Coldstream garden and pond during the Hurunui Garden

Festival last year.

PHOTO:FILE

info@hurunuigardenfestival.com by

September 30. The committee can award

the scholarship to one or more students,

nitrate contamination in drinking

water is rising.

''Thecurrent message from ECan is

that if your water is anywhere under

that extremelyhigh contamination

rate of 11.3mgper litre of nitrate, then

it's safetodrink,'' Greenpeacesenior

campaignerSteve Abel said.

''That deniesthe emerging science

showing adversehealth effects well

belowthatlimit.''

He said a2018Danishstudyshowed

an increasedrisk of bowelcancer at

just 0.87mg/Lofnitrate contamination

in drinking water,while theNew

Zealand CollegeofMidwives had

calledonthe governmenttolower the

11.3mg/L limit afterstudiesshowed

that 5mg/L nitrate contamination can

increaseriskofpremature birthsby

half.

Greenpeacehas conducted free

water testinginWoodendand

Ashburton in recent months, testing

more than 450watersamplesacross

theregion.

''Thefactthat we've had such

demandfor these freetesting days, and

thetone of the conversations that we're

havingwithCantabrians, showthat

people aretaking thenitrate riskto

theirhealth seriously,''MrAbelsaid.

meaning the total amount of the

scholarship would be split equally

between recipients.

JillianDickie

Advertising

022 024 3092

jillian.dickie

@ncnews.co.nz

getintouch

Editorial

info@ncnews.co.nz

Advertising

sales@ncnews.co.nz

Graphic Design

heather.hood@ncnews.co.nz

Distribution/Deliveries

03 314 8335

Rangiora: 03 313 2840 /03314 8335

14 Ashley St, Rangiora

Christchurch: 03 364 7460

www.starnews.co.nz

• General Dentistry

• Family Dentistry

• Funded Dental Care

0-18 *

• Dental Therapy

• Hygiene Clinic

2390022

Open Monday to Friday 8.30 to 5.30 |www.pagdental.com

LATE NIGHT TUESDAY

*Conditions Apply

PAGPegasus Dental

54 Pegasus Main St Pegasus

03 920 4003

pagpegasusdental@gmail.com

• Teeth Whitening

• Minor Oral Surgery

• Facial Pain

• Oral Medicine

Specialist

• Finance Options

Available

•Ample parking, easy

access

•Clinicians all New

Zealand trained

•Super Gold and

Community Services

Card Discounts

PAGSilverstream Dental

4/42 Silverstream Boulevard Silverstream

03 925 8003

pagsilverstreamdental@gmail.com

Purchase aMetro fire +ECO flue combo

during July and August and save up to

$899 on selected model combos*

*Conditions apply.

WINTER

360 FlaxtonRoad,Rangiora

Ph 03 313 5563

www.kingsmowersheating.co.nz

2405546
---
NEWS

The North Canterbury News, August 5, 2021

3

CDMP

Community Driver

Mentor Programme

BECOME SAFER

ON OUR ROADS.

Need Help to gain

your Restricted or

Full Licence?

Contact Us Now.

Contact: Julia Graham on 021 953 754

e: julia.graham@salvationarmy.org.nz

2403109v1

Community opening ... MainPower Stadium at dusk.

PHOTO: ANTHONY TURNHAM, SNAP PHOTOGRAPHY

Stadium opens to the community

Waimakariri's new $28 millionstadium

will open its doors to the community this

Sunday,August 8.

The 6000 metresquare MainPower

Stadium featuresfour standard­size

courts, and is the largestcommunity

facility built in the district.

Waimakariri MayorDan Gordonsays it

will be an inspiration to the next

generation of athletes, atremendous

community asset, and provideyoung

people with easier accesstohigh quality

sportand activities.

MainPower, North Canterbury's

electricity distributor,was named lead

sponsor latelast year, adding to asuite of

neighbouring sporting facilitieson

Coldstream Road, Rangiora, already

bearing the MainPowername,including

MainPower Cricket Oval and MainPower

Hockey Turf.

The Maria Andrew Park football ground

is nearby, and neighbouring councilowned

land is earmarkedfor tennis courts

and further sportsfieldswhen required.

It has taken just 18 monthstobuild, and

will be managed by the North Canterbury

Sport and Recreation Trust.

Chief executive officerMichael Sharpe

says the stadium reduces the need for the

communitytotravel outside the districtfor

training or competitions.

''We have everything hereunderone

roof.

''The stadium givesusthe exciting

opportunitytoprovide top­levelamenities

which would put us in the perfect position

to host regional and national

competitions.''

The openingwill begin at noon, witha

welcome from Te Ngai Tuahuriri

Runanga, followed by speeches, ribbon

cuttingand unveiling of acommemorative

plaque.

Throughout theafternoonthe public

willbeable to enjoy tours of the full

facility and demonstrations fromlocal

sports club in the maincourtarea.

''Wewould lovefor peoplefrom allover

our districttojoin us in celebrating the

openingofthis wonderful community

asset,'' Mr Gordon says.

The stadium will be home to arange of

sports including futsal, handball, korfball,

volleyball, netball, badminton,and

basketball. It includes acentral fitness

facility,changing rooms, coaching and

meetingspaces, and seating for up to 500

spectators.

Mr Sharpe says the Trust wants to see

wideuse of the facility by residents, fitness

centre members, interest groups and

sporting clubs.

The stadium was designed by Warren

and Mahoney Architects, and built by

Leigh Construction.

Citizens Advice Bureau moving to new home

Citizens Advice BureauNorthCanterbury

(CABNC) is moving from its Rangiora

Library officetonew premises nearby.

The Rangiora bureau began its days in

1978 in an old bikeshop,moving several

timesuntil apermanenthome was found

inside the Rangiora Librarywith the

Waimakariri District Councilmaking

spaceavailable off the ChamberGallery.

In 2011the bureau had to spend afew

months at the DudleyPark Cricket

paviliontoenable staff to maintain their

service to clients while earthquake repairs

were done in the library. Lastyear during

the Covid­19lockdown volunteersworked

from home respondingtocalls from

clients, and ateam was also partofa

nationwide response in conjunction with

the Ministry of Social Development,

phoningolder people living alone to check

if they neededsupport.

The CABNC chair, Margaret Finnie,

says the movetonew premisescame about

after the Waimakariri District Council

offeredthe opportunity to shift to amore

visiblestreet front at 209 High Street.

''We plan to moveinto the new office

during this weekend (on August7­8),

finishing the afternoonshiftinour current

Rangiora Libraryoffice this Friday

(August 6) and reopeningonMonday,

August 9, in our newpremises.

''That way there will be no disruptionto

the serviceweprovidetoour clients,''

Margaret says.

''We are very excited to be moving and

feel this more high­profile site willbe

more accessible to all whoare seeking

information or advice in acompletely

confidential setting.'' CABNZ is open from

9am to 4.30 pm, MondaytoFriday.Clients

can phone CABNC on 313 8822or0800 367

222. They canalso visit the office,orthey

can email staff at: northcanterbury@cab.

org.nz.

Experienced

Podiatrist;

2403742

2095268

Erin Marsden BSc(Pod)

NEW BASICS CLINIC $40

- STARTING AUGUST

022 1726 049

www.northcanterburypodiatry.co.nz

Kaiapoi Lodge

Residential Care

Nursing Home, Hospital and

Respite

Person Centred Care,

Care that's built

around you

6CassStreet,Kaiapoi

Ph 03 327 7235

SHOE SALE

Kaiapoi Mill,

Ranfurly Street, Kaiapoi

Ph 03 327 0576

Monday –Friday 9am –5pm

Saturday 10am –1pm

Closed on Public Holidays

2398790
---
NEWS

4 The North Canterbury News, August 5, 2021

MASTER BUILDER

2021055

Parking up and travelling by bus

By DAVID HILL

LocaltoNorth Canterbury.

CALL ARTHUR 027 2451601

arthur@robertsonbuilding.co.nz

www.robertsonbuilding.co.nz

BARNS/FARM BULDINGS•RIB RAFT FLOOR SYSTEM INSTALLATION

PROJECTMANAGEMENT•ADDITIONS•NEW HOMES

HOME MAINTENANCE•EQC REPAIRS•ALTERATIONS

FREE QUOTES

HILUX, HIACEAND

EVERYTHING IN

BETWEEN

68 FalsgraveStreet,Woolston

W: nzvanspares.co.nz

E: nzvanspares@hotmail.com

Ph: 03 3793932/0508 698267

100% Canterbury Owned

NZ's favourite home for

Recycled Hilux &Hiace Parts

The Widest

Music Variety

Tune in nowtolisten on

104.9 for North Canterbury

103.7 for Hanmer Springs

andKaikoura

Has your paper not

been delivered?

Email us at info@ncnews.co.nz

Waimakariri's new park and ride bus

service has carried more than 30,000

passengers into Christchurch in its first

six months.

The 91 and 92 Waimakariri direct bus

services from Kaiapoi and Rangiora to

central Christchurch began operating in

January as ajoint initiative between the

Waimakariri District Council,

Environment Canterbury, Waka Kotahi

New Zealand Transport Agency and the

Christchurch City Council in abid to

reduce congestion in the city.

Waimakariri Mayor Dan Gordon has

been using the service to commute to

meetings in the city and has been

pleased with the support.

''I'm akeen user myself and it's

fantastic to be able to skip the traffic

when heading in and out of Christchurch

during peak times

''This service is agreat asset to our

community and everyone who gets on

board helps reduce our carbon

emissions by taking an extra car off the

road.''

Waimakariri District Council road

safety co­ordinator Kathy Graham says

the park and ride service has given

commuters more choice.

''While not taking the car to work isn't

possible for everyone, it's great that

there is more choice for those that can

consider alternatives, even if it's just

once or twice aweek.

''We also know there's people who are

cycling to the park and ride and using

the lock up bike cages before jumping on

the bus, or parking their vehicle and

then cycling the remainder of the

journey.''

Both services have four morning trips

to town every weekday and five return

Express service ... The Rangiora 91 bus service picks up passengers on one of its morning

runs.

PHOTO: ENVIRONMENT CANTERBURY

trips in the afternoon, making use of the

T2 lanes on the Christchurch Northern

Corridor to ensure afast trip into town.

''It's really encouraging to see people

utilising the services. Thanks to all that

have supported these new services.

We'll continue to promote them in the

coming months to encourage more

people to give public transport ago,''

Metro spokesperson Thomas

McNaughton says.

Between 40 and 100 car parks are

available at each of the park and ride

facilities in Rangiora and Kaiapoi,

which are maintained by the

Waimakariri District Council.

Lighting, security cameras, and secure

bike storage cases are in place at each

facility and there is free Wi­Fi available

as part of the service.

The Rangiora service departs from

River Road, White Street and South Belt

facilities, while Kaiapoi users can get on

at the Charles Street and Wrights Road

sites.

The Wrights Road facility has recently

been upgraded, with abus turnaround

and pedestrian pick up point added

beside the existing car park.

The project partners will conduct a

review of the services after afull year

has passed, including timetables.

Kaikoura'slong term plan approved

By DAVID HILL

Will Doughty is relieved to get his first

Long Term Plan out of the way.

The Kaikoura District Council chief

executive stepped into his newrole in

February, and beganthe processof

developing the 2021/31 LongTerm Plan,

whichhas been adopted, after being

audited by Audit New Zealand.

''Formecoming in and starting in

February it was afast learning curve in

picking it up. It's beenagood process

and the councillors have acknowledged

the effort put in by thestaff.

''Nowabout the deliveryand doing

what we say we are going to do.''

Therewere 71 submissions received

whichraised273 individual points.

''The majorityofsubmissions

supported the fivemain options we

consulted on across the different

categories, so we were able to adopt the

draft with our preferred options.''

The biggestchange was in the roading,

where the councilwas unable to secure

funding from WakaKotahi NZ Transport

Agency.

Councillors voted to absorb the

funding shortfall through loan funding

and reduceoperational expenditure to

90 percent of what was originally

budgeted.

''It is important that we get on and do

the work,otherwisewewillget ourselves

into moreofahole.''

Aworking group will be established to

plan roadingand footpath renewal

priorities. Apart from roading and

footpaths, the council is not facing any

major capital expenditure overthe next

decade, due largely to the $38 million

earthquakerebuild,which was

completedlast yearfollowing the 2016

earthquake.

Withthe wastecontract renewed with

Innovative WasteKaikoura, planning

willbegin for anew transfer stationin

2023.

It willbeloan funded, withuser pays

feestohelp service the loan.

Kaikoura's landfill is expectedto

reach capacity over the nextfew years,

so council staff willbegininvestigating

future options, with Kate Valley Landfill

in North Canterbury and Marlborough's

Bluegums Landfill the most likely.

CERTIFIED ORGANIC COMPOST

Living Earth compost is ahigh

performance, nutritious brew

made from organic garden waste.

It's 100% seed and weed free and

ideal for topdressing,vineyards,

orchards and all types of gardens.

LivingEarth compost is perfect if youare looking to:

• Savewater by increasing soil waterretention

• Reducenitrateleaching

• Add organic nutrients whichwill improve soil health

• Improve plants' resistance to drought

• Reduce soil loss and erosion

Living Earth has been producing quality compost for over25years. Ourcompost is produced

to NZS4454:2005 standardand is certified organic.

Get in touch with one of the team today. Asitevisit can be arranged to discuss your needs.

Contact Tony Poole: M021 657992 Etpoole@livingearth.co.nz
---
NEWS

The North Canterbury News, August 5, 2021

Nth Canty well represented at Olympics

By DAVID HILL

North Canterbury rowing great Athol

Earl says he was amazed to see New

Zealand's latest Olympic rowing

success.

The 1972 Olympic Games men's

rowing eight gold medallist admitted he

didn't expect this year's men's eight to

win gold.

''It was bizarre. Ithought they would

get bronze or maybe silver. It was mind

blowing and the women did bloody well

­silver is very good.

''I'm on such ahigh today Idon't know

how Iwill sleep tonight,'' he said on

Friday.

This year's New Zealand rowing

squad won gold medals in the men's

eight, women's pair and women's single

scull events, and silver medals in the

women's eight and women's double scull

events.

Mr Earl, who also won Olympic bronze

with the 1976 men's eight, says any

medal is ahuge achievement.

''I know when we won the bronze, it

was four years after the gold so Iwas

gutted at the time, but now I'm quite

proud of it.''

Alot has changed since his rowing

days, as there is amore professional

environment for today's rowers with

four regional performance centres

feeding into anational programme

based at Lake Karapiro in the Waikato.

''We were amateurs. They don't make

big money, like the All Blacks, but it pays

for the food and the flat rent,'' Mr Earl

says.

''They have agood programme now

where they feed them in from the

juniors and the under­23s, so they can

see agood career path and the under­

23s train with the elite rowers so they

can see what they need to do.''

Four local rowers followed in Mr

Earl's footsteps by competing at the

Tokyo Olympics.

Sam Bosworth, who grew up at

Waipara, is the coxwain in the gold

medal winning men's eight, while Ella

Greenslade, who is originally from

Waikari, is amember of the silver medal

winning women's eight.

Oxford's Olivia Loe and Eve

Macfarlane, from Parnassus, also

competed in the women's quadruple

sculls, with the boat missing out on the A

final.

North Canterbury was represented in

other sports, with Oxford's Tim Price

and his wife Jonelle competing in the

New Zealand equestrian three­day

eventing team.

In the mountain biking, Woodend born

and raised Anton Cooper placed sixth in

the elite men's race in his first Olympics,

finishing just 12 seconds behind the

medallists.

Rangiora High School's 2019 deputy

head girl Gabi Rennie was amember of

the Football Ferns women's football

team, coming on as areplacement to

score agoal against Australia in her

international debut.

''We are very proud of Gabi and her

achievements. She is awonderful role

model for North Canterbury's young

people,'' Rangiora High School

principal Karen Stewart says.

Joining Gabi at the Games were her

brother Liam and fellow ex­Rangiora

High School student Casey Higby

attending as camera operators for New

Zealand news media.

Eve Macfarlane .. Amember of the

quadruple sculls, who grew up at

Parnassus.

Gold medallist ... Sam Bosworth, who is

originally from Waipara, was the coxwain in

the gold medal winning New Zealand men's

rowing 8.

PHOTOS: ROWING NZ/JULIETTEDRYSDALE

5

Silver medallist ... Ella Greenslade,

originally from Waikari, won silver with the

New Zealand women's rowing 8.

Olivia Loe ... Originally from Oxford, Olivia

was also amember of the quadruple sculls.

BRYANS

TYRES

RAVENSWOOD

Opening

Monday

16 th August

After26years in Rangiora

Bryans Tyresisrelocating

to Ravenswood

Bowmaker Cres

BRYANS TYRES RAVENSWOOD

Unit 2

6Lilburne St

Ravenswood

Phone (03) 313 7323

Hours:

Monday -Friday

8.00am -5.30pm

Saturdays 9.00am -2.00pm

We're moving

to here!

Lilburne St

Bob Robertson Dr

Clayton Pl

2346898V1
---
OPINION

6 The North Canterbury News, August 5, 2021

McALPINES MITRE 10 MEGA RANGIORA -OCEAN WATCH

This

Week

Sun

Fishing

Guide

Moon

Wind

Ok

Around the electorate with

STUART SMITH MP FOR KAIKOURA

Consultation needed

There is no doubt that the Maori

language has asignificant place in New

Zealand.

Ilike using Maori place names and I

am an enthusiastic student of te reo. I

take regular classes, as is my individual

choice, but Imight add my ability does

not match my enthusiasm.

However, Iamwell aware that not

everyone shares my enthusiasm for

learning languages nor sees the role of te

reo exactly as Ido.

In the past few months, there has been

an increasing spotlight placed on

significant changes to how our

Government enacts the Crown

responsibility to uphold the Treaty of

Waitangi. While there are those who

vehemently support the notion of cogovernance

and, of course, those who

oppose it, it is my opinion that most New

Zealanders fall into athird group. This

group are more concerned with the lack

of transparency from the Government in

implementing co­governance policies

without consultation or engagement

with the whole of New Zealand.

National Party Leader Judith Collins

has been labelled aracist by the Maori

Party for bringing this conversation to

the table, and inviting Kiwis to have

their say on these matters.

My view is that asking legitimate

questions about the future of our country

is not racist.

Parliamentarians are voted in by the

people and work for the people. If we sit

back, don't ask questions, and let the

Government advance what are pretty

radical changes, without advocating for

adequate consultation, then we are not

doing our jobs properly.

There is aparticular change that,

while seemingly nominal, has sparked

Thursday Friday Saturday Sunday Monday Tuesday Wednesday

Aug 5 Aug 6 Aug 7 Aug 8 Aug 9 Aug 10 Aug 11

Rise 7:36am

Set 5:33pm

Best 9:34am

Times 10:00pm

Rise 5:10am

Set 1:57pm

Moderate Sturning

SE

Fair

Rise 7:35am

Set 5:34pm

Best 10:26am

Times 10:53pm

Rise 6:05am

Set 2:48pm

Moderate SW

some controversy; the de facto changing

of New Zealand's name to Aotearoa New

Zealand by the Government and in the

media.

Now, Iamnot seeking to make a

judgement call about whether we should

change our name or not. That is neither

here nor there. Iamsimply giving voice

to the argument that perhaps before the

shift began to be put in motion, New

Zealanders themselves should have

been consulted.

It is presumptuous and disrespectful

to make adecision of such cultural

importance for the country without

engaging all who live there.

Sir John Key had the courage to stand

by his convictions and let New

Zealanders decide whether we should

change our flag.

No matter where you stood on the

issue, you still had the opportunity to

have asay. Sir John lost that debate

when New Zealand voted to retain the

existing flag and he accepted this

verdict.

Arguably changing the name of the

country is even more significant than

changing the flag, and it is my belief that

the right thing for the Labour

Government to do is to advance an open

conversation on this.

For some people, for example those

who have represented or fought for New

Zealand, there is avery strong connect

with our existing name.

For others, the te reo name Aotearoa

holds greater significance.

As Isee it, there is no right or wrong

perspective. However, it is wrong for a

public service and Government to

decide away forward with no regard for

how New Zealanders think or feel about

it.

Dear Editor,

Last weekend Iwas at Briscoes, Rangiora, shoppingfor items to send to afriend in

Westport whosecarer lost everything in the recent floods.

Walking around people exchanged pleasantries while shopping. One such ladytook

notice of what Iwas doing.

She asked me if Ihad afew minutes to wait and she'd be right back. She returned with

kitchen linens she wanted to contribute to my purchases.

Iwas literally blown away at her generosity and kindness, so I'd like to acknowledge

Jeanette who workswith Nurse Maudefor being such agreatKiwi.

I'll never forget her smiling face and concern for another person unknowntoher.

Many thanks, Christine Knowles, Amberley

Fair

Rise 7:34am

Set 5:35pm

Best 11:19am

Times 11:46pm

Fair

Rise 7:32am

Set 5:36pm

Best 12:12pm

Times

Good

Rise 7:31am

Set 5:37pm

Best

Times

12:37am

1:03pm

Rise 7:30am

Set 5:39pm

Rise 6:54am

Rise 7:36am

Rise 8:11am

Rise 8:41am

Set 3:48pm

Set 4:53pm

Set 6:02pm

Set 7:13pm

Moderate SW

becoming fresh S Moderate SW Moderate SW Moderate SW

KAIKŌURA VIEWS

MAYOR CRAIG MACKLE

Lack of information

on water reforms

The Three Waters Reformisthe thing

that'sonmymind at the moment.

We don't yet have the information

that we need to consult withour

community and makeaninformed

decision on what's best for the people

of Kaikoura.

Kaikoura District Council has

invested heavily in its water

infrastructure, and we are actually in

abetterplace than many other

councils throughout New Zealand.

Beforethe earthquake we

increased the capacity of our water

and wastewater,and then, becauseof

damagesustained in the 2016

earthquake we replaced or renewed

most of our water infrastructure.

Our Infrastructure Strategy invests

$27.2 million over the next 30 years

for growth and enhancement of our

water infrastructure.

So, Iamsurprised to see that the

Government is indicating that we

need to spend $280 million over the

next 30 years, that's aspendof$9.3

million each year ­onour water

infrastructure which is valued at $57

million. For me, the numbers just

don't add up.

The Three Waters Reformproposal

groupstogether mostofthe South

Islandinto one regionalwater

authority.

Good

Best

Times

1:28am

1:52pm

Good

Rise 7:28am

Set 5:40pm

Best

Times

2:17am

2:40pm

Rise 9:08am

Set 8:24pm

Moderate SW turning

SE

The rest of New Zealand (and

Nelson, Marlborough and Tasman)

willbegrouped into anotherthree

regionalwater authorities.

Ihave questions abouthow these

new authorities will be funded and

whatwill be the impact on our

ratepayers.

The government has afinancial

support package on the tablebut that

is just noise until we can answer some

questions on what it meansfor our

community.

How can we be surethat the three

waters will not be privatised in the

future and how willthe voiceofour

community and Te Runanga o

Kaikoura be considered. We also

needtoknow whatnew water

regulationswill be put in place as

partofthe reforms.

The Governmenthas allowed the

nexteight weeks for us to receive

moreinformation, question and fully

understandthe proposal before they

consider the next steps and outline

the processand timelines for reform.

We have beentold that councilscan

still decide to opt out of the Three

Waters Reform. I'll be working

closely with the CEO and senior

managers to find out more and then

we'll talk with you before reachinga

final decision.

Old friends reunite for concert

Achambermusic concert featuring

three of New Zealand's most

accomplished musicians is scheduled for

Rangiora.

Vieux Amis (Old Friends)will be heldin

the RangioraLibrary's ChamberGallery

on Wednesday August11, startingat

7.30pm.

It brings together three friends,

neighbours and long­standing colleagues,

violinist, Justine Cormack, cellist, James

Bush, and pianist, Sarah Watkins, who all

grew up togetherinChristchurch, and

have aclose friendship which has

extended into their careers.

Sarah and James toured with Chamber

Music New Zealandduring 1996 while

Justine and Sarah wentontowork

closely together as founding members of

the NZTrio. James' fascinationwith the

freedom and energy of baroque music

took him overseasand where he worked

with many of Europe's top baroque

orchestras and ensembles.

The concern programmedraws on the

varied expertise of each of the chamber

musiciansand features James's baroque

practiceand Sarah and Justine's shared

experiences with NZTrio's modern

outlook.

Tickets to Vieux Amis cost $35 per

adult, $15 per studentand can be

purchased at the Rangiora Library (cash

only).

Swell

Pegasus Bay

Tide Chart

3

2

E1.7 m E1.6 m E1.3 m E1.1 m SE 1.4 m SE 1.5 m E1.3 m

3 6 9 NOON 3 6 9 3 6 9 NOON 3 6 9 3 6 9 NOON 3 6 9 3 6 9 NOON 3 6 9 3 6 9 NOON 3 6 9 3 6 9 NOON 3 6 9 3 6 9 NOON 3 6 9

1

0

Highs Lows Highs Lows Highs Lows Highs Lows Highs Lows Highs Lows Highs Lows

Waimakariri 2:01am 2.0 8:08am 0.7 2:47am 2.0 8:54am 0.7 3:31am 2.1 9:39am 0.7 4:13am 2.1 10:24am 0.6 4:56am 2.1 11:08am 0.6 5:41am 2.2 11:53am 0.5 6:28am 2.2 12:21am 0.5

Mouth

2:29pm 2.2 8:46pm 0.7 3:13pm 2.2 9:30pm 0.7 3:55pm 2.3 10:13pm 0.6 4:36pm 2.3 10:55pm 0.6 5:18pm 2.3 11:37pm 0.5 6:02pm 2.4

6:48pm 2.4 12:38pm 0.5

Amberley 2:01am 2.0 8:08am 0.7 2:47am 2.0 8:54am 0.7 3:31am 2.1 9:39am 0.7 4:13am 2.1 10:24am 0.6 4:56am 2.1 11:08am 0.6 5:41am 2.2 11:53am 0.5 6:28am 2.2 12:21am 0.5

Beach

2:29pm 2.2 8:46pm 0.7 3:13pm 2.2 9:30pm 0.7 3:55pm 2.3 10:13pm 0.6 4:36pm 2.3 10:55pm 0.6 5:18pm 2.3 11:37pm 0.5 6:02pm 2.4

6:48pm 2.4 12:38pm 0.5

2:10am 2.0 8:17am 0.7 2:56am 2.0 9:03am 0.7 3:40am 2.1 9:48am 0.7 4:22am 2.1 10:33am 0.6 5:05am 2.1 11:17am 0.6 5:50am 2.2

6:37am 2.2 12:30am 0.5

Motunau 2:38pm 2.2 8:55pm 0.7 3:22pm 2.2 9:39pm 0.7 4:04pm 2.3 10:22pm 0.6 4:45pm 2.3 11:04pm 0.6 5:27pm 2.3 11:46pm 0.5 6:11pm 2.4 12:02pm 0.5 6:57pm 2.4 12:47pm 0.5

2:12am 2.0 8:19am 0.7 2:58am 2.0 9:05am 0.7 3:42am 2.1 9:50am 0.7 4:24am 2.1 10:35am 0.6 5:07am 2.1 11:19am 0.6 5:52am 2.2

6:39am 2.2 12:32am 0.5

Gore Bay 2:40pm 2.2 8:57pm 0.7 3:24pm 2.2 9:41pm 0.7 4:06pm 2.3 10:24pm 0.6 4:47pm 2.3 11:06pm 0.6 5:29pm 2.3 11:48pm 0.5 6:13pm 2.4 12:04pm 0.5 6:59pm 2.4 12:49pm 0.5

2:08am 1.6 8:13am 0.6 2:53am 1.6 8:57am 0.5 3:36am 1.6 9:41am 0.5 4:20am 1.6 10:24am 0.5 5:03am 1.6 11:08am 0.5 5:48am 1.7 11:53am 0.4 6:34am 1.7 12:26am 0.4

Kaikoura 2:33pm 1.7 8:51pm 0.6 3:17pm 1.7 9:34pm 0.5 3:59pm 1.8 10:16pm 0.5 4:42pm 1.8 10:59pm 0.5 5:24pm 1.8 11:42pm 0.5 6:09pm 1.9

6:55pm 1.9 12:40pm 0.4

*Not for navigational purposes. Wind and swell are based on apoint off Gore Bay. Maori Fishing Guide by Bill Hohepa. www.ofu.co.nz www.tidespy.com Graphic supplied by OceanFun Publishing Ltd.

2118223
---
We'rerolling out

COVID-19 vaccinations

to Aotearoa NewZealand

Everyone aged 60+can book theirvaccination now

NewZealanders aged 60+ canbooknow at BookMyVaccine.nz or call

0800 28 29 26.Ifyou'reinone of our priority groups(Groups 1, 2and 3)

andhaven't been vaccinated, don'tworry, youcan still makeyourbooking.

We'rerolling out Group 4inage bands

Everyone in Aotearoa NewZealand willbeabletoget thevaccine –it'sfreeand there'senough vaccinefor everyone.

With morethan2.5 millionpeopleagedunder 65,tomakethe process flowsmoothly, we'rebreakingitdownbyage bands.

We'restarting withthe oldestand workingour waydowntothe youngest.

Important dates

28 July Everyone 60+ Canbooknow

11 August Everyone 55+ Bookingsopen

Bookings willopensoontothe rest of Aotearoa in agebands,

from oldest to youngest.Remember, onceyou'reeligible to be

vaccinated, youcan bookatany time. There's no cutoff.

60 +

55 + 45 + 35 + 16 +

When it's your time to book avaccination

Step 1: Receiving an invitation

When you're eligible,you'llreceive aletterinviting youtobook

at BookMyVaccine.nz.We'll follow up with an email and text.

Step 2: Make your booking

Once you've received your invitation,orwhenyourage band is

open, go to BookMyVaccine.nz to book yourappointments.

If you're unable tobookonline, youcan ringthe COVIDVaccination

Healthline on 0800 28 29 26 (8am to 8pm, 7days).We'll makethe

booking foryou and answerany questions.Interpreters areavailable

if you need them.

Youcan expecttohaveyourfirstvaccinationsix to eightweeks after

youmakeyourbooking. Depending on whereandwhen you'dliketo

be vaccinated, youmight find an appointmentearlier. You'll need

to leave at least threeweeks betweenyourfirstand second doses.

Step 3: Getyour vaccination

We'llsend areminderthe daybeforeeachappointment. It's very

importanttoget twodoses of thevaccine –thiswill giveyou the

best protection.

Other ways to get vaccinated

Thereare otherwaystobevaccinated, including workplace

vaccinations and othervaccination events aroundthe country.

In manyremoterural communities, we will vaccinate allage groups

at thesametime.

Many GPsare also providing COVID-19vaccinations and aretaking

bookings directly.Tofind outifyourGPis offeringthisservice,

visit healthpoint.co.nz/covid-19-vaccination

The stronger ourimmunity, thegreater ourpossibilities.

Find outmoreatCovid19.govt.nz
---
1

1

YOUR

CHAMPION

TEAM

1

See the Good Sports.

$227.41

PER WEEK

$109.88

PER WEEK

$72.16

PER WEEK

$922.86

PER WEEK

2018 Volkswagen Tiguan

Allspace Highline 4Motion TDi

1968cc, Auto Tiptronic, 5Star ANCAP, 7Airbags,

Alloys, Bluetooth, Downhill Descent Control, ESC,

Fog Lights, Heated Leather

Seats, Pre-Crash Safety,

Smart Key,Turbo Diesel.

$45,990

2015 Ford Kuga AMBIENTE

1498cc with 71,367kms, Auto Tiptronic, 7Airbags,

5Star ANCAP, Alloys, AUX Input, Bluetooth, Centre

Shoulder Belt in Rear, Cruise Control, ESC, ISOFIX,

Electric Mirrors, Traction

Control, Multi Functional

Steering Wheel, Turbo.

$21,990

2014 Toyota Corolla Fielder

Hybrid 1500cc with 62,920kms, Auto, Centre

Shoulder Belt in Rear, Chain Driven (No Cambelt),

Child Seat Anchor Points, Climate Air Conditioning,

Dual Airbags, ESC, Power

Steering, Remote Central

Locking.

$13,990

2020 Audi SQ7 TDI Quattro4.0D

3956cc, 8,203kms, Auto Tiptronic, 7Seater, 4WD,

360˚ View Camera, NZ Sat Nav, 8Airbags, Adaptive

Cruise, Android Auto, Apple CarPlay, Bluetooth,

Heated Seats, Idlingstop,

Pre-Crash Safety System.

Balance of New Car Warranty!

$187,990

$95.18

PER WEEK

$72.16

PER WEEK

$62.37

PER WEEK

$75.59

PER WEEK

2015 Peugeot 3008 Allure 1.6

Turbo 1598cc with 83,793kms, Auto Tiptronic,

5Star ANCAP, 6Airbags, Alloys, Auto Lights, AUX/

Bluetooth/CD, Cruise, Dual Zone Climate Control,

ESC, Fog Lights, ISOFIX,

Half Leather Seats,

Panoramic Glass Roof. $18,990

2011 Subaru Legacy 2.5i Eyesight

2500cc with 68,201kms, 4WD, 8Airbags, Auto, Alloys,

CD Player, Dual Zone Climate Control, Electric Mirrors,

ESC, Factory Privacy Glass, Hill Start Assist, ISOFIX,

Paddle Shift, Radar Cruise

Control, Smart Key with

Push Button Start. $13,990

2014 Mazda Demio 13 Skyactiv

Shooting Star 1300cc with 43,956kms, Auto,

Alloy Wheels, Auto Air Conditioning, Auto Lights,

CD Player, Chain Driven, Dual Airbags, ESC, Factory

Privacy Glass, Fog Lights,

ISOFIX, I-Stop, Smart Key,

Traction Control.

$11,990

2012 Mitsubishi ASX LS2.0

1998cc with 89,574kms, Auto Tiptronic, 7Airbags,

Alloys, Auto Air Con, CD Player, Chain Driven, Centre

Shoulder Belt in Rear, Cruise, Factory Privacy Glass,

High Seating Position,

ISOFIX, Traction Control,

Remote Central Locking. $14,990

$81.96

PER WEEK

$77.06

PER WEEK

$116.24

PER WEEK

$212.72

PER WEEK

2011 Nissan Juke16GTFour

1600cc with 61,876kms, Auto Tiptronic, Alloys, Auto

Lights, CD Player, Climate Air Con, Dual Airbags,

ESC, Factory Privacy Glass, Fog Lights, ISOFIX,

High Seating Position,

Selectable 2or4WD,

Traction Control, Turbo.

$15,990

2010 Lexus IS250

2500cc with 70,410kms, Auto Tiptronic, 9Airbags,

Alloys, Auto Lights, CD Player, Centre Shoulder Belt

in Rear, Climate Air Con, ESC, Electric Driver's Seat,

Multi Functional Steering

Wheel, Paddle Shift, Smart

Key, Traction Control.

$14,990

2014 Nissan X-Trail 20X 7Seater

4WD 2000cc with 73,273kms, Auto, Alloys, CD

Player, Centre Shoulder Belt in Rear, Chain Driven,

Dual Airbags, Dual Zone Climate Control, ISOFIX,

Factory Privacy Glass,

Fog Lights, Leather Heated

Seats, Spoiler, Smart Key.

$22,990

2019 Holden Acadia LTZ4WD

3649cc with 62,735kms, Auto Tiptronic, 7Airbags,

Android Auto, Apple CarPlay, AUX/Bluetooth/USB,

Blind Spot Monitoring, Climate Air Con,Cruise, ESC,

Heated &Cooling Seats,

Lane Keep, Smart Key.

$42,990

Balance of New Car Warranty!

$188.23

PER WEEK

$222.52

PER WEEK

$286.18

PER WEEK

$227.41

PER WEEK

2012 Toyota Hilux 4WD 3.0TD

D/C Ute 2982cc, Air Con, Alloys, Auto, Cruise,

Canopy, Bluetooth/CD/AUX, Dual Airbags, ESC,

Nudge Bar, NZNew, Remote Central Locking,

Roof Rack, Running Boards,

Towbar, Traction Control,

Tuff Deck, Turbo Diesel.

$37,990

2016 Holden Colorado LS 2.8D

4WD 2776cc with 67,757kms, 5Star ANCAP,

6Airbags, Air Con, Alloys, AUX/Bluetooth, Cruise,

Downhill Descent Control, ESC, ISOFIX, Monsoon

Shields, Nudge Bar, Towbar,

Roof Rack, Tonneau Cover,

Traction Control, T.Diesel.

$44,990

2017 Toyota Hilux SR5 TRD 4WD

2755cc with 33,763kms, Auto Tiptronic, NZ New,

5Star ANCAP, 7Airbags, Climate Air Con, AUX/

Bluetooth, Cruise, Emergency Brake Assist, Hard Lid,

Hill Start Assist, R/Camera,

Sports Bar, Towbar,

Tuff Deck, Turbo Diesel.

$57,990

2017 Mazda BT-50 GSX 4WD

3.2D 3198cc with 70,261kms, Auto Tiptronic,

6Airbags, Alloys, Auto Lights, AUX/Bluetooth, ESC,

Chain Driven, Cruise, Dual Zone Climate Control,

Fog Lights, Multi Functional

Steering Wheel, Traction

Control, Turbo Diesel.

$45,990

Stadium Cars Rangiora 03 310 7940 | stadiumcars.co.nz

609 Lineside Road, Waimakariri, Rangiora OPEN 6DAYS

*Conditions apply. Not available with any other offer. Finance offer subject to credit and lending criteria.

Finance calculation based on 60 month term. No deposit with an annual fixed interest rate of9.95%,

includes an establishment fee of$445. See our website for full disclosure.

*On road costs may apply to some vehicles
---
Black &white focus

Lisa Carter's Droplet Fun was judged the

champion image at the Rangiora

Photographic Society's Black and White

competition recently.

Judge Peter Cox also judged it Best in

the Agrade, and awarded it Agrade

honours.

Results were:

Champion Image Overall: Droplet Fun –

Lisa Carter

Best in Grades: AGrade –Droplet Fun –

Lisa Carter; BGrade –Determination –

Martin Kircher; CGrade –ASnowfall in

Rangiora –Peter O'Dea.

Honours –AGrade: Equus –Veronica

Wedlake; What Light through Yonder

Window Breaks –Graham Dean; Winter

is Coming –Jan Driscoll; El Obrero

Migratorio —Robyn Carter; Apparition –

Karina Templeton; Ellie –Catherine

Dalton; DC 3–Shaun Denholm; Intensity

–Cheryl Muirson; Possession of

Grandeur –Cheryl Muirson; In the

Clouds –Trevor White; Droplet Fun –

Lisa Carter.

BGrade: Determination –Martin

Kircher; Majestic Mountain –Ross

Lawler; Ridge Line –Russell Falconer;

Dead Bedfords –Alan Dunscombe.

CGrade: Boat Ramp –Nathan Green;

Cat on aHot Tin Roof –Cliff Boddy; A

Snowfall in Rangiora –Peter O'Dea.

Droplet fun ... Lisa Carter's champion

image.

PHOTO:SUPPLIED

Light Festival giveaway

Six family passes to the MainPower

Light Festival in Rangiora in

September, are up for grabs.

Five passes include glow toys, and

entry to the outdoormovie on

Saturday, September18.

The sixth family passincludesglow

toys, entry to Saturday's outdoor

movie,plus a$100 voucher for lunch or

dinner, and a$50 gift pack from Planty

Affair.

The light festival runs from

September16to18atRangiora's

Victoria Park and promises to be

bigger, better and brighterthan last

year'sinaugural festival.

Event spokesman Karl Horwarth

says there willbetwice as many lights

installed, with mirror balls, a5m

mushroom,neon trees, fairylight

tunnels and canopies, and pulsing

arches.

''VictoriaPark will be lit up with a

fairyland of laserlights, neon, disco

lights, interactive lighting displays,

glow toys and more,''MrHorwarth

says.

The MainPower NorthCanterbury

Lightsphoto competition will run

again,with entrants able to enter up to

five photoseach.

There are sections for youth and

adults, and entries must be emailedto

Glowing ... Glow toys form part of a

giveaway package to the MainPower light

Festival in Rangiora in September.

PHOTO: SUPPLIED

rangioralightand sound@gmail.com.

Finalists will have their work

showcased in the North Canterbury

News.

To be in to win aFamilyPass, email

your entry to info@ncnews.co.nz,with

Light Festival competition in the

subjectline, and be suretoinclude

your name, address and phone

number.The competition will be

drawn on August 27, at 12 noon.

NEWS

The North Canterbury News, August 5, 2021

HURUNUITHEATRE GROUP ADVERTISING FEATURE

Showtime ... The cast hard at work for this year's production.

Hurunui Theatre Group presents

9

PHOTO: SUPPLIED

MontyPythonis

coming to Waipara

The HurunuiTheatre Group is back

with acomic vengeance.

The theatre group was unable to

stage ashow last year, for the first

time in 27 years, due to Covid­19.

But it is hard at work rehearsing

Spamalot in the Waipara Hall, to

ensure this year's offering will make

up for its no show last year.

So if you were looking for ashow

with maximum laughs, it's hard to top

this parody of King Arthur's questfor

the holy grail.

Diverting from the traditional

versionofthe legend, Spamalot's

shenanigans include dancing girls,

waking the dead and killer rabbits,

while outside there is "plague with a

50% chance of pestilence and famine".

Throughoutthe show Arthur, with

his sidekick Patsy, recruit knights to

join him on his quest, including Sir

Robin, Sir Lancelot, Sir Galahad and

Sir Bedevere.

They encounter such characters as

the Lady of the Lake, Prince Herbert,

the Black Knight, Not Dead Fred, and

the Knights who say Ni.

The cast, amixture of newbies and

regulars, are proceeding well with

rehearsals, also producing alot of

laughs and are somewhat strangely on

schedule,sothe mad panic of the last

two weeks leading up to opening may

yet be avoided.

Spamalot is directed by Dave

Nicholls, with Liz Grigg the musical

director.

Marilyn Johnsonreturns to thefold

playing various instrumentson

keyboard,tojoin long­time

accomplished pianist Anthony

Kingston and introducing Phil

Biddlecombe on drums, to give the

show its full musicalflavour.

So, for alate winter pick­me­up,get

along to the Waipara Hall, be

thoroughly entertained and partake of

the traditionalhalf time supper

provided as alocal schoolfundraiser

(included in the ticket), and cash bar

run by Torlesse Wines.

The show runs for asix night season

from August24toSeptember 4, plus a

matinee on Saturday, August 28.

Tickets are available from Sally

Mac's Amberley and Gas Waikari or on

line at www.hurunuitheatre.org.

Adults ­$25; Seniors­$20; Children

under 16 ­$15.

We're your local hearing experts.

The team has grown to include an

independent ear nurse and anew audiologist.

Aone-stop shop for all your hearing health

and healthy hearing requirements.

Show runs

from

26 th August

to 4 th

September

Thursday, Friday,

Saturday 7:30pm;

Matinee on

Saturday 28 th 2pm

Waipara Memorial Hall

Call 03 423 3158 •Amberley /Rangiora /Cheviot /Hanmer •verasetzaudiology.co.nz

Tickets available in August from: Sally Mac's Amberley andGas Waikari

Or online bookings at www.hurunuitheatre.org

Adults -$25; Seniors -$20; Children under 16 -$15

2405500
---
100%LOCALLY

OWNED&OPERATED.

RANGIORA

If youfind alower priceonanidentical stocked productlocally, we will beatitby15%

If youfind thesame productfromanother Mitre10store or Mitre10website, we'll matchthatprice.Excludes trade and special

quotes,stock liquidations and commercial quantities.The in-storeprice maybelower than thatadvertised.
---
RANGIORA

NEED

REMOTE

POWER?

SORTED.
---
The latestlocal news, views and announcements from the council

3rd Youth Council 5.30pm (Venue:

Council Chambers, Amberley).

10th Hurunui Tourism Board 1.00pm

(Venue: Waikari).

11th Hanmer Springs Thermal Pools

and Spa Management Committee

9.30am (Venue: Boardroom, Hanmer

Springs Thermal Pools).

We are thrilled to have received $352,000 from the

Ministry of Business, Innovation and Employment Tourism

Infrastructure Fund to put in/replace toilets in the Greta

Valley township, Mata Kopae/St Anne's Lagoon, and

Rotherham township. We are hoping to have these in

during the summer months.

Mata Kopae/St Anne's Lagoon (pictured below) is one of

the District's many stunning reserves, and agreat place to

have apicnic, stretch your legs, or just relax and soak up

the show that nature puts on.

MTFJ

The Amberley Eastern Wastewater Project is complete.

Approximately 2.4km of 375mm PVC pipeline has been installed,

to allow for the town's growth for its future wastewater needs.

The pipeline has been laid across private land, therefore it's abig

thanks to the brilliant landowners for being so accommodating

throughout the whole project.

Council is currently busy with numerous projects across the

District, upgrading and renewing our three waters networks.

We will keep you updated as these happen, thank you for your

cooperation as some distruptions occur from time to time.

12th Strategy and Policy Committee

9.30am (Venue: Council Chambers,

Amberley).

17th Glenmark Community Committee

7.30pm (Venue: Omihi Community Hall).

18th Amuri Community Committee

7.00pm (Venue: Culverden Council

Chambers).

19th Operations Committee 9.30am

(Venue: Council Chambers, Amberley).

23rd Hanmer Springs Community Board

1.00pm (Venue: The Gallery, Hanmer

Springs Library).

24th Road Safety Co-ordinating

Committee 10.00am (Venue: Council

Chambers, Amberley).

25th Hurunui Community Committee

7.30pm (Venue: Hawarden Community

Library).

26th Council meeting 9.30am (Venue:

Council Chambers, Amberley).

31st Cheviot Community Committee

6.00pm (Venue: Cheviot Library/Service

Centre).

Council is seeking more businesses and youth in

our District to join the Mayor's Taskforce for

Jobs (MTFJ) programme, so we can create

positive outcomes and sustainable work for both

parties.

If you are alocal business or know ayouth who

would be interested in joining this venture,

please contact Joni or Chris at HDC, 03

3148816 or email mtfj@hurunui.govt.nz

BUILDING SAFETY ALERT: In the past month we have

had several serious house fires in the Hurunui District. This

is agood reminder to ensure that woodburner chimneys/

flues are cleaned regularly and that smoke detectors are

installed in your home.

THE HDC CREATIVE COMMUNITIES FUND: This Fund

is now open, applications close on 30th August. Agreat

opportunity for locals to receive funding to support their

creative projects. For applications, please email

administrator Maree Hare - maree.hare@hurunui.govt.nz

or visit the council website.

DOG REGISTRATIONS: Thank you to everyone who

registered their dog/s on time, the hamper winners will be

announced shortly. If you still need to register your dog/s,

please contact Council, 03 3148 816.

For July:

Consents issued: 65

Number of dwellings: 24

Average processing time for all consents: 11 days

Building value: $12 million

Fun fact:

Building expenditure in the Hurunui is at record high,

especially in Amberley and Hanmer Springs. In the past 12

months, 57 houses were built in Amberley, with 31 built in

the twelve months preceding that.

Considering anew woodburner?: The building team gets

about 100 applications for new woodburners each year

which are prioritised and consented fast, often in 24hrs.

"It is the intention of the Council

to present these numbers to you

and get your feedback on the right

course of action ......."

Central government reform of the local government sector

continues apace, with the current workstreams including

proposed reforms of three waters infrastructure, resource

management and a programme looking at the future of local

government, all being underway simultaneously.

The three waters and resource management proposals both seek

to streamline processes by centralising services and removing

local government input.

Whilst many of us can agree that the Resource Management Act

needs to be overhauled, its replacement needs to provide checks

and balances that ensure that any tradeoffs between

environmental, economic, cultural and social wellbeing are

properly considered. It is not clear that the current proposals from

the government will achieve the desired outcome.

The government believes it has made astrong economic case for

the transfer of community owned water assets from local

government control to four new central government entities which

are completely separated from local influence. The government's

case is reliant on anumber of assumptions which, although they

might work on anational scale, do not necessarily hold true for

the Hurunui District.

It is the intention of the Council to present these numbers to you

and get your feedback on the right course of action.

Removal of three waters services and resource management

leaves local government in much depleted state and it is therefore

sensible to have adiscussion about the future of its role. Initial

meetings have been positive, but many in local government are

wary of jobs being handed out by central government with funding

expected to come from rates. Obviously this would not be a

satisfactory outcome and the Council is casting acareful eye over

all of the government's proposals.

The Hurunui Hotel which stands on the south bank of the Hurunui River was established in1860. The Hotel

is widely known for holding its liquor license since 1869, the longest liquor license tobeheld inNew Zealand.

www.hurunui.govt.nz

info@hurunui.govt.nz

03 314 8816
---
Tipapa transformed

The Tipapa Woolshed in North

Canterbury was transformed as The Red

Masked Gang Rides Again was staged by

the Greta Valley School.

The ruralatmosphere of Janeand

Stewart Whiteside's Tipapa Woolshed

provided the ideal environment forthe

play, set in the depths of the Motunau

ranges.

The Red Masked Gang had their

headquarters under Kerry and Kim's

Fossil Café, where they met and

discussed plans to save the locals from

all sortsofsituations.

One morning the gang received acall

to helpout agroup of Grannies, living on

the edge of the Motunau ranges, who

were being terrorised by evil wolves.

The play used three stages, set up

around the audience in the Woolshed,

which the storyteller moved between to

keep everyone informed about was

happening.

Eachset was lit up using clever

spotlighting, creating areal live drama

experience for the young actors.

Di Dixon, the set designercreated the

forest, the Granny's house and the Fossil

Café underground headquarters,with

the help of herable crew.

''They say it takes avillage to raisea

child, well tonight we saw it takes a

community to put on aplay,'' principal,

Anne Batt,said at the end of the

production.

She acknowledged the tremendous

support from the parents and the wider

community in making the production the

huge success.

Aenjoyable part was when the staff,

with aparent roped in to swell the

numbers, wandered in through the

forest dressed as Giant babies, complete

with nappies,bibs and dummies. The

babies had escaped from the Cabbage

Patch, where they sit aroundwaiting for

acall up to boost the school roll.A

squawking Stork, skidded her way in on

ascooter to round up the truant babies.

Playwright Anne Battsays there was a

lot of ad libbing in this scene, andittook

abit of effort to get the play back on

track.

Every child in the school had apart to

play, with many of the indicators set

from the National Curriculum for the

Arts covered in putting on the

production.

Museum redevelopment

Resource consent has been granted for the

proposed$195 million redevelopment of

the Canterbury Museum.

Canterbury Museum TrustBoard chair

David Ayers says the consent is amajor

milestoneinthe Museum's project to

protect its heritage buildings and bring its

facilities into the 21st first century.

The consentwas granted by

Christchurch City Council last week, after

ahearing on June 9and 10.

"We'vebeen developing our

redevelopment plans since May last year,

whenweasked Cantabrians what they'd

like tosee in aredeveloped Museum," Mr

Ayers says.

'' Now we can get on with full concept

design of the buildings, whichweexpectto

finishbythe end of the year."

The Museum already has well over half

the money neededbut faces a$70 million

shortfall.

Mr Ayers says the Museum is in active

discussions with possiblefundersand has

developed abusiness case seeking funding

from the Government.

LAST CHANCE TO VOTE

FOR YOUR FAVOURITE BUSINESS IN THE

PEOPLE'S CHOICE AWARD

Voting for the 2021 North Canterbury Business Awards

People's Choice Award closes on August 11 th .

Your vote puts you in the draw toWIN aMini Group

Pass from Hanmer Springs Thermal Pools &Spa, OR a

MADE NORTH CANTERBURY Food &Beverage Hamper.

Cast your vote now at

www.northcanterbury.co.nz/choice

NEWS

The North Canterbury News, August 5,2021

ADRIEL HOUSE AND REST HOME ADVERTISING FEATURE

Supportive ... Georgia with residents Bruce and Yvonne.

13

Thinkabout thosewho have memory

lossand associated problems ...

•CountryHomeValueswithCommunitySpirit

•DayCare•Men'sClub•RespiteCare

•Relaxed,HomelyCottageGardens

(andevenafewanimals)

PHOTO: SUPPLIED

Working with the

elderly rewarding

Adriel House and Rest Home is

greatplace for people to work with

the elderly, andgain qualifications

at the same time.

Owner Mischeal McCormick saysit

is getting harder and harder to get

people to work in the industry.

It is anational issue, but impacted

more on smallcountry homes like

Adriel, wherethere was not ahuge

pool of people to provide stafffor

the home.

Adriel provides holistic care for

thosesuffering frommemory loss,

and is aSpark of LifeCentre of

Excellence, the only one in New

Zealandtohold the honour.

Mischeal says it is the home's

pointofdifference from other

facilities providing dementia care,

with the focus of the programme on

the quality of the connection

between carers, residents, and their

families.

It alsofosters kindness,

compassion, empathy, and respect

for supportive partners.

Gaining qualifications on the job

is free, and Mischeal is aqualified

moderator to level 4for thoseaiming

to gain health and wellbeing

qualifications.

She saysnoindustry experience is

necessary, and peoplecan learn on

the job,while always working

alongside another staff member.

''It is alot aboutinteracting with

people.

''It is not everyone's cup­of­tea,

but it canbeavery rewarding

career,'' says Mischeal.

Alot of in­house training is

provided for staff, particularly

around the Spark of Life philosophy,

and the one­on­one care it promotes.

This helps build good team work,

and promotes good communication,

says Mischeal.

''Adriel is agreatsupportive place

to come to work,'' she says.

Residents fromAdriel features

in credits of afilm, Ruby'sChoice,

whichisbeing launched on August

29 in Australia.

The segmentfeatures the Spark of

Life programme. The film tellsthe

storyofawoman living alone with

earlydementia and the impact it has

on her, and her family, whenshe is

no longer able to live independently.

2374549

RESTHOME

Celebrating Exceptional North Canterbury Businesses

Please callustoday tofind out howwecan care for your lovedones.

Phone: Clinical Nurse Manager Elaine Mulholland, (03) 314 8326 ex 1

36 Osborne Rd,Amberley
---
NEWS

14 The North Canterbury News, August 5, 2021

48 hours to snap the best

By DAVID HILL

Aspiring photographers are

encouraged to look to the stars in

Kaikourathis weekend.

The annual48Hours in

Kaikouraphotography

competition is back in town on

Saturday and Sunday,with the

wholefamily encouraged to enter.

Anew category for thisyear's

competition is ''the dark sky'', to

draw on Kaikoura's drive to obtain

international dark sky status,

organiser NeroliGold says.

''Hopefully it willattract afew

more people to Kaikoura,

especially among those who are

keen on photographing the night

sky.

''We encourage people to come

to Kaikoura for the weekend with

theircamerasand phones to take

some images and enter in our

competition.

''Theaim is to grow Kaikoura as

adestination. We wantpeople to

come for afew days, ratherthan

flying through.''

The 48 Hours in Kaikoura

competition defiedCovid­19 last

year,with an online competition

held duringthe lockdown and the

annual contestheld as normal, Ms

Gold says.

All photosmost be taken during

the 48 hour period.Other

categories include portrait or

people images,land or seascape,

nature or wildlife and the open

section.

Childrenunder 13 years are

encouragetoenter as juniors as

theremay be prizes available

dependingonnumbers.

Last year ajuniorentrywas a

finalist for the top prize, Ms Gold

What's the Hurry ... John Vasta's winning entry in last year's Nature

Wildlife section of the 48 Hours in Kaikoura photography competition.

PHOTO: SUPPLIED

says.

Entries close on August26, with

entry forms to be filledout on the

competition's website and

mounted copies of photos are to be

dropped at Kaikoura's Mayfair

Theatre by 4.30pm ready for

judging the nextday.

Entrants can printand mount

imagesthemselves, or support

local businessesAndrew Spencer

Photography and Aartvark Picture

Framing.

An exhibition of the imageswill

open at the Mayfair Theatre on

Saturday,August28, andrun until

September 11.The best images

from last year's and thisyear's

competitions willbemade intoa

calendar, which Ms Gold aims to

release nextmonth.Itwill be

available at selectedKaikoura

stores, withthe proceeds going

back into the community.

Millton Park

plan approved

Rangiora's Millton

Memorial Park is to geta

spruceup.

The Rangiora­Ashley

Community Board has

approved theMillton

Memorial Park Master Plan,

which willsee the park

redeveloped.

It includes creating a

large areadevoted to

specimenplantings of trees

and shrubs (an arboretum)

withinter­connecting

pathways.

Anew dogagilityarea and

realignmentofthe small dog

parkhas alsobeenincluded,

while areashave been set

aside forthe relocationof

the North Canterbury Model

Railway Club andfuture

publictoilets.

Board chairperson Jim

Gerardwas pleasedwiththe

feedback from the

community,with13

submissions receivedto

helpshapethe finalplan.

''Weappreciate thetime

peopletooktosharetheir

thoughtsand ideas with us,''

he says.

''Followingafew small

amendments,we're really

excitedtosee thereserve

develop into an attractive

areafor everyone to enjoy.''

The small dog parkwillbe

realignedtoensure there is

space formore croquet

courtstocater for

anticipated growth.

The alignment doesnot

impact on thesize of the dog

park, butitwillhavea

slightly differentshapewith

no changestoexistingpaths

and theshelter.

The dogagility area will

be located to the eastand

includeanarea underthe

existing pine trees,most of

which will be tidied up and

retained.

Feedback from the

community indicated a

desire for trees to be

included withinthe dog

accessibleareas,toprovide

shade as well as amore

naturalenvironment for

dogstoexercise and

socialisein.

The Friends of theDog

Parkare nowplanningwhat

the agilityareawill looklike

and exploringvarious

funding options for agility

equipment.

The NorthCanterbury

Model Railway Club plans to

build anew buildingto

house its displays,while the

council is planning to build

anew toilet facilityinthe

2024/25financial year as

partofthisyear's Long Term

Plan. Abudget of $169,000

has beenset aside forthe

reserve'sdevelopment,

excluding the toiletblock.

Say hello

to an actual

human.

LIGHT SPEED

EMPATHY

REAL-TIME

INTUITION

REAL

VOICE

Our local insurance brokers are here tohelp.

Talk to areal human about your insurance.

WAVE2630NC

Christchurch 03 345 9800

Rangiora 03 310 8940

or visit aon.co.nz

Proudly local. Proudly human.
---
Long lasting, precise steering and

outstanding grip. Innovative Goodyear

technologydelivers optimumperformance

so you can enjoy the long journey ahead.

We will

matchorbetter

any genuine

quote on tyres

in Canterbury–

Guaranteed!

(behind Mobile Car Wash)

Mon-Fri 7.30am-5.30pm. Sat 8.00am-2.00pm
---
House

and Home

Free Installation until

end of August 2021

• Curtains • Romans • Rollers

• Cushions and much more.

Phone Maureen 03 327 4919

Mauds Soft Furnishings

2352423v4

88 Williams Street,

Kaiapoi

(up long driveway)

www.mauds.co.nz

QUALITY KITCHENS

AND JOINERY TO SUIT

ALL STYLES AND BUDGETS

19 Beach Road

Ph: 03 319 5562

E. info@thejoinershop.co.nz

www.thejoinershop.co.nz

2350098v7

The team ... From left, Allan, Joel, Chris and Chris from R. Grant Electrical.

Trusted localteam

No job is too big or too smallfor R. Grant

Electrical.

The trusted and popular Rangiorabasedbusiness

can turn its handtolarge

commercial and domestic housing jobs, to

general wiring and helping elderly folk

change lightbulbs out of their reach.

AllanPethigbroughtthe business from

Robert GrantinAugust2014 after working

for him for 18 years, and retained all the

key trading principals thatmakes the

company atrustedand popularlocal

business.

''We are asmall company with afriendly

team,making good­quality workand fast,

efficientservice our top priorities,'' Allan

says.

Theirwork includes residential and

commercial jobs around North Canterbury

and parts of Christchurch.

''We do domestic and commercial,

general wiring, security cameras, burglar

alarms and data cabling.Nojob is too

smallfor us.''

The domestic/residential work includes

everything frominstallinganew ovento

wiring anew house, doingalterations, or

changinglights and switches.

''Every job is important, regardless of

size.''

R. Grant Electricalalso doeselectrical

fit outsfor shops, units, cafes and new

premises, plus alterations for workplaces

and maintenance work,along with

commercialand residentialelectrical

work.

Allan says demand is steady for domestic

and alteration work, withmany people

optingfor new kitchens and renovations

because travel planshave been put on hold

because of Covid­19.

Demandisalso steadyfor new builds,

with clients staying withR.Grant

Electrical due to relationships forged over

many years.

''We even have clients thatonce livedin

Rangiora, and who havemovedaway, still

ringing up and wantingustodowork,''

Allan says.

Their work includes stylish lighting

showcasing buildings and properties.

The business usesqualityproducts.

''We like our servicetobeofgood quality

and this includes the materialsthat we

use. We stand by the products we use,''he

says.

Property –Buying and

Selling

We can provide advice:

•First Home buyers –Kiwisaver

withdrawal and Kainga Ora

Subsidy

•Detailed Title and LIM reports

•Pre Auction checks

•Subdivisions

•Retirement Village –Licences to

Occupy

PROVEN -PERSONABLE

PROFESSIONAL

7Ashley Street, Rangiora | 03 310 6464

admin@law4you.co.nz | www.law4you.co.nz

2351968v5

"Exclusive"

Blaze King ULEBWood Fires

Allan Pethig

For all your electrical needs.

Residential &Commercial

Phone 03 313 7144 | 027 432 1534

2278923

Fax 03313 2144

rgrantelectrical@gmail.com

PO Box 69, Rangiora

www.rgrantelectrical.co.nz

Pellet and Wood Fire Specialists

472 Blenheim Road

Sockburn

Phone: 03 343 1651

Open 8:30am -5pm

Sat 10am -3pm

www.heatstore.co.nz
---
STYLE & QUALITY

FOR LESS

WWW.AFFORDABLEFURNITURE.NZ

NovaBedroom

Collection

SUPER

SPECIAL

Bedside $249 $229

Bedframe $849 From $759

Under Bed Drawer $169 $149

6DrawerTallboy $799 $719

6DrawerLowboy $729 $659

WAS $3499

D OLL

$

3299

Naples Corner Suite

2Seater $1129 $1049

3Seater $1649 $1529

SUPER

ER

SPECIAL

Swivel

Chair

Storm

Charcoal

WAS$849

$

749

FINANCE

WE CANHELP

WITH THAT

SUPER

SPECIAL

Maui

Recliner

5Coloursoptions

available

Fabric or Pu

WAS$999

$

949

SUPER

SPECIAL

Wagner Chair &

Radius 1.2Round Dining Table

Wagner Chair

$189 $169

Calla Corner Sofa

Bed Chaise

WAS $2809

$

2699

With storage ottoman

LeftorRight hand

Marble Top

Dining Table

Radius 1.2Round

$1199 $1099

Radius 1.0Round

$1099 $949

Sylvie Bedroom

Collection

Tallboy 5Drawers $689

$639

Tallboy 6Drawers $799 $739

Lowboy 6Drawers $729 $679

Bedside $219 $199

Headboard From $379

SUPER

SPECIAL

Atlanta Bunk

White

RimuStain

WAS $1049

$

849

QUALITY

FURNITURE

Affordable

PRICE TAG

FREE

CARPARKING

SOUTHCITY

BATH ST

WE ARE

HERE

255MOORHOUSE AVE

REBEL SPORT

COLOMBOST

MON-FRI 9:30AM–5:30PM

SAT-SUN 10AM–5:30PM

0800 268 264

www.affordablefurniture.nz
---
12V Mercedes Benz

AMG GLA45

Usually $399.99

• Child pedal controlled OR

• Parental remote controlled

• Steering wheel with music

• MP3, USB +TFsocket

• Power display

• Opening doors

• Rear suspension

$

349 99 ea

• Front & rear light

• Twomotors

• Run time: 1-1.5 Hrs

• Speed: 3-6 kms

• Max Weight: 50kg

12V Ford Ranger Black

Usually $649.99

• Child pedal controlled OR

• Parental remote controlled

• 12v 7Ah Battery

• Light and Music

• MP3 USB Socket

• Power display and volume

control

$

599 99 ea

• One button start

• 4wheel Suspension

• 2doors &hood open

• 2speed Motor

• Run time: 1-2 Hrs

• Speed: 3-8 kms

• Max Weight: 35kg

12V Lamborghini

Usually $699.99

• Child pedal controlled OR

• Parental remote controlled

• Multifunctional steering

wheel with music effects

• MP3, USB, TF card socket

• Front +rear lights

• Opening doors

$

599 99 ea

• Two motors

• 12v 7Ah Battery

• Run time: 1-2 Hrs

• Speed: 3-6 kms

• Max Weight: 50kg

Tower Junction

store only

Tower Junction

store only

12V Rapid Jeep Red

Usually $799.99

• Child pedalcontrolled OR

• Parentalremotecontrolled

• 12v 10Ahbattery

• Twomotors

• Adjustableseat

• High-lowspeed selection,slow

startfunction

$

699 99 ea 24v Buggy

$

899 99 ea 24v Drift Go Cart

Usually $999.99

Usually $699.99

$

599 99 ea

• 24v(2*12v 7Ah removable star rtfunction

• Twodriving motors

• Steering wheel has horn and

battery)

• MP3 player with USB, TF slot

• 25000RPM

music function.

• Plastic seat,big EVAwheels • Frontand rear lights

• 24v (2*12v 7Ah battery) • Run time: 1-2hrs

• Child pedal controlledOR • Run time: 1-2hrsSpeed: 4-10 kms • 24v drift function

• Speed 3-10kms

• Parental remotecontrolled • Max weight: 60Kg

• High low speed selection, • Max weight: 60Kg

• Adjustable seat

slow start function

• Highlow speed selection, slow

Trampoline Elite

• MP3playerwith USB,TFslot

• front and rear lights, wheelswith

h

LED lights, topLights

• Run time: 1-2 Hrs, Speed:3-8

kms

• Max weight: 50kg

6 Function Swing Set

Spin and Slide

Swing Set

Height 1.82m

Width 4.6m

Depth 2.71m

Usually $599.99

ea

New stock

arrives 11th Aug

Includes Safety Net & Pads. 100kg

Weight Limit. Suitable Ages 6+.

10ft

Usually $499.99

$

399 99 ea

12ft

Usually $599.99

$

499 99 ea

$

549 99 Ladder

Ladder

5 Function Swing Set

5 Function Swing Set

Compact Swing Set

Sand and Swing Set

Usually $449.99

Height 2.18m

$

399 99 ea

Height 1.81m

Width 3.64m

Depth 1.981m

All swing sets

are made from

power coated,

galvanized heavy

grade steel. Pre

inserted rust proof

hardware for easy

assembling.

Width 4.74m

Depth 2.56m

Usually $749.99

$

699 99 ea

TOWER JUNCTION

NZ's Biggest TOYWORLD

Clarence St,Riccarton, Ph 03 343 0330

$

29 99 ea

$

449 99 ea

Playgym

3 station Playgym

includes 180cm Slide,

transforming swing,

Basketball hoop.

Max Weight 35kg.

Usually $499.99

MARSHLAND

199 Marshland Rd,

Ph 03 9828697

HORNBY

Chalmers St,

Ph 03 281 8127

Valid from Tueday 3rd August until Tuesday 10th August 2021. Layaway held up to 17th December, 2021. Payments instore or by Internet Banking. At least

fortnightly payments required. Cancellation Fees apply. 48hour notice for pickup (as some layaways stored offsite). Photo IDrequired for creating Layaway.
---
Amberley ... Asecond weighbridge will be installed at the

Amberley Transfer Station.

PHOTO: SUPPLIED

Rubbish bag cost rise

The cost of arubbish bag in

the Hurunui District has

risen by 30c.

They will now cost $3.30

each, while the per tonne cost

of waste disposal at the

Amberley transfer station has

risen from $255 to $268.

The increases are due to a

nationwide waste levy, set

through the Waste

Minimisation Act 2008,

doubling from $10 per tonne

to $20 per tonne.

Hurunui District Council's

chief operations officer Dan

Harris says the cost of the

recycling bags has not

changed, however, as away of

incentivising recycling.

"Also via the transfer

stations, arange of items are

accepted for recycling for

free, providing the

acceptance criteria is

followed," he says.

Meanwhile athree year

programme will see

improvements and changes in

how waste is dealt with in the

district.

Increased volumes of waste

and recycling at Amberley,

Cheviot and Hanmer Springs

transfer stations has

prompted the changes.

Anew transfer station will

be built in Cheviot to provide

more space, improved

facilities and better traffic

flow, while sealing will be

done at the Hanmer Springs

transfer station, along with a

sealed drop­off area for

receiving green waste and

selling mulch.

At Amberley asecond

weighbridge will be installed

to improve traffic flow. A

dedicated recycling area

prior to the weighbridge will

also be developed.

SLIDE IN-STORE FOR COOL

AUGUST DEALS

NEWS

The North Canterbury News, August 5,2021

New members sought

NorthCanterbury Tecorians

have moved north.

Theclub that fostersthe

development of public speaking

skills, has moved fromRangiora

to anew Amberley base at the

Highway ChurchAmberley

Trust on Carters Road.

It is keenfor new members to

join the club, whichmeetstwice

amonth, helping peoplegain

confidence to speak publicly,

whilehaving funinafriendly

atmosphere.

Theclub has an affordable

membershipand caters forall

skill levels. It offers an easy

programme thatallows

memberstoperform tasksat

theirown comfort level, while

learning to improvetheirskills.

Work on impromptuspeaking

is also offered, along with

presentingprepared speeches,

anddebating. Arange of

interestingand confidencebuildingtasksare

presented

each night.

Membersaged13years to 15

yearsare welcome,

accompaniedbyanadult. There

19

Recognition ... James Harrison (left), receives his intermediate certificate

from Paul Schoreder, for successfully completing all tasks pertaining to

North Canterbury Tecorian Speakers.

PHOTO: SUPPLIED

areyouth,adults, andfamily

membershippackages

available. People can visit free

threetimes, andmeet the group

to decide if the clubisfor them.

Theclub meets at 7.30pm the

secondand fourthMonday of

themonth. Formore

informationphonePaulon027

4148337.

Young recycling artists sought

Keas are beingsought in Kaiapoi.

The Gray RavenKaiapoiScout

group is keen to expand Keas for

young members.

Kea Leader Sue Hutt has

organised a Wearable Art Show for

childrenaged 5years to 7years, to

help raise awareness of the Kea

group and increase membership.

Sue says this is the age Keas is

aimed at, and the group's activities

include arts and crafts,and sitting

badges in afun environment.

''The concept is that they design

and make an item of clothing from

items out of the recycling bin.They

can fashionaskirt out of milk

bottles and paint it or decorate

with stickers and bling,'' she says.

Waimakariri Mayor Dan Gordon,

and Waimakariri MP Matt Doocey,

will judge the competition.. CBK

Craft Beer and Kitchen, and

Blackwells Department Store have

donated prizes,and Sue is hopeful

more organisations will support

the competition.

Entries close on August 15.To

register go to recyclersunite.

grayravenkeas@gmail.com. For

moreinformationphone Sue on

027 3718661 or go to the Recyclers

Unite page on Facebook.

$15.99

EACH

Woodstock (incl Zero)

7% 330ml 6pk cans

Smirnoff Ice

5% 10pk bottles

Coruba &Cola Zero

330ml 10pk cans

Coruba &Cola

7% 250ml 12pk cans

$41.99

EACH

$26.99

EACH

$15.99

EACH

Scapegrace Vodka/Gin

250ml 4pk bottles

JD's &Cola DoubleJack

375ml 4pk cans

$29.99

EACH

Cody's

7% 18pk cans

$42.99

EACH

Woodstock

7% 250ml cans

5% 330ml bottles all 18pks

$47.99

EACH

$32.99

EACH

$16.99

EACH

Jim Beam Gold /CC

Premium

7% 330ml 6pk cans

Long White

15pk bottle range

$51.99

EACH

$38.99

EACH

$21.99

EACH

Cruiser

5% 12pk bottle range

$13.99

EACH

Stoneleigh

Marlborough /

Lighter ranges

$21.99

$54.99

EACH

EACH

TuiHard Soda

330ml 10pk cans

$13.99

EACH

19 Crimes

range

$54.99

EACH

$21.99

EACH

Jim Beam &Cola/CC

(incl zero) 4.8% 10pk cans

Jim Beam Gold 7% 8pk cans

$13.99

EACH

Lindauer Classic

&Enlighten

ranges (ex reserve)

$22.99

EACH

ODD Company

10pk can range

$21.99

EACH

Jules Taylor range (ex

Reds) Rua Pinot Noir

2FOR

$25.00

Canterbury

Cream

$9.99

EACH

$22.99

EACH

Jack Daniel's &

Cola Double Jack

250ml 10pk cans

$36.99

EACH

Malibu/ Kahlua

(incl salted caramel) 1L

$12.99

EACH

$23.99

EACH

Majorr Major

10pk can range

$36.99

EACH

Blackheart /

Woodstock 1L

$13.99

EACH

$37.99

EACH

$24.99

EACH

Gordons G&T,Gin &Soda

(pink/sicilian) 12pk 250ml cans

Smirnoff Seltzers

12pk 250ml cans

GordonsPink /

Sicilian Lemon 700ml

Gordons &Smirnoff

1L

$22.99

EACH

$25.99

$37.99

EACH

EACH

EffenVodka

JB /CC

4.8% 10pk bottle range

Teachers /Russian

Standard 1L

Stolen Gold Rum

700ml

Canadian Club

(incl spiced) 1L

Absolut/

Ballantines

Beefeater 1L

Beefeater 24 700ml

JB 1.125ml /

JB Devils Cut /

JB Black 1L

Makers Mark

700mls

Malfy 700ml range

Jameson 1L

JB Double Oak 1L

Haku Vodka /

Roku Gin /RatuRum

range 700mls

Jack Daniels 1L

Woodford

Reserve 700ml

ChivasRegal12yr $51.99

ChivasRegal15yr $74.99

Chivas Regal 18yr $89.99

all 700ml

Old Mout

1.25L cider range

Kingfisher

Strong

6pk cans

Monteiths

6pk bottle range

$21.99

EACH

Panhead

6pk range

Sol

12pk bottles

$22.99

EACH

$24.99

EACH

$25.99

EACH

$26.99

EACH

$31.99

EACH

$36.99

EACH

$41.99

EACH

$41.99

EACH

$26.99

EACH

$37.99

EACH

Somersby

12pk bottle range

Heineken

12pk bottles

Carlsberg

15pk bottles

Promotion period between1/08/2021 to 31/08/2021. Whilestocks last.Promotion only available at participating stores –please contact your local store to confirm

whether theyare participating in the promotion and checkthe pricing in-store prior to purchase. Onlinepricing willvary.

THIRSTYLIQUOR RANGIORA

398 HIGH STREET,RANGIORA

03 313 7207

Tui/Export Gold/Extra/

DB Draught

15pk bottles

Export33

15pk bottles

Haagen

24pk bottles

THIRSTYLIQUOR BRIDGEND

1275 MAIN NORTH ROAD, BRIDGEND

03 323 8833

Lion Red /Waikato /

SpeightsorSummit

24pk bottles

Speights Summit

UltraLow Carb

24pk bottles

THIRSTYLIQUOR AMBERLEY

86 CARTERS ROAD, AMBERLEY

03 3147400

Asahi

24pk bottles

ASK ABOUT

LOYALTY CARD

BENEFITS &

GIFT VOUCHERS

Steinlager

24pk 330ml bottles
---
NEWS

20 The North Canterbury News, August 5, 2021

Bright future ... Mayor Marie Black (left) with Hurunui Youth

Council members Damien Durand and Millie­Jane McIlraith at the

Festival for the Future.

PHOTO:SUPPLIED

Future festival

The future feels bright for two

young Hurunui youths after

attending the Festival for the

Future in Wellington last

weekend.

Hurunui Youth Council

(HYC) members Damien

Durand and Millie­Jane

McIlraith attended the threeday

gathering packed with

workshops, guest speakers, a

lunch with New Zealand

mayors, and the opportunity

to connect with other Youth

Councils.

''It has been an

inspirational and powerful

journey that Iamsograteful

for. The days were packed

with so much fun and

learning opportunities.

''I can't wait to use my

knowledge and add to my

community," says Damien.

"It was an amazing

weekend; it has filled me with

so much hope for the future.

The speakers were awesome,

they had perspectives that

you don't always see in

Hurunui.

''I can't wait to bring my

knowledge back to HYC," says

Millie.

Hurunui District Council's

Youth Development coordinator

Ward Shearman

who shared the experience,

says it was an awesome

opportunity for Damian and

Millie to connect and learn

from some incredible people.

''I look forward to seeing

them use their knowledge to

benefit the other youth of

Hurunui.''

Hurunui District Mayor

Marie Black joined young

people from throughout New

Zealand at the Mayoral lunch.

Massed choirs to celebrate

Kaiapoiand Rangiora pupils

willbepartofa600­person

gatheringonAugust 6, when

theyjoin othersfrom

throughoutthe Christchurch

Catholic Diocese,taking part in

aday­long celebration of church

music.

Thirty pupils from St Patrick's

School Kaiapoi, and20from St

Joseph's in Rangiora, will share

the stage to celebrate Jubilate

in theChristchurch TownHall.

Jubilate will includea

lunchtime Masscelebrated by

ArchbishopPaulMartin,

accompanied by amassed choir,

an hour­long organ recital at

5.15pm andthen the two­hour

Jubilate —acelebrationof

Catholic music, starting at 7pm.

All arefree to thepublic.

Ken Joblin,the Sacred Music

adviserfor theCatholic

Diocese, says 25 schoolswillbe

representedonthe day,with

choirsalready practising for the

event.

''Weare absolutely delighted

withthe responsefrom our

schools with representation

fromthe WestCosat, South, Mid

and NorthCanterbury,and also

Christchurch. It is thefirsttime

all our Christchurch Catholic

college choirsare participating.

"Forfive years St Mary'sPro

Cathedral was the homefor

Jubilate,but with the addition

of secondary schoolsand our

Archbishop's desirefor families

and thewidercommunityto

attend,wefeltthe newlyrestored

Christchurch Town

Hallwas the perfect venue."

"Jubilate is akey wayyoung

people begin to lovethe music

of the Church.Itisagreat

honour to introduce them to a

range of quality, timeless music.

We are drawingfrom abeautiful

repertoire which is athousand

years old,along with more

recent compositions. Choirswill

singinEnglish, Latin and

Maori, recognisingour heritage

and tradition.''

Deputy CityOrganist,

Nicholas Sutcliffe,the Jubilate

accompanist,will give an hourlongrecital.

August 6isthe celebrationof

the Feast of the Transfiguration

commemorating thescriptural

accountofJesus with histhree

disciples, Peter, James and

John, ascending amountain

where Moses and Elijah

appeared,and Jesuswas

transfigured,his faceand

clothes becomingdazzlingly

bright.

Wilding pine control projects

Twelvecommunity projects

acrossNewZealand will receive

ashareof$2million tocarry out

wildingpine control, Biosecurity

Minister DamienO'Connor

announced as partofBiosecurity

Week.

''Wildingpinesare aserious

problemthatthreatenmanyof

theunique landscapes thatNew

Zealandersvalue,'' he says.

''Community groupsand trusts

on the ground canplay avital

role in preventing the spread

andreducingthe damage caused

by theseinvasiveplants.

''Local peopleare passionate

about controllingwilding pines

andwewant to empower them.''

Communitygroups andtrusts

hadthe opportunitytoapply for

theCommunityPartnership

ProjectsFundtosupportwilding

pine control in areasthat

complement thenational

programme's control operations.

Thirty­fourapplications from

10 regionsacross New Zealand

were received,withproposals

totallingmorethan$6million.

''The quality of the

applications was impressive and

thestrongresponse to the call

forapplications clearlyshows

NewZealanders'understanding

of the issue, andpassion within

communities to control wilding

pines before they overtake

treasuredlandscapesand

culturally significant sites,'' Mr

O'Connor said.

The 12 successfulcommunity

applications include projects

throughoutNew Zealand to

preventfurther spread of

wilding pinesand supporting

nativeplantregeneration

programmes.

NEW!

Larvik Dining Range

WHITEHAVEN

Bedroom Range

ON SALE

Lowboy

NOW $

899

Tallboy

NOW $

699

Queen Bed

NOW $

899

Bedside

NOW $

325

Charlie Angular Chaise

WAS $

2699

NOW

$

2399

on trend

on sale

Paris 7Piece Dining

Set – W190

WAS $

2139

NOW

$

1599

Veno 7Piece Dining

Set –W150

WAS $

1199

NOW

$

899

Maison

Highboard

NOW $

899

SELECTED ITEMS –INSTORE &ONLINE

ENDS 16.8.21.

Scantofindstore

250 Moorhouse Ave, Christchurch

0800 TARGET (0800 827438)

targetfurniture.co.nz

Offers and product prices advertised here expire

16/08/21. Sale Excludes Accessories.
---
MainPower

Live Lines

Issue 198August 2021

AnnualReportavailable

The MainPower Annual Report is nowavailable to download

at mainpower.co.nz/disclosures.

If you wouldliketorequest ahard copy to be mailedtoyou

(free of charge), please get in touch by calling 0800309080

or emailing info@mainpower.co.nz.

AnnualMeeting

The Annual Meeting of MainPower New Zealand Limited is

being held in August.

Date: Thursday19August, 2021

Time: Commencing at 5:30 p.m.

Location: MainPower Head Office

Address: 172Fernside Road, Rangiora

An invitation is extended to all NorthCanterbury residents.

Please see our website for anyupdates, mainpower.co.nz.

No Power?

Unplanned poweroutages can

happen at anytime -makesure

you're sorted.

MainPower

Community Fund

Do you know alocal community group or education

provider doinggreat thingsfor thepeople of North

Canterbury? Nominate them now for ashareofthe

$30,000 MainPower Community Fund.

Nominations for this fundinground closeon6August,

getyour nomination in quick!

Visit mainpower.co.nz/community-support for more

information and to makeanomination.

Local arts organisationsbenefitting from the

MainPower Community Fund

Recipients of thefirstfunding round in 2021 including

the RangioraArt Society, who put their funding towards

signage. Learnmore about thegroup's upcoming

Spring exhibition event at rangioraart.org.nz

The North Canterbury AcademyofMusic put their

grant towards hosting membersofthe Christchurch

SymphonyOrchestra (CSO) to work with their students.

Sixhours of rehearsalsculminated in acommunity

concert wherestudents playedalongside their mentors

fromthe CSO.

Learn moreaboutNCAM on their website ncam.ac.nz.

MAKE APLAN

visit mainpower.co.nz/outages

A Community Fund grant helped the North Canterbury

Academy of Music hold their recent concert.

MainPower 24 HourFaults Line

0800 30 90 80
---
Bookings Essential

•Cars, Trailers &Motorbikes

•4WD specialists

•All mechanical repairs

•Brakes and clutches

•Lube services

•Servicing Air Conditioning

•All makes and models

•Professional friendly service

183 Ohoka Road

Kaiapoi

Ph: 327 8780

www.kaiapoiautomotiveservices.co.nz

2352417

WEEK ONE

DATE /GAME WHERE RESULT

FRIDAY 6AUGUST

Manawatu v Counties Manukau

SATURDAY 7AUGUST

Taranaki v Hawkes Bay

Wellington v Northland

Otago v Southland

Palmerston North

New Plymouth

Wellington

Dunedin

WEEK TWO

DATE /GAME WHERE RESULT

FRIDAY 13 AUGUST

Counties Manukau v North Harbour

SATURDAY 14 AUGUST

Tasman v Auckland

Hawkes Bay v Otago

Canterbury v Manawatu

Pukekohe

Nelson

Napier

Christchurch

PROVINCIAL

RUGBY 2021

WEEK THREE

DATE /GAME WHERE RESULT

FRIDAY 20 AUGUST

NorthHarbour v Southland

SATURDAY 21 AUGUST

Canterbury v Hawkes Bay

Waikato v Taranaki

Auckland v BayofPlenty

North Harbour

Christchurch

Hamilton

Auckland

GAME

SCHEDULE

WEEK FOUR

DATE /GAME WHERE RESULT

FRIDAY 27 AUGUST

Otago v Canterbury

SATURDAY 28 AUGUST

Hawkes Bay v Waikato

North Harbour v Tasman

Southland v Counties Manukau

Dunedin

Napier

North Harbour

Invercargill

Freight Free

for purchases

over $100.00

2304180

Amberley

Mon -Fri 8-5pm, Sat 8.30 –12pm

59 Carters Road |Ph03314 7007

amberley@thetoolshed.co.nz

www.thetoolshed.co.nz

For all your general

farm and forestry

earthmoving

requirements

SUNDAY 8AUGUST

BayofPlenty v Tasman

North Harbour v Waikato

Auckland v Canterbury

WEEK FIVE

DATE /GAME WHERE RESULT

FRIDAY 3SEPTEMBER

Southland v Northland

Tauranga

North Harbour

Auckland

Invercargill

SUNDAY 15 AUGUST

Southland v BayofPlenty

Waikato v Wellington

Northland v Taranaki

WEEK SIX

DATE /GAME WHERE RESULT

FRIDAY 10 SEPTEMBER

Hawkes Bay v North Harbour

Invercargill

Hamilton

Whangarei

Napier

SUNDAY 22 AUGUST

Northland v Otago

Tasman v Counties Manukau

Manawatu v Wellington

WEEK SEVEN

DATE /GAME WHERE RESULT

FRIDAY 17 SEPTEMBER

Auckland v Southland

Whangarei

Nelson

Palmerston North

Auckland

SUNDAY 29 AUGUST

BayOfPlenty v Northland

Taranaki v Manawatu

Wellington v Auckland

WEEK EIGHT

DATE /GAME WHERE RESULT

FRIDAY 24 SEPTEMBER

Tasman v Waikato

Tauranga

Inglewood

Wellington

Nelson

FOR ALL YOUR LIGHT

AND HEAVY

TRANSPORT REPAIRS

Breakdown &

After Hours

Service

Available

Baden Ryan: 027 229 1579

Pam Ryan: 027 381 2741

e: ryanearth18@hotmail.com

w: ryanearthmovingltd.co.nz

ryan earthmoving ltd

2403602

SATURDAY 4SEPTEMBER

BayofPlenty v Waikato

Canterbury v Tasman

Wellington v North Harbour

SUNDAY 5SEPTEMBER

Counties Manukau v Taranaki

Manawatu v Hawkes Bay

Otago v Auckland

Tauranga

Christchurch

Wellington

Pukekohe

Palmerston North

Dunedin

SATURDAY 11 SEPTEMBER

Taranaki v Southland

Tasman v Wellington

Auckland v Manawatu

SUNDAY 12 SEPTEMBER

Canterbury v BayofPlenty

Northland v Counties Manukau

Waikato v Otago

Inglewood

Blenheim

Auckland

Christchurch

Whangarei

Hamilton

SATURDAY 18 SEPTEMBER

Taranaki v Wellington

NorthHarbour v Manawatu

Northland v Tasman

SUNDAY 19 SEPTEMBER

Hawkes Bay v BayofPlenty

Waikato v Canterbury

Counties Manukau v Otago

Inglewood

North Harbour

Whangarei

Napier

Hamilton

Pukekohe

SATURDAY 25 SEPTEMBER

Southland v Canterbury

Counties Manukau v Auckland

Manawatu v Northland

SUNDAY 26 SEPTEMBER

Otago v North Harbour

Wellington v Hawkes Bay

BayOfPlenty v Taranaki

Invercargill

Pukekohe

Palmerston North

Dunedin

Wellington

Tauranga

Phone 03 313 6361

0275 200 711

307 Flaxton Road, RANGIORA

brooktrucks@xtra.co.nz

2402843

ALL

MECHANICAL

REPAIRS

WARRANTY

SERVICING

Call us now to book your service.

We have the latest Diagnostic Computer Systems that

are compatible with most Vehicles. Loan Cars Available.

Wheel Alignment and Tyres available at very

Competitive Prices. Discounts to superannuates.

2403399

No need to commute to

town, we can do it.

We can use genuine parts, so your

vehicle is still covered under your

new car warranty!

77 Ivory Street, Rangiora Ph 313-5802

Mon -Fri 8.00 -5.30 Sat 8.30 -12.30

WEEK NINE

DATE /GAME WHERE RESULT

FRIDAY 1OCTOBER

Canterbury v Counties Manukau

SATURDAY 2OCTOBER

Northland v Waikato

Manawatu v Otago

BayofPlenty v Wellington

SUNDAY 3OCTOBER

Auckland v Hawkes Bay

Taranaki v North Harbour

Tasman v Southland

Christchurch

Whangarei

Palmerston North

Rotorua

Auckland

Inglewood

Blenheim

WEEK TEN

DATE /GAME WHERE RESULT

FRIDAY 8OCTOBER

Wellington v Canterbury

SATURDAY 9OCTOBER

Waikato v Auckland

Hawkes Bay v Tasman

Otago v Taranaki

SUNDAY 10 OCTOBER

North Harbour v Northland

Southland v Manawatu

Counties Manukau v BayofPlenty

Wellington

Hamilton

Napier

Dunedin

North Harbour

Invercargill

Pukekohe

WEEKELEVEN

WEEKTWELVE

SEMIFINALS

DATE /GAME WHERE WHERE

FRIDAY 15 OCTOBER

Bunnings NPC Semi Final 1

FINALS

DATE /GAME WHERE WHERE

FRIDAY 22 OCTOBER

Bunnings NPC Championship Final

DATE /GAME WHERE WHERE

SATURDAY 16 OCTOBER

Bunnings NPC Semi Final 2

Bunnings NPC Semi Final 3

Bunnings NPC Semi Final 4

DATE /GAME WHERE WHERE

SATURDAY 23 OCTOBER

Bunnings NPC Premiership Final

✓

✓

Don't know where to start orhow to do it?

Gardens &Lawns doing their own thing –not

your thing?

✓ Property maintenance falling behind?

✓ No time for life on alifestyle block?

CALL IN THE EXPERT

LET AL-MOW AND MORE FOR YOU!

Regular maintenance or one off work

No job too big or small

Call Al Today!

P: 021 249 9495 |E:al@almows.co.nz

www.almows.co.nz

2403400
---
NEWS

The North Canterbury News, August 5,2021

25

Gitbox Rebellion

Gitbox Rebellion will perform live at the

Balcairn Hall on Saturday, August 21, at

8pm. Six acoustic guitars will blend jazz,

rock, folk and classical in sonic rapture.

Tickets $25 from Sally Macs Amberley,

Stan's 7Day Pharmacy Rangiora, Sefton

Garage and via www.balcairnhall.com.

BMX season

The new BMX season is about to get

under way and clubs are issuing

invitations for people to come and see

what it is all about. Registration Day at

the North Canterbury BMX track on

Millton Avenue, Rangiora, is on Sunday,

August 15, with aback up date of August

22.

Racing starts on Sunday, August 29, at 12

noon until 2pm. The North Canterbury

club is inviting people, keen to have ago

at BMX riding, to go along on registration

day, see what it is all about.

Rangiora Art Society

A Spring into Spring exhibition will be

held by the Rangiora Art Society from

Friday, August 27, to Sunday, August 29,

at the Rangiora Showgrounds in Ashley

Street. About 350 original works will be

for sale including water colours, pastel,

acrylic and oil. The guest artist is

Adrienne Pavelka. The exhibition is

open from 10am to 4pm daily.

Rangiora Community Patrol

The patrol is holding afundraising

barbecue every third Saturday outside

PAK'n'SAVE, Southbrook from 10am to

2pm.

Golden Oldies Country Music

Tuesday Country will return to the

Rangiora RSA on August 17 at 2pm. Join

Smokey &Lorraine and their group of

entertainers and followers, for some

good 'ole' country music, with the sounds

of the guitar, keyboard, accordion,

ukulele, banjo, along with sing­a­longs.

Club restaurant open for lunch and

coffee/tea. Admission just $2 ­Lorraine

021­1166737.

Youth award nominations

Nominations are open for the 2021

Kaikoura Youth Awards.

The awards are held every two years

and are open to young people in the

Kaikoura district aged under 24 years.

Award categories include art,

customer service, volunteering, hauora

(wellbeing), inspiring child (under 12

years), entrepreneurship, rural living

and an adult who supports youth.

For adescription of the categories or

make anomination go to

kaikourayouthcouncil.org.nz or like the

Kaikoura Youth Council page on

Facebook. Nominations close on August

20 and the awards will be presented at a

function in the Kaikoura Memorial Hall

on September 25.

Youth awards ... Young people like Petra

Jellyman are set to be recognised.

Everyday Fresh,byDonnaHay

Thereare days when it feels as thoughthere's barely time

to eat dinner, let alone prepare it. We all want to create

deliciousmeals packed with flavour and everythingthat's

good for us, with aminimumoffuss. And that's exactly

what Donna Hay delivers.

HouseofGlass,by Hadley Freeman

An engrossing piece of literary detective work, House of

Glass details the livesof

Hadley Freeman's

grandmother and her siblings

across the globe, and through a

turbulenttwentieth century.

The Girl from RevolutionRoad, by Ghazaleh Golbakhsh

These essays rangefrom achildhood in war­torn Iran,

including the trauma of anight

spentinprison as asix­year­old,

to learning Englishsoshe could

make friends, to dating in the

days of Corona. This is about

growing up as ayoung woman

torn between herimmigrant

roots, and her desiretobelike

everyone else.

These titles are available in

both Waimakariri and Hurunui

libraries. Find out more about recentadditions to the

librarycollection by going to the library catalogue at

waimakariri.kotui.org.nz or hurunui.kotui.org.nzor

contact your locallibrary.

Lost and found -NCpolice

The following property is reported as

lost in North Canterbury ­have you seen

it? ASamsung cellphone with red back

and in asalmon colour folding case, a

set of keys ­two electronic car keys/3

other keys and USB flash drive, ablack

iPhone 7, ablack leather wallet, and a

black Samsung Galaxy S10 Plus.

The following property is waiting to

be claimed: Box of linen (at Kaiapoi

Station), lanyard with black key/silver

key/purple key/green and clear letter

"G"/Laser key chain/silver flower ring

(at Kaiapoi Station).
---
Mother and daughter ... Rangiora artist Victoria Bennett (right) and her daughter Katie

Bennett celebrate the opening of Victoria's exhibition Windhover.

PHOTO: SHELLEY TOPP

Artist supports Nepal

By SHELLEY TOPP

Rangiora artist Victoria Bennett is

donating the proceeds of her latest

exhibition to the Tansen Mission

Hospital in Nepal.

Victoria decided she wanted to help

the hospital after learning the Nepalese

people had been hit particularly hard by

the Covid­19 pandemic.

The latest World Health Organisation

statistics show there has been 9,834

deaths from Covid­19 in Nepal and there

are 693,109 confirmed cases of the virus

in the country.

Nepal has also been seriously

economically impacted by the pandemic,

due in part to the severe downturn in

tourism, and the United Nations

International Children's Emergency

Fund (Unicef) figures show that seven

million Nepalese children are now

estimated to be living in poverty in the

country, up from 1.3 million before the

global pandemic.

Victoria said she felt extremely lucky

to be living in New Zealand. ''We have so

much,'' she said.

Her exhibition, Windhover,opened in

the Rangiora Library's Chamber Gallery

last Sunday and ends on Thursday,

September 2.

It is atribute to the poetry of Gerard

Manley Hopkins, an English Jesuit Priest

who is considered to be one of the

greatest Victorian­era poets.

''As an illustrator Ihave always wanted

to pay tribute to the sonnets of Gerard

Manley Hopkins, one of the greatest

innovators of the English language and a

man of strong personal faith,'' she said.

''His poems deconstruct and recreate

language in new and striking forms, and

are the model for this series of paintings

where whole pictures have been cut up

and reassembled to form new images. My

goal was to capture the intricate beauty

of the sonnets,'' she said.

NEWS

The North Canterbury News, August 5,2021 27

Making it raw for 10 years

When Julia Warren

returned to North

Canterbury 10 years ago

she needed something to

keep her busy.

After living in Auckland

for afew years, Julia and

husband Max decided

back home the week

before the February 2011

earthquake.

As an architect, Max

quickly secured ajob, but

Julia soon found herself

out of work.

Julia's passion for

wholesome, raw food saw

her open astall at the

Ohoka Farmers' Market,

run by her mother­in­law

Barb Warren, selling

''delicious options for the

health­conscious and

those on restricted diets''.

Make It Raw was

established in July 2011

and has since expanded

into ateam of like­minded

individuals, with products

stocked in more than 65

stores throughout New

Zealand.

Julia and her team

continue to make

handcrafted, healthy

snacks in ashipping

container kitchen outside

her mum's home in

Fernside.

She continues to attend

the Ohoka Farmers'

Market every Friday and

has her eyes set firmly on

expanding her product

offering.

''We have afew new

flavours and products in

the works, which we're

Marketing ... Julia Warren began selling her Make It Raw

products at the Ohoka Farmers' Market 10 years ago. She is

pictured with her mother and daughter.

PHOTO: SUPPLIED

really excited to share,''

Julia says.

''We wouldn't be

celebrating our 10 year

anniversary if it wasn't for

all the support we've

received from our loyal

customers from across

New Zealand.''

Enterprise North

Canterbury food and

beverage business

development manager Ails

Wilson says Julia is agood

example of the region's

talented artisan

producers.

''The food and beverage

industry is highly

competitive and it is

challenging for artisan

producers to scale up to

this level.

''Julia's success is a

testament to not only her

amazing products, but her

commitment to producing

food that continues to

resonate with her

customers.''
---
NEWS

28 The North Canterbury News, August 5, 2021

Waikuku rally siblings

overcome challenges

Robbie and Amy Stokes took out

second­place at Rally Hawkes Bay

during the fourth round of the New

Zealand Rally Championship (NZRC).

The Stokes siblings were thrilled to

finally get aresult after mechanical

issues meant they didn't finish the first

three rounds.

The pair were dominant in their

performance over the 156km of special

stages, claiming second­place behind

ex­World Rally Championship driver

Hayden Paddon in all six stages.

''We were really pleased with our

pace at Hawkes Bay. It was really good

to see we were comfortably second all

day and had agood margin to third

place,'' Mr Stokes says.

The Stokes were 1minute 37 seconds

faster than the next competitor, but

were 3minutes 56 seconds behind Mr

Paddon.

''We really want to keep trying to

close that gap to Hayden. He is aworld

class driver with so much experience

on the world stage, so is areally good

benchmark for us here in New

Zealand.''

The Stokes Motorsport team, that is

based between Waikuku, Nelson and

Raglan, has worked tirelessly to make

improvements to the car so it can cope

with the pace of Robbie's driving.

''We have some very clever people

working on the car and it has finally

paid off,'' Ms Stokes says.

''The strain and stress it needs to

handle is phenomenal so what our

small team has created is truly

amazing.''

Next on the calendar is the final

round of the NZRC, the Coromandel

Rally winners ... Robbie and Amy

Stokes on their way to second­place at the

Hawkes Bay Rally.

PHOTO:KIERAN BLAIR

Rally.

The Stokes are hoping for agood

result to set themselves up for a

dominant push in 2022.

''We want to be afront runner in the

national championship right until the

end,'' Mr Stokes says.

After Coromandel, the Stokes will be

showing off their skills locally at the

Ashley Forest Rallysprint in Stokes

Motorsport CASEIH Ford Fiesta AP4.

The event will be held over two days,

September 18 and 19, based from the

Ashley Forest village.

Men at work ... Merv Jakes works on aproject for the Woodend After School Programme

at the Pegasus Woodend Menzshed.

PHOTO: DAVID HILL

Newmen's shed opens soon

By DAVID HILL

Woodend and Pegasusare set to opena

new men'sshed sooner thanexpected.

The AdviceKiwiMenzshed Pegasus

Woodend is planning to open its brand new

shed in Woodend's Gladstone Park in

October,after ayear of fundraising.

''We never thought we wouldget theshed

up as quick as this,'' chairperson SamWatt

says.

''Talking to other men's sheds, it can take

threeorfour,orevenfive years to raise the

fundstobuild ashed, so to get it donein

one year is justamazing.''

TreasurerDerrick Walessays the shed

has cost $70,000 to build,which has come

from grants fromAIA Insurance and the

Rata Foundation,aswellasfundraising.

The AIA InsuranceGroup'sbusinessand

community grantwas secured after the

shed was nominated by Joel Mclachlan

from AdviceKiwi,Canterbury.

The new shed has been constructed on

land made available by the Waimakariri

District Council.

The men's shed was established in

Pegasus in August 2019 and met in an old

classroom in Waikuku for 12 months, giving

the classroom amakeover for the Old

School Collective in lieuofrent.

In Septemberlast year the group moved

intoanold wool shed, owned by Jan de

Lange, nexttothe PegasusGolf Course.

Sincethen the membership has grownto

around 20 membersand is expected to

keep growing.

''Wehaven'tpushed the membership

because we are limitedwith our capacity,''

Mr Watt says.

''Butwewill start looking to increase our

membership when we move intothe new

premises.''

The group planstocontinue using the

wool shed for storingits materials until it is

able to build anew storage facility at

GladstonePark.

It also plans to build an engineering

workshop for metal work.

The group has also received support

from the PegasusResidents Group, the

Pegasus Bay and Woodend schools, the

Woodend­SeftonCommunity Board,the

council's greenspace teamand local Lions

groups. It also grateful for the support of

the wives,MrWales says.

HowMarvelHealth

screens the bodyfor

hidden causes of gut

symptoms and diseases

Gutand Digestive diseases cancause many different

symptoms,includingstomach pain, bloating,abdominal

crampsand gas, constipation,joint pain. The Marvel

Health Scan examines theentirebodytoidentify the

underlyingcausesofhealth disorders.

Food allergies andFood additive sensitivities are

common causes of gutdiseases. The scan detects

intolerances to over 250 differentfoods, food additives

andchemicals.

Microbes such as bacteria,fungi andparasites cancause

gutdiseases.

The bacteria Helicobacter Pylori will causestomach

pain, nausea andstomach ulcers. EColi. Over 150

harmful microbes aredetectedbythe scan.

The Health Screeningperformsa

thorough anddetailedexamination

of thebodytodeterminethe likely

causes of gutdiseases.

Some of thetests performedduring

theinvestigation of thewhole body

include:

•Examinationofthe digestive systemand organs,

includingstomach,intestines, pancreas,liver

•Detection of Microbes -Bacteria, virusesand fungi

•Detection of Food Allergens such as milk,wheat,nuts,

cosmetics, householdcleaningagentsetc

•Detection of Food AdditivesSensitivities including

food chemicals

Total Health MOT

NutrientDeficiencies

Whole Body Diagnostic Scan,

Report, Consultation and Therapy

All included: • Detailed Examination of All Organs & Systems • Diseases Present and Complications

• Detection of Viruses, Bacteria & Fungi • Food Allergies & Sensitivities • Non-invasive Blood Test

• Detection of Lead, Mercury & other Environmental Toxins • Body Composition Analysis

Unit 13/6 Cone Street, Rangiora | 293 Durham Street, Awly Building, Christchurch

CALL TODAY 03 669 5410 www.marvel.health

Disclaimer: The inspection from the scan is not asubstitute for medical inspections. It is not designed to state the final diagnosis

ADVERTISEMENT

•Presumptive Diseases presentand complications.

•Non-invasive blood test

After thescan, thedoctors andhealthcare specialists

at Marvel Health will studythe report andrecommend

targetedscience-based naturaltreatmentsand lifestyle

changes to supportthe body'shealing.

•
---
Thinknew chapter,

notthe endofthe story.

When it's time forachange, make it agreat one.

At Summerset, we do everything toensure our

residents lives read like agood book. Where every

day isanopportunity to turn anew page and see

where their story might take them.

SummersetatAvonheads'village centre is comingsoon,

offering resort-style facilities and our full range of living options.

Think this sounds like you or someone you love?

SummersetatAvonhead

03 3573202|summerset.co.nz/avonhead

SUM3262_37X8
---
RUNOUT

OUTLANDER LS 2.4L 2WD

$32,990+ORC *

The 7 seater Mitsubishi Outlander

brings everything you would need in a

family SUV: safety, technolo ogy, comfort,

unrivaled economy and that all important

space, plus a 10 Year Powertrain Warranty † .

Call 03 379 0588 or visit

christchurchmitsubish hi.co.nz

RRP WAS $41,9

90 +ORC

*Price listed is for Outlander LS 2.4L 2wd and excludes on road costs of $650 which includes registration, WoF and a full tank of fuel. Available while stocks last.

†

Visit mmnz.co.nz for full Diamond Advantage warranty conditions.

RANGIORA MITSUBISHI

321 High Street, Rangiora | 03 941 3175 | rangioramitsubishi.co.nz

DRIVE A NEW

NISSAN

STOCK AVAILABLE TODAY

AGILITY MEETS SMARTS

AVAILABLE FROM

$33,990 *

STOCK AVAILABLE NOW

*Price shown is for the Nissan Qashqai ST excludes on road costs of $1,250 which includes registration,

WoF and a full tank of fuel.

RANGIORA NISSAN, 321 High Street, Rangiora

Ph: 03 941 3175

www.rangioranissan.co.nz

THE ALL-NEW

PRO-4X

IN STOCKNOW

rangioranissan.co.nz
---
BRAND EARTHMOVING

Rangiora

FORESTRY

The North Canterbury News, August 5,2021

31

Targeting domestic timber delivers results

Adecision to develop Jimmy's Creek

Forest, near MotunauinNorthCanterbury,

with the New Zealand domestic market in

mind has been rewarded with favourable

pricing.

The forest is managed by Glenn Moir, the

director of Forest Management Limited

(FML),which was formed in 1990 to provide

forestownerswith expertise in

establishing forests plus tending,

harvestingand marketing the timber from

them in Canterbury, the West Coast, Otago

and Southland.

FML was approachedbythe forest's

ownersin1997 to takeover the

management of the trees, Mr Moir says.

The owners of the forest, Lynn and David

Stone,Ross Hyndman, and Mikeand Jan

Hodgenhad purchased the blockfrom Dick

CarmichaelatCoringa Farm, near

Motunau.

It hadtwo stands. A24hectare blockof

17­year­old trees which had sporadic

pruning and consisted of morethan 1200

stems perhectare, plus 86hawhich had

been planted in 1993and consisted of 81ha

of radiatapine with the remainder in

macrocarpa spread in small pockets

throughoutthe block.

''Our first task was to thin­to­wastestand

one,''MrMoir says.

``Due to its age there was ahigh risk of

windthrowsothe decision was madetothin

to ahigher rate per hectare.''

Duringthe next 10 yearsthe company

prunedand thinned the younger trees to

produce amixed clearwoodand structural

forestdependent on soils and shelter.

Stand one was harvested in 2012and

producedhigh volumes of quality sawlogs

and postwood forthe domestic market.

Since thenithas been replanted and will

have pruning and thinning completed this

comingsummer.

Harvesting of standtwo is now under way

with Greta Valley contractor Davaar

Domestic market .. Jimmys Creek Forest owners and FML director standing onsite at Jimmys Creek with freshly cut domestic mill logs

ready for log loading and transport, include Lynn (left) and David Stone, Ross Hyndman, Mike Hodgen, Glenn Moir and Jan Hodgen.

PHOTO: SHELLEY TOPP

Logging doing the work which is expected

to be completedlater this year.

''Thisforest has also been grown witha

domestic market focus and is producinga

full range of products from high­value

prunedand peeler logs and minimal

amounts of export and low­grade chip

wood,'' Mr Moir says.

''It is carrying over 600 tonnes per

hectare and generating exceptional

stumpage returns(average value per tonne

acrossall the grades cut)tothe forest

owners.''

The forestry industryhas been ridinga

high in recenttimes with log prices

reaching highs not seensince the early

1990s,bothoverseas and in New Zealand.

Mr Moir cautionsthat although that

cannotcontinue, the longterm outlookfor

forestry is bright.

''We are now seeingasmall increase in

the estate againonthe back of highcarbon

and timberprices,and the long­term

outlook is very positive for our industry.

''Thiscombination of carbon and timber

is givinggreat returnsback to growersand

we are seeingmore Canterbury

landowners comparing these returnsto

standard farming practices and making the

decision to plant moretrees on their farms.

''Our Canterbury plantingprogramme is

already fully bookedfor 2022 with another

1800habeing converted back to 'green

gold'.''

Wood lots and

shelter belts

Small wood lots

for logging and

firewood blocks

Mob:0274438 462

FORESTRYSERVICES -CONSULTING -MANAGEMENT –MARKETING

2405495

2393299

• Land Clearing

• Road maintenance/

Construction

• General Cartage

• Driveways/house sites

• Tree trimming and

removal

• We buy standing trees

We have been Contracting in

Canterbury for 35 years

We have available for

hire with operators -

• Excavators from 2to30ton

• Bulldozer -20ton

• Tip trucks from 5to45ton

GVM

• Wheel Loaders -Bucket

and forks

• Transporter -can cart up to

15 ton

For anoobligation estimate

or quote, contact -

Tony Brand 0274 360 338

Simon Brand 0274 279 455

Office 03 313 8224

Specialists in:

•Woodlotand Forest harvest management-atany scale

•Directlog sales in both domestic and export segments

•Forest and Woodlot Valuation

•Fully compliant H&S systems and management

•ETS advice, carbon management&sales

•Planting and silviculturemanagement

•Top advice, toppeople, topservice

Seeour websitefor information including monthly

marketreports www.laurieforestry.co.nz

THE PEOPLE AND THEIR TREES COMPANY

Office:Phone 03 359 5000 Email: admin@laurieforestry.co.nz

Unit 3337 Harewood Road Bishopdale Christchurch

22 Shearman Street Waimate Phone 03 689 8333 •Cell: 027 432 1420

2120630
---
FORESTRY

32 The North Canterbury News, August 5, 2021

Forestry scholarships open

Scholarships are available for young

New Zealanders interested in studying

for acareer in forestry and wood

processing.

Applications close for the 2022 Nga

Karahipi Uru Rakau –Forestry

Scholarships on August 15.

''It is an exciting time to be studying

and working in the forestry and wood

processing sector, which is undergoing

transformation and playing aleading

role in our climate change response,'' Te

Uru Rakau –New Zealand Forest Service

director, business and spatial

intelligence, Debbie Ward says.

Te Uru Rakau –New Zealand Forest

Service is funding three new

scholarships for the forest management

diploma at Toi Ohomai Institute of

Technology in Rotorua.

This is in addition to six scholarships

for those enrolling in aforestry science

Forest

Management Ltd

With 25 years experience in the

industry the Forest

Management Team offer

services in:

• Woodlot and shelterbelt

harvesting

• Timber sales to domestic

and export markets

• Forest establishment of

harvested and greenfield sites

• Forest valuation

• Emission Trading Scheme

advice and management

• Trainer/Assessor in NZQA

forestry related units

Our highly experienced teams aim to

ensure value optimisation in all aspects

of forest management.

degree or forestry engineering degree at

the University of Canterbury.

''The scholarships are apathway to

higher­level study, and students will gain

the skills, expertise, and capabilities the

forestry and wood processing sector

needs now and into the future,'' Ms Ward

says.

''Through partnering with industry,

students are offered internships over

summer so they can put their learning

into action and gain practical, hands­on

workplace experience.

''We are especially keen to hear from

students who are Maori and /oridentify

as female, as akey focus for the

programme is to increase diversity

among students and the sector

workforce.''

Two new videos have been launched

promoting the scholarship programme

and high­level forestry study.

To find out more call

us on 03 343 4101

or visit www.forestmanagement.co.nz

1809634

Aspecial home garden ... North Canterbury's representative for the Queen Elizabeth II

National Trust, Miles Giller, with his wife Gillian, in their large, ecologically­based native

garden near Rangiora.

PHOTO: SHELLEY TOPP

Protecting biodiversity

By SHELLEY TOPP

ATrust, established to protect open

spaces of ecological and cultural

significance has created an increasing

network of more than 4,700 protected

areas in New Zealand.

The Queen Elizabeth II National Trust

was established in 1977 with the aim of

establishing partnerships with private

landowners to protect sites of

significance on their land with

covenants. Under the covenants the

landowner continues to own and manage

the protected land, while the covenant,

and protection of it, remains even when

the property is sold to anew owner.

The trust team works closely with

landowners to support them and form

long­term, trusting and credible

relationships to maintain the

partnerships.

The covenants the partnerships have

established now protect more than

180,000 hectares of private land, ranging

from small backyard patches to huge

areas of high country and they play avital

role in supporting some of New Zealand's

rarest and most endangered biodiversity

and ecosystems.

With almost 70 percent of New Zealand

land in private ownership, protecting

biodiversity and heritage on this land is

critical to reversing the decline of

indigenous biodiversity and preserving

our history.

The independent charitable Trust is

based in Wellington but has 27 regional

representatives nationwide, including

Miles Giller in North Canterbury.

Miles has been the QEII Trust's

representative for North Canterbury

since 2001 and is often accompanied on

his field work by his wife Gillian.

Miles has aparticular interest in the

many native small­leaved shrubs that are

characteristic of the eastern South

Island area.

These plants are also afeature in the

couple's large, ecologically­based native

garden at their home, near Rangiora.

More than 150 covenants have been

established on private land in Miles's

North Canterbury area since 1977,

including one now part­owned by Miles

and Gillian.

''The secret to protecting most

remnants of native flora and fauna lies in

maintaining good pest and weed

control,'' Miles says.

The couple get alot of satisfaction from

helping people achieve that on their land

and having ashare in their own covenant

provides the couple with an opportunity

to put into practice what they promote.

''Seeing aflock of 25 kereru feeding in

akahikatea tree last autumn was fitting

reward for all the covenant part owners,''

Miles says.

To learn more about the QEII Trust,

visit its website at: www.

qeiinationaltrust.org.nz .

Do youservice the Ruralsectorand want

help to reach your customers?

Contact us today to find out howwecan help you.

Email info@ncnews.co.nz or phone 03 314 8335

2377

969
---
IT'S TIMETOSTEP UP

FROM 5IN1TO

COGLAVAX8 VACCINE

The health and welfare of our

animals is really important to

us, so we use products that

achieve results

Hayden Ashby

Livestock Operations Manager,

Brownrigg Agriculture

STEP UP TO 8 IN 1 PROTECTION

When you're running big numbers of sheep and cattle… there's one number you want

to keep really low. And that's unnecessary losses from Clostridial disease.

That's why Brownrigg Agriculture have stepped up from 5 in 1 to Coglavax8

vaccine to protect against 8 Clostridial diseases present in New Zealand.

ONLY AVAILABLE FROM YOUR VET

CEV0001 APFP

coglavax8.co.nz

Ceva Animal Health (NZ) Limited. P: 09 972 2853 ACVM No. 7528 References: 1. JS Munday, HBentall, DAberdein, MNavarro, FAUzal &S Brown, Death of aneonatal lamb due to Clostridium perfringens type B

in New Zealand, New Zealand Veterinary Journal 2020. 2.West, Dave M., Bruere, A. Neil and Ridley, Anne L.The Sheep, Health, Disease and Production. Auckland: Massey University Press, 4th ed., 2018. Print.
---
RURAL LIFE

34 The North Canterbury News, August 5, 2021

FARMBIKE SPECIALISTS

Servicing North Canterbury for over 25yrs!

•Sales, Servicing &

Parts

•All Makes &Models

•Qualified Motorcycle

Engineers

(NCME, TRADECERT)

•Electrical &Mechanical

fault testing

•Quality 2nd Hand Bikes

&UTV's

•Repairs &Dismantling

•Insurance Repairs

2177981

Beef +Lamb NZ awards

Nominationsare open for the inaugural

Beef +Lamb New Zealand Awards (BLNZ)

and entries are encouraged from along the

red meat supply chain across the eight

award categories.

BLNZ chief executive Sam McIvor says

the awards will celebrate the people, the

science, technology and innovation that

makesNew Zealand's red meat sector

world­leading.

163 Stokes Road, Balcairn

Ph (03) 312 9844 or 027 205 5724 (AH)

farmbikesnc@orcon.net.nz

www.farmbikeservices.co.nz

The Right People andEquipment forthe Bulky

Jobs!

-6Spreader Trucks, Spreadmark Certified

-Conventional, Variable Rate, Farm Mapping

-Modern Fleet, 4WD, Double Bin Side Tipper

-Grain, Fertilizer, Stock Feeds and Shingle

''We are delighted to be opening

nominations for these awards which

incorporate the sheepand beef industries,

includingdairy beef.

''It is the first time the red meat sector

has had an opportunity to showcase its

excellence, to the industryand the wider

public,through an event such as the Beef +

Lamb awards.''

Mr McIvor welcomedthe support from

Farmlands as aplatinum sponsor of the

awards.

Farmlandsacting chiefexecutive Kevin

Cooney says support of the awardsisabout

acknowledging the achievements of those

who make asignificant contribution to the

red meat industry and the successand wellbeing

of farmers and their communities.

''Farmlands is thrilled to be the awards

partnerfor the new Beef +Lamb New

Zealand Awards and to be part of growing

and developing the awards to apremier

event working with award category and

supporter partners.''

Aprogressionfrom the Sheep Industry

Awards,the Beef +Lamb New Zealand

Awards were developed after consultation

with farmers,industry and agribusiness.

The awardsgive individuals and

organisationsthe platformtoshare the

work they have been doing within the red

meat industry,MrMcIvor says.

''Theygive us the chance to tell our story

and celebrate an industry that forged our

nation's reputationasaproducer of highqualityprotein

for the world.''

Entries close on August 27. To enter visit

beeflambnz.com/awards.

56 St Leonards Rd, Culverden

Livestock -stock@amuritransport.co.nz

Ph 03 315 3033 -Fax 03 315 8413

Fertiliser -fert@amuritransport.co.nz

Livestock - Golden Bay Cement -Daily Freight Services Freight -freight@amuritransport.co.nz

2197562

Zone leaders step down

Collaborationiskey to getting results on

water issues.

Reflecting on overadecade of joint

servicetothe Waimakariri Water Zone

Committee,formerchairpersonDave

Ashby and deputy chairperson Cam

Henderson say thecollaborativeapproach,

adopted during the processthat led to the

Waimakariri partofthe proposed Plan

Change 7ofthe Land and WaterRegional

Plan(PC7), as the highlight of their time on

the committee.

Farmconsultant Dave Ashby is adairy

farmer at Flaxton nearRangioraand

served on the committeefor eightyears,

chairing the committeeduringthe

consultation process.

He says it was aperiod of growth and

development for him, working with arange

of differentpeopleand dealing with

swathes of scientific and technical data.

''I remember getting ahuge binderof

documentstoread up on over the summer

break as my introduction to the zone

committee. Once Istarted reading through

it, Igot really interested in it and saw it as

an opportunity to make apositive

difference.

''The idea of local solutions to

environmental issues formulated by the

communitywas whatreally appealed to

me. Working withpeople who holdarange

of differing viewsand trying to come to a

consensus on how we could makeapositive

differencetothe environment was a

learning curve.''

Through listening to eachother,

committeemembers achieved ''a lot in a

short amount of time''.The passionofthe

committeemembers and the community

for leaving Waimakariri's water waysina

better state than they found themwas

evident, he says.

Getting farmers on board and having

2354936

MEAT2U.NZ

HOME KILL

&WILD GAME

MEAT PROCESSING

313 0022

Collaboration ... Former Waimakariri

Water Zone Committee chairperson Dave

Ashby and deputy chairperson Cam

Henderson consider teamwork and

community participation as vital for

improving local waterways. PHOTO:GINA MCKENZIE

runangarepresentatives as committee

memberswas also vital for developing afull

understanding of the local environment.

''We learned the cultural values of water,

and these were applied to everything that

we did around the committeetable and in

the community,'' Mr Ashbysays.

''Getting the rural community engaged

and involved in the processwas really

important too.''

Oxford farmerand DairyNZ associate

director Cam Hendersonjoined the

committee in 2017, part­way through the

PC7 process.

He saysthe support the committee

received from Environment Canterbury's

scienceteam was invaluable. ''They

explained the technical data to us in away

that boththe committee and community

could understandand this was avery

important part of the consultationprocess.''

RangioraToyota

2400832

Possum Fur

Wanted

GOOD PRICES PAID

Weft Knitting Co.

MerinoPossum Knitwear Manufacturer

Christchurch

Phone (03) 379 5314 hugh@weft.co.nz

2016 HiluxSR5 4x4

•2.8L Turbo Diesel Auto

•Sat Nav

•Cruise &ClimateControl

$

46,995

2017 LandCruiser PradoVX

•2.8L Turbo Diesel, Leather

•NZ-new,Sat Nav

•Only 43,500km

$

71,995

2000 Toyota HiaceMinibus

•2.4Lpetrol, auto

•Aircon, 10-seater,4-door

• Only 51,900kms

$

17,995

2017 HiluxSRPreRunner

•2.8L Turbo Diesel Auto

•Alloys, Camera

• Only 60,050kms

$

40,995

2005 Hilux4x4 Extra-Cab

•3.0L TurboDiesel Manual

•Alloys, Steel Deck

•Towbar

$

18,995

2013Toyota AlphardSC

•2.4LPetrolAuto, 7-Seater

•DualElectricDoors

•25,250kms

$

36,995

Percival Street,Rangiora • Ph (03) 313-8186any time • www.rangiora.toyota.co.nz

Signature

CLASS

2019 Nissan Navara ST 4WD

•2.3LTurbo Diesel Manual

•Camera, Satnav

•61,000kms

$

44,995

2018 Nissan Navara RX4x4

•2.3LTurbo Diesel Manual

•Alloys, Bluetooth

•Only 58,100kms

$

41,995

2018 Landcruiser PradoTZ-G

•2.8L turbodieselauto

•KDSSsuspension, 7-seater

•40,250km

$

71,995

2011 Ford Ranger XL

•3.2LTurbo Diesel Auto

•Alloys, Camera

•Steel Lid, Bluetooth

$

29,995

FINANCE &INSURANCE AVAILABLE

2398471
---
SPORT

The North Canterbury News, August 5,2021

Kaiapoi claims NC Division 1rugby title

RUGBY

By LINDSAY KERR

Athree­yearwait endedfor

Kaiapoi rugby last Saturday

when its Division 1team edged

out Saracens 19­16towin this

season's Luisetti SeedsNorth

Canterbury senior grand final.

The victory was Kaiapoi's first

grand final title since its six point

win over Oxfordin2010.

Two agonising losses in the last

two grandfinalsweighed on the

minds of the Kaiapoi coaching

staff Matt Newton and Simon

Gunn, along withthe players who

remained, as they prepared for

the latest edition.

This was compounded by the

reality thatSaracens had beaten

it twice thisseason.

''It was very heartening and

was mademore so by the two

lossestothem. Iamnot sure what

the reaction might of have been

had we lostagain,''said Newton.

''Playingathome certainly

helpedand with Saracens having

beatenushere, that really

helpedtostiffen our resolve and

add an edge,'' he said.

Playedinfront of alarge crowd

on their home ground,Kaiapoi

was slowout of the starting

blocks.

It attacked first, but amissed

handy penalty shot in the

opening minutes appeared

ominous, especially when

Saracens full back HarryMurray

ran 20 metres, throughtwo would

be tacklers, to scorefive minutes

later.

In the meantime Kaiapoi

kicker TaineJacob­Lawson

found his confidence kicking a

penalty. RickyAllinadded to

Saracenstotal with apenalty,

only for Jacob­Lawson tokick his

second shot eight minutes before

the break.

In the moments before the

break Kaiapoi began to apply

pressureand if things had looked

ominous for them earlyon, the

table had started to turn.

Allin extended Saracens'lead

to 16­9 with two penalties in the

opening minutes of the second

half, but thatwas the end of its

scoring.The momentum swung

Kaiapoi's wayand it hogged

possession and territory for the

remainder of the game.

ASaracensscrum, thathad

been dominant in recent

encounters, began to falter

leaving Kaiapoi to takecontrol.

Mid way through the half,

Kaiapoidrew level after its lock

Nacanieli Namata made abarn

­storming run, linkingupwith

loosie Jarred Gilmore, who

finished the job off with atry.

Kaiapoi continuedtoapply

pressure and camped in the

Saracen'shalf for the majority of

the remainder of the game.

It hit the lead with another

Jacobs­Lawsonpenalty 10

minutes from the end and kept

its nerve and discipline untilthe

finalwhistle.

Namata along with Gilmore

and hookerRyan Clarkhad stand

out gamesfor Kaiapoi, while half

back Codey Grimescombined

well withTaylor­Lawsonoutside

him.

Murray always looked

dangerous with half agap on

offerfor Saracens, but his

opportunitiesgrew lessthe

longer the game progressed.

Scoreboard: Kaiapoi 19

(Nacanieli Namata1try, Taine

Jacob­Lawson 1conversion and 4

penalties) beat Saracens 16

(Harry Murray 1try, RickyAllin1

conversion and 3penalties).

The victory earned Kaiapoi

the Alf Hunnibel Trophy. It was

also Kaiapoi's 13th

championship titlesince joining

the North Canterbury

competition in 1965, having

previously played in the

Christchurch Metro

championship.

Matchreferee KarlHancox

retained his statusasamember

of the Canterbury­wide top five

group.

Captain Fantastic ... Kaiapoi

captain Jacob Hurring gives his

acceptance speech. PHOTO: SHELLEY TOPP

35

Celebrations ...

Kaiapoi celebrates winning the North Canterbury Division 1competition on Saturday.

PHOTOS: SHELLEY TOPP

Red and blues ... Saracens fans Mark Smith (left), Nathan Reid and Dan

Hewett, all of Rangiora, show their support for Saracens.

Eye on the ball ... Kaiapoi lock Naca Namata soars high to take the ball

in alineout.

Waiting for Uncle Connor ... Stevie Wye (3) waits to high five his uncle, Kaiapoi lock Connor Smith minutes

after the Division 1final.
---
Rangiora Toyota

Percival St, Rangiora

(03) 313-8186

www.rangiora.toyota.co.nz

Proudly supportingsport

in North Canterbury

Winning weekend for Rangiora men'shockey

HOCKEY

The Rangiora Hockey Club's

seniormen's teams had anear

perfect record last weekend, with

four of the five teams recording

wins.

The CBK Division 1men kicked

off the weekendwith awin over

Avon on Saturday, whichwas

followed up by wins to both the

Colts and Oddfellowsinthe

Sundaysuper league

championship.

The Coltshad the majority of

possessionand chancesagainst

Hornby, but couldn't convertuntil

late in the game with Sam

Montgomery picking up a

deflection goal.

Finally the mid­week open

Rangiora Ateam beat Rangiora

Allsorts in the inter­club clash on

Mondaynight.

The Ateam got off to afast start

with acoupleoflucky goalsearly,

but the pluckyAllsorts fought back

and kept the scoring even through

the middle of the game before the

Ateam pulledaway in the final

quarter. In contrast Rangiora's

seniorwomendid not faresowell,

with only the Rangiora Hurunui

Hares claimingvictory in the midweek

open division 1competition.

The CBK division 1women

couldn't match second­placed

Avon. Korimako lost by the slimist

SPORTS RESULTS

Rangiora Golf Club

9Hole Stableford /Knibbs Cup:

Ladies ­SarahRutherford 17,

Anne Smith14c/b, JanMoffatt14

c/b,Janet Maguire14c/b from4

others. Men­John Walker 17 c/b,

Bruce Pugh 17 c/b, John Gregan

17,HowardThomas 16.

Knibbs Cup:HowardThomas.

Stroke /LGU /Hills &Thomas

Trophy: Ladies­JanMoffatt38.

Men­Dennis Brook 35,Ross

McQueen38.

WinnersofHills &Thomas

Trophy: Ladies­JanMoffatt, Men

­Howard Thomas.

Amberley Golf Club

JEM trophy winners: PCumming

&GSmith.

Multiple stableford:B&JYates

69, GWilliams &TFleete 68, B

Fitzgerald&LRobertson 66, S

of margins to Waikirikiri, a

significant improvement on the

3­0 loss to this team last round.

In lower grade actionanumber

ofplayers seem to be competing to

see who can score the most

individual goalsinagame.

Catherine McKellowinthe Kiwi

Sticks Rabbits teamisleadingthe

way with 7goals in the lastround,

but she is closely followedby

Angie Mones­Cazonofthe Mini

Sticks Rock Stars (6 goals) and

Aimee Dunlop of the Mini Sticks

Rockets (5 goals).

Results

Division 1: Men ­RangioraCBK

2(Lachlan Miller 1, Liam Gray 1)

beat Avon 1. Women ­Rangiora

CBK 1lost to Avon 4.

Sunday Super League

Championship: Men ­Rangiora

Colts 1(Sam Montgomery1)beat

Hornby 0. MVP: Ethan Plimmer.

RangioraOddfellows 1(Nick

Ward 1) beat University

Barbarians 0. MVP: Sam Terry.

Women ­Rangiora Korimako0

lost to Waikirikiri1.MVP: Kalyn

Thomas. RangioraPiwakawaka 0

losttoSouthern United 5. MVP:

Cassidy New and Erica

Findlayson.

Mid­Week Open: Men ­

RangioraA6(Dominic Cleary2,

Thomas Spall 2, Johnny King 1,

Thomas &RDenby 64, BMills&J

Byrne61.

Twos: PCumming, WVan Zuylen,

KPercy,KRayner,JCumming, J

Byrne.

Excel Design LongestPutt: N

Granger.

Mid Week Men: BBalderstone 39,

RHornblow35, MMcIntosh 33,J

Wicks 33,MBruner 33, GCope33,

KGussette33, BMills33.

Mid Week Women:JLucas 36,A

Wilshire 36, SLee 36.

9Holers: HAstell 35, HKemp36

,MCarpenter 37,JEvans 37.

ParisBakery Longest Putt: M

Carpenter.

Amberley BridgeClub

July 26: North/South:Jim Knight

&Kevin Moore1,MargaretBean

&Ken Fox2,Jill Coberger &

Paddy MacFarlane 3. East/West:

Jan Bishop &DiBethell 1, Nell

McKellow&SallyEgden 2, Caryl

Brown &Jan Haley 3.

Harris Trophy: MargaretBean &

Kevin Orchard 1) beat Rangiora

Allsorts 1(JasonHigham1).

Women ­Rangiora Hurunui Hares

3(Jan McDonald2,Kelly

McNicholson 1) beat Hinemoa­

Kaiapoi 2. RangioraHurunui

Hawks 0lost to UC Aztecs 3.

Platinum: Men ­RangioraA3

(Liam Hayes 1, Sam Firth1,Ricco

Pepper­Edwards 1) lost to Marist

White 4. MVP: Ricco Pepper­

Edwards. Rangiora B0lost to

HSOB/Burnside 11. Women ­

Rangiora A2(Tilly Dodds 1, Kara

Cairns1)beat Marist White0.

MVP: Tilly Dodds. Rangiora B1

lost to Marist Red 5.

Kwik Sticks 11­a­side: Boys ­

Rangiora Renegades 1(Matt

Corey 1) drew with Southern

United1.MVP: Josiah Woods.

Girls ­Rangiora Rascals 2(Olivia

Vandermeer 1, Sarah Walsh1)lost

to Southern United Sand Cats 4.

MVP: Lillie Wilson.

Kwik Sticks 7­a­side: Boys ­

Rangiora Rampage 0lost to

Medbury 3. MVP:Reilly. Rangiora

Rangers 1(Bram Vermeulen 1)

lost to Carlton Redcliffs Breakers

2. MVP: Ollie and Seth. Girls ­

Rangiora Rebels 0lost to

Waikirikiri 4. MVP: Meg Dunn.

Rangiora Rainbows 3(Angie

Mones­Cazon 2, Ruby Taylor1)

beat Marist 0. MVP: PJ

Mackintosh. Rangiora Rubys 3

(KatieLunn,Imogen Abernethy)

KenFox 1, Jill Coberger&Paddy

MacFarlane 2, Jim Knight&

Kevin Moore 3.

July 29:N/S:DeniseLang&May

Milne1,Gertrude Steltenpool &

Glenys McCallum2,Irene Carson

&Mary Warren 3. E/W:Helen

Thornburgh &MaryBain1,Pippa

Graham&Douschka Saunders 2,

Ron Hall &Gerry Weed 3.

Waimakariri GolfClub:

Foursomes: 18 Holes:LSteele &

N. Weavers, nett68; VMcKenzie &

JCollins, 69.5; SMardon&W.

Mehrtens 70.

9Holes:JJenkins &RBennynett

40.5.

Amberley Smallbore Rifle Club

OMitchell98.4, PWisheart97.2, C

Kelland96.5, GHeaven 94.1,M

Black 91.1,IFrazer 90.3,MParker

89.3, CBoyce89.2, WParker 89.1,

BCraigie88.1, AMcLean87.2, J

Trembath 84.1,TBoyce 78.0, G

Jennings 69.2, NBlack 69.0.

Everyonewelcome.

Stick action ... Giles Witt of the Rangiora Colts Sunday super league

championships team in action against Hornby.

PHOTO: SUPPLIED

beat Carlton Redcliffs 2. MVP:

Megan Green.

KiwiSticks: Boys­Rangiora

Rogues 2(Seth Cann 2) lost to

HSOB/Burnside 3. MVP: Adrian

Marsh.

Girls ­Rangiora Rabbits10

(Catherine McKellow 7, Emma

McKellow1,Freya Clark 1,

Quincey Hawes 1) beat HSOB/

Burnside1.MVP: Anastasia

Wright and Erika Zwick. Rangiora

Raiders 5(ZaraCartwright 3, Ana

White 1, Lucy McLean 1) beat

Hornby Pumas 0. MVP: Lucy

McLean. Rangiora Road Runners

7(Bella Cherry 3, Sammy Smith 2,

Erin Cook 1, Neve Fantham 1)

beat Waikirikiri Fantails4.

Mini Sticks:

Boys ­Rangiora Roadsters 0lost

to Carlton Redcliffs Redsocks10.

MVP: Aidan Ferguson.

Girls ­RangioraRockets11

(AimeeDunlop 5, Shaylee

Eastmond 2, RubyHutchison 1,

Adele Ferguson 1, Lucia

Cavanagh 1) beat St Andrews Prep

School1.Rangiora Rock Stars 8

(AngieMones­Cazon 6, Charlotte

Hawes 2) beat Southern United

Snowy Owls 2. MVP: Winnie Bavis.

Kane Shield returns

SWIMMING

Kaiapoi's Kane Shieldswim

meet is returningtothe

Kaiapoi Aquatic Centre on

Monday.

Teams of fourswimmers

competeina100 metrerelay

race(25 metres perswimmer)

based on handicapped times,

with teams eliminated until a

winning teamisfound.

Run by AllTogether

Kaiapoi,the Kane Shield

swimmeetwas revived in 2014

as away of bringingthe

community togetherafterthe

earthquakes. The event has

survived Covid­19,with last

year's event held in

November. It wasfirst heldin

1948whenthe thenpresident

Bill Kaneissued arace

challengetocommittee

members as afundraiser.

Other prizes include the

WestpacCup forthe runnersup,

the IndustriesShield for

local workmatestocompete

together, the BellFamily

Trophyfor local families,the

Harry BatesCup for thefastest

time and theBurgess Family

Sports Trophyfor local sports

teams.The YouMeWeUs

Trophyisalsoupfor grabs

between local school teamsof

fourswimmersattending the

sameschool. Doors open from

5.30pm. Register before6pm

on the night.Entry formsfrom

Kaiapoi Aquatic Centre or the

AllTogether Kaiapoi pageon

Facebook.

More products in-store and online!

WINTERSPORTS

BASKETBALL NETBALL RUGBY

FOOTBALL HOCKEY

Sign up to our

customer club &earn

%

10OFF

thesportshop.co.nz

345a FLAXTON RD,RANGIORA |03313 7983
---
Best Brands -Best Prices

FREE Pressure

check on Cars, Utes,

4WD &Trailers

5Star Service

346a Flaxton Road |Phone 03 310 6666

0800 226 324 for 24/7 Service

SPORT

North Canterbury News, August 5, 2021

37

Title shared in Division 2final

RUGBY

By PETER WILLIAMS

The very best of North

Canterbury rugby was on

display at Kaiapoi Park on

Saturday.

Starting with two excellent

exhibition games at under­12

and under­13 level and

finishing with two keenly

contested finals at Division 2

and Division 1level. There was

plenty of support for all teams.

Titleshared

Anyone who was in Kaikoura

on Saturday afternoon may

have noticed the town was

strangely quiet, as it seemed as

though half the town was on the

sideline at Kaiapoi (some

arriving by helicopter) to

support their Division 2side.

The Division 2final was a

pulsating one, ending in the title

being shared.

Played as acurtain raiser, It

set the scene perfectlyfor the

Division 1final, with avery

closely­contested battle

between the northern

neighbours. Kaikoura had its

nose in front 12­10 at half­time,

and as the match entered injury

time it had stretched its lead to

29­22.

But it was Glenmark­Cheviot

which finished the stronger

with club stalwart Andrew

Zuppicich bullocking his way

over next to the upright. Harry

Fitzpatrickmade no mistake

with the pressure kick, and with

no provision for extra time in

grand finals, the title was

shared.

Scoreboard:Kaikoura 29 (Stu

Giles 1, Dylan Gueganton 1,

Nathan Ah Kee 1, Patrick Numa

1tries, Bryn Williams 3

conversions and apenalty) drew

with Glenmark­Cheviot 29 (Sake

Raitubei 2, Will Inch 2and

Andrew Zuppicich 1tries,

Harry Fitzpatrick 2

conversions.)

Plate finaldivision 1

History almost repeated itself

in the match between Ashley

and Glenmark­Cheviot. When

these teams last met in the

round­robin, Glenmark Cheviot

built acommanding first half

Young stars ... Reuben Wastney (9, front) and his Saracens

under­10 Blue team mates Siena Vea (10, left), Kayden Benney (9),

supporter Sam Lancaster (7), Henry Lancaster (10, rear), and Riley

Walsh (10 far right) show their support at the North Canterbury

Division 1rugby final on Saturday.

PHOTO: SHELLEYTOPP

lead, only for Ashley to storm

over the top of them in the

second half and claim victory.

On Saturday Glenmark­

Cheviot led 19­7 at half­time.

Ashleyagain showed its

resilience to level at 19­all, but

this time Glenmark­Cheviot had

the last say when Brook

Retallick landed amatchwinning

penalty.

Scoreboard:Glenmark­

Cheviot 22 (Andrew Hull 1,

Johnny Sloss 1, Ben Renton 1

tries, Brook Retallick2

conversions, 1penalty) beat

Ashley 19 (Blake Walesby 1,

Korbyn Gray 1, Anthony

Tavendale 1tries, Gray 2

conversions).

Plate final Division 2

Ohoka led Woodend12­6at

halftime and had the better of

the second half, scoring a

further 13 unansweredpoints.

Scoreboard:Ohoka 25 (Trent

Yesberg 1, Caleb Parsons 1, Sam

Lamont 1, Ben Reid 1tries,

John Pounsford 1conversion,1

penalty) beat Woodend6(Will

Clifford 2penalties).

Colts

Ashley put the seal on an

excellent season, having

already won the Combined

Country Colts title, beating

Glenmark­Cheviot convincingly.

Winger Caleb Hazeldine

impressedwith his speed while

captain Nicholas Sim got

through alot of work at lock.

With players like those in this

team about to come through to

the open grades, it bodes very

well for the future for the

Ashley club.

Scoreboard:Ashley 43 (Caleb

Hazeldine3,Matthew Peake 1,

James Ensor 1, Travis Wiki 1

tries, Corbin Meechen 5

conversions, 1penalty) beat

Glenmark­Cheviot 12 (Jack

Carson 1, Matthew Inwood 1

tries, Tom Fitzpatrick 1

conversion).

Under­18

After aclosely­fought first

half, the Rangiora High School

2nd XV edged away from

Hurunuiinthe second half.

Hooker Caleb Laxon turned

in an outstanding performance

scoring four tries before being

sin­binnedlate in the match for

adangerous tackle.

Scoreboard:Rangiora HS 39

(Caleb Laxon 4, Lachie Rennie

1, Nikolai Siasau 1, Reuben

Wilson 1tries, Nick Dobson 1,

Aaron Winter 1conversions)

beat Hurunui 17 (Josh Gunn 1,

Mateo Jamieson 1tries, Logan

Topp 2conversions, 1penalty).

Under­15

Oxford shot out to a19­5 lead,

with first five Logan Paulin

calling the shots.

Hurunui's unbeaten record

looked under threat, but it

responded magnificently with

fullback HerewiniRata­

McLeod bagging four tries and

captain Rhys Lewis putting in a

strong performance.

Scoreboard:Hurunui 63

(Herewini Rata­McLeod 4, Rhys

Lewis 2, Hunter Cattermole 2,

Max Jackson 1, Seth Bell 1,

Kieran Palmer 1tries, Rhys

Lewis 3, Herewini Rata­

McLeod 1conversions) beat

Oxford 26 (Sam Rose 1, Logan

Paulin 1, Asher Farrow 1, Flynn

Shore 1tries, Farrow 2, Rose 1

conversions).

Under­13

Kaiapoi was unbeaten all

season, finishing off with agood

win over aplucky Amberley

side. Key players for Kaiapoi

were fullback James Setter and

second­five Milan Newton.

Scoreboard:Kaiapoi 45

(James Setter 3, Milan Newton

3, Tyler Breach 1tries, Newton

4and Raumana Kumeroa 1

conversions) beat Amberley 19

(TK Laxon 2, Ethan Morgan 1

tries, Jordan van Schalkwyk 2

conversions).

Under­12

Ashley eventually sneaked

home in aclosely contested

match. Halfback Finn

Chatterton and flanker Matt

Isherwood impressedfor

Ashley, while Hurunui's No 8.

Riley MacDonald and lock Isaac

Kelly had strong games.

Scoreboard:Ashley 31 (Cooper

Stewart 1, Matthew Donoghue 1,

Nate Young 1, Lachlan Brook 1,

Hamish McDermott 1tries,

Stewart 1, Hunter Waghorn 2

conversions) beat Hurunui 26

(Owen Lewis 1, Archie

McDonald 1, Gus McKenzie 1,

Jamie Oberrholzer 1tries, Max

Kinney 3conversions).

WHEEL

ALIGNMENTS

FROM $59

Bookings recommended, terms &conditions apply

2314312

NORTH CANTERBURY

RUGBYSUB UNION

JUNIOR FINALS DAY

DRAWFOR SATURDAY

7 TH AUGUST 2021,

AMBERLEY RFC

ENTRYBYGOLD COIN DONATION AT

DOMAIN ENTRANCE

ALLPLAYERSPLEASEBRINGAPLATE

OF COLD FOOD

UNDER 11

Kaiapoi VAmberley Black VOhoka Red, A, 14:55.

Kaikoura VHurunui Black,B,14:55.

Saracens BlueVAshleyBlue,C,14.55.

OxfordVWoodend, D, 14:55.

Glenmark CheviotVSaracensRed, E, 14:55.

AshleyGreenVOhoka Black, F, 14:55.

UNDER 10

Glenmark Cheviot VKaiapoi VAmberley Black, A,

13:55.

Ohoka RedVWoodend, B, 13:55.

OxfordVSaracens Red, C13:55.

Saracens BlueVHurunuiBlack, D,13:55.

Ashley: VOhokaBlack, E, 13:55.

UNDER 9

Amberley Black VAshley Blue VKaiapoi BLUE, A,

12:55.

AshleyGreenVSaracensBlue,B,12:55.

Hurunui Black VGlenmark Cheviot, C, 12:55.

OhokaRed VOhokaBlack, D, 12:55.

OxfordVWoodend, E, 12:55.

Kaikoura VKaiapoi GOLD, F, 12:55.

UNDER 8

Amberley Black VAshley Blue VAshley Green, A,

11:55.

OhokaRed VSaracensBlue,B,11:55.

Hurunui Black VKaikoura, C, 11:55.

Glenmark Cheviot VKaiapoi,D,11:55.

WoodendVOxford,E,11:55.

Saracens RedVOhokaBlack, F, 11:55.

UNDER 7

Amberley Black VSaracens Orange, A, 10:35.

Glenmark Cheviot BlackVHurunui Black,B,10:35.

Ohoka RedVKaiapoi, C, 10:35.

OxfordVSaracens Red, D, 10:35.

Saracens Blue VAshley Green, E, 10:35.

WoodendBlackVOhoka Black, F, 10:35.

Glenmark Cheviot BlueVAshley Blue, G, 10:35.

UNDER 6Section 1

Amberley BlackVAshley Blue, A, 9:00.

Woodend White VSaracens Orange,B,9:00.

OhokaGreen VWoodend Green,C,9:00.

Hurunui BlueVKaiapoi GOLD, D, 9:00.

Saracens Blue VAshley White,E,9:00.

Glenmark Cheviot BlueVOhokaBlack, F, 9:00.

UNDER 6Section 2

AshleyGoldVSaracens Red, A, 9:50.

KaiapoiWHITE VKaiapoi BLUE, B, 9:50.

Glenmark Cheviot BlackVHurunui Black,C,9:50.

AshleyGreenVOhoka Red, D, 9:50.

OxfordRed VWoodend Black, E, 9:50.

SeniorRep sideplaying at 2.30inReefton.

Printed draw proudly supported by

Four SeasonsRealty

Your home forlocal property

0800 789 1011

Four Seasons Realty 2017 Ltd|Licensed Agent REAA 2008

For all draw information and updates

please keep up to date with

North Canterbury Rugby

2364200
---
North CanterburyNews

PROPERTY

LOCATION, CONVENIENCE AND LIFESTYLE

2The Stables, Woodend

Resting on asubstantial 919m² site, this beautifully captivating home is superb for large families. An immaculately presented home, it has

been thoughtfully designed for efficiency, minimal maintenance and easy flow. Four large bedrooms, two bathrooms, open plan kitchen/

dining/family room and aseparate lounge. The large master bedroom has awalk-in wardrobe and agenerous size ensuite complete with its

veryown spa bath. French doors opening out onto apatio completes the feeling of your own personal sanctuary.

Stunningly decorated with contrasting shades, complemented with bursts of colour,the open plan family room/formal lounge comes with

amodernwood burner and French doors that open out onto the first of two outdoor patio areas. Perfect for the obligatorykiwi BBQ.

An exquisite and modernopen plan kitchen/dining area flows effortlessly out to alarge, warm, light-filled living area basking in all day sun.

French doors lead you out to asecluded and beautifully landscaped patio area complete with aspa pool to relax and unwind in after abusy

day.

Threecar garage, all garage walls are fully lined and the single car garage has been converted into an impressive "man cave". This space

could equally be used as afifth room for ateenager wanting alittle more space creating the feeling of independence they long for at that

age. Plenty of off-street parking to accommodate visiting friends or family.

Large, fully fenced, private back yard,perfectfor agame of backyard cricket or other outdoor activities for the whole family to enjoy,with

abeautifully manicured garden complete with astunning water feature. Low maintenance, easy care garden.

Vendors are motivated and moving on, this beautiful property will be sold under the hammer at 2pm on Wednesday 18th August at the

Russley Golf Club.

Auction

Wednesday 18 August, 2:00 pm

at Russley Golf Club

(unless sold prior)

4 2 2 2

Open: Sun 8 t h 11.00am to 12.00pm,

Wed 11 th 12.15pm to 12.45pm &

Sun 15 th 11.00am to 12.00pm

Amanda Newson

03 327 5379

027 848 8488

amanda.newson@harcourts.co.nz

View online @harcourtsfourseasons.co.nz

ID# KI8964

Four Seasons Realty 2017 Ltd

Licensed Agent REAA2008

Four SeasonsRealty

2397218
---
Four

Four

SeasonsRealty

Seasons Realty

Celebrating

35 YEARS

AND STILL LOVING IT!

Ihave worked in theCanterbury regionfor over 35 years

and mypurpose has always been to create success for

my clients. Atrue mark of my success is not myresults

alone,but the loyalty Icontinuetoreceive from my clients.

Iwill workhardfor you to achieve the best possibleprice

foryour property withthe leastamountofstress onyou.

Phone me forafreenoobligationmarket appraisal.

Four SeasonsRealty

Four Seasons Realty 2017 LtdLicensed Agent REAA 2008

Liz

LEWIS

027 453 0952|03327 5379

liz.lewis@harcourts.co.nz
---
North Canterbury

Cust 538 Ashley Road

AVery Special Lifestyle Block

Stunningviewsfrom this wellsheltered4ha block on thecorner of Ashleyand Bowicks Road. Stock waterrace along the

Eastern boundary.Large3bay haybarn with adjacent concrete pad. Old pasturesidealfor horses.Deer fenced boundary.

Fantastic area forthe horse loverwith amazing road riding and nearby is the Ashley River. Well established tree shelter on the

nor/west side. Lots of potential building sites to take advantageofthe views. Lifestyle blocks like this one don'tcomeupvery

often, it's amust to view. ForSale By Auction: on site, Friday13th August 2pm.

Auction 2.00pm,Fri 13th Aug, 2021, (unlesssold prior)

View By appointment

Web pb.co.nz/RL93336

Janice Clyma

M 027 434 7090

E janice.clyma@pb.co.nz

Yourpropertywillbe

in goodhands with

aProperty Manager

fromPropertyBrokers

Canyou risk nothavingaProperty Manager?

Areyou familiar with thelatest legalrequirements of

theResidential TenanciesAct andthe Healthy Homes

Act,aswellasthe penaltieslandlords face?

Do youknowwhat your obligations areforinsulation?

Asbestos? SmokeAlarms?And Health&Safety?

Do youhavethe time to checkrentpaymentsfor your

property,address maintenance issues immediately,

have keys cut,and attend viewings?

Call todayfor achatorano obligation,

free rental market appraisal.

Dale Quaife Property Manager

M 021406 686 | P03 3138022 | Edquaife@pb.co.nz

PB050077

Property Brokers Ltd Licensed REAA 2008 |pb.co.nz

Proudtobehere
---
Regional fund open

Enterprise North Canterbury (ENC) is

inviting organisers of major

Waimakariri events to apply for the

newRegional Events Fund which

offers up to $10,000 per event,per year.

Distributed by the Ministryof

Business, Innovation and Employment

(MBIE), thetotal$50 million fund was

split across NewZealand's

International Marketing Alliances

(IMA)groupings based on their share

of international visitor spending prior

to Covid­19.

ENC received atotalof$150,000 for

distribution between 2021 and 2024.

ENC chief executive Heather

Warwicksaysthe organisation is

pleased to be able to offer additional

event funding over andabove the

current Waimakariri Event Fun.

''This is agreat opportunity forour

event organisers to get aboostfrom the

government for their event.

''Thecriteria is strict, and is aimed

at drivinginter­region and out of

region visitation to thedistrict and

bringingmeasurable economic benefit

to Waimakariri, but it is alsoagreat

opportunity for our residents to get out

intoWaimakariri to experiencesome

amazing newlarge­scale events,

adding to ouralreadyabundant annual

events calendar.''

The firstround of funding

applications is openbetween August 1

andAugust 31.

Fromthen, rounds open between

March 1and March 31, between August

1and August 31 in 2022 and 2023, and

again in March 2024.

Applicants are encouraged to read

allthe application criteria and

requirements before starting the

applications process.

Repeatapplications are

encouraged.

Organisers of smallerevents,or

those whoseevents do notfit the

Regional Events Fundcriteria are

encouragedtostill applyfor the

WaimakaririEvent Fund. It is

provided by the Waimakariri District

Council, managed by ENC and

administered by Visit Waimakariri. It

offers between $500 and$5,000 per

application.

For more information or to applyfor

theRegional Events Fund visit www.

northcanterbury.co.nz/regionalevents­fund.

Farmer support available

Flood­affected farmersinthe South Island

are being encouraged to make use of

livestockfeed support services funded by

the Ministryfor PrimaryIndustries (MPI).

Widespreadflooding across the

Canterbury region this winter, on top of

drought, has damaged pasture and caused

losses to supplementary feed.

SinceJune, MPIhas boosted feed

support services and allocated more than

$4.7 million for recoverygrants, technical

advice and wellbeing support, MPI rural

communitiesand farmingsupport director

Nick Story says.

MPI animal health and welfare director

Chris Rodwell says grazing pasture coated

with silt can cause animal health issues

and farmers with concerns about the

health of their animals should seek advice

from aveterinarian.

MPI, DairyNZ, Beef +Lamb New

Zealand and Federated Farmersare

offeringfree,one­on­one feed planning

support, call 0800 Farming (0800327646).

NEWS

The North Canterbury News, August 5,2021

41

Up to

50 % Of

*Call for Terms

&Conditions

Off

*

ADJUSTABLE MASSAGE BED

by
---
What's happening in your

community…

Millton Memorial Park Plans Approved

The Rangiora-AshleyCommunity Board approvedthe

Millton Memorial Park Master Plan at their meeting

earlier this month.

The main feature of theplanisto create alargearea

devoted to specimen plantings of trees and shrubs

(an arboretum) with inter-connecting pathways.

Alsoincluded is anew dogagility area, arealignment

of thesmall dogparkand areashavebeenidentified

for the relocation of the North Canterbury Model

Railway Club and future public toilets.

The plan includes all of the new features outlined

in the dra plan, however the design and layout

were changed to reflect community feedback.

The area will be developed over coming years as

budget becomes available.

Stockwater Race Bylaw Under Review

The Council is reviewing its 2019 Stockwater Race

Bylawandisasking Waimakaririresidents and water

race users for feedback on proposed changes.

Stockwater portfolio holder Councillor Sandra Stewart

says that she is really keen to hear from both

residentsand stockwaterusers to makesurethe

Council is on the right track.

"We want to hear if any amendments are necessary

before the final bylaw is adopted later this year."

"I'm particularly interested inrace users and

residents' views on the environmental benefits of

the race network which through leakage, recharge

our underground aquifers and dilute nitrate

groundwater pollution" CrStewart said.

"Whether these benefits should be funded through a

district-wide environmental rate is proposed to be

addressed in the future once the outcome ofthe

Government's Three Waters Reform is known."

"I look forward to hearing our community's views

on our approach to maintaining the water race

system" she said.

The races provide stockwater to 1,629 properties

which pay an annual rate to cover management

of the network. The races are almost 830km in

length and cover over 42,000 hectares through the

Waimakariri District.

Thebylaw details the rulesprotectingthewater race

network,and is an importanttooltohelp thecouncil

and itscontractorsmake decisionswhile maintaining

the supply of stockwater to users of the scheme.

Councillors adopted the Stockwater Race Bylaw in

2019 and undertook to carry out afurther review

within two years, giving users and residents an

opportunity for comment.

To give feedback onthe dra bylaw, visit

waimakariri.govt.nz/letstalk before 5pm,

Tuesday 7September.

KNOW YOUR ZONE

TSUNAMI INFORMATION EVENINGS

Hear about the science behindthe new tsunami

evacuation zones and learn practical thingsyou

can do at home to be better prepared in this

series of free public meetings.

TOPICS INCLUDE:

The Science Behind the Tsunami Zones |How Likelyisa

Tsunami |Overview of the New Zones |Responding to a

Tsunami Event|Having aPlan at Home |Q&A Time

INFORMATION EVENING DATES:

The PinesBeach/Kairaki

Wednesday 4August,7pm

The Pines Beach/Kairaki Community Hall

Online

Wednesday 11 August,7pm

ABOUT STOCKWATER

RACES

The Stockwater Race Bylaw 2019 isunder

review, we've draed some changes and

want tohear your thoughts.

This reviewconsiders the following broad topics,

with somepossible amendments proposed as

aresult: works in private property, road reserve

race maintenance,managed aquifer recharge,

environmental benefits, ponds, fencing of water

races and biosecurity and contamination risks.

Share your feedback before 5pm on

Tuesday 7September 2021.

Have your say waimakariri.govt.nz/letstalk

WatchonFacebook Have you signed &Youtube up for

facebook.com/ WaimakaririDistrictCouncil

youtube.com/waimakaririDC

the Waimakariri District

Council Newsletter?

Tojoin visit:

waimakariri.govt.nz/subscribe

2021 MULTICULTURAL COOKING CLASSSERIES

Want to learntocookdifferent

and interesting dishes from

other cultures?

Global Locals of Waimakariri (GLOW) inapartnership with

the Waimakariri District Council are hosting a10-week

MulticulturalCooking Class Series.

26 July –29 September2021 | 5.30-7.30pm

‣Kaiapoi High School

‣ RangioraNew Life School

If cost is aconcern, phone Carolyn Boswell on 027 293 3407

or email globallocalsofwaimakariri@gmail.com to discuss a

possible discount.

Register at humanitix.com

Free Computer Classes

at WaimakaririLibraries

IntrotoFacebook

Rangiora Library •Wednesday 11August

Kaiapoi Library •Friday 13 August

$20

per class

&student

IntrotoSmartPhones

Rangiora Library •Monday 16 August

Pegasus Community Centre •Wednesday 18 August

Kaiapoi Library •Friday 20 August

IntrotoApps

Rangiora Library •Monday 23 August

Kaiapoi Library •Friday 27 August

All classes run from 10am-12pm

Bookings Essential

steppingup.nz

03 311 8901
---
CLASSIFIED

North Canterbury News, August 5, 2021

43

Public Notices

Give usyour

feedback

Keep your

recycling

loose.

Recycling and organics

should be loose in

the bin, not in bags.

Plastic bags belong

in the rubbish. That

includes compostable

or biodegradable bags

or packaging.

—

Find out more

collection tips at

rethinkrubbish.co.nz

rethinkrubbish.co.nz

NEED FUNDING FOR A

LOCAL ARTS PROJECT?

Assistance is available for groups and

individuals who are keen to provide arts

and cultural activities in the Waimakariri

District from the Creative Communities

New Zealand Scheme.

The next CreativeCommunitiesround will close

Monday 23 August 2021,foreventsoractivities

thattakeplace between1October2021 and

1October2022.

The Application Form and Guide for Applicants is

available from Council Service Centres and Libraries or

from the Council website at waimakariri.govt.nz

If youhaveany questionsplease contact

the administrator,Ben Eldridge

Phone03311 8901or0800965 468

Email ben.eldridge@wmk.govt.nz

Get your business noticed with an advert on our Classified or Trades and Services pages!

Phone Amanda 313 2840 or Email info@ncnews.co.nztodiscuss your options and be the name theyremember!

2405505

2403731

CAB North Canterbury ison

the move!

From Monday,9August 2021 you will

find us at 209 High Street, Rangiora.

We are open from 9am to 4.30pm

Monday to Friday.

North Canterbury

Phone 03 313 8822 or 0800 367 222

Email northcanterbury@cab.org.nz

Website www.cab.org.nz

Amberley

Gun Club

AGM

Willbeheld at Clubrooms

Sunday8August2021

at Midday.

Programme ofday:

10.00 am Skeet

12.00 am AGM

1.00 pm 25 Tgt Single Rise

25 Tgt Points Score

25 Tgt Single Barrel

Personal

Country Romance

Acountry lady who is seeking alikeminded gentleman.

Standing at 5'5 with aslim build, blonde hair &hazel eyes.

She is an outdoors lady, who enjoys fishing, tramping,

cooking, travelling, gardening and spending time with that

someone special. To meet, Please call &quote code 63

0800 446 332

2405503

Travel &Tours

Coromandel East Cape Napier Taupo

11 days,departs Tues 12th October

$2,990 pp twin share

DayTrip Arthur's Pass

Wed18th August $25pp

DayTrip Cheviot Hills

Wed15th September $25pp

Call Reid Tours 0800 446 886

Email: reidtours@xtra.co.nz www.reidtours.com

Wanted To Buy

$$$

Amalgamated Scrap Metal

Ltd. Specialists in farm

machineryand farm clean

ups, old vehicles etc.

100% locally owned.

Ph 0800 030 712 or

027 695 0480.

2312759

Firewood

DRY WATTLE two years

old, $700 6m2. Dry Old

Man Pine, $540 6m2.

Phone 03 312 8726 Rangiora.

SPLIT Old Man Pine 3.7m

@ $260, Split Hardwood

Mix 3.7m @$360. Mobile

021 993 497.

Do youwant your

business noticed?

Advertise on our

Classified or Trusted

Trades and Services pages!

PhoneAmanda on

313 2840 or

Emailinfo@ncnews.co.nz

to discuss your options

and be thenamethey

remember!

Proposed Lease -Queen Mary

Hospital Historic Reserve

Pursuant to Section 58A ofthe Reserves Act 1977,

Hurunui District Council proposes togrant afive year

lease with two rights of renewal offive years for the

purpose of a picnic area for the Hanmer Springs

Thermal Pools &Spa.

Thelandisdescribed as:

Queen Mary Hospital Historic Reserve -Lot 2DP

430432 situated at 3 Jacks Pass Road, Hanmer

Springs, over part of the reserve - an area of

approximately1000m 2 .

Acopy of the agreement toLease and site plans are

available online or for inspection at Hurunui District

Council's Amberley Office at 66 Carters Road and

the Hanmer Springs Service Centre &Library, during

normalopeninghours.

Any person objectingorsubmittingtothis proposal can

do so in writing no later than 5pmonthe 23 September

2021.

To makeasubmission or objection or to find out more

about this proposal pleasevisit www.hurunui.govt.nz-

Have your say.

Please direct any queries to Liz Atkins, Ph 027 733

2237 or email at liz.atkins©hurunui.govt.nz.

2405441

WarMemorial Hall

1AlbertStreet, Rangiora 7400

PO Box 351, Rangiora 7440

www.bsnc.org.nz

Covid-19 and Level 1–Keeping everyone safe

Dear Clients and prospective clients,

•WeARE open and ready to provide you with

budgeting supportand advice.

•WeARE able to meet with you face-to-face. Strictly

by appointment only.

•Wewillbeabletosee walk-in clients. Please phone

first

•Home visits are by arrangement only.

•Wewill trytocontinue advocating on your behalf

with WINZ, banks, creditors etc.

•Weregularly workwith other supportagencies and

food banks; to provide you with additional

assistance.

Phone: 03 313 3505

(please leave amessage and we'll get back to you)

Email: servicemanager@bsnc.org.nz

Monday to Thursday 09:00 am to 4:00 pm

• However, Ifyou cannot wait to talk with us, then

please call the MoneyTalks helpline on 0800 345 123

Kaiapoi Christadelphians

"The Key of knowledge..." (Luke 11:52)

WHY DID CHRIST

HAVE TO DIE?

2300807

In Genesis, the first book of the Bible, it

was prophesied that there would come

a descendant of Adam and Eve, who

through willing obedience to his Father's

commandment ,would destroy the power

of sin through his death. This would open

the way for forgiveness of sins, to be

extended to those who acknowledge and

forsake them.

DVD presentation -Sunday 8th August, 7.00pm

Kaiapoi Community Centre, Sewell Street

Forinformation -phone 03 352 5453

Website -bibletruthandprophecy

2405870
---
CLASSIFIED

44 The North Canterbury News, August 5, 2021

AUDITION

NOTICE

Rangiora Players are

calling for cast for

"The Ghost Train",

agenre-defining comedy

suspense thriller by

Arnold Ridley,

directed by Dimitri Gibara,

performances in November.

Full audition information

from our website as listed

below. To book an audition

call Mark, 313-3441.

http://rp.nz/auditions

LEITHFIELD Public

Library AGM, Sunday

22nd August 2021. In the

Leithfield Library at 11am.

All welcome. Contact Eryn

03 314 6080 for more

information.

2405005

24 to 27

Sept 2021

Farming Notices

16 month old Heading Dog

for sale. Going well. All

training been done at work.

Call Garry 027 311 8420.

BLACK HUNTAWAY

pups for sale. 10 wks old.

1xdog, 2xbitch pups. Both

parents very good in yards

with sheep and cattle. Pups

well handled. Call Garry

0273 118 420.

Educational

TUITION available. Primary

and secondary up to

NCEA level 3. In centre

(Rangiora) or interactive

online from your home.

Each student on an individually

tailored programme.

Kip McGrath Rangiora has

been serving the local community

for 30 +years. Give

us acall (03 313 3638) or

book your free assessment

online https://www.kipmcgrath.

co.nz/rangiora

Entertainment

GITBOX REBELLION.

Performing live at Balcairn

Hall, an Arts On Tour NZ

event. Six acoustic guitars

blend jazz, rock, folk and

classical in sonic rapture!

Saturday 21st August at

8pm. Supper, raffles, alcohol

free, CD sales. Tickets

$25 from Sally Macs

Amberley, Stan's 7 Day

Pharmacy Rangiora, Sefton

Garage and

via www.balcairnhall.com.

Livestock

HOMEKILL

&Wild Game

Meat Processing

313 0022

2309602MEAT2U.NZ

Public Notices

PUBLIC NOTICE OF

APPLICATION FOR

ON-LICENCE

SECTION 101, SALE

AND SUPPLY OF

ALCOHOL ACT 2012

RANGIORA CRAFT BEER

COMPANY LIMITED

has made application

to the District Licensing

Committee at Rangiora

for the renewal of an On

Licence in respect of the

premises situated at 7

- 9 DURHAM STREET,

RANGIORA known as THE

GOOD DROP.

The general nature of the

business conducted under

the licence is: CRAFT

BEER BAR/TAVERN.

The days on which and the

hours during which alcohol

is sold under the licence are

SUNDAY TO THURSDAY:

8AM —11PM, FRIDAY TO

SATURDAY: 8AM —1AM.

The application may be

inspected during ordinary

office hours at the office

of the Waimakariri District

Licensing Committee at 215

High Street, Rangiora.

Any person who is entitled

to object and who wishes

to object to the issue of

the licence may, not later

than 15working days after

the date of publication of

this notice, file a notice

in writing of the objection

with the Secretary of

the Waimakariri District

Licensing Committee at

Private Bag 1005, Rangiora.

No objection to the renewal

of alicence may be made

in relation to amatter other

than amatter specified in

section 131 of the Sale and

Supply of Alcohol Act 2012,

This is the second

publication of this notice.

This notice was first

published on 29 July 2021.

2404122v2

PUBLIC NOTICE OF

APPLICATION FOR

ON-LICENCE

SECTION 101, SALE

AND SUPPLYOF

ALCOHOL ACT 2012

Legend Since 2021 Ltd

has made application

to the District Licensing

Committee at Rangiora for

the issue of an On Licence

in respect of the premises

situated at 194C Williams

Street, Kaiapoi known as

Le Soleil Cafe, Restaurant

&Bar.

The general nature of

the business conducted

(or to be conducted) under

the licence is restaurant.

The days on which and the

hours during which alcohol

is (or is intended to be)

sold under the licence are

Sunday to Thursday 8am-

11pm/ Friday to Saturday

8am - 1am the following

day.

The application may be

inspected during ordinary

office hours at the office

of the Waimakariri District

Licensing Committee at 215

High Street, Rangiora.

Any person who is entitled

to object and who wishes

to object to the issue of

the licence may, not later

than 15 working days after

the date of the publication

of this notice, file anotice

in writing of the objection

with the Secretary of

the Waimakariri District

Licensing Committee at

Private Bag 1005, Rangiora.

No objection to the issue

of alicence may be made

in relation to amatter other

than amatter specified in

section 105(1) of the Sale

and Supply of Alcohol Act

2012.

This is the first publication of

this notice.

2406039v1

THE SOUTHBROOK COMMUNITY SPORTS C LUB INC.

117 South Belt, Rangiora

Address all communications to:

The Secretary, PO Box 133, Rangiora. 7440

Email: sportsclub@saracensrugby.co.nz

AGM

TUESDAY 17 th AUGUST

7.00pm @the Clubrooms

We have vacancies for the following voluntarypositions

which do need to be filled at the AGM.

Chairperson

Treasurer

Bookings Co Ordinator

If you are interested and would like more information,

please contact our current Acting Chair 027 438 4279

or Secretary027 457 8306

2402294

HANDS-ON AT OTAGO

Each year Otago University offers an experience of

university life and study in the summer

holidays (January) for students who willbein

year 12 or 13 that year.

Entryiscompetitive so students are expectedtohave

high grades at NCEA level in their subject(s) of choice.

See https://www.otago.ac.nz/hands-on-at-otago/

about/index.html

Each year the RotaryClubofRangiora is willing

to sponsor asuitable applicant from the Waimakariri or

Hurunui areas to attend this event to the amount

of $800.

BEFORE APPLYING to 'Hands-On at Otago,' any

studentseeking this sponsorship needs to submit their

CV to Rotarian Alan Missen (awmissen@xtra.co.nz)

BEFORE 31st August 2021.

The successful applicant will be notified as soon as

possible.

2404740

Situations Vacant

CAR GROOMER

YARD HAND

Required for busy

dealership.

Must be reliable,

hard working with afull

clean drivers licence.

Agood sport mentality

is essential.

To apply send your CV to

craig@stadiumcars.co.nz

609 Lineside Rd, Rangiora

Vineyard Foreperson -Waipara

Generous Product Allowanceand Staffbenefits!

Full time. Permanent.

• Areyou passionate aboutViticulture?

• Great at working with and supervising a team?

• Want tojoin asmall close knit team, yet be

partofabigger organisation?

We are looking for a Viticulture Foreperson to

work on our Waipara vineyards. You would be

responsible for completing the hands on daytoday

vineyard operations, but also helping to supervise

thewider team.

What doesaForeperson do?

• Helps with daily work planning and

communication to theteam

• Assist in auditsand admin, and staff training

• Ensure vineyard tasks are completed to

standard,toensurevine health

• Work as part ofthe team on physical tasks,

and also help coach and supervise staff,

alongside VitiTechnician role

What doesour operation offer?

• A career with opportunity for development

within an international organization, within

beautiful Waipara

• A real focus and genuine commitment to

workplaceHealth and Safety

• You will work with some very experienced and

supportive NZ Viticulture experts

• You get aproduct allowance (and its not just

wine, although the wineislovely)

• Life insurance and other benefits like health

insurance

Whoshould apply?

We are looking for someone who has viticulture

experience, who is able tosupervise ateam, and

is keen for doing tasks across the full spectrum of

vineyard maintenance. The team does work very

hard, but also love abit of alaugh and tostop and

have asocial moment(we call it conviviality).

Please note –all our sites are smokefree. You

must bewithin New Zealand and have appropriate

working rightsto be considered for this role.

Interested? Please email

lucy.nurse@pernod-ricard.com

for information about how to apply.

CLASS 5 DRVIER. We

are asmall transport business

looking for a casual

driver to help out driving a

bulk tipping unit, mainly

carting from Lyttelton Port.

This position would suit a

semi retired person. Contact

Malcolm on 027 435

6253. Malcolm Love

Transport Ltd.

Gardening

A+ GARDEN hedges cut

to perfection. Tree &arbor

work. Also spraying. Free

quotes. Ph 03 312 0668 or

021 111 4322.

2405991

LOCAL Factory role,

afternoon shift, other factory

roles, traffic control,

labouring roles. Contact

Superior Personnel 03 313

6180, or pop into unit 1/6

Cone Street, Rangiora.

www.superiorpersonnel.co.nz.

For Sale

TRULUX glass house new

1.8 x1.2 Phone 310 7638

BRIAN'S Tree Services.

Tree felling, topping,

shaping, firewood cut, rubbish

removed, stump grinding,

branch chipping.

Affordable rates. Phone 03

327 5505 or 021 124 4894.

BUILDERS Father &Son

team. Amac Builders are

available to help you with

your building needs. High

standards, low overheads.

No job too small. Check us

out on fb. Amac Builders

Ltd. Ph 027 318 4400.

CHIMNEY SWEEPS

Time to service your fire.

Accumulation of soot seriously

affects performance.

Latest rotary brush technology.

Free moisture check

on wood. Safety inspection.

All work insured and guaranteed.

From $70 single

story. 0800 SWEEPME or

021 0277 1927. Visit

www.sweepnz.co.nz.

DIRTY TILES &Grout?

Professional tile cleaning,

tiled shower restoration,

mouldy silcone, shower

glass & we can even

recolour your old grout!

For all your tile and grout

issues call Grout Pro for a

free, no obligation quote.

Ph Darryl 0800 882 772.

Trade &Services

ABEL &Prestige Chimney DRESSMAKING Bev's

Cleaning. Nth Cant owned Sew Good Services. For all

& operated. Covering all your alterations, repairs,

areas from Waimak to Hanmer.

Professional, guaranteed,

dressmaking,

Phone 327 5535.

curtains.

service. Firebox

repairs, carry most parts. Ph

0800 661 244.

KITCHEN, bathroom,

AFFORDABLE concrete

renovations,decking,

cutting with quality and

pergolas,fencing. Honest

removal work. Free quotes.

reliable licenced builders.

No job too small. Ph 027

Ph Don 027 727 9162.

442 2219, Fax 03 359 6052

or A/H 03 359 4605.

ALL TREE SERVICES,

arbour work, pruning, tree METAL WORX. Flashing,

Sheetmetal Fabri-

removal. Affordable &

friendly service. Telephone cation, Wrought Iron,

021 111 4322.

Welding, Custom Trailers,

General Metalwork. No job

ARBORIST qualified. too big or too small. Ph 021

Copper Beech Tree 265 5428 or 03 314 6908.

Services. Tree removal, Find us on facebook/

pruning, height reduction, Glenmark Metal Worx.

hedge trimming, shaping, glenmarkmetalworx.ltd@gmail.com.

tree planting, firewood.

Free quotes. Contact Angus

Edwards 027 259 6741

copperbeechtreeservices@gmail.com PAINTER & Decorator.

25 + years experience.

Interior /exterior, roofs &

waterblasting. For a free

quote, please ph Steve 03

314 4620 or 027 477 1930.

Log Fires

Pellet Fires

Heat Pumps

Sales

Service

Installations

Free Quotes

03 343 1651

472 Blenheim Rd

www.heatstore.co.nz

WINDOW TINTING

tintawindow

advanced film solutions

99% uv block

fade protection

heat control

reduce glare

25 Years Experience

privacy films

frosting designs

non-darkening films

Workmanship Guaranteed

Lifetime Warranties on Most Films

UV

block

Free Quotes Canterbury and Districts

03 365 3653 0800 368 468

Motorcycles

SOUTH PACIFIC Motorcycle

Services. Local family

business since 2003. All

types of service and repairs,

all makes and models. Collection

service available.

Please phone 03 312 0066

office@motorbiketours.co.nz

www.motorbiketours.co.nz.

Pets

BICHON HOMESTAY

for smaller dogs. We look

after your dog in our home.

"No kennels". Phone today

03 314 6110.

ZEBRA FINCHES catch

your own $5 each. Phone

313 8763.

Cars Wanted

ANY old cars, anything pre

1990, unfinished Hot Rods,

Classic Cars. Please call

027 258 8366.

CASH 4CARS

and 4WD'S

Phone

Automotive

Parts

03 313 7216

CARS, vans, 4WD's

wanted for dismantling or

repair. Phone 027 258

8366.

WANTED to buy Ford,

Holden, Chrysler or

Chev's, Classic cars. Any

other types considered, any

condition. Please phone

Tony 027 313 5000.

PAINT & wallpaper

services. Wayne Bryant,

exterior, interior. Qualified

tradesman. Free quotes. Ph

313 5337 or 027 654 4568.

PAINTER. Qualified local

professional, Int / Ext,

roofs, wallpaper. Call or

text Corban 027 846 5035.

POWER TOOLS repairs,

parts &sales for over 40

years. All main brands serviced.

Grossman Trade

Tools, 23 Watts Road,

Christchurch. Ph 389 9230.

RANGIORA Rubbish

Removal and RRR skips.

Wheelie bins any frequency

and skips from 1.5 cube to

9cube. Skips and wheelie

bins for any use, rubbish,

greenwaste, building sites

or just cleanups. Give us a

phone call 313 6957 or for

skips 021 313 255.

ROOFER. All roof repairs,

roof painting, water blasting,

moss treatment,

repointing, gutter cleans &

snow straps. And more.

Free quotes. Phone Nathan

027 516 6609.

SCREEN PRINTING.

For all your printing

requirements. T-shirts,

Hoodies, Hi-Vis vests and

polos, Overalls, Caps etc.

Please phone Heather 03

313 0261 or email heather.

norstar@gmail.com.

SHEARER. Hap's Farm &

Lifestyle Services. Shearing,

crutching, drenching,

tailing, feet trimming &

health check. — Ph. 03-

423-3713 or 021-267-4025.

SUMMERFIELD

FENCING

IN YOUR AREA NOW.

Lifestyle or farm, sheep, cattle,

horse, all types of animals.

Fences, yards, sheds, arenas,

shelters, runs.

30+ years contract fencing.

Steve is available to help with

your design &planning.

Ph office03312 4747

2091848

VALUATION -

Specialising in North Canterbury.

Contact Geoff at

Maxwell Valuation. Phone

03 310 8541 or email

geoff@maxval.co.nz.

ANTHONY SYMONDS

Forall your painting &

plastering requirements

Local with 30 years

experience

All workmanship

Guaranteed.

Phone 021 344 023

2220615

SEPTIC TANK

CLEANING

Bill's Liquid

Waste

Blair Tavendale

Ph 03 314 9371

0275 379-694

Pride &Quality Painting

&Decorating Services

20 yrs exp, fast and friendly

service. For all your painting

needs, phone: Martin 310

6187 or 021 128 9867

2362002

You dump it...

Blair pumps it...

027 216 0000

2225862

REMOVALISTS

Movemen Ltd

2Men &agood sized truck.

From $150 plus GST per hour.

Kaiapoi based.

Call Gerard

027 668 3636

movemen.co.nz

2401953
---
YOUR LOCAL

INSIDE

Thursday,August5,2021 | Issue957 | www.starnews.co.nz

YOU'RE INVITED

TO THE OPENING

STARTING 12PM 4.30PM • SUNDAY 8AUGUST 2021

MAINPOWER STADIUM, COLDSTREAM ROAD, RANGIORA

Waimakariri Mayor Dan Gordon and

Councillors invite you to the official opening

of MainPower Stadium.

—

Nau mai, Haere mai

We are excited to show MainPower Stadium tothe District.

Join us for anaernoon of entertainment.

Aer the official opening at 12pm tour the facility, and enjoy

demonstrations of avariety of sports and kapa haka groups.
---
STADIUM

LAST DAYS TO SAVE

ON FOUNDATION MEMBERSHIPS

JOIN NOWFOR JUST $18.50 PW

Come in for a look around on MainPower Stadium Open Day - 8 th Aug from 1pm

join online before 9th August tosecure this

great rate and get your first 2weeks free

•Full servicegym

•80+ PRAMA&RevlGTclasses each week

•Latest &greatest fitness equipment

•Fit3D Body Scanning

•Yoga* &Silver Fitness Classes*

•Children's Programmes*

•ActiveHealth providers on-site

•BellgroveStation cafe &juicebar

10% discountforseniors,students seniors,students and communityservices card holders

Standardmembership pricewill increaseto$21.50pwfrom 9thAugust

*not* includedingym membership

STADIUM FITNESSCENTREISPARTOFMAINPOWERSTADIUM, STADIUM, 289COLDSTREAM ROAD.

TO FIND OUTMORE PH:03975 9755560, 5560, EMAIL:STADIUMFITNESS@SPORTSTRUST.ORG.NZ OR VISIT...

WWW.MAINPOWERSTADIUM.NZ

@stadiumtnesscentre

OPENS

9 th AUG
---
Trusted Trades &

Professional Services

Guide

To book your spaceinthis guide,phoneAmanda Keys 313 2840 or email amanda.keys@ncnews.co.nz

Appliance Repairs

Builder

Builder

Builder /Carpenter

•REGISTERED TECHNICIAN

•AUTHORISEDLOCAL SERVICE

High quality carpentry and building services inthe

local area, with competitive rates and quotes.

F&P, Bosch, Smeg,

ASKO,Ariston, LG,Classique,

Haier, Samsung and more....

"For best resultsbesuretouseauthorised service"

NORTHCANTERBURY APPLIANCE SERVICES

Rangiora: 03 313 4420 Kaiapoi: 03 327 3810

1913020

• New Builds

• Light Commercial /Re-strengthening

• Renovations

• Bathrooms

• Farm Buildings

• House Lifting Re-piling

• Shop Fit Outs

2397995

40+ years experience

027 222 5078

markw.hills@xtra.co.nz

• Fencing &Decking

• Kitchen Renovations

• Bathroom Renovations

• Alterations

• General maintenance

Todd Gould

Qualified Carpenter

Licensed Building Practitioner

022 170 1715

tagcarpenters@gmail.com

Butchery

Chiropractic Services

Computer Repairs

Construction &Concrete

OxfordButchery

Shane and Leanne Frahm

We cankill&process yourstock

FourGenerations of Frahms

since 1957

Ph 312 4205

Oxford

1680439

Number one

old-fashioned bacon

&ham curing.

A/H 312 4709

Dr Jess Ross

ACC Registered Dr Chiropractic

Monday &Thursday |03313 0350

Injury, accidents and maintenance

Libi McKinnon Physiotherapy

privatephysio@xtra.co.nz

027 868 2574

ACC Registered Provider | Tuesday &Friday

Select Health

51 Ashley Street, Rangiora

2344089v2

Bruce Evans

131 Ohoka Road

Kaiapoi

03 327 3111

021 293 6331

compucare@xtra.co.nz

www.compucare.co.nz

Computer Repairs &upgrades

Prompt professional services

2276525v2

Virus &malware removal

New &UsedPC's4Sale

All Construction & Concrete Work

•Driveways, patios &paths

•Bridges and Culverts

•Floors, foundations

•Sheds and buildings

•Dairy Sheds, Herd homes

•Silage pits, effluent ponds

•Excavation and cartage

•Precast concrete

•Insulated panels

Daryl Power

027 230 9401

concretepower@scorch.co.nz

www.concretepower.co.nz

2273277

Digger Hire and Construction

ECOM Digger Hire

and Construction

•9 ton Komatsu with rubber pads.

•Excavotor can be dry hired or with

one of our expert operators.

•Attachments available:

•Post driver

•Concrete/rock breaker

•Grab bucket

•Tilt bucket

•Rock bucket

No job

too big

–Nojob

too small

admin@ecomconstruction

www.ecomconstruction.co.nz

2384249

2089195v2-4/4-S

2269236

Engineering

For your Engineering needs

187d Ohoka Road, Kaiapoi

Phone 03 327 5246 |027 495 2821

toppeng@xtra.co.nz

Allan Pethig

For all your electrical needs. Residential &Commercial

Phone 03 313 7144

027 432 1534

Fax 03 313 2144

rgrantelectrical@gmail.com

PO Box 69, Rangiora

Electrician

Landscaping

For all your landscaping needs

All Landscaping, Retaining Walls (Engineered and

Non-Engineered), Timber Fences, Landscape Structures

and more...Lifestyle Block, Rural and Residential.

Phone Jeremy 021 169 9394

www.blackhill.co.nz

www.facebook.com/blackhillltd

2372616v2

YOU

COULD

BE

HERE

Advertise

your business

in our Trades

and Services

Phone

Amanda Keys

on

03 313 2840

Glass &Windscreens

Heating

Air to Water Heat Pump for Heating and Cooling

Wood Fired Central Heating

Scrap Metal

CASH PAID FOR SCRAP

•Car Bodies •Scrap Steel•Specialists in Farm

Machinery•All non Ferrous

MAINLAND

METALS LTD

Ph (03)338 7000

Mike0274 818544 •Robbie 0274818 027

Locally owned and operated

1902273

CAP 65

CAP 40

Shingle

SHINGLE SUPPLIES

CAP 20

Quarry Prices

DRAINAGE CHIP

from $23 per cube

from $25 per cube

from $30 per cube

2364105

Thursday,August 2, 2018 | Issue 808 | www.ncnews.co.nz

HAVE YOU BEEN TO

OUR WEBSITE LATELY?

www.ncnews.co.nz

Visit now toview the paper online &more!

from $40 per cube

all +gst

Plus all excavation and truck hire

house excavations, driveways, subdivisions

CONTRACTING

Ph: KEN 027 201 3302

Email: stress@xtra.co.nz

2009594

To book your spaceinthis guide,phone Amanda Keys 313 2840 or email amanda.keys@ncnews.co.nz
---
Arthur BurkeLtd

Trusted in NorthCanterbury since1935

2021 Mazda CX-9 Ltd 2021MazdaCX-30 GTX 2021 Mazda CX-30 GSX

Ex Demonstrator,2.5LtrTurbo, 4wd, Leather, Heated

Seats, ClimateControl, Towbar, Sunroof

Ex Demonstartor,2.5Ltr, AWD, 6SpeedAuto,

2,963km

Ex Demonstrator, 4,202km, 2.0Ltr,6SpeedAuto,

ReverseCamera, Balance of MazdaCareFree

Servicing&Warranty,Mazda Radar Cruise Control,

AppleCar Play&

Android Auto

$62,995 $42,890 $38,995

2012 Holden Commodore

SS-VUte

6.0Ltr V8,LOW

82,500km,

Immaculate

Condition,

Grab aFuture

investment

2017 MazdaCX-9Ltd

2.5Ltr Turbo, 4wd,

7-Seater,Leather,

Towbar, 1Owner,

85,000km,

Radar

Cruise

Control

2016 Mazda CX-5 GSX

2.5Ltr, 4wd,6

Speed

Automatic,

79,300km, 1NZ

Owner, Full

Mazda

Service

History,

Sat Nav,

Bluetooth

2016 Mazda CX-5 GSX

2.5Ltr, 4wd,6

Speed

Automatic,

73,500km,

Bluetooth,

Cruise

Control,

SatNav

2017 Mazda 3GLX

$49,995

77,300KM,

NZ New,

Full-service

history,Reverse

Camera,

Cruise Control,

Alloy's,Airbags,

Automatic

$45,995

2010 ToyotaRav-4 Ltd

2.4Ltr,4WD,NZNew,

Towbar,131,000km

$29,995

2017 HoldenBarinaLT

1.6L, 6Speed

Auto,73,000km,

Airbags,Alloys,

Leather &

Heated Seats,

NZ New,

Reverse

Camera

$29,995

2015 Subaru Impreza G4

2.0Ltr, AWD,

110,000km,

ClimateControl,

Radar Cruise

Control

$21,995

2010 Volkswagen Golf

2007 Toyota Vitz

$16,995

$14,995

$13,995

1.6LtrDiesel,

NZ New,

121,000km

1.3Ltr, Alloys,

123,000km,

Airbags

$8,995

WAS

$6,995

NOW

$6,250

3YEARS

5YEARS

5YEARS

100,000KM

FREESERVICING

UNLIMITED KM

WARRANTY

UNLIMITED KM

ROADSIDE ASSISTANCE

5YEARS

100,000 KM

FREESERVICING

UNLIMITEDKM

WARRANTY

UNLIMITED KM

ROADSIDE ASSISTANCE

Mazda2, Mazda6, MX-5, CX-3, CX-5, CX-8 &CX-9

Mazda3 &CX-30

2398446

Sales: Tim 03 3140135 |Service: Michael 03 3140131

MarkhamStreet,Amberley |Karaka Road, Waikari

www.arthurburke.co.nz

ARTHUR BURKELTD

Established 1935