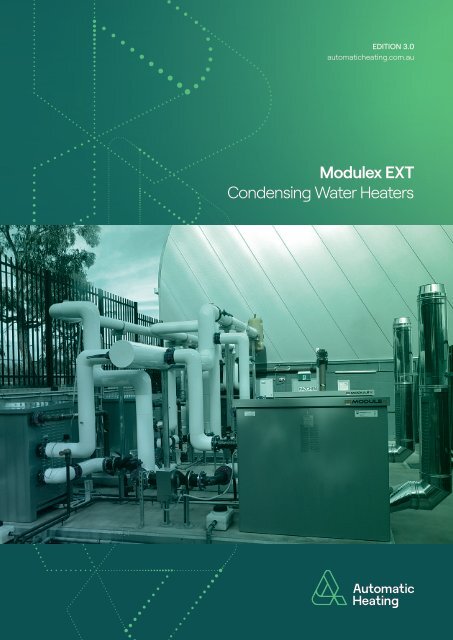 Create successful ePaper yourself
Turn your PDF publications into a flip-book with our unique Google optimized e-Paper software.
EDITION 3.0

automaticheating.com.au

Modulex EXT

Condensing Water Heaters
---
Modulex EXT Condensing Water Heaters

Modulex EXT

Condensing Water Heaters 150 – 1200kW

Modulex EXT is a new range of floor-standing

condensing water heaters that provides

an infinitely flexible solution for buildings

requiring a high output heating system.

There are thirteen floor-standing water heaters to

choose from, with outputs ranging from 150kW to

1200kW. Each one is made up of a number of selfcontained

heat generating modules forming what is,

in essence, a series of water heaters linked together

within a single casing. This modular design enables

Modulex EXT water heaters to optimise energy

efficiency and comfort levels for building occupiers

like no other water heaters available today.

Each linked module shares a single set of ancillary

components including flow and return pipes,

electronic controls and flue. This greatly eases the

installation process and, along with the internal

easy access layout of each water heater, simplifies

servicing. Compact overall dimensions and ultralow

operating noise levels gives the system designer

greater flexibility when it comes to positioning

the water heater within the building. With a host

of benefits for the consultant, contractor, client

and building occupier, Modulex EXT water heaters

provide the perfect heating solution for a wide range

of projects from hotels to office buildings, schools to

sports centres.

Each heat generating module within our Modulex

EXT water heaters is self-contained, with its own

downfiring pre-mix gas burner, fan, ignition and

safety controls. As system load decreases, a built-in

Water Heater Cascade Manager modulates the water

heater down to the combined minimum. As loads

continue to reduce, individual modules are switched

off as necessary down to a minimum output of a

single module – 12kW for 150-350kW models and

22kW for 440-1200kW models.

Product Quick Check

Type

Range

Efficiency

Outdoor Option

Fuel Type

Gas Approval Type

Condensing Premixed

150-1200kW

109% (Net) 98% (Gross)

Yes

Natural Gas, LPG

Type B (approved to AS3814)

Modulation 1:54

Cascadeable Yes

Max Pressure 600kPa

Low Nox

Yes

Building J Code Yes

2019 compliant

2

Automatic Heating
---
Modulex EXT Condensing Water Heaters

This ensures optimum load matching and minimises wasteful water heater cycling, maximising energy

efficiency in the process. The combination of a high modulation ratio up to 1:54 and a high output plus very

low water content ensures rapid warm-up and turn-down times for Modulex EXT water heaters. They are

subsequently also able to respond quickly to changing demands throughout the day. Thanks to their modular

design, Modulex EXT water heaters will continue to operate even in the unlikely event that a single module

malfunctions.

Features

• Exceptional energy efficiency

(up to 109% at the minimum modulated capacity)

• Low noise

• Ultra low emissions

• Full BMS capability.

Allows monitoring of performance and faults

• Variable Water Flow rate - Allows the water heater

to operate at a constant 20°ΔT – maintaining the

water heater at the most efficient duty point.

• Able to be supplied as dismantled - When needing

to achieve installation in tight plant rooms or

inaccessible areas, this feature can enable much

better access and often saves significant costs

involved in placing equipment via a crane from

outside the building.

Advantages

• High turndown ratio of up to 1:54 - This provides

significant energy savings, particularly for part load

or low load requirements. It also stops water heater

cycling and contributes to its very quiet operation.

• Multi burner construction - If one burner requires

maintenance, the other burners can continue to

operate, providing built-in redundancy.

• Small space saving footprint - This makes it easy

to install in plant rooms where floor space is at a

premium.

Full BMS capability

Allows monitoring of

performance and faults

Low Noise
---
Modulex EXT Condensing Water Heaters

Technical Features

Maximum Saving & Seasonal Efficiency

• High efficiency thanks to:

• Certified efficiency up to 109% at the minimum

modulated capacity

• Seasonal efficiency: + 30% if compared with the

conventional heaters

• Large modulation ratio: up to 1:54

• Modulating pump directly managed by the heater

to assure the maximum condensation at all times

Total Safety

• High reliability due to MULTI BURNER composition

and to the low number of parts in movement

• Working and safety temperature sensors on every

casting section

• Premixing within the fan with non return built-in

valve

• Auxiliary electronic circuits

• Emergency operation in case the E8 controller is

out of service

Flexibility Of Installation

• Outdoor installation: protection degree IP55

• Compact, light, of easy connection:

- Reversible hydraulic and gas connections

(up to model 350 kW)

- Smoke discharge: possible on 3 sides

(for all the models)

Low Environmental Impact

• Low polluting emissions :
---
Modulex EXT Condensing Water Heaters

Pre-assembled Thermal Elements

MODULEX EXT is an assembly of thermal modules,

together making a complete unit. Every unit is

constituted by pre-assembled thermal elements, in

Al/Si/Mg. Every element supplies, in continuous and

progressive way, from 12 to 50 kW for the models

up to 350 kW, and from 22 up to 108 kW for larger

models.

More than 10 years experience assure:

• Resistance to the corrosion of the acidic

condensate

• Very high thermal efficiency

The basic element is formed by two aluminium alloy

castings that, on the smoke side, have dense fins,

with increasing height toward the smoke discharge,

placed in lower part of the casting, in order to

increase its exchange surface.

Inside the castings there are the water channels that

zigzag cross the casting, granting an exceptional

heat transfer from combustion gases to the water.

Every thermal element is equipped with:

• Premix modulating burner

• Two stage modulating gas valve

• Electronic ignition and ionization

• NTC working temperature sensor

• Safety thermostats

• Flame sight glass

The smoke and acidic condensate of the thermal

elements are collected in a stainless steel tray.

Air/Gas

Mixture

Burner

Combustion

Chamber

Condensate

Finned

Casting

Water

Gas Valve

Burner Cover

Gas Pipe

Ignition Electrode

Ignition Probe

Local NTC Temp. Sensor

Fan

Burner

Automatic Air Vent

Global NTC Flow

Temp. Sensor

Limit Thermostat

Aluminium Alloy

Heat Exchanger

Condensate

Level Sensor

Condensate & Smoke Tray

Chimney Connection

Frame

Central Heating Flow

Global NTC Return

Temp. Sensor

Central Heating Return

Drain Tap

Condensate

Evactuation

Automatic Heating 5
---
Modulex EXT Condensing Water Heaters

Output Flexibility and Efficiency

The MODULEX EXT

exceeded all industry

requirements when it was

first conceived over a

decade ago. These days

the high standards and

benchmark qualities of this

groundbreaking heater are a

must in today's world.

Temperature (ºC)

80

70

60

50

40

30

20

Comparison of the steady state condition reaching time between a modulex

and a high intertia/water content heater

Setting option according to the

thermal needs of the central

heating system

This function enables you to

drastically reduce the number

of switching ON and OFF of the

heater (Possible customization of

the requested output)

Advantages:

• Higher efficiency and lower flue

losses when burner is OFF

• Longer lasting of the parts in

movement and of the ignition

systems

Very low water content and high

modulation speed with maximum

output ratio up to 1:54

On average a heater operates

at 50% of the thermal need of

the central heating installation

and can descend below 30%.

MODULEX EXT adjusts in real

time the output to meet demand,

because it is not influenced by

the thermal inertia, thanks to its

low water content and, being

equipped with modulating pump,

it further reduces the electricity

used.

Class A, variable speed,

electronic pumps, for the

maximum condensate production

This function promotes the

production of condensate and

therefore the fast economic

recovery of the investment. All

this in order to offer the user

the possibility to save with the

maximum comfort both, for central

heating and D.H.W. production,

with a lower noise level than the

traditional water heaters

Nominal Load 100 (%)

Effciency (%)

10

100

90

80

70

60

50

40

30

20

10

110

108

106

104

102

100

98

96

0 2 4 6 8 10 12 14 16 18 20 22 24 26 28 30

Time (min)

T1 T2 T3 T4

Time

MODULEX Ext Low Water Content Heater

Modulating flow rate pump

High Water Content Heater

After the time "T1" from the starting, MODULEX EXT succeeds in satisfying the

30% of the load unlike a traditional heater that, in the same time, is just at 15%.

After the time "T2" MODULEX EXT is at 50% of the load, while the traditional

one is at 30%. After the time "T3" MODULEX EXT is at 100% of the load and the

traditional one is only at 70%. This clearly displays the speed of the Modulex EXT

Heater

190 170 150 100 70 48

Output (kW)

+3%

Constant flow rate pump

Efficiency comparison between pump with modulating flow rate versus a

heater with constant flow rate

12

6

Automatic Heating
---
Modulex EXT Condensing Water Heaters

Modulex EXT Efficiency

Efficiency (%)

109

108

107

106

104

102

Output sharing of MODULEX EXT of 4 modules of 50 kW

50kW

12kW

50kW

12kW

12 22 50 110

Output (kW)

Modulex EXT 150 | 350

Max Output

50kW

Total Efficiency η = 102

25% Output

12kW

50kW

12kW

Modulex EXT 440 | 900

25kW

12kW

50% Output

25kW

Off

25kW

Total Efficiency η = 104

Min Output

Off

25kW

Off

MODULEX EXT has a certified

efficiency that, for all models

above 350 kW, when working

in condensation, progressively

increase up to 109% when the

output is reduced.

The genius of the thermocontroller

E8 is that it keeps

ON the greatest number of

elements as possible, working at

the smallest possible output (as

shown in the examples beside).

The system will always work in the

conditions of maximum possible

efficiency, independently from the

supplied output.

When the requested output is less

than the capacity available the

design of the Modulex regulates

evenly reducing the output of

each module to suit. Once the

minimum level for a module is

reached it is disabled in cascade

sequence.

This modular system is such

that as the number of modules

used decreases - the efficiency

increases. The flexibility of this

modular conception is ground

breaking and brings vast cost

savings through increased

efficiency.

To avoid one element module

being over used more than

others, the thermo-controller

automatically alternates usage of

all element modules evenly.

Total Efficiency η = 106.5

Total Efficiency η = 107

Automatic Heating 7
---
Modulex EXT Condensing Water Heaters

Installation Examples

With the cascade installation, the

water heater output range can

be widened to well in excess of

1200kW, multiplying output and

modulation in order to satisfy any

design demand. The space saving

(in particular the water heaters

can be installed up to 40cm from

the water heater house walls)

features of the Modulex Water

Heater are tailored specifically

with service and easy access

in mind. Replacement of old

obsolete water heaters is also

another benefit that a small foot

print allows.

Modulex EXT cascade installation

using a single hydraulic separator

Modulex EXT installation using a

hydraulic separator

Modulex EXT installation using

a plate heat exchanger

8

Automatic Heating
---
Modulex EXT Condensing Water Heaters

Performance Data

Product

Code

Output

(50/30ºc)

kW

Net

Efficiency

(50/30ºc)

%

Output

(80/60ºc)

kW

Net

Efficiency

(80/60ºc)

%

Nominal

Input

MJ/hr

Burner

Quantity

Minimum

Heat

Output

kW

Modulation

Ratio

Minimum

flow rate

in l/sec*

Design

flow rate

in l/sec

(Δt=20K)

Waterside

Pressure

Drop kPa

Total

Water

Volume

litres

Dry

Weight

Kg

Power Supply

V/A/Hz

MX150EXT 150 107 146 97 540 3 x 50kW 12 1:12 0.43 1.75 16 14 236 240/0.875/50

MX200EXT 200 107 195 98 720 4 x 50kW 12 1:16 0.57 2.33 16 18 295 240/1.208/50

MX250EXT 251 107 245 99 900 5 x 50kW 12 1:20 0.72 2.92 16 22 325 240/1.508/50

MX300EXT 303 107 294 98 1080 6 x 50kW 12 1:24 0.86 3.51 16 26 386 240/1.771/50

MX350EXT 355 107 342 98 1260 7 x 50kW 12 1:28 1 4.11 16 31 419 240/2.112/50

MX440EXT 445 109 424 98 1600 4 x 110kW 22 1:19 1.05 5.07 15 67 501 240/2.608/50

MX550EXT 558 109 530 98 2000 5 x 110kW 22 1:25 1.31 6.33 18 80 595 240/3.262/50

MX660EXT 670 109 637 98 2400 6 x 110kW 22 1:29 1.58 7.6 20 94 657 240/3.916/50

MX770EXT 783 109 743 98 2800 7 x 110kW 22 1:34 1.84 8.87 22 108 754 240/4.566/50

MX900EXT 900 109 849 98 3200 8 x 110kW 22 1:39 2.1 10.14 20 122 906 240/5.216/50

MX1000EXT 1015 109 947 97 3500 9 x 110kW 22 1:44 2.37 11.31 26 140 981 240/5.868/50

MX1100EXT 1223 109 1052 97 3888 10 x 110kW 22 1:49 2.63 12.57 26 154 1090 240/6.520/50

MX1200EXT 1237 109 1157 98 4277 11 x 110kW 22 1:54 2.89 13.82 26 168 1200 240/7.172/50

*Primary Pump must be controlled by Modulex Water Heater

Automatic Heating 9
---
Menu

Menu

Modulex EXT Condensing Water Heaters

Dimensional Data

MX150EXT - MX350EXT FRONT VIEW

FRONT VIEW

FRONT

L

L

RIGHT SIDE

RIGHT SIDE

Delivery condition for right

hand side Delivery connection condition for right

hand side RIGHT connection

770

770

387 384

387 384

318

TOP VIEW

TOP VI

318

70

70

1150

1150

106

833

106

275

833

275

390

750

390

750

Delivery

condition

for right

hand side

connection

IDE

n for right

SIDE nection

ion for right

nnection

384

384

318

62.5

318

L1

120

TOP VIEW L1

into the casing

TOP VIEW

62.5

TOP

into the casing

120

255 276

352 353

255 276

705

LEFT SIDE

352 353

705

LEFT SIDE

LEFT

Pre-cut

Flow

Left Side

Pre-cut

Gas Left

Side

390

750

750

Pre-cut

Return

Left Side

76

390

353

276

353

62

62

2025

2025

G Gas Inlet M Water Delivery S Drain R System Return

Model

Width L

mm

Width L1

mm

Connections Flow

mm

S

MX250EXT 1032 974 64 (2 ½) 64 (2 ½) 50(2) 200

S

MX300EXT 1300 1242 64 (2 ½) 64 (2 ½) 50(2) 200

MX350EXT 309 1300 1977 1242 64 (2 ½) 64 (2 ½) 50(2) 200

309 1977

*the flue connection adapter 150/200 is included in the water heater delivery

1 61 7

448

1

Connections Return

mm

1 61 7

448

1

Gas Connections

mm

MX150EXT 764 706 64 (2 ½) 64 (2 ½) 50(2) 150*

MX200EXT 1032 974 64 (2 ½) 64 (2 ½) 50(2) 150*

Ø 350

Ø 350

Flue Diameter

mm

2310

S

231

10

G

Automatic Heating

5

G
---
Menu

Menu

E

for right

ection

IDE

Dimensional Data

L1

for right MX440EXT - MX900EXT

318

nection

4

TOP VIEW

L1

TOP VIEW

into

into

the

the

casing

casing

120

120

106 106

833 833

Modulex EXT Condensing Water Heaters

275

255 276

255 276

352

352

353

353

LEFT SIDE

705

705

390 390

750 750

LEFT SIDE

384

318

62.5 62.5

RIGHT

390

750

390

750

FRONT

53

62

62

2025

2025

LEFT

1 61 7

1 61 7

1

448

1

448

TOPS

S

Smoke outlet: Left side (standard condition), Right side, Back side

Ø 350

Ø 350

309 1977

309 1977

G Gas Inlet M Water Delivery S Drain R System Return

G

Model

MX440EXT 1087 1039 100 (4) 100 (4) R 80(3) 300

MX550EXT 1355 1307 100 (4) 100 (4) 80(3) M 300

S

MX660EXT 1355 1307 100 (4) 100 (4) 80(3) 300

Ø 350

MX770EXT 1623 1575 100 (4) 100 (4) 80(3) R 300

MX900EXT 1623 1575 100 (4) 100 (4) 80(3)

53

300

S

151

2310

111 363 349

Ø 350

Width L

mm

Width L1

S

mm

Connections Flow

mm

974 53

S

151

2310

111 363 349

Automatic Heating 948

11

002

1

002

1

3 96 1 4 5 3 0 7 41 5

Connections Return

mm

M Gas Connections G

mm

3 96 1 4 5 3 0 7 41 5

948

Flue Diameter

mm

974
---
75

Menu

Menu

390

390

750

Modulex EXT Condensing Water Heaters

53 6

353

Dimensional Data

MX1000EXT - MX1200EXT

62

62

FRONT

2025

2025

RIGHT

1 61 7

448

1

1 61 7

1

448

S

S

Ø 350

Ø 350

309 1977

309 1977

LEFT

TOP

G

G

Ø 350

Ø 350

S

002

002

1

1

3 96 1 4 5 3 0 7 41 5

3 96 1 4 5 3 0 7 41 5

M

M

R

R

2310

53

53

S S

151 151

111 111 363 363 349 349

948 948

974 974

G Gas Inlet M Water Delivery S Drain R System Return

Model Connections Flow mm Connections Return mm Gas Connections mm Flue Diameter mm

MX1000EXT 125 (5) 125 (5) 80(3) 350

MX1100EXT 125 (5) 125 (5) 80(3) 350

MX1200EXT 125 (5) 125 (5) 80(3) 350

12

Automatic Heating
---
Modulex EXT Condensing Water Heaters

Case Studies

Aquamoves Lakeside Shepparton, Shepparton VIC

2 x 440kW Modulex EXT

Aquanation Aquatic Centre, Ringwood VIC

4 x 900kW Modulex EXT

Automatic Heating 13
---
Modulex EXT Condensing Water Heaters

Botanicca 3 Building, Burnley VIC

2 x 550kW Modulex EXT 2 x 770kW Modulex EXT

National Archive Preservation Facility, Mitchell ACT

3 x 440kW Modulex EXT

14

Automatic Heating
---
Modulex EXT Condensing Water Heaters

Wunggurrwil Dhurrung Centre, Wyndham Vale VIC

1 x 250kW Modulex EXT

Wodonga Hospital, Wodonga VIC

2 x 660kW Modulex EXT

Automatic Heating 15
---
Automatic Heating Global Pty Ltd

T. +613 8352 7000

E. sales@automaticheating.com.au

67 Gateway Boulevard, Epping VIC 3076

P.O. Box 35a Epping VIC 3076 Australia

W. automaticheating.com.au 18785 210615