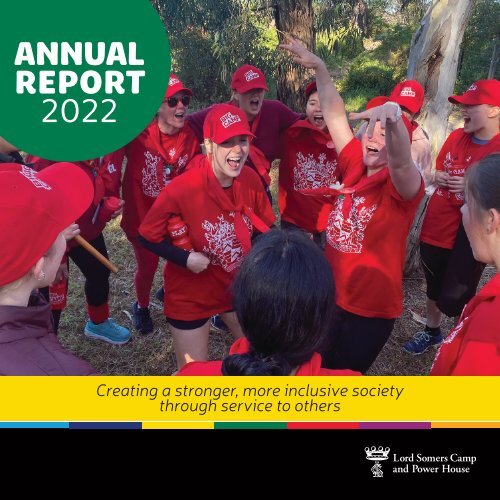 Create successful ePaper yourself
Turn your PDF publications into a flip-book with our unique Google optimized e-Paper software.
IMPACT REPORT

2020

TEXT TBC
---
Lord Somers Camp and Power House is proud to acknowledge the traditional owners

of the land where our services are located and we recognise their continuing

connection to land, waters and culture. Our services are primarily located on the land

of the Boonwurrung people, of the Kulin nation.

We strive to lead programs with our vision and values front of mind, and in doing so

embrace the inherent benefit derived from acknowledging and valuing diversity in the

delivery of programs. We recognise and celebrate diversity in gender, age, ethnicity,

religious or cultural background, disability, marital or family status, sexual orientation,

gender identity and other areas of potential different
---
CONTENTS

# - Text

# - Text

# - Text

# - Text

# - Text

# - Text

# - Text

# - Text

# - Text

# - Text

# - Text

# - Text

# - Text

# - Text
---
CEO Report

Right across our membership, the true resilience and

inspiring service contributed reminds us, in the face of

adversity, what a great community we have. So many

have worked additionally hard to continue the spirit of Lord

Somers Camp & Power House when it truly counts.

The overwhelming need for our impact has never been

clearer and whilst we remain incredibly proud of what

we've achieved in the past 12 months, it's important to

recognise the toll the pandemic has taken for many of us.

In particular I turn my thought to our young people, our

future leaders who have missed out on experiences many

of us take for granted. ####################

I would like to pay special thanks for the thousands of

collective hours our voluntary leaders, hospitality partners,

sporting and theatre tenants and committees have

contributed towards our ongoing vision: A stronger, more

inclusive society through service to others. The ongoing

passion and motivation have been widespread and

inspiring, and we are in good hands to not simply build

back our core programs & activities but to do so with

unwavering commitment to safety and care for all our

participants and volunteers.

In the meantime, casting our minds back to impact our

members contributed through the past year is worthy of

celebration. From the creative expression and laughter

experienced by 1000s from Power House Thespians take

on 3 Little Pigs, Very Special Kids virtual sibling events

and family fun day for many families, Diversity Disco for

young people living with disability, seeing over 150 lives

saved from members rolling their sleeves up to donate

blood and virtual quizzes to keep communities connected.

We also successfully activated an outdoor dining precinct

at Power House through summer that supported our

multiple charity groups whilst allowed a wide section of the

community to come together safety and enjoy some great

food and entertainment.

It would be amiss of me to also acknowledge our

participants and supporters through the Power Up

Challenge where collectively, we supported 7 amazing

local charities. This was a truly inspiring effort that allowed

barriers to break down and allowed us to celebrate and

work together on a shared vision.

Whilst there remain countless more activities and

programs that we achieved together, the key message is

that whilst the year has been difficult, and heart aching, we

can be proud of the impact we've made and the outcomes

we've achieved towards building a stronger, more tolerant,

and connected society through service to others.

To this end, this would not be possible without the ongoing

social enterprise function from Power House and Somers

together with the support and faith put into us by our

donors. Whether it was small or large, the contribution

made has allowed this impact to be achieved and we can't

wait for the next opportunity to share in this celebration

back at camp soon.

Tim Ryan

Chief Executive Office
---
President Report

TBC

TBC
---
Positive Ageing

Oldies and Goldies Camps

Who we are and what we do

For over 90 years, Lord Somers Camp and Power House has been delivering programs and initiatives (Somers +

Power House - overnight camps) that provide meaningful inclusion and engagement opportunities empowering youth,

fostering intergenerational and cross cultural relationships, with a strong sense of purpose and belonging.

LOGO - and vision - Creating a stronger, more inclusive society through service to others.

(DESIGN NOTE - emphasis on vision here..)

Predominantly funded by social enterprise activities through its Albert Park based Power House and Somers camp

facility, LSC&PH is well positioned to create meaningful change and social impact within the community.

Power House models an innovative social enterprise approach to health and wellbeing through collaborations and

partnerships with groups aligned to our values through sports, arts, hospitality and community development. Whilst our

Somers Camp site facilitates outdoor education camps for school and community groups supporting health and

wellbeing of young people.

We believe the opportunities for empowerment and development are available for everyone. Community collaborations

are at the heart of our work, providing mutually beneficial outcomes for the communities we serve and for our young

volunteers and members alike.

We are a volunteer member-led organisation governed by an experienced Board, managed by a small dynamic team

and supported by a network of 1,400 volunteers and members.

We enact our values of Fun, Friendship, Care, Belonging and Acceptance through four key program pillars:

Practice

Youth

Community

Lifelong Learning

Programs and Activities

Lord and Lady Somers Camps (Big Camp)

emPOWERme

Max

Be Deadly

Outdoor Connections

Mirabel Family Camp

Very Special Kids @ Somers

ATLAS

Camp Diversity

Community Outreach Initiative

Power House Thespian Guild

Easter Camp

Work Camp
---
VSK Member Story (pete)

TEXT TBC
---
VSK HERO PHOTO
---
PTG Member Story (Jenn)

TEXT TBC
---
PTG HERO PHOTO(s)
---
Fundraising

Prodesse Quam Conspici-service without seeking recognition underpins everything we do at Lord Somers

Camp and Power House. We celebrate the many and varied partnerships and collaborations we have with

community groups that enable our young volunteers and members to have the opportunity to develop

leadership skills, and give back through volunteering.

Funding these opportunities are a generous community of Philanthropic and Corporate Partners,

LSC&PH members and individuals to whom we say thank you.

We are incredibly fortunate to have social enterprise largely backing our program work, however funding

gaps and innovative program development is largely supported by this community. We thank the

Philanthropic bodies, Corporate Partners and LSC&PH members and individuals who have supported

through grants, appeals, in kind donations, and individual giving over this year. Funds raised largely

contribute to social impact through program support and ensuring no one misses out due to financial

difficulty.
---
Fundraising

Collaborative Approach

Community collaborations extend beyond program work into fundraising. LSC&PH are thrilled to work

alongside other organisations in delivering collaborative opportunities like the Power Up Challenge.

Collaborative opportunities such as these amplify our messages, as together we share resources to create

greater impact through shared fundraising and awareness activities.

Legacy

The introduction of our legacy program provides the LSC&PH community the opportunity to consider a gift

that will strengthen the community and empower our young people for many generations to come. We thank

those families that have supported their loved ones in the decision to share a legacy gift whether through

funding capital projects, an endowment gift to Power House Youth Leadership Foundation or participant or

program sponsorship, all gifts of any size are truly valued.
---
Somers INC

TEXT TBC
---
APAG

TEXT TBC
---
Sponsor Thank You

TEXT TBC
---
Sponsor Thank You

TEXT TBC
---
Finance Report

TEXT TBC
---
Finance Report

Numbers table and graphs here