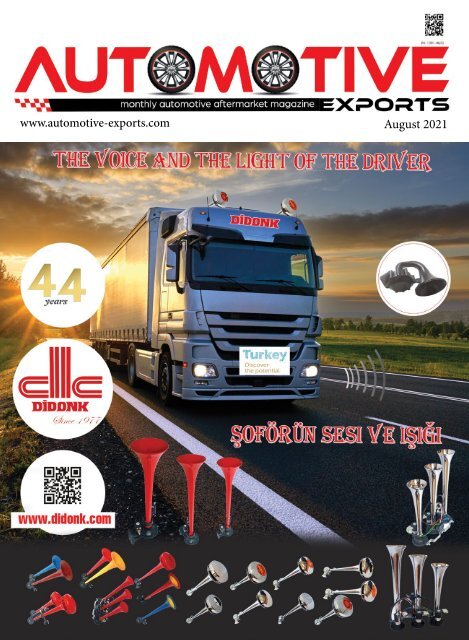 Automotive August 2021
Automotive August 2021
Automotive August 2021
SHOW MORE
SHOW LESS
You also want an ePaper? Increase the reach of your titles
YUMPU automatically turns print PDFs into web optimized ePapers that Google loves.
www.automotive-exports.com August 2021
---
Monthly automotive aftermarket magazine

GROUP CHAIRMAN

H. FERRUH ISIK

PUBLISHER:

İstmag Magazin Gazetecilik

İç ve Dış Ticaret Ltd. Şti.

Managing Editor (Responsible)

Mehmet Söztutan

mehmet.soztutan@img.com.tr

Editor

Ali Erdem

ali.erdem@img.com.tr

Mehmet Soztutan, Editor-in-Chief

mehmet.soztutan@img.com.tr

Advertising Managers

Adem Saçın

+90 505 577 36 42

adem.sacin@img.com.tr

Enes Karadayı

enes.karadayi@img.com.tr

Full steam ahead!

Turkey's automotive production and exports recorded a strong rebound this year,

data showed, following a drop a year ago due to the coronavirus pandemic.

As noted earlier in this column, the exports by Turkish automotive sector have reached

remarkable figures in the last decade. The automotive industry has been active since

the early seventies. Since the full integration to the European Customs Union in 1994,

Turkey has become a major production platform for global automotive manufacturers.

The industry with its large capacity, wide variety of production and high standards,

supports automotive industry production and the vehicles in Turkey and also has

ample potential for additional exports.

The leading foreign automotive parts manufacturers have established their presence

in the country through joint-ventures. There has also been substantial locally-owned

investments by spare parts manufacturers.

To sum up the Turkish automotive industry, we can say that:

- Quality of production improved dramatically, especially through the establishment of

quality management systems.

- The industry has adapted to the EU regulations and has established an efficient

and exemplary cooperation with public institutions in the transformation of the EU

regulations to national regulations.

- Exports have risen sharply, and Turkish production has been integrated into

manufacturers' global planning.

-The export potential of the automotive parts sector, coupled with the presence of

major international automotive manufacturers, has attracted an increasing number of

foreign investors.

Key factors which attract foreign capital inflows to Turkey mainly include the market size,

consumer composition, friendly investment legislation and banking system together

with other attractiveness arising from highly skilled human resources in production and

management, the unsaturated domestic market with high potential, easy access to

neighboring (regional) emerging markets, and low labor cost.

Indeed, the industry exhibit its full potential in major specialized fairs both at home and

abroad. We are convinced that the events would turn out to be an ideal ground for

the business people operating in the automotive business.

Our publications remain at the service of those businesses people seeking to increase

their share in the increasingly competitive foreign markets.

We wish them lucrative trade.

International Marketing Coordinator

Ayca Sarioglu

ayca.sarioglu@img.com.tr

Correspondent

İsmail Çakır

ismail.cakir@img.com.tr

Finance Manager

Cuma Karaman

cuma.karaman@img.com.tr

Accountant

Yusuf Demirkazık

yusuf.demirkazik@img.com.tr

Digital Assets Manager

Emre Yener

emre.yener@img.com.tr

Web Designer

Amine Nur Yılmaz

amine.yilmaz@img.com.tr

Technical Manager

Tayfun Aydın

tayfun.aydin@img.com.tr

Design & Graphics

Sami aktaş

sami.aktas@img.com.tr

Subsciption

İsmail Özçelik

ismail.ozcelik@img.com.tr

HEAD OFFICE:

ISTANBUL MAGAZINE GROUP

Ihlas Media Center

Merkez Mah. 29 Ekim Caddesi No: 11B/21

Yenibosna Bahcelievler, Istanbul / TURKEY

Tel: +90 212 454 22 22

www.img.com.tr sales@img.com.tr

KONYA:

Metin Demir

Hazım Uluşahin İş Merkezi C Blok

Kat: 6 No: 603-604-605 KONYA

Tel: (90.332)238 10 71 Fax: (90.332)238 01 74

PRINTED BY:

İHLAS GAZETECİLİK A.Ş.

Merkez Mahallesi 29 Ekim Caddesi İhlas Plaza

No:11 A/41 Yenibosna–Bahçelievler/ İSTANBUL

Tel: 0212 454 30 00

www.ihlasmatbaacilik.com

automotiveexport

2021

automotiveexports
---
Veoneer honored

best quality award

by Great Wall

Motor

The automotive technology company

Veoneer, Inc. (NYSE: VNE and SSE: VNE

SDB), was awarded the 2020 Best Quality

Award at the Great Wall Motor (GWM)

Annual Global Partners Conference.

On July 4, 2021, GWM arranged their

annual global partners conference in

Baoding, Hebei province, China. The

theme of the conference was 'Create

change and move forward for a win-win

future'.

"We are greatly honored to receive the

Great Wall Motor award for the 1st time.

Veoneer China is cooperating closely

with GWM on both active safety systems

and restraint control systems. GWM is

one of our most important customers in

China. We will continue strengthening

our strategic relationships and keep

delivering innovative and high-quality

solutions to GWM also in the future," said

Seven Zhang, Executive Vice President,

Customer Area China, who received the

prize on behalf of Veoneer China.

Turkey held 100

virtual trade

delegation

meetups during

COVID-19

In order not to halt trade diplomacy during

the pandemic period, Turkey's Trade

Ministry organized a total of 100 virtual

meetings with trade delegations beginning

from May of last year.

Some 1,801 producer and exporter

companies met with 4,279 foreign buyers

through 14,943 business-to-business

(B2B) virtual meetings. Virtual delegations

promote Turkish companies and products

in foreign markets when physical events

are not possible due to the pandemic

measures, such as lockdowns and travel

bans. The country has hosted 21 general

and 79 sectoral virtual trade delegation

meetings with Ghana, Qatar, South Africa,

Nigeria, Kenya, Tanzania, India, Romania,

Bulgaria, Azerbaijan, Georgia, Argentina,

Paraguay, Uruguay, Chile, Hong Kong,

Kyrgyzstan, Uzbekistan and Vietnam since

May 2020.

August 2021 8
---
Turkish

carmaker TOGG

pushes ahead

Three years since its establishment,

Turkey's Automobile Joint Venture Group

(TOGG), a consortium developing Turkey's

first homegrown car, continues its activities

at full speed.

Seen as the country's "second automobile

revolution" and revived by President

Recep Tayyip Erdoğan, TOGG was officially

established on June 25, 2018.

A former executive at Bosch, Mehmet

Gürcan Karakaş, was appointed TOGG's

chief executive officer on Sept. 1, 2018.

Erdoğan on Dec. 27, 2019, unveiled

prototypes for a sport utility vehicle

(SUV) and a sedan, both fully electric and

C-segment models.

A consortium of five major companies,

TOGG will produce five different models

– an SUV, sedan, C-hatchback, B-SUV and

B-MPV – through 2030.

Mass production of the SUV will begin in

2022, with the sedan to follow.

Construction of TOGG's engineering, design

and production facilities began on July 18,

2020. The facility, built on an area of 1.2

million square meters (12.9 million square

feet) in the Gemlik district of northwestern

Bursa province, is planned for completion in

early 2022.

Around 4,300 staff will be employed within

TOGG, which will include at least 30% female

employees. As for suppliers, TOGG has

reached deals with 10 global corporations –

75% of them from Turkey and the remaining

25% from Europe and Asia.

TOGG named Sergio Rocha – a leading name

in the auto industry who managed projects

in the U.S., Europe and Asia – its chief

operating officer in November 2019.

The former chief designer of global car

brands such as Volkswagen and Mercedes,

Murat Günak, was appointed as head of

design at TOGG in April this year.

Talin Yıldız returned from France to Turkey to

become chief marketing officer.

TOGG chose advanced lithium-ion battery

technology company Farasis as its business

partner for the battery.

The homegrown car will reach 80% charge

in under 30 minutes with fast charging. It

will have a range of between 300 to 500

kilometers (186-310 miles).

Acceleration from 0 to 100 kph (0 to 62

mph) will be in 7.6 seconds with 200

horsepower, and under 4.8 seconds with a

400 horsepower engine.

TOGG announced in April that its C-SUV

model received the iF Design Award 2021,

one of the most prestigious design awards in

the world and a first for a Turkish brand

August 2021 10
---
Turkish automotive

sales mark highest

figures in 4 years

Sales of passenger cars and light commercial

vehicles across Turkey rose 12.5% yearon-year

in June to 79,819 vehicles, the

Automotive Distributors Association (ODD)

said.

The year-on-year growth rate marked a

slowdown from the extremely high levels

in previous months, as the base effect from

last year's pandemic-related slowdown

evaporated. However, this figure still

showed that June 2021 was the month with

the highest sales in the last four years. The

association forecast that sales of passenger

cars and light commercial vehicles would

amount to between 775,000 and 825,000

this year.Sales last year stood at 773,000.

Passenger cars accounted for 78.6% of the

sales with 310,325 units, a 52.4% rise from

the same period last year. A total of 84,376

light commercial vehicles were sold from

January to June, up 67.2% on an annual

basis.

August 2021 14
---
Reusable

Packaging by

CHEP

Engin Gökgöz, Key Automotive Customers' Leader in European Region

Established in Australia as part of Brambles

Group, an international supply chain brand,

CHEP offers supply chain solutions that

optimize business processes in the the

consumer goods, fresh food, beverage,

automotive, industrial, manufacturing

and retail sectors. Equipment rented

from CHEP is collected after use, regularly

maintained and repaired, and put back

into service. That's how costs in equipment

management are reduced and the

efficiency of the supply chain is increased.

Engin Gökgöz, Key Automotive Customers'

Leader in European Region, said that CHEP

which had a circulation network of more

than 330 million pallets, containers, and

crates in 59 countries with more than

11,000 employees, had been operating in

Turkey since 2009.

What service do you offer for the

automotive industry?

We are an equipment-rental company

offering end-to-end solutions for

the top vehicle manufacturers and Tier1

brands globally since 1975. CHEP's business

model is inherently based on the concept

of "Share and Reuse". We call it 'pooling'.

With the CHEP Pooling System, one gets

the containers one needs from us on

a rental basis. We believe that sharing

and reusing packaging equipment makes

them more sustainable; that's why our

containers cannot be purchased. Under

this principle, it doesn't matter whether

you are a small local start-up or a company

supplying the whole of Europe with

your products. CHEP controls the entire

administrative procedure, collection and

quality assurance of the containers &

crates in a closed-loop system.

As the automotive industry adopts to

produce circular business model to

produce more efficient and sustainable

electric vehicles, it needs to take

important steps to prevent waste

from happening during supply chain.

Manufacturers and suppliers that use

disposable cardboards to deliver products

cause the industry to generate more waste

and generate carbon emissions due to

inefficient packaging management. CHEP's

business model based on sharing and

reuse raises the sustainability of processes

by eliminating potential waste.

What are the properties of your

products?

Plastic containers & crates, which we

maintain and repair before use, are way

more robust compared to cardboard

boxes. They are exclusively designed to

serve automation systems. In addition, we

always guarantee the packaging supply

that our customers need, regardless of

fluctuations in demand. That's how we

eliminate warehouse costs and problem

of client regarding not finding containers

on time. In the meantime, being part of

the CHEP network means less waste for

everyone. Thanks to our strong global

network, collection and return trucks

travel less distance and containers

arrive faster. We also help create new

collaboration opportunities with our

tracking solutions that terminate the risky

and inefficient transportation of costly and

critically important loads.

August 2021 16
---
How about other benefits your system

offers to manufacturers

First things first, we eliminate questions

like 'where is my product?' or 'if it is lost

or not?' in the minds of manufacturers.

Additionally, manufacturers get rid of

high costs of the procedures. More

importantly, there's the 'standards issue'

in the production line. Apart from the

supply of materials to transport the

product, there is a 'customs dimension' of

the overall delivery in export. Our clients

do not have to go through all that hassle

while dealing with customs while sending

or supplying products. I strongly advise

whoever concerned about not dealing

with customs or regulations or not harm

the environment by using cardboard boxes

to switch to our share and reuse model

to deliver their products to Europe at

reasonable costs.

What do you think Turkey's role is for the

automotive industry?

The picture of a global automotive industry

is not complete without Turkey. Our

country is an export country serving the

sector. Therefore, we must have very good

relations, especially with Europe. There are

plenty of successful companies in Turkey.

How would you comment on global lack

of containers recently faced?

As has been mentioned, we are a very

strong player in the sector. Manufacturers

stopped their contactor orders from China

during the pandemic. A huge demand

arose for those products to be used in

vehicle manufacturing, which should come

from China, and the demand remained

unsolved. This eventually led to container

crisis. Because the containers of the

production lines remained in Europe,

companies had to face a serious container

problem.

How did you manage to sort it out?

Firstly, your storage area needs to have

been built with smart systems. It was not

possible to respond to those problems

solely with containers. Our global pooling

is solid enough to respond to fluctuations

as such. Of course, there may be minor

problems that might arise with us, too,

such as delays. Being a company that

operates globally in terms of competition

gives us advantage since we are able to

meet all sorts of needs in 60 countries.

As you know, the manufacturing of the

domestic automobile, TOGG is expected to

start in 2023. Have you considered taking

part in it?

TOGG is a project that excites us like

everyone involved. Of course, we'd love to

be a part of it. For that to happen, TOGG's

suppliers need to be identified. As we are

experienced through our similar dealings,

we would love to provide support after

details are clarified.

17 August 2021
---
Volkswagen

plans to halt sale

of combustion

engines in

EU by 2035

Volkswagen plans to halt production of cars

with internal combustion engines in Europe

for its eponymous flagship brand between

2033 and 2035, the German automotive

giant announced as it accelerates its drive

toward electric vehicles.

Carmakers around the world have started

setting timetables to phase out combustion

engines in the face of increasingly strict

anti-pollution standards put in place to

fight climate change, with Volkswagen's

electric push also following lingering

reputational harm from the "dieselgate"

scandal.

Klaus Zellmer, board member for sales

and marketing at Volkswagen's passenger

cars brand, told the Bavarian newspaper

Muenchner Merkur that "we will make

our entire fleet CO2 neutral by 2050 at the

latest.

"In Europe, we will leave the combustion

engine vehicle market between 2033 and

2035," he said in an interview published

online. He added that the change will take

place "a little later in the United States

and China. In South America and Africa,

due to the lack of political framework

conditions and infrastructure, it will take a

little longer." Volkswagen's flagship brand

had already said in March it was aiming

for electric vehicles to account for 70% of

its European sales by 2030. Zellmer said

that "as a mass-market manufacturer,

VW has to adapt to different speeds of

transformation in different regions."

"Our competitors who sell vehicles mainly

in Europe, for example, will certainly have

to face a far less complex transformation."

Audi, a subsidiary of Volkswagen,

announced it would launch only fully

electric vehicles from 2026 and halt

manufacturing cars with internal

combustion engines by 2033.

Sweden's Volvo has said it plans to sell only

electric models from 2030.

The European Union will unveil tougher

2030 CO2 emissions targets and regulatory

proposals on July 14, which are expected

to force carmakers to speed up the

transition to electric cars. Volkswagen's

electric push has additionally been

accelerated by its "dieselgate" scandal,

which rocked Germany's car industry and

cost the company dearly in both cash and

reputational harm. Legal cases grind on

over Volkswagen's admission in 2015 that

it illegally fitted 11 million diesel vehicles

worldwide with software to make them

appear less polluting.

August 2021 20
---
EVs to be

cheaper to

produce than

fossil fuel

vehicles by 2027

Electric vehicles (EVs) will be cheaper to

produce compared to fossil fuel-powered

vehicles by 2027, according to a study

published.

A drop in the cost of making batteries will

make EVs cheaper to buy, while stricter

emissions regulations could enable them to

take a sizeable chunk of the market share

within the next decade.

The manufacturing costs of larger vehicles

such as electric sedans and SUVs will be as

cheap as that of gasoline and diesel models

by 2027, with small cars reaching the

threshold the following year, according to

a study by Bloomberg New Energy Finance

(BloombergNEF).

Electric vehicles reaching price parity

with the internal combustion engine is a

significant step in the worldwide transition

away from conventional burning fossil

fuels. The decreasing production costs of

batteries and dedicated production lines

in carmakers' plants will make electric

vehicles cheaper to buy than conventional

cars within the next six years, even before

any government subsidies, BloombergNEF

found.On average, the current pre-tax

retail price of a medium-sized electric car

is 33,300 euros ($40,133.94) compared

to 18,600 euros for a gasoline car, while

both are expected to cost about 19,000

euros in 2026.By 2030, an electric vehicle

is estimated to cost 16,300 euros before

tax, while a gasoline car would cost 19,900

euros. Forecasters are in agreement that

the cost of new batteries will continue to

fall in the coming years.

New battery prices will decrease by

58% throughout this decade to $58 per

kilowatt-hour, the Transport&Environment

organization suggests.

A reduction in battery costs to below $100

per kWh is viewed as a key milestone

towards the greater proliferation of electric

vehicles while it would also mitigate the

financial appeal of hybrid models, which

combine a battery with a conventional

engine.

Despite the coronavirus pandemic, electric

vehicle sales boomed in 2020, the first

year in which European consumers bought

more than half a million electric cars, and

the global sales in the first quarter of 2021

were 2.5 times higher year-on-year.

Germany is by far the biggest single

market for battery-electric cars in Europe,

with 64,700 sold in the first quarter.

That performance was helped in part

by generous subsidies to help its auto

industry. Norway in 2020 was the first

country in the world where more electric

cars were sold than fossil fuel cars, thanks

to generous subsidies.

The United Kingdom became the second

largest electric vehicle market in the first

quarter of 2021, surpassing France. Battery

electric comprised 7.5% of U.K. sales in the

first three months of 2021, almost doubling

the market share compared with the same

period in 2020.

While new emissions rules partially

enabled the rise in sales, environmental

campaigners are calling on governments to

introduce tougher regulations.

The U.K. government plans to ban the sale

of new fossil fuel vehicles from 2030, while

European companies have called on the

EU to set 2035 as the end date for selling

combustion engines.

The relatively higher previous price of

electric cars was one of the main reasons

preventing more people from buying them.

However, reduced cost is seen as critical to

make them more attractive to consumers.

Increased range and charging infrastructure

would also bolster a higher demand, as is

the case in Norway.

August 2021 22
---
Turkish firm's

helicopter

engines' local

utilization

exceeds 50%

The rate of domestically produced parts

in the ongoing production of engines that

power the Turkish-built T-70 multi-role

helicopters has surpassed 50%, the head of

Turkish Aerospace Industries' (TAI) engine

manufacturing subsidiary said.

Mahmut Faruk Akşit, general manager

and CEO of TUSAŞ Engine Industries (TEI),

told that the engines that will power the

T-70 Black Hawk helicopters – based on

the Sikorsky Aircraft S-70i Black Hawk –

are currently being produced in company

facilities in central Eskişehir province within

the scope of the General-Purpose Helicopter

Program (GMHP), one of Turkey's most

important aviation programs.

Akşit said that within the framework of

the project, the body of the helicopter

was produced by TAI, its engines by TEI, its

avionics by another Turkish defense giant,

Aselsan, and the main gear that turns the

propeller by Alp Aviation.

The T700-TEI-701D engine production

initially started a few years ago and,

according to what Akşit said, they have been

constantly increasing the local utilization

rate.

He said they have come to manufacture

almost every part of the engine at the TEI

facilities, including the combustion chamber,

which is the most critical hot zone part.

"We have completed almost all of the

qualification tests. There is a final test, and

when we pass it, we will be able to sell the

combustion chamber to the world market

with a certificate, and if we can make an

agreement with General Electric (GE), we

will be able to sell it to them," he said.

The company so far has produced 47

domestic helicopter engines of the T700-

TEI-701D type and delivered 36 of them

to TAI. The rest will also be delivered after

completing the qualification tests.

"As of now, we are in a position to

produce an engine almost once a week,"

the company head said. Akşit stated

that producing engines and maintaining

and repairing them require separate

technologies. He emphasized that as TEI

they have both capabilities.

This capability has thrust them into an

important place in terms of the global

market, he said.

"We have become one of the major

maintenance centers for T700 engines in the

world. We also maintain the T700 engines

that we do not manufacture. We have

maintained some Sikorsky engines that care

currently in the fleets of the gendarmerie

and police."

August 2021 26
---
Turkey mulls action plan

on EU green pact to

transform economy

Turkey's presidential action plan on the European Green Deal,

which has been on the country's agenda for a while, was

published in the Official Gazette.

The circular on the "Green Reconciliation Action Plan" was

prepared by the Trade Ministry and ensures the forming of

the "Green Reconciliation Working Group" to monitor the

implementation of the action plan and make the necessary

coordination possible.

In the presidential circular, President Recep Tayyip Erdoğan

stated that the "2030 Agenda for Sustainable Development,"

which came into effect with the unanimous vote of 193 member

states, including Turkey, under the umbrella of the United

Nations, aims to end poverty and increase welfare, as well as to

contribute economically and effectively to the global fight against

climate change.

The president stated that he envisages making it an integral part

of a socially inclusive development model.

The published circular emphasized that policies to combat

climate change have gained momentum in this direction and that

the goal of achieving sustainable economic growth has brought

climate change to the center of international economic and trade

policies.

The EU on Dec. 11, 2019, announced that it will adopt a new

growth strategy that will transform its economy with the

"European Green Consensus," while Erdoğan pointed out that

other leading actors of the international economy should set

targets for the green transformation of their economies in the

following period.

The changes envisaged in EU policies with the European Green

Deal hold great importance in line with the transformation in

international trade and the economy, the circular stressed.

It also stated that Turkey's 2023 development goals in terms

of protecting and improving the country's competitiveness in

exports, which is the locomotive of the national economy, and its

contribution to the global economy with the advanced economic

integration established within the scope of the customs union

with the EU will be improved.

To overcome climate change and environmental degradation,

the EU deal is set to transform the bloc into a modern, resourceefficient

and competitive economy, ensuring net-zero emissions

of greenhouse gases by 2050 and economic growth decoupled

from resource use.

All 27 EU member states committed to turning the EU into the

first climate-neutral continent by 2050 and, to achieve this

goal, they pledged to reduce emissions by at least 55% by 2030,

compared to 1990 levels.

The action plan will contribute to Turkey's transition to a

sustainable, resource-efficient and green economy, while

providing a road map to adapt to the changes included in the

EU pact, "in a way that will preserve and further the integration

provided within the scope of the EU Customs Union with Turkey."

Meanwhile, to assist the Working Group, specialized working

groups can also be formed in case of need that would include

universities, nongovernmental organizations (NGO), professional

associations and representatives of the private sector.

August 2021 27
---
Ford Otosan CEO Haydar Yenigün

EBRD, Ford Otosan charge

ahead with big EV lending

The European Bank for Reconstruction

and Development (EBRD) is supporting

the production of a range of next

generation all-electric and plug-in hybrid

variants of one-ton commercial vehicles

for the European market by arranging

a 650 million-euro loan to Ford Otosan,

US automaker Ford's joint venture with

Turkey's Koç Holding, according to a

statement from the bank on July 14.

The financing, shared by the EBRD

and commercial lenders, is part of the

bank's drive to fund the green transition

and supports Ford's aim of leading the

electrification of the automotive industry

for a climate-friendly, more sustainable

future, said the statement.

Ford Otosan is Europe's leading commercial

vehicle manufacturer. It announced in

March that it will open the first integrated

electric vehicle (EV) factory of Turkey in

the industrial Kocaeli province in 2022 to

manufacture new-generation commercial

vehicles and batteries. The investment

worth 2 billion euros ($2.4 billion) is

expected to produce 3,000 direct and

15,000 indirect jobs at the first phase of the

factory, according to the firm.

The financial package consists of a 175

million-euro loan for the EBRD's own

account and 475 million euros in debt

syndicated to other lenders under the

bank's A/B loan syndication structure.

Participating lenders include Akbank AG,

Bank of China, BNP Paribas, Emirates

NBD Bank, Green for Growth Fund, HSBC,

Industrial and Commercial Bank of China,

Mediobanca, MUFG, QNB and Société

Générale.

EVs are seen as key to the future of

transport, as more and more governments

move to decarbonise the industry to speed

up reductions in greenhouse gas emissions

and combat climate change.

The new one-ton Ford Transit Custom will

be launched in the first half of 2023. The

battery-powered EVs and plug-in hybrid

variants will substantially reduce harmful

emissions, promoting a more climatefriendly

transport option.

Arvid Tuerkner, EBRD Managing Director

for Turkey, said: "Electric vehicles are

a promising step towards lowering

greenhouse gas emissions from the

transport sector and I am pleased that

the EBRD is able to support Turkey in

becoming a European hub for commercial

EV production, bringing in know-how,

producing jobs and promoting a lowcarbon

economy. I am also delighted that

we were able to attract sizeable financing

from commercial lenders, reinforcing

our commitment to mobilising private

investment for global priorities."

Ford Otosan CEO Haydar Yenigün said:

"As Ford Otosan, the leading commercial

vehicle manufacturer in Europe, we

are proud to sign one of the biggest

financing agreements in the automotive

sector with the EBRD within the scope

of our largest automotive investment in

Turkey, as previously announced. With

this strategic investment, as the country's

leading exporter, not only of vehicles but

also engineering and technology for many

years, we will have the opportunity to

work on advanced technologies that will

contribute to the national economy and

produce more sustainable products for a

greener world."

Turkey exported more than 900,000

vehicles to 180 countries across five

continents last year and the automotive

industry's exports in 2020 exceeded $25

billion amid the COVID-19 pandemic.

Ford Otosan generates 25 percent of

Turkey's total automotive production and

exports, and it employs 12,500 people

currently. Previously, the firm produced

Turkey's first electric commercial vehicle

- Custom PHEV. The EBRD is a leading

institutional investor in Turkey and, to date,

has invested more than €13 billion in the

country through 341 projects, with 96 per

cent of those in the private sector.

August 2021 28
---
Turkey's auto

market grows

72% in first 5

months of 2021

Turkey's automobile and light commercial

vehicle market grew by 72% in the

January-May period compared to the

previous year, official data showed.

According to data from the Automotive

Distributors Association (ODD), the sector

sold 314,882 units during the first five

months of 2021, a marked improvement

over the 183,095 units sold in the first five

months of last year.

Automobile sales increased by 69.2%

year-on-year in the five months this year

to 247,977, while light commercial vehicle

sales jumped by 83% to 66,905 units.

In May, a total of 54,734 vehicles were

sold. The figure, which was 32,235 in May

2020, revealed that the automobile and

light commercial vehicle market grew by

69.8% in May alone.

May automobile sales, when compared

to the same month of the previous year,

increased by 72.1% to 43,138 while the

light commercial vehicle sales increased by

61.9% to 11,596.

According to the average sales figures for

the last 10 years in May, however, this

year's automobile and light commercial

vehicle market sales shrank by 20.7%,

with an 18.2% drop in the automobile

market and a 28.6% drop in the light

commercial vehicle market. Vehicles in

the A (minicompact), B (subcompact)

and C (compact) segments with low tax

rates constituted 85.8% of the overall

automobile market.

Compact cars had a share of 55.5% with

137,711 units while subcompacts held a

29.6% share with 73,364.

When evaluated according to body types,

it was revealed that the most preferred

body type in the automobile market was

sedans with a share of 41.6% and 103,259

units sold. SUVs and hatchbacks followed

sedans with a 33.9% share and 83,949

sales, and with a 22.5% share and 55,760

sales respectively. In the first five months

of the year, a total of 157,822 gasolinepowered

cars were sold accounting for

a 63.6% share, which was followed by

diesel cars with a share of 23.6% and

sold units of 58,445. Hybrid cars' share

in the total market was 7.8% and a total

of 19,457 hybrid cars were sold in the

first five months. Autogas (also known as

liquified petroleum gas or LPG) car sales

recorded a share of 4.7% and 11,636 units.

Meanwhile, some 617 electric cars were

also sold in the market in the January-May

period. In terms of engine volume, sales of

cars under 1600cc increased by 61.4% to a

share of 90.4%, sales of cars in the 1600-

2000cc range increased by 4.8% to a share

of 1.2% and sales of cars over 2000cc

increased by 143.5% to a share of 0.3%.

According to the emission levels of the

automobile market, cars between 100-120

g/km had a share of 36.8% with 91,330

units, and automobiles between 120-140

g/km had a share of 32.3% with 80,080

units. The measurement of g/km shows

how many grams of carbon dioxide a car

generates per kilometer driven.

August 2021 30
---
Automotive

industry goes

green

A supplier to many automobile

brands, Coşkunöz Metal Form

will be a role model for the entire

automotive industry with its zero

waste operations through generating

its own energy.

Manufacturing dozens of components such

as doors, hood covers and chassis that form

the body of an automobile, Coşkunöz Metal

Form is the supplier to many renowned

automobile brands. The brand, which gives

importance to issues such as going green

and zero waste through production, is

committed to becoming a role model for

the entire industry. Informing us of many

details on export and R&D studies, Barış

Murat Karaadak, the GM at Coşkunöz Metal

Form, underlines that Turkey is the country

that the global automotive industry is in

need of.

Would you talk a bit about the foundation

of Coşkunöz Metal Form?

The foundation of Coşkunöz Holding dates

back to 1950 by M. Kemal Coşkunöz,

(aka, Kemal, the teacher). Today,

Coşkunöz Holding's main field of activity,

the automotive supply industry, took

place in the early 60s with the start of

manufacturing steel profiles from sheet

metal. In 1966, Coşkunöz Metal Form's

factory in Bursa was founded. Coşkunöz

Metal Form, which started operations in

1968, is obviously the flagship of Coşkunöz

Holding. Coşkunöz Metal Form is the

supplier to many automobile brands such

as Ford, Renault, Nissan, Dacia, Hyundai,

Honda, Volkswagen, Mercedes Benz, Türk

Traktör and Stellantis (Fiat, Peugeot and

GM). On the other hand, we strive hard to

becoming a reliable and strategic solution

partner in the global arena.

General Manager of Coşkunöz Metal Form

How about your manufacturing capacity

and the technology benefited?

We manufacture dozens of components

that make up the body of a car, like doors,

hood covers, chassis, exterior and body

sheet metal parts, fuel tanks, glove box

cross members, rear axles, engine cradles,

swinging arms, simply all parts related to

chassis. Over 1,200 people are employed

in our company, which has a closed area

of 60000 sqm. We process 120 thousand

tons of steel per year as raw material. This

amount marks quite something in our

sector. Coşkunöz Metal Form is one of the

market leaders, manufacturing pressed

sheet metal parts for the automotive

industry. In the meantime, we work

either directly or indirectly with almost

August 2021 32
---
all the original automotive equipment

manufacturers (OEMs), both internationally

and locally.

Are you planning on new investments?

We have a factory construction that is

solar-powered. We believe the factory will

be a role model, because we want it to fully

operate on solar energy, which will serve

our aim to go fully green.

What does it take for a factory to be

categorized as 'green'?

First off, we plan to use solar energy. I'm

talking about a factory that is solar-walled,

with the roof covered with solar panels to

generate the energy needed. We already

use some technical features such as heat

pump on the ground. We are determined

to build a green factory by increasing

the capacity of those technologies and

integrating potential others that we do not

have in the factory. The goal is to recycle as

much energy and heat you have emitted as

possible. To be able to do that, you need a

design that is precisely made. If one designs

products using excessive and unnecessary

raw material, it not only harms the nature

but also leads to the depletion of world

resources. Whatever we need in nature is

in abundance. We just need to do our full

share of work and ask of nature for only

what we need for production.

There is a fast-paced change in the sector,

in favor of electric vehicles. How do you

think you will be keeping up?

To be honest, the automotive industry

undergoes a major transition in terms of

production. Of course, change is inevitable,

but no matter what, cars must have a

body, a skeleton, and that's what we do…

We manufacture what is needed. In the

meantime, different products are on our

agenda, like aluminum high-strength steels,

battery carriers for new-generation cars.

As the use of electric vehicles is increasing,

we are considering AL Battery Carrier,

which will surely make a difference in our

product portfolio in line with our strategies

and developmental goals. We will deal

more with value-added products such as

chassis parts that require more assembly

and labor. In that regard, we carry out our

R&D studies with a team of 80 people, with

a budget of approximately 4 million Euros

per year.

Where do you think Turkey is in terms of

this very industry?

Our sub-industry is really strong. We

also have no issues in terms of about

our all personnel. As a country, we have

everything to prepare the meal, so to

speak. I think we should focus more

on software, because in the future, the

software, which is 40% on vehicles now,

seems to increase and vehicles will turn

into robots. We should not miss the train.

To conclude, there is a great need to our

country for this sector in terms of suppliers,

infrastructure, quality and workforce.

Europe needs our resources. We should

take advantage of the situation.

You have been honored with several

awards from MESS (Turkish Metal

Industrialists' Union). Can you tell us

about what they were for and their R&D

processes?

We have been granted with 3 awards

in return for our 3 R&D projects, which

are 'Human Detection Using Artificial

Intelligence in Press Lines', 'Ceiling Crane

Centering Laser Sensor' and 'Automatic

Labelling'. Thanks to our R&D studies,

we have developed a system to identify

human and human limbs by using cameras

supported by artificial intelligence. That's

how we ensured that the press would stop

automatically for all the potential risky

combinations. The other one is that we

developed an automatic device, suggested

by our operators, to reduce the physical load

the operators had to undergo. That's how

we have managed to minimize the load for

the staff doing sheet marking process. We

prioritize the goal of zero error by constantly

handling all the production processes in

terms of occupational health and safety.

33 August 2021
---
How would you comment your export

activities and engagements abroad?

As was mentioned, Coşkunöz Metal Form is

the supplier to several automobile brands.

We are one of the largest 100% domestic

companies in its field in Turkey. Our indirect

export is nearly 80%, 25% of which is

directly exported.

We have stepped up the gas pedal to

establish strategic collaborations through

project partnerships in mass production

and automotive mold production across

the automotive markets in Europe,

North Africa, American Continent, Turkic

Republics and Russia in line with our goal

of becoming a globally reliable solution

partner.

We began our first investment abroad

in Russia in 2012 to realize our aim of

becoming a global business partner. We

manufacture for Stellantis (Peugeot-

Citroen), Kamaz, Aurus as well as Ford

Sollers, through Coşkunöz Alabuga, one

of our holding companies operating in the

Tatarstan Special Economic Zone Alabuga.

As Coşkunöz Alabuga, we are very proud

to have undertaken the body production

of their first luxury-class, domestic cars

and the Aurus vehicles used by President

Putin himself. With our Alabuga Company,

we are to manufacture all molds and serial

sheet metal parts for limousine, SUV, MPV

models of Aurus. We made our second

investment in Russia in 2016 in partnership

with PJSC MMK Group of Companies, one

of Russia's largest steel manufacturers.

MMK Coşkunöz Alabuga became the

first company in the region that provides

automobile manufacturers with pressed

sheet body parts. Coşkunöz MA,

established in Romania, whose investment

was completed last year, manufactures

pressed and assembled sheet metal parts

for Renault and Dacia using cold forming

and rollform technologies.

August 2021

34
---
Turkey's auto

production and

exports record

strong rebound

Turkey's automotive production and

exports posted a strong rebound from

January through May, data showed,

following a dramatic drop a year ago due to

the coronavirus pandemic.

The output, including light commercial

vehicles, tractors and automobiles,

amounted to 532,441 units in the

five-month period, marking a 28.2%

year-on-year increase, the Automotive

Manufacturers Association (OSD) said.

Many Turkish factories halted operations

last March, soon after the first COVID-19

infection was recorded.

After a strong economic rebound in the

second half of 2020, new virus-related

lockdowns were adopted in recent months

but did not affect production.

The automotive production last year

narrowed by 11% versus 2019 and

decreased by 34% year-on-year in the first

five months.

While the sector surpassed 2020 figures,

it has yet to reach 2018 and 2019 figures,

when production stood at 712,022 and

625,946 units, respectively.

Passenger car production also soared by

22.7% to 353,580 in the same period.

On the sales side, the auto market,

including light trucks and other vehicles,

expanded by 73.8% compared to the same

period last year, reaching 328,679 units in

the first five months of this year.

Automotive industry exports soared by

37.3% to $12.29 billion (TL 102.9 billion)

during the same period. The sector's

exports also increased by 18% to reach

391,070 units on a quantity basis year-onyear

in the January-May period.

In May, the automotive output, including

all types of vehicles, increased by 31.2% on

a yearly basis to reach 82,860 units.

Exports surged by 16.8% to 51,873 units

on a quantity basis and by 61.4% to $1.9

billion on a value basis versus the same

month last year, the data showed.

Turkey imposed curfews, weekend

lockdowns and restaurant closures in

December but manufacturing and the

broader economy were unaffected.

Some of the restrictions were eased

in March before a full lockdown was

reimposed at the end of April due to

surging COVID-19 cases.

The country has been gradually easing

measures since mid-May.

August 2021 38
---
100% 'Made in

Turkey' electric

buses ready for

mass production

Turkey's first 100% locally-manufactured

and fully electric bus, Avenue EV is

ready for mass production, one of the

manufacturers said in a statement.

The vehicle will be jointly produced by

Turkish automotive company Temsa – a

venture of Sabancı Holding and the

Netherlands-based PPF Group – and

Turkish defense giant Aselsan.

As part of an agreement between the

two manufacturers, the Avenue EV, the

first domestic electric bus of the Turkish

automotive industry, will be equipped with

Aselsan's electric traction systems.

Avenue EV, which was locally designed

by Aselsan and developed with an

environmental perspective considering

global needs, can reach a full charge in

15 minutes thanks to its short charging

feature. It can travel 80 kilometers (59

miles) on single charge and can provide 24-

hour uninterrupted service with short-term

charging at stops.

The environmentally friendly bus, with zero

carbon emissions and an electric traction

system, is also a silent, comfortable, highperformance

vehicle and equipped with

the latest technology.

Some components of the vehicle, such as

the electric motor, traction inverter, main

computer and the instrument panel, which

were usually imported from abroad by

Turkish companies before, were designed

and manufactured locally by the defense

giant, giving Avenue EV the highest

localization rate in Turkey's automotive

sector.

Temsa CEO Tolga Kaan Doğancıoğlu

said, Temsa has been making a series of

investments in electric vehicles, smart

vehicles and autonomous vehicles with the

vision of "Smart Mobility" for a long time.

The transformation produced by electric

vehicles, which depend on sustainable

energy sources, is critical for them.

"We are proud of where we are today,"

he said, adding that they are "happy to

have the Avenue EV, a high-performance,

efficient and environmentally friendly

electric bus developed as part of Temsa's

vision with Aselsan's technological knowhow

and is ready for mass production."

The project, which was launched in 2015,

is a historical step for both the country and

the industry, as well as being a big move

in terms of supporting and encouraging

domestic and technology, Doğancıoğlu said.

"At Temsa, we will continue to have a say in

every field of electrification in the future,"

he said.

For his part, Aselsan Deputy General

Manager Ibrahim Bekar said the company

has transferred its proven defense sector

knowledge and experience, like commandcontrol,

power electronics, engine control

and mission computer systems, to the

electric vehicle sector with this project.

Emphasizing that they set out with the aim

of contributing to the country's economy

with products with high added value,

Bekar said, "We have developed Avenue

EV, a high-tech product that is suitable for

modern cities."

Bekar said that adding value to the country,

the environment, business partners and

employees in every field they operate in is

their top priority.

"We are proud of this successful

cooperation with Temsa, which is among

the most important players in the

automotive industry, and have the same

approach as us," he said.

August 2021 40
---
Deeper customs

union to work for

both Turkey and EU

Turkey once again reiterated the view

that an expanded European Union-Turkey

Customs Union deal with its largest market,

Europe, would be in the best interest of

both sides.

Launching negotiations to update its

content offers a set of fresh opportunities

and would carry even further the

commercial and economic relations

between Turkey and the EU, Trade Minister

Mehmet Muş said, following his visit to

Brussels.

"Updating the customs union is

economically beneficial for both Turkey and

the EU. Everyone agrees here," Muş told

reporters.

His remarks came after he met with the

EU's trade commissioner and European

Commission vice president, Valdis

Dombrovskis, and EU Commissioner for

Economy Paolo Gentiloni.

"We held very fruitful negotiations in which

we discussed trade and economic relations

and the positive agenda between Turkey

and the EU with the two most important

names responsible for the economy and

trade of the EU," the minister said.

The host of disagreements between

Ankara and Brussels over recent years

has been stalling the negotiations for the

modernization of the customs union. A

deeper 1990's-era trade agreement would

be expanded to services, farm goods and

public procurement.

The customs union expansion would bring

Turkey, an EU candidate for membership

of the bloc, fully into the internal market

of the world's largest trading bloc, allowing

almost all goods and services to flow

unhindered.

Trade Minister Mehmet Muş (L) and EU

Commissioner for Economy Paolo Gentiloni

elbow bump as they meet in Brussels,

Belgium, June 14, 2021.

Muş said making the deal suitable for

today's commercial and economic

conditions constitutes an important

element of the positive agenda between

the sides.

"There are hitches, problems in application.

This is also accepted by the EU," the

minister said. "The process of updating

the customs union will further improve

relations between Turkey and the EU in

the trade and economic area, offering

economic benefits for both sides."

He emphasized that challenges brought

along by the coronavirus pandemic, as well

as the uncertainties in the global trade and

economy in recent years have showcased

a larger-than-ever need for Turkey-EU

cooperation to be developed based on

common interests.

Following a turbulent year in 2020, Ankara

and Brussels have been voicing their

intent to readjust relations and return to a

positive track in bilateral ties.

Yet the process remains highly fragile. EU

leaders declared in March that they are

prepared to boost trade and extend a 2016

migration pact with Ankara, but warned of

sanctions if Turkey resumes what the bloc

perceives as "illegal" energy exploration in

the Eastern Mediterranean.

EU member states Greece and the Greek

Cypriot administration have been clashing

with Turkey over maritime boundaries

and natural gas reserves in the Eastern

Mediterranean.

Turkey, the country with the longest

coastline on the EasterMediterranean,

has sent drillships with a military escort to

explore for energy on its continental shelf

to enforce its and the Turkish Republic

of Northern Cyprus's (TRNC) rights in

the region.rance, Greece and the Greek

Cypriot administration have bee the biggest

advocates of taking a hard line against

Turkey, yet other EU states led by economic

powerhouse Germany have leaned toward

a more diplomatic approach so far.

Following their latest summit in late March,

EU leaders said that their experts can work

on a mandate for the modernization of the

Trade Minister Mehmet Muş

customs union. No major breakthrough has

been disclosed yet.

EU leaders are to gather again in Brussels

June 24-25 and Muş said Ankara expects

it to yield a positive outcome, particularly

regarding the customs union.

Muş noted that during his talks, there was

a strong determination on the EU side to

further develop economic relations with

Turkey.

"The future of economic relations with our

country will be discussed at this summit,

among others. During these contacts held

before the summit, we observed that

there is a consensus on the importance of

strategic cooperation between the EU and

our country and that it is in the interest

of both Turkey and the EU to establish a

positive agenda," the minister said.

Turkey is the only non-EU country with

a customs union agreement with the

bloc. The deal was struck in 1995. In its

Dec. 21, 2016 assessment, the European

Commission proposed revamping the deal.

The current customs union agreement

only covers a limited range of industrial

products and excludes agriculture, public

procurement, e-commerce and services.

The inclusion of these sectors is estimated

to lift bilateral trade between Turkey and

the EU to over $300 billion, a substantial

increase from the current $165 billion.

Muş further noted that it is in the interest

of both sides to work together and

cooperate in solving global and regional

issues.

In terms of diversifying and strengthening

global supply and value chains, the minister

said Turkey is the "most important partner

for the EU with its production and export

capacity, dynamic economy and strategic

location."

"A stronger Turkey-EU integration provides

important opportunities for strengthening

supply chains in our region and further

increasing their competitiveness," he

added.

August 2021 42
---
Restrictions eased

Many Turkish factories temporarily halted

operations last year, soon after the first

COVID-19 infection was recorded.

Turkey has been gradually easing

coronavirus restrictions since mid-May

after the end of a so-called "full lockdown"

from which millions of workers and tourists

were exempt.

A partial lockdown in mid-April was

extended to a nearly three-week stay-athome

order after daily cases hit a record

high of more than 63,000. In the most

extensive relaxation since the beginning of

the pandemic, the nation has eased nearly

all restrictions on businesses and events,

and lifted nighttime and Sunday curfews

as new infections remain steadily below

record high levels registered in April. The

rise through June could be attributed to the

fact that Turkey's virus-related lockdowns

adopted this year did not affect production.

The automotive supply industry's foreign

sales soared nearly 50% from a year ago

to around $1.1 billion in June, the OIB

data showed. Exports to its top market,

Germany, were up 83% year-on-year, in

addition to increases of 115%, 28%, 73%

and 77% in sales to Italy, France, the U.S.

and Russia, respectively.

Automobile exports were down 22% yearon-year

to $609 million, driven by a fall in

sales to France, Germany, Slovenia, Israel

and Belgium of 32%, 48%, 40%, 64% and

72%, respectively. Sales of motor vehicles

for transporting goods surged 74% to $454

million, lifted by a 319% increase in exports

to the U.K., as well as 129% and 202%

increases in shipments to France and Italy.

Bus-minibus-midibus sales dropped 24.5%

to $87 million, driven by a noteworthy fall

of 70% in exports to Germany, and a 97%

drop in Morocco. Yet, sales to Hungary and

France posted a 712% and 80% increase,

respectively.

August 2021 44
---
World Bank

revises Turkey

growth forecast

upwards

The World Bank has raised its growth

projection for the Turkish economy by 0.5

percentage points to 5 percent for 2021.

"In Turkey, following three years of

subdued growth amid recurring financial

market pressures and the COVID-19 crisis,

growth is projected to rise to 5 percent

in 2021, as exports benefit from firming

external demand, particularly in the euro

area," the bank said in its latest Global

Economic Prospects report on June 8.

"The expansion is then set to moderate

to 4.5 percent in 2022, with activity

supported by a gradual pick up in domestic

demand," it said. The forecast masks

growing vulnerabilities, read the report,

adding: "Economy's vulnerabilities include

reoccurring COVID-19 outbreaks and a

slowdown in vaccination progress, weak

international tourism, sharp tightening

of external financing conditions, and a

recent rise in policy uncertainty, especially

about monetary policy." The World Bank

also increased its global economic growth

forecast to 5.6 percent for this year, up

1.5 percentage points from its previous

forecast. The bank forecast the global

economy will grow by 4.3 percent next

year and 3.1 percent in 2023. As the global

economy contracted 3.5 percent in 2020

due to the pandemic, the world is expected

to see the strongest post-recession pace in

80 years, said the bank.

"The recovery is underpinned by steady but

highly uneven global vaccination and the

associated gradual relaxation of pandemiccontrol

measures in many countries, as well

as rising confidence," it said.

The rebound will mainly come from major

economies such as the United States (6.8

percent) and China (8.5 percent).

The GDP in the eurozone is expected to

increase by 4.2 percent this year, the bank

said.

August 2021 46
---
Huawei strikes

4G patent deal

for VW cars

China's tech giant Huawei has struck

a patent deal allowing the use of its

4G technologies in connected vehicles

manufactured by Volkswagen Group, the

firm said. The deal is its largest yet in the

automotive industry, it added.

It comes as the company moves

aggressively into intelligent vehicles and

other new sectors after U.S. sanctions

imperiled its traditional network

equipment and smartphone business lines.

Huawei did not provide financial terms

or identify the VW supplier but it said

the agreement included a license under

Huawei's 4G patents which covers

Volkswagen vehicles equipped with

wireless connectivity.

VW later released a statement which

said: "We welcome that a leading ICT

(Information Communication Technology)

company has granted one of our suppliers

a license to standard-essential mobile

communications patents.

"This licensing in the supply chain is

a model of how the increasingly close

cooperation between the mobility industry

and the information and communications

industry can succeed.

"Branding Huawei a security threat, the

United States has barred the company from

the huge American market, cut it off from

global supply chains, and pressured allies

to ban or remove Huawei gear from their

national telecoms systems.

Huawei has denied the accusation and

said no supporting evidence has ever been

provided by the United States.

In response, the firm, the world's largest

supplier of telecom networking gear and

formerly a top-three smartphone supplier,

has pivoted to other business segments for

survival. Besides supplying technologies

to manufacturers of intelligent cars, it has

tipped plans to move into the software

sector, as well as enterprise and cloud

computing. It also launched its own

homegrown mobile operating system after

U.S. sanctions barred it from using Google's

Android system on its smartphones.

August 2021 48
---
Murat Barın, the CEO at Vector Otomotiv

Vector, heavy

vehicle spare

parts supplier

breaking

records

Exporting bellows, boots and relevant

spare parts for heavy vehicles and

automobiles for more than 40 years,

Vector Otomotiv is committed to focus

more on its operations in 120 countries.

Vector is determined to exceed previous

year's sales and get in contact with more

countries each year. Taking advantage of

the notorious pandemic period by working

ever harder, the company exceeded the

export figures in that period and finalized

the year with records.

Murat Barın, the CEO at Vector Otomotiv,

told us about their export activities and

their strategic plan of actions on target

markets.

Can you tell us about your company's

main engagements, services you offer for

the automotive sector and product range?

Vector Otomotiv Ticaret A.Ş. (Inc.) was

established in 1981 in Istanbul, the export

capital of Turkey.

With our expertise of more than 40 years,

Vector Otomotiv Ticaret A.Ş. exports

bellows, boots and relevant spare parts for

heavy vehicles and automobiles to more

than 120 countries.

We mainly work in close cooperation with

Turkish manufacturers, provide them

with mandatory audits of all our partners,

and bring our manufacturers and clients

together to finalize supply and demand for

the best interest of both parties.

With the experience we have gained over

the years, we have been honored with

numerous awards so far. We are among the

exemplary and pioneering companies of

our sector both in and out of our country.

We're pleased to have added a new one

to those achievements, the "2020 Bronze

Exporter" award.

Our company offers a wide range of

products such as air springs, shock

absorbers, leaf springs, V-Arms, brake

boots, rods, compressors, brake discs,

filters, clutches center, headlamps for

heavy vehicles, clutch pads, axle repair kits.

What's the percentage of your export

performance within your overall sales?

What about your additional goals

regarding potential markets?

We export all that we manufacture. Today,

we are proud that we export to more than

120 countries on all continents. As for our

target for 2021, it certainly is to increase

our share in the target markets where we

export to.

How have you been affected by the

pandemic? Have you observed any

changes or diversions in your current

markets?

The pandemic severely disrupted proper

functioning of global supply chains. The

August 2021 50
---
automotive sector was also adversely

affected. As of March 31, 2020, global

automotive industry almost came to a

standstill due to the fact that 80% of the

world's supply chain volume was to and

from China.

The uncertainty of the first two months of

the pandemic all over the world caused our

company's export sales to follow a negative

course during the first quarter of 2020.

Afterwards, things came back on track and

we managed to exceed our export figures

in previous years and finalized the year

with records.

Thanks to the fact that our technological

infrastructure is easily adjustable to

working online, we were able to adapt to

the process quickly. We were one of the

first companies that initiated home office

working. As Vector Otomotiv, we had the

chance to implement our clients' demands

and expectations without any disruption,

as we believe permanence of business

processes was one of the main factors that

made the difference during pandemic.

That's what we are proud of.

A lot of companies focused on

digitalization to meet with potential

buyers as fairs were canceled due to the

pandemic. How did you manage your

business during the pandemic? How and

how much did you get digitalized?

Vector Otomotiv has a proactive course

of action that closely keeps track of each

and every technological, scientific and

sociological development, thanks to

its innovative corporate structure. The

importance we attach to digitalization

dates back to the pre-pandemic period as

we are aware that over time, the global

demand for digitalization will be sectorbased.Thanks

to our profoundly-equipped

infrastructure and solid network, our

company had already been prepared for

crises like the pandemic. We were able

to follow all processes such as receiving

orders, tracking stocks, manufacturing

steps and shipment through our system

and make instant notifications to our

clients. In terms of digital transformation,

we acted in favor of our customers. As a

result, we received very positive feedback

in terms of customer satisfaction.

What have you been up to regarding

2021? Are you planning to take part in any

local or international fairs?

Our immediate plans are to grow, to

increase our turnover, to expand our

product range, to improve customer

services and to open up to new regional

markets. We are capable of delivering our

products to the address on the right date,

thanks to our fast and diversified shipping

options.

Another piece of our plan for 2021 is to pay

visits to our existing overseas customers

and to pursue potential customers

The logic of international trade justifies

that fairs are significant for businesspeople

to reach the right market, the right

customer and the right product. For this

reason, Vector Otomotiv pays attention to

being active parts of fair organizations. We

participated and are committed to further

participate in Automechanika that has been

held in many parts of the world so far. We

aim to take part in Aapex Fair, one of the

largest fair organizations, which will be held

in 2021 in LA, USA.

Have you got anything you'd like to

highlight in the news?

We are focused to exceed our sales in new

markets compared to the previous year, in

line with our targets this present year.

What makes Vector Otomotive stand out

is to be employing qualified personnel and

providing clients with quality and reliable

service. All those positive qualities enabled

us to get out of the pandemic crisis with

advantages, let alone suffer.

51 August 2021
---
Volvo phases

out all cars but

electric by 2030

Henrik Green, Volvo's chief technology officer (CTO)

Swedish automaker Volvo said that it will

make only electric vehicles by 2030, but

the customers will have to purchase the

cars online.

The company said that it is phasing out

the production of all cars with internal

combustion engines – including hybrids.

"There is no long-term future for cars with

an internal combustion engine," said Henrik

Green, Volvo's chief technology officer

(CTO).

Volvo's announcement follows General

Motors' pledge earlier this year to make

only battery-powered vehicles by 2035.

Volvo also said that, while its all-electric

vehicles will be sold exclusively online,

dealerships will "remain a crucial part of

the customer experience and will continue

to be responsible for a variety of important

services such as selling, preparing,

delivering and servicing cars."

As part of the announcement, the Swedish

automaker will unveil its second fully

electric car, a follow-up to last year's XC40

Recharge, a compact SUV. Volvo said

its goal is to have half of its global sales

be fully electric cars by 2025, with the

remaining half made up of hybrids.

Automakers around the world are ramping

up the production of electric vehicles

as charging technology improves and

governments impose stricter pollution

regulations.

"We are firmly committed to becoming an

electric-only car maker," Green said. "It will

allow us to meet the expectations of our

customers and be a part of the solution

when it comes to fighting climate change."

Despite the rising number of EVs available

in the U.S., fully electric vehicles accounted

for less than 2% of new vehicle sales last

year. Americans continue to spend record

amounts on gas-powered trucks and SUVs.

About 2.5 million electric vehicles were

sold worldwide last year and industry

analyst IHS Markit forecasts that sales will

increase by 70% in 2021.

Volvo says it sold 661,713 cars in about 100

countries worldwide in 2020. According to

Autodata Corp., 107,626 of those vehicles

were sold in the U.S.

Founded in 1927, Volvo Cars has been

owned by China's Zhejiang Geely Holding

Group since 2010.

August 2021 54
---
Alican Mutluşan, Export area manager of UCM Company

UCM Automotive stands for

variety and quality in spare parts

for truck and buses

UCM Company aims to provide and

produce various required goods by the

automotive industry. Export area manager

Alican Mutluşan introduced his company

and their success story.

"Our Company was founded by Ali

Mutluşan in 1976 on Millet Caddesi in

Istanbul as Şan Ticaret in order to market

Deutz parts. Till 1990, we imported parts

from Yugoslavia where many Germen

automotive industry companies like Iskra

- Tam - Torpedo - Papfeda Tesanj - Ricard

Benciç and Fap Famous were based.

Because of civil war in Yugoslavia in 1991,

we began to export parts instead of

importing parts from this country where

the production stopped because of the war.

In 1993, we founded Ucem Company

and began to produce gaskets for famous

companies such as Deutz - Man - Mb -

Volvo - Scania -Renault - Iveco according to

the German quality standards.

In 2007, we moved to our current factory

with 6,000 sqm closed area where we

increased the production capacity and

raised our quality by using auxiliary

products and raw materials like Victor

Reinz, Dph, Fisher, Plath, Frenzelit, Carteco

etc. In 2011, we registered our brand Euro

Gasket so that we could produce for world

market by raising day by day quality of our

gaskets especially according to European

heavy vehicle OEM quality standards.

In addition, we supplied our products

under trademark Euro Truck to world

market as a product of the Turkish

automotive industry, which has an

important place in world market according

to the demands of our customers.

We produce to fit Daf, Deutz, Iveco, Man,

Mercedes, Renault RVI, Scania, Volvo, ZF

brands productions. For instance; full set

gasket, conversion set, head set gasket,

cylinder head gasket, oil pan gasket, turbo

gasket and compressor gaskets.

On the other hand we sell for Deutz FL

413/FL 513 FL511, FL912, FL913, FL914,

FL1011, BFM 1012, BFL/BFM 1013, BFM

1015, BFM/TCD 2011, BFM/TCD 2012,

BFM/TCD/TCG 2015, Tractor parts.

We supply for Meco Diesel brand and

Daf, Iveco, Man, Mercedes, Renault RVI,

Scania, Volvo, for these engines Eurotruck

brand for instance bearings, piston ring,

piston, cylinder linet, valve guide, tappet,

crankshaft, flywheel gear, oil pump, water

pump, bolts, switches, etc..

Our Gasket production factory is located in

Büyükçekmece, Istanbul. We plan to buy

new injection press and laser cutting at the

same we buy new OEM samples. We will

think to produce new products.

Our factory is in Büyükcekmece Istanbul

but our call center and showroom are in

Ikitelli Dolapdere 20th industry area. Our

location is very close to other sellers and

the factory in Buyukcekmece is not far from

Muratbey Customs. Turkey is in the center

of world transportation. So, we change

disadvantageous to advantage by our

location. We attend Istanbul and Frankfurt

Automechanica fairs every year. We want

to participate in Automechanica Moscow

and Automechanica Shangai as well."

August 2021 56
---
Turkey's exports

to EU top $40

bln in first half

of year

Turkish Trade Minister Mehmet Mus

Turkey's exports to EU countries this January-June soared 42 percent on a yearly

basis to reach $40.86 billion, according to official figures.

The country's overall exports were up 39.9 percent to $104.98 billion in the same

period, according to data compiled by Turkish Exporters' Assembly (TİM) figures.

The main sectors in exports to the EU during the first half of the year were

automotive ($9.5 billion), apparel ($5.65 billion), chemical ($4.77 billion), and

steel ($3.27 billion).

The EU's share of Turkey's exports in the six-month period was 38.92 percent.

Germany was the main destination for Turkish exports over the same period with

$1.57 billion, a jump of 33.2 percent on a yearly basis. İsmail Gülle, head of the

exporters' group, said the country also reached $8.2 billion in exports to the EU,

up 49.4 percent on an annual basis. Thanks to Turkish Trade Minister Mehmet

Mus' critical meetings with EU representatives, Turkey's exports to the union will

continue to rise, Gülle added.

August 2021 58
---
Türk Eximbank

borrows $146M

to boost

sustainability

Türk Eximbank signed a loan agreement

worth 120 million euros ($146.2 million)

with a consortium of international banks,

under the guarantee of the World Bank

Group's lending arm, the International

Bank for Reconstruction and Development

(IBRD). Including a two-year grace period,

a 10-year term loan was provided by

Deutsche Bank AG, London Branch and ING

European Financial Services PLC, according

to Eximbank's statement.

The IBRD provided a guaranteed limit

of 250 million euros in June 2020 for

Eximbank, and 190 million euros of this

limit was used in the next month alone.

The remaining 60 million euros were used

for this most recent transaction.

All of these loans will be utilized for the

bank's sustainability targets, and at least

10% of the total amount will be allocated

towards majority female-owned exporting

companies and private companies

that contribute to women's labor force

participation.

Some 70% of the total loan will also be

used for financing small and medium-sized

enterprises (SMEs).

Ali Güney, the general manager of

Eximbank, said this 10-year term

transaction during the pandemic is a result

of the trust Turkey attracts in international

markets.

Türk Eximbank took steps last year to

enhance international cooperation with

several organizations. In December, it

signed a memorandum of understanding

(MoU) with the Eastern and Southern

African Trade and Development Bank

(TDB), one of Africa's major regional

financial institutions to promote bilateral

trade with its 22 member countries.

It also focuses on increasing the number

of reinsurance deals to pave the way for

Turkish companies to undertake more

projects abroad.

It inked a reinsurance cooperation

agreement with Denmark's export credit

agency, EKF Danmarks Eksportkredit

(EKF), in August 2020 and Austria's official

export support institution OeKB Gruppe in

February.
---
F1 Turkish Grand

Prix could inject

$120M into local

tourism sector

Turkey once again being put back onto this

year's Formula One calendar – after first

initially replacing Canada, then having that

race pulled, and now replacing Singapore

– has given fresh hope to the country's

tourism and accommodation sector, as

representatives now expect the event to

bring some 100 million euros in revenue

(TL 1.05 billion), compensating for part of

the country's earlier tourism losses.

The hotels on Istanbul's Anatolian side

– where the races will be hosted – are

expected to operate at 100% capacity while

those on the European side are forecast to

have an occupancy rate of at least 50%.

Such a development was the result of

a speedy and successful nationwide

vaccination campaign, which saw a

significant drop in the number of new

COVID-19 cases recently. Müberra Eresin,

the chairperson of the Turkish Hoteliers

Association (TÜROB), said "the cancellation

August 2021 62
---
of a very important event like Formula 1,

which we expected to lead to a revival in

terms of both the number of tourists and

positive perception, was disappointing.

But we were hopeful that it would be

held in Turkey again. As a matter of fact, it

happened."

"Whether it is with or without an audience,

it will give morale to the sector," she added.

"If there is an audience, it will further

have a positive effect on hotel occupancy,"

Eresin said, adding that this will also

have a positive impact on the meetings,

incentives, conferences and exhibitions

(MICE) industry which organizes

congresses, meetings, fairs and events

"that we did not expect to revive before

the end of the year."

Hagia Sofia Mansions Curio Collections by

Hilton General Manager Ahmet Arslan,

meanwhile, said that the return of the race

to the country has provided the industry a

morale boost.

Describing F1 as one of the most

prestigious competitions in the world,

Arslan said, "This event makes a great

contribution to the hotels of every

country. Because both the teams and the

technical team go to the place where the

competition will take place about 20 days

before the event. An average of 100 rooms

is reserved for a team. Usually, 5-star hotels

are preferred. Also, many global channels

follow the competition. For example, the

owner of a large company brings the best

30 business partners and welcomes them

to the best hotels, renting helicopters to

the race. This profile spends an average of

5,000 euros in three days."

Ibrahim Halil Korkmaz, CEO of MOLTON

Hotels, echoed others in the industry,

calling F1 an incredible motivator for the

industry.

Explaining that hotels that are currently

closed will open their doors during this

period, Korkmaz said, "with the high

vaccination numbers, we started to see a

movement in the tourism sector. Russian

and German tourists started to flock into

the country, again."

However, they mostly go to coastal

provinces, so organizations like this one

help metropolis hotels get their fair share

of business.

Istanbul was listed in April as a replacement

for Canada's canceled June grand prix,

only to drop off again due to travel

restrictions, with a majority of the teams

based in Britain.Turkey is on the British

government's "red list" of countries that

require 10 days of hotel quarantine for

returning travelers.

However, organizers confirmed that they

will make a second attempt to hold the

Turkish Grand Prix after adding it as a

replacement for Singapore's canceled race

in October Singapore's Oct. 1-3 night race

was canceled earlier this month because

of immigration restrictions related to the

COVID-19 pandemic. Vural Ak, chairperson

of Istanbul circuit operator Intercity who

brought F1 to Turkey last year after a nineyear

hiatus, said that nearly 4,000 race

teams will come to Turkey for the Turkish

Grand Prix, with nearly 450 large trucks and

seven to eight jumbo trucks.

He added that materials will be transported

by jet cargo plane.

"We expect 15-16,000 foreign visitors.

Tourists will stay in the nearby hotels, and if

you take into account their food, beverage

and shopping expenditures, they will have

left a foreign currency income of around

100 million euros to our country," he said.

The event will be held in Istanbul Park on

Oct. 1-3. Many of the closed hotels in the

metropolis are set to open their doors on

the occasion. The teams are to arrive 20

days before the race to their hotels mostly

located in Tuzla and Istanbul's Anatolian

side initially, though tourism professionals

say all of Istanbul hotels will get their share

during race week.

63 August 2021
---
Honda to build

own electric vehicles

as carmaker changes

course

Although General Motors (GM) will build

Honda's first two fully electric vehicles (EVs)

for North America, the Japanese automaker

plans to change course and manufacture its

own later this decade.

Company officials say they are developing

their own EV architecture, and after two

GM-made EVs go on sale in 2024, Honda

will start building its own.

"It's absolutely our intention to produce

in our factories," Honda of America

Executive Vice President Dave Gardner said,

adding that Honda has developed battery

manufacturing expertise from building gaselectric

hybrids. "We absolutely intend to

utilize that resource."

Honda and GM have been partners on

hydrogen fuel cell and electric vehicles.

Earlier this year they announced that GM

would build one Honda SUV and one Acura

SUV using its Ultium-branded electric

vehicle architecture and battery system.

The company said the Honda SUV would

be named the Prologue, and that both

SUVs will have bodies, interiors and driving

characteristics designed by Honda.

But after those two, Honda plans its

own manufacturing for most of a series

of electric vehicles, although it hasn't

determined if it will use GM components.

Gardner says sales projections for the

Prologue are between 40,000 and 150,000

per year, but he didn't say when those

numbers would be reached.

In April, the company said it plans to phase

out all of its gasoline-powered vehicles

in North America by 2040, making it the

latest major automaker with a goal of

becoming carbon neutral. Honda wants

40% of North American vehicle sales to be

battery or fuel-cell powered by 2030, and

80% of all vehicles sold to run on batteries

or hydrogen by 2035. Honda initially had

planned to meet stricter government fuel

economy and pollution standards by adding

hybrids to improve internal combustion

engines. But regulatory actions across the

world to combat climate change, including

proposals from U.S. President Joe Biden,

have moved the company more toward

electric vehicles, Gardner said.

Battery-electric vehicles accounted for less

than 2% of U.S. new-vehicle sales last year,

but analysts are predicting huge growth as

automakers roll out new models.

The consulting firm LMC Automotive

expects nearly 359,000 to be sold this year,

passing 1 million in 2023 and hitting over 4

million in 2030. Still, that's roughly onequarter

of annual new vehicle sales.

August 2021 66
---
Energy and Natural Resources Minister Fatih Dönmez

Turkish

Petroleum

applies to

explore for oil

in East Med

Turkey's state energy company has applied

for a license to explore for crude oil in

the Eastern Mediterranean, the Energy

and Natural Resources Ministry said in a

statement in the country's Official Gazette.

According to a map database, the three

areas where the Turkish Petroleum

Corporation (TPAO) plans to carry out the

exploration are in Turkish territorial waters

off the coast of Silifke in Mersin province.

Turkey has been at odds with European

Union members Greece and the Greek

Cypriot administration over energy

resources and jurisdiction in the region,

and tensions flared last year when Turkish

and Greek navy frigates escorted vessels

exploring for hydrocarbons.

Turkey, which has the longest continental

coastline in the Eastern Mediterranean,

has rejected maritime boundary claims

made by Greece and the Greek Cypriot

administration, stressing that these

excessive claims violate the sovereign

rights of both Turkey and the Turkish

Republic of Northern Cyprus (TRNC).

Erdoğan said Turkey had been receiving

"signals of natural gas" in the Eastern

Mediterranean and vowed to continue

defending Turkey's rights in the region.

"Whatever our rights are, we will take

them one way or another. And we will

carry out our oil exploration operations in

the Eastern Mediterranean, Cyprus, and all

those seas," he said.

Meanwhile, Energy and Natural Resources

Minister Fatih Dönmez in late May

said Turkey may drill more boreholes

in its search for gas in the Eastern

Mediterranean.

Turkey has already opened eight boreholes

in the region, the minister had said. While

there were signs of natural gas, there had

been no economically significant discovery.

"Our experts are checking data after

each drill with the seismic data obtained

previously. We could have several more

drills close to the ones (boreholes) where

we see signs of gas," Dönmez noted.

"Time will tell, but we are hopeful. We

evaluate that there is a potential," he said.

Three of the eight opened boreholes are

in the areas where Turkey was granted

licenses from the TRNC, Dönmez said.

"The others are in the areas of our own

continental shelf. Seismic studies are also

continuing," Dönmez noted.

"We have our own rights and interests in

accordance with international maritime

law, and we will make no compromise."

The island of Cyprus has been mired in

a decadeslong struggle between Greek

and Turkish Cypriots, despite a series of

diplomatic efforts by the U.N. to achieve a

comprehensive settlement.

The island has been divided since 1964,

when ethnic attacks forced Turkish Cypriots

to withdraw into enclaves for their safety.

In 1974, a Greek Cypriot coup aiming at

Greece's annexation led to Turkey's military

intervention as a guarantor power. The

TRNC was founded in 1983.

The Greek Cypriot administration, backed

by Greece, became a member of the

European Union in 2004, although in a

referendum that year most Greek Cypriots

rejected a U.N. settlement plan that

envisaged a reunited Cyprus joining the EU.

August 2021 68
---
Electric, hybrid

car sales in

Turkey surge

over 200% in 4

months

Sales of diesel-powered automobiles in

Turkey have decreased in the first four

months of the year while electric and

hybrid car sales were on the rise, indicating

a changing course in the sector in line with

global developments.

During the period in question, the sales of

diesel cars, the production of which has

been gradually reduced in the world and is

planned to be phased out completely in the

future, decreased by 10.3% year-on-year

according to data from the Automotive

Distributors Association (ODD). Sales of

electric and hybrid cars meanwhile surged

by more than 200% year-on-year.

With 260,148 units sold, the overall market

for automobiles and light commercial

vehicles in the country grew by 72.4% in

the first four months of this year compared

to the same period of the previous year.

In the said period, automobile sales

increased by 68.7% to reach 204,839 and

light commercial vehicle sales jumped by

88.1% to 55,309, the ODD data shows.

According to the engine types in the

automobile market, it was noteworthy that

diesel-engine automobile sales were on

the decline for the past year. The fact that

manufacturers are offering fewer dieselpowered

vehicles to the market compared

to previous years is considered to be one

of the important factors in the decrease in

diesel sales.

The sales of hybrid and electric cars,

which are expected to replace internal

combustion engine cars in the future,

continued to increase, as has been the

case in recent years. Despite the ongoing

change, gasoline-powered cars ranked first

with sales of 131,463 units in the January-

April period while diesel car sales ranked

second at 48,417 units.

While hybrid car sales reached 15,101,

autogas (liquified petroleum gas, or LPG)

car sales were recorded as 9,414 and the

number of electric cars sold during the

period in question was 444. As of the end

of April 2020, a total of 58,142 gasoline

cars were sold along with 54,003 diesel

cars, 5,361 autogas cars, 3,834 hybrid and

115 electric cars.

Thus, as of the end of April, gasoline

automobile sales increased 126.1%

and autogas vehicle sales increased by

75.6% compared to the same period of

the previous year, while diesel car sales

decreased by 10.3%.

Hybrid car sales increased by 293.9%

and electric car sales surged by 286.1%.

This high rate of increase was due to the

relatively low sales of hybrid and electric

cars in the January-April 2020 period.

Shares of hybrid, electric cars

The share of diesel cars in sales, which was

44.5% in the first four months of 2020,

decreased to 23.6% in the same period

of 2021. The share of gasoline-powered

cars increased from 47.9% to 64.2% during

this period, and the share of autogas cars

rose from 4.4% to 4.6%. The share of

electric cars in total sales increased from

0.1% to 0.2% and the share of hybrid cars

from 3.2% to 7.4%. Data for the first four

months of 2021 indicates that although

the increasing trend in the sales of electric

and hybrid cars continues, the share of

electric and hybrid cars, which have just

become widespread in the world, is still

low, and that the increase in the special

consumption tax on electric cars has not

had a downward effect on sales.

August 2021 70
---
Turkish auto aftermarket industry gears up

for investment in 3rd quarter

The rise of the automotive aftermarket in

the first quarter of the year continued in

the second quarter. The positive trend in

employment, along with the increase in

domestic sales and exports in the second

quarter of the year, also stimulated the

investment plans of the third quarter.

According to the "Second Quarter

2021 Sectoral Evaluation" survey of the

Automotive After Sales Products and

Services Association (OSS); It has been

revealed that nearly half of the participants

are planning to invest in the third quarter.

This rate had decreased to 38 percent in

the previous survey. In the second quarter

of the year, there was a remarkable

increase in the problems experienced in

the sector. In the first quarter of this year,

the "volatility in exchange rates" was

the leading problem in the sector, while

"supply problems" appeared to be on the

rise in the second quarter. While the rate

of those experiencing supply problems

was approximately 73 percent in the first

quarter of the year, this rate rose to 82,5

percent in the second quarter of the year.

Automotive After-Sales Products and

Services Association (OSS) evaluated the

second quarter of the year with a survey

study organized with the participation of its

August 2021 72
---
members. According to OSS Association's

Second Quarter 2021 Sectoral Evaluation

survey; There were increases in domestic

sales and exports, and these increases

were reflected in the third quarter as

an investment plan. While the industry

approached its investment plans more

cautiously at the beginning of the year,

it was revealed that nearly half of the

participants planned investments in the

third quarter. According to the survey;

There was an average of 8 percent increase

in domestic sales compared to the first

quarter. Work; It also revealed that there

was an increase in sales compared to

the same period of the previous year.

According to the survey; In the second

quarter of the year, members' domestic

sales increased by approximately 24

percent on average compared to the same

period of the previous year.

Expected increase in sales in the third

quarter!

Expectations for the third quarter of

the year were also asked in the survey.

Participants, on the other hand, stated

that they expect an average of 16 percent

increase in domestic sales compared to the

second quarter of the year. According to

the survey, the sector; It has also emerged

that in the third quarter of this year, an

average of 18 percent increase is expected

in domestic sales compared to the same

period of the previous year.

There is a positive trend in employment!

In the survey; In terms of collection

process, the second and first quarters of

the year were compared. More than half

of the participants stated that there was

no change in collection processes in the

second quarter of the year compared to

the first quarter. According to the study,

which also focuses on the employment

policies of the sector; It was revealed that

in the second quarter of the year, the

total employment of members followed

a similar and positive course compared

to previous periods. To the question

about employment, 44 percent of the

respondents answered "increased", about

51 percent "no change", and about 5

percent "decreased".

Currency increase problem gave priority to

supply problem!

The problems faced by the industry were

also identified in the survey. Among the

priority problems of the sector were the

"volatility in exchange rates" and "cargo

cost/delivery problems". While the rate

of members who said that exchange rate

increases were the most important problem

in the first quarter of the year approached

94 percent, the said rate was approximately

67 percent in the second quarter. While the

rate of members who stated that they had

"cargo cost and delivery problems" was 65

percent in the first quarter of the year, this

rate decreased to 55 percent in the second

quarter.

While the rate of participants who stated

that they experienced "loss of business and

turnover" was approximately 29 percent,

the said rate was 30 percent in the second

quarter of the year. While the rate of those

who drew attention to "problems in cash

flow" was 29 percent in the first quarter of

this year, this rate increased to approximately

35 percent in the second quarter. The rate of

those who experienced "loss of motivation

due to the pandemic" decreased from 38

percent to 36 percent. The percentage of

respondents who stated that their primary

problem was "problems at customs"

decreased from 40 percent to 33 percent.

The biggest increase was experienced

in supply problems. While the rate of

those experiencing supply problems was

approximately 73 percent in the first quarter

of the year, this rate increased to 82,5

percent in the second quarter of the year.

73 August 2021
---
Turkey's

manufacturing

capacity usage

highest in over a

year in June

The Turkish manufacturing industry's

capacity utilization rate rose to its highest

level in one and a half years in June on a

monthly basis, according to official data

announced.

The industry used 76.6% of its capacity this

month, up 1.3 percentage points from last

month, a Central Bank of the Republic of

Turkey (CBRT) survey revealed.

The bank said the monthly data, gathered

from 1,746 companies in June, does not

reflect its own views or predictions.

The capacity utilization figures are based

on the responses given to its business

tendency survey by local units operating in

the manufacturing industry, it said.

Among the main industrial groups, the

capacity utilization rate was highest in

intermediate goods with 79.8%, while

the lowest capacity usage was 72.2% in

investment goods.

On the sectoral side, the highest capacity

usage was in the manufacturing of wood

and wood/cork products – excluding

furniture – with 85.6% this month, while

the lowest rate was seen in leather

production with 62.5%.

August 2021 76
---
Industry 4.0 and Automotive Industry in Turkey

Industry 4.0, which was first mentioned at the Hannover Fair in

Germany in 2011, includes concepts such as Smart Factory, Internet

of Things (IoT), cloud (Cloud) and big data (Big Data). The Industry 4.0

Revolution, which stands out especially in the manufacturing industry,

aims to achieve output by using high technology at every stage of

production.

Gamze AYTUN Ege University

Regional Development Economics Master's Program

Such that the basis of the concept of Industry 4.0; It is based on

the communication of all units involved in the industrial production

process with each other, the real-time access to all relevant data, and

the provision of as much added value as possible thanks to these data.

In this context, it is an inevitable fact that developing countries such

as Turkey should turn to industries with intensive technology and

high added value in order to increase their income. The automotive

industry is undoubtedly one of these sectors. In order to adapt to the

developments brought by Industry 4.0, which provides significant

advantages not only in the production but also in the planning and

design stages, the workforce level is tried to be increased, the training

given to the employees shows how to intervene in the machines from

the inside and outside, improvements are made in the infrastructure

of digitalization, both in the sub-industry and in the main R&D studies

are carried out in this direction in the industry.

The automobile market increased by 255.9% in April 2021 compared

to April 2020 and totaled 1,039,810 units. In April 2020, the European

automobile market was 292,153 units. At the end of April 2021, Turkey

ranked 6th in European automobile sales with an increase of 68.7%.

As can be seen in the table, Germany, where the concept of Industry

4.0 first emerged, is the leading country in the automobile industry.

By evaluating its R&D activities, innovation and innovation steps in

the automotive industry, it achieves high value-added outputs and

increases its income.

The use of Industry 4.0 and investments in this area are critical

for Turkey's growth in line with its 2023 targets. As a matter of

fact, Turkey, which ranks 6th in automobile sales among European

countries, will direct its investments in R&D and technology to

the automotive industry, which has a high demand rate, and if the

production is realized in its own country, it will produce high valueadded

products and will be able to provide the supply-demand

balance. Therefore, there is no doubt that there will be significant

increases in income and welfare.

Original equipment manufacturers operating in the automotive

industry in Turkey are expected to become "Industry 4.0 companies"

in the future. Industry 4.0, which gave its first output as a significant

decrease in the time to market of products in Turkey, promises a lot of

hope for the automotive industry.

Such that the automotive industry affects the economy by creating

a multiplier effect for Turkey, as in many countries. This is why;

digitalization in the industry should be followed closely, more efficient

and customized production should be made. On the other hand, the

number of national R&D centers in the automotive main industry and

sub-industry should be increased and innovation studies should be

emphasized. In this way; It will be ensured that the sector can achieve

sustainable growth in the short and long term.

August 2021 78