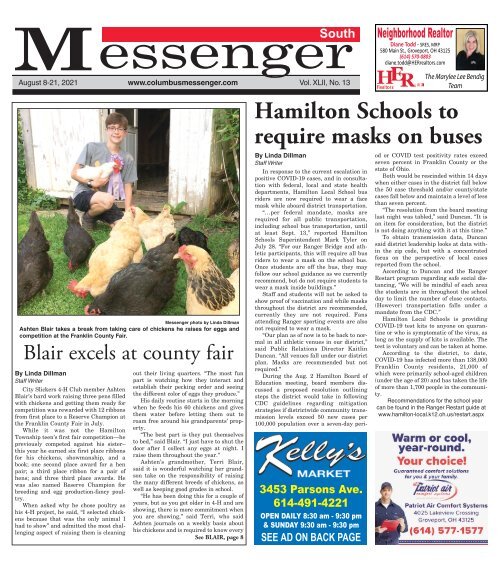 South Messenger - August 8th, 2021
You also want an ePaper? Increase the reach of your titles
YUMPU automatically turns print PDFs into web optimized ePapers that Google loves.
Messenger

South

August 8-21, 2021 www.columbusmessenger.com Vol. XLII, No. 13

Messenger photo by Linda Dillman

Ashten Blair takes a break from taking care of chickens he raises for eggs and

competition at the Franklin County Fair.

Blair excels at county fair

By Linda Dillman

Staff Writer

City Slickers 4-H Club member Ashten

Blair's hard work raising three pens filled

with chickens and getting them ready for

competition was rewarded with 12 ribbons

from first place to a Reserve Champion at

the Franklin County Fair in July.

While it was not the Hamilton

Township teen's first fair competition–he

previously competed against his sister—

this year he earned six first place ribbons

for his chickens, showmanship, and a

book; one second place award for a hen

pair; a third place ribbon for a pair of

hens; and three third place awards. He

was also named Reserve Champion for

breeding and egg production-fancy poultry.

When asked why he chose poultry as

his 4-H project, he said, "I selected chickens

because that was the only animal I

had to show" and admitted the most challenging

aspect of raising them is cleaning

out their living quarters. "The most fun

part is watching how they interact and

establish their pecking order and seeing

the different color of eggs they produce."

His daily routine starts in the morning

when he feeds his 60 chickens and gives

them water before letting them out to

roam free around his grandparents' property.

"The best part is they put themselves

to bed," said Blair. "I just have to shut the

door after I collect any eggs at night. I

raise them throughout the year."

Ashten's grandmother, Terri Blair,

said it is wonderful watching her grandson

take on the responsibility of raising

the many different breeds of chickens, as

well as keeping good grades in school.

"He has been doing this for a couple of

years, but as you get older in 4-H and are

showing, there is more commitment when

you are showing," said Terri, who said

Ashten journals on a weekly basis about

his chickens and is required to know every

See BLAIR, page 8

3453 Parsons Ave.

614-491-4221

OPEN DAILY 8:30 am - 9:30 pm

& SUNDAY 9:30 am - 9:30 pm

SEE AD ON BACK PAGE

Neighborhood Realtor

Diane Todd - SRES, MRP

580 Main St., Groveport, OH 43125

(614) 570-0803

diane.todd@HERrealtors.com

The Marylee Lee Bendig

Team

Hamilton Schools to

require masks on buses

By Linda Dillman

Staff Writer

In response to the current escalation in

positive COVID-19 cases, and in consultation

with federal, local and state health

departments, Hamilton Local School bus

riders are now required to wear a face

mask while aboard district transportation.

"…per federal mandate, masks are

required for all public transportation,

including school bus transportation, until

at least Sept. 13," reported Hamilton

Schools Superintendent Mark Tyler on

July 28. "For our Ranger Bridge and athletic

participants, this will require all bus

riders to wear a mask on the school bus.

Once students are off the bus, they may

follow our school guidance as we currently

recommend, but do not require students to

wear a mask inside buildings."

Staff and students will not be asked to

show proof of vaccination and while masks

throughout the district are recommended,

currently they are not required. Fans

attending Ranger sporting events are also

not required to wear a mask.

"Our plan as of now is to be back to normal

in all athletic venues in our district,"

said Public Relations Director Kaitlin

Duncan. "All venues fall under our district

plan. Masks are recommended but not

required."

During the Aug. 2 Hamilton Board of

Education meeting, board members discussed

a proposed resolution outlining

steps the district would take in following

CDC guidelines regarding mitigation

strategies if districtwide community transmission

levels exceed 50 new cases per

100,000 population over a seven-day period

or COVID test positivity rates exceed

seven percent in Franklin County or the

state of Ohio.

Both would be rescinded within 14 days

when either cases in the district fall below

the 50 case threshold and/or county/state

cases fall below and maintain a level of less

than seven percent.

"The resolution from the board meeting

last night was tabled," said Duncan. "It is

an item for consideration, but the district

is not doing anything with it at this time."

To obtain transmission data, Duncan

said district leadership looks at data within

the zip code, but with a concentrated

focus on the perspective of local cases

reported from the school.

According to Duncan and the Ranger

Restart program regarding safe social distancing,

"We will be mindful of each area

the students are in throughout the school

day to limit the number of close contacts.

(However) transportation falls under a

mandate from the CDC."

Hamilton Local Schools is providing

COVID-19 test kits to anyone on quarantine

or who is symptomatic of the virus, as

long as the supply of kits is available. The

test is voluntary and can be taken at home.

According to the district, to date,

COVID-19 has infected more than 138,000

Franklin County residents, 21,000 of

which were primarily school-aged children

(under the age of 20) and has taken the life

of more than 1,700 people in the community.

Recommendations for the school year

can be found in the Ranger Restart guide at

www.hamilton-local.k12.oh.us/restart.aspx
---
PAGE 2 - MESSENGER - August 8, 2021

www.columbusmessenger.com

Slate Run Historical Farm celebrates its 40th birthday

By Rick Palsgrove

Managing Editor

History will be having a birthday party down on the

farm.

Metro Parks' Slate Run Living Historical Farm. - located

at 1375 State Route 674 North, Canal Winchester - will

celebrate its 40th anniversary with an "Ice Cream Social

and Anniversary" program on Aug. 21 from 1-3 p.m. The

farm will also be open from 9 a.m. to 7 p.m. that day. There

is no cost for admission or for the activities at the working

farm, which is a historical representation of a typical Ohio

small farm in the 1880s.

"There will be games and activities representative of

the time," said Ann Culek, farm program manager at Slate

Run Living Historical Farm. "We are delighted to welcome

storyteller Adele Browne, who was one of our original volunteers,

to provide some entertainment."

Culek said the event is an ice cream social, so enjoy a

scoop!

"Sorry, it's not homemade," said Culek. "We hope visitors

appreciate the advantages of 2021, when you can just

run to the grocery store and buy a gallon of ice cream to

keep in the freezer for whenever you want it. In the 1880s,

ice cream was a special treat."

Consider all the steps necessary to make ice cream in

those days.

"First, a trip to an ice house for a chunk of ice harvested

from a local pond or canal from the previous winter to

crush, then milking the cow and skimming the cream, getting

eggs from the chickens to add into custard cooked

carefully over a wood burning cookstove, and then cranking

the ice cream freezer for about an hour before you

enjoyed the treat," said Culek. "Hopefully everyone will

enjoy their visit here, but, along with the fun we hope you

have and the memories you make, the farm can get you

thinking, just a bit, about how you live now compared to

then."

The concept for Slate Run Living Historical Farm came

Serving Your Community

Malek &

ATTORNEYS AT LAW Malek

Proudly Announcing

Adding New Attorneys

To Serve You!

WORKERS'

COMPENSATION

PERSONAL INJURY

WRONGFUL DEATH

SLIP & FALL INJURY

DOG BITE INJURY

Since 1972

Douglas, Ed, Jim

and Kip Malek

"Hablamos Español"

FREE Initial Consultation

www.maleklawfirm.com

614-444-7440

1227 S. High St., Columbus, OH 43206

Messenger photos by Rick Palsgrove

A golden wheat field is a beautiful sight and its appearance

in July means it is grain threshing season at Metro

Parks' Slate Run Living Historical Farm, 1375 State

Route 674 N., near Canal Winchester. Each July the

farm workers use a 19th century era horse powered

threshing machine to separate the seed heads of

wheat, oats, barley and rye from straw stalks. Our 19th

and early 20th century Central Ohio farming ancestors

used a machine similar to this. The wheat is planted in

October, lies dormant in the winter, grows again in the

spring, and ripens in July when it is harvested. After

threshing, the wheat is sold for profit, fed to livestock,

and some is saved for seed. Pictured here, wheat stalks

are tossed into the thresher from the farm wagon.

Threshing is hot, dusty work. One worker stands atop a

wagon piled high with wheat and uses a pitchfork to

toss the wheat to another who runs it through the

thresher. After the wheat is separated the straw flies

out a chute where another worker piles it up.

about after Metro Parks purchased the land for it

over a period of years in the 1960s.

"The idea of a living historical farm started to

form around the American bicentennial in 1976

and, after research and extensive restoration, Slate

Run Living Historical Farm opened to the public in

1981," said Culek.

According to Culek, Metro Parks opened the

farm so the public could compare how land in

Central Ohio was managed through time.

"Many Ohioans lived on farms throughout the

19th century and the time period of the 1880s was

chosen as a time of great transformation in how

farming was done and before the large migration of

people to the cities," said Culek. "It gives visitors a

glimpse into lifestyles, technology, and choices

available to a Central Ohio farm family in the 1880s

and a way to compare the way we live now with

those some who came before."

Workers at the farm try to show that change is a

constant and all people from all eras and backgrounds

adapt to it.

"Sometimes changes improve our lives, some

aspects complicate it," said Culek. "It makes me

chuckle to hear visitors lament how life in the 1880s

was so hard and they would never have survived,

and it was very different in some aspects compared

to ours. But the people who lived on this farm were

so proud of their modern lifestyle: a cook stove versus

a fireplace, the new fangled steam engines and

improved steel farm equipment that made their

lives far easier than those of their grandparents

era."

"The idea of a living historical farm started to form

around the American bicentennial in 1976 and, after

research and extensive restoration, Slate Run Living

Historical Farm opened to the public in 1981."

- Ann Culek

farm program manager

Slate Run Living Historical Farm

When asked how the farm has changed over the past 40

years, Culek said it has gotten better with age in many

ways.

"When newly opened, the trees were immature, the

land bulldozed, and new fences installed," said Culek.

"After 40 years it looks settled and I think very realistic.

Even with 40 years of knowledge about a family farm in

the 1880s, there is always something new the staff and volunteers

learn to compare and contrast the lifestyles of

those from the past to share with modern visitors."

She said especially helpful is original source material

like newspapers and books available on the Internet.

"The staff once spent hours at in-person auctions and

antique stores and now we find many items on eBay or

through online searches," said Culek.

The farm is an good place to bring people of all ages as

there is something for everyone to enjoy and learn.

"The toys and games, the no admission charge, and the

animals are some of the main draws," said Culek. "It is

generally a quiet place that offers a break from your electronics

and a chance to be outside and engage with your

friends and family. It is heartening to see how much fun

some families have just shelling corn, poking through the

garden, and playing on the swing."

Culek said a favorite aspect of the farm for all the staff

and volunteers who work there is the connections made

with visitors.

"Sometimes it is the 'light bulb' moment of realizing

milk is warm when it comes out of the cow," said Culek. "It

is fun to see people try something for the first time, like

digging a potato out of the ground. We also learn from our

visitors who come from all parts of the community, from

around the United States, and sometimes the world. Their

stories and experiences will be part of history some day.

We feel it is a privilege to have the opportunity to work at

Slate Run Living Historical Farm and to have so many

positive interactions with visitors."

Metro Parks Slate Run Living Historical Farm workers

Natelle Ball (left) and Donna Abel working at the cast

iron stove in the 1880s era farmhouse kitchen.
---
www.columbusmessenger.com

August 8, 2021 - MESSENGER - PAGE 3

Historic canal trail to pass through Groveport and Lockbourne

By Rick Palsgrove

Managing Editor

Communities up and down the length of the old Ohio

and Erie Canal are getting ready to celebrate their canal

history and the creation of the new driving trail that highlights

that heritage.

The Scenic Scioto Heritage Trail, Inc., and its partner

communities recently announced the development of the

new Ohio and Erie Canal Southern Descent Heritage Trail

from Buckeye Lake to Portsmouth.

Groveport will hold its kickoff event, Groveport Canal

Day: Celebrating Our Heritage Along the Southern

Descent Trail, for the trail on Sept. 5 from noon to 4 p.m.

in Heritage Park, 551 Wirt Road. It will include refreshments

and possibly acoustic music entertainment.

Heritage Park will serve as the starting point for people to

venture out to view other canal sites in town including the

Sharp's Landing building across from the Groveport

Cemetery; a canal mural inside KidSpace, 630 Wirt Road;

the Groveport Heritage Museum in Town Hall, 648 Main

St.; Lock 22 in Groveport Park; canal channel remnants in

Blacklick Park, and more. Visitors may walk to the sites or

use a shuttle to Lock 22 provided by the city of Groveport.

"Any time we can do things to preserve our heritage I'm

all for it," said Groveport Mayor Lance Westcamp. "The

recent National Register of Historic Places designation for

Lock 22 as part of Ohio & Erie Canal Southern Descent

Historic District is also a chance to showcase our community

as a welcoming and interesting place for people to

visit."

The village of Lockbourne's kickoff event is Sept. 25

from 2-6 p.m. at Locke Meadow Park, 154 Commerce St.

"We don't have all the details worked out yet," said

Lockbourne Mayor Christie Ward. "I will share them once

they are finalized. In the meantime, this is our plan. We

will have guided hikes along the Magnolia Trail, a talk on

the history of the Ohio & Erie Canal and Lockbourne's significance

during the canal days, activities and games for

the children, chili cook off, and hopefully a live band."

Additionally, Ward said Lockbourne was chosen as one

of the trailheads for the Ohio and Erie Canal Southern

Descent Heritage Trail "because of the many locks in and

near the village and because of the nearby Columbus

Feeder Canal."

"Places like Groveport should be celebrated for their

history. Lockbourne is the only place one can see remnants

of the Columbus Feeder Canal," said Ohio and Erie Canal

Southern Descent Heritage Trail Project Director Cathy

Nelson. "The beauty of this project is all the time and effort

put into it by people in the 25 communities along the trail.

Canal history is important because the canal opened up

the world for people in Ohio who lived near it."

About the trail

The 114 mile driving trail of the The Ohio & Erie Canal

Southern Descent Historic District begins at the southern

edge of Buckeye Lake in Fairfield County. It includes

Bibler lock 8 in Baltimore; locks 11, 12, and 13 in

Lockville; lock 22 in Groveport; locks 26, 27, 29, and 30 in

and near Lockbourne; and remnants of the Columbus

Feeder just west of Lockbourne in Franklin County.

In Pickaway County the trail passes lock 31 in Millport

and includes Canal Park in Circleville. In Scioto County

the trail continues south through Rushtown at lock 48 and

lock 50 in West Portsmouth and ends at lock 55,

west of downtown Portsmouth at the Ohio River.

All of these canal locks, with the exception of

lock 55, are listed in the National Register of

Historic Places. Work to list lock 55 is underway.

The locks' function was to raise and lower water

levels for canal boats to meet the changing level of

terrain.

Residents and visitors can learn the story of this

important transportation route as they follow the

driving trail. Creation of the trail, which will be

launched this fall, is being funded by the Canal

Society of Ohio and Ohio Humanities grants.

Promoting the trail

Nelson said a website page about the trail project

will soon be up and running at seeohiofirst.org.

She said it will include historical narratives about

the 25 communities along the trail as well as information

about places of historical merit and points

of interest in each town.

According to Nelson, signage marking the canal

sites and trails in the various communities will be

the responsibility of the various municipalities.

However, each community will receive one interpretive

sign that explains how a canal lock works.

She said the various signage will provide continuity

and connectivity along the trail for visitors.

"People love transportation history and will travel

to areas to see canal remnants and sites," Nelson

said. "These visitors enhance local economies by

bringing in tourism dollars to communities. A historic

corridor people can visit is fabulous for the

towns near where these locks and other canal features

are located."

Groveport City Administrator B.J. King said the city

will help promote the trail on its Facebook pages and website

and work on providing signage as well as maintaining

historic Lock 22 in Groveport Park.

For information about the Ohio and Erie Canal

Southern Descent Heritage Trail, contact project director

Cathy Nelson at cathyd.nelson@gmail.com.

Canal history

The Ohio and Erie Canal was completed between 1827-

32 and wound 308 miles through Ohio connecting Lake

Erie at Cleveland to the Ohio River in Portsmouth. The

canal, a man-made waterway that was an engineering

marvel, was built to enhance transportation and shipping

in the state.

Prepare for unexpected

power outages with a

Generac home standby

generator

REQUEST A FREE QUOTE!

844-334-8353

FREE

7-Year Extended Warranty*

A $695 Value!

Limited Time Offer - Call for Details

Special Financing Available

Subject to Credit Approval

*To qualify, consumers must request a quote, purchase,

install and activate the generator with a participating dealer.

Call for a full list of terms and conditions.

A FREE ESTIMATE

15 10 5

YOUR ENTIRE

PURCHASE *

% % %

OFF + OFF + OFF

SENIOR & MILITARY

DISCOUNTS

YEAR-ROUND

CLOG-FREE GUARANTEE

1-855-995-2490

TO THE FIRST

50 CALLERS! **

| Promo Number: 285

Ohio and Erie Canal lock 22 is located in Groveport Park, 7370 Groveport Road.

Messenger photo by Rick Palsgrove
---
PAGE 4 - MESSENGER - August 8, 2021

Letters policy

The Messenger welcomes letters to the

editor. Letters cannot be libelous. Letters that

do not have a signature, address, and telephone

number, or are signed with a pseudonym,

will be rejected. PLEASE BE BRIEF

AND TO THE POINT. The Messenger

reserves the right to edit or refuse publication

of any letter for any reason. Opinions

expressed in the letters are not necessarily

the views of the Messenger.

Mail letters to: Messenger, 3500 Sullivant

Avenue, Columbus, OH 43204; or email eastside@columbusmessenger.com.

eastside

Messenger

(Distribution: 16,822)

Rick Palsgrove................................South Editor

eastside@ columbusmessenger.com

Published every other Sunday by

The Columbus Messenger Co.

3500 Sullivant Ave., Columbus, Ohio 43204-1887

(614) 272-5422

Keep tabs on the news in Canal

Winchester and Hamilton Twp.

Look for South Messenger on

Become a fan!

Back to school

T

D

S

T

R

O

P

S

S

K

R

S

B

R

L

O

N

O

T

E

B

O

O

K

C

E

P

W

Q

J

B

A

E

N

S

I

P

I

T

A

H

Q

R

J

E

U

B

Z

M

K

E

N

W

I

P

C

E

I

O

X

W

P

L

C

N

S

T

R

P

K

A

J

T

K

P

R

A

Z

C

T

G

E

S

J

C

E

L

I

D

M

M

U

I

R

O

T

I

D

U

A

T

W

N

Y

S

L

L

U

M

E

M

C

S

L

B

M

Y

G

E

T

Z

C

Q

F

Q

S

Q

E

S

O

T

R

D

L

U

T

K

A

P

Z

Q

A

C

O

A

A

L

S

U

D

T

C

E

J

O

R

P

R

E

D

L

O

F

D

E

"Jungle Cruise" embraces fun and silliness

Dwayne Johnson may get a lot of criticism

thrown his way for his inability to act

on a level beyond 'pleasant man,' 'sarcastic

man,' and 'vaguely annoyed man,' but

where he is able to surpass his more talented

peers is with his ability to sell a movie.

Since his surprisingly successful transition

from professional wrestler with a

sharp eyebrow game to a bona fide movie

star and box office draw, he has been featured

in plenty of trash films, but he is

almost always the best thing about said

trash film.

It could be due to his charisma, which

rolls off the screen like sweat coming down

his well-shaped head (or biceps and chest,

depending on the film), but I think it has

more to do with his presentation of the

material. It always seems like he is having

a great time doing his job, no matter how

awful the plot, dialogue or anything else

that is giving off a rotten stench.

Because of this endearing quality, I

make it a point to check out his latest project

(though I still regret wasting my time

on "Baywatch") and that is what put me

into the path of "Jungle Cruise."

As it is loosely based on the adventure

ride in Disneyland, I admit I had low

expectations for this film. In general,

movies based on amusement rides raise my

bad film antenna so I was suspicious of this

one, even with the added presence of some

truly fantastic actors like Emily Blunt,

Paul Giamatti, Jesse Plemons and Edgar

Ramirez.

Shockingly, my initial assessment was

mostly wrong. Though "Jungle Cruise" is

dumb, it is the best kind of dumb film. It

knows how silly it is, wholeheartedly

embraces that silliness, and just has fun

with the nonsensical twists and turns within.

The mood in this film is a bit infectious,

See puzzle solution on page 11.

Z

Y

F

H

N

R

E

C

E

S

S

C

T

E

N

V

C

Q

I

P

M

V

E

F

L

A

K

S

H

T

A

E

N

F

O

T

Y

S

H

X

U

E

X

C

F

Y

G

H

H

L

A

P

I

C

N

I

R

P

S

D

Messenger Word Search

ASSIGNMENT

AUDITORIUM

BACKPACK

BAND

BUS

CAFETERIA

CLASS

DESK

ERASER

FOLDER

GRADE

GYM

HOMEROOM

INSTRUCT

LAPTOP

LEARNING

LOCKER

NOTEBOOK

PENCIL

PRINCIPAL

PROJECT

QUIZ

RECESS

RULER

SCHEDULE

SPORTS

STUDENT

TEACHER

TEST

WRITING

The Reel Deal

and I couldn't stop

myself from liking it.

Taking place in the

early 1900s, it begins

with Blunt's character,

Dr. Lily Houghton,

who is on a life's quest

to locate an ancient

Dedra

Cordle

artifact that could

lead her to a mystical

tree in the Amazon.

Believing in the legend

of its incredible healing properties, she

has sought sponsors to fund an expedition

in order to "revolutionize science" but has

been rebuffed at every turn solely for her

gender.

Believing her brother MacGregor (Jack

Whitehall) may have better luck at appealing

to the funds of men, she enlists him to

give her presentation in her stead; instead,

that plan goes belly up when he smudges

her notes and nerves start to get the best of

him. Reminding him via notes to stall to

give her time, she breaks into the antiquities

room at the all-male university to look

for the relic.

Because this is a movie where things go

wrong often, things go wrong during her

quasi-heist. Luckily, she is as plucky as

Evelyn Carnahan in "The Mummy" and is

able to snatch that treasure before a mysterious

man with a mysterious accent

(Plemons) is able to get his hands on it.

Though concerned by this turn of events

but not too terribly, Lily and MacGregor

jettison off to the Amazon where she enlists

swindler Frank Wolff (Johnson) to lead

them upriver on his boat La Quila. For his

part, he tries to get Lily to change her mind

www.columbusmessenger.com

as the waters are treacherous and the legend

nothing but a myth, but she is undeterred.

Shortly after beginning their journey,

the odd boat fellows (the sarcastic man

with a love for puns, the educated woman

who prefer pants, and the other man who is

far out of his depths and comforts) discover

that they are not the only ones on this

quest to find the mystical tree. Now, not

only do they have to compete with that

mysterious man with the mysterious

accent who mysteriously has a submarine,

but also an army of cursed conquistadors

who are determined to get the petals of

that tree for their own nefarious purpose.

There is a lot of exposition on the myths

and legends featured in this film and, at

times, it becomes too bogged down in its

own storytelling. But despite however

many times the legend is reiterated, the

film manages to provide plenty of fun

despite those writing hiccups. This

strength can largely be attributed to the

cast, and not just its main stars of Johnson

and Blunt though they are great, and great

together in a buddy cop kind of way.

Everyone in this film seems like they

are having a great time with their roles —

whether they are doing a cameo bit like

Giamatti who plays businessman who

teaches his parrot to tattle on Frank, or a

larger part like Plemons who hams up his

man of mystery — and that, in turn, creates

a fun experience for the audience. And that

is really what "Jungle Cruise" is as its core:

a willfully fun movie that permits the audience

to get on in the fun action too.

Grade: B

Dedra Cordle is a Messenger staff writer

and columnist.

Primary election winners

Republican Mike Carey topped a field of 11 candidates in the

Aug. 3 primary election to select candidates to run for Ohio's U.S.

15th Congressional District seat.

Also, Democrat Allison Russo defeated Greg Betts and will run

against Carey to see who will fill the seat that was left vacant

when former U.S. Representative Steve Stivers, a Republican,

resigned on May 16 to serve as president and CEO of the Ohio

Chamber of Commerce. The primary winners in their respective

parties will face off against each other in the general election on

Nov. 2.

Carey defeated John Adams, Eric Clark, Thad Cooperrider,

Ruth Edmonds, Ron Hood, Thomas Hwang, Stephanie Kunze, Jeff

LaRe, Bob Peterson, and Omar Tarazi.

The Ohio 15th Congressional District includes Clinton,

Fairfield, Hocking, Madison, Morgan, Perry, Pickaway, and

Vinton counties as well as parts of Athens, Fayette, Franklin, and

Ross counties.

Area libraries

•Wagnalls Memorial Library, 150 E. Columbus St., Lithopolis.

For information call (614) 837-4765 or visit www.wagnalls.org.

•The Southeast Branch of the Columbus Metropolitan Library,

3980 S. Hamilton Road, Groveport. For information visit

www.columbuslibrary.org or call 614-645-2275.
---
www.columbusmessenger.com

Searching for Obetz history

Efforts being made to gather

artifacts and stories of town's past

By Linda Dillman

Staff Writer

Obetz resident Bonnie Wiley wants to preserve the

history and heritage of her beloved hometown and

ensure the village's story can be handed down from

generation to generation.

"The history of Obetz contributes to its personality,"

said Wiley, who is also a member of Obetz Village

Council. "Preserving the history through its historic

resources gives it character. Historic preservation provides

the link to roots and its people. In the end, historic

preservation adds to the quality of life, cultural,

economic, environmental and educational benefits.'

To Wiley, all of the aforementioned aspects connect

to one another and to the living memory of the village

through its people, their memories and artifacts as

simple as a grade card from the long-gone Obetz

Junction School.

"Historic preservation in Obetz helps keep communities

beautiful and vibrant," said Wiley. "It is an

ingredient in stabilizing older communities and gives

residents and businesses a stake in their community.

It also encourages a sense of belonging and community

pride."

Wiley, along with other like-minded village residents

such as local historian Joyce Blake, are spearheading

an effort to collect artifacts and oral and written

histories.

Obetz had its beginnings in the early 19th century

when families of Pennsylvania German immigrants

and other nationalities settled in the area and set up

homesteads and farms.

In 1838, Charles Obetz and his family put down

roots in the area and later lent their name to the town

then known as Obetz Junction, which was also

inspired by the intersection of the Norfolk and

Western and Hocking Valley railroads.

As the area grew, a village was laid out on the old

Obetz farm in 1909 and an electric interurban railway

traction line ran through the area. When the Scioto

Valley Traction was discontinued, Junction was

dropped from the name and the village was incorporated

as Obetz in 1928.

The former Zion Evangelical Lutheran Church, now

owned by the village, was built in 1873 and is the only

19th century church still standing in Obetz.

Wiley said people are invited to share their memories

on the "I Remember Obetz" page on Facebook and

drop off any artifacts or other information to Blake at

4229 Lancaster Ave., or by calling Blake at 614-406-

3649.

Artifact donations can be as simple as a yearbook,

photographs, newspaper clippings, letters, oral or written

histories, old store receipts from local businesses,

church flyers, pottery, tools, etc.

"Genealogist Amy Johnson Crow said, 'All history is

local' and that is what we are looking for," said Wiley,

who said there are plans to one day house historical

donations in a dedicated space in town and publish a

book of Obetz history.

Obetz Farmers' Market

August 8, 2021 - MESSENGER - PAGE 5

The Obetz Farmers' Market is held on the first Wednesday of

the month through August from 4-7 p.m. For information call 614-

491-4416.

Obetz Zucchinifest

The 2021 Obetz Zucchinifest will be held Sept. 3-6. The event

will feature food, music, rides, and entertainment at Fortress

Obetz, 2015 Recreation Trail, Obetz.

More information about the festival will be released when it is

available. Visit www.obetzzucchinifest.com.

Lithopolis Honeyfest

The Lithopolis Honeyfest will be held Sept. 10 from 3-7 p.m.

and Sept. 11 from 10 a.m. to 7 p.m. in downtown Lithopolis. The

event features bee beards, beekeepers, art, music, honey bake-off,

Ohio Honey Show, honey extracting, hive inspection, junior beekeeping,

American Honey Princess, food trucks, photo contest,

honey, and honey tasting. Admission is free. For information visit

lithopolishoneyfest.com.

Rice an Ashbrook Scholar

Taylor Rice, a recent graduate of Hamilton Township High

School was selected to be an Ashbrook Scholar, according to the

Ashbrook Center at Ashland University. The top-rated academic

program includes an annual and renewable scholarship to attend

Ashland University. The Ashbrook Scholar Program is an honors

program for undergraduates studying political science, history, or

political economy at Ashland University.

columbusmessenger.com
---
PAGE 6 - MESSENGER - August 8, 2021

SUPPORT

your

Community Paper

Through advertising, community newspapers like the

Messenger have always been FREE papers. In these

tough economic times we are asking you the reader to

help offset the current decline in advertising revenue by

participating in a VOLUNTARY payment program*.

To those who have already participated -

We Thank You.

For those who would like to, below is a form

you can mail with your DONATION.

*This is not a subscription.

.Name:

Address:

City/State/Zip

columbusmessenger.com

3500 Sullivant Ave., Columbus, OH 43204

1 year ($9) 2 year ($18)

Eastside Westside Southwest

Southeast

Special

Olympics

The mission of

Special Olympics

Ohio and its

Groveport and

Canal Winchester

Special Olympics

chapter is to provide

year round

sports training

and competition in

a variety of

Olympic type

sports for intellectually

disabled

individuals.

For information

contact local coordinators

Penny

and Cassandra

Hilty at groveportspecialolympics@g

mail.com or at

(614) 395-8992 or

395-6640.

Donations may be

sent to Groveport

Special Olympics,

P.O. Box 296,

Groveport, OH

43125.

www.columbusmessenger.com

Strength and determination

Messenger photos by Theresa Garee

James Spurgin of Columbus grabbed a one-arm overhead press record at 173

pounds while competing at America's Strongest Athlete with Disabilities event at

Fortress Obetz on July 24. Spurgin has competed in strongman for six years.

Spurgin has competed in Norway at World Strongest Disabled Man and holds the

world record for the one-arm deadlift at 670 pounds.

Michael Painter of Ravenna performs a

car deadlift at the America's Strongest

Athlete with Disabilities event at

Fortress Obetz. Painter, a competitor in

the one-arm standing division, lost his

arm seven years ago in a motorcycle

accident.

Timothy Wilson pulls a tow truck nearly

50 feet at the America's Strongest

Athlete with Disabilities event that

took place at Fortress Obetz. Wilson

lost his leg in a motorcycle accident

nearly three years ago.
---
www.columbusmessenger.com

August 8, 2021 - MESSENGER - PAGE 7

High School Football 2021

Canal Winchester

Indians

7 p.m. Aug. 20..........................Groveport

7 p.m. Aug. 27...........at Central Crossing

7 p.m. Sept. 3.................................Hartley

7 p.m. Sept. 10..at Worthington Kilbourne

7 p.m. Sept. 17...............Franklin Heights

7 p.m. Sept. 24................at Dublin Scioto

7 p.m. Oct. 1.............at Westerville North

7 p.m. Oct. 8.................Westerville South

7 p.m. Oct. 15..............at Delaware Hayes

7 p.m. Oct. 22...........................Big Walnut

Hamilton Township

Rangers

7 p.m. Aug. 20.....................Franklin Heights

7 p.m. Aug. 27........................Independence

7 p.m. Sept. 3...........................................TBA

7 p.m. Sept. 10..........................at Logan Elm

7 p.m. Sept. 17........................Fairfield Union

7 p.m. Sept. 24........................at Teays Valley

7 p.m. Oct. 1...............at Amanda-Clearcreek

7 p.m. Oct. 8....................................Circleville

7 p.m. Oct. 15.......................at Liberty Union

7 p.m. Oct. 22...........................Bloom-Carroll

M A R K E T

Fresh Produce ✔Deli Meats & Cheeses

FAMILY OWNED & OPERATED

Since 1975

4305 Lancaster Ave.

Obetz, OH 43207

(614) 491-5640

Home Of The

$

1 50 SUB

Mention this ad and get $20 off

a $85 service call.

Website:Expert-hvac.com

Phone:614-946-8461

Experthvacllc@gmail.com

Free estimates on system installs

$70 preventative maintenance (tune up)

Expert service

affordable prices

Locally owned from Groveport

GOOD LUCK TO ALL AREA TEAMS!

Diane Todd, SRES, MRP

580 Main St., Groveport, OH 43125

(614) 570-0803

dianetodd@HERrealtors.com

The Marylee Bendig

Team

Good Luck this Season

Dr. Hobbs

Dr. Kelly

3700 Parsons Ave., Columbus, OH 43207

New Patients & Emergencies Always Welcome

(614) 491-5511 www.ScottAKellyDDS.com

GO TEAMS!

HAVE A GREAT YEAR!

Food for the whole family

at a reasonable price!

www.infernosgrill.com

(614) 783-1831

3453 Parsons Ave.

614-491-4221

OPEN DAILY 8:30 am - 9:30 pm

& SUNDAY 9:30 am - 9:30 pm

YOUR NEIGHBORHOOD GROCER SERVING

THE SOUTHSIDE FOR 76 YEARS!

GOOD LUCK TO ALL TEAMS!!
---
PAGE 8 - MESSENGER - August 8, 2021

BLAIR

Continued from page 1

part of a chicken. "He put in the time

to know these, without anybody

helping him. He has learned the

importance of maintaining a routine,

setting goals, making a commitment,

and the follow-through that is important

to achieve these goals."

Terri said balancing everything is

not always easy because of other

activities in which Ashten is

involved. He started running with

his grandmother when he turned

four and now participates in half

marathons. He also plays soccer,

hunts, and goes bow shooting with

his father.

While keeping chickens takes

work and dedication, Terri said there

are perks as well.

"Eggs are definitely the best benefit

for me, but watching the behaviors

of the different chickens with

each other can be so fun to watch.

They each have their own personality

and there is a pecking order for

sure," said Terri, who said chicken

waste is used to amend garden soil.

"They all have names, so they are

pets and we allow them to stay

(beyond their egg laying years) until

their last breath. We are always

adding to our flock every few years

because Ashten likes to take different

breeds to the fair. We even have

one that lays Easter (colored) eggs."

Parking

woes

By Linda Dillman

Staff Writer

Commercial drivers using Obetz

roads to park or store their vehicles may

soon need to find an alternative because

of rising complaints about the practice.

"I've had several complaints about

trailer parking on residential roads,"

said Obetz Mayor Angie Kirk during a

July 26 Obetz Village Council meeting.

"I think we need an ordinance to get

them off the road, along with semis,"

said Kirk. "I had several calls and it's

not just one neighborhood, but several."

Concerns include blocked driveways,

obscured street views and the inability

of emergency vehicles to drive through.

"You cannot block someone's driveway,"

said Kirk. "I've asked Gene (Law

Director Gene Hollins) to look if there's

already something on the books or to

come up with something. We need to

take a look at this in our neighborhoods."

Councilwoman Bonnie Wiley suggested

the village might be able to find a

place for drivers to park their semis that

is not located in a neighborhood setting.

"We did have semis in the neighborhood

in the last couple of weeks," said

Police Chief Michael Confer.

By Rick Palsgrove

Managing Editor

Ranger golf returns!

The Hamilton Township High School

Rangers are fielding boys and girls golf teams

this season after a 15-year absence.

"We felt it was a good time to start a team

based on the increased interest from students,"

said Hamilton Township Athletic Director Ryan

Fitzgerald. "Any time we can give students the

opportunity to participate and compete in athletics

is always a positive."

Fitzgerald said Hamilton Township used to

have a golf team dating back a few decades ago.

"They used to play at the course that was once

located at Rickenbacker," said Fitzgerald. "There

has not been a team for about 15 years though."

He said, as of late July, there are around 12

boys and girls combined on the golf teams.

The Ranger golfers will play their "home"

matches at Upper Lansdowne. The teams'

schedules are still being finalized.

"Some schools within our league are working

to add us to their schedule still at this point,"

said Fitzgerald. "While there may possibly be

additional matches added, the dates listed

below are Mid-State League Tournament dates

that Hamilton Township will compete in. The

girls have fewer MSL tournaments because the

league creates a dual match schedule for the

girls and not the boys."

The schedule thus far:

•Boys golf: Aug. 10 - Crown Hill; Aug. 21 -

Turnberry; Sept. 2 - Lancaster CC (varsity only);

and Sept. 23 - Denison.

www.columbusmessenger.com

•Girls golf: Aug. 11 - Turnberry; Sept. 22 -

Westchester.

When asked what the prospects for success

will be for the Ranger golf teams this season,

Ranger Golf Coach Art Short said, "Success for

these new teams is just to be able to compete in

this sport on a High School level again after so

many years without a chance to participate. I

decided to bring golf back to Hamilton Township

as it's one of the only sports that is a true map

for the coming life. Some days you have bad

shots and some days you have good…the key is

that you keep playing and don't give up!"

Short said the captain of the girls team is

senior Lauren Sarakaitis.

"She is not only an experienced player but a

boost and great help to all the other players and

truly leads by example," said Short.

Junior Bryson Short is the boys captain.

"Bryson has been playing since he was age 10

and also has the ability not only to compete but

enjoy the sport and have fun at the same time,"

said Short. "This team has new players to the

sport but as with anything hard work and practice

they will take these skills and knowledge

with them throughout life."

"Golf is a good sport for young athletes

because much like other sports, it gives them an

opportunity to compete and learn how to deal

with adversity," said Fitzgerald. "Golf is also a

sport that requires both physical and mental

skills, which youth athletes will benefit from

strengthening in other areas of life. Unlike

some sports, golf is more of a lifelong sport."

Are you or a loved one approaching

Medicare Decisions

Soon?

M ed icare Annual Enroll

ment Period

Oct. 15

th

Dec. 7

• I hear on TV about dental, vision, hearing benefits are offered.

Are they available to me?

• Help you understand how your plan and benefits work!

• Do I qualify for Low Income Subsidy (LIS) to reduce my Rx copays?

You may apply anytime during the year, I can help.

Call me t today... $0 Consultation n $0 Fee

Call me t

Consultatio

$0 Fee

Terr Terri ri

Curcio Curcio 6614-460-0601

460 060

01

Terri

Curcio

614-460-0601

0601

Resident

of Ohio, a representative that i

an 800#! I can mail

you

Local repre your esentative, choice of carrier(s) I can mail

information you your preferre or we can ed carrier(s) meet via Zoom information call.

And, to review. I can enroll

Also, a

I can enrol client l a without client without a face-to-fac a face meeting to face meetin or sched ngdule or schedule a personal a mee one-on-one eting if you meeting prefer. if

you prefer.

OHIO IN. #43449 Available year round to answer questions, or

to help resolve an

issue. NO FEE

Offering different types of plans with top-rated carriers. I will work for you to find the

plan that

Review

fits your

different

needs

types

and

of lifestyle, Medicare

while

plans

offe

with

ring top-rated

the lowest

carriers

copays.

. I work for you to

find the

plan that fits your needs and lifestyle,

while offering low

copays.

OHIO IN. #43449

Do I qualify for

Low Income Subsidy (LIS) to reduce my Rx copays?

Turning 65 and new to Medicare

Or over 65 and

still working

needing answers.

Grove City Chamber Member

th
---
www.columbusmessenger.com

August 8, 2021 - MESSENGER - PAGE 9
---
PAGE 10 - MESSENGER - August 8, 2021

Foster a dog

The Franklin County Dog Shelter and Adoption Center will

begin offering individuals in Franklin County the opportunity to

foster shelter dogs while they are still available for direct adoption.

While fostering a dog, it is possible to learn more about how

that dog will act in a home setting, increase the dog's network of

potential adopters, and give them time out of the shelter to decompress.

Many dogs enter the shelter as stray dogs, so virtually

nothing is known about them. Foster homes provide the opportunity

to learn important details about dogs in the shelter's care.

Thee dogs also become Instagram and Facebook stars, and the

shelter can learn information that will help find the dog their perfect

forever home.

Those interested in learning more about the program, and possibly

participating, should visit the shelter website,

www.franklincountydogs.com. To speak to someone directly about

the program, email foster@franklincountyohio.gov.

Foster candidates at the shelter include both dogs with medical

issues and those who would benefit from time outside the shelter

environment.

Dr. Hobbs

3700 Parsons Ave.

Columbus, OH 43207

New Patients & Emergencies Always Welcome

(614) 491-5511

www.ScottAKellyDDS.com

If slightly raised, creamy white

sore patches develop in your

mouth or on your tongue, you may

have oral thrush. The patches may

be brushed off when you clean your

teeth. Brushing may make them

sore and they may bleed slightly.

The infection can spread to the roof

of your mouth, to your gums or tonsils,

or into your throat.

Oral thrush tends to occur most

often when your natural resistance

to disease has been weakened by

illness or as a reaction to medication

such as, antibiotics, immunosuppressive

drugs, or corticosteroid

drugs. Many people experience an

outbreak of oral thrush at some

JUST SOLD

680 Glendora Rd., Columbus, Ohio 43207

Diane Todd, SRES, MRP

580 Main. St.

Groveport, OH 43125

The Marylee Bendig Team

614-570-0803

ORAL THRUSH

Dr. Kelly

point in their lives. The infection is

most common among babies and

young children and the elderly, although

it can occur at any time in

life. Oral thrush can be painful, but

ordinarily it is not a serious disorder.

Your dentist may prescribe a course

of oral antifungal medication, often

to be taken for 7-10 days. Naturally,

any underlying disorder must be

treated as well.

Prepared as a public service

to promote better dental health.

From the office of:

SCOTT A. KELLY, D.D.S.

Phone 614-491-5511

column

It makes me mad

There is an under served population that is shut

out of offers, discounts, and many other perks of our

technological society because they are not "connected."

I'm talking about people like my mother, who,

through no fault of her own, is not tethered to the

Internet because of the high cost of a connection or one

of many other viable reasons.

And it makes me mad.

My mother was recently sent a coupon from a new

gas station moving into the central Ohio market for a

considerable per gallon discount for three months.

When she went to the station, a helpful attendant

asked her for her email address to complete the

process.

Needless to say, that process stopped dead in its

tracks because she did not have the requisite email

address. There was no other way for her to complete

the application for the company's loyalty card without

an association with the Internet.

This is not an isolated incident. It happens on a routine

basis.

And it makes me mad.

Want to enter a drawing from a trusted company?

They don't trust you if you do not have that golden

ticket…aka an email address. Door closed.

Want to sign up for legitimate free offers? Unless

you have a legitimate email address, don't bother. No

Franklin County Public Health, in collaboration

with Nationwide Children's Hospital and Columbus

Public Health, was awarded a two-year federally-funded

$3.99 million health literacy grant from the U.S.

Department of Health and Human Services.

The primary goal of the project is to reduce

Franklin County COVID-related health disparities

and improve health outcomes among racial and ethnic

minorities, through planning and implementation of a

community health literacy plan.

"Throughout the COVID-19 pandemic many of our

residents have not had the opportunity to receive public

health information in a way that is most helpful to

protect themselves and their loved ones." said Joe

Mazzola, Franklin County Health Commissioner.

"This grant gives us the opportunity to expand our

health literacy efforts to reduce COVID-related disparities

within racial and ethnic minority populations and

other vulnerable communities."

Places

freebies for you!

Want to read the latest zoo

newsletter? It's online. Want to

get the best deals on grocery

items at your local store? Digital

coupons are the answer. Have a

complaint, compliment or concern?

More often than not you

have to access the Internet.

And it makes me mad.

The practice is discriminatory

for those without an email

address, old or young. And

because this population of people

are a small minority with limited

access to a much larger population,

they are ignored.

www.columbusmessenger.com

Linda

Dillman

It is not right and it is not fair, but I fear it is a

problem that will be with us as long as there are people

not tethered to technology and the Web.

And it makes me mad.

Linda Dillman is a Messenger staff writer.

Health literacy grant to fight COVID-19

The plan will be developed through a collaborative

process with nearly 20 committed community-based

organization and health partners, including public

health, community health centers, hospitals, and

social service and community health worker organizations

serving racial and ethnic minorities and New

Americans.

The diverse partners will work together to enhance

existing and future community COVID-19 messaging

to strengthen people's ability to find, understand, and

use information and services to help them make the

best health-related decisions for themselves and others.

Organizational health literacy expertise will be fostered

using a train-the trainer model, creating a sustainable

infrastructure supported by tailored health

literacy knowledge and skills development and supporting

resources.

The work will start immediately.

To advertise

in the

Messenger,

call Doug

Henry or

Theresa

Garee at

614-

272-5422.
---
www.columbusmessenger.com

Columbus

Library reopens

The Columbus Metropolitan Library has

fully reopened most of its 23 locations following

more than a year of closures and

service disruptions due to the COVID-19

pandemic.

To celebrate, CML will hold a community

open house at each of its 22 open locations

on Aug. 21.

From 11 a.m. to 4 p.m., visitors can

enjoy special programs, activities and

refreshments, plus enter raffles for prizes.

CML's Karl Road Branch is closed

ahead of the grand opening of the new

branch later this summer.

Face coverings are no longer required

for entry into CML locations, however

unvaccinated individuals are asked to continue

to wear them.

CML asks that customers who are experiencing

symptoms of COVID-19, or who

recently tested positive for COVID-19, not

enter any CML buildings.

Curbside pickup remains available as

well.

CML will continue to follow guidelines

provided by local, county and state health

officials and the Centers for Disease

Control and Prevention.

The safety of customers and staff is a

priority for the library.

Follow CML on social media (Facebook,

Twitter) and check columbuslibrary.org for

updates.

John & Annie Glenn

Heritage Trail

The Zanesville-Muskingum County

Convention and Visitors Bureau

announced that the John & Annie Glenn

Heritage Trail is now available.

Before he was a four term U.S. Senator,

orbital astronaut, and military test pilot -

John G. Glenn Jr. was a small town

plumber's son who dreamed of flying someday.

Before her 73-year marriage to John,

moving 24 times and overcoming a disability,

Annie Glenn was a small town dentist's

daughter with a life-impairing stutter and

a very special boyfriend.

Follow the John & Annie Glenn

Heritage Trail through Zanesville, New

Concord, and Cambridge, Ohio, to celebrate

the life of John Glenn, their namesake

museum and 33 other locations

throughout Guernsey and Muskingum

counties. Visit each stop along the trail to

learn the stories of Ohio's first worldfamous

astronaut and the woman he called

"the wind beneath my wings."

Trail stops include the original Glenn

family home (now the John and Annie

Glenn Museum), the National Road "S"

Bridge, Harper's Cabin, Tom's Ice Cream

Bowl, Alan Cottrill's Sculpture, and the Y-

Bridge just to name a few. Learn the history

of each location and its importance to

John and Annie Glenn.

To request a free copy of the John &

Annie Glenn Heritage Trail, call the

Zanesville-Muskingum County Convention

and Visitor Bureau at 740-455-8282 or

email acook@zmchamber.com. View the

trail at www.flickr.com/photos/gchistorymuseum/albums/72157719208859199.

Sound the Alarm

American Red Cross volunteers will

Sound the Alarm in Columbus as part of a

national effort to educate 100,000 people

about home fire safety in high-risk neighborhoods

this spring.

Columbus area residents are encouraged

to call 844-207-4509 to request a virtual

education appointment and referral to

partner agency for installation of free

smoke alarms.

"Home fires remain the most frequent

disaster, yet most of us don't realize we have

just two minutes to safely escape," said Cory

Paul, executive director of the Greater

Columbus Ohio Chapter. "Our volunteers

can help residents create personal home fire

escape plans and provide them with the critical

information they need to protect themselves

from these everyday disasters."

Central Ohio residents are also encouraged

to visit SoundTheAlarm.org and

pledge to prepare against home fires.

This work is made possible thanks to

financial donations from Red Cross' regional

partners: American Electric Power

Foundation, Columbia Gas of Ohio, Dayton

Power & Light Foundation, Duke Energ,

and NetJets.

T

D

S

T

R

O

P

S

S

K

R

S

B

R

L

O

N

O

T

E

B

O

O

K

C

E

P

W

Q

J

U

B

Z

M

K

E

N

W

I

P

C

E

I

O

X

August 8, 2021 - MESSENGER - PAGE 11

ird ursday

The city of Groveport will host Third

Thursday, a summer festival series featuring

music, food trucks, vendors, and more.

Third Thursday will take place on:

•Aug. 19 - "Dog Days" with a dog show

and adoptable pets; and

•Sept. 16 - "Fall Kickoff!" with hay

rides, photo backdrop, and free minipumpkins.

Third Thursday hours are 5-7:30 p.m.

at Cruiser Park, 4677 Bixby Road.

For information contact jreeves@groveport.org.

Puzzle solution

B

A

E

N

S

I

P

I

T

A

H

Q

R

J

E

W

P

L

C

N

S

T

R

P

K

A

J

T

K

P

R

A

Z

C

T

G

E

S

J

C

E

L

I

D

M

M

U

I

R

O

T

I

D

U

A

T

W

N

Y

S

L

L

U

M

E

M

C

S

L

B

M

Y

G

E

T

Z

C

Q

F

Q

S

Q

E

S

O

T

R

D

L

U

T

K

A

P

Z

Q

A

C

O

A

A

L

S

U

D

T

C

E

J

O

R

P

R

E

D

L

O

F

D

E

Z

Y

F

H

N

R

E

C

E

S

S

C

T

E

N

V

C

Q

I

P

M

V

E

F

L

A

K

S

H

T

A

E

N

F

O

T

Y

S

H

X

U

E

X

C

F

Y

G

H

H

L

A

P

I

C

N

I

R

P

S

D

EMMANUEL LUTHERAN

CHURCH

80 E. Markison Ave., Columbus, OH 43207

elclife.org

SUNDAY WORSHIP SERVICE

8:30 am & 11:00 am

BIBLE CLASS

Adult and Youth (K-5)

9:45 am

*11:00 service includes a radio broadcast

in our parking lot on FM 87.9

Be a Part of Our Local Worship Guide

Our Worship Guide is geared toward celebrating faith and helping readers connect

with religious resources in our community. Make sure these readers know

how you can help with a presence in this very special section distributed to more

than 19,000 households in the South area.

Contact us today to secure your spot in our Worship Guide.

614.272.5422 • kathy@columbusmessenger.com

Messenger

South

Please visit the

South/Canal Winchester

Church of your choice.

List your Worship

Services here.

For info. call 614-272-5422
---
PAGE 12 - MESSENGER - August 8, 2021

www.columbusmessenger.com

MORPC updates Transportation Public Participation Plan

Public comments on the draft

plan are due by Aug. 25

The Mid-Ohio Regional Planning Commission has

updated its Public Participation Plan, which lays out

how MORPC — as the federally designated metropolitan

planning organization for the Columbus urbanized

area — reaches out to members of the public for their

input throughout the transportation planning process.

A draft of the plan is now available for review and

comment by the public.

"The Public Participation Plan is designed to provide

the public opportunity to participate in, review,

and comment on the formulation of transportation

policies and plans, such as the Metropolitan

Transportation Plan, Transportation Improvement

Program and other transportation programs," said

Thea Ewing, MORPC Director of Transportation &

Infrastructure Development.

As an MPO, MORPC conducts a continuing, cooperative,

and comprehensive transportation planning

process. The transportation planning area for the

MORPC MPO includes Delaware and Franklin counties;

Bloom and Violet townships in Fairfield County;

New Albany, Pataskala and Etna Township in Licking

County; and Jerome Township in Union County.

MORPC's plan includes a structured committee

process, a project-specific process, and a public outreach

and information dissemination effort tailored to

meet specific needs.

"The updated Public Participation Plan includes

changes to ensure that we are taking advantage of new

technology options and reaching many segments of the

population for their feedback," said Níel Jurist,

MORPC Director of Communications & Engagement.

This process provides a set of procedures to be consistently

and comprehensively applied to incorporate

the public's involvement, including the planning and

development of the Central Ohio Transit Authority

(COTA) and Delaware County Transit programs and

projects.

The public participation process satisfies Section

5307 public involvement requirements for the

Program of Projects.

The draft 2021 Public Participation Plan can be

viewed here. Comments on the draft plan are due by 5

p.m. on Aug. 25, 2021, to Bevan Schneck, MORPC Sr.

Public Affairs Coordinator, via email to

bschneck@morpc.org or in writing to 111 Liberty

Street, Suite 100, Columbus, OH, 43215.

The updated Public Participation Plan will be considered

for adoption by MORPC's transportation committees

at their September meetings.

The plan will then be reviewed by the Ohio

Department of Transportation, Federal Highway

Administration, and Federal Transit Administration

to ensure that full and open access is provided by

MORPC, COTA, and Delaware County Transit in the

decision-making process.

The Mid-Ohio Regional Planning Commission

(MORPC) is Central Ohio's regional council with more

than 70 members comprised of counties, cities, villages,

townships, and regional organizations. We take

pride in bringing communities of all sizes and interests

together to collaborate on best practices and plan for

the future of our growing region.

pets of the week

Alpha is a 6-year-old boy who

hopes to find his forever family. He

loves to go out for long walks and

loves a good game of fetch. Alpha

is an intelligent dog. He is eager to

learn and even knows some commands

in French. Alpha is available

for adoption through the Franklin

County Dog Shelter.

FYI: franklincountydogs.com

Toffee is a 5-year-old boxer mix.

He is a naturally playful, curious,

and trusting canine. He enjoys to

go for long walks daily and he

enjoys staying busy. After his job is

done, Toffee will curl up with you

on the couch. He is eager to

please and eager to find his forever

family. Adopt Toffee from the

Franklin County shelter.

FYI: franklincountydogs.com

Charlie is a 3-month-old orange

tabby who can entertain a room

full of people. She is as fast as

lightning, will play for hours with

anything, purrs when she eats,

and has no fear of big jumps,

strange noises, or the 15-pound

tomcat in her foster home. She

loves to snuggle and wrestle with her brother, Lou. Charlie

is spayed, microchipped, and up to date on vaccines. She

is up for adoption through Colony Cats.

FYI: colonycats.org

Lou is a completely grey kitten (including his whiskers and

eye-lashes - yes, he has eyelashes!)

who loves blankets and pillows, crinkle

balls, and stating his opinion. He

is a little shy around strangers and

crowds, so would do well in a home

without a lot of commotion. He loves

to snuggle and play with his sister,

Charlie. Lou is neutered,

microchipped, and up to date on

vaccines.

FYI: colonycats.org

Robin is a playful girl who will take

all the affection she can get. This

sweet gal is about 1 and cannot wait

to find her forever family. She is good

with other cats and dogs and would

make a great addition to any family.

Robin is up for adoption through

Friends for Life Animal Haven.

FYI: fflah.org

pets of the week

These furry friends are available

for adoption at local rescues and

shelters.
---
www.columbusmessenger.com

August 8, 2021 - MESSENGER - PAGE 13

CLASSIFIED ADS

Deadlines: Groveport and West editions, Wednesdays at 5 p.m., • South/Canal Winchester, Grove City, Madison editions, Tuesdays at 5 p.m.

All editions by phone, Tuesdays at 5 p.m. • Service Directory, Tuesdays at 5 p.m.

xInformation

xAdult Care

The Columbus Test Clinic

extends an invitation to you

to be tested

FREE of any charge.

Your intelligence and aptitude have everything

to do with your income, your future,

your personal relationships and your life.

Such tests would ordinarily cost you $50.

They are offered to you FREE OF CHARGE

if you call (614) 221-5024 to schedule or

come to the Scientology Testing Center at

1266 Dublin Road Columbus, OH 43215

ASSOCIATION ADS

Replace your roof with the

best lookng and longest

lasting material! Steel

from Erie Metal Roofs!

Three styles and multiple

colors available.

Guaranteed to last a

lifetime! Limited Time

Offer - $500 Discount +

Additional 10% off install

(for military, health

workers & 1st responders)

Call Erie Metal Roofs: 1-

855-338-5807

Wesley Financial Group,

LLC Timeshare Cancellation

Experts Over

$50,000,000 in timeshare

debt & fees cancelled in

2019. Get free

informational package &

learn how to get rid of

your timeshare! Free

consultations. Over 450

positive reviews. 888-965-

0363

Attention Active Duty &

Military Veterans! Begin a

new career & earn a

Degree at CTI! Online

Computer & Medical

training available for

Veterans & Families! To

learn more, cal 888-449-

1713.

ATTENTION DIABETICS!

Save money on diabetic

supplies! Convenient

home shipping for

monitors, test strips,

insulin pumps, catheters &

more! To learn more, call

now! 877-810-0063

Donate your car to kids.

Your donation helps fund

the search for missing

children. Accepting trucks,

motorcycles & RV's too!

Fast free pickup - running

or not - 24 hr response -

maximum tax donation -

Call 888-515-3813

Information

ASSOCIATION ADS

HOME BREAK-INS take

less than 60 SECONDS.

Don't wait! Protect your

family, your home, your

assets NOW for as little as

70¢ a day! Call 866-409-

0308

HughesNet - Finally, superfast

internet no matter

where you live. 25 Mbps

just $59.99/mo! Unlimited

Data is Here. Stream

Video. Bundle TV &

Internet. Free Installation.

Call 866-696-2752

The bathroom of your

dreams for as little as

$149/month! BCI Bath &

Shower. Many options

available. Quality

materials & professional

installation. Senior &

Military Diiscounts

Available. Limited Time

Offer - FREE virtual inhome

consultation now

and SAVE 15%! Call

Today! 1-877-540-2780

ATTENTION SENIORS:

The average funeral cost

is $9000+ Don't leave

your family to pay your

debts. State Approved,

Final Expense Life

Insurance Plans are now

avaiilable as low as $25 a

month. Hurry and call

before enrollment ends. 1-

877-761-1796. M-F 9am-

6pm EST

The Generac PWRcell, a

solar plus battery storage

system. SAVE money,

reduce your reliance on

the grid, prepare for power

outages and power

your home. Full installation

services available. $0

Down Financing Option.

Request a FREE, no obligation,

quote today. Call

1-855-900-2894

WORRIED? STRESSED

OUT? DEPRESSED?

There are answers in this book.

BUY AND READ

Dianetics The Modern

Science of Mental Health

by L. Ron Hubbard,

May you never be the same again - $25

Call (614)221-5024 Or come to

1266 Dublin Road, Columbus,Ohio

ASSOCIATION ADS

AMERICAN & FOREIGN

CLASSIC CARS AND

MOTORCYCLES

WANTED. $$PAYING

CA$H$$ Corvette,

Mustangs, Jaguars, Austin

Healeys, Broncos,

Blazers, Ram Chargers,

AMX, and Triumphs

KRMiller1965@yahoo.com

717-577-8206

Stroke & Cardiovasculer

disease are leading

causes of death according

the AHA. Screenings can

provide peace of mind or

early detection! Call Life

Line Screening to

schedule a screening.

Special offer 5 screenings

for $149.. 1-833-549-9587

Update your home with

beautiful new blinds &

shades. Free in-home

estimates make it

convenient to shop from

home. Professional

installation. Top quality -

Made in the USA. Free

consultation: 877-212-

7578. Ask about our

specials!

DENTAL INSURANCE

from Physicians Mutual

Insurance Company.

Coverage for 350 plus

procedures. Real dental

insurance - NOT just a

discount plan. Do not wait!

Call now! Get your FREE

Dental Information Kit with

all the details! 1-877-553-

1891

www.dental50plus.com/

macnet#6258

ASSOCIATION ADS

Become a Published

Author. We want to Read

Your Book! Dorrance

Publishing Trusted by

Authors Since 1920 Book

manuscript submissions

currently being reviewed.

Comprehensive Services:

Consultation, Production,

Promotion and Distribution.

Call for Your Free Author's

Guide 1-866-482-1576 or

visit http://dorranceinfo.

com/macnet

IMPORTANT

NOTICE

The following states: CA,

CT, FL, IA, IL, IN, KY,

LA, MD, ME, MI, MN,

NE, NC, NH, OH, OK,

SC, SD, TX, VT and WA

requires seller of certain

business opportunities to

register with each state

before selling. Call to

verify lawful registration

before you buy.

Don't let the stairs limit

your mobility! Discover

the ideal solution for

anyone who struggles on

the stairs, is concerned

about a fall or wants to

regain access to their

entire home. Call

AmeriGlide today! 1-844-

317-5246

!!OLD GUITARS WANT-

ED!! GIBSON, FENDER,

MARTIN, Etc. 1930's to

1980's. TOP DOLLAR

PAID. CALL TOLL FREE

1-866-433-8277

Internet &WIFI Starts at

$40 Call us Today to Get

Started. Find High-Speed

Internet with Fiber Optic

Technology No Credit

Check, No SSN Required.

Call us Today 866-396-

9515

advertise

ASSOCIATION ADS

Life Alert. One press of a

button sends help fast

24/7! At home and on

the go. Mobile Pendant

with GPS. Free first aid

kit (with subscription).

877-537-8817 Free brochure

Long Distance moving:

White-glove service from

America's top movers.

Fully insured and bonded.

Let us take the stress out

of your out of state move.

Free quotes! Call: 855-

606-2752

Donate Your Car To

Veterans Today! Help and

Support our Veterans.

Fast - FREE pick up.

100% tax deductible. Call

1-800-245-0398

SELL YOUR ANTIQUE

OR CLASSIC CAR.

Advertise with us. You

choose where you want

to advertise. 800-450-

6631 visit macnetonline.

com for details.

Pest Control

Find Pest Control Experts

Near You! Don't let

pests overtake your

home. Protect your loved

ones! Call to find great

deals on Pest Control

Services - 833-872-0012

YOUR ADULT

CARE SERVICES

Call Kathy

at The Messenger

For More Info

272-5422

Adult Care

New authors wanted!

Page Publishing will help

self-publish your book.

Free author submission

kit! Limited offer! 866-

951-7214

HEARING AIDS!! Bogo

free! High-quality rechargeable

Nano hearing

aids priced 90% less

than competitors. Nearly

invisible! 45-day money

back guarantee! 833-

669-5806

DISH TV $64.99 190

Channels + $14.95 high

speed internet. FREE installation,

Smart HD DVR

included. Free Voice Remote.

Some Restrictions

apply. Promo Expires

1/21/22. 1-833-872-2545

Windsong is committed to providing

high quality, loving care, and affordable

home care services to our clients. With our

assistance, clients can lead

dignified and independent lives in the

comfort of their own home.

Individual needs are carefully assessed,

understood, and met through the selective

assignment of quality, trustworthy and

compassionate service-oriented personnel.

Give us a call today for a free in-home

assessment or visit our website at

www.windsongseniorcare.com

614-820-5000

ASSOCIATION ADS PRESCHOOL/DAYCARE PRESCHOOL/DAYCARE

HughesNet Satellite Internet

- Finally, no hard

data limits! Call today for

speeds up to 25mbps as

low as $59.99/mo! $75

gift card, terms apply. 1-

844-863-4478

Elminate gutter cleaning

forever! LeafFilter, the most

advanced debris-blocking

protection. Schedule

Free LeafFilter Estimate.

15% off Entire Purchase.

10% Senior & Military

Discounts. Call 1-855-995-

2490

INCREASE YOUR

FALL ENROLLMENT!

ADVERTISE YOUR

PRESCHOOL OR DAYCARE

in

The South/

Canal Winchester Messenger

For More Info, CALL Kathy

614-272-5444

ASSOCIATION ADS

Donate your car to kids!

Fast free pickup running

or not - 24 hour response.

Maximum tax

donation. Help find missing

kids! 877-831-1448

VIAGRA and CIALIS

USERS! 50 Generic pills

SPECIAL $99.00 FREE

Shipping! 100% guaranteed.

24/7 CALL NOW!

888-445-5928 Hablamos

Espanol

ASSOCIATION ADS

DISH TV $64.99 FOR 190

Channels + $14.95 High

Speed Internet. Free Installation,

Smart HD DVR

Included, Free Voice Remote.

Some restrictions

apply. Promo expires

7/21/21. 1-855-270-5098

AT&T Internet. Starting

at $40/month w/12-mo

agmt. 1 TB of data/mo.

Ask how to bundle &

SAVE! Geo & svc restrictions

apply. 1-888-796-

8850
---
PAGE 14 - MESSENGER - August 8, 2021

www.columbusmessenger.com

xEmployment

ASSOCIATION ADS

VIAGRA & CIALIS! 60

pills for $99. 100 pills for

$150 FREE shipping.

Money back guaranteed!

1-844-596-4376

FREE

TRAINING

+

$1000 SIGN-ON BONUS

Kroger Pharmacy Warehouse

2nd and 3rd Shift

Positions Available

Scan for more details and

link to apply:

BE YOUR OWN BOSS!

INDEPENDENT

CONTRACTORS

WANTED

If you have a reliable car and would like to

earn extra money, then why not deliver?

• Deliver 1 or 2 days a week

• Flexible delivery hours

• Work close to home - often in or

near your neighborhood

CONTACT US

1-888-837-4342

www.thebag.com

• Deliver 7 days a week

• Delivery before dawn

• Work close to home - often in or

near your neighborhood

CONTACT US

614-461-8585

www.dispatch.com/delivery

HOME HEALTH AIDES

$13.00-$20.00 per hour

Choose your Schedule and Clients,

Benefits Available: Pay Advances,

Quarterly Bonuses, Paid Vacation,

401K w/matching, Medical/Dental/Legal

One year experience working for an employer

in caregiver role is preferred.

To apply, please visit v-angels.com

or text/call "career" to

614-80-ANGEL (802-6435)

ASSOCIATION ADS

Directv Now. No Satellite.

$40/mo 65 Channels.

Stream news, live

events, sports & on demand

titles. No contract/

commitment. 1-866-825-

6523

NEED IRS RELIEF

$10K-$125K+ Get Fresh

Start or Forgiveness.

Call 1-844-431-4716

Monday through Friday

7am-5pm PST

Train online to do medical

billing! Become a

Medical Office Professional

at CTI! Get trained

and certified to work in

months! 888-572-6790.

(M-F 8-6 ET)

GENERAC Standby

Generators provide

backup power during

power outages, so your

home & family stay safe &

comfortable. Prepare now.

FREE 7-yr extended

warranty $695 value!

Request a free quote

today. Call for terms &

conditions. 1-844-334-

8353

ASSOCIATION ADS

Eliminate gutter cleaning

forever! LeafFilter, the

most advanced debrisblocking

gutter protection.

Schedule a FREE LeafFilter

estimate today. 15% off

Entire Purchase. 10% Senior

& Military Discounts.

Call 1-855-791-1626

Protect your home w/home

security monitored by

ADT. Starting at $27.99/

mo. Get free equipment

bundle including keypad,

motion sensor, wireless

door & windows sensors.

833-719-1073

Attention: If you or aloved

one worked around the

pesticide

Roundup

(glyphosate) for at least 2

years and has been diagnosed

with non-Hodgkin's

lymphoma, you may be

entitled to compensation.

855-341-5793

Looking for auto insurance?

Find great deals

on the right auto insurance

to suit your needs.

Call today for a free

quote! 866-924-2397

Attention oxygen therapy

users! Inogen One G4 is

capable of full 24/7 oxygen

delivery. Only 2.8

pounds. Free info kit.

Call 877-929-9587

READER

ADVISORY

The National Trade Association

we belong to has

purchased the following

classifieds. Determining

the value of their service

or product is advised by

this publication. In order

to avoid misunderstandings,

some advertisers do

not offer "employment"

but rather supply the

readers with manuals, directories

and other materials

designed to help

their clients establish mail

order selling and other

businesses at home. Under

NO circumstance

should you send any

money in advance or give

the client your checking,

license ID or credit card

numbers. Also beware of

ads that claim to guarantee

loans regardless of

credit and note that if a

credit repair company

does business only over

the phone it's illegal to request

any money before

delivering its service. All

funds are based in US

dollars. Toll Free numbers

may or may not

reach Canada. Please

check with the Better

Business Bureau 614-

486-6336 or the Ohio Attorney

General's Consumer

Protection Section

614-466-4986 for more

information on the company

you are seeking to

do business with.

Employment

ASSOCIATION ADS

The Generac PWRcell

solar plus battery storage

system. Save money,

reduce reliance on

grid, prepare for outages

& power your home. Full

installation services. $0

down financing option.

Request free no obligation

quote. Call 1-855-

270-3785

Want Faster & Affordable

Internet? Get internet

service today with

Earthlink. Best internet &

WiFi Plans. Call us Today

to Get Started. Ask

about our specials! 866-

396-0515

READY TO BUY, SELL

OR RENT YOUR

VACATION HOME OR

HUNTING CAMP?

Advertise it here and in

neighboring publications.

We can help you. Contact

MACnet MEDIA @

800-450-6631 or visit our

site at MACnetOnline.

com

WANTED

SCHOOL BUS DRIVERS

The South-Western City School

District is currently hiring drivers

for the 2021-2022 school year

WE WILL TRAIN

Positions are available for substitute

school bus drivers that can develop into

regular positions with benefits. Interested

individuals should submit an application

at www.swcsd.us and follow the employment

link. Applicants should have an

excellent driving record and must submit

to a drug, alcohol, and background

screening. A high school diploma or

equivalent is required.

EOE
---
&NoApplicationFee

with 12-month lease

when you mention this ad

Limited-time offer!

1234 WASHINGTON STREET

SOMERSVILLE HEIGHTS

List details, terms and conditions here. List details, terms and conditions here.

List details, terms and conditions here. List details, terms and conditions here.

List details, terms and conditions here. List details, terms and conditions here.

List details, terms and conditions here.

www.columbusmessenger.com

xCome & Get It!

COME AND GET IT

Deadlines are Tuesdays by 5 pm.

Call For Publication Schedule 614-272-5422

Need to Get Rid of Something Fast - Advertise It Here For FREE!

FREE Garden Straw for gardens or bedding. Call for appointment for pickup.

Circle S Farms, 9015 London-Groveport Road, Grove City, 43123

Grove City - 614-878-7980

. Come and Get It! is a bi-weekly column that offers readers an opportunity to pass

along surplus building materials, furniture, electronic equipment, crafts, supplies,

appliances, plants or household goods to anybody who will come and get them - as

long as they're FREE. NO PETS! Just send us a brief note describing what you want to

get rid of, along with your name, address and phone number. Nonprofit organizations

are welcome to submit requests for donations of items.

Send information to The Columbus Messenger, Attention: Come and Get It, 3500

Sullivant Ave., Columbus, OH43204. Deadline is Tuesdays by 5 pm for following

Mondays publication. Messenger Newspapers is not responsible for any

complications that may occur. Please contact us when items are gone. 272-5422

Come & Get It!

xFocus on Rentals

ATTENTION

APARTMENT MANAGERS

Advertise Your Apartment Listings Today!

Our South Messenger

covers Obetz,

Canal Winchester,

& Hamilton Twp.

Our Groveport Messenger

covers Groveport & Madison Twp.

Reaches over 49,000 households in

these two areas!

simply the Best Place to Live

Example

Claremont

Towers

Luxury Studio & 1-Bedroom Apartments

Great downtown location

Expansive floor plans

Hardwood flooring

Rooftop deck with grills

Community entertainment room

Stainless steel appliances

One Month Free Rent

000-000-0000

WWW.NAMEWEBSITE.COM

ASSOCIATION ADS

DENTAL INSURANCE-

Physicians Mutual Insurance

Company. Covers

350 procedures. Real

insurance - not a discount

plan. Get your free

dental Info kit! 1-888-

623-3036 . www.dental50plus.com/58

#6258

CALL KATHY

TODAY!

614.272.5422

kathy@columbusmessenger.com

Rentals

ASSOCIATION ADS

BATH & SHOWER UP-

DATES in as little as

ONE DAY! Affordable

prices - No payments for

18 months! Lifetime warranty

& professional installs.

Senior & Military

Discounts available. Call

855-761-1725

ASSOCIATION ADS

Thinking about installing

a new shower? American

Standard makes it

easy. FREE design consulation.

Enjoy your

shower again! Call 1-

833-769-0995 today to

see how you can save

$1,000 on installation, or

visit www.newshowerdeal.com/mac

GENERAC Standby Generators

provide backup

power during utility power

outages, so your home

and family stay safe and

comfortable. Prepare

now. Free 7-year extended

warranty ($695 value!).

Request a free

quote today! Call for additional

terms and conditions.

1-855-465-7624

MOTORCYCLE

HONDA 2002 VT 600 M/C

$2,000. 614-406-3021

WANT TO BUY

BUYING VINYL RECORDS.

LPs and 45s - 1950-80s

Rock, Pop, Jazz, Soul.

614-831-0383

We Buy Cars & Trucks

$300-$3000.614-308-2626

We Buy Junk Cars &

Trucks. Highest Prices

Paid. 614-395-8775

WANTS TO Purchase

minerals and other oil &

gas interests. Send details

to: P.O. Box 13557,

Denver, CO 80201

WE BUY JUNK CARS

Call anytime 614-774-6797

VACATION RENTALS

Englewood, Florida

Palm Manor Resort

Within minutes of white

sand Gulf beaches,

world famous Tarpon

fishing, golf courses, restaurants/shopping,

Bush

Gardens. 2 BR 2 BA

condos with all ammenities,

weekly/monthly, visit

www.palmmanor.com

or call 1-800-848-8141

August 8, 2021 - MESSENGER - PAGE 15

xClassified Services

AIR CONDITIONING

AIR CONDITIONING

Complete System

Clean & Check

$49.95

Free Electronic Leak Testing

All Makes • All Models

45 Yrs. Exp. • Senior Discount

614-351-9025

BLACKTOP

SANTIAGO'S

Sealcoating & Services LLC

Quality Materials Used

SUMMER IS HERE!

Driveway Seal & Repair!

Top Seal Cracks!

Residential & Commercial

Mulching, Edging & Clean-ups

"Ask for whatever you need."

BBB Accredited-Fully Insured

8/1s

Call or text for Free Est.

614-649-1200

AGM OHIO

ROOFING &

SEALCOATING

Free Estimates

Cell 614-512-1699

CLEANING

Looking for Mrs. Clean?

For excellent cleaning serv

at reas. rates w/great refs,

dependable. 10% Senior

Disc. Free Est. Gwen

614-226-5229

INFORMATION

INFORMATION

8/29 A

CARPET CLEANING

CARPET CLEANING

Any 5 areas ONLY $75

Home Powerwash $99-$200

614-805-1084

Specializing in Pet Odors

ONLY

$50.00

For This Ad In Our

South & Groveport

For Info Call

272-5422

CONCRETE

www.hastingsnsons.com

Driveways & Extensions

Patio & Walkways,

Porches & Steps,

Garage/Basement Floors

Hot Tub/Shed Pads,

Stamped/colored concrete

Sealing of new &

existing concrete.

FREE ESTIMATES

Contact Adam

614-756-1754

hastingsandsons.

columbus@gmail.com

AJ's Concrete,

Masonry

Good Work - Fair Prices

Block Foundations

Driveways • Sidewalks

Epoxy/Overlay Floors

Bonded-Ins. • Free Ests.

614-419-9932

EDDIE MOORE

CONSTRUCTION

Quality Concrete Work

Lt. Hauling & Room Add.,

Block Work & Excavation

Stamp Patios,

Bsmt. Wall Restoration

35 Yrs Exp - Lic & Ins.

Free Ests. 614-871-3834

Buckeye City

Concrete & Excavating

* Concrete * Foundations

* Waterlines * Drains

*Catch Basins

614-749-2167

buckeyecityconcreteand

excavating@yahoo.com

GUTTERS

Bates & Sons

GUTTER CLEANING

5 ★ Google Reviews

614-586-3417

HAULING

DEAN'S HAULING

614-276-1958

INFORMATION

LOOK TO

THE PROFESSIONALS

IN OUR

SERVICE DIRECTORY

For Service

"That Is Out Of This World"

8/29 A

8/29 A/M

HOME

IMPROVEMENTS

SINCE 1973

Phil Bolon Contr.

Windows & Siding

Decks, Kitchens, Baths

Room Additions,

Flooring, Roofing

Bsmt Waterproofing

Deal With Small Non-Pressure Co.

47 Yrs. Exp. - Refs. Avail.

Lic.-Bond-Ins.

Free Est. - Financing Avail.

Member BBB Of Cent. OH

O.C.I.E.B. ID #24273

614-419-3977

or 614-863-9912

C&JHandyman

Services LLC

Minor Plumbing

& Electric

Install Hot Water Tanks,

Dishwashers & Disposals

Also Fencing &

Interior/Exterior Painting

Free Est. ~ 18 Yrs. Exp.

CDC/EPA Approved Guidelines

614-284-2100

HOME

MAINTENANCE

NEED HOME REPAIRS?

We do it all! Fences, decks,

home repairs, more Just ask!

220-465-2602-local #

JOE'S HOME MAINT.

Home Repairs, Roofing,

Siding, Gutters, Soffits,

Misc. Int. Repairs

Int. Painting

Call Joe 614-778-1460

37 Years Exp.

HOME

REMODELING

Handyman Remodeling

Over 35 yrs exp.

Larry 614-376-7006

LAWN CARE

The Lawn Barber

Cut, Trim, Blow away

Hedge Trimming, Edging

Garden Tilling

614-935-1466

Lawnmasters and

Landscaping

Give us a call for your

yards that need mowing,

Spring clean-up, weed

control, paver patios, etc.

Free Estimates

614-378-1237

Classified Services

8/29

A/M

KLAUSMAN HOME

IMPROVEMENT

Siding-Windows-

Doors-Roofing-Soffit-

Fascia-Gutters-Trim

Earn FREE Seamless

Gutters with Siding Over

1000 Sq. Ft.

FREE Shutters with

Soffit & Trim

EPA Certified

Member of BBB

Financing Available

Over 20 yrs exp. • Free Est.

Licensed-Bonded-Insured

Owner & Operator

James 614-419-7500

7/18 A

7/18 A

PEST

CONTROL

TERMITE &

PEST CONTROL

614-367-9000

TORCO®

TERMINATES

TERMITES

Locally Owned & Operated. Any Pest. Anytime.

$

50 00 OFF Service

Expires July 11, 2021

Free Termite Inspection

LAWN CARE

LET US MAINTAIN

YOUR LAWN & GARDEN

FOR YOU

Summer, Spring,

Winter or Fall

WE DO IT ALL!!!!

Lawn Cuts, Edging,

Trees & Shrubs, Garden,

Mulching, Hauling,

Garden Pond &

Home Maint.

Free Ests. Low Rates

$20 & Up

Kevin - 614-905-3117

MOVING

Aaron Allen

Moving

Local Moving since 1956

Bonded and Insured

614-299-6683

614-263-0649

Celebrating

over 60 yrs

in business

PAINTING

A Job Well Done Again

A lic. General Contractor

Some Skilled Services

Incl: Painting • Stucco,

Repair•Carpentry•Exterior

Drainage & Home Maint.

Call Today! 614-235-1819

PLUMBING

ALL IN ONE

PLUMBING LLC

"One Call Does It All"

$25 OFF LABOR

8/15

With This Ad

A

614-801-1508

All Major Credit Cards Accepted

All About Drains & Plumb.

Will snake any sm drain

$125 + tax. 614-778-2584

CHRIS'

PLUMBING

"Plumbing & Drain Professional

That You Can Count On"

24 Hrs., 7 Days/Week

No Overtime Charges

24 Yrs. Exp. in Plumbing &

Drain Cleaning Field

Call For A Free Phone Estimate

$100.00 For Any Small Drain

614-622-4482

30% OFF with AD

8/29 A&M

8/15 A

PEST

CONTROL

PLASTERING

DRYW

YWALL &

PLASTER

8/15

A&M

REPAIR

Textured Ceilings

614-551-6963

Residential/Commercial

BIA

POWERWASHING

MDB POWERWASH

We Specialize In Decks.

Clean, stain, reseal,

revitalize any deck.

Quality work at fair prices.

Guarantee All Work 3 Yrs.

25 Yrs Exp. Free Est.

614-327-9425

Bates & Sons

Soft Wash & Powerwash

5 ★ Google Reviews

614-586-3417

MRS. POWERWASH

Any house wash $149+tax

Single deck $69+tax

2 Tier deck $99+tax

Best Wash in Town

Over 45,000 washes

Ashley 614-771-3892

ROOFING

Robinson roofing & repairs

30 yrs. exp. Lifetime Cols.

resident. Lic./bonded/Ins.

Reas rates. Member of

BBB. Dennis Robinson

614-330-3087, 732-3100

TREE SERVICES

BURNS TREE SERVICE

Trimming, Removal &

Stump Grinding.

614-584-2164

Brewer & Sons Tree Service

• Tree Removal

• Tree Trimming 8/29

A&M

• Stump Grinding

• Bucket Truck Services

Best Prices • Same Day Service

614-878-2568

8/1 A

8/29 A&M
---
PAGE 16 - SOUTH MESSENGER - August 8, 2021

www.columbusmessenger.com

YOUR NEIGHBORHOOD GROCER SERVING

THE SOUTHSIDE FOR 76 YEARS!