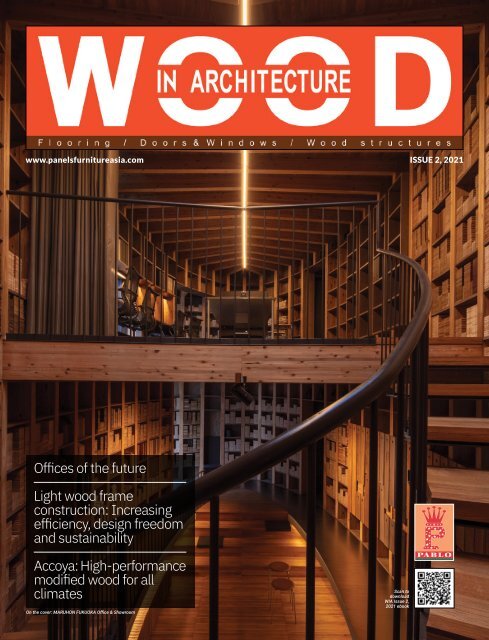 Wood In Architecture Issue 2, 2021
First published in 2017, Wood in Architecture (WIA) is a bi-annual trade magazine devoted to the international timber construction sector. The newest addition to the Panels & Furniture Group of wood magazines, WIA features in-depth insights to the latest industry news, incredible projects and leading trade events. WIA is an advocate for timber as a material of choice for today's built environment, and is the perfect source of inspiration for architects, builders, engineers and interior designers across the globe.
First published in 2017, Wood in Architecture (WIA) is a bi-annual trade magazine devoted to the international timber construction sector. The newest addition to the Panels & Furniture Group of wood magazines, WIA features in-depth insights to the latest industry news, incredible projects and leading trade events. WIA is an advocate for timber as a material of choice for today's built environment, and is the perfect source of inspiration for architects, builders, engineers and interior designers across the globe.
SHOW MORE
SHOW LESS
You also want an ePaper? Increase the reach of your titles
YUMPU automatically turns print PDFs into web optimized ePapers that Google loves.
www.panelsfurnitureasia.com

ISSUE 2, 2021

Offices of the future

Light wood frame

construction: Increasing

efficiency, design freedom

and sustainability

Accoya: High-performance

modified wood for all

climates

On the cover: MARUHON FUKUOKA Office & Showroom

Scan to

download

WIA Issue 2,

2021 ebook
---
Build

Sustainably

Build

with Wood

Every two minutes

U.S. forests grow

700 cubic meters

enough to build a

12-story building
---
MALAYSIAN

TIMBERS

THE PREFERRED

CHOICE

Sustainable

Renewable

Versatile

Durable

Diverse

The remarkable performance characteristics of Malaysian

timbers have allowed architects and designers globally to

feature timber in time-transcending designs that match

beauty with functionality.

Your go-to resource for information on

Malaysian timbers

www.mtc.com.my
---
IN VIETNAM'S

FURNITURE

CLUSTER

www.bifawoodvietnam.com

NEW DATE: 3 - 6 DECEMBER 2021

NEW

VENUE

WTC Binh Duong New City EXPO

Lot A19, Hung Vuong Street, Hoa Phu Ward,

Thu Dau Mot City, Binh Duong Province, Vietnam

Google Map

QR code

Exhibition Site

WOOD & WOODWORKING MACHINERY EXHIBITION

Enquiries For International Exhibitors

Pablo Publishing & Exhibition Pte Ltd

3 Ang Mo Kio Street 62

#01-23 Link@AMK,

Singapore 569139

Tel: (65) 6266 5512

Email: williampang@pabloasia.com

info@pabloasia.com

WeChat

Jointly organised by

• BINH DUONG FURNITURE ASSOCIATION (BIFA) • PANELS & FURNITURE Group

BINH DUONG FURNITURE ASSOCIATION

Photo: elena rouame, helena lopes, guzman barquin/unsplash
---
CONTENTS

16

32 28

38

4 WOOD IN ARCHITECTURE • ISSUE 2 – 2021
---
CONTENTS

06 Editor's Note

07 News

THE BIG PICTURE

16 Offices of the future

SUSTAINABILITY

28 Light wood frame construction:

Increasing efficiency, design

freedom and sustainability

32 Timber buildings go beyond Net

Zero to achieve Whole Life Carbon

status

ENGINEERED WOOD

36 Bringing value and warmth

through engineered wood

38 F1 Canadian Grand Prix New

Paddock

MATERIALS AND

TECHNOLOGY

41 Thermally modified American ash

for Al Faya Lodge desert retreat

44 Accoya: High-performance

modified wood for all climates

DESIGN

46 "Touching colours": RENOLIT

trend service Colour Road

presents latest trend report

STRUCTURAL

ELEMENTS

48 A dynamic and sustainable

environment for the stewards

of the future

FLOORING

52 Is wooden flooring in the

kitchen right for you?

FIT-OUTS

53 FURNIC – Modular carpentry

for the modern home

56 Chicken Mafia: the boss in

undulating waves interior

SHOW PREVIEW

59 Re-imagine the future of the

built environment at IBEW

2021

60 Dubai WoodShow to launch

all-new edition in March 2022

with year-round activities

SHOW REVIEW

62 Winners of the Hoa Mai

Furniture Design Competition

2021

66 Events Calendar

67 Index of Advertisers

46

56

62 48

WOOD IN ARCHITECTURE • ISSUE 2 – 2021 5
---
EDITOR'S NOTE

Saving the world

one timber building at a time

As the world advances towards an

"endemic era" in our fight against

COVID-19, more developers and architects

are rethinking the way buildings are

designed. A lot more emphasis is now

placed on biophilic elements to invoke

a sense of warmth for its users, and this

points towards a material of choice that has

been long associated with human-centric

design – timber. Add sustainability and

carbon negative goals to the mix, and there

you have the perfect equation – wood =

good.

This issue's cover story explores how

timber changes the work environment

(p.16), and five specially selected office

projects from across the globe shine a light

on how design affects productivity and

brand image.

In our column on sustainability, an article

by the Quebec Wood Export Bureau

highlights the emergence of light wood

frame construction and how it contributes

to design freedom, reduced carbon

footprint and cost savings (p.28). In a

similar vein, Ken Hickson introduces the

Whole Life Carbon approach that considers

all the carbon emissions produced over the

entire life cycle of a building (p.32).

Find out how Al Faya Lodge embraces

thermally modified American ash for their

desert retreat (p.41) and how fast-food

restaurant Chicken Mafia beautifully

decorates their outlet with undulating

timber waves (p.56).

Within this issue, we also introduce Accoya

– a brand of high-performance modified

wood suitable for all climates. We explain

how the acetylation process modifies

radiata pine such that it can withstand

harsh climates and surpass the benefits of

most durable hardwoods (p.44).

To meet the ever-growing demand for

custom carpentry in Singapore, interior

fit-out specialists 4PLUS8 has developed an

innovative modular approach. We interview

4PLUS8 founder Andrew Lim to find out about

their brand new FURNIC range and showroom

(p.53).

Last but not least, check out the winners

of this year's Hoa Mai Furniture Design

Competition and let us know which are your

favourite winning products (p.62)!

All this and more await – happy reading!

JO-ANN | Editor

WOOD IN ARCHITECTURE

PABLO SINGAPORE

Publisher

William Pang • williampang@pabloasia.com

Senior Editor

Pang Yanrong • yanrong@pabloasia.com

Editor

Jo-Ann Teo • jo-ann@pabloasia.com

Business Development Manager

Pang YanJun • yanjun@pabloasia.com

Graphic Designer

Goh Meng Yong • mengyong@pabloasia.com

Circulation Manager

Shu Ai Ling • circulation@pabloasia.com

PABLO BEIJING

General Manager

Ellen Gao • pablobeijing@163.com

PABLO SHANGHAI

Editor

Kresly Shen • pabloshanghai@163.net

HEAD OFFICE

PABLO PUBLISHING & EXHIBITION PTE LTD

3 Ang Mo Kio Street 62, #01-23, Link@AMK,

Singapore 569139

Tel : +65 6266 5512

Email: info@pabloasia.com

www.panelsfurnitureasia.com

Company Registration No: 200001473N

Singapore MICA (P) No: 095/08/2020

REGIONAL OFFICES (CHINA)

PABLO BEIJING

Tel : +86 10 6509 7728

Email : pablobeijing@163.com

PABLO SHANGHAI

Tel : +86 21 5238 9737 / 36

Email : pabloshanghai@163.net

let's connect!

@panelsfurnitureasia

All rights reserved. Views of writers do not necessarily reflect the views

of the Publisher. No part of this publication may be reproduced in any

form or by any means, without prior permission in writing from the Publisher

and copyright owner. Whilst every care is taken to ensure accuracy

of the information in this publication, the Publisher accepts no liability for

damages caused by misinterpretation of information, expressed or implied,

within the pages of the magazine. All advertisements are accepted on the

understanding that the Advertiser is authorised to publish the contents of

the advertisements, and in this respect, the Advertiser shall indemnify the

Publisher against all claims or suits for libel, violation of right of privacy and

copyright infringements. Panels & Furniture Asia is a controlled-circulation

magazine with two issues a year. It is mailed free-of-charge to readers who

meet a set of criteria. Paid subscription is available to those who do not

fit our terms of control. Please refer to subscription form provided in the

publication for more details.

Printed by Times Printers Pte Ltd

Scan to subscribe

to PFA's enewsletter

6 WOOD IN ARCHITECTURE • ISSUE 2 – 2021
---
NEWS

INNOVATION IN PARTNERSHIP

Metsä Wood partnered with Finnish

construction and structural design companies

to design the optimal hybrid sandwich wall

element. Precast element manufacturer

Lipa-Betoni saw the potential of the hybrid

elements.

"The hybrid sandwich wall element is a great

opportunity. We look for a new market with a

product, which can be used in the same way

than concrete sandwich elements," said Satu

Lipsanen, Chief Executive Officer of Lipa-

Betoni.

METSÄ WOOD DESIGNS CONCRETE-LVL

HYBRID SANDWICH WALL ELEMENT

Hybrid construction offers construction

companies a more sustainable way of

building without changing the current way of

construction. Metsä Wood and its partners

have designed a hybrid sandwich wall

element which will renew offsite construction.

The innovation combines concrete with

Kerto® LVL (laminated veneer lumber). The

first construction project to use the elements

is Metsä Fibre's Rauma sawmill.

The need for more sustainable solutions is

acute, because construction causes 30% of

all CO 2

emissions. Combining concrete and

Kerto LVL, the hybrid sandwich wall elements

offer an easy way to replace typical concrete

sandwich elements, the popular wall element

in residential multi-storey buildings in Nordic

countries.

Most importantly, the innovation guarantees

efficient construction.

"The hybrid sandwich wall element helps

to increase the share of wood to build more

sustainable buildings efficiently. This joint

development is our effort to support the

construction industry," said Jussi Björman,

Director, Business Construction at Metsä

Wood.

SUSTAINABLE CONSTRUCTION

"As Kerto LVL is a light material, the hybrid

sandwich wall elements will be faster to

produce at the factory and transport to the site,

and even the transport emissions will decrease

due to the light load. The light elements are

also easier to lift," said Björman.

"Around 1 million square metres of concrete

wall elements are produced annually in

Finland. Their load-bearing core creates

45,000 tons of CO 2

emissions. If all concrete

walls were replaced with hybrid sandwich wall

elements, CO 2

emissions would decrease by

30,000 tons a year and 95,000 tons of carbon

would be stored," highlighted Björman.

Metsä Fibre's new Rauma sawmill is the

first construction project at which the hybrid

sandwich wall elements will be used. Skanska

is the main constructor of the mill project;

the elements were produced at Lipa-Betoni's

factory in Pieksämäki, Finland, and installed in

June. WIA

SCM GROUP: NEW €50M IN FUNDING

FROM BEI TO INVEST IN R&D

Scm Group and the European Investment Bank

(BEI) have signed a new unsecured credit line

running for several years of 50 million Euros

aimed at funding 50% of the Italian Group's

planned 100 million Euro investments in

research and development (R&D) in the coming

four-year period (2021-2024).

"Innovation and digitalisation are the

cornerstones for the current and future

organic growth of our Group," explained

Marco Mancini, Scm Group CEO, adding

that "the consolidated relationship with

BEI contributes, with this credit line, to

speeding up the route already undertaken

and further strengthening our financial

structure."

The purpose of the investments planned by Scm

Group is to develop products and services based

on technological solutions that are even more

effective, flexible and simpler for the end client

to use and can guarantee production processes

in line with new needs in smart manufacturing

and 4.0 Industry to encourage greater

sustainability in the use of resources. WIA

WOOD IN ARCHITECTURE • ISSUE 2 – 2021 7
---
NEWS

STUDY: FINNISH MULTI-STOREY BUILDINGS MADE OF WOOD

SELL FOR 9% MORE THAN OTHER CONSTRUCTION

Building more homes and buildings with

wood has been on the radar for years as

a way to offset carbon emissions, though

construction companies have been hesitant

to take the material in broader use. A study at

Aalto University in Finland is now the first to

show that building with wood can be a sound

investment.

The team analysed statistical data from real

estate sales in the Finnish capital of Helsinki

and two suburbs, from 1999 to 2018. Of these,

timber-built homes made up 2.23% of cases.

The findings show that multi-storey buildings

made out of wood sold for an average of 8.85%

more than those made from other materials.

Previous research has pointed to perceptions

of higher costs in wood construction, and until

now there have been no definitive results

on the material's economic feasibility. Since

many things can affect price, the researchers

used regression analysis to control for other

potential factors.

"At first glance, multi-storey housing blocks

made out of wood appear to be cheaper on

average but when we look more closely at

the data and control for location, we see that

it's economically advantageous to use wood.

The results show that wood-based housing is

almost 10% more expensive per square metre

than concrete-based housing in the same

area," explained Seppo Junnila, professor of

real estate business at Aalto University.

Price differences between wood and other

construction materials were not seen in the

suburbs studied. The researchers say this may

have to do with the fact that timber-based

construction in Helsinki occurs in cheaperthan-average

areas, where people may be more

willing to pay for the eco-friendly material.

"These days, many consumers value ecological

choices and, at the same time, want to

communicate their green preferences to others.

Our results show that wooden buildings are

located more often in areas with lower socioeconomic

status – wood is what boosts their

prices," explained Doctoral Student Ilmari

Talvitie.

"Our previous research shows that if you

buy a flat, you're more concerned about its

environmental footprint than if you rent. An

owner typically invests more in ways to improve

VÄLINGE FLOORING

LAUNCHES IN FRANCE

AS EUROPEAN

ROLLOUT BEGINS

After successful launches in the United States

(US) and Asia, Välinge Flooring will now launch

in France as their first venture into the European

market. Made on-site at their headquarters

(HQ) in Sweden, the first products to launch in

France under the name "Välinge Flooring" are

a collection of real wood floors that combine

Välinge's unique patented technologies:

Woodura® surface technology, 5G® Dry

waterproof fold-down system, and 5G® Climb.

The launch creates a whole new category

of floors called "Hardened Wood Flooring",

offering the feel and luxury of a real wood floor

with next-level durability and water resistance.

"The launches in the US and Asia couldn't

have gone better, so we are excited to finally

offer our next-generation real wood floors in

Europe," said Hannes Lindblom, Director Sales

& Marketing, Surface Technology, Välinge

Innovation. "The reception we have had to

the floors has been incredible – there's a huge

appetite for beautiful, sustainable real wood

floors that can handle whatever life throws at

them and we think customers in France are

going to love them too."

Välinge Flooring France has established their

HQ in Nîmes in the south of France, with David

Sarcinella joining as managing director. David

has been involved in the flooring industry for

almost 25 years.

"It's a real pleasure and challenge to join

Välinge," commented David Sarcinella,

Managing Director, Välinge France. "Their

vision of offering an accessible, modern,

design-orientated, quality product while

thinking about the environment and

preserving nature corresponds perfectly to my

philosophy."

"I'm convinced that customers in France will

appreciate the quality, durability, and design

of the Hardened Wood Floor collection," said

Sarcinella. "With revolutionary products

like this, it was easy for me to accept this

fabulous opportunity – I can't wait to get

started." WIA

8 WOOD IN ARCHITECTURE • ISSUE 2 – 2021
---
NEWS

performance, like energy-saving options. This

principle seems to hold true here: buyers are

willing to pay more for an eco-friendly choice,

even if they can't afford to live in the most

expensive neighbourhoods of the city," added

Junnila.

While Finland's construction industry has been

hesitant to invest in timber construction, the

country's government sees its potential: the

Ministry of the Environment aims to have 45%

of new multi-storied buildings constructed with

wood by 2025.

"Just legislation isn't enough to meet these

goals. We need people to want to live in these

kinds of buildings and construction firms need

to see them as a business opportunity," said

Junnila.

Construction firms hesitate because of a lack of

skills, resistance to change and a concern that

wooden construction will be expensive, say the

researchers.

"The cost of construction is just half of the

cost of a home, so if the consumer is ready to

pay nearly 10% for their wooden home, it's

an extremely worthwhile investment for the

builder," emphasised Junnila.

Previous research has shown that boosting

wood construction in cities is an effective way

of storing carbon emissions. Deforestation,

however, continues to be a hot topic

worldwide.

"Wood construction is an excellent option

in countries like Finland and other Nordic

countries, where legislation requires that cut

trees be replaced. It's also worth remembering

that, globally speaking, deforestation happens

for other reasons – not wood construction. If

we need a new building, wood is indisputably a

good choice for our planet," said Jussi Vimpari, a

post-doctoral researcher at Aalto University.

Most importantly, in a world increasingly fixated

on carbon neutrality, a shift to wood construction

can help cities around the planet meet their

goals.

"Building with wood is essentially the only way

for cities to store carbon – by definition they

don't have vast amounts of nature needed to sink

carbon. The good news is that some international

investment companies have already realised the

potential of timber construction, and we can only

expect this interest to grow," said Junnila. WIA

Further reading

Ilmari Talvitie, Jussi Vimpari & Seppo Junnila. Economic

feasibility of wood-based structures – improving urban carbon

neutrality strategies. Environmental Research: Infrastructure

and Sustainability. Link to the article:

https://doi.org/10.1088/2634-4505/abfe05
---
NEWS

DOMOTEX TO BE HELD FROM 13 TO

16 JANUARY 2022 WITH EXPANDED

RANGE OF PRODUCTS

From 13 to 16 January 2022, DOMOTEX will

feature several innovations, including two

newly introduced DOMOTEX labels "Carpets

& Rugs" and "Floor & Wall", as well as an

adapted hall structure. In addition, DOMOTEX

will focus even more on application and special

formats tailored to specific target groups.

market-relevant exhibitors that we have

been able to 'reconquer' for the upcoming

event. Being able to meet the entire flooring

industry face-to-face again in Hannover in

January 2022 is a real highlight after the long

pandemic! This makes the preparations even

more fun."

"We will present trends, innovations and

lifestyle in a decentralised way in the

respective display areas," said Sonia Wedell-

Castellano, Global Director DOMOTEX,

Deutsche Messe AG, Hannover. "Exhibitors

and attendees can look forward to many

innovative ideas. They can discover trends

and innovations that will shape tomorrow's

business. We are particularly pleased with

REGISTRATION LEVEL EXCEEDS

EXPECTATIONS

The current registration status attests to the

positive response to DOMOTEX, which will take

place as a hybrid event.

"Many exhibitors have already confirmed

their participation at DOMOTEX even before

registration was officially open," commented

Wedell-Castellano. "This once again

underscores the importance of DOMOTEX as a

global marketplace and a source of inspiration

for the entire industry. The importance of

face-to-face meetings for the industry cannot

be overrated; renowned and long-standing

exhibitors such as IPEK – A. Ipektchi, Galleria

Battilossi, Jaipur Rugs Company, Jambros

EGGER GROUP ESTABLISHES NEW

BUILDING PRODUCTS DIVISION

EGGER Building Products offers system solutions

for private and commercial wood construction

Wood is becoming increasingly important as

a sustainable building material. Renovation

pressure and densification in urban areas,

a shortage of skilled workers in the trades

and resource issues mean both potential

and challenge for the industry. EGGER is

responding to this with its own organisational

unit, the EGGER Building Products Division.

It is led by Chief Executive Officer Ulrich

Weihs.

In order to be best positioned for further

growth in the core market of Europe and

beyond, and develop sustainable solutions

to pressing residential and commercial

construction issues, the EGGER Group is

bundling the production and marketing of

building products in the new division. It

comprises all activities of the oriented strand

boards (OSB) plants in Wismar, Germany,

and Radauti, Romania, as well as the sawmill

in Brilon, Germany, and the worldwide

marketing of the OSB and DHF product

groups.

The EGGER Building Products Division

is headed by Ulrich Weihs. He will be

succeeded by Georg Lingemann, Chief

Executive Officer of the sawmill in Brilon.

Also on the management team of the new

EGGER Building Products Division are

Andrea Kempen (Finance/Administration),

Jost Börger (Sales DACH), Jürgen Schaffer

(Sales Eastern Europe & Scandinavia),

Moritz Steinruck (Product Management) and

Christian Moßhammer (Marketing). Together

with the management of the OSB plants in

Wismar and Radauti, and more than 460

employees working in the division, they will

develop system solutions for building with

wood, create further finishing options for

building products and strengthen synergies

between the sites.

FOCUS ON SERIAL

CONSTRUCTION AND SYSTEM

SOLUTIONS

"Building products made of wood and

wood-based materials have a great future,"

shares Weihs. "They are sustainable building

materials that grow back in a climate-neutral

way. Our aim is to develop innovative system

solutions for wood construction that can be

manufactured industrially and that spare the

precious resource wood. The EGGER Building

Products Division will contribute to making

building with wood simple and efficient."

With the organisation operational as of 1 May

2021, the EGGER Group now consists of six

divisions, structured according to product

categories and regions: EGGER Decorative

Products West, Central, East and Americas,

EGGER Flooring Products and EGGER Building

Products. WIA

10 WOOD IN ARCHITECTURE • ISSUE 2 – 2021
---
NEWS

Modern Flooring, Javi Home, Rezas Oriental

& Modern Rugs and Zollanvari from the

handmade carpet sector, as well as Oriental

Weavers Carpet, Obsession and Royal Hali

from the machine-made carpet sector,

have already confirmed their participation.

Commitments of Bauwerk Group, HARO and

Scheucher as new exhibitors as well as the

participations of ter Hürne and Windmöller

in the field of parquet, LVT and laminate

are a special source of joy. In addition the

likes of Associated Weavers, Infloor-Girloon

and Onefloor from the textile and resilient

sector and SELIT from the application and

installation technology sector have already

registered."

"CARPET & RUGS" AND "FLOOR

& WALL"

Two new labels will be introduced at

DOMOTEX 2022 to optimise orientation

for visitors: "Carpet & Rugs" and "Floor

& Wall". The adjusted hall layout brings

together product groups from the two labels

in terms of space, enabling attendees from

the wholesale and retail trade, architecture,

interior design, crafts, and the furniture and

furnishings trade to find their way around

more easily. Halls 2 to 4 will showcase the

world's largest range of handmade carpets.

Machine-made woven carpets can be seen

in Halls 5 to 7. Halls 2 to 7 thus form "Carpet

& Rugs".

Products and practical solutions from

application and installation technology will in

future be at home in Hall 12, directly adjacent

to textile floor coverings in Hall 11 and hard

flooring and resilient flooring in Hall 13. In

addition, greater emphasis will be placed on

the extended range of products, including the

many wall solutions that exhibitors regularly

show at DOMOTEX. This means that Halls 11

to 13 will form "Floor & Wall."

NEW SHOW DAYS

Starting next year, DOMOTEX will take place

from Thursday to Sunday (previously Friday

to Monday). This means that DOMOTEX 2022

will start on 13 January 13 and remain open

until 16 January. With the new sequence of

days, DOMOTEX is responding to the wishes of

numerous visitors and exhibitors to officially

open the show as early as Thursday and offer

two consecutive working days. WIA

Jonathan Bernard/unsplash
---
NEWS

JLL: 70% OF COMPANIES IN ASIA PACIFIC WILLING

TO PAY HIGHER RENT FOR GREEN BUILDINGS

A majority of Asia Pacific corporations (70%)

are willing to pay a rental premium to lease

sustainability-certified buildings in the future.

This commitment aligns with broader real

estate sustainability developments across

Asia Pacific where 40% of corporate occupiers

have already adopted net zero targets and

another 40% are planning to adopt targets by

2025. The regional real estate decarbonisation

drive is also prompting 80% of corporate

occupiers to prioritise locations that help

them reduce carbon emissions, while 65% of

investors will focus more on green building

investments.

These insights come from the JLL (NYSE: JLL)

Asia Pacific "Sustainable Real Estate: From

ambitions to actions" report that surveyed

over 550 corporate real estate leaders.

Approximately 90% of companies in Asia

Pacific agree that tackling emissions from

real estate is essential in achieving a net zero

carbon agenda – signaling a new era in regional

real estate portfolio leasing and investment. For

corporate occupiers who currently lease space

in a green building, the majority are paying

a rental premium of 7% to 10%, providing

a benchmark for future sustainable leasing

trends, according to JLL.

"For companies operating in Asia Pacific, any

meaningful reduction in carbon footprint is

tied directly to real estate. Corporate occupiers

will increasingly demand real estate solutions

that complement their sustainability agenda.

This will lead investors to prioritise green

investments, propelling the real estate industry

transformation towards future-ready green

buildings," said Anthony Couse, Chief Executive

Officer, APAC, JLL.

The survey provides a comprehensive view

of organisations' sustainability journeys, with

only a handful of corporate occupiers (21%)

and investors (26%) identified as "Leading" in

their category within the survey – defined by

the strength of their sustainability goals which

will move the needle on their carbon emissions

reduction targets – scoring above 71 out of 100

total possible points. This indicates that a large

EUROPEAN ACCREDITATION BODIES READY TO OFFER ACCREDITA-

TION FOR THE 2020 PEFC CHAIN OF CUSTODY STANDARDS

Following the positive evaluation of the

Programme for the Endorsement of Forest

Certification (PEFC) chain of custody by the

European co-operation for Accreditation

(EA), European accreditation bodies can now

provide accreditation against the 2020 PEFC

Chain of Custody and Trademarks standards.

This decision enables certification bodies to

update their accreditation and clears the way

for thousands of PEFC-certified companies

worldwide to transition to the 2020 chain of

custody standards. Furthermore, companies

looking to achieve PEFC certification have the

opportunity to be certified against the 2020

standards.

In addition, we have extended the

transition period by six months, to 14

August 2022, to give accreditation and

certification bodies more flexibility. After

this date, all certification bodies must be

accredited against the 2020 standards

and all chain of custody audits carried out

against the 2020 standards.

BACKGROUND

In February 2020, PEFC published the

2020 versions of three vital international

standards: Chain of Custody (ST 2002),

PEFC Trademarks (ST 2001) and Certification

Body Requirements – Chain of Custody

(ST 2003).

Certification bodies need to be accredited

against both the 2020 PEFC Trademarks

and Chain of Custody standards before

they can offer PEFC chain of custody

certification against the 2020 PEFC Chain

of Custody standard. Certification bodies

can find out more about this process here.

In Europe, EA applies a process called "EA

Procedure and Criteria for the Evaluation

of Conformity Assessment Schemes by

EA Accreditation Body Members" (EA-

1/22) to decide whether a standard can

be accepted by an accreditation body for

accreditation.

12 WOOD IN ARCHITECTURE • ISSUE 2 – 2021
---
NEWS

majority of organisations need to do

more to translate commitments to

tangible actions. For instance, only

36% of occupiers have pledged to act

on emissions that come from their

suppliers and customers, in addition

to their own operations, according to

JLL data.

While firmer commitments from

companies are necessary to

accelerate the net-zero carbon

ambitions, organisations have

identified several barriers in

achieving their sustainable real

estate goals. Approximately 70% of

occupiers report a lack of incentives

from governments and support

from landlords. Additionally, three

out of four companies surveyed

identified insufficient technological

infrastructure as a hurdle to reaching

their environmental goals.

pay a premium to meet new demands. There

is now a heightened responsibility among

businesses to take demonstrable actions

with their commercial real estate portfolio,

which will increasingly rely on partnership

between occupiers and investors to translate

sustainability ambitions into actions."

JLL's "Sustainable Real Estate: From

ambitions to actions" report was based on an

online study of 478 occupiers and 76 investors

from multiple countries across the Asia Pacific

region, with a strong emphasis on Australia,

China, India, Japan and Singapore. Respondents

were asked questions to determine the position

of their sustainability maturity journey. Each

company was then assigned a maturity score

between 0 and 100 to determine whether they

are "Leading", "On-the-Path" or "Starting Out".

WIA

Roddy Allan, Chief Research Officer,

JLL Asia Pacific, commented, "Across

Asia Pacific, society is shifting

towards an emphasis on green

and sustainable spaces in a bid to

address the concerns on climate

risk, and companies are willing to

As a scheme owner, PEFC needed the

PEFC Chain of Custody standards to

comply with EA 1/22 requirements to

enable European certification bodies to be

accredited against the 2020 standards.

On 6 April 2021, following a thorough

assessment by ACCREDIA, the Italian

accreditation body and so called "home

AB" for PEFC, EA confirmed that the

PEFC Chain of Custody of Forest and

Tree Based Products scheme based on

product certification (ISO/IEC 17065) is

now considered acceptable by European

national accreditation bodies, and EA

members (European accreditation

bodies) can now start accreditation of

certification bodies. WIA

Source: PEFC

WOOD IN ARCHITECTURE • ISSUE 2 – 2021 13
---
NEWS

AMERICAN HARDWOOD EXPORTS

TO INDIA UP 62% IN Q1 2021

than in 2018. India, like other markets

across the globe, was impacted by the

pandemic in the first half of 2020 but

showed a remarkable turnaround with

two thirds of the total volume exported

to India in 2020 taking place during the

second half of the year. This uptake has

continued into the new year, and the first

quarter statistics bode well for the rest

of the year," said Roderick Wiles, AHEC

Regional Director.

India, as a market for American

hardwoods, looks to be back on track to

fulfil its potential following last years'

economic downturn caused by COVID-19.

Keeping in line with India's rapid economic

recovery, total exports of US hardwood

lumber and veneer to India for the first

quarter of 2021 reached US$2.308 million,

up by 62%, according to the American

Hardwood Export Council (AHEC), the

leading international trade association

for the American hardwood industry.

Statistics compiled from the latest data

released by the United States Department

of Agriculture (USDA) revealed that US

hardwood lumber exports for Q1 2021

increased by 214% to reach US$1.159

million while US hardwood veneer exports

increased by 9% to reach US$1.149

million.

According to AHEC, demand for American

hardwoods in India is expected to at

least return to the record levels seen

in 2019 this year; and the first quarter

Chapel of St Albert the Great

statistics are definitely a step in the right

direction. Despite global lumber shortages,

uncertainty in freight rates and availability

of containers, and generally increasing

prices across all species, exports of both

US hardwood lumber and veneer were up

year-on-year. It is also worth noting that

US hardwood log exports to India reached

just 678 cubic meters during the period,

marking a 71% decrease in comparison to

the same period last year.

This is indicative of a general shift seen

in recent years by Indian buyers towards

importing value-added kiln-dried lumber,

as opposed to logs.

"Given the tremendous potential present

in India and despite the major challenges

facing the wider use of American

hardwoods, we cannot ignore the fact

that demand has been increasing in

recent years. While overall imports of US

hardwood lumber and veneers decreased

in 2020, they were still significantly higher

A closer look at the numbers for the

first quarter reveal that total hardwood

lumber shipped from the US to India

increased by 214% in value to US$1.159

million (up from US$370,000) and by

196% in volume to 1,887 cubic meters

(up from 638 cubic meters). The top five

American hardwood species exported

were hickory (US$335,000 and 522m3),

red alder (US$252,000 and 452m3),

white oak (US$199,000 and 344m3), ash

(US$200,000 and 280m3), and red oak

(US$156,000 and 243m3). Significant

increases were seen in both value and

volume of exports across all species,

which proves that 2020 was a temporary

dip in an otherwise upward trend.

"However, we are not out of the woods

yet. 2021 did start very well for exports

of American hardwoods to India, but

the current state of the COVID-19

pandemic is a major cause for concern

and its effect on India's economic

recovery, not to mention its people, is

yet to be fully seen. On top of this, global

demand for American hardwoods has

surged in recent months and supply is

yet to catch up, resulting in tighter than

usual availability of certain species.

This supply-demand balance will be

restored soon enough, but it makes for a

challenging time at present. Nonetheless,

both AHEC and the US hardwood industry

as a whole remain extremely confident

in the future potential of India as a major

world market for American hardwoods.

For this reason, we remain committed

to supporting this developing trade,"

concluded Wiles. WIA

14 WOOD IN ARCHITECTURE • ISSUE 2 – 2021
---
NEWS

UK: MAJOR CHALLENGES AHEAD FOR

TIMBER USERS IN Q3 2021, WARNS TTF

The Timber Trade Federation (TTF) is

warning timber users that the balance

between supply and demand is likely to

further tighten in Q3 2021.

This statement comes after recent

communications from Sweden, who

supply almost half of the structural

wood that is used in the United

Kingdom (UK), that their current

stock levels are at their lowest in over

20 years – despite record levels of

production from the Swedish sawmill

industry.

• Regularly communicate with your suppliers,

as the situation develops over coming months.

• You should communicate early with your

clients of any potential price rises, and long

lead times, using the information produced

by the TTF where necessary in these

discussions.

• Make sure orders are being placed well

ahead of time and planning for any

potential cost increases when setting out

the cost of a project. Where possible seek

earlier agreement of orders with clients to

reflect longer lead times.

• Aim to work collaboratively with your

suppliers and be as flexible as possible

with specifications and quantities

required. WIA

As structural wood buyers will already

be more than aware, the supply and

demand balance for Q2 2021 means

that almost all wood arriving in the

UK has been presold to customers.

Despite strict allocations, most buyers

are already unable to purchase all the

timber they want for their business.

"We have great respect for our Swedish

partners, who have consistently

worked throughout the pandemic to

meet UK wood needs; as they have

done for decades. This means we need

to take their statement extremely

seriously," said TTF Technical and

Trade Manager Nick Boulton. "The

already tight balance between supply

and demand is already being made

worse because there are insufficient

Heavy Good Vehicles available to get

the wood out of UK ports and into UK

customers yards. As we enter July,

sawmills and wood production facilities

in Sweden and other European

countries start to close for essential

summer maintenance, and this will

significantly reduce the available

supply of structural wood for the UK."

TTF is now urging manufacturers and

those in the timber frame and trussed

rafter sectors to consider the following

actions:

WOOD IN ARCHITECTURE • ISSUE 2 – 2021 15
---
BIG PICTURE

1

Offices

of the future

While steel and concrete are currently the main materials for today's

office developments, many have turned to wood along

with advanced computer-controlled manufacturing to

build the offices of tomorrow. The results are often breathtaking.

16 WOOD IN ARCHITECTURE • ISSUE 2 – 2021
---
BIG PICTURE

The shimmering, curved silhouette of the new

Swatch building, designed by Japanese star

architect Shigeru Ban, extends over a total length

of 240m and a width of 35m. At its highest point,

the façade measures 27m. The unusual design

breaks the conventions of classic office building

architecture and blends harmoniously into the urban

environment. The building's forms awaken the

imagination – like a work of art, the interpretation

lies in the eye of the beholder.

2

The vaulted façade with an area of over 11,000m 2

rises gently towards the entrance and transitions to

the Cité du Temps. Both exterior and interior of the

building are interspersed with a variety of leitmotifs,

with curved shapes, colours and transparency, as

well as with the unusual use of classic materials and

building elements.

1 Swatch headquarters is one of the world's

largest timber structures (Photo: Swatch)

2 There are 124 wooden Swiss crosses on

the ceiling to improve the acoustics in the

offices (Photo: Swatch)

In harmony with nature

PROJECT: Swatch Ltd. headquarters, Biel/CH

CLIENT: Swatch Ltd., Biel/CH

ARCHITECT: Shigeru Ban Architects Europe, Paris/FR

TIMBER CONSTRUCTION: Blumer-Lehmann AG, Gossau/CH

TIMBER CONSTRUCTION ENGINEER: SJB Kempter Fitze, Eschenbach/CH

DIGITAL PLANNING: Design-to-Production GmbH, Zurich/CH

CONSTRUCTION PERIOD: 2014 – 2019

A timber grid shell construction forms the basic

structure of the large-area façade. The traditional

material was chosen for its ecological and sustainable

properties. Wood can also be processed flexibly

and cut to extremely precise sizes — important

properties for a construction where every millimetre

is important. During the planning phase, modern 3D

technology helped to define the exact shape and

positioning of the approximately 4,600 beams of the

timber grid shell.

Using a sophisticated plug-in principle, the individual

beams were fitted to each other perfectly. Since

the timber grid shell of the Swatch building serves

as a large office façade, it also had to meet various

technical requirements. A complex network of cables

is discreetly integrated into its structure.

While the wooden structure was still being erected,

the installation of around 2,800 honeycomb timber

WOOD IN ARCHITECTURE • ISSUE 2 – 2021 17
---
BIG PICTURE

3 The piazza in the Swatch headquarters

(Photo: Swatch)

4 The shimmering, curved silhouette of

the new Swatch building is designed by

Japanese star architect, Shigeru Ban

(Photo: Swatch)

5 The glass pedestrian bridge on the third

floor which connects the Swatch building

to the Cité du Temps (Photo: Swatch)

6 Constructing the honeycomb façade

(Photo: Jan Bolomey and Blumer

Lehmann AG)

7 During the planning phase, modern

3D technology helped to define the

exact shape and positioning of the

approximately 4,600 beams of the

timber grid shell

grid shell elements, which make

up most of the façade, began. Each

element was meticulously tailored from

up to 50 individual parts and adapted

to its individual function and position.

Three basic types of honeycomb

can be distinguished: the opaque,

the translucent and the transparent

element.

The regular opaque element represents

the majority of the combs. It is a closed

element with an extremely weatherresistant

and opaque outer film, which

serves primarily as sun protection.

Some of these elements can be opened

for smoke extraction, while others

are equipped with photovoltaic cells.

The translucent cushion element, on

the other hand, is inflated with air and

fitted with translucent polycarbonate

sheets in the middle for thermal

insulation. The cushions, which are

also able to withstand the weight of

snow or ice, are constantly lightly

ventilated so that they are permanently

under tension. The transparent

element is made of glass. A total

of four glass panes were used for

thermal insulation, between which a

white roller blind is embedded. These

elements are as well always lightly

ventilated to prevent condensation

from forming.

A total of nine balconies ranging in

size from 10m 2 to 20m 2 space provide

views over several floors. Tiny white

dots on the glass façades serve as sun

protection. One hundred and twentyfour

wooden Swiss crosses on the

ceiling improve the acoustics in the

offices thanks to their fine perforations.

INSIDE THE BUILDING

Inside the building, 25,000m 2 of floor

space spreads over five floors for all

departments of Swatch International

and Swatch Switzerland. The surface

area of the four upper floors decreases

successively from floor to floor, while

galleries with glass balustrades

provide a view of the lower floors. In

addition to the regular workplaces,

various common areas are distributed

throughout the building: a cafeteria on

the ground floor, which is open to all

Swatch employees and their visitors;

small rest areas at various locations

in the building. For moments when

privacy is necessary, separate "Alcove

Cabins" can accommodate up to six

employees for telephone calls or work

requiring particular concentration.

An especially unusual installation

is located at the very rear of the

second floor: a staircase that leads

to nowhere – the "Reading Stairs"

– whose steps and views encourage

3 4

18 WOOD IN ARCHITECTURE • ISSUE 2 – 2021
---
BIG PICTURE

brainstorming among colleagues during

creative breaks. Five black olive trees

extend up to two stories in height, are

comfortable at room temperature and

keep their fine leaves all year round.

The basement extends under the entire

length of the building. In addition to the

technical rooms, ventilation center and

archive, it also houses the underground

car park, with 170 car parking spaces

and 182 bicycle parking spaces.

THE LOBBY

Looking out onto Nicolas G. Hayek

Street, the entirely glazed entrance

area features generous dimensions

as well as the sense of transparency,

openness and lightness. While its

zigzag shape stems from the timber

grid frame of the façade, it also plays a

role in the building physics, for example

in relation to wind loads. This zigzag

glazing begins at a height of 5.5m and

extends to a height of 22m. Below the

glazing, glass shutters – known best

for their industrial applications – open

and close automatically: in fact, they

are glass "blinds" that have to be

able to withstand wind and rain and

be adequately insulated. Two glass

elevators take employees and visitors

to the upper floors and to the glass

pedestrian bridge on the third floor,

which connects the Swatch building to

the Cité du Temps. Galleries on three

floors offer views of the entrance area.

modern construction and modern ways

of working can be in harmony with

nature.

Only timber from Swiss forests –

mainly spruce – was used in the

construction. A total of just under

1,997m 3 of this was needed, a quantity

that regrows in the Swiss forest in less

than two hours.

The energy concept is based on solar

technology and groundwater use and

allows building functions such as

ventilation, cooling, heating and basic

lighting to operate autonomously for

both the Swatch Headquarters and

the Cité du Temps. The groundwater

utilisation concept ensures the

heating and cooling of the new Swatch

building. Swatch shares the resources

with neighboring Cité du Temps and

the new Omega Manufacture, which

went into operation in 2017. Nine

underground wells are distributed over

the entire area, as well as two former

oil tanks which have been converted

into water reservoirs. Four hundred and

forty-two individually manufactured,

curved solar elements were inserted

into the honeycomb structure of the

façade. With 1,770m 2 of installed

photovoltaics, around 212.3MWh of

electricity are generated per year,

which corresponds to the average

annual consumption of 61 Swiss

households.

5

6

SUSTAINABILITY

A clever use of groundwater to heat

and cool the building and solar

power from the photovoltaic system

make a significant contribution to an

optimum CO 2

balance. From Velospot

bicycle sharing and charging stations

to intelligent blackouts and glazing,

from LED lighting and highly efficient

ventilation systems to thermal

component activation and paperless

offices: thanks to state-of-the-art

technology and know-how, the new

Swatch building demonstrates that

CITÉ DU TEMPS

Also designed by Shigeru Ban, the Cité

du Temps, measuring 80 x 17 x 28m,

forms an independent architectural

unit that perfectly complements the

Swatch building. Each of its 14 arcades

has a span of 15m and is 5m wide. The

Cité du Temps hosts both the Omega

Museum, located on the first floor, as

well as PLANET SWATCH on the second

floor. The Nicolas G. Hayek Conference

Hall on the fourth floor, which is

reserved for Swatch Group, stands out

with its elliptical shape.

7

WOOD IN ARCHITECTURE • ISSUE 2 – 2021 19
---
BIG PICTURE

1

20 WOOD IN ARCHITECTURE • ISSUE 2 – 2021
---
BIG PICTURE

An iconic form

PROJECT NAME:

MARUHON FUKUOKA Office & Showroom

COMPLETION DATE: January 2020

ARCHITECTURAL DESIGN: KATORI

archi+design associates (Takenori Katori)

STRUCTURAL DESIGN: KAP Inc.

EQUIPMENT DESIGN:

yamada machinery office

LIGHTING DESIGN: LIGHTDESIGN Inc.

DIRECTION: FIELD FOUR DESIGN OFFICE

CONTRACTOR: KUROKI.Construction Co,Ltd.

1 Over 20,000 sample boards are stored and

displayed on the approximately 70m 2 site.

(Photo: Akito Goto)

2 Designers and clients can handle samples in an

inspiring and uplifting space (Photo: Akito Goto)

3 The space is the first office and showroom in western

Japan for Maruhon, a manufacturer of natural wood

for interiors (Photo: Akito Goto)

4 As time passes, the architecture of the building will

blend further into its surroundings, becoming as

much a symbol of the neighborhood as an iconic old

tree (Photo: Hiroshi Mizusaki)

Located in a verdant residential

neighborhood in the city of Fukuoka, this

is the first office and showroom in western

Japan for Maruhon, a manufacturer of

natural wood for interiors. The design

highlights the rich detail of Maruhon's

products, evoking the image of a huge tree

that seems to have stood on the site for

many years.

In order to store and display over 20,000

sample boards on the approximately 70m 2

site, KATORI archi+design associates

transformed the wooden building into a

device for displaying samples such that

architecture, furniture and product become

three aspects of the same form. As the

structure serves as the finished surface,

the project required both scrupulous

construction planning and rigorous quality

control.

Stepping inside the building from the gentle

slope where it sits, visitors are immediately

greeted by a striking space filled with

countless samples of natural wood. The

spacious, two-story atrium begins a halffloor

below ground, with a skylight over

the second-floor office. The first-floor

showroom and workspace, which can be

reached by descending four steps, includes

a ledge below the wrap-around shelves

that serves as a table where designers and

clients can handle samples in an inspiring,

uplifting space. Throughout the building,

windows are kept to a minimum to enhance

the experience of being surrounded by

wood.

The exterior walls of the oval building are

made of Japanese cedar planks from the

Tenryu region, seamlessly interlocked to

emphasise the play of light and shadow and

stained with natural plant dyes (produced

from leaves, berries and roots collected

through the seasons) to enhance the

attractiveness of the wood. As time passes,

the building will blend further into its

surroundings, becoming as much a symbol

of the neighborhood as an iconic old tree.

3

2

4

WOOD IN ARCHITECTURE • ISSUE 2 – 2021 21
---
BIG PICTURE

1 2

Subtle appearance

PROJECT: IDIN Architects Office

LOCATION: Bangkok, Thailand

ARCHITECT: IDIN Architects

(Jeravej Hongsakul, Eakgaluk Sirijariyawat,

Sakorn Thongdoang, Wichan Kongnok)

INTERIOR ARCHITECT:

IDIN Architects (Thuwanont Ruangkanoksilp)

LANDSCAPE ARCHITECT: Walllasia

STRUCTURAL ENGINEER: Pakanut Siriprasopsothorn

SYSTEM ENGINEER:

Eakachai Hamhomvong, Panot Kuakoolwong

CONTRACTOR: ArtCon

INTERIOR CONTRACTOR: Diidia

PHOTOGRAPHY: Spaceshift Studio (Ketsiree Wongwan)

IDIN Architects conceived its office

as a reflection of its core beliefs – the

symbiotic relationship of man, building

and environment. The key is to create a

creative working place which is private

while developing the invisible presence

of the building in an urban context.

In fact, IDIN Architects decided to

walk away from creating an iconic

appearance for its office. The passive

design is a significant approach for

zoning and creating openings in the

building, utilising the sun orientation

to minimise the building's energy

consumption.

The selection of the material for the

main feature wall, burnt cedar woods,

plays a significant role in the design

process. The articulation of the wall

22 WOOD IN ARCHITECTURE • ISSUE 2 – 2021
---
BIG PICTURE

4

3

5

brings about a continuous flow from solid

exterior wall to interior space while having a

camouflage effect on the building. Its unique

black and texture do not come from painting

or colouring, but from the burning process to

protect the plank from fire and termite.

The building spaces are based on the

organisation of three zones: public,

semi-public and private. The hierarchical

relationships are developed in both vertical

and horizontal directions. The first zone is

located on the ground floor and composed of

a café and a meeting room. It also functions

as a recreation area for the staff during the

day. The second zone, which is semi-public,

contains all working spaces on the second

floor and covers most of the building area. The

innermost part of the building accommodates

a private residential area for the company's

principal.

The architects' working space facing the

north is enclosed with Low-E glass wall to

blend the greenery view and the quality

north light with the interior space. This

zone for creative work is the heart of the

building. It has a relaxed atmosphere,

good amount of light and a comfortable

temperature. Most of the west side of the

building is a solid wall to block the harsh

heat. Staircase for the main circulation

is aligned along the south to block the

building from the intense degree of heat

transfer caused by the sunlight. The voids

at the stairs are specifically designed to

use natural light to accompany the users

inside the building — from the stair landing,

the corner of the corridor to the entrance

hall of the working area. With the natural

light, the play of shade and shadow under

the trees enlivens the working environment

of the office.

1 Burnt cedar woods plays a significant role in the

design process

2 IDIN Architects conceived its office as a reflection of

its core beliefs – the symbiotic relationship of man,

building and environment

3 The architects' working space, facing the north, is

the heart of the building

4 Unlike other stand-alone office designs, IDIN

Architects decided to walk away from creating an

iconic appearance for its office

5 The café area in front of the building. The building

spaces are based on the organisation of three

zones: public, semi-public and private

WOOD IN ARCHITECTURE • ISSUE 2 – 2021 23
---
BIG PICTURE

Aesthetics, structures

and expediency

BUILDING DEVELOPER:

Koy Metsätapiola property company

ARCHITECTS: Helin & Co Architects

(Pekka Helin, Mariitta Helineva ja Antti Laiho)

CONSTRUCTION CONSULTANT: Haahtela Group

PHOTOGRAPHY: Metsä Group

Metsätapiola, Metsä Group's office, won in

the Office Building Architecture category at

the Iconic Awards competition organised

by the German Design Council. According

to the jury, the special features of the

building, designed by Helin & Co Architects,

include innovative wooden structures in the

personnel restaurant and the extraordinary

workspace solutions, which accommodates

the move to work in open-plan offices. This

is also reflected in the façade of the building.

Metsätapiola is an office building owned by

NREP, a real estate company.

"Iconic Awards is a comprehensive design

award event, which emphasises aesthetics,

structures and expediency. All these are

evident in the Metsätapiola office building

in an exemplary manner. The building also

demonstrates the developer's wish to

make an impressive and appropriate head

1

24 WOOD IN ARCHITECTURE • ISSUE 2 – 2021
---
BIG PICTURE

office for a company functioning within

the forest industry; a prime example is the

wooden personnel restaurant, where one

feels the power of wood at its strongest. In

my opinion, the innovative structure of the

restaurant has wider significance, since a

similar space can be adapted to different

situations and uses," said Pekka Helin from

Helin & Co Architects.

One of the principles followed when building

Metsätapiola was to take advantage of the

developer's extensive expertise in the use

of wood in both structures and cladding. An

example is the main entrance – restaurant

made completely of wood, utilising Kerto®

LVL beams, plywood, Kerto® LVL casing

elements and narrow wood battens on the

ceiling. The light from the skylights located

between the beams increases the sculpturelike

quality of the wooden structures. When

it came to the choice of other materials, it was

decided that these also should be genuine

and strong natural materials: brick and natural

stone.

"Metsätapiola's award winning wooden

architecture is an excellent example of how

wooden products can be used for top quality

design as well as for their ease of adaptability

in demanding projects. Our wood products

can be used for impressive structures which

are simultaneously load bearing," said Jussi

Björman, director, Business Development,

Construction at Metsä Wood.

The building has been awarded a LEED Gold

certificate, which is rare among Finnish office

buildings. LEED certification aims to reduce

environmental effects of construction and

building use and to develop healthier work

environments.

1 One of the principles followed when building

Metsätapiola was to take advantage of the

developer's extensive expertise in the use of wood in

both structures and cladding

2 Metsätapiola, Metsä Group's office, won in the Office

Building Architecture category at the Iconic Awards

competition organised by the German Design

Council

3 The light from the skylights located between the

beams increases the sculpture-like quality of the

wooden structure

2 3

WOOD IN ARCHITECTURE • ISSUE 2 – 2021 25
---
BIG PICTURE

Exploring

possibilities

ARCHITECT: UENOA (Fumie Horikoshi

and Yoshinori Hasegawa)

STRUCTURE ENGINEER: Masahiro

Inayama, Holzstr; Ken Kamachi, KMC

LANDSCAPE DESIGNER:

SfG landscape architects (Akihiko Ono)

CONSTRUCTION:

HAKKOH Construction Co., Ltd

SITE AREA: 2,407m 2

BUILD AREA: 633m 2

TOTAL FLOOR AREA: 834m 2

PHOTOGRAPHY: Hiroyuki Hirai

1

Located in Miyagi Prefecture, Japan,

SYNEGIC Co., Ltd., a structural screws

manufacturer for wooden buildings, wanted

to expand on the possibilities of wooden

structure for its new office building.

timber (CLT) panels. By adopting a CLT

panel to fasten the flat trusses, complicated

processing of joints and joining by hardware

are avoided as it enables pre-cutting and onsite

screw joining.

Designed by UENOA, the result is a mix of

various areas under the roof of the 18m

wooden large span trusses, which allowed an

open plan office to improve communication

and collaboration between employees.

The roof frame touches the ground at four

points on each end, with no pillar in the

interior, creating a large space. By following

the topographical and keeping the floor level

with a dynamic roof frame, visitors can feel

the spatial continuation of the frame.

The three-dimensional roof shape is formed

by connecting flat trusses made of laminated

timber along with triangular cross-laminated

In addition, the heavy CLT panels, generally

used for walls and floors, is used on the

roof which present a new way of using the

material.

The CLT is also used as a partition wall that

bears as a vertical load on the first floor. In

fact, the texture of the CLT surface is made

to look like a marble and is joined with

screws with consideration to the design and

workability.

Through these ambitious processes, it

was possible to realise a large CLT wall

in the atrium that has no modules while

emphasising the wooden texture.

26 WOOD IN ARCHITECTURE • ISSUE 2 – 2021
---
BIG PICTURE

2

1 SYNEGIC Co., Ltd. wanted to expand on the

possibilities of wooden structure for its new office

building

2 The open-plan office aims to improve

communication and collaboration between

employees

3 The three-dimensional roof shape is formed by

connecting flat trusses made of laminated timber

along with triangular CLT panels

3

WOOD IN ARCHITECTURE • ISSUE 2 – 2021 27
---
SUSTAINABILITY

Light wood frame

construction: Increasing

efficiency, design freedom

and sustainability

Proven and effective construction methods are not static –

they're always improving. In Quebec, Canada, light wood frame

and modular manufacturers are always pushing the limits of

innovation. Their craft is now linked to building systems on a bold

scale with offsite light wood frame construction.

The light wood frame industry has

risen to a wide variety of new building

challenges and has developed many

new specialised components in the

last decade. Cost competitiveness is

still present but may no longer be the

primary factor as there now exist many

building systems that can really only

be delivered with skilled technical staff

and automation of offsite facilities. For

Eli Gould, United States representative

for the Quebec Wood Export Bureau

(QWEB), light wood frame is a technical

and detail-oriented technology that

offers much more to projects that any

other method.

Modular construction by Maisons Laprise, Quebec, Canada (Photo: QWEB)

"There's a broad difference between

typical homebuilders, even good framers,

and the level of technical skill at offsite

manufacturing companies," said Gould.

"I have learned a lot from watching

the details that go into multistorey

shear walls, fire rated walls, continuous

insulation requirements, and even new

light wood component solutions such as

custom portal frame trusses."

28 WOOD IN ARCHITECTURE • ISSUE 2 – 2021
---
SUSTAINABILITY

Walls and trusses

by La Charpenterie

in Quebec, Canada

(Photo: QWEB)

Quebec has developed light wood frame

and offsite construction know-how for

a variety of products, including modular

construction. Custom fabricators can

make integrated roof and floor systems

with trusses, hardware and structural

sheathing, while nationally distributed

manufacturers provide engineered

components including I-joists, openweb

wood joists and laminated fingerjointed

lumber (LFL). These innovative

products promote three major benefits

for architects (as well as contractors,

engineers and advocates of embodied

carbon in buildings): design freedom,

sustainability and efficiency/cost

savings.

and roof applications. It is also easier

to adapt to different kinds of soils

and site conditions, with the highest

strength per weight of any building

type.

The architectural freedom provided

by light wood framing is also unique.

Wood is easy to mix and match with

other elements in order to reach the

level of customisation necessary for

your project. Offsite manufacturing is

also a crucial advantage when looking

for flexibility, as products needed

for the site can be customised and

manufactured in parallel with the

jobsite's progress, helping to meet

crucial milestones and deadlines.

DESIGN FREEDOM FOR

ARCHITECTS

Light wood framing is highly adaptable

to a wide variety of projects, from

residential to large commercial

developments. Its design flexibility

makes it useful for an entire building or

any combination of wall, floor/ceiling

I-joist by Barrette Structural, Quebec, Canada (Photo: QWEB)

WOOD IN ARCHITECTURE • ISSUE 2– 2021 29
---
SUSTAINABILITY

SUSTAINABILITY AND

EMBODIED CARBON

BENEFIT

Light wood frame construction

checks another crucial box

on everyone's list: improved

sustainability. Much like our own

lifestyles, the construction world

is changing for a better tomorrow.

Wood contributes to the construction

of sustainable buildings and efficient

use of resources in several ways.

First, light wood framing is the only

renewable construction material in its

field. It is manufactured specifically

for each project; there is almost no

job site waste and manufacturers can

re-use any leftovers for stairs, other

architectural elements or even as

biofuel.

The other aspect to offsite light wood

framing is its small carbon footprint.

Wood products typically require less

energy to manufacture than other

building materials, and most of that

comes from renewable biomass.

Furthermore, in a wood building, the

carbon is kept out of the atmosphere

for the entire lifetime of the structure.

It stores more carbon than the entire

process of harvesting, transforming

and installation could produce.

Increasing the proportion of wood

in construction can help reduce the

use of other less environmentallyfriendly

construction materials such

as concrete, steel and brick.

EFFICIENCY AND COST

SAVINGS

Due to skilled labour shortages,

compressed schedules and

a potential for greater quality

control, offsite wood construction

has become increasingly popular.

Because light wood frame

is manufactured for specific

applications, it is well suited to a

high degree of prefabrication at the

plant, leading to increased speed and

efficiency of installation. For example,

From above: Apartment project in Boston, Massachusetts by AmeriCan Structures, Quebec, Canada; Wall Panel by NA

Structures, Quebec, Canada (Photos: QWEB)

panels are prefabricated, complete with

pre-cut openings for doors, windows,

stairs, service channels and ducts, and

shipped directly to job sites so that they

can be quickly and efficiently fitted into

place. This can shave months off the

construction schedule. WIA

This article was first published on the Quebec

Wood Export Bureau's (QWEB) official website and

is reproduced here with permission.

30 WOOD IN ARCHITECTURE • ISSUE 2 – 2021
---
7 - 10 SEPTEMBER 2021 | WWW.IBEW.SG

Organised by Building and Construction Authority, the International Built

Environment Week (IBEW) returns this year with an enhanced digital format.

OVER 80 EXPERT SPEAKERS AT THE DIGITAL IBEW 2021 INCLUDING

DAY 1 - BE Green: Towards Zero Carbon Development

MR. JASON F. MCLENNAN

McLennan Design

MR. FREDERICK TEO

Temasek

AR. LISA MICHELLE BATE

B + H Architects

AR. IVY KOH

Surbana Jurong

AR. TANG KOK THYE

ADDP Architects LLP

MR. THOMAS CHU

Boustead Projects Limited

MS. VICTORIA KATE

BURROWS

World Green Building Council

DAY 2 - Tech for BE: Towards R&I For Exponential Growth

MR. DAVID HUTTON

Lendlease Asia

Holdings Pte Ltd

MR. FRANCK LOMBARD

Dragages Singapore

Pte Ltd

MR. ALLAN TAN

United Tec Construction

MR. FUJI FOO

Certis

MR. ALLAN CHALMERS

Autodesk

MR. CHEW MEN LEONG

ST Engineering

MR. MARK ENZER

Mott MacDonald

DAY 3 - Future of BE: Towards and Integrated Tech-Driven Future

BE PART OF

DIGITAL IBEW 2021 TODAY

MR. KELVIN WONG

Building and

Construction Authority

MR. LUKE GOH

National Environment

Agency

MR. LIAM WEE SIN

UOL Group Limited

MR. YONG HSIN YI NEIL

Woh Hup (Private)

Limited

MR. YNSE DE BOER

Envision Digital

AR. SEAH CHEE HUANG

DP Architects

AR. WONG MUN SUMM

WOHA Architects Pte Ltd

MR. RODNEY VAUGHAN FEHRING

Frasers Property (Australia,

Industrial and United Kingdom)

SCAN TO REGISTER

Organiser

Strategic Partner

An Initiative Under

Co-Located Tradeshow

BUILT ENVIRONMENT XPO ASIA
---
SUSTAINABILITY

Timber buildings go

beyond Net Zero to achieve

Whole Life Carbon status

By Ken Hickson

There are seemingly dozens of

acronyms when it comes to dealing

with – or building with – timber.

Besides MET (mass-engineered

timber) and CLT (cross-laminated

timber), which have embedded

themselves into my subconscious

after years of writing about them, I've

now come across WLC. So what's that

all about?

A Whole Life Carbon (WLC) approach

considers all the carbon emissions

produced over the entire life cycle

of a building. According to the Royal

Institute of British Architects (RIBA),

a simple working definition of WLC

is "the operational energy plus the

embodied carbon of a building. But a

thorough WLC approach, apparently

should consider the building's afterlife

too – the carbon cost of its disposal, as

well as its construction."

That's the ideal. The ultimate. But why

isn't this currently the objective of the

World Green Building Council? When

it talks about the importance of Net

Zero Emission buildings, that's mostly

taken to mean the energy used in the

operation of the building.

Let's see how timber can fit into the

WLC equation.

Responsibly-sourced and certified

timber certainly ticks all the right

boxes. When I visited a building site

in Singapore recently to inspect six

timber pavilions being constructed

for the local National Parks Board,

Kevin Hill of Venturer Timberwork –

undisputedly the most experienced

MET builder in Asia – didn't hesitate to

confirm that when his MET load arrives

on site from Austria and Finland, it is

"carbon negative".

Let's be clear: You're carbon negative

if the amount of CO₂ emissions you

remove from the atmosphere is bigger

than the amount of CO₂ emissions you

put into the atmosphere. Your impact is

positive, meaning you're actively doing

something to better the climate.

Kevin is convinced that MET is positively

the best material for construction

because:

• The carbon contained in the wood is

safely retained in the building itself

• The timber is responsibly harvested

from sustainably managed forests

certified by the Programme for

It points out that a rigorous WLC

assessment would take into account

all of the following:

• raw material extraction and supply

• transport of raw materials to where

they will become building products

• manufacturing of building products

• transport to site

• the construction process and

disposal of waste

• use of the building during its

lifetime

• end of the building: its disposal,

demolition, deconstruction or

reuse

A totally timber Water

Sports Centre taking

shape alongside

Bedok Reservoir,

Singapore, for the

People's Association

(Photo: Venturer

Timberwork)

32 WOOD IN ARCHITECTURE • ISSUE 2 – 2021
---
SUSTAINABILITY

Pablo is able to demonstrate that if

we take into account all the costs,

including the embodied carbon

in buildings made of "non-biomaterials",

timber is by far the best for

the environment and the economy.

He points out that "as long as the

societal costs of the environmental

damage by large-scale production of

abiotic materials, such as concrete

and steel, is not monetised, for

example, through true pricing or

carbon taxing, these industries will

be able to keep producing at low

cost, while not having to justify for

Assembling the

massive timber

frame for one of six

pavilions being built

for the National

Parks Board at

Jurong Lakes

Garden, Singapore

(Photo: Venturer

Timberwork)

the Endorsement of Forest

Certification (PEFC) and there's

no deforestation or other

controversial sourcing involved

• Even the carbon footprint involved

in freighting the ideal timber

from Europe to Asia is much less

than the footprint of the heavier

imported steel or concrete used

for most buildings in Singapore

This view is well supported by

another global expert Pablo van

der Lugt in his excellent book

"Tomorrow's Timber".

The vision of Pablo – a sustainability

consultant and lecturer in Biobased

Building at Delft University of

Technology in the Netherlands – is

about the essential transition towards

a more bio-based, circular economy.

He sees tremendous opportunities

for the next generation of regrowable

materials (eg, mass timber,

modified wood, engineered bamboo)

to substitute carbon-intensive,

non-renewable materials such as

aluminium, steel, PVC and concrete.

Not only is this a text that every

architect and builder in the world

should absorb, it's one that every

property developer should seriously

dwell on. So often we hear – even

disappointedly from property

developers themselves – that the

transition to sustainability for the built

environment is very costly.

However, it is not as costly for the

planet if the world continues to build

with carbon-intensive materials like

concrete and steel.

the environmental damage they

cause."

Needless to say, PEFC is a major

advocate of timber and this is clearly

emphasised in the World Architecture

Festival (WAF) prize it sponsors every

year for the "best use of certified

timber".

It's also worth drawing on some

of the expert commentary from a

PEFC virtual event sponsored a few

months ago on "Building a better

future with certified timber". First

was Mark Wayne Probert, Head

of Sales for the UK and Ireland at

Binderholz, a leading manufacturer

of mass timber solutions, who

highlighted the importance of

managing forests sustainably and the

special characteristics of timber as a

construction material.

From left:

Tomorrow's Timber

by Pablo van der

Lugt (Published by

MaterialDistrict);

Timber in "moving

mode" made of

PEFC-certified

laminated veneer

lumber (LVL) and

designed by dECOi

Architects (Photo:

Anton Grassl)

WOOD IN ARCHITECTURE • ISSUE 2– 2021 33
---
SUSTAINABILITY

He described how his company pays

special attention to sourcing PEFCcertified

timber and uses 100% of a

harvested tree, optimising the use of the

raw material and protecting the forest

resource.

"Timber is not like concrete and steel,

which are cold to work with. It is warm

and inviting even during construction.

Timber is also great to work with as it is

quicker, safer and cheaper than other

materials."

The second speaker, Paul Jarquin,

President of REI Habitat, a pioneer

of wood construction in France, says

that using local and certified timber

is a priority for his company. He made

four important points from his French

experience:

• By building with wood, we can reduce

a building's carbon emissions by up to

60% – this really is a game changer

• We are seeing an increasing demand

for wood from consumers in France,

particularly those from the big cities

• These consumers not only ask

for wood, but also ask about its

provenance – if it's sustainable and

local

• PEFC certification enables us to

respond to their needs with wood –

for people and the planet

The third expert contributor was Mark

Thomson, architect and Director of Eco-

Effective Solutions, who highlighted

the benefits of timber buildings for the

environment and the people living and

working in them.

"Building with sustainable timber is

eco-efficient. This means it creates

more value with less environmental

impact. Not only is it renewable,

recyclable and reusable, but it also

absorbs CO 2

and has a positive effect

on physical and mental health," said

Thomson.

Timber can have a calming effect on

people's stress levels and lower blood

pressure, he believes. The educational

and medical environments, such as

schools and health centres, built with

timber can improve the learning and

healing processes.

At the same time, he emphasised the

importance of choosing timber from a

sustainable origin.

"It can only be stated that timber is

renewable if it comes from a certified

source," he explained. "Unless you

know the history of the timber, you may

not be using the sustainable material

that you think you are."

The views and output of architects and

builders in Europe is starting to have a

big impact in Asia Pacific.

We are certainly seeing an upsurge in

the adoption of MET in Asia Pacific, as

The work of Terroir

Architects – the new

Penguin Parade

Visitor Centre on

Victoria's Phillip

Island, Australia

(Photo: Responsible

Wood)

34 WOOD IN ARCHITECTURE • ISSUE 2 – 2021
---
SUSTAINABILITY

we are seeing the use of PEFC-certified timber

from Europe for exteriors and interiors of

buildings.

The core business of APP Timber – which

operates throughout Asia – is the supply of

imported timber, veneers, surface materials and

panel products for the Asian timber industry and

the export of Asian-made products worldwide.

With its three major collections of pre-finished

veneered panels – Shinnoki, Belfipa, and

Querkus – APP Timber, together with their

Belgian partner Decospan, offers ready-toinstall,

PEFC-certified, natural veneer solutions

for projects of all sizes throughout South East

Asia.

They obviously see that PEFC-certified timber

– in this case from Europe – solves common

interior challenges and enables the integration

of wooden surfaces into a project, be it

residential, hospitality or commercial.

Interior use of hardwood oak in Smoked Arabica (Photo: APP Timber)

Architects are always challenged to design

a space thoughtfully, functionally and

aesthetically, APP Timber believes. This always

involves finding the right balance between

the client's expectations, the architect's own

creativity, budget, available materials and, last

but not least, the environmental impact.

Placing timber at the heart of a building is the

one practical way architects, builders and

property developers can go beyond Net Zero

and further than energy efficiency measures

and renewable energy solutions.

As the World Green Building Council tells us

that Building and Construction accounts for

at least 39% of global emissions of CO 2

and

greenhouse gas, the only way to drastically cut

emissions is to go all the way.

That means the WLC approach, which we

started with, by tackling the embodied carbon

in a building, as well as the carbon cost in its

construction – all materials included – along

with its disposal and its after-life.

Let's finish with another acronym. WFG – Wood

for Good. WIA

Hotel room in Oak Vintage, described as "Intense Harlem" (Photo: APP Timber)

WOOD IN ARCHITECTURE • ISSUE 2– 2021 35
---
ENGINEERED WOOD

Bringing value and

warmth through

engineered wood

Meiken Lamwood

Corporation is able to

showcase the quality of

their engineered wood

through the usage of it

for their head office.

1

36 WOOD IN ARCHITECTURE • ISSUE 2 – 2021
---
ENGINEERED WOOD

PROJECT: Meiken Lamwood

Corporation (Head Office)

LOCATION: Maniwa, Okayama

prefecture, Japan

DESIGN GROUP:

NKS architects, Tourisha

CONSTRUCTION MATERIAL:

CLT, Glulam

OVERALL DESIGN DURATION:

January 2018 - March 2019

OVERALL CONSTRUCTION

DURATION:

July 2019 - December 2019

CONSULTANT

BUILDING DESIGN: NKS architects

STRUCTURAL ENGINEERS: Tourisha

ELECTRICAL & MECHANICAL

EQUIPMENT ENGINEERING:

Seed Engineering

PROJECT MANAGER: Naya

CONSTRUCTION

CONSTRUCTION COMPANY:

Ohmoto-gumi

CLT & GLULAM CONSTRUCTION:

Meiken Lamwood Corporation

1 Meiken Lamwood Corporation is a

Japanese leading company of engineered

wood. (Photo: Senichiro Nogami)

2 The structural frame system consists of

the diagonal grid columns made of glulam

and the V-shaped CLT beams spanning

between them. (Photo: Meiken Lamwood

Corporation)

3 The atrium floor on the ground level has

a close relationship to the first floor,

situated half-underground, and the

second floor. (Photo: Meiken Lamwood

Corporation)

4 The view of mountains surrounding the

Katsuyama basin through the transparent

south facade. This view gives the workers

an intimate feeling of the local place amid

the global timber trading landscape.

(Photo: Meiken Lamwood Corporation)

2

The Meiken Lamwood Corporation

is a Japanese leading company

of engineered wood. The head

office building is to be a full-scale

showroom of their products as well as

a new central space for their various

communications.

The structural frame system consists of

diagonal grid columns made of glulam

and the V-shaped cross-laminated

timber (CLT) beams spanning between

them. The folded roofs and exterior

walls composed of large CLT panels

wrap the entire interior space with the

strong existence of Japanese cider

wood.

The two-story building has an atrium

which serves as a gathering space at the

centre, with working spaces arranged

around it. The atrium floor on the

ground level has a close relationship to

the first floor, situated half-underground,

and the second floor. By shifting the

structural frame units according to

the site, the interior space is gently

articulated by the diagonal grid columns

as well as has a flow movement. In

addition, the continuous and intimate

atmosphere of the interior space ensure

people feel connected and relaxed.

The transparent south facade with the

diagonal grid columns expresses the

warm image and the open future of

the company, whereas the east and

west facades are covered with CLT

walls and Kebony timber finishing.

After gathering under one roof from

dispersed work places, Meiken's new

working style, using the free seating

and the communication café, began the

first year of a-hundred-year long lasting

cultural landscape in Maniwa, Japan.

WIA

3

4

WOOD IN ARCHITECTURE • ISSUE 2– 2021 37
---
ENGINEERED WOOD

F1 Canadian Grand

Prix New Paddock

Circuit Gilles-Villeneuve, Montreal, Quebec

38 WOOD IN ARCHITECTURE • ISSUE 2 – 2021
---
ENGINEERED WOOD

editions, the building was designed

as an assembly of prefabricated parts

comprising concrete panels, steel

beams and columns, cross-laminated

timber (CLT) beams and panels, curtain

walls and removable partitions. It

can also be easily disassembled and

recycled in case the Grand Prix is

terminated.

CONFIGURATION

The new paddocks accommodate

up to 13 stables, each of which have

two front accesses for single-seaters,

drivers and technical teams, as well

as a service access located at the rear

of the building for equipment or quick

access to the redeveloped hospitality

area.

Designed without a permanent division,

the garage space is modular according

to the needs of the teams competing

at each edition of the Canadian Grand

Prix; temporary partitions are used

to create the desired divisions and

thus suit the technical needs of this

constantly evolving sport.

CLIENT: Société du Parc Jean Drapeau

ARCHITECT: architects FABG (Éric Gauthier [project

director], Marc Paradis [project manager] and Nicolas

Moussa [project manager])

GENERAL CONTRACTOR: GEYSER Group

ING. STRUCTURE: CIMA+

PHOTOGRAPHY: Steve Montpetit

COMMISSIONED: May 2019

As part of a renewal agreement for

the Formula 1 Canadian Grand Prix,

the city of Montreal had to replace

the existing temporary structures

with a larger permanent building that

would more adequately meet the

needs of the event. The new paddock

includes garages for the teams, offices

for the Federation Internationale de

l'Automobile (FIA) and the promoter,

a lounge area for 5,000 people, and a

multimedia centre for journalists and

broadcasters.

To facilitate the completion of the

$50m project within the 10 free

months between the two Grand Prix

The building presents a completely new

configuration of the space for sports

commentators and representatives

of the FIA and Formula One World

Championship; the distribution has

been redesigned to meet the need

for stakeholder interactions with the

action taking place on the circuit.

Unlike the old control tower, which

was made at height to offer good

visibility of the track, the new tower

is arranged horizontally on two floors

right in the building as new race control

technologies now require less direct

visibility.

A media space is integrated into the

building rather than being located

in a temporary marquee, in order to

provide quality services to journalistic

representatives. This space includes

modular lighting, a suitable ventilation

system, as well as electrical and

WOOD IN ARCHITECTURE • ISSUE 2– 2021 39
---
ENGINEERED WOOD

telecommunication connection boxes

including optical fibre.

This media space is also a rental space

made available to Montrealers for events

outside the Grand Prix period.

The building has been designed to

multiply the views on the race track

and, with the development of several

terraces on the second and third floors,

the entire environment of the park that

surrounds it.

The new building, being higher, allows

spectators to have a 360-degree

panoramic view. On one side, a close-up

view of Jean-Doré Beach, the Casino

de Montréal, former Pavilion of France

during Expo 67, as well as the former

Pavilion of Quebec that is adjacent to

it. In the distance, the city of Montreal,

Mount Royal and its cross are also

visible.

On the other side, one can see at first

glance the Olympic pool where groups

of rowers, canoers and dragon boaters

train. Behind is a narrow passage of the

St Lawrence River crossed by freight

boats, followed by the South Shore of

Montreal.

UNIVERSAL ACCESSIBILITY

Accessibility has been completely

redesigned in the new building; the

entire ground floor is on the same

level as the ground and the floors

are accessible via a panoramic

glass elevator located at the east

entrance. Bleachers and bathrooms

are also provided to ensure universal

accessibility and ease of travel.

SUSTAINABLE DEVELOPMENT

The structure of the roof is made

up of 1,425m 3 of wood. During its

growth, wood captures CO 2

from the

atmosphere and sequesters it in its

fibre. Hence, this volume of wood

corresponds to the sequestration of

more than 1,000 tons of CO 2

. Wood

is thus considered carbon-negative,

which means that not only does the use

of wood in construction generate low

carbon emissions, but it also helps to

remove additional carbon dioxide from

the atmosphere.

To limit the heat island effect and rising

temperatures for the spectators, the

roof is waterproofed by an elastomeric

coating covered with white mineral

granules.

Sixty-four square metres of solar

photovoltaic panels on the terrace should

store enough solar energy in one year to

compensate for the energy expenditure

required for the whole building during a

Grand Prix.

LOCAL PRODUCTION

Glue-laminated timber and CLT used for

the beams, as well as CLT for the decking,

come from northern Quebec, Canada.

The precast concrete parts come from a

Quebec company, as are the curtain walls

and the steel structure. The division into

several separate batches of the structure

(concrete, steel and wood) allowed their

simultaneous factory production as well

as their erection in a very limited period

of time and despite a harsh winter. WIA

40 WOOD IN ARCHITECTURE • ISSUE 2 – 2021
---
MATERIALS AND AND TECHNOLOGY

Thermally modified

American ash for

Al Faya Lodge

desert retreat

Set at the foot of Mount Alvaah, the Al Faya Lodge is nestled into the

United Arab Emirate's (UAE) prehistoric crimson desert landscape with

close proximity to the country's first petroleum pump.

The Al Faya Lodge is a new addition to the Sharjah Collection – a

group of distinctive boutique hotels and eco-retreats purposefully

located in key locations throughout the emirates of Sharjah.

PROJECT NAME: Al Faya Lodge

CLIENT: SHUROOQ (Sharjah

Investment and Development

Authority)

LOCATION: Mount Alvaah,

Mleiha, Sharjah, United Arab

Emirates

COMPLETION: Q1 2019

TOTAL AREA: Plot area 8,000 sqm

ARCHITECTURE, INTERIORS AND

FURNITURE DESIGN: ANARCHITECT

LANDSCAPE: DesertINK

FURNITURE PROCUREMENT: H&H

SPA CONSULTANT: The Wellness

CONTRACTOR: Alba Tower & Obaid Al Abdi

JOINERY: Thomas & McQuaid

PHOTOGRAPHY: Fernando Guerra and

ANARCHITECT

WOOD IN ARCHITECTURE • ISSUE 2 – 2021 41
---
MATERIALS AND TECHNOLOGY

The architecture and design of the

Al Faya Lodge by architect Jonathan

Ashmore and his Dubai and Londonbased

practice ANARCHITECT are

paramount to the experience it

provides. Two single-storey, stone-built

buildings from the 1960s, previously

occupied as a clinic and grocery

store, have been re-imagined into a

contemporary boutique lodge and

restaurant. Together with the addition

of a newly built saltwater spa building,

Al Faya Lodge is set to become a new

and unique destination in the UAE.

1

"Desert conditions present extreme

heat in summer with intense and

prolonged sun exposure so it is

important to consider these factors

when first designing the form and

mass of the building and secondly

the selection of suitable and robust

materials which go hand in hand," said

Ashmore, Principal of ANARCHITECT.

"Desert sites are exposed to all the

elements and not just sunlight. The

elements also include driving rain, sand

storms and low temperatures at night."

"Locally sourced stone or concrete

construction provide heavy thermal

mass to deal with these extremes with

regards to temperature fluctuations.

Surface materials like corten steel and

secondary structure materials like

robust hardwoods and aluminium were

also explored to add refinement and

precision to the design particularly for

over-sailing roofs, shading elements

and also terrace decks raised above the

level of the sands," added Ashmore.

The lodge comprises a breakfast area,

reception room, library and roof terrace.

Within each room of the five-bedroom

lodge is a feature skylight for stargazing;

the luxe room has the added

experience of a private roof terrace

and dual aspect. The purpose-built spa

building houses an open-air saltwater

pool and three salt spa experiences –

heat, water and salt inhalation.

1 Thermally

modified timber

was a natural

and suitable

choice for

ANARCHITECT

to explore for

the outdoor

conditions

2 The lodge's

breakfast area

3 One of the lodge's

five bedrooms

4 The spa building

houses an openair

saltwater pool

and three salt

spa experiences

5 The lodge allows

visitors to escape

the intensity

of the city and

simply exist in

their own way

and time

2

42 WOOD IN ARCHITECTURE • ISSUE 2 – 2021
---
MATERIALS AND TECHNOLOGY

3

4

5

CHOICE OF MATERIAL

The choice of material is contextual

and relevant not only to the harsh,

arid, desert climate but also to the

historical presence of iron in the

region.

On the subject of materials, Ashmore

commented: "More often than not,

the intense desert climate proves to

be a difficult condition to enable the

use of traditional timber in exterior

applications. Durable hardwoods from

South East Asia and South America

often fail after short periods of time, or

they begin to weather fast and require

regular and intense maintenance.

We were looking for suitable natural

wood, dark in tone, with a smooth

finish and consistent grain to contrast

the dense, sober brutalism of the cast

in situ fair-faced concrete that made

up the main structure of the new build

spa building."

Thermally modified (TM) timber

was a natural and suitable choice

for ANARCHITECT to explore for the

outdoor conditions. TM American ash

offers Class 1 category for durability

with a minimum life expectancy of 25

years, high water resistance without

requiring additional protection, and is

suitable for contact with the ground.

"The TM American ash façade has

close proximity to the saltwater

swimming pool. We required a TM

hardwood species that also had good

structural properties to allow us to

design a bespoke and interlocked

self-supporting wall system that could

incorporate a series of doors and

bi-fold openings that would provide

access to changing rooms and the

pool pantry areas from the exterior

areas," added Ashmore.

ABOUT THERMAL

MODIFICATION

Thermal modification takes a nondurable

hardwood and makes it

suitable for exterior use and adds

dimensional stability through a

relatively simple, chemical-free

and low environmental impact

process of heating the timber to a

very high temperature in a vacuum

kiln. In American hardwoods, the

process works best in ash, red oak,

soft maple and tulipwood, making

them ideal for decking and cladding

applications, as well as for outdoor

furniture and shade structures.

Roderick Wiles, Regional Director

of the American Hardwood Export

Council, added: "It is great to see

this relatively new material being

specified and used in the Middle

East and, as far as we know, this is

one of only two or three projects

in the Gulf that uses TM American

hardwoods. I have no doubt that we

will be seeing more of it in the near

future, as for American hardwoods,

which already come with guarantees

of legality and sustainability, this

process opens up a whole new

market opportunity and one that

has immense potential in the harsh

climate of the region."

The Lodge, Spa and Restaurant

buildings are divided by a throughroad

that creates an unusual and

dynamic urbanity to the master

plan of the retreat. The buildings,

together with the historical

petroleum pump, command a

presence in the scarce desert

landscape and will become both a

destination and stop-off for those

who know of and those who discover

this new intervention.

The project is designed to become a

destination that offers relief from the

intensity of the city. Al Faya Lodge

is purposely primordial, allowing

one to simply exist, absorb and

contemplate the surroundings in

one's own individual way and time.

WIA

WOOD IN ARCHITECTURE • ISSUE 2 – 2021 43
---
MATERIALS AND TECHNOLOGY

Accoya: High-performance

modified wood for

all climates

By Jo-Ann Teo

Accoya cladding

WHAT IS ACCOYA?

Produced by Accsys at its plant in

Arnhem, the Netherlands, since

2007, Accoya is a brand of highquality

modified wood that has

been a building material of choice

for designers and builders across

the world. By modifying radiata pine

Pinus radiata

(Pinus radiata) using a process called

"acetylation" to increase its moisture

resistance, the timber does not visibly

swell, shrink or distort even when

subjected to extreme exposure. This

allows Accoya to withstand varying

climates and surpass the benefits of

most durable hardwoods.

ACETYLATED WOOD

PROCESSING

Wood cellulose contains a small number

of naturally occurring acetyl groups that

are hydrophobic (repels water) as well

as a high number of hydroxyls that are

hydrophilic (attracts water). The low

number of acetyls in natural wood may

not provide sufficiently durable and

stable performance, and the presence

of hydroxyls causes cellulose to swell

(or shrink when subsequently dried)

and become more susceptible to the

attachment of biological organisms.

The acetylation process creates

extremely dimensionally stable wood

by increasing the amount of acetyl

molecules and reduces the number

of hydroxyls. Using acetic anhydride

(concentrated acetic acid), the level of

moisture-resistant acetyl groups can be

precisely increased without changing the

constituents of the natural wood.

As Accoya is modified to its core instead

of just the surface, there are no exposed

unacetylated surfaces when the wood

44 WOOD IN ARCHITECTURE • ISSUE 2 – 2021
---
MATERIALS AND TECHNOLOGY

is cut or jointed. Thus, it is not necessary for

additional chemical preservatives to be applied

on-site.

The acetylation process mimics nature

and does not involve the addition of toxic

substances, thus producing a non-toxic

product.

SUSTAINABILITY

Trees selected to make Accoya are harvested

responsibly from fast-growing and wellmanaged

forests and plantations. Besides

being FSC-® certified, Accoya has also been

awarded a gold-level Cradle to Cradle (C2C®)

overall certification and a platinum-level C2C®

Material Health certification, among other

accreditations.

As the rate at which trees sequester carbon

from the atmosphere slows down once they

reach maturity at the 30-year mark, the trees

are harvested at this point so that the Accoya

timber acts as a carbon store and also gives

the forest the opportunity to regenerate and

produce new biomass.

All Accoya is compliant with the European

Union Timber Regulation and the United

States' Lacey Act.

APPLICATIONS AND

SPECIFICATIONS

Accoya has been applied in architectural

projects all across the globe, even in countries

that face extreme climates and weather

fluctuations. From Asia to Antarctica, beaches

to mountaintops, Accoya has proved its

dimensional stability and is used mainly for

windows, doors, decking and cladding.

Because acetylated wood barely shrinks

or swells, coatings tend to last longer even

in harsh environmental climates. Testing

rigs were set up in Arnhem to monitor the

performance of Accoya over the last decade

1

1 Accoya decking

2 Coated Accoya

windows

3 The first global

Accoya project:

architectural

designer Gordon

Aitkin's family

home in Glenrothes,

Scotland

with coatings company Remmers. Today,

after 14 years of exposure, the tests showed

no visible coating degradation even with zero

maintenance.

In 2006, the first global Accoya project took

place in Glenrothes in Fife, Scotland, where

architectural designer Gordon Aitkin installed

Accoya cladding in his new family home. Ten

years later, in an interview with the Accoya

team, Aikin revealed that the only maintenance

he had needed to carry out on the cladding was

a light sand and recoat in a small, exposed area.

Accoya is approved for general building by

the German Institute for Building Technology

for load-bearing structural applications. This

DIBt approval qualifies the strength class of

A1 and A2 solid Accoya timber based on the

European strength class system of C classes

(EN338). Accoya A1 quality is classified as

C22 strength grade and Accoya A2 quality

is classified as C16. The approval applies to

Accoya wood in the widths 100 mm to 250 mm

with a thickness of 25mm to 100mm, and can

be used both flat and upright use. The standard

wood design safety factors (kdef, kmod) as

given in EN 1995-1 were determined in the

DIBt test program to be appropriate and may

be used.

Accoya wood may be fastened to a timber

sub-frame with nails, clamps, wood screws,

dowels and bolts. For non pre-drilled holes,

the minimum spacing distance and edge/end

clearance (EN 1995-1-1, table 8.2) should be in

line with wood with a density between 420 and

500 kg/m³. WIA

2 3

WOOD IN ARCHITECTURE • ISSUE 2 – 2021 45
---
DESIGN

"Touching colours"

RENOLIT trend service

Colour Road presents

latest trend report

The need for touch is so deeply ingrained in the human psyche that it is

proven to positively impact well-being and metabolism. Colours have the

inherent power to tell us how different materials and fabrics might feel.

The RENOLIT Colour Road Trend Report 2021/22 utilises this power to

guide us through diverse design and colour trends.

OUR SENSE OF TOUCH SHOWS

US THE WORLD

"We experience the world through touch,"

said Monika Haag, General Manager

Corporate Design Management at RENOLIT.

"The sense of touch plays a key role in

human development." It shows us our

own boundaries and gives us information

about the composition of the objects we

are touching, including tension, pressure or

even temperature. Touch can even have a

therapeutic effect; when we are touched

by another person, cortisol and stress

levels can be reduced.

We connect colours with the expectations

of what characteristics things have and

the feelings they elicit in us.

"Slate grey makes us think of a slightly

rough, cool surface, light green of

refreshing smelling leaves, and shiny red

of smooth materials and passion," explained

Haag.

The Colour Road design experts have

recognised these expectations and developed

three trend topics for the new Trend Report

2021/22 – "ELEMENTS", "FUNDAMENTAL"

and "STATEMENT". It is now more important

than ever to design our personal living spaces

in a way that considers the deeply human need

for touch and a variety of tactile experiences.

46 WOOD IN ARCHITECTURE • ISSUE 2 – 2021
---
DESIGN

"FUNDAMENTAL":

BACK TO BASICS

With "ELEMENTS", we expand our horizon –

but to venture towards what's new, we need

a solid foundation. The "FUNDAMENTAL"

trend topic creates this basis in the home.

Using earth, soil, stone and wool soft plant

fibres continuously refresh the connection to

our origins in a way that is not only visual but

haptic.

"ELEMENTS": BRINGING THE

ELEMENTS INTO YOUR HOME

"When we think of the elements, we think of

freedom and nature experiences, but also of

emotional healing," explained Verena Mundle,

Expert for Corporate Design Management at

RENOLIT. "A walk in the forest or along the beach,

with the wind in our hair, enriches our day."

Different surfaces and their dynamics – from

the surface of the water, continuously changing

with the wind, to the play of sunlight on ribbed

leaves – have a relaxing effect on the eyes and

spirit. In times when our mobility is

restricted, we can create

these

"STATEMENT":

MAKE A STATEMENT!

Sometimes, it isn't grounded earthiness we

need but a bold statement. Colours affect our

innermost feelings, and our sense of touch can

do the same. Verena Mundle says:

"That's why we have devoted our third trend

topic, 'STATEMENT', entirely to the inner

experience." Strong red evokes a sense of

passion – but also of danger. This contrast is

what makes it so fascinating and perfect for

setting effective accents in interior design. The

Colour Road experts have created two new

trend colours that achieve this: Feel alive!, a

spirited, nearly pure red shade that really lives

up to its name, and the darker Lacquer Red!

that exudes elegance. Both colours invite you

to touch, sensuously experience and stand up

for your values. Combine them with expressive

wood and dark stone decors to make true

statements in the home.

The dark neutrals

Mineral Grey and Cubanit

Grey Premier Matt are true multi-talents

and provide space for sophisticated surfaces

and warm, natural oaks. Sand Grain and Raw

Cotton contribute lighter shades. The off-white

Raw Cotton lends even larger furniture pieces

visual lightness, while Sand Grain is an ideal

partner for rustic oak or abstract structures

especially now when users are seeking

stimulating physical experiences

in home furnishings as well.

impressions in the home and re-energise.

Blue shades such as the fresh Ocean Breeze

Supermatt and the deep Acai Berry Supermatt

ideally complement natural marble and stone

decors for designing full spaces. The quiet,

tranquil Lichen Green brings nature as the

primary design colour to a living or dining

room while the invigorating Lemongrass

Supermatt adds a cheery accent

to dark-brown oak.

Blush shades remind us of skin and the

emotions surrounding it – warm, deeply

touching and something that brings us

together. The new shade Touch! conveys this

especially well and can be used to invigorate

various interior concepts, for example, in

combination with Highland Green Premier

Matt for a Scandinavian hygge atmosphere.

This concept uses handcrafted furniture that

are increasingly appreciated today. Hands on!

not only stands for this appreciation; the soft

brown shade also invites us to explore our own

creativity. WIA

The RENOLIT Group is one of the world's leading specialists

in high-quality plastic films, sheets and other plastic products.

With more than 30 locations in 20 countries, and annual sales

amounting to one billion euros, the company is one of the leading

processors of plastics in the world. Over 4,700 employees

continuously develop the know-how gathered over 70 years of

company history.

WOOD IN ARCHITECTURE • ISSUE 2 – 2021 47
---
STRUCTURAL ELEMENTS

A dynamic and

sustainable environment

for stewards of the future

In 2020, Michael Green Architecture completed

two new mass timber buildings for the internationally recognised

College of Forestry at Oregon State University.

1

48 WOOD IN ARCHITECTURE • ISSUE 2 – 2021
---
STRUCTURAL ELEMENTS

2

Located on campus within the Oregon

Forest Science Complex (OFSC),

the new George W. Peavy Forest

Science Center and the A.A. "Red"

Emmerson Advanced Wood Products

Laboratory (AWP) uphold the OFSC's

vision to create a dynamic learning,

collaboration, and research environment

for managing and sustaining working

forest ecosystems in the 21st Century.

The project design approach was

created in collaboration with multiple

college departments and user groups

across various functions, including

resource management, ecosystems and

society, and science and engineering.

Engagement with these unique

and diverse groups meant that the

buildings themselves were designed

to be teachers and a living laboratory –

something to interact with and to learn

from.

1 The Rosenburg Forest Products Atrium

is an expansive space that captures the

feeling of being in the forest; the main

stairs are made from recycled glulam

beams from the former Peavy Hall (Photo:

Josh Partee)

2 The third-floor area outside the

Wollenberg Foundation Dean's Suite, also

called the "treehouse", offers an informal

learning space among the treetops

(Photo: Josh Partee)

3 Peavy Hall's deep lightwells within the

academic bar allow natural light to reach

the hallways (Photo: Josh Partee)

4 The use of wood as the primary material

is evident with wood details exposed

throughout the interiors (Photo: Josh

Partee)

3

4

GEORGE W. PEAVY FOREST

SCIENCE CENTER

The new George W. Peavy Forest

Science Center (83,000 sq ft) is

connected to the complex natural

layers, systems, and networks of a

WOOD IN ARCHITECTURE • ISSUE 2 – 2021 49
---
STRUCTURAL ELEMENTS

5 6

5 Exterior of the Advanced Wood Products

Laboratory's High Bay Loading Entrance

(Photo: Ema Peter)

6 Advanced Wood Products Laboratory's

Structural Testing Bay; the structural

testing bay includes a reaction wall and

strong floor to support heavy structural

work and the testing of structures up to

three storeys high (Photo: Ema Peter)

7 The building enclosure's translucent

panels create a beautiful daylit lab space

that becomes the backdrop for innovation

(Photo: Ema Peter)

8 Advanced Wood Products Laboratory's

Seminar Space; this flexible space is

intended for workshops and education

through the TallWood Design Institute

(Photo: Ema Peter)

forest, from soil to sky. The building

is designed as two intersecting bars,

connected to the existing Richardson

Hall. A simple academic bar features

20 classrooms, computer rooms, and

laboratories. Classroom and lab spaces

range from small to large and interior to

exterior, facilitating a range of teaching

styles in an inspiring environment for

students to study all aspects of the

forest landscape. Timber stairwells

filled with natural light flank both ends

of the academic corridor to connect

the landscape and enhance intuitive

wayfinding.

At the heart of Peavy is the Roseburg

Forest Products Atrium. Shaped

by towering two-storey douglas fir

columns, this expansive space captures

the feeling of being in the forest. The

atrium is directly connected to the

Peavy Arboretum, a curated collection

of local plant species that acts as a

living classroom for forestry students,

community, and industry. The edge

between the building and the adjacent

arboretum is blurred to remind students

and faculty of their unique and critical

role as environmental stewards.

Peavy includes several informal learning

spaces, including the third-floor area

located outside of The Wollenberg

Foundation Dean's Suite. This space

provides opportunities for students,

faculty and staff to collaborate, study

and teach in a relaxed setting among the

treetops.

The wood structure design is innovative

in its response to the high seismic

requirements of the site. A crosslaminated

timber (CLT) rocking wall

system, the first of its kind in North

America, was developed with shear

walls composed of separate sections

connected vertically by a post-tension

system. This allows the walls to move

and self-center during an event, and for

components to be selectively replaced

on an as-needed basis after the event

occurs. As part of the building as a

teacher concept, the wood structure is

50 WOOD IN ARCHITECTURE • ISSUE 2 – 2021
---
STRUCTURAL ELEMENTS

7

8

monitored by over 200 sensors that have

been installed throughout the structure

to gather data on vertical and horizontal

structural movement as well as moisture.

This data will be used for research

into the performance of mass timber

structures for the life of the building and

will inform the future of good practice in

building with mass timber.

ADVANCED WOOD PRODUCTS

LABORATORY (AWP)

The A.A. "Red" Emmerson Advanced

Wood Products Laboratory (18,000

sq ft) is home to the TallWood Design

Institute, which brings together industry

and academia to advance knowledge

about the use of wood products in

buildings through applied research,

product development, testing and

professional education. The building

provides dedicated research spaces

for developing and testing innovative

wood products and technologies while

producing data that can be applied in

research and industry.

The AWP programme required

an expansive space to allow for

the flexibility to test and adapt to

technologies as they emerged. The

building structure is a simple and elegant

glue-laminated timber (glulam) and

mass plywood panel (MPP) system that

works together to achieve the long span

required. The lab space is broken into

two bays:

• the structural testing bay includes

a reaction wall and strong floor to

support the heavy structural work

and testing of structures up to threestoreys

high

• the manufacturing bay is equipped

with advanced robotics and

fabrication equipment.

These new buildings extend beyond

forestry to include the entire ecosystem,

the industries that engage it, and more

importantly, the wide variety of people

who will be environmental stewards of

the future: the students. WIA

WOOD IN ARCHITECTURE • ISSUE 2 – 2021 51
---
FLOORING

FLOORING

Solidfloor's Herringbone Chevron St. Paul's RG wooden flooring

Is wooden flooring in the

kitchen right for you?

Wooden floors are regarded as one of the

most enticing types of floors in interior

design. However, it is also acclaimed among

professionals that hardwood floors are

somewhat high-maintenance and are a poor

choice for wet locations or other intensely

used places such as kitchens or bathrooms.

Nonetheless, when a wooden floor is correctly

maintained, it could be possible for one to

have a wooden floor in their kitchen.

Although some manufactures claim that their

wooden floors are water resistant, it does not

mean that they are fully waterproof. Many

have disclaimers warning that the product

shouldn't be placed in wet areas such as

kitchens or bathrooms, and yet, there's a grey

area when it comes to these particular places

as we can classify them as "semi-moist" or

"sporadically moist". The possibility of one

having a wooden floor in the kitchen depends

on the nature of the household.

There are different kinds of wooden floor

finishes – the most common being lacquered

and oiled floors. It generally known that

lacquered floors can tolerate moist and

water slightly better compared to oiled

floors. However, these are not waterproof.

When a floor has recently been oiled or

lacquered, all the product is thoroughly

drained in the wood fibres so that other

substances don't have the chance to be

absorbed. In turn, well-nourished floors

are less likely to show marks or stains over

time. Whenever the floor looks slightly

undernourished, it has to be maintained

again with a high-quality maintenance

product. Also, as wood is a product of nature,

wooden floors are vulnerable to acidic

substances. Whenever liquids are spilled on

a wooden floor, it is good practice to remove

them immediately when spotted to avoid

irreversible stains.

From this perspective, a wooden floor in

the kitchen isn't that suitable for a busy

household or a home designed such that

traffic comes directly into the kitchen

from a pool deck or garage. A wooden

floor adds a lot to the home's ambiance,

so consideration is regarded as being

worthwhile.

A somewhat simpler alternative would

be to explore flooring materials that

feature wood-grain designs. For example,

Solidfloor's new product range of LVT floors

has prints that resemble real wooden floors.

This collection is fully waterproof as they

are made out of stone gravel. Also, other

benefits of this type of raw material include

high resistance to humidity and temperature

differences. WIA

This article was first published on Solidfloor's official website

(www.solidfloor.com) and is reproduced here with permission.

52 WOOD IN ARCHITECTURE • ISSUE 2 – 2021
---
FIT-OUTS

FURNIC – Modular carpentry

for the modern home

Singapore-based interior fit-out

specialists 4PLUS8 has recently

developed an innovative

modular approach to meet

the ever-growing demand for

custom cabinetry and carpentry

work in residential buildings.

Wood in Architecture talks

to Andrew Lim, Founder of

4PLUS8, to find out more about

their new offering: FURNIC.

Andrew Lim is the Founder of

4PLUS8, a team of interior fit-out

specialists that focus on interior

renovation works on Good Class

Bungalows in Singapore. Andrew,

with 12 years of experience in the

industry, was previously a director

at a furniture retail company that

produced bespoke carpentry. As

an employee, he felt that

there was much more that

he could offer to clients

creatively. He decided

to start a business

and convince his

specialised team of

11 craftsmen to

join him.

WOOD IN ARCHITECTURE • ISSUE 2 – 2021 53
---
FIT-OUTS

1 Kitchen for a residential unit in Punggol,

Singapore

2 Teak, oak and walnut are common

wood species used for wood products

in Singapore as they can withstand the

tropical climate

According to Andrew, there has been a

consistently strong demand for quality

cabinetry works, and some design

trends that have become popular

evolve around home spaces serving

multi-purpose functions and comprising

clever storage solutions to help

declutter and segregate zones.

Despite the demand, the industry is

currently facing a decline due to rising

wages, an aging workforce, overreliance

on foreign workers, and the

lack of new blood in the workforce. Also,

when selecting a contractor, especially

in the absence of a baseline standard

when it comes to workmanship quality,

consumers tend to use price as the

deciding factor. Modular carpentry could

be a gamechanger.

"With the introduction of modular

carpentry, consumers can expect

consistent quality, design, fabrication

and installation support," shared

Andrew. "Consumers can expect

cabinetry akin to European system

furniture brands designed to meet

quality and productivity standards."

THE CONCEPT

FURNIC, which was launched in

early 2021, is an integrated system

of modular components perfect for

kitchens, wardrobes and storage units.

With 4PLUS8's focus on the luxury

residential sector where most projects

involve highly customised woodwork

and the use of natural and exotic

materials, FURNIC targets homeowners

in the mid-to-high end market, as well

as small-scale developers of residential

projects. The modular systems are tailor

made according to the layout of local

Housing Development Board units and

condominiums in Singapore.

Compared to a similar kitchen layout

fabricated by 4PLUS8, a system by

FURNIC costs approximately 30% less

due to the library of modules, finishes,

hardware and accessories available

on the back end to flexibly configure

various storage units.

THE PROCESS

Clients can first share their layout and

requirements they would like to achieve,

so that the 4PLUS8 team can propose

suitable systems and accessories in the

first proposal. With a preferred concept

and budget in mind, a highly intuitive

software is then used to quickly develop

an accurate design configuration.

Once the project is confirmed, the

shop drawings are then translated

into fabrication drawings ready for

CNC milling. The team partners with

a factory in Malaysia to develop the

products using raw materials sourced

from Austria, and an in-house logistics

team ensures that the finished product

is safely delivered and installed onsite.

Purchasing a modular system

means that the installation process is

straightforward and fuss-free. A kitchen

set takes approximately three weeks

for fabrication and just three days for

installation.

MATERIALS

According to Andrew, teak, oak and

walnut are some of the more commonly

used wood species in 4PLUS8's

1

2

54 WOOD IN ARCHITECTURE • ISSUE 2 – 2021
---
FIT-OUTS

3 4PLUS8's showroom featuring a living

space and walk-in wardrobe

4 Custom-made furniture for a residential

home in Singapore

5 4PLUS8's carpentry is made by hand,

whereas FURNIC utilises technology

and machinery

3

4

projects, due to their ability to withstand

Singapore's tropical climate. For the

FURNIC range, the melamine faced

chipboard panels are stabilised and

tested for heat resistance and moisture

durability. In addition, the melamine

resin surfaces are also tested for

antibacterial properties in accordance

with ISO 22196 standards – the most

important internationally recognised

test method for evaluating the

antibacterial activity of plastic materials

and non-porous surfaces to inhibit or kill

the growth of test micro-organisms.

The raw material used are both certified

by the Forest Stewardship Council (FSC)

and Programme for the Endorsement of

Forest Certification (PEFC).

DESIGN STUDIO

4PLUS8 recently invested SG$600,000

to design and build a first-of-its-kind

design studio to showcase the team's

dedication to ensuring top quality in

every step of the production process.

Located at Shun Li Industrial Park in

Singapore, the three-level building

itself features unique elements such

as artificial skylights powered by

nano technology and reproduced to

mimic natural lighting; solid wood

milled panels; as well as customised

woodworking and bespoke finishing

elements.

5

At the top floor, a showroom showcases

an actual layout of a Good Class

Bungalow complete with a living area,

walk-in wardrobe, dining room and

kitchen, all featuring state-of-the-art

interior fitting solutions. WIA

WOOD IN ARCHITECTURE • ISSUE 2 – 2021 55
---
FIT-OUTS

Chicken

Mafia:

the boss in

undulating

waves

interior

DESIGN INFORMATION

TOTAL AREA: 220m 2

YEAR: 2020

CLIENT: CHICKEN MAFIA

ARCHITECTURAL BUREAU: Gretaproject

architecture&design

ARCHITECTS: Margarita Denisova, Maxim Kashin,

Natalia Karpova

LOCATION: Moscow, Russia

PHOTOGRAPHY: Mikhail Loskutov

ARTICLE SOURCE: v2com

56 WOOD IN ARCHITECTURE • ISSUE 2 – 2021
---
FIT-OUTS

FIT-OUTS

1 The usual rectangular shape of a space

box after the installation of the "waves"

should look like a sophisticated geometry,

creating an optical effect and attracting

the interest of visitors

1

Gretaproject had an interesting

task: to create a light, fashionable

and cosy interior for a fast-food

restaurant with high-quality

food. The interior had to be light,

provocative, fashionable, playful,

and taking the customers to the

homeland of fast food — the United

States (US). Also, one of the tasks

was to include unusual shapes and

lighting that had not previously been

used in any of Moscow's restaurants.

At the same time, the realisation of

the interior should not be expensive.

The interior concept is a

transformation and refraction of

simple space geometry by the

sophisticated geometry of the

ceiling, walls and furniture. Thus,

the usual rectangular shape of a

space box after the installation

of the "waves" should look like a

sophisticated geometry, creating

an optical effect and attracting the

interest of visitors.

The architects chose plywood as a

cheap and warm material for this

idea. Moscow's cold climate dictates

WOOD IN ARCHITECTURE • ISSUE 2 – 2021 57
---
FIT-OUTS

2

2 The interior had to be light, provocative,

fashionable, playful, and taking the

customers to the homeland of fast food –

the US

3 Gretaproject had an interesting task:

to create a light, fashionable and cosy

interior for a fast-food restaurant with

high-quality food

3

4 4

its own laws for choosing materials

for public catering. Therefore, wood

was chosen as the material for the

geometry of the waves. Metallic

reflective surfaces with ripples were

chosen on the counterpart, showing

the sophistication of wood forms and

the simplicity of the metallic ones. The

concrete floor and walls also set off

and accentuate the interesting wood

volume of the interior base.

The CHICKEN MAFIA label represents

the tattoos of the restaurant owners –

this symbol is reflected in the graphic

design, in the drawings of the bathroom

walls, neon inscriptions, and the choice

of the Vitra Wire Chair DKR model of

mesh chairs.

In this project, the architects wanted to

show how the usual forms of space can

be transformed due to the introduction

of large volumetric elements of irregular

shape, passing from the ceiling to walls

and furniture. This is in addition to how

light affects the perception of space

and its warmth. WIA

58 WOOD IN ARCHITECTURE • ISSUE 2 – 2021
---
SHOW PREVIEW

Re-imagine the future of the

built environment at IBEW 2021

McLennan, CEO of McLennan

Design; Mr Kelvin Wong, CEO of the

Building and Construction Authority;

Mr Luke Goh, CEO of the National

Environment Agency; Mr Liam Wee

Sin, CEO of UOL Group; Mr Wong Mun

Summ, Founding Director of WOHA

Architects; Mr Chew Men Leong,

President/Head, Urban Solutions

of ST Engineering; Ar. Seah Chee

Huang, Chief Executive Officer of DP

Architects; and many more.

7 to 9 September 2021

The International Built Environment offer valuable insights and exciting

Week (IBEW) returns from 7 to 9 networking opportunities to help

September 2021 in an enhanced digital your business emerge stronger, more

format alongside BEX Asia.

sustainable and resilient.

SOURCE THE LATEST BUILT

ENVIRONMENT SOLUTIONS

AT BEX ASIA 2021

The enhanced digital BEX Asia will

continue to house the component

events including Mostra Convegno

Expocomfort (MCE) Asia, InnoBuild

Asia and Smart Cities and Buildings

Asia (SCB Asia).

Visitors and exhibitors can look forward

to an enhanced digital platform that

will facilitate the discovery of new

products and clients with the ability to

seamlessly network and hold business

meetings in a single platform.

The IBEW plays a pivotal role in

supporting the built environment sector

as it continues to evolve to meet new

challenges. IBEW 2021, themed "Reimagining

the Future", will emphasise

on what's next for the sector and

highlight the trends and opportunities

that will facilitate business growth

and transformation. From 7 to 10

September 2021, you can look

forward to a specially curated digital

conference and exhibition showcasing

the latest innovations in sustainability,

built environment technologies,

smart facilities management and

digitalisation. The event will also

HEAR FROM INDUSTRY

LEADERS AT IBEC 2021

Organised by BCA International,

a wholly owned subsidiary of the

Building and Construction Authority,

the International Built Environment

Conference (IBEC) is widely regarded as

the most comprehensive conference on

the built environment in the Asia Pacific,

and showcases senior leadership of key

industry players who share knowledge,

exchange experiences and explore

business opportunities.

Among the leaders that will be

speaking this year include Mr Jason

Participating exhibitors this year

include major global players such as

ebm-papst SEA, Camfil Singapore,

FinalCad, Bostik, Procore Technologies,

Conserve Lt and many more.

The 2020 edition attracted more

than 10,000 built environment

professionals from 120 countries and

regions. Of those who attended the

exhibition, 94% are decision makers.

For more information on the

conference, visit www.ibew.sg. For

more information on the trade show,

visit www.bex-asia.com. WIA

WOOD IN ARCHITECTURE • ISSUE 2 – 2021 59
---
SHOW PREVIEW

Dubai WoodShow to launch

all-new edition in March 2022

with year-round activities

15 to 17 March 2022

Dubai WoodShow, the leading platform WoodShow will continue to propel its

for wood and woodworking machinery success through an entirely different

industry in the Middle East and North event format in 2022 by introducing

African regions, is gearing up for an allnew

edition with more unprecedented activities that will generate vast

the most dynamic and most rewarding

activities and engagements. Scheduled business opportunities for various

to be held from 15 to 17 March 2022 wood and woodworking machinery

at the Dubai World Trade Centre, the sectors in the market.

upcoming edition is set to provide a

truly unrivalled experience for key The all-new edition is anticipated to

players from across the globe.

showcase an unconventional event

compared to its previous shows, as

Following this year's top-notch edition it will not only showcase a worldclass

exhibition, but will also amid the global health crisis, Dubai

include

the WoodShow global conference,

business-to-business (B2B) meetings/

matchmaking, networking events, talk

shows, WoodShow innovations and

industry awards for exhibitors.

"We need to keep up with the fastchanging

times and the increasing

demand of the competitive market.

Our goal is to bring an entirely different

Dubai WoodShow next year by

providing more rewarding activities

and a highly enriching experience to all

our attendees. Next year's edition will

definitely become an unconventional

show because we will launch more

dynamic features which means, more

opportunities for generating leads,

60 WOOD IN ARCHITECTURE • ISSUE 2 – 2021
---
SHOW PREVIEW

increasing sales, and building relevant

connections within the industry. As

early as now, we are already starting

our preparations in order to ensure

that every participant will be able to

profoundly benefit from this highquality

event," stated Walid Farghal,

Director General of Strategic Exhibitions

& Conferences at Dubai WoodShow.

Moreover, as a part of major preparation

for the big event, WoodShow is

organising an outstanding roadmap

to the physical edition in 2022 by

launching year-round calendar of

activities to be held globally that will

help build the momentum and engage

with more audiences. Happening

virtually, these activities include B2B

matchmaking, seminars, exhibitions,

talk shows and product shows.

"The year-round activities clearly show

the exceptional direction that Dubai

WoodShow is aiming for as it heads

towards a successful event next year.

The industry is on its way towards

continued growth and recovery so we

need to be vigilant in maximising every

potential. These activities will stimulate

opportunities for various relevant

sectors even before the big event

opens in 2022 by providing a powerful

platform that will connect key players

to the right people, learn from industry

experts, and expand their customer

base," added Dawood Al Shezawi,

President of the Organising Committee

at Dubai WoodShow.

According to the report titled "Wood

Processing Global Market Report

2021: COVID 19 Impact and Recovery

to 2030" which was released by

Reportlinker.com, the market is

anticipated to reach US$179.7B in

2025 at a compound annual growth

rate of 6%. It was also revealed

that the wood processing market is

projected to benefit from the solid

economic growth predicted for various

developed and developing nations. This

year, the International Monetary Fund

forecasted that the gross domestic

product growth will be at 3.4% globally.

Dubai WoodShow's exhibitions will

showcase world-class products,

services and technologies from leading

companies in the industry, providing

exhibitions with increased exposure

and opportunities to close deals with

serious buyers from across the world.

Visitors will also be able to gain access

to the latest trends in the industry and

connect with other key players.

The WoodShow global conference

will bring together industry experts

and prominent personalities who will

share their brilliant insights about

the latest local, regional and global

market trends, as well as the different

challenges and opportunities in the

wood and woodworking machinery

industry.

B2B meetings will be conducted with

key stakeholders to build partnerships or

collaborations with prospective business

partners, and discuss new opportunities

within the industry in a private setting.

Networking events will enable

participants to meet like-minded

individuals, get introduced to key

contacts, meet with investors and

potential clients, establish mutually

beneficial relationships, and strengthen

business relations.

Talk shows will feature interviews with

leading investors, chief executive officers

and other renowned personalities who

will share their success stories, in-depth

insights on the latest trends and expert

viewpoints on the industry's most

interesting topics.

WoodShow innovations will serve as

a great platform for different brands

to showcase their latest products

and present their distinctive features,

specifications and innovations that will

attract potential buyers and investors.

The industry awards for exhibitors will

give recognition to the best individuals

and organisations that will participate

in the exhibition of Dubai WoodShow

2022. Winners will be chosen in different

award categories. WIA

1 Customers

engaging and

networking with

representatives

of various leading

global wood and

woodworking

machinery

2 Italco Middle East

FZE and SCM

Group brought

premium Italian

woodworking

machineries to

Dubai WoodShow

2021

1 2

WOOD IN ARCHITECTURE • ISSUE 2 – 2021 61
---
SHOW REVIEW

Winners of the Hoa Mai

Furniture Design

Competition 2021

The Handicraft and Wood Industry

Association of HCMC (HAWA) and the

American Hardwood Export Council

(AHEC) recently announced the finalists

and winners of the Hoa Mai Furniture

Design Competition 2021.

The 18th iteration of the annual

competition continues to inspire young

Vietnamese designers to unleash their

creative design talent using American

hardwood species that provide

versatility, durability and aesthetic.

Mr John Chan, regional director,

Greater China and South East

Asia of The American Hardwood

Export Council, said: "We are

heartened that, even in the midst

of a pandemic, we were able to

push through with the competition

this year. We hope that through

this competition, we can discover

and nurture more budding

Vietnamese design talent, and

encourage greater understanding

of American hardwood

amongst Vietnamese designers and

manufacturers."

All entries this year were created from

American red oak, the most abundant

species in the American hardwood

forest and which is particularly suited

to fine furniture making given its

beauty, strength and workability. There

were over 336 entries this year and

the judging panel narrowed down to a

shortlist of 17, of which eight eventual

winners were chosen.

62 WOOD IN ARCHITECTURE • ISSUE 2 – 2021
---
SHOW PREVIEW

FIRST PRIZE WINNER: NGUYEN DUC HUYNH (S21

ROCKING CHAIR AND HUNG KING FAMILY SOFA SET)

Designer Nguyen Duc Huynh had two entries in the final. The first is a set

of rocking tables and chairs inspired by hand trolleys these pieces have

a large cushion at the front to suggest someone carrying a package. The

footrest is also inspired by a recently delivered package. The seat has

been stylised to create a unique shape with a string backrest.

Hung King family sofa

S21 Rocking chair

The Hung King sofa set took inspiration the relics of King Hung

Temple, which has many entrances to the same oriental-style

dome architecture. This architecture can be seen throughout

Vietnam. The furniture is built based on that image to create a

family of tables and chairs with Vietnamese style. The colour of the

entire set is coordinated to give a feel of togetherness and also highlights

how well American red oak receives colour and stain.

SECOND PRIZE WINNER: TRAN

MINH TIEN & TRAN PHAT THUAN

(SIMPLE COMBINATION)

The two young designers took what they felt

was a simple idea of combining different

materials, iron and wood, and made it into a

practical structure. The design allows for the

doors to be closed or opened by pushing in

to reveal the contents. The juxtaposition of

the two materials, natural and man-made,

emphasises the grain of the American red oak.

WOOD IN ARCHITECTURE • ISSUE 2 – 2021 63
---
SHOW REVIEW

SECOND PRIZE WINNER: TRAN CAM TRINH & TRAN

PHAT THUAN (ALPHA CHAIR)

The Alpha chair took the second prize in the 2021 competition. This

piece is inspired by the alpha symbol and aims to bring convenience

and enjoyment to users. The designers intend the chair to be neatly

folded when not in use. Two simple elastic lines are both a design

feature and provide additional structural support. In this piece, the

American red oak seat and frame is held with shrink wire and iron

bolts.

THIRD PRIZE WINNER: VU PHAN HOAI NHI, VAN

LANG UNIVERSITY (HOME)

Taking third prize in the competition, Designer Vu Phan Hoai Nhi was

inspired by the pandemic to create a mobile and versatile workspace.

For use at home or in the office, it can be easily set up to create a

partitioned and private yet comfortable workspace. The American red

oak timber envelops the user and creates a sense of calm and focus. It is

foldable and therefore easily stored when more open space is required.

The smart addition of wheels allows the workspace to be moved easily.

CONSOLATION PRIZE WINNER

(FUNCTIONALITY): TRAN HOANG

LONG (DINH CHAIR)

Đình Chair expresses both simplicity and

complication, lightness and heaviness in its

aesthetics through an assembly of bold back

legs and modest front legs, rafter-inspired

armrests, complemented by antique brass

details. A house roof, one of the elements

that distinguish traditional Vietnamese

architecture from others, is reassembled in

the curvy apron and seat form. Inspired from

the first impression when entering traditional

Vietnamese communal housing, Đình Chair

embraces the intuitive elegance of Vietnamese

Heritage while capturing the sense of

contemporary design. The distinctive grain of

the American red oak timber is highlighted by

the intense dark stain.

64 WOOD IN ARCHITECTURE • ISSUE 2 – 2021
---
SHOW PREVIEW

CONSOLATION PRIZE WINNER (TECHNIQUE):

NGO DUY KHANH, HO CHI MINH UNIVERSITY OF

ARCHITECTURE (PARAPOL CHAIR)

The inspiration for this chair was the mathematical parabola function

graph. Designer Ngo Duy Khanh felt that parabola curves were both

powerful and definitive whilst still being generous and attractive. The

designer was able to experiment with the bending capabilities of the

American red oak for excellent effect.

CONSOLATION PRIZE WINNER (MARKETABILITY):

TRAN THANH HUYEN, HANOI ARCHITECTURAL

UNIVERSITY (CYCLO CHAIR)

Cyclo Chair is inspired by the movie "The Lover" (1992), which depicts

the romantic love story between a Chinese man and a young French

girl. Designer Tran Thanh Huyen explains that the movie is set in hot,

humid Saigon in the 1920s. The background, colour and interior style

used in the movie are characterised by a Saigon-Indochina vibe. The

image of a cyclo, or trishaw, appears as a symbol of Saigon. At that

time, the cyclo was the means of transport for rich French officials and

bureaucrats (representing the upper class). With the desire to revive

the atmosphere of the movie as well as Saigon's vibe, the Cyclo chair

was born and boasts elegant features providing comfort to users.

CONSOLATION PRIZE WINNER (ECO-FRIENDLINESS):

NGUYEN THE HUNG, VAN LANG UNIVERSITY (THE

HANGING MOON)

The inspiration for The Hanging Moon comes from ancient Hoi An

houses which use traditional materials. Designer Nguyen The Hung

feels that besides having a beautiful wood grain, American red oak's

acceptance of moisture and excellent heat retention make it easy to

bend and join together thus enhancing the overall design.

CONSOLATION PRIZE

WINNER (AESTHETIC

& UNIQUENESS): DAO

SON TUNG & DAO

SON LAM, HANOI

UNIVERSITY OF

CONSTRUCTION (%)

Designers Dao Son Tung

and Dao Son Lam sought

to bring out the values of

village craft and traditional

art with a fresh perspective.

% is symbolic of indie-folk

music, a combination of the

catchy indie rock melody

with the sound of acoustic

in traditional folk music. It is

vibrant, attractive, modern,

but preserves traditional

culture. The acoustic part

is shown through the ceramics of the ancient village of Bat Trang,

combined with rock. The designers cleverly combine elements and by

using a premium material, in this case American red oak, elevate the

quality of the design. WIA

For the full list of awardees, visit the official website of the

American Hardwood Export Council.

WOOD IN ARCHITECTURE • ISSUE 2 – 2021 65
---
EVENTS CALENDAR

2021

AUGUST

South China International Industry Fair

04 to 06 August

Shenzhen, China

NOVEMBER

FENESTRATION BAU China

02 to 05 November

Shanghai, China

Dubai Wood Show

15 to 17 March

Dubai, UAE

MARCH

The Big 5 Dubai

22 August to 17 November

Virtual

Archidex

03 to 06 November

Kuala Lumpur, Malaysia

INAGREENTECH

17 to 19 March

Jakarta, Indonesia

Architect '21

31 August to 05 September

Bangkok, Thailand

SEPTEMBER

Salone del Mobile. Milano

05 to 10 September

Milan, Italy

International Built

Environment Week (IBEW)

07 to 10 September

Singapore

The Big 5 Dubai

12 to 15 September

Dubai, United Arab Emirates

Project Qatar

04 to 07 October

Doha, Qatar

OCTOBER

NOVEMBER

China Yiwu International Forest

Products Fair

01 to 04 November

Zhejiang, China

China Architecture Design Expo

02 to 05 November

Shanghai, China

Futurebuild SEA

09 to 11 November (Physical)

01 to 30 November (Virtual)

Kuala Lumpur, Malaysia (Hybrid)

ArchXpo

24 to 26 November

Singapore (Hybrid)

2022

DECEMBER

BIFA WOOD Vietnam

03 to 06 December

Binh Duong, Vietnam

Design Shenzhen

09 to 12 December

Shenzhen, China

FEBRUARY

China (Beijing) International Building

Decorations & Building Materials

Exhibition

09 to 12 February

Beijing, China

HanoiWood

22 to 24 February

Hanoi, Vietnam

MegaBuild Indonesia

17 to 20 March

Jakarta, Indonesia

Gulf Construction Expo

22 to 24 March

Bahrain

Yapi – Turkeybuild Istanbul

23 to 26 March

Istanbul, Turkey

The Big 5 Saudi

28 to 31 March

Riyadh, Saudi Arabia

MAY

INDEX Dubai

24 to 26 May

Dubai, United Arab Emirates

JUNE

Carrefour International du Bois

01 to 03 June

Nantes, France

Design Shanghai

09 to 12 June

Shanghai, China

66 WOOD IN ARCHITECTURE • ISSUE 2 – 2021
---
INDEX OF ADVERTISERS

INDEX OF ADVERTISERS

Advertiser

Page

Advertiser

Page

American Lumber 11

Softwood Export Council

IFC

Baillie Lumber 9

Technik Associates, Inc

IBC

BIFA Wood Vietnam 2021 3

American Hardwood Export Council

OBC

Hanoi Wood 2022 68

Panels & Furniture Asia House Ad 2, 67

International Built Environment Week 2021 31

Kuang Yung Machinery Co., Ltd 15

Malaysian Timber Council 1

PEFC International 13

Scan to download

WIA Issue 2, 2021 ebook

@panelsfurnitureasia

PFA-HPHorizontal-Socialmedia-2021.indd 1

29/7/21 9:18 AM
---
W O O D & W O O D W O R K I N G

20-22 JANUARY 2021

HANOIWOOD 2022

河 内 木 工 机 械 展

NEW DATE:

20-24 FEBRUARY 2022

Venue:

International Centre of Exhibition

(I.C.E ), Hanoi

91 Tran Hung Dao Street, Hoan Kiem

District, Hanoi , Vietnam

QR Code to exhibition

location on Google Map

JOINTLY ORGANISED BY

M A C H

BINH DUONG FURNITURE ASSOCIATION

VIETNAM TIMBER AND

FOREST PRODUCT ASSOCIATION

I R

F A

I N E R Y T R A D E

Pablo Shanghai

Contact: Rain Ma

Mobile: (86) 182 1755 3837

Email: 2229204646@qq.com

PANELS & FURNITURE GROUP

PLEASE CONTACT:

Pablo Publishing & Exhibition Pte Ltd

3 Ang Mo Kio Street 62 #01-23 Link@AMK

Singapore 569139

Tel: (65) 6266 5512 Mobile: (65) 9621 4283

Email: williampang@pabloasia.com
---
MASTER PIECES FROM TAIWAN

MASTER PIECES FROM TAIWAN

FOR BOTH SOLIDWOOD & PANEL INDUSTRIES

FOR BOTH SOLIDWOOD & PANEL INDUSTRIES

SBM-1300-H6

SBM-1300-H6

Double Sided Cutting

Double Boring and Sided Milling

Cutting

Boring Machine

and Milling

Machine

Designed For Solid Wood Furniture / Door / Flooring Production,

Designed Kitchen Cabinet, For Solid and Wood Functiona Furniture For / High Door Precision / Flooring Sizing, Production,

Boring, Milling .

Kitchen Cabinet, and Functiona For High Precision Sizing, Boring, Milling .

APPROVED/

APPROVED/

L-CLASS

L-CLASS

DET-4000-L6

DET-4000-L6

Double End Tenoner

Double End Tenoner

CLT 6,000 mm

CLT Special machine for CLT material such as flooring, ceiling and wall panel 6,000 mm

Special max. working machine width for up CLT to 6,000 material mm such or more. as flooring, ceiling and wall panel

max. working width up to 6,000 mm or more.

SD-700A

SD-700A

Auto. Edge Banding Machine

Auto. Edge Banding Machine

PVC (softforming) 0.4-1.2 mm

PVC For PVC melamine and veneer edge banding (softforming) job. Edging thickness: 0.4-1.2 0.4-1.2 mmmm.

For PVC melamine and veneer edge banding (softforming) job. Edging thickness: 0.4-1.2 mm.