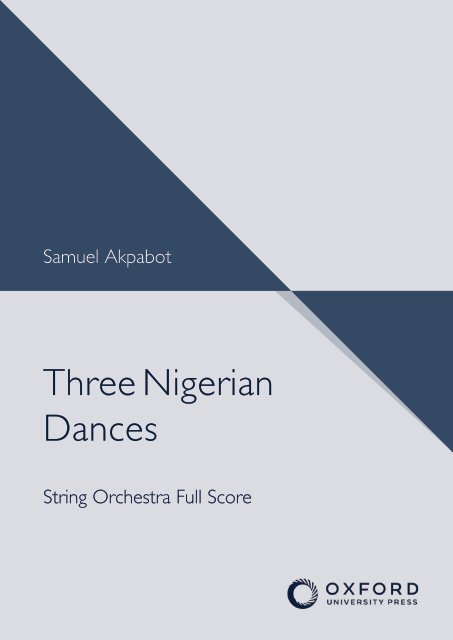 Samuel Akpabot - Three Nigerian Dances
Nigerian-born, Samuel Akpabot studied Western music (organ, trumpet and composition) at the Royal College of Music in London. He later taught and conducted research on the indigenous music of his country at the University of lfe, Nigeria and then continued his ethno-musicological studies in the US. His publications on the subject have gained him a reputation as a major scholar of West African indigenous music.
Several of Akpabot's compositions juxtapose African and European instruments, while others, like Three Nigerian Dances, use Western instruments only (strings and timpani in this case). The Dances do, however, convey a genuine sense of West African musical characteristics with their use of "call and response" patterns and idiomatic rhythmic motives.

2

Samuel Akpabot

Three Nigerian

Dances

Full Score
---
for online perusal only
---
for online perusal only
---
for online perusal only
---
for online perusal only
---
for online perusal only
---
for online perusal only
---
for online perusal only
---
for online perusal only
---
for online perusal only
---
for online perusal only
---
for online perusal only
---
for online perusal only
---
for online perusal only
---
for online perusal only
---
for online perusal only
---
for online perusal only
---
for online perusal only
---
OUP Repertoire Promotion

Email: repertoire.promotion.uk@oup.com

OUP Music Orders (UK)

Tel: +44 (0)1536 452630

Email: music.orders.uk@oup.com

OUP Hire Library (UK)

Email: ukhire@boosey.com

US Customer Orders

Orders by customers in the United States will be processed by

C. F. Peters Corporation, OUP's exclusive sales agency in the US

Email: sales.us@editionpeters.com

Phone: (718) 416 7800

US Rental Library

Email: usrental@boosey.com

Follow Oxford Choral

@OUPMusic

OUP catalogues and scores can be found at:

www.yumpu.com/kiosk/OxfordMusic

For more information please visit our website:

www.oup.com/sheetmusic

OUP promotional recordings are available to hear via digital platforms including:
More magazines by this user