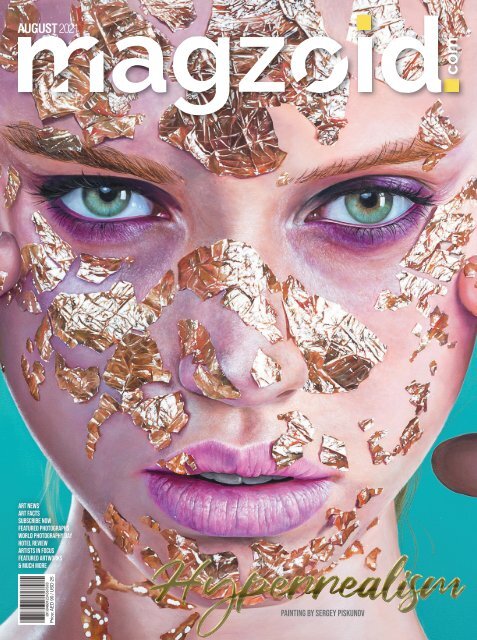 MAGZOID - Luxury Magazine in the Creative Space | August 2021
MAGZOID is a Luxury Magazine in the Creative Space of the MENA region which has its presence online as well as on the print media. Alongside the art news and coverage of all the remarkable happenings in the art industry, this magazine also provides an opportunity to the artists, art galleries, consultants and curators to be featured in the magazine. It has also been sought after by the Fitness, Business and Fashion Experts to share tips in their specific genres of businesses.
MAGZOID is a Luxury Magazine in the Creative Space of the MENA region which has its presence online as well as on the print media. Alongside the art news and coverage of all the remarkable happenings in the art industry, this magazine also provides an opportunity to the artists, art galleries, consultants and curators to be featured in the magazine. It has also been sought after by the Fitness, Business and Fashion Experts to share tips in their specific genres of businesses.
SHOW MORE
SHOW LESS
You also want an ePaper? Increase the reach of your titles
YUMPU automatically turns print PDFs into web optimized ePapers that Google loves.
AUGUST 2021

Art NEWS

ART FACTS

subscribe nOW

FEATURED PHOTOGRAPHS

World Photography Day

Hotel Review

ARTISTS IN FOCUS

FEATURED ARTWORKS

& much more

Price: AED 90 / USD 25

PAINTING BY Sergey Piskunov
---
Setup your

company in

Dubai mainland

and freezones

100% ONLINE AND HASSLE FREE
---
Art NEWS

ART FACTS

subscribe nOW

FEATURED PHOTOGRAPHS

World Photography Day

Hotel Review

ARTISTS IN FOCUS

FEATURED ARTWORKS

& much more

Price: AED 90 / USD 25

Price: AED 90 / USD 25

now

SUBSCRIBE

AUGUST 2021

JULY 2021

Price: AED 90 / USD 25

PAINTING BY Sergey Piskunov

Art NEWS

ART FACTS

crossword

trivia

REAder's review

subscribe now

& much more

Hyperrealism

PAINTING BY Fabiano Millani

H.E. ENG. ALI

ALSUWAIDI

DIRECTOR GENERAL OF

AJMAN FREE ZONE

RIZWAN SAJAN

CHAIRMAN,DANUBE GROUP

ELIJAH LONG

PRODUCER, WRITER & ACTOR

AUGUST 2021 JULY 2021

JUNE 2021 MAY 2021

APRIL 2021

MARCH 2021

WWW.MAGZOID.COM

FEBRUARY 2021

Connecting Minds,

Creating the Future

ART DUBAI

DIFC ART NIGHT

DUBAI INTERNATIONAL

HORSE FAIR

WORLD ART DUBAI

$62 MILLION

is what the World's

Largest Canvas Painting

by Sacha Jafri got sold for

INSPIRE AND

EMPOWER

Tessa Nicole

Lesya Guseva

Murat Yildirim

Lucy Wu

Raj Shahani

Sebastian Merk

Vera Jochum

ART NEWS

14-year-old Dubai Boy

appreciated by Indian PM

Mr. Narendra Modi

Even after 18,000 years,

Ancient Shell Horn Can

Still Play a Tune

UAE

TOUR

THE ONE AND ONLY

WORLD TOUR

BICYCLE RACE IN THE

MIDDLE EAST

21-27 FEB 2021

ART FACTS

CROSSWORD

ART DUBAI

WORLD ART DUBAI

and much more...

EMIRATE'S

CIVILISATIONAL

HERITAGE

Iconic photo of His Late

Grandfather Sheikh Rashid

Recreated by Sheikh Hamdan

PAINTING

MUSEUM

Painting Museum Opens

its Doors to Visitors With

More Than 3,000 Works

INTERVIEW

KEN KUNG

Hongkong

Price: AED 90 / USD 25

ARTIST STORIES

ART FACTS

CROSSWORD

FEATURED ARTWORKS

FEATURED ARTIST

TRIVIA

and much more...

Chaos is a blink of an eye

NASSIM

Price: AED 90 / USD 25

SACHA JAFRI

HIGHLIGHTS

ART EXHIBITION

FEATURED ARTWORKS

and much more...

UAE'S MARS

MISSION

UAE's Mission to Mars

(HOPE) will enter into orbit on

9th Feb, 2020

Cover Picture Courtesy

Carla Grace Original Painting

© Carla Grace Art

APRIL 2021

MARCH 2021

FEBRUARY 2021 JANUARY 2021

magzoid.global

subscribe@magzoid.com

www.magzoid.com

magzoid

magzoid

magzoid
---
GET

YOUR

BRAND

HERE

advertise@magzoid.com

www.magzoid.com
---
Welcome

note

Art That Matters

Contact:

"I dream of painting and then I paint my dream"

- Vincent Van Gogh

Advertisers advertised in this guide are included on a sponsored basis. Details are correct at the time of going to press, but offers and prices may change.

Get your story featured:

artist@magzoid.com

Order a printed copy:

print@magzoid.com

Advertisement queries

advertise@magzoid.com

Art gallery promotion

gallery@magzoid.com

Editorial:

editor@magzoid.com

Press Release

press@magzoid.com

For Art News

news@magzoid.com

Published By:

MCFILL MEDIA &

PUBLISHING GROUP

Approved and Licensed By:

National Media Council,UAE

Magzoid has taken constant efforts to make sure that

content is accurate as on the date of publication. The

published articles, editorials, material, adverts and all

other content is published in a good faith and opinions and

views are not necessarily those of the publishers. We regret

that we cannot guarantee and accept no liability for any

loss or damage of any kind caused by this magazine and

errors and for the accuracy of claims in any forms by any

advertisers or readers. We advise the readers to seek the

advice of specialists before acting on information published

in the magazine. The trademarks, logos, pictures, domain

names and service marks (collectively the "Trademarks")

displayed on this magazine are registered and unregistered

Trademarks of Magzoid and its content providers. All

rights reserved and nothing can be partially or in whole be

reprinted or reproduced or stored in a retrieval system or

transmitted in any form without a written consent.

The Creative Buds

Please recycle the magazine once you've finished reading it

International Art Exhibition

Art continues to open our minds and hearts and shows

us what could be possible in our world. Art isn't

necessary to meet our basic requirements, but it

certainly makes life more enjoyable. The various art

forms that surround us all combine to create the atmosphere that

we desire to live in, one that is unique to ourselves.

We are extremely excited to bring this edition of the magazine

to you. We have amazing artists who have shared their inspiring

and empowering stories with us along with 'Art of Photography'

celebrating the World Photography Day taking place on August

19 and a brief about how technology has changed the art world.

There is 'Artists in Focus' featuring local artists Kristel Bechara

and Maisoon Al Saleh and a list of art exhibitions to look out for in

the summer. There is a showcase of breath-taking photographs

and artworks in addition to art news, art facts, crossword, trivia

and games for our readers to engage themselves and win

amazing gifts.

We look forward to our readers joining us in our passion for art.

Let art feed your soul and bring joy to your world!

INSIDE THE MAGAZINE...

mergeteam

BOOSTING TEAM PRODUCTIVITY

Artworks from Around the World

www.magzoid.com August 2021 7

Simple yet powerful employee productivity boosting and work

tracking with screenshots, timesheets, billing, in-depth reports,
---
YOUR

PERSONAL

AND BUSINESS

BRANDING

One Stop

Marketing & PR Solution

info@qfastmarketing.com

www.qfastmarketing.com
---
Contents

AUGUST 2021 WWW.MAGZOID.COM

Inspire & Empower -

Artist Stories

Young-sung Kim | 12

Poluyanskaya Elizaveta | 16

Jodie Davies | 20

Anuja Aggarwal | 24

Galina Golovchak | 28

Emily Fantuz | 32

Marina Zotova | 38

Chedi Al Bait,

Sharjah

Relive ethnic and

cultural heritage with

perfectionism

42

12

16

20

24

14

International Youth Day

August12 marks the annual celebration of

International Youth Day as awareness day

22

World Photography Day

A picture is worth a

thousand words.

28

30

World Humanitarian Day

Humanity relates to words

like, 'kindness, compassion,

equality, tolerance, generosity.

32

Subscribe NOW 04

Featured Photographs 11

Art News 10|18|19|26|27|48|49

Art Facts 46|47

Art in Focus 50|51

Games 53

Featured Artworks 52|54|60

Picture Story 56|62

Immersive Digital Art 57

Art Events 58|59

Crossword 61

Trivia 64

38

How Technology is

changing the Art World

34

40

Hyperrealism

Sergey Piskunov is a Ukrainian painter

with his breathtaking works.

www.magzoid.com August 2021 9
---
ART | NEWS

Read more at www.magzoid.com

The museum, tentatively

titled the Nintendo

Gallery, will showcase the

company's historic products

as well as related exhibits

and game experiences. It is

slated to open in 2024.

One of Nintendo's factories

to turn into Nintendo Gallery showcasing

the company's products, exhibits and

game experiences

The Japanese electronics

and video game

company Nintendo plans

to convert one of its

factories into the world's first

Nintendo museum, according

to a statement. They have been

planning to construct a gallery as

a way to share both their product

development history and philosophy

with the public.

Tentatively named Nintendo

Gallery, the museum will sit at the

site of the Nintendo Uji Ogura Plant,

one of Nintendo's older factories. It

was originally built in 1969 and was

used to manufacture playing cards,

later housing a customer service

center for product repairs. The

factory, however, has sat unused

since 2016 after the opening of a

newer facility.

Nintendo, which began as a

producer of playing cards in 1889,

has achieved success with its game

consoles as well as with the Mario,

Legend of Zelda, and Pokémon

media franchises.

In 2020 Nintendo was named

Japan's richest company. The

release of the new game Animal

Crossing: New Horizons coincided

with the pandemic lockdown, which

contributed to record sales of the

Nintendo Switch handheld gaming

system. Profits increased by 34% as

the company earned over $16 billion

in sales.

Pokémon playing cards have

also found renewed interest

during the pandemic, with a

rare sealed Pokémon card

set fetching $408,000 at Heritage

Auctions in Dallas, Texas.

The museum, tentatively titled the

Nintendo Gallery, will showcase

the company's historic products as

well as related exhibits and game

experiences. It is slated to open

in 2024.

-news@magzoid.com

10 August 2021

www.magzoid.com
---
FEATURED PHOTOGRAPHS

@aljvd

@sidharthvithaldas

@benfayalafilms

@tgfromdubai

@alphaspotting

@bachir_photo_phactory

@grafikapache

@jade_vivero

@jruzz

@wolnerchris

@mal7__

@bu1mayed

@mudit2903

@theulianas

@dubai0006

@raihanhamid_photography

@abdulaziz_photos

@sebastien.nagy

@essa1010

@ninni_dxb

www.magzoid.com August 2021 11
---
ARTIST STORIES | INSPIRE & EMPOWER

Hyperrealism

By Young-sung Kim

12 August 2021

www.magzoid.com
---
"Create things that don't exist in

the world",

says Young-sung Kim

Young-sung Kim

pours in all his

emotions while

drawing and creating

realistic pieces through

which he wishes to

bring in a change in

attitude in society.

- Exclusive to Magzoid

Art is often perceived as

a way of detachment

from reality, a key

to unlocking some

hidden meaning in

the world that surrounds us. This

is not completely true for genres

such as hyperrealism, where the

road between reality and art is not

much visible in the paintings and

sculptures these artists create.

Young-sung Kim is a hyperrealist

from South Korea. Though he

likes experimenting with various

forms of art, his main focus is on

hyperrealism.

The Photorealist aims to

reproduce pictures as perfectly

as attainable so the human eye

can't distinguish between the

original and the resultant painting,

whereas the hyperrealists take

the technique even further.

They develop ways in which the

narrative, charm, and emotions

can be perceived through the

painting.

Young-sung Kim's artworks aim

to focus more on the genre of

hyperrealism because he believes

that the people in our society

think of animals and nature as

methods of ornament, experiment,

and edibility. However, he pours

in all his emotions while drawing

and creating realistic pieces

through which he wishes to bring

in a change in attitude in society.

He urges people to think twice

about abusing their unintentional

behaviors to any animal and

nature. He aims to create more

awareness about severe climate

change.

He highly admires the artistic

genius of Pablo Picasso who has

impacted the development of

modern and contemporary art with

unparalleled magnitude. Along

with it, he is truly inspired by the

stunning artworks of Gottfried

Helnwein and Jeff Koons.

Nature, city life, and social

media are the main inspirations

while creating a piece. He shows

us that even the simplistic things

in our surroundings can be taken

and utilized to put together a

masterpiece. He is proud of the

fact that he is working on things he

loves and holds dear to him.

Young-sung Kim has developed

his artistic career through lots

of hard work, research, and

studying different types of arts.

His message to the fellow artist is,

"Create things that don't exist in

the world." Use your imagination

and leave the world bewildered

with your artwork.

- feature@magzoid.com

www.magzoid.com August 2021 13
---
INTERNATIONAL YOUTH DAY

International

Youth Day

August 12 marks the annual celebration of International Youth Day as an awareness day,

designated by the United Nations (UN). The first Youth Day was discovered in 1999 once the

UN General Assembly (UNGA) passed a resolution accepting the advice made by the World

Conference of Ministers accountable for Youth in Lisbon. The theme of this year's International

Youth Day is, "Transforming Food Systems: Youth Innovation for Human and Planetary Health",

intending to highlight that the success of such a world effort won't be achieved without the

meaningful participation of young people.

14 August 2021

www.magzoid.com
---
WHY IS IT IMPORTANT

TO CELEBRATE

INTERNATIONAL YOUTH

DAY?

These days are devoted to the

role young men and women

play in bringing modification

in international problems. It is

also additionally a chance to

boost awareness of challenges

and issues facing the world's

youth. On International Youth

Day, workshops, concerts,

conferences, cultural events,

seminars, and conferences

involving national and native

government officials and youth

organizations occur around the

world. The theme and slogan

for the International Youth Day

change every year to cover a

variety of issues that affect young

people today. Youth Engagement

for Global Action highlight efforts

to make education equitable, and

inclusive for all youth. International

Youth Day emphasizes the rights

of young people to possess full

access to education, healthcare,

employment, financial services,

and complete participation in

public life.

International Youth Day

recognizes and celebrates the

contributions of young volunteers

and activists who are pushing for

positive modification around the

world as youngsters function as

catalysts for peace and prosperity,

not only in their native communities

but also on the global stage.

Today's generation of youth is that

the largest in history, with more

than three billion young people

beneath the age of 30. Being half

the world's inhabitants, a healthy

young generation has an unmatched

potential to contribute towards the

betterment of our society.

INTERNATIONAL YOUTH DAY

TOP EVENTS AND THINGS

TO DO

• Participate in Youth Day

celebrations within your city. Use

the hashtag #YouthDay to promote

and find events.

• Encourage confidence-building

activities for the youth in and

around you. This could be done

by having youth participate in

sports, drama clubs, dialogue

clubs, and music bands.

• Organize a meeting or debate to

discuss young people's

contributions to global issues and

guide them on how to bring about

changes.

• Empower the young ones in your

life with books like

1. No Body' Perfect: Stories by

Teens about Body Image,

Self-Acceptance, and the

search for Identity (2002)

2. The Seven Habits of Highly

Effective Teens (2014)

3. 6 most important decisions

You'll Ever Make: A Guide for

Teens (2006)

• Watch movies that inspire

youth to form a positive

impact within the world.

1. Dr. Seuss: The Lorax (2012)

2. Living on One Dollar (2013)

3. Girl Rising (2014) and

4. He Named me Malala (2015)

- editor@magzoid.com

BOOKS

MOVIES

www.magzoid.com August 2021 15
---
ARTIST STORIES | INSPIRE & EMPOWER

Photorealism

By Poluyanskaya Elizaveta

16 August 2021

www.magzoid.com
---
"Art enlightens everyone around and

creates a magnificent world of imagination

and color", says Poluyanskaya Elizaveta

- Exclusive to Magzoid

Poluyanskaya Elizaveta

is a Russian artist

who specializes in

photorealistic art.

Photorealism is a

movement that heavily depends

on using photographs as a

reference for the work. Artists use

the photographs of real-life places

or structures and recreate them

onto a canvas with exceptional

accuracy and precision. Through

her art, Elizaveta portrays how

truly beautiful this world is as well

as the people who reside in it.

In recent years photorealistic

art has started to gain a lot of

attraction. Her favorite artist is

Casey Baugh whose magnificent

artwork revolves around the central

theme of psychology. The artwork

shows how an artist is capable of

filling their work with a whole world

of emotions.

Elizaveta developed her

career through exhibitions and

competitions via social media

platforms such as Instagram. Her

Instagram page @poluyanskaya_

art is filled with amazing artworks

that leave the viewer in awe.

Her art is inspired by the people

and faces around her and the

ones she comes across while

surfing through social media or

flipping through magazines. Her

persistence to achieve her goals

is something she takes pride in.

She believes that art enlightens

everyone around and helps to

create a magnificent world of

imagination and color. Art helps in

spiritual connection and makes a

person think out of the box.

Art and nature are a combination

that has been around for centuries.

Artists never seem to grow out

of creative and innovative ways

to draw, paint, photograph, and

depict their view of nature. No

two works of art are identical;

thanks to the drastically different

perspectives of artists, due to

which the beauty, and power of

No two works of art

are identical; thanks to

the drastically different

perspectives of artists, due

to which the beauty, and

power of nature are often

presented in very diverse

ways by artists.

nature are often presented in very

diverse ways by artists. Elizaveta's

message to her fellow artists is,

"Anything is possible if you work

hard." This is undoubtedly true as

your unique efforts always come

back to reward you.

- feature@magzoid.com

www.magzoid.com August 2021 17
---
ART | NEWS

Read more at www.magzoid.com

New York's Port Authority

Bus Terminal to get a new artistic makeover

New York City is calling its

artists to do the makeover

of the Port Authority Bus

Terminal, famously called

"the single worst place on planet

Earth", with a block-wide mural.

The mural project will be unveiled

this autumn and is part of a $10bn

years-long redevelopment plan for

the station—which more than 27

million commuters and out-of-state

travelers begrudgingly use each

year—that is due to be completed

in 2023.

The proposals are being

overseen by the Garment District

Alliance, a non-profit public service

organisation. The winner should

be "a passionate, well-established

artist who can transform the area

into an animated art experience

for commuters and visitors", says

Barbara Blair, the president of the

organization. The commission

winner will receive $20000.

The work will be unveiled

this autumn and will aim

to "complement the local

environment and streetscape, and

contain aesthetically compelling

design with positive image-driven

messaging to inspire and uplift

people," Blair tells. The mural

will be on view on the 40th Street

The mural project

will be unveiled this

autumn and is part of

a $10bn years-long

redevelopment plan

for the station

façade between 8th and 9th

Avenue.

-news@magzoid.com

18 August 2021

www.magzoid.com
---
ART | NEWS

Read more at www.magzoid.com

Dubai's 'Museum of the Future'

named among 14 most beautiful museums in the world

The National Geographic has

listed Dubai's 'Museum of the

Future' as one of the 14 most

beautiful museums in the world

for its astounding architecture

and sophisticated technological

innovations.

Spanning an area of 30,000sqm,

the seven-storey pillarless structure

stands at 77 metres high. Its

stainless-steel façade, which

extends over 17,000 square

metres, consists of 1,024 plates

manufactured entirely by robots in a

first-of-its-kind venture in the Middle

East. The Museum of the Future,

an architectural marvel that sits at

the bustling heart of Dubai, is set

to become a new global landmark

once complete.

A model for sustainability in

"The future belongs to

those who can imagine

it, design it, and

execute it… The future

does not wait… The

future can be designed

and built today."

creative design, Dubai's Museum

of the Future is powered by

4,000 megawatts of solar energy

produced by a station connected

to the building, in collaboration

with the Dubai Electricity and

Water Authority. Upon completion,

the museum will be the first of its

kind in the Middle East to obtain a

Platinum Certification for Leadership

in Environmental Energy and

Design, the highest rating for green

buildings in the world.

The Arabic calligraphy that adorns

the facade include quotes by His

Highness Sheikh Mohammed bin

Rashid Al Maktoum. Among the

quotes are: "We may not live for

hundreds of years, but the products

of our creativity can leave a legacy

long after we are gone." and "The

future belongs to those who can

imagine it, design it, and execute

it… The future does not wait… The

future can be designed and built

today."

-news@magzoid.com

www.magzoid.com August 2021 19
---
ARTIST STORIES | INSPIRE & EMPOWER

Pet Portraiture

By Jodie Davies

"Use your art

to spread your

message", says

Jodie Davies

20 August 2021

www.magzoid.com
---
- Exclusive to Magzoid

Jodie Davies is a British

artist, specialized in

various forms of art like

acrylics, pastel art, and

pencil art. Being an avid

animal lover, the main subjects

of her artworks are animals and

birds.

She follows the trends of

pet portraiture and animal

portraiture. Portraiture is a visual

representation of an individual,

distinguished by references to the

subject's character, social position,

wealth, or profession. Portraitists

often strive for exact visual

likenesses. However, although the

viewer's correct identification of

the subject in front is of primary

importance, exact replication is

not always the goal. Artists may

intentionally alter the appearance

of their subjects by embellishing or

refining their images to emphasize

or minimize particular qualities of

the subject.

Animals have been a source of

inspiration for many artists. From

art about rural life and growth

to myths and legends, animals

are used in art in many different

ways. Art can help us explore our

relationship to wildlife and can

help us think about how we care

for animals and the environment.

Through her artworks, Jodie aims

to create more awareness about

one of the major problems in the

world, which is animal cruelty.

She believes that animals need

to be protected at all costs, and

everyone needs to work towards

stopping animal cruelty.

Jodie is proud of the fact that

she has come a long way, making

progress with each of her artworks

and growing through them. She

has even ventured into being an

entrepreneur by starting her small

business, taking up commissions

for her art and selling them to

people all over the world.

She strongly believes

that one can send a

significant message and

make a good impact if

they believe in it, and

art is a door to making

that difference.

Her Instagram @jodie_davies_art

is filled with pet portraits that she

creates. She strongly believes

that one can send a significant

message and make a good impact

if they believe in it, and art is a

door to making that difference. The

artists must use it to bring about

the change and make the world a

better place.

She is a firm believer that art can

be therapeutic and inspiring if one

truly believes in it. Her greatest

inspiration is animals and through

her work, she wants to save and

empower as much as she can.

- feature@magzoid.com

www.magzoid.com August 2021 21
---
ART OF PHOTOGRAPHY

World

Photography

Day

22 August 2021

www.magzoid.com
---
ART OF PHOTOGRAPHY

A

picture is worth a

thousand words.

Photography can bring

you closer to people

around the world as

images are a universal language

anyone can understand and be

touched by. What you want to

communicate with your portrait or

your street photography shot does

not need a caption; emotions will

work their way into everyone's heart.

World Photography Day is an

annual worldwide celebration of

the science, history, art, and craft

of photography. August 19 marks

the day when the people who

share a passion for photography

come together to raise awareness

and share ideas about the field of

photography.

The importance of World

Photography Day is to create

awareness, share ideas and

encourage people throughout

this field. The photographer can

create art from any genre; still life,

street photography, documentary,

landscape, nude, portrait, employing

a specific style–point of view,

selection of lens, sort of lighting,

color, or black and white.

In the 30s, Edward Weston began

seeing landscapes creatively and

captured them together with his

camera in black and white. Similarly,

Ansel Adams typically captured

landscapes as abstracts in black and

white. Throughout the 50s, several

photographers began viewing the

camera as a tool for making art.

Within the 1960s, a myriad

of photographers followed the

footsteps of Robert Frank and

commenced making "snapshot

aesthetics" with their film-based

cameras. Photographers began

taking candid photographs of

everyday life. Subjects enclosed

gas stations, billboards, folks

finishing daily routines, smoking a

cigarette, anticipating a bus, reading

a newspaper. For the viewer, these

pictures appeared spontaneous,

random, and accidental.

Within the 60s, the art world

began recognizing photography

as another medium that would

create art. Galleries started putting

up exhibitions of a photographer's

body of work. At an equivalent time,

abstract art became well-liked in

the art world, which meant that

photographers and different artists

started using the camera to capture

images that embodied ideas. Using

the camera to form conceptual

art is still extremely popular today.

Many popular photographers have

targeted constructing their pictures

by preplanning and staging the

scene.

The desire to preserve the beauty

of the fleeing life has created a

tremendous variety of art – a photo.

The history of photography is an

exciting history of the origin and

also the realization of the dreams of

long-term preservation of images.

It is one of the brightest and most

stormy phases of the event of recent

information technology.

Photographs play an important role

in everyone's life – they connect us

to our past, they remind us of people,

places, feelings, and stories. They

can help us to know who we are.

There's power in a picture because

they help us understand and teach

history. People connect with images

and it shows how life was before

the present time, how things used

to look, what people wore, where

they stayed, animals, and many

things about the world are passed

on generationally through images.

Images are great for learning about

history because people find that it's

easier to learn about the past through

images than text. Photography has

given us the ability to see things

around the world that we haven't

seen with our own eyes.

- feature@magzoid.com

www.magzoid.com August 2021 23
---
ARTIST STORIES | INSPIRE & EMPOWER

Alcohol Ink

Art

By Anuja Aggarwal

Anuja Aggarwal is

an Indian mixed

media artist who also

specializes in alcohol

ink art. Alcohol inks

were initially more about fluid

abstract art. She tried to give it

some other form and soon began

to create her style of veined

flowers. With more experimentation

and practice she started creating

a variety of artworks.

To achieve better control over

24 August 2021

www.magzoid.com
---
"Creating art is a

meditative state of mind

that can help you express,

feel, and be in your own

world", says

Anuja Aggarwal

- Exclusive to Magzoid

your skills and opening your mind

to new possibilities; practicing it

over and over is essential. Anuja

believes maintaining consistency

in any field you work in is the key

to finding success. The artist's

Instagram page @anujaaggarwal

is filled with paintings that she

created almost every day over the

past two years. She also has a set

of online video tutorials for alcohol

ink art on her website www.

pieceofmyart.in/get-started.

According to her, the most

important thing in your art is to

enjoy the process of completing

it. "I don't worry about the results

before I start working on any

piece. When I am immersed in the

process, I find that I can come up

with something new and unique. I

let the inks take control and guide

me. I want to express that freedom

of creation without judgment

through my art", she says. The

enticing process causes creativity

to flow out spontaneously and that

is reflected in the art.

Her inspiration

is derived from

'Mother Nature' as

it's the colossal

artist and always

puts everyone

in awe. Through

the technique

of free-flowing

fluids and the

amalgamation of

abstract fluidity,

she gives rise

to an exquisite

outcome.

"Consider art as

your source of happiness. Creating

art is a meditative state of mind

that can help you express, feel,

and be in your world. Don't think

about making art only to sell, think

about making it for yourself",

Anuja says.

She thoroughly admires the

works of Freida Kahlo, Vincent

Van Gogh, and Gustave Klimt. Her

message to other fellow artists

is, "Art is all about enjoying the

process. Keep creating what you

like; listen to your heart. Don't

worry about failed attempts;

each piece won't be

a masterpiece, but

it would be a step

in the right

direction."

During the

lockdown,

Anuja was

introduced to

a whole new

perspective

about art.

She was

a firm believer

"Keep creating what

you like; listen to your

heart. Don't worry

about failed attempts;

each piece won't be

a masterpiece, but it

would be a step in the

right direction."

that art could only be taught in

person. But due to the massive

requests from aspiring artists, she

started offering online workshops

every month. Now, through these

workshops, her techniques reach

a larger crowd and people from

all over the world join in to learn

from her.

- feature@magzoid.com

www.magzoid.com August 2021 25
---
ART | NEWS

Read more at www.magzoid.com

The 2,400-square-meter

space will be reserved for

temporary exhibitions, the

first of which will be a survey

of Norwegian contemporary

art. The museum also boasts

an open-air roof terrace

looking out over Oslo's

harbor, promenade,

and fjord.

Norway's National Museum

of Art, Architecture and Design to open on

June 11, 2022.

Norway has announced the

date for opening the gates

of its new National Museum

to public .The new museum

will be the largest art museum in

the Nordic region. The Museum

in Oslo, officially called National

Museum of Art, Architecture and

Design, will now open on June 11,

2022. The museum has been under

construction for seven years. It was

initially scheduled to open in 2020

but due to the covid restrictions, the

opening was delayed.

The new museum will showcase

the collections of three of Norway's

most important art institutions—the

former Kunstindustrimuseet, the

Museum of Contemporary Art,

and the National Gallery—under

one roof. Among its gems are

impressive selections of work by

Edward Munch, including The

Scream.

The $273 million expansion

includes a space of 54000 square

meters, including 13000 square

meters of exhibition space. It makes

the institution the largest museum

in the Nordic region, bigger than

international counterparts such as

the Rijksmuseum in Amsterdam and

the Guggenheim Bilbao.

The new museum is designed by

German architects Kleihues and

Schuwerk. The vast new building

has two stories and 90 galleries,

cafés, a shop, and the largest

art library in the Nordic region.

But its architectural hallmark is

a spectacular new illuminated

exhibition space on the roof called

the Light Hall. The 2,400-squaremeter

space will be reserved for

temporary exhibitions, the first of

which will be a survey of Norwegian

contemporary art. The museum

also boasts an open-air roof terrace

looking out over Oslo's harbor,

promenade, and fjord.

Built by Norway's government

building commissioner Statsbygg,

the museum has also prioritized

sustainability, designed to emit 50

percent less greenhouse gasses

than current building standards.

-news@magzoid.com

26 August 2021

www.magzoid.com
---
ART | NEWS

Read more at www.magzoid.com

Street Artist

Jerkface presents

his solo exhibition 'Villainy'

at Maddox Gallery

By bringing in the familiar mascots of global

capitalism, Jerkface challenges his audience to

simultaneously confront the commercialization of life

while diving into the heady comforts of nostalgia.

Maddox Gallery is

presenting Villainy,

a solo exhibition by

New York based

street artist, Jerkface. Jerkface's

appropriation of iconic cartoon

characters such as Mickey Mouse,

Winnie the Pooh, and Snoopy flip

expectations on their head as the

figures find themselves robbed

of eyes, reconstructed, and

re-contextualized.

Jerkface derives inspirations from

the vivid palette and bold design

of Memphis style and combines

the dynamism of youth with the

clean, contemporary aesthetic

of geometric abstraction. The

Maddox Gallery facade was decked

with an iconic Jerkface motif, the

Simpsons' pink donut. The theme

continued inside, with the rosy glaze

and giant sprinkles covering the

ceiling and walls, as if the goop

were slowly dripping. The effect

is stunning, immersing audiences

in an alternative, twisted Disney

experience.

By bringing in the familiar

mascots of global capitalism,

Jerkface challenges his audience

to simultaneously confront the

commercialization of life while diving

into the heady comforts of nostalgia.

Though his work is rooted in the

themes and struggles of his native

city, He expects that his work will

translate well to London, a city with a

deep and difficult past as he feels his

work is universal in many regards.

This exhibition will mark a new

relationship between the artist and

Gallery: as of 2020, Jerkface is

represented exclusively and globally

by Maddox Gallery. Maddox notes

that, while the world opens up and

travel continues to be a challenge,

an immersive online twin to the IRL

exhibition makes the unique artistic

venture available to viewers around

the world. You can also expect to

see Jerkface out in the wild

once more.

-news@magzoid.com

www.magzoid.com August 2021 27
---
ARTIST STORIES | INSPIRE & EMPOWER

Nature in

its glory

By Galina Golovchak

28 August 2021

www.magzoid.com
---
"Art is a dialogue

with the viewer, art

is the world", says

Galina Golovchak

- Exclusive to Magzoid

Galina Golovchak is an

oil painter from Russia

mainly focusing on

the natural world,

sea, and forests.

Nature can be a simple add-on to

a painting to convey a sense of

depth, or perspective. However,

it can also be the main focus of a

work of art. Just like nature can be

recreated through art, it can also

be used as a stand-in for greater

thought and that's precisely what

Galina captures in her paintings.

In a small town in Siberia, she

studied art till 2007 and later

joined the technical school for

specialty architecture after which

she took a break from the art

world. Getting back to her passion

in 2017, she began engaging

actively in oil painting. Now she

is an artist at AG Gallery based in

Moscow.

Galina loves the green

untouched massifs and the deep

sea and has portrayed nature in

its glory in her art. The current

trends she follows are realism,

landscapes, and seascape

painting.

Trying to distract herself from

the cold climate of her hometown,

she devotes her free time to

painting seascapes. Galina wants

to portray the preservation of

nature in its original form in her art

with all its brightness, saturation,

and clarity without any human

intervention. Concentrating on the

texture of the sea – a restless sea,

foam streaks, powerful waves,

she fills the entire space of the

canvas, absorbing dry land and

leaving no space for a human. Her

Instagram account @may_gol_art

is brimming with stunning and

realistic pieces of

nature, the sea,

and forests. She

takes pride in her

spectacular marine

paintings, as well

as a big painting of

The Taiga after

the Siberian

Taiga

experienced

a tragic fire.

Galina

says, "Art

is a way

to express

yourself

and show

the public the

topics that you

care about, what

you love, what you

value, what scares

you, and so on...

Art is a dialogue

with the viewer, art

is the world.".

Art is a way to express

yourself and show the

public the topics that you

care about. What you

love, what you value,

what scares you, and so

on... Art is a dialogue

with the viewer, art

is the world.

Her favorite artist,

Alexey Savrasov, is a

Russian Landscape painter

and creator of the lyrical

landscape style.

- feature@magzoid.com

www.magzoid.com August 2021 29
---
WORLD HUMANITARIAN DAY

World

Humanitarian

Humanity relates to

words like, 'kindness,

compassion, equality,

tolerance, generosity.

Do you think the world

lacks humanity? Let's go back in

time, precisely August 19, 2003.

For the United Nations, it is indeed

a day they reflect upon. Every year,

thousands of men and women all

around the world put their lives in

danger working in humanitarian

causes. Some dedicated heroes put

their lives on the line while working

in the most poverty and illnessstricken

countries or countries

with utmost social violence and

sometimes lose their lives to follow

their goals. World Humanitarian Day

is the day when we remember those

heroes and their sacrifices.

Day

30 August 2021

www.magzoid.com
---
WORLD HUMANITARIAN DAY

AIM OF WORLD

HUMANITARIAN DAY

The humanitarian day is marked

as a day to remember the loss of

many lives and to honor the work

of those brave humanitarians

who face challenges and risks

in their everyday job to make the

lives of others much better. Along

with this, it is also considered a

day to support the lives of those

civilians who were affected by the

conflict. Hence, 19th August is a

day to call on leaders to pledge

to protect vulnerable and helpless

people and to come up with a

solution to end world wars and

establish peace.

HISTORY OF WORLD

HUMANITARIAN DAY

World Humanitarian Day was

established by the United

Nations General Assembly to

commemorate the death of Sergio

Vieira de Mello and twenty-one of

his fellow humanitarians during

a bombing of the Baghdad

headquarters of the UN. Sergio

worked on several challenging

humanitarian cases and was

the voice to those victims that

suffered. His death had a

deep impact on his family and

they did not want his death to

go unrecognized and in vain. He

worked towards assisting those

families that were affected by such

war/conflicts and hence the day

was marked as 'World Humanitarian

day'. The governments of France,

Brazil, Sweden, and Switzerland

are among the few who helped

the family to bring this resolution

to action. World Humanitarian

Day was formally established to

acknowledge Sergio and thousands

like him who work daily to make

this world a far better place for the

less fortunate, the underprivileged,

and people living in places of war,

starvation, and pandemic.

HOW TO CELEBRATE

THIS DAY?

World Humanitarian Day supports

the world's poor and needy. It all

starts with education. Head out and

find some way to volunteer to help.

If you have the will, anyone can

play a small part in boosting the

lives of the less fortunate in distant

countries or become a part of the

hassle by organizing or volunteering

with any of the charitable

organizations. Make yourself aware

about the issues happening around

and discuss with friends and

colleagues, unfold awareness and

educate them, and make certain

that everybody around is aware of

the happenings around the world.

Not just as a nation, but even

individually one can contribute

towards 'World Humanitarian Day.

It doesn't have to make a huge

impact, but the effort is what

counts. You can make donations

to humanitarian organizations

by giving in your valuable time

or in terms of money. Help those

communities that have suffered

due to conflicts and put their

mind at ease. You can volunteer

at nursing homes, orphanages,

hospitals, and so on and help those

who can't even meet their basic

needs. You can promote and create

awareness on humanitarian works

or campaigns on social media and

stand as one to help those in need.

Such small actions can bring a

smile to many faces and spreads

peace and positivity around the

world.

- feature@magzoid.com

www.magzoid.com August 2021 31
---
ARTIST STORIES | INSPIRE & EMPOWER

American

Realism

By Emilie Fantuz

"Observing the

world is part of an

artist's role, but what

the artist chooses

to share from the

observations is the

result of their unique

perspective" says

Emilie Fantuz

- Exclusive to Magzoid

Emilie Fantuz is an

American artist whose

works are focused on

American realism. In

American realism, the

artwork handles common-places,

everyday events, and people.

Her works can also be described

as Ashcan school which is

another artistic movement that

highlights how art can provide

enlightenment, education, and

spiritual fulfillment.

Emilie's art is a call to optimism.

"Through depicting the beauty

in everyday moments — the

hazy glow of moonlight on a

darkened city street, the endlessly

intersecting squares and

rectangles of shop signs in the

distance — I highlight the beauty

that sits ready and waiting for our

eyes, only if we choose to look",

she says.

The subtle visions of optimism

in our lives inspire her the most.

These scenes remind us that

beauty is always near, even in the

moments, it seems so far. Through

an incredible amount of practice,

and trial and error, she developed

her career. By creating small

works en Plein air, she began her

artistic journey and went through

32 August 2021

www.magzoid.com
---
"Through depicting

the beauty in

everyday moments, I

highlight the beauty

that sits ready and

waiting for our eyes,

only if we choose

to look"

many periods of

experimentations to

finally find what she

wanted to portray

through her art

pieces. Through

this process, she

evolved to where

she is today. She

has made constant

efforts to work with

galleries, public

art projects, juried

exhibitions, and

more, to share her

paintings with the

community.

After moving to Canada four

years ago, she is proud to be

exhibiting her work for the first time

this coming October, alongside

her husband, Mike Fantuz, who

inspires her every day through his

creative artistry. Emilie had the

opportunity to devote much more

time and energy to painting during

this pandemic through which she

was able to grow and develop her

work. Her Instagram @emiliefantuz

is overflowing with an abundance

of stunning artwork filled with

American realism.

"Observing the world is part

of an artist's role, but what that

artist chooses to share from

those observations is the result

of their unique perspective,"

says Emilie. The elements of

the city that sparks her interest

include neon signs, corner stores,

and reflections from various

surfaces. For her, creativity and

the act of making art are extremely

important. She is inspired by less

obvious sights of beauty and gives

them a whole new life through her

different view.

- feature@magzoid.com

www.magzoid.com August 2021 33
---
34 August 2021

www.magzoid.com
---
ART & TECHNOLOGY

How Technology

is changing

the Art World

Technology has made a

very positive impact in

the art world as it has

made art more accessible.

People now have a wide

variety of options to display their

talent via social media, exhibitions,

and various virtual art galleries. It

has helped the artists get a wider

audience, more inspiration, opened

innumerable artistic options and

has given art a whole new meaning.

Both art and technology define

and continue to reshape the

globe we live in. Technology in art

challenges our perceptions which is

what creativity and science are all

about. The change in the nature of

artworks along with the shift in the

public interaction and the reshaping

of the museums and exhibition

areas are creating additional areas

today than ever before.

Digital Art is an artistic

composition that relies heavily

on the use of technology in its

creation. It has been around since

the '70s and is used mainly for

advertising and visual effects for

the film. Digital art comes in many

forms, most often it's either solely

computer-generated, drawn using

various types of software, or digital

paintings sourced from photos.

Art and technology have forever

co-existed, with artists throughout

the ages clutch technological

amendments to form their work. The

digital age has used the partnership

between the two and has made

technology an integral part of the

art world.

Perhaps now more than ever,

technology features a very

important role to play. Throughout

the present situation, museums

and artists are relying on virtual

technology to succeed in

audiences with the relief and solace

that art can provide. The public is

using technology to understand and

become more connected with art.

Museums now keep online

collections and host online

walkthroughs of their facilities, yet

distribute special exhibit media

www.magzoid.com August 2021 35
---
ART & TECHNOLOGY

Both art and technology

define and continue to

reshape the globe we live in.

Technology in art challenges

our perceptions which is

what creativity and science

are all about. The change

in the nature of artworks

along with the shift in the

public interaction and the

reshaping of the museums

and exhibition areas are

creating additional areas

today than ever before.

online and market their events to

internet audiences. Exhibitions use

the internet to not only promote

their activities, but also to sell

some pieces, explore different

talents, and display an artist's work.

Artists can independently market

themselves, create an avid following

for their work, and sell their pieces

online without the benefit, or

hindrance, of a middleman agent or

gallery owner.

Cryptocurrencies such as bitcoins

have also been used to make

payments. instead of paying for a

buying deal with a bank transfer,

cash, or other traditional means

require clearances from third parties

which are often time-consuming

at the smallest amount, and

prohibitively expensive at the worst,

buyers can now make payments for

a lower cost and sellers can receive

payments almost instantly.

Artists also can use technology as

a brand-new medium with which to

make art. Consumers can discover

many new artists and know about

the most recent and greatest

accomplishments of their favorite

artists.

This shows how we are able to

still keep ourselves connected to

the arts, despite the unpredictable

situation. However, it is not just

how artists are using technology

to make and enhance their works;

technology is impacting how those

items are displayed. From hanging

an invaluable painter's personal

collector's home to making an

interactive installation inside a

museum, technology is taking the

art world in new directions.

- feature@magzoid.com

36 August 2021

www.magzoid.com
---
GO

DIGITAL

THAT'S WHERE THE WORLD IS

REACH OUT FOR DIGITAL MEDIA AND WEBSITE DESIGN

www.zdegreetech.com

customercare@zdegreetech.com
---
ARTIST STORIES | INSPIRE & EMPOWER

Love for

nature

By Marina Zotova

38 August 2021

www.magzoid.com
---
"Trust your heart, carry

your style, and don't be

afraid to be yourself. Show

it in your artworks",

says Marina Zotova

- Exclusive to Magzoid

Marina Zotova is

a Russian artist

who specializes in

Oil painting. She

majorly focuses on

landscapes and still life. Art is an

essential part of our lives because

it allows us to have a deeper

understanding of our emotions; it

increases our self-awareness, and

also allows us to be open to new

ideas and experiences.

As a painter, Marina loves

to create because it helps her

connect with who she is, and what

she is truly capable of. When we

connect with the work we are

doing, it is possible to encounter

a rise in emotions because it

introduces us to new experiences,

provides us with a deeper

understanding of ourselves, and

shines a light on questions we

never knew we had.

Her artistic journey started not

so long ago. It was during the

quarantine period that she started

painting. Before that, she was in

the export business for about 10

years but has completely retired

now to become a full-time artist.

Marina's artworks speak of

love for nature. She loves all

things natural; thunderstorms,

clouds, sun, and snow. For

her, contemplation of nature is

meditation. Through the artworks

she creates, she wants to immerse

the viewer in the places that she

paints.

Her message to her fellow artists

is, "Trust your heart, carry your

style, and don't be afraid to be

yourself. Show it in your artworks."

Her greatest inspiration is nature

Marina's artworks

speak of love for

nature. She loves

all things natural;

thunderstorms, clouds,

sun, and snow.

and all the five senses in the

world. Her artwork "Gold Autumn"

won the 1st prize diploma in the

international competition "Deli's

Mustache" and she is invited

to a live competition in Spain in

May 2022. She considers the

achievement as a big honor and a

great motivation to develop further

as an artist.

She started posting her amazing

artworks on the Instagram page

@marina_z19 and suddenly her

paintings were sold all over the

world. Slowly she entered galleries

and began to participate in

exhibitions and competitions and

received several awards. Believing

in herself and the art that she

creates, she followed her passion

which helped her come this far.

- feature@magzoid.com

www.magzoid.com August 2021 39
---
COVER ARTIST

40 August 2021

www.magzoid.com
---
COVER ARTIST

Hyperrealism

Painting is jealous and requires that a person

belongs to it whole, says Sergey Piskunov

- Exclusive to Magzoid

Sergey Piskunov is a Ukrainian

painter passionately

committed to exploring

the core principles

of hyperrealism to

redefine the genre with his

breathtaking works. The artist

creates a stunning anthology of

works that he sees as a "burst

of emotion", forcing him to turn

his soul inside out and leave it

on the canvas.

Having a true passion for

drawing since childhood, he was

always scribbling over everything

he found in front of him be it notebooks

or school desks. Even though his teachers

insisted on joining an art school to develop the talent,

he never did; which slowly led to drifting away from the

creative path. In his 3rd year of study to become

a computer system engineer, a person very

close to Sergey presented him with

brushes and oil paints. It was this gift

that rekindled the artist in him and

lead him back to pursuing art.

Piskunov's primary focus and

area of work is hyperrealism.

According to him, this is the style

that helps him be competitive with

himself, and improve his creative

skills. Working within hyperrealism,

his works are striking with

photographic qualities and illusions.

At first glance, the artworks mislead

people into believing it as a photograph.

Only after looking closely does one realize

and notice every brushstroke created

by the artist on the canvas.

Piskunov is a rare observer

free from the restrictions and

stereotypes of many artists

because he refuses to be

limited to one singular subject,

market trend, or approach.

As an artist, he is incessantly

searching for meaning

and answers and is a keen

observer of humanity, people,

and their desires. "I don't set to

say anything with my art; I try to

catch the beauty of emotions and

display it as detailed as possible on

canvas", he says.

Many of Piskunov's works depict an intimate

connection to women. By recording their stories and

experiences visually in his work, he documents

the glory, strength, and fragility of

women and gives them significance,

acknowledging the beauty,

melancholy, and history.

Today, his works testify his

talent not only in Ukraine but

also in Germany, Great Britain,

the USA, Switzerland, and

many other countries. With

strong determination, Piskunov

continuously pushes himself

on his path and embodies

new ideas into magnificent

paintings.

- feature@magzoid.com

www.magzoid.com August 2021 41
---
HOTEL REVIEW

Ethnic

Relive

Cultural

and

Heritage with

Perfectionism

42 August 2021

www.magzoid.com
---
If you are looking for a getaway

from the bustling city life, The Chedi

Al Bait, Sharjah is the place to be.

Located in the Heart of Sharjah, the

hotel is a five-star retreat from the

world nestled in a heritage location.

Being built upon 4 original

homes once occupied by

one of the prominent families

in the region, the old homes

were renovated turning them

into a modernized 5-star luxurious hotel

while preserving the traditional shape

of the place. Featuring 53 elegant

guest rooms and suites, the hotel offers

a business center, complimentary

Wi-Fi, and access to more specialized

business services as required.

Consisting of a library, museum,

and spa, the hotel is a must-visit to

experience the old Emirati culture.

AMBIENCE AND ROOM

Heartfully welcomed by the delightful

staff at The Chedi, you would feel

completely at ease with all the comfort

of a luxurious stay at this amazing

get-away. The rooms were clean and

that traditional vibe added upon the

ethnicity of the place. The little touches

and attention to detail were cherry upon

the cake.

ATTRACTIONS

Barjeel

The magnificent Barjeel Tower is the

only remaining round wind tower in the

UAE. It is nearly a century old and is a

true icon of Emirati history.

Elephant Door

The awe-inspiring elephant door is

original to the home of Ibrahim Al

www.magzoid.com August 2021 43
---
HOTEL REVIEW

The hotel

accommodates

different restaurants

and cafés namely

The Restaurant, The

Arabic Restaurant,

and The Café to

choose from.

Midfa. The year, 1944 or 1363 in

arabic calendar is noted in arabic

above the door. These beautifully

wrought doors open onto the

resort's library and museum.

FACILITIES

Library and Museum

The hotel includes a library with

an extensive collection of books

dedicated to the UAE and a

museum showcasing Sharjah's

rich history which was unique

and added an important cultural

meaning.

Spa and Wellness

A separate spa for both male and

female, it opens its doors to middle

eastern beauty and wellness

secrets and offers an escape to

rejuvenate providing a calm and

relaxing atmosphere. The hotel

also offers a world-class gym at

the Fitness Centre with equipment

to suit everyone's fitness routines.

44 August 2021

www.magzoid.com
---
The Cigar Lounge

The refined Cigar Lounge

has light beverages and an

expert-curated selection of

fine cigars.

The Jewelry

Local jewelry designer

offering their finest custommade

Emirati inspired jewelry

pieces at the shop.

Swimming Pool

With all amenities provided,

the well-lit spectacular

15-metre outdoor swimming

pool allows one to

reinvigorate in complete

privacy.

RESTAURANTS AND

CAFÉS

The hotel accommodates

different restaurants and

cafés namely The Restaurant,

The Arabic Restaurant, and

The Café to choose from. The

menu offers a wide variety of

delicious and mouthwatering

cuisine that will appeal

to youngsters and adults

alike and satisfy everyone's

cravings.

A harmony of culture and

ethnicity and beautifully lit

all across with lanterns, The

Chedi Al Bait is an intimate

locale where you can switch

off the world outside and

easily get lost into a world

of your own. The hotel is

a home away from home,

where everyone feels special

and cared for. A true gem of

a hotel in the historic part of

Sharjah, the place is a haven

of peace and tranquility with

elegant, calm and relaxing

luxuriousness.

- Varsha Sureka

- review@magzoid.com

www.magzoid.com August 2021 45
---
ART FACTS

Pablo Picasso was an animal

lover. He owned a pet monkey,

a goat, an owl, a turtle and

packs of dogs and cats.

Pierre-Auguste Renoir painted

despite crippling arthritis

The fame of

Raja Ravi Varma

reached to such

great heights, that

the small town

of Kilimanoor,

Varma's

birthplace, had

to open a post

office, as letters

and requests for

paintings came

flooding in for

him from various

corners of the

country!

When the Mona Lisa was stolen from the Louvre in

1911, the empty space it left on the wall attracted

more visitors than the painting had.The Mona Lisa

has been in the Louvre since 1797, but was gone

missing for a while! The masterpiece was stolen in

1911 by an Italian employee of the Louvre

A Polish painter named Rafał Bujnowski painted a photo-realistic self-portrait in

black and white, had it photographed and enclosed the picture as his official photo

in the U.S.A. visa application form. Eventually, the artist received a passport with a

replica of his own painting.

Salvador Dali made a painting for the

prisoners at Rikers Island in NYC that

hung in the prisoner dining room for 15

years, after which it was moved to the

prison lobby for 'safekeeping'. In 2003,

three prison guards and a warden stole

the painting.

46 August 2021

www.magzoid.com
---
ART FACTS

Learning art correlates

strongly with your

achievements in math

and reading.

The soviet era monument was vandalized not by destroying it, but by

painting it to look like Patrick Star from Spongebob Square Pants

The first artists used ashes from fire, red clay or natural

pigments from plants for paint.

Bob Ross never received

any money for his show

"The Joy of Painting." His

company, Bob Ross Inc.,

sold art supplies, how-to

videos, and he gave art

lessons.

When Andy Warhol was commissioned

by BMW to paint the supercar M1 for

the BMW Art Car Project, he turned

down the scale practice model, painted

immediately onto the full-size vehicle,

and finished it in 24 minutes.

www.magzoid.com August 2021 47
---
ART | NEWS

Read more at www.magzoid.com

PepsiCo unveils three iconic

pavilions at Expo 2020 Dubai

Throughout

Expo 2020,

PepsiCo will take a

leading role in showing

millions of people what

sustainable and innovative

food and beverage

practices look like,

challenging today, to

change tomorrow.

48 August 2021

www.magzoid.com
---
PepsiCo, the official

beverage and snack

partner of Expo 2020

Dubai, will have three

pavilions headlined by

Pepsi, Gatorade, and Aquafina.

Expo 2020 Dubai and PepsiCo

share a vision to make Expo 2020

Dubai the most sustainable World

Expo ever, as we collectively work

towards a fun and more sustainable

future, during and beyond the

six-month event. Throughout Expo

2020, PepsiCo will take a leading

role in showing millions of people

what sustainable and innovative

food and beverage practices look

like, challenging today, to change

tomorrow.

This will be brought to life through

three dedicated pavilions: The Plus,

The Bolt, and The Drop.

Pepsi® + Lay's® Plus Pavilion

(Opportunity)

With experiences inspired by two

of PepsiCo's most-loved brands

– Lay's and Pepsi – The Plus will

ignite curiosity and entice discovery,

encouraging visitors to look beyond

their horizons towards a world of

opportunity and possibility, and

inspiring an ambition to create

meaningful change.

Gatorade® Bolt Pavilion

(Mobility)

Through interactive games, a

re-creation of Gatorade's Sports

Science Institute and a gallery

of legendary Gatorade-fuelled

athletes, The Bolt aims to make

sport a global force for good that is

accessible to all.

Aquafina® Drop Pavilion

(Sustainability)

Taking the form of a giant water

droplet constructed from recyclable

cans, The Drop showcases

Aquafina and PepsiCo's work to

safeguard water. This includes

everything from helping farmers

worldwide with sustainable water

practices, to smart use of water

in manufacturing to PepsiCo's

dedication to reducing, recycling

and reinventing packaging.

- news@magzoid.com

www.magzoid.com August 2021 49
---
ARTISTS IN FOCUS

An award-winning

contemporary artist who

has quickly established

herself as the rising star

of the middle eastern art world,

Kristel Bechara is recognized

mainly for her dynamic patterns

and expressive colors. Her artistic

process involves creating stencillike

drawings that are combined

with modern mixed media lines

to form multi-layered fantasy

paintings.

Kristel's artworks consist of

the revolutionary creation of

photographic imagery using oil,

acrylic and giclée printmaking

mediums to depict complex

emotions and also portray the

human condition.

Born in Lebanon and based in

Dubai, Kristel's work has been

displayed all over the world to

great appreciation and demand

especially from galleries in Tokyo,

Milano, Brussels, London and

France. She has received high

acclaim in UAE notably winning

the UAE Resident Artist Award at

the 2018 World Art Dubai for her

collection, Beauty in Diversity.

Kristel currently works on her art

from her studio in Onyx Tower,

Dubai while her gallery is located

at Gate Avenue, Dubai International

Financial Centre.

- feature@magzoid.com

Kristel

Bechara

50 August 2021

www.magzoid.com
---
ARTISTS IN FOCUS

Maisoon

Al Saleh

Maisoon Al Saleh

is a prolific and

hardworking Emirati

artist who actively

seeks out new challenges in her

career and brings viewers into a

discussion about the importance

of Emirati history. Her style is

surrealist, with strong influence

and commentary on modern

Emirati culture. In her paintings

and sculpture work, Al Saleh uses

bold colors and shapes to create

an abstract portrait or image,

while implementing unexpected

details to add dialogue and visual

interest. She employs a variety

of mediums across her works,

which include acrylic on canvas,

mixed media for installations,

fiberglass and mixed media for

her sculptures, and painting

under seawater

She has had 7 solo shows, and

has participated in around 100

art exhibitions in 20 countries,

including the Emirati Expression

at Emirates Palace in Abu Dhabi,

'ART NOMADS: MADE IN THE

EMIRATES' exhibition presented

by Etihad Modern Art Gallery,

and several other in Europe and

the United States. To know

more about her work visit,

www.maisoonalsaleh.com

- feature@magzoid.com

www.magzoid.com August 2021 51
---
FEATURED ARTWORKS

Kanna & Radhu

on a Swing

Anitha Praveen

Affection

Hafsa Riyad

Mix media on canvas

Size 60 x 70 cm.

Maria Pavel

Blare

Nilesh Kumar

The Oracle

Expression of genesis, where in the center

of the Universe there is a black hole with

tremendously strong gravity that nothing

couldn't escape and at the same time it's

not empty. It is with infinite density which

is the point of beginning which is known

as "singularity"

Size: 59.4 x 84.1 cm

Material: Oil and acrylic paints with

metallic mix medium on stretched canvas

Megalah Murti

www.abstractwhiz.art

TO GET FEATURED SEND YOUR ARTWORKS TO

ARTWORKS@MAGZOID.COM

52 August 2021

www.magzoid.com
---
GAMES

Spot The Difference

Find Me Out

Sudoku

www.magzoid.com August 2021 53
---
FEATURED ARTWORKS

Color pencil sketch

Saloni - Swapnil Dalvi

Seascape consists of a sailing ship

beneath red full moonlight, gentle

breeze on water surfaces. Painting

is inspired from Lunar Eclipse.

Paint Medium - Acrylic

Size- 30*40 cm

Rohini Dipak

Evolving into better self

Reshma Rameshan

Beauty at night of Nature

It is an outdoor work on a

hilly area of Sylhet, north of

Bangladesh. You can find lots of

Bamboo bushes standing with

other trees on the slopes of hills.

It was on a rainy night during

my work. (Size: 21cm×29.5 cm,

Fabriano, Watercolour)

Salma Shirin Choudhury

History says itself with its beauty and beyond.

This painting depicted on an old palace of a Landlord

in a village near river. Place called Birulia. It is

very common in Bangladesh where you can find

old palaces. Each has its own history and beauty. I

just painted a small portion of a big palace with its

nature. (Size: 17.5 cm X 27 cm, on handmade paper,

watercolor with pen sketch.)

Rainy season and its beautiful nature.

If you want to see the seasons of Bangladesh, you will

find most visible is Rainy season. It is just bountiful

beauty of nature in Bangladesh. Everywhere it is

different like village, hilly area, in river...so different,

full of green of its variety. I tried to depict in my

painting the beauty of nature in rain and life.

(Size: 29 cm X 42.5 cm, Fabriano, Watercolour.)

TO GET FEATURED SEND YOUR ARTWORKS TO

ARTWORKS@MAGZOID.COM

54 August 2021

www.magzoid.com
---
PICTURE STORY

Dubai skyline

PHOTO BY MUSAB AL RAWAHI ON UNSPLASH

56 August 2021

www.magzoid.com
---
Infinity des Lumières is an

immersive digital art centre

experience showcasing

some of the world's

greatest masterpieces,

from some of the most

famous artists ever to have

painted on this earth.

INFINITY DES LUMIÈRES

Immersive

Digital Art Experience

THEATRE OF DIGITAL ART (ToDA)

ToDA combines all three

formats of digital art

including multimedia

exhibitions, contemporary

immersive installations and

art in virtual reality making

it a cool art, educational

and entertainment hub.

www.magzoid.com August 2021 57
---
ART EVENTS

Art Exhibitions

to check out this Summer

Abu Dhabi Art Fair

Abu Dhabi Art Fair will be showcasing

several new commissioned installations

at locations across the emirate of Abu

Dhabi. The art-driven experiences will

stretch from Liwa and Al Ain to the city

centre of Abu Dhabi and is in part a

natural extension of the fair's Beyond:

Artist Commissions programme. Each

year, the fair collaborates with artists

to create its visual campaign and this

year it will feature works by Emirati

artists Ayesha Hadhir, Rawdha Khalifa

Al Ketbi and Shaikha Fahad Al Ketbi.

In these works, they jointly explore

the idea of transformation in different

environments, from seascapes and the

desert, to abandoned cityscapes.

Date: 18 November, 2021 to 21

November, 2021

Location: Manarat Al Saadiyat

For more information, visit:

abudhabiart.ae/

NFT | IRL by Firetti Contemporary

Firetti Contemporary and MORROW collective announce NFT|IRL a

forthcoming group exhibition where NFT artworks and their physical

counterparts will be exhibited side by side. This is the first of its kind

exhibition in the region. It merges the digital and physical worlds and

aims to build bridges between the crypto art world and the traditional

or IRL (in real life) art world. The participating artists include: Ahmed

Emad, Kadara Enyeasi, Irvin Pascal, Josh Rowell, Jacques Vartabedian,

Jacques Vartabedian, Helidon Xhixha and Fatiha Zemmouri.

Date: 10 August, 2021 to 15 September, 2021

Location: Alserkal Avenue, Al Quoz

For more information, visit: firetticontemporary.com

Solo Exhibitions at Foundry

Foundry, Downtown Dubai's community art space is hosting solo art

exhibitions of Maxime Cramatte and Fink 22 which will be on display

until Wednesday August 25, 2021. Expect plenty of thought-provoking

pieces that look at the

pandemic and its impact

on life in the UAE.

Date: Until August

25,2021

Location: Sheikh

Mohammed Bin Rashid

Boulevard, Downtown

Dubai

For more information,

visit: www.foundry.

downtowndubai.ae

58 August 2021

www.magzoid.com
---
Pacita Abad: I Thought the Streets were Paved

with Gold at Art Jameel

The first solo exhibition in the Middle East of the revered, late Filipina

artist Pacita Abad, the exhibition focuses on four main bodies of

her work including her Masks and Spirits series, the Immigrant

Experience, the Door to life series, and abstract works. The exhibition

promises to take you on a compelling journey from Manila to Hong

Kong, via New York, Sanaa and beyond.

Date: September 8, 2021 – February 13, 2022

Location: Jaddaf Waterfront

For more information, visit: jameelartscentre.org/

Try to Catch the Moon at Carbon 12

Try to Catch the Moon is running at the Alserkal

Avenue gallery until Monday September 6 and art fans

can view bold and almost dream-like paintings and

sculptures from artist Amir Khojasteh. The Try to Catch

the Moon paintings revolve around two symbols: the

moon and the horse as Khojasteh explores the act of

catching the moon as a metaphorical representation

for achievement and victory. On the other hand, the

intriguing sculptures explore the hypothetical thought

of placing the moon atop his sculpture as a way to

"catch the moon".

Date: Until September 6, 2021

Location: Alserkal Avenue, Al Quoz

For more information, visit: carbon12.art

The World of Banksy at Mall of Emirates

The World of Banksy, the world's largest Banksy experience in the

world, is showing 120 recreated pieces of the internationally renowned

street artist's most inspirational pieces giving art enthusiasts in the

region the opportunity to get up close and personal with his work.

Using stencils and props to create his own social propaganda by

turning the spotlight back on poignant issues, some of Banksy's most

iconic frames and murals include Girl with a Balloon in London,

Flower Thrower in Beit Sahour, and Mobile Lovers in Bristol.

Date: Until September 30, 2021

Location: Mall of Emirates, Barsha

For more information visit: malloftheemirates.com/events/

worldofbanksy

www.magzoid.com August 2021 59
---
FEATURED ARTWORKS

kids

Artworks done with canvas paper and a variety

of acrylic paints. I enjoyed painting during home

quarantine and it is a great pass time.

Jemma Mendes

One World One Family (World Map)

Dhruti Vrajesh Shah

GEMS Modern Academy

Dolphin Sunset scenery

drawing with Oil Pastels

Nosaiba Ahmed Ameen

Maplewood International School

Nature

Reenasankari

Shenthilkumar

An African girl I met at South Africa.

Anshi Aneesh

Our Own English High school,

Sharjah

TO GET FEATURED SEND YOUR ARTWORKS TO

KIDS@MAGZOID.COM

60 August 2021

www.magzoid.com
---
CROSSWORD

C

ACROSS

3. The artist who sold a balloon dog for

$58.4 Milllion

5. The famous artist who was

considered to be a suspect in the theft

of Mona Lisa

6. Term for paintings in shades of grey

7. Actor James Franco once sold a

sculpture made of

8. Art critic who coined the term

"Impressionism"

9. The main visual element in

Impressionist painting

R

DOWN

1. What do peaches symbolize in

Chinese art?

2. The movement in architecture where

S

buildings have an organic amoeba-

shaped structure

4. What did painter Claude Monet's

father want him to be?

5. Term for visible traces of painting

beneath new artwork on canvas

O

D

W

R

ANSWERS

Immortality

2. Blobism

3. Koons

4. Grocer

5. Picasso,

Pentimento

6. Grisaille

7. Air

8. Leroy

9. Color

www.magzoid.com August 2021 61
---
PICTURE STORY

Sheikh Zayed Grand Mosque

Abu Dhabi

PHOTO BY DANIEL OLAH ON UNSPLASH

62 August 2021

www.magzoid.com
---
mergeteam

BOOSTING TEAM PRODUCTIVITY

Simple yet powerful employee productivity boosting and work

tracking with screenshots, timesheets, billing, in-depth reports,

attendance, project and task management and more.

Register for you Priority Access now at

www.mergeteam.com

TAKE YOU BUSINESS

AD SPACE

TO NEXT LEVEL
---
TRIVIA

1. Where is Galina Golovchak from?

2. When is International Youth Day celebrated?

3. What does Anuja Aggarwal specialize in?

4. Who is Poluyanskaya Elizaveta's favorite artist?

5. What are the trends Jodie Davies follows?

6. When is Norway's National Museum going to open?

7. What is the name of Jerkface's solo exhibition at Maddox Gallery?

8. Where is Sergey Piskunov from?

9. Where is Chedi Al Bait located?

10. When is World Humanitarian Day celebrated?

WIN

AMAZING

HEADPHONES

Answers of July Edition:

1.Stop motion animation

2.Shigetaka Kurita

3.Iran

4.$4M

5.North of the 10

6.July 11

7.December 2, 2021

8.Russia

9.Georges Braque

10.Seascape

JULY EDITION WINNER

ISHMEEN SETHI

Rules:

Find the answers for the above questions within August edition of Magzoid and stand a chance to

win AMAZING HEADPHONES!

All you have to do is write down the answers, take a picture, post it as a story on Instagram and tag

@magzoid.global

Winner will be announced in the SEPTEMBER EDITION of Magzoid

Subject to terms and conditions

64 August 2021

www.magzoid.com
---
www.artoze.com | Page 41

AD SPACE
---
Unite

PLUG INTO

Listen us on:
---
100% ONLINE AND HASSLE FREE

SPONSORSHIP &

BUSINESS

SETUP IN THE UAE