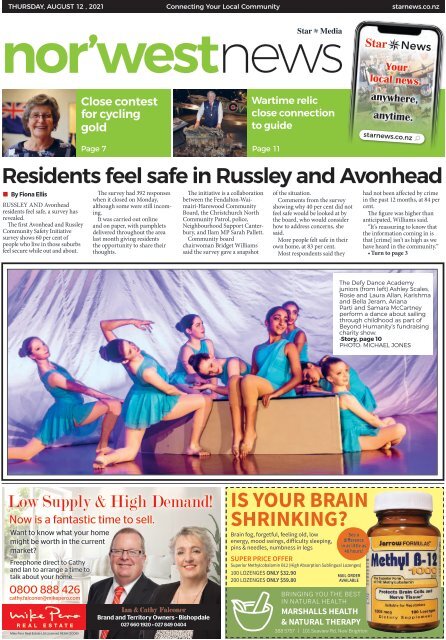 Nor'West News: August 12, 2021
Create successful ePaper yourself
Turn your PDF publications into a flip-book with our unique Google optimized e-Paper software.
THURSDAY, AUGUST 12 , 2021

Connecting Your Local Community

starnews.co.nz

Close contest

for cycling

gold

Wartime relic

close connection

to guide

Your

local news.

anywhere,

anytime.

• By Fiona Ellis

RUSSLEY AND Avonhead

residents feel safe, a survey has

revealed.

The first Avonhead and Russley

Community Safety Initiative

survey shows 60 per cent of

people who live in those suburbs

feel secure while out and about.

Page 7 Page 11

Residents feel safe in Russley and Avonhead

The survey had 392 responses

when it closed on Monday,

although some were still incoming.

It was carried out online

and on paper, with pamphlets

delivered throughout the area

last month giving residents

the opportunity to share their

thoughts.

The initiative is a collaboration

between the Fendalton-Waimairi-Harewood

Community

Board, the Christchurch North

Community Patrol, police,

Neighbourhood Support Canterbury,

and Ilam MP Sarah Pallett.

Community board

chairwoman Bridget Williams

said the survey gave a snapshot

of the situation.

Comments from the survey

showing why 40 per cent did not

feel safe would be looked at by

the board, who would consider

how to address concerns, she

said.

More people felt safe in their

own home, at 83 per cent.

Most respondents said they

had not been affected by crime

in the past 12 months, at 84 per

cent.

The figure was higher than

anticipated, Williams said.

"It's reassuring to know that

the information coming in is

that [crime] isn't as high as we

have heard in the community."

• Turn to page 3

The Defy Dance Academy

juniors (from left) Ashley Scales,

Rosie and Laura Allan, Karishma

and Bella Jeram, Ariana

Parti and Samara McCartney

perform a dance about sailing

through childhood as part of

Beyond Humanity's fundraising

charity show.

•Story, page 10

PHOTO: MICHAEL JONES ​

Low Supply & High Demand!

Now is a fantastic time to sell.

Want to know what your home

might be worth in the current

market?

Freephone direct to Cathy

and Ian to arrange a time to

talk about your home.

0800 888 426

cathy.falconer@mikepero.com

Mike Pero Real Estate Ltd Licensed REAA (2008)

Ian & Cathy Falconer

Brand and Territory Owners - Bishopdale

027 660 1920 • 027 849 0404

is your brain

shrinking?

Brain fog, forgetful, feeling old, low

energy, mood swings, difficulty sleeping,

pins & needles, numbness in legs

super price offer

Superior Methylcobalamin B12 (High Absorption Sublingual Lozenges)

100 LozengeS oNLY $32.90

200 LozengeS oNLY $59.80

see a

difference

in as little as

48 hours!

MAiL orDer

AVAiLABLe

Bringing You The BesT

in naTural healTh

MarshaLLs hEaLTh

& naTuraL ThEraPy

388 5757 | 101 seaview rd, new Brighton
---
2 Thursday August 12 2021

Latest Canterbury news at starnews.co.nz

NOR'WEST NEWS

GENERAL INQUIRIES Ph 379 7100

CLASSIFIED ADVERTISING Ph 379 1100

Star Media, a division of Allied Press Ltd

PO Box 1467, Christchurch

starmedia.kiwi

NEWS

Fiona Ellis

Ph: 021 914 407

fiona.ellis@starmedia.kiwi

ADVERTISING

Monique Maynard

Ph: 021 372 481

monique.maynard@starmedia.kiwi

Your local community news

delivered to 28,748 homes

within The Star each week.

Harewood • Burnside • Bishopdale • Bryndwr

Fendalton • Merivale • St Albans • Mairehau

Papanui • Casebrook • Redwood • Styx Mill

Regents Park • Northwood • Belfast • Strowan

what's on

this week

Wā Pēpi-Babytimes

Thursday, 10.30-11am, at Shirley

and Fendalton, Friday, 10.30-

11am, at Bishopdale, Wednesday,

11-11.30am, at Papanui

Shirley, Fendalton, Bishopdale and

Papanui Libraries

Go along to a relaxed, fun group

for interactive songs, rhymes, and

books that will delight and develop

your baby or toddler. All welcome.

Free, no bookings required.

Wā Kōrero: Storytimes

Thursday, 11-11.30am, at Papanui,

Friday, 10.30-11am, at Redwood,

Tuesday, 10.30-11am, at Shirley

and Fendalton, Wednesday, 10.30-

11am, at Bishopdale

Papanui, Redwood, Shirley, Fendalton

and Bishopdale Libraries

Go along to an interactive

programme including books, songs,

rhymes and play. Recommended for

children two-years-old and up. No

bookings required.

Citizens Advice Bureau

Thursday, 11am-5pm, Friday,

11am-5pm, Monday, 11am-5pm,

Tuesday, 2-5pm, Wednesday,

11am-5pm, at Fendalton

Fendalton Library

Citizens Advice Bureau provides

free and confidential advice. They

take the time to listen and equip you

with the information, options and

Mobile Discovery Wall, Thursday, Friday, Monday, Tuesday,

Wednesday, 9am-6pm, Saturday, Sunday 10am-4pm, at Shirley Library. Go

along and see the Discovery Wall at Tūranga's smaller, traveling 'sibling'.

The interactive touchscreen technology lets you explore the history of

Christchurch. ​

support that fit your needs. Phone

351 7804 for more information.

Reading to Dogs

Thursday, 3.30-4.30pm

Papanui Library

A relaxed, non-threatening

atmosphere which encourages

children to practise their reading

skills and develop a love of reading.

JP Clinic

Saturday, 10am-noon, at

Fendalton, Tuesday, 10am-1pm, at

Shirley and Papanui, Wednesday,

10am-1pm, at Bishopdale

Bishopdale, Papanui and Shirley

Libraries

A justice of the peace will be

available to witness signatures

and documents, certify document

copies, hear oaths, declarations,

affidavits or affirmations, as well

as sign citizenship or rates rebates

applications.

Cards at the Papanui Club

Monday, 1.15-3.15pm, Tuesday,

1-3.15pm, Wednesday, 1.15-3.15pm

Papanui Club, 310 Sawyers Arms Rd

Join others for a different card

game each day. Monday is Flag 500,

Tuesday is Cribbage and Wednesday

is Euchre. All welcome. $2. Phone

Alan on 021 173 3388 for more

information.

Elizabeth Bridge Club

Wednesday, 1-4pm

Christchurch Bridge Club Rooms, 21

Nova Pl

Go along and join others for a

game of bridge every Wednesday.

Arrive at 12.50pm for a 1pm start.

If you do not have a partner, phone

Maureen at 021 646 123.

Marshland Table Tennis Club

Monday, 7.30pm

Ouruhia Hall, 225 Guthries Rd

The Marshland Table Tennis

Club is looking for more players

to join in on the fun each week

at its new premises in Belfast. All

abilities welcome. $5 for adults, $3

for children. For more information

phone 021 205 1106.

Not-for-profit organisations can

send their What's On listings to

norwest@starmedia.kiwi
---
NOR'WEST NEWS Latest Canterbury news at starnews.co.nz

Thursday August 12 2021 3

Awards for young musicians

• By Fiona Ellis

TWO YOUNG musicians

have struck the right note

with the Dame Malvina Major

Foundation, winning awards to

help them further their careers.

Pianist Siyu Sun won the

foundation's $5000 Christchurch

Arts Excellence Award

2021.

The 24-year-old former Bishopdale

resident will put this

toward the cost of her studies

at London's Guildhall School of

Music & Drama.

Casebrook violinist Rose

Light is the winner of the

foundation's Cecily Maccoll

High Achiever Award 2021, of

$1000.

The 16-year-old also won a

discretionary award of $2000 to

assist with expenses including

training and competitions.

Sun, who had 19 years of

piano playing behind her, said

she was pleased to learn of her

win.

"When I won the award, I

was very excited, and I called

my family straight away, in

spite of the 11-hour time difference,"

Sun said.

Her studies in London were

going well in spite of the challenge

of Covid-19 restrictions,

she said.

RENT-A-CHAIR

Salon space

available

Flexible

options.

Enquire

now!

AWARD-WINNERS: Dame Malvina Major Foundation Christchurch Arts Excellence

Award 2021 recipient Siyu Sun (left) and Cecily Maccoll Award 2021 recipient Rose

Light plan to pursue musical careers. ​

"From March, the

Guildhall school finally

returned to in-person again,

and I was able to compete in

the finals of the Guildhall Romantic

Prize competition

at Milton Court concert

hall."

It was her first live performance

after months of

'CEREC' & cosmetic dentistry

Wisdom tooth removal

Painless, high quality dentistry

Sedation dentistry

Experienced, conscientious team

Experienced hygienists

OPEN SATURDAYS

355 9380

144 Cranford Street

lockdown, and she won the

competition.

"It was particularly touching

to . . . have that emotional connection

of performing to a live

audience, and to experience the

thrill, magic, and imagination

of creating music in the moment."

Rose also enjoyed performing

and sharing music with audiences,

she said.

She had been playing the

violin since age nine, where it

was a compulsory instrument

in her Australian school.

She did not come from a

musical family but quickly took

the instrument, and planned to

study music at university.

Initiative formed

to spread

information

•From page 1

Social media posts about crime may

have given a perception that the issue

was more of a problem than it was.

The safety initiative was formed

earlier this year after Avonhead,

Russley and Bishopdale were

identified as hotspots for vehiclebreak-ins,

stolen cars, smashed

windows and other petty crimes.

The survey aimed to gather information,

and had been successful in

this, she said.

It also helped to spread information.

At 71 per cent, many people were

not aware of an active Neighbourhood

Support group in their area, and

the survey had raised awareness of

groups residents could turn to.

"That in itself is wonderful."

The majority of respondents of

people wanted to hear information on

the results and impact of the survey,

at 65 per cent.

A community meeting for the

initiative to discuss results with residents

would be held at a date yet to be

confirmed.

The survey might be replicated in

other areas within the community

board area in future, Williams said.

"We have had a lot of community

interest from Bishopdale and

Strowan. We haven't confirmed that

yet but it's on our radar."

Something for

Someone Special

Phone Paula 357 0002

162a Kendal Ave, Burnside (Memorial Ave end).

www.stalbansdentalcentre.co.nz

Ph: 03 359 8207 E: bishopdalepostshop@gmail.com

Bishopdale Village Mall Plenty of free parking!

Sensational service, absolutely tremendous.

We so appreciate how accommodating and considerate

Cam and his team have been.

You have made a stressful process easy! Thank you!

- Stewart Family -

Phone or text 027 555 7079

REINZ Salesperson of the Year across all brands in NZ

cameron.bailey@harcourts.co.nz

No.1 Harcourts Canterbury 2012-2021

No.1 Harcourts New Zealand 2017-2021

www.cameronbailey.harcourts.co.nz No.1 Harcourts International 2017-2021

Licensed Sales Consultant REAA 2008
---
4 Thursday August 12 2021

Latest Canterbury news at starnews.co.nz

NOR'WEST NEWS

RYMAN HEALTHCARE PRESENTS AN AFTERNOON WITH

RUUD KLEINPASTE

Monday 16 August, 1pm

Join us for an afternoon with Ruud as we hear insights from his fascinating

bug filled career and learn how he spends his time in recent years.

Entomologist and 'Bug Man' Ruud Kleinpaste is one of the insect world's

best friends. Newstalk ZB's Ruud's Awakening was a popular radio talkback

program for more than 27 years. Television programmes were

numerous and varied over the past 25 years, with highlights Maggie's

Garden Show, the children's programme What Now? and various series

for Animal Planet and Discovery Channel (Buggin' with Ruud, etc).

Followed by afternoon tea this event is not to be missed!

Please RSVP to Danielle on 354 6608 to secure your place

NGAIO MARSH RETIREMENT VILLAGE

95 Grants Road, Papanui

rymanhealthcare.co.nz
---
NOR'WEST NEWS Latest Canterbury news at starnews.co.nz

Thursday August 12 2021 5

REAL ESTATE

339 Withells Road, Avonhead 3 2 2 1 2 2 www.harcourtsgold.co.nz | Listing #RD8454

Family Living, Architectural

Design - 80's Style!

This beautifully presented and eclectic home is

looking for new owners! This home boasts the

strong architecture that stood out in the homes

of the 80's era - creating its own 'fabulousness'

through design and space, including features

such as raised ceilings, exposed beams and built

for family living at its best.

Downstairs the living and bedrooms all open to

north facing, multi outdoor living spaces. You can

decide which of the two master suites, suits your

lifestyle. Perhaps it's the first which has its own

built in wardrobing and en-suite bathroom (with

its own fernery access), or the second which

has its own walk-in robe and access to the main

family bathroom. Additionally, upstairs is a further

double bedroom. While currently configured as

3 bedrooms, this home could be reconfigured to

4 bedrooms by adding a wall to recreate the 4th

bedroom space, (as it was previously).

Living areas offer the luxury of plenty of space for

family living and entertaining. The main family

living offers a modern open plan kitchen, dining

and living space with doors to the paved and

manicured garden space. The home features

a second comfortable and stylish living space

with multi living options, including "the library".

Bathrooms have been upgraded and are

beautifully appointed.

Located in Merrin School and Burnside High

Schools, this home will suit a multitude of

purchasers. It's within walking distance to

Avonhead Mall, has good public transport

access and is super close to Burnside Park for that

Saturday morning sport!

Auction

Thursday 19th August 2021

from 10:00am (unless sold prior)

Gold Auction Rooms, 471 Papanui Road

Viewings

Saturday & Sunday 2:15pm - 3:00pm

Christeen Flynn

Licensed Sales Consultant REAA 2008

Harcourts Redwood

021 253 6970

03 352 0352 or 03 352 8400

christeen.flynn@harcourts.co.nz

by Lynette

McFadden

I've had to be many things in the course of a

very long career. From sales consultant to

business owner; a manager and a mentor.

I've been a confidant, a real estate historian

and a trendsetter, but now the requirement

to be a magician and a mind reader – as well

as a futurist – reflects an even greater level of

expectation from the public.

This market is beyond statistical analysis.

How can you possibly rationalize the sale of a

local property for $740,000 more than it sold for

one year earlier?

Or the sale that was brought forward for a

brand-new property (meaning the owners

accepted a pre-auction unconditional offer

at a level they would happily sell for) on an

offer of $1,040,000 – only for it to then travel

an additional $225,000 in the auction room,

ultimately selling at $1,265,000.

Finally, another property that was listed on

behalf of, their term, 'career private sellers'.

Having decided to sell their property on

Trade Me for what they thought was a hefty

figure of $725,000, they engaged a real

estate team and sold at auction for $865,000

instead.

Rather than overwhelm you with a longer list

of incredible results, let's pause and consider the

origins of these unusual times.

We'll start with recent statistics including May

where prices nationally were on average 30%

higher than the same time last year. 30% is an

enormous difference and obviously represents

a windfall to those selling and the need for a

strategic rethink by those purchasing. June looks

to be equally strong although vital elements

such as average days on the market (27) and

number of sales (663) in Christchurch both

show evidence of a lack of available properties.

Low interest rates coupled with low bank

deposit rates also creates an ideal formula for

property purchase, although the prospect of

these rates increasing is just starting to get some

traction. I'll be interested to see if recent reports

of increases next year will play out. But these

aren't the only reasons for our current market

frenzy.

Let's look at some additional elements:

1. Listing numbers have contracted, creating

a 'buy now' scramble amid a fear of not being

able to get on the property ladder if you wait.

FOMO is real. Ask any of the multiple groups

attending open homes, auctions and new build

seminars. A tip for anyone waiting for spring

to list their home: consider moving earlier on

your intentions if you want the chance of an

exceptional price. Beat the crowds, in other

words.

2. Tony Alexander has highlighted the prospect

of potentially one million expats wanting to

return having the effect of increasing local Kiwi's

desire to buy now before the market changes

to accommodate this influx. And think of the

word 'changes' as meaning 'goes up'. Though a

recent adjustment to this theory is the pull of

a stronger labour market and higher wages in

Australia, meaning we may also lose people to

migration.

3. Money usually diverted into travel is now

finding its way into property investment and

renovation. This is the category that I personally

fall into at the moment.

Now I'm going to quote Tony Alexander one

more time: "before the 1990s household debt

in New Zealand was less than 60%, today the

ratio is near 165%." It goes without saying that

this could be a very vulnerable place for some.

What's the answer? As I said, I'm not a clairvoyant,

I'm just one party in this incredible place we all

refer to as The Market. But here's some simple

advice: think carefully, get counsel from skilled

experts not uninformed mates, and if you think

you could find yourself in a tight spot through

overcommitting, then rethink and adjust your

wish list.

In the meantime, stay warm and here's to

happiness.

Lynette McFadden

Harcourts gold Business Owner

027 432 0447

lynette.mcfadden@harcourtsgold.co.nz

Join the best!

Are you curious about a

career in real estate?

Career for

Success Seminar

24th August

6:00pm

RSVP

by 20th August

Angela 03 352 6166

angela.boyle@harcourtsgold.co.nz

or online

www.harcourtsgold.co.nz

PAPANUI 352 6166 | INTERNATIONAL DIVISION (+64) 3 662 9811 | REDWOOD 352 0352

PARKLANDS & NEW BRIGHTON 383 0406 | GOLD PROPERTY MANAGEMENT 352 6454

GOLD REAL ESTATE GROUP LTD LICENSED AGENT REAA 2008 A MEMBER OF THE HARCOURTS GROUP

www.harcourtsgold.co.nz
---
6 Thursday August 12 2021

Latest Canterbury news at starnews.co.nz

NOR'WEST NEWS

Ray White BS

Bishopdale & Strowan

Your local experts

for property

What are you waiting for?

At Ray White Bishopdale & Strowan,

we have experienced agents ready to help.

Call us today!

0800 YELLOW

(0800 935 569)

We have the buyers.

Do you have the home?

Have you been considering selling?

We have buyers looking to buy in the

Nor'West area and you might have just

what they are looking for!

Curious to know what your home is worth?

Call us today! 0800 YELLOW

in your neighbourhood by Ray White BS

Quiz Night

With Ray White Bishopdale & Strowan

hosting Canterbury Rugby

Tuesday 17th August

The Papanui Club, 310 Sawyers Arms Road

Join us at the Papanui Club for this special quiz night where we will

be hosting members from Canterbury Rugby

Doors open 5:30pm | Photo Opportunity from 6:00pm

Quiz Starts at 6.30pm

Raffle tickets & mini rugby balls for sale on the night.

All proceeds will go to Ronald McDonald House South Island.

209 Westminster Street 2/555 Cranford Street 40 Hoani Street

For more information, please contact 0800 YELLOW.

11 Melville Street 305 Sawyers Arms Road 28 Grampian Street

Ray White BS

Bishopdale & Strowan

0800 YELLOW (0800 935 569)

5/333 Harewood Road, Bishopdale | 55 Blighs Road, Strowan

rwbishopdale.co.nz | rwstrowan.co.nz

Inline Realty Limited (Licensed REAA 2008)

Proudly owned by

Karen Ellis

021 519 275

Barry Ellis

021 519 274
---
NOR'WEST NEWS Latest Canterbury news at starnews.co.nz

Thursday August 12 2021 7

Close contest for gold at

retirement village games

MAIREHAU'S Doreen Watkins

says her race for gold at the

Olympics@Ryman cycling final

included a tough push for the

line at the end of the 13.5km

race.

The 71-year old Diana Isaac

Retirement Village competitor,

who admits she is a bit of a

fitness fanatic, was chased hard

by silver medal winner Sue

Greet, from Halswell's Anthony

Wilding Retirement Village.

A total of 104 people from

31 Ryman retirement villages

throughout New Zealand and

Australia entered the virtual

cycling event, with 18 in the

women's event.

Doreen said activities and

lifestyle co-ordinator Laura

Richmond warned her Sue was

making up ground in the final

kilometres.

"Laura tapped me on the

shoulders and said: 'Watch

this one.' I had just enough

to put a wee spurt on," Doreen

said.

The course was "hard work",

especially the changing of gears

on a hill.

"I remember the supporters

saying: 'Change up a gear,

change up a gear' as I was going

CHAMPION: Doreen Watkins relaxes after her massive

cycling win on 13.5km route during the virtual Olympics@

Ryman games.

down the hill.

"I was struggling to get up a

gear and I also thought I don't

know whether I can stand that

pressure, if I want to have a little

bit left at the end,"

While Doreen had ridden a

bike as a child going to school,

her love of cycling awakened

with a tour of the Otago Central

Rail Trail in around 2004.

She feels as fit as she has for a

long time.

Three times a week she exercises

on the treadmill, backed up

by a 1km swim.

On other days she completes

a village gym class before again

stepping onto the treadmill.

"I take the weekend off," she

laughed.

The residents and spectators

in the Christchurch village gym

have witnessed some stunning

cycling from the women and

men, who were motivated in

part by the Japanese scenery on

the screen in front of them. ​

DONATED: Retired firefighter Colin Rae has gifted a bench

to Redwood Fire Station. PHOTO: GEOFF SLOAN ​

Recrafting history

• By Fiona Ellis

AS OF last month, the St Albans

Fire Station may no longer be

standing, but a part of it survives

at the Redwood Fire Station.

Eighty-two-year-old retired

firefighter Colin Rae has crafted

a bench from the timber of a

bridge at the St Albans station

where he served part of his 40

years as a brigade member.

During the early 1960s, he

lived onsite at the station, which

then encompassed nine houses.

His was on the other side of

Dudley Creek and joined to the

main area by a footbridge.

"I thought it would be nice to

get something from the old station,"

Colin said.

Scraping back the tar to reveal

the timber underneath was the

hardest part of the otherwise

straightforward build, the life

member of the NZ Professional

Firefighters Union said.

Most of the station houses

were sold off during the 1980s

once the firefighters duty hours

were changed, although the station

remained.

In 2019, the station was closed

and the appliances and staff were

moved to the new Redwood Fire

Station in Styx Mill Rd.

NUMBER ONE SUPPLIER

TO THE NZ JET BOATING

COMMUNITY FOR OVER

50 YEARS

• Part Boats & Hulls

• Turn Key Packages

• New Jet Units

• Custom Fabrication

• Expert Advice

SERVICING

Peter Tonkin

03 962 0505

peter.tonkin@hamiltonjet.nz

• Spare Parts Retailer

• Jet Unit Refurbishment

• Engine Tune-Ups

• Insurance Repairs

• Impellor Reconditioning

Simply great kiwi cuisine

100% owner operated

Products made by our own

team of qualified bakers

Classic kiwi

cuisine at an

affordable

price is our

formula for

success

135 Farrington Ave, Bishopdale

P 03 359 1020 E mabaker@mabaker.nz

Also at 1066 Colombo St, Edgeware

Apply for a subsidy for your

Summer with

your neighbours

event!

Applications are open from

13 August until 10 September 2021

ccc.govt.nz/GetTogether

Read local

We have a

creative design

solution for you

Star Media Creative are an

experienced team with a range of

creative skills, we create compelling

branding with thoughtful and creative

design to make you stand out from

your competition.

Get in touch to discuss your project!

creative@starmedia.kiwi
---
8

Thursday August 12 2021

Latest Canterbury news at starnews.co.nz

NOR'WEST NEWS

Kids in hospital to benefit from Xmas fundraiser

• By Bea Gooding

A 14-YEAR-OLD Parklands

student wants to make sure

every child gets a present this

Christmas, especially if they're

stuck in hospital.

Emily Grocott is currently

collecting donations to be given

as gifts to children staying

overnight at Christchurch

Hospital on Christmas Eve.

The Avonside Girls' High

School year 9 student is

spreading the message about her

Santa Sleigh fundraiser because

she did not want other kids

to miss out on the Christmas

magic.

"It's sad for children to

miss out and hear about

others getting presents but

they don't get it themselves," she

said.

Emily was inspired to use a

Santa sleigh belonging to her

dad's boss that had been sitting

around at home for several

years.

Her family was using it as a

Christmas decoration, but the

student had other ideas about

how it could be used towards her

cause.

That was when she asked her

mum for help by putting a call

out on Facebook for donations,

having so far received 50 items

that she will gift in person.

"I thought of it when I saw

[homeless] people sitting out on

the street, so I asked my mum

for help," Emily said.

"It feels nice to do it and to

help people out."

Gifts can include clothes,

games, teddy bears, blankets and

art and craft for any gender or

age, but they cannot be second

hand.

A separate box alongside the

sleigh has also been set up for

people to drop food off, which

Emily will make into food

parcels.

"You can put someone's name

and number on [the food] that

you feel needs it so I can draw

some names out and give them a

food parcel," she said.

Collection points at businesses

in the eastern suburbs will be

announced on her Facebook

page, "Emily Santa Sleigh," next

month.

If they are wrapped, gifts

need to be labelled with the

appropriate age and gender

so they do not have to be

unwrapped.

•To find out how

to donate to Emily's

Santa Sleigh fundraiser,

visit https://www.

facebook.com/

groups/522510672398316

HO HO HO: Avonside Girls' High School year 9 student Emily Grocott's Santa Sleigh

fundraiser will bring a lot of joy to children staying in hospital on Christmas Eve.

PHOTO: GEOFF SLOAN ​

Bec | Perfect Fit Bed Customer

This bed is amazing! I used to wake up with a lot of pain. Now I spring

"out of bed and my day begins! …The best purchase I've ever made!"

ADJUSTABLE MASSAGE BED

by

Up to

50 % Off

*Call for Terms

& Conditions

Off

*
---
NOR'WEST NEWS Latest Canterbury news at starnews.co.nz

Thursday August 12 2021 9

RETIREMENT LIVING

in the

HEART of the COMMUNITY

2

MIN

5MIN

IT'S CLOSER

than you think!

At The Sterling, Kaiapoi, we are challenging the

status quo by building our later living village in

the heart of the intergenerational community of

Silverstream, nestled within the Kaiapoi township.

Enjoy a relaxed retirement lifestyle in a quiet and

idyllic environment, while gaining easy access to

the attractions of Northwood, the City Centre, and

all surrounding areas, thanks to the new motorway.

Find out more by calling Michelle now I 027 299 6879

Airport

NORTHWOOD

Northlands

Shopping Centre

10

20

MIN

7

MIN

5MIN

MIN

CITY CENTRE

15

Only 5 MINUTES to NORTHWOOD

& 20 MINUTES to the CITY CENTRE

MIN

VILLAS SELLING NOW

from $495,000

SALES

OFFICE

11AM – 3PM

Mon – Sun

VISIT us

Cnr Silverstream Blvd

& Island Rd, Kaiapoi

TALK to us

LEARN more

0508 783 754 l hello@thesterling.co.nz

thesterling.co.nz

Images are artist impressions and subject to change
---
10 Thursday August 12 2021 Latest Canterbury news at starnews.co.nz

NOR'WEST NEWS

Successful show to benefit homeless

• By Fiona Ellis

It contained everything

from faith to rebellion, but for

Defy Dance Academy owner

Cassidy Sykes, of Papanui, the

standout emotion from the

group's recent performance was

enthusiasm from the audience.

The Casebrook and Riccarton

based dance academy was one

of several groups who joined

forces for Beyond Humanity,

a multi-genre charity show in

support of the Christchurch City

Mission co-organised by Sykes

and Diamond Harbour's Melissa

Gillespie.

Also performing in the

emotion-themed show were

Base Acro & Dance-lifts, The

Christchurch Circus Trust,

Aerial3, UCheer and MC Scottish

Joe.

Among the 180 people attending

the event were those

who only knew about circus

performances, not dance, or

those who were unfamiliar with

either genre.

"With the end of year show,

it's family and friends, you know

what to expect," Sykes said.

"It was a very different crowd."

However, the performances

went well and feedback was "really

positive."

The 21 acts portrayed various

emotions that were part of the

experience of being human, giving

the show its name, she said.

The show was to benefit

homeless people, who were often

treated in a de-humanising way.

"When people see them on

the street, they give them a wide

berth."

A pulled ligament prevented

Sykes from dancing herself,

whereas Gillespie performed for

the dance academy and her own

Base Acro & Dance-lifts group.

They were able to buy 38 care

packs with proceeds from the

show, Gillespie said.

Pyjamas, winter socks and

hygiene items were among the

contents of the packs, valued

about $60 each.

They wanted to help people

directly with items that would be

useful in winter, she said.

COURAGE: Emily

Walker performs

an act about

bravery as part

of the Beyond

Humanity charity

show.

FAITH: Tom and Melissa Gillespie in the charity show, which Melissa also co-organised.

(Above) – Sarah Nurkka and Jin Su Kim.

PHOTOS: MICHAEL JONES

yellow

square

deals

Sleep like

50% off *

selected

Sleepyhead beds

*Discount is off our full retail price. Not available in conjunction with any other offer.
---
NOR'WEST NEWS

Latest Canterbury news at starnews.co.nz Thursday August 12 2021 11

Wartime relic close connection to guide

• By Fiona Ellis

HIS spitfIRe shot down by

enemy fire, World War 2 fighter

pilot Johnny Checketts managed

to escape the burning aircraft,

parachuting into a field in

German-occupied France.

The New Zealander was picked

up by the French resistance, who

treated his burns before helping

him escape back to England

across the channel in a fishing

boat.

However, the engine of his

Mark IXB Spitfire lay buried in a

field for more than 70 years.

It is now on display at the Air

Force Museum of New Zealand,

where the story behind it makes

it a favourite exhibit for volunteer

Chris Checketts.

The engine from his father's

aircraft was recovered by a

French farmer who unexpectedly

offered it to him.

"I spoke to the guys here and

said: 'It's absolutely no use to me,

but do you want it?", and they

said: 'We'd love it'," Chris said.

"Dad shot down 13 German

aircraft in it, which makes that

the second highest-scoring Spitfire

ever built."

Sharing stories with museumgoers

was an important part of

his role, he said

"We've got over a million items

in the collection, so there are a

million stories," he said.

"I really enjoy telling the stories

. . . given my father's service

history, there's lots of stories of

his that I tend to tell."

He especially enjoyed seeing

how children reacted to those

wartime tales.

Bucking the stereotype of boys

and their toys, it tended to be

girls who asked the best questions,

he said.

He hoped they in turn would

remember the stories and pass

them on so the history stayed

alive in future generations.

Other stories he told were also

based on his items of his fathers,

such as papers, paintings and his

service medals.

A Distinguished Service

Order, the highest-ranked commonwealth

medal was among

these, as was the American Silver

Star medal.

"He's the only New Zealander

to have been awarded the American

Silver Star, which is the

highest decoration the American

government can give to a foreigner."

"His squadron escorted

American bombers on 60 different

occasions and they never lost

one bomber."

In Chris' childhood, his father

was close-mouthed about his

wartime experiences but opened

up as he grew older.

"Initially, he was very quiet

about what he had done. He was

a very humble man, very quietly

spoken."

The museum is on the site of

the former Wigram air base,

which had been a part of his life

from the beginning, 73 years

ago.

"I was born basically here.

We lived in a house just around

the corner, right by the officer's

mess."

Planes seemed a standard part

of life when he was young, he

said.

"Most people had a car in the

garage, we seemed to have an

plane in the shed out back."

Wanting to follow his own

career path, he shunned the Air

Force in favour of commerce

TEAM: The

'Moth Doctors'

at RNZAF

Base Wigram

in 1988. Vic

Braggins, Bob

Swadel, Ian

Tilson, Spencer

Barnard, Jim

Williams,

Jim Grant

and Johnny

Checketts.

(Right) – Chris

Checketts with

the Tiger Moth.

RECOVERED: Chris Checketts with the Rolls-

Royce Merlin engine from his father's Spitfire

that was shot down over Northern France

during World War 2. Photo: Geoff Sloan

(Above) – Johnny Checketts after returning

from a mission in 1942.

after leaving school.

"Dad, and mum, said that one

member of the family in service

was enough. No one else in the

family has been involved in aviation

at all."

Wigram stayed a significant

part of his life, he said.

The museum opened in 1997,

and he liked it from the get-go.

It was a favourite haunt of his

father's, who worked on repairing

the Tiger Moth in its collection,

and was himself a volunteer

until his death in 2006, aged 94.

Chris also looked forward

to becoming a tour guide, and

began volunteering immediately

after retiring three years ago.

Living within 1500m of the

house he grew up in, he spent

all day at the museum every

Wednesday.

The collection has grown in

the 24 years since the museum

opened, due to the contributions

of both the air force, which

owned the museum, and ordinary

people who donated items

of interest.

The museum was a place to remember

the history of the Royal

New Zealand Air Force, he said.

"This is a place of not only

aeroplanes and exhibits, it's a

place of remembrance where we

acknowledge those who have

sacrificed."

He made a point of showing

visitors the wall of names of

those who had lost their lives.

Volunteering was a great way

to meet people, and learn from

them even as they learned from

him.

"You meet people from all ages

and walks of life, and until Covid,

all countries of the world."

While the pandemic had

impacted visitor numbers, plenty

of New Zealanders remained

interested in the museum.

Simply put, volunteering was

fun, he said.

a baby

20% off*

selected

Nursery

yellow

square

deals
---
12 Thursday August 12 2021

Latest Canterbury news at starnews.co.nz

NOR'WEST NEWS

Harcourts gold

TOP15 PERFORMERS

JULY 2021

1

2

3

4

5

CAMERON BAILEY

PAPANUI

MARK WANG

PAPANUI

MICHELLE FU

PAPANUI

MARK O'LOUGHLIN

REDWOOD

MARY TURNBULL

PAPANUI

6

7

8

9

10

HARRISON JOSEPH

PAPANUI

CALEB GRIFFIOEN

PARKLANDS

LEEANN MARRIOTT

PAPANUI

MIKE FRANKLIN

PAPANUI

JACK MILLIGAN

PAPANUI

11

12

13

14

15

MILENA BARTLETT

PARKLANDS

ALLEN GUNN

PAPANUI

CHRISTEEN FLYNN

REDWOOD

DEBBIE SOPER

PAPANUI

NICK DWAN

PAPANUI

When your brand includes the top Harcourts

office out of 900 around the world in addition

to the top franchise in the South Island for

income per sales consultant, it's clear that

you've got an extraordinary team.

So for these consultants to earn the position of one

of the top fifteen real estate sales consultants at

Harcourts gold is truly a remarkable achievement.

They are phenomenally good at what they do;

skilled, highly trained and dedicated to delivering

exceptional results for property owners. I am

extremely proud to work with these real estate

professionals.

JOHN MCFADDEN

Business Owner

JOHN MCFADDEN

BUSINESS OWNER

HARCOURTS GOLD

AREINZ

LYNETTE MCFADDEN

BUSINESS OWNER

HARCOURTS GOLD

AREINZ

CHRIS KENNEDY

BUSINESS OWNER/

MANAGING DIRECTOR

HARCOURTS GOLD

AREINZ

www.harcourtsgold.co.nz

PAPANUI 352 6166 | INTERNATIONAL DIVISION (+64) 3 662 9811

REDWOOD 352 0352 | PARKLANDS & NEW BRIGHTON 383 0406

GOLD PROPERTY MANAGEMENT 352 6454

LICENSED AGENT REAA 2008
---
NOR'WEST NEWS Latest Canterbury news at starnews.co.nz

Thursday August 12 2021 13

Use pasta for lunch or a main meal

Vegetarian dishes are

very much in vogue.

Try these pasta

recipes for a quick

lunch or for a family

dinner

Fettucine with garlic

Serves 2

Ingredients

125gm dried fettuccine

2 tbsp olive oil

1 large shallot, thinly sliced

1 cup finely sliced fennel bulb

¾ cup dry white wine

8 cherry tomatoes, halved

½ cup cream

4-6 cloves garlic

Directions

Cheesy pasta bake

Directions

Cook fettuccine according to

packet instructions.

Heat oil in a non-stick frying

pan. Saute shallot until softened.

Add fennel and saute for one to

two minutes.

Pour in white wine and simmer

until reduced by half.

Serves 3

Ingredients

500gm pasta spirals

2 tbsp olive oil

500gm cherry tomatoes, halved

4 green shallots, thinly sliced

Cook the pasta in a large

saucepan of salted boiling water

following the packet directions or

until al dente. Drain. Preheat the

grill to high.

Wipe pan dry. Heat oil over

medium-high heat. Add the

tomato and shallot.

Cook for one minute then add 400gm grated mozzarella

Cook, stirring, for three to

tomatoes.

260

Heat until softened. 500gm bottle

x

onion and

180

roast four minutes or until the tomato

Add cream then garlic and garlic pasta sauce

softens. Reduce the heat to low

heat through. Serve over fettuccine.

picked, plus extra, to serve cheese and pasta

1 bunch fresh basil, leaves and add the cooked pasta, pizza

sauce.

Stir to combine. Remove from

the heat. Add the basil leaves and

stir to combine. Season.

Spoon the pasta mixture into a

20 x 35cm baking dish. Place under

a grill for five or eight minutes

or until cheese is melted.

Quick spinach and

mushroom pasta

Ingredients

250gm linguine

150gm mushrooms

Cherry

tomatoes

complement

well pasta.

Pasta also

makes a tasty

leftover meal.

1 cup cherry tomatoes

1 tbsp cooking oil

150gm fresh spinach

1 tbsp butter

1/4 tsp garlic powder

2 tbsp nutritional yeast

1/4 tsp salt

1/4 tsp freshly cracked black

pepper

Directions

Bring a large pot of water to a

boil for the pasta. Once boiling,

add the pasta and continue to boil

until the pasta is tender (about

seven minutes). Reserve a 1/2 cup

of the pasta water, then drain the

pasta in a colander.

Slice mushrooms and cut the

tomatoes in half.

Heat the oil in a large skillet

over medium heat. Add the

mushrooms and a pinch of salt

to the skillet and sauté until they

have released all of their moisture

(about five to seven minutes).

Add the tomatoes and sauté

for about two minutes more, or

just until they're heated through.

Add the spinach and sauté just

until wilted. Add the cooked and

drained pasta to the skillet along

with the butter. Toss until everything

is coated in melted butter.

Turn the heat off.

Season with garlic powder,

nutritional yeast, salt, and pepper,

then toss to coat.

Need Heat Fast?

The Fastest, Warmest Indoor/Outdoor Heater You Will Ever Own!

Buy One Get One Free! *

+Plus

Free

Floor

Stand!*

worth

$199.99

• Heats Up Instantly

• Suitable for Indoors or Outdoors

– In Rain, Fog, Wind or Snow

• Carbon-Fibre Bulb Technology

• Multi-Directional Stand

• Includes Remote Control &

Built-In Timer

• Motion Detection Function

1.8m High

• Commercial Grade

• Multi-Directional

• Easy Install

• Portable

• Indoors & Outdoors

*Call for Terms

& Conditions

CALL NOW! 0800 665 665
---
14 Thursday August 12 2021

Latest Canterbury news at starnews.co.nz

NOR'WEST NEWS

RAY WHITE PAPANUI NEWS

8 Tips to Decluttering Your House

Did you know clutter can cause our brain

to be over stimulated and make us feel like

we are never truly done for the day? We

look around and all we see is this needs to

be done or that and we end up not truly

relaxing.

It is nearly time for that big Spring Clean!

A time when you go around your home

and get rid of things that don't make you

happy. Things you have multiples of. Things

that you just don't need. Below are 8 tips

inspired from 'Imperfectly Perfect Living'

to decluttering your home.

1. Start Somewhere: When it comes

to spring cleaning it can feel

overwhelming. Start sorting out a

drawer, the bowl of odd items on the

kitchen bench or pile of books and

magazines and just start going through

it!

2. Keep. Donate. Sell: Make three piles.

A keep pile, a donate pile, and a sell

pile. When you grab hold of an item

it has to go into a box. When the box

is full, put it off to the side and start

another one.

3. 5 Second Rule: If you grab onto an

item and can't remember the last time

you used it in 5 seconds, it's time to get

rid of it! Don't let items you haven't

used in forever weigh you down!

4. Does it bring you joy?: Biggest

question! If the item isn't bringing you

joy, why do you have it?

5. Do you have multiples?: Look around,

what do you have that is duplicated?

Three spatulas? Unless you're a wizard

in the kitchen you probably don't need

3 at once so why have them? Get rid of

the multiples.

6. Recycle. Recycle. Recycle: Often

times we have items that are just lying

around not getting used. For example,

old cell phones and magazines. Go

recycle them or post them on TradMe.

co as free items. Someone might pick

them up for parts or to reuse them for

something else.

7. Set Limits: When starting on a room

or closet, set a time limit. You'll only go

through the closet for 20 minutes, or

one song list for more fun. This makes

sure you aren't wasting too much time

deciding if you need it or not. If the

answer takes longer than 5 seconds,

get rid of it!

8. Don't let the boxes sit: You've made

your boxes of Keep. Donate. Sell. Don't

let them sit in your house or in your car

boot for 3 months. When the boxes

are full, get them out of the house!

Next time you're feeling stressed go clean

out a drawer or a kitchen cupboard. I mean,

we really don't need six salad bowls do we?

Well…maybe Nevertheless, decluttering

may just put you in a better mood!

Vanessa Golightly,

Business Owner

and Licensee Agent

Ray White Papanui

027 664 9292

Vanessa Golightly

Licensee Agent &

Business Owner

027 664 9292

Stuart Morris

Licensee Agent

& Auctioneer

027 422 6395

Claire Morris

Licensee Agent &

Business Owner

027 662 4822

Katrina Green

Operations Manager

Property Management

027 606 0030

How to choose the right Property Manager for you

As in most professions, not all Property

Managers are created equal, so what makes

a great Property Manager, and how do you

find the right fit for you?

I don't know about you, but over the past

five or so years I have found google reviews

to be a wonderful addition to my tool kit! I

mostly use them for choosing a restaurant,

or accommodation. Pretty much every

business these days will have some google

reviews posted about them.

Obviously, you do have to dig through some

of them, as there are always people who like

to grizzle, but if you use it as a holistic tool

and take an average of what at least 80% of

the reviewers are saying then I think you will

be looking at honest and accurate opinions.

This is of course just the first step. From

there you want to read through any

information you can get on them, whether

this is through their website or information

they provide you. And lastly, and in my

opinion most importantly, you need to get in

front of them face to face. In lots of cases of

Feature Properties

course this won't be possible, you could be

living out of town or overseas, but we have

some amazing technology now, so jump

on Zoom or Skype, or if all else fails, the old

telephone will suffice.

Have some questions prepared, you

need to ensure that they understand the

multitudes of tenancy legislation and ask

them questions around what is important

to you in who you employ as your Property

Manager. Throw in a couple of curly

questions with some different examples, ie.

What happens if the tenant does not pay

the rent? Ask what processes they have and

even what their rent arrears percentage

is. What type of inspections they do and

do they take photos, etc. Do they run an

audited trust account? How do they collect

rent payments? What on-going training

and education do they undertake? Does

their team hold property management

qualifications? The list goes on, and on.

Communication, as in most service

industries, is certainly the key. A breakdown

in communication can have huge

repercussions. I for one know that with my

own rental properties, I want my Property

Manager to keep me up to date with what

is happening, even when the news isn't the

greatest, so ensure your Property Manager

will speak to you about the hard stuff, and

even more importantly provide you with the

solutions!

So, choose wisely, don't rush into the

decision. I think it is often important to

speak to more than one so you can, as

they say, compare apples with apples. As

Property Managers we are given enormous

responsibility for looking after our clients'

valuable assets, so it is worth spending the

time to ensure you have the best possible

people for the job.

Katrina Green,

Operations Manager

Property Management

027 606 0030

Tracy Thomson

Licensee Salesperson

027 440 3035

Maria Paterson

Licensee Salesperson

027 543 4689

Hasna Ngara

Licensee Salesperson

021 262 4943

Richie Eggelton

Licensee Salesperson

021 089 65594

Paul Nicholson

Licensee Salesperson

027 921 2160

Jana Schleehauf

Licensee Salesperson

022 090 1227

Olivia Hendry

Executive Assistant

Georgia Tuuta

Executive Assistant

1 Deloraine Street, Somerfield

Tracy Thomson & Hasna Ngara

246 Breezes Road, Aranui

Tracy Thomson & Hasna Ngara

2/34 Wilfrid Street, Ilam

Tracy Thomson & Hasna Ngara

Estelle Schuurman

Property Manager

Joy Coughlan

Mortgage Broker

027 223 3572

611 Barbadoes Street, St Albans

Vanessa Golightly & Maria Paterson

81 Edward Avenue, St Albans

Vanessa Golightly & Maria Paterson

6 Tekapo Place, Opawa

Tracy Thomson & Hasna Ngara

Level 1, 7 Winston Avenue, Papanui

Phone (03) 352 0567 | rwpapanui.co.nz | /RayWhitePapanui Morris & Co Limited | Licenced REAA 2008
---
NOR'WEST NEWS Latest Canterbury news at starnews.co.nz

Thursday August 12 2021 15

ILAM

Your Super Locals

open 7 days

SUPER Deals SUPER Range

SUPER Chiller Trailer

steinLager

cLassic 24pk

BottLes

330ml

$

37 99

each

$

34 99

each

Pack

grant's

FinLandia

tripLe

Vodka

Pack

wood

1 Ltr

codY's & coLa and

BLended

$

19 99 Zero sugar 12pk cans

whiskY

250ml

1 Ltr

Beck's Lager

12pk BottLes 330ml

Pack

$

51 99

each

tanqueraY

London drY

gin

1 Ltr

$

42 99

each

Jim Beam

BourBon

whiskeY

1125ml

$

42 99 speight's

$

21 99 Long white range

$

36 99

each

summit uLtra

Low carB,

speight's,

Lion red,

waikato 24pk

BottLes 330ml

$

19 99 $ $

15 99

each 13 99

each

each

church

the Last

Lindauer stone's

$

27 99 road

sYrah

shepherd

Brut/

green

Pack

10 pk BottLes 320ml

$

17 99

each

750ml

pinot noir

750ml

cLassic

saV/and

Fraise

750ml

ginger

wine

750ml

HORNBY

Owned & Operated

by locals

Drive through and undercover parking

SHOP

ilam

LATEST DEALS at WWW.SUPERLIQUOR.CO.NZ CLICK ON YOUR LOCAL STORE ILAM OR HORNBY

NATIONWIDE PICKUP & DELIVERY NOW AVAILABLE

waimari road

maidstone road

Gift

baskets

made to

order

Super Liquor Ilam

213 Waimairi Road

Ph 03 358 5487

Super Liquor Hornby

8 Tower Street

Ph 03 344 2044

Offers valid Monday 2nd August to Sunday 22nd August while stocks last. Limits may apply. Trade not supplied. Available at Super Liquor Ilam & Hornby.

shands road

main south road

amyes road

hornby

tower street

brynley street

tower street
---
16 Thursday August 12 2021

Latest Canterbury news at starnews.co.nz

AUTOMOTIVE PROFESSIONALS

NOR'WEST NEWS

Customers pleased with honest,

reliable vehicle servicing

Having your vehicle regularly serviced is

key to getting the best out of it in terms of

fuel efficiency and reduced wear and tear

on expensive parts.

Kevin, who owns and operates Parker

Automotive in Birmingham Drive,

provides full vehicle servicing to keep your

vehicle running smoothly, as well as WOFs,

batteries and tyres.

He also carries out all mechanical repairs,

including cam belt replacement, suspension

work, clutch and gearbox repairs, only

repairing what's necessary, and without

charging the earth.

He has owned the business since 2007,

and over that time has established a loyal

customer base – people that rely on him

to give them sound advice and provide

professional care and servicing for their

vehicles.

Customers come from across the city,

Spreydon, Hillmorton, Riccarton, Halswell

and Middleton areas, and the business has

received many positive Google reviews

from customers. Below are some examples:

I have been going to Parker Automotive

for the last eight years and I cannot fault the

service. The mechanical work has been top

notch! If you want top service and value for

money I recommend Parker Automotive. –

Daniel Jay

I've had all sorts of work done here from

A vonhead

utomotive

free

6 months roadside assist

with any vehicle servicing

• automatic transmission

flushing service

• Wof • tune-ups • suspension

• batteries • neW tyres • oil &

lube service • courtesy cars

• full mechanical repairs

oPen 6 days (sat until 1pm)

126 racecourse road

Ph 342 7123 or 027 495 6600

basic servicing and warrants through to

major work like clutches, replacement

coilovers and bushings. Kevin is a very

honest guy who gets the job done in a very

timely manor and he has outstanding

communication. The overall service I've

received is excellent. – Lachlan Poole

I know it's not always about price but

sometimes, when it comes to vehicle repairs,

you just want a perceived good deal and work

carried out by someone who seems to care.

Kevin came recommended by a friend, and

what a great recommendation. His work was

clean, efficient, fast and came in under what

I thought it was going to cost. So we took my

partner's car there two days later and that

too was completed faster than we expected

and at an almost unbelievable cost.

Give Parker Automotive a shot next

time you need something done. Kevin

is a nice fella too, win win. – Mark

Lewis

Earlier this year, Parker Automotive

moved from premises on the Lincoln

and Torrens roads corner to a new site

at 23B Birmingham Drive, Middleton.

Opening hours are Monday to

Friday 7.30am-4pm, Saturday 8am-

12pm. So give Kevin a call on 982

4268, or pop in and he will be happy

to help with all your vehicle servicing

needs.

s

m

a

r

t

mall

edium

• Panel beating

• Spray painting

Fast

turnaround

utomotive

epair

echniques

Smart repairS (NZ) Limited

automotive refinishers

272 Lichfield St (Fitzgerald Ave end)

Ph 377-0409

For everything AUTO ELECTRIC

CARS • BOATS • TRUCKS • CARAVANS • TRAILERS

4WDS • ELECTRIC & HYBRID VEHICLES

• Starter Motors

• Alternators

• Central Locking

• Electric Windows

• ABS & Airbags

Amazing

Auto

AAE Electric

• Stereos/Alarms

• Batteries

• Tuneups

• Engine

Management

USUALLY

SAME DAY

SERVICE

65 Coleridge Street, Sydenham

Phone 03 379 4250

www.amazingautoelectric.co.nz

European

Car Owners

NEW DIAGNOSTIC EQUIPMENT!

We can identify ANY electrical

fault & reduce repair work

with our NEW European Car

Specific Diagnostic Equipment

ROSES

AUTO ELECTRICAL

Enquiries welcome

CH 352 5090

PARKER

AUTOMOTIVE

All Automotive Repairs and

Servicing including 4WD

Suspension Brakes & Cambelts

WOF, Tyres, Batteries

23B Birmingham Drive,

Middleton

Ph 03 982 4268

Mobile: 027 331 0382

Email: parkerauto89@outlook.com

Your LoCAL

TYrE SPECIALIST

New & Quality Used Second-hand Tyres

Alloy Wheels

Replacement Rims

Puncture Repairs

8c Birmingham Drive,

Middleton

www.jcmdirect.co.nz

343 0099 or 027 22 63 805

Proud to support Hornby Hockey Club
---
NOR'WEST NEWS Latest Canterbury news at starnews.co.nz

Thursday August 12 2021 17

PHIL

MAUGER

FOR MAYOR

2022

The change we need!

Authorised by Philip Mauger, 87 Jessons Road, Christchurch

Widely applauded for bringing a fresh style

and a no-nonsense, can-do attitude to the

council table, Burwood councillor Phil Mauger

has announced he is running for the

Christchurch mayoralty in 2022 as

an independent candidate.

"I am standing for mayor

because I want to get

stuff done. I will bring a

practical approach to

council and make the

best decisions for

our city."

MAUGER FOCUS

■

■

■

■

■

■

Keep rates affordable and reduce debt

Finish our roads and footpaths

Deliver better services faster

Spend money carefully

Practical and common sense

leadership

Make Christchurch an even better

place to live
---
18 Thursday August 12 2021

Latest Canterbury news at starnews.co.nz

NOR'WEST NEWS

Richmond discount FuRnituRE

The Best Little Furniture Shop in Town

BEDS TALLBOyS MIRRORS CABINETS cHESTS STORAgE SHElvES

BOOKCASES BuFFET uNITS DINING TABLES HAll TAblES SIDE CABINETS & MORE!

Ther-a-pedic Mattress & Base

Reversible pillowtop innersprung.

Single

$549

King Single/Double/3/4

$649

Queen

$749

Queen

Frame &

Pocketspring

Mattress

ONLY

$699

Sleepyhead Base & Mattress Set

Single

$399

Legacy

Single

Frame

Bed

Mattress not

included.

ONLY

$300

Lowboy 6 Drawer

1130 x 410 x 820.

7 Drawer

Scotch Chest

1140 x 800 x 410.

Also available in black.

Midi 7 Drawer Scotch Chest

975 x 760 x 410. With metal runners.

Duchess

with

Mirror

1090 x 410 x 820

NZ made.

2 Drawer

Ent/Unit

1200 x 400 x 480H

ONLY

$349

ONLY

$499 EaCh

ONLY

$329

ONLY $299EaCh

ONLY

$599

Coffee Table

1060L x 550W x 420H

ONLY

$199

Bedside Cabinet

With metal runners.

Jumbo 4 Drawer Chest

1140 x 800 x 400. NZ made. Metal runners.

Tallboy 4 Drawer

600 x 400 x 900.

Towerboy 6 Drawer

1260 x 460 x 410.

With metal

runners.

Also available

in Black.

7 Piece

Dining

Suite

1500 x 900

Emma 5 Piece

Dining Suite

$179

Large

690H x 460W x 410 D

EaCh

Small

510H x 460W x 410 D$140 EaCh

ONLY

$299

EaCh

ONLY

$239

ONLY

$249

ONLY

$799

ONLY

$599

Foundry

Coffee Table

1200 x 600

ONLY $499

Bookcase

1200H x 600W

7 Drawer

TV/

DVD

Chest

760 x 1140 x 410.

(Gap 150)

7 Piece

Dining

Suite

1500 x 900

Foundry

hall Table

1500 x 420 x 810

ONLY

$599

$269

ONLY

$329

ONLY

$799

Bedside Cabinet

620H x 400 x 320

Legacy Bedside

Cabinet

Coffee Tables

1200 x 650 x 400H 1200 x 550 x 430H

ONLY

$199

ONLY

$149

White hall Table

1050 x 760H x 420.

Student Desk

Available in black or white.

1000w x 690h x 500d

ONLY

$99

$129

ONLY

$349

ONLY

$349

White

Shelving

Unit

1980H x 800w

x 300

Pearl headboard

1500H

Queen $399

King $499

3 Piece Dining Suite

750 x 750.

Entertainment Unit

1100 x 400 x 480.

White 2 Drawer

Entertainment Unit

1115 x 480H x 400D

ONLY

$249

Black headboard

1200H

King only

$299

ONLY

$399

ONLY

$299

233 STANMORE ROAD • PHONE 03 389 0536

WE ACCEPT EFTPOS, VISA AND MASTERCARD... PARKING AT REAR

OPEN MON-FRI 10AM–4.30PM SAT 10–1PM

ONLY

$299
---
NOR'WEST NEWS Latest Canterbury news at starnews.co.nz

Thursday August 12 2021 19

Classifieds Contact us today Phone our local team 03 379 1100

Real Estate

Trades & Services

Trades & Services

Trades & Services

HOME WANTED 3-4

bedrooms. Looking in Nor

West areas, Beckenham

or Somerfield. Prefer

permanent material brick

and post 1990 build. Don't

mind if it needs some TLC

- anything considered.

Cashed up buyer. Phone

021 372 479

Wanted To Buy

AAA Buying goods

quality furniture, beds,

stoves, washing machines,

fridge freezers. Same day

service. Selwyn Dealers.

Phone 980 5812 or 027

313 8156

TOOLS Garden,

garage, woodworking,

mechanical, engineering,

sawbenches, lathes, cash

buyer, ph 355-2045

Trades & Services

BETTER

LAWNMOWING

Better job. Better

Price. Better ring Grant

0277402508

BRICKLAYER

George Lockyer. Over

40 years bricklaying

experience. UK trained.

Insurance work, EQC

repairs. Heritage

brickwork & stonework

a speciality. No job too

small. Governers Bay.

Home 329 9344. Cell

027 684 4046. E mail

georgelockyer@xtra.co.nz

BUILDER

New builds, alterations,

decks, fencing. 30 yrs in

the trade has given me

ability to build to a high

standard. Free quotes. Ph

Brent 027 241 7471

CARPET LAYING

Exp. Repairs, uplifting,

relaying, restretching.

Phone John on 0800

003181, 027 240 7416

jflattery@xtra.co.nz

CLEANER

Home - Office - daily -

weekly - monthly. 2 yrs

exp. Competitive rates.

Call or txt 022 353 0264

GUTTER CLEANING

Gutter cleaning special

from $99 plus gst for a

whole house clean"".

Free Quotes, call Morgan

Thomas today 022 375

8506

PAINTER, QUALIfIED

local professional, int/

Ext,roofs,wallpaper, call

or text Corban 027 846

5035

STUMP GRINDING

Best price guarantee Tony

0275 588 895

TILING

Flooring - Splashbacks -

Wall incl tile removal, reg

master tiler, ph Dave 027

334 4125

VHS VIDEO TAPES

& all camera tapes

converted to DVD or

USB. Video taping

special occasions, www.

grahamsvideo.co.nz ph 03

338-1655

DRIVEWAYS

Exposed Aggregate

Stamped Concrete Plain

Concrete Resurfacing

Things we offer...

Competitive/affordable pricing

Attention to detail

Professional service

free quotes/insurance scopes

Cell 0278 145 848

www.drivecrete.co.nz

FURNITURE

EXCLUSIVE. STYLISH.

HANDCRAFTED.

Solid timber furniture

A fantastic range

of traditional and

contemporary

furniture designs.

We can also help you

with any custom made

furniture requirements.

19 Elgin St, Sydenham. Ph: (03) 366 9219

www.gavincoxfurniture.co.nz

Painters and Decorators Ltd

Canterbury Owned and Operated

A husband and wife team

Specializing in:

• Roof Painting

• Interior/exterior

residential

• Small commercial

painting

PAINTERS

Noel 027-411-3596

kemp.painters@gmail.com

kemp painters and decorators

PLUMBER

NEED A PLUMBER

Call us now for fast friendly service.

Get your problems sorted out

quick smart - on time!!

Phone for a

FREE

quote now.

We offer

free quotes

Quality not

Quantity

Phone 03 377 1280 | Mobile 021 898 380

ADVERTISE YOUR BUSINESS HERE

Phone for further details

(03) 379 1100

183,000

readers every week...

152,504 reasons

to advertise with us!

2021 ABC average issue circulation — Star Max vs Press

200,000

The Star

Max *

That's almost as many

people as campervans

doing 60km/h on

the motorway last

Queen's Birthday.

100,000

0

152,504

circulation

The Press *

30,256

circulation

Grow more customers, sales and profits for your business,

Call us now for a free advertising consultancy.

Here's what our customers have to say:

The latest NZ Audit Bureau of

Circulations report is out and

it shows that The Star Max

provides you more circulation

than any other newspaper in

New Zealand.

We advertise Affordable Furniture specials in The Star every week and are extremely

pleased with the results. We find that the large circulation and readership, really

works for reaching our target market and growing our customers. We get people

coming in with our ad and asking about the specials we advertise. We have been

benefiting from the Christchurch Star and Community papers for 20 years and see

no end to it. – Andrew Idour, Managing Director, Affordable Furniture

Phone 03 379 7100

Email shane@starmedia.kiwi

Office Level 1/359 Lincoln Road, Addington

Source: Nielsen National readership survey y/e Q3 2020 - y/e Q1 2021 (Star Max, one ad)

*Source: 2021 ABC Audit Report — Star Max vs Press ANP average total circulation each issue

*Star Max — The Star, Bay Harbour News, Selwyn Times, North Canterbury News
---
20 Thursday August 12 2021

Latest Canterbury news at starnews.co.nz

NOR'WEST NEWS

Working with passion,

all the way !

holmwood.co.nz

NEW ZEALAND

Fendalton

#2

TOP OFFICE AWARDS

- AUCTION LISTINGS

PER SALES CONSULTANT

TOP BUSINESS DEVELOPMENT MANAGER

LYNNE CAWTHORN

Holmwood Property Management

Lynne

TOP

Harcourts Holmwood are delighted to be celebrating

their outstanding successes at the recent Harcourts

Quarterly Awards.

These results are not only testament to the hard

work, customer loyalty, and unwavering commitment

to Holmwood's valued clients, they cement their

philosophy to always drive for the very best results.

"We thank you for your continued support;

without you, none of this is possible." –

Tony Jenkins, CEO

To achieve the results you're looking for contact our

team today!

CHRISTCHURCH CHRISTCHURCH

Paul

#2

TOP AUCTION LISTERS

PAUL NICHOLS

Fendalton

TOP RESIDENTIAL SALES CONSULTANTS

PAUL NICHOLS

Fendalton

HARCOURTS CLIENT EXPERIENCE AWARDS MORTGAGE EXPRESS AWARDS

DUNCAN MCGREGOR

Merivale

TOP REFERRING SALES CONSULTANT

ZANI POLSON - Ilam 2

Duncan

#2

Paul

#2

Zani

TOP

Fendalton

TOP

TOP OFFICE AWARDS

- AUCTION LISTINGS

PER SALES CONSULTANT

MORTGAGE EXPRESS AWARDS

TOP REFERRING FRANCHISE

HARCOURTS HOLMWOOD

Holmwood

TOP

TOP

PROPERTY MANAGEMENT OFFICE

- REVENUE

Holmwood

TOP

MORTGAGE EXPRESS AWARDS

TOP PERFORMING MORTGAGE ADVISER

KEVIN BURROWES

Kevin

TOP

CHRISTCHURCH TOP SALES

CONSULTANTS YTD JUNE

#2

#19

PAUL NICHOLS

Fendalton

#11

#21

JENNI ROLTON

St Albans

#14

#23

MICKY LIMMER

St Albans

#16

#25

ZANI POLSON

Ilam 2

EMMA LUXTON

Ilam 2

RICHARD DAWSON

Ilam 2

KATHRYN PICTON-WARLOW

Fendalton

TIM HARRIS

Merivale

Licensed Agent REAA 2008