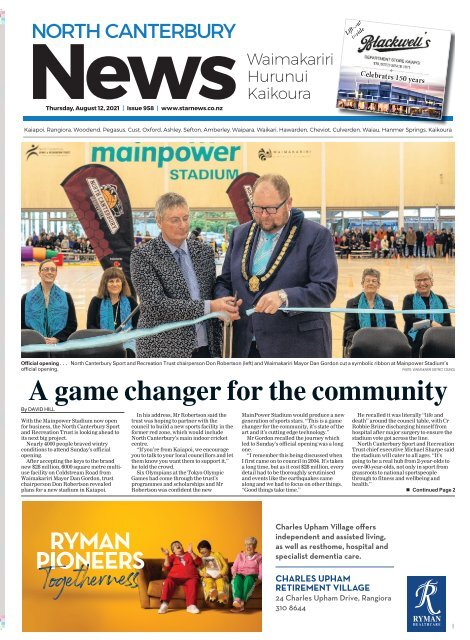 North Canterbury News: August 12, 2021
Create successful ePaper yourself
Turn your PDF publications into a flip-book with our unique Google optimized e-Paper software.
Lift-out

inside

Celebrates 150 years

Celebrates 150 years

Thursday,August12, 2021 | Issue958 | www.starnews.co.nz

Official opening ... North Canterbury Sport and Recreation Trust chairperson Don Robertson (left) and Waimakariri Mayor Dan Gordon cut asymbolic ribbon at Mainpower Stadium's

official opening.

PHOTO: WAIMAKARIRI DISTRICT COUNCIL

Agame changer for the community

By DAVID HILL

With the Mainpower Stadium now open

for business, the North CanterburySport

and Recreation Trustislookingahead to

its next big project.

Nearly 4000 people braved wintry

conditions to attend Sunday's official

opening.

Afteraccepting the keys to the brand

new $28 million, 6000 squaremetremultiuse

facility on Coldstream Road from

WaimakaririMayor Dan Gordon,trust

chairperson Don Robertson revealed

plansfor anew stadium in Kaiapoi.

In his address, Mr Robertson said the

trust was hoping to partner with the

counciltobuild anew sports facility in the

former red zone, whichwould include

North Canterbury's main indoorcricket

centre.

''Ifyou'refrom Kaiapoi, we encourage

you to talktoyour local councillors and let

themknow you wantthem to support it,''

he told the crowd.

Six Olympians at the Tokyo Olympic

Games had comethrough the trust's

programmes and scholarships andMr

Robertsonwas confident the new

MainPower Stadium wouldproduceanew

generation of sports stars. ''This is agame

changer for the community,it's state of the

art and it's cutting edge technology.''

Mr Gordon recalledthe journey which

led to Sunday's officialopening was along

one.

''I remember thisbeing discussed when

Ifirst came on to council in 2004. It's taken

along time, but as it cost $28 million, every

detail had to be thoroughly scrutinised

and eventslike the earthquakes came

alongand we had to focus on otherthings.

''Good things taketime.''

He recalled it was literally ''life and

death'' around the counciltable, with Cr

Robbie Brine discharging himself from

hospital after major surgery to ensure the

stadium vote got across the line.

North Canterbury Sportand Recreation

Trust chief executive Michael Sharpesaid

the stadium will cater to all ages.''It's

going to be areal hub from 2­year­olds to

over­90­year­olds,not only in sportfrom

grassroots to nationalsportspeople

through to fitnessand wellbeingand

health.''

Continued Page 2

CharlesUpham Villageoffers

independentand assistedliving,

as well as resthome,hospital and

specialistdementiacare.

CHARLESUPHAM

RETIREMENT VILLAGE

24 Charles Upham Drive, Rangiora

310 8644

2750
---
NEWS

2 North Canterbury News, August 12, 2021

Grow

customers,

salesand

profits

with North

Canterbury's

bestread

newspaper

Readership: 48,000 weekly

Circulation: 30,150copiesdelivered

to EVERY farm, RD, lifestyle block

and home inWaimakariri, Hurunui

&Kaikoura every Thursday.

news

Robyn Bristow

Managing Editor

027 312 1581

robyn.bristow

@ncnews.co.nz

Reporters

David Hill, Shelley Topp.

advertising

DaynaBurton

Sales Co-ordinator

027 312 0089

dayna.burton

@ncnews.co.nz

AmandaKeys

Advertising

027 536 6224

amanda.keys

@ncnews.co.nz

Kerryn Clark

Advertising

021 586 138

kerryn.clark

@ncnews.co.nz

JillianDickie

Advertising

022 024 3092

jillian.dickie

@ncnews.co.nz

getintouch

Editorial

info@ncnews.co.nz

Advertising

sales@ncnews.co.nz

Graphic Design

heather.hood@ncnews.co.nz

Distribution/Deliveries

03 314 8335

Rangiora: 03 313 2840 /03314 8335

14 Ashley St, Rangiora

Christchurch: 03 364 7460

www.starnews.co.nz

Former Queen Mary Hospital

superintendent farewelled

By ROBYN BRISTOW

Dr RobertJohn Mackay Crawford, who

broughtaninnovative and bold

approachtotreating people with

addictions, has passed away

peacefully withfamily in Havelock

North.

He was aged80.

Dr Crawford wasthe superintendent

of the QueenMary Hospital in Hanmer

Springs, aresidentialalcohol and

drugtreatment centre, from 1976to

1991.

He introducedgroundbreaking

educational,physical and

psychotherapeutic modelsfor

recovery, such as psychodrama.

Dr Crawford wasawardedaMember

of the New Zealand OrderofMerit for

servicestomental health and

addiction servicesinthe 2019Queen's

Birthday honours.

Under his leadership, QueenMary

Hospital became acentre of

excellencefor expanding the

treatmentfor families affected by

addiction,and the training of health

professionals and others working

nationally in treatmentand

rehabilitation.

Dr Crawford wassupported in his

endeavours by his wife, Dr Jan

Crawford, who died in November 2010.

She workedtirelessly for Queen Mary

Hospital, and her community

alongside her husband, for more than

40 years.

He establishedasuccessful

KaupapaMaori/Taha Maori

programme, Te Aroha otoHau

Angiangi, which provided amodel of

cultural healing. The programmeran

from1990 to 2003 and influenced and

encouraged the development of Maori

treatment services in New Zealand.

2386026a

www.tiw.co.nz 03 313 0408

308 Flaxton Road, Rangiora

Bold approach ... Dr Robert Crawford

took an innovative approach to treating

people with addictions at the former

Queen Mary Hospital in Hanmer Springs.

PHOTO:SUPPLIED

He also authored several

publicationsand served in various

national governance and advisory

roles,includingonthe treatment

committee of the AlcoholicLiquor

Advisory Council, theMedical Society

on Alcoholism, and the Doctors'

Found summer's

watering hard

work and time

consuming?

An automatic irrigation

system isnot as expensive

as you may think!

See us and be prepared to

sit back, relax and enjoy

the garden this spring.

Health AdvisoryService.

In 1999 he was appointed director of

the ChristchurchInstitute for

Training in Psychodrama.

In 2018,DrCrawford was awarded

Distinguished Membershipofthe

Australian and New Zealand

Psychodrama Association.

Today Queen Maryremains empty,

and untouched. Aboutathird ofthe

sitehas beenvested in the Hurunui

District Council, including historic

buildings, whilethe remainingarea to

the south is vested with Ngai Tahu.

Dr Crawford'sdedication to Queen

Mary Hospital never dimmed, even

after it was closed in 2003, and the

hospital'sglory daysasaplace of

healingweregone.

He had firmideas on what he would

liketohave seenhappen withthe site.

He suggestedaretirement complex,

withapartment­style living for the

elderly. He felt amuseum and arts

centre would be appropriate, and

thinks the Department of

Conservation could haveestablished

an office promotingpublicly

accessible areasfor touristsand locals

alike.

Dr Crawford alsoenvisaged acafe

and believed aspace forworking

artists, similartothe Arts Centre in

Christchurch wouldhave added

interest.

He was muchloved fatherand

father­in­law of Alastair and Zoe,

Geoffand Andi, lovedBaba of Art,and

Joe; Isla, and Molly.

AService to celebrate and honour

Dr Crawford's life, will be held in the

Church of the Epiphany,31Jollies

Pass Road,Hanmer Springs,tomorrow

Friday, August 13 at 1pm, thereafter

intermentinthe Hanmer Springs

Cemetery.

New MainPower stadium has scope to grow

From Page 1

The new facility has four large

basketball courts, with scope to build

another two as the region's population

expands.

The courts are marked out for

basketball, netball, volleyball, korfball,

futsal and badminton, being played on

the latest technology sprung floor.

There are blinds which can be pulled

to separate the courts, automated

blackout curtains for glare, the hoops

have the latest technology and there is

seating for 500 people, with additional

mobile seating for another 200.

The fitness centre comprises aturf

running track for speed tests, Prama or

''gamified exercise'', rowing machines,

assault bikes and the latest training

equipment.

A3Dscanner is also available, which

takes 1200 photos of the body in ashort

time to test body fat, posture and

balance.

The new facility is nestled in a

growing sports hub, including the

MainPower Oval cricket ground,

Rangiora Showgrounds, hockey turf,

football grounds and anew 10­court

tennis facility is being built next door.

''It's areal hub for not just Rangiora,

but the whole of North Canterbury,'' Mr

Sharpe says.

Michael Sharpe

2095268

Kaiapoi Lodge

Residential Care

Nursing Home, Hospital and

Respite

Person Centred Care,

Care that's built

around you

6Cass Street, Kaiapoi

Ph 03 327 7235
---
No appeal to quarry decision

By SHELLEY TOPP

Taggart Earthmoving Ltd is not appealing

adecisionbytwo independent

commissioners to denythe companya

resourceconsenttodevelopaquarry at

RangioraRacecourse.

Taggart CEO PaulTaggart saysthe

commissioners'decision was

disappointing forthe companybut they

decided nottoappeal the ruling dueto

legaladvice and thepotential high­costof

an appealinthe EnvironmentCourt.

''We havealready spent alot of money

on thisprojectbut that is therisk you

take,'' he says.

''We are now assessing ouroptions and

have some toughdecisions to make about

thefuture of ouroperation in Rangiora,

whichwill dependonwhether we can

find an alternative source of gravel.''

Thecompany was assessing other

possiblegravel extraction siteswithin

Waimakariri but he is unwilling to say at

this stagewhere they are.

Mr Taggart says it wasapopular

misconceptionthatrecent floodingin

Waimakariri had deposited large

quantities of gravelinthe Ashley­

Rakahuriand Waimakariri rivers.

''Although it appears that there are now

largedeposits of gravel in the bedsofthe

Waimakaririand Ashleyrivers postthe

recentfloods, initial topographical

surveys indicatethat the increased

volume of gravelavailable for extraction

is minimal,''hesays.

''We haverecently surveyedasectionof

theAshleyRiver post flooding and

compared the surveyvolumes that we

calculated pre­flood andthe netincrease

in availablegravel is insignificantwhen

measuredagainst Environment

Canterbury's(ECan) mean bedlevels for

Appealing ... The Rangiora racecourse is apopular course with punters as shown by the

turnout at the December 2019 Christmas at the Races meeting on the grass track.

PHOTO: SHELLEY TOPP

gravel extraction.''

However,the company onlysurveyeda

small section of therivertoget an

indication of the effect of the floods.ECan

is scheduled to do afull river surveynext

month.

''Thismay show thereismore gravel

there thanexpected,'' Mr Taggart says.

The independentcommissioners, Paul

Rogers andJohn Iseli, deniedTaggart

Earthmoving aresourceconsent for the

quarry primarilybecause''therisks and

potential risks to groundwater

contamination and contaminationof

drinking watersuppliesdown­gradientof

thesite areunacceptable.''

Deputy Presidentofthe No Rangiora

Racecourse QuarryInc John Matheris

delighted that TaggartEarthmovingLtd

haschosen nottoappeal the decision.

Thepresident of theRangiora Harness

RacingClub, GregWright, whoinitially

said the clubneeded theincome expected

to come from the quarry, has no comment

to makeaboutthe commissioners'

decision to deny aresource consentfor it

or Taggart'sdecision not to appealthat

decision.

Success of Rangiora gymnasts celebrated

By SHELLEY TOPP

Rangiora's ICE Trampoline Sportsis

celebrating the success of its members

at Auckland's National Gymnastics

Championships.

Campbell Robertson,Bronwyn Dibb,

BraidaThomas, Natalie Donavan,

Emily Reeves, Matthieu Rigter, Jessica

Penney, Hannah Van Schculkyn and

Kirah Galbraith all won championships

titlesatthe nationals which were held

at the Trusts Arena in Auckland from

July 20­24.

Their success continues agreatrun

for ICE Trampoline Sports which is one

of New Zealand's top trampoline and

gymnastics clubs.

The club'smemberswere also

excited to see theirsport in the

limelight on the worldstage with the

recent bronze­medalwinning

perfomance of Aucklandtrampolinist

DylanSchmidt, at the Tokyo Olympics

giving New Zealand its first Olympic

success in trampoline gymnastics.

Christchurchtrampolinist Maddie

Davidson also made history by

becomingNew Zealand's first woman to

compete at the games.

''Dylan's performance is absolutely

fantastic for the profile of the sport in

New Zealand,'' ICE Trampoline Sports

club's senior coach Nigel Humphreys

says.``We all sat and watched as ateam

and were thrilled for him personally as

he is such agreat guy, and Maddie

Davidson is from Christchurchsoitwas

greattohave alocal girl in the women's

event.She has given so much back to

the sportasacoach and ajudge.''

Dylan's successand Maddie's

participationatthe Olympicshas

proved inspirational for the ICE

Trampoline Sports clubmembers but

Covid­19 globalpandemictravel

restrictions are hampering

participationatfuture overseas

competitions.

''Ourseniorshad booked flights to the

Gold Coast for the Australian Club

Nationals in September, but

unfortunately theyhave been

cancelled,''Nigel says. ''Our next major

is the World Championships in

Azerbaijan in November and the World

Gamesinthe USA in July 2022 for our

star athlete Bronwyn Dibb.''

''However, we are struggling to get

managed isolationand quarantine

places for our return fromthe World

Champs, so may not even be able to

book to attend. ''

NEWS

North Canterbury News, August 12, 2021

3

TAXRETURNS

Debra Jowsey

Karla Kilner

Tax &Accounting

Consultants

since 1984

Overwhelmed? Confused? With the recent IRD

changes to tax returns, GST returns, rental returns

and pay day filing A-Plus Accounting is here to help.

Give us acall. Friendly,knowledgable staff.

A-Plus Accounting

☎ 03 314 9480

2293781

Caring for North Canterbury

Dr John Dehn

Full Mole Checks

using Dermoscopy

Surgical Management

and Aftercare

Comprehensive, Affordable, Convenient

Ph 03 9204060

52 Pegasus Main Street,Pegasus 7612

www.pegasusmedicalcentre.co.nz

Southern Cross

Affiliated Provider

For selected services

WINTER

1890742

SALE

Purchase aMetro fire +ECO flue combo

during July and August and save up to

$899 on selected model combos*

*Conditions apply.

WINTER

360 FlaxtonRoad,Rangiora

Ph 03 313 5563

www.kingsmowersheating.co.nz

2405546

The Widest Music Variety

Tune in nowtolistenon104.9 North Canterbury

and103.7 Hanmer Springs andKaikoura

Hurry in...

they're

walking out

the door

fast!

Kaiapoi Mill, Ranfurly Street, Kaiapoi

Monday –Friday 9am –5pm

Saturday 10am –1pm

Closed on Public Holidays

Ph 03 327 0576

2406557
---
NEWS

4 North Canterbury News, August 12, 2021

Snow closes roads in North Canterbury

By ROBYN BRISTOW

Motoristsbore the brunt of North

Canterbury's snowfall on Sunday.

The Leader Road linking Waiauand

State Highway One,The InlandRoad

linking Waiau andKaikoura, and the

Clarence Valley Road, Hanmer Springs,

were closed by heavy snow,and remained

closedonMonday.

The Lewis, and Arthurs Passes were

both closed and remained closed until late

Mondayafternoon, leaving StateHighway

One, on the eastcoast,the only route open

between Christchurch and Picton/Nelson

for muchofSundayand Monday.

At the Hundalee Hills, on State Highway

One, 40km south of Kaikoura, traffic was

brought to ahalt after two trucks jackknifednear

the bottom of the southern

side of the winding and hilly section of

highway.

About 5cm of snow had fallen by 2.40pm

when the police werenotifiedofthe

incident which forced around 30 trucks,

many with key freight deliveries on board,

and cars to queue till lateSundaynight.

Some motorist did elect to turn back.

This put accommodation at apremium

in Cheviot andKaikoura as people

decided to stay the night,instead of

queuing in the freezing cold conditions,

with snow continuing to fall.

It took until 11pm to clearthe backlog,

with crewsfrom Waka Kotahi/ NZ

Transport Agencytaking cars in convoy

through asingle lane.

''Given the route was the sole remaining

highway north of Christchurch still open

in the snow,itwas officially keptopenon

Sundaydespite theconsiderableholdups,''aspokespersonsaid.

All thequeued cars, barfour or five

parkednear the top,were abletodoaUturnand

go back the way they came. An

agencyspokesperson said for theirown

Clearing ... Drew Topp from Topp

Contractors clears snow on the Inland Road.

PHOTO:TOPP CONTRACTORS

reasons many decided to wait.

''Weunderstandthe highway was not

officially closed so they may well have

assumed the delay wouldbeshorter than

it turned out to be.

''Weapologise to people who have

enduredfreezingtemperatures and we

willhaveafull debrief on this.''

Crews helped those who ran out of gas.

In the Hurunui District many travellers

sought refugeatCheviot and Mt Lyford

Lodge overnight because of the Hundalee

hold­up.

Dan Harris, chiefoperations officer,

saidthe accommodating local community

keptpeoplesafe and warm, withmore

accommodation available if it was needed.

He says farmerswere well prepared for

the cold snap, but the snow will add to

ongoing feed issues thanks to drought and

the May flood.

Sunday fun ... Pieta Sidey (left), Harry Sidey, Charlotte Thompson ,Hamish Thompson

all from Hurunui College enjoy fun in the snow on Sunday at Glenovis, Hawarden.

PHOTO: SUPPLIED

On Monday the council reported some

drivers were ignoring the Road Closed

sign at Leader Road,and carrying on

through. ''There are no road crews

working on this road, yet,due to weather

conditions, and if you haveanaccident

after you'vegone pastthis sign, you are not

insured,'' acouncilspokesperson said. It

was hoped all affected roadswould be

open by Tuesday.

The Oxford Area School was closed on

Mondaydue to thesnow, but there were no

roading problems in the Waimakariri

District caused by the snow. The Lees

Valleyroad remains closedwhile repairs

are carriedout following major damage

duringthe May floodevent.

Into the storm ... Drew Topp from Topp

Contractors heads into the Inland Road to clear

snow.

PHOTO:TOPP CONTRACTORS
---
No staffing woes for NC

hospitality providers

By SHELLEY TOPP

Whilemany cafe and restaurant

owners nationwide say they are

facing staffing shortages, North

Canterbury seems to be bucking

that trend.

More than 2000 restaurants

and cafes nationwide tookpart

in the Restaurant Association of

New Zealand'sLights Out

campaignlast month to

highlight the staffing crisis and

get the Government to allow

urgent borderexemptions for

overseas workersseeking

hospitality workinNew

Zealand.

However, most North

Canterbury cafeand restaurant

owners contacted said they did

not haveproblems retaining or

recruiting staff.

Kaiapoi's Coffee Culture coownerDean

Peterssaid being

part of abig franchisegroup

helped with staffing

recruitment.

''We don't have any trouble

finding staff.''

Oxford's Cafe 51 chef/manager

Lititia Buckman had expected

difficulties recruiting staff after

the Covid­19 lockdown but that

had not occurred.

''Hospitality may not be the

best payingjob to start with but

it is agreat careerchoice,

particularly for young people

because it teaches you so many

life skills and can take you

Beks Morland ... Rangiora's

Comcol North Canterbury

hospitality course tutor.

PHOTO: SHELLEY TOPP

anywhereyou want to go,'' she

said.

Rangiora's Fools of Desire

Cafe co­owner Karl Horwarth

said they did not have problems

recruiting staff either,with

people regularlycallingatthe

cafe seeking hospitality work.

Whileatthe Red PostCafe in

Culverden, co­owner Carolyn

Allison said her full­time staff

had been at the cafe for along

time and she was '' fortunateto

be able to hire university

students,home for the holidays

and looking for work,tohelp out

during the busy summer

months.''

In HanmerSprings, the

PowerhouseCafe and

Restaurant owner Mary

Holloway, who is also aHurunui

Districtcouncillor, said

hospitality was hard work,but

she did not have any problems

hiring or retainingstaff.

``If you respect your staff, pay

them welland treatthem well,

they will stay,'' she said.

In Kaikoura, Why Not Cafe coownerPeter

Matts employs four

localwomen full­time,but hires

backpackersvisiting New

Zealand seeking seasonal work

to help out during the busier

summer months.

However, he is concerned he

may not be able to do thatthis

summer withNew Zealand's

borders still likely to be closed

to internationaltravellers.

``Nothavingany

internationalsisabig loss.''

WhileinRangiora, Amy Grice,

part­owner of The Plough Hotel

and WinnieBagoes often has

difficultyrecruiting

experienced staff.

''We are really luckytohave

an awesome corebase of fulltime

staff,but struggle to hire

new people with experience,''

she said.

''Having said that we recently

took on two inexperienced staff,

alovely school girl and adairy

farmer, and theyare both

awesome workers.''

NEWS

North Canterbury News, August 12, 2021

5

Lifestyle blocks

miss funding

By DAVID HILL

Waimakariri Mayor Dan

Gordon is not giving up the

fighttosupport the region's

lifestylers, in the wakeofthe

recent flood event.

Mr Gordon sayshehas

received confirmation from his

enquiry to the Prime Minister's

office, that lifestyle blockshave

not beenincluded in the

Ministry for Primary

Industries' flood relief

package.

He met with Prime Minister

Jacinda Ardern whileshe was

in Canterbury to meetwith the

region's Mayorsinthe weeks

following the May 31 flood.

After learning Waimakariri

had the mostlifestyle blocks in

the country, Ms Ardern agreed

to lookinto the matter.

Anumber of lifestyle blocks

suffered considerable damage

in the flood, but many

insurance policiesdonot cover

land damage.

Lifestyle properties do not

meet the criteria for funding in

MPI's relief package.

Funding has beenmade

available to theMayoralRelief

Fund, but Mr Gordon says this

is limited.

For now aid from the

Mayoral ReliefFund will be

dispersed between lifestyle

block ownersinneed of

support, while the council

gathers more data to present to

the Prime Minister in the hope

the matter can be

reconsidered.

''I have been talking to

lifestylersabout their issues, so

we can go back to the Prime

Minister,'' Mr Gordon says.

''We'reattempting to quantify

the difference between

insurance and what is

uninsured so we can make

make asubmission to the

government.

''In the meantime, we have

some up withamodelofhow

we are going to disperse it

(Mayoral Fund),but it willbeto

lifestylerswho have missedout

on other funding.''

The council's efforts to

supportlifestylershave been

aided by having two fencing

contractors who have

negotiatedrates with the

council, whichhave been

passed on to lifestyle block

owners.

CanterburyRuralAdvisory

Group chairperson Winton

Dalley sayspartofthe problem

stems fromauthorities

struggling to distinguish

betweenproperties which are

purely lifestyle blocksand

''smallproductive units''.

Income assessmenthad been

looked at, butwas not

necessarily atrue measureof

what was goingon. ''They've

also triedlooking at thesize of

theproperties, but that doesn't

take into consideration the

activity which is taking place,

so it's areal issue.''

Find it all

RIGHT ON

YOUR DOORSTEP

Food and drink spots for socialising

Full medical, physical and dental care

Hair and beauty care at the local salon

VILLAS

SELLING

FROM

$495,000

WOODEND

10 MINS

KAIAPOI

3MINS

CHRISTCHURCH

20 MINS

THE

STERLING

Retirement

Village Site

CAFE

PHARMACY

MEDICAL

CENTRE

PHYSIO

RESTAURANT

WEIGHT

MANAGEMENT

SUPER

MARKET

DENTIST

HAIR &

BEAUTY

ENDO -

DONTIST

SALES

OFFICE

3MIN WALK

RETIREMENT LIVING in the

HEART of the COMMUNITY

VISIT us

1/42 Silverstream Blvd,

Kaiapoi

TALK to us

0508 783 754

hello@thesterling.co.nz

LEARN more

thesterling.co.nz

The Sterling site is render only and subject to change
---
OPINION

6 North Canterbury News, August 12, 2021

In the Electoratewith

MattDoocey

MP forWaimakariri

Authorised by MattDoocey,Level1ConwayLane,188 High Street,Rangiora.

Urgent funding needed

in mental health arena

Mental health is not only about the

treatmentofmental illness but also the

promotionofmental wellbeing.

Over the course of our liveswewill all

have good and bad mental health.

No­one is immune.

Last week Ijoined rural mental health

advocates GraceCurtis (CoolChange NZ)

and Jason Herrick (Ag Proud)tospeak to

over 800 people in Auckland.

We tookthe voices of rural mental

health to our largesturban areatocall on

the government to urgently fundlife­saving

mental health and suicide prevention

programsinour ruralcommunities.

We'vebeen hearing loud and clear that

our ruralcommunities are doingittough,

with increasing challenges and changing

regulations taking their tollonfarmers and

growers.

Iwas proud to stand alongside our local

farmers at the Groundswell protestin

Rangiora and Kaiapoi recently. They are

an integral part of our community and it

was greattosee so many residents out in

support of them too.

Ijoined protestorganiser Andrew

Mehrtensinhis ute to hear first­hand the

impacts on farmers' wellbeing from the

uncertainty and stress of excessive

governmentregulation,with more

proposed changesinevitably creating even

more anxiety.

One of the more controversial rule

changes is the identificationofSignificant

Natural Areas, or SNAs, on rural

properties.

On avisit to afarm near Oxford last

monthIlearned the extent of what this

would mean for alandowner.

Essentially, theywould not be abletodo

anything to largeswathes of theirown

land, someofwhich has beenhanded

down throughmany generations.

Farmers knowtheir land and how to

manageit, and this is areal concernfor

many in theWaimakariri.

On amore positive note,itwas

inspirational to meet Oxford's Daisy

Gardiner, who combines her passion for

flowers withapassion for our Oxford

community.

Daisy is mum to two young children and

has set up athriving home business,

Daisy's Wedding Flowers, supporting local

growers and keeping costs down to make

flowers affordable to our elderly and

community organisations.

Daisy is agreat example of innovation

and creativity –she has made her business

work around her life and is providinga

great local service too.

It was also great to celebrate success for

Kaiapoi dairy owner Nilesh Vallabh and

his familywho havebeen part of our

community for more thantwo decades.

Nileshwas having difficulty in getting a

Lotto licencefor his shop even though

there was one lessoutlet in townafter

Take Note closed down. Iwas glad to be

able to help by organising aLotto

representativetocome downfrom

Auckland to visit Nilesh and myselfinhis

Kaiapoi shop. Ourfarmers, along with

individualslikeDaisy and Nilesh, are the

backbone of our community, and Iama

fierceadvocate for all residentswhen they

need someonetofight in their corner.

Waimakariri

Focus from Dan Gordon, Mayor

Acommunity facility

MainPower Stadium

It was apriivilegetoopen MainPower

Stadium on Sunday.

It was important forthe councillors and

me thatthis openingbefor the whole

community.

Despite theweather,4000people came

throughtoview this outstandingfacility.

At 6000 square metres, peoplewere

amazedbythe size andquality.

There havebeenmanywho havebeen

significanttothisproject andhelped us

get to theofficial opening. You knowwho

you are andahugethankyou for your

workincreating thisfacility.

Whathas beendelivered is astunning

multi­use facilitythat Iknow our

community willbepleased with. There

has been huge expectation and

excitement.

Thisfacility is for all agesbut Iam

especially excitedabout thebenefits it

willprovide our youngpeoplewho will

gainaccess to highquality sport and

activities,but also the wider benefits to

our community's healthand wellbeing.

Our hopeisthat this stadiumwill

inspireour next generation of athletes

and help ouryoung people have the

opportunity to reach theirpotential as

futurerepresentatives forCanterbury,

New Zealand or indeedbecome

Olympians.Nomatterwhatlevelyou

achieveat, youwillmake us proud.

Water reform

As you will haveread,the Government

is proposingchanges to theway our

drinking­water,stormwater and

wastewaterservices are delivered to

residents through aThree WatersReform

process.

The Government has given councils

until the end of Septembertoprovide

feedback on whether we,asadistrict,

wishtoopt­in or opt­out of the proposed

reform. Beforewemake adecision about

the nextstage of thereformprocesswe

are keen hear whatour community thinks

and will be undertaking engagement with

you shortly.

Soonall ratepayers will receive aletter

which laysout thebestinformation we

knowtodate regardingthe reform

proposal. Included willbeafeedback

form. Yourcouncillors andIwill be

availableataseries of community dropins

to discuss thereform proposals and

answerany questionsyou mayhave.

Yourviews areimportant and we

strongly encouragereceiving your

feedback before we make aformal

decision on September 28.

Vic Allen

Sadly Oxford's Vic Allen passed away

lastweek. Vichad beenastrong advocate

for his community ­especiallyOxford.

He loved his communityand was

passionate about it.Hewasinvolved in

mostcommunity organisationsand had

servedaschair or ahardworking

committee member.

Vic wasalsoalong­serving memberof

the Oxford­EyreWard Advisory Board

and oversaw anumber of projects to bring

themtoasuccessful completion.

For hisservicetothe community Vic

was awardedaCommunity Service

Award.

Vic Allen worked hardfor his

community to makeitabetter place. He

achieved that.His contribution was

extensive.

Our community is so muchthe better for

his involvement. On behalf of agrateful

community,thank you Vicfor your faithful

service.Rest in peace.

Councils can now consider rezoning land for development

By ROBYN BRISTOW

The identificationofnew areas that

could accommodate futureurban

housing developmentinRangiora,

Kaiapoiand Rolleston, hasbeen

approved by the Minister for the

Environment.

The Minister approvedthe changes to

the Canterbury Regional Policy

Statement(CRPS),onMay 28. His

decision waspublicly notifiedonJuly 17.

McALPINES MITRE 10 MEGA RANGIORA -OCEAN WATCH

This

Week

Sun

Fishing

Guide

Moon

Wind

Swell

Pegasus Bay

Tide Chart

3

2

1

Good

Thursday Friday Saturday Sunday Monday Tuesday Wednesday

Aug 12 Aug 13 Aug 14 Aug 15 Aug 16 Aug 17 Aug 18

Rise 7:27am

Set 5:41pm

Best

Times

3:04am

3:28pm

Rise 9:32am

Set 9:36pm

Moderate SW turning

S

E0.7 mturning

NE

Good

Rise 7:25am

Set 5:42pm

Best

Times

3:51am

4:15pm

Rise 9:56am

Set 10:48pm

Moderate S

Change 1toChapter 6ofthe CRPS

became operative on July 28.

Andrew Parrish,Environment

Canterbury regional planningmanager,

saysthisenables theWaimakaririand

Selwyn DistrictCouncils to consider

rezoning of land in futuredevelopment

areas through theirdistrict planning

processes, if required,tomeetshortfalls

in housingcapacity.

"This allowsthesedistrict councils to

developplansand consultwith

Good

Rise 7:24am

Set 5:43pm

Best

Times

4:39am

5:04pm

Rise 10:20am

Moderate SW turning

S

Good

Rise 7:23am

Set 5:44pm

Best

Times

5:29am

5:55pm

Rise 7:21am

Set 5:45pm

Rise 7:20am

Set 5:46pm

Set 12:01am

Set 1:16am

Set 2:32am

Rise 10:48am

Rise 11:19am

Rise 11:58am

Moderate SW turning

S Gentle SW Moderate SW

Rise 7:18am

Set 5:47pm

Set 3:46am

Rise 12:45pm

Moderate Wturning

SW

NE 1.2 mturning

E0.6 m E0.9 m SE 0.7 m SE 0.8 m E1.0 m E0.9 m

3 6 9 NOON 3 6 9 3 6 9 NOON 3 6 9 3 6 9 NOON 3 6 9 3 6 9 NOON 3 6 9 3 6 9 NOON 3 6 9 3 6 9 NOON 3 6 9 3 6 9 NOON 3 6 9

Good

Best

Times

communities on additional land for

housing, andprovide higher density

living environments, includingmixeduse

developments andagreater range of

housingtypes".

The proposed change willallowfor

rezoning fornew housing developments

in Rolleston,Rangiora andKaiapoi to

support projectedpopulation growth

overthe next30years.

The Waimakariri district's population

is projected to growfrom64,700 (asat

6:22am

6:49pm

Good

Best

Times

7:18am

7:47pm

Good

Best

Times

8:17am

8:48pm

June30, 2020) to 78,400 in 2031, andhit

100,000by2051.

Growthatthat level means around

4800new houses needtobebuiltover

the next decade andmore than12,000

new houses by 2051.

The change is likely to leadtohigher

housingdensityinthe Waimakariri

district,whichthe council tentatively

agreed to as part of theOur Space

2018­2048:GreaterChristchurch

Settlement Pattern document in 2018,

0

Highs Lows Highs Lows Highs Lows Highs Lows Highs Lows Highs Lows Highs Lows

Waimakariri 7:17am 2.3 1:06am 0.5 8:07am 2.3 1:53am 0.5 8:59am 2.3 2:43am 0.5 9:52am 2.3 3:35am 0.5 10:47am 2.3 4:30am 0.5 11:45am 2.4 5:26am 0.5 12:11am 2.2 6:23am 0.5

Mouth

7:37pm 2.4 1:25pm 0.5 8:28pm 2.3 2:15pm 0.5 9:21pm 2.3 3:08pm 0.5 10:16pm 2.3 4:04pm 0.5 11:13pm 2.3 5:04pm 0.5

6:05pm 0.5 12:45pm 2.4 7:06pm 0.5

Amberley 7:17am 2.3 1:06am 0.5 8:07am 2.3 1:53am 0.5 8:59am 2.3 2:43am 0.5 9:52am 2.3 3:35am 0.5 10:47am 2.3 4:30am 0.5 11:45am 2.4 5:26am 0.5 12:11am 2.2 6:23am 0.5

Beach

7:37pm 2.4 1:25pm 0.5 8:28pm 2.3 2:15pm 0.5 9:21pm 2.3 3:08pm 0.5 10:16pm 2.3 4:04pm 0.5 11:13pm 2.3 5:04pm 0.5

6:05pm 0.5 12:45pm 2.4 7:06pm 0.5

7:26am 2.3 1:15am 0.5 8:16am 2.3 2:02am 0.5 9:08am 2.3 2:52am 0.5 10:01am 2.3 3:44am 0.5 10:56am 2.3 4:39am 0.5 11:54am 2.4 5:35am 0.5 12:20am 2.2 6:32am 0.5

Motunau 7:46pm 2.4 1:34pm 0.5 8:37pm 2.3 2:24pm 0.5 9:30pm 2.3 3:17pm 0.5 10:25pm 2.3 4:13pm 0.5 11:22pm 2.3 5:13pm 0.5

6:14pm 0.5 12:54pm 2.4 7:15pm 0.5

7:28am 2.3 1:17am 0.5 8:18am 2.3 2:04am 0.5 9:10am 2.3 2:54am 0.5 10:03am 2.3 3:46am 0.5 10:58am 2.3 4:41am 0.5 11:56am 2.4 5:37am 0.5 12:22am 2.2 6:34am 0.5

Gore Bay 7:48pm 2.4 1:36pm 0.5 8:39pm 2.3 2:26pm 0.5 9:32pm 2.3 3:19pm 0.5 10:27pm 2.3 4:15pm 0.5 11:24pm 2.3 5:15pm 0.5

6:16pm 0.5 12:56pm 2.4 7:17pm 0.5

7:22am 1.7 1:13am 0.4 8:12am 1.8 2:01am 0.4 9:03am 1.8 2:52am 0.4 9:57am 1.8 3:43am 0.4 10:53am 1.8 4:36am 0.4 11:51am 1.8 5:31am 0.4 12:19am 1.7 6:26am 0.4

Kaikoura 7:44pm 1.9 1:29pm 0.4 8:35pm 1.8 2:20pm 0.4 9:29pm 1.8 3:15pm 0.4 10:25pm 1.8 4:12pm 0.4 11:22pm 1.8 5:11pm 0.4

6:12pm 0.4 12:50pm 1.9 7:11pm 0.4

*Not for navigational purposes. Wind and swell are based on apoint off Gore Bay. Maori Fishing Guide by Bill Hohepa. www.ofu.co.nz www.tidespy.com Graphic supplied by OceanFun Publishing Ltd.

2118223
---
Groundswell plan further action

By ROBYN BRISTOW

Groundswell is planningfurther action if it

doesn't get aGovernmentresponseby

August16toits protestover unworkable

regulations.

It has been six weeks since

Groundswell's Howl of aProtest galvanized

around60,000 peoplethroughoutthe

country to roll into town in their tractors,

trucks, utes and on foottosupport

Groundswell's concernsaround two key

piecesoflegislation—freshwater and

indigenous biodiversity/significant natural

areas (SNAs).

In recent days it has added Three

WatersReforms to its dossier because of

increasingconcerns among councils..

Spokesperson Bryce McKenzie says

many councils have expressedconcerns

about the lackofinformationand

meaningfulconsultation,and the hastein

which the Government are pushing the

reforms through.

"This is shaping up as ahighly divisive

issue in localgovernment, with some

councilsstrongly in support and many

othersopposedorexpressing

reservations", says Mr McKenzie.

"Farmers are not the onlyones being

subject to aone size fitsall, we know best,

attitude from the government."

Groundswell pledges to continueits

campaign until muchneeded changes to

unworkableregulations happens.

The organisation,which has its roots in

Southland,isnow well established on the

West Coast,and has beenjoinedbythe

North Canterbury­basedRural Advocacy

Network throughanalliancewith

Groundswell.

It has published an Open Letter to the

''People of New Zealand''reiterating its

concerns.

'Groundswell NZ's is not callingfor a

halt in progressaddressing our

environmental issues. We believeall New

High Street display. .. Atractor convoy rolling through Rangiora's central business district

during Groundswell's nationwide Howl of aProtest in July.

PHOTO: SHELLEY TOPP

Zealanders needtojoin in the journey of

environmental custodianship.

''Leaders of Groundswell NZ are at the

forefrontofthe environmental effortin

New Zealand, clear evidence that we are

welland trulyonboard.

''Weare not opposed to all regulation as

claimed by some Government ministers.

''All humanactivities, including

farming, havenegativeimpactsonthe

environment and regulationsare part and

parcel of every day life.

''Our oppositionisto unworkable

regulations –particularly those that are

impractical, costprohibitive, penalise

environmentally progressive landowners

or have detrimentaloutcomesfor the

environment.Hence our objection to the

two key piecesoflegislation; freshwater

and indigenousbiodiversity/SNAs,'' it says

in the openletter.

Groundswell saysits alternative

solutions received scantcoverageinthe

media, and it would continuetohighlight

them.

''We support acatchment approachto

freshwater whereregional councils have

the autonomytowork with their

communities in prioritising efforts to

thosecatchments most in needofaction.

''Indigenous biodiversity policies must

not continue to penalise conservation

minded landowners and devalue their

properties.

''We seekanapproach that turnsnatural

areasonprivate landinto an asset,

supports those proactive in conservation

and empowers everyone to takebetter

care of our environment.

''Enough is enough.''

NEWS

North Canterbury News, August 12, 2021

Sudima

hotel still

on track

7

Kaikoura'sSudimaHotel is on track

to open by the end of nextyear.

While the Covid­19 pandemic has

caused disruption, aSudimaHotels

spokesperson says constructionis

continuing on the $35 million

complex, ahead of the targeted

openingdate in springorsummer

next year,tocoincide with

Kaikoura's traditionalbusy season.

''Workisongoing, bothonsite and

offsite, and will scale up or down

depending on the stageofthe

project and what's needed at the

time for delivery to the targeted

openingdate,'' the spokesperson

says.

''While the pandemic has changed

the tourism landscape,especially

for regional operations and

timelineplans from those pre­

Covid, construction is progressing

well with the opening planned for

later in 2022 to align withthe busier

summer season.''

The spokesperson saysthere will

be plenty of opportunities for locals

to applyfor employment at the new

hotel.

The state­of­the art hotel is

expected to provide jobs for about

60 staff, who will be employed

locally.''Recruitmentprocesses are

undertaken at various stages of the

project and will ramp up closer to

the targetedopeningdate.''

The 120­room, 4.5 star­rated

waterfront hotel is set to be agamechangerfor

Kaikoura, bringing

touriststothe area.

AMPEDUP.

THE ALL-NEW VOLVOXC40 PHEV RECHARGE.

The first of Volvo compact plug-in hybrid SUVs ishere at Archibalds –and now's the time to discover this stunning planet-friendly vehicle. Take it for atest drive and experience a

powerful electric motor and petrol engine combination, plus ahost ofexquisite Scandinavian design features.

Contact Archibalds and secure your test drive today.

38 Tuam St,

Christchurch

Thomas Palmer -03377 5200 -tpalmer@archibalds.co.nz

archibalds.co.nz

*Plus on-road costs. Model shown isXC40PHEV Recharge.

For further information visit archibalds.co.nz/VolvoXC40Phev
---
A-FOUR-DABLE

EVERYDAY

EVERYDAY

Gold Kiwifruit Loose

Product of New Zealand

A-FOUR-DABLE

EVERYDAY

PamsFresh

Carrots

1.5kg Prepack

Product of

New Zealand

$

3 29 ea

A-FOUR-DABLE

EVERYDAY

$

4 49 kg

Bananas Loose

Product of Ecuador

A-FOUR-DABLE

EVERYDAY

$

3 29 kg

A-FOUR-DABLE

EVERYDAY

Pams Fresh

Potatoes

2.5kg Prepack

Product of

New Zealand

$

6 49 ea

NEWS

8 North Canterbury News, August 12, 2021

Cemetery spruce up

By SHELLEY TOPP

AKeep Rangiora Beautiful projecthas

transformed the overgrownRangioraSt

John'sAnglican Cemetery in Ashley St.

Work on the project began after

sisters Beverley and Adrienne

McGowan, members of the Keep

Rangiora Beautiful group,cycled

aroundRangioralast September

looking for public areas in need of atidy

up.

The Anglicancemeterystood out as a

place desperately in need of some

attention. Theycontacted the Rangiora

Anglican Parish for permission to tidy

up the cemetery and set to work on

January 14 this year.

They were joinedbyafellow Keep

Rangiora Beautiful member, Bev

Alexander,and the women have worked

in the cemetery grounds most

Thursdays since then, mowingthe

lawns,pulling weeds,clipping the long

grass aroundthe graves, cleaning and

tidying the headstonesand takingthe

gardenwastetothe RangioraRefuse

and Recycling Centre using vouchers

supplied by the Waimakariri District

Council.

It has been abig job and the work is

not completeyet but the transformation

of the cemetery groundsfrom an

overgrown,uncared for area,back to a

tidy, tranquil, final resting placehas

made it aworthwhile project.

''Beverley has done most of the work,''

Bev (Alexander)said. ''She comes here

every Thursday and stays for most of the

day.''

The cemeterywas established about

Big job ahead ... Keep Rangiora Beautiful

member Beverley McGowan, working in the

overgrown Rangiora St John's Anglican

Cemetery grounds in Ashley Street earlier

this year.

PHOTO ADRIENNE MCGOWAN

1860 after early settlers in Rangiora

made an application to the Canterbury

Provincial Council for asuitable area of

land for burials. Manyofthe pioneersof

Rangiora and surrounding districts are

buriedinthis cemetery, including the

poet and social worker Mary Ursula

Bethell, 1874­1945, who is interredin

her family's plot.

The Peoples 750ml

(Excludes Pinot Noir)

$

12 99 ea

Speight's

Gold MedalAle

24 Pack 330ml Bottles

$ 33 99

ea

SEE INSTORE

for more info

www.foursquare.co.nz

facebook.com/FourSquareNZ

Specials available South Island only from Monday 9th August until Sunday 22nd

August 2021 or while stocks last. Wine and beer available at stores with an off

licence. Wine and beer purchases restrict cted to persons aged 18 years old and over.

Glowing ... Glow toys form part of the giveaway package to the MainPower light

Festival in Rangiora in September.

PHOTO: SUPPLIED

Family passes to giveaway

to MainPower Light festival

Alightingextravaganza returns to

Rangiora's Victoria Park next month.

The MainPower LightFestival will

transformthe parkinto alight and

sound wonderland fromSeptember

16 to 18.

Six familypasses to thefestivalare

up for grabs.

Fivepasses includeglow toys,and

entry to theoutdoormovieon

Saturday, September 18.

The sixthfamily pass includesglow

toys, entrytoSaturday'soutdoor

movie, plusa$100voucherfor lunch

or dinner,and a$50 giftpackfrom

PlantyAffair.

The light festivalruns from

September16to18atRangiora's

VictoriaParkand promises to be

bigger,better andbrighterthanlast

year's inaugural festival.

Event spokesmanKarlHorwarth

saysthere willbetwice as many

lights installed, withmirror balls, a

5m mushroom, neontrees, fairy light

tunnelsand canopies,and pulsing

arches.

''VictoriaPark will be litupwith a

fairylandoflaser lights,neon,disco

lights,interactive lighting displays,

glow toys and more,'' Mr Horwarth

says.

TheMainPower NorthCanterbury

Lightsphoto competitionwillrun

again,with entrantsable to enter up

to five photoseach.

Thereare sectionsfor youth and

adults, andentriesmustbeemailed

to rangioralightandsound@gmail.

com.

Finalists will havetheirwork

showcased in the NorthCanterbury

News.

To be in to win aFamily Pass,

emailyour entry to info@ncnews.co.

nz,with Light Festival competition

in thesubjectline, and be sureto

include yourname,address and

phone number. Thecompetitionwill

be drawn on August 27,at12noon.
---
THE BELLEVUE

Discover

Papanui'snew

standout lifestyle.

Brand new, luxury apartments available now.

Oceania's newarchitecturally-designedvillage, TheBellevue,isset in beautiful gardens,close

to your favouriteshopsatNorthlands and Merivale,aswell as the city centre and the airport.

Localresident, Kate Fraser,recently movedtoThe Bellevue and lovesthe convenienceof

apartmentliving. "When Iwalked in the door,Iknewimmediately Iwas going to livehere."

On atypical dayyou could startout with abarista-made coffee and atreat at the café,

getinyour stepsatthe gym, then join neighboursfor agame of pool before moving to

happy hour."The village has afeeling of aresorthotel. Ithought—itreminds me of that

hotelinSpain." Kate added.

TheBellevueisnow open, so come in foracoffee andsomething delicious from the chefto

getatastefor why Kate loveslivinghere.

Fixed weekly fee for life -Guaranteed.

For residents 70 years and above.

Getintouchwith Brenda today on 0800 333 688.

21 Windermere Road, Papanui, Christchurch

oceaniahealthcare.co.nz
---
Motoring

Guide

Your local motoring professionals

NEED TYRES?

• Punctures

• Balancing

• New tyres

• ATV tyres

• Motorbike tyres

(on and off road)

• Barrow tyres

• Mobility scooter tyres

• Bicycle tyres

Give usacall or come

and see us in store!

ARTHUR BURKE LTD

Markham St, Amberley

03 314 0137

Petrol &Diesel

Use your SuperGold card or

supermarket docket for 12

cents off Petrol &Diesel only

COMPLETE AUTO REPAIR SERVICE

WOF

Light Engineering

Tune-ups

Repairs

Lube-Oil changes Ride-on Mowers

Full Diesel Service Pick up &Delivery

Brakes &Clutches

Sell &Sharpen

Motor Work

Horse Clippers &

Warranty Work

Sheep Shears

Oils &Automotive Accessories, Postal

Services, Hot Pies, Sandwiches, Rolls,

Groceries and Sweet Treats

For your convenience

Sefton Garage

571 Upper SeftonRoad, Sefton

North Canterbury.Ph03312-9713

FOR ALL YOUR LIGHT

AND HEAVY

TRANSPORT REPAIRS

Breakdown &

After Hours

Service

Available

Phone 03 313 6361

0275 200 711

307 Flaxton Road,

RANGIORA

brooktrucks@xtra.co.nz

2324381

Changes at the top ... John Hamilton (centre) has been joined by Brian Thornton (left)

and Tim Johnston in the ownership of North Canterbury Collision Repairs Rangiora Ltd.

Support local with repairs

Support localwith all your car repairs.

NorthCanterbury CollisionRepairs

Rangiora Ltd in Southbrook, Rangiora, is

locally ownedand operated and ready to

servefor all yourpaint and panel repair

and insurance needs.

''It's been abit of atheme with Covidto

support local and shop local and we

encouragepeople to continue to do that

and to recommendus,'' company owner

John Hamilton says.

''When it comes to insurancework, we

are getting peoplecominginhereand

they've beentold to go intoChristchurch.

''People don't realisethat theyhave a

choice, so it's about re­enforcing the

message that it's your car, your choice

whereyou want to get your car

repaired.''

WhileJohn is still involved in the

business, the company has had achange

to its ownership structure withTim

Johnston and BrianThorntonbuying

into the business.

The pair have been working withJohn

and at North Canterbury Collision

Repairs Rangiora Ltdfor anumberof

years.

''I've been in the game for nearly 40

years, so it's time for abit of younger

enthusiasmtocome intothe industry,''

We Do It All!

Your One Stop Mechanical Shop

Johnsays.

Not onlyisNorth Canterbury Collision

Repairs Rangiora Ltd locally owned,it

employslocal staff and supports the local

community.

''Last year we gave awayaMazda

Demio in aCanterbury Country Cricket

raffle,''John says.

No job is too big or too small at the

Rangiora workshop, which is geared up

to do all insurancework and repairs for

vehicles,from everyday bumps and

scrapestomajorsmash work,rust

removal and restoration.

The growth of its Rangiora premises in

recent timesmeansitisnow doing more

large­vehicle work on trucks, horse

floats,caravans, motorhomes,

bulldozers, planes, jet boats, and even

helicopters.

North Canterbury Collision Repairs

Rangiora Ltd dealswith all insurance

companies,offers free quotes,has

courtesy cars, and offers freepick­up and

delivery.

Respectfor customers'vehicles is

paramount and afriendly, forwardlookingculture

is fostered.

Contact(03) 3136966. The after­hours

contact is John Hamilton on (027)

4377165.

One Stop WOF Shop

All MechanicalRepairs and Servicing, Tyres,

Exhausts, Automatic TransmissionService

Burbidge Automotive

325 Flaxton Rd |Ph03313 3344

Ample carparking! Courtesy Cars, Van, Automatics Available

2387427v1

2318749v8

WE ARE THE

SERVICINGEXPERTS!

No Need To Commute To Christchurch –

We Can Do It All! We canuse genuine parts,

so yourvehicleisstillcoveredunderwarranty.

We have the latest Diagnostic Computer

Systems that arecompatible with most vehicles.

Wheelalignments &tyres at

very

competitive prices.

CALL US NOW TO BOOK YOUR SERVICE

Discounts to Superannuates

77 Ivory Street,RangioraPh313-5802

Mon-Fri8am-5.30pm•Sat 8.30am-12.30pm

Best Brands

-Best Prices

5Star Service

ROTATION /BALANCE

AND WHEEL ALIGNMENTS

FREE

Pressure check on

Cars, Utes, 4WD &

Trailers

COLLISION REPAIRS RANGIORA

Support Local

Businesses

Recommendusfor Paint&Panel

requirements

Make an insurance claim and choose North

Canterbury Collision Repairs Rangioraas

your repairer. Your Car,Your Choice.

Crash repairs, bumps &scrapes to major

smash work

Commercial&fleet repairs,Buses,Caravans &

Motorhomes, Trucks,Trailers, Buses &Boats

Quality

workmanship &

fastest

turnaround

Fleet of courtesy cars available

Contact John 3136966

639LinesideRoad, Southbrook | www.nccrc.co.nz

FROM $69

Bookings recommended, ts&cs apply.

346a Flaxton Road

Phone 03 310 6666

0800 226 324 for 24/7 Service

2318082v7
---
Keen helpers ... Peter Whitehead, Ashley Rakahuri Rivercare group trap co­ordinator,

left, is presented with one of the housings for pest traps by Lynn Andrews, Murray Giles,

Colin Dixon, Alan Orchard, Mike Cherry and Ross Stewart.

Residents on hand to

help replace traps

Agroup of CharlesUpham Retirement

Village residents arehelping replace

pest traps swept awayduringflooding

of the Ashley/Rakahuri River.

Lynn Andrews and fellow village

residents havebuilt 76 wooden

housings for the metal pest traps laid

along the braided river to catch

predators endangering rarebirdlife.

They handed over the second batch

of 38 traphousings to the Ashley

Rakahuri RivercareGroup(ARRG)

recently.

ARRG worksinconjunctionwith

other groupsincludingthe

Department of Conservation(DoC)to

protect thebraidedriver­based birds.

The traps help make the Ashley

River asafe place for blackbilled

gulls,banded dotterels,

oystercatchers. The work is also to

help species like black fronted terns,

and wrybillsurvive in whatcan be a

tough environment.

ARRG trappingco­ordinator Peter

Whiteheadsays agood number of DOC­

200 traps are located on the berms of

the riverhad been washedaway by the

late May, earlyJune flooding. The

traps were takendown riverand out to

sea.

"The river ran at 150 cusecs… the

same rate by the way as the Ashburton

River," Peter said.

"Of our about 450 traps, we lost about

aquarter of them.''

Rare bird ... Ablack­fronted tern in

breeding plumage soars above the Ashley

River.

PHOTO: FILE

Petersays he is thankful thatthe

RymanHealthcare residents, like

himself retired and with time on hand,

were able to do the trap construction

work.

"That's very generous and much

appreciated,''hetoldthe Charles

Uphamresidents including Lynn

Andrews, Alan Orchard, MikeCherry,

Ross Stewart, Murray Giles, Colin

Dixon and Gwenda Johnson. The traps

are beingdistributedalong the

riverbank as weather permits.

The Widest Music Variety

Motorists

urged to

take care

Motorists are beingwarned to take

care on icy roads.

Recent snow and the threat of

some severe frosts are making the

roads treacherousinsome areas.

Road safety co­ordinator at the

Hurunui District Council, Dean

Eades urges motorists to drive to the

conditions, avoid sudden braking or

sharp turning movements, and

accelerate and brake gently and

smoothly.

''And remember to keep asafe

travelling distance, as it takes longer

to stop on slippery roads.''

He also says landowners have a

responsibility to maintain their

current hedges and shelterbelts,

ensure they don't protrude on to the

road space, and to choose carefully

where they plant new ones.

Mr Eade says addressing the issue

of trees shading roads at the time of

planting could saveextra work in the

long term.

STOP LEAVES

birds, snow, hail &vermin

from blocking up your spouting

Quality materials: BHP Colorbond steel mesh with unique patented

louvre which will even keep out pine needles. Will not rust or sag with

age or load. 10 year warranty,range of colours.

Proven in Australia &New Zealand over the last 15 years

FOR SAFE, PURE DRINKING WATER

FROM YOUR ROOF.

NOW AVAILABLE: STAINLESS STEEL MICRO MESH

Call Rohan anytime Mon-Sat for

ano-obligation assessment &quote

0800 486532 03 982 8850 www.gumleaf.co.nz

NEWS

North Canterbury News, August 12, 2021

Kaiapoi Office

03 3270514•kaiapoi@parliament.govt.nz

137 Williams Street

11

MattDoocey

MP for Waimakariri

RangioraOffice

03 3107468•waimakariri@parliament.govt.nz

Level1Conway Lane,188 High Street

Ienjoy holding constituent

clinicsinOxfordand in

Belfasttobeaccessible;

pleasering my officeifyou

would liketomeetwith me.

Authorised byMatt

Doocey, Parliament

Buildings, Wgtn.

Hurunui Theatre Group presents

Show runs from 26 th August

to 4 th September

Thursday, Friday, Saturday 7:30pm;

Matinee on Saturday 28 th 2pm

Waipara Memorial Hall

Tickets available in August from:

Sally Mac's Amberley and Gas Waikari

Or online bookings at

www.hurunuitheatre.org

Adults -$25; Seniors -$20;

Children under 16 -$15

2405502

Tune in nowtolistenon104.9 North Canterbury

and103.7 Hanmer Springs andKaikoura
---
RANGIORA

Sale starts 7am Friday13th August

100%LOCALLY

OWNED&OPERATED.

RANGIORA

If youfind alower priceonanidentical stocked productlocally, we will beatitby15%

If youfind thesame productfromanother Mitre10store or Mitre10website, we'll matchthatprice.Excludes trade and special

quotes,stock liquidations and commercial quantities.The in-storeprice maybelower than thatadvertised.
---
24

MONTHS

INTEREST FREE

on purchases $799 &over

FINANCE

OPTIONS

AVAILABLE

20% deposit

Paycash price only

No booking or

insurancecharge

or 12 MONTHS

INTEREST FREE

Terms, Conditions&Credit Criteria apply

WANT IT NOW?

Payfor it using your

AirpointsDollars

Remember, 1=$1

When youspend$75 or more.

Seein-store forterms &conditions.

Sale starts 7am Friday13th August

100%LOCALLY

OWNED&OPERATED.

RANGIORA

If youfind alower priceonanidentical stocked productlocally, we will beatitby15%

If youfind thesame productfromanother Mitre10store or Mitre10website, we'll matchthatprice.Excludes trade and special

quotes,stock liquidations and commercial quantities.The in-storeprice maybelower than thatadvertised.
---
NEWS

14 North Canterbury News, August 12, 2021

No payrise for Mayor Dan

Waimakariri Mayor Dan Gordon has been

overlooked for apayrise in the latest

RemunerationAuthority

recommendations.

WhileDeputy MayorNeville Atkinson

and the other councillors will receive small

pay increases,MrGordon's salary will

remain at $137,500 for the next 12 months.

The new payrises wereapproved at last

week's Waimakariri District Council

meeting and will alsosee community board

members receivesmallincreases.

Ratesofpay for elected members are set

each year by the RemunerationAuthority.

Remunerationwas delayed lastyeardue

to the Covid­19 pandemic with no payrise

for the 2019/20 financialyear, althoughthe

Mayor's salary was trimmed by 10 percent

for six months. While the economy has

proven to be moreresilientthan predicted,

the Remuneration Authority has taken''a

Dan Gordon

conservative approach''indetermining

localgovernment members' rates of pay for

the 2021/22year.

Council opts to retain wards

The Waimakariri District Council has

opted for the statusquo for next year's

local body elections.

Councillors voted lastweek to

recommend the existing threeward,

four communityboardstructure for the

2022 and 2025 local body elections, as

part of the council'ssix yearly

representation review.

Aside from minor boundary changes,

due to changes in population, the

council has opted for threewards with

new names ­Coastal (Kaiapoi­

Woodend), Central(Rangiora­Ashley)

and Western(Oxford­Ohoka).

The Coastal and Centralwardswill

each have elected four councillors,

while the Western ward willhave two.

There will continue to be four

community boards,with the Coastal

ward being split into the Kaiapoi­

Tuahiwi and Woodend­Sefton

CommunityBoards, with eachboard

having five elected members and two

appointedcouncillors.

Arecommended change to the existing

structure will see six memberselected

from the Rangiora subdivisionand two

from the Ashley subdivision elected to

the Rangiora­Ashley Community Board,

alongside the four Central ward

councillors.

This change is due to population

changes,Mayor Dan Gordonsays.

Threememberseach will be elected

from the Ohoka­Swannanoa and the

Oxford sub­divisions to the Oxford­

OhokaCommunity Board, along with the

two Western ward councillors.

The recommendations have gone for

consultation, with submissions closing

on September27.

Apublic hearingisscheduled for

October 12.

Stockwater review

The Waimakariri District Council is

reviewing its stockwater race bylaw.

Residents and water race users are

being asked to give feedback on proposed

changes to the 2019 Stockwater Race

Bylaw.

Stockwater portfolio holder Cr Sandra

Stewart says she is really keen to hear

the feedback to ensure the council is on

the right track.

''We want to hear if any amendments

are necessary before the final bylaw is

adopted later this year,'' she says.

''I'm particularly interested in race

users and residents' views on the

environmental benefits of the race

network which through leakage,

recharge our underground aquifers and

dilute nitrate groundwater pollution.

''Whether these benefits should be

funded through adistrict­wide

environmental rate is proposed to be

addressed in the future once the outcome

of the Government's Three Waters

Reform is known?

''I look forward to hearing our

community's views on our approach to

maintaining the water race system.''

The races provide stockwater to 1629

properties which pay an annual rate to

cover management of the network. The

races are almost 830km in length and

cover over 42,000 hectares through the

district.

The bylaw details the rules protecting

the water race network, and is an

important tool to help the council and its

contractors make decisions while

maintaining the supply of stockwater to

users of the scheme.

Councillors adopted the Stockwater

Race Bylaw in 2019 and undertook to

carry out afurther review within two

years, giving users and residents an

opportunity for comment.

The review looks broad topics

including works in private property, road

Stockwater ... The Waimakariri District

Council is seeking feed back on its

stockwater bylaw.

PHOTO: FILE

reserve race maintenance, managed

aquifer recharge, environmental

benefits, ponds, fencing of water races

and biosecurity and contamination risks

The existing bylaw requires

landowners to maintain any portion of

stockwater race on or adjacent to their

property boundary if it is within the road

reserve.

The 2021 review does not propose any

changes to this responsibility and the

council wants to check in with the

community to see if they agree with this

approach.

The council is not proposing to fund

the environmental benefit of the water

race system at this stage.

It is proposed that this will be

addressed as part of the 3Waters Rating

Review in 2023.

Letters will be sent to each property on

the race network, and feedback on the

proposed bylaw closes on September 7.

Once feedback has been collected, staff

will report to the council at the

November meeting.
---
STYLE & QUALITY

FOR LESS

WWW.AFFORDABLEFURNITURE.NZ

SELLOUT

Dining

NZ

Lounge

Bar

Stools

Ex Display

Models

Loads of bargains in-store only

*whilestockslast

FREE

CARPARKING

WE ARE

HERE

255MOORHOUSE AVE

REBELSPORT

COLOMBOST

MON-FRI 9:30AM–5:30PM

SAT-SUN 10AM–5:30PM

0800 268 264

www.affordablefurniture.nz
---
Birthday

We are

HOT DEAL!

$

27 99

Celebrate ourbirthdaywith ourlatest

specials!

LONG WHITE VODKA

Range

10 x x320ml Bottles, 4.8%

Includes Lemon &Lime,

Raspberry, Passionfruit, Apple

&Pear, Orange, Nectarine &

Apple, Feijoa

HOT DEAL!

$

34 99

HOT DEAL!

$

37 99

HOT DEAL!

$

39 99

HOT DEAL!

HOT DEAL!

$

49 99

EXCLUSIVE!

$

42 99 $

59 99

HOT DEAL!

$

64 99

1.125LITRE

FINLANDIA

1Litre

GRANT'S

Triple Wood

1Litre

BACARDÍ Range

1Litre

Includes Gold, Spiced, White

JIM BEAM

White Label

1.125 Litre

CHIVAS REGAL

12YO

700ml

SAILOR JERRY

Savage Apple

700ml

THE GLENLIVET

12YO

700ml

$ 50

2 for

Single bottle

$27.99

MOUNT DIFFICULTY

ROARING MEG

Pinot Noir

750ml

EVERYDAY

PRICE!

$

17 99

each

WITHER HILLS Pinot

Noir or Syrah

750ml

Also available:Merlot

under$20

Birthday beersiedeals!

TIGER

HOT DEAL!

or BECK'S

12 x330ml

Bottles

STELLA

ARTOIS,

ASAHI

12 x330ml

Bottles

HOT DEAL!

$

39 99

HOT DEAL!

$

24 99

each

EXPORT 33

24 x330ml Bottles

$

19 99

each

HOT DEAL!

$

41 99

STEINLAGER PURE

24 x330ml Bottles

HOTDEAL!

$

24 99

each

STEINLAGER

CLASSIC

15 x330ml Bottles

Shop local with

AMBERLEY,ASHBURTON, BARRINGTON, BELFAST, BRIGHTON, BURNSIDE,

COLOMBO ST,EDGEWARE, ELMWOOD,FERRYMEAD,HALSWELL, HANMER

SPRINGS, HORNBY, ILAM, KAIAPOI, LEESTON, LINCOLN, METHVEN,OXFORD,

SHOPLATESTDEALS at WWW.SUPERLIQUOR.CO.NZ

NATIONWIDE PICKUP&DELIVERY NOWAVAILABLE

PAPANUI, PEGASUS,RANGIORA, SEASIDE,WOOLSTON

Exclusionsmay apply on somebrands advertised. Offers end close of trade 22nd August 2021,while stockslast.Available at participating stores only.Multi Deal only available in store. Varietals may

vary by store. Limits may apply.Wholesale (other liquor retailbanners) notsupplied.Terms and conditions may apply.Available 2nd -22nd August 2021 inclusive. Pleasesee www.superliquor.co.nzfor details.

SUP2306_C10
---
MAINPOWER STADIUM OFFICIAL OPENING

North Canterbury News, August 12, 2021

New stadium attracts plenty of interest

People braved wintry

conditions to flock to the much

anticipated MainPower

Stadium opening in their

thousands on Sunday.

North Canterbury News

journalist David Hill popped

along to snap some of the

action.

17

Serving the region ... North Canterbury Sport and Recreation Trust

chief executive Michael Sharpe (left), Hurunui Mayor Marie Black and

Waimakariri Mayor Dan Gordon expect the new stadium to benefit the

region.

Multi­sport ... The new

MainPower Stadium offers plenty

of possibilities for sports lovers.

Job done ... Cr Robbie Brine (left), Deputy Mayor Cr Neville Atkinson,

former Mayor David Ayers and former Waimakariri District Council

chief executive Jim Palmer were pleased to finally see the completed

stadium.

Celebrations ... North

Canterbury Sport and Recreation

Trust community engagement

manager Caroline Whittaker and

former chairperson Tony Hall.

Main court ... Young basketballers show their skills on court 3which

will form the main court at the stadium.

Cultural welcome ... Local school students perform kapa haka at the

stadium opening.

PHOTO: WAIMAKARIRI DISTRICT COUNCIL

Cutting edge technology ... Michael Anderson checks out the new

3D scanner which measures body fat, posture and balance.

Mayoral challenge ... Marie Black (left, Hurunui), Sam Broughton (Selwyn) and Dan Gordon (Waimakariri)

try out the rowing machines.
---
$10.50

$8.00 incl. GST

NEWS

18 North Canterbury News, August 12, 2021

Rga netballers chosen

Rail safety ... Be Safe around trains.

PHOTOS: FILE

Be safe around railway lines

NorthCanterbury residentsare being

remindedtobesafe around railwaylines.

This weekisRail Safety Week, an annual

event, planned and co­ordinated by

KiwiRail and TrackSAFENZ.

The campaign aimstoraise awareness

aboutrail safety and to encouragesafe

behaviouraround trains, railway tracks

and level crossings.

Nationally, sincethe beginningof2010,

therehave been 48 recorded serious or

fatalcrashes involving atrainand amotor

vehicle and two collisionswith cyclists.

Twenty of these crashes were fatal.

The Waimakariri district has 23 rail

crossings and it features in these statistics.

The district's rail crossings haveavariety

of different controls ranging from barriers

and flashing lights to basicsignage.

All road usersare reminded to pay extra

attention at railcrossings and not get

complacent aboutthe risk.

Around 72 percent of seriousand fatal

crashes betweenvehicles and trains

happen at crossingswith passive

protection,either aGive Way or Stopsign.

Athird of fataland serious level crossing

incidents involve farmers. If youcross arail

crossingeveryday and never see atrainit

is common to become complacent.Ifyou

get it wrong, it is not worth the risk.

TheRangiora NetballClub has beaten out

hundredsofentriestobenamed thetop

winner of the MILO Pitch for YourClub

competition.

The competition, which ran for six

weeks, offered teamsandsports clubs

across NewZealand theopportunity to win

ashare of $50,000 in cash andsports

equipment, plusthe opportunity to feature

in aRebelSports advertisement.

Clubs of any sizeorsportingcode, with

players of anyage could enter.

In their creative video application, the

members of theRangiora Netball club

spoke of theirneed fornew uniforms,

equipment and training for future umpires

and coaching. The entryhas seen the club

takegold in thecompetition,winning

$10,000 cashand the chance to feature in a

Rebel Sportsadvertisement.

MILO teamed up with NewZealand's

sporting greatsDameValerieAdam,Scott

Barrett andKatrina Roretojudgethe

competition.

Netballer and judge, Katrina Rore said

that whileitwas ahard decisiontoselect

the top winner, Rangiora Netball Club

ticked allofthe boxes.

''I loved the inclusivityRangioraNetball

showedwithin their club and howthey

demonstrated theirgreat community

spirit,'' Katrinasaid.

MILOspokesperson FraserShrimpton

saidwhenthey saw their entry, they knew

theyhad to help.

''For yearswe've been fuelling active

kids and arethrilledtobeabletosupport

members of theteamatRangiora Netball

club so they canreachtheir full potential

andcontinue to havefun.''

Thetop six winners of thecompetition

included Petone RowingClub,Auckland

DivingClub, Dunedin TechnicalAFC,

Hamilton City Gymnastics andMount

Roskill Rugby.

In total there were 23 winners of the

MILOPitchFor Your Clubcompetition,

witheach winning club taking away ashare

of the$50,000 in cashand sports equipment

prize.

Land use concerns raised

North Canterbury Fish &Game has

expressed concerns at the findings in a

major Environment Canterbury (ECan)

report on land use intensification in the

Canterburyhigh country.

ECan scientists found 6847 hectares in

the Waimakariri, Rakaia, Hakatere/

Ashburton,and Rangitatariver catchments

had been developedinthe 1990­2019

period, whichhas been linked to

deteriorating water quality in high country

lakes and spring­fed streams.

''The reportputs on paper what the

public has witnessed in the high country for

some time,''chiefexecutive Rasmus

Gabrielsson says.''Anyonewho has spent

time in the high country has seen the

intensification,shifting from alandscape

dominated by the browns and greys of

tussock and shrubland to the cultivated

greenpasture and fodder crops more

associated with the Canterbury Plains.''

ECan's report links intensive

development of Canterbury's lowland

plainswith aprogressive loss of aquatic

habitatand values to facilitate agricultural

efficiency. ''Land­use intensification in the

high country,ifunregulated,islikely to

resultinsimilaroutcomes.'' An ECan

reportlast year showedlakes such as

Pearson and Grasmere had decliningwater

quality trends, Mr Gabrielsson says.

SOMETHING FOR EVERYONE

Available in all good bookstores and supermarkets, or subscribe from aslittle as $20.

ISSUE 94

GENTLEMAN JIM RICHARDS &THE WILLMENT ESCORT

MARCH-APRIL 2021

FREE FIRST XVSEASON PREVIEW MAGAZINE INSIDE

MAY 2021

AUTUMN 2021

The ShrubHub

GROWINGWITHYOU Issue 504 | May 2021 | 100%

SOUTHERN

SOJOURN

THE CLASSICALPINE TOUR

TONY JOHNSON

ON THE COMING OF

MOANA PASIFIKA

DAN

CARTER

REFLECTING ON A

GREAT CAREER

Meet 20 of ourKiwi garden favourites

ATROPICAL

FLOCK

GROWYOUR OWN

BIRD OF PARADISE

SPACEISSUES?

Trygardening

like the French

THELOWDOWN ON

COVERCROPS

Why, when &how

AARON SMITH

'WHY IRATE

DUPONT'

JEROME

KAINO

SORTED FOR

LIFE AFTER

RUGBY

CAPITALISING

ON CACTI

FaranGillbanks

on asucculent

movement

THE MOTORSPORT

COME ON, FEEL THE

RARA AVIS:

PHOTOGRAPHY OF

NOISE: CLASSIC

PELLAND COUPÉ

TERRYMARSHALL

RACING ENGINES

ASHORTTIME IN FRONT: RICHARD BROCKLEHURST

50TH ANNIVERSARY OF THE VAUXHALL FIRENZA

SOUTHERN MEN AND TALES OF THE SOUTH

SEAN FITZPATRICK

'WE NEED MONEY TO

SUSTAIN THE GAME'

RRP $10.99

PHIL GIFFORD: THE BEST

SCHOOLBOY STARS HE SAW

DARYL GIBSON: HIS VISION

FOR THE BOP STEAMERS

$9.25 incl. GST

ISSN 2423-0626

From abelia to

viburnum

&all the varieties

in between

Whywe

like them

&wherethey

liketogrow

Howtokeepyour

shrubinshape

&propagate more

of those youlove

ROSES ON THE WISHLIST

HOTNEW RELEASES FOR2021

GROWING WITH YOU 100%

alliedpressmagazines.co.nz

RugbyNews &Kiwi Gardener: 0800 77 77 10 Classic Driver &General: 0800 624 295
---
War for

Cybertron

Kingdom

Leader Class

Maximal

T- Wrecks

SAVE $30

Usually up to

$129.99

$

99 99 ea

$

79 99 ea

$

79 99 ea

$

50 99 ea

EXCLUSIVE TO

43195 Belle and Rapunzel's

Royal Stables SAVE $10

Usually upto$89.99

71387 Super Mario Adventures

with Luigi Starter Course

SAVE $10 Usually up to $89.99

76194 Tony Stark's Sakaarian

Iron Man 15% OFF

Usually up to $59.99

Surge Speedstorm Dual

Pack Assortment* 20% OFF

Usually up to $34.99

$

27 99 ea

SAVE

$

10

$

19 99 ea

$

19 99 ea

Slime Surprise

Series 1

Assortment*

20% OFF

Usually up

to $24.99

$

9 99 ea

Cones Fantasy

Series 1

Assortment*

20% OFF

Usually upto$12.99

$

31 99 ea

Sequin Surprise

Series 4Fairycorn

Surprise

Assortment*

20% OFF

Usually upto

$39.99

Puppycorn Surprise

Series 3Assortment*

20% OFF

Usually up to $24.99

$ 39 99

ea

Tweens Doll

Assortment*

Usually up to

$49.99

Flower Shop Florist

Usually up to $39.99

20 % OFF

$

31 99 ea

Mega Light

Up Dino

Surprise

Egg

Assortment*

Usually up to

$49.99

20 % OFF

$

39 99 ea

*Styles will vary from store to store.

20 % OFF

$

19 99 ea 9

Mini Egg Light up

Dino Surprise Egg

Assortment*

Usually up to $24.99

20 % OFF

ALL

3 In 1 Ultimate Glitter Beauty Set, Colour Your Own Magic

Sequins Messenger Bag or Inspirtational Rock Art

Usually up to $34.99

$

27 99 ea

$

15 99 ea

Action Pack Pup

Assortment* 20% OFF

Usually up to $19.99

SAVE

$

10

$ 99 99

ea

20 % OFF

$

23 99 ea

SAVE

$

10

20 % OFF

$

23 99 ea 9

?

?

?

?

?

?

?

?

?

?

?

?

Lookout Playset

Usually up to

$109.99

Baby Crawl and Learn Bright

Lights Ball Also available inpink

Usually upto$29.99

2-n-1 Touch &

Learn Tablet

Usually upto

$49.99

$ 39 99

ea

mystery prize party pack*

to bewon in every stoRE

Learning Watch or

Lets Chat Learning

Phone

Usually up to $29.99

*Mystery Prize Party Pack worth over $250RRP. Contents of each Mystery Prize party Pack will vary from store tostore. 1Prize pack per participating store. Not available online. Toenter purchase anything instore between 12th August

–24th August and fill in the entry form. Each store will randomly draw one winner on the 25th August. Winner will be contacted via email. The Prize isnon-transferable and is not redeemable for cash or other goods.

TOWER JUNCTION

NZ'sBiggest TOYWORLD

Clarence St,Riccarton, Ph 03 343 0330

MARSHLAND

199 Marshland Rd,

Ph 03 982 8697

Valid from Thurs 12th August toTuesday 24th August 2021. *Terms and conditions apply.

HORNBY

Chalmers St,

Ph 03 281 8127

†Free RollerCoaster

Set Collectible with

purchase ofLEGO®

Brick Sets $100 and

over while stocks

last*. Limit one per

transaction and

limit one per family.
---
NEWS

20 North Canterbury News, August 12, 2021

Young entrepreneurs ... Jaden Holland and Heyley Currie have created anew

product in abid to reduce waste.

Enterprising students

Biodegradablepods, filled with

household cosmetics, are being

produced by two budding entrepreneurs

at Rangiora High School.

GreenPodsNew Zealandhas been

created by Jaden Holland andHeyley

Currie,the company'schief executive

officers.

The pairare runningthe companyas

partoftheir business studiesclass

project.

The pods, which are stillinthe

development stage,willbesingle use

and filled withproducts suchashand

sanitiser,sunscreen,bug repellent and

evenshampoo and conditioner.

''Wecameupwith this idea dueto

over10,000 handsanitiser bottles being

PHOTO: SUPPLIED

senttothe landfillordisposed of in the

incorrect wayduring theCovid­19

lockdownand aftermath.

''Our product aimstoreduce this

number by over 90 percent,'' thetwo

studentssay.

Jaden is the headfinancial adviser

and Heyleythe social media

administrator.

To follow theirprogress andkeepan

eye on theirnew products,and

packaging, Jadenand Heyley havea

Facebook page and an instagrampage

@GreenPodsbusiness NZ.

Theycan be contacted at

greenpodsbusiness@gmail.com,and

hopetohaveawebsite up and running

shortly.

Jason'shaircut for cancer

JasonClements has not had

ahaircut in more than a

decade.

The Waimakariri

Librarieslearning

connections co­ordinator,

who has not cut his hair

since2009, is having his

head shaved to support

Daffodil Day.

He has also grown out his

beard, and intends to get his

beardand trademark long

hair shaved off in aChop the

Mop fundraiser for the

NorthCanterbury Cancer

Society.

The event is being held in

the RangioraLibrary on

Thursday,August 26, the

day priortoDaffodil Day.

An award­winning poet,

Jasonwrites under the pen

name Doc Drumheller.

He is atutor at writing

workshops being held

during aWaimakariri

Librariesand North

Canterbury Cancer Society

collaboration supporting

families affected by cancer.

''It has been an honour to

help the workshop

participants with their

writing, and it feels like a

good time to shave my hair

to supportthe vital work

done by the Cancer

Society,''Jasonsaid.

''I have losttwo fathers to

cancer, and cancer has cast

along shadow on our family

tree.Iwant to do a

fundraisertohelp families

and their loved ones who

are livingwith cancer.''

The Chop The Mop

fundraiserisbeing run in

Chop the mop ... Waimakariri Libraries learning

connections co­ordinator Jason Clements is having atrim to

raise funds to support Daffodil Day and the North Canterbury

Cancer Society.

PHOTO: SUPPLIED

conjunction with the Word

Christchurch Festival and

an all­star cast has been

assembled for the Rangiora

event,which will feature

poetryreadings by some of

New Zealand's leading

poets,including John

Allison, Bernadette Hall,

CiaranFox, Doc

Drumheller,Ben Brown,

Mally Hines,Stephanie

Waterfieldand Wendy

Campbell,along with

participants from the North

Canterbury CancerSociety

Writers and Orators group

and local highschool

students.

Entry to the Chop The

Mop /Word Christchurch

Festivalevent, which starts

at 6.30pm and runs until

8pm, is by donation.

Bookings are essential and

can be doneatany

Waimakariri library, or by

phoning 03 311 8901. To

support Jason'sChop The

Mop fundraisergotohttps:/

/www.youcanforcancer.org.

nz/jason­clements.

From theWaimakariri River

in thesouth to Kekerengu

in thenorth, theNorth

Canterbury News

hasgot it covered.

Reaching

48,000

readers

every week
---
Fresh New Summer Styles Coming Soon!

Cnr. Williams Street &Raven Quay

Open 7Days |Phone: 03 327 8029

www.blackwellsdeptstore.co.nz

2405008
---
BLACKWELLS CELEBRATING 150 YEARS

22 North Canterbury News, August 12, 2021

FOR ALL YOUR

PANELBEATING

AND SPRAYPAINTING

REQUIREMENTS

INCLUDING CLASSIC

CARS

13C STONE STREET, KAIAPOI

PH 327 8582

2283778

PAINTERS

RegTradesman • Interior,exterior.

North Canterbury Painters

specialising in decorating for

over 65.

Discounts

for Seniors

Free quotes.

Covering North Canty,Oxford,

Kaiapoi, Rangiora, Amberley.

Ph Rob 03327 7899

or 027 432 3520

2289726

Family firm navigates 150 years

Retailing has run through the veins of

the Blackwell family for six generations.

Next month the family celebrates a

milestone —150 years of retailing in

Kaiapoi.

Blackwells Department Store is a

Kaiapoi landmark built on asolid

foundation of service to the community,

looking after the needs of customers and

adapting to their requirements.

Today it is managed by Andrew and

Michael Blackwell, the fifth generation

to take the helm, with the sixth

generation lending ahand on the floor.

Andrew Blackwell told those gathered

for the launch of Pattern of Years in

December 2018, abook penned by Colin

Amodeo chronicling the colourful

history of the firm, that the family liked

being retailers.

''We're still here happily trading in

this great little town.''

The store, which offers aquaint,

diverse and practical retail experience,

began life as the Railway Store, opening

in 1871.

The general store was opened by

George Henry Blackwell to capitalise on

the boost in trade expected with the

extension of the railway line to the river

town.

After trading for two years, the store

moved to the corner of Black and Hilton

streets, before moving to its present

location on the corner of Williams Street

and Raven Quay.

Joseph Henry Blackwell was the

second generation of the family to run

the business, joining in 1888 and

working in the store for 77 years, before

retiring in 1956.

In the early 1900s, new departments

were added as the business grew,

including drapery, clothing, bakery, and

dressmaking.

Like his father, Joseph Blackwell was

heavily involved in community affairs,

Afamily affair ... HH(Hugh) Blackwell, the third generation to take the helm at the family

business (left), JHBlackwelll, the second generation and David Blackwell the fourth

generation outside the Blackwell's Family Shopping Centre and Supermarket. PHOTO: SUPPLIED

including serving 11 years as Kaiapoi

Mayor.

In 1914 Henry Hugh Blackwell joined

the family business, after astint with

Ballantynes, until World War 1broke out

and the young Henry headed off to serve,

eventually serving as aRoyal Flying

Corp pilot in France.

He returned to Kaiapoi in 1919, and

eventually joined his father as adirector

in the family business.

Continued Page 23

"your best move"

The Lime

difference

"

We love how Lime is an independently

owned Business in our location. We love the

connection between Owner and Agent. Very

them to prospective buyers or sellers.

Awonderful experience.

Dave and Gaye "

0508 call lime

limerealestate.co.nz

Free call 0508 2255 5463 |Lime Real Estate Ltd Licensed REA2008
---
Celebration time

Blackwell'sDepartment storein

Kaiapoi willfocus on the past andits

future during its150 year

celebration next month.

Staff will dress in period costume,

and amuseum,showcasing

memorabilia, photosand equipment

frombygone days, willbeset upin

storeforpeopletoview during the

week of September 6to12.

There will be afashion show on

September 9, from 5pm until 8pm,a

bestdressed competition, prizes,

beverages and nibbles.

To celebrate theretailing

milestone there will be in­store

specials, and agift withsome

purchases.

The family­owned business is

proud of itspast, andexcited about

the future.

New season's stock is arriving

dailyin­store, with alldepartments

having new brands.

Alot of work has gone into

selecting this summers range,

expanding on currentbrands and

introducing more.

Blackwell'shas focusedits

selectionsonquality,value, being

Decades of change

From Page 22

David Blackwell joined the team in 1948,

after workingatBeaths and Co

Department Store in Christchurch.

During his time, Blackwellsadded and

built up the furnishing and furniture

sections.

After taking directorship from his

father Hugh, David ''continued the

acumen and sincerity which has guided

the flagship for so long'', Andrew

Blackwell says.

David Blackwell was actively involved

in the business for 71 yearsand handed

over the reigns tohis sons Andrew and

Michael Blackwell in 1993, although he

continued to take akeen interest in the

family business. He died in September,

2019, aged93.

Over the decades, Blackwells has

survived numerous challenges including

world wars, depressions, economic

downturn and floods.

George Blackwell would have never

expected the Canterbury earthquake of

2010 to all but demolish the store or

expected in 2020 apandemic would

close the store for an extended period

for the first time in 149 years.

Over the years Blackwellshas stayed

true to its traditional values of customer

service.

Blackwellscontinues to offer

customer accounts for convenience as it

did from the beginning.

relevant, and appealing to the wider

Canterbury community.

Ladieswear is awork in progress

andbySeptemberwillbefresh and

new, with new brands,updated

display units, and afocus on thenew

andexciting.

Menswear has had afaceliftwith

newbrands Garcia, Gazman, Blazer

andCrew arriving this summer to

complementthe current R.M

Williams, Levis, R.F Scott, John

Lennon, Artex brands, to name a

few.

Homeware has been expanded

andhas anew homein store, with

newbrands—Weave, Linens and

More andNZmerchants.

Footwearisexpanding, with

fabulous new brandsarriving.

BlackwellsDepartmentStoreis

excited aboutthe store being atrue

modern­day department store and

remaining true to its roots.

It will continue to have strong

linkstothelocal community through

supportinglocal community groups,

business association and service

groups,and community fundraising

initiatives.

Saturday trading was introduced in

1986, with the storeopening from 9.30am

to 12.30pm, and now until 4pm.

Thiswas amajor change back in the

1980s, so David Blackwell's wifeJean

made freshscones for morning tea every

Saturday. MrsBlackwell's famous

cheese scones were astaff favourite.

Sunday trading started when the store

reopened after the 2010 earthquakes.

Home delivery has always beenpart of

Blackwells' customer service, from

horse andcart in the early days to

motorbike andsidecar, motor vehicle

and now avan for bigger purchases.

Personal customer serviceby

knowledgeable and long› serving staff is

another key to success, with one present

staff member having worked for the

family for more than 30 years.

Blackwells buyers constantly review

international trends and the needs of the

local North Canterbury market, which

has grown immenselyinthe past decade.

''Six generations of the one family had

kept it going through fire, flood,

economic fluctuation and earthquake,''

Colin Omodeo said.

It was, he said, quite arecord in its

own right, especially in the face of

corporate raiders and the development

of shopping malls,aswell as Farmers in

Rangiora.

''You don't often meet that kind of

record.''

BLACKWELLS CELEBRATING 150 YEARS

North Canterbury News, August 12, 2021

2406556

ENC Meeting Rooms

Book your next

conference,

meeting

or function at the

ENC Business

Centre inthe

heart of Kaiapoi.

• A large, airy conference room

seating 16-40 people.

• Various seating and standing

configurations.

• Two smaller meeting rooms

seating 4people.

• All rooms equipped with

internet-enabled Smart TVs.

"Proudly family

owned and operated

for 100 years"

We would like to congratulate

Blackwell's on their 150 year

celebrations.

What an amazing milestone.

Well done and we wish you all the

very best for the future.

Book online www.northcanterbury.co.nz/business-centre

or phone 03 327 3135. 143 Williams Street, Kaiapoi.

23

• Free ultrafast Wi-Fi.

• Professional videoconferencing

set up available.

• Full catering options.

• Free parking.

• Competitive hourly, half-day

and full-day rates.

The Kaiapoi i-SITE Visitor Information Centre

is the closest i-SITE to Christchurch Airport.

Drop in or phone the friendly team for travel advice,

itinerary ideas, and aFREEbookingservice for all

your travel, activities and accommodation.

143 Williams Street, Kaiapoi.

Open Monday-Friday in winter + Saturday in summer.

P: 03 327 3134 E: info@kaiapoivisitorcentre.co.nz

Rockgas NorthCanterbury

We fillall size GasCylinders

onsitewhile youwait

If you're afterreliable deliveryof45kghome LPG cylinders,trust thee

locals with the experience. Arranging deliveryisaseasy as picking

up aphone.Sogiveusacall,we're heretohelp.

Congratulations

to Blackwell's

Dept Store on

150 years

61 Williams Street,Kaiapoi

Hours

8am –5pm weekdays,

9am –12noonSaturday

2406555

Check out our newwebsite www.rockgasnorthcanterbury.co.nz
---
BLACKWELLS CELEBRATING 150 YEARS

24 North Canterbury News, August 12, 2021

" Corcoran French

congratulates

Blackwell's on

150 years in

business in Kaiapoi "

EFFECTIVE SOLUTIONS |PEACE OF MIND

Christchurch

Level 1, 166 Moorhouse Ave

Christchurch

(03) 379 4660

Kaiapoi

Level 1, 137 Williams St

Kaiapoi

(03) 327 8159

Greymouth

61 Guinness St

Greymouth

(03) 768 4169

info@cflaw.co.nz

www.cflaw.co.nz

2404126

Fire and Ice ... Andrew Blackwell, and friend Greg Maarten, beside afrozen tribute to

Blackwell's 150 years of retailing, created by ice artist Victor Cagayat during the recent Fire

and Ice Festival at Blackwells.

PHOTO: SHELLEY TOPP

Contributiontothe

arts significant

The Blackwell family's contributionto

the artsinKaiapoi has been

''tremendous'', Kaiapoi Art Expo Trust

deputychairperson Jackie Watson says.

Blackwells Department Store has

been asponsor of the annual Kaiapoi

Art Expo, held in July, since its

inception 16 years,with Andrew

Blackwellhaving servedonthe

committee.

''The Blackwellsare wonderful

supporters of the art expo and have

organised an event alongside it to bring

more peopleinto the town,'' Mrs Watson

says.

''It is suchtremendous community

support from the family.''

The family established the Fire and

Ice Festivalalongside the art expo,

after the department storewas

reopened in 2013, having been rebuilt

after the September2010 earthquake.

As part of the 150th celebrations, the

Blackwell family has paidfor a

sculpture which willbeunveiledonthe

Kaiapoi River bank later this year.

The sculpture will make awonderful

addition to the town,alongside the

water feature outsidethe Ruataniwha

Kaiapoi Library, which was also made

possible by agenerous donation from

the Blackwell family,Mrs Watsonsays.

The water feature, worth$72,000,was

fundedbya$42,000 donation from the

Margaret MBlackwell Trust and a

$30,000 grantfrom the Kaiapoi

CommunityBoard in 2013.

Adaughter of J.H. Blackwell,

Margaret Blackwell was born in

Kaiapoi in 1907 and had acareer in

nursing, childpsychology and

counselling.Margaret Blackwell's

estatealso contributedtoalarge

stained glass window in the Kaiapoi Cooperating

Parish, which was dedicated

in March 1981.

2406826

Bistro open Wednesday -Sunday

You do not need tobeaClub Member to dine.

SPECIAL CONDITIONS APPLY WHEN PURCHASING ALCOHOL.

113 Raven Quay, Kaiapoi Ph: 03327 7884

www.kaiapoiclub.co.nz

info@kaiapoiclub.co.nz
---
BLACKWELLS CELEBRATING 150 YEARS

North Canterbury News, August 12, 2021

Down through the generations

Neill Price'sfamily has had an account

with Blackwells Department Store for

more than 80 years.

The Kaiapoi identity has known the

Blackwellfamily for as long as he can

remember and has been shoppinginthe

store since he was ayoungster.

''And Iprobably went there in the pram

not knowing Iwas there.''

The family's legacy has been one of

service to thecommunity and setting a

high standard for presentation, Mr Price

says.

''Theywere always immaculately

dressed in suits and the staff were always

well dressed andpresented themselves

immaculately.

''Theyalways did that little bit extra that

afamily business can do, as opposed to a

trading conglomerate.''

Mr Pricewell remembers Joseph

Blackwell from his childhood.

''If evertherewas aman that impressed

me as akid, it wasJ.H. Blackwell. He used

to walkacross thebridge and he usedto

stand up straightand was always

immaculately dressed.''

DeputyMayor Neville Atkinsonhas

been shoppingatBlackwells since he was

ayoungster.

''They've always been there. It's

something you probably takefor granted.

Blackwellsisknownfor the old­fashioned

style in whichthe shopwas runbefore the

earthquake. Thingslike the docket books

and theold­fashioned till, which is still

there.Who does that?''

The Blackwellfamily havealways been

generousand loyal to Kaiapoi, he says.

''They're never selfish when thinking of

the town and betteringtheir business, they

always consider how it willwork for the

town.''

Kaiapoi­Tuahiwi CommunityBoard

actingchairperson Jackie Watson says the

Blackwell family has playedanimportant

part in Kaiapoi's story, supporting the

Matthews Roofing Limited

Specialists in Longrun Coloursteel

Roofing and Guttering Systems

We supply and install long run metal roofing,

fascia and spouting.

Mayoral approval ... Waimakariri Deputy Mayor Neville Atkinson chats to Andrew

Blackwell.

PHOTO: DAVID HILL

growth of the town, through community

involvement and providing two Kaiapoi

Mayors.

''It's an amazing achievement. New

Zealand history isn't along one, but the

Blackwellshave been apartofKaiapoi's

European history for most of it. And the

storyisjust amazing. It's suchaniconic

store, that when peoplethink of Kaiapoi

they think of Blackwells anditseems to

have been drawing peopletothe town

sincethe earthquake.'' Bouncing backso

quickly afterthe September 2010

earthquake is testamenttothe family's

resilience, Mrs Watsonsays.

Kaiapoi Promotions Association

chairperson Martin Pinkhamsays ''if it

wasn't for Blackwells, Kaiapoi wouldn't be

Kaiapoi''.''You just have to admire the

courage they had after the earthquake.''

Mr Pinkhamhas lived in Kaiapoi since

1968and sayshis mother once worked

upstairsinthe Blackwellsbuilding, which

at the time was leased out to ashirt

factory.

''It wasareal institution then and it is

now and alot of people come out to

Kaiapoi to shop at Blackwells. It's a

special place for sure.''

Enterprise NorthCanterbury chief

executive Heather Warwick saysevery

town needsananchor business like

Blackwells Department Store.

''I haveknownMichaeland Andrew

Blackwellsince Ibegan at ENC. The

Blackwells are acaring,sincere and

community­minded family who have been

the anchor business of Kaiapoi for 150

years.All goodtowns,malls and shopping

developments need amajor anchortenant

and Kaiapoi is veryfortunate to have the

Blackwells who committedtobuild back

betterin2011 and continue to invest in and

support the wonderful community.''

Celebrating with

50% off Dr Lewinns skincare

50% off Natio Makeup

30% off Selected hair

accessories, brushes,

jewellery &Clothing

30% off Loreal Paris

The team at Unichem Fenwicks Pharmacy congratulate

Blackwell's on their 150 th Anniversary

25

Repairs,

Tarpaulins

alterations &

Sidecurtains

manufacturing Awnings •Sunblinds

Marquees &Canopies

REPAIR CALL

Boat Covers •Umbrellas

OUT SERVICE

-FREE QUOTES - Outdoor Furniture recovers

Now is the time to get your awnings made

Paul Berg •57WesleySt, Kaiapoi

Phone (03)338-1112 •0274 381-871

canvasco@xtra.co.nz

Coworking Shared

Office Space Special

Resident Desk for Lease

$360 per month plus gst.

1month min lease

Dedicated desk, 3drawercabinet, storage

credenza, High Speed Internet

Includes: all outgoings, tea/espresso coffee,

unlimited parking, use of 2meeting rooms,

collaborative &friendly office environment.

Dynamic

Coworking shared office space

Ph/txt Geoff 027 523 9953

2/77 Hilton Street, Kaiapoi.

KAIAPOI RIVER QUEEN

2323117

2381957

2305223

PO Box54, Kaiapoi

Mobile: 027 245 8140

2407106

Email: J_amatthews@xtra.co.nz

129 Williams Street, Kaiapoi | 03 327 7339

Support Local

Businesses

Recommendus for Paint&Panel

requirements

Make an insurance claim and choose North

Canterbury Collision Repairs Rangioraas

your repairer. Your Car,Your Choice.

Crash repairs, bumps &scrapes to major

smash work

Commercial&fleetrepairs, Buses, Caravans &

Motorhomes, Trucks,Trailers,Buses &Boats

Quality

workmanship &

fastest

turnaround

Fleet of courtesy cars available

ContactLee 03 3273028

98DWilliams St, Kaiapoi | www.nccrc.co.nz

2388740

Enjoy acruise down the

Kaiapoi River with your

friends or family on our

scheduled sailings or book a

private function for your work

or social club. Lunch time

cruises scheduled every few

days throughout winter.

2407700

We are berthed on apurpose built jetty

that allows easy access for customers.

Schedule sailings on our Facebook page

or website.

Kaiapoi Wharf

027 435 0596

www.kaiapoiriverqueen.co.nz
---
BLACKWELLS CELEBRATING 150 YEARS

26 North Canterbury News, August 12, 2021

Focusing on the past and the present

AKaiapoi icon ... Blackwell's Department store in Kaiapoi.

PHOTO: FILE

Ready to serve ... Michael (left) and Andrew Blackwell, who are the

fifth generation to take the helm of the family department store.

PHOTO: ROBYN BRISTOW

Christmas celebration ... Blackwells entry in the Kaiapoi Christmas

parade in an earlier time. Photo: Supplied Proud history ... Scenes of Blackwells from days gone by. PHOTOS:SUPPLIED

LIVING

SUPPORTING

SELLING

local

Four SeasonsRealty 2017 Ltd|LicensedAgent REAA2008

| harcourtsfourseasons.co.nz

See you

at CBK

soon

$10 CBK

Voucher

Keeping it Local at

CBK Kaiapoi.

Ts &CsApply:One Voucher per table per visit.

Can be used for food only.Not with any other

offers. Use by Tuesday 31st August.

Book your table NOW!

03 327 9224

4/77 Hilton Street

Kaiapoi

Check out ALL the Great Deals on our website

www.cbk.nz and the Facebook page

2403119

ShonaAyres

NZSA,

I.T.E.C.London

Spring Beauty

Refresh

Be pampered

• Facials

• Manicures

• PedicureMassage Chair

• Bella Vi Organic Makeup

• Tinting

• Waxing

Ph 327 7176 •021 031 5604

www.speciallyu.com •shonaayres@gmail.com

2CramptonClose,Kaiapoi

Member of theBeauty TherapyAssociation

2403601

•Wespecialise in Embroidery

Screen printing and

Heatsetting

•Suppliers of allApparel and

Promotional Products

•Westock KaiapoiNorthSchool

uniform

•And Kaiapoi Borough School

uniform

55 Hilton Street, Kaiapoi

PHONE 03 327 7058

PO BOX 343, Kaiapoi

email: kaiapoimonograms@xtra.co.nz

www.monograms.net.nz

2069483

Kaiapoi Auto Electric

FREE BATTERY TEST

AIR CONDITIONING REPAIRS

Batteries for cars, trucks, motorbikes &key remotes

Starter Motor &Alternator repairs

Stereo, Bluetooth &Reversing Camera installations

LED Lamps &Bulbs in 6V,12V, 24V

Heat Shrink Standard &Glued wall

Mobile Service covering North Canterbury

Monday -Friday 8am -5pm

96 Williams St, Kaiapoi

Ph 327 8155 Email admin@kae.nz

2286892

KAIAPOI COLLISION CENTRE

2146303

Your Vehicle

Your Choice

of Repairer

• Free Courtesy Cars

•Bake Oven

•Any Insurance or

Private Work

•Helpful, Friendly,

Professional Staff

•Fast Turnaround,

with High Quality

Service

•Off Street Parking

We can do any insurance

or private work.

Like usonFacebook

191E Ohoka Road, Kaiapoi.

Ph/Fax (03) 327-7143 •Open 8.00am -

5.30pm Mon -Fri &Sat by appointment
---
BLACKWELLS CELEBRATING 150 YEARS

North Canterbury News, August 12, 2021

Aman of vision and fortitude

David Blackwellenvisaged Kaiapoi

becomingadestination once its main

centre had amakeover following the

2010­2011 Canterbury earthquakes.

His visionhas become areality.

Mr Blackwell,who died on September

20, 2019, lived in Kaiapoi all his life and

spent 47 years running the family­owned,

Blackwell's Department Store.

He championed the courage and

fortitudeofthe town'speople,and the

Waimakariri District Council after the

quakes,for ensuringnew life was breathed

intoretailing in the riverside town.

Thisinturn wouldbringpeople to the

riversidetown to enjoyits facilities, the

shopping, the river and the walkways,he

toldthe NorthCanterbury News in June,

2016.

The devastation left behindafter the

September 4, 2010 earthquake was new to

everyone.

''Itwas largely anew experience.

''Ithad neverhappened in my lifetime

and it was ahuge tasktoget things running

again,'' Mr Blackwell saidduring the

interview.

The Blackwell building was one thatgot

''whacked'' by the earthquakes and along

withother businesses got downtothe task

of rebuilding pretty quickly.

Whenthe February earthquake struck

in 2011itwas time for the building to go,

and while theBlackwell's rebuildbegan

quite earlyinthe piece, Mr Blackwell said

Andrew and JackiePalmer at New World,

Lindsay Petersatthe MandevilleTavern,a

block of shopsowned by Jedd Pearce and

the Charles Street Medical Centre alsogot

up and ''cracking''.

''Ittook confidence in the future of the

townas800 houses were lost to the

earthquakes ­1000 if you include Pines

Beach ­whichequated to aloss of

consumers.Ittook fortitude to riseout of

the shambles and getupand get going,'' he

says.

Visionary ... David Blackwell who spent 47 years running the family­owned Blackwell's

Department Store. Photo: File

He paid tribute to the loyaltyofKaiapoi

and country customers.

''We wereable to keepgoing in

temporarypremises and we are very

gratefulfor the loyalty. You can not run a

business without customers,'' said Mr

Blackwell.

No staff at the store had to be laid off, Mr

Blackwellsaid.

The worktorebuild Kaiapoi's hearthad

been ''outstanding'.

''It is change for the better, but it has not

changed thelayout of the streets in

Kaiapoi,''hesaid.

TheAuctioneers

27

Auctions everyThursday at 11am

Specialists in Antiques and General Goods

Items for Auction accepted on Friday

38 Charles Street,Kaiapoi • Ph: 03 327 8875

www.bellsauctions.co.nz

1965434

PLASTERER

Matt Smith

PAINT FINISH • CORNICE

• GIB COVE

New Homes, Renovations

and Extensions

FREE QUOTES

Ph 027 436 1112

www.mattsmithplastering.co.nz

2324007

Bookings Essential

•Cars, Trailers &Motorbikes

•4WD specialists

•All mechanical repairs

•Brakes and clutches

•Lube services

•Servicing Air Conditioning

•All makes and models

•Professional friendly service

Congratulations to

Blackwell's Department

Store on 150 years

183 Ohoka Road

Kaiapoi

Ph: 327 8780

www.kaiapoiautomotiveservices.co.nz

2404528

TURN YOUR DREAM

INTOAREALITY

EST. 1988

Kaiapoi

North

School

congratulates

Blackwells on their

150 th anniversary and

appreciates their

ongoing positive support

of our school community.

278 WilliamsStreet, Kaiapoi

Phone 03 3278803

office@kaiapoinorth.school.nz

www.kaiapoinorth.school.nz

2404525

CONGRATULATIONS

TO BLACKWELLS

DEPARTMENT STORE

ON 150 YEARS!

At Misco Joinery we will work with

you to take your joinery project

from concept to completion.

62 Williams Street, Kaiapoi 7630

03 383 4384 |www.misco.co.nz

Blakeley's of Kaiapoi congratulates

Blackwell's DeptStore on 150 years

Find it hard

to get out of

your chair?

These stunning chairs

have a practical, high

19" seat, making them

easy to get out of.

Available now from our showroom or in your

choice of fabric.

Blakeleys

of Kaiapoi

Specialist in

Traditional and

ModernNew

Zealand made

furniture and

MoorcroftPottery

from England.

Phone: 03 327 8161

117-119 Williams St, Kaiapoi

Mon-Fri: 9am -5.30pm Sat: 10am -2pm

www.blakeleysofkaiapoi.co.nz

2406558

2376490

Youare warmly invited to contact Wendy at our Office

to meet our Principal Trish McKendry, and have a

guided tour of our Catholic school.

We have just completed asuccessful renovation

project of all of our classroom spaces into attractive,

inviting places to learn.

We offer acaring and supportive learning

environment which caters for individual learning

styles, offers arange of different learning

programmes, before and after school care and a

dedicated Intermediate School for Year 7&8students.

We also have asmall number of places available for

children who are not Catholic. We look forward to

meeting you and your family.

Address: 61 Fuller St, Kaiapoi Email: office@stpatkai.school.nz

Phone: 03 327 7700 Website: www.stpatkai.school.nz
---
BLACKWELLS CELEBRATING 150 YEARS

28 North Canterbury News, August 12, 2021

UPHOLSTERY

SPECIALISTS

•All furniture Recoveries &Repairs

•Squabs, Cushions &Fabric Sales

•Antique and Loose Covers

•Cars, Boats, Caravans, Motor Homes

•Custom-made Bed Heads &Ottomans

2321966

FREE QUOTES, PICK UP AND

DELIVERY

32 years experience

03 327-0266

0274 840 159

72 Otaki St, Kaiapoi

recoveries@xtra.co.nz

Congratulations to

Blackwell's

Department

Store

2407704

on 150 years in

business

Kaiapoi Art Expo organisers ... The Waimakariri Arts Trust team, new chair, Jackie Watson (left), with Christine Eastgate, Joan Whillans,

Linda Dunbar, Clare Giffard and Theresa Smith at arecent get together at Urban Revival in Silverstream.

PHOTO:SHELLEY TOPP

Team work key to Expo success

By SHELLEY TOPP

Record sales of more than $67,000were

achieved at the recent 15thannual

Kaiapoi Art Expo whichhas been

sponsoredbyBlackwellssince its

inception 16 years ago.

The expo is organised by the

Waimakariri Arts Trust and thenew chair,

Jackie Watson,creditedthe continuing

success of the event to ''ourhard working

team'', includingvice chairs Joan Whillans

and Clare Giffard, Christine Eastgateand

former chair Waimakariri District Mayor

Dan Gordon.

''We are all volunteers but the important

members of the team, who are paid, are

the co­ordinatorTheresaSmith and

treasurer Linda Dunbar. Their input is

immense and contributes hugely in

makingthe expo the successthat it is.''

Support from sponsors was also akey

factorinthe success of the event as it

helpedtoensure the expo continued to be

accessible to everyone.

''It is important that it is only agold coin

entry fee to attractmaximum exposure for

the artists involved and provideaffordable

familyentertainment forthe district,''

Jackiesays.

Planning for the expo,whichis

Waimakariri's largest visual art show,

happens ''at monthly meetings for half of

the year'' leading up to event.

Seeingthe improvement in the standard

of art over theyears and the growthin

popularity of the event has beenthe best

thing about being involved, Jackie says.

Promoting Waimakariri as aplace where

art flourishesand being involved with so

manylocal sponsors was also rewarding.

''The art expoisareal community event in

every way now.''

Avirtual exhibition was established in

place of the Expo last year due to the

Covid­19 pandemice. It attracted 42

entriesand about$10,000 worth of art was

sold. Avirtalexhibition has been

consideredalongside the expo but is

unlikely to happen. ''It might detract from

attendance at the eventwhichwewould

not want, as the expo has become very

popular attracting around 5000 people

overthe weekend,'' Jackie

THE DUKES

"We'll findyournexthome andget you'sold' formore!"

VanessaCross

033278613

OfficeManager

SteveCollier

0272225503

LicensedSalesperson

JonoSmith

02041281226

LicensedSalesperson

RobDuke

0225554762

Brand&TerritoryOwner

JanineDuke

0212137767

Brand&TerritoryOwner

DonStott

021752795

LicensedSalesperson

0800 THE DUKES (843 385)

Mike Pero Real Estate Ltd Licensed REAA (2008)

Amberley Office

101a Carters Road

03 4200 102

Kaiapoi Office

61 Williams Street

03 327 8613
---
NEWS

North Canterbury News, August 12, 2021

Awards recognise service to Hurunui

HurunuiMayor MarieBlacksays she is

humbled by the oftenunspoken work that

goesonwithin the communities.

''How lucky we are that we have

community groups andindividuals that

tirelesslyworktogethertobringbenefit

to our district.''

Michelle Forbes, whoreceived a

community service award,saysshe

volunteers because it is ''so much fun''.

Michelle,from theAmuri area,was one

of seven HurunuiDistrict residentsto

receive aCommunity Service Award

during aceremony in theWaipara Town

Hall.

She was joined in receiving an award

by DavidMoore, of Amberley,David

Anderson, of Cheviot, Terry Donaldson,

of Glenmark, Annie Trumanand John

Dawber,ofHanmerSprings,and Keith

Yorston, of Hurunui.

WilliamMunsey receivedthe youth

volunteer awardand Hurunui District

Council youth development co­ordinator

RebeccaPagewas awardedthe

volunteering award.

The Mayor'soutstanding youth

leadershipawardwent to NicCrump,

who joined the Hurunui Youth

Programme last year.

He willattend the PacificLeadership

Programme laterthis year in theCook

Islands.

HurunuiDistrictCouncil youth

developmentofficerWardShearman

saysthe accoladesfor youth werewell

deserved.

''It'sareflection of thehardwork they

haveput in. I'm constantly in aweofwhat

the youth of Hurunuiachieve.''

The $5000 MainPower Hurunui

NaturalEnvironment Fund,which

champions thosewho encourage and

assist with voluntary workthatbenefits

the natural environment wasshared

Need Heat Fast?

The Fastest, Warmest Indoor/Outdoor HeaterYou Will Ever Own!

29

Award recognition ... The seven recipients for community service awards were David Anderson (left), of Cheviot, Michelle Forbes,

of Amuri, David Moore, of Amberley, Mayor Marie Black, Keith Yorston, of Hurunui, Annie Truman and John Dawber, of Hanmer

Springs, and Terry Donaldson, of Glenmark.

PHOTO: SUPPLIED

among fivecandidatesincludingthe

Hawarden Reserve Advisory Group, the

Leithfield Beach Residents' Association,

Mt LyfordAlpineAccommodationLtd,

theLotteryBush Conservation Group and

thePort RobinsonAdvisory Group.

Theawardfocusesonwork that

protects,restoresorreinstates

indigenousbiodiversity in theHurunui

district.

MainPowerhas supported thisaward

since2003,and safetyand business risk

general manager Karen Cameronsays it

was great to seethe biological diversity

that is beingembracedinthe Hurunui

district,with plenty of initiatives around

native treeplantinghappening.

She saysplanting natives is agreat

start, but there arecertainly

opportunities to lookwider.

''Weencourageprotecting habitats and

fauna, andsafeguardingecosystems. It's

aboutpooling resources and seeing

bigger projectsacross thedistrict.''

Department of Conservation­Te Papa

Atawhai operations manager (Rangiora

office) KingsleyTimpson, who was on the

judgingpanelfor theEnvironment Fund,

saysthe projectsstimulate interest and

learning between communitiesand

individuals acrossthe district.

''There is potentialtodosomuch more.

Iencouragepeople to haveacrackatit.

Sometimes it's justseeding money that is

needed, to pulllike mindedpeople

together.''

Buy One Get One Free! *

+Plus

Free

Floor

Stand!*

worth

$199.99

• Heats UpInstantly

• Suitable for Indoors orOutdoors

–InRain,Fog, Wind or Snow

• Carbon-Fibre Bulb Technology

*Call forTerms

&Conditions

• Multi-Directional Stand

• Includes Remote Control &

Built-In Timer

• Motion Detection Function

1.8m High

• Commercial Grade

• Multi-Directional

• Easy Install

• Portable

• Indoors &Outdoors

CALL NOW! 0800 665 665
---
STOP IN TO OUR NEW STORE &

CELEBRATE WITHUS

NEW

STORE

STORE

$15.99

EACH

$15.99

EACH

$16.99

EACH

$21.99

EACH

$21.99

EACH

Woodstock (incl Zero)

7% 330ml 6pk cans

$22.99

$13.99

EACH

EACH

Jack Daniel's &

Cola Double Jack

250ml 10pk cans

$13.99

EACH

Scapegrace Vodka/Gin

250ml 4pk bottles

JD's &Cola Double Jack

375ml 4pk cans

$23.99

EACH

Major Major

10pk can range

Jim Beam Gold /CC

Premium

7% 330ml 6pk cans

Gordons G&T,Gin &Soda

(pink/sicilian) 12pk 250ml cans

Smirnoff Seltzers

12pk 250ml cans

$13.99

EACH

$24.99

EACH

$21.99

EACH

Cruiser

5% 12pk bottle range

$25.99

EACH

Effen Vodka

JB /CC

4.8% 10pk bottle range

2FOR

$25.00

$36.99

EACH

$21.99

EACH

Smirnoff Ice

5% 10pk bottles

Coruba &Cola Zero

330ml 10pk cans

Coruba&Cola

7% 250ml 12pk cans

Tui Hard Soda

330ml 10pk cans

$26.99

EACH

$29.99

EACH

Jim Beam & Cola/CC

(incl zero) 4.8% 10pk cans

Jim Beam Gold 7% 8pkcans

Cody's

7% 18pk cans

$36.99

EACH

$37.99

EACH

$32.99

EACH

Woodstock

7% 250ml cans

5% 330ml bottles all 18pks

$22.99

EACH

ODD Company

10pk can range

$38.99

EACH

Long White

15pk bottle range

$37.99

EACH

Stoneleigh

Marlborough /

Lighter ranges

19 Crimes

range

Lindauer Classic

&Enlighten

ranges (ex reserve)

Jules Taylor range (ex

Reds) Rua Pinot Noir

Canterbury

Cream

Malibu/ Kahlua

(incl salted caramel) 1L

Blackheart/

Woodstock 1L

Gordons Pink /

Sicilian Lemon 700ml

Gordons &Smirnoff

1L

Teachers /Russian

Standard 1L

Stolen Gold Rum

700ml

$41.99

EACH

$42.99

EACH

$47.99

EACH

$51.99

EACH

$54.99

EACH

$54.99

EACH

$9.99

EACH

$12.99

EACH

Canadian Club

(incl spiced) 1L

Absolut/

Ballantines

Beefeater 1L

Beefeater 24 700ml

JB 1.125ml /

JB DevilsCut /

JB Black 1L

Makers Mark

700mls

Malfy 700ml range

Jameson 1L

JB Double Oak 1L

Haku Vodka /

Roku Gin /Ratu Rum

range 700mls

JackDaniels 1L

Woodford

Reserve 700ml

Chivas Regal 12yr $51.99

Chivas Regal 15yr $74.99

Chivas Regal 18yr $89.99

all 700ml

Old Mout

1.25L ciderrange

Kingfisher

Strong

6pk cans

$13.99

EACH

$22.99

EACH

$24.99

EACH

$25.99

EACH

$21.99

EACH

$22.99

EACH

$26.99

EACH

Monteiths

6pk bottle range

Panhead

6pk range

Sol

12pk bottles

Somersby

12pk bottle range

Heineken

12pk bottles

Carlsberg

15pk bottles

Tui/Export Gold/Extra/

DB Draught

15pk bottles

$26.99

EACH

$36.99

EACH

$41.99

EACH

$41.99

EACH

$31.99

EACH

$37.99

EACH

Export 33

15pk bottles

Haagen

24pk bottles

Lion Red /Waikato/

Speights or Summit

24pk bottles

Speights Summit

UltraLow Carb

24pk bottles

Asahi

24pk bottles

Steinlager

24pk 330ml bottles

THIRSTYLIQUORAMBERLEY

86 CARTERSROAD, AMBERLEY

03 3147400

NEW

STORE

OPEN 7 Days

Promotionperiod between 1/08/2021 to 31/08/2021. While stocks last. Promotion

only available at participating stores–pleasecontact your local storetoconfirm

whethertheyare participating in the promotionand check the pricing in-store prior to

purchase. Online pricing will vary.

thirstyliquor.co.nz

ASK ABOUT

LOYALTY CARD

BENEFITS &

GIFT VOUCHERS
---
Open for business ... CAB North Canterbury co­ordinator Theresa Evans (left) and board

chairperson Margaret Finnie are pleased to have anew premises just off High Street.

PHOTO: DAVID HILL

CAB opens new premises

CAB North Canterbury is open for

business on Rangiora's main street.

The local Citizens' Advice Bureau has

openedanew officeat209a High Street,

next to the Waimakariri District Council

buildings, whichallows it to be more

visible.

''We are open for people to comealong

and have alook and see what workwe

do, and just to physically find the

office,'' co­ordinatorTheresaEvans

says.

Board chairperson MargaretFinnie

says the CAB has an opening theme of

''whenlife serves you lemonscome and

see CAB''.

The local branch has secured anew

recruit who has transferredfrom the

North Island and speaks Mandarin

Chinese.

''Anyone who speaks Mandarin as

their first language and is seeking

assistance can ring our numbertomake

an appointment, but she will normally

be available on aMonday,'' Ms Evans

says.

''CAB itself has volunteers of various

nationalities, so if you call us and ask to

speak to someone in you native language

our volunteers can check onlinefor the

time they are available.

''It means thatpeople can talk to a

trained CAB volunteer in their native

language, ratherthan through an

interpreter.''

CAB North Canterbury will holdan

official open day at 209aHigh Street,

Rangiora, on Saturday, August 21, from

11am to 1pm.

Members of the public are encouraged

to comealong, havesome cakeand find

out whatCAB has to offer.

Normaloffice hours are Monday to

Friday9am to 4.30pm.

NEWS

North Canterbury News, August 12, 2021 31

Win tickets to film screening

The Friends of RangioraTown Hallare

holdingacompetitiontowin twofree

tickets to see Antarctica: AYear On Ice.

The multi­award­winning

documentary was filmedand produced

by Kaiapoi'sAnthony Powell, and is

being shownatthe Rangiora TownHall

Theatre at 10amonAugust30and 31,

and September 1.

A6pm screening willalso be heldon

August 30 and thecompetition forthe

freeticketsisfor thissession.

Anthony willhold aquestion­andanswer

session after each screening.

The competition canbeenteredatthe

theatre by writing yourname and phone

numberonthe reverse sideofaused

filmticket andplacingitinthe Friends

of RangioraTown Hall donation box.

Entries closeonWednesday, August

25,and thewinnerwill be notifiedthe

next day.

Antarctica:AYearOnIce had its

world premiere at the New Zealand

International Film Festival in July

2013.

Fifteen years andnine Antarctic

winterswere involved in makingthe

feature­length documentary,which

gives aglimpseofwhat it is liketo

spend ayearlivingand workinginthe

harshest place on Earth.

Slam poet comes to Kaiapoi

One of the world's leading slam poets Rik

The Most is to perform in Waimakariri.

The artist willgive performances and

hold workshopsatparticipating schools

during the Word Christchurch Festival

2021 week, from Wednesday, August 25,

untilSunday,August 29.

Alunchtime performance at the Kaiapoi

Library on Wednesday,August25, from

12.30pm,will be open to the public.

Rik The Mostisavegan,non­binary

spoken­word artist,event organiser and

workshop facilitator, originally from the

United Kingdombut now residingand

working in New Zealandonthe

''Exceptional Talent In The Arts Visa''and

running the weekly online, spokenword

event and community Your Place.

Slampoetry originatedinChicago,

Illinois, in the 1980s and includeselements

of performance, writing, competition, high

energy and audience participation.

Bridge club seeks recruits

The Amberley Bridge Club would love

some new young blood.

The club hasbeen showing itshand at the

Hurunui Memorial LibraryinAmberley

over the pastfew weeks, hoping to get the

attention of anyone keen to jointhe club.

It has held demonstrationsinthe library

and has adisplay on showuntil mid­August.

People were able to go along and watch

gamesinprogress, ask questions, and take

the opportunity to join the club.

The club stresses Bridge is not an ''old

person'sgame''.

It says someofthe best players are young,

and thereare manysuperb teenage

players.

Goodcommunication and the ability to

think logically are acouple of key

components to enjoyingthe game which

aidsmental agility.

ContactNell on 027 315 0552 or Jim on

027 208 7334 for further information.

on trend

on sale

TIPAZ

Bedroom Range

ON SALE

Bedside

NOW $

265

Tallboy

NOW $

799

Lowboy

NOW $

899

Sono Queen Mattress

Boxed

WAS $

599

NOW

$

399

SELECTED ITEMS –INSTORE &ONLINE

ENDS 16.8.21.

boxedforeasy

transport!

Verano 2Seater

NOW $

699

Vermont 2Seater

NOW $

999

Lennox 2Seater

NOW $

999

Riley 2Seater

NOW $

799

NEW!

Larvik

Bedroom Range

Paris 7Piece Dining

Set – W190

WAS $

2139

NOW

$

1599

36

MONTHS

INTEREST FREE *

Terms &conditions apply.

See in store for details

Veno 7Piece Dining

Set –W150

WAS $ 1199

NOW

$

899

Scantofindstore

250 Moorhouse Ave, Christchurch

0800 TARGET (0800 827438)

targetfurniture.co.nz

Offers and product prices advertised here expire

16/08/21. Sale Excludes Accessories.
---
Reliability

Versatility

Affordability

6110M TRACTOR

&623R SL LOADER

122 HP @1900 RPM

4Cyl Tier 2Diesel OnlyEngine

24F/24RPowerquad Transmission

114L/min PFC HydraulicPump

FROM

$1,864

PER MONTH

Ask our local team about other models

and finance options to suit your budget!

Fraser Ibbotson

021 579 122

John Murgatroyd

027 435 5900

Claudia Mehrtens

027 308 1608

Quintin Boyd

027 486 7792

6140M TRACTOR

&643R SL LOADER

155 HP @1900 RPM

6Cyl Tier 2Diesel Only Engine

24F/24R Powerquad Transmission

114L/min PFC HydraulicPump

TLS Front Suspension

FROM

$2,489

PER MONTH

*Conditions apply.Finance available through John DeereFinancial Limitedtoapproved commercialapplicants only.Offer is basedon1.1% interest, 50% deposit, GST back in month3and 36 month term.

Fees and charges of $425 apply. If not amendedorwithdrawn earlier,the promotionexpires on 31/10/2021.Pricing will vary forother models/specifications. Pricing is formachinesdelivered prior to 1stMarch2022.
---
FERTILISER

North Canterbury News, August 12, 2021

33

Tips for meeting new nitrogen

The Government­imposed nitrogen cap,

which requires farmers to apply no more

than 190kg of nitrogen per hectare ayear

took effect last month.

The new rules require farmers to

record synthetic nitrogen fertiliser

applications from July 1onwards and

report this to their regional council in

July next year.

DairyNZ has been monitor the change

on behalf of impacted farmers.

''We don't support the cap as it imposes

unnecessary regulatory compliance costs

on farmers and councils, and we believe

there are better ways to achieve the same

improvements in water quality,''

DairyNZ chief executive Dr Tim Mackle

said.

''We've been advocating that the

Government take apractical approach to

the farmer reporting requirements.''

Dr Mackle said their were several ways

farmers could reduce nitrogen fertiliser

use, which can contribute to better water

quality and reducing greenhouse gas

emissions.

What do Ineed to do?

Understanding the new regulations

and how they apply to your farm is an

important first step and DairyNZ

encourages farmers to discuss it with a

trusted farm adviser or aDairyNZ

consulting officer.

Knowing how much synthetic nitrogen

fertiliser was applied last year over each

hectare or paddock of the farm allows

you to calculate how much you need to

reduce your application by.

Having good systems in place for

recording the tonnages of all nitrogen

applied on farm and the area it was

applied to will make reporting to the

regional council easier.

Farmers are encourage to create aplan

to meet the 190kg N/ha cap.

Those exceeding the cap can apply for

aresource consent.

Some Canterbury farmers have

successfully reduced their nitrogen

applications without compromising

pasture growth or profit through

involvement in the Forages for Reduced

Nitrate Leaching research programme.

More information about the

programme and tips for farmers can be

found on the DairyNZ website.

Successful transition requires

planning and time.

It is best to do it gradually, rather than

in one big step especially if the reduction

is bigger than 50­60kg N/ha/yr).

Several farmers have successfully

reduced nitrogen applications from more

than 300kg N/ha/yr to 200­230kg N/ha/yr,

but over athree­year period.

It is important that clover has time to

re­establish and the additional nitrogen

fixed, from increased clover growth, is

available to the grass, to compensate for

the lower nitrogen from fertiliser,

DairyNZ says.

Time is also required to ensure

management systems are in place to

accommodate the changes.

If you are using more than 190kg N/ha/

yr, you need to act now to minimise any

impacts on your system, while complying

with regulation.

Dr Tim Mackle

ALL AGRICULTURAL WORK!

Truck and Digger Hire.

•Lime &Super spreading •6Legged Deep Ripper

•Discing

• 14Tonne Digger

•Tracks &All Shingle Works •200HP John Deer Tractor

•Grader Hire

• Volvo Truck &Transporter

All the right equipment for our local environment

Phone Ken

03 319 8771 or 0274 364 045

upstoncontracting@outlook.com

You'll get the Best Results

from the Best Lime!

Our High Quality Agricultural Lime offers an

outstanding 99.3% level of Calcium Carbonate!

We now also mix Lime, Mineral and Seed to Your Specifications.

2361313

Call the specialists...

022 500 6144

www.amurilime.co.nz

Email office@amurilime.co.nz

Locally owned &operated

in Waiau since 1945

New limits ... The new nitrogen cap took effect last month.

PHOTOS: FILE

2311837

Do youservice the Ruralsectorand want

help to reach your customers?

Contact us today to find out howwecan help you.

Email info@ncnews.co.nz or phone 03 314 8335

2377

969
---
IT'S TIMETOSTEP UP

FROM 5IN1TO

COGLAVAX8 VACCINE

The health and welfare of our

animals is really important to

us, so we use products that

achieve results

Hayden Ashby

Livestock Operations Manager,

Brownrigg Agriculture

STEP UP TO 8 IN 1 PROTECTION

When you're running big numbers of sheep and cattle… there's one number you want

to keep really low. And that's unnecessary losses from Clostridial disease.

That's why Brownrigg Agriculture have stepped up from 5 in 1 to Coglavax8

vaccine to protect against 8 Clostridial diseases present in New Zealand.

ONLY AVAILABLE FROM YOUR VET

CEV0001 APFP

coglavax8.co.nz

Ceva Animal Health (NZ) Limited. P: 09 972 2853 ACVM No. 7528 References: 1. JS Munday, HBentall, DAberdein, MNavarro, FAUzal &S Brown, Death of aneonatal lamb due to Clostridium perfringens type B

in New Zealand, New Zealand Veterinary Journal 2020. 2.West, Dave M., Bruere, A. Neil and Ridley, Anne L. The Sheep, Health, Disease and Production. Auckland: Massey University Press, 4th ed., 2018. Print.
---
NIWA assists local farmers

Waimakariri farmers are

usingscience to ''justify''

theirirrigation decisions.

Afive­year collaborative

project involving NIWAand

apilotgroupofWaimakariri

farmers has seenashift

from a"just­in­case"

approachtoirrigation to a

"justified" approach, where

landownersuse real time

data and forecasts to make

science­based irrigation

decisions.

Throughoutthe NIWA­led

IrrigationInsight

programme, farmershave

been provided with daily

data includingmeasured

rainfall, soil moisture,soil

temperature,drainage, and

estimated evaporation as

well as two,six and 15­day

rainfalland weather

forecasts.

This dataisavailable in

both mobileand desktop

systems, in an easy­to­read

graphical format.

Soil moisture is measured

at eight locations vertically

downthe soilprofile, 10

centimetres apart, which

keepstrackofthe amountof

water and the depththe

water reaches in the soilto

help farmers assesshow

muchwater is needed in the

coming days.

The soil moisture sensors

provideanindicationof

how wet or dry thesoil is

through the top 30 to 40

centimetres, while the

lower levelshelp to identify

occurrenceofdrainage

below the plant rootzone.

NIWAhydrologist Dr MS

Srinivasan says the Ministry

of Business Innovation and

Employment fundedstudy

has shown the benefits of

shared learning.

2400852

Roger Hunter

Parts Manager

0275 071 022

Pilot project ... Fernside dairy farmer Julie Bradshaw

discusses an irrigation pilot project with NIWA hydrologist

Dr MS Srinivasan.

PHOTO: DAVID ALLEN

''It has shown us how

farming and science can

work effectively together.

''We havebeen adapting

our models and information

toolsaswego, keeping an

open mindand making sure

farmers' voices are an equal

part of the discussion.

Having the practical input is

vitalfor us.''

Over the fiveyearsthe

studyhas grown to include

20 farmsaslandowner

interestinusing the data

toolshas grown.

''Farmers in the study

have been able to use the

information we have

gathered both operationally

and for the development of

theirdetailedFarm

EnvironmentPlans (FEPs)

and audits,'' Dr Srinivasan

says.

''Althoughthe study ends

in September, the group has

agreedthey will continue to

work togetherasthey have

learned so much from each

other.''

Instead of providing

DIRECT DRILL SPECIALS

12.5" (318mm) x 3mm

Plain Disc Blade

Designed to suit both the 4bolt &6bolt hub.

Suitable for:

DUNCAN RENOVATOR

drills MI-11353-L

complexdata reports,

NIWA has developed easily

interpreted visual

informationand regular

weatherforecast outlook

videos throughout the

project.

Farmerscan logontothe

websiteand see theirsoil

moisture data,along with a

customised localforecast

for the next fivedays, along

with longerterm

predictions in the weather

outlook videos.

Dairy farmer Julie

Bradshaw saysaninitial

phone call from

Environment Canterbury

Waimakariri land

management advisor Anna

Veltman led to the

formation of the initial

group of fivefarmers

located near the Cust Main

Drain.

''Gaining the scientific

knowledgeofwhat's

happening on our farms has

been areal game changer

and NIWAhave beenso

supportive.''

$

35 95

+GST

1George Holmes Road, Rolleston

03 349 5975

RURAL LIFE

North Canterbury News, August 12, 2021

Canterbury

35

Focus on strong wool

By DAVID HILL

There is plenty of causefor optimism

among wool growers, Daniel Maxwell

says.

The FederatedFarmersNorth

Canterbury meat and wool chairperson

was commentingonrecent developments,

including efforts by the Strong Wool

ActionGroup, anew research initiative

and proposed merger between the

country's two largest woolco­operatives.

''It'sthe most positive news we've seen

in the strong wool industry for quitesome

time. It'sexpected to make ahuge

difference to our bottom line,'' Mr

Maxwell says.

''The proofwill be in the pudding, but

it's great to finally have some positive

news.''

Organisations such as Cavalier­

Bremworth, Big Save Furniture and

Merino New Zealandhave come on board

to championstrong wool,whilethe Strong

Wool Action Group is making abid to

breakinto the United States market with

branded wool.

The Wool ResearchOrganisation

(WRONZ) recently announced anew

research initiative with the Ministry of

Business,Innovation and Employment

(MBIE), while anew farm assurance

programme and aproposed merger

between Wools of New Zealandand

Primary Wool Co­operative is cause for

plenty of optimism, Federated Farmers

meat and woolchairperson William

Beetham says.

''We're really pleasedtosee industry

players worktogether to end

fragmentation and concentrate on driving

extravalue from the superior attributes

we all knowthat strong wool entails.I

believe it's all adding up to anew dawn

for New Zealand strongwool.

''We're moving beyondsellingour clip

as araw productaswelook for high value,

branded consumer products that

capitaliseonstrong wool's natural,

sustainable, super­warm,fire­retardant,

non­leaching, moistureand mouldresistant

credentials.''

WRONZ and MBIE havejoinedforces

for research intothe development of

uniquewool particles, powders and

pigments with global export potential for

applications as diverse as cosmetics,

printing,luxury goods and personalcare.

The new farmassurance programme

has beenbacked by 23 wool companies

and aims to build systems to ensure a

standard of supply and traceabilityto

meets market expectations.

Farmers will get to vote on the

proposed merger in November, and by

then the Primary Wool Co­operativewill

becomethe ownerofCPWool brokersby

buyingCarrfields' 50 percent holding.

''I'm really buoyed by this

determination to lift our game, tell the

exceptional story of our wool's

provenance, and get better returnsfor

New Zealand farmers,'' Mr Beethamsays.

Afarmersroadshow is touringthe

country to discussthe proposed Wools of

New Zealand and Primary Wool Cooperativemerger

and is stopping

Amberley Pavilion on Douglas Road next

Monday, August 16, at 3pm.

2191656

12.5" (318mm) x 3mm

Fluted Turbo Disc Blade

Suitable for:

DUNCAN RENOVATOR

drills

MI-22035-L

FENCING

• Post Driving

• Stock Fencing

• Stockyards

• Post and Rails

• Lifestyle etc

Ph Andy Horn

021 214 1201 or

(03) 314 9460

$

35 95

+GST

20COC003

BARMOWERS

FROM2.4MTO3.5M

GMD 240 GMD 310 GMD 355

GMD 280 GMD 315

• PROTECTADRIVE cutter bar

safety system

• Fast-Fit blades as standard

• Hydraulic headland lift

Contact

us today

Leeston 03 324 3791 Amberley 03 314 9055 Ashburton 03 307 8027 Timaru 03 688 2179

www.cochranes.net.nz
---
RURAL LIFE

36 North Canterbury News, August 12, 2021

Farms focus on biodiversity

Aseries of biodiversity projects has

improved awareness of the special

values of streams and rivers throughout

the Waimakariri catchment.

Waimakariri Irrigation Ltd's (WIL)

biodiversity project lead, Dan Cameron,

says knowledge and understanding of the

land and water in the area has grown

exponentially since an initial

biodiversity stock take of the scheme

identified 297 sites of interest in 2018.

''We also identified four lowland

freshwater stream systems, three of

which were not widely known,'' he says.

Seven projects have been started

across four lowland stream catchments

across the scheme, including two

projects at Cust River, three projects at

2354936

MEAT2U.NZ

HOME KILL

&WILD GAME

MEAT PROCESSING

313 0022

Built to your budget!

-All types of fencing including:

-deer,sheep and cattle yards

-Retaining walls –Timber gates

-Full range of specialised equipment for farm fencing and

lifestyle blocks, offers you the complete land package.

Ashley: 0274 364 776 ah: 314 8541

e: A.Duckworth@xtra.co.nz

www.duckworthfencing.co.nz

Post &Rail Fencing -Looks great &

makes life easy for the Rural Lifestyler!

1972001

Burgess Stream and one project each at

Old Eyre and Hunters streams.

Planting work started last week on one

of the Burgess Stream projects, which is

the first stage in aseries of linked

projects aiming to restore the length of

the stream.

''Burgess Stream has presented us with

afantastic opportunity for WIL

shareholders to enable catchment­scale

restoration right from the beginning,'' Mr

Cameron says.

''While there have been many

learnings along the way, it's very exciting

to be seeing everybody's efforts turning

the vision into areality.''

He says work on Burgess Stream will

protect the values around the spring

head and the area further downstream

where the water leaves the catchment

area and flows through lifestyle blocks.

''It's the perfect opportunity for the

wider community to see the value in the

work we are doing to protect the

environment as the water way literally

flows through their properties.''

All shareholders Mr Cameron has

worked with now have biodiversity plans

in place which enable them to comply

with regulatory requirements around

biodiversity and freshwater.

These plans provide evidence of

shareholders' environmental

guardianship and awillingness to be

proactive in enhancing streams and

water ways on or near the landowner's

properties, he says.

''Landowners can also use this

documentation to apply for funding from

other sources to continue on with their

environmental improvement projects onfarm,

so the biodiversity plans are useful

for amyriad of different purposes.

''Some landowners have been able to

secure up to 50 percent of the funding

required for their projects.

''The biodiversity plans also help to

identify action points which can be

woven into afarm environment plan,

such as planting and stock exclusion

which can deal with point source issues.''

The programme is also reaching to

provide hands­on learning opportunities

for local schools through community

outreach project with West Eyreton

School.

Tips for farm audits

Help is at hand for Kaikoura farmers

preparing for their farm audits.

Environment Canterbury land

management advisor Pete Bradshaw has

been spending time leaning on fences

and kitchen benches to help steer

farmers in the right direction to meet

local and national rules.

One local farmer says the support Mr

Bradshaw provided him was invaluable

in helping him through his audit process,

which afew years ago, would have made

him ''run for the hills''.

''Working with Pete encouraged us in

all aspects of our obligations. He was

approachable and helpful on so many

levels,'' the farmer says.

''He visited us on­farm, carried out

tests for us and gave us good advice on

practical ways to improve our operation.

''Pete's enthusiasm and help through

the whole process made our audit much

less daunting. We felt really listened to

and valued as farmers.''

Mr Bradshaw says the audit process

doesn't have to be difficult or scary and

engaging early with staff can really help

in the long run.

''The whole process is confidential, so

if you're worried about some aspects of

your plan, or just want to check that

you're on the right track, Ican help.''

Several projects funded by the

Kaikoura Plains Recovery Project

helped set some good foundations for

local dairy farmers to work from.

In 2019, as part of the 'farming in wet

conditions' workstream, the project

funded 'pre­audit dummy runs' where an

approved auditor engaged with Kaikoura

dairy farms, regardless of whether they

needed aconsent.

''This provided dairy farmers with an

opportunity to see where they were postquake

and where they needed to be in

terms of their farm audit,'' Mr Bradshaw

says.

''Kaikoura farmers were really lucky to

have this early support. Being reassured

that they were on the right track while

showing them the areas that needed

work, was agame changer when it came

to preparing for their actual audit,'' he

said.

The project also initially part­funded

Checking if off ... Environment Canterbury

land management advisor Pete Bradshaw

has been helping Kaikoura farmers to check

off their environmental requirements.

PHOTO: ENVIRONMENT CANTERBURY

the employment of Pou Matai Ko

(cultural land management advisor)

Makarini Rupene.

''Makarini's early work with Kaikoura

dairy farmers helped them start to

understand the value and importance of

blending mahinga kai values into their

day­to­day management and farm

environment plans, while also helping to

set some manageable targets,'' Mr

Bradshaw says.

All consented farms in Canterbury are

required to have afarm environment

plan, which identifies risks and sets out

how the farm is going to manage its

environmental impact.

All plans are audited by an

independent auditor and Environment

Canterbury is notified if there is follow

up required, or to note when the next

inspection date is set for.

Farms achieving aCorDgrade are

considered non­achieving, while an Aor

Bgrade means the farm is compliant and

is audited once every two to four years

depending on consent conditions.

RangioraToyota

Signature

CLASS

Signature

CLASS

S

2016 HiluxSR5 4x4

•2.8L Turbo Diesel Auto

•Sat Nav

•Cruise &ClimateControl

$

46,995

2017 LandCruiser PradoVX

•2.8L Turbo Diesel, Leather

•NZ-new,Sat Nav

•Only 43,500km

$

71,995

2007 Toyota Rav4

•2.4LPetrolAuto2WD; Climate Air

•Cruise Control,

• Keyless

$

10,995

2007 Toyota Rav4

•2.4LPetrolAutoAWD

•Satnav,Camera

Cruise Control.

$

• 15,995

2018 Toyota Rav4 GXL

•2.5LPetrolAWD,SafetySense

•Camera, Keyless

• 69,600kms

$

34,995

2013Toyota AlphardSC

•2.4LPetrolAuto, 7-Seater

•DualElectricDoors

•25,250kms

$

36,995

Percival Street,Rangiora • Ph (03) 313-8186any time • www.rangiora.toyota.co.nz

Signature

CLASS

2019 Nissan Navara ST 4WD

•2.3LTurbo Diesel Manual

•Camera, Satnav

•61,000kms

$

44,995

2018 Nissan Navara RX4x4

•2.3LTurbo Diesel Manual

•Alloys, Bluetooth

•Only 58,100kms

$

41,995

2017 HiluxSRPreRunner

•2.8L Turbo Diesel Auto

•Alloys, Camera

•Only 60,050kms

$

40,995

2005 Hilux4x4 Extra-Cab

•3.0L TurboDiesel Manual

•Alloys, Steel Deck

•Towbar

$

18,995

FINANCE &INSURANCE AVAILABLE

2400860
---
SECURE YOUR

TODAY

Secure your pick of the range in the colour you

want, we have good stock arriving this year and

are taking forward orders today.

Beat the proposed fuel tax and get the Triton

you've always wanted.

Contact us for more details.

*PriceslistedareforTriton2WDGLXRdoublecab,Triton4wdGLSBdouble cab andTriton 2WD

VRX double cab.Prices exclude on road costs which includes WoF, registration, 1,000km road user

charges and afull tank of fuel.

$48,990 +ORC

• Factory-fitted black body kit

• Black 18 inch Alloy Wheels

• Front and rear parking sensors

• Running Boards

• 7" Touch Screen Smartphone

Link Display

• 18 inch Alloy Wheels

• Black Sports Bar*

• Multi-Around View Monitor

• Leather-Appointed Interior

CHRISTCHURCH MITSUBISHI

386 Moorhouse Avenue, Christchurch

Tel: 03 379 0588 | christchurchmitsubishi.co.nz

FROM

FROM

GLXR

$39,990 +ORC

VRX

$44,990 +ORC

*On VRX4WDonly

10 year /160,000km Powertrain Warranty(whichever comes

first)(nontransferable). 5year /130,000kmNew Vehicle

Warranty(whichevercomesfirst)(nontransferable).

RANGIORA MOTOR GROUP

NEW DEALERSHIP OPENING LATE 2021

CNR Southbrook Rd &Coronation St

POSITIONS AVAILABLE

•Sales

•Service Technicians

•Admin/Reception

•PartAdvisor

•Service Advisor

•Grooming

Expressions of interest to

steve.hammond@mbmg.co.nz

DRIVE A NEW

NISSAN

STOCK AVAILABLE TODAY

STOCK AVAILABLE NOW

*Price shown is for the Nissan Qashqai ST excludes on road costs.

RANGIORA NISSAN, 321 High Street, Rangiora

Ph: 03 941 3175

www.rangioranissan.co.nz

AVAILABLE

$33,990

FROM

*

THE ALL-NEW

IN STOCKNOW

PRO-4X

rangioranissan.co.nz
---
Rangiora Toyota

Percival St, Rangiora

(03) 313-8186

www.rangiora.toyota.co.nz

Proudly supportingsport

in North Canterbury

Weather takes its toll on Sunday hockey

HOCKEY

Cold rain and snow flurries on Sunday

caused the cancellation of many

Rangiora Hockey Club platinum and

senior grade games for the second time

this season.

With only acouple of games left in

round robin play, teams need all the

points and game time they can get ahead

of the finals.

In particular the Rangiora Colts and

Oddfellows were drawn to play each

other, which would have given one of

them bragging rights and potentially top

standing going into the finals.

Fine weather on Saturday saw afull

round of division 1and junior games

completed, but not with the results many

teams would have been hoping for.

Both division 1men's and women's

teams were beaten, with the men backing

up from their catch up game against

Southern on Thursday night, which they

also lost.

With semi­finals looming this

weekend, both teams now have an

opportunity to upset the apple cart and

finish their seasons on ahigh.

Performance of the week must go to the

Rangiora Amid­week open men's team,

which put its nearest rivals Marist

Gooses to the sword on Tuesday night.

Both teams were unbeaten heading

into the top of the table clash, after the

round one game was cancelled due to turf

flooding.

There was an expectation of this being

atightly fought contest.

But there was only one team in it, as

Rangiora's Craig Reynolds scored two

early goals from penalty corners, then

kept scoring at regular intervals and held

strong on defence to deny Marist any

opportunities for acome back.

The 7­0 result gives the Rangiora team

confidence of winning division 2asthese

two teams will likely meet again in the

final in just two weeks time.

The Rangiora Allsorts players will be

kicking themselves for missed

opportunities in the clash with Southern

United at MainPower Turf.

Up 3­1 at half­time, the Allsorts failed

to convert its chances in the second,

while the visitors wore down the defence

to score 3late goals.

Fortunately the result made no

difference to the table standings and the

Allsorts has the opportunity next week to

secure sixth spot and aplayoff against

Harewood.

In the mid­week open women's

competition the Rangiora Hurunui

Hares took maximum points in the game

against Avon and should secure top spot

in division 1heading into the finals week.

Meanwhile the Rangiora Hurunui Hawks

secured just its fourth win of the season,

beating Avon for the second time.

Results

Division 1: Men ­Rangiora CBK 0lost to

Southern United 5. Rangiora CBK 3

(Damian Allerby 1, Liam Gray 1, Tim Smit

1) lost to HSOB/Burnside 6.

Women ­Rangiora CBK 0lost to HSOB/

Burnside 1. MVP: Sarah Hinchley.

Sunday Super League Championship:

Men ­Rangiora Colts vs Rangiora

Oddfellows game cancelled due to

weather.

Women ­Rangiora Piwakawaka

defaulted to Waikirikiri.

Mid­Week Open: Men ­Rangiora A7

(Craig Reynolds 2, Tony McDonald 1,

Dominic Cleary 1, Thomas Spall 1, Tony

Kean 1, Johnny King 1) beat Marist

Gooses 0. Rangiora Allsorts 3lost to

Southern United 4.

Women ­Rangiora Hurunui Hares 5(Jan

McDonald 1, Rose Johnston 1, Keighley

Robertson 1, Kelly McNicholson 1,

Amanda Murray 1) beat Avon 1. Rangiora

Hurunui Hawks 1(Anneke Cameron 1)

On attack ... Lucy McLean of the Rangiora Raiders in action against Harewood.

beat Avon 0.

Platinum Grades: Men ­Rangiora A2

(Sam Firth 1, Harry Forbes 1) lost to

Marist Green 8. Rangiora B0lost to

Southern United 4.

Kwik Sticks 11­a­side: Boys ­Rangiora

Renegades 0lost to Harewood 3. MVP:

Connor Smith.

Girls ­Rangiora Rascals 0lost to

Harewood 1.

Kwik Sticks 7­a­side: Boys ­Rangiora

Rampage 3(Jake Smith 2, Riley

Girdlestone 1) beat Harewood Hitters 1.

MVP: Jake Smith.

Girls ­Rangiora Rebels 3(Meg Dunn 1,

Brooke Mattsen 1, Emma Schaffer 1) beat

Hornby 1. MVP: Emma Schaffer.

Rangiora Rainbows 4(Angie Mones­

Cazon 2, Ruby Taylor 1, PJ Mackintosh 1)

beat St Margarets 2. MVP: Ruby Taylor.

Rangiora Rubys 0lost to St Andrews 4.

MVP: Grace McKnight.

Kiwi Sticks: Boys ­Rangiora Rogues 2

(George Chambers, Benji Mones­Cazon,

PHOTO: SUPPLIED

Seth Cann) lost to Waikirikiri Kakapos 3.

MVP: George Chambers.

Girls ­Rangiora Rabbits 7(Catherine

McKellow 4, Emma McKellow 1,

Anastasia Wright 1, Ashlee Harkess 1)

beat Marist 0. MVP: Athena Vernall.

Rangiora Raiders 3(Lucy McLean 2, Ana

White 1) lost to Harewood Dynamites 4.

MVP: Ana White. Rangiora Road

Runners 10 (Sammy Frost­Smith 3, Logan

Stevenson 2, Erin Cook 2, Bella Cherry 2,

Mackenzie Simpson 1) beat St Margarets

1. MVP: Mackenzie Simpson.

Mini Sticks: Boys ­Rangiora Roadsters 1

(Aidan Ferguson 1) lost to Marist Gorillas

5. MVP: Jordan Thomson.

Girls ­Rangiora Rockets 8(Shaylee

Eastmond 4, Aimee Dunlop 1, Hazel

O'Steen 1, Ruby Hutchison 1, Vida Berry

1) beat Southern United Sparrows 1.

MVP: Ila Bavis. Rangiora Rock Stars 5

(Anita Mones­Cazon 3, Charlotte Hawes

2) beat HSOB/Burnside Llamas 1. MVP:

Alex Berry.

Successful tournament

NETBALL

Young netballers from

Rangiora High School

had asuccessful time at

the South Island

Secondary School junior

netball tournament at

Hagley Courts in

Christchurch during the

school holidays.

The 9A team, coached

by Jenni Loffhagen, was

unstoppable beating

Villa Maria 36­19 in the

semi finals, and went on

to finish second, after

going down to St

Margaret's 25­34ina

tightly contested final.

The 10a team, coached

by KarenHumm, topped

its poolbefore losingin

the quarter final 31­43

against Columba College.

Astrong finishwith

threewins secured the

team astrong fifth place.

Atotal of 32 teams from

throughoutthe South

Island playedinthe

competition, where each

team played in asection

of their year level.

NC rugby defeats Buller

RUGBY

NorthCanterbury rugbyopenedits

representative season withacomfortable

41­7 winagainst Heartland sideBulleron

Saturday.

Up 20­0athalf timethe momentum

continued in the second spell. Heading

the scoringwas Glenmark­Cheviot's

championgoalkicker Brook Retallick and

Hurunui winger Digby Heard, who scored

two tries.

Scoreboard: North Canterbury41

(Heard 2,MattRoberts, JordieSwaine,

Archie McBride, Angus Mitchelltries,

Retallick 4conversions andapenalty)

beat Buller7.

North Canterbury'sother games are

against Ellesmere, Canterbury Maorisand

aCanterburydevelopment team. It will

not have aCanterbury Countryfixture for

thethirdconsecutive year.

More products in-store and online!

WINTERSPORTS

BASKETBALL NETBALL RUGBY

FOOTBALL HOCKEY

Sign up to our

customer club &earn

%

10OFF

thesportshop.co.nz

345a FLAXTON RD,RANGIORA |03313 7983
---
North CanterburyNews

PROPERTY

Ex Showhome -your new home?

15 Westpark Boulevard, Rangiora, Waimakariri

Robustly constructed from plaster over Hebel and superbly positioned in the heart of Westpark, this charming 2018 built

former show home represents wonderful buying in one of Rangiora's true blue-chip locations.

Those with apenchant for entertaining will be inspired by the designer kitchen with butler's pantry and under tile heating,

and the mix of formal and informal living spaces, all of which spill seamlessly outside. Accommodation isprovided byfour

bedrooms, including afabulous master complete with luxury ensuite and large walk-in robe. Other notable features include

aseparate laundry, full height windows, and heating from the heat pump and remote controlled double-sided gas fire.

Under tile heating is provided inboth bathrooms.

Outside, the sun-drenched covered patio and the private grounds are sure to delight, while the double garage and off-street

parking is an added advantage. With agate in the fence for aboat, caravan ortrailer, there's room for the toys, afeature

rarely seen in contemporary properties.

Of course, any investment is underpinned bythe strength of the location, with zoning for two quality schools and the

proximity to the array ofpopular amenities atArlington ensuring homes in this part of the town will always be in demand.

Homes of this calibre, in this thriving location, are constantly sought but seldom found, and interest issure to be high as

aconsequence. Our vendors are determined to sell on auction day, and interested parties are advised to proceed with a

sense ofurgency.

Web

AUCTION

on-site at 1pm

Tuesday 24 th August

4 2 2 2

View Sun 15 Aug 1.15 -2.00pm

Aaron Clark

aaronc@pb.co.nz

027 873 5121

03 313 8022

pb.co.nz/RU94354

Arealchange in

real estate.

The Property Brokers and Farmlands partnership means

great things forprovincial real estate*

Together our combinedstrengths complement

eachother to createbigger networks,more

buyers and better results.

For more informationcall0800367 5263

orvisit pb.co.nz/together

Proudtobetogether

2407001

*Farmlands will continue to administer its property management portfolioand its West Coast real estatesites, pendingCommerce Commission clearance.

Property BrokersLtd Licensed REAA 2008
---
North Canterbury

Lyford 10 Mount Lyford Forest Drive

West Eyreton 1197 Wolffs Road

Alpine Oasis

Now is the timetobegin yourdreamwith this iconic NorthCanterbury

property. Continue to operate Mt Lyford lodge as abar andrestaurant

with multiple accommodation options or turn it into adeluxe hunting

lodge,B&Band/or functioncentre. The opportunities are only limited

by onesimagination! Nestledinthe foothills of the Inland Kaikoura

mountain rangeand surrounded by superb hunting,hikingand biking

opportunities. Freshly renovatedbythe current owners, so with all the

hard work done, it is ready foryou to begin your dream. With the ski

seasonapproachingand the lodge only 12 kms fromthe ski field,itis

perfect for the busy seasonaheadwith beds for up to 63 guests.

For Sale From $1,800,000 +GST (if

any)

View By appointment

Web pb.co.nz/RL86802

Hamish Anderson

M 027 678 8888

Maurice Newell

M 027 240 1718

Attractive 50 acre block

This attractive50acre block has according to S-maps, predominantly

TempletonSilt Loam soil and has good established shelter. Thereisa

Portacom style staff roomofapproximately 8m x6mwithashower

and toiletand aconsented septic tank.Otherbuildings include a15m

x15m barn, 12m x9m lockable workshop, three loose boxes, acar shed

andthree old silos. The land is subdivided into ten main paddocks and

two smaller paddocks, with acentral race goinghalf way down.Just

1.5 kilometres from Tram Road, in aprivatelocation,itisabout a25

minute drive to the motorway.

Deadline Sale closes Tuesday 7th

September, 2021 at 4.00pm, (unless

sold prior)

View By appointment

Web pb.co.nz/RR94994

Maurice Newell

M 027 240 1718

Hamish Anderson

M 027 678 8888

Eyrewell Forest 663 Poyntzs Road

The Party is Free!

Book your free appraisal today, then list and sell your house with

me, and the house warming party is free!

Premium Lifestyle

These outstandinglifestyle blockswith freedraining Lismore soil,

would be ideal for horses or anyother class of animal. Blockssix and

sevenhave areas of Kanuka and Manuka for thehobby apiarists. Lot 1

is already sold, lots 2and 8are under offer,sodon't delay in viewing.

Each block haspower and two units of Council watertoatank on the

property and good shelteronsome blocks. There are sensible

covenantstoprotect your investment. Situated just 10 minutes from

the vibranttownofOxford,there are cafes, shops and restaurants, as

well as anew Fresh Choicesupermarket,pharmacy, local butchery and

weekly farmersmarket and many community groups.

For Sale By Negotiation

View By appointment

Web pb.co.nz/RL84920

Hamish Anderson

M 027 678 8888

Maurice Newell

M 027 240 1718

Includes food, refreshments and set up of the party up to $1,000

incl. GST* with up to 30 people at your new home.

Foryourpersonalised property appraisal and specialist advice,

Call me -YourPropertyExpert-Today!

LindaMcCarthy Residential/Lifestyle Sales Consultant

M 022 692 6090 lindaselznzproperty

E linda.mccarthy@pb.co.nz

*Terms &conditions apply based on per person basis. Property Brokers Ltd Licensed REAA 2008 |PB050049

Property Brokers Ltd Licensed REAA 2008 |pb.co.nz

Proudtobehere
---
Four SeasonsRealty
---
What's happening in your

community…

MainPower Stadium Opens to the Public

Mayor Dan Gordon and North Canterbury Sport

and Recreation Trust (NCSRT) Chair Don Robertson

cut the ribbon on Sunday in front ofhundreds of

people who braved the rain and snow toattend the

official opening of the MainPower Stadium.

"It'sbeen20years in themaking and Ithinkitmeans a

lottoourcommunity, from our youngathletes,toour

sportspeople andthosewho willuse it morebroadly as

amulti-usefacility," saysMayor DanGordon."Seeing

thehugenumber of people whoattendedshows just

how much it means to the community."

It's estimated up to four thousand people attended

the open day and toured the stadium'svarious areas

including the central fitness centre, main court area

and coaching spaces. On the courts, local teams

got their first chance totry out the facility as they

entertained guests with sports demonstrations.

The stadium will be managed by the NCSRT who

have been eagerly awaiting the opening asthe

District's expanding population has outgrown

existing court space.

"This is agame changer for the community, it's

state of the art and we've got everything we could

possibly need," says Don Robertson, NCSRT Chair.

"We are really excited."

At 6000m2 in size and featuring four standard

sized courts the community facility isthe largest

to be constructed in the District. It was designed

by Warren and Mahoney and built over 18months

by Leighs Construction.

It's Rail Safety Week

Nationally, since the beginning of 2010, there have

been 48 recorded serious or fatal crashes involving

atrain and amotor vehicle and two collisions with

cyclists. Twenty of these were fatal. Sadly, some of

the Waimakariri District's rail crossings feature in

these statistics.

Today is the start of Rail Safety Week, an annual

event, planned and coordinated by KiwiRail and

TrackSAFENZ. The campaign aims to raise awareness

about rail safety and to encourage safe behaviour

around trains, railway tracks and level crossings.

There are 23 rail crossings in our District, and a

variety of different controls ranging from barriers

and flashing lights to basic signage.

Everyone is reminded topay extra attention at

rail crossings and not get complacent about the

risk.Around 72 percent ofserious and fatalcrashes

between vehicles and trains happenatcrossings with

passive protection –either agiveway or stopsign.

Athird of fatal and serious level crossing incidents

involve farmers. If you cross arail crossing every

day and never see atrain it is common to become

complacent. However, the outcome if you get it

wrong isnot worth the risk.

Please continuetotake care around rail crossings, pay

full attention and always expect there to be atrain.

CHOP

THE

MOP

Jason ClementsfromWaimakaririLibraries

will Chop the Mop,saying goodbye to

his beardand trademark long hair at this

fundraising event forthe Cancer Society.

Featuring special guest poetryreadings by:

North Canterbury Cancer Society Writers Group

John Allison |Ben Brown |Doc Drumheller

Ciaran Fox |Bernadette Hall

RangioraLibrary

Thursday 26August •6.30-8pm (entry bykoha)

To support this Chop the Mop fundraising effort visit:

youcanforcancer.org.nz/jason-clements

Register Now

In association with:

libraries.waimakariri.govt.nz

03 311 8901

The Waimakariri

Event Funds

Enterprise North Canterbury is

inviting organisers of Waimakariri

events to apply for one of two

event funds.

The funds offer between $500 and $10,000

towards events held in the Waimakariri District.

The current funding round isopen now

until 31 August 2021.

Check out the criteria for the Waimakariri

Regional Events Fund and apply online at

www.northcanterbury.co.nz/regional-events-fund

Check out the criteria for the Waimakariri

Event Fund and apply online at

www.visitwaimakariri.co.nz/events/organisers/

or contact Khloe Peck, 03 327 5735 or

events@visitwaimakariri.co.nz

The Waimakariri Regional Events Fund is Ministry of Business,

Innovation and Employment funding and the Waimakariri Event Fund

is Waimakariri District Council funding. Both are administered by ENC.

2021/22 Rates

Instalment Due

We'd like to remind you that the first

instalment ofthe 2021/22 rates is due on

20 August 2021 and the last day to claim a

discount for earlier payment is approaching.

Please notethat a10% penalty will be added to any part of

the first instalment that remains unpaid aer 27 August2021.

If youare going to pay the total ratestoclaimthe discount,

please do so along with any arrears by 27 August 2021.

If you are having dificulty payingyour rates, we encourage you

to get intouch with usatrates@wmk.govt.nz to talk through

payment options.

Online

Go to waimakariri.govt.nz/services/online-services

(creditcard paymentsincur aconvenience fee).

Internet Banking

Account number: 010877-0129222-00

Use the valuation numberonyourrates invoice as reference.

If youare payingratesonmore thanone property, emaildetails

of payment to finance@wmk.govt.nz

In Person

Epos and cash payments are welcome at any Council

service centre.

SlamPoetryatthe

Kaiapoi Library

One of theworld'sleadingslam poets,

RikTheMost, brings Slam Poetrytothe

Waimakariri District, with alunchtime

performance.

Kaiapoi Library

Wednesday 25 August •12.30pm

Register Now

libraries.waimakariri.govt.nz

03 311 8901

In association with:
---
NEWS

North Canterbury News, August 12, 2021

43

Give usyour

feedback

2021 MULTICULTURAL COOKING CLASSSERIES

Want to learn to cookdifferent

and interesting dishes from

othercultures?

Global Locals ofWaimakariri (GLOW) in apartnership with

the Waimakariri District Council are hosting a10-week

MulticulturalCooking Class Series.

26 July –29 September 2021 | 5.30-7.30pm

‣Kaiapoi HighSchool

‣ RangioraNew Life School

If cost is aconcern, phone CarolynBoswell on 027 2933407

or email globallocalsofwaimakariri@gmail.com to discuss a

possible discount.

Register at humanitix.com

$20

per class

&student

Awesome fundraisers ... Friends of Rangiora Hospital members Susan Beatson (left) Margaret Donovan, Carol

Jamieson, Marion Cotter, Jan McClennan and Judy Godman work on their plant stall which raises funds for the

hospital.

PHOTO:SHELLEY TOPP

Fundraising plants stolen

By SHELLEY TOPP

Agroup of keen gardeners who

cannot bear to throw aplant out

have raised more than $167,737

for the Rangiora Hospital.

But now the Friends of

Rangiora Hospital Society have

had their long­term fundraising

efforts placed in jeopardy by

''low­life thieves'' stealing the

plants from their stall outside the

entry to the Rangiora Health Hub.

In the twenty years since the

Friends have been selling plants

at the stall the money they have

raised has been used to enhance

the environment for both patients

and staff at the hospital.

The Friends propagate the

plants from their own gardens, pot

them up and care for them until

they are ready to be sold.

It is alot of work, but the women

say they love gardening and enjoy

using their skills to raise money

for the hospital.

But it is disappointing when

''low­life thieve'' choose to steal

from this most worthy cause, they

say.

David Cotter, who has been the

society's treasurer for 23 years,

says thieves have also stolen a

custom­made trolley used to cart

the plants to the Friends' display

stand.

David's wife Marion is also a

member of the society, and his

father Dr Arthur Cotter was a

former medical superintendent at

Rangiora Hospital from 1939 until

1984.

He says it is difficult to

understand what makes people

steal funds from ahospital, which

is providing aservice they might

need one day.

''We just hope they never need

to utilise the hospital facilities,''

he says.

The Friends of Rangiora

Hospital also raise funds for the

hospital by hand­knitting baby

clothes for acraft cabinet in the

hospital foyer, selling walnuts,

gathered from awalnut tree in the

hospital gardens and also selling

hazelnuts collected from a

member's garden.

The society is always looking for

new members to join the group.

Anyone interested in learning

more about the Friends or

becoming involved is welcome to

attend its annual general meeting

at the Rangiora Health Hub on

Monday, August 30, starting at

7pm.

KNOW YOUR ZONE

TSUNAMI INFORMATION EVENINGS

Hear about the science behind the new tsunami

evacuation zones and learnpractical thingsyou

can do at hometobebetter prepared in this series

of free public meetings.

TOPICS INCLUDE:

The Science Behind the Tsunami Zones |How Likelyisa

Tsunami |Overview of the New Zones |Responding to a

Tsunami Event |Having aPlan at Home |Q&A Time

INFORMATION EVENING DATES:

Online

Wednesday11August,7pm -Watch on Facebook &Youtube

facebook.com/ WaimakaririDistrictCouncil

youtube.com/waimakaririDC

Have you signed up for

the Waimakariri District

Council Newsletter?

Tojoin visit:

waimakariri.govt.nz/subscribe

Get your business noticed with an advert on our

Classified or Trades and Services pages!

Ph 313 2840 or Email info@ncnews.co.nztodiscuss your options

From theWaimakariri

Riverinthe southto

Kekerenguinthe north,

theNorth Canterbury

News hasgot it covered.

Reaching

48,000 readers

every week
---
NEWS

44 North Canterbury News, August 12, 2021

Omihi spring ball fundraiser

Aspring ball in Omihi is being planned to

raise funds for the Omihi School.

The ball is being organised by Omihi

School principal Maree Lucas with help

from the school whanau and will be held

in the Omihi Community Hall.

It is the second year the ball has been

held. Two years ago 150 people attended

the inaugural event, which was held

during winter and raised $6500 to pay for

running costs of the hall.

This year the money raised will be used

to improve learning resources for

students at the school.

The ball will be held on Saturday,

September 11, from 7pm with afree drink

on arrival and grazing platters

throughout the night.

''There will also be araffle and asilent

SPORTS RESULTS

Rangiora Golf Club

Stableford: Ladies:PatBenny22,

SarahRutherford 18, Ruth Crawford

17 c/b. Men: Colin Bowman 19c/b, Ross

McQueen 19 c/b, Richard Luisetti19.

Amberley Bridge Club

August 2:North/South:Jim Knight &

KevinMoore 1, Jill Coberger &Paddy

MacFarlane2,Shula Guse &Jan

Roose 3. East/West: FayePattinson&

IanPettigrew 1, DiBethell &John

Savill 2, Caryl Brown&JanHaley.

AmberleyGolf Club

August 7:Men ­TNatapu67, K

Gussette69,IRouse 69,RMcPhail 69,

RHack69. Women­KPepper71, L

Robertson 75,KRowell76.

Twos: TNatapu, RMcPhail,D

Williams, GSmith,WVanZuylen, P

Cumming.

Excel Design LongestPutt: WVan

Zuylen.

auction during the night to help us raise

further funds,'' Maree said.

''It is our big fundraiser of the year, but

more importantly, areason to get out and

catch up with our community.''

Music on the night will be provided by

Christchurch covers band Assembly

Required and DJ Boogie Beats.

Tickets cost $79 each or $750 for atable

of 10 and can be purchased online at

iTicket.

There is also an option to purchase bus

transportation from Rangiora to Omihi

and return after the event or Cheviot to

Omihi and return after the event with

other collection and drop­off points

along the journey.

More details about that can be found on

the iTicket website.

Mid­week: Men ­JStringleman38, K

Rayner 36, BFitzgerald 35, GWilliams

34, RWilshire 34. Women­(August5)D

Percy 15 putts JEvans 16putts.

WaimakaririGorge Golf Club

Firstchampionshipqualifying

18 Holes:

Silver: JCollins, 83 1; NWeavers 91, 2.

Intermediate:MTe Awa95, 1; LSteele

99, 2; LPatton 101,KBattersby 101

equal 3; LSmith106.

Junior: SMardon, 107 1; MRobertson

114, 2.

Non Championship: K. Bush 115,1.

NineHoles: SMcDonald 57; 1; S

Farrar 61, 2.

Amberley Smallbore Rifle Club

August 9shoot: MQuigley 100.5, K

Quigley 100.2, PWisheart99.6,M

Black 98.5, CRhodes 97.4, MParker

95.4, DQuigley 95.4, WParker 94.1,G

Heaven 93.5, OMitchell92.0, IFrazer

89.0, ARoxburgh 88.1,ARoxburgh Jnr

80.1, HNeylon72.1.

Everyone welcome withgear

supplied.

Annual spring fair

The John Knox centre, on the cornerof

High and KingStreets, Rangiora, will

hold its annual spring fair on Saturday,

September11, from 10am to 2pm.

Enjoyalight lunch,stock up on baking,

preserves, books and jigsaws, along with

all things gardening.Some outside stalls

and fun activities.

Oxford Area School Observatory

The OxfordObservatory is continuing to

hold open evenings, subject to viewing

conditions on Fridays August 13 and 27,

andSeptember 10, with two sessions

availablefrom 7.30pm to 8.30pm, and

from 8.30pm to 9.30pm.

Youwill get to look through the new

12­inch MeadeSchmidtCassegrain

telescopeand be taken on asky gazing

tour.

Please book ahead as numbers are

limited, by visiting the website oxford.

ngawhetu.nz ­click on the ''VisitUs'' tab

forthe bookingform.FollowOxford

Observatory us on Facebook to check on

weather conditions.

Art hike new to coastal park

Tuhaitara Coastal Parkwillhold its

first ArtHike thisSunday (August 15).

Art Hike was established in the

United Kingdom in 2007byartists

Adele Jacksonand Robin Widdowson

to cater for creative­minded people

who enjoy meeting new peopleand

walking in inspiring surroundings.

It proved apopularconceptand

whenAdelemoved to NewZealandin

2017she decidedtobring ArtHike

withher.

''Art Hikealwaysincludes an

informal participatorycreative

activity during thewalk but this is

optional, so you can joininif youwant

to, butnoworriesifyou don't,'' she

says.

On August 15, Robinwill leadthe

50thUnited Kingdom ArtHike,

followingthe samerouteasthe first

one in Edale, in thePeakDistrict of

South Yorkshire, and Adele will lead

the Art Hike in Tuhaitara Coastal

Park, where sheworks as aranger.

''Thiswill be an easywalk through

someofthe diverse habitatsofthe

coastalpark including wetlands, forest

and beach,''Adele says.

The hikestarts at thePegasus Beach

car park, at theveryend of Tiritiri

Moana Drive (the one with toilet

facilities).

Participantsare asked to arriveat

9.45amfor a10am start to thehikeand

are advisedtobringwater, snacks/

lunch,phone/camera,binoculars and

to dress forthe weather withclosedtoe,sturdy

footwear, layers,plus

sunscreen,and ahat if sunny,

waterproof clothing if raining.

The 5­6km hike will take2­3 hours

andwill onlybecancelledifthe

weatherisextremely wet or windy.

Adele is first­aidtrained andwill

carry afirst­aidkit and acharged

mobilephonewithher on thehike.

Places forthe hike are limitedso

booking is essential andcan be made

by phoning Adele on 021 02606676.

LOVED BY

GENERATIONS

Published more frequently and

giving you better value for money

than any other rugby read

SUBSCRIBE

FROM AS

LITTLE AS

$20

rugbynews.co.nz

0800 77 77 10

ALSO AVAILABLE ATALL GOOD BOOKSTORES AND SUPERMARKETS
---
Public Notices

North Canterbury

Annual General

Meeting

Citizens Advice

Bureau North

Canterbury

Tuesday, 24August

2021 at 10.30am

in the Mainpower

Oval, Corner

Coldstream Road and

East Belt, Rangiora

2405507

TIMEBANK Waimakariri

AGM, 7pm Tuesday the

17th of August, Rangiora

War Memorial Hall. Followed

by apresentation on

'What is in your food?'.

Members and the Public all

welcome!

Get your business noticed with an advert on our Classified or

Trades and Services pages!

Ph Amanda on 313 2840 or Email info@ncnews.co.nztodiscuss your options

Public Notices

KAIAPOI CHRISTADELPHIANS

"The Key of Knowledge .."(Luke 11:52)

"GOOD NEWS"

The GOD of theBibleismerciful.

"Praise the LORD all you nations: praise HIM all

you people. For HIS merciful kindness is great

towards us. And the truth of the LORD endures

forever.Praisethe LORD". Psalm 117:1-2.

NORTH CANTERBURY

FISH AND GAME COUNCIL

2021 COUNCIL ELECTION

In October this year, the North CanterburyFish and Game

Council is holding an electionfor eight (8) members.

Public Notices

PUBLIC NOTICE OF

APPLICATION FOR

ON-LICENCE

SECTION 101, SALE

AND SUPPLYOF

ALCOHOL ACT 2012

Legend Since 2021 Ltd has

made application to the

District Licensing Committee

at Rangiora for the issue of

an On Licence in respect

of the premises situated

at 194C Williams Street,

Kaiapoi known as Le Soleil

Cafe, Restaurant &Bar.

The general nature of

the business conducted

(or to be conducted) under

the licence is restaurant.

The days on which and the

hours during which alcohol

is (or is intended to be)

sold under the licence are

Sunday to Thursday 8am-

11pm/ Friday to Saturday

8am -1am the following day.

The application may be

inspected during ordinary

office hours at the office

of the Waimakariri District

Licensing Committee at 215

High Street, Rangiora.

Any person who is entitled

to object and who wishes

to object to the issue of the

licence may, not later than

15 working days after the

date of the publication of this

notice, file anotice in writing

of the objection with the

Secretary of the Waimakariri

District Licensing Committee

at Private Bag 1005,

Rangiora.

No objection to the issue

of alicence may be made

in relation to amatter other

than a matter specified in

section 105(1) of the Sale

and Supply of Alcohol Act

2012.

This is the second

publication of this notice.This

notice was first published on

5th August 2021

2406039v2

Call for Candidates

Nominations are nowcalled for the eight (8)members. Candidates wishing to stand forthe Council

mustcompleteacandidacy formand return it to theReturning Officerby5pmon

Thursday 26 August 2021. Candidacyforms and acandidatehandbook canbeobtained by

phoningthe election helpline on 0800 666 040,emailing iro@electionz.com or downloading

from https://fishandgame.org.nz/about/elections

If more than 8nominations are received an election willbeheld by postaland internetvoting during

September/October.Votingcloses at 5pm on Friday 8October2021 forinternet votes

andhand-delivered votingpapers, and 5pm on Tuesday 12 October 2021 forpostal delivered

voting papers.

Candidate Eligibility

To be eligiblefor election candidates must:

• beaholder of acurrent adult whole season licence to hunt game or fish for sports fish or

the primaryholder of afamily licence

• not be abankrupt

• not have been convicted of an offence involving sports fish and game

• submit their completed candidacyform to the Returning Officer on or before 5pm on

Thursday 26 August 2021

• submit with their candidacyform acandidate profile of up to 250 words

Sub-Regions

The NorthCanterbury Fish and Gameregion has been defined as one entire region. There are no

sub-regions forthisCouncil.

Electoral Roll and Voter Eligibility

To vote in theelection, apersonmusthavepurchased a2020/21adult whole seasonfishing

licenceorfamilylicence or a2021 adult wholeseason gamelicencefor theNorth Canterbury

Fish and Game region andhaveindicatedtheir desiretobeincluded on theCouncil's electoral

roll by ticking thebox on their licence application form.

An electoralroll of licence holders eligible to vote in theelectionisavailable for inspectionatthe

Counciloffice, 595 Johns Road, Harewood,Christchurch.

Anyone not alreadyincluded on the electoral rolland who believes theyqualifytobeincluded, can

complete an enrolment application form available from the Council office or by request from the

election helpline (see contact details below).Applications forenrolment closeat5pm on

Wednesday8September 2021.

Enquiries on this election processshould be directed to the

Election Helpline by phoneto0800 666040 or email

to iro@electionz.com

2406825

RANGIORA BOWLING CLUB

wouldliketowelcome you

to give bowlsago

August 14 th ,August21 st ,

August 28 th

10am–12pm&1pm –3pm

03 313 8082 or

021 0273 5220

2407889a

THE SOUTHBROOK COMMUNITY SPORTS C LUB INC.

117 South Belt, Rangiora

Address all communications to:

The Secretary, PO Box 133, Rangiora. 7440

Email: sportsclub@saracensrugby.co.nz

AGM

TUESDAY 17 th AUGUST

7.00pm @the Clubrooms

We have vacancies for the following voluntarypositions

which do need to be filled at the AGM.

Chairperson

Treasurer

Bookings Co Ordinator

If you are interested and would like more information,

please contact our current Acting Chair 027 438 4279

or Secretary027 457 8306

2402294

Waimakariri District Council

Review of Representation Arrangements for the 2022 Local Elections

On 3August 2021 the Waimakariri District Council reviewed its representation arrangements, and resolved that the

following proposal apply for the Council and its Community Boards for the elections to be held on 8October 2022:

Council Representation

It is proposed that the Council comprise of ten (10) members elected from three (3) wards, and the mayor. The three

wards reflect the following identified communities of interest:

Ward

Communities of Interest

Kaiapoi-Woodend Ward The east coast of the District including Clarkville, Kaiapoi, Tuahiwi,

Woodend, Pegasus, Ravenswood, Waikuku and Sefton

Rangiora-Ashley Ward

Rangiora (includingSouthbrook) Fernside, Cust, Mairaki Downs, Ashley,

Loburnand Okukutothe Garry River

Oxford-Ohoka Ward

Eyreton, Ohoka, Mandeville, Swannanoa,West Eyreton, Eyrewell,

Oxfordurban and rural,Lees Valley andGlentui

The population thateach member will represent is as follows:

Ward Population Members Population

(2018 census) (Councillors) per member

Kaiapoi-Woodend Ward 24,900 4 6,225

Rangiora-Ashley Ward 26,700 4 6,675

Oxford-Ohoka Ward 13,050 2 6,525

Total 64,650 10 6,465

In accordance with section 19V(2) of the Local Electoral Act 2001 the population that each member represents must

be within the range of 6,465 +/- 10% (5,820 to 7,110), unless particular community of interest considerations justify

otherwise.

Community Board Representation

It is proposed that the following four community boards be elected:

Community Board

Area of Community

Kaiapoi-Tuahiwi Community Board Located in the southernarea of the Kaiapoi –Woodend Ward,

including Clarkville, Kaiapoi and Tuahiwi

Woodend-Sefton Community Board Located in the northernarea of the Kaiapoi –WoodendWard,

including Woodend, Pegasus, Ravenswood, Waikuku and Sefton

Rangiora-Ashley Community Board Located in the Rangiora-Ashley Ward

Oxford-Ohoka Community Board

Located in the Oxford-Ohoka Ward

Kaiapoi-Tuahiwiand Woodend-Sefton Community Boards

The Kaiapoi-Tuahiwi and Woodend-Sefton communities will each elect five (5) members. The boards will not be

subdivided for electoral purposes. They will each have two appointed members as follows:

Community Board

Number of members from ward

Kaiapoi-Tuahiwi Community Board 2members appointed from the Kaiapoi –Woodend Ward

Woodend-Sefton Community Board 2members appointed from the Kaiapoi –Woodend Ward

Rangiora-Ashley Community Board

The Rangiora-Ashley communities will elect eight (8) members. Four members will be appointed to the Board from the

Rangiora-Ashley Ward.

The Rangiora-Ashley Community Board will be subdivided for electoral purposesasfollows:

Subdivision

Area of Subdivision

Rangiora (urban)

Rangiora and Southbrook

Ashley (rural)

Fernside, Cust, Mairaki Downs, Ashley,Loburnand Okuku to the

Garry River

The populationthat the members of each subdivision will represent is shown below:

Subdivision Population Board Population

(2018census) Members per member

Rangiora (urban) 19,400 6 3,233

Ashley (rural) 7,360 2 3,680

Total 26,760 8 3,345

The population each member of the Rangiora-Ashley Community Board represents falls within the range of 3,345 +/-

10%(3,010 to 3,680) in accordance with section 19V(2) of the Act.

Oxford-Ohoka Community Board

The Oxford-Ohoka communities will elect six (6) members. Two(2) members will beappointed to the Board from the

Oxford-Ohoka Ward.

The Oxford-OhokaCommunity Board will be subdivided for electoral purposes as follows:

Subdivision

Area of Subdivision

Ohoka-Swannanoa

Ohoka, Mandeville, Swannanoa

Oxford

West Eyreton, Eyrewell, Oxford urban and rural, Lees Valley and Glentui

The population thatthe members of each subdivision will represent is shown below:

Subdivision Population Board Population

(2018 census) Members per member

Ohoka-Swannanoa 6,620 3 2,207

Oxford 6,450 3 2,150

Total 13,070 6 2,178

The population each member of the Oxford-Ohoka Community Board represents fallswithin the range of 2,180 +/- 10%

(1,960 to 2,400) in accordance with section 19V(2) of the Act.

Further Information

Copies of the Council's resolution and maps setting out the areas of the proposed wards, communities and subdivisions

may be viewed and obtained from the Rangiora Service Centre (215 High Street Rangiora), Ruataniwha Kaiapoi Civic

Centre (Williams Street Kaiapoi) or OxfordService Centre (Main Street Oxford).

Any queries regarding the Council's decision should be directed to Sarah Nichols, Governance Manager,

215 High Street, Rangiora. Email: representation@wmk.govt.nz

Relevant information is also available on the Council's website: waimakariri.govt.nz

Submissions are invited

Persons with an interest in the proposed representation arrangements are invited to make written submissions on the

Council's representation proposal.

Submissions are to be forwarded to: Waimakariri District Council, Private Bag 1005, Rangiora 7440, 215 High Street,

Rangiora or email: representation@wmk.govt.nz

or on-line at waimakariri.govt.nz/letstalk

Submissions must be receivedbyCouncil no later than 5pm Monday 27 September 2021.

Jim Harland

Chief Executive

2407699
---
CLASSIFIED

46 North Canterbury News, August 12, 2021

Situations Vacant

EXPERIENCED

DRAINLAYERS

WANTED!!

Discount Drainage is on

the hunt for Experienced

Drainlayers who are

motivated and wanting

to get ahead.

We are a growing

drainlaying company

and need a passionate

drainage team to handle

our busy workload.

We do avariety of work

including New Residential

Builds, Earthquake

Relays, Alterations and

Renovations, CCTV

Inspections, Blocked

Drains etc.

We are based near

Rangiora, so this position

would ideally suit

someone from North

Canterbury or willing to

travel.

Good work references and

proof of qualifications

are essential.

Apply today by

emailing acover letter

and acopy of your c.v. to:

admin@discount

drainage.co.nz

Educational

TUITION available. Primary

and secondary up to

NCEA level 3. In centre

(Rangiora) or interactive

online from your home.

Each student on an individually

tailored programme.

Kip McGrath Rangiora has

been serving the local community

for 30 +years. Give

us acall (03 313 3638) or

book your free assessment

online https://www.kipmcgrath.

co.nz/rangiora

Wanted To Buy

WANTED boat trailer.

Approx 51/2 mtrs to suit

Fi-glass Warrior. Ph 027

388 2359.

$$$

Amalgamated Scrap Metal

Ltd. Specialists in farm

machineryand farm clean

ups, old vehicles etc.

100% locally owned.

Ph 0800 030 712 or

027 695 0480.

2312759

For Sale

SEPTIC TANK. Oasis

Clearwater series 2000, in

ground but never

commisisoned. Enquiries to

027 620 2165.

Situations Vacant

Trade Quotes Co-Ordinator

and

Sales &Rep Support

Can you work hard and smart?

Do you want to be part of asuccessfulteam?

Do you know the difference between trade and retail?

Can you "live" not just talk, excellent customer service?

Can you help turn our customers and trade partners into

advocates for our business?

Do you want to be apartofagrowing business where you

are valued, can make adifference and are important?

Great, and do you have:

•Experience with trade building supplies

•Experience with residential building

•Experience with quotations and pricing

•The ability to read house plans, and make decisions

from them

•Experience with Microsoft excel, word &outlook

•Exceptional organisational skills

•Ability to problem solve

•Strong people skills

If so, please send us your CV as we are currently looking

for suitable applicants for the position of Trade Quotes Co-

Ordinator at McAlpines Mitre 10 Mega Rangiora.

We offeragreat working environment in North Canterbury,

with ongoing training and competitive remuneration.

McAlpines have an active drug &alcohol policy in place,

apre-employment drug test and medical will be required.

If you think you can add value to our team please forward

your application including an up to date CV to: Trade

Quotes Co-Ordinator, McAlpines Mitre 10 MEGA, Private

Bag 1003,Rangiora 7440 or email

applications@mcalpines.co.nz

2406993

Farming Notices

FOR sale baleage, good

quality $100. Please phone

027 739 1218.

Wanted To Rent

RANGIORA 2 bdrm

house or flat wanted, excellent

refs. Please phone

Odette 027 812 0261.

Livestock

HOMEKILL

&Wild Game

Meat Processing

313 0022

2309602MEAT2U.NZ

Gardening

A+ GARDEN hedges cut

to perfection. Tree &arbor

work. Also spraying. Free

quotes. Ph 03 312 0668 or

021 111 4322.

Firewood

DRY WATTLE two years

old, $700 6m2. Dry Old

Man Pine, $540 6m2.

Phone 03 312 8726 Rangiora.

Pets

BICHON HOMESTAY

for smaller dogs. We look

after your dog in our home.

"No kennels". Phone today

03 314 6110.

Trade &Services

WINDOW TINTING

tintawindow

advanced film solutions

99% uv block

fade protection

heat control

reduce glare

25 Years Experience

privacy films

frosting designs

non-darkening films

Workmanship Guaranteed

Lifetime Warranties on Most Films

UV

block

Free Quotes Canterbury and Districts

03 365 3653 0800 368 468

Situations Vacant

ABEL &Prestige Chimney

Cleaning. Nth Cant owned

& operated. Covering all

areas from Waimak to Hanmer.

Professional, guaranteed,

service. Firebox

repairs, carry most parts. Ph

0800 661 244.

CARETAKER

The Northern A&PAssociation, own and

manage the Rangiora Showgrounds. We

require a competent person, who lives

within close proximity to the Grounds, to

fill our Caretaker/Grounds persons role on

contractor basis.

It is apart time/seasonal position with the

majority of the work being from August

through to February. Extra hours may be

required the week of the Rangiora Show

(Labour Weekend) and by request for other

large events.

A detailed job description is available on

request.

Please email your expression of

interest to info@rangiorashow.co.nz

2407762

Cars Wanted

ANY old cars, anything pre

1990, unfinished Hot Rods,

Classic Cars. Please call

027 258 8366.

CASH 4CARS

and 4WD'S

Phone

Automotive

Parts

03 313 7216

Cars Wanted

CARS, vans, 4WD's

wanted for dismantling or

repair. Phone 027 258

8366.

Motorcycles

SOUTH PACIFIC Motorcycle

Services. Local family

business since 2003. All

types of service and repairs,

all makes and models. Collection

service available.

Please phone 03 312 0066

office@motorbiketours.co.nz

www.motorbiketours.co.nz.

Trade&Services

AFFORDABLE concrete

cutting with quality and

removal work. Free quotes.

No job too small. Ph 027

442 2219, Fax 03 359 6052

or A/H 03 359 4605.

ALL TREE SERVICES,

arbour work, pruning, tree

removal. Affordable &

friendly service. Telephone

021 111 4322.

ARBORIST qualified.

Copper Beech Tree

Services. Tree removal,

pruning, height reduction,

hedge trimming, shaping,

tree planting, firewood.

Free quotes. Contact Angus

Edwards 027 259 6741

copperbeechtreeservices@gmail.com

BRIAN'S Tree Services.

Tree felling, topping,

shaping, firewood cut, rubbish

removed, stump grinding,

branch chipping.

Affordable rates. Phone 03

327 5505 or 021 124 4894.

BUILDERS Father &Son

team. Amac Builders are

available to help you with

your building needs. High

standards, low overheads.

No job too small. Check us

out on fb. Amac Builders

Ltd. Ph 027 318 4400.

KITCHEN, bathroom,

renovations, decking,

pergolas, fencing. Honest

reliable licenced builders.

Ph Don 027 727 9162.

CHIMNEY SWEEPS

Time to service your fire.

Accumulation of soot seriously

affects performance.

Latest rotary brush technology.

Free moisture check

on wood. Safety inspection.

All work insured and guaranteed.

From $70 single

story. 0800 SWEEPME or

021 0277 1927. Visit

www.sweepnz.co.nz.

PAINTERS

Reg Tradesman

Interior,exterior.

North Canterbury Painters

specialising in decorating for

over 65 at adiscount rate.

Free quotes.

Covering Nth Canty,Oxford,

Kaiapoi, Rangiora, Amberley.

Rob 03 327 7899

or 027 432 3520 2227597

DIRTY TILES &Grout?

Professional tile cleaning,

tiled shower restoration,

mouldy silcone, shower

glass & we can even

recolour your old grout!

For all your tile and grout

issues call Grout Pro for a

free, no obligation quote.

Ph Darryl 0800 882 772.

PAINT & wallpaper

services. Wayne Bryant,

exterior, interior. Qualified

tradesman. Free quotes. Ph

313 5337 or 027 654 4568.

Trade&Services

PAINTER & Decorator.

25 + years experience.

Interior /exterior, roofs &

waterblasting. For a free

quote, please ph Steve 03

314 4620 or 027 477 1930.

Log Fires

Pellet Fires

Heat Pumps

Sales

Service

Installations

Free Quotes

03 343 1651

472 Blenheim Rd

www.heatstore.co.nz

METAL WORX. Flashing,

Sheetmetal Fabrication,

Wrought Iron,

Welding, Custom Trailers,

General Metalwork. No job

too big or too small. Ph 021

265 5428 or 03 314 6908.

Find us on facebook/

Glenmark Metal Worx.

glenmarkmetalworx.ltd@gmail.com.

PAINTER. Qualified local

professional, Int / Ext,

roofs, wallpaper. Call or

text Corban 027 846 5035.

POWER TOOLS repairs,

parts &sales for over 40

years. All main brands serviced.

Grossman Trade

Tools, 23 Watts Road,

Christchurch. Ph 389 9230.

RANGIORA Rubbish

Removal and RRR skips.

Wheelie bins any frequency

and skips from 1.5 cube to

9cube. Skips and wheelie

bins for any use, rubbish,

greenwaste, building sites

or just cleanups. Give us a

phone call 313 6957 or for

skips 021 313 255.

ROOFER. All roof repairs,

roof painting, water blasting,

moss treatment,

repointing, gutter cleans &

snow straps. And more.

Free quotes. Phone Nathan

027 516 6609.

SCREEN PRINTING.

For all your printing

requirements. T-shirts,

Hoodies, Hi-Vis vests and

polos, Overalls, Caps etc.

Please phone Heather 03

313 0261 or email heather.

norstar@gmail.com.

Trusted Trades &

Professional Services

Trade&Services

SHEARER. Hap's Farm &

Lifestyle Services. Shearing,

crutching, drenching,

tailing, feet trimming &

health check. — Ph. 03-

423-3713or021-267-4025.

SUMMERFIELD

FENCING

IN YOUR AREA NOW.

Lifestyle or farm, sheep, cattle,

horse, all types of animals.

Fences, yards, sheds, arenas,

shelters, runs.

30+ years contract fencing.

Steve is available to help with

your design &planning.

Ph office03312 4747

2091848

ANTHONY SYMONDS

Forall your painting &

plastering requirements

Local with 30 years

experience

All workmanship

Guaranteed.

Phone 021 344 023

2220615

SEPTIC TANK

CLEANING

Bill's Liquid

Waste

You dump it...

Blair pumps it...

Blair Tavendale

Ph 03 314 9371

0275 379-694

Guide

2225862

Pride &Quality Painting

&Decorating Services

20 yrs exp, fast and friendly

service. For all your painting

needs, phone: Martin 310

6187 or 021 128 9867

2362002

027 216 0000

REMOVALISTS

Movemen Ltd

2Men &agood sized truck.

From $150 plus GST per hour.

Kaiapoi based.

Call Gerard

027 668 3636

movemen.co.nz

2401953

VALUATION -

Specialising in North Canterbury.

Contact Geoff at

Maxwell Valuation. Phone

03 310 8541 or email

geoff@maxval.co.nz.

To book your spaceinthis guide,phoneAmanda Keys 313 2840 or email amanda.keys@ncnews.co.nz

Automotive &Recovery

Builder

Builder

Builder /Carpenter

2070788

• WOF Cars &Trailers

• Vehicle Servicing &

Repairs

• Tyres &Punctures

• Jump Starts

•

Towing &Salvage

• Courtesy Car Available

Ph Aaron Rowlands

0272 588 366

13 Stone Eyre Place,

Swannanoa

Eftpos available Mon –Fri 8am –5pm, Sat 9am –1pm

• New Builds

• Light Commercial /Re-strengthening

• Renovations

• Bathrooms

• Farm Buildings

• House Lifting Re-piling

• Shop Fit Outs

2397995

40+ years experience

027 222 5078

markw.hills@xtra.co.nz

High quality carpentry and building services inthe

local area, with competitive rates and quotes.

• Fencing &Decking

• Kitchen Renovations

• Bathroom Renovations

• Alterations

• General maintenance

Todd Gould

Qualified Carpenter

Licensed Building Practitioner

022 170 1715

tagcarpenters@gmail.com

To book your spaceinthis guide,phone Amanda Keys 313 2840 or email amanda.keys@ncnews.co.nz
---
Trusted Trades &

Professional Services

Guide

To book your spaceinthis guide,phoneAmanda Keys 313 2840 or email amanda.keys@ncnews.co.nz

Butchery

Computer Repairs

DENTURE CLINIC

Digger Hire and Construction

OxfordButchery

Shane and Leanne Frahm

We cankill&process yourstock

FourGenerations of Frahms

since 1957

Ph 312 4205

Oxford

Thursday,August 2, 2018 | Issue 808 | www.ncnews.co.nz

Number one

old-fashioned bacon

&ham curing.

A/H 312 4709

HAVE YOU BEEN TO

OUR WEBSITE LATELY?

www.ncnews.co.nz

Visit now toview the paper online &more!

1680439

For all your computer repairs, parts, servicing, sales &more..

Come and see us for friendly &supportive service

2208126

Construction &Concrete

All Construction & Concrete Work

•Driveways, patios &paths

•Bridges and Culverts

•Floors, foundations

•Sheds and buildings

•Dairy Sheds, Herd homes

•Silage pits, effluent ponds

•Excavation and cartage

•Precast concrete

•Insulated panels

Daryl Power

027 230 9401

concretepower@scorch.co.nz

www.concretepower.co.nz

2273277

RANGIORA

DENTURE CLINIC

Garry WMechen

Registered Clinical DentalTechncian

Phone (03) 313-9192

38a Ashley Street, Rangiora

NEW N W DENTURES D ES

*RELINE * *REPAIRS

* I S

HOURS

8.30am -12noon

- Monday to Friday

FREE E CONSULTATION O

AND ADVICE

A V C

For a/h repairs

phone (03) 310-3044

ECOM Digger Hire

and Construction

•9 ton Komatsu with rubber pads.

•Excavotor can be dry hired or with

one of our expert operators.

•Attachments available:

•Post driver

•Concrete/rock breaker

•Grab bucket

•Tilt bucket

•Rock bucket

No job

too big

–Nojob

too small

admin@ecomconstruction

www.ecomconstruction.co.nz

2384249

2089195v2-4/4-S

✓ Mowing

✓ Edging

✓ Trimming

2360356

Mowing &Gardening

✓ Blowing

✓ Pruning

✓ Cleanups

CALL US NOW: 027 294 8279

elitemowingandgarden

Seamless Spouting

Seamless Spouting

And much

more ...

Supply and Install

of Seamless Gutters

10 year no leaks

guarantee

• Continuous spouting made on site,

large colour range available

• High grade and thicker material used

• Repair or replace any type of gutter

• Undertake all insurance work

• Independently owned and operated

• Competitive pricing

Servicing North CanterburyDistricts

Call Danie 021 875 462

2359362

• Ear Health checks.

• Wax removal using Microsuction

• Removal of foreign bodies

• Basic hearing aid care

Clinics in Rangiora, Amberley and Kaiapoi

Rest homes/retirement villages, booking by prior arrangement.

Bookings: Online www.earcare.nz |Phone 020 4124 25 25

Email alison@earcare.nz | Ear Care Canterbury

2324849

YOU

COULD

BE

HERE

Advertise

your business

in our Trades

and Services

Phone

Amanda Keys

on

03 313 2840

Ear Health

• ACC provider

• WarVeteran provider

• No medical referral

required

If it stands still

long enough we

will paint it

•17metre spray

booth

•FullPaint &Panel

Service

•Insurance Work

Panel &Paint

03 313 9375 •027 369 3974

www.stewartcontracting.co.nz

contact@stewartcontracting.co.nz

•Fullcoachbuildingservice, fabricating

doors,lockers, windows, tanks

ENJOYABLE STRESS FREE LANDSCAPING

•PaintingMotorhomes, Caravans, Boats,

Trucks,Tractors&Cars

Now moved to 8Seven Mile Drive, Belfast

Phone (03) 323 4115

www.autobodyrepairs.co.nz

Trellis

Proud specialists in enviro-friendly

timber manufacturing trellis from

premium Macrocarpa &treated Pine

2351878

Landscaping

STEWART CONTRACTING

Landscaping -Fencing

& Earthworks

2404153

Plumbing

For all

general

aspects of

plumbing

Discounts for over

65 years old

Fast friendly service

All work guaranteed

Aaron McCartney

Certifying Plumber

Cell 027 366 9091

A/H 03 310 2137

Free Call:

0508 44EVER

EMAIL:

plumber_27@yahoo.com

•Trellis •Outdoor Living

•Outdoor Furniture •Gates

550 Oxford Road, Fernside |sales@kaiapoitrellis.co.nz

Ph 027 575 4511 |www.kaiapoitrellis.co.nz

2136148

2172994

Landscaping

For all your landscaping needs

All Landscaping, Retaining Walls (Engineered and

Non-Engineered), Timber Fences, Landscape Structures

and more...Lifestyle Block, Rural and Residential.

Phone Jeremy 021 169 9394

www.blackhill.co.nz

www.facebook.com/blackhillltd

2372616v2

Painter /Plasterer

HURUNUI Painting

• Qualified tradesmen, quick,neat and friendly.

• Reasonable rates. • Interior /exterior painting.

• Interior plastering &wallpapering.

• Spray painting &water blasting.

P: Rod Hermes 027 414 0830 or 03 314 2391

E: r.hermes@xtra.co.nz

2394026v2

Scrap Metal

CASH PAID FOR SCRAP

•Car Bodies •Scrap Steel•Specialists in Farm

Machinery•All non Ferrous

MAINLAND

METALS LTD

Ph (03)338 7000

Mike0274 818544 •Robbie0274818 027

Locally owned and operated

Windows & Doors

WINDOW MARKET PLACE

• New & Used

• Timber & Aluminium

• Windows & Doors

8am-5pm Weekdays

8am-2pm Saturday

215 Waltham Rd, Sydenham

Ph (03) 379 6159 info@windowmarket.co.nz

Fax (03) 962 1012 www.windowmarket.co.nz

1902273

ncn1242200aa

To book your spaceinthis guide,phone Amanda Keys 313 2840 or email amanda.keys@ncnews.co.nz
---
TRUST YOUR

LOCAL EXPERTS

We've totally got you coveredwith awide

rangeoffarmbuildings, garages, sheds,barns,

commercial buildings and more.

"Enquire for a FREE on-site

visit & build quote!"

Visit us at Totalspan North Canterbury

127 Main North Road, Woodend.

Email: northcanterbury@totalspan.co.nz

0800TOTALSPAN TOTALSPAN.CO.NZ