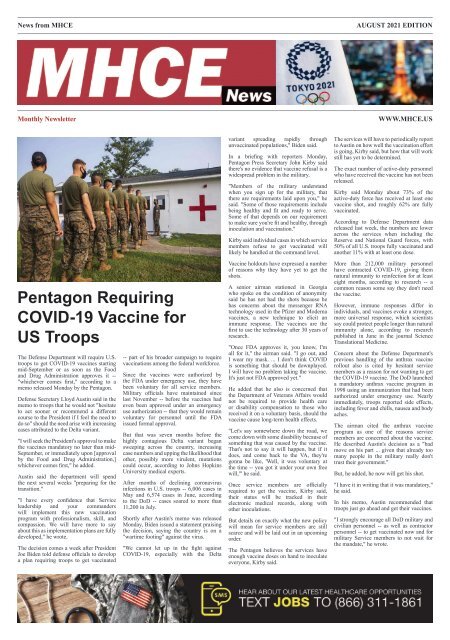 You also want an ePaper? Increase the reach of your titles
YUMPU automatically turns print PDFs into web optimized ePapers that Google loves.
News from MHCE

AUGUST 2021 EDITION

Monthly Newsletter

WWW.MHCE.US

Pentagon Requiring

COVID-19 Vaccine for

US Troops

The Defense Department will require U.S.

troops to get COVID-19 vaccines starting

mid-September or as soon as the Food

and Drug Administration approves it --

"whichever comes first," according to a

memo released Monday by the Pentagon.

Defense Secretary Lloyd Austin said in the

memo to troops that he would not "hesitate

to act sooner or recommend a different

course to the President if I feel the need to

do so" should the need arise with increasing

cases attributed to the Delta variant.

"I will seek the President's approval to make

the vaccines mandatory no later than mid-

September, or immediately upon [approval

by the Food and Drug Administration,]

whichever comes first," he added.

Austin said the department will spend

the next several weeks "preparing for the

transition."

"I have every confidence that Service

leadership and your commanders

will implement this new vaccination

program with professionalism, skill, and

compassion. We will have more to say

about this as implementation plans are fully

developed," he wrote.

The decision comes a week after President

Joe Biden told defense officials to develop

a plan requiring troops to get vaccinated

-- part of his broader campaign to require

vaccinations among the federal workforce.

Since the vaccines were authorized by

the FDA under emergency use, they have

been voluntary for all service members.

Military officials have maintained since

last November -- before the vaccines had

even been approved under an emergency

use authorization -- that they would remain

voluntary for personnel until the FDA

issued formal approval.

But that was seven months before the

highly contagious Delta variant began

sweeping across the country, increasing

case numbers and upping the likelihood that

other, possibly more virulent, mutations

could occur, according to Johns Hopkins

University medical experts.

After months of declining coronavirus

infections in U.S. troops -- 6,006 cases in

May and 6,574 cases in June, according

to the DoD -- cases soared to more than

11,200 in July.

Shortly after Austin's memo was released

Monday, Biden issued a statement praising

the decision, saying the country is on a

"wartime footing" against the virus.

"We cannot let up in the fight against

COVID-19, especially with the Delta

variant spreading rapidly through

unvaccinated populations," Biden said.

In a briefing with reporters Monday,

Pentagon Press Secretary John Kirby said

there's no evidence that vaccine refusal is a

widespread problem in the military.

"Members of the military understand

when you sign up for the military, that

there are requirements laid upon you," he

said. "Some of those requirements include

being healthy and fit and ready to serve.

Some of that depends on our requirement

to make sure you're fit and healthy, through

inoculation and vaccination."

Kirby said individual cases in which service

members refuse to get vaccinated will

likely be handled at the command level.

Vaccine holdouts have expressed a number

of reasons why they have yet to get the

shots.

A senior airman stationed in Georgia

who spoke on the condition of anonymity

said he has not had the shots because he

has concerns about the messenger RNA

technology used in the Pfizer and Moderna

vaccines, a new technique to elicit an

immune response. The vaccines are the

first to use the technology after 30 years of

research.

"Once FDA approves it, you know, I'm

all for it," the airman said. "I go out, and

I wear my mask. ... I don't think COVID

is something that should be downplayed.

I will have no problem taking the vaccine.

It's just not FDA approved yet."

He added that he also is concerned that

the Department of Veterans Affairs would

not be required to provide health care

or disability compensation to those who

received it on a voluntary basis, should the

vaccine cause long-term health effects.

"Let's say somewhere down the road, we

come down with some disability because of

something that was caused by the vaccine.

That's not to say it will happen, but if it

does, and come back to the VA, they're

gonna be like, 'Well, it was voluntary at

the time -- you got it under your own free

will,'" he said.

Once service members are officially

required to get the vaccine, Kirby said,

their status will be tracked in their

electronic medical records, along with

other inoculations.

But details on exactly what the new policy

will mean for service members are still

scarce and will be laid out in an upcoming

order.

The Pentagon believes the services have

enough vaccine doses on hand to inoculate

everyone, Kirby said.

The services will have to periodically report

to Austin on how well the vaccination effort

is going, Kirby said, but how that will work

still has yet to be determined.

The exact number of active-duty personnel

who have received the vaccine has not been

released.

Kirby said Monday about 73% of the

active-duty force has received at least one

vaccine shot, and roughly 62% are fully

vaccinated.

According to Defense Department data

released last week, the numbers are lower

across the services when including the

Reserve and National Guard forces, with

50% of all U.S. troops fully vaccinated and

another 11% with at least one dose.

More than 212,000 military personnel

have contracted COVID-19, giving them

natural immunity to reinfection for at least

eight months, according to research -- a

common reason some say they don't need

the vaccine.

However, immune responses differ in

individuals, and vaccines evoke a stronger,

more universal response, which scientists

say could protect people longer than natural

immunity alone, according to research

published in June in the journal Science

Translational Medicine.

Concern about the Defense Department's

previous handling of the anthrax vaccine

rollout also is cited by hesitant service

members as a reason for not wanting to get

the COVID-19 vaccine. The DoD launched

a mandatory anthrax vaccine program in

1998 using an immunization that had been

authorized under emergency use. Nearly

immediately, troops reported side effects,

including fever and chills, nausea and body

aches.

The airman cited the anthrax vaccine

program as one of the reasons service

members are concerned about the vaccine.

He described Austin's decision as a "bad

move on his part ... given that already too

many people in the military really don't

trust their government."

But, he added, he now will get his shot.

"I have it in writing that it was mandatory,"

he said.

In his memo, Austin recommended that

troops just go ahead and get their vaccines.

"I strongly encourage all DoD military and

civilian personnel -- as well as contractor

personnel -- to get vaccinated now and for

military Service members to not wait for

the mandate," he wrote.
---
2 | MHCE - News www.mhce.us AUGUST 2021 EDITION

Welcome to CoreCivic, a diversified, government-solutions company with the scale and experience needed to solve tough government

challenges in cost-effective ways. We provide a broad range of solutions to government partners that serve the public good through high-quality

corrections and detention management and a growing network of residential reentry centers to help address America's recidivism crisis.

Our purpose is to help the government better the public good. But we can't do it alone. Join a team that is dedicated to making an impact on the

people and communities we serve.

Clinically-Focused, Patient-Centered, Evidence-Based

When you join our health services team as a provider, nurse, or mental health professional, you are able to focus on what led you into health

care to begin with – providng quality, patient centered care while building a successful career.

We care deeply about what we do and strive daily to make substantial changes in the lives of those in our care. We constantly hold ourselves

to the highest standards of medicine. It's just one of the reasons why we are one of the best in the industry.

Join a team that is dedicated to making an impact in the people and communities we serve. Learn more about our open health service positions

online at Jobs.CoreCivic.com

needs

you!

View current jobs

or apply online at

JOBS.LA.GOV

For more info

contact Katie Gaulden at

(225) 634-4303 or katheryn.gaulden@la.gov

EQUAL OPPORTUNITY EMPLOYER | JOINT COMMISSION ACCREDITED
---
WWW.MHCE.US Monthly Newsletter | 3
---
4 | MHCE - News www.mhce.us AUGUST 2021 EDITION
---
WWW.MHCE.US Monthly Newsletter | 5
---
6 | MHCE - News www.mhce.us AUGUST 2021 EDITION

Female Veterans May

Soon have Access

to Mammograms in

15 States Where VA

Doesn't Perform Them

In the bill, senators also order the

VA Office of Inspector General

to investigate veterans' access

to mammography, the quality of

the screenings and the overall

performance of medical providers

who treat veterans with breast

cancer.

"The VA is uniquely positioned

to be a leader in the fight against

breast cancer," Boozman said in

a statement. "By harnessing the

research and technology available

nationwide, the department can be

better suited to address the needs

of breast cancer patients across the

country."

Earlier this week, Boozman

introduced another bill that would

require the VA to begin conducting

mammograms at younger ages for

female veterans.

The Supporting Expanded

Review for Veterans in Combat

Environments bill would extend

access to mammograms for all

female veterans who served in

areas with burn pits or other toxic

exposures, regardless of their age,

symptoms or family history.

According to a report from the

National Institutes of Health,

female veterans and female

military personnel are estimated

to be 40% more likely to develop

breast cancer than the general

female population.

WASHINGTON — Senators

introduced legislation Thursday

that aims to extend mammogram

services to female veterans in the

15 states where the Department of

Veterans Affairs doesn't perform

them.

The bill, titled the Mammography

and Medical Options for Veterans

Act, gives the VA one year to

start a pilot program for veterans

who live in states where the

department doesn't offer in-house

mammography services. Those

states are Washington, Oregon,

Idaho, Montana, Wyoming, Utah,

North Dakota, South Dakota,

Kansas, Oklahoma, Louisiana,

Mississippi, Vermont, New

Hampshire and Maine.

Senators suggested the program

could use VA community-based

outpatient clinics, rural health

clinics, mobile mammography

clinics or other facilities to conduct

mammograms and send them to the

VA's central tele-mammography

center for interpretation by expert

radiologists.

"The best way we can fight breast

cancer is with early detection

and top-notch preventative care

— plain and simple," said Sen.

Jon Tester, D-Mont., one of the

sponsors of the bill. "That's why

it's critically important that we

expand every veteran's access to

high-quality cancer screening and

care, no matter where they live."

Tester introduced the bill, along

with Sens. John Boozman,

R-Ark., Mazie Hirono, D-Hawaii,

and Susan Collins, R-Maine.

Reps. Julia Brownley, D-Calif.,

and Mariannette Miller-Meeks,

R-Iowa, are leading the House

companion bill.

In addition to extending access to

mammograms for veterans in rural

areas, the bill makes sweeping

changes to VA mammography.

In part, it would upgrade all of

the VA's in-house mammography

services to use 3D imaging, called

digital breast tomosynthesis.

DBT builds a three-dimensional

image of a breast to better detect

and diagnose cancer, especially

for women with dense tissue.

Congress passed a law last year

that required the Pentagon to make

3D screenings available to activeduty

service members, retirees and

their families.

Currently, 88% of the department's

mammography sites use 3D

screenings. The bill requires the

VA to offer them at the remaining

locations.

The legislation also mandates

the VA create plans and conduct

studies around breast cancer

treatment. The department would

be required to release a strategic

plan for mammography, which

looks at improving imaging, male

breast cancer, the evolving needs

of female veterans, as well as the

disparities in care between rural

and urban veterans.
---
WWW.MHCE.US Monthly Newsletter | 7

TO ADVERTISE

contact Nathan.Stiles@mhce.us

VISIT OUR

WEBSITE AT MHCE.US
---
8 | MHCE - News www.mhce.us AUGUST 2021 EDITION

TO ADVERTISE

contact Kyle.Stephens@mhce.us
---
WWW.MHCE.US Monthly Newsletter | 9

Positive COVID-19 Test

Shatters US Soldier's

Dream of Olympic Gold

in Pole Vaulting

After three athletes reported casual contact with Kendricks, the

Australia confined its entire 54-person track-and-field team to

isolation and subjected it to testing, according to NBC News.

Team USA's KC Lightfoot and Christopher Nilsen came through

Saturday's pole-vault heats with vaults of 5.75 meters. Matt Ludwig,

called in as a replacement for Kendricks, missed out on the final,

scheduled for Tuesday, after a top vault of 5.5 meters.

TOKYO — An Army reserve officer has withdrawn from the Olympic

pole-vaulting contest after testing positive for the coronavirus days

before he was to compete.

One of Team USA's leading contenders for gold in Tokyo, 1st Lt. Sam

Kendricks, 28, was one of several athletes who tested positive for

the virus on Thursday, a day before track-and-field events kicked off

at the new National Stadium. He serves in the 655th Transportation

Company of the U.S. Army Reserve.

VISIT OUR WEBSITE AT MHCE.US

Kendricks' positive test was confirmed in an email Saturday by

Brittany Nelson, an Installation Management Command spokeswoman

supporting athletes from the Army World Class Athlete Program in

Japan.

"The health and safety of our athletes, coaches and staff is our top

priority," the U.S. Olympic and Paralympic Committee later tweeted.

"We are saddened to confirm that Sam Kendricks tested positive for

COVID-19 and will not compete in the Olympic Games Tokyo 2020."

In alignment with local rules and protocols, Kendricks was transferred

to a hotel to be placed in isolation and is being supported by staff from

the committee and from USA Track & Field, the committee said in a

follow-up tweet.

"Sam is an incredible and accomplished member of Team USA and

his presence will be missed," said a subsequent tweet.

The two-time reigning world pole-vault champion and bronze medalist

at the Rio Olympics in 2016 was among two dozen people associated

with the games to test positive for the coronavirus respiratory disease

on Thursday. That's the same day Tokyo announced 3,865 new

infections, the most ever recorded by the prefecture in one day.

As of Friday, 220 people who traveled to Japan to participate in the

Olympics had tested positive, according to the country's Kyodo news

service.
---
10 | MHCE - News www.mhce.us AUGUST 2021 EDITION

Join Our Team!

Embark on a new career

with Central New York

Psychiatric Center!

Our Team Promotes

Hope, Resilience and Recovery!

Central New York Psychiatric Center is seeking

candidates to fill the following positions;

TO ADVERTISE

contact Kyle.Stephens@mhce.us

Psychiatrists, Psychiatric Nurse Practitioners,

Psychologists, and Registered Nurses.

These positions are available at our Inpatient

Forensic Hospital in Marcy, New York, as

well as our Corrections Based Satellite Units

across the State.

Benefits Include:

• NYS Pension

• Competitive Salaries

• Comprehensive Health Insurance

• Flexible Spending Accounts for

Healthcare & Dependent Care

• Generous Paid Time Off

Contact Us:

315-765-3375 or by e-mail

CNpersonnel@omh.ny.gov
---
WWW.MHCE.US Monthly Newsletter | 11

Two Sailors, Including an

Active-duty Doctor, Die from

Coronavirus Complications

WASHINGTON — Two sailors — including an active-duty doctor — have died

within the last week of complications from the coronavirus, the Navy announced in

a statement Wednesday.

Navy Capt. Corby Ropp, 48, died Friday due to coronavirus-related complications at

Duke University Hospital in Durham, N.C., according to the Navy.

Ropp served as the department leader of ophthalmology and refractive surgery at

the Navy Medicine Readiness and Training Command at Marine Corps Base Camp

Lejeune in Jacksonville, N.C.

In total, about 205,910 troops have tested positive for the coronavirus since the

beginning of the pandemic, according to the Pentagon. More than 1.2 million activeduty,

Reserve, and National Guard troops have received at least one dose of the

vaccine.

Defense Secretary Lloyd Austin for months has been considering whether to mandate

the vaccines once they receive full approval from the Food and Drug Administration,

acting Navy Secretary Thomas Harker said in June.

Federal law prevents vaccines under emergency-use authorization from becoming

mandatory unless the president finds it necessary.

President Joe Biden is expected on Thursday to announce vaccine requirements

for all federal employees or face repeated testing, The Washington Post reported

Wednesday.

The Pentagon has not said whether such a requirement would apply to service

members.

"We are deeply saddened by the loss of our shipmate and ophthalmologist Capt.

Ropp," said Capt. Reginald Ewing III, commander of NMRTC Camp Lejeune. "Our

thoughts and prayers are with Capt. Ropp's family, coworkers and friends during this

extremely difficult time."

On Monday, Petty Officer 1st Class Allen Hillman, a master-at-arms assigned to

Navy Reserve Volunteer Training Unit in Boise, Idaho, died while hospitalized with

the coronavirus.

Cmdr. Megan Fine, commander of the Navy Operational Support Center in Boise,

said in the statement that Hillman "was a big part of our community."

"We are deeply saddened by the loss of our friend and shipmate MA1 Hillman,"

Fine said. "We will continue to support his family and shipmates during this difficult

time."

The Navy did not say whether the sailors had been vaccinated against the coronavirus.

As of July 21, 26 service members had died from the coronavirus and 1,832 were

hospitalized, according to the Pentagon. The sailors' deaths bring the total to at least

28.
---
12 | MHCE - News www.mhce.us AUGUST 2021 EDITION

The Physicians Executive MBA at Auburn University

Custom tailored to the practicing physician, our Physicians Executive MBA allows you to develop the business skills to navigate

today's complex environment while working within the constraints of a doctor's demanding schedule.

You can count on your exceptional personal care and guidance from the moment you register until you complete your fully accredited

degree.

Our unique program design:

• 21 months start to finish

• Five short on-campus residencies and two study trips

• In-depth interaction with faculty and students

• CME credits in partnership with the Southern Medical

Association

• Innovative learning technologies

• No scheduled internet interactions (your Saturdays are your

own)

• Paid membership in the American College of Healthcare

Executives

• Six Sigma Belt Certification

• Easy access to the Atlanta Airport

• Streaming video and internet collaboration

The PEMBA office understands that we are all

busy practicioners. The concierge aspect of the

program allows you to focus on the schoolwork,

not the logistics, and I find that aspect invaluable.

"Rachana Kulkarni

MD, MBA '17

Medicor Cardiology, Chairman, Department of Medicine,

Robert Wood Johnson University Hospital
---
WWW.MHCE.US Monthly Newsletter | 13

When the practice of medicine

becomes the business of medicine.

You spent years studying medicine.

But what about the business side of

your practice?

It's easy to get started.

Take the next step toward a

Physicians Executive MBA

and contact us:

auburn-military.mba

334-844-4060

Auburn MBA
---
14 | MHCE - News www.mhce.us AUGUST 2021 EDITION

Pentagon Brings Back Masks-for-all Mandate for Many DoD

Locations as Biden Mulls New Vaccination Plan

The Pentagon on Wednesday announced it

would once again require all individuals to

wear face coverings when indoors at Defense

Department facilities in locations deemed

high risk by federal health officials for the

spread of coronavirus.

The directive from Deputy Defense Secretary

Kathleen Hicks on Wednesday walks back

guidance issued in May that allowed service

members and others who had been fully

vaccinated against the virus to forgo maskwearing

at Defense Department facilities

worldwide. It comes one day after the national

Centers for Disease Control and Prevention

issued new guidance encouraging vaccinated

Americans to don masks indoors in certain

locations where the coronavirus is spreading

rapidly.

"Deputy Secretary Hicks has directed that all

individuals, regardless of vaccination status,

wear masks in indoor settings at Department

of Defense installations and facilities in

areas of substantial or high transmission, as

defined by the CDC, to protect against rising

[coronavirus] cases," said Jamal Brown,

a Pentagon spokesman. "[Wednesday's]

announcement applies to all service members,

federal personnel, contractors, and visitors

when indoors at all properties owned by the

department in those areas, in accordance with

updated CDC guidelines."

The Defense Department change on mask

requirements came just one day before

President Joe Biden was expected to issue

new rules for federal employees, potentially

including military troops, related to the virus

as infection rates increase and the White

House pushes for more eligible Americans to

get vaccinated.

The president has placed blame on

unvaccinated adults for increasing

transmission rates primarily with the highly

infectious delta variant of the coronavirus.

"The pandemic we have now is a pandemic

of the unvaccinated," Biden said Wednesday,

urging unvaccinated Americans to "please,

please, please" get their shots.

Biden was expected to announce Thursday

afternoon that most federal employees

show proof that they had been fully

vaccinated against the coronavirus or agree

to regular testing, stringent social distancing

requirements, masking up and restrictions on

their travel, The Associated Press reported,

citing an unnamed administration official.

Advance Your Nursing Career

Move Beyond

Patient Care

Become a

› Medical Case Manager

› Forensic Nurse

› Legal Nurse Consultant

› Nurse Death Investigator

Earn a Professional Certificate ONLINE

from the prestigious University of California.

Discover how to grow your nursing career

online at www.extension.ucr.edu/nurse

or call (951) 827-5104.

The official said those who chose not to get

vaccinated would not be at risk of losing their

jobs.

AP reported it was not clear ahead of Biden's

announcement if he would lump active-duty

military troops and federal contract workers

into the new requirements.

Pentagon data updated on Wednesday showed

about 48% of the military's total active-duty,

National Guard and Reserve force — or

1,027,730 service members — had been fully
---
WWW.MHCE.US Monthly Newsletter | 15

vaccinated. Another 233,565 troops were

partially vaccinated, according to the data.

Defense Secretary Lloyd Austin announced

July 16 that more than 70% of the active-duty

force had been at least partially vaccinated,

but the Pentagon has not provided updated

data on active-duty troops since then.

The U.S. military has reported 208,603 troops

have tested positive for the virus since the

pandemic began. Pentagon data released

Wednesday showed more than 5,000 active

cases. Twenty-eight service members have

died from complications of the virus.

The White House official said new rules were

meant to encourage an increase in vaccination

rates in the country, setting an example for

employers to set their own get-vaccinated or

tested regularly policies, the AP reported.

Regardless, federal officials want unvaccinated

and vaccinated individuals to return to maskwearing

indoors in those locations deemed

by the CDC to have substantial or high

coronavirus transmission rates.

The CDC has defined those areas of the

country, broken down by individual county,

as displaying substantial coronavirus

transmission rates if more than 50 cases per

100,000 persons were reported in the previous

seven days. Those reporting more than 100

cases per 100,000 persons are deemed to have

high transmission rates. On Wednesday, the

CDC reported 1,608 of 3,219 U.S. counties

fell into the high transmission rate category.

Another 537 were listed within the substantial

transmission rate category.

A CDC map of county statuses showed high

or substantial transmission across most of the

U.S. southeast, where vaccination rates trail

other parts of the country. But at least some

counties reporting significant or high rates of

infection appeared to be present in all 50 states.

Updated information on local transmission

rates and other coronavirus-related data is

available online.

In the Defense Department

memorandumannouncing the changes on

Wednesday, Hicks said military installations

and other DOD facilities should post signs

at their locations and information on their

websites outlining current guidance, including

whether fully vaccinated individuals must

wear masks indoors in that location "as soon

as possible."

Defense Department personnel who do not

comply with current orders regarding face

masks could be punished, defense officials

have said.

Hicks directed service members and DOD

civilian employees to "continue to comply

with CDC guidance regarding areas where

masks should be worn, including within

airports."

The change comes as federal health officials

expressed increasing concerns about the

highly transmissible delta variant of the

virus spreading throughout the country and

increasing hospitalization rates in many areas

of the United States.

While CDC officials and Biden have said in

recent days that the vast majority of cases,

about 90%, have spread among those not

vaccinated against the coronavirus, officials

have warned they have seen more so-called

breakthrough cases of the virus infecting fully

vaccinated individuals.

CDC Director Dr. Rochelle Walensky said

breakthrough infections remain rare and

the "vaccines work just as we thought they

would." However, where health officials once

thought vaccinated individuals were unlikely

to spread the disease, new data shows they

can spread the new variant to others, she said.

"With the delta variant, we can now see in

outbreak investigations in these recent weeks

… that you can actually now pass it to someone

else," Walensky said Wednesday on CNN.

"For every 20 [fully vaccinated] people, one

or two of them could get a breakthrough, they

may only get mild disease, but we wanted

them to know they could bring that mild

disease home, they could bring it to others."

The Department of Veterans Affairs on

Monday announced it would require its

medical workers to receive coronavirus

vaccines. The department, the first federal

agency to mandate vaccination for any of its

personnel, gave employees until Sept. 20 to

be fully vaccinated.
---
16 | MHCE - News www.mhce.us AUGUST 2021 EDITION

VA Implements

Coronavirus

Vaccine Mandate

for Medical Staff

WASHINGTON — The Department of Veterans

Affairs announced Monday that it will require

its hundreds of thousands of medical workers to

receive coronavirus vaccines.

The department is the first federal agency to

implement a vaccine mandate. Employees

have until Sept. 20 to be fully vaccinated, VA

Secretary Denis McDonough said in a statement.

"Whenever a veteran or VA employee sets foot

into a VA facility, they deserve to know that we

have done everything in our power to protect

them from [the coronavirus]," McDonough said.

"With this mandate, we can once again make —

and keep — that fundamental promise."

President Joe Biden confirmed news of the

mandate while speaking in the Oval Office,

where he was meeting Monday with Mustafa al-

Kadhimi, Iraq's prime minister.

"Veterans Affairs is going to, in fact, require

that all doctors working in facilities are going to

have to be vaccinated," Biden said.

The new mandate applies to all Title 38

employees, which includes VA physicians,

dentists, podiatrists, optometrists, registered

nurses, physician assistants and chiropractors, as

well as medical workers who visit VA facilities.

As of Monday, 300,099 department employees

were vaccinated against the virus. The

department employs about 378,000 people,

including 367,000 full-time health care

professionals.

Since the start of the pandemic, 146 VA workers

have died from the coronavirus. Four employees

— all of whom were unvaccinated — died in

recent weeks. Three of the deaths were attributed

to the coronavirus "delta" variant.

The World Health Organization said the delta

variant is the most transmissible of the variants

identified during the pandemic, and cases are on

the rise in the United States. The VA reported

3,787 active cases of the coronavirus Monday,

up nearly 200% from earlier in the summer.

Overall, 12,679 VA patients have died of the

virus since the start of the pandemic.

The VA said Monday that there was an outbreak

of the virus among unvaccinated employees and

trainees at a VA law enforcement training center.

Shortly before the VA issued its mandate

Monday, 57 groups representing doctors, nurses

and other health care workers issued a joint

letter, calling for mandatory vaccinations of all

health care workers in the United States.

"Universal vaccination of health care workers

is the single most important step health care

institutions can do to stop the spread of [the

coronavirus]," Georges Benjamin, executive

director of the American Public Health

Association, said in a statement. "It is essential

for protecting the health of their workers, the

safety of their patients and ultimately the health

of their communities."

As cases of the delta variant began to increase

last month, McDonough said he was considering

a vaccine mandate. At the time, he had just issued

a policy offering employees take a half day off

from work in exchange for getting vaccinated.

McDonough said then that he had the authority

to mandate employees to receive vaccines, but

he first wanted to see the outcome of the new

policy.

The VA does not have specific data on the

numbers of employees vaccinated by location.

Anecdotally, McDonough said VA facilities

with the highest rates of employee vaccination

were about 85% vaccinated. That includes

the Southeast Louisiana Veterans Health Care

System in New Orleans, which was an epicenter

of the virus early in the pandemic.

On the lower side, fewer than 60% of staff at

some VA facilities were vaccinated, including the

St. Cloud VA Health Care System in Minnesota.

"My goal has been that by August, we're in a

position to provide more care and benefits than

before the pandemic," McDonough said in June.

"Our ability to do that is enhanced by getting

more of our personnel vaccinated."

AMVETS, a national veterans organization,

praised the mandate, calling it a "bold, important

step" to improve veterans' safety. Joe Chenelly,

the group's executive director, said in a statement

that the organization has heard from veterans

who are choosing to go without health care for

fear of getting infected with the coronavirus at a

VA hospital or clinic.

"Every VA employee coming into contact with a

veteran should be expected to take every measure

possible to ensure they are not endangering

veterans who are in VA facilities," he said.

However, Chenelly said he was also concerned

about the mandate leading to more staff vacancies

across the VA health care system. The workforce

grew by 2.6% in 2020, but the department still

had about 28,000 vacancies in May, according to

publicly available data.

It was unclear Monday about how the department

would handle cases in which employees refused

to get vaccinated.
---
WWW.MHCE.US Monthly Newsletter | 17
---
18 | MHCE - News www.mhce.us AUGUST 2021 EDITION

profession has a "uniform" or acceptable

standard of dress. If you are unsure about

the uniform of the company where you will

interview, check it out in advance. Look at

people as they enter and exit the building.

Gauge for yourself what is appropriate.

advice, and more delivered directly to your

inbox.

The Civilian

Uniform: How

to Dress for

'Business

Casual'

"Business casual" is a phrase that is used

quite liberally throughout the country right

now. The trend began during the last decade

when corporate America came to a collective

understanding that employees don't

necessarily work better when they are dressed

up. In fact, some companies probably found

that comfortable clothing actually increased

productivity.

Basically, the rule to remember is that

business casual does not mean casual. It does

not mean that you can dress however you

want. It does not mean jeans and a t-shirt.

You are still expected to look professional.

For men, a business casual wardrobe should

consist of several long-sleeved cotton oxford

shirts; a few cotton polo or golf shirts; chinos

in acceptable colors (khaki, dark blue, olive

green, or stone); wool slacks; and a sport

coat.

If defining business casual is difficult for

men, it is much more difficult for women. An

oxford shirt and chinos can look very tailored

and polished, but not necessarily feminine.

Try experimenting with scarves or blouses

with a bit of detailing. The addition of a blazer

always projects authority and credibility.

Business Casual for Interviews

Whether or not to interview in business

casual clothing is a question that must be

answered on a case-by-case basis. Ask the

human resources director or your interviewer,

in advance, what attire is expected at the

interview — professional or business casual.

If you do not receive a satisfactory answer,

play it safe: wear your tried-and-true suit.

Decoding "Civilian Uniforms"

Uniforms are not just for military

servicemembers, police officers, hospital

professionals, or mechanics. Just about every

As a rule, uniforms tend to break out in one

of the following categories:

Executive

Professional

Sales Exec

Techie

Artists/

Designers

Administrative

Support

Find the Right Veteran Job

Conservative, singlebreasted

suit; leather

briefcase

Conservative suit or

business casual attire;

leather briefcase or softside

nylon briefcase

Fashionable, trendy,

or conservative suit;

designer briefcase or

handbag

Business casual or

casual; soft-side nylon

computer case or

backpack

Can range from

fashionably trendy to

jeans and t-shirt; funky

backpack or sling

Style of dress emulates

that of the boss, but on a

less expensive scale

Whether you want to polish your resume, find

veteran job fairs in your area or connect with

employers looking to hire veterans, Military.

com can help. Sign up for a free Military.com

membership to have job postings, guides and

VISIT OUR WEBSITE

AT MHCE.US
---
WWW.MHCE.US Monthly Newsletter | 19

TO ADVERTISE

contact Karen.Scott@mhce.us

VISIT OUR WEBSITE AT MHCE.US
---
20 | MHCE - News www.mhce.us AUGUST 2021 EDITION

3 Things They Don't Tell

Veterans About the Civilian

Sector

On a recent mentoring call with a

veteran who left the Army two years

ago, the conversation hit a troubling

spot when he shared, "I guess I

didn't realize this would be what the

civilian workplace would look like."

We'd been focusing our conversation

on some of the personality challenges

he was encountering with peers and

supervisors in this, his first postmilitary

job. He didn't get along

well with his boss, and some of his

colleagues had voiced concerns

about his work ethic and ability to

collaborate.

"It's like he wants to do everything

by himself to get all the credit," one

colleague shared with his boss.

When I reminded him about several

of the differences between the

typical civilian sector culture and the

military, he sighed and repeated, "I

didn't know it would be this way."

experience so customers, employees,

investors, etc., will believe certain

truths and feel certain ways, we must

remember that brand drives a desire

to purchase, refer or engage with

the company, product or service.

Companies invest billions of dollars

and hours building and securing

the experience of their company to

attract the best workers and earn

loyalty from their customers and

stakeholders. This may feel like a

different set of goals and priorities to

someone from the military. You've

been focused on solving problems

and getting results. If someone's

feelings were trampled on in the

process, that's a risk everyone

takes to complete the mission. In a

civilian company, how people feel

and whether they believe they are

valued, appreciated, included and

heard supports the company brand

and is important.

2. Priorities and "mission" look

different.Similarly, the mission

or goals you'll now be focused on

look vastly different. There's an

honor in serving a mission as noble

and selfless as protecting a nation.

Now you may be asked to advance

and grow paper sales in a new

market region of the city or ensure

passengers make it safely to their

vacation destination. This can feel

disheartening and disappointing if

you're expecting to feel a connection

to a mission similar to what you did

in uniform.

3. Not everyone will value the same

things as you. Your colleagues, boss

and customers might not feel your

sense of commitment to a cause,

selfless duty and service before

self. They might care more about a

paycheck, staying out of trouble and

vacation time. That doesn't make

them wrong and you right; it's just

different. They might not all want

to lead and empower others. They

might choose to keep their heads

down and avoid being noticed. Or

they might put their needs and goals

above yours and sabotage your

efforts to protect themselves and

their career. While my hope is that

this is the exception rather than the

norm, it may happen. And you likely

didn't see a lot of this behavior in the

military.

The civilian sector is not selfish, selfcentered

and profit motivated above

all else. But occasionally, you might

encounter colleagues or supervisors

who display this behavior. While it

may surprise and annoy you that by

showing your own values of service,

loyalty, commitment and honor, you

can stay true to yourself and perhaps

become a role model for those

around you.

Creating a Culture

of Caring

Offering master's

and doctoral

degrees for

Registered Nurses

As you get ready to separate and plan

for a career or life after the military,

here are my top three insights into

the civilian world that you should

be ready for. Even though you were

a civilian beforeyou joined the

military, and you've likely interacted

with civilians during your time in

uniform, the differences are worth

noting.

1. The civilian sector values the

experience. While the goal of almost

any business or organization is to

drive results (make things, sell things

or solve problems), these companies

put a value on how things get done,

not just the result. How teams

work, how employees feel about

their employer and the processes

by which objectives are met matter.

When you consider that a brand --

company, product or service brand --

is about setting an expectation of an

Specialties Offered:

Nurse-Midwife

Family Nurse Practitioner

Women's Health Care NP

Psychiatric-Mental Health NP

Learn more at frontier.edu/military
---
WWW.MHCE.US Monthly Newsletter | 21

TO ADVERTISE

contact Kyle.Stephens@mhce.us
---
22 | MHCE - News www.mhce.us AUGUST 2021 EDITION
---
WWW.MHCE.US Monthly Newsletter | 23

College of Nursing

Visit www.southalabama.edu/colleges/con

251-445-9400

5721 USA Drive North, Mobile, AL 36688

High Quality

Programs

Available Online

and on Campus

On Campus:

• Pre-Licensure BSN

• Accelerated BSN

Online OptiOns Offered:

• RN to BSN

• RN to MSN

• MSN

• DNP

• Post Graduate Certificates

areas Of speCializatiOn:

• Clinical Nursing Leader

• Nursing Administration

• Nurse Practitioner

(multiple tracks)

• Clinical Nurse Specialist

• Nursing Informatics

sub-speCialties:

• Cardiovascular

• Oncology

• Palliative Care

• Nursing Education

• Lipid Management
---
24 | MHCE - News www.mhce.us AUGUST 2021 EDITION

Potential Military Vaccine

Mandate Brings Distrust,

Support

SAN DIEGO — Since President Joe

Biden asked the Pentagon last week to

look at adding the COVID-19 vaccine

to the military's mandatory shots,

former Army lawyer Greg T. Rinckey

has fielded a deluge of calls.

His firm, Tully Rinckey, has heard

from hundreds of soldiers, Marines and

sailors wanting to know their rights

and whether they could take any legal

action if ordered to get inoculated for

the coronavirus.

"A lot of U.S. troops have reached out

to us saying, 'I don't want a vaccine

that's untested, I'm not sure it's safe, and

I don't trust the government's vaccine.

What are my rights?'" Rinckey said.

Generally, their rights are limited since

vaccines are widely seen as essential

for the military to carry out its missions,

given that service members often eat,

sleep and work in close quarters.

Defense Secretary Lloyd Austin has said

he is working expeditiously to make

the COVID-19 vaccine mandatory for

military personnel and is expected to

ask Biden to waive a federal law that

requires individuals be given a choice

if the vaccine is not fully licensed.

Biden has also directed that all federal

workers be vaccinated or face frequent

testing and travel restrictions.

Lawyers say the waiver will put the

military on firmer legal ground so it

can avoid the court battles it faced

when it mandated the anthrax vaccine

for troops in the 1990s when it was not

fully approved by the federal Food and

Drug administration.

The distrust among some service

members is not only a reflection of

the broader public's feelings about

the COVID-19 vaccines, which were

quickly authorized for emergency use,

but stems in part from the anthrax

program's troubles.

Scores of troops refused to take that

vaccine. Some left the service. Others

were disciplined. Some were court

martialed and kicked out of the military

with other-than-honorable discharges.

In 2003, a federal judge agreed with

service members who filed a lawsuit

asserting the military could not

administer a vaccine that had not been

fully licensed without their consent,

and stopped the program.

The Pentagon started it back up in 2004

after the FDA issued an approval, but

the judge stopped it again after ruling

the FDA had not followed procedures.

Eventually the FDA issued proper

approvals for the vaccine, and the

program was reinstated on a limited

basis for troops in high-risk locations.

Military experts say the legal battles

over the anthrax vaccine could be why

the Biden administration has been

treading cautiously. Until now, the

government has relied on encouraging

troops rather than mandating the shots.

Yet coronavirus cases in the military,

like elsewhere, have been rising with

the more contagious delta variant.

If the military makes the vaccine

mandatory, most service members will

have to get the shots unless they can

argue to be among the few given an

exemption for religious, health or other

reasons.

According to the Pentagon, more than

1 million service members are fully

vaccinated, and more than 237,000

have gotten at least one shot. There are

roughly 2 million active-duty, Guard

and Reserve troops.

Many see the COVID-19 vaccine as

being necessary to avoid another major

outbreak like the one last year that

sidelined the USS Theodore Roosevelt

and resulted in more than 1,000

crewmember cases and one death.

An active-duty Army officer said he

would welcome the vaccine among the

military's mandatory shots. The soldier,

who asked not to be named because

he was not authorized to speak to the

media, said he worries unvaccinated

service members may be abusing

the honor system and going to work

without a mask.

He recently rode in a car with others

for work but didn't feel like he could

ask if everyone was vaccinated

because it's become such a political

topic. Commanders have struggled to

separate vaccinated and unvaccinated

recruits during early portions of basic

training across the services to prevent

infections.

Accommodating unvaccinated troops

would burden service members who

are vaccinated since it would limit who

is selected for deployment, according to

active-duty troops and veterans.

"The military travels to vulnerable

populations all over the world to be

able to best serve the U.S.," said former

Air Force Staff Sgt. Tes Sabine, who

works as a radiology technician in an

emergency room in New York state.

"We have to have healthy people in the

military to carry out missions, and if the

COVID-19 vaccine achieves that, that's

a very positive thing."

Dr. Shannon Stacy, who works at a

hospital in a Los Angeles suburb,

agreed.

"As an emergency medicine physician

and former flight surgeon for a Marine

heavy helicopter squadron, I can attest

that COVID-19 has the potential to take

a fully trained unit from mission ready

to non-deployable status in a matter of

days," she said.

The biggest challenge will be scheduling

the shots around trainings, said Stacy,

who left the Navy in 2011 and did predeployment,

group immunizations.

Army Col. Arnold Strong, who retired

from the military in 2017, said he

believes it's not anything the U.S.

military cannot overcome: Troops

working in the farthest corners of the

Earth have access to medical officers.

Given that most people sign up to

follow orders, he thinks this time will

be no different.

"I think the majority of service members

are going to line up and get vaccinated

as soon as it is a Department of Defense

policy," he said.

Strong has lost five friends to the virus,

three of whom were veterans.

His hope is that the military can set the

example for others to follow.

"I would hope if people see the military

step up and say, 'Yes, let's get shots in

arms,' it will set a standard for the rest

of country," he said. "But I don't know

because I think we face such a strong

threat of disinformation being deployed

daily."