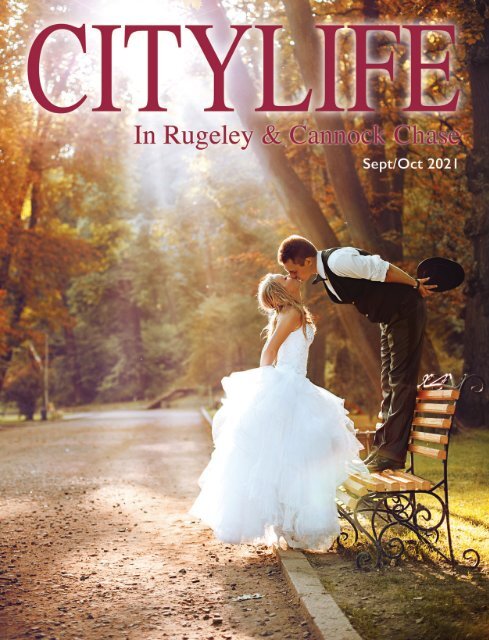 Citylife in Rugeley and Cannock Chase September October 2021
Welcome Back to Weddings! Finally, after 18 months, weddings are back on the agenda and September and October edition magazine is packed full of ideas on how to make the most of your wedding in 2021 or to plan for 2022! We also have our usual wonderful mix of competitions, recipes, history features, local news stories from across Rugeley and the Cannock Chase area and What's On events - so it's a great read for everyone and not just brides and grooms! Enjoy reading our magazine this Autumn - and if you're getting married then Happy Wedding Day!
Welcome Back to Weddings! Finally, after 18 months, weddings are back on the agenda and September and October edition magazine is packed full of ideas on how to make the most of your wedding in 2021 or to plan for 2022! We also have our usual wonderful mix of competitions, recipes, history features, local news stories from across Rugeley and the Cannock Chase area and What's On events - so it's a great read for everyone and not just brides and grooms! Enjoy reading our magazine this Autumn - and if you're getting married then Happy Wedding Day!
SHOW MORE
SHOW LESS
Create successful ePaper yourself
Turn your PDF publications into a flip-book with our unique Google optimized e-Paper software.
3
---
Welcome to

CITYLIFE

Welcome to CITYLIFE in Rugeley & Cannock Chase, a

monthly magazine bringing you our pick of the area's news,

events and stories. Each month CITYLIFE in Rugeley &

Cannock Chase is delivered to businesses and homes in

Rugeley, Cannock Chase, Heath Hayes, Ravenhill,

Etchinghill, Slitting Mill, Armitage, Handsacre, Colton,

Hamstall Ridware, completely free of charge; bringing

you the best that the area has to offer.

Each issue features heritage stories exploring the rich

history of our area, plus competitions, interviews and the

latest in fashion and style.

Got a story or charity event you want to share with our

readership? Think you've snapped an image that captures

the spirit of the region? We want to hear from you!

CITYLIFE Contacts

Editor - Kristen Lackajis 07885 380632

kristencitylife@gmail.com

Features - Jono Oates 07785 757201 jonocitylife@gmail.com

Advertising -

Steve Brown 07740 166497 stevebrowncitylife@gmail.com

Rebecca Hill 07970 513144 rebeccahillcitylife@gmail.com

Production -

Helen Smith 07967 154187 helencitylife@gmail.com

Inside...

14 A Taste of Nature

A trip to the beautiful Deer Park

.............................

20 Wedding Guide

Everything you need for the perfect day

.............................

26 Wedding Bells of Cannock & Rugeley

Society weddings of the past

.............................

28 A Window on the Past

School days of yesteryear

Citylife In Lichfield Ltd

PO Box 7126 LICHFIELD WS14 4JS

CITYLIFE in Lichfield and CITYLIFE in Rugeley and

Cannock Chase magazines are not connected to any other

publication or publisher, and are wholly owned by CITYLIFE

in Lichfield Ltd.

Citylife In Lichfield

@citylifelichfield

@lichfieldcity

www.citylifeinlichfieldltd.co.uk

Citylife in Lichfield Ltd does not endorse any business or organisation

appearing in these pages, and the publication of any advertisement,

editorial, event listing or advertising editorial does not constitute an

endorsement by Citylife in Lichfield Ltd.

Your Local Magazine

Congratulations to E Chadbourne who has won

a pair of VIP tickets to this year's Staffordshire

County Show.

Well done!
---
Etching Hill WI

By Kathy Baxter

........................

As planned and with all Covid measures in place,

27 of our members met up for afternoon tea at

the Chetwynd Arms in celebration of 75 years of the

Etching Hill WI. The birthday celebration was the

first time many of the members had met since the

pandemic began.

The marquee was prettily done up and the weather

was warm and sunny. It was fantastic to meet up with

everyone despite our socially distanced tables and the

consensus was that it had been a brilliant day. Our thanks

go to Fran O'Brien for organising the venue and to

Margaret Porter for ensuring Covid safety measures. Also,

thanks to the Chetwynd Arms for the lovely spread. To

finish we were all given a celebration cupcake!

On to the evening we were joined by WI members

from Longdon and Rugeley for the monthly Zoom

meeting. Margaret Devey welcomed this month's speaker,

Vicky Farmer, herself a WI member. Vicky gave a

wonderful talk on 'A Day in The Life of a Quiz Show

Contestant.'

Vicky's interest in quiz shows stemmed from a lifelong

love of all things trivia. She went on to appear in a variety

of quiz shows, including The Chase. Vicky's next ambition

is to appear on Who Wants to be a Millionaire and we all

wish her well with that.

Other business included a review of the previous

weeks committee meeting and a reminder of upcoming

events which include the charity coffee morning on 27th

October hosted by Mary Davis and the Christmas party

provisionally booked for 1st December 2021.

For further information about the WI and future

meetings visit the Facebook page at Etching Hill WI

(Staffordshire).

5
---
LOCAL NEWS

6

Jumbo Bins to

Reduce Litter

Cannock Chase

Council is trialing

new smart jumbo

bins in three

locations across the

District to reduce

littering.

The jumbo bins have

been positioned in

high volume areas

that have

e x p e r i e n c e d

overflowing in past

due to the frequency

Cllr Justin Johnson with a

jumbo bin

of them being emptied. These areas are Mount

Road in Etching Hill, Bideford Way on the

corner of Banbury Drive, Cannock outside the

shops and Sharon Way, Hednesford, also outside

the shops.

The jumbo bins will hold 240 litres of rubbish in

comparison to a normal litter bin which only

holds 112 litres.

If the trial works then more bins will be

purchased for areas where bins overflowing is

an issue.

...........................................

New Crematorium

Donates to Cruse

Millie Grimley, Liam Bennett & Jo Walker present the

cheque to Chris Hillman

Cannock Chase Crematorium recently made a

£10,000 donation to the South Staffordshire

branch of Cruse Bereavement Care, a charity

offering support, advice and information to

children, young people and adults when

someone dies.

Cannock Chase Crematorium is a member of

the Institute of Cemetery and Crematorium

Management's (ICCM) metal recycling scheme,

whereby residual metal items such as

orthopaedic implants or metals used in the

construction of the coffin are retained,

following the cremation process, and recycled,

with the written consent of the bereaved family.

The national ICCM scheme, introduced in 2006,

has raised over £7 million since its inception to

help fund bereavement related charities.

If you feel you have what it takes to support

bereaved people, please email

southstaffordshire@cruse org.uk

...........................................

Recognition for Air

Aware School

Heath Hayes Academy receives the award

A local school has won regional recognition for

its work promoting greener travel and

combatting air pollution outside the school.

Working with Staffordshire County Council's

Active Travel Team as part of its Air Aware

project, Heath Hayes Primary Academy in

Cannock won the Regional School Travel

Awards for Primary Schools - an award given to

schools who have demonstrated excellence in

supporting sustainable travel.

Pupils and staff have been working hard to

implement the school travel plan to make the

journey to school more sustainable and less

polluting. They have also installed additional

scooter and cycle storage and introduced a

park and stride scheme. An anti-idling initiative

encouraging drivers to switch off their engines

when parked up outside the school has also

helped reduce air pollution.

People can find out more about the small

actions they can take to help reduce air

pollution at http://airaware.doingourbit.info.

...........................................

Awards for Cannock

Park Volunteers

Young people from South Staffordshire College

Futures group have received awards after

volunteering in Cannock Park.

South Staffordshire Futures group are young

people that have left formal education. They

have volunteered in Cannock Park for several

weeks, following the lifting of some of the

Covid-19 restrictions.

All of the young people received certificates

and medals from Councillor Adrienne

Fitzgerald, which were funded by the Building

Resilient Families and Communities grant

Cllr Adrienne Fitzgerald with volunteers and their

parents

gained by the Friends of Hednesford Park.

The medals are an initiative to encourage and

inspire young people to dedicate some of their

time to volunteering. They also received a badge

for their work in making a community banner

for the centenary of the Royal British Legion on

15th May.

A new cohort from the South Staffordshire

College Futures group will be volunteering

again in September this year.

...........................................

Energy Saving Project

in the District

Andrea Simpson, Nirmal Samrai, Cllr

Adrienne Fitzgerald & Martin Peake

Cannock Chase Council in partnership with

Chase Community Solar and Beat the Cold

have been successful in securing over £250,000

to deliver a Smart Solar project in the District.

The project will see 75 batteries installed in

council owned bungalows across the District,

which have existing solar panels installed by

Chase Community Solar in 2015.

This follows a report which showed that

tenants were only using 25% of the energy

produced by the panels, so approximately 75%

of the energy produced was going back to the

grid. The battery storage installation will enable

the tenant to store more of the energy

produced, reducing energy bills and reducing

fuel poverty.

Chase Community Solar is a community benefit

society who obtained over £1,000,000 of

funding to install over 300 solar panels on

council owned bungalows across the Cannock

Chase District in 2015.

Beat the Cold is a leading fuel poverty charity

operative in Staffordshire who offer specialist

advice to anyone in need.

The project is funded through the Energy

Industry Voluntary Redress Scheme via the

Energy Savings Trust

www.energyredress.org.uk.
---
SI Cannock

& District

By Trish Mellor

........................

Jackie Prince with Lesley Smith as George Eliot

The National Miners' Memorial being built at the

National Memorial Arboretum (NMA) is now

well under way once again!

Mike and Trish Mellor, and Len and Jackie Prince of Chase

Arts for Public Spaces (CHAPS), visit the NMA regularly to

keep up with progress and hold regular site meetings with

Andy Ansell and Paul Johnson of the NMA; Mark Walker of

A Walker & Sons, who are building the Derbyshire Stone

memorial, and artist Andy DeComyn, responsible for the 25

bronze plaques which will be fixed to the memorial. It is

expected that the memorial will be completed in July.

It is important that, once completed, the memorial

receives a fitting service of dedication which, Covid

guidelines permitting, allows all those who wish to attend

to be present. To that end CHAPS is now in the process of

raising the funds to enable them to hold a suitable

dedication service which will include a Brass Band and a

Male Voice Choir.

Funds are being raised through the sale of

commemorative pins which are £5 each and limited edition

prints at £25 each. The prints are from the drawings used

by artist Andy DeComyn to make the bronze plaques and

were completed by his wife Francesca. There are just 25

prints of each drawing, each one signed and numbered by

the artist; they come complete with a pale grey mount and

a leaflet with information about the drawing and the

memorial, finished size is 8" x 10" so that they fit into a

standard frame.

You can find out more about CHAPS and the National

Miners' Memorial at www.chaseartsforpublicspaces.co.uk

or www.facebook.com/ChaseArtsForPublicSpaces.

For more information or to order pins or prints email

info@chaseartsforpublicspaces.co.uk or phone 07583

655199.

7
---
LOCAL NEWS

SI's Tree Planting

Project

This year is

S o r o p t i m i s t

I n t e r n a t i o n a l ' s

Centenary Year and

as part of the

celebrations every

club in the world is

being asked to plant

100 trees.

SI Cannock and

District is

enthusiastic about

this project and absolutely delighted to have

reached 40 trees planted so far – with a

number more in the pipeline! McArthurGlen

Designer Outlet gave the club a huge boost by

planting 20 Oak saplings in May and one

member's son arranged for a further eight to be

planted. During June another member's son,

who lives in France, planted 10 trees in the

name of SI Cannock & District whilst an oak

8

The High Sheriff's Tour of

the Trent Valley

By Louise Morris

From Biddulph to Burton: Touring the Trent Valley

through Staffordshire

Through June and July, James Friend, the High Sheriff of Staffordshire,

has been touring along the River Trent as it flows through the county.

Supported by Transforming the Trent Valley (TTTV), a landscape

partnership scheme headed by Staffordshire Wildlife Trust and funded

thanks to The National Lottery Heritage Fund, the High Sheriff has

walked, cycled and paddled the Trent Valley raising money for The

Community Foundation.

Starting at the headwater of the River Trent on Biddulph Moor, we

followed the river as it flowed south towards Stoke-on-Trent.

The second stage began with a visit to Staffordshire University, where

Staffordshire Wildlife Trust has restored the river channel thanks to their

ERDF funded SUNRISE project. We then cycled along the historic Trent

and Mersey Canal to Stone before following the river valley to Wolseley

Bridge.

On the third day of the tour, we walked the canal towpath through

Rugeley, where the Canal and River Trust has recently upgraded it to an

all access standard, and on to Kings Bromley. A small diversion took in

the Riverside Park at the former Rugeley Power Station site where TTTV

is working with Engie to enhance habitat and restore the floodplain.

The fourth stage saw us walk along the Trent Valley Way from Yoxall to

Alrewas where we took in the stunning views of the valley and passed

through flower-rich meadows. We ended at the National Memorial

Arboretum where we met up with some of the many volunteers who

have supported TTTV over the last 2 years and enjoyed a very welcome

cream tea.

We were treated on our fifth day with a visit to Cherry Holme, a

former river island that has been ambitiously restored as part of the

TTTV scheme. The new river channel, completed last September, is

was donated by a gentleman who read of the

project in the local paper.

SI Cannock President Jackie Prince said how

proud she was of all the efforts made by those

on the club 'Tree Team' but also by all club

members and the people of Cannock who are

supporting this so well.

If anyone has a tree to donate, or would like to

plant a tree or trees in the name of SI Cannock

& District, please contact Cannock Soroptimists

on soropscannock@gmail.com.

...........................................

Funding Encourages

Residents to be Active

Cannock Chase District Council, in partnership

with Together Active, Staffordshire County

Council, Inspiring Healthy Lifestyles and

Hednesford Town Council, has secured

£199,050 of funding from Sports England to

encourage residents to be more active.

The aim of the project is to connect local

communities from Hednesford North to

Cannock Chase via the

Chase Heritage Trail using

community co-designed

wayfaring tools, physical

i n f r a s t r u c t u r e

improvements and engaging

digital content.

The project will increase

physical activity by easier

increased distance walking,

increased access to

Cannock Chase ANOB and

improved mental and

Cllr Fitzgerald,

Portfolio Leader

for Housing,

Heritage &

Leisure

physical wellbeing through connection to place

and nature.

The route will incorporate rest stops, which

will be co-designed through engagement with

community groups and will be inspired by the

natural beauty of Cannock Chase. The rest

stops will include distance way markers, with

embedded digital, interactive, and themed QR

codes, to measure increases in distance walked

and provide personal fitness targets.

The project will be completed before the

Games start in the Summer of 2022.

greening up nicely as nature begins to reclaim and naturalise it. Vegetation

is taking hold and is already providing a good diversity of habitats for

plants, insects, mammals and fish.

Our penultimate day started at Tucklesholme, a Staffordshire Wildlife

Trust nature reserve near Walton-on-Trent where the High Sheriff cut

the ribbon on our new Discovery Area. We then walked along the river

following the Trent Valley Way towards Branston Leas, another

Staffordshire Wildlife Trust reserve, before ending in Burton on the

Washlands.

The Tour concluded on Saturday 31st July at the TTTV Family Fun Day

on the Burton Washlands where families enjoyed bug hunting, trails and

storytelling on the banks of the river whilst the High Sheriff,

accompanied by friends and family, canoed to the Derbyshire border

with the Burton Canoe Club.

The tour has successfully completed 60 miles of the Trent Valley

between Biddulph and Burton. We have cycled 23 miles, walked 34 miles

and paddled 3 miles in 7 days.

To find out more about the High Sheriff Tour, read our blog and see

our photos, visit www.thetrentvalley.org.uk/high_sheriff_tour.php.

Day 1 Trent Head

Well

Day 4 Walking the

Trent Valley Way to

Alrewas (Credit

Sanda Friend)

Day 2 Cycling to

Wolseley Bridge (Credit

S. Cheshire, TTTV)

Day 5 Visiting Cherry

Holme (Credit L.

Morris, TTTV)

Day 3 Walking the Trent and

Mersey Canal towpath (Credit S.

Cheshire, TTTV)

Day 6 Walking the

Trent Valley Way to

Burton (credit L.

Morris, TTTV)

Day 7 Canoeing

the River Trent

(credit Sanda

Friend)
---
9
---
10

TWIlight WI

Cannock

By Kim Nash

........................

Julie and Maureen at the Roman Way Hotel

vaccination centre

TWIlight WI Cannock group are so very proud of

their committee members Julie Knowles and

Maureen Thompson who have been showing true

community spirit by volunteering at their local

vaccination centre.

Best friends Julie and Maureen met around 35 years ago

at their local play group when their oldest daughters were

around 12 months old. Julie started volunteering with the

Cannock Chase Clinical Alliance at the Roman Way Hotel

in Cannock in February this year at the start of the

vaccination programme. Maureen was already there and

had passed on that they were looking for admin volunteers

who were fast and accurate.

Julie, married to Mick, will be celebrating her ruby

wedding anniversary in October. She said: "My main reason

for volunteering was because I had time on my hands due

to being newly retired and I wanted to give something back

to the community and also be part of an amazing group of

volunteers and NHS staff."

Maureen, who is wife to Les, added: "Life is hectic and a

juggling act at times but never boring. I love being part of

this vaccination programme. Working alongside clinical staff

and other volunteers is a privilege."

President of the group, Clare Davies, commented: "We

couldn't be prouder of Julie and Maureen. They've both

been committee members since the group's inception in

early 2020 and play a very important role and are highly

valued. They're wonderful ladies with hearts of gold and

giving up their already precious time really is a selfless act.

We're so honoured to have them in our group."

TWIlight WI Cannock group meet at St Luke's Church in

Cannock on the second Thursday evening of the month.

The group runs from 7.30pm-9.30pm and new members

are most welcome. Please email any enquiries to

cannocktwilightwi@gmail.com.

Cannock Women's

Institute

By Jill Gooch

........................

Members and friends of Cannock

WI became detectives recently

to complete a 'Line of Duty'

themed murder mystery event. Crime

groups of 2-4 people could be seen

loitering and looking for clues as they

walked around Cannock town centre

investigating the evidence to eliminate

suspects and murder weapons, led by

WI President Meena Khiroya (Chief

Constable).

Detective Chief Superintendent Barbara Matthews had arranged with Hannah's

Artisan Cafe for vouchers to be redeemed for drinks. This was a ploy to encourage

town centre trade, as investigators were to meet under the clock in the town square;

and also to allow for a place to compile documents in the DI's folders!

To allow for inclement weather a timescale of a week was set for DI's to complete

their investigations, liaise S.O.C.O. and present their evidence to forensics.

Assistant Chief Constable Jill Gooch, one rank superior, examined the folders and

awarded recommendations for promotion to AC-12 D.C. Gillian Gallear and her

'mate' Derek; and also, Fraud Squad member Gilly Piddock, who with the help of her

informant and his burner phone, nailed the criminal.

Great fun was had by all who really entered into the spirit of the event using

catchphrases from the TV series Line of Duty written by local author Jed Mercurio

OBE who grew up in Cannock.

Our WI meetings are on the second Thursday of the month at 10.30am at St Luke's

Church Centre, Cannock. Visitors are always welcome to come and join us, but not

for a while – wait for the 'all clear'! Follow us on Facebook for updates. You are also

welcomed to join by Zoom. Get in touch at cannockwi@gmail.com or visit

www.thewi.org.uk/staffordshire www.facebook.com/oakleafstlukes.

Forever Home Success!

.............................

Lilly, Toby (pictured

centre) and Scout are all

rescues and belong to

Snowy.

Lilly came from a

marriage split, Toby's owner

passed away and Scout

came from a lady that was

struggling to cope with him.

They all get along very

well because Snowy is so

calm and understands his

animals.

Here they are enjoying

their new forever home!

For more information on Rugeley Welfare for Dogs, or if you think you

could offer a home to a dog in need, then please call Ruth on 07900 090993

or Pauline on 07971 817877. Alternatively visit

www.facebook.com/rugeleydogswelfare. Please note that a home visit and a

donation will be required.
---
11
---
12

A selection of the watches sold at The Lichfield Auction Centre recently including the 1973 Rolex Explorer II, pictured centre front, which made £18,500.

The One to

Watch

...............................

By Richard Winterton

WE love watches here at The Lichfield Auction Centre!

Timeless timepieces – especially Swiss watches – are synonymous with

some of the biggest luxury brands in the world.

In the past 15 years, the industry has gone stratospheric and a number

of names have become nigh on impossible to obtain, resulting in long

delays and inflated prices for the most sought-after watches in the world.

Waiting lists on specific new models can even stretch to a decade – but

that means there's a huge desire for vintage luxury timepieces.

And a remarkable wristwatch is not only a potently practical status

symbol – it's very likely to be a sound investment, too, especially if it's a

hard-to-find model or 'reference'.

Take this particular 1973 Rolex Explorer II, which we took to auction as

part of a private collection.

Less popular commercially following its launch in 1971 but it's a very

different story for such references today, with the watch highly sought

after by connoisseurs and collectors.

The distinctive orange 24 hour hand was originally intended to help the

intrepid wearer keep track of day and night in dark places such as caves or

extreme environments where the sun never sets.

A large triangle marker at 12 o'clock, cyclops eye for the date aperture

at 3 o'clock and 'frog foot' coronet marked this model out as a watch

somehow simultaneously atypical of the brand and quintessentially Rolex.

In fine functioning condition and presented on the original Oyster

bracelet, we expected this to be another timeless example of how vintage

watches can powerfully accumulate in value and we weren't disappointed.

The watch sparked international interest and bidders from across the

world battled it out before it finally sold to a telephone bidder for

£18,500!

It was part of a private collection of 11 wristwatches including a rare

Eterna 'Dirty Dozen' World War Two British military timepiece, running

remarkably well despite being almost 80 years old, which sold for £700.

In fact, the entire collection totalled £22,360 hammer price.

Other vintage watches in the auction included a 9ct gold Rolex Oyster

Precision making £1,500 and a 9ct gold Rolex Precision selling at £1,200.

And a Rolex GMT-Master dating back to 1985 sold for £9,800 including

premium.

Three Omega wristwatches also sparked a great deal of interest. An

The 43cm tall Royal Doulton Prestige

figure 'The Charge Of The Light

Brigade', sold for £1,250. It is inscribed

with Alfred Lord Tennyson's

famous poem.

A three stone diamond ring,

sold for £8,400.

Omega Constellation chronometer sold for £500 and an Omega

Seamaster Cosmic made £320 – both were part of the aforementioned

private collection.

An 18ct gold Omega De Ville from a private client in Lichfield sold for

£620, a lady's 18ct gold Jaeger-LeCoultre Hermes made £440 and an Ebel

Beluga steel and diamond wristwatch fetched £600.

Jewellery in the sale included a 4.31ct three stone diamond ring, which

sold for £8,400 to the absolute delight of our client.

Also going under the hammer on the same day was a large collection of

ceramics including five large Royal Doulton Prestige figures depicting The

Charge Of The Light Brigade, jester Jack Point in three colourways and a

limited edition King Charles I, totalling £3,490.

That day's sale saw a total of 728 lots go under the hammer with a 97.5

per cent selling rate, averaging £191 per lot.

It's a great time to sell at auction but also a fab time to buy, whether

you're a dedicated collector or looking to kit out your first home.

Whatever you're looking for, it's always worth browsing our online

catalogues at www.richardwinterton.co.uk/auction-dates.

Two Day Antiques & Home Sales are scheduled for September 6-7,

September 20-21, October 4-5 and October 18-19. All sales start at

9.30am.

We also offer free valuations here at The Lichfield Auction Centre by

appointment and you can drop into The Hub in the Market Square,

Lichfield city centre, between 10am-12.30pm on Tuesdays. Email

ben@richardwinterton.co.uk.

For auction and viewing enquiries, to book an appointment for a

valuation or to arrange a free home visit and quotation for house

clearances, telephone 01543 251081 or email

office@richardwinterton.co.uk.
---
13
---
A Taste

of Nature

By Kristen Lackajis

............................

Nestled deep within the rolling Staffordshire countryside,

situated down a winding tree-lined lane, lies a hidden gem

in the form of The Deer Park Farm.

Formerly part of the Hoar Cross Hall estate, The Deer Park occupies

an enviable position with far reaching views of The National Forest, with

the land having been sympathetically farmed by the Prince family for four

generations. It is no wonder that the family decided to create their own

little hideaway, inspired by, and very much rooted in, the nature that

surrounds them.

The converted barn which dominates the Park houses a farm shop

which stocks a wide range of local produce from nearby artisan

suppliers. There's fresh bread available and in-house master butcher,

Russell's of Shenstone, provides meat of the finest quality.

Upstairs, a variety of bespoke gifts and crafts are available to purchase,

as well as a photographer's studio, designer lingerie unit and a country

clothing outlet.

Then there's the Linhay Restaurant. Beautifully appointed and

tastefully decorated in a classic country-style, with a modern twist, the

atmosphere is laid back and relaxing, and the staff friendly and attentive.

Outside, a paved terrace offers guests the chance to dine 'alfresco' and

enjoy staggering views of the surrounding farmland and woodland. It was

here that we chose to sample the

lunchtime menu so we ordered a glass

of English 'fizz' and had a look what was

on offer.

Amongst the many delights were

several stand-out items featuring meat

from Russell's, which we decided we

just had to try. I chose the Grass Fed

British Flat Iron Steak with Deer Park

Salad, which was accompanied by stout

and cheddar sourdough with dripping

butter. Served medium rare, the steak

was plentiful, lean and cooked to

perfection - delightfully pink on the

inside, it literally melted in the mouth.

The salad was crisp and fresh and I have

to say, having never tasted it before, I'm

now a huge advocate of dripping butter!

What a taste sensation!

My guest opted for The Deer Park Hot

Dog, featuring a Russell's lightly smoked

spiced sausage on an onion bridge roll

courtesy of The Loaf Bakery. Served with

mustard, ketchup, creamy mayo, crispy

onions and garlic and thyme chips, this

was a very grown-up take on the classic

'hotdog and fries' and was declared

utterly delicious! Needless to say, we didn't leave much on our plates!

If you're looking for somewhere to while away the hours, enjoy the

local countryside, eat quality food, and do a spot of shopping, you'll find

The Deer Park is the perfect destination for you. Visit The Deer Park at

Maker Lane, Hoar Cross, DE13 8QR or find out more on the website at

www.deerpark.farm.

14
---
15
---
My Month in

Parliament

By Amanda Milling MP

........................

My work in Cannock Chase is

always directed by what

constituents contact me about

most. Two issues regularly raised

with me are the Chase Line and

local policing and crime.

Train users in Cannock Chase

have faced more than their fair

share of issues over the years.

These have included trains being

delayed, cancelled, or terminated

early, as well as persistent incidents

of antisocial behaviour (ASB) and fare-dodging.

While many of these issues have been actioned for

passengers, some problems have remained. This includes

the last service from Birmingham New Street which is

having a particularly frustrating impact on Rugeley

residents.

This train only goes as far as Hednesford, stopping short

of Rugeley. As many of you will know, this means

passengers are often forced to rely on lifts from family and

friends, or taxi services, to get home.

While I appreciate timetabling is an immensely

complicated issue, Network Rail is responsible for this

decision. I have written to the Chief Executive, Andrew

Haines, to again reiterate the need for the last service of

the day to reach Rugeley.

I know how important tackling crime is to Rugeley

residents. Whether it be antisocial behaviour, drug use, flytipping

or speeding; all undermine our communities and

even put peoples' lives at risk.

I recently spoke to the new Area Commander for

Cannock Chase District, Chief Inspector Victoria Downing,

following Chief Inspector Becky Hyde's retirement. This

was a fantastic opportunity to feed back some of the daily

concerns raised with me by constituents.

I also met with Emma Barnett, who is our new

Temporary Chief Constable, responsible for the direction

and control of Staffordshire Police.

Both women come with a wealth of previous experience,

and I know they will work hard to protect and improve

our communities here in Cannock Chase.

The Prime Minister recently announced his Beating

Crime Plan, reaffirming our commitment to cutting crime.

The plan includes measures to crack down on antisocial

behaviour and drug abuse. It also includes a commitment

that every local community will have a named officer on

call who is able to see crime in context – to know if it is

part of a pattern or a one-off.

I am proud of what has been achieved by our local

police force, especially given the extra pressure presented

by the Coronavirus. By recruiting more police officers and

implementing the Beating Crime Plan, we will continue to

cut crime across the country.

As always, if you have any issues you need my help with,

please email me on amanda.milling.mp@parliament.uk, call

01543 877142 or visit www.amandamilling.com/contact.

Wartime Brereton

By the late Harry Thornton, member of the

Landor (local history) Society

........................

The Castle Inn, Brereton

People living locally during the 1939-45 war recall the late evening of 22nd

October 1940 when one of three bombs dropped by a lone German aircraft

exploded in the back garden of the old Castle Inn, blowing to pieces a

henhouse, complete with hens, and a greenhouse owned by the landlord Alf

Astbury. Mrs Elsie Richards, a daughter of Mr Astbury, still has a photograph of the

family and their evacuee standing in the bomb crater, estimated to be about two

metres deep and four metres wide. Surprisingly, only superficial damage was done,

including a broken window at St Michael's church school over the road and broken

windows as far away as Market Street and Brook Square in Rugeley. Of the other

two bombs, one exploded on the road leading to the one-time Leafields Cottages

alongside the canal and the other near Rugeley's old sewage works near the river

Trent.

Three other bombs fell on the night of 9th September 1940, one landed near Hob Hill,

another put a crater in the Armitage Road between the Ash Tree Inn and Spode House

which disrupted traffic, and the other fell in fields near Armitage Church.

On the afternoon of Sunday 10th October 1943, a Spitfire plunged from the sky and

tore into a field beyond the bottom end of Batesway. The pilot, who parachuted to safety

and landed in the Trent Valley with only the loss of a flying boot, turned out to be Alex

Henshaw, famous chief test pilot at the Castle Bromwich Spitfire Factory, who later

recalled the incident in his book, Sigh for a Merlin, with pictures of the wreckage. He had

climbed to 17,000 feet in Spitfire MJ190 to test it at full throttle in a power dive over

Cannock Chase and was about to pull out of the dive when the engine began to shake

uncontrollably and violently and was soon threatening to disintegrate. With streams of

hot oil and coolant obscuring his view the pilot had no choice but to leave the aircraft.

The jerk of his parachute opening caused him to lose the flying boot which landed on the

Chase, but he landed on soft marshy ground near a farm where he was able to telephone

for a car to take him to the scene of the wreckage and back to Castle Bromwich.

Apparently, Alex Henshaw personally tested over 3000 aircraft, but only had to bail out

twice.

In addition, during WW2, the enemy action also took place in the area including a

Messerschmitt ME110 machine gunned Aelfgar School and the Green Bus café; Longdon

being bombed on 8th August 1940; bombs dropping in Armitage Road and the

Hawkesyard area on 9th September 1940; and, on 9th October 1940, the English Electric

Works at Stafford was bombed. Which involved a Brereton girl being injured.

16
---
My Weight Loss Story

By Patricia Harrington

It was in the car when I

noticed my tummy touching

the steering wheel. That's

when I looked at myself in the

interior mirror and said

enough is enough, I want to

shine again and get my dreams

back on track!

We all love to go out for a meal and there is nothing

worse than saying I can't have this or, even worse, feeling

guilty because you had a pudding! A diet will really turn me

off if I have to deprive myself or eat set meals. That's what I

love about Sliming World food optimising, literally nothing is

off the table, and you learn to form new healthier habits.

If I had to pick a favourite meal it would be a roast dinner

every time - my boyfriend loves it too!

Slimming world has taught me how to shop for the right

foods and how to cook my food, so I didn't feel hungry or

deprived. Our weekly meetings in group are a source of

great strength and my consultant, Jeff, is extremely

supportive and encourages me to be positive and stay

motivated.

Eight months in and I've reached the summit - I've lost

five stone! That's 70lbs - equivalent to 30 bags of sugar. I've

lost eight inches off my waist, dropped five dress sizes and

my fibromyalgia has improved.

Losing weight has changed my life. Now is my time to

shine, get out and enjoy life to the full once again!

17
---
Here at Just Granite Ltd, we pride ourselves on being the experts for any worktop needs you may have.

Be it a beautiful bespoke and unique kitchen worktop, a bar, bathroom or even a barbecue area, we have

an extensive in-house range ready to be chosen by you! We stock a varied range, in a variety of materials,

such as our own competitively priced quartz, granite, marble and porcelain, as well as all the top brands

from around the world.

There really is no reason to go anywhere else!

Win a Granite Chopping Board

If you require our services please do not hesitate

to call us on 01785 711096 or email your quote

request to stef@justgranite.ltd.uk

With the largest variety of natural stones in the Midlands, the

solid slabs are kept on-site and are available for a virtual viewing

from 9am-5pm on Monday to Friday. Located at The Stone

Works, Pillaton Hall Farm, Penkridge, ST19 5RZ.

We've got a bespoke Chopping Board (in the

colour of your choice) to give away! To be in

with a chance of winning this magnificent prize,

simply answer the following question correctly:

Where does the supply

of granite come from?

a) Spain

b) Italy

c) Germany

To enter, just send your name, contact details and answer to Just

Granite Competition at competitioncitylife@gmail.com or post your

entry to Citylife in Lichfield Ltd, PO Box 7126, Lichfield WS14 4JS by

the closing date of 8th October 2021. One entry per household.

Multiple entries will be disqualified. No cash equivalent. Please note

you must be 18 or over to enter. All entrants' information is

processed in line with GDPR Data Protection Regulations and our

Privacy Policy (available at citylifeinlichfieldltd.co.uk).

Full t&cs on page 34.

18
---
VACANCY

Lichfield City Council

ADMINISTRATIVE OFFICER –

PLANNING & FINANCE

26 hours per week.

Salary: £16,542 to £17,210 per annum

(£23,541 - £24,491 Full Time Equivalent)

Closing date for applications: Monday 23 August 2021

Due to the retirement of one of our longest serving employees, the City

Council is inviting applications for this permanent, part-time post. The

successful applicant will be responsible for the secretariat support of the

City Council's Planning Committee, and assist in the financial adminstration

of the Council, notably through the raising of invoices. Working closely with

both junior and senior council officers, the postholder will also support the

wider activities of the Council, as well as providing some

reception/telephone cover.

Based at the City Council offices at Donegal House, Bore St, this is an

interesting and varied post for which you should have a keen work ethic,

attention to detail, experience in a Planning environment, a working

knowledge of SAGE accounts and an ability to work to strict deadlines.

An application form and job description can be obtained from Lichfield City

Council (tel: 01543 250011 email: enquiries@lichfield.gov.uk) or from the

'News' section of the City Council's website www.lichfield.gov.uk.

Interviews currently scheduled for w/c 6 September 2021.

Now open 7 days

a week

19
---
Chastity by Morilee

A demure darling, Chastity

features a high, bateau crepe

bodice with modest long sleeves.

A matching waistband defines

your silhouette as the full A-line,

organza skirt flares out. Pockets

add a fun touch and the square

back completes the sleek look.

Shown in Diamond White.

Nikkal by Nicole Milano

Mermaid off-white crepe wedding

dress with long puffed sleeves, straps

and plunging V-neck. The beaded floral

tone-on-tone decorations create a

sophisticated, romantic 3D effect.

Aphrodite by Nicole Milano

Strapless mermaid wedding dress

of organza and Mikado with

minimalist charm. The overskirt

creates movement and enhances

the showy effect and the dress's

train.

All available from Elsie May Bridal

Trent Valley Business Park, Lichfield

www.elsiemaybridal.co.uk

Telephone: 07506 768543
---
Coton House Farm

Located in Lichfield, and nestled away in the heart

of the Staffordshire countryside, Coton House

Farm is an exclusive-use barn wedding venue,

complete with acres of beautiful grounds,

fantastic facilities and oozing with a relaxed and

warm ambience. Coton House Farm provides the

highest standards of service mixed with a

personal approach to ensure your wedding is

tailored to you.

www.cotonhousefarm.com

Clive's Wines

Offer something a little different for your

wedding toast with Rhubling – a delightfully

refreshing sparkling rhubarb wine from local wine

producer, Clive's Wines. Made using the

traditional method to create bubbles, Rhubling is

the perfect fizz for your big day!

Available from Clive's Wines of Burntwood.

Tel: 07972 269 620. www.cliveswines.co.uk

Jewellery with Life

Emily Jane is passionate about creating her pieces

as much by hand as possible; making each piece

truly unique, just like you. This 8mm rose cut

moonstone pendant, set in silver, is the perfect

accompaniment on your big day, or maybe the ideal

gift to thank bridesmaids. Priced at £37, alternative

gemstones are available also. Visit

www.jewellerywithlife.co.uk or join the Instagram

community at @emilyjanedesigner_

The Flower Kitchen Florist

The Flower Kitchen Florist offers the

most beautiful and breathtaking blooms

and foliage to create stunning bouquets in

a romantic and rustic style – perfect for a

bridal bouquet, buttonholes, table

centrepieces and wedding venue

decorations. Catering to all budgets and

designed with your theme and colours in

mind. Find out more by visiting

www.theflowerkitchen.florist, or contact

Heather at

Heather@TheFlowerKitchen.Florist.

Reflexions

Treat yourself to a pre-wedding pamper

session to truly relax and reinvigorate! Foot

reflexology is a massage applying various

pressures to reflex points to your feet and

toes. These zones are connected to certain

organs and body systems, meaning

reflexology gives great health benefits. It's

also the perfect way to unwind and recharge

prior to your big day! Visit Reflexions at

The Plant Plot Garden Centre, Stafford

Road.

Contact Debs 07595 486535.

21
---
The Traditions of

Happily Ever After

By Charlotte Benton

............................

Picture this... The sun shining down, not a cloud in the sky,

loved ones gathering from far and near to celebrate the

marriage of the happy couple. Even the mental image that

we create in our mind at the prospect of a wedding fills us with

glee.

But where does this splendid scene stem from? What traditions lie

behind the weddings that so many of us long to attend or are lucky

enough to call our own? Let's take a look at some of the most popular

marriage customs and their origins.

1. A White Dress

It has not always been the case that the bride would wear a white

dress. The bride once wore her best item of clothing, whether that be

black, white or any other colour. It was the wedding of Queen Victoria

and Prince Albert in 1840 that first introduced the traditional choice

of a white or ivory wedding dress. Once a sign of wealth, white

wedding dresses remain a signature tradition of western weddings

today and often symbolise the bride's 'purity'.

2. Something Old, New, Borrowed and Blue

The rhyme "Something old, something new, something borrowed

and something blue" is one of the most well-known wedding traditions

that symbolises the customs a bride should follow in hope of a

successful marriage. Whilst the 'old' represents the continuity of the

past and the 'new' illustrates the optimism of the future, a 'borrowed'

item represents the happiness that the new bride will receive from her

husband, with something 'blue' protecting against evil. Together this fun

rhyme signifies the simultaneous continuity and hope towards a

prosperous future.

3. Giving the Bride Away

Whilst this moment of the ceremony is often a poignant and longawaited

moment between the bride and her father, the tradition has a

rather more woeful past. Daughters were previously considered the

property of their father and the act of giving them away was once

more a transaction of property as opposed to a poignant marker in

both a parent and a child's life. Today this intimate moment between

the bride and her dad is a beautiful part of the wedding ceremony as

the bride embarks on a new journey with the new 'man in her life'.

4. Wedding Rings

The tradition of wedding bands stems from the Ancient Egyptians

who wore their wedding rings on their left hand following the belief

that the fourth finger on the left hand is where the 'vena amoris' (vein

of love) begins, eventually linking to the heart. Also, the cyclical nature

of a wedding band remains a symbol of eternal love between the bride

and groom.

5. The First Dance

Now a traditional segment of a wedding, in the days of decadent,

royal balls, the first dance previously marked the start of the evening's

celebrations. The lady of the house was invited to dance with the male

guest of honour. Today we see and celebrate the first dance of the

newlyweds, as their friends and family surround them on this first night

of their new lives.

6. Throwing the Bouquet

This tradition seeks to pass on some of the bride's good luck to her

friends and family. In the 15th century, wedding guests once tore away

part of the bride's dress, hair and flowers in hope of receiving some of

her happiness. Thankfully today's tradition is much more civilised,

although the bouquet toss is still highly anticipated by the female

wedding guests and there is often a scrabble to be the one who

catches the bouquet as she is said to be the next to marry her true

love.

Today's traditions that carve the pathway to happily ever after seem

not all that far from those of centuries gone by. Traditions prevail, after

all they are all based on one common theme, love.

22
---
23
---
Tastes of the Season

By Simon Smith

Wedding Flavours

............................

We are now in wedding season and can serve more than 30

customers at last although who knows how long that will last. The

problem caterers are facing this year is that the supply chain is not

working as it should. I have my first big wedding this month and the hire

company I used to use for crockery and glassware no longer exists and

the ones that are left are swamped with last year's weddings that have

rebooked, plus the new bookings this year mean food supplies are

difficult to get hold of in large quantities and so many staff have left the

trade. That's all before anyone gets pinged to self-isolate and suddenly

leaves the caterer with a large wedding and no staff! Yikes!

The lesson behind this is the smaller you keep your wedding the more

chance you have of it going to plan this year. The other benefit is that the

money you save by having 100 less people could be used for something

else too.

Rather than give recipes this month (as your caterer will no doubt have

offered you a selection of menus) I am going to give you some thoughts,

tips and advice after many years of catering for weddings and the pictures

this month are dishes that I have done for weddings in a more informal

manner.

Trends come and go and there is quite a bit of worry about what to

serve and how will it work. Everybody is looking for something different

now and no two events are the same.

There is a big move towards something less formal which is taking

people to farms, converted barns and even museums in search of that

extra WOW factor. There is a huge difference in venue costs and

whether or not you are allowed to bring your own caterers. Bringing

your own caterers, rather than using the venue's supplied caterers, can

save you a lot of money and give you the opportunity to design your own

menu rather than take the limited menus offered by the venue.

More often than not I am now

being asked to do a wedding

breakfast of tapas, bowl food

(trendy since the royal wedding)

or afternoon tea. This gives the

guests a larger food choice rather

than the traditional three-course

sit down meal. It also gives

everyone a chance to circulate

and it becomes a much more fluid

event. Grazing tables are also

popular where many different

foods are laid out and people just

help themselves whenever they

feel like it. Just remember that on

a really hot day this can be

dangerous if the food sits in the sun for too long.

When deciding the menu remember you are never going to please all

the people, but it is only one meal in their life. I have often had dishes

discounted because an aunt doesn't like one ingredient but remember

they can always have another option. You also need to work with the

caterer as cooking in a barn on a gas oven will be very different to going

to a hotel with all sorts of specially designed catering equipment. Take the

caterers advice and work within the limits of the venue.

It is worth deciding your priorities early as I have been told sometimes

that the budget it tight because too much has been spent on table

decorations, having an expensive hen do, having the drive resurfaced for

the wedding guests etc. The problem with researching wedding pictures

on Instagram or Pinterest is that there is too much choice and people

tend to get carried away. This applies to the menu as well and it's not

always possible to have everything in the fridge, or life-sized margarine

sculptures of a horse (which I have been asked to do!)

If you are thinking of having a BBQ or hog roast remember that the

weather can turn nasty and you need a backup plan. In addition, both of

these involve a lot of smoke and depending on the wind direction can

waft through your marquee for hours which will taint everybody's

clothing.

Remember, it's YOUR special day so take the time to think about your

food options, and discuss with caterers and venues, to ensure that

everything runs as smoothly as possible on the big day.

24
---
Bride and Bloom

By Jo Howell

............................

Dress? Check. Heels? Check. Hat? Absolutely! In the

midst of summer, it can only mean one thing – wedding

season. And although the big day may look a little

different to perhaps what was planned, there has never been a

better time to pull out all the stops and get your glam on.

Whether you are the bride or one of the chosen few guests, there

are simple, and effective, top tips for every female to follow:

Skin Deep

If you are the bride, I am sure you have been following a skin care

plan for a few months to ensure you are positively glowing on the

special day. And if you haven't? Even 24 hrs can make a difference –

so, guests and Mother of the Bride, this applies to you too!

It goes without saying that hydration is key – so plenty of water

the day before but not during the evening as this will cause water

retention. But one thing you can do overnight is apply a light face

cream; nothing too heavy as it could look greasy on your skin the

following day.

And of course, a good night's sleep is essential for the entire

wedding party! Bedtime has never been so important as dark circles

/ eyebags would be the most unpopular guest.

Flawless Faces

For the Bride, wedding makeup is a totally personal decision – but

it can be a difficult decision to

make! And probably the reason

many brides (and Mothers) bring in

a professional Make Up Artist to

take over and create the right look.

We recommend having at least one

trial before the big day so you, and

Mum, feel happy with the finish

beforehand.

However, it is worth considering

things like your wedding theme, the

style of your wedding venue and

what your wedding dress looks like.

All these factors will influence your

final wedding makeup look. Oh, and choose something which makes

YOU feel beautiful and confident. That's the most important thing!

Be Our Guest

One of the most common questions I get asked is how to keep

make up looking fresh all day. The answer is very simple - setting

powder (or spray).

There are plenty of brands available but these little wonder

products really will be your saviour during a long, hot wedding day

and ensure your make up lasts and doesn't smudge or fade before

the first dance.

If you're not the bride, remember to keep your own make up light,

natural and respectful to the star of the show. Think of your own

outfit, ensure you choose bold lips or eyes (never, ever both!) and

always, without fail, use waterproof mascara.

And remember – skin first, make up second,

smile always!

Read more of Jo's work at www.justanaveragejo.blog.

25
---
Military Wedding Cpt Davies

Rugeley 1917

Wedding of Dr Peate and Miss Price

at Cannock 1925

Wedding of Miss D Nicholls in

Cannock 1939

26

Wedding Bells of

Cannock & Rugeley

By Jono Oates

............................

The church bells of Rugeley and Cannock are finally starting to

ring out once more to celebrate the marriages of couples

whose special day has been put on hold for 18 months.

Similar situations have happened in the past though, most

noticeably during World War One and Word War Two, when brides

often had to wait for their fiancés to return from the front on leave

before they were finally able to tie the knot.

On Wednesday 27th October 1915 Lieutenant Robert Wilkes, of the

11th South Staffordshire Regiment, married Miss Dorothy Hunter, who

was the daughter of local Cannock councillor Mr Jonathan Hunter, at the

Cannock Parish Church. Jonathan Hunter lived at Leacroft House at

Churchbridge and was the Managing Director of the Cannock and

Leacroft Colliery Company as well as President of the South

Staffordshire & Warwickshire Institute of Mining Engineers. The bride

was very well known in the local area and, despite the war, a large

congregation attended the ceremony. The service was carried out by the

Revd Llewelyn J Price and the bride wore a regimental gold brooch on

her dress, a gift from her brother Percy who was on active service in

France. The bridesmaids wore dresses of pale lavender crepe de chine

and ninon with waistbelts of mirror velvet and trimmings of skunk. After

the ceremony the guests attended Leacroft House, and the happy couple

departed for their honeymoon in Bournemouth.

A few years later on Saturday 24th January 1925, the Cannock Parish

Church was crowded once again, this time for the marriage of Dr

Reginald Crichton Peake, son of the Revd Peate the vicar of Barlaston,

to Miss Eileen Primrose Price, youngest daughter of Revd L J Price who

had officiated at the military wedding in 1915. Eileen, perhaps

unsurprisingly, had been heavily involved with church life and the parish

and had been a Lieutenant in the 1st Cannock Girl Guides. The guide

group attended the service providing an arch of flags as the newlyweds

left the church.

A military wedding held at St Augustine's Parish Church in Rugeley

attracted a lot of local interest on 4th December 1917. Miss Hilda

Wilsone Broun, the only daughter of Mr and Mrs William Broun of

Lanrick House, Wolseley Road, married Captain Clement Cotterill

Davies of the Worcester Regiment. Captain Davies had spent many years

on foreign service with the army having seen action in the South African

Boer Wars, the Natal Rebellion and then in France during World War

One. He had been wounded in action on three separate occasions in

France and had returned home in March 1917 to take up war office

duties. Hilda Broun was a relative of Colonel Michael Swinfen-Broun of

Swinfen Hall, Lichfield, and amongst the many wedding gifts that the

happy couple received was a cheque from Colonel Swinfen-Broun, a

diamond bracelet from his wife and a clock from one of his daughters.

Just a few months before the start of World War Two, on Saturday 3rd

June 1939, the wedding took place of Miss Dorothy Eileen Nichols and

Captain D'Arcy John Desmond Mander at the Cannock Parish Church.

Dorothy was the elder daughter of Mr G B Nichols, the Custom and

Excise Officer at Cannock, and Captain Mander was the son of the late

Major D'Arcy Mander of the Durham Light Infantry. Mander, an officer in

the Green Howard's Regiment, later served in World War Two where he

was captured and imprisoned in Italy. Escaping, he worked behind enemy

lines as a spy and setting up his own spy network in Rome with his

bravery earning him a Distinguished Service Order (DSO). Captured by

the SS twice (and escaping twice!) he later saw service in the Malaya

guerrilla war where he commanded the Green Howard's.

Towards the end of the Second World War the cost of wedding

dresses had become too much for the bride's family to bear and the time

taken to create them was putting pressure on seamstresses working on

uniforms and materials for the armed forces, therefore impacting

adversely on the war effort. So, on Saturday 22nd July 1944, Corporal

Florence Wooliscroft of the Women's Auxiliary Air Force (WAAF), set off

the down the aisle at St Augustine's Church in a dress lent by Eleanor

Roosevelt, wife of Franklin D Roosevelt, the President of the United

States of America, when she married Corporal John Davidson of the RAF.

Mrs Roosevelt had set up a scheme where brides would donate their

wedding dresses to her and they would then be distributed to service

brides in America and Britain. Dressed in American silk lace, Florence, of

40 Park View Terrace, Rugeley, was given away by her father before

setting off on honeymoon with her husband to sunny Carlisle.

The hardships and restrictions of weddings during the two World

Wars has been very much reflected in weddings of the last 18 months.

However, as the Covid-19 restrictions continue to lift, hopefully the

weddings in Rugeley and Cannock will be much brighter, more enjoyable

and better attended as we head towards 2022.

*Vintage photographs no copyright but courtesy of the British Newspaper

Archive

Sources: The British Newspaper Archive; www.ancestry.co.uk;

www.britishempire.co.uk; www.dmm.org.uk
---
Kate Bliss Hopes to Uncover

Sparkling Finds at Free Jewellery

Valuation Event

By Charles Hanson

............................

Jewellery finds, and auction results, have

shone brightly throughout lockdown and the

dark days of the pandemic.

Hammer prices have remained consistently

strong for both vintage and antique finds, gold

prices are buoyant and silver has sparkled. In

uncertain economic times, investors prefer

tangible assets - and collectors never tire of

buying beautiful objects.

If you're contemplating selling at auction, free jewellery valuation days

are coming up in Staffordshire courtesy of TV's Kate Bliss. The familiar

face from TV's Bargain Hunt will be at Bishton Hall, Wolseley Bridge, on

September 6th and November 8th from 10am-4pm.

Kate, a fellow of the Gemmological Association specialising in jewellery

covering antique and vintage items to contemporary pieces, hopes to

unearth some shimmering stars, perhaps a fine diamond or two.

Diamonds consistently excel at auction. We're privileged to see

numerous examples in a wide variety of cuts, carats, clarity and colour –

including cinnamon. Lot 95 in Hansons' July Fine Art Auction was a

cinnamon diamond 18ct gold cluster ring comprising a central, brilliantcut

4.11 carats cinnamon diamond. It was contested to £3,800.

95, £3,800, cinnamon diamond and

18ct gold cluster ring, with central

brilliant-cut cinnamon diamond weighing

4.11 carats

Diamond ring found at charity shop

COST £5.50. ESTIMATE £7-8K

Diamond ring sold for £95,000

Though the classic white diamond

is the one we know best, coloured

diamonds exist in many hues, tones

and saturations. Colours include

pink and yellow as well as cinnamon.

Occasionally diamonds are

mistaken for costume jewellery.

One ring we assessed, purchased for

£5.50 from a charity shop's 'junk

jewellery' box, turned out to be a

gold 2.30 carat diamond ring worth £7,000-£8,000. One of our all-time

top-selling lots was a diamond ring which achieved £95,000.

Kate Bliss will be at Bishton Hall, Wolseley Bridge, Staffs, ST17 0XN, on

September 6th and November 8th from 10am-4pm. No appointment

necessary. Free general antique valuations are also available at Bishton. To

book an appointment, email rhalliday@hansonsauctioneers.co.uk or call

01283 733988. Free general valuations are also available at The

Hedgehog, Stafford Road, Lichfield, WS13 8JB. Upcoming dates include

August 20th, September 3rd and 17th from 10am-1pm. To find out more,

email cjones@hansonsauctioneers.co.uk.

27
---
A Window on the Past

Back to School

With September here, thoughts turn to the new school

year, so this month's photos explore five of the district's

schools, none of which (where they survive) are used for

their original purpose.

1. Shooting Butts School was built by the National Camps

Corporation in 1939 consisting of cedar huts set in 35 acres on the

edge of Cannock Chase. Its first us was for evacuees from Birmingham

during the Second World War. Staffordshire County Council took over

the buildings in 1948 when they became a Secondary Boarding School

for children between the ages of 11 and 15. All the usual subjects were

on the curriculum, but special attention was paid to the rural and

domestic sciences. Out of school hours there were plenty of social

activities including a choir, drama club, dances and socials and a

flourishing Young Farmer's Club. Pupils were transferred to Pipewood

School in the 1970s, though the buildings continued to be used for

various purposes by the Education Committee.

2. Taylor's Lane Secondary Modern School opened in 1939 as a senior

school for both boys and girls. With the reorganisation of education in

the 1960s it became Aelfgar Comprehensive School. An extension was

built on the other side of Taylor's Lane (on the field in the foreground

of the photo). This extension later became a Sixth Form College and the

original building was divided up. Part was converted into a Community

Centre and theatre, part Aelfgar Surgery and the remainder was YMCA

housing.

3. St Joseph's Roman Catholic School was built in 1908 by local

builder Charles Mason. It replaced an earlier mid-nineteenth century

building in Heron Street - a building later known as 'The Guildroom.'

The 1908 building was replaced by a new school in Newman's Grove in

1972 and was later converted to a Community Centre. The photograph

was taken from the church tower.

4. Brereton National School for girls was built in 1891 in Main Road

to replace Brereton's first school built by the Misses Sneyd in 1826. It

became known as Brereton C of E School and from 1930 took only girls

aged 7-11. By the 1950s the school was becoming overcrowded. This

was relieved by the building of Nursery Field CP School in 1961. The

school (now named St Michael's C of E School) closed in 1971 when the

pupils were transferred to the new Hob Hill School. In the photograph,

St Michael's School is the tall building with a pointed window; the low

building next door is a remnant of the 1826 school.

5. A National School for Girls was built in Church Street in 1826 by

Baroness de la Zouche, where some 60 girls paid 1d a week to attend.

It was extended in the 1870s. With the growth of the town and the

introduction of compulsory schooling the Girls' School suffered severe

overcrowding. This was eased in 1913 when the girls in Church Street

and the infants in Talbot Street swapped buildings. In 1960 the infants

moved back to the Talbot Street building and the Church Street school

became a furniture store for the Education Authority.

1

2

The Landor (local history) Society is a

focus for those who wish to learn more

about the history of Rugeley and its

surrounding parishes. It was founded in

1953 and was named in honour of

Walter Noble Landor, local and county

historian, who became the Society's

first President. More information is

available at www.landorlocalhistorysociety-rugeley.btck.co.uk

3

4 5

28
---
To

Advertise

please contact

Steve Brown 07740 166497

stevebrowncitylife@gmail.com

Rebecca Hill 07970 513144

rebeccahillcitylife@gmail.com

Advertising Feature

Durrant Funeral

Services' Memorial

Items

........................

Durrant Funeral Services works alongside

small local companies who have turned their

hobbies and ideas into a business in order to

create lasting memories of your loved one.

Pressed by Amber creates pressed flower picture

frames. Amber's love of flowers prompted her to start

pressing them and turn them into a memorial frame for

you with flowers from your loved ones' garden. You can

find more of Amber's work on Instagram.

Moo's & Roo's Specials by Sammie are memorial pillar

candles with transfers with any design you wish. They can

include a loved ones' photo and wording, even merging

several images together to appear as one. Sammie's work

can be seen on Facebook.

Magpie Memory Balloons by Bex are environmentally

friendly. After seeing pleas from crematoriums not to

release helium balloons as they deflate and are hazardous

to wildlife, Bex places wildflower seeds inside a clear

balloon, putting it in a gift box with your loved ones'

name, and providing a sharp wooden stick to pop the

balloon, enabling you to scatter the seeds and create a

mass of wildflowers in memory of your loved one.

Candlepot Decorations by Louise uses decoupage and

glass to create bespoke urns and light bowls. Using a

'painting with paper' technique to build an ethereal style

of images, the urns can be personalised with photos,

specially chosen words and dates. They can be used with

tea lights, LED lights or placed by a window. See Louise's

work on Instagram @candlepotdecorations.

Legacy Expressions Fingerprint Jewellery takes an

image of yours or your loved ones' fingerprint using a

digital scanner. This can then be imprinted onto jewellery

or speciality items such as guitar picks, shot glasses, photo

frames and glass ornaments.

All of these items can be ordered through Durrant

Funeral Services.

29
---
Housing Secretary

Visits Development

.............................

Cannock Chase Council's Deputy Leader, Councillor Bryan

Jones, welcomed the Secretary of State for Housing,

Communities and Local Government Robert Jenrick to Cannock

during a visit to the town to see new homes being built.

Cannock Chase is among the first local authorities to take part in the

Government's First Homes programme launched in May, as part of the

Phase 1 Pilot. The programme offers a minimum discount of 30 per cent

to first time buyers purchasing their first home.

The Secretary of State visited a development of 10 First Homes under

construction off Walkmill Lane in Bridgtown by Vistry Partnerships.

Walkmill Place is the second site in the country to feature First Homes.

The Council gave planning permission in 2018 for 116 homes to be

built on this site. As part of the S106 planning agreement 20 per cent

were to be provided as affordable housing with a mix of rented and

shared ownership homes.

As the development progressed with the involvement of a Registered

Provider, 58 of the new homes will now be available for rent or shared

ownership, which is in addition to the 10 First Homes.

The Council's new Corporate Plan, which includes a focus on

supporting economic recovery post the pandemic, has an increase in

affordable housing for residents as one of its main priorities.

The Secretary of State was also able to meet the Council's Portfolio

(l-r) James Warrington, Cllr Bryan

Jones, Cllr Adrienne Fitzgerald, Robert

Jenrick, Nirmal Samrai, and Bob Kean.

Holder for Housing, Councillor Adrienne Fitzgerald, Interim Managing

Director, Bob Kean, and Head of Housing and Partnerships, Nirmal

Samrai, as he toured the site.

He went on meet two management trainees employed by Vistry

Partnerships who are currently working on the development, Quantity

Surveyor, Ella Hodnett and Assistant Site Manager, Lee Callaghan, and

spent time meeting Jodie Heap and Antony Heap who took advantage of

the Government's Help to Buy scheme to buy a home on the

development.

He ended his visit by planting a tree to mark the launch of First

Homes at Walkmill Place in association with Homes England, Cannock

Chase Council, Vistry Partnerships and the Ministry of Housing,

Communities and Local Government.

30
---
Rugeley WI

By Margaret Bennett

........................

What a fantastic time members of Rugeley WI had on

Wednesday 7th July when they went to Marsh Farm for

afternoon tea.

Members not only enjoyed their sandwiches, scones and

cakes, with copious cups of tea, but the social occasion was

thoroughly enjoyed by everyone too.

With the easing of Covid restrictions it was agreed that

Rugeley WI would re-commence their monthly meetings

held at St. Joseph's Community Hall, with members would

be notified accordingly.

If you would like to join our WI you will be made to feel

most welcome. Why not come as a visitor? The first three

months are free. For further details contact Ann Stewart,

President, on 01889 570875 or Barbara Coppard, Vice

President, on 01889 804889.

31
---
32

Cannock & District

Ladies Probus

By Alison Cardy

.....................

As Covid and lockdown dates dictate our

lives, we were reminded of how lucky

we are, as we learnt of experiences

encountered when Chrissy Caseley-Whereat,

our speaker, gave a Talk to Ladies of Cannock

and District Probus Club.

Choosing the 'University of Life' instead of attending University, at 16 her

son chose to go travelling. Australia, Thailand and Vietnam were included in

his journey before arriving in Cambodia, a country he has grown to love. He

caused worry for his parents when due to arrive in Thailand the day of the

tsunami but arriving a day late, enabled him to help shocked and destitute

local people. At six foot four and now a teacher with five languages, he is

settled in Cambodia with a family and when visited by his mother, it was VIP

treatment for her.

A 23-hour flight, with merely a break in the interesting Bangkok Airport,

did not deter her but customs did give concerns with their ad hoc attitude,

as to who they allowed into the country! Transport was the first eye opener

Cannock Chase Ladies

Probus

By Pat Preece

........................

Cannock Chase Ladies'

Probus Club re-opened

its monthly meetings

recently when the new

Chairman, Mrs. Norma

Hutchinson, welcomed the

ladies.

A minutes' silence was

observed in honour of two

ladies who had passed away,

Winifrede Haynes, a past

Chairman of the club, and Mary

Davies, both ladies will be sadly

missed at club.

This special day was made

even more enjoyable when the

Pat Preece, John Butterworth, Norma Hutchinson,

and Sheila Yard

Chairman welcomed Mr. John Butterworth MBE to speak about his day at

Buckingham Palace and what he did to be awarded the MBE for services to

journalism and charity by the Queen. He also showed a DVD of the event which

was very interesting. Sheila Yard gave the vote of thanks.

A short business meeting followed during which the Chairman introduced the

committee to the ladies. She then thanked everyone for attending and said that

it had been a very happy afternoon when everyone had really enjoyed being

reunited with their friends after such a long time. She then wished everyone a

safe journey home.

The club meets on the last Thursday of every month at 12 noon at the Barns

Restaurant, Huntington. New members are always welcome to share friendship

and fellowship.

Membership enquiries to Pat Preece, Secretary, on 01543 571186.

as there was no age limit on drivers nor MOTs on vehicles and the simple

way to deal with any bumps was to pay the police 'to ignore!' She later drove

a 'tuk tuk' for the experience but frightened her passengers, who chose to

walk instead! Two garden hoses were used for personal washing; one for

upper part of body and the second for below but not to be mixed up. Food

was also an adjustment in culture as people 'grazed' all day. The barrier of

language was bridged by the common denominator of nodding and smiling

but she caused amusement when at least trying to communicate. Perhaps it

was better not to know some things as Chrissy was quite content to

understand she was eating strips of beef, only to learn that it was tarantula

legs. She had tried to avoid the 'apparently tasty' insects and bugs but was

advised that it was rude to refuse so had to take the attitude of "When in

Rome..!"

A visit to the 12 Century City of God Temple and Lotus Pond added to

this amazing experience. A hotel was used where you could relax, swim or

have a massage and take an afternoon break from the crowds. It enabled a

view of the wonderful sunset, with time to wander through the Temples

before enjoying a picnic on return. Monks were revered and showered with

gifts and money; one even drove a BMW and wore a Rolex watch. After

three full weeks, the penultimate day saw our Speaker walk over a rickety

wooden bridge and fall in the river!

Chrissy was commended for her bravery!

Should anyone wish to join Cannock and District Ladies Probus, meetings

take place on the first Thursday of each month at The Chase Golf Club at 12

noon, where a meal and fellowship is shared, with Speakers on interesting

topics. Contact Barbara - Membership Secretary on 01889 882 166, or Anne

- Chairman on 01922 418 037.

Bumper County Show!

........................

Excitement is building ahead of this month's

Staffordshire County Show on 25th & 26th August.

The Show is fortunate to be able to go ahead without

restrictions, however, Government guidance will be

adhered to.

The main arena has an action-packed line up for the whole

day with The Bolddog Lings Motorcycle stunt team performing

with some breath-taking aerial stunts. Scurry Drivers will also

lead their equestrian charges around the ring in high-speed

races, and an array of other attractions will ensure there is

something for everyone.

The much-loved country pursuits area will have all the usual

attractions such as the quack pack, the farriers, the giant

tortoises as well as the UK's only pig stage show more widely

known as 'The Hogg Show' which will perform at the County

Show for the first time.

The Staffordshire County Show always delivers a fantastic,

enjoyable day out for the whole family. There is a great deal to

see and do with a Craft and Antique Fair, Food Hall, Donkey

Rides, Poultry and Rabbit Marque, An Animal Farm, Punch and

Judy, and so much more. The final preparations are being put in

place now to ensure a wonderful day out for all.

It's going to be a busy two days with advance tickets sales

higher than any year on record. Advance sales close on 17th

August so anyone who has not bought a ticket is urged to visit

www.staffscountyshowground.co.uk. Advance ticket sales offer a

real saving on gate admission prices.
---
Opportunity

for a Sales

Executive

Citylife in Lichfield

Ltd is expanding!

We currently have an opportunity

for a Sales Executive to work on our

two magazines – Citylife in Lichfield

and Citylife in Rugeley & Cannock

Chase. You must be self-motivated

and comfortable speaking to clients

on the phone as well as face-to-face.

The post is commission only and a

car is essential.

For further information and a full

job description, please email

helencitylife@gmail.com

J HOWELL &

DAUGHTERS

FUNERAL DIRECTORS LICHFIELD

LICHFIELD'S LONGEST ESTABLISHED INDEPENDENT,

FAMILY RUN FUNERAL DIRECTORS.

SECOND GENERATION BUSINESS HERE TO ASSIST YOU

AND YOUR FAMILY.

24 hours a day

We are proud to be Lichfield's longest established family run funeral directors offering a wide range of

choices to suit all requirements. Horse drawn hearse, non religious ceremonies, floral tributes and

memorials are but a few of the services we offer.

Pre-paid funeral plans are also available.

For a truly personal service please call

01543 255776

Private Chapel of Rest 116 Netherstowe,

Lichfield, Staffs. WS13 6TS

33
---
CLASSIFIED

To Advertise please

contact our classified

team on

07970 513144

This ad...

£35 plus VAT

MAGAZINE

DISTRIBUTORS

WANTED

Earn extra money

delivering magazines in

various areas. Must be over 16

and reliable

Call Marie

07548 682576

DO YOU HAVE

LEAFLETS THAT

NEED

DELIVERING?

Call REBECCA

07970 513144

Competition and Prize Draw - Terms and Conditions

1.Entrant's details will be held and processed in line with Citylife in Lichfield Ltd's Privacy Policy, which in turn adheres

to GDPR Data Protection legislation. For a copy of our Privacy Policy please email kristencitylife@gmail.com

2.By entering the prize draw/competition, you agree to the terms and conditions stated.

3.The closing date is stated on each individual prize draw or competition.

4.Entrants' details will be securely held by Citylife in Lichfield Ltd in accordance with our Privacy Policy. Details will be

held only until the closing date of the competition. After this date entrants' details will be securely destroyed/deleted.

Winners' contact details will be securely stored only until the winner has been informed of their win/prize. After this

details will be securely deleted/destroyed.

5.Entrants' details will never be shared with any third party. The only exception to this is the name (and if the prize is to

be posted) address of Competition/Prize Draw winners that will be communicated to the competition partner to allow

winners to securely claim their prize, after which all details will be securely destroyed. The initial and surname of

winners will be printed in our magazines – no other details will be published.

6.By entering the competition/prize draw, entrants agree to Citylife in Lichfield Ltd using or publishing materials provided

by the entrants (but not address or contact details apart from initial and surname) in any of their publications and online.

7.Citylife in Lichfield Ltd accepts no responsibility for any breach of copyright or breach of any other legislation entailed

by entrants in their creation or submission of materials.

8.Only one entry per prize draw/competition, per reader.

9.Except in the case of cash prizes, no cash equivalent will be offered and the prize is non-transferable.

10.All prizes are subject to availability and the prize suppliers' terms and conditions.

11.No purchase necessary.

12.Prize draws and competitions are only open to UK residents aged 18 years or over (unless otherwise stated).

13.Competitions and prize draws may not be entered by any employee of individual associated with any employee,

agent or third party of Citylife in Lichfield Ltd.

34

14.Winners will be selected at random in the case of applicable prize draws and competitions, or by an independent

judge in the case of photographic/art competitions from all entries received.

15.Winners will be notified by Citylife in Lichfield up to 28 days after the closing date of the competition/prize draw by

the contact details provided by the entrant.

16.A list of the surnames and county of residence of the winners will be available by writing to Citylife in Lichfield Ltd no

earlier than six weeks after the competition closing date.

17.When the prize draw/competition winner has been selected, this decision is final and no correspondence will be

entered into.

18.Citylife in Lichfield Ltd accepts no responsibility for the prize being lost, damaged or delayed in transit. When the

prize is provided by a third party, Citylife in Lichfield Ltd accepts no responsibility for any change to the prize, or for the

quality of the prize provided.

19.Competitions may be amended or withdrawn at any time.

20.By entering the competition or prize draw, you agree to having your name, (photograph, where stated) and city or

county of residence published in any of Citylife in Lichfield's publications and online.

21.Unless otherwise stated, the promoter is Citylife in Lichfield Ltd, PO Box 7126, Lichfield, WS14 4JS.

22. Citylife in Lichfield Ltd do not express any warranty or endorsement of any competition prize, information, service or

product provided in connection with a competition by printing or otherwise publicising any competition.

23.To the full extent of the law, Citylife in Lichfield Ltd shall not be liable for any loss, claim, punitive, indirect, incidental

or consequential damages of any kind incurred as a result of entering this prize draw or competition.

24.By submitting photos, text or artworks as part of competition/prize draw entries you agree that you own these photos

text or artworks, that it is your original work to which you own all rights to distribute, and that your entry is accurate,

moral and legal.
---
35