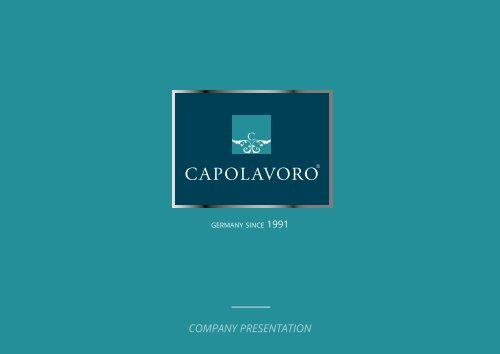 Capolavoro-Presentation2021
You also want an ePaper? Increase the reach of your titles
YUMPU automatically turns print PDFs into web optimized ePapers that Google loves.
germany since 1991

COMPANY PRESENTATION
---
| 1
---
CON

TENT

04 - 11 CAPOLAVORO WORLD

50 - 61 THE ROMANCE COLLECTION

12 - 17

AWARDS

62 - 73 THE COLOUR COLLECTION

18 - 73 THE COLLECTIONS OF PASSION

74 - 83 CAPOLAVORO COOPERATIONS

22 - 27

THE BILLION DREAMS COLLECTION

84 - 95

BRAND

28 - 49

THE DIAMOND COLLECTION

| 2

| 3
---
CAPOLAVORO

THE FAMILY

liebe als ursprung aller schmuckkreationen

CAPOLAVORO ist mehr als eine deutsche Schmuckmanufaktur mit italienischem Namen (ital. Meisterstück) –

es ist ein Familienbetrieb mit Charakter, Werten und Visionen. Neben den beiden Gründern, Gerhard und Andrea Fritsch arbeiten die Kinder

Theresa, Florian und Tobias Fritsch sowie eine Vielzahl passionierter Handwerksmeister und kreativer Mitarbeiter am Erfolg des Unternehmens

mit Sitz in Inning am Ammersee. Mit ihrer geballten Leidenschaft, Kreativität und innovativen Denkweisen entwickeln sie das Familienunternehmen

seit 1991 kontinuierlich zu einer internationalen Luxus-Marke. Soviel Familienpower und Passion merkt man den Schmuckkreationen unweigerlich

an - sie sind Schmuck gewordene Statements unserer Träume, der Liebe sowie unserem Sinn für Ästhetik und Handwerkskunst.

– Willkommen in unserer Welt!

love as the wellspring of all jewellery creations

CAPOLAVORO is much more than a German jewellery maker with an italian name (it.master´s piece) – it is a family business with character, steadfast

values and unique visions. Today alongside the two founders Gerhard and Andrea Fritsch and their children Theresa, Florian and Tobias several other

family members are working to ensure that they continues to go from strength to strength. Drawing on their combined passion, creativity and innovative

approaches, since 1991 they have steadily developed this family-run company into a luxury brand with an international reach. The drive and dedication

of the family shine through in every one of their creations which are statements of their dreams and their love and eye for aesthetics and craftsmanship in

jewellery form. – Welcome to our world!

| 4

| 5
---
CAPOLAVORO EVENT MANUFAKTUR

THE CAPOLAVORO MANUFACTORY EXPERIENCE

Besuchen Sie unsere Event-Manufaktur

und erleben Sie, wie unsere Meisterwerke

entstehen.

Vom Rohstoff zum Ring.

Vom Guss zum Glamour.

Vom Wie zum Wow.

Come to one of the events at our

manufactory and discover how our

masterpieces are made.

From raw material to ring.

From cast to glamorous creation.

From How to Wow.

| 6

| 7
---
MANUFAKTUR

MANUFACTORY

| 8

| 9
---
NACHHALTIGKEIT

CONSCIOUS LUXURY

UNSERE HERZENSANGELEGENHEITEN

WE CARE

wie wichtig ist transparenz und nachhaltigkeit für CAPOLAVORO?

Andrea Fritsch: "Rückblickend ist zu sagen: wir waren schon immer nachhaltig, doch bis vor Kurzem haben wir es nicht als solches deklariert - es war eher ein schon

immer dagewesenes, unterbewusstes Handeln. Wir kaufen ausschließlich Steine aus fairen, ethisch korrekten Quellen ein und verarbeiten recyceltes, sogenanntes

2nd-Life Cycle Gold. Unser Manufakturgebäude in Inning am Ammersee ist ein Plus-Energie-Holzhaus. All unsere Produkte sind "handmade in Germany" und darauf

sind wir besonders stolz. Unsere gläserne Manufaktur bietet jedem Interessiertem die Chance hinter die Kulissen einer Schmuckproduktion zu blicken und unsere

Mitarbeiter bei der Ausführung Ihrer Handwerkskünste zu bestaunen."

besuchen sie unsere event-manufaktur in inning am ammersee.

was ist 2nd-life cycle gold?

Gerhard Fritsch: "2-nd-Life Cycle Gold bzw. recyceltes Gold ist jenes Gold, welches durch einen aufwendigen Edelmetallrecyclingprozess gewonnen wird. Hier wird

Altgold wieder aufbereitet. In anderen Worten, es wird kein neues Gold gewonnen, es werden keine endlichen Ressourcen verschwendet - sondern bereits bestehendes

Gold verarbeitet."

how important are transparency and sustainability for CAPOLAVORO?

Andrea Fritsch: "Looking back, I can say: we have always been sustainable but until recently we didn't explicitly say so - rather it's the way we have always worked subconsciously.

We exclusively buy our gemstones from fair, ethically unimpeachable sources and work with recycled so-called 2nd-life cycle gold. Our manufactory in Inning am Ammersee

is a wooden PlusEnergy building. All of our products are "handmade in Germany", which is something that makes us particularly proud. Our glass manufactory offers anyone

with an interest the opportunity to look behind the scenes of a jewellery manufacturer and to admire our colleagues as they go about their highly-skilled work."

visit us in our manufactory.

what is 2nd-life cycle gold?

Gerhard Fritsch: "2nd-life cycle or recycled gold is gold which has been obtained via an

elaborate precious metal recycling process. Here old gold is reprocessed.

In other words, no new gold is acquired and no finite resources are squandered

- instead, existing gold is used again."

• LOKAL PRODUZIERT

IN INNING AM AMMERSEE

• DEUTSCHE HANDWERKSQUALITÄT

• LOCAL PRODUCED AT THE LAKE

AMMERSEE NEAR MUNICH

• GERMAN CRAFTMANSHIP

• VOLLKOMMENE DEUTSCHE HAND-

WERKSKUNST IN KOMBINATION

MIT INNOVATIVEN FERTIGUNGS-

TECHNIKEN ERGEBEN WAHRE

MEISTERWERKE

• FINEST GERMAN CRAFTMANSHIP IN

COBINATION WITH INNOVATIVE MANU-

FACTURING TECHNIQUES ARE THE KEY

TO OUR MASTERPIECES

• WIR VERWENDEN AUSSCHLIESSLICH:

RECYCELTES GOLD

• DIAMANTEN & FARBSTEINE AUS

ETHISCH KORREKTEN QUELLEN

• WE ONLY USE:

RECYCELED GOLD

• DIAMONDS & GEMSTONES FROM

ETHICALLY CORRECT SOURCES

• NACHHALTIG PRODUZIERT IN

UNSEREM ÖKOLOGISCHEN,

AUS HOLZ GEFERTIGTEN,

PLUS-ENERGIE-HAUS

• SUSTAINABLE PRODUCED

IN OUR ECOLOGICAL

PLUS-ENERGY-WOODEN-HOUSE

| 10

| 11
---
AUSGEZEICHNET

AWARDS

| 12

| 13
---
JEWELERY MAGAZIN

AWARDS 2018

jewelery

JEWELERY MAGAZIN

AWARDS 2019

jewelery

AUSGEZEICHNET VON

| 14

VEL

LUTO

Unser Velluto Highlight Collier hat den

Schmuck Award 2018 des Schmuck

Magazins in der Kategorie Farbsteinschmuck

gewonnen!

Our Velluto Highlight necklace has won

Schmuck Magazin's 2018 Schmuck Award

in the Coloured Gemstone category!

2018

S C H M U C K A W A R D 2 0 1 8

READERS' CHOICE AWARD:

"JEWELLERY WITH COLOURED GEMSTONES"

CAPOLAVORO

"SCHMUCK MAGAZIN" WARMLY CONGRATULATES

CAPOLAVORO ON WINNING THE READERS' CHOICE

AWARD OF THE SCHMUCK AWARD 2018 IN THE

CATEGORY "JEWELLERY WITH COLOURED GEMSTO-

NES". THE NECKLACE "VELLUTO" BELONGS TO THE

BEST PIECES OF JEWELLERY OF THE YEAR.

SCHMUCK MAGAZIN, METH MEDIA SEPTEMBER 2018

ESPR

ESSIVO

Unser Espressivo -Highlight Collier gewann

2019 den Leserpreis des Schmuck

Magazins in der Kategorie Farbsteinschmuck.

Herzlichen Dank, dass Ihr für

uns gestimmt habt!

Our Espressivo- Highlight Collier has won.

Schmuck Magazin's Schmuck Award 2019

it is one of the most coveted accolades of

its kind in Germany. And we are so thankful

for winning this price in the category

'gemstone jewellery' again. We thank all

readers of the Schmuck

Magazin for voting for us!

| 15
---
INHORGENTA

PUBLIC CHOICE AWARD 2019

INHORGENTA

PUBLIC CHOICE AWARD 2020

| 16

PAS

SIONE

Unser PASSIONE Ring gewann den

Inhorgenta Public Choice Award 2019.

Wir sagen Danke.

Our PASSIONE ring has won the

Inhorgenta Public Choice Award 2019.

Please accept our heartful Thanks.

BILLION

DREAMS

Wir freuen uns sehr, dass unsere patentierte

Journey of Love Traumschneekugel

den Public Choice Award 2020 der Inhorgenta

Messe München gewonnen hat.

Besonders freut uns, dass diese Auszeichnung

vom Publikum und damit von Ihnen

gewählt wird.

We are very happy that our patented Journey

of Love Dream Snow Globe won the Public

Choice Award 2020 of the Inhorgenta Munich

trade fair. Especially, since this award was

chosen by the public and therefore by you.

| 17
---
LEIDENSCHAFTLICHE KOLLEKTIONEN

THE COLLECTIONS OF PASSION

|18 | 19
---
JEWELED PASSION

THE PHILOSOPHY

capolavoro | jewelled passion.

Kreationen von Capolavoro sind ein unvergleichliches Kompliment an die Schönheit

der Frau. Geschaffen aus tief empfundener Leidenschaft, ohne die es keine Meisterwerke

geben kann. Vollendet in den Kreationen von Capolavoro.

Capolavoro | Jeweled Passion.

Creations by Capolavoro are an incomparable compliment to a woman's beauty.

Forged from pure passion – the life force behind any masterpiece.

Honed to perfection in creations by Capolavoro.

| 20

| 21
---
BILLION DREAMS

COLLECTION

eine schmuck gewordene fantasie | created by capolavoro

Kindliche Unbeschwertheit, märchenhaft Welten und Fantasien, Träume und Sehnsüchte – kurz:

pure Faszination, das ist das wichtigste Element der kostbaren Schmucklinie BILLION DREAMS. Auf

den ersten Blick eine zauberhafte Neuinterpretation der Schneekugel. Auf den zweiten und jeden

weiteren Blick eine neue Dimension der Goldschmiedekunst, eine herausragende Hommage an das

Handwerk und eine sinnliche Einladung zum Spiel mit Effekten. Tauchen Sie ein in diese zarte und

doch opulente Welt – unsere kleinen Kunstwerke warten nur darauf Ihre persönlichen Träume in

sich zu tragen. Der in aufwändiger Handarbeit speziell geschliffene und gefertigte Glaskörper bildet

die raffinierte Bühne für das wechselnde Diamanten-Spektakel im Herzen des Meisterstückes. Die

Edelsteine sind umgeben von einer patentierten Flüssigkeit, die sie nahezu schweben lässt. Jede

Drehung oder noch so kleine Bewegung verändert den Look und ergibt ein neues funkelndes Arrangement.

So kostbar wie die Liebe, so luxuriös ist BILLION DREAMS.

fantasy in jewellery form | created by capolavoro

Childlike innocence, fairytale worlds and fantasies, dreams and desires – in short: pure fascination; this is

the key element of the sumptuous BILLION DREAMS jewellery line. At first glance a magical reinterpretation

of the snow globe. At the second and every further glance a new dimension in the art of goldsmithing, a

supreme homage to craftsmanship and a sensual invitation to play with effects. Immerse yourself in this

delicate and yet opulent world – our little works of art are just waiting to be invested with your personal

dreams. The painstakingly cut and handcrafted glass body is the sophisticated stage for the changing diamond

spectacle in the heart of this masterpiece. The gemstones are immersed in a patented fluid in which

they appear to float. With every turn or even the slightest movement the look changes and yields a fresh

sparkling arrangement. The luxurious BILLION DREAMS line is as precious as love.

| 22

| 23
---
| 24 | 25
---
create your own

Dreams

make your dream come true

Die schwebenden Diamanten in unseren Dream Globes faszinieren Sie

vom ersten Augenblick an, laden Sie zum Tagträumen ein und lassen Sie

bei einem Blick in den Dream Globe die Welt um Sie herum vergessen. Sie

tauchen voll und ganz in Ihre persönliche Traumwelt ein. Wenn Sie einmal

tief in sich hineinhören – wie genau würde Ihr persönlicher Traum – Ihres

Lebens, der Liebe, des Glückes, Ihrer Sehnsüchte – aussehen? Wäre es

nicht einfach wunderbar und magisch, wenn Sie Ihre Träume in einem

Schmuckstück einfangen und jeden Tag bei sich tragen könnten? Ihren

persönlichen Juwelen gewordenen Dream Globe? Mit unserem Billion

Dreams Traum-Konfigurator haben wir für Sie eine Möglichkeit erschaffen,

Ihre Träume, Sehnsüchte, Wünsche und Geschichten in Ihre eigene

Traumschneekugel zu zaubern. Jeder Dream Globe ist ein echtes Unikat.

Andrea Fritsch: "Der Bunte Schmetterling beinhaltet für mich persönlich

meinen Traum nach purer Lebensfreude, endlosen Weiten, tiefgründiger

Ruhe und verkörpert meinen Drang der täglichen Neugierde. Ein besonderes

Highlight ist für mich, dass ich meine Familie als kleine Glücksdiamanten

– in verschiedenen Formen und Farben – in meinem Traum bei

mir tragen kann. Nur ich weiß um die Bedeutung meiner Glücksdiamanten.

Die individuelle Gravur auf der Rückseite des Globes verbirgt eine

Botschaft, die jeden Tag mein Leitstern ist. Mein individuell gestalteter

Dream Globe –

mein Traum für jeden Tag."

make your dream come true

From the very first moment, the floating diamonds in our Dream Globes fascinate you, invite you to daydream and let you forget the world around you. Gazing into the Dream

Globe, you immerse yourself in your personal dream world. When you listen deep inside yourself, how does your personal dream appear? Envision your dreams for life, love,

happiness and desires. Wouldn't it be marvellous and magical if you could capture these dreams in a piece of jewelry and carry them with you every day? Your personal universe

of dreams, miraculously transformed into a Dream Globe! With our Billion Dreams dream configurator, we've created a way for you to conjure your dreams, desires, wishes and

stories into your personal dream-come-true snow globe. Each Dream Globe is genuinely unique.

Andrea Fritsch: "For me personally, a multicolored butterfly symbolizes my dream of pure joie de vivre, endless expanses and profound serenity. It embodies my urge to be curious

every day. A special highlight is that I can carry my family with me in my dream in the form of little diamonds of happiness in diverse shapes and colors. I alone know the secret

meanings of my lucky diamonds. The customized engraving on the back of the globe is a concealed message that serves as my daily guiding star. My individually designed Dream

Globe is my dream for every day."

| 26 | 27
---
DIAMOND

COLLECTION

jewelled light | the diamond collection

Das unvergleichliche Licht der Capolavoro Diamanten wird umfangen von feminin zartem Roségold oder

von der eleganten Expression weißen Goldes. Die klassische Kombination aus Diamanten und Gold wird

in den Kreationen von "Jewelled Light" faszinierend neu interpretiert in Linien von eigenem Charakter und

besonderer Wirkung. Aufbrechende Formen, bewegliche Kompositionen, überraschende Transparenzen,

Diamanten in unterschiedlichen Größen, kostbare Draperie-Designs und vieles mehr. Wer das Besondere

sucht, wird es finden:

in der neuen Klassik des Diamantschmucks von Capolavoro.

jeweled light | the diamond collection

The incomparable light of Capolavoro diamonds is framed by delicate, feminine rose gold or the elegant expressiveness

of white gold. This classic combination of diamonds and gold receives a fascinating reinterpretation in

the 'Jewelled Light' collection with lines that have their own distinctive character and unique impact. Dynamic

shapes, fluid compositions, surprising moments of transparency, diamonds of different sizes, opulent draped

designs and much more. If you are looking for something special, you will find it in Capolavoro's new classic diamond

jewellery.

| 28

| 29
---
jaq uet

+

mag

nifico

| 31

=

|30

JAQUET - ring, 18kt rose gold with diamonds | ESPRESSIVO - ring, 18kt rose gold with morganite and diamonds

MAGNIFICO - rings, 18kt white and rose gold with diamonds
---
la donna

| 32

LA DONNA - earrings, ring, pendant with chain, 18kt rose gold with diamonds

LA DONNA - earrings, pendant with chain, ringS, 18kt rose gold with sapphire yellow and diamonds

| 33
---
cie lo

| 34

CIELO - ring, pendant with chain, flexible bracelet, 18kt rose gold with diamonds

CIELO - rings, 18kt rose and white gold with diamonds

| 35
---
glam

motion

GLAM MOTION - pendant with chains, rings, 18kt white and rose gold with diamonds

GLAM MOTION - colliers, earrings, 18kt white and rose gold with diamonds

| 36

| 37
---
fiore

magico

| 38

FIORE MAGICO - pendants with chain, rings, 18kt rose gold with pink sapphires and brown and white diamonds

FIORE MAGICO - collier, rings, 18kt rose and white gold with brown and white diamonds

| 39
---
man

hattan

| 41

| 40

MANHATTAN - rings, 18kt rose gold with ruby, tsavorite and sapphire

MANHATTAN - pendants with chains, flexible bracelets, rings, 18kt white and rose gold with diamonds
---
dol

cini

| 42

DOLCINI - earrings, ring, pendants with chains, 18kt rose and white gold with diamonds

DOLCINI - flexible bracelets, 18kt rose-, yellow and white gold with diamonds

| 43
---
pro secco

| 44

PROSECCO - pendant with chain, rings 18kt rose gold with diamonds

PROSECCO - flexible bracelets, 18kt rose-, yellow and white gold with diamonds

| 45
---
poe sia

| 46

POESIA - pendant with chain, flexible bracelets, 18kt rose and white gold with diamonds

POESIA - pendant with chain, 18kt white gold with diamonds

VELLUTO - flexible bracelets, 18kt white gold with royal purple garnet, rose quartz and diamonds, leather bracelet

| 47
---
o cks

| 48

ROCKS - pendants with chain, flexible Bracelets, 18kt white gold with diamonds

| 49
---
ROMANCE

COLLECTION

jewelled love | the romance collection

Nichts kann der Liebe zweier Menschen näher kommen und sie mit einem Meisterwerk besiegeln, als ein Schmuckstück

im Namen der Leidenschaft und der Verehrung. Vollkommen in den Kreationen der Romance Collection von

Capolavoro. Ob Klassiker zur Verlobung, Hochzeit und den Jahrestagen oder perfekt abgestimmte Individualität durch

die einzigartige Trinität der Liebe aus Solitaire, Memoire und Trauring. Eine besonders zärtliche Hommage an die Liebe

offenbart der kleine verliebte Diamant an der Innenseite der Ringschiene. Behütet von einem gravierten Herz.

Ein wunderbares Geheimnis. Eine einzigartige Berührung.

jewelled love | the romance collection

Nothing comes closer to embodying the love between two people and sealing it with a masterpiece than jewellery created in

the name of passion and adoration. The Romance Collection from Capolavoro epitomises this philosophy. From classic pieces

for an engagement, wedding or anniversary to a unique, perfectly personalised trinity of a solitaire ring, an eternity ring and

a wedding ring. The devoted little diamond on the inside of the band is a particularly tender homage to love. Guarded by an

engraved heart, it is a wonderful secret – a unique connection.

| 50

| 51
---
diamante

in amore

DIAMANTE IN AMORE - rings 18kt rose and white gold with diamonds

| 52

| 53
---
true love

endless

love

infinite

love

rose

dream

TRUE LOVE - rings, 18kt rose and white gold with diamonds ENDLESS LOVE - rings, 18kt white gold with diamonds iNFINITE LOVE - rings, 18kt rose and white gold with diamonds ROSE DREAM - rings, 18kt rose and white gold with diamonds

| 54 | 55
---
sweet

heart

my little

heart

diamante

in amore

SWEET HEART - rings, 18kt rose and white gold with diamonds MY LITTLE HEART - rings, 18kt rose and white gold with diamonds DIAMANTE IN AMORE - rings, 18kt rose and white gold with diamonds DIAMANTE IN AMORE - rings, 18kt rose and white gold with diamonds

| 56 | 57
---
diamante

in amore

DIAMANTE IN AMORE - rings, 18kt rose and white gold with yellow,

light brown and white diamonds

DIAMANTE IN AMORE - rings, 18kt white and rose gold

with sapphire pink pastel light, sapphire pink and diamonds

DIAMANTE IN AMORE - rings, 18kt white gold with diam.

sky blue, diam. ocean blue, diam. ice blue and white diamonds

DIAMANTE IN AMORE - rings, 18kt white and

rose gold with blue and white diamonds

| 58

| 59
---
cla sicco

| 60

DIAMANTE IN AMORE - bracelet mountin tennis, 18kt white gold with diamonds and leather bracelets

| 61
---
COLOUR

COLLECTION

jewelled life |the colour collection

Die ganze Fülle des Lebens in all seinen Facetten, in allen Schattierungen und

Farben: Sprühend vor Schönheit, unwiderstehlich in seinem unermesslichen Reichtum an Assoziationen

und Expressionen. Unendliche Kombinationsmöglichkeiten, völlige Freiheit zum Mix & Match mit anderen

Linien von Capolavoro. Ob in leuchtender Transparenz oder sinnlich opak, ob als Cabochon, Tropfen

oder in perfektem Rund. Ob farbstark oder in dezenten Nude- und Pudertönen. Ob mit Diamanten oder

ohne. Mit Citrinen, purpurnen und grünen Amethysten, Topasen in allen Farben, Rubelithen und Mondsteinen

in gesuchten Trendfarben und, und, und. Mit allem, was das Leben in Schönheit verwandelt.

jewelled life |the colour collection

The richness of life in all its facets, with all its colours and shades: bursting with life, irresistible in its vast wealth

of associations and expressions. There are countless possible combinations and the pieces can be mixed and

matched with other Capolavoro ranges. This collection boasts everything from radiantly transparent to mysteriously

opaque gems as cabochons, droplets or perfectly round stones. Vibrant colours or subtle nude and powder

shades. With or without diamonds. With citrines, purple and green amethysts, topazes in every conceivable

shade, rubellites and moonstones in popular trendy colours – the list goes on and on. In short, it has everything

that bathes life in beauty.

Laid-back elegance with maximum expressivity.

| 62

| 63
---
espr

essivo

| 64

ESPRESSIVO - rings, 18kt white gold with touremaline in different colours and diamonds

ESPRESSIVO - rings, 18kt rose gold with touremaline in different colours and diamonds

ESPRESSIVO - highlight collier, ring, pendant with chain, 18kt rose gold with morganite, amethyst

london blue topaz, topaz and diamonds

| 65
---
my sunshine

happy

holi

|66

MY SUNSHINE - rings, pendant with chain, 18kt rose gold with amethyst, topaz london blue, topaz sky blue, rockcrystal, rose quartz and diamonds

HAPPY HOLI - rings, 18kt rose gold with topaz, london blue topaz, smokey quartz, amethyst green, lemon quartz, amethyst, rose quartz and diamonds

| 67
---
RAINBOW - flexible bracelets, 18kt rose- and white gold with saphieres in different colours

RAINBOW - rings, 18kt rose gold with saphieres in different colours

| 68

rain bow

| 69
---
cap

riccio

| 70

CAPRICCIO - pendants with chains, 18kt rose gold with topaz,

london blue topaz, rock crystal and diamonds

CAPRICCIO - ring, 18kt rose gold with rose

quartz, amethyst, pink tourmaline and diamonds

CAPRICCIO PICCOLO- ring, pendants with chains, 18kt rose gold with topaz, london

blue topaz, rose quartz and diamonds

|71
---
VELLUTO HIGHLIGHT - collier, 18kt rose gold with topaz, london blue topaz, rose quartz, opal pink and diamonds | rings, 18kt rose gold with topaz, opal pink and diamonds

VELLUTO HIGHLIGHT , rings 18kt white gold with peridot, london blue topaz,topaz sky blue and diamonds

| highlight collier, earrings, 18kt white gold with peridot, london blue topaz, topaz white and ice blue and white diamonds

| 72

vel luto

| 67

| 73
---
KOOPERATIONEN

COOPERATIONS

| 74

| 75
---
X

MAURO BERGONZOLI

Interview with the amazing Artist

Mauro Bergonzoli

Contact Details for Art Lovers:

moneypenny@maurobergonzoli.com

www.maurobergonzoli.com | +491787423606

Why do you paint?

"Because I love to paint. I

was born to do this. It's how

every day I express what I feel

inside. Its' my way of communicating.

My head thinks in

images. I speak through my

paintings. Art is my language."

When you aren't painting,

how do you spend your

time?

"Actually, I think about what

I want to paint. And then I

do lots of gardening, I spend

time with my family, I enjoy

cooking, and I play and listen

to music. But anyway, all the

time one part of my brain

is working on images. And

when the image is in focus, I

must put it on canvas. Basically

if I'm not painting I think

about what I want to paint."

Can you describe your

Country Atelier?

"It's a paradise on earth.

It's my place. It's 4 seasons,

flowers, fruits, plants, animals,

water and great space

to work outside and inside.

I'm surrounded by nature. It's

like living in a natural park.

It's an island. My island on

firm ground which attracts

my art collectors who come

to spend time with me. They

want to see where the artist

works, where their paintings

are born."

What sets you apart from

other artists?

"I love to have a relationship

with my collectors. I like to

convert their wishes into reality

in form of commissions.

I know how to paint.I love

what is beautiful and positive.

I'm independent."

How do you think the world

will change after 2021?

"We shall see."

What inspires you?

"Women, nature, animals,

design, beautiful architecture,

the classics, old-timers

history, the great masters…

everything that is beautiful."

Why have you chosen to live

and work in Bavaria Germany

and not your hometown

Milan?

"Love has brought me here.

My Muse is from Bavaria."

Where do see yourself in ten

years?

"Working in my Country

Atelier."

What is your biggest dream

as an artist?

"To be independent. To

create my work freely every

day and have wonderful

collectors all over the world

who love to buy, admire and

enjoy my art. My dream has

already come true."

Moonlight Rider

Safari Taxi

Kiss in Venice

Limited Edition Only

Maestro at work creating

the most magical jewellery design

for CAPOLAVORO

For a jewelry piece to be more creative and artsy is simply not possible:

Maestro Mauro Bergonzoli has created a true wearable jeweled work of

art. Let me introduce: The Magic Butterfly. Every butterfly is unique; this

is why the Maestro will adhere to this principle by drawing your personal

preferred colorstone variation and then passing it on to our goldsmiths

for hand-crafted production, using the finest gold. You decide which

combination of stones will bring your precious piece to life and imbue

it with the joy of life. No matter if created as cocktail ring, statement-earing,

or brooch which transforms into an ornament - the Magic Butterfly

may flutter around in many variants. Giving it its final touch - which is

iconic for a true Bergonzoli - every Magic Butterfly will be hand-signed

personally by the Maestro.

magic is

Everywhere

from the

painting to

the magical jewel

For pre-orders and price informations please contact Theresa Fritsch

kontakt@capolavoro.de

| 76

|77
---
X

elegant

Beauty

| 78

Fotos: @patdomingo

Nina Suess ist mit Ihren knapp 345K Followern

eine der gefragtesten deutschen Bloggerinnen

im Schmuckbereich. Wir sind daher

ganz besonders stolz, dass wir gemeinsam mit

der Stilikone an diesem tollen Design- & Co-

Branding Projekt arbeiten durften. Heraus gekommen

ist dabei ein einzigartiges Juwel, das

nicht nur Handwerkskunst auf höchstem Niveau

zeigt, sondern auch eine ganz neue Seite

von CAPOLAVORO. We proudly introduce

– the magnificent snake. The Snake wird aus

18 karätigem 2nd-life-cycle Roségold gefertigt.

Für den Schlangenkörper haben sich unsere

Meistergoldschmiede etwas wirklich raffiniertes

ausgedacht, denn der Kröpfer ist beweglich

und lässt sich in alle Richtungen "schlängeln".

Insgesamt zieren 65 schwarze Diamanten in

Brillantschliff den Rücken der Schlange. Das

schwarz ruthenierte Gold verleiht the Snake

seinen wiedererkennbaren It-Look. Im wahrsten

Sinne des Wortes – als Eye-Catcher – wurden

zwei pinke Saphire verarbeitet. How amazing

is that: Durch die beiden Clip-Ösen am

Kopf und am Ende des Schwanzes lässt sich

the Snake sowohl als Statement Anhänger an

der Nina Suess Ankerkette tragen oder auch

an einem für Capolavoro so ikonischen flexiblen

Armband. Choose your style, wir sind gespannt

auf Ihren Nina Suess It-Look.

Nina Suess is one of Germany's most sought-after

bloggers within the jewelry industry with her

roughly 345K followers. We are especially grateful

to have had the opportunity to work with this

style icon on a design- and co-branding project

together. The result was not only a one-of-a-kind

jewel, which demonstrates not only craftsmanship

in its highest form, but also shows an entirely

new side of CAPOLAVORO. We proudly present:

the Magnificent Snake. The Snake is being

fashioned from 18-carat second-life-cycle rosegold.

For the Snake's body our master goldsmiths

have come up with an ingenious little trick, as the

corpus is movable and thus can "slither" in any

given direction. A total of 65 black diamonds with

brilliant-cut embellish the Snake's back. The black

ruthenium-plated gold gives the Snake its recognizable

it-look. In the truest sense of the phrase

"eye catcher", two pink sapphires were used as

the serpent's eyes. How amazing is that: With its

two clip-lugs at the head and tail, the Snake can

be worn as statement ornament on the Nina Suess

anchor-chain, or may simply be worn on one

of CAPOLAVORO's iconic flexible bracelets. Choose

your style - we are curious about YOUR Nina

Suess it-look.

| 79
---
eine weltpremiere

Jewelcouture

Founders: Helene Galwas & Katja Popp

Das von den Freundinnen Helene Galwas und Katja Popp gegründete Label

Helene Galwas will nachhaltige Wearable Couture mit Fokus auf ausgewählte

Stoffe, hochwertigste Verarbeitung, zeitlose Designs und hohem Anspruch an

Komfort und Ästhetik etablieren. Mit einem klaren Statement gegen Fast Fashion

setzt das Label sich für mehr Respekt für Design-Handwerk, die Rohstoffe und

die Arbeit, die in einem einzigen Kleidungsstück steckt, ein. Im November 2018

gegründet, kam 2019 die ersten Capsule Collection heraus und bereits 2020, mit

der zweiten Capsule wurde das Label und die Designerin Helene Galwas als bester

Fashion Designer 2020 mit dem New Faces Award ausgezeichnet. Helene ist

der kreative Kopf des Labels und ist verantwortlich für Design- und Produktionsmanagement,

wohingegen hin Katja den administrativen und operativen Aufbau

des Unternehmens übernommen hat – eine perfekte und erfolgversprechende

Symbiose beider Bereiche. Eine besondere Freude und Ansporn für das junge

Label ist die Zusammenarbeit mit Capolavoro, die unter anderem zu einem hochspannenden

Projekt geführt hat. Schon bald kann man mit einer hochexklusiven

Kreation beider Häuser rechnen, die das Handwerk der hohen Schneiderkunst mit

der feinen Schmuckmanufaktur wundervoll vereinen wird.

The label Helene Galwas - founded by the two friends Helene Galwas and Katja Popp

- wants to establish sustainable "wearable couture" with a focus on carefully selected

fabrics, high-class workmanship, timeless designs and a high standard towards comfort

and aesthetics. With a clear statement against Fast Fashion, the label fights for

more respect for the craftsmanship of design, the raw materials and work employed,

which is poured into every single piece of clothing. Founded in November 2018, with

its first capsule collection released in 2019 and the second one right after in 2020, the

label and the designer Helene Galwas were awarded the New Faces Award as best fashion

designer in 2020.

Helene is the creative brain of the label and responsible for design and production

management, whereas Katja oversees the administrative and operative part of the

business - a perfect and promising symbiosis of both parts. A special delight and pushfactor

for the young label is its cooperation with CAPOLAVORO, which has led to an

interesting project: very soon a highly exclusive creation of both houses will be released,

which wonderfully combines the high art of tailoring with the delicate crafting of

jewelry.

Sie fragen sich sicherlich: Was passiert, wenn

man einen passionierten Meistergoldschmied

und eine Wearable-Couture-Designerin in einen

Raum steckt? Goldrichtig – es ist ein wahrhaft

tragbares "Jewelcouture" entstanden (def.

Symbiose aus CAPOLAVORO Jewellery & Helene

Galwas Wearable Couture). Die kleinen, in

aufwendigster Handarbeit genähten Ösen ermöglichen

es, das seidene Dreiecks-Tuch in 10

verschiedenen Varianten an der Kette zu tragen.

Ohlala die Kette – hier hat sich das Team

etwas ganz Besonderes einfallen lassen, denn

die Kette besteht aus 2 Materialien – feinstem

Roségold und Samt. Durch Karabiner kann

man die Kette je nach Lust und Laune in verschiedenen

Styles tragen.

You might be wondering: what happens when a

passionate master goldsmith and a wearablecouture

designer are put in a room together? Jackpot

- a true wearable "jewel couture" was created

(def.: symbiosis of CAPOLAVORO Jewelry & Helene

Galwas Wearable Couture). The tiny loops, sown

in elaborate handiwork, allow for the silken triangular

scarf to be worn in ten different ways on

a necklace. Oh-la-la - the necklace! Here, the team

came up with an especially clever feature: it consists

of two materials - finest rosegold paired with

velvet. Through trigger hooks the necklace may be

worn in different styles, just as one's fancy strikes.

| 80

Contact us: hg@helenegalwas.de

www.helenegalwas.com

For more Informations to Jewelcouture please Theresa Fritsch

kontakt@capolavoro.de kontaktieren.

| 81
---
Jennifer ist eine echte CAPOLAVORI – treue

Liebhaberin schöner und wertbeständiger Dinge.

Daher freuen wir uns von ganzem Herzen,

Ihnen unsere gemeinsam entwickelten Luxus

Schmuckstücke mit der zielstrebigen Businesswomen,

Pudel-Mami, Bloggerin und treuen

Seele Jennifer von @pepperandgold vorstellen

zu dürfen. Durch Ihre authentische, ehrliche

und nahbare Art ist sie nicht nur bei ihren Followern

sehr geschätzt, sondern für uns auch ein

wahres Vorbild – sie zaubert einem mit ihrem Content ein Lächeln ins Gesicht.

Jennifer: "Schon seit meiner Kindheit war es mein Traum, ein eigenes Schmuckstück

zu designen und endlich ist er wahr geworden. Wir haben bezaubernde Juwelen kreiert,

die für jede Eventualität perfekt passen. Ob ganz leger zur Jeans, weißem T-Shirt

und Sneaker oder zum seidigen Abenddress. Die Schmuckstücke haben genauso viele

Facetten wie das wahre Leben und können perfekt mit den eigenen Lieblings- oder Erbstücken

kombiniert werden."

Der Morganit in champagnerfarbenem Rosé ist das Highlight dieser Kollektion. Die vielen

kleinen Diamanten werden von unserer Meisterfasserin per Hand unter dem Mikroskop

eingesetzt. Die Peach-Form des in Deutschland geschliffenen Farbsteines verleiht

dem Ensemble seinen ganz außergewöhnlichen und wiedererkennbaren Look.

Pssst, wussten Sie, dass der Morganit seinen Namen erhielt nach dem New Yorker Bankier

und Edelsteinsammler John Pierpont Morgan. Ganz neben bei gesagt sorgt der

Morganit für Entspannung, Gelassenheit und Ruhe und spendet Vertrauen.

Jennifer is a true CAPOLAVORI - an admirer of all things beautiful and lasting.

Thus, we are overjoyed to present to you the collaboratively-designed jewel pieces

with @pepperandgold; determined business woman, dog-mom and successful

blogger. Through her authentic, honest and approachable manner she is not

only greatly adored by her followers, but also a true role model for us - with her

delightful content she always manages to make you smile.

Jennifer: "From my early childhood onwards it has always been my dream to

design my very own jewelry piece and this finally became a reality. We have

created enchanting jewels, which are suitable for any occasion; no matter if very

casual with jeans, white t-shirt and sneaker, or paired with a silky ball gown. The

pieces have as many different facets as life itself and may be combined perfectly

with one's favorite piece or heirloom."

The morganite in a champagne rosegold is this collection's highlight. The many

tiny diamonds are being hand-applied under a microscope by our master-diamond-setter.

The peach-shaped form of the color stone, which was polished in

Germany, lends the ensemble its extraordinary and recognizable look.

Psssst - did you know that the morganite has gotten its name from the New

Yorker banker and jewelry collector John Pierpont Morgan? On a side note, the

morganite promotes relaxation, serenity and calmness and assurance.

Collier: CO9MOG00605-M

Ring Solitary droplet: RI9MOG02700-M

Ring with small droplets: RI9MOG02709-M

| 82

| 83
---
MARKE

BRAND

| 84 | 85
---
SIE KENNEN UNS AUS

YOU KNOW US FROM

FOLGEN SIE UNS

FOLLOW US ON

SEHEN SIE UNS

SEE US ON

CAPOLAVORO.JEWELLERY

Inning am Ammersee

CAPOLAVORO Company

CAPOLAVORO Master Pieces

| 86

CAPOLAVORO Is it possible?

CAPOLAVORO Billion Dreams Collection

| 87
---
WERBEMASSNAHMEN

ADVERTISING

| 88

| 89
---
LADENSYSTEME

SHOP IN SHOP

| 90

| 91
---
WERBEMITTEL

ADVERTISING MATERIALS

DEKORATIONEN

POINT OF SALE

| 92

| 93
---
VERANSTALTUNGEN

TRUNK SHOWS

| 125 | 94

| 95
---
| 96

WWW.CAPOLAVORO.DE
---
capolavoro gmbh

Gewerbepark Inning-Wörthsee • Neubruch 1 • 82266 Inning am Ammersee • Phone: +498143 992 50-0 • Germany

Facebook: www.facebook.com/capolavoro.jewellery • Instagram: www.instagram.com/capolavoro.jewellery

www.capolavoro.de