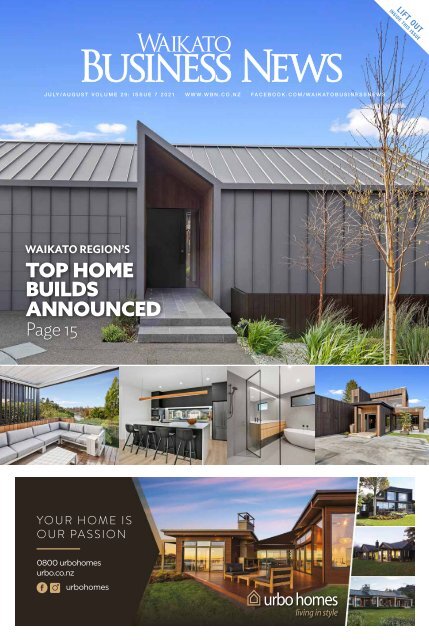 Waikato Business News July/August 2021
Waikato Business News has for a quarter of a century been the voice of the region's business community, a business community with a very real commitment to innovation and an ethos of co-operation.
Waikato Business News has for a quarter of a century been the voice of the region's business community, a business community with a very real commitment to innovation and an ethos of co-operation.
SHOW MORE
SHOW LESS
You also want an ePaper? Increase the reach of your titles
YUMPU automatically turns print PDFs into web optimized ePapers that Google loves.
LIFT OUT

INSIDE THIS ISSUE

JULY/AUGUST VOLUME 29: ISSUE 7 2021 WWW.WBN.CO.NZ FACEBOOK.COM/WAIKATOBUSINESSNEWS

WAIKATO REGION'S

TOP HOME

BUILDS

ANNOUNCED

Page 15
---
2 WAIKATO BUSINESS NEWS July/August 2021

x

This August, for 8 days only, Ebbett

Hamilton will be slashing $8,888 off

the price of every pre-owned V8.

With one of the most extensive ranges of V8's in

New Zealand, there is a vehicle that will appeal to

every V8 fan.

Hamilton

The V8 Power Sale will run from 12 - 20 August

2021 at Ebbett Hamilton's new state-of-the-art

dealership in Te Rapa.

47 - 51 Te Kowhai East Rd, Burbush, Hamilton, 3200 07 838 0949 ebbetthamilton.co.nz

View full terms and conditions on website: ebbetthamilton.co.nz
---
WAIKATO BUSINESS NEWS July/August 2021

3

PUBLISHER

If you can shift a

fleet of trucks, say

50 trucks, onto

hydrogen, there is

a proportionally a

significant amount

more EV [cars] that

you'd need to have

on the road to be

the equivalent.

Deidre Morris

Ph: (07) 838 1333

Mob: 027 228 8442

Email: deidre@dpmedia.co.nz

EDITOR

Richard Walker

Ph: (07) 838 1333

Mob: 027 814 2914

Email: richard@dpmedia.co.nz

PRODUCTION MANAGER

Olivia McGovern

Ph: (07) 838 1333

Email: olivia@dpmedia.co.nz

ADVERTISING INQUIRIES

Jimmy Ormsby says Waitomo has an open

mind to new technologies and anticipates

a more fragmented market in future.

The future of fuel

The country's first hydrogen refuelling stop

is set to be located at Waitomo Group's Te

Rapa site as the company gears for a lowcarbon

future.

Waitomo has applied

for consent to add

hydrogen to the

existing petrol and diesel

offering, and is also applying

for consent at a new build in

Palmerston North.

The hope is for hydrogen-fuelled

trucks to be on

New Zealand roads within 12

months, managing director

Jimmy Ormsby says.

Trucks are where "the needle

can be moved" in terms

of emissions, he says. "The

more heavy trucks that can

use alternate fuels like hydrogen,

the bigger the impact in

terms of reducing emissions.

"If you can shift a fleet of

trucks, say 50 trucks, onto

hydrogen, there is a proportionally

a significant amount

more EV [cars] that you'd

need to have on the road to be

the equivalent."

The Hamilton-based

company is partnering with

Taranaki-based Hiringa

Energy to help build the

network, which is aimed

at trucking fleets and will

initially have eight sites.

Waitomo will be providing

the platform, with Hiringa

investing in the hydrogen,

trucks and infrastructure.

Hydrogen refuelling will

also be offered at a high-profile

site at the Ruakura Superhub,

with Waitomo set to

open a fuel stop and service

centre accessible off the

Waikato Expressway.

The centre - the first for

the new Hub in a coup for

Waitomo - is planned to be

open by mid 2022 and will

include a convenience store

and two quick-service restaurants

in a departure from the

company's usual fuel-only

sites.

Ormsby says they had

been talking to the landowner,

Tainui, for a number of years,

after they started leasing their

Te Rapa site from the iwi.

They have also been developing

their capability so they

could be seriously considered

as a partner at Ruakura by the

iwi's investment arm, TGH.

"I believe that we have

alignment with TGH, in terms

of their vision for building

the Waikato from the inside

out and partnering with other

local or regional businesses."

Continued on page 4

Please contact:

ADVERTISING ACCOUNT

MANAGERS

Joanne Poole

Ph: (07) 838 1333

Mob: (021) 507 991

Email: joanne@dpmedia.co.nz

Penny McNicol

Ph: (07) 838 1333

Mob: (021) 090 52601

Email: penny@dpmedia.co.nz

ELECTRONIC FORWARDING

EDITORIAL:

News releases/Photos/Letters:

richard@dpmedia.co.nz

PRODUCTION:

Copy/Proofs:

production@dpmedia.co.nz

SUBSCRIPTIONS:

accounts@dpmedia.co.nz

25 Ward Street, Hamilton

Ph: (07) 838 1333 | Fax: (07) 838 2807

www.wbn.co.nz

WHEN IT'S TIME TO SELL, TALK TO THE TEAM WHO GET RESULTS!

WE ARE HIRING

MAKE YOUR MARK & JOIN THE ABC TEAM.

Join our successful team of trusted advisors at ABC

Business Sales Waikato!

Passionate about business? Looking for a new challange

and the potential for unlimited earnings?

Multi Brand Retail

Hamilton

FOR SALE

An excellent established business with $350K

plus, representing multiple quality brands, with

great premises, good systems & staff structure.

Listed for $1,350,000

Chicken Broiler Unit - Business

& Lifestyle Taranaki

FOR SALE

The business provides a strong cashflow, excellent

returns and the labour input is very low. An ideal

combination of business and lifestyle.

Price on Application

If you have owned or sold a business, have strong sales skills and

experience, then you could be our ideal business broker.

ABC Business Sales has a strong presence in the Waikato and is recognised

by business owners, and professional services firms as the 'Experts in

Business Sales'.

Tony Begbie 029 200 6515

Ref 32695

Lifestyle, Business and Property

Taranaki

Geoff Pridham 0272 321 516

Ref 31854

Agri-tech Sales and Installation

Relocatable

This is an independent contractor and commission-only role and offers

unlimited earning potential for those driven by success. This is an exciting

and challenging role, you will need to be a self-starter with proven

business or sales experience, and have a wide network of contacts to get

you started.

You are required to hold a National Certificate in Real Estate (salesperson)

or be prepared to obtain one.

Act now. We'll take you there.

Contact details: Greg Dunn - 027 293 0377

GregD@abcbusiness.co.nz

FOR SALE

An extremely profitable business showing

exceptional returns, this chicken broiler farm

offers a solid income with country lifestyle.

Price on Application

Geoff Pridham 027 232 1516

Ref 32672

FOR SALE

A national opportunity in a sector of growing

importance and focus. Can be operated

anywhere in NZ.

Listed for $1,100,000

Tony Begbie 029 200 6515

Ref 32096

NORTHLAND | AUCKLAND | WAIKATO | BAY OF PLENTY | ROTORUA-TAUPO | HAWKES BAY | MANAWATU | WELLINGTON | NELSON | CANTERBURY | CENTRAL OTAGO | LOWER SOUTH ISLAND

Licensed REA 2008
---
4 WAIKATO BUSINESS NEWS July/August 2021

The future

of fuel

From page 3

The Ruakura site will

include EV charging,

as do some other

Waitomo sites, with Ormsby

saying they have an open

mind to alternative technologies

and are anticipating a

more fragmented market in

future.

The oil industry's got

trillions of dollars

invested in all this

infrastructure, and

it doesn't seem

logical to think that

they would just

walk away from

that. It'll just get

[to]: at what point

do they transition?

We need to be ready

for it when it does

happen.

"There is going to be different

energies for different

applications," he says."There

will be legacy people that,

for their application, a diesel

ute is the best tool for the

trade - they might be working

remotely, they might use the

vehicle for recreation as well

as work, and that's the best

thing for them.

"If you're living in a metro

area, and you've just got short

journeys, an EV might be

perfect, because you can park

it in your driveway, charge

it up. And then for heavy

trucks, or any fleet working

in metro areas, a battery vehicle

might be appropriate or,

alternatively, diesel or hydrogen."

Hydrogen could become

the dominant fuel source for

long-haul trucks but Ormsby

is not expecting the oil industry

to "walk away" from its

historical business.

"The oil industry's got trillions

of dollars invested in

all this infrastructure, and it

doesn't seem logical to think

that they would just walk

away from that. It'll just get

[to]: at what point do they

transition? We need to be

ready for it when it does happen."

Waitomo is buffered by

its relatively small size, with

between 2 percent and 4 percent

of the market.

"If you then segment

that into the alternate energies,

then it's even a lot

smaller again. So I don't see

the transition affecting our

existing business materially,

not within the short term or

medium term."

He points out that with

the average age of New Zealand

vehicles being about 14

years, there is still plenty of

"runway" for internal combustion

vehicles being bought

today.

Ormsby expects operators

of diesel fleets will want to

"feather in" hydrogen rather

than making an overnight

switch. "So we'll be able to

offer them both a hydrocarbon

and hydrogen solution."

He expects service stations

to evolve over time.

"If the fuel offering changes

to being some sort of algae-

based or biofuel, then I think

the offering won't change

much. Because if you can

put that into your car, and

fill it up just as you're filling

up today, and that's quick

and easy and you can get a

pie or a drink and carry on

your journey, why would you

change?

"There will have to be

something else that really

changes movement. People

like their vehicles, they like

the independence of being

able to travel when they want

to travel."

A

small player it may

be, but Waitomo has

punched above its

weight when it comes to

upcoming changes to the regulations

in the Fuel Industry

Act.

Key provisions introducing

a more competitive element

for resellers such as

Waitomo come into force on

August 11.

Ormsby describes it as a

reset for the industry, perhaps

the biggest since deregulation

in the early 1990s. It will

provide what he describes as

a greater competitive tension

between the major oil companies

for the likes of Waitomo's

business.

"We see that when the regulations

come into play, that

competitive tension will be

created. And then we will be

able to pass that to our customers

and give them potentially

better value for their

product."

The changes came after

the Commerce Commission

found the wholesale market

wasn't competitive enough,

and will give Waitomo and

other distributors greater

capacity to shop around for

their fuel.

Waitomo participated

in the submissions for the

changes, with Ormsby saying

they were one of the only

second tier players to participate

in the whole process.

The time-consuming visits

to Wellington, meetings and

conference attendance paid

off.

"I'm really proud of what

our contribution was to this

process, because I believe

that it will enable other participants

to test the market

as well and ultimately will

ensure that New Zealanders

get as competitively priced

fuel as they can.

"Putting my New Zealand

hat on, that's what we want

Grey and Jimmy Ormsby at

Mystery Creek for Fieldays

to see, we want to see New

Zealand being competitive

in the market, taking products

to market globally and

being successful. And so the

little part that we can play is

that we can make sure that

the market for our products is

competitive.

"If I could say that this

government has delivered

on one thing, if these regulations

come into place, they

said that they would review

the fuel industry, they have

reviewed it, they've come out

with some regulations. And

we've had the opportunity to

participate, and we believe

the outcome is going to be

good for all New Zealanders.

Whatever your political

persuasion might be, these

guys have said that they were

going to do that and, should

the regulations come into

force, then they have."

THE LITTLE ENGINE THAT COULD

Jimmy's daughters, Waitomo's fourth generation, opening the

company's Tinakori site in Wellington. Kiri (left) and Isla (right).

Visitors to Waitomo's

Frankton premises

find themselves in

a maze of ever expanding

Portacoms as the growing

company - 70 employees and

counting, 10 new fuel stops

in the pipeline for the next

year - bursts out of its site.

Meanwhile, the surrounds

take in an assortment of

tanks, containers and fuel

trucks. The aesthetic is as

much sprawling campsite as

headquarters, and the site has

more than a nod about it to

Waitomo's rural roots in Te

Kuiti.

Those are also family

roots; Jimmy Ormsby is

third generation in the company,

and his father, Grey,

remains on the board. In fact,

the Waikato Business News

interview couldn't be conducted

in Ormsby's office

because Grey had installed

himself there for the morning.

Fortunately, another Portacom

- called Mahi - was

available. Next year marks 75

years for the firm, which was

founded by Jimmy's grandfather

Desmond in 1947.

There was a period of joint

ownership with Mobil following

deregulation, but full

family ownership resumed in

2002, when Jimmy came on

board.

The 75th anniversary will

be marked in a building that

is much more fit for purpose

- right next door.

Waitomo has bought the

adjoining property, which

comes with a building large

enough for all the company's

staff. In a sign of the times,

with Waitomo providing an

essential service, the new

offices will be designed so

spaces can be isolated if there

is another Covid lockdown.

By April 1 next year, they

expect to have moved everyone

across. Ormsby acknowledges

the need, though you

get the feeling many in the

team are quite content where

they are.

"We have quite clearly

outgrown the premises here.

We've definitely invested in

growing the business and the

technology platforms, and

the people and all the areas

that I think have delivered,

you know, really good value.

But our office is probably one

area that we've been a little

bit neglectful in moving with

the pace of the rest of the

business."

Marketing manager Greta

Shirley chips in. "You know,

we say we are low cost and

you can see we are. It's reflective

of how we do it, I reckon.

I'm a little bit sad about moving

out of the Portacoms, but

I am looking forward …"

As for the name of the

room where the interview

was conducted, it's Mahi

"because we believe in working

hard," says Shirley, who

has a memorable turn of

phrase.

"The other rooms are

called tangata – because

'people' is one of our values.

And the War Room – because

that's where we do battle, as

the little engine that could!"
---
WAIKATO BUSINESS NEWS July/August 2021

5

Company-X's Jes

Elliott wins Reseller

News Women in ICT

Rising Star Award

Hamilton based Company-X software quality assurance tester Jes

Elliott won the Reseller News Women in ICT Rising Star Award.

Elliott received the

award at a celebration

lunch at the Hilton

Auckland on July 8. Elliott

was one of a trio of outstanding

Company-X team members

who were finalists in the

Awards. She was a finalist

alongside senior software

architect Rachel Primrose

and software developer Sara

Bahr. "Such awesome recognition

of the talent in our

Company-X women," said

Company-X co-founder and

director David Hallett, "A

fantastic win for the rising

star Jes!"

My achievements

today would not have

been possible without

the equal support

from my team at

Company-X.

"Looking at the impressive

women and companies

who were finalists in these

awards, I am thrilled that

Jes, Rachel and Sara from

Company-X were recognised

alongside them," said Company-X

co-founder and director

Jeremy Hughes.

"As a company we go to

high schools promoting IT

careers for women, so it is

fantastic to receive this recognition

for our own women

and to show girls across New

Zealand that they can succeed

in IT careers and will be

recognised for their exceptional

talent."

Jes Elliott won the Rising

Star Award.

This award recognises

a standout candidate rising

through the ranks within the

ICT industry, acknowledging

significant advancement

during the early stages of her

technology career.

This individual is growing

in stature and importance

through demonstrating

outstanding business acumen,

deep market expertise

and high levels of professional

integrity. Elliott has

demonstrated innovation,

professionalism, and leadership

qualities in her two

years at Company-X, going

quickly from an intern on

the Company-X Graduate

Developer Program to a software

quality assurance tester

on a Company-X team

working with a US-based

multinational. "Jes did a great

job on the support desk," said

Company-X professional

services manager Michael

Hamid.

Elliott became an integral

part of a Company-X team

developing e-learning modules

for world-leading dairy

solutions provider DeLaval

and was involved in the production

of modules in French,

German, Portuguese, Spanish,

and Mandarin. She was

then asked to become a software

quality assurance tester.

"Jes is doing really well in

this role," Hamid said.

Elliott's team leader

Nicola Brock said, "Jes is a

client focussed team member

who prides herself on the presentation

of her work, consistency,

and clear communication.

She is a tenacious

individual with an analytical

mind and an eagerness to

learn and contribute."

"I would firstly like to say

Company-X senior software

architect Rachel Primrose

Rachel Primrose was a

finalist in the Shining

Star Award.

This award recognises an

established candidate with

a strong record of achievement,

acknowledging excellence

in spearheading company

initiatives and driving

strategic change.

This individual is a consistent

high performer who

regularly achieves standout

business results and continues

to assume increased

levels of seniority within the

organisation.

Primrose joined Company-X

in 2018 in a key technical

leadership position.

She is an integral part of

ensuring the software specialist's

systems and processes

keep up with growth while

delivering x-factor projects.

Primrose embodies the

three core Company-X values

of giving clients choices,

doing what she said she

would do and making clients

look good. She is interested

in the use of technology for

delivering strategic goals,

complementary to efficient

operations, particularly in

start-ups.

Her aim in growing companies

is to steer IT in a direction

that results in increased

revenue without the cost

curve increasing at the same

rate whilst managing risk in a

Jes Elliott

Reseller News Women in ICT Awards Shining Star finalist

thank you," Elliott told the

awards crowd in an emotional

speech.

"It's an honour to be sharing

a room with such passionate

and driven women, so

thank you for your achievements,

I appreciate it. To

the Reseller News team who

have spent their time preparing

and organising this beautiful

event, thank you too,

and to the judges, thank you

for spending and taking time

considering us and over 140

nominations," Elliott said.

"My achievements

today would not have been

possible without the equal

support from my team at

Company-X, my new team

at Cisco, and to the organisations

that have allowed me to

volunteer and especially to the

people I have mentored over

the years. It is my hope that

we all continue to build our

confidence enough, to provide

opportunities and bridge

the gaps where needed, for

not only those who identify

as female, but for our youth in

particular. There is no hierarchy

in teaching and learning.

Thank you for helping me to

help you to help others."

Rachel Primrose

pragmatic way.

She is involved in the mentoring

and training of software

developers at all levels

in support and infrastructure

skills, and best practice.

RISING STAR: Company-X software quality assurance tester, Jes Elliott,

centre, with, from left to right, Company-X co-founder Jeremy Hughes,

Rachel Primrose, Sara Bahr and Company-X co-founder David Hallett.

Reseller News Women in ICT Awards Graduate finalist

Company-X software developer Sara Bahr

Sara Bahr was a finalist

in the Graduate Award.

This award recognises

a standout graduate

candidate who has leveraged

apprenticeship programs to

start a career within the ICT

industry.

Open to all roles and

responsibilities, this individual

has made an immediate

and positive impact on the

business through providing

a fresh perspective and high

levels of professionalism.

Bahr is participating

in the Company-X Developer

Graduate Program,

offering the University

of Waikato computer science

graduate a structured

software development

internship.

For Sara, 2021 was the

third consecutive year that

she was invited to join the

Golden Key Honour Society,

the world's largest collegiate

honour society for students

at the top 15 per cent of their

class.

In 2019 and 2020 she

received a Dean's Award at

the University of Waikato

Faculty of Computing and

Mathematical Science recognising

excellence in the

faculty's top 10 students.

Bahr interned at global

healthcare platform builder

Orion Health in the summer

of 2019 and 2020 where she

was chosen to be the face of

the company in an online

video celebrating its ranking

number 29 in the GradNew-

Sara is a fast

learner, quick at

becoming adept in

new technologies,

and thorough in her

approach.

Zealand 2020 list of top 100

graduate employers.

In 2020 Bahr was awarded

the $3000 Dr Murray Pearson

and Lightwire Undergraduate

Scholarship in Computer Science

for second year students

who have achieved at least an

A- Grade Point Average (GPA)

in their first year of study, and a

$2,000 Torutek Software Engineering

Scholarship, but she

declined a job offer.

Bahr also accepted a

Research and Enterprise Study

Award in 2020 in the Ahuora

Project as a software developer

where she interacted with

industry professionals, including

chemical engineers, as she

researched digital twin technology

to reduce New Zealand

carbon emissions.

The project expanded

Bahr's knowledge of adaptive

technology and control

theory and she was offered a

PhD to continue working on

the project next year which

Sara Bahr

has exciting potential to apply

to the New Zealand industry.

The project was detailed by

the University of Waikato and

picked up by Stuff. Sara has

exceeded expectations since

joining the Company-X Developer

Graduate Program.

Bahr has proved to be software

savvy beyond her years

of experience, according to

senior software developer and

team leader Arno van Niekerk.

"Sara is a fast learner, quick

at becoming adept in new technologies,

and thorough in her

approach, showing a particular

aptitude in learning and

embracing the very latest in

modern cloud infrastructure,"

he said.

"As a grad, I'm privileged

to be given such an amazing

opportunity at Company-X

which allows me to be an

award finalist," Bahr said.

For more visit companyx.com
---
6 WAIKATO BUSINESS NEWS July/August 2021

'Let's move together'

Raewyn Jones vividly remembers Finance Minister Grant

Robertson's words two years ago at the launch of the Waikato

Wellbeing Project.

"He said, 'Look, this [wellbeing]

is the project of my

political life. This is why I

went into politics.'"

Perhaps Jones recalls them

so clearly because of their resonance

- minus the politics, the

phrase could be equally applicable

to her.

She has recently stepped

down from her role as chief

executive of WEL Energy

Trust after a productive seven

year stint during which she

was instrumental in the establishment

of the Wellbeing Project,

as well as repurposing the

Trust's investment with a focus

on community impact.

Speaking before her departure

for further study in London,

she recollects that at the launch

in August 2019 Robertson went

on to say: "It's because top down

needs to meet bottom up."

That is something of a mantra

for those in the wellbeing

space, and includes having the

ear of politicians and decision

makers as well as engaging with

those on the ground.

As Jones goes on to say

of upcoming changes to local

government: "The wellbeing

model, where communities

work together and there is a

collective impact and decisions

are informed by people on the

ground - I think that will be part

of the solution that the government's

looking towards."

She saw the impact working

together could have during last

year's Covid-19 lockdown.

Community funders including

Hamilton City Council,

WEL Energy Trust and Trust

Waikato quickly set up a fund

and worked together so there

would be one "front door".

"People would come through

the door, and we between us,

behind the scenes online, would

work out who could fund that

organisation and do it quickly."

Jones gives the example of

K'Aute Pasifika. "They know

their communities really well.

They go out to them, the people

know them, they trust them, and

the nurse comes to the door, they

know who they are. They don't

normally do food parcels, but

during Covid they did and we

gave them the money to enable

that. And that all happened very,

very quickly.

"I'd love to build on that

model. The way we worked

there, I don't know why we don't

work like that all the time. Why

do people have to choose which

funder they go to?"

She thinks the opportunity is

there. "What you need to make

that work is a shared agenda. So

with Covid we had a very clear

and urgent need and we had a

shared agenda - we wanted to

achieve the same thing. So all

the egos and bureaucracy and

rules were able to be put aside

for a time."

She says that shared

approach is part of what the

Wellbeing Project seeks to offer

with its targets based on the UN

sustainable development goals.

"Not everyone would want

to fund the same things because

we're all different and money

comes from different places,

but if you've got people working

together, you can easily see

where it is you can contribute

and have the most impact with

the least burden on the people

applying for the money."

The intention is that the

Project provides "backbone

support", and it is assisted in its

work by $3 million over three

years from Wel, and $100,000

and work in-kind resourcing

from the regional council.

The Waikato is in a position

of strength when it comes

to collaboration. "I'm

involved with Philanthropy New

Zealand, and they often look to

the Waikato and say 'you guys

are doing some pretty amazing

stuff with the way you work

together'. So I don't think it

happens everywhere. I think it's

something we can be proud of."

One example of the cooperative

approach is the Regional

Housing Initiative, which draws

together many organisations

across sectors, and recently identified

the need for about 70,000

extra houses in the Waikato in

the next 25 years, beyond regular

construction activity. That

raises questions around, for

instance, what it would take to

raise the amount of affordable

houses in commercial developments

from 10 percent to 20

percent, Jones says.

The collaborative approach

should also help ensure any

government investment is in the

right place and the right kind of

housing. WEL Energy has been

completing a half million dollar

housing grant, working with the

Housing Initiative and applicants

in a "round table way" to

agree how the money should be

divided up.WEL also recently

agreed to a $5 million Community

Finance housing bond,

to be informed by the Housing

Initiative. "With different types

of housing, a more affordable

housing project might need a little

bit of concessionary finance

to get it off the ground. We now

have that sitting ready to go."

That kind of investing is a

feature of Jones' tenure. A couple

of years after starting her role,

encouraged by then chair Mark

Ingle, she attended a week-long

course at Oxford University on

impact investing, and it opened

her eyes to an approach which

she stresses has always been part

of the Te Ao Māori way - essentially,

investing for community

good, and potentially accepting

a lesser monetary return than

a full commercial investment.

WEL Energy, which has for a

long time provided grants drawing

on its investments, which

total around $60 million, is

increasingly looking to also give

impact to the investments themselves,

for instance, investing $5

million in Purpose Capital when

it started up in 2019.

"That's been part of the joy of

my job over the last seven years

is developing a community of

practice, not just in Waikato,

but around New Zealand around

impact investment."

Jones' contribution has been

formidable; she was on the

National Advisory Board for

impact investment and helped

instigate the Impact Investment

Network for Aotearoa.

Her next steps are in the UK,

starting with a political science

MSc in global governance and

ethics at University College

London - an area of concern she

says is related to the work she

has been doing.

"Essentially what we do as funders is we

back people, we back enterprise, we back

social enterprise, we back changemakers."

"A few years ago, people

didn't necessarily even really

talk about impact investment.

Certainly, it wasn't something

mainstream. But now climate

change and other things are real

risk factors. If we're not looking

at impact, we're not actually

being prudent investors now."

Jones says there will always

be a place for charitable

grants. "But as a society,

Talk about a revolution

When Fiona Edwards

was approached

to take up a role as

OurPower community coordinator,

she had an immediate

response.

"'How does something

as wonderful as what you're

telling me even exist?' It was

such a revolutionary way of

running essentially a community-based

company," she

says. Revolutionary partly

because of the use of energy

"navigators" within nine community

groups the electricity

retailer works with.

"The navigators are the

ones that know what their people

are like, they know their

community," she says.

"They know and they

actively talk to their community

about OurPower

because it is a cheap option,

a fair option, an option that

they know if they've got, you

know, terrible credit that we'll

give them a crack. We'll give

them a chance. And that's

really key for those communities."

The energy navigators

some of the things we need to

change, around housing and climate

particularly, and inequality,

those things we need to use our

investment money as well."

The philosophy is simple:

"What's right for one place in

the country is not necessarily

right for another or even within

one city. So it's about empowering

communities. It's about

listening to the people on the

ground doing the action, doing

can sign people up to OurPower,

help with budgeting and do

energy efficiency assessments

on people's homes, and then stay

involved in supporting clients.

"WEL is owned by the community,

essentially. So our role

is to give cheaper power to the

community," says Bryn Little,

investment and strategy manager

at WEL Networks.

Three years after it started

up, it has about 2800 customers

with a target of 4000 by the end

of the year. It is the fastest growing

power retailer in the WEL

Networks area, Little says, and

each customer saves about $350

annually.

He thinks those savings are

actually understated, because

their customers have typically

been paying more than the

average person. Often they will

have bad credit ratings, or will

have been using one of the more

expensive retailers because of a

lack of ability to choose.

"We don't charge any fees,

we take on every single person."

OurPower doesn't do credit

checks, and nor does it charge

the work on the ground."

It is also a philosophy of

change and ambition. "Essentially

what we do as funders is

we back people, we back enterprise,

we back social enterprise,

we back changemakers. So for

me, a real highlight has been the

range of people I've got to work

with at all levels."

Another highlight was her

involvement in the Community

Enterprise Leadership Foundation

leadership programme.

"To see the leaders coming out

of that programme, they're the

same people I see in the Wellbeing

Project, they come out just

firing to change the world, and

to work with both business and

not for profits to bring a better

world together - to change the

way capitalism works, really,

to ensure all are having a better

piece of the pie."

Jones also stresses the

importance of embedding the

indigenous approach to wellbeing.

"The things that I don't

think we need to do as a region:

don't wait too long. We've

just got to get on and do it. It

won't always be right. But let's

just move together."

if a customer is disconnected or

reconnected. Edwards points out

28 percent of their base comes

from the most deprived areas in

the community. "These are people

who are doing it really, really

hard. Whether it's their own budgeting

systems or it just might be

an environmental thing, they're

doing it hard. And we don't

disadvantage them because of

that," she says.

He points out they have to

make a commercially viable

product, and buying and selling

power up against vertically

integrated gentailers is a "tough

game".

But that comes with a purpose

beyond profit.

"Think about us being commercially

driven around a different

model, think about double

bottom line reporting, get away

from this traditional way that

you create value," Little says.

"Value is created at different

levels. We've obviously got the

customer savings, then we've

also got the wraparound services.

And that's impact investing

as well."

HOW TO REMOVE THE AMBULANCES

The Waikato Wellbeing

Project is nothing if not

ambitious. It has distilled

the UN Sustainable Development

goals into a set of targets

for the region - with deadlines

for their achievement.

As worthy as they are, the

deadlines arrived at after consultation

with interested groups

look tight.

For instance, one of the

10 targets is to have less than

one percent of children living

below the poverty line by 2030,

down from about 15 percent

currently.

Another is to reduce the

number of people experiencing

hardship in the Waikato from

18,000 in 2019 to zero by 2030.

Understandably, executive

director Harvey Brookes would

prefer to focus on the processes.

"The thing about targets is

that they are great in terms of

setting a forward marker that

there's where we want to be.

And they need to be ambitious.

But of course, you know, it's not

a straight line path from here to

here. So it's not by any means

guaranteed that we will simply

just leap our way forward to

them. There are other ways of

describing these things which

may well mean if we undershoot

slightly, that's okay."

Brookes talks instead about

a prototyping approach, and

says the Project will have to be

comfortable with failures along

the way.

"We might find some interesting,

innovative ideas, we

might find 10, we might throw

them all up in the air. And three

might work, seven might not.

On some metrics, that's failure.

But against innovation and

design, it's pretty good. So it's a

different way of actually finding

your way. It's an experimenting,

prototyping approach."

Brookes, appointed in

November last year, sees part

of his role as supporting the

manu taki, the volunteer guides

leading each of the individual

targets. "I think they've volunteered

because they know

they have the confidence of the

main stakeholders in the community

of the issue that they

are looking at. So what I will

be - and what I am - saying to

them is, how can I help you to

activate that community so that

they, with your guidance and

support, frame up and identify

what's the challenge we'd like

to actually address here?"

As his comments suggest,

it's early days, with an advisory

board recently appointed, and

further staff yet to be appointed.

Brookes is mindful of the

Project's role in relation to

other organisations working in

the area.

"If you've got someone else

doing something awesome,

fine. We really want to support

you, but we certainly don't need

to be in control of these things.

We just need to make sure that

impact is happening. And if it

isn't, then what can we do to

help?

Part of that support could

come from a live dashboard of

constantly updated data with as

much detail as possible.

"That helps decision making

because it means everyone

knows, what's the state

of social housing? How many

people this month? What's the

housing shortfall this month?

How's housing affordability

Harvey Brookes participates in an Impact

Hub Waikato panel with Nanise Ginnen.

this month, in this location?"

It's an ambitious idea. An

extended dashboard would

cover the range of the Project's

work, not just housing, accurate,

near real-time and available

free to anyone.

"I certainly don't want an

army of statisticians. But we're

talking about something which

actually is an online semi-autonomous

system.

"Having that, I think there's

huge value for the wellbeing

community. That's power, you

know, because then actually

people have knowledge to do

something about it."

The purpose is to help people

make better decisions about

how to spend sparse resources.

"What I'm interested in is

how, over time, do we actually

take the ambulances from the

bottom to the top and then do

away with them?"
---
WAIKATO BUSINESS NEWS July/August 2021

7

With eyes on much easier living,

good schooling for kids, Jaffas

jump from the corporate ladder

Megan Smith has found the change invigorating.

When Hamilton real estate agent Megan

Smith runs open homes, it's noticeable

how many Aucklanders attend.

They have their eyes

on the easier living,

reduced commute, good

schools for their kids, and

Hamilton is proving a drawcard.

Some are families, some

are professional couples, and

they are looking for affordability

and a higher quality of

life. "So there's a lot to be said

for the Tron," Smith says.

In a way, her story is similar.

She has made her own lifestyle

change, switching to real

estate from a high-powered

corporate career in Hamilton.

Most recently, she was a

general manager at Hill Laboratories,

after earlier senior

stints including marketing

manager at Agrifeeds and

CEO at Bowel Cancer NZ.

But something was

missing.

"I had been very purposeful

about it. But what I didn't

expect was that because I'm

a people person, there's a

certain loneliness attached

to those roles.

"What's given me joy in

business is customer or client

happiness with a service or

product, and the further up the

food chain you get, the more

removed you are often from

the end user."

Smith stepped off the ladder

at the end of last year, and

had an at-home sabbatical.

The dogs were well-walked,

after a while the herbs and

spices were neatly stashed

in alphabetical order and she

realised it was time to get back

into the paid workforce. "That

was like a gap year for working

adults. I had a nice time,

but I didn't see it as a longterm

gig."

The switch to real estate

was accompanied by trepidation

about the likely reaction

from friends and contacts. But

to her surprise, many of them

said they had also considered

taking exactly the same step.

Her timing - she got

her licence three weeks

before this interview - is

double edged.

You can't be a

shrinking violet,

scared to get out

there. You're going

to be your own

brand so you better

make sure it's one

that's a trusted

brand with a good

reputation.

While house prices are

booming, it's not necessarily

the easiest time to get into the

industry, because of a shortage

of properties on the market.

There was also the cost:

$1000 to do the courses

involved and a further $1000

for the licence. But her husband

was supportive and she

knew she wanted to be her

own boss. Real estate gave her

that opportunity, and she could

bring her well-honed corporate

organisational skills.

"Maybe it's just the courage

to jump and that's where the

angst comes in: 'Oh my God,

it's a big fat fail if you don't

make it in this, because it's

such a public fail'. But I have

to say I find it so invigorating,

so refreshing," she says.

"You're on your own,

you're really resting on

your own reputation to

get the job done."

She went with family-owned

Lodge, partly

because its community commitment

aligned with her own

values - she has been a director

of social impact organisation

RAW, set up to support

at-risk women, and is chair of

the St Paul's Foundation.

What would her advice be

for anyone contemplating the

plunge?

It's about building trust,

reputation and significant networks.

"Back yourself. Absolutely

back yourself. But don't think

you're going to be making it

overnight. It's hard graft and

you must have attention to

detail. And if you're a happy

communicator like me, you

must remember you've got

to do more listening than

talking."

It's also about being bold.

"I've been on the phone,

I've texted, I've direct messaged,

I've used social media,

I've used email contacts, and,

God forbid, I've even gone

door knocking around my own

neighbourhood," she says.

"You can't be a shrinking

violet, scared to get

out there. You're going to

be your own brand so you

better make sure it's one

that's a trusted brand with a

good reputation."

Newly Appointed Principals

Champion Design Quality

Chow:Hill architects Arthur Joe and Sam Thomas enjoy the challenges of their profession.

One creatively striving for cost-effective and sustainable solutions for his clients; the other

constantly testing the boundaries of design and function. Both of these committed designers

are tuned to thinking strategically and collaboratively while championing design quality.

It is this dedication and expertise that has seen both

registered architects appointed to the role of Principal

at Chow:Hill Architects.

Director, Brian Squair, says Arthur and Sam's creative

commitment to their projects, including some of

Hamilton's landmark buildings, has led to positive

design success for both them and Chow:Hill.

"Sam and Arthur bring strategic thinking and clarity of

vision to their work, which is reflected in the collaborative

design concepts they deliver for clients and stakeholders.

Add to that their local knowledge and international

experience and we here at Chow:Hill are extremely

fortunate to have their talent in our studios."

Extensive experience in the commercial

and institutional sectors sees Arthur

continually deliver innovative design

strategies to tight deadlines.

Arthur, who led the design of the NZIA award-winning

headquarters of Te Puna o Waikato, Trust Waikato,

says the challenge of translating narratives into a

design ensures a variety of influences come to the

fore. "Every project is different and that's because

every client has a different story they wish to express

through a building's design. The expressing of these

stories makes for an exciting and varied portfolio of

work and certainly keeps the creativity fresh."

Sam's innovative design has shaped Hamilton's newest

commercial development, Union Square.

Sam, whose extensive experience in animation and

virtual reality (VR) allows him to actively engage

clients in the concept design process, has excelled in

the design of tertiary, public sector and commercial

spaces. "I really enjoy creating design outcomes which

are sustainable on multiple levels – environmental,

cultural, social – and that allow the user to be central,

both to the process and to the final project.

Sam's skill in animation and virtual

reality (VR) allows him to actively

engage clients in the concept

design process of tertiary,

public and commercial projects.

"There's been a significant shift towards functional

design and that has seen us adapt to emerging

trends, whether designing student accommodation

or commercial workspaces. The dynamic nature of

these environments keep the design process and the

outcomes fresh and inspiring."

The NZIA award-winning Te Puna o Waikato, Trust Waikato

headquarters designed by Arthur Joe.

Visit us at: chowhill.co.nz //

/chow-hill-architects/
---
8 WAIKATO BUSINESS NEWS July/August 2021

CONVERSATIONS WITH MIKE NEALE

OF NAI HARCOURTS HAMILTON

A Question to Property

Owners – Do We Get

Better Outcomes If You

Work Together ?

At a recent Waikato Chamber of Commerce

event I attended, where Greg

Foran was the guest speaker (one of

the most impressive I have seen for some

time), I caught up with Antanas Procuta

from PAUA Architects. We talked about how

to achieve better outcomes, particularly in

regards to larger sites or where neighbouring

property owners worked together cohesively,

instead of in isolation, which is traditionally

how developments have taken place.

Creating a Cohesive Hamilton

True success comes from being on a cohesive

team. Increased team cohesion in areas such

as the workplace has resulted in increased

success, work satisfaction and increased

self-esteem. Team cohesion happens when a

team remains united while working to achieve

a common goal. The same can be said when

it comes to communities and even building

developments.

You might ask how does it apply to

building developments?

Mike Neale - Managing Director,

NAI Harcourts Hamilton.

shared and co-working spaces, along with

Cream Eatery, Hamilton Central Business

Association and Stark Property's own offices

on the ground floor. Seamlessly configured

to provide interaction internally between the

buildings, this is an impressive outcome in

this stunning location.

The concept behind creating cohesive

spaces in the CBD according to Stark Property

is that "work is not achieving tasks; it

can also be a place that supports your connection

to community and enhances your

overall wellbeing". Occupiers of Panama

Square enjoy events and community engagements

which benefit smaller businesses such

as monthly networking morning teas, afterhours

get togethers and charity fundraisers.

South Waikato

Trades Training

Centre building site

blessed by Raukawa

Construction of the new $14 million South Waikato Trades Training

Centre in Tokoroa received the official blessing of Raukawa

kaumātua Te Hapuku Rikiriki and Poihaere Barrett in a ceremony

attended by representatives from the district's diverse cultures.

The Riverbank Lane and Victoria On The

River (VOTR) was one of the first in the

CBD. Stark Property purchased a partially

vacant 4 level office building at 286 Victoria

Street and then decided it would be prudent

to purchase the adjoining Riverbank

Mall, which had been largely vacant for

many years. The combination of these two

buildings and then subsequent work with

Hamilton City Council to open directly on

to VOTR through a cohesive development,

now houses Hamilton icons such as Mr

Pickles, Duck Island, Banh Mi Caphe and

Edwards White Architects, all opening on to

an expansive amphitheatre-style park setting

overlooking the Waikato River.

Another example is the one-hectare site of

the Union Square development, which once

completed, will consist of over 23,000sqm of

office space, spread over 5 buildings. Within

the complex there will be retail space, community

spaces and pedestrian boulevards

dedicated to both residents and the local

community.

"The vision behind this new facility

is to create an exceptional place,

whether it be for work or pleasure, in

the heart of one of New Zealand's most

progressive and growing cities".

- Rhys Harvey

One of the most dramatic has been Stark

Property's Panama Square which consisted

of 3 separate poorly maintained low grade

buildings situated on the corner of Garden

Place and Worley Place. Starting with the

NAB Building and then progressively purchasing

12 Garden Place and then 10 Garden

Place, this is now the central hub for Panama

Panama Square : After

Panama Square : Before

The most recent one I have become aware

of relates to the former Munns Menswear

site at 646 Victoria Street and the very corner

site of Victoria and London Streets. The two

owners have talked about the possibility of

working together, by opening the southern

wall of the corner building on to and activating

the adjoining courtyard of the new mixed

use development at 646 Victoria Street – the

southern facing tenancy has experienced

long term vacancy issues due to being a very

deep retail tenancy with limited natural light.

For some time I have looked at the development

of residential sites which are not

much larger than 800sqm and wondered how

much better the outcomes would have been

if the site(s) next door had been incorporated

within a larger scale development, providing

a more efficient footprint and greater scope

for natural light and less land used for the

likes of multiple driveways.

The positive consequences from the

cohesiveness of these developments include

a much higher level of connection and collaboration,

which ultimately provides better

quality outcomes and product - a better experience

for the occupiers. Let's put greater

emphasis and focus on outcomes.

There was a large turnout for the blessing at the northern entrance to Tokoroa.

Raukawa Charitable

Trust Tumu Whakarae

(General Manager)

Maria Te Kanawa said it was

a momentous occasion for the

iwi to bless the site on the corner

of State Highway 1 and

Chambers St at the northern

entrance to Tokoroa.

"The Trades Training Centre

will enable many South

Waikato rangatahi to train

here in Tokoroa without having

to travel out of the district

away from the support of their

whānau."

More than 80 people

attended the blessing including

Raukawa and South Waikato

District Council officials and

representatives from the local

Pasifika communities as well

as from local schools.

The South Waikato Trades

Training Centre and an adjacent

office building are being

funded through SWIFT, a

community-owned economic

development fund dedicated

to South Waikato's prosperity,

with grants from the Provincial

Growth Fund, Trust

Waikato and SWIFT.

SWIFT Chairperson Bruce

Sherman said the Trades

Training Centre was being

developed alongside Toi Ohomai

Institute of Technology,

which will be the training provider.

The Centre will cater for

up to 500 students a year.

"We have strongly encouraged

South Waikato tradespeople

and building suppliers

to tender for this work to help

the local economy and to provide

job and learning opportunities."

The Centre will be a combined

3,500sq m of learning,

four workshops and staff space

with a commercial kitchen,

café and barber shop. It will

also have a space allocated for

a digital and entrepreneurial

hub to help address the digital

divide and assist young people

into their own businesses.

South Waikato District

Council Mayor Jenny Shattock

said the Centre was an

excellent example of the South

Waikato education, business

and local government sectors

working together to help the

district thrive and grow economically

and socially.

"The Centre's location near

State Highway 1 will provide

a fabulous new gateway to the

northern entrance to Tokoroa

and will complement the

recent town centre redevelopment.

"This event is a key milestone

as we pause to reflect

on the journey so far, and to

receive Raukawa blessing for

the journey ahead to train local

people for their work futures."

Toi Ohomai Board of

Directors Chairperson Catherine

Cooney said the new

campus will help breathe life

into the community and it was

exciting to see this initiative

come to fruition after all the

planning.

Cooney acknowledged the

collaborative work that happened

behind the scenes and

said she was honoured to be

part of the site blessing ceremony.

"This campus will enable

more students to develop their

skills in the community. Local

employers need more skilled

workers and this new campus

will help bridge that gap.

"We look forward to seeing

the build progressing and

once opened, to help provide

a skilled workforce to see this

great community prosper."

NAI Harcourts Hamilton

Monarch Commercial Ltd MREINZ Licensed

Agent REAA 2008

Cnr Victoria & London Streets, HAMILTON

07 850 5252 | hamilton@naiharcourts.co.nz

www.naiharcourts.co.nz

205180AH
---
WAIKATO BUSINESS NEWS July/August 2021

9

Mike Renfree of Raglan Chocolate.

The benefits to

business of being green

Tesh Randall planting trees.

By RACHAEL GODDARD

It is fast becoming accepted that

sustainability is no longer a 'nice to have',

an afterthought, or just a good PR tactic.

Due to public expectations,

ground swell

in the environmental

space, science-backed data on

anthropogenic impacts, and

recent changes in government

legislation, sustainability is

becoming intrinsically linked

to businesses reputation,

productivity, performance,

recruitment potential, staff

wellbeing and viability.

Having an appearance of

sustainability on a website or

a sustainability policy is not

the same as having a genuine

commitment to sustainability,

which should include underlying

principles, processes

and behaviours that should

become part of your decision-making

and practices.

Brianne West, founder

& CE of Ethique, has said

a business that is operated

ethically and sustainably is

the best vehicle for change,

and adds that businesses who

care, treat everyone fairly and

think about the entire lifecycle

of their products and services

are shown to be more

profitable, engender more

customer loyalty, and generate

greater team engagement

with retention.

A recent Colmar Brunton

poll revealed that 90% of

customers would stop buying

products or services if they

heard that a company was

being irresponsible or unethical.

In the Good Company

Report 2019, sustainability

was a key concern for 87%

of New Zealanders, with 71%

of customers doing active

research around the sustainability

of a brand before purchasing.

Three local businesses

share their thoughts on the

importance of sustainability

and why they have embedded

sustainability principles and

practices into their organisations.

Tesh Randall, co-owner

and creator of Raglan Coconut

Yoghurt (now known as

Raglan Food Co) says that

sustainability is intrinsically

linked with their company's

ethos, operations and wellbeing.

Sustainability is wrapped

around the entire brand, as

customers expect it, and it is

the right thing to do.

Raglan Food Co is

advanced in its delivery and

embedding of sustainability

practices and processes. They

are a B Corp Certified Business,

achieving the highest

standards of verified social

and environmental performance,

balancing profit and

purpose. They are also certified

Carbon Zero.

Having an

appearance of

sustainability on

a website or a

sustainability policy

is not the same as

having a genuine

commitment to

sustainability.

Raglan Food Co believe

in supporting social and environmental

causes and provide

a fund for local initiatives.

Tesh says they have also

planted over 900 native trees

around their new factory site.

Paul Peterson, owner and

operator of Morning Glory

(arguably the best coffee in

Waikato), is steadfast in his

social and environmental

principles which underpin

his business. He states that

coffee should be ethical and

organic and preferably Fair

Trade certified, so workers

are given a fair wage.

Morning Glory uses

unique compostable packaging

created by Econic, an

arm of Waikato packaging

solutions Convex, which has

been endorsed by Xtreme

Zero Waste for use in their

commercial compost system

and in home composts. Paul

says he also encourages customers

to use stoneware and

steel cups, and he donates

some of his profits locally

towards improving biodiversity,

conservation and ecological

restoration via the Karioi

Project.

He believes that the existing

economic model does not

work well and that we need to

apply an ecological, social,

economic and cultural quadruple

bottom line.

Mike Renfree, of Raglan

Chocolate, has been in business

four years with his boutique

organic and Fairtrade

chocolate bars. He agrees

sustainability needs to be

mainstream with business,

and says this was in mind

from inception. His key concern

was the social injustices

and exploitation associated

with cacao production and

believes that "take-makewaste"

systems and ways

of doing business need to

change. Awareness in the last

decade has increased as more

"Bean-to-Bar" manufacturers

search out quality cacao and

are prepared to pay substantially

more for these beans,

recognising, as Paul said,

paying fair wages and knowing

your product is ethically

sourced.

The paper used in his

packaging is certified sustainable,

and he is also working

with Convex to develop new

compostable barrier film liners.

He also only uses paperbased

packaging for shipping,

which includes recycling the

paper packaging from the

materials he buys.

Where to start?

The first step is to undertake

an environmental audit to

understand your operations,

emissions, gaps, and supply

chains, then produce a plan or

strategy for setting targets and

reducing emissions, as well

as identifying where wastage

or costs could be saved. Producing

a statement or policy

about your company's ethos

and practice is also useful.

This process should ideally

involve and engage your

company's team and become

embedded into your day-today

operating practices.

There are numerous tools

online that can assist, such as

the SBN climate action toolbox,

which is free. This can

help you begin to understand

the areas you need to focus

on. They also offer carbon

calculators that you can use

to track your greenhouse gas

emitting activities including

travel, waste, water, energy

and freight.

Finally, here's some

advice to all businesses from

our interviewees - do it, or

do as much as you can, don't

wait, just get started today. It

may add complexity to your

path, but it is essential. Our

planet is paying a cost that

we cannot afford. We need

to mitigate all of the damage

and negative impacts that we

create from now on in order

to build better businesses for

a better world.

Experience care as it

should be, experience

the Braemar way.

Braemar Hospital is one of the largest

private surgical hospitals in New Zealand,

and it's here in Hamilton.

With more than 100 world class specialists,

10 state-of-the-art operating rooms, 84 beds

including 32 private rooms, at Braemar

you'll receive the highest level of care.

Choose the very best.

Choose Braemar.

Paul Peterson, owner and operator of Morning Glory.

braemarhospital.co.nz
---
10 WAIKATO BUSINESS NEWS July/August 2021

Cyber security tool protects infrastructure

A Waikato company has designed a cyber security system to

protect vital infrastructure like electricity lines and manufacturing

from hackers.

First Watch, a spinoff

from WaikatoLink, the

University of Waikato's

commercialisation arm, is

designed to protect the control

systems of infrastructure

including wastewater and

electricity networks to fuel

and gas lines or manufacturing

facilities from cyberattacks.

The company has joined

with CTEK Combined Technologies,

New Zealand's

largest installer of industrial

control systems, and the

system is being rolled out

after an initial capital raising

through WaikatoLink and

commercialisation partner

KiwiNet.

WaikatoLink commercialisation

manager Matt McMahon

said First Watch had been

piloted with three large New

Zealand companies and is

now in use by two large manufacturing

businesses.

They are also in talks with

industrial control installers in

Australia, the US, Europe and

Asia.

"As we've seen with

recent cyberattacks, the need

for better cyber security systems

is very real and there are

currently few options for protection

of the infrastructure

vital to our modern society,"

said McMahon.

As infrastructure and

manufacturing control systems

had increasingly moved

online and businesses sought

to link operations like

accounting and manufacturing,

they had also opened

themselves up to cyber

attackers.

This month global meat

producer JBS paid $11 million

to hackers after a ransomware

attack forced them

to shut down their beef plants.

In May, hackers targeted

Colonial Pipeline which saw

them shut down their operational

supply and led to panic

buying and gas shortages

across America's East Coast,

before Colonial paid $4.4

million in bitcoin to hackers.

Crown agency CERT NZ

reported that between January

and March this year there

were 1400 reported cyber

security incidents in New

Zealand costing around $3

million.

University of Waikato

director of research and

enterprise Simon Lovatt said

traditionally the computing

technology that controls the

plants of manufacturing facilities

has been separate to IT

systems so, if hackers wanted

to break in, they needed to be

physically in the plant.

"As we've connected

things like accounting systems

with manufacturing,

industrial control systems

have moved online and anything

that's connected to the

internet can be hacked."

Previously people had

worried about the actions of

nation states in cyber attacks,

but today cyberattacks have

Simon Lovatt says the system is designed to take a zero-trust approach.

become a large industry for

organised crime with serious

implications as seen in the

Waikato DHB ransomware

attack.

The attack on the Waikato

DHB was centred on its IT

system, but Lovatt said if

cyber attackers infiltrated

industrial control systems,

they could interfere with anything,

from a city's wastewater

treatment to fuel supply

and electricity lines or manufacturing

facilities.

While most cyber security

tools manage the periphery,

like a firewall on a personal

computer, First Watch was

designed to work at the core

of an industrial control system

creating a zero-trust

environment, scanning for

any data that should not be

on the system and refusing to

respond to it.

"It stops the system doing

anything different than its

day-to-day operations unless

any new directions are fully

and properly authenticated,"

said Lovatt.

The system was also

designed to take a complete

inventory of all assets on

a network and identify any

that have not been updated or

pose a risk.

"That's important because

staff might connect to the

system from a laptop at home

and unknowingly introduce

a virus. Having a full inventory

of all software and

hardware on a system is a

really valuable tool," said

Lovatt

As we've seen

with recent

cyberattacks, the

need for better

cyber security

systems is very

real and there

are currently

few options for

protection of the

infrastructure vital

to our modern

society.

Stay two unforgettable nights in refined Kiwi

style from $1544 twin share.

Experience the essence of Rotorua's Boutique

Lakeside Hotel with complementary bubbles and

chocolate on arrival, plus daily breakfast baskets

delivered to your room. Then it's up to you.

Choose an extreme off road 4x4 and clay pigeon

shooting adventure, or pamper yourselves with an

indulgent day spa experience.

To top off your weekend we'll add in a

complementary late check out from your

accomodation so there's no rush.

THE ULTIMATE

GETAWAY WEEKEND

• Two nights' luxury accommodation in a

Lakefront room at The Black Swan Boutique

Hotel.

• Complementary bubbles and chocolate in your

room on arrival.

• Complementary breakfast basket for 2 each day

of your two night stay.

• Your choice of an activity together for 2 people,

or a day out with one activity each.

PHONE 07 346 3602 TO BOOK NOW

www.blackswanhotel.co.nz

171 Kawaha Point Road, Kawaha Point, Rotorua
---
WAIKATO BUSINESS NEWS July/August 2021

11

THE ALL NEW

& ROADSIDE ASSIST

RRP FROM$

52,990

* BEFORE

REBATE

+ORC

CLAIM YOUR $5,750 # CLEAN CAR REBATE NOW

BETWEEN 1 JULY AND 31 DECEMBER 2021

Safety rating

RIGHTCAR.GOVT.NZ

*$52,990 is the RRP of the New MG HS PHEV model with non-metallic paint and excluding all on road costs. Warranty terms and conditions available at mgmotor.co.nz/warranty. For commercial use vehicles,

the lithium-ion battery warranty is covered for 7-Years or 160,000 Kilometres whichever occurs first. #$5,750 Rebate (subject to continued availability of rebate funds) calculated according to NZ Government Guidelines.

Full eligibility details and calculations at nzta.govt.nz/vehicles/clean-car-programme/clean-car-discount Applies to registrations prior to 31st December 2021.

Best of both worlds - 1.5T plus electric EV-only range - 63km Panoramic Stargazer Sunroof

WINGER.CO.NZ | 1 & 25 The Boulevard, Te Rapa, Hamilton | Ph: (07) 838 1249
---
TERMS & CONDITIONS*
---
14 WAIKATO BUSINESS NEWS July/August 2021

Business Awards

prove drawcard

Record number of entries

in Waikato Chamber of

Commerce Business

Awards supported by Foster

Construction Group provide

barometer to the commercial

strength of the Waikato.

With the number of entrants

exceeding last years by 75

percent, a record number of

companies and individuals are aspiring

to win their respective categories in the

annual awards, highlighting the current

strength and quality of businesses in the

Waikato.

This year the Waikato Chamber of

Commerce welcomed Foster Construction

Group as the new primary business

awards sponsor. Fosters were eager to

take on the opportunity and build on

their continued support of the awards –

they were previously a category sponsor

– and the Waikato business community.

The overwhelming feeling

from businesses that have

entered is they want to

celebrate their success. It

is clear from the number of

entries in Emerging Leader

that we not only have huge

talent in the Waikato, which

is a great sign for the future,

but also that business really

value their staff.

Chamber chief operating officer Paula

Sutton and events & marketing manager

Sarah Hogan take the lead roles in

organising the awards.

"It's a real buzz to see the record

number of entries this year, particularly

at a time when businesses have been try-

By Don Good, CEO of Waikato

Chamber of Commerce.

ing to manage their response to Covid

and remain sustainable and resilient,"

said Paula, who, together with head

judge Dr Heather Connolly of the University

of Waikato Management School,

has helped ensure people felt supported

and empowered to enter the awards,

hosting weekly seminars to educate and

guide potential entrants through the application

process.

"What is really impressive is the

number of entrants in the Emerging

Leader and CEO of the Year categories,"

said Sarah. "The overwhelming feeling

from businesses that have entered is

they want to celebrate their success. It

is clear from the number of entries in

Emerging Leader that we not only have

huge talent in the Waikato, which is a

great sign for the future, but also that

business really value their staff."

The judging processes is now underway

which will culminate in the

announcement of the finalists on September

22. The finalists then go on to

the awards gala dinner held on November

12, where the winners will be announced.

Your Chamber is on the Move, but

it isn't far

On Monday the 2nd of August you

will find us on Level 1 of Wintec House.

Te Pūkenga has outgrown its initial office

footprint so we, along with Wintec

Venues and SODA, are doing an office

swap and shifting downstairs.

Paula Southgate

Auckland urged to

develop alternative

water source

Hamilton City Council is urging Watercare

to reduce its reliance on the Waikato River

by developing a new water source.

The Council is one of 39

submitters who have

opposed Watercare's

application to take a further

150 million litres of water per

day from the river.

The application was originally

made to the Waikato

Regional Council but was

referred to a Board of Inquiry

in June 2020.

Other submitters opposed

include Federated Farmers,

Waipā District Council,

Waikato River Authority,

Waikato-Tainui and the Director

General of Conservation

Waikato.

Submitters have raised

concerns on a range of issues,

including effects on cultural

values, potential impacts on

the health of the river, and a

potential shortage of available

water over the long term

and associated effects on the

region's economy. Of the 55

submitters, 70 per cent oppose

the application.

Hamilton City Council has

opposed Watercare's request

to ensure the city "has a voice

at the table" and not because it

point-blank opposes a further

water take, Hamilton Mayor

Paula Southgate said.

"It's the extent of the proposed

take we're concerned

about. We recognise and support

the need for Auckland to

urgently access water in the

short-term and we will continue

to help Auckland as much

as we can. But that comes with

an important rider," she said.

"Our city cannot support

a 35-year resource consent

which would see plenty of

water for Auckland but which

could limit the availability of

water for others in the long

term, and therefore compromise

the economy of Hamilton

and the wider region. That's

what we're concerned about."

Hamilton City's existing

resource consent expires

in 2044 and the city says its

existing allocation from the

Waikato River should provide

just enough water until then. In

June last year, Hamilton provided

the short-term release of

some of its allocation to Auckland

to help the city deal with

acute water shortages.

If Watercare gets

a 35-year consent,

there will be limited

availability of water

in the Waikato River

which potentially

locks Hamilton and

Hamilton industry

out of a critical

resource. Hamilton

and the Waikato

contribute a huge

amount to the

national economy

and we need to

continue doing that.

But long-term population

projections show future water

demand for Hamilton and

the wider region will exceed

HCC's existing allocation

beyond 2044. So in future,

Hamilton will have less – if

any – water to spare, and will

need to secure additional water

from the

"If Watercare gets a 35-year

consent, there will be limited

availability of water in the

Waikato River which potentially

locks Hamilton and

Hamilton industry out of a critical

resource," Southgate said.

"Hamilton and the Waikato

contribute a huge amount to

the national economy and we

need to continue doing that."

The city's position is supported

by economist Dr Doug

Fairgray of Market Economics

who provided expert evidence

to the Board. He notes Watercare's

economic evidence

focuses almost exclusively on

what the proposed take would

mean for Auckland's medium-term

economic future. He

says there is minimal consideration

of implications for economies

and communities in the

Waikato, and of the long-term

and very long-term implications.

Southgate however remains

confident a "pragmatic and

workable" solution will be

found that meets Auckland's

needs, while protecting the

city's economy and the health

of the river.

In its evidence, Hamilton

wants to limit the term of the

Watercare consent to 20 years

and ensure that, by the end of

20 years, that water take is substantially

reduced. Hamilton

also wants Watercare to report

on practical steps taken during

the during the term of its consent

to move to an alternative

supply source.

"Watercare says that over

the long-term, an alternative

source of water will be needed

to deal with Auckland's growth

and that is most likely a desalination

plant. What we haven't

seen is a commitment to establish

that alternative within a

defined timeframe." Southgate

said.

She said it is critical that

any decision keeps the health

of the Waikato River "front

and centre".

"Given what's at stake,

economically, environmentally

and culturally, Council

is seeking a solution that will

allow both regions to prosper

on terms that are culturally

acceptable."
---
LIFT OUT

River

Queen

Holcroft

Prestige

WAIKATO REGISTERED MASTER BUILDERS

HOUSE OF

THE YEAR

2021

A supplement of

Waikato Business News

WAIKATO REGION'S TOP HOME BUILDS ANNOUNCED

YOUR SOURCE FOR LOCAL

BUSINESS NEWS IN WAIKATO

Waikato Business News congratulates Supreme New Build Winner

Holcroft Prestige for their outstanding success at the 2021 Waikato Master

Builders House of the Year Awards. We are also proud to congratulate

all other Waikato award winners. See story on page 17.
---
16 WAIKATO BUSINESS NEWS July/August 2021

KEY TO A

SUCCESSFUL

PARTNERSHIP

Masters of quality

Craftsmanship, commitment and care: these are the hallmarks of

every project undertaken by Holcroft Prestige Ltd. We specialise in

high end work and strive to deliver building excellence.

Unit 15/6 Ken Browne Drive, Te Rapa Hamilton 3200

M 027 498 8549 | E nick@holcroftprestige.co.nz

www.holcroftprestige.co.nz
---
HOUSE OF THE YEAR 2021 July/August 2021

17

Holcroft Prestige scoops top Craftsmanship

2021 award among others at Waikato

Master Builders' presentation

A strong commitment to quality and pride in their work has

launched Nick Holcroft and his team at Holcroft Prestige to the

pinnacle of the building industry.

At the recent 2021

Waikato Master

Builders of the Year

Awards, the most coveted

Regional Craftsmanship

Award, and one which Nick

says he has always wanted

to win, deservedly came his

way.

The River Queen residence

also claimed a Gold

award in its category, was

the overall Category winner

and was the overall Regional

Supreme award winner.

It was a huge night for

Nick and his team of 12,

picking up so many special

awards although the company

is no stranger to awards

coming its way as they have

two Supreme Awards already

gracing the office walls.

The home was designed

by Edwards White Architect.

Nick says to start with

they were faced with 'just a

steep bank' down to the river.

"It took a whole bunch

of nine metre poles to shore

up the bank and then after

careful excavations and levelling

we were able to retain

the back wall and create the

building platform" he said.

"I am very proud of our

team who are encouraged

to buy in to all projects we

undertake from the start."

"Another key element to

success in this sector is ensuring

you have great sub-contractors…and

we have."

The hallmarks of every

project undertaken by Holcroft

Prestige Ltd have

always been craftsmanship,

commitment and care.

Nick says: "Whether it's

a stunning new home, like

the one just created, a beach

house, or major renovations

to an existing home, our company

will work alongside

the client to make the dream

come true.

The versatility and skill

base of Holcroft Prestige is

such that they are placed to

deliver diverse projects on

budget and with full consultation

throughout the entire

process.

The versatility

and skill base of

Holcroft Prestige is

such that they are

placed to deliver

diverse projects on

budget and with

full consultation

throughout the

entire process.

Combining masterful

design with modern luxury,

every Holcroft Prestige

home is crafted with quality,

passion and desire.

Winning the major Master

Builders Awards for 2021

speaks volumes about Holcroft

Prestige Ltd.

To get started in style…

Just contact Nick Holcroft:

nick@holcroftprestige.co.nz

Phone: 07 849 9498

Mobile: 027 498 8549

Qualified Tradesman Decorators

Painting • Wallpapering

Interior and Exterior

Proud to be associated with

Holcroft Prestige Builders.

LUKE GILBERT

021 625 478 • luke@wireit.net.nz

www.wireit.net.nz

FOR ALL YOUR ELECTRICAL REQUIREMENTS

Kevin 027 220 2607 | Steve 027 220 2609

sabourke@kinect.co.nz

206067AA

PROUD TO SUPPORT HOLCROFT PRESTIGE

205103AA
---
18 WAIKATO BUSINESS NEWS July/August 2021

CARTERS New Home

$1 Million - $1.5 Million

HOLCROFT PRESTIGE

River

Queen

ST ANDREWS

From the road you can glimpse a subtle

Tidal Drift Coloursteel home built with

simple clean lines and an air of mystery as

it disappears down the sloping gully and

tucks in to the hillside.

The integrated garage

door creates a seamless

vision as you enter

the property, while the use

of extensive cedar makes

the build a work of artistic

genius.

Inside the house the use of

a vaulted ceiling and contrasting

whites and timber products

has enabled the build

to blend beautifully with

the surrounding gully and

Waikato river views which

extend to the North and South

from the huge windows in the

open plan living space.

The full wall of bifold

doors on to the deck provides

the opportunity to invite

nature inside, and the clever

use of louvres gives an all

year round appeal.

The white slats separating

the living space from the

staircase are mirrored perfectly

with the black slats

used to create privacy on the

deck.

The stunning use of skylights

in the main bedroom

and ensuite siphon the natural

light in, while the use of hand

blown Volt pendant lights

above the staircase add soft

ambience to the space.

Photo credit: Paula Smith

Copy supplied by Holcroft

Prestige

KC

GIB STOPPING

Proud to

support

Holcroft

205109AA

PROUD TO BE ASSOCIATED

WITH HOLCROFT PRESTIGE

P: 07 850 1853 | M: 021 889 460

E: office@mcwhannellroofing.co.nz

Kevin 027 278 1198

Prestige

Email kchapman68@live.com

Brent Tupaea

Laser Plumbing Hamilton East

Phone 07 858 4921

hamilton.east@laserplumbing.co.nz

www.laserplumbing.co.nz

Proudly

associated

with Holcroft

Prestige Ltd

205137AA
---
HOUSE OF THE YEAR 2021 July/August 2021

19

Proud to be associated

with Holcroft Prestige Ltd

• Driveway and

carpark construction

• Cartage

• Repairs

• Siteworks

• Drainage

• Bulk excavation,

demolition and

siteworks

• Tarsealing

• All kerbing

requirements

206118AA

Proud to support Nick and the

team at Holcroft Prestige

We design, manufacture & install with attention

to detail and quality workmanship

david@finewoodworking.co.nz

www.finewoodworking.co.nz
---
20 WAIKATO BUSINESS NEWS July/August 2021

Awards a game-changer

for family-owned JCC Build

This year's Registered Master Builders Waikato House of the

Year completion promises to be a game-changer for Hamilton

company JCC Build.

Family owned JCC Build,

just five years old and

growing, beat a strong

field to win the Waikato region

Supreme Renovation Award;

the Renovation $500,000 -

$1-million Award; the Carpet

Mill Lifestyle Award;

and a Gold Award for their

renovation of a home on

Hamilton Lake.

The swathe of awards

comes to the company in just

their second year of entering

the competition. JCC Build

entered for the first time in

2020 to test where the company

stood with its peers and

promptly took out the Regional

Category Winner and a Gold

Award in the renovation up to

$500,000 category.

Business manager Murray

Buchanan says the timing of

the latest awards for such a

new company was "fantastic"

from a business perspective.

"Following on the 2020

The awards

bring enormous

business value

and credibility. It's

great for the team

and encourages

everyone in terms

of what it is we can

achieve.

awards it made sense to have

another go this year. To be recognised

for the level of quality

the team produces has been

very pleasing.

"The awards bring enormous

business value and credibility.

It's great for the team

and encourages everyone in

terms of what it is we can

achieve.

The year-on-year wins are

particularly satisfying for managing

director Will Johnston,

who started JCC Build five

years ago as a "a man with his

van" before quickly growing

to four teams on the ground

and an office staff including

two project managers, a quantity

surveyor, and a business

manager.

Will says that "Building is

always better when done as a

team

To be recognised as a

company that produces high

quality workmanship is very

encouraging

Understanding what the client

wanted was the key to the

success on this project

I am extremely proud of

how our team works together

to provide a great building service

to each of our clients"

Build foreman Deryk Print

was responsible for transforming

the tired 1950s brick-andconcrete-tile

home situated

down a shared right of way.

"It was challenging to

say the least. Site access

was tight and steep, with

limited parking.

"It was quite remarkable

that the build plans were both

beautifully hand drawn but

also challenging to work off

as they didn't capture everything

the client wanted. There

was a lot of working and collaborating

with the client and

sub-trades and navigating challenges

on site.

"The true tale is there to

be seen in the before-and-after

photographs of the original

180sqm house and the 230sqm

makeover. No surfaces were

left untouched. The concrete

tiles on the roof were removed

one at a time, the brick cladding

stripped and the all the

interior lining taken out.

"The highlight of the job

for me as a builder involved

placing steel portals and to

construct the exposed spruce

trusses which we had to engineer

on site using brackets

especially made up for the job.

Each of the visual trusses had

to be lifted into place by a team

of five, as we could not get a

hi-ab on site."

One of the "wow factor

accents" commented on by

judges was the exterior river

stone detailing on the buttresses

and chimney. While

the stones are manmade, each

one had to be individually

selected, adjusted and placed

by a mason.

Deryk says the most challenging

aspect of the build was

the detailed black panelled

buttress-and- gable design.

"There were a lot of flashings

that had to be installed,

it was truly a brain tease, and

we had to come up with our

own solutions."

And, he says, the renovation

faced the usual challenges

in the weather and the

mud. "But that just makes

the win all the better. When

you journey those builds, and

they are a battle, the awards

are very neat."

Judges noted the JCC Build

team, which specialises in renovation

and extensions, had

applied their skill and craftsmanship

to every corner of the

house while maintaining ties to

the original home.

"No part of this home has

been left untouched," the

judges said. "It has increased

in size and been completely

revamped with some clever

touches and details. One of the

most striking features is the

negative-detailed black panelled

buttress and gable design.

"New exterior cladding and

windows have given the house

a whole new look that pairs

nicely with the large courtyard,

pool, and garden."

Contact:

Murray Buchanan

(business manager)

Phone: 027 522 1159

Email: murray@jccbuild.nz
---
Renovation $500,000 - $1 Million

JCC BUILD

We were employed to

increase the size of the home,

but also modernise it to the

clients specific requirements.

The site is off a shared

driveway and had limited

access, which

created plenty of on site construction

challenges for us to

overcome.

No part of the home was

left untouched and has many

bespoke details.

We had to collaborate with

the owner, designer and other

trades on site to ensure the end

result was to our clients expectations.

The owner is delighted with

the finished result

Copy supplied by JCC Build

Photo credit: Debbie Moore

No Stone

Unturned

HAMILTON LAKE

Proud

to be

associated

with JCC

Builders

Proud to work with the team at JCC

Build. Thanks for choosing us to work

with you on this project.

@finessetiling

www.leadingedgeelectrical.co.nz

0800 453 234

206042AA
---
22 WAIKATO BUSINESS NEWS July/August 2021

The Smart Home Revolution

The start of the computer revolution was back in the 1950's where

big and bulky mainframe computers took up a whole room and

had to be programmed with a punch card. They were used to

automate Accounts and Payrolls.

Then by the 1980's to

2000 the second revolution

started when we

began to have desktop computers

in the office, and then came

the home PC.

The third revolution was

the mobile one which reduced

them in size to be able to fit in

our pockets, so we could take

them anywhere and use them

on the go.

Now the next shift has

started and in our homes, smart

assistants like Google Home

or Amazon Echo are steadily

colonising our personal spaces,

along with home automation

for smart lighting and security

systems. There were over 640

million of these units sold last

year and the market will be

doing twice that by 2023.

By that time we can expect

something like a 50% growth

in sales of wearable devices

like smart clothing and fitness

trackers- a huge market that

Apple is looking to – where it

will be approaching 300 million

units a year.

As for the workplace AI is

starting to take hold where it

is transforming factories and

production lines. Sometimes

referred to as the forth revolution

or industry 4, this sector is

forecast to double to over 150

billion by 2023 and over a Trillion

dollars by the early 2030's.

Tech companies will increasingly

seek to improve our lives

with this explosion of smart

devices that will be crunching

the sensor data from all this hardware,

as well as all the activities

that we do on our smart phones.

There are also plenty of start-ups

staking out their territory in this

new frontier.

When it comes to your home

it is important to know what

you want and when you "don't

know what you don't know"

the best thing is to talk to a

company that is experienced

in security systems before you

build and not settle for a one

size fits all approach that some

builders and electricians install

as a part of a package.

Your Security System is a

personal thing and needs to be

researched correctly to make

sure you know what you want

and how you are going to use

it - because it's no good having

one installed if it's too hard to

use, that would just be a waste

of money.

Smartway Security and

Technology have been installing

CCTV for over 19 years

and Monitored Security

Alarms for longer than that.

Why don't you give them a

call and let them help you to

understand how you can protect

what is important to you.

Remember "Experience the

Difference because the Difference

is Experience.

Call and speak to the

team at Smartway today on

0800 93 63 63

Smart Homes are here!

How connected are you? No matter what you think you want to automate now,

there is always more that you will find you want to add on later,

so at least plan now with the ability to add more when it becomes available

Smartway Security & Technologies are

able to help you design and install your

security and surveillance requirements in

to your home or office.

Operate it on your smart devices from

anywhere in the world.

Check your cameras from Cambodia

Arm your Alarm from Armenia or

Monitor your Alarm from Mongolia!

Smartway can help you stay connected.

We are your one stop Shop for all

your Technology and Security Requirements:

• Security Alarms

• 24/7 Monitoring

• Access Control

• Gate Alerts

• CCTV Surveillance Systems

• Data & Fibre Networks

• Local & Long Range Wi-Fi

& Wireless Data Networks

Plus many other types of Electronic Surveillance

products!

Experience the Difference - because the Difference is Experience

Call the Team at Smartway today

and see how we can help YOU?

Hop into our Demo Truck and see the cameras in action

0800 93 6363

Sales@smartway.co.nz
---
•

Registered Master Builders House of the Year

•

HOUSE OF THE YEAR 2021 July/August 2021

23

Awarding winning, high quality homes with an excellent reputation

Waikato

E: justin@jabellbuilding.co.nz P: 029 474 6414

www.jabellbuilding.co.nz
---
24 WAIKATO BUSINESS NEWS July/August 2021

New Home $1.5 Million - $2 Million

JA BELL BUILDING

Peaks of

Perfection

CAMBRIDGE

Conceptually designed by Leusche

Group Architects, Auckland and drawings

completed by Studio4Architecture,

Hamilton. This beautifully designed and

crafted home has everything a family could

ask, walking distance to schools, urban

design suitable for living and working

creating mixed used homes in a popular

Cambridge suburb.

The clients brief was to

create a pavilion style

home for their growing

teenagers, enabling separate

upstairs and downstairs living

areas for adult and teenage

time.

Clad in a mix of RK55 vertical

grain cedar and midland

elongated euro Largo black

brick, gives this home a sense

of simplicity and sophistication,

assisted with the flush

cedar garage door.

Five bedrooms, with three

having ensuites makes having

guests to stay an ease.

The main living was created

with two stunning built-in

libraries maximising the seven-metre

ceiling, set off by

five-metre-high remote operated

drapes and a gorgeous

pendant reflecting beautifully

on its surroundings. Upstairs

living is functional and far

enough away, but not too

far, with light reflecting from

vertical American Oak slats

forming the handrail.

Kitchen designed by Robyn

Caldwell, connects beautifully

with indoor-outdoor flow,

while not being too overstated

for everyday living.

Garage wasn't left out

of the design either, using

Okume Ply staggered with

negative detail creating a luxurious

look.

Just when you think the

home is complete the future

planning is underway for the

northeast pool area.

Photo credit: Amanda Aitken

Copy supplied by JA Bell

Building

We take pride in our work and are proud

to support JA Bell Building Limited.

WILTON

CONTRACTING LTD

PAINTING PROFESSIONALS

WCL

STOP THE WORLD

PLASTERBOARD PROFESSIONALS

LUKE GILBERT

021 625 478 • luke@wireit.net.nz

www.wireit.net.nz

FOR ALL YOUR ELECTRICAL REQUIREMENTS

www.wclgroup.co.nz

PROUD TO SUPPORT J.A. BELL BUILDING

205106AA
---
HOUSE OF THE YEAR 2021 July/August 2021

25

EARTH MOVING

• Sand pad dig outs

• Sand and metal fill

• Site preparation

• Digger and

truck hire

NZ Louvres Ltd are proud to be

associated with J.A. Bell Building

Ph: 0274 755 700 or 07 854 1491

221 Crawford Road, Horotiu | topsoilandsand@gmail.com

Proudly supporting J.A. Bell Building
---
26 WAIKATO BUSINESS NEWS July/August 2021

Peaks of

Perfection

CAMBRIDGE

CONGRATULATIONS J.A. BELL BUILDING

41-45 Albert Street, Cambridge | 07 827 6460 | www.carters.co.nz
---
The Drug Detection Agency

Now partnered with occupational

medical services arm, Health Tick.

Health Tick was successfully trialled last year in a limited number of New Zealand

workplaces. And we're delighted to expand these service across additional regions

At Health Tick, we help manage and mitigate work-related health issues in your business.

We provide proactive workplace health procedures to ensure your employees are fit for

work and that you are meeting your legal and compliance requirements.

Health Tick offers a range of health monitoring services to address your company's

specific health risks, including hearing and vision screenings, lung function testing,

musculoskeletal assessment, blood pressure check, cholesterol check, blood glucose

testing, BMI check, and in limited regions flu Vaccinations.

Our occupational health nurse is taking bookings for pre-employment medicals, annual

health monitoring and exit medicals. Your staff may come to our clinic, or you can book

our mobile van for onsite visit.

Health Tick uses the easy online booking and reporting system Imperans, its onlineportal

delivers testing results fast and is more secure for you and your workers. It also collates

data, provides trends, identifies areas of concern and provides you with detailed

information to manage the health and wellbeing of your team.

To learn more about how Health Tick can be a part of your health and wellbeing

programme, visit us at thehealthtick.com, email us at info@thehealthtick.com

or call us on 0508WELLNESS.

About us: The Drug

Detection Agency

The Drug Detection Agency (TDDA) is Australasia's complete solution provider for all

workplace drug policy, education and testing needs. Our end-to-end services provide our

clients with a level of comfort in relation to creating a safer workplace together.

TDDA started in 2005, and was conceived in order to supply a specialised service to

companies that were conducting workplace drug and alcohol testing or looking at doing

so within their own organisation.

In March 2008, the Standard AS/NZS 4308:2008 was released after TDDA had

submitted public comment in respect of on-site screening. Over the ensuing years TDDA

worked diligently to ensure compliance to the drug testing Standard and in August 2010

became the first workplace drug testing company in New Zealand to have received

International Accreditation of New Zealand (IANZ) ISO 15189 accreditation to the AS/NZS

4308:2008 drug testing Standard. Proving our dedication and quality to our customers,

TDDA went on to have each of our 20 offices around New Zealand independently

accredited by IANZ under ISO 15189. Making TDDA the only truly nationally accredited

organisation throughout New Zealand.

In 2011, after strong demand from our clients to have the same high quality service for

their Trans Tasman operations, TDDA expanded into Australia.

To ensure we met our clients expectations TDDA worked hard to replicate our systems

and processes and were pleased to announce gaining further accreditation from the

National Association of Testing Authorities (NATA) within our Australian operations.

This has been significant for both TDDA and our clients, as we are now the only New

Zealand and Australian drug testing provider to have received accreditation from both

IANZ and NATA respectively for both AS/NZS 4308:2008 (NZ, Aus) and AS 4760-2019

(Aus) drug testing Standards.

TDDA now comprises 40 branches throughout Australia and New Zealand with specialist

on-site testing vehicles and qualified collecting and screening staff providing a truly

international service.

Our team is extremely knowledgeable about the illicit drug industry and its negative

effects. With over 16 years of operation TDDA has forged an excellent reputation with our

clients through our world-class services.

When you deal with TDDA you can be confident you are getting services that offer

superior methodology, an adaptable attitude, people who genuinely care about what they

do and internationally recognised standards of quality.

POLICY DESIGN

Having a fair and effective Drug and Alcohol Policy in the workplace is at the

core of creating a quality drug-testing regime. This is the start of creating a

drug-free environment.

It is now commonplace for companies to have a drug and alcohol policy.

However like any company policy the Drug and Alcohol Policy should be

reviewed as new cases are brought before the Employment Courts bringing with

them new decisions and requirements relating to drug testing in the workplace.

TDDA is recognised as the industry leader in on-site workplace drug and alcohol

testing. TDDA has seen many of the pitfalls companies have fallen into from not

heeding expert advice and rushing into testing their employees without sound

advice from the experts.

TDDA has been involved with a large number of Australasian companies

implementing drug and alcohol policies into their workplace.

TDDA offers a turn-key program which allows your company to become drug

free and a safer workplace. TDDA will tailor your policy to meet your company's

specific needs and requirements.

TDDA helps you to send a clear message to employees about the purpose of

the drug screening programme with assurances that it will be administered fairly.

We work with you throughout the process, from policy design through referral

to making available an Employee Assistance programme. Comprehensive

on-site Drug and Alcohol Training and education packages are available for both

employees and management.

REVIEW: TDDA will assist in reviewing any current Drug and Alcohol policy to

ensure its relevance in today's environment of ever changing legislation and

case law.

DEVELOP: No two workplaces are the same and your Drug and Alcohol policy

needs to reflect who you are as an organisation. We develop policies to fit your

specific needs and those of your workforce.

CONSULTATION: TDDA assists our clients in any policy consultation as

required. Having our expertise on hand during the process is worth its weight in

gold and will save you valuable time and money.

CREATION: TDDA have the relevant knowledge and networks in workplace

health and safety (WHS) to create a Drug and Alcohol policy, tailored specifically

for your organisation.

27 Euclid Ave, Te Rapa, Hamilton | Bookings email: waikato@tdda.com | www.tdda.com

GRAEME SMITH - GENERAL MANAGER 0274 881 364 | 07 850 5056 | graeme.smith@tdda.com
---
Rodney Stirling

30 WAIKATO BUSINESS NEWS July/August 2021

WINNERS

Waikato Registered Master Builders

2021 House of the Year

Resene New Home over $2 million

Gold and category: SJR Builders

Builder's Own Home Stirling

Rodney

Gold and category: NuVista Homes | Waikato

Gold: Waikato Build

CARTERS New Home $1 million to $1.5 million

Stirling

Rodney

CONCRETE GRINDING, POLISHING & SEALANTS / COATINGS FOR FLOORS & WALLS

EXPERT

Gold and category: Holcroft Prestige

Gold: Urban Homes

Gold: Brown Construction Ltd

Gold: Design Builders (Waikato)

EXPERT CONCRETE GRINDING, POLISHING & SEALANTS / COATINGS FOR FLOORS & WALLS

Altus Window Systems New Home

$750,000 to $1 million

Gold and category: Beeson Brothers Ltd

Gold and category: Hill Homes

Gold and category: Mason and Mason

Building Contractors

Silver: Grant Stewart Building

Volume/Group Housing new home

$450,000 to $750,000

Gold and category: Sentinel Homes Waikato

Bronze: Anthem Homes

GIB Show Home

Gold and category: Urban Homes

Silver: Anthem Homes

Bronze: Jennian Homes Cambridge

Supreme Award Waikato Registered Master

Builders House of the Year 2021

J.A. Bell Building - PEAKS OF PERFECTION

New Home $600,000 to $750,000

Gold and category: McIndoe Construction

Gold: Brown Construction Ltd

Silver: Urban Homes

Silver: Beach House Builders

New home $450,000 to $600,000

Gold and category: Linecrest Homes

Silver: Spratt Construct

Holcroft Prestige

Waikato Supreme Renovation Award

JCC Build

Craftsmanship Award

Holcroft Prestige

Lifestyle awards

Bunnings Renovation over $1 million

Professional &

Considerate

Gold and category: Lobell Construction

is Consistent, Reliable,

Considerate

Renovation $500,000 to $1 million

Professional &

Our team

Reliable,

Consistent, is

Gold and category: JCC Build

Outdoor Living Excellence Award: Hill Homes

Carpet Mill Interior Design Award: JCC Build

Plumbing World Bathroom Excellence Award:

SJR Builders

APL Sustainable Excellence Award: Design

Builders

Kitchen Excellence Award: Mason and Mason

Building Contractors

Waikato Build - U R SO BEAUTIFUL

Certified Contractor

Certified Contractor

Superfloor

HTC

TM

HTC

Superfloor

TM

NuVista Homes - BIG ON STYLE

Our team

Our team

is Consistent, Our

Our team

Reliable,

is Consistent, Our team

is

is Consistent, Our teamReliable,

Professional

is Consistent,

Our team

Reliable,

&

is Consistent, Professional

is Consistent, Professional Our teamReliable,

Reliable,

Considerate

Reliable,

&

is Consistent, Professional

Professional Considerate

Professional Considerate Reliable,

&

Professional Considerate

Considerate

Considerate

Considerate

WE ARE THE BEST

HTC

HTC Superfloor

HTC

Superfloor TM

TM

HTC Superfloor TM

HTC Superfloor

HTC

TM

TM

Superfloor TM TM

HTC Superfloor TM

HTC Superfloor TM

Superfloor TM

Certified Contractor

Certified Contractor

Certified Contractor

Certified Contractor

Certified Contractor

Certified Contractor

Certified Contractor

Certified Contractor

Certified Contractor

Our team

EXPERT CONCRETE GRINDING, POLISHING & SEALANTS / COATINGS FOR FLOORS & WALLS

EXPERT CONCRETE GRINDING, POLISHING & SEALANTS / COATINGS FOR FLOORS & WALLS

EXPERT EXPERT Rodney CONCRETE CONCRETE GRINDING, GRINDING, Stirling

POLISHING

POLISHING & SEALANTS SEALANTS / COATINGS FOR FOR FLOORS FLOORS & WALLS

WALLS

EXPERT CONCRETE GRINDING, POLISHING SEALANTS / COATINGS FOR FLOORS & WALLS

EXPERT CONCRETE GRINDING, POLISHING & SEALANTS COATINGS FOR FLOORS WALLS

Rodney Stirling

Stirling

Rodney

Rodney Stirling

Rodney Stirling

www.thepolishedconcretecompany.co.nz

www.thepolishedconcretecompany.co.nz

EXCELLENCE IN EXECUTION

200433AA 200433AA
---
HOUSE OF THE YEAR 2021 July/August 2021

31

GIB Show Home

Life & Style

ROTO-O-RANGI

Taking lifestyle to another level,

Urban Homes' Pukekura show home

encapsulates a modern, rustic style in a

comfy family home.

Designed with generations

in mind, this

352sqm house is an

exemplar of craftsmanship and

showcases the Waikato builder's

passion for perfection.

Classic corrugated iron

roofing is paired with boardand-batten

cladding to evoke a

black barn look, while textured

Italian feature bricks, crisp

white joinery and bespoke

doors make a striking interior

statement.

Designed to enhance both

life and style, Pukekura's modular

layout features four large

bedrooms and three living

areas, providing flexibility and

privacy for all the family.

The central kitchen and

dining area are at the heart

of this high-end home and

are wrapped in excellence by

the special feature surrounds,

including a glazed brick

entrance wall, painted decorative

cladding, an eclectic

wallpaper mix and black and

copper fittings.

Each illustrates Urban

Homes' commitment to blending

style with functionality to

deliver a masterpiece.

The interior beauty flows

into the expansive outdoor

living area. Kwila decking and

triple-car garage tie the bow on

this impressive home.

0800 MYURBAN | urban.co.nz

Photo credit: Jayden Keoghan

Supplying award winning joinery to Urban Homes

www.brewerjoinery.co.nz

0800 FAIRVIEW

Brent Tupaea

Laser Plumbing Hamilton East

Phone 07 858 4921

hamilton.east@laserplumbing.co.nz

www.laserplumbing.co.nz

Proudly

associated

with Urban

Homes

206031AA
---
32 WAIKATO BUSINESS NEWS July/August 2021

CARTERS New Home

$1Million - $1.5 Million

Height

of Style

FLAGSTAFF

Beautiful views of the Hakarimata Range

can be enjoyed from this 401sqm house,

but it's the lifestyle this property provides

that is a thing of beauty.

Streamlined, sophisticated

and sublime, coloursteel

is teamed with pine cladding

and complemented with

sharp, clean lines to create

a striking and contemporary

design.

Five bedrooms, three

bathrooms and three living

spaces add up to a spacious

and eye-catching two-storey

family home.

Three living spaces

enhance the indoor-outdoor

living and open to Kwila

decking completed with craftsmanship

of the highest level.

The split-level pool adds the

ultimate in enjoyment.

Everything you could possibly

want for modern family living

can be found in this home,

which is complete with the

owner's eclectic style: in-wall

surround speakers, polished

concrete floors, underfloor

heating and solar panels.

Floral wallpaper and layered

tiling add the wow factor

to the vintage hues in the bathrooms.

Even the laundry has been

given star treatment with peach

hexagonal tiles.

Top billing goes to the

kitchen. The island waterfall

bench, timber bulkhead with

light fixtures, tiles on the island

and splashback, and dark cabinetry

create impeccable flair.

0800 MYURBAN | urban.co.nz

Photo credit: Zee Combrink

Proudly supporting

Urban Homes

Get in touch with us now...

0800 728 337
---
HOUSE OF THE YEAR 2021 July/August 2021

33

Volume/Group Housing New Home up to $450,000

Designed

to Align

CAMBRIDGE

A symmetry of style is at the centre of

this modern 209sqm family home, which

evokes a calm and restful ambience for

family and friends to enjoy.

Indoor-outdoor flow, multiple

living areas and

kwila decking out back

and front, create space for

a multitude of uses, from

entertainment to relaxation

to play – there's space for

everyone and everything.

Exposed Rangitikei

concrete at the rear of

the home, which sets the

scene for a mini Burton

outdoor fire, contrasts

sympathetically with the

Sioo:x Abodo finish and

black mortar Tenerife brick.

An up-spec'd garage – a

dream come true for some –

boasts insulated internal and

external walls, double-glazed

joinery, garage carpet, an

insulated flat-panel garage

door and a smart TV.

Spacious in design, this

four-bedroom, two-bathroom,

multi-lounge home

includes burnished concrete

floors, tiled bathroom and

ensuite floors and an engineered

stone kitchen bench.

The home's interior bohochic

vibe showcases the

owners' vision for a retreat in

which to relax, unwind and

enjoy quality family time.

0800 MYURBAN | urban.co.nz

Photo credit: Jason Tregurtha

Wardrobes • Office Solutions

Storage Systems

Entertainment Units

Garage Storage • Sliding Doors

Our team would like

to congratulate Urban

Homes on all their hard

work and success.

P: 07 850 9959 • E: info@waikatowardrobes.co.nz • www.waikatowardrobes.co.nz

• CONCRETE: exposed, plain, coloured

• RETAINING • FENCING • DECKING

PROUD TO BE ASSOCIATED WITH URBAN HOMES

07 846 9273 or 027 250 1001

info@kmdesigns.co.nz | www.kmdesigns.co.nz
---
34 WAIKATO BUSINESS NEWS July/August 2021

New Home $600,000

- $750,000

Delight in

the Details

ŌHAUPŌ

Striking in detail, this stunning home

is tucked away in a secluded spot on the

outskirts of Hamilton, but there's nothing

hidden about its many outstanding

features and merits.

The architecturally vdesigned,

203sqm home is

a celebration of textures

and contrasts – evident in its

striking exterior.

A combination of timber

Abodo slats, corbelled brick

and strong lines, make it a

standout. By night, there's

something extra special about

it – underlights illuminate

the outdoor entertaining area.

The open-plan living in this

three-bedroom, two-bathroom

home creates space and harmony

between residents and

guests alike.

Strategically placed interior

framing with a high stud

gives the heart of the home a

feeling of space and height.

The oak and black kitchen

with scullery boasts an engineered

stone bench, contrasting

spectacularly with the

heavy-grind concrete flooring.

Flow is natural through

the use of sliding doors and

enhanced by earthy neutral

shades throughout. A

home to celebrate, an exemplar

of architecture and

craftsmanship.

0800 MYURBAN | urban.co.nz

Photo credit: Zee Combrink

INTELLIGENT LEGAL DESIGN

Lawyers at Waikato Innovation Park

Proud to be associated with Award Winning

Builder Urban Homes

International | Commercial | Business & Private Wealth

United Kingdom

Europe

South East Asia

New Zealand

Waikato Innovation Park, Hamilton

Ph. +64 7 857 0900 | www.gclegal.co.nz

Proud to support Urban Homes

Email: office@ppdecorating.co.nz

202754AA
---
HOUSE OF THE YEAR 2021 July/August 2021

35

You're invited to experience our homes

Hamilton | Cambridge | Whitianga

0800 MY URBAN | urban.co.nz/showhomes
---
36 WAIKATO BUSINESS NEWS July/August 2021

Altus Window Systems New

Home $750,000 - $1 Million

BEESON BROTHERS

Let There

Be Light

TE AROHA

Coming home to this address means

soaring to lofty heights.

A

key feature of the

build is a roofline that

reaches for both sun

and view, offering a sense of

majesty. Throw in high-level

glazing, and the nett effect

is an embrace of all the light

that can be harnessed, drawing

it deep into the 272sqm

home.

Such warmth and style is

compelling, but there's plenty

to enjoy and explore outside,

too.

For starters, take a look at

the cladding: a mix of vertical

random western red cedar

and dark panelling provides a

striking exterior.

The inside living and dining

spaces flow seamlessly

onto large north-facing decks,

which are both covered so

that whatever the weather,

there's somewhere to enjoy

alfresco dining.

The mountain and rural

views here are a delight.

Three well-appointed bedrooms

and two stylish bathrooms

maintain the sense of

grandeur within.

The warmth of this idyllic

property is enhanced by the

astute use of wood panelling

on walls and ceilings, as well

in the lounge where it surrounds

the built-in fireplace

and TV.

Copy supplied by Beeson

Brothers

Photo credit: Bill Hedges &

Caro Genet

A PROVEN TRADITION

OF BUILDING EXCELLENCE

IN WAIKATO

WE OFFER A FULL RANGE

OF BUILDING SERVICES

AND WE ARE HERE

TO HELP YOU

Dan Beeson P 027 550 0727 E dan@beesonbrothers.co.nz

Lawrence Beeson P 027 632 8531 E lawrence@beesonbrothers.co.nz

Beeson Brothers Limited, PO Box 273, Te Awamutu 3840 | www.beesonbrothers.co.nz

206005AA
---
Your trusted Local Air

Conditioning Contractor

Looking for a licensed contractor for your project?

Waipa Heatpumps Ltd is the best Air Conditioning

Contractor in the Waipa area, offering clients

professional, reliable and safe contracting

services. We are an accredited installer of

Mitsubishi and Daikin air conditioning. Call today

to discuss your heating and ventilation.

20 YEARS

EXPERIENCE

Domestic & Commercial

Air conditioning • Heatpumps

Home Ventilation • Servicing

Filter Maintenance & Replacement

027 500 2956

www.waipaheatpumps.com

Come and view our new showroom at 72 Lyon St, Kihikihi

Showcasing top2 #1 sellers Daikin & Mitsubishi
---
38 WAIKATO BUSINESS NEWS July/August 2021

Let There

Be Light

TE AROHA

Architectual | Commercial | Residential

WWW.PRESTIGEGROUP.CO.NZ 0800 773 313

Our people, our passion, our products

MAKE THE DIFFERENCE

Proud to be associated with award winning

Beeson Brothers

0508 ALITECH (254-8324) www.alitech.co.nz
---
HOUSE OF THE YEAR 2021 July/August 2021

39

New Home $450,000 - $600,000

LINECREST HOMES

Whole

Lotta Love

CAMBRIDGE

Sitting proudly on a corner site is this

226sqm home that catches the eye of

passers-by.

It's probably the attractive

mix of claddings – vertical

golden cedar, which

contrasts nicely with horizontal

weatherboard in light grey

and vertical board in black.

But if you think it looks good

on the outside, wait until you

step inside. The cedar feature

wall in the entryway brings

the outside in and illustrates

the level of detail you can

expect to find through the

rest of this four-bedroom,

two-bathroom home.

You'll find an entertainer's

kitchen that is both beautiful

and family friendly

– stone benchtops, a large

scullery, quality appliances

and loads of storage.

The spacious main living

area, the heart of the home, has

a higher-than-usual stud height

and opens to the sun-drenched

outdoor living area.

Bathrooms, in sophisticated

black and grey, have

stylish black tapware, feature

lighting and underfloor

heating for when the

weather is chilly. With a carpeted

double garage, a large

separate laundry and a second

living space, this home,

designed with the modern family

in mind, is easy to love.

Photo credit: Jason Tregurtha

Copy supplied by Linecrest

Homes

Our company philosophy is to complete everything

to a standard we are proud of, and to build homes

that we would be happy to live in ourselves.

With more than 20 years of experience in the

industry, we've built great relationships that we

really value. We believe life is too short not to enjoy

the people you work with!

If you'd like to discuss your next home,

get in touch. We'd love to chat!

Linecrest Homes are opening their first

show home in late August 2021. Located in

Pukekura, Cambridge, this beautiful home is sure

to impress. Check out their social media for

opening days and times.

Nikki 027 347 0334 Luke 027 267 6843

Email office@linecresthomes.co.nz
---
Whole

Lotta Love

CAMBRIDGE

Text proud to be associated with

Linecrest's award winning home

Proud to support Linecrest Homes P 021 969 208 tilingnelson@gmail.com

Hayden McFarlane Ph: 0220 873414

your guarantee of excellence

Proud to be associated with Linecrest Homes

Congratulations on your recent awards

0800 DO IT ALL

36 48 255

Consulting Engineers, Planners & Surveyors

Hamilton | Tauranga | New Plymouth

0508 223 476 bcdgroup.nz

24 HOUR SERVICE | www.soel.co.nz

Do It Once Do It Right
---
HOUSE OF THE YEAR 2021 July/August 2021

41

Hill Homes are custom home

builders located in beautiful

Cambridge, New Zealand and

service the larger surrounding area.

Chris & Rachel run Hill Homes and

are always excited to help make

your build happen, on time, on

budget and to a high quality finish.

E hillhomesltd1@gmail.com

www.hillhomes.co.nz

0210 264 3750

206015AA
---
42 WAIKATO BUSINESS NEWS July/August 2021

Altus Window Systems New

Home $750,000 - $1 Million

HILL HOMES

Holiday

at Home

ST KILDA

If you want an architecturally designed

home with a relaxing resort vibe, look

no further.

This 290sqm four-bedroom

house delivers

the quintessential holiday-at-home

feeling.

It helps that there's an

open-plan living and dining

space that spills into a covered

entertaining area, onto

hardwood decking and out to

a pool. Bliss.

The cedar and steppedbrick

pavilion house also

offers unparalleled family

living. The main living

area has cedar cladding, and

walls of bold blue bringing

to mind beachy days and sky.

The large designer kitchen

has an outdoor servery, and

perfectly meets the clients'

design brief for seamless

indoor-outdoor flow. This is

also achieved with expansive

stacker doors that invite occupants

to throw them open and

sample the delights outside.

You'll also find two bathrooms

– the main room has an

ensuite and a walk-in wardrobe

– a children's playroom,

a reading nook and a separate

laundry leading to a double

garage. Vertical shiplap cedar

and brick veneer on the exterior

reinforce the holiday vibe.

This elegant home is the perfect

family sanctuary – one

that truly is a cut above.

Photo credit: Jason Tregurtha

Copy supplied by Hill Homes

Congratulations

to Hill Homes

Proud to support Hill Homes P 021 969 208 tilingnelson@gmail.com

Ph 07 855 0001 Email info@wpgltd.co.nz

Treetown Kitchens are

exerts in kitchens and

interior joinery solutions.

We have worked in

homes and commercial

spaces throughout

Cambridge and the

wider Waikato region for

over 50 years, designing

and building high quality,

custom built kitchens

and cabinetry.

Proud to support Hill Homes

www.wpgltd.co.nz

07 827 7309

info@treetownkitchens.co.nz

www.treetownkitchens.co.nz
---
HOUSE OF THE YEAR 2021 July/August 2021

43

027 826 3739

admin@aielectrical.co.nz

New Homes | Renovations | Commercial

Heat Pumps | Electrical Service & Maintenance

NZ Louvres Ltd are proud to

be associated with Hill Homes

www.aielectrical.co.nz
---
44 WAIKATO BUSINESS NEWS July/August 2021

CONGRATULATIONS HILL HOMES

41-45 Albert Street, Cambridge | 07 827 6460 | www.carters.co.nz

Holiday

at Home

ST KILDA

Wardrobes • Office Solutions

Storage Systems

Entertainment Units

Garage Storage • Sliding Doors

Our team would like to

congratulate Hill Homes

on all their hard work

and success.

Supplying award winning

joinery to Hill Homes

P: 07 850 9959 • E: info@waikatowardrobes.co.nz • www.waikatowardrobes.co.nz

www.brewerjoinery.co.nz

0800 FAIRVIEW
---
HOUSE OF THE YEAR 2021 July/August 2021

45

Altus Window Systems New

Home $750,000 - $1 Million

MASON & MASON

BUILDING CONTRACTORS

Loving the

Lake Life

KARAPIRO

This contemporary, cedar-clad podstyle

home is enviably positioned on the

banks of Lake Karapiro with views most

of us only dream of.

The design incorporates

three pods: the home,

a standalone boat shed,

and a detached double garage

linked by a covered breezeway.

The 325sqm house has been

orientated to take advantage

of the tranquil lake views and

capture maximum sunshine.

A beautiful open fire sits on

a custom-built concrete hearth,

which was poured in situ, and

is the focal point in the living

and entertaining area. Polished

concrete flooring was used

in the main living areas for

its practicality and durability,

while carpet provides comfort

and warmth in the bedrooms.

Large sliding doors are

flush and open to a selection of

covered decks and courtyards,

providing all-weather options

for shelter, relaxation, and

entertaining.

The modern black kitchen

with clean lines and subtle

accents of cedar and brass

provides a practical space in

which to work and entertain,

while also complementing

both the interior and exterior

decor.

Photo credit: Jason Tregurtha

Copy supplied by Mason &

Mason Building Contractors

Excellence from design to completion, Mason & Mason,

specialises in all aspects of building; from new architecturally

designed residential homes, renovations & additions to

commercial fit outs. Trust us with your next project.

Mason & Mason Building Contractors LTD
---
46 WAIKATO BUSINESS NEWS July/August 2021

redarchitecture.co.nz

McDonald Interior Plasterers Ltd

Interior Plastering Specialists

Stopping Gib Board | Fix & Stop Gib Cove

Fibrous Plaster Ceiling | Decorative Mouldings

Safety is our priority

We take safety seriously.

All our installers are certified, we pride

ourselves in doing a professional job.

We have robust measures in place to test

our nets and track their usage to ensure

the safety of our clients.

Congratulations to Will and

Nick for their Gold Award

Call us on 0274 682422

Waikato & Bay of Plenty

Proud to support Mason &

Mason Building Contractors

Phone: 07 828 7795

Haydn: 027 473 5686 | Don: 027 473 5681

Email: mcdinterior@yahoo.com

Proud to support Mason & Mason

Building Contractors

Email: office@ppdecorating.co.nz

ALL WORK GUARANTEED

206158AA
---
HOUSE OF THE YEAR 2021 July/August 2021

47

New Home $1.5 Million - $2 Million

DESIGN BUILDERS

All Systems

Are Go

HORSHAM DOWNS

This spacious & stylish home has been

designed for the needs of a growing family.

At 451m2 with 5 sunny

bedrooms, 3 bathrooms,

multiple living

spaces, wine cellar and

gym, everything has been

thought of.

A tennis court along with a

newly installed pool for endless

summer enjoyment completes

the package.

The heart of modern living,

the open plan area with

the 3.6m stud height creates a

wonderful feeling of light and

openness.

While cleverly designed

areas can be closed off creating

more intimate spaces. The

focal point of the stunning

kitchen (complete with scullery)

is the large 4.3m long

island with Polished Granite

Stone benchtop catering to

everyone, from the kids helping

mum to bake to hosting

large gatherings. Opening the

pillar-less glass doors to the

outdoor living room creates

a great flow for year-round

entertaining. The clever use

of the Natural Blue Stone

cladding through the home is

a beautiful feature, tying the

inside and out creating lovely

textural appeal.

While the soft palette

throughout is the perfect backdrop

to showcase the homeowner's

artwork.

The home provides modern

comfort and convenience

with everything a family could

dream of.

Photo credit: Paula Smith

Copy supplied by Design

Builders

PAULA WATERHOUSE DESIGN

your guarantee of excellence

Proud to be associated with Design Builders

Congratulations on your recent awards

0800 DO IT ALL

36 48 255

24 HOUR SERVICE | www.soel.co.nz

Do It Once Do It Right

Kitchen design, bathroom design, bespoke cabinet design,

interior design, exterior colours, spatail design.

P 0275 395 332

E paulawaterhouse@xtra.co.nz

www.paulawaterhousedesign.com

206024AA
---
48 WAIKATO BUSINESS NEWS July/August 2021

CARTERS New Home

$1 Million - $1.5 Million

DESIGN BUILDERS

Down

by the

Riverside

FLAGSTAFF

With the combination of the dark Adobe

exterior cladding & Ebony Coloursteel this

striking contemporary home sits proudly

on its riverside site.

While the site provided

challenges given the

contour of the land,

the results speak for themselves.

As you enter the home

the Shinnoki wall paneling

which cleverly conceals the

entrance to the powder room

leads you into the hub of the

home.

The kitchen boasts a large

scullery, sleek black European

appliances, full height bar

fridge and drinks station, perfect

for all those entertaining

occasions.

Whether you are sitting in

the picture frame window seat,

enjoying your morning coffee

at the dining nook, or relaxing

on the full width deck you can

enjoy the ever-changing views

of the mighty Waikato River.

The Master Suite on the

ground level is a real sanctuary,

with a stylish walk-through

wardrobe to the ensuite with

double shower and luxurious

bath. Venturing upstairs 2 bedrooms

and a bathroom along

with a living area and kitchenette

complete the ideal teenage

retreat.

While keeping functionality

throughout the detailing,

quality and natural flow of this

home creates seamless living.

Photo credit: Paula Smith

Copy supplied by Design

Builders

MANUFACTURE I SUPPLY I MAINTAIN I RETRO-FIT

RESIDENTIAL I CUSTOM I COMMERCIAL

Experts in all single & double glazing

206022AA

Proud to be associated with Design Builders

5 Norris Ave, PO Box 10423, Te Rapa, Hamilton 3241

www.cmglass.nz

Brent Tupaea

Laser Plumbing Hamilton East

Phone 07 858 4921

hamilton.east@laserplumbing.co.nz

www.laserplumbing.co.nz

Proudly

associated

with Design

Builders

203037AA
---
HOUSE OF THE YEAR 2021 July/August 2021

49

Proud suppliers of windows and doors to

Design Builders

Proud suppliers of windows and doors to

Design Builders

Rylock Waikato

Frankton Aluminium 1982 1982 Ltd Ltd

Sales@frankali.co.nz

07 847 4680

rylock.co.nz

Ambient

Electrical

P 0800 855 566 E admin@ambientelectrical.co.nz

• Qualified Tradesman

• Specialist Finishes

• Commercial

• Residential

• Cowsheds

• Painting

• Wall Papering

• Water Proofing

• Solid Plastering

• External Plaster

(E2 lbp)

Looking for a professional, honest and

affordable service? LOOK NO FURTHER!

• Heatpump and Ventilation supply and install

• Electrical Services and Maintenance

• General wiring

The team at Ambient Electrical are

proud to be associated with

Design Builders

P | 0800 855 566 E | admin@ambientelectrical.co.nz

Proud to be associated

with the team at Design Builders.

Ducted central heating and cooling with

iZone control on any budget

J4458P

CONTACT

Wayne Brown (Director)

Phone 027 319 7497

Email Valleycoatings@yahoo.com

Looking for a professional,

honest service?

LOOK NO FURTHER!

206072AA
---
50 WAIKATO BUSINESS NEWS July/August 2021

A home built around you

We design and build one-off architectural homes

that aren't based on existing plans, templates, or

catalogues; instead, we work with you to create a

unique home designed and built just for you,

inspired by you.

The homes we create are all different, but they

start the same way: with a blank sheet of paper

and a client who wants a great original home.

You might think that a home designed and built

the way you want is out of your reach, but with

Design Builders, you can afford to think differently.

Our process is built around you, including your

budget.

We're excited about welcoming you to our next

showhome. It opens later this year, and soon we'll

be letting you know all the details, so you can be

one of the first to experience it.

For a free, no-obligation chat call Jeff Marra at

Design Builders Waikato today on 027 488 0044 or

email jeff.marra@designbuilders.co.nz

designbuilders.co.nz

A home built around you
---
WAIKATO BUSINESS NEWS July/August 2021

51

Venture capital firm champions

indigenous investment

Hillfarrance, a New Zealand based venture capital firm with

offices in Auckland and the Waikato, has appointed a new

general partner, Aisha Ross (Ngā Ruahine, Ngāti Ruanui, Te

Atiawa, Taranaki, and Te Whakatohea).

Ross is one of the few

Māori working in the

venture capital space.

He was most recently the

Director of the Innovation

and Development Group at

one of New Zealand's largest

tertiary education organisations,

Te Wānanga o

Aotearoa.

As the director, he led a

dedicated team who focuses

on bringing new innovations

to market that create value

and opportunities to develop

the start-up eco-system and

economy in Aotearoa.

These innovations include

the establishment of Ahikōmako

– the Centre of Māori

The Māori business

sector continues

to grow, year upon

year. I look forward

to working with

Rob Vickery and the

team to support the

start-up eco-system

in Aotearoa.

Innovation and Entrepreneurship,

Pākihi, which is a series

of workshops offered nationally

with a focus on assisting

Māori small businesses to

grow sustainably, and Kōkiri,

a Māori technology accelerator

focused on developing

early stage Māori technology

ventures with a global focus

and high-growth potential to

scale and grow.

Ross says it is an exciting

time to be joining Hillfarrance.

"The Māori business sector

continues to grow, year

upon year. I look forward

to working with Rob Vickery

and the team to support

the start-up eco-system in

Aotearoa – with a focus

on enabling more start-ups

Aisha Ross says Māori are natural entrepreneurs but

often struggle to attract capital to their businesses.

to develop and reach their

potential.

"Māori are natural entrepreneurs

but often struggle

to attract capital to their businesses.

With the support of

Hillfarrance, these start-ups

will have the ability to join

the growing number of Māori

tech companies making their

mark on the world stage."

Vickery welcomed Ross's

appointment. "Having known

Aisha for some time, I have

seen first-hand his expertise

and passion for empowering

entrepreneurs to build

sustainable, successful businesses

that embrace and project

te ao Māori."

Hillfarrance has invested

in Kwotimation, a SAAS

start-up who completed

Kōkiri in 2020. Kwotimation's

vision is to help save

tradespeople and customers

time, money and stress

through providing accurate

and timely online quotes for

work.

Hillfarrance most recently

invested in another Kōkiri

team, The Granary, who are

developing next-generation

software that will deliver

quality customer solutions

and experiences, and shorten

the development of making

content.

Ross holds a number of

director and trusteeships and

has an MBA from the University

of Waikato, along with

a Master in Applied Technological

Futures from Tech

Futures Lab.

The Greenspace

venue business

bought by Sentinel

Hamilton East meeting

venue business The

Greenspace has been

taken over by new owners,

which will see the business

continue under a new roof.

Sentinel, at 586 Victoria

Street in Hamilton, has taken

ownership. They provide a

venue, catered meeting rooms

and a café and will continue to

provide an executive, sustainably

focused service to The

Greenspace clients from their

CBD premises.

Annie Perkins, co-owner

of The Greenspace, said,

"We're excited to see where

Sentinel will take The Greenspace

meeting business next

and we'd like to encourage all

our former clients to support

them."

Perkins said she is incredibly

excited about watching the

business grow further under

Sentinel's leadership and will

partner with them for a smooth

transition.

"For the past few weeks,

we've been hearing the beautiful

song of a grey warbler in

our garden at The Greenspace.

I can't help but think the joyful

song of this bird has not only

heralded the coming of spring,

but also heralds a new beginning

for the meetings business

and the clients Sentinel will

continue to serve," she said.

Al Belcher, the co-owner

of Sentinel, says he is

excited to grow the meetings

side of his business.

"Our operation opened

mid-March of this year, but

already we've realised the

potential to provide catered

meetings and events for local

organisations and this addition

is a step towards growing that

service.

"We have a real focus on

offering excellence in our

business, which is a value

that is aligned with Annie's

businesses as well. Annie

and her team have done such

a great job developing The

Greenspace and servicing her

clients with real care and we

look forward to honouring that

and growing from here," said

Belcher.

The property at 60 Te

Aroha Street which housed

The Greenspace will no longer

operate as a venue. The property

was bought by the Toimata

Foundation, which is responsible

for New Zealand's Enviroschools

programme. They

move their headquarters into

the building from 2 August.

Perkins said, "We are

Sentinel co-owners Al and Micah Belcher

incredibly happy that the property

is going to an organisation

that we hold in such high

regard and whose values and

purpose aligns with ours."

She will now focus solely

on her Groundwork Associates

consultancy business, which

is focused on sustainable agriculture

and natural resource

management.

She also hopes to do more

work with organisations to

help them learn about integrating

sustainability and waste

minimisation practices into

their operations.

To book a meeting or

event at Sentinel, book

online at sentinelcafe.nz or

phone 0204 197 0881.

Procuta Associates

Urban + Architecture

Contact us 07 839 6521

www.pauaarchitects.co.nz
---
52 WAIKATO BUSINESS NEWS July/August 2021

Immigration - it's just like

a box of chocolates!!

We all know that COVID has turned the

world upside down and everyone has

been impacted one way or another, but

the impact on immigration plans and

policies, and border movements, has been

monumental and life-changing for many

migrants, advisers, employers and New

Zealanders alike.

Last year the situation was

dynamic and ever-changing,

and demanded substantial

and ongoing regulatory

intervention to address a

myriad of immigration policy

settings. We all understood and

accepted that this intervention

was necessary. We are now

well over a year down the track

and, with border restrictions

remaining, you would think that

the situation for migrants and

their employers in New Zealand

would now be clearer and

everyone could plan ahead with

some degree of certainty. Alas,

this is not the case.

Three years ago the Government

outlined very significant

changes for work visas, and as

recently as 22 June confirmed

these changes, which required

that mandatory employer

accreditation would go ahead

and be implemented on 1

November. Just three weeks

later, on 16 July, the Government

announced these changes

would be deferred to sometime

mid-2022. The Government has

announced border exceptions

Level 2

586 Victoria Street

Hamilton 3204

for teachers, dairy farm managers,

vets, agriculture machine

operators – but these are "claytons"

exceptions as while these

people can be issued their visa

there are no MIQ spaces to

accommodate them, so you

will not see any of these muchneeded

skills any time soon.

Then we have the 10,000 or

so migrants already here, and

working in skilled employment

roles, who have submitted their

expressions of interest (EOI) for

residence, and who have been

waiting well over a year on the

Government to resume EOI

selections. This much-awaited

announcement was scheduled

for March 2021, but still no one

knows if, when, and on what

basis selections will resume.

Just this week we know of three

medical specialists who have

packed their bags and left the

country for good as they have

no certainty as to their future in

New Zealand, and without this

security they cannot plan ahead

or buy a family home.

There are many highly-skilled

migrants who will follow

them and be lost to NZ.

Level 3

50 Manners Street

Wellington 6011

07 834 9222

enquiries@pathwaysnz.com

pathwaysnz.com

Richard Howard

Every day employers are

telling us how desperate they

are for the additional skills

needed, just to manage the work

on-hand, and the growth opportunities

they will be foregoing

if they cannot find these skills.

They are also having to pay

much more to retain and attract

the skills they need and this

wage inflation is now impacting

throughout the economy. The

Government and Immigration

New Zealand are in the same

boat, with their own resource

limitations now influencing

their ability to determine and

implement the forward-looking

policies needed to provide

migrants and employers with

the certainty to plan ahead. As

a consequence we are getting

either short term "knee-jerk"

policies or no policy decisions

at all.

So, in the immortal words

of Forrest Gump "Life was like

a box of chocolates. You never

know what you're gonna get."

Immigration policy is starting to

look very much the same.

1 Trinity Street, Cambridge

A lifetime ago

A lifetime ago as a young architect I had

the fortune to work with a small practice

in Cambridge, UK.

Much of the practice's

work was

for the colleges,

departments and institutes

associated with the University

of Cambridge. It was

a delightful time working

amongst - and with - some

great people and some

important architecture.

One of the most notable

characteristics of Cambridge

is the sense of an intimate

small-scale town, despite

Cambridge being a city of

some 150,000 people. Some

of this sense related to relatively

dense, but low-scale

buildings; most being no

more than three or four stories

high, some to the compact

nature of the town itself,

with the Market Square and

Corn Exchange as a focus,

and lastly an organic street

layout originally shaped by

the enclosing meandering

of the river Cam and primary

pathways to nearby

villages. Cambridge is certainly

a place more easily

walked or bicycled around,

than driven in.

Many footpaths were flagstones

with areas of cobbles,

the architecture was crafted

of carved stone, and the town

was peppered with green

spaces; great lawns within

the cloistered courtyards of

the colleges, small pocket

parks, and huge paddocks

and playing fields preserved

within the loop of the Cam,

or linking along the opposite

riverbank, on the 'Backs'.

Within the town there was

the biking and pedestrian hum

of university students and

Cambridge residents going

about their day's work, and

the curious and fascinated

tourists walking through

the town streets and lanes,

admiring the college architecture,

gardens and galleries,

enjoying the pubs and eateries,

and punting the Cam. A

mix of enjoying sights, and

enjoying activities.

I came away from that

Cambridge experience with

an appreciation and understanding

of a number of key

placemaking attributes. Perhaps

foremost was the sense

of responsibility that all those

who were making buildings

had in their task; to the town

and people whose legacy they

had inherited, and to the future

generations to whom they were

bestowing new architectural

interventions.

As for many towns and cities

around the world, consistencies

and commonalities in

the construction of the architecture

- such as the materials

(local stone, bricks, slate, copper

and lead), the architectural

form, purpose (education and

research) and motifs (badges,

details, craft, sculpture and

texture) - built up an overall

mosaic that comes together to

create Cambridge's singular

identity.

At an urban level the importance

of 'containment', or

boundary and an edge - be it

river, a town belt, walled enclosure

or park edge - the idea of

an identifiable precinct or place

became even more apparent

in placemaking. A Waikato

example of this is how Cambridge's

town belt (until very

recently) clearly and simply

defined the urban township

from the surrounding farmlands

and rural activities. This

containment contrasts to ribbon

developments where towns

grow outwards along highways

and country streets, and the

town edge is dissipated.

And lastly, it is the personal

connection to nature; the variety

of parks, riverside walks

and trees, and sense of adventure

and discovery, that brings

delight, repose and places of

relaxation to provide a sense of

ownership and connection with

a place.

These placemaking principles

are of course common to

the many wonderful places we

love to visit; whether London,

New York, Prague, Vilnius, or

Stockholm. While much town

change or growth occurs organically

over time, on occasion

the development and design of

a town or city is precipitated by

an event (London's 1667 Great

Fire) or political decision (the

redesign of Paris, from 1850

under Napoleon III and to

Haussman's design).

So it is timely to celebrate

HCC's recent decision

to incentivise more buildings

LANDMARKS

> BY ANTANAS PROCUTA

4 Cambridge St John's Lane

2 Stockholm - Old City

of substance in the town centre

to enhance a cosmopolitan

lifestyle and the vibrancy of

the central city. But of course

this incentivisation involves an

understanding of the broader

urban context and a collaborative

placemaking programme.

Such an initiative takes a big

vision and intentional design,

and this is what will be transformative.

With many businesses

having vacated the central city

and moving to Te Rapa some

years ago, the land bereft of

buildings and occupation for

many years is at a cusp of growing

back to make a vital city for

the close future. The re-visioning

of Hamilton's CBD is also

an important opportunity for the

development is to be sustainable

in both its implementation

and in the living it affords.

The buildings and places

we're making, the things we

do now - the way we do them,

the intent we have behind them

- matters, and has a long-lasting,

almost irreversible, culture

and place-shaping influence

on the nature of Hamilton, the

Waikato and its towns. Ultimately

a building, a piece of

architecture, a public place, is

the expression of the values,

vision, and collaboration of a

culture and time, and the aspirations

we have for the future.

Antanas Procuta is Principal Architect at Hamilton-based PAUA,

Procuta Associates Urban + Architecture
---
WAIKATO BUSINESS NEWS July/August 2021

53

Can Covid-19 vaccinations for

employees be made mandatory?

EMPLOYMENT LAW

> BY ERIN BURKE

Employment lawyer and director at Practica Legal

Email: erin@practicalegal.co.nz phone: 027 459 3375

The Ministry of Health's research on potential uptake of the

Covid-19 vaccination (in April 2021) showed that there were still

12 percent of the New Zealand population over age 16 who were

unlikely to get vaccinated, of which 7.8 percent were actively

opposed to it. Potentially, this means approximately one out of

every 10 employees will remain unvaccinated.

In answer to the question

of whether an employer

can make vaccination

mandatory, the short response

is, no. Section 11 of the New

Zealand Bill of Rights Act

1990 (NZBORA) gives every

New Zealander the right to

refuse medical treatment.

However, whether an

employer can make an offer

of employment or continued

employment contingent

on vaccination is another,

significantly more complex

matter and largely depends

on assessing the role the

employee will be/is performing,

the risk of exposure to

Covid-19 of that role and the

potential consequences on

others that would result from

that exposure.

The COVID-19 Public

Health Response (Vaccinations)

Order 2021, came into

force on 14 July.

The Order requires workers

performing certain highrisk

roles to be vaccinated,

and includes border workers,

managed isolation and

quarantine (MIQ) employees

and certain roles that handle

items from MIQs, aircraft and

ships.

This Order enables an

employer to legally require

employees to be vaccinated

when performing these specified

roles.

However, for the rest of

the workforce, the requirement

to be vaccinated will

largely depend on the role

they are performing.

For example, Employee A

is a care worker in a rest home.

Due to the physical nature of

the job, social distancing is

almost impossible and the

consequences of contracting

Covid-19 and working with

vulnerable, elderly residents

could be catastrophic.

It would be very

unwise for any

employer to try to

impose vaccination

on its employees,

if they are not

performing roles

assessed as

requiring employees

to be vaccinated.

Employee B, on the other

hand, works at a checkout

in a supermarket. Social distancing

is possible, given the

screens most supermarkets

still have in place, and there

is nothing to suggest that this

person is at a greater risk of

exposure to Covid-19 than

anyone else working in the

retail sector.

Employee A's role could

justifiably require only vaccinated

employees to perform

it, whereas Employee B's role

does not.

The Health and Safety

at Work Act 2015 (HSWA)

imposes significant obligations

on employers and

employees to ensure the identification,

elimination and/

or management of workplace

hazards as far as is "reasonably

practicable."

The latter term requires

consideration of the likelihood

of the risk, the degree

of harm that might result, the

potential ways the risk can

be managed and the costs

of managing the risk, which

should not be grossly disproportionate

to the actual risk

itself.

WorkSafe-issued guidelines

on assessing whether

individual roles can only

be performed by vaccinated

employees are available on

their website and weigh up,

among other things, whether

the role poses an increased

risk of exposure to Covid-19,

and whether the role involves

regular contact with vulnerable

people (such as those with

disabilities and the elderly).

Once a full assessment

has been conducted and a

role is found to be a role that

requires an employee to be

vaccinated, then a number

of employment processes

and procedures need to commence

in relation to existing

employees.

These are the usual processes

employed when making

decisions that may impact

on the continuation of an

employee's employment.

In a nutshell, employees

need to be informed of the

proposal (including the reasons)

that they need to be

vaccinated, given the opportunity

to comment/provide

feedback on the proposal and

need to be informed of the

possibility that their employment

may be terminated if

they refuse to get vaccinated

and there are no other suitable

redeployment options

available to them.

It would be very unwise

for any employer to try to

impose vaccination on its

employees, if they are not

performing roles assessed as

requiring employees to be

vaccinated.

In addition to the s 11

NZBORA right to refuse

medical treatment, employees/potential

employees who

are refusing vaccination due

to religious beliefs or disabilities

could claim that the

refusal to offer them a role,

or the proposed termination

of their employment, constitutes

discrimination on a

prohibited ground pursuant to

the Human Rights Act 1993

(HRA).

Under the HRA, accommodation

for different religious

beliefs and those with

disabilities must be provided,

if it does not cause unreasonable

disruption and risk to the

business.

In addition to the relevant

legislation referred to above,

the Privacy Act 2020 also

needs to be considered.

Enquiring into an

employee/potential employee's

vaccination status would

only be deemed justifiable if

the role has been correctly

assessed as high risk, requiring

the employees performing

the role to be vaccinated.

Where an employee/potential

employee refuses to disclose

their vaccination status,

and the role requires the

employee to be vaccinated,

then the employer should

indicate that the refusal to

disclose is being read by the

employer that the employee

is not vaccinated, and the

employee must be informed

that the potential outcome of

that assumption is termination

of the employment relationship

or a refusal to offer

employment.

Business events lead Waikato's social and

economic recovery

The latest figures

released by the Business

Events Data Programme

show the Waikato

region secured 13 percent

market share of all NZ business

events being held in

Q1 2021. With 196 business

events held in the region

during January-March 2021,

this placed the Waikato region

second in the country behind

Wellington at 29 percent for

the number of business events

held. Over 17,000 delegates

were hosted in the region

during this time, equating

to a 13 percent market share

of the total number of delegates

hosted in the country,

third behind Wellington

(28 percent) and Auckland

(14 percent). Hamilton &

Waikato Tourism chief executive

Jason Dawson says it's

fantastic to see such a strong

result for the region given the

tough environment the sector

has been operating in over the

last 18 months.

"These figures show the

region is in high demand

with meeting and conference

organisers and highlights

the strength of our business

events offering in Hamilton

and the wider region – from

our world-class venues and

exceptional event hosts to

our exclusive team-building

and incentive activities along

with a wide range of accommodation

offerings," he says.

Dawson add that hosting

major and business events

are crucial in leading the economic

and social recovery of

the Waikato region.

"Domestic business events

delegates have always been

an important visitor segment

for the region contributing

$480 per day to the economy,

double the amount of the leisure

visitor. Business events

are also a key seed market

driving repeat visitation and

further economic benefit as

delegates will often return for

a holiday with their friends or

family," he says.

Mel Williams, Business

Development & Sales Manager

– Business Events for

H3 says they have been working

extremely hard with local

partners to help boost awareness,

confidence, business

and events into our city and

region throughout what has

been a challenging time.

"It's been fantastic and

extremely rewarding for us

to have helped so much come

to fruition, and to see the

It's been fantastic

and extremely

rewarding for us

to have helped

so much come to

fruition, and to

see the positive,

wide-ranging ripple

effects and impact

that has been felt

by so many.

positive, wide-ranging ripple

effects and impact that has

been felt by so many. This has

further energised our team to

continue proudly wave the

flag for our region, and further

enhance our reputation

nationally," she says.

Note: The Business Events

Data Programme measures

business event activity in New

Zealand. It focuses on MICE

events (meetings, incentives,

conferences, and exhibitions)

attended by at least

30 people. The programme

is funded by Business Events

Industry Aotearoa (BEIA),

the Regional Convention

Bureaux and MBIE.
---
54 WAIKATO BUSINESS NEWS July/August 2021

Protest PR: A powerful vehicle for change

PR AND COMMUNICATIONS

> BY HEATHER CLAYCOMB

Heather Claycomb is director of HMC Communications, a

Hamilton-based, award-winning public relations agencys.

Farmers literally 'went to town' on 16 July voicing their disapproval

of what they believe is heavy handed and impractical Government

regulation of our primary sector.

The protests were organised

by farming group

Groundswell and were

partly in response to the Government's

decision to tax diesel

vehicles.

It was clear from the number

of tractors and utes that

gridlocked our towns and cities

that farmers are fed up and

feel their voices are not being

heard.

But does mass protesting

work? Is it the most effective

way to get the message

through and, most importantly,

create change?

The story dominated mainstream

media, social media

and even attracted attention

internationally. The images

of thousands of farm vehicles

on urban streets were visual

fodder the media couldn't

resist!

If farmers' short-term

objective was to draw attention

to the fact that they feel

underappreciated and condemned,

then yes, I'd say the

initial objective of the protest

worked. Farmers taking drastic

action certainly got everyone

talking. But the big question

is, was the Government

listening and what change,

if any, will come about as a

result?

The true power of the protest

to spark change may take

months or years to gauge its

success.

A protest certainly has

its place in the PR toolkit. I

would say it works best when

it's an issue the masses can

get behind, its easily understood

by a range of audiences

and when other avenues of

communication have been

exhausted or deemed ineffective.

So, if you ever find yourself

thinking about organising

a protest, what are some

things to keep in mind? I'd

say there are four essentials

for an effective protest:

Keep your message simple

To rally the masses behind

your cause, you need to keep

your message simple yet

emotive to garner the greatest

public support.

While the farmer protest

did this relatively well, there

was some chatter on social

media from our farming communities

seeking to clarify

for their urban cousins the

reasons behind the protest.

Amidst all the hype, perhaps

some of the farmers' messages

weren't as simple as

they could have been.

During the following days,

media coverage and opinion

pieces from primary industry

leaders sought to clarify the

message, which was good.

Couple your message with

a spectacle

What really got us all talking

was seeing tractors, utes and

farm equipment driving the

highways and city streets

right across the country. This

was a stroke of genius.

Think of some of the most

famous protests – they often

had an amazing visual element

to them.

Think about the Springbok

tour demonstrations,

Whina Cooper's land

march to Parliament, the

Bastion Point occupation,

School Strike 4 Climate

events and others.

Rally your supporters

ahead of time

You'll want to touch base

with some high-profile supporters

ahead of your protest

to encourage them to speak

out in favour of your cause.

This will lend credibility to

your objective.

With the farmer protest,

we did see a few primary

industry organisations distance

themselves from what

was a very political protest.

So, perhaps this could have

been done a bit better. But

keep in mind that you'll never

garner 100% support for a

protest. Its very nature will

cause some people and organisations

to run the other way,

or sit on the fence and watch

rather than get amongst it.

Don't forget your postprotest

plan

You did your protest. Now

what? A great protest needs

a plan to keep your cause in

the public eye, in front of

government (in this case) and

key stakeholders. In some

ways, the harder work happens

after the protest. You've

got people's attention, now

you need to put some detailed

steps into action to get the

end result across the line.

Does your business

strategy need a reboot?

TAXATION AND THE LAW

By ANDREW JAMIESON

Partner PWC New Zealand

No matter the size of your business,

you should consider a strategy reboot.

That's especially relevant as we shift

from response to recovery following

the Covid-19 outbreak and businesses

continue to face supply chain disruptions,

travel interruptions and accelerating

technology.

Strategy is simply an

action plan to achieve a

long-term goal. It defines

how businesses operate, narrowing

choices so they can

determine their own futures.

Having a clearly defined strategy

fit for these turbulent times

can be the difference between

a business that merely survives

and one that thrives.

How can owners and

business leaders develop a

contemporary strategy?

First, make sure your leadership

team has clarity and

alignment about where you're

trying to go and why. Understanding

choices that will

drive your business towards an

agreed path or target is part of

a coherent strategy. It's important

to identify a direction,

ambition and purpose from the

outset. While business leaders

used to take a five-year view,

in today's uncertain world a

three-year timeline may be

more suitable.

Second, ensure everyone

across the business is clear

about the organisation's objectives.

Your company may have

a different success lens than

others. For some organisations,

the next strategic objective will

be profitability while for others,

it might be attracting a different

type of customer. Some

businesses might be looking

at diving into new markets.

Define your strategic competitive

advantage in those areas,

and devise ways to sustain it.

Third, it's important that

everyone is part of the strategic

process from the beginning.

Failing to get representation

from throughout the organisation

may mean missing

good ideas and cooperation

from key people. Having your

employees on board leads to

inclusive decision-making,

where downstream problems

are solved early. It means leaders

don't have to re-explain

priorities that team members

have already helped define. No

extra steps are necessary in the

execution and adoption of the

strategic plan, since they've

already been accounted for

during the formulation process.

Finally, stop doing activities

that don't contribute to

your goals. The dividend from

this is savings on time and

money. You can reallocate that

into something more meaningful,

or take the win and bank it.

What are the key

components of a successful

strategy?

While the planning umbrella

stretches across the organisation,

not every component

may need a strategy makeover.

Your strategy reboot might

focus on a single aspect of your

business.

Digital acceleration, for

example, may be at the heart

of your business strategy.

Businesses that successfully

implement new tech systems

can benefit from better operational

efficiency. Another facet

of strategy today is environmental,

social, and corporate

governance (ESG). Measuring

ESG factors can help an organisation

gauge its sustainability

and societal impact and build

trust with key stakeholders.

Leaders at smaller businesses

are at an advantage as they can

then make changes quickly.

Having a coherent strategy

means looking at how a master

plan delivers on your ambitions.

It provides clarity, direction,

and a consistent basis for

decision-making. It's useful to

people across the organisation

to provide direction and inform

choices such as investment and

resource allocation.

How can a successful

strategy help my business

thrive?

PwC private business research

locally and internationally

shows companies with

an up-to-date and coherent

strategy outperform their

competitors.

Not only do they shine

financially, but they also excel

in other areas including brand

recognition, people engagement

and sustainability.

The pandemic has changed

business-as-usual. Businesses

with a current and comprehensive

strategy, formulated

openly and in a collaborative

way, are able to assess

the environment against

their strategy and make clear

choices about opportunities

and trade-offs. The days of

a board drafting organisational

strategy in a dark room

are gone.

It's about how organisations

can operate efficiently

and effectively, while including

input from representatives

across the business.
---
WAIKATO BUSINESS NEWS July/August 2021

55

Waiwhakareke 'a major asset for the city'

A flock of welcome swallows dip and dive

through the air above hundreds of school

children in Waiwhakareke Natural Heritage

Park, a 65.5ha biodiversity project on the

north-west edge of suburban Hamilton.

It's New Zealand Arbor Day

and the school children are

here, alongside their teachers,

parents, Hamilton Mayor

Paula Southgate, councillors

and others, to plant native

seedlings.

Some 18,000 trees will be

planted today, many by little

hands who will become the

next generation of eco-warriors.

Professor Bruce Clarkson

stands, spade in hand, admiring

the scene. The little feet

have stirred up the insects in

the grass, and that has the birds

excited, he comments.

The University of Waikato

ecologist and his team have

been involved in this project

for more than 16 years.

"People are amazed at what

we've done at Waiwhakareke,"

says Clarkson. "Internationally,

they can't believe it. To

get valuable land in the city,

and turn it back into native

ecosystems, is not a common

thing."

Clarkson, recently awarded

the Hamilton Kirikiriroa

Medal, one of the city's highest

accolades, leads a multidisciplinary

MBIE-funded

project called People, Cities

and Nature, which has helped

guide many councils and communities

around New Zealand.

It was his vision and

research that helped to launch

Waiwhakareke in 2004, a community

project that has gathered

hundreds of advocates

along the way, from councillors

to school children.

"It's not just for the sake

of biodiversity, it's a place of

recreation and a place where

the community is working collectively,

building social cohesion.

It has multiple benefits,

not just the biodiversity we are

bringing," says Bruce.

Waiwhakareke is a major

asset for the city, says Southgate.

She recalls visiting the

eco-sanctuary with naturalist

Ruud Kleinpaste, "New Zealand's

bug man".

"He said that Waiwhakareke

was the best example of urban

restoration that he has seen in

the whole country. What he

liked about it was that it was

natural and uncontrived."

Its value as an educational

space for local school children

– whether planting for

Arbor Day or learning about

pest management and "the little

critters and the fish that live

there" is "priceless", she adds.

Bruce Clarkson

"But also, it's a beautiful,

serene place. The natural environment

is important - to have

somewhere where you can go

to connect back to life through

nature."

She remembers what it

looked like twenty years ago.

"You would have driven

past it on Baverstock Road on

your way to Hamilton Zoo and

hardly glanced at it; it was just

four or five paddocks with a

couple of cows and a brownish

horseshoe lake".

She was a councillor at

Waikato Regional Council

when Clarkson presented his

strategic long term plan for

Waiwhakareke Natural Heritage

Park.

It was a plan to bring back

the native forest, wetland and

lake ecosystem that existed

two centuries ago, before

European settlement. A vision

for a pest-free, self-sustaining

biodiversity haven for native

birds, bats, lizards and other

species, inside the city boundaries.

It won support from Hamilton

City Council, which owns

the land, along with Waikato

Regional Council, Waikato

University, Wintec and iwi,

community and biodiversity

organisations.

Waiwhakareke is now an

outdoor classroom and a place

where mātauranga Māori (traditional

Māori knowledge) is

celebrated, alongside the study

of flora and fauna.

It also has an appeal as a

visitor destination, located

next to Hamilton Zoo. A new

shared entry is being built.

"On one side of the road

you can go and see world ecosystems

like the South African

savannah, with giraffes

and other animals that belong

in South Africa, and then you

It's not just for the

sake of biodiversity,

it's a place of

recreation and a

place where the

community is

working collectively,

building social

cohesion.

come to the other side of the

road and see New Zealand as

it was before European settlement,"

says Clarkson.

His research on indigenous

biodiversity continues

to shape the city and has been

incorporated into the Hamilton

City Council 2021-2031 Long-

Term Plan.

Some $29 million is earmarked

for restoring and

improving the city's extensive

gully network, with the council

aiming to increase urban indigenous

vegetation cover from

two to 10 per cent.

Also awarded Hamilton

Kirikiriroa medals were

Bruce Clarkson's wife, Dr

Bev Clarkson, an internationally

renowned expert in wetlands

research and restoration

at Manaaki Whenua – Landcare

Research, and former

Hamilton Gardens director

Dr Peter Sergel.

Youth advocate stepping down

After four and a half years, Gemma Major

is stepping down as CEO of Seed Waikato.

During her time at the

helm, the co-founder

and youth advocate

has had a hand in creating

12 community-led projects,

reaching thousands of

Waikato youth both online

and in-person.

Major says she is proud

of what Seed has grown into

since launching in 2017.

"Seed is a safe space to

talk about the things that

matter, and it's been a privilege

to see just how powerful

young people are in changing

their world from the inside

out when they own their gifts

and strengths."

Major has also been a

critical driver in the partnerships

created between Seed

Waikato and community

funders, business sponsors

and event partners which

enable the charity to reach

and inspire Waikato youth.

"I am so excited for the

future of Seed Waikato. In

the last six months alone, we

have doubled our staff numbers

and doubled the funding

received from supporters,"

says Major.

Seed Waikato chair Greg

Johnston says the charity is

Gemma Major

in a strong position to continue

its long-term strategy

to support young people in

the community.

"The impact that Gemma

has made through Seed

Waikato and alongside youth

is incredible and speaks to

what the organisation was

set up to achieve – creating

The impact that

Gemma has made

through Seed

Waikato and

alongside youth

is incredible and

speaks to what the

organisation was

set up to achieve.

safe places and spaces for

personal growth opportunities

for young people in the

Waikato," says Johnston.

"Seed Waikato has fantastic,

dedicated staff and

volunteers, and a diverse and

well-respected board who

will continue to serve the

aspirations of young people

in the region."

Seed Waikato has recently

secured a multi-year funding

pipeline from Hamilton City

Council, Trust Waikato, Len

Reynolds Trust, and the Ministry

of Youth Development

to the tune of $660,000.

Major will officially

step down on 31 July to

spend more time with

her son and study trauma

while continuing to mentor

self-starters on the side.

Tania Pointon has been

appointed as the organisation's

new leader. Pointon

has co-led Hamilton Multicultural

Services for the last

12 years and was seconded to

Seed Waikato in March.

Matamata named as New Zealand's

newest Motorhome Friendly Town

Matamata is the latest

town in the

mighty Waikato to

be named as an official motorhome

friendly town by the

New Zealand Motor Caravan

Association Inc (NZMCA).

Matamata joins the other

57 destinations around New

Zealand that hold the title,

gaining further profile with

the over 106,000 NZMCA

members across the country.

Jason Dawson, chief executive

of Hamilton & Waikato

Tourism, said it was excellent

to see Matamata join Cambridge,

Te Kuiti, Morrinsville

and Te Aroha in welcoming

motorhome and caravan

visitors to the Waikato.

"We're very proud to see

another great location in

the region being named as a

motorhome friendly town by

the NZMCA at a time when

more New Zealanders are

travelling the country in caravans

and motorhomes than

ever before," Dawson said.

He said motorhomes and

caravan travellers are highly-valued

contributors to

local economies, often traveling

at off-peak times and

exploring off the beaten track

locations which helps with

regional dispersal and visitor

spend spread. In order to be

designated as a Motorhome

Friendly location by the

NZMCA a town must have

the essentials that motor caravanners

need: a legally-compliant

Freedom Camping

bylaw; a public dump station;

access to potable water,

refuse and recycling; medical

facilities; vicinity to shops

and service areas.

Motorhomes and

caravan travellers

are highly-valued

contributors to local

economies, often

traveling at off-peak

times and exploring

off the beaten track

locations.
---
56 WAIKATO BUSINESS NEWS July/August 2021

Q & A

with a few of our Waikato business women

Today women lead the charge across the board in every field.

Where would we be without our inspirations, strength and the hope from true icons

before us who encourage us to achieve our wildest dreams? What about the gutsy gals

before us who risked life and limb to break new ground and the women who follow to

give a voice to all who have the passion and curiosity to change the world for the better.

Each of the women in this feature has something in common - they are not afraid to

speak up, stand up, and work hard to reach and achieve their goals.
---
WAIKATO BUSINESS NEWS July/August 2021

57

Q: Tell us what led you into your current

career?

Chloe went on an Outward Bound

course in May 2018. Talking to one of the

instructors after an overnight mission, he

said he did not want to have to explain

to future generations why we use our

precious drinking water to flush our

toilets, wash our clothes and water our

gardens. This struck a deep chord with

Chloe and she went away mulling over

the importance of water and how to use it

better. Designer Tanks was formed when

Chloe and her close friend Ingrid decided

to take the plunge and make rainwater

harvesting a viable and stylish option

for gardens. We offer a wide range of

tanks that are ideal for homes, retirement

villages and schools, in fact anywhere

that appearance and the environment are

important.

Q: What piece of advice or words have you

been given that you would pass on to

others?

We actually quite like this quote we

spotted in a book as it's relevant to the

path we have chosen - "If you don't like

the way the world is, you change it. You

have an obligation to change it. You just

do it one step at a time" Marian Wright

Edelman.

Q: 3 words that describe you best?

Bubbly, outgoing and supportive are

three words that sum us both up.

Q: What challenges do you face within your

role?

The biggest challenge for us is the fact

that rainwater harvesting is a relatively

new concept. A lot of what we do is

more about change management and

education than the tanks themselves. So

far we are finding more and more people

are becoming aware of the benefits of

rainwater harvesting. We just need to

keep spreading the word by attending

home shows, Fieldays and working closely

with organisations such as councils and

Garden to Table.

Q: What's your future long term goal?

Obviously for us long term we would

like to see everyone collecting rainwater

and doing their share for the planet that

we all take for granted. Such a simple

thing as collecting rainwater can ease the

strain on our precious resources and help

contribute to our environment for future

generations

Q: What's your idea of a work-free day off?

We both love being by the water and

enjoy spending time walking in the bush

and being surrounded by nature. It is

always so peaceful and uplifting. We

are also partial to a nice meal, a spot

of shopping and wouldn't say no to a

massage.

‹‹

INGRID AND CHLOE

‹‹

ZOE PETTIT

Q: Tell us what led you into your

current career?

Skin Health is a continuous journey for

Zoe Pettit, the owner of Caci Rototuna.

I have been passionate about skin care

for a long time and while working in

the corporate world I always managed

to find time to care for my skin. Once

I decided to move on from senior

management career I decided to follow

my passion for healthy skin. This lead me

to looking at Caci as a possible business

to partner with.

Q: What piece of advice or words have

you been given that you would pass

on to others?

Always believe in yourself and deliver

on what you promise. Reputation is

everything

Q: 3 words that describe you best?

Optimistic (there is an opportunity for

positivity in everyone)

Determined – never give up, and always

see the opportunity to learn

Loyal – to customers, staff and suppliers.

Q: What challenges do you face within

your role?

When you open a new business you

have to be patient a build a reputation.

Give people the opportunity to get to

know you, trust you and understand

what you do.

Q: What's your future long term goal?

To be established within the local

community adding value not just from a

commercial opportunity but also from a

social perspective.

Q: What's your idea of a work-free day off?

Spending time with family and friends. A

good book never goes a miss especially

on a winter's day

At Caci we are passionate about helping

New Zealanders with what we call 'skin

confidence'. Skin confidence is powerful and

can be truly life changing. We are not here

to judge if your skin concern is good, bad,

big or small. We just want to help you feel

confident in your skin.

My team specialise in a range of skin

treatments to treat pigmentation, uneven

skin tone, texture, lines, wrinkles, acne,

redness and scarring. We also take care of

unwanted hair with laser hair removal and

Julianne our Registered Nurse takes care of

cosmetic injectables.

We love helping our customers with a

personalised recommendation of treatments

and skincare to achieve healthy glowing skin.

Business Development and Marketing

Specialists

The Collective Agency delivers results.

From branding that breathes life into

your story, to create a voice for your

customers and stakeholders. We offer a

platform that fosters engagement, and

campaigns that will evolve and grow

your business.

www.thecollectiveagency.co.nz

Q: Tell us what led you into your current

career?

We launched The Collective Agency in 2020,

we wanted to put our extensive business

development and marketing skills to use, having

worked together previously we knew we were

a good team and that we wanted to do things

differently, at a time we were both looking for a

new challenge. We are now working on some

exciting and meaningful projects of transformation

across sponsorship, customer relationships,

and marketing strategy with both commercial

businesses and not-for-profit organisations.

Q: What piece of advice or words have you

been given that you would pass on to

others?

"Always deliver more than expected." - Larry Page,

co-founder of Google

Q: 3 words that describe you best?

We asked our daughters to answer this one, they

said;

Sue: "Beautiful, loving and organised" Ava, Age 8

Amy: "Beautiful, amazing and adorable" Avery,

Age 7

‹‹

AMY VAN GARDEREN AND

SUE ESSELBRUGGE - DIRECTORS

Q: What challenges do you face within

your role?

We have experienced early growth in our

business and have up-scaled quite quickly to

respond to that growth, we now have a small

office in Victoria Street and are adding new

members to our team, while this has been

challenging it is also exciting and rewarding,

we feel very lucky to be supported by

amazing friends, family, and clients.

Q: What's your future long term goal?

To lead a nimble and innovative marketing

agency, providing opportunities for others

in the industry, while working with good

people and producing quality work for our

clients that we are immensely proud of.

Q: What's your idea of a work-free day

off?

Sue: Being at the beach with family and

friends.

Amy: Digital detoxing with a book or

enjoying good food and wine with friends

2021 ENTRIES ARE NOW OPEN.

The CBD awards are a night to celebrate and recognise

those businesses in Hamilton's central city that have

made a real impact over the past year.

We'd love to hear what you have achieved, to enter please

visit www.hamiltoncentral.co.nz

If you have any questions, don't hesitate to contact us at

admin@hamiltoncentral.co.nz

Good luck, and we look forward to seeing you on the night!

ENTRIES CLOSE

30 August 2021

ENTRIES JUDGED

1 - 24 September 2021

AWARDS EVENING

20 October 2021

TICKETS AVAILABLE

hamiltoncentral.co.nz
---
58 WAIKATO BUSINESS NEWS July/August 2021

‹‹

JADE THOMAS, FOSTER ENVIRONMENTAL,

HEALTH, SAFETY & REGULATORY ADVISOR

Q: Tell us what led you into your current career?

In my teenage years I was subjected to school bullying

which encouraged me to source other means of

education outside of school. I became a fully qualified

chef at the age of 17. My first position of employment

would often see me put in a leadership role, which was

by no means an easy task at such a young age.

I always had an ambition to engage with Health and

Safety so in 2016, I took the plunge to work within my

family's Asbestos and Roofing business. Looking for

bigger challenges and growth opportunities, I moved

on to Fosters and haven't looked back.

Q: What piece of advice or words have you been given

that you would pass on to others?

• Don't worry what other people think. Be unique

Be memorable. Be confident. Be proud and most

importantly, believe in yourself.

• Learn something new every day. Never think you

are too old to ask questions or know too much to learn

something new.

• Walk the talk for your vision to have an effect.

• Build mutual trust and respect, criticise carefully and

constructively. Give praise and recognition.

Treat people equally.

Q: 3 words that describe you best?

Passionate, honest, approachable.

Q: What challenges do you face within your role?

The emergence of the multi-generation workforce is a

significant challenge when it comes to monitoring health

and safety. Each generation has different expectations of

how things should be done.

Q: What's your future long term goal?

Become a leader in my field, which will naturally attract

a higher earning capacity. As a young mother, I want to

provide a secure environment for my son and give him

the opportunities to succeed in life and gain a NEBOSH

Diploma.

Q: What's your idea of a work-free day off?

Wining and dining with friends and family, and

spending time with my 7-year-old son Lucas and partner.

Of course, who doesn't love a bit of retail and beauty

therapy to pamper oneself?

Q: Tell us what led you into your current career?

From a young age I was passionate about the

construction industry, having grown up around building

sites. Being a shy young female, I knew a career in

construction would be challenging, however I was

determined to follow my dreams and pursue a career

within the industry. It is a privilege to have a key role in

constructing buildings in which New Zealanders spend

a lot of their time, learning, playing, working, building

relationships, and making memories.

Q: What piece of advice or words have you been given

that you would pass on to others?

"Where there's a will, there's a way" is an important life

motto for me. So, don't give up, keep pushing on to

follow your dreams and work hard to achieve your goals.

Q: 3 words that describe you best?

Determined, genuine and loyal.

Q: What challenges do you face within your role?

Building genuine relationships with other women within

the industry who share my passion for construction

has been my biggest challenge. I am thankful for the

support I have received from men and women who

have encouraged and inspired me to push through

challenges and pursue my goals.

Q: What's your future long term goal?

My goal is to become a leader in the construction

industry to support positive, more sustainable

construction practices. I would like to inspire others to

join the construction industry by embracing our heritage

while shaping and growing New Zealand with iconic

buildings.

Q: What's your idea of a work-free day off?

Fishing off the Raglan coast and spending time with

family and friends.

‹‹

JAEL CLAUSEN, FOSTER SUSTAINABILITY

AND COMPLIANCE ADVISOR

‹‹

WENDY BARNARD, BRAND & MARKETING

MANAGER, FOSTER CONSTRUCTION GROUP

Q: Tell us what led you into your current career?

Being creative in my work has always been

important to me. My first job was a hair stylist, but

photography interested me far more and is what led

me into marketing. Initially, I was focused on website

management and design but explored other avenues

too. 8 years ago, I joined Fosters as a temp.

Immediately, I felt like part of the team and because I

truly believed in the Foster brand, this was the perfect

role. I appreciate being trusted to deliver a brand that

represents strong values, with marketing to support

everything that Fosters does.

Q: What piece of advice or words have you been given

that you would pass on to others?

Your job and title don't define you. You're stronger than

you think. And you can do this! Also, I am grateful to

have worked alongside some amazing women during

my career, many of whom remain close friends. Keep

in touch with people who have shaped your career

positively – you'll build a strong network.

Q: 3 words that describe you best?

True, passionate and compassionate.

Q: What challenges do you face within your role?

Marketing has very quickly developed into such a

complex field and it's impossible to be the master of

everything – the challenge is trusting others to present

our brand as passionately as I do!

As we grow bigger, so does the challenge of keeping

our brand consistent at every touchpoint. With so many

projects on the go at Fosters, brand and communications

is a fast-moving target and it can be challenging keeping

on top of it all. Flexibility is a must!

Q: What's your future long term goal?

Building a consistent brand gives me enormous

satisfaction – I look forward to seeing Fosters cement

their position as an industry leader, with the brand I've

had a hand in creating up high for all to see.

I also like the idea of developing more in the event

management space.

Q: What's your idea of a work-free day off?

Brunch, time with my two wee grandbabies and then

quiet time over wine and nibbles with my better half.

Note there is no mention of housework!

FOSTERS.CO.NZ . 07 849 3849
---
WAIKATO BUSINESS NEWS July/August 2021

59

Putting in the hours

There is no doubt that the hours people put into their business

can vary significantly. While some business owners work every

possible hour due to business growth, staff shortages or

unexpected challenges, others take every opportunity to avoid

their business. If you overdo it either way, you may suffer costly

consequences!

Working consistently

long hours, without

an end in sight

can become a struggle. You

may experience burnout,

your friendships and family

relationships may suffer, and

important events in your life

may pass you by.

On the other hand, if you

continually take time off to

follow your hobbies or just

want to take it easy, it is likely

you will become disconnected

from your business. If you

are lucky enough to have a

strong team who can work on,

regardless of whether you are

there or not, then you are to be

congratulated.

For those of you who are

just starting your business,

there is a lot of hard work to

be done and your time will

come when you can reward

yourself by working less

hours. My advice would be

to plan on working at least

40-50 hours per week unless

you are setting up a lifestyle

business.

Keep a note of your hours

worked and allow yourself

four weeks of leave a year,

recording these as you take

them. This practice will

ensure you remain focused on

your business.

It is easy to convince yourself

that it is okay to start late,

leave early, or take days off

but bad habits creep and this

practice can really impact the

bottom line.

THE BUSINESS EDGE

> BY BRENDA WILLIAMSON

Brenda Williamson runs business advisory service

Brenda Williamson and Associates www.bwa.net.nz

Let's look at a simple example of a tradesperson (a sole trader) who has a charge out rate of $80

per hour. Allowing for holidays, sick days and public holidays we will use 47 weeks of work a year

as a baseline. By working less and less hours, this shows you the likely impact on your turnover:

CHARGEABLE

HOURS PER

WEEK

TURNOVER

PER WEEK

TURNOVER

PER YEAR

45 $3,600 $169,200

40 $3,200 $150,400

35 $2,800 $131,600

30 $2,400 $112,800

25 $2,000 $94,000

Business owners who

are really stretched for time

should introduce a time management

system, by prioritising

tasks and delegating

whenever it is appropriate.

At the end of each week,

spend half an hour planning

for the following week. A

simple "to do" list will help

you remember what is urgent

and what needs to be done as

time allows. It doesn't mean

you will achieve everything

on the list but is a way of

reducing stress and hopefully

will let you enjoy family and

friends each weekend. At

the start of each new week,

it gives you something to

focus on and a smoother

transition from one week to

the next. You can buy preprinted

pads in many different

formats to help with time

management or simply make

up a template that you like

using. Stay connected and be

present. Disconnection often

leads to over-reaction when

things don't go well, and this

isn't fair on those around

you. Don't put your business

on 'auto-pilot' unless

you have built up a high

performing team.

Technology creates a better future

TECH TALK

> BY DAVID HALLETT

David Hallett is a co-founder and director of Waikato software specialist

Company-X and is an investor in Hillfarrance Venture Capital.

What inspires you to do what you do, and

wake up every day?

The question came from

Wayver general manager

Ezel Kokcu who

was moderating the Red Bull

Basement and Icehouse Ventures

Startup Speaker Series

at the University of Waikato

on July 20.

I had been asked to sit on

the panel as co-founder and

director of software specialist

Company-X. We do a lot

of work with businesses in

the digital start-up space and

have invested in a $40 million

fund administered by

Hillfarrance Venture Capital

to support early-stage technology

companies.

One of the reasons I

co-founded Company-X with

my business partner Jeremy

Hughes was the huge opportunity

for building a better

and brighter future in New

Zealand. The technology sector

spans our entire economy.

Whether you're in agriculture,

finance, health or some

of other industry, so much of

what you do is underpinned,

enabled and delivered

through technology.

This is also the reason I

became a venture capitalist

in that space, investing into

early-stage technology companies.

The tech sector is

the second largest export for

New Zealand, according to

the Technology Investment

Network TIN200 report. It

accounts for $9.4 billion dollars

of exports from the country's

top 200 tech companies

and is a major contributor to

our economy.

The fact we grow really

cool businesses that generate

trade surpluses through

exporting is another reason

I love the sector. It also

makes life easier and fun for

many people, enabling us to

become a knowledge economy

rather than just a process

or manufacturing economy.

It's amazing in terms of the

things that we can do and the

value that people can create.

I pay a lot of attention to

the companies that we invest

in, and look at our own company

through the eyes of

American business magnate

Warren Buffett.

Buffett talks about three

aspects that you need to be

aware of in any business:

the ABCs. The first one is

arrogance, and that's in relation

to your business or your

position in the market or

your product. The second is

bureaucracy, the implementation

of systems or processes

that actually aren't efficient,

or stifle decision making.

The third one is complacency,

and that's where you

make assumptions, you can

just be doing so well that you

don't look at managing or

maintaining costs in a business.

The ABCs are really

important aspects to always

consider.

That's why I got into it,

and that's why I wake up

every day. How about you?
---
60 WAIKATO BUSINESS NEWS July/August 2021

Equines first to benefit from innovative new

treatment for arthritis Jason Lowe

A small Cambridge company has brought an innovative treatment

for animal osteoarthritis to New Zealand.

IMS Vet NZ is helping veterinarians

manage osteoarthritis

and degenerative joint disease

in horses by bringing Arthramid®

Vet to the Australasian

market.

Arthramid is everything

a new treatment for

arthritis should be -

safe, very effective,

long-lasting and nonpharmaceutical

It is registered as a veterinary

medicine with marketing

authorisation in New Zealand

and Australia, the first such veterinary

approvals worldwide.

Manufactured by Contura in

Denmark, the technology behind

it was initially used as a dermal

filler in human cosmetic surgery.

But after seeing some preliminary

scientific studies of the use

of 2.5% PAAG in arthritic joints

of horses, IMS Vet company

founders and Waikato equine

veterinarians Jason Lowe and

Leigh de Clifford invested in the

research and regulatory work

required for its veterinary registration.

Since then, the technology

has also been approved in the

US for osteoarthritis in horses,

cats and dogs, thanks largely

to the research in animals conducted

in New Zealand and Australia

by IMS Vet.

The research has also contributed

to the registration of

2.5% PAAG in Europe as a

treatment for arthritis that may

prevent or postpone knee surgery

in humans.

"Arthramid is everything

a new treatment for arthritis

should be - safe, very effective,

long-lasting and non-pharmaceutical

and, with its ability to

alter the course of the disease

process, is proving a gamechanger

in veterinary and

potentially human medicine,"

Lowe says.

He describes it as a significant

development that allows

vets to move away from the use

of corticosteroids.

"As for human osteoarthritis,

it is very satisfying that

our work in obtaining veterinary

regulatory approvals has

helped get approvals for human

use and we can only hope that

work will reduce the time it

takes to get this product available

for people with arthritis

in Australasia."

Virtual super career fairs are here for

Wintec students

Wintec has joined nine other Institutes

of Technology and Polytechnics to cohost

a series of virtual super career fairs

to connect graduating students with

employers nationally and globally.

Connecting Wintec students

to employers

through Prosple super

career fairs is a new initiative

to give learners the chance to

meet online with a range of

employers, ask questions and

also learn about available graduate

programmes, internships

and employment opportunities.

Wintec industry engagement

director Klaus Reiter

says the collaboration with

Prosple's online career fairs

is a first for Te Pūkenga subsidiaries

and the fairs present

huge opportunities for students

and employers.

"This is a first for Wintec.

We're partnering with these

fairs because of their success

in other tertiary markets and

their reach. Currently there are

around 90 New Zealand-based

employers waiting to meet our

students, with more in Australia

and other international

locations.

"For students, this is two

hours of their time online to

explore their career possibilities

with leading employers.

It's a chance to test the

water, seek out opportunities

for internships and/or graduate

programmes or jobs, and

make themselves known to the

industries they are working to

As more fairs come

online, the Wintec

careers directory

will continue to

show employer

profiles and it's

an easy way for

employers to

advertise vacancies

directly to Wintec

students.

be part of," says Reiter.

"Through these live online

super fairs, our employers are

getting access to future talent

on a neutral platform. Prosple

have developed a highly interactive

and well-engineered

meet and greet format where

employers can interact with

potential employees."

A number of Waikato

employers have signed up

to take part and Reiter says

there is opportunity for more

Waikato employers to partner

with the super fairs.

Reiter says the super career

fairs launch from 10 -31

August for Wintec students

studying in the fields of engineering,

construction, business

and computing and technology

to be followed by a health fair

on 7 September 2021.

"As more fairs come online,

the Wintec careers directory

will continue to show

employer profiles and it's an

easy way for employers to

advertise vacancies directly to

Wintec students," adds Reiter.

The virtual super fairs are

free and students are encouraged

to find about the format

and research participating

employers in advance before

registering.

UPCOMING WINTEC

PROSPLE FAIRS:

Engineering:

Tuesday 10 August 2021

Construction:

Tuesday 17 August 2021

Business:

Tuesday 24 August 2021

Computing and Technology:

Tuesday 31 August 2021

Health:

Tuesday 7 September 2021

Major Cambridge subdivision

application refused

Independent Hearing Commissioners

have refused a

major subdivision application

in Cambridge, following

a hearing held during

May and June.

Commissioners Greg Hill

and Tara Hills, appointed

and acting under delegated

authority of the Resource

Management Act 1991,

assessed the application

lodged by 3M's of Cambridge

Limited Partnership for 262

lots for residential, commercial

and various public assets

within the C2 growth cell.

There were submissions both

supporting and opposing the

subdivision proposal.

The Commissioners'

refusal to grant consent was

based on a number of reasons

including that the subdivision

application was not in general

accordance with the approved

structure plan - which has

been through a public plan

change process with the C2

landowners.

The main issues of concern

for the Commissioners

were that the identified infrastructure

for the north /south

collector road and stormwater

corridor, and the open space

for active recreation, were

not provided in the application

for subdivision and that

this was not in accordance

with what is in the structure

plan map. Consequently, the

Commissioners' found that

this impacts on a number of

the adjoining property owners,

many of whom raised

concerns at the hearing about

the location of the infrastructure

being on their properties.

The C2 growth cell,

located west of Kelly Road,

has been earmarked for future

urban development to accommodate

a projected population

boom in Cambridge,

Waipā district's largest town.

Waipā District Council's

District Growth and Regulatory

Group Manager, Wayne

Allan, said the decision did

not dispute the land being

used for urban development

purposes and this matter was

not contested at the hearing.

"The C2 growth cell

remains an important urban

growth cell for Cambridge

that we must activate and

unlock to deliver more housing

and public and community

facilities, which the town

urgently needs," Allan said.

"Council has done the

structure planning, infrastructure

design, and obtained

the discharge consent from

the Regional Council and

the Ministry of Education

have designated a primary

school. As such, we will

continue to work with the

landowners and developers

in C2 on the location of the

key infrastructure.

"Council has also committed

to funding the growth

infrastructure in the 2021-31

Long Term Plan so we remain

committed to the urbanisation

of the area.

Unfortunately, the application

didn't meet the C2

structure plan requirements

and the Commissioners have

declined the application as a

result.

The application sought to

subdivide four existing lots

of approximately 40ha into a

single ownership and further

creating 246 residential lots,

a 'super lot' for a retirement

village, commercial centre,

future residential development,

high density residential

development, a school, roads

and local reserves.
---
WAIKATO BUSINESS NEWS July/August 2021

61

Fieldays named as

award finalist for

Covid-19 response

Fieldays has been named as a finalist for the 2021 NZ Events

Association (NZEA) New Zealand Event Awards for their virtual

event launched amidst the uncertainty of the pandemic –

Fieldays Online.

Fieldays Online is shortlisted

in the Best Covid-

19 Response for an

Event 2021 category, among

other top players in the New

Zealand events industry. This

award recognises an exceptional

response to challenges

posed by the pandemic.

This year's awards saw a

record number of entries, with

the Best Covid-19 Response

category being the most popular,

gathering a quarter of

the total 108 entries.

Ségolène de Fontenay,

general manager of the

NZEA, says the awards

showcase industry best practice,

inspire and motivate others,

and encourage continual

development of the events

industry.

"We do this by judging

events on the 'how' as well as

the 'what,' and we love hearing

the inspiring stories of

resilience from our sector,"

Ségolène says.

Fieldays Online was

Fieldays Online was

a world first for an

agricultural event of

its kind at the time.

The 2020 event was

an effective way

for us to connect

with the primary

sector and our

rural communities

around the world

and keep our brand

alive during the

pandemic.

created in 108 days when

the physical 2020 event to

be held at Mystery Creek

couldn't go ahead due to

Covid-19 restrictions. It

attracted 90,455 total digital

visitors, with attendees from

over 75 different countries,

while nearly 300 exhibitors

hosted digital sites.

The virtual event was

created in partnership with

Satellite Media, a digital

innovation agency based in

Auckland. Well-known Kiwi

brand Trade Me also supported

the event, connecting

various Fieldays exhibitors

with e-commerce capabilities.

Fieldays Online, now a

virtual extension of the physical

event, allows visitors

to attend the event from the

comfort of their own homes.

Fieldays exhibitors are

onboarded to an online platform,

allowing then to promote

their products and

services, offer deals, and generate

content.

Peter Nation, chief executive

of the New Zealand

National Fieldays Society,

The Fieldays Online 2020 live studio

says he is delighted that the

team's hard work is being

recognised at this level.

"Launching Fieldays

Online was no small feat –

the team created the platform

out of necessity under trying

circumstances, and it is now a

vital component of our digital

roadmap moving forward.

"Fieldays Online was a

world first for an agricultural

event of its kind at the time.

The 2020 event was an effective

way for us to connect

with the primary sector and

our rural communities around

the world and keep our brand

alive during the pandemic.

"We are very proud to

be shortlisted among other

heavy hitters in the industry,

who can be proud of their

resilience, innovation, and

quick thinking that brought

their events to fruition, and

maintained the strength of the

industry."

Fieldays 2021 combined

the best of the physical

event, the second biggest

in Fieldays history, and the

virtual event.

At Bayleys, we believe relationships are what businesses are built on and how they

succeed. We understand that to maximise the return on your property you need:

Professional property management

A business partner that understands your views and goals

Contact the Bayleys Commercial Property Management team today.

Bayleys Commercial

Property Management

027 408 9339

jan.cooney@bayleys.co.nz

SUCCESS REALTY LTD, BAYLEYS, LICENSED UNDER THE REA ACT 2008

ALTOGETHER BETTER

Residential / Commercial / Rural / Property Services
---
62 WAIKATO BUSINESS NEWS July/August 2021

Would you work for you?

PEOPLE AND CULTURE

Would you work for you? This is an

interesting question and certainly one to

reflect on if you are employing staff.

> BY SENGA ALLEN

Managing Director, Everest – All about people TM

www.everestpeople.co.nz

In today's tight labour market,

none of us can afford

to lose great people. How

often do you as a business

owner take time out to think

about your staff and actively

ask questions about what

it is like to work for your

company? You might get an

inkling when an employee

hands in their resignation, but

of course this is far too late!

As business owners we regularly

review our sales operations.

We also know all about

the importance of cashflow.

However, the people component

of business is equally as

important as the operational

and financial streams. How

much more effort do you

think your employees would

contribute if you understood

what made them tick?

Research has shown that

up to 30 percent of bottom

line performance can be

attributed to how well leaders

in a business manage and

motivate their people, and the

direct line manager has the

most impact on an employee's

sense of job satisfaction.

A recent client was losing

staff faster than they could

recruit replacements and

automatically assumed it was

about money.

As it turns out, this

couldn't have been further

from the truth. It was in fact

the team leader who was

having the greatest effect on

staff turnover. People found

him impossible to work for

and generally left within six

months of starting. Some

employees intrinsically work

harder and more productively

than others, but the higher

their work ethic the quicker

they leave under poor leadership.

As a business leader

you need to understand how

you and your managers are

doing in terms of motivating

the best performance possible

from all employees.

There are of course several

ways you can get inside the

heads of your staff. The most

obvious is that old favourite

- the performance review.

Done well, this type of process

provides employee and

manager with an excellent

mutual opportunity to openly

discuss how things are going

and what can be improved

on from both sides. However

due to bad planning, poorly

designed systems and inadequately

trained managers

who don't give feedback at

any other time, most bosses

and staff dread the thought

of the annual review. Generally,

staff come away feeling

dissatisfied. They seldom

speak up about what's really

bugging them or more importantly

what could increase

their productivity at work.

One on one interviews

and, less frequently, focus

groups are also used. These

forums certainly have their

benefits but where there is a

possibility of being picked

out for individual comments,

staff will tend to hold back

Research has

shown that up to 30

percent of bottom

line performance

can be attributed to

how well leaders in

a business manage

and motivate their

people, and the

direct line manager

has the most impact

on an employee's

sense of job

satisfaction.

from saying what they think.

We've all worked for a boss

who analysed "who said

what" rather than the message

being given and therefore

missed the point altogether.

One of the most effective

communication tools is a

"climate survey" to find out

how staff view the key elements

that drive success in

your business. Carried out

by an independent third party

this is an anonymous process

that allows staff to feel

safe in voicing their opinion.

As long as the results of the

survey lead to immediate and

visible implementation then

staff gain confidence in their

ability to make a difference,

motivation increases, and

culture improves to the point

that constructive communication

with your staff becomes

a daily habit.

At the end of the day, no

matter what tool you use, the

important thing is to sit back

and take stock every now and

again. It might sound very

basic, but really talk with

your staff or if you feel a

little anxious about this get

an independent HR specialist

to come in and interview

your people. Staff are often

bursting with solutions in

businesses that simply don't

have communication channels

to allow these ideas to be

voiced.

When someone does

resign, seize the opportunity

to find out what the person

liked about working for you,

what they didn't like and

what could be improved for

people who remain. Disciplinary

related terminations

aside, never close the door

on a departing employee.

You never know when they

might want to return to your

door with more skills and

experience that could benefit

your business.

Stepping out of

your comfort zone

TELLING YOUR STORY

> BY VICKI JONES

Vicki Jones is director of Dugmore Jones, Hamilton-based brand

management consultancy. Email vicki@dugmorejones.co.nz

How often do you look around at other businesses and how they

promote themselves and think "I wish we were brave enough to

do that", or feel like you're stuck in a marketing rut?

Doing what you always

do gets you what

you've always got,

they say. That's not always

a bad thing. If it's working,

why change it? Congratulate

yourself instead. If you've

got your targeting just right

and you understand your

audiences and what works for

them – good job.

If you're telling them what

they need to hear about your

product or service and also

giving them a clear vision

of what your business and

brand is all about, even better.

You're nailing it.

But we really shouldn't

pat ourselves on the back too

freely, not without taking the

time to make sure our message

isn't getting stale. Or that

the way we present our brand

isn't stuck in a long-gone era.

Doing things differently

can be a challenge. Change

is hard. For someone who

happily packed up their life

to move to the other side of

the world and then, more

recently, quit a stable job to

go it alone, you wouldn't

think I'd describe myself as

overly cautious about doing

something differently. But I

am. I'm a consummate overthinker,

frequently guiding

myself down the safer path for

fear of getting lost.

If you do switch to a different

lane, make sure you have

a good reason. Being bored or

personally wanting to change

things up isn't a good enough

reason. Overtaking the competition

is a fair enough

objective, as is getting to

your destination quicker, but

make sure you're still driving

safely.

The new New Zealand

Post branding is an intriguing

example. I was on their marketing

communications team

during the early stages of the

last update. There was a lot of

brand strategy work around

product brands, but the main

logo was also reviewed. At

the time, it got a simple design

update to make the icon and

typography more contemporary,

which was a fair call as it

was clunky and dated. But the

envelope icon was sacrosanct

back in 2000 because, despite

the knowledge that the business

was rapidly changing, it

symbolised the heart of the

NZ Post, and customers told

us so in no uncertain terms.

But now, reflecting a major

shift in focus, the envelope is

gone, replaced with a symbol

that represents a road for

delivery, rather than a letter.

(Personally, it makes me think

of an S-bend but, hey, I get

where they're going.) They

even front-foot it in their

advertising, with a kid asking

the delivery guy where the

envelope's gone, handing him

the opportunity to tell us all

that they're about more than

just letters nowadays.

It's interesting that the

name still contains 'Post', but

that change would be one step

too far outside the comfort

zone for the organisation, I'm

sure, and too big a change for

customers. For brands that are

part of the fabric of our community

like them, history and

nostalgia are often stronger

binds than any functional references

can ever be.

Understanding your customers'

comfort zone is

equally as important as being

authentic about your own

parameters. For example,

how about if your business

is targeting a more mature

and conservative audience.

You may choose to update an

old-fashioned looking brand

identity to bring you more up

to date but if the design and

marketing you use to tell your

story goes too far in its trendy

modernity, you risk some

alienation.

It would take a brave

retirement home to decorate

its foyer with a graffiti wall

or to start using language in

its ads that you'd need Urban

Dictionary to translate. But

stepping outside of the messages

of safety, care and wellbeing

has seen this particular

sector create a new comfort

zone for its marketing.

They now focus on championing

the young-at-heart,

community and fun, with

Ryman being one of few

in the category to take an

edgy and more sophisticated

approach to their advertising

storytelling. I don't know if

this reflects the brand experience

– I'm not ready to

investigate retirement living

options quite yet! – but it certainly

makes them stand out

from the crowd.

Just like with most marketing

decisions, authenticity

to your brand and building

connection with your target

audiences are the main drivers

of any move outside your

comfort zone. Consider how

far you can push things, how

brave you can be, how deep

the risks you can take.

Consider consequences,

but also consider pushing

your boundaries. Doing something

you've never done, may

get you something you've

never got before.
---
WAIKATO BUSINESS NEWS July/August 2021

63

Online video consumption is booming

THE DIGITAL WORLD

> BY JOSH MOORE

Josh Moore leads the team at Duoplus - a Hamilton-based

digital marketing agency that helps businesses grow through

highly measurable online marketing. www.duoplus.nz

The demand for online video content is exploding around the

world. Most marketing departments need to be increasing their

plans for video marketing, or risk missing out on business.

The statistics are in, and

online video is booming!

The Wyzowl report,

The State of Video Marketing

2021, explored people's

video watching behaviour

across YouTube, Facebook,

Instagram, LinkedIn, Tiktok,

Snapchat, webinars and websites.

Excluding online TV

such as Netflix, it found that

people now watch an average

of 16 hours of online video

per week! That's a 52 percent

increase in the last two years.

Two of the core underlying

causes of the growth

are Covid-19 that has caused

people around the world to be

stuck at home for extended

periods, and increasingly faster

internet connections, especially

with 4G and 5G connections

for mobile users.

For instance, according

to Cisco, global mobile data

traffic will increase seven-fold

between 2017 and 2022. They

estimate that a 5G connection

will generate 260 percent more

traffic than the average 4G

connection, with much of that

increase coming from more

video content being consumed.

Facebook and Instagram

are fast becoming video platforms

more than static image

platforms.

In fact, last month Adam

Mossseri, the head of Instagram,

stated, "We are no longer

a photo sharing app". In

the same video he said, "The

number one reason people use

Instagram is to be entertained"

and specifically sited TikTok

and YouTube as their biggest

competitors in the video space.

Giving a very clear indication

of what is to come he said,

"We're going to be experimenting

with how we embrace

video more broadly - full

screen, immersive, entertaining,

mobile-first video".

Reviewing video engagement

statistics shows why

Facebook and Instagram and

pushing so strongly into this

area. People are twice as likely

to share video content with

their friends than any other

content. And upstart social

media platform TikTok has

exploded in growth with its

exclusive focus on video. It

has rocketed up the charts

when it comes to the average

number of minutes users spend

per day on the platform - even

beating Instagram in numbers

of reports.

With all of this growth in

video consumption, it's no

wonder that video marketing

is exploding in growth too.

Recent research in USA found

that as many as 85 percent of

businesses have used video

marketing in 2020. This is an

enormous increase from 2016

where the figure was just 61

percent.

Currently, the top types of

video include explainer videos,

which nearly three in four (72

percent) of video marketers

create, presentation videos (49

percent), testimonial videos

(48 percent), and sales videos

and video ads (42 percent

each).

Studies have found that

viewers retain a much higher

percentage of a message

when they watch it in a video

compared to just reading it in

text. And 94 percent of people

surveyed in the Wyzowl

report said they had watched

an explainer video in the last

year to learn about a product or

service.

What is more, 84 percent of

people say that they've been

convinced to buy a product or

service by watching a brand's

video.

Way back in 2009, Zappos,

the world's biggest online shoe

store, who sell more than $1

billion in shoes per year, said

that adding demo videos to

their ecommerce product pages

increased sales between 6 percent

and 30 percent. The videos

were simple demo videos

with real Zappos employees,

not models or actors, making

them affordable to create.

So whether it be webinars,

explainer videos, demo videos,

customer testimonials,

sales videos or video ads, as

you consider where to put your

marketing focus over the next

year, make sure you're considering

how you'll use online

video in your marketing.

Drainage Business $165,000

Whangamata

· Established over 25 years

· Earn $200K+ to one working owner

· Significant client base

· Strong forward workload

· 5-day operation, great lifestyle

linkbusiness.co.nz/BOP00326

Mike Chote 027 555 1176

mike.chote@linkbusiness.co.nz

Fibre Service Business $475,000

Waikato

· Well established with experienced team

· 5 van fleet with specialised equipment

· Steady forward bookings, potential to expand

· Owner will assist in steady transition

linkbusiness.co.nz/WK00175

Reuben Haddon Silby 021 133 0624

reuben.haddonsilby@linkbusiness.co.nz

Popular Eatery Surplus $187,000

UNDER

CONTRACT

Waikato

· A sure winner, well priced.

· Working owner cash surplus $117K

· Long-established kitchen & FOH staff

· Fantastic new lease, 15yrs remaining

· Accommodation available onsite

·

linkbusiness.co.nz/WK00173

Alanah Eagle 021 606 345

alanah.eagle@linkbusiness.co.nz

All LINK NZ offices are licensed REAA08

Eatery. Weekly Sales $25K+ $450,000

Waikato

· Located on popular SHW 1 service stops

· Strong trading history, simple operation

· Well-maintained with a quality lease

· Turnover of $1.2m PA with owner working

part-time

linkbusiness.co.nz/WK00176

Therese Bailey 021 707 641

therese.bailey@linkbusiness.co.nz

Construction Franchise Territory $295,000

Thames / Coromandel

· Well respected brand with excellent reputation.

· Marketing in place, award winning designs.

· Can be located anywhere in the franchise

territory.

· Franchise assistance & vendor transition incl.

in sale.

linkbusiness.co.nz/WK00177

Rick Johnson 021 991 485

rick.johnson@linkbusiness.co.nz

Successful Car Valet Service $155,000

Hamilton

· Well-regarded franchise operation

· Central city location

· No special skills required; full training

· Returning $90K full-time owner

· Plenty of scope to expand

linkbusiness.co.nz/WK00180

Therese Bailey 021 707 641

therese.bailey@linkbusiness.co.nz

Engineering Business

$2,200,000

Auckland

· Specialised equipment in niche market

segments.

· Excellent reputation & strong customer

relationships.

· Systems & detailed processes in place.

· SDE $590k+ to the working owner in 2021.

linkbusiness.co.nz/WK00055

Rick Johnson 021 991 485

rick.johnson@linkbusiness.co.nz

Decorating Contractors $620,000

Waikato

· Est. 1993, well-respected & well known

· IImbedded processes & systems incl. software

· Specialists for a range of unique services

· Over $200k EBPITD per year on average

linkbusiness.co.nz/WK00174

Reuben Haddon Silby 021 133 0624

reuben.haddonsilby@linkbusiness.co.nz

One of the Best Giftware Stores $240,000

Hamilton

· Expressions Chartwell

· Reap the exceptional Xmas trading

· Stocking NZ top quality brands

· Excellent & knowledgeable staff

· Working owner can earn a very nice income

linkbusiness.co.nz/BOP00337

Lisa Lloyd 027 685 4556

lisa.lloyd@linkbusiness.co.nz

When you sell

anything, you

want to sell at

the top of the

market.

That time is

now!

Call for a confidential chat to

understand what your business

is worth in today's market.

22 Naylor Street

Hamilton

0800 225 999

LINKBUSINESS.CO.NZ
---
Maeve Keating - Fitout Manager

Global professional services consultancy,

GHD, has been enjoying their new

Hamilton Office at 586 Victoria, fitted by

Foster Maintain. The fact that the firm,

full of engineers, architects, and interior

designers, is thrilled with the outcome, is a

tribute to Foster's quality work and project

management.

Maeve Keating, Fitout Manager for

GHDWoodhead creativespaces, says they

were looking to create an office space that

inspires clients to work with them.

"We wanted the office to demonstrate our

services and show that we're a different

kind of practice," says Maeve. "It needed to

showcase a successful project we've worked

on, encourage collaborative work and speak

of our unique approach to integrated design."

"586 Victoria ticked a lot of boxes for

us. We stripped the building back to the

core, creating an industrial style which

demonstrates the skill of the building's

integrated disciplines. Our engineering

solutions sit proudly within, and in harmony

with, considered architectural spaces."

Foster Maintain was an easy choice for the

fitout, because 586 Victoria was a Foster

Develop project. Maintain were involved from

the early stages of the project, demolishing

the old tenancy space, and working closely

with GHD's designers on the new fitout over

12-weeks.

"Working with Foster Develop and Foster

Maintain made things simple. It was good

knowing they were part of the same

business" continues Maeve. "I'd definitely

work with them again; their communication

was excellent, and they were so

approachable."

"We are really happy with the result. The

standard of work is excellent, and our team

love their new working space. We've had

great comments from clients too!"

FOSTERS.CO.NZ . 07 849 3849