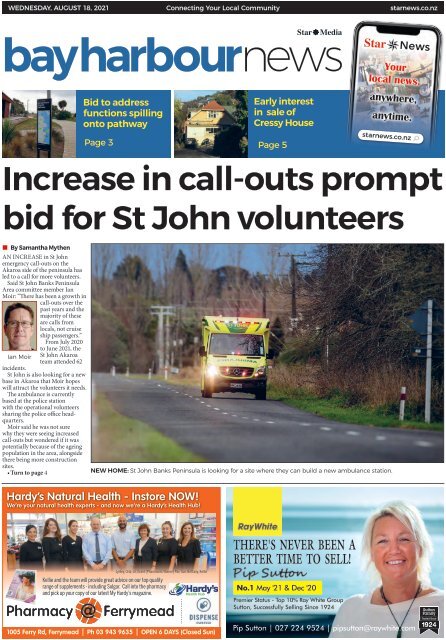 Bay Harbour: August 18, 2021
You also want an ePaper? Increase the reach of your titles
YUMPU automatically turns print PDFs into web optimized ePapers that Google loves.
WEDNESDAY, AUGUST 18, 2021

Connecting Your Local Community

starnews.co.nz

Your

local news.

Bid to address

functions spilling

onto pathway

Page 3

Early interest

in sale of

Cressy House

Page 5

anywhere,

anytime.

Increase in call-outs prompt

bid for St John volunteers

• By Samantha Mythen

AN INCREASE in St John

emergency call-outs on the

Akaroa side of the peninsula has

led to a call for more volunteers.

Said St John Banks Peninsula

Area committee member Ian

Moir: "There has been a growth in

call-outs over the

past years and the

majority of these

are calls from

locals, not cruise

ship passengers."

From July 2020

Ian Moir

to June 2021, the

St John Akaroa

team attended 62

incidents.

St John is also looking for a new

base in Akaroa that Moir hopes

will attract the volunteers it needs.

The ambulance is currently

based at the police station

with the operational volunteers

sharing the police office headquarters.

Moir said he was not sure

why they were seeing increased

call-outs but wondered if it was

potentially because of the ageing

population in the area, alongside

there being more construction

sites.

• Turn to page 4

NEW HOME: St John Banks Peninsula is looking for a site where they can build a new ambulance station. ​

Hardy's Natural Health - Instore NOW!

We're your natural health experts - and now we're a Hardy's Health Hub!

Lynley, Orla, Lil, Grant (Pharmacist/Owner) Pav, Sue, Brittany, Kellie

Kellie and the team will provide great advice on our top quality

range of supplements - including Solgar. Call into the pharmacy

and pick up your copy of our latest My Hardy's magazine.

Health Hub

1005 Ferry Rd, Ferrymead | Ph 03 943 9635 | OPEN 6 DAYS (Closed Sun)

THERE'S NEVER BEEN A

BETTER TIME TO SELL!

No.1 May '21 & Dec '20

Premier Status - Top 10% Ray White Group

Sutton, Successfully Selling Since 1924

Pip Sutton | 027 224 9524 | pipsutton@raywhite.com

Sutton

Family

Trusted Since
---
1 2 3 4 5 6

7

8 9

10 11 12

13 14 15

16 17 18

19 20 21

22

23 24

2 Bay Harbour News Wednesday August 18 2021 Latest Canterbury news at starnews.co.nz

from the editor's desk

GENERAL INQUIRIES Ph 379 7100

CLASSIFIED ADVERTISING Ph 379 1100

Star Media, a division of Allied Press Ltd

PO Box 1467, Christchurch

starmedia.kiwi

PARTYING ON the coastal

pathway is about to come to an

end. Well, maybe.

We report (page 3) on the

long-running saga of functions

at the Sumner surf club spilling

onto the coastal pathway.

To be fair to the surf club,

these are usually private functions

held by people who have

hired the club out.

The city council now wants

the club to ensure those hiring

out the facility know they can't

take their celebrations onto the

pathway.

Easier said than done, I

suspect.

On another note, lots of

reader feedback (page 11) on

the next step towards a liquor

licence being able to be granted

for whatever is built at the

former Godley House site.

Get on with it, I say.

– Barry Clarke

barry@starmedia.kiwi

NEWS

Samantha Mythen

Ph: 021 919 917

samantha.mythen@starmedia.kiwi

news

ADVERTISING

Jo-Anne Fuller

Ph: 364 7425

jo.fuller@starmedia.kiwi

Professor reaches beyond the stars

Theoretical physicist Jenni Adams puts her career under the microscope.

Rob Davison

Ph: 021 225 8584

rob.davison@starmedia.kiwi

Pages 13 & 15

The best-read local newspaper,

delivered to 10,514 homes every week.

Brookhaven • Heathcote • Ferrymead

Redcliffs • Mt Pleasant • Sumner • Lyttelton

Diamond Harbour • Governors Bay • Akaroa

20/8

CRYPTIC CROSSWORD

Across

Down

1. How to get the gen from one nation 2. Standard exclusion of the Marines (4)

1 2 3 4 5

(11)

3. Chemical compound made bovine

8. She can make it rain, hard, having a creature die out (5)

6 7

sharp tongue (8)

4. It signifies what one has to live on (5)

9. Go angling for the counter used in 5. Gather it could turn fine by end of

8 9

game (4)

September (5)

10. Turns over round middle of passage 6. Make the moon err (Celsius) with an

to left-hand page (5)

accurate clock (11)

13. Devastation suffered as bear loses 7. It comes suddenly and

10 11 12 13 14

its head (4)

overwhelmingly with the lightning (11)

15

16. Some bad language to be taken in 11. The time just before the bowler's

court (4)

approach (3-2)

16 17

17. With half-luck, be about to be one 12. Command has its own tidiness (5)

playing for university (4)

14. Looks so ill-favoured as to be

18. In the Lords he's not quite before threatening (4)

time (4)

15. Be up and about in prison (4)

18 19 20 21 22

20. One of the sides in a lawsuit has a 19. Plant a goodly quantity on you and

convivial meeting (5)

me (5)

23

24. Is eleven, and French is around to 21. Some of it isn't together (5)

make it leave (4)

22. Motor put up in race in a stretch of

24 25

25. Friend with a twisted tail in residence country (5)

so sumptuous (8)

23. In the Foreign Office one is at home

26. It used it? Not if in such poverty (11) to dry sherry (4)

26

QUICK CROSSWORD

SUDOKU

Fill the grid so that every column, every row and 3x3

box contains the digits 1 to 9.

puzzles

Sharpen your pencils

Try out our tricky crosswords or sudokus and keep your mind in

shape.

Page 19

Across

leading to a house (8) 2. Yes (3)

1. Tropical fruit (5) 19. Painful experience 3. Skilled (5)

(6)

4. Female thespian (7)

7. Medic (3) 20. Serviette (6) 5. Instrument for

8. Tranquil (6) 22. Spin out (3) seeing into space (9)

9. Natural ability (6) 23. Magazine boss (6) 6. Group of stars (13)

10. Make uneasy (8) 24. A repeat showing 11. Convenient but

12. Location (4) (5)

improper (9)

13. Marine mollusc (6)

14. Young child (7)

15. Ought (6) Down

18. Close to the centre

16. Elderly (4) 1. Good in the garden (5)

17. Private path (5-8)

21. For each (L) (3)

4. Assault (6)

FREE

CODECRACKER

QUICK CROSSWORD

Across: 1. Guava, 4. Attack, 7. Doc, 8. Serene, 9. Talent, 10.

Unsettle, 12. Site, 13. Limpet, 15. Should, 16. Aged, 17. Driveway,

19. Ordeal, 20. Napkin, 22. Eke, 23. Editor, 24. Rerun.

Down: 1. Green-fingered, 2. Aye, 3. Adept, 4. Actress, 5.

Telescope, 6. Constellation, 11. Expedient, 14. Toddler, 18. Inner,

21. Per.

CRYPTIC CROSSWORD

Across: 1. Information 8. Harridan 9. Fish 10. Verso 13. Ruin

16. Oath 17. Blue 18. Earl 20. Party 24. Exit 25. Palatial 26.

Destitution.

Down: 2. Norm 3. Oxide 4. Means 5. Infer 6. Chronometer 7.

Thunderbolt 11. Run-up 12. Order 14. Ugly 15. Stir 19. Lotus 21.

Apart 22. Tract 23. Fino.

TARGET

eight feign felting feting fight

filing flight fling gelt genii

gent gift gilt glen glint hefting

hieing hinge ignite ingle legit

length lifting light lighten

lignite ling neigh nigh night

nightie NIGHTLIFE thegn

thing tiling ting tinge tingle

MEDIUM HARD

PRESCRIPTIONS *

EASY

TARGET

L T I

N G I

E H F

Good 19

Very Good 27

Excellent 34+

ALL PUZZLES © THE PUZZLE COMPANY

183,000

readers every week...

How many words of four letters or more can you

make? There is at least one nine-letter word.

Each letter may be used only once and all

words must contain the centre letter.

No words starting with a capital, no plurals

ending in s unless the word is also a verb, e.g.

he fires the gun.

That's almost as

many people who

are at the mall on

Christmas Eve.

Japanese Woodblock Prints &

Artworks. Ceramics Porcelains,

Metalware from Asia

WANTED by

No $5 prescription charge

Source: Nielsen National readership survey y/e Q3 2020 - y/e Q1 2021 (Star Max, one ad)

Contact Barry to view. Licensed Auctioneer.

Ph 021 867 243. barry@barrywatson.co.nz

*Other charges relating to partially funded or

unfunded medicine prescriptions may apply.

EASTGATE PHARMACY

Phone (03) 963 7910

Eastgate Shopping Centre

Read local
---
Wednesday August 18 2021 Bay Harbour News

Latest Canterbury news at starnews.co.nz

Pathway party issues addressed

• By Samantha Mythen

Mark

Lodder

THE SUMNER Surf Lifesaving

Club says it will do its best to

stop functions spilling out onto

the Coastal Pathway.

It comes after months of discussions

between the club, the

Christchurch Coastal Pathway

Group and the city council due

to ongoing concerns raised of

people at functions obstructing

the pathway.

If club members and guests

want to use the outdoor area

for events outside of the club's

leased boundary, they must now

ensure the Coastal Pathway

remains clear and open at all

times.

Surf lifesaving

club chairman

Mark Lodder

said the club

completely

appreciates the

outcome and

will "undertake

its best

endeavours to

ensure this is not

breached."

"As a club, we are very

committed to our community

and especially appreciate the

community for hiring out our

venue as it is a valuable source of

club funds," he said.

"However, we are very

particular about how we hire

out the venue and we will make

sure it is clear to people using

it there are strict rules and

guidelines. The Coastal Pathway

is the Coastal Pathway. It is not

an extension of the club hire

facility."

Concerns were raised with

the club by the city council

and the pathway group, resulting

in a trial over the 2020/21

summer period from November

to April allowing for temporary

closures of the pathway for outside

events such as weddings.

However, the Coastal

Pathway was blocked for longer

periods than was originally

agreed.

Coastal Pathway Group

chairman Hanno Sanders

presented a deputation to the

Linwood-Central-Heathcote

Community Board in February

to discuss the continued

concerns.

In response, the community

board requested the city

council work with the interested

OPEN

PATHWAY:

Functions

held at the

Sumner Surf

Life Saving

Club must

not overflow

onto the

neighbouring

Coastal

Pathway.

PHOTO:

GEOFF SLOAN

groups to find a resolution.

A memorandum on the matter

was provided to the community

board on August 2.

Community board member

Sara Templeton acknowledged

the club facility's charm in "its

ability to spill out into the coastal

environment."

"It is important, however,

that the Coastal Pathway isn't

blocked for users, especially in

this section that has access to the

beach and a really high amenity

for everyone," she said.

NEWS 3

In Brief

FUNDING FOR PLANTS

THe Summit Road Society has

been granted $650,382 from the

Department of Conservation

as part of its Jobs for Nature

funding application. This will

allow the group to plant 45,000

trees and plants on the Port

Hills over the next three years.

The Jobs for Nature programme

is focused on creating naturebased

employment to encourage

the economy post-Covid-19.

The society is partnering with

Wai-ora Forest Landscapes to

deliver this project.

PESTS CAPTURED

THe total pest catch reported by

Predator Free Port Hills for this

year so far is 6267, with reserve

data still incoming. Since the

year's beginning, the group

has held three trapping

workshops, seven community

events and three trap building

days, as well as practical sessions

with three schools and one

kindergarten. The field team

for Pest-Free Banks Peninsula

has now started. They will

begin with the elimination

programmes at Kaitōrete and

the extended Wildside area in

the south-eastern corner of the

Peninsula.

Christchurch Heart Institute,

University of Otago, Christchurch

Are you on

treatment for

heart failure?

If so,

you could participate in a clinical trial!

The Christchurch Heart Institute is taking part in an international study

looking at IV iron replacement therapy in heart failure patients.

Transport and parking is paid for by the study.

For more obligation-free information please contact:

Stephanie Rose on 03 378 6137 or

email: Stephanie.Rose@cdhb.health.nz

Care &

Compassion

We pride ourselves on the

very highest level of service

If you are thinking about the future, we can help

you explore pre-payment and pre-planning options.

Contact us for a Free Information Pack.

We offer funeral information talks to groups.

Please call us for a speaker to come to you.

(03) 379 0196 | www.simplicity.co.nz

Mike Chandler

Funeral Director

Faire magazine

$40

Swedish linen

tea towels and cushion covers

The POTAGERS

GIFTS - HOMEWARES

CLOTHING

ENJOY SHOPPING

LO CALLY AT

THE RED HOUSE

REDCLIFFS VILLAGE

Facebook/Instagram:

thepotagersredhouse
---
Bay Harbour News Wednesday August 18 2021

4 NEWS

Call for land to set up

ambulance base

• From page 1

The age group of 65 plus sees

the highest amount of call-outs,

with 40 per cent of call-outs

related to breathing problems and

25 per cent of call-outs related to

chest pains.

Twelve per cent of the call-outs

are traffic incident related.

"We also need more volunteers

on the team," said Moir.

He explained there was

currently a small, dedicated team,

made up of eight operational

volunteers, giving their

personal time in support of the

community.

"We think if St John had a

more prominent presence, it

would make it easier to recruit

volunteers," said Moir.

"There would be a base and

home that is theirs."

With a new station, the

team would be able to build

an ambulance bay, provide

a meeting and storage area,

alongside a kitchenette and

bathroom for the volunteers.

Earlier this month, Moir,

St John Banks Peninsula area

committee chairman Brent

Stanaway, and St John territory

manager Ian Rex talked to the

Banks Peninsula Community

Board about their quest to find a

site for a new station.

At the meeting, the St John

team discussed potential city

council-owned land they could

use.

This includes a site off Rue

Balguerie, a piece of land on the

hill rise between Takamatua

and Akaroa next to the western

side of Old Coach Rd, and the

preferred site of the parking area

near the Akaroa tennis/netball

courts and croquet green.

St John is also asking the

community for available land.

"Within the township would be

quite good," said Moir.

"That's why the parking area

would work well as we can service

Akaroa but also get out of town

quite quickly too."

Moir said it would be a fantastic

result if someone gifted a suitable

area of land to St John as they are

hoping for a long-term solution.

City council head of facilities,

property and planning Bruce

Rendall said the city council

was currently collaborating

with St John in relation to its

search for a suitable ambulance

station site.

"Discussions between St

John and council and site

investigations are at a very early

stage," he said.

•If you have any land St

John could potentially use

for a new station in Akaroa,

email ian.moir@stjohn.org.

nz

Latest Canterbury news at starnews.co.nz

Show of fighting spirit

THE AKAROA Karate Club hosted its first karate

kids tournament on Saturday. About 40 children

attended the event, including competitors visiting

from clubs in Ashburton, Christchurch and

Timaru.

The Akaroa club won the following medals:

Kihon (showing single techniques)

Silver: Cody Thompson

Bronze: Olive Foster, Sophire Pendle, Jackson

Sligting

COMPETING: Akaroa's Louis Cataliotti in

the midst of karate kata.

Kata (pattern, shadow fight)

Gold: Nest Parthonnaud

Bronze: Frieda Foster

Gohon Kumite (pre-written fight)

Bronze: Cooper Thompson, Julia Holten, Cody

and Quinlan Thompson

Kumite (free fight)

Gold: Nest Parthonnaud

Bronze: George Wright and

Frieda Foster
---
Wednesday August 18 2021 Bay Harbour News

Latest Canterbury news at starnews.co.nz

Early interest as Cressy House

Lyttelton goes on the market

• By Samantha Mythen

COLOURFUL Cressy House,

with its rich history, rumoured

hauntings and ghost tales, is now

up for sale.

Real estate agent

Michelle Situe

said she had

received many

inquiries about

the property on

Michelle

Situe

Cressy Tce in

Lyttelton since

it was listed last

Tuesday.

"It's surprising how many

people have inquired," she said.

"It's such a unique property,

it's definitely not for everyone."

Realestate.co.nz listed its

capital value as $999,000 in

November 2019.

With the first open home this

Saturday, Situe expects "quite a

few" people to stop by, with 13

groups already registered for a

viewing.

She said most people interested

in Cressy House were keen to

restore it.

"People love the property and

would like to restore it to how it

was."

The property – about 600m2

with 22 bedrooms and 11

FOR SALE: Cressy House in Lyttelton was listed last week.

bathrooms – overlooks

the Lyttelton harbour.

It is currently rented out on a

room-by-room basis.

The property was bought by

its present owner for $375,000 in

2012.

Originally built as a caretaker

home for the old orphanage, by

1906 Cressy House was owned

by the Ashburton and

North Canterbury Charitable

Aid Board, which became the

North Canterbury Hospital

Board in 1928.

Four years later, the house

PHOTO: GEOFF SLOAN

was rebuilt and extended and

opened in 1933 as the Lyttelton

Maternity Hospital.

After the maternity hospital's

closure, it was rented out as a

retirement home.

It is being sold as is where is,

price negotiable.

NEWS 5

Carbon

coach

receives

funding

• By Samantha Mythen

PROJECT Lyttelton has received

$20,000 to help people reduce

their greenhouse gas emissions.

The money granted during

the latest round of city council

Sustainability Fund grants will

be used to establish a community

carbon coach.

The coach will be employed for

up to 20 hours a week, helping

households, schools and businesses

reduce their environmental

footprint.

"This is exactly the type of

grass roots climate action needed

throughout Christchurch," said

Sustainability and Community

Resilience Committee chairwoman

Sara Templeton.

Also as part of the recent round

of funding, the Bush Farm Trust

and the Banks Peninsula Geopark

Trust each received $10,000.

Applications to the

Sustainability Fund are now open

for the next funding round until

September 27. Visit ccc.govt.nz/

sustainability-fund

sick child?

Call your General Practice

(GP) team 24/7 or visit an

urgent care clinic:

• Riccarton Clinic

8am–8pm

• Moorhouse Medical

8am–8pm

Under 14s have free medical visits after-hours

and weekends at urgent care clinics

• X-ray, fracture and wound care available

• Late-night pharmacies and parking on-site

CDHB16AUG21 ED

All clinics open 7 days a week

cdhb.health.nz/urgentcare
---
6 Bay Harbour News Wednesday August 18 2021 Latest Canterbury news at starnews.co.nz

Bolt of Cloth

We are all about helping you bring personality & colour to your place, so you love

being home. This is all about the small moments – loving the cushions on your

couch, enjoying a coffee from a great mug, giving a cool gift to a friend.

We're famous for our incredible cushion collection, but did you know three

quarters of our beautiful space is full of amazing gifts? We stock exciting

brands from New Zealand and abroad including Marimekko, Orla Kiely, Castle,

Designers Guild, Moma, Eva Solo and so much more. Check out our colourful

world online or pop in store – we'd love to see you.

boltofcloth.com

Magma

Magma Gallery custom framing offers you the possibility to

design a framing option to suit your home. Our skilled framers

can guide you through the process to display and protect

your art work from budget to museum quality. Now offering

quality printing so you can bring in your digital files and we

can print and frame your precious memories. Magma Gallery

features original New Zealand paintings, limited edition prints

and framed prints as well as beautiful handmade objects in

ceramics and glass and locally made jewellery.

magmagallery.co.nz

Bombo

Grounded in an ethos of sustainability and aesthetics, Bombo

draws from the colourful and eclectic bohemian interiors of

Paris and California for inspiration: celebrating individualism,

rustic materials, and traditional craftsmanship.

bombo.co.nz

HAPA

HAPA is a local design store.

We stock a wide range of gifts,

jewellery, artwork, craft and

homewares, curated to delight

our customers. We focus on

local design, and Māori design.

HAPA showcases more than

200 local designers and artists,

including a range of exclusive

HAPA designs. We will

help you find the perfect gift

for any occasion - or a little

something just for you!

hapa.co.nz

Cosi Fan Tutte

Cosi Fan Tutte is a sanctuary of sensory

bliss that lifts the spirit, touches the

soul & inspires you to embrace your

creative destiny - to live your dream.

cosifantutte.co.nz

Fabric House

Beautiful contemporary, classic & designer

fabrics at wholesale prices. Our staff are

passionate about furnishing fabric.

fabrichouse.co.nz

Flooring Frontier

Flooring Frontier is a local flooring business in

Christchurch. We specialise in flooring installation for

residential and commercial properties.

flooringfrontier.co.nz

Long Way Home

Long Way Home is a bricks and mortar store located

in the Tannery Arcade in Christchurch. First imagined

in 2013 and born from our love of well-crafted, ethical

homewares made from environmentally friendly

materials. Co-founders mother and daughter, Bridget

and Madeleine, along with dear friend Alicia have helped

establish this local treasure amongst our community.

longwayhome.co.nz

3 garlands road, woolston | www.thetannery.co.nz

Alchemy Equipment | Bombo | Cosi Fan Tutte | EnCompass | Fascino Shoes | Fashion Society | HAPA | IB Fashion & Bridal | Katerina Boutique | KILT | Little Folk | Morgan and Page | Munns The Man's Store | Recycle Boutique | Sadhana Surf, Music, Style

Uncommon Shop | Wear Else | Impulse Imports | Cassels & Sons Production Brewery | Lonsdale Architectural | Q Brand Builders | Ruff & Tumble | Ruffell Creative | Charles Hannah | Christchurch Guild of Spinners & Weavers | HAPA | Magma Gallery

Rhonda Stove Portrait | Wools Yarn and Fibre | Smith's Bookshop | Mrs Bottomley's Flowers | Bolt of Cloth | Bombo | Cosi Fan Tutte | Cosi Fan Tutte Christmas Shoppe | Fabric House | HAPA | Long Way Home | The Fabric Store | Yestergear | La Bu

Magma Gallery | Silversmith's Guild of Canterbury | The Filing Kabinett | Beauty at The Tannery | Co Lab Hair Art | Grassroots Yoga & Health | Jen Rice Fitness | Mankind Barbers | The Apothecary | Bellbird Bakery | Blue Smoke | Deluxe Cinemas

Dumpling Corner | Food For Thought | La La Land Chocolate Garden Ltd | Metropolitan Lounge Art Space | Mitchelli's Café Rinato | Nori Table | Penny Black Victorian Tea Room | The Brewery
---
Wednesday August 18 2021 Bay Harbour News

Latest Canterbury news at starnews.co.nz

NEWS 7

New dedication for VC winner's plot

• By Chris Barclay

THE RESTORED family plot

of Lincoln-born Sergeant Henry

Nicholas, Canterbury's first

Victoria Cross recipient, will be

rededicated on the anniversary

of his death with co-ordinated

ceremonies in Christchurch and

France.

Nicholas, who was awarded

the highest military award for

valour following an attack on

a German position in Belgium

in 1917, will be remembered on

October 23 at his family grave in

Bromley cemetery.

When the same day dawns in

Europe, flowers will be laid at

his resting place in Vertigneul

churchyard in northern France.

Nicholas, who was killed three

weeks before the armistice on

November 11, 1918, was initially

buried in Beaudiginies but later

the 27-year-old's remains were

exhumed and reinterred among

other war graves.

Canterbury district Returned

and Services Association

president Stan Hansen said the

ceremonies would be a fitting

conclusion to a restoration project

inspired by English Korea

War veteran Ken Wright.

The RSA and New Zealand

Remembrance Army – a war

grave-restoring charity – mobilised

after Wright noticed the

earthquake-damaged family

plot while walking through the

cemetery last November.

Restoration work to right the

toppled headstone and repaint

lettering was carried out last

month.

A member of the New Zealand

Infantry Canterbury Regiment,

Nicholas was presented with his

VC by King George V at Buckingham

Palace in July, 1918.

He subsequently returned to

France, where he was awarded

FALLEN HERO: The funeral of Canterbury's first Victoria

Cross recipient, Sergeant Henry Nicholas, after he was killed

in France in 1918. A small ceremony will be held at his

resting place following the rededication of his family plot in

Bromley. ​

the Military Medal before being

killed in action.

"It's a sad story because he was

killed three weeks before the war

ended. How sad is that? He'd

been taken off the front lines and

he was actually on guard duties.

He was guarding a bridge, there

was a German thrust and he was

taken out," Hansen said.

The rededication also coincides

with the New Zealand Infantry's

Corps Day, selected because

October 23 marks the start of the

second Battle of El Alamein in

Egypt in 1942.

A military presence is planned

at Bromley, while the RSA is

negotiating with Canterbury

Museum to have Nicholas'

VC and Military Medal at the

ceremony.

His mother Hannah

bequeathed the medals to the

museum after her death in 1932.

Hansen said the plans for the

French ceremony were in the

formative stages but he was confident

the New Zealand embassy

could provide representation.

"It's a fitting tribute to

someone who we haven't

forgotten and someone whose

heroic deeds forged a way for

New Zealand to be the country it

is," Hansen said.

You can't

beat fresh

seafood

Tuesday to Sunday - Lunch & Dinner

Saturday & Sunday - Breakfast

39 Norwich Quay, Lyttelton

Wednesday - Sunday 12pm – 8pm

Phone: 03 328 7530

fishermanswharf.nz

HEAT PUMP

SALE NOW ON!

Amazin' Winter Specials!!

80%

SubSidy

Warmer KiWi HomeS

Programme

*Eligibility criteria apply

• We will offer you the best quality brands and

option of heat pump for your home/business

• Providing Heat Pump solutions for over 19 years to Cantabrians

• We personally guarantee all our products & installs for 5 years

(providing annual maintenance has been completed)

Phone us today for your free consultation & quote

41A SHAKESPEARE RD, WALTHAM

PHONE 03 366 0525

www.enviromaster.co.nz

"A local team for local people"

What did that property

at 21 Cannon Hill

Crescent sell for?

Ask Marilyn.

Marilyn Still, Bayleys Real Estate

027 229 8769 | marilyn.still@bayleys.co.nz

WHALAN AND PARTNERS LTD, BAYLEYS, LICENSED UNDER THE REA ACT 2008
---
8 Bay Harbour News Wednesday August 18 2021 Latest Canterbury news at starnews.co.nz

clearance

event

In-store only. On now until august 29 th

While stocks last.

Mitre 10 MEGA Ferrymead

1005 Ferry Road. Christchurch

Phone: 366 6306

Find us at: /MEGAFerrymead

Opening Hours:

Monday – Friday:

7am – 7pm

Saturday, Sunday & Public Holidays:

8am – 6pm

www.mitre10.co.nz/local/MegaFerrymead

Ferrymead
---
Wednesday August 18 2021 Bay Harbour News

Latest Canterbury news at starnews.co.nz

CONTENT MARKETING

9

POSSIBILITIES: Budding designers and entrepreneurs are in with the chance for their products to be stocked by Ballantynes as part of the store's Bring

it to the Boardroom competition, which was won in 2016 by Marlee and Jo.

Retail opportunity for budding designers

Ferrymead

National Identity

Confessions of an outsider by Simon Bridges

An open, honest and at times intensely personal memoir about race, fatherhood,

marriage, masculinity, fitting in, and the things that shape our national character.

Simon Bridges grew up as the son of a working-class Baptist preacher in Te

Atatu, as the youngest of six children. In many ways he had a typical Kiwi

upbringing, at a time when having little didn't seem to matter much. Yet

for Bridges, his was the life of an outsider: experiencing otherness for

being Maori, and yet an otherness from other Maori; a Westie with

a thick accent, trying to break into the upper reaches of society;

distanced from his father, an ageing man in his own world. As

a young politician, Bridges soon came to realise he was an

introvert in an extrovert's world, and a male leader who has

never identified with New Zealand's idealised version of the

strong, laconic, rugby-loving man.

In National Identity, Bridges offers an attempt to question himself

and the country he loves. Politics, crime, kai, music, nature: these

are the stuff of a life. Through candid and self-aware reflections, he

points out that politicians have become less robust, and that people

don't participate as much anymore - eroding our institutions and national life.

He speaks his mind on an education system in crisis, the decline of Christianity,

and how being the smallest, most isolated developed country in the world

explains why we are how we are.

Authentic, brilliant, humorous and poignant, National Identity is a must-read

New Zealand memoir.

The Girl Behind The Wall

by Mandy Robotham

From the USA Today and internationally bestselling WWII novelist of The German

Midwife, The Secret Messenger and The Berlin Girl comes a story set at the dawn

of the Cold War in Berlin. A city divided. When the Berlin Wall goes up, Karin is on

the wrong side of the city. Overnight, she's trapped under Soviet rule in unforgiving

East Berlin and separated from her twin sister, Jutta. Two sisters torn apart.

Karin and Jutta lead parallel lives for years, cut off by the Wall. But Karin finds

one reason to keep going: Otto, the man who gives her hope, even amidst the

brutal East German regime.

One impossible choice…

When Jutta finds a hidden way through the wall, the twins are reunited. But the

Stasi have eyes everywhere, and soon Karin is faced with a terrible decision: to

flee to the West and be with her sister, or sacrifice it all to follow her heart?

A timely reminder that, even in darkness, love will always guide you home, this

gripping and emotional tale is perfect for fans of The Tattooist of Auschwitz by

Heather Morris and The Last Correspondent by Soraya M. Lane.

WIN THIS BOOK

ENTER TO

WIN

THIS BOOK

book

release

We have one copy of National Identity by Simon Bridges to give away, courtesy of Take Note Ferrymead. To be

in the draw, email giveaways@starmedia.kiwi with National Identity by Simon Bridges in the subject line or write to

Take Note Book Giveaway, National Identity by Simon Bridges , Star Media, PO Box 1467, Christchurch 8140. To be

eligible for the draw, all entries must include your name, address and contact number. Entries close Tues August

31. The book winner for Supercars – The Holden vs Ford Era is Michelle Vann of Woolston.

CENTRAL CITY department

store Ballantynes is again running

its Bring it to the Boardroom

competition, offering

budding designers and entrepreneurs

the opportunity to submit

their products and potentially

have them sold in the store.

Finalists will be selected from

the entries and in early September

will provide a presentation

to Ballantynes' buyers and

executive team, who say they

will be looking for items that are

innovative and have that "special

Kiwi flair".

The winner receives the rights

to sell their product exclusively

at Ballantynes for up to

12 months or while stocks last,

retaining 100 per cent of the

product's sales revenue. Additionally,

the winner will benefit

from expert mentoring and a

promotional package.

The competition was launched

in 2016, to run every second

year. However, due to Covid, last

year's competition was postponed

until 2021.

"This is our third time doing

Bring it to the Boardroom

and we are really happy to have

this back on our calendar. For

us, this is about giving back to

our community," says chief executive

Maria O'Halloran.

"We want to open up an

avenue for those entrepreneurs,

budding designers and creators

from across the country to

showcase their work and along

the way, gain an insight into the

whole retail process. We're so

excited to see what unfolds."

Marketing manager Shelley

Gayford says the previous

competitions have seen a diverse

range of products being put

forward, including children's

items, fashion accessories and

pantry items.

Winners of the 2016 edition of

Bring it to the Boardroom were

Lianne de Jong and Lee Scheepers

from Marlee and Jo, who

presented a range of children's

keepsake books, which are still

being sold at Ballantynes.

"We started selling the Marlee

and Jo product just after they

won the Ballantynes Bring it to

the Boardroom competition back

in 2016," Ms O'Halloran says.

"To this day, their product

continues to be very popular

with our customers – they offer

a product with a real point of

difference and something no

other supplier offers in our store.

It is great to support local and we

have loved watching, and being a

part of, Lee and Lianne's successful

journey."

Anyone can register their

interest online, www.ballantynes.

com.nz/boardroom, providing

the product they are submitting

is not currently being sold in a

physical store, is not already in

commercial arrangements with

another company and does not

infringe on the copyright, patent

or trademark of another product

or brand.

Registrations close on Monday,

August 23, 2021, with the

finalists taking their products to

the Ballantynes' boardroom on

Saturday, September 4, 2021.
---
10 Bay Harbour News Wednesday August 18 2021 Latest Canterbury news at starnews.co.nz

Think resort,

not last resort.

Live the holiday lifestyle every day at Summerset.

Whether it's bowls followed by drinks at the bar, a swim in the pool,

or a quiet seat in the sun with your favourite crossword - we're here

to make your retirement anything but tiresome.

Summerset at Avonheads' village centre is opening soon,

offering resort-style facilities and our full range of living options.

2021

Aged Aged Care & Retirement Villages

Villages

Think this sounds like you or someone you love?

Summerset at Avonhead

03 357 3202 | summerset.co.nz/avonhead

SUM3263_37X8
---
Wednesday August 18 2021 Bay Harbour News

Latest Canterbury news at starnews.co.nz

LETTERS 11

All in favour, say aye

Treasures from

the past

DEMOLISHED: The former Godley House was a popular meeting place.

Readers respond to

last week's article that

licensed premises maybe

able to return to the

former Godley House site

in Diamond Harbour

The Godley House site should be

able to have a licensed activity

there.

It will bring the community

together on this historic site, it

will encourage visitors to come

to Diamond Harbour, therefore

increasing visitation to Stoddard

[Cottage] and use of the new

supermarket, and increasing

the activity and vibrancy of our

beautiful Diamond Habour. It

will also increase the visitors on

the ferry, which will be excellent.

Hopefully there will be a

building there architecturally

designed to enhance the beauty

of the place and honour the

history that was lost in the

earthquake.

–Thomas Proctor

I absolutely think there should

be a licensed venue in place of

Godley House. We have lived in

the bays area for over 20 years

and the best place to meet the

community was always Godley

House.

There were always many

visitors that came across on the

ferry every weekend who enjoyed

the scenery and hospitality

as much as the locals. We made

many of our long-term friends

from meeting in this lovely

space, which also showcased

the area when it was used as a

wedding venue as well.

–Karen Boswell

There is no question whether

it should be a licensed premises

in the venue-to-be on the old

Godley House site. It absolutely

must be licensed.

–Ross Denton

My wife and I moved to

Diamond Harbour after visiting

on the ferry. A lovely journey, a

gentle walk up through the trees,

and then a beer and food outside

Godley House while watching

the ships and Lyttelton activity.

Now a ferry load of tourists

can sit or queue by the road,

without any views, while waiting

for their food.

What we have now is very

much a cafe in its size, capacity,

and location. While it tries its

hardest to accommodate, it is

what it is. When we had two

venues both were often full . . .

there is plenty of custom to go

around (and more).

–Mark Simon

Since the earthquakes put paid

to Godley House the community

has become very disjointed. After

the quakes we had nowhere

to meet and heal as a community.

It was only because the rugby

club stepped in that we actually

started to come together again

and there were a few that fell by

the wayside.

We have already started to

show that the community can

start healing with the 'Live at the

Point' music that happens for a

few months at the beginning of

the year, but there is nowhere

else big enough for that to

continue throughout the year

and nowhere else [where] we as

a community can come together

and enjoy each other's company

over a drink to heal.

Since we lost the Dark Star

we have only one very small

licensed bar that is very nice and

does some of the task admirably,

although it is too small to allow

for music and larger gatherings.

I hope that enough of us can

get together to show the council

We want to hear your views

on issues in the

Bay Harbour News area

Send emails to:

barry@starmedia.kiwi

PHOTO: ODT

that Godley House needs to be

replaced to allow us all to enjoy

it in it's full capacity.

–Jules Holdstock

Please consider this amazing

venue spot and how it was for

our community before and [how

we were] promised something all

those years ago and still nothing.

This place is a haven for

weekend gatherings, for people

to leave the madhouse of

Christchurch, [for a] music

venue with licenced venue like it

was before.

–Paru Clarke

We would like to support a licensed

venue for Godley House.

My husband and I are residents

of Diamond Harbour and would

like to have a relaxing venue

with seating on the grass. It

would be patronised more (particularly

by us) if it was licenced.

–Claire Taylor

We are new holiday residents to

Diamond Harbour and we love

the idea of a pub or bar in the

Godley Reserve area. It's a short

and beautiful ferry ride over from

Lyttelton and then people need

somewhere easy to walk after that

hill climb! The cafe in that vicinity

is not particularly good and

doesn't cope well with crowds.

And the new block of shops near

the 4 Square is unattractive with

no view and is too far away. We

hope you can continue to raise the

profile of this story to encourage

conversation.

–Beatrice Cheer

Letters may be edited or rejected at Star Media's

discretion. Letters should be about 200 words.

A name, postal address and phone number should be

provided.

Please use your real name, not a nickname, alias, pen

name or abbreviation.

REFIT: The Napier dredge Whakarire in dry dock (above) and

getting a new boiler fitted, 1950-2000.

PHOTOS: Te Ūaka The Lyttelton Museum online collection

LYTTELTON'S dry dock (or

graving dock) has been an

essential backbone to New

Zealand shipping since it opened

with great ceremony in January

1883.

Owned by the Lyttelton Port

Company, it is a registered

Category 1 historic place and is

still a working site. You may have

seen the steam tug Lyttelton in

its steady embrace recently for its

annual survey.

"The dock was used to repair

and maintain Scott's Discovery

and Terra Nova in the early

years of this century, and as such

serves as a reminder of Lyttelton's

significant link with Antarctica

from the earliest days of polar

exploration. Although many

modern ships are too large to fit

into the graving dock today, it

continues to serve an important

function within the port."

(Heritage New Zealand)

Another vessel to use the

dry dock in the late 1950s was

the twin-screw steam dredge

Whakarire. Built in Scotland

in 1903, the dredge initially

worked on land reclamation in

Wellington, and then worked

for many years in Napier to

deepen that harbour. It was

commissioned by the Royal

New Zealand Navy as a boom

defence vessel in Auckland

Harbour for two years during

World War 2.

The Whakarire had major refits

in Lyttelton in 1958 and 1960. In

these images from the late 1950s,

a new boiler for the dredge was

unloaded and then craned into

place in the vessel in dry dock.

The Whakarire was finally

retired in 1973, although the

Auckland Harbour Board saved

the driving wheels, which are still

on display at Wynyard Wharf

in Auckland.
---
12 Bay Harbour News Wednesday August 18 2021 Latest Canterbury news at starnews.co.nz

A new way

to connect

NEW

Enjoy affordable

luxury with our

new Unwind for

Two package.

For those looking to enjoy

some quality time with that

special someone (without

having to break the bank to

do so), it doesn't get better

than this!

Escape to New Zealand's

most popular alpine village,

enjoying the vibrant cafes

and restaurants, and indulging

in a decadent trip to the

Hanmer Springs Thermal

Pools and Spa.

Buy your gift

voucher today!

• A night's accommodation at one of Hanmer Springs' 3-star

properties or equivalent (additional nights $150 per night)

• 2 x 30-minute Unwind Revival Massage or Refresh Facial at The Spa

• 2 x 1-Day passes to the Thermal Pools

JUST $

349

FOR TWO

PEOPLE

Just a 90 minute drive from Christchurch

hanmersprings.co.nz/experiences

0800 4 HANMER

Open seven days

HC HST2528
---
Latest Canterbury news at starnews.co.nz

Wednesday August 18 2021 Bay Harbour News

NEWS 13

Professor reaches beyond the stars

Jenni Adams has never

been to Antarctica but

her work, remotely,

with a giant detector

buried under the ice

at the South Pole, has

enabled the Oxford

University graduate

to become the first

female winner of a New

Zealand physics award.

The Christchurch-based

theoretical physicist

puts her career under

the microscope with

Chris Barclay

You were at Kaiapoi High

School when you decided to

reach for the stars, do you still

have your first telescope?

I didn't have a telescope but I

did a lot of reading about beyond

just the stars we can see, this

whole idea of the universe and

cosmology. It was good growing

up in the country and actually

being able to see stars and the

Milky Way. I wanted to be an

astronaut when I was younger,

around the fifth form. It was

the exploration, discovering

and frontiers (that appealed). I

thought about joining the air

force, that's where you go to be

an astronaut. Then I realised

astronauts didn't do the actual

discovering and they are kind

of limited to the solar system. I

wanted to go beyond our solar

system into galaxies and the

universe.

Did you have a teachers that

navigated you to this career

path?

My father (Jim) was my maths

teacher and I had another maths

teacher – Graham Moore. They

gave me the confidence to do

anything mathematical. Physics

and chemistry rely on logic

and confidence. They built the

foundation I needed.

After the old 7th form it was

straight to the lecture halls at

Canterbury University wasn't

it?

I enrolled in an astronomy

degree. I was interested that

people were trying to figure out

how things worked with the

universe. I thought I'd take it as

far as I could.

Mission accomplished then.

You were made a Professor of

Physics last year November.

Your students can't all be

experts in Astroparticle

physics and cosmology so

does mastering this branch of

science set you up for success in

other spheres?

I was doing a PHd (in

theoretical/particle physics) at

Oxford and three or four of the

students I was with went into

investment banking because our

modelling skills could be applied

to financial markets, derivatives

or whatever. They could (make

decisions) very quickly on the

floor if necessary. Professor

Shaun Hendy is the Covid-19

modeller shaping New Zealand's

SCIENTIFIC BREAKTHROUGH: Award-winning theoretical physicist Jenni Adams with a

sensor once used in the multi-national IceCube research project in Antarctica.

response, he's a physicist.

Modelling how a virus infects

populations is really similar do

the sorts of modelling we do.

You were awarded a Rhodes

Scholarship which took you to

Oxford University from 1992

to the end of 1995. How was life

in Magdalen College, where the

alumni includes Oscar Wilde,

Dudley Moore, and King

Edward VIII?

The theoretical physics

department was a converted

terrace house, we had the lounge

room. There were six of us.

We were from Russia, Canada,

Australia and there were a

couple of Brits. To be honest,

I think we give more support

to our graduate students.

Academics there are often very

busy, and they kind of expect

their students to be good and

be able to look after themselves.

If you aren't you really struggle

there but I'd always encourage

students to try and get to Oxford.

You meet the people from other

countries and have the access to

speakers that come through. We

had Nelson Mandela talk there

once.

Did you ever investigate how

the laws of physics applied to

the Boat Race with Cambridge?

I actually rowed for Magdalen.

Almost everyone is expected

to have a go at rowing. All the

colleges have boat sheds that any

club here would envy. I knew

a bit about rowing, I'd been a

coxswain for school and club

crews on Kerrs Reach.

So you obviously kept an eye

on the rowing in Tokyo, and the

Black Sticks

I play hockey for Hinemoa

Kaiapoi, I started when I was

seven. I've played for a midweek

open team for about 10 years.

It's great, it's the people I went

to school with. I also coach my

youngest daughter's school and

club team.

You did some post-doc (PHd)

research on cosmology at the

University of Uppsala north of

Stockholm, which dovetailed

with your prime sporting

passion, what they call 'cunning

running'

I love orienteering (running

point to point using a map and

compass). Once I finished my

PHd I went to Sweden (from

POLAR DISCOVERY: The IceCube observatory at the South

Pole in Antarctica is the focal point of a decade-long

project to unearth the mysteries of the universe.

PHOTO: MARTIN WOLF ICECUBE/NATIONAL SCIENCE FOUNDATION

1996 to mid-1998). You don't

play hockey in Sweden unless

you can skate but it's mecca for

orienteering. There's beautiful

forests there that are very

runnable, it's perfect orienteering

terrain.

I'm no astronomy expert

but I've heard of the Northern

Lights. No doubt you saw them

in Sweden?

I have seen Aurora. That's

kind of related to what I study

because it's cosmic rays. They are

high energy particles. The sun

produces high energy particles

and they're channelled in by the

magnetic fields near the (North

and South) poles. The glow you

see is them interacting in our

atmosphere.

During your time in

Scandinavia you were offered

an opportunity to return home

and lecture at what was then

the University of Canterbury's

Department of Physics and

Astronomy (now the School of

Physical Sciences).

I would have liked to have

stayed longer in Sweden but

academic jobs are hard to get. I

wasn't saying no to it.

What was it like lecturing

engineering students – they must

do physics – when you started

out. Their shenanigans might not

rival Otago during orientation

week, but that student body does

have a reputation.

I was 28 when I started

lecturing and many of the

students were 19-20 so I wasn't

that much older than them. I

taught first-year physics which is

basically engineering students.

There were predominately male

classes of 300-400 . . . if they

turned up. They could be a bit

slack, or hungover. I was telling

someone the other day, they'd

do these lecturer evaluations

and they'd write: 'Wear shorter

skirts'. But I held my own. It

didn't stop me going out there

and lecturing, I didn't cry about

it but I was just like: 'Those rude

%@*#!' There were a few swear

words. Thankfully there are

more women in there nowadays.

You were the first female

winner of the Dan Walls Medal

last month. It's a New Zealand

Institute of Physics accolade

honouring the influential

New Zealand physicist who

died of cancer in 1999. It was

introduced in 2008 when you

were president of the NZIP, so

have you figuratively broken the

glass ceiling?

When I accepted the award

people asked me about being a

woman in physics. I have really

supportive colleagues. One of

the guys wrote the nomination

for me. He knew I wasn't going

to make the time to do it. When

I'd bring my little daughter

in and be breastfeeding in my

office there was no 'tut tutting'. I

never thought I'd ever get it (the

medal). The idea was to celebrate

physics down in New Zealand

because there is this sort of

'overseas expert' mentality. We'll

ask the overseas expert whereas

we're doing equally good work as

the overseas expert.

What are you teaching now,

in the aptly named Ernest

Rutherford Building?

Right now I'm doing the

Special Relativity course. It's a

great subject to teach because

they really want to get their head

around time and distance being

relative, so they do ask a lot of

questions.

• Turn to page 15

HIGHER LEARNING: Magdalen College, Oxford.
---
14 Bay Harbour News Wednesday August 18 2021 Latest Canterbury news at starnews.co.nz

We're having a

CLEAR-OUT!

ALL BEDROOM, LOUNGE, DINING, OFFICE, MATTRESSES ON SALE! Ends 20.9.21.

Lennox 3 Seater

WAS $

1699

NOW

$

1199

Brix Light /Peyton Grey

7 Piece Dining Set

WAS $

1569

NOW

$

1149

VIVA WHITE

ON SALE

Buffet

NOW $

649

Entertainment Unit

NOW $

699

Side Table

NOW $

249

Chia Single Trundler

Bunk Bed

WAS $

1299

Fairview Recliner Corner

Suite – River

WAS $

2999

NOW

$

2499

NOW

$

999

great for

sleep-overs!

Recliner

comfort!

ALL DINING

CHAIRS

Zen PU

$

125

Duke

$

125

ON SALE

Peyton

$

115

Vintage

$

95

Camille

$

75

Dallas King Bed

WAS $

499

NOW

$v

349

Xander Recliner

WAS $

799

ALL

MATTRESSES

NOW

$

599

ON SALE

HeAPS of SUPeR DeALS!

Scan to find store

250 Moorhouse Ave, Christchurch

0800 TARGET (0800 827438)

SCAN QR TO SHOP

targetfurniture.co.nz

Offers and product prices advertised here expire

20/09/21. Sale Excludes Accessories.
---
Wednesday August 18 2021 Bay Harbour News

Unravelling the mysteries of the universe

• From page 13

Perusing your resume, you

obviously have a particular

interest in Astroparticle

physics. Which is?

It involves research at the

interface of astronomy and

particle physics. It is a synergy

which operates in both directions

– particle physics is applied to

better understand astrophysical

objects as well as using the

universe as a laboratory for highenergy

physics.

You've spent decades studying

Astroparticle physics, the

cosmos, black holes. Where has

that work been put to good use

in our mundane, everyday lives?

You can't have any kinds of

music playing without lasers,

there's lasers in medical physics

. . . lasers scan groceries at your

supermarket

checkout.

They're

everywhere

and they were

a quantum

phenomena

that someone

Albert

Einstein

(American

physicist

Charles

H Townes) was trying to

understand. If you limit yourself

you never make those huge

jumps. The understandings

Einstein brought meant we can

have GPS. You shouldn't be

limited to the phenomenon you

understand.

You meet someone for the

first time in a social setting.

What's the reaction when

you say: 'Oh, I'm a professor

specialising in Astroparticle

physics?

They'd usually say: 'Oh, I

wasn't very good at maths' and

that was the end of it. So I used

to say I was a teacher, then after

a while I thought I'd just bite

the bullet. If you say astronomy

people are usually more

interested.

Apparently you can drop

'neutrinos' into casual

conversation and eyes don't

necessarily glaze over?

You hear about how Americans

are ignorant so travelling there

you'd think they have no idea

if I say: 'I've been studying

neutrinos'. But sometimes they'll

say: 'Yeah, I've read about them,

the solar neutrino problem'.

These are people you meet in

a hostel, they're not physicists.

In New Zealand that just won't

happen.

So, neutrinos, bring us up to

speed then.

A neutrino is a particle, it's

one of the so-called fundamental

particles. Neutrinos are members

of the most famous fundamental

particle, the electron. They're the

most abundant massive particle

in the universe, there are about

15 million neutrinos from the Big

Bang in the average room. They

Latest Canterbury news at starnews.co.nz

could be the reason that matter

exists in the universe. They were

discovered in 1956 and tricky to

study.

Let's imagine we're back

in 3rd form and someone has

their hand up: 'Miss, why do

I need to know about

neutrinos?'

You can live your life perfectly

well without knowing about

neutrinos. Why I want to know

about neutrinos is so I can

study the high energy objects

in the universe. By studying

those maybe we'll learn some

new physics that might well

mean your life is completely

different than it was. We're

not researching so we'll make

something that'll grow your

hair back or whatever. It hasn't

got a use like that, or a medical

use but it is going to improve

our understanding of some

phenomena out in the universe.

ACTING

COOL: The

Big Bang

Theory star

Jim Parsons

strives

to make

theoretical

physics hip.

PHOTO:

GETTY

Neutrinos are the focus of

a US-led project based at the

$US279 million 'IceCube' at the

Amundsen-Scott South Pole

Station. For most of it's the

stage name of rapper O'Shea

Jackson Sr. What is actually

going down in Antarctica?

IceCube is an observatory

dedicated to finding neutrinos

with a 1km telescope under the

ice. The neutrinos we collect

are like fingerprints that help

us understand the objects and

phenomena where the neutrinos

are produced. IceCube gives us

new ways to study the mysteries of

our universe, it is likely to uncover

or lead to the discovery of things

we could have anticipated.

Your work on IceCube,

alongside experts among 53

institutions from 12 countries

formed the bedrock of your

award didn't it?

It was quite nice to be

NEWS 15

acknowledged because

sometimes people in

collaborations don't get

acknowledged as individuals.

When you close your eyes

do you see stars? How do you

switch off?

I run most nights because it

helps me sleep better. We live

near the hills (in Beckenham) so

I run up the Bowenvale Valley

track.

Serious question – Star Wars

or Star Trek?

Probably Star Trek, it was more

exploration based. I didn't like

the fighting stuff in Star Wars.

Has The Big Bang Theory

sitcom boosted the image of your

average theoretical physicist?

I think it's funny, I think

Sheldon makes physics a little bit

cool doesn't he? It makes it cool

to be geeky.

Thanks for bringing up the

'nerdy' stereotype. It is an

occupational hazard for the

scientific community isn't it?

Definitely they're known as

geeky but I feel it's a bit more

accepted these days. I always say

to my (eldest) daughter Kaia:

'Celebrate your geekiness.' By

the time you get to university it's

much easier. The kids walking

around here are much less into

that 'popular kids' mode you

get at school where they've got

their hair right and all that. They

look much freer and able to be

themselves here.

NEW LAND ROVER DEFENDER 110

CAPABLE OF GREAT THINGS

AVAILABLE NOW

New Land Rover Defender relishes challenges and doesn't care much for impossibilities. With permanent all-wheel-drive and

world-first configurable Terrain Response tech, it has the capability to push boundaries even further.

Tested in every condition, in every environment, and on every surface you might encounter, it always comes out the

other side, ready for the next challenge. The new Defender crowned 2021 World Car Design of the Year as unstoppable

all-terrain model beats shortlisted rivals to win coveted award. Defender. An icon in a category of one.

To book a test drive, please contact Corey Gray at Archibalds.

38 Tuam St, Christchurch | 03 377 5200 | cgray@archibalds.co.nz | archibalds.co.nz

Own a pre-2015 Land Rover Defender? Book a service now from just $425. Call our team on 03 977 8146.

*Terms and conditions apply. The standard scheduled 5 Year servicing is included (different terms and conditions apply to different models). Contact Archibalds for more details or visit www.landrover.co.nz.
---
16 Bay Harbour News Wednesday August 18 2021 Latest Canterbury news at starnews.co.nz

Can't travel?

Experience the

tastes of Asia

here with us.

YOU'RE IN CAPABLE HANDS

All our chefs are qualified in the art of Thai cuisine and have years of

experience in cooking and training throughout Thailand, any have worked

not only in Thailand but in some of the best restaurants throughout South

East Asia. To offer our customers more than just an authentic taste of

Thai, many of our restaurant menus let you travel across the border and

sample some of the exciting flavours of Thailand's Asian neighbours.

Asian Hospitality Group is committed to our

guests satisfaction

We import our own Asian products from Thailand and

Vietnam. Thai hom mali jasmine rice, noodles, vegan curry

paste, GF oyster sauce, GF soy sauce, fish sauce, coconut

cream, organic coconut milk. Importing our own products

allow us to guarantee quality, consistency and authenticity.

Halswell

Papanui

Riccarton

Sumner

Harewood

Beckenham

To view our menus, go to our website www.agh.co.nz
---
Latest Canterbury news at starnews.co.nz

Wednesday August 18 2021 Bay Harbour News 17

Email samantha.mythen@starmedia.

kiwi by 5pm each Wednesday

Pottery Social Night

Wednesday, 7-9.30pm

Are you hooked on pottery?

This is an opportunity for you to

work alongside others on your

own pottery projects. Tuition

is not provided. There are two

working electric wheels, benches

and some equipment to share.

Take your own clay, glazes,

tools and ideas. $5 donation per

session (cash only). Email Nikki

to book a spot artatsumnerhub@

gmail.com

Sumner Hub, 57 Nayland St

Sumner

Creative Wednesdays

Wednesday, 11.30am-2.30pm

All welcome and you can

come and go as you please. This

group is focused on bringing

people together and getting

creative, no matter what level

your art practice is, beginner or

expert. Go along to this event to

make connections and express

yourself freely. Occurring every

Wednesday.

The Rock, 10 Wakefield Ave,

Sumner

Heathcote Community

Morning Tea

Wednesday, 10am-12pm

Everyone is invited to pop in

for a cuppa, some fresh baking

and to get to know some of

the locals. Occurring every

Wednesday.

Heathcote Community Centre

Sumner Silver Band

Thursday, 7-8.30pm

All are welcome to attend

the band's regular rehearsals

to either just listen or to

become part of the band. They

can provide instruments and

encourage returning players of

all ages. Phone Peter Croft for

more information 3849 534.

Redcliffs School, Beachville Rd

Pest Free Banks Peninsula

Thursday, 11am-4pm

Tim is there to answer any

questions you may have about

this "collaborative programme

designed to protect and enhance

biodiversity on the Peninsula

through the widespread

eradication of animal pests."

Happening every Thursday at

the same time.

Akaroa Library

Diamond Harbour Camera

Club Exhibition

Friday, Saturday and Sunday,

10am-4pm

Every year members of

Diamond Harbour Camera

Club make a field trip into

Christchurch, witnessing and

recording the fast-changing

Spring Pea Straw Sales, Saturday, 9am-1pm. An annual fundraiser organised by the

Ferrymead Lions Club. Proceeds raised from the sales will be donated to causes such as

the Living Springs camp for children with cancer, Diabetes Christchurch, and Blind Low

Vision New Zealand Guide Dogs. Further pea straw will be up for sale on September 4 at

The Princess Margaret Hospital and on the corner of Ramahana and Centaurus Rds. This

week's sales will be held in Sumner opposite the Surf Club, as well as at the Redcliffs end

of McCormacks Bay Rd.

city landscape year-on-year.

Through these annual recovery

walks documented in the

exhibition, Rebuild Refocused its

photographers have discovered

hidden alleyways full of colour

emerging onto wide, paved and

planted social spaces flanked by

new, innovative buildings and

the few period buildings still

standing tall. The exhibition

features images of architecture

both new and old, vivid street

art, colourful lit night scenes,

and the plantings of the

cityscape. Go along to their

exhibition – open also on public

holidays and showing until the

end of August.

Stoddart Cottage, Diamond

Harbour

Sumner Bridge Club

Monday 7.15pm, Wednesday

1pm

For fun, friendly and

competitive bridge. If you have

any questions, send an email to

sumnerbridgeclub@gmail.com

57 Dryden St, Sumner

Coffee and Conversations

Monday, 10.30am

Sumner Bays Union Trust

host Tea and Talk. Join in for

a social morning with free

hot drinks and snacks. Make

yourself comfortable and spend

some time talking to other

members of the community and

your local librarians. Everyone

welcome.

Matuku Takotako: Sumner

Centre

Lyttelton Harbour TimeBank

Drop-in Session

Tuesday, 10am-12pm

The Lyttelton Harbour

TimeBank exists to help build

a stronger, more connected

harbour community. Come in

for a chat – get help with joining

or managing your account,

posting an offer or request, or

anything else.

Lyttelton Library
---
18 Bay Harbour News Wednesday August 18 2021 Latest Canterbury news at starnews.co.nz

SECURE YOUR

TODAY

Secure your pick of the range in the colour you

want, we have good stock arriving this year and

are taking forward orders today.

Beat the proposed fuel tax and get the Triton

you've always wanted.

Contact us for more details.

*Prices listed are for Triton 2WD GLXR double cab, Triton 4wd GLSB double cab and Triton 2WD

VRX double cab. Prices exclude on road costs which includes WoF, registration, 1,000km road user

charges and a full tank of fuel.

$48,990 +ORC

• Factory-fitted black body kit

• Black 18 inch Alloy Wheels

• Front and rear parking sensors

FROM

GLXR

$39,990 +ORC

• Running Boards

• 7" Touch Screen Smartphone

Link Display

• 18 inch Alloy Wheels

FROM

VRX

$44,990 +ORC

• Black Sports Bar*

• Multi-Around View Monitor

• Leather-Appointed Interior

*On VRX 4WD only

CHRISTCHURCH MITSUBISHI

386 Moorhouse Avenue, Christchurch

Tel: 03 379 0588 | christchurchmitsubishi.co.nz

10 year / 160,000km Powertrain Warranty (whichever comes

first) (non transferable). 5 year / 130,000km New Vehicle

Warranty (whichever comes first) (non transferable).

DRIVE A NEW

NISSAN

STOCK AVAILABLE TODAY

AGILITY MEETS SMARTS

AVAILABLE FROM

$33,990 *

STOCK AVAILABLE NOW

*Price shown is for the Nissan Qashqai ST excludes on road costs of $1,250 which includes registration,

WoF and a full tank of fuel.

CHRISTCHURCH NISSAN, 380 Moorhouse Avenue, Christchurch

Ph: 03 595 6820

www.christchurchnissan.co.nz

THE ALL-NEW

PRO-4X

IN STOCK NOW

christchurchnissan.co.nz
---
Wednesday August 18 2021 Bay Harbour News

CRYPTIC CROSSWORD

1 2 3 4 5

6 7

8 9

10 11 12 13 14

15

16 17

18 19 20 21 22

23

24 25

26

20/8

Latest Canterbury news at starnews.co.nz

Across

1. How to get the gen from one nation

(11)

8. She can make it rain, hard, having a

sharp tongue (8)

9. Go angling for the counter used in

game (4)

10. Turns over round middle of passage

to left-hand page (5)

13. Devastation suffered as bear loses

its head (4)

16. Some bad language to be taken in

court (4)

17. With half-luck, be about to be one

playing for university (4)

18. In the Lords he's not quite before

time (4)

20. One of the sides in a lawsuit has a

convivial meeting (5)

24. Is eleven, and French is around to

make it leave (4)

25. Friend with a twisted tail in residence

so sumptuous (8)

26. It used it? Not if in such poverty (11)

Down

2. Standard exclusion of the Marines (4)

3. Chemical compound made bovine

creature die out (5)

4. It signifies what one has to live on (5)

5. Gather it could turn fine by end of

September (5)

6. Make the moon err (Celsius) with an

accurate clock (11)

7. It comes suddenly and

overwhelmingly with the lightning (11)

11. The time just before the bowler's

approach (3-2)

12. Command has its own tidiness (5)

14. Looks so ill-favoured as to be

threatening (4)

15. Be up and about in prison (4)

19. Plant a goodly quantity on you and

me (5)

21. Some of it isn't together (5)

22. Motor put up in race in a stretch of

country (5)

23. In the Foreign Office one is at home

to dry sherry (4)

PUZZLES 19

SUDOKU

Fill the grid so that every column, every row and 3x3

box contains the digits 1 to 9.

QUICK CROSSWORD

1 2 3 4 5 6

7

8 9

10 11 12

13 14 15

16 17 18

19 20 21

22

23 24

Across

1. Tropical fruit (5)

4. Assault (6)

7. Medic (3)

8. Tranquil (6)

9. Natural ability (6)

10. Make uneasy (8)

12. Location (4)

13. Marine mollusc (6)

15. Ought (6)

16. Elderly (4)

17. Private path

leading to a house (8)

19. Painful experience

(6)

20. Serviette (6)

22. Spin out (3)

23. Magazine boss (6)

24. A repeat showing

(5)

Down

1. Good in the garden

(5-8)

2. Yes (3)

3. Skilled (5)

4. Female thespian (7)

5. Instrument for

seeing into space (9)

6. Group of stars (13)

11. Convenient but

improper (9)

14. Young child (7)

18. Close to the centre

(5)

21. For each (L) (3)

CODECRACKER

QUICK CROSSWORD

Across: 1. Guava, 4. Attack, 7. Doc, 8. Serene, 9. Talent, 10.

Unsettle, 12. Site, 13. Limpet, 15. Should, 16. Aged, 17. Driveway,

19. Ordeal, 20. Napkin, 22. Eke, 23. Editor, 24. Rerun.

Down: 1. Green-fingered, 2. Aye, 3. Adept, 4. Actress, 5.

Telescope, 6. Constellation, 11. Expedient, 14. Toddler, 18. Inner,

21. Per.

CRYPTIC CROSSWORD

Across: 1. Information 8. Harridan 9. Fish 10. Verso 13. Ruin

16. Oath 17. Blue 18. Earl 20. Party 24. Exit 25. Palatial 26.

Destitution.

Down: 2. Norm 3. Oxide 4. Means 5. Infer 6. Chronometer 7.

Thunderbolt 11. Run-up 12. Order 14. Ugly 15. Stir 19. Lotus 21.

Apart 22. Tract 23. Fino.

TARGET

eight feign felting feting fight

filing flight fling gelt genii

gent gift gilt glen glint hefting

hieing hinge ignite ingle legit

length lifting light lighten

lignite ling neigh nigh night

nightie NIGHTLIFE thegn

thing tiling ting tinge tingle

MEDIUM HARD

EASY

TARGET

L T I

N G I

E H F

Good 19

Very Good 27

Excellent 34+

ALL PUZZLES © THE PUZZLE COMPANY

How many words of four letters or more can you

make? There is at least one nine-letter word.

Each letter may be used only once and all

words must contain the centre letter.

No words starting with a capital, no plurals

ending in s unless the word is also a verb, e.g.

he fires the gun.

Mon-Thurs: 7am - 4pm

Fri-Sun: 7am - 5pm
---
20 Bay Harbour News Wednesday August 18 2021 Latest Canterbury news at starnews.co.nz

STYLE & QUALITY

FOR LESS

WWW.AFFORDABLEFURNITURE.NZ

SELLOUT

Dining

NZ

Lounge

Bar

Stools

Ex Display

Models

FINAL WEEK Loads of bargains in-store

*while stocks last

FREE

CARPARKING

WE ARE

HERE

255 MOORHOUSE AVE

REBEL SPORT

COLOMBO ST

MON-FRI 9:30AM – 5:30PM

SAT-SUN 10AM – 5:30PM

0800 268 264

www.affordablefurniture.nz
---
2013 Volkswagen

Tiguan TSi

h tp: /kaywa.me/8aVDQ

Download the Kaywa Qr Code reader (A p Store &Android market) and scan your code!

my Kaywa Qr-Code

w.valuecarswarehouse.co.nz

CELLULAR

See page 5 for more info!

2

h tp: /kaywa.me/8aVDQ

Download the Kaywa QR Code Reader (a p Store &android Market) and scan your code!

REVERSE CAMERAS

My Kaywa QR-Code

w.valuecarswarehouse.co.nz

PARKING SENSORS

0800 212 777

Ce l 021 855 884

GPS/TRACKING

motor vehicle purchase

See our ad on page 2

Latest Canterbury news at starnews.co.nz

Wednesday August 18 2021 Bay Harbour News 21

New identity looms for Kia Carnival

IN THE YEARS I've been writing

about automobiles, only on

very rare occasions has a badge

changed. Most car makers are

very keen to keep their brand

identity intact and protect their

image even if the design is many

years old.

It came as some surprise then

that Kia is in the process of

changing its logo, the new design

is more stylised and abstract

than before and is certainly a

departure from the original

and it is now a genuine point of

difference.

So, take a good look, is this

Carnival the last Kia I drive with

the old badge? I don't know,

but what I do know is that even

though it is about to get a new

point of identity, it still shares

the concept that it has made it a

people mover of choice for many

families and service providers.

The Carnival multi-purpose

vehicle has been around for

many years, it has been a popular

seven or eight-seater and the new

model hasn't lost sight of that

original concept, it is versatile and

practical, yet it also has dynamics

which often disguise its bulk and

concept.

The Carnival arrives here

with a 2.2-litre four-cylinder

turbocharged R-series diesel

engine that has earned itself a

healthy reputation for power

and economy in other Kia and

Hyundai models. The old V6

petrol engine that has given

faithful service throughout the

Carnival's life is not available in

New Zealand now, diesel is all

you can get. However, to me that's

a good thing, the R-series unit is

an absolute cracker, it is strong

and silent.

There are three specification

levels in Carnival – EX, Deluxe

and Premium. The range starts

at $59,990 and ends at $74,990

for the Premium as tested,

in-between the Deluxe sits at

$69,990.

In terms of figures, the twincamshaft,

16-valve diesel has

148kW and 440Nm power output

to consider, it is rated with a

6.5-litre per 100km combined

cycle fuel usage rating and it

accelerates to 100km/h in 8.8sec.

These are impressive figures

considering the Carnival weighs

in bulky at just over two-tonne.

Drive is channelled through an

eight-speed automatic gearbox

through to the front wheels.

Yes, the Carnival is two-wheeldrive

only, and that is one of the

reasons why it can't be considered

a sport utility vehicle. Therein lies

further appeal, many SUVs don't

get used to their full potential. If

you do have a need to transport

several occupants frequently,

then the Carnival will do that in

comfort and style, making full

use of its design role.

BOLD: Black wheels on the Premium model give the

Carnival a sporty look.

KIA CARNIVAL PREMIUM: Versatile eight-seater with adaptable seating configurations.

IDENTITY: Out with the old and in with the new - Kia's

logo going forward (right).

It is also extremely practical,

the seating configurations are

many-fold, the centre row is

adaptable for easy access to the

rear, and the rear seats also fold

down deep into a cargo area for

increased interior load space.

Not only does the Carnival

have on-board versatility, access

is also easy with automatic sliding

doors on each side, and a high-lift

rear tailgate.

At the other end, the R-Series

diesel is a tireless worker, it

develops all of its power low in

the rev range at 3800rpm, and

if you take into account that the

area of peak torque lists from

1750rpm to 2750rpm, you don't

need to constantly work the

engine, it is happy slugging it out

at low revs.

Power through the

transmission is well harnessed.

Shifts are quick and smooth,

while the ratios are structured

for that healthy acceleration time

and the ability to sip fuel gently

at open road speed – 6l/100km at

100km/h with the engine turning

over slowly at just 1650rpm. The

driver can also choose an active

economical driving mode that

eases the load on the engine for

fuel efficiency gains. Take into

account as well the Carnival's

72-litre fuel tank, long distances

can be travelled before fill-ups are

necessary.

In Premium specification, the

Carnival is fully loaded with

kit, much of it new-generation

equipment. There's also a healthy

level of safety kit, both passive

and active.

Features for convenience and

comfort include full leather trim,

satellite navigation, triple-zone

climate control, electric seat

adjustment (also heated and

cooled up front), heated steering

wheel and reversing camera. All

of these features are included

in an ultra-modern interior

that relies heavily on operation

through the central dash touch

screen command centre.

I took the test car on my

normal inland route – State

Highway 72 – the scenic route

through to Glenroy. At both low

and cruising speeds, the Carnival

has quiet motion and a beautiful

ride, the front-strut and multiplelink

rear suspension has soft

spring and damper rates and, as

such, they absorb ruts and bumps

well. That along with the strongly

bolstered seat cushioning means

the ride is more than plush.

• Price – Kia Carnival

Premium, $74,990

• Dimensions – Length,

5155mm; width, 1995mm;

height, 1775mm

• Configuration – Fourcylinder,

front-wheeldrive,

2151cc, 148kW,

440Nm, eight-speed

automatic

• Performance – 0-100km/h,

8.8sec

• Fuel usage – 6.5l/100km

There is a little trade-off when

it comes time to tackle our

country's tight and twisty corners.

The Carnival is large, which

means there is a lot of vehicle to

get around a corner in the first

instance. The body leans over

the suspension thanks to its tall

centre of gravity; however, the

weight transfer is gradual and

doesn't affect vehicle balance.

There aren't a lot of vehicles of

this type new in the New Zealand

market, and to be fair, demand is

spasmodic.

However, Kia has stuck with

the Carnival, and for those who

do travel as a group it is the

perfect choice and one that will

gain recognition with a wide

cross-section of the community.

Kia has styled the Carnival so

that it will appeal with its shape,

it has attitude, disguising well

the van-like look that has often

accompanied multi-purpose

vehicles and people movers.

has motoring covered!

Incorporating

ISSUE 667 | FrIday 20 novEmbEr 2020

sherborne st, edgeware

iggest range of vehicles

location!

2011 Jaguar

XF Premium

$18,999

See inside for this week's

4WD feature!

se Ave | P: (03) 366 7768 | www.valuecarswarehouse.co.nz

See page 4 for more info!

free

best motorbuys

Incorporating

ISSUE 668 | FrIday 27 NovEmbEr 2020

275 Colombo street, Christchurch

For more see their advert on pages 6 & 7

Ce l 021 855 884

Incorporating

ISSUE 669 | FrIday 4 dEcEmbEr 2020

See inside for this week's

Classic Car feature!

PH 03 web

www.drivesouth.co.nz

One Owner!

40 Years Finance

Experience

Cannot be Beaten!

• Talk to us about finance for your next

motor vehicle purchase

Specialising in Finance for Private Purchases

Very quick approvals, sensational interest rates

• From no deposit (terms & conditions may apply)

Hiace spares

Cnr Main South Rd and Epsom Rd, Christchurch

Ph: 03 348 4129 | avoncityford.com

2015 IsuZu D-mAX

4WD Ls D/CAb

NZ new, 3.0 intercooled turbo/dsl,

auto, rare flatdeck with ladder/pipe

racks, reverse cam, service history.

$34,995 $192pw

For more see their advert on page 31

free

best motorbuys

www.drivesouth.co.nz

See inside for this week's

marine feature!

free

best motorbuys

The South Island's leading motoring resource,

filled with news, reviews and dealer listings.

From family cars to work trucks, and supercars

to SUVs. No matter what you're looking for,

you can find it all with Drivesouth.

Magazine available for FREE every Friday

at a convenient pick up point near you!

The biggest range of vehicles

in one location!

Now Available @ NZ Van Spares

www.drivesouth.co.nz

2.4 auto, alloys, ABS, twin airbags.

2005 toyota rav

$20,999

$9,990

40 Years Finance

2008 bmW 320i

2.0lt Petrol, 5 Dr Station wagon,

Climate Control, ABS Braking,

.nz

CAR AUDIO

AUDIO VISUAL

CAR SECURITY

32 Moorhouse Ave | P: (03) 366 7768 | www.valuecarswarehouse.co.nz

MOBILE INSTALLATION SERVICE

RADAR DETECTORS

DASH CAMERAS

Cannot be Beaten!

$10,974 NoW $7,974 + orC

Experience

Automatic. $34.63pw.

AERIALS

• Talk to us about finance for your next

Specialising in Finance for Private Purchas

• Very quick approvals, sensation

• From no deposit (term
---
22 Bay Harbour News Wednesday August 18 2021

REAL ESTATE

Selling Assisi

27 Assisi Street, Mt Pleasant

Auction (unless sold prior) 12pm, Thu 9 Sep 2021

4 Bedrooms / 5 Living / 4 Bathrooms / 4 Car Garaging / Listing: bayleys.co.nz/5513617

Open homes: Sun/Wed 2-3pm & Thu 6-7pm

A substantial home that can

accommodate everyone and everything

with its multiple bedrooms, bathrooms,

living rooms, studio rooms, garaging

for 4 cars, workshop and huge off-street

parking area. All set on 1820 m 2 – on 2

titles.

Offering the perfect partnership of

luxury and location; this four bedroom

520m 2 residence enjoys an elevated

situation with outstanding 180-degree

uninterrupted views.

Modern minimalism and refinement

create clean lines enhanced by natural

light and neutral colours.

There are bedrooms on every level

with the main upstairs with a luxurious

ensuite, walk in wardrobe, private

sun room and three balconies.

Fabulous for entertaining

with a well-appointed new

kitchen, a number of generously

proportioned living and dining

areas, decks and outdoor

sheltered spaces that all enjoy the day and

night views. The heated salt-water pool is

an alfresco highlight to enjoy.

An expansive office provides a peaceful

retreat for those who work from home,

and a sizeable lower-level studio offers

versatility and would be well-suited as a

gym, media room or games room.

Secure parking is provided by garaging

for at least four cars, plus a workshop, and

abundant off-street space perfect for any

additional vehicles, boats and caravans.

The owners have moved to their new

home dictating that 27 Assisi Street must

be sold.

Sara Ashcroft 021 359 864

Sara.ashcroft@bayleys.co.nz

Sarah Law 027 822 8598

Sarah.law@bayleys.co.nz

(Licensed Agents REAA 2008)
---
Latest Canterbury news at starnews.co.nz

Wednesday August 18 2021 Bay Harbour News 23

Classifieds Contact us today Phone our local team 03 379 1100

To Let

RENT ME!

Ideal as an extra

bedroom or office.

no bond required

Fully insulated and double glazed for warmth.

Three convenient sizes from $80 a week:

Standard 3.6m x 2.4m

Large 4.2m x 2.4m | Xtra-large 4.8m x 2.4m

Visit our website

www.justcabins.co.nz

for display cabin locations

www.justcabins.co.nz

Trades & Services

DIRTY TILES

& GROUT?

Our unique restoration

processes will make your

tiled areas look NEW again!

We specialise in professional

cost effective solutions for

all your tile & grout issues.

• Tiled shower makeovers

• Re-colouring old grout

• Mouldy silicone replacement

• Professional tile/grout

cleaning, sealing & repairs

Call today for a FREE quote on 0800 882 772

www.theprogroup.co.nz/dpc9385

Real Estate

HOME WANTED 3-4

bedrooms. Looking in Nor

West areas, Beckenham

or Somerfield. Prefer

permanent material brick

and post 1990 build. Don't

mind if it needs some TLC

- anything considered.

Cashed up buyer. Phone

021 372 479

Trades & Services

Atkinson Construction Ltd

• Local qualified builder

• Over 30 years experience

• Building alterations

• Maintenance

• No job too big or small

Dean: 021 480 093

atkinsonconstruction@xtra.co.nz

WINDOW TINTING

tintawindow

advanced film solutions

99% uv block

fade protection

heat control

reduce glare

25 Years Experience

privacy films

frosting designs

non-darkening films

Workmanship Guaranteed

Lifetime Warranties on Most Films

UV

block

Real Estate

HOME WANTED 3-4

bedrooms. Looking in Nor

West areas, Beckenham

or Somerfield. Prefer

permanent material brick

and post 1990 build. Don't

mind if it needs some TLC

- anything considered.

Cashed up buyer. Phone

021 372 479

Free Quotes Canterbury and Districts

03 365 3653 0800 368 468

Trades & Services

BANJO

ELECTRICAL LTD

Registered Electrician. Ph

Andrew 022 654 3859.

BANJO

ELECTRICAL LTD

Registered Electrician. Ph

Andrew 022 654 3859.

CARPET LAYING

Exp. Repairs, uplifting,

relaying, restretching.

Phone John on 0800

003181, 027 240 7416

jflattery@xtra.co.nz

CHIM CHIM CHIMNEY

SWEEPS

We'll sweep your

logburner's flue, check

firebricks, baffles, airtubes

& controls. We're experts

on coal-rangers, and can

sweep any sized open fire.

We quote & undertake

repairs, flue extensions &

install bird netting. 0800

22 44 64 www.chimchim.

nz

ELECTRICIAN

JMP Electrical.

Experienced & registered..

Expert in all home

electrical repairs &

maintenance.Call James

027 4401715

ELECTRICIAN

Andrew Martin Electrical.

25 years experience.

Specialize in home

renovations, repairs and

maintenance. Call Andrew

0274 331 183

GUTTER CLEANING

HOUSE WASH

Total gutter / spouting

clear out & clean. House

wash & windows. For a

professioanl & reliable

service call Greg Brown

A1 Spouting Cleaning 027

616 0331 or 384 2661

Trades & Services

HOME

IMPROVEMENTS

Decks, fencing, retaining

walls, kitchens, sleepouts,

kitsets, renovations and

more. Greg 022 475 8227

Wanted To Buy

AAA Buying goods

quality furniture, beds,

stoves, washing machines,

fridge freezers. Same day

service. Selwyn Dealers.

Phone 980 5812 or 027

313 8156

Public Notices

ADD SOME

COLOUR

TO YOUR ADVERT!

ADVERTISE YOUR BUSINESS HERE

Phone for further details

(03) 379 1100

Bobbi | Bowflex Max Trainer User

I lost 15kg in 10 weeks. That is ridiculous. The fat just

melts right off. I mean, it absolutely changed my life!

CALL NOW! 0800 665 665
---
24 Bay Harbour News Wednesday August 18 2021 Latest Canterbury news at starnews.co.nz

COVID-19

Vaccination

Update

Everyone eligible can now book their

COVID-19 vaccination appointments.

Not your turn yet? Register your details.

Go online at www.BookMyVaccine.nz

or phone 0800 28 29 26.

Some people may find booking easy, and some may

need a hand. Please check in with your whānau and

the people you support if they need help.

For local updates check

www.VaccinateCanterburyWestCoast.nz.

CDHB16Aug21 CP
---
Latest Canterbury news at starnews.co.nz

Wednesday August 18 2021 Bay Harbour News 25
---
26 Bay Harbour News Wednesday August 18 2021 Latest Canterbury news at starnews.co.nz
---
Latest Canterbury news at starnews.co.nz

Wednesday August 18 2021 Bay Harbour News 27
---
28 Bay Harbour News Wednesday August 18 2021 Latest Canterbury news at starnews.co.nz