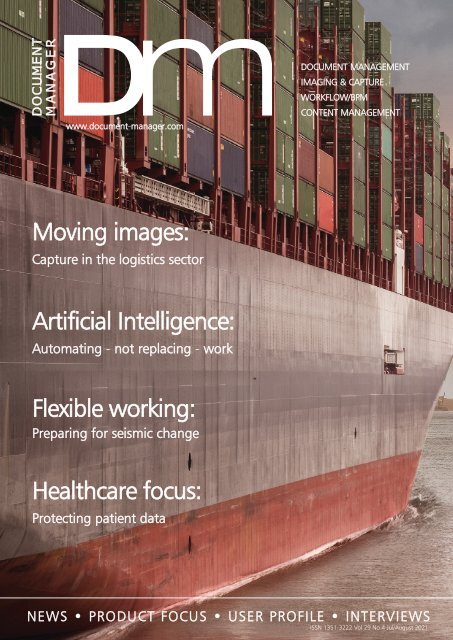 You also want an ePaper? Increase the reach of your titles
YUMPU automatically turns print PDFs into web optimized ePapers that Google loves.
DOCUMENT

M A N A G E R

Dm

www.document-manager.com

DOCUMENT MANAGEMENT

IMAGING & CAPTURE

WORKFLOW/BPM

CONTENT MANAGEMENT

Moving images:

Capture in the logistics sector

Artificial Intelligence:

Automating - not replacing - work

Flexible working:

Preparing for seismic change

Healthcare focus:

Protecting patient data

NEWS • PRODUCT FOCUS • USER PROFILE • INTERVIEWS

ISSN 1351-3222 Vol 29 No 4 Jul/August 2021
---
Scan, share and

digitise documents

quickly and

efficiently

At home, in the office or on the

move, Brother has the scanner

for you.

brother.co.uk

Brother has a scan solution for every business.

Whether you're scanning in the office, at home

or on the move, Brother scanners make digitising

documents quick, accurate and efficient.

Using our mobile, compact and desktop

scanners, electronic documents can be

securely stored and shared at the touch of a

button, saving you valuable time and space.

Explore the Brother scanner range to

find the right model for you.

Available from

bmi

solutions
---
Dm

COMMENT

Editor:

Dave Tyler

david.tyler@btc.co.uk

Sub Editor:

Mark Lyward

mark.lyward@btc.co.uk

Welcome to our July/August Document

Publishing Director:

John Jageurs

Manager where - as we'd touched on

john.jageurs@btc.co.uk

Sales Manager:

in our last issue - the big news is that

Abby Penn

the DM Awards is back with a vengeance for

abby.penn@btc.co.uk

Lead Designer

2021, after our enforced absence last year and

Ian Collis

the slightly more subdued (but still very well

ian.collis@btc.co.uk

Circulation/Subscriptions:

received) virtual awards.

Christina Willis

We're delighted to be able to say that our big

christina.willis@btc.co.uk

Managing Director:

night is back in London in November as an inperson

event, and we very much hope that you will be able to help us to

John Jageurs

john.jageurs@btc.co.uk

make it a good one as we look to celebrate the light at the end of the

Published by: Barrow &

Covid-19 tunnel.

Thompkins Connexion Ltd

35 Station Square,

As ever, the intention is to reward the technologies, tools and solutions

Petts Wood

that showcase the very best in the document and content management

Kent BR5 1LZ

Tel: 01689 616000

industries. We are determined to make this year's awards an event to

Fax: 01689 826622

remember and hopefully put some smiles on faces after some very

Subscriptions:

challenging times on both business and personal levels for all of us.

UK: £35/year, £60/two years,

£80/three years

The DM Awards is always an opportunity to think anew about the

Europe: £48/year, £85 two

players in the industry who you think have supported or assisted you

years, £127 three years.

ROW:£62/year, £115/two

most and who have upheld the traditions of the industry, and after the

years, £168/three years

last couple of years we think this is more important than ever before.

Published 6 times a year.

Single copies can be bought

Building on the success of previous years, we will again be inviting

for £8.50 (includes postage &

project applications to be considered by our panel of independent

packaging). No part of this

magazine may be reproduced

judges. Most categories of course will still be decided by the most

without prior consent, in writing,

from the publisher.

important people of all: you, the readers of Document Manager

©Copyright 2021 Barrow &

Magazine and the clients of the companies competing for the top

Thompkins

honours. Featuring 29 categories including a few brand new ones, this

Connexion Ltd

year's DM Awards allow companies from every sector of the industry to

seek recognition for their efforts over the past 12 months. See page 14

of this issue for the full list of categories and details of how to nominate.

Articles published reflect the

opinions of the authors and are

not necessarily those of the

publisher or his employees. While

every reasonable effort is made

to ensure that the contents of

articles, editorial and advertising

are accurate no responsibility can

be accepted by the publisher for

errors, misrepresentations or any

resulting effects

The DM Awards 2021 updated timeline:

Nominations close: 3rd September

Finalists announced/voting opens: 16th September

Voting closes: 3rd November

Winners announced: 18th November

NB: If you wish to submit an entry for the Project of the Year categories,

we have extended the deadline - for those entries only - to September

10th. Please send them direct to Abby Penn at the below email address.

And as always, if your organisation would like to be involved in

sponsoring or otherwise supporting the Awards then please contact

Abby at the office on 07861 682 066 or abby.penn@btc.co.uk.

Dave Tyler

Editor

david.tyler@btc.co.uk

www.document-manager.com

July/August 2021

@DMMagAndAwards

3
---
Dm CONTENTS

C O N T E N T S

JULY/AUGUST

8

16

18

20

26

.....................................................................................................................................................................................................

INTERVIEW: HYLAND……………...................................................................…….6

DM Magazine editor David Tyler spoke to Tim Hood, VP EMEA and APAC, Hyland about

the company's recent acquisitions of Nuxeo and Alfresco and how market shifts are

affecting customers

MANAGEMENT: DIGITAL MAILROOM…..…......................................................…..8

Grace Schneider of Storetec shares a detailed breakdown of exactly what happens when

mailroom processing goes digital

TECHNOLOGY: STORAGE…………...................................................................….10

Aron Brand, CTO of CTERA, explains the key differences between distributed file systems

and object storage for organisations looking for the optimum solution for their

unstructured data requirements

OPINION: AI…………...................................................................................…….12

Stéphan Donzé, Founder and CEO of AODocs, looks at the role of AI in today's digital

workplace

EVENT: DM AWARDS 2021............................................................................……14

The DM Awards returns to London in November as an 'actual real-life in-person event', and

we want to make it a big one to celebrate the light at the end of the Covid-19 tunnel

MARKET FOCUS: HEALTHCARE......................................................................……16

Gabriela Garner, Product Marketing Director at Kofax, argues that controlling and

protecting copiers and printers is increasingly necessary to secure patient information

INDUSTRY FOCUS: LOGISTICS .......................................................................…….18

Mark Wharton of ibml looks at how firms in the transport and logistics industry can

apply data capture solutions to streamline information sharing in the supply chain

COMPANY UPDATE: DOCUWARE....................................................................…..20

Eugene Young, Country Director, UK/Ireland, DocuWare, examines the need to embrace a

new hybrid workforce, and what organisations need to succeed

CASE STUDY: CAMDEN CENTRE FOR LEARNING……………….....................…….22

A London special school is able to manage sensitive documents across different school

sites while respecting GDPR and retention schedules

TECHNOLOGY: FAX………...............................................................................…..24

Scott Wilson of eFax explores how increased workforce access to documents during

lockdown has created new security risks - and why vital business materials are still being

stored, sent and signed using outdated, insecure and expensive legacy technology

CASE STUDY: NORSE GROUP……….................................................................….26

A smart audit service from Konica Minolta allowed Norse Group to analyse in depth exactly

what was happening with their print/scan systems and highlight numerous issues and

potential improvements

EVENT: IRMS CONFERENCE 2021……………...............................................…….27

DM Magazine previews this year's IRMS Conference, taking place in Birmingham in November

OPINION: FLEXIBLE WORKING…………........................................................……28

The flexible work future is here to stay, argues Herbert Lörch of M-Files - but how should

organisations respond to the shift?

PRODUCT REVIEW: OMNIDOX 5……................................................................…30

CASE STUDY: WEAVER & BOMFORDS………........................................................32

Office supplies company Weaver & Bomfords is future-proofing print for its clients thanks

to MPS Monitor 2.0

RESEARCH: PRINT TRENDS……………..................................................................34

The latest Quocirca survey suggests market consolidation, ecosystem building and

innovation on the horizon as businesses recognise the need for rapid change

4 @DMMagAndAwards July/August 2021 www.document-manager.com
---
The multi-award winning

solution from OASIS Group

One platform, multiple

solutions. Including:

Digital Mailroom

Human Resources

Accounts Payable

Learn more at www.oasisgroup.com

Contact us at info@oasisgroup.com
---
Dm INTERVIEW: HYLAND

Finding the best fit for

the customer

DM Magazine editor David Tyler spoke to Tim Hood,

VP EMEA and APAC, Hyland about the company's

recent acquisitions of Nuxeo and Alfresco and how

market shifts are affecting customers

David Tyler: Recent years have

seen a raft of takeovers and

divestments involving Hyland,

the most recent of which were the

acquisitions of Alfresco in 2020 and

then Nuxeo just this year. Tell us what

the thinking is behind those market

moves, and how it relates to the sector

in general.

Tim Hood: The acquisitions over recent

years have made a huge impact,

undoubtedly, but it is worth

remembering that Hyland commercial

sales were already growing organically

at 20%-plus annually in EMEA, without

those acquisitions - and we were

growing in the right areas in line with

our corporate strategy. We are now

working with customers that we

wouldn't have had access to prior to the

acquisitions as we have more presence

in certain regions, particularly in the

German-speaking region and France

where we're seeing great growth.

The Alfresco acquisition actually

happened surprisingly quickly: one of

the things I'm seeing since Covid-19 hit

is that there seems to be a lot of rapid

movement in the market. I'm seeing

more M&A activity and Venture Capital

investment than I have in a long time. I

think perhaps the market is getting a

little overheated: not just in the

ECM/Content Services space but also in

the BPM arena and obviously the

remote working space.

DT: The Alfresco acquisition only

happened in October last year but with

Nuxeo coming so soon afterwards it

almost seems like 'old news'. Is that

business now more integrated into

Hyland?

TH: I was really excited about the

Alfresco acquisition: the usual reasons

for any acquisition are people,

customers and/or technology, so let's

discuss all of those. I'd been aware of

Alfresco previously of course, but to be

honest we hadn't seen a lot of the

company in terms of competition - they

had tended to sell into different market

segments. A lot of the OnBase sales

were line-of-business and applicationcentric:

integrating with healthcare

solutions, Accounts Payable, or HR, for

instance. Alfresco was more focused on

the approach of selling a Content

Services platform to suit multiple

applications, with multiple integration

points. In terms of the buyer then, for

Hyland it would tend to be departmentcentric

while for Alfresco it was more

likely to be IT-driven. This meant we

could see some real synergies between

the two.

The technologies then were clearly a

really good fit for us, addressing

different parts of the market. We also

got some great people - when I got to

know the Alfresco organisation I could

immediately see how it would add value

throughout different parts of our

business: different levels of experience,

different market knowledge, and

different approaches. And lastly we got

this great customer set. If you look at

the numbers of OnBase and Alfresco

customers in EMEA, they're broadly

comparable, but the size of the

organisations was a bit different:

Alfresco was weighted toward the

larger customer, and also had a much

larger footprint in the public sector

space. That was due in part to the their

Open Source heritage: there had been a

big push in France, Spain and Italy onto

Open Source in the public sector, and

we've seen the same happening in

Benelux, Germany and the UK.

With any acquisition there are always

some things you can see immediately

and some that only come clear over

6 @DMMagAndAwards July/August 2021 www.document-manager.com
---
INTERVIEW: HYLAND Dm

time. As we got to know the Alfresco

technology in more depth, we realised

that it was even more developed than

we'd anticipated: it's truly cloud-native,

designed to exist as a cloud platform.

The more we understood it, the more

excited we became about what we have

on our hands.

Integration was handled slightly

differently in EMEA than in the USA: in

EMEA the market pretty much doubled

overnight, while in the US much more

revenue is still coming from OnBase. It

made sense then for me to integrate the

sales, pre-sales and services teams here

much earlier - it didn't make sense for

us to have different salespeople with

different platforms effectively

competing with each other.

DT: And then, with the dust barely

settled on Alfresco, Hyland announced

it was to buy Nuxeo as well - what was

the thinking there?

TH: When I first had the call to let me

know of the intention to purchase

Nuxeo, I initially thought someone was

kidding me because integrating Alfresco

had meant so much upheaval. I think

there were questions when it was first

announced around our intent in buying

the company - was it pure investment,

was it about the technology, was it

perhaps opportunistic? But in fact it is a

good fit. Certainly Alfresco and Nuxeo

did compete in more areas than

Alfresco and Hyland - and you'd expect

that, as the two predominant Open

Source Content Services platforms in the

space - but again, there are some really

strong synergies. The Digital Asset

Management technology in Nuxeo has

added something to our portfolio that

we didn't have in either Alfresco or

OnBase. They have some great

customers including some big High

Street names, utilising that DAM

technology. Again it is cloud native so is

a good fit from that angle, as well as

obviously again bringing us great

customers and great people.

As we continue to develop and look at

the long term future of the company,

it's good that we have people from

Alfresco and Nuxeo with experience and

knowledge of parts of the market that

we simply never had before. My focus

from now on is how we integrate Nuxeo

into the business. We have publicly

stated quite unequivocally that our

intention is to fully support all the

platforms into the future: OnBase,

Nuxeo, Alfresco and Perceptive Content.

We want to continue our commitment

to all of those customers. Even with our

Saperion customers, which was

acquired (by Lexmark) way back in

2013, we still have over 750 customers

still operating happily on that platform.

DT: Integration is obviously a key aspect

of your plans for Hyland going forward,

but how do you intend to manage these

widely varying - albeit highly

complementary - product offerings in

the future?

TH: As we move forward, we're looking

at which areas of the market are the

best fit for which of our platforms -

what is the application, what is best for

the customer? When we go out to

speak to customers, we can't turn up

and say "We've got four products, pick

the one you want…" We have to

understand the customer requirement

and decide which of our offerings is the

best fit to make the customer as

successful as possible.

Particularly with the move to recurring

revenue and subscriptions in the cloud,

having happy customers with successful

projects is more important than ever.

Understanding what's best for the

customer is therefore absolutely key: we

need to make the technology choices

along with the customer to ensure that

we know where that best fit is.

Longer term the strategic direction for

Hyland is this: the intention is to take

the strongest components from all of

the technologies that we now have

available to us, and look at how to

integrate those in order to offer a true

best-of-breed technology platform.

Then we have to ensure that as many of

our customers as possible are able to

benefit from that platform.

More info: www.hyland.com

www.document-manager.com

July/August 2021

@DMMagAndAwards

7
---
Dm MANAGEMENT: DIGITAL MAILROOM

Digital mailroom: How does it actually work?

Grace Schneider of Storetec shares a detailed breakdown of exactly what happens

when mailroom processing goes digital

An inbound digital mailroom sees

all inbound mail digitised upon

arrival at your or your supplier's

premises. Digital mailroom eliminates

the need for your company to handle

incoming physical mail to focus time

and resources on essential activities. This

is especially important during the

current Covid-19 situation: mail can be

accessed from any location, 24/7,

allowing full remote working and saving

employees from visiting the office daily

to receive mail.

It is crucial for the supplier and the

client to fully understand all aspects of

the ongoing digital mailroom project,

from setting up a redirect or PO box to

hosting your scanned mail on a secure

document management system or

returning it to you electronically.

Every clients' needs are unique, and you

must ensure that your potential supplier

is aware of the many diverse document

types you receive for your digital

mailroom to meet your needs and goals.

PRE-SORT OF THE INCOMING MAIL

You can decide whether you redirect mail

short or long term, set up a dedicated

PO box or receive email attachments to a

central inbox for capture. For physical

mail, a pre-open sort will take place:

Spam

Cheques

Departmental/Named

White mail e.g. unstructured letters

or completed forms, usually in a preprinted

return envelope.

It is vital to agree on SLAs for the return

8

@DMMagAndAwards

July/August 2021

www.document-manager.com
---
MANAGEMENT: DIGITAL MAILROOM Dm

"NOT EVERY DOCUMENT CAN BE CLASSIFIED BY ITS VISUAL CHARACTERISTICS. OCR CAN BE APPLIED TO LOOK

FOR KEYWORDS IN THE MAIL TO PUSH IT THROUGH A SPECIFIC WORKFLOW, E.G. CHANGE OF ADDRESS OR

COMPLAINTS. ANY EXCEPTIONS CAN BE PUSHED INTO A WORKFLOW FOR MANUAL INTERVENTION. ARTIFICIAL

INTELLIGENCE CAN BE USED TO MAKE SOFTWARE LEARN FROM EACH EXCEPTION, REDUCING THE NEED FOR

FUTURE MANUAL INTERVENTION."

and handling of all scanned documents.

This can be particularly important when

handling legal/personal or payment

documents.

PREPARATION AND SCANNING

Following the pre-sort of all physical mail

items, the documents are prepared for

scanning by removing staples and paperclips

and checking for Post-It Notes that

will need moving to a separate blank

page to be scanned.

Each mail item is usually scanned as a

separate document, and your supplier

can, if required, have the envelope that

the document arrived in scanned as well.

At this stage, any cherished or original

documents can be scanned and

separated for return to you. Client

cheques will also be scanned and

separated for return, or your supplier can

bank the money on your behalf.

Departmental documents can be

forwarded electronically to your relevant

department. In the case of some

documents such as invoices, your supplier

may offer to capture and extract the data

to feed your accounts/back-office

software systems.

CLASSIFICATION

Your supplier may be able to provide

automatic document classification.

This is where software will look at the

mail structure and decide what it is to

be classified as, and how. Some

examples are:

Invoices

Contracts

Forms

Letters

Not every document can be classified by

its visual characteristics. OCR can be

applied to look for keywords in the mail

to push it through a specific workflow,

e.g. change of address or complaints.

Any exceptions can be pushed into a

workflow for manual intervention.

Artificial Intelligence can be used to make

software learn from each exception,

reducing the need for future manual

intervention.

DATA EXTRACTION

Some people may think that digital

mailroom is just the scanning and

sending of mail, but it can be much more

than that. Your supplier may be able to

capture key data from documents if

required using OCR, ICR, or OMR.

Optical Character Recognition (OCR)

is the conversion of typed,

handwritten or printed text into

machine-encoded text.

Intelligent Character Recognition (ICR)

is a handwriting recognition system

that allows fonts and different styles

of writing to be learnt.

Optical Mark Recognition (OMR) is

the process of capturing humanmarked

data from document forms

such as surveys.

Information such as client name, invoice

number, PO number, etc. can be

extracted from the mail and used to

update your systems. This saves your

team time which can be used more

efficiently to work on more businessessential

activities.

WORKFLOW AND AUTOMATION

Scanned mail can be returned to your

internal system or a document

management system such as Storetec's

FreeDocs. Your supplier may be able to

offer automatic routing or workflows

which can ensure the correct documents

are delivered to the right member of

your team.

THREE BENEFITS OF A DIGITAL

MAILROOM

Save time: Documents are opened and

sorted by your supplier. Once digitised,

data can be automatically extracted and

added to databases or workflows.

Reduced operational costs: With quick,

efficient access to incoming mail, your

business can drastically reduce

operational costs whilst allowing

employees to focus their time on more

critical tasks.

Quick access to incoming mail: With

flexible, remote access to your post, you

can respond to customers quicker and

accelerate essential business transactions.

If you would like further information or

advice on digital mailroom and how this

could benefit your business, please get in

touch with the Storetec team today. We'd

be more than happy to arrange a

conference call on Microsoft Teams,

Zoom or any other preferred platform to

discuss a potential project.

More info: www.storetec.net

www.document-manager.com

July/August 2021

@DMMagAndAwards

9
---
Dm TECHNOLOGY: STORAGE

Unstructured data:

where to store it next

Aron Brand, CTO of CTERA, explains the key

differences between distributed file systems and

object storage for organisations looking for the

optimum solution for their unstructured data

requirements

Unstructured data is growing

rapidly: Gartner estimates that

over the next four years,

enterprises will triple the volume of

unstructured data they hold. Many

organisations are therefore adopting

Distributed File Systems (DFS) and

object storage solutions to scale linearly

in an economical manner whilst

meeting their performance and capacity

requirements.

This article aims to explore the

differences between object storage and

DFS, including the two flavours of DFS

solutions.

SPOT THE DIFFERENCE

Both DFS and object storage distribute

data over multiple nodes in order to

provide self-healing and linear scaling

in capacity and throughput. This,

however, is where the similarities end.

There are three main differences

between the two unstructured data

storage solutions:

1. In a file system, files are arranged in

a hierarchy of folders, while in object

storage systems, objects are arranged in

flat buckets in a similar way to a "key

value store".

2. File systems are designed to allow for

random writes anywhere in the file.

Object storage systems only allow

atomic replacement of entire objects.

3. Object storage systems provide

eventual consistency. Depending on the

vendor, DFS can support strong

consistency or eventual consistency,

which will be discussed further below.

THEORETICAL TURNS PRACTICAL

While both object storage and DFS are

well-suited for storing substantial

volumes of unstructured data, they suit

different use cases. As object storage

exposes a Representational State

Transfer (REST) API, it is only suitable

for applications that are specifically

intended to interact with this type of

storage. In contrast, DFS expose a

traditional filesystem API which is

suitable for any application, including

legacy applications that work over a

hierarchical filesystem.

DFS provide a deeper and more

general-purpose interface to

applications, allowing them to perform

certain activities that are not suitable

for object storage. Examples of these

operations include acting as the backend

for a database, or handling

workloads that are heavy on random

reads/writes. In contrast, object storage

is more suited to serving as a repository

or archive for enormous volumes of

10 @DMMagAndAwards July/August 2021 www.document-manager.com
---
TECHNOLOGY: STORAGE Dm

"WHILE BOTH OBJECT STORAGE AND DFS ARE WELL-SUITED FOR STORING SUBSTANTIAL VOLUMES OF

UNSTRUCTURED DATA, THEY SUIT DIFFERENT USE CASES. AS OBJECT STORAGE EXPOSES A REST API, IT IS ONLY

SUITABLE FOR APPLICATIONS THAT ARE SPECIFICALLY INTENDED TO INTERACT WITH THIS TYPE OF STORAGE. IN

CONTRAST, DFS EXPOSE A TRADITIONAL FILESYSTEM API WHICH IS SUITABLE FOR ANY APPLICATION, INCLUDING

LEGACY APPLICATIONS THAT WORK OVER A HIERARCHICAL FILESYSTEM. DFS PROVIDE A DEEPER AND MORE

GENERAL-PURPOSE INTERFACE TO APPLICATIONS, ALLOWING THEM TO PERFORM CERTAIN ACTIVITIES THAT ARE

NOT SUITABLE FOR OBJECT STORAGE."

huge files and is less expensive per

gigabyte than DFS.

IT teams considering implementing a

DFS for their unstructured data must

decide between two different types:

clustered or federated.

CAP THEOREM

As mentioned above, DFS might

support strong or eventual consistency.

This is where computer science theory

comes in, as a distributed data store

can have no more than two out of

three properties according to CAP

theorem. These three properties are:

Consistency: Every read receives the

most recent write or an error

Availability: Every request receives a

(non-error) response - without the

guarantee that it contains the most

recent write

Partition tolerance: The system

continues to operate despite an

arbitrary number of messages being

dropped (or delayed) by the

network between nodes

As a result, there are two types of DFS

currently available:

CLUSTERED DFS

Clustered DFS are made up of a closely

connected cluster of nodes. They focus

strictly on data consistency and are

especially suitable for large-scale

computing use cases at the enterprise

core, such as big data analytics, highperformance

computing, or databases.

The consistency and availability

aspects of CAP theorem are the subject

of clustered DFS. But strong

consistency assurances do not come

cheap. They impose significant

constraints on system operation and

performance, especially when nodes

are separated by high latency or

unreliable connections.

FEDERATED DFS

The goal of federated DFS is to make

data available over long distances

while maintaining partition tolerance.

Federated DFS are well-suited for

weakly linked edge-to-cloud use cases,

including unstructured data storage

and management for remote and

branch offices. Federated DFS focus on

the availability and partition tolerance

properties of the CAP theorem, rather

than the strict consistency guarantee.

In federated DFS, read and write

operations on an open file are routed

to a locally cached copy. When a

modified file is closed, the modified

sections are copied back to a central

file server from the edge. Update

conflicts may arise, and are resolved

automatically. It could be claimed that

federated DFS combines the semantics

of a file system with the eventual

consistency model of object storage. In

this way federated DFS are optimised

for use cases including archiving,

backup, media libraries, mobile data

access, content distribution to edge

locations, content ingestion from edge

to cloud, remote and branch office

storage, and hybrid cloud storage.

Both clustered and federated DFS

have applications in the enterprise. To

reap the full benefits of a DFS, IT

teams must be familiar with how

clustered and federated DFS differ in

order to choose the option most

suited to their application

requirements.

The market is undergoing a

significant shift towards DFS and

object storage, at the same time as

organisations are looking for more

efficient methods to not only cope

with but thrive from the explosion of

unstructured data. The optimal

decision, whether object storage,

clustered or federated DFS, or a

combination, lies in careful

consideration of the organisations'

requirements and use cases.

More info: www.ctera.com

www.document-manager.com

July/August 2021

@DMMagAndAwards

11
---
Dm OPINION: AI

Taking on the mundane

Stéphan Donzé, Founder and CEO of AODocs, looks at the role of AI in today's

digital workplace

Artificial intelligence has become an

essential, multifaceted and flexible

technology that has accelerated the

evolution of the digital workplace - playing

an integral role in automating manual and

monotonous tasks. Specifically, AI is being

leveraged to substantially reduce data entry

where humans previously entered database

information from invoices, contracts, forms

and more.

As we enter the next phase of work - one

increasingly digital and dispersed - AI

adoption will only accelerate. Businesses

must deeply understand how technology

can increase efficiency, improve accuracy

and enable their workforce to focus on

more strategic and value-driven activities.

AUTOMATING, NOT REPLACING,

WORK

There is a general misconception around

technology 'coming for jobs', when in

reality, AI enables automation designed to

alleviate workloads and reduce the risk of

human errors. At its core, automation uses

machine processes to complete tasks with

little to no human control, allowing

human users to take time back in their

busy day to focus on valuable tasks that

require human intelligence, making better

use of workers' time.

Implementing automation removes the

need to waste human resources on

manual, repetitive tasks. And this is a good

thing: humans are flawed and mistakes

happen for a multitude of reasons, resulting

in data entry errors, productivity losses and

costly mistakes needing to be reversed. With

automation, businesses can improve the

speed and accuracy of manual processes.

Automation has also played a significant

role in accelerating processes for streamlined

workflows across nearly all lines of business,

which often leads to faster innovation. But,

it's vital to emphasise that AI is automating

work, not replacing it. From customer

service representatives interacting with

customers daily to strategic management

focused on planning and company growth,

humans are essential to businesses.

To create a more streamlined, digital

workforce, automation will be a critical

ingredient across the entire business

ecosystem. And, if you don't, your

competition will.

STREAMLINING DM

Document management systems are

designed to ensure company documents

are adequately controlled for compliance

and process efficiency. However, these

systems are limited by manually tagging

documents, which can be tedious and

frustrating for end-users. AI-based

document management systems remove

the burden of a disjointed and

disconnected work experience, helping

companies better manage all documents

and streamline employee workflows.

Over the past few years, AI has allowed

organisations to solve three critical business

needs. First, AI helps quickly identify

business-critical documents - like those with

contractual obligations, confidential

agreements or industry-regulated

information - which dramatically improves

file organisation while meeting compliance

and regulatory standards automatically.

Secondly, AI helps extract the information

you need thanks to the unstructured data

they are inherently made up of. Data

extraction for contracts, letters and

agreements are time-consuming and errorprone.

Lastly, AI helps find and manage

documents, alleviating difficulties that

cause 21.3% productivity loss amongst

businesses, according to IDC.

AODocs recently conducted a survey to

explore Google Workspace users (past and

present) to see what document

management challenges they experienced.

42% said the most common reason they

couldn't find a document was because it

was saved in the wrong folder or location

and 36% said they couldn't remember the

document's name.

JUST THE BEGINNING

Organisations must do a better job

ensuring their workforce understands how

technology is being used to run more

productive and efficient operations,

especially as our constructs of work rapidly

evolve. With an increasing number of

companies letting go of pre-pandemic

workplace expectations and welcoming

hybrid work models, this is just the

beginning.

What we know is just how critical AI is to

the digital workspaces success and

streamlining document management. But it

is only as successful as the processes in

place. By welcoming AI into the workflow

and digital workspace, organisations can

significantly improve how their employees

interact with one another, far and near.

More info: www.aodocs.com

12

@DMMagAndAwards

July/August 2021

www.document-manager.com
---
Dm EVENT: DM AWARDS 2021

Back where we belong

The DM Awards returns to London in November as an 'actual real-life in-person

event', and we want to make it a big one to celebrate the light at the end of the

Covid-19 tunnel

The DM Awards ceremony is back

with a vengeance for 2021 after

our enforced absence last year and

the slightly more subdued - but still very

well received - virtual awards. As ever,

the intention is to reward the

technology, tools and solutions that

showcase the very best in the document

and content management industries.

We are determined to make this year's

awards an event to re-member and

hopefully put some smiles on faces after

a very challenging year.

The DM Awards is always an

opportunity to think anew about the

players in the industry who you think

have supported or assisted you most

and who have upheld the traditions of

the industry, and after the last couple of

years we think this is more important

than ever before.

Building on the success of previous

years, we will again be inviting project

applications to be con-sidered by our

panel of independent judges. Most

categories of course will still be decided

by the most important people of all:

you, the readers of Document Manager

Magazine and the clients of the

companies competing for the top

honours. Featuring 29 categories

including a few brand new ones, this

year's DM Awards allow companies

from every sector of the industry to seek

recognition for their efforts over the

past 12 months. See the next page for

the full list of categories.

The DM Awards 2021 updated timeline:

Nominations close: 3rd September

Finalists announced/voting opens:

16th September

Voting closes: 3rd November

Winners announced: 18th

November

NB: If you wish to submit an entry for

the Project of the Year categories, we

have extended the deadline - for those

entries only - to September 10th. Please

send them direct to Abby at the below

email address.

If your organisation would like to be

involved in sponsoring or otherwise

supporting the leading industry event

then please contact Abby Penn at the

office on 07861 682 066 or

abby.penn@btc.co.uk.

More info: www.dmawards.com

14

@DMMagAndAwards

July/August 2021

www.document-manager.com
---
EVENT: DM AWARDS 2021 Dm

DM AWARDS 2021 CATEGORIES

One to Watch - Company of the Year

One to Watch - Product of the Year

Accounts Payable/Invoicing Product of the Year

Workflow/BPM Product of the Year

Enterprise CMS Product of the Year

Open Source Document Management Software of the Year

Low-Code Document Management Software of the Year

Print Fleet Management Solution of the Year

BPO/Outsourcing/Bureau Business of the Year

Data Capture/Recognition Product of the Year

Records Management Product of the Year

AI Product of the Year

RPA Product of the Year

Service/Support Company of the Year

Storage Product of the Year

Compliance Product of the Year

Channel Partner of the Year

Imaging Product of the Year: High Volume

Imaging Product of the Year: Desktop/Portable/Other

Imaging Product of the Year: Workgroup/Departmental

Mobile Capture Product of the Year

Software Product of the Year

Hardware Product of the Year

Editor's Choice

Marketing Team of the Year

Project of the Year - Private Sector

Project of the Year - Public Sector

Product of the Year

Company of the Year

MORE INFO: WWW.DMAWARDS.COM

www.document-manager.com

July/August 2021

@DMMagAndAwards

15
---
Dm MARKET FOCUS: HEALTHCARE

Protecting healthcare data

Gabriela Garner, Product Marketing Director at Kofax, argues that controlling and

protecting copiers and printers is increasingly necessary to secure patient

information

The use of electronic health records has

significantly improved the level of

service patients receive today. At the

same time, however, data breaches are also

becoming common place. This isn't

surprising - today's patient lifecycle has

more touchpoints than ever before.

Additionally, networked multi-function

devices (MFDs) such as copiers and printers

are now mainstream in healthcare.

Each time a document or form is copied,

scanned, printed, faxed or emailed - on

either an analogue fax machine, digital

MFD or mobile device - protected health

information of patients can be accidentally

exposed or intentionally compromised.

Paper output can be particularly difficult to

track and control and isn't eliminated by

electronic processes. A significant

proportion of healthcare information

breaches are routinely caused by privilege

misuse or inadvertent errors.

Prevention is possible. Here are 6 ways

healthcare organisations can secure their

copiers and printers to protect the data of

their patients:

1. Restrict access based on user

authorisation

MFDs should support the restriction of

features and capabilities of an

authenticated user. They should also verify

user credentials at the device, allow or deny

access based on rules, restrict what each

user can do at the devices, and meet

regulatory requirements.

2. Centrally audit all network activity for

print, copy, scan and network fax

Auditing allows MFDs to pass tracking

information to a database. In the event of

a data breach, this capability allows users

to easily track down which device was the

source of the breach; who the

authenticated user was, as well as

department and location; what was sent

including file name, and file and document

type; and where the data was sent, such as

device, department, application and

address. Auditing also enables users to

analyse output and assign value for cost

allocation, as well as implement rulesbased

printing.

3. Encrypt data to/from MFDs

Communications between smart MFDs and

mobile terminals, servers and

destinations should be encrypted

to ensure documents are

only visible to

authorised users.

This will

ensure

that data is encrypted while in transit

between MFDs, devices, servers and thirdparty

applications; and there's end-to-end

document security during the continuum

of care.

4. Secure print release and authentication

with follow-you print workflow

This will support the mobile workforce and

lower the cost of printing by eliminating

waste. It's important to ensure compliance

by keeping sensitive information secure.

5. Monitor and control information

Simultaneously monitoring and auditing

sensitive information in documents ensures

protection of health information is

controlled before it gets to its intended

destination. This requires capabilities such

as proactive warning system of potential

security breach, content filtering and

redaction, and document interpretation

prior to compromise.

6. Standardise and secure routing and

destination workflows

The scanning of a file to a network folder is

the most common action, and,

unfortunately, the type of workflow that's

least secure. It's essential to standardise

and integrate network scanning.

Capabilities including optical character

recognition (OCR) of all captured

documents, and API-level integration with

network fax servers, is necessary.

Today digital copiers have much of the

capabilities of computers. By controlling

and protecting the physical and electronic

access point on MFDs, damaging data

breaches can be prevented.

More info: www.kofax.com

16

@DMMagAndAwards

July/August 2021

www.document-manager.com
---
Business happens

everywhere.

Simplify it with

DocuWare.

Real-time document management and

workflow automation from DocuWare

eliminates slow paper-based information

streams and repetitive tasks. Because

business happens everywhere.

Start your digital transformation today!

docuware.com
---
Dm INDUSTRY FOCUS: LOGISTICS

Keeping things on the move

Mark Wharton, business development manager at ibml,

looks at how firms in the transport and logistics

industry can apply data capture solutions to streamline

information sharing in the supply chain

The transport and logistics industry

currently faces some seemingly

intractable problems. Customer

demands have increased greatly.

Individuals and businesses expect to receive

goods faster, more flexibly and - in the case

of consumers - either for free or at a low

delivery cost. Online retailing has exploded,

with volumes burgeoning especially since

the start of the pandemic.

On top of this, manufacturing is also

becoming more and more customised with

products like industrial equipment, planes,

cars and consumer goods now being

manufactured to the specifications of the

end-customer - good for consumers

obviously but harder work for the logistics

industry to deliver. This particularly affects

logistics service providers like 3PLs and 4PLs,

with 'digital fitness' - as PwC described it in a

recent report - becoming a must for them.

One only needs to browse the press for a

second to see how dependent everyone is

on supply chains. The NHS

struggled to get enough quantities

of PPE at the start of Covid-19. Automotive

chip shortages are now holding up car

manufacturing and bringing into question

the much vaunted benefits of Just In Time

manufacturing designed to keep

warehousing stocks low and costs down.

And the Ever Given debacle shows what

happens when things go wrong; the

megaship carrying 18,300 containers

blocked the Suez Canal for a week holding

up an estimated $9.6 billion of goods per

day. It illustrates the complexity,

importance and dependence we all have

on the frictionless, reliable and transparent

flow of goods.

EFFECTIVE DATA CAPTURE AND

SHARING IS PARAMOUNT

Business process efficiency in

the supply chain is

therefore

key

to keep things on track. Data capture and

information sharing self-evidently plays a

crucial and fundamental role in trade

covering everyone from retailer,

manufacturer, logistics provider to port

operator and end-user buyer.

The paperwork involved with this is

immense: order forms, packing lists,

shipper's letter of instruction, certificates of

origin, bills of lading, dock receipts, proof

of delivery notices, proforma and

commercial invoices, dangerous

goods forms, passports and

IDs for crew - the list

goes on and

on.

18

@DMMagAndAwards

July/August 2021

www.document-manager.com
---
INDUSTRY FOCUS: LOGISTICS Dm

"THE PRESSURE TO BE EFFICIENT IN THE TRANSPORT AND LOGISTICS INDUSTRY IS HIGH. CUTTING EDGE

TECHNOLOGY HERE IS EVOLVING FAST, TOO: ROBOTICS AND WAREHOUSE AUTOMATION, 3D PRINTING,

DRONES, HUMAN EXOSKELETONS TO BOOST STRENGTH AND ENSURE SAFETY, AUTONOMOUS VEHICLES AND SO

ON. BUT THE LOW HANGING FRUIT OF SCANNING, AUTOMATING AND STREAMLINING BUSINESS PROCESSES

AND THE DOCUMENTATION ASSOCIATED WITH THE SUPPLY CHAIN SHOULD NOT BE FORGOTTEN ESPECIALLY AS

THE PRESSURE TO BE EFFICIENT, LEAN AND EFFECTIVE IS ON TO MAXIMISE MARGINS AND ULTIMATELY PROFIT."

Managing this is complicated even

more given the numerous different

formats used by everyone in each step of

the chain - everything from PDFs, Excel

and Word documents, JPEGs, emails,

attachments, online forms and even

faxes, of which surprisingly, billions are

still sent every day. Worryingly though, it

is estimated that 80% of logistics firms

still use paper forms and over half of the

data contained is entered manually into

IT systems.

Furthermore, analyst firm Gartner say

that while 72% of organisations in the

supply chain see technology as a source

of completive advantage, the majority -

53% - continue to manage supply chain

technology vertically around functional

silos and not horizontally and holistically

across functional domains.

Working in a data silo is a recipe for

major inefficiency and, in a world where

'digital fitness' is paramount, a huge

failing. Simply put, the documentation

and the data which goes along with all

goods needs to flow as smoothly as the

physical items themselves.

AVOIDING DATA SILOS NEEDN'T BE

HARD

It's not all doom and gloom however.

Scanning paper, automating data capture

and improving integration is a practical

and proven way to solve this. It makes

information flow faster, enhances

accuracy and boosts reliability so that the

chance for goods to be held up at the

point of origin or delivery because of

paperwork issues is removed.

A variety of powerful tried and tested

capture applications are available.

Modern solutions - both on-premise,

mobile or cloud native SaaS systems - can

handle information from practically any

source once digitised or cater for

information 'born' electronic. In the

jargon, this covers everything: structured,

semi-structured and unstructured data.

Capture applications automatically 'read'

key fields in documents like customer

name, address, account number, order

number, quantity along with QR and

barcodes and even normal handwriting.

Data is ingested, classified and metadata

intelligently extracted using machine

learning and advanced tools like Artificial

Intelligence to then workflow this

information to any number of ERP, CRM,

BPM, ECM or corporate systems.

These capture applications can 'learn'

based on content handled and historical

tagging to make this a super-fast,

accurate and reliable process, eliminating

the need for human intervention.

Other technologies such as Robotic

Process Automation can be applied to the

capture process to automate mundane,

repetitive and error prone tasks involved

with manual data entry. RPA also aids the

integration of legacy business systems -

and getting data into them - without the

need for complex APIs to be written.

CLEAR BENEFITS OF AUTOMATED

DATA CAPTURE

Automating the data capture process is a

sure-fire way to gain efficiencies and

return on investment:

It enables more accurate

communication between transport

and logistics operators and their

customers;

There's less room for mistakes when

capturing, ingesting and populating

line of business systems as you remove

the 'human' component. If you

manually key in data, not only does

this take time and is subject to errors,

but because of the staff overhead, it's

often badly done resulting in partners

in the supply chain not getting the

information they actually need.

There's no need to employ staff to

carry out dull data entry jobs, with

existing employees able to be

redeployed to focus on more useful

and productive work;

New SaaS cloud-native capture

systems enable firms in the supply

chain to be agile and scale up and

down as demand and volumes dictate

- say during the busy Christmas period

- without enduring substantial capital

expenditure or complex IT

implementation challenges;

It's greener and more eco-friendly as

excess paper is removed from the sales

cycle and delivery process;

Digitising and managing content in all

its forms facilitates downstream

processes much better like analytics to

aid better decision making in the

future.

The pressure to be efficient in the

transport and logistics industry is high.

Cutting edge technology here is evolving

fast, too: robotics and warehouse

automation, 3D printing, drones, human

exoskeletons to boost strength and ensure

safety, autonomous vehicles and so on.

But the low hanging fruit of scanning,

automating and streamlining business

processes and the documentation

associated with the supply chain should

not be forgotten especially as the

pressure to be efficient, lean and

effective is on to maximise margins and

ultimately profit.

More info: www.ibml.com/aboutus/consult-an-expert/

www.document-manager.com

July/August 2021

@DMMagAndAwards

19
---
Dm COMPANY UPDATE: DOCUWARE

Collaborative tools to support the post-pandemic

workforce

Eugene Young, Country Director, UK/Ireland, DocuWare, examines the need to

embrace a new hybrid workforce, and what organisations need to succeed

The vast new remote workforce has

completely reshaped global

businesses. Within record time

business leaders have had to create an

environment within their organisation

where employees can operate 'normally'

from any device, any time, anywhere.

The challenges presented by the

pandemic have been a call to action for

businesses to undertake a digital

transformation immediately. Aspects of

work life, such as onboarding employees,

invoice processing and managing team

collaboration, were far easier to do in a

single physical space. However, the

pandemic has forced businesses to quickly

adapt to a new work environment and be

much more flexible to employee needs.

Developing an internal structure that

allows employees to collaborate

seamlessly and securely from anywhere is

now essential.

Because of this, tools that make it easier

to work together when apart are proving

to be worthwhile investments for

businesses of all sizes and industries.

Since the start of the pandemic, there has

been a notable surge in cloud,

cybersecurity, and digital investments to

ensure business continuity and

productivity of dispersed teams.

Working together in a distributed

environment requires new skills and tools,

and so cloud-based management solutions

and automation technologies have been a

significant contributor to ensuring business

continuity. These solutions can be deployed

on-premises, in the cloud, or hybrid

environments. Intuitive tools and solutions

such as these can free teams of

administrative, manual tasks, such as

managing long email chains, multiple

versions of crucial documents, and

constant status inquiries.

The DocuWare platform is especially wellsuited

to the needs of small and mid-sized

businesses looking for enterprise-grade

functionality in areas of automation,

indexing, content capture, document

management, and workflow intelligence.

The latest offering from DocuWare, version

7.4, presents several enhancements that

will be invaluable in the post-COVID

workplace, providing improved

collaboration, faster document and data

searches, shareable workflows, and

security that every company needs.

With business happening everywhere,

let's take a look at how DocuWare could be

the perfect fit for your organisation.

EASIER COLLABORATION

Remote teams can now collaborate in

real-time on Microsoft Office documents

(Word, Excel, and PowerPoint) located in

DocuWare Cloud. This makes for a

connected and highly effective remote

workforce.

DocuWare Cloud customers can edit their

Microsoft Office documents - Word, Excel,

and PowerPoint - in Microsoft Office for

the web, even while working with

colleagues. They can revise documents in

real-time during a meeting, make changes

from a mobile device, and update an

20 @DMMagAndAwards July/August 2021 www.document-manager.com
---
COMPANY UPDATE: DOCUWARE Dm

"THE CHALLENGES PRESENTED BY THE PANDEMIC HAVE BEEN A CALL TO ACTION FOR BUSINESSES TO

UNDERTAKE A DIGITAL TRANSFORMATION IMMEDIATELY. ASPECTS OF WORK LIFE, SUCH AS ON-BOARDING

EMPLOYEES, INVOICE PROCESSING AND MANAGING TEAM COLLABORATION, WERE FAR EASIER TO DO IN A

SINGLE PHYSICAL SPACE. HOWEVER, THE PANDEMIC HAS FORCED BUSINESSES TO QUICKLY ADAPT TO A NEW

WORK ENVIRONMENT AND BE MUCH MORE FLEXIBLE TO EMPLOYEE NEEDS."

internal list at the same time as multiple

other employees.

IMPROVED WORKFLOWS

Improving workflows and eliminating

manual intervention are crucial to

fostering a seamless productive workforce,

be that in an office, home, or a hybrid

setting. With DocuWare, you can export a

workflow and import it into another

DocuWare file cabinet.

It's just a matter of taking a pre-existing

workflow created for one department

and copying and adapting it to fit the

needs of another department. These

digital workflows are the most effective

way to ensure timely effective and secure

collaboration.

COMBINED USAGE OF

PRECONFIGURED SOLUTIONS

Even if business processes run differently

in every organisation, they share key

requirements and decision points. Cloudbased

preconfigured solutions turn these

common denominators into smooth

digital workflows, enabling even faster

ramp-up for new customers and easy

expansion for existing ones.

Now, for the first time, you can combine

the usage of several preconfigured cloud

solutions, including DocuWare for Invoice

Processing and Smart Document Control.

These ready-to-use packages are built with

the expertise gained from 30 years of

experience and are one of the quickest

and easiest ways for a business to become

digitally transformed. DocuWare is proud

to have many customers up and running

with these solutions in as little as 2 to 3

days. DocuWare launched to market a

preconfigured invoice processing solution

for the UK following great success in the

US. This ready-to-use solution removes

huge amounts of work from your team by

streamlining and automating core

manual processes.

ELECTRONIC SIGNATURES LET

BUSINESS HAPPEN EVERYWHERE

In the modern office, electronic signatures

are now a normal part of day-to-day

business. Not only do they work

excellently for the newly disbanded

workforce, but also reduce paper usage

and simplify secure document workflow.

DocuWare Signature Service

automatically transfers documents in a

signing workflow to a signature provider,

Validated ID or DocuSign, allowing for

advanced and qualified electronic

signatures, as well as legally binding

documents that meet current security

requirements.

BOLSTERING SECURITY

Businesses need to be prepared with the

right investments and approaches,

implementing security solutions before a

problem arises. New working models

introduce additional security risks, as a

business must allow employees to import,

share, approve and collaborate

documents freely, but most importantly

safely. With data at the core of every

company, providing access to digital

documents with single-sign-on for secure

login offers better authentication

processes for on-premises and cloudbased

solutions.

DocuWare version 7.4 includes a new

identity service for DocuWare on-premises

and a new identity provider for DocuWare

Cloud. This allows users to enforce single

sign-on for secure login providing more

robust user authentication. It also works

for mobile app and URL integrations.

ADDRESSING THE DIGITAL SKILLS GAP

Investing in new technologies and moving

on-premises systems to the cloud have

been part of a global digital

transformation across all industries.

Therefore, organisations have never been

more reliant on new technologies for

business continuity. This has exposed a

digital skill gap in the workforce that

business leaders cannot ignore.

When selecting a document

management solution, you must consider

a technology that does not require IT

resources, as well as one that can also be

easily and quickly learned by users.

DocuWare's easy-to-use solutions address

this head-on, bridging this gap and

DocuWare can be implemented with little

or no input from the company's IT team.

THE RIGHT TOOLS TO SUIT YOU

When introducing new systems into a

business, it's important to choose the

right tools for your employees. This may

not mean the latest and greatest

available, but consider which will ensure a

happier, productive, and more

collaborative workforce. Having the tools

in place that automate processes, reduce

costs, and ensure security, means

information can flow effortlessly - from

anywhere, on any device, at any time.

Additionally, by freeing staff time

employees can focus on higher-value

tasks, such as improving products and

services and creating new ways to engage

with customers, all of which will greatly

enhance the customer experience.

The new ways of working provide

companies with boundless opportunities

to transform outdated processes and

make significant changes to shape the

future of their business. Equipping teams

with the right technologies to better

manage workflows will be key for making

positive changes to the way they work, be

that at home, the physical office, or the

hybrid alternative.

More info: www.docuware.com

www.document-manager.com

July/August 2021

@DMMagAndAwards

21
---
Dm CASE STUDY: CAMDEN CENTRE FOR LEARNING

Tailored, secure and compliant

A London special school is able to manage sensitive documents across different

school sites while respecting GDPR and retention schedules

Camden Centre for Learning

(CCfL), a special school based at

two sites in Camden, is a Pupil

Referral Unit (PRU) specifically

organised to offer alternative

education for children who aren't able

to attend school and may not

otherwise receive suitable education.

When Pippa Higgins, Business

Manager for CCfL, joined the school

she inherited a lot of paperwork, often

scattered across the two school sites.

These were mainly HR-related

documents, such as staff onboarding

forms, overtime forms, disclosure and

barring service (DBS) schedules, proof

of ID, etc.

Pippa explains the issues: "With over

70 members of staff record-keeping

was difficult. I started by scanning all

our documents and saving them to our

shared drive. Although this solved the

immediate search and access problems,

it wasn't ideal considering our need to

comply with GDPR regulations and

retention schedules for certain types of

documents. It was also difficult to

present a clear overview when we were

audited by our local authority."

During a business forum Pippa was

introduced to Records Transformation,

who were looking for a pilot school to

implement its GilbyIM solution. This is

a cloud-based, Software-as-a-Service

(SaaS) solution based on Micro Focus

Content Manager, providing best-ofbreed

electronic document and records

management (EDRM). Through a

unique, multi-tenancy licensing

agreement with Micro Focus, Records

Transformation customers benefit from

the economies of scale associated with

using shared infrastructure

components.

Neal O'Kelly, CTO of Records

Transformation explains: "We have

developed templated configurations

for specific industries, including

education. Any school subscribing to

GilbyIM will find their classification

scheme, records types, retention and

disposal schedule, and access control

model already fully developed,

dramatically reducing their onboarding

process and staff training."

Pippa saw the value immediately and

with just a simple click and drop action

more than 2,000 CCfL documents were

handed over to Records

Transformation. Although CCfL timed

this for the school's Christmas break,

onboarding new clients can be done

within a day. Records Transformation

fully replicated the existing folder and

sub-folder structure for ease of use.

They built relevant security groups,

imported CCfL's data, tested it, and

delivered it back within the GilbyIM

framework.

"When we returned in January all our

documents could be accessed through

the simple GilbyIM interface," said

Pippa. "Such a difference from before

where remote access to our shared

drive relied on school-owned devices

and secured VPN connections. I

showed my colleagues how to log on

and add a document. This took all of

five minutes, and we were all

impressed with how user-friendly the

system was."

CCfL is now so confident in its data

privacy and retention compliance that

it is looking to store pupil

safeguarding documentation in the

solution. These are hugely sensitive

documents and this future direction is

a testament to the robustness and

security GilbyIM and Content Manager

offers CCfL.

Pippa concludes: "We have a great

working relationship with Records

Transformation. GilbyIM is tailored to

schools and this enabled us to be up

and running without any business

disruption at all. We now have a

resilient and highly available document

repository that can be accessed

remotely with ease and has opened the

door for different use cases as we

move forward."

More info:

www.recordstransformation.co.uk

22

@DMMagAndAwards

July/August 2021

www.document-manager.com
---
Fujitsu

Scanning

Solutions

Fujitsu scanners have a well deserved reputation

for being the most reliable and hard-wearing

devices on the market, offering transparency,

compliance, efficiencies and cost savings

iX1400 – Beautifully simple,

effortlessly efficient

iX1500/iX1600 – Intuitive

scanning at your

fingertips

S1100i

iX100 – Ideal for

community workers

S1300i

FREE

12 month

Adobe Pro DC

license*

fi-65F – Great for

customer facing

ID capture

fi Series

N7100 – Information

sharing made easy

SP-1120N / SP-1125N/

SP-1130N

SP Series

Day to day budget

conscious scanning

SV600 – Perfect

for the classroom

fi-7260 / fi-7280

fi-7140 – Document

management at it's best

fi-7460 / fi-7480

fi-7600 – A local

government

workhorse

fi-7030 – Ideal

for GP surgeries

fi-800R

fi-7160 – Best selling

scanner in the NHS

fi-7300NX – Web based document

capture and network scanning

fi-7800/ fi-7900 – Ideal

for heavy duty scanning

environments

fi-7700

*End-user offer, Terms and Conditions apply

Fujitsu's best-in-class scanner driver and document capturing software

For more information please email us at

scannersales@uk.fujitsu.com or visit emea.fujitsu.com/scanners
---
Dm TECHNOLOGY: FAX

Why fax has a role in the world

of hybrid work

Scott Wilson of eFax explores how increased workforce

access to documents and paperwork during lockdown

has created new security risks, and why vital business

materials are still being stored, sent and signed using

outdated, insecure and expensive legacy technology

We are entering a new phase in

the evolution of work. It

started with a sudden shift to

home working; now it is becoming

increasingly likely that many businesses

are embracing a hybrid set up. This will

mix on and offsite work with the aim of

fusing the best of both models.

For everybody it is a step into the

unknown. From global technology

leaders like Google and Salesforce, to

multinational banks such as HSBC,

organisations are tackling the challenge

of moving to a completely new model in

their own ways.

CHALLENGES OF HYBRID WORKING

That said, there are a number of issues

that all will need to overcome. A shift to

hybrid working has implications for

corporate security, company culture, and

the type of technology businesses

currently have access to.

One area in particular that needs to be

addressed is the issue of sharing and

storing vital business documentation.

New data from eFax suggests this has

become a concern for UK companies,

with more than three quarters (76%) of

UK IT directors saying that increased

workforce access to documents and

paperwork during the lockdown period

has created an additional security risk.

It's perhaps unsurprising therefore that

only 28% are completely confident in

how vital business documents and

paperwork will be securely shared and

stored in a move to hybrid working.

That's in marked contrast to

counterparts in France and Germany,

where nearly half (49%) of French and

44% of German respondents were

confident in the security of sharing and

storing vital documents.

IMPROVING HOW DATA IS SHARED

AND STORED

In order to address this, it is first worth

considering how businesses are sharing

and storing documentation. While the

likes of email and file sharing systems

have long been subsumed into working

culture, many organisations still rely on

faxing. This is particularly true for

24

@DMMagAndAwards

July/August 2021

www.document-manager.com
---
TECHNOLOGY: FAX Dm

"WHEREAS LEGACY FAX SERVER TECHNOLOGY IS NOT FIT FOR PURPOSE, A DRAIN ON RESOURCES AND A WEAK

LINK IN CORPORATE CYBER SECURITY, DIGITAL CLOUD FAX IS NONE OF THOSE THINGS. IT ALLOWS THE ENTIRE

FAX PROCESS TO BE HANDLED DIGITALLY VIA THE WEB, USING A COMPANY'S EMAIL APPLICATION, WORKFLOW

SOLUTION, MOBILE APPLICATION OR SECURE WEB-PORTAL. EMPLOYEES CAN SEND AND RECEIVE FAXES,

MEETING REGULATORY REQUIREMENTS, WITH THE SAME DEVICE THEY USE FOR EMAIL."

businesses in healthcare, real estate,

financial services and many other

highly regulated sectors, where data

protection and privacy regulations

have increased the need for documents

containing personally identifiable

information to be securely handled.

But where does fax sit within a digital,

flexible and hybrid model of working?

Say faxing to most people and they will

think of an underused machine in the

middle of the office, occasionally

whirring and emitting a dial tone,

before spitting out reams of paper that

someone may eventually collect. That

hardware may be some form of multifunction

printer, or it could be a

standalone device, but either way it will

rely upon an on-premise fax server. In

other words, legacy technology unfit

for the digital era.

It is a setup that is outdated, insecure

and expensive; exactly what UK IT

decision-makers think in the results of

our survey. When asked what their top

challenges are when using on-premise

fax servers, the majority (66%) say they

are outdated legacy technology (e.g.

with limited functionality). Nearly half

(49%) say they are insecure, followed

by 43% saying they are expensive, (to

install, run, maintain and upgrade). In

addition, a significant proportion (31%)

felt they were unfit for the resilient and

regulatory demands of today.

No wonder then that, as

organisations make that shift to hybrid

working, a clear majority (89%) of

respondents expect their employer to

move away from a reliance on the

technology. Ultimately, a new hybrid

workforce needs to be enabled to send

and sign vital documents and

paperwork and do all this securely,

regardless of when or where they are

working.

A SECURE, FLEXIBLE REPLACEMENT

This is all very well, but if businesses

are going to scrap fax servers, they

need to make sure the alternative is fit

for purpose - secure, flexible and easily

integrated into current operating

processes and workflows.

It needs to be secure because a

hybrid model is by its very nature

digital, and that means increasing the

potential for cyber-attacks. The

solution needs to be fully encrypted

and able to withstand a variety of

threats, including those targeting the

return to work and the ongoing

confusion of the pandemic crisis.

It needs to be flexible because

employees are going to be much more

location fluid. They need to be able to

share documentation wherever they

are, and not wait until they are in the

office to fax something.

Finally, it needs to adapt and

integrate into workflows. This is often

overlooked in the implementation of

technology - traditional fax is itself

notoriously bad for productivity,

forcing employees to use a separate

machine to send and receive

documentation. Any replacement

needs to fit seamlessly with the

hundred and one other things workers

need to accomplish, and not sit

outside of their usual applications,

services and processes.

One option that covers all three areas

is digital cloud faxing. It might be

referred to as internet faxing, cloud

faxing, faxing by email, or digital fax

solutions, but ultimately it all means the

same thing - faxing for the digital era.

Whereas legacy fax server technology

is not fit for purpose, a drain on

resources and a weak link in corporate

cyber security, digital cloud fax is none

of those things. It allows the entire fax

process to be handled digitally via the

web, using a company's email

application, workflow solution, mobile

application or secure web-portal.

Employees can send and receive faxes,

meeting regulatory requirements, with

the same device they use for email.

DIGITALISING VITAL

COMMUNICATIONS

Despite the assumption that fax is a

relic, it remains a vital part of the

communications infrastructure for

many organisations needing to quickly

exchange and retrieve documents and

authorisation.

However, for fax to be a critical part

of a hybrid workforce, companies need

to scrap on-premise fax servers, and

move to digital cloud fax. Businesses

need communications that support,

not hinder, new ways of working. The

solution they choose must provide the

flexibility, adaptability and security

required to successfully implement

hybrid working.

More info: www.scraptheserver.com

www.document-manager.com

July/August 2021

@DMMagAndAwards

25
---
Dm CASE STUDY: NORSE GROUP

The smarter way to see what people are printing

A smart audit service from Konica Minolta allowed Norse Group to analyse in depth

exactly what was happening with their print/scan systems and highlight numerous

issues and potential improvements

Konica Minolta Business Solutions

(UK) Ltd has enabled Norse Group,

the UK's largest commercial local

authority trading company, to gain insight

into printed document volumes and

lifecycles, address print-related issues, and

plan for process transformation, through

its innovative Smart Workflow Services

(SWS) audit service.

Owned by Norfolk County Council, Norse

Group works in partnership with councils

all over the UK to deliver property

consultancy, facilities management, and

care services. Keen to reduce its reliance on

printing and copying, and to advance its

digital transformation agenda, Norse

Group turned to its trusted supplier for

over a decade, Konica Minolta.

Chris Nichols, Infrastructure and Business

Project Technician at Norse Group

commented, "I felt sure that our print and

copy volumes were higher than they

needed to be, and that we could cut costs

by reducing our colour output. But before I

could start to implement change, I needed

stats to show the business what it was

printing, and why."

Print management software provides

useful information such as how many

pages are being printed, copied, and

scanned; how many prints and copies are

in colour; and which devices are heavily

used. But it doesn't reveal what documents

are being processed or - perhaps more

importantly - why. "SWS goes beyond the

high-level information provided by a

managed print service," added Chris. "It

allows you to quantify your printing activity

and scrutinise what's being printed in the

context of workflows and processes."

The bespoke SWS software was installed

on a selection of Norse Group's devices

used by the IT, Finance and HR teams.

GDPR compliant and highly secure, it

unobtrusively automatically captured and

categorised images of all the documents

that were printed, copied, and scanned on

those devices during a defined period. In

parallel, the team interviewed Norse Group

users to understand the purpose and

lifecycle of the documents in question.

Once the analysis was complete, Konica

Minolta delivered detailed, logical reports

showing what documents were being

processed at Norse Group, and the

workflows around them. "The report data

exposed issues I'd long suspected but had

been unable to prove," stated Chris.

The report flagged up issues such as

unnecessary colour usage, inefficient

processes (including over-reliance on

printed archive copies instead of using the

electronic document management

system), document control issues

(including out-of-date information

templates and logos), and potential data

security issues from printed documents.

Konica Minolta presented

recommendations for quick wins,

including education to help behavioural

change; as well as proposals for longerterm

improvements based on process

transformation.

"To be able to drive real change, you need

data, and that's what the SWS

engagement has delivered," concluded

Chris. "We now have information to help

us resolve our immediate issues, and to

plan the digitisation of print-centric

processes to help us save money, increase

efficiency, and support our

transformation."

More info: www.konicaminolta.co.uk

26 @DMMagAndAwards July/August 2021 www.document-manager.com
---
EVENT: IRMS CONFERENCE 2021 Dm

The heart of your organisation

DM Magazine previews this year's IRMS Conference, taking place in Birmingham in

November

The Information and Records

Management Society (IRMS) has

announced that more than 50

subject matter experts will join 350

delegates at The Hilton Birmingham

Metropole, for its Annual Conference

2021. The premier event for the

records management industry returns

from 28th until 30th November 2021,

with the theme: Information & Data:

The Heart of Your Organisation.

The IRMS Annual Conference 2021

will open with a keynote from the Chief

Information Security Officer at Pinsent

Masons, Christian Toon, who will

discuss 'Protecting the Heart of your

Organisation'. He will be joined by Data

Protection Officer at Bolt, Calum Liddle,

the former Legal Research Lead at

Facebook, where he managed the

Office of the Data Protection Officer in

the wake of the Cambridge Analytica

scandal. He will share 'The Journey and

Challenges, Structure and Strategies of

a Data Protection Officer'.

Providing insight into the challenges

faced by the NHS in relation to

'Information Sharing During a

Pandemic' will be Data Sharing and

Privacy Specialist, Martin Staples from

NHSX, a unit that brings together

teams from the Department of Health

and Social Care, NHS England, and NHS

Improvement, to drive the digital

transformation of care.

Other keynote addresses include

Judith Ellis, Managing Director,

Enterprise Knowledge and Chair of the

ISO Committee for Records

Management Standards who will ask

the question: 'Are international

standards relevant?' And Technical

Director, Privacy, Deloitte, Ivana

Bartoletti who will consider 'Privacy and

Ethics in the Age of Big Data and

Algorithms'.

Chair of the IRMS, Reynold Leming,

ABOUT THE IRMS

The Information and Records Management Society (IRMS) is the foremost

association for information professionals and students, supporting and bringing

together all those working in information governance, records management,

data protection, information security and more, across all industry sectors, in

the UK and beyond.

As well as its annual conference attracting more than 350 delegates, the

IRMS offers professional accreditation available to all, produces a high-quality

bimonthly industry magazine, and operates a network of geographic and

special interest groups across the UK and Ireland. Visit www.irms.org.uk/join to

find out more.

states: "Information and data informs

and evidences day-to-day operations,

interactions with stakeholders and

customers, as well as tactical and

strategic decision-making at the

highest level. It is at the heart of the

organisation and as such it needs to be

kept fit and healthy." Leming adds: "Our

annual conference is the place for IRMS

members and the wider industry to

educate, collaborate and innovate.

Each year they return to their respective

organisations with new ideas,

initiatives, protocols and procedures

that will ultimately get that heart

beating stronger than ever before."

The IRMS Conference 2021 is

sponsored by OASIS, Iron Mountain

and many other key industry vendors.

The two-day conference will be

attended by more than 350

information and records management

professionals. It will include more than

50 subject matter experts, representing

public, private and academic sectors,

hosting an extensive programme of

seminars, workshops and panel

sessions on topics such as 'Next

Generation Content Management',

'Essential Skills for DPOs', 'Freedom of

Information Past Present and Future'

and 'Data Quality is Behavioural, Data

Quality Management is Organisational'.

More info: www.irmsconference.org.uk

www.document-manager.com

July/August 2021

@DMMagAndAwards

27
---
Dm OPINION: FLEXIBLE WORKING

Preparing for seismic change

The flexible work future is here to stay, argues Herbert Lörch of M-Files - but how

should organisations respond to the shift?

The forced and immediate

shift to remote working

which happened almost

overnight in March 2020 will

be without doubt, one of the

most significant and longlasting

impacts of the Covid-

19 pandemic.

Any belief that this was to

be a short-term necessity

has over time, proven to be

illusionary. Governments

not just in the UK but

across the world have

responded to waves of the

pandemic by opening, closing

and reopening economies in

repeated fashion. Even now with

a large percentage of the UK

population vaccinated, a large

proportion of UK

employees are still

expected to

work

from home in what is now being

termed a 'hybrid model'.

Some of the best-known names in the

UK have already announced plans for

introducing more hybrid models of

working. These include insurance giant

Aviva, with 16,000 employees, and

accountancy firms BDA and KPMG both

reporting a move to more flexible,

hybrid working methods. Investment

firm JP Morgan and the recruiter

Michael Page allowed workers back in

the office in late March, but none have

reopened at full capacity. In the case of

WPP the BBC has reported that it has

reopened its UK offices at 30% capacity,

and that figure is expected to rise to

50% as the summer progresses.

As a result of this move to a new way

of working, demand for office space is

also declining and businesses are

choosing to restructure the very way

they work by focusing on their estates.

Capita has closed 49 out of 294 of its

offices since the start of the pandemic

while one of the Big Four, Deloitte,

has closed offices at Gatwick,

Liverpool, Nottingham and

Southampton.

Permanent remote working is

now being considered by both

employers and employees

who would not have even

considered this back in

2019. The World Economic

Forum's latest Future of

Jobs Report, published in

October 2020, states that

44 per cent of workers

can conduct their work

remotely, so this is a

28

@DMMagAndAwards

July/August 2021

www.document-manager.com
---
OPINION: FLEXIBLE WORKING Dm

"IF ORGANISATIONS ARE GOING TO PREPARE FOR THE NEW NORMAL OF FLEXIBLE WORK ENVIRONMENTS, THE

SOLUTION IS TO DEVELOP A WELL-FORMED, INTELLIGENT INFORMATION MANAGEMENT STRATEGY - ONE THAT

PROMOTES A COLLABORATIVE AND PRODUCTIVE WORKING ENVIRONMENT WHILE ADHERING TO GOVERNANCE,

COMPLIANCE AND SECURITY PROTOCOLS."

very real dynamic taking place now.

Further, here in the UK, in a

September 2020 poll of more than

2,000 office workers conducted by the

British Council for Offices, found that

nearly half of respondents said that

they intended to work from home

some of the time going well into 2021,

and this was at a time when another

national lockdown was viewed as a

mere fantasy.

These seismic changes - office space

reductions combined with new flexible

ways of working and employee

expectation that this is the 'new

normal' - are leading to firms having to

re-evaluate not just where they work,

but how they work.

Central to this is a desire to ensure

that this shift towards flexible working

does not negatively impact

productivity, collaboration or company

culture. There is a body of research

that has shown that people can be as

productive, if not more so, when

working from home. But for employers

there is a very real issue. The practical

and operational advantages of an

entire workforce working from home

could be diminished.

If organisations are going to prepare

for the new normal of flexible work

environments, the solution is to

develop a well-formed, intelligent

information management strategy -

one that promotes a collaborative and

productive working environment while

adhering to governance, compliance

and security protocols.

So, what can companies do now to

prepare a strategy for the new normal

of remote work? What should they be

putting focus on in developing that

strategy? Below are a few key

considerations:

INFORMATION ACCESS &

WORKFLOW AUTOMATION

Most businesses live and breathe

documents, files, and information; it's

the lifeblood of a streamlined,

productive and efficient organisation.

Arguably, the most important tenet of

a flexible work strategy is that

knowledge workers should be able to

access and manage information from

any device and any physical location,

no matter where that information is

stored - in a CRM, ERP, shared drives,

network folders.

Not only should staff be able to

access information, but the same

processes and workflows that govern

their work should be in place in a

flexible work environment.

AVOIDING SHADOW IT

Shadow IT is where individuals

incorporate technology solutions on

their own, away from the 'prying eyes'

of the IT department. For example, one

individual may decide they're going to

use Dropbox for cloud storage, while

others decide on Google Drive and yet

others are using Box. This creates two

types of sprawl - content sprawl and

SaaS sprawl - both despised by IT

departments, not just for the

inconvenience, but for the risk it poses

to established governance and security

protocols. An umbrella strategy should

account for a unified document

management system.

INFORMATION SECURITY

Bring Your Own Device (BYOD) and rogue

endpoint applications can put information

security at risk. Many companies are using

an array of technology to help allay those

risks - company-sanctioned hardware,

VPN connections, and a secure enterprise

information management platform.

The result of this shift to flexible working

is that employers now need to be thinking

now about how they are going to

respond to employee expectations of new

working patterns.

Government guidance which requires

people to work remotely will not be

around forever. As so many employees

have indicated a preference for remote

working at least part of the time going

forward, employers need to consider

carefully how best to remain an employer

of choice and stay competitive.

The solution is an intelligent information

management platform and the key

principles that underpin a solid flexible

work strategy are already there. All you

have to do to work remotely is grab your

laptop and go.

All the information, files and documents

they need are a couple clicks away, from

any device. It's this concept of any time,

anywhere access to company information

- with a built-in information security

framework - that truly sets the stage for

remote working, giving staffers the same

experience as they would at the office.

And by doing that, companies can ensure

continuity, productivity, and efficiency of

their remote workforce.

More info: www.m-files.com

www.document-manager.com

July/August 2021

@DMMagAndAwards

29
---
Dm PRODUCT FOCUS

Omnidox 5

Remarkably, Omnidox from OASIS has

been around for almost 15 years, but

the latest iteration of the product,

version 5, represents something of a

quantum leap in terms of user experience,

ease of use and deployment.

What OASIS describe as the 'fifth

generation' offering is a true cloud platform

which allows users at all levels to quickly

and easily create the business workflows

they need to automate their back-office

processes. Traditional enterprise 'blue chip'

clients - of which OASIS has many - are

now being joined by increasing numbers of

SME users attracted by the intuitive and

user-friendly new cloud-based product.

While deployments of version 4 of

Omnidox required significant bespoke

development for every customer, resulting

in each implementation being different,

Omnidox 5 sees the entire offering rebuilt

almost from scratch, developed largely with

those SME prospects in mind, to help users

automate workflows themselves with little

or no bespoke development required.

Bypassing the need for extensive IT

involvement means that the potential ROI

from Omnidox is significantly increased, as

well as allowing departments and

organisations to move to digital processing

in a much shorter time-frame.

Omnidox can process any of the 'usual

suspect' documents a user organisation

might throw at it - HR, finance (Accounts

Payable/Receivable), or digital mailroom, for

instance - without breaking a sweat. OASIS

also has clients as diverse as airlines, banks

and hospitals using the system for

structured forms such as logs, forms and

personnel records.

We tested various demonstration

VERDICT

scenarios using Omnidox 5, including HR

onboarding and exit interview

documentation, mailroom workflows and

invoice processing, and it is very clear that,

whatever the business requirement, the

user experience is standardised and

intuitive, with clear and simple design at

the core.

End users can easily devise their own

workflows using graphical tools and

pulldown menus at each step of the

process. Folder management is also

remarkably straightforward - adding new

child folder levels or altering file structures is

again a simple matter of selecting from a

pulldown menu and naming the new

folders. Even security can be managed by

the users, as they can easily set up password

policies, character requirements or expiry

rules from within the system to suit the

business requirements of their organisation.

At the same time it is important to note

that ease of use does not mean Omnidox

sacrifices power: anything uploaded into

the system is instantly OCR'd, for instance,

which makes for a powerful and farreaching

full-text search facility that can find

any string of text in any document at the

click of the mouse.

OASIS has described its intentions with

Omnidox 5 as 'bringing the consumer

experience to enterprise users' and it is fair

to say that they have succeeded

impressively in that regard. At the same

time Omnidox remains a very sophisticated,

powerful and advanced information

management solution.

More info: www.oasisgroup.com

It is clear to see that Omnidox 5 is a huge step forward from previous versions of the OASIS software: it offers

everything a cloud-based EDRMS solution should do, within a vastly impressive 'consumer-style' user interface.

30 @DMMagAndAwards July/August 2021 www.document-manager.com
---
Dm CASE STUDY: WEAVER & BOMFORDS

A flexible solution for a rapidly changing world

Office supplies company Weaver & Bomfords is future-proofing print for its clients

thanks to MPS Monitor 2.0

Companies that can trace their roots

back to almost a century usually have

a few characteristics in common that

underpin their longevity; the business

acumen to spot and respond to emerging

opportunities, and a willingness to adopt

the latest technology in order to operate

more efficiently and provide their customers

with an even better service. Those qualities

have come to define Weaver & Bomfords,

an office supplies business whose origins go

back to 1922.

Today, the Cheshire-based business

continues to thrive, with its 15 staff offering

its nationwide clients an array of services

that a busy workplace needs, including

photocopiers and network printers,

Managed Print Services (MPS) and

Document Solutions as well as office

furniture and supplies. One solution helping

the company's customers drive greater

efficiencies from their print is from MPS

Monitor, the company that develops and

distributes the leading platform for the

remote monitoring and management of

printers and multifunctional devices. Its MPS

Monitor 2.0 is a Cloud-based SaaS solution

and, today, two thirds of Weaver &

Bomfords customers are benefiting from the

accessibility, flexibility and security it delivers.

MEETING CUSTOMERS' PRINT NEEDS

Convenience often lies at the heart of a

great customer service experience, as Sue

Lenton, managing director of Weaver &

Bomfords explains: "We're always looking at

how we can offer our clients value, and by

providing an outsourced print management

solution from MPS Monitor we can remove

their print burden so they can get on with

running their business.

From a customer's point of view, they

haven't got to maintain or manage toner

supplies as it simply gets delivered and

marked up for the right machine, so they

know that it will be there as they need it.

Typically, our customers have several print

devices, so we looked at what was the best

MPS for them, to make it easier for them to

keep their fleets running efficiently and cost

effectively. MPS Monitor takes away any

administration or management of that

process from the customer."

It's a service that many customers have

come to appreciate, given the diversity of

their print needs, as Sue explained: "We

have a really broad range of clients printing

a really wide range of things; prescriptions,

marketing materials, point of sale and even

transfers used in china production. We deal

with lots of local food producers, mills and

bakeries, distribution companies and then

there's the more usual professional and legal

firms and local schools and academy trusts.

All these companies have remained open

over the last year and so have we - they've

needed our local support and service more

than ever."

CLOUD-NATIVE VISION

It became apparent to Sue and her team

that MPS Monitor was a future proof

32

@DMMagAndAwards

July/August 2021

www.document-manager.com
---
CASE STUDY: WEAVER & BOMFORDS Dm

"WHEN WE FIRST STARTED TALKING TO MPS MONITOR, IT QUICKLY BECAME QUITE EVIDENT THAT THIS WAS A

MUCH BETTER OFFERING THAN WE USED PREVIOUSLY. TO START WITH, ITS FRONT END IS VERY INTUITIVE AND

THE USER INTERFACE IS GRAPHICALLY ORIENTATED. IT'S REALLY EASY TO FIND THE INFORMATION THAT YOU

NEED."

solution for her clients' needs, given that

MPS Monitor was founded on the vision of

being a scalable cloud-native platform.

Sue noted: "Weaver is an early adopter of

remote monitoring technology for

managing fleets and ordering supplies, so

we're familiar with the solutions available.

When we first started talking to MPS

Monitor, it quickly became quite evident

that this was a much better offering than

we used previously. To start with, its front

end is very intuitive and the user interface is

graphically orientated." Sue added that MPS

Monitor makes data and information easily

accessible, which is unlike other solutions

that required a fair amount of technical

knowledge in order to be able to access the

information and reporting data. MPS

Monitor makes it easy to get a proper

snapshot of a fleet's status, so problems or

issues can be identified straight away: "It's

really easy to find the information that you

need. Overall, MPS monitor offers much

more by giving you a business

management tool that can be used easily.

The diversity of the Weaver client base

called for a remote print monitoring

solution that could adapt and scale easily to

each customers' unique needs, not least

when the pandemic struck and staff were

forced to work from home. Here, MPS

Monitor's flexibility helped.

"During the pandemic, we were able to

supply and monitor print devices for those

that were working remotely, thanks to MPS

Monitor," Sue explained. "We were able to

provide an extension to the service we

normally offer office-based staff; we can

check remote devices and supply them with

toner when needed and we provide remote

support in the event that they have any

print or scanning problems. The great

benefit of MPS Monitor is that you've got

the multi connector availability so you can

have it running on more than one device.

As long as the connector is installed, we

can see devices and the network

hierarchies. It's very straightforward."

With its cloud-based architecture, vendoragnostic

approach, security focus, and

direct integration with HP's Smart Device

Services (SDS) and Microsoft Universal Print

(UP), MPS Monitor is ideally suited to meet

the evolving needs of the hybrid workforce.

INTEGRATION UNLOCKS POTENTIAL

In fact, integration with third party

applications - like CRM systems - is another

MPS Monitor strength. "We were quite an

early adopter of MPS Monitor and we were

using it with Asolvi Vantage," Sue said. "At

the time, there wasn't actually an official

connector for us. But MPS Monitor listened

to us and developed one pretty quickly and

then helped us to get it set up. The

integration with MPS Monitor made the

complex process of changing from another

provider straightforward. They also helped

us to perform a bulk update to minimise

the tasks involved. With the system in

place, toner alerts are created directly into

our system, ready for immediate

processing while real time meter readings

simplify billing. It's streamlined what can be

very manual tasks, therefore freeing up

staff time. The integration between the

two is being developed further and we

hope to be able to use even more of the

MPS Monitor features from within Asolvi

Vantage very soon."

SOLUTIONS TO TRUST

On a day to day basis, another benefit that

Sue and her team have come to appreciate

is MPS Monitor's stability. With Weaver's

previous MPS solution, it had to endure

many false alerts, some of which were

triggered by print users taking the toner out

and shaking it. It took the company a lot of

time and effort to check every alert it

received to validate it or dismiss it, which

isn't a problem that they face with MPS

Monitor, as Sue states: "We really trust MPS

Monitor in a way that we didn't trust our

other system. It helps us ensure that

customer service levels are maintained." The

alert's flexible configurability is key too, with

Sue citing a client that runs a 24/7

operation, and alerts can be set so that the

customer never runs out of toner.

To make a tangible difference to a

business, an exceptional product needs to

be supported by an exceptional team, and

Sue's experiences with MPS Monitor has

been highly positive: "I would say that the

team are great. They very accessible and

very helpful, which has not been my

experience of other MPS providers. They are

very happy to work with us whenever we

need their support."

More info: www.mpsmonitor.com

www.document-manager.com

July/August 2021

@DMMagAndAwards

33
---
Dm RESEARCH: PRINT TRENDS

Post-pandemic opportunities for

the print sector

The latest Quocirca survey suggests market consolidation,

ecosystem building and innovation on the horizon as

businesses recognise the need for rapid change

The majority of print industry

organisations (81%) now see the

COVID-19 pandemic as bringing

opportunities to drive innovation within

their business, despite the negative

impact it had on the sector over the

past year, according to the fourth

edition of Quocirca's COVID-19 Business

Impact Survey.

The study, conducted among 157

respondents from OEMs, channel

organisations and ISVs, found that 71%

expect to see OEM market consolidation in

the next 12 months. 62% believe

strengthening alliances will be critical to

the future for OEMs, while 86% believe

that a thriving digital ecosystem is

important between now and 2025.

Overall, positive sentiment is improving

compared with the previous survey: 68%

now report that the pandemic has had a

negative impact on their business, a

reduction from the 86% who said the

same in May 2020.

Other key findings from the study include:

An urgent need for industry

transformation: 61% say that the

biggest challenge they face is moving

from a product-centric to a services-led

model, an obstacle that existed prior to

the pandemic, but that has been

brought into sharper focus.

Revenue recovery is expected: 55%

expect to see strong or very strong

revenue growth in 2021/22, with a

further 27% expecting revenue to

remain flat. Organisations that view

themselves as Market Leaders have

stronger expectations for revenue

growth than Fast Followers and Middle

of the Pack businesses.

Print volumes continue to decline, and

full recovery is not anticipated: 85% say

they have seen a decline in print

volumes; 53% have no or not much

confidence that print volumes will

return to pre-COVID levels.

Cloud-based services are expected to

offer opportunities: 91% expect to see

greater demand for cloud-based digital

workflows; 81% expect to see demand

for cloud-based print management.

The threat of Amazon looms for the

channel: 45% of channel respondents

are worried about the move of

customers to online purchasing.

Commenting on the findings, Quocirca

Director Louella Fernandes (pictured) said:

"As the effects of COVID-19 begin to

recede in many countries, the shape of the

hybrid workplace is starting to emerge.

There is a strong sense that now is a critical

time for the print industry to position itself

to recapture its relevance with customers.

However, this will not be achieved through

the historical model of product sales and

print volumes. Our survey respondents

accept that print volumes are unlikely to

return to pre-pandemic levels and that

future revenue growth must be linked to

diversification and a change in operating

model. Digital workflow solutions, cloudbased

print management, and security

assessment services that address the new

challenges of home and hybrid workers are

all major areas of opportunity."

The importance of strategic alliances and

the development of a digital ecosystem are

also key features of the future market, as

Fernandes continues: "We are already

seeing some interesting partnerships and

new businesses emerging focused on the

needs of the new-style workplace

ecosystem. This is a positive sign and will

help businesses map their offerings onto

the changing needs of customers."

Asked which areas were likely to be of

greater interest to customers as a result of

changing working patterns, the top three

responses - selected by more than 80% of

respondents in each case - were cloudbased

digital workflows, collaboration

services and digitisation of paper-based

processes. Managed Print Services (MPS)

were least expected to be of greater

interest, selected by only 36% of

respondents. Louella Fernandes added:

"This shows that MPS is viewed as a

commodity offering, but it can be the basis

for the higher value services that are of

more interest to decision-makers. MPS

providers must urgently reposition their

offerings to take advantage of more

software-centric solutions."

More info: www.quocirca.com

34 @DMMagAndAwards July/August 2021 www.document-manager.com
---
AIIM FORUM EUROPE

INTELLIGENT INFORMATION MANAGEMENT

18TH NOVEMBER 2021

GRAND CONNAUGHT ROOMS, LONDON

Join the AIIM

Tribe in London

Join us on 18th November in London for an unmissable

day of interactive and curated Keynotes, Roundtables,

Advisory Seminars and Fireside Chats – showing best

practice in action at organisations just like yours.

Here is what our attendees and Partners think of AIIM Forum Europe:

Early Bird Rates

Available

Places start at just

£75 + VAT!

Attending AIIM Forum Europe is a must for

industry professionals who are interested in

capturing the latest market insights, delving

into discussions about complex issues,

sharing common pains and exploring new

opportunities. I know I am joined by many

of the delegates who agreed that this year's

Forum was one of the best

This year's event was very interesting in

updating about privacy, new technologies,

and future management systems, and

importantly about raising the awareness

about this important area within our

organisations

Excellent opportunity to meet the

great and the good in information

management, great vendors and good

people working within the sector that

are very happy to help and share best

practice solutions

Very positive feedback overall - we were

really happy with our roundtable session

- great attendance and lots of good

conversations for us after the session.

AIIM Partner and Session Host

Our stand was busier than ever, thanks

to the AIIM team for all your support in

making the event a huge success for us.

AIIM Partner

For more information and to register visit: www.aiimforumeurope.com

OUR EVENT PARTNERS INCLUDE SOME OF EUROPE'S LEADING VENDOR'S IN INFORMATION

MANAGEMENT, GET IN TOUCH TO JOIN THEM:

Deborah Ward-Johnstone | 01892 820936 | deborah@revolution-events.com

AIIM Preferred Providers receive a discount on package rates
---
Turn your paper

documents into a

digital archive!

Our expert services include:

Document Scanning

Document Storage

FreeDocs Document Management

Microfilm & Microfiche Scanning

Records Management Services

Discover the easy, hassle-free way to

go paperless and protect your documents.

Call 0800 612 4065

or email sales@storetec.net

www.storetec.net

BPO/Outsourcing, Bureau Business of the Year 2020, 2018,

2017, 2015, 2014 & 2013

Compliance Product of the Year 2020

Product of the Year 2019

London, Manchester, Birmingham, Newcastle and Hull.