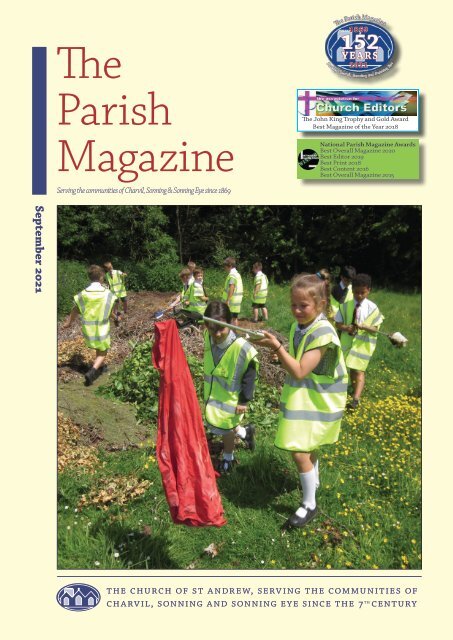 The Parish Magazine September 2021
Serving the communities of Charvil, Sonning and Sonning Eye since 1869
Serving the communities of Charvil, Sonning and Sonning Eye since 1869
SHOW MORE
SHOW LESS
You also want an ePaper? Increase the reach of your titles
YUMPU automatically turns print PDFs into web optimized ePapers that Google loves.
The Parish Magazine - September 2021 1

The

Parish

Magazine

The John King Trophy and Gold Award

Best Magazine of the Year 2018

National Parish Magazine Awards

Best Overall Magazine 2020

Best Editor 2019

Best Print 2018

Best Content 2016

Best Overall Magazine 2015

Serving the communities of Charvil, Sonning & Sonning Eye since 1869

September 2021

Church of St Andrew

Serving Sonning, Charvil & Sonning Eye

the church of st andrew, SERVING THE COMMUNITIES OF

CHARVIL, SONNING and sonning eye SINCE THE 7 th CENTURY
---
2 The Parish Magazine - September 2021

Please mention The Parish Magazine when responding to this advertisement

FOR

SALE

West Drive, Sonning

Guide Price £1,550,000

Prestigious tree lined private road

Exemplary level plot with 95ft wide frontage

Potential for development* with 3/4 acre of land

Opportunity to upgrade and extend* into 170ft garden

*Subject to planning

0118 960 1000 | Haslams.net

Reading's Estate Agent
---
Serving the communities of Charvil, Sonning & Sonning Eye since 1869

Church of St Andrew

Serving Sonning, Charvil & Sonning Eye

The Parish Magazine - July/August 2021 1

The John King Trophy and Gold Award

Best Magazine of the Year 2018

National Parish Magazine Awards

Best Overall Magazine 2020

Best Editor 2019

Best Print 2018

Best Content 2016

Best Overall Magazine 2015

information — 1

Contents September 2021

THE VICAR'S LETTER, 5

THE PARISH NOTICEBOARD

— Perry Mills retires, 7

— Songs of Praise, 7

— David Duvall Memorial, 7

— For your prayers, 7

— STAY, 8-9

— On Reflection: Ruth, 11

— From the editor's desk, 11

— The Persecuted Church, 13

— The need for rainbows, 13

features

— Hello Hannah! 15

— Malcolm Stansfield RIP, 17

— Covid philanthropy, 19

— Jane's wedding memories, 21

— Finding your roots, 21

— Gathering nuts, 22- 23

around the villages

— Schoolchildren cleaners, 25

— Singing again in Charvil, 25

— Charvil Village party, 25

— Sonning Rounders 2022, 25

— Open air painting, 25

— Hoorah George V, 27

— Random yellow ducks, 27

— Inner wheel meets again, 27

— Link Volunteers, 27

— Charvil indoor bowlers, 27

— Pearson Hall speakers, 27

— Sonning Village Show 29

HEALTH

— Dr Simon Ruffle, 31

This ISSUE's FRONT COVER

September 2021 —

The

Parish

Magazine

the church of st andrew, SERVING THE COMMUNITIES OF

CHARVIL, SONNING and sonning eye SINCE THE 7 th CENTURY

Schoolchildren rubbish clearers

(see page 25)

Picture: Emily Barrett

EDITORIAL DEADLINE

The editorial deadline for every issue

of The Parish Magazine is 12 noon on

the sixth day of the month prior to the

date of publication.

The deadline for the October

issue of The Parish Magazine is:

Monday 6 September at 12 noon

The Parish Magazine online

The most recent issues can be viewed at:

http://www.theparishmagazine.co.uk

Earlier issues from 1869 onwards are

stored in a secure online archive. If you

wish to view these archives contact the

editor who will authorise access for you:

editor@theparishmagazine.co.uk

The Parish Magazine - September 2021 3

Services at

St Andrew's

Sunday 5 September

— 8.00am Holy Communion

— 10.30am Family Communion

Sunday 12 September

— 8.00am Holy Communion

— 10.30am Parish Eucharist

— 5.00pm Songs of Praise

Sunday 19 September

— 8.00am Holy Communion

— 10.30am Family Communion

Sunday 26 September

— 8.00am Holy Communion

— 10.30am Parish Eucharist

— 6.00pm Sunday at Six in The Ark

See page 19 for details

OTHER REGULAR SERVICES

Mid-week Communion in The Ark is

held every Wednesday at 10.00am

Morning Prayer will be in Church

at 9.30am every Tuesday and once a

month on a Friday — 3 September

Compline on Zoom is sung every

Wednesday evening — full details

about how to login from Rev Kate

(contact details on page 42)

Home Communion at Sunrise of

Sonning is held on the first Friday

of each month at 10.30am. Visitors

must comply with the care home's

Covid restrictions so please check with

Sunrise a few days before beforehand.

the sciences

— John Polkinghorne, 33

HOME & GARDEN

— Recipe of the Month, 33

— Garden thistles, 35

THE ARTS

— Claude loves music, 37

— Robert Lobley RIP, 37

— Jacob's Dream, 38

— Poetry Corner, 38

PUZZLE PAGE, 39

children's page, 41

information

— Church services, 3

— From the registers, 3

— Parish contacts, 42

— Advertisers index, 42

From the registers

Weddings

Saturday 19 June, Thomas Benjamin Parkes and Charlotte Katy Waite

Saturday 17 July, Dominic Rupert Lamont Le Moignan and Katherine Alice Watt

Friday 23 July, Trevor Martin Watson and Gillian Ann Palmer

Funerals

Friday 2 July, Philip Herbert Brown, interment of ashes in the churchyard

Friday 8 July, Alan John Pritchard Pook, interment of ashes in the churchyard

Friday 16 July, Janet Elizabeth Middlemiss, interment of ashes in the churchyard

Friday 16 July, Leslie William Hagreen, interment of ashes in the churchyard

Monday 19 July, John Malcolm Stansfield, funeral service in church followed by

burial in the churchyard

Thursday 22 July, Robert John Lobley, funeral service in church followed by

cremation at Reading Crematorium

Wednesday 28 July, Annette Denise Grimes, interment of ashes in the churchyard

Tuesday 3 August, Kenneth Douglas Lawrence memorial service and interment

of ashes in the churchyard

Saturday 7 August, Simon Carl Indge, interment of ashes in the churchyard
---
4 The Parish Magazine - September 2021

Please mention The Parish Magazine when responding to this advertisement

SHOWING NOW

OUR STELLAR TWO INTO ONE CAST INCLUDES MARK CURRY, STEVEN PINDER AND CAROL ROYLE

DINNER AND A SHOW FROM £59.50!

THE WATERWHEEL BAR

Open Tuesday - Sunday 11am - 5pm for Hot Bar Food,

Homemade Cakes & Artisan Coffee.

Come and treat yourself to a scrumptious lunch in the

most beautiful setting. Table service and social distancing

will remain in place until restrictions are lifted.

PLEASE FIND FULL MENU ONLINE

FIND (0118) OUT 969 7082 MORE

millatsonning.com/millang
---
The Parish Magazine - September 2021 5

The vicar's letter

DEAR FRIENDS,

In late July a woman wearing a Charlie Hebdo T-shirt was stabbed at Speakers'

Corner and she was identified as a Christian preacher. Hatun Tash, aged 39, was

treated in hospital after being slashed across the face with a knife at Hyde Park. She

is from a group called DCCI (Defend Christ Critique Islam) Ministries which says

it 'seeks to preach the Gospel to Muslims using apologetics. A distressing recording

of the incident was posted on YouTube showing an unknown person dressed in a

black hoodie attacking Ms Tash, then running away. She fell to the ground and was

seen bleeding as crowds gathered around her. Ms Tash later got up and proclaimed:

'Cutting people's arms is not going to help you'. The preacher added that it is 'not

about the blood on my hands' and continued: 'It is unacceptable that you are

running away from Jesus Christ.' Her Charlie Hebdo T-shirt had a cartoon showing

a man kissing a cartoonist with the slogan 'L'amour plus fort que la haine' — love is

stronger than hate.

Hatun Tash is an intelligent and passionate Christian preacher. She is an ex-

Muslim and has a lot to say about Islam and Jesus, or the prophet Isa, as she

previously knew the Christ. As she was preaching in Speakers' Corner she was

stabbed. 'Saddening to hear Christian preacher Hatun Tash say Speakers' Corner,

a bastion of free speech since 1872, has become 'hostile and dangerous', tweeted

Stephen Evans, chief executive of the National Secular Society. 'The threat of a de

facto blasphemy law enforced by the threat of violence is there for all to see', he added, stating what everyone knows

— if they have eyes and ears — but is rarely expressed for fear of the consequences. The frightening realisation is that

if a sharia blasphemy code creeps into Speakers' Corner, it can be enforced just about anywhere by the implicit — and

sometimes quite explicit — threat of violence.

It is worth remembering there is still an RE teacher missing from Batley Grammar School, in hiding somewhere with

his family, in fear for his life, simply because he showed a picture of Mohammed in an educational context, and all hell

broke loose.

A CHILLING AFFAIR

Of course, at the time of writing we have no idea who committed this violent crime. Some were quick to blame

Islamists for the attack but as the BBC pointed out, she was in Speakers' Corner wearing a Charlie Hebdo T-shirt. In fact,

that's all the BBC told us, so we are left to infer that Hatun Tash was stabbed by someone who objected to a satirical

magazine which once caricatured Mohammed on its front cover, resulting in 12 of their staff being murdered by Islamists

wielding AK47's in Paris. There was no mention of Hatun Tash's faith, no mention of her being a convert from Islam, no

mention of her preaching, and no follow up reports. The implication from the BBC report seemed to be 'she had it coming'.

However, we do have the words of the brave lady herself. She told The Times that Speakers' Corner has become a hostile

and dangerous place for Evangelical Christians. She has been verbally and physically assaulted at Speakers' Corner before

and alleges she has been arrested and detained by the Metropolitan Police for expressing opinions which one may no

longer apparently express in Speakers' Corner, that is, opinions which stir up 'hate'.

She said: 'I am upset and disturbed by what has happened to me. I am asking myself if I have done anything wrong? I

am convinced I have not broken any law or incited hate. All I did was question Islam and I wanted to debate, discuss and

to tell people about Jesus Christ. Speakers' Corner is a great place to do this, it is a shame that this has happened at the

home of freedom of speech.' She added, 'I can't believe this has happened in broad daylight at Speakers' Corner. You do

not expect such things to happen in Great Britain. My attacker was not even afraid of the police as he did it right in front

of them. It is heart-breaking that we live in a society where police do not want to arrest a Muslim for fear of being called

'Islamophobic'.'

Hatun Tash is being supported by the Christian Legal Centre, but I have yet to see any evidence that she is being

supported by the Mayor of London or any senior politicians of any party. Equally, I have not found any references of any

support offered by the Bishop of London or other senior Christian leaders, presumably because they have no time for

this sort of interfaith dialogue; no time for debating the Qur'an or preaching the gospel of Christ in the public realm like

their Apostle predecessors once did; and no time to demand that Speakers' Corner, that national symbol of free speech,

remains free from a backdoor blasphemy law.

To all these, perhaps the religious extremist here is the Christian preacher proclaiming that love is stronger than hate.

It is a truly chilling state of affairs.

Jamie
---
6 The Parish Magazine - September 2021

Please mention The Parish Magazine when responding to advertisements

www.velvaerefit.com info@velvaerefit.com 07580 155596

• • Loose covers

• Curtains

• Loose covers

• • Re-Upholstery

•• Tracks Curtains & Poles

• Curtains • Re-Upholstery

• Tracks • && Poles

TEN YEAR GUARANTEE

For personal, helpful service, please call

Tel: 01844 261769

For TEN Mob: personal, YEAR 07802 GUARANTEE 213381 helpful

For personal,

service,

helpful

please

service,

call

grahamblake123@btconnect.com please call

TEL: 0184 426 1769

www.grahamblake.com

Tel: 01844 261769

MOB: 0780 221 3381

Mob: 07802 213381

grahamblake123@btconnect.com

grahamblake123@btconnect.com

http://www.grahamblake.com

TEN YEAR GUARANTEE

www.grahamblake.com

Home Wellness Specialists

Interior Design Equipment Supply Installation

Official Partners of :

Green Retreats - Garden Studios

Please contact us for home design

consultations and showroom tours
---
the parish noticeboard — 1

Notices

Do you recognise this?

The Parish Magazine - September 2021 7

(Left to right) Rev Jamie, Perry Mills and Liz

Nelson

Picture; Kate Mills

Churchwarden retires

Warm tributes were paid to Perry

Mills at the St Andrew's Church

annual meeting in July as he retired

after five years as churchwarden.

Rev Jamie remarked that his

tenure has seen some extraordinary

steps forward for St Andrew's, not

least the building of The Ark, for

which Perry was the project manager.

He went on to say 'The parish

owes him a tremendous debt of

gratitude and the fruits of his

labours will be enjoyed for many

years to come.

'If you doubt that, just come

down to our churchyard on a

Friday evening and see the thriving

community youth club or on a

Tuesday lunchtime with all the

senior citizens enjoying food

and fellowship or on many other

occasions through the year.

'The PCC's vision of becoming a

24/7 church to serve our community

could never have been realised without

this man's skill and commitment. It

is wonderful to see how God provides

the right people at the right time in

churches that seek to do His will. We

have been truly blessed.'

Deputy churchwarden, Liz Nelson

was elected as his replacement and

she will serve with Stuart Bowman

who was re-elected as churchwarden

but was unable to be present as he was

training for his fourth channel swim,

successfully completed later in the

month!

When David Hedley-Goddard was sorting out his mother's belongings he came

across this photograph of St Andrew's Church choir and some other dignitaries,

including a lone woman. Can you recognise anyone, or do you know what the

occasion was or when? If so, please contact: editor@theparishmagazine.co.uk

Songs of Praise!

We are holding a Songs of Praise

service on Sunday 12 September at

5.00pm to mark the return to a more

normal Church life following the Covid

restrictions. There will be a special

collection for the Karun orphanage

and school in South India where Covid

is an ongoing problem.

Lord Carey, the former Archbishop

of Canterbury, will be preaching and he

will dedicate the new organ. There will

also be an unveiling of a special board,

honouring all who gave to the 'Sponsor

a Stop' fund raising campaign.

It will be a lovely opportunity to

sing some of our favourite hymns

For your prayers in September

— Hannah Towndrow as she takes over

as our director of music

— Ann Duvall and all of David's

children and grandchildren

— All called to be evangelists

— For the staff of our parish

schools as they return for

a new school year

which we have been unable to do for so

long, and we hope to hold a reception

in The Ark garden afterwards, weather

permitting.

David Duvall Memorial Service

All are welcome to join in giving

thanks for the life of our former

organist and choirmaster, David

Duvall, at a special service on Saturday

4 September at 2pm. The former

vicar of Sonning, Bishop Christopher

Morgan, will preach and the service

will be led by Rev Jamie. A reception

will be held in The Ark, following the

burial of David's cremated remains.
---
8 The Parish Magazine - September 2021

the parish noticeboard — 2

STAY

St A

Our awesome

action-packed

summer of fun,

games, fun, sport,

and more fun!

What's been happening with the St Andrew's

Young People aka STAY since early June? Well

let me tell you … or feel free to follow us on

Instagram @stayonfriday

As we brought the STAY schools work, STAY on

Sunday and STAY on Friday to a brief close for the

summer holidays we ramped up with an awesome

programme of activities, games, sports, trips and

loads of fun!

STAY Summer Activities

We ran some amazing activities for all the local

young people and amazingly we had over 60

different young people attend! Every activity was

full to capacity and we had so much fun together.

Some of the best moments as a youth worker

are seeing young people try new things, learn

new skills, make new friends and step out of

their comfort zone to see what else is out there.

We saw this happen time and again this summer,

with young people coming along to activities yet

knowing no-one, young people swimming for the

first time and young people trying new sports and

games that they'd never tried before, such as kubb

and uni-hoc. Take a look at our activities list (right)

to see what we got up to.

The photos speak for themselves and it goes

without saying that the young people who came

along for the summer activities were polite, well

mannered and lovely company. They excelled at

throwing themselves into each of the activities,

they welcomed newcomers and they made new

friends across the parish and the local area.

A huge well done from me to the young people,

the parents and thanks to all the venues that

hosted us so well. — Westy!

OUR SPECIAL THANKS MUST GO TO:

— Charvil Parish Council

— Caversham Lake

— Wokingham Waterside Centre

— Coral Reef

— Hollywood Bowl Bracknell

— Wokingham Family Golf Centre

— Connor Heath for making our

Escape Room and Vue Cinema
---
The Parish Magazine - September 2021 9

Dates for your STAY diary

from September onwards

STAY on Sunday is back on the 2nd, 4th & 5th

Sunday's of each month during the 10.30am

service at St Andrew's Church. All young people

are welcome to join in, regardless of faith stage or

world view. We meet to play games, eat donuts,

think about life and encourage each other to be

more Christ-like every day.

STAY on Friday is back on Friday 3 September in

The Ark from 6.45-8pm. We meet to play sports,

have fun and enjoy one another's company.

Activities include: football, kubb, frisbee,

swingball, pool, table tennis, foosball, nail and

hair styling bar, tuck shop, card/board games,

donut wall, dodgeball nights, firepits (in winter)

and cooking yummy treats for everyone.

We welcome the new year 6's to STAY on Friday

on every fourth Friday of the month. This term

those dates will be: 24 September, 22 October and

26 November.

STAY in Schools work will return in September

with mentoring, assemblies, the advocacy group

and various clubs from Tuesday 7 September

across all our four local schools.

STAY Detached Project will also be back from

September with after school on Wednesdays in

Emmer Green and after school on Thursdays in

Charvil. This is simply where we go out as youth

workers into the local area to meet young people

where they are at, chat to them about their issues

and try to help them in any way we can.

October Half Term Activities

Monday 22 to Thursday 28 October

Christmas School Holidays

Most local schools will break for Christmas

holidays on Friday 17 December and return on

Tuesday 4 January 2022.

As always, my door is always open and I love to

chat and have a coffee so any questions, ideas or

just for a chat, email me on

youthminister@sonningparish.org.uk

Cheers! Westy
---
10 The Parish Magazine - September 2021

Please mention The Parish Magazine when responding to advertisements

Independent

Financial Advice

Advice and guidance on:

Retirement & Investment Planning - Mortgage Planning (including Equity Release)

Long Term Care Insurance -

Protection, Trusts and Income Planning

We cut through the jargon to keep it simple and embrace the latest technology to provide you with your own

Personal Finance Portal, designed to give you a holistic view of your finances.

For more information, please contact Andrew Gane:

M: 07796 268 739 E: andrewgane@pennymatters.co.uk W: https://pennymatters.co.uk/andrewgane.html

Andrew is a member of vouchedfor

https://www.vouchedfor.co.uk/financial-advisor-ifa/bracknell/01665-andrew-gane

Remember that past performance is not a guide to future returns and that the value of investments and the income from them can go

down as well as up. Your home may be repossessed if you do not keep up repayments on your mortgage. Some mortgages are not

regulated by the Financial Conduct Authority. Advice fee structure available on request. First appointment at our cost.

Pennymatters Limited is authorised and regulated by the Financial Conduct Authority. Registered as a Limited Company in England

and Wales No. 7331832.

Uncompromising Excellence in Hair Care

Spring Issue

|Hair Cutting and Beauty Therapy

|Experts in Colouring and Permanent Waving

|Hairdressing for Men, Women and Children

@stylebyjulieReading

@stylebyjulie

@stylebyjulieRG

Private Hair

and Beauty Salon

Badgers Rise,

Woodley, Reading,

RG5 3AJ

0118 4378178

salon@stylebyjulie.co.uk

www.stylebyjulie.co.uk

salon@stylebyjulie.co.uk

Banish limescale with a

TwinTec Water Softener

• Enjoy a scale-free kitchen and bathrooms

• Protect and improve the efficiency

of your boiler

• Lower your energy bills

• Reduce time spent cleaning

• Enjoy softer skin and shinier hair

No buttons or routine maintenance: it's easy

Call for a free installation

survey or quote

Twyford: 0118 9344485

Finchampstead: 0118 9733110

thamesvalleywatersofteners.co.uk

10

YEAR

GUARANTEE

THAMES VALLEY

WATER SOFTENERS
---
the parish noticeboard — 3

On reflection . . .

By Elizabeth Spiers

Ruth: No regrets or guilt

Pavel Kusmartsev, dreamstime.com

A couple with two young boys emigrated from Israel to Moab

to avoid a famine. The husband died and the two boys grew

up and married Moabite women. Then the sons died, leaving

three women grieving, unprotected and unprovided for.

The eldest widow, Naomi, heard the famine was over and

decided to return to Israel. She told her daughters-in-law

to return to their fathers' homes, but Ruth chose to go with

Naomi to Bethlehem, where Naomi told everyone to call her

'Mara', meaning bitter. She blamed God for her losses saying

that God had afflicted her and testified against her by letting

her husband and sons die.

Was Naomi right to blame God? Probably not, but I'm glad

that she was able to say how she felt. Often we say what we

think we should say, or what others want to hear, instead of

the truth, yet God knows exactly how we think and feel.

COMPLICATED ROMANCE

Ruth lived with and cared for Naomi. As she had promised

Naomi, she accepted the Israeli people as her own people and

the God of Abraham, Isaac and Jacob as her own God. While

she stood out as a foreigner, she also stood out as a person of

integrity. She found work in the fields where she met Boaz.

Egged on by Naomi, a romance followed. Marriage was on

the cards, but it was complicated because another man stood

in their way. Israeli customs meant the closest relative to a

deceased person was obliged to buy back any land that had

belonged to him and marry the widow.

Boaz wasn't the closest relative, so he offered the one who

was the opportunity to buy the land and marry Ruth. He must

have waited with baited breath for the closest relative's reply.

However, he chose not to go ahead, thus the way was clear for

Ruth and Boaz and there would be no regrets or guilt over it.

This is such an important principle for life. If we gain

something by being underhand, can we really enjoy it? Don't

the feelings of guilt and shame spoil the very thing we gained?

Naomi had come full circle. Perhaps she was now able to

release her bitterness towards God and realise that he had

been with her all the time. She had a home, a wonderful

daughter in law and, after the marriage, a grandson. I

think God approved of the way Ruth and Boaz conducted

themselves. Their son, Obed and had a son called Jesse, and

Jesse became the father of King David.

The Parish Magazine - September 2021 11

From the desk

of the editor

editor@theparishmagazine.co.uk

What future for our

children's children's children?

Take another look at our front cover picture. When I received

this, and the others on page 25, I emailed Emily Barrett,

the Sonning CofE Primary School head of history and

geography, who sent them to me, to thank her for the 'nice'

pictures she had taken. As soon as I sent the email I regretted

using the word 'nice' because while they are nice pictures of

young children enjoying themselves outside the classroom,

I should have been shocked and apologised that it was my

generation's children's children who are having to clear

up the mess that we, and our children, have allowed to be

created.

This pollution is not restricted to Sonnng village, it is

widespread around both our parish, which includes Charvil,

Sonning and Sonning Eye, and the entire country. My wife

showed me some similar social media pictures of Charvil

Piggott School children doing a local clean-up, and if you

walk along Waingel's Road adjacent to the railway line —

which historically is still part of our parish —you will see an

even worse example of pollution.

SPOILED HAVEN

Because the railway is quite rightly out-of-bounds behind

a security fence, the area between the footpath and the track

should be a wonderful haven for wildlife, insects, plants and

trees. Sadly it is a haven that is heavily polluted with snack

wrappers and large numbers of plastic and glass drinks

bottles, and any other rubbish that can be thrown over the

fence. The closer to Waingel's College you get, the greater the

pollution, so it is easy to conclude who the perpetrators are.

The mess the schoolchildren are leaving behind is their

parents and grandparents responsibility. We should not

blame the teaching staff at the school, their job is difficult

enough without expecting them to be responsible for the

children's actions when travelling to and from school. It is

down to their parents and grandparents who have turned a

blind eye to this environmental abuse for too many years.

The environment is not only abused by the way that

we dispose of our rubbish, but by the actual rubbish itself,

namely the excessive packaging and plastic that we have

come to expect.

When God created the world there was no rubbish. Every

plant, flower, tree, river, rock and creature had a part to play

in creating a healthy and beautiful place in which we could

live healthily in peace. It is never going to be possible to

return to that paradise, but we can all take steps to ensure

that our children's children's children have an opportunity

to see and enjoy God's true creation. On the centre pages of

this issue we offer an idea that we can all take part in to help

ensure there is a better environment for the children of our

children's children. It costs nothing apart from a little time

and patience.
---
12 The Parish Magazine - September 2021

Please mention The Parish Magazine when responding to advertisements

Independent And FREE Advice For All Individual & Company Members

• Switch to an alternative scheme – If you are currently insured, switching to a competitor can mean substantially lower rates

• Pre-existing conditions covered – It is often possible to include pre-existing medical conditions currently covered by your existing provider

• Improve your coverage – We can frequently improve your cover whilst also lowering the cost of your premium

• Complexities of different schemes – In many cases, people are over insured – we can ensure you are covered with a scheme that

meets your individual needs and requirements

• Full cover for cancer treatment – Many polices do not cover cancer in full – we are able to advise on your current level of coverage

For further information, please call Steve Maguire at M&L Healthcare Solutions:-

PHONE 01628 945944 or 01223 881779

Email: steve.maguire@mlhs.co.uk

quoting ref: The Parish Magazine

M&L Healthcare Solutions is authorised and regulated by the Financial Conduct Authority (FCA Reference number 554206)

ADD Plumbing

& Heating

THE FUNERAL PEOPLE

A FAMILY BUSINESS SERVING

SONNING SINCE 1826

READING 0118 957 3650

HENLEY 01491 413434

CAVERSHAM 0118 947 7007

ALSO AT MAIDENHEAD, BRACKNELL, WOKINGHAM, THATCHAM

TRADITIONAL AND CONTEMPORARY FUNERAL

SERVICE AND DIRECT CREMATION

FLORAL DESIGN & MONUMENTAL MASONRY

PRE-PAID FUNERALS, LATER LIFE LEGAL SERVICES

BEREAVEMENT CARE

WWW.ABWALKER.CO.UK

Experienced plumber &

heating engineer

Free written estimates

– no job too small

Many positive testimonials

from local residents

'Trustworthy, reliable and efficient'

'Excellent attention to detail'

'Meticulous in his work'

SELECTED

Independent

FUNERAL HOMES

0118 934 4624

07932 072912

addplumbingsolutions.co.uk
---
the parish noticeboard — 4

The Persecuted Church

India in turmoil: Christians are being persecuted and Covid is rife. What sort of world can these

young people be looking forward to?

Devendra Rawat, dreamstime.com

Persecution and Covid in India

This month Colin Bailey focuses on India, from where there are reports of anti-

Christian agitation and violence along with the deadly impact of Covid-19 on

Christian ministry.

The Evangelical Fellowship of India

Religious Liberty Commission's

half-yearly report records 145 cases of

persecution, including three murders,

and attacks or desertion of 22 places

of worship. The violence against

Christians stems, they say, 'from an

environment of targeted hate'.1

The UNHRC (United Nations

Human Rights Council) has received a

report by the WEA (World Evangelical

Alliance) denouncing the spreading

of false information about Christians

in India and Nepal. It addresses

the 'ideological and identity-based

disinformation promoted by Hindu

nationalist groups in India and Nepal',

with the aim of harming 'religious

minority groups, particularly local

Christians'.2

DYING

The Sukma Superintendent of

Police in Raipur has instructed his

subordinates to monitor the activities

of Christian missionaries and

converted tribal Christians.3

In Gujarat, the state government

has introduced a new anti-conversion

amendment, making it illegal to

persuade somebody to convert with

the promise of 'divine blessings'.

This means that Christians could be

prosecuted for telling non-Christians

that repenting and believing in Christ

will bring forgiveness for sins and

everlasting life.4

In Orissa, the homes of eight

Christian families have been

destroyed, and the inhabitants forced

to leave their village. The president of

the Global Council of Indian Christians

(GCIC) has strongly condemned

the attack on Christians by Hindu

extremists.5

Many Christian leaders in India

and Nepal are dying of Covid. Reports

from Barnabas Fund partners indicate

that the number of pastors and other

leaders who have died in India is well

over 2,000. The Covid strain that

has overwhelmed India has produced

'a health and economic crisis of

unprecedented proportions', according

to one Indian Christian doctor who

wrote to Barnabas. Many Christian

ministries are in danger of closing as

there is no one to lead them.6

Barnabas Fund has launched a

Coronavirus Appeal for India and are

working with Indian Christian medical

institutions to provide assistance. You

can donate at:

http://www.barnabasfund.org or 024

7623 1923 quoting CIB 05/21, so your

donation goes to this fund.

Please pray for India, and the

Karun orphanage and school that St

Andrew's Church supports.

Sources and further reading:

1 Evangelical Fellowship of India https://

efionline.org/2021/07/23/religious-libertycommission-half-yearly-report-2021/

2 Evangelical Focus Europe https://

evangelicalfocus.com/world/12165/in-indiaand-nepal-disinformation-on-social-mediais-rife-and-used-to-further-stigmatisechristians-and-other-minorities

3 New Indian Express https://www.

newindianexpress.com/nation/2021/

jul/13/sukma-sp-orders-surveillance-ofchristian-missionaries-activities-in-tribalareas-2329667.html

4 Barnabas Fund Prayer Focus Update

July 2021 https://barnabasfund.org/news/

prayer-focus-update-july-2021/

5 Asia News http://www.asianews.it/newsen/Orissa,-8-Christian-families-attackedand-expelled-from-their-village-53379.html

6 Barnabas Fund https://barnabasfund.

org/news/over-2-000-covid-deathsamongst-pastors-and-christian-leaders-inindia-a/

The Parish Magazine - September 2021 13

We still need

the rainbow

By Kate Masden, Shirley Methodist Church

God promised Noah: 'When the

rainbow appears in the clouds, I will

see it and remember the everlasting

covenant between God and all living

creatures of every kind on the earth'.

What child hasn't thought about the

pot of gold at the end of the rainbow?

Dorothy sang Somewhere over the

rainbow, dreams come true and troubles

melt like lemon drops. But this magical

place cannot be found: Birds fly over the

rainbow — why then, oh why, can't I?

Some cultures see it as a bridge. The

Ancient Greeks called it Iris, a beautiful

young maiden who linked heaven and

earth. Indonesian societies believe it's a

celestial river for souls as they journey

to the spiritual realm, while in Japan

the creators of the world descend on a

rainbow, the Bridge of Heaven, to create

land from the chaotic ocean.

The rainbow-serpent is a powerful

spirit throughout Aboriginal culture;

thought to be the oldest religious belief

in the world. It is depicted in rock art

at least 10,000 years old. In North

Queensland, they believe it is put in the

sky by enemies to stop the rain falling.

CRACK IN THE SKY

Buddhists say that you can become

a spiritual rainbow body — the highest

state before Nirvana and in Hindu

legend it's an archer's bow used by

Indra, the god of thunder and war. For

some Chinese it was a crack in the sky

made by five coloured stones cast by the

mother goddess, Nüwa.

While many marvel at and worship

rainbows, others fear them. Meso-

American societies believe they are bad

omens and hide their children from

them. The Burma Karuns believe a

rainbow is a dangerous demon that eats

children; whereas Bulgarian legend has

it that walking under a rainbow causes

someone to change gender.

The artist, Gilbert Baker, created

the rainbow flag in 1978 to depict

pride, defiance and hope for respect,

acceptance, and equal rights.

Whatever the myth or legend, there

can be little doubt that God created the

rainbow for a purpose and that must be

to reassure us that he watches over us.

We are still needing his rainbow!
---
14 The Parish Magazine - September 2021

Please mention The Parish Magazine when responding to advertisements

An independent company

rated good

Home Carers Wanted!

Bridges Home Care is growing...

Rated highly by customers... Staff and the profession...

Providing quality care in the Oxfordshire area...

Why not join our close knit team?

I love care work

and being around

to help people

The managers

are approachable

and supportive

My main carer

is very good, she

is wonderful,

like a friend

by Care Quality

Commission, our customers

and staff alike.

The training gives

you confidence to

learn more

• Top brand name flooring at the lowest price

• Samples to view in your home/office day/evening

• Free Advice / FreeQuotes

• Old flooring uplifted & furniture moved

• Fast turn around on fitting if required

Bridges ticks all the boxes

n✔ Full training given

n✔ Existing skills

& experience valued

n✔ Guaranteed work,

local area

UKHCA

Supported by Oxfordshire County Council

n✔ Flexible hours or

shifts available

n✔ Supportive hands-on

management

If you think this might be for you, find out more...

call Bonny or Wendy on 01491 578758

or email bonny@bridgeshomecare.co.uk

visit www.bridgeshomecare.co.uk

Oxfordshire Association

of Care Providers

• Carpet, design and wood flooring specialists

We supply and install: Amtico

Carpets - Laminate - Wood - Vinyl

Non-slip and more...

Tel: 0118 958 0445

10 Richfield Avenue, Reading, Berkshire, RG1 8EQ

info@richfieldflooring.co.uk/www.richfieldflooring.eo.uk
---
feature — 1

Hello Hannah!

This month St Andrew's Church welcomes our new

director of music, Hannah Towndrow, a young

professional conductor and musician who is taking

over from Chris Goodwin who has retired after

occupying our organ bench for 6 years.

Despite her age, Hannah is an experienced and highly

talented musician — she plays the organ, piano and

bassoon, all at grade 8, each examination being gained

with distinction.

Hannah is also recognised as a skilled conductor and

sings regularly with the Arcadian Singers of Oxford and

Anthiphon, a choir which she founded and runs.

In her new role at St Andrew's Hannah will be the

main organist, lead our senior and junior choirs, oversee

the selection of worship music and hymns, and begin to

administer a new choral foundation being set up to help

develop young adult choristers and musicians develop

their art.

Below, Hannah tells us a little about herself, her

musical career and her hopes for the future.

The Parish Magazine - September 2021 15

I am a postgraduate student at

the Royal Academy of Music, where

I am studying for an MA in choral

conducting, with organ as a second

study instrument. Previously to

being appointed director of music at

St Andrew's, I was the organist and

director of music at the Church of St

Mary and St John in Cowley, Oxford.

I also work as a freelance organist

and as a private piano teacher.

Worship through music is

something to celebrate and, as an

organist and conductor, I take great

pleasure in facilitating it.

The love and infatuation which

I developed for the organ and for

choral singing at a young age were

largely responsible for my decision to

pursue church music professionally.

As organ scholar at Hertford

College, Oxford, my competence as

a church musician grew through

being responsible for choosing

suitable choral music and organ

voluntaries in accordance with the

church calendar and leading and

accompanying the choir.

I studied music under some highly

regarded teachers, including Robert

Court and Steven Farr, and currently

take lessons with Anne Marsden

Thomas at the Royal Academy of

Music in anticipation of becoming

an Associate of the Royal College of

Organists (UK) in January 2022.

I was the assistant conductor of

the Oxford University Chorus at the

end of my third year at Hertford and

took the choral conducting finals

option, achieving the highest mark

in my cohort.

Recruiting new choir members and

auditioning and appointing choral

clerks was one of my responsibilities

at Hertford and being able to use this

experience was one of the attractions

of joining the St Andrew's Church

team.

Having played regularly for church

services for many years, I am now

well-accustomed to the musical, and

non-musical, components of the

Eucharist, Evensong, weddings

and funerals. I am also a confident

improviser, a skill I use each week

for example, during processions and

after the offertory hymn.

I grow closer to God through the

musical aspects of worship and I

can help others to do so. My work

as an organist and choral conductor

is therefore both musically and

spiritually fulfilling.

During my

interview I was

fortunate to meet

some of the young

choristers and I left

feeling extremely

impressed with

their talent and

their desire to learn.

I am looking forward

to helping them

develop their choral skills even

further.

I enjoy performing as a soloist, a

highlight being playing the Saint-

Saëns Organ Symphony with Cardiff

Youth Orchestra at BBC Hoddinott

Hall in July 2018. It was particularly

special because Cardiff is the city

where I was born and bred.

Away from my career and my love

of making music, singing and

conducting my top four things

to do to relax are step aerobics,

countryside walks, learning German

and baking — my favourite things to

bake are banana bread and brownies!

If I was locked overnight inside St

Andrew's Church I would choose to

be with my partner because we enjoy

singing and playing piano duets

together, and that would be a fun

way to pass the time!
---
16 The Parish Magazine - September 2021

Please mention The Parish Magazine when responding to advertisements

Complete Pest

Solutions

WASPS • RATS • MICE • SQUIRRELS

BED BUGS • FLEAS • BIRDS & RODENT PROOFING

Leslie Parker

parkerleslie65@aol.com

0125 624 2135 0799 081 4143

PROFESSIONAL PEST

CONTROLLERS REGISTER

2 Vyne Lodge Farm Cottage, Bramley, Tadley, Hampshire RG26 5EA

Whatever you want to store...

...for whatever reason - house sale and purchase

not coinciding, travelling, house building work,

paperwork overload or even "de-cluttering" to

sell your house more quickly - we offer a

friendly and flexible local service.

With competitive rates, secure storage

and hassle free 24/7 access,

contact us now!

0118 940 4163

www.barn-store.co.uk

Only 5 minutes

from Henley on

the Reading road!

www.etsheppard.co.uk

01491 574 644

36 Reading Road, Henley-on-Thames RG9 1AG

Established in 1858

A.F. Jones

Stonemasons

Limited

0118 9573 537

www.afjones.co.uk

33 Bedford Road, Reading, RG1 7EX
---
feature — 2

The Parish Magazine - September 2021 17

Malcolm Stansfield's enthusiastic energy

'Malcolm Stansfield needs no introduction. All who knew him, knew the energy and enthusiasm with which he tackled

every job he undertakes.' This was what readers of The Parish Magazine, April 1975, were told when he had been elected

churchwarden, a post he was to hold continuously for 20 years. Today the tenure of churchwardens is 5 years. Malcolm was

not only well known as a stalwart of St Andrew's Church, there was hardly a local club or organisation that he did not get

involved with, either as an active member, supporter or as a guest speaker. His death on 19 June 2021 was received with

sadness by many of our readers in Charvil, Sonning, Sonning Eye and beyond our parish boundaries. Our archive picture

(above right) of Malcolm, with his first wife Mary, typifies the way he was always prepared to get stuck in when there was

a job to do. To record his numerous achievements would take every page of this magazine, so below we offer just a few, edited,

extracts from a eulogy given by his niece at his funeral service held in St Andrew's on Monday 19 July.

Family meant a lot to him. His father, was a butcher in

Barnoldswick, Lancashire. He went to a local church school

and he and his brother helped on a local farm. When his

family moved to a small 7 acre farm the brothers became

the youngest farmers in Britain. Farming was to become his

life, a life which took him around the world and involved him

with royalty, governments and villagers alike.

Malcolm left school to spend a year at High Mawthorpe

Experimental Husbandry Farm, from where he went to

Leeds University and gained a BSc in Agriculture. He was also

student president of the agricultural society, a member of

Kelbrook Young Farmers, and with his brother and a cousin,

won a public speaking competition. Later in life, through

Loddon Vale Rotary, he introduced such a public speaking

contest into our local secondary schools.

IMPRESSIVE MANAGEMENT

Malcolm met Mary in 1957 at a summer ball in

Grassington. He proposed in a Leeds pub and they married

in December 1959 at Rylstone Church, Skiptop.

Through a Ministry of Agriculture, Fisheries and Food

scholarship, Malcolm studied for a postgraduate diploma in

farm management at Reading University where they were so

impressed they invited him to join the management team.

His first job was on a beef cattle, pigs and cereal farm, but

he soon became manager of the Sonning Farm dairy where he

introduced his own method of high and low yielding groups

of cows. His ideas led to a Churchill scholarship in 1967 and a

four month tour of America to study large herd management.

Later that year the university farms were amalgamated and

Malcolm became deputy farms director.

In 1996, Malcolm was appointed chief advisor to the Royal

Agricultural Society of England, an appointment closely

followed by becoming special advisor to the agricultural

select committee of the House of Commons. He also wrote

several books and videos about farming.

When the Stansfield children attended Sonning Primary

School, Malcolm joined the Parent Teachers Association and,

with Mary, was involved with them for 30 years. He helped.

build a wooden fort in the playing field, dig a pond and ran

many school auctions, a talent he was soon using at many

other fund raising events, such as the Sonning Produce Show.

He became very involved with the Loddon Vale Rotary

Club which he joined in 1974. By 1998 he was district governor.

He helped organise many events such as an Argentinean BBQ

with whole joints of meat on skewers, more auctions and

galas, and what is now the annual Father Christmas sleigh.

TRAVELLED THE WORLD

As a St Andrew's churchwarden for over 20 years he used

his management and fundraising skills to the full and the

church became a pivotal part of his life. He preached annually

on Rogation Sunday and carried his faith to the end of his life.

In 2002 Malcolm organised the first village scarecrow

event, which he had seen in Kettlewell in the Yorkshire Dales.

The event was designed to raise funds for restoring the church

roof and soon became a huge biannual attraction that has

raised over £100,000 for local amenities.

Malcolm and Mary travelled the world with various

agricultural societies including Hungary, Australia, Denmark

and New Zealand, giving talks and enjoying their hospitality.

He meet several members of the Royal Family, received

an MBE in 2003 from Her Majesty the Queen and was made

a freeman of the City of London in 2008 when he wished that

he owned a herd of sheep!

Overseas, Malcolm was instrumental in sending 250

Friesian cows in 1971 to Delhi as part of a Christian Aid

project to help improve cattle genetics, and he was involved in

a project to fly a plane load of pigs to Bulgaria.

Despite all this, Malcolm remained dedicated to serving

St Andrew's Church and it is very appropriate that his final

resting place is in our graveyard.
---
18 The Parish Magazine - September 2021

Thinking about

Equity Release?

Then speak to us first!

Mortgage Required is a local, friendly award winning

Equity Release Specialist who puts their clients first.

We don't spend thousands on expensive TV advertising or

employ celebrities to represent us. This enables us to pass

these savings on to you.

Compare our low fees

We tick all the boxes

Whole of market

Free first

appointments

Mortgage and Equity

Release Advice

Initial chat without providing

personal details

5 star

Google reviews

Typical Fees

£599

mortgagerequired.com 01628 507477

Finance House, 5 Bath Road, Maidenhead, Berkshire, SL6 4AQ

This is a lifetime mortgage to understand the features and risks, ask for a personalised illustration. There will be no fee for Mortgage Advice. There may be a fee for arranging a mortgage. The precise amount will depend upon

your circumstances, but we estimate it to be £599. Mortgage Required Ltd, Finance House, 5 Bath Road, Maidenhead, SL6 4AQ is authorised and regulated by the Financial Conduct Authority reference 573718 at www.fca.org.uk.

Open Morning

Whole School

Saturday 2 October, Tours start 09.30

After two highly successful Virtual Open Mornings,

we are excited to welcome families to our School

once more. Come and explore our School and get a

true insight into life at Reading Blue Coat.

Register online: rbcs.org.uk

An Independent Day School for Boys 11-18, and Girls 16 -18

Bathrooms &Kitchens Ltd

Plumbing, Plastering, Tiling

and all associated work

Contact us today for a

FREE

No obligation Consultation

and Quotation

0778 897 2921

markt@kingfisher-bathrooms.com

http://www.kingfisher-bathrooms.com

167 167 Fairwater Kingfisher Drive, Drive, Woodley, Reading, Berks RG5 3JQ
---
feature — 3

A positive impact of Covid

A LEGACY FOR THE NEXT GENERATION

By Peter A West, the founder of Trusts in Partnership and the father of

Westy, the St Andrew's Church youth minister

Historically, after a major national crisis, there has

been an increase in charitable giving — check out Her

Majesty's Revenue and Customs (HMRC) and the Common

Assessment Framework (CAF) giving trends following the

First and Second World Wars. There was an increase in

giving and endowed charitable foundations that lasted for

decades, well into the 1920's and the 1940/50's.

The Parish Magazine - September 2021 19

Spettacolare, dreamstime.com

I believe we have an extraordinary opportunity to embrace

and encourage the compassion, generosity and kindness that

was displayed throughout the recent national crisis of the

Covid-19 pandemic. We must channel this enthusiasm in

positive ways to fund charitable projects.

In 1976 I moved to Maidenhead with a young family. I

was appointed the senior youth worker in Maidenhead with

Berkshire Education Authority. At that time there was an

upsurge in recreational drug taking among young people and

the local authorities were struggling to cope. I decided to do

something. I became a founder trustee of Yeldall Manor, the

residential rehabilitation centre in Wargrave and this work

has now grown beyond anything I may have imagined in

those early days.

Now to God who is able to do exceedingly abundantly above all

that we ask or think, according to the power that works in us

(Ephesians 3:20).

GIVING WORKS

I left a career in education 1992 and set up my own

charity, Trusts in Partnership, in 1993. I worked for a number

of high net worth private individuals on specialist projects

with abused children and young offenders.

In 2002 I established Giving Works to provide legal

and financial support for people who have received an

unexpected inheritance or recently sold their business, and

have a substantial sum of money to give away but they do not

wish to set up their own foundation.

Giving Works sits between the Stewardship Trust and

CAF, by which schools, social services and other agencies

working with children and young people assess potential

barriers to student achievement and wellbeing and set in

place means by which these are addressed. It is a series of

smaller accounts called 'micro-trusts'. Giving Works is the

'macro trust'. In 2010 a Giving Works 'client' challenged me

to inspire the younger generation. With my professional

background in youth work and community education, he

thought I was ideally placed. He had a plan. He would give me

£10,000 if I could find 10 young professionals — mostly from

the City, West End and Canary Wharf — to give £1,000 each

into a 'micro-trust', to match his donation. He and his wife

would advise and encourage the group to give away £20,000.

He argued it was a quadrupled bottom line:

— He doubled his giving

— All the due diligence/research was done for free

— He connected with 10 young charitably motivated

young professionals (next generation)

— The recipient charity would receive twice as much

Brilliant. It worked. One group became two groups, which

became four groups, etc. I left in 2016 when they appointed a

CEO to drive the initiative.

Since then I have received requests to set up giving groups

across the UK and internationally using LinkedIn and other

social media platforms.

I am about to launch Giving Plus(G+) at a reception in St

George's House, Windsor Castle, this autumn. If you wish to

become involved, contact me on givingplusuk@gmail.com or

speak to Westy.

I am looking for experienced philanthropists who would

be prepared to work with a group of young professionals to

engage them in social action and meaningful, intelligent

charitable giving.

Leave a legacy for the next generation!

For more information

http://www.givingworks.org https://www.givingplus.uk
---
20 The Parish Magazine - September 2021

Please mention The Parish Magazine when responding to advertisements

Follow Us

@ShiplakeCollege

Welcoming

Year 7 girls

from 2023

Open Morning

Saturday 18 September 2021

www.shiplake.org.uk/opendays

#ShiplakeInclusive

#ShiplakeIndividual

#ShiplakeInspirational

VW Polo Match

1.0 80ps 5dr

CARS FOR

CLERGY

New VW Polo

for less than

£180 per month

Drive away the WhatCar? Small Car

of the Year 2020 for just £179.84

per month. The fixed monthly

payment includes:

4 years' road tax

4 years' breakdown cover

All servicing and maintenance

Tyres excluding damage

4-year lease,

fully maintained

Only

£179 .84

per month †

£539.52 initial

rental

For details,

call us now

or visit

08000 324 900

newgatefinance.com

We're delighted to make our deals

available to all readers of The Parish

Magazine. For more cars and offers,

please visit our website.

†Terms apply. Includes VAT. No purchase option. Up to 6,000 miles p.a. Other mileages available. Ask for details when you call. Newgate Motoring Solutions Ltd acts as a

credit broker and is not a lender and can introduce you to a limited number of finance providers. Newgate Motoring Solutions Ltd is authorised and regulated by the Financial

Conduct Authority, firm ref 730559, and also trades as Newgate and Newgate Finance. Newgate Motoring Solutions Ltd will receive a commission or fee for introducing you to a

finance provider. You can request details of the commission or fee we will receive by contacting us on our Freephone number.
---
feature — 4

An unforgettable

September wedding

After the statistically distorted years that followed the

end of World War II, the 'traditional' time of year to get

married in the late 1940's-1960's was either March or

September. You might imagine that these two months

were romantically significant, but the cold truth is that

couples marrying then received a valuable tax rebate as

the couple's separate tax liabilities could be combined.

Sadly for lovers, this incentive no longer exists. Most

weddings, in the 50's and 60's were, of course, nothing

like the extravagant, expensive, and often overcommercialised

events of today. Jane Gascoine recalls

a 1948 wedding that despite the minimum costs and

simplicity was for her, an unforgettable day.

I was the corporal in charge of the station Post Office at RAF

Brize Norton in 1948. A Scottish airwoman, called 'Jock'

Fitzpatrick — I never knew her Christian name — also

worked in the station Post Office. Her accent was difficult to

understand when she was excited, except when the postman

arrived she shouted, 'The postie's coming, the postie's

coming!'

Jock was a very pretty girl with dark hair and violet eyes.

She was stepping out with a private from the army contingent

at RAF Brize Norton. One day, she announced she was going

to get married to her private.

SOMETHING BORROWED

Like many service men and women at the time, they

decided to marry in their uniforms. It was to be a short local

church service followed by a honeymoon.

A week before the wedding her private changed his mind,

he was going to wear civvies. Jock went into a right flap, not

knowing what to do until the Air Force came to the rescue.

One of the WAAFs went home to fetch a white wedding

dress and veil. Two others went home to collect bridesmaid

dresses, one lavender, the other violet — all had been worn

previously — and we kitted out Jock with all the usual

things; something borrowed, something blue, etc, and some

flowers.

The church was a corrugated iron hut near the camp. Jock

went to the church by taxi and by custom, threw pennies out

of the window to the people watching her being driven off.

My boyfriend at the time gave her away. The church was

filled with service personnel. Afterwards the people in the

Church Army Canteen on the camp laid up a long table with

seats either side and they gave a wedding breakfast of ham

and cheese rolls with coffee and tea.

Mr and Mrs then went off on honeymoon and that

evening the rest of us celebrated by dancing in the Church

Army Hut. Church Army huts were commonplace at service

camps and theatres of war around the world. They were best

described as refuges of cheer and comfort in harsh wartime

conditions.

At Church Army Hut events it was customary to end with

a prayer, and I prayed that Jock and her private would be

happy and thanked God for the generosity of folk who made

it a day I will never forget!

The Parish Magazine - September 2021 21

Trying to discover

your family roots?

Discovering your personal roots has become increasingly

popular over the last 18 months. There's a fair bit you can

do from the comfort of your own home and armed with

the knowledge of where to look and how to interpret what

you're seeing, you too can create your own personal 'Who

do you think you are?' experience.

To help you get started, or to hone skills you may already

have, Berkshire Family History Society is running a series

of online talks, workshops and courses. As a registered

charity, number 283010, most events are open to all,

whether you're a member of the society or not. Among

those coming up are:

— 9 September, 2-3.15pm, a talk on Berkshire and the

Industrial Revolution with Richard Marks (tickets £5)

— 18 September, 2-4pm, a workshop about parish registers

for family historians with tutor Catherine Sampson

(tickets £10)

— 4 October, a beginners' family history course with Chad

Hanna and Gillian Stevens (tickets £35) Six sessions

from 4 October to 8 November, 10.30am-12.30pm.

For more information about these and other Berkshire

Family History Society events, and to book a place, see

https://berksfhs.org

Planning Your

Traditional Wedding?

Then you might like to

discuss the possibility of

marriage in our ancient and

beautiful parish church.

If so, call the vicar, Jamie

0118 969 3298

He will be pleased to help!

In addition to the stunning and historic location in Sonning,

we will work hard to provide you with a memorable and

moving occasion. We can provide a choir, organ, peal of

eight bells, beautiful flowers, over 100 lit candles set in

ornate Victorian chandeliers and the use of our beautiful

churchyard as a backdrop for your photographs.

Church of St Andrew

Serving Sonning, Charvil & Sonning Eye

the church of st andrew SERVING CHARVIL,

SONNING & sonning eye since the 7 th century
---
22 The Parish Magazine - September 2021

feature — 5

Gathering nuts

fruit and seed

for a greener

future

3

By Bob Peters

THE TREE COUNCIL CAMPAIGN 2021

This year's Seed Gathering Campaign organised by The Tree Council begins on

2

22 September and runs until 23 October. Everyone is invited to gather seed, fruit

and nuts from around their local neighbourhoods with the aim of growing trees for the future.

https://treecouncil.org.uk/take-action/seasonal-campaigns/seed-gathering-season/ has lots of information

and advice, as well as providing some very useful information sheets on common UK trees — English

Oak, Field Maple, Hazel, Hornbeam, Beech, Common Lime, Holly, Hawthorn, Rowan, Scots Pine Common

Alder and Silver Birch — that you can download too large and attract wildlife such as birds and

for free. As well as helping to identify trees

squirrels.

and their produce, you will also find important

I can vouch for this. At the beginning of this

health and safety advice and tips relating to the year I found a couple of Charvil-grown walnuts

ownership of the fruit and seeds you gather, where

in a bag that a friend had

to collect them, places to avoid, and advice about

given me last year. They

which fruits, nuts and seeds are edible.

had cracked opened and

For those of us who lived 60-70 years ago when

were spr0uting, so I planted

the open countryside was our playground they are

them in flower pots. A few

useful reminders but for the many young people

months later I have two

today whose main experience of country life is

seedlings (left) for my Bible

often through a screen, it will be essential reading

Garden that are about 12

before starting out.

inches tall.

I have downloaded the Hawthorn information

According to the Jewish

sheet because I have been trying, without success,

priest and historian

to grow Hawthorn from cuttings for a number of

Josephus (born 13AD in

years in my Bible Garden so I'm hoping seeds will

Jerusalem) the Walnut tree

be more successful!

was common and grew most luxuriantly around

the Lake of Gennesareth. It is mentioned in The

GROW NATIVE

Song of Solomon where the Hebrew word 'agoz' is

believed to mean Walnut.

Our local tree wardens and ecological experts

are also good people to seek advice from because

they have extensive knowledge of where to find the

different trees, which are protected, and which are

ideal for growing.

Sarah Swatridge, one of our Charvil tree

wardens, said: 'I think the best advice is to grow

and plant native trees. It's also good to grow a

variety, so if one species doesn't survive, then you

still have other options.'

Growing trees from seed can sometimes require

a great deal of time and patience, but there are

some local trees that seem to self-seed easily.

Sarah suggests Walnut and Hazel nut, both of

which grow in Charvil and are attractive, not

1

GET CHILDREN INVOLVED

To get children involved, Sarah suggested

gathering acorns and conkers, not only are there

plentiful supplies of them around the parish but

they self seed easily. Conkers — the traditional

autumn game — can also be great fun for all the

family.

The first tree I ever grew was from a conker. I

was about ten years old when I planted one in my

garden and about 40 years later I was passing my

childhood home and there in the garden was a

magnificent horse chestnut. It's amazing to think

that such a small thing as a conker could grow into

Year 1

18

T

he native hawthorn grows throughout

Britain, except in the extreme north-west

of Scotland. It tolerates most soils except peat

and is probably best known as a plant of

hedgerows.

The wood has been used for tool handles

and walking sticks and also produces excellent

firewood and charcoal. The berries can be

made into jellies, chutneys and wine.

The species has a high wildlife value,

as its flowers provide nectar for spring insects

and its berries provide excellent food for small

mammals and birds, especially thrushes. Over

209 invertebrate species have been recorded

living on this tree.

Seed Guide: Collect the red berries, once they

are ripe, from autumn onwards. Remove the

seeds from the flesh and wash them thoroughly.

Soak the berries for a day or two, if the flesh

is hard to remove. Stratify the seed, occasionally

for one but usually two winters. Select and

sow germinating seeds each spring.

Easily confused with:

Field Maple, Midland Hawthorn.

Usually seen as a shrub, but

can be a medium tree

(5:8:10)

F L E S

Hawthorn - Crataegus

JAN FEB MAR APR MAY JUN

Year 2 CHECK CHECK

Year 3 Sow Grow

Year 4
---
The Parish Magazine - September 2021 23

5

4

H Y F R U I T S

monogyna

6 7 8

F L E S H Y F R U I T S

Midland Hawthorn - Crataegus laevigata

19

The leaves have deeply divided

lobes. The fleshy red berries (haws)

contain a single seed.

JUL AUG SEP OCT NOV DEC

Collect Stratify

Plant

9

such a massive tree. It's also amazing to think that

it could still be there in 300 years time!

Sarah also suggests looking out for two

interesting Red Horse Chestnut trees growing

outside Charvil Village Hall which are both

attractive and a little more unusual. She also

warned that if you try growing one of these you

will need a little more patience as they will need to

be repotted every year for a couple of years until

they are about 3 feet tall.

Medium tree (6:8:10)

Leaves have shallower lobes

than hawthorn and the red

haws contain two seeds.

M

idland hawthorn is the

rarer of the two native

hawthorn species and the

one that is more likely to

grow into a small tree. It is

found on heavy soils in shady

woodlands, or growing along roadsides

and in gardens, usually in the

south east of Britain. Many ornamental

forms have been created, including

'Paul's Scarlet', which is frequently seen

in towns and cities.

As with hawthorn, the wood has been

used for tool handles and walking sticks,

its fluted stems making it particularly useful

for the latter. The berries can be made

into jellies, chutneys and wine.

The flowers provide nectar for spring

insects, the berries excellent food for

small mammals and birds, especially

thrushes.

Planting an acorn, however could have an

even greater impact of the future of our planet.

About three years I came across an oak tree

seedling under a hedge in my garden. I suspect it

had been buried by one of the squirrels that live

in and around the nearby Charvil Village Hall. I

transplanted it into my Bible garden where it is

now 5 feet tall and growing stronger every year.

Oak is one of the most ancient of trees and is

mentioned often in the Bible, one of the earliest

being when Abram — God later changed his name

to Abraham — 'passed through the land to the place

of Shechem, to the Oak of Moreh'.

Another ancient oak connected with Abraham

is at Marme and it is thought to be an amazing

5,000 years old! It was the place where three

angels visited Abraham and told him that his wife

Sarah would have a child at 90 years old.

The site of the Oak of Marme was acquired in

1868 — the year before this

magazine was founded — by the Church

of Russia and the Monastery of the

Holy Trinity was founded nearby.

There is a lot of truth in

the old saying, 'from little

acorns mighty oaks grow'.

They are not only easy to

grow in our climate but could

benefit our planet for thousands

of years!

Seed Guide: Collect the red

berries, once they are ripe,

from autumn onwards.

Remove the seeds

from the flesh and

wash them thoroughly.

Soak the berries for a day or two, if the

flesh is hard to remove. Stratify the seed,

occasionally for one, but usually two,

winters. Select and sow germinating

seeds each spring.

Easily confused with:

Hawthorn, Field Maple.

JAN FEB MAR APR MAY JUN JUL AUG SEP OCT NOV DEC

Year 1 Collect Stratify

Year 2 CHECK CHECK

Year 3 Sow Grow Plant

Year 4

THE MIGHTY OAK

PICTURE CREDITS

1. Hawthorn tree,

Michael Smith, dreamstime.com

2. Hawthorn fruit,

Zerbor, dreamstime.com

3. Holly berries

Nhtg, dreamstime.com

4. Orange Maple in London

Alpego, dreamstime.com

5. Rowan berries

Peter Shone, dreamstime.com

6. Hazel nuts

Asmus Koefoed, dreamstime.com

7. Alder tree

Andrew Roland, dreamstime.com

8. Hornbeam tree

Paulgrecaud, dreamstime.com

9 Gathering conkers.

Stephen Arnold, dreamstime.com

10. Acorn

Jose Hernandez Uribe, unsplash.com

11. English Oak

Mark Smith, dreamstime.com

11

10
---
24 The Parish Magazine - September 2021

Please mention The Parish Magazine when responding to advertisements

advert-1...vis 1_Layout 1 15/09/2011 11:47 Page 1

Are you thinking about

homecare?

BOOK A BEAUTIFUL

NIGHT STAY WITH

US.

RECEIVE 15% OFF

QUOTE THE CODE

FST1845

TAKE AWAY

FISH AND CHIPS £10

The Bull Inn, Sonning on Thames

Berkshire RG4 6UP, T: 0118 969 3901

e: bullinn@fullers.co.uk www.bullinnsonning.co.uk

If you would like to learn

more please call us on

0118 947 6666

www.thebmgc.com

10% of the value of your first order will be donated to the new community hall fund when you quote Ref: BMGC-CH

• Pull-up banners

• Point of sale

• Window graphics

• Vehicle livery

• PVC banners

• Posters

• Corporate branding

• Graphic design

• Installation services

• Shop signage

• Exhibition systems

• Signage for commerce

• Bespoke wall coverings

For cost effective, locally produced, quality graphics call us on 0118 934 5016

The Homestead, Park Lane, Charvil, Reading RG10 9TR

email: sales@thebmgc.com
---
around the villages — 1

The Parish Magazine - September 2021 25

Sonning pupils branching out to improve our local habitats

Pictures: Emily Barrett

At the end of the last academic year, Sonning Parish Council kindly donated some litter pickers to Sonning CofE School

so the children can carry out half-termly litter picks near the school. During the coming academic year, which starts

this month, the children will learn how to become more aware of the dangers to our environment that litter causes.

Emily Barrett, the school's geography and history subject lead, said, 'The children litter picked in Ligugé Way, King George's

field and Berkshire County sports field. In total they found four bin bags full of rubbish. As eco-lead of the school, I am

trying to make the children more aware of pollution and the effect it has on our local habitats. Our aim for next term is to

branch out further to the surrounding roads to keep Sonning looking clean'.

Litter has always been an issue in some parts of Sonning — on 18 August 1956 Reading Mercury reported that the village

was being spoiled by 'ticket sprinklers', people who get off the buses and scatter their tickets across otherwise immaculate

streets! Today, it is more serious with rubbish such as empty drinks bottles, cigarette packets, crisp wrappers, broken

toys, plastic bags, Covid masks, and even discarded clothing as our front cover picture shows. Let us hope that the current

generation of schoolchildren do a much better job at learning to look after our environment than some us did in the past!

At last, singing again!

For all female voices who have missed

singing together, Suzanne Newman is

running a singing afternoon on Saturday

11 September in Charvil Village Hall

from 2-4pm. It will be an opportunity

to sing a medley of songs from Motown:

The Musical arranged for two-part choir.

The cost, £10 includes the music and

refreshments. To book: 0118 934 0589 or

suzannenewman@btinternet.com

Charvil Village Party

To make up for missing the annual

fete Charvil is holding a village party

in East Park Farm playing fields on 5

September, 2-6pm. There will be live

music, food, a bar, a petting farm,

Berkshire reptiles, bungee trampolines,

face painting, and balloon modelling.

Rounders 2022

The next annual Sonning village

rounders evening, which this year

was cancelled because of Covid,

is booked for

the evening of

17 June 2022

Keep the date free!

roibul, dreamstime.com

Painting outside — for the time being . . .

A river scene by George Gallocker

Sonning Lock by Bernadette Varilone

Sonning Bridge by Rob Farquhar

Garden flowers by Sue Eley

Sonning Art Group decided to make the most of the fine weather and continue

meeting and sketching outdoors, but will return to Pearson Hall when

conditions change. Above are sketches made around Sonning and from the

garden of a member who generously hosted an art afternoon. The greatest

challenge was finding a place where they can all park! The group is looking

forward to exhibiting its work at the Sonning Show which is planned for

Saturday 11 September — see page 29.
---
26 The Parish Magazine - September 2021 Please mention The Parish Magazine when responding to advertisements

STEP INTO THE SEASON WITH OUR LOCAL

EVENTS TO EXPERIENCE

AUTUMN AWAKENING

reception@thegreathouseatsonning.co.uk

0118 969 2277 l www.greathouseatsonning.co.uk

Bright and Fresh

The Professional Carpet,

Upholstery, Curtain and

Leather Cleaning Specialist.

0118 9883026 ~ 07956137308

www.brightandfresh.co.uk

info@brightandfresh.co.uk

Plumbing & Decorating Service

Complete Project Refurbishment

Repairs to Bathroom Suites, Showers

Toilets, Basins, Radiators and more ...

Full Interior and Exterior Decorating

Reliable, Clean and Efficient

DAVID SHAILES

0770 860 2442 i.plumber@btinternet.com

www.iplumberuk.com

Interior & exterior blinds,

shutters, awnings

& screens

Always excellent service

and great value

www.blinds-reading.co.uk

Call John at Blinds Direct

on 0118 950 4272

johndacre@blinds-reading.co.uk
---
around the villages — 2

Hoorah for George V!

By Barbara Carr

Sonning is very fortunate to have a King George's Field,

generally called the Rec. Sonning Monday Club will be

forever grateful to the dignitaries who in 1936 set up the

King George's Fields Foundation to promote playing fields

for the use and enjoyment of the people and many have

certainly made use it in 2020/21!

Since May 2020, when we were unable to meet in Pearson

Hall, Monday Club has continued to meet, weather

permitting, in the Rec. We have enjoyed a cup of tea and a

slice of cake but what is more important, company and chat.

Most of our members live on their own and became quite

isolated during lockdown so it was a great relief to get out

and have a socially distanced get together in the open air.

Hopefully we will be able to meet again in Pearson Hall

from 4 September and on alternate Mondays at 2-3.30pm,

why not come along and give it a try.

However, we would very definitely like to say 'Thank you

George V, your memorial has been much appreciated!'

Meeting face to face again

The first face-to-face meeting since the Covid lockdown for

the Inner Wheel Club Reading Maiden Erlegh saw Diana

Phillips (above right) hand over the annual presidency to Beryl

Cornell (left). The group, which welcomes new members,

aims to provide friendship and fun while fundraising for

local, national and international charities. They meet in

Sonning Golf Club at 7.30pm on the third Thursday of each

month. Their chosen charity for 2021/22 is 'The Cowshed' of

Winnersh and Hurst who are doing inspirational work for

local families.

htttp://www.innerwheelrme.org

Could you be the missing link?

After receiving a Queens' Award for Voluntary Service —

UK's highest award for a voluntary group — Wokingham

based, Link Visiting appealed for more volunteers to join

its dedicated team of people who give up some free time

to provide friendly support to older, lonely people.

They are looking for volunteers such as Carol, who

said, 'It has been very rewarding getting to know my

87-year-old Link Friend, Jean. She has felt so lonely

at times and for the first 8 months of the lockdown,

I was her only visitor. I know she gets a lot out of our

friendship, as do I.'

http://linkvisiting.org/volunteer or 0118 979 8019

The Parish Magazine - September 2021 27

Random little yellow

ducks visit Charvil

If you are wondering who yarn bombed the covered shelter

near Charvil's tennis courts and left some little yellow

ducks hanging there in bags, then we can reveal that it was

Sarah Swatridge. The little yellow ducks were for children

to take away with them as a random act of kindness.

Sarah was taking part in the worldwide Little Yellow Duck

Project which aims to spread the word about another

random act of kindness; blood, organ and stem cell donation.

Sarah said, 'For generations my family have been blood

donors and when my mum had cancer she benefitted from

blood transfusions. Recently, my husband's cousin has

been undergoing stem cell treatment, so this charity is

particularly close to my heart.'

If you found a duck — or if you find one somewhere else

— you can register it on the Little Yellow Duck world map at

http://www.littleyellowduckproject.org

Registering your duck is nice for the person who knitted

it and as Sarah added, 'It's always good to hear they've gone

to a good home.'

Charvil bowlers get their mats out

Charvil Short Mat Bowls Club is restarting sessions on

Tuesday afternoon 14 September and Wednesday evening

15 September. The club, which meets at Charvil Village

Hall, is actively seeking new members, no experience is

necessary. Flat clean shoes are all you need as the club has

several sets of woods (bowls) that are available to use. If

you fancy 2 hours of gentle exercise mixed with a social

chat contact: Mike 0118 944 1246 or Gerry 0118 969 4022

Speakers speaking in Pearson Hall

Speakers lined up for Sonning & Sonning Eye Society

evenings in Pearson Hall include:

Owen Green on 10 September at 7.30pm: The life, legacy and

inpact of William 'Strata' Smith.

John Painter on 5 October at 7.30pm: Reading Abbey and the

Abbey Quarter.

Sacha Dench on 20 September at 7.30pm: Round Britain

Challenge. This evening includes supper and the AGM.

More information and tickets are available from Penny

Feathers on 0118 934 3193 / penny.feathers@btinternet.com
---
28 The Parish Magazine - September 2021

Please mention The Parish Magazine when responding to advertisements

RENDEZVOUS IN THE ARK

for senior citizens

We meet every second

and fourth Tuesday

of the month.

To reserve your place

call:

WATER SOFTENER SALT

Tablet/

Granular 10kg

• 5 Bags £35

• 10 Bags £60

• 20 Bags £115

0118 969 3298

Tablet/

Granular 25kg

• 3 Bags £33

• 5 Bags £45

• 10 Bags £88

Harvey Block

Salt 2 x 4kg

• 3 Packs £33

• 5 Packs £45

• 10 Packs £88

FREE LOCAL DELIVERY

Email: Martyncollins@portmanpm.com

FOR OFFERS & PRICES ORDER ON LINE AT

www.salt-deliveries-online.com

Tel 07785 772263 or 0118 959 1796

Unit 2, 6 Portman Road Reading RG30 1EA

studio dfp

complete graphic

and web design

service on your

doorstep

Since 1984 · 0118 969 3633

david@designforprint.org

MUCK 'N' MULCH

THE LOCAL COMPOST COMPANY

Organic all purpose horse manure compost

Fully composted and milled to fine crumbly texture

Clean and pleasant to handle — weed free & pet friendly

10 BAGS MINIMUM DELIVERY

Half Pallet: 35 bags — Full Pallet: 70 Bags

FREE DELIVERY — SPREADING & MULCHING SERVICE AVAILABLE

24 hour: 0783 143 7989 T: 0179 357 5100

www.muckandmulch.co.uk

Assisted Living | Nursing | Dementia Care | Respite

WELCOMING NEW RESIDENTS!

Studio suites and one-bedroom apartments,

all with en suite wet rooms and kitchenettes

Cliveden Manor, Signature's care home

in Marlow, provides exceptional care by

compassionate people for both individuals and

couples. The home has a variety of communal

areas and the apartments are typically twice the

size of an average care home.

To find out more or to arrange a visit to our

lovely home, please contact Jan Marples – Client

Liaison Manager

01628 702319 | enquiries.cliveden@signaturesl.co.uk | signature-care-homes.co.uk

210 Little Marlow Road, Marlow, SL7 1HX
---
The Parish Magazine - September 2021 29

around the villages — 3

Sonning Village Show 2021 is on Saturday 11 September at Sonning CofE School.

Entries for all categories below must be at the school between 10am and 12 noon

on the day of the show. The fete and exhibitions open at 2.00pm.

ADULT SECTION

PRESERVES

Pot of Marmalade

Pot of Jam

Pot of Lemon Curd

Jar of Chutney

COOKERY

Victoria Sandwich – three egg mixture

Rachel's Raspberry & White Chocolate Loaf

See recipe right

Gingerbread – show three pieces

Scones – show three

Chocolate Shortbread Biscuits - see recipe

right, show three

Favourite Cake – judged on taste and

texture - please supply recipe – winners

recipe will be a class for next year

COOKERY MEN ONLY – Chocolate

Brownies show five pieces - recipe right

VEGETABLES

Nine Runner Beans

Three Carrots

Four Onions

Two Vegetable Marrows

Four Potatoes

A Truss of Tomatoes

Six Tomatoes

The Heaviest Marrow

The Longest Runner Bean

Any Other Vegetable (at least three)

Collection of Four kinds of vegetables (at

least three of each)

Heaviest Pumpkin

FRUIT

Four Dessert Apples

Four Cooking Apples

Four Pears

Any other fruit

FLOWERS

Three Large Dahlias - 6" diameter or greater

Three Small Dahlias - Less than 6" diameter

Hanging Basket

Three Roses

One Specimen Rose

Vase of Annuals - max 10 stems (mixed or

one variety)

Vase of Perennials - max 10 stems (mixed or

one variety)

Pot Plant - Foliage

Pot Plant – Flowering

Largest Sunflower Head (dead or alive)

FLOWER ARRANGEMENTS

OPEN CLASS - ALL WELCOME

Flower Arrangement of your choice. Any

size from pedestals to table centre pieces. To

be viewed all round or front facing.

CHILDRENS CLASS 5 - 12 years

A Small Flower Arrangement in a container

of your choice.

PHOTOGRAPHY

Colour print, Weather, 3½" x 3½" min

Colour print, Flowers or Trees, 10"x 8" max

Black & White or Sepia Print – any subject

CRAFT

Knitted, Crochet or Woven item

Any item, Embroidery, Tapestry or Stitchwork

Handmade Card

Unfinished Projects - Any item started but

not finished!

Article of any other Craft

ART

Drawing - Pen and Ink

Drawing - Pencil

Drawing - Pastels

Painting in Oils

Painting in Water Colours

Painting in Acrylics

Painting in any other medium

TIMES GONE BY

Exhibits will be judged for interest and rarity.

A small card giving a short description of

any knowledge you have of your entry should

accompany them. The organisers cannot be

responsible for loss or damage of valuable items.

Favourite object connected with Sonning

history

Something made by a family member a long

time ago

Guess the purpose of this historic object

Technology from the past

CHILDREN'S SECTION (8-12 years)

The White Hart Cup will be awarded to the

child gaining the most points

COOKERY

Iced Fairy Cakes – show three

Jam Tarts – show three

My Favourite Sandwich - list ingredients

FUN WITH FLOWERS

An arrangement in a teacup

Largest Sunflower head (dead or alive)

Heaviest Pumpkin

PHOTOGRAPHY

Any subject size from 90mm x 90mm to

250mm x 200mm

CRAFT, DESIGN AND TECHNOLOGY

Handwriting – Maximum 15 lines

Hand Drawn Picture of an Olympic event

Design a Birthday Card

A Garden using Plasticine or equivalent

Fruit and/or Vegetable Sculpting

INFANTS SECTION

A special prize of £10 will be given to the infant

gaining most points. Age is taken into account.

For 6-7 year olds:

A Picture of Yourself

A Decorated Crown

Largest Sunflower Head (dead or alive)

Heaviest Pumpkin

Iced Fairy Cakes – show 3

The Seaside on a Plate

Dressed Lolly Stick or Wooden Spoon person

For 5 years old and under

Hand Drawn Picture of an animal

A Decorated Crown

Largest Sunflower Head (dead or alive)

Heaviest Pumpkin

Decorated Gingerbread People – show three

A plate of your favourite food made from

Plasticine or equivalent

Make a Junk Model

RECIPES

Times and temperatures are for guidance only

Rachel's Raspberry & White Chocolate Loaf

125 g butter

125 g caster sugar

3 eggs

175 g self raising flour

½ tsp vanilla extract

1 tblsp milk

125 g raspberries (keep some for decoration)

150 g white chocolate chips

Freeze dried raspberries

Cake: Whisk together butter, sugar, eggs,

flour, baking powder, vanilla extract

and milk until light and fluffy. Fold in

raspberries and half of the chocolate

chips. Put in greased loaf tin. Cover loosely

with foil. Bake for 40 minutes - Oven

Temperature 170 ˚C. Remove foil and cook

for another 20 – 30 minutes. Put on a

cooling rack.

Topping: Put remaining white chocolate

chips in a food bag and place in a jug of

lukewarm water to melt chocolate slowly.

When melted snip corner of bag and drizzle

over the cake. Place remaining raspberries

down the centre of the cake then sprinkle

over dried raspberries.

Chocolate Shortbread Biscuits

75 g plain flour

A pinch of salt

125 g softened butter

40g caster sugar

40g chocolate chips

Extra sugar for sprinkling

Oven 170˚C/ 150˚C fan / Gas Mark 3

Rub butter into flour and salt, add sugar

and chocolate chips and make into a ball.

Turn onto lightly floured board and roll out

to about 1 cm thick. Cut into rounds and

place on baking sheet. Sprinkle lightly with

sugar. Cook for about 15 to 20 minutes.

Chocolate Brownies

375g plain chocolate, broken into pieces

250g margarine

2 tsp instant coffee

2 tbsp hot water

2 eggs

250g caster sugar

1 tsp vanilla extract

90g self-raising flour

175g walnut pieces

250g plain chocolate chips

Grease a 30 x 23cm (12" x 9") roasting tin,

line the base with greaseproof paper, and

grease the paper. Put the chocolate and

margarine in a bowl and sit the bowl on top

of a small saucepan of gently simmering

water. Melt the chocolate slowly, then

remove the bowl from the pan and let the

chocolate cool.

Put the coffee in another bowl, pour in the

hot water, and stir to dissolve. Add the eggs,

sugar, and vanilla extract. Gradually beat in

the chocolate mixture. Fold in the flour and

walnuts, then the chocolate chips.

Pour the mixture into the prepared tin and

bake in a preheated oven at 190°C (170°C

fan, Gas 5) for about 40–45 minutes or

until firm to the touch. Don't overcook –

the crust should be dull and crisp, but the

middle should still be gooey. Leave to cool

in the tin, then cut into 24 pieces.
---
30 The Parish Magazine - September 2021

Please mention The Parish Magazine when responding to advertisements

The Window Cleaner

• Interior & exterior

• All windows, frames, sills & doors

• Conservatory cleaning

• Fully insured

Ever wondered why

Mrs Miggins cat

needed sleeping

pills?

We provide a reliable, professional service, ensuring that your home

will sparkle. For a free quote call or email

07967 004426

thewindowcleaner1@googlemail.com

24 hours service | Private client parking | Private chapel of rest

Free home visits | Pre-paid funeral plans | Full written estimate

Woodland funerals | Religious and non-religious services

Are you a naturally curious,

compassionate, caring person

who wants to be part of the

solution?

Tel: 01491 573370

www.tomalins.co.uk tomalin@btconnect.com

Anderson House, 38 Reading Road, Henley-On-Thames, RG9 1AG

A Family Run Independent Funeral Service

We're hiring exceptional home

care assistants.

Contracts for anything from a

couple of hours per week to a full

structured career path in care.

Call us if you want the answer...!

0118 9323 865

www.q1care.co.uk/careers

Unit 7, The Old Mill Trading Estate

Pangbourne, Berkshire, RG8 7HY
---
HEALTH — 1

Dr Simon Ruffle writes . . .

Let's talk about waterworks! A common presentation to GPs,

that causes patients a lot of symptoms and distress are UTIs.

Classically urinary tract infections present with stinging or

burning on passing urine. It will also make the person feel a

need to pass urine more often, but when they 'go,' they may

only pass small amounts. Urine can be discoloured or cloudy;

looking like wheat beer rather than clear lager, and have the

colour of an Oloroso rather than a Manzanilla. Urine often

smells; after years practising medicine it becomes familiar and

we do not need further investigations!

However, sometimes there are no symptoms whatsoever.

In the elderly this is often seen with a change in cognition, for

example becoming confused, angry or disinhibited.

Often these infections stay in the bladder — cystitis — or

affect the urethra which is the tube from the bladder to the

outside world. The urinary tract is described as the kidney,

the ureter —the tube between the kidney and the bladder

— the bladder, and the urethra. We will confine ourselves

to this area, however we should bear in mind that sexually

transmitted diseases can also cause urinary infections rather

than just genital infections.

PYELONEPHRITIS

If the infection is in the kidney it is called pyelonephritis.

The symptoms of pyelonephritis are over and above that of

simple cystitis. Back or flank pain, shaking with fever —

rigors — abdominal pain, blood in the urine, nausea and

vomiting are symptoms. This requires more urgent treatment

with antibiotics and it can lead to sepsis which requires

admission to hospital.

TREATMENT

Simple cystitis often does not need treatment other

than drinking lots of fluid and avoiding things that acidify

the urine, such as, white wine, fruit juices, fruits, caffeinecontaining

drinks and for the Sonning luminaries, champagne.

If symptoms go on for more than 72 hours a short course

— 3 days — of oral antibiotics can also clear the infection.

However, if there are any complicating factors, such as,

blood in the urine, then a sample should be taken to be sent to

the laboratory; and a 7 day course of antibiotics is more likely

to be prescribed.

Bacteria and yeasts found in the gut can cause urethritis

and infection. It is more likely that women get urinary tract

infections than men through the simple fact that the tube

from the bladder to the outside world is longer in most men.

Unfortunately again ladies, after the menopause, are

more likely to get urinary tract infections due to the lack of

oestrogen which normally keeps the urethra healthy.

The good news for women is that they do not have a

prostate; some urinary tract infections in men cause a

very nasty painful inflammation of the prostate which can

lead to a total blockage and retention of urine requiring an

emergency catheter.

The risk factors of developing an infection are diabetes, a

reduced immune system, kidney stones, or people who have

recently had surgery or bladder inspections.

In children normal growth means their urinary tracts are

shaped oddly. This can lead to infection.

Victoria Falls from the Zimbabwe side

The Parish Magazine - September 2021 31

Unfortunately, girls, I have to inform you of more bad

news. Sexual intercourse can lead to cystitis, especially if you

are having sexual relationships after a break — known as

honeymoon cystitis — and is common when first 'enjoying'

sex. Certain contraceptive devices such as diaphragms,

spermicide and some lubricants on condoms can also increase

the risk of cystitis, as can 'moon cups'.

Fortunately prompt action, treatment and some simple

measures to prevent recurrence in prone patients means

that urinary tract infections rarely cause major long-term

consequences.

One for the boys! Regular untreated urinary tract

infections in men can cause strictures that require treatment;

I am not going to go into it but to help, and prevent this

happening, I suggest you look up the procedure 'urethrotomy'

on Google. Other search engines are available.

We classify recurrent infections as women who have

experienced two or more urinary tract infections in 6 months

or four or more in a year. In men we investigate secondary

causes of urinary tract infection because they are rarer.

It is important to note that if men or women see blood in

the urine that this can be a sign of other issues and therefore

should always speak to a doctor about this.

PREVENTION

Simon Ruffle

The urinary tract clears waste from the body that has been

filtered by the kidney. The kidney's job is to retain water when

it is hot as we may dehydrate but to get rid of water when

we are hydrated. Thus drinking plenty of fluids — water —

increases urine output and prevents urinary tract infections.

A popular myth is that drinking cranberry juice can

help. This is very unlikely, although it will do no harm, but

drinking it while you have a urinary tract infection may

increase symptoms as it slightly acidifies urine.

A more effective way of acidifying urine to prevent

infection is to take regular vitamin C, and indeed, we use this

in people who are catheterised to try to prevent build-up of

calcium and debris on the catheters.

General hygiene helps — wiping from front to back for

women and doing this after urinating and having bowels

open. For men it is making sure there is no build-up of debris

under the foreskin. It is important for both sexes to urinate

after intercourse.

If cystitis is commonly occurring after intercourse in

women it is also advisable to think about which contraception

is being used.

turn to page 33
---
32 The Parish Magazine - September 2021

Please mention The Parish Magazine when responding to advertisements

For a helpful professional service

FIELDSPHARMACY

Wide range of health advice provided

including private consultation area

1a LONGFIELD ROAD, TWYFORD RG10 9AN

Telephone: 0118 934 1222

Fax: 0118 932 0372

Email: fields.pharmacy@gmail.com

CHRIS the plumber

I offer the same friendly, reliable service as

always but in addition to general plumbing

I now offer domestic and commercial gas

work — boiler repairs, installations, fault

finding, power flush.

Repairs not covered by Homeserve?

Speak to a tradesman, not a salesman!

Emergency call out available

Ask Chris Duvall for a FREE quote

christheplumber75@gmail.com

0785 095 6354

3584769
---
the sciences

Physicist and Priest: John

Polkinghorne (1930-2021)

By Dr Ruth M Bancewicz, church engagement director at The Faraday

Institute for Science and Religion, Cambridge

The Parish Magazine - September 2021 33

HOME & GARDEN — 1

Recipe of the month

Fruit tarts with

crème patissiere

From Emma of Emma's

Kitchen, Twyford

Ingredients for

Crème Patissiere

— 3 large egg yolks

— 65g granulated sugar

— 30g cornflour

— 300ml of whole milk

— 1tsp of vanilla extract

or 1 whole pod

wikipedia.commons

At the age of 48, Cambridge Professor John Polkinghorne

decided he had done his bit for physics and that it was time

for a different adventure. Resigning his academic position,

he trained for ordination in the Church of England.

In an interview 40 years later he said, 'It's one thing to go to

church on Sundays but to give up a professorship and train

for something else — that was a bit more than a gesture. I

think a lot of people realised I was a religious person but they

didn't expect me to take it quite that seriously. People said to

me, 'Oh John what are you up to?' They were not thinking so

much about my becoming a clergyman but the fact that I was

a Christian.' (Test of Faith, Paternoster, 2009)

John saw his work in science as a Christian vocation, and

felt a responsibility to use his talents that way. Once ordained,

he found himself thoroughly engaged in the conversation

about science and religion. One of his main messages was:

'I'm not a vegetarian butcher. There is a cousinly relationship

between thinking about theology and thinking about science.'

When asked for a Bible passage to appear at the end of

his 2009 interview, John chose Colossians 1:15–20: 'He is the

image of the invisible God, the first-born over all creation. For by

him all things were created: things in heaven and on earth, visible

and invisible, whether thrones or powers or rulers or authorities;

all things were created by him and for him. He is before all things,

and in him all things hold together. And he is the head of the body,

the church; he is the beginning and the first-born from among the

dead, so that in everything he might have the supremacy. For God

was pleased to have all his fullness dwell in him, and through him

to reconcile to himself all things, whether things on earth or things

in heaven, by making peace through his blood, shed on the cross.'

John's explanation for his choice speaks volumes to

anyone interested in the science-faith dialogue. 'I value this

passage because it speaks of the cosmic significance of Christ,

the one in whom all things hold together and who redeems

all things — notice, not just all people — by the blood of

his cross. Here meet my deepest religious beliefs and my

strongest scientific concerns.'

Method

In a medium sized bowl

whisk the yolks and sugar

until you have a pale creamy

consistency.

Add the cornflour and whisk until all is incorporated, set

aside.

In a medium saucepan heat the milk and vanilla until just

boiling (if using a pod then remove at this stage)

Slowly add the vanilla milk to the egg mixture whisking

continuously until all is mixed in.

Slowly return the mixture to the pan and on a medium to

low heat cook until the mixture has thickened being sure

to whisk continuously and vigorously.

When thickened, transfer to a heat proof bowl and

directly cover the mixture with cling film or parchment to

prevent a skin forming.

Once cooled, can be stored in the fridge for 3 days (rewhisk

before using to prevent any lumps)

If you would like a lighter version, you can add whipped

cream to it.

It can be used in tarts, choux pastry or as a different

filling for a sponge cake.

HEALTH — 2

from page 31

Dr Simon Ruffle writes . . .

A SPECIAL NOTE FOR CHILDREN

It has been shown that children who have temperatures

with no identifiable cause, especially, if they are passing urine

more frequently or complaining of tummy pain, ought to

have their urine dipped. Untreated urinary tract infections in

children can lead to renal scarring and problems later in life.

Urinary tract infections needing investigating in children

is described as more than one confirmed in female children

and any confirmed infection in male children. These children

need ultrasound scans to ascertain that there is no physical

problem with the kidneys and then early treatment is

recommended and preventative measures used.

MORE WATER

The old adage 'drink more water with it' is helpful to

prevent irritation of the bladder as alcoholic drinks increase

irritation of the bladder. Mrs Dr R agrees!
---
34 The Parish Magazine - September 2021

Please mention The Parish Magazine when responding to advertisements

Cruz Kitchens

Bespoke, Made to

Measure Kitchens

Designed | Supplied | Installed

Call 0118 961 1295

Email: info@cruzkitchens.co.uk

Visit: www.cruzkitchens.co.uk

ALL WASTE CLEARANCE

John and his team can clear all waste and

rubbish from your office, house, garden or loft.

He can deal with property clearance for probate

and the demolition of any outbuildings –

sheds, greenhouses, garages, conservatories,

summer houses, etc

LICENSED WASTE CARRIERS - NO JOB TOO SMALL!

Free phone: 0800 012 6798

Mobile: 0771 021 2056

email: j.garmston@ntlworld.com

DAC Mobility Services

Keeping you on the move

Mobility Scooters

Wheelchairs

Power Chairs

Stairlifts

Contact Your Local Engineer

07885 750350

dacmobility@gmail.com

Sales . Servicing . Repairs . Callouts

We also have a selection of

refurbished mobility scooters.

We come to you!

www.dacmobilityservices.co.uk

It's a new day at Sunrise

At Sunrise of Sonning, residential, nursing, dementia and palliative

care is not just about providing practical support. It's about creating

community, friendships and memories.

We encourage our residents to get involved in their home in

whatever way suits them, from flower arranging to being a Sunrise

resident ambassador, retaining and building purpose and self worth.

Over 95% of our residents and team members have received

their second vaccination.

Call 0118 338 2986 or visit SunriseSonning.co.uk

for more details.

25 March 2021

Sunrise of Sonning

Old Bath Road, Sonning, Berkshire RG4 6TQ

Residential, nursing and dementia care home
---
HOME & GARDEN — 2

In the Bible garden

The Parish Magazine - September 2021 35

A seven year prickly issue . . .

When the Israelites travelled through the barren

desert on the way to the fertile pastures and hills of

their Promised Land, God gave them full instructions

on how they were to live with each other and with the

environment in which they were destined. Every seventh

year they were to rest the land and themselves. Nobody

was allowed to work on the land apart from harvesting

what it produced naturally. It was a year of rest, called

Schmitta — the Sabbath Year, writes Bob Peters.

In the 1970's I can remember visiting a distant cousin

who farmed land on the Essex/Suffolk border. He taught

me about rotating crops and resting the land. The prime

example of what happens if you don't rest the land to

allow its valuable nutrients to recover is the famous 'Dust

Bowl' of the 1930's in America. Schmitta is an excellent

example of God knowing what he is talking about!

An abandoned dust bowl homestead on the northern Colorado plains.

Brian Humek, dreamstime.com

Adjacent to my Bible garden I have a small patch

of land in which I grow non-Biblical pants such as

courgettes, runner beans and potatoes. Early this year

I dug the ground over ready for the usual crops but a

time-consuming family issue took priority and the sowing

never happened. Then I remembered Schmitta, it would

be a good excuse — not that I needed one — to let the

land, and me, have a rest! I'm not sure that we are going

to get very much in the way food from such a small piece

Leviticus 25, 1-7: The Lord said to Moses at Mount Sinai, Speak to

the Israelites and say to them: 'When you enter the land I am going

to give you, the land itself must observe a sabbath to the Lord. For

six years sow your fields, and for six years prune your vineyards

and gather their crops. But in the seventh year the land is to have

a year of sabbath rest, a sabbath to the Lord. Do not sow your

fields or prune your vineyards. Do not reap what grows of itself

or harvest the grapes of your untended vines. The land is to have

a year of rest. Whatever the land yields during the sabbath year

will be food for you—for yourself, your male and female servants,

and the hired worker and temporary resident who live among you,

as well as for your livestock and the wild animals in your land.

Whatever the land produces may be eaten.

of rested land, but I have a splendid crop of 5½ feet tall

thistles — see above! Some thistles, or parts of them, are

edible although the work required to extract the edible

parts probably makes a mockery of the 'rest' that I was

hoping for.

There are two interesting things about this experiment,

first that the thistle itself is one of the most ancient of

Biblical plants and are mentioned in the third chapter of

the first book — Genesis 3:18: 'It [the cursed ground] will

produce thorns and thistles for you, and you will eat the plants

of the field. Secondly, even though it is a small patch, it

appears to be attractive to lots of insects, butterflies,

moths and wildlife. For the first time in the 10 years I

have lived in Charvil, I woke one morning to see a large

hedgehog strutting around the garden. This was the first

of few more sightings which culminated in seeing a very

small hoglet toddling around in broad daylight.

If you would like to add thistles to your garden you

can either do as I have and leave it to chance by letting

the land rest or you can plant them. According to https://

horticulture.co.uk/types-of-thistles/ there are 17 varieties

suitable for growing in UK gardens and they come in a

variety of colours, sizes and shapes — I spotted a splendid

silver leaf thistle growing in a Park Lane garden in Charvil

and I'm hoping the wind will carry its seeds to my patch

for next year!
---
36 The Parish Magazine - September 2021

Please mention The Parish Magazine when responding to this advertisement

W E L L N E S S B Y D E S I G N

A T A I L O R M A D E S O L U T I O N , W H E R E L U X U R I O U S

I N T E R I O R D E S I G N A N D F I T N E S S E Q U I P M E N T

C O M E T O G E T H E R T O M E E T Y O U R N E E D F O R A

G R E A T E R S E N S E O F W E L L B E I N G A N D S E R E N I T Y

I N Y O U R H O M E

P R O J E C T M A N A G E D F R O M C O N C E P T T O C O M P L E T I O N

J O A N N A @ S A B E L L A I N T E R I O R S . C O M

W W W . V E L V A E R E F I T . C O M

0 7 7 8 0 8 3 6 7 4 7
---
THE ARTS — 1

Dad! Dad! I would yell out when I

heard him open the front door on

his return from his 12 hour day shift

in a munitions factory. As a seven

or eight year old my mother would

have put me to bed at 8pm and

when dad came home from work,

and before doing anything else, he

would come upstairs and sing to me.

The Teddy Bears Picnic is one song I

particularly remember.

It was through my father that I

developed a love of music and when

I was a teenager we spent hours

together listening to the records I had

bought.

Dad was a bandsman all his life

playing mostly the tuba in the the

Territorial Army band and several

other local bands.

Prior to the NHS there was an

annual fund raising day for the

Royal Berkshire Hospital known

as 'Hospital Sunday' with a parade

through the town which included

several marching bands. I remember

proudly marching next to my dad

with my arms swinging high.

As a young teenager I enjoyed

hearing the Billy Cotton Band Show

which was broadcast on the wireless

every Sunday lunch time. A vocalist

would sing a new song each week and

I then bought the sheet music for it.

There were few pop music records

then and the charts were made up

from the popularity of sheet music

sold.

When I was about 16 years old I

became involved with the Sainsbury

Singers and began to enjoy musical

comedies and Gilbert and Sullivan's

operas. A friend took me along to a

concert by the London Philharmonic

Orchestra and I was hooked. I have

enjoyed classical music ever since.

It was from then on that I started

my collection of hundreds of long

playing records, CD's and DVD's. Not

all classical music by any means.

I think the first disc I had was

Rossini's overture La Gazza Ladra

'The Thieving Magpie' which is a good

start for anyone wanting to extend

their musical vocabulary. Another

piece would be the march Guadalcanal

part of the Victory at Sea suite by the

American composer Richard Rodgers.

It has two distinct tunes which are

delightfully blended at the end.

Newcomers to classical music

might be wary of symphonies, but

listen to Beethoven's Symphony No 5

in C minor two or three times and you

will want to hear it again.

Many people become 'like what

you know' music lovers, and I am one

of those but I also enjoy listening to

music I have not heard before.

Some snobbish music lovers

condemn the popular classics. But I

don't. The reason they have become

popular is because they are good, but

no recordings can compare with live

music. I endeavour to go to any local

concert band, orchestral concerts

and events that my granddaughters

are performing in but sadly, because

of Covid, there haven't been any for

some time, and not likely to be, as

these things take time to organise

and rehearse.

However, every week live music

can be heard at St Andrew's with its

fine new electronic organ that has

resounding tuba stops, and, of course,

the choir can be heard as well.

We all hear more music than

we realise. TV programmes, plays

and even documentaries invariably

The Parish Magazine - September 2021 37

From the Teddy Bears Picnic to Rossini's La

Gazza Ladra via the Billy Cotton Band Show!

Claude Masters recalls his life-long love of music and singing from pop to classical and everything in between!

Claude's granddaughters entertain on an NHS 'clap' evening during the Covid locdown

have music in the background for

colour and atmosphere. Sometimes

irritatingly so. It is of no consequence

of course, no one will say 'Wasn't

the background music good' when

discussing a programme.

To get the most enjoyment from

classical music it needs undivided

attention. You may think that

classical music is too high brow and

not for you but give it a try and you

could get hooked like me.

WAKEY WAKEY! LIVE MUSIC ROBERT LOBLEY RIP

We are sad to record that Sonning

resident Robert Lobley, who was a

regular contributor to our Art pages,

has died. We will miss his well

informed and entertaining articles,

and his cartoons, one of which we

reprint here as a tribute to him.

This was drawn at the time George

Clooney moved into Sonning.
---
38 The Parish Magazine - September 2021

THE ARTS — 2

The Lord is in this place

By Rev Michael Burgess

Praise Promenade

By Steven Rolling

In the 3rd Century a Chinese philosopher, Chang Tsu, had

a very vivid dream. He was a butterfly, happily flying

here and there. When he awoke, he thought to himself,

'Did Chang Tsu dream that he was a butterfly, or did the

butterfly dream that it was Chang Tsu?' Dreams are often

like that: crucial experiences which cause us to ponder

and wonder about their meaning. This month we ponder

and wonder about Jacob's dream as portrayed by Ribera.

Spanish artist, Jusepe de Ribera's most productive years were

in Naples, where he died in 1652. His 1639 painting (above) is

based on Genesis 28. After depriving his brother Esau of his

birthright, Jacob is sent to Laban. At Bethel he rested and in

his sleep saw a vision of God's angels on the ladder to heaven

with God's reassuring words of promise and blessing. When

he awoke, Jacob set up an altar at Bethel, which he declared

was the house of God and the gate of heaven.

GOD'S BLESSING

commons.wikipedia.com

To baroque artists, this scene in Genesis was seen as a

prefiguration of the coming of Jesus, and in John's Gospel

Jesus told Nathanael that he would see the angels ascending

and descending upon the Son of Man. For Ribera the subject

of Jacob's dream is treated with great tenderness as Jacob

sleeps beneath the luminous expanse of sky. Not for him the

depiction of winged messengers; no, the light of heaven falls

upon the sleeping figure, casting shadows on the ground. The

angels, ethereal and insubstantial, are contained in the glory

of light. The tree looks like a fallen cross, and Jacob almost

like a sleeping disciple in Gethsemane. But here, he is in deep

repose, his face lit up with the golden glow of the heavenly

messengers.

For Jacob, the dream is the golden assurance of God's

blessing. As his saga continues in Genesis, he marries Laban's

daughters, wrestles with the divine stranger, is given the

name Israel, and his 12 sons become the ancestors of the

12 tribes of God's people. So, the blessing of the dream is

worked out in his life and the life of Israel.

Dreams can give visions of the way life should be. As

we end our days with sleep, we pray that like the Psalmist

we will lie down in perfect peace and safety and know the

refreshment Jacob found at Bethel; a repose which will

restore our souls and bodies to bring life and vision wherever

we may be.

Praise Promenade (Psalm 92)

Tune: St Asaph (Through the night of doubt and sorrow)

To give thanks it is a good thing

Thanks to the LORD, let all bring

And good to sing praise to your name

O most High, the LORD the same

To show forth your loving-kindness

And too of your faithfulness

Every day, morning, night, evening

To praise Him in everything

Play upon instruments with strings

With music that each one brings

Psalteries, lutes, harps, and lyres

Worship to you never tires

Play with solemn sound, harmony

And joyful melody be

For you, LORD, have made me glad through

Your works shown to me anew

O LORD, how great all your works be!

Your thoughts very deep, I see

Senseless ones, they do not this know

Nor foolish know it be so

When the wicked as the grass spring

It not prosperity bring

They may flourish, but be destroyed

Plans and purposed be void

But you, LORD, most high for ever

You shall fail, perish never

My strength shall you exalt, you shall

Anoint me with fresh oil well

I shall hear and see victory

Over those, mine enemy

Righteous shall flourish like palm tree

And like great cedar tree be

Mario La Pergola, unsplash.com

Those planted in house of the LORD

Shall flourish, true be His word

They shall still bring forth fruit, when age

Of life passes, each day's page

They shall prosper, be flourishing

The LORD shall give them blessing

He shall show that He is upright

My rock, righteous to my sight
---
CROSSWORD

1 2 3 4 5 6 7

8

9 10

11 12

14 15 16 17

20

18 19

21 22

23 24

13

2 - Camera image (abbrev.) (5)

5 - Showing total commitment (12)

7 - Facts and statistics collectively (4)

19 - Unfasten (5)

20 Italian acknowledgement (4)

20 - Italian acknowledgement (4)

17 7 22 13 17 22 16 5 12 22 16 12

9 1 4 9 16 14 9

23 11 12 24 5 12 15 12 5 1 9 1

7 22 15 1 22 2 16

5 23 16 5 2 12 23 9 8 11 22 15

6 23 25 10 22 2

5 19 19 11 16 22 15 22 14 22 9 22

12 5 12 15 2 16

5 16 15 17 22 2 12 12 9 5 1 4

14 12 16 23 5 4 22

22 3 1 21 12 21 1 16 23 21 5 16

21 18 22 22 26 22 2

20 5 22 21 4 5 16 26 12 9 22 22

A B C D E F G H I J K L M N O P Q R S T U V W X Y Z

1 2 3 4 5 6 7 8 9 10 11 12 13

R

14 15 16 17 18 19 20 21 22 23 24 25 26

V N

SUDOKU

Each of the nine blocks has to contain all the

numbers 1-9 within its squares. Each number

can only appear once in a row, column or box.

WORDSEARCH

The Parish Magazine - September 2021 39

PUZZLE PAGE — the answers will be published in the next issue

Across

Down

Across

Down

1 - (4)

1 - News journalist (8)

1 Engrossed (4)

1 News journalist (8)

33 - Responded to (8) to (8) 2 Camera image (abbrev) (5)

99 - Soothsayer (7) (7)

4 Item for catching 4 - Item for catching fish (3) fish (3)

10 Beginning of something (5)

10 - The beginning of something (5) 5 Total commitment (12)

11 Large Brazilian city (3,2,7) 6 Platform (7)

11 - Large Brazilian city (3,2,7)

6 - Platform (7)

14 Flightless bird (3) 7 Facts and statistics

1416 - Flightless Cleanse bird the (3) body (5) collectively (4)

1617 - Cleanse Gang the (3) body (5)

8 Small garden

8 - Small

carts

garden carts

(12)

(12)

18 Malfunction or fail (of an

17 - Gang (3)

12 Loft (5) 12 - Loft (5)

electrical device) (5-7)

18 - Malfunction or fail (of an electrical device) (5-7)

13 - Theoretical (8)

State of the USA (5)

13 Theoretical (8)

2122 - State Resistance of the USA (5) to change (7)

15 Lift up (7)

15 - Lift up (7)

2223 - Resistance Go beyond to change a limit (7) (8) 19 Unfasten (5)

24 Vegetable matter used

23 - Go beyond a limit (8)

as fuel (4)

22 Frozen water (3)

24 - Vegetable matter used as fuel (4)

22 - Frozen water (3)

CODEWORD

COVID SEPTEMBER QUIZ?

1. What does Covid stand for?

2. When was Covid-19 first identified?

3. Who is WHO?

4. Who received the world's first authorised Covid vaccine?

5. Who injected the world's first authorised Covid vaccine?

6. When did the Coronavirus Act receive Royal Assent?

7. When was Test and Trace launched across England?

8. What Covid UK Government scheme ends on the last day of this month?

Search for 22 words hidden in the grid above

that are from the story below ...

The Parable of the Weeds (Matthew 13:24-30)

Ever wonder why there is both good and evil

allowed in this world? Jesus told a parable that

touched on this subject – it is called the Parable of

the Weeds. It runs like this: Consider the world as

if it were a field where a Farmer has sown good

seed. But then an enemy came and sowed weeds

among the wheat. So when the wheat came up, so

did the weeds. What to do? Instead of destroying

the weeds, and thereby risking the wheat, the

Farmer tells his reapers to wait and let both wheat

and weeds grow together until the harvest. At the

harvest he will instruct the reapers to gather up the

wheat, but to discard the weeds. So do not despair

when evil seems to thrive in this world – there is a

reckoning still to come, and justice will be done.

KINGDOM

GRAIN

WEEDS

ENEMY

SERVANTS

HEAVEN

GATHER

REAP

ROOT

GROW

BARN

HARVEST

BUNDLES

SLEEPING

BURNED

TOGETHER

MASTER

LET

SOW

GOOD

SEED

FIELD

July/August

Solutions

CROSSWORD

N O Z Z L E T E R

U I M O R A S S E S

N A G A A O C

C Z O D I A C T A K E

I A L T E O

O R G A N S O P R A N O

F C R I

S C U F F L E S C A L P

H L A D C R

M E N U T H E I S T E

E E T N I C Y

D R I N K E R S O E

Y T R E A R N E D

CODEWORD

A D J U S T M E N T S

C E N O A O C

O V H E R B S P E A

S P O R E Q E A R

I L A U S I Z E D

G O V E R N E D I

N E D R B O

A O F F E R I N G

T W I R L L I V R

O M I E S T O M A

R I A N E X U S U P

Y G K E U A H

C O N S I S T E N C Y

SUDOKU

WORDSEARCH THOMAS

NEIGHBOURS QUIZ

1. Pangbourne

2. Uffington

3. Twyford

4. Littlewick Green

5. Wargrave

6. Cookham

7. Shaw-cum-

Donnington

8. Three Mile Cross
---
40 The Parish Magazine - September 2021

Local Trades and Services

ACG SERVICES - LOCKSMITH

Locks changed, fitted, repaired and opened

Door and window locks fitted, UPVC door lock expert

Checkatrade member - Which Trusted Trader

Call Richard Homden: 0149 168 2050 / 0771 040 9216

Please mention The Parish Magazine when responding to advertisements

CHIROPODY AND PODIATRY

Linda Frewin MInstChp, HCPC member

General foot care and treatments

25 Ashtrees Road, Woodley RG5 4LP

0118 969 6978 - 0790 022 4999

CLARK BICKNELL LTD - PLUMBING & HEATING

Qualified Plumbing and Heating Engineers Gas Safe

25 years experience - local family run company

Office: 0118 961 8784 - Paul: 0776 887 4440

paul@clarkbicknell.co.uk

COMPUTER FRUSTRATIONS?

For jargon free help with your computer problems

PC & laptop repairs, upgrades, installations, virus removal

Free advice, reasonable rates

0798 012 9364 help@computerfrustrations.co.uk

INTERSMART LIMITED

Electrical Installation and Smart Home Automation

intersmartuk@gmail.com

Elliott — 0777 186 6696

Nick — 0758 429 4986

HANDYMAN & DECORATING SERVICES

Reliable and affordable

Small jobs a speciality!

Call Andy on 0795 810 0128

http://www.handyman-reading.co.uk

JAMES AUTOS

Car Servicing, Repairs and MOT

Mole Road, Sindlesham, RG41 5DJ

0118 977 0831

james_autos@hotmail.co.uk

ALL AERIALS

A local business based in Sonning. TV - FM - DAB aerials etc.

Sky dishes. Communal premises IRS systems, TV points.

Free estimates - All work guaranteed

0118 944 0000

MC CLEANING

We are a family business with excellent references

and we are fully insured

All cleaning materials provided

For free quote call: Maria 0779 902 7901

THAMES CHIMNEY SWEEPS

0779 926 8123 0162 882 8130

enquiries@thameschimneysweeps.co.uk

http://www.thameschimneysweeps.co.uk

Member of the Guild of Master Sweeps

PROFESSIONAL HOME VISIT WILL SERVICE

Thames Valley Will Service

Also Lasting Powers of Attorney and Probate Service

We are still working during the pandemic period

0134 464 1885 tvwills@yahoo.co.uk

AJH ROOFING Co (READING) Ltd

Tiling, Slating and Flat Roofing specialists

36 Chatteris Way, Lower Earley, RG6 4 JA

0118 986 6035 0794 447 4070

ajhroofingco.co.uk info@ajhroofingco.co.uk

WANT HELP WITH AN 'ODD JOB'?

For local odd jobs please call Phil on

0118 944 0000

0797 950 3908

Thames Street, Sonning

BIG HEART TREE CARE

Reliable and friendly service for all tree care

NPTC qualified — Public Liability of £10million

0118 937 1929 0786 172 4071

bighearttreecare.co.uk info@bighearttreecare.co.uk

SMALLWOOD

Landscaping, garden construction,

patios, lawns, fencing, decking etc

0118 969 8989

info@smallwoodcc.co.uk http://www.smallwoodcc.com

BEECHWOOD CARPENTRY & CONSTRUCTION SERVICES LTD

All types of Carpentry, Kitchens, Renovations

Built-in Cupboards & Wardrobes, Flooring & Doors

78 Crockhamwell Road, Woodley 0776 276 6110

http://www.beechwood-carpentry-construction.co.uk

CARER — COMPANION

Experienced lady carer who is local to this area

offers live-in support at competitive rates

Excellent references provided — Contact Louise

0784 226 2583 lasheppard61@gmail.com

PAINTER and DECORATOR

Roger McGrath has 25 years experience

Restoration painting work of any size undertaken

For a free quotation call

Roger 0742 332 1179
---
CHILDREN'S PAGE

The Parish Magazine - September 2021 41
---
42 The Parish Magazine - September 2021 Please mention The Parish Magazine when replying to advertisements

information — 2

Parish contacts

Ministry Team

— The Vicar: Revd Jamie Taylor*

The Parish Office, Thames Street, Sonning, RG4 6UR

vicar@sonningparish.org.uk / 0118 969 3298

*Day off Friday

— Associate Vicar: Revd Kate Wakeman-Toogood

revkate@sonningparish.org.uk / 0746 380 6735

On duty Tuesday, Friday and Sunday

— Youth Minister: Chris West (Westy)

youthminister@sonningparish.org.uk / 0794 622 4106

— Licensed Lay Minister: Bob Peters

bob@sonningparish.org.uk / 0118 377 5887

Children's Ministry

— Alison Smyly office@sonningparish.org.uk / 0118 969 3298

Churchwardens

— Stuart Bowman sdbowman73@aol.com / 0118 978 8414

— Liz Nelson liz.nelson1@ntlworld.com / 0118 934 4837

Deputy Churchwardens

— Simon Darvall sdarvall@businessmoves.com 0793 928 2535

— Sue Peters mail@susanjpeters.com / 0118 377 5887

— Molly Woodley (deputy churchwarden emeritus)

mollywoodley@live.co.uk / 0118 946 3667

Parish Administrator

— Hilary Rennie

office@sonningparish.org.uk / 0118 969 3298

Parochial Church Council

— Secretary: Hilary Rennie 0118 969 3298

— Treasurer: Richard Moore 0118 969 2588

Director of Music, organist and choirmaster

— Hannah Towndrow

music@sonningparish.org.uk

Parish Website: http://www.sonningparish.org.uk

The Parish Magazine: http://www.theparishmagazine.co.uk

— Editor: Bob Peters

editor@theparishmagazine.co.uk / 0118 377 5887

— Advertising and Distribution: Gordon Nutbrown

advertising@theparishmagazine.co.uk / 0118 969 3282

— Treasurer: Pat Livesey

pat.livesey@yahoo.co.uk / 0118 961 8017

— The Parish Magazine is produced by St Andrew's PCC and delivered

free of charge to every home in Charvil, Sonning and Sonning Eye.

— The Parish Magazine is printed in the United Kingdom by The Print

Factory at Sarum Graphics Ltd, Old Sarum, Salisbury SP4 6QX

— The Parish Magazine is distributed by Abracadabra Leaflet

Distribution Ltd, Reading RG7 1AW

— The Parish Magazine template was designed in 2012 by Roger

Swindale rogerswindale@hotmail.co.uk and David Woodward

david@designforprint.org

Advertisers index

ABD Construction 24

ACG Services Locksmith 40

ADD Plumbing 12

AJH Roofing 40

All Aerials Sonning 40

All Waste Clearance 34

Barn Store Henley 16

Beechwood Carpentry and Construction 40

Big Heart Tree Care 40

Blandy & Blandy Solicitors 14

Blinds Direct 26

Blue Moose 24

Bridge House 43

Bridges Home Care 14

Bright and Fresh Cleaning 26

Bull Inn 24

Carer Companion 40

Chimney Sweep, Thames 40

Chiropody, Linda Frewin 40

Chris the Plumber 32

Clark Bicknell 40

Complete Pest Solutions 16

Computer Frustrations 40

Cruz Kitchens 34

DAC Mobility Services 34

David Shailes Plumbing & Decorating 26

Design for Print 28

Freebody Boatbuilders 6

Fields Pharmacy 32

French Horn 44

Gardiners Nursing 24

Graham Blake Soft Furnishing 6

Great House Sonning 26

Handyman, Decorating 40

Haslams Estate Agents 2

Hicks Group 16

Intersmart Electrical Installations 40

James Autos 40

Jones & Sheppard Stone Masons 16

Just Brickwork 20

Kingfisher Bathrooms 18

MC Cleaning 40

Mill at Sonning 4

M & L Healthcare Solutions 12

Mortgage Required 18

Muck & Mulch 28

Newgate Car Finance 20

Odd Jobs 40

Painter and Decorator 40

Pearson Hall Sonning 30

Pennymatters Finance Advice 24

Q1 Care 30

Reading Blue Coat School 18

Richfield Flooring 14

Sabella Interiors 36

Shiplake College 20

Signature Cliveden Manor Care Home 28

Sonning Golf Club 32

Sonning Scouts Marquees 32

Smallwood Garden Services 40

Style by Julie 24

Sunrise of Sonning Senior Living 34

Thames Valley Water Softeners 24

Thames Valley Wills Service 40

Tomalin Funerals 30

Velvaere Studio 6

Village Hamper 20

Walker Funerals 12

Water Softener Salt 28

Window Cleaner 30
---
Please mention The Parish Magazine when responding this advertisement

The Parish Magazine - September 2021 43

BRIDGE HOUSE

of TWYFORD

Because you deserve

the very best

Welcome to Bridge House Nursing Home

Established for 35 years, the elegant Georgian Grade II listed Bridge House has extended its facilities to

include a beautiful, light-filled and airy purpose built nursing home.

Our philosophy is built upon helping residents maintain their independence and dignity, whilst ensuring

their needs and expectations are fully met. We believe that being independent means having the freedom

of choice and flexibility over how the day is spent. Working closely with families and professionals

is fundamental in delivering and maintaining the required level of health and wellbeing.

At Bridge House, our comprehensive facilities and care provision is designed to deliver skilled,

professional and individually planned care in an unobtrusive manner.

Call 0800 230 0206

Visit www.bridgehouseoftwyford.co.uk

INDEPENDENT LIVING • ASSISTED LIVING • NURSING HOME

190821 - Bridge House Ad Parish Mag v01.indd 1 21/08/2019 18:06
---
44 The Parish Magazine - September Please mention 2021The Parish Magazine when responding this advertisement

The French Horn,

Sonning. Quality.

A continuing commitment to

wonderful food and wine.

0118 969 2204

www.thefrenchhorn.co.uk