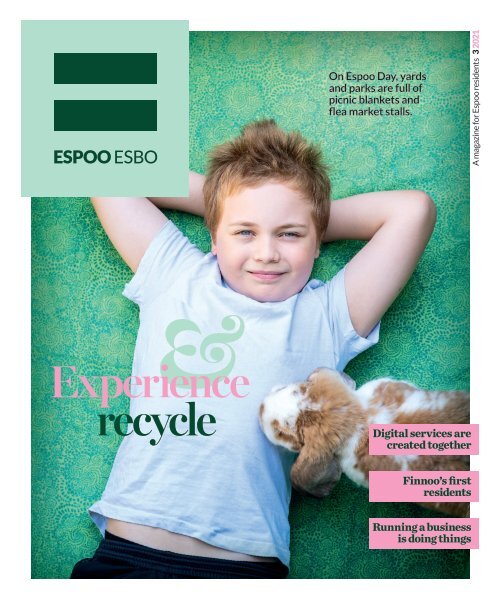 Espoo Magazine 3/2021
A magazine for Espoo residents
A magazine for Espoo residents
SHOW MORE
SHOW LESS
You also want an ePaper? Increase the reach of your titles
YUMPU automatically turns print PDFs into web optimized ePapers that Google loves.
ESPOO ESBO

On Espoo Day, yards

and parks are full of

picnic blankets and

flea market stalls.

A magazine for Espoo residents 3 2021

& Experience

recycle

Digital services are

created together

Finnoo's first

residents

Running a business

is doing things
---
editorial

The editorial

takes a stand

on issues

of current

interest

in the City

of Espoo.

Starting a new

council term

In many ways, the start of a new council term is always

the beginning of something new. The officials elected in

the summer's municipal elections will begin to prepare

and update the city's strategy, the Espoo story. The

implementation of the health and social services reform

was also confirmed this summer, which means that we

will be entering a new phase in the preparation of health

and social services in Western Uusimaa.

Schoolchildren and students are starting a new school

year, lots of people will start a new hobby, and it feels like

the bright summer has left us full of energy. At the same

time, we hope that COVID-19 will finally ease up. There

is still reason to be careful and to keep washing our hands

regularly and act responsibly. The rising infection rate is

worrying. We are doing our best to get both students and

teachers vaccinated as quickly as possible.

In the middle of all the reforms, it is important to

remember that all the work we do, we do for you – to

ensure that Espoo residents continue to have

access to high-quality services. The best

way to do this is to get you, the residents,

involved. One way to get involved is to have

your say in the development of the health

and social services in Western Uusimaa by

participating in the Ideal Social and Health

Services community.

Espoo Day, our biggest annual

city event, will be celebrated

on 28 August 2021, filling the

city with free events. This

year's theme is circular

economy, which means

that there will be plenty

of events focusing on

a sustainable future.

Welcome! Come and

join us, safely!

Jukka Mäkelä, Mayor

8

14

Contents

3 Calendar and Picks

8 Theme

A digital city is created

collaboratively by users and

implementers.

14 At your service

Valuable integration work at

maternity and child health clinics.

15 What's on

An autumn rich in events.

20 Right now

The Espoo Day's theme is recycling.

23 Encounters

Eco-friendliness in young

people's activities.

24 Pearl

Garden and pavilion as a meeting

place in Espoonlahti.

26 Espoo people

Finnoo's first residents are

moving in soon.

28 Swedish in Espoo

Bymarknadstämning.

30 Us

Compulsory education continues

until the age of 18.

31 My Espoo

For entrepreneurs, Espoo

is the place to be.
---
28 Aug

Espoo Day.

Read more on page 20 and check

out the event programme at

espoopaiva.fi/en.

31 Aug

The application

period for art and

project grants ends.

1–15 Sept

The autumn joint

application period for

higher education.

calendar sep-nov/2021

15 Sept

The season for boat winter storage

begins. Don't forget that a boat

berth does not automatically

include a winter or storage

location.

18–19 Sept

Espoo

Rantamaraton.

Check the calendar

for the main events

and key dates of

the autumn.

30 Sept

The application period for

professional artists'

working grants and annual

grants for cultural and local

heritage associations ends.

18–22 Oct

Autumn holiday

at schools

22 Oct

The application period for

grants for coach training,

grants for producing

orienteering maps and

young athletes' grants for

sports clubs in Espoo ends.

27 Nov

Publication of the

next issue of

Espoo Magazine.

A magazine for Espoo residents

Public bulletin to all households. FEEDBACK AND SUGGESTIONS: espoolehti@omnipress.fi

PUBLISHER City of Espoo, PO Box 12, 02070 City of Espoo, 09 81 621, espoo.fi,

firstname.lastname@espoo.fi EDITOR-IN-CHIEF Johanna Pajakoski, Communications Director

EDITORS Omnipress Oy, espoolehti@omnipress.fi MANAGING EDITOR Tiina Parikka

LAYOUT Oona Kavasto/Hank PRINTED BY Punamusta DISTRIBUTION SSM

NOTIFICATIONS jakelupalaute@omnipress.fi COVER Teemu Kavasto ISSN 1798-8438
---
Picks

The number of library visits decreased by 39% last year compared to the

previous year due to the coronavirus. The lending of physical material

decreased by 25%, while the lending of e-material increased by 25%.

Service vouchers adopted in early childhood education

THE CITY OF ESPOO contributes

to the costs of private

early childhood education

by issuing families a childspecific

service voucher for

early childhood education.

The service voucher has

been in use since 1 August

2021 for families with children

living in Espoo.

The service voucher is

paid for a child entitled to

early childhood education.

When using it, the family

cannot receive child home

care allowance or private

day care allowance for the

child at the same time,

and the child cannot be in

municipal early childhood

"

The service

voucher has

been in use since

the beginning of

August.

education. You can apply

for a service voucher for

any day care centre that

has been approved by the

City of Espoo as a service

voucher producer.

Early childhood education

produced for families

with a service voucher can

be no more than EUR 50

per month more expensive

than municipal early childhood

education. The service

voucher for early childhood

education is incomerelated

just like the client

fee for municipal early

childhood education.

You apply for the service

voucher in the same way as

for municipal early childhood

education: by filling

in an application form

in Espoo's e-services at

espoonvarhaiskasvatus.fi at

least four months before

you need the child to begin

early childhood education.

Espoo on

social media

Facebook

Espoo – Esbo

Posts from different parts

of the city and news from

various City of Espoo actors.

Twitter

@EspooEsbo

Timely updates and quick responses.

Bulletins, answers to

questions and discussions.

A service experiment that makes it easier to navigate Tapiola

Lehtikuva

IN COOPERATION with Citynomadi,

the City of Espoo

has implemented a service

that guides passengers

from the Tapiola metro station

to different platforms

for feeder traffic, the Espoo

Cultural Centre, swimming

pool, Omnia and the Espoo

City Theatre.

"Way Finder gives visitors

to the Tapiola area a

schedule and an estimate

of the time the journey will

take, as well as an accurate

estimate of the distance

to a nearby destination,

whether it is 100 metres or

1.5 kilometres away. At the

same time, the visitor feels

safe because each turn

and floor change is marked

on the map," says Merja

Taipaleenmäki, founder and

CEO of Citynomadi Oy.

The metro station's Way

Finder service will be available

until the end of October.

If the service is found

to be useful and results in

good customer experiences,

it will be possible to continue

its use and develop it

further. The aim of the service

is to reduce the need

to drive short distances by

car.

Experiments in sustainable

mobility contribute to

Espoo's goal of becoming

carbon neutral by 2030. The

free Way Finder service is

available on Citynomadi's

website at citynomadi.com/

tapiola.

Instagram

@espooesbo

Great moments, events and

landscapes through the eyes

of Espoo residents.

#espoohetki

4 A magazine for Espoo residents
---
GO CHECK

IT OUT!

This column explores

interesting sites that

all Espoo residents have

free access to.

Hanikka

erratic boulder

ALONG THE HANIKKA nature

trail lies a rapakivi granite

boulder about five metres

high. Weighing more than

200,000 kilogrammes, the

boulder is one of the largest

in Espoo. It is located

a few dozen metres from

the junction of Suvisaarentie

and Soukanniementie.

There is also a raised

beach nearby that is

dozens of metres long.

Five

metres!

The Hanikka erratic boulder has been protected as a natural monument since 1986.

FREQUENTLY

ASKED

QUESTIONS

The purpose of this

column is to provide

answers to the questions

most frequently asked of

the city.

?

Why has paid parking been

started in Espoo?

Making parking subject to a charge

is a way to influence the way

people travel and help us reach

the climate targets set for traffic.

Additionally, the aim of paid street

parking is to direct residents to

park in the housing companies' car

parks and parking facilities instead

of on the street. This will also help

guests, people running errands,

practical nurses visiting patients

and delivery drivers to more easily

find a parking space along the

street, which will improve road

safety and increase the effective

use of parking spaces.

?

Why has the grass on the

kerbside not been cut?

The city manages green areas

according to the maintenance category

they belong to. This includes

the upkeep of wide green areas on

streets. The maintenance of narrow

green areas belonging to plots

is the responsibility of the plot

owner.

?

There are too few rubbish bins

in Espoo. Will more be provided

and would it be possible to

empty them more frequently?

There are currently around 3,000

rubbish bins in Espoo and more

are added every year where possible.

However, after a certain limit,

it is no longer possible to increase

the cost of removing rubbish. In

addition, in our large city, rubbish

bins are installed only in places

that can be accessed by truck also

in winter to make maintenance

possible. We are all responsible for

a clean city – so let's take care of

it together.

A magazine for Espoo residents 5
---
Picks

Last year, 4,081 new dwellings were built in

Espoo. The estimated number of dwellings

completed this years is 4,100, with a similar

number built the following year.

In 2020–2030, a total of approximately

46,200 new dwellings are expected to

be completed in Espoo.

Birdwatching tower in Suvisaaristo

THE CITY OF ESPOO will build

a birdwatching tower in

the Ramsö-Bergö Nature

Reserve. The tower will be

about 16 metres high and

made of wood. It will be built

in a rocky forest area and

anchored to the cliff.

A route will be built to the

The Keilaniemi temporary

footbridge has been opened

construction site to enable

the building work. However,

every effort will be made to

keep the surroundings intact.

The laying of the tower's

foundations began in June

and July, and the actual construction

will begin in September.

THE TEMPORARY FOOTBRIDGE improves pedestrians'

ability to walk from Keilaniemenpuisto above the Ring I

tunnel next to the metro station.

The roofed, high-quality

bridge is intended for use for

the next 5–10 years.

The bridge crosses the

unfinished plot between the

metro station and the Keilaniemi

tunnel. The bridge can

be accessed by stairs or a lift.

"

There is no

bicycle path.

There is no bicycle path, but the route at the southern

end of Keilaniemenpuisto provides a route for bicycles.

There are also plans to build a pedestrian and bicycle

path from the northern end of the park down to

Keilaniementie, but it cannot be built until the office

building is finished.

Lehtikuva

First dose of the coronavirus vaccine

without an appointment

YOU can get the first dose of the coronavirus vaccine

at the Iso Omena vaccination site without booking an

appointment on weekdays between 9:30–11:30 and 12:15–

14:00. The vaccine is available to all Espoo residents who

are 12 or older.

Please note that you can only get the first dose of the

vaccine without booking an appointment. For the booster

dose, you will need an appointment. The number of vaccines

available varies each day. Please take along your

Kela card or ID.

The vaccination site is located on the second floor of

the shopping centre, below the Iso Omena Service Centre.

A customer being vaccinated at the Lintuvaara vaccination

site in Espoo. The coronavirus infection rate is on the

rise again. To make getting the vaccine easier for you, we

have made it possible to get the first dose without booking

an appointment.

Vaccinations for 12 to 15-year-olds started on 16 August

at schools. There is no need to make an appointment for

vaccinations at school, because they are carried out one

class at a time.

A customer being

vaccinated at

the Lintuvaara

vaccination site

in Espoo. The

coronavirus infection

rate is on the rise

again. To make

getting the vaccine

easier for you, we

have made it possible

to get the first dose

without booking an

appointment.

Hiking videos guide you to nature destinations

NATURE tour guides have recorded

short videos of two nature destinations

in Southern Espoo.

Their springtime excursion to Fiskarsinmäki

takes you to a herb-rich

forest in the Espoonlahti Nature

Reserve. In May, Fiskarsinmäki blooms

with flowers and offers a great opportunity

to admire not only wood anemones,

but also yellow anemones, fumeworts

and lungworts.

The video about an early summer

excursion to the Hanikka nature trail

takes you on an exploration of the

versatile nature trail near Suinonsalmi.

The video shows the best parts of the

route, which is about five kilometres

long. The route takes you by the seaside,

up the birdwatching tower and

high up on the cliffs.

You can find the videos on the City

of Espoo's Youtube channel. The videos

showcase the highlights of the areas

and the species living in them, especially

birds and plants.

6 A magazine for Espoo residents
---
In 2020, there were fewer than 450

homeless people in the city living alone,

while in 2016 there were nearly 650.

Envisioning a sustainable

future in Espoo

Three workshops were held in June, where residents,

elected officials and city employees were

able to practice future thinking. The workshops

encouraged them to think about the future from

new perspectives and challenged

them to identify ways

to change tomorrow into

what they want it to be.

"

The workshops

inspired us to

think about the

future from new

perspectives.

"We all make assumptions

about the future that

affect the choices we make

in our work and everyday

lives. One of the aims of

the workshop was to identify

and challenge these

assumptions," says Development

Manager Sanna Rönkkönen,

who was in charge of the project.

"The workshop provided a great opportunity

to stop and reflect on the direction of the city's

future and to question the way you think together

with others," says Senior Planning Officer Annika

Forsten from Education and Cultural Services,

who participated in the first workshop.

At the workshops, the participants worked on

their ability to imagine different futures and created

future visions of Espoo in 2050. The visions

highlighted well-being, proximity to nature, vitality,

communality, equality, eco-friendliness, biodiversity,

responsibility, carbon neutrality, an unhurried

pace, meaning, equality and multiculturalism.

In the autumn, a programme known as Sustainable

Espoo will be prepared to promote the

achievement of sustainable development goals

and carbon neutrality.

New website will be

launched at the

beginning of September

The new espoo.fi website will be launched on 1

September, meaning that the current beta.espoo.fi

will become available at espoo.fi.

"We have built it taking into account accessibility

and residents' wishes. Today's technology enables a

whole new way of building a website, which is why

the search function plays a big role in the new one

and why there is virtually no traditional navigation

at all. We have also done our best to enable both

target group and area-specific communication, as

this is something many residents have requested,"

says Sarianna Visuri, who has led the project.

The website also utilises existing information,

meaning that, through interfaces, espoo.fi displays

the same information about offices and services

that has been available on suomi.fi for years. In

addition, the new event database also displays

the information on espoo.fi. The interface makes it

easy to display information about events on other

sites too. This means that you can come across

the exact same information in Helsingin Sanomat's

event column as on espoo.fi.

"Internet usage today is based on searches, and

most people use their mobile phones to search the

internet. These are the things we prioritised when

building the website," Visuri explains.

The stories behind the names

The names of places in Espoo

reveal stories about the city's

history and its inhabitants.

Villages and houses that no

longer exist still help us to

move about the city because

their names have survived and

can be found on maps and

signposts.

Commemorative names,

in turn, include manor owners,

artists and local people:

farmers, farmer's wives and

residents who have made an

impact in the community.

You can read the stories

behind the names on the

espoo.fi website. Check out

where the names in your

neighbourhood come from.

› bit.ly/NimienTarinoita (in Finnish)

A magazine for Espoo residents 7
---
theme

Espoo wants to

be a forerunner

also in digital

operations.

Several different

projects and

experiments have

been launched to

develop them.

Text Tiina Parikka

Key to

sustainable

services

One of the biggest challenges of a growing city is to ensure

the continued availability of services. Digitalisation is one way

to do this – and everyone's help is needed in developing it.

What can I give the city?

When developing digital

services for the city, the role

of users, that is, the residents

is emphasised. It is

not just a question of which and what kind of

services they want, but how the services can

be produced together.

"Digitalisation is not just a way to make

operations more efficient, but also a way to

solve global problems. It enables a completely

new kind of service logic which is used to create

the service together," says Director of

Service Development Päivi Sutinen.

Digitalisation has been promoted through

numerous projects in Espoo.

Everything in one portal. OmaEspoo is

a platform under development which will

incorporate all the city's services, such as

booking doctor's appointments, applications

for a day-care centre, enrolment for events

and contacting customer service. In practice,

the portal will open doors to different services.

"The Iso Omena and Kalajärvi Service

Centres, where services are provided centrally

all in one place, have had a lot of positive

feedback. We want to apply the same idea to

digital services," says Project Manager Veera

Vihula.

The current year in the OmaEspoo project

is reserved for planning. Already at this

stage, users, i.e. Espoo residents, have been

consulted through surveys. The next step will

be workshops during which the needs of different

groups will be explored in more detail.

OmaEspoo is expected to be put into service

in 2024.

"Not all the services will be transferred to

OmaEspoo all at once. Instead, the system

will expand in stages. Once we can test various

simulations of the platform, users will be able

to test the models and share their experiences

and wishes," Vihula promises.

More personalised services. In the future,

OmaEspoo will also utilise MyData, which is

information the user has stored about themselves

in the service. If, based on the information

provided, the platform can identify, for

example, a person's habits or hobbies, it will

be able to recommend the right events and

services.

8 A magazine for Espoo residents
---
Janne Ketola/Summit Media Oy

More independence and fewer resources

REMOTE home care was launched as a pilot project

in Espoo already in autumn 2017.

"The initial reaction is almost always negative,

but once the client becomes used to the service,

they often feel that they retain their autonomy better

when the practical nurse does not come to their

home in person," Practical Nurse Tiina Kosonen says.

Today, there are 180 clients in remote home care.

Some are clients of the Remote Home Care unit,

but it also serves clients belonging to regional home

care units.

"A combination of care where a practical nurse

serves the client remotely but also regularly meets

them in person is the best solution for many people.

Remotely, however, we cannot see the overall

situation in the person's home," Kosonen says.

The Home Care unit lends the client a tablet

computer for the service. The client only has to

press the screen when the nurse makes a video

call.

"This allows us to meet many more clients during

a working day, because we don't waste time travelling

from one place to another," Kosonen says.

During the coronavirus epidemic, the number

of clients in remote home care has grown exponentially.

However, the client's situation is regularly

monitored and, if necessary, physical home care

visits can be reinstated.

"Remote care is not suitable for everyone, but it

is a good alternative."

During a remote

home care

session, the

practical nurse

and client

can check

the client's

blood pressure

together or

even perform

rehabilitation

exercises.

A magazine for Espoo residents 9
---
theme

Espoo's youth activities

have continued as far as

possible within the confines

of coronavirus restrictions.

The virtual youth centre has

also reached young people

who have not previously

visited brick-and-mortar

youth centres and events.

That is why such activities

will also be needed in the

future.

DIGITAL development

work i

is also being

carried out in education.

Teachers'

and students' user

experiences of digital

tools were improved

through the project

'Oppimisen digitaalinen

ekosysteemi

eheäksi ja oppimiseen

innostavaksi!' ('Creating

a Harmonious and

Inspiring Digital Ecosystem

for Learning!'),

which was funded by

the Finnish National

Agency for Education.

Another aim of the

project was to ease

teachers' work load.

Espoo is involved in the project 'The City as

MyData Operator' and aims to chart the city's services

where MyData could be utilised. To this end,

many experts have been consulted and stakeholders

such as Kela and the Tax Administration have

been interviewed, but additionally a resident survey

has been carried out to find out what kind of

services residents would like MyData to be used for.

"Although the survey was open online for less

than two weeks, we received a gratifying number

of answers. While the sharing of personal data

naturally raises doubts and fears, many good ideas

also emerged about how the data could be utilised

to benefit the residents," says Project Manager

Wilhelmiina Griep.

Of course, data protection issues play a key role

in building the MyData system.

"The data is used only for things the person has

given their consent to. They can also change or

remove their consent to the processing of their

data according to their wishes and situation in life,"

Griep says reassuringly.

She also emphasises that although MyData will

facilitate the targeting of services in the future, all

residents will retain equal access to the services,

regardless of whether they have authorised the city

to use their data.

Data collected in MyData can also be used for

research purposes or for collecting information

for the public good. In short, MyData will not only

benefit the person themselves but the entire urban

community.

10 A magazine for Espoo residents
---
A low threshold meeting place

WHEN the coronavirus brought all activities to a halt in

spring 2020, youth services had to quickly find solutions

for how to reach young people. In a couple of

weeks, they were able to open a virtual youth centre

on the Discord platform, which was originally designed

for gaming communications.

"Since then, we have continued to develop the

platform and brought in new functionalities based on

young people's wishes," says Youth Work Coordinator

Tuomas Rapp, who was involved in the initiation phase.

Young people visiting the youth centre learn quickly

to move between the different spaces in it, according

to what is open at any given time. The same goes for

the virtual youth centre.

"We have about 700 users. They are not all from

Espoo; some young people also come from other parts

of Greater Helsinki and even outside it," Rapp says

happily.

The virtual youth centre has also reached new

young people who have not used youth centre services

before. The aim is to continue the service even after

brick-and-mortar youth centres are opened.

"You can register with the virtual youth centre with

an anonymous username or your real name or using

facial recognition."

Espoo's virtual youth centre is open for limited

hours only, two evenings a week. There are always

Youth Workers with easily identifiable usernames on

site to supervise the activities.

"In this way, we ensure the safety of all users."

A magazine for Espoo residents 11
---
theme

"At the city level, this could mean that by

making information about their travel behaviour

available to the city, a resident helps the

city's traffic planning personnel to identify key

danger spots or, for example, the need for a new

pedestrian and bicycle way," Griep explains.

From surveys to experiments. Building

new kinds of services such as MyData requires

years of groundwork, in which users' wishes

and experiences play a key role. In Espoo, we

have already gained experience in utilising

users' experiential knowledge. Joint development

projects between schools and businesses

have produced inventions that have garnered

international attention.

"There are many companies in Espoo with

expertise in EdTech platforms that were interested

in developing digital learning tools.

Unfortunately, they lacked the required pedagogical

understanding. We started developing

an easy and user-safe process for companies

and schools to meet and help each other," says

Development Manager Katja Hagman from

the Service Development Unit.

Espoo schools became innovation platforms

as early as 2015. An idea for a new service can

start with a service developer who wants to

hear users' thoughts on it to help with its development,

but the initiative can just as well be

made by a user who has an idea of a service that

will make their everyday life easier.

One such example is the feedback application

Mightifier directed at students. Its purpose

is to help students give each other positive feedback.

"The app teaches you how to give well-reasoned

feedback. For example, if you want to

show your appreciation to someone for being

nice to you, you also have to tell them that they

were nice because they helped you with a difficult

task the day before. The principal, teachers

and students of a school in Espoo gave feedback

on the application already during its development

phase. Since then, the application has

spread to Europe and Asia and is currently

being further developed for use by work communities,"

Hagman says.

In addition to schools, Espoo has also turned

other units governed by the Education and

Cultural Services into innovation platforms.

You can share your ideas, test products and services

or make your ideas available for further

development through the Make with Espoo

platform.

"We hope this will become a widely used

operating model that brings ideas, creators and

users together," Hagman says.

, ,

We hope this will

become a widely used

operating model that

brings ideas, creators

and users together.

Sometimes you just have to be bold and

give it a try. Some 20 such experiments have

been carried out in Espoo over the last five

years. Digital Agenda experiments have been

used to test various solutions that make people's

everyday lives easier.

"The city acted as an enabler in these experiments.

Companies, communities and research

institutes carried out the implementation. Not

all the experiments led directly to the acquisition

of a new service, but three in four experiments

did lead to some kind of further development

efforts," says Development Manager

Valia Wistuba.

One example of these are experiments with

speech recognition services, which explored

the functionality of translation and interpreting

applications tested in customer and

employment services. A chat service was tested

to reach young speakers of Arabic and a chatbot

was tested to improve services to companies.

Different mobility methods were tested to find

the best solutions for mobility in home care.

The project team also actively engaged with

city residents in order to acquire ideas for

experiments. Gratifyingly, more than 150 proposals

were received from companies, communities

and residents. More than 6,000 Espoo

residents participated in the experiments.

"It was important for us to get residents

involved right from the start. That is why we

participated in various events and organised

different campaigns," Wistuba says.

In addition to concrete actions, the experiments

also brought different parties closer

together.

"We now understand different stakeholders

and they understand us better than ever."

12 A magazine for Espoo residents
---
Harri Tanska/Espoon kaupunki

Robot sweeper cleaning the streets

LAST spring, an odd contraption could be seen

travelling along the pedestrian and bicycle ways

of Mankkaa and Ring II. It was not a UFO, but a

new robotised street sweeper called Trombia Free,

which clears grit from walkways and cycle paths.

Designed by Trombia Technologies in Kuopio,

the device has been tested in various localities

during the spring and summer, with Espoo acting

as its first pilot site.

If adopted, an electric sweeper robot would

reduce emissions and consume only 15% of the

energy used by the city's existing diesel-powered

suction sweepers. In addition, the new technology

would reduce the amount of dust on the road

every spring.

Although the sweeper can, in principle, be

programmed to follow a designated route independently

and avoid any obstacles it encounters,

during the pilot phase it was monitored by two

people to ensure its smooth operation: one in

front and the other behind it.

"We want to be involved in the development

of technology like this that supports our climate

objectives. After the pilot phase, the development

of the device will continue and, for example,

the technology for emptying the grit tank will be

further improved. It is possible that the experiments

in Espoo will continue over the coming few

springs," says Public Works Director Harri Tanska.

In the pilot

phase, Trombia

Free still

required people

to supervise its

operation, one

going in front

and the other

behind it.

A magazine for Espoo residents 13
---
at your service

In this section of

the magazine, you

will meet employees

and close

partners of the

City of Espoo.

Text Tiina Parikka

Photo Timo Porthan

Promoter of

equality

"

For many immigrant families, the nurse at a

maternity or child health clinic is their first

contact in their new city and country. We

have a big responsibility in guiding them to

Hanna Kamppila has always been interested in

multiculturalism. Her work as a nurse at a maternity

and child health clinic allows her to serve an ever

growing number of clients who speak a foreign

language as their mother tongue.

become a part of the community.

For some of our clients, it seems strange to bring

a healthy child for a health check. We need to be able

to justify what we do. Often there is no common language,

and we need interpretation services almost

daily.

I started work as a nurse in Espoo's maternity and

child health services in 2013, and the following year

I went back to university to study health sciences.

Alongside my studies, I was able to act as a locum

nurse, continuing to serve Espoo's children and

pregnant women.

During my studies, I minored in multiculturalism.

When I returned to work full-time at the maternity

and child health clinic at the Iso Omena Service

Centre after my studies, serving multicultural clients

was commonplace in our work community. We

started to arrange meetings to discuss matters relating

to multiculturalism, and a more experienced colleague

mentored those of us who were younger and

less experienced.

As a head nurse, I have had the opportunity to

participate in further developing diversity in the

activities of maternity and child health clinics as

part of a group called NeMo. Last autumn, our operations

model expanded from the Iso Omena clinic

to cover the whole city. Now we have a nurse from

every major area of maternity and child health care

and the associated telephone service attending the

meetings.

Hanna Kamppila

wants to thank

the City of Espoo

for its flexibility

and support

that enabled her

to study health

sciences at the

University of

Eastern Finland,

during her exchange

period in the

Netherlands and

her additional

studies of her

minor subject,

multiculturalism.

Equality prize TASSU

awarded for the

NeMo activities

In May, NeMo, the diversity group for

maternity and child health care clinics,

was awarded the TASSU prize by the Espoo

Equality Committee. The prize is awarded

for a concrete act that promotes equality.

The Jury praised the NeMo group

especially for reducing prejudice and

developing working methods as

part of their basic duties.

14 A magazine for Espoo residents
---
15 In situ 16 Things to do 19 Exercise tip

Things to do

in Espoo

Events and

activities from

September to

November.

Hanna Juutilainen

A new dimension to familiar neighbourhoods

Escape games are played

independently using a smartphone,

but the tasks are set

in a real urban environment.

Escape rooms and games were a big hit as a

pastime for groups of friends until the coronavirus

came along. When concerts and

performances stopped and cultural centres

could no longer offer the city's residents

entertainment, Espoo's Event and Cultural Services

decided to bring escape games outdoors. Today,

they lead people to urban adventures in Matinkylä,

Kivenlahti and Tapiola.

A chance to spend time together outdoors and

break away from everyday life – Cultural Producer

Annu Kankaanranta is not surprised that outdoor

escape games are so popular. They have brought

together more than 1,000 groups of players this year

and the number keeps growing.

"The games create new layers even in familiar surroundings.

They are a new way to enjoy the city."

Outdoor escape

games have appealed

particularly to young

Espoo residents

and have revealed

new aspects of their

hometown to players.

bit.ly/ulkopakopeli

Outdoor escape games turn the city into a

playing field. They are played with the guidance of

a smartphone app, but the tasks take place in real life.

Kankaanranta emphasises that the game promotes

interaction with the urban environment, not with

the phone. The story behind the games is clearly

intertwined with specific places, and the games are

designed for their particular environment.

"The games use various elements from the environment,

and there are also physical puzzles to solve.

It has been really inspiring to see how the game

designers select topics from everything they see

around them."

The games have been a huge success. People

have even travelled from other parts of the country

to solve them. Kankaanranta explains that they are

suitable for players and groups of all ages, but it is

recommended that children under 9 or 10 years old

play them under adult guidance.

"The games can be played as independent adventures,

but the stories touch on each other."

Text Juha-Pekka Honkanen

A magazine for Espoo residents 15
---
Things to do

in Espoo

✱

Music • Visual arts ♥ Theatre ✘ For children ✓ Cinema = Espoo ♦ Something else

Urban Espoo is a digital cultural centre

that offers cultural experiences where

you are: urbanespoo.fi

According to the statistics of the Finnish Heritage

Agency, the museums in Espoo had 288,426

visitors in 2020. Out of these, 85,004 visited the

EMMA Museum of Modern Art in Espoo.

Rantamaraton is back =

THE Espoo Rantamaraton will take place

between 18–19 September along beautiful

routes by the seaside. The marathon

and the half-marathon will be held on

Saturday. The marathon consists of two

laps of the half-marathon route. Sunday is

the day for the 10 and 5 kilometre runs, as

well as the kids' 1K. Espoo's Rantamaraton

has been organised annually since 2008.

More information:

rantamaraton.fi/in-english

Elämä lapselle

charity concert ✱

THE City of Espoo is one of the main

partners of Lastenklinikoiden Kummit, the

charity association supporting children's

clinics. The charity concert goes back

more than 25 years and will be held on

8 September at the Espoo Metro Areena.

The city challenges everyone from individuals

to organisations to perform good

deeds for the benefit of young patients.

Ideas for participation:

espoo.fi/en-US/Espoo_and_its_residents_

support_the_Frie

Wizardry on ice ♦

THE figure skating season starts at Espoo

Metro Areena on 8–10 October with the

Finlandia Trophy Espoo. International

figure skating stars will compete in the

categories of singles, ice dance, pair skating

and synchronised skating, as well as

in the Special Olympics category, which is

included for the second time.

Tickets: lippu.fi

Contacts for

employment ♦

AS part of the Business Espoo network,

the City of Espoo and Omnia will organise

a special event on 15 September to

provide organisations and jobseekers the

opportunity to establish contacts and

get help for both recruitment and finding

employment. The programme includes

an information event on the business

services and forms of support available

to organisations. Participants will also

have the opportunity to ask questions

and exchange ideas. This will be a virtual

event.

More information:

businessespoo.com/en-US

The Elämä lapselle concert will be

held at the Espoo Metro Areena.

Ari Karttunen / EMMA

A combination of paintings and

performing art at EMMA.

1 2 3 4 5 6

VIEW

Video series:

Creative drawing

bit.ly/

Katso1

MAKE ART

Adventure art:

Graphic arts

bit.ly/

Taiteile1

MAKE ART

Adventure art:

Recycling, thanks!

bit.ly/

Taiteile2

MAKE ART

Adventure art:

Cool clay

bit.ly/

Taiteile3

MAKE ART

Adventure art:

Paintbrushes

from natural

materials

bit.ly/

Taiteile4

VIEW

Video essay:

Faz que vai

bit.ly/

Katso2

16 A magazine for Espoo residents
---
In Greater Helsinki's joint Harrastushaku.fi

service, you will find the City of Espoo's and

many other operators' clubs, courses and other

activities aimed at children.

More tips:

espoo.fi/

en-US

The supervision of

beaches ended on

15 August.

Without pollinators, we would not

have berries or fruits.

Ilona Partanen's artwork adorns the

Tuultenristi construction site.

Vital pollinators ♦

THE Glims Farmstead Museum's exhibition

Sankaripölyttäjät (Heroic Pollinators)

explores Finland's pollinators and their

habitats and gives tips on how to help

bugs. You will learn about the history of

beekeeping and honey production from the

1940s to the 1980s through the artefacts of

Viljo Hartman, a beekeeper from Uusmäki.

There is also beekeeping in the museum

area, and a wide range of traditional plants

grow in its vegetable patches.

kulttuuriespoo.fi/en

Recharge Your

Brain in Nature ♦

THE Finnish Nature Centre Haltia's exhibition

Recharge Your Brain in Nature

explores nature's impact on our wellbeing

and provides ideas for enjoying it. You will

get to use all your senses at the exhibition,

from hearing to touch and smell. On

the exhibition trail, you can pick mushrooms,

explore your own mental landscape,

smell nature's various scents and

set out on an actual nature trail. At the

end of the tour, you can set out directly

from Haltia's front door to the nearby

Maahisenkierros nature trail.

haltia.com

Art and magic •

LEENA Nio, a visual artist renowned for her

multilayered paintings, and Kalle Nio, visual

artist, magician and theatre director, will

present their first joint production, Painting

Machine, at EMMA in autumn 2021. Navigating

a space between live performance

and visual art, the work will create an illusion

of the painting process by employing

techniques ordinarily used in magic. Painting

Machine consists of a painting installation

and weekly performances, each of

which will result in a new painting.

emmamuseum.fi/en/exhibitions/leena-andkalle-nio-painting-machine/

Windy art •

ILONA Partanen's artwork depicts the

wind and circles the Tuultenristi (Cross

of Winds) construction site in the centre

of Tapiola. The residential buildings under

construction have been named Länsituuli

(West Wind), Etelätuuli (South Wind) and

Itätuuli (East Wind). The starting point

for the work was to bring out the character

of each wind and to emphasise it

by visual means. The swirling air currents

in the work are merged with a variety of

landscapes, animals and everyday objects

from hats to flags and boats.

7 8 9 10 11 12

VIEW

Documentary

series: In the studio

bit.ly/

Katso3

PLAY

Art play for

children

bit.ly/

Leiki-1

LISTEN

Artpod: Tapiolan

julkinen taide

(Public art in

Tapiola)

bit.ly/

Kuuntele1

VIEW

Video series:

Inspirations

bit.ly/

Katso4

LISTEN

Artpod:

Collections

bit.ly/

Kuuntele2

VIEW

Artist interview:

Pekka Jylhä

bit.ly/

Katso5

A magazine for Espoo residents 17
---
Things to do

in Espoo

✱

Music • Visual arts ♥ Theatre ✘ For children ✓ Cinema = Espoo ♦ Something else

Sunhi Mang

Iiro Rautiainen

Chiharu Shiota's stunning installation

will be on display at Emma.

In November, piano music will take

over Sellosali and Louhisali.

You will also see miniature sculptures

along the street art route.

Diving into a

labyrinth of yarn •

IN autumn 2021, Japanese-born and

Berlin-based artist Chiharu Shiota will

create a large installation called Tracing

Boundaries, which spreads into the

surrounding space and consists of a

labyrinth of red yarn and old doors. The

work invites the viewer to delve deep

inside the web of threads while journeying

into their memories and self.

The work continues the collaboration

between EMMA and the Saastamoinen

Foundation which involves commissioning

a new piece of art for the Foundation's

art collection every year from an

interesting and topical contemporary

artist.

emmamuseum.fi/en/exhibitions/leenaand-kalle-nio-painting-machine/

A celebration of piano

music ✱

HELD in early November, the PianoEspoo

Festival will include both rare masterpieces

as well as beloved classics. The

international Tapiola Youth Piano Competition

will also be held in connection

with the festival. The competition will

take place in Espoo's Sellosali and the

Espoo Cultural Centre's Louhisali.

pianoespoo.fi

Peek into

Espoo ✘

THE Peek into Espoo routes for families

with children are an exciting combination

of exercise, book tips and storytelling

and introduce you to different

areas of Espoo. The routes are based

on Carlos Da Cruz's picture book called

Peek into Espoo, which will be distributed

in 2021–2022 to all 4-year-olds at

child health clinics. The themes of the

Keski-Espoo, Matinkylä and Leppävaara

routes are history, the sea, nature and

animals. Along the routes, there are

control points with tasks that you can

access with a smartphone.

urbanespoo.fi/sisalto/kurkkaa-espooseenreitit

Staged photographs •

LINDA Linko and Sofia Okkonen's exhibition

collection Squats is founded on the

dialogue between a staged photograph,

a drawing and a painting. It will be on

display in Gallery AHJO at the Espoo

Cultural Centre in October. Together, the

artists study the manifestation of power

and strength in the interaction between

different female characters. The starting

point for the works are events

staged indoors and outdoors, with

female characters using their physical

strength in relation to each other: battling,

supporting, balancing, defending

and protecting.

espoo.fi/en-US/Culture_and_sport/

Culture/Cultural_centres_and_cultural_

houses/Espoo_Cultural_Centre

Art the size

of a house •

AN easy and enjoyable way to explore

the versatile street art that has

sprouted in Espoo over the last few

years is to take a walk along the street

art route. Murals and mini sculptures

have spread throughout the city, focusing

on the new cluster of street art in

Karakallio. Take Google Maps along and

enjoy a tour of Espoo and its colourful

artworks!

urbanespoo.fi/sisalto/katutaidereitti

Colourful

modernism •

THIS autumn, EMMA will present an

exceptionally large retrospective solo

exhibition on the Estonian modernist

Konrad Mägi (1878–1925). Mägi was the

most significant representative of the

Golden Age of Estonian Painting, but

his life's work has only now attracted

interest in the international art field.

Covering approximately 150 works, the

exhibition includes the finest in the artist's

oeuvre, highlighting Mägi's power of

expression and his exceptionality both

as a remarkable colourist and in relation

to his contemporaries.

emmamuseum.fi/en/exhibitions/leenaand-kalle-nio-painting-machine/

18 A magazine for Espoo residents
---
These can also be

found Matinkylä

Ice Sports Centre

On children and

young people's terms

The modern facility is

much more than just

an indoor ice rink.

Matinkylä's brandnew

ice sports centre

is a versatile sports

environment,

serving not only

young athletes but

also seniors.

› cafe-restaurant

› gym and special gym

for ball games

› two mirrow halls

› rental shop

› recycling point for equipment

The Matinkylä Ice Sports

Centre rectifies the lack of

space many Espoo clubs

have long had to endure.

Built by Espoon Jääurheilun

Tuki (Espoo Ice Sports Support Association),

the centre will bring three

new rinks to Matinkylä. In addition,

the City of Espoo will build an artificial

ice rink 70x100 metres in diameter

next to it. It will be cooled using the Ice

Sports Centre's cooling system.

Executive Director Jari Nyberg

explains that the whole centre is pioneering

a technology that is as lowemission

as possible.

"At the same time, we save money

and keep our expenses predictable.

Cooperation with the City of Espoo

makes our activities possible, but otherwise

the parents of the children and

young people who skate here pay for

the hobby."

The ice rinks are the heart of the

centre, but the hall offers much more

than that. Sport-specific training is

not only done wearing skates, and this

is evident in Matinkylä. The facilities

include a gym, two mirror halls and a

spacious gym for ball games. A total

of 1,300 square metres is reserved for

auxiliary training.

In the daytime, various organisers

offer exercise for seniors.

Facilities to meet the users'

needs. Inside, you can quickly see

that the facilities are designed to meet

the needs of young athletes. There is

plenty of drying and storage space for

equipment. This means that young

people do not have to take their equipment

home, but can come to training

straight from school without parents

having to drive them there.

There is also a peaceful space

reserved for homework.

"We always say that even those

who take training very seriously must

also make sure to get their homework

done, and this is not just empty words,"

Nyberg says.

The Ice Sports Centre aims to lower

the threshold for participating in

sports. The centre will have an affordable

rental shop for equipment and a

recycling point for outgrown equipment.

There are allocated times for

children's ice skating and ice hockey

lessons.

"The auxiliary training facilities

make it possible to try many different

kinds of sport. This gives everyone the

chance to find a sport they love."

exercise tip

At the end of June,

the Matinkylä Ice

Sports Centre

was named

Ilmatar after the

energy company

sponsoring it.

Text Juha-Pekka Honkanen Photo Eemeli Sarka

A magazine for Espoo residents 19
---
ight now

This year, we celebrate

Espoo Day for

the 19th time. The

last Saturday in

August is Espoo Day

because that is when

the founding document

of the Espoo

Manor was signed on

27 August 1556.

Text Tiina Parikka Photo Teemu Kavasto

Let's

reuse

The last Saturday in August has become

well established as Espoo Day. This year,

Saturday 28 August coincides with the

national Cleaning Day. Cleaning Day is a

new day of celebration for friends of flea

markets and recycling. The neatest festival of the

year changes cities and neighbourhoods into huge

flea markets and marketplaces. That is why recycling

and outdoor fleas markets are also the theme

of Espoo Day.

By the end of July, four flea markets have

signed up. One of them is the flea market in the

Palttinapuisto Park, organised by the Kauklahtiseura

association.

"We have room for several dozen market stalls

here. Everyone interested is welcome to book

a spot and bring suitable tables or racks to display

their products on," says Heli Halava, Vice

Chairperson of the Kauklahti-seura association.

Anyone can participate. The event will last for

two hours around midday (from 11:00 to 13:00).

You can join in as a buyer or seller from anywhere

in Espoo but, of course, Kauklahti residents especially

are expected to turn up in droves.

"Kauklahti's strong community spirit is known

far and wide. It may manifest itself during the

Espoo Day as surprise entertainment at any time

of the day. A lot of people come here because they

want to see what we have cooked up this time,"

Halava says.

28 August is Espoo Day when

the whole city will turn into a

large flea market.

Focusing on recycling

in Kauklahti

The recycling theme of Espoo Day 2021

has inspired other people from Kauklahti

too. Espoo Mending, which specialises

in clothes repair, will organise

a Save Your Favourite Garment event in

the garden of its studio on Espoo Day

and will answer your questions and

give you tips on how to repair a wellloved

and well-worn item of clothing

and restore it to its former glory.

Lassen Taitotalo, on the other hand,

will tell you how to repair the abandoned

chair in your attic at the Chair

Clinic.

"

Check out the outdoor

flea markets in your area

on the Espoo Day website

and social media!

20 A magazine for Espoo residents
---
Felix and Tatu can't

wait to meet the

cuddly animals at the

Palttinapuisto park.

Cuddly animals

waiting for you

You may have met Kielo the llama

and her friends – the goats, sheep

and bunnies – during previous years.

They are back and ready to delight

the people at the flea market. Coming

all the way from Pukkila, these

lovable animals are always popular

and in previous years have offered

cuddles for children and adults

alike, as well as the residents of the

service centre.

More information

about the Espoo

Day program

from the

event pages

espoopaiva.fi

A magazine for Espoo residents 21
---
Celebrate like

gentlefolk

Up until the early 20th century, the gentry spent

many happy summers in Espoo's manor houses and

numerous villas. Espoo's lakesides and seashores

were sought-after sites for villas, and many families

living in the capital moved to theirs for the whole

summer. Gradually, these villa areas became villages

and then suburbs.

Summer activities included parties and leisurely

afternoons drinking coffee. Summer parties were a

frequent occurrence in such villa communities. By

the end of the 19th century, wheat was available

widely enough that baking cakes and other delicacies

became popular.

One such delicacy favoured at summer parties was

Herrasväen Wienerleivät, or the Gentlefolk's Danish

Pastries. You can find a recipe for them in Finnish in

the book Keittiömuistoja ja ruokaohjeita Espoosta,

published by Espoon Perinneseura (Espoo Heritage

Society). It seems that the recipe has been passed

from one generation of local families to the next for

decades.

"These Danish pastries are reminiscent of brioche.

They probably originated in Southern Europe where

many of the delicacies enjoyed by the gentry have

come from," says Tarja Rae from the Heritage Society

who has compiled the recipe book.

A colleague gave her the recipe for the Gentlefolk's

Danish Pastries in 1975.

"They are fairly easy to make. Every cook at home

will be able to make them in their own kitchen and

pack them in their Espoo Day picnic basket."

Timo Porthan

"

These pastries were

chosen as a special

Espoo Day treat

because they

are fairly easy

to make.

Once cooled,

serve with good

coffee and great

company on

Espoo Day.

Gentlefolk's Danish Pastries (25 pcs)

Dough:

Filling:

150g butter 100g butter

2 tbsp sugar 100g icing sugar

2 eggs 3 tsp vanilla sugar

40 g yeast (almond paste,

400 g plain flour raisins)

100 ml milk

Also one egg for brushing the pastries and ground

and flaked almonds for decoration.

Instructions: Add the yeast to the lukewarm milk

and let it dissolve. Break the eggs into the milk and

mix well. Add the soft butter, sugar and flour and

knead into an even dough. Roll the dough into a sheet

about 5 mm thick. To make the filling, beat the butter

and sugar together until thick and spread on top

of the sheet of dough. Roll up the sheet and cut it

into roughly 3 cm wide slices. Put the rolls in muffin

cases and let them rise for about an hour. Brush the

pastries with egg, decorate with ground and flaked

almonds and bake for 12–15 minutes at 225 °C.

22 A magazine for Espoo residents
---
Handicrafts with

recycled fabrics

The youth sewing club teaches not only handicrafts

but also ecological values: the new creations made

there mainly consist of recycled fabrics.

Youth Worker Melissa Laitakari runs two sewing

clubs at the Gräsa House of Skills in Olarinluoma;

12-year-old Ada Tejera participates once a week in

a group where the sewers are experienced enough to

create large pieces independently.

"I love observing how rewarding it is for young

people to see the results of their work," Laitakari

says.

"Additionally, cooperation between the brain

and hands strengthens fine motor skills, which are

needed in many tasks and professions."

There are hardly any costs to the participants.

Most of the sewing club's materials are donations.

City employees can also pick up materials from the

Ada Tejera goes to the

sewing club every week. In

addition to handicrafts, the

club members also think

about consumption and

ecology, and the materials

they use are often recycled.

The instructor Melissa

Laitakari also acts as an

eco-support person for

young people.

Reuse Centre (Kierrätyskeskus) free of charge.

Laitakari, who also works as an eco-support person,

says that eco-friendliness is increasingly a part

of all youth work.

"I guide young people to think about quality and

durability instead of focusing on cheap consumption."

Ada is also aware of the power of smart choices in

helping to save the earth for future generations. One

of her smart choices was to sew a nightdress at the

sewing club from recycled fabric.

"It is the best piece I have made this year."

More information: espoo.fi/en-US/Youth;

Gräsa's Instagram site and Harrastushaku.fi

encounters

Environmental

issues, recycling

and sustainability

are also part of

youth work.

Text Hanna Ojanpää

Photo Eemeli Sarka

A magazine for Espoo residents 23
---
pearl

Urban agriculture

has gained

popularity in

recent years.

The Espoonlahti

Garden & Pavilion

experiment

combines

gardening, cultural

events and

spending time

together.

Text Tiina Parikka Photo Eemeli Sarka

24 A magazine for Espoo residents
---
Come

and do it

yourself

A communal space has been needed

in Espoonlahti, especially now

that the shopping centre is being

renovated. With this in mind, a

community garden and a pavilion that

also serves as a stage were set up for

the summer in the northwest corner

of the sports park.

"The idea is that anyone can come

and tend the garden and harvest the

crop. The pavilion is ideal for a picnictype

summer party, a meeting place

for clubs and associations or, for

example, a band practice session that

is open to the public. This summer,

anyone who wanted to organise an

event that welcomed participants

could get help for marketing it from

the City Events Espoo unit," says

Cultural Producer Jussi Hietala.

Summer workers have tended the

garden three mornings a week all

season to ensure basic care for the

plants.

"On Espoo Day, we will have

a harvest festival here," Hietala

promises.

A magazine for Espoo residents 25
---
people of espoo

Finnoo's new

residential area will

offer many types of

housing, including

apartment buildings

with sea views.

The construction

of the area's centre

is delayed.

Text Hanna Ojanpää Photo Timo Porthan

A young couple from Espoo will be among the

first to move to Finnoo early this autumn. Their

new home will have more space, which is what

they wanted, but its biggest asset is the location.

Close to the

metro line

Occupational therapist Alina

Unelius and Jami Pankakari,

who works in marketing,

closed the deal on their

first home in March 2021.

"We don't have the exact moving date

yet, but the building should be ready in

August or September. We have already

visited it inside and familiarised ourselves

with the area in general," Unelius says.

Their main criterion for their new

home was that it should be close to

the metro line. Finnoo's metro line is

expected to be complete by 2023. That's

good enough for Alina and Jami.

"The fact is that we were able to buy

a bigger apartment in Finnoo on our

budget than, for example, Tapiola or

Helsinki. We are also confident that

the value of our apartment will rise once

the metro line is completed," Pankakari

says.

They already know Espoo well. After

spending a few years in Lappeenranta

studying, the couple found a rental

apartment a couple of years ago near the

Tapiola Sports Park.

"Just as the building of the area was

completed, we decided to move to a new

construction site," Unelius laughs.

The completion of the Finnoo centre

has been delayed due to an appeal concerning

the protection of the bird wetland

in the area and the resulting

alteration of the plan, but the young

couple will not let this disturb their

future daily life. They are fascinated by

the potential of the developing region.

"Of course, the delay came as a surprise

to us, but it is only temporary. I

would be more annoyed if the metro line

got delayed. All the necessary services

are close by in any case. Iso Omena is

only about two kilometres away, and it is

less than a kilometre to the neighbourhood

shop."

Other deciding factors in addition to

transport

,

connections

,

were the lush

greenness of Finnoo and its proximity to

the sea.

"It serves us very well at this stage in

our lives," Pankakari says.

All

Finnoo

• a new residential

area by the sea in

Greater

Espoonlahti

• to be completed

in the early 2030s

• 17,000 new

residents are

expected in the

area

• the area is known

especially for its

bird life

the necessary

services are close by.

The construction of the area's centre is delayed

In Finnoo, close to the area's

future centre lies a bird

wetland that has gained

international recognition. In

the spring, the Helsinki Ornithological

Association Tringa's

appeal against the local

detailed plan for the centre

proceeded to the Supreme

Administrative Court, which

overturned the plan.

The outdoor recreation

area planned next to the wetland

is considered to significantly

increase the number

of people and pets near the

wetland and consequently to

disturb the area's birds.

Preparations for the new

local detailed plan were

started immediately, but

it will take from 12 to 18

months to complete the plan

for the Council's approval.

Tiina Parikka

26 A magazine for Espoo residents
---
Alina Unelius

and Jami

Pankakari

are already

looking forward

to moving in

to their new

home in Finnoo.

A magazine for Espoo residents 27
---
The Mankkaa

harvest festival is

organised at Vanhan-

Mankkaan kuja 2 on

Saturday, 28 August

from 11:00 to 14:30.

Swedish

in Espoo

Espoo Day is organised

for the 19th time this

year. Espoo Day is

celebrated annually

on the last Saturday

of August, which was

chosen based on

the founding date of

Espoo Manor. Espoo

Manor was founded on

27 August 1556.

Text Tiina Parikka

Photos Eva Monthén

Enjoy the atmosphere

of a village market

Espoo Day is celebrated in the village of

Mankkaa with a traditional harvest festival.

On Espoo Day, you can enjoy some folk

music at the old granary in Mankkaa.

"Espoon Pelimannit has performed

on Espoo Day on previous years, too, but

this time they are part of the Swedishspeaking

cultural services event held at Esbo Arbis",

explains Ann-Christine Stenbacka, the Vice

Principal of Esbo Arbis.

This year, the folk music group's repertoire contains

a lot of local tunes from Espoo. The conductor is

Pekka Pentikäinen.

Espoon Pelimannit will perform two sets. There

will also be a workshop where participants can decorate

tote bags.

"Esbo Arbis celebrated its 60th anniversary in

2019. We started the tote bag workshop then and it has

28 A magazine for Espoo residents
---
Espoon

Pelimannit

performance

on Espoo Day

is subject

to weather

conditions.

proven to be very popular. There have been

all kinds of materials to decorate your bag

with, but as the COVID-19 situation is still

affecting our arrangements, this time we

have supplied different kinds of felt tip pens

that people can use to decorate their readymade

bags", says Producer Eva Monthén.

There are tote bags in different colours on

which you can draw or, for example, write

some text.

"People have created some truly wonderful

bags in the previous workshops",

Monthén says.

The workshop operates on a nonstop

principle to avoid overcrowding and to allow

time for cleaning the equipment between

users.

"We are complying with all COVID-19

restrictions in force during the event",

Stenbacka ensures.

I ♥ Mankkaa. I ♥ Espoo. One of the things

you can write on your bag is an homage

to your beloved city or neighbourhood.

Stenbacka, who also lives in Mankkaa, is

particularly pleased that Esbo Arbis and the

Swedish-speaking cultural services can contribute

activities for the traditional Espoo

Day community event.

"Arbis activities and cultural services in

Swedish are mostly concentrated in large

centres. We want to bring our activities to

the people in their own neighbourhoods.

Espoo has many neighbourhoods that have

very tight-knit communities, and being able

to attend activities in their own language

brings them together even more", Stenbacka

believes.

However, language is not a barrier, and

you can take part in Espoo Day and any of

the activities even if you are not Swedishspeaking.

Mankkaa-Seura is organising activities in

the folk cottage next to the granary. People

can look forward to enjoying the genuine

atmosphere of a village market combined

with a traditional harvest festival – weather

permitting.

"

We want to bring

our activities to the

people in their own

neighbourhoods.

A magazine for Espoo residents

29
---
Continuing studies

us

After

comprehensive

school, in

general, studies

continue either

in an upper

secondary

school or in

vocational

education and

training.

Crossword

puzzle

Test your

Finnish with this

crossword puzzle!

Book prizes!

PREPARATORY

➙

EDUCATION FOR

UPPER SECONDARY

VOCATIONAL

EDUCATION AND

TRAINING (VALMA)

› 234 students

After comprehensive school, every student

has to be assigned a study place. This autumn,

upper secondary education was started by...

UPPER SECONDARY

➙ SCHOOL

› 1 977 students (Finnish-speaking)

› 175 students (Swedish-speaking)

› 50 students (IB-programme in English)

➙

VOCATIONAL SCHOOL

NB!

Compulsory education

continues until the age of 18.

All graduates of primary school

are therefore obliged to continue

their studies at a school that

provides secondary-level

education. If a young person is

left without a place to study

following the spring Joint

Application period, Outreach

Youth Work has been in

contact with him or her to

find a place to study.

› 1 396 students (Finnish-speaking)

• 263 students, vocational qualification in business and administration

• 222 students, vocational qualification in social and health services

• 120 students, information and communication technology

• 158 students, vocational qualification taught in English

Write the letters from the orange boxes (1–14) below and send the answer with

your name and address by e-mail to espoolehti@omnipress.fi by 26 November 2021.

30 A magazine for Espoo residents
---
Connections are crucial

For Atte Pohjanmaa, Espoo is at the heart of everything.

He would like to see more business parks in the city.

"I have always believed in the importance of being

around smarter people than myself. I have done

my best to trust people and their ideas, and it has

been an effective way to run a business," says Atte

Pohjanmaa, who lives in Saunalahti.

In May, 22-year-old Pohjanmaa was selected

as the Young Entrepreneur of the Year in Greater

Helsinki. He founded his company Vertics Oy

together with his friend Max Kalhama in 2017 when

they were still teenagers in upper secondary school.

His business partner has since disengaged himself

from the company's operational activities, and

Pohjanmaa has run the company on his own.

Vertics employs approximately 40 people.

At the age of 22,

Atte Pohjanmaa is

already an experienced

entrepreneur.

"At first, people were

sceptical because of

my age, but nowadays

it is an advantage,"

he says.

The company, which started with website projects

and coding services, now also offers business and

software design, service design and publishing and

maintenance services.

"I come from a family of engineers, and engineers

like to brainstorm and create something new. I was

only a child when I learned coding and I thought it

would be a good idea to start selling my expertise,"

Pohjanmaa explains.

There are various support programmes available

for young entrepreneurs but, at the time,

Pohjanmaa was not aware of them. However, he is

an active participant in young entrepreneur circles

which has helped him find investors to support his

company. A mentor he acquired through the Aalto

Startup Center has also been a big help.

Location matters. After several years of operating

in Otaniemi, last autumn the company found new

premises in Leppävaara. It was self-evident to

Pohjanmaa that the company would remain

in Espoo.

"Espoo is a combination of excellent public

transport connections and parking spaces."

One wish Pohjanmaa wants to communicate

to the city is for it to advocate business

parks more, because they would enable

entrepreneurs to network across Espoo.

"Entrepreneurship is a communal

way of acting in every way. Without a

community, it can become very

difficult and lonely."

my espoo

Espoo is a good

place to grow,

work and run a

business. Business

Espoo supports

entrepreneurs and

promotes the vitality

of businesses.

Text Maarit Krok Photo Timo Porthan

Business Espoo offers free

personal advice and sparring discussions

for compiling a business plan and starting

a business. It provides consulting services

in Finnish, Swedish, English, Russian and

Chinese.

A new entrepreneur who is just

starting a business can receive a start-up

grant offered by the City of Espoo and

the Uusimaa TE Office. Business Espoo's

personal business advise service provides

help both for applying for a start-up grant

and considering other financing options. The

first consultation visit is free of charge.

The Business Espoo network

comprises the City of Espoo, Enter Espoo,

Espoon Yrittäjät, the Helsinki Region

Chamber of Commerce, Omnia (the Joint

Authority of Education in the Espoo Region)

and the Uusimaa TE Office.

A magazine for Espoo residents 31
---
Espoo Day is

coming up!

Find all the ways

of celebrating

Espoo-day

www.espoopaiva.fi