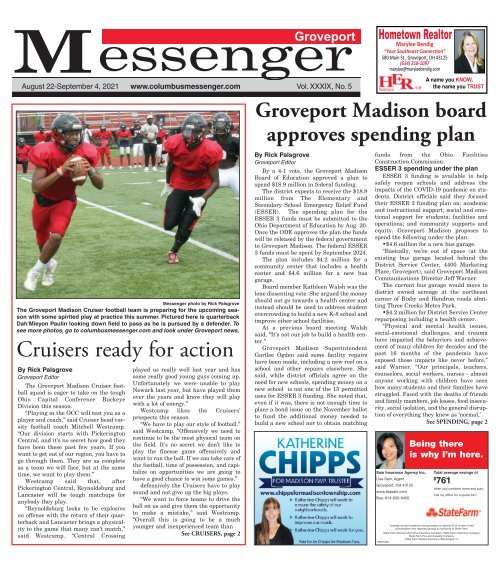 Groveport Messenger - August 22nd, 2021
You also want an ePaper? Increase the reach of your titles
YUMPU automatically turns print PDFs into web optimized ePapers that Google loves.
Messenger

Groveport

August 22-September 4, 2021 www.columbusmessenger.com Vol. XXXIX, No. 5

Messenger photo by Rick Palsgrove

The Groveport Madison Cruiser football team is preparing for the upcoming season

with some spirited play at practice this summer. Pictured here is quarterback

Dah'Mieyon Paulin looking down field to pass as he is pursued by a defender. To

see more photos, go to columbusmessenger.com and look under Groveport news.

Cruisers ready for action

By Rick Palsgrove

Groveport Editor

The Groveport Madison Cruiser football

squad is eager to take on the tough

Ohio Capital Conference Buckeye

Division this season.

"Playing in the OCC will test you as a

player and coach," said Cruiser head varsity

football coach Mitchell Westcamp.

"Our division starts with Pickerington

Central, and it's no secret how good they

have been these past few years. If you

want to get out of our region, you have to

go through them. They are as complete

as a team we will face, but at the same

time, we want to play them."

Westcamp said that, after

Pickerington Central, Reynoldsburg and

Lancaster will be tough matchups for

anybody they play.

"Reynoldsburg looks to be explosive

on offense with the return of their quarterback

and Lancaster brings a physicality

to the game that many can't match,"

said Westcamp. "Central Crossing

played us really well last year and has

some really good young guys coming up.

Unfortunately we were unable to play

Newark last year, but have played them

over the years and know they will play

with a lot of energy."

Westcamp likes the Cruisers'

prospects this season.

"We have to play our style of football."

said Westcamp. "Offensively we need to

continue to be the most physical team on

the field. It's no secret we don't like to

play the finesse game offensively and

want to run the ball. If we can take care of

the football, time of possession, and capitalize

on opportunities we are going to

have a good chance to win some games."

defensively the Cruisers have to play

sound and not give up the big plays.

"We want to force teams to drive the

ball on us and give them the opportunity

to make a mistake," said Westcamp.

"Overall this is going to be a much

younger and inexperienced team than

See CRUISERS, page 2

Hometown Realtor

Marylee Bendig

580 Main St., Groveport, OH 43125

(614) 218-1097

marylee@maryleebendig.com

Sain Insurance Agency Inc.

Lisa Sain, Agent

Groveport, OH 43125

www.lisasain.com

Bus: 614-830-0450

A name you KNOW,

the name you TRUST

Groveport Madison board

approves spending plan

By Rick Palsgrove

Groveport Editor

By a 4-1 vote, the Groveport Madison

Board of Education approved a plan to

spend $18.9 million in federal funding.

The district expects to receive the $18.9

million from The Elementary and

Secondary School Emergency Relief Fund

(ESSER). The spending plan for the

ESSER 3 funds must be submitted to the

Ohio Department of Education by Aug. 20.

Once the ODE approves the plan the funds

will be released by the federal government

to Groveport Madison. The federal ESSER

3 funds must be spent by September 2024.

The plan includes $4.2 million for a

community center that includes a health

center and $4.6 million for a new bus

garage.

Board member Kathleen Walsh was the

lone dissenting vote. She argued the money

should not go towards a health center and

instead should be used to address student

overcrowding to build a new K-8 school and

improve other school facilities.

At a previous board meeting Walsh

said, "It's not our job to build a health center."

Groveport Madison Superintendent

Garilee Ogden said some facility repairs

have been made, including a new roof on a

school and other repairs elsewhere. She

said, while district officials agree on the

need for new schools, spending money on a

new school is not one of the 15 permitted

uses for ESSER 3 funding. She noted that,

even if it was, there is not enough time to

place a bond issue on the November ballot

to fund the additional money needed to

build a new school nor to obtain matching

funds from the Ohio Facilities

Construction Commission.

ESSER 3 spending under the plan

ESSER 3 funding is available to help

safely reopen schools and address the

impacts of the COVID-19 pandemic on students.

District officials said they focused

their ESSER 3 funding plan on: academic

and instructional support; social and emotional

support for students; facilities and

operations; and community supports and

equity. Groveport Madison proposes to

spend the following under the plan:

•$4.6 million for a new bus garage.

"Basically, we're out of space (at the

existing bus garage located behind the

District Service Center, 4400 Marketing

Place, Groveport), said Groveport Madison

Communications Director Jeff Warner.

The current bus garage would move to

district owned acreage at the northeast

corner of Bixby and Hendron roads abutting

Three Creeks Metro Park.

•$4.2 million for District Service Center

repurposing including a health center.

"Physical and mental health issues,

social-emotional challenges, and trauma

have impacted the behaviors and achievement

of many children for decades and the

past 16 months of the pandemic have

exposed those impacts like never before,"

said Warner. "Our principals, teachers,

counselors, social workers, nurses - almost

anyone working with children have seen

how many students and their families have

struggled. Faced with the deaths of friends

and family members, job losses, food insecurity,

social isolation, and the general disruption

of everything they knew as 'normal,'

See SPENDING, page 2

Being there

is why I'm here.

Total average savings of

$

761

when you combine home and auto.

Call my office for a quote 24/7.

*average annual household savings based on national 2015 survey of new

policyholders who reported savings by switching to State Farm.

State Farm Murual Automotive Insurance Company, State Farm Indemnity Company,

State Farm Fire and Casualty Company,

State Farm General Insurance, Bloomington, IL

P097136.1
---
PAGE 2 - GROVEPORT MESSENGER - August 22, 2021

Prepare for unexpected

power outages with a

Generac home standby

generator

REQUEST A FREE QUOTE!

844-334-8353

FREE

7-Year Extended Warranty*

A $695 Value!

Limited Time Offer - Call for Details

Special Financing Available

Subject to Credit Approval

Serving Your Community

Malek &

ATTORNEYS AT LAW Malek

Proudly Announcing

Adding New Attorneys

To Serve You!

WORKERS'

COMPENSATION

PERSONAL INJURY

WRONGFUL DEATH

SLIP & FALL INJURY

DOG BITE INJURY

*To qualify, consumers must request a quote, purchase,

install and activate the generator with a participating dealer.

Call for a full list of terms and conditions.

A FREE ESTIMATE

15 10 5

YOUR ENTIRE

PURCHASE *

% % %

OFF + OFF + OFF

SENIOR & MILITARY

DISCOUNTS

| Promo Number: 285

Since 1972

YEAR-ROUND

CLOG-FREE GUARANTEE

1-855-995-2490

TO THE FIRST

50 CALLERS! **

Douglas, Ed, Jim

and Kip Malek

"Hablamos Español"

FREE Initial Consultation

www.maleklawfirm.com

614-444-7440

1227 S. High St., Columbus, OH 43206

SPENDING

Continued from page 1

we've seen firsthand the impact that COVID has had

on our students and their families."

He said COVID hasn't gone away.

"It's still here and its impact will continue for the

foreseeable future," said Warner. "We think a

Community Health and Wellness Center could be a

tremendous benefit in addressing some of the major

obstacles to student achievement and overall good

health."

The District Service Center repurposing (the

remaining three quarters of the space) would include:

Welcome Center (enrollment); social services; Franklin

County Sheriff's truancy officers; Franklin County Job

and Family Services; food and clothing bank; and community

office/meeting space.

•Other items include: $1.7 million for roofing projects

at three schools.; $1.5 million to secure vestibule

entrances; $724,000 for eight instructional coaches

salaries; $600,000 to increase teacher building sub

pay; $550,000 for Chromebooks; $473,000 to upgrade

and add security cameras at schools; $450,000 for

District of Columbia trip for grades 8, 9, and 10;

$430,000 for interactive displays at elementary

schools; $400,000 for ACES after school transportation;

$345,500 for eight instructional coaches benefits;

$313,500 DISC training for all coaches and mindset

work with K-12 teachers; $303,000 for exterior lighting

at nine schools; $300,000 for paving outdoor learning

spaces; $250,000 for Greater Columbus Helping

Hands, Project Lead the Way, and I Know You Can

programs; $205,000 for interactive displays at the high

CRUISERS

Continued from page 1

our previous two seasons. Our goal is to keep getting

better each week so we peak at the end of the season

rather than early."

Westcamp said some key players on this year's

Be a Part of Our

Local Worship Guide

Our upcoming Worship Guide is geared toward

celebrating faith and helping readers connect with

religious resources in our community. Make sure these

readers know how you can help with a presence in this

very special section distributed to more than 20,000

households in the Groveport area.

The cost is $20 per issue. (must run twice)

Contact us today to secure your spot in Worship Guide.

614.272.5422 • kathy@columbusmessenger.com

www.columbusmessenger.com

school; $125,000 for 120 high school staff laptop computers

and 15 high school staff Chromebooks; $105,000

for stipend for employee pandemic safety training

salaries; $100,000 math intervention materials and

supplies; $100,000 for GoGuardian Filtering software;

$97,500 for Chromebooks at home connection for

learning; $84,000 Americorp tutors and mentors;

$70,000 for EDP start up costs after school care staff

salaries; $55,000 after school tutoring staff salaries;

$50,000 leadership development; $50,000 after school

program instructional supplies; $45,000 interactive

displays at middle schools; $30,000 for TANF scholarships;

$30,000 EDP start up costs after school care

staff benefits; $25,000 EPA required testing of buildings;

$16,200 stipend for employees for pandemic safety

training benefits; $8,300 after school tutoring program

staff benefits; and $5,000 EDP start up costs

after school care supplies.

Survey results

District officials conducted an online survey on how

to spend the ESSER 3 funds from July 26 to Aug. 5 and

758 people responded, of which 48 percent identified

themselves as parents or guardians and 28 percent

identified as staff members.

According to the survey, 69 percent of respondents

supported repurposing the District Service Center and

providing a health and wellness center in partnership

with PrimaryOne. When asked if they would consider

using the health and wellness center to address their

needs, 46 percent responded "no," 42 percent responded

"yes," and 12 percent said it did not apply to them.

Cruiser team include senior free safety Delaney

Wilburn, who was second team all-state in 2020; senior

offensive and defensive lineman Jordan Ramella;

senior defensive end Tahj'wan Moss; senior linebacker

Brayden Gautier; senior wide receiver and

defensive back JaiLon Ricks; junior linebacker

Mike Robinson; junior offensive and

defensive lineman Cameron Spencer; sophomore

fullback Keyon Shaver; and sophomore

defensive back and slotback Jace

Nincehelser.

"We will be running our Wing-T offense,"

said Westcamp. "We believe we have some

athletic quarterbacks coming in this season

so there's a possibility we could run some

gun formations but still with the Wing-T

principles. Defensively we are going to a 4-

2-5. We are extremely deep at the skilled

positions and feel we have a lot of guys that

can rotate in on Friday nights."

Though Groveport Madison is no longer

in the same OCC division as traditional

rival Canal Winchester, the Cruisers will

still play the Indians this year in the season

opener on Aug. 20 in Canal Winchester.

The Cruisers hold a 18-14 lead over the

Indians in the teams' all time series.

Westcamp is glad that Canal Winchester

is still on the schedule.

"One of the many reasons that makes

football great is having rivalries," said

Westcamp. "It's no secret that they don't

like us and we don't like them so we know

it will be a fight week one against them. We

already know we are going to get their best

and they will get ours in return. We are

excited because we know these games are

good for both communities and brings out a

lot of people to watch the game."
---
www.columbusmessenger.com

Police get new contract

By Rick Palsgrove

Groveport Editor

The city of Groveport and the Fraternal

Order of Police reached an agreement on a

new three-year contract for the Groveport

Police Department.

The collective bargaining agreement is

effective July 1, 2021 and pertains to the

patrol officers and detectives in the police

department.

"The officers are very excited," said

Groveport Police Chief Casey Adams.

"We'll be better able to retain and recruit

officers."

According to Groveport City

Administrator B.J. King, the city's police

department currently is in the lower middle

half when it comes to salaries when

compared to other police departments in

Franklin County.

"We're making up ground to be more

competitive," said King.

According to King, the new contract

includes a $2,000 increase in the base rate

to every step of the police department's

wage scale.

King said officers previously were paid

for prep time, but that was eliminated with

the inclusion of a four percent increase

each year for three years in the wage scale

on top of the $2,000 increase foundation.

New police sergeants

The Groveport Police Department

announced three officers were promoted to

sergeant: Josh Guiler, Sam Yockey, and

John Westhoven.

Guiler has been with the department

since 2003.

"Not only has he been on patrol in the

city, but he also served as a school resource

officer for over two years at the Groveport

Madison High School," said Adams. "Sgt.

Guiler is a true ambassador for our agency

when dealing with the public and businesses."

Previously Guiler served as a policeman

with the Ashville Police Department from

1998-2001, the Pickaway County Sheriff's

Department from 2001-02, and as a

Madison Township police officer from

2002-03.

Westhoven joined the department in

December 2019. He was a patrolman with

the Lancaster Police from 2001-19.

"Sgt. Westhoven is highly respected by

his peers and I have personally worked

with him on evening shift. His knowledge

and demeanor make him an excellent

choice to lead the men and women of the

department," said Adams.

Yockey has been a Groveport Police officer

since 2014. He previously worked as an

auxiliary/part-time police officer with the

Valleyview Police from 2011-14.

"Sgt. Yockey is one who believes in

equipping our officers with knowledge

through training experiences," said

Adams. "The training of officers is where

he wants to evaluate and possibly expand

training opportunities for our agency, and

then applying that training out in the field

when patrolling and interacting with the

public."

Warehouse moves ahead

By Rick Palsgrove

Groveport Editor

Another big warehouse is on its way to

becoming a reality in Groveport.

The proposed approximately 641,000

square foot warehouse, to be built by CA

Ventures, will be located on about 48 acres

at the southeast corner of Hayes and

Pontius roads.

On Aug. 9, Groveport City Council

approved: rezoning the property from rural

to planned industrial park; the final plat for

the property; the annexation of the land

into Groveport; and an income tax revenue

sharing agreement with Groveport Madison

Schools regarding the development.

CA Ventures Executive Vice President,

Industrial Jim McGill previously said the

company hopes to begin construction of the

warehouse soon with completion by the

summer of 2022. He said it is "achievable"

that the development could generate at

least 150 jobs.

The project will include widening Hayes

Road along the frontage of the property

and restriping an extended northbound

left turn lane on Pontius Road at the Rohr

Road intersection.

Groveport Economic Development

Director Jeff Green said the community

reinvestment area property tax abatement

would be a 100 percent property tax abatement

for 15 years.

Council's approval of the income tax

revenue sharing agreement with

Groveport Madison Schools means the city

and the school district will share 50 percent

of the income tax revenue generated

by the site.

However, according to Groveport City

Administrator B.J. King, once the warehouse

operation reaches $15 million in payroll,

Groveport will continue receiving its

50 percent share of income tax revenue and

the other 50 percent share must go to the

city of Columbus as part of Groveport's utilities

agreement with Columbus. Groveport

Madison Schools would then receive a

direct payment from the warehouse company

in lieu of taxes to replace the schools'

loss of income tax revenue sharing.

Other news

•Council approved increasing the maximum

limit of the city's rainy day fund from

$2 million to $3 million. The annual

$150,000 allocation to the fund remains in

place. The rainy day fund is money city

officials use in case of a budget shortfall or

emergency. Any spending from the rainy

day fund must be approved by council.

Census population data

According to the 2020 United States

Census, since 2010, the population of the

city of Canal Winchester grew 28 percent

to 9,107; the city of Groveport has grew 12

percent to 6,009; and the village of Obetz

grew 21 percent to 5,489, which means

Obetz has reached city status.

Our Family Caring For Yours

August 22, 2021 - GROVEPORT MESSENGER - PAGE 3

Income tax revenue

for Groveport

The city of Groveport's income tax revenue

year-to-date as of July 31 was $10.5

million, which is 12 percent higher than

the same time in 2020, according to city of

Groveport Finance Director Jason Carr.

Kickoff

celebration

of the historic

canal trail

Groveport Heritage Park

551 Wirt Road

Visit Groveport's many canal sites

Sunday, September 5 12-4 PM

Guided hikes or shuttle rides

Entertainment & Refreshments

Dr. Sacheen Garrison

5055 S. Hamilton Road

Groveport, OH 43125 614-836-0500

www.groveportsmiles.com
---
PAGE 4 - SOUTHEAST MESSENGER - August 22, 2021

Groveport history films

Two documentary films on the history

of Groveport, produced by the Groveport

Heritage Society and Midnet Media, are

now available for viewing online on

YouTube.The films are: "Groveport: A

Town and Its People" and "The Story of

John S. Rarey and Cruiser."

Letters policy

The Groveport Messenger welcomes letters

to the editor. Letters cannot be libelous.

Letters that do not have a signature, address,

and telephone number, or are signed with a

pseudonym, will be rejected. PLEASE BE

BRIEF AND TO THE POINT. The

Messenger reserves the right to edit or

refuse publication of any letter for any reason.

Opinions expressed in the letters are not necessarily

the views of the Messenger. Mail letters

to: Groveport Messenger, 3500 Sullivant

Avenue, Columbus, OH 43204; or by email to

southeast@columbusmessenger.com.

southeast

Messenger

(Distribution: 20,634)

Rick Palsgrove ...................................Groveport Editor

southeast@columbusmessenger.com

Published every other Sunday by

The Columbus Messenger Co.

3500 Sullivant Ave., Columbus, Ohio 43204-1887

(614) 272-5422

The Columbus Messenger Co. reserves the right to edit, reject or cancel

any advertisement or editorial copy at any time. The company is not

responsible for checking accuracy of items submitted for publication.

Errors in advertising copy must be called to the attention of the company

after first insertion and prior to a second insertion of the same advertising

copy.

Keep tabs on the latest news in

Groveport & Madison Township

Look for Groveport Messenger on

Become a fan!

BIRTHDAY • ENGAGEMENT • WEDDING • ANNIVERSARY

• GRADUATION • RETIREMENT

IN MEMORIUM • ARMED FORCES

Say it with an announcement ad in

the Messenger and spread the word.

You can download the appropriate form from

our Web site or stop by our office

Monday-Thursday, 8:30 a.m.-5 p.m.

Friday, 8:30 a.m.-2 p.m.

Columbus Messenger

3500 Sullivant Ave.

614-272-5422

www.columbusmessenger.com

Groveport to celebrate its canal history

By Rick Palsgrove

Groveport Editor

Communities along the length of the old

Ohio and Erie Canal will celebrate their

canal history and the creation of the new

driving trail that highlights that heritage.

The Scenic Scioto Heritage Trail, Inc.,

and its partner communities announced

the development of the new Ohio and Erie

Canal Southern Descent Heritage Trail

from Buckeye Lake to Portsmouth.

Groveport will hold its kickoff event,

"Groveport Canal Day: Celebrating Our

Heritage Along the Southern Descent

Trail," for the trail on Sept. 5 from noon to

4 p.m. in Heritage Park, 551 Wirt Road. It

will include refreshments and possibly

acoustic music entertainment. Heritage

Park is the starting point for people to venture

out to view other canal sites in town

including the Sharp's Landing building

across from the Groveport Cemetery; a

canal mural inside KidSpace, 630 Wirt

Road; the Groveport Heritage Museum in

Town Hall, 648 Main St.; Lock 22 in

Groveport Park; canal channel remnants

in Blacklick Park, and more. Visitors may

walk to the sites or use a shuttle.

The 114 mile driving trail of the The

Our Pictorial Past by Rick Palsgrove

Photo courtesy of John Lovell

More memories of the old ball field

John Lovell of Groveport shared this

photo of the 1979 Ohio Capital

Conference and Central District champion

Groveport Madison Cruiser baseball

team after reading my column,

"Remembering the old ball field," in the

Aug. 8 Groveport Messenger. The column

was about the old Cruiser baseball

field that was home to many successful

Cruiser baseball teams that now sits

abandoned behind the new high school

on South Hamilton Road. All that

remains of the old field is the rusty

backstop. "I spent many afternoons on

that less than ideal baseball field," said

Lovell. "Dirt infield, 2 x 8 wood on posts

Ohio & Erie Canal Southern Descent

Historic District begins at the southern

edge of Buckeye Lake in Fairfield County.

It includes Bibler lock 8 in Baltimore; locks

11, 12, and 13 in Lockville; lock 22 in

Groveport; locks 26, 27, 29, and 30 in and

near Lockbourne; and remnants of the

Columbus Feeder just west of Lockbourne

in Franklin County.

In Pickaway County the trail includes

Canal Park in Circleville. In Scioto County

the trail continues south through

Rushtown at lock 48 and lock 50 in West

Portsmouth and ends at lock 55, west of

downtown Portsmouth at the Ohio River.

All of the canal locks,except lock 55, are

listed in the National Register of Historic

Places. Work to list lock 55 is underway.

The locks' function was to raise and lower

water levels for canal boats to meet the

changing level of terrain.

Residents and visitors can learn the

story of this important transportation

route as they follow the driving trail.

Creation of the trail, which will be

launched this fall, is being funded by the

Canal Society of Ohio and Ohio

Humanities grants.

Visit seeohiofirst.org for information.

for the team benches, mud at your feet

if we got a little rain. Only the bleachers

on the visitor side and, yes, the woods

that ate the foul balls on the third base

side. Here in this photo you can see the

bench and woods behind it." Lovell was

a little disappointed that the 1978 and

1979 Cruiser baseball teams weren't

mentioned in my column. "I believe they

were league OCC champs in 1978 and

league champs and winner of the district

in former Clipper Stadium in 1979

coached by the very successful Dick

Scott. My teammates and I made many

wonderful memories on that field."

Church closing

www.columbusmessenger.com

Comment on water and

sewer rate increase

By Linda Dillman

Staff Writer

Aqua Ohio is asking the Public Utilities

Commission of Ohio to consider a water

and sewer rate increase and Madison

Township wants residents to know they

have opportunities to voice their opinion

regarding the request.

According to Madison Township

Administrator Susan Brobst, the PUCO

collects comments on each case it hears

and will be hearing the Aqua Ohio case

later this year.

"All comments are transcribed and put

into the case record," said Brobst.

Earlier this year, the township received

notice from Aqua Ohio regarding a request to

increase water and sewer rates. If the request

is approved by the PUCO, it could go into

effect as early as the first quarter of 2022.

According to the Ohio Public Utilities

Commission of Ohio, on Feb. 6, 2019, the

PUCO approved a 3.66 percent system

improvement charge for Aqua Ohio following

a 2018 application. The company also

requested a 3.5 percent improvement charge

for households in its servicing area in 2020.

Ohio law allows PUCO-regulated water

and wastewater companies to establish a

system improvement charge based upon

capital improvements and infrastructure

replacements it made since its last

received PUCO authority to increase rates.

Residents can send their thoughts to

the PUCO directly by emailing

ContactThePUCO@puco.ohio.gov and

should always include the case number,

which can be found at

dis.puc.state.oh.us/?fbclid=IwAR20f8rwW

B6skR9m2BZTa_uVURLW68trsUGouRsFav_Q3HlYQoo9tMaUeE.

For help visit puco.ohio.gov/wps/portal/gov/puco/help-center/contact-us.

letter

I read with much sadness the article in

the July 25 Groveport Messenger with

regard to the closing of the Groveport

Presbyterian Church.

Although I was not a member, I was fortunate

enough to have had some wonderful

experiences within this congregation

when I enrolled my son in Mrs.

Millington's preschool class back in the

1970s. This was an outstanding example of

mission work within the community of

Groveport. Mrs. Millington was such a

capable teacher and provided possibly the

best experience for the children and for the

parents who were fortunate enough to participate

in this program. I know there were

many other members of the church who

also worked with Mrs. Millington in making

this preschool such a success.

I am just sad that this congregation had

to close its doors. I will always be so grateful

to these people for the blessings they

gave to all of us.

Linda Estadt

Groveport
---
www.columbusmessenger.com

Toilet trouble

August 22, 2021 - GROVEPORT MESSENGER - PAGE 5

By Rick Palsgrove

Groveport Editor

The feared theft of a truck load of toilets

had its owners flushed with worry and wiping

their brows as they envisioned a

$45,000 loss going down the drain.

But this story has a happy ending as the

Groveport Police's investigation found that

no crime was committed and the wayward

toilets were recovered.

According to Groveport Police Chief

Casey Adams and an accompanying police

report, the story unspooled this way:

Navitas Equity Solutions had 654 toilets

and 284 shower heads in a semi-trailer

that was parked in the Groveport Madison

High School parking lot on July 29. The

toilets and shower heads were destined to

be installed in a nearby apartment complex

that is under construction and were

stored there until it was time to install

them. The company received permission

from the school to store the trailer full of

toilets there. When the company's installation

team went to pick up the trailer at the

school on Aug. 3, it was gone. Security

cameras showed that a truck simply came

and hooked up the trailer and drove it

away on the afternoon of Aug. 2. When the

trailer was discovered missing, Navitas

reported it stolen.

Adams said after 16 to 20 hours of police

investigation it was found that the trailer

and its contents were in Springfield, Ohio,

and no crime had been committed. He said

it turns out the trailer, which belongs to

Mat-Trans, Inc., had been missing and

when the original owners located it they

came and picked it up.

"They just thought the trailer was full of

pallets until they opened it up," said

Adams. "The toilets were returned to the

owner, the trailer is back in the company's

possession, and there was really no crime

that took place in the city of Groveport."

Adams said the shuffling around of

semi-trailers in the shipping industry can

be chaotic and companies sometimes lose

track of their trailers.

"We (the Groveport Police) take several

stolen semi-trailer reports from area warehouses

each year," said Adams. "It's usually

cases of people loading up the wrong

trailers."

Groveport Police statistics

July crime statistics, according to the

Groveport Police: 6 arrests, 12 accidents, 0

assaults, 0 burglary, 7 domestic disputes, 4

domestic violence, 2 OVI and alcohol, 11

thefts/robberies, 1 stolen/unauthorized

use, 0 missing persons, 0 weapon related

call, 1 narcotic related offense, 0 school

related incidents, 3 parking, 2 threats, 2

vandalism, 1 juvenile complaint, 23 traffic

citations, 0 sex related crime, 0 suicide

attempt/DOA.
---
PAGE 6 - SOUTHEAST MESSENGER - August 22, 2021

www.columbusmessenger.com

Cruiser Athletic Hall of Fame names new inductees

By Rick Palsgrove

Groveport Editor

The Groveport Madison Cruisers

Athletic Hall of Fame welcomes five new

inductees this year.

"As always, we are so excited to welcome

this year's class," said Groveport Madison

Athletic Director Steve Petros. "The basketball

influence is heavy. We have a central

Ohio basketball legend, Bill Alspach,

three former players (among their other

sports) and a long time cheer coach.

Clarence Royal and Brandon Johnson won

titles while here at Groveport. Chris

Downing is getting inducted as a package

of player, coach and community member.

Linda Smittle coached for 20 plus years for

both fall, winter and competed with her

teams. It should be a great night as we

open the football season vs. Gahanna on

Aug. 27."

The Cruiser Hall of Fame ceremony will

be on Aug. 27 at Groveport Madison High

School, 4475 S. Hamilton Road. The induction

ceremony begins at 5:30 p.m. The

inductees will also be introduced to the

crowd at 6:30 p.m. in Cruiser Stadium

prior to the varsity football game vs.

Gahanna.

The inductees:

•William "Bill" Alspach: 1943 Canal

Winchester graduate and the 1943 state

champion in 880 yard run. He came to

Groveport in 1954 and was an assistant

football, head basketball, and track coach

through 1959. He became the athletic

director in the early 1970s and worked for

the OHSAA starting in 1980. He is a member

of the OCC Hall of Fame, Canal

Winchester Hall of Fame, District 10

Basketball Hall of Fame, Ohio Athletic

Directors Hall of Fame, Central District

Hall of Fame, OHSAA Hall of Fame, and

the The Naismith Memorial Basketball

Hall of Fame.

•Chris Downing: A 1984 graduate of

Groveport Madison and a talented football

quarterback, he earned All-American

Honorable Mention, first team All-State,

All-Metro, All-OCC, and All-Central

District honors. He is a 35 year of coach of

football, basketball, baseball, softball and

the three time OCC Coach of the Year in

softball.

•Clarence A. Royal, Jr.: He was two

time OCC Player of the Year in basketball,

back to back OCC titles in basketball; second

team All-District, and MVP of District

All Star game. He earned multiple letters

in football, baseball, and basketball. He

was a member of Ohio State football team

1993-95. He graduated as the Cruisers'

career leading scorer in basketball.

•Linda Smittle: A teacher at Groveport

Madison for 35 years from 1979-2008

where she was cheerleading coach for 20

years. Her cheer squads were district

champions in 1999-2000 and 2004-05,

fourth place in the 2001 Nationals, and

State Champions in 1999-2000.

•Brandon Johnson: A four year letter

winner in basketball, Johnson was twice

named first team OCC, was the 2005 OCC

Player of the Year and on the 2005 OCC

champion team. He is a 1,000 point scorer.

At the College of Wooster, he was the 2006

NCAC Newcomer of the Year, four years

All-NCAC, won four league titles, made

four NCAA appearances, and was on the

2007 Final Four team. He is third all-time

at Wooster for assists and steals.

AUTO HOME

Beplerinsurance.com

614.837.4379

staff@beplerinsurance.com

3246 Noe Bixby Rd., Columbus, Ohio 43232

Township Police statistics

July crime statistics from the Madison

Township Police: 9 accidents with injuries,

4 assaults, 1 burglary, 4 burglaries in

progress, 30 domestic complaints, 1 drunk,

1 fight, 9 fireworks complaints, 8 hit skip

accidents, 9 juvenile complaints, 13 larceny/theft,

2 missing persons, 37 parking violations,

2 person with gun, 17 property

8107 Richardson Road Groveport, OH 43125

PRICE: $359,900

Immaculate, 4 bedroom, 2 full bath, one owner, custom

built split level home on 7.5 acres!

MARYLEE BENDIG

"Your Southeast Connection"

580 Main St., Groveport

(614) 218-1097

marylee@maryleebendig.com

A name you KNOW,

the name you TRUST

damage accidents, 6 shots fired in area, 2

stabbing/cutting, 3 stolen vehicles, 7 suspicious

cars, 37 suspicious persons, 19 suspicious

persons/vehicles, 1 theft in progress,

7 threats or harassment, 76 traffic stops,

and 4 vandalism.

Follow the Cruisers on the

Groveport Sports Network

The Groveport Sports Network and Rick

Cooper will provide live play-by-play coverage

of 20 Groveport Madison High School

athletic contests in football, boys basketball,

girls basketball, baseball, and softball

in 2021-22. The broadcast includes high

definition video as well as live audio. Each

broadcast begins 25 minutes prior to the

scheduled start time with the pre-game

show. Tune in after the game for interviews

with players and the head coach,

along with a look at the final stats during

the post-game show. The broadcasts can be

accessed free of charge by anyone around

the world on their computer or handheld

device. All 20 broadcasts will also be available

to view on demand free of charge.

To watch go to

www.facebook.com/groveportsportsnetwork.

The schedule - football (7 p.m.): Aug.

20 at Canal Winchester; Sept. 3 at

Worthington Kilbourne; and Oct. 1 vs.

Lancaster; boys basketball (7:30 p.m.): Dec.

3 at Reynoldsburg; Dec. 14 at Canal

Winchester; Dec. 17 at Pickerington

Central; Dec. 22 vs. Gahanna; Dec. 30 vs.

Teays Valley; Jan. 21 vs. Reynoldsburg;

Feb. 1 at Hilliard Bradley; Feb. 4 vs.

Pickerington Central; Feb. 11 at Newark;

girls basketball (3:30 p.m.): Dec. 4 vs.

Hilliard Darby; softball: March 26 at 11

a.m. vs. Westerville North; April 9 at 11

a.m. vs. Gahanna; April 11 at 5:15 p.m. vs.

Lancaster; April 15 at 5:15 p.m. vs.

Newark; April 30 at 10 a.m. vs. Canal

Winchester; May 2 at 5:15 p.m. vs.

Pickerington Central; May 4 at 5:15 p.m. at

Newark; baseball: to be determined.

Eastland-Fairfield

engineering tech center

Eastland-Fairfield Career & Technical

Schools opened its newest building, the

Engineering Technologies Center, on the

Eastland Career Center campus in

Groveport,

4465 S. Hamilton Road, on

Aug. 18.

According to Ryan Gasser, Eastland-

Fairfield coordinator of communications

and marketing, "Eastland-Fairfield is continuing

its commitment to providing students

with opportunities and resources to

prepare for their futures. This building

represents the latest commitment from

EFCTS to provide those resources to students

in the pre-engineering, welding and

aviation programs. This building also will

serve as the future home of Eastland-

Fairfield's Mechatronics program, a multidisciplinary

field of engineering that

includes a combination of mechanical engineering,

electric/electronic engineering,

control engineering, and computer engineering."

National Clean Up Day

The city of Groveport is seeking 50 volunteers

to participate in National Clean

Up Day 2021 on Sept. 18 from 9 a.m. to

noon.

Volunteers will meet at the Groveport

Recreation Center, 7370 Groveport Road,

and be shuttled by city staff to different

locations within Groveport to collect litter.

Volunteers will receive: official National

Clean Up Day Shirt; kickoff breakfast; and

appreciation lunch. Volunteers will be provided

with safety vests, gloves, trash bags,

and easy reach tools.

To volunteer, email

jreeves@groveport.org, call 614-836-5301,

or stop by the Municipal Building, 655

Blacklick St., and provide your name and

address to receive a waiver form. Forms

must be completed and returned before

Sept. 1.
---
www.columbusmessenger.com

August 22, 2021 - GROVEPORT MESSENGER - PAGE 7

LARGEST FISH MARKET IN COLUMBUS!

NOW OPEN!

Frank's Fish Market 2, 2410 Hilliard-Rome Road, has the best selection of tasty seafood in town.

"I put my heart and soul in this new location," said owner Frank Gonzalez. "Everything from the

cutting table to the cooler is brand new."

Frank's Fish Market 2 also has fresh produce, an exquisite wine collection, and seafood choices

like no other.

"Whatever you're looking for in seafood, it's here," said Gonzalez.

Frank's Fish Market 2 will not be a restaurant. It will be strictly a retail store.

Frank Gonzalez has been a wholesale seafood distributor for 43 years, serving stores and restaurants

in Columbus, Dayton, Cincinnati, and locations in Kentucky.

When it comes to Frank's Fish Market:

"If it swims, he sells it!" (in season)

•Oysters Chesapeake Bay

•Assorted Beef Steaks

•Frozen Lobster Tails

•King Crab Legs

•Faroe Island Salmon

•Sea Scallops

SUPPORT YOUR LOCAL

SMALL BUSINESSES

FRESH PRODUCE - LARGE WINE SELECTION

•Chilean Seabass Fillets

•Halibut Fillets

•Snow Crab Clusters

•Orange Roughy

•Smoked Salmon

•Live Lobsters via Special Order Only!

2

WE ACCEPT

All Major Credit Cards,

EBT Cards (SNAP)
---
PAGE 8 - SOUTHEAST MESSENGER - August 22, 2021

Local candidates certified for election

The Franklin County Board of Elections certified the following

candidates to be placed on the Nov. 2 election ballot:

Groveport city council (vote for four): Edward G. Dildine, Becky

Hutson, Cheryl Irving, Scott Lockett, Jack Rupp Jr., Wayne

White.

Groveport Madison board of education (vote for three): Seth

Bower, Wayne Bryan, LaToya Dowdell-Burger, Libby Gray, Polly

Pierce, Betty Simcox.

Madison Township trustee (vote for two): Katherine Chipps, John

Kershner, Debbie Miller, John Pritchard.

Profiles of the candidates will be published in future editions of

the Groveport Messenger.

Robinson receives Girl Scout Gold Award

Girl Scouts of Ohio's Heartland awarded Groveport resident

Amanda Robinson the Girl Scout Gold Award – the highest

award a Girl Scout can earn. Her project focused on protecting the

environment by safeguarding an important pollinator: bats.

The Girl Scout Gold Award is the highest achievement in Girl

Scouting. It recognizes girls in grades 9-12 who demonstrate

extraordinary leadership through sustainable and measurable

Take Action projects.

Robinson's project is entitled Homes for Bats. Because of her

love for the environment, the project focused on saving the local

bat population from white-nose syndrome, which has killed millions

of bats in North America. She worked with a younger Girl

Scout troop to build safe bat boxes and place them near a food

source in her community, and encouraged the girls to build more

bat boxes in the future. She partnered with the city of Groveport,

which put up two boxes Robinson helped troops create and another

two she built herself. As a result of her efforts, the healthy bats

will continue to play a vital role in our ecosystem.

Robinson is a recent graduate of Groveport Madison High

School and has been a Girl Scout for 12 years as a member of

Troop 1234. She will attend Wright State University where she is

studying nursing and hopes to become a nurse practitioner.

9/11 Remembrance

A remembrance of the 9/11 terrorist attacks on the United

States will be observed on the 20th anniversary of the attacks on

Sept. 11 at Motts Military Museum, 5075 S. Hamilton Road,

Groveport, at 8:45 a.m.

ird ursday

The city of Groveport will host Third Thursday, a summer festival

series featuring music, food trucks, vendors, and more. The

last Third Thursday will take place on Sept. 16 with the "Fall

Kickoff!" with hay rides, photo backdrop, and free mini-pumpkins.

Third Thursday hours are 5-7:30 p.m. at Cruiser Park, 4677 Bixby

Road. For information contact jreeves@groveport.org.

Alumni Banquet

The Groveport Madison Alumni Association announced it will

be resuming its Alumni Banquet. The next Alumni Banquet will

be held Sept. 18 and will honor the classes of 1970 and 1971, who

graduated 50 years ago. The following Alumni Banquet will be

May 21, 2022 and will honor the class of 1972 on the 50th anniversary

of their graduation. The banquets will be held at Groveport

Madison High School, 4475 S. Hamilton Road, Groveport. The

May 21, 2022 date will resume the normal cycle (third Saturday

in May) for the banquet moving forward.

GriefShare group

Groveport United Methodist Church, 512 Main St., will sponsor

a GriefShare group starting Sept. 2 at 7 p.m. Register online

at https://www.griefshare.org/leaderzone/my/groups/136866. For

information contact groveportgriefsharegroup@gmail.com or call

614-836-5968.

www.columbusmessenger.com

CLASSIFIED ADS

Deadlines: Groveport and West editions, Wednesdays at 5 p.m., • South/Canal Winchester, Grove City, Madison editions, Tuesdays at 5 p.m.

All editions by phone, Tuesdays at 5 p.m. • Service Directory, Tuesdays at 5 p.m.

xEmployment

Canal Winchester Local Schools is

looking for substitutes in the following

areas:

Teachers, Nurses, Secretaries,

Custodians, Classroom Aides,

Bus Drivers, and Bus Aides.

For more information, please contact

Pam Sayre at psayre@cwls.us or

614-832-0484

HOME HEALTH AIDES

$13.00-$20.00 per hour

Choose your Schedule and Clients,

Benefits Available: Pay Advances,

Quarterly Bonuses, Paid Vacation,

401K w/matching, Medical/Dental/Legal

One year experience working for an employer

in caregiver role is preferred.

To apply, please visit v-angels.com

or text/call "career" to

614-80-ANGEL (802-6435)

ASSOCIATION ADS

HOME BREAK-INS take

less than 60 SECONDS.

Don't wait! Protect your

family, your home, your

assets NOW for as little as

70¢ a day! Call 866-409-

0308

Update your home with

beautiful new blinds &

shades. Free in-home

estimates make it

convenient to shop from

home. Professional

installation. Top quality -

Made in the USA. Free

consultation: 877-212-

7578. Ask about our

specials!

Wesley Financial Group,

LLC Timeshare Cancellation

Experts Over

$50,000,000 in timeshare

debt & fees cancelled in

2019. Get free info

package & learn how to

get rid of your timeshare!

Free consultations. Over

450 positive reviews. Call

844-909-3339

ASSOCIATION ADS

Wants to purchase minerals

and other oil and gas

interests. Send details to

P.O. Box 13557, Denver,

CO. 80201

Attention Active Duty &

Military Veterans! Begin a

new career & earn a

Degree at CTI! Online

Computer & Medical

training available for

Veterans & Families! To

learn more, cal 888-449-

1713.

ATTENTION DIABETICS!

Save money on diabetic

supplies! Convenient

home shipping for

monitors, test strips,

insulin pumps, catheters &

more! To learn more, call

now! 877-810-0063

Donate your car to kids.

Your donation helps fund

the search for missing

children. Accepting trucks,

motorcycles & RV's too!

Fast free pickup - running

or not - 24 hr response -

maximum tax donation -

Call 888-515-3813

ASSOCIATION ADS

READER

ADVISORY

The National Trade Association

we belong to has

purchased the following

classifieds. Determining

the value of their service

or product is advised by

this publication. In order

to avoid misunderstandings,

some advertisers do

not offer "employment"

but rather supply the

readers with manuals, directories

and other materials

designed to help

their clients establish mail

order selling and other

businesses at home. Under

NO circumstance

should you send any

money in advance or give

the client your checking,

license ID or credit card

numbers. Also beware of

ads that claim to guarantee

loans regardless of

credit and note that if a

credit repair company

does business only over

the phone it's illegal to request

any money before

delivering its service. All

funds are based in US

dollars. Toll Free numbers

may or may not

reach Canada. Please

check with the Better

Business Bureau 614-

486-6336 or the Ohio Attorney

General's Consumer

Protection Section

614-466-4986 for more

information on the company

you are seeking to

do business with.

Employment

FREE

TRAINING

+

$1000 SIGN-ON BONUS

Kroger Pharmacy Warehouse

2nd and 3rd Shift

Positions Available

Scan for more details and

link to apply:

ASSOCIATION ADS

Replace your roof with the

best lookng and longest

lasting material! Steel

from Erie Metal Roofs!

Three styles and multiple

colors available.

Guaranteed to last a

lifetime! Limited Time

Offer - $500 Discount +

Additional 10% off install

(for military, health

workers & 1st responders)

Call Erie Metal Roofs: 1-

855-338-4807

ASSOCIATION ADS

ATTENTION SENIORS:

The average funeral cost

is $9000+ Don't leave

your family to pay your

debts. State Approved,

Final Expense Life

Insurance Plans are now

avaiilable as low as $25 a

month. Hurry and call

before enrollment ends. 1-

877-761-1796. M-F 9am-

6pm EST
---
www.columbusmessenger.com

August 22, 2021 - GROVEPORT MESSENGER - PAGE 9

CLASSIFIED ADS

Deadlines: Groveport and West editions, Wednesdays at 5 p.m., • South/Canal Winchester, Grove City, Madison editions, Tuesdays at 5 p.m.

All editions by phone, Tuesdays at 5 p.m. • Service Directory, Tuesdays at 5 p.m.

xEmployment

WANTED

SCHOOL BUS DRIVERS

The South-Western City School

District is currently hiring drivers

for the 2021-2022 school year

WE WILL TRAIN

Positions are available for substitute

school bus drivers that can develop into

regular positions with benefits. Interested

individuals should submit an application

at www.swcsd.us and follow the employment

link. Applicants should have an

excellent driving record and must submit

to a drug, alcohol, and background

screening. A high school diploma or

equivalent is required.

EOE

DO YOU NEED

SEASONAL EMPLOYEES?

Call KATHY to ADVERTISE

and reach over 35,000 homes in the

South/Canal Winchester & Groveport Messengers

614-272-5422

kathy@columbusmessenger.com

BETTY'S

Elderly Care

Has Openings for

Part-Time Caregiver

Working With the Elderly

Transportation, Experience

& References Required. Drug Test.

Good Wages.

Call: 614-777-5850

ASSOCIATION ADS

HughesNet - Finally, superfast

internet no matter

where you live. 25 Mbps

just $59.99/mo! Unlimited

Data is Here. Stream

Video. Bundle TV &

Internet. Free Installation.

Call 866-499-0141

VIAGRA and CIALIS

USERS! 50 Generic pills

SPECIAL $99.00 FREE

Shipping! 100% guaranteed.

24/7 CALL NOW!

888-445-5928 Hablamos

Espanol

!!OLD GUITARS WANT-

ED!! GIBSON, FENDER,

MARTIN, Etc. 1930's to

1980's. TOP DOLLAR

PAID. CALL TOLL FREE

1-866-433-8277

ASSOCIATION ADS

Never pay for covered

home repairs again!

Complete Care Home

Warranty covers all major

systems & appliances. 30-

day risk free. $200.00 off

+ 2 free months! 1-866-

395-2490

Looking for auto insurance?

Find great deals

on the right auto insurance

to suit your needs.

Call today for a free

quote! 866-924-2397

HughesNet Satellite Internet

- Finally, no hard

data limits! Call today for

speeds up to 25mbps as

low as $59.99/mo! $75

gift card, terms apply. 1-

844-863-4478

ASSOCIATION ADS

Eliminate gutter cleaning

forever! LeafFilter, the

most advanced debrisblocking

gutter protection.

Schedule a FREE LeafFilter

estimate today. 15% off

Entire Purchase. 10% Senior

& Military Discounts.

Call 1-855-791-1626

Don't let the stairs limit

your mobility! Discover

the ideal solution for

anyone who struggles on

the stairs, is concerned

about a fall or wants to

regain access to their

entire home. Call

AmeriGlide today! 1-844-

317-5246

Internet &WIFI Starts at

$40 Call us Today to Get

Started. Find High-Speed

Internet with Fiber Optic

Technology No Credit

Check, No SSN Required.

Call us Today 866-396-

0515

Long Distance moving.

Call for a free quote from

America's Most Trusted

Interstate Movers. Let us

take the stress out of

moving! Speak to a

relocation specialist! Call:

888-721-2194

Employment

ASSOCIATION ADS

The bathroom of your

dreams for as little as

$149/month! BCI Bath &

Shower. Many options

available. Quality

materials & professional

installation. Senior &

Military Diiscounts

Available. Limited Time

Offer - FREE virtual inhome

consultation now

and SAVE 15%! Call

Today! 1-877-540-2780

Stroke & Cardiovascular

disease are leading

causes of death according

the AHA. Screenings can

provide peace of mind or

early detection! Call Life

Line Screening to

schedule a screening.

Special offer 5 screenings

for $149.. 1-833-549-4540

AMERICAN & FOREIGN

CLASSIC CARS AND

MOTORCYCLES

WANTED. $$PAYING

CA$H$$ Corvettes,

Mustangs, Jaguars, Austin

Healeys, Broncos,

Blazers, Ram Chargers,

AMX, and Triumphs

KRMiller1965@yahoo.com

717-577-8206

EARN EXTRA

$$$ $$$

MONEY

The Advertising Department at the

Columbus Messenger Newspapers

is seeking a Salesperson.

No Experience Necessary.

Base salary plus commissions, auto allowance.

Seniors welcome to apply.

Please send your resume or call:

Doug Henry, Advertising Manager

Columbus Messenger Newspapers

3500 Sullivant Ave.

Columbus, Ohio 43204

614-272-5422

or

e-mail to doughenry@columbusmessenger.com
---
PAGE 10 - GROVEPORT MESSENGER - August 22, 2021

xInstrtuction

INFORMATION

www.columbusmessenger.com

xPublic Notices

614.574.4100 Grades K-4 614.574.0037 Grades 5-8

4485 S. Hamilton Rd., Groveport, Ohio 43125

Groveport Community School

Now Enrolling K-8

Check out our Facebook Page or our website

www.imaginegroveport.com

to see what we are all about.

Developing Character

and Enriching Minds

xAdult Care

Windsong is committed to providing

high quality, loving care, and affordable

home care services to our clients. With our

assistance, clients can lead

dignified and independent lives in the

comfort of their own home.

Individual needs are carefully assessed,

understood, and met through the selective

assignment of quality, trustworthy and

compassionate service-oriented personnel.

Give us a call today for a free in-home

assessment or visit our website at

www.windsongseniorcare.com

614-820-5000

Adult Care

ASSOCIATION ADS

Donate Your Car To

Veterans Today! Help and

Support our Veterans.

Fast - FREE pick up.

100% tax deductible. Call

1-800-245-0398

• All Day Kindergarten

• Free Breakfast and Lunch

• Free Tuition

• Individualized and small group instruction with rigorous curriculum

• Dress Code

• 1:1 Technology will be offered for all students

Instruction

ASSOCIATION ADS

Wesley Financial Group,

LLC Timeshare Cancellation

Experts Over

$50,000,000 in timeshare

debt & fees cancelled in

2019. Get free

informational package &

learn how to get rid of

your timeshare! Free

consultations. Over 450

positive reviews. 888-965-

0363

xInformation

Marriages break down

because of incompatible

personalities.

If you and your marital partner are

having trouble, come in and get your

Personality and IQ checked as this

may be the reason for your disputes.

The Church of Scientology of Central Ohio

1266 Dublin Road

Columbus, OH 43215

Information

ASSOCIATION ADS

SELL YOUR ANTIQUE

OR CLASSIC CAR.

Advertise with us. You

choose where you want

to advertise. 800-450-

6631 visit macnetonline.

com for details.

DISH TV $64.99 FOR 190

Channels + $14.95 High

Speed Internet. Free Installation,

Smart HD DVR

Included, Free Voice Remote.

Some restrictions

apply. Promo expires

7/21/21. 1-855-270-5098

Elminate gutter cleaning

forever! LeafFilter, the most

advanced debris-blocking

protection. Schedule

Free LeafFilter Estimate

today. 15% off Entire

Purchase. 10% Senior &

Military Discounts. Call 1-

855-995-2490

ASSOCIATION ADS

DENTAL INSURANCE

from Physicians Mutual

Insurance Company.

Coverage for 350 plus

procedures. Real dental

insurance - NOT just a

discount plan. Do not wait!

Call now! Get your FREE

Dental Information Kit with

all the details! 1-877-553-

1891

www.dental50plus.com/

macnet#6258

The Generac PWRcell

solar plus battery storage

system. Save money,

reduce reliance on

grid, prepare for outages

& power your home. Full

installation services. $0

down financing option.

Request free no obligation

quote. Call 1-855-

270-3785

See...

You Looked!

Newspaper

Ads Catch

The Eye!

Call

272-5422

For Info. &

Pricing

ASSOCIATION ADS

The Generac PWRcell, a

solar plus battery storage

system. SAVE money,

reduce your reliance on

the grid, prepare for power

outages and power

your home. Full installation

services available. $0

Down Financing Option.

Request a FREE, no obligation,

quote today. Call

1-855-900-2894

Life Alert. One press of a

button sends help fast

24/7! At home and on

the go. Mobile Pendant

with GPS. Free first aid

kit (with subscription).

877-537-8817 Free brochure

Want Faster & Affordable

Internet? Get internet

service today with

Earthlink. Best internet &

WiFi Plans. Call us Today

to Get Started. Ask

about our specials! 866-

396-0515

IMPORTANT

NOTICE

The following states: CA,

CT, FL, IA, IL, IN, KY,

LA, MD, ME, MI, MN,

NE, NC, NH, OH, OK,

SC, SD, TX, VT and WA

requires seller of certain

business opportunities to

register with each state

before selling. Call to

verify lawful registration

before you buy.

READY TO BUY, SELL

OR RENT YOUR

VACATION HOME OR

HUNTING CAMP?

Advertise it here and in

neighboring publications.

We can help you. Contact

MACnet MEDIA @

800-450-6631 or visit our

site at MACnetOnline.

com

GENERAC Standby Generators

provide backup

power during utility power

outages, so your home

and family stay safe and

comfortable. Prepare

now. Free 7-year extended

warranty ($695 value!).

Request a free

quote today! Call for additional

terms and conditions.

1-855-465-7624

PUBLIC NOTICE

SURPLUS AUCTION

By Resolution, Madison Township, Franklin County, Ohio will list

surplus items via online auctions through Govdeals.com.

During the online auctions, the following will be offered from 8:00

pm. September 5, 2021, through 8:00 p.m. September 19, 2021:

1997 Leeboy 1000 Asphalt Paver Serial #2092B

2004 Eager Beaver Model 10HDB-PT Tandem Axle Trailer GVWR 25900

Complete auction details can be accessed on the Govdeals

website at Govdeals.com

All inquiries and questions must go through Govdeals.com

For a complete description and step-by-step instructions on how

to find these items on the auction site please visit:

www.madisontownship.org, click on

Administration, and then Auctions

ATTENTION

Townships,

Villages,

Cities, Etc.

ADVERTISE

Your Public

or Legal

Notices with

us and reach

a lot more

citizens!

For Display Rates

Call

The

COLUMBUS

MESSENGER

614-272-5422

ASSOCIATION ADS

Attention: If you or aloved

one worked around the

pesticide Roundup

(glyphosate) for at least 2

years and has been diagnosed

with non-Hodgkin's

lymphoma, you may be

entitled to compensation.

855-341-5793

BATH & SHOWER UP-

DATES in as little as

ONE DAY! Affordable

prices - No payments for

18 months! Lifetime warranty

& professional installs.

Senior & Military

Discounts available. Call

855-761-1725

AT&T Internet. Starting

at $40/month w/12-mo

agmt. 1 TB of data/mo.

Ask how to bundle &

SAVE! Geo & svc restrictions

apply. 1-888-796-

8850

DENTAL INSURANCE-

Physicians Mutual Insurance

Company. Covers

350 procedures. Real

insurance - not a discount

plan. Get your free

dental Info kit! 1-888-

623-3036 . www.dental50plus.com/58

#6258

PLANNING AND

ZONING COMMISSION

***NOTICE OF MEETING***

TUESDAY, SEPTEMBER 7, 2021 6:00 P.M.

GROVEPORT MUNICIPAL BUILDING

COUNCIL CHAMBERS—2ND FLOOR

#2021-05 A request by Bobby Sykes for a Final

Development Plan at 0 Hamilton Road, Parcel

#185-001164.

#2021-06 A request by Fed One Dublin, LLC for

a Final Plat at 5740 Green Pointe Drive N, Parcel

#185-002202.

The public is invited to attend and participate.

Public Notices

ASSOCIATION ADS

NEED IRS RELIEF

$10K-$125K+ Get Fresh

Start or Forgiveness.

Call 1-844-431-4716

Monday through Friday

7am-5pm PST

New authors wanted!

Page Publishing will help

self-publish your book.

Free author submission

kit! Limited offer! 866-

951-7214

DISH TV $64.99 190

Channels + $14.95 high

speed internet. FREE installation,

Smart HD DVR

included. Free Voice Remote.

Some Restrictions

apply. Promo Expires

1/21/22. 1-833-872-2545

Train online to do medical

billing! Become a

Medical Office Professional

at CTI! Get trained

and certified to work in

months! 888-572-6790.

(M-F 8-6 ET)

Directv Now. No Satellite.

$40/mo 65 Channels.

Stream news, live

events, sports & on demand

titles. No contract/

commitment. 1-866-825-

6523

ASSOCIATION ADS

Become a Published

Author. We want to Read

Your Book! Dorrance

Publishing Trusted by

Authors Since 1920 Book

manuscript submissions

currently being reviewed.

Comprehensive Services:

Consultation, Production,

Promotion and Distribution.

Call for Your Free Author's

Guide 1-866-482-1576 or

visit http://dorranceinfo.

com/macnet

Attention oxygen therapy

users! Inogen One G4 is

capable of full 24/7 oxygen

delivery. Only 2.8

pounds. Free info kit.

Call 877-929-9587

Protect your home w/home

security monitored by

ADT. Starting at $27.99/

mo. Get free equipment

bundle including keypad,

motion sensor, wireless

door & windows sensors.

833-719-1073

Pest Control

Find Pest Control Experts

Near You! Don't let

pests overtake your

home. Protect your loved

ones! Call to find great

deals on Pest Control

Services - 833-872-0012
---
www.columbusmessenger.com

xCome & Get It!

COME AND GET IT

Deadlines are Tuesdays by 5 pm.

Call For Publication Schedule 614-272-5422

Need to Get Rid of Something Fast - Advertise It Here For FREE!

FREE Garden Straw for gardens or bedding. Call for appointment for pickup.

Circle S Farms, 9015 London-Groveport Road, Grove City, 43123

Grove City - 614-878-7980

. Come and Get It! is a bi-weekly column that offers readers an opportunity to pass

along surplus building materials, furniture, electronic equipment, crafts, supplies,

appliances, plants or household goods to anybody who will come and get them - as

long as they're FREE. NO PETS! Just send us a brief note describing what you want to

get rid of, along with your name, address and phone number. Nonprofit organizations

are welcome to submit requests for donations of items.

Send information to The Columbus Messenger, Attention: Come and Get It, 3500

Sullivant Ave., Columbus, OH43204. Deadline is Tuesdays by 5 pm for following

Mondays publication. Messenger Newspapers is not responsible for any

complications that may occur. Please contact us when items are gone. 272-5422

Come & Get It!

xInformation

ARE YOU LIMITED

BY YOUR PAST

EXPERIENCE?

Find out BUY AND READ

Dianetics The Modern

Science of Mental Health

by L. Ron Hubbard - $25

Call (614)221-5024 Or come to

1266 Dublin Road, Columbus,Ohio

Information

ASSOCIATION ADS

VIAGRA & CIALIS! 60

pills for $99. 100 pills for

$150 FREE shipping.

Money back guaranteed!

1-844-596-4376

Donate your car to kids!

Fast free pickup running

or not - 24 hour response.

Maximum tax

donation. Help find missing

kids! 877-831-1448

GENERAC Standby

Generators provide

backup power during

power outages, so your

home & family stay safe &

comfortable. Prepare now.

FREE 7-yr extended

warranty $695 value!

Request a free quote

today. Call for terms &

conditions. 1-844-334-

8353

ASSOCIATION ADS

Thinking about installing

a new shower? American

Standard makes it

easy. FREE design consulation.

Enjoy your

shower again! Call 1-

833-769-0995 today to

see how you can save

$1,000 on installation, or

visit www.newshowerdeal.com/mac

CHILD CARE

OFFERED

Will babysit before and

after school. Will transport

to school in Groveport

area. 937-830-2014

MOTORCYCLE

HONDA 2002 VT 600 M/C

$2,000. 614-406-3021

PETS

HOMING PIGEONS

$5.00 ea. 614-662-8655

HELP WANTED

OFFICE needs an organized

fulltime person who can

multitask in our shop office.

Assist customers, phone,

purchasing, billing, etc.

QuickBooks exp. a plus.

Send resume with pay history

to: cewa@att.net or fax to

614-294-3731 or mail to:

Columbus Electrical Works

1854 S. High St.,

Columbus, OH 43207

614-294-4651

Lincensed Barber Needed

Full or part time. located in

Great Southern Shopping

Center. Call Cindy for

more info 614-239-1976

WANT TO BUY

BUYING VINYL RECORDS.

LPs and 45s - 1950-80s

Rock, Pop, Jazz, Soul.

614-831-0383

We Buy Cars & Trucks

$300-$3000.614-308-2626

WE BUY JUNK CARS

Call anytime 614-774-6797

WANTS TO Purchase

minerals and other oil &

gas interests. Send details

to: P.O. Box 13557,

Denver, CO 80201

We Buy Junk Cars &

Trucks. Highest Prices

Paid. 614-395-8775

ANTIQUES

WANTED

Victrolas, Watches,

Clocks, Bookcases

Antiques, Furn.

Jeff 614-262-0676

or 614-783-2629

VACATION RENTALS

Englewood, Florida

Palm Manor Resort

Within minutes of white

sand Gulf beaches,

world famous Tarpon

fishing, golf courses, restaurants/shopping,

Bush

Gardens. 2 BR 2 BA

condos with all ammenities,

weekly/monthly, visit

www.palmmanor.com

or call 1-800-848-8141

August 22, 2021 - GROVEPORT MESSENGER - PAGE 11

xClassified Services

AIR CONDITIONING

AIR CONDITIONING

Complete System

Clean & Check

$49.95

Free Electronic Leak Testing

All Makes • All Models

45 Yrs. Exp. • Senior Discount

614-351-9025

BLACKTOP

AGM OHIO

ROOFING &

SEALCOATING

Free Estimates

Cell 614-512-1699

SANTIAGO'S

Sealcoating & Services LLC

Quality Materials Used

SUMMER IS HERE!

Driveway Seal & Repair!

Top Seal Cracks!

Residential & Commercial

Mulching, Edging & Clean-ups

"Ask for whatever you need."

BBB Accredited-Fully Insured

Call or text for Free Est.

614-649-1200

CLEANING

Looking for Mrs. Clean?

For excellent cleaning serv

at reas. rates w/great refs,

dependable. 10% Senior

Disc. Free Est. Gwen

614-226-5229

INFORMATION

INFORMATION

8/29 A

CARPET CLEANING

9/12

A/M

CARPET CLEANING

Any 5 areas ONLY $75

Home Powerwash-$99-$200

614-805-1084

Specializing in Pet Odors

ONLY

$50.00

For This Ad In Our

South & Groveport

For Info Call

272-5422

CONCRETE

AJ's Concrete,

Masonry

Good Work - Fair Prices

Block Foundations

Driveways • Sidewalks

Epoxy/Overlay Floors

Bonded-Ins. • Free Ests.

614-419-9932

www.hastingsnsons.com

Driveways & Extensions

Patio & Walkways,

Porches & Steps,

Garage/Basement Floors

Hot Tub/Shed Pads,

Stamped/colored concrete

Sealing of new &

existing concrete.

FREE ESTIMATES

Contact Adam

614-756-1754

hastingsandsons.

columbus@gmail.com

Buckeye City

Concrete & Excavating

* Concrete * Foundations

* Waterlines * Drains

*Catch Basins

614-749-2167

buckeyecityconcreteand

excavating@yahoo.com

EDDIE MOORE

CONSTRUCTION

Quality Concrete Work

Lt. Hauling & Room Add.,

Block Work & Excavation

Stamp Patios,

Bsmt. Wall Restoration

35 Yrs Exp - Lic & Ins.

Free Ests. 614-871-3834

GUTTERS

Bates & Sons

GUTTER CLEANING

5 ★ Google Reviews

614-586-3417

HOME

IMPROVEMENTS

C&JHandyman

Services LLC

Minor Plumbing

& Electric

Install Hot Water Tanks,

Dishwashers & Disposals

Also Fencing &

Interior/Exterior Painting

Free Est. ~ 18 Yrs. Exp.

CDC/EPA Approved Guidelines

614-284-2100

INFORMATION

LOOK TO

THE PROFESSIONALS

IN OUR

SERVICE DIRECTORY

For Service

"That Is Out Of This World"

8/29 A

8/29 A/M

7/18 A

HOME

IMPROVEMENTS

SINCE 1973

Phil Bolon Contr.

Windows & Siding

Decks, Kitchens, Baths

Room Additions,

Flooring, Roofing

Bsmt Waterproofing

Deal With Small Non-Pressure Co.

47 Yrs. Exp. - Refs. Avail.

Lic.-Bond-Ins.

Free Est. - Financing Avail.

Member BBB Of Cent. OH

O.C.I.E.B. ID #24273

614-419-3977

or 614-863-9912

HOME

MAINTENANCE

JOE'S HOME MAINT.

Home Repairs, Roofing,

Siding, Gutters, Soffits,

Misc. Int. Repairs

Int. Painting

Call Joe 614-778-1460

37 Years Exp.

NEED HOME REPAIRS?

We do it all! Fences, decks,

home repairs, more Just ask!

220-465-2602-local #

HOME

REMODELING

Handyman Remodeling

Over 35 yrs exp.

Larry 614-376-7006

LAWN CARE

The Lawn Barber

Cut, Trim, Blow away

Hedge Trimming, Edging

Garden Tilling

614-935-1466

LET US MAINTAIN

YOUR LAWN & GARDEN

FOR YOU

Summer, Spring,

Winter or Fall

WE DO IT ALL!!!!

Lawn Cuts, Edging,

Trees & Shrubs, Garden,

Mulching, Hauling,

Garden Pond &

Home Maint.

Free Ests. Low Rates

$20 & Up

Kevin - 614-905-3117

Classified Services

8/29

A/M

KLAUSMAN HOME

IMPROVEMENT

Siding-Windows-

Doors-Roofing-Soffit-

Fascia-Gutters-Trim

Earn FREE Seamless

Gutters with Siding Over

1000 Sq. Ft.

FREE Shutters with

Soffit & Trim

EPA Certified

Member of BBB

Financing Available

Over 20 yrs exp. • Free Est.

Licensed-Bonded-Insured

Owner & Operator

James 614-419-7500

9/12 A

PEST

CONTROL

TERMITE &

PEST CONTROL

614-367-9000

TORCO®

TERMINATES

TERMITES

Locally Owned & Operated. Any Pest. Anytime.

$

50 00 OFF Service

Expires July 11, 2021

Free Termite Inspection

LAWN CARE

Lawnmasters and

Landscaping

Give us a call for your

yards that need mowing,

Spring clean-up, weed

control, paver patios, etc.

Free Estimates

614-378-1237

MOVING

Aaron Allen

Moving

Local Moving since 1956

Bonded and Insured

614-299-6683

614-263-0649

Celebrating

over 60 yrs

in business

PAINTING

A Job Well Done Again

A lic. General Contractor

Some Skilled Services

Incl: Painting • Stucco,

Repair•Carpentry•Exterior

Drainage & Home Maint.

Call Today! 614-235-1819

PLUMBING

ALL IN ONE

PLUMBING LLC

"One Call Does It All"

$25 OFF LABOR

9/12

With This Ad

A

614-801-1508

All Major Credit Cards Accepted

All About Drains & Plumb.

Will snake any sm drain

$145. 614-778-2584

CHRIS'

PLUMBING

"Plumbing & Drain Professional

That You Can Count On"

24 Hrs., 7 Days/Week

No Overtime Charges

24 Yrs. Exp. in Plumbing &

Drain Cleaning Field

Call For A Free Phone Estimate

$100.00 For Any Small Drain

614-622-4482

30% OFF with AD

8/29 A&M

9/12 A

PEST

CONTROL

PLASTERING

DRYW

YWALL &

PLASTER

9/12

A&M

REPAIR

Textured Ceilings

614-551-6963

Residential/Commercial

BIA

POWER WASHING

MDB POWERWASH

We Specialize In Decks.

Clean, stain, reseal,

revitalize any deck.

Quality work at fair prices.

Guarantee All Work 3 Yrs.

25 Yrs Exp. Free Est.

614-327-9425

Bates & Sons

Soft Wash & Powerwash

5 ★ Google Reviews

614-586-3417

MRS. POWERWASH

Any house wash $149+tax

Single deck $69+tax

2 Tier deck $99+tax

Best Wash in Town

Over 45,000 washes

Ashley 614-771-3892

ROOFING

Robinson roofing & repairs

30 yrs. exp. Lifetime Cols.

resident. Lic./bonded/Ins.

Reas rates. Member of

BBB. Dennis Robinson

614-330-3087, 732-3100

SEWING MACHINE

REPAIR

REPAIR all makes 24 hr.

service. Clean, oil, adjust

in your home. $49.95 all

work gtd. 614-890-5296

TREE SERVICES

Brewer & Sons Tree Service

• Tree Removal

• Tree Trimming 8/29

A&M

• Stump Grinding

• Bucket Truck Services

Best Prices • Same Day Service

614-878-2568

BURNS TREE SERVICE

Trimming, Removal &

Stump Grinding.

614-584-2164

8/1 A

8/29 A&M
---
PAGE 12 - GROVEPORT MESSENGER - August 22, 2021

www.columbusmessenger.com

Messenger photos by Rick Palsgrove

On the march

The Groveport Madison High School

Marching Band is spending the summer

getting ready for the upcoming

performance season. This involves not

only learning their music and practicing

playing their instruments, but it

also includes lots of marching and

becoming familiar with the band's precise

formations. Pictured here is the

band on a recent hot, summer day

marching and practicing formations

without their instruments. At right, the

musicians' instruments wait to be

played as the band practices marching

and formations.

Get out in front of

the 2021 Election

START ADVERTISING NOW

Community Advertiser Get The VOTES You NEED!

Dates to Advertise before the Election:

9/5 • 9/19

10/27—Ad with Free Story • 10/31—Ad with Free Story

BEST BUY FOR YOUR

ADVERTISING DOLLARS

Our papers reach over 81,000 households!

200 Word Story

With Your Ad

Call or Email Doug Henry

Phone: (614) 272-5422

Email: doughenry@columbusmessenger.com