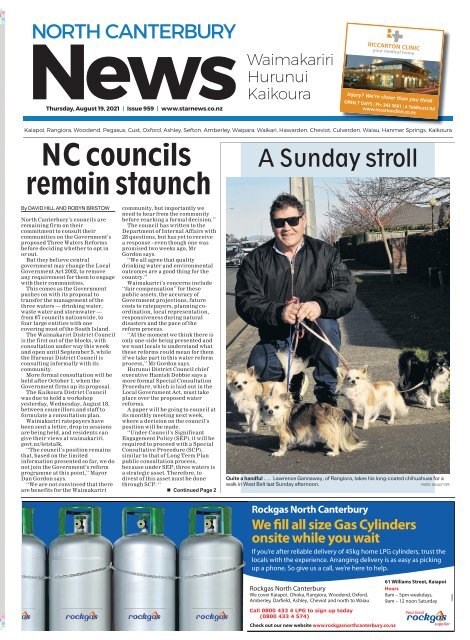 North Canterbury News: August 19, 2021
Create successful ePaper yourself
Turn your PDF publications into a flip-book with our unique Google optimized e-Paper software.
Injury? We're closer than you think

Thursday,August19, 2021 | Issue959 | www.starnews.co.nz

OPEN7DAYS | Ph:343 3661 | 4Yaldhurst Rd

www.riccartonclinic.co.nz

NC councils

remain staunch

ASunday stroll

By DAVID HILL AND ROBYN BRISTOW

North Canterbury's councils are

remaining firm on their

commitmenttoconsulttheir

communities on theGovernment's

proposedThree Waters Reforms

beforedecidingwhethertoopt in

or out.

But they believe central

government may change the Local

Government Act2002,toremove

any requirement for themtoengage

withtheir communities.

Thiscomes as the Government

pushesonwith itsproposal to

transfer the managementofthe

three waters —drinking water,

waste water andstormwater—

from67councils nationwide, to

fourlargeentitieswithone

covering mostofthe South Island.

The WaimakaririDistrict Council

is thefirstout of the blocks, with

consultation under waythis week

and open untilSeptember 5, while

the HurunuiDistrict Council is

consulting informally withits

community.

Moreformal consultation willbe

heldafterOctober 1, when the

Government firmsupits proposal.

The Kaikoura District Council

was duetohold aworkshop

yesterday, Wednesday, August 18,

between councillors andstaff to

formulateaconsultation plan.

Waimakaririratepayershave

beensent aletter, drop in sessions

are being held, andresidents can

givetheirviews at waimakariri.

govt.nz/letstalk.

''The council's position remains

that, basedonthe limited

information presented so far, we do

not jointhe Government's reform

programmeatthis point,''Mayor

Dan Gordon says.

''Weare notconvinced thatthere

are benefits for the Waimakariri

community, butimportantly we

need to hear fromthe community

before reachingaformal decision.''

The council haswritten to the

Department of InternalAffairs with

28 questions,but hasyet to receive

aresponse ­even thoughone was

promised two weeks ago,Mr

Gordon says.

''We allagree that quality

drinking water and environmental

outcomes are agoodthingfor the

country.''

Waimakariri'sconcerns include

''fair compensation''for these

public assets, theaccuracyof

Government projections,future

costs to ratepayers,planning coordination,

local representation,

responsivenessduring natural

disasters and the paceofthe

reformprocess.

''At themoment we think thereis

only one­sidebeingpresented and

we wantlocals to understand what

thesereformscouldmean for them

if we take partinthiswater reform

process,''MrGordon says.

HurunuiDistrict Council chief

executive HamishDobbie saysa

more formal Special Consultation

Procedure,whichislaidout in the

Local GovernmentAct, must take

placeoverthe proposed water

reforms.

Apaper willbegoing to council at

itsmonthlymeetingnextweek,

whereadecision on thecouncil's

positionwillbemade.

''UnderCouncil'sSignificant

Engagement Policy(SEP), it willbe

requiredtoproceedwith aSpecial

Consultative Procedure (SCP),

similar to that of LongTerm Plan

public consultation process,

because under SEP,threewaters is

astrategic asset.Therefore,to

divest of thisassetmust be done

through SCP.''

Continued Page 2

Quite ahandful ... Lawrence Gannaway, of Rangiora, takes his long­coated chihuahuas for a

walk in West Belt last Sunday afternoon.

PHOTO:SHELLEY TOPP

Rockgas NorthCanterbury

We fill all sizeGas Cylinders

onsite while youwait

If you're afterreliabledeliveryof45kghome LPG cylinders,trust the

locals with the experience. Arranging deliveryisaseasyaspicking

up aphone.Sogive us acall,we're heretohelp.

61 Williams Street,Kaiapoi

Hours

8am –5pm weekdays,

9am –12noonSaturday

2286893

Check out our newwebsite www.rockgasnorthcanterbury.co.nz
---
NEWS

2 The North Canterbury News, August 19, 2021

Grow

customers,

salesand

profits

with North

Canterbury's

bestread

newspaper

Opening soon ... The brand new supermarket, New World Ravenswood, near Woodend, is scheduled to open next Wednesday, August

25. PHOTO: SHELLEY TOPP

Readership: 48,000 weekly

Circulation: 30,150copiesdelivered

to EVERY farm, RD, lifestyle block

and home inWaimakariri, Hurunui

&Kaikoura every Thursday.

news

Robyn Bristow

Managing Editor

027 312 1581

robyn.bristow

@ncnews.co.nz

Reporters

David Hill, Shelley Topp.

advertising

DaynaBurton

Sales Co-ordinator

027 312 0089

dayna.burton

@ncnews.co.nz

AmandaKeys

Advertising

027 536 6224

amanda.keys

@ncnews.co.nz

Kerryn Clark

Advertising

021 586 138

kerryn.clark

@ncnews.co.nz

New supermarket opens soon

By DAVID HILL

North Canterbury's newest supermarket

opens its doors next week.

New World Ravenswood will open at

9am on Wednesday, August 25, with a

full­scale offering and alarge format

style, Foodstuffs New Zealand head of

corporate affairs, Antoinette Laird says.

To mark the stores opening there will

be arange of in­store promotions,

samplings, and deals, and Waimakariri

Mayor Dan Gordon will visit.

Built in just over 12 months, the new

store will cater to the wider

Ravenswood, Woodend and Pegasus

communities and has capacity to grow as

families move into the residential

developments in surrounding areas.

New owner operators Justin and

Feedback providing useful information

From Page 1

Meanwhile alot of feedback

has been receivedbythe

council through Facebook,

talking to people, people

comingtocouncil, writing

in, and talkingtoelected

membersand officers, Mr

Dobbie says.

Melissa Blackler are ''passionate local

retailers'' who previously owned

Raeward Fresh Harewood, Ms Laird

says.

''Building asupermarket in abrand

new community is so exciting and New

World stores are owner operated, which

means passionate locals, like Justin and

Melissa, have the flexibility to adapt

their store offering to their locality.

''From bringing all the great value,

choice and convenience New World has

to offer, to growing and supporting this

exciting new community to thrive,

Foodstuffs is apart of almost every

community in New Zealand and being

there right from the beginning is such a

privilege for us.

New World Ravenswood will operate

''This type of informal

feedback is very much

appreciated, and all helps

to build the overall picture

of where our community

sits on this issue.

''We encouragethe

communitytokeep this

feedback coming.''

The Kaikoura District

Council says it has invested

heavily in its water

infrastructurefollowing the

2016 earthquake and

believes it is in abetter

placethan many other

councils.

It plans to invest $27.2

million over the next 30

yearstoallow for growth

seven days aweek with opening hours of

7am to 9pm and features include an instore

cafe, aspacious fresh foods hall, an

extensive craft beer and local wine

selection, azero alcohol zone and an Eco

store refillery station.

The new supermarket will employ

around 100 locals including in­store

butchers, bakers and deli specialists

and there are plans to support the local

community, Ms Laird says.

''Supporting local communities to

thrive is one of the promises every New

World makes to be here for New Zealand

and Justin and Melissa at New World

Ravenswood will be getting involved in

supporting community initiatives.

''We're not ready to announce the

specifics just yet, but watch this space.''

and enhancement of its

water infrastructure,

according to its Long Term

Planinfrastructure

strategy.

But the Department of

InternalAffairs is

indicating $280million

would need to be spent over

the next30to50years.

JillianDickie

Advertising

022 024 3092

jillian.dickie

@ncnews.co.nz

getintouch

Editorial

info@ncnews.co.nz

Advertising

sales@ncnews.co.nz

Graphic Design

heather.hood@ncnews.co.nz

WINTER

The Widest

Music Variety

Kaiapoi Lodge

Residential Care

Nursing Home, Hospital and

Respite

Distribution/Deliveries

03 314 8335

Rangiora: 03 313 2840 /03314 8335

14 Ashley St, Rangiora

Christchurch: 03 364 7460

www.starnews.co.nz

Purchase aMetro fire +ECO flue combo

during July and August and save up to

$899 on selected model combos*

*Conditions apply.

360 FlaxtonRoad,Rangiora

Ph 03 313 5563

www.kingsmowersheating.co.nz

2405546

Tune in nowtolisten on

104.9 for North Canterbury

103.7 for Hanmer Springs

andKaikoura

2095268

Person Centred Care,

Care that's built

around you

6Cass Street, Kaiapoi

Ph 03 327 7235
---
Can you Hear Us? will be heard

By ROBYN BRISTOW

NEWS

The North Canterbury News, August 19, 2021

MASTER BUILDER

3

2021055

Can you HearUs?isthe latest catch cry by

Groundswell NZ,afterreceiving no

response fromthe Government following

its Howl of aProtest lastmonth.

It is urgingpeople all aroundNew

Zealandtotoottheirhornsat12.30pm,

this Friday, August 20,and every

following Friday at the same time for the

next threeweeks, if they are fedupwith

theincreasing amount of regulations

farmersand othersare havingtomeet.

The Can you HearUs?campaign is

building towardamajor nationwide

protest in November, which organisers

saywill go down in NewZealand's's

history.

Groundswell spokesmanBryce

McKenziesaystheyare calling fortwo

minutes of people's timetoshowsupport

forGroundswell'scampaign, and want

every car, bike, truck,train —anything

with ahorn—tootinginsupport.

It follows its nationwide Howl of a

Protest which saw many North

Canterburyfarmersand othersrollinto

townsontractors,inutes,trucks andon

foot in support of Groundswell's protest.

TheNorth Canterbury­based Rural

Advocacy Networkhas alignedwith

Groundswell, which has its rootsin

Southland,and is now well­established on

theWest Coast.

Mr McKenziesaysthere is widespread

concernamongrural andurbanpeople,

councils, and thebusiness sectorabout

thedirection the Government is taking

thecountryand the''tsunami'' of

unworkable regulationsbeing''rammed

through''.

Groundswell NZ is alsowriting to all

councilscalling for ahalt to all Resource

Management Act planning processes,

mainlydue to thesignificantnegative

impact zonings likeSignificantNatural

Areas(SNAs), wetlands and landscapes

arehaving on peopleand theirproperty

values.

In tandemitiscalling forall

landowners to declineaccessfor councils

Making apoint ... Organisers of the Rangiora Howl of aProtest,Ken Robinson, of

Summerhill, left, with Shelly Drummond, Andrew Mehrtens, of Oxford, and Craig

McAlllister, of Cust, on the lawn outside the Waimakariri District Council service Centre in

Rangiora's High Street during last month's protest.

PHOTO: SHELLEY TOPP

or their agentswanting to do mapping or

gather informationonprivateland.

''GroundswellNZhas identified serious

implications withthisinformation

gathering that landowners arelargely

unawareof.''

GroundswellNZ's campaign is

primarilyconcernedabout the

unworkable regulationsincluding

Freshwater, IndigenousBiodiversityand

ClimateChange.

''Weare notagainstthe needfor

regulation or the needtocarefor the

environment,'' Mr McKenzie says.

''Nor are we calling for ahalt to

addressingenvironmentalissues.

''Weare sayingthere are much better,

proven solutionstoaddressing

environmentalissues thanthe onesize

fitsall approachbeinglegislatedbythe

government.

''There are thousands of community

andprivateenvironmentalinitiatives

happening acrossthe country and we

believe everyone has aroletoplay to

continuethe momentum,''hesays.

Groundswell NZ hasrecently added the

Three WatersRreformand the Water

Services Billtoits growing list of

unworkableregulations.

It believes duetothe magnitudeof

change being taken with theThree

Waters ReformNew Zealanders should

haveasay through referendumsineach

district and city.

''Groundswell NZ has put astakeinthe

ground and is committed to following

through withits campaign untilthe

Governmentaddresses the legislative

failingsbeing raised by grassroots New

Zealanders.

''Enough is enough.''

Kairaki tree harvest to take about two months

It's treeharvesting time in the

Waimakariri district.

Waimakariri District Council

contractorswill begin work this week

harvestingtrees at Kairaki, creating

firebreaks nexttothe Woodend

Christian Campand to the rear of the

Woodend Waste WaterTreatment

Plant,off Gladstone Road.

The work at Kairaki is to harvest a

commercialforest blockwhich has now

reached maturity.

This is in an area that is well away

from any houses, will have aminimum

impactonresidents and shouldtake

around eight weeks to complete.

Work to create afirebreak at

WoodendChristian Campisexpected to

take just afew daystocomplete.

There willbestop /gotraffic

managementonWoodend Beach Road

for ashort time withtrucks using

WoodendBeach and Sandhills roads.

Next week crewswill move to workon

the firebreaks at the rear of the

WoodendWaste Water Treatment

Plant.

The walking track betweenGladstone

and Woodend Beach roadswill be

closed for the duration of these works.

This work is being completed before

the balance of the programme begins in

late August /earlySeptember.

Strict healthand safety practices will

be in placethroughout the programmed

work and extracare will be taken

around existing bio­nodes,native

forestryand plants, waterways and

lagoons.

The walkwayatthe southern end of

the Tuhaitara Coastal Parkbetween

WaimakaririRiver and Reid Memorial

Avenue willbe closed duringthe

Kairaki work.

This will be well signpostedand

should not be accessed at any timeby

the public.

Signage, safetytape and spotters will

be in placethroughout the work and the

publicare asked to pay attention to

signage and stay out of the workareas.

Zanie from

The Crafty

Barber

welcomes

Erin Middleton

to the barbershop,

bringing 20 years of

skill and experience

to assist with all of

your needs.

2409265

LocaltoNorth Canterbury.

CALL ARTHUR 027 2451601

arthur@robertsonbuilding.co.nz

www.robertsonbuilding.co.nz

BARNS/FARM BULDINGS•RIB RAFT FLOOR SYSTEM INSTALLATION

PROJECTMANAGEMENT•ADDITIONS•NEW HOMES

HOME MAINTENANCE•EQC REPAIRS•ALTERATIONS

FREE QUOTES

Hurunui Theatre Group presents

Show runs from 26 th August

to 4 th September

Thursday, Friday, Saturday 7:30pm;

Matinee on Saturday 28 th 2pm

Waipara Memorial Hall

Tickets available in August from:

Sally Mac's Amberley and Gas Waikari

Or online bookings at

www.hurunuitheatre.org

Adults -$25; Seniors -$20;

Children under 16 -$15

2405502

No bookings or appointments taken,

walk-ins only

Monday to Friday 9.00am -5.30pm,

Saturday 9.00am -1.00pm

Shop 19, Brackenfields, 121 Carters Rd,

Amberley

Phone: 03 314 9129

NOW OPEN

– 7 days

We're your local hearing experts.

The team has grown to include an

independent ear nurse and anew audiologist.

Aone-stop shop for all your hearing health

and healthy hearing requirements.

2 Conway Lane, Rangiora

(behind Macpac)

Come in and see us

2409165

Call 03 423 3158 •Amberley /Rangiora /Cheviot /Hanmer •verasetzaudiology.co.nz
---
NEWS

4 The North Canterbury News, August 19, 2021

Flood costs Waimakariri $4m

By DAVID HILL

The WaimakaririDistrict Council's

repair bill fromthe recentflood

eventisexpected to cost almost$4

million.

Roading, bridgeand three waters

infrastructurerepair work is well

underway, following the May 31

floodevent.

Around half of the workisalready

finished, recovery manager Simon

Hart says.

''When we moved from response

to recovery, we endedupputting

together five largework

programmes that contained33

projects.

''Some of those projectsare

pretty big, particularly around

roading repairs which will cost

around $2 million,sowith the three

waters repairs, welfare support

and other costs the total cost to the

council is estimatedtobebetween

$3.5 and $4 million.''

The council is continuing to

engage with governmentagencies

to see what level of funding support

is available, while its insurance

claimisongoing and aclaim has

been made with Waka KotahiNew

Zealand Transport Agency.

''We will be abletoget a

reasonable sum back, but therewill

stillbeasignificant cost to

ratepayers,'' Mr Hart says.

Lees Valley, Okuku River and

Waikuku Beach were the worst

impacted areasand repairswill

take some time to complete, but

temporary solutions are in place

for now,hesays.

''It's all functional and critical

services can continue, but it needs

to be madepermanent. Therewill

need to be comerock stabilisation

Flood damage ... The Lees Valley Road

remains closed to the public as work

continues to repair this slip. PHOTO:FILE

and bridge repairs.''

Council staff have been working

closely with Environment

Canterbury (ECan) engineers, the

Canterbury Rural Advisory Group

led by formerHurunui Mayor

WintonDalley, the Ministry of

Primary Industries (MPI),

FederatedFarmers and the North

Canterbury RuralSupport Trust to

support theruralcommunities.

Thecouncil has beenworking

with 60 rural properties which

sufferedextensive damage,

including 25 lifestyle properties.

While commercial farms can

apply for assistance from MPI's$4

millionfund, the 25 lifestyle

properties are left with the Mayoral

Fundtoassist withuninsured

damage, with just $50,000 available

to Waimakariri.

''Weare mindful it was nowhere

nearthe amount that was required

to bringtheseproperties backto

pre floodlevels so we have been

lobbying governmentagencies and

willcontinue to do so,''MrHart

says.

ECanengineers havebeen out to

in the Waimakariridistrict since

the flood,workinglong hours to

assess thedamageand see what

workcan be donetorepairthe

rivers.

''But that willtake some time as

ECanisworking acrossthe region,

fromTimaru up to Waimakariri,''

Mr Hartsays.

In contrast to the rural areas,

urban areas held up well to the

flood event.

''Therewere someareas where

we would haveexpected some

localised flooding, but they have

beenmanagedalot better because

of our flood protection works in

recent years, so that's areal

positive.''

Overall the Waimakariridistrict

hascome through its latest

challenge and has bounced back

quickly, Mr Hart says

''Ithink it's areal credit to our

community and how resilient

people are in this district.''

Movie marathon ... Members of the Oxford

Benevolent and Improvement League, Jeff and

Vicki Strong, of Oxford, in the Town Hall last

Saturday afternoon during the Oxford Movies 100

Year Centenary celebration.

PHOTO:SHELLEY TOPP

Film marathon

The OxfordBenevolent andImprovement

League has celebrated its 100th anniversary

with afilm marathon in the Oxford TownHall.

The OxfordMovies100 Year Centenary

1921­2021 marathon,a12­hoursessionbegan at

10am and finished at 10pm last Saturday and

featuredapopular line­up of films beginning

with the 1942 classic Casablanca and ending

with aNew Zealand­made favourite Goodbye

Pork Pie,which was firstshown in 1981.

Saturday'ssessionwas organised and run by

Oxford league members Jeffand Vicki Strong,

who dressed up in period costume forthe event.

The league was originallyestablished, on

August 2, 1921, to provideasocial amenityfor

the districtthat could nototherwise be secured.

They chose to do thisbyshowing films in the

town hall.

All profits madebythe leaguefrom the films

they show in the town hallgoback to the Oxford

community. Applications for funding can be

made to the league memberswho then decide at

theirmonthly meetings how the funds will be

allocated.

ABOUT

REPRESENTATION

REVIEW

The Council is seeking your views

about representation arrangements

ahead of the October 2022 Local

Body Elections.

The Council are considering our current

arrangements to ward boundaries, number of

elected members, including community boards,

and names of wards, subdivisions and boards.

We're proposing to retain our current

arrangements with only one minor amendment to

the Rangiora-Ashley Ward subdivision, to better

represent the ratio of urban and rural residents.

what do

you think?

Spring intoSpring

Exhibition

To find out more about the proposed change or

the Representation Review, ortosuggest other

changes, please visit our Let's Talk website.

Let us know what you think before

5pm on Monday 27 September 2021.

Find out more and have your say at

waimakariri.govt.nz/letstalk or email to

representation@wmk.govt.nz

We'd love to

hear from you

waimakariri.govt.nz/letstalk

Guest artist Adrienne Pavelka

Fri 27 AUGtoSun 29AUG

Entry $2Children Free

approximately 350original works forsale

watercolour, pastel,acrylic,oil etc.

10am -4pm daily

NEW VENUE

Rangiora A&P Showgrounds

Ashley St Rangiora
---
NEWS

The North Canterbury News, August 19, 2021

Cust River stopbank upgrade to cost $75,000

5

By SHELLEY TOPP

ACust River stopbank alongside

O'Roarkes Road in Fernside is

being upgraded by Environment

Canterbury at acost of $75,000.

The stopbankisbeing rebuilt

to achieve better flood

protection.

ECan'srivers manager Leigh

Griffiths says it is beinglifted to

the sameheight as the trueright

bank, withthe riverside batter

being rebuilt.

This is to reduce risk of

erosion and make matinenance

easier.

The upgrade is being done to a

section of the stopbank which

had rottentrees and roots

running through it. Workisalso

being donetoimprove the site's

safetyand numerous cracked

willows withinthe road reserve

have been felled.

''These trees posedarisk to

cars entering or exiting the

previous carpark as theycaused

blind spots,''' Ms Griffiths says.

The work is being completed

as part of awider projectto

improve parking on the site and

extend the existing native

planting block. New fencing is

planned along the O'Roarkes

Road side of the upgraded area.

''We understand that

earthworkssuch as this can look

messy, particularlywhen

undertaken in winter,but we

believe thatthese stopbank and

amenity upgrades willgreatly

improve the area and the

communitywill like it once it is

completed.''

The work is likelytobe

completedbythe end of the

month or early September.

The upgrade doesnot include

plans to removethe white bridge

at the O'Roarkes Road end of

BridgeRoad which was closedto

vehicles about 10 years ago, but

is still used by pedestrians and

cyclists.

The bridge is aWaimakariri

District Council roading asset.

The council's roadingand

transport manager on this

project, Joanne McBride, says

the council had not been

approached by ECan with any

concerns aboutthe bridge and

the council has no plans to

removeit.

Work in prgresss ... The stopbank

during upgrade work being done by

Environment Canterbury.

Before ... The stopbank on the O'Roarkes Road side of the Cust River in Fernside before upgrading work

began.

PHOTOS:SUPPLIED

sick child?

Call your General Practice

(GP) team 24/7 or visit an

urgent care clinic:

• Riccarton Clinic

8am–8pm

• Moorhouse Medical

8am–8pm

Under 14s have free medical visits after-hours

and weekends at urgent care clinics

• X-ray, fracture and wound care available

• Late-night pharmacies and parking on-site

CDHB16AUG21 ED

All clinics open 7days aweek

cdhb.health.nz/urgentcare
---
OPINION

6 The North Canterbury News, August 19, 2021

Eventful Hurunui to

host free workshop

The board of Eventful Hurunui is

hosting afree workshop on Monday,

August 30, at The Better Half Leithfield

at 6pm, with Jon Holmes of Events Goals.

Jon will introduce participants to

practical information on how to make

certain your event is successful.

If you want to make your next event a

great success your registration is

welcome on www.eventfulhurunui.co.

nz/eventful­workshops.

Numbers are limited to Hurunui

residents and we look forward to your

attendance.

Events and activities across our

district provide the opportunity for

social cohesion, which is critical for our

wellbeing, the volunteer contribution to

hosting events is significant across our

district and many of these attributes

were celebrated at the annual Hurunui

District community service awards.

Guest speaker Trish Coleman spoke

about the valueofcontribution and

volunteering.

As humans we are'socialanimals', our

relationships with others contribute to

feeling good. It's important to socially

connect with others where we can and

developing healthy relationships can

increase our feelings of happiness,

security, belonging and self­worth.

Scientific studies showthat helping

others boosts happiness, improves our

mood andreduces stressand is likely to

take our mindsoff our own concerns.

Ihave had the privilegeofattending

the annual St John's volunteer dinner

and several Fire and Emergency NZ

awards ceremonies, these eventshave

celebrated many of our community

members whohave given 100's of hours

collectively to the wellbeing of our

district.

Being called avolunteer is aprecious

title, one that is admired as it is through

volunteering the true value of serviceto

the community is demonstrated —we

are fortunate to live in acommunity that

values these involvements.

''Together Hurunui''is aforumthat

provides collaboration for social service

providers to come together on abimonthly

basis with the vision ''thatall

people in the Hurunui are valued and

connected''.

This network encourages

participation to ensure successful

outcomes for individuals and

communities, it also has been

instrumental in advocating and

supporting positive outcomes for health

and wellbeing in the district.

To all of you who create events both

commercial and not for profit –thank

you for making the Hurunui agreat

place to live, to visit and enjoy.

Spring is just around the corner and

that means ahost of events will be

happening for us to enjoy.

Climate change

and killing cows

By BRUCE FRAMPTON,OXFORD

Fellow New Zealander's, it's not

governments, conglomerates, virtue

signalling political leaders or people

writing endlessdoom and gloomarticles

that will savethis planet.

No, it is you and me and the hundredsof

millionsofpeople around the worldthat

could, if we wanted to, save the planetfrom

further degradation.

Latest researchbyRhodium Group

reports thatChina,India and the USA emit

around 45% of theworld's greenhouse

gasses.

Chinaalone emits more greenhouse gas

than the entiredeveloped world

combined. Central to this is China,India

and the USA's reliance on coalfired power

stations.

This energy is used to produce goods

whichhas fuelledrampant consumerism

polluting the world's atmosphere and

filling our oceans with country sized

islands of plastic. Floating in the Pacific

Oceanisthe 'Great Pacific Garbage Patch'

covering1.6 millionsquare kilometres, an

area three timesthe size of France.

We, the peoplewho buy these goods,can

send amarket drivenmessage that would

forcethe demise of coalburningpower

stations used for manufacture.The effect

this wouldhave on the world's climate is

no better illustrated than what thecovid

lockdowns achieved for the planet's health

in such afleeting space of time last year.

Governments and interested

corporationsare notgoing to stoppeople

buying the latesttelevisions,smart phones,

computers, fashion clothing, countless

plastic goods and throwaway bling these

countries produce.

Free trades agreements, overwhelming

political pressureand business bottom

lines will stop this solution from ever being

seriously consideredand the reasonswhy

will be trumpetedlong and loud by the

corporateowned media. We the people are

the problemand we the peoplecan be the

solution.Make adecision, the welfare and

continuation of lifeasweknowit, or an

unstoppableplunge into an abyss of

endless adverse weather events.

Are we going to have afutureofGreta

Thunberg inspired youngpeople believing

that reducing New Zealand'scontribution

of greenhouse gasesof0.17 percent (yes

that'sright) less than 1/5thof1%will

somehow save the world?

We could killall the cowsinNew

Zealand, drive electric cars, do everything

we can to reduce our carbon footprint here

in New Zealand and this will save the

world from the worst of extremes of

climate change? Yeahright!

If the governmentsofthe worldare

serious about climatethen they should

deal withthe issuesthat would seriously

give us achancetochange things.Ifthe

world's leaders compensated South

American countries fromdestroyingthe

Amazonrain forest, 'the lungsofthe earth',

stopped encouraging coal fired power

generation for manufacturing and guided

the world's economies awayfrom

excessiveconsumerism then we would

have the sortofprogress thatwouldsave

the world.

I'm not advocating thatweshouldn't do

everything we caninNew Zealand to

mitigate climatechange, we must, but if we

reallywant to makeastatement to save the

planetthen we must forgo all the

unnecessary bling of thisconsumer

orientated world and votewith our money

and not our mouths.

Lost and found

Dear Editor,

Nurses needtobepaid more –all

nurses, whoeverfunds them.

Nurses needworkingconditions that

are safe and supported –all nurses,

whoever employs them. DHB nurses are

currently fightingfor what seems like anobrainer–pay

and conditions that respect

and enhance the manaoftheircohort.But

what of nurses who aren'tdirectly

employedbythe DHB's?

Wheredoes it leave them? Particularly

thoseworking in not­for­profitand

community­basedsettings? Those that

provide safetyand services for our older

people?

The current NZ Nurses Organisation

McALPINES MITRE 10 MEGA RANGIORA -OCEAN WATCH

This

Week

Sun

Fishing

Guide

Moon

Wind

Swell

Pegasus Bay

Tide Chart

3

2

Good

Thursday Friday Saturday Sunday Monday Tuesday Wednesday

Aug 19 Aug 20 Aug 21 Aug 22 Aug 23 Aug 24 Aug 25

Rise 7:17am

Set 5:48pm

Best

Times

9:19am

9:50pm

Good

Rise 7:15am

Set 5:49pm

Best 10:20am

Times 10:50pm

claim covers30,000registered nurses–but

only those working forDHBs. Funding of

better pay and conditions for the other

20,000 nurses not directly employedbythe

DHBs are not included.

Minister Littlewas clearwhen

interviewed by Mani Dunlop on RNZ's

Midday Report (6/8/21) that non­DHB

nurses willneed to wait twoyears.

This is too long. The reality is, atwo­year

wait willsee an increase in DHB nursing

staff –atthe costofthe nurses who work in

your community, in not­for­profit settings,

and mostcrucially,inresidential aged

care.

Not­for­profit aged care providers have

no other way to raise funds. Our nursesare

Good

Rise 7:14am

Set 5:50pm

Best 11:19am

Times 11:47pm

Good

Rise 7:12am

Set 5:51pm

Best 12:14pm

Times

Rise 7:10am

Set 5:52pm

Rise 7:09am

Set 5:54pm

Rise 7:07am

Set 5:55pm

Set 4:55am

Set 5:53am

Set 6:41am

Set 7:19am

Set 7:51am

Set 8:17am

Set 8:40am

Rise 1:43pm

Rise 2:50pm

Rise 4:03pm

Rise 5:16pm

Rise 6:28pm

Rise 7:37pm

Rise 8:43pm

Moderate Wturning Moderate SW turning Moderate SW easing Gentle SW turning

Moderate SW Moderate Sturning

SE

S

to gentle SE

S becoming fresh SE

SE

Moderate S

SE 0.7 mturning

E0.5 m SE 0.6 m

NE E1.0 m NE 1.0 m NE 0.9 m NE 1.2 m

3 6 9 NOON 3 6 9 3 6 9 NOON 3 6 9 3 6 9 NOON 3 6 9 3 6 9 NOON 3 6 9 3 6 9 NOON 3 6 9 3 6 9 NOON 3 6 9 3 6 9 NOON 3 6 9

Good

Best

Times

effectivelypaid by the DHB,through

funding that is passedon. But thisincrease

won'tflow on. So our nurses will have to

choose to leaveus. And withoutour

nurses,wewill have to reduce the number

of older people we care for in our services.

We mayevenhave to close our services in

some communities.

We need everyone in our communities

to contact theirlocalMPs and let them and

Minister Little know that we want our

nurses paid what they are worth, with

conditions that match.All nurses,now.

Yours,

NikkiHurst, Executive Officer, New

Zealand Council of ChristianSocial

Services.

12:40am

1:05pm

Good

Best

Times

1:29am

1:52pm

Good

Best

Times

2:14am

2:36pm

Thefollowing property has been

reported as lost to the police in

North Canterbury ­have you seenit?

ASamsungcellphone with red

back and in asalmon colourfolding

case, aset of keys/twoelectronic car

keys/3otherkeys and USB flash

drive, ablackiPhone 7, ablack

leather wallet,and ablackSamsung

Galaxy S10 Plus.

Thefollowingproperty is waiting

to be claimed:

Abox of linen,alanyardwith black

key/silverkey/purplekey/greenand

clearletter "G"/Laserkey chain/

silver flower ring (both at the

KaiapoiStation).

1

0

Highs Lows Highs Lows Highs Lows Highs Lows Highs Lows Highs Lows Highs Lows

Waimakariri 1:10am 2.3 7:21am 0.4 2:08am 2.3 8:19am 0.4 3:04am 2.3 9:16am 0.4 3:58am 2.3 10:12am 0.4 4:50am 2.4 11:04am 0.4 5:42am 2.3 11:54am 0.4 6:32am 2.3 12:22am 0.4

Mouth

1:45pm 2.4 8:04pm 0.5 2:43pm 2.5 9:00pm 0.4 3:37pm 2.5 9:53pm 0.4 4:28pm 2.5 10:45pm 0.4 5:18pm 2.5 11:34pm 0.4 6:06pm 2.4

6:54pm 2.4 12:42pm 0.4

Amberley 1:10am 2.3 7:21am 0.4 2:08am 2.3 8:19am 0.4 3:04am 2.3 9:16am 0.4 3:58am 2.3 10:12am 0.4 4:50am 2.4 11:04am 0.4 5:42am 2.3 11:54am 0.4 6:32am 2.3 12:22am 0.4

Beach

1:45pm 2.4 8:04pm 0.5 2:43pm 2.5 9:00pm 0.4 3:37pm 2.5 9:53pm 0.4 4:28pm 2.5 10:45pm 0.4 5:18pm 2.5 11:34pm 0.4 6:06pm 2.4

6:54pm 2.4 12:42pm 0.4

1:19am 2.3 7:30am 0.4 2:17am 2.3 8:28am 0.4 3:13am 2.3 9:25am 0.4 4:07am 2.3 10:21am 0.4 4:59am 2.4 11:13am 0.4 5:51am 2.3

6:41am 2.3 12:31am 0.4

Motunau 1:54pm 2.4 8:13pm 0.5 2:52pm 2.5 9:09pm 0.4 3:46pm 2.5 10:02pm 0.4 4:37pm 2.5 10:54pm 0.4 5:27pm 2.5 11:43pm 0.4 6:15pm 2.4 12:03pm 0.4 7:03pm 2.4 12:51pm 0.4

1:21am 2.3 7:32am 0.4 2:19am 2.3 8:30am 0.4 3:15am 2.3 9:27am 0.4 4:09am 2.3 10:23am 0.4 5:01am 2.4 11:15am 0.4 5:53am 2.3

6:43am 2.3 12:33am 0.4

Gore Bay 1:56pm 2.4 8:15pm 0.5 2:54pm 2.5 9:11pm 0.4 3:48pm 2.5 10:04pm 0.4 4:39pm 2.5 10:56pm 0.4 5:29pm 2.5 11:45pm 0.4 6:17pm 2.4 12:05pm 0.4 7:05pm 2.4 12:53pm 0.4

1:16am 1.7 7:23am 0.4 2:12am 1.7 8:20am 0.4 3:07am 1.8 9:16am 0.3 4:02am 1.8 10:11am 0.3 4:55am 1.8 11:05am 0.3 5:48am 1.8 11:57am 0.3 6:39am 1.8 12:31am 0.4

Kaikoura 1:48pm 1.9 8:09pm 0.4 2:45pm 1.9 9:05pm 0.4 3:40pm 1.9 9:58pm 0.4 4:34pm 1.9 10:50pm 0.4 5:25pm 1.9 11:41pm 0.4 6:15pm 1.9

7:05pm 1.8 12:48pm 0.4

*Not for navigational purposes. Wind and swell are based on apoint off Gore Bay. Maori Fishing Guide by Bill Hohepa. www.ofu.co.nz www.tidespy.com Graphic supplied by OceanFun Publishing Ltd.

2118223
---
Hurunui Garden Festival

Thursday28 th

to Sunday 31 st

October 2021

A bounty of gardens to admire and inspire, will

be on show in the Hurunui district this Spring.

The Hurunui Garden Fesval (HGF) has 22 gardens, in six

clusters, on offer, and runs from Thursday, October 28 to

Sunday,October 31 from 9am to 5pmeach day.

Some favourite gardens return, along with seven new

ones. Therewill be maps of each garden to download and

print from the HGF website.

Thisyear forthe first me, there is the opportunitytowalk

inside someofHurunui's outstanding historic homesteads.

Also on offer is a showcase of local arsts, their

place of work and beauful exhibits for sale.

LyndaHallinan, agardener,author, broadcaster, journalist,

part-me farmer, parent and plantaholic, will join the

fesval for two chats —one during an aernoon tea and

the other will be adinner talk.

For half her life, the former editor of New Zealand

Gardener magazine has been digging up ideas and

inspiraon for growing food and flowers inKiwi gardens.

She lives with her family inthe foothills ofthe Hunua

Ranges, south-east ofAuckland, and iscurrently spling

her me between her large country garden and asmall

colonial coage renovaon project.

She isalso launching anew book, The Joy ofGardening,

this year.

Julia Atkinson-Dunn, from the home and garden website

Studiohome.co.nz and author of the beginner's gardening

book,Petal Power, will speak at three gardens on different

days.

With a background in wring, design and art, Julia

fell firmly in love with gardening while transforming

her small Christchurch patch just 4 1/2 years ago.

The fesvalwas launched in 2018byagroup of keen local

garden owners to help the Hurunui district recover from

the impact of the devastang earthquake of November

2016.

It hasbecomeapopular event, with many visitorsmaking

it along weekend so they can enjoy asmany gardens as

possible, along with the many aracons the district has

on offer.

Hurunui Garden FesvalIncorporated (HGF),iscommied

to invesng back in itscommunity.

If it makes areasonable profit, it will give one graduang

secondary school student, whose home isinthe Hurunui

district, ascholarshiptothe value of $2000towards study

in horculture, agriculture, landscape design or arelated

field, at their choice of university or instuteoftechnology.

The scholarship is on offer now, and is only made when

HGF makes areasonable profit from its annual event.

■ The website shop -(hurunuigardenfesval.com) -is

now open for cket sales, including an earlybird special

unl August 31-buy 10 and get one free. Admissions is

$10for an adulttovisit eachgarden, payable on the dayas

you enter the garden. Children 18 years ofage and under

accompanied by an adult mayenter forfree.

Please have cash with you, asthe gardens cannot process

electronic payments. Alternately you can purchase a10

cketadmissionpack through the website.

Tickets availablenow from

hurunuigardenfesval.com
---
STYLE & QUALITY

FOR LESS

WWW.AFFORDABLEFURNITURE.NZ

SELLOUT

Dining

NZ

Lounge

Bar

Stools

Ex Display

Models

FINAL WEEK Loads of bargains in-store

*while stocks last

FREE

CARPARKING

WE ARE

HERE

255MOORHOUSE AVE

REBELSPORT

COLOMBOST

MON-FRI 9:30AM–5:30PM

SAT-SUN 10AM–5:30PM

0800 268 264

www.affordablefurniture.nz
---
Bus pupil safety concerns grow

Schoolbus driver Becky Black is very

aware of the preciouscargoshe has on

board for her daily schoolbus route.

Butshe, and otherschool busdrivers in

theHurunuidistrict, arebecoming

increasinglyconcerned aboutthe safety

of pupils,particularlythe speed vehicles

pass schoolbuses dropping off, or picking

up pupils.

Becky,who does the Amberley busrun

to HurunuiCollege,says people do not

sticktothe speed limit of 20 kph,when

buses arestopped,picking up or dropping

offstudents.

''They just flypastme. It'sconcerning

because childrencan be so unpredictable

aroundroads."

Schoolbus driverPeterBlack,who

does the HanmerSprings run encounters

similarissues.

"Ifitwas their childrenor

grandchildrenonthe bus, maybe they

wouldbehave differently.

''Childrensometimes runout on to the

road to greet their parents or friends.

''We try to prevent this, but we need

peopletoslowdown."

Following distances by othervehicles is

also aproblem,Peter and Becky say.

"Onthe openroad whenthere is a

queue following closely, thepressure is

on to let them past,''Peter says.

Often driver impatience sawsomeone

do arisky overtaking manoeuver.

"I havewitnessed many near misses

duetoroadrage,"saysBecky.

HurunuiDistrict Council's Road Safety

co­ordinator Dean Eades says there are

some simple and effectivesafetytipsfor

thosetravelling around school buses.

"Safety is themost important issueon

themindsofparents, drivers and schools.

''Thespeed limit pastaschool bus is

legally 20kph,and this means slowing

down from yourprevious speed andbeing

ready for theunexpected.

''Theconsequences of not slowing down

Safety concerns ... Hurunui District Council's Road Safety co­ordinator Dean Eades (left),

with school bus driver Becky Black, and Hurunui College Principal Stephen Beck, outside

Hurunui College.

PHOTO: SUPPLIED

could be catastrophic,''hesays.

Deanalso emphasises it is also the

child's responsiblytotake careasabus

passenger.

''When gettingoff abus on theside of

theroad,children mustremember to go to

thebackofthe bus andcheckfor traffic

before crossing.

''This way you cansee oncoming traffic

andtrafficcan see you."

NEWS

The North Canterbury News, August 19, 2021

New name

for Oxford

art gallery

9

The Arts in Oxfordart galleryhas

beenrebranded and will now be

calledOxfordGallery toi o

Waimakariri, trading as Artsin

Oxford.

Thegallery was rebranded to

promote its new direction.

Therebrandincludes anew logo,

designed by Bret De Thier,a

trustee of the Oxford ArtsTrust

which runs thegallery, featuring a

black circle with abrush stroke of

bluepaintthrough thecentreto

createalarge Gfor Gallery

''The crossbarofthe G' suggests a

brush strokeand infuses energy but

importantlyitreferences our

river,'' the OxfordArt Trust's

chairwomanAreta Wilkinson says.

''Waimakariri in Maori means

coldwater, hence theblueand the

accompanyingtext places the

gallery in Oxford with the byline toi

o(art of) Waimakariri gives the

galleryawider regional reach.''

The trustees' visionfor the

gallery is to serve the Waimakariri

District as acreative centre where

everyone feels enthusiastic,

encouraged and positively

impacted by the arts. Theyalso

wanttomake Oxford''a destination

for the arts'' by continuing to

producehigh calibre art

exhibitions, workshops,artist

forums andcommunity gatherings

while alsoproviding connections

forthe community andstrategic

partners forcollaboration within

themulti­use spaceatthe gallery.

Receive $25 worth of

Wet & Forget

FREE

When you spend over $100 in store

(Bring in or mention this advert)

Exclusive to Wet & Forget Rangiora - Offer expires 30/9/21

700 Lineside Road

Rangiora

03 423 3561
---
ABOUT THE GOVERNMENT'S

THREE WATERS REFORM

Will Water Reform Benefit Waimakariri?

The Government is proposing that three water (drinking

water, wastewater and stormwater) services move from

the 67 councils who currently manage these, into four

large entities.

If the reform goes ahead, Waimakariri District would become

part ofanentity that covers most of the South Island. The

Government has given councils until the end of September to

provide feedback onthe proposal.

Quality drinking water and better environmental outcomes are

agood thing for the country.

But we're not clear yet whether the Government's proposed

Three Waters Reform is the best way to achieve this, and

what the advantages are for our District.

We want to know what's important toour community and hear

what you think.

Find out more about the Government's Three Waters Reform

and share your thoughts by 5pm, Sunday 5September.

Find out more at waimakariri.govt.nz/letstalk

Drop-in sessions

We're holding aseries of community

meetings to provide more information and

answer any questions you may have.

Kaiapoi

Monday 23 August |4.30pm-7.30pm

Meeting Room 1, Ruataniwha Kaiapoi

Civic Centre

Oxford

Wednesday 25August |6-9pm

A&P Room, Oxford Town Hall

Loburn

Thursday 26 August |4-7pm

Loburn Domain Pavillion

Rangiora

Monday 30 August |4.30-7.30pm

Function Room, Rangiora Town Hall

Cust

Tuesday 31August |4-7pm

Cust Community Centre

Mandeville

Wednesday 1September |4.30-7.30pm

Mandeville Sports Centre

Woodend

Thursday 2September |4-7pm

Woodend Community Centre

Complete the survey online

waimakariri.govt.nz/letstalk
---
RANGIORA

1

only

2

only

now

$

78

ArtBasin

267914

now

$

78

ArtBasin

267919

Pictured products available from 7:00am,Friday 20 th August

3

only

3

only

now

$

78

ArtBasin

267918

now

$

78

ArtBasin

289829

S

RANGIORA

100% LOCALLYOWNED &OPERATED.

Spend them &

Earn them here

If youfind alower priceonanidentical stocked productlocally,wewill beatitby15%

If youfind the same productfromanother Mitre10store or Mitre10website, we'll match that price.

Excludestrade and special quotes,stock liquidations and commercial quantities.The in-storepricemay be lowerthan thatadvertised.
---
RANGIORA

6

only

4

only

now

$

224

Heater

349259

now

$

599

AirCon

321892

Pictured products available from 7:00am,Friday 20 th August

1

only

2

only

now

$

2488

Yunca MonteFire

912559

now

$

1761

TotaraFire

143057

S

RANGIORA

100% LOCALLYOWNED &OPERATED.

Spend them &

Earn them here

If youfind alower priceonanidentical stocked productlocally, we will beatitby15%

If youfind the same productfromanother Mitre10store or Mitre10website, we'll match that price.

Excludes trade and special quotes,stock liquidations and commercial quantities.The in-storepricemay be lowerthan thatadvertised.
---
Climate change on

Hurunui programme

By SHELLEY TOPP

The Intergovernmental Panel on Climate

Change's latest report warns that climate

changeiswidespread, accelerating, and

poses asevere risk to people and

ecosystems.

Initiatives are beingput in place

aroundthe worldtolimit global warming.

but they need to accelerate, the report

warns.

In 2015 two of North Canterbury's

mayorsatthat time, Waimakariri's David

Ayers and Kaikoura'sWinstonGray,

joined other New Zealand mayorsand

chairs in signing the Local Government

Leaders' Climate Change Declarationto

acknowledge ``the importance and

urgent need to address climate change

for the benefit of current and future

generations.''

AlthoughHurunui Mayor at that time,

WintonDalley, did not sign the 2015

declaration his successor Marie Black

says the Hurunui District Council is

working to address climate change.

''Within our StrategicPlan, and

consideringour position as a

predominantly rural council, the changes

of water patterns and prolonged periods

of drought has meant that waterstorage

is something we are very conscious of,''

she says.

''We are currently working on climate

changeadaptationswhichimpact on

water availability for the District's inland

areas.''

Marie is amember of the Climate

ChangeSteeringGroup as part of the

Canterbury Mayoral Forum, where ideas

on how to approach climate changeare

regularly discussed and the Hurunui

District Councilispart of It's Time

Canterbury,whichisaCanterbury­wide

website aligned with neighbouring

districtcouncils and Environment

Canterbury, to talktothe region about

climate change.

Marieacknowledges thatthe Hurunui

communityhas avarietyofviews on

climate change.

However, she says ''our focus is on

working with peoplewho are keentodo

theirbit,''and significantclimate­change

initiatives have been achieved in the

district.

Theseincludethe launch of aprojectto

trackthe council's carbon footprint.

''Themost recent development has

been the installationofsolar panelson

our councilbuildinginAmberley,'' she

says.

New initiativesaroundactive

transport, drainage and drinking water

reliability havealso been put in place,

and trail networks for walking and

cycling are beingdeveloped.

''We are improving the capacity of our

stormwaternetwork to ensure our

communities are better protectedfrom

largerainfallevents and we are currently

looking to find additional groundwater

sources that are less influenced by

seasonal or climate change patterns.''

The council is also workingwith its

localcommunitiesdeveloping long­term

plansfor coastal development that suit

the individual desires of each settlement.

24–27

September

2021

ARTS

showcase

hurunui

Showcasing theArts

by artists of theHurunui

NEWS

The North Canterbury News, August 19, 2021

11

River in the spotlight

By ROBYN BRISTOW

Restoring the natural character of the

Waipara River, planting natives along its

banks, and encouraging the return of

wildlife, are the aims of the newly

formed Waipara Catchment Rivercare

group.

The group also wants to ensure a

healthy environment which can be

enjoyed by walkers and families.

Removing willow trees from the

riverbed, controlling old man's beard,

and other invasive weeds, are top of the

group's list, along with atrapping

programme for animal pests, restricting

vehicle access in the river, and planting

natives are actions put forward at a

recent meeting to help achieve the

group's aims.

Group facilitator, Rima Herber, says

the one representative of the 4WD

community made it clear there were

many who would object to being

excluded from driving in the riverbed as

it was avery valued form of recreation

among off­road vehicle drivers.

Twenty seven people attended the

meeting with several apologies, she said,

with people expressing their

commitment to work to restore the river,

and acknowledging it would be alongterm

undertaking.

Andrew Arps, the North Canterbury

Zone Manager from ECan, told the group

awillow control programme will begin

in September to clear willows from the

main channel of the Waipara River from

half akilometre above the state highway

bridge down to the sea.

The willow trees will be cut down and

removed, and the regrowth sprayed at a

later date.

Waipara River ... Willows will be targeted

during an ECan programme beginning next

month.

PHOTO: SUPPLIED

It was agreed to create three small

working groups to tackle specific issues

—willows, old man's beard and

recreational vehicles. These groups will

meet monthly.

The next Waipara Catchment

Rivercare Group meeting will be held at

7pm on Tuesday, August 24, in the

Waipara Pavilion, at the Glenmark

Reserve. Leigh Love, alocal fossil

expert, will give apresentation. Mr Love

discovered fossils of birds previously

unknown to science, in the river. One

bears his name, Australornis lovei.

Your favourite local Bakery!

•Stop, Rest and Revive

•Exceptional Service

•Licensed

•Open 7Days

Monday -Thursday 8am –4pm

Friday -Sunday 8am –5pm

Main Rd, Culverden

Ph 03 315 8492

2383133

Guest artist

Nell McKellow

of Amberley

Art&eclectic pieces

forsale

People's choice prizes

HurunuiMemorial Library

AMBERLEY

Mon&Fri 9am–5pm

Saturday 9am–4pm

Sunday10am–4pm

Register by 3rd September

Entryformsavailableatthelibrary

warren thompson waitaha ki hurunui

Hurunui Arts Council

Mon -Tues 7am -4pm

Wed -Fri 7am -4.30pm

Sat 8am -3.30pm

138 Percival Street, Rangiora

310 6096

Thursday,August 2, 2018 | Issue 808 | www.ncnews.co.nz

HAVE YOU BEEN TO

OUR WEBSITE LATELY?

www.ncnews.co.nz

Visit now toview the paper online &more!

2410065
---
NEWS

12 The North Canterbury News, August 19, 2021

Youth leader finds her groove

By DAVID HILL

Emily Beltonislooking forward to

getting knowthe youth of

Waimakariri.

The newWaimakariri District

Council youthdevelopment

facilitator hasspent herfirst week

getting to knowyouthorganisations

around the district and is keento

support thegoals of young leaders.

''I thinkitwillbeareally great

opportunity to be able to support

the youth of the district.I'vebeen

meetingafew more people

throughout theweekand thestaff

hereare fantastic.

''I hope thatout of whateverIcan

do, it will be of benefit to the

community andespecially the

youth of thiscommunity.''

Originally fromGreymouth,

Emily studiedsportand recreation

management at Lincoln University

beforeworkingfor Bowls

Canterbury as ayouth

development co­ordinator.

Thatrole broughther outto

North Canterbury,soshe already

has someconnectionswith local

bowlingclubs and community

trusts.

''Itwas time for achange and the

opportunity for professional

development and beingableto

workfor acouncil wastoo good to

passup,''Emilysays.

She had afirstmeeting with

events group WaiYouth lastweek

and looks forward to the group's

nextbig event, AllNightParty,

which hasbeen postponed until

OctobertoallowEmilytoget her

feetunderthe table.

''Thatwas fantastic meeting

them. They werevery engagingand

welcoming and Ilikethe energy

Youth facilitator ... Emily Belton is keen to encourage more initiatives like

All Night Party.

PHOTO: BENJAMIN GRIFFITHS

that comes fromthem.''

Emily willbeattending herfirst

Waimakariri Youth Council

meeting at the end of the month

andiskeentohear whatthey are

up to.

''It willbeinteresting to see

wherethe youth councilisat, how

Ifit into thatand how theyfunction

in the community,because Ithink

it's reallycool that there is ayouth

council.

''My roleisabout facilitating, so

it's aboutfiguringout what they

want to achieveand helping them

to do it.''

She is looking forward to helping

the youth council to bring the

DudleyParkprojectfruition, after

the final concept wasapproved by

the Rangiora­Ashley Community

Board earlier thisyear.

Tickets are on salenow for$60

plusbooking feefor theWaiYouth

All Night Party whichwill be held

from8pm to 8am from October 1to

2, visiting multiple locations in

Christchurch. But getinquick. For

moreinformation findWaiYouth

on Facebookand Instagram.

Survey pass mark

for access strategy

By BENJAMIN GRIFFITHS

Arecent Waimakariri

accessibilitysurvey has

received apositive

response overall,but has

identifiedsome areas for

the council to work on.

Age­friendlycommunity

facilitator Madeleine

Burdon says survey was

designed to helpthe

council track theprogress

of the WaimakaririDistrict

Accessibility Strategy

ActionPlan2017­2021 as

partofthisyear's review.

''The survey hascreated

an opportunitytohear

frompeople whose needs

are oftenoverlookedand

for thecollatedfeedback to

informcouncilabout how

the deliveryofits services

could be improved,

particularlywith regard to

removingbarriers to

inclusion in everyday

community life.''

The survey found the

majority of respondents

wereable to access council

buildings and toilets,can

get aroundthe district

easily,can find acar park

easily,know how to keep

themselves safeinan

emergency,have enough

informationtomake

informed decisionsand

feel abletotalk to decisionmakers.

Oneconcernwas

accessingthe council

websiteand Facebook

page, with oneperson

callingfor subtitles and

captionsonall videos and

social media andsign

language interpreters at

community events.

Catchingthe bus was

another area of concern,

withthe majority of

respondentsnoting they

did not finditeasy to catch

the bus,one personnoting

thatthose living in rural

areas wereexcluded and

another felt unsafe on the

bus.

While themajority felt

abletotalk to decisionmakers,

it wasnotedthat

teenagershave concerns

theywillnot be

understood.

Covid­19QRcodes are

alsoachallenge, withone

respondent noting that

somecodeshave been

placed toohigh or in the

doorway.

''I havebalance issues

and appreciate if Ican

sign­inaway fromthe main

doorwhere able­bodied

peopleare in ahurry,''the

respondent said.

Alack of support for the

transition fromschool to

adult servicesand the

absenceofalocalgroup

activityfor those with

intellectual disabilities

werealsonoted.

Say hello

to an actual

human.

LIGHT SPEED

EMPATHY

REAL-TIME

INTUITION

REAL

VOICE

Our local insurance brokers are here tohelp.

Talk to areal human about your insurance.

WAVE2630NC

Christchurch 03 345 9800

Rangiora 03 310 8940

or visit aon.co.nz

Proudly local. Proudly human.
---
Thinkresort,

notlastresort.

Live theholiday lifestyle everyday at Summerset.

Whether it's bowls followed bydrinks at the bar, aswim in the pool,

or aquiet seat in the sun with your favourite crossword -we're here

to make your retirement anything but tiresome.

SummersetatAvonheads'villagecentreisopening soon,

offering resort-style facilities and our full range ofliving options.

Think this sounds like you or someone you love?

2021

Aged Aged Care & Retirement

Villages

Villages

SummersetatAvonhead

03 3573202 | summerset.co.nz/avonhead

SUM3263_37X8
---
NEWS

14 The North Canterbury News, August 19, 2021

Local cadets come of age

By DAVID HILL

Rangiora'sair cadets have come of

age and are changing theirname

to reflect their growingstanding in

the community.

The local group has applied to

change its name to 88 Squadron

District of Waimakariri and will

receiveacharterfrom

WaimakaririMayor Dan Gordon

on Sunday, September 12.

Squadron leader Tania

Mackinnon saysthe local groupis

celebrating its five yearsofservice

and now has 65 cadets, 10 officers

and three supplementary staff.

''Thereare about 100 cadet units

in throughoutthe country and we

are one of the newestones and we

have proven ourselves and grown.

''Most of the larger city units

tend to go for acharter with their

local council,sowethoughtitwas

time we did it too and the name

better reflects our representation,

becausewehave cadetsfrom

Oxford,Kaiapoi and Amberley, as

well as Rangiora.''

Acharter givesmilitary units

permissiontomarch through a

town centre, with the exception

that cadet units do not carry

weapons, she says.

''But it willgive us permission to

walk through the streets.''

While cadet units were

originally established as military

units after World War 2, these days

their role is to train young people

to become good citizens and to

serve their communities, Tania

says.

''We haveyoung people like

WarrantOfficer Hamish Cookand

he's an outstanding young man.He

is acadet and was one of our

Community support ... Rangiora Mazda owner Hamish Hide (centre)

presents afour radio set to senior cadets Flight Sergeant Tia Warwick (left)

and Warrant Officer Hamish Cook.

PHOTO: SUPPLIED

original, founding members.

''Back then he was alittle cadet,

but he's grown and stepped up as

the unithas grown.''

The cadets have been invited to

attend countless events

throughout the district and offer

service to the wider community.

Tania says the cadets now

participate in 10 AnzacDay

parades and are involved in other

events such as the BattleofBritain

commemoration.

Cadets willbecollecting in High

Street, Rangiora,onDaffodil Day

on Saturday, August 28.

The cadets recentlyacquired a

new working dress from the New

ZealandDefence Forcetowear

while out in the community,

alongside their more formal

uniforms.

Rangiora Mazda recently joined

forceswith Waimak Classic Cars to

sponsor aset of fourradios for the

growing cadet unit to use on their

various training activities.

The publicisinvited to witnessa

paradeoutside the Waimakariri

District Council chambers in High

Streetfrom 1.30pm on Sunday,

September 12, where the unit will

receive acharter from Mayor Dan

Gordon, who will alsoreview the

parade. Following the parade, the

cadetswill have aformaldinner

with cake to celebratetheir fifth

anniversary.

Great friends ... Amberley artist Jodie Anne James (right) and with

her caregiver Rose Tierney.

PHOTO: SUPPLIED

New diamond artist

Amberley's JodieAnne James

is provingtobeadab hand at

the relatively new art formof

diamondart.

Jodie Anne became

interested in doing diamond art

after encouragement fromher

special needscaregiver, Rose

Tierney.

''I got Jodie Anne into

diamondart after lockdown.

She has never looked back and

is showingamazingtalent. She

loves it anditissogoodfor her

souland herhand­eye coordinationskills,''Rosesays.

Roseand JodieAnne met 12

years agoatthe Amberley Rest

Homeand havebecome great

friends.

''I usedtohelpJodie Anne

whenshe didthe afternoontea

trolleyatthe rest­home and

thenhad thepleasure afew

years latertobecome her

supportworker for the

Florence NightingaleAgency, a

Christchurch company

providing in­home careto

people whoare unable to

support themselves.

Diamond art is acraft hobby

thatwas introduced in North

America andEurope during

2017.

It is amix between paint by

numbersand cross stitch where

thousands of tiny resin

''diamonds''are placed on

adhesive canvas to create

sparkly, mosaic, diamond art.

Jodie Anne says she loves

doing theartwork.

''Itisalot of fun andkeeps

me outoftrouble. It is alsoa

great skillfor me to learn and

the finisheddiamond art is

specialbecauseIhavedoneit

all on my ownwithnohelpand

thenRose frames themfor me.''

Jodie is hopingtoeventually

sellsomeofher artworkand

haveasmall exhibition in the

Amberley Librarytoshowcase

her skills to thewider

community.
---
Everyone eligibleinNorth Canterbury

can now booktheir COVID-19

vaccination appointments.

Notyourturn yet?Register your details.

Go onlineatwww.BookMyVaccine.nz

Book an appointmentinone ofthese North CanterburyCOVID-19

vaccinationclinics:

Clinic name

Amberley MedicalCentre

How to book

Book online at www.BookMyVaccine.nz

or phone0800 28 29 26

Amuri Community Health Centre Phone the clinic 03 315 6328

Cheviot Community Health Centre Phone the clinic 03 319 8630

Hanmer Springs Health Centre Phone the clinic 03 315 7503

Waikari Health Centre Phone the clinic 03 3144506

Kaiapoi Family Doctors

Kaiapoi Gospel WayOutreach Hall

RangioraDurham Health

RangioraLifePharmacy

RangioraUnichem MedicalCorner

Book online at www.BookMyVaccine.nz

or phone0800 28 29 26

Book online at www.BookMyVaccine.nz

or phone0800 28 29 26

Book online at www.BookMyVaccine.nz

or phone0800 28 29 26

Book online at www.BookMyVaccine.nz

or phone0800 28 29 26

Book online at www.BookMyVaccine.nz

or phone0800 28 29 26

OxfordCommunity Health Centre Phone the clinic 03 312 4195

Some people mayfind booking easy, andsome mayneedahand.Please

checkinwithyourwhānau and thepeople yousupport iftheyneed help.

Forlocal updates check

www.VaccinateCanterburyWestCoast.nz.

CDHB16Aug21 CP
---
NEWS

16 The North Canterbury News, August 19, 2021

Students shape future of sport

By DAVID HILL

Two Rangiora High School pupils

are helping to shape New Zealand's

future Olympians.

JadeKruger and Paris Karaka

are serving on national sports

committees to sharethe viewsof

young people participating in sport.

Bothare highachieving sports

people in their own right,with Paris

having been selected for the New

Zealand under­18 women's touch

squad, the Canterburywomen's

senior netballteam and also plays

volleyball.

Jadeplays football, participates

in athletics, is keen to playrugby

sevens and her goal is to represent

New Zealand in the 100 metre and

200 metresprints.

Paris, who is in year 12, is one of

just13pupils serving on the

inaugural School SportNew

Zealand Student Athlete

Commission(SAC)and will be

attendinganationalsports

conference in Rotoruanext month

as part of her role.

''Our focus is to make sports

better andtoencourage more

participation.''

Ayear 13 pupil, Jade is serving on

the New ZealandSportCoaching

Advisory Committee, which

includes justtwo secondary school

students fromaround the country to

suggestimprovements for coaches.

''Wecontributetoshapingthe

directionofcoaching, identifying

problems and finding solutions.''

Among the topicsdiscussed are

how to attract more young peopleto

playsport, the pressuresonyoung

sports people and ''Balance is

Better''.

''Balance is Better''isanew

Young leaders ... Rangiora High School pupils Jade Kruger (left) and Paris

Karaka are keen to encourage more young people to participate in sport.

PHOTO: DAVID HILL

coaching programme gaining

traction in secondary schools

aroundthe country, which

encourages cultural changeand

promotes moreyouth participation

in sport, Jade says.

''Balance is Betterisused alot

more in schools in the North Island

and they'vefound they have so

many more kids participation

because it's more fun.

''One school stopped playing

15­a­side rugby and changed to

sevensand foundthey had more

kids participating becausethey all

get to pass the ballinagame, so it's

more fun and they'restill

developing the skills.''

Many young people just want to

play with theirfriends, butasthey

get older and move up the ranks the

pressurescan become more

intense,Paris says.

''I think that's why lotsofyoung

people drop out, because it gets so

seriousand you have other

priorities, like an after school job

and NCEA.

''Thecommitmentisahuge

thing.''

Part of the challengeisthe

different expectations between

coaches and players from different

generations andupbringings.

One of thepressures for Paris is

she knows she needs to focus on one

sportifshe wants to progress to the

top level.

Jade hopes to study psychology

and sportsscience next year, while

Parisisinterested in joining the

army or the police.

Greenlights, by Matthew

McConaughey

From the Academy Award winning

actor, an unconventional memoir

filled withraucous stories, outlaw

wisdom, and lessons learnedthe

hard way aboutliving with greater

satisfaction.

Stucktogether, by SarahTuck

SarahTuck is

back with a

fresh

collection of

recipes to

impress your

guestsatdinner parties. Dishes

designed to share with loved ones, you

will fall in love with these imaginative

and scrumptiousplates.

Gardening withdrought­friendly plants,

by Tony Hall

This is the essentialguide to the plants suited to our changing

climate of warmer,driersummers, written by Kew expert Tony

Hall.

Findout more about recent additions to the library collection

by going to the librarycatalogue at waimakariri.kotui.org.nz or

hurunui.kotui.org.nz or contact your local library.

Heading for the beach ... Participants head to the beach in the

inaugural Art Hike at Tuhaitara Coastal Park on Sunday.

PHOTO: ADELE JACKSON
---
See the Good Sports.

$67.27

PER WEEK

$95.18

PER WEEK

$227.41

PER WEEK

$173.54

PER WEEK

2013 Mitsubishi Galant Fortis

Super Exceed 1800cc with 39,540kms,

Auto Tiptronic, 3Airbags, Alloys, Auto Air Con, CD,

Auto Lights, Cruise Control, Chain Driven, Electric

Mirrors, Factory Privacy

Glass, Half Leather Seats,

Idlingstop, Traction Control.

2015 Peugeot 3008 Allure 1.6

Turbo 1598cc with 83,793kms, Auto Tiptronic,

5Star ANCAP, 6Airbags, Alloys, Auto Lights, AUX/

Bluetooth/CD, Cruise, Dual Zone Climate Control,

ESC, Fog Lights, ISOFIX,

2018 Volkswagen Tiguan

Allspace Highline 4Motion TDi

1968cc, Auto Tiptronic, 5Star ANCAP, 7Airbags,

Alloys, Bluetooth, Downhill Descent Control, ESC,

Fog Lights, Heated Leather

$12,990 $18,990

$45,990

Half Leather Seats,

Panoramic Glass Roof.

Seats, Pre-Crash Safety,

Smart Key,Turbo Diesel.

2018 MitsubishiEclipse Cross

VRX 4WD Turbo 1499cc with 25,413kms,

Auto Tiptronic, 360˚ View Camera, 5Star ANCAP,

7Airbags, Alloys, Bluetooth, Android Auto, Apple

CarPlay, Forward Collision

Mitigation, Heated Leather

Seats, NZ New, Smart Key.

$34,990

$57.47

PER WEEK

$1030.60

PER WEEK

$81.96

PER WEEK

$72.16

PER WEEK

2010 Volkswagen Polo TSi

Comfortline 1200cc with 28,742kms, Air

Conditioning, Auto Tiptronic, 6Airbags, CD Player,

ISOFIX, Electric Mirrors, Electric Windows, ESC,

Power Steering, Remote

Central Locking, Traction

Control, Turbo.

$10,990

2021 Land Rover Range Rover

Vogue SE SDV8 4600cc, 360˚ View Camera,

108kms, 4WD, 6Airbags, Adaptive Cruise, Tiptronic,

Alloys, Android Auto, Apple Car Play, Auto Lights,

Bluetooth,Heated/Cooling

Seats, Lane Keep, Leather,

Glass Roof, Turbo Diesel.

$209,990

2012 Mazda Axela Sport 20S

SkyActiv 2000cc with 47,490kms, Auto

Tiptronic, 6Airbags, Aero Body Kit, Alloys, Auto

Lights, CD Player, Chain Driven, Cruise, I-Stop,

Dual Zone Climate Control,

ESC, Fog Lights, ISOFIX,

Paddle Shift, Smart Key.

$15,990

2013 Toyota Corolla Fielder

Hybrid G 1500cc with 66,888kms, Auto, Centre

Shoulder Belt in Rear, Chain Driven, Climate Air Con,

Electric Mirrors, Electric Windows, ESC, Factory

Privacy Glass, ISOFIX,

Smart Key, Remote Central

Locking, Traction Control.

$13,990

$101.55

PER WEEK

$193.13

PER WEEK

$212.72

PER WEEK

$227.41

PER WEEK

2014 Mazda AxelaHybrid-S

LPackage 2000cc with 56,081kms, Auto,

Alloys, 6Airbags,Bluetooth, BoseAudio, Chain Driven,

Cruise,ESC,Heated Leather Seats, ISOFIX, Smart Key,

MultiFunctional Steering

Wheel, Traction Control,

Trip Computer.

$19,990

2016 Toyota Highlander GX 4WD

3456cc with 65,393kms, Auto Tiptronic, Alloys,

5Star ANCAP, 9Airbags, Air Con, AUX/Bluetooth/

USB/CD, Cruise Control, Downhill Descent Control,

Fog Lights, ISOFIX,

NZ New, Traction Control,

Reversing Camera.

$38,990

2019 Holden Acadia LTZ4WD

3649cc with 62,735kms, Auto Tiptronic, 7Airbags,

Android Auto, Apple CarPlay, AUX/Bluetooth/USB,

Blind Spot Monitoring, Climate Air Con,Cruise, ESC,

Heated &Cooling Seats,

Lane Keep, Smart Key.

$42,990

Balance of New Car Warranty!

2017 Nissan Navara ST-X 4WD

2298cc with 59,231kms, 5Star ANCAP, 6Airbags,

6Speed Manual, Alloys, Auto Lights, Bluetooth,

Climate Air Con, Cruise, ESC, Privacy Glass, Fog

Lights, Heated Seats,

Hill Start Assist, NZ New,

Smart Key, Turbo Diesel. $45,990

$227.41

PER WEEK

$222.52

PER WEEK

$188.23

PER WEEK

$207.82

PER WEEK

2017 Mazda BT-50 GSX 4WD

3.2D 3198cc with 70,261kms, Auto Tiptronic,

6Airbags, Alloys, Auto Lights, AUX/Bluetooth, ESC,

Chain Driven, Cruise, Dual Zone Climate Control,

Fog Lights, Multi Functional

Steering Wheel, Traction

Control, Turbo Diesel.

$45,990

2016 Nissan Navara ST-X 2.3D

4WD 2298cc with 94,213kms, 5Star ANCAP,

Alloys, 6Airbags, Auto Lights, Bluetooth,Cruise,

ESC, Hard Lid, Heated Leather Seats, ISOFIX,

NZ New, NZSat Nav, Roof

Rack, Rev. Camera, Smart

2012 Toyota Hilux 4WD 3.0TD

D/C Ute 2982cc, Air Con, Alloys, Auto, Cruise,

Canopy, Bluetooth/CD/AUX, Dual Airbags, ESC,

Nudge Bar, NZNew, Remote Central Locking,

Roof Rack, Running Boards,

Towbar, Traction Control,

Key, Towbar, Turbo Diesel.

$44,990 $37,990

Tuff Deck, Turbo Diesel.

2016 Isuzu D-Max LS DC 3.0D

4WD 2999cc, 20" Wheels, 5Star ANCAP, Auto

Tiptronic, 6Airbags, Bluetooth/CD/AUX/USB,

Climate Air Con, Cruise, ESC, Fog Lights, Hard Lid,

NZ New, Running Boards,

Tinted Windows, Traction

Control, Turbo Diesel.

$41,990

Stadium Cars Rangiora 03 310 7940 | stadiumcars.co.nz

609 Lineside Road, Waimakariri, Rangiora OPEN 6DAYS

*Conditions apply. Not available with any other offer. Finance offer subject to credit and lending criteria.

Finance calculation based on 60 month term. No deposit with an annual fixed interest rate of9.95%,

includes an establishment fee of$445. See our website for full disclosure.

*On road costs may apply to some vehicles
---
Professionals

in North Canterbury

WORK SMARTER

Call Prosser Quirke Accountants

Chartered Accountants &Business Advisors

2299722v3

NOT HARDER

6Blake Street, Rangiora, New Zealand

ph. 03 313 7824

email. team@prosser-quirke.co.nz

Experienced

Podiatrist;

2373659v2

Erin Marsden BSc(Pod)

NEW BASICS CLINIC $40

022 1726 049

www.northcanterburypodiatry.co.nz

.Familiar face ... Christine Staines enjoys supporting North Canterbury families through

the John Rhind office in Kaiapoi.

PHOTO: FILE

Care, compassion at the end

John Rhind Funeral Directors has been

serving North Canterbury for 15 years.

From its Kaiapoibase, John Rhind is

available to travelacross the Waimakariri,

Hurunui and Kaikoura districts, general

manager Tony Garing says.

"In North Canterburywework as much

as we can with local people, including

caterers, florists and celebrants.

"We are committed to supporting the

NorthCanterbury community with all of

the arrangements."

The only exception is in the preparation

of the body,done at the mortuary in

Christchurch and then returned to

Kaiapoi.

John Rhind Kaiapoi is based in an old

family homeat118 Williams Street.

"One of the biggestassets in Kaiapoi is

our funeral director Christine Staines,

who runsour Kaiapoioffice,"Tony says.

"She is very well­known in the

community, she knowsalotofpeopleand

she has agood knowledge of the district

and knows the history of Kaiapoi.She's

always available to talkaboutfuneral

arrangements."

Christine is supported by the mainoffice

in LondonStreet, Christchurch, which

includes three staff who are North

Canterbury residents.

John Rhind offers arange of different

funeral and pricing options, including

fixed price options thatmay suit people's

budgets or particular typesoffunerals.

"We can caterfor services which are

small and very simple,tothe more

elaborate and involved," Tonysays.

John Rhind Kaiapoi movedtoits present

location after the earthquakes.

"We wantedsomething that was

welcoming andhomely,sothis was an

obvious choice. It'slike walking into your

grandparent'shome," Tony says.

Families may choose to have aburial or

acremation. The funeral service can be

held at the Christchurch chapel, the

Harewood Crematorium or John Rhind

can arrange alocalvenue.

"Some families like to have services at

the Kaiapoi Club,the golf club,alocal

church, at home or at the marae and we

often use the Northbrookchapel."

Contact John Rhind Kaiapoi on (03) 327

7499, emailstaff@johnrhind.co.nzorgoto

johnrhind.co.nz.

Do you havethe winter

blues, feel lethargic/out

of sorts,cravesomesome

time out?

Call us or book online for a

Hot Stone Massage

Warm stones combined with massage will

calm your nervous system, increase circulation

&leave you feeling relaxed.

2384258v2

31 Blackett Street, Rangiora

Phone 03 313 0349

Email info@head2toe.co.nz

www.head2toe.co.nz

NORTH CANTERBURY

03 311 8008

email@helmores-law.co.nz

www.helmores-law.co.nz

2373179v2
---
FREE DELIVERYTOKAIKOURA -OVER300 CARSONLINE-WWW.MORRISONCARS.CO.NZ

$

9,994

$

9,494

$

11,994

$

14,494

$

14,494

2012 TOYOTA RACTIS

62,000KM

1300cc, Full Electronics. Great

Seat Elevation!

$

12,494

2011TOYOTA VITZ FSMART

STOP

65,000km, 1300cc, 5-door.Great

economical runabout!

$

9,827

2016NISSANNOTE

60,000kms, Alloys, Full Electrics

Front &RearParkingSensors

PLUS Camera!!

$

9,494

2011 TOYOTA AVENSIS

43,000km

2-litre,FullElectrics,

6Airbags, Alloys

$

13,394

2013NISSAN JUKE 15RS

76000kms, Full Electrics, Alloys

Reverse Camera.

$

34,744

2013 HONDA FIT HYBRID

84,000kms, Reverse Camera

Great Safety&FuelRating

SPECTACULAR in Blue!

$20,494

2012 MAZDA DEMIO 13

SKYACTIVE

60000kms, 1300cc, Full Electrics

FANTASTIC Colour!

$

9,949

2011HONDAFIT SHUTTLE

95,692km, 1500cc, 5-seater

$

12,794

2012 MAZDA AXELA SPORT

64,000kms, Alloys

Sports Body Kit!

$

15,494

2015MITSUBISHI OUTLANDERPHEV.

64,000km, 2000cc,plug-inhybrid,

heatedseats,electricboot, rear camera,

SmartPower 4WD system, Bluetooth/

USB. Looks spectacularinwhite!

$

57,694

2013 MAZDAATENZA 25S

81,144km,2500cc,leatherseats,

looksAMAZINGinRED!

2009 SUBARU OUTBACK

2.5L, 4WD,very popular, towbar

2014TOYOTAVITZ

1500cm, 1300cc, lowkms, FRESH

in SunnyYellow!

2015 MITBUSIHI GALANT

FORTIS SPORT

58,845km,1800cc, greatkms, late

model, CLASSIC Silver!

2016 TOYOTA LANDCRUISER

PRADO TX

2900km, 2800cc, diesel, 4WD,

PERFECT for towing

$

4,999

$

17,494

$

33,490

$

29,494

$

12,494

2006 NISSAN TIIDA

TRADE IN SPECIAL!!

Full Electrics,Amazing Colour!

TidyWee First Car!!!

2015 SUZUKI S-CROSS SX4

83,000KMS

1600cc, Cruise Control,Alloys,

Very SmartWee Cars.

2015 FORD RANGER TD XL

SUPERCAB

84,000kms, Manual, Canopy,

Towbar,Alloys, Tool Trays

All prices include on road costs, 12 month registration and new WOF

2018 MAZDA CX-3

30,000kms, Full Electrics, Alloys,

Front &Back Cameras, Bluetooth

5Star Safety Rating

2012 SUBARUIMPREZA

SPORT2.0I

88,000kms,Alloys,FullElectrics

Chain Drive

*Safety ratings are from year ofmanufacture*

2403865
---
NEWS

20 The North Canterbury News, August 19, 2021

HILUX, HIACEAND

EVERYTHING IN

BETWEEN

68 FalsgraveStreet,Woolston

W: nzvanspares.co.nz

E: nzvanspares@hotmail.com

Ph: 03 3793932/0508 698267

100% Canterbury Owned

NZ's favourite home for

Recycled Hilux &Hiace Parts

The Widest Music Variety

Tune in nowtolistenon104.9 North Canterbury

and103.7 Hanmer Springs andKaikoura

"Exclusive"

Pellet and Wood Fire Specialists

Ravelli ULEB Wood Pellet Fires

472 Blenheim Road

Sockburn

Phone: 03 343 1651

Open 8:30am -5pm

Sat 10am -3pm

www.heatstore.co.nz

Dunedin City Band

The Rangiora SalvationArmy willbe

hosting the Dunedin City Band for a

Saturday evening concert with Rangiora

Just Brass, alocalchildren'sbrass band,

in the Rangiora Baptist Church,111 East

Belt,from 7pm on Saturday, August 28.

The Dunedin City Bandwill also be

performing during the Sunday church

service at the Rangiora SalvationArmy

Corps, 12 Ashley Street, from 10amon

Sunday,August 29.

RangioraCommunityPatrol

The Rangiora Community Patrol will

hold afundraising sausage sizzleoutside

PAK'nSAVEonSaturday,August21from

10am to 2pm. The patrol, holds a

barbecue every third Saturday.

Swannanoa School

NorthCanterbury's Swannanoa School

celebrates 150 years at LabourWeekend.

Arange of activitiesand events are

planned from October 21 to 24 to mark

this momentous occasion and to allow

past pupils, staff, school families and the

community to connect.

Theseeventsinclude the unveiling of a

speciallycommissionedsculpture and

commemorative garden, an invitationto

the communitytojoin the annual Pet

Day, school tours, taking of decade

photos and an informal evening mix and

mingle over dinner.

The weekendwill also see the launch of

the book, History of Swannanoa School.

Checkout what'sonand register now at

swannanoa.school.nz or email

150@swannanoa.school.nz.

Classiccars

The eighth monthly classic car gathering

willtake place on Sunday, August 29, at

the BetterHalf Kitchen and Bar, on the

corner of State Highway One and

Ashworth's Beach Road.From 10am to

2pm.BetterHalf opens at 9am for those

wishingtostartthe day off with cooked

breakfast.

NC BMX day

Raindelayed the registration and Come

andTry BMX Day at the North

Canterbury BMX Club, Millton Avenue

Rangiora. It will now be held this

Sunday,August22, from12noon to 2pm.

The new season is abouttobegin and

anyone keen to try out BMX are welcome

to go along and see what it is all about.

WaimakaririCountry Music Festival

The Waimakariri Country Music Festival

fundraiser is being heldatthe Ashley

Street showgrounds in Rangiora on

Sunday, August 29. The festival starts at

11amand willfinish around 4.30pm.

Admission is $5 per person. Foodfor

sale. All welcome.

Bulbfundraiser

The LionsClub of Pegasus Townis

running aSpring fundraiserselling lily

and freesiabulbs. You can plant lilies

now forChristmas blooms. Thereare

manyvarieties with bagsof4lily bulbs

for $10 and20freesiabulbsfor $5. To

order please contactAnne on 03 313 6124.

Temporary rubbish bags

As supply chain disruptions continue

worldwide,shipping delays have forced a

temporary solution for the supply of tiehandle

Waimakariri District Council

brandedrubbish bags.

The tie­handle bags are supplied by a

Christchurch­based firm,but are produced

by an overseas manufacturer and the

disruptions mean they are unlikely to

arrive in the country for anotherfour to six

months.

''We'vebeen working with our local

supplier to make ashort term supply of

bags that will tie us over for the next few

months,'' solidwaste asset manager Kitty

Waghorn says.

The temporary bags have aperforated

tear­off tie and are the sameasthose used

before the councilmoved to tie­handle

bags, and are the same volumeand price as

tie­handlebags.

The council movedtotie­handle bags

more than ten years ago, due to feedback

from both the community and the council's

collection contractors that the tear­off tie

bags were difficult to handle.

The tie often popped off, spilling rubbish

on the street, and were difficult to wrap

around afull rubbish bag.

The tie­handlebags were originally

manufactured locally, but the manufacture

has moved off­shore due to low demand

across the country for this styleofbag.

The council acknowledges that the tie

bags are more difficult to handle when they

are full, and anticipate movingback to the

tie­handle bags as soon as stock arrives, Ms

Waghorn says.

''To make it alittle easier to use the tietop

bags, we ask residentsnot to over­fill

them.

''Over­filling definitely makes it more

likely that the tie will come off when they're

being carried to the kerb and also during

pick up.''

While the councilwaits for the temporary

bags to arrive,residents may seeblue bags

with acouncillogo sticker at the

supermarkets and council services where

bags can be purchased.

Rubbishbags work on auser pays basis,

and the cost of abag coversmanufacturing

of the bag, kerbside collection and landfill

disposal.

$6000+

+

PRIZE

POOL

VISIT RUGBYNEWS.CO.NZ

OR CALL 0800 77 77 10

FOR MORE INFORMATION

AND TOSUBSCRIBE

SUBSCRIBE FROM AS LITTLE AS $39 FOR A

CHANCE TO WIN ONE OF 35 PACKS FROM

OUR PRIZE POOL WORTH OVER $6000

Winners will be drawn on September 2 and contacted directly. Terms and conditions apply, see our website for details.
---
We're having a

CLEAR-OUT!

ALL BEDROOM, LOUNGE, DINING, OFFICE, MATTRESSES ON SALE! Ends 20.9.21.

Lennox 3Seater

WAS $

1699

NOW

$

1199

Brix Light /Peyton Grey

7Piece Dining Set

WAS $

1569

NOW

$

1149

VIVA WHITE

ON SALE

Buffet

NOW $

649

Entertainment Unit

NOW $

699

Side Table

NOW $

249

Chia Single Trundler

Bunk Bed

WAS $

1299

Fairview Recliner Corner

Suite –River

WAS $ 2999

NOW

$

2499

NOW

$

999

greatfor

sleEp-overs!

Recliner

comfort!

ALL DINING

CHAIRS

Zen PU

$

125

Duke

$

125

ON SALE

Peyton

$

115

Vintage

$

95

Camille

$

75

Dallas King Bed

WAS $ 499

NOW

$v

349

Xander Recliner

WAS $ 799

ALL

MATTRESSES

NOW

$

599

ON SALE

HEAPSofSUPERDEALS!

Scantofindstore

250 Moorhouse Ave, Christchurch

0800 TARGET (0800 827438)

SCANQRTOSHOP

targetfurniture.co.nz

Offers and product prices advertised here expire

20/09/21. Sale Excludes Accessories.
---
EQUESTRIAN

22 The North Canterbury News, August 19, 2021

New start for orphan foals

An ex­NorthCanterbury woman is giving

orphaned foals anew leaseoflife.

AnnaMiles, who is originally from

Scargill, has been running the South Island

Foster Foal Servicevoluntarilyfor four

years, matchingorphaned foalswith mares,

which havelost their foals.

''Some peoplechoose to raisedan

orphaned foal themselves, but the ideal

outcomeisifthe foalcan be placed witha

maresothey can learn horsebehaviours.

''Itreallydoesn'tmatterwhat type of

horse, as long as they can get in for their

drink and they're learningthe behaviours

of beingahorse.

''I've had afoal which has grown up to be

aracehorse after being raised by a

children's pet pony, but Iwouldn'tput abig

foalwith aminiature horse.''

The foster foal service is offered forno

costand was developedbythe Canterbury

Marlborough Westland Otago branch of the

New Zealand Thoroughbred Breeders'

Association.

The service extends to thoroughbreds,

other horses, ponies,Clydesdalesand

miniature horses, and is providedfrom

PARENTS

Do you haveasonordaughteror interested inhorse riding?

✭ Courses everyweekend.

✭ 2, 5&7daySchool Holiday courses.

✭ Private lessons available

Monday toFriday

✭ One day /one night $90 child

✭ Opportunity to compete on our horses.

✭ ½day lessons and treksavailable.

2264064

711Island Rd View Hill, OXFORD 7495

03 312-4309 www.kowhai.co.nz

Experience the magical tölt

of the Icelandic horse!

Horse treks around the Brooklands lagoon,

Spencer park beach and forest.

Ranging from 1 - 2.5hrs

Second chance ... Orphaned foals are

getting asecond chance.

PHOTO: SUPPLIED

August 1through to the end of January.

She has developed an extensive database

and is abletoco­ordinate between different

breeders and checksinwith the larger

studs when required.

Anna encouragespeople to contact her

directly, so she can find matches. Text

021­02503472for more information.

Radwood Trailers

Trailer Hire

Braked, Double Horse Floats

Standard Tandem Trailer

also available

2410475

TIRED OF MUCKING OUT?

Give us acall

MANURE SOLUTIONS

2411283

Bookings Essential

535 Tram Road, Ohoka

027 338 8958

Horse,

Alpaca,

Donkey,

Sheep, Goat

027 354 7194

ncwhitebait@outlook.com

www.icelandichorsetreks.co.nz

or contact Inga on

027 505 0542

2410472

Junior rider ... Ohoka's Molly Moffatt (16) has been named junior rider of the year in the

eventing circuit with her horse Ngahiwi Makem.

PHOTO: DAVID HILL

Molly top junior rider

By DAVID HILL

Winning the junior rider of the year title

was an unexpectedsurprise for Ohoka

teenager MollyMoffatt.

The Kaiapoi PonyClub rider, who turned

16­yearslast week, was crowned junior

(under­18) rider of the year on the national

equestrian eventing circuitlast month,

despite it beingher first full season with

her new mountNgahiwi Makem.

''It was areal surprise. Iguess it was our

firstyear together, so Iwas just going outto

get some experience, so it was prettycool to

get some good results in the showswewent

to,''Mollysays.

''I wasjust wantingtoget to know her

because she's quite quirky andfunny

around people, but we won our first event

and everything progressedfrom there.''

The pair competed in just six events

during the 2020/21 year, but won all of her

two­starevents, competedsuccessfully at

three­star level and won the national junior

riderthree­dayeventingtitle at Puhinui,

near Auckland.

Othersuccesses for the combination

included the South Islandthree­day

eventing title at two­star levellate last year

and second­place in the national one­day

eventing championshipsatthree­star level,

both at McLeans Island, Christchurch.

Equestrian is in Molly's bloodasher

mother, Amanda Brown, was asuccessful

riderand both of her grandmothershave

bred poniesand horses.

''My mother has been avery successful

rider, so it's pretty cool for me having her

around because she's got lotsofknowledge

around horses andshe'skind of like my

full­time coach.''

Mollyhas been ridingsince she was

4­years­old and firstcompetedinthe

Springston Trophyasan8­year­old,

North Canterburyishome to many

horses and riders, from weekend

riders to serious competitors and

everyone in between.

We canhelpyou reach your targetmarket.

Contact us today: info@ncnews.co.nz

winning the trophy with the EyretonPony

Club in 2015 before transferring to the

Kaiapoi Pony Club towin the trophy for a

second time in 2019.

Afterlast year's Springston Trophy was

cancelleddue to Covid­19, Mollyislooking

forward to helping Kaiapoi defend the title

in Southland in October.

''TheKaiapoiPony Club are aprettycool

bunch. It's in Southland this year so it's a

long drive, but we're doinglots of

preparation and we have such acool group

of peoplesoit's goingtobefun.''

The Springston Trophy is athree­day

eventing teams competition with dressage,

crosscountry and showjumping.

Her brother Sam (12) was also part of the

successful 2019 Kaiapoi Pony Clubteam.

Sam ridesMarsdenMagic, which is

ownedbythe Taane family, and Ataahua

Masterpiece, bred by their grandmother

Jeanette Brown.

When she's not riding,Mollyattends

RangiRuru Girl's School in Christchurch

and is amember of the school's first XI

hockey team.

''I guess the Olympics would be apretty

cool goal and it would be fun to travel

overseasand stay with the top riders, but I

don'twant to rush anything.

''Fornow, Ijust want to be riding ponies,

become agood rider, producesome good

horses andhave fun alongthe way.''

Mollyisaversatile rider, havingridden

''a quirky, but hard workingpony'' Te Ngaio

Raggamuffin, owned by the Geddes family,

on the pony grandprix showjumping

circuit.

She alsowon the round the ring open

hunter pony competition at the 2019 New

Zealand AgriculturalShowriding Jeanette

Brown's pony Tironui Firecrackerand

placed third in the same event on her other

grandmother JanMoffatt'spony Moet.
---
EQUESTRIAN

The North Canterbury News, August 19, 2021

23

ADVERTISING FEATURE

All clear ... Grace Gormack (14) and Googleit clear afence.

Amberley'srising star

By DAVID HILL

Rising star Grace Gormack has been

riding since the age of 2­years.

Now aged 14, the Amberley Pony Club

rider has enjoyed plenty of success in

both show jumping and eventing with her

horses Rosewood Zakee and Googleit.

Zakee, a12­year­oldgrey Arab pony, is

Grace's eventing horse, while 10­year­old

Googleit, ablack and white pony, is

''really speedy'' making her agood show

jumping horse.

''Zakee is really good at dressage and

he's kind of quick so he's quite good at

everything,'' Grace says.

''He's really honest and Ihave areally

good bond with him.

''Googleit was tough to start with and

struggled abit, but she's really quick and

she's honest and she tries her best.''

Grace and Googleit won the pony class

in the 2020/21 Dunstan Horsefeeds Show

Jumping Circuit, acontest between the

Amberley, Kaikoura, Waiau and Hurunui

pony clubs and added anational pony

rising star title at the show hunter

nationals earlier this year.

She was also part of the Canterbury

team with Zakee which won the eventing

championships in Cromwell earlier this

year, beating teams from all over the

South Island and one North Island team.

Next up is the Springston Trophy being

held in Southland from October 7to10.

While Grace has twice competed for

the Amberley Pony Club with Zakee, this

Enjoy early bird pricing when you book

and pay your deposit by 31 st August on a

Salta Horses workshop for Spring

Salta Horses rates 10 out of 10 with

Michelle Sharp CEO Unicef NZ:

"Whether you are building anew

team, you have someone joining a

well established team, or you have a

business problem tosolve, aday out

of the office at Salta Horses isaunique

and powerful way to promote critical

thinking and team building."

www.saltahorses.co.nz

Ph 021 223 3925

Early bird special

applies to all workshops.

Salta Horses for leadership coaching,

team building, wellbeing and resilience.

2410474

PHOTO:SUPPLIED

year Grace and Zakee will ride for the

Kaiapoi Pony Club.

''We are honoured to be excepted into

their pony club as Amberley doesn't have

ateam this year, but Amberley will

always be my pony club,'' Grace says.

Grace's father Giles has ridden in

eventing at four­star level, while her

mum Rachael has also ridden

competitively.

''She is anatural in some ways, but she

works bloody hard,'' says proud mum

Rachael.

''And she probably wouldn't be where

she is without Giles, he's so good with

her.''

''He's my coach,'' Grace adds. ''Even if

he's competing, he could be just off the

course, but he will there be videoing me.''

Grace has just added ''a new wee

superstar'' to her stable, with a3­year­old

horse named Polly recently purchased

from Amberley House.

One day Grace says she wants to be like

her father and ride at four­star level.

Her ultimate goal would be to ride at

the Olympic Games, or at the Burghley or

Badminton horse trials. She also wants to

be apolice officer or adairy farmer.

For now she is in year 10 at Rangiora

High School, where she won the year 9

equestrian prize last year.

Her advice to other young riders is

simple.

''If you've got agoal, work real hard

towards it and keep trying. Don't give up.

It's worth it.''

Manufacturers &Suppliers

of quality Stockfeed

for many animals.

Where quality doesn't cost, itpays.

Your animals will love you for it!

• Get results from our Horse, Calf,Pig &Poultrydiets.

• Stockists of Layer &Pullet Grower Pellets, Chick

Starter crumbles &Oyster Grit,Feeders,Rabbit pellets,

Ruminant nuts, Coprice feeds &Shoof products.

• Lucerne, Timothy,Oaten &Meadow Chaff.

• Fiber Protect, Fiber Ezy,MaxiSoy andSpeedibeet.

• Whole &Rolledgrains &Topfliteavairyproducts.

• Topbrands of vitamin &mineral supplements.

• Equine, Cat &Dog Wormers.

• Calf &Lamb milk powders.

• Cat &Dog biscuits.

Opening hours

For enquiries

Mon to Fri 8:00am -6:00pm Phone: (03) 327 5127

Sat 8:30am -12:00pm Mobile: 027686 1922

Closed Sundays and Public holidays

Website: clarkvillestockfeeds.com

143 Neeves Road,

Clarkville, Kaiapoi RD1

2364625

On course ... Alltech has been sponsoring equestrian events.

PHOTO: ALLTECH

Solutions for equine sports

The recentOlympic Games in Tokyo

have once again highlighted the

stamina, resilience and devotion

athletes give to their chosen sport.

The only sport where animals are

involved is the equestrianevents.

There you witness, not only the

dynamic discipline of the riders,but

the amazing performances of the horses

as they jump, canter, and perform their

vigorous routines.

What does the equine athleteneed to

perform at their best?

Amillion dollar question perhaps!

It has been suggestedto''keep it

simple'', or ''getback to basics''. We

should not overlook coreessentialsin

developing atop­notch product.

Alltech's team of leading scientists

have developed many successful

products for the equine industry

including live yeast culture, chelated

traceminerals and selenium yeast,

mannanoligosaccharides, mycotoxin

binders and other products extracted

from yeast.

Alltech is committed to research and

development, in combination with

strict quality control and production

standards, that guarantee the quality

our customers demand.

Alltech offers two equine products

that are internationallyrenowned and

used by top riders.

LIFEFORCE is aonce aday

supplement essential to maintaining a

healthy horse and will benefit horses at

all ages and levels of work. It contains

Yea­Sacc® (yeast), Sel­Plex®

(selenium), and Bioplex® organic trace

minerals zinc, copper and manganese.

The combination of these will

NATURCLEAN | MYCOSORB® | LIFEFORCE

supportaproperly functioning

digestive tract in horses, helping to

improve digestibility and stabilise the

gut flora. These are essential elements

for the equinespecie.LIFEFORCE is

available in two sizes of packaging ­a

5kg bucket and a1.7kg pouch.

Mycosorb® is Alltech's natural

solution to mycotoxin challenges.

Unfortunately, horses can be exposed

to mycotoxins by eating any

contaminated feed ingredients.

The extentofthis exposure will

dependonhow muchofthe

contaminated ingredient has beenfed.

Mycosorbhas been granted full

registration fromthe Ministry for

Primary Industriesasamycotoxin

binder.

Ridersaround the country absolutely

love it and use it daily to maintain

stabilityand optimise performance.

Especiallypackaged for the equine

community in 1kg pails, it is available

from the Alltech office in Auckland and

distributors nationwide.

With summer months soon

approaching,this is agood time to

check on the health and performance of

horsesinthe paddocks and stables.

Acheck list may include:

Normal gut function which may

just be acombination of management

and animal factors.

Organic mineral supplementation.

Threat of mycotoxins.

Safeguarding the healthofyour

animals startswith the quality of your

feed.The team at Alltech are here to

help you withyour equine friends. Call

us on 0800ALLTECHfor support.

Copy provided by Alltech (NZ) Limited

Let Alltech® help

you with your team

• MINERAL NUTRITION

REQUIREMENT

• MYCOTOXIN THREAT

REDUCTION

• OPTIMUMGUT CONDITION

Leaders in equine nutrition

newzealand@alltech.com |0800 ALLTECH

alltech.com/newzealand |

AlltechAP
---
Menz shed creates daffodils

The Amberley Menz Shed members have

created 15 large daffodils on standsfor

the Cancer Society NorthCanterbury

Centre.

The daffodils will be displayedatsome

of the North Canterbury collectionsitesin

Kaikoura, Cheviot, Amberley,Kaiapoi,

Rangiora and Oxford duringDaffodil Day

SPORTS RESULTS

Rangiora BridgeClub

Oxford Pairs North/South: Des Steere/

JudyHayton 1, MargaretFraser/David

McRae 2, Cath Costello/Robyn Dawson 3.

East/West: Gaynor Hurford/Jenny Shore

1, DawnSimpson/Veronica Hall 2,

Margaret Pickering/Janice Pickering3.

Crockford Challenge: Colleen Adam/

Helen Paterson 1, DavidPrice/Richard

Williams 2, TomRose Rona/ Maslowski

3. RataPairs: N/S: Moody Shokry/

Colleen Adam 1, RichardLuisetti/Judith

Driver 2, Fern McRae/David McRae and

Andrew Findlay/Dave Tocker equal 3.

E/W Pauline Miller/Bunty Marshall 1.

Sue Solomons/Jan Roose 2. Kereen

McKay/Janice Pickering 3.

Junior Evening: N/S:Annette Caldwell/

GailDunlop 1, Anne Bagrie/Kate

Whitehead 2, AlisonHowie/Marilyn

Eliet 3. E/W:Stuart Atkinson/Wayne

Hutchings 1, Penny Fisher/Bernie

Lukken 2, TrishWarnes/Diane Graham

3. Plate Pairs: N/S:Dave Tocker/Liz

Duke1,JudyBruerton/Joyce Gray 2,

AnneAnderson/Joy Hayward 3. E/W:

JanicePickering/Maggie Johnson1,

Colin Dick/ElizabethAlabaster 2,

Shirley Symns/Dawn Simpson 3.

Rangiora Golf Club

9Hole competition:Stroke /Club

Championship Qualifying Round 1:

Ladies: PatRoberts 35,Janet Maguire

36, RitaMoore 37c/b, ColeenWhite 37c/b,

on Fridayand Saturday, August27and 28.

CancerSociety North Canterbury

Centrefundraising and events officer

Tiffany Wafersays the daffodilswill

provide an ''enhanced presence'' for

collectors and people giving adonation.

''Theyare bright and fun and abit of a

talking point.''

Catherine Boddy37. Men:John Gardner

34, Clifford Boddy 38 c/b, Ross McQueen

38 c/b,Bruce Pugh 38.

Amberley Bridge Club

August 9: North/South: Shula Guseand

Jan Roose 1, JillCoberger andPaddy

Macfarlane 2, Jim Knight and Kevin

Moore 3. East/West:FayePattinson &

Ian Pettigrew 1, Jenny andBruce Yates

2, Caryl Brown&JanHaley 3. August 12:

N/S:MaryWarren and IreneCarson 1,

JudithDriver andJan Roose 2, Denise

Langand May Milne3.E/W: Mary Bain

and Helen Thornburgh 1, Nell McKellow

and Sally Egden2,Pippa Graham and

Douschka Saunders 3.

Amberley Golf

Mid Week Men:JByrne 39,BYates 35,B

Fitzgerald 35, RKeith 34,MBruner34, K

Rayner34, AGenet34.9Holers: Ladies:

HAstell 21, LEdwards19. Men: M

Carpenter 17, DPercy 17.

Waimakariri Gorge Women's Golf

Rosebowl Stableford: 18 Holes: J

Pottinger 39, 1; MRobertson 36, 2; L

Patton 36,3;LAnderson 35, 4; LSmith

24, 5; MTeAwa 32,6;LScott 31, 7; N

Weavers 31, 8; SMardon 30. 9; JBlatch

30, 10. 9Holes: SMcDonald 16, 1; S

Farrar 15, 2.

AmberleySmallboreRifleClub

KBrown99.8,DQuigley 99.6, MBlack

98.7,KQuigley 97.5,IFrazer96.4, P

Wisheart 96.3, GHeaven93.1,OMitchell

92.1,BCraigie90.0,MParker 87.2, C

Rhodes86.2, WParker 86.0,ARoxburgh

72.0,GJennings 63.1. Everyonewelcome

with gear supplied.

NEWS

The North Canterbury News, August 19, 2021

Loss for NC rugby

RUGBY

By LINDSAY KERR

A14­3 losstoaCanterburyMaori sidemight

not seemanideal build up forNorth

Canterbury's annualrugby fixture against

Ellesmere.

But the game was closerthan the

scoreboard indicatedand it alsogave the

selectors the opportunitytotry different

player combinations from that which ran

out theweek before againstBuller.

Two tries to the Maori, one three minutes

into the firsthalf and the other with halftime

beckoningproved the difference.

The first of these tries resulted from an

opportunisticintercept whenNorth

Canterburywas hot on attackand lookingto

score.

The North Canterbury performance in

the first half was loaded with errorsand

lost opportunities. The forwards struggled

25

up front and gaps regularly appeared in the

backline.

The secondhalf produced an improved

performance, withastiffened defence line

and aforward pack that refused to be

outmuscled.

North Canterbury was well lead by

captainJosh Maynard fromnumbereight

and standout performancescamefrom

lockAlex Kennedy and blind side loosie

Jessie Houston.

Brook Retallick's positionalkicking was

accurate and he kicked apenalty.

Fullback Digby Heard looked for work at

every opportunity.

In addition to the gameagainst

Ellesmere, North Canterburywill also play

aCantabriansXVthis Saturday and Otago

Country at Cromwell on September 4, a

gamethat had beenarrangedfor

Canterbury Country but was subsequently

scrapped.

Ellesmere, comingalosstoMid

Canterbury, was swamped45­22 by the

Cantabrians XV lastSaturday.

Volunteer drivers needed

TheNorth Canterbury MiniBus Trust

needsmore volunteer driverstocontinue

providingits communitytransport service.

Thetrust is anot­for­profitorganisation

co­ordinated, managedand runby

volunteers to provide alternative,

accessible transport forNorth

Cantabrians aged60yearsorolder, or

thosewith adisability.

Drivers must have apleasant,patient

personality andhaveaClass1driver's

licence. They must alsobeabletopassa

medical fitness test,whichwillbepaidfor

by thetrust,and apolice test, whichwillbe

arrangedbythe trust.

North Canterbury Mini BusTrust

trusteeGreg Wright says thetrust's

vehiclesprovide transportat``very

nominalrates'', with pick­up andreturn

forRangiora's PresbyterianSupport's

TotaraClub during the week, plus a

Rangiora shoppers' bus onTuesday and

Thursday.

There arealsoplans to possibly provide

aweeklyKaiapoiserviceifthe demand is

there.

The vehicles,which includeawheelchair

hoist, arealsoavailablefor selfdrive,

short­term hire andare considered

idealfor family outings. Thoseinterested

in volunteering to be amini­bus driver,

learning more about the trust, or

interested in hiringone of thevehicles,

cancall Roni Jordanon(03)2612889.

NEW LAND ROVER DEFENDER 110

CAPABLE OFGREAT THINGS

AVAILABLE NOW

New Land Rover Defender relishes challenges and doesn't care much for impossibilities. With permanent all-wheel-drive and

world-first configurable Terrain Response tech, it has the capability to push boundaries even further.

Tested in every condition, in every environment, and on every surface you might encounter, it always comes out the

other side, ready for the next challenge. The new Defender crowned 2021 World Car Design ofthe Year as unstoppable

all-terrain model beats shortlisted rivals to win coveted award. Defender. Anicon inacategory of one.

To book atest drive, please contact Corey Gray atArchibalds.

38 Tuam St, Christchurch |03377 5200 |cgray@archibalds.co.nz | archibalds.co.nz

Own apre-2015 Land Rover Defender? Book aservice now from just $425. Call our team on 03 977 8146.

*Terms and conditions apply. The standard scheduled 5Year servicing isincluded (different terms and conditions apply to different models). Contact Archibalds for more details orvisit www.landrover.co.nz.
---
NEWS

26 The North Canterbury News, August 19, 2021

Planting day kicks off environmental project

By SHELLEY TOPP

The Waimakariri District

Council's Arohatia te awa

(cherish the river) project has

been launched with aplanting

day in Tuahiwi.

The council asked for

community support at the

planting day, which was held on

public land alongside the Cam

River on Saturday morning.

Around 32 volunteers turned

out and planted 1000 native

seedlings at the site.

The environmental project

aims to involve residents in

restoring the health of

Waimakariri's rivers and

streams through riparian

planting and also create asense

of ownership for this natural

resource by fostering

connections with the

environment.

The council aims to create

cycle and walk ways, and

ecological corridors that raise

awareness of this significant

natural public asset, as well as

providing safe spaces for

people to exercise and transit.

Saturday's planting day was

the first step in the planned

network of ecological corridors

which will be developed during

the coming years as funding

becomes available and will be

incorporated into the wider

plans of Waimakariri district

walking and cycling networks.

Community projects officer

for parks and recreation, Mike

Kwant, said the degradation of

quality of freshwater in New

Busy day ... Waimakariri district councillor Niki Mealings helps out

during the Cam River community planting day last Saturday to enhance

biodiversity.

PHOTOS: GRANTEDGE

Zealand was one of the most

pressing issues facing the

country.

''New Zealanders want to

swim, fish, gather mahinga kai

and enjoy fresh water as our

parents and grandparents did,''

he said.

''We also need clean water to

drink to both support our

population's health as well as a

sustainable economy.

''Our freshwater ecosystems

are suffering as aresult of

urban development,

agriculture, horticulture,

Helping the environment ... Ohoka Primary School pupil Max Wood

completes some community service as part of the William Pike

Challenge, with his father Nick Wood in the background.

forestry and other human

activities.''

It is hoped that Arohatia te

awa will help correct the

damage done to the district's

waterways.

Mike said the idea for the

project came from Waimakariri

district Cr Sandra Stewart.

''She is the driving force

behind the project,'' he says.

''It was her vision and she was

at the planting day last

Saturday, welcoming

volunteers to the site and

helping them do the work.''

From theWaimakariri River

in thesouth to Kekerengu

in thenorth, theNorth

Canterbury News

hasgot it covered.

Reaching

48,000

readers

every week
---
NEWS

The North Canterbury News, August 19, 2021

Weekend ramblings in Waimakariri

27

Market day ... Stallholder Kay Millist, of West Eyreton, left, with customer Diane Penney,

of Sefton, at the Rangiora Sunday Market in the Blake Street carpark, last Sunday morning.

PHOTO: SHELLEY TOPP

On the beach ... Sand art created during the inaugural Art Hike at Tuhaitara Coastal Park,

in Waimakariri, which was led by artist and park ranger Adele Jackson last Sunday.

PHOTO: ADELE JACKSON

And they are off ... The kids' race during the JD Duathlon Mandeville, held at the Mandeville Sports

Centre last Sunday morning.

PHOTO: ANDREA AIREY

Family time ... Joy Hayward, of Rangiora, left, with her daughter, Gina

Hayward, right and grand daughter, Harriet Hayward, aged 3, with her Peter

Rabbit, and the family's dogs —wire­haired fox­terrier cross, Billie, left,

samoyed, Bailey, and beagle, Scarlett, during awalk through the Ashley

Rakahuri Regional Park last Sunday afternoon.

PHOTO: SHELLEY TOPP

Fun in the park ... The Molloy family of Rangiora, parents Louise and David with their

children Taylor, aged seven, far left, Max, aged four, and Paige, aged nine, enjoying time

together at Rangiora's Elephant Park last Sunday afternoon.

PHOTO: SHELLEY TOPP

Switching roles ... Paul Howells is often the bike course director for other

events, but raced for achange in the JD Duathlon Mandeville which was held

at the Mandeville Sports Centre last Sunday morning.

PHOTO: ANDREA AIREY
---
NEWS

28 The North Canterbury News, August 19, 2021

POSSIBILITIES: Budding designers and entrepreneurs are in with the chance for their products to be stocked by Ballantynes as part of the store's Bring

it to the Boardroom competition, which was won in 2016 by Marlee and Jo.

Retail opportunity for budding designers

CENTRALCITYdepartment

storeBallantynesisagain running

itsBring it to theBoardroom

competition, offering

budding designers andentrepreneursthe

opportunitytosubmit

their productsand potentially

have them sold in thestore.

Finalists willbeselected from

theentries andinearly September

will provide apresentation

to Ballantynes'buyers and

executive team,who saythey

will be lookingfor itemsthatare

innovative andhavethat"special

Kiwiflair".

The winnerreceivesthe rights

to sell their productexclusively

at Ballantynes forupto

12 months or whilestockslast,

retaining100 percentofthe

product's sales revenue. Additionally,

thewinnerwill benefit

from expert mentoringand a

promotionalpackage.

The competitionwas launched

in 2016,torun everysecond

year.However,due to Covid, last

year's competitionwas postponeduntil

2021.

"This is ourthirdtime doing

Bringittothe Boardroom

andweare reallyhappy to have

this back on ourcalendar. For

us,this is aboutgivingbackto

ourcommunity," says chief executive

Maria O'Halloran.

"Wewanttoopenupan

avenue forthose entrepreneurs,

budding designers andcreators

from across thecountry to

showcase their work andalong

theway,gainaninsight into the

wholeretailprocess. We'reso

excitedtosee what unfolds."

Marketingmanager Shelley

Gayford says theprevious

competitions have seen adiverse

range of products beingput

forward, includingchildren's

items, fashionaccessories and

pantry items.

Winnersofthe 2016 editionof

Bringittothe Boardroomwere

Lianne de Jong andLee ScheepersfromMarlee

andJo, who

presentedarange of children's

keepsakebooks, whichare still

beingsoldatBallantynes.

"Westarted sellingthe Marlee

andJoproduct just after they

wonthe BallantynesBring it to

theBoardroom competitionback

in 2016,"MsO'Halloran says.

"Tothisday,their product

continuestobeverypopular

with ourcustomers–theyoffer

aproduct with areal pointof

difference andsomethingno

othersupplier offersinour store.

It is greattosupport localand we

have lovedwatching, andbeinga

part of,Lee andLianne'ssuccessfuljourney."

Anyone canregistertheir

interest online, www.ballantynes.

com.nz/boardroom,providing

theproduct they aresubmitting

is notcurrently beingsoldina

physicalstore,isnot alreadyin

commercial arrangementswith

anothercompany anddoesnot

infringe on thecopyright, patent

or trademark of anotherproduct

or brand.

RegistrationscloseonMonday,

August 23, 2021, with the

finalists taking their productsto

theBallantynes' boardroomon

Saturday,September 4, 2021.

Bobbi |Bowflex Max Trainer User

I lost 15kg in 10 weeks. That is ridiculous. The fat just

melts right off. Imean, it absolutely changed my life!

CALL NOW! 0800 665 665
---
SECURE YOUR

TODAY

Secure your pick of the range in the colour you

want, we have good stock arriving this year and

are taking forward orders today.

Beat the proposed fuel tax and get the Triton

you've always wanted.

Contact us for more details.

*PriceslistedareforTriton2WDGLXRdoublecab,Triton4wdGLSBdouble cab andTriton 2WD

VRX double cab.Prices exclude on road costs which includes WoF, registration, 1,000km road user

charges and afull tank of fuel.

$48,990 +ORC

• Factory-fitted black body kit

• Black 18 inch Alloy Wheels

• Front and rear parking sensors

• Running Boards

• 7" Touch Screen Smartphone

Link Display

• 18 inch Alloy Wheels

• Black Sports Bar*

• Multi-Around View Monitor

• Leather-Appointed Interior

CHRISTCHURCH MITSUBISHI

386 Moorhouse Avenue, Christchurch

Tel: 03 379 0588 | christchurchmitsubishi.co.nz

FROM

FROM

GLXR

$39,990 +ORC

VRX

$44,990 +ORC

*On VRX4WDonly

10 year /160,000km Powertrain Warranty(whichever comes

first)(nontransferable). 5year /130,000kmNew Vehicle

Warranty(whichevercomesfirst)(nontransferable).

RANGIORA MOTOR GROUP

NEW DEALERSHIP OPENING LATE 2021

CNR Southbrook Rd &Coronation St

POSITIONS AVAILABLE

•Sales

•Service Technicians

•Admin/Reception

•PartAdvisor

•Service Advisor

•Grooming

Expressions of interest to

steve.hammond@mbmg.co.nz

DRIVE A NEW

NISSAN

STOCK AVAILABLE TODAY

STOCK AVAILABLE NOW

*Price shown is for the Nissan Qashqai ST excludes on road costs.

RANGIORA NISSAN, 321 High Street, Rangiora

Ph: 03 941 3175

www.rangioranissan.co.nz

AVAILABLE

$33,990

FROM

*

THE ALL-NEW

IN STOCKNOW

PRO-4X

rangioranissan.co.nz
---
NEWS

30 The North Canterbury News, August 19, 2021

Challenges remain

By DAVID HILL

North Canterbury farmers remainon

''a knife­edge'',asongoing rain is

stretching the feedsupplies on

drought­stricken farms.

Morethan two months on from the

May 31 floodevent, Canterbury Rural

AdvisoryGroup chairperson Winton

Dalley says alack of quality feed is

threatening the conditionofpregnant

stock and mothers nurturing new born

animals.

While farmers seem to have escaped

the recent threat of snow,the lack of

quality feed continuestoleave farmers

''hanging by aknife­edge'', Mr Dalley

says.

''Somefarmershave reluctantly

accepted thattheirusually high

standard of stock is unrealistic,asno

amount of expensive supplementary

feeding can take the place of quality

pasture and green fodder, especially

for heavilypregnant stock.

''The autumn drought has caused this

situation whichcannot be expected to

be overcomeuntil well into spring.''

In recent weeks Mr Dalley has visited

farmers throughout the Hurunui

district to gaugethe extent of feed

shortages.

While some farmers in coastal areas

haveexperienced some pasture growth

due to the warmerthan normal soil

temperatures, inland farmers have not

beensolucky.

''For the coastalfarmers, the

relatively mild weather has given them

abit of alift,but there's no substantial

quantities of high quality pasture.

''The inland areas haven't had much

growth and there's considerablymore

concern for feed availability.''

FederatedFarmersNorth

Canterbury president Caroline Amyes

sayswhile conditionsare more positive

Challenging conditions ... Former Hurunui

Mayor Winton Dalley is continuing to

advocate for North Canterbury farmers

facing ongoing challenges arising from

drought and flooding.

PHOTO: FILE

thanthey were two to three months ago,

the wet winterisnot helping stress

levels.

''The snow wasn't as bad as it was

forecast and it meltedpretty quickly,

but soil moisturelevelsare high.

''We're in the thickofcalving and

lambing is getting underway for some,

so it makesitalittlebit harder. If it

keeps goinglike thisitwill start to

wearpeople down abit.

''But farmersare very resilientand

are usedtochanging weather.''

As springapproaches, farmers will

be looking forward to some more

sunshine to get some spring growth so

theycan get backontrack after a

challenging period, Ms Amyes says.

Meat sector careers open

Young New Zealanders are being

encouraged to MeatYour Career.

New Zealand's meat processing and

exporting sectorhas launched a

campaign to help address the industry's

chronic shortage of employees, with a

new website www.meatyourcareer.co.nz

which highlights the widerangeof

employment opportunities.

The campaign also aimstochange

perceptionsofwhat working in the

industry is like.

The website includes videos featuring

peopleworking in the industry talking

about their roles,adescription of the

types of positions available and guidance

on remuneration.

The recruitment drive is underpinned

by asocial media campaign targeting

potentialemployees and makingthem

aware of the opportunities in the sector.

''The industry is about 2000workers

short andthisresults in reduced

production and robs New Zealandof

important exportrevenue,'' Meat

Industry Associationchiefexecutive

Sirma Karapeeva says.

''This campaign is focused on letting

Kiwis knowour innovative and

progressive sector is at the cutting­edge

of food manufacturing.

''Our peopleare worldleaders in

producing andexporting quality and

nutritious food to morethan 100 markets

across the globe. We offer arange of

exciting roles, competitive salaries,

strongcareer pathways and an

incrediblydiverseworkforce.''

There are rolesinthe industry for

those without any formal qualifications

or experience as well as for those who

havecompleted trainingortertiary and

post­graduate study, Ms Karapeeva says.

''Wehave graduates working in many

areas of the industry including sales and

marketing, international trade,

Carving out afuture ... Career

opportunities in the red meat sector are

being promoted.

PHOTO: FILE

communications,IT, new product

development and food science.

''There are strongcareer paths to

enablegraduates to progress from entry

level to more senior and management

roles.

''There are alsomany opportunities in

processingfor people of different ages,

stagesoflife and levelsofexperience,

from schoolleavers to those looking for a

careerchangeorareturn to the

workplace.''

The sector directly employs more than

25,000workerswith the vast majority in

regionalNew Zealand, where meat

processorsare oftenthe largest single

employer in manytowns.

The red meatsectorgenerated $9.3

billion in exports lastyear.

The website canbereached at: www.

meatyourcareer.co.nz.

ADVERTISEMENT

THE GUT-BRAIN CONNECTION:

TheMarvel Health Scan Screens the

Body for the hidden cause of disease

Medical Scientistshave shown that thenervesinthe gut

areconnected to andcommunicatewiththe brain.

Studies stronglyassociate ahealthy gutwithabetter

mood andsense of wellbeing.

Youmay have heardofthe term 'leakygut', which

describes theleakage of chemical compounds andtoxins

from theintestine into thebrain. In ahealthydigestive

system, theintestine wall acts as agatekeeperand allows

only theabsorptionofwaterand nutrientswhile keeping

out harmful compounds.

When theintestinalwall becomesdamaged,toxins

leak into thebloodstream andcross into thebrain and

nervoussystem. Depressionoccursdue to an imbalance

of thebrainchemical serotonin. But90% of the

serotonin in thebrain is producedinthe digestive tract.

Also,studies showalinkbetween chronic gutproblems

andneurodegenerative diseases such as Alzheimer's.

The Marvel Health Scan examines theentirebody,

includingthe brain, nerves andall aspectsofthe

digestive system, lookingfor thehidden causes of

diseases such as chronic inflammation of organs,

enzyme insufficiencies, harmful microbes, intolerances

to more than 250 foods, food additivesand chemicals.

The scan examines all organs of thebodyand can

identify thelikelydiseasesoccurring.

After thescan, thedoctors andhealthcare specialistsat

Marvel Health will studythe report andrecommend

targetedscience-based naturaltreatmentsand lifestyle

changestosupportthe body'shealing.

Total Health MOT

Whole Body Diagnostic Scan,

Report, Consultation and Therapy

All included: • Detailed Examination of All Organs & Systems • Diseases Present and Complications

• Detection of Viruses, Bacteria & Fungi • Food Allergies & Sensitivities • Non-invasive Blood Test

• Detection of Lead, Mercury & other Environmental Toxins • Body Composition Analysis

Unit 13/6 Cone Street, Rangiora | 293 Durham Street, Awly Building, Christchurch

CALL TODAY 03 669 5410 www.marvel.health

Disclaimer: The inspection from the scan is not asubstitute for medical inspections. It is not designed to state the final diagnosis
---
RANGIORA

2

only

4

only

now

$

313

VanityQube

918841

now

$

248

Hikoki Media Player

918272

Pictured products available from 7:00am,Friday 20 th August

Limited

Stock

3

only

now

$

5 50

DryMix

20KgMortar

431137

now

$

10

Jobmate

RotaryBrushKit

232507

S

RANGIORA

100% LOCALLYOWNED &OPERATED.

Spend them &

Earn them here

If youfind alower priceonanidentical stocked productlocally,wewill beatitby15%

If youfind the same productfromanother Mitre10store or Mitre10website, we'll match that price.

Excludestrade and special quotes,stock liquidations and commercial quantities.The in-storepricemay be lowerthan thatadvertised.
---
RANGIORA

6

only

1

only

now

$

141

26ccLine Trimmer

322607

now

$

148

Hitachi22ccLine Trimmer

307189

Pictured products available from 7:00am,Friday 20

th August

2

only

4

only

now

$

155

Stanley26ccLine Trimmer

321889

now

$

325

Makita 25ccLine Trimmer

307463

S
---
RURAL LIFE

The North Canterbury News, August 19, 2021

31

Tool review ... Overseer is an agricultural management tool that assists in examining

nutrient use and movements within afarm to optimise production and environmental

outcomes.

PHOTO: FILE

Farmers not surprised

Thereare ''no surprises'' for North

Canterbury farmers in last week's Overseer

report.

Federated Farmers North Canterbury

presidentCaroline Amyes says the findings

of the recent review of the nutrientloss

modelling toolOverseer,conducted by the

Ministries for the Environment and

Primary Industries, were consistentwith

what farmers alreadyknew.

''We don't wantinput controls, so

Overseer has been usefulinthat regard.We

have always known that there hasbeen

some challenges, so havingitasa

regulatorytool has been achallenge.

''Thefeedback from farmers so far has

been:'we are not verysurprised'.

''We willwait and see whatregulations

come out of this and what Overseer 2looks

like.''

DairyNZ strategy and investment leader

Dr David Burger says science­based

managementand modelling reviews, such

as the recentGovernment report into

Overseer, helps improvenutrient

managementfor the environment and farm

businesses.

''Overseerisvital in helpingfarmers, the

sector and councils understand farm

management, particularly nutrient and

greenhouse gas losses to the environment.

''Therefore, we must have ahigh levelof

confidence in it as atool.

''It's pleasing Government is committed

to supporting Overseer and aredevelopment,

while lookingatother tools to

improve nutrient management and on­farm

outcomes.''

Dr Burgersaid DairyNZ research shows

nitrate leaching measurementsfrom farm

system experimentsare generally wellaligned

with Overseer predictionswhere

actual climate data has been used on dairy

land.

''Ourresearch and experiencewith

farmers tells us Overseer is an important

tool for helpingdairy farmers manage

nitrogenand reducelosses from farms.

''Falling back on input controls or

Caroline Amyes

reliance on risk factors is not an adequate

substitute for output modelling, especially

when we haveanincreasingly

sophisticated range of nitrogen

managementoptions that Overseer enables

farmers to model.

''Farm systems are complex and there

are arange of waysfarmerscan reduce

theirfootprint.Overseer allows farmers to

modeldifferent options in the contextof

theirfarm system –enabling innovation

and flexibility.''

Greenpeace lead agriculture campaigner

Christine Rose says the reportundermines

confidence in the system that has

supported dairy conversions and

intensification.

''Because Overseer has been used to

defend the overapplicationofsynthetic

nitrogenfertiliser and has beenembedded

in resourceconsents,the wholedairy

modeland its environmental impacts are a

houseofcards.

''Instead of relying on an industrytool

that does abad jobofmeasuring nitrate

pollution as it seeps into rivers or

contaminates people's drinking water,the

Governmentmust deal to the problemat

source by phasing out polluting synthetic

nitrogenfertiliser altogether.''

Covenant ... Around 180,000 hectares of private land has been placed in QEII National

Trust covenants.

PHOTO: SUPPLIED

QE2 Trust funding boost

FederatedFarmersisrelieved to see the

government put more money towards the

Queen ElizabethIINationalTrust, to help

landowner endeavours to protect and

enhance areas of special native

biodiversityonprivately owned land.

Conservation Minister KiriAllan

recentlypledged $8 million to go to the

Jobs forNature programme.

This shouldallow the QEIITrustto

increasethe number of sites protectedby

covenants by 264 duringthe next four

years.

Morethan4600 unbreakable covenants

havebeenestablished since 1977, covering

180,000 hectares of privateland.

FederatedFarmersboardmember and

environment spokespersonChris Allen

saysthe willingness of landowners to

voluntarily covenant and protect privately

owned properties haslong exceededthe

ability forQEII to meet demand.

''Thisissoundinvestmentand

partnershipbythe government.QEIIisan

entitytrusted and respected by farmers,

andalthough the covenants involve

protection of specialsitesinperpetuityit

remains avoluntary initiative.

''It'suptolandownerstodecide if

applying to the trust provides thebest

opportunitiesfor theirland.

''Biodiversity, climatechange andwater

qualityare integratedissues,and funding

to help incentivisenative plantingand

protection can provide multi­faceted

solutions.''

Placing acovenant on apieceofland

essentiallyprotectsitforever, Mr Allen

says.

Having additionalJobs for Nature

assistancewill enable greaterrestoration

opportunitiesfor privatelyowned land

with highbiodiversity.

''We remindgovernmentthatthis is a

great first step, but more incentives and

support will be neededifthey truly want

NewZealand to meet its biodiversity

objectives, giventhe high costs associated

with that activemanagementand

protection,including fencingand pest/

weed control.''

Federated Farmers hopes the

governmentdoesn'tjust see this as afouryearproject,

andthatitwill remain

committed to helpinglandowners

maintain special biodiversity areas on

privatelyowned land,for thegood of the

entirecommunity,MrAllensays.

Possum Fur

Wanted

GOOD PRICES PAID

Weft Knitting Co.

MerinoPossum Knitwear Manufacturer

Christchurch

Phone (03) 379 5314 hugh@weft.co.nz

There's just no

substitute for

Experience &Local

Knowledge!

Barns &Stockyards Built

Fencing -All Types

Security Fencing

Noel 0274 330 980 or (03) 312-8666

preencontractors@gmail.com

Do youservice the Ruralsectorand want

help to reach your customers?

2354936

2400832

MEAT2U.NZ

HOME KILL

&WILD GAME

MEAT PROCESSING

313 0022

1738815

Contact us today to find out howwecan help you.

Email info@ncnews.co.nz or phone 03 314 8335

2377

969
---
Our readership is

wayup

Reach more people than any other

media choice in North Canterbury with us.

Source: Nielsen National readership survey y/e Q3 2020 -y/e Q1 2021

Readership all people 15+ in North Canterbury

Up 11.6% in

the last 6months

Just ONE AD placed in the North Canterbury News isread by:

48,000 people

Reach more customers and growyour profits with our free professional

advertising consultancy for your business. Contact Dayna on027 312 0089 or

dayna.burton@ncnews.co.nz

www.ncnews.co.nz
---
SPORT

The North Canterbury News, August 19, 2021

Lower grade Rangiora teams make finals

HOCKEY

The Canterbury Hockey

Association finals for 2021 are

thisweekend,and whilethe

Rangiora HockeyClub's top

teams will not feature in any of

the major playoffs, several of

the lower grade and midweek

teams are vying for grade titles.

The Rangiora CBK division 1

men's team booked aplacein

the 5/6 playoff gameagainst

University of Canterbury

Spartansafter ahard fought 1­0

win over Avonlast weekend.

The two sides drew lasttime

theymet, so this should be a

close encountertobeplayed at

MainPower turf at 12.30pm on

Saturday.

After losing to Hornby last

weekend, the Rangiora CBK

division 1women willbelooking

to finishthe seasononahigh in

the 7/8 playoff against

University of Canterbury Huns.

Thisgame will be playedat

11amonSaturday at MainPower

turf.

Rangiora Rampage plays

SouthernUnited at MainPower

turfonSaturday morningfrom

8.15am in the Kwik Sticks

7­a­side division 3boys 5/6

playoff, while the Kwik Sticks

7­a­side division 5girlsteam

Rangiora Rebelsalso plays at

8.15am.

The bestplaced Rangiora

Junior teams are the Rascals

which will be playing the final of

the KwikSticks 11­a­side girls

against Harewood at Nga Puna

Wai at 8.25am Saturday.

On Sunday Rangiora

Korimako play in the Sunday

super league (SSL)

championship final against

Waikirikiri Tuis from 2pm at

Nga Puna Wai.

To reach the final Korimako

had to account for an improving

Rangiora Piwakawaka team last

weekend, which wasn'taseasy

as the 4­0 scoreline would

suggest.

At MainPower Hockey Turf on

Sunday Rangiora'stwo SSL

championship men's teamswill

meetfor bragging rights in their

lastgame of the season.

Colts finished thirdonthe

table, just one point ahead of

the Oddfellows, but with its last

clash rainedoff and Oddfellows

Sticky situation ... Lilly van Rooy of the Rangiora Rubys Kwik Sticks

7­a­side team in action against Harewood.

PHOTOS: SUPPLIED

winningits earlier encounter

it's hard to pick aclear favourite

ahead of this game.

In mid­week open men's

action RangioraAhas finished

the regular seasonunbeaten

and is odds on favouritetotake

the Division 2crownupagainst

Marist Gooses,which it

comfortablybeat afortnight ago.

Rangiora Allsortswill play off

againstHarewoodinthe 5/6

playoff.

Rangiora HurunuiHares

ended the regular season at the

top of division1inthe mid­week

open women'scompetition and

was playing off against Carlton

Redcliffs for afinalsspot as this

report wenttoprint.

The Rangiora Hurunui Hawks

comfortablyaccounted for

Southern United lastweek

giving them the semifinals bye

and a5/6 playoff againstthe

winner of the wooden spoon

playoffnext Tuesday night.

Results:

Division 1: Men: Rangiora

CBK 1(Damian Allerby 1) beat

Avon 0.

Women: Rangiora CBK 0lost

to Hornby Wildcats 3.

Sunday Super League

Championship, Men: Rangiora

Colts 2(JustinMeyers 1, Giles

Witt 1) beat University of

Canterbury Celts1.MVP: Giles

Witt. RangioraOddfellows 1lost

to University of Canterbury

Apache3.

Women:Rangiora Korimako 4

(PoppyGriffith­Jones 2,

Ashleigh Merrick1,Tayla

Flemming 1) beat Rangiora

Piwakawaka 0. MVP: Ashleigh

Merrick (Korimako), TinaJames

(Piwakawaka).

Mid­Week Open: Men:

Rangiora A6beat University of

Canterbury Romans 1. Rangiora

Allsorts 3(Jon Green 3) defeated

MaristMooses 1.

Women:Rangiora Hurunui

Hares 2(Rose Johnston 1, Kelly

McNicholson 1) beat Carlton

Redcliffs 1. Rangiora Hurunui

Hawks 5(AnnekeCameron 2,

Maddi Plimmer 2, Kelly Morris

1) defeated Southern United 1.

Platinum Grades:Men:

Rangiora B2lost to Waikirikiri

Falcons 3.

Women:Rangiora A2(Amelia

Green 1, NikitaWarnock 1) lost

to Waikirikiri 3.

Kwik Sticks 11­a­side Grades:

Boys: RangioraRenegades0

lost to Avon 10. MVP:Aaron

Eyles.

Girls:Rangiora Rascals3

(Felicity Antoniuk­Newall2,

33

Family affair ... Amelia Plimmer of Rangiora Korimako (in white)

evades the tackle of her aunt, Sharlene Bush of Rangiora Piwakawaka

at the weekend.

Cate Ambury1)beat Avon 0.

MVP: Felicity Antoniuk­Newall.

Kwik Sticks 7­a­side Grades:

Boys:Rangiora Rampage 3

(Marcel Rich, Riley

Girdlestone) losttoSouthern

United Sand Lizards6.MVP:

Marcel Rich. RangioraRangers

0lost to HSOB/Burnside 4.

MVP: Joel Pulley.

Girls: Rangiora Rebels 0lost

to St Margarets 4. MVP: Danielle

Petrie. Rangiora Rainbows 2

(RubyTaylor 2) beat HSOB/

Burnside 0. MVP: Brooklin

Glass. Rangiora Rubys1

(Imogen Abernethy 1) lostto

Harewood3.MVP: Imogen

Abernethy.

Kiwi Sticks Grades: Boys:

Rangiora Rogues vs Marist,

game called off at half­time due

to weather.

Girls: Rangiora Rabbits 2

(Catherine McKellow 2) drew

with Hinemoa­Kaiapoi2.MVP:

FreyaClark. Rangiora Raiders

1(ZaraCartwright1)defeatedSt

Andrews PrepSchool 0. MVP:

Zara Cartwright. Rangiora Road

Runners 14 (ErinCook 6,

SammyFrost­Smith 2, Rose

West 2, Bella Cherry 2, Logan

Stevenson1,Neve Fantham 1)

defeated Southern United Sea

On attack ... PJ Mackintosh

carries the ball against HSOB/

Burnside.

Horses 1. MVP:Erin Cook.

Mini Sticks Grades: Boys:

Rangiora Roadsters0lost to

Southern UnitedSnakes 4.

MVP:Jack McLean.

Girls: Rangiora Rockets 5

(ShayleeEastmond 2, Ruby

Hutchison 2, Ila Bavis 1) beat

Southern United Starlings0.

MVP: Vida Berry. Rangiora

Rock Stars 4(Anita Mones­

Cazon 3, VioletMellor 1) beat

Hinemoa­Kaiapoi0.MVP:

Charlotte Hawes.

Need help

fundraising?

Want to

promote

your club

or team?

Talk to us about

howwecan help

youreach your

goals faster!

For more

information email

info@ncnews.co.nz

Best Brands -Best Prices

FREE Pressure

check on Cars, Utes,

4WD &Trailers

5Star Service

346a Flaxton Road |Phone 03 310 6666

0800 226 324 for 24/7 Service

WHEEL

ALIGNMENTS

FROM $59

Bookings recommended, terms &conditions apply

2314312
---
Four

Four

SeasonsRealty

Seasons Realty

WE WORK

FORYOU TO

ACHIEVE A

Premium Price

Auction

RESULTS

January-July 2021

88% SOLD AT AUCTION

IT'S THEHARCOURTS difference

Inspections

39 3

Bidders

$184,835

Averageamountachieved above

CV whensold at auction

Averagenumbersachievedfroma3week auction campaign

THE SERVICE YOUDESERVEFROM ABRAND YOUCAN TRUST.

When you work with Harcourts, your property is in our care, so

we'recommitted to guiding youthrough the processstep-by-step

to achieveexceptionalresults foryou and your family.

0800 789 1011 fourseasons@harcourts.co.nz

Four Seasons Realty 2017 LtdLicensed AgentREAA2008

Four Seasons Realty
---
NEWS &CLASSIFIED

The North Canterbury News, August 19, 2021

35

Coming into land ... The Westpac Rescue Helicopter is avital lifeline to rural

communities in an emergency.

PHOTO:SUPPLIED

Chopper missions increase

Canterbury's Westpac Rescue

Helicopter recorded a40percent

increase in mission numbersfor the first

six monthsofthisyear, reflecting afocus

on fastertreatment and better patient

outcomes.

The new helipad at Christchurch

Hospital, which cantake two choppers

at atime,has been agamechanger for

the service withmore than500 landings

since it opened last November,chief

executive Christine Princesays.

Canterbury based crew flew404

missions betweenJanuary 1and June

30, compared with289 forthe same

periodlastyear.

Lastmonth sawawhopping 97

missions acrossCanterburyand the

WestCoast, including eight missionsin

one day,withthe majoritybeing

classified as accidents and medical

emergencies.

''The Covid lockdown could account

for someofthe overall increase when

we compareagainstthe previousyear,

but the increase is an ongoingtrend. By

thistimelast year lockdownwas over

and theincrease has continued

strongly,'' Ms Prince says.

In one weekend this month crew

respondedtoeight missionsacross the

region,includingcardiac,maternity,

severalinter­hospitaltransfers and

accidents, shesays.

''Asanticipated,mission numbers

haveincreasedthiswinter, withmore

people travelling locally andan

increased risk of accidentinjuriesand

medicalmissionsinthe coldermonths.

''Intrauma cases, such as road

accidentsand medical emergencies,

getting emergency treatment to a

patientatthe scene within60minutesof

an incident increases thepatient's

chanceofmaking afullrecoverybyover

80%.Inremote and hard­to­reach areas,

the rescue helicopter service can mean

the differencebetween lifeand death.''

Public Notices

KAIAPOI CHRISTADELPHIANS

"The Key of Knowledge .."(Luke 11:52)

WORLD IN TROUBLE

WHATISOUR WORLD COMING

TO? WHOCAN SOLVETHE

INSURMOUNTABLEPROBLEMS?

Environmentally, morally and economically, affairs

encompassing the Planet appear perplexing. Many

World leadershave takenresponsibleand demanding

roles to come upwith answers tobring peace of

mind totheir people. Many start off with high hopes

and good intentions, but very soon, it becomes

obviousthere are many streams of thought, different

approaches toaproblem, many ideologies. Unless

there is mutual outlook it is very difficult to formulate

solutions, let alone achieve them. The Bible -God's

word, isanunchanging rock, in an ever changing

world, revealingtruth,hope andsolutionsfor avery

troubled world. Those who have ears tohear and

eyestosee,today is theday of opportunity.

ALL WELCOME

Bible address -Sunday,August22 nd 7.00pm

Kaiapoi CommunityCentre-SewellStreet

FOR INFORMATION PHONE 03 352 5453

website-bibletruthandprophecy

Waimakariri Country Music

Festival

FUNDRAISER

Admission: $5 per person

Venue: Rangiora Showgrounds,

Ashley St

Date: Sunday 29 th August

Time: 11am –4.30pm approx.

Bring cord charts

Food for sale

ALL WELCOME

2410896

2411007

RANGIORA 2 bdrm

house or flat wanted, excellent

refs. Please phone

Odette 027 812 0261.

RANGIORA

OR NEARBY

Half house or

cottagewith garage.

Ruralorsemi-rural,

furn or u/f.

Rangiora WoodendRoad

or fairlyclose.

Former NZ Govt. Officer.

Securityexperience,

canwatch commercial

premises.

John 021168 6338

Wanted To Buy

$$$

Amalgamated Scrap Metal

Ltd. Specialists in farm

machineryand farm clean

ups, old vehicles etc.

100% locally owned.

Ph 0800 030 712 or

027 695 0480.

2312759

Wanted To Rent

Entertainment

Cars Wanted

ANY old cars, anything pre

1990, unfinished Hot Rods,

Classic Cars. Please call

027 258 8366.

CASH 4CARS

and 4WD'S

Phone

Automotive

Parts

03 313 7216

CARS, vans, 4WD's

wanted for dismantling or

repair. Phone 027 258

8366.

Motorcycles

SOUTH PACIFIC Motorcycle

Services. Local family

business since 2003. All

types of service and repairs,

all makes and models. Collection

service available.

Please phone 03 312 0066

office@motorbiketours.co.nz

www.motorbiketours.co.nz.

Pets

BICHON HOMESTAY

for smaller dogs. We look

after your dog in our home.

"No kennels". Phone today

REBELLION. 03 314 6110.

GITBOX

Performing live at Balcairn

Hall, an Arts On Tour NZ

event. Six acoustic guitars

blend jazz, rock, folk and

classical in sonic rapture!

Saturday 21st August at

8pm. Supper, raffles, alcohol

free, CD sales. Tickets

$25 from Sally Macs

Amberley, Stan's 7 Day

Pharmacy Rangiora, Sefton

Garage and

via www.balcairnhall.com.

BIRD FEEDERS

½PRICE -$25 for 10

Plus - DOG BONES

and more

313 0022

2410274MEAT2U.NZ

From theWaimakariri

Riverinthe southto

Kekerenguinthe north,

theNorth Canterbury

News hasgot it covered.

Reaching

48,000 readers

every week
---
What's happening in your

community…

COVID-19 Delays Rubbish Bag Supply

As supply chain disruptions continue worldwide,

shipping delays of more than four months has

forced the Council to find atemporary solution for

thesupplyoftie-handle WaimakaririDistrict Council

branded rubbish bags.

The tie-handle bags are supplied by a

Christchurch-based firm but are produced by an

overseas manufacturer, and the disruptions mean

they likely won'tarrive inthe country for another

four to six months.

"We've been working with our local supplier to make

ashort term supply of bags that will tide us over for

the next few months", says Council's Solid Waste

Asset Manager Kitty Waghorn.

The temporary bags have aperforated tear-off

tie. They are the same as those used before the

Council moved totie-handle bags, and are the

same volume and price.

The Council movedtotie-handle bags more than ten

yearsago,due to feedbackfromboththecommunity

and Council collection contractors that the tear-off

tiebagswere difficulttohandle. Thetie oen popped

off, spillingrubbish onthestreet, andwere difficult to

wrap around afull rubbish bag.

The Council acknowledges that the tie bags are

more difficult to handle when they are full, and

anticipate moving back to the tie-handle bags as

soon asstock arrives.

"To make it alittle easier to use the tie-top bags,

we ask residents not to over-fill them. Over-filling

definitely makes itmore likely that the tie will

come off when they're being carried to the kerb

and also during pick up", says Kitty.

While the Council waits for the temporary bags to

arrive, residents may see blue bags with aCouncil

logo stickeratthe supermarkets andCouncilServices

where bags can be purchased. These will cost the

sameasthe tie-handle bags, andcan be usedinthe

same way as our usual Council-branded bags.

Bags can be purchased from New World Rangiora,

New World Kaiapoi, Rangiora Pak'N SAVE, New

World Northwood and New World Prestons Road,

Countdown Rangiora as well asall Council Service

Centres and theSouthbrookResourceRecoveryPark.

Tsunami Presentation Viewable Online

Did you miss the recent Know Your Zone tsunami

information evenings? The recorded livestream

can now beviewed online on the Council's website,

Facebook page and YouTube channel.

Hear from the experts about the science behind the

new tsunami evacuation zones and learn practical

things you can do at home to be better prepared.

Watch at waimakariri.govt.nz/tsunami

CHOP

THE

MOP

Jason ClementsfromWaimakaririLibraries

will Chop the Mop,saying goodbye to

his beardand trademark long hair at this

fundraising event forthe Cancer Society.

Featuring special guest poetryreadings by:

North Canterbury Cancer Society Writers Group

John Allison |Ben Brown |Doc Drumheller

Ciaran Fox |Bernadette Hall

RangioraLibrary

Thursday 26August •6.30-8pm (entry bykoha)

To support this Chop the Mop fundraising effort visit:

youcanforcancer.org.nz/jason-clements

Register Now

In association with:

libraries.waimakariri.govt.nz

03 311 8901

ABOUT NORTH

EAST RANGIORA

DEVELOPMENT AREA

Should the Council support aproposal

to make changestothe the level of development

contributionsrequiredinNorthrequiredinNorth East

Rangioratosupport growth in this area

throughtheprovision of infrastructure?

TheareafromKippenberger AvenueNorth through to

ColdstreamRoadand and acrosstoGolfLinksRoad has

beenidentifieddasanarea an area forfuture residentialgrowth.

Before adecision ismade, we'd like to know

what you think. Share your feedback before

5pm on Tuesday 24 August 2021.

Have your say waimakariri.govt.nz/letstalk

The Waimakariri

Event Funds

Enterprise North Canterbury is

inviting organisers of Waimakariri

events to apply for one of two

event funds.

The funds offer between $500 and $10,000

towards events held in the Waimakariri District.

The current funding round isopen now

until 31 August 2021.

Check out the criteria for the Waimakariri

Regional Events Fund and apply online at

www.northcanterbury.co.nz/regional-events-fund

Check out the criteria for the Waimakariri

Event Fund and apply online at

www.visitwaimakariri.co.nz/events/organisers/

or contact Khloe Peck, 03 327 5735 or

events@visitwaimakariri.co.nz

The Waimakariri Regional Events Fund is Ministry of Business,

Innovation and Employment funding and the Waimakariri Event Fund

is Waimakariri District Council funding. Both are administered by ENC.

2021/22 Rates

Instalment Due

We'd like toremind you that the first

instalment of the 2021/22 rates is due

on 20 August 2021 and the last day to

claim adiscount for earlier payment

is approaching.

Please note that a10% penalty will beadded toany

part of the first instalment that remains unpaid aer

27 August 2021.

If you are going to pay the total rates to claim the

discount, please do so along with any arrears by

27 August 2021.

If youare havingdificultypaying your rates, we encourage

youtoget in touch with usat rates@wmk.govt.nz totalk

throughpayment options.

Online

Go to waimakariri.govt.nz/services/online-services

(credit card payments incur aconvenience fee).

Internet Banking

Accountnumber: 010877-0129222-00

Usethe valuation number on your rates invoiceasreference.

If youare paying ratesonmore than oneproperty, email

details of paymenttofinance@wmk.govt.nz

In Person

Epos and cash payments are welcome atany Council

service centre.
---
CLASSIFIED

North Canterbury News, August 19, 2021

37

Give usyour

feedback

Slam Poetryatthe

Kaiapoi Library

One of theworld'sleading slam poets,

RikTheMost, brings Slam Poetrytothe

Waimakariri District, withalunchtime

performance.

Kaiapoi Library

Wednesday 25August •12.30pm

Register Now

libraries.waimakariri.govt.nz

03 311 8901

In association with:

NEED FUNDING FOR A

LOCAL ARTS PROJECT?

Assistance is available for groups and

individuals who are keen toprovide arts

and cultural activities in the Waimakariri

District from the Creative Communities

New Zealand Scheme.

The next CreativeCommunities round will close

Monday 23 August 2021,for eventsoractivities

thattakeplace between 1October 2021and

1October 2022.

The Application Form and Guide for Applicants is

available from Council Service Centres and Libraries or

from the Council website at waimakariri.govt.nz

If youhaveany questions please contact

the administrator,Ben Eldridge

Phone03311 8901or0800965 468

Email ben.eldridge@wmk.govt.nz

Enrolment Scheme

2022

Amberley School -Broomfield School -Leithfield School

The BoardsofTrustees from Amberley,Leithfield and Broomfield Schools would like to notifyparents who wish

to enrol their children atthe above schools for 2022. Enrolment at these schools isgoverned byanenrolment

scheme, the details of which are available from the respective school offices.

Applications for out of zone places are now being invited.

The BoardofTrustees at Amberley School has determined that there are up to 5placesatthe

New Entrant levelfor out of zone students in 2022.

The BoardofTrustees at Broomfield School has determined that there areupto7places at the

New Entrant level, and up to 3placesatthe Year 6level in 2022

The Board ofTrustees at Leithfield Schoolhas determined that thereare up to 7places at the

New Entrant levelfor out of zone students in 2022.

The exact number of places will depend on the number of applications received from students who live within

the school's home zone. Parents of students who live within the home zone should also apply by this date to

assist the schools to plan appropriately for the remainder of the year. Students who live in the home zone are

entitled to enrol atthe school.

The deadline for receipt of applications for out of zone places is 3pm Friday 24th September 2021. If aballot

for out of zone places is required, it will be held on Monday 27th September 2021. Parents will be informed of

the outcome by 1st October 2021.

Applications from out of zone students will be processed in the following order of priority:

First priority will be given tostudents who have been accepted for enrolment in an approved special

programme. (Thispriority categoryisnot applicable at listed schools.)

Second priority will be given to applicants who are siblings of current students.

Thirdpriority will be given to applicants who are siblings of former students.

Fourth priority will be given to applicants who are children of former students

Fifth priority will be given to applicants who are children of board employees.

Sixth priority will be given to all other applicants.

Forfurther information, including application forms, please contact the relevant school office.

Board of Trustees

Amberley School, Broomfield School, Leithfield School

Together Hurunui Project Facilitator -

Part time -12monthsFixed term role

Do you enjoy working for the community? Possess

projectfacilitation skills? Relish workingwith people?

• Exceptional organisational skills

• Enthusiasm and aproven ability todevelop and

managearange of community wellbeing projects

• Confidentand self-motivated

• 15hoursper week

Together Hurunui supports several project groups to

identify gaps inservicedeliveryand advocate for these

services and facilitate networks and project meetings.

This role aims toensure the projects are working

towards an outcome where 'All People in the Hurunui

arevalued andconnected'.

As our new Project Facilitator you will beresponsible

for programming and supporting the planning and

implementation ofprojects around identified priorities

in theTogether Hurunui plan.

To excel in the role, you will have a background

in community engagement, working with people,

knowledge of local community groups and services

and exceptional relationshipmanagement skills.

For more information about the position description

contact RheaDuffy, CommunityPartnerships Manager

on 021 2586586 or email rhea.duffy@hurunui.govt.nz

To applyfor thisjob go to:

https://hdcjobs.co.nz/Vacancies

&enter ref code: 5608832.

Applicationsclose27August 2021 2409590

Personal

Rural Lady -Friendship/Companionship

Aslim petite lady, with blonde hair and green eyes.

Tired of being alone, she would like to find agenuine

gentleman with similar interests. She enjoys tramping,

cooking and swimming, keeping fit, traveling and

countrydrives. To meet, Please call &Quote code 51

0800 446 332

2410995

Public Notices

2409258

HANDS-ON AT OTAGO

Each year Otago University offers an experience of

university life and study in the summer

holidays (January) for students who will be in

year 12 or 13 that year.

Entryiscompetitive so students are expectedtohave

high grades at NCEA level in their subject(s) of choice.

See https://www.otago.ac.nz/hands-on-at-otago/

about/index.html

Each year the RotaryClubofRangiora is willing

to sponsor asuitable applicant from the Waimakariri or

Hurunui areas to attend this event to the amount

of $800.

BEFORE APPLYING to 'Hands-On at Otago,' any

student seeking this sponsorship needs to submit their

CV to Rotarian Alan Missen (awmissen@xtra.co.nz)

BEFORE 31st August 2021.

The successful applicant will be notified as soon as

possible.

2404740

Public Notice–HurunuiDistrict

Plan Change4–Intensive Primary

Productionand Effluent Disposal

Plan Change 4tothe Hurunui District Plan will

becomeoperativeon27August2021.

The Hurunui District Plan isavailable toview

online: https://dp.hurunui.govt.nz/eplan/

Forqueries, please contact the Duty Planner on

03 3148816orplanning@hurunui.govt.nz

2410341

PUBLIC NOTICE OF

APPLICATION FOR

ON-LICENCE

SECTION 101, SALE

AND SUPPLY OF

ALCOHOL ACT 2012

Hospo Brothers Limited

has made application to the

District Licensing Committee

at Rangiora for the issue of

an On Licence in respect of

the premises situated at 14

Southbrook Road, Rangiora

7400 known as The Brook

Bar.

The general nature of the

business conducted (or to be

conducted) under the licence

is Bar and Restaurant.

The days on which and the

hours during which alcohol

is (or is intended to be)

sold under the licence are:

Sunday - Thursday 8am -

11pm, Friday -Saturday 8am

-1am (following day).

The application may be

inspected during ordinary

office hours at the office

of the Waimakariri District

Licensing Committee at 215

High Street, Rangiora.

Any person who is entitled

to object and who wishes

to object to the issue of the

licence may,not later than 15

working days after the date of

the publication of this notice,

file anotice in writing of the

objection with the Secretary

of the Waimakariri District

Licensing Committee at

Private Bag 1005, Rangiora.

No objection to the issue

of alicence may be made

in relation to amatter other

than a matter specified in

section 105(1) of the Sale

and Supply of Alcohol Act

2012.

This is the first publication of

this notice.

2409986v1

Farming Notices

HAY for sale, Claas round

bales. Text 027 435 423.

Machinery Sales

1950 Petter 7.5hp diesel

engine, ex demo unit, plus

stand $1500. Please phone

03 310 8382.

Livestock

HOMEKILL & Wild

Game meat processing. Ph

313 0022. www.meat2u.nz.

Gardening

A+ GARDEN hedges cut

to perfection. Tree &arbor

work. Also spraying. Free

quotes. Ph 03 312 0668 or

021 111 4322.

Firewood

DRY WATTLE two years

old, $700 6m2. Dry Old

Man Pine, $540 6m2.

Phone 03 312 8726 Rangiora.

FIREWOOD logged -

ready to saw up, 7km from

Rangiora, $10m3. Please

text 027 435 4023.

SPLIT Old Man Pine 3.7m

@ $260, Split Hardwood

Mix 3.7m @$360. Mobile

021 993 497.
---
CLASSIFIED

38 The North Canterbury News, August 19, 2021

CANCELLATION

OF MEETING

The Utilities and

Roading Committee

meeting previously

advertised for

Tuesday24August

2021 at 3:30pm to be

held in the Function

Room, Rangiora

Town Hall, has been

CANCELLED.

SarahNichols

Governance Manager

2411385

Public Notices

FRIENDS OF RANGIORA HOSPITAL INC.

A. G. M.

The Annual General Meeting of the above society will

be held at the Health Hub

on 31 August at 7.00pm.

This will be followed by the normal bi-monthly meeting.

All welcome

2404330

WarMemorial Hall

1AlbertStreet, Rangiora 7400

PO Box 351, Rangiora 7440

www.bsnc.org.nz

Covid-19 and Level 1–Keeping everyone safe

Dear Clients and prospective clients,

•WeARE open and ready to provide you with

budgeting supportand advice.

•WeARE able to meet with you face-to-face. Strictly

by appointment only.

•Wewillbeabletosee walk-in clients. Please phone

first

•Home visits are by arrangement only.

•Wewill trytocontinue advocating on your behalf

with WINZ, banks, creditors etc.

•Weregularly workwith other supportagencies and

food banks; to provide you with additional

assistance.

Phone: 03 313 3505

(please leave amessage and we'll get back to you)

Email: servicemanager@bsnc.org.nz

Monday to Thursday 09:00 am to 4:00 pm

• However, Ifyou cannot wait to talk with us, then

please call the MoneyTalks helpline on 0800 345 123

First Aid Training

Meditrain South Central

are conducting Workplace

(one day) and Refresher First

Aid training (half day)

in Culverden on:

23 rd August 2021

2300807

YOU

COULD

BE

HERE

Advertise

your business

in our Trades

and Services

Phone

Amanda Keys

on

03 313 2840

To enroll onto these courses

or for further details,

please contact us on

0508 428 428 or book on-line at:

www.meditrain-sc.co.nz/bookings.html

Meditrain is registered with NZQA as a Private

Training Establishment (PTE).

Our courses are recognised by the Ministry of

Education and meet the minimum workplace

requirements specified by Worksafe NZ.

2409926

2405005

24 to 27

Sept 2021

RANGIORA PHOTO-

GRAPHIC Society. AGM

to be held on September

14th at 7pm, MainPower

Oval, Coldstream Road,

Rangiora. All welcome.

WOODEND Spring

Flower Show, Saturday 2nd

October 2021, 1 - 4pm.

Woodend Community

Centre, School Road. See

gorgeous spring flowers,

photography, crafts, floral

art, and lots more. Enjoy a

Devonshire Tea, browse

plant /craft stalls and buy

Daffodil bulbs for next

season. Entries welcome.

Schedules at Paws Vet

Woodend, Veg NOut and

Libraries in Woodend and

Rangiora also on line and

Facebook. Admission $2

Adults, Children free.

Phone Lyanne Wheeler

0210 306 460. Email

lyannewheeler@gmail.com.

Situations Vacant

Trade Quotes Co-Ordinator

and

Sales &Rep Support

Can you work hard and smart?

Do you want to be part of asuccessfulteam?

Do you know the difference between trade and retail?

Can you "live" not just talk, excellent customer service?

Can you help turn our customers and trade partners into

advocates for our business?

Do you want to be apartofagrowing business where you

are valued, can make adifference and are important?

Great, and do you have:

RANGIORA BOWLING CLUB

wouldliketowelcome you

to give bowlsago

August 21 st &August28 th

10am–12pm&1pm–3pm

03 313 8082 or

021 0273 5220

AWAKEN

•Experience with trade building supplies

•Experience with residential building

•Experience with quotations and pricing

•The ability to read house plans, and make decisions

from them

•Experience with Microsoft excel, word &outlook

•Exceptional organisational skills

•Ability to problem solve

•Strong people skills

If so, please send us your CV as we are currently looking

for suitable applicants for the position of Trade Quotes Co-

Ordinator at McAlpines Mitre 10 Mega Rangiora.

We offeragreat working environment in North Canterbury,

with ongoing training and competitive remuneration.

McAlpines have an active drug &alcohol policy in place,

apre-employment drug test and medical will be required.

If you think you can add value to our team please forward

your application including an up to date CV to: Trade

Quotes Co-Ordinator, McAlpines Mitre 10 MEGA, Private

Bag 1003, Rangiora 7440 or email

applications@mcalpines.co.nz

2406993

2407889b

Withi h Michael h l andd Linda d Livengood

His Presence Church invites you to hear

international speakers, Michael and Linda

Livengood, who will be speaking at the Pipe Band

Hall located in the New World car park, Rangiora.

Saturday 21 August at 7pm

2410079

Sunday 22 August at 10am

Formore information contact:

Susan 022 494 5540 |Ron 027215 4359

Citizens Advice Bureau

North Canterbury

Invites you to celebrate with us

Join us on

Saturday, 21August 2021

11 am –1pm

Forthe GRAND OPENING of ournew

premises at 209 HighStreet, Rangiora

Don't forget -iflifeserves you lemons,

CAB is here to help.

2409534

North Canterbury

Phone 03 313 8822 or 0800 367 222

Email northcanterbury@cab.org.nz

Website www.cab.org.nz

EXPERIENCED

DRAINLAYERS

WANTED!!

Discount Drainage is on

the hunt for Experienced

Drainlayers who are

motivated and wanting

to get ahead.

We are a growing

drainlaying company

and need a passionate

drainage team to handle

our busy workload.

We do avariety of work

including New Residential

Builds, Earthquake

Relays, Alterations and

Renovations, CCTV

Inspections, Blocked

Drains etc.

We are based near

Rangiora, so this position

would ideally suit

someone from North

Canterbury or willing to

travel.

Good work references and

proof of qualifications

are essential.

Apply today by

emailing acover letter

and acopy of your c.v. to:

admin@discount

drainage.co.nz

CLASS 2 labourer

required, Class 4 Hydro

truck driver for local Civil

Construction company. If

you are keen and looking

for career growth, contact

Daphne at Superior Personnel,

03 313 6180 or pop

into Unit 1/6 Cone Street,

Rangiora

www.superiorpersonnel.co.nz

LOCAL factory work

available for a variety of

shifts, traffic control.

Immediate starts for the

right people. For more

information, contact

Daphne at Superior Personnel

03 313 6180 or pop into

Unit 1/6 Cone Street,

Rangiora.

www.superiorpersonnel.co.nz

0800 WIDE SPAN www.sheds.co.nz

WINDOW TINTING

tintawindow

advanced film solutions

99% uv block

fade protection

heat control

reduce glare

25 Years Experience

privacy films

frosting designs

non-darkening films

Workmanship Guaranteed

Lifetime Warranties on Most Films

UV

block

Free Quotes Canterbury and Districts

03 365 3653 0800 368 468

ABEL &Prestige Chimney

Cleaning. Nth Cant owned

& operated. Covering all

areas from Waimak to Hanmer.

Professional, guaranteed,

service. Firebox

repairs, carry most parts. Ph

0800 661 244.

AFFORDABLE concrete

cutting with quality and

removal work. Free quotes.

No job too small. Ph 027

442 2219, Fax 03 359 6052

or A/H 03 359 4605.

ALL TREE SERVICES,

arbour work, pruning, tree

removal. Affordable &

friendly service. Telephone

021 111 4322.

ARBORIST qualified.

Copper Beech Tree

Services. Tree removal,

pruning, height reduction,

hedge trimming, shaping,

tree planting, firewood.

Free quotes. Contact Angus

Edwards 027 259 6741

copperbeechtreeservices@gmail.com

BRIAN'S Tree Services.

Tree felling, topping,

shaping, firewood cut, rubbish

removed, stump grinding,

branch chipping.

Affordable rates. Phone 03

327 5505 or 021 124 4894.

BUILDERS Father &Son

team. Amac Builders are

available to help you with

your building needs. High

standards, low overheads.

No job too small. Check us

out on fb. Amac Builders

Ltd. Ph 027 318 4400.

CHIMNEY SWEEPS

Time to service your fire.

Accumulation of soot seriously

affects performance.

Latest rotary brush technology.

Free moisture check

on wood. Safety inspection.

All work insured and guaranteed.

From $70 single

story. 0800 SWEEPME or

021 0277 1927. Visit

www.sweepnz.co.nz.

TUITION available. Primary

and secondary up to

NCEA level 3. In centre

(Rangiora) or interactive

online from your home.

Each student on an individually

tailored programme.

Kip McGrath Rangiora has

been serving the local community

for 30 +years. Give

us acall (03 313 3638) or

book your free assessment

online https://www.kipmcgrath.

co.nz/rangiora

Trade &Services

DIRTY TILES &Grout?

Professional tile cleaning,

tiled shower restoration,

mouldy silcone, shower

glass & we can even

recolour your old grout!

For all your tile and grout

issues call Grout Pro for a

free, no obligation quote.

Ph Darryl 0800 882 772.

DRESSMAKING Bev's

Sew Good Services. For all

your alterations, repairs,

dressmaking, curtains.

Phone 327 5535.

Log Fires

Pellet Fires

Heat Pumps

Sales

Service

Installations

Free Quotes

03 343 1651

472 Blenheim Rd

www.heatstore.co.nz

KITCHEN, bathroom,

renovations, decking,

pergolas, fencing. Honest

reliable licenced builders.

Ph Don 027 727 9162.

METAL WORX. Flashing,

Sheetmetal Fabrication,

Wrought Iron,

Welding, Custom Trailers,

General Metalwork. No job

too big or too small. Ph 021

265 5428 or 03 314 6908.

Find us on facebook/

Glenmark Metal Worx.

glenmarkmetalworx.ltd@gmail.com.

PAINT & wallpaper

services. Wayne Bryant,

exterior, interior. Qualified

tradesman. Free quotes. Ph

313 5337 or 027 654 4568.

PAINTER & Decorator.

25 + years experience.

Interior /exterior, roofs &

waterblasting. For a free

quote, please ph Steve 03

314 4620 or 027 477 1930.

PAINTER. Qualified local

professional, Int / Ext,

roofs, wallpaper. Call or

text Corban 027 846 5035.

POWER TOOLS repairs,

parts &sales for over 40

years. All main brands serviced.

Grossman Trade

Tools, 23 Watts Road,

Christchurch. Ph 389 9230.

ROOFER. All roof repairs,

roof painting, water blasting,

moss treatment,

repointing, gutter cleans &

snow straps. And more.

Free quotes. Phone Nathan

027 516 6609.

RANGIORA Rubbish

Removal and RRR skips.

Wheelie bins any frequency

and skips from 1.5 cube to

9cube. Skips and wheelie

bins for any use, rubbish,

greenwaste, building sites

or just cleanups. Give us a

phone call 313 6957 or for

skips 021 313 255.

SCREEN PRINTING.

For all your printing

requirements. T-shirts,

Hoodies, Hi-Vis vests and

polos, Overalls, Caps etc.

Please phone Heather 03

313 0261 or email heather.

norstar@gmail.com.

SHEARER. Hap's Farm &

Lifestyle Services. Shearing,

crutching, drenching,

tailing, feet trimming &

health check. — Ph. 03-

423-3713 or 021-267-4025.

SUMMERFIELD

FENCING

IN YOUR AREA NOW.

Lifestyle or farm, sheep, cattle,

horse, all types of animals.

Fences, yards, sheds, arenas,

shelters, runs.

30+ years contract fencing.

Steve is available to help with

your design &planning.

Ph office03312 4747

2091848

ANTHONY SYMONDS

Forall your painting &

plastering requirements

Local with 30 years

experience

All workmanship

Guaranteed.

Phone 021 344 023

2220615

SEPTIC TANK

CLEANING

Bill's Liquid

Waste

Blair Tavendale

Ph 03 314 9371

0275 379-694

Pride &Quality Painting

&Decorating Services

20 yrs exp, fast and friendly

service. For all your painting

needs, phone: Martin 310

6187 or 021 128 9867

2362002

REMOVALISTS

Movemen Ltd

2Men &agood sized truck.

From $150 plus GST per hour.

Kaiapoi based.

Call Gerard

027 668 3636

movemen.co.nz

2401953

You dump it...

Blair pumps it...

027 216 0000

2225862

VALUATION -

Specialising in North Canterbury.

Contact Geoff at

Maxwell Valuation. Phone

03 310 8541 or email

geoff@maxval.co.nz.
---
Trusted Trades &

Professional Services

Guide

To book your spaceinthis guide,phoneAmanda Keys 313 2840 or email amanda.keys@ncnews.co.nz

Appliance Repairs

Builder Builder Butchery

•REGISTERED TECHNICIAN

•AUTHORISEDLOCAL SERVICE

F&P, Bosch, Smeg,

ASKO,Ariston, LG,Classique,

Haier, Samsung and more....

"For best resultsbesuretouseauthorised service"

NORTHCANTERBURY APPLIANCE SERVICES

Rangiora: 03 313 4420 Kaiapoi: 03 327 3810

1913020

• New Builds &Renovations

• Light Commercial /Re-strengthening

• Project Management

• Bathrooms

• Farm Buildings

• House Lifting Re-piling

• Shop Fit Outs

2408831

40+ years experience

027 222 5078

markw.hills@xtra.co.nz

OxfordButchery

Shane and Leanne Frahm

We cankill&process yourstock

FourGenerations of Frahms

since 1957

Ph 312 4205

Oxford

1680439

Number one

old-fashioned bacon

&ham curing.

A/H 312 4709

Chiropractic Services

Computer Repairs

Construction &Concrete

Digger Hire and Construction

Dr Jess Ross

ACC RegisteredDrChiropractic

Monday &Thursday |03313 0350

Injury, accidents and maintenance

Libi McKinnon Physiotherapy

privatephysio@xtra.co.nz

027 868 2574

ACC Registered Provider | Tuesday &Friday

2089195v2-4/4-S

Select Health

51 Ashley Street, Rangiora

2344089v2

Bruce Evans

131 Ohoka Road

Kaiapoi

03 327 3111

021 293 6331

compucare@xtra.co.nz

www.compucare.co.nz

Computer Repairs &upgrades

Prompt professional services

Phone 03 313 7144

027 432 1534

Fax 03 313 2144

rgrantelectrical@gmail.com

PO Box 69, Rangiora

Electrician

2276525v2

Virus &malware removal

New &UsedPC's4Sale

Allan Pethig

For all your electrical needs. Residential &Commercial

All Construction & Concrete Work

•Driveways, patios &paths

•Bridges and Culverts

•Floors, foundations

•Sheds and buildings

•Dairy Sheds, Herd homes

•Silage pits, effluent ponds

•Excavation and cartage

•Precast concrete

•Insulated panels

Daryl Power

027 230 9401

concretepower@scorch.co.nz

www.concretepower.co.nz

YOU

COULD

BE

HERE

2273277

ECOM Digger Hire

and Construction

•9 ton Komatsu with rubber pads.

•Excavotor can be dry hired or with

one of our expert operators.

•Attachments available:

•Post driver

•Concrete/rock breaker

•Grab bucket

•Tilt bucket

•Rock bucket

No job

too big

–Nojob

too small

admin@ecomconstruction

www.ecomconstruction.co.nz

2384249

2269236

Engineering

For your Engineering needs

187d Ohoka Road, Kaiapoi

Phone 03 327 5246 |027 495 2821

toppeng@xtra.co.nz

Glass &Windscreens

Advertise

your business

in our Trades

and Services

Phone

Amanda Keys

on

03 313 2840

Handyman

Handyman available for

small projects, jobs, general

maintenance, installs, fences

or sheds, general welding

and heat pump cleaning.

Call AJack of All on

022 581 3505 for afree,

no obligation, reasonable quote 2408521

2364105

Heating

Air to Water Heat Pump for Heating and Cooling

Wood Fired Central Heating

Thursday,August 2, 2018 | Issue 808 | www.ncnews.co.nz

HAVE YOU BEEN TO

OUR WEBSITE LATELY?

www.ncnews.co.nz

Visit now toview the paper online &more!

Landscaping

For all your landscaping needs

All Landscaping, Retaining Walls (Engineered and

Non-Engineered), Timber Fences, Landscape Structures

and more...Lifestyle Block, Rural and Residential.

Phone Jeremy 021 169 9394

www.blackhill.co.nz

www.facebook.com/blackhillltd

2372616v2

Scrap Metal

CASH PAID FOR SCRAP

•Car Bodies •Scrap Steel•Specialists in Farm

Machinery•All non Ferrous

MAINLAND

METALS LTD

Ph (03)338 7000

Mike0274 818544 •Robbie0274818 027

Locally owned and operated

1902273

CAP 65

CAP 40

CAP 20

Shingle

SHINGLE SUPPLIES

Quarry Prices

DRAINAGE CHIP

from $40 per cube

from $23 per cube

from $25 per cube

from $30 per cube

all +gst

Plus all excavation and truck hire

house excavations, driveways, subdivisions

CONTRACTING

Ph: KEN 027 201 3302

Email: stress@xtra.co.nz

2009594

To book your spaceinthis guide,phone Amanda Keys 313 2840 or email amanda.keys@ncnews.co.nz
---
RangioraToyota

Signature

CLASS

2017 Corolla GX Hatch

•1.8L PetrolAuto

•Bluetooth, Camera

•Cruise Control, 37,100km

$

22,995

2013Toyota Prius C

•1.5LHybrid Petrol, Alloys

•Camera, Satnav

•69,100kms

2015Yaris GX Hatch

•1.3LPetrol5-speed manual

$ •Camera, Bluetooh

14,995 $

10,995

•NZ-new

2019 Corolla ZR Hybrid

•1.8L Hybrid Petrol Auto, ElectricBlue

•18" Alloys, Toyota SafetySense,Leather/Suede Interior

•Heads Up Display,Only 35,600km

$

37,995

2015Corolla GX Hatch

•1.8L PetrolAuto,

•Rear Camera &Sensors

•62,000km

$

18,995

2015Toyota Ractis

•1.3LPetrolAuto

•45,550km

NOW

•CD/AUX/USB Connectivity

2014 TOYOTA SPADE

WAS$15,995

•1.5Lpetrolauto,

• 4-door/ left side door

•Climate, 5-seater

$

14,995

$

13,995

2016 Corolla GX Sedan

•1.8L PetrolAuto,

•Camera ,Bluetooth

•4.5-Star Safety

$

19,995

2011 Toyota Sai

•2.4LHybridPetrol, Auto

•Camera,Keyless NOW

•43,300km

2010 Toyota SaiG

WAS$15,995 •2.4LHybridPetrol, Auto

•Camera, Cruise Control NOW

•Alloys, 62,550km

$

12,995

WAS$15,995

$

12,995

2011 HyundaiElantra Elite

•1.8L PetrolAuto, Alloys

•Leather,Sunroof

•Camera

$

12,995

2014 Toyota Corolla GX

•1.8L PetrolAuto,

•NZNew,Bluetooth,

•Cruise Control

$

13,995

2016 Corolla GX Sedan

•1.8L PetrolAuto, Bluetooth

•ReverseCamera&Sensors

•60,000kms

$

19,995

2021 CorollaSXHatch

•2.0L PetrolAuto, Satnav

•SafetySense,5-star

•Only 350km

$

33,995

2019 CorollaGXHatch

•2.0L PetrolAuto

•Satnav ,Radar Cruise

•Only 23,500km

$ 26,995 36,995

2011 Toyota Avensis Wagon

•2.0L PetrolAuto,

•Alloys, Camera

•Bluetooth, Keyless

$

14,995

2018 Corolla GX Hatch

•2.0L PetrolAuto, Alloys

•Satnav,Bluetooth,Camera

•78,850kms

$

22,995

2014 CamryGLSedan

•2.5LPetrolAuto

•Cruise Control, Bluetooth

• 7 Airbags

$

12,995

2011 Toyota Wish Z

•1.8L PetrolAuto, 6-Seater

•Sunroof,Alloys, Camera

•82,300kms

WAS$15,995

Signature

CLASS

2012CamryGLSedan

•2.5LPetrolAuto

2009 Toyota Wish Z

•2.0L PetrolAuto, 6-seater

•Alloys, Keyless NOW

•88,500km

NOW $ •CD&USB Connectivity

14,995

$

13,995

$

13,995

•Bluetooth

WAS$14,995

2010 Mitsubishi Lancer VRX

•2.4LPetrolAuto

•Alloys, Leather

•80,750kms

$

12,995

Signature

CLASS

S

2016 HiluxSR5 4x4

•2.8L Turbo Diesel Auto

•Sat Nav

•Cruise &ClimateControl

$

46,995

2017 LandCruiser PradoVX

•2.8L Turbo Diesel, Leather

•NZ-new,Sat Nav

•Only 43,500km

$

71,995

2019 Peugeot 3008 Active

•1.6L TurboPetrolAuto

•Satnav,5-StarSafety

• Only 21,300km

$

36,995

2007 Toyota Rav4

•2.4LPetrolAutoAWD

•Satnav, Camera

•Cruise Control

$

15,995

2018 Toyota Rav4 GXL

•2.5LPetrolAWD,SafetySense

•Camera, Keyless

• 69,600kms

$

34,995

2013Toyota AlphardSC

•2.4LPetrolAuto, 7-Seater

•DualElectricDoors

•25,250kms

2019 Nissan Navara ST 4WD

2018 Nissan Navara RX4x4

•2.3LTurbo Diesel Manual

•Alloys, Bluetooth

•Only 58,100kms

2017 HiluxSRPreRunner

•2.8L Turbo Diesel Auto

•Alloys, Camera

•Only 60,050kms

2018 Toyota Highlander GXL

•3.5LPetrolAutoAWD

•Satnav,7-Seater,Leather

•5-Star Safety

•2.3LTurbo Diesel Manual

$

36,995 •Camera, Satnav $

44,995

$

41,995

$ $

•61,000kms

71,995

49,995

Percival Street,Rangiora • Ph (03) 313-8186any time • www.rangiora.toyota.co.nz

2391723

Signature

CLASS

FINANCE &INSURANCE AVAILABLE
---
RANGIORA

Pictured products available from 7:00am,Friday 20 th August

S

S

RANGIORA

100% LOCALLYOWNED &OPERATED.

Spend them &

Earn them here

If youfind alower priceonanidentical stocked productlocally,wewill beatitby15%

If youfind the same productfromanother Mitre10store or Mitre10website, we'll match that price.

Excludestrade and special quotes,stock liquidations and commercial quantities.The in-storepricemay be lowerthan thatadvertised.
---
RANGIORA

2

only

2

only

now

$

98

Mana Basin Mixer

178877

now

$

48

Talento Sink Mixer

158502

Pictured products available from 7:00am,Friday 20

th August

now

$

145

Volt Noir Shower overhead

290454

3

only

now

$

152

Foreno

TapHouse Pack

158790

3

only

S
---
RANGIORA

6

only

16

only

now

$

125

Jobmate

2000w water blaster

304879

now

$

14

Jobmate

Patio Brush Kit

232509

Pictured products available from 7:00am,Friday 20 th August

1

only

1

only

now

$

212

Waterblaster

192774

now

$

151

Makita BlowerKit

329483

S

RANGIORA

100% LOCALLYOWNED &OPERATED.

Spend them &

Earn them here

If youfind alower priceonanidentical stocked productlocally,wewill beatitby15%

If youfind the same productfromanother Mitre10store or Mitre10website, we'll match that price.

Excludestrade and special quotes,stock liquidations and commercial quantities.The in-storepricemay be lowerthan thatadvertised.
---
RANGIORA

24

MONTHS

INTEREST FREE

on purchases $799 &over

WANT IT NOW?

Payfor it using your

AirpointsDollars

FINANCE

OPTIONS

AVAILABLE

20% deposit

Paycash price only

No booking or

insurancecharge

or 12 MONTHS

INTEREST FREE

Terms, Conditions&Credit Criteria apply

Pictured products available from 7:00am,Friday 20 th August

Remember, 1=$1

When youspend$75 or more.

Seein-store forterms &conditions.

S

RANGIORA

100% LOCALLYOWNED &OPERATED.

Spend them &

Earn them here

If youfind alower priceonanidentical stocked productlocally, we will beatitby15%

If youfind the same productfromanother Mitre10store or Mitre10website, we'll match that price.

Excludes trade and special quotes,stock liquidations and commercial quantities.The in-storepricemay be lowerthan thatadvertised.