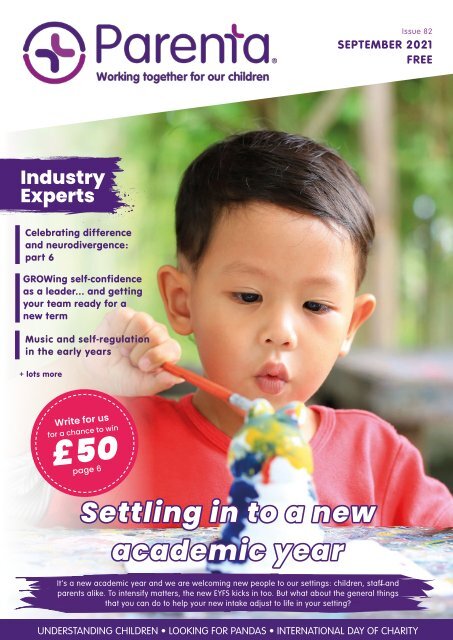 September 2021 Parenta magazine
You also want an ePaper? Increase the reach of your titles
YUMPU automatically turns print PDFs into web optimized ePapers that Google loves.
Issue 82

SEPTEMBER 2021

FREE

Industry

Experts

Celebrating difference

and neurodivergence:

part 6

GROWing self-confidence

as a leader... and getting

your team ready for a

new term

Music and self-regulation

in the early years

+ lots more

Write for us

for a chance to win

£50

page 6

Settling in to a new

academic year

It's a new academic year and we are welcoming new people to our settings: children, staff and

parents alike. To intensify matters, the new EYFS kicks in too. But what about the general things

that you can do to help your new intake adjust to life in your setting?

UNDERSTANDING CHILDREN • LOOKING FOR PANDAS • INTERNATIONAL DAY OF CHARITY
---
hello

welcome to our family

JUNE SEPTEMBER 2020 ISSUE 2021 67 ISSUE 82

IN THIS EDITION

Regulars

Hello and welcome to the September edition of the Parenta magazine!

The summer is drawing to a close, and the new academic year – not to mention the new EYFS - is upon us already!

We have previously talked about practical preparations that you can do to ensure your setting is new term-ready, but

how do you give your team the best start to the new year, particularly those who have been away from the setting for

some time? We are focusing this month on ways in which you can help your staff build their confidence back up again

and get up to speed with any new policies, procedures, industry news and training that they may have missed out on.

Guest author Ruth Mercer delves into this in her article "GROWing self-confidence as a leader…and getting your team ready for a new

term" giving us some invaluable advice as to the importance of looking after ourselves first and being a role model for our staff. Turn to

page 22 for her easy to follow, step by step guide.

We have an eclectic mix of fantastic advice this month from so many industry experts: Kathryn Peckham talks to us about understanding

the children in our care as she introduces us to her "Nurturing Childhood" series, Gina Bale is "Looking for Pandas" in her article about

kinaesthetic learners, Joanna Grace continues her "Celebrating difference and neurodivergence" series, Katie White shows us how to

"Playfully support an avoidant child" and we welcome nurture consultant Sonia Mainstone-Cotton as she guides us on "Supporting

children with social, emotional and mental health needs".

As always, everything you read in our magazine is written to help you with the efficient running of your setting and to promote the health,

happiness and well-being of the children in your care.

Please feel free to share the magazine with friends, parents and colleagues – they can sign up to receive their own copy here!

Please continue to stay safe, everyone.

Allan

6 Write for us for the chance to win £50!

6 Guest author winner announced

18 Search jar

19 Two-ingredient ice-cream

33 Congratulations to our learners

News

4 Childcare news and views

5 A round-up of some news stories

that have caught our eye over the

month

Advice

10 Returning to work after time away

14 Settling into a new academic year

20 Organic September

28 Start living sustainably this September

36 International Day of Charity

Playfully supporting an avoidant child 26

Supporting children with social, emotional and

mental health needs

30

Returning to

work after time

away

10

As restrictions have been

steadily lifted over the last

few months, people are

gradually being encouraged

back into work.

Looking for

Pandas

12

Combining elements of

music, make-believe and

movement for a multisensory

approach as you

follow the 'Looking for

Pandas' adventure.

Organic September 20

We need to act now to avert a

catastrophe on a worldwide scale.

You can help with sustainability by

getting involved in Organic September,

a month-long campaign encouraging

everyone to be more organic.

Industry Experts

8 Understanding children

12 Looking for Pandas

16 Celebrating difference and

neurodivergence: part 6

22 GROWing self-confidence as a leader…

and getting your team ready for a

new term

26 Playfully supporting an avoidant child

30 Supporting children with social,

emotional and mental health needs

32 Book review : Using stories to support

learning and development in early

childhood

34 Nurturing Childhoods interview with

Kathryn Peckham

38 Music and self-regulation in the early

years

Nurturing childhoods interview with Kathryn

Peckham

34

Music and self-regulation in the early years 38
---
Childcare

news & views

A round-up of some news

stories that have caught

our eye over the month

Source and image

credits to:

The Times, Southern Daily

Echo, Insider Media Limited,

Cambridgeshire Live News, Daily

Record, The Northern Echo

Education minister urges parents to

seriously consider apprenticeships

over university for their children

Education minister, Gavin Williamson, has

urged middle-class parents not to rule out

apprenticeships for their children as figures

reveal that apprentices could be £50,000-

plus better off than the average degree

student after three years of studying.

A record number of students are expected

to apply for university this year - but up

to a third could be rejected from some of

the most oversubscribed courses amid

fierce competition and grade inflation

as places through clearing dry up. But

Gavin Williamson has urged middle-class

parents not to rule out apprenticeships

for their children when they receive their

A-level results.

Self-isolation and 'pingdemic' causes

nearly half of all early years settings

in England to close

'Help educate parents to sign up for

Government's Healthy Start Scheme':

Marcus Rashford

Families risk losing out under

new childcare scheme

Childcare services in disadvantaged

communities are at risk of losing out

after a reduction in subsidies for families

without employment.

Kingsmead Day Nursery children

raise £600 for Marwell Zoo

The nursery raised over 240% of their

original target whilst taking part in the

summer safari activities. During the

week they dressed up, had a picnic and

organised a Safari Sports Day!

Burbage Day Nursery is snapped

up by Kids Planet Nursery chain

The family-owned nursery chain

expands even further than existing

76 nurseries in the UK by purchasing

Burbage Day Nursery with the capacity

for 73 children.

The Education Secretary has previously

slammed the 'inbuilt snobbishness' by

some to further education other than a

degree, blaming families who believe their

children should go to university as a 'rite of

passage'.

Analysis by MailOnline has found that

when taking into account the debt

accumulated by a degree student and

other costs, an apprentice is £52,732

better off on average after three years.

In addition, some apprentices will enjoy

a starting salary that is higher than the

£24,000 average of an arts degree

student who has attended a mid-ranking

former polytechnic university, especially

when compared to apprentices training to

be accountants.

Read the full story on the Parenta website

here.

Nearly 50% of childcare providers in

England have had to either fully or partially

close at least once since 1st June, due to

self-isolation requirements, according to a

new survey.

The survey, published by the Early Years

Alliance polled more than 1,000 early

years providers and reveals that nearly a

third of providers had to fully close at least

once and more than nine in 10 providers

believed the early years sector should be

added to the self-isolation exemption list.

In response to the findings of its survey,

the Alliance has called for early years

providers to be added to the list of sectors

exempt from self-isolation requirements

"as a matter of urgency".

Read the full story on the Parenta website

here.

In an open letter published by the British

Medical Journal (BMJ), footballer and

child food poverty campaigner, Marcus

Rashford, has urged more low-income

families to sign up for the Government's

Healthy Start Scheme.

He is calling on health professionals to

spread the word about the scheme, in a

bid to increase take-up among eligible

families. He says that many families do

not realise they qualify for Healthy Start

vouchers and are missing out on the

scheme's benefits.

In the letter, Mr Rashford explains that

nearly half of families eligible for the

voucher scheme, i.e. those in receipt of a

welfare benefit and who have at least one

child under four or are pregnant, are still

not registered.

Read the full story on the Parenta website

here.

Cambridge nurseries in desperate

need for staff

With critical staff shortages fewer places

for children are available. There are

currently just under 30 vacancies across

the Cambridge area.

Lockerbie Academy plea for

fundraising after fire destroys

the nursery play equipment

After the devastating news of the

vandalism, a 'Go Fund Me' page was set

up along with various bikes, trikes and

toys donated by local parents.

Nursery staff take part in

fundraising walk after local

one-year-old, Vinnie, suffers

brain injury

High Bank Day Nursery in Stapleton

raised £1,810 after completing walk to

support little Vinnie.

4 September 2021 | parenta.com

parenta.com | September 2021 5
---
Write for us!

NEW BOOK RELEASE!

Supporting children with social,

emotional and mental health needs in

the Early Years

We're always on the lookout

for new authors to contribute

insightful articles for our

monthly magazine.

If you've got a topic you'd like to write about, why

not send an article to us and be in with a chance of

winning? Each month, we'll be giving away Amazon

vouchers to our "Guest Author of the Month". You

can find all the details here:

https://www.parenta.com/sponsored-content/

www.soniamainstone-cotton.com

Congratulations

to our guest author competition winner, Katie White!

Congratulations to Katie White, our guest author of

the month! Her article "3 ways to cultivate a summer

of play" emphasised the importance of playfulness

for adults and that we should make it a priority to

encourage children to explore their emotions. Well

done Katie!

A massive thank you to all of our guest authors for

writing for us. You can find all of the past articles

from our guest authors on our website:

www.parenta.com/parentablog/guest-authors

Exclusive FREE

'Looking for Pandas'

training session

(RRP £60.25)

A full FREE "Looking for Pandas" training experience from

Littlemagictrain, that combines the elements of music,

make-believe, and movement to give you a multi-sensory

approach to reach all your children and help them learn.

Perfect for children with additional learning needs. The

sessions have been created in such a way to give you

many opportunities for learning through play and the fun

of "what next?".

"Looking for Pandas" is our new

"special edition" and this month

it is FREE just for Parenta readers.

Visit www.littlemagictrain.com and

use the code PARENTAPANDAS.

100% Discount code

PARENTAPANDAS

Lead the Way with Success

If you have enjoyed reading Ruth's articles about leadership

through a coaching approach, why not consider inviting her

to work with you and/or your setting?

With a career background in Early Education and Leadership, Ruth works

as a coach and consultant across the Early Years' sector. She can offer

the following:

1:1 coaching for head teachers/leaders/managers

1:1 coaching for senior leaders

Small group coaching for leaders/teams

Action Learning sets

Introductory courses on coaching and mentoring for you and

your team

Leadership learning course (6 half day sessions) for EYFS

leads or nursery managers

With Covid 19 impacting on schools and settings,

Ruth can offer her services on a virtual online

platform, tailored to your needs.

If you would like to know how Ruth can support you,

please get in touch for an initial conversation:

Email: ruthmercercoaching@gmail.com

Website: www.ruthmercercoaching.com

6 September 2021 | | parenta.com

Winner need updating

parenta.com | September 2021 7
---
Understanding children

Whether you are a new practitioner, or managing a setting of 200 children, looking after children

can be tough. No two children are the same, nor are any two days with them it would seem, and they

certainly don't come with personalised user guides. Despite this, well-intentioned advice will be

coming at you from every angle, and it can be difficult to know who to turn to for trusted guidance,

as you make decisions for the children in your care.

While no two children are the same, the

fundamental processes of growth and

development that guide them are. But how

do you begin to understand what children

need?

With the revised EYFS and supplementary

guides, to anecdotal advice shared

during a coffee break, there is no end of

information coming your way. And let us

not get started on any one of a hundred

sites you may land on when looking to the

internet for advice. But with the content

of training being as changeable as the

children, where can you go to for advice

you can trust?

While you may be surrounded by these

influences, the truth is that in that moment

when you make a decision, or engage

with a child, it is your opinions, beliefs and

actions that are what really count. And

these will be informed by a mix of all these

things, and more.

When you have the knowledge and

understanding of how children are

developing, how their brain and body

is maturing and the complex processes

that are occurring, you can begin to trust

in your own instincts. You can observe

your children's actions and behaviours,

even in those difficult moments, and

rely on your own science as you develop

techniques that work for you and your

setting. Regardless of what you may have

read, or those recommendations that do

not quite sit comfortably, you can begin to

distinguish the techniques and practices

you do want to follow.

Children at every age and stage of

development are facing a boggling

world of depth and texture, sounds and

emotions, relationships and expectations.

Sometimes that can feel overwhelming for

the best of us, however, in bodies that they

are still learning how to manage, and that

are changing daily, this can be a stressful

ordeal. Especially for children who have

not yet learnt to manage stress effectively.

These skills are being learnt through every

experience; within loving environments

where stress levels are carefully managed,

and appropriate responses are being

demonstrated. Before this time, your

children will have emotionally charged

reactions whenever an experience

becomes too stressful for them to manage

effectively. This can be something as

simple as a loud bang for a baby, raised

voices for a toddler, or a disagreement

over who will be 'Mummy' in the preschool.

Whatever their age, this kind of

reaction is a clear indication that the

situation is simply more than they can

handle.

We must then look to manage the

environment and the situation before

things become too much – and it always

helps to have a well-considered plan for

when emotions do tip beyond the point of

no return.

Children need to feel a sense of love and

security. They need to be sheltered from

excessively negative experiences within a

calm environment, that is at the same time

steeped in sensory-rich experiences. Once

these things are in place, children begin

to develop an emotional stability. They

learn to experience their emotions without

becoming afraid of them or developing

negative behaviours as a reaction to them.

Children also need lots of opportunities

to try different experiences, to engage

for as long as they are interested and to

be rewarded for their efforts. They need

environments that are rich in language,

surrounded by people who talk to them.

They need to have conversations and

really engage, using a wide range of

words from the time they are born.

And lots of opportunities for social

interactions – with different ages in

different situations. If you can provide

these opportunities, and help your families

to do the same, many of the difficulties

experienced will resolve themselves.

There is a limit however! Luckily, children at

any age are particularly good at letting us

know when they have had enough. When

an experience becomes overwhelming,

it begins to generate a negative level of

stress within the body, causing them to

employ any technique they can to get

away from it. While you may experience

this as the negative behaviours you or

your parents are desperately seeking a

quick solution to, the easy fix of the naughty

step, time outs or raised voices do little to

address the underlying issue. And all that

happens is behavioural patterns are laid

down, ready to be remembered next time.

Negative experiences within any

environment are enough to shut down the

thinking part of a child's brain – the cerebral

cortex. When this happens, activity in this

region of the brain decreases, leaving them

functioning from the more emotionally

reactive lower brain, where their primitive

functions reside – this may sound familiar.

And if you combine this with a situation that

is demanding a particular response – such

as getting them ready to go outside – or

expectations that they are not mature

enough to handle – such as sharing a

favoured toy – you can see why emotional

fallout can be expected. Unfortunately, this

experience can be all too familiar when

stressful demands are placed on children

during their first experiences of, say, the

school classroom. Just when they need

their cerebral cortex the most.

Children are hard-wired to develop in mind

and body through every experience. It is

only when something gets in the way of

these natural instincts that we begin to

experience problems.

During the early years, children are

growing and learning more rapidly than

at any other time of their lives. But they are

also laying down the expectations and

responses towards every future learning

experience. To do this effectively, they need

adults around them who understand the

importance of their early years, as well

as their need for emotional stability. And

it is only once a child is secure in their

environment and their relationships, that

their attentions can turn to other things. This

is especially important at this time when all

our emotions and sense of security have

been hugely disrupted. So, enjoy time with

your children, manage your expectations

and take every opportunity to connect.

Understanding Children is the first session

in the new Nurturing Childhoods suite

of talks and materials available for your

parents to purchase. For your chance

of winning a free Nurturing Childhoods

module for one of your parents, check out

this great new website and complete the

questionnaire. Together we can really begin

developing the potential of all children in

their early years.

Kathryn Peckham

As Founder of Nurturing Childhoods,

Dr Kathryn Peckham is a passionate

advocate for children's access to rich and

meaningful experiences throughout their

foundational early years. Delivering

online courses, training and seminars, she

works with families and settings to identify

and celebrate the impact of effective

childhood experiences as preparation for

all of life's learning. An active campaigner

for children, she consults on projects,

conducts research for government bodies

and contributes to papers launched in

parliament. Through her consultancy

and research she guides local councils,

practitioners, teachers and parents all

over the world in enhancing children's

experiences through the experiences

they offer. A highly acclaimed author and

member of parliamentary groups, Kathryn

also teaches a Masters at the Centre for

Research in Early Years.

Get in contact with Kathryn by emailing

info@kathrynpeckham.co.uk.

8 September 2021 | parenta.com

parenta.com | September 2021 9
---
Returning to work after

The last eighteen months have been

difficult for all of us: lockdowns, selfisolation,

furlough and social distancing

are all unknown words back in 2019, yet

are now in common parlance, even in

our junior schools! Some industries have

fared better than others too: everyone

seemed to be hiring extra delivery drivers

as our shopping habits moved even

further online and the manufacturers of

face masks must have thought it was

Christmas when the orders for PPE came

flooding in! However, many people were

not so lucky and a lot of people were

forced into furlough as their industries

time away

were closed by Government restrictions.

As these restrictions have been steadily

lifted over the last few months, people

are gradually being encouraged back

into work – theatres and cinemas have

reopened and offices are starting to refill

with workers. But is it that easy to return

to work after time away, whether on

furlough, for health reasons or having a

family? And how will people returning to

work in the early years sector cope? In

this article, we look at some of the issues

faced by people coming back to work for

whatever reason, and give you and them

some tips to help.

What are the issues?

Lack of confidence

One of the main problems that a lot of

people have when they return to work

after a break, is feeling less confident

about their role and what they know about

their industry, so it is important to make

sure that any returning staff are brought

up-to-speed with any new policies, legal

requirements or protocols as soon as

possible. It would be a good idea to run

through an induction programme again

for returning staff and make sure they feel

confident about anything they have missed

in the interim. Feeling anxious and unsure

about starting anything again is totally

understandable and we all feel like this at

some point in our lives. As an employer,

you can ease this feeling in your employees

by making sure you offer support and

guidance and keep lines of communication

open. You could offer the employee a

mentor or a buddy who they can checkin

with on a regular basis to discuss any

problems or queries they have. If you

do this though, make sure you set aside

some protected time for these meetings to

occur otherwise you may find that they get

missed in the general melee of everyday

work.

You may also need to allay people's fears

for returning after COVID, so make sure

your protocols are clear and published for

keeping people safe.

Lack of training/qualifications

If you have people who are returning to

work after having a family or later in life,

you might find that they have qualifications

that are now out-of-date or were taken

some years ago. This could be an issue

in because things such as Paediatric First

Aid qualifications (and DBS checks) need

to be renewed and up-to-date in order

for them to be valid, so it is important that

you check the validity of their qualifications

before they start. Many people may not

have studied or been in a formal learning

environment for years either. If you need to

upskill them, there are many CPD courses

that are inexpensive and easy to study,

often which are now online, which can help

reintegrate staff and make them feel more

confident too. Parenta has a lot of online

CPD courses that are time and cost-effective

covering many aspects of early years work

from "Starting Work" to "Autism Awareness"

which you can access here.

Changes to working patterns

You may find that when people return

to work, your staffing requirements have

changed and you may now need them to

change their working patterns, for example

cover early or late shifts or work different

days than they did before. You cannot

assume either that they will want to, or be

available for exactly the same hours/days

as before, because the staff member may

also have had time to think about what

works best for them. You may have the

right to expect exactly the same hours as a

previous contract if you furloughed staff, but

negotiation is key here if you want to keep

a happy and effective workforce, so talk to

your existing or new staff about your needs

and ensure these details are all sorted out

prior to anyone restarting. If you can create

a win-win scenario that suits everyone,

you can create an atmosphere which will

benefit your business.

Management angst

One of the issues of people returning

to work after an extended period of

time away, is that inevitably, it is often

difficult to come back at the same level

they left and they may find that younger

or seemingly less experienced people

have been promoted above them, who

may have previously been below them

in the management structure. This can

be a tricky situation to deal with, but with

understanding and good communication,

these issues can be overcome. If people

have been away, then inevitably, things

in their work will have changed and they

may not easily accept some of the changes

that have occurred. If they were the room

leader when they left, and a new room

leader has been appointed in the time

they were away, then it may be difficult

to incorporate the returnee into the same

room and it may be wiser to shift things

around so that they have responsibility

elsewhere. It is important here to have

honest conversations with everyone about

your expectations, their expectations,

everyone's roles and responsibilities and to

agree these in advance.

Top tips to help people returning

to work

• Plan for returnees and make sure

they know what their roles and

responsibilities will be, and what you

are expecting from them

• Run through an induction programme

for returning staff

• Consider having a mentor or buddy

system to help

• Consider a phased, or staggered

return

• Look at the training needs of all staff

and ensure you have good CPD

training available to upskill returning

staff

• Keep all lines of communication open

and check-in with your staff on a

regular basis

• If you have staff taking a leave of

absence or time off for other reasons,

who intend to return to work at some

point, make sure you keep them in the

communication loop by sending them

newsletters, meeting minutes or other

staff communications as appropriate

• Praise your staff often so they know

how they are getting on and that they

are valued

10 September 2021 | parenta.com

parenta.com | September 2021 11
---
Looking for Pandas

Young children are kinaesthetic learners, and they need to move to learn!

If you take advantage of this offer,

you and the children will meet the

Littlemagictrain. You will just need to get

your magic sprinkles to help him grow so

you can all fit inside and then it's time to

go "toot, toot" and off you go.

In your adventure "Looking for Pandas",

the Littlemagictrain stops on Mount

Everest and after looking at your map,

together, you discover that you are in

the wrong place.

You come across a family

of red cranes, who helps

you fly to the Great Wall of

China.

On the wall, you accidentally wake up

some very fierce and noisy dragons.

Exclusive FREE 'Looking for Pandas'

training experience (RRP 60.25)

Here for you, is a full FREE "Looking for Pandas" training experience from Littlemagictrain,

that combines the elements of music, make-believe, and movement to give you a multisensory

approach to reach all your children and help them learn. Perfect for children with

additional learning needs. The sessions have been created in such a way to give you many

opportunities for learning through play and the fun of "what next?". The perfect way to help

children with myelin building. Did you read the article last month?

"Looking for Pandas" is our new "special edition" and this month it is FREE just for Parenta

readers. Visit www.littlemagictrain.com and use the code PARENTAPANDAS.

You manage to get away from them and

stumble over a very hungry pangolin

looking for ants.

Between his slurping and burping, he

directs you to the Bamboo Forest where

you and the children get a huge fright from

the tiger hiding in the bamboo.

The tiger is so sorry that he scared you that

he helps you. You run with the tigers, all

the way to the pandas who you find doing

somersaults, climbing trees, dancing, and

of course taking a well-deserved nap.

When the pandas have fallen asleep

it's time to jump on board the

Littlemagictrain and go "toot, toot!" all

the way home. Once you have put him

away safely, you can sit down with the

children and ask questions about where

you went, who you saw, what they did,

how you felt – so many opportunities for

additional learning.

Did you know that throughout the session

you will be helping the children improve

their:

• Speech and language skills

• Personal and social development

• Emotional regulation, self-esteem and

confidence

• Knowledge and understanding of the

world and yourself

• Physical literacy

• Mathematical development

If you are feeling a little anxious, don't

worry as you will receive all the information

needed to run the session. As part of the

giveaway, we will also include the training

videos linked to the session. Don't forget

we are also here to help you if you need

any assistance.

And a little something extra for

the children

A certificate to present to the children at

the end of the final session. This certificate

has been designed so the children can

retrace their journey along the train tracks

at home with their family and friends.

All you must do is go to www.

littlemagictrain.com and go to "Shop" and

in the category "Special Offer" pop the

'Looking for Pandas' pack in your basket.

Once in your basket, enter your details

and then use the Discount Coupon Code

PARENTAPANDAS and it will be 100% FREE.

If you have any issues at all, please contact

Littlemagictrain directly on 01865 321212

or hello@littlemagictrain.com and we will

sort it out for you.

Don't miss out get

your FREE session

today!

A little bit about the music

Music composed and performed by

Jonathan Still with drums, mixing and

mastering by Andrew Holdsworth. In the

music for "Looking for Pandas", they have

used some traditional Chinese instruments,

though not in a traditional Chinese way,

more just as a way of signalling "this is

where we are today, in this adventure".

In the red cranes, we tried to capture both

the grace and flow of flying, as well as the

epic grandeur of seeing a whole continent

and its landmarks from a bird's-eye-view.

We love using sound effects, so you'll

hear recordings of tigers growling along,

pangolins slurping (and occasionally

burping, after eating too many ants), and

the sound we think the pandas might make

inside when turning somersaults.

For absolutely no reason at all, except that

we learned that Marlene Dietrich could play

the musical saw, we decided to write a tune

for the relaxing pandas on that instrument,

which turns into a boisterous waltz for the

somersaults. Although they look lazy and

ponderous, we think that secretly pandas

might enjoy dance parties, so we gave

them an up-tempo final dance, followed

by some music to chill, and meditate when

it all gets too much, and they need a little

rest.

About the musicians

Jonathan Still and Andrew Holdsworth have

over twenty years of experience of music

in the dance world, whether it's working

with pre-school children or with some

of the biggest stars of the international

ballet scene: Jonathan as pianist for

ballet schools and companies, and music

producer Andrew, playing for ballet classes

and recording music projects for dance

schools and companies.

About the illustrator

Anthony Shoreman created all the

illustrations for this adventure, and we are

so pleased that he continues to work on

many other adventures and activities for

Littlemagictrain.

About the creator of

Littlemagictrain

Gina Bale has taught, for over 28 years,

movement and dance in mainstream, early

years and SEND settings as well as dance

schools. Whilst teaching, Gina found the

time to create the 'Hi-5' dance programme

to run alongside the Australian Children's

Gina Bale

Gina's background was originally

ballet, but she has spent the last 27

years teaching movement and dance

in mainstream, early years and SEND

settings as well as dance schools.

Whilst teaching, Gina found the time to

create the 'Hi-5' dance programme to

run alongside the Australian Children's

TV series and the Angelina Ballerina

Dance Academy for Hit Entertainment.

Her proudest achievement to date is her

baby Littlemagictrain. She created this

specifically to help children learn through

make-believe, music and movement.

One of the highlights has been seeing

Littlemagictrain delivered by Butlin's

famous Redcoats with the gorgeous

'Bonnie Bear' on the Skyline stage.

Gina has qualifications of teaching

movement and dance from the Royal

Ballet School, Trinity College and Royal

Academy of Dance.

Use the code 'PARENTA' for a 20%

discount on Littlemagictrain downloads

from 'Special Editions', 'Speech and

Language Activities', 'Games' and

'Certificates'.

TV series and the Angelina Ballerina Dance

Academy for Hit Entertainment. Her proudest

achievement to date, apart from her

daughter, is Littlemagictrain. She created

this specifically to help children, including her

daughter, learn through movement and play.

Gina's long-suffering daughter spent her

formative years being a guinea pig, testing

the format of the adventures, until they were

just right.

12 September 2021 | parenta.com

parenta.com | September 2021 13
---
Settling into a new

4

5

academic year

It's a new academic year and we are welcoming new people to our settings: children, staff and parents

alike. To intensify matters, the new EYFS kicks in too. But what about the general things that you can

do to help your new intake adjust to life in your setting? Read on to find some advice on things you

can do to smooth the transition for everyone.

1

Give information ahead of time

The more people know about your setting,

how it works and what to expect when they

get there, the less anxious they will be, so

make sure you have given out as much

information as you can ahead of time.

Induction days help here so put yourself in

your new recruits' shoes and think about

what you would want to know, be it things

about the rooms, staff, food, changing nappy

protocols, safety standards or curriculum.

Make sure you have answered as many

potential questions as possible and set up

easy ways that people can contact you with

any last-minute queries.

2

Be organised

It is vital that you have organised everyday

things, protocols and procedures in advance

so that your staff can go straight into the job

of looking after the children. Make sure that

your rotas are set up and that you have cover

for early and late sessions with the correct

ratios and experience. Ensure that you also

have plans in place for sickness or selfisolation

cover since, although COVID cases

are currently falling, we are still quite a way

from being back to normal.

14 September 2021 | parenta.com

3

Support drop-off and pick-up

One time of the day that you can ease new children into your setting more easily is at

drop-off and pick-up, when anxieties are high. You might want to set up a slightly later

or slightly earlier time for a new intake so that they are not caught up with the melee

of established parents. Ensure too that you have enough staff around to support the

children during these times. It may mean adjusting your working hours slightly so that

staff and children are not all expecting to go home at exactly the same time, ensuring

instead that your staff have time to talk to parents at the end of the child's day, and then

some extra time to tidy up and lock up the setting after that. Children are often keen to

show their parents things they have done during the day, so establish routines to ensure

things do not get forgotten.

Get to know the children quickly – use your circle time

The quicker you get to know the children in your care, the sooner you know what their

needs are, and the better your care will be. Obviously, you will have spoken to parents

and carers before admitting children, but your staff are well placed to observe things that

parents might not, such as how children react in different social environments or how

they play with new children. Circle time can be a great time to ask questions, pass on

information about activities or your expectations, and generally understand what makes

everyone tick. Don't underestimate the information you can get from circle time, and make

sure your staff are tuned in to what to look and listen out for, as well as who they should

pass information on to if they are concerned for any reason.

Consider too the impact that the pandemic may have had on the children coming into the

setting this year. Many of them may be less well socially-adjusted than previous years,

because they may not have had the same social interactions with their family,

friends and other children that previous intakes have. They may well have

spent most of their short lives with a limited number of people and may be

more nervous about meeting, or socialising with larger groups. Circle

time can be used to allay their fears, make new friends and ease

and tensions that may develop. You can even use it to practice

things like saying goodbye to parents or role-play other social

scenarios to help educate them on these things.

Allow emotions and help with

them

At this time of year, children will be feeling

a lot of emotions that they may not have felt

before. They may not have been separated

from their parents/carers for long periods of

time, they may not know how to share with

others or how to express their frustration

when things don't go their way. This is all

part of developing as a human being and

little ones will need your expert guidance

and support to manage new emotions,

label and understand them. Spending

some extra effort to watch out for signs of

emotional distress will pay off in the long

run as the children learn to adjust to new

rules and expectations. It doesn't mean

relaxing your standards of behaviour or

abandoning rules, but it does mean having

the patience to look at the situations fully

and to take time to understand any social

or cultural aspects that may affect students

too.

6

Explain what's happening

Find multisensory ways to explain what to expect each day, especially if you have SEN

children. Use words if they are old enough to understand, but also make visual or auditory

clues as to what is going to be next. This could be singing songs in transitions between

activities or having a clapping rhythm to signal other sections in the day. The more they

understand about what is happening, the less anxious they will be.

7

Be consistent

One of the things that many humans of any age struggle with most, is change, even

though it is the catalyst to new growth and new experiences. However, you can help

people respond to the change and shock of starting nursery, by being consistent with a

few things so their day has some certainty in it. Humans need a degree of certainty in

their lives to feel secure. You can help parents too by liaising with and advising them about

the things their child has achieved during the day and offering suggestions on ways to

continue this at home, be that with potty training, vocabulary or developing fine motor

skills. That way, the transition to nursery will be easier all round.

parenta.com | September 2021 15
---
Celebrating difference and

neurodivergence: part 6

Being different is brilliant!

This article is the last article in a series of six from Sensory Engagement and Inclusion Specialist,

Joanna Grace. The activities described in each article build up to form a toolkit for celebrating

difference and neurodivergence within your setting in a way that will benefit both the children

and the adults. Joanna runs online training courses focused on strategies for supporting

differently-abled children and promoting inclusive practice. Click here for more information.

We have come on such an adventure

together! If you joined this article series

part-way through, I encourage you to

return to the start and explore them all.

We have looked at how being open and

frank about differences can help everyone

achieve to their fullest, and explored

how even the tiniest adjustments in the

language we use to frame difference

can make an enormous impact on the

outcomes for a child in the long term, (and

for ourselves and our colleagues).

I have continually challenged you to try to

talk about difference in a non-judgemental

way. And I know, if you've gone on this

journey with me, that you will have

grown more and more reflective about

what constitutes judgement within your

language; it can be so much more subtle

than labelling things as good or bad, tiny

little turns of phrase can imply value and

create judgement.

On one hand, paying attention to the

language we use in this way can seem

fussy, pointless, petty, even irritating. But

those feelings are often initial impressions.

Once explored, adapting the language you

use actually gets exciting, as you realise

the power for good that you have at the tip

of your tongue. All the more so in the early

years as you are the start of the stories

that carry children with them through their

lives.

Hopefully, you have also felt the benefit

for yourself and your colleagues. If you

can create a culture in your setting where

differences are accepted, understood

and not judged, then you will work in an

environment where everyone feels able

to be themselves. And I cannot underline

enough how beneficial that is to people's

well-being, children and adults.

The opposite is to work in a space where

differences are judged. Even the judging

of relatively minor differences can create

this kind of atmosphere. And in such

a setting, you might not see greater

differences because people will hide them.

Adults and children will suppress aspects

of their character, withhold information

about themselves. Trying to appear the

same as others takes a toll on a person,

it costs them energy and self-esteem. It

diminishes people and makes your setting

a grimmer place to be.

Everyone wants to be somewhere where

they are embraced as who they are and

how they are right now, a setting that

understands and accepts difference is

just such a place. Tiny adjustments in our

language can trigger big adjustments

in attitude. The language we use

fundamentally underpins the culture we

create in our settings. It is so worth doing

and you've been doing it! So this article is

to throw a party for that, it is a big hurrah.

Difference is brilliant. We are all different

and my goodness what a fantastic thing

that is, wouldn't it be dull if we were all

the same? Society needs different brains,

people who approach things from different

angles, who have different skill sets. The

risk can be in education that we offer one

way of succeeding, we measure particular

aspects of achievement and miss the rest.

We all know a 'one size fits all' approach fits

one person and not the rest.

The children in your setting have explored

their external differences (using the activities

in article one) and thought about how

they have different thoughts and likes and

dislikes to their peers (using the activities in

articles two and three). They've investigated

how we sense and feel things differently

to one another (using the activity in article

four) and begun to understand that one of

the consequences of these differences is

that they will each have different skills and

abilities (using the activity in article five).

How fantastic is that? How amazing is it

that such little people can approach such

big topics? Imagine a future where they are

grown up and in charge and understand

how to use their own unique skillsets! You

are a part of creating that future. So, for

now: celebrate!

Talk to the children about all their

adventures and activities so far and

celebrate your differences by colouring

in rainbow brains. All this time I've been

challenging you on your language, well

here is a new challenge, how blingy can

you make those brains? How much glitter

and paint, and collage material do you

have in your setting? Decorate your brains

and share them with me on social media.

Let's create a narrative of pride in our

neurodiversity together!

Joanna provides in-person and online

training to settings looking to enhance their

inclusive practice for more information visit

www.thesensoryprojects.co.uk where you

can also find resources to help you include

children of all abilities. Joanna is active on

social media and welcomes connection

requests from people curious about

inclusive practice.

Joanna Grace

Joanna Grace is an international

Sensory Engagement and Inclusion

Specialist, trainer, author, TEDx speaker

and founder of The Sensory Projects.

Consistently rated as "outstanding" by

Ofsted, Joanna has taught in

mainstream and special school settings,

connecting with pupils of all ages and

abilities. To inform her work, Joanna

draws on her own experience from her

private and professional life as well as

taking in all the information she can

from the research archives. Joanna's

private life includes family members

with disabilities and neurodiverse

conditions and time spent as a

registered foster carer for children with

profound disabilities.

Joanna has published four practitioner

books: "Multiple Multisensory Rooms:

Myth Busting the Magic", "Sensory

Stories for Children and Teens",

"Sensory-Being for Sensory Beings"

and "Sharing Sensory Stories and

Conversations with People with

Dementia". and two inclusive sensory

story children's books: "Voyage to

Arghan" and "Ernest and I". There is

new book coming out soon called '"The

Subtle Spectrum" and her son has

recently become the UK's youngest

published author with his book, "My

Mummy is Autistic".

Joanna is a big fan of social media and

is always happy to connect with people

via Facebook, Twitter and LinkedIn.

Website:

thesensoryprojects.co.uk

16 September 2021 | parenta.com

parenta.com | September 2021 17
---
search jar

Two-ingredient

ice-cream

You will need

You will need

• A transparent container – we

used a 500ml drinks bottle but

you can use something with a

wider neck if you want to use

larger objects inside.

• Something 'granular' for the

shaking part of the search jar,

e.g. rice, lentils, small plastic

beads, sand.

• A range of objects small

enough to pass through the

neck of your container but

varied enough to be easily

and separately identifiable.

Items could include coins, small

plastic figurines, nuts and bolts,

snippets of coloured thread,

shells, brightly coloured beads

or even parts of old jewellery!

• Punnet of strawberries

• 4/5 bananas

• Zip seal freezer bags

• Blender

• Mixing bowl

• Cones/bowls

Instructions:

Instructions:

1. Place all your 'search' items into the container

and cover with the granules. Top tip: Do this in

layers to ensure they are spread out within the

jar. Don't just fill the jar with granules first and

then try to fit them all in as that will end up in

a mess.

2. Secure the lid: depending on who you will be

sharing the jar with, you may want to glue the

lid shut, or simply ensure it is well screwed on.

3. Label accordingly, either with a list of items

or simply the number of items that are in the

container. Top tip: Add a short instruction or

question, e.g. "Find 6 items" or "What can you

find in me?"

4. Your search jar is complete – we hope it brings

you and the children hours of fun!

1. Prepare the fruit in advance by chopping up a

punnet of strawberries and 4 or 5 bananas.

2. The children can help by placing the fruit into

zip-seal freezer bags and sealing them tight,

being careful to squeeze out the air without

squeezing out the fruit!

3. Freeze for 6 hours, break up into chunks and

blitz in a blender until it is the consistency of a

smoothie.

4. Pour it into a big dish, cover and freeze for a

further hour.

5. The children can then spoon the ice cream

straight from the freezer and serve it to each

other in a cone or in a cup.

6. Don't forget the sauce and sprinkles!

18 September 2021 | parenta.com

parenta.com | September 2021 19
---
Organic September

"In the face of climate change, diet-related ill-health, and widespread decline in wildlife, the need to

change our food systems has never been greater."

Last month, the UN Climate Report made

sobering reading for everyone, and it is

clear that we need to act now to avert

a catastrophe on a worldwide scale. In

this magazine article, you can read some

ideas to help with sustainability on page

28, which links into this article on Organic

September too, a month-long campaign

by The Soil Association to encourage

everyone to be more organic.

The September campaign is run every year

and it has never been more important

for each of us to do our bit to help. You

can sign up to a newsletter on the official

website and also get some practical

tips on how to make small changes to

live in a more sustainable way. If one

nursery setting makes a few changes and

encourages their parents to do the same,

think how much could be achieved if all

nurseries did a little bit? It's how change

really happens.

The Soil Association

Did you know?

There are 2,500 billion tonnes of carbon stored in the world's soils - more than in the

plants, trees and the atmosphere combined.

Organic farming creates healthy, living soils and organic farmland is, on average,

around 25% more effective at storing carbon in the long-term than non-organic land.

Why organic?

Farming organically, growing food

organically yourself, and eating more

organic food have many benefits to people

and the planet, and if we want to live more

sustainably on the earth to prevent climate

change, it has to be at least one weapon

in our arsenal. Some of the benefits

include:

• Increased biodiversity

• More wildlife habitats

• Higher standards of animal welfare

• Reduction of pesticides and exposure

to pesticides

• Reduced reliance on artificial fertilisers

• Increased storage of carbon in soil

• Cleaner water systems

• No genetically-modified (GM) foods

• Reduced use of antibiotics in animals

• Better tasting food

• Reduced waste

• Nutritionally better food

• Better farming for the planet as a

whole

Did you know?

Organic farms have around 50% more

bees, butterflies and other pollinators.

What does organic mean?

According to The Soil Association,

'organic' is "a system of farming and food

production where organic farmers aim to

produce high-quality food, using methods

that benefit our whole food system, from

people to planet, plant health to animal

welfare".

In order to be classed as organic and

gain the organic kitemark, farmers must

work to a strict set of food-production

standards, which must legally comply with

strict EU regulations. Farms are inspected

at least once a year by an authorised

certification body, and need to show that

they sustain the health of:

• Soils

• Ecosystems

• Animals

• People

These standards are built on the key

principles of organic agriculture:

• Health

• Ecology

• Care

• Fairness

In practice, this means that instead of

relying on chemicals designed to destroy

weeds (weedkillers) and insects/other

pests (pesticides), organic farmers aim to

create a natural balance between plants

and animals to prevent pests, and grow

crops in rotation or in complimentary

plantings to support the natural fertilisation

and sustainability of the soil. Organic

farmers also encourage birds, beetles and

other 'beneficial insects' such as ladybirds

on their farms to eat pests such as aphids,

slugs and caterpillars.

Did you know?

How to support Organic

September in your nursery

On the Soil Association website, they have

listed at least 30 ways in which people can

get involved in Organic September in small

ways, so you won't be short of ideas to run

in your nursery to join the campaign.

We've listed some of our favourite ones

here to help you make a small difference

that can contribute to a greater whole.

1. Swap your normal hot drink for an

organic version. In the UK, we drink

90 million cups of coffee and 100

million cups of tea a day! That's a lot

of teabags! And a lot of differences

that we could make if we all swapped

to an organic version of our favourite

cuppa!

2. Release some ladybirds into your

environment. You can purchase

ladybirds and other organic products

from www.organiccatalogue.com,

teach the children about their lifecycle

and beneficial effects, and make a big

difference to the insect population of

your local area.

3. Set up a 'nectar café' in your garden

space or even just in pots around

your front door. Visit the Wildlife

Trust's website here for ideas

on the best plants to encourage

bees and butterflies including

Adult ladybirds can eat about 5,000 aphids (greenfly and blackfly) and will

lay 20-50 eggs a day, quickly building a large beneficial population.

buddleia, honeysuckle and grape

hyacinth. Many of these plants also

have heavenly scents so you can

incorporate them into a sensory

planting area too.

4. If you have space, why not grow some

organic vegetables with the children?

Potatoes and carrots are easy to grow,

even in pots, and you can use them

to make some easy, tasty treats when

they're ready such as jacket potatoes,

potato salad or a hearty winter

vegetable and carrot soup. You can

get carrots in a whole host of colours

other than orange too, which could be

a great way to introduce the topic of

diversity and inclusion into your setting

as well.

5. Link Organic September to a healthy

eating session in your setting. You can

use organic eggs to make omelettes

or use other organic ingredients

to create some organic cakes and

biscuits. Why not shape them into

ladybirds and decorate them with

organic chocolate buttons or coloured

icing too?

6. Bake some organic bread. Baking

bread is a fun thing to do with

children and you can use a traditional

sourdough recipe from Vanessa

Kimbell with wild yeast, or there are

other delicious recipes on the Soil

Association site or via an internet

search too.

7. Finally, make your own organic beauty

products. It's not just our food that

uses organic products. Much of the

beauty industry still use ingredients

that are either not organic or are not

farmed sustainably. Check out how

to make a natural organic face mask

here, which you can use on the hands

of your little ones instead of their faces

if preferred to make them lovely and

soft!

Whatever you do to celebrate Organic

September, we'd love to hear about it, so

remember to send your stories and photos

to us at hello@parenta.com.

20 September 2021 | parenta.com

parenta.com | September 2021 21
---
GROWing self-confidence as a

leader … and getting your team

ready for a new term

Petra, the manager of a day nursery, recently shared how worried she is about her team. She said

"We have been through so much. The COVID-19 pandemic, working throughout the 2020 lockdown as

keyworkers, a long-overdue inspection looming, and now the EYFS changes for September. I sense staff

confidence has been knocked and they all need a boost to get them up and running again."

Petra asked what she could do to help boost the team's confidence. As part of the

coaching conversation, I introduced the popular GROW model (originated by John

Whitmore, 1937-2017) to help frame Petra's thinking.

There is a logical process to asking

coaching questions using this model:

• Goal – what do you want?

• Reality – where are you now?

• Options – what could you do?

• Will/wrap up – what will

you do?

(Fig 1)

What do we want to

achieve by the end of

this meeting?

What can we

commit to, who will

do it and by when?

Goal

will

GROW

As our first session progressed, Petra

reflected that as the leader, she had been

supporting everyone else for the past year

and a half. She had been in fire-fighting

mode since the pandemic hit and had just

about managed the day-to-day operations

of the nursery, including two COVID bubble

lockdowns, very stressed families, reduced

occupancy and a staff bereavement. When

Petra recognised the enormity of what she

had been carrying during this time, she

let out a huge sigh. "I think I just need to

What is happening now?

What resources do we

have/need?

Reality

options

What ideas can

we come up with

to achieve our goal?

take a break and relax for a while," she

declared. She planned two weeks off and

took her young family on a camping trip.

As a leader, it is important that you look

after yourself first, and be a role model

for those who work with you/for you.

Initially, Petra wanted to make sure all the

staff were ok but quickly realised her own

confidence had been knocked. She was

running on empty and needed to fill her

tank.

On her return, Petra was visibly more

relaxed and her head was clear. She was

pleased she had allowed herself a break

and made sure that all her staff had a

break over the summer too.

I offered the GROW model to Petra again,

and this time she started to put some

plans in place. Here are some of the

thoughts that arose from the session:

Goal –

What do you want to achieve?

I want to re-engage with my staff so they

are ready for a new start in September. By

the end of today I want to have started a

plan for a training week at the end of the

month.

Reality –

Where are you in relation to your goal

now?

There has been so much stress with the

impact of COVID, not least losing a longstanding

member of staff to the illness.

The practitioners have given so much

they could not think straight and some of

them have definitely doubted their ability

to take on more changes right now. Their

internal resources were low. Thoughts are

emerging about how I can help everyone

move forward. We do need to do some

work on the EYFS changes, they are small

but necessary for our practice.

Options –

Consider 5 options

As we have a whole week together when

the nursery is closed there are lots of things

we can do.

1. Everyone is worried about having

to talk about their children to an

inspector– I know they all know their

children's learning and development

inside out, but they think they will forget

everything they know in the moment if

asked on the spot. We could put some

informal practice conversations in.

2. We could have a session on the EYFS

statutory changes and build this into

the week in the form of a quiz or a

presentation from each team.

3. We could do a session on how

confident they are. I could ask them on

a scale of 1-10 how confident they are

in their role. This could be on several

aspects e.g. confidence in engaging

with parents, confidence with facing

change, confidence with delivery of

educational programmes. I could do

this twice, at the beginning and end of

our training week.

4. The room leaders could lead a

session on getting to know their team

members more, their strengths and

areas for development, or something

fun like sharing a fact that no one else

knows about you.

5. We could have a fun day such as a

treasure hunt in the community or

making something for the nursery.

Will/wrap up –

What actions will you take? Who will

help you?

I will take these ideas away and work on

each idea with my leadership team and

from this we can make a timetable of

events throughout the week. I am sure my

deputies will have some great ideas too

and I must remember I don't have to do it

all myself. I will aim to make some of the

work entertaining and ensure there is time

for staff to shape the learning. I will make

sure there is time for them to enjoy being

together in their rooms.

I will make sure I am available to join in and

be present if the staff just need to share any

worries on concerns and I will make sure I

am available to listen.

What could you do?

This session with Petra brought out some

important points for nursery leaders and

their staff in building confidence within the

team:

1. Revisit your vision for the setting with

your team, to make sure your values

and practices are aligned.

2. Provide time to just be with each other

during the nursery day – just 5-10 mins

at the start or end of the day is enough

for a check-in. Everyone has responded

differently to the pandemic and

everyone manages change differently

so it is important to know how

individuals are thinking and feeling.

3. Use "on the scale of 1-10 how confident

are you?" to help you appreciate

where other people are, and respond

appropriately, giving more time to

those who are feeling less sure.

4. If team members are worried

about talking to others about their

key children let them practice with

someone they feel most comfortable

with. Repeat this opportunity regularly

so it becomes a natural part of the

nursery week.

5. Practice the GROW model with staff

during supervision or introduce it as

part of the training week. GROW can

help you manage difficult conversations

and also helps place the responsibility

on the practitioner/team member to

think through issues for themselves.

6. Make sure you are looking after your

own wellbeing and that someone else

is keeping you in mind too e.g. your

own supervisor/coach.

Ruth Mercer

Ruth Mercer is a coach and consultant,

with a career background in early

education. Ruth is committed to creating

a positive learning environment for staff,

children and families. She has a successful

track record of 1:1 coaching for leaders and

group coaching across the maintained

and PVI sector. She supports leaders

and managers in developing a coaching

approach in their settings through

bespoke consultancy and introductory

training on coaching and mentoring for all

staff.

Ruth is currently writing about coaching

with a playful approach.

Contact: ruthmercercoaching@gmail.com

Website: www.ruthmercercoaching.com

7. Celebrate your learning together with

a display or short film or a website

update – everyone needs recognising

for contributions made within their

role.

References:

• https://www.coachingcultureatwork.

com/the-grow-model (Fig 1)

• Whitmore, J. (2015) Coaching for

Performance (4th ed) NB Publishing

22 September 2021 | parenta.com

parenta.com | September 2021 23
---
CPD courses…

Paediatric First Aid Course

Whether you're a manager looking to support your staff by enhancing

their knowledge, or looking at developing your own career, when you

study one of Parenta's online CPD courses, you study in your own time

and at your own pace – all from the comfort of your own home!

Parenta is always looking at new ways to support the Early Years Sector. We

are pleased to announce that we now offer Paediatric First Aid training to all

those who work in early years, in partnership with Co-operative Childcare.

Improve staff morale

and motivation

Maximise individual

potential and promote

development

Allows you and your

team to gain brand new

qualifi cations in many

diff erent policies,

procedures and

practices

Enables you to keep

abreast of industry

changes by constantly

updating skill sets

3

£

The course meets the requirements of

Ofsted, under DfE's guidance (April 2017),

complying with the framework for the Early

Years Foundation Stage

The certificate is valid for 3 years from

date of issue

This course offers a blended approach

(6 hours online + 6 hours face to face

training)

It costs only £120 per learner

Nationwide training venues are

available. Alternatively, we can

deliver the training in your setting

(minimum 6 students)

By ensuring your team undergoes relevant, regular refresher training, they'll always be up-todate

with the latest policies, procedures and practices – and it doesn't need to be expensive!

With CPD courses from Parenta costing as little as £7,

what are you waiting for?

Log on and learn today!

Support your staff by ensuring they

have the right skill sets and training

to maintain the safety of all children

within your care.

Book your Paediatric First Aid Training today

For as little as £120 + VAT you can get the qualification you need to be Ofsted ready and

maintain the highest level of safety within your setting.

0800 002 9242 hello@parenta.com

0800 002 9242 hello@parenta.com
---
Playfully supporting

an avoidant child

'I don't want to go!' 'I don't want to talk about it!' 'I'm not doing it!'

Sound familiar? Your child's excited about a friend's birthday party, but when it comes to leaving

the house they refuse to go. Or you can tell that your child's worried about something, but when

you ask if they want to talk about it they dismiss the invitation and instead hide in their room

or have an emotional outburst. Or maybe they just blindly refuse every option you give them,

choosing instead to push their brother or sister over in a moment of frenzy.

Avoidance is a coping strategy; a

protective mechanism that allows us to

avoid feeling difficult or overwhelming

emotions. We humans don't like feeling

uncomfortable; If something feels hard,

it's much easier to run from it. I'm pretty

sure we've all experienced this; preferring

to hang out the washing for example,

instead of confronting a noisy neighbour

or contacting a bereaved friend.

Avoidance works well in the short term,

but not dealing with the stressors when

we're faced with them can often increase

anxiety levels later down the line. So how

can you playfully support a child who is

avoiding something?

Emotional expression

Emotions are temporary, they come

and go, yet avoidant children might feel

unequipped to deal with the intensity of

their emotions. This activity creates space

for a child to experience emotions safely.

Drawing to music

Choose a few different tracks from different

genres of music, i.e. rock, classical, folk

or rap (the more emotive the better). Then

encourage your child to draw along to the

music and enquire into their response.

What colour did they use for the angry

rock song? Was it a spikey line or bold and

thick? How did the track make them feel

in their body and what thoughts arose as

they drew along?

This activity builds on a child's ability

to identify and regulate their emotions

in future, and therefore helps them to

feel more resilient to the wave of fear

they might experience when faced with

something they're scared of.

Katie White

Katie Rose White is a Laughter Facilitator

and founder of The Best Medicine.

She works predominantly with carers,

teachers and healthcare professionals -

teaching playful strategies for boosting

mood, strengthening resilience and

improving wellbeing. She provides

practical workshops, interactive talks

and training days - fusing therapeutic

laughter techniques, playful games

and activities, and mindfulness-based

practices. The techniques are not only

designed to equip participants with tools

for managing their stress, but can also

be used and adapted to the needs of the

people that they are supporting.

Email: thebestmedicine@outlook.com

Defiance is a healthy part of a child's

development; children test boundaries,

learn how to say 'no', and aren't always

compliant. However, when this defiance

starts to limit a child's experience this is

more often than not a sign of avoidance.

Children with PDA (Pathological Demand

Avoidance) or ODD (Oppositional Defiance

Disorder) often show signs of avoidant

behaviour. This article is not specific to

the needs of children with PDA or ODD

but will instead look at the commonality

of avoidant behaviours; anxiety. If you're

supporting a child with PDA or ODD, you'll

find some of what I'm saying applies and

some things don't, so please use the

strategies with your own experience and

knowledge in mind.

Anxiety is often the root cause of

avoidance; when anxiety is unmanaged or

undetected, a child may feel out of control

or overwhelmed. Giving them the skills to

recognise and measure their anxiety is a

wonderful first step. In my article, A Playful

Approach to Difficult Emotions, I introduce

an anxiety scale that can be used as a

reference point before and after an activity.

I always remind the parents, teachers

and carers who attend my workshops,

that each child is different, something that

works for one may not work for another,

so it's good to have many ideas up your

sleeve. Listed below are a selection of

activities that can be used to support

anxious little ones who are displaying

avoidant behaviours. For more ideas check

out my online workshops.

Taking control

Approaching your child's fears with respect

and patience is vital, even if the fear is

imaginary or irrational. Putting the control

in their hands whilst facing a fear, helps

them to gradually desensitise to it instead

of avoiding it.

The Stop/Go game was created by

Lawrence J Cohen when his daughter

refused to have her nails trimmed. In this

game, the child directs the adult to 'Stop'

or 'Go' whilst each time getting closer to

her toe nails. This technique can be used

for a variety of fears or phobias and helps

children to feel braver and empowered

instead of fearful and avoidant.

Affirmations

Positive affirmations can boost self-esteem

and help children to feel more confident

and in control. Try getting your child to

repeat these affirmations out loud or in

their head.

I am whole, I am enough, I have courage

and confidence, my challenges help me

grow, I believe in myself, everything will be

ok, I am braver than I think, I can face my

fears with confidence!

Twitter: www.twitter.com/bestmedicine1

Facebook: http://www.facebook.com/

thebestmedicinecornwall

26 September 2021 | parenta.com

parenta.com | September 2021 27
---
Start living sustainably

this September

On August 9th this year, the Intergovernmental Panel on Climate Change (IPCC) published its latest

report, which concluded that human activity has caused an unprecedented change in climate

patterns, the effects of which are now being felt all over the planet. We are already seeing the effects

in increased temperatures, rising sea levels, loss of permafrost areas, changes in rainfall patterns

resulting in more flooding in some areas and longer periods of drought in others.

It stressed that much of the changes

are irreversible and some of these will

continue to get worse. Once the polar ice

caps have melted, it is not a simple matter

to 'refreeze' them – even if we limit global

temperature rises, reversing the effects of

climate change is not like turning up the

dial on your freezer!

There was some hope in the report

however, which also said that

drastically cutting carbon emissions

within the next few years, would

give us a chance to limit the impact

on our climate… but time is

definitely running out and many

media outlets interpreted this as a

"code red for humanity".

As custodians of the thoughts

and ideas of future generations,

the early years sector is uniquely

placed to heed this warning and

foster attitudes and actions that

will instigate change:

1. To educate our young people to

look after the planet

2. To do whatever we can to affect

change, albeit on an individual or

small-scale basis

3. To inspire others to do the same

Finding ways to live more

sustainably is the key and we ALL

need to take action to contribute

to the greater whole. Read on to

find out how you, and the people

in your care, can make a real

difference this September.

World Car Free Day - 22nd

September

World Car Free Day is a day to ditch your

car and walk, cycle or take public transport

instead. Similar initiatives have been held

around the world on an ad hoc basis for

years, but in 1995, the first structured events

happened in Bath (England), La Rochelle

(France) and Reykjavik (Iceland). Since then,

there have been many similar initiatives

such as the Walk To Work Day we reported

on last month.

Whole cities now get involved to promote

what transport and cities could look like

without cars and offer people the chance

to experience their streets free of motor

traffic. What would your neighbourhood

be like without cars? Could you take the

time to imagine what that might mean for

your local area, or for the people in your

community? Perhaps you could promote

the day and encourage everyone to find an

alternative transport method for that day.

Even one car journey saved, would reduce

emissions. Imagine what could be done if a

whole city did the same thing and your local

streets and car parks were transformed into

pedestrian areas with places to sit, cycle

parking areas, open gardens, playgrounds

or art spaces? Worth thinking about, isn't it?

https://www.livingstreets.org.uk/about-us/

our-work-in-action/world-car-free-day

Recycle Week

We've all heard how we can reduce,

reuse and recycle in our settings and

Recycle Week has been a main event in

the calendar for many years. This year the

theme is "Step it up this Recycle Week"

with the aim of "galvanising the public into

recycling more of the right things, more

often".

One of the main issues affecting recycling

centres currently is that we often throw

away a number of items that are not

recyclable and this often endangers the

whole batch. In order to combat this, make

sure that everything you put in your recycle

bins is recyclable. Common things like silver

foil, aerosol cans and many cleaning bottles

can be recycled but other common items

including some plastic bags, toothpaste

tubes, drinking glasses and drink cartons

cannot, and should be disposed of with

other household waste. The trick here is

to carefully check the packaging for the

recycling mark, or check with your local

recycling centre.

Estimates suggest that 30% of British

clothing, hangs unworn in the back of

wardrobes up and down the country so

why not arrange your own 2nd hand

clothing sale in your and educate the

children too? With coronavirus, facecoverings

and PPE is causing a problem

too. Non-reusable face coverings and

PPE should be put it in your usual 'black

bag' residual waste bin and it's a criminal

offence to drop used face coverings or other

PPE as litter!

For more information about disposing of

face coverings and other PPE, please visit

gov.uk.

https://www.recyclenow.com/recycleweek-2020-RN

Great British Beach Clean

Friday 17th to Sunday 26th September

is also the time of the Marine Society's

Great British Beach Clean, where everyone

is encouraged to take part in either an

organised or your own, clean-up. The

organisers ask everyone to run a litter

survey, recording all the items of litter they

find in a random, 100m stretch of beach

they cover. This information then feeds into

the International Coastal Clean-up (ICC).

Data from last year reported an average

of 425 items of litter per 100m stretch of

beach, so there is still a long way to go

to clean up our beaches. Children often

love litter picking, but make sure they have

protective equipment and are supervised

well to avoid exposure to dangerous or

unsuitable items.

https://www.mcsuk.org/what-you-can-do/

join-a-beach-clean/

The Great Big Green Week

The 18th to the 26th September also

marks the Great Big Green Week where

communities across the country will

join together for the biggest event for

climate and nature in the UK. There will

be thousands of events to celebrate how

communities are taking action to tackle

climate change and protect green spaces

so why not get involved as a setting and do

something at grass roots level to inspire the

politicians?

https://greatbiggreenweek.com/

Ten simple things everyone can

do NOW to help

1

Switch off lights when not in use

2

Switch off electrical devices at the wall

instead of leaving them on standby

3

Recycle everything you can

4

Use refillable bottles

5

Turn down the heating by one degree

6

Walk or cycle on small journeys and

use public transport instead of a car

at least one journey a week

7

Recycle clothing that is not used

8

Change to reusable nappies

for one day a week

9

Share a car journey with a

colleague more often

10

Use dishwashers and washing

machines on eco programs

Let us know what you do by emailing us at

hello@parenta.com.

28 September 2021 | parenta.com

parenta.com | September 2021 29
---
Supporting children with

social, emotional and mental

health needs

In this article, I explore how we support young children with social, emotional and mental health

needs (SEMH). SEMH is a relatively new category; it's a term we hear more with primary aged and

older children, although it is increasingly being recognised in early years. I work for a specialised

organisation in Bath called Threeways Brighter Futures; we work with children who have all been

identified as needing additional support with their social, emotional and mental health needs. We

work with the children once a week throughout their reception year in school, supporting them

and their staff team. In this article, I will briefly explore SEMH needs and ways to support children.

We need to view SEMH within a model

of difference rather than one of deficit.

We are all on a SEMH needs continuum,

and we all need to have our SEMH needs

met. As practitioners, it is important we

are recognising and meeting the SEMH

needs of all our children. Sometimes it is

apparent when and why a child has high

SEMH needs, but other times this is less

obvious.

A quick definition of social, emotional

and mental health needs is:

• Children who find it challenging to

manage their feeling, emotions and

behaviours

• Children who find everyday change

challenging and frightening

• Children who find it hard to build

relationships with adults and other

children

• Children who can find it hard to join in

with the activities and routine with the

rest of the group or class

There is a range of behaviours that

you might regularly see with children

who have high SEMH needs; some of

these are:

• Violent outbursts to adults and other

key children

• Distress because the parent/key

person is not with them

• Running off

• Refusal to join or follow instructions

• Needing to be in control and

controlling things around them

• Frozen behaviours when they appear

to shut down

• Hiding

• Withdrawing from adults

• Self-harm

• Easily startled by loud noise, sudden

movement.

• Prolonged temper tantrums

• Sleeping difficulties

When you first glance at these behaviours,

you may recognise one or two children

in your care who regularly display some

or most of these behaviours. If you see

some of these behaviours in any of the

children you support, I encourage you to

start being curious about why and what

this is telling you. We know that behaviour

is the primary way a child communicates;

when a child behaves in any of the ways

above, this tells us that something is not

right for them. Our job is to explore and

understand what this is and then try and

help them.

There can be many reasons why a child is

displaying higher SEMH needs. Our job is

not to diagnose but to recognise and then

signpost to other agencies when this is

appropriate and offer support to the child

and family. Some of the reasons may be

due to adverse childhood experiences

(ACES); if this is a new term, I encourage

you to look at this link to find out more. Or

some other reasons may be that a child

has recently moved home, is experiencing

family illness, a new sibling. However,

some children have no apparent reason,

but they are still showing high SEMH

needs.

What we can do

Helping children to have a rich emotional

vocabulary and understanding is vital

as an underpinning to all work around

SEMH. There are many different resources,

books available, or you can make your

own. Regularly naming and recognising

the wide range of emotions children and

adults are experiencing is essential. We all

have a range of emotions, and these are

neither negative nor positive, we can help

children recognise these emotions and

name them from a young age. In my work,

I use script a lot, using the "I wonder"

phrase. If I see a child is struggling, I

comment, "I wonder if you are feeling

cross, I understand it is hard, but it's not

ok to hurt your friends; let me help you."

This phrase is helpful as it helps to name

the emotion; it validates how the child

is feeling but has the boundary around

the behaviour and is offering support.

I encourage everyone to use the same

script, all the staff and parents.

In the early years, we talk about children

being able to regulate; this is a tricky skill

to learn for many children. When a child

is dysregulated, they need calm and safe

adults around them to help them regulate;

they cannot do it independently. We can

co-regulate by controlling our breathing,

gently coming alongside the child at their

level, calmly speaking to the child, not

using too many words. The child needs

to know they are safe and loved; being

dysregulated is a frightening experience,

they need to have an adult alongside who

can help them.

When we can see a child is finding

something challenging, a sensory activity

can often support them, helping them

either release some of their strong inner

feelings or help bring some calmness.

We need to know the child well to know

what they are needing. Below are some

examples I regularly use.

For a child who needs to release some

of their stresses and big feelings:

• Climbing

• Pushing something heavy e.g. a

wheelbarrow with things in it

• Pulling on a dog toy (think mini tug of

war with an adult)

• Throwing or kicking a ball

For a child who needs something

calming:

• Playdough (homemade if possible,

link to recipe below)

• Blowing bubbles

• Crazy soap (a bit like shaving foam

but more malleable)

• Sensory rice (link to recipe below)

• Spend time outside, cloud watching

or going on a nature walk to notice

colours/smells/textures

These are very simple ideas that will

support any child when their SEMH needs

are higher.

Key points

• A child is communicating to us

through their behaviour; so we need

to try and understand what they are

telling us

• Emotions are neither negative nor

positive; we can help children learn

about their feeling

• Children need adults who are calm,

loving and safe to help them

co-regulate

For more information take a look at my

new book.

In October, I will be writing about how we

can support staff well-being when working

with children with SEMH needs.

Sonia

Mainstone-Cotton

Sonia Mainstone-Cotton is a freelance

nurture consultant, she has worked in

early years for 30 years. Sonia currently

works in a specialist team in Bath

supporting 3- and 4-year-olds who have

social, emotional and mental health

needs. Sonia also trains staff across the

country: she specialises in supporting

the wellbeing of children and staff. Sonia

has written 8 books including:

"Supporting children with social,

emotional and mental health needs in

the early years" published by Routledge,

"Supporting young children through

change and everyday transitions",

"Promoting Emotional Wellbeing in

Early Years Staff" and "Promoting

Young Children's Emotional Health and

Wellbeing". Sonia is also the series

advisor for Little Minds Matter series of

books promoting social and emotional

wellbeing in the early years with

Routledge.

Website - http://soniamainstone-cotton.

com

Email - sonia.main@icloud.com

Instagram - @mainstonecotton

Links:

• Aces information - https://www.

towerhamlets.gov.uk/Documents/

Children-and-families-services/Early-

Years/ACES_and_social_injustice_DCP_

SW.pdf

• Sensory rice and playdough recipes -

https://theimaginationtree.com

30 September 2021 | parenta.com

parenta.com | September 2021 31
---
Book review : "Using stories

to support learning and

development in early childhood"

Congratulations

to all our Parenta learners!

Helen Lumgair's new book "Using Stories to

Support Learning and Development in Early

Childhood" is an inspiring and practical

kaleidoscope of insight from different story

professionals. I am in there singing the

praises of sensory stories of course, and

Helen kindly included a sensory story of

mine for readers to explore themselves. It

is based on the marvellous letters written

by celebrities and notable persons of the

time to the children of Troy when their

library burned down, letters, that like this

book, expounded the value of exploring

narratives in order to educate, enrich and

nurture oneself.

As someone who regularly talks about how

important sharing stories is, not purely for

entertainment but for mental well-being,

education and your community, it was

wonderful to read the words of so many

people singing from the same hymn Sheet

as me. I loved Helen's 'why' of "because

the stories of others compose the very

threads of the universal fabric that connects

us, allowing us to glimpse the humanity,

the personhood of these so-called others".

Stories as the threads that the universal

fabric of connection is made out of, how

wonderful is that? And don't they deserve

closer inspection, those threads? Imagine

how beautiful a fabric we could weave with

greater understanding of our craft.

Through the pages of this book, that

understanding is provided by a raft of

different authors. Helen herself looks at

stories as a whole-body process, exploring

their relevance for the development of

cognition in early childhood. Kanella

Boukouvala tackles metaphor and Helen

Garnett looks at play.

Dr Jo Van Herwegen tackles the initially

surprising topic of stories and mathematics,

surely stories belong in literacy and maths

belongs in numeracy? But Dr Herwegen

shows how mathematical understanding

can be built through sharing stories, listing

in her chapter stories that work well for

different mathematical topics.

Dr Valerie Lovegreen explores stories in

relation to language and cognition, noting

the many linguistic skills that storytelling

can develop and also recognising

storytelling's impact on self-confidence

and our understanding of the emotions

of others. Understanding others is a topic

Helen returns to as she looks at the role

stories play in countering prejudice and

supporting identity in her chapter 'Diversity

and Representation in stories', and again

their benefits to us beyond our literary skills

and understanding are examined as Helen

explores their role in healing with powerful

testimony from people who have found

stories to help them as they coped with

trauma.

Helen ends the book as powerfully as it

begins with the words "At a time when

the world feels increasingly fragmented,

experiencing what would appear to be

an epidemic of loneliness caused by

advances in technology and a decline in

real connection, it would make sense to

focus on facilitating the growth of excellent

communicators who contribute to society

as listeners, speakers, critical thinkers and

evaluators of the information presented to

them. What we are aiming for in all of our

educating is for children to become creative

citizens who prioritise connection with

others and act in a compassionate manner

as individuals who construct peaceful lives

and in turn peaceful societies". This book

will certainly help you strive towards this

noble aim.

Written by

Joanna Grace

Congratulations to all these Parenta learners who completed their apprenticeship

in July and have now gained their qualifications.

These range from Childcare Level 2, Childcare Level 3 and Team Leading

to Level 3 and Level 5 Management – that's a huge achievement in the

current climate.

All that hard work has paid off – well done from all of us here at Parenta Training!

Did you know?... Parenta has trained over 20,000 apprentices within the early years sector!

Our Level 3 success rate overall is almost 10% higher than the national average.

That's down to great work from you, our lovely Parenta learners!

If you have a learner with us who has recently completed their apprenticeship, please send in

a picture to hello@parenta.com to be included in the magazine.

A. Amponsa

A. Arduini

C. Kibbey

C. Shellard

C. Vieira-Figueira

C. Fulford

July's wall of fame!

D. Leggett

E. Howes

E. Jones

E. Seaton

F. Battley

J. Bull

K. Baxter-Leggett

L. Martin

M. Mains

R. Price

R. Marks

S. Kemp

32 September 2021 | parenta.com

parenta.com | September 2021 33
---
Nurturing Childhoods

interview with Kathryn

Peckham

bring this knowledge and understanding to families, with support

to make differences that can last a lifetime.

Is your advice for early years practitioners as well

as parents?

Absolutely. The most powerful gift we can give any child is to

ensure all the adults around them know the experiences they

need, from day one. And the partnerships we have with families

is instrumental in this, otherwise, rather than experiencing

any stable sense of security, children become confused. To

support this, I have also developed the Nurturing Childhoods

Accreditation. Mirroring the format and content of the parenting

courses, settings are supported to develop their practice through

targeted reflection and documented action plans, structured

around their own needs.

What makes Nurturing Childhoods different?

Firstly, Nurturing Childhoods supports parents and settings with a

unified approach, rooted in child development, child psychology,

health and well-being, years of experience and applied research.

This is organised through modules that look at understanding

and engaging with children; managing emotions and behaviour;

raising happy, confident and resilient children and giving them

every opportunity to engage in learning and thrive in school.

Through its unique format, talks are structured with: Knowledge

- learning how children develop and the processes they are

undergoing; Understanding - how actions, comments and

decisions affect these processes, now and in the future; and

Support - advice you can trust, and use with confidence and

consistency. Each talk can be watched online, repeated as often

as needed and comes with an array of supporting handouts and

documentation.

What is next for Nurturing Childhoods – what

are your aspirations?

It is my firm belief that every child has the right to experience

and develop their full potential. But to do this, we need a unified

vision of what that means. Through Nurturing Childhoods, I

want to celebrate the magnificent growth and development

occurring during the early years, to support an understanding of

the behaviours and emotions being experienced and promote

the knowledge that every decision we make impacts children's

trajectories, their potential, and the belief they have in themselves.

What gave you the inspiration for Nurturing

Childhoods? How did it all start?

I have supported practitioners and families looking to give children

the best start in life for many years. But with so much information

available, the most well-meaning parent is often confused, with

websites offering, at best, contradicting information, or at worst,

advice that creates lasting damage. I also know how frustrating it

can be when the latest parenting trend seems to undo all the hard

work you and your team are doing.

We know the importance of rich and meaningful experiences,

and the difference we make to a child's well-being, learning and

development through the smallest changes. But this only comes

from understanding the importance of every moment and the

impact of every action. Through Nurturing Childhoods, I want to

My aspiration for Nurturing Childhoods is then to see it become

the benchmark for practice and parenting – rooted in the

knowledge and understanding our children need us to have. With

packages of support designed for parents and families, and an

accreditation for settings and childminders, every child can be

surrounded by this level of unified understanding of who they are

and what they need.

Kathryn Peckham

34 September 2021 | parenta.com

parenta.com | September 2021 35
---
International Day

of Charity

Question: What do an ex-soldier, an Albanian nun, and an 11-year-old boy camping in his back

garden in Devon have in common?

Answer: They have all done some amazing things for other people, and for charity.

September 5th is the United Nation's

International Day of Charity which was

established in 2012 to raise awareness

of charities around the world and to

give a platform for them to talk about

their work and the contribution made by

individuals, groups, and volunteers at

local, national and international levels.

The date of September 5th was chosen

to commemorate the death of Mother

Teresa, who was known for her dedication

to charitable work, helping others living in

poverty and suffering.

The day is also part of the United

Nations' 2030 Agenda on Sustainable

Development, which recognises

the "barriers that poverty places on

international development". One of the

aims of the day is to enhance social

responsibility and increase the support for

charities across the world. In short, if we

can become more charitable and more

socially responsible for each other, then

we will better understand the needs of

the most vulnerable living in our societies,

and it will be easier to create a better and

more sustainable world for everyone.

Why is charity important?

Charity is important for many reasons.

Zakat (a kind of tax benefitting

charities) is one of the five

pillars of the Muslim religion.

Christians are taught to

help others less fortunate

than themselves, and

many other religions

advocate charitable

acts as a means to

finding a path to the

divine. Charity helps

remind us that we do not live alone in the

world and the world is still far from being

a just and equal place where all lives are

valued and have equal opportunities.

Many people are still living in poverty,

distress or under repressive regimes, with

few human rights, poor environmental

conditions and unequal access to

education, healthcare and basic resources.

It's easy in the UK to forget sometimes

about these issues and to focus only on

our own problems. That's why charity

awareness days, weeks and the

International Day of Charity are

important – because they remind

us of our duty as human

beings towards other

human beings. But it

doesn't just have to be

about humans; there

are charities out

there that work to

improve the lives of animals, bees, birds,

historic buildings that help us understand

our history and new technologies that

could unlock our future. Being charitable

offers us all a way to give something back,

redress the imbalances and pay-it-forward

for future generations. It allows us to and

do something to help, however small, and

in whatever way we can.

What can you do to get involved?

There are many ways to get involved in

charity, be that as a fund-raiser, volunteer

or advocate for the charity you are

passionate about. The first step is to find

a charity that you are passionate about

and want to support and there are literally

thousands of charities to choose from. You

can browse for charities at Charity Choice,

search by categories or location and find

out more information and watch videos

from the charities too.

If you want to help, there are a number

of ways you can get involved either as an

individual or as a setting:

• Raising awareness of an issue

• Holding events or supporting their

campaigns

• Raising money

• Volunteering your time

• Donating goods for sale through

charity shops

• Joining an action group

• Leaving money in a will

• Buying goods and services the charity

offers

• Making a regular or one-off donation

Most charities have websites where you

can download supporter packs and get

ideas for official events and challenges that

you can get involved with if you don't want

to organise your own, or you'd like to work

with other people.

Update from the Parenta Trust

The past year or so has, understandably,

been a quiet time for fundraising – not only

for Parenta Trust but for all charities; and

as we head into the second half of 2021

and out of lockdown, fundraising for the

remainder of the year is also likely to be

very low key. We are very much hoping that

2022 will be an exciting year for the Trust

with events like the Maidstone to Monaco

Rally, the Parenta Ball, quiz nights and

baking competition taking place, allowing

us to raise vital funds for our sponsored

children.

Some inspirational people

And if you need any more motivation to

get involved this year, think about the work

of these 3 amazing and inspiring people

mentioned at the top of the article:

Mother Teresa

Mother Teresa was a Roman Catholic

nun of Albanian-Indian descent, born in

1910. She travelled to India to become a

missionary, and worked with the "poorest

of the poor". In 1950, she founded the

Missionaries of Charity which had grown

to a worldwide network of nuns working

in over 133 countries by 2012. Although

her life and beliefs were not without

controversy, in 1979, she won the Nobel

Peace Prize for her many years of charity

work which inspired others, such as the

late Princess Diana. She was made a saint

in 1916, 19 years after her death in 1997.

Read more here.

Captain Sir Tom Moore

Born Thomas Moore in 1920, 'Captain Tom'

as he became known, served in India and

Burma during the Second World War and

managed a concrete company after retiring

from the army. An unassuming man, he

is now one of the best-known names in

Britain and has been an inspiration to

millions. In April 2020, at the age of 99, he

began doing laps of his garden to raise an

initial £1,000 for local NHS charities. He not

only completed his 100 laps but raised over

£30 million in the process, was knighted

and had a no.1 record with "You'll Never

Walk Alone". He died from coronavirus

shortly after his 100th birthday. Read more

here.

Max Woosey

In 2020, Max, (then aged 10) was

inspired to start camping in his

back garden after his friend and

elderly neighbour gave him

the tent "to have an adventure

in". Max set himself the goal

of raising £100 for the North

Devon Hospice where his

friend was a patient. After his

friend died, he continued his

camping adventure, and has

recently spent his 500th night

under canvas, raising more than

£640,000 so far. Read more here.

36 September 2021 | parenta.com

parenta.com | September 2021 37
---
Music and

self-regulation in

the early years

We actually learn songs in reverse. Try

learning a new song by reading/singing it

through, and then, sing it through a second

time but do not read the last line – there is a

good chance that you will mostly remember

it. Sing it through a third time and do not

read the last two lines – you will find it will

soon be memorised! This also works for the

lines of songs – sing the beginning of the

line and we automatically fill in the end!

Roll here roll there

Self-regulation is one of the early learning goals under

Personal, Social and Emotional Development. The Early

Years Foundation Stage suggests that children will "show an

understanding of their own and others' feelings; work towards

goals; wait for what they want; focus their attention while

following instructions". But why is self-regulation so important

and what environments lead to early development of selfregulation?

And, as always, how can music support this?

To learn effectively, selfregulation,

or the ability to

direct attention and behaviour,

is important (McClelland &

Cameron, 2011) because it

allows us to:

• flexibly change attention

• have a good working (day-to-day)

memory

• control impulses (inhibitory control)

Music addresses these

three areas directly:

• Interesting music often involves

unexpected twists – a change in tune,

beat or even lyrics. As music uses all

senses and abilities, we are happy to

follow these twists!

• Music often involves repetition – like

the chorus that is repeated or the

same tune to a different verse – and

this helps to build memory!

• Finally, music often has a clear

beginning and end, which involves

the brain's reward system through

predictability – if the song is started,

it can always be completed, whether

externally or internally (in your head)!

Self-regulation seems to explain the early

achievement gap from poorer and "English

as an Additional Language" (EAL) families

(Finders et al., 2021). Children from poorer

families showed low self-regulation in

maths and language, while children from

poorer and EAL families showed both low

self-regulation and also lower executive

function skills.

Self-regulation is important in both

cognitive and socio-emotional

development. In a study of over 13,000

children (Oloye & Flouri, 2021) aged

between 3 and 7 years old, two related

areas were investigated: independence

and emotional dysregulation. Independent

children were found to come from home

environments that were disorganised as

well as those that were calm and quiet.

Dysregulation was found in homes with

damp, second-hand smoke and TV noise.

Overcrowding, home traffic, presence of

open fires and garden access did not

affect self-regulation. Musical games

are enjoyable, non-competitive ways to

bridge this achievement gap. One of the

great music education methods, Dalcroze,

involves games that cleverly introduce

these skills.

Stop-start

A little like musical statues, children

walk to the beat while the music plays,

and stop when it stops. Unlike musical

statues, there is no penalty for getting it

wrong, as the purpose is for children to

learn by imitating others. This game can

be developed into walking with music

and clapping (to the beat) when it stops.

Or walking when it stops and clapping

when it plays. Each of these developments

enhances and perfects the ability to selfregulate.

Quick reaction direction

Playing a beat on one instrument e.g.

drum, means the children should walk

forwards. Quickly changing to another

instrument, e.g. bell, means children

should walk backwards. Or sideways. Be

inventive! Playing in regular timing (groups

of 3 beats or 4 beats) allows children to

prepare themselves, while keeping alert

for changes.

Roll the ball

Rolling the ball for the length of a line of a

song develops the ability to both anticipate

as well as prepare or control the speed

of the ball. Below I have introduced a little

rhyme that is fun to use (Roll Here Roll

There), but well-known songs like "Twinkle,

Twinkle" are also great for this: children sit

opposite each other and must roll the ball

slowly enough to only reach each other

at the end of the line, e.g. (roll) Twinkle,

twinkle, little star (catch), (roll) How I wonder

what you are (catch), etc.

Stop on a spot

I'm going to walk, walk, walk, walk

Walk, walk, walk

I'm going to walk, walk walk and

Stop on a spot

Inhibition is about starting and stopping

in response to an outside source. This

song helps to develop this skill, a little like

musical chairs, except that there are always

more than enough spots for children to find,

jump on, and stop! This song can also be

developed in different ways – I'm going to

tiptoe. Or jump. Or skip. Or hop. And when

the song is well-known, it can be hummed

without words, and children respond

accordingly – and still stop on a spot.

Old MacDonald (finish the

line)

Old MacDonald had a farm (- - - - -)

And on that farm he had a pig (- - - - -)

Roll here, roll there

Roll the ball to Leicester Square

Bounce high, bounce low

Bounce the ball to Shiloh

This game is best introduced with an adult

sitting in the middle of the circle of children

and demonstrating the speed of the ball to

each child. Once they have all had a turn,

children can sit opposite each other, taking

turns at rolling and catching the ball in time

with each line. This game can be developed

into bouncing the ball to each other as

children's hand-eye co-ordination develops,

or rolled twice as slowly or twice as quickly.

Self-regulation, or the ability to control

impulses, is a powerful social skill. Not

only does it reduce fights/friction, it allows

society to function with the knowledge that

behaviour will be rewarded (or punished!),

that wages will be paid at the end of a

week or month of work, that travel time will

get us to where we want to be. And as we

know, both nature and nurture impact our

development, so we are able to learn new

things, regardless of where we come from.

References:

• Finders, J. K., McClelland, M. M.,

Geldhof, G. J., Rothwell, D. W., &

Hatfield, B. E. (2021). Explaining

achievement gaps in kindergarten and

third grade: The role of self-regulation

and executive function skills. Early

Childhood Research Quarterly, 54(1st

Quarter), 72–85.

• McClelland, M. M., & Cameron, C.

E. (2011). Self-Regulation in Early

Childhood: Improving Conceptual

Clarity and Developing Ecologically

Valid Measures. Child Development

Perspectives, 6(2), 136–142.

• Oloye, H. T., & Flouri, E. (2021). The role

of the indoor home environment in

children's self-regulation. Children and

Youth Services Review, 121(Feb 2021).

Frances Turnbull

Musician, researcher and author,

Frances Turnbull, is a self-taught guitarist

who has played contemporary and

community music from the age of 12. She

delivers music sessions to the early years

and KS1. Trained in the music education

techniques of Kodály (specialist singing),

Dalcroze (specialist movement) and Orff

(specialist percussion instruments), she

has a Bachelor's degree in Psychology

(Open University) and a Master's degree

in Education (University of Cambridge).

She runs a local community choir, the

Bolton Warblers, and delivers the Sound

Sense initiative "A choir in every care

home" within local care and residential

homes, supporting health and wellbeing

through her community interest

company.

She has represented the early years

music community at the House of

Commons, advocating for recognition

for early years music educators, and her

table of progressive music skills for under

7s features in her curriculum books.

Frances is the author of "Learning with

Music: Games and activities for the early

years", published by Routledge, August

2017.

www.musicaliti.co.uk

38 September 2021 | parenta.com

parenta.com | September 2021 39
---
The cheapest all-in-one,

easy-to-use, cloud-based

early years software

package you can buy!

No setup fee – save a massive £2395! | No hidden costs!

All inclusive | Limited time offer | Unlimited support

For only £99

per month

(paid annually)

with a MASSIVE

saving of £2395

(No setup fee)

Book a Demo Today!

What's included?

• Cloud-based Nursery Management

Software for easy and quick invoicing,

reporting & ratios

• User-friendly EYFS tracking software

(Compliant with EYFS 2021

Development Matters Guidance)

• Daily Diary to record activities, naps,

meals and nappies

• Parent engagement app –

maintaining social distancing

guidelines

• Go paperless and limit the spread

of germs

• Accurately record baseline

observations

• Photo Editing, Tagging & Blurring

Technology (GDPR compliant)

• Easy Ofsted reporting

• Unlimited phone & email support

plus videos and help files

Monthly direct debit option available on request

0800 002 9242 hello@parenta.com