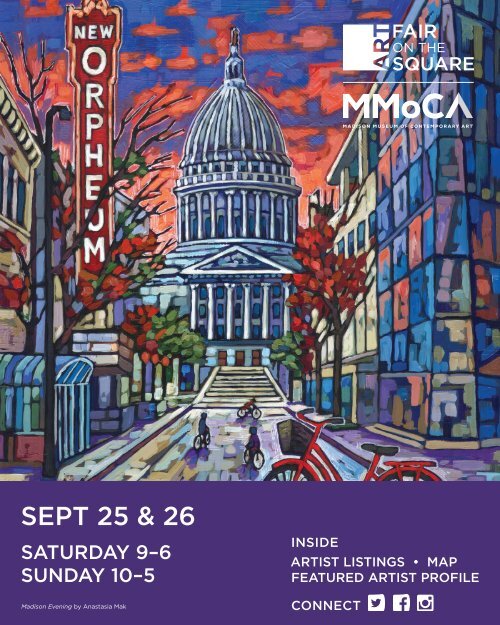 Art Fair on the Square 2021 Program
Find all the details about this year's Art Fair on the Square, including a map of the event, lists of artists and vendors, and the schedule of entertainers.
Find all the details about this year's Art Fair on the Square, including a map of the event, lists of artists and vendors, and the schedule of entertainers.
SHOW MORE
SHOW LESS
Create successful ePaper yourself
Turn your PDF publications into a flip-book with our unique Google optimized e-Paper software.
SEPT 25 & 26

SATURDAY 9–6

SUNDAY 10–5

Madison Evening by Anastasia Mak

INSIDE

ARTIST LISTINGS • MAP

FEATURED ARTIST PROFILE

CONNECT
---
SUBSCRIBE
---
Welcome

to the 63rd annual ong>Artong> ong>Fairong> on the Square

The Board of Trustees and Staff of the Madison Museum of Contemporary ong>Artong>

(MMoCA) are excited to welcome you to the 63rd annual ong>Artong> ong>Fairong> on the Square!

The ong>Artong> ong>Fairong> on the Square is the largest and longest-running fundraiser for

the Museum. Rescheduled from mid-July, the 2021 ong>Artong> ong>Fairong> is taking place

September 25 & 26 at its traditional location around the Capitol Square. After

presenting a virtual ong>Artong> ong>Fairong> in 2020, the return of the live event is just one sign

that we're finding our way back to some of the things that we love.

Over the ong>Artong> ong>Fairong> on the Square weekend, fairgoers can visit with nearly

500 juried artists; purchase unique artwork; taste sweet and savory treats

from dozens of food vendors; visit sponsor booths to learn more about their

offerings and giveaways; and take in live entertainment.

Some changes to expect this year include more sinks and new sanitizing

stations for the sake of safety. The Silent Auction tent and some stages have

been temporarily eliminated this year, but we're building back and expect to

offer more features than ever at the ong>Artong> ong>Fairong> on the Square next summer,

scheduled for July 9 & 10, 2022!

ABOUT MMoCA

The Madison Museum of Contemporary ong>Artong> offers free daily gallery admission.

The Museum's vision is to be an organization that fosters the exchange of ideas

and creates experiences that will inspire a wide audience; be a nexus for the

work of emerging and established regional, national, and international artists;

serve as a catalyst for the continued development of a vigorous community of

artists; and provide a forum that will encourage people to be challenged by,

reflect on, and make connections between art and the world around them.

The Museum includes four galleries, a rooftop sculpture garden, and The

Shop, a space recently opened to provide interactive contemporary art

experiences and educational workshops for the community.

Please visit mmoca.org to plan your visit and learn more about our events,

exhibitions, and programs.

ART FAIR ON THE SQUARE 2021 • 3
---
GETTING AROUND

Visit MMoCA

227 STATE STREET

*

STATE ST. KING ST.

E10-E25

MMoCA

ACCESSIBLE

178-120 EVEN

262-216 EVEN

?

S. CARROLL ST. N. CARROLL ST.

S. HAMILTON

T

179-121 ODD

876-820 EVEN

875-819 ODD

WEST WASHINGTON AVE.

277-219 ODD

776-716 EVEN

W. MIFFLIN ST. E. MIFFLIN ST.

319-377 ODD

WISCONSIN AVE.

STATE

CAPITOL

BUILDING

MLK JR. BLVD.

W. MAIN ST. ?

E. MAIN ST.

316-376 EVEN

ACCESSIBLE

777-719 ODD

EAST WASHINGTON AVE.

419-477 ODD

414-472 EVEN

MMoCA

HOOPER FOUNDATION

KIDS' AREA

677-619 ODD

T

577-519 ODD

N. HAMILTON

N. PINCKNEY ST.

S. PINCKNEY ST.

680-616 EVEN

574-514 EVEN

MMoCA

ACCESSIBLE

ACCESSIBLE

MMoCA

FOOD COURT

FEATURED ARTWORK TENT

This year, MMoCA invites you to visit the

Featured ong>Artong>work Tent to bid on Madison

Evening, a painting created for the event

by the 2021 featured artist, Anastasia Mak.

Proceeds from the auction and the ong>Artong> ong>Fairong>

benefit MMoCA's exhibitions, educational

programs, and operations. The full Silent

Auction will be back in 2022!

ENTERTAINMENT

Visit mmoca.org/artfair beginning September 1

to see the entertainment lineup.

Find artists and their booth

numbers starting on page 10.

MMoCA

MMoCA

MMoCA

MMoCA

MMoCA

MMoCA

MMoCA

T

T

?*

?

?

?

ong>Artong> ong>Fairong> Headquarters

& Volunteer Check-in

MMoCA Stands

Featured ong>Artong>work Tent

Wildwood T-Shirt Sales

Emerging ong>Artong>ists & Businesses

Information Booth

Restrooms

Music Stage

Food Vendor Area

Hooper Foundation

Kids' Area

4 • ART FAIR ON THE SQUARE 2021
---
ong>Artong> ong>Fairong> Menu

N Vendors new to the ong>Artong> ong>Fairong>

V Vegetarian options

k Gluten Free options

FC Located in the MLK Jr. Blvd food court

Sq Located on the Square

Sponsors

GOLD

FC Sq

N V FC

V FC

V FC

Sq

V FC

V k Sq

V FC

V FC Sq

FC Sq

N V FC

Sq

Sq

V FC

N V k

Sq

V FC

N V Sq

N V Sq k

Baja Smoothies Fresh fruit smoothies Sq @

6 locations

Blue Chip Food Truck Crispy fried chicken

sandwiches, loaded nachos, walking tacos,

pineapple and watermelon salad, fries, pasta

salad and more

Caracas Arepas Venezuelan arepas with a great

variety of fillings

Caracas Empanadas Meat and veggie empanadas

Chocolate Shoppe Ice Cream Company Ice cream

and root beer floats Sq @ Carroll

El Campeón Pina coladas, mango colada,

empanadas and arepas

Freshly Squeezed Fresh squeezed fruit beverages

Sq @ Carroll

Greek Flame Foods Chicken & lamb gyros, veggie

platters, salads and more

Jakarta Cafe Chicken curry & rice, ginger garlic

chicken, dumplings, veggie spring roll, sandwiches,

pulled pork mac & cheese, nachos, and more. Sq @

State & Pinckney

Jerry's Cherry Lemonade and Shaved Ice Lemonade

and shaved ice Sq @ 5 locations

Keur Fatou Catering Chicken yassa with vermicelli,

mafe with white rice (peanut stew), veggie sauce

with white rice, fataya, hibiscus juice, ginger juice,

baobab juice

Nectar of the Vine Alcohol-free wine frappes

Sq @ Main

Pagoda Smoothie Food Cart Smoothies

Sq @ Pinckney

Puffs of Doom Sweet cream puffs, hot chocolate

puffs, peach cobbler, vegan strawberry champagne

pastry puffs, savory cream puffs, ice cream puffs

and more

Smokin Dragons Beef brisket sandwich, cheese curd

mac n cheese, BBQ brisket baked beans with bacon,

vegetarian BBQ baked beans, hot dogs, BBQ parfait,

and chips

Sweet Jacquelina Croissants, almond croissant,

chocolate croissant, marmalades, Tickles (pickled

heirloom tomatoes), shortbread cookies and

coconut macaroon cookies

Toast Assorted meat, veggie, and dessert paninis;

gyros, chips, and more

Umami Ramen & Dumpling Bar Pork belly buns,

beef buns, pulled pork buns, tofu buns, spicy tofu

buns, and edamame or wonton chips Sq @ W Mifflin

Wondercookies Cookie served warm wade with

local Wisconsin ingredients. Gluten-Free options.

SILVER

BRONZE

OFFICIAL HOTEL

MEDIA

ART FAIR ON THE SQUARE 2021 • 5
---
JURY PANEL

MMoCA is

pleased to

welcome the

2021 ong>Artong> ong>Fairong>

on the Square

Jurors

CARLA DILLMAN

Carla holds a BFA from the

University of the ong>Artong>s. She began

her career as a jeweler for George

Sawyer. She also represented his

work at national wholesale and retail

shows, selling into galleries, museum

shops, and retail stores. After

running a custom jewelry business,

she shifted focus to marketing

artists' work and began her tenure

at ong>Artong>ful Home. At ong>Artong>ful Home she

held numerous positions, with an

increasing scope of responsibility,

eventually overseeing the curating of

all artists' work for the website,

digital, and print promotions. Carla

now runs business development at

Odd Machine, a production

company in Chicago, IL.

GEORGENE POMPLUN

Georgene Pomplun is known

primarily as a landscape oil painter,

although she paints a variety of

subjects. She and her husband Tom

live with their dog Clara in an old

farmhouse in rural Dane County,

where stunning views abound at

every turn. The beautiful old barns

in central and southern Wisconsin

are favorite subjects, and her

neighbors' horses and cows are

patient and willing models. In 2008

Georgene was named Commission

ong>Artong>ist for the Governor's Awards by

the Wisconsin Foundation for the

ong>Artong>s, a signal honor. She was a

featured artist for almost twenty

years at Fanny Garver Gallery in

Madison, and currently shows her

work at Edgewood Orchard Galleries in

Door County, where she has been

for over a decade. Her work can be

found online at her website,

georgenepomplunpaintings.com.

DIANE WASHA

ong>Artong>ist Diane Washa is an awardwinning

plein air oil painter who

takes inspiration from the changing

landscapes she has had in view

since childhood. She has a degree in

Fine ong>Artong> from Milton College and an

MBA from UW. A business executive

by day, she got serious about her

lifelong passion for painting in 2005.

Washa creates paintings in an

intriguingly abstract style that is rich

in detail. Painting in sight of prairies,

rivers and bluffs of Wisconsin's

countryside — and the sweep of

dramatic skies overhead — Washa's

brush captures the movement of

color and light, time and place.

HIROKO YAMADA

Hiroko Yamada is a studio artist and

owner of HYART Gallery on Monroe

Street in Madison. She received her

MFA from the University of

Wisconsin-Madison, and is studying

ong>Artong> Metal and Jewelry. She is an

honorary Fellow at University of

Wisconsin-Madison, and teaches

metal courses at Madison College.

She teaches workshops at many of

the most prestigious craft schools

and institutions, including: Penland

School of Craft (NC); Haystack

Mountain School of Crafts (ME),

Arrowmont School of ong>Artong>s and

Crafts (TN), Southern Illinois

University (IL), East Carolina

University (NC), Kobe Designs

University (Japan), and Kyoto

Museum of ong>Artong>s (Japan). In addition

to directing exhibitions including

A Tradition of Excellence: Japanese

Techniques in Contemporary Metal

ong>Artong>s 2019, 2020; American

Contemporary Jewelry Exhibit in

Japan 2014, 2019; American

Mokume Gane Exhibit in Japan 2016;

her work has been exhibited at

SOFA Chicago, Patina Gallery (NM),

Facèré Jewelry ong>Artong> Gallery (WA),

Ginza Okaria Gallery (Japan) and

Japan Traditional ong>Artong> Metal Exhibition;

and her work was published in 500

Brooches (Lark Books).

THEODORA ZEHNER

Theodora Zehner served as

president of the Museum's ong>Artong>

League and MMoCA Volunteers

from 2009 to 2013, and serves

currently on the Museum's Advisory

Council, and MMoCA Volunteers

board. She was intimately involved

with the Holiday ong>Artong> ong>Fairong> for

numerous years, and served as the

Ambassador for MMoCA ong>Artong> & Gift

ong>Fairong>. Zehner has a BFA from the

Philadelphia College of ong>Artong> (now

University of the ong>Artong>s), and an MS

from the University of Tennessee,

both in textile design. For many

years she designed woven and

printed fabrics for the home

furnishings and contract industries.

Prior to her move to Madison, she

taught fabric design and printing/

dyeing processes for 14 years in the

Fiber Department of the School of

the ong>Artong> Institute of Chicago.

6 • ART FAIR ON THE SQUARE 2021
---
FEATURED

ARTIST

Anastasia Mak

MMoCA selected Anastasia Mak

to be the 2021 ong>Artong> ong>Fairong> on the

Square Featured ong>Artong>ist. Mak is a

Chicago-based artist who has a

case of wanderlust. Her paintings

develop from photographs and

sketches that she captures while

traveling or exploring. Her works

combine vivid patterns and

brushstrokes with distinguishable

landscapes, buildings, or scenes.

She has exhibited internationally,

and her pieces are housed in

numerous private and business

collections. Through her work,

the viewer gets to share the

adventurous energy.

The 2021 featured artwork,

Madison Evening, is an acrylic

painting on wooden panel. Mak

says, "Madison is one of the most

bike-friendly cities that also happens

to have beautiful sunsets. I wanted

to capture the heart of this town

with the energy of bike commuting,

all depicted in vivid colors!"

ong>Artong>ist booth #: 532 (S. Pinckney Street)

Madison Evening

by Anastasia Mak

ART FAIR ON THE SQUARE 2021 • 7
---
2019 BEST

OF SHOW

Visit these returning award winners

from the 2019 ong>Artong> ong>Fairong> on the Square

1

2

2

3

4

5

8 • ART FAIR ON THE SQUARE 2021
---
5

6

1. MELANIE EBERTZ

Fiber/Leather

booth 158

2. JAMES PEARCE

Furniture

booth 339

3. VINCE COOK

Wood

booth 363

4. DONALD ESSER

Metal-Works

booth 360

5. MICHAEL KAHN

Ceramics

booth 656

6. ANGELA WELTI

Jewelry

booth 236

7. MICHELLE

MCDOWELL SMITH

Mixed Media 2-D

booth 316

7

Use the map on page 4

to locate the artist's

booth on the Square.

ART FAIR ON THE SQUARE 2021 • 9
---
THE ARTISTS

The artists are listed alphabetically by medium.

Each entry is preceded by the artist's booth

number; use the map on page 4 to locate the

artist's position on the Square.

B Best of Show ong>Artong>ists from 2019

G Local ong>Artong> Guild

F Featured ong>Artong>ist

E Exhibitor ad on page 15

I Invitational ong>Artong>ist from 2019

CERAMICS

G 573 Madison Potters Guild Madison, WI • madisonpottersguild.com

150 Susan Anderson Grand River Pottery Markesan, WI •

susanandersonceramics.com

149 Alan Bennett & Rosemary Bennett Bath, NY •

bennettclayfish.com

I 468 Julie Berndt Dawson, MN • kunst2@farmerstel.net

120 Tony Borchardt Anthony Ceramic ong>Artong>s Saint Louis, MO •

tonyborchardtceramics.com

350 Kristin Busch Functional Ceramics Bloomington, IN •

functionalceramics.com

827 Winthrop Byers Rock Springs, WI • thebyersstudio.com

736 Michael Cho Allentown, PA • mikecho928@yahoo.com

741 Kris & Al Clement Clement Clayworks Springfield, MO •

ClementClayworks.square.site

440 Nick DeVries Nick DeVries Pottery Brainerd, MN •

devriespottery.com

855 Kristin Hill Tin Hill Sculptured Pottery Davenport, IA •

tinhillpottery.com

565 Michael Imes Michael Imes Pottery Pewaukee, WI •

imesclay.com

340 Paul Jeselskis Jeselskis Potteries Michigan City, IN •

email@pauljeselskis.com

456 Bruce Johnson Bruce Johnson Clay Studio L.L.C. Lake Mills, WI •

brucejohnsonclaystudio.com

B 656 Michael Kahn & Mieko Kahn Mieko and Michael Kahn

Pottery Studio Greenbush, MI • kahnmichael@sbcglobal.net

666 Greg Lathrop B & G Pottery Derby, KS • bgpottery@yahoo.com

163 Marilyn Leach Waukesha, WI • hmarilynleachceramics.com

I 759 Chris Leung Bird Ceramics Kewaskum, WI • birdceramics.com

355 Rebecca Lowery Bloomington, IN • rebeccalowery.com

265 Clayton Macone Macone Clay Shell Lake, WI •

ctmacone@gmail.com

169 Scott Martin & Jenny Martin Martin Pottery Schoolcraft, MI •

martinpottery.net

624 Ron Netten Ron Netten Ceramics Storm Lake, IA •

ronnettenceramics.com

172 Andrew Otis East Jordan, MI • otispottery@gmail.com

463 Louisa Podlich A MANO Columbia Heights, MN •

weshopamano.com

I 137 Jef Raasch The JAR Studio Milwaukee, WI • jefraasch.net

320 Steven Showalter Steven Showalter Pottery Eagan, MN •

stevenshowalter.com

533 Thomas Skupniewitz Cline ong>Artong>works Lake Mills, WI •

Clineartworks.com

650 Jason Sonsthagen High Cliff Studio Sherwood, WI •

highcliffstudio.com

555 Natalya Sots Schaumburg, IL • natalyasots.com

10 • ART FAIR ON THE SQUARE 2021

434 Brian Swiersz B. Swiersz Designs Madison, WI •

bswiersz@yahoo.com

560 Dennis Thompson SnobHog Studio Branson, MO • snobhog.com

864 Izida Valatka Westmont, IL • izvceramics@gmail.com

633 Valerie Walchek LittleWolf Ceramics Ocoee, FL •

LittleWolfCeramics.com

735 Colleen Williams Chattanooga, TN • colleenwilliamsclay.com

DIGITAL ART

458 Jason Brueck Alter Images Nashville, TN • alterimagesart.com

820 Lilada Gee Madison, WI • Lilada.org

842 Jamie Heiden Jamie Heiden Photography Holmen, WI •

jheidenphoto.net

258 Adam Hoffman Salt Lake City, UT • ahfractals.com

231 Dewey James Dewey James Studio Ironton, MN •

deweyjamesstudio.com

240 Kenneth Kudulis Along the Lines ong>Artong> Chattanooga, TN •

alongthelinesart.com

242 Kenneth Kudulis & Jenifer Kudulis Kudulah Chattanooga, TN •

kudulah.com

127 T.L. Luke T.L. Luke ong>Artong> Madison, WI • tl-luke.com

263 Raymond Van Woelderen Raymond Francis John Phoenix, AZ •

raymondfrancisjohn.com

EMERGING ARTISTS

E13 Ross Burrell Ocean Eyes Photo ong>Artong> Madison, WI •

oceaneyesphotoart@gmail.com

E12 Jesse Greenhagen Greenie Enterprises Waverly, MN •

greenieenterprises.com

E11 Gena Loseto Saint Louis, MO • gena-loseto.squarespace.com

E16 Alexandria Mooney Jones Chippewa Falls, WI • fireworkartist.com

E14 Andrew Mulhearn McFarland, WI • andymulh.art

E18 Cyrus Raivo Raivo Metalworks Ogilvie, MN •

raivometalworks@gmail.com

E19 Heather Reilly Cauterized Designs Madison, WI •

cauterizeddesigns.com

E22 Fernando Rico Freeport, IL • rico-f.com

E21 Luke Schletzbaum & Maria Schletzbaum Biophile Design

Madison, WI • biophiledesign.com

E17 Sheridan Steiner Chetta Ink Shop Madison, WI •

chettainkshop.com/original-artwork

FIBER / LEATHER

G 819 Mad City Quilt Guild Cottage Grove, WI •

carol.hanson@uwmf.wisc.edu

G 177 Madison Weavers Guild Beloit, WI • madisonweaversguild.com

849 Joanna Alot-Ciecholewski Joanna Alot Design Ltd. Skokie, IL •

joannalot.com

435 Andres Arango Sulay Miami, FL • sulayrodriguez2002@hotmail.com

729 Billie Barthelemy Bird of Paradise Pinewood, MN •

birdofparadisedesigns.com

520 Jacqueline Bevan Jacqueline Bevan Studio Schaumburg, IL •

jacqueline-bevan.pixels.com

345 Martina Celerin Dimensional Weaving Bloomington, IN •

martinacelerin.com

620 Mary Christian Material Girl Designs Champlin, MN •

thereabout@hotmail.com

232 Marla Duran Bethlehem, PA • marladuran.com

728 Leah Dziewit Leah ong>Artong>wear Maple City, MI •

leahdziewit@earthlink.net

B 158 Melanie Ebertz & Maruja Huaman ong>Artong>andes Stillwater, MN •

artandes.com
---
218 Pamela England Borelli Bags Avon Park, FL • Borellibags.com

337 Faye Fisher-Ward Fisher Ward Designs Minneapolis, MN •

fisherwarddesigns.com

649 Ted Gilmer Empire, MI • leelanautradingco.com

770 Sharon Goddard Arbor Vitae, WI • cherishables2003@yahoo.com

828 Lisa Green & Ravi Marimuthu Beebop & Wally New York, NY •

beebopandwally.nyc

462 Beth H. Two Stix 5 Stones LLC Southfield, MI •

TwoStix5Stones.com

832 Sarah Heck & Anna Warren Tactile Craftworks Milwaukee, WI •

tactilecraftworks.com

734 Noriko Iizuka NORIKO IIZUKA Allentown, PA • niizuka@yahoo.com

773 Kaoru Izushi Kaoru Izushi Knit Design Madison, WI •

kaoruizushi-knitdesign.com

I 430 Kathleen Johnson Kathleen Johnson Quilts Glendale, WI •

kathleenjohnsonquilts.com

239 Pat Kroth Verona, WI • krothfiberart.com

571 Philippe Laine Silk du jour Palm Beach Gardens, FL •

philippedujour@yahoo.com

831 Mary McFarland Almost Paradise Silks Brodhead, KY •

gotsilk@earthlink.net

519 Mychal Mitchell Iona Handcrafted Books, LLC Seattle, WA •

ionahandcraftedbooks.com

141 Annie Mohaupt & Justin Walker Mohop Rockford, IL • mohop.com

563 Susan Otterson Susan Otterson Knitwear Madison, WI •

susanotterson.com

246 Gina Pannorfi Chicago, IL • ginapannorfi.com

449 Barbara Poole B.Felt Lowell, MA • bfelt.com

631 Renee Roeder Earley Madison, WI • hatsofancy.com

657 Kate Strong Strong Wear Chicago, IL • StrongWear.com

I 733 Char terBeest Kudla Helen's Daughters Baraboo, WI •

helensdaughters.com

839 Tamara Tsurkan ong>Artong> By Tamara Madison, WI • feltedanimals.com

762 Kate VanAsten Wulfka Chicago, IL • wulfka.com

FURNITURE

564 Brian Bortz Lost ong>Artong> Woodworks Durham, NC •

lostartwoodworks.com

136 Victor Edwards Oak and Rope Design Monticello, FL •

oakandrope.com

873 Patrick Fitzpatrick Chicago, IL • swoonliving.com

256 Alan Kalker Alan's Fine Woodworking Madison, WI •

alansfinewoodworking.com

347 Howard Lien Middleton, WI • bobbylien@gmail.com

640 Ryan Miller IP Furniture Designs Brockway, PA •

intelligentproductdesigns@gmail.com

I 446 Paul Morrison The Wood Cycle Oregon, WI •

thewoodcycle.com

I 356 Robert Myrvall Majestic Moonlite Woods Bark River, MI •

robertmyrvall@yahoo.com

I 471 Douglas Nimmo North Light ong>Artong> Furniture Plymouth, MN •

northlightartfurniture.com

B 339 James Pearce Peoria, IL • pearcewoodworks.com

I 848 Steve Uren Grand Rapids, MI • steveuren.com

526 Ronald Vieceli Studio Vieceli Carbondale, IL • studiovieceli.com

GLASS

333 Heidi Barron & Paul Barron Barron Glass Design Ada, MI •

barronglassdesign.net

220 Tom Bloyd Bloyd ong>Artong> Glass Stilwell, KS • bloydartglass.com

128 Shawn Bungo Bungo Glass Ypsilanti, MI • bungoglass.com

265 Chris Corrie & Lynn Corrie Corrie ong>Artong> Glass Monticello, IL •

corrieartglass.com

373 Angelo Fico Wilmot, WI • angelofico.com

518 Sharon Fujimoto Amherst Junction, WI • fujimotoglass.com

419 Charlene Heilman & James Heilman Designs by char Lily, KY •

charleneheilmansglass.com

766 Jeanine Huot Joy from the Heart Lake Elmo, MN •

JoyfromtheHeart.com

344 Kirk Miller Kirk Miller Glass North Palm Beach, FL •

kirkmillerglass.com

445 Janice Moore & Rick Moore tjrartworks Bryan, OH •

tjrartwork@gmail.com

370 Robin Mueller Brooklyn Park, MN • whimsiesdesign.com

742 Thomas Nye NyeGlass LLC Minneapolis, MN • Nyeglass.com

551 Jackson Ocheltree Tucson, AZ • fromthegroundupart.com

521 Andrew Shea Andrew Shea Glass Minneapolis, MN •

sheaglass.com

459 Douglas Sigwarth & Renee Sigwarth Sigwarth Glass

River Falls, WI • sigwarthglass.com

771 Sarah VanTol Sarah J. Contemporary Designs in Glass

Midland, MI • sarahjvantol.com

I 361 Mark Wagar Wagar Glass Riga, MI • wagarglass@hotmail.com

870 Meredith Wenzel Glass City Blews Maumee, OH •

glasscityblews.com

453 Larry Zengel Hot House Glass Bowling Green, OH •

hothouseglass.com

JEWELRY

260 Ann Aas AnnMade in Minnesota Chanhassen, MN •

annmadeinminnesota.com

675 Margaret Aden Original Sin Jewelry Tucson, AZ •

originalsinjewelry.com

122 Beth Aimee Beth Aimée Jewelry Livingston, MT •

bethaimeejewelry.com

130 Chip Arnold Arnold Jewelry Webster, NY •

chiparnoldjewelry@gmail.com

628 Sher Berman Sher Berman Designs Deerfield, IL •

etsy.com/shop/SherBerman

846 Spirit & Samuel Bush Woodstock, GA • spiritlala.com

170 Eric Candee Good Carma Jewelry Salida, CO •

goodcarmajewelry.com

326 Greta Cannon CANNON DESIGN Santa Fe, NM •

cannondesignjewelry.com

635 Michael Dandrea St Petersburg, FL • michaeldandrea.com

835 Wayne Farra & Maya Madden No Rules Jewelry Lone Rock, WI •

mayamadden9@gmail.com

230 Renate Favour Etc Designs Williamsburg, MI •

etcdesigns@charter.net

451 Mark Ferguson & Suzanne Ferguson ASYMMETRICAL the

balance of art Naples, FL • smfjewelry@mail.com

850 Patricio Ferreira Patricio Ferreira Designs Orlando, FL •

patricioferreira.com

148 Jack Forney & Marian Vorgang-Forney Forney Goldsmith

Studios Bloomington, IN • forneygold.com

663 Pam Fox Sarasota, FL • pamfoxjewelry.com

623 Juan Fried Northfield, MN • metalarchill.com

748 Jill Baker Gower Jill Kathleen Designs McFarland, WI •

jillkathleendesigns.com

I 528 Christiane Hampel Hampel Design Jewelry Naples, FL •

hampeljewelry.com

ART FAIR ON THE SQUARE 2021 • 11
---
452 Emma Hoekstra Emma Elizabeth Jewelry Grandville, MI •

emmaelizabethjewelry.com

838 Shayna Jingst Shayna Jewelry Kohler, WI •

https://shayna.jewelry

135 Tiara Kim & Tai Kim Tai & Tiara New Brunswick, NJ •

taiandtiara.com

429 Nancy Krahn Algonquin, IL • NancyKrahnJewelryDesign.com

143 Linnea Lahlum Buffalo Grove, IL • linlahlum@gmail.com

546 Sally Lautmann Passaj Jewelry on a Journey Fox Point, WI •

sally.lautmann@gmail.com

224 Veronica Martens Chicago, IL • veronicarileymartens.etsy.com

354 Sandra Matasick Gainesville, FL • matasick.com

332 Brenda Morrison Jasmine Keane Wareham, MA •

jasminekeane.com

747 Kanchana Nerato Isara Designs Springfield, MO • isaradesigns.com

I 556 Suzette Nesbitt Rowdy Blonde Studio Reeds Spring, MO •

rowdyblondestudio.com

724 Laurette O'Neil Laurette O'Neil Las Vegas, NV •

SilverJewelryDesign.com

156 Liliana Olmos Olmox - Fine Filigree Jewelry Houston, TX •

olmox.com

674 Anita Peters Barrington, IL • fashionstones.com

516 Michel Plumail & Viviana Gil Lake Hopatcong, NJ •

michelplumail.com

329 Dawn Rasmussen Dawn Rasmussen Designs Belvidere, SD •

freshbeads.com

243 Harry Roa Harry Roa Studio Sarasota, FL • harryroagallery.com

648 Jill Schienle Wakenspun Metalwerks Madison, WI •

jillschienle.com

823 Julie Seymour Eau Claire, WI • julieseymourgoldsmith.com

557 Linda Smith-O'Mara Minneapolis, MN • lsmitho66@yahoo.com

537 Leah Staley Leah Staley Designs Kansas City, MO • leahstaley.com

660 Esther Sullivan Esther Metals Bozeman, MT esthermetals.com/

641 Lou Ann Townsend & Mary Filapek Mary & Lou Ann

Concord, NC • maryandlouann.com

349 Jeannie Trelles Vikse Designs Minneapolis, MN • viksedesigns.com

758 Philip Troyer ThunderSky Jewelry Hillsboro, WI •

etsy.com/shop/thunderskyjewelry

523 Jessica Weiss Jessica Weiss Jewelry Knoxville TN •

jessicaweissjewelry.com

B 236 Angela Welti BJ Creations Okemos, MI • angelawelti@gmail.com

171 Melinda Wolff St. Paul, MN • melindawolff.com

I 269 Youngjoo Yoo Berrien Springs, MI youngjooyoo.com

METAL

253 Cameron Allen Jupiter, FL • Cameronallen561@gmail.com

327 Todd Anderson & Lynn Anderson Shakopee, MN •

forgewoodstudios.com

334 Steve Cambronne Winter Springs, FL • stevotomic.com

I 616 Kerry Christian Champlin, MN • thereabout@hotmail.com

424 Mark Fischer Turtle Clan ong>Artong> Richfield, WI • turtleclanart.com

357 Daniel Hedblom & Frances Hedblom Copper Elements

Rochester, MN • copperelements.info

367 Greg Meyerdirk & Patrice Meyerdirk Meyerdirk ong>Artong> Harris, IA •

patrice.meyerdirk@gmail.com

465 Debbie Radke Radke ong>Artong> Studios Franksville, WI •

facebook.com/100000440131241

830 Danny Sayre Studio D' ong>Artong> Akron, OH • studio-d-art.com

366 Ron Schmidt Ron Originals Tequesta, FL • ronoriginals.com

749 Bryan Schultz Obscure Belts Kenosha, WI • obscurebelts.com

124 Dan Vidaillet Vidaillet Sculptures, LLC Marshfield, WI •

vidailletsculptures.com

645 Robin Washburn Wolf Creek Studio Marion, IL •

RobinLWashburn.com

152 Chuck Young & Deana Blanchard Selena Glass & Metal

Burnsville, NC • selenaglassandmetal.com

626 Mark Zirinsky Studio Z Denver, CO • studio-z.org

MIXED MEDIA 2-D

G 275 Madison ong>Artong> Guild Madison, WI • madisonartguild.com

126 Andy Adams Taylors, SC • thenameisa-n-d.com

234 Sally Brandl Sally Brandl Watercolors Chicago, IL •

sallybrandlwatercolors.com

I 250 Amy & Jeff Dallas Tile Tempo Grafton, WI • tiletempo.com

841 Penny Dobson Northport, AL • pennydobson.com

756 Eric Doucette Distinctive Finishes LaCygne, KS • ericdoucette.com

331 Christine Echtner Madison, WI • Cechtnerart.com

643 Mary Filapek & Lou Ann Townsend Mary & Lou Ann Concord, NC •

maryandlouann.com

I 237 Joel Fremion Old House Galleries Ossian, IN • joelfremion@

yahoo.com

853 Ruth Fromstein San Diego, CA • ruthfromstein.com

151 Lee Galusha Origami Only Chicago, IL • origamionly.com

869 Sarah Goodyear Fayetteville, WV • SarahGoodyearStudios.com

719 Alex Grimmer Freaky Record Los Angeles, CA • Deadwax1.com

319 Debo Groover Debortina Studio Tallahassee, FL •

debortinastudio.com

539 Britt Hallowell Britt's Fine ong>Artong> Grove City, OH • brittsfineart.com

233 Laura Harris & Jack Harris Melonhead Gallery Dousman, WI •

melonheadgallery.com

665 Jennifer Jankovich & Steve Keating Jéve ong>Artong>istas

Fort Collins, CO • bustransform.com

854 Amy Koch Paper Loft Creations Eureka, MO •

paper-loft-creations.myshopify.com

542 Scott Matyjaszek ong>Artong>ephax Rochester, NY • artephax.com

530 Mays Mayhew Mays Mayhew ong>Artong> Aurora, IL • MaysMayhew.com

B 316 Michelle Mcdowell Smith St. John's, FL •

michellemcdowellsmith.com

457 Kelsey Merkle Kelsey Merkle Fine ong>Artong> & Illustration

Clarence Center, NY • kelseymerkle.com

764 Connie Morrison Madison, WI • stairwaystudiogallery.com

745 Scott Olson Chicago, IL • kompressiongraphics@hotmail.com

I 845 Vladimir Ovtcharov Ovcharov ong>Artong> Studio Albuquerque, NM •

ovtcharovart.com

871 Angie Pickman Kansas City, KS • ruralpearl.com

I 216 Nicholas Ringelstetter Spring Green, WI • atomic7studio.com

I 259 Brad Ruppert & Sundie Ruppert SculpturalFelt by Brad &

Sundie Ruppert Norwalk, IA • SculpturalFelt.com

336 Corrine Smith Rock Island, IL • corrinesmith.net

147 Tyler Voorhees Tyler Voorhees ong>Artong> Fennville, MI •

tylervoorheesart.com

840 Kate Whisler Eagan, MN • kwhisler.laserart@gmail.com

I 244 Nestor Yulfo Nestor Yulfo Studio Chicago, IL • nestoryulfo.com

PAINTING

G 677 ong>Artong>s For All Wisconsin ARTS for ALL Wisconsin Madison, WI •

artsforallwi.org

168 Lydia Andersen Lydia Andersen Studio Appleton, WI •

lydiaandersen.com

I 421 Marc Anderson Wauwatosa, WI • hmarcandersonillustration.com

441 Katia Andreeva Minneapolis, MN • katia.irie2@gmail.com

548 Steven Brock Brock Painting and ong>Artong>istry Sun Prairie, WI •

sbrockpainting.com

538 Kate Carney McRae ong>Artong> Studios Orlando, FL •

katecarneyfineart.com

554 Rhonda Cearlock Vandalia, IL • artistrcearlock@hotmail.com

364 Danny Chu Suwanee, GA • dqu99@yahoo.com

248 Jeff Dallas Jeffrey Dallas Studios Grafton, WI •

artworkarchive.com/profile/jeff-dallas

I 418 David Dallison Waukegan, IL • davidedallison.com

824 Brooklyn Doby B.Denae ong>Artong>istry Middleton, WI •

bdenaeartistry.com

431 Brian Eppley Mechanicsburg, PA • brianeppleypaintings.com

622 Toril Fisher Toril Fisher Fine ong>Artong> Sheboygan, WI • torilart.com

229 Wendy Franklin Indianapolis, IN • wendyfranklinart.com

12 • ART FAIR ON THE SQUARE 2021
---
514 Gregory Frederic Crewlong>Artong> Green Bay, WI • Crewlong>Artong>.com

772 Mark Gates M&M Painting Studio Chattanooga, TN •

mmpaintingstudio.com

774 Melissa Gates M&M Painting Studio Chattanooga, TN •

mmpaintingstudio.com/melissa

625 Suzanne Gernandt Fitchburg, WI • suzannegernandt.com

863 Janice Gilkey Jan Gilkey Fort Atkinson, WI • Gilkeyong>Artong>.com

271 Nyle Gordon Ethel, MO • nylegordon.com

162 Ali Hasmut Chicago, IL • alihasmut.com

673 Bruce Holwerda Spring Lake, MI • bruceholwerda.com

226 Coreen Johnson Coreen Johnson Fine ong>Artong> Lafayette, MN •

coreenjohnsonfineart.com

E20 Jack Kloppenburg Madison, WI • jrkloppe@gmail.com

655 Timothy Kobs ong>Artong> of Timothy Kobs Trempealeau, WI •

art-of-timothy-kobs.square.site

328 Marina Kontorina Studio Kontorina Grand Rapids, MI •

studiokontorina.com

I 167 Rebecca Korth Rebecca Korth Fine ong>Artong> Marshfield, WI •

rebeccakorth.com

139 Elizabeth Lang Between the Evergreens Atlanta, GA •

betweentheevergreens.com

222 Ning Lee Monroe, NJ • ningleeart.com

140 Karina Llergo Karina Llergo ong>Artong> Chicago, IL • karinallergosalto.com

F 532 Anastasia Mak Anastasia Mak ong>Artong> Chicago, IL • AnastasiaMak.com

549 Leo Hong Mao Dublin, OH • leohong.com

134 Kwame Boama Mensa-Aborampa Kwaboama Fine ong>Artong> Inc

Woodridge, IL • artfinder.com/kwaboama

342 Justin Miller Brookfield, IL • justindmiller.com

255 Sean Miller Crooked Creek Publishing Washington, IA •

scmiller68@gmail.com

737 Anne Molasky Molasky Fine ong>Artong> St. Louis, MO • annemolasky.com

638 Leonard Nagler & Leonard Nagler Appleton, WI •

lennynaglerart.com

750 Rachael Newman Rachael Newman Studios Bluffton, SC •

RachaelNewmanStudios.com

454 Rahmon Olugunna Rahmon Olugunna Paintings Evanston, IL •

Rahmonolugunna@gmail.com

574 Adam Pankratz Fitchburg, WI • krinklebearcat.com

262 Jurate Phillips Gourmet ong>Artong> Studio Columbus, OH •

gourmetartstudio.com

455 Ken Reif Berwyn, IL • ken@kenreif.com

I 324 Julie Roth West Bend, WI • rothillustration.com

I 723 Philip Salamone Madison, WI • philipsalamone.com

228 Greta Sandquist Ginger Street Studio St Paul, MN •

gretasandquist.com

I 522 Phill Singer Singer Fine ong>Artong> Collection New Britain, PA •

psingerart.com

732 Alice Struck Alice Struck Watercolors Mequon, WI •

alicestruckartist.com

652 Sherri Thomas Appleton, WI • sherrithomas.com

477 Alla Tsank Alla Tsank ong>Artong> Studio Encinitas, CA •

allatsankart@hotmail.com

862 Kimberly Tschida Petters Kimberly Tschida Petters Fine ong>Artong>

Minneapolis MN • kimberlytschidapetters.com

543 Karen Watson-Newlin Verona, WI • karenwatsonnewlin.com

PHOTOGRAPHY

857 Don Ament Don Ament, Photographer Lexington, KY •

DonAment.com

I 154 Eric Baillies Madison, WI • photochemist.net

433 Phyllis Bankier Scenescapes Photography Milwaukee, WI •

scenescapes.us

321 Michael Behr Mike Behr Photography Minneapolis, MN •

mikebehrphotography.com

132 Ryan Bigelow Ryan Thomas Photos Bayside, WI •

RyanThomasPhotos.com

753 James Cole James Mcong>Artong>hur Cole Photography Plainfield, IL •

jamesmcarthurcole.com

767 Todd Cutler Webster, WI • cutlerphotography@yahoo.com

421 Derek Dammann Cincinnati, OH • derek_dammann@yahoo.com

252 David Epps Burnsville, NC • davideppsphotography.com

637 R Fulwiler Photo/Graphics Lakeland, FL • knot-not.com

860 Gabby Hanley & Lijah Hanley Hanley Photography

Longview, WA • gabbygasche@gmail.com

856 Lijah Hanley Lijah Hanley Photography Longview, WA •

lijahhanley.com

531 John Hartung ong>Artong> That Smiles Clearwater, FL • ong>Artong>ThatSmiles.com

535 Edward Holland Jacksonville, FL • edwardhollandphotography.com

352 Scott Johnson Starfire Studios Bloomington, IN •

deepskyastrophotography.com

534 Seung Jae Kim Noah Photography Glenview, IL •

seungjaekim.com

829 Jack Kraig Jack Kraig Photography Inc Evanston, IL • jackkraig.com

646 Curtis Krueger Wilmington, NC • curtiskrueger.com

133 Angela Kullmann Best Light Collection Harvard, IL •

BestLightCollection.com

634 Lisa Lammey Wild Oak ong>Artong> Amana, IA • wildoakart.com

157 Sunny Liang S.K Photography Chicago, IL • keithliang.com

351 Shawn Malone Marquette, MI • leon@sadlofineart.com

144 Brian Miller Miller Photography Powell, TN • briankmiller.com

627 Ray Mosteller Easley, SC • PhotoByRay.com

173 Darren Olson Minneapolis, MN • darrenolson.com

668 Neshama Roash Neshama Fine ong>Artong> Photography

Saint Louis, MO • neshamafineart.com

720 Leon Sadlo & Tracy Sadlo Motley, MN • sadlofineart.com

716 Tracy Sadlo & Leon Sadlo Whispering Impressions Payson, AZ •

whisperingimpressions.com

176 Toby Skov Toby Skov Nature Photography Conroe, TX •

skovscapes.com

420 Jason Stoddart Cookeville, TN • jasonstoddart.com

460 Nathan Trivette ND Trivette Photography Minneapolis, MN •

ndtphoto.com

473 Steve Wewerka Wewerka Photo Saint Paul, MN •

stevewewerka.com

PRINTMAKING, GRAPHICS, AND DRAWING

225 Kendra Gebbia Ink Orchard Redwing, MN • theinkorchard.com

541 Eli Helman Eli Helman Ink Westhampton, MA • elihelman.com

I 826 Natalie Hinahara Natalie Hinahara ong>Artong> & Design Viroqua, WI •

nhinahara@gmail.com

621 Andrew Kosten Brookings, SD • andrewkosten.com

I 426 Stanley Leonard Stanley Leonard Studio Woodbury, MN •

stanleyleonardstudio.com

743 Clare Malloy Chicago, IL • claremalloy.com

639 Melissa Mason Melissa Helene Fine ong>Artong>s Silver Cliff, WI •

melissahelene.com

738 Haylee Mcfarland HMdesignStudios Whittier, CA •

HMdesignStudios.com

318 Brian Mckelvey & Lyle Van Amburg pubsOf St. Johns, MI •

pubsof.com

348 Richard James Nelson St. Paul, MN • richardjamesnelson.com

254 Sylvia Pixley The WoodCutter Monroe, MI • SylviaPixley.com

160 Kim Russell Russellworks Spring Green, WI • russellworks.com

425 Tai Taeoalii ong>Artong> By Tai Hannibal, MO • ong>Artong>ByTai.com

760 Rita Troller Orland Park, IL • ritatroller.com

437 Chuck U Chuck U ong>Artong> Minneapolis, MN • hchucku.com

SCULPTURE AND 3-D MIXED MEDIA

651 Doug Adams Twisted Tree Gallery ong>Fairong>field, IA •

twistedtreegallery.com

630 Bradley Anderson BVA Design Bozeman, MT • bvadesign.com

221 Steve Anderson Anderson's Metal Sculpture Cedar Springs, MI •

andersonsmetalsculpture.com

ART FAIR ON THE SQUARE 2021 • 13
---
866 Dan Bassett Madison, WI • danbassettart.com

I 377 Christopher Buonomo 13 Degree Studios Philadelphia, PA •

13degreestudios.com

567 Shawn Carling Lakeville, MN • machineagelamps.com

825 Dick Dahlstrom Dick Dahlstrom Originals Rockford, IL •

dickdahlstrom.com

227 Loura Dobbs & Gregg Dobbs Studio 23 Windermere, FL •

Studio23Sculpture.com

B 360 Donald Esser Waunakee, WI • goldenhammer@tds.net

678 Kimber Fiebiger Joan of ong>Artong> Minneapolis, MN • ong>Artong>byKimber.com

464 Bruce Furlin Lake Mills, WI • 19brewster52@gmail.com

553 David Gilbertsen & Joy Wallace Camp Lake, WI •

artandbalance.com

746 Edward Kidera Kidera Designs Woodbine, MD • edsbells.com

444 Lenore Lampi Duluth, MN • lenorelampi.com

273 Amy Lansburg Valdosta, GA • alansburg@hotmail.com

341 Laura Lloyd Lloyd Fine ong>Artong> St Peters, MO • Lloydfineart.com

755 Jo Manbeck & Ken Patzoldt Timberwind Grand Rapids, MN •

timberwindglass.com

550 Ancizar Marin ong>Artong> by Ancizar Pembroke Pines, FL •

artbyancizar.com

443 Jaana Mattson Minneapolis, MN • JaanaMattson.com

570 Cliff Matyszczyk & Darsi Matyszczyk The Wrought Stuff

Wales, WI • wroughtstuff@hotmail.com

644 Michael Merriman Westcliffe, CO • merrimanmade@gmail.com

768 Catherine Miles & Jon Miles Found Images Wichita Falls, TX •

found-images.com

235 Bob Stern & Patti Stern THE PERFECT VIEW Moreland Hills, OH •

htheperfectview.com

654 Janet Weilbrenner & Stacy Benesh Copper Turtles

West Plains, MO • copperturtles.com

WOOD

442 Anna Bailey & Nathanael Bailey Bailey Builds Duluth, MN •

baileybuilds.com

670 Tony Casper Tony Casper Designs Oconomowoc, WI •

tonycasperdesigns.com and tonycasper.com

B 636 Vince Cook Vince Cook Designs Brainerd, MN • vincewcook.com

I 765 Adam Crowell Boxed Music Bonneau, SC • boxedmusicdrums.com

251 Robert Krantz Krantz Design Delafield, WI • KrantzDesign.com

865 Benjamin Leatham Cannon River Bowl and Spoon

Northfield, MN • cannonriverbowl.com

129 David & Carolyn Levy Hardwood Creations Davis, CA •

davidlevycreations.com

466 Kevin Lohse Dawson, MN • kevinlohse@gmail.com

775 David Lory & Suella Lory Heirloom Bowls Platteville, WI •

davidlorybowls.com

667 Richard McCollum AMERICAN SPOONS Fort Pierce, FL •

americanspoons.com

372 Nick Molignano WoodBoxong>Artong> Oneonta, NY •

etsy.com/shop/WoodBoxDesign

722 Patrick Plautz patrick j's imagination Eagan, MN •

patrickjsimagination.com

374 Christine Sisco & Kent Haugaard Treestump Woodcraft LLC

Tumacacori, AZ • treestump.co 241

Woody Smith & Judy Smith Silhouette Studio Crystal Lake, IL •

woodyandjudy1547@hotmail.com

739 Tom Meehan Stahl Stahl Prof Svcs, LLC ong>Fairong>field, OH •

stahlbowls.com

647 Alex Stehle Stehle Woodworking Oregon, WI •

stehlewoodworking.com

754 Thomas Tyers Thomas Tyers Woodcarving Omro, WI • tltcarving.com

MMOCA

STAFF &

BOARD OF

TRUSTEES

MMoCA Staff

Administrative:

Christina Brungardt, Gabriele Haberland

Director

Judy Schwickerath, Accountant

Curatorial:

Carol Chapin, Collection Database and

Image Production Manager

Doug Fath, Preparator

Leah Kolb, Curator of Exhibitions

Elizabeth Shoshany Anderson, Assistant

Curator

Marilyn L.M. Sohi, Head Registrar,

Permanent Collection

Mel Becker Solomon, Curator of the

Collection

Sarah Stankey, Assistant Preparator/

Photographer

Stephanie Zech, Associate Registrar

Development:

Annik Dupaty, Director of Events and

Volunteers

Grace Hime, Events and

Volunteers Assistant

Kaitlin Kropp, Development Officer

Bob Sylvester, Private Events and

Wedding Rentals

Education:

Charlotte Cummins, Director of

Education and Programs

Simone Doing, Education Associate

Kelsey Knutsen, Education Assistant

Operations:

Bob Sylvester, Director of

Public Operations

Jason Bank, Public Operations Manager

Communications:

Marni McEntee, Director of Communications

Lucy Nguyen Pham, Digital Content

Coordinator

Installations and Facilities:

Brian Bartlett, Director of Installations

and Facilities

Bruce Crownover, Installations

and Facilities Associate

14 • ART FAIR ON THE SQUARE 2021
---
MMoCA

Board of Trustees

May 2021 – April 2022

Officers:

Dynee Sheafor, President

Vikki Enright, Vice-President

Oscar Mireles, Vice-President

Bret Newcomb, Vice-President

Eric Plautz, Treasurer

Jennifer Ridley Hanson, Secretary

Other Trustees:

Shiva Bidar

Marian Bolz, Life Trustee

Benjamin Brunette

Bryan Chan

Kimila Daniels

Jim Escalante

Dave Franchino

Larry Frank

Colin Good

Amy Griffin

John Hitchcock

Valerie Kazamias,

Chair, The Langer Society

Nathan Kirley

Juliet Page

Rick Phelps

Sarah Phillips

JoAnne Robbins

John Sims

Leslie Smith III

Najjah Thompson

FIREWORK ARTIST

ALEXANDRIA MOONEY JONES

fireworkartist.com

Booth E16

KIM RUSSELL

Stylized Bird Drawings in Ink and Acrylic

russellworks.com

Booth 160

2021

EXHIBITORS

Metal ong>Artong> For The Wall

Robin L Washburn

www.RobinLWashburn.com

Booth 645

MARK ZIRINSKY

STUDIO Z

mark@studio-z.org

Booth 626

HELEN'S DAUGHTERS STUDIO

Char terBeest Kudla

baraboobags@centurytel.net

helensdaughters.com

Booth 733

Live Music, Classes & ong>Artong>!

590 Water St. Prairie du Sac

Tues-Thurs & Sat 9am-4pm

Fridays 9am-6pm

Riverong>Artong>sInc.Org

ARTS FOR ALL WISCONSIN

artsforallwi.org

Booth 677

ANDREW MULHEARN

www.andymulh.art

andrew@andymulh.art

Booth E14

ART FAIR ON THE SQUARE 2021 • 15
---
THE FUTURE IS

BRIGHTER

WHEN WE

PURSUE OUR

DREAMS

At American Family, we believe communities are stronger and the future is brighter when people are actively pursuing their

dreams. That's why we created DreamBank — an inspirational community destination and digital experience, dedicated to

dreamers everywhere. Dreams take hard work and heart, and they thrive with connection and support. From our daily event

series to immersive signature programs, DreamBank is designed for noble dreamers like you — who believe and achieve.

FREE ONLINE EVENTS | INSPIRING CONTENT | AVAILABLE TO ALL

FIND FREE EVENTS AND RSVP BY VISITING: amfam.com/dreambank

American Family Mutual Insurance Company S.I., American Family Insurance Company, 6000 American Parkway, Madison, WI 53783 ©2021 20095 – 7/21