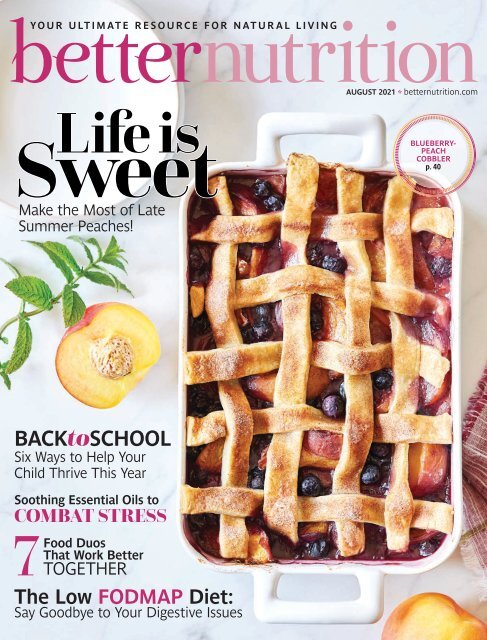 BetterNutrition August 2021
Create successful ePaper yourself
Turn your PDF publications into a flip-book with our unique Google optimized e-Paper software.
YOUR ULTIMATE RESOURCE FOR NATURAL LIVING

AUGUST 2021 * betternutrition.com

Life is

Sweet

Make the Most of Late

Summer Peaches!

BLUEBERRY-

PEACH

COBBLER

p. 40

BACKtoSCHOOL

Six Ways to Help Your

Child Thrive This Year

Soothing Essential Oils to

COMBAT STRESS

7

Food Duos

That Work Better

TOGETHER

The Low FODMAP Diet:

Say Goodbye to Your Digestive Issues
---
Introducing NEW!

Alicia Silverstone,

Actress, New York Times Best Selling Author, Health

Advocate & Co-creator of mykind Organics

"These Organic, Non-GMO and Vegan gummies are a

fun way to enjoy all of the benefits you love from Organic

Apple Cider Vinegar, unrefined and fermented, originating

from the Mother, plus whole-food vitamin B12.

Enjoy! Love, Alicia

†

These statements have not been evaluated by the Food and Drug Administration.

This product is not intended to diagnose, treat, cure or prevent any disease.
---
CONTENTS

August 2021 / Vol. 83 / No. 8

features

30

34

30

How to help

your kids

thrive this

school year.

Happy & Healthy Teens

If you have older children, you likely no longer

have to worry about earaches and frequent

stomach bugs. But adolescents are more

susceptible to serious adult-type health issues,

including chronic stress and weight gain. Help

your teen thrive with these tips that address six

crucial concerns.

7 Food Duos that Work

Better Together

They're not as familiar as bacon and eggs

or peanut butter and jelly, but these seven

food pairings feature nutrients that work

synergistically to create a whole that's much

healthier than the sum of its parts. Plus,

three popular food pairings to avoid.

departments

6 NEWSBITES

Hormones and Weight Loss

How to shed excess pounds.

10 HOT BUYS

This Just In

Products we love this month.

12 PASSION BEHIND THE PRODUCT

Ziba Foods

Meet the bold flavors of Afghani

cuisine.

14 CHECK OUT

Top 6 Benefits of Pycnogenol

Amazing multitasking supplement.

16 NATURAL REMEDY

Do You Have Parasites?

How to fight parasite infections.

20 ASK THE NATUROPATHIC DOCTOR

Tune In, Tone Up

The keys to core training.

22 HERBAL WELLNESS

The Lion's Share of Benefits

Lion's mane and mental health.

24 NATURAL BEAUTY

Natural Help for Thinning Hair

Tips for men—and women.

26 ALL THINGS

Banish BO

Six ways to smell good all over.

28 AROMATHERAPY RX

8 Soothing Essential Oils

Tension-taming aromatherapy.

38 ASK THE NUTRITIONIST

Grain-Free, Lower-Carb Pasta

A tasty way to avoid a carb

overload.

40 HEALTHY DISH

Classic Summer Cobbler

A healthy take on grandma's recipe.

42 COOK WITH SUPPLEMENTS

Good-for-You Greens

Green powder-powered sauces.

44 EATING 4 HEALTH

What Is the Low-FODMAP Diet?

How to heal digestive issues.

48 RECIPE 4 HEALTH

Here Comes Oatgurt!

Delicious and dairy-free.

Click On

This!

RESOURCES &

REFERENCES

For links to studies

cited in our articles

and other helpful

sites and books, visit

betternutrition.com.

Spotlight on

Kids' Health

Join our month-long

back-to-school focus

on kids, including:

The ABCs of

Raising Healthy

Kids

*

Pack Up the Fun

with Healthy Kids

Lunch Ideas

*

Healthy Recipes

to Make with

Your Kids

*

5 Best Essential

Oils for Kids

Check out

betternutrition.com

for these articles

and more—

including exclusive

web-only content.

New!

NATURAL

MEDICINE HUB

We've partnered

with the Institute of

Natural Medicine

(naturemed.org) to

bring you a range of

health and wellness

articles written by

today's leading

naturopathic

doctors.

SIGN UP FOR

OUR

NEWSLETTER

Receive timely

articles, recipes,

eBooks, and

exclusive giveaways

in your inbox weekly

with our newsletter

Healthy Buzz.

Photo: (Cover) Pornchai Mittongtare, Styling: Robin Turk, Food styling: Claire Stancer; (this page) Adobe Stock

2 • AUGUST 2021
---
•

•

•
---
EDITOR'S * LETTER

Leave the

Stress at

Home

It's been a long time since I went back to

school, but I can still vividly remember

those first few weeks of a new year.

I always came home after that first day

with a headache, feeling nervous and

overwhelmed.

I recognize now that this was stress.

Back then, the effects of stress were

not as well known as they are today.

And stress was for adults, not kids.

But today, we know that stress affects

both young and old.

"As many as 30 percent of high

school students in a study said they

were stressed to 'serious' levels," says

Lisa Turner in "Happy & Healthy

Teens" on p. 30. And this number is

likely even higher since the pandemic,

which has only heightened stress

and mental health issues such as

depression in kids and teens.

Thankfully, there are ways to help

your child or teen ease stress, as well

as boost their mood, maintain a healthy

relationship with food, and kick off the

new school year feeling energized and

rejuvenated. Learn how sleep is one

of the most important aspects of teen

health, why breakfast is vital to academic

success, and more in Turner's article.

Aromatherapy is another natural

antidote to stress, and it works for all

age groups. See p. 28 for "8 Soothing

Essential Oils to Combat Stress."

Wishing everyone a safe, healthy,

and stress-free back-to-school season!

*

*

*

*

*

*

*

*

*

*

Our Writers

Meet the passionate

people behind this issue

of Better Nutrition!

Jeannette Bessinger, CHHC, is an

award-winning educator, author, and

real food chef. jeannettebessinger.com

Jonny Bowden, PhD, CNS, is a

board-certified nutritionist and bestselling

author of The 150 Healthiest

Foods on Earth. jonnybowden.com

Matthew Kadey, MS, RD, is an Ontario,

Canada-based dietitian, food writer,

and author of Rocket Fuel: Power-

Packed Food for Sports + Adventure.

matthewkadey.com

Emily A. Kane, ND, LAc, has a private

practice in Juneau, Alaska. She is

the author of Managing Menopause

Naturally and other books.

dremilykane.com

Karta Purkh Singh Khalsa, DN-C, RH,

teaches herbalism courses online.

internationalintegrative.com

Melissa Diane Smith, Dipl. Nutr.,

is a holistic nutritionist and

author of Going Against GMOs.

melissadianesmith.com

Sherrie Strausfogel writes about spas,

wellness, and travel. She is the author

of Hawaii's Spa Experience.

Lisa Turner is a chef, food writer,

and nutrition coach in Boulder, Colo.

lisaturnercooks.com

Vera Tweed is editorial director

at Natural Health Connections

and author of Hormone Harmony.

veratweed.com

Neil Zevnik is a private chef specializing

in healthy cuisine. He is based in

Eustis, Fla. neilzevnik.com

YOUR ULTIMATE GUIDE TO NATURAL LIVING

Editor in Chief

Creative Director

Executive & Digital Editor

Associate Editor

Copy Editor

Senior Director of Production &

Circulation

Director of Production &

Manufacturing

Salesforce Coordinator

Prepress Manager

Editorial Offices

Publisher & Director of

Retail Sales

Integrated Media Sales

Director, West Coast

Integrated Media Sales

Director, East Coast & Midwest

Senior Brand Marketing Manager

Client Success Manager

Marketing Designer

Accounting & Billing

Retail Customer Service

Nicole Brechka

Rachel Joyosa

Jerry Shaver

Elizabeth Fisher

James Naples

Beauty Editor Sherrie Strausfogel

Contributing Editors Vera Tweed, Helen Gray

Contributing Writers Jeannette Bessinger, CHHC, Jonny

Bowden, PhD, CNS, Emily A. Kane,

ND, LAc, Matthew Kadey, MS, RD,

Karta Purkh Singh Khalsa, DN-C, RH,

Melissa Diane Smith, Lisa Turner,

Neil Zevnik

Heather Arnold

Barb VanSickle

Cossette Roberts

Joy Kelley

512 Main Street, Suite 1

El Segundo, CA 90245

818-521-2397

Rob Lutz

rlutz@outsideinc.com

970-291-9029

Anne Hassett

anne@hassettmedia.net

415-404-2860

Mason Wells

mwells@outsideinc.com

917-656-2899

Kristen Zohn

kzohn@outsideinc.com

Caroline Lustgarten

clustgarten@outsideinc.com

Judith Nesnadny

jnesnadny@outsideinc.com

Tonya Hodges

800-380-9842

bnsales@outsideinc.com

800-443-4974, ext. 701

Chief Executive Officer Robin Thurston

President & Chief Operating Officer Danielle Quatrochi

Chief Financial Officer Ajay Gopal

Chief Product Officer Christopher Glode

Chief People Officer Jade Curtis

Chief Revenue Officer Scott Parmelee

SVP, Business Development & Licensing Tommy O'Hare

Vice President, Active Lifestyle Sales Sharon Houghton

Vice President of Content Strategy Zander Baron

Vice President of Marketing PJ Rabice

Vice President of Creative Services Andrea Kupfer

nbrechka@outsideinc.com

facebook.com/

BetterNutritionMagazine

pinterest.com/

betternutritionmagazine

twitter.com/

betternutrition

instagram.com/

betternutritionmag

BETTER NUTRITION, ISSN #0405-668X. Vol. 83, No. 8. Published monthly by Outside Interactive

Inc. 5720 Flatiron Parkway, Boulder, CO 80301; ©2021 Outside Interactive Inc. All rights reserved.

Mechanical requirements and circulation listed in Standard Rate and Data Service. The opinions

expressed by the columnists and contributors to BETTER NUTRITION are not necessarily those

of the editor or publisher. Fraudulent or objectionable advertising is not knowingly accepted.

Advertisers and advertising agencies assume liability for all content of advertising and for any

claims arising therefrom. Articles appearing in BETTER NUTRITION may not be reproduced in whole

or in part without the express permission of the publisher. BETTER NUTRITION does not endorse

any form of medical treatment. The information presented here is not meant to diagnose or

treat any medical condition. We urge you to see a physician or other medical professional before

undertaking any form of medical treatment.

4 •

AUGUST 2021
---
Superfood

Mushroom Mycelium Syrup

ELDERBERRY Plus

Delicious Syrup for Daily Immune Support*

Introducing a brand new delivery method

from Host Defense ® ! Crafted with two

forms of Elderberry fruit (juice and

extract), plus Chaga, Reishi, and Turkey

Tail mushroom mycelium, our Elderberry

Plus syrup is perfect for daily immune

support and respiratory health.*

NEW

Find Your Mushroom

at your local health food

store and online at

HostDefense.com

* These statements have not been evaluated by the Food and Drug Administration.

These products are not intended to diagnose, treat, cure or prevent any disease.
---
NEWS*BITES

Top 5 Hormones to Balance

for Weight Loss

BY VERA TWEED

Supplements for Hormone Balance

Along with a high-quality daily multi, Dunn recommends

taking one of more of the following:

*

*

*

"Your weight loss journey is not just

about how much you're eating," says

Lacey Dunn, RD, author of The

Women's Guide to Hormonal

Harmony and founder of UpliftFit

Nutrition (upliftfitnutrition.com).

"It's also about how well your

hormones are balanced," she

says, "because hormones affect

your metabolism, which affects

weight and weight loss."

After helping thousands of women

overcome hormonal chaos, Dunn

has identified the best ways to restore

harmony. The following five hormones,

she says, are the most important ones

to address because they also enable

healthy function of the hunger and

satiety hormones leptin and ghrelin,

as well as serotonin for mood.

Insulin—Insulin resistance, which

occurs when the body doesn't respond

to insulin, causing blood sugar levels to

Myo-inositol: It enhances insulin sensitivity and

progesterone levels. Take 2–4 grams daily at any

time of day, with or without food.

Chasteberry (Vitex): It balances estrogen and

progesterone. Take 400 mg with a meal in the morning. Some people have

trouble sleeping if they take it later in the day.

Maca root: It balances sex hormones, helping to raise levels that are low.

Take 300–600 mg once daily, between meals.

become erratic and rise, is a root cause

of hormone imbalance and weight problems.

It makes your body store fat, stops

you from losing weight, and saps energy.

Cortisol—This hormone helps you deal

with stress, and when working properly,

it's anti-inflammatory. But chronic

stress keeps cortisol elevated and makes

it pro-inflammatory. High cortisol also

increases appetite.

Thyroid—Low levels slow down your

metabolism and lead to weight gain or

difficulty losing weight. High cortisol

and environmental toxins are common

suppressors of thyroid hormone.

Estrogen and Progesterone—Estrogen

dominance (too much estrogen in

relation to progesterone) contributes to

insulin resistance and thyroid imbalance.

The result is weight-loss resistance.

How to Restore Balance

Restoring insulin function opens the

door to hormone balance and weight loss.

Dunn recommends choosing high-fiber

carbs that don't come in packages, eating

enough protein, managing stress, getting

enough sleep, and exercising daily.

Resistance training helps your body

respond to insulin and stop hoarding

fat. And aerobic exercise is necessary

for overall healthy metabolism.

Avoid toxins, including unfiltered

tap water; fragrances in skincare and

cleaning products, detergents, and candles;

and toxins in plastic food containers. All

of these chemicals disrupt hormones.

Photo: Getty Images

6 • AUGUST 2021
---
NEWS*BITES

Most Adults and

Children Lack

Omega-3 Fats

The Dietary Guidelines for

Americans recommend omega-3

fats to maintain good health,

but a recent study concluded

that over 95 percent of children

and 68 percent of adults don't

get enough. The study looked

specifically at levels of EPA and

DHA, which are found in fish,

fish oil, and vegan supplements

made from plant sources of EPA

and DHA. If you don't routinely

eat fish, supplements can fill the

gap. For children, flavored liquid

supplements can be easier to

take than capsules.

Just 1 Cup of Leafy Greens

Improves Heart Health

8 • AUGUST 2021

A Danish study has found that over time, eating just one

cup of leafy greens daily can reduce risk for heart disease by

about 15 percent. Researchers drew this conclusion after

tracking the diets and health of more than 53,000 people

for 23 years. They found that those who ate the most

nitrate-rich vegetables were least likely to develop heart

disease, have a stroke, or suffer from circulatory problems.

Nitrates in vegetables trigger your internal production

of nitric oxide, a gas that dilates blood vessels and helps to

keep blood pressure in a healthy range. Although all vegetables

contain nitrates, some contain higher levels. In addition to leafy

greens, beets, beet juice, and beet powder are rich sources

of nitrates that have been found to lower blood pressure.

ASHWAGANDHA Improves

Athletic Endurance and Recovery

An adaptogen used traditionally to balance stress, ashwagandha

also improves athletic endurance and recovery, according to

a recent study published in the Journal of Ethnopharmacology.

Researchers compared the effects of the supplement and a

placebo in a group of 50 healthy, athletic adults over a period of 8 weeks.

In the study, those who took an ashwagandha root extract improved endurance

in the heart, lungs, and muscles; recovered more easily from exercise; and had

more energy. Those taking the placebo did not experience similar benefits.

The dose of ashwagandha root extract in the study was 300 mg, taken twice daily.

Photo: (from top right) Getty Images (3); Adobe Stock
---
Scan Me

Back-to-School, Back to the Essentials!

Our Daily Core Essentials combines key vitamins that provide a strong foundation

for optimal health support.* Children have the option to take the Multi Vitamin and

DHA in a liquid or gummy form, depending on their preference. The NEW SoftMelt®

Gummies are naturally sweetened and are free from the sugar found in many gummy

supplements.

Gluten-Free | Non-GMO | No Artificial Colors, Flavors, or Sweeteners

childlifenutrition.com | @childlifeessentials

*These statements have not been evaluated by the Food and Drug Administration. These products are not intended to diagnose, treat, cure, or prevent any disease.
---
HOT BUYS * ❶

❷

10 • AUGUST 2021

❶ Mushroom Magic

Show your immune

system some love

with Life Extension

Mushrooms with Beta

Glucans. Featuring a

blend of a patented

beta-glucan from

baker's yeast, as well

as shiitake, maitake,

and chaga mushrooms,

this formula offers

a variety of betaglucans.

These are

known to have

immunomodulating

properties for a comprehensive

effect on

various immune cells.

new & notable

This Just In

Versatile avocado oils, perfectly scented hand soaps,

healthy hair vitamins, and more!

❷ Get Juiced!

Uncle Matt's Organic

Ultimate Shots are

made with only

100% organically

grown fruit that is

free from synthetic

fertilizers, pesticides,

and GMOs. The juice

is blended with proven

multi-functional organic

ingredients and live

probiotics for the

ultimate in digestion

and immune support.

Pick from Ultimate

Defense, Ultimate

Immune, and

Ultimate Energy.

Soap Up

The search for the

perfect hand soap is

over. Indigo Wild Zum

Hand Soaps turn plant

oils into filth-fighting

soaps with ingredients

sourced from nature.

Olive and coconut

oils ensure that skin

feels hydrated and

nourished with

every wash. There

are five essential

oil blends to fit any

mood: Lavender, Sea

Salt, Frankincense &

Myrrh, Patchouli, and

Lemongrass.

Hair Repair

Remedy

Protect and repair

damaged hair

with Bluebonnet

BeautifulAlly Keratin

Care. It's formulated

with vitamins and

other nutrients like

biotin, an amino acid

blend, Cynatine HNS

keratin, and transresveratrol.

Cynatine

HNS keratin is a

clinically studied,

bioactive, solubilized

form of keratin

designed for greater

bioavailability.

Avo-Conscious Oil

Step aside, olive oil

and make room for

avocado oil—the

newest all-purpose

cooking oil. Nutiva

Organic Avocado Oils

are a line of socially

conscious oils produced

through a regenerative

supply chain in

Ethiopia. Perfect for

medium-to-high-heat

cooking, avocado oil is

rich in monounsaturated

fats, potassium, folate,

and vitamins C, E, and

K. Available in four

blends.
---
"Take also unto thee Wheat

Lentils and Millet and

in one vessel and

and Barley and Beans and

Spelt and put them

make bread of it..."

– Ezekiel 4:9

Maximum Nutrition

Without the Salt

Sprouted

& Flourless!

foodforlife.com
---
PASSION BEHIND THE PRODUCT *

companies fostering personal & global well-being

Ziba Foods

These flavorful new products are helping restore Afghanistan's

reputation as a world leader in unique gourmet ingredients.

BY NEIL ZEVNIK

Mention Afghanistan today, and it

immediately conjures images of danger,

destruction, and despair. But there was

a time not that many years ago when

its beautiful countryside was a major

source of exceptional dried fruits and

nuts—before conflict and its consequences

intervened.

When Patrick Johnson and Raffi

Vartanian first visited the country, they

experienced the daily ritual of afternoon

tea accompanied by a beautiful spread of

dried fruits and nuts. "We were blown

away by the taste and variety. Listening

to our friends and their family speak so

proudly of the products that were once

considered the best quality in the world,

we knew we wanted everyone to enjoy

this discovery in the same way we did."

That, of course, was easier said

than done in this strife-riven country.

It took several years and many visits

to select suitable products (there were

109 varieties of almonds alone), create

a sustainable supply chain, and build a

factory. Once that was accomplished,

Johnson and Vartanian got their artisanal

heirloom products in front of some

eager, high-end New York chefs, and

Ziba Foods was launched.

Deep Roots

Drawing from centuries

of agricultural

traditions that

relied upon both

cultivated and

wild-foraged fruits

and nuts, Johnson

and Vartanian were

able to source unique

offerings such as wild

white mulberries and

pistachio kernels, tree-dried

"We were blown away by the taste and variety," Ziba founders Patrick Johnson and

Raffi Vartanian say of their first exposure to Afghan cuisine. "We knew we wanted

everyone to enjoy this discovery in the same way we did."

apricots and sun-dried figs, Parwan

walnuts and Kishmish raisins, and

Gurbandi almonds.

But the pair had more than just

cuisine and commerce in mind. They

envisioned a company that would

disrupt the imbalance between farmers

and traders, pay farmers quickly and

fairly, guarantee quality, and restore

the reputation of Afghan products.

But their aspirations went even

deeper in their desire to improve

the lives and conditions of the

farmers and communities

that they helped support.

"Some aspects of operating

in Afghanistan can

be extremely frustrating—security

is often an

issue, social norms

are certainly not

what we're used

to. It can be really

difficult, as

quite a bit of responsibility rests on our

shoulders, for our employees and their

families, the communities they live in,

and our farmers. It starts adding up, and

so our decisions have a deeper impact."

Driving Change

Since Afghan women are often marginalized,

Ziba maintains a workforce that

is 85 percent female. Employment is

year-round despite the cyclical nature of

harvesting, and employees are offered

industry-related training. Johnson and

Vartanian sum it up beautifully: "We

reached a point in life where it was no

longer a tenable proposition to lament

our day-to-day work and wonder 'What

else can we be doing with our lives?' We

love making the connection to consumers

who are excited to try new products. But

we're also drawn to the developmental

aspects of our work—the impact we have

on the ground. It's extremely rewarding

to participate in that transformation."

Photo: @zibafoods

12 • AUGUST 2021
---
Photo: Pornchai Mittongtare; Prop Styling: Robin Turk; Food Styling: Claire Stancer

make it!

Stuffed Pacific Cod with Almonds & Herbs

Serves 4

Serve this light summer supper dish with saffron rice and steamed asparagus for a warm-weather treat!

4 6-oz. filets of Pacific cod (or similar

white fish)

2 Tbs. Ziba Foods Heirloom Gurbandi

Almonds, chopped

2 Tbs. Ziba Foods Dried White Mulberries

3 Tbs. chopped Italian parsley, divided

2 Tbs. chopped cilantro

1 tsp. microplaned Meyer lemon zest

2 Tbs. fresh Meyer lemon juice, divided

2 Tbs. O Olive Oil Meyer lemon olive oil,

divided

1. Preheat oven to 400°F. Slice into side of

each cod filet to make a pocket.

2. In small bowl, stir together almonds,

mulberries, 2 Tbs. parsley, cilantro, lemon

zest, 1 Tbs. each lemon juice, and

1 Tbs. olive oil. Divide mixture among

filets, stuffing into pockets.

3. Place fish on parchment-lined rimmed

baking sheet, and bake until opaque

and just cooked through, 10–12 minutes.

While fish is baking, whisk together

remaining lemon juice and olive oil.

4. Transfer fish to individual plates or

serving platter, drizzle with lemon and

olive oil, and garnish with remaining

chopped parsley.

Per serving: 220 cal; 27g prot; 9g total fat

(1.5g sat fat); 5g carb; 80mg chol; 520mg sod;

1g fiber; 3g sugar

AUGUST 2021 • 13
---
CHECK OUT *

"If I was stranded somewhere on a

desert island, Pycnogenol is one of the

supplements I would want to have with

me, simply because it has so many

uses," says Fred Pescatore, MD, an integrative

medicine pioneer and author of

The A-List Diet and other health books.

"It helps with collagen and elastin,

which keeps the blood vessels going,

and it's a natural anti-inflammatory

and antioxidant," he elaborates. "When

you can work on those things, you have

a lot of bases covered in your body."

Other benefits include improved

health of the skin, joints, and brain,

and better circulation, especially in the

14 • AUGUST 2021

guide to cutting-edge supplements

Top 6 Benefits of Pycnogenol

Why this patented extract of French maritime pine bark

may be the only supplement you'll ever need.

BY VERA TWEED

tiny blood vessels that bring oxygen and

nutrients to the skin and extremities of

our bodies.

How Pycnogenol Works

Pycnogenol binds with collagen and

elastin, says Pescatore, strengthening

and protecting these building blocks

of skin and other tissues from being

broken down as we age and are exposed

to UV rays, environmental toxins, and

chemicals in food and water.

In addition to providing structure

to skin, collagen and elastin provide

structure to blood vessels, keeping them

strong and open. This, says Pescatore,

increases the natural production of

nitric oxide, the gas in our bodies that

keeps blood vessels dilated.

"Pycnogenol helps the blood vessels

expand and contract the way they're

supposed to, and it helps cognitive

function by bringing oxygen flow to the

brain," says Pescatore. In joints, collagen

and elastin provide cushioning.

Pycnogenol also increases our

natural production of hyaluronic

acid, which helps to retain moisture

in skin, reduce wrinkles, and keep

joints lubricated. Its antioxidant and

anti-inflammatory qualities also

improve respiratory health.

Photo: Adobe Stock
---
Benefits of Pycnogenol

All of these mechanisms

translate into a variety

of benefits, including

the following six health

advantages:

Photo: Adobe Stock

❶ SKIN HEALTH

Studies have shown

that by increasing levels of

hyaluronic acid, elastin, and collagen,

Pycnogenol improves hydration

and elasticity in skin, creating a

smoother, more youthful appearance.

Its antioxidant and anti-inflammatory

properties reduce the effects of UV and

other environmental damage. In addition,

Pycnogenol reduces skin problems that

occur with seasonal changes.

❷ JOINT HEALTH

A review of studies concluded that

Pycnogenol is well absorbed in the blood

and in the fluid that cushions joints. Plus,

it provides anti-inflammatory substances

that counteract joint discomfort for about

14 hours after the supplement is taken.

Studies show that it protects joint cartilage

from degradation, relieves pain and

stiffness, and enhances mobility. People

taking Pycnogenol for joint pain have

reduced their use of medications.

MEMORY AND MENTAL PERFORMANCE

Pycnogenol can enhance memory,

attention, and overall mental performance

in adults at all stages of life. In a study

of people over age 55, the supplement

enhanced overall mental performance

and ability to function independently.

Among health professionals between

the ages of 35 and 55, the supplement

improved alertness and contentedness

and reduced anxiety. And among college

students between the ages of 18 and 27,

those who took Pycnogenol experienced

improved mood and also got higher

test scores.

MENOPAUSAL SYMPTOMS

A study of women who experienced

uncomfortable menopausal symptoms

tested the effects of daily Pycnogenol

for eight weeks. The supplement

significantly reduced hot flashes, night

sweats, mood swings, irregular periods,

loss of libido, and vaginal dryness.

The women taking Pycnogenol also

experienced improvement in fatigue,

sleep, concentration, memory, dizziness,

and mood, including less irritability.

CIRCULATION AND JET LAG ON

LONG FLIGHTS

Water retention can cause feet and legs

to swell, and some people have a higher

risk of blood clots during long flights.

Pycnogenol can counteract these issues

by enhancing circulation. A study of 295

people who flew for more than eight

hours found that Pycnogenol reduced

swelling more effectively than compression

stockings, while also reducing risk

for blood clots and jet lag.

FIBROMYALGIA & OTHER

DOCUMENTED BENEFITS

Studies show that Pycnogenol is also

beneficial in reducing symptoms of

fibromyalgia, asthma, Raynaud's syndrome,

diabetic retinopathy, chronic

venous insufficiency, enlarged prostate,

and erectile dysfunction. It's possible

that Pycnogenol may also help correct

circulatory problems that can linger

after recovery from Covid-19, but so far,

this theory hasn't been clinically tested.

How to Take Pycnogenol

Available as both a standalone

supplement and in combination

formulas, Pycnogenol is a patented

extract of French maritime pine bark,

so it's always listed as "Pycnogenol"

on product labels. There are other pine

bark extracts available, but their exact

make-up and benefits are not identical

to Pycnogenol.

Pescatore generally recommends

taking 100 mg of Pycnogenol daily

with a meal to prevent stomach upset.

Higher dosages may be beneficial in

some situations. These are dosages used

in studies of various conditions:

*

*

*

*

*

*

*

*

*

*

*

*

Skin health: 100 mg daily

Joint health: 50 mg taken 3 times daily

Memory and mental performance: 150

mg daily

Menopause symptoms: 100 mg daily

Leg swelling and jetlag on long flights:

200 mg 2–3 hours before the flight,

200 mg 6 hours later, and 100 mg

the next day

Fibromyalgia: 150 mg daily

Asthma: 50 mg taken twice daily

Raynaud's syndrome: 50 mg taken

twice daily

Diabetic retinopathy: 50 mg taken

3 times daily

Chronic venous insufficiency: 150–300

mg daily

Enlarged prostate: 150 mg daily

Erectile dysfunction: 120 mg daily

AUGUST 2021 • 15
---
NATURAL REMEDY * holistic strategies to help you feel better

Do You Have Parasites?

Five signs you may have these bad bugs, and how to get rid of them.

BY LISA TURNER

You probably assume that parasites living primary in the large intestines.

are a problem only if you've traveled Giardia is the second-most frequent

to remote regions with iffy sanitation. domestic parasite. When it's swallowed,

But they're way more common than it makes its way through the digestive

you might think. Millions of Americans tract, splitting into two hungry microorganisms

have parasites, and some types infect

that attach to the walls of the

as much as five percent of the U.S. small intestines. Other parasites, such

population. Here's what you need to as hookworm and whipworm, are less

know about those bad bugs—and how common in the U.S. And while you'll

to banish them, for good.

hear plenty of horror stories about

tapeworms—flat, segmented beasts

Who's at risk?

that can grow as long as 50 feet—they're

"Parasite" is a broad term that describes relatively rare. You're probably at risk

any organism that lives and feeds only if you've traveled to a developing

off another organism, including lice, nation or work closely with livestock.

giardia, and even mosquitoes. Intestinal Intestinal parasites are usually

parasites—including worms (known as contracted from eating undercooked

"helminths," usually visible without a meat from an infected animal, or from

microscope) and protozoa (microscopic, raw fruits and vegetables that have been

single-celled organisms)—specifically contaminated. Giardia is commonly

reside in the gut. Pinworms are the water-borne. It lives well in cold

most common parasite in the U.S., streams, so if you've been drinking

that "clean" mountain water on your

backpacking trip, you're likely at risk.

You can also pick up parasites through

direct contact with contaminated soil

and feces, or indirectly from contaminated

objects such as bathroom handles

or children's toys.

Signs and Symptoms

Once they've been introduced into your

body, these freaky organisms travel

into the warm, moist environment of

the intestines, where they're more than

happy to hang out, feeding on nutrients,

growing, and reproducing. Because

they're so well-adapted to the human

body, they can live in your intestines

for months or sometimes years without

noticeable symptoms. And when they

do cause problems, they may be tricky

to pinpoint. Five signs that might mean

you have an intestinal parasite:

Photo: Getty Images
---
NATURAL REMEDY

❶ YOUR GUT IS A MESS. If your normally

efficient digestive system grinds to a

sudden halt, it could signal an intestinal

parasite—especially if you've recently

been camping or traveled to a developing

country. Parasites can cause unexplained

constipation or persistent nausea, gas,

or bloating. The most common signs

of giardia infection (called giardiasis)

include diarrhea, stomach cramps,

nausea, and foul-smelling, greasy poop.

Left untreated, it can lead to

dehydration and sometimes

significant weight loss.

Ongoing giardiasis is

linked with a higher

risk of irritable bowel

syndrome (IBS), lasting

as long as six years after

the infection.

❷ YOU'RE REALLY ITCHY

DOWN THERE. Unexplained,

persistent itching and irritation

around your sensitive bits can

be a sign of parasites, especially

pinworms. Once they're ingested,

the eggs hatch in your intestines

and grow into adult worms. Female

pinworms emerge from the opening

of your rectum and lay thousands of

eggs in the skin folds around the anus

and perineum, making you scratch like

crazy. The eggs may also migrate to the

vaginal opening, causing irritation and

relentless itching. Even worse, if you're

scratching, the eggs may cling to fingers

and nails, and you can transfer them

to other surfaces. While they're gross,

they don't usually cause major problems.

However, in rare cases pinworms may

lead to infections in the uterus and

vagina, or increase the risk of urinary

tract infections.

YOU'RE SORE AND ACHY. Painful,

aching muscles or joints, even when

you haven't worked out or strained

anything, can be a sign of parasites.

Some varieties of tapeworm and other

parasites not usually found in the United

States are the most frequent culprits, so

you're probably not at risk unless you've

18 • AUGUST 2021

traveled to a less-developed region. But

research suggests that a wide range of

other parasites may be associated with

muscle aches, pain, and inflammation,

and there's a known link between

roundworm infection and arthritis.

Nutrient deficiencies caused by parasites

may also impact muscle function, and

dehydration from giardiasis can lead to

muscle cramps, spasms, and pain.

YOU CAN'T SLEEP. If your typically

sound slumber is suddenly disturbed,

it could be a sign of parasites. Pinworms

that cause itching can interrupt sleep,

making you wake all through the night

and disrupting your natural sleep-wake

cycle. If you're a normally heavy sleeper,

you may not even notice you're itching—

just that you wake up for no good reason.

Other, less common, parasites can

actually alter your biological clock,

shortening sleep time. And some research

links nocturnal bruxism (grinding your

teeth at night) with parasitic infections.

YOU'RE EXHAUSTED ALL THE TIME.

Do you feel chronically drained, depleted,

and foggy, even after plenty of sleep?

It could be a sign of parasites. Intestinal

parasites interfere with nutrient

absorption and disrupt gut bacteria,

leading to fatigue, exhaustion, apathy,

and brain fog. Parasites can damage

the villi—delicate structures lining the

intestinal walls that play a role in

nutrient uptake—lessening the absorption

of protein, fat, vitamins, and minerals.

Some, including giardia and hookworm,

are linked with a higher risk of anemia,

associated with weakness and fatigue.

And giardiasis increases the risk of chronic

fatigue, even years after the initial infection.

Disruptions to the gut microbiome can

also impact mood and cognitive function.

What to Do

If you suspect you have a parasite,

get tested pronto. Most doctors will

order a stool test for parasites,

or ask you to do a "tape test,"

which involves sticking a piece

of clear tape to your anus,

then gently peeling it off.

Pinworm eggs will stick

to the tape, and can

be identified under a

microscope. Blood tests

also pinpoint antibodies

or parasite antigens

produced when the body

is infected and the immune

system is fighting off the invader.

The good news: most intestinal

parasites don't cause lasting harm,

and they're treatable. Check with your

physician, then try these simple tips:

*

*

*

*

*

Stick to a whole-food, fiber-rich

diet to encourage elimination;

steer clear of sugar and refined

carbs, which are shown to harm

beneficial gut bacteria.

Baby your belly with naturally

fermented foods that are rich

in good bacteria, or take a

high-quality probiotic supplement.

Eat raw garlic, the traditional go-to

for killing parasites; other antiparasitic

foods include pumpkin seeds, raw

honey, and ginger.

Hydrate like crazy to prevent

dehydration, promote bowel

movements, and help flush those

nasties out of your system.

Use natural antiparasitic herbs such

as neem, clove oil, black walnut

extract, triphala, or grapefruit seed

extract; look for capsules or tinctures,

or try a combo parasite detox formula.

Photo: Getty Images
---
Exciting new research confirms that within the first 90 minutes

of protein consumption, Aminolase users are able to break

down and digest 9X more protein vs non Aminolase users. The

science also shows us that without Aminolase, most protein

may be consumed by unwanted bacteria in the lower GI,

causing gas, cramps, and bloating. Aminolase users show

higher amino acid blood levels all while digesting protein

comfortably and obtaining more of its benefits.

Aminolase Benefits:

Healthy Kidney

Function*

9x Greater Protein

Digestion*

Muscle Recovery &

Hypertrophy*

Increased

Circulating Amino

Acids*

Decreased Gas &

Bloating*

Call for a

sample and to

learn more, visit

*These statements have not been evaluated by the Food and Drug Administration. This product is not intended to diagnose, treat, cure, or prevent any disease.
---
ASK THE NATUROPATHIC DOCTOR *

answers to your health questions

Tune In, Tone Up

When it comes to shaping up and looking (and feeling) great,

it all starts with the core.

BY EMILY KANE, ND, LAC

Q: What is it with

"core tone"? Do

I really need it?

A: In a word, yes. Humans aren't so

far away from having been four-footed

mammals with tails. Despite our

enormously rapid social evolution, our

bodies really haven't evolved that much

for hundreds of thousands of years.

Think about getting around on four

legs with a tail. Sitting on a chair would

be pretty weird, right? One of the trickiest

elements of posture to figure out for

modern humans is where to put their

tail. So, if you still had a tail, would you

tuck it under you to sit, or would you

flick it out behind you and perch more on

the front edges of your "sitting bones"?

There is no wrong answer. You just

need to figure out what's comfortable

and stable for you. Sitting is the new

smoking—we've all heard that. But we're

not going to quit sitting, so we need to

find ways to offset the strain. Many modern

humans have chronic low-back pain,

and we also tend to have bowel issues—

from chronic constipation to loose stools.

These irritants are often related both to

sitting and to inadequate core tone.

3 Steps to Finding the

Best Upright Posture

❶Lie comfortably on the floor with your

knees bent and feet flat on the floor. Try

to relax and deepen your breathing. Place

your hands gently on your belly and feel

Photo: Getty Images

20 • AUGUST 2021
---
the breath expand your abdomen. As you

exhale fully, draw the navel (belly button)

straight down toward your spine. As your

breathing gets deep and smooth, and you

are connecting to the power of your belly,

the next step is to link your mind to this

moment of tuning in.

❷ Focus, and observe the comfort of

your lower back. Gently, slowly, keeping

pace with your breath, assess whether

you prefer to press the hollow space at

the low back down to the floor (Pilates

"imprint") or it's

more comfortable

for you to

allow that space

behind your waist

to remain peeled

off the floor. The

former is more

like tucking

the tail, and the

latter is more like

flicking your tail

out behind you.

Typically, the

posture that

works best for you on the floor will

translate to a more relaxed and engaged

posture when upright—both sitting

and standing.

Figure out what's best for your body

and enjoy exploring whether this

holds true for your sitting and standing

during daily activities. You don't have

to be rigid or obsessive about it, just

do a loving self-scan semi-regularly

throughout the day, and make the subtle

adjustments that will serve to both

lessen back pain and provide consistent,

gentle core toning.

It may not seem

like much, but

just six minutes

a day can really

strengthen your

core, which is a

key component

of any self-care

routine.

Qi" and the quadratus lumborum ("back

strap") muscles. Here are some things

to consider when targeting your core:

❶Drawing your navel toward your spine

in any position is the easiest way to

improve core tone. Whenever you can,

remember to bring your navel (and the

area around it, about the size of a small

plate) toward your spine. Keep your

spine as long as possible, no matter

what position. Gravity happens, and

definitely conspires to make us shorter

over time. You can

counter that with

core tone. Just

keep elongating

and keep drawing

your belly toward

your spine.

❷ Aim for 6–10

minutes daily of

core tone exercise.

There are tons of

YouTube videos

out there, but

I recommend

avoiding ones where the instructor

wants you to do traditional "crunches"

that involve heaving your chest toward

your thighs. That move is really hard on

your lower back and not nearly specific

or subtle enough to do the deep work

down to the core.

To improve core tone in just six

minutes a day, try this exercise: Start by

lying on your back with your lower back

in your preferred orientation. Lift your

knees up so that your lower legs are

parallel with the floor and your knees

are at arms' length away from your

chest—knees over the hips and not

hugged toward the chest. Just stay there

and breathe. It can be quite challenging!

Mix it up a bit. For example, you

could tap one foot and then the other

foot down to the floor—slowly, moving

with your breath, keeping your knees

above the hips and not inching toward

your head. You can also straighten your

legs up to the ceiling with feet flexed

or pointed. From there, either pulse

your legs straight up (you won't lift

very high at all, just an inch or two),

exhaling in little panting breaths on

the effort. Or, with legs straight up, you

can also lift your arms up to the ceiling

and pulse your head and chest up with

short exhales.

However you choose to do it,

don't flop your head around during

this exercise—imagine that you're

holding a grapefruit under your chin.

And set a timer. Your abs should feel

a little burn after 6 minutes.

It may not seem like much, but just

six minutes a day can really strengthen

your core, which is a key component of

any self-care routine. And taking time

to take care of yourself is well worth

it—you'll look great, have more energy,

and enjoy your life more.

+

Find a licensed

naturopathic

doctor for a virtual

(telemedicine) or

in-person consultation

at naturemed.

org/find-an-nd.

4 Tips for Strengthening

Your Core

Your "core" is not just the superficial

layer of rectus abdominis muscles

across your abdomen, but the entire

apparatus including the guts between

the front of the belly and the spine. Core

tone actually goes all the way around the

back of your body and includes "kidney

MARK YOUR CALENDAR FOR

DR. KANE'S HAWAII RETREAT

Jan. 5–14, 2022

Kane invites you to join her

Annual Big Island Yummy Farm Fresh

Food & Deep Stretching Retreat

Visit dremilykane.com for more information.

AUGUST 2021 • 21
---
HERBAL WELLNESS *

healing botanicals for your body and mind

The Lion's Share of Benefits

Lion's mane, with its long, shaggy spines that resemble—you

guessed it—a lion's mane, has been shown to ease depression,

enhance focus and concentration, and more.

BY KARTA PURKH SINGH KHALSA, DN-C, RH

Despite its long history of use in

traditional Chinese medicine, lion's

mane (Hericium erinaceus) is only

now getting the attention it deserves

in the West. Research shows that it

contains a plethora of health-enhancing

constituents, including antioxidants

and immune-boosting beta-glucan,

and proponents maintain that it can

address a slew of health problems.

Lion's mane is known to help with

brain and mood issues, including

anxiety, depression, Alzheimer's disease,

and Parkinson's disease. It also has a

reputation for easing high cholesterol,

inflammation, ulcers, and digestive

concerns. And if that's not enough, it

also exhibits cancer-preventive effects.

While these may seem like a wide

range of disparate conditions, they're

all linked by one thing—inflammation.

One study evaluating the potential of

14 different mushrooms held that this

leonine remedy had the fourth-highest

antioxidant activity, which may explain

its benefits for inflammatory conditions.

Better for Your Brain

Lion's mane may help older adults with

mild cognitive impairment, according to

a study in which researchers assigned

30 cognitively impaired older adults

to consume either mushroom extract

or a placebo for 16 weeks. In cognitive

tests given throughout the study,

patients in the lion's mane cohort showed

significantly greater improvements

compared to those taking a placebo.

Another study examined the effects

of lion's mane on brain function,

concluding that the fungus helped

protect against memory problems

caused by brain plaques associated

with Alzheimer's disease. Preliminary

studies have shown that lion's mane

Photo: Getty Images

22 • AUGUST 2021
---
demonstrates a possible protective

benefit for ischemic stroke, and

research is ongoing.

Natural Mood Booster

Lion's mane helps alleviate depression

and anxiety, according to a 2010 study

that tracked 30 menopausal women

who ate daily cookies made with either

lion's mane or a placebo for four weeks.

Scientists found that the lion's mane

group was less likely to be irritable and

anxious and had better concentration

than those who took the placebo. In 2020,

a paper from the Department of Translational

Research and New Technologies

in Medicine and Surgery at the University

of Pisa in Italy found encouraging

indications for the use of a combination

of lion's mane, Baikal skullcap root, and

rhodiola for depression and anxiety.

Lion's Mane & Cancer

Preliminary research holds that

lion's mane shows promise for cancer

prevention. For instance, in tests on

human cells, lion's mane was shown

to help kill leukemia cells. A different

investigation found that lion's mane

extract reduced the size of colon tumors,

and another study found that the fungus

reduced the spread of colon cancer cells

to the lungs. A 2020 study showed that

active constituents from lion's mane

demonstrated suppressive activity

in human lung carcinoma cell lines.

Another experiment from 2020 revealed

that the mushroom enhanced the action

of anticancer gut bacteria, and a third

2020 study published in Food and Function

showed that the polysaccharides

from lion's mane knocked out human

colorectal cancer cells.

How to Use It

You can enjoy lion's mane mushrooms

raw, cooked, dried, or prepared as a tea.

Many people compare their flavor to

crab or lobster. Supplements, especially

extracts, are also available, but doses

haven't yet been standardized, so read

labels carefully. It's possible that people

who are allergic to fungi might react to

lion's mane, so it's prudent to be cautious.

Host

Defense

Lion's

Mane

Mushroom

Wisdom

Super

Lion's Mane

Om Lion's

Mane

Mushroom

Powder

IND April 2021 BN Half Page Ad.indd 1

2/26/21 1:49 PM
---
NATURAL BEAUTY *

According to The New York Times, "Since

the pandemic, many doctors report an

uptick in patients suffering from stressrelated

hair loss." The phenomenon is a

byproduct of both stress and post-viral

inflammation from Covid-19. Temporary

hair loss can be caused by fever, illness,

childbirth, and severe stress, pushing

more hairs than usual into the shedding

phase of the hair growth cycle.

But those are just a few causes of hair

loss. "The main cause of thinning hair in

men and women is androgenic alopecia,

a genetic condition," says Gary Linkov,

MD, founder and medical director of

City Facial Plastics in New York. "Less

24 • AUGUST 2021

pure ingredients for skin & body

Natural Help for

Thinning Hair

If you've noticed tangles of hair in your brush and

shower drain, don't panic. There are remedies that can

help you prevent thinning hair and improve the health of

your entire hair ecosystem—scalp, follicles, and strands.

BY SHERRIE STRAUSFOGEL

common causes include temporary

hair-loss conditions such as telogen

effluvium, as well as hair loss caused by

hormonal imbalances or medications."

New research has shown that oxidative

stress is a common cause of daily

hair loss. The same UV rays and pollution

that produce lines and wrinkles on

your face can also speed hair shedding

by weakening the connection of each

hair strand to the scalp. Calming a

stressed scalp with shampoos, conditioners,

and treatments formulated with

antioxidants, zinc, and B vitamins can

help relieve oxidative stress and boost

the health of your scalp.

Aside from medical therapies,

Linkov offers practical, healthy tips

to keep the hair you have. "A gentle

shampoo—avoid strong shampoos

that c0ntain salicylic acid and ketoconazole—and

reducing traction

and heat on the hair are important

for preserving it. Keeping the blow

dryer on a low heat setting can help

prevent damaging the hair. The same

goes for the shower-water temperature.

Viviscal, a biotin-based vitamin, helps

thicken hair especially in women, and

Nutrafol, another biotin-based vitamin,

boosts the health of hair follicles for

both men and women."

Photo: Getty Images
---
❶

❷

❶Lessen hair loss by fortifying hair

at its roots with Andalou Naturals Age

Defying Argan Stem Cell Scalp Intensive

for Thinning Hair. Argan oil stem cells

strengthen and smooth hair, making it

less brittle, more manageable, and shinier.

Solar vitas (grape stem cells) protect

against UV damage. Vitamin B complex,

panthenol, rice and soy proteins, and

a hair regeneration complex (coltsfoot

leaf, yarrow flower, cysteine, licorice

root, horsetail, and meadowsweet flower

extracts) encourage growth. Also available

as a Thinning Hair System including

Argan Stem Cell Age Defying Scalp

Intensive, Shampoo, and Conditioner.

❷Reduce hair breakage up to 61

percent with Desert Essence Professional

Anti-Breakage Hair Mask. A blend of the

same vitamins and minerals in Country

Life Maxi-Hair Plus Biotin supplement,

along with provitamin B 5

, keratin, and

bamboo, help fortify hair. Nourishing

jojoba and coconut oils and saw palmetto

strengthen strands to help minimize

fallout. Aloe and olive oil hydrate and

condition, and radish seed extract adds

shine. For best results, use in combination

with Anti-Breakage Shampoo and

Conditioner.

Resist splitting and breaking while

adding volume and texture with Earth

Science Ceramide Care Volumizing

Shampoo and Conditioner. A plant-based

ceramide complex restores and locks

in moisture. Golden barley protein,

panthenol, and soy protein strengthen

and hydrate strands. This gentle shampoo

and conditioner combo is safe for

color-treated hair, and it's pH-neutral

for daily use on normal and fine hair.

The faint scent of vanilla, ginger, and

cardamom remains on your clean and

fuller-looking hair.

Find less hair in the drain with Pura

d'Or Hair Thinning Therapy Shampoo

and Conditioner. The duo strengthens,

minimizes breakage, and reduces hair

thinning with aloe vera, argan and alma

oils, biotin, black cumin seed, copper

tripeptide, nettle leaf, and saw palmetto.

Niacin, organic rosemary oil, and tea

tree oil help to invigorate and purify

the scalp while encouraging strand

strength and resiliency. The Chinese

herb he shou wu root extract improves

circulation and supports hair growth.

Thinning, damaged, and chemically

treated hair will look and feel revived

from scalp to ends.

Strengthen dry, brittle hair with

SheaMoisture Manuka Honey & Yogurt

Hydrate + Repair Protein Power Treatment.

This rich conditioner reinforces

and revitalizes overprocessed, abused

wavy and curly hair with moisturizing

shea butter, antioxidant Manuka honey,

and protein-infused yogurt powder and

extract, plus deep conditioning baobab,

mafura, castor, and coconut oils. Use

after shampooing to turn hair with

breakage and split ends into smooth,

soft strands. Leave on for 10 to 15

minutes for best results.

AUGUST 2021 • 25
---
ALL THINGS *

seasonal guide to supplements, foods, & personal care

Banish BO

Six ways to battle body odor and smell good all over.

BY LISA TURNER

a natural antiperspirant or deodorant

Body odor is natural and normal, and

26 • AUGUST 2021

sweating is necessary—but if you're like that's free from parabens and alumi-

most people, you'll gladly pass on funky

feet, stinky pits, and bad breath. No

sweat. These six solutions for the most

pungent parts of your body will leave you

smelling fresh and clean, naturally.

1Your pits. The armpit area Product picks:

is rich in apocrine glands that * Nubian Heritage Lemongrass

produce a viscous fluid high in protein

and lipids. Bacteria on your skin break

these down, releasing that characteristic

smell. Shower daily, more if you're

working out or in hot weather, and get

rid of excess hair—it traps bacteria and

moisture, which exacerbates odor. Use

& Tea Tree Bar Soap

* Dr. Bronner's Peppermint

Shaving Soap

* Schmidt's Natural Charcoal +

Magnesium Deodorant

* Lafe's Deodorant Roll On

Active (Citrus + Bergamot)

num compounds. Activated charcoal

can minimize wetness without clogging

pores, and deodorants made

with essential oils fight bacteria

and stop the stink.

2

Your feet. The warm, damp

environment of socks and shoes

becomes a breeding ground for bacteria

and fungi that feed off dead skin cells

and produce pungent odors.

Wash feet regularly and use

a liquid soap to really get

between toes—try a natural

antibacterial soap with tea tree

oil. Before putting on socks

and shoes, spray on deodorant,

or use a powder to minimize

moisture. Once a week, soak

and scrub feet to get rid of dead

skin cells that contribute to

the stink. And use a natural

antifungal cream with thyme,

Photos: Getty Images
---
grapefruit seed,

and other botanicals

to fight foot

fungus.

Product picks:

* Crystal Mineral

Deodorant Spray

* WiseWays

Herbals Tea-Tree

Talc-Free

Foot Powder

* Home Health

Antifungal

Lotion

* Dr. Bronner's

Liquid Castile Tea

Tree Soap

3Your privates. Next to the

armpits, the groin houses most of

the body's apocrine glands, and their

fluids collect in groin folds and pubic

hair, leading to bacteria and odor. Yoga

pants, tight shorts, or snug-fitting

cotton underwear trap moisture and

exacerbate the problem. To minimize

smell, shower daily and always after

working out. Use a gentle but effective

soap—charcoal-based washes or black

soap with antibacterial plantain extract

are ideal. A talc-free powder can

mop up excess moisture. And choose

breathable, moisture-wicking synthetic

fabrics, especially for exercising.

Product picks:

* Nubian Heritage

African Black

Soap Bar Soap

* Every Man

Jack Activated

Charcoal Wash

* Emerita Feminine

Cleansing and

Moisturizing Wash

* NutriBiotic Body

& Foot Powder

4Your scalp.

More subtle

than stinky pits or

feet, your scalp can

get pretty ripe if you skip a shampoo

or two—especially after working out

or in hot summer months. Dandruff

makes matters worse. As dead skin

cells break down, they release a subtlebut-distinctive

odor. Fight funky hair

with shampoo made with lavender,

rosemary, mint, eucalyptus, and other

odor-banishing oils. A natural antidandruff

shampoo can combat dead skin

cells. And if you don't have time to wash

your hair, try a

dry shampoo,

especially after

a sweaty workout.

Product picks:

* EO French Lavender

Shampoo

* Avalon Organics

Anti-Dandruff

Shampoo

* Mineral Fusion

Dry Shampoo

* Acure Dry

Shampoo

Rosemary &

Peppermint

5Your mouth. Food trapped

between teeth, around the gums,

and on the surface of the tongue

promote bacterial growth, leading to

smelly breath—technically known as

halitosis. A dry mouth also encourages

bad breath, since saliva helps wash

away bacteria and dead cells on the

gums and tongue. And certain foods

contain pungent-smelling compounds

that enter the bloodstream and are

exhaled through the lungs. Brush,

floss, and gargle religiously. Use

natural toothpaste and mouthwash

with xylitol, neem, tea tree, peppermint,

sage, cinnamon, or clove to fight bacteria,

and try a tongue scraper to remove

food particles from the tongue.

Product picks:

* Desert Essence Tea Tree and

Neem Toothpaste

* The Natural Dentist Peppermint

Sage Mouthwash

*

*

Preserve Tongue Cleaner

Hello Antiplaque + Whitening Fluoride

Free Toothpaste

6Your body. Sometimes, skin

just smells bad—even in areas

with fewer sweat glands. Part of the

reason may be your diet. Broccoli,

cabbage, and other cruciferous vegetables

are high in pungent sulfur compounds

that permeate through skin. Onion,

garlic, cumin, curry, alcohol, red meat,

and refined carbs can also negatively

impact your scent. On the other hand,

research shows that carotenoids,

found in carrots, sweet potatoes,

mangos, and other yellow-orange

foods, may have a positive impact on

body scent. The chlorophyll in dark,

leafy greens, wheat grass, and parsley

is also thought to fight odor. And an

excellent-smelling body wipe, lotion,

or spray rich in

essential oils

will sweeten

the scent of

your skin.

Product picks:

* Wyndmere

Naturals

Neroli Spray

* Every Man

Jack Speed Shower Body Wipes

* Nature's Way Chlorofresh

Chlorophyll Softgels

* Amazing Grass Organic

Greens Blend

AUGUST 2021 • 27
---
AROMATHERAPY Rx *

It's normal to experience occasional

stress, anxiety, mood swings, and a

lack of focus. But you don't have walk

around feeling like a stress ball all the

time. Natural essential oils can help ease

stress, boost mood, and bolster your

mental health. Some stress- busting

essential oils can even help enhancing

alertness and boost motivation.

Spritz, sniff, or soak your way to

calm with these soothing selections.

❶ LAVENDER

Derived from a flowering Mediterranean

herb (Lavandula angustifolia),

lavender oil is the best-known (and

studied) essential oil for stress, anxiety,

28 • AUGUST 2021

improve your life with essential oils

8 Soothing Essential Oils to

Help Combat Stress

You can't erase stress from your life, but you can use aromatherapy to

help you cope with it naturally. Here are eight tension-taming

essential oils with proven benefits.

BY LISA TURNER

and sleep. Its main components, linalool

and linalyl acetate, calm the nervous

system. Research shows that inhaling

lavender affects brain wave patterns

in a way that eases anxiety and boosts

mood. Lavender oil also increases

slow-wave brain activity. This is linked

to improved sleep quality and duration,

and elevated vigor the following morning—even

in people with insomnia.

It's especially effective when used with

chamomile and neroli, and a combo of

the three can powerfully lessen stress

and enhance sleep.

How to use it: Sprinkle a few drops on

your pillowcase for instant peace and

restful slumber.

❷ CLARY SAGE

Distilled from Salvia sclarea, a flowering

herb native to the northern Mediterranean,

clary sage reduces anxiety and

improves mood. Its active chemical

constituents appear to impact dopamine

and serotonin, neurotransmitters

associated with motivation, pleasure,

and well-being. Studies show that

inhaling clary sage essential oil

lowers cortisol, the body's primary

stress hormone, while significantly

increasing serotonin.

How to use it: Combine clary sage and

other calming oils in a spray bottle of

distilled water and spritz in your room

to ease stress and uplift mood.

Photo: Getty Images
---
can impact respiration during slumber,

improving breathing patterns and

lessening the tendency to snore.

How to use it: Sniff it straight from

the bottle when you need calm without

sedation. Or add a few drops to a diffuser

to improve nighttime breathing.

Photo: (clockwise from top) Getty Images; Adobe Stock

YLANG YLANG

Cananga odorata, distilled from the

flowers of a tropical tree native to India

and Southeast Asia, has a lush, heady

fragrance and relaxing, mood-enhancing

effects. (In Indonesia, it's traditionally

used to enhance euphoria and reduce

anxiety during sex.) Ylang ylang influences

brain activity and the serotonin

system, reducing stress and enhancing

mood and self-esteem. And ylang ylang

in combination with neroli, lavender, and

marjoram significantly decreases levels

of cortisol. This eases tension, promotes

relaxation, and boosts mood.

How to use it: Add a few drops to a carrier

oil, like coconut or sweet almond oil, for

a soothing bath or seductive massage oil.

SWEET ORANGE

Derived from the peels of common

oranges, sweet orange oil (Citrus sinensis)

has a citrusy, floral aroma and soothing,

anxiety-relieving properties. The primary

active compound, limonene, eases

stress and promotes tranquility, and

research suggests that inhaling sweet

orange essential oil prevents anxiety

in tension-promoting situations.

How to use it: Sprinkle a few drops on a

cotton ball, or take a whiff right from the

bottle before stress-provoking events.

LEMONGRASS

Distilled from Cymbopogon citratus,

a tropical plant native to South Asia,

lemongrass has a bright lemony scent

that refreshes and soothes. It's rich

in compounds that calm tension

and encourage relaxation, probably

by interacting with a neurotransmitter

involved in anxiety, depression, and

sleep disorders. In one study, lemongrass

essential oil had an immediate effect on

stress, lessening anxiety and encouraging

calm. Plus, participants who inhaled

lemongrass recovered quickly—in

five minutes or less—from stressprovoking

situations.

How to use it: Add a few drops to a

basin of warm (not hot) water for a

tension-taming facial steam.

VETIVER

From an aromatic perennial grass in

the same family as lemongrass, vetiver

(Vetiveria zizanioides) essential oil has

an earthy, exotic fragrance with distinctive

woodsy undertones. Its primary constituents

interact with neurotransmitters

involved in anxiety, learning, and memory,

which eases stress and promotes

alertness and brain function. Vetiver

oil also impacts brain wave patterns to

deepen sleep. Some studies show that it

BERGAMOT

Derived from the peel of Citrus bergamia,

a small fruit that gives Earl Grey tea its

distinctive aroma, bergamot oil has a

floral smell with light citrus undertones.

Its primary active constituents impact

neurons and reduce levels of cortisol to

lessen tension and promote relaxation.

Bergamot oil also soothes depression,

and research suggests that inhaling

bergamot increases positive feelings

and uplifts mood.

How to use it: Bergamot can be irritating,

so don't use it directly on your skin.

Add a few drops to a diffuser for a calm,

sunny outlook.

NEROLI

Distilled from the flowers of the bitter

orange tree (Citrus aurantium), neroli

has a sweet, sharp, citrusy aroma. It's

packed with volatile compounds that

influence the nervous system and impact

the limbic system, the brain region

involved in emotions. Studies show that

inhaling neroli reduces anxiety, eases

stress, and supports restful slumber.

Combined with lemon oil, it boosts mood

and improves concentration and memory.

Neroli also influences hormones via the

endocrine system. If fact, inhaling neroli

oil can relieve menopausal symptoms

and increase sexual desire.

How to use it: Sprinkle a few drops into

a warm bath for a luxurious, stressbusting

soak.

AUGUST 2021 • 29
---
HAPPY&

HEALTHY

TEENS

30 • AUGUST 2021
---
Six simple ways

to help your

child thrive.

BY LISA TURNER

You thought it was

hard raising a toddler?

Wait until you have a

teen. They're more

independent, less easily

persuaded, and often

just as likely to have

massive meltdowns.

And while you'll avoid

earaches and frequent

stomach bugs, teens

are more susceptible to

serious health issues

like stress and weight

gain. Help your teen

thrive with these

tips that address six

crucial concerns.

Photo: Adobe Stock

AUGUST 2021 • 31
---
1 Sleep

It's one of the most critical aspects

of teen health—and the most

universally neglected. The American

Academy of Pediatrics recommends

10–12 hours a night for teens, but

studies show that most kids bag a

fraction of that. In a Centers for Disease

Control and Prevention (CDC) survey of

12,000 high school students, only 900

said they got the recommended amount

of shut-eye, and 39 percent slept for

only 6 hours a night or less.

Kids miss sleep because of stress,

busy schedules, or late-night screen

time. Over time, lack of sleep impacts

immunity, weight, learning, and

emotional health. Simple changes

such as going to bed at the

same time every night,

avoiding caffeine,

and minimizing

pre-bed stress

can help. If

your teen

suffers from

insomnia, try

gentle herbs

like chamomile,

passionflower,

or lemon

balm, or homeopathic

combination

sleep remedies.

2 Weight

According to the CDC, obesity

has more than tripled in adolescents

in the past 30 years, and in 2010, more

than one-third of adolescents surveyed

were found to be overweight or obese.

It's a serious health issue. In one

study, 70 percent of obese teens had at

least one risk factor for cardiovascular

disease and were more likely to

be prediabetic.

If your teen is overweight, have a

heart-to-heart about the health dangers

to avoid triggering body image issues.

Model healthy eating, don't buy excessive

amounts of candy or sugary snacks, and

discourage quick-fix solutions like pills

or starvation diets. And ban sodas from

your house, period. In one study, teens

who swapped sugary sodas for noncaloric

beverages lost weight, even

when they made no other changes.

3 Stress

It's not just for adults. In fact,

as many as 30 percent of high

school students in a study said they

were stressed to "serious" levels. And

stressful life events in childhood can

predispose teens to weight gain. In one

study, experiencing negative life events

was linked with a 50 percent higher

risk of being overweight by age 15.

Help teens handle stress by encouraging

them to exercise, eat regularly,

get enough sleep, and avoid

excess caffeine. Supple-

ments such as lemon balm, B vitamins,

omega-3 fats, and GABA can help soothe

excess stress as well. Also, teach and

model healthy stress-management

techniques including muscle relaxation

and time management. And encourage

your kids to avoid perfectionism—good

enough is often enough.

4 Breakfast

Hurried teens have a tendency

to miss breakfast—in one study,

13 percent of high school students said

they regularly skipped the morning

meal. But breakfast is critical for brain

function, energy, concentration, academic

performance, and healthy weight. Ideally,

the morning meal should focus on

protein, with enough fat to sustain energy.

5 ways to teach kids healthy eating

Better food choices lead to healthier teens. It really

is that simple. Here are five ways to help your kids

develop a healthy relationship with food.

1 | SKIP THE CLEAN-PLATE CLUB. Teach kids to eat

according to internal cues instead.

2 | DON'T MAKE ANY FOOD "BAD." When your kids eat

pizza, bagels, or other "bad" food—which they will—you

don't want them to feel guilty about it. Instead, talk about

"sometimes" versus "always" foods, and let junk food be an

occasional treat.

3 | REFRAME CULTURAL MESSAGES. Talk to your kids about media messages

that only certain body types are acceptable. Listen to their self-image issues and

remind them that healthy bodies come in many different shapes and sizes and

not to judge a body's worth by how it looks.

4 | DON'T USE THE "D" WORD. Dieting, versus listening to the body's impulses,

sets kids up for problems. Explain that unnecessarily restricting calories can

impact growth, brain development, and overall health. If your teen or tween is

overweight, try a shift in eating that emphasizes whole foods instead.

5 | COOK WITH YOUR KIDS. When teens and tweens have an active role in meal

planning and preparation, they feel more empowered. Sit down with your child

and plan out the week's meals. Go shopping together and tell them about the

benefits of different foods—for example, "yellow peppers are good for your skin,"

or "blueberries help your memory." Let them choose different things to try, such

as white asparagus or cherimoya. And cook together—it's a great way to bond.

Photo: Getty Images

32 • AUGUST 2021
---
If your teen is in a hurry to get out the

door, try quick, healthy options such as

smoothies fortified with protein powder,

egg burritos, breakfast pizzas, sausage

omelet pitas, or well-formulated energy

bars. Grab-and-go breakfasts are best.

5Screen time

A recent study found that teens

spend an average of seven hours

and 38 minutes per day, seven days

a week, on cell phones or in front of

computers, TVs, or video games. That

means seven hours of inactivity, which

can impact weight. Other studies have

shown that excessive media use can lead

to attention problems, school difficulties,

eating disorders, and sleep issues.

Help your teen cut back by coming

up with a list of household rules together

to help limit screen time—say, no TV

until homework is completed, no electronics

after 8 p.m., or no texting during

meals. Create a system of rewards and

consequences if the rules are violated.

And be prepared to follow them yourself

to set a good example.

6 Supplements

Between busy schedules and social

activities that revolve around food,

few teens eat a truly balanced diet. A

quality multivitamin can fill in substantial

gaps in nutrition. Look for one that's

formulated specifically for teenagers.

Other supplements to consider:

*

*

*

*

Omega-3 fatty acids. Teen diets

are often lacking in omega-3s, and

supplementation can improve

behavior, mood, and attention span.

Calcium. Bones grow quickly

during the teen years, so calcium is

critical. Look for a comprehensive

bone-building formula that also

contains synergistic nutrients such

as vitamin D.

Iron. Teenage girls in particular

need adequate iron.

Probiotics. Inflammation in the gut

can manifest as acne, but probiotic

supplements can help by restoring

healthy gut flora.

Naturopathic Rx for Strong Immunity

Immune health is at the top of every parent's mind as kids head back

to school. We sat down with Vermont-based doctor (and father himself)

Sam Russo, ND, LAc, to get his advice on the best vitamins and other

supplements for kids and teens.

WHAT NUTRIENTS ARE MOST IMPORTANT FOR COLD AND FLU

PREVENTION IN KIDS?

In addition to a children's multiple vitamin (which is essential), I recommend

500 mg daily of omega-3 fatty acids from fish oil, probiotics, and a protein-rich

diet. For probiotics, look for a product that lists strain names after the bacteria

names—this means that the strain has research behind it. Give probiotics with

food (that's how bacteria get through your stomach naturally).

A lot of children eat too many carb-rich foods, which can cause mucus

accumulation and increase susceptibility to infections. The solution? Try feeding

your kids a diet higher in protein. This will help build a strong immune system

because the immune system uses protein to create antibodies.

Speaking of multivitamins, look for the following specific nutrients in a multi

for kids: vitamin A or beta carotene, vitamin C, and zinc—these are necessary

for healthy immune function. The requirements for these nutrients vary by age.

The Linus Pauling Institute at Oregon State University has an excellent resource to

find the amounts to look for in a multiple based on age: lpi.oregonstate.edu/mic/

life-stages/children.

WHAT'S THE FIRST NATURAL REMEDY TO REACH FOR IF YOUR CHILD GETS SICK?

For flu-like symptoms, such as a fever with body aches and a cough, elderberry

concentrate is one of my favorite early infection treatments. This tasty liquid can

be taken three to four times a day. Elderberry has antiviral and anti-inflammatory

effects and does not interact with any medications, so it's a safe first-line therapy

for colds and flu.

I also keep Esberitox Echinacea by Enzymatic Therapy in my home year-round.

It's a great general infection treatment that has been clinically shown to help

shorten the duration of colds. I also give it to my kids if there are other sick children

in the classroom during cold and flu season. Follow the package directions.

For sore throat, try slippery elm lozenges, which can be used multiple times per

day. Gargling with salt water several times daily can also help soothe sore throats.

To calm a cough, I like honey. If chest congestion or a runny nose accompanies

the cough, I add a little thyme tea, which helps clear out mucous membranes.

Plus, the honey makes it taste better.

It's also important to note that if your child is in a new school, they may

come into contact with unfamiliar viral strains that they haven't been exposed

to previously. In this case, you and your child may both have to go through a

few more colds for a season.

HOW CAN PARENTS REDUCE KIDS' STRESS?

Stress reduces the immune response, and chronic stress can alter our physical

barriers to infection. Stress management, such as mindfulness exercises and

Social Thinking strategies, are great tools to employ for raising a healthier,

happier child. Visit socialthinking.com to learn more about this innovative

language-based learning approach.

AUGUST 2021 • 33
---
When it comes to certain

health-boosting foods,

two is better than one.

BY MATTHEW KADEY, MS, RD

7 Food Duos

That Work Better

Together

Chocolate and vanilla. Pancakes and maple syrup. Bacon and eggs.

These are the Thelma and Louise of the food world, items that just

belong together. But the best hookups don't just taste great when

working in unison—they also amplify each other's nutritional benefits.

It's called food synergy: the concept that the benefits of two or more

foods eaten together can be greater than the sum of their parts. It's one

reason why research suggests that when nutrients like vitamin E and

calcium are taken in isolation, they don't have the same protective powers

as when they're consumed from a mixture of whole foods. Nutrients and

antioxidants shouldn't necessarily take a solo adventure to improve our

health. Instead, they seem to perform better when set free to mingle.

While researchers haven't even begun to untangle all the super

combinations available, these good-chemistry eats and sips can pack

outsized benefits.

Photo: Adobe Stock

34 • AUGUST 2021
---
1Kale + Avocado

Dark, leafy greens are already nutritional

heavy hitters, but if you really want to

reap their rewards, make sure to fatten them

up. Research in the Journal of Nutrition

demonstrates that consuming foods that are

good sources of beta-carotene (think kale,

tomatoes, carrots, and sweet potatoes) with

a dietary source of fat such as avocado can boost

how much beta-carotene our bodies can absorb

and convert into vitamin A. Since beta-carotene is a

fat-soluble compound, it makes sense that pairing

it with some fatty acids would help us soak more

up—and that means higher levels of vitamin A for

better immune and eye health.

Other studies have found that fats from everything

from peanut butter to egg to soybean oil can

bolster absorption rates of a range of veg-sourced

carotenoids including alpha-carotene, lutein, and

lycopene. These potent antioxidants help combat

cell-damaging free radicals for healthier aging,

so any dietary measure we can take to soak up

more is worth striving for.

The upshot is that whenever you have colorful

veggies on your plate, be sure to fatten them up

with foods such as olive oil, avocado, nuts, or seeds.

One study in the American Journal of Clinical

Nutrition found that essentially no carotenoid

antioxidants were absorbed from salads dressed

with fat-free dressing.

2Chickpeas + Rice

Going more plant-based these days? Well, if legumes such as

chickpeas could speak, they would say to whole grains, "You

complete me." As reported in the Journal of Nutrition, the quality of

protein in a plant-based meal increases when chickpeas are consumed

in the presence of rice as opposed to consuming the plant protein by

itself. Why? Legumes are naturally low in the essential amino acid

methionine, and anti-nutritional factors in chickpeas can also impact

methionine bioavailability in the body. On the flipside, rice contains higher

amounts of methionine that is more bioavailable. So when the two are teamed

up, the result is a meal with higher protein quality. Other pulse-grain combos such as

kidney beans and quinoa or lentils and millet should perform together equally well.

Photo: Adobe Stock

3Salmon + Potato

Sure, breakfast is the most important meal of the day. But if you

exercise regularly, there's another feast deserving of front-page

news—the one you eat post-workout. Science has shown that

consuming carbohydrates and protein shortly after a hard

workout speeds muscle recovery, reduces soreness, and can

even prevent a drop in immunity. This synergistic effect is

attributed to setting up an environment of higher insulin

levels circulating in your blood, which allows your muscles

to bring in more precious repair items.

You want about 30 grams of protein and 60–90

grams of carbs in your post-workout repast, which

can come from combos such as salmon and roasted

potatoes, pasta with meat sauce, or chicken and rice.

AUGUST 2021 • 35
---
4Turmeric +

Black Pepper

From cinnamon to cumin to

cloves, spices are increasingly being

lauded for their health-boosting powers.

But science shows that spices can work

even harder for us if they don't fly solo.

For instance, while turmeric is being

studied for its anti-inflammatory prowess,

we don't absorb its main bioactive

compound, curcumin, very well. The

good news is that a chemical found in

black pepper called piperine can greatly

bolster our ability to take up curcumin.

More proof two heads are better than

one: pairing capsaicin (the phytochemical

that gives chili powder and cayenne

their fiery kick) with gingerol (found in

ginger) may have some cancer-fighting

properties that are greater than when

either is consumed on their

own. So when you're

making dishes like

soups, chili, stews,

and oatmeal,

remember to

reach for more

than one spice jar.

5Yogurt +

Pumpkin

Seeds

From lowering the risk for

heart disease to bolstering

brain function to even

improving survival rates

from COVID, vitamin D does

it all. But you can't get the most

out of this nutrient if you're not

getting enough magnesium from

whole-food sources such as pumpkin

seeds, whole grains, nuts, cacao, and

legumes. We now have evidence that one of the functions of magnesium is to

regulate vitamin D in our bodies by playing a role in vitamin D synthesis and

its metabolic pathways. So even if you eat plenty of vitamin D from yogurt,

fatty fish, eggs, and UV-exposed mushrooms—or take a daily supplement—

you won't get the full health benefits if your magnesium intake is subpar. So,

indeed, a bowl of yogurt (make sure it's vitamin D-fortified) sprinkled with

crunchy pumpkin seeds is a dynamic duo snack.

6Green Tea + Lemon

Packed with health-boosting antioxidants,

green tea is one of the healthiest drinks

you can sip on. And it turns out you can make

green tea even more of an antioxidant powerhouse

by adding a squirt of lemon. Research

conducted at Purdue University shows that citrus

juice can increase the amount of the antioxidants in

the ancient beverage that are available for the body to

absorb by up to fivefold. The abundance of vitamin C

in lemon and other sun-kissed citrus might be the key

to this perk.

Photo: Adobe Stock

36 • AUGUST 2021
---
7Beans + Bell Pepper

Vital to transporting oxygen throughout the body,

iron is one of the most important minerals in our

diets. Of course, a hunk of steak is a stellar source, but you

can also get iron from plant-based foods such as beans, lentils,

tofu, fortified cereals, spinach, and some whole grains. But

there's a catch: only 2 percent to 20 percent of the iron

found in plant foods, called non-heme iron,

makes its way from your digestive tract into

your blood. But Mother Nature has provided

an assist in the form of vitamin

C (ascorbic acid), which converts

plant-based iron into a form that

is more readily absorbed. That's

why a study in the British Journal

of Nutrition found that women

who ate iron-fortified cereal with

kiwi fruit, which is especially rich

in vitamin C, were able to raise

their iron levels. Other vitamin

C-rich foods include bell peppers,

tomatoes, broccoli, citrus fruits, and

berries. That makes it a good idea to

load up a pot of chili with chopped peppers

and toss some tomatoes, or even sweet

berries, into lentil salads.

Double Trouble

Not all foods and drinks are a dream team. Time to divorce these couples that don't play nice together.

Photo: Adobe Stock

TEA AND MILK

A study in the European Heart Journal

suggests that you shouldn't follow the

lead of the Brits and spike your tea with

milk. Scientists discovered that adding

moo juice to tea blunted its cardiovascular

benefits. Casein protein in milk may

bind up antioxidants in tea, rendering

them less available for absorption. Milk

may also inhibit tea's ability to activate

a special gene in the body that helps to

open blood vessels.

COFFEE AND OATS

You may not want to chase a bowl

of oatmeal with a cup of Joe. Certain

polyphenol compounds in coffee can

hamper the body's ability to absorb iron

from plant sources such as grains and

legumes. Ditto for black tea. Ideally,

you want to wait at least one hour

after consuming plant-based iron

before drinking coffee or tea. The same

inhibitory effect doesn't apply to iron in

animal-based foods such as beef.

WHITE BREAD AND JAM

If you're going to include refined grains

and sugary foods in your diet, it's best to

separate them. That's because when you

combine two or more foods that each

have a high glycemic index, your blood

sugar will likely soar. What often follows

is a sudden sugar drop that can leave you

feeling tired and moody. And over time,

these spikes in blood sugar brought on by

eating too many poor carbs can lead to

metabolic conditions such as diabetes.

AUGUST 2021 • 37
---
ASK THE NUTRITIONIST *

Q

: I grew up eating a

lot of pasta, which

has kept me about 30

pounds overweight for

most of my life! A few

years ago, I found out I

was gluten-sensitive and

made the switch to rice,

quinoa, and lentil pastas.

That helped my digestive

issues, but I haven't lost

any weight. In fact, I've

gained a few pounds.

Are there other types

of grain-free, low-carb

pastas I can try?

A: I'm happy to say that there are

more options than ever that fit your

needs. The key to reducing the carbs

and calories in pasta is to ditch those

made from high-carb grains and

legumes and substitute grain-free,

legume-free alternatives. Most of the

lower-carb substitutes that follow are

made from non-starchy vegetables,

which provide a high amount of essential

vitamins and minerals relative to the

carbs and calories they supply—so

they're a healthy addition to any diet.

Spiralized Vegetable Noodles

With a registered tagline of "Simple but

Twisted," Cece's Veggie Co. sells noodled

veggie varieties that you can find in the

produce section in natural food stores.

38 • AUGUST 2021

answers to your food questions

Grain-Free, Lower-Carb

Pasta? You Bet!

To lose or control weight—or just add extra nutrition and variety

to your diet—use these healthy alternatives to cut the carbs in your

favorite noodle dishes.

BY MELISSA DIANE SMITH

They're super-easy to prepare: simply

sauté them in oil for a few minutes.

Cece's Noodled Organic Zucchini is

the lowest in carbs, with only 3 grams

of carbs and

15 calories per

serving. Its Cece's

Noodled Organic

Butternut and Organic

Beets both contain

about 7 grams of

carbs and 35 calories

per serving, but the

Butternut Spirals add

160 percent of the Daily Value of vitamin

A and 25 percent of the Daily Value of

vitamin C, and the Organic Beets are a

good source of iron and vitamin C.

Cece's also produces

Zucchini Marinara and

Zucchini Pesto Veggie

Meals, ready-to-make,

vitamin-packed dishes

that are substantially

lower in carbs and

calories than what you

find in typical on-the-go

packaged products.

Photo: (Top right) Adobe Stock
---
Photo: (Bottom left) Getty Images

Spaghetti

Squash

As the name

suggests, spaghetti

squash is a great

substitute for

spaghetti. But

preparing it

from scratch can be time-consuming.

Fortunately, Solely, Inc., offers

a ready-made solution: baked and

oven-dried spaghetti squash that you

can prepare in a fraction of the time.

Simply boil this pasta substitute in

water for about five minutes, until

cooked al dente. Then rinse and combine

with the sauce of your choice.

The package supplies the noodles

from one whole spaghetti squash. A

serving of one-quarter of the squash—

or one-half cup cooked—contains about

6 grams of carbs and just 30 calories.

Look for this shelf-stable product

in the pasta section of the store.

Hearts of

Palm Pasta

In the world of

grain-free pasta

substitutes, Palmini

Hearts of Palm

Pasta is the new

kid on the block.

The line includes

linguine, angel

hair, and lasagna (shown here). Though

some hearts of palm products are not

produced sustainably, Palmini cultivates

and harvests their raw ingredient in an

environmentally sustainable way.

Hearts of palm noodles can be taken

out of the package, rinsed with water,

and heated as-is with a pasta sauce.

They can also be boiled

until a desired texture is

achieved. The noodles are

a good source of minerals

such as potassium and

calcium. They contain

4 grams of carbs and 20

calories per serving. Look

for these shelf-stable products

in the pasta section of the store.

Kelp Noodles

Produced by the Sea

Tangle Noodle Company,

kelp noodles are a

combination of the

sea vegetable kelp

and sodium alginate

(salt extracted from a

brown seaweed). Kelp

noodles, which are in the refrigerated

case of the store, have a non-fishy,

completely neutral taste. They pick up

the flavors of whatever foods they're

combined with. They're rich in iodine

and almost completely carbohydrateand

calorie-free.

To use, just open the bag, drain,

and add them at the last minute to

soups or stir-fries, or toss with pesto

or sauce of your choice.

Shirataki

Noodles

Made from the

root of the Konjac

(Asian white yam)

plant, shirataki

noodles are very

low in calories

and carbs. They

also contain glucomannan, a soluble

fiber that turns into a gel-like substance

once you eat it, leaving you feeling full

longer. This fiber can also slow down

the rate at which the body absorbs

carbs (good for preventing blood sugar

spikes). It also acts as a prebiotic that

promotes healthy bacteria growth

in the colon.

Shirataki noodles are about 3 percent

fiber and 97 percent water. They come

in a variety of shapes, and they're

available either dry or in water. Look for

them in the pasta section or refrigerated

case. Common brands include Miracle

Noodles Ready-to-Eat Noodle Spaghetti,

NO0odle No Carb Pasta, and House

Foods Traditional Shirataki Noodles.

Follow package directions. You'll

need to drain and rinse the wet varieties

before boiling or briefly sautéing them.

Almond

Flour Pasta

Cappello Pasta is

a combination

of almond flour,

tapioca flour, and

eggs, which gives

it a rich flavor and

silky texture that

tastes more like traditional pasta.

This Certified Paleo food isn't super

low in carbs, but it is lower than wheat

pasta. Compared to a serving of traditional

spaghetti, which has 41 grams of

carbs, a serving of Cappello's Almond

Flour Spaghetti has only 24. It also has

9 grams of protein and 14 grams of fat,

making it a substantial pasta substitute

that can be a meal all by itself.

Cappello's pasta cooks in boiling

water in as little as 75 seconds. Look for

it in the frozen aisle.

In the Mood for Lasagna?

If you want to make a low-carb lasagna, Cappello's Almond Flour Pasta Lasagna Sheets

or Palmini Hearts of Palm Lasagna are good noodle substitutes. Or try making your own:

ROASTED EGGPLANT LASAGNA SHEETS: Cut an eggplant lengthwise

into thin slices. Brush both sides with oil and roast the slices until soft

and golden, turning once. Use these roasted eggplant slices instead of

pasta sheets when making lasagna.

ROASTED ZUCCHINI LASAGNA SHEETS: Cut a zucchini lengthwise into

¼ inch-thick slices. Bake at 375°F for about 15 minutes, until fork tender.

Allow briefly to cool, then use in place of traditional pasta sheets.

AUGUST 2021 • 39
---
HEALTHY DISH *

Before I introduce this month's recipe

let me say a bit about a component of

eating that's almost as important as its

nutritional content. See, many foods

have an entire emotional history in our

memories, foods that we associate with

certain people or places or times in our

lives. There's a reason they're called

"comfort foods"—they're comforting,

for all the reasons just mentioned.

Unfortunately, those same "comfort

foods" aren't always the healthiest.

Chef Jeannette and I tackled this issue

when we wrote The 150 Best Comfort

Foods on Earth. We took all the usual

40 • AUGUST 2021

recipe makeovers full of modern flavor

Classic Summer Cobbler

A fresh, healthy take on one of Grandma's beloved recipes.

BY JONNY BOWDEN, PHD, CNS, AND JEANNETTE BESSINGER, CHHC

suspects and tried to give them a health

upgrade while still providing all the

happy memories of the original. Which

is exactly what Chef has done here with

one of the great grandmother-inspired

comfort foods of all time: cobbler.

In fact, the original recipe for this

amazing cobbler came from Chef

Jeannette's own grandmother, who—a

child of her times—used Crisco for the

shortening. We now know a few things

we didn't back then, one of which is that

butter—when it comes from grass-fed,

pasture-raised cows—can be a health

food (see "Featured Ingredient," p. 41).

Real, wholesome butter is a perfectly

acceptable food that also makes the

darn thing taste amazing. And because

the taste is so rich and smooth, we can

use a smaller amount of crust, which

is as light and flaky as any you'll ever

see. We leave the skins on the peaches

(rich in healthy plant compounds), add

blueberries for extra antioxidants, and

use only about a third of the sugar found

in conventional recipes. Put it all

together, and this cobbler hits all the

right notes as delicious and satisfying

summer treat.

—Dr. Jonny

Photo: Pornchai Mittongtare; Styling: Robin Turk; Food Styling: Claire Stancer
---
Photo: Getty Images

FEATURED INGREDIENT

Grass-Fed

Butter

Butter—from pasture-fed, organically

raised cows—is a wonderful, healthy

food. It's a rich source of vitamin A,

which is needed for healthy immunity

and vision. And it also contains the

other fat-soluble vitamins—E, K, and

D. Vitamin D deficiency is a real problem

because most Americans don't get

nearly enough of this cancer-fighting,

bone-building nutrient.

SUPER FATS

When you eat products that come

from healthy, grass-fed animals, you're

getting the benefits of the animal's

diet. Foods like butter that come from

grass-fed cows are rich in healthy fats,

including omega-3s and conjugated

linoleic acid (CLA), a particularly beneficial

fat that has anticancer properties.

The late biochemist Mary Enig, PhD,

author of Know Your Fats, noted that

the fat in butter inhibits the growth

of pathogens. That's because butter

is a source of antimicrobial fatty acids,

including lauric acid, which disables

many pathogenic

viruses.

"Butter is definitely

a fat with healthpotentiating

properties,"

Enig wrote,

and I couldn't

agree more.

make it!

Notes from the

Clean Food Coach

My grandmother doubled this crust

recipe and used the whole thing in one cobbler. She would add

half the peaches to the prepared baking dish, lay strips of

dough over them in a random pattern, top with the other half

of the peaches, and finish with the traditional crosshatch crust.

Blueberry Peach Cobbler

Serves 16

If you don't have a food processor, you can also use a pastry cutter or 2 knives:

Dice the chilled butter into pieces (or quickly grate by hand using a cheese grater)

and cut them into the flour until the mixture forms moist crumbs.

Cooking oil spray

5 lbs. ripe fresh peaches

¼ cup plus ½ tsp. plus 2 Tbs. Lakanto

(monk fruit), divided

¹/3 plus 1½ cups unbleached flour, divided

(gluten-free or grain-free varieties

work too)

2½ tsp. cinnamon, divided

¾ tsp. coriander

½ tsp. nutmeg

½ tsp. salt

²⁄3 cup grass-fed butter, well chilled

1 small egg, lightly beaten (or ½ large)

½ tsp. white vinegar

2 Tbs. cold water

1½ cups fresh blueberries

1 egg white, lightly beaten

1. Preheat oven to 425°F. Spray a 9 x 13-inch baking pan lightly with neutral, high-heat

cooking oil, and set aside.

2. Pit peaches and slice thickly (8–10 slices each, depending on size of peach). Place sliced

peaches into large bowl and sprinkle with ¼ cup sweetener, ¹⁄3 cup flour, 2 tsp. cinnamon,

coriander, and nutmeg. Mix gently and set aside to rest.

3. In large bowl, whisk together remaining flour, salt, and ½ tsp. sugar. Place cold butter

in food processor and pulse a few times to chop. Gently add flour mixture and pulse

just until it forms moist crumbs, scraping down the sides, as necessary. (Don't worry

if you can still see bits of butter—that helps with the flakiness.) Return flour mixture

to large bowl.

4. Whisk the egg, vinegar, and water together in separate small bowl, and pour into flour

crumbs. Knead with hands just until smooth, elastic consistency is achieved. Do not

overwork dough or it will become tough.

5. Flour a smooth surface and lay dough in center. Pull dough into large rectangle. Flour

rolling pin and roll dough into large rectangle about ¼-inch thick. Slice widthwise into

¾-inch strips. (If dough warms it will get sticky and harder to handle—refrigerate 10

minutes and try again.)

6. Stir blueberries gently into prepared peaches, and pour mixture into prepared pan.

Gently lift each pastry strip (using the sharp knife to help remove it in one piece, if

necessary), and lay lengthwise across the peaches. Then lay remaining strips widthwise

across placed strips to form a crosshatch pattern. Wrap any leftover dough tightly in

plastic wrap and store in refrigerator for another use.

7. In small bowl, mix together remaining 2 Tbs. sweetener and ½ tsp. cinnamon. Lightly

brush crust with egg white, and sprinkle cinnamon sugar evenly over the coated crust.

Cover tightly with aluminum foil and bake 30 minutes.

8. Reduce oven temp to 350°F and bake 20–30 minutes more, until fruit is bubbling.

Remove foil and cook about 20 minutes more, or until crust is lightly browned. Let cool

at least 10 minutes before serving.

Per serving: 190 cal; 4g prot; 8g total fat (5g sat fat); 27g carb; 30mg chol; 140mg sod;

3g fiber; 13g sugar

I kept the crust dough as it is to reduce the total carb

load of the dessert, but feel free to add a few strips in the

middle like my grandma always did. It makes for a kind of

lovely dumpling effect.

AUGUST 2021 • 41
---
COOK WITH SUPPLEMENTS *

easy ways to boost your nutrition

Good-for-You Greens

Green foods powders aren't just for smoothies.

Give your diet an energizing and immune-enhancing boost

with these easy-peasy recipes featuring nutrient-dense

green powders such as spirulina and wheat grass.

BY THE EDITORS OF BETTER NUTRITION

Spinach Green Goddess Dressing

Serves 8

Nothing tastes fresher than homemade salad dressing! This

extra "greened-up" version also makes a great replacement

for mayonnaise in chicken salad.

1 cup firmly packed spinach, stems removed

¾ cup sour cream

½ cup fresh parsley

½ cup chopped chives

3 Tbs. olive oil

3 anchovies (optional)

2 Tbs. lemon juice

½ tsp. monk fruit

(or sweetener of your choice)

¼ tsp. lemon zest

2–3 tsp. green foods powder

Salt and pepper to taste

Place all ingredients into blender,

and blend until smooth.

Season to taste with salt

and pepper. Store up to 3 days

in the fridge.

Per Serving: 90 cal; 1g prot; 9g total fat (2.5g sat fat);

2g carb; 10mg chol; 10mg sod; 0g fiber; 1g sugar

Arugula Aioli

Serves 10

This delicate lemony sauce goes especially well with fish.

But it's also delicious with roast chicken, and it makes an

excellent spread for sandwiches.

1 cup firmly packed arugula

leaves

¼ cup chives

1 egg yolk

2 tsp. lemon juice

2–3 tsp. green foods

powder

½ tsp. salt

1 cup olive oil

1. Place all ingredients except

oil into blender, and

blend until smooth.

2. Continue blending, and

slowly add oil through

feed tube until mixture

thickens, then pour oil in

at a faster rate.

Wakunaga Kyo•Green

Greens Blend Energy

3. Scrape mixture out into

container, and store in

fridge for up to 3 days.

Per Serving: 200 cal; 0g prot;

22g total fat (3g sat fat); 0g carb;

20mg chol; 120mg sod; 0g fiber;

0g sugar

Photo: Pornchai Mittongtare, Styling: Robin Turk, Food Styling: Claire Stancer

42 •

AUGUST 2021
---
Recover

Stretch

Defend

Nourish

Train

Soothe

Introducing Outside+, a new way to subscribe

to Climbing magazine. Unlock amazing benefits

like access to member-exclusive digital content

from 20+ brands, training plans, nutrition tips,

gear reviews, early event access, and much more.

SUBSCRIBE AT BETTERNUTRITION.COM/OUTSIDEPLUS

Run

Ski

Climb
---
EATING 4 HEALTH *

FODMAP stands for Fermentable

Oligosaccharides, Disaccharides,

Monosaccharides, and Polyols—shortchain

carbohydrates and sugar alcohols.

Found in a variety of foods, they're not

fully digested and absorbed by some

people, especially those who have IBS

or other gastrointestinal issues. In the

colon, bacteria feed on these undigested

sugars, releasing gases that lead to

bloating, cramping, and other symptoms.

FODMAPs may also have an osmotic

effect, meaning they draw water into the

intestines, causing loose stools.

The IBS Fix?

A number of studies show that a low-

FODMAP diet can reduce symptoms

in people with IBS, and some studies

suggest that a low-FODMAP diet is more

effective than standard dietary interventions

for controlling IBS. A low-FODMAP

diet can also benefit Crohn's disease,

ulcerative colitis, and inflammatory

bowel diseases (IBD).

If you do choose to follow a low-

FODMAP plan, do it right. Maximize

results and minimize adverse effects

with this simple guide for what to eat,

what to avoid, and how to do it right.

What To Eat, What To Avoid

The FODMAP diet is definitely restrictive

in its initial phases. Here's a simple guide:

Beans and legumes

Eat: Small amounts of canned black

beans (canned beans are generally lower

in FODMAPs). Soaking dried beans overnight

then draining and rinsing before

cooking also reduces FODMAP content.

44 • AUGUST 2021

foods & meals that heal

What Is the

Low-FODMAP Diet?

If you have digestive issues that haven't responded to other

treatments, you may be sensitive to FODMAPS.

BY LISA TURNER

Avoid: Kidney beans, split peas, chickpeas

and hummus, soybeans, lentils, and most

other legumes.

Fruits

Eat: Blueberries, raspberries, strawberries,

grapefruit, grapes, kiwi, cantaloupe,

oranges, lemons, and limes.

Avoid: Apples, pears, cherries, mangos,

figs, watermelon, dried fruit, blackberries,

peaches, prunes, and plums.

Vegetables

Eat: Spinach, kale, chard, lettuce, carrots,

tomatoes, bell peppers, celery, cucumbers,

eggplant, green beans, parsnips,

white potatoes, radishes, squash (except

butternut, which is a moderate FODMAP

food), turnips, and zucchini.

Avoid: Garlic, onions, artichokes, cauliflower,

mushrooms, peas, celery, leeks,

cabbage, shallots, asparagus, broccoli,

Brussels sprouts, fennel, and sweet potatoes

(4 ounces may be okay for some).

Dairy

Eat: Hard and aged cheeses such

as cheddar, Camembert, Parmesan,

blue cheese, Havarti, and Swiss in

moderation. Smaller amounts of

cottage cheese, ricotta, cream cheese,

feta, and Colby may also be safe.

Avoid: Milk, yogurt, soft cheeses, ice

cream, sour cream, processed cheese

foods and spreads, and whey protein,

unless it's labeled lactose-free.

Nuts and seeds

Eat: Almonds, peanuts, macadamia

nuts, pine nuts, and sesame seeds.

Avoid: Cashews and pistachios.

Grains

Eat: Rice, quinoa, corn (avoid sweet corn),

oats, and tapioca.

Avoid: Barley, rye, wheat, and any other

gluten-containing grains such as Muesli.

Proteins

Eat: Chicken, beef, turkey, lamb, fish,

shellfish, eggs, firm tofu, tempeh, and

edamame in moderation.

Avoid: Silken tofu, textured soy protein,

and gluten-based foods like seitan.

Herbs and spices

Eat: Most fresh and dried herbs and

spices, including rosemary, basil, tarragon,

parsley, ginger, and chives.

Avoid: Garlic, onions, and seasoning

blends with high-FODMAP ingredients.

Fats and oils

Eat: Olive oil, coconut oil, avocado oil,

sesame oil, butter, and most other oils

and fats in moderation.

Avoid: Oil-based condiments and salad

dressings that may contain high-FODMAP

ingredients such as garlic.

Sweeteners

Eat: Stevia, coconut sugar (small amounts),

maple syrup, and cane and brown sugar.

Avoid: Honey, molasses, high-fructose corn

syrup, xylitol, mannitol, maltitol, sorbitol,

inulin, chicory root extract, and agave.

Beverages

Drink: Coffee, tea, vegetable juices, and

small amounts of red or white wine.

Avoid: Beer, fortified wines such as sherry

and port, milk, and soft drinks sweetened

with high-fructose corn syrup.
---
Photo: Pornchai Mittongtare, Styling: Robin Turk; Food Styling: Claire Stancer

How to Do the FODMAP

Diet Right

The low-FODMAP diet is (or should be)

a three-stage process. In the first phase,

high-FODMAP foods are eliminated

from the diet to ease gastrointestinal

distress. In the second phase, some

FODMAP foods are slowly and systematically

reintroduced to determine

which ones trigger symptoms. The

third phase aims to personalize the

diet, reintroducing as many foods as

possible while avoiding FODMAPs

that exacerbate discomfort. Here's

how it works:

Phase one Elimination. Most plans

completely eliminate all high-FODMAP

foods from the diet for three to eight

weeks. It's important to be rigorous

here. The plan likely won't work if

you're only eliminating some—but

not all—high-FODMAP foods. The good

news is that you may feel relief in as

little as a week (though it can take the

full eight weeks for symptoms to ease).

Phase two Reintroduction. Once your

digestive symptoms have noticeably

eased, you can slowly and systematically

reintroduce some FODMAP foods to

your diet. Few people are sensitive to

all FODMAPs, so adding foods one at a

time, in small amounts, can allow you

to identify which types of FODMAPs

you can tolerate, and in what quantity.

(Ideally, you'll work with a nutritionist

to help you determine which foods to

reintroduce, and in what order and

amount.) This phase usually takes six

to eight weeks.

Phase three Personalization. This

step involves creating a long-term,

personalized eating plan that reintroduces

the safe foods identified in phase two.

The goal is to eat a wide variety of

foods and maximize fiber intake from

low-FODMAP foods, while avoiding

trigger foods. Because a person's

FODMAP tolerance can change over

time, keep an eye out for symptoms,

and revise as needed.

make it!

Low-FODMAP Summer Salad with Torn Thyme Croutons

Serves 4

This salad adds lots of low-FODMAP vegetables for a fast, fresh meal that's perfect for a

lazy summer afternoon. The croutons are seasoned with thyme and garlic-infused olive

oil—safe for low-FODMAP diets. For extra flavor, toast the bread over a hot grill until

golden. Sub tuna or salmon for the chicken, or skip the meat for a vegetarian version.

1 lb. green beans (about 40 beans),

trimmed

2 slices rustic or sourdough gluten-free

bread

3 Tbs. olive oil

1 tsp. dried thyme

4 cups shredded Romaine lettuce

2 cups loosely packed baby spinach leaves

1 small yellow or orange bell pepper,

cored and cut into strips

2 cups cubed or shredded cooked

chicken

Fody Low-FODMAP Caesar Salad

Dressing

1 cup grape or pear tomatoes

4 hard-boiled eggs, peeled and quartered

8 slices fried bacon, coarsely crumbled

1 cup shaved Parmesan cheese

1. Bring medium pot of salted water to full boil. Add beans and boil about 1 minute,

until bright green and crisp-tender. Remove from heat and drain into colander.

Rinse well with cold water, pat dry, and set aside.

2. Brush both sides of bread with olive oil, and sprinkle with thyme, salt, and pepper.

Tear bread into 1–2-inch pieces. Fry in dry pan over medium heat, tossing frequently,

until croutons are golden, about 4 minutes. Set aside to cool.

3. In large bowl, combine Romaine, spinach, bell pepper, and chicken. Toss with

enough dressing to lightly coat. Divide among four individual plates. Arrange green

beans, tomatoes, and eggs on top of salad. Sprinkle with bacon and cheese. Serve

immediately with additional dressing on the side.

Per serving: 720 cal; 44g prot; 50g total fat (11g sat fat); 24g carb; 280mg chol; 1070mg sod;

5g fiber; 8g sugar

AUGUST 2021 • 45
---
RETAILER SPOTLIGHT

Sterling Health Foods

Mike and Tamara Welch bought Sterling Health Foods

30 years ago—and business has never been better.

Sterling Health Foods:

a Colorado Original

Sterling Health Foods was founded

in Sterling, Colo. in 1971 by Ellen

Ressler. She started the business as

a tea shop and organic health food

store. In 1982, Ellen moved the

store to its present location: 18975

U.S. Highway 6, on the south end

of Sterling, which is about 2 hours

northeast of Denver.

In 1991, my wife,

Tamara, and I

purchased Sterling

Health Foods.

We wanted to

continue serving

the community in the

same way that Ellen did.

There have been many changes,

updates, and dreams fulfilled over

30 years. Some of our customers

are now reaching 100 years of age,

and agree that their lives have been

exceptional ones.

46 • AUGUST 2021

VISIT THE STORE

Sterling Health Foods

18975 U.S. Highway 6

Sterling, CO 80751

(970) 522-3525

Hours: 7 a.m. to 5 p.m. M–F

7 a.m. to 12 p.m. Sat.

Closed Sundays
---
PRODUCT SPOTLIGHTS

Bluebonnet Collagen Refreshers

& Organic MCT Powder

Bluebonnet is adding a fresh twist to traditional

collagen and MCT powders. Whether you're

tackling the gym or looking for a beauty lift, a little

cleanse, a shot of vitality, or just finding your Zen moment, these Collagen Refreshers

and Organic MCT Powders are deliciously refreshing and remarkably effective!

ChildLife Essentials Liquid Iron for Kids

ChildLife Essentials' Liquid Iron formula is an excellent source of supplemental iron

that tastes great! This chelated form of supplemental iron is easily absorbed

and one of the best-tolerated forms for sensitive stomachs.

Health Thru Nutrition Freedom Joint Support Formula

Freedom softgels is an award-winning product containing curcumin,

wild-caught fish oil, GLA, vitamin E, vitamin D, hydroxytyrosol, and astaxanthin,

all clinically substantiated to combat inflammation! A double-blind, placebo-controlled,

IRB-approved clinical trial conducted at Institute for Biomedical Innovation at UCLA

Medical Center shows that Freedom significantly impacted inflammatory markers

and systolic blood pressure in subjects.

Food For Life Ezekiel 4:9 Flourless Sprouted

Low Sodium Bread

Food For Life's Ezekiel 4:9 Flourless Sprouted Low

Sodium Bread contains no added sea salt. With

0mg of sodium per serving, this whole-grain option is ideal for

a heart-healthy diet. Other new low-sodium Items include Ezekiel 4:9 Low Sodium

Sprouted Flourless English Muffins, Ezekiel 4:9 Low Sodium Sprouted Flourless

Crunchy Cereal, and Ezekiel 4:9 Low Sodium Sprouted Flourless Tortillas.

Hälsa Dairy Free Scandinavian Style Oatgurt Unsweetened

From Hälsa, maker of 100% clean plant-based yogurts, comes Hälsa Plain Unsweetened

Zero Sugar oatmilk yogurt. With no naturally occurring or added sugar, this great

source of pre- and probiotics has only 90 calories per serving. This kitchen multitasker

is great for smoothies, dips, dressings, and other plant-based recipes.

Xlear Nasal Spray

Physician-backed and scientifically proven, Xlear Nasal Spray with xylitol is the most

effective, natural nasal spray. Not only does it alleviate congestion, it cleans your

nose. In fact, studies show that xylitol inhibits bacteria and viruses from sticking to

tissue, allowing them to be washed away. Breathe better, be better with Xlear.

AUGUST 2021 • 47
---
RECIPE 4 HEALTH *

Granola Girl Ambrosia

Serves 4

We used vanilla oat yogurt, but if you

want something fruitier, try a fruitflavored

yogurt such as mango.

½ cup orange sections

½ cup pineapple tidbits

1 apple, unpeeled, cored, and sliced

1 banana, sliced on the diagonal

½ cup blackberries

½ cup seedless grapes

1 cup Hälsa Vanilla Oat Yogurt (or more

if desired)

2 Tbs. honey

½ cup shredded coconut

½ cup pecans

1 cup granola (we like Purely Elizabeth

Grain Free Granola)

1. Combine orange,

pineapple, apple,

banana, blackberries,

and grapes in medium

mixing bowl. Let stand.

2. In small mixing bowl,

combine oat yogurt

Hälsa Scandinavian

and honey, and mix

Style Oatgurt

well. Stir in coconut

and pecans.

3. Add oat yogurt

dressing to fruit

and mix gently

to blend well.

Gently fold in

granola and

serve at once.

*

Per serving: 450

cal; 8g protein;25g

total fat (9g sat fat);

*

54g carb; 0mg chol;

*

125mg sod; 8g fiber;

38g sugar

*

48 • AUGUST 2021

eating clean made easy

Move Over Yogurt—Here

Comes Oatgurt!

Oat-based milks and yogurt are taking the nutritional world by

storm. And cooking with them couldn't be easier.

BY LISA TURNER

Why Oat Yogurt Is Gut-Friendly

Helena Lumme, founder of Halsa, shares a few interesting facts about

oats and oat-based yogurt:

Whole-grain oats contain prebiotic fiber that feeds and

stimulates the growth of healthy bacteria in the gut.

Artificial ingredients destroy the good bacteria in the gut.

Organic ingredients (in oat yogurt) without pesticide residue

help probiotics work better.

Probiotics are fragile. They can be destroyed by stomach acid,

heat, and time. Never mix probiotics with anything hot.

Photo: Pornchai Mittongtare; Styling: Robin Turk; Food Styling: Claire Stancer
---
1

"I just noticed that

I was sharper, I was

starting to remember

things better!"

"Even if you're not noticing

an issue with memory loss,

I would still recommend

taking it. I just feel like it

makes you sharper and

keeps you on your toes.

I wish I had taken

Prevagen 5 or 10

years ago."

**

Susan, 52

Sales Management.

Marathon Runner.

Paid Testimonialist

1

Based on a clinical study of

subgroups of individuals who

were cognitively normal or

mildly impaired.

AVAILABLE AT STORES NATIONWIDE

**Based on voting by Better Nutrition editors.

*These statements have not been evaluated by the Food and Drug Administration. This product is not intended to diagnose, treat, cure or prevent any disease.