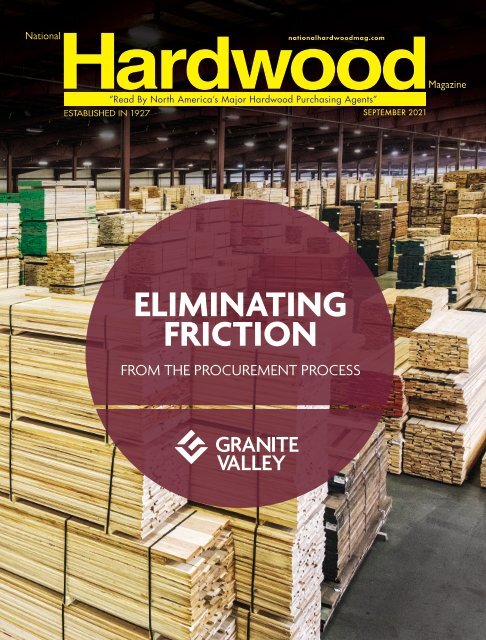 National Hardwood Magazine - September 2021
The September 2021 issue of the National Hardwood Magazine features articles on Ponders Hollow Custom Wood Flooring & Millwork, R&M Wood Inc. and SII Dry Kilns, plus photos from the latest expos, business trend updates and much more.
The September 2021 issue of the National Hardwood Magazine features articles on Ponders Hollow Custom Wood Flooring & Millwork, R&M Wood Inc. and SII Dry Kilns, plus photos from the latest expos, business trend updates and much more.
SHOW MORE
SHOW LESS
Create successful ePaper yourself
Turn your PDF publications into a flip-book with our unique Google optimized e-Paper software.
ELIMINATING

FRICTION

FROM THE PROCUREMENT PROCESS

SEPTEMBER 2021 n NATIONAL HARDWOOD MAGAZINE 1
---
...resources

...resources to

to

get

get to the

the get job

job the done...

done... job done...

...resources to get the job done...

800-356-4554

FINE HARDWOODS 800-356-4554 FOR

800-356-4554

AMERICA

FINE HARDWOODS FINE HARDWOODS FOR AMERICA FOR AMERICA

PRIVATE PROPERTY

www.pikelumber.com

KANOUSE

KANOUSE

FOREST

KANOUSE

FOREST FOREST

PRIVATE PROPERTY PRIVATE PROPERTY

www.pikelumber.com www.pikelumber.com

800-356-4554

FINE HARDWOODS FOR AMERICA

PRIVATE PROPERTY

KANOUSE

FOREST

www.pikelumber.com

From the forest to our broad product line, to delivery around the world,

From the the forest forest to to our our broad broad product product line, to line, delivery to delivery around around the world,

we provide exceptional value in every load of Pike Brand Hardwoods.

the world,

we we provide exceptional exceptional value value in every in every load of load Pike of Brand Pike Hardwoods. Brand Hardwoods.

A customized solution:

MIXED

LOADS

We can easily combine a wide

range of items on a single order

to suit your specific needs.

From the forest to our broad product line, to delivery around the world,

we provide exceptional value in every OUR PRODUCTS: load of Pike Brand Hardwoods.

NORTHERN AND NORTH

APPALACHIAN LUMBER

R

R

R

2 SEPTEMBER 2021 n NATIONAL HARDWOOD MAGAZINE

NHLA

MEMBER

NHLA

MEMBER

NHLA

MEMBER

PO Box 247

Akron, PO Box Indiana 247 46910

www.PikeLumber.com

Akron, Indiana PO Box 46910 247 (800) 356-4554

Sales@PikeLumber.com

www.PikeLumber.com

Akron, Indiana (574) (800) 46910 893-4511 356-4554

Sales@PikeLumber.com

www.PikeLumber.com

893-4511 (800) 356-4554

www.PikeLumber.com (574) 893-7400 Fax

www.PikeLumber.com

Sales@PikeLumber.com (574) 893-7400 (574) Fax893-4511

www.PikeLumber.com (574) 893-7400 Fax

R

Producer | Large Inventory | Thick Stock | Imported Wood

PO Box 247

Akron, Indiana 46910

www.PikeLumber.com

Sales@PikeLumber.com

www.PikeLumber.com

NHLA

MEMBER

primewood.com

(800) 356-455

(574) 893-451

(574) 893-740
---
About The Cover

Granite Valley Forest Products

Contents

National Hardwood Magazine SEPTEMBER 2021 Volume 95 No. 8

Features & Industry Events

ELIMINATING

FRICTION

FROM THE PROCUREMENT PROCESS

Granite Valley Forest Products is obsessed

with every step and every detail between the

forest and the customer's loading dock. "A

lot of things need to go exactly right every

time for a load of hardwood to be properly

harvested, dried, warehoused, and shipped,"

said Gus Welter, owner of Granite Valley. "If

even one thing is off—if someone gets a little

loose with grading, if a kiln is too hot, if air isn't

circulated properly, or a unit isn't tallied correctly—well, that simply isn't

acceptable."

Granite Valley is committed to being the easiest company to work with

in the industry, doing everything it can to make sure everything is right

every time. "Our customers are super busy, and they don't have time for

unnecessary friction," Welter commented. "They shouldn't spend even

an ounce of energy worrying if a load is going to arrive on schedule or if

it's going to be complete and of expected quality."

The day-to-day goal at Granite Valley is straightforward: make sure

every customer is delighted with both products and processes. With 40

operating kilns offering a robust capacity, they're able to take the needed

time to appropriately dry every board, without the pressure to rush

the process. Likewise, one of the industry's largest climate-controlled

warehouses holds a large inventory of species, enabling them to

routinely ship from inventory. The difference in quality and consistency

is notable; the difference in overall experience is impressive.

For more information about Granite Valley Forest Products, visit

granitevalley.com, email info@granitevalley.com or call 920-982-2542.

24

26

Ponders Hollow Custom Wood

Flooring & Millwork: Sharp

Eyes And A Steady Hand

Wood Runs In The Blood At

R&M Wood Inc.

28

SII Dry Kilns Celebrates

Over 50 Years In The Lumber

Industry

30

IHLA Thrives With People,

Partnerships, And A Little Bit

Of Luck

Departments

7 Hardwood Calendar

8 U.S.A. Trends

12 Canadian Trends

14 News Developments

16 HMA Update

32

36

18 AHEC Report

20 WCMA Insights

22 NHLA News

62 Who's Who

66 Trade Talk

Ron Jones Hardwood Sales Hosts

Penn-York Members

34 NWFA Hosts Successful Wood

Flooring Expo

40

Las Vegas Welcomes Back In-Person

AWFS ® Fair

It's Now Or NEVER!

24

74 Classified Profit

Opportunities

75 Advertisers Index

Founded in 1927 by: O.L. Miller – 1894-1963

Publisher: Paul J. Miller – 1963-2010

• Forest Products Export Directory • Imported Wood Purchasing Guide

• Import/Export Wood Purchasing News • Hardwood Purchasing Handbook

• Green Books's Hardwood Marketing Directory

• Green Books's Softwood Marketing Directory

• The Softwood Forest Products Buyer

Paul J. Miller Jr. – President

Terry Miller – Vice President

Zach Miller – Sales

Sue Putnam – Editor

Matthew Fite – Staff Writer

Lydian Kennin – Who's Who Coordinator

Rachael Stokes – Graphic Artist

Pamela McFarland – Graphic Artist

Tammy Daugherty – Production Manager

Jennifer Trentman – Green Book Market Sales

Lisa Carpenter – Circulation Manager

Lexi Hardin – Subscription & List Services

ADVERTISING OFFICES:

5175 Elmore Rd., Suite 23, Memphis, TN 38134

901-372-8280 FAX: 901-373-6180

Reach us via the Internet at: www.nationalhardwoodmag.com

E-mail addresses:

ADVERTISING: tammy@millerwoodtradepub.com

EDITORIAL: editor@millerwoodtradepub.com

SUBSCRIPTIONS: circ@millerwoodtradepub.com

EDITORIAL CORRESPONDENTS:

Chicago, Los Angeles, High Point, Grand Rapids, Portland, Toronto

Controlled circulation postage paid at Memphis, TN

(USPS #917-760)

The NATIONAL HARDWOOD MAGAZINE (ISSN 0194-0910) is published

monthly, except for two issues in December, for $55.00 per year and

$65.00 (U.S. dollars) per year for Canada by National Hardwood Magazine, Inc.,

5175 Elmore Rd., Suite 23, Memphis, TN 38134. Periodicals Postage paid at

Memphis, TN, and at additional mailing offices.

POSTMASTER: Send address changes to National Hardwood Magazine,

P.O. Box 34908, Memphis, TN 38184.

Publications mail agreement No. 40739074.

Return undeliverable Canadian addresses to:

P.O. Box 503, RPO W. Beaver Cre., Rich-Hill, ON L4B 4R6.

The publisher reserves the right to accept or reject editorial

content and Ads at the staff's discretion.

2 SEPTEMBER 2021 n NATIONAL HARDWOOD MAGAZINE SEPTEMBER 2021 n NATIONAL HARDWOOD MAGAZINE 3
---
BE PART OF

BUILDING

SOMETHING

BIG

Where We've Been

It's no secret, the hardwood industry has been losing market share to

products that look like wood, but have none of the natural benefits or

authentic attributes of Real American Hardwood. In order to recapture

market share and improve industry stability, hardwood organizations

united to form the Real American Hardwood Coalition.

Where We Are

The goal is to develop a national consumer promotion campaign on a

scale that's never been seen before. And a lot has been accomplished

in a short period of time—including the completion of an extensive

consumer research initiative, establishing brand guidelines, registering

trademarks, and launching social media profiles.

Where We're Going, Together

The next steps will have the largest impact on the industry and require

buy-in from all industry stakeholders. The Coalition is preparing to

launch a comprehensive promotion campaign—including a consumeroriented

website, in-store promotion at top big box stores, a broad

media relations campaign, social media influencer partnerships, print

and web advertising, and much more.

How You Can Get Involved

Moving the campaign forward and expanding its reach will take the

support of the entire industry—for the benefit of the entire industry.

■ Make a voluntary contribution to help fund the consumer

promotion campaign.

■ Use the Real American Hardwood logo on your sales and

marketing communications, facilities and vehicles, products,

and website.

■ Follow @RealAmericanHardwood on Instagram and Facebook,

and tag #RealAmericanHardwood in your social media posts.

Visit RealAmericanHardwood.org to learn more and get on board.

For over a century, Corley has given you the edge in the industry.

Our edger optimizers provide value, grade and volume-driven solutions; true random and fixed-width solutions; simultaneous

processing of multiple thicknesses, grades and species; taper solutions based on actual shape; online parameter changes

with no downtime; remote troubleshooting and software upgrades; Dynavision scanning in either 1" or 3" profiles; grade

intensive or pass through type systems; and custom control packages to meet individual mill requirements. What does this

mean? Maximum returns—year after year! Our experienced professionals can help you realize a profit potential you never

thought possible. Call us today or visit our website to discover what other lumbermen have known for over 100 years.

www.corleymfg.com

www.lewiscontrols.com

P.O. Box 471 | Chattanooga, Tennessee 37401 | tel: 423-698-0284 | fax: 423-622-3258
---
RESERVE YOUR AD SPACE NOW FOR THE 51 ST EDITION

OF THE HARDWOOD PURCHASING HANDBOOK

4,000 COPIES ARE SENT TO BUYERS OF 100,000 BOARD FEET OR MORE…

Such as manufacturers of:

Kitchen Cabinets • Furniture • Hardwood Flooring • Millwork

As well as…Distribution/Concentration Yards and Exporters of Hardwood Lumber

Atlanta Hardwood Corp./

AHC Huntersville

Allegheny Wood Products, Inc.

American Lumber Company

Baillie Lumber Company

Banks Hardwoods, Inc.

Bingaman & Son Lumber, Inc.

M. Bohlke Veneer Corp.

Cardin Forest Products LLC

Clark Lumber Company

Cole Hardwood Inc.

Collins

Robert S. Coleman Lumber

Co., Inc.

W.M. Cramer Lumber Co.

Cummings Lumber Co., Inc.

Deer Park Lumber, Inc.

Devereaux Sawmill, Inc.

Frank Miller Lumber Co., Inc.

G.F. Hardwoods, Inc.

Graf Bros. Flooring & Lumber

Graf & Thomas Lumber Co.

Granite Valley Forest Products

88% Renewal in 50 th Edition

Greentree Forest Products, Inc.

GTL Lumber Inc.

Hartzell Hardwoods Inc.

Hermitage Hardwood Lumber

Sales, Inc.

HHP, Inc.

Hoskins Lumber Co.

Kepley-Frank Hardwood

Co., Inc.

Maine Woods Co. LLC

McClain Forest Products LLC/

Legacy Wood Products LLC

Midwest Hardwood Corp.

Neff Lumber Mills, Inc.

Newman Lumber Co.

Northwest Hardwoods, Inc.

Nyle Systems LLC

OHC

O'Shea Lumber Company

Ram Forest Products, Inc.

RJ Lumber LLC

Carl Rosenberry & Sons

Lumber, Inc.

Hardwood

Purchasing

Handbook

Fiftieth Edition/2021

Featuring HARDWOOD:

• Lumber Manufacturers • Wholesale Suppliers

• Distribution Yard • Phone, Fax, Email

• Plywood Suppliers and Web Page Directory

(See Contents Page 4)

Somerset Wood Products, Inc.

Stoltzfus Forest Products LLC

Tropical Forest Products

Wagner Lumber Company, Inc.

Wheeland Lumber Co., Inc.

York Legacy Mill, Inc.

Full Page: $2,150 • 1/2 Page: $1,700

Color Additional

Note: All advertisers must carry a position in the Christmas Buyer's Guide Issue of

National Hardwood Magazine to reserve space in the Hardwood Purchasing Handbook.

$175.00 US/CN

$225.00 FOREIGN

For more information call 1-800-844-1280 or

email hph@millerwoodtradepub.com.

6 SEPTEMBER 2021 n NATIONAL HARDWOOD MAGAZINE

50th HARDWOOD PURCHASING HANDBOOK 2021 www.hardwoodpurchasinghdbk.com

Carl Rosenberry & Sons Lumber, Inc.

Celebrating 100 Years!

Since 1920, Carl Rosenberry & Sons Lumber, Inc. has been producing the finest

Pennsylvania Hardwoods for three generations. We are located in a small valley nestled

in the heart of the Appalachian Mountains.

Our tree length harvesting and milling system allows us to cut our logs to length inside

the mill permitting us to maximize yield, and cut specific lengths requested by our

customers – ranging from 4' to 16', at a production rate of 35,000 BF a day. We have a kiln

capacity of 350,000 BF with one million feet of dry storage and one million feet of air-dried

and green storage area. All lumber is graded after kiln drying. We offer S2S and width

sorted lumber for your specific needs.

www.rosenberrylumber.com

HARDWOOD CALENDAR

September

Penn-York Lumbermen's Club, Meeting, Host:

Walker Lumber and Forcey Lumber in conjunction

with Pennsylvania Forest Products Assoc., State

College, PA. www.pennyork.org. Sept. 13

National Hardwood Lumber Association, Annual

Convention, Palm Beach County Convention

Center, West Palm Beach, FL. www.nhla.com.

Sept. 22-24. n

NEW AND IMPROVED

• User friendly features

• More content

• Up-to-date information

Follow us on Facebook and Instagram

millerwoodtradepub.com

SEPTEMBER 2021 n NATIONAL HARDWOOD MAGAZINE 7
---
U.S.A. TRENDS

Supplier news about

sales, labor, prices, trends,

expansions and inventories

INDUSTRIES

CONTROLS

CLEEREMAN LUMBER COMPANY 1930's CLEEREMAN INDUSTRIES 1955 CLEEREMAN CONTROLS 2019

TODAY

LAKE STATES

Up in the Lake States, the markets continue to be solid.

A Michigan sawmiller said his market is "still good. It's

not quite as hectic, but it's still really strong. The market

is more stable than it was four months ago."

He manufactures Hard and Soft Maple, Red and

White Oak, Walnut, Hickory, Cherry, Poplar and Basswood.

Best sellers, he observed, are White Oak, Hard

Maple and Walnut. Thicknesses are 4/4 through 8/4 with

some 10/4 and 12/4. Grades are No. 3 and Better.

He sells this lumber to distribution yards (50 percent)

and end users (50 percent). He said his customers are

busy.

In Illinois, a sawmill representative rated his market

as "really good." It's better, he stated, than it was several

months ago. "It was good then," he said. "It's robust

now."

He sells Red and White Oak, Hickory, Walnut, Poplar

and Cottonwood. Selling best are White Oak, Hickory

and Poplar. Thicknesses range from 4/4 to 8/4. He

sells this lumber mostly to distribution yards. "It seems

like their business is good," he noted. "If they can get

the lumber, they can sell it. Their main problem is labor

shortage. We are a family business, so that's not a problem

for us." Transportation isn't a problem for him either,

he observed. "We have our own trucks. But from what I

hear, transportation is a problem for a lot of companies."

A Wisconsin lumber provider reported that his business

is "very good. I'd say it's better than a few months

ago. The prices are better. Demand was strong six

months ago and is strong now."

His products include Red and White Oak, Hard and

Soft Maple, Cherry, Hickory and Basswood in all grades,

mostly 4/4 with some 5/4.

NORTHEAST

The Hardwood lumber market in the Northeast remains

strong.

A Pennsylvania lumber provider said, "The market's

good. It's better than it was a few months ago. At this

time, we are heavier in the domestic market."

He handles Hard and Soft Maple, Red Oak, Cherry,

Poplar, Ash and Hickory. Selling best are Hard and Soft

Maple and Poplar. Thicknesses extend from 4/4 to 8/4.

He sells to distribution yards and end use manufacturers.

His customers' sales are good, he noted.

"Transportation has been exceptionally difficult," he

stated. "We're getting it done; we just have to wait longer

to get the product out the door. We're not backlogged.

We're continuing to keep product moving."

In New York, a wholesale lumberman judged his market

to be "pretty good. It's backed off, but we're still selling

all our lumber. Things aren't quite as robust as they

were, but if you go out and look for orders, you can get

them." This market, he stated, is better than it was several

months earlier.

He handles Red and White Oak, Hard Maple and

Cherry in FAS and Better and No. 1 Common. His best

seller is Hard Maple. Thicknesses are from 4/4 to 8/4.

He sells his lumber to distribution yards and end users.

Asked about his customers' level of business, he said,

"It's going well."

His experience with transportation is not the norm.

"We probably pay too much, but we have a good group

of truckers that take care of our needs," he noted. "However,

it is a problem getting containers for flatbed trucks."

A sawmiller in Connecticut assessed his market as

"pretty good. Everything seems to be moving. There

doesn't seem to be any real weak points in anything

we're producing."

Asked if his market was better or worse than six

Please turn to page 55 Please turn to page 55

CLEEREMAN

CLEEREMAN The most trusted name in carriages

n Over 1200 Carriages sold

n Lowest cost of ownership

n All parts in stock and reasonably priced

n In-house engineering department

n Everything from single piece equipment to

turn-key mills

8 SEPTEMBER 2021 n NATIONAL HARDWOOD MAGAZINE

Sales

SEPTEMBER 2021 n NATIONAL HARDWOOD MAGAZINE 9

STEFAN DRACOBLY

President Of

Controls

Now, TWO ENTITIES TO SERVE YOU BETTER!

PAUL CLEEREMAN

VP Cleereman

Industries & Controls

For optimal efficiency. . .

DAN TOOKE

Senior Optimization

& Controls Engineer

knows what a sawmill needs:

CLEEREMAN the newest name in sawmill controls and optimization

n Simple easy to use touch

screen with additional

tactile buttons

n Remote access for

troubleshooting

n No custom electrical

hardware, all parts are

off-the-shelf components

n Industry Standard

JoeScan X6 heads

n 3D data used for

opening the log and

estimating the back of

log profile

n Realistic views of the log

n Sure Grip Joystick

handles

n Operational statistics and

reports

n Over 65 systems sold

Cleereman Industries

and Cleereman Controls

715-674-2700

www.cleereman.com

info@cleereman.com
---
5

90

Billion BF Scanned

Systems Sold

Laser Accuracy • Measures Actual Length • Measures Wane • No Special Lighting • No Length Marks

SOUTHEAST

WEST COAST

Lumber providers in the Southeast are optimistic,

based on what they have seen in the marketplace.

An Arkansas flooring manufacturer stated, "My business

is strong. It's the best it's ever been. This trend

started in June of 2020."

His business is better than it was several months ago,

he judged.

He processes Red and White Oak and Hickory, with

Red and White Oak being his best sellers in flooring. His

customers, who are distributors, report business is "very

strong with heavy demand and lack of supply."

The downside of all this is that it's "hard to hire people,"

he said.

In Mississippi, a lumberman said that the previous six

months had been "really good. We're optimistic our business

is going to maintain its levels. I don't think it's going

to be what it was the past six months. But it's going to be

fine. I know one thing I'm seeing," he added. "Some mills

that were cutting pine are going back to Hardwood."

He sells mostly Oak and Poplar in all grades, from pallet

stock to FAS. This lumber is sold to end users who

produce flooring, crating and pallets. "Most of our sales

are for flooring," the lumberman stated.

His customers' sales have been "exceptional," he said.

Asked if transportation had been a problem, he replied,

"It has been. However, freight seems to be loosening up

a little bit, with more trucks available. So, there's a little

hope for us there that the freight rates are going to come

down a little bit. I think it's headed in the right direction."

A Georgia lumber supplier stated, "For the most part,

our market is good. Poplar is still hanging in there pretty

well. The green Red Oak is doing really well. I'm not sure

what's going to happen with FAS and Better. No. 1 Common

is a little shaky but it's still moving. No. 2 Common

Ask several lumbermen on the West Coast about how

their market is and, to a man, they mention the tight supply

of lumber.

In California, a lumber provider said, "The market's still

strong. You just have to have lumber to supply it. The

lumber will be coming after you order it, but it's not any

faster than it was about six months ago. It's still about

the same pace."

The lumber he sells comes in Uppers in No. 1 Common

and No. 2 Common in Walnut, White Oak and Hickory.

"White Oak and Walnut are the best sellers," he stated.

He sells to flooring companies and retail stores.

"They're saying their business is strong," he reported.

Asked about transportation, he replied, "It's still Ok,

no complaints. It's just harder to get containers shipped

on time here from the Midwest or the East Coast. Other

than that, it's not a problem out here getting trucks."

To the north, in Washington, a lumberman stated,

"Availability is still pretty tight. We're still struggling to find

odds and ends. Whitewood is tough to get; even Poplar

is in pretty thin supply. I haven't seen a lot of activity in

Red Oak."

He said that, although the market is good now, availability

of lumber was better six months earlier.

He sells mostly upper grades in Poplar, Hard and Soft

Maple, White Soft Maple and White Oak (which he said

may be cooling off in sales volume). His customers are

distribution yards and end users. "Everybody's doing

well in their sales," he remarked. "They're as good as

their production. It's the same old story; labor is a problem

across the board. There's not enough people to work

in the factories or mills, so that's slowing things down."

Transportation, he observed, is "a little bit better. I think

the transportation prices have eased slightly. For the last

Please turn to page 56 Please turn to page 57

VISIT US AT THE NHLA ANNUAL CONVENTION • SEPTEMBER 22-24 • BOOTH E3

www.VisionTally.com • sales@visiontally.com • (215) 393-5300

Sawmill MD • Mike Ballard (850) 974-1195 • SawmillMD@mindspring.com

Would you paint inside next to

your VisionTally?

Hartzell does and so can you!

State-Of-The-Art • Reduces Paint Overspray Tremendously • Designed In-House

Visit SawmillMD.com

click on the Hartzell Overspray System to to see in in operation

Hartzell Air Movement Paint Overspray System Presented by Sawmill MD

Sawmill MD • Mike Ballard (850) 974-1195 • SawmillMD@mindspring.com

10 SEPTEMBER 2021 n NATIONAL HARDWOOD MAGAZINE SEPTEMBER 2021 n NATIONAL HARDWOOD MAGAZINE 11
---
CANADIAN TRENDS

News from suppliers about prices, trends, sales and inventories

ONTARIO

As COVID-19 restrictions ease across the province,

the forestry sector is optimistic business will improve

through the fall. The continued vaccination efforts, the

reduction of reported cases, and the recent Canada border

reopening announcement are all positive factors.

Sawmills report decent volumes of logs over the summer.

For some, however, green lumber production had

not increased significantly due to the shortage of labor.

Demand for Hardwood products continues to be strong,

and so there was a push to build up inventories heading

into early fall. Demand is consuming production of developing

grades as well as for that of industrial products.

Domestic and international markets are performing well,

and keeping kiln-dried inventories thin.

With forest fires at a high, additional restrictions were

imposed on July 21st and are under the authority of an

emergency order in place for Northwestern Ontario. The

announcement added activities in the mining, rail, construction

and transportation industries that have the potential

to cause sparks and ignite fires. Forest industry

bans include blasting related to road work, the use of

mechanized power equipment and power saws for harvesting

or processing wood, and all hot work such as

welding, torching and grinding. These restrictions will remain

in place until further notice.

According to statistics, U.S. Ash exports to China fell

24 percent in the first five months of 2021 compared to

the same period in 2020. Contacts commented that they

have not improved. Domestic markets are performing

well and supplies are low. Prices for certain grades had

risen slightly, and wholesalers and secondary manufacturers

were looking to boost green lumber inventories.

Basswood supplies are low relative to demand, commented

contacts. However, in the Appalachian region

production has picked up and thus more available to

QUEBEC

With the construction break in Quebec, there was the

usual slow-down in activity. Businesses were working

hard to obtain the supplies they needed, as well as find

skilled workers, as is the case for most businesses. With

easing COVID-19 restrictions, companies are focusing

efforts on finding logs or lumber they need to move forward

as the economy continues to recover. Sawmills say

they have better log inventories now, and production is

gaining traction, although labor shortages and transportation

issues are a challenge. Most markets are doing

well and absorbing developing production. Sawmills,

wholesalers and end users are seeing higher fulfillment

rates on their purchase orders. Some state they are buying

certain items less as their inventories are mostly in

good shape. Flooring and cabinet manufacturers are

seeking more materials.

Contracts report that Canadian, U.S. and Mexican Red

Oak markets are performing well. China is still being the

greater buyer of steady volumes for this species. Kilndried

inventories are thin for most grades and thicknesses,

thus price has risen. Green Red Oak production has

improved over the summer, even though work was to

keep whitewood log decks supplied. Supply is marginally

adequate to satisfy buyers' needs.

White Oak demand for green and kiln-dried products

is not being met. It is hard to find sufficient volumes of

White Oak saw logs, and green lumber output is limited,

noted contacts.

Ash is reportedly doing well on domestic markets, sellers

report steady business to end users and wholesalers.

Export sales to secondary manufacturers are also

good, but sluggish to China. Ash production was increasing

along with many other species as we moved through

the summer, but supplies were still tight for some items.

Basswood demand from established customers is

Please turn to page 58 Please turn to page 60

12 SEPTEMBER 2021 n NATIONAL HARDWOOD MAGAZINE
---
NEWS DEVELOPMENTS

LINEAGE IS INTRODUCED AS AFFORDABLE,

AMERICAN-MADE FURNITURE

Chris Pelcher, former executive vice president, general

manager and chief merchandising officer for Art Van, Wolf

A Complete line of Machinery,

Controls and Software to fit your Mill.

sales@tsman.com | tsman.com

705.324.3762 | 24/7 Support 1-844-44-TSSVC

RUGGED | DEPENDABLE | INNOVATIVE

14 SEPTEMBER 2021 n NATIONAL HARDWOOD MAGAZINE

and Levin Furniture, recently debuted his new case-goods

line, Lineage Furniture.

This new furniture line uses solid U.S. Hardwoods and

is manufactured only in the United States (in Vermont and

Ohio). When he was preparing for the August launch for

the manufacturing of this furniture,

he contacted more than 50 of the top

100 furniture retailers. "The response

has been incredible," he stated.

Lineage will launch with eight domestically

made, all-wood master

bedroom collections. The bedrooms

are crafted from American Appalachian

Hardwoods like Maple, Oak

and Cherry. Solid wood Queen beds

will start at under $599 (cost). Queen

bed, dresser and mirror packages

start at under $1,499 (cost).

"The goal was to position the line at

or near landed pricing for higher end

Vietnamese or Indonesian bedrooms

and well under other U.S.-made

goods," Pelcher observed. "The big

advantage with Lineage is it's made

in the USA, and we have production

availability for the quantities retailers

need now."

Of the eight new collections, five

groups will come out of Lineage's

Northeast production facility and

three will come out of its Midwest factory.

The Northeast goods will feature

66-inch by 40-inch dressers, 56 to

60-inch-high headboards, contrasted

English dovetail drawer boxes and

a proprietary new mattress support

system.

The products coming from the Midwest

will be in the Lineage ELITE

program. These products are all

hand-built by Amish and Mennonite

craftsman. They will have a selection

of best-selling special-order colors

available.

NEWS ABOUT NORTH AMERICAN INDUSTRIAL

HARDWOOD CONSUMERS INCLUDING MERGERS,

PLANT EXPANSIONS & ASSOCIATION ACTIVITIES

For more information, email Cpelcher@lineagefurni

ture.com.

HIGH LEVEL OF HOME

IMPROVEMENTS EXPECTED

TO CONTINUE

Annual gains in homeowner improvement

and maintenance spending

are set to accelerate in the second

half of the year and remain elevated

through mid-year 2022, according to

the Leading Indicator of Remodeling

Activity (LIRA) released recently by

the Remodeling Futures Program at

the Joint Center for Housing Studies

of Harvard University. The LIRA projects

annual growth in home renovation

and repair expenditures will reach

8.6 percent by the second quarter of

next year.

"Home remodeling will likely grow

at a faster pace given the ongoing

strength of home sales, house price

appreciation, and new residential

construction activity," says Chris Herbert,

Managing Director of the Joint

Center for Housing Studies. "A significant

rise in permits for home improvements

also indicates that owners are

continuing to invest in bigger discretionary

and replacement projects."

"Larger gains in retail sales of building

materials suggest the remodeling

market continues to be lifted by DIY

activity as well," said Abbe Will, Associate

Project Director in the Remodeling

Futures Program at the Center.

"By the middle of next year, annual

remodeling expenditures to owner-occupied

homes are expected to

surpass $380 billion."

A year after the unprecedented

changes to the U.S. economy brought

UPGRADE YOUR

OPTIMIZATION EXPERIENCE

BIG enough to support your operation; small enough to care.

09 Members on

the software team

13 Members on

the controls team

24/7Support

with experts

in 3 time zones

across the globe

40+Optimization

systems

700+ Control

Systems installed

worldwide

on by the pandemic, many economic indicators are showing

extreme percent changes from pandemic-induced

lows. To reduce the immense growth rate volatility generated

by these year-over-year comparisons, the projection

704.200.2350

sales@automationelecusa.com

automationelecusa.com

Please turn to page 65

SEPTEMBER 2021n NATIONAL HARDWOOD MAGAZINE 15
---
HMA UPDATE

IT'S ALL ABOUT NETWORKING AND COLLABORATION

We do.

If COVID-19 has taught us anything,

it has certainly taught us how to be

flexible. Willing or not, we adapted

to the circumstances and conditions

surrounding us. Now, as we inch closer

and closer to a version of 'life the way it

used to be,' it is my personal hope that I

am able to maintain my recently 'honed'

personality trait. Because according to

those near and dear to me, flexibility has not been one

of my strong suits. Until now, that is!

Yet, in some cases and with certain activities, the 'old

way' of doing things is not necessarily all bad. And so, if

pandemic cautions continue to get farther and farther in

our rear-view mirror, HMA is planning a return to 'life the

way it used to be' regarding an in-person, face-to-face,

bring along your hard hat, fall Regional Meeting! Yes,

our members have been clamoring for the return of their

favorite networking event, and I agree. Long overdue is

an HMA Regional Meeting conducted the way it used to

be!

Now, if you are new to the Hardwood industry and/

or unfamiliar with the HMA, here's a snapshot of what

these 36-hour, members only, networking confabs entail.

•By touring sawmills, concentration yards and

secondary manufacturing facilities, HMA members

get to see the latest technology at work and witness

working solutions to common challenges and

problems.

•Plus, during bus rides to the tour sites and throughout

evening receptions and dinners, participants exchange

information with their seasoned counterparts; then

participate in discussions on industry issues, forest

resource topics, or Hardwood market

updates.

•Typically conducted in the spring and

fall of each year, these educational

and peer-to-peer networking events

are designed to deliver maximum

value in minimal time. And for my 20+

years with the Association, an absolute

'favorite' activity with our membership!

So stand by. If all continues as planned, Meeting

date/location details will soon be announced. Should

pandemic concerns again rear their ugly heads, HMA

will switch into flexibility-mode, and devise a Plan B

approach.

One additional item before closing …

Many of you are familiar with The American

Hardwoods Collection - a sample kit of 20 of the

most abundant Hardwood species, produced by the

HMA's American Hardwood Information Center, www.

HardwoodInfo.com, and distributed to students,

architects, designers, and industry stakeholders and

associates. Well, I'm pleased to

report that there is still diverse

interest in this excellent tool.

A recent phone inquiry from

a forester in the North Carolina

Department of Agriculture &

Consumer Services Forest

Service resulted in a dozen

sample kits being shipped to the Forest Service in

Raleigh. And this is what the forester told us.

Please turn to page 72

Call it unconditional, all-encompassing, you name it.

As a software developer committed solely to the lumber and

building materials industry, DMSi has every corner of your

operation covered. From inventory and sales to production

and procurement, we make sure no corners are cut

and no detail is left out. And that's a promise we'll hold true.

BY LINDA JOVANOVICH,

EXECUTIVE VICE PRESIDENT,

HARDWOOD MANUFACTURERS ASSOCIATION,

PITTSBURGH, PA

412-244-0440

WWW.HMAMEMBERS.ORG

16 SEPTEMBER 2021 n NATIONAL HARDWOOD MAGAZINE

Visit DMSi.com
---
AHEC REPORT

WHEN THE BEST AND THE WORST CONVERGE…

"It was the best of times, it was the worst

of times…" wrote Charles Dickens in A Tale

of Two Cities, in 1859. That great book was

written in the backdrop of the French Revolution,

an especially turbulent time in history

when dynamically opposing forces in politics,

religion and economics converged.

That time has significant similarities with

our time now culturally, but also similarities

in world economies and drilling down, similarities

in our Hardwood lumber economy

and especially in exports.

We have had countless conversations

with our peers, customers, vendors, and

transportation service providers who summarize

that demand is high and supply is constrained.

Nothing new to most of you. I will leave it to those smarter

than me (there are many) to prognosticate further

about prices, but you would have to have been "Cast

Away" on an island not to experience firsthand the dramatic

change in consumer appetite, worldwide. There

has been a sea change in consumer purchase patterns

away from "service" or "experiences" to durable goods. It

is not unreasonable to attribute that to the affects of the

COVID pandemic. Personal priorities have shifted, and

for durable goods manufacturers including Hardwoods,

that is a good thing. As an old-timer once said, THESE

ARE the good ole days!

One of my friends mentioned that we are in a "post

war economy." Another suggested there is nothing like

this since the American Industrial Revolution of the 1880-

1910 era, when as a matter of fact, there were more millionaires

per capita in Williamsport, PA, than anywhere

else in the world, due to booming wood products demand.

We will not all become millionaires of

course but suffice it to say our industry is riding

a tidal wave.

One of the consequences of worldwide

consumer demand for durable goods is logistics,

shipping. I have had the pleasure to talk

off the record with a notable shipping executive.

Here are some key points. The shipping

lines Exec's comments in quotations:

- There are no known seaworthy shipping

vessels not in use. It takes years to build a

new vessel, so ocean shipping is at full capacity

(nobody knows for sure but there is

probably upwards of 20 percent more cargo

tonnage on the water now than in any time in

human history).

• U.S. import volume is up 70 percent from last year,

and container prices for imports are at "auction" prices.

Today's price is $15,000 per Ctr from Asia to U.S./EU.

• U.S. export volume (all goods) is down 14 percent

because shipping lines are returning empty containers to

Asia. Empty containers are more valuable in Asia than

the "back haul" is worth.

• "It's not only U.S. and EU destinations in demand (although

they are leading), even India and other emerging

markets volumes are either stable or higher, even now

during pandemic shutdowns."

• COVID has and still is upsetting port's ability to quickly

unload and reload vessels, around the world. Congestion

at all the main seaports is a current crisis that will

continue into next year at least. "Even if a magic wand

solved today's crisis overnight, tomorrow's freight volume

would overwhelm the system again."

• "Rail, trucking, port labor pool, and a lack of enough

Please turn to page 73

BY DAVE WHITTEN,

DIRECTOR OF EXPORTS, BINGAMAN AND SON LUMBER INC.

AMERICAN HARDWOOD EXPORT COUNCIL, CHAIR

STERLING, VA

703-435-2900

WWW.AHEC.ORG

18 SEPTEMBER 2021 n NATIONAL HARDWOOD MAGAZINE SEPTEMBER 2021 n NATIONAL HARDWOOD MAGAZINE 19
---
WCMA INSIGHTS

WCMA/WMMA 2021 FALL CONFERENCE AND PLANT TOUR EVENT

WE ARE GRAF BROTHERS

The world's largest manufacturer of

rift & quarter sawn white oak products

The Wood Component Manufacturers

Association (WCMA) is joining

forces with the Wood Machinery Manufacturers

of America (WMMA) to hold

a joint Fall Conference & Plant Tour

Event. The event will be held in Louisville,

KY, from Tuesday, October 12

through Thursday, October 14. I know

as owners and managers of manufacturing

facilities, it is sometimes hard to

take the time for your own growth and

professional development, but let me assure you, this

event is a must attend! We can't wait to see you in person!

The event will give attendees the opportunity to meet

with colleagues, tour unique and successful manufacturing

plants, and attend educational sessions. We will

be touring Fischer SIPS, the Louisville Slugger Museum,

Koetter Woodworking, Anderson Wood Products, and

Brown Forman. At each plant, attendees will see firsthand

how companies are managing various aspects

of manufacturing, including optimization and scanning,

materials handling, lean manufacturing, tooling, and machining.

One of the most valuable parts of these tours is

seeing different methods of manufacturing and observing

what other companies are doing successfully. In addition,

there will be plenty of opportunities to network,

one of the biggest benefits of attending.

The event will be held at the Omni Louisville Hotel.

Located in downtown Louisville, you will have easy access

to Main Street and be able to indulge in Louisville's

bourbon culture at many popular distilleries. We have

reserved a block of rooms for attendees, and you will

want to reserve your room by September 24.

Non-members are encouraged to attend

to see what the WCMA is all about.

Any company that qualifies for membership

may attend the event at a higher registration

rate. If you decide to become a

member within 60 days of the event, the

WCMA will refund the difference in registration

cost and will discount your 2022

Annual Dues by 50%. We are proud of

our new efforts and want to share our

progress with potential members. We

are sure that after participating in these excellent networking

opportunities you will be excited to join.

If you are a manufacturer of wood components or dimension,

and not a current member of the WCMA, now

is a great time to join. The WCMA is committed to becoming

a progressive, nationally recognized association,

whose focus is meeting the needs of its members.

Membership provides access to a wide range of industry

experts, and your colleagues are often your best source

for in-depth insight and ideas. Our members share openly,

freely, and with great enthusiasm, and know that success

of individual businesses translates to success of

the industry as a whole. To read more about the benefits

and join today, just visit our website at www.wcma.com.

If you have not yet registered for the 2021 Fall Conference

and Plant Tour Event, please visit our website

at www.wcma.com or call the office at 651-332-6332

or wcma@wcma.com. Louisville is a great city, and we

encourage you to spend an extra day or two to visit the

area. We look forward to seeing you in October! n

From logs to lumber, timber to flooring, and everything in between,

consider us your sole source for all your hardwood needs.

LOG SALES

Partner with us!

ROUGH LUMBER

FLOORING INVENTORY

BY AMY K. SNELL, CAE,

EXECUTIVE DIRECTOR,

WOOD COMPONENT MANUFACTURERS ASSOC.,

LINDSTROM, MN

651-332-6332

WWW.WCMA.COM

QUALITY / LOYALTY / TRADITION

606-932-3117

sales@grafbro.com

www.grafbro.com

20 SEPTEMBER 2021 n NATIONAL HARDWOOD MAGAZINE SEPTEMBER 2021 n NATIONAL HARDWOOD MAGAZINE 21
---
NHLA NEWS

a new class of edgers

THE ROLE OF EDUCATION AND TRADE ASSOCIATIONS

The National Hardwood Lumber Association

created the Hardwood Lumber Grading

Rules more than 120 years ago. Since

that time, NHLA has been the educator of

those ever-changing Rules and the promoter

of industry knowledge. With the onset

of COVID last March, the usual in-person

delivery method of education got disrupted,

leaving all of us scratching our heads a bit.

In May of 2020, NHLA hosted its first webinar series on

the process of Kiln Drying Hardwood Lumber. The 4-part

series featured Dr. Eugene Wengert, aka the Wood Doctor,

and had more than 348 registered attendees. NHLA

has never had 348 attendees outside of the Annual Convention.

We were thrilled beyond belief at the educational

outreach we were able to obtain. From May to September

of 2020, NHLA hosted a dozen more webinars all

FREE, and all with amazing attendance. In September,

the entire NHLA Annual Convention was held via a virtual

platform with a strong turnout.

As society and the Hardwood industry began returning

to "normal," we wondered if the lure of the webinar would

lose its appeal. Would people want to have in-person

education? Had they grown tired of virtual life? In 2021,

as of the writing of this article, NHLA has scheduled more

virtual education and has completed one webinar, which

almost 100 industry professionals attended.

Associations can play a major role in employee training.

We have access to employers, who

are looking for skilled labor that doesn't

necessarily require a secondary degree;

we have experience with certification programs;

and we know that our programs

need to accommodate people who are

working full time and have other responsibilities.

We can also play a major role in

educating those who may not yet be employed

within the industry.

The offering of webinars may have been prompted by

necessity but is here to stay by design. Virtual education

will not replace our in-person classes but enhance the

calendar of offerings for everyone and may lead to new

and expanded in-person education.

NHLA is always looking for ways to provide the industry

with education. Education for individual advancement

but also for the betterment of the company. We can

help people get a job, keep a job, and get a better job.

Check-out our calendar offerings for in-person and virtual

educate at nhla.com. If you have a suggestion for a

Hardwood industry related class, please let us know by

sending an email to info@nhla.com. n

*All past webinars are available for replay through the

NHLA Online Store and are free for NHLA members.

Introducing the new

sterling yieldboss

hybrid edger

by McDonough

Optimized system combines operator knowledge & the

best of linear edgers.

The YieldBoss Hybrid Edger is affordable and delivers increased yield

and high piece count.

From the industry leader with 50+ edger systems in operation.

BY RENEE HORNSBY,

DIRECTOR OF MARKETING & COMMUNICATIONS,

NATIONAL HARDWOOD LUMBER ASSOCIATION,

MEMPHIS, TN

901-399-7560

www.nhla.com

22 SEPTEMBER 2021 n NATIONAL HARDWOOD MAGAZINE SEPTEMBER 2021 n NATIONAL HARDWOOD MAGAZINE 23
---
Ponders Hollow

Custom Wood Flooring & Millwork:

Sharp Eyes And A Steady Hand

24 SEPTEMBER 2021 n NATIONAL HARDWOOD MAGAZINE

By Deborah Wilbrink

ABOVE: Custom painted Poplar mouldings and trim add elegance

to a home.

LEFT: Here is an example of wide-plank Red Pine flooring.

—Ponders Hollow Custom Wood

Flooring & Millwork, headquartered here, takes

a hands-on approach to manufacturing. Ponders

Hollow specializes in plank flooring, which is 50

percent of the business, including solid, engineered, and

pre-finished. The other 50 percent is custom architectural

moulding, with over 5,000 profiles.

President and Owner Gerry Lashway purchases 1.7

million board feet annually from mills, distributors and

wholesalers. The majority of the wood is Poplar in 4/4-

8/4 random lengths, Select and Better, for millwork,

crowns, baseboards and casings. These are custom-run

to individual orders. Birch, Cherry and Maple are also

used for the millwork. Most of the Ponders Hollow mouldings

are of pre-primed Poplar, ready for the final coat

of paint. Lashway stated, "We're running all different

components for a house that's full of painted trim, from

small bin mouldings to wide baseboards to multiple-cut

crowns. We buy different thicknesses and lengths. As the

order comes in, that's how we buy the lumber."

The wide plank Hardwood flooring requires Rift, Quartered,

and Live-Sawn White Oak, Hickory in different

grades, Walnut in clear, select grades, Red Oak and Ash.

Lashway reported, "Over the years, we've done a good

job here of having a range of suppliers who will work

with us and get what we need. Like other companies, we

struggle to find the increasingly desirable White Oak in

Rift and Quartered."

Ponders Hollow also makes softwood flooring, with

200,000 board feet to be purchased in the coming year.

Eastern White Pine from the Massachusetts area, Longleaf

heart pine from the South, and Canadian red pine

make these beautiful floors. Lashway prizes pine for

its possibilities. "You can really see the beauty of how

a tree grows when you have these wide, long boards.

To be able to have an open floor plan with 16-foot long,

12-14-inch-wide pine going through it makes a gorgeous

floor," he enthused.

The Lashway Lumber sawmill, where Lashway and

An employee moves a cart of freshly milled wide-plank livesawn

White Oak flooring.

his brother Larry were the fourth generation to learn the

wood trade, provides a small percentage of the lumber

used by Ponders Hollow. Their father, Gerald Lashway,

noticed impending change in the lumber industry and

planned an additional business, Ponders Hollow Custom

Moulding & Flooring, Inc. Gerry Lashway remembers,

"I was with it from the beginning. We began building

in 2004. By the end of the summer in 2005, we were

running machines." The company recently purchased a

Friulmac End Matcher for squaring and end matching

tongue-and-groove wide plank floors, significantly improving

the wider choices.

Gerry Lashway's degree in forestry shows in his love of

wood and his desire to put hand-crafting into every item

off the floor. He said, "We are hand-making something

special for a person's home. People put very few things

in their house that will last the life of the house. The flooring

and millwork is one of them. It's really important for

our team to know that. Whether you're a homeowner or

you rent, you replace your appliances, furniture, tables

and light fixtures. Not too often do people tear up the

Please turn to page 42

This wide-plank light character White Oak flooring includes light

whitewash and finish by the customer.

SEPTEMBER 2021 n NATIONAL HARDWOOD MAGAZINE 25
---
(From left) Thomas Rhodes, John Treat, Molly Moore, Seth Moore and Raymond Hamilton at R&M Wood Inc.

Wood Runs In The Blood At

R&M Wood Inc.

"This company was built on

the shoulders of a hardworking

and determined man, and we will

continue to make his name and

company known as nothing short

of excellence in the Hardwood

industry."

–Molly Moore,

operations manager and kiln operator,

R&M Wood Inc.

By Michelle Keller

Harrison, AR–R&M Wood Inc., based here, is a Hardwood

lumber distributor that specializes in Red and White Oak.

The company also carries Hickory, Ash, Cherry, cedar

(4/4, 5/4); and Soft Maple (4/4 through 10/4, No. 1 Common &

Btr). Additionally, R&M Wood, which has evolved from a concentration

yard selling truckloads to large manufacturers, now is a

distributor of lumber that also sells LTL's to smaller manufacturers,

such as cabinet and millwork companies.

Purchasing 2.5 million board feet annually, R&M Wood Inc.

was bought from TM Wood Products in 2016. Marty Wood, the

owner and founder, began his business of specializing in quality

Hardwoods at his concentration yard in Northwest Arkansas in

2014. What once was a small shed with a few men stacking

lumber on sticks, and only 500,000 board feet of inventory on

the yard is now roughly 20,000 square feet of dry storage, 15

employees that manually process green and kiln-dried inventory

daily, and 1.2 million board feet on an air-dry yard.

When Wood is the family name, a business in the forest products

industry is almost obligatory. This particular Wood line of

family has been making a name for themselves in the

lumber industry since the 1960's when Fred Wood

was featured in an Arkansas magazine article for his

innovations of sawmilling over his 26 years being in

the business. Many years later, after serving in the

Air Force, Marty's father, Buddy Wood took interest in

sawmill engineering, which led the Wood family back

to Arkansas and sparked Marty's love and interest

for the lumber business. Marty began his experiences

by quickly working his way towards becoming an

inspector at Pickens Lumber Company. He attended

the National Hardwood Lumber Association (NHLA)

Inspection school with the 71st class. After several

years of inspecting lumber for various operations

throughout the south, he was offered a promotion to

wholesale lumber, which he excelled at enough to

build a clientele to achieve his dreams of owning his

own business.

In the start of the recession in 2007, TM Wood

Products was founded and even with a rocky start

he profited enough to once again fulfill a dream of

owning and operating his own distribution yard. Marty

worked tirelessly to build a crew that would eventually

manually process 20,000 to 30,000 board feet of

quality Hardwood lumber daily. Now his efforts and

interests are a legacy for his daughter, Molly Moore,

as she begins to take over responsibilities, such as

operating the dry kilns and managing operations at

their concentration yard in Harrison, AR. Thomas

Rhodes and Seth Moore are the remainders of the

original TM Wood Products' team and both men have

taken on new roles, such as sales and purchasing.

Molly and Seth fully intend on keeping Marty's reputation

of quality and loyalty in this industry by adding

to her dry kiln operation and maintaining an efficient

crew. "We dry 300,000 board feet of lumber monthly

and have the capability to customize orders by double

end trimming and/or surfacing any kiln-dried loads,"

Please turn to page 44

Aerial view of R&M Wood Inc.'s facility in Harrison, AR.

Marty Wood (owner, R&M Wood) stands in front of the company's

double end trimmed 5/4 FAS White Oak, ready for shipment. R&M

buys 2.5 million board feet of lumber annually.

Double-end trimmed 5/4 FAS White Oak with the company logo stands ready for shipment.

26 SEPTEMBER 2021 n NATIONAL HARDWOOD MAGAZINE SEPTEMBER 2021 n NATIONAL HARDWOOD MAGAZINE 27
---
SII's spacious welding shop is where fabrication of dry kilns is

accomplished.

SII owns the process of providing dry kilns to customers: from

engineering, shown here, to installation to providing parts after

the installation.

At SII Dry Kilns are, from left, Ben Mathews, vice president of engineering and production; Brian Turlington, vice president of sales;

Dan Mathews, president; and Mary Mathews, inside sales / parts manager.

SII Dry Kilns Celebrates Over

50 Years In The Lumber Industry

Lexington, NC—SII's equipment

can be seen producing high quality

products for hundreds of lumber

companies throughout America.

While being a staple in the lumber

industry, SII, headquartered here,

has also cultivated hard-working

principles that set them apart from all

other kiln companies, according to a

company spokesman. Since 1969,

the company has remained a family

owned and operated business by

the Mathews and Turlington families.

"We manufacture all of our products

'in-house,' which allows us better

oversight of the fabrication process,

and most field installation is done by

our crews, who have decades of experience

building drying equipment.

We own it from beginning to end,"

stated Brian Turlington, vice president.

In addition to that, SII is versatile

in the kinds of kilns they install,

from conventional package-loaded

and "SII-Design"-center-fan-wall

Hardwood kilns to Dual Path Continuous,

or DPK's, and double or single

track-loaded softwood kilns.

SII offers various alternatives to

air drying lumber with fan sheds

and multi-zoned pre-dryers for the

Hardwood industry. "These products

allow our customers to maximize

their kiln throughput by minimizing

the amount of kiln-time required to

dry and condition the lumber," stated

Ben Mathews, also a vice president.

SII provides complete kiln rehab

and rebuild services including

roofs and wall panels, doors, heating

systems, fan decks and structural replacements.

SII builds kilns as small

as 10,000 board feet up to 250,000

board feet. Their kilns are tailored to

the specific needs of the client.

President Dan Mathews recalled,

"The company was started in 1969

by my father, Paul Mathews, and his

partner, Jim Morgan. Dad handled

the sales, and Jim was the hands-on

expert. The company was strictly an

installation company," Dan Mathews

continued. "My father sold for other

manufacturers of kilns. Some of

those manufacturers didn't want to

install the kilns, and that opened the

door for a kiln installation company.

That's how the company really began,"

Dan said, "and that's where

the name came from – Southeastern

Installation Incorporated (SII)."

In the late 1970s, Paul's son Tom

Mathews came to work for SII, and,

according to Dan, "He is the one that

pushed for more manufacturing. So,

that's how we really got going into

the manufacturing end of it." In the

late 1980s, the company began doing

business as SII Dry Kilns.

The first kilns built by SII were furniture-style

kilns made with masonry

walls with steel trusses overhead,

Dan stated. "As SII began to grow

and we did more installations and

more manufacturing of components,

it became more apparent that prefabricated

construction of kilns with

corrosion resistant materials was the

future rather than staying with masonry

kilns." That's the point at which

Dan became involved with SII. He

left his architectural firm and came on

board full-time, joining his father and

brother, on Jan. 1, 1990. The next

year, Paula Turlington, Dan's sister,

joined the company and worked

closely with Paul in sales. She later

became the vice president of sales

for the company. With Paul's wife,

Dorothy Mathews, working in and out

of the office, SII had developed into a

complete family operation.

"We evolved through the 1990s,

doing more and more manufacturing

of the complete facility for the drying

operation, whether that happened to

be in kilns, pre-dryers, fan sheds or

other types of equipment. That's how

we grew into more of a manufacturing

company, rather than just installing

or refurbishing of other manufacturers'

equipment," Dan recalled.

In 1995, Tom Mathews, died of

cancer. Also, in 1995, Brian Turlington

came to work for SII. In 2002,

SII is going to make sure that they get the part to the customers

as fast as possible to avoid downtime.

"We are definitely not cookie-cutter, and we are

not boxed into certain types of designs. Everyone

knows they get that backstage access to any of us

– after the sale, and I think that is exceptional."

Ben Mathews came on board. Mary

Mathews came to work for her family's

company in 2012.

Today, Dan Mathews is President

of SII, Ben Mathews is Vice-President

of Operations, Brian Turlington

is Vice-President of Sales and Mary

Mathews oversees the inside sales/

parts division. In sales, Ken Matthews

services the Southeast and

South Central, Jim Higgins works

– Ben Mathews,

vice president of operations,

SII Dry Kilns

in the Midwest and Lake States and

Bob Pope covers Pennsylvania to

New England. The organization employs

more than 60 people.

In the parts division, "We not only

inventory over $200,000 of kiln

components from valves to actuators,

controllers, motors and fan

blades for immediate shipment, but

also we have lots of vendors that

we have great relationships with,"

Please turn to page 46

Y&Y Hardwoods in Thomasville, NC has four Package Kilns.

28 SEPTEMBER 2021 n NATIONAL HARDWOOD MAGAZINE SEPTEMBER 2021 n NATIONAL HARDWOOD MAGAZINE 29
---
This grouping of past presidents underscores the lifetime investment that is common among IHLA's top volunteers. Service to their

association and industry runs throughout careers and even generations.

IHLA Thrives With People,

Partnerships, And A Little Bit Of Luck

By Ray Moistner,

Executive Director, IHLA

siders itself an "old-fashioned" industry – one in which

a handshake is a bond and face-to-face interactions,

personal relationships and networking are essential. But

that, too, is changing before our eyes, and associations

had better produce results and return on investment

as our membership grows globally, consolidates, and

learns to use electronics to work more efficiently. Labor

shortages and adapting to the pandemic have accelerated

this transition.

IHLA, once an Indiana-only group, now has members

in 34 states, four Canadian provinces, and a few other

countries. I attribute our success to three main areas:

1.We realized almost 20 years ago that we were going

to have to be seen as an economic engine rather

than a consumer of natural resources if we were

going to truly overcome the activism and have a

chance to tell our story about our products' environmental

benefits.

2.The multi-generational foundation of our membership

contributed to a tremendous sense of loyalty

and volunteerism within IHLA that is truly unique and

broader than in most associations. We never forget

how lucky we are in this regard.

3.The partnerships and relationships we have forged

with government agencies, academia, and the legislature

have allowed us to leverage resources in

ways that truly produce tangible results for the industry

and our members.

Then, there's a fourth factor. It involves a few key moments

in time where timing and luck intersected with opportunity.

Let's flash back again to 2003. Then-Senator Richard

Lugar, a Hardwood tree landowner himself (and a tireless

advocate for our industry) hosted a meeting in Jasper,

Indiana. The purpose was to examine the mass exodus

of furniture companies from the Carolinas to offshore

places of cheap labor, particularly China. A day-long session

was held, with speakers from all over, including the

Carolinas, sharing stories and trends, with the goal of

preventing the same from happening in Indiana.

That meeting, for IHLA, resulted in a document called

"Hardwood Vision." It was a crude gameplan identifying

vulnerabilities and necessities for domestic industry survival,

realizing that without the secondary manufacturing

sector, the primary sector could not thrive.

We needed reliable statistics to validate the economic

strength of our industry, and a playbook for getting those

numbers out to policy-makers and the general public. We

needed a means of relaying the positive environmental

benefits of wood to a wide variety of audiences, including

builders, architects and the public. We needed technology

and research transfer from universities to the industry,

and the ability to help our members expand their markets

for lumber and finished goods globally. Importantly, this

was at a time when we were frustrated that we could

Hardwoods as part of their study. After we were invited

to the table, we were handed a report of preliminary findings

which showed that Hardwoods were in the top ten

of Indiana agricultural sectors.

However, once we pointed out that they were only

looking at the sawmill output side of Hardwoods, and not

veneer, secondary, and ancillary businesses, we quickly

vaulted to the top, accounting for 31 percent of all Indiana

agricultural outputs, and larger than the next four

sectors – combined!

This coincided with the election of Mitch Daniels as

governor, and his creation of Indiana's first Department

of Agriculture, making us the last state in the nation to

have an Ag department. ISDA formed in 2005, and adopted

the BioCrossroads report and recommendations

as their first strategic plan, instantly elevating Hardwoods

to the top of the food chain and giving us what we

had planned to pay the think tank handsomely for – all

for free. Suddenly the state's leadership was touting the

Hardwood industry everywhere, including overseas, often

to the chagrin of "traditional agriculture."

The importance of Hardwoods remains important to

ISDA today, and they have a separate division for us,

which has helped in several policy areas and legislative

successes. By identifying as an agricultural industry with

70,000 employees and an annual economic impact of

over $10 billion, we have been able to pass key legislation,

such as:

•The enactment of the nation's most effective Right to

Practice Forestry law.

•An Ag-based sales tax exemption for timber harvesting

equipment.

•Increased truck weight limits, again based on being

part of agriculture rather than resource extraction.

•Continued legislative support of our efforts to block

harmful legislation from activist groups, despite Indiana

being second only to California in anti-forest

The Indiana Hardwood Lumbermen's Association

(IHLA) is a 123-year-old trade association that is more

activism. As social polarization has evolved, this has

relevant and effective today than at any time in its history.

The Woods on Wheels mobile education classroom started its

Please turn to page 48

engine in April of 2021, and has barely stopped moving since,

But, before I share the secrets of IHLA's success, I don't

spreading positive messaging and the truth about woods economic

and environmental advantages.

think you're going to buy in unless you first accept an

important history lesson.

not get "traditional agriculture" in Indiana to accept Hardwoods

as a part of agriculture.

Let's flash back 50 years or so, to around 1970. If I

had told you then that companies like RCA, IBM, Sears

Making a long story shorter here, after engaging in a

and Roebuck, Eastman Kodak and Mobil Oil would be

costly agreement with a local think tank to compile data

afterthoughts in half a century, you would certainly have

and execute our strategy, the think tank uprooted from

written me off as a radical or a fool. But today, those corporate

giants are Amazon, Walmart, Apple, CVS and

Indiana and moved to the east coast, leaving us high and

dry. We scoured other entities for a partner who could

Starbucks, and I think it's safe to say that in another 25

deliver the same, only to come up empty. That's right

years the list will be full of new names again.

about when the luck set in.

The simple point is that evolution and re-invention are

Again, saving a long story here, a quasi-governmental

the keys to survival, and for trade associations it's even

entity (BioCrossroads) had formed in Indiana, primarily

more important to adapt your services to the ever-evolving

needs of your members and the environment in which

for the purpose of doing a comprehensive study of Indiana

agriculture and its economic impact. In fact, they

they do business.

The inaugural Hoosier Hardwood Festival was held August 27-29

actually held some meetings before deciding to include

Yes, it is very true that the Hardwood industry still conin

Indianapolis.

30 SEPTEMBER 2021 n NATIONAL HARDWOOD MAGAZINE SEPTEMBER 2021 n NATIONAL HARDWOOD MAGAZINE 31
---
Ron Jones Hardwood Sales

Hosts Penn-York Members

Reno, PA–The Penn-York Lumbermen's Club met

here recently at the Wanango Country Club. Ron

Jones Hardwood Sales Inc. was the host for this

meeting. Sawmill representatives in attendance reported

a mixed market at the time of this meeting. Some were

challenged in regard to finding enough logs due to rainy

weather, while others reported their log decks were fine

because they had brought in ample log inventory prior to

the rain that occurred. Lumber species that were selling

Photos by Gary Miller

strong at the time of this meeting included Hard and Soft

Maple, Poplar and Walnut. Cherry sales were reported

as fair and price weakness on Red Oak was evident. A

recurring concern at all industry meetings was obvious

at this meeting as well, and that pertained to a shortage

of laborers.

Guests and members enjoyed a golf game, a buffet

dinner and attended a presentation by Todd Swanson,

PNC Bank's senior vice president and senior investment

Please turn to page 41

Dave Sondel and Chris Fehr, U-C Coatings LLC, Buffalo, NY; and

Adam Miller and Josiah Bloise, JB Mill & Fabricating Inc., New

Castle, PA

Jesse LaSon, The Rossi Group, Cromwell, CT; Matthew Lowry,

Woodcraft Industries Inc., Greenville, PA; Paul Kephart, Northwest

Hardwoods Inc., Beachwood, OH; and Stephen Zambo, Ally

Global Logistics LLC, Weymouth, MA

Kaylynn Ostergard and Diane Cooper, Ron Jones Hardwood

Sales Inc., Union City, PA; Eddie Deavers, Danzer Lumber North

America Inc., Shade Gap, PA; and Cheryl Xander, Ron Jones

Hardwood Sales Inc.

Randy Flament, Emporium Hardwoods Inc., Emporium, PA; Trevor

Vaughan, Ron Jones Hardwood Sales Inc., Union City, PA; and

Russell Shamblen, Premium Hardwood Products Inc., Syracuse,

NY

Stephen Zambo, Ally Global Logistics LLC, Weymouth, MA; Steve

Jones, Ron Jones Hardwood Sales Inc., Union City, PA; Gregg

Reese, PNC Bank, Erie, PA; Nate Jones, Ron Jones Hardwood

Sales Inc; and Matt Laskey, PNC Bank

Jesse LaSon, The Rossi Group, Cromwell, CT; Jack Monnoyer,

Deer Park Lumber Inc., Tunkhannock, PA; and Chris Strang and

Jordan McIlvain, Alan McIlvain Co., Marcus Hook, PA

Rob Matson, Matson Lumber Co., Brookville, PA; Paul Kephart,

Northwest Hardwoods Inc., Beachwood, OH; and Allen Guth,

Guth Forest Products Inc., Tionesta, PA

Jason Roblee, Firth Maple Products, Spartansburg, PA; and Ted

Korn and Kevin Smith, Matson Lumber Co., Brookville, PA

Tom Armentano and Andy Dickinson, Sirianni Hardwoods Inc.,

Painted Post, NY; and Scott Silvis and Chris Calhoun, Pennsylvania

Cherry LLC, Mercersburg, PA

Shawn Donovan, Jimmy Irwin and Mason Kauffman, Penn-Sylvan

International Inc., Spartansburg, PA

Matt Lowry, Woodcraft Industries Inc., Greenville, PA; Matt Laskey,

PNC Bank, Erie, PA; Greg Ochs, Hickman Lumber Co. Inc.,

Emlenton, PA; and Steve Jones, Ron Jones Hardwood Sales Inc.,

Union City, PA

Rick Rogers and Jeff Herman, Tanner Lumber Co. LLC, Wilmore,

PA; Darrell Mitcheltree, Mitcheltree Bros. Logging and Lumber

Inc., Pulaski, PA; and Jay Reese, Penn-Sylvan International Inc.,

Spartansburg, PA

Gary Miller, National Hardwood Magazine, Memphis, TN; and Matt

Miller and Steve Kurtz, Green Ridge Forest Products LLC, Cochranton,

PA

Chris Fehr, U-C Coatings LLC, Buffalo, NY; Bob Pope, SII Dry

Kilns, Montpelier, VT; Nate Jones, Ron Jones Hardwood Sales

Inc., Union City, PA; and Dave Sondel, U-C Coatings LLC

32 SEPTEMBER 2021 n NATIONAL HARDWOOD MAGAZINE

SEPTEMBER 2021n NATIONAL HARDWOOD MAGAZINE 33
---
NWFA Hosts Successful Wood

Flooring Expo

Photos by Terry Miller

Orlando, FL–The National Wood Flooring Association's

(NWFA) 2021 Wood Flooring Expo, was

held recently here at the Orange County Convention

Center. Organizers deemed it a tremendous

success, with more than 2,500 attendees, numerous

in-person networking opportunities, and a wide variety of

education sessions.

This year, NWFA and the Coverings international tile

and stone exhibition organizers co-located to simultaneously

bring attendees to the NWFA's 2021 Wood Flooring

Expo and Coverings 2021.

"We were very pleased with the results of co-locating

with Coverings for our Expo this year, and the feedback

from attendees and our exhibitors has been fantastic,"

said Michael Martin, President and CEO of the National

Wood Flooring Association. "While COVID-19 had its

impacts and restrictions, the level of engagement and

the quality of interactions at this year's NWFA Expo was

unparalleled."

This year's NWFA Expo featured:

•More than 20 speakers

•Education sessions designed to help attendees hone

technical skills, and grow their business

•Live demonstrations

•New product demonstrations and exhibitions on the

tradeshow floor

•NWFA Certified Professionals Pre-Expo Symposium

•Announcement of Hardwood Floors Magazine's

"Wood Floor of the Year" winners

This year's NWFA Expo was made possible by Premier

Sponsor, ProDriveHD.

"Our expectations were exceeded beyond imagination

at this event with the number of new customers

and the traction of contractors seeing our product," said

Hollis Henderson of ProDriveHD. "This was a trendsetting

event, and I think the people who did not attend this

time missed an opportunity to learn from the in-person

instruction and to experience the benefits like we did."

"While the footprint of the Expo was smaller than 2019,

we enjoyed better than anticipated engagement from

attendees and partners," explained Stephen Crawford,

Sales Director of Canlank Coatings. "The event served

as an ideal platform to introduce our new Organization,

Canlak Coatings, and we're looking forward to next

year's Expo in Tampa, FL."

A video recap of the 2021 NWFA Expo is now viewable

on the NWFA's YouTube page, (https://www.youtube.

com/watch?v=pa1SHG7HcRc) and the NWFA currently

is making plans for its next Expo in Tampa, FL, on April

12-14, 2022.

Additionally, Tommy Maxwell, Chairman and CEO of

Maxwell Hardwood Flooring, Inc., Monticello, AR, was

inducted into the NWFA Hall of Fame during the 2021

NWFA Convention and Expo.

The award recognizes individuals who make significant

contributions to the wood flooring industry. Maxwell

has been in the industry for 45 years and has worked for

flooring companies such as Sykes, Bruce, Anderson and

Robbins. He has served on the Board of Directors for

the NWFA and was also Chairman. Maxwell has served

on boards for the Hardwood Federation and NOFMA

(National Wood Flooring Manufacturer's Association)

as well as the Arkansas Forestry Association. He was

instrumental in helping NOFMA merge with the NWFA

Please turn to page 50

Brandon Loyd, The Wood Floor Store LLC, Florence, AL; Robin

and William Church, Appalachian Lumber Co. Inc., Wilkesboro,

NC; and Steven Moore, The Wood Floor Store LLC

Paul Rezuke Sr., Paul Rezuke Jr., and Randy McCullough, Wickham

Hardwood Flooring, Wickham, QC

Jim Bailey, Buchanan Hardwood Flooring LLC, Aliceville, AL;

Elizabeth Baldwin, Kentwood, Kent, WA; and Doug Fikes and Rob

Dahlberg, Buchanan Hardwood Flooring LLC

Russ George, B.R. Funsten & Co./Tom Duffy Co., Manteca, CA;

and Jim Duke, Graf Bros. Flooring & Lumber, South Shore, KY

Elizabeth Baldwin, Kentwood, Kent, WA; and Todd Byrd, PLMI,

Philadelphia, PA

Steve Stoufflet, Robinson Lumber Company, New Orleans, LA;

Giannina Vick, Bozovich USA, Austin, TX; and Drago Bozovich,

Bozovich, Lima, Peru

Todd Steadman and Norm Steffy, Cummings Lumber Co. Inc.,

Troy, PA; and Thomas Agrachov and Hugo Silva, Newark Flooring

Express LLC, Newark, NJ

Bobby Cloer, Oakcrest Lumber Inc., Newport, TN; Brad Jurkowski,

Crystal Element Inc., Newton Upper Falls, MA; and George

Teleshevsky, Crystal Element Inc., Brooklyn, MA

Steve Stoufflet and Jacqueline Monteilh, Robinson Lumber Company,

New Orleans, LA; Pat Wathen, Lanham Hardwood Flooring,

Louisville, KY; and Dan Lennon, Robinson Lumber Company

Albert Posadas, Brittany Moore, Amber Stringer, Kyle Evans and

Scott Fesus, Mullican Flooring, Johnson City, TN

34 SEPTEMBER 2021 n NATIONAL HARDWOOD MAGAZINE SEPTEMBER 2021 n NATIONAL HARDWOOD MAGAZINE 35
---
Las Vegas Welcomes Back

In-Person AWFS ® Fair

Photos by Terry Miller

Las Vegas, NV–Economist Chris Kuehl was the

scheduled keynote presentation at the 2021 AWFS®

Fair, which was held here at the Las Vegas Convention

Center. The session included a welcome from

AWFS Board leadership, followed by an economic update

focusing on manufacturing and the construction and

housing markets.

The AWFS Fair (hosted by the Association of Woodworking

& Furnishings Suppliers) has become a critical

hub for international commerce in the woodworking industry.

The AWFS Fair brings together the entire global

home and commercial furnishings industry, including

manufacturers and distributors of lumber, machinery,

hardware, plastics, construction materials and other suppliers

to furniture and cabinet manufacturers and custom

woodworkers.

Additionally, the Fair offers educational opportunities

for attendees and various demonstrations by experts in

the industry. n

For more information about the AWFS Fair, please visit www.AWFSFair.org.

Brianna Pelton and Dan Bohnert, WalzCraft, La Crosse, WI

Robin and Oscar Kosic, Josef's Art Woodturning & Son Inc.,

Hempstead, NY

Jeremy Peterman and Fiona Paolino, Peterman Lumber Inc., Fontana, CA; Dempsey Goedbloed, Unilin Industries, Belgium; and

Wayne Nunnally, Peterman Lumber Inc.

Rich Gorrill, Hardwoods Distribution Inc., Phoenix, AZ; and Chris

Knowles and Adam Chavez, Timber Products Co., Springhill, OR

Kathryn Constantine, Brown Wood Inc., Chicago, IL; and Sedrak

Hovhannisyan, Usta Zakar Cabinets Inc., Arleta, CA

Dennis McFadden, Architectural Woods LP, Tacoma, WA; and

Mike Shuey, Cami Waner and Lee Jimerson, Collins, Wilsonville,

OR

Paul Anderson, Min Xu and Heath Hightower, MJB Wood Group

LLC, Dallas, TX

Robert Baldwin, Northwest Hardwoods Inc., Tacoma, WA; Sam Rickey, Forest Plywood, La Mirada, CA; Jason

Gobel, Northwest Hardwoods Inc., Beachwood, OH; and Victor Garcia, Forest Plywood

36 SEPTEMBER 2021 n NATIONAL HARDWOOD MAGAZINE

Paul Pendergast, Penn Forest Products, Long Beach, CA; Dennis

Johnston, Golden State Reload, Perris, CA; Randy Miller, Pollmeier

Inc., Westfield, IN; and Tim Wooley, Pollmeier Inc., Little Rock,

AR

Jonah Chambers, Sara Tilton, Diana Jackson and Jeremy Mc-

Clain, Osborne Wood Products Inc., Toccoa, GA

Additional photos on page 54

SEPTEMBER 2021n NATIONAL HARDWOOD MAGAZINE 37
---
It's Now or NEVER!

By Paul Miller, Jr.

President, National Hardwood Magazine

The Miller Wood Trade Publications' team is happy

to be back on the road, reconnecting in person

with our friends and colleagues in the industry. We

have been particularly excited to hear from members

of the Real American Hardwood Coalition (RAHC)

about the progress they have made, during the

COVID lockdown, to launch an industry-wide promotional

effort to increase consumer awareness of the

beauty, durability and value of Naturally Authentic

Real American Hardwood. We support the Coalition's

work 100 percent.

I would like to share why I believe it is imperative

that everyone in the industry support the RAHC,

through both engagement and financial support.

There was a time when the U.S. Hardwood industry

was producing over 14 billion board feet of lumber

annually. Today, we are producing in excess of

6 billion board feet. We have relied heavily on the

strength of our export markets for our industry's profitability,

while the domestic market had, until recently,

experienced challenging times.

American Hardwood products continue to lose significant

market share to substitute materials, including

plastics, concrete, carpeting and metals. These

substitutes tend to be less expensive, perceived to

be easier to care for, as well as a better value than

American Hardwood products. We need to re-educate

the purchasers of these materials. We need to

provide an emotional connection early in the planning

stages for the domestic consumer. We need to

remind them that our products are the gold standard

that everyone is working to imitate. Whether it be social

media influencers, the big box stores like Home

Depot or Lowes, home magazines or your favorite

HGTV personality, we need them to get on board

and drive awareness and the desire for Real American

Hardwood products.

We are in competition with well-established and

well-funded movements that would be happy to see

the U.S. Hardwood industry disappear. Even though

the trade associations that you support are funding

the Coalition, they cannot do it alone. To accomplish

their long-term goals, additional financial assistance

is needed. I am asking you today, to financially support

the Real American Hardwood campaign. Give

for your family company's legacy, for your children

and grandchildren's future; give for your employees;

give because it's your future and it is going to take

each and every one of us to make this initiative successful!

The Hardwood industry needs to recognize that

we are in a war; yes, a war to stay relevant in the

marketplace with consumers. This is a rallying cry

for everyone to get involved… from every Hardwood

manufacturer, wholesaler, distribution and concentration

yard operators; to secondary manufacturers,

including furniture, cabinet, flooring, millwork, moulding;

industrial product producers; freight forwarders;

chemical and equipment manufacturers, equipment

suppliers, right down to the media. It's going to take

MONEY, it's going to take a COMMITMENT, it's going

to take ALL of us coming together to support the

Real American Hardwood promotion effort to move

our industry and products to the forefront.

Visit www.RealAmericanHardwood.org today

to learn how you can support the effort. Any support

YOU can give is appreciated and much needed! n

PENN-YORK Continued from page 32

manager. Swanson echoed what other economists have

shared this year and that was in regard to, as he explained,

"A surge in residential construction has led to

very strong demand for building materials, such as lumber.

Homebuilding was much lower in the decade before

the pandemic, leading to reduced manufacturing capacity

for lumber and other materials. As a result, sawmills

and other suppliers have been unable to keep up with

demand, causing shortages."

The PNC report from which Swanson spoke also noted:

"These shortages will work themselves out over the

rest of 2021. Higher prices are discouraging some demand

and are also encouraging producers to expand

capacity. The initial surge in demand for many goods will

fade as consumers spend down their stimulus savings.

Household spending growth will also shift to services,

rather than goods, as consumers feel more comfortable

going out. Transportation bottlenecks will abate as supply

chains normalize. As a result, shortages will dissipate

and some inflationary pressures will reverse themselves

later this year.

Consistency.

Yield.

Trust.

Specializing in Premium Pennsylvania

Hardwood Lumber and Logs:

• Red Oak

• White Oak

• Hard Maple

• Soft Maple

• Cherry

• Poplar

• Ash

• Hickory

Please turn to page 55

®

Your trusted source for

exceptional quality and consistency

for more than 200 years.

Ben Krieg, Kevin Williams and Chad Moon, Ron Jones Hardwood

Sales Inc., Franklin, PA

Burt Craig, Matson Lumber Co., Brookville, PA; Greg Stascavage,

Pennsylvania Cherry LLC, Mercersburg, PA; Brandon Ferman,

Meridien Hardwoods of PA Inc., Pittsfield, PA; Marty James,

Penn-Sylvan International Inc., Spartansburg, PA; and Stephen

Zambo, Ally Global Logistics LLC, Weymouth, MA

Matson Lumber Company

132 Main St.

Brookville, PA 15825

Phone: (814) 849-5334

Fax: (814) 849-3811

www.MatsonLumber.com

info@MatsonLumber.com

40 SEPTEMBER 2021 n NATIONAL HARDWOOD MAGAZINE

SEPTEMBER 2021 n NATIONAL HARDWOOD MAGAZINE 41
---
PONDERS HOLLOW Continued from page 25

Additional photos on next page

These Red Oak flooring and walls are located in the Walden Pond

State Reserve Visitor's Center in Concord, MA.

important than speed and turnaround. "As much

as the machines are doing the work," said Gerry

Lashway, "we are hands-on because of the way

we set it up and handle the boards. We are putting

a set of sharp eyes on the machines and a steady

hand on the boards. We have six people on the

flooring line looking at every board for quality control,

grading every board by hand. That means we

run the product a little slower to keep the product

quality right where we want it. Unfortunately, if you

can't get something done in two to three weeks a

lot of people will go elsewhere. As much as we

try and meet those demands, we realize we do

it differently. We don't run the moulders twice as

Glen Thompson and Tommy Stiles, A.W. Stiles Contractors Inc., Matt Taylor,

fast to

U-C

crank

Coatings

it out.

LLC,

We

Buffalo,

start

NY;

with

Damon

the customer's

Graf, DR Graf

McMinnville, TN

Lumber specifications, Co., Lexington, KY; so it and takes Tom Johel, a little U-C bit Coatings longer. LLC Our

attention to detail sets us apart."

whose topic was Growing the Global Pie.

2nd vice president. That detail shows in the enormous product catalog

(262-plus pages) of millwork that Ponders

Ponders Hollow's new showroom, This custom staircase, with painted

multiple Poplar networking mouldings, op-

trim and Additionally, in conjunction with the IHLA meeting, the

located At this at 16 year's Ponders IHLA Hollow Convention, Road

Hollow can produce, with over 5,000 profiles. To

in portunities Westfield, were MA, offered, opened in and June the association's handrail, is finished board of with directors

held a business session. The 2017 board president IHLA eled is a non-profit showroom trade that organization opened in June comprised 2021 for of saw-

both

custom Fellowship of Christian Lumbermen held a brief meeting.

2021.

White Oak stair treads.

assist selection, the plant houses a newly remod-

floor—it's for IHLA is there Shaun for Cook, a lifetime of C.C. for Cook generations & Son Lumber to walk Co., on of it. At mills, the wholesale flooring and brokers, millwork. equipment The company vendors, secondary produces

point Reelsville, you realize IN. Tom that, Oilar it of becomes Cole Hardwood, a very cool, located rewarding Logansport,

job IN, to do." is the 2017 1st vice president and Brett Frank-

the industry. custom made to drawings and blueprints from ar-

manufacturers, and more one-time loggers millwork and landowners, jobs than among duplicate others jobs, in

proud

Twenty employees work in the 40,000-square-foot plant. Ponders

Hollow believes that safety and quality product is more company makes a CAD drawing and, after

chitects and builders. For each custom job, the

lin, of Tri-State Timber LLC of Bloomington, IN is the IHLA Learn more at www.ihla.org. n

approval,

the knife and the product.

Flooring also varies greatly. Gerry Lashway explained

that, "One day, we'll be running a 5-inch White Oak floor,

one day an 8-inch floor, the next day it's got knots. There

are so many different options because we don't specialize

in one specific thing. You just learn to roll with it!" As

a result, Ponders Hollow consistently adds to its product

lines.

Each job at Ponders Hollow is unique in its own way.

Left, Larry Lashway of Lashway Lumber and Gerry Lashway of

Ponders Hollow.

For Gerry Lashway, it's still a thrill to walk the plant

floor. "I go out there and go, Whoa! This crown moulding

is amazing! We have 200 different ones and I'm still

amazed. It's gratification for what we do here. Love what

you do and enjoy it!"

Ponders Hollow is a member of the Wood Products

Manufacturers Association, National Wood Flooring Association,

Homebuilders Association of Western Massachusetts

and the Architectural Woodworking Institution. n

For more information, go to www.pondershollow.com.

New River Hardwoods, Inc.

QUALITY from start to finish!

NORTHERN & APPALACHIAN HARDWOODS

[ WWW.SIMONLUSSIER.COM ]

NORTHERN & APPALACHIAN HARDWOODS

[ WWW.SIMONLUSSIER.COM ]

NORTHERN & APPALACHIAN HARDWOODS

[ WWW.SIMONLUSSIER.COM]

MATHIEU LUSSIER - Export Sales Manager m2lussier@simonlussier.com

450.435.6591 - 16 BOUL. DE LA SEIGNEURIE EST, BLAINVILLE, QC CANADA J7C 3V5

● Three Appalachian Hardwood Sawmills producing 35MMBF of lumber annually

● 400,000 board feet of kiln capacity drying 12MMBF of lumber annually

● Ripped and moulded products customized to meet each customer's needs

● Straight line ripped and sanded products also available

Species: Poplar, Red Oak, White Oak, Soft Maple,

Hard Maple, Cherry, Basswood and Hickory

Mark Babcock

V.P. Marketing and Logistics

Office: 304-255-2268 ext. 114

Cell: 304-860-8472

E-mail: mbabcock@newriverhardwoods.com

4343 Highway 91

Mountain City, TN 37683

Phone: (423) 727-4019

Fax: (423) 727-4438

www.newriverhardwoods.com

42 SEPTEMBER 2021 n NATIONAL HARDWOOD MAGAZINE APRIL 2017 n NATIONAL HARDWOOD MAGAZINE 51

SEPTEMBER 2021 n NATIONAL HARDWOOD MAGAZINE 43
---
R&M WOOD INC. Continued from page 27

Two dry kilns by SII Dry Kilns are pictured that hold 50,000 board

feet each and are located at R&M Wood's property. The company

dries 300,000 board feet of lumber monthly.

Site Operations Manager and Kiln Operator Molly Moore

explained. "The lumber that we specialize in is heavy tie,

sided and our customers prefer the overlength, which

creates higher yield. We procure our lumber from mills

spanning from Arkansas, Kansas, Missouri, Oklahoma,

Mississippi and Tennessee."

When asked about the keys to success for their

operation Moore said, "Our small operation is able to

focus and maintain efficiency of high-quality lumber. We

understand how much the forest plays a critical role in

the global environment. That is why we are committed

to supporting sustainable production of forest products

Thomas Rhodes, R&M Wood's yard foreman and sales associate.

by harvesting all that we possibly can from every piece

of lumber we process. For example, for local farmers we

turn our straight-line ripped pieces into tomato stakes.

God blessed us with one of the best renewable resources

Seth Moore, R&M's procurement manager and lumber inspector.

and for that we are thankful."

As for the future of R&M, Moore said, "This company

was built on the shoulders of a hardworking and determined

man, and we will continue to make his name and

company known as nothing short of excellence in the

Hardwood industry."

R&M Wood Inc. is a member of the NHLA and the

West Side Club. n

For more information contact

them at 501-941-3706.

Molly Moore, operations manager and kiln operator.

Because nothing says Canadian like Quality Hardwoods

• Top Quality Kiln Dried Hardwood Lumber Rough/S2S

• Specializing in 5/4 thru 8/4 Red Oak & White Oak

• Also: Cherry, Hard Maple & Soft Maple

• Shipping Mixed Trucks/Containers Worldwide

Sirianni Hardwoods, Inc.

912 Addison Road

Painted Post, New York 14870

Telephone: (607) 962-4688

Fax: (607) 936-6237

www.siriannihardwoods.com

Sales - Tom Armentano

sales@siriannihardwoods.com

Purchasing - Andy Dickinson

andy@siriannihardwoods.com

Nature's finest

Unsurpassed quality

Rich colour and texture.

With a large inventory base of Canadian Kiln Dried Hard

Maple, Red Oak, Soft Maple, Yellow Birch, White Birch,

Aspen, Basswood, and Cherry, Quality Hardwoods Ltd.

is ready to meet your demands. Our knowledgeable

sales team has more than 75 years' experience and

will quickly process your order. Wherever you are in the

world, we will have your shipment to you on time.

Please contact our sales staff to place an order

Brian Guilbeault – brian@qualityhardwoodsltd.com

Anthony Rapsa – ar@qualityhardwoodsltd.com

Mike Brooks – mb@qualityhardwoodsltd.com

Shaun Rowe – sr@qualityhardwoodsltd.com

Peter VanAmelsfoort – pva@qualityhardwoodsltd.com

Office Number – 705-724-2424

Website - www.qualityhardwoodsltd.com

44 SEPTEMBER 2021 n NATIONAL HARDWOOD MAGAZINE SEPTEMBER 2021 n NATIONAL HARDWOOD MAGAZINE 45
---
SII DRY KILNS Continued from page 29

Thompson Appalachian Hardwoods in Huntland, TN has two

100,500 BF Package Kilns with Heat Exchangers and Direct Fire

Burner.

Mary Mathews noted. "We can find the part when a client

needs it. We are going to make sure that we get the

part to them as fast as possible to avoid downtime," she

stated. "Taking care of our past customers and keeping

everyone running smoothly is just as important to us as

our new customers."

In the Hardwood industry, SII is known for offering a

lot of options for their equipment. "We are definitely not

cookie-cutter, and we are not boxed into certain types of

designs," said Ben Mathews. "Everyone knows they get

that backstage access to any of us – after the sale," he

stated, "and I think that is exceptional."

Brian Turlington added, "It's a collaboration between

the customer and our salespeople in which the customer

knows – or has a good idea of – what they want, and

then, we customize that for them." SII provides drying

variations for different species of Hardwoods, from the

amount and type of heating required (steam, gas-direct

or indirect) to the type and amount of venting (passive,

powered, or heat exchangers) and, of course, the fan

systems, which all utilize energy saving variable frequency

drives (VFD's).

In softwood, SII offers two primary types of kilns for

customers.

Some softwood customers remain committed to

"batch"-style kilns, while others prefer the continuous

DPK-style kilns, which require 24/7 operation. Regardless

of the type of track kiln desired, SII can provide the

heating system that works best for the customer. From

direct-fired gas or biomass systems to steam heated

kilns, SII has done them all. Brian Turlington noted that

such versatility is based on: "What will work best for the

customer today and in the future?"

Ben Mathews commented, "We have seen our growth

in softwood steadily increase, and today we do more and

more softwood kilns every year."

The controls department is second-to-none in the industry,

the company points out. SII was the first American

kiln manufacturer to introduce VFD's to the industry

in the mid-80's and has been instrumental in developing

the best known in-kiln weight-based computerized control

system, "Sample Watch," with over 400 systems in

operation today.

According to Turlington, SII works as a partner with its

customers. The firm gets over 80 percent of their sales

as repeat business. SII can make acquiring a new kiln

a turnkey operation or have the owner participate in the

process at whatever level they prefer.

"We want to supply a quality product that's long-lasting,

regardless of whether it's Hardwood or softwood,"

Turlington stated. And SII welcomes any challenge. "We

aren't afraid of taking on any size project no matter how

unique," he said.

SII Dry Kilns believes very strongly in supporting industry

associations and is a member of the National

Hardwood Lumber Association, Southeastern Lumber

Manufacturers Association, Hardwood Manufacturers

Association, National Wooden Pallet and Container Association,

Appalachian Hardwood Manufacturers Inc.,

Appalachian Lumbermen's Club, Indiana Hardwood

Lumbermen's Association, Penn-York Lumbermen's

Club, Kentucky Forest Industries Association, Keystone

Missouri Walnut in Neosho, MO has 29 100,000 BF SII Design

Kilns.

Kiln Drying Association, New England Kiln Drying Association,

Great Lakes Kiln Drying Association, North

American Wholesale Lumber Association, Northeastern

Lumber Manufacturers Association, Southeastern Dry

Kiln Club, Western Hardwood Association and the New

England Lumbermen's Association. n

For more information, go to www.siidrykilns.com.

OUR TEAM

WITH YOU

for your Risk Management Needs

PLM is WITH YOU when you need us most – and for

every time in between. With an "every day" emphasis on

safeguarding operations to prevent and reduce losses, we

allocate a great deal of resources to provide our customers

with valuable, industry-specific knowledge and services.

The PLM team of regional loss control representatives

serves customers across the country with consultative

services, constructive recommendations and specialized

risk management tools. These unique professionals are

not only seasoned experts in all aspects of loss prevention,

but also have in-depth knowledge of the wood industry to

work WITH YOU to find the right loss control solutions for

your wood business.

Request a quote directly or through your broker –

WWW.PLMINS.COM/QUOTE.

Put PLM's Loss Control Experience to Work WITH

your Wood Business.

PLM's Senior Loss Control Rep, Rachel Gamblin, on-site with customers,

Dana & Sean O'Brien, at their business in Paso Robles, CA. Special thanks

to everyone at "A Place to Grow" for hosting the photo shoot.

WITH YOU Since 1895

800.752.1895 | www.plmins.com

Our ability to find the right products quickly is made possible by our team of experienced and dedicated people

working to deliver exactly what you need.

SPECIES:

Aspen • Yellow Birch • White Birch • Red Birch

Birds Eye Maple • Hard Maple • Soft Maple

Red Oak • White Oak • White Ash • Walnut

Beech • Cherry • Hickory

LUMBER

RESOURCES

ALL YOUR ESSENTIALS

THICKNESSES:

4/4 • 5/4 • 6/4 • 8/4 • 10/4

PRODUCTS:

Hardwood Lumber • Industrial • Pallet Components • Flooring

866-815-0404

1627 Bastien Blvd.

Quebec, Quebec G2K 1H1

www.rlumber.ca

46 SEPTEMBER 2021 n NATIONAL HARDWOOD MAGAZINE SEPTEMBER 2021 n NATIONAL HARDWOOD MAGAZINE 47

LUMBER RESOURCES NHM HALF HOR REV 7-22-2019.indd 1

7/22/19 2:13 PM
---
IHLA Continued from page 31

One of IHLA's annual charitable events is the "Casting for the Cure" fishing tournaments.

Over the years, the proceeds have gone to cancer research, ALS, and grain bin awareness,

always in support of an IHLA member.

increasingly become more challenging.

While our alignment with agriculture has been the most

comprehensive key to so much of our evolution and success,

the other partnerships we share have been critical

and necessary in executing our strategy to shift the message

about Hardwoods to the public.

We have partnered with Purdue University on numerous

major projects, including the Hardwood Tree

Improvement and Regeneration

Center; the Center for

Advanced Forestry Systems;

Hardwood CLT research

and applications; Hardwood

University, and Woods on

Wheels.

We have partnered with the

state DNR to make timber

theft a felony and run off the

bad actors; the ongoing management

of our state forests;

the creation of a fallen loggers

memorial; the Hoosier Hardwood

Festival, and Woods on

Wheels.

We have partnered with Ball

State University on an annual architectural student competition;

research on thermal treating of Hardwoods, and

robotics.

We have partnered with 4-H and FFA to support their

work and promote careers in Hardwoods to youth at key

decision-making times.

These are just scratching the surface of the importance

of these partnerships, and there is more to tell. However,

while evolving with a changing world, we have built

and strengthened those key services that have gotten us

where we are. We look to continuously improve upon our

annual February convention, now a must-attend event

for the global Hardwood industry, and we understand

how much our members value our lobbying efforts at the

statehouse and in Washington D.C.

For the last ten years, we have operated an insurance

agency that helps our members find the best deals on

property/casualty, workers compensation and auto insurance.

We are also able to help find options on health and

life insurance.

We understand with our reputation as a leading association

comes responsibility, so we sponsor many

partnerships and charitable causes every single year, including

the Hardwood Federation, Real American Hardwood

Coalition, Tree Farm, Riley Children's Hospital, the

Woodland Steward, and many more.

But let's make no mistake about what makes IHLA

successful. It's our volunteers. Our committtees include

a Forestry Council of boots-on-the ground foresters and

loggers. We have an Industry Promotions committee that

has produced Woods on Wheels and the Hoosier Hardwood

Festival. Our executive committee meets monthly

and expedites good programs that come from all the

committees and our 30+ member Board of Directors

stays engaged and involved.

IHLA is and always will be about our members and that

uniquely-broad spirit of volunteerism that makes everything

work, and helps spread the enthusiasm and sense

of giving back from one generation to the next. We are

blessed that people like the late Milt Cole chose Indiana

for a home, as did great companies like Pike Lumber,

Frank Miller, Wood-Mizer and so many more. We are

grateful that people like Tom and Mary Francis Koetter

would create the Forest Discovery Center in Indiana; that

Purdue and Ball State Universities call Indiana home,

and that people like Tom and Ronda Derleth and a network

of past presidents have stayed involved and spent

the last 40-plus years saying yes to every request IHLA

has made of them. It should also come as no surprise

that the current chairman of the Hardwood Federation

Board and the Hardwood Federation PAC are both Hoosiers.

For IHLA, it has been about evolving, focusing on core

services, leveraging partnerships, aligning with agriculture,

and just pure luck that we are here in Indiana at the

right moment in history. n

Beasley Forest Products produces 170 million bd. ft.

of Southern Hardwood and Cypress lumber annually.

Linwood Truitt and John Stevenson are in charge of kiln-dried lumber sales; and Ray Turner handles industrial sales at Beasley Forest Products.

Beasley Forest Products offers:

• sorted and random widths in Red Oak (4/4), White Oak (4/4), Poplar (4/4 & 8/4), Ash (4/4 & 8/4)

and Cypress (4/4 & 8/4) for export or domestic shipment.

• 1.7 million bd. ft. kiln capacity.

• Cypress framing timbers and manufacture various tongue-and-groove patterns.

• pallet components (cut stock) and pallet cants.

• cross ties and industrial timbers.

• crane mats for the pipeline industry.

• prompt delivery with company trucks and local trucking companies.

KILN DRIED LUMBER SALES

Linwood Truitt, Ext. 4303

Cell: (912) 253-9000

Email: linwood.truitt@beasleygroup.com

John Stevenson, Ext. 4384

Cell: (912) 375-8226

Email: john.stevenson@beasleygroup.com

Beasley Forest Products, Inc.

P.O. Box 788 • Hazlehurst, Georgia 31539

Phone: (912) 375-5174 • Fax: (912) 375-9191

Web Address: www.beasleyforestproducts.com

INDUSTRIAL SALES

Ray Turner

Phone: (912) 253-9001

Email: ray.turner@beasleygroup.com

PATENTED

MAXIMUM AIR FLOW DESIGN

Sure-grip, anti-slip corrugated surface

Angled design clears moisture more

efficiently vs. straight fluted sticks

Removes moisture, decreases dry time

and increases drying quality

Trusted quality & service for 20+ years

Discounts for program customers

The Company that Defeated Sticker Stain

LUMBER DRYING STICKS

519.842.6841 | info@breezedried.com

"Often Imitated,

Never Duplicated"

Improved Yard Safety,

Increased Drying Efficiency

& Reduced Drying Costs

20 +

MILLION SOLD

•STICKS & CROSSERS

•STANDARD & CUSTOM SIZES

Dependable•Durable•Long Lasting

We Also Buy Lumber !

breezedried.com

48 SEPTEMBER 2021 n NATIONAL HARDWOOD MAGAZINE SEPTEMBER 2021 n NATIONAL HARDWOOD MAGAZINE 49
---
NWFA Continued from page 34

Jim Farmer and Jeff Lewis, Lewis Brothers Lumber Co. Inc., Aliceville,

AL; and Libby Lewis Clayton, Mike Lewis and Lee Lewis,

Reliance Hardwood Flooring, Dickson, TN

Logan Cala, Barbara Titus and John Kiepper, Sheoga Hardwood

Flooring & Paneling Inc., Middlefield, OH; and William Alan Sullivan,

Sullivan Hardwood Flooring LLC, Scottsville, KY

Beth Reindollar and Steve Cratch, Pennwood Products Inc., East

Berlin, PA

Jonathan Cox, Frank Miller Lumber Co. Inc., Union City, IN; Terry

Miller, National Hardwood Magazine, Memphis, TN; and Nicholas

Roeser, Hartzell Hardwoods Inc., Piqua, OH

and has worked diligently to raise funds for the Hardwood

Federation, which is dedicated to promoting and

supporting the Hardwood industry and is the voice of the

industry in Washington, D.C. Maxwell also established

the Legacy Scholarship program, which provides training

for future generations of Hardwood flooring professionals.

He is one of only 17 individuals to be recognized for

the NWFA Hall of Fame award in the 35-year history of

the association.

During his acceptance of the award, Maxwell recollected

the things that he learned from his mentor, Sykes Harris,

Sr. of Sykes Flooring in Warren, AR. He then concluded

with, "He told me the industry was full of wonderful

people… and he was so right."

The National Wood Flooring Association is a not-forprofit

trade organization, with more than 3,200 member

companies world-wide, dedicated to educating consumers,

architects, designers, specifiers and builders in the

uses and benefits of wood flooring.

The NWFA is in Chesterfield, MO, and can be contacted

at 800-422-4556 (USA and Canada), 636-519-9663

(local and international), or at www.nwfa.org. n

Truss Beasley, Beasley Flooring, Hazlehurst, GA; Holly Lightfoot

and Libby Newland, LL Flooring Lumber Liquidators, Richmond,

VA; and Travis Ervin, Beasley Flooring Products Inc., Macon, GA

Larry Cox, Rick Bright and Jesse Joyce, Middle Tennessee Lumber

Co., Burns, TN

Additional photos on next page

Visit us at

TAYLORBIGRED.COM

WE HAVE

WHAT YOU

NEED!

Follow us on

Social Media

#TAYLORBIGRED

Your COMPLETE Heavy-Lift Supplier for the Forest Products Industry

Capacities ranging from 4,000-lbs to 125,000-lbs all backed by our 24/7 Parts Service & Support

W11143 Cty Hwy G • P.O. Box 160 • Antigo, WI 54409 • EMAIL kretz@kretzlumber.com

TOLL-FREE (800) 352-1438 • FAX (715) 627-4399 • www.kretzlumber.com

INTERNATIONAL PHONE 00 + 1 + 715 + 6235410 • INTERNATIONAL FAX 00 + 1 + 715 + 6274399

50 SEPTEMBER 2021 n NATIONAL HARDWOOD MAGAZINE SEPTEMBER 2021 n NATIONAL HARDWOOD MAGAZINE 51
---
NWFA PHOTOS Continued

Shay Dugal, Tommy Maxwell, Rose Mary Cummings, Kristi Maxwell

Prince, Wil Maxwell, Darrell Orrell and Keith Waldrop, Maxwell

Hardwood Flooring Inc., Monticello, AR

Jim Cook, Paul Stringer, Diana Gurley and Scott Burega, Somerset

Hardwood Flooring, Somerset, KY

Doug Cummings and Lee Cummings, Armenia Mountain Plank &

Panel, Troy, PA

Norm Steffy, Cummings Lumber Co. Inc., Troy, PA; and Tom Inman,

Appalachian Hardwood Manufacturers Inc., High Point, NC

Church 14_Layout 1 4/17/18 3:43 PM Page 1

Steve Bunch and Eric Self, Springcreek Flooring By McClain Forest

Products LLC, West Plains, MO

Jerry Wise, Chris Reohr and Jeff Hogg, Lauzon Ltd., Papineauville,

QC

Tommy Maxwell, Maxwell Hardwood Flooring, Monticello, AR,

was inducted into the NWFA Hall of Fame during the NWFA Convention

and Expo.

Jim Duke, Chris Moore and Glen Miller, Graf Bros. Flooring &

Lumber, South Shore, KY

We at Bryant Church Hardwoods, Inc., located in Wilkesboro, NC, are proud of our modern Hardwood

concentration yard facility that we constantly update to better serve our customers with the finest

Appalachian Hardwood and Eastern White Pine lumber available. Call us at (336) 973-3691 when we can

be of service.

WE CARE

ABOUT YOUR

SUCCESS

Some facts about our company are, we:

•Have a 30 acre Hardwood and Eastern White Pine lumber concentration yard

that exclusively represents one sawmill.

•Specialize in all thicknesses of kiln dried Eastern White Pine lumber.

•Deal in Appalachian Hardwood species such as Red and White Oak, Poplar,

Ash, Hard and Soft Maple, Steamed Walnut, Cherry, Basswood, Beech and

mixed Hardwoods.

•Market our Appalachian Hardwood lumber in 4/4 through 8/4 thicknesses that

is green, air dried and/or kiln dried.

•Specialize in mixed truck loads.

This is an aerial view of our modern

Hardwood concentration yard where we

process quality Appalachian Hardwood

and Eastern White Pine lumber.

•Have 9 steam dry kilns that have a combined dry kiln capacity of 630,000 bd.

ft. per charge.

•Own a Newman 382 planer.

•Usually carry about 4,000,000 bd. ft. on our air drying yard.

•Usually carry about 1,500,000 bd. ft. of kiln dried lumber in inventory.

•Offer export preparation, container loading and package tally.

•Offer the service of sorting lumber at special lengths, widths and grades

according to customer specifications.

•Use our own trucks and contract trucks for prompt delivery of your orders.

•Have over 75 years of combined experience in the lumber business.

Tim Church

Mason Church

Bus.: (336) 973-3691

FAX: (336) 973-7993

(800) 973-3380

Web site: http://BCHI.com

P.O. Box 995 • Wilkesboro, NC 28697

Distribution Yard: 683 Buck Road • Wilkesboro, NC 28697

DISCOVER OUR NEW

INNOVATIVE TRIMMER

HIGH PERFORMANCE

EASY OPERATION

AND MAINTENANCE

BUILT FOR ANY WOOD SPECIES

CONTACT US TO GET MORE INFO

819-362-6317 | info@carbotech.ca | carbotech.ca

Because we've been in business since 1953, we have many years of experience that helps us to ship your orders right the first time.

52 SEPTEMBER 2021 n NATIONAL HARDWOOD MAGAZINE SEPTEMBER 2021 n NATIONAL HARDWOOD MAGAZINE 53
---
AWFS PHOTOS Continued from page 37

Zach Twite, MacDonald & Owen Lumber Co., West Salem, WI; Jeff

Masterson, Rugby ABP, Phoenix, AZ; and Jerry Flores, MacDonald

& Owen Lumber Co.

Steve Gunderson, Hermitage Hardwood Lumber Sales Inc.,

Cookeville, TN; Beth Banks and Mickey Gossi, Woodgrain Lumber

& Composites, Meridian, ID; and Parker Boles, Hermitage

Hardwood Lumber Sales Inc.

Kiln SticKS

GW INDUSTRIES

Importer and Distributor of Tropical Hardwood Kiln Sticks

Greenwood Imports LLC

Select No. 1 grade kiln sticks

http://gwi.us.com/tropical-kiln-sticks

Terry Miller, National Hardwood Magazine, Memphis, TN; Kris

Palin, Allegheny Wood Products Inc., Petersburg, WV; and Ed Mikowski,

Mount Storm Forest Products Inc., Windsor, CA

Jed Koprn, Matt Yest and Greg Blomberg, Kendrick Forest Products

Inc., Edgewood, IA

PENN-YORK Continued from page 41

"The outlook for the U.S. economy remains extremely

positive."

Swanson cited housing start projections as follows:

1.676 million units forecast for 2021, 1.660 million units

in 2022, and 1.536 million units in 2023.

Penn-York also hosted a golf game at this meeting.

The winners were: Jack Monnoyer, (#10) closest to the

pin; Jeff Herman, (#18) longest drive; Matt Laskey (#4)

closest to the 2nd shot; Jay Reese (#5) closest to the pin;

low gross – Jack Monnoyer, 82 and Jay Reese, 84.

The host for this meeting, Ron Jones Hardwood Sales

Inc., was established in 1983, is located in Union City, PA

and markets premium Northern Appalachian Hardwood

lumber. Learn more at www.ronjoneshardwood.com.

The final Penn-York meeting of 2021 will be held Sept.

13 in State College and will be hosted by Walker Lumber

and Forcey Lumber in conjunction with Pennsylvania

Forest Products Association. n

Learn more about this organization

at www.pennyork.org.

LAKE STATES Continued from page 8

He sells lumber to distribution yards and end users,

who comprise the majority of his customer base. These

include companies that manufacture flooring, doors,

cabinets and moulding. "Everyone I talk to says sales

are crazy-good," he observed. "Most of them are turning

business away because they don't have enough employees

to produce more. It doesn't matter who I talk

with, they're all in the same shape."

Transportation has not been a problem overall, he

said. "We've had some problems, but not a lot." Specifically,

at one point, he couldn't hire trucks for two or three

weeks. "There were no trucks to be had," he stated. "It

wasn't a price issue. Transportation rates are going up,

but that's not too bad for us." The issue of no trucks being

available has "more or less resolved itself for us," he

said. n

Commitment, Quality,

Customer Service

Premium Northern Appalachian

Hardwood Lumber

Established in 1983

Family-owned &

operated for over

35 years

Experienced & Close

To The Source

2 East High St.

Union City, PA 16438

sales@ronjoneshardwood.com

Phone (814) 438-7622

Fax (814) 438-2008

Flat Profile

Fluted Profile

Leading the Industry as stocking distributors of imported hardwood kiln sticks with a

reputation for consistent grade, reliable shipments and stable cost for over 35-years.

Dennis Krueger

866-771-5040

greenwoodimportsllc@gmail.com

Jackie Paolo

866-504-9095

jackie@gwi.us.com

NORTHEAST Continued from page 8

months ago, he replied, "That's an interesting question.

My first thought was 'as good as.' But I guess I would

say 'a little better.' I say that because the Red Oak and

Cherry have kind of stabilized. Their growth curve is pretty

much done, but they have stabilized. So, I think that's

Please turn the page

54 SEPTEMBER 2021 n NATIONAL HARDWOOD MAGAZINE SEPTEMBER 2021 n NATIONAL HARDWOOD MAGAZINE 55

RJH-NHM-HalfVertical-3.75x10.indd 1

5/24/21 9:47 AM
---
CLARK LUMBER COMPANY

• 6 Sawmills producing 48,000,000' of Appalachian

Hardwoods 4/4 - 8/4

• 900,000' drying capacity

• 2,500,000' kiln dried Lumber Inventory

• Species: Red & White Oak, Hard & Soft Maple,

Poplar, Ash, Cherry, Hickory, Walnut and

Aromatic Red Cedar

• Export prep & container loading

• A team of over 130 employees manufacturing

Appalachian Hardwoods

Hugh Clark, President; Brandon Clark, Vice President; and

Joseph Draper, Sales

"From our Forest to your Facility"

Brandon Clark

bclark@clarklumbercompany.com

Joseph Draper

jdraper@clarklumbercompany.com

Clark Lumber Company

552 Public Well Road

Red Boiling Springs, TN 37150

Office: (615) 699-3497

www.clarklumbercompany.com

NORTHEAST Continued

good in that regard. Regarding all the other species, I

don't know that there's a lot changed. They still seem

to be moving. What we see now is a continuation of the

trend we saw six months ago. Certainly, we're not seeing

the same pace, as far as price changes, but there still

seems to be some growth."

He handles Hard and Soft Maple, Birch, White Oak,

Ash and Hickory. His best seller, he observed, is White

Oak in FAS. Thicknesses he sells are mostly 4/4 with

some 5/4 in Red Oak and Hickory.

He sells his product to distribution yards and end users.

His customers' sales seem to be "pretty good," he

stated. "On their end," he said, "I'm not sure if it's just

because lumber seems short. I guess if the lumber flow

were closer to normal, would the sales still be as strong?

That's the million-dollar question that none of us know.

What seems to be going on now is that labor and trucking

are the two problems everyone talks about. And if the

labor levels were closer to normal, then where would this

market be? I don't know. It's kind of a relative question.

The way things are now, I think everyone is doing well

and the product is certainly moving."

Asked if he sees any problems in the marketplace, he

stated, "Labor and freight are the two universal problems

I hear everywhere." n

SOUTHEAST Continued from page 10

and 3A are going strong. So, all in all, I'd have to say the

market is pretty good.

"We're doing a lot more pine, and that's a little bit

shaky," he continued. "But the Hardwood side of it

seems to be holding in there pretty well. You can't ask

for White Oak to be any better. You can't ask for Ash to

be any better. Nobody's ever seen Poplar at over $2 per

foot. That's huge. All in all, we're in pretty good shape.

But I wish we had more logs."

His market is "definitely better" than it was a few

months ago, he observed.

He sells Red and White Oak, Poplar, Ash and Cypress

in No. 3A, No. 2A and No. 1 Common and FAS, all in 4/4.

His best seller, he said, is White Oak. "It doesn't matter

what grade," he observed. "If it's in White Oak, it's pretty

strong."

This lumber goes to distribution yards and end users

in both the U.S. and overseas. "Right now," he noted,

"we're trending more toward the domestic market. We're

doing more green because of the demand. And that

seems to be working pretty well."

Among his customers, "Everybody I talk to seems to

be doing well," he stated. The customers of his customers

are pushing for certain lumber items and he is working

to get those products sent, he said.

Like many lumber providers, he has found transportation

to be a problem. "Containers are a pain to get, both

with the ship lines and trying to get them to the port. It

seems like the flatbed freight is starting to ease up a little

bit. That's helping. More of our lumber is going domestic."

n

WEST COAST Continued from page 10

couple weeks, things have been a little easier."

An Oregon lumber provider said, "The market is brisk.

The problem is the supply chain. You hear this every day.

In particular, it's difficult being able to replenish stock that

you've sold because of delays and the freight problem,

including the cost of freight. It's exorbitant. We have customers

who are looking at all-time high prices for sheet

goods or lumber. What we just paid for Black Walnut

would make your nose bleed.

"But, if you're going to have the product," he stated

"you've got to pay the price. We understand the issues

our vendors are going through, and we're all in this together.

I have some concerns, however, that if the market-demand

changes, you could be stuck with some very

expensive inventory to move through the market. So, I

think everyone's going to be looking at and forecasting

what's going to happen, coming into the fall and winter.

Most people are saying they believe the market is going

to be strong into 2022, and I certainly hope so."

Asked if he has ever seen anything like this high demand/low

supply dynamic, he replied, "I've been in this

business since 1972 and, no, I've seen nothing like this."

He sells all domestic Hardwoods and some imported

lumber in No. 1 Common and up, Select and Better and

FAS. "We don't handle 2 Common," he said. He sells

lumber in 4/4 through 8/4. His best sellers are Poplar and

White Oak.

His customers are companies that make store fixtures

and cabinets as well as retail lumber yards. Some companies

are remodeling stores, and that is helpful to this

lumberman. He said, "I think for the most part, my customers

are doing well. A lot of our big cabinet companies,

however, are stuck because they weren't forecasting

their purchases and were depending on just-in-time.

They've been caught in a squeeze. It's tough.

"Transportation costs are way up," he observed. "Once

Please turn the page

The Leader in Wood Protection

for 50 Years

ANCHORSEAL ®

Anchorseal® is proven to prevent up to 90%

of end-checking on logs and lumber.

BRITEWOOD ®

Britewood® XL is a powerful fungicide for protection

against mold and sap stain.

SHADE-DRI ®

Shade-Dri ® is a versatile covering to keep harmful

sunlight and excessive wind from damaging logs and lumber.

1-888-363-2628 | sales@uccoatings.com

www.uccoatings.com

Buffalo | Portland | Seattle

56 SEPTEMBER 2021 n NATIONAL HARDWOOD MAGAZINE SEPTEMBER 2021 n NATIONAL HARDWOOD MAGAZINE 57
---
WEST COAST Continued

we get the product into our facilities, we have our own

trucks, and we make deliveries to our customers. With

bringing in material from our vendors, it's tough to get

containers." n

ONTARIO Continued from page 12

wholesalers. As such, prices have risen slightly for 4/4

through 8/4 FAS and Select, while price gains are broader

for kiln-dried Basswood.

Patrick Lumber Company

Over 100 Years in Business

Est 1915

Patrick Lumber Company is a secondary manufacturer and exporter of niche

high-grade wood products sold to a network of worldwide distribution.

Products:

Doug Fir

Western Red Cedar

Southern Yellow Pine

Western Hemlock

Alaskan Yellow Cedar

West Coast Softwoods

West Coast Hardwoods

Services:

Remanufacturing

Packaging & Transport

Consultation

Procurement

317 SW Alder Street,

Suite 1050

Portland, OR 97204

503-222-9671

sales@patlbr.com

Follow us on Instagram

@Patricklumber

patlbr.com

With the housing markets strong in the U.S. and Canada,

Birch which is very reliant on this sector, is pushing

secondary manufacturers and wholesalers to buy more

supplies of this species. Prices remain stable, with all

grades of kiln-dried Birch performing well. Contacts reported

there is a stronger demand for premium color

stocks.

Hard Maple sales continue to be strong for kiln-dried

No. 1 Common and Better grades. Contacts noted that

No. 2A supplies are building sufficiently to meet demand.

Premium color Hard Maple is performing better than Unselected

or other colored material.

Sales are strong on both sides of

the border for this species due to the

housing market, thus causing price

rises. Supplies of developing green

stock are meeting markets' needs.

The same is reported for Soft Maple.

Demand from consumers for

Hardwood finished goods is also a

big driver for this species. Again, the

market is demanding premium color

kiln-dried Soft Maple rather than Unselected

or other color material.

The National Bank of Canada's

(NBC) most recent 2021 Monthly

Economic Monitor, stated that following

substantial progress in the struggle

against COVID-19, the world faces

a new enemy in the Delta variant.

This threat has led many investors

to question the extent of a strong recovery

of the global economy and to

go back to safe-haven vehicles such

as USD-denominated bonds. NBC's

reply in response to the question of

the market being justified in its fears

for world output, their answer varies

according to the degree of immunity

attained in each region. In developed

economies, where vaccination

rollouts are moving along, the Delta

variant could bring a rise in new cases

without overwhelming health-care

systems, since the main aim has always

been to avoid hospitalizations

and fatalities rather than to prevent

spread, and current conditions are

still consistent with a gradual reopening.

The outlook for emerging countries is not so upbeat

as their lag in vaccinations increases the risk that one

or more of them could cause a situation like in India.

Though far-reaching restrictions are fairly rare in the

emerging economies, the virus could force more localized

restrictions. Despite a rise in uncertainty, NBC

leaves their global growth forecast unchanged for both

2021 (6.0 percent) and 2022 (4.5 percent).

NBC says the U.S. is recovering fast. After an expansion

of 6.4 percent annualized in the first quarter of

2021, they expect Q2 to show an acceleration to about

10 percent, with household spending

likely to be the main driver, and

business investment also contributing

to growth. Residential investment

could be set for a pause after

several months of frenetic activity.

Although they think the labor market

is in better shape than some of

the data would suggest, it will take

more time for the upside effects of

reopening to be fully reflected in the

numbers. This will allow the Fed to

keep its monetary policy accommodative

in the coming months. The

median forecast of the Federal Open

Market Committee participants suggests

that short-term interest rates

will remain abnormally low relative

to the output gap through to the end

of 2023. Under these conditions, the

U.S. economy is likely to continue

outperforming over the longer term.

NBC sees real GDP growth of 6.9

percent this year and 4.3 percent

next year.

In Canada, recent data are highly

encouraging, although many are

apprehensive of a fourth wave of

COVID-19. Canadians responded

positively to vaccine rollout. Hospitalizations

fell sharply in recent

weeks (as of time of writing) which

allowed an easing of public-health

restrictions. After a moderation of

expansion in Q2 due to public-health

measures and to production issues

in automaking by reason of the chip

shortage, impressive growth continues

to be expected with the coming

TELL US WHAT

HARDWOOD YOU NEED

AND WE'LL BRING IT

TO THE TABLE.

It's essential to deliver a

wide variety of the highestgrade

hardwood to the entire

architectural millwork, hardwood

flooring, cabinetry, furniture, and

dimension industries. Centrally

located within the United States,

our transportation network

ensures quick and efficient delivery

of fine Appalachian hardwood

from wherever the call may

arise. Extensive improvements in

technology, coupled with a sharp

eye for attention to detail and

customer needs, has given us a

reputation for quality and choice in

the hardwood market.

• Premier Global Provider

• Wide Variety of Hardwood

• Excellent Value

• Superb Service

• Ready to Deliver

reopening of services entailing close physical proximity.

Forest-product prices have subsided considerably but

soaring natural gas prices drove the Bank of Canada

commodity price index to a 13-year high in July. In this

context, the labor market is expected to recover rapidly

in the coming months as hiring intentions and labor

shortages suggest strong employer demand.

A recent population survey sees a gain of 231,000 jobs

that erases at one stroke almost all the losses of the third

Fine Appalachian Hardwood Since 1979

hermitagehardwood.com | 931.526.6832

Please turn the page

58 SEPTEMBER 2021 n NATIONAL HARDWOOD MAGAZINE SEPTEMBER 2021 n NATIONAL HARDWOOD MAGAZINE 59
---
ONTARIO Continued

wave of the pandemic. Most summer gains were in accommodation/food

services and retailing. The wave of

hiring will continue: the Bank of Canada's Business Outlook

Survey reports record hiring intentions.

The report is the same for small and medium businesses,

which in the summer reported labor scarcities

as acute as before the pandemic – 41 percent worried

about a lack of skilled labor and 27 percent about lack

of unskilled labor. This situation is explained: in June

Quality Appalachian Hardwood Lumber

900,000 B.F. Kiln Capacity

Quentin Moss, KD-Lumber Sales/

GR-Lumber Sales/Purchasing

quentin@gfhardwoods.com

9880 Clay County Hwy. Moss, TN 38575-6332

PHONE: 1-800-844-3944 FAX: 1-931-258-3517

www.gfhardwoods.com

about 800,000 workers were still drawing on the income

support program. This support is slated to diminish considerably

in August, from $500 a week to $300, which

could encourage workers to go back to work and reduce

labor-market tensions.

Additionally, Finance Minister Freeland said economists

are forecasting a strong economic recovery, but

Ottawa is retaining the power to extend support measures

until the end of November if needed. n

QUEBEC Continued from page 12

remaining at a good pace, added

some contacts. There were also

more prospective customers seeking

additional Basswood supplies or

as an alternative for the more difficult

to find species or wood composites.

Demand from Southeast Asia

and Mexico end users were seeking

good volumes of Basswood.

The regionally important Hard

Maple gap between supply and demand

is getting narrower, due to improved

production in most regions in

Canada and the U.S. border states.

Flooring manufacturers, cabinet and

components producers are vying for

this species.

On the Soft Maple side, furniture

manufacturers and cabinetmakers

are keeping up a steady demand of

this species and are in need of more.

Demand of this species varies by

grade; upper grade availability is lagging

demand, whereas No. 1 Common

and No. 2A are more available.

Almost everyone who is producing,

selling or using Cherry has had

to adjust to the reduced demand of

this species from China. Although

demand for Cherry has risen in the

U.S., Mexico and Canada from their

very low levels, contacts noted.

Market activity for Hickory is vibrant,

especially with residential

wood flooring. Manufacturers have

managed to build larger Hickory

inventories over the last several

months. Demand by consumers for

Hickory flooring is holding up. Hickory

is also moving to other end user sectors domestically

and to export markets, led by Mexico.

It was noted that residential and truck trailer flooring

manufacturers have been very busy. Prices for Oak strip

flooring have climbed to record highs, with demand approaching

levels seen in the mid-2000s. Truck trailer

flooring markets are strong with plants trying to ramp up

production. Flooring manufacturers say they need more

lumber to meet current and anticipated demand. With the

housing sectors in both the U.S. and Canada, it doesn't

appear it will let up any time soon.

Flooring manufacturers are also

aggressively pursuing raw materials

of Red Oak, and green Nos. 2A

and 3A. Demand from wholesalers

for No. 1 Common Red Oak is also

good. Exports to China for kiln-dried

Red Oak are sluggish, which is seen

as normal for this time of year.

Demand for Poplar remains solid

and strong. Interest from long-time

customers is good, and shortages of

competing materials are also helping

sustain Poplar demand. Poplar producers

and users watch softwood

availability and pricing since both

materials vie on the same markets.

With softwood prices coming down,

it has had little to no effect on Poplar

business.

Walnut is doing well on the domestic

front, in the U.S. and demand has

climbed from Mexico.

Despite the pandemic, close to 70

percent of business owners in Canada

feel optimistic says a Canadian

Imperial Bank of Commerce (CIBC)

poll. The CIBC study suggests business

owners feel brighter days may

be ahead: 69 percent say they feel

optimistic about the long-term future

of their business. Findings also show

there is a downward trend in how

business owners feel they have been

negatively impacted by COVID-19:

58 percent, down from 68 percent

reported in November 2020 and 81

percent in April 2020.

"Canadian business owners continue

to show extraordinary resil-

ience during these difficult times," said Senior Vice-President,

Business Banking, CIBC, in a prepared statement.

"As the economy moves toward opening up, I encourage

owners to seek advice about any additional relief they

may need, including help with cash-flow management or

additional future-proofing to meet their long-term ambitions."

Top concerns remain similar to when the pandemic

first broke, but amongst fewer business owners. A reduced

demand for products/services is still a worry for

Please turn to page 71

TRUSTED NATIONAL LEADER

Design, Fabrication

and Installation –

Hot Water and Steam

•

We handle full biomass wood

boiler system projects including

the design, fabrication, and

installation.

•

We have full-service team and

parts division to support our

customers for the life of the

equipment.

•

We install our equipment

throughout the U.S. as well as

internationally.

•

We handle all aspects of boiler

room equipment including the

combustion system, boiler, emissions

control equipment, controls,

and material conveying equipment.

•

We offer boiler systems in hot

water and steam.

906-466-9010

www.BurnChips.com • sales@burnchips.com

60 SEPTEMBER 2021 n NATIONAL HARDWOOD MAGAZINE SEPTEMBER 2021 n NATIONAL HARDWOOD MAGAZINE 61
---
WHO'S WHO

IN HARDWOOD PURCHASING

A BRIEF SKETCH OF THE LEADING

PURCHASING EXECUTIVES IN

THE HARDWOOD INDUSTRY

TERESA MOORMAN is the lumber purchasing agent

and Director of Human Resources and Environmental

Coordinator for Mid-America Cabinets Inc., located in

Gentry, AR. Her current responsibilities include all purchasing,

hiring of new employees and filing state and

federal environmental reports.

Mid-America Cabinets purchases 700,000 board feet

per year of Hard Brown Maple, Red Oak and Knotty Alder

(No. 1 Common, Surfaced and 15/16).

Mid-America Cabinets' market is the multi-family industry,

as well as retirement facilities, with kitchen and

bath cabinet and countertop solutions, focusing on providing

services on time and on budget. The company offers

severe-use cabinets and can work on jobs requiring

no added urea formaldehyde specifications.

Mid-America Cabinets is a member of the Kitchen

Cabinet Manufacturers Association.

Moorman graduated from McDonald County High

School, located in Anderson, MO, in 1979 and Missouri

Southern State University, located in Joplin, MO, in 1982.

She has worked at Mid-America Cabinets for 37 years.

Moorman has been church treasurer at Sulphur

Springs United Methodist Church for 38 years. She enjoys

doing anything outdoors and spending time with her

12 grandchildren. She is also an avid Arkansas Razorback

fan.

For more information about Mid-America Cabinets,

visit www.midamericacabinets.com.

BRET FERGUSON has been the primary purchaser

of lumber and plywood for Crestwood Inc. located in

Salina, KS since 2000.

Crestwood is a manufacturer of fine custom cabinetry

that purchases 300,000 board feet of green lumber annually

of 4/4 and 5/4 thicknesses. The company offers

Alder, Rift and Quartered White Oak, Red Oak, Hard and

Soft Maple, Cherry, Walnut, Beech and Basswood.

Crestwood produces custom cabinetry that is sold and

distributed through dealer networks throughout the U.S.

The company also manufactures custom countertops in

solid surface and stone. Crestwood is a member of the

National Kitchen and Bath Association.

Ferguson started at Crestwood 43 years ago after

graduating from North Central Kansas Technical College

where he learned carpentry and cabinetmaking.

When he is not working, Ferguson enjoys restoring

his 1949 Chevy pickup "Ruby," as well as maintaining

his family's 109-year-old farmhouse. Ferguson has been

happily married to his high school sweetheart, June,

since 1979.

For more information about Crestwood, visit www.

crestwood-inc.com.

ANDRE LETOURNEAU is president/owner of West

Hartford Stairs & Cabinets Inc., located in Newington,

CT.

Please turn the page

Carl rosenberry & sons lumber, InC.

Celebrating 100 Years in Business!

7446 Path Valley Road, Fort Loudon, PA 17224 • Phone: (717) 349-2289 • FAX: (717) 349-2044

www.rosenberrylumber.com

Celebrating 40 Years of Setting the

Gold Standard in American Black Walnut

Two automatic circle mills and line bar band resaw

Maintaining 700,000' K.D. inventory and 1,000,000 bd. ft. of Green and Air Dried lumber

300,000 bd. ft. Kiln Capacity

Kiln Drying Fine Pennsylvania Hardwoods

ANNUAL PRODUCTION 7,000,000' 75% Red and White Oak

Email inquiries to Jackie Kriner at jackie@rosenberrylumber.com

4/4 thru 16/4 Walnut

Proudly NHLA Grade Certified

Phone: 660-248-3000

MOPACLumber.com

inquiry@mopaclumber.com

62 SEPTEMBER 2021 n NATIONAL HARDWOOD MAGAZINE SEPTEMBER 2021 n NATIONAL HARDWOOD MAGAZINE 63
---
WHO'S WHO

Continued

West Hartford Stairs & Cabinets manufactures custom

and elliptical floating stairways, as well as custom kitchen

cabinets. The company purchases a total of 200,000

board feet annually of Poplar, Red and White Oak, Hard

and Soft Maple, Red Birch, Cherry, Walnut and Butternut

(No. 1 Common, Select & Better and FAS).

Some softwoods are also purchased for use in manufacturing.

Certified wood is purchased at the request

of customers. The company offers value-added services

with its full mill operation.

Letourneau has worked at the company for nearly 46

years, with a total of 19 spent in his current position. His

first job in the forest products industry was framing houses

during summer months and installing wood shingle

roofing beginning at age 16.

In 1975, he began with West Hartford Stairs & Cabinets,

working in the mill, framing rough stairs and installing

finished stairs. Letourneau then moved into sales for

the company in 1985 and into management in 1998.

He and his wife, Terry, have three daughters, a grandson

and two granddaughters. In his free time, Letourneau

enjoys hunting, fishing, golfing and snowmobiling.

More information can be found by visiting www.stair

sandcabinets.com. n

KEEP UP

WITH THE LATEST

INDUSTRY NEWS

nationalhardwoodmag.com

NEWS DEVELOPMENTS Continued from page 15

for 2022-Q2 utilizes smoothed data for two leading model

inputs: residential remodeling permits and single-family

housing starts. Using unsmoothed inputs in the LIRA

model would have projected an unlikely annual growth

rate roughly twice as large as reported. The Remodeling

Futures Program will continue to monitor input volatility.

For more information, contact Kerry Donahue at 617-

495-7640 or kerry_donahue@harvard.edu.

CABINET MANUFACTURERS RECOVER FROM

COVID LOCKDOWN

According to the Kitchen Cabinet Manufacturers Association's

(KCMA) monthly Trend of Business Survey, participating

cabinet manufacturers reported an increase in

overall cabinet sales of 32.9 percent for May 2021 compared

to the same month in 2020, according to the most

recent data available. Custom sales are up 26.9 percent,

semi-custom increased 32.6 percent, and stock sales increased

34.4 percent.

The numbers reflect the continued recovery from the

height of the pandemic lockdown. When looking at the

month-to-month comparison, cabinet sales varied slightly

one way or the other. Overall sales increased 0.8 percent

in May 2021 compared to April 2021. Custom sales were

down 2.0 percent, semi-custom sales up 2.1 percent, and

stock sales increased 0.5 percent.

Sales in 2021 remain strong. Overall year-to-date cabinet

sales are up 21.6 percent when compared to the same

time period in 2020. Custom sales are up 23.5 percent,

semi-custom sales increased 21.3 percent and stock

sales increased 21.4 percent.

Survey participants include stock, semi-custom and

custom companies whose combined sales represent approximately

75 percent of the U.S. kitchen cabinet and

bath vanity market. KCMA is the major trade association

for kitchen cabinet and bath vanity manufacturers and key

suppliers of goods and services to the industry. KCMA has

been compiling and reporting industry sales data for more

than 40 years.

For more information, go to www.kcma.org.

Please turn to page 71

Contact:

Mike Tarbell, Sales Manager

Rus Gustin

(814) 697-7185

FAX (814) 697-7190

25,000,000 BF of Quality Bandsawn Pennsylvania Hardwoods

1,500,000 BF Kiln Capacity

Export Packaging & Container Loading

SPECIALIZING IN ASH, RED OAK, HARD MAPLE and CHERRY

"We welcome your inquiries and look forward to serving your needs."

Mailing Address

1716 Honeoye Road

Shinglehouse

PA 16748

E-mail: mtarbell@ramforestproducts.com

WORMY CHESTNUT • TROPICALS • QTR & RIFT • CYPRESS • ALDER

Headquarters, Concentration Yard & Kilns in Hickory, N.C.

Phone (828) 397-7481 FAX: (828) 397-3763

www.cramerlumber.com

3 million BF KD

Inventory

Atlanta, GA

Warehouse

770-479-9663

"LIMBO"

The Lumber Rule

Hardwoods • White Pine • Cypress

RGH • S2S • SLR1E

4/4 thru 16/4

thicknesses

Export

Sales

706-736-2622

HICKORY • HARD & SOFT MAPLE • POPLAR • RED & WHITE OAK • WALNUT • ASH

WHITE PINE • BASSWOOD • BEECH • BIRCH • CEDAR • CHERRY

64 SEPTEMBER 2021 n NATIONAL HARDWOOD MAGAZINE SEPTEMBER 2021 n NATIONAL HARDWOOD MAGAZINE 65

Ram half Converted Oct 2018.indd 1

9/26/18 2:02 PM
---
Have you considered

UPGRADING

your machine control?

Give us a call for options.

Proportional Valve

Tester PVT-2

Scanning Carriage Systems

Resaw Systems

Linear Carriage System

Paw Taw John has user

friendly systems and their

customer service has been

excellent.

Greg Wells, Owner –

Greentree Forest Products, Inc.

(208) 687-1478 | www.pawtaw.com

18125 N. Ramsey Rd., Rathdrum, ID 83858

TRADE TALK

ERIN, TN—Brandon Clark,

owner of Clark Hardwoods, LLC,

located here, recently installed

a new 50,000-board-foot DH

kiln by Nyle Systems, located

in Brewer, ME. The dehumidifier

was completely refurbished,

bringing the total drying capacity

to 125,000 board feet.

Brandon Clark

Moreover, at Clark Lumber Co.

in Red Boiling Springs, TN, the

company increased their covered air-drying capacity to

3 million board feet.

The addition of the new DH kiln brings the total kiln

capacity of the two facilities to 900,000 board feet.

The company has six sawmills providing approximately

50 million board feet of Appalachian Hardwoods in 4/4

to 8/4 thicknesses. The species manufactured are Red

and White Oak, Poplar, Ash, Hard Maple, Walnut, Cherry

and Hickory. The companies both operate a planer and

supply both green and kiln-dried lumber, cants plus cross

ties, serving both the domestic and export markets.

For more information, go to www.clarklumbercom

pany.com.

PLESSISVILLE, QC—Carbotech

Group, with its head office

here, recently announced its acquisition

of Autolog, a company

specializing in wood processing

optimization and automation.

Carbotech Group has been

experiencing continuous growth

Luc Houde as the wood processing industry

has boomed. As a result,

the company developed an expansion strategy, which

included acquiring Autolog. As for Autolog—a company

with globally recognized expertise that has been in

AN UPDATE COVERING

THE LATEST NEWS ABOUT

HARDWOOD SUPPLIERS/VENDORS

business for more than 30 years—it was looking to join a

visionary group that would value both parties' expertise.

The result: Carbotech, which designs and manufactures

machinery for the sawmill industry, has added another

string to its bow, according to Carbotech. Thanks

to Autolog's optimization and automation services, the

company will now be able to provide an even greater

range of solutions to its customers. From mechanics to

electronics, customers will now be able to enjoy complementary

products and services from experts working in

tandem.

"Autolog and Carbotech wanted to pool their knowledge

and skills to create high-value products and enter

exciting new markets. Acquisition proved to be the most

promising and mutually beneficial solution. Carbotech

Group is proud to have acquired such a well-established

company whose goals and values align with our own,"

stated Luc Houde, executive vice president of Carbotech

Group.

Both companies are driven by innovation and excellent

customer service, according to Carbotech. They intend

to embody those values more than ever under the governance

of Carbotech as they work to enhance and adapt

their range of products and services to meet the needs

of the entire wood processing industry. Sylvain Magnan,

one of Autolog's co-founders, is optimistic about this development:

"The synergy between these companies is

amazing. Together, we can take our expertise to the next

level and offer our customers more than ever."

Carbotech Group's two offices will not be moving. Additionally,

Autolog will continue to serve and work with

its current customers and mechanical partners from its

Blainville facility.

Carbotech Group's headquarters will remain in Plessisville

and its team will continue to serve customers

from around the world.

For more information, go to www.carbotech.ca.

Please turn the page

rustic

WHITE

OAK

Devereaux rustic white oak is live

sawn to reveal the natural character of

the tree. It's perfect for unforgettable,

long-lasting floors that can only be

called timeless.

48 year legacy of consistent excellence

Improve yield with widths 5¾" – 10¾"

Exceptional, timely customer service

66 SEPTEMBER 2021 n NATIONAL HARDWOOD MAGAZINE SEPTEMBER 2021 n NATIONAL HARDWOOD MAGAZINE 67

PEWAMO, MI

(989) 593-2552

Sales@DevereauxSawmill.com

Download your virtual pack:

www.DevereauxSawMill.com/VirtualPacks
---
TRADE TALK

Continued

EXPERIENCE QUALITY DEPENDABILITY

975 Conrad Hill Mine Rd. ~ Lexington, NC 27292

Phone 336-746-5419 ~ Fax 336-746-6177

www.kepleyfrank.us

Facilities:

3 Sawmills Processing 50 Million' • 750,000' Dry Kiln

Capacity • 600,000' Fan Shed Capacity

2 382 Newman Planer Mills • 50 Bay Bin Sorter

Products Available:

4/4-8/4 Appalachian Lumber • 6/4-8/4 Ship Dry Capacity

Crossties (100,000 BF per week) • Timbers up to 18'

1,000,000+ Average KD Inventory • 12,000,000+

Average AD Inventory

Species:

White Oak • Red Oak • Poplar • Ash • Hickory

Elm • Beech • Gum • Hackberry • Pecan

Jimmy Kepley, owner, and Bart

Jenkins, lumber sales

Sales:

Bart Jenkins

bjenkins@kepleyfrank.us

Jimmy Kepley

jkepley@kepleyfrank.us

MARCUS HOOK, PA—Alan

McIlvain Company, located here,

recently installed a new Weinig

Powermat 1500 moulder and a

Thomas Manufacturing infeed

handling system and bundle

dumper/singulator.

The company's president, Lan

McIlvain, commented that the

Lan McIlvain

new moulder allows for "very fast

changeovers" and can produce widths of up to 12-1/4

inches. Its 12,000 RPM capacity means it can "run quite

a bit faster" than McIlvain's previous moulder. The new

infeed device and bundle dumper helps with throughput,

he stated. This new equipment helps now that the firm is

producing more custom millwork, he said.

Alan McIlvain Company is 223 years old. This firm,

close to Philadelphia, produces and distributes Hardwood

lumber and custom mouldings and keeps over 7

million board feet of Hardwood and softwood in stock.

Alan McIlvain Company handles Red and White Oak,

Walnut, Hard and Soft Maple, Ash, Poplar, Hickory, Cherry,

Basswood and, in softwood, white pine, Alaskan yellow

cedar and cypress, plus imported lumber.

For more information, go to www.alanmcilvain.com.

The Sterling YieldBoss Hybrid Edger System

"The Sterling YieldBoss Hybrid

Edger System is a revolutionary

new approach to edging

that combines the benefits of

optimized saw placement with

the simplicity of a manual edger

system," said McDonough Vice

President/Owner Matt Tietz. "An

affordable system in a whole

Matt Tietz

new class of edgers created

by McDonough, a Sterling YieldBoss Hybrid Edger fits

in the space between our line of McDonough fully optimized

edgers that return the highest yields, and manual

edgers that leave everything up to your operator.

"Based on years of edger product development and

site testing, a Hybrid Edger will deliver performance expected

to be superior to many optimized transverse edger

systems, and even outperform many edgers that are

billed as being optimized, but in reality, are not."

The Sterling YieldBoss includes:

•Optimized saw placement on every board

•A design to fit the footprint of a hand-fed edger system

common in sawmills everywhere

•A design to put the saw on the correct cut-path on

every piece

•An infeed system based on the designs of the Mc-

Donough OptiFit edger system, which has been developed

over years of testing and improvement, with

50-plus systems in operation around the industry

The standard YieldBoss edger system has:

•Edger infeed belt

•McDonough YieldBoss Hybrid Edger scanning

•McDonough Hybrid Edger system controls

A 60+ Year Tradition of Excellence

Serving architectural woodworkers, cabinet and fixture

manufacturers with vast inventories of premium quality

domestic and imported hardwoods, from Alder to

Zebrawood, 4/4 through 16/4 in many species. When you

need Hardwood, think MacBeath. . . a name synonymous

with fine quality and prompt, reliable service.

Corporate Office &

Concentration Yard:

Edinburgh, Indiana

800-322-9743

Reload:

Golden State Reload

Perris, California

800-322-9743

Arizona:

Phoenix: 602-504-1931

Tempe: 480-355-5090

Tucson: 520-745-8301

1/4 Ad Template_Layout 1 8/12/13 Utah: 4:11 PM Salt Lake Page City: 1 800-255-3743

MacbeathREV 12-2018.indd 1

macbeath.com

Northern California:

Berkeley: 800-479-9907

Stockton: 844-490-5051

Front row, left to right: Marijo Wood, Sales Manager; Matt Hoover, Assistant

Procurement Manager; Back row, left to right: Chris Hoover, Production

Manager; Eric Hoover, Pallet, Cut-up Operations;

Mike Hoover, Procurement Manager.

At Neff you get what you want!

Quality Lumber • Shipped On Time

Neff is a 5th generation family-owned and operated Hardwood

band mill facility with dehumidification dry kilns and has been

in business since the 1920's. We specialize in high grade Appalachian

Hardwood lumber and Red Oak and White Oak strips

that are prepared exactly to customers' specifications. We also

have a pallet & cut up operation, making grade, tree & surveyor's

stakes.

For all your Appalachian Hardwood needs

(for which there is no substitute) please contact

Marijo Wood, sales manager.

Neff Lumber Mills, Inc.

P.O. Box 457 Broadway, VA 22815

Phone: (540) 896-7031 FAX: (540) 896-7034

E-mail: neflum@aol.com

EAU CLAIRE, WI—McDonough Manufacturing Company,

•Two-saw McDonough YieldBoss edger

headquartered here, recently introduced the Ster-

The firm manufactures 4/4 through 8/4 thicknesses.

ling YieldBoss Hybrid Edger System, which, according to

the company, is "a whole new class of edgers."

Please turn the page

68 SEPTEMBER 2021 n NATIONAL HARDWOOD MAGAZINE SEPTEMBER 2021 n NATIONAL HARDWOOD MAGAZINE 69

6/21/19 10:13 AM
---
"Quality Hardwood Lumber and Flooring"

Quality Hardwood Lumber

24 Million ft. Annually of Bandsawn Lumber

One Million ft. of Kiln Capacity

Planing Mill Facilities

Straight Line Capability

Width Sorting

On Site Container Loading

Serving you from our facilities in Georgia and Tennessee.

Quality Solid Hardwood and Engineered Flooring

Buena Vista, GA – 75,000 sf Solid Hardwood Flooring

Facility Producing 3/4, 2-1/4, 3-1/4, 4 and 5″

Humidity Controlled Warehouses

Newport, TN – 85,000 sf Engineered Hardwood Flooring

Facility Producing 5/8, 2-1/4, 3-1/4, 4, 5, 6 and 7″

in Red Oak, White Oak and Hickory

Humidity Controlled Warehouses

Owner/Partner - Roland Weaver (229) 649-9328

V.P. of Sales – Kevin Cloer (423) 623-7382

Flooring Sales/Lumber Purchasing – Bobby Cloer (423) 623-7382

Oakcrest Lumber, Inc.

Ph: (229) 649-9328 FAX: (229) 649-9585

Email: oakcrest@windstream.net

Website: www.oakcrestlumber.com

TRADE TALK

Continued

•Edger outfeed belt

According to Tietz, "McDonough strives for efficiency

through specialized machine solutions that lay a foundation

for success. We focus on mutual honesty and

long-term ethics, open and respectful communication,

and are conscious of our customers' expectations. No

matter your edger needs, McDonough has the system

for you."

For more, visit www.mcdonough-mfg.com or call

715-834-7755.

NEWALD, WI–Cleereman Industries, headquartered

here, recently performed this

installation, according to Vice

President Paul Cleereman:

At Mountain Timber of Hector,

AR, Cleereman installed

new Cleereman Carriage Controls

on an existing Cleereman

Carriage.

Since the unveiling of Cleereman's

new edger line at the

Paul Cleereman

Richmond Expo, several edger

orders have been taken. Cleereman Controls had a

sawyers cab set up with carriage controls at the Richmond

Expo with which customers could simulate cutting

up a log. "This was a big hit at the show, and we took

several carriage controls orders," stated Paul Cleereman.

"With lumber markets being strong, business continues

to be very good for both Cleereman Industries

and Cleereman Controls."

Rich in logging and sawmill history, Cleereman Industries

has developed and manufactured sawmill machinery

for over 60 years using three guiding principles:

•Manufacture high quality products built for high production,

increased yield and years of trouble-free operations.

•Use simple yet highly functional designs to minimize

the number of moving parts while maximizing the

performance and functionality.

•Provide unequaled service and support to its customers.

For more information, please visit www.cleere

man.com. n

QUEBEC Continued from page 61

34 percent (-18 percentage points from last April), while

21 percent have concerns for the overall viability of their

shops (-11 percentage points from last April). Conversely,

there is a slight uptick in worries over the availability of

inventory/materials to 19 percent, up seven percentage

points from April 2020.

Many business owners have implemented a number

of changes to manage through the pandemic and into

the future. A quarter (26 percent) have undertaken health

and safety measures beyond legislative requirements,

while a similar number (25 percent) have increased their

online presence and 21 percent have introduced new

payment technologies. Almost a third (29 percent) reduced

operating expenses to get through the crisis while

20 percent had to dip into savings.

Main ambitions moving forward are to grow their business

(34 percent), go from surviving to thriving (32 percent),

remain operational (29 percent) and develop new

revenue sources (25 percent). n

NEWS DEVELOPMENTS Continued from page 65

NAHB SEEKS EXPANSION OF HOUSING

SUPPLY

National Association of Home Builders (NAHB) CEO

Jerry Howard testified before Congress recently and

called on lawmakers to enact key policy proposals that

will help home builders to expand the housing supply, reduce

the housing deficit and improve housing affordability

for all Americans.

Please turn the page

NO ONE KNOWS

air fl

LIKE SMITHCO

We've been a leading force in air flow design for

almost 3 decades, with 4-, 6-, 8-, and 12-bladed

propellers, designed and manufactured exclusively

for the lumber industry. Now, they are even more

capable with higher- temperature capacity for certain

applications. We combine this technology with

unsurpassed customer service, design consultation

and technical expertise, so whatever your air flow

need, you can trust SmithCo to deliver.

Phone 503-295-6590 • 800-764-8456 U.S.

smithcomfg.com sales@smithcomfg.com

JOSEY (JOCO) 2018 Christmas REV .qxp_Layout 1 11/19/18 2:42 PM Page 1

230-057_Smithco_National Hardwood Magazine_r1_v1 copy.indd 1

JoCo Lumber, Inc. is a division of

Josey Lumber Company, Inc.

Tripp, Logan, and Joey Josey

For Quality Appalachian Lumber Contact:

JOsey Lumber COmpany, InC.

JoCo Lumber, InC.

476 Lees meadow rd. • p.O. Drawer 447

scotland neck, nC 27874

TeL: (252) 826-5614 • FaX: (252) 826-3461

COnTaCT:

emaIL: joseylbr3@gmail.com

saLes: Logan Josey

70 SEPTEMBER 2021 n NATIONAL HARDWOOD MAGAZINE SEPTEMBER 2021 n NATIONAL HARDWOOD MAGAZINE 71

W

Our company offers:

• 10,000,000 BF of annual production from

our 6' band headrig and 6' band resaw.

• Red and White Oak, Soft Maple, Ash,

Poplar and Cypress in 4/4 through 8/4

thickness.

• rough, surfaced, air-dried and kiln-dried

lumber in random widths and lengths.

• export prepping, container loading of logs and lumber,

anti-stain dipping and end coating lumber.

• 500,000 BF of dry kiln capacity.

• 65,000 SF of enclosed warehouse for storage and loading of

kiln-dried lumber.

1/29/20 12:22 PM
---
MANUFACTURER OF QUALITY BAND SAWN

NORTHERN APPALACHIAN HARDWOODS

RED OAK WHITE OAK CHERRY SOFT MAPLE

POPLAR WHITE ASH HARD MAPLE WALNUT

500,000 B.F. Dry Kiln Capacity 2 Million B.F. Dry Storage

Container Loading

2240 Shermans Valley Road, Elliottsburg, PA 17024

Phone: 717-582-4122 Fax: 717-582-7438

Jason Twigg: (Cell) 717-514-2224

Toll Free: 1-800-253-0263

E-mail: sales@tuscarorahardwoods.com

Website: tuscarorahardwoods.com

Mixed TL's

S2S, Ripped to Width, Cut-Length & Finger-Joint

Lumber Measured & Inspected after Kiln Drying

Connecting North American

Forest Products Globally

LIKE AND FOLLOW US ON:

@millerwoodtradepub

www.millerwoodtradepub.com

NEWS DEVELOPMENTS Continued

During a hearing before the House Ways and Means

Subcommittee on Oversight on the topic of expanding

housing access to all Americans, Howard noted that rising

home prices, apartment rents and construction costs represent

additional risks to housing affordability for prospective

home buyers and renters.

"Over the past decade, the residential construction industry

has underbuilt and not kept pace with demand due

to several supply-side constraints," said Howard. "These

include a lack of skilled labor and buildable lots, tight

lending conditions, shortages and rapidly rising prices for

building materials, and excessive regulatory burdens that

have added approximately 25 percent to the cost of a single-family

home and 33 percent to a multifamily unit. Progress

must be made on all fronts to ease the supply-side

challenges that are holding back housing production."

With the persistent lack of housing stock representing

the most significant challenge for prospective home buyers,

Howard called on Congress and the Biden administration

to take the following steps to expand access to

affordable housing:

•Fix the building materials supply chain. The United

States must immediately engage with Canada to adopt a

new softwood lumber agreement and stop the imposition

of harmful tariffs on Canadian lumber that increase prices

and price volatility.

•Improve the Low-Income Housing Tax Credit. Congress

needs to enact H.R. 2573, the Affordable Housing

Credit Improvement Act.

•Reformulate current homeownership tax incentives.

Recent tax changes have undermined the effectiveness

of the mortgage interest deduction.

For more information, go to www.nahb.org. n

HMA Continued from page 16

"The North Carolina Forest Service operates a

system of nine Educational State Forests (ESFs)

designed to teach the public - especially school

children - about the forest environment. These

Hardwood sample kits will be used as teaching aids

during our educational programs. Thank you so

much!"

A 50-word reminder blurb about The American

Hardwoods Collection, included in the summer

newsletter of the New York Chapter of the International

Furnishings and Design Association (IFDA) - the "voice"

of the furnishings and design industry - has resulted

in nearly 20 sample kit requests from members of the

design/build community looking to enhance their projects

by including American Hardwoods in their designs.

If you would like to add The American Hardwoods

Collection to your marketing tool belt, or if you feel that

your state's Forestry Bureau would benefit from this

information, email your request to Info@hardwood.

org. After all, it's all about networking and collaboration,

right? Hope to hear from you. n

AHEC Continued from page 18

MARS HILL JUNE 2014_Layout 1 5/19/14 2:24 PM Page 1

empty containers, has broken every chain of the logistics

system."

•Due to port congestion, "in May alone about 67,000

40' containers were not unloaded on east coast ports

that were scheduled. June is 15% higher."

•"Over 300 vessels right now, worldwide, are waiting

for a berth. Each day costs $125,000 per vessel just to

sit."

•Vessel schedule changes, i.e. ocean bookings that

are changed overnight, as MANY of us in the Hardwood

business are experiencing, "…are caused by shipping

lines making quick but calculated decisions; do we

anchor offshore in line another 10 days or sail to your

next port of call where wait time is less? That overnight

change to weigh anchor and sail to another port to unload

translates to canceled or rolled bookings."

As unsettling as this is, we hope this information helps

clarify the landscape so that we can make the day-to-day

decisions best for our companies, with an eye on what

is good for the Hardwood industry long term. Certainly,

you have guiding principals that already got you this far. I

like asking these simple questions; What's the problem?

What's not the problem (that is distracting us)? What are

we going to do about it? In the big picture, perhaps the

problem is "It was the best of times; it was the worst of

times…". n

READ

EVERY

ISSUE

ONLINE

millerwoodtradepub.com

Mars Hill, Inc.

at (866) 629-9089 for obtaining the

best looking White Poplar

you've ever seen.

We like to say "It's so white, it'll blind you!"

We offer our White Poplar in 4/4 through 8/4 thicknesses

in Sap 1F & Btr, 1 Com and/or FAS/1F grades in truck

load or container load quantities only.

ATT: PALLET - STAKE - INDUSTRIAL MFRS!

Hardwood Lumber Rough Green

4/4xRWxRL • 4/4x6xRL • 8/4xRWxRL • 6/4xRWxRL

SYP Heat Treated

1x4x40 • 1x6x40 • 2x4x40 • 2x6x40

2x4x48 • 1x2x12"-36" SYP KD Stakes

Other sizes from can to cant! All inquiries welcome!

Dense HDWD Stakes, Chisel Point

1 1/8x1 1/8

Truckload lots available, quoted F.O.B. your yard.

(866) 629-9089

Fax: 601-671-0736

e-mail: mwood@marshillinc.com

www.marshillinc.com

We accept major credit cards

72 SEPTEMBER 2021 n NATIONAL HARDWOOD MAGAZINE SEPTEMBER 2021 n NATIONAL HARDWOOD MAGAZINE 73

Contact
---
CLASSIFIED PROFIT OPPORTUNITIES

To: Anyone involved in the sawmill controls industry

There are many stories and people that have been

involved in the sawmill controls industry.

This fascinating history should be preserved. I want to write

a book about this industry and would appreciate any stories

or comments you might want to add. I am willing to meet in

person if needed.

Please contact me, Jeff Hurdle, at:

hurd2575@gmail.com

● 2 Grade Lines

● Planer

● 2 Gang Rips

● 300,000' Kilns

HELP WANTED

Bingaman & Son Lumber, Inc., a leading wood products manufacturer, is seeking

a full-time Forest Technician & Forester at our St. Marys Lumber Company

location [135 Aviation Way, St Marys PA 15857 (814)834-1209].

Forester Tech - This position is responsible for accurate timber cruise numbers,

timber harvest logistics, and aiding procurement foresters in road bonding/permitting.

Must be proficient in species identification and log grading rules. Prefer an

Associates Degree in Forestry.

Forester - We prefer a 2 year Associates degree in Forestry, 1-3 years sawmill

experience, knowledge of industry software & Microsoft experience. In addition,

the successful candidate will have a strong work ethic, self-motivated and experience

working in a team setting. A valid PA driver's license required.

We offer competitive wages and some of the best benefits in the area – health

insurance, 401K, ESOP, vacation, etc. If you are interested, please email your

resume to Aimee Bowersox at abowersox@bingamanlumber.com. E/O/E

Hardwood Sawmill and Dry Kilns For

Sale in the Midwest

● Wood Waste Boiler

● 3 Dry Storage Sheds

● 1 Air Drying Shed

● 15,000' Capacity Steamer

Sawmills and Resaws Capable of 150,000' Per Week Production.

Reply to: CMP #3577

c/o National Hardwood Magazine

PO Box 34908, Memphis, TN 38184-0908, or

email nhm@millerwoodtradepub.com – put CMP #3577 in the subject line

ALL CLASSIFIED ADS MUST BE PAID IN ADVANCE

$45.00 PER INCH - BLIND BOX NUMBER FEE: $10.00

DEADLINE: 30 Days Preceding Publication Month

800-844-1280

Classified advertising will not be accepted for Hardwood products such as lumber,

dimension, turnings, veneer, carvings, new dry kilns or dry kiln equipment, etc.

USED MACHINERY FOR SALE

●USNR 4TA30 Top Arbor Three Shifting

Saw Edger

●Infeed Landing Deck

●USNR – Lunden Cam Unscrambler

S/N 41419

●Even Ending Rolls

●Queuing Hooks (2) ahead of Scanner

●Queuing Hooks (2) after Scanner

●Edger Infeed Model 600 Maximizer

S/N 2951-A

●USNR 4TA30 Edger with 200 HP Arbor

Drive Motor

●Outfeed Belt with Shifting Edging Shears

●Specs – Hardwood 1" to 4" Thick x 4" to 24"

Wide x 6' to 16' Long

●Saw Kerf .160" x Saw Plate .120"

●Two Hydraulic Units

●Water Mizer Oil Mist Guide System

●Set of Babbitt Guide Tools

Contact: Jenness Robbins

Cell: (207) 745-2223

Email: jenness57@gmail.com

SERVICES

901.767.9126

or visit us at

www.hmr.com

Benchmark pricing and market

commentary on the North American

hardwood lumber industry.

Go online at hmr.com for a sample copy.

EQUIPMENT FOR SALE

2000 Optimil 6ft Twin Bandmill

Never used. Bandsaw with covers. $150,000.

Please call Jenness for more information at

207-745-2223 or Jeff at 207-342-5221.

USNR 4TA30 Top Arbor Three Shifting Saw Edger

200 hp drive motor, includes unscrambler, control

cab, infeed and outfeed. $95,000. Please call Jenness

for more information at 207-745-2223 or Jeff

at 207-342-5221.

Phone: (207) 342-5221

Fax: (207) 342-5201

PO Box 9, Ghent Road

Searsmont, ME 04973

Contact: Jenness Robbins

ADVERTISERS

INDEX

Abenaki Timber Corporation......................

Air Systems Mfg. of Lenoir, Inc..................

Ally Global Logistics...................................

Atlanta Hardwood Corporation..................

Autolog Sawmill Automation..................13

Automation & Electronics USA..............15

Baillie Lumber Co.......................................

Beard Hardwoods...................................73

Beasley Forest Products, Inc.................48

Bingaman & Son Lumber, Inc.....................

BioLube, Inc................................................

Breeze Dried Inc.....................................49

Carbotech International.........................53

Cardin Forest Products LLC.......................

Church, Bryant, Hardwoods, Inc............52

Clark Lumber Co.....................................56

Cleereman Controls..................................9

Cleereman Industries...............................9

Cole Hardwood, Inc................................19

Collins.........................................................

Cooper Machine Co., Inc............................

Corley Manufacturing Co..........................5

Cramer, W.M., Lumber Co.......................65

Cummings Lumber Co., Inc......................3

Deer Park Lumber, Inc................... 38 & 39

Devereaux Sawmill, Inc..........................67

Distribution Management Systems, inc.

(DMSi)......................................................17

Fitzpatrick & Weller Inc..............................

Forestry Systems......................................7

GF Hardwoods, Inc.................................60

Graf Bros. Flooring & Lumber................21

Graf & Thomas Lumber, Inc.......................

Granite Hardwoods, Inc.............................

Granite Valley Forest Products............. FC

GTL Lumber Inc..........................................

GW Industries.........................................54

Hardwood Forestry Fund............................

Hardwood Manufacturers Assoc ..............

Hartzell Hardwoods, Inc.............................

Hermitage Hardwood Lumber

Sales, Inc................................................59

HHP, Inc.......................................................

Hurdle Machine Works Inc.........................

Irving, J.D., Limited....................................

ISK Biocides, Inc........................................

JoCo Lumber, Inc....................................71

Jones, Ron, Hardwood Sales, Inc..........55

Josey Lumber Co., Inc............................71

Kentucky Forest Industries Assoc.............

Kepley-Frank Hardwood Co., Inc...........68

King City Forwarding USA, Inc...................

King City/Northway Forwarding Ltd...........

Kretz Lumber Co., Inc.............................51

Lawrence Lumber Company Inc................

Lewis Controls, Inc...................................5

Lewis, Dwight, Lumber Co., Inc.................

Limbo......................................................65

Lucidyne Technologies Inc........................

Lumber Resources Inc...........................47

Lussier, Simon, Ltd.................................42

MacBeath Hardwood Company..............69

Maine Woods Company..............................

Mars Hill, Inc...........................................73

Matson Lumber Company.......................41

Maxwell Hardwood Flooring......................

McDonough Manufacturing Company....23

Mellott Manufacturing Co., Inc...................

Meridien Hardwoods of PA., Inc.................

Messersmith Manufacturing, Inc...........61

Midwest Hardwood Corporation................

Miller, Frank, Lumber, Inc...........................

MO PAC Lumber Company......................63

Mueller Bros. Timber, Inc...........................

Neff Lumber Mills, Inc............................69

New River Hardwoods, Inc.....................43

North American Forest Foundation............

Northern Hardwoods..................................

Note: Advertisers with no page number carry an alternating Ad schedule.

Northwest Hardwoods, Inc........................

Nyle Systems, LLC................................. BC

Oakcrest Lumber, Inc.............................70

OHC | Overseas Hardwoods Company.......

O'Shea Lumber Co......................................

Patrick Lumber Company.......................58

Paw Taw John Services, Inc..................66

Pennsylvania Lumbermens Mutual

Insurance Company................................46

Peterson, Keith D., & Co., Inc................70

Pike Lumber Co., Inc............................ IFC

Prime Lumber Company.............................

Primewood................................................1

Quality Hardwoods Ltd...........................45

Ram Forest Products, Inc.......................64

Real American Hardwood Coalition.........4

Rosenberry, Carl, & Sons, Lumber, Inc..62

Sawmill MD.............................................11

SII Dry Kilns................................................

Sirianni Hardwoods, Inc.........................44

Smithco Manufacturing, Inc...................71

Snowbelt Hardwoods, Inc..........................

Southern Forest Products Assoc...............

Stiles, A.W., Contractors, Inc...... 76 & IBC

Taylor Machine Works, Inc.....................50

Tigerton Lumber Co....................................

TMX Shipping Co., Inc................................

Tropical Forest Products............................

TS Manufacturing...................................14

Tuscarora Hardwoods, Inc.....................72

U-C Coatings, LLC...................................57

USNR...........................................................

VisionTally..............................................11

Western Hardwood Association.................

Wheeland Lumber Co., Inc.........................

White, Harold, Lumber, Inc.........................

Williams, R.J., Inc.......................................

York Legacy Mill Inc...................................

74 SEPTEMBER 2021 n NATIONAL HARDWOOD MAGAZINE SEPTEMBER 2021 n NATIONAL HARDWOOD MAGAZINE 75
---
Family Owned and Operated Since 1976.

Kiln roof replacements

Door replacements

Through the years A.W. STILES CONTRACTORS

has done everything imaginable to lumber dry

kilns—from complete new green field fabrication

and installation projects to minor repairs.

DRY KILN REPAIRS WE DO ROUTINELY:

● Complete Energy Efficient Rebuilds

● Roof Replacements

● Door Replacements, Existing Door Repair

● Electrical Controls & Upgrades

● New Coil/Steam Pipe Replacements

● Patching Walls & Roofs

Operator friendly kiln controls

Individual drives for circulation fan motors

No matter the size of your kiln project,

we will be happy to take a look at it

with you!

Office: (931) 668-8768 ● Fax: (931) 668-7327

286 Bass Lane, McMinnville, TN 37110

Lee Stiles: lee@awscontractorsinc.com or cell (931) 409-0144

Casey Miller: casey@awscontractorsinc.com or cell (931) 607-7451

www.awscontractorsinc.com

New kilns built to customers specifications

Steam piping and insulation
---
Efficiency. Quality. Speed.

Check out our YouTube Video Series:

(800) 777-6953 Kilnsales@nyle.com www.nyle.com