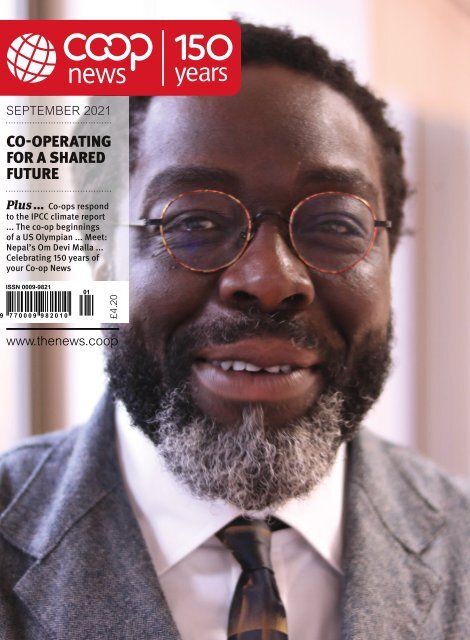 Co-op News September 2021
The September edition of Co-op News: connecting, challenging and championing the global co-operative movement. This issue we look at Principle 6 - co-operation among co-ops: including a look at how co-ops are coming together to find solutions to the environmental challenges facing the world - whether that means stepping up the war on plastic waste in the UK or helping the clean energy transition in Croatia. We look at efforts to provide co-op housing and community pubs, and speak to Lord Victor Adebowale – Co-op Group director and chair of Social Enterprise UK - about co-operation with other socially led sectors. And there's a look at the co-op environment that helped nurture US Olympian Dalilah Muhammad.
The September edition of Co-op News: connecting, challenging and championing the global co-operative movement. This issue we look at Principle 6 - co-operation among co-ops: including a look at how co-ops are coming together to find solutions to the environmental challenges facing the world - whether that means stepping up the war on plastic waste in the UK or helping the clean energy transition in Croatia. We look at efforts to provide co-op housing and community pubs, and speak to Lord Victor Adebowale – Co-op Group director and chair of Social Enterprise UK - about co-operation with other socially led sectors. And there's a look at the co-op environment that helped nurture US Olympian Dalilah Muhammad.
SHOW MORE
SHOW LESS
Do you know the secret to free website traffic?
Use this trick to increase the number of new potential customers.
SEPTEMBER 2021

CO-OPERATING

FOR A SHARED

FUTURE

Plus … Co-ops respond

to the IPCC climate report

... The co-op beginnings

of a US Olympian ... Meet:

Nepal's Om Devi Malla ...

Celebrating 150 years of

your Co-op News

ISSN 0009-9821

770009 982010

01

£4.20

www.thenews.coop
---
Telling co-operative stories for 150 years

thenews.coop/join
---
SEPTEMBER 2021 | 3

150 years of your

Co-operative News

CONNECTING, CHAMPIONING AND

CHALLENGING THE GLOBAL CO-OP

MOVEMENT SINCE 1871

Holyoake House, Hanover Street,

Manchester M60 0AS

(00) 44 161 214 0870

www.thenews.coop

editorial@thenews.coop

EXECUTIVE EDITOR

Rebecca Harvey | rebecca@thenews.coop

INTERNATIONAL EDITOR

Anca Voinea | anca@thenews.coop

DIGITAL EDITOR

Miles Hadfield | miles@thenews.coop

DESIGN

Andy Bellis | andy@thenews.coop

DIRECTORS

Elaine Dean (chair); David Paterson

(vice-chair); Sofygil Crew; Victoria

Green; Tim Hartley; Phil Hartwell;

Gillian Lonergan; Beverley Perkins;

Shaz Rahman; Lesley Reznicek

Secretary: Richard Bickle

Established in 1871, Co-operative

News is published by Co-operative

Press Ltd, a registered society under

the Co-operative and Community

Benefit Society Act 2014. It is printed

every month by Buxton Press, Palace

Road, Buxton, Derbyshire SK17 6AE.

Membership of Co-operative Press is

open to individual readers as well as

to other co-operatives, corporate bodies

and unincorporated organisations.

The Co-operative News mission

statement is to connect, champion

and challenge the global co-operative

movement, through fair and objective

journalism and open and honest

comment and debate. Co-op News

is, on occasion, supported by co-ops,

but final editorial control remains with

Co-operative News unless specifically

labelled 'advertorial'. The information

and views set out in opinion articles

and letters do not necessarily reflect

the opinion of Co-operative News.

@coopnews

cooperativenews

On 2 September 1871, the first issue of The Co-operative News was published,

as "A Record of Industrial, Political, Humanitarian, and Educational Progress".

"What is Co-operation?" (p46-47)

150 years later we are still asking – and answering – that question. Co-operatives

are hugely diverse. They are a tool. And as with any tool, the way they are used

is largely up to the people who wield them. But all co-operatives are grounded in

the set of values and principles that guide us within a framework of democracy,

membership and shared wealth. This issue we are looking at principle 6 – cooperation

among co-operative – increasingly important as the magnitude of

crises facing the world make it clear they cannot be faced alone.

This was made abundantly clear in the IPPC's climate report, which highlighted

how climate change is threatening every aspect of our lives. To address this, "cooperation

and collaboration will be key," says Southern Co-op's Gemma Lacey.

"By sharing our plans, progress and solutions we can use our collective voice

and actions to help drive the wide-scale change needed" (p26-29). In Croatia,

co-ops are helping with the country's coal phase-out (p30-31) and in the UK,

independent retail co-ops have signed up to the soft plastic collection scheme,

launched by the Co-op Group in July (p7).

Co-operatives know they should work with each other; but what about working

with other 'for-purpose' organisations? Lord Victor Adebowale – Co-op Group

director and chair of Social Enterprise UK – firmly believes the co-op movement

needs "to spend less time naval-gazing and more time holding hands" with

other types of organisational models (p36-37).

This issue we also look at how co-operatives offer supportive environments in

different sectors (such as housing, p32-33, and community pubs, p34-45) and for

individual people (such as American 400m hurdler Dalilah Muhammad, p44-45).

But we also look at how mutuality can go wrong: in August, staff at an influential

left-wing Current Affairs magazine in the US claim they were fired for trying to

organise into a workers co-operative (p42-43); and in Canada, Economical

Mutual Insurance has demutualised after 145 years – a move for which ICMIF's

Shaun Tarbuck says there "was no business case" (p40-41).

The Covid-19 pandemic has meant that any in-person celebrations for our 150th

anniversary are on hold, but we are proud to continue sharing co-operative

stories from around the world with our members, readers and the wider public.

Thank you for coming on this journey with us. We are looking forward to seeing

where we go next.

REBECCA HARVEY - EXECUTIVE EDITOR

Co-operative News is printed using vegetable oil-based

inks on 80% recycled paper (with 60% from post-consumer

waste) with the remaining 20% produced from FSC or PEFC

certified sources. It is made in a totally chlorine free process.
---
ISSN 0009-9821

9 770009 982010

4 | SEPTEMBER 2021

01

THIS ISSUE

CLOCKWISE FROM TOP LEFT:

The UK's independent retail co-ops have

signed up to the Group's soft plastic

collection scheme (p7); Plans under way

for a People's Pub Partnership (p34-35);

Promoting Principle 6 in the USA

(p38-39); Dalilah Muhammad (p44-45);

Om Devi Malla (p22-23)

SEPTEMBER 2021

CO-OPERATING

FOR A SHARED

FUTURE

Plus … Co-ops respond

to the IPCC climate report

... The co-op beginnings

of a US Olympian ... Meet:

Nepal's Om Devi Malla ...

Celebrating 150 years of

your Co-op News

£4.20

www.thenews.coop

COVER: Lord Victor Adebowale

shares his thoughts on Principle

6 from a co-operative and social

enterprise perspective

Read more: p36-37

22-23 MEET … OM DEVI MALLA

Vice chair of Nepal's co-op federation and

ICA global board member

26-29 IPCC CLIMATE REPORT

What does the report mean for

co-operatives in different sectors?

30-39 PRINCIPLE 6

The importance of co-operation among

co-ops – and with other organisations

30-31 CROATIA'S COAL PHASE-OUT

The community co-ops encouraging

citizens to get involved in clean

energy

32-33 STUDENT HOUSING

SEASALT Housing Co-op has drawn on

the support of the wider movement

34-35 PEOPLE'S PUB PARTNERSHIP

Plans under way for a national,

community-owned pub organisation

36-37 LORD VICTOR ADEBOWALE

The chair of Social Enterprise UK and

director of the Co-op Group on why coops

and social enterprises should work

better together

38-39 PRINCIPLE 6 IN THE USA

NCBA CLUSA explores ways to drive

Principle 6 in the United States

40-41 END OF THE ROAD FOR

ECONOMICAL MUTUAL INSURANCE

Lessons from the demutualisation of the

145 year old mutual

42-43 A CLASH OF VALUES

Staff claim they were fired for trying to

organise into a workers' co-operative

44-45 DALILAH MUHAMMAD

The Olympian brought up in the Rochdale

Village Co-op in Queens, NYC

46-47 150 YEARS OF CO-OP NEWS

A look back at the past century and a half

of your Co-op News

REGULARS

5-13 UK updates

14-21 Global updates

24 Letters and obituary

48 Reviews

50 Events
---
SEPTEMBER 2021 | 5

NEWS

RETAIL

Co-op Group chief warns

grocery shortages are

the worst he's seen

Co-op Group CEO Steve Murrells has

warned that supply disruptions from

Brexit and Covid-19 are causing the worst

food shortages he has seen.

He told the Times that some ranges were

being reduced because the industry is

struggling to get supplies to shops, thanks

to driver and other labour shortages from

Brexit migration rules and Covid-19.

Mr Murrells made his comments after

widespread reports of stores and fast food

restaurants running short of supplies,

as labour shortages hit fruit picking and

meat processing capacity, as well as HGV

drivers to transport goods.

McDonald's hit the headlines after it

removed milkshakes from its menu at

1,250 outlets across Britain, while Nando's

was forced to temporarily close 50

restaurants because of poultry shortages.

Murrells said the crisis was the result of

"Brexit and issues caused by Covid".

The Group is retraining staff as lorry

drivers to make up for the shortfall – with

the haulage industry losing an estimated

100,000 overall, including 8,000 EU

nationals who have left the UK.

Mr Murrells' comments echo those

of other industry figures, with Iceland

managing director Richard Walker

warning that the current situation could

affect this year's Christmas celebrations.

He told Radio 4's Today programme that

lorry drivers should be added to the

government's skilled workers list to help

recruit people from overseas.

For the agriculture sector, the picture

is more mixed. A spokesperson for

Openfield, the Lincolnshire-based grain

co-op, said it has not yet had any problems

as it goes through its harvest time.

"We haven't seen any significant

disruption and our haulage fleet

continues to operate normally with a full

complement of drivers."

But at Scottish farm co-op body SAOS

(Scottish Agricultural Organisation

Society), supply chain development

director Alan Stevenson said: "Labour

resource continues to be a concern for the

sector in terms of processing capacity and

having the right skills available.

"In addition, we are keeping a close

watch on the lorry driver situation as

we approach harvest time where there

is a heavy demand for their services at a

critical point for the farming industry.

"Being part of a co-op is a great help in

sharing risk and bringing the operational

elements together to plan ahead as much

as possible. It still may prove challenging

bearing in mind weather factors will come

into the equation as well."

SAOS has also echoed calls from the

National Farmers Union for scrutiny of

post-Brexit trade deals, such as the one

recently signed with Australia.

Chief executive Tim Bailey said: "We

believe that any and every deal should be

fully scrutinised. Only farming systems

demonstrably operating to equivalent

high standards of food safety, animal

health and welfare and environmental

protection should gain free trade access to

our markets."

A spokesperson for CQLP, the livestock

marketing co-op based in south-west

England, said there had been no logistics

disruption – but echoed concerns over the

Australia deal.

"Farmers work really hard to overcome

lots of challenges within their industry

and are always striving to do things better;

our welfare standards are very stringent

and about to become even more so and a

lot of farmers feel this deal would be very

dangerous for UK agriculture as firstly

Australia's farmers are allowed to use

some banned products such as growth

promoters, feed additives and pesticides

which doesn't allow a level playing

field and it could encourage other large

food producing nations to push for their

produce to be allowed onto our market.

Thankfully trade in meat is currently very

small between ourselves and Australia

but if a tariff free deal were to happen it

could threaten our whole industry.

"We need a much stricter food labelling

system so consumers are informed of

their choices. The UK government have

been pushing high welfare and food

standards onto our industry for years and

allowing large volumes of substandard/

cheaper products on to our market would

be very damaging."
---
6 | SEPTEMBER 2021

RETAIL

Midcounties works with local councils to fight school holiday hunger

Midcounties Co-op has partnered with

three local councils to help feed more

than 7,000 children over the summer

holidays as part of its mission to tackle

food poverty.

The society has joined forces with

Dudley CVS and Dudley, Walsall and

Shropshire councils to create meal boxes

to feed a family of four for up to four

nights, and deliver them to selected

homes, holiday clubs and libraries across

their communities on a weekly basis.

The meals have been designed in

partnership with qualified nutritionist

and in-store chef Judy Cheyne, who has

also developed recipe cards and videos

that the children can follow at home.

The initiative follows a series of

commitments from Midcounties to help

p Food from the society ready for distribution

deliver food justice, including a food bank

fund that raised more than £50K during

the Covid-19 crisis, joining forces with

other co-ops to campaign for food justice,

becoming a member of Marcus Rashford's

Child Food Poverty Taskforce, and

continuing to provide essential support to

food banks across its communities.

Group CEO Phil Ponsonby said: "Food

justice is a real issue and we're extremely

passionate about driving change to ensure

that no one is left behind. In the current

climate, it's all too easy for families

experiencing financial difficulties to fall

into food poverty, and we're committed

to being a leading part of a movement to

stop that.

"By working together as a society, with

our members, local stakeholders, and likeminded

organisations and individuals,

we know we can make a difference. I'm

extremely proud that these councils have

come to us as the partner on this initiative,

and we're delighted we are able to help."

Co-op Group adds

OneBanks kiosks to

three Scottish stores

The Co-op Group has introduced banking

kiosks from OneBanks to three of its stores

in Scotland.

OneBanks is a community banking

service which offers banking services to

people in areas where there are no longer

any bank branches, or want face-to-face

services because they have been left behind

by the move to digital. It offers services no

matter who people bank with.

Services are already on offer at the

Group's Denny store, in Falkirk, and a

new kiosk at its convenience store in

Kilwinning, in the west of Scotland, will

enable customers to deposit and withdraw

notes and coins, and manage payments

for utilities and other bills.

An additional kiosk in Lochgelly, Fife, is

also planned for the coming weeks.

The Kilwinning trial will feature an

updated kiosk design which is wheelchair

compatible, with team members equipped

and trained to support those who are hard

of hearing through the SignLive app.

Kilwinning will also test out a new

facility, developed in partnership with

G4S, which means customers can deposit

p OneBanks' team at the Denny kiosk

coins as well as notes, and manage

payments for utilities and other bills. The

facility has a touch screen which allows

customers to buy goods and services from

online providers such as Amazon using

cash, and receive change in coins.

Mark Matthews, director of innovation

and formats at the Group, said: "Co-op is

committed to connecting communities and

operating at the heart of local life. We are

working with partners to develop added

services and choice, finding innovative

ways to expand access to products and

services locally, and create a compelling

offer to serve our members and customers."

The OneBanks' shared branch concept

received a boost in May when UK Finance

and the largest retail banks and building

societies launched the Access to Cash

Action Group, examining ways that

businesses and individuals can continue

to use cash for everyday banking. As

part of its existing co-operation with the

banks' Community Access to Cash Pilots,

OneBanks is providing data to feed into

the design of possible models that will

meet that objective.

Services are provided free to customers,

whichever bank they use. OneBanks says

the Denny kiosk has proven popular with

small businesses because it has enabled

them to avoid a round trip of nearly 15

miles to their nearest open bank branch to

bank their cash takings.
---
SEPTEMBER 2021 | 7

ENVIRONMENT

Retail co-ops sign up to soft plastic collection scheme

p The recycling scheme offers a way forward for the crisis of plastic pollution

Independent retail co-ops in the UK have

signed up to the plastic collection scheme,

launched by the Co-op Group at the start

of last month.

The scheme sees the co-ops install

collection points at selected stores, where

people can recycle film and soft plastics,

items that are currently not collected by

all council services.

The collection points will allow people

to deposit items such as crisp packets,

sweet wrappers, plastic film, pet food

pouches, bread bags and other plastic

bags, which will then be backhauled via

the retailers' distribution networks and

responsibly recycled.

Estimates from WRAP suggest that just

6% of plastic bags and wrapping from UK

households is recycled each year, while

(by weight) it makes up around a fifth of

all plastic packaging.

Items that cannot be recycled include

hard plastics, plastic bottles, plastic trays

and no compostable elements, however

recycling services for these items are

widely available.

Luke Olly, energy and environment

lead, at Central England Co-op said: "As

a co-operative, we have a responsibility

to champion sustainability for the good

of our members, consumers and local

communities and plastics is at the

forefront of these efforts.

"We have worked with other retail

co-ops to provide a network of instore

collection points for film and soft

plastics. Providing collection points

specifically for these types of plastics will

enable customers to easily recycle items

that are currently not collected through

council services, while doing this in

a co-operative manner means all the

communities the co-op serves can benefit

from this process, helping to provide a

nationwide solution.

"We hope our customers and members

will make use of the new collection

points and join us in our push to recycle

together."

Mike Pickering, co-operative social

responsibility manager at Midcounties,

said: "As a society, we're committed to

making change and encouraging our

members and customers to work with

us to build a better environment for our

future, and recycling is a big part of that.

"We know that many of our customers

and members want to do even more than

they already are to help the planet, and

the new recycling collection points are a

great, convenient solution to help them."

Other co-ops introducing the scheme

include Chelmsford Star, East of England,

Lincolnshire and Heart of England.

Heart of England says plastic can be

taken to its stores in Hinckley, Long

Lawford, Wellesbourne, Balsall Common,

and Galley Common, Cedar Road and

Attleborough in Nuneaton, and Allesley

Old Road and Earlsdon in Coventry.

Steve Browne, general manager of

the society's food division, said: "The

environment is an increasingly common

area of concern among our members

and customers. This new scheme will

help make a significant impact. Already

a great many of our stores offer packagefree

zones where customers use their

own refillable containers to buy certain

products, and our water stations too –

allowing customers to refill their own

water bottles – are also a huge hit."

Southern Co-op has also told the News

it is planning to trial it.
---
8 | SEPTEMBER 2021

RETAIL

Scotmid launches intervention scheme to get people out of crime

A collaborative pilot programme to

help people involved in crime to make

positive life changes has been launched

by Scotmid Co-op.

Project RISE (Recovering in a

Supported Environment), which will be

piloted in Leith, has been designed to

intervene and support local people by

encouraging them to avoid potential

criminal situations, suggesting

alternative choices and signposting

individuals to support services.

It will work in partnership with several

organisations including Cyrenians,

Turning Point, Link-Up, Connecting

Circles and Police Scotland.

Scotmid hopes to roll the programme

out across other areas of the city, where

additional resources and support would

help make a difference.

Nick McGuirk, project manager for the

scheme, said: "As a retailer based in the

heart of our communities, we are in a

fortunate position to be able to identify

and reach some of the most vulnerable

people in our local areas. We're pleased to

work collaboratively with some fantastic

charities to ensure we can support as

many people as possible, helping them

to make more positive life choices."

Carmen McShane, Scotland service

manager of Turning Point, said: "It

has never been so important to make

mainstream services more accessible for

those who suffer from alcohol and other

drug use.

"Accessing support and treatment

can be a protective factor in reducing

overdose, therefore, outreach work in

Leith, and other local communities

like this, is vital if we want to prevent

drug-related deaths. I'm so pleased to

work with Scotmid, Connecting Circles,

Cyrenians and Link Up in this initiative

to deliver the support to people in our

community who need it."

A spokesperson at Police Scotland

said: "Police Scotland is looking forward

to working alongside our partners

in this pilot programme, designed to

make positive changes for those who

require support and help. We hope the

programme will expand its work to

other areas, so that people can avoid

potentially dangerous circumstances,

whilst flourishing in their communities."

In other news from Scotmid, the

society has joined up with development

agency Scottish Enterprise to invest in

the Alcoholic Water Company, a hard

seltzer business set up by a team of

drinks industry entrepreneurs.

The business, set up in 2019, wants to

develop the "world's most sought after

portfolio of hard seltzers" – alcoholic

flavoured waters. It is a collaboration

between Glasgow-based Start-Up Drinks

Lab and London's Whitelabel Group.

Scotmid has purchased a minority

stake, and says it will bring trade

expertise from its grocery network,

alongside mentoring and business

support. CEO John Brodie said: "This is

a fast growing sector of the market and

there are opportunities to establish a

brand at the premium end."

RETAIL

Southern Co-op continues efforts to help young people off the dole

Southern Co-op is taking its third cohort of

Kickstarters – 16 to 24 year olds at risk of

long-term unemployment – next month.

The government scheme was set up to

help young people off universal credit and

the new recruits will bring the number on

placement at Southern to nearly 40.

The placements are spread across the

independent retail co-op's head office in

Portsmouth and a number of its food and

funeral sites.

Sarah Kavanagh, the society's business

transformation and HR director, said:

"Unemployment has been higher in

younger age groups for some time and

unfortunately this has been exacerbated

by the pandemic. It is clear to us that they

need additional help now to get back into

work or to take the first step toward full

time employment.

"The Kickstart Scheme means we look

for people aged 16 to 24, with the right

attitude, and give them the opportunity to

learn new skills while being paid.

"We expected it to take a bit of time

for some to find their feet and get into

the routine of work but, after about three

weeks, we have been getting some great

feedback. One manager described their

new starter as '100% amazing', 'flexible,

keen and willing to try anything'."

The placements are funded by the

Government for 25 hours per week for six

months and referrals are made on to the

scheme via local Jobcentres.

The job placements provide opportunities

to young people who may have been

overlooked before due to lack of experience.

Southern's programme is also giving

young adults a chance to gain a Level

One Certificate in Employability Skills at

Havant & South Downs College.
---
SEPTEMBER 2021 | 9

AWARDS

Finalists named for the Social Business Wales Awards

recognising those organisations which

have pivoted, grown and thrived in these

most challenging conditions.

"We wish all the businesses shortlisted

the best of luck at the awards. We hope

that, whatever the outcome, their success

will inspire a generation of future social

entrepreneurs."

The full list of categories and shortlisted

finalists is as follows

Social Enterprise of the Year

• Creating Enterprise

• The Community Impact Initiative

• Therapeutic Activities Group CIC

• One to Watch

Wales Co-operative Centre has unveiled

the list of finalists for this year's Social

Business Wales Awards.

This year there are two headline

categories – Wales Social Enterprise

of the Year, which looks for excellent

vision and strategic direction as well as a

clearly evidenced social, environmental

and community impact, and Wales

One to Watch, which looks for new and

innovative social enterprises with an

impressive initial impact and strong

vision for the future.

The other categories are Tech for Good;

Community Impact; and Social Enterprise

Team of the Year.

The Social Business Wales Awards are

being held virtually for the first time on

5 October. The awards, which have run

since 2010, are part of the Social Business

Wales project which is funded by Welsh

government and the European Regional

Development Fund.

Derek Walker, CEO of Wales Cooperative

Centre and delivery lead

for the Social Business Wales project,

said: "Trading conditions have been

significantly disrupted for a lot of

businesses over the last 18 months, so

for this year's awards we are looking

to celebrate the resilience and the

entrepreneurial spirit of the social

business sector.

"The 2021 awards will also be a moment

to celebrate the incredible contributions

made by social businesses in Wales,

Amathanon CIC (Carmarthen Food)

• Drosi Bikes

• Prom Ally

• Tech for Good: Technology Social

Enterprise

Cardiff Cleaning Services (APP UK)

• Empower – Be the Change

• Denbighshire Music Co-operative

• Community Impact

PTAWA Enterprises Ltd

• Green Willow Funerals Ltd

• Iorwerth Arms

• Glyn Wylfa

•

Social Enterprise Team of the Year

• Creating Enterprise

• Empower Be The Change

• Llangefni Town Football Club

HOUSING

Government launches £4m fund for community housing

The Ministry of Housing, Communities

and Local Government (MHCLG) has

made £4m worth of grants available to

eligible community organisations.

The scheme, which runs in England

(outside Greater London), is funded

through the Community Housing Fund

Revenue Programme 2021/22. It will help

cover the revenue costs of project-specific

activities to support the development of

community-led housing proposals.

The programme is managed by

Community Led Homes, a partnership

of four leading community led housing

organisations: Confederation of Cooperative

Housing, Locality, National

Community Land Trust Network and UK

Cohousing Network.

It is aimed at schemes which can prove

their deliverability and are at the later

stages of pre-development, and will fund

pre-development work so that schemes

can complete the work required to

progress the scheme towards:

• submitting a planning application,

and/or

• submitting a capital funding bid, and/o

• getting to start on site.

The pre-development work funded

must be completed by the end of March

2022 so applications are recommended to

be made as soon as possible.

MHCLG adds that the programme will

not be suitable for groups who are just

forming and need start-up support, or

schemes that are at an early stage of predevelopment.

• Email grants@communityledhomes.org.

uk or visit bit.ly/3zkQM6V
---
10 | SEPTEMBER 2021

EDUCATION

Co-operative College awards honorary fellowship to Dr Cilla Ross

Dr Cilla Ross has received an honorary

fellowship award from the Co-operative

College, an organisation she joined six

years ago as vice principal.

Dr Ross is the first woman to be awarded

an honorary fellowship in the College's

history. She was appointed its first ever

female principal in 2019, and has recently

stepped down from the role.

At the College, she worked across

multiple areas including teaching,

learning and global research, leading on

both co-operative higher education and

the co-operative university project. As a

fellow of the College, she will continue

to work with the education co-operatives

that the College has helped to establish.

In 2019, she sat on the Centenary

Commission on Adult Education, and has

recently been appointed to a three-year

honorary professorship in co-operative

education at the University of Nottingham.

Dr Ross said: "I am truly honoured by

this award. It has been a privilege being a

custodian and steward of the College and

in helping to ready it for its future.

"The College has a magnificent record

in empowering people through education

and this imperative is as critical as ever.

As a fellow, I will contribute in any way I

can to support the College's commitment

to relevant, high quality and distinctive

learning that has social justice at its heart."

Jon Nott, chair of the College trustees,

said: "Cilla has led the College through a

period of incredible external challenges

and internal transformation. She moves

into her new role having provided a strong

academic and organisational platform

from which the new team can build and

grow. I'm delighted that Cilla will be able

to continue her commitment to co-op

learning through this fellowship."

Neil Calvert, CEO and principal of the

College, added: "Cilla's contribution

to the work of the College cannot be

underestimated, and it is only right that

it is being recognised by this award. Her

influence will be sadly missed in our dayto-day

working, but I am grateful that we

will be able to retain our links with her

through the honorary fellowship."

FINANCE

Ecology CEO Paul Ellis to step down after 40 years at the building society

Ecology Building Society CEO Paul Ellis is

step down after 40 years working for the

ethical lender.

He spent the last 26 years of his time

with Ecology in the top job, making him

the longest-serving CEO in the sector.

During this time, he has overseen an

increase in assets from £18m to £226m at

the end of 2020.

Ecology says Mr Ellis leaves it in a

good position, with its strongest ever

pipeline of lending and a strong interest

in its sustainable lending solutions. It

has started the recruitment process for

a replacement, with Mr Ellis expected to

remain in post until 2022 to support the

handover process.

Mr Ellis said: "I have had the great

good fortune to work for an organisation

whose principles and reason for being I

passionately support.

"Indeed, with Ecology I have had the

opportunity to demonstrate how balance

sheet dynamics can be constructed

in order to pursue the provision of

sustainable finance. Nothing would have

been possible without our members and

wider stakeholders in the green building

community, and I am proud to have met so

many passionate people and experienced

so many exciting projects. I will be leaving

Ecology with fantastic memories to

continue the fight for a sustainable future

through other means.

Ecology board chair Steve Round

said: "I would like to thank Paul, who

will be stepping down after 40 years

of involvement with Ecology, for his

extraordinary contributions to both the

development of the society, as a member,

then director and latterly CEO as well as

the wider values-based banking, social

and environmental finance, and green

building community.

"Throughout that time his unwavering

commitment to our founding members'

vision of applying ecological principles

to finance to deliver a sustainable future

has guided the society from its early

pioneering activity to our current position

as a leading exponent of green finance."
---
SEPTEMBER 2021 | 11

RETAIL

Insight expert and

chef hired to drive new

innovation at Group

The Co-op Group has announced a new

role – head of insight and research – as

part of ongoing growth to its data, digital

and loyalty team.

The move, which follows the refresh of

its membership programme and launch of

the Co-op app last year, sees Nick Meagher

(above left) move to the Group from Tesco,

where he was head of customer insight.

Mr Meagher will start next month,

reporting directly to Charlotte Lock –

director of data, digital and loyalty at

the Group – to drive the its membership

ambitions. He will take on insight

and research leadership for the

Food, Insurance, Funeralcare, Legal,

Community and Membership functions.

Mr Meagher, whose CV also includes

global insight leadership roles with

Unilever and Mondelez International,

said: "Joining the Co-op is a great

opportunity to be part of what must be

one of the original, and certainly most

enduring, purpose-led businesses."

In another recent appointment, the

Group has hired awarding winning chef

David Llewelyn to guide the culinary

direction for its food businesses. As

executive innovation chef, he will oversee

product creation for ranges such as GRO

and Irresistible.

Mr Llewleyn has 15 years' experience in

the industry, with his most recent in-house

role being executive development and

innovation chef at Greencore. He was won

accolades at the British Sandwich Designer

of the Year awards and was named Free

From Pasta Chef of the Year 2019.

He said: "I am so excited to have the

opportunity to join the Co-op team, and

become part of a brand that puts so much

into the quality of its food and how it

sources ingredients."

Livestock co-op shares £30,000 surplus among members

Cornwall-based farmers' co-op CQLP

Livestock Marketing is sharing out

£30,000 of surplus cash among its trading

members, it has announced. The sum will

be divided up according to the amount of

cattle and sheep members have marketed

through the group, based on a price per

head of species sent.

Watchdog to investigate retail co-ops' funeral deal

The Competition and Markets Authority is

(CMA) to examine the proposed transfer

of funeral homes from Midcounties Co-op

to Central England Co-op. The proposed

deal – involving 50 funeral homes, two

vehicle logistics sites and 252 colleagues,

which make up most of Midcounties'

funeralcare business – was announced

in June.

Southern Co-op extends home delivery scheme

Southern Co-op has launched a new

same-day delivery service on the Isle

of Wight, which it says will create eight

new jobs on the island. Offering a range

of Isle of Wight produce, the service is

run in partnership with Snappy Shopper.

Southern hopes to roll out the delivery

service to the rest of the island on 13

September.

Scottish credit union to deliver Covid support fund

North Ayrshire Council has pledged

£150,000 through Kilwinning-based

1st Alliance Credit Union to support

vulnerable people who have been

financially disadvantaged as a result of the

Covid-19 pandemic. Available to families,

citizens and communities, it is hoped

the scheme will help protect people from

high-cost payday lenders.

Leeds Credit Union helps housing tenants save millions

Leeds Credit Union has delivered a social

impact worth almost £6m to residents

in West Yorkshire, a new report shows.

It works with tenants of Housing Leeds,

helping them with money management

and budgeting. Using the Housing

Associations' Charitable Trust Wellbeing

Valuation, it is estimated that this adds up

to £.8m between 2017 and 2021.
---
12 | SEPTEMBER 2021

AGRICULTURE

Arla releases report on

carbon footprints of its

UK dairy farms

The collective findings of the carbon

footprints of 1,964 UK dairy farms have

been released by the farmer-owned co-op

Arla, which says the data is being used to

cut emissions from its milk production.

The findings, summarised in a new

report, A Sustainable Future for British

Dairy, show that Arla's UK farmers are

producing milk with 1.13kg CO2e per kg of

milk, around half the global average.

It also details the most common areas of

focus to reduce emissions further, and the

emerging technologies being trialled.

The co-op says the data will help it meet

its targets of a 30% emissions reduction

per kg of milk at farm-level by 2030, a first

step on its journey to carbon net zero.

Arla farmer and board director

Arthur Fearnall said: "There are a lot

of differences in how dairy is produced

around the world. As a co-operative,

Arla farmers want to help the public

understand dairy farming better. We have

put a huge amount of time and investment

into collating the data which we will now

use to make decisions on farm.

"I hope our report is another step on that

journey to provide better food education.

We want the British public to feel the

same sense of reassurance and pride

about just how committed Arla farmers

are to producing their dairy products as

sustainably as possibly."

According to the report, Arla's raw milk

emissions come from six key areas:

• cow digestion (46%)

• cow feed (where and how it is produced)

(37%)

• manure handling (9%)

• energy production and usage (5%)

• emissions from peat soils (1%)

• all other areas grouped together (2%).

The report also finds that there is no one

way to farm sustainably, and farmers who

balance their resources successfully are

those with the lowest emissions.

The report highlights innovations on

trial which have Arla involvement:

• Research to identify how to quantify

and speed up carbon sequestration

(the process of carbon being taken out

of the atmosphere by trees, grass or

hedgerows), which will naturally offset

some of Arla's emissions in the future

given 79% of Arla's farm land is used to

grow grass

• Implementing precision slurry

spreading techniques, currently used

by 53% of UK farmers which can help

reduce air born emissions of ammonia

by between 30% and 90%

• Supporting current research efforts

across the scientific community to

provide greater clarity around the

difference in impact of methane vs CO2

due to their lifespans, and the further

consideration that needs to be given to

the cycles of biogenic methane and how

these are accounted for

• Harnessing the power of slurry as a

source of energy and fuel through

anaerobic digestors on farm, and as a

potential future fuel source for Arla's

milk tankers

• Increasing the renewable energy

produced on farm, with 27% of Arla

farmers already producing green energy

from wind or solar

• Developing and trialling new

technologies that will continue to

enhance animal welfare on farm such

as Arla UK 360's Happy cow measure

and cow scanner trials

Graham Wilkinson, group agriculture

director for Arla Foods, said: "We know

that to feed a growing population, we

have to produce natural, nutritious and

affordable food that is made in the most

sustainable way. Dairy can and should

be part of a sustainable diet and our

new report is a major step forward in

demonstrating just how much action is

already underway across Arla farms as

we move towards carbon net zero dairy

production.

"I'm really pleased that our farmer

owners have collated this data and

agreed to release it. All food production

creates emissions, but our farmers are

stepping up to help with the climate

and environmental crisis we face. If we

want more biodiversity, fewer emissions

through natural processes and a reduced

reliance on ultra-processed foods, then

the only answer is to support British

farmers, who already have many of the

answers, but not always the financial

resources to implement them."

Arla says the scheme is one of the world's

largest externally validated sets of carbon

footprint data for farms. Since launching

last year, 7,990 farms across seven

European countries have submitted data on

203 questions covering livestock numbers,

feed composition, crop production,

fertiliser use, manure handling, and use

of electricity, fuel and renewable energy.

This data has been validated by external

assessors in every market, a process which

will be repeated annually.
---
SEPTEMBER 2021 | 13

HEALTH

Signalise co-operative

wins BSL NHS contract

Signalise Co-op, the multi-stakeholder

platform co-op established in 2019 to

revolutionise the booking of British Sign

Language (BSL) Interpreters, has won the

CCG Contract to deliver a BSL NHS Health

interpreting service in Liverpool.

The co-op created an online booking

system designed entirely by its users,

giving deaf people choice and control over

the interpreters they use.

Signalise is co-owned and co-run by

both members of the local deaf community

and BSL/English interpreters, and any

profit made is reinvested into the co-op

and its community. Because everything

is run online, costs are kept down and

interpreters are paid fairly.

"At long last we have a co-operative

that really does listen and involve deaf

members," says co-op member Geraldine

O'Halloran. "Our motto is 'nothing about

us without us' and this means Signalise

puts deaf clients at the very centre of the

service. This has never happened before

– deaf people have a real opportunity to

take back control and ensure we work

with our interpreters, as partners, to get

the service we need."

The framework agreement between

Signalise and NHS Liverpool CCG is

part of a wider programme to improve

access to healthcare, and includes

provision for other NHS partners from

Merseyside and Cheshire to join the

arrangements in the coming year. The

new sign language services go live for

GPs in Liverpool on 1 September 2021.

High profile supporters include John

McDonnell MP and disability activist

and author Ellen Clifford. And this

summer the co-op raised £328,250 in a

community share offer – £28,000 over its

£300,000 target. Signalise was awarded

funding by the Liverpool City Region

Future Innovation Fund to develop a VRS

service (video interpreting), and they also

received a £10,000 donation from the

National Education Union (NEU).

"We are delighted to be working with

Liverpool CCG to deliver an accessible and

user led provision," added Ms O'Halloran.

"Signalise Co-op is a user-led cooperative

of deaf community members and

local interpreters – we are equal partners

and this means we can help to develop

and deliver an accessible communication

service for local NHS medical access.

"Remember deaf people are the experts

of their own needs, we know what we

need to get the right support."

Space to

work

Space to

grow

Space for

change

Leading the movement in workspaces for those who lead the change,

with spaces currently available to rent

Visit www.ethicalproperty.co.uk Email sales@ethicalproperty.co.uk or call 01865 207 810 to find out more
---
14 | SEPTEMBER 2021

GLOBAL UPDATES

USA

Electric co-ops face 'outrageous' exit fees to leave Tri-State

Rural electric co-ops fighting to leave

the Tri-State Generation and Transmission

Association so they can source cleaner

energy have been told it will cost them

billions of dollars between them in exit

fees.

Nine members of Tri-State have been

trying to find out how much it will cost

to leave the association. Under their

membership terms they are required to

buy 95% of their energy from Tri-State,

which still generates a substantial amount

of coal energy.

Last month they received the estimates

in a federal filing, submitted by Tri-State

after it was criticised by the regulator, the

Federal Energy Regulatory Commission

(FERC). For two Colorado co-ops which

have been leading the exodus, United

Power and La Plata Electric Association,

these come in at $1.5bn and $449m

respectively.

Tri-State says its exit fees are based

on whichever figure is higher out of the

exiting co-op's share of the utility's debt,

or the present value of all the electricity

Tri-State would have sold to the co-op up

until 2050. It says its remaining members

must be left in the same financial position

they would have enjoyed if no other coops

had left.

Eric Frankowski, executive director of

green campaign group Western Clean

Energy Campaign, said the exit fees are

"barriers to leaving" for the co-ops.

"It is disappointing that it took us

multiple years to get an exit charge from

Tri-State and that they did so only under

pressure from FERC," said La Plata CEO

Jessica Matlock, who branded the co-op's

fee "outrageous".

Tri-State, which supplies wholesale

electricity to co-ops in Colorado, New

Mexico, Wyoming, and Nebraska, has

also announced changes to make the exit

process more transparent. It has scrapped

a fee for co-ops asking for an exit estimate

and will no longer give its board discretion

over whether a co-op can leave.

It is also making efforts to generate more

renewable energy. Last September, it said

it would close its coal plants in Colorado

and New Mexico and build a gigawatt of

new wind and solar projects. Ray Gifford,

former chair of the Colorado PUC, and

Matt Larson, a partner at Wilkinson

Barker Knauer LLP, who are representing

La Plata in its exit bid, have welcomed

FERC's ruling in an opinion piece for

Utility Dive website, where they argue that

the generation and transmission model

for electric co-ops has long been in need

of reform.

They wrote: "For too long, distribution

co-operatives across the country have

felt pain … as many of them ineffectually

pursue a different energy future for

their customers – a future with lower

costs, cleaner generation and increased

flexibility."

The case comes as the wider energy

co-op movement in the US continues a

push for cleaner energy. A campaign is

being mounted by news and consultancy

sharable Shareable, the Rural Power

Coalition and activist electric co-op

members, calling for $100bn in federal

support to help the sector transition

to renewables. "Low-income memberowners

of these co-operatives face three

times the energy burden of their higherincome

urban peers," says Shareable.

"Rural communities need the

authorisation of $100bn in appropriations

for federally insured Hardship Loans

from the Rural Utilities Service along with

conditions for loan forgiveness akin to

those offered in the CARES Act through

the Small Business Administration.

There is still reliance on coal among

electric co-ops, however. In Michigan,

Wolverine Power Cooperative – which

comprises five electric co-ops – is being

lobbied by environmental groups to break

its contract with Ohio Valley Electric

Corporation, which uses two coal plants,

or to persuade it to work more efficiently

And in Minnesota, 27 of the 28 member

co-operatives of Great River Energy have

just approved the sale of the financially

struggling Coal Creek power coal power

plant in North Dakota to wholesale

company Rainbow Energy Center – and

have agreed to purchase electricity from

it over the next ten years. One co-op,

Connexus – the largest in the group -

voted against.

Great River has said it intends to source

more wind energy; and Rainbow Energy

says it is introducing carbon capture

storage. But Margaret Levin, director of

the Minnesota chapter of clean energy

campaign group the Sierra Club, said the

deal "sets the stage for an environmental

and financial fiasco. There is no

reasonable scenario where this ends well

for consumers and our environment."
---
SEPTEMBER 2021 | 15

USA

Plotting a brighter future of work: Worker-owned staffing agency

carries out research into quality jobs

A co-operative training and staffing

agency, which is expanding its operations

in San Francisco, California, has been

carrying out research to find ways to

improve job quality in an increasingly

casualised economy.

Underpinning the research by Turning

Basin Labs is its employment agency role,

operating out of the city's Bay Area. It

says it aims to create value for progressive

businesses – including Workforce

Development Boards, restaurants and

community colleges – "by sourcing,

placing, and supporting the best, most

diverse talent".

It also wants to help "temporary

workers seeking stability". It currently

has 20 members, with approximately

36 people on the payroll across half a

dozen organisations, including Moxie

Bookkeeping, JVS.org, Irvine Foundation

and Martinez Adult Education. Once

employees have done 120 hours of work,

they become a member of the co-op with

voting rights.

Alongside its work in the Bay Area, it

has extended its reach as far as Minnesota,

Georgia, Oregon, and Washington, DC.

Last month, Turning Basin made a

presentation at the Horizons conference,

organised by JFF.org, a national nonprofit

that drives change in the American

workforce and education systems. It has

been working with JFF to help drive better

outcomes based on worker power, job

quality and career development.

Managing director Stephen Bediako

told the event: "We see ourselves as

very different from a traditional staffing

agency … We help our workers with

their tax filing, we provide a network of

community and support, we provide an

employment record service, we have an

emphasis on diversity and inclusion, and

learning and development."

Mr Bediako said the co-op wants to

bring its principles to life in other areas –

which is why it is carrying out its research

to gain insights into workers' experience

and develop their skills.

Lead researcher Danny Spitzberg said

JFF and TBL have spoken to workers

across a number of sectors about their

experience of work and found three

categories of job quality: trapped and

struggling; flexible but stuck; and happily

invested.

He said the research suggested that

job quality is defined by "approaching

some kind of economic ownership of the

business, not just a feeling, and having

some kind of career autonomy beyond

the job". Things to avoid include policing

staff in the workplace and denying them

options for professional growth, he

added.

Mr Spitzberg said employers already

have a lot of obligations that can make

the additional task of offering job quality

a struggle – but businesses also want

committed, entrepreneurial workers.

"We are aiming above all to make it

easier for employers to take advantage of

these structures and of these benefits of

quality jobs – with more quality and more

ownership."

In a paper it produced last year for JFF,

Quality Jobs, From the Worker Perspective,

Turning Basin said its research has also

seen it identify "employers that have

found creative ways to advance worker

power, improve job quality, and support

career development for low-wage earners,

with a particular attention to the needs of

independent contractors".

It added: "Our aim was to determine

what's actionable for employers

nationwide and then use the research

to develop an investment fund that can

support the growth of these workercentric

employment models."

Marti Shaw, one of the four workerresearchers

who carried out the study,

said the project had changed her own

attitude to work. A personal trainer

who had been laid off because of the

pandemic, she had found work in an

Amazon warehouse.

She said the study meant she now

viewed work in terms of empowerment.

"For me, this work became personal,"

she said. "One participant called me

back to tell me how our interview about

'empowerment' and 'ownership' totally

changed her outlook."

Going forward, Turning Basin Labs

wants to "reimagine career and career

progression in a dynamic way".

It plans to "develop a framework

for better employment", which offers

autonomy and ownership instead of

being police by employers and lacking

options.

"We will define what it means to

invest in employment models, and for

employers to invest in workers. One

former receptionist said her last company

saw her as 'interchangeable' and didn't

take any interest in her as a person. In

contrast, a graphic designer told us that

her company literally invests in her as a

co-op owner and she sees a happy future

with a living wage and benefits."
---
16 | SEPTEMBER 2021

USA

Wave of federal

acts could offer co-op

sector a springboard

Federal lawmakers are working on a raft

of new bills which could boost operations

in the co-op and credit union sectors.

The reforms take in a number of areas

of concern where the co-op movement

is well-placed to take action, from

rural broadband and renewable energy

provision to financial inclusion and

worker resilience.

One step welcomed by the sector is a

bill passed by the US House Committee

on Financial Services, ordering regulators

to examine barriers to the creation of new

credit unions.

The Promoting New and Diverse

Depository Institutions Act is supported

by the Credit Union National Association

(CUNA) and the National Association of

Federally-Insured Credit Unions (NAFCU).

It requires the National Credit Union

Administration and other prudential

regulators to conduct an 18-month study

examining challenges prospective new

depository institutions face. The regulators

would also be tasked with devising a plan

to encourage new financial institutions

while promoting safety and soundness.

"A challenge credit unions face in serving

underserved and unbanked communities

is the high regulatory burden to create

new or de novo credit unions" reads the

letter by CUNA's CEO, Jim Nussle. "Prior

to the Great Recession, an average of 7.7 de

novo credit unions were created each year.

However, in the years after, and in the wake

of the implementation of Dodd-Frank, that

average decreased to the creation of just 2.2

de novo credit unions per year."

Innovation partnerships

Meanwhile, a bipartisan bill to create new

regional hubs of innovation across the US

includes co-operatives.

Under the Regional Innovation Act, the

secretary of commerce would be directed

to create and promote regional innovation

hubs via a grant programme. The bill

also seeks to incentivise collaborative

partnerships between local governments,

colleges and universities, private

industry, non-profits, and community

organisations.

During the markup of the bill,

Congressman Jamaal Bowman (D-NY)

proposed an amendment that would

strengthen support for co-ops. The

amendment would allow co-operative

associations, co-operative development

centres, and other organisations to form

consortia and act as innovation hubs. The

hubs would provide, among other things,

co-operative technical assistance, access

to finance, start-ups training and support

for conversions to the co-operative model.

"Building community wealth is a key

goal of this bill and my amendment seeks

to reinforce that goal in a few different

ways," said Congressman Bowman. "If

we want to democratise our economy and

create new industries in way that brings

everyone in, one of the best ways to do

so is to put employees in the driver seat

by giving them ownership and decisionmaking

stakes in the companies where

they invest their time and talent. My

amendment encourages that model as

well as co-operative business in general.

"In offering this amendment, I am

pleased to find common ground with

my colleagues across the aisle as well as

those who represent rural communities.

From rural electric co-ops to farmer cooperatives,

some of the most exciting

examples of economic democracy come

from rural parts of the country and my

amendment highlights that expertise."

The amended bill awaits consideration

by the full US House of Representatives.

Infrastructure upgrade

Another bipartisan bill, approved by the

Senate, looks at upgrading the national

infrastructure and could provide billions

of dollars for electric co-op priorities, says

US sector body NCBA CLUSA.

The fund would support development

of broadband, electric vehicle charging

networks and clean energy technology

such as energy storage and carbon capture

and other clean energy technologies.

Electric co-ops have been identified as key

players in rolling out these innovations

into rural parts of the US.

The bill must still be taken up by the

House, which returned early from recess

on 23 August.

"Investing in our energy infrastructure

is vital to ensuring that electric cooperatives

can continue to do what they

do best: provide reliable, affordable power

to 42 million Americans," said Louis

Finkel, NRECA's senior vice president of

government relations. "Passage of this bill

is a great start. We'll continue to work with
---
SEPTEMBER 2021 | 17

Congress to press for more co-op priorities

to be included in the bigger infrastructure

packages that lawmakers are expected to

take up later this year."

But NCBA CLUSA warns that the $550bn

bill does not include the Flexible Financing

for Rural America Act, which would

allow co-ops to save more than $10bn

by repricing their existing Rural Utilities

Service debt at current low interest rates

without prepayment penalties. It also

does not include legislation to provide

co-ops with direct federal payments to

develop renewable energy and battery

storage projects.

Inclusion of those proposals was

hampered by the absence of tax or

agriculture sections, it says.

NRECA, the sector body for the country's

rural electric co-ops, says will continue

to push for those two top priorities to

be included in separate infrastructure

legislation expected later this year.

Worker protections

Also working its way through the

legislature is the Emergency Economic

and Workforce System Resiliency Act,

introduced on 16 July by Representative

Adam Smith (D-Washington).

The bill will provide funding to state

and local workforce agencies to prevent

layoffs, support displaced workers, and

collaborate with employers to develop

strategies to preserve and create jobs.

"Covid-19 has significantly impacted

our workforce and left many workers

experiencing joblessness or employment

instability," said Congressman Smith.

"These disruptions have underscored the

need for an updated workforce training

system that better prepares our workers for

changing job markets and supports them

in times of disruption. Current economic

development programmes, workforce

training programmes, and unemployment

benefits programmes are often siloed and

focus on workers already out of work.

"This bill will provide critical funding

to state and local workforce agencies to

prevent layoffs and support workers and

firms as jobs and industries encounter

transitions. Through increased resources

for training, upskilling, and piloting

innovative incumbent worker training

models, this bill will help workers

develop and stay current on the skills and

credentials necessary to maintain highquality

jobs with good wages and benefits."

The Act would focus on prevention by

promoting a model of investing in workers

and firms prior to layoffs and sector-wide

changes in workforce needs, unlike the

current workforce system, which focuses

heavily on helping those already out

of work. As part of this, the bill creates

a five-year funding stream to state and

local workforce boards, which can be

used for investing in new programmes to

prevent layoffs, assist displaced workers,

assist firms in transitioning to employee

ownership or worker co-operative models,

and support employers in preserving

existing jobs and creating new ones.

Additional funding would also be allocated

for five-year pilot programmes for states to

implement innovative workforce systemwide

layoff aversion models.

The bill has the backing of a number

of co-operative apexes, including NCBA-

CLUSA, whose president and CEO Doug

O'Brien said: "NCBA is proud to endorse

the Emergency Economic and Workforce

Resiliency Act and appreciates the

leadership from Congressman Smith

and Senator Klobuchar (D-Minnesota).

Co-operatives are an important tool

toward sustainable and stable workforce

development and economic growth, and

we commend Rep. Smith for recognising

the value for workers, businesses and

communities. "By increasing financing

and technical assistance resources for

p The infrastructure bill could help co-ops supply EV charging points

co-operatives through the Workforce

Innovation and Opportunity Act (WIOA),

this legislation will not only help reduce

or avert layoffs, but also give more people

the opportunity to own and control the

businesses where they work and use,

and we look forward to working with Sen

Klobuchar and Rep Smith to advance

this legislation."

The US Federation of Worker

Cooperatives (USFWC) said it was "proud to

support this legislation, which prioritises

workers who have been deeply impacted

by the Covid-19 pandemic by supporting

at-risk workers, employers, and industry

through strengthening state workforce

systems and industry-sector supports."

The Democracy at Work Institute,

which was created by the US Federation of

Worker Cooperatives (USFWC) to ensure

that worker co-operative development in

economically and socially marginalised

communities is adequately supported,

effective, and strategically directed, also

supports the legislation.

Melissa Hoover, executive director

at the Institute, said: "The Emergency

Economic and Workforce Resiliency

Act can play a critical part in reducing

unemployment and creating a stronger

and more equitable foundation for the

American worker by making the tool of

worker ownership a more widely used

strategy for job quality and retention."

The Bill is due to be introduced in the

Senate by Sen Amy Klobuchar.
---
18 | SEPTEMBER 2021

EUROPE

REScoop responds to EC draft state aid guidelines on green energy

The European federation of citizen energy

co-operatives (REScoop) has responded to

the European Commission's consultation

on the draft revised Guidelines on State

aid for Environmental Protection and

Energy (CEEAG) 2014-2020.

Published in June, the draft guidelines

set out the conditions under which

state aid for energy and environmental

protection can be allowed under the

Single Market.

REScoop, which is a network of 1.900

European energy co-operatives and their

1.25 million citizens, argues the new draft

guidelines fail to align with the EU's the

Clean Energy for All Europeans legislative

package (CEP).

"The legal framework for RECs created

by the CEP intended to remedy market

failures and create favourable policy

and legal environments so that RECs can

grow at the national level. Unfortunately,

the new draft Guidelines on State aid for

climate, environmental protection and

energy (CEEAG) do little to align with the

CEP's approach.

"The CEEAG need to provide clear

and positive guidance, so that Member

States are able to innovate in designing

renewables support schemes that can

help jump-start community ownership

of renewables production in their energy

markets," warns the apex.

REScoop also pointed out that the

existing 2014 Guidelines on State aid for

Environmental Protection and Energy

(EEAG) had contributed towards a

number of barriers to the development of

renewable energy co-operatives (RECs),

such as an uneven level playing field for

RECs due to an emphasis on competitive

bidding for renewables support and an

"insufficient recognition of the different

factual and legal situation of smaller

and non-commercial market actors, in

particular RECs."

The apex adds that the draft guidelines

do not acknowledge the market failures

that prevent communities from taking

more ownership in the renewables sector

or take into account the challenges small

and non-commercial market actors face to

access market-based competitive bidding

procedures.

It also argues that the guidance should

"balance cost-efficiency and other marketbased

outcomes against other social policy

considerations such as inclusiveness and

public acceptance".

To address these issues, REScoop

suggests, among others, dedicated

provisions on RECs acknowledging their

unique market position and challenges

as non-commercial market actors;

increased thresholds to exempt RECs

and other small renewables production

installations from having to participate

in competitive bidding procedures; clear

and concrete guidance to help Member

States integrate RECs into their support

schemes; and simpler administrative

burdens on Member States that want to

create dedicated support for RECs in their

national renewables support scheme.

The guidelines should also recognise the

social impacts on local communities from

renewable energy projects, and establish

supportive provisions on the integration

of social criteria into competitive bidding

procedures for renewables, adds REScoop.

REScoop's reaction echoed that of the

European Community Power Coalition,

a network of over 40 associations,

which has also criticised the European

Commission for ignoring Renewable

Energy Communities in its latest draft

state aid guidelines.

The Coalition wants the draft guidelines

changed to include provisions and

references to RECs to make sure that

competition law supports the green

transition, rather than forming a barrier

to it.
---
SEPTEMBER 2021 | 19

NEW ZEALAND

Fonterra scraps

coal power at cheese

plant in climate drive

p Fonterra's team at the Stirling plant

New Zealand dairy giant Fonterra has

announced plans to phase out coal use at

its Stirling plant in Otago.

The cheese plant, which plans to be

coal free by August next year, will replace

coal with wood biomass and become

Fonterra's first 100% renewable thermal

energy site.

Fonterra plans to replicate the initiative,

as part of its ambitions to get out of coal

altogether by 2037. Eight out of its 29 sites

are still using coal.

The co-operative says that switching to

wood biomass will cut the site's annual

emissions by 18,500 tonnes of CO2.

Fonterra general manager (operations,

Lower South Island) Richard Gray says

this is another huge decarbonisation

milestone for the co-op.

"Sustainability is at the heart of our

strategy, and this project is something

that will be good for the environment and

local community," he said.

"As well as the site being coal-free there

are additional environmental benefits,

including a reduction in wastewater,

noise, solid waste to landfill and air

discharge emissions.

"There are also economic benefits

– the installation will contribute more

than NZ$10m into the region, along with

supporting an estimated 10 jobs in the

wood biomass industry."

Fonterra has undertaken two other

fuel-switching projects over the past

three years at its Te Awamutu and

Brightwater sites.

Impact Conference to feature training course for execs

The International Centre for Co-operative

Management at Saint Mary's University

in Canada is offering a new executive

education course at the Cooperative

Impact Conference, organised by US

sector body NCBA CLUSA. It will cover

all aspects of the co-operative identity,

offering a range of tools and case studies.

More information at ncbaclusa.coop

Canadian co-ops want a higher profile for the model

Poor awareness of the co-op model is

the most pressing issue for the sector,

a survey finds. Other concerns reported

to the Canadian Centre for the Study of

Cooperatives include demutualisation

risks, difficulty in accessing finance, and

poor understanding of co-ops among

leaders hired from conventional

business. uNew Economical

demutualises, p40-41

Mexican cartels using fishery co-ops to move drugs

Criminal groups in Mexico are said to be

using fishery co-operatives to transport

drugs.

A report by newspaper El Universal

revealed that local gangs are setting up fake

fishing co-operatives in the states Chiapas,

Oaxaca y Guerrero, in southern Mexico,

and use registered vessels to travel to collect

drugs from Colombia and Ecuador.

Grocery co-op network launches online retail platform

National Co+op Grocers (NCG) has teamed

up with e-commerce platform Mercato to

provide its member network of grocery

co-ops with digital capabilities, such as

online ordering and delivery. Mercato says

it is creating a customised platform where

co-op shoppers can use their member

number when purchasing items online.

Co-operative Housing Ireland creates 454 new homes

Co-operative Housing Ireland (CHI) has

created 454 homes in 2020, according to

its latest annual report. A federation of coops

with 14 affiliated societies, CHI works

with local and national government,

housebuyers, tenants and developers.

The report came as it launched its Kildare

development of 80 homes in Loughlion

Green, its largest to date.
---
20 | SEPTEMBER 2021

IVORY COAST

Fairtrade helps cocoa farmers lift income by 85% in four years

p Fairtrade farmers collect cocoa pods at harvest

A household income survey by Fairtrade

International found that Fairtrade

farmers in Côte d'Ivoire have significantly

boosted their income over the last four

years.

The survey collected data through

online interviews with farmers and a

survey of management staff of the farmer

co-operatives in Côte d'Ivoire.

The survey found that the average

Ivorian cocoa farmer annual household

income grew by 85%, from US$2,670

(£1,920) in 2016/17 to $4,937 (£3,552)

in 2020/21, a surge it attributes to

increased revenue from cocoa sales and

diversification through in-kind and offfarm

incomes. For example, in 2016-2017

the average farmer earned 74% of their

household income from cocoa; today that

figure is 58%.

The research also revealed that 61% of

the farmers' households in the study were

living above the extreme poverty line,

compared to 42% based on data collected

in 2016/17 and published in 2018.

"This increase in household income

is good news for these Fairtrade farmer

households in challenging times," said

Jon Walker, Fairtrade's senior adviser on

cocoa. "However, far too many farmer

households are still not earning a living

income. With continued pressure on

prices, high national production and

suppressed global demand, brands and

retailers can step in and make further

progress on living incomes through

long-term contracts, stable prices and

programmatic support focusing on farm

efficiency and diversification. There is

still much more to be done."

The report found that some co-ops

performed better than others in the

distribution of the Fairtrade Minimum

Price (FMP) differential (ranging from

100% of farmers who received the

payment for the best performing co-op, to

12% for the lowest performing. Fairtrade

says it will take action to ensure that

future payments are made in a timely

manner and farmers are more clearly

informed about it.

Another finding was that for 64.3%

of farmers, the FT premium makes up

less than 2% of their income, meaning

they have become less reliant on the

premium because the average household

income has increased. One possible

explanation is that farmers have received

more support from the premium in the

form of services and training instead of

payments.

Fairtrade concluded that diversification

strategies, premiums and trainings could

drive further improvements.

USA

Land O'Lakes reports doubled half-year

earnings as it marks centenary

US dairy co-op Land O'Lakes has reported

a 9% increase in half-year sales of US$8bn,

with net earnings up 99% to $236m.

The results came in as the co-op marked

its 100th anniversary with the unveiling

of bronze statue Rooted in Tomorrow. The

sculpture, modelled after an image of a

Land O'Lakes member and grandchild

walking the farm, "symbolises how our

co-operative is celebrating a century of

innovation and fostering relationships",

wrote communications manager Brooke

Dillon in a blog post.

The statue is the work of Minnesota artist

Deb Zeller, the granddaughter of a former

Land O'Lakes farmer. "This opportunity

was inspired by many recollections of

working around our farm with my dad, a

proud Land O'Lakes dairy man," said Ms

Zeller. "In farming, we say we manage so

the next generations can thrive. I see this

work telling that story — the little girl is

leading the family farm into the future,

encouraged by the strength and character

of those who raised her there."

The co-op said its strong financial

performance "reflects strength in crop

inputs and animal nutrition and higher

pricing across the portfolio to offset rising

input and supply chain costs.

"Net sales accelerated in the second

quarter as farmers invested in their crops

and animals," it added. "The company

continued to leverage its differentiated

brands and reported stronger performance

across all business units."

But president and CEO Beth Ford

warned that the coming third quarter

"could be our toughest year-over-year

comparison in our historically smallest

quarter, as during 2020, Covid-19 drove

above normal retail purchasing.

"I'm proud of the team that continues

to lead strong performance, both in sales

and in voice."
---
SEPTEMBER 2021 | 21

JORDAN

Co-ops put in the driving seat for decent work

Jordan plans to use co-operatives as a tool

to drive decent work and productivity in

different economic sectors in the country.

The plans are laid out in the new

national strategy developed by Jordan

Cooperative Corporation (JCC) and the

International Labour Organization (ILO).

The strategy was launched at an event

featuring prime minister Bisher Al-

Khasawneh on 3 July, the International

Day of Co-operatives.

The event was attended by other highlevel

government officials, including the

minister of agriculture Khaled Hneifat; the

director general of the Jordan Cooperative

Corporation, Abdel Fattah Al Shalabi;

and ILO deputy regional director for Arab

states, Frank Hagemann.

"There is a need to develop the

Jordanian co-operative movement, due

to its importance in contributing to the

development of local communities, and

to develop the tools and means to bring

about change towards a co-operative

movement that is more widespread and

more influential in Jordan's society,"

said Mr Hneifat at the launch. "The ILO

considers co-operatives as critical in

advancing its mandate for social justice,

and the ILO has supported co-operative

development for 100 years.

"We have been working closely with

the co-operative movement in Jordan

to strengthen its capacity to advance

livelihood opportunities for Jordanian,

refugee, and migrant women and men,

particularly those employed in the

agricultural sector."

While developing the strategy,

JCC engaged with a national steering

committee, which included representatives

of key ministries and co-operative experts.

The five-year strategic document aims

to achieve three outcomes: a conducive

environment for the Jordanian cooperative

movement; an efficient service

infrastructure for co-operatives and

unions; and autonomous, self-reliant cooperatives

providing efficient services to

their members.

"The strategy represents a new start for

co-operative work and the co-operative

movement in Jordan. It adopts several

outputs, the most important of which is the

existence of an enabling environment for

co-operatives and which includes revising

legislation that govern co-operative work,

in addition to establishing autonomous

and self-reliant co-operatives based on cooperative

principles and values that serve

their members," said JCC director general

Abdel Fattah Al Shalabi.

The strategy was developed with

the technical and financial support

from the ILO in Jordan as part of under

PROSPECTS, a four-year programme led

by the government of the Netherlands, in

close collaboration with the ILO's Global

Co-operative Unit (COOP)

"Advancing decent work opportunities

is one of the main aims of Dutch

development programming in Jordan,"

said the chargé d'affaires of the Embassy

of the Kingdom of the Netherlands, H.E.

Mr. Dolf Hogewoning.

"The launch of the national strategy

for the co-operative movement signifies a

milestone in strengthening co-operatives

to ensure decent job creation and work

across the agricultural value chain. The

Netherlands is proud to support the

Government of Jordan in the development

and implementation of this work through

the PROSPECTS partnership."

SOUTH SUDAN

Co-op Bank reports increase in half-year profit

The Co-op Bank of South Sudan says its

net profit for the first six months of the

year has grown 2.3% to Sh7.4bn (£40m).

It says the growth comes a 20% increase

in total operating income – made up of

interest income and non-interest income

– to Sh29.2bn (£160m).

Net interest income grew by 18%, with

an 11% expansion in the loan book, while

non-interest income rose 24%. This was

supported by the bank's Mco-op Cash

mobile wallet has given out loans valued

at around Sh5.6bn (£30m) a month.

Operating expenses rose 28% to

Sh18.7bn (£100m) on account of a 123%

growth in provisioning for loan defaults.

CEO Gideon Muriuki said the increase

in default provision was made to allow

for challenges posed to customers by

the pandemic – adding that customers

have resumed payments on most of the

restructured loans.

The bank is a joint venture between the

Co-op Bank of Kenya with the government

of South Sudan, which has just been

extended by three years.

The partners formed the Co-operative

Bank of South Sudan in 2013, with the

Kenyan banking multinational taking a

controlling 51% stake. The government

took the remaining 49%, which it will

hold in trust and later transfer to the

national co-op movement.
---
22 | SEPTEMBER 2021

MEET...

Om Devi Malla

Vice chair of Nepal's co-op

federation and ICA global board

member

Om Devi Malla is a member of the legislative Parliament of Nepal,

vice-chairperson of National Cooperative Federation of Nepal,

and sits on the global board of the International Cooperative

Alliance.

HOW DID YOU GET INVOLVED IN THE

CO-OPERATIVE MOVEMENT?

My inner sense of mutual help and co-operation

pushed me to be a co-operator. In my preliminary

working life, I was involved in the private business

sector with my family. Coincidentally, I came

across the co-operative activities with my seniors

who inspired me to start a co-operative and extend

collaboration among ourselves. The co-operative

movement is a movement of people, its centre is

its members. To be involved in the co-operative is

to serve members. It is a collective way of helping

each other. I found the co-operative movement to

be a medium of a socialist society with democratic

norms and values.

WHO HAS ENCOURAGED YOUR CO-OP JOURNEY?

When I joined the co-operative movement in 1996,

my family members and friends were my supporters.

But gradually I got involved with the National

Cooperative Federation (NCF) where I met Deepak

Prakash Baskota, then chair of the federation, who

encouraged me. In 2005 I went to India to study for a

diploma in co-operative education and management

and met Savitri Singh, the director of National

Cooperative Union of India; she motivated me to

continue with the movement. Dame Pauline Green,

former president of the International Cooperative

My inner sense of mutual help and

co-operation pushed me to be a

co-operator

Alliance, is another role model who inspired me

more to be actively involved.

NEPAL HAS RECENTLY LAUNCHED A UNIVERSITY

DEGREE IN CO-OPS. HOW DID THIS COME ABOUT?

[This degree] is the result of many years of effort.

When I studied in India, the idea of a similar course

in Nepal came to mind; I started lobbying for it, but

there was no policy to back it up at the time. The

co-op movement of Nepal was also lobbying the

government and the political parties to recognise

the co-operative model for economic development;

this was achieved in the interim constitution of

Nepal 2007, and the first national co-operative

policy was announced by the government in 2012.

National Co-operative Policy explicitly says

that co-operatives will be taught at school

and university level, but we struggled to make

the formal arrangement. A team from Nepal

led by myself with the dean of management

from Tribhuvan University and others visited

universities in India where the co-op model has

been taught for a long time. It was a breakthrough

event for introducing the co-operative course in

grades 9-12 (secondary level) in Nepal; now the

NCF has made a memorandum of understanding

with the Tribhuvan University to launch an MBA in

co-ops and entrepreneurship. Next we are focusing

on the managerial level and are developing diploma

level skill-oriented academic and nonacademic

courses in collaboration with the universities.

YOU ARE ALSO AN MP. HOW DO YOU SEE THE

ROLE OF LEGISLATION IN ENABLING CO-OPS?

We have made several efforts to get co-operatives

recognised as a pillar of economic development
---
SEPTEMBER 2021 | 23

and as a means of attaining the goal of socialist

society in the new constitution of Nepal. As a

member of the constituent I had made personal

efforts to make this happen. Secondly, with the

then chairman of NCF and constituent assembly

member Keshav Badal, I worked on the change in

parliamentary committees. So, despite some room

for further improvement, we have put our best

effort to include many good provisions for the cooperative

promotion in the New Cooperative Act

2017 and Cooperative Regulation 2019.

For example, we put 33% mandatory reservation

for female participation board representation.

However, there are other several cross cutting

laws that need to be amended to increase the

contribution of co-ops in agri enterprise and

medium and large industries.

The lesson we have learnt for fostering an

enabling environment for co-ops is to continuously

lobby and advocate with the government and other

stakeholders.

HOW HAVE NEPALESE CO-OPS BEEN SUPPORTED

DURING COVID-19?

The Nepalese co-operative movement has tried

its very best to service our members affected by

the pandemic. During lockdown, co-operatives

delivered doorstep services. Because of the closure

of small and medium enterprises, our members

could not deposit their regular savings or repay

instalments in time. This affected cash flow and

other financial indicators, so we lobbied for the

extension of payment periods, discounted interest

and penalties, and rearranged the loan structure

through several policy measures.

WHAT IS THE SITUATION OF WOMEN IN THE

NEPALESE CO-OPERATIVE MOVEMENT?

In Nepal, women make up more than 56% of co-op

members, but hold less than 40% of the leadership

roles. Considering women's inclusion in cooperatives,

we managed to reserve 33% of seats for

women in the different committees of co-operatives

through the Cooperative Act 2017 – but the challenge

is still there. Many co-operatives have not changed

their bylaws in line with the spirit of co-operative

act and regulation. Women co-operators should

come forward to enjoy their rights and duties. They

should be proactive. Nobody will grant them the

benefits – it should be grasped. Although the legal

environment is favourable, there is still a lack of

knowledge in a largely patriarchal society. We are

developing women empowerment programmes

to give women the tools to be independent and

empowered economically, socially and culturally.

HOW DO YOU SEE THE FUTURE OF THE CO-OP

MOVEMENT IN NEPAL?

Very bright. The co-operative movement was

initiated by the executive government order in

1956 for the support of flood-stricken people. Later

the government enacted the co-operative act and

institutionalised co-operative development. The

government started to write co-operative plans

from its 10th five-year plan. Now we have the 15th

five-year plan, again including co-op development.

The most important thing is to have co-operatives

in the constitution as one of the pillars of economic

development. This all shows the full commitment

of the government to promote co-operatives.

But we have to show our sincerity towards

maintaining co-operative principles and values,

and show our commitment in keeping good

governance in co-operatives.

To grow the sector, we must empower cooperators

and develop a transparent and healthy

co-op movement by implementing standardised

monitoring indicators. It doesn't matter how many

members, savings and share accounts we have

unless it positively affects the living standards

and lives of co-op members. So we have to be

serious about uplifting their living standard

through different socio-economic activities while

also developing a self-sustainable co-operative

movement.

I am trying my best to increase the number of

young members and women members because

I believe young people are good ambassadors

for the change in society – and women must be

economically self-sustained.

I appeal to all national, regional and international

organisations to make a common effort for attaining

the self-sustained and good governed co-operative

movement around the globe.
---
24 | SEPTEMBER 2021

YOUR VIEWS

THE BRITISH FEDERATION OF YOUNG

COOPERATORS (BFYC, CO-OP NEWS,

AUGUST 2021)

I remember the BFYC – I was chair of the

Chelmsford Star Co-op Society branch for

a couple of years in the early 60s. We went

to a couple of weekend schools/meetings,

one at a co-op youth residential centre in

Sussex, the other in the Peak District.

As a result of this practical experience,

and the Co-op Union courses I took over

six or seven years, I won a scholarship to

the Co-op College at Stanford Hall in 1962.

There, as well as completing management

courses and a teaching course, I was chair

of the students' branch of Co-operative

Have your say

Add your comments to our stories

online at thenews.coop, get in touch

via social media, or send us a letter.

If sending a letter, please include

your address and contact number.

Letters may be edited and no longer

than 350 words.

Party. Sixty years later I am still involved

with co-op societies and the Co-op Party.

Societies today should do more to

educate their staff and members about

the co-operative model. Once they know

there is a very successful alternative to

capitalism, they will be more involved.

Co-operators have been saying that cooperation

should be taught to all school

and college students for the last 100 years.

Sadly with no response. Information

needs to be distributed to all schools and

colleges and they should cover all types of

UK co-ops not just the retail societies.

John Harrington

Via Facebook

Co-operative News, Holyoake

House, Hanover Street,

Manchester M60 0AS

letters@thenews.coop

@coopnews

Co-operative News

PAUL ELLIS STEPPING DOWN (P10)

This is a tremendous lifetime achievement

from Paul – the longest serving CEO in the

sector. Another example of sustainability

from the wonderful Ecology Building

Society!

Helen Ashley Taylor

Via Twitter

BCCM LAUNCHES TRAINING

PROGRAMMES FOR CO-OPERATIVE

LAWYERS AND ACCOUNTANTS

[Professional co-operative training

programmes] are badly needed in Ireland

too. I regularly speak to co-ops that

have been ill-advised based on advisors

treating them as either an investor

oriented firm, or a nonprofit...

Sam Toland

Via Twitter

OBITUARY:

Derek Oldham

Derek Oldham, a driving force behind the

success of Penrith Co-operative Society,

has died at the age of 92.

Mr Oldham was general manager

at the society from 1961 until 1991

and oversaw major improvements at

a number of its shops in Cumbria,

including the development of the

premises in Burrowgate, Penrith, into

a supermarket and department store.

Penrith Co-op had formed in 1890; it

merged with Scotmid Co-operative in

2013, and rebranded as the Lakes &

Dales Co-operative.

Born in Rusholme, Manchester, to

Phyllis and James Oldham, he qualified

as an accountant and worked for the cooperative

movement around Lancashire

and Yorkshire.

He married Doreen Lees, from

Longsight, in 1953 and became manager

of the Great Moor co-op, in Stockport,

and later the general manager in Penrith.

The next 30 years saw the Penrith

society enjoy great success, with Derek

overseeing developments such as the

building of new premises for the Shap

and Keswick branches, and the creation

in Penrith of a large store in Burrowgate

where there had been a series of small

shops. The society also had a number

of smaller shops and ran mobile shops

along with milk and coal rounds.

Away from his work – to which he

was highly dedicated, Mr Oldham was

a founder member of Penrith Lions Club

and twice served as its president. He

also helped to form a meningitis support

group in the Penrith area, and organised

fundraising – including through a 1981

football match between the Penrith club

and Manchester City, who were FA Cup

finalists that year, for which Penrith

Co-operative Society provided financial

support.

He was a keen Manchester City

supporter, and played table tennis,

badminton, squash and lawn tennis,

serving as chair of the Penrith Tennis

Club, of which he and Doreen were

members.

Derek Oldham is survived by his

wife Doreen, children Jill, Janine and

Jonathan, two grandchildren and two

great-grandchildren.
---
Co-op Women's Voices is a series of

conversations with women, who will

share what has motivated them, what

the challenges have been, and who has

supported them along the way.

29.09.2021

l 14:00-15:00 BST

CHERYL BARROTT

Director, Co-operatives UK

13.10.2021

l 15:00-16:00 BST

DEBBIE ROBINSON

CEO, Central England Co-operative, UK

24.11.2021

l Time TBC

MIRAI CHATTERJEE

Director of the Social Security Unit at

Self-Employed Women's Association (SEWA), India

15.12.2021

l 09.30-10.30 GMT

MELINA MORRISON

CEO, Business Council of Co-operatives and Mutuals,

Australia

bit.ly/3sHDKOg
---
26 | SEPTEMBER 2021

CO-OPERATIVES REACT TO

IPCC CLIMATE REPORT

by REBECCA HARVEY

The Intergovernmental Panel on Climate

Change's (IPCC) most recent assessment

report, published on 9 August, concluded

unequivocally that the current climate crisis

is caused by human activities and is already

affecting every corner of the planet's land, air

and sea.

Produced by the world's top scientists and

signed off by all the world's governments,

the report concluded that climate change is

"widespread, rapid, and intensifying" and

warned that 1C of heating has already occurred,

getting perilously close to the 1.5C danger limit

agreed in the Paris climate deal. This is caused

by forest destruction, greenhouse gas emissions

from burning fossil fuels and other human

activities, the report says. Carbon dioxide levels

in the air are now at their highest point for at

least 2 million years, and the extreme heatwaves

and heavy rains that have been increasing are set

to continue.

The UN secretary-general, António Guterres,

said: "Today's IPCC Working Group 1 Report

is a code red for humanity. The alarm bells are

deafening, and the evidence is irrefutable."

But he said there is still hope – which lies

in working together, collaborating, and cooperating.

"The solutions are clear," he said.

"Inclusive and green economies, prosperity,

cleaner air and better health are possible for

all if we respond to this crisis with solidarity

and courage. All nations, especially the G20

and other major emitters, need to join the netzero

emissions coalition and reinforce their

commitments with credible, concrete and

enhanced Nationally Determined Contributions

and policies before COP26 in Glasgow. We need

immediate action on energy."

The UN Climate Change Conference of the

Parties (COP26), is taking place in Glasgow

on 1-12 November, and aims to "bring parties

together to accelerate action towards the goals

of the Paris Agreement and the UN Framework

Convention on Climate Change".

Mr Guterres added: "There is a clear moral

and economic imperative to protect the lives

and livelihoods of those on the front lines of

the climate crisis […] We owe this to the entire

human family, especially the poorest and most

vulnerable communities and nations that are the

hardest hit despite being least responsible for

today's climate emergency."

This sentiment was echoed by Ariel Guarco,

president of the International Cooperative

Alliance. "Global heating is affecting every

region on Earth, with many of the changes

becoming irreversible as said the IPCC in its

report. But it says too that human actions still
---
SEPTEMBER 2021 | 27

The report says

that the increase in

extreme events –

including fires and

flooding – are a

result of human

activity

have 'the potential to determine the future

course of climate'," he said.

"As a generation, we have the duty to transform

the way we produce and consume towards

socially, economically and environmentally

sustainable models. Co-operatives work for the

sustainable development of their communities

and can help make the needed shift. In cooperatives,

the production and consumption are

done putting the people and the environment at

the centre."

Rose Marley, chief executive of Co-operatives

UK (the business network for UK co-ops) called

the report "sobering reading".

"It's clear 'business as usual' is not a viable

response to the climate emergency," she said.

"Global government action is needed, but we

don't have to wait. Businesses – and indeed every

single one of us – can take action today to reduce

our carbon footprint. Many of our co-operative

members are already making changes – from the

Co-op Group developing the first compostable

plastic bag to Greencity Wholefoods trialling

deliveries by electric trike to reduce diesel

emissions. We want to see all businesses, from

PLCs to community businesses, following suit to

take action for climate change."

Carbon dioxide levels in the air are now at

their highest point for at least two million years,

and the extreme heatwaves and heavy rains that

have been increasing are set to continue.

"AS A GENERATION, WE

HAVE THE DUTY TO

TRANSFORM THE

WAY WE PRODUCE

AND CONSUME

TOWARDS SOCIALLY,

ECONOMICALLY AND

ENVIRONMENTALLY

SUSTAINABLE MODELS"

SO WHAT DOES THE REPORT MEAN

FOR CO-OPS?

The findings of the Climate Report affect co-ops

around the world in different ways. For producer

co-ops, it is a stark reminder of the fragility of

the environment on which crops and livestock

depend; for retail co-ops, it highlights the critical

importance of their action on supply chains and

sustainability; and for energy co-ops, it shows

the enormity of the task ahead.

"Today's report is unequivocal in its

findings, highlighting how climate change

is threatening every aspect of our lives – our

economy, our prosperity and our wellbeing,"

said Gemma Lacey, director of sustainability

and communications at Southern Co-operative.

"But if we act now, we can put things right. We

all need to step up and play our part in halving

greenhouse gas emissions by 2030, with targets

rooted in science and we must act to restore

nature and our natural environment."

She added: "Co-operation and collaboration

will be key – now is the time for thinking

and talking about how we as individuals,

organisations and a co-operative community can

do more to work together to create a sustainable

future. By sharing our plans, progress and

solutions we can use our collective voice and

actions to help drive the wide-scale change

needed."

In June, Southern published climate plans

that were praised as 'ambitious' by a collaboration

of world-leading environmental organisations,

the Science-Based Targets initiative (SBTi).

The targets include commitments to reduce

greenhouse gas emissions that fall under its

operational control (such as electricity, gas, fuel

and emissions associated with refrigeration) by

50% by 2030 from a 2019 base year and to reduce

emissions from managed trading businesses

17% over the same target period. Southern has

previously reduced its business carbon footprint

by 27% between 2012 and 2019.

This year the Co-op Group also published

ambitious targets in a 10-Point Climate Plan to

drive its goal of net-zero emissions by 2040 –

and its goal of being the first supermarket in the

world to sell fully carbon-neutral own brand food

and drink by 2025. "This is a hugely significant
---
28 | SEPTEMBER 2021

p Carbon dioxide

levels in the air are

now at their highest

point for at least

2 million years,

and the extreme

heatwaves and heavy

rains that have been

increasing are set to

continue

year and the world will be watching as the UK

government hosts the largest climate change

conference ever (COP-26)," said Co-op Food CEO,

Jo Whitfield, at the time. "Just as the government

must be ambitious in delivering against its own

commitments, we must all be bold and take

collective action to tackle climate change."

Commenting on the IPCC report, Barry Clavin,

sustainability lead at the Co-op Group, said: "We

welcome [this report] as a sobering reminder of

the challenges we face but also as an indicator of

the opportunity that we still have to avoid some

of the worst impacts.

"NET ZERO WILL ONLY BE ACHIEVED IF

EVERYBODY IS ACTIVELY ENGAGED IN

CREATING AND ADOPTING CLIMATE

SOLUTIONS. COMMUNITY ENERGY IS

ESSENTIAL TO THAT ENGAGEMENT"

"As part of our new 10-Point Climate Plan

we're committed to reducing or have committed

to reduce our total emissions as quickly as

possible and to achieve net-zero by 2040, 10

years ahead of international agreements. We're

also committed to working co-operatively across

sectors, and with governments, NGOs and

consumers because the vast changes that are

required at pace are about ensuring that we can

protect our environment and to give current and

future generations a half-decent chance for a

fairer and more sustainable world."

POWERING CHANGE FOR GOOD

The energy sector is a key contributor to climate

change, accounting for more than two-thirds of

global greenhouse gas emissions. Community

and co-operative energy organisations have

been key drivers in promoting and establishing

renewable energy sources, but the report shows

a long and difficult road ahead, with action

needed immediately.

"The IPCC Report shows us above all that

there is no time to waste," said Emma Bridge,

chief executive of Community Energy England.

"We can limit global

temperature rises to 1.5

degrees, but to do that

we need to act now. As

an IPCC member state,

the UK government has

endorsed the report's

findings, so must

now act with greatly

increased urgency and

effectiveness. Net Zero will only be achieved

if everybody is actively engaged in creating

and adopting climate solutions. Community

energy is essential to that engagement and to

local action on Net Zero. With COP26 on the

horizon, the government must actively enable

the potential of community energy by providing

the sector with real support."

Dirk Vansintjan, president of REScoop (the

European federation of citizen energy cooperatives),

also highlighted the vital need to

act quickly. "The new ICPP report reveals once
---
SEPTEMBER 2021 | 29

more that the next couple of years will be crucial

if we are to address the climate crisis," he said.

"We need to see radical changes in the way

energy is generated and used. Citizen support

will be critical in achieving that transition,

and co-operatives are the best way we know of

mobilising them."

Mr Vansintjan added: "The climate situation

is urgent, the need for action never greater.

With the new EU directives featured in the Clean

Energy for All Europeans legislative package

(CEP), everything has been put in place for

member states to develop enabling frameworks

through which energy communities can thrive

and prosper.

"Unfortunately, the new draft guidelines on

state aid for climate, environmental protection

and energy (CEEAG) do little to align with that

approach. The CEEAG needs to provide clear

and positive guidance so that member states

are able to innovate in designing RES support

schemes that can help jump-start community

ownership of renewables production in their

energy markets."

In the UK, Midcounties Co-operative has

introduced a range of measures to reduce its

carbon footprint in its different businesses

(including food, pharmacy, funeralcare,

childcare, and utilities) – and through its Coop

Energy business, has been a long-standing

supporter of community power.

"We support more than 100 renewable

community energy projects across the UK,

enabling our members and customers to live

low carbon and socially responsible lifestyles

through the Co-op Energy Co-op Community

Power tariff," said Mike Pickering, co-operative

social responsibility manager at Midcounties.

"We're also working with co-ops around the

world to make a positive difference, supporting

Fairtrade and initiatives in areas where people

are already profoundly feeling the effects of

climate change in their daily lives."

He highlighted that while the IPCC report lays

bare the extent of the climate emergency we

face, it also shows that if we work together now

to reduce emissions we can still prevent the

worst impacts of climate change.

"This has long been a focus for co-ops, and we

know it's a priority for our members, colleagues

and customers," he said. "We know through

our co-operative values that by working in

partnership with others we can make an even

bigger difference.

"It is vital that today's report acts as a wakeup

call for everyone, and at Midcounties we

stand ready to work with other co-ops across

the UK and around the world to go further

and faster in our efforts to create a sustainable

future for all."

q Solar panels on

the roof of a German

kindergarten building:

'Citizen support will

be critical in achieving

that transition, and

co-operatives are the

best way we know of

mobilising them'
---
30 | SEPTEMBER 2021

CROATIA'S COAL

PHASE-OUT

How co-ops can help with climate targets

by ANCA VOINEA

p Solar power

plant in the city of

Križevci launched

following a successful

crowdfunding

campaign led

by Green Energy

Co-operative

Credit: Green Energy

Co-operative

With Croatia setting an ambitious renewable

energy target for 2030, a local co-operative is

trying to encourage more citizens to get involved

in clean energy projects.

Set up in 2016, the Green Energy Cooperative

grew out of the United Nations Development

Programme in Croatia and acts as a support

organisation for groups looking to develop

renewable energy projects.

Through its National and Climate Plan (NECP),

Croatia has set a renewable energy target for

2030 of 36.4%, up from 28% at present.

"Our mission is to support cities and their

citizens in developing, investing, and utilising

renewable sources of energy. We do that through

a variety of projects (EU-funded) and our

services," says Kristina Lauš, communications

manager at the Green Energy Cooperative (ZEZ).

One of the projects the co-op runs is SOL4ALL,

which aims to make it easier for Croatian citizens

to invest and install small solar PV systems in

their homes by providing them full support in

the process. The co-operative's goal is to enable

10MW of installed solar PV capacity across the

Western Balkans, and by doing so, increase the

resilience of cities, encourage a just economic

recovery and create green jobs.

"This project has been recognised within the

Google.org Impact Challenge for Central and

Eastern Europe 2021, meaning we have won a

grant and support from Google.org to further

develop the service, particularly in terms of its

digital aspect and market development," adds

Ms Lauš.

Other projects of the co-op include a

Crowdfunding Academy, the first integrated

crowdfunding education programme in SE

Europe. The academy has so far trained over

500 students, who learnt about how launch a

successful crowdfunding campaign. Another

project, Agrifficiency sees the Green Energy

Cooperative work with agriculture producers

and processors, providing technical support

and finance to enable them to implement green

energy projects.

So far, the Green Energy Cooperative has 20

members, who are employees, supporters and

industry experts. Part of its work also focuses on

awareness raising, given that co-operatives are

not the go-to option for most people.

"A part of our work is getting people to learn

about this and showing them by example what

can that mean in practice," explains Ms Lauš.

The co-operative is also working on several

research and development projects, exploring

how smart meters or Blockchain technology
---
SEPTEMBER 2021 | 31

can be used for peer-to-peer trading or the

management of energy communities.

"All of this work is supporting the transition to

democratising the energy and allowing citizens

cheaper energy and also feeds into the policy

and EU directives that Croatia is trying to adopt,"

says Erica Svetec, project manager at the cooperative.

The Green Energy Cooperative is one of

Croatia's ten energy co-ops, which mostly focus

on supporting groups who want to develop

renewable energy projects.

One of the main barriers preventing these

co-ops from directly participating in the joint

production, consumption, and sharing of

electricity is legislation.

The country is in the process of amending

the existing Act on Renewable Energy Sources

and High-efficiency Cogeneration, which will

enable energy communities, including co-ops,

to participate in the market. Under the draft law

an energy community is defined as a legal entity

based on voluntary and open participation,

which is controlled by members or shareholders

and exists to provide environmental, economic

or social benefits to its

members or shareholders

or local areas in which

it operates. Therefore,

the establishment of a

community is limited to

a specific area, which

could make it difficult for

co-ops to attract sufficient

members.

"This provision of

the law will initially limit the potential for the

establishment and development of the Energy

Communities and the activities of the Green

Energy Cooperative in the coming period will

be aimed at pointing out this illogicality and

advocating the legislator to mitigate or abolish

this provision," says Ms Lauš.

Furthermore, the law requires members of

energy communities to be connected to the same

low voltage transformer station 10 (20) / 0.4 kV.

Thus, in addition to being located in the same

local government area, energy communities must

be connected to the same transformer station,

which further narrows the number of potential

members, especially for sparsely populated areas

in Croatia, explains Ms Lauš.

The bill also lacks clarifications on the required

legal form of the Energy Community, mentioning

that an energy community can be established

as a legal entity that operates on the basis of

the law governing the financial operations and

accounting of non-profit organisations.

"In order to avoid additional complications

in business, tax, and financial treatment, it is

necessary to clearly define what legal form the

Energy Community can be and how its business

is conducted," adds Ms Lauš.

Another barrier for the sector is the fact that

most people in Croatia associate co-operatives

with forced collectivisation and the old

Communist System of the Socialist Federative

"THE GREEN ENERGY

COOPERATIVE IS ONE OF

CROATIA'S TEN ENERGY

CO-OPS"

Republic of Yugoslavia, of which Croatia was part.

"In addition to these ambiguities in the

legal definition and potentially tax and

financial treatment, there are socio-cultural

challenges. We witness a lack of awareness and

knowledge about the potential of such a form of

organisation, non-recognition of co-operatives

as an organisational form, and lack of systematic

support. Although Croatia has a rich history

when it comes to co-operatives, a certain amount

of scepticism towards this type of organisation

is present due to them being perceived as an

unwanted remnant of the socialist economy.

New Electricity Market Law is an opportunity to

change that, but it is necessary to invest effort

into the establishment of good examples of

Energy Communities, through which citizens will

be shown plastically and transparently how they

work in practice and what are all the benefits

and potential risks for their involvement," says

Ms Lauš.

p Kristina Lauš

talking to members of

the public at a local

event
---
32 | SEPTEMBER 2021

How the co-op movement gave students the

POWER TO BUY

THEIR FIRST HOUSE

by MILES HADFIELD

The first student housing co-op in south-east

England has drawn on the support of the wider

movement to secure its first property – and hopes

to set an example to encourage more co-operation

in its area.

Seasalt (South-East Students Autonomously

Living Together) housing co-op, which is getting

ready for its first tenants next month, has worked

closely with Brighton & Hove Community Land

Trust (BHCLT) on the venture.

BHCLT bought the property, which will be taken

up on a seven-year lease by Seasalt which is the

fifth project in the UK to establish a co-operative

model of homes for students, collectively

managed and at affordable rents.

The student housing co-op movement

aims to offer an alternative to the private

rental market, offering lower rents and betterquality

accommodation. They are designed

to allow tenants to pool their resources to

create community-style homes where everyone

collaborates for mutual benefit. The rent paid is

only used to cover the upkeep of the house (lease,

bills, repairs, etc.) and not to enrich landlords.

Seasalt has also enjoyed advice and support

from Brighton's community pub, the Bevy – who

said: "The Bevy as a community-owned pub is a

great example of how an area can really benefit

from collective ownership. We are excited about

working with Seasalt and helping the students

become a real part of the wider Moulsecoomb

community."

Student housing co-ops have already enjoyed

help from the wider co-op movement. Last year,

retail co-op Heart of England invested £100,000

in a community share offer from Student Co-op

Homes (SCH) – the national body set up to grow

the student co-op housing market.

And Birmingham Student Housing Co-op was

launched in 2014 with support from the Phone

Co-op, which was an enthusiastic backer of the

movement.

The rise of student housing co-ops comes in

response to increasing difficulty in the rental

market. Brighton University lecturer Rebecca

Searle has warned: "High rents are causing

significant inequalities in education. Those

students whose families are able to support them

are able to devote considerably more time to their

studies than those who are having to work long

hours to cover their rents."

Responsibility for maintenance and long-term

plans for the new property is shared between

the two organisations, with SEASALT having full

autonomy in the day-to-day running, membership

of the co-operative and the life of the community.

Both organisations have made commitments to

prioritising energy efficiency and environmental

sustainability in the use of the home.

Seasalt are also looking to be good neighbours:

who says it feels strongly about the importance of

community, they will allow their members to stay

for the duration of their studies plus a year after

graduation. This will give them the opportunity
---
SEPTEMBER 2021 | 33

to build relationships with their neighbours and

escape short-term tenancies that students and the

community around them find disruptive.

Each new member will sign up to Seasalt's

community promise and not wanting to take up

family housing was the main driver behind the

group looking for larger properties.

Funding to buy the property was secured

through a mortgage from another key player in the

co-op economy, Ecology Building Society, and a

successful community share

offer which raised £336,200

from over 140 investors.

The plan is to buy a second

property in two to three

years, creating more homes

that will be out of private

ownership and affordable,

secure and sustainable in

the long term.

Jon Lee, who leads on Ecology Building

Society's support for community and co-operative

housing, said: "As a longstanding supporter of

co-operative housing we were delighted to be

asked to support Brighton and Hove Community

Land Trust's partnership with Seasalt to deliver

affordable, energy efficient and quality rental

accommodation for students.

Ecology specialises in supporting projects

which respect the environment and enable

sustainable communities and has pioneered

innovative 40-year mortgages for housing cooperatives,

helping to maintain rents at affordable

levels.

"As a member-owned mutual ourselves, it's

fantastic to be part of this ground-breaking

project which we hope will pave the way for many

more co-operative student housing schemes

throughout the UK."

The problems with student accommodation

are endemic of the wider issues with the housing

market in this country. Seasalt said: "As young

people, we have grown up in a country where

the impacts of the financial crash, resulting

austerity and a profit driven neoliberal system

have disproportionately impacted disadvantaged

communities, including us. The mass sell-off of

public land and unequal land ownership have

given rise to a financialised housing market with

accommodation and rent prices spiralling faster

than inflation.

"For students, these issues are only enhanced

as landlords and letting agents look to exploit our

inexperience and precarious, insecure situations,

frequently to make maximum profit for minimum

effort. This means that student accommodation

often exemplifies the worst aspects of housing in

this country. Thus, it is very difficult to break the

yearly cycle of renting with private landlords who

usually have no incentive to improve student living

conditions or tackle big issues such as the carbon

emissions and accessibility of their housing stock.

"By empowering our students to take control of

their accommodation, we have taken the first steps

towards building a fairer and more equal future

across Brighton and Hove, putting the needs of

our local community first. So, not only do we want

"AS A MEMBER-OWNED MUTUAL

OURSELVES, IT'S FANTASTIC

TO BE PART OF THIS GROUND-

BREAKING PROJECT"

to provide affordable, sustainable and democratic

solutions to housing, we also want to demonstrate

how co-ops and the co-operative economy can

help solve the big issues of our time. This could

include climate change and sustainability, wealth

and land inequality, democratising our economy

or, of course, our housing crisis. That's how we fit

into the bigger picture, because after all, if we a

small group of students can make big change in

our community, why can't you?"

Janet Crome, director of BHCLT, added: "We

have really enjoyed working with these inspiring

students, who have given so much passion and

time to the project, even though some of them may

not live in the house themselves. We look forward

to a long and fruitful and enjoyable partnership

with them and watching them thrive."
---
34 | SEPTEMBER 2021

New bid to scale up the

COMMUNITY

PUB MODEL

by MILES HADFIELD

A group of co-operators are working on plans for

a national, community-owned pub organisation,

and are currently looking for seed funding to

begin its start-up process.

The idea behind the People's Pub Partnership

is for a national multi-stakeholder co-op

which will raise a pool of finance through

crowdfunding to help communities buy out

struggling pubs, backed by additional local

crowdfunders.

The team – led by experienced publicans

J Mark Dodds and Damon Horrill – are currently

working on a REACH fund application; they are

looking for £35,000 in seed funding to bring it to

bring the idea to investment readiness.

Mr Dodds says his own experience in the pub

trade saw him take on a struggling London local,

the Sun and Doves, in 1995, and turn it into an

award-winning pub, but also taught him harsh

lessons about working in the tied pub sector,

with tenant landlords subject to extractive

business practices.

Between 2006 and 2008 he became involved

in the campaign to scrap the beer ties that were

driving pub tenants to the wall, with supporters

including the Campaign for Real Ale (CAMRA)

and the co-op movement. This led to the 2016

pub code, introduced by the government to

regulate the tied sector, but Mr Dodds says this

was ineffective –leading him to look for an

alternative solution.

This would be "a radical pub company that's

properly fit for 21st century purpose. Think a

blend of Brewdog, the John Lewis Partnership

and Co-op Local."

The plan would see a managed pub company

established first, probably expanding its scope of

operations to leased and tenanted and franchise.
---
SEPTEMBER 2021 | 35

The brief suggests one pub per community

catchment, with each individual pub business

becoming an investor in an Open Capital

partnership (LLP). Surplus would be reinvested

in purchasing or investing in more pubs.

It would follow a simple structure, with

no involvement with operations or supply of

products. The brief considers the possibility of

the purchase of the commercial property estates

of pubs like Global Mutual did last year from EI

Group – picking up 370 pubs for £350m.

"THERE ARE A LOT OF PUBS AND

THEIR COMMUNITIES THAT NEED TO

BE SAVED FROM THE RAVAGES OF

PRIVATE EQUITY GREED"

"There are a lot of pubs and their communities

that need to be saved from the ravages of private

equity greed," said Mr Dodds. "Pub companies

are run by extractive hedge funds – they are

asset-sweating British pubs and closing them

down."

He says this is a matter of urgency, with the

pub sector already in crisis before it was hit by

the Covid-19 pandemic.

"Every tied pub is by default run down,

knackered, in need of refurbishment – the

kitchens and heating systems often aren't up to

scratch.

"If it needs a new boiler, the tenant can't

afford it. If we can acquire the sites it would be

a good opportunity to get of their gas and oil

fired systems; we would carry out a low carbon

retrofit.

"And we would use only local resources and

beers – get rid of global brands unless they can

give guarantees that they operate sustainable

supply chains."

Local involvement would come from the start,

he added, with the community deciding what

happens in the pub, but with a professional

overview from those experienced in the pub

trade, who know how to keep and sell beer and

manage the clientele.

Mr Dodds says that under the plan, each pub

would pay a national living wage and run a fair

pay ratio; sites would be run independently with

head office organising back office functions, as a

secondary co-op, for the whole network – taking

care of admin, accounting, training, branding

and marketing.

"The licensee would have secure long term job

as an employee. We'd also work to tackle the lack

of experience, skills and diversity in the industry,

and address the lack of access to market from

local brewers.

"We have crises running in parallel – affecting

community, pubs and climate. We need

something to bring them together so they can be

managed at human level people can relate to."

But Mr Dodds says there are also barriers to

overcome within the co-op movement itself,

citing the often-heard lament that it "doesn't cooperate

and doesn't move", which has in the past

hampered his efforts to establish a secondary

co-op for the sector. Meanwhile, he warns, the

existing community pub model faces potential

weaknesses – with the risk of volunteer burnout,

lack of knowledge of how to properly run a

pub, and a lack of profitability.

"There are some very good ones but if all

community pubs were invested in and properly

run they would be thriving."

It's an ambitious plan: Mr Dodds estimates

the venture would need to raise £500,000 per

pub – "to get any pub up and running fossil

fuel free that is". He wants to see a "big plan,

go to whole country to crowdfund capital – a

national community share issue – along with £1

memberships. It would be a national campaign

to save Britain's pubs."

The pubs would be protected by an asset lock,

with a dividend paid to investors on the amount

of equity they have put in; he'd like to see 4%

paid on capital invested.

"If you want to take your money back out,

you'd give two or three months' notice; your

shares would be sold among membership or the

company would buy them back; but there would

be no capital gains."

A steering group – which includes experienced

co-operators Vivian Woodell and Dave Boyle – are

working on the seed fund application which will

bring the proposition to investment readiness –

paying for legal structures, branding, marketing

and Youtube videos.

"The challenge is there has been no pub co

like this before," warns Mr Dodds. "It needs team

of people who know finance and property and

want it to happen. Pub experts should be on the

ground in the pubs.

But – in a time when national life is marked

by polarisation and social isolation, the model

would continue the aspirations of community

pubs to offer social value. Mr Dodds hopes the

move will "revive the world's original social

network" and offer venues to "curate the national

conversation."
---
36 | SEPTEMBER 2021

EXPANDING PRINCIPLE 6

CHANGING

THE RULES

by REBECCA HARVEY

'Co-operation among Co-operatives' is a core

co-op principle. But as society and business

types evolve, and other 'for-purpose' organisations

emerge, shouldn't co-ops be open to working

more closely with other business models?

One person well placed to answer this is Lord

Victor Adebowale, a director of the Co-op Group

and chair of Social Enterprise UK (SEUK, the

national body for social enterprise), who started

his career volunteering at Newham Community

Housing Co-operative in east London.

"Very early on, co-ops seemed to me to be a

very sensible, very progressive thing," he says.

While co-operatives trace their roots to groups

such as the Rochdale Pioneers (1845) and the

Fenwick Weavers (1761), social enterprises were

first developed as a distinct concept in the late

1970s, during attempts to steer economic criteria

from capital to social interest. Today SEUK

describes social enterprises as 'businesses with

a social or environmental mission'.

"WE NEED TO SPEND LESS TIME

NAVAL-GAZING AND MORE

TIME HOLDING HANDS"

A 2019 report from SEUK, supported by the

Co-op Group and Nationwide Building Society,

stated there are 100,000 social enterprises in

the UK, contributing £60bn to the UK economy

and employing 2 million people. Co-operatives

UK's Co-op Economy Report 2021 revealed the

country has over 7,000 independent cooperative

businesses, with a combined turnover of

£39.7bn, employing more than 250,000 people.

Social enterprise is the fastest growing form

of business in the UK, and the fastest growing

form of employment (four jobs for one created

in a traditional business), and they also operate

in the poorest communities, employing

black people and women in leadership positions.

He is shocked at the lack of diversity in

co-ops. "Why is the leadership of the co-op

movement so white? Diverse businesses make

better decisions and diverse leaderships reach

more people. It is unjust and unhealthy to have

a movement like this which is only led by one

monoculture. It's inefficient and inappropriate.

We need to be brave enough to ask why this has

happened, to arrive at the correct answer, and

then we need to do something about it."

WHAT'S IN A NAME?

Some co-operative activists are irritated by the

way phrases such as 'social enterprise', 'community

businesses', and 'employee ownership' are

seemingly used as synonyms for 'co-operative',

which could potentially devalue co-op identity.

Others view both co-ops and social enterprises

as important forms of mutual business and are

in turn irritated at the perceived exclusivity of

co-ops – which in their view could help account

for the general lack of public awareness.

"For me, the similarities between co-ops and

social enterprises are far more interesting than

the differences," says Lord Victor. "Both are a

form of mutuality, in the philosophical sense.

They are engaged with connection, community,

culture, and sustainability – both economic

as well as environmental. Both challenge the

orthodoxy of individualism that is going to

wreck the planet; we have common calls in

that regard."

The two models are "different forms of doing

the same thing", he says, with that thing being a

collective effort to formulate progress.

"I'm interested in intention and process. If the

intention of a co-op is collective distribution and

ownership, then the process by which it delivers

that seems to me to make sense. Similarly,

if the intention of social enterprises is accountability,

responsibility, collective ownership and

sustainability, the process seems to match that.

"Don't get me wrong, you do need a certain

legal frame and governance, but I think that
---
SEPTEMBER 2021 | 37

sometimes process can become more important

than the intention. In my view, it's one of

the reasons why co-ops are a niche thing when

in fact we should be, and at one point were, the

popular form."

He takes no truck with people who seek to

create separation between organisations who

have a shared basic vision. "We haven't got time

for that. It's not a war. It's and/and not either/

or. It's a case of a common view of the progressive

economy, within which commerce serves

a purpose, that we look to impress upon the

economy a set of values. The form that we

choose is largely a matter of choice. We need

to spend less time naval-gazing and more time

holding hands."

CHANGING THE RULES

One of the reasons for his impatience is an acute

awareness of the climate emergency. "We've got

10 years. The worse the problem gets, the more

extreme the responses are going to need to be,"

he says. "These people who think we've got

some choices need to be reminded that the more

time we spend making them, the less choices

we have about what we're going to have to do.

Business models need to change and economies

need to change, and the sustainable models that

we need to change to are staring us in the face

[...] We need a mixed economy, which is more

balanced towards social enterprises and co-ops

than it is at the moment."

What's holding co-ops back, he thinks,

is a tendency to be "too inward looking, too

obsessed with nomenclature and less with

purpose and intention".

"In many other countries, particularly African

countries, co-ops are thriving. In Spain,

co-ops are sitting around the table with ministers

and policymakers. In this country? Nada.

Why? We're too insular, too closed, too obsessed

with the rules, less obsessed with the purpose

of the rules."

He likens the co-operative movement to a

private club more interested in its own survival

than its purpose. "The purpose of co-ops was

never to create a self perpetuating clique of

insiders, they were meant to improve communities."

So what do we do about this? "Firstly, invest

in and appoint more people like [Co-operatives

UK CEO] Rose Marley, who can communicate,

who can express themselves, who have a strategy

which is inclusive, not exclusive, and who

have a mission and values that align with different

movements. Her appearance on Newsnight

a few weeks ago was the first time I've seen a

co-op leader on that programme who explains

in plain English and speaks to an audience

beyond the co-op bubble. Co-ops need to grow

presence, relevance and passion. They need

to be inclusive, not exclusive. They need to be

reaching out to other businesses.

"Secondly, take a look at the rules, because

there's something that's stopping people from

joining co-op particularly amongst the young,

and I suspect it's in part the labyrinthine,

Gormenghast-type practices. Young people are

crying out for a model which is credible, because

they know the current model of our economy is

incredible, and it's them who will suffer. Yes

there are some young people involved in co-ops

but it's not a mass movement. We're not making

it attractive, we're not making it easy. It should

be the easiest thing in the world to form, work

for or join a co-op – it should be easier than falling

off a log."

He adds: "I know people get very passionate

about co-operatives and co-op models and the

rules, and I'm seen as a bit of an outsider. But

I've spent a lot of time, including my formative

years, with co ops. I can just see things from

the outside, and it doesn't look too sweet. But

as a model of commerce, co-ops have the potential

to change the way the country operates its

economy and save the planet. There aren't many

other ideas currently running that can do that."
---
38 | SEPTEMBER 2021

US CO-OPS APEX

MAKES A PUSH

FOR PRINCIPLE 6

by MILES HADFIELD

u Mike Mercer

NCBA CLUSA, the national sector body for coops

in the USA, has been exploring ways to drive

Principle 6 – co-operation among co-ops – in a

series of weekly newsletters.

The online posts include a rallying call to

the movement from one of its leading figures

in the US, Mike Mercer, who wants to see more

investment by co-operatives to help other co-ops

through start-ups and scale-ups.

Mr Mercer – former CEO of Georgia Credit

Union Affiliates who has chaired the boards of

the Credit Union National Association (CUNA),

American Association of Credit Union Leagues

and National Cooperative Bank (NCB) – says this

will help to address the difficulty co-ops have in

raising capital, often cited as a key barrier to the

growth of the movement.

"The great irony of the 'co-operative

moment' is that co-operators invest their

money in the corporations that they admonish

for being extractive, the government that

they regard as being too political, and the

real estate that they advocate members

should share," he wrote.

Mr Mercer identified at a number of solutions

– from making more use of the investment

potential of co-op members to developing pools

of "patient capital", where investors are prepared

to wait longer for returns on their money.

"Other groups like Zebras Unite and Seed

Commons are taking a systemic approach to

organising, assisting and funding for co-ops," he

wrote. "These and other initiatives … are working

with players from across the co-op space to

design solutions to the co-op capital challenge.

"NCBA CLUSA and the National Cooperative

Bank are convening discussions soon that will

bring together some of the capital innovators

with leaders from the established co-op sectors

to explore the possibility of setting up a national

co-op capital mechanism that brings co-ops

together across the sectors to help solve for the

co-op capital challenge."

He added: "Most co-operators believe in

but are not really investors in co-ops. Beyond

membership shares and membership fees, there

isn't any easy way to become a financial investor

in a co-op."

A lack of knowledge between different silos

of the co-op movement hampers this sort of

investment, he added. "What would compel

a member/leader of a food co-op, let's say, to

become an investor in a childcare co-op? What

does a credit union exec know about a worker

co-op?"

There are other problems too. "Enabling

instruments and structures are still in the early

innovation stage. Laws and regulations could be

more helpful."

His proposed solution is intermediation. "The

co-op system could benefit from a well-resourced

capital sourcing facility. And such a facility

should enable co-operators and the co-ops that

they guide (especially the large ones) to become

investors in new co-op development and earlystage

co-op scale-up."
---
SEPTEMBER 2021 | 39

"COMMITMENT TO OPPORTUNITY,

FAIRNESS AND INCLUSIVITY

EXTENDS BEYOND THE WALLS OF

THE CREDIT UNION"

Citing Vancity CU and VSECU as credit unions

willing to invest in co-ops, Mr Mercer argued:

"The co-op system should become more of a

circular economic engine. Risk can be managed

collaboratively, and return should be generous,

paid out over time from successful co-op

operations. A co-op capital sourcing facility

would be a major evidence of co-operative

identity and a significant cross-sector exercise of

Principle 6."

In another edition of the newsletter, Mr

Mercer reminds the movement that the Rochdale

Pioneers "learned quickly that an ecosystem of

co-operative enterprises could help members

more than simply staying focused on making

good flour".

He argued that improved collaboration

between the co-op and credit union sectors,

would help to "address jobs, health, elder care,

childcare, housing, and the other challenges

that impact the financial wellbeing of members".

Co-ops and credit unions should work together

to press the advantages of their reputation

"honesty providers", he wrote.

"Commitment to opportunity, fairness and

inclusivity extends beyond the walls of the credit

union," he added. The member begins to look

more like a person in search of a better life –

and a little less like a customer measured on a

product penetration scale.

He said NCBA CLUSA is working on an

initiative to help co-ops "identify the ways that

a nation full of honesty providers can work

together to elevate the value created for co-op

members.

"This project is now known as the Principle 6

Initiative, which you'll hear more about in the

months ahead."

t Zebras Unite is one

of the organisations

working to improve the

capital landscape for

co-ops
---
40 | SEPTEMBER 2021

Lessons to learn from the demutualisation of

ECONOMICAL MUTUAL

INSURANCE

Anca Voinea

Economical Mutual Insurance, a Canadian

mutual insurer set up 145 years ago, has

received approval from policy holders to

demutualise, a move pending approval from

the finance minister. The plans to demutualise

were approved at the third and final special

meeting on demutualisation, which was held

virtually in May. At the meeting 97% of eligible

policyholders voted in favour of proceeding with

demutualisation.

Board chair John Bowey said at the time: "This

is an important day in our 150-year history, as

we are one significant step closer to completing

the demutualisation process, which will allow

Economical to unlock our full potential as

a strong, Canadian competitor in a rapidly

changing industry."

The decision was facilitated by Economical

Mutual's dual class membership structure,

through which around 900 policy holders were

members with 60,000 not members.

Economical Mutual says the average

eligible mutual policyholder could receive

demutualisation benefits with an approximate

value of CA$300,000 to $430,000, while the

average eligible non-mutual policyholder

could receive demutualisation benefits with an

approximate value of $1,500 to $2,300. Another

$100m of the proceeds of demutualisation

have been allocated to fund a new charitable

foundation.

Fear of potential demutualisations exists

among other Canadian co-ops and mutuals,

according to a recent report by the Canadian

Centre for the Study of Cooperatives (CCSC).

These concerns were exacerbated by the

demutualisation of Mountain Equipment Coop

(MEC), the largest consumer cooperative in

Canada, back in 2020.

Co-op leaders surveyed by CCSC said they

regarded the demutualisation of MEC as

"a cautionary tale" which highlighted the

importance of building a board culture that

views the co-op model as a strength. They also

emphasised the importance of co-op-specific

board governance training and education.

Economical Mutual Insurance, which now

brands itself as Economical Insurance, argues

that demutualisation is an exciting opportunity

that will enable it to invest in the business

and innovate, especially by acquiring other

companies, strengthen its financial position for

long-term success and better compete with other

insurance companies.

However, Co-operatives and Mutuals Canada

(CMC), the apex representing the country's coops

and mutuals, says the sector is more resilient

than the average business. CMC is undertaking
---
SEPTEMBER 2021 | 41

"CO-OPERATIVES AND MUTUALS HAVE PROVEN TO BE

MORE RESILIENT THAN THE AVERAGE BUSINESS.

a 2.5-year study on the impact of Covid-19 on the

co-op and mutual sector in Canada.

"Co-operatives and mutuals have proven to

be more resilient than the average business.

The decision by Economical Mutual Insurance

membership to demutualise and distribute its

assets goes against the intent and business

model of individuals who create co-operatives

and mutuals – and contribute to their growth,"

said John Kay, president of CMC.

Shaun Tarbuck, chief executive of the

International Cooperative and Mutual

Insurance Federation (ICMIF) also criticised

the demutualisation of Economical Mutual

Insurance, adding that there was no business

case for the move.

He said: "The demutualisation of The

Economical is a long-running saga driven by

greed of the few. This has been ongoing for

over ten years now and was started by less than

1,000 owners of the Economical who saw an

opportunity to sell the business and therefore

receive over $1m each.

Threat to values

"The unique dual membership structure that

The Economical has had since the 1920s meant

that less than 1,000 member owners control the

mutual and all the other member policyholders

have had no ownership rights. There are three

other mutuals with similar structures in Canada

but they all are firmly committed to mutuality."

Mr Bowey insists the idea of "neighbour

helping neighbour" on which the mutual was

created 145 years ago continues to shape the

business. He said back in May: "Economical was

created 150 years ago in a small town that is now

Kitchener, Ontario, with the idea of neighbour

helping neighbour. That value still holds true

for our company and will live on in the way we

serve our customers and through the significant

impact of the charitable foundation that this

process will bring to life."

But Mr Tarbuck expects to see class action

lawsuits post demutualisation and warns that

the mutual's values might be lost due to the

decision to demutualise.

"There have been many challenges made to

the validity of the demutualisation, which is

why it has taken so long, and there are likely to

be class action lawsuits post demutualisation,"

he added. "There is no business reason to

demutualise, as was the case with the majority

of the demutualisations in the 1990s, it was then

and is now driven by greed of the few.

"As with most demutualisations, the company

may well be acquired within a year or two by a

larger stock company and the history of The

Economical and the communities it used to serve

will be lost or members will probably move to

another mutual or co-operative insurer.

As to the future, Mr Tarbuck believes that new

mutuals will emerge in the years to come.

"Given the mis-selling of so many mutuals in

the 1990s, there is now a significant challenge by

the regulators, media and customers should any

mutual propose to demutualise nowadays, for

example LV= in the UK.

"Thankfully, we are now seeing a trend for

the creation of new mutuals with several being

started in the last few years and also the remutualisation

of stock company insurers as we

have seen in Scandinavia recently.

"Demutualisation was a trend in the 1990s

which was proven to be driven by greed.

However, many more businesses these days

are trying to be fairer, more socially aware and

looking to be values-led organisations with a

social purpose, The Economical demutualisation

is a real outlier."

Despite the recent demutualisations of MEC

and the Economical Mutual Insurance, the cooperative

sector remains strong in Canada, says

CMC. Co-ops represent 3.4% of the country's

gross domestic product (GDP) and provide

almost 200,000 jobs.

q The old HQ of the

Waterloo Mutual Fire

Insurance Company,

later a part of

Economical

Facing page: A header

from Economical's

website which sets

out the "exciting

opportunity" of

demutualisation
---
42 | SEPTEMBER 2021

A CLASH OF VALUES AT

LEFT-WING JOURNAL

Susan Press

Staff at an influential left-wing publication in the

US claim they were fired for trying to organise

into a workers' co-operative.

Current Affairs, a bi-monthly magazine and

podcast, was founded in 2015 with the aim of

making left politics fun and rendering all other

magazines "both despised and obsolete and,

in the process of doing so, to help usher in a

glorious era of democratic socialism".

Subscriptions, according to the website,

mean that "not only are you supporting a left

media institution with credibility and influence,

but you're also giving a cheerful middle finger

to wealthy corporations, subservient state

propagandists, and joyless buzzkills across

the world!"

But angry writers and admin staff say several

leading members of their team were 'unilaterally

fired' at the beginning of August following

an online 'virtual retreat' where editor-inchief

Nathan J Robinson axed jobs to avoid an

organisational restructuring being carried out

on co-operative lines.

Five members of staff, including business

manager Allegra Silcox and managing editor

Lyta Gold, signed a joint letter, released on social

media, in which they claimed the firings were

down to plans to restructure the publication to a

co-operative model.

They claim Robinson feared his editorial

autonomy would be taken away.

"We discussed it informally, we tried piecemeal

reforms, we did a full-organisation survey and

one-on-one interviews with editors and staff

to try to find consensus on a collective vision.

Everyone's stated goal, including Nathan's,

was to create a democratic workplace where all

voices were equally valued. But when we finally

got around to discussing organisational models

during a Zoom meeting, Nathan insisted that

in our attempt to set shared internal values, we

were disregarding his vision for Current Affairs.

The next morning, he sent letters requesting

resignations, eliminating positions, and in some

cases offering new 'honorary titles' which would

have no say in governance," reads the letter.

Managing editor Lyta Gold, formerly a close

associate and friend, expressed her discontent

on Twitter: "I'm so sad about all of this. I loved

my job. I loved the articles I edited and the

writers and artists I worked with. I loved the

podcast. I still can't believe that Nathan tried to

take Current Affairs from us because he didn't

want to share power."

Robinson is no stranger to controversy. He

once worked for the Guardian as a columnist but

lost his slot following allegations of 'fake news'

Tweets about Israel. Born in Stevenage, his

family relocated to the US when he was a small

boy and he describes himself as a 'libertarian

socialist'.

Amid the latest furore, he has released a

statement in which he admits making 'terrible

mistakes' but denies blocking moves to make the

workplace more democratic.
---
SEPTEMBER 2021 | 43

u Nathan Robinson

speaks at the Austin

Democratic Socialists

of America in 2020

(Photo: Austin DSA)

"I have never sought a profit

from Current Affairs and never

opposed any changes to

working conditions."

He said: "I cannot defend my recent actions

as good. Clearly they were a disaster. I felt very

stupid about asking Lyta to resign immediately

after doing it and apologised profusely and

begged her not to go.

"Current Affairs has a record of workplace

egalitarianism that I am proud of."

He added: "All full-time staff, including myself

earn the same salary. Jobs have a high level of

autonomy. I have never sought a profit from

Current Affairs and never opposed any changes

to working conditions. I had a conflict with these

staff over editorial control. I ultimately asked

two staff members, our business manager and

admin, to resign. They declined and still work for

Current Affairs. Nobody has been fired."

Board member Adrian Rennix, also a founding

writer for the libertarian socialist publication,

said: "Everyone at Current Affairs, including

Nathan, has long stated they wanted it to be

a democratic workplace. I can confirm that

there continued to be universal concern about

implementing functional, shared decisionmaking

procedures, and a broad interest in

worker ownership."

Mr Rennix added: "As of the time of the

attempted firings conducted by Nathan, no

actual decisions on organisational restructuring

had been made: we were only beginning the

conversation about possible workplace models.

For all that Nathan now claims that he does not

want total control and ownership over Current

Affairs and wanted a board-owned non-profit

model for this reason, I would note that he did

not consult a single board member about these

attempted forced resignations and indeed

obstructed all our efforts to reach out to him for

conversations in advance of these actions."

The editorial board of Current Affairs has now

stepped in, in a bid to resolve the matter, with

a month's grace for all employees until the end

of September when it is still hoped the magazine

will resume publication. All staff will be paid

until then but no income or severance pay is

guaranteed after that.

The controversy has attracted considerable

flak from many on the left, including Pulitzer

prize-winning journalist Glenn Greenwald, a

former fan of the publication who this week

accused Robinson a of hypocrisy.

However, the 31-year-old editor-in-chief

denies the accusations that he has betrayed

the socialist principles on which Current Affairs

was founded.

"I have very serious regrets about how I

handled it all, and I have a great deal to learn

about effectively managing an organisation in

accordance with the values I hold," he said.

"There has never been a dispute between staff

and myself over conditions, pay, benefits, hours,

etc. at Current Affairs. This is because I have

taken great pains to make sure that there are no

unfair labour practices. None have been alleged.

"I strongly dispute that I tried to prevent

Current Affairs from becoming a co-operative.

I freely admit to making poor decisions

that alienated people, but I am absolutely

committed to making sure Current Affairs

always has fair labour practices. I will

endeavour to do better than I have done and we

will be transparent and be held accountable. I

realise that many of our supporters will want

evidence that they can trust us to live up to our

values. It is my responsibility to back up my

words with actions going forward.
---
44 | SEPTEMBER 2021

How a co-op past helped a journey to

OLYMPIC GOLD

David J. Thompson

p Credit: creative commons

image – (Fernando Frazão/

Agência Brasil / CC BY 3.0 br)

Brought up in the Rochdale Village Co-op in

Queens, NYC, the young girl who once raced

around the Rochdale Village Community Center

has become one of the fastest Olympic hurdlers

of all time.

In 2016 at the Rio Olympics, Dalilah

Muhammad became the first American woman

ever to win a Gold Medal in the 400 meter

hurdles. She won a Gold Medal for the 400m

hurdles at the 2019 World Championships with

a world record of 52.16 seconds. Muhammad also

won Gold in the 4X400 meter relay at the same

2019 World Championships.

At the 2020 Tokyo Olympics, Muhammad won

all her heats and took silver medal at the 400m

hurdles. In the Tokyo event on 3 August, she

achieved a personal best of 51.58 seconds which

beat the existing world record and she is the

second fastest woman in the world at this event.

A few days later, on 7 August, Muhammad won

another gold being part of the US Dream Team

that won the 4×400 relay.

Muhammad was born in 1990 and grew up in

Rochdale Village, a housing co-op sponsored

by the United Housing Foundation. From a

very young age, Dalilah showed athleticism

especially in track events. After running rampant

at her High School, Muhammad won an athletic

scholarship to the University of Southern

California (USC). In 2012, Muhammad turned

professional and has continued in her winning

ways.
---
SEPTEMBER 2021 | 45

"THERE'S AN

AFRICAN PROVERB

THAT SAYS IT TAKES

A VILLAGE TO RAISE

A CHILD, AND IN

OUR EXPERIENCE,

THAT IS THE

ABSOLUTE TRUTH"

Muhammad is only the second female 400m

hurdler in history, after Sally Gunnell (UK), to

have won the Olympic, world titles and broken

the world record. She is the second American

Muslim woman to win an Olympic gold medal.

Her parents are Nadirah and Askia Muhammed.

Nadirah is a child protection specialist and Askia

is a Muslim Chaplain, teaching Islamic Studies

at the New York Theological Seminary. All the

family have careers in public service.

"We enjoy family and we enjoy community,"

her father, Askia Muhammad said. "There's

an African proverb that says it takes a village

to raise a child, and in our experience, that is

the absolute truth. Because so many people

contributed to the success of Dalilah and all of

our children."

Interviewed after her wins this year for NBC

Channel 4 New York Muhammad the track and

field athlete said: "having a big house or a lot

of money" used to motivate her to do her best.

That's not the case any more. Muhammad says

now it's all about giving back to her community.

"It makes me proud to be representing Queens

and be from Rochdale Village," she said. "It's

definitely the thing that pushes me forward to do

my very best."

In 2016, Rochdale Village Co-op organised

a parade and event to honour her Olympic

achievements. You can see the event here on

YouTube: bit.ly/3zkDjw7

There are 5,860 apartments at Rochdale

Village in 20 buildings of 13 floors each.

Rochdale Village sits on 120 acres most of which

previously had been the Jamaica Race Track.

Nearly 25,000 people live at Rochdale Village.

When it opened in 1963, Rochdale Village

was the largest housing co-op in the world.

It is now 2nd after Co-op City in the Bronx at

16,000 apartments. It takes about three years

on the Rochdale Village waiting list before an

apartment becomes available.

The Rochdale Village Co-op web site states:

"Rochdale Village is a completely self-contained

community. Our 120 landscaped acres feature

tall shade trees, lawns, flowerbeds, sitting areas,

baseball field, basketball and tennis courts,

playgrounds and a community garden. Other

amenities include two onsite shopping malls, a

community centre and senior centre."

p Credit: creative commons

image – (Fernando Frazão/

Agência Brasil / CC BY 3.0 br)
---
46 | SEPTEMBER 2021

150 years of Co-op News

Rebecca Harvey

q The first edition of

Co-operative News

On 2 September 1871, the first issue of The Cooperative

News was published, as "A Record

of Industrial, Political, Humanitarian, and

Educational Progress".

"What is Co-operation?" its opening lines

asked. "The question which heads this article is

to appear ance so simple that many persons will

be almost inclined to call it foolish, and yet a

very little thought will show that it is much more

easy to put the question than to find a proper

reply to it…"

The publication was a long time coming and

was preceded by journals such as The Co-operator

(founded by the Manchester and Salford Society

in 1860. This was taken over by journalist Henry

Pitman who shouldered the paper's full financial

burden and indulged his passionate opposition

to Dr Edward Jenner's anti-smallpox vaccination

programme, to the

extent of renaming

the publication 'The

Co-operator and Anti-

Vaccinationist' and a

growing clamour for

the co-op movement

to produce its own

weekly newspaper.

A

'special

conference' discussed

the establishment

of a paper for the

movement on 5

November 1864, and

further conferences were held in 1865, 1867 and

1868 – with vocal debates disputes around such

a new publication's name, audience, and who

should control it. But on 10 June, 1871, a meeting

of society representatives and individual

co-operators resolved that a Co-operative

Newspaper Society be set up and a board of

directors appointed.

About £400 in capital was promised, mostly

by individuals, with a quarter coming from

the Co-operative Wholesale Society (CWS).

Circulation increased from 7,000 to 15,000

within 18 months – a citation which, according

to Co-op Union Librarian and ex-News journalist

Roy Garratt, "became a worry to some in the

'Co-operative Establishment' who felt the News

should be controlled by the Congress Central

Board (later the Co-op Union Central Board, later

Co-operatives UK) or CWS".

But the society's chair, Thomas Hayes, laid the

ground rules for the paper's future development

when he told the 1873 Congress in no uncertain

terms that "the board of the News believes that

its perfect independence should be preserved

and that it should be above the suspicion of

being controlled by an organisation other than

its own."

Printing of the publication was initially

carried out by the North of England Printing

Society — established in 1869 at Balloon Street,

Manchester, to serve the growing number of

retail societies and CWS. By 1919, the Balloon

Street registered office of the society had added
---
SEPTEMBER 2021 | 47

a Manchester works, a London branch and a

Newcastle branch and became known as the Cooperative

Printing Society.

The Co-operative Newspaper Society (CNS)

bought its own printing machinery in 1887, built

new premises at 22 Long Millgate, Manchester

in 1895 and launched new publications Millgate

Monthly, Our Circle, Women's Outlook, Cooperative

Youth and Sunshine Stories (as well

as Reynolds News/Sunday Citizen newspapers)

– recognising the importance of engaging with

young people and women.

The CNS became the National Co-operative

Publishing Society, which in turn was renamed

Co-operative Press in 1934, and built up an

envied reputation as a printer and publisher

to the co-operative, labour and trade union

movements. The Co-operative Press became

the country's largest trade union printers, and

broadened the base of the Co-operative Press

outside the movement was effected through two

companies — Trafford Press Limited and Trafford

Advertising Limited – but the increasing costs

and technological changed led to the decision

to exit the printing sector in 1999, sell off the

society's remaining Old Trafford print works

(having previously divested its Birmingham

and Newcastle premises), and move the head

office to Holyoake House, a stone's throw from

its original base in Balloon Street, and current

home to offices for a family of co-ops including

Co-operatives UK, the Co-operative College, the

Co-operative Heritage Trust, the Association of

British Credit Unions, the Phone Co-op and Third

Sector Accountancy.

Co-operative News has had just 15 editors in

its 150-year existence including a father and

son who held the post for 46 of the publication's

first 50 years – and just two women, Lily Howe

and myself. They are: R Bailey Walker(1871);

John Collier Farn (1871-1875); Samuel Bamford

(1875-1898); William Bamford (1898-1921); James

A Flanagan (1921-1937); William Richardson

(later Sir William, 1937-1942); Fred Tootill (1942-

1955); David Boydell (1955); Frank Bruckshaw (

1955-1972); Lily Howe (1972-1984); David Short

(1984-1986); Geoff Whiteley (1984-1999); David

Bowman (1999-2012); Anthony Murray (2012-

2018); and Rebecca Harvey (2018- present).

Between us we have witnessed huge changes

within the co-operative movement, both in

"Co-operative News has

had just 15 editors in its

150-year existence"

the UK and internationally, as well as wider

changes in technology, communication and the

role of the media. As society and co-operatives

have evolved, so too has Co-op News, in scale,

scope and in its fundamental role of connecting

co-operatives, championing their successes

and challenging their misdemeanors. We

have a growing number of organisational and

individual members around the world. Last

year, our website was visited by someone in

every single country in the world (except three).

We are adapting and developing while staying

respectful of our - and the movement's past.

Thank you for coming on this journey with

us. We are looking forward to seeing where we

go next.
---
48 | SEPTEMBER 2021

REVIEWS

Taking back the idea of community

Tomorrow's

Communities: Lessons

for community-based

transformation in the

age of global crises,

ed Henry Tam (Bristol

University Press, 2021,

£26.99)

Gloucester Services,

a case study for how

community-based

working can deliver

successful outcomes

From the explosion of mutual aid in response

to Covid-19, to growing interest in Preston-style

community wealth building, co-operative ideas

have enjoyed a higher profile in recent years, and

in compiling this book, Henry Tam hopes to show

how these ideas can save our democracy from the

reactionary populism of recent years.

Setting out to find policies and practices which

can "protect our collective self governance from

abuse and manipulation", he turns to a number of

figures familiar to co-operators – such as Ed Mayo,

Pat Conaty, Dave Boyle and John Restakis – to

explore ways to build community resilience.

Tam warns that political calls to build community

can lead to conservative, oppressive policy, and

looks for a progressive way forward "away from

outmoded thinking and practices" – doing so "not at

the expense of close, committed relationships, but

on the basis of building such relationships through

mutual respect and thoughtful co-operation".

"Communities must become active agents

in shaping and pursuing their priorities in

collaboration with their members, other

communities and public institutions," he says.

How do we make this happen? In their chapter, Ed

Mayo and Pat Conaty argue for a "virtuous circle" of

community economic development, which brings

positive social and economic outcomes – and builds

confidence, curing communities of a condition of

"learned helplessness"; they cite examples from

the USA where community initiatives have brought

billions of dollars of investment into struggling

areas, using models such as the community land

trust. In the UK, they point to pioneering initiatives

like Coin Street Community Builders, given land to

develop by the Greater London Council in the 1980s

in response to protests against intrusive top-down

redevelopment; the area now has artists' studios,

street markets and co-op housing.

This is a progressive take on the notion of

community and Mayo and Conaty set out a number

of practical models for achieving it.

In a chapter co-written with Philip Ross,

Conaty addresses another problem faced by such

communities: the lack of work opportunities and

the rise of the exploitative gig economy. Their

solutions include encouraging the growth of

worker co-ops, drawing on examples such as Smart

in Europe and Green Taxis in the US.

There are also instructive looks at how cooperative,

community-led models can build

resilience through education (Marjorie Mayo),

community organising (Steve Wyler) and healthcare

(John Restakis) alongside studies of how the model

can help drive food justice (Alice Willatt, Rosalind

Beadle and Mary Brydon- Miller) and sustainability

(Alice Warburton).

Dave Boyle looks at how developing methods

of co-production can rethink public services

such as healthcare for the better. Noting that the

UK's postwar welfare and health reforms which

spring from the Beveridge Report have done

little to narrow inequality, he looks at how GP

practices have managed to improve outcomes

by collaborating with communities on health

and wellbeing projects such as allotments. He

explores ways to make such project work without

them falling under the sway of the government

departments or other organisations which

fund them.

With a political landscape no less polarised

than it was during the upheavals of 2016, and the

pandemic adding to the pressures on society that

have been building since the 2008 crash, this book

offers valuable perspectives on how co-operativism

and allied movements can point the way forward.

And if you need to confront any naysayers, there

are some striking case studies to demonstrate how

it can work in practice, such as the Gloucester

motorway services, opened by a community

partnership on the M5 in 2014, providing training

to 240 long-term unemployed locals, generating

wealth that is channelled into local regeneration,

helping biodiversity, offering a meeting space, and

providing a retail outlet for local produce.

Travellers who take a pit-stop at this pleasant

spot should take note that it offers some useful

pointers for a journey to a better tomorrow.
---
50 | SEPTEMBER 2021

DIARY

The Covid-19 crisis had led to the

postponement of many co-operative

events. However, a number of

co-operatives and apex bodies

are holding online webinars and

meetings.

We listed some of these below.

If you would like to add any

postponements – or let us know

of any virtual events taking place

instead, please email

events@thenews.coop

UKSCS Annual Conference

9-11 September 2021

The UKSCS is inviting submissions

for presentations, papers, panels and

practical activities that focus on intercooperation

between co-operators and

co-operatives. Proposals can be oriented

towards generating debates and engaging

members, facilitating experiential

learning activities and/or reporting

the findings of research studies. A full

programme will be made available soon.

bit.ly/3ybvS8R

Decent Work & Democracy – Union

Co-ops

1-2 October 2021

Union-coops:uk's first conference will be

held at Wortley Hall, near Sheffield, 'the

worker's stately home'. The conference

will look at, among others, how to

'build back better' after Covid-19, the gig

economy, what union activists can do

to fight for decent work and democracy

and how to promote democracy in the

workplace. Speakers include Cheryl

Barrott (Co-op Party), Miguel Martinez-

Lucio (University of Manchester), Ian

Manborde (Equality & Diversity Organiser

– Equity), Michael Peck (1worker1vote –

USA), Ian Wilson (CASE), Sion Whellens

(Workers Co-op Council), and Sarah

Woolley (Gen Sec BFAWU).

bit.ly/388xbuS

Cooperative IMPACT Conference

4-8 October 2021

This year's Cooperative Impact Conference

will be a hybrid event - featuring two

days of in-person programming at the

National Press Club while still preserving

the accessibility and convenience of a

virtual event. Organised by the National

Cooperative Business Association in

the USA, the conference is themed

"Embracing Our Cooperative Identity" and

will challenge co-operators everywhere

to deepen their understanding of the

values and principles that truly make cooperative

enterprise unique.

bit.ly/38bPrDB

Co-operative Party Annual Conference

and AGM

9-10 October 2021

The Co-operative Party's annual

conference will be held virtually again

this year. Delegates will hear from the

Party's chair, Jim McMahon MP, as well as

a series of leading Labour/Co‐op keynote

speakers and players from co‐operative

and socialist movements. Reinvigorating

the high streets and social care are two

of the issues that will be addressed at the

conference, which will also look at the

Party's recent work and campaigns. More

details will be available at a later date.

bit.ly/3B8ytT2

International Credit Union Day

21 October

Celebrated on the third Thursday of

October since 1948, the International

Credit Union Day aims to raise the

profile of credit unions. The day is an

opportunity for the sector to reflect upon

the credit union movement's history,

promote its achievements, and share

member experiences. This year's theme

is "Building financial health for a brighter

tomorrow." Official ICU Day 2021 posters

and logos will be made available soon

by the World Council of Credit Unions

and Credit Union National Association

(CUNA).

bit.ly/388JA1X

World Cooperative Congress

1-3 December 2021

The 33rd World Cooperative Congress

will enable the cooperative movement

to explore its identity to build a more

secure future. Using the current global

crisis as a framework, discussions will

aim to deepen the co-operative identity

by examining its values, strengthening

its actions, committing to its principles

and living its achievements. This hybrid

event will be held in person in Seoul, the

Republic of Korea and online.

icaworldcoopcongress.coop
---
ethicalconsumer.org

BES T BUY
---
Visit energy.yourcoop.coop/co-opnews for details

Community owned renewable energy

installations power homes

with truly green energy.

That's Community Power.

Low Carbon Hub

Oxfordshire

Community Power is the only tariff to power homes with renewable energy

solely sourced from community generated wind, hydro and solar farms.

When you switch, we fund new community energy projects, so producers

like Low Carbon Hub in Oxfordshire can continue to grow, create local

jobs, and power local economies with the cleanest, greenest energy.

That's the power of community generated green energy.

Join us. Make a difference. Switch to Community Power today.

£20 thank you

when you sign up

Plus £20 donation

to Powering

Communities Fund

*T&Cs' apply

It's simple. You sign up. Together, we give back.