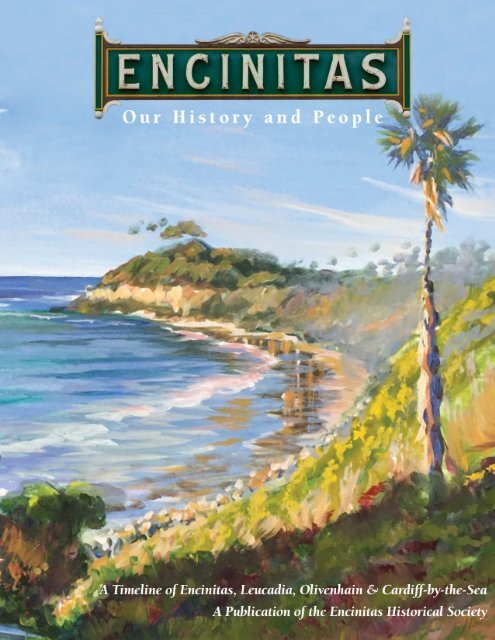 Encinitas: Our History and People
Encinitas: Our History and People By the Encinitas Historical Society Authors Carolyn Roy Cope, Jim Filanc and Garth Murphy Cover painting by artist Kevin Anderson Published by HPN Books and Ledge Media ©2021 Visit www.ledgemedia.net/encinitas to order printed copies And visit www.HPNBooks.com for info on how to publish your own book as a fundraiser for your community
Encinitas: Our History and People
By the Encinitas Historical Society
Authors Carolyn Roy Cope, Jim Filanc and Garth Murphy
Cover painting by artist Kevin Anderson
Published by HPN Books and Ledge Media ©2021

Visit www.ledgemedia.net/encinitas to order printed copies

And visit www.HPNBooks.com for info on how to publish your own book as a fundraiser for your community
SHOW MORE
SHOW LESS
You also want an ePaper? Increase the reach of your titles
YUMPU automatically turns print PDFs into web optimized ePapers that Google loves.
Encinitas

Our History and People

By

Carolyn Roy Cope, Jim Filanc and Garth Murphy

A publication sponsored by the Encinitas Historical Society.

Published by HPN Books/Ledge Media, divisions of FRE-Enterprises, Jackson, Wyoming
---
LEGACY SPONSORS

Through their generous support, the following companies helped make this project possible.

The Ecke Family

7220 Avenida Encinas, Ste 204

Carlsbad, CA 92011

Charlie's Foreign Car

751 2nd Street

Encinitas, CA 92024

(760) 753-4969

www.charliesforeigncar.com

Esplin & Associates

206 4TH ST,

Encinitas, CA 92024

(760) 249-2133

www.esplin.legal

Ledge Media

690 S Highway 89, Suite 201 Box 12679

Jackson, WY 83002

(800) 939-5311

www.ledgemedia.net

First Edition

Copyright © 2021 HPNbooks/Ledge Media

All rights reserved. No part of this book may be reproduced in any form or by any means, electronic or mechanical, including photocopying, without permission in writing from

the publisher. All inquiries should be addressed to HPNbooks, 690 S Highway 89, Suite 201 Box 12679 Jackson, WY 83002. Phone (800) 939-5311, www.hpnbooks.com.

Printed in the USA.

ISBN: 978-1-944891-72-5

Encinitas: Our History and People

authors: Carolyn Roy Cope, Jim Filanc and Garth Murphy

cover artist: Kevin Anderson

project manager and managing editor: Daphne Fletcher

contributing writers for "Sharing the Heritage": Kevin Kern, Kyle Thomas and Sid Shapira

contributing photographers: Daphne Fletcher, Kyle Thomas and Neal Glasgow

HPNbooks/Ledge Media

publisher & CEO: Daphne Fletcher

director of IT: Rafael Ramirez

administration: Donna Mata, Kristin T. Williamson

production: Colin Hart, Christopher D. Sturdevant

2 F E N C I N I T A S : O u r H i s t o r y a n d P e o p l e
---
DEDICATION

G

"Socially distanced" 2020 gathering of

the Encinitas Historical Society Board

of Directors.

HISTORICAL SOCIETY BOARD OF DIRECTORS

Carolyn Cope

Lois Aufmann

Dayna Donatelli

Jim Filanc

Marilyn Fowler

Liz Kovack

Joy Lyndes

Gigi Lopatriello

Connie McIntire

Suzanne Spector

Adrien Spector

Mike and Terri Wallace

Pam Hammond Walker

PHOTO COURTESY OF DAPHNE FLETCHER.

SOURCES

"Profiles in Flowers," by Robert Melvin

"Encinitas History & Heritage," by Mac Hartley

"San Dieguito Heritage," by Maura Wiegand, Ph.D

"Encinitas Magazine," publisher Jim Baumann

"Santa Fe Coast Lines Depot," by Serpico and Gustafson

"Goat Roping and a Town Called Merle," Kathie Jenuine

"Images of America: Encinitas," by Kenneth Holtzclaw and Diane Welch

"Images of America: Cardiff-by-the-Sea," by Wehtahnah Tucker and Gus Bujkovsky

"Brief History of Encinitas," by Annie Hammond Cozens

"Colony Olivenhain," by Richard Bumann

Encinitas Historical Society Archives

D e d i c a t i o n F 3
---
CONTENTS

ACKNOWLEDGEMENTS ............................................................................................5

INTRODUCTION .....................................................................................................6

Catherine Smith Blakespear, Mayor, City of Encinitas

CHAPTER 1 — IN THE BEGINNING: THE EARLY YEARS .............................................................9

CHAPTER 2 — ENCINITAS IS BORN: 1850 - 1899 .................................................................15

CHAPTER 3 — ENCINITAS GROWS UP: 1900 - 1919.............................................................27

CHAPTER 4 — THE FLOWER CAPITAL OF THE WORLD: 1920 - 1929.......................................39

CHAPTER 5 — THE GREAT DEPRESSION AND WAR YEARS: 1930 - 1949 ..................................49

CHAPTER 6 — SURF'S UP: 1950 - 1979 .............................................................................59

CHAPTER 7 — INCORPORATED! ENCINITAS GROWS UP: 1980 - 1999 ......................................73

CHAPTER 8 — THE NEW MILLENNIUM: 2000 - PRESENT.......................................................85

CHAPTER 9 — ENCINITAS AND THE CORONAVIRUS ..............................................................101

SHARING THE HERITAGE .....................................................................................108

QUALITY OF LIFE ....................................................................................110

THE MARKETPLACE..................................................................................136

FAMILY HERITAGE....................................................................................164

BUILDING A GREATER ENCINITAS ...............................................................186

LOCAL LEGENDS......................................................................................194

INDEX ..........................................................................................................................208

ABOUT THE AUTHORS .........................................................................................209

ABOUT THE COVER .............................................................................................210

ABOUT THE CONTRIBUTING PHOTOGRAPHERS .........................................................211

4 F E N C I N I T A S : O u r H i s t o r y a n d P e o p l e
---
ACKNOWLEDGEMENTS

Garth Murphy

Lloyd O'Connell

Mrs. Jan Grice

Pamela Hammond Walker

Irene Kratzer

Teresa Arballo Barth

Susan Hays

Richard and "Twink" Bumann

Charles Marvin III

Dave Oakley

Rachel Brupbacher:

(Great-Grand Niece to Miles Justus Kellogg)

Lorraine Anne Eden:

(Grand-Daughter of J. Frank Cullen)

Fred Caldwell

Jim Filanc

Sonja Holtman

Lois and Richard Aufmann

This timeline and publication is as historically accurate as possible using the sources mentioned on the previous page, along with

personal interviews, and on-line documents to verify and validate facts, locations and events. The publisher and the Encinitas

Historical Society are not liable for any errors or omissions.

G

PHOTO BY TO BETSY O'NEIL.

A c k n o w l e d g e m e n t s F 5
---
INTRODUCTION

B Y C A T H E R I N E S M I T H B L A K E S P E A R

M A Y O R , C I T Y O F E N C I N I T A S

When my family first moved to the area that would become Encinitas nearly 100 years ago in the 1920s, they undoubtedly were drawn

to the same magical qualities that capture our individual and collective imaginations today. Those intangibles define the place that is

Encinitas—the soft, slight coolness on the breeze, even on the hottest day; the variety in our eclectic built environment created incrementally

over many decades; the glow reflected from the seaside bluffs at sunset onto our sandy beaches; the lagoons that meet the oceans bookending

the undulating sandstone ecology; the touch and smell of our plants, reflecting both the desert and the tropics; and most importantly the

historic, founding roots of the community created by our original families. These provide the mooring for our present-day city and its culture.

My great-grandma's family moved to Encinitas, an area that was then known as San Dieguito, from the greater Los Angeles area in

order to plant, harvest, and sell flowers. Born in 1917, my grandma Dorothea Patricia Smith described many times how flower

growing was the ideal business to weather the Great Depression. Even in down times, "people will still get married and die," she'd

say, ensuring a steady source of flower-buying customers.

Encinitas has several well-known historic flower-growing families, most prominent the Paul Ecke family, who hybridized and mass

marketed the Poinsettia flower during the 1950s. Thanks to the impact of newly colorized televisions and immensely popular shows,

including the Bob Hope Christmas specials, the bright red Encinitas-grown poinsettia became the flower indelibly linked to the

holidays throughout the United States and the world.

G

The 2021 Encinitas City Council raising the flag, from left to right: Joy Lyndes, Tony Kranz, Mayor Catherine S. Blakespear, Joe Mosca, and Kellie Hinze

6 F E N C I N I T A S : O u r H i s t o r y a n d P e o p l e
---
In addition to the pioneering Ecke family, there were dozens of smaller flower-growing players, like my grandma's family. She and

her family would get up in the stillness of the pre-dawn hours to drive their flowers—mainly gladiolas, which she called "glads"—to

the Los Angeles Flower Market. Long after many types of flowers had moved indoors to be nurtured safely within greenhouses,

gladiolas remained a local outdoor row crop.

Over the last 70 years—from the post-war 1950s boom to the go-go 1980s and through to the slower-growth movements of

today—Encinitas has experienced nothing short of a complete transformation. Instead of growing plants, the land now sprouts homes

and businesses. But the essence of our beloved hometown remains resolutely intact.

As Encinitas transformed, my family mirrored its path over four generations. While my great-grandparents were flower farmers,

my grandparents moved into construction. Their family business, "Smith Construction Company" was the largest employer in Cardiff

in the 1950s, building schools, bowling alleys, and roads. My parents pursued professional degrees to become attorneys; and I work

as the mayor of the City of Encinitas and also as a practicing attorney. The question for all of us is the same—what will my children,

and our city's children, do and become? What will Encinitas do and become?

I believe that the key to the healthy, long-term evolution of the City of Encinitas is our community's reckoning with its inevitable growth.

Together, we are committed to preserving the magical essence that defines Encinitas. Our challenge is to shape the future to ensure our vitality

and continued high standard of living. At nearly every stage, the sentimental reflection on an idyllic past can thwart the best-intentioned

efforts toward beneficial change. The art of positive progress lies in the delicate balancing of both preservation and enhancement.

With our future in mind, the city in 2019 has dedicated itself to providing more homes for residents at all income levels, with a particular

focus on housing for middle and low-income workers. A vibrant city accounts for all its residents; it does not shut the door on people.

We are also conscientiously working to maximize the potential of our historic rail corridor for transportation, the economy,

recreation and pleasure. The railroad laid down its first tracks in the 1880s, literally putting Encinitas on the map between the

Mexican border and Los Angeles. Now, almost 150 years later, living with a railroad that bifurcates our coastal community increasingly

challenges Encinitas to get creative when it comes to sharing physical and auditory space, and facilitating the flow of residents across

and through this busy corridor, whether on bike, foot, train or in a car.

In order to improve our city's environment, and the health of our largest eco-system, the planet, Encinitas has committed to an

ambitious program of greatly reducing the amount of emissions we produce. Our lauded "gold-standard" climate action plan relies on

more bike lanes and walking paths, more trees, less driving, more recycled water and cleaner power sources.

When the people of Encinitas came together in 1986 and decided at the ballot box to become an incorporated city instead of an

insignificant part of San Diego County, we laid claim to our right to self-determination. Now in our five distinct communities—Old Encinitas,

Leucadia, Cardiff-by-the-Sea, New Encinitas, and Olivenhain—we continue to define for ourselves our shared future and how our city looks

and feels.

This photo journal reminds us of the historic and diverse cloth that created the present; it's a colorful tapestry that we're all a part

of today. Looking back is a soul-nourishing pleasure, and importantly it provides the insight we need when we face forward. As we

walk the path to the future together, I have no doubt that Encinitas will continue its dynamic evolution, inspired by the footsteps

of those who came before us.

G

Catherine Blakespear's family: uncle,

Raymond Elstad; aunt, Rosemary

Kimbal; grandmother, Dorothea P.

Smith (seated in the chair); mother,

Tricia A. Smith; step-father Richard

Cottrell; Catherine Blakespear;

son, Oliver; daughter, Ava; and

husband, Jeremy.

PHOTO COURTESY OF RAYMOND ELSTAD.

C h a p t e r 1 F 7
---
G

An artistic "then and now" look at Encinitas, the murals can be found at on the 7-11 building at D Street and 101 by Artist Micaiah Hardison.

IMAGE COURTESY OF DAPHNE FLETCHER.

8 F E N C I N I T A S : O u r H i s t o r y a n d P e o p l e I n t r o d u c t i o n F 8
---
CHAPTER 1

I N T H E B E G I N N I N G : T H E E A R L Y Y E A R S

B Y G A R T H M U R P H Y , N A T I V E A M E R I C A N H I S T O R I A N

The people we call Native Americans arrived in Southern California at least 13,000 years ago.

They came on foot from the north, crossing from Siberia on a snow-covered land bridge during the

last ice age, when the sea levels were 30 to 100 feet lower than today. "The People", as Native

Americans called themselves, rapidly spread east and south, from Nova Scotia to Tierra Del Fuego at

the tip of South America—still walking—horses would come later with the Spanish. San Diego

County became a permanent home for these nomadic people. This area offered a temperate climate;

seven major rivers flowed from the Sierra to the sea with a natural wealth of available animal and

plant food on the land from the rivers. Estuaries and the ocean provided enough to support a healthy

population of tribal bands speaking five distinct dialects and numbering in the tens of thousands.

In the north county there were 111 native townships when the Spanish arrived in 1769, according to

Spanish Mission records from San Luis Rey. This territory included Encinitas. A native village called Hakutl

centered on Moonlight Beach at the mouth of Cottonwood Creek. There were other large villages nearby.

The Jeyal people settled at the back of San Elijo Lagoon and the Ajopunguile at the east end of Batiquitos

Lagoon. Fresh water flowed into the brackish estuaries that define Encinitas' current boundaries.

The Hakutl people found the area special because they had a permanent spring-fed creek that

provided sweet fresh water directly into the sea—no lagoon. The Hakutl people could thrive at the

G

By the late 1700s, the Native

American population of the Encinitas

region numbered tens of thousands.

The native town of Hakutl near

Moonlight Beach at the mouth of

Cottonwood Creek, between the

Kumayaay and Luiseno tribes. The

Hakuti were close enough to

Batiquitos and San Elijo Lagoons to

harvest their estuaries' bounty of fish,

shellfish and fowl.

ARTIST MICAIAH HARDISON

C h a p t e r 1 F 9
---
G

Artist's renderings of Native

Americans who inhabited the

Encinitas area.

ILLUSTRATIONS BY DAVID HOUSE.

ocean's edge. Hakutl people were still close

enough to Batiquitos and San Elijo lagoons to

harvest the estuaries' bounty of fish, shellfish and

fowl without having to deal with the torrential

winter floodwaters that came from these larger

rivers. Hakutl also had west facing and frost free

highlands where Cottonwood Creek traverses its

way to the beach. A temperate year-round microclimate

extended from lagoon to lagoon. All of

this made for a pleasant living environment in

recyclable grass huts.

The natives of Hakutl lived very close to the

ill-defined border between the two great coastal

tribes, the Kumayaay, or Diegano, what the

Spanish called them. The Luiseño, the northern

tribe, were associated with the San Luis Rey

Mission whose territories extended east to the

Sierra and north to Rancho Santa Margarita y

Las Flores, now Camp Pendleton. The

Kumayaay occupied a vast tract straddling the

border from Ensenada to the San Dieguito River,

just three miles south of Encinitas. The eastern

tribes were the Yuman, Kuupiaxchem, and the

Cahuilla whose territories covered the east side

of Sierra to the Colorado River.

By 1769 these tribes were no longer

nomadic. The land was rich and they did not

have to go far for food. The tribes lived at peace

most of the time as tribal skirmishes were

sporadic and short lived. The People moved

within their boundaries seasonally, mountains

to the sea trading food, tools, shells, beads and

seeds. Native villages and tribal bands were run

as simple democracies with elected chiefs for

both men and woman. A large tribe was divided

into moieties. There were two groups, the

1 0 F E N C I N I T A S : O u r H i s t o r y a n d P e o p l e
---
coyotes and the wild cats, best described as

fraternal orders. Marriage had to be with a

member of the opposite group.

Hakutl residents, as with other San Diego

natives, cultivated and consumed the acorn.

This nutty seed of the oak tree provided their

diets with a calorie-rich staple. Acorns were

soaked to remove the bitter tannins, dried and

ground on a stone to create a flour to make

nutritious porridge or patties roasted on a fire

heated rock. The acorn diet staple was

augmented with creek-side greens, berries,

roots and grass seeds, as well as game birds.

They hunted animals large and small from rats,

possums and rabbits to antelope, deer and elk.

The valley east of the Hakutl village held the

big game and the huge oaks produced bushels

of acorns. The wild back country valleys were

also grizzly bear and mountain lion habitats.

The bears were respected by The People as

equals and were not hunted. California's state

flag carries the extinct grizzly bear's image in

their honor, a surviving vestige of this native

cultural ethos.

Horticulture practiced by The People of

Hakutl included controlled burning to preserve

the oaks and to aid in grass seed collection for

trading and planting. A symbolic handful of

seeds were given to a bride when asked to marry.

Woman did most of the planting, harvesting and

gathering. Hakutl women would gather supplies

in a flexible bag each day with the natural

resources that provided about 65% of their diet.

Women did the food preparation as well as house

building and maintenance and production of

their clothing. In a society where all movement

was on foot, mobility and safety depended on

everyone being able to walk and carry something.

Bands of The People would gather at the coast

just south of Hakutl for the yearly Torrey Pines

G

Reproductions of early Native

American dwellings can be found at

the San Diego Botanic Gardens and at

the San Dieguito Heritage Museum.

C h a p t e r 1 F 1 1
---
G

This "wikiup" is an example of a

typical coastal Indian dwelling found

around Encinitas.

Festival when the pine cones were ripe. There

they could socialize, find mates, trade and feast

on the fatty Torrey Pine nuts that grew nowhere

else on California's mainland. Such events were

also a chance to discuss the alarming invasion of

white and black immigrants. They developed a

code of smoke signals to identify the arrival of

ships. The Hakutl had prime sea observation

posts from the tall seaside bluffs.

The Spanish and their missionaries ruled

California and the Hakutl from 1769 to 1822.

During those 53 years the missionaries and the

missions were controlled by Spanish king's

agents. The goal of the Padres was to convert the

natives to Christianity, educate them and make

them servants of the king. Under Mission rule,

the isolated native population in San Diego

County had been severely depleted by invasive

European diseases. Population fell from 20,000

to 5,000 in 1822. During a 24 year period from

1822 to 1846, known as the Mexican Rancho

Period, the Californios ruled themselves. The

Missions of San Diego and San Luis Rey created

twenty-two land grant ranches. Rancho

Encinitas was one of those land grants owned by

the Ybarra Family. The People of Hakutl, now

part of Rancho Encinitas, worked at the

haciendas as ranch hands or servants. This was

a low point for a proud race. In 1846 the

Americans conquered California with an army

of 120 men and a few naval warships. In 1848

the signing of the treaty of Guadalupe-Hidalgo

gave all Mexicans in California US citizenship.

Many educated natives claimed their rights too.

That same year the discovery of gold began the

rapacious California Gold Rush. The first census

in 1850, after California became a state, there

were reported only 30,000 natives left in the

entire state...down from 400 thousand.

Oak trees in Spanish are encinos. Encinitas

means little live oaks after those important oak

trees that flourished in abundance along

Cottonwood Creek and the surrounding valleys.

Encinitas became a platted township thirtythree

years later in 1883. Permanent fresh water,

along with plenty of oak firewood, the first

steam engine train arrived in Encinitas.

The Hakutl people were gone for good.

1 2 F E N C I N I T A S : O u r H i s t o r y a n d P e o p l e
---
G

Top:.Because of our coastal desert

climate, the natives did not need to

wear layers of clothing. Very little

coverings were required for both men

and women.

COURTESY OF GARTH MURPHY.

Bottom: A gathering place for women

preparing acorn, nuts and herbs using

the metate (mealing stone).

COURTESY OF THE SAN DIEGUITO HERITAGE

MUSEUM AT HERITAGE RANCH

C h a p t e r 1 F 1 3
---
G

Top and bottom: Early Native

American mortar and pestle exhibit.

COURTESY OF THE SAN DIEGUITO HERITAGE

MUSEUM AT HERITAGE RANCH

1 4 F E N C I N I T A S : O u r H i s t o r y a n d P e o p l e
---
CHAPTER 2

E N C I N I T A S I S B O R N : 1 8 5 0 - 1 8 9 9

By the time California became the 31st state of the Union in 1850, Encinitas as we now know it

started to take shape. America continued to move west, bringing innovation and new settlers looking

for a new place to call home. Early outposts in what were to become Leucadia, Encinitas, Olivenhain

and Cardiff started to appear. By the time the 1880s rolled around, the region started to see

accelerated growth, led by the new Santa Fe railroad. Encinitas' first school house, our beloved 1883

school house, was built. The early settlements of Olivenhain and Leucadia started to take root.

Agriculture started to develop, boosting the local economy.

G

The 1800 Schoolhouse. The original

one room schoolhouse sat neatly atop

the highest part of the western bluff.

Originally the building faced east to

west with the doors facing east. Two

doors, one for girls and one for boys.

When the building was moved back to

its current location it had to face

south to north, although only 100 feet

from its original location.

C h a p t e r 2 F 1 5
---
1850 ä

• California becomes the 31st state on September 9th.

1869 ä

• Encinitas stagecoach station is established along El Camino Real (King's Highway).

1870 ä

• Leucadia Roadside Park is created. This is the oldest park in Leucadia. It was

once known as "Spirit Woods". It is reputed to have been the outdoor meeting

place for the English Spiritualists, a very popular movement in the mid-1800s.

1875 ä

• Nathan Eaton, a New Yorker, is the first to settle on the south shore of

Batiquitos Slough in Leucadia. He is a successful bee keeper and names his

plot of land Eatonsville but is often referred to by locals as Eaton's Canyon.

• Hector and Sara Cray MacKinnon (and three toddlers) homestead 600 acres

two miles south of Encinitas near San Elijo Lagoon from the beach to what is

now I-5 in Cardiff. They are instrumental in developing a school there. The

first classes are held in their barn. Hector sells some of his land to James

Frank Cullen, a painter from Boston, who also becomes a developer.

G

Above: Peter Lux.

Below: Early Encinitas.

1880s ä

1881 ä

• Lemuel Cornell Kincaid, a conductor for Santa Fe Railroad, is the second

settler in the Leucadia area. He homesteads the property where the Paul Ecke

ranch is eventually established along Saxony Road.

• Encinitas is born! (named after the coastal scrub oak encinitos) California

Southern Railroad directs Thomas Rattan to lay out the town of Encinitas.

• John Pitcher and Thomas Rattan are recognized as "Encinitas Founders".

1 6 F E N C I N I T A S : O u r H i s t o r y a n d P e o p l e
---
1882 ä

• A school district is established. The founders pass a $600 bond at 6% to build the

schoolhouse for grades 1-8. Twelve votes were needed and passed unanimously.

• Merle is another name used for Leucadia. E.B. Scott's second son's name is

Merle. E.B. Scott also builds the Merle post office (that may have been at

Vulcan and Hillcrest area). A little shack in a clearing was the first school.

There were only fifteen students. Last known use of the name Merle is in

1947. It opened on July 1, 1894, and closed in 1910.

• The Railroad comes through Encinitas for the first time on August 14th. The

population at that time was only eleven.

G

Top, left: The Green Valley route for

El Camino Real.

Top, right: A summer harvest.

Below: Hammond Family Ranch.

C h a p t e r 2 F 1 7
---
G

Originally known as Noonan's Point

this impressive piece of land became

the property of the Self Realization

Fellowship in 1936 when it was

purchased as a gift for Paramahansa

Yogananda for his private hermitage.

1883 ä

• John Pitcher buys half of Encinitas and gifts 2.25 acres for a new schoolhouse.

• Edward Graham Hammond and Jane Latchford Hammond family arrive on

May 8th with their seven children, Thomas Latchford (Jane's father) and Harry

Carter. The arrival doubles the population from 11 to 22. The only buildings in

town are the combination grocery store/ticket office and three section houses

where Ben Elliott and the Chinese rail workers live. These were built by Ruben

and Sue Chaffin not only manages the store but also sells train tickets and is the

post-mistress. Most of the Hammonds settle in the area that eventually becomes

part of the Paul Ecke Ranch. There they establish the Hammond Sunset Ranch

complete with a natural spring fed artesian pond, which is still there today.

(southeast corner of Quail Gardens Dr. & Leucadia Blvd). Edward Hammond

is also an experienced cabinet maker. He constructs several buildings in the

community, including the first dedicated school building, the Pitcher House

Hotel and the Derby House (649 South Vulcan Avenue.)

• One-Room Schoolhouse (390 W. F St) is built by Mr. Edward G. Hammond

and his 17-year-old son Edward "Ted". John Pitcher had already personally

gifted this land at 3rd and "E" Streets specifically for a school on March 8th.

This 900 square foot building is made mostly out of redwood with fir for the

flooring, using handmade square nails. The "desks" are slab tables with

redwood benches. In 1890 "combined desks" replace the slab benches.

Seventeen children attend the first class. It is currently the oldest building

still standing in Encinitas, maintained by the Encinitas Historical Society.

• James Benjamin Elliott, a railroad foreman, directs Chinese train laborers in

planting acres of Eucalyptus trees shipped from Australia. Eucalyptus and

Cypress trees are planted in Leucadia from 1885-1900.

1 8 F E N C I N I T A S : O u r H i s t o r y a n d P e o p l e
---
1884 ä

• Great Flood-No Trains! In February, heavy winter rains wash out 30 miles of the

train tracks in the Temecula Valley. For nine months there is no rail

communication to Encinitas. The Chaffin's grocery store begins to run out of food.

• Everyone shares what they have and made their supplies last.

• German Colony Olivenhain is officially formed on May 21st. Sixty-seven new

German colonists arrive on November 8th. Lack of water is not what they

expected. Over the next few years Colony Olivenhain population peaks at

310. By 1887 only 80 people remain.

1885 ä

• Leucadia is named after the Greek Isle Lefkada in the Ionian island chain. The

name means "bright & shining isle of paradise" or "sheltered paradise" or

"place of refuge". These all have been noted to be the translation to describe

this area by the English Spiritualists who settled here. Surveyor, Mr. D.N.

Sanford, names the streets and a pantheon of Greek gods and Roman deity

names are scattered throughout Leucadia. By 1898 there is a schoolhouse, a

church and a railroad stop in the Vulcan and Hillcrest area.

• The Germania Hotel is constructed for $500 as a private residence in Olivenhain by

Herman Baecht and his family of twelve. It is eventually moved to the Olivenhain

Meeting Hall property in 1982. Restoration the home/hotel is complete.

G

Looking west towards the ocean, this

is the first "downtown" picture

showing the one room schoolhouse, the

church and the almost completed

train station.

1886 ä • Olivenhain School opens in Theodore Pinther's old house and is used until 1888.

• Herman Bumann homesteads 160 acres in Olivenhain. The buildings are

preserved to this day by his descendants.

C h a p t e r 2 F 1 9
---
G

Top: The Derby House.

Bottom: The Hammond Sunset Ranch,

c. 1890. Rows of apple trees along

what would become El Camino

Real in what was then known as

Green Valley.

1887 ä

• Derby House (649 S. Vulcan) is built by Edward Hammond for railroad man

Amos Gates Derby, his wife and four daughters. The completed 5,600 sq. foot

house made of redwood has seven bedrooms, a central dining room and a red

brick fireplace. The combined dining and living room ran the length of the

home. The built-in cabinets were beautifully handcrafted. It has not only

been a house but also a hotel for railroad travelers. During WWII it was

"some sort of hospital". At one time "THE HOME" was painted on the slanted

roof and was dedicated to the Eternal Brotherhood. It was a 14-room

boarding house when purchased in 1976 and is still privately owned.

• Encinitas Community Church (560 3rd St) is built on donated land by John

Pritcher and financed by the community. Later, it was moved to San Marcos.

2 0 F E N C I N I T A S : O u r H i s t o r y a n d P e o p l e
---
1887-88 ä

1888 ä

1890 ä

• The Encinitas Train Station (directly west of the Derby House) is built, along

with many other downtown stores. This period is referred to as "The Boom

Years." Over time the number of rail cars needed is greatly reduced and the

station is permanently closed January 24, 1969.

• Noonan's Point is purchased by James Noonan for $1,000 for the ten acres.

He hires Edward Hammond and his son, Ted, to build their cliff-side home.

The Noonan's raise seven children there. On a September night in 1893 the

house burns to the ground and the Noonan's move away. (This 10-acre ocean

bluff property, known as Noonan's Point, is purchased in 1936 and the

hermitage for Paramahansa Yogananda is built.)

• Olivenhain One-Room School is purchased from Fred Balzer. It is moved to

the southwest corner of 7th and Cole Ranch Road and remains active for fiftyfour

years. It was then moved to the San Dieguito High School campus and

used as a class room before being demolished in the mid 1960s.

• Cozens House (112 "C" Street) is built by Tom and Annie Cozens. Edward G.

Hammond helped his son-in-law and daughter build their home originally near

the bluff at "F" Street. In 1900, over a two-week period, they literally move the

house to where it is now just above Cottonwood Creek. There Tom could dig

a well in the small canyon below where the fresh water could be pumped .

• South Bay Shooting Club is built on Hillcrest Street in Leucadia by Fred Coutts.

G

Left: The Cozens original house

location on the bluff located

approximately at 4th and "G" Streets

prior to its move to just above and

south of Cottonwood Creek where it

sits today.

Bottom: The Cozens house today.

C h a p t e r 2 F 2 1
---
G

Eucalyptus trees such as these were

the source of many ties used in the

local railroads. Eucalyptus trees

lined the highways. These beautiful

tree canopies provided shade and

offered up the most pleasing

aroma. Unfortunately, most

succumbed to bark beetle, high winds,

and street improvements.

1893 ä

1894 ä

• Fred and Anna Teten, purchase from the colony Theodore Pinther's vacated

1885 house. For a while, Pinther's house was used as the San Dieguito Valley

One-Room Schoolhouse. In 1895 another vacated house is combined to it

adding to the square footage. This structure was saved by the San Dieguito

Heritage Museum and is now wonderfully restored on the museum property

on Quail Gardens Drive and is known as "The Teten House."

• Olivenhain Town Hall (423 Rancho Santa Fe Road) is constructed to celebrate the

colonist's ten-year anniversary. In 1916 a kitchen and bathroom are added from

the wood from the dismantled Owl Club building increasing the size to 28 feet

by 36 feet. A new floor and much needed upgrades happen in 1928. Business

meetings and social gatherings including picnics, celebrations, dances and

weddings are among the many events that still take place there. This historic

building is maintained by the Olivenhain Town Council.

1895 ä

• Green Valley One-Room School is located north of Olivenhain Road. The

building is removed when El Camino Real is widened in 1966.

1987-1917 ä

• The Copper Creek Mine was active with two shafts, 140 feet and 400 feet.

2 2 F E N C I N I T A S : O u r H i s t o r y a n d P e o p l e
---
O L I V E N H A I N

Olivenhain, "olive grove", is a beautiful name with a contrary meaning. Open spaces and lots

of it...land as far as the eye could see. A man could homestead 160 acres. Many tough families

did try to make a go of it growing the "promised" olives, but alas there was a lack sufficient water.

This land was more arid than grove-like. Five years later the population dropped from three

hundred-ten new settlers down to just eighty die-hard farmers who chose to remain on the

parched land. Wells were dug, but eventually dry farming was introduced with lima beans.

Springing up over the rolling hills came shanties, a local school, a town hall and a hotel. Some

of the descendants of those hearty early Olivenhain pioneers still live in the area. They hold the

rights to be buried in their own private cemetery. The Olivenhain Town Hall is still the center

piece of community activity. Locals gather yearly to celebrate their German roots with an

authentic Oktoberfest. Water did eventually come via the pipe-line, but not until 1961.

Immediately the area boomed. Large estates replaced grasslands and fields. The Colony

Olivenhain still has a farm feeling though with horses, goats, turkeys, chickens and a few cattle

in the back yards of many of the properties on this quiet rolling "back county".

G

The Olivenhain Town Hall, built in

1894, was the main gathering place

for settlers. It was placed on the

National Register of Historic Places

in 1993.

C h a p t e r 2 F 2 3
---
G

Above: Dressed in their Sunday

best, these early pioneers pose in

typical attire.

Right: Farmers bringing cattle to the

once free flowing La Bajada Creek.

2 4 F E N C I N I T A S : O u r H i s t o r y a n d P e o p l e
---
G

Top: Miles Justus Kellogg's home on

Second Street. Note the Boat Houses

in the upper right-hand corner.

Above: A formal portrait of Miles

Justus Kellogg.

Left: Local miners finishing a shift at

The Copper Creek Mine, operating

from 1897 to 1917.

C h a p t e r 2 F 2 5
---
G

Early image of Encinitas farmers. R A N C H O D E L O S E N C I N I T O S

Rancho de los Encinitos, a Mexican land-grant of one square league or 4,431-03 acres, was

given to Andrés Ybarra by Governor Alvarado on July 3, 1842, and a United States land-patent

was granted on April 18, 1871. Being halfway between the mission at San Diego and that of San

Luis Rey, it proved to be a convenient stage station, where horses were changed. In later years,

it became a train stop for the California Southern Railroad.

Attention was drawn to the ranch when an ostrich farm was established there. On February

21, 1884, the National City Record said: "The ostriches have laid 10 eggs since they arrived at

Encinitas. The boss egg weighed 3 lbs. and 11 oz." The ostrich venture must have been of short

duration, for on August 24 of the same year, Kimball Brothers ran an advertisement in the San

Diego Union: "Rancho Encinitas, 4,400 acres. The best ranch for its size for a Colony."

Colonization was a favorite method for settling land, during that period.

The advertisement was answered by Theodore Pinther, favorably known in Colorado, who

was planning to organize a colony. With several others, Pinther arrived in San Diego September

27, and Frank Kimball showed them several locations. "Took the party to Jamul," he noted in

his records, "Also to Otay and then went to Encinitas and examined the springs in the northeast

corner; then went down the east side to the southeast corner, then up to the location of the dam

across Elijo Creek, through the valley and nearly to the ocean. The stage overtook us at San

Dieguito, and we came home." Two days later he recorded: "At work on the Pinther Colony

scheme." The following day the National City Record mentions the name of the colony at

Encinitas as "Olivenhain."

On October 3 Kimball was in San Diego and saw the Articles of Incorporation for the Colony

and received $400 to bind the bargain on the sale of the Encinitas Rancho for $65,000. The

contract was made by Pinther, Conrad Stroebel, Paul Flossig and others. So began the

Olivenhain venture; shortly afterward, a courageous little group left their homes in Colorado, for

the new colony. On November 8 Kimball noted that he had "Carried apples to the first

installment of Colony Olivenhain which came down by steamer. Consisted of some 60 persons,

including children."

2 6 F E N C I N I T A S : O u r H i s t o r y a n d P e o p l e
---
CHAPTER 3

E N C I N I T A S G R O W S U P : 1 9 0 0 - 1 9 1 9

El Camino Real (The Kings Highway) has grown to become the central route for travel and commerce.

The railroad continues to grow, connecting the region with the rest of the state. The economy

continues to expand with the harvesting of kelp as another cash crop supporting the area. Cardiff is

starting to become the community we know today. Electricity comes to the region, providing light

and energy to fuel the next wave of development for the region.

G

Above: A typical foggy morning along

the south bound train tracks rolling

into Encinitas.

C h a p t e r 3 F 2 7
---
1905 ä

1906 ä

• El Camino Real is now the main road going north to south.

• Lima Beans are introduced as a dry farm crop in Olivenhain. The fields would get

enough moisture from the coastal mist for the lima bean crops to survive. Lima

bean farming became extremely successful and annually farmed for over 50 years.

• Southern California Railroad becomes a subsidiary of The Acheson, Topeka

& Santa Fe Railroads.

G

Right: Early settlers built small

wooden homes dotting the landscape

from the coast to Olivenhain.

Bottom: Early Cardiff looking north.

Note the historic Cardiff Mercantile

Building to the right.

2 8 F E N C I N I T A S : O u r H i s t o r y a n d P e o p l e
---
1908 ä

• Lone Jack Road has a very interesting history. A real estate salesman named Mr.

Muir purchased a 160-acre homestead in Olivenhain. His ranch has a few head

of cattle and a mule named Jack. One hot, dry and windy day, a wildfire starts

to sweep across the ranch. Muir tries to get Jack across a narrow canyon to head

off the cattle. Jack won't move. Suddenly the canyon flashes into flames! He

realizes then that Jack has saved his life. Out of respect, Muir names his ranch

then the road after Jack. Muir sells the ranch in 1915, but the name sticks.

G

Above: The trains started coming

through Encinitas for the first time on

August 14, 1882. The Hammond

Family arrived with eleven members

on May 8, 1883, literally doubling

the population.

1909 ä

• Encinitas Schoolhouse Annex is added to the 1883 one room school. This

new entry addition is used for coats, books and teacher materials.

C h a p t e r 3 F 2 9
---
G

The Encinitas baseball team, 1912.

1911 ä

• Cardiff resident James Frank Cullen, purchases land from Hector MacKinnon,

and names his tract of land Cardiff. Encouraged by his wife, Esther, they

name the streets after places in the British Isles, Cambridge, Edinburg and

Oxford, to name a few. The family home is built on the corner of Oxford and

Norfolk. Mr. Cullen also builds a hotel overlooking the bluff, as well as a 300-

foot wooden pier south of the campgrounds and a bathhouse in 1912. The

pier is later destroyed in the fierce winter storms of 1916-1917.

• Mr. Victor Kremer, music publicist/developer, names the streets after composers

such as Verde, Liszt & Mozart. The lots cost $30. or $45. for a corner lot paid in

six equal payments. Kremer is also credited for adding "by-the -Sea" to Cardiff.

• Cardiff Mercantile (2185 San Elijo Avenue) building is also a project of J.

Frank Cullen. He builds the Cardiff Mercantile Building reminiscent of

Victorian English seaside architecture. He visualized it as a hotel for artists

with the first floor designed as a grocery store.

1912-15 ä

• Cardiff Kelp Processing Plant is built 300 feet south of the present-day

intersection of Kilkenny and San Elijo Ave. It processed seaweed for its many

food and industrial chemicals, such as iodine for use during WWI.

3 0 F E N C I N I T A S : O u r H i s t o r y a n d P e o p l e
---
G

Top: Downtown Encinitas, c. 1916.

Middle: Coast Highway Downtown

Encinitas, c. 1910. The coast highway

was a dirt road until 1913 when the

two-lane concrete road was

constructed running from San Diego

to Oceanside.

Bottom: The Cardiff Mercantile was

designed to resemble Victorian English

architecture. It was built in 1911 by

J. Frank Cullen.

C h a p t e r 3 F 3 1
---
G

Top, left: Albert Lickert, c. 1912. This

is at the corner of East Street and El

Camino Del Norte in Olivenhain.

Top, right: Encinitas pioneer

Herman Wiegand (1890-1993).

The Wiegand family cultivated

farmland in Olivenhain near the

turn of the century.

Right: A couple enjoys the beach

c. 1910s

1913 ä

1914 ä

• Highway 101, a two-lane concrete road, is constructed from S. D. to Oceanside.

• Cardiff-by-the-Sea School District is established.

• Cardiff Train Depot is built. Architect, Del W. Harris of San Diego designs the

mission style depot. It has four rooms and is built on a cement foundation, with

cement floors, plastered exterior and a tiled roof. Located slightly north and

west of the Cardiff Mercantile just east of the railroad tracks. In the mid-1940s

the depot is partially demolished. A section of the building, probably the ticket

booth, is moved to "A" and Fifth Streets to become part of a house in Encinitas.

• 1st Branch Library of San Diego County opens on October 13th in the first

floor of the Cardiff Mercantile building.

3 2 F E N C I N I T A S : O u r H i s t o r y a n d P e o p l e
---
E N C I N I T A S F U N F A C T S

A L' S B A R B E R S H O P

G

Above: Proud family posing next to

their home in downtown Encinitas.

In 1920, Grant Ulysses Johnston played a lucky hand of cards at the Encinitas Pool Hall and

won Al's Barber shop in Encinitas. Grant had to quickly change his name to Al for all to believe

it. Al's barbershop became the hottest stop during this time for gossip and "friendly" cardplaying.

Haircuts for men and women were only 35 cents and a shave went for 15 cents. This

barbershop is now a part of the San Dieguito Heritage Museum located in Encinitas.

Below: Encinitas Hotel and Clayton

Drugstore shared retail space with

Al's Barbershop.

C h a p t e r 3 F 3 3
---
G

Top: The Mission School was built in

1916 in front of the 1883 one-room

school. It served as an elementary

school until 1936, then became the

temporary San Dieguito High School.

In 1953 it was moved to become part

of the Self Realization Fellowship.

Bottom, left: Portrait of the Amos

Gates Derby's wife and four daughters

at the turn of the century.

Bottom, right: Local Encinitas family

posing in their Sunday best.

3 4 F E N C I N I T A S : O u r H i s t o r y a n d P e o p l e
---
1915 ä

1916 ä

• Lake Hodges Dam begins construction. Due to the flood damaged railway

lines and bridges, the dam is built at the narrows of the San Dieguito River

just above Rancho Santa Fe. It is completed in 1918.

• Electricity comes to Encinitas via a trunk line from La Jolla.

• George's Lobster Inn (Cardiff's Restaurant Row), formerly The Beacon Inn, is

built using the wood from the kelp processing plant. It has been a bar,

restaurant, and gambling establishment. Hollywood stars such as Peter Lorre,

Betty Grable and Jimmy Durante like the Inn and often stop on their way to

San Diego.

• The Mission School is built adjacent to the original 1883 one-room

schoolhouse. This serene mission-style building is located on the hill

overlooking downtown at 3rd and "E" Streets. A campanile bell tower fronted

the school. This new school is needed for the increasing number of students.

It serves as the elementary school until 1936. The school then becomes a

temporary high school until San Dieguito High is built. Some sections of the

building are moved to its present location at "J" and 2nd Street in 1953 and

is owned and operated by the Self Realization Fellowship, where devotees

restored it.

G

Above: Wenz Apartments/Danforth

Building, c. the 1930s. The Danforth

Building still stands today on the

northwest corner of Coast Highway

and E Street.

PHOTO COURTESY OF THE DANFORTH FAMILY.

1918 ä

• Originally the Wenz Apartments, now known as the Danforth Building, has

been in Encinitas since 1918 on the corner of First Street (Main Street

Highway 101) and E Street. The southbound Greyhound bus stop was in front

of the building and tickets were purchased in the building's gift shop. It

included all that was needed for everyday life. The Market was open to the

street, with a fruit and vegetable stand across the front, where you could buy

a glass jar of milk and a loaf of bread for about 10-cents.

C h a p t e r 3 F 3 5
---
G

Above: James Frank Cullen's majestic home once stood alone in Cardiff when built in 1911. It is now surrounded completely by modern homes and developments.

3 6 F E N C I N I T A S : O u r H i s t o r y a n d P e o p l e
---
G

Top: Encinitas Garage on Coast

Highway c. 1910s

Middle: Known as George's Lobster

Inn (formerly the Beacon Inn) was

built in 1916 with recycled wood from

the closed kelp processing plant.

Bottom: Art Cole Hauling Hay in

Olivenhain c. 1918.

C h a p t e r 3 F 3 7
---
G

Right and below: Life in Encinitas is

booming as families discover the

wonderful mild temperatures of our

coastal desert climate.

3 8 F E N C I N I T A S : O u r H i s t o r y a n d P e o p l e
---
CHAPTER 4

T H E F L O W E R C A P I T A L O F T H E W O R L D : 1 9 2 0 - 1 9 2 9

With Lake Hodges now in service, water for irrigation and home use was now readily available.

Water allowed agriculture to flourish, driving the local economy. The Paul Ecke Ranch was established,

bringing world famous poinsettias to the region. Downtown Encinitas started to flourish

around the growth of Highway 101. This is the era of the La Paloma theater and the Boat Houses.

G

An aerial view of Encinitas, c. 1928.

C h a p t e r 4 F 3 9
---
G

Top: A Williams & MacPherson

Subtropical Nursery display at a

flower show.

Bottom: The Ecke Family changed the

course of Encinitas history when Paul

Ecke Sr. and wife Magdalena

established their poinsettia ranch

along Saxony Road in 1923. This

"Christmas flower" becomes a

traditional addition in homes and

businesses during the holiday season,

now literally all over the world.

C. 1920 ä

1922-23 ä

1923 ä

• Leucadia Beach Inn (1332 N. Coast Highway 101) is designed in the popular

horseshoe shape. It is now fully restored by owner Charles Marvin and continues

to be the oldest continuously operating auto park style motel in California.

• Water for the coastal areas from the completed Lake Hodges Dam comes to Leucadia

allowing flowers and agriculture to flourish along with another population boom.

The new San Dieguito Mutual Water Company brings water to downtown Encinitas.

• Paul Ecke Poinsettia Ranch (Saxony area) is established. Paul Ecke Sr. and his

family had been growing poinsettias in Hollywood since 1919. Mr. Ecke buys 40

acres at $150 an acre that previously had been the Lemuel Kincaid Ranch. Most

of the world's poinsettias originated from the Paul Ecke Ranch. The Ecke family

ranch house is designed by Lillian Rice and is built in 1935. Lillian Rice buildings

are historic in Rancho Santa Fe. The house still remains on the property.

4 0 F E N C I N I T A S : O u r H i s t o r y a n d P e o p l e
---
1924 ä

• Mid-Winter Flower Festival is started by Thomas McLaughlin in February.

• For eight years this annual event attracts crowds from all over Southern

California to the downtown area along Highway 101. The 1932 depression

unfortunately brings the event to a close.

• Egyptian House (959 Cornish) is built by Mr. Steele after being affected by the

"Tut-mania" and the discovery of Tutankhamen's tomb in 1922. The entrance to

the home is flanked by two Egyptian-style papyrus columns. Cobra goddesses

with vulture wings rest above the windows, while a cobra and globe lie above the

entryway. Two pilasters contain bas relief fruit, vegetable and animal shapes, along

with Egyptian hieroglyphics. A similar style home is at 1239 San Dieguito.

G

Above: Highway 101 in Encinitas,

c. 1928. By the mid '20s downtown

Encinitas was thriving with many

locals starting their family business

along the coast highway. Encinitas

was becoming self-sufficient with

services and goods being available to

the active downtown district.

PHOTO COURTESY OF BETSY O'NEILL

1925 ä

• Encinitas Hotel is built. It is noted that the lower floor is used for the 8th grade

overflow. It originally had three stories, but the third floor becomes invaded by

bats and is removed. This recycled wood helps build the dance hall at Moonlight

Beach. When that was taken down, some lumber went to build the Boathouses.

• Dance Pavilion and Bath House is built by Aubrey Austin and deeded to the

public. He also is the developer who designs and builds the La Paloma Theater.

• Dr. Charles Victor Lindsey is Encinitas' first doctor. He establishes his

practice assisted by his wife, Mary, who is a nurse. From that point on he is

the only doctor to deliver babies born here through 1941.

C h a p t e r 4 F 4 1
---
1927 ä

• Glen Park (2149 Orinda, Cardiff-by-the-Sea) is deeded to the County of San

Diego. Frank Cullen manually excavates the wash to help create the park.

This property once housed the Cardiff Library in the newly built Scout Hut.

Over the years the children's play area and tennis courts are added.

• Central School in Leucadia is completed (renamed Paul Ecke Central in 1986).

G

Right: The Aubrey Austin building,

which brought to Encinitas the

La Paloma Theater, has remained

one of our most treasured and

iconic buildings on Coast Highway.

Still standing today, the building was

built in 1928. This Spanish Mission-

Art Deco design still attracts

popular films, performances and

special events.

1928 ä

• La Paloma Theater "The Dove" (471 So. Coast Highway 101) hosts its Grand

Opening on February 11th. Costing $50,000 to build, this beautiful theater of

Spanish Mission and Art Deco design, is built by Santa Monica banker, Aubrey

Austin. It is one of the first theaters to show "talkies." The theater is equipped

with a beautiful pipe organ and vaudeville stage. Reported as "the most exciting

night in downtown Encinitas history." Over the years many performers have

graced its stage. Known then as the "Broadway of the Pacific", this is referred to

historically as the Aubrey Austin building as it is occupied by other businesses.

• Original 1883 One-Room Schoolhouse is sold to George Roberts for his

"country home". It was moved to the corner of 4th and "H" Streets.

Bottom: The Coast Dispatch

newspaper covered everything

Encinitas, literally all events including

children's birthday parties. In the

beginning it had a circulation of 125.

4 2 F E N C I N I T A S : O u r H i s t o r y a n d P e o p l e
---
1927-28 ä

• The Boathouses (726 & 732 3rd Street) are built by Miles Minor Kellogg and

his son, Miles Justus Kellogg. These iconic boats on 3rd Street are built with

recycled lumber from the Moonlight Beach Dance Pavilion and Bathhouse

that was dismantled. Miles Kellogg's Michigan family background included

captains, sailors and boat builders. Each houseboat is 52 feet long and has

two bedrooms, a loft, 1½ baths and a kitchen. The SS Moonlight and SS

Encinitas are perched on the west side of 3rd between "F" & "G" Streets

facing east.

G

Above: Miles Minor Kellogg.

Left: Using scrap wood from the

Moonlight Beach Dance pavilion

Miles Justus Kellogg builds these

whimsical boats on 3rd Street. In

October 2019 they were placed on the

National Register of Historic Places.

C h a p t e r 4 F 4 3
---
G

Above: As life is thriving along the

coast highway, Olivenhain becomes

dotted with cattle ranches and dry

bean farming. With wide open spaces,

and very little coastal moisture,

settlers relied on wells for water as

they struggle to survive.

1928 ä

• The Encinitas Sign is erected across Highway 101 south of "D" Street as the

brainchild of T.J. Lewis. In 1937 it is removed to widen Highway 101.

• The Rupe Building, (137 West "D") a white art deco building, is built by Miles

Kellogg. When Mr. Rupe brings his family here in 1913, he opens a small

grocery store at Highway 101 and D Street. He always dreamed of a larger

store. Mr. Rupe builds his new store across the street at 2nd and "D" Streets.

It offers a variety of services from groceries to hardware and even a pool table.

When the Great Depression hits three years later he loses everything.

Below: Looking north toward the

Lotus Gardens at the Self Realization

Fellowship Hermitage.

1929 ä

• The Aldrich Castle (southwest end of "H" Street) is built by Dr. Richard Aldrich,

an art historian, on this one-acre site atop the 400-foot bluff. It is also referred

to as "Casa San Lorenzo". Dr. Aldrich died in 1976 and developers purchase his

iconic home with plans to build six two-story condominiums. They were

eventually successful after a major public outcry to save the "castle" failed.

• The Coast Dispatch is started by Archie J. Hicks, Sr. It had a circulation of 125.

In 1954, his son Archie Hicks, Jr. takes over the publishing.

• First Heritage Tree is planted on Requeza Street near Stratford Drive. It is a

Cock Spar Coral and is planted by Bertrand and Margurite Butler. It is

dedicated as an official Heritage Tree in 2010.

4 4 F E N C I N I T A S : O u r H i s t o r y a n d P e o p l e
---
G

Top: Moonlight Beach, c. the 1920s.

Moonlight Beach still attracts

visitors and locals alike to its gentle

sandy shoreline.

Left: General store, c. the 1920s,

Leucadia roadside park.

L E U C A D I A

Eatonville, Eaton's Canyon, Merle, then, finally Leucadia. Named after the Greek Isle, Lefkada, this name has a litany of translations:

"bright and shining isle of paradise," "sheltered paradise" or "place of refuge". All have been used in translating what the English

Spiritualists meant it to be when they settled here. Leucadians have maintained the "spirit woods", this area's oldest park, Leucadia

Roadside Park. The train used to stop here, too. The last known signage for this town, when it was called Merle, was at the closed train

stop. Greek gods and Roman deity street names are scattered throughout Leucadia. Once there was a shooting club up in the hilly area.

Wonderful roadside motels dotted the old highway 101, providing rooms for the many travelers. There was even a cafe resembling

Noah's Ark, with painted plywood life-sized shapes of animals dotting the hillside. The poinsettia and flower industry put Leucadia on

the map. The Ecke Ranch was ground zero for the best poinsettia operation in the world. Many other farmers in the flower industry

thrived here, easily making this The Flower Capital of the World. Art studios, antique shops, shell shops and local cafes occupied most

of the buildings along the highway. Today Leucadia is best known for its successful summertime Art Walk. A menagerie of "this and

that" proves to be an appropriate descriptive motto that Leucadians hang on to: "Keep Leucadia Funky."

C h a p t e r 4 F 4 5
---
G

Cardiff Beach, looking north along the then-dirt highway towards Swami's Point, Restaurant Row and San Elijo Campground now fill this landscape.

4 6 F E N C I N I T A S : O u r H i s t o r y a n d P e o p l e
---
G

Top: Nearly the entire community

turns out for the annual Dinner Time

Flower Show. This picture was taken

in 1928.

T H E M I D - W I N T E R F L O W E R F E S T I V A L

The Mid-winter Flower Festival is started by Thomas McLaughlin in February of 1924. This

annual event attracts flower growers and flower lovers alike from all over California. The Mid-winter

Flower Show was incorporated in 1928 under California law. This event encompassed several blocks

in the area of town now known as "The Lumberyard." The Great Depression caused the demise of

the event in 1932.

C h a p t e r 4 F 4 7
---
G

Above: Downtown Encinitas looking

west from E Street. The lot at right is

the current home of the Encinitas

Civic Center.

Right: One of the earliest known

photos of the original downtown

Encinitas sign. The original Encinitas

sign shown here was erected in 1928.

The sign was removed when Coast

Highway was widened in 1937.

4 8 F E N C I N I T A S : O u r H i s t o r y a n d P e o p l e
---
CHAPTER 5

T H E G R E A T D E P R E S S I O N A N D W A R Y E A R S : 1 9 3 0 - 1 9 4 9

Though the region continued to expand, the Great Depression impacted the community as people

looked for ways to feed the poor, led by local churches. But the growing community continued to

keep an eye on the future, as San Dieguito High School opened up and Highway 101 expanded to

four lanes.

Encinitas played a role in defending our Coast from attack by the Japanese, with outposts and foxholes

entrenched along the coastline. But the resilience of the local citizenry wasted no time in recovering

from the war, bringing electricity to Olivenhain. Encinitas' surf roots started to grow, bringing

a new lifestyle and culture to the region.

G

Encinitas from above.

C h a p t e r 5 F 4 9
---
D A L E Y D O U B L E S A L O O N

If you are interested in stepping back in time and getting a feel for what Encinitas was like in

days long past, all you have to do is pay a visit to the Daley Double Saloon at 546 First Street.

The Daley Double Saloon qualifies as one of the most unique and historical buildings in

Encinitas. It's the site of Encinitas' first and oldest bar, as well as the second oldest downtown

business in Encinitas (second only to the La Paloma Theater) and is a place where time appears

to have stood still having changed very little over the years.

Historical records show that the building the Saloon is housed in was built in circa 1915 and

that this location has always been a drinking establishment.

G

Top: The art deco bar at the Daley

Double Saloon in Encinitas, 1930.

The famous walnut burl wood bar

and cozy friendly atmosphere is still

alive in this iconic bar.

Bottom: Before there was the

Daley Double, there was the

Village Rendezvous.

1933 ä

1935 ä

• Mr. Gresham's Service Station (1205 Coast Highway 101) is one of the most

unique and fanciful buildings along Highway 101. He hopes to catch the eye of

the many tourists that are a major component of the downtown economy from

the 1920s thru the 1940s. What makes this building's architecture so unique is

the Italianate style "pyramidal lip roof and blind Italian-like Arches."

• San Dieguito American Legion, Post 416 (210 West "F" Street) serves veterans,

service members and the community. "It is a true testament of the dedication,

commitment and hard work of several generations of active members."

• Red Roof Cabins/Log Cabin Motel (1660 N. Coast Highway 101) in Leucadia

are built. This motel is a true reminder of the auto court days.

5 0 F E N C I N I T A S : O u r H i s t o r y a n d P e o p l e
---
1936 ä • The Self-Realization Hermitage (1105 2nd Street) is established. In the early

1930s while traveling by car from Los Angeles to San Diego, Paramahansa

Yogananda asks his driver to pull over to the bluffs on the right to stop for a scenic

picnic. He is enthralled with the majestic ocean views. Soon after Yogananda

began his travels, one of his followers, James J. Lynn, purchases the property and

has the hermitage built. Two years later Mr. Lynn presents this gift to Yogananda.

Yogananda departs from his physical body March 1952. His dwelling has not

been changed in any way. The Meditation Garden is open to the public Tuesday

through Sunday. Occasionally the private areas are open for public tours.

G

Above: Left to right, Muriel Kincaid,

Irene Rupe, Hilda Remmele, Isabel

Rupe, and Florence Kincaid.

Left: The Golden Lotus Temple, c.

1938. Built on the bluff within the Self

Realization Fellowship grounds in

1938. Unfortunately, the temple

toppled to the beach below just four

years later in 1942. The tiled

entryway is still prominent on the

garden grounds.

C h a p t e r 5 F 5 1
---
G

Top, left: Encinitas Central School,

c. 1932.

1937 ä

• Highway 101 is widened to a four-lane road to help accommodate the

increasing traffic flow thru town, made possible by the State of California.

• The San Dieguito High School (800 Santa Fe Dr.) is dedicated on June 11th.

Top, right: A Cardiff graduation class,

c. the 1940s.

Bottom, right: Downtown Encinitas at

the corner of "D" Street and Coast

Highway. Note the old Encinitas Hotel

on the top floor.

1939 ä

The 1940s ä

• Rotary Club of Encinitas begins "Service Above Self" on July 12th.

• Surfing along the entire Encinitas coastline starts becoming popular with many

locations to catch that perfect wave. Surfing at Swami's is immortalized by the

Beach Boys popular song, "Surfing USA." Other good surf breaks include: Stone

Steps, Beacons, Pipes, Cardiff Reef, Table Tops, Stretch Mark, Brown House,

Bone Yard, Little Tahiti, Old Man's, Barney's, Traps, "D" St. and Turtles.

5 2 F E N C I N I T A S : O u r H i s t o r y a n d P e o p l e
---
G

Top: The U.S. Navy protecting the

Coast during the war.

Left: "Have Yourself a Merry Little

Christmas" is a song written in 1943

by longtime Encinitas resident Hugh

Martin and Ralph Blane and sung by

Judy Garland in the 1944 MGM

musical Meet Me in St. Louis.

IMAGES COURTESY OF S. BOSS.

Below: A member of the Coast Guard

patrolling Encinitas.

1941 ä

1942 ä

1946 ä

1948 ä

• Black out is ordered along the Southern California coast following the

bombing of Pearl Harbor. Headlights are taped revealing only a 1" slit of light.

Local volunteers patrol the streets at night.

• The Golden Lotus Temple on the bluffs of the Self-Realization Fellowship,

topples down onto the beach below on July 21st. It had been built and

dedicated just a short four years earlier on January 2, 1938.

• Japanese-American citizens, living in San Diego County on February 19th are

taken to the Oceanside train depot with only one suitcase each not knowing where

they are going. Due to the Civilian Exclusion Order 9060, these local citizens are

transported to an internment camp in Poston, Arizona for the duration of WWII.

• Electricity comes to Olivenhain.

• Noah's Ark Cafe is a favorite attraction on the northwest bluff of Leucadia. It is

created by George H. Herbert to resemble an ark and is flanked by several large

plywood animal shapes, colorfully painted with reflectors for eyes, that are

placed all over the entire hillside. Unfortunately, it is demolished in 1962.

C h a p t e r 5 F 5 3
---
G

Top: Security check points were

common during the war years along

all highways.

Bottom: The San Dieguito High School

was built in 1936/37 and dedicated

on June 11. The structure for

education at the high school was

redesigned in 1996 as the San

Dieguito Academy. It has been ranked

number 74 of the 1,840 California

public high schools.

H O W E N C I N I T A S G O T I T S N A M E

In 1669 Governor of Baja California Gaspar de Portola was traveling throughout the San

Diego area. His plan was to build so-called presidios, where the population could learn and

attend religious service. The expedition was traveling through what was later to become

Encinitas. During his travels he names the area of Encinitas or the small oak tree, giving us the

original name of Encina Cañada, which translated from Spanish means 'Hills of Live Oak." Over

time, it became known as Encinitas, which means "Little Live Oaks."

5 4 F E N C I N I T A S : O u r H i s t o r y a n d P e o p l e
---
G

Top: Encinitas' first post office was colocated

with the Encinitas General

Merchandise Store. Cash-only.

Bottom: Payne Cleaners Original

cleaners built in 1937. It was sold in

1946 and is still the longest

continuous cleaning business in San

Diego County.

C h a p t e r 5 F 5 5
---
G

Top: Navy sailors enjoying a day at

Moonlight Beach. Note 5th Street

heading north in the background.

Bottom: Looking south along the coast

highway with the lotus towers of the

Self-Realization Fellowship Hermitage

and Ashram Center in the distance.

The Texaco gas station was one of

many service stations that dotted the

coast highway.

5 6 F E N C I N I T A S : O u r H i s t o r y a n d P e o p l e
---
G

Top: The Aubry Austin Building, still

housing the La Paloma Theater, has

been home to many businesses,

including restaurants and bars. For

years it was the Bank of America.

Bottom: The corner of E Street and

Highway 101. Looking north along

the coast highway in the distance is

the original "Christmas Tree",

adorned during the holidays by the

local fire department.

C h a p t e r 5 F 5 7
---
G

Top: Moonlight Beach, c. the 1940s.

Note the old lifeguard tower that

stood until the early 1970s.

Middle: The Hammond Family,

December 31st, 1934.

Bottom: View looking southeast at the

very early Cardiff-By-the-Sea from

the Golden Lotus Temple at the Self-

Realization Fellowship .

5 8 F E N C I N I T A S : O u r H i s t o r y a n d P e o p l e
---
CHAPTER 6

S U R F ' S U P : 1 9 5 0 - 1 9 7 9

In the 1940s and 1950s, surfing took root in Encinitas. Back then, surfers surfed for love of

surfing. Surfing competitively evolved in the 60s with the growth of local surf clubs like Swami's

Surfing Association and Windansea Surf Club, producing world class surfers like Rusty Miller.

Surfing has forever changed the culture of Encinitas.

With the opening of Interstate 5 in 1966, the region opened up like never before. People from

outside the region started to discover Encinitas, leading to development changing the community

forever, starting with Village Park. The population swelled. The surf culture was further celebrated

by the start of the Wavecrest Woodie Meet in 1979, now in its 40th year.

G

The original train station, built in

1887/88 is closed in 1969. It is bought

and moved from its original location

to Leucadia. The building was

restored and is now the Pannikin

Coffee and Tea House.

C h a p t e r 6 F 5 9
---
1950ish ä

1952 ä

• Jim Truax and Harry "Hodie" Zimmerman were among the first locals to take

up the sport of surfing. Hodie's family opened up Zim's Diner, later to be

known as the Coffee Mill, then Encinitas Café. Both Hodie and Jim were

graduates of San Dieguito.

• San Elijo Bluff referred for a time as the "gypsy camp" is acquired by the

County of San Diego. Construction begins in 1966 and is now the popular

San Elijo Campground, operated by the State of California.

G

Top: Encinitas First Street from

D to E Street. Over the years other

building tenants have included

Lou's Records, Reder Insurance,

Detour Salon, a yoga studio, and

a laundromat.

PHOTO COURTESY OF KYLE THOMAS

PHOTOGRAPHY

Below: Jim Truax (front row, far

left) and Hodie Zimmerman (Front

row second from left)—Early

Surf Pioneers.

6 0 F E N C I N I T A S : O u r H i s t o r y a n d P e o p l e
---
1953 ä • Second Heritage Tree (406 4th St.) is planted by Ben Danforth and sons, Peter

and John, for his wife, Jane, as a Christmas present. This Norfolk Island Pine

is often referred to as a Star Pine. In 1994 local citizen, Luis Ortiz, starts

decorating the tree for the holidays. In 2015 the Encinitas Historical Society

joined in helping to assure the community that the tree will be celebrated

yearly on the first Friday of December.

• Roy's Market (1144 N. Highway 101) is built by Gerard E. Roy in October. The

3,500 square foot building, made of sturdy cinder block, serves a vital need in

the Leucadia area. Mr. Roy is the butcher and also delivers groceries to shut-ins.

Greyhound bus tickets are also sold at the market. It is a family operation.

• Pacific View Elementary School (608 3rd St) opens. These mid-century

modern classrooms replace the Mission School. It is a functioning school

until 2003. Currently (2019) it is being renovated by the Encinitas Arts

Culture and Ecology Alliance (EACEA) and the Encinitas Historical Society.

G

Above: Luis Ortez, began decorating

the Heritage Tree in 1994.

Below, left: Peter Danforth, one of the

brothers who planted the now 100'

tall Heritage Tree, working at his

parent's store, the Encinitas Market,

c. 1954-55.

C h a p t e r 6 F 6 1
---
1954 ä

1956 ä

• Hammond Family's Sunset Ranch (Saxony Road) is sold to Paul Ecke Sr. and

his wife Magdelena, expanding their farming operations by 300 acres.

Farmers are growing a variety of flowers throughout Encinitas such as:

begonias, orchids, carnations, roses, gladioli and chrysanthemums help

make this area "The Flower Capital of the World."

• Leucadia Post Office (1160 North Coast Highway 101 & Phoebe) is built.

Gerard Roy, owner of Roy's Market, is approached by the US Postal Service to

build a specified-set-of-plans to which in-turn grant him a long-term lease to

operate a new post office. Leucadia still has their own local post office.

G

Top, right: The Ecke Ranch is sold to

Magdalena and Paul Ecke Senior

expanding their farming operation

in 1945.

Bottom, left: The Leucadia Post Office

in 1963.

Bottom, right: The last days of Noah's

Ark before its demolition in 1962.

1957 ä • Ruth Baird Larabee, an avid plant collector and naturalist, donates twentyfive

acres of land to the County of San Diego as a park and wildlife sanctuary.

Originally called El Rancho de las Flores, then Quail Park, later Quail

Botanical Gardens and now officially San Diego Botanic Gardens.

• Fire Station One opens on the corner of 2nd and "C" Streets. In 1927 the

citizens of Encinitas petition the county supervisors for a fire station. It is

declined. Eighteen years later in 1945 they get approval. Finally, the first fire

station is built and is still fully operational today.

6 2 F E N C I N I T A S : O u r H i s t o r y a n d P e o p l e
---
H I S T O R I C

" O L D " E N C I N I T A S

Cottonwood Creek was the life blood of Encinitas. Now dedicated as an historic natural creek it is permanently recognized. This is

what started our little town as the steam locomotives needed to stop to refill their supply of fresh water. Small scrub oaks, encinitos,

were cut to add fuel for the engines. There were only eleven people living here, mostly Chinese rail workers, when the Hammond Family

arrived and doubled the population. A school was one of their first projects. Hotels, eateries, homes and businesses sprang up quickly

as the word spread that this area was indeed a good place to live. A strong sense of community support was inherent to the people of

that time that can still be felt today. The railroad played a vital part as towns across America, especially in the west, were being created.

It was a great time for a new life and a fresh start in the "wild west". Ranchers and farmers struggled to make a go of it. Many failed and

moved on, but to this day descendants of those hardy newcomers still live in the area.

1959 ä

The Late ä

1950s ä

• Poinsettia Heights Tract Homes changed the topography and population of

Cardiff-by-the-Sea. The hills just east of I-5 soon become dotted with tract homes.

• The first traffic signals were installed on Highway 101 at D and E Streets

G

Downtown corner of Coast Highway

and D Street prior to installation of

Encinitas' first traffic signals.

1960 ä

• Ada Harris School (1508 Windsor Road, Cardiff-by-the-Sea) is built in honor

of their favorite teacher and principal.

• Rancho Coastal Humane Society (389 Requeza St.) is started by German

immigrant Maria K. Lloyd. During WWII she witnessed the suffering of not

only people but animals as well, following the Nazi invasion. Her goal is to

care for the homeless animal population and to educate the public about pet

over-population and responsible companion animal care.

• Population is 2,786.

• Vulcan Square Shopping Center is built on the hill above Vulcan Avenue

between "D" & "E" Streets. This location is currently the Encinitas Civic Center.

C h a p t e r 6 F 6 3
---
1961 ä

• Elks Lodge #2243 has occupied 1393 Windsor Road, Cardiff-by-the-Sea

since it was chartered on the 24th of November.

• Olivenhain Municipal Water District (1966 Olivenhain Road) is completed and

water is now available to the Olivenhain Valley. OMWD President Alvin

Wiegand, then 74 years old, turns the main water valve feeding an ample supply

of water to the thirsty valley. Large estates and stables now cover the hillsides.

• Hansen Surfboard Shop is opened by Don Hansen in a shack in Cardiff-bythe

Sea, near Cardiff reef on Highway 101.

G

Above: World Champion Surfer and

Encinitas local, Rusty Miller surfing

at Wiamea Bay.

1962 ä

• The Christmas Parade begins as an annual event, which stopped in 1990 because

of lack of funds. It resumes in 1994, sponsored by the City of Encinitas.The

parade originally was along 2nd Street during the day. Now the Holiday Parade,

is on the first Saturday of December during the early evening hours.

1963 ä

• Caldwell's Antiques (1234 N. Hwy 101) opens by owner Charles K. Caldwell.

• Chamber of Commerce in Cardiff-by-the-Sea is officially established.

• Encinitas Hospital first opened. Founded by Dr. Charles Clark, Dr. Ronald

Summers, Dr. Dwight Cook and Herman "Pop" Wiegand.

• Rusty Miller is crowned world surfing champion by the World Surfing

Federation. Rusty was a local surfing favorite and lifeguard at Moonlight Beach

in the 1960s. Rusty moved to Encinitas at age 5 and started surfing at age 10.

1965 ä

• Besta Wan Pizza House (148 Aberdeen) is opened by the Corder Family on

March 12th. It is still there today with parking and a "play" area in front.

• Pacific View Elementary School Expands to 2.8 acres when the school district

purchases two houses on the south side for a larger playground area.

• Lake Val Sereno is purchased and constructs the ill-fated "lake front homes".

6 4 F E N C I N I T A S : O u r H i s t o r y a n d P e o p l e
---
• Local Encinitas surfer, Danielle Corn, was a last-minute replacement to join

Mike Doyle to compete in the Makaha World Tandem Surfing Championship

on Oahu, Hawaii. With limited time to practice, Danielle and Mike went on

to win the competition..

G

Top, left: Danielle Corn and Mike

Doyle at the World Tandem Surfing

Championship in Oahu, Hawaii.

1966 ä

• Interstate I-5 Freeway is completed.

• Boys & Girls Club of San Dieguito (1221 Encinitas Blvd) opens in Encinitas

in a donated temporary building.

• Encinitas Branch Library (540 Cornish Dr.), proudly opens its modern 4,100

square foot round facility.

Bottom left: The Encinitas Hospital at

Santa Fe ribbon-cutting Ceremony,

October 24, 1963. From Left to right:

Dr. Hughes, Dr. Cook, Dr. Clark, and

Dr. Summers.

1967 ä

• Snow on December 13th falls in Encinitas. Prior reported snowfall was in 1933.

Bottom, right: The Freeway 5 ribbon

cutting ceremony, June 21, 1966.

C h a p t e r 6 F 6 5
---
G

Above: Local Leucadians gather to

install the Leucadia welcome sign.

COURTESY OF THE CALDWELL FAMILY.

Right: Moonlight Beach, c. the 1960s.

Note the old boardwalk connecting the

beach south to north.

1969 ä

c. 1970 ä

• VG Donut & Bakery (106 Aberdeen) opens in the new strip mall in Cardiffby-the-Sea.

Still owned by the Metee family, this landmark business is now an

icon, providing the community with "very good" donuts.

• YMCA (200 Saxony Road) begins construction on the first five-acre plot of land

donated from the Ecke Family. In 1988 the Ecke Family donates additional land

for a total of 20 acres to become the "Magdelena Ecke Family YMCA".

• Village Park started developing tract homes, apartments and duplexes in the

eastern portion of Encinitas, replacing the area that was our city dump and a

prosperous bee keeping business. The last phase was completed in c.1985.

6 6 F E N C I N I T A S : O u r H i s t o r y a n d P e o p l e
---
1970 ä

• Encinitas Train Station/Pannikin Coffee & Tea House (510 N. Coast Highway

101) is started in the original train station building which was closed in 1969.

The building is sold for $1 but has to be moved to its present location costing

$35,000. John Henderson was the architect that restored the building. It is

initially an arts and crafts shop. Today it remains a popular local gathering spot.

• Quail Park (Quail Gardens Rd.) opens the Larabee land to the public by the

County of San Diego. It quickly became a popular tourist attraction.

• Cap'n Kenos (158 North Highway 101) was originally built in 1929. This

building has morphed over time and has historically been the Kolb's Drive-

In, owned and operated by Aubrey Austin, who built the La Paloma Theater

complex and Moonlight Beach bathhouse. It has also been the Vienna Villa,

Shamrock Cafe and El Rancho Restaurant. Gerry Sova buys the business and

for only a few months calls it "The Green Apple." Gerry runs the bar and

restaurant as well as cooks and serves tables. Today this landmark local

treasure is still "hoppin."

• Population is 5,375.

G

Above: "Locals" enjoy a winter day at

Moonlight Beach. Note the

playground looking south.

Below: Young local surfers descend

the stairs at Swamis Point to catch a

few waves.

C h a p t e r 6 F 6 7
---
G

Encinitas Magazine featured article Stone Steps Surf Contest 1975, by photojournalist and Encinitas local Kyle Thomas.

COURTESY OF ENCINITAS MAGAZINE EDITOR IN CHIEF CHRIS COTE

6 8 F E N C I N I T A S : O u r H i s t o r y a n d P e o p l e
---
S T O N E

S T E P S

I N V I T A T I O N A L S U R F I N G C O N T E S T

If you grew up and lived in Encinitas from 1967 to 1979, the Stone Steps

Invitational Surfing Contest was an event that you just didn't want to miss.

It was the Woodstock of Encinitas—Music—Beer—Big crowds—

There was just nothing else like it.

If you hadn't seen a local Encinitas friend or two for a while, you were

guaranteed to run across them here, on this day. If you didn't, it was

because they were either in the hospital, in jail, or had died.

The contest was a huge, challenging event to organize and set up. It

was not sanctioned by the State of California, which had jurisdiction

over beach access, making it illegal, and therefore had to be set up in

secret under the cover-of-darkness the night before the event.

Everything had to be walked down the stairs—all 100 kegs of beer.

The band stage had to be carried down, along with the speakers and

everything else it would take to put on the party.

The rules of the contest were simple: When the starting gun goes off

signaling the beginning of your heat, you have to guzzle a resin bucket

full of beer—then go surf. The winner of the heat goes on to drink more

beer and surf more heats, until finally, from the last group standing—

and that can still surf, a "winner" is selected.

Encinitas historian and Stone Steps contest organizer John Peugh sums

it up quite nicely when he says, "This thing was started purely to have fun.

It wasn't about who won, or if it was, you wouldn't be drinking all that beer

before you went out into the water!"

G

Top, right and bottom: The Stone

Steps surfing contest gained

popularity in the 1960s as interest

in surfing exploded.

1975 - PHOTO BY KYLE THOMAS

C h a p t e r 6 F 6 9
---
G

Top: Moonlight Beach looking north.

Note the playground equipment and

picnic pavilion at left.

Right: Moonlight Beach, c. the 1960s

looking south. Note the Lifeguard

Tower along the Boardwalk. Local

surfing legend Rusty Miller served as

a lifeguard here in the mid-1960s.

OPPOSITE PAGE PHOTOS COURTESY OF

LEROY GRANNIS.

1975 ä

1976 ä

1977 ä

1979 ä

• La Asociacion de Charros de Encinitas is formally chartered. The event

celebrated life on the great land ranchos before California became a state.

• Mira Costa Community College (3333 Manchester Ave.) purchases 42 acres

for the Cardiff-by-the-Sea campus that was dedicated in 1988.

• La Especial Norte (664 N. Highway 101) is opened by Angel & Matilde Salazar.

• Greek Orthodox Church (3459 Manchester Ave.) is built but not consecrated

until June 2001. Known as "the Church with the Shining Cross" as the sun

adds a serendipitous cross that shines a reflection on the gilded dome.

• Wavecrest Woodie Meet has their first gathering in the parking lot at

Moonlight Beach. San Diego Woodies continue to meet in September every

year at 4th and "B" Streets. September 2019 celebrates their 40th year.

7 0 F E N C I N I T A S : O u r H i s t o r y a n d P e o p l e
---
L I N D A

B E N S O N

The life of the surfer girl who grew up on

Dewitt Street in Encinitas, Linda Benson,

has been remarkable. In 1959 at age 15,

Linda was not only the first woman to win

the first national surfing contest held in the

US at the West Coast Championships in

Huntington Beach, but is also credited to be

the first woman to ride the legendary big

waves of Waimea Bay. That same year she

became the youngest contestant ever, to

enter the International Surfing Contest at

Makaha, which she won.

Linda continued competing for 10 years

winning the women's 1960 and 1961 West

Coast Championships and the women's

1964 and 1968 US Surfing Championships.

Winning over twenty first-place surfing

titles from 1959 to 1969, Linda was discovered

by Hollywood and acted as Annette Funicello's

C h a p t e r 6 F 7 1
---
G

Article reprint courtesy of Encinitas

Magazine Editor in Chief Chris Cote.

RIGHT PHOTO COURTESY OF WAX PHOTOS.

BOTTOM, LEFT PHOTO COURTESY OF

LINDA BENSON.

BOTTOM, RIGHT PHOTO COURTESY OF KYLE

THOMAS PHOTOGRAPHY..

surfing double in the "Beach Party" films, and

as Deborah Walley's surfing double in Gidget

Goes Hawaiian. She appeared in Bud Browne

and John Severson films, and she was in the

first Surfer Magazine in 1960. She was also the

first woman to grace the cover of a surfing

magazine, Surf Guide 1963.

Reflecting back, Linda remembers getting

her first surfboard. "When I was eleven,

there was a water-soaked balsa board for sale

for $20.00 and my Dad let me get it."

"John Elwell was one of the lifeguards at

Moonlight Beach," Linda recounts. "He

really took a lot of us under his wing—

Rusty Miller, my friend Nikki and myself."

"Our parents drove us on the weekends

to Swamis. We walked to the beach in the

summertime. We could be down there as

long as the lifeguards were there. So

grateful to have parents that let us do that.

They trusted me. When wintertime came

then everyone went to Swamis. "So the

weekends, my parents and Nicky's parents

took turns driving us to Swami's and that's

where we were all weekend."

If you ask Linda today what her

philosophy on life is, she'll tell you, "Keep

on paddling!"

7 2 F E N C I N I T A S : O u r H i s t o r y a n d P e o p l e
---
CHAPTER 7

I N C O R P O R A T E D ! E N C I N I T A S G R O W S U P : 1 9 8 0 - 1 9 9 9

Encinitas and the surrounding area continue to grow. By the vote of the people, Cardiff, Historic

Encinitas, New Encinitas, Leucadia and Olivenhain become one city, leading to the community incorporating

and exercising self-governance. As our community rapidly moves ahead the Encinitas

Historical Society is formed, followed by the San Dieguito Heritage Museum to collect and save our

history. San Elijo Lagoon Conservancy is created to protect this vital area as one of the last remaining

California coastal wetlands. Downtown Encinitas Mainstreet Association fulfills the requirements to

join the National Mainstreet Association to assist in advancing our historical 101 business district.

Later, Leucadia and Cardiff are also accepted. Cottonwood Creek is recognized on the National

Registry of Historic Places, along with Indian Head Canyon.

G

Encinitas aerial photo looking north

from Swamis Point.

C h a p t e r 7 F 7 3
---
G

Above: The San Dieguito Heritage

Museum sets its final roots on Quail

Gardens Drive. Established in 1988,

it has been housed in many locations.

This locally focused museum collects

and displays objects and buildings

from Encinitas' past.

Below: San Elijo Lagoon on a classic

misty morning looking southeast.

PHOTO COURTESY OF MORGAN MALLORY.

1980 ä

• Value Fair & Vons Shopping Center (c.1960 at 2000 block of San Elijo Ave). in

Cardiff-by-the-Sea is demolished making way for the new Cardiff Town Center.

• Friends of the Encinitas Library is founded. The Friends play a vital role in

raising money and advocating the need for a larger facility.

• Teten House (450 Quail Gardens Dr.) is moved by the San Dieguito Heritage

Museum to its permanent location. Extensive rehabilitation and restoration efforts

commence. It is now complete and open to the public on the museum property.

• Encinitas Historical Society (390 West F St.) originally the Leucadia-Encinitas

Historical Society is incorporated. "The mission of the Encinitas Historical

Society is to collect, archive and preserve the many documents, photos, videos

and oral histories that shape our heritage, and to maintain the health and

integrity of the oldest building in the City, the 1883 One-Room Schoolhouse."

• Population is 36,550.

7 4 F E N C I N I T A S : O u r H i s t o r y a n d P e o p l e
---
1982 ä

1983 ä

• The Lumberyard Center (700-1000 blocks of Coast Highway 101) in

downtown Encinitas is built using a railroad-style architecture.

• Downtown Encinitas Merchants Association is formed to aid and promote

businesses along Coast Highway 101 in downtown Encinitas. In 1988 the

organization is granted the National Mainstreet Association status. It later

becomes known as Downtown Encinitas Mainstreet Association "DEMA."

Currently nicknamed as E-101, they also manage the street fairs twice a year.

• San Elijo Lagoon Conservancy (2710 Manchester Ave.) started by a small group

of concerned citizens to save the lagoon, is formally dedicated to the public. This

important lagoon is one of the few remaining coastal wetlands in the state as it is

the terminus of the Escondido Creek. The lagoon is 915 acres with over seven

miles of hiking trails and a 5,600-square-foot Nature Center. Prior to the 1970s,

developers were proposing to replace the lagoon with condominiums, a marina

and a water park. It is now jointly managed by the San Diego County Department

of Parks and Recreation, the Department of Fish and Wildlife and supported by

the San Elijo Lagoon Conservancy who bought the land in 2012.

G

Above: Citizens of all five districts

vote to create one city: Encinitas, on

October 1, 1986. The first Encinitas

City Council members to be elected

are, (from left to right): Greg Luke,

Marjorie Gaines, Rick Shea, Gerald

Steel, and Anne Omsted.

Bottom, right: The Lumberyard

Shopping Center was built in 1982

in a railroad-style architecture as

this area was literally the lumber

yard during the early boom years,

as well as the site of the Mid-Winter

Flower Festival.

C h a p t e r 7 F 7 5
---
G

Top: The 1883 schoolhouse nearing its

final resting place on West F Street.

The one-room schoolhouse is moved

back to close to it's original site in

1983, only 100 feet from where it first

served the community. Saved by the

Encinitas Historical Society, the

Encinitas Elementary School board

approves it's location on the

south/west corner of the active Pacific

View Elementary School.

Bottom: The original wooden railroad

trestles that ran between Cardiff-bythe-Sea

and Solana Beach over the San

Elijo Lagoon. The new double tracking

project was completed in 2021.

PHOTO COURTESY OF MORGAN MALLORY.

1984 ä

1986 ä

• The Encinitas Historical Society works quickly to save the original 1883 oneroom

schoolhouse from demolition. Bud Fisher offers the building to the

Society. The Society is granted a small leased section in the southwest corner

of the Pacific View Elementary School property at 390 West F Street. The

schoolhouse is bought on April 13th for $1 but costs $2,300 to move.

• Quail Park (Quail Gardens Dr.) changes its name to Quail Botanical Garden.

• Friends of the Cardiff Library is formed.

• The City of Encinitas on October 1st is created when five small uniquely

individual communities become a city. Three prospective names were on the

ballot; Rancho San Elijo, San Dieguito and of course Encinitas. Community

activist, Marjorie Gaines, is appointed first mayor of the newly incorporated city.

The Civic Center it is now permanently located at 505 South Vulcan Ave.

7 6 F E N C I N I T A S : O u r H i s t o r y a n d P e o p l e
---
C A L I F O R N I A

S U R F

M U S E U M G E T S I T S S T A R T

I N E N C I N I T A S

Stuart Resor, an Encinitas resident and

surfer, says…"I got the idea to start preserving

our surf history when I saw Woody Ekstrom

walking down the beach at Grand View in

Leucadia. It suddenly seemed to me that the

early days of surfing were slipping behind us

and if he and others were interested, we could

display old surfboards and photographs for

future generations to see."

In February 1986, after an article

appeared in The Coast Dispatch and The

Citizen newspapers, several interested

people came together at George's

Restaurant on Coast Highway in Encinitas

to discuss forming a surf museum.

The dozen or so people who showed up

for that first meeting became the founding

board, a mix of men and women, surfers

and non-surfers, connected by an avid

interest in surfing and a desire to collect its

history for the enjoyment of generations to

come. The founding members were Mike

Cates, June Chocheles, Don Fine, Steve

George, Kevin Kinnear, Parry Payne, Stuart

Resor, Jane Schmauss, Ian Urquhart, and

Catherine Woolsey.

G

The most famous exhibit at the

museum is the story of Bethany

Hamilton losing her left arm to a tiger

shark while surfing at Tunnels Beach

on Kauai, how she survived that

attack to not only recover from the

incident, but returned to competitive

surfing—and she continues to do well

in surfing contests around the world.

Her story and her positive outlook on

life have caused her to be in demand

as a motivational speaker. The exhibit

features the surfboard Bethany was

riding on that fateful Halloween day

in 2003, the bathing suit she was

wearing, featured in the documentary

Heart of a Soul Surfer.

C h a p t e r 7 F 7 7
---
7 8 F E N C I N I T A S : O u r H i s t o r y a n d P e o p l e

The California Surf Museum took shape

as a small display of surfboards and surf

collectibles at George's Restaurant, owned

by Jane Schmauss, in 1986. The restaurant

was open 7 days a week and had a little

corner alcove dedicated to promoting the

museum concept. The Board voted to use

the name "California Surf Museum" after

discussing the merits of the Encinitas Surf

Museum, the North County Surfing

Museum, and numerous other names,

believing that the broader term would one

day link to a string of museums up and

down the coast, such as the "California Surf

Museum, Ventura," and the like.

After many months of organizing and

putting together a logo design contest (won

by Ed Nava), Encinitas businessman Paul

Rotsheck offered the fledgling California

Surf Museum free space in his newly built

Moonlight Plaza, on the corner of Encinitas

Boulevard and the Coast Highway. CSM

mounted its first exhibit, "Surfing: Trestles

to Tourmaline," on August 13, 1988, with a

grand opening September 28, 1988.

The surf museum found its new home in

Oceanside, California, in 1996.
---
1987 ä

• Indian Head Canyon (north Saxony) is saved from developers when several

dedicated citizens gather to support the purchase of these 60 acres. The goal is

to save this lush canyon as open space and stop the planned tract of 300 homes.

After a long eleven-year struggle, the city, along with the assistance of the

California Conservation Corp, joins to officially declare it public land in 1998.

• Coast News started in the garage of Jim Kydd on September 17. It is currently

in publication, with Chris Kydd, Jim's son, as the current publisher.

G

These iconic boathouses built by Miles

Justus Kellogg in 1927/28 were placed

on the National Register of Historic

Places in October 2019.

1988 ä

• Downtown Encinitas Mainstreet Association (DEMA) is officially awarded

membership into the National Mainstreet Association.

• The San Dieguito Heritage Museum is created. This locally focused museum

collects and displays objects that represent everyday life of the pioneers and

their families. Interactive exhibits and representatives of different cultures make

the past come alive in and around these historic buildings. The museum is now

permanently located on 1.2 acres on Quail Gardens Drive. The property is

leased from the City of Encinitas for $1 per year for fifty-five years.

C h a p t e r 7 F 7 9
---
G

Above: Encinitas and Amakusa,

Japan, have been sister cities

since 1988.

Below, left: Coast Highway between

D and E Streets with the old Detour

Salon, Beach & Town Liquor,

and Flashbacks

Below, right: Encinitas Child located

near the Cottonwood Creek overlook.

This bronze statue welcomes visitors

to the downtown area.

1988 ä

1989 ä

1990 ä

• A Sister City relationship with Hondo, Japan, Kumamoto prefecture was

officially established. In this area of Japan, the government combines several

small communities (like Encinitas in 1986) and is renamed Amakusa on March

27, 2006. Many cultural exchanges have taken place with students, fire fighters,

medical personnel and government officials. There is a mile marker at the base

of 2rd and "B" Streets that show the miles to our Sister City as 6,129 miles.

• Swami's Beach sign is erected at Swami's Point by the Swami's Surf Association.

• Moonlight Beach supervision and maintenance is taken over by the City of

Encinitas from the state. Local lifeguards are hired.

• Population is 55,386.

8 0 F E N C I N I T A S : O u r H i s t o r y a n d P e o p l e
---
1991 ä

• Cottonwood Creek (Hwy 101 and "B" Street) is recognized and placed on the

National Registry of Historic Places on August 5th spearheaded by Ida Lou

Coley. Cottonwood Creek is the key reason Encinitas became a town. It was

the first town between National City and Oceanside to spring up along the

western section of San Diego county. From 1881 to 1920, Cottonwood Creek

served not only as the main water source for the growing community but

provided the much-needed water to run the steam locomotives.

• Vulcan Square Shopping Center, (505 S. Vulcan Ave) built in 1960 is sold to

the City of Encinitas to remodel as the new Encinitas Civic Center (City Hall).

1992 ä

• North County Transit District (NCTD) buys the Santa Fe Rail Line from San

Diego to Oceanside.

1993 ä

1994 ä

• The Olivenhain Town Hall (423 Rancho Santa Fe Rd.) is placed on the

National Register of Historic Places.

• The Encinitas Heritage Tree is adorned for the Holiday Season for the first time by

Luis Ortiz. In 2011, the tree was officially protected as a Heritage Tree by the City

of Encinitas. In 2015, the Encinitas Historical Society became the official sponsor

of the lighting ceremony. Luis continues leading the lighting of the tree to this day.

G

Below, left:Veteran's Memorial

Cottonwood Creek Park.

Below, right: An Egret in the San

Elijo Lagoon

PHOTO COURTESY OF MORGAN MALLORY.

C h a p t e r 7 F 8 1
---
G

Top: San Diego Botanic Garden.

Quail Botanical Gardens changed it's

name to San Diego Botanic Gardens

in 2009. It is one of the worlds best

known established gardens providing

cuttings, plants and seeds to other

gardens throughout the world.

Bottom: The Leucadia Welcome Sign.

Members of the Leucadia Town

Council spruce up and replant the area

around the Welcome Sign at the north

entrance along the coast highway.

1995 ä

1997 ä

• Coaster Commuter Train has its inaugural run from Oceanside to the

downtown San Diego Santa Fe Depot on February 27th.

• Machado Surf Classic has its inaugural surf competition in late summer at

Cardiff State Beach and is sponsored by the Cardiff Chamber of Commerce.

In 2002 the event name is changed to Hansen/Machado Surf Professional

Event, sanctioned by the Association of Surfing Professionals (ASP).

• La Bajada Bridge over the Escondido Creek connecting Encinitas to Rancho Santa

Fe officially opened. This area consistently flooded during the rainy season.

• 1883 One-Room Schoolhouse (390 West "F") in December is now fully restored

and open to the public. Total cost, along with many volunteer hours, is $17,000.

• Carpentier Parkway (the "front garden" between Birmingham & Chesterfield)

is named after Orville & Jessica Carpentier. A statue is erected in the image

of the late Wayne Holden, a Cardiff-by-the-Sea community activist.

8 2 F E N C I N I T A S : O u r H i s t o r y a n d P e o p l e
---
1998 ä

1999 ä

• Indian Head Canyon along the north end of Saxony Road in Leucadia, with

the addition of donated land from Magdalena Ecke Park, is officially declared

public land encompassing over 90 acres.

• 101 Artists' Colony is formed as a co-op artists gallery by James Durfey,

Nansy Phleger and Maria Festa. It has been in several locations in Encinitas

with studios, performance stage, galleries and a coffee bar. It is supported

solely by local artists.

• Encinitas Ranch Golf Course, owned by the City of Encinitas, is opened to the

public on March 1st. Rated a Champion Golf Course with 18-holes on 175 acres.

• Cullen School Bell is dedicated at the Cardiff Elementary School on October

23rd. The bell was purchased in Santa Ana for $20.00 and has a

manufactured date of 1828. It is re-dedicated again in 2003 during the

refurbished Cardiff School District's 90th anniversary.

• Full Moon Poets was formed by Danny Salzhandler for the laid-back poetry circle

called a "read around." It has grown to include a Summer Slam and a Winter Slam

during the full moons and held at the historic La Paloma Theater.

G

Below: Olympic torch run through

Encinitas on April 28, 1996. Local

dignitaries help run the Olympic

Torch through Encinitas on it's way to

the summer games in Atlanta,

Georgia. The world games of the

XXVI Olympiad was also known as

the Centennial Olympic Games.

PHOTO COURTESY OF KYLE THOMAS.

C h a p t e r 7 F 8 3
---
C A R D I F F - B Y - T H E - S E A

Cardiff had an early start and a fascinating history. Streets were named after the British Isles, followed by more streets named after

classical music composers. Cardiff, was located on a beautiful part of the California coastline. One of its first settlers erected a two-story

building reminiscent of a Victorian English seaside manor. The building provided an artists' studio on the second floor. During that same

year "by-the-Sea" was added to its name. Remnants of Cardiff's only industry can still be seen during low tide where a kelp processing

plant operated. The pier, which was built near the mouth of the lagoon, has long since washed away. The main cement floor of Cardiff's

one and only train station is all that remains of the mission style depot. Restaurant Row was known to host many a celebrity traveling

back and forth from Hollywood to Del Mar and Mexico. Japanese farmers' crops covered the hills just east of town. The San Elijo lagoon

was slowly choking. The mouth was opened occasionally by a farmer with a plow. Cardiff-by-the-Sea later changed to a new personality

- surfing. It is where Don Hansen opened his first shop; where "the kook" put Cardiff-by-the-Sea on the international map; where surfing

contests and beach fairs rocked the coast. Double tracking, the lagoon improvements, Harbaugh Trails and the Living Shoreline Project

may have changed the scene, but not the heart: the pull is real and it is the soul of Cardiff-by-the-Sea.

G

Above: Cardiff-by-the-Sea looking

north toward Swamis Point. A typical

beautiful summer day looking north

along the Cardiff coastline.

Right: Local large mural artist Kevin

Anderson paints a new San Dieguito

Academy mural on the north wall of

the main building. Many of his

murals can be seen throughout

Encinitas and San Diego County.

8 4 F E N C I N I T A S : O u r H i s t o r y a n d P e o p l e
---
G

The Downtown Encinitas 101

Mainstreet Association contracted

several local artists to enhance the

alleys and back buildings of many

businesses along Coast Highway.

PHOTOGRAPH BY DAPHNE FLETCHER.

CHAPTER 8

T H E N E W M I L L E N N I U M : 2 0 0 0 - P R E S E N T

Encinitas' culture, rooted in surfing and the arts, advances. The Arts Alive Banner program

launches along Coast Highway 101; the first Switchfoot Bro-Am and Beach Fest is held at Moonlight

Beach; Dog Days of Summer begins in Cardiff; the "Kook" is dedicated in Cardiff; the Encinitas Child

sculpture is dedicated near Cottonwood Creek and the Surfing Madonna Mosaic appears to everyone's

delight; the first community garden is constructed; we elect our first mayor; create our new

Encinitas Community park and focus on beach erosion, protection and expanded access to hiking

trails and marine safety.

C h a p t e r 8 F 8 5
---
2000 ä

2002 ä

2003 ä

2004 ä

• Arts Alive Banner Exhibit launches on Highway 101 in downtown Encinitas. This

very successful and popular program is spearheaded by local artist, sculptor and

welder Danny Salzhandler, his wife Norma and the 101 Artists' Colony.

• Encinitas Sign on October 7th , duplicated from the original 1928 sign across D

Street at 101. It is rebuilt using the original design to celebrate the millennial. It

was first hung on cables but a storm two weeks later almost brought it down.

Later a solid steel support frame was installed. I true icon for our coastal town.

• Population is 58,014.

• Encinitas Community/Senior Center is completed on Oakcrest Park Drive.

• Downtown Streetscape Project has its Ribbon Cutting in June.

• Cardiff Library opens its new 5,977 sq. ft. "green" facility, (1st in the county)

on the corner of Newcastle & Liverpool on March 22nd.

• The Pacific View Elementary School is closed at the end of the school year.

• Leucadia-Encinitas Mainstreet Organization is awarded National Mainstreet

status, becoming Leucadia 101 (L 101).

• Cottonwood Creek Park has its ribbon cutting celebration June 14th. This 8.2-

acre park is located on the northeast corner of Encinitas Blvd. and Vulcan Ave.

• Switchfoot Bro-Am and Beach Fest is started by local surf legend Rob Machado

and local, world famous Christian musicians, Switchfoot. This event includes

surf contests, live music and much more always in the month of June.

• Dog Days of Summer has their first event in the parking lot of Headline Graphics

in Cardiff-by-the-Sea. In 2016 this popular event is moved to the new Encinitas

Community Park. This is the largest dog-centric event in San Diego County.

• Poet Laureate Trish Dugger is recognized officially on January 12 by the City.

G

The Wavecrest Woodie Meet has their

first gathering in the parking lot at

Moonlight Beach. September 2019

was the 40th consecutive year

drawing cars and woodie enthusiasts

from all over the country to display

and sell these iconic cars.

COURTESY OF JENNIFER NELSON

8 6 F E N C I N I T A S : O u r H i s t o r y a n d P e o p l e
---
G

Above: Moonlight Beach.

PHOTOGRAPH BY DAPHNE FLETCHER.

Left: Switchfoot Bro-Am and Beach

Fest, started by local Rob Machado,

features the Christian band

Switchfoot. Thousands of fans pack

Moonlight Beach, c. 2018.

PHOTOGRAPH BY DAPHNE FLETCHER.

2007 ä

2008 ä

• Magic Carpet Ride or Cardiff "Kook" is the creation of Matthew Antichevich.

Since its debut, local surfers have deemed it a "kook", which refers to a first

time or beginner surfer. This wonderful statue, along the west side of

Highway 101 across from Chesterfield Drive, becomes an unlikely attraction

when a 15-foot-tall papier mache shark appears to devour the "Kook."

Costumes and props are now a common sight. Cleverly outfitted for

birthdays, graduations, special events and political satire, the "Kook" has

worn it all. The "Kook" is featured in many publications around the world,

including the front page of the Wall Street Journal.

• Encinitas Preservation Association (EPA) is formed and closes escrow on the

iconic Boathouses for $1.55 million in May. It is touted as a "public trust of

preservation" by the Encinitas Historical Society and Downtown Encinitas

Mainstreet Association. The City of Encinitas use a developer's fee of $631,538 as

the down payment designated as affordable housing. Plans commence to place

these iconic boats on the National Register of Historic Places. The E Clampus

Vitus organization partners with EPA to assist with the historical bronze plaque.

C h a p t e r 8 F 8 7
---
G

Top: A few banners created by local

artists along Coast Highway promoted

by the Artist Colony's "Arts Alive"

community program.

Above: Swami's Beach & Park.

COURTESY OF DAPHNE FLETCHER

Right: "Dog Days of Summer", first

held in a parking lot in Cardiff in 2005.

It expanded to Encinitas Community

Park, holding various events like the

dog/owner look-alike contest.

• Encinitas Library (540 Cornish Dr.) has occupied several locations,

including one on the corner of "D" Street in the Rupe Building during the

1940s into the mid-1950s. Manuel Oncina Architects, Inc. are contracted to

design a new state-of-the-art facility, financed by the City of Encinitas. On

February 23rd the $20-million-dollar, 27,798-square-foot library opens.

This facility includes a 2,000-square-foot Community Room, 537-squarefoot

Special Collections Room, an informal Literary Lab with 15 computer

workstations for group instruction and three group study rooms. A reading

deck along the west side, a Friends of the Library bookstore and an entry

coffee cart are part of the main space. Civic Art shows are included as part

of the library design, with local artists and performers playing an integral

part of the library's design.

8 8 F E N C I N I T A S : O u r H i s t o r y a n d P e o p l e
---
2008 ä

2010 ä

• "Encinitas Child" is seated on the retaining wall on the west side on Highway

101 between Encinitas Blvd. and D Street welcoming visitors to the downtown

area. This beautiful bronze sculpture is created by local and nationally renowned

sculptor Manuelita Brown. To celebrate its 20th anniversary the Downtown

Encinitas Mainstreet Association (DEMA) installs this public art piece.

• Pacific Station development opens on Highway 101. Whole Foods is the

anchor business. Apartments are on the 2nd floor with underground parking

for 250 cars.

• Population is 59,519.

G

Above, left: Coaster in Cardiff.

PHOTOGRAPH BY NEAL GLASGOW.

Above, right: Swami's Beach gets a

second Tiki statue, joining the first

carved by Tim Richards in 2011 from

an 80 yr. old Torrey Pine that fell

victim to bark beetle infestation.

COURTESY OF DAPHNE FLETCHER

2011 ä

• Surfing Madonna Mosaic literally appeared overnight under the north side of the

railroad bridge on Encinitas Blvd. Disguised as construction workers, Mark

Patterson and friend Bob Nichols clandestinely install the 10-foot square, glass

mosaic art piece on an early April morning. When threatened with demolition,

Patterson steps forward to save his creation. He is fined $500 and has to pay

$6,000 to have it removed. In 2013 the mosaic finds its permanent home on the

outside north facing wall of the Leucadia Pizzeria on Encinitas Blvd & 101. In

2019 artist Kevin Anderson paints an underwater scene below the mosaic.

Below, left: Downtown Encinitas.

PHOTOGRAPH BY DAPHNE FLETCHER.

Below, right: Swami's Surf Memorial

at Swami's Beach.

COURTESY OF DAPHNE FLETCHER

C h a p t e r 8 F 8 9
---
G

Top, left: Santa Fe Drive railroad

undercrossing at Swami's Beach Park

officially opens.

COURTESY OF DAPHNE FLETCHER

2012 ä

• "The Ranch" (441 Saxony Rd.) formerly known as the Ecke RanchFloriculture

business, sells its property to the Leichtag Foundation. This 67 ½-acre ranch

has a total of 850,000 square feet of green houses.

• First electrical vehicle charging station is put into use in July at the north end

of parking lot B just east of 101 at D Street and Vulcan Avenue.

Top, right: The lotus towers of the

SRF Hermitage and Ashram Center.

COURTESY OF DAPHNE FLETCHER

2013 ä

2014 ä

• Santa Fe Drive Pedestrian under-crossing is officially opened on February 27th

connecting South Vulcan to Highway 101 allowing easy access to Swami's Beach.

• Plastic Ban on single-use plastic bags is passed by the City of Encinitas.

• First Elected Mayor of Encinitas, Kristin Gaspar, is voted in on November 7th.

Previously the elected council members rotated the position on a yearly basis.

• Welcome sign is dedicated at the south entry near the under crossing on

Highway 101 into downtown Encinitas. Bob Partlow and Terry Weaver design

and create this sand blasted 8X10 foot redwood sign. This is a project of the

Downtown Encinitas Mainstreet Association (DEMA).

• Pacific View Property is purchased by the City of Encinitas with a $10 million

bond. The old elementary school (closed since 2003) had been scheduled for

auction. The total bond package is $13 million, with three million earmarked

for building the new lifeguard tower at Moonlight Beach.

• Leichtag Foundation (441 Saxony Rd) joins six other Encinitas entities to sign a

"Memorandum of Understanding" (MOU) in April. They include The Encinitas

Union School District, the Magdalena Ecke Family YMCA, The San Diego

Botanic Gardens, The San Dieguito Heritage Museum, Seacrest Village

Retirement Community, along with the Leichtag Foundation "…to develop

educational, experimental learning and multi-generational programs around the

nexus of agriculture, horticulture, nutrition, science, sustainability, community

building and the local history and agricultural traditions of Encinitas."

9 0 F E N C I N I T A S : O u r H i s t o r y a n d P e o p l e
---
• Cardiff-by-the-Sea Mainstreet Association, formerly Cardiff Chamber of

Commerce, is identified as an official main street organization (C 101).

2015 ä

• Encinitas Community Park (425 Santa Fe Dr.) is officially opened on January

10th. Formerly the greenhouse floral business of Robert Hall, he sells the

property to the City of Encinitas in 2000 for $17,000,000. The total cost over

the next 15 years totals $42,750,000. This 44-acre park boasts a 13,000-

square-foot renowned skate park, kids play areas, two acres for the Maggie

Houlihan Memorial Dog Park, athletic fields and lots of open green spaces.

• Encinitas Arts, Culture and Ecology Alliance (EACEA) enters into negotiations

with the City of Encinitas to transform the closed 2.8-acre Pacific View

Elementary School into a viable arts center. Rehabilitation commences in a rightof-entry

lease situation while the long-term lease requirements are finalized.

• Coastal Roots Farm (441 Saxony Road), dedicated on September 30 and located

on the Leichtag Property, begin their certified organic farming operation. It is a

non-profit educational community farm where growing organic vegetables

"nourish connections—to ourselves, our neighbors and the land", inspired by

Jewish wisdom. Fresh organic produce is sold at their Farm Stand as a pay-whatyou-can

system to offer healthy, organically grown produce for all.

• Organic Fruit Grove is dedicated at Glen Park in Cardiff-by-the-Sea on October

3rd, inspired by Cardiff resident and former mayor Teresa Arballo Barth. This is

an organically managed city park setting the tone for healthy organic gardening.

• Friends of the Arts received non-profit status on November 27. Created in 2014,

the mission of EFA is to partner with the City of Encinitas by "fund raising and

advocating for art in Encinitas and city owned art venues promoting all art forms".

G

Below: Encinitas Sign on Coast

Highway 101. The Downtown

Encinitas Mainstreet Association

contracts Bob Partlow and Terry

Weaver in 2014 to create this Welcome

sign on the south end of the business

district entering the coast highway.

COURTESY OF DAPHNE FLETCHER

C h a p t e r 8 F 9 1
---
G

Above: Swami's Pumpkins, Every year

the SRF plants their fields with

pumpkins to carve for Halloween.

PHOTO COURTESY OF KYLE THOMAS.

2016 ä

• Encinitas Community Garden (Quail Gardens Drive) ribbon cutting is in

October. Community members rally to create this garden on Quail Gardens

Drive in the undeveloped Encinitas Elementary School site. A total of eightynine

raised beds are constructed along with eighty fruit trees. Gordon Smith is

the "slow foods" advocate who started the process to make this garden a reality.

2017 ä

• Cannabis (marijuana)for recreational consumption is approved by statewide vote.

2018 ä

• Encinitas Board Riders Club is formed to compete in the WCBR contest and also

"to support, build and protect our local coastal environment and surf history".

• Moonlight Beach Marine Safety Center at Moonlight Beach is dedicated in

May. This $3.9 million-dollar project replaces the old 1952 wooden structure.

In addition, a collaborative project with ocean artist Peggy Sue Zepeda with Bob

Zepeda doing the finish work for this 8'x15' mosaic titled "Pacific Playground".

2018-19 ä

• Cardiff State Beach Living Shoreline Project Dedication was held on May

22nd, 2019. This coastal protection project with extensive dune planting will

help retain and protect the beach from tidal erosion and loss of sand,

especially during the winter tides.

9 2 F E N C I N I T A S : O u r H i s t o r y a n d P e o p l e
---
2019 ä • Harbaugh Seaside Trails begins construction on March 1st. The area had been

purchased by the San Elijo Lagoon Conservancy in 2012. It is an extensive project

of a three-acre overlook gateway of Solana Beach extending north to the Cardiffby-the-Sea

trail formerly known as Carpentier Parkway. It is planned to be

completed in early 2020 and will showcase a donor monument, viewing deck and

a railroad under-crossing into the San Elijo Ecological Reserve. As a land trust,

"years of fund raising and strengthening of community has come to fruition."

• Coastal Rail Trail opens to the public on May 9th. The 1.3-mile trail runs from

Chesterfield Avenue to the pedestrian crossing at Santa Fe Drive into downtown

Encinitas. Described as a "pedestrian and cycle friendly thoroughfare." This is

just a portion of the planned forty-four-mile bike-way, which will eventually

run from Oceanside to the downtown San Diego Santa Fe Depot.

• Chesterfield Avenue Crossing at San Elijo in Cardiff-by-the-Sea is complete as

well as the much-needed rail line double tracking. It is now the first "quiet zone."

• Dickinson Family Education Conservatory (230 Quail Gardens Drive) is

completed. Located within the Hamilton Children's Garden, this 8,232-squarefoot

glass educational facility also offers seating for 265 in the amphitheater.

• San Elijo Lagoon Double Tracking Project gets underway. A new railroad bridge

is complete in Cardiff-by-the-Sea. This 72.8 million dollar project is expected to

be completed in approximately two years and will stretch 1.5 miles.

G

Swami's Beach.

COURTESY OF KYLE THOMAS PHOTOGRAPHY

C h a p t e r 8 F 9 3
---
G

Top: 2019 Saw an E-Bike (Electric

Bike) Explosion.

IMAGE COURTESY OF DAPHNE FLETCHER.

Below: Biergarten Downtown Encinitas

IMAGE COURTESY OF NEAL GLASGOW.

• Boathouses (726 & 732 3rd Street) on October 12th are dedicated with an

historical bronze plaque provided by the local chapter of the E Clampus Vitus

organization. Working with Encinitas Preservation Association (EPA) and

Encinitas Historical Society (EHS) and with aid from the City of Encinitas, these

iconic boats will now be listed on the National Register of Historic Places.

• "Boutique Luxury Hotel" begins construction on the 4.3-acre property on the

northern bluff in Leucadia. Forty-five thousand cubic yards of sand was

relocated to the beach below. The planned 226,000-square-foot building

complex will boast 130 rooms (including 16 suites) and currently has an

estimated cost of $110 million. Owners envision guests walking around in

swimsuits, shorts and flip-flops, keeping with the Leucadia beach "vibe."

Marketing materials describe the hotel as "barefoot luxury."

• Population is 63,184.

9 4 F E N C I N I T A S : O u r H i s t o r y a n d P e o p l e
---
2020 ä • Cylovia comes for the first time to downtown Coast Highway 101 on Sunday,

January 12 as a no-cars approach to downtown shopping.

• Dunham House built in 1885 on 10th Street, Del Mar, moves to the San

Dieguito Heritage Museum in December. The house is named after Edward

and Lovey Dunham who lived in the house from 1925 to 1975. The structure

is literally sawed in half to 14ft. X 28ft sections and the roof was removed to

accommodate the eight-mile trip.

W H A T I S C Y C L O V I A E N C I N I T A S ?

Cyclovia is a Spanish term that means "Cycleway". This type of event includes the closing of

certain streets to automobiles for a temporary time, in order to allow cyclists, skaters, and pedestrians

access to local businesses on open streets. In January 2020 Encinitas hosted its first Cyclovia event,

and was deemed a total success, with hundreds of participating residents this "all wheels" event. In

2021 the event went "virtual" to keep the momentum going due to the COVID pandemic. Just like

the inaugural live event held in 2020, it remains the City's goal to put on an energetic, educational

community celebration promoting healthy, active lifestyles, and self-powered transportation in a fun,

but virtual way rolling all the way through 2021.

Virtual Cyclovia Encinitas kicked off on Sunday, January 17, 2021 with the launch of the first wave

of social media content and an official city-sponsored web page, loaded with interactive media,

materials and resources.

Following the January kickoff, the City of Encinitas will continue to roll out fun, informative,

and engaging content online, here on this page, and via social media (Facebook, Instagram,

Nextdoor, Twitter) with the goal of also offering limited live/in-person features as much as

possible throughout 2021 as County Health Orders allow.

C h a p t e r 8 F 9 5
---
G

Above and below: Surfing Madonna Beach Run and Half Marathon in 2017 earned the new Guinness Book of World Records title after more than 4,000 people ran across the sands

of Moonlight Beach." The Carlsbad Encina Power Plant's smokestack in the background was demolished after a 50-year history in the spring of 2021.

9 6 F E N C I N I T A S : O u r H i s t o r y a n d P e o p l e
---
G

Above: Coaster train heading north

from San Diego across the San Elijo

Lagoon.

PHOTO COURTESY OF KYLE THOMAS

PHOTOGRAPHY

Left: Helena Holleran and the Nu

Funk Shui.

PHOTO COURTESY OF COLIN LEIBOLD.

C h a p t e r 8 F 9 7
---
G

Encinitas Holiday Parade 2019.

PHOTOGRAPHS BY DAPHNE FLETCHER.

9 8 F E N C I N I T A S : O u r H i s t o r y a n d P e o p l e
---
G

Encinitas Holiday Parade 2019. No

one yet knew it would be the last big

event for a very long time.

PHOTOGRAPHS BY DAPHNE FLETCHER.

C h a p t e r 8 F 9 9
---
G

Article reprint courtesy of Encinitas

Magazine Editor in Chief Chris Cote.

IMAGES COURTESY OF KYLE THOMAS.

T H E R O C K ' N ' R O L L H O U S E

The Rock 'n' Roll House was once located between A and B Streets, in the alley, west of the

Coast Highway, near Moonlight Beach on the property where The Lofts at Moonlight Beach now

stand. It was a small two-story apartment whose entire structure, along with the garage, yard and

even the telephone pole, was transformed into a crazy, wildly psychedelic piece of art by the

apartment's resident, Richard Margolin.

"It began mysteriously and unpredictable," says Richard. "I had never done art in my life. I

was 56 years old, living in a motel room in Oceanside, and if somebody would have said, "You're

an artist", I would have told them, "What the hell are you talking about!"

1 0 0 F E N C I N I T A S : O u r H i s t o r y a n d P e o p l e
---
CHAPTER 9

E N C I N I T A S A N D T H E C O R O N A V I R U S

2020 Coronavirus, COVID-19 Pandemic statistics start being recorded on January 20th in the

United States. It is believed the origin of this new virus is Wuhan, China, first reported in December

2019. This purportedly resulted from humans ingesting exotic wildlife from an open market located

there. Some other reports reveal the virus might have been created in a laboratory. It is declared a

worldwide pandemic.

By March the United States issues quarantine rules to stop its spread and closes its borders.

California's governor, Gavin Newsom, is the first in the nation to completely "lock-down" the state

by closing borders, businesses, schools, beaches, parks and theaters causing panic buying at the grocery

stores clearing shelves and causing shortages and rationing. All concerts, sporting and cultural

events are immediately canceled. Air travel is limited, and cruise lines are shut down. Nursing homes

are in also in total lock-down, with meals being served in residents' private apartments. School and

church services at first are held outside, later not at all—only by "Zoom" which becomes the new

meeting norm—an online digital meeting app which prior to the pandemic was barely heard of.

Grocery stores offer on-line orders and/or delivery.

In late spring, beaches and parks open back up. Coronavirus outbreaks continue despite the lockdown

and new rules are set in place by individual state governors. California's governor mandates

protective facial masks to be worn for any activity outside the home. All public gatherings continue

G

IMAGE COURTESY OF DEPOSIT PHOTOS

ID #360151110.

C h a p t e r 9 F 1 0 1
---
to be canceled: weddings, graduations, funerals

and family reunions have either been canceled,

postponed or have severely limited attendance.

Pharmaceutical companies fast-track testing kits

to offer the public.

Covid-19 testing becomes required prior to

any medical procedure and international flights,

with many countries restricting admission from

the United States due to the highest case levels

in the world by the end of 2020. Schools conduct

classes online, and sports events hold

games but with no audience. All meetings are

now conducted via webinars and/or Zoom set

up on computers, iPads, or smart phones.

School hours are extremely limited on campus,

as most lessons are conducted online.

Late in 2020, several pharmaceutical companies

tout the effectiveness of their vaccine and

push for approval for mass inoculations as the

cases are increasing and the death toll rises.

Thanksgiving is mandated as having no more

than three households in attendance by the state

of California. Restaurant restrictions are eased to

allow outdoor dining only. The Encinitas Fall

Street Fair and Holiday Parade are canceled. By

December 14, the first inoculation was administered

to a health care provider in New York.

To be continued...."

G

Airports became ghost towns as air

travel, both domestic and

international, was severely curtailed.

PHOTOS COURTESY OF DAPHNE FLETCHER.

1 0 2 F E N C I N I T A S : O u r H i s t o r y a n d P e o p l e
---
G

Mask wearing and disruptions to

daily life became the "new" norm.

Hoarding toilet paper subsided as

people adjusted to the new norm.

PHOTOS COURTESY OF DEPOSIT PHOTOS ID

#6511819, 359940774 AND 357921970.

C h a p t e r 9 F 1 0 3
---
G

Tempers flared as aspects of the

pandemic overturned daily life.

Zoom became a popular way to

continue work and connect with

family. Children went to school by

video classes.

TOP LEFT AND BOTTOM IMAGE COURTESY OF

DAPHNE FLETCHER.

TOP RIGHT IMAGE COURTESY OF DEPOSIT PHOTOS

ID #366166490.

1 0 4 F E N C I N I T A S : O u r H i s t o r y a n d P e o p l e
---
C h a p t e r 9 F 1 0 5
---
G

Moonlight Beach D Street looking

south toward Swamis Point.

PHOTO COURTESY OF DAPHNE FLETCHER.

1 0 6 F E N C I N I T A S : O u r H i s t o r y a n d P e o p l e
---
C h a p t e r 9 F 1 0 7
---
G

A view from above of Swamis Reef at

low tide.

IMAGE COURTESY OF KYLE THOMAS.

1 0 8 F E N C I N I T A S - O u r H i s t o r y a n d P e o p l e
---
SHARING THE HERITAGE

P r o f i l e s o f b u s i n e s s e s ,

o r g a n i z a t i o n s , a n d f a m i l i e s t h a t h a v e

c o n t r i b u t e d t o t h e d e v e l o p m e n t a n d

e c o n o m i c b a s e o f E n c i n i t a s

Q U A L I T Y O F L I F E ...........................................................1 1 0

T H E M A R K E T P L A C E .................................................................1 3 6

F A M I LY H E R I T A G E ...................................................................1 6 4

B U I L D I N G A G R E AT E R E N C I N I T A S .........................................1 8 6

L O C A L L E G E N D S ..................................................................1 9 4

S h a r i n g t h e H e r i t a g e F 1 0 9
---
G

PHOTO COURTESY OF DAPHNEE FLETCHER.

1 1 0 F E N C I N I T A S - O u r H i s t o r y a n d P e o p l e
---
QUALITY OF LIFE

H e a l t h c a r e p r o v i d e r s , f o u n d a t i o n s ,

e d u c a t i o n a l , a n d o t h e r i n s t i t u t i o n s t h a t

c o n t r i b u t e t o t h e q u a l i t y o f l i f e i n E n c i n i t a s

Encinitas Union Elementary School District .....................................1 1 2

Olivenhain Town Council ................................................................1 1 5

Encinitas Historical Society ............................................................1 1 6

Encinitas Rotary Club ....................................................................1 1 8

San Diego Botanic Gardens .............................................................1 2 0

North Coast Family Medical Group ..................................................1 2 2

Self-Realization Fellowship .............................................................1 2 4

Cardiff-by-the-Sea Branch Library ...................................................1 2 6

Friends of Cardiff-by-the-Sea Library ..............................................1 2 7

San Dieguito Heritage Ranch Museum ..............................................1 2 8

The Heritage Tree .........................................................................1 3 0

Dr. Kent Pollock, Chiropractor ........................................................1 3 1

San Dieguito Art Guild ..................................................................1 3 2

Surfing Madonna Organization ........................................................1 3 3

Gaspar Doctors of Physical Therapy.................................................1 3 4

101 Artist Colony .........................................................................1 3 4

Cardiff Kook ................................................................................1 3 5

S h a r i n g t h e H e r i t a g e F 1 1 1
---
ENICINITAS

UNION SCHOOL

DISTRICT

G

Above: Paul Ecke Central School.

Below: Old school with cistern.

The Encinitas Union School District serves the

city of Encinitas and the Rancho La Costa area of

south Carlsbad in North San Diego County.

Approximately 5,400 students in Kindergarten

through 6th grade are enrolled in the District's nine

schools. Each of the District's schools have been

recognized as California Distinguished Schools and

La Costa Heights, Mission Estancia, Olivenhain

Pioneer and Park Dale Lane have been recognized

as National Blue Ribbon Schools. The District

serves a diverse and varied community. The student

population is approximately 22% Hispanic, 4%

Asian, 68% Caucasian, and 6% other minorities.

Back in the days of early Encinitas, settlers

moved in and started raising families. When the

children needed a school, everyone in the

community stepped in to build a school for the

children. This spirit is very much alive today.

Encinitas has not forgotten its very first school.

Our first one room school house is now 113 years

old and has been authentically restored. It was

built in 1883 and was operated by the Encinitas

Union School District, which had formed one

year earlier. The land for the school was donated

by John Pitcher and the school was built by Mr.

1 1 2 F E N C I N I T A S - O u r H i s t o r y a n d P e o p l e
---
E. G. Hammond. Fifteen children, more or less,

were taught together in this one-room

schoolhouse with all ages taught by one teacher.

After much fundraising and lots of hard work,

the old schoolhouse now serves as a historical

center for Encinitas school children and residents

and is located near downtown Encinitas. To learn

more about the history of Encinitas, visit the City

of Encinitas website.

The four pillars of focus for the district are:

Academic Excellence, 21st Century Learning, Health

& Wellness, and Environmental Stewardship.

Encinitas Union School District consistently

rates high in the state and county for their

student achievement and supplemental

programs. Scores on the state's standardized

tests place our district far above the county and

state average in all subjects.

Encinitas' school history of recognition for

outstanding schools is a tribute to the efforts of the

Encinitas staff, students, community participants,

and parents who are actively involved with the

schools. Like the diverse communities that make

us Encinitas, our schools each embody the

characteristics and values of their neighborhoods.

Individual areas of focus and concentration

support unique brands. Within the district we

have schools that have developed individual

programs such as Leader In Me, International

Baccaulareate, Dual Language Immersion, School

of Wonder, Civics Learning, one with a focus on

the Collaboration of Teachers and Artists.

The Encinitas Union School District is

committed to increasing the opportunities for

our K-6 teachers and students to work

collaboratively with parents and community

members in the areas of science, technology,

engineering, mathematics, and the arts.

In 2014, the Encinitas Union School District

broke ground on Farm Lab DREAMS Campus.

Students have a new educational resource

emerging at EUSD Farm Lab DREAMS Campus.

Fitting in with the district's Green Initiatives and

Health and Wellness Program, the ten-acre farm

and interactive learning center provides

educational retreats for students. Educational

G

Above: The four pillars of focus for

the Encinitas Union School District.

S h a r i n g t h e H e r i t a g e F 1 1 3
---
activities focus on learning about nutrition and the

environment through lessons as well as through

problem and project-based learning. Design,

Research, Engineering, Art, Math and Science

(DREAMS) are integrated into the educational

opportunities taking place on a fully functioning

organic farm. Learning activities connect with the

new State Standards (CSS), Next Generation

Science Standards (NGSS) and the district's Oneto-One

Digital Learning Program.

EUSD Farm Lab DREAMS Campus is located

at 441 Quail Gardens Drive in Encinitas across

the street from the San Diego Botanical Garden

(previously referred to as Quail Gardens),

Leichtag Ranch and the San Dieguito Heritage

Museum. Approximately five acres of land is

being cultivated to provide fresh produce for

the district's school lunch program at all nine

EUSD schools.

The core intent of Farm Lab DREAMS Campus

is to provide students with educational experiences

that demonstrate the interconnectedness of

nutrition, agriculture, and ecology. Through handson

lessons in the field and in food, science and

maker labs, students will develop a rich

understanding of the connection between our

actions and our health, economy, and the

environment. Key partnerships and community

engagement will further enrich the program. Farm

Lab DREAMS Campus curriculum is designed to

cultivate a deep appreciation for natural resources

and to equip our students with the tools they

require for making healthy choices.

1 1 4 F E N C I N I T A S - O u r H i s t o r y a n d P e o p l e
---
The Olivenhain Town Council has its roots in

the early German colonists who settled

Olivenhain. These German immigrants had

joined a German colony called Colony

Olivenhain, they arrived in 1884 and 1885 with

a hope of a better future. They had the foresight

to set aside land for a community gathering place.

The Olivenhain Meeting Hall built in 1895

quickly became the nerve center of Olivenhain

where dances, business meetings, 4th of July

celebrations, and picnics were held. In later

years a number of these celebrations were

hosted by an Olivenhain group calling

themselves the Owl Club. The Meeting Hall was

placed on the National Register of Historic

Places in 1995.

In Spring of 1967 the Colony of Olivenhain

Town Council incorporated as a not-for-profit

corporation to preserve the Olivenhain Meeting

Hall and property. The objective of the

Olivenhain Town Council is: to protect and

preserve the rural atmosphere that we have

inherited from those before us.

In order to save two of the original Colony

buildings from being demolished, members of

the community painstakingly transported them

to the Olivenhain Town Council's property. The

first was the Lickert Shanty, which was

originally constructed in 1885 for colonist

Charles Lickert. The Shanty was moved to the

property in 1979.

In 1982, the Germania Hotel was moved

intact to the Meeting Hall grounds. It had been

built for Herman Baecht and his family in 1885.

The Germania Hotel has been lovingly restored

and is used for various events.

The Olivenhain Town Council hosts a

number of community events throughout the

year, and the Meeting Hall is available for many

local groups such as 4-H, AA, and Boy Scouts. It

is also a beautiful venue for weddings, birthday

parties and memorials.

The original colonists would be pleased to

see how much the land set aside for the

community is used.

OLIVENHAIN TOWN COUNCIL

G

Top: The Olivenhain Meeting Hall

in 1976.

Bottom, left: The Germania Hotel

after its restoration.

Bottom, right: The Olivenhain Meeting

Hall during an Olivenhain Craft Fair.

S h a r i n g t h e H e r i t a g e F 1 1 5
---
ENCINITAS

HISTORICAL

SOCIETY

G

Above: First class of the newly built

schoolhouse. Cecilia Santiff is the

first teacher.

Below: In 1909 an annex was added.

T H E S T O R Y O F T H E

1 8 8 3 S C H O O L H O U S E

In 1881 the California Southern Railroad,

needed fuel and water for its wood-fueled steam

engines and both were available in a small town

named Encina Canada ("Hills of Live Oaks"), just

north of San Diego. The railroad hired Thomas

Rattan to lay out what is now the City of Encinitas.

In 1882, the Encinitas School District was

formed. The first school board members were

Ben Elliott, L.C. Kincaid and Reuben Chaffin. A

small cabin on J.M. Young's Leucadia farm served

as the first school. A grass fire on the farm caused

a hurried evacuation. This near disaster rallied

the community to approve a bond for $600 at

6% to build a permanent school. In 1883, John

Pitcher deeded the District approximately 2.25

acres for a new school.

In May 1883 Edward Hammond, a

cabinetmaker arrived with his family by train.

With his carpentry skills and his son Ted, the

Encinitas School District awarded the

Hammonds the contract to build a new school.

With redwood lumber and pounds of handmade

square nails, they went to work on the

900-square-foot building.

The outside walls of the building were

curved lap redwood board siding. Eight sixfoot

paned windows provided light. The roof

was wood shingles and the floor was fir. The

ceiling peaked to 26 feet. Wood slab tables

and redwood benches were used by the

children to study.

The school was perched on a bluff high. The

view east was of the town with low rolling hills.

In 1885, a concrete cistern was added to

provide water. A bucket was dipped into the vat

and the children drank from a communal

dipper. Water was delivered daily to the

schoolhouse by push car from the railroad water

tower. A potbelly wood stove provided heat and

there were no lights after dark.

The first teacher was Miss Josie Rees for the

17 children (first through eighth grade). The

teaching methods focused on memorization and

elocution exercises. A slate board, chalk and a

wet sponge were used for arithmetic and

writing. Books were purchased by the parents.

1 1 6 F E N C I N I T A S - O u r H i s t o r y a n d P e o p l e
---
In 1909, desks, ceiling, walls and blackboards

were added. Also the addition of an annex to the

north wall. This added a new entry and was used

for coats and teacher materials.

In 1916, the Mission School was built to

accommodate growth. A campanile bell tower

fronted the building and added five classrooms.

By 1927, the original 1883 schoolhouse was no

longer used and declared surplus property. It was

sold in 1928 to George Roberts of San Diego, who

moved it to the corner of Fourth and H streets for

his "country home". The Mission School remained

on site until the late 1940s. When the Pacific View

Elementary was built in 1953, the Mission School

was relocated to Second Street near H and was

used by the Self-Realization Fellowship. In 1958,

Mrs. Linda Schroeder bought the historic

schoolhouse from Roberts and rented it out until

1982 when she sold the building to Bud Fisher, a

contractor/developer. When faced with demolition

1983, the Encinitas Historical Society President,

Julie Shoup, obtained a lease from the Encinitas

Union School District for land on the southwest

corner of the Pacific View Elementary School's

playground. Mr. Fisher sold the schoolhouse for

one dollar to the Encinitas Historical Society,

provided they pay to move the schoolhouse.

Donations of $2,300 was collected. On April 13,

l983 the schoolhouse had a new location where it

sits today near its original location.

The Encinitas Historical Society renovated

the historic schoolhouse and it was opened to

the community in December 1997. Boyd

Hajlmarson, Mark Owens, Bob Halladay and the

City of Encinitas, along with the Rotary Club of

Encinitas, helped toward renovation.

Today, the 1883 schoolhouse is staffed by

knowledgeable docents who give tours of the

school and answer questions about its history

and the history of Encinitas.

G

In May 7, 1983 the Encinitas

Historical Society is successful in relocating

the original schoolhouse to

it's current location at 390 W. "F"

Streets. Extensive renovation begins.

The schoolhouse is the oldest building

in Encinitas overseen by the Board of

Directors for the Historical Society.

S h a r i n g t h e H e r i t a g e F 1 1 7
---
ENCINITAS

ROTARY CLUB

G

Above: Each year Encinitas Rotary

sponsors the opening icebreaker for

Hands of Peace. This organization

brings together young Israelis,

Palestinians and Americans to learn

about each other and empower them

to raise their voices as leaders

of change.

Having just celebrated its eightieth year,

the Encinitas Rotary Club continues to serve

its community and is one of over 35,000

Rotary Clubs worldwide totaling 1.2 million

members. The Encinitas Rotary Club was

granted charter number 5058 in a ceremony

hosted by Rotary International at the Hotel Del

Mar on June 12, 1939.

Encinitas Rotary annually undertakes a number

of projects that benefit both local and international

communities. The club has packed food boxes for

the Community Resource Center and the San

Diego Food Bank, helped upgrade the Encinitas

Boys & Girls Club, services senior citizens through

its Home Team, and annually hosts more than

1,000 patrons at its Annual Wine and Food

Festival, which has raised over $1 million for local

charitable organizations. The Club also previously

hosted an annual youth soccer tournament, with

the proceeds (around $800,000 during its more

than twenty-year run) distributed locally.

Internationally, the Club's recent projects

include assistance with the construction of

houses in Tijuana and upgrading rural health

clinics in Nepal with the cooperation of a Rotary

Club in Kathmandu.

Encinitas Rotary is currently comprised of

around ninety men and women. In addition to

participating in service work, members are active

in fellowship, ensuring they form close bonds with

one another. The Club meets each Wednesday and

hosts an inspiring speaker who presents a topic

pertinent to the community featuring everything

from recycling and travels, to peace-makers—even

a Nobel Peace Prize nominee!

Taking its name from its original practice of

rotating meetings at different businesses, the Rotary

was founded in 1905 in Chicago by Paul P. Harris as

1 1 8 F E N C I N I T A S - O u r H i s t o r y a n d P e o p l e
---
a networking resource for entrepreneurs. It soon

transformed into a service organization, with its

members' actions guided by the Rotary Four-Way

Test: "Is it the truth? Is it fair to all concerned? Will

it build goodwill and better friendships? Will it be

beneficial to all concerned?" The Four-Way Test

continues to serve as a guiding light for Rotary Club

endeavors in Encinitas and beyond.

G

Top, and bottom, right: Rotary at

Work 2019 Community Resource

Center Holiday Box Packing Day at

the Del Mar Fairgrounds.

Middle, left and right: Encinitas Rotary

Club was also excited to help fund the

building three schools and two bridges

in Vietnam. New schools and bridges

are desperately needed in remote areas

where children would not be able to get

an education. The bridges help get

them to school safely.

S h a r i n g t h e H e r i t a g e F 1 1 9
---
SAN DIEGO BOTANIC GARDEN

G

Top, left: The Gazebo Lawn features

magnificent trees, colorful flowers,

and a picturesque gazebo.

COURTESY OF RACHEL COBB.

Top, right: Enjoying the

Bamboo Garden.

COURTESY OF RACHEL COBB.

Below: The entrance to San Diego

Botanic Garden.

COURTESY OF RACHEL COBB.

Each year San Diego Botanic Garden is

visited by thousands of people from around the

world who enjoy the scenic trails and inspiring

vistas of this nationally recognized botanical

garden. The history of Encinitas would not be

complete without mention of this crown jewel

and the visionary people behind the thirtyseven-acre

urban retreat.

In the early 1900s, the Garden's roots

consisted of two parcels of land on a sandstone

ridge with a view of the Pacific Ocean, and

canyons and mesas covered primarily in

southern maritime chaparral. In 1917, the first

parcel of 16.5 acres was purchased by Donald

and Nan Ingersoll, who built a small ranch

house on its hilltop. Ingersoll was in partnership

with developer J. Frank Cullen, who built much

of Cardiff-by-the-Sea in Encinitas. The next

owner, Holland immigrant Anton van

Amersfoort, was a successful landowner and

avocado farmer who lived here from 1923 to

1943. The second parcel of 10 acres was owned

by German immigrant Herman Seidler.

In 1942 and 1943, Ruth Baird Larabee

acquired both parcels, and she and her husband

Charles Wright Larabee brought their love for

Latin cultures and their Midwestern aesthetic to

the homestead. They were a well-educated,

independently wealthy couple in their forties

who abandoned their privileged lifestyle in

Kansas City for a taste of adventure. Their slice

of rural San Diego, with its ideal growing climate

and rustic ranch house probably perfectly suited

the couple whose shared passions included

gardening and exploring the Southwest.

The Larabees were unconventional transplants

in this particular Encinitas coastal community.

Their immediate neighbor, German poinsettia

hybridizer Paul Ecke, Sr., inspired a large

migration of growers here to cultivate exotic

flowers, and by the mid-to-late twentieth century

the area was dubbed the "Flower Capital of the

World." But Ruth and Charles were early

conservationists, and over a whirlwind seven

1 2 0 F E N C I N I T A S - O u r H i s t o r y a n d P e o p l e
---
The mission of San Diego

Botanic Garden is,

"To inspire people of

all ages to connect with

plants and nature."

years they developed a stunningly beautiful,

primarily low water landscape with over 200

different species of trees, shrubs, cacti and

succulents, many from Mexico and South

America. Ruth typically began work in the garden

at sunrise, dressed in her trademark overalls and

green rubber boots. Under the Larabee's

stewardship the ranch rapidly developed into

what Ruth christened "El Rancho San Ysidro de

las Flores."

They were also civic minded people, and

though childless themselves, the Larabees each

devoted time to sharing the outdoors with high

school scouting groups, sowing the seeds for the

Garden's present day commitment to education.

After she and Charles divorced in 1950, Ruth

remained alone at the ranch until 1957, when

she generously deeded her 22.3 acres of land to

the County of San Diego as a park to preserve

the habitat of the resident flocks of California

quail. Its potential as a botanic garden was later

realized by a group of committed founders,

among them board presidents Florence Seibert

and Julia von Preissig, and local horticulturists

Horace Anderson, Paul Ecke, Sr., and Mildred

Macpherson. Finally, in 1970 Quail Botanic

Gardens officially opened its gates to the public.

Today the renamed San Diego Botanic Garden

is designated one of the "Top 10 North American

Gardens Worth Traveling For" by the American

Gardens Association. Four miles of trails wind

through its 29 uniquely themed gardens, among

them a tropical rain forest, a bamboo garden, and

regional desert landscapes. Together with two

acclaimed children's gardens and the Dickinson

Family Education Conservatory, it's a hub for

horticulture, conservation, education, and events.

And thanks to the foresight of its founders, the

Garden will continue to play a vital role in the

growth and development of San Diego for years to

come. Please visit www.sdbgarden.org for more

information and events.

G

Top, left: Charles Wright Larabee

(1901-1968), c. 1950.

COURTESY OF SAN DIEGO BOTANIC GARDEN,

Top, right: Ruth Baird Larabee (1904-

1969), 1962.

COURTESY OF SAN DIEGO BOTANIC GARDEN.

Below: Sapphire Tower (Puya

alpestris) is native to Chile. Its long

spiky leaves form a grassy-like clump

up to three feet tall and six feet

across. The bloom spikes rise three to

four feet above the foliage.

COURTESY OF RACHEL COBB.

S h a r i n g t h e H e r i t a g e F 1 2 1
---
NORTH COAST FAMILY MEDICAL GROUP

With a 1978 visit to loan officer Betty

Camblin at the Encinitas Bank of America,

family physician Dr. Jim Hay, newly released

from his time in the navy at Camp Pendleton,

obtained (on a handshake and with a handwritten

proforma) the financing to start North

Coast Family Medical Group. Dr. Jim Quigley

joined him in 1982 (and retired in 2013)

followed by Dr. Richard Payne in 1986 and now

with Drs. Craig Duck, Amy Kakimoto and

Christine Clotfelter, NCFMG is a group of five

family physicians and four Physician Assistants

serving over 15,000 North County residents

with patient-centered preventive, medical, and

total family care. In 1978 only the Encinitas

Medical Group (Dr. Cook, Clark, and Summers)

and Drs. Charles (Fred) Brass and Tony Armino

in Solana Beach were providing general medical

care to the local area. Encinitas and Carlsbad

were growing rapidly, replacing flower fields

with houses and a new population that needed

medical care.

1 2 2 F E N C I N I T A S - O u r H i s t o r y a n d P e o p l e
---
With the advent of managed care (PPOs and

HMOs) in the mid-1980s, Dr. Hay led the

effort to create an Independent Physician

Association (IPA), North County Physicians'

Medical Group, which later merged with

Primary Care Associates (PCA), becoming one

of the most successful IPAs in San Diego

County, connecting doctors who wished to run

their own practices as opposed to affiliate with

hospital systems. NCFMG and PCA remain

very successful by providing the way for both

patients and doctors to navigate the health care

system successfully.

Recognizing the growth potential, Drs. Hay

and Quigley were two of the 14 partners who

designed and built the North Coast Health

Center on El Camino Real, a successful effort

almost fully leased from opening day in 1988.

The subsequent owners have added a 4th

building and the center remains a commercial

success story in Encinitas as well. NCFMG

celebrated its 40th anniversary in 2018 by

enlarging and modernizing its office and our

doctors continue to enjoy their part in making

Encinitas what it has become.

G

Previous page, bottom: Left to right:

Craig Duck, MD, Christine Clotfelter,

DO, Richard Payne, MD, Amy

Kakimoto, MD.

Above, left: Dr. James Hay.

Left: Dr. James Quigley.

S h a r i n g t h e H e r i t a g e F 1 2 3
---
THE SELF-

REALIZATION

FELLOWSHIP

HERMITAGE,

RETREAT &

ASHRAM

CENTER

G

Top: The three large lotus towers

along South Coast Highway 101,

designed and dedicated by

Paramahansa Yogananda in 1948,

welcome all to the Self-Realization

Fellowship Hermitage, Retreat and

Ashram Center.

Right: Paramahansa Yogananda

(1893-1952) wrote much of his

spiritual classic Autobiography of a

Yogi at his hermitage in Encinitas,

pictured here in 1938.

Below: The SRF Meditation Gardens

in Encinitas offer stunning views of

the Pacific Ocean.

PHOTOS COURTESY OF SELF-REALIZATION

FELLOWSHIP, LOS ANGELES, CALIFORNIA.

The Self-Realization Fellowship (SRF)

Hermitage, Retreat and Ashram Center,

established in 1937 by Paramahansa

Yogananda—a world teacher who brought

India's ancient science of meditation to the West

in 1920—has been welcoming visitors since the

1930s to its tranquil environs on the bluffs of

Encinitas, overlooking the Pacific.

The 17-acre Center has a rich history—one

that began with an inner vision experienced by

Yogananda in which he realized he would one

day have an ashram by the ocean. In his earlier

years in America—soon after establishing the

international headquarters of his society, Self-

Realization Fellowship (in Los Angeles in

1925)—he began searching for the right place

to build a hermitage where he could retreat from

the world and commune with God.

One of his favorite places of meditation was

along the Encinitas bluffs overlooking the

Pacific Ocean, known as Noonan's Point. He

would frequently travel the 100 miles or so with

a group of his disciples and spend the day there,

picnicking, and meditating and chanting.

While Yogananda was in India during a

return trip in the mid-1930s, one of his

foremost disciples, Rajarsi Janakananda (James

J. Lynn), acquired the property at Noonan's

Point as a surprise gift to Yogananda. Upon his

return to America, Yogananda was driven to the

1 2 4 F E N C I N I T A S - O u r H i s t o r y a n d P e o p l e
---
site by Rajarsi and some of his other close

disciples, where he was surprised with the

Encinitas Hermitage. He recognized the

building from visions he had since youth, and a

prophecy made by his guru, Swami Sri

Yukteswar, that he would someday have "a

retreat by the ocean."

Yogananda dedicated the SRF Hermitage and

Ashram Center in 1937. Soon after, he

established the Golden Lotus Temple on the

site, where he conducted services until 1942,

when the temple toppled due to soil erosion. A

new temple was built in the late 1970s and is

located at 939 Second Street. The three large

lotus towers along South Coast Highway 101

were designed and dedicated by Yogananda

in 1948.

Yogananda frequently invited students to

attend informal satsangas and classes on his

teachings at the Hermitage. He also received

many visitors, including prominent figures in

science, business, and the arts, such as

conductor Leopold Stokowski, actress Greta

Garbo, opera star Amelita Galli-Curci, scholar

and author Dr. W. Y. Evans-Wentz, and scientist

Dr. N.N. Das.

Today, the SRF Hermitage and Ashram Center

consists of monastic communities for SRF monks

and nuns, retreat accommodations for SRF

members and friends, and cliffside meditation

gardens open to the public. The Hermitage,

where Yogananda lived and worked for many

years and where he wrote his spiritual classic

Autobiography of a Yogi, has been preserved and is

open from 2-4 p.m. on Sundays.

The SRF Hermitage, Retreat and Ashram

Center is located at 215 K Street. SRF Books and

Gifts is located at 1150 South Coast Hwy 101,

and offers SRF publications as well as distinctive

arts and crafts from India. For more

information, please call 760 753-2888 or visit

http://encinitastemple.org/.

G

Top: A view of the SRF Retreat,

Hermitage, and Ashram Center in

Encinitas, overlooking "Swami's

Beach," nicknamed after

Paramahansa Yogananda, originally

known as Swami Yogananda.

Bottom: Thousands of visitors come

each year from around the globe to

retreat, reflect and meditate at the

meditation gardens located at the 17-

acre SRF Hermitage and Ashram

Center. It is at the Hermitage where

Paramahansa Yogananda wrote most

of his Autobiography of a Yogi.

PHOTOS COURTESY OF SELF-REALIZATION

FELLOWSHIP, LOS ANGELES, CALIFORNIA.

S h a r i n g t h e H e r i t a g e F 1 2 5
---
CARDIFF-BY-

THE-SEA

BRANCH

LIBRARY

G

The Cardiff-by-the-Sea Branch

Library is located at 2081

Newcastle Avenue.

PHOTOGRAPHY BY DAPHNE FLETCHER.

On Christmas Eve 1913, thirty-eight people

signed a petition which read: "We, the

undersigned respectfully make application for

the establishment of a Free Circulating Library

at this place, the books to be placed in S. M.

Holbrook's store."

That store was the Cullen or Mercantile

Building at the corner of San Elijo Avenue and

Chesterfield Drive which still exists. S. M.

Holbrook's name heads the list of signers. The

library opened on March 18, 1914 and Mrs.

Holbrook became the keeper of the books.

Since 1913 to the present date, the library

has had many homes, including a real

estate/insurance office, the post office, and from

there to the Scout House in Glen Park.

In 1947, the library moved to a variety shop

owned by the Maudlin family at 137

Chesterfield Avenue. That building no longer

exists. The Mauldins were the parents of World

War II cartoonist Bill Mauldin. After the

Mauldins closed their store in 1950, the

community's library needs were serviced by a

bookmobile until 1960.

In 1961, the Jepson family constructed a

strip mall which provided a space for the library

at 2139 Newcastle Avenue. The "Friends of the

Cardiff Library" was formed in the 1980s and

this philanthropic group was instrumental in

getting the library moved to the Cardiff Town

Center. In 1990, a beautification grant from the

City of Encinitas allowed for an expansion.

The "Friends" continued its efforts to find a

permanent home for the library. With tireless

support from then-Supervisor Pam Slater-Price,

a grant from Hamilton-White Foundation and

tremendous community contributions, the new

library was opened at a ribbon-cutting ceremony

on March 22, 2003 at its present location on the

northeast corner of Liverpool and Newcastle.

The building was designed by La Jolla

Architect Manuel Oncino.

1 2 6 F E N C I N I T A S - O u r H i s t o r y a n d P e o p l e
---
In the spring of 1983, several local residents

saw the need for a "Friends of the Library"

support group whose mission would be to work

for the preservation and betterment of the

Library. In April 1984, a formal organization—

Friends of the Cardiff-by-the-Sea Library—was

founded with the late Betty Knutson and Irene

Kratzer spearheading the group.

"We were threatened with being closed,"

explained Kratzer. "We didn't want that to

happen. Another lady called me and asked

me about forming a friends' group. We asked a

few people to get involved. Once, the Chamber

of Commerce became involved, it snowballed

from there."

At the time, the library was located on

Newcastle Avenue in a facility so small that

when they had children's programs, they had

move out equipment and supplies to make

room for the kids.

The "Friends of the Library" adopted a

three-tiered approach—to relocate, expand,

and build a new library. That goal was reached

with the grand opening of the new library

facility at 2081 Newcastle Avenue on March

22, 2003.

Since then, the Friends of the Cardiff Library

have introduced many wonderful community

programs, including yearly scholarships to

graduating high school seniors, the First

Wednesday concert series, author talks,

children's programs and adult art classes. And,

not to mention Kratzer's pet project, the Mile of

FRIENDS OF THE CARDIFF-BY-THE-SEA LIBRARY

Pennies (MOP) fundraiser. The MOP is fueled

by donations plus recycling.

"The year that we started the fundraiser, we

gathered pennies until we reached our goal,"

said Kratzer. "Within ten months, we had our

first mile of pennies. Since then, we have

collected in many different ways. The

schoolchildren used it as a math project."

For the record, there are 16 pennies in a foot

and 84,480 pennies (or $844.80) in a mile.

G

Above: Shoppers in the Book Nook

Below: Author Marion Ross addresses

a book talk.

S h a r i n g t h e H e r i t a g e F 1 2 7
---
SAN DIEGUITO

HERITAGE

RANCH

MUSEUM

G

Above: The Main Museum building

contains exhibits relating to the

history of the San Dieguito region.

Below: The Museum has an extensive

collection of photos documenting the

history of the area, like this one

showing the Encinitas train station

in 1887.

The San Dieguito Heritage Museum was

founded in 1988 to preserve artifacts, photos,

archives and stories pertaining to local history

before they were lost to the passage of time. The

San Dieguito region comprises the area

surrounding and including communities of Del

Mar, Solana Beach and Encinitas (Leucadia,

Cardiff, Olivenhain), and Rancho Santa Fe—

roughly the area between the Batiquitos Lagoon

and the Los Peñasquitos Lagoon. The Museum

founders had deep roots in these local

communities and cherished the uniqueness of

the history in the area.They sought to share this

history through a combination of hands-on

experiences as well as traditional exhibits.

Thanks to the generosity of the City of

Encinitas, the 1.5-acre property at 450 Quail

Gardens Drive (Heritage Ranch) was made

available, and this allowed the Museum to move

to its permanent home in 2007. Since that time,

we have created our living-history museum,

spanning the history of the region from the early

Native Peoples through to the 1980s, including

the Main Museum building, a Kumeyaay 'Ewaa,

1 2 8 F E N C I N I T A S - O u r H i s t o r y a n d P e o p l e
---
G

Top: The grounds feature historic

buildings such as the 1920s Ecke

Ranch Bunkhouse (left) and the 1890s

General Store building.

Middle, left: The Museum hosts a

wide variety of events. Here it is set

up for a Farm-to-Table dinner. In the

background is the 1880s Teten Farm

House which was originally in

Olivenhain and is now a walkthrough

exhibit featuring original

furnishings from the home.

Middle, right: The San Dieguito

Heritage Museum is a great place for

children to learn about how people

lived in the past.

Bottom, right: Docents conduct tours

of the exhibits for visitors, students

and adult groups.

the 1885 Teten house from Olivenhain, the

General Store, the Ecke Ranch Bunk House, the

Main Street Building, and our latest addition,

the 1885 Dunham House from Del Mar.

The museum is open to the public for

tours with knowledgeable docents on hand

to enhance the experience. School groups

learn about local history with engaging handson

activities and the museum hosts annual

events and family activities related to the

history of the area. The history on display

not only provides a fascinating stroll through

time, but the entire Heritage Ranch serves

as a unique backdrop for community events

and celebrations, and life's milestone events.

For more information about the museum and

for the current hours of operation, visit our

website at www.sdheritage.org.

S h a r i n g t h e H e r i t a g e F 1 2 9
---
G

ENCINITAS

HERITAGE

TREE

Bottom, left: Parkdale Lane

Elementary School Honors Choir

accompanied by Sarah Brown on flute.

Encinitas' famed Heritage tree was planted in

1952 by two brothers, Peter and John Danforth.

The now 87' tall Norfolk Island Pine, located at

4th Street and C Street above Moonlight Beach,

was designated by the City of Encinitas as a

"Heritage Tree" in 2011, the second tree in

Encinitas to achieve this protected status. Today

the tree is adorned once a year with LED lights,

then lit up on a Friday, the day before the city's

annual Christmas parade, signifying the official

beginning of the city's annual holiday season. The

Encinitas Historical Society serves as the event's

official sponsor.

Starting in 1994, local long-time resident, Luis

Ortiz, was inspired to light up the tree. Approaching

the Danforth family, he was given permission to

string lights on the tree. Luis donated his time and

money, along with donations from the community

and labor from his local buddies, to start what has

now become an annual Encinitas tradition. Luis

kept at it, reaching out to the community to keep

the tradition going, annually raising funds and

donations of labor and equipment to light up the

tree. He recruited neighbors and merchants to

support the effort, an effort that has grown into the

annual tradition it has become.

Helping Luis behind the scenes for nearly

twenty years, Jim Filanc took over event

management and emcee duties in 2015. He

collaborated with the Encinitas Historical Society

to serve as the event's official sponsor. In 2017, the

Encinitas Historical Society raised $24,000 to pay

for a permanent power supply, saving on annual

operating costs. As a result, the Heritage tree now

has its own address, 406 4th Street. Today, the

event has grown to include local chorales,

musicians and school choirs, with crowds swelling

to nearly five hundred.

1 3 0 F E N C I N I T A S - O u r H i s t o r y a n d P e o p l e
---
DR KENT

POLLOCK/

CHIROPRACTIC

CENTER OF

NORTH COUNTY

Dr. Kent W Pollock II, a second-generation

chiropractor, started practicing in Carlsbad,

California, in 2003. He moved offices to a

wonderful new location in Downtown

Encinitas, California in 2014.

Following in his father's footsteps, he graduated

from Cleveland Chiropractic College Los Angeles.

Having grown up around alternative medicine, he

has seen countless positive life-changing experiences

in others through natural chiropractic care.

Chiropractic Center of North County uses a

variety of safe and effective chiropractic

techniques in order to stabilize, strengthen, and

heal the body.

Science has proven that everyone has an

inborn or innate intelligence that utilizes the

nervous system to control and regulate the body's

vital functions as it relates the environment. This

inner wisdom works both consciously and

subconsciously at keeping you in balance with

the proper heart rate, release of hormones,

digestion of foods, regulates our breathing cycles

and so on. This system is always on and always

functioning—24 hours a day, seven days a week.

The most serious Interferences to this system

occur when certain short or long-term stress is

too much for the body to handle. These stresses

can arise from various sources, such as physical

stresses, chemical and nutritional

stresses, emotional stresses,

toxins in the environment and

electromagnetic pollution. Any of

these stresses will cause nerve

interferences that result in

malfunction to every system in

the body. Research has shown

that if these interferences persist

for more than ten days,

imbalances develop in the body,

scar tissue forms, and cells cease

to function properly.

As Doctor Pollock says, "I am a

firm believer that everyone can

benefit regardless of age, current

health problems, or pain levels.

Chiropractic care simply improves

the quality of your life and health.

Alignment is everything."

S h a r i n g t h e H e r i t a g e F 1 3 1
---
SAN DIEGUITO

ART GUILD

G

Top: Past and present guild presidents

in September 1976. Back row (from

left to right): Olivia C. Walker '66-

'67; Betty Sturdevan, '75-'77; Margi

Morgan, '72-'73; and Bill Wicknick,

'67-'68. Front row (from left to right):

Dorothe Reavell, '73-'75; Sue Beere,

'65-'66; and Mary Ellen Melton,

'72-'73.

Middle: Offtrack Gallery was located

downstairs for over ten years with the

Pannikin Coffee & Tea Shop upstairs.

Bottom: Artist/members enjoy several

opportunities: use of space in the Off

Track Gallery, attending an

educational meetup called Show &

Tell, volunteering to be a featured

artist, joining the Plein Aire outdoor

painter's group, or serve on a variety

of committees that support the

guild's activities.

Founded in 1965, the San Dieguito Art Guild

has served North County's community by

providing opportunities for local artists to show

and sell their artwork.

The guild's mission statement is to further

artistic understanding of the Visual Arts through

education of its members and the community at

large. The first gallery location in Encinitas was

behind the Corner Frame Shop on Highway

101. However, most local residents remember

when the Guild joined with the Off Track

Gallery in 1982—becoming one entity—

downstairs in the Pannikin.

In 2006 the guild rented space in a metal

building which was torn down to make way for

Pacific Station.

In 2009 the Gallery moved to what has proved

to be an ideal location at the Lumberyard

Shopping Center in downtown Encinitas.

SDAG members enjoy several opportunities:

displaying their artwork in space in the Off

Track Gallery, attending an educational meetup

called Show & Tell, volunteering to be a

featured artist, joining the Plein Aire outdoor

painters, or serving on a variety of committees

that support the guild's activities.

The Mother's Day Weekend Art, Garden, and

Studio Tour was first organized over thirty years

ago with a goal of inviting the public to view

and purchase artwork at members' studios.

Proceeds from the tour help defray the costs of

operating the Off Track Gallery and are used to

invest in the community.

In 2012 the Guild became a 501(c)3

nonprofit organization. Current programs focus

on providing financial support to local visual art

students who show exceptional promise.

1 3 2 F E N C I N I T A S - O u r H i s t o r y a n d P e o p l e
---
SURFING

MADONNA

ORGANIZATION

On Good Friday, April 22nd, 2011, the

community of Encinitas was gifted with the Surfing

Madonna mosaic, Our Lady, Star of the Sea.

Local artist, Mark Patterson and his good friend

Bob Nichols, dressed up as constructions workers

and clandestinely hung the beautiful Surfing

Madonna mosaic with its "Save the Ocean" theme.

The mosaic was originally mounted underneath

the train bridge, across the street from its current

home. The mosaic received international attention

while the artist remained anonymous for months

until discovered. Although beloved by the

community, she could not stay there and eventually

found her new permanent home directly across the

street from her original location.

Mark Patterson and Bob Nichols sought to

raise awareness of the value of the world's

Oceans. Through Mark's his vision he created the

Surfing Madonna mosaic to spread a message of

environmental awareness of Mother Ocean.

The mosaic gave birth to the Surfing Madonna

Oceans Project which has continued to serve the

Ocean and community through funding of local

arts, environmental awareness, and by introducing

special needs youth and those with disabilities to

the joys of the ocean through free summer surf

camps and aquatic programming.

In 2013 Bob Nichols created the Surfing

Madonna Beach Run to raise funds for the

organization and their projects. And in 2017 the

Guinness Book of World Records declared it the

"Largest Beach Run in the World".

Says The Encinitas Advocate, "It's official:

Encinitas is the world record-holder for the largest

beach run. The Surfing Madonna Beach Run on

Nov. 5, 2017 earned the new Guinness Book of

World Records title after more than 4,000 people

ran across the sands of Moonlight Beach."

Since 2014 the Surfing Madonna Oceans

Projects has donated over $600,000 to a variety

of local ocean, beach, park and humanitarian

related projects through its events.

It's amazing to think that all this started from

the installation of a mosaic by two guys dressed

as construction workers.

S h a r i n g t h e H e r i t a g e F 1 3 3
---
GASPAR

DOCTORS OF

PHYSICAL

THERAPY

G

The Gaspar Family: left to right-

Payton 13, Addison 11, Kristin,

Carson 15, and Paul Gaspar at Zion

National Park, 2020.

Gaspar Doctors of Physical

Therapy (GPT) has been part of

the fabric of Encinitas since its

establishment at Frog's Athletic

Club in 1994. The practice has

grown from a 350-square foot

office to seven locations,

employing 30 therapists and

over 100 employees. GPT now

treats almost 7,000 new patients

per year.

Employees of GPT have taken

great pride in serving their

community in many ways

including, but not limited to,

donating money and providing onfield

sports medicine coverage for

high school sports and Pop Warner,

through stewardship with the Encinitas Rotary Club,

getting their hands dirty with the Rotary Home Team

and Wine Festival, coaching the two-time National

Champion, the La Costa Canyon Lady Mavericks

Cheerleaders, and through Kristin's service as

County Supervisor and Encinitas' first-elected Mayor.

GPT moved its Encinitas headquarters

to the former Chili's in 2021 to better

accommodate patients during the pandemic.

We wish all Encinitans great health and

happiness, as we look forward to seeing you

around town soon!

101 ARTISTS'

COLONY

The "Colony" was established in 1998

and became a magical hub for the community

and its artists to come together for painting,

performance, classes, and all things creative.

This artist-operated and funded co-op initially

operated a gallery at the Lumberyard Center.

There was a big move in 2001 to its own

building at 25 East E Street and it was in

this old '30s sheet-metal shop that the Colony

became known as the Art Center for Encinitas.

From 2004-2007, the Colony operated in

the buildings pictured which spanned the

block from A Street to B Street on the PCH.

This was the last hurrah for a place to call

home. The Colony is a model for future art

centers in Encinitas and is still going today

producing its annual Arts Alive Exhibit with

dozens of paintings by local artists exhibited

on light poles from Leucadia to Cardiff, its

"Full Moon Poets" Poetry Slams at La Paloma

Theater, and the Halloween Fun Zone at

the Lumberyard.

1 3 4 F E N C I N I T A S - O u r H i s t o r y a n d P e o p l e
---
CARDIFF KOOK

Bringing a piece of notable public art to

fruition was an invaluable experience. It never

would have happened if not for my sister,

Meredith Straw. She was a prolific contributor

to her community. A member on the boards

of the Friends of the Cardiff-by-the-Sea Library

and the Chamber of Commerce, Meredith asked

me to get involved in the community by

volunteering before she passed away in 2003.

She said it would change my life. Needless

to say, it has. In 2004, I took her place on

both boards.

In a community so well defined by its surfing

tradition, the sculpture at the intersection of

Chesterfield and South Coast Highway 101

sparked a debate amongst critics and supporters

of the piece. The delicate balance of displaying

public art was forced off center when The Magic

Carpet Ride statue was publicly unveiled July 22,

2007. Better known as the "Cardiff Kook" the

art is now iconic and the community has

embraced it by creating various costume and set

designs to showcase it.

The Cardiff Botanical Society, a part of the

Cardiff Chamber of Commerce commissioned

well-known artist Matt Antichevich to create

the bronze statue. I, Susan Hays, was joined

on the selection committee by Mike Clark,

Barbara Cobb, Sheri Fox, Don Hansen, Carol

Holub, Brad Maassen, and Danny Salzhandler.

The highly technical piece of world-class

art represents an everyday surfer performing

a "floater."

Indeed, people talked about the details of the

art itself but not as much about the process of

bringing art out of the gallery and into the

community. The work that goes into it is a labor

of love and a testament to a community's

commitment to creativity. The Commission for

the Arts donated $30,000 and we raised

$62,000. It was a priceless investment to the

residents and visitors of Cardiff-by-the-Sea.

G

PHOTOGRAPHS BY MORGAN MALLORY.

S h a r i n g t h e H e r i t a g e F 1 3 5
---
1 3 6 F E N C I N I T A S - O u r H i s t o r y a n d P e o p l e
---
THE MARKETPLACE

E n c i n i t a s ' r e s t a u r a n t s , b a n k s , a n d

r e t a i l a n d c o m m e r c i a l e s t a b l i s h m e n t s

o f f e r a n i m p r e s s i v e v a r i e t y o f c h o i c e s

Encinitas Chamber of Commerce ......................................................1 3 8

Encinitas 101 Mainstreet Association ...............................................1 4 0

Leucadia 101 Main St. Association (L101) ........................................1 4 1

Cardiff 101 Main Street Association .................................................1 4 2

Encinitas Preservation Society.........................................................1 4 3

The Cardiff Mercantile/The Guild ....................................................1 4 4

Seaside Market .............................................................................1 4 6

PsyTek Lab ..................................................................................1 4 8

Candice Gerlach, CPA ....................................................................1 5 0

Encinitas Café ..............................................................................1 5 1

Sunshine Gardens, Inc. ..................................................................1 5 2

Rancho Auto Body .........................................................................1 5 3

Soulscape Gifts & Bookstore ...........................................................1 5 4

Hansen's Surfboards ......................................................................1 5 5

Fred Caldwell Antiques ..................................................................1 5 6

Encinitas Surfboards .....................................................................1 5 6

Neal Glasgow Photography .............................................................1 5 7

Artist Kevin Anderson ....................................................................1 5 8

Kyle Thomas Photography ..............................................................1 5 9

Artist Danny Salzhandler ...............................................................1 6 0

HPN/LedgeMedia ..........................................................................1 6 1

Herman Cook VW .........................................................................1 6 2

The Corner Frame Shop Tribute to Morgan Mallory ............................1 6 3

S h a r i n g t h e H e r i t a g e F 1 3 7
---
ENCINITAS

CHAMBER OF

COMMERCE

The Encinitas Chamber of Commerce was

first incorporated in 1932 but became inactive

due to the influence of the San Dieguito

Chamber of Commerce conglomerate until

1946 when Del Mar and Solana Beach formed

their own chambers and at the same time the

Cardiff-Encinitas-Leucadia Chamber was

created as explained by historian Maura

Wiegland-Harvey who often wrote about the

history of Encinitas. In 1959, Sid Shaw, who

operated Surf Dry Cleaning, and others

reactivated the Encinitas Chamber of Commerce

with the intention of exclusively promoting

businesses in the Encinitas community. The

Encinitas Chamber of Commerce played a

major role in that community, including

opposing the incorporation of a new city in

1959 which was to be called "Marbello" and

what was later incorporated to form the City

of Encinitas.

Soon the competition heated up between the

Cardiff-Encinitas-Leucadia Chamber and the

Encinitas Chamber of Commerce and eventually

escalated into the legal arena. In 1960, the court

urged the two rival organizations to combine;

they eventually merged in 1964. Since the

City of Encinitas had not yet incorporated,

there was no official local government in the

area. As a result, the newly merged chamber

grew to be a major force, taking on

responsibilities like paving alleys and even

petitioning for a second traffic light on Highway

101, amongst others.

The Encinitas Chamber of Commerce has

been advocating for and promoting a healthy

and prosperous business environment for over

fifty years and is still focused today on its

mission to help local businesses grow and

thrive. The Chamber helps connect the

community with City officials and provides

many opportunities each year for business

owners to participate in the original form of

networking. Annually, it hosts the State of the

City Address, the Salute to Education, and the

Encinitas Oktoberfest.

1 3 8 F E N C I N I T A S - O u r H i s t o r y a n d P e o p l e
---
Oktoberfest, or Wiesn, is a 16 to 18-day folk

festival held annually in Munich, Bavaria,

Germany, running from late September to the first

weekend in October with more than six million

people from around the world in attendance every

year. Oktoberfest began in Munich in 1810 and is

an important part of Bavarian culture. Other cities

throughout the world also hold Oktoberfest

celebrations, modeled after the Munich event.

two hundred vendors, and a family food tent

serving authentic German food and beer. There

is also the Craft Corner beer tent serving some of

San Diego County's famous craft beer. A family

Fun Zone rounds out the event.

The Encinitas Oktoberfest brings together

community and heritage, allowing all of us to

celebrate the City's German roots and be

German for a day.

ENCINITAS

OKTOBERFEST

Encinitas has German roots with the Colony

Olivenhain (German for "olive grove") founded

in 1884 by German farmers. In 1994, the

Encinitas Chamber of Commerce Board

Members got together to discuss creating an

annual fundraising event for the Chamber.

Chamber Vice President Edgar Engert and Board

Member Frank Mangio were granted permission

from the City to put on a local one-day

Oktoberfest event to celebrate all things German.

The Encinitas Oktoberfest takes place

annually at the end of September or the

beginning of October. It starts at the corner of El

Camino Real and flows down Mountain Vista

Drive to Wandering Road. The event features an

authentic German band, Bavarian dancers, up to

S h a r i n g t h e H e r i t a g e F 1 3 9
---
G

ENCINITAS 101 MAINSTREET ASSOCIATION

Encinitas 101 MainStreet Association

is located at 818 South Coast

Highway 101 in Encinitas, and online

at www.encinitas101.com.

The mission of the Encinitas 101 MainStreet

Association (E101) is to support our thriving

downtown businesses and encourage historic

preservation of our local landmarks so that

Encinitas remains rich in culture and is a wonderful

place to live, work, and play. E101 is proud to be

part of the National Association of MainStreet Cities

Program, which encourages imaginative use of

business and government resources to support

local downtown and neighborhood commercial

district revitalization efforts.

E101 was established in 1982 and, over the

past four decades, we have helped to shape our

downtown into an active and vital part of the

Encinitas community with locally owned retail

shops, fine dining, cultural events, and

attractions that bring visitors from near and far.

E101 takes pride in igniting downtown with

creative art and cultural events. We host

numerous events throughout the year including

two local artisan-driven Street Fairs, Taste of

Encinitas, Encinitas Cruise Nights, a Holiday

Parade, and Safe Trick-Or-Treat. These events

support downtown businesses and connect

them with local residents, while also bringing

music and entertainment to Coast Highway.

Encinitas 101 MainStreet also sponsors

various works of public art and other

improvements to bring positive change to the

coastal corridor of Encinitas. The organization

recently sponsored the creation of wayfinding

signs to help pedestrians and cyclists navigate

the coastal corridor. The signs are bright and

aesthetically pleasing, and maintain the historic

downtown beach vibe for both local residents

and business owners alike.

1 4 0 F E N C I N I T A S - O u r H i s t o r y a n d P e o p l e
---
LEUCADIA 101

MAIN ST.

ASSOCIATION

(L101)

The Leucadia 101 Mainstreet Association was

founded in 2003 to help promote and protect

Leucadia's unique culture and community and

supporting Encinitas's construction of the Leucadia

101 Streetscape. Initially, historical protection was

one of our primary concerns. And what a history!

Founded in 1875 (purportedly by English

spiritualists) it's always been one of the last great

surf/beach towns along the coast. Visitors driving

south always knew they had arrived when they

came to our "tunnel of trees" and winding road that

they had arrived in North County. Sadly, years of

neglect and interest allowed our beautiful canopy

to suffer, but Leucadia is now experiencing a new

renaissance, thanks to an active group of locals.

L101's vision is to enhance the civic, cultural,

and economic vitality of Leucadia. In advancement

of the cultural objective, L101 has established a

501©(3) charitable organization, the Leucadia

Arts and Culture Foundation. L101's initial

primary objective was to support the city of

Encinitas constructing the Leucadia Streetscape

project. That project will be the city of Encinitas's

largest and most significant infrastructure

improvement project to date.

After pushing hard in support of that project

from its inception, L101 finally obtained city

approval of the project in 2010. After a number

of delays, with L101's continuing strong

support, construction of the project is

scheduled to begin early in 2021.

Employing the incredible energy of Morgan

Malory, a L101 founder and original President,

L101 established two incredibly successful

community events. The Leucadia Farmers' Market

and the Leucadia Art Walk, a juried art show with

an annual attendance of 8000 to 10,000 people.

Sadly, we lost Morgan towards the end of 2019.

Leucadia lost a great champion. A list of other L101

community accomplishments include facilitating

the installation of sidewalks and the design of

sidewalk stamps along N. Coast Hwy. 101; in

support of local musicians, starting and maintaining

the wonderful Leucadia music Festival, Summer

Fun On The 101, celebrating its 10th anniversary;

as well as the Battle of the Bands; the widely popular

Taste of Leucadia; establishing an Adopt a Plant

median project for 101; and many more.

The accomplishment of which we are most

proud is through our efforts, creating and

sustaining a safe family friendly atmosphere

where residents and visitors alike can enjoy our

unique, historic Coast Highway 101 Corridor.

G

Above: Leucadia residents swoon

under the stars during the Savor

Leucadia event.

PHOTO COURTESY OF COLIN LEIBOLD

Below: The Bubble Guy(tm) entertains

kids at Leucadia Roadside Park.

PHOTO COURTESY OF L101

S h a r i n g t h e H e r i t a g e F 1 4 1
---
G

CARDIFF 101 MAIN STREET ASSOCIATION

PHOTOGRAPHS BY MORGAN MALLORY.

The Cardiff 101 Main Street Association

has deep roots in the community. Originally

formed in 1963 as the Cardiff-by-the-Sea

Chamber of Commerce the name was changed

in 2010 to the Cardiff 101 Main Street

Association, locally known as Cardiff 101. The

new name better reflects the organization's

mission to promote economic vitality, historic

preservation and beautification.

Cardiff 101 hosts numerous popular

community events. The town comes alive during

the Taste of Cardiff, a celebration of the unique

local restaurants and retailers. Cardiff Small

Business Saturday kicks off the holiday season

and promotes local businesses.

Kringle Mingle is Cardiff's most beloved

Holiday celebration. A free event for the entire

community with live music, holiday treats, kid's

crafts and Surfer Santa.

Begun in 2005, Cardiff Dog Days of Summer

has become one of the largest dog-centric

events in San Diego County. This free event

features over 100 dog-related vendors, rescue

groups, pet adoption agencies, dog contests and

kids activities.

Cardiff 101 activity supports local artists

through mural projects that also enhance and

beautify the downtown business area.

Cardiff has a long history of volunteers coming

together to beautify the community. For many

years Orville Carpentier and Wayne Holden

volunteered hundreds of hours to clean-up and

landscape the area around the entrance to Cardiff

at Hwy 101 and Chesterfield Drive. Cardiff

Chamber and later Cardiff 101 hired Linda Lee, a

local horticulturist to maintain the parkway. The

area is now maintained by the Cardiff-by-the-Sea

Foundation and City of Encinitas. The

Foundation was formed in 2016 to support the

Cardiff 101 Main Street environmental and

aesthetic improvements.

Cardiff-by-the-Sea is a charming, beautiful

and historical beach community, an eclectic mix

of residents, tourists, professionals and artisans

seeking to live the California dream.

1 4 2 F E N C I N I T A S - O u r H i s t o r y a n d P e o p l e
---
ENCINITAS

PRESERVATION

ASSOCIATION

Encinitas is home to the iconic boathouses,

two of the West Coast's most intriguing

landmarks. Completely handcrafted in 1927

and 1928 by local Miles Minor Kellogg and son

Miles Justus Kellogg. The S.S. Moonlight and

the S.S. Encinitas were purchased in 2008 by

the newly formed Encinitas Preservation

Association (EPA), which is mostly comprised of

passionate members from the Downtown

Mainstreet Association (E101) and the Encinitas

Historical Society. The EPA is dedicated to

preserving historic buildings and places that

represent our early history. The 1.55-milliondollar

purchase price was made possible

through a partnership with the City of Encinitas

using developers fees.

These unique homes located at 726 and 732

3rd Street, are an impressive sight to see, as if

both washed ashore in a violent storm yet

somehow calmly made their way to the bluffs,

where they have rested ever since. Of course,

these boats have never seen water. They were

built almost entirely of recycled materials,

including some wood from the Encinitas Hotel's

third floor and parts of the Moonlight Beach

Dance Pavilion. Over the years, small upgrades

and repairs have been done to keep the

properties intact, as they continue to lure

sightseers from all around the world, as well as

keeping these affordable housing boats' own

residents happy. Both homes have tenants and

will continue to until the mortgage is paid off.

At the time, the EPA will decide whether to keep

one of the boats as a rental unit. Most

importantly, on October 12, 2019, the

community joined together with EPA and

dedicated the S.S. Moonlight and it's sister ship

S.S. Encinitas on the National Register of

Historic Places. This final ceremony helped seal

their fate not just as a local but a nationally

recognized treasure for all to enjoy.

G

Above: A vintage photograph of

The Boathouses.

PHOTO COURTESY OF RACHEL BRUPBACHER.

Below: The Boathouses today.

PHOTO COURTESY OF DAPHNE FLETCHER.

S h a r i n g t h e H e r i t a g e F 1 4 3
---
THE CARDIFF

MERCANTILE/

THE GUILD

Since the earliest days of its settlement in the

late 1800s, the town of Cardiff has fostered a

community that is forward-thinking and

equates economic development with prosperity

for all. The collaborative spirit of kinship and

abundance drove the town's early founding

fathers as they built out the infrastructure and

attracted new businesses and neighbors.

The building at the heart of Cardiff's growth,

now known as Guild, was originally called the

Cardiff Mercantile building, and was central to

the development and character of the town. For

over 100 years, it's been the linchpin of growth in

the community—in its population, its

marketplace, and its entrepreneurial spirit.

Built in 1911 by J. Frank Cullen, a San Diego

real estate developer, the Mercantile building was

envisioned as the cornerstone of a coastal artist

colony, thoughtfully crafted to draw visitors,

engage new residents and spark new relationships.

He sold surrounding property lots for just $30 and

created an active market for expansion—beyond

the funds to purchase, the new property owners

just need to have passion, trust and a vision.

Cullen also developed valuable community

resources: beautiful Glen Park was an early

project to benefit residents, and his donated land

became the town's first school location. He also

helped create the first Irrigation District, which

provided the town with a ready supply of fresh

water, critical for growth. Cullen's dedication to

'mercantilism', or collaborative enterprise, set the

foundation of a community still thriving today.

The Cardiff Mercantile building, central to

the town's development and rapidly growing

economy, evolved over the years, serving many

different businesses. Throughout all the

changes, the building remains a central

structure in Cardiff, testament to the visionary

spirit and tenacity of its original owner.

1 4 4 F E N C I N I T A S - O u r H i s t o r y a n d P e o p l e
---
The Guild today is a modern reflection of one

of the earliest types of organizations supporting

businesses and artisans. Medieval Guilds fostered

collaboration, craftsmanship, and a sense of

kinship—or belonging—for their members.

Now the oldest standing building in Cardiff,

The Guild has been owned since 1995 by

Robert Ford Mance of Ford Mance Capital

Advisors, a noted local real estate developer and

long-term Cardiff resident. It represents modern

day mercantilism, more fully described as

Conscious Capitalism, or Business for the Better.

This is a belief that every business can make a

contribution to the greater good by focusing on

sustainability and adopting an innovational

approach to meeting future challenges.

Looking forward to the next 100 years, the

Mance family of entrepreneurs is committed to the

idea that a GUILD of artisans and merchants will

help strengthen kinship within the community. By

working to foster business principles of creativity,

harmony and integrity, they'll provide benefit to

both themselves and their collaborators. Leading

the charge on social entrepreneurship is daughter

Melina Mance Domingues, who will build out The

Guild's community events and business programs.

Currently housing a number of forwardthinking

businesses and creatives, The Guild

welcomes entrepreneurs, innovators and art

enthusiasts to participate in a range of workshops,

enrichment seminars and community gatherings.

Combining old world architectural style and

panoramic ocean views, it the perfect atmosphere

for purpose driven and out-of-the-box thinking.

As Robert says, "Businesses are evolving with

hope for the future—with collaboration rather

than competition, and a focus on values. We think

it's no mystery this spirit represents the character

of Cardiff; as a family owned company, we look

forward to continuing this legacy of 'kinship' and

social entrepreneurship for the common wealth far

into the future, to benefit the community and all

our neighbors."

Through all phases of its evolution, The

Guild has embodied the entrepreneurial spirit of

its original builder, now carried forward by the

vision of the Mance family and their investment

in the future. Please stop by or visit

GUILDVenue100.com to see how you can

participate in ensuring that Cardiff's essence of

kinship lives on.

S h a r i n g t h e H e r i t a g e F 1 4 5
---
SEASIDE

MARKET

G

Above: Cardiff Seaside Market

owners John (on left) and Peter

Najjar honored as Cardiff's Citizen'sof-the-Year

in 1988 by the Cardiff

Town Council.

They call it "Cardiff Crack" and, like the

name suggests, it is highly addictive. Cardiff

Crack is the name affectionately attached to

the Burgundy Pepper Tri-Tip from Seaside

Market on San Elijo Avenue in Cardiff Town

Center. This item has been a staple for shoppers

at the market since the late 1980s.

The Burgundy Pepper Tri-Tip is a delicious

USDA Choice, high grade tri-tip that has been

trimmed, marinated and infused with an

incomparable burgundy pepper marinade. The

result is a tri-tip that is incredibly tender and

flavorful. Working with a local spice company,

market co-owner Pete Najjar took the lead in

creating the concoction, although it took

many trials before he settled on a recipe. It

certainly has worked as customers can't

seem to get enough of this marinated

delight. Hence the name, Cardiff Crack.

The product has become the most

recognizable item at Seaside Market and

people have been known to travel great

distances to buy it. So popular is "Cardiff

Crack" that it even has its own

Wikipedia page.

But, there's plenty more than the

celebrated tri-tip to explore at Seaside

Market. For example, the produce

department focuses on outstanding

locally-sourced items. The market is well

known for its gourmet cheese

department, as well as the prepared

1 4 6 F E N C I N I T A S - O u r H i s t o r y a n d P e o p l e
---
cuisine department, where everything is made

fresh in-store daily.

Opened in 1985 by brothers John and Pete

Najjar, Seaside Market has enchanted customers

since day one. The spacious 18,500 square foot

store—it was recently expanded from 13,000

square feet—has become a gathering place for

locals to meet for something scrumptious from the

deli counter or just to sip a fine blend of coffee.

Before opening Seaside Market, John and Pete

worked multiple jobs in San Diego just to make

ends meet. With a desire to make more money,

they began to look for other opportunities. They

reached out to a cousin and went scouting the

county for business opportunities.

"We found this space in Cardiff that was

originally a Vons store," said John Najjar. "But,

the store had closed because they thought there

wasn't enough business in the area."

A group of developers then purchased the

building and remodeled it. A library was part of

the center at that time but later moved to its own

location. A grocery store opened briefly, but, "the

center just didn't have the right mix of product

for the community," said John.

John and Pete, along with assistance from

their cousin, leased the space from the landlord

who was anxious to bring in new tenants. They

bought the existing equipment in the store for

pennies on the dollar and Seaside Market was

born. Gradually, the old equipment was

replaced and Seaside has been an integral part of

the fabric of Cardiff ever since.

"When you become part of the community—

you live there, raise your children there—that

contributes to your success," said John. "It

seems every customer that walks through our

door is either a friend of ours or is a friend of

our children. We've watched those children

grow up and have kids of their own."

For many businesses, expansion often means

adding a second location. But, for John and Pete, it

was important for Seaside Market to expand its

current location and remain true to its roots. (Since

2013 the market has also operated a small store,

managed by Pete, inside Petco Park, home of the

San Diego Padres major-league baseball team.)

"We decided long ago not to expand to a second

location," said John. "That was important. We live

and work in the neighborhood and we want to be

the best community market anywhere."

That desire to be the best isn't just idle

gossip. In 2018, the National Grocery

Association voted Seaside Market as the

recipient of the Independent Single Store of the

year award.

The Najjar brothers believe their patrons

and community members, in some degree,

take ownership in the business. In turn, it

makes them proud knowing they are doing

their part to enhance the quality of life in

their community.

G

Above: Brothers Peter (on left) and

John Najjar in their Seaside Market

in Cardiff, California, 2019.

S h a r i n g t h e H e r i t a g e F 1 4 7
---
PSY-TEK LABS

Psy-Tek Labs—Bridging the gap between

Integrative and Conventional Medicine using

Subtle Energy Testing. Science fiction fans

drool every time they see "Bones", the doctor

on Star-Trek pull out his Tricorder and

magically diagnose any body before him. The

Tricorder isn't here yet but a generation of

computers and devices that can measure our

bodies energy fields have evolved and are

starting to reveal previously undiscovered

components of our health.

Bob Hertz CDP, a computer scientist and

serial entrepreneur, is at home with

sophisticated computers, communications and

laboratory equipment after decades of

automating industry and businesses utilizing

cutting edge technologies,

Since 1996 Hertz has been working with

Mary Clark Ph.D., a psychotherapist and

specialist in Energy Psychology and Energy

Healing. They focus on health systems,

alternative methods of healing and non-invasive

methods of assessing health for both allopathic

and integrative physicians. They include the

many different types of practitioners including

nutritionists, acupuncturists, chiropractors and

dozens of healing modalities and practices.

"You name the field, we've worked with the

practitioner" Hertz says..

In 2001 Hertz and Clark first came up with

the idea of creating a Subtle Energy testing lab.

They began exploring non-invasive equipment

that claimed to be energy based. Most of the

devices evaluated were not scientifically based

and could not support repeatable data needed

for assessments and research. Additionally,

health practitioners such as acupuncturists and

massage therapists, to name a few, could not

order medical testing such as MRIs, blood work

and X-rays. Hertz and Clark searched for

cutting-edge equipment and advanced health

technologies in body scans that reveal cellular

level statistics, life energy patterns and other

wellness information. They wanted health

practitioners to use reports and images from

these devices to help their patients understand

what is happening internally and energetically.

Psy-Tek Labs was born.

Bob Hertz and Mary Clark are the cofounders

and managing directors of Psy-tek

Labs which is a division of Healing Energies and

Research Technologies, Inc. a 501(c)3 nonprofit,

dedicated to supporting advancement in

health technologies and subtle energy research.

Hertz and Clark have joined up with a longtime

friend and colleague. Gaetan Chevalier Ph.D. a wellknown

and published physicist who specializes in

exactly what Psy-Tek Labs is all about.

Subtle Energy is Gaetan's 'middle name'. He

has the long-term experience in both utilizing

and instructing in subtle energy devices.

Together, Hertz, Clark and Chevalier have been

1 4 8 F E N C I N I T A S - O u r H i s t o r y a n d P e o p l e
---
All the Psy-Tek body scans are available for

men as well as women. More and more people

are showing interest in the procedures as a

result of the non-invasive efficiency, increased

accuracy, and lower cost elements, in addition

to individual screenings.

"Whether one's goal is fun exploration, to

gain insight into your own personal well-being,

or to monitor your or your loved one's health,

our cutting-edge devices such as medical

thermal imaging or any of our other advanced

technology tests can serve as an informational

roadmap to help guide one to learning more

about one's self," Hertz affirmed. "It is a natural

approach," he notes, "to achieving wellness."

growing the assessment services, testing and

research in Psy-Tek Labs for over 10 years.

Psy-Tek Labs facility is in Encinitas California,

located on the campus of CIHS, a graduate

school and research institute. Psy-Tek Labs and

CIHS collaborate in research and instruction.

Presently, Psy-Tek Labs schedules testing and

health assessments for the public and performs

research on several health-related issues and

products as well as individual body scanning

that includes Medical Thermal Imaging, Menla

Scans, and Brain Mapping.

S h a r i n g t h e H e r i t a g e F 1 4 9
---
CANDICE

GERLACH,

CPA, CFE

Candice is the founder and CEO of Candice

Gerlach, CPA, Inc. She is a Certified Public

Accountant and Certified Fraud Examiner in

Carlsbad, California. She holds a Master of

Business Administration degree, and a Bachelor

of Science degree in Accountancy. She is an

active member of the American Institute of

Certified Public Accountants and the

Association of Certified Fraud Examiners.

Candice has nearly 20 years of experience in

public accounting. Throughout her career her

focus has been in a variety of areas such as,

white collar crime, financial statement

preparation, audits and tax compliance. She was

the lead forensic accountant of many large

national financial crimes, including a $100

million Ponzi scheme. Her work included

tracing laundered money around the world,

recovering assets for the Federal Receiver to

return to victims, and providing supporting

documentation for various law enforcement

agencies and attorneys.

Today, she spends most of her time focusing

on tax compliance in a variety of areas,

including individuals, estates and trust,

partnerships, as well as closely held C and S-

Corporations. Her clientele covers a wide

spectrum; from high net worth individuals to

young entrepreneurs. She has also devoted a

large amount of her time to not for profit tax

compliance and governance

Candice is originally from Scottsdale, AZ and

moved to Carlsbad, CA in 2013. Prior to

beginning her career in accounting, she was in

the diamond business. While in that industry

she became a Certified Diamontologist, as

issued by the Diamond Council of America.

In her spare time, Candice spends her time

with her family, enjoys yoga, reading, traveling

and aspires to complete a triathlon one day. She

is always looking for ways to give back to her

community and is a current member of the

Carlsbad Rotary Club. She holds positions on

the Boards of the Carlsbad Fire Department

Foundation, Homeless Veterans of San Diego

and Strategic Trusted Advisors Roundtable.

1 5 0 F E N C I N I T A S - O u r H i s t o r y a n d P e o p l e
---
ENCINITAS

CAFÉ

The Encinitas Café at 531 South Coast Highway

101 has been a fixture in downtown Encinitas for

more than eighty-five years. Located in the heart of

the village, the site has been the home of numerous

eateries over the years.

In the late 1930s and early 1940s, it began as

a restaurant called Fred's Café. Then, in the late

1940s, it was renamed Zim's Café.

The name changed to The Coffee Mill in 1960

and remained so through four different owners

until it became the Encinitas Café in 1989.

Debbie Zinniger began working at The Coffee

Mill in February of 1985. After the owner closed

the Coffee Mill in April 1989, Debbie—along

with help from Gil and Anne Forester and other

regular customers of The Coffee Mill—opened

the Encinitas Café a month later.

The local flower growers, who frequented

the café for breakfast and lunch, were eager to

have it reopen. The café has been supported

by many regular customers over the years

and has become a meeting place for friends

and neighbors.

In fact, a group of alumni dating back to the

1950s from San Dieguito High School still meets

on a weekly basis at the café.

Today, Debbie runs the café with the help of

her son, Eric Soto and daughter-in-law, Erica. In

the future, Debbie's granddaughters and

grandson will assist as well.

The Encinitas Café has been serving good,

quality food for decades and Eric says that it is

because of that "homey feel" that customers

have descended upon the café year after year.

The café is known for its roasted turkeys,

which are prepared daily. In addition, soups are

made from scratch every day. Some of the

popular menu items include the turkey dinner,

turkey sandwich, the acai bowl, oatmeal

pancakes and banana walnut pancakes.

Always active in the community, the

Encinitas Café makes donations to area schools

and sponsors Little League baseball in the area.

S h a r i n g t h e H e r i t a g e F 1 5 1
---
SUNSHINE

GARDENS, INC.

In the early 1960s the Richard Campbell

family of Torrance settled on Encinitas, known

at that time as "The Flower Capital of the

World", as the perfect place to open a growing

grounds and nursery.

The whole family; husband Dick, a trained

horticulturist, wife Edith, stepson Ron Martin,

son Dick and daughter Jacque, all worked

at the renowned Palos Verdes Begonia Farm

and they dreamt of a family business growing

annual color plants to sell wholesale to other

nurseries around Southern California. At that

time, they could not afford land in Los Angeles

or Orange Counties but were able to buy

an affordable bit of property, several bits

actually, in Encinitas. In 1963 the family moved

south to start Cam-Mar Growers (a hyphenate

of the Campbell and Martin names) on San

Marcos Road, later renamed Encinitas

Boulevard. Not long afterward they opened the

retail wing of the family business, Sunshine

Gardens, selling plants to the rapidly increasing

surrounding community.

Sunshine Gardens, INC. was, from the

beginning, and is still owned and operated

by Ron Martin and his family; kids, grandkids,

and even a cousin or two. Cam-Mar Growers

was owned and operated by Dick Campbell

and his kids until Dick's retirement when

that business moved to 80 acres in Oceanside

in 2000. Sadly, Dick passed away suddenly in

2009 and Cam-Mar Growers is no longer.

For many years, Reverend Ernie Richter, Ron

Martin's beloved uncle, was Senior Pastor of

Grace Community Church of San Dieguito

which held services in old Cam-Mar Growers

office buildings and shared the parking lot with

Sunshine Gardens.

Sunshine Gardens has changed a lot over the

last 50 years, originally occupying seven acres with

an entrance on Encinitas Boulevard and now they

are located, on four acres next door to the original

location, at the corner of Encinitas Boulevard and

Quail Gardens Drive. And yet, so much has stayed

the same—the same great people, the same highquality

products, and the same wonderful service.

1 5 2 F E N C I N I T A S - O u r H i s t o r y a n d P e o p l e
---
James "Jimmy" Gillan arrived in California on

a surfing trip in 1974 and decided to settle in

Oceanside. Having learned auto repair in high

school, he soon found work at a body shop and,

in 1976, partnered with his friend Dennis

Murphy to open their own (Close Encounters in

Leucadia). After several years in business,

Jimmy and Dennis would close the shop. In

1981, Jimmy founded Rancho Auto Body in

Encinitas, leasing space at 751 Second Street

and living with his son Jim in a cottage behind

the property. Under the mentorship of Gene

Garcia, owner of Gartel Vintage Cars nextdoor,

Jimmy focused primarily on restoring hot rods

and classic cars.

During the shop's first year, Jimmy met

Linda, who had just moved to California with

her son Shaun. The two of them moved with

their children to a house in Cardiff. Linda

assisted Jimmy with the shop's bookkeeping,

and the two soon became a couple, eventually

marrying. The pair weathered a shake-up

when, in 1986, the lessor sold the building.

They were able to secure a loan and move to

Suite A at 591 Westlake Street, where Jimmy's

main business switched from classic car

restoration to collision repair. In the months

following the shop's relocation, Jimmy and

Linda saw the birth of their daughter Siobhan

and then, in 1990, their son Matthew. All four

children spent summers working in the shop

during their high school and college years.

Later, grandchildren would make regular visits,

eager to ride on the golf cart.

Jimmy and Linda sold the business and

retired in 2018, having served the Encinitas

community for nearly forty years. During their

ownership, the shop contributed to a number of

charitable causes, especially those concerning

youth groups (Jimmy has coached area youth

sports teams for more than twenty-five years).

Rancho Auto Body can attribute its staying

power in part to its unwavering support for its

employees and customers.

RANCHO

AUTO BODY

S h a r i n g t h e H e r i t a g e F 1 5 3
---
SOULSCAPE

GIFTS &

BOOKSTORE

From its humble beginnings in 1995,

SoulScape Gift and Bookstore has evolved into

the crown jewel of Encinitas, now the model of

a Conscious Living shopping destination for all

of San Diego. Known for their carefully curated

selection of gifts and books, as well as a wide

selection of crystals and minerals.

In 2003, Lorraine Telnack purchased Heaven

on Earth, as it was known then, and rebranded

it, SoulScape Gift and Bookstore. She and her

dedicated staff have proven themselves retail

industry leaders, as evidenced by their

discerning eye in finding meaningful and

unique gifts. As soon as you enter the store,

visitors are invited to share an atmosphere of

peace and beauty, surrounded by hand-picked

treasures from all over the planet.

SoulScape attracts a unique crowd; from the

Yogini to the Entrepreneur, soccer mom to

the spiritual seeker. All are welcomed and

encouraged to absorb the healing vibes, uplifting

energy and seeming limitless gift ideas and

information available throughout the store.

Telnack sees the store as a sort of living entity

that draws on energy from current and former

staff members and associates, each of whom

contribute to the overall image, which is what

then makes the store, SoulScape.

Outside of SoulScape, Lorraine has served on

the Board of Directors for both Encinitas

Mainstreet 101 Association and the Encinitas

Preservation Association advocating for the

preservation of the city's culture and heritage.

This work is in line with her long-term mission at

SoulScape that is to provide authentic support to

those looking to be a part of a involved,

nurturing community. For the thousands of

people who have entered SoulScape's doors, this

quaint gift store serves as resource for meaning

and purpose-driven living.

1 5 4 F E N C I N I T A S - O u r H i s t o r y a n d P e o p l e
---
HANSEN

SURFBOARDS

Born in the dusty plains of Redfield, South

Dakota, Don Hansen was introduced to the art of

wave sliding via classic surf films by the Flynn

brothers, two great watermen who were attending

USD from Southern California. Transfixed by the

images of the soulful surfers, Don decided he had

enough of being landlocked and bravely

hitchhiked his way to Coronado, where he would

indulge in the surf lifestyle and begin his journey

into surfboard manufacturing.

He apprenticed under surfing legend, Jack

O'Neill. During this time, he continued to hone

his craft and shape for other notable surfing

icons such as Hobie and Jacobs before making

the ultimate surfing pilgrimage.

The 1960s were an epic time for surfing and

for Don. He spent 1961 on the North Shore of

Oahu, fittingly dubbed the seven-mile miracle

for its awe inspiring waves. In a small shack at

the end of a dirt road in Kawela Bay, Don

launched Hansen Surfboards and made his

mark on the surfing world at large.

After an epic year on the North Shore, Don

moved his family and new surfboard label back to

Southern California setting up shop in the small

surfing community of Cardiff-by-the-Sea. The

demand for his handcrafted boards was exploding

and soon he would be one of the most sought

after surfboard manufacturers in the world.

During this period, Don sponsored some of the

most progressive surfers including Mike Doyle,

John Peck, Rusty Miller, Linda Benson, and Margo

Godfrey. This was when Don created some of his

most popular models, including the 50/50, with

Mike Doyle, the Competitor, Classic and

Superlight, all of which are still in production

today. He and several good friends also started the

brand, Ocean Pacific, with clothing geared toward

the surfing community.

Seeing a need for a quality surf shop in San

Diego County, Hansen's transitioned into a retail

business in the early 1970s and quickly became

highly respected as one of the most popular surf

and sportswear shops in Southern California.

Located in Encinitas, California, just north of the

great surf spot, Swami's, Hansen's remains a true

heritage shop that takes pride in providing an allinclusive

shopping experience for everyone!

Visit our website, www.hansensurf.com, for

more information on Hansen Surfboards.

G

PHOTOS COURTESY OF TOM KECK.

S h a r i n g t h e H e r i t a g e F 1 5 5
---
CALDWELL'S

ANTIQUES

Charles Caldwell married Tyke Kennedy in

1953. Both moved to California in 1957.

Charles moved furniture and Tyke, an artist, was

a telephone operator.

Whenever Charles moved someone, they

would give him furniture. Consequently, Charles

decided to open a used furniture

store and have a friend operate it.

It worked out well, but after four

years of moving furniture in the

horrendous smog conditions that

used to plague Glendale, he

discovered Leucadia to be more

like the paradise he envisioned

California to be. So they moved to

Leucadia with their son, Fred Lee

(6) and daughter Cindy Lee (3) in

1961. Caldwell's Moving was his

next venture and in 1964, he and

Tyke opened Caldwell's Antiques.

When Tyke passed in 1981,

Fred took over the antique shop. In

1982, Charles married Connielou

Hannawalt. Both worked for San

Dieguito High School District and both were

members of the local post 416 American Legion—

where Connielou still volunteers.

Thanks to a stubborn genepool, Caldwell's

Antiques celebrated fifty-six years at the same

location in 2020.

ENCINITAS

SURFBOARDS

G

Founders of Encinitas Surfboards,

Marc Adam and John Kies

The Encinitas Surfboards

story began in

1975. Marc Adam and

John Kies had worked

together at Koast Surfboards

and when that

closed down, they decided

to open their own shop up

the street. Not a lot has

changed over the years, as

the smell of surf wax still

greets you when you walk

through their door. Known

as one of the last remaining

"core" surf shops around,

they feel blessed to be

keeping the "stoke" alive

since 1975. Their products

are a marriage of lifestyle

products and surf gear.

"We supply everything you

need to get in the surf or

hang out on the turf, In

surfer style."

1 5 6 F E N C I N I T A S - O u r H i s t o r y a n d P e o p l e
---
NEAL GLASGOW

PHOTOGRAPHY

Neal Glasgow has been a local Encinitas

resident for sixty-one years with a ten-year gap,

five years in Northern California and five years

in New York. Over the years Neal noted the area

has moved from its rural beginnings to

becoming an eclectic suburban hot spot for

coastal beach culture. In the early 1960s when

the I-5 Freeway finally connected through

Cardiff, there was only one high school for our

coastal area, now there are five.

Neal grew up in Cardiff, living in the

home built by his father on the then-dirt road,

Glasgow Avenue. Neal noted there was

lots of open space and trees to climb, with

new adventures around every corner.

Attending local schools and graduating from

San Dieguito High School, Neal finished his

sixteen-year teaching career as an art and

science teacher at his alma mater, San Dieguito

High School.

S h a r i n g t h e H e r i t a g e F 1 5 7
---
G

IMAGES ARE COURTESY OF KYLE

THOMAS PHOTOGRAPHY.

ARTIST

KEVIN

ANDERSON

The character and quality of our most

awesome City of Encinitas is in large part defined

and molded by the talented and creative people

that have resided here over the generations. One

such person of note is Encinitas's very own, artist

Kevin Anderson.

Kevin's art is expressed as public art in the form

of outdoor and indoor murals, which can be found

all over Encinitas, San Diego and beyond, and

Kevin is one of Encinitas's most prolific painters,

who can be frequently spotted outdoors along the

coast between Del Mar and Encinitas painting the

coastal scenes in his 'plein air' style.

Kevin is not a transplant that arrived here

later in life, that happens to be a great artist, but

is an artist who's very inner artist being was a

creation born of his own experience of having

been raised in the special collective community

us old-timers fondly called 'San Dieguito.'

Kevin will tell you that, "As a kid, I grew up

in Solana Beach, and then later in Cardiff. It was

a great life. Went to the beach a lot in the

summer. We lived the 'Beach Blanket Bingo' life

in Solana Beach. Sunburned all day and partied

all night for years and years, until I was older

and out of high school."

"My high school experience in the early

seventies, while I wasn't into academics, it was

rich in culture and art. The teachers there were

the ones that pretty much paved the way for me

to become an artist."

"There were a couple of teachers, in particular,

Marianne Hanafin and Marilyn Delise, that were

instrumental in opening my eyes to wanting to

paint and draw, and kind of convinced me that

that's what I wanted to do with my life."

"Hanafan would take a student, put them in

front of her, and sketch them and made it look

just like them. When I saw her do that, I go, "I

want to know how to do that!"

"And then Mrs. Delise took a glass, it was

actually a glass ashtray, put it on a table, with

the light shining through the transparency, and

did a color chalk drawing of it, that just blew

my mind. I go, "I need to know how to do that!"

"San Dieguito High School was just a great

place to go. They had an open campus, so if I

wanted to get away for a day, I could go surfing. It

wasn't so structured that it took the life out of a

person. Actually, it was open enough to let you

flourish, and do what you wanted to do. Mainly, it

was the art that turned me on. From there I went

to Palomar College, and then on to Long Beach

State University, because of those teachers."

"But I never left Encinitas. I always lived in

Cardiff, while I was going to college. I would

commute. On Mondays, I would go to Long

Beach, stay up there, oftentimes sleeping in my

truck, and stay there all week and come back on

Fridays to Cardiff."

"Living around here, it's kind of like living a

pretty good dream. I keep mind focused on

what's still here, the underlying beauty,

regardless of the growth and the development. It

has a certain soul and feeling. As far as painting

the area, it's unlimited what you can paint."

"I have spent a whole year painting from

Swamis to Seaside, painting around sixty

pictures and I never left those confines or ran

out of new views or ideas to paint.

1 5 8 F E N C I N I T A S - O u r H i s t o r y a n d P e o p l e
---
From a young age, Kyle Thomas has had a

love for San Diego, its history, and people.

"This interest began," Kyle explains, "When I

discovered that my maternal great grandfather

Henry Harrison Jones, had moved from

Springfield Illinois to San Diego in 1910, where

he held the position of President of the San

Diego Consolidated Gas and Electric Company

until 1920, during which time he was

responsible for bringing electricity to the far

reaches of San Diego County, which included

bringing electricity to Encinitas in 1916."

Kyle further discovered that great-grandfather

H.H. Jones helped plan, design, and build the

original grounds and buildings in what is now

Balboa Park, for the 1915 Panama-California

Exposition while holding the position of third vice

president on the exposition's executive committee.

Kyle grew up in Clairemont and at age fifteen

moved to Del Mar in the summer of 1972. "My

first trip to Encinitas took place when my dad

drove me to register at San Dieguito High

School," Kyle recounts. "When we arrived at my

new school, the first thing I noticed were

penned up farm animals and crops growing out

front. I'll never forget telling my dad, 'So looks

like I'll be going to school with farmers and

cowboys!' I learned later that the animals and

crops were part of the 4-H Club."

"Once school started, I made friends quickly,"

said Kyle, "and it didn't take long for the people

and culture of Encinitas, San Dieguito High, and

the surrounding San Dieguito communities to

permanently imprint upon me as 'my people'."

Shortly thereafter, Kyle settled in Encinitas.

In January of 2015, Chris Cote, the Editor in

Chief of the newly formed Encinitas Magazine,

having seen a picture Kyle had published of

Encinitas' landmark Rock 'n' Roll House, reached

out to him, and asked if they could use his photo

for a story they wanted to do. Kyle suggested,

"Why don't you let me write the story?" Thus began

his journey as a photographer and journalist for

Encinitas Magazine, where he naturally gravitated

to writing stories about noteworthy people, places,

and events of a historical nature that helped shape

the character and color of Encinitas.

We are pleased that Kyle has contributed

some of these stories and photos here in our

book, Encinitas, Our History and People.

KYLE THOMAS

PHOTOGRAPHY

S h a r i n g t h e H e r i t a g e F 1 5 9
---
ARTIST

DANNY

SALZHANDLER

Biosculptures and Steel Life artist Danny

Salzhandler grew up in Houston and was a

zookeeper at the Houston Zoo and supervisor of the

Reptile Department at the Waco Zoo in 1968. When

he and his wife Norma moved to Cardiff in 1994, "I

gave up on the conveyor business and got back to

my old zookeeper days, combining welding and

reptile/amphibian knowledge to create sculptures

that contained a vivarium within the sculpture."

Danny has been a member of the 101 Artists'

Colony Board of Directors since 1999 and has

served as its president since 2003. He started Full

Moon Poets in 2001 and the Arts Alive

Foundation in 2014.

1 6 0 F E N C I N I T A S - O u r H i s t o r y a n d P e o p l e
---
Ledge Media is a leading-edge multimedia

and publishing company, now headquartered

in Jackson, Wyoming. Its origins can be traced

back to 1973 where a small regional publishing

company based in San Antonio, Texas was

helping businesses and historical societies tell

their stories in the most compelling and

powerful ways possible. Working with a wide

variety of clients—from corporations to civic

organizations to individuals and families,

Ledge Media has emerged as a force in the

publishing industry.

In the mid-1990s, a new division was created,

the Historical Publishing Network, better known

as HPNbooks, and this division focused on

producing hardcover coffee table-style history

and photo-journal type cityscape books. The

first of these was Fire and Gold: The San

Francisco Story. In the ensuing years, HPN

Books has perfected the sponsored-book model

of publishing.

Conceived around the idea of an ultra-highquality

hardcover chronicle of a city or county's

past, these exceptional books were also designed

to raise funds for a sponsoring organization. As of

2020, HPNbooks has published more than 200

titles, while raising hundreds of thousands of

dollars for its many partnering groups. Now a

woman-owned company, Ledge Media has further

developed their publishing network and

incorporated many new modern technologies

including augmented reality which embeds video

and other information into printed materials.

The unique mix of talents and expertise

brought to bear in a Ledge Media/HPN project

culminates in a remarkable creation—everything

from breathtaking, photo-rich, coffee table

books and other printed materials to stunning

websites and captivating video productions.

For more information, or to inquire about

producing your own publication, please visit

www.ledgemedia.net or www.HPNBooks.com.

LEDGE MEDIA

HPNBOOKS

S h a r i n g t h e H e r i t a g e F 1 6 1
---
HERMAN COOK

VOLKSWAGEN

G

Top: Ground breaking photo from

1966. Left to right: Bob Watrous,

Bank of America Manager; Bob

Watkins, lead contractor; Herman

Cook; Herman's wife, Jeanne; and two

Volkswagen corporate representatives.

Middle: The tall VW lollipop in the

background as Bob Watkins (left), the

contractor who built the dealership,

stands next to founder Herman Cook

in 1967. That was the day Bob

presented the keys to the dealership

to Herman.

Bottom: From left to right: President

Dennis Cook with son, General

Manager Connor Cook of Herman

Cook Volkswagen.

The legend of Herman Cook Volkswagen

dates back to 1956 when an ambitious Herman

Cook was hired as a salesman by Riviera

Volkswagen of Manhattan Beach. It would mark

the beginning of a multigenerational

relationship with the Volkswagen family. After a

successful stint at a dealership in El Centro,

Herman was awarded a franchise dealership in

Encinitas in 1966.

Herman Cook Volkswagen has graced

Encinitas since 1967 and remains in its original

location at 1435 Encinitas Boulevard.

"There wasn't much of anything here back

then," recalls President Dennis Cook of Herman

Cook Volkswagen and son of founder, Herman

Cook. "Encinitas Blvd. was just a two-lane road

lined with eucalyptus trees and there were only

three buildings in our area—a Chevrolet dealer

on one corner, the Ford dealer across the street

and us."

Dennis started working full time at the

dealership in 1970. He purchased his father's

interest in the business in 1980.

A third generation of Cooks is now an

integral part of the team. Dennis' son, Connor,

started working at the dealership in 2004 at the

age of nineteen.

"I've held most every position, from washing

and selling cars, delivering parts, to service and

finance manager and now general manager,"

said Connor.

The Cook philosophy remains the same after

more than fifty years.

"We treat our customers as family and not as

another sale," said Dennis. "We focus on taking

the best care of our customers and our

community. We're now selling cars to fourthgeneration

customers."

The majority of our management team at the

dealership has been in place for fifteen to

twenty years.

"We hire people who share our family values

and strive to retain them for as long as we can,"

said Connor.

Being a vital part of the community does not

hurt, either. Cook Volkswagen sponsors

numerous community events, including the

Surfing Madonna Oceans Project, and many

local race events. The dealership also proudly

supports the Magdalena Ecke Family YMCA

and SDSU athletics.

1 6 2 F E N C I N I T A S - O u r H i s t o r y a n d P e o p l e
---
THE CORNER

FRAME SHOP

TRIBUTE TO

MORGAN

MALLORY

The Corner Frame Shop & Leucadia Art

Gallery was born in 1978 of Morgan Mallory's

passion for art in the charming eucalyptus tree

canopy community of Leucadia. Soon after

opening his store front, he became involved

in community development and co-founded the

Arts Association of Leucadia, helping to create

an event called Leucadia Art Walk. The annual

event is still very popular with 101 vetted fine

artists showing their art along Coast Highway

101, drawing thousands of people to Leucadia

the last Sunday each August. Years later, Morgan

helped found the Leucadia 101 Main Street,

a national non profit organization aiding in

economic vitality and community design.

Partnering with the local school district, Morgan

founded the Leucadia Farmer's Market, one of

the best weekly market's in San Diego County.

A long- time resident of Cardiff-by-the-Sea,

Morgan also founded the Cardiff 101 Main

Street. He loved spending his spare time at the

San Elijo Lagoon where for decades he honed

and shared his fine photography of nature, birds

and flora and sometimes the Cardiff Kook (aka

Magic Carpet Ride statue).

His big personality and sense of humor made

him very popular. He was well traveled, a natural

athlete and inspired the young and old in

everything regarding art. After his unexpected

passing in Sept 2019, his wife, Brenda Dizon

honored his legacy by taking over the Corner

Frame Shop & Leucadia Art Gallery where

his long time devoted, talented employees

continue to serve Encinitas and beyond with

their incredible design service based on the

amazing foundation he had built.

S h a r i n g t h e H e r i t a g e F 1 6 3
---
G

PHOTO COURTESY OF KYLE THOMAS

PHOTOGRAPHY

1 6 4 F E N C I N I T A S - O u r H i s t o r y a n d P e o p l e
---
FAMILY HERITAGE

F a m i l i e s a n d i n d i v i d u a l s w h o s e

l e g a c i e s c o n t i n u e t o s h a p e

t h e f u t u r e o f E n c i n i t a s

The Ecke Family ...........................................................................1 6 6

The Sougais Family, Charlie's Foreign Car ........................................1 7 0

The Charley Marvin Family ...........................................................1 7 4

Bumann Ranch ..............................................................................1 7 6

Tribute to Maggie Houlihan ............................................................1 7 8

Tribute to Edgar Engert .................................................................1 8 0

The Legacy of The McNeil House .....................................................1 8 1

The Danforth Building ...................................................................1 8 2

The Roy Family ............................................................................1 8 3

Tribute to Dr. Takeo Sugimoto .........................................................1 8 4

Weidners Garden/The Evelyn Weidner Family ....................................1 8 5

S h a r i n g t h e H e r i t a g e F 1 6 5
---
THE ECKE

FAMILY

G

Above: Paul Ecke Ranch, 1938. The

road at bottom is Saxony Road, and

the road towards the top of the frame

is Quail Garden's Drive.

Legendary late-night talk show host Johnny

Carson used to engage in friendly banter with

his Tonight Show bandleader, Doc Severinsen,

over the correct pronunciation of poinsettia, the

flower that has become the symbol of

Christmas. Severinsen said that it was

pronounced "point-sett-uh" while Carson

argued that it was "point-sett-ee-uh." For the

record, Carson was correct.

"People can call it whatever they want," said

Paul Ecke III, part of the iconic Encinitas family

that created the quintessential holiday plant.

"Just as long as they buy one!"

The Ecke family, who provided the plants to

the Tonight Show hosted by Carson and then

later by Jay Leno, made the poinsettia the topselling

Christmas plant. The Eckes' impact on

the horticultural world, dating back to the early

1910s, also put Encinitas on the map. Over a

ninety-year period, four generations of Eckes

worked in the business before the Paul Ecke

Ranch was sold to a Dutch agriculture company

at the end of 2012.

Today, the Ecke family name and their

contributions to the community are prominent

at various locales throughout Encinitas. Drive

around town and you'll see the Magdalena Ecke

YMCA, Magdalena Ecke Park, Paul Ecke Central

Elementary School and the Ecke Family

building at the San Diego Botanic Gardens, to

name just a few.

The story began in 1900 when Albert Ecke

and his family, including son Paul Ecke, Sr.,

emigrated to Southern California from Germany.

The family settled in Eagle Rock, a neighborhood

in northeast Los Angeles. Albert had an apple

orchard, a dairy, and flowers. Flowers ultimately

became the focus of the family business.

Albert and his son, Paul, noticed the

Hispanic population in Los Angeles had these

striking flowers—poinsettias—that grew in

their yards. They were called Flores de Noche

Buena (Flowers of the Holy Night). The Eckes

soon began selling cut poinsettias along Sunset

Boulevard around 1915.

The poinsettia had its origins in Mexico

and was brought to the United States by Joel

Right:.The Paul Ecke Ranch employee

photo of 1956. Paul Ecke III, age one,

is in the bottom left hand corner with

his parents, Jinx and Paul Ecke, Jr.

1 6 6 F E N C I N I T A S - O u r H i s t o r y a n d P e o p l e
---
Roberts Poinsett. A botanist, physician and the

first United States ambassador to Mexico (1825-

1829), Poinsett was so fascinated by

the ruby red-bloomed plant in Mexico that

he sent cuttings to his home in Charleston,

South Carolina.

"My grandfather and great-grandfather were

so impressed by these flowers," said Paul Ecke

III, who has a BS in horticulture from Colorado

State University and an MBA from Duke

University. "And, they were even more

impressed that they bloomed in the middle of

winter. Most flowers don't bloom in November

and December."

Paul Ecke, Sr., began promoting the

poinsettia as the Christmas flower. If the rose

was synonymous with Valentine's Day and the

lily with Easter, why couldn't this red flower be

attached to Christmas? It seemed only natural.

"My grandfather is the one who declared the

poinsettia will be the Christmas flower," said

Paul Ecke III. "He thought if you kept saying it

over and over again, people would believe it."

The Ecke family and their flower business

has been linked to Encinitas since 1923, when

Paul Sr. and Magdalena moved to the area. The

town had only 600 inhabitants back then. They

built a business that at its height produced more

than 90% of the world's poinsettia stock and

employed 450 people at the Encinitas Ranch.

Paul Sr. and Magdalena also showed their

compassionate side in ways that weren't always

popular. During World War II, Japanese

Americans were sent to internment camps.

Many of them were farmers who lived in

Encinitas and were their friends and neighbors.

The Eckes felt the situation was wrong and did

the only thing they could, which was to offer to

store their trucks, tractors and personal

belongings in the Ecke Ranch Barns. When they

returned, all of their property was waiting for

them which allowed them to start over again.

Unfortunately, many others weren't as fortunate,

and their property was gone when they came

back. "Our Grandparents saved their belongings

and allowed them to more easily return to their

former life," said Paul Ecke III.

For Paul Ecke, Sr., and his father, it was

an outdoor business. Beginning in Los Angeles

G

Above: Bare Root poinsettias being

shipped by rail circa 1960 from the

Encinitas Train Station, now Pannikin

Coffee & Tea in Leucadia

Below: The three Pauls in 1965—

Paul Ecke, Jr., Paul Ecke III, and Paul

Ecke, Sr.

S h a r i n g t h e H e r i t a g e F 1 6 7
---
G

Above: Elisabeth "Jinx" Ecke,

Magdalena Ecke, and Lizbeth Ecke,

c. 1975.

Bottom, left: An outdoor field of

blooming poinsettias along Saxony

Road, c. 1976.

Bottom, right: A greenhouse full of

blooming poinsettias at the Paul Ecke

Ranch in Encinitas, California.

Opposite, top: Paul Ecke III at Farm

1 in Guatemala in the early 2000s.

Opposite, middle: Paul Ecke III in

poinsettia trials greenhouse at Paul

Ecke Ranch, Encinitas, California.

and then after moving the operation to

Encinitas, it remained an outdoor enterprise

until the early 1960s. In the wild, poinsettias

are large, spindly shrubs. But once in a while,

you'll find one that's full of branches. Paul Ecke

Sr., figured out that when you graft one with

branches to another regular poinsettia, you

can create a plant that lends itself to potted

plant production.

In the 1960s, Paul Ecke, Jr., who was now at

the helm, transformed the business from

outdoors to indoors. Greenhouses started being

built at the Ranch. He began marketing the

poinsettia in the national media and started the

breeding program. Instead of selling big,

dormant stock plants, he sold cuttings,

eliminating the need for so much land to grow

their products. By the 1980s, poinsettias were

the best-selling potted flower in America.

Paul Ecke III bought the business in 1992 just

as more competition, much of it from Europe, was

entering the marketplace. In 1997, Ecke Ranch

moved its operations to Guatemala in an effort to

cut costs. The headquarters remained in Encinitas,

where R&D and administration took place.

With the move from field production to

greenhouse production, which required much

less land, the Eckes started the planning process

that eventually converted their Encinitas Ranch

into housing, the Encinitas Ranch Town Center,

the Encinitas Ranch Golf Course, preserving

over 300 acres of open space, and 126 acres of

agriculture, while extending Leucadia Boulevard

through to El Camino Real.

By 2012, Paul Ecke III knew it was time to

sell the flower business.

"Like so many products, the poinsettia had

become a commodity," he said. "When Home

Bottom: The children of Jinx and

Paul Ecke, Jr., c. 2015—Sara Ecke

May, Paul Ecke III, and Lizbeth Ecke.

1 6 8 F E N C I N I T A S - O u r H i s t o r y a n d P e o p l e
---
Depot, Walmart, Costco, and others began selling

mass-market poinsettias, we had to find a way to

make it cheaper and cheaper, but ultimately, for

our company which had always been designed

around high quality, high integrity, and high

service, the writing was on the wall. Our industry

was consolidating and a now relatively small

company like ours could not continue to compete

against large multinational corporations."

On December 31, 2012, the same day the

company was sold to a multinational floricultural

company, the nonprofit Leichtag Foundation

bought the Paul Ecke Ranch property in

Encinitas, sixty-seven acres of land located

between Saxony Road and Quail Gardens Drive,

adjacent to the San Diego Botanic Garden.

The adage "behind every great man is a great

woman" certainly applies to the Ecke family.

Swiss-born Magdalena Ecke, wife of Paul Ecke,

Sr., was renowned for giving poinsettias to

shut-ins. Through her church, she found out

where these people lived, and she would

personally deliver poinsettias to them. She

would also visit veterans in the hospital and

bring them poinsettias.

Elisabeth "Jinx" Ecke, who passed away in

March 2019, was cut from the same mold. She

picked up Magdalena's mantel of supportive

corporate wife, learning the business, and even

learning German to serve as her husband's

translator on business trips abroad.

After raising her children—Paul III, Lizbeth,

and Sara—she spent the rest of her adult life

as a volunteer and philanthropist. Among the

organizations that benefitted from her

charitable efforts were Planned Parenthood,

Rady Children's Hospital San Diego, Scripps

Encinitas Hospital, the San Diego Zoo, San

Diego State University, the San Diego Women's

Foundation, and the Neurosciences Institute.

Jinx's daughters, Lizbeth and Sara, are

continuing her legacy. Lizbeth works at the family

real estate company, Carltas, which owns the

Flower Fields at Carlsbad Ranch and the Encinitas

Ranch Town Center Shopping Center. Sara is also

a partner in the real estate company, along with

Paul III. And Paul's wife, Julie Hampton, is a

published author of children's books.

For nearly a century, the Ecke family

continues to be an integral part of the fabric

of Encinitas.

S h a r i n g t h e H e r i t a g e F 1 6 9
---
G

THE SOUGAIS

FAMILY,

CHARLIE'S

FOREIGN CAR

Charlie and Shelly Sougias.

There are sweet rides and sweet anniversaries

and Charlie Sougias has experienced a bit of

both. The owner of Charlie's Foreign Car Service

opened his business in downtown Encinitas on

Valentine's Day 1978, and it's been a beautiful

journey ever since.

Charlie, born Kyriakos Sougias in Thessaloniki,

Greece, turned his passion for foreign cars into a

career soon after graduating from San Dieguito

High School in Encinitas. As a student at the

school, he was known as the auto mechanic of

choice for several of his teachers.

However, it was back in his hometown in

Greece where Charlie began his journey in the

auto repair business. In 1976, he worked in a

little auto shop across the street from the house

in which he grew up. A man named Kostas

Iliadidis was kind enough to give him the

opportunity to work there. And, as the saying

goes, the rest is history.

When Charlie returned to San Diego, he

began working on cars in the alleyway behind

his mother's place at the corner of Hygeia and

Leucadia Boulevard in Leucadia. Then in 1978

at the age of 20, he took the leap and purchased

his first shop on H Street at 2nd Street. Charlie's

Foreign Car Service was born.

Ten years later, the shop moved north two

blocks to its current location at 751 2nd Street.

Charlie's son, Niko, now owns the shop. Niko

was born in Leucadia and also attended San

Dieguito High School. Ironically, the community of

Leucadia, which was founded around 1870, has a

strong Greek influence. Its namesake, Lefkada, is

one of the Ionian islands. In addition, the

community includes street names with a Greek

flavor—Hymettus, Neptune, Phoebe, and Daphne.

Charlie Sougias started his business by

repairing Volkswagen buses. Soon, the shop

became the destination for European-made cars.

Working side-by-side with his wife, Shelly, who

began by assisting with daily operations, Charlie's

commitment to superior and personalized

customer service earned him a loyal following.

The customer base grew steadily and led to the

expansion in 1988. Charlie and Shelly then

purchased property a couple blocks north of the

original location and built a state-of-the-art

13,000 square-foot repair facility.

As their auto repair reputation and clientele

continued to grow, Charlie's Foreign Car Service

expanded again in 2001, this time by purchasing

the Encinitas German Auto Service at 841 2nd

Street, adjacent to the original auto repair facility.

Back in the 1970s and 1980s, downtown

Encinitas bore little resemblance to its current state.

The community was not filled with restaurants,

shops and a vibrant night life, as it is today.

"At the time, the area was a little sketchy,"

recalls Niko. "When my dad opened the shop,

he had to build a security fence around it."

The Sougias family story and its path to

America can be traced back to the Greek Pontic

Genocide from 1914-1923. Charlie's grandmother,

Despina Aslanidis, was just six years old at the

time of the genocide. She and her family were

victims of the death march that occured when

Greek citizens in Turkey were forced from their

homes. Ironically, she met her future husband at

that time. After the Pontian Genocide and World

War I, they settled settled near the Turkish border

1 7 0 F E N C I N I T A S - O u r H i s t o r y a n d P e o p l e
---
and grew tobacco. Unfortunately, the civil unrest

continued and in 1955, during the Istanbul

Pogrom, the Turks burned down many villages

including theirs. Like many other Greeks, Despina

became a refugee and moved to America.

She and her husband, Stellanos (Steve)

Aslanidis, landed in Indianapolis, moved to

Arizona and then to Los Angeles. From there,

they re-located to Leucadia.

Charlie was ten when he arrived with his mother

Maria, Despina's daughter. They moved to Los

Angeles and bounced around from place to place.

"My dad grew up next to a gas station in

Greece," said Niko. "His love for cars goes back

to his childhood."

Niko's paternal grandmother, Despina, found

work as a seamstress in Los Angeles. She

worked for a famous designer and made dresses

for many Hollywood movie stars.

Maria bought a house in Los Angeles and

then bought property in Leucadia in the early

1970s, including a hotel originally called the Las

G

Above: Charlie's Foreign Car Service

today with two generations of the

Sougias family (from left to right):

Christine, Niko, Shelly, and

Charlie Sougias.

Left: Charlie Sougias and

Despina Aslanidis.

S h a r i n g t h e H e r i t a g e F 1 7 1
---
G

Despina Aslanidis fought in the Greek

resistance in World War II and was

recognized by the United Kingdom for

providing aid to Allied servicemen

(below). She and her husband,

Stellanos, emigrated to the United

States in 1955.

Vegas Motel. It's now called the Leucadia Beach

Inn. It was here where Charlie started fixing cars

as a teenager in the alleyway.

"My grandmother owned a lot of property in

town and helped get my dad get started," said Niko,

a proud member of the Encinitas Rotary Club.

Sadly, Despina died in September 1981, just

six months after Niko was born. To many, she

was a Greek hero. She fought as an anti-

Communist in the war. She was revered for

courageously aiding her country and Allied

servicemen during World War II as a resistance

fighter. The family still talks about how she

patiently hid in a tree for several days armed

with a machine gun. When the moment arrived

to engage the enemy, she bravely did her duty.

Maria knew firsthand the importance of

lending a helping hand to get someone's career

off the ground. She, herself borrowed money

from an Indian family who was kind enough to

loan her funds for her real estate investments. A

colorful and entertaining personality, Maria died

at the age of 89 in December 2015.

Meanwhile, the maternal side of the family

(Niko's mother is Shelly Jenkins) had its share of

talented and noteworthy characters. Niko's

grandfather, Jon Jenkins, was a gifted inventor. His

notable invention was the volumetric infusion

pump. Jon was associated with the formation of

IVAC Corporation and later a co-founder of IMED

Corporation. These were start-up companies

founded in the late 1960s and 1970s in Sorrento

Valley. Their goal was to provide tools for nurses.

Niko's grandmother, Fran Jenkins, was a

registered nurse who would often discuss the

need for better intravenous delivery for patients.

In that era, fluid delivery was still administered

by gravity feed with the nurse having to count

the drops and compute how many cc's per hour

were being administered. With Jon's inventive

mind, the volumetric IV controller was born.

Jon was also responsible for inventing the first

electronic oral thermometer.

From Greece to Encinitas, the Sougias family has

established deep roots in San Diego. And now with

son Niko and his wife, Christine, who purchased

the business in January 2016, and daughter Julia,

who is working on the property management side,

it is truly a family affair at Charlie's Foreign Car

Service, one of downtown Encinitas' most

successful and enduring local businesses.

1 7 2 F E N C I N I T A S - O u r H i s t o r y a n d P e o p l e
---
S h a r i n g t h e H e r i t a g e F 1 7 3
---
THE CHARLEY

MARVIN FAMILY

T H E L E U C A D I A

B E A C H I N N A N D

T H E G O L D

C O A S T P L A Z A

G

Below and Bottom: The Leucadia

Beach Inn c. 2005 and today.

Kirsten and Charley Marvin have been

married for 35 years. They first met on a blind

date and their routes prior to initially getting

together were quite diverse.

Kirsten was born and raised in Denmark.

She then lived in Canada where her two

children, Sean and Lisa, were born. She moved

to the Los Angeles area before coming to San

Diego County.

Charley was born and raised in Woodbridge,

Connecticut. After attending Amherst College,

he became an Air Intelligence Officer in the

United States Navy. Then he was an instructor

at The Advanced Air Intelligence Training

Center at NAS Alameda. He left the Navy to

attend law school at the University of

California, Berkeley and then joined a large

downtown Los Angeles law firm prior to

becoming a partner in a large San Diego law

firm, in the early 1970s.

Charley bought a home in Leucadia when he

first arrived in 1971. He brought up his two

daughters, Natasha and Tara, in that beach home.

Charley later formed his own law firm in

Rancho Santa Fe. He then returned to Encinitas

and Cardiff-by-the-Sea where he practiced real

estate and business law from 1984 until his

retirement in 2005.

Beginning in the mid-1970s, Charley invested

in commercial real estate along the Coast

Highway in Leucadia and downtown Encinitas.

In 1976 Charley purchased the Gold Coast

Plaza, when it was the Manor Motel. In 1990

Kirsten and Charley changed the use of the

property to a boutique shopping center. At the

same time, Kirsten began laying the foundation

for the wonderful gardens that exist on the

north side of the property, directly across the

street from the Pannikin. The gardens, which

are open to the public, include a gazebo, a

flowing stream, and a Koi pond. Their longterm

tenants include the Cielo Hair Salon, the

Fully Loaded Juicery, and, in the back, on La

Veta, Indigo Dragon, a wellness center.

Gold Coast is managed by Kirsten and

Charley's daughter, Lisa.

1 7 4 F E N C I N I T A S - O u r H i s t o r y a n d P e o p l e
---
After having two ladies clothing stores in

Encinitas, Kirsten opened a widely acclaimed

boutique shop, with a wine cellar, on the

property she and Charley purchased in 1990 in

the beautiful mountain town of Idyllwild. They

traded the property in 2004 for the Leucadia

Beach Inn.

The Inn holds a unique place in the Encinitas

and Leucadia guest lodging history. It is the

oldest continuously operating lodging facility in

the city. It was originally constructed in the

1920s and has been in operation ever since. The

Leucadia Beach Inn is comprised of two separate

buildings. The one-story building on the south

side was constructed in the classic California

motel "horseshoe" design, around a flower filled

central courtyard. Farrah Fawcett and many

other Hollywood stars were guests at the Inn.

The two-story building to the north was

added in the 1970s in order to nearly double

the capacity of the Inn.

Kirsten and Charley have the distinction of

being the longest tenured owners of the Inn. One

of the most interesting owners of the Leucadia

Beach Inn, in two separate stints, was Despina

Aslinades. Despina was the grandmother of Charlie

Sougais of Charlie's Foreign Cars in downtown

Encinitas, and the great-grandmother of the

present owner, Niko Sougais. To learn more about

this marvelous lady please refer to the Sougais

family piece which is part of this Encinitas History.

The Inn is presently managed by

Todd Derr, the Marvin's son-in-law,

with the very capable assistance of

Mark Decotis. The Marvins are very

proud of the Leucadia Beach Inn's

ranking as the top lodging facility in

guest satisfaction along the entire

North San Diego County Coast.

In his retirement, Charley has become

a writer. He has already self-published a

book, available on Amazon, "The

Tuesday Morning Gang". Among other

writing projects, Charley is working on

publishing his book, "Leucadia Tales—

A Whimsical History of Leucadia".

S h a r i n g t h e H e r i t a g e F 1 7 5
---
BUMANN

RANCH

G

Above: The Bumann ranch, in May

of 1935

Below: Herman and Emma Bumann.

December 1893.

In December 1884, Herman Friedrich

Wilhelm Bumann arrived in southern California

as part of a German colony called Colony

Olivenhain. Sometime in 1886, Herman left the

colony and homesteaded 160-acres, two miles

northeast from the colony settlement. Part of

this homestead and its improvements are now

called the Bumann ranch.

During the homestead period, Herman

constructed a two-mile perimeter fence, cleared

and plowed fields, constructed a small barn and

dug a water well. Herman's home was a 10 by

12 foot shanty where he lived for six years.

Finally, in early 1892, Herman was awarded a

patent to the homestead and became the legal

owner. In early 1893, a 24 X 28 foot ranch

house was built. So, by mid-1893, Herman had

a 160-acre ranch with three buildings, four

horses and his good health.

In 1893 Herman married Emma Marie

Junker. Emma had only known the city but was

now living on an isolated, mostly unimproved

homestead ranch. She loved the ranch and

became a major contributor to its development.

Herman and Emma would have 12 healthy

children, five boys and seven girls, all born and

raised on the ranch property.

The years from 1894 to 1920 became a

period of growth for the ranch. Adjacent

properties were purchased in 1909 and 1918

increasing the ranch size to 480-acres. Seven

additional buildings were added, including: a

granary, bunk house, reaper barn, bee shed and

a second hay barn. Animals included four work

horses, 25 cows plus calves and bull, several

hundred chickens, four pigs and thirty bee

boxes. Field crops included wheat, barley and

oat hay which were grown on up to 60-acres of

cultivated land. This was a working ranch,

which at the end of any day, Herman and Emma

would confirm.

The many years of hard labor combined with

tobacco use, strained Herman's health. He died

in February 1926. With the help of the children,

Emma continued the ranch operation for

another ten years. Emma Marie Bumann passed

away in February 1936.

The estate divided the ranch property

between the twelve children. All the children

would leave the ranch except Herman Charles

Bumann who would, on a reduced scale,

1 7 6 F E N C I N I T A S - O u r H i s t o r y a n d P e o p l e
---
continue the ranch operation for many years.

Herman C. inherited the land with the ranch

building and equipment. He alone would

continue the ranch operation and through his

maintenance and preservation efforts would

allow the Bumann ranch to continue

unchanged. As time passed, Herman's small

income could no longer satisfy the rising taxes.

He started selling land in the late 1950s and by

1971 only ten-acres remained. Herman kept the

land with the ranch yard and buildings. Herman

had reached his senior years and often worried,

who would take over the ranch? Who would

take care of him?

Richard and Adeline (Twink) Bumann moved

to the ranch in 1985. Their home had running

water but electricity was not connected for six

G

Top: Feeding chickens. William,

Emma and Herman Bumann.

July 1916.

Middle: Herman C. Bumann cutting

oats, June 1935.

Bottom: Richard and Adeline Bumann

with their dog, Patches, March 2010.

months. Herman chuckled, "What's the

problem, I've lived here without electricity

for 80 years!". Animals were reintroduced,

including cats, dog, chickens, horse, pigs and

cattle. Four-acres of oat hay was planted to feed

the cattle.

Herman Charles Bumann passed away in

January 1994. Richard and Adeline alone would

continue the preservation and operation of the

Bumann Ranch. The Bumann ranch is unique

because it survived into the 21st century. It has

been carefully preserved by three generations of

the Bumann family who have called it home.

The Bumann Homestead Ranch was placed on

the National Register of Historic Places on

March 6, 2020.

S h a r i n g t h e H e r i t a g e F 1 7 7
---
TRIBUTE TO

MAGGIE

HOULIHAN

G

Above: Maggie Houlihan visiting a

Buddist temple in Amakusa City,

Japan, June 2004. Amakusa City is a

sister-city of Encinitas.

Below: Maggie Houlihan received the

Hands of Compassion Award from

County Supervisor Pam Slater Price,

September 2006.

Animal activist, environmentalist, humanitarian,

Country and Western dancer. Labels that only

scratch the surface of one of the most diverse

leaders in the history of Encinitas. Born June 16,

1948 in Hollywood Maggie Houlihan grew up as

the quintessential California girl. Raised in a

working class neighborhood of Long Beach she

soon embraced the nascent surfing subculture,

often riding the waves off Seal Beach and listening

to surf music at the local clubs. It was at one of

these venues where a gang member involved her in

an altercation. The lead singer on stage witnessed

the incident and invited Maggie back to her

dressing room where she promptly schooled her on

how to fight. That artist was the now legendary

Tina Turner.

With a stellar academic record Maggie

continued her education at Long Beach State

becoming a member of the school senate

and later being voted "Woman of the Year." In

1968, marriage and a newborn son put her

degree on hold but the marriage was destined to

fail and in 1970, while struggling below the

poverty line, she gathered up her son Chris, a dog

and two cats and left Long Beach to carve out a

future in Encinitas. She landed at the Travelaire

motel where, after checking in, she promptly

smuggled her animals into her room. Desperate

for work, she found a job at the Compass West

print shop. The wages were low so she

supplemented her income by cleaning houses,

ironing clothes and sewing. This enabled her to

rent two rooms on Cornish Avenue where she

had to purchase a hot plate in order to cook.

After Compass West she started a job at at the

Bank of America and decided to finish her

degree. With her two year old in tow, Maggie

enrolled at UCSD where she graduated with

highest honors and a place on the dean's list.

Upon graduation it was the UCSD library where

she would start a new career as a catalog

librarian and in 1994 Maggie was recognized by

the chancellor as the "Most Valuable Employee"

on the campus. In 1998 she received another

UCSD award this time for her work in furthering

the spirit of diversity, equal opportunity and

affirmative action.

As a staunch animal advocate she helped to

create SNAP, the Spay and Neuter Action

Project, which takes its surgical bus into lowincome

areas and fixes pets in order to reduce

the volume of unwanted animals in the county

shelters. She also started Wee Companions; an

organization that rescues, then finds homes for

the smallest of household pets.

In 2000 Maggie ran a successful grass roots

campaign for a seat on the city council on a

platform of maintaining the character of the

community by advocating slow growth and

environmental stewardship. She was reelected in

2004 and 2008 with the most votes of any of the

candidates and served as the city's mayor in 2004

and 2009. In 2004 she caused a stir while

competing in a triathlon during a visit to

1 7 8 F E N C I N I T A S - O u r H i s t o r y a n d P e o p l e
---
Encinitas' sister city, Amakusa Japan. Stopping

during the bike leg she rescued an emaciated

kitten trapped in brambles beside the road. Her

love of animals had superseded her political

obligations but her act of compassion won the

admiration of the Japanese.

During her time in office she created the Pet

Health Expo, banned the leg hold traps used by

hunters, made the exhibiting of wild animals

illegal and championed clean water and the

purchase of open space. In 2010, the Surfrider

Association presented Maggie with their Clean

Water award for her efforts to protect our

shoreline and watersheds.

Maggie passed away in 2011 from cancer but

refused to give up council business until the very

end, attending meetings via conference call from

her sick bed. The city later designated a section

of the community park as the Maggie Houlihan

Memorial Dog Park in her honor.

G

Above: Maggie Houlihan at the

opening of the Encinitas library

February, 2008.

Left: Maggie Houlihan at city hall

during her cancer treatment 2011.

S h a r i n g t h e H e r i t a g e F 1 7 9
---
TRIBUTE TO

EDGAR ENGERT

G

Above: Edgar and Renate Engert.

Top, right: Edgar Engert and

Governor Arnold Schwarenegger at

the state capital.

Bottom: Family photograph taken of

the Engert family at Edgar and

Renate's 50th wedding anniversary.

From the beginning, Edgar Engert, fondly

remembered by locals as "Mr. Encinitas,"

seemed to be planting the seeds for what

would become an amazing life which helped

shape the horticulture industry, his family and

his community.

Born in Kreimbach, Germany in 1936,

Engert immigrated to New York in 1958 to

escape the aftermath of World War II and

cultivate a new life for his wife Renate and

newborn daughter. He landed a job in Long

Island with a flower grower from his

hometown, and not only discovered his passion

for horticulture, but was also introduced to the

flower and family which would bring him and

his family to his beloved Encinitas.

Though Engert first met Paul Ecke, Jr. in a

New York greenhouse where Ecke had come to

check out different species of poinsettias, Engert

did not have a job when he took off for the west

coast. It did not, however, take the Eckes long to

snap him up and he spent the next 44 years

helping them turn the poinsettia into an

enduring Christmas tradition and a farming

empire where he worked until it was sold in

2012. Nine years later, on January 10, 2021,

Engert passed away unexpectedly from

complications of the novel coronavirus.

The Coast News hailed him as a family man

first and wonderful humanitarian second; a man

who gave his time to organizations such as the

YMCA, Y Service Club International, Encinitas

Chamber of Commerce, Rotary Club, the Del

Mar Fair Flower and Garden Show and San

Diego County Flower and Plant Association, the

California State Florist Association, San Diego

Botanical Gardens and the San Dieguito Heritage

Museum. He is credited with starting the

Encinitas' Oktoberfest and Holiday Parade.

"I'm very sad he's gone, but I am also

surprised because he never seemed to stop,"

Paul Ecke III said in the news article. "He

never seemed to sleep; he was always working,

spending time with his family and helping

with charities."

"He lit up any room he entered, never met a

stranger, and was always concerned about the

well-being of his family and friends," his family

wrote in his obituary, adding that he always

encouraged them to reach for the stars—just

like he always did.

1 8 0 F E N C I N I T A S - O u r H i s t o r y a n d P e o p l e
---
McNeill Avenue is a one-block side street off

of Vulcan. There were only eight small custom

homes and one was a Sears Kit Home! The

original McNeill House was built in the1920s

on a double lot. Homes were small yet adequate.

Carolyn Cope, owner of the new McNeill

House recalls, "My father, Gerard E. Roy, and

my mother, Thelma Boggs Roy, bought this little

two-bedroom home in 1949 for $2,000. In

1955 another room was added, and the western

balcony was enclosed. This property has a

magnificent 180-degree view of the ocean."

I always felt something special here. I could

feel it from the moment I untied my shoes and

rubbed my chubby feet into the warm, sandy

dirt in our front yard as a two-year old.

In December 1988 my father died and mom did

not want to live alone. I wanted a big house and I got

it. The house was disassembled and taken to Mexico.

We built a three-level, four-car garage, with an

efficiency apartment for my mother and five more

bedrooms. Mom died in 2010, followed by my

childrens' father, Thomas M. Cope, M.D. in 2014.

Our children, Rosannah Elaine Cope, Thomas

"Morgan" Cope and Joseph Gerard Cope,

had moved on into the world. To help

with expenses, close friends who needed

'just a room' moved in.

Few people know about our

wandering soul. He was here when I was

a kid and he still makes himself known

from time-to-time. Lights turning on

and off, items falling off shelves and

minor movements let us know when he

is 'disturbed' by something or someone.

Many birthday parties, bridal

showers, rock concerts have filled this

house. Pianists, sax players, drum

circles, art shows, Tibetan Healing

Bowls, Chi-gong, hula-hoops, and

Rotary fellowships have kept this house

lively. Young iPalpiti musicians from

around the world make the house feel

like Carnage Hall.

The house is decorated with many

local artists' creations both inside and

out. Julia C.R. Gray painted the logo on

the front of the house and also the

butterfly adorned pergola. Inside she

painted the dining room with long

vines of wisteria. Rooms are decorated

with faux-sponged walls, cloud-filled skies and

matching accents throughout the house. Artistic

tile work, both inside and out, was done by Billy

Stewart. Tiled mosaic panels, intricate mosaic

light well, patio tables and all tiled flooring. Iron

gates, fences and railings were designed by

sculpture artist Danny Salzhandler.

THE LEGACY OF

THE MCNEILL

HOUSE

G

Above: Left to right: Tom, Rosannah,

Morgan, Carolyn and Joseph Cope.

S h a r i n g t h e H e r i t a g e F 1 8 1
---
THE DANFORTH

BUILDING

The Danforth Building has been an anchor in

Encinitas since 1918. For over 100 years a twostory

multiple use building has stood on the

corner of First St and E St. Most of the time, 80

years, belonging to the Danforth family.

The construction history of the building

shows it was completed in 2 stages. The first

stage was built in 1918. In 1937 when (First St)

Highway 101 was widened in anticipation of the

Del Mar Racetrack traffic, 20-feet was removed

from the front of the building. The state paid the

owners, the Wenz family, who then added the

second phase of the building in 1937, the south

side, as it remains today.

It was purchased by Jane Danforth's mother,

Eckka Robinson Rowe in 1940. Eckka and her

husband George resided upstairs in apartment

#2. Eckka managed the entire building for the

next 20 years to pay off the mortgages used to

purchase the property. The Danforth family still

own and treasures this building today.

Before Interstate 5, the building was once

part of the heart of downtown. It was a time

in the past when people would meet one

another at the post office, collect their mail,

and buy a 3-cent stamp. The southbound

Greyhound bus stop was in front of the building

and tickets were purchased in the building's gift

shop. Downtown Encinitas was predominately

between the La Paloma Theater and F Street. It

included all businesses needed for everyday life.

The Market was open to the street, with a

fruit and vegetable stand across the front, where

you could buy a glass jar of milk and a loaf of

bread for about 10-cents.

Over the years other building tenants have

included Lou's Records, Reder Insurance, a yoga

studio, and a laundromat. Current occupants are

Station Salon, Better Buzz Coffee, and Flashbacks.

The Danforth Building remains a dominant

landmark structure on Old Highway 101. There

are three commercial units downstairs and

apartments above providing downtown

residential living for over 100 years. It is now

adorned by two murals placed there by the

Downtown Encinitas Merchant Association as

part of the alley improvement project. It is also

a reminder of where the Encinitas center of

town once was before the Interstate was built

and locals would come together as they went

about their daily activities.

1 8 2 F E N C I N I T A S - O u r H i s t o r y a n d P e o p l e
---
THE ROY

FAMILY

The corner of Phoebe and Highway 101 is

the unofficial heart of Leucadia, where Roy's

Market, post office and laundromat sat. Today

the post office remains. Many Leucadians would

come and drop off or pick up their mail, grab

some salted peanuts and a beer as they did their

laundry or waited for the Greyhound bus.

Dad, Gerard, and mom, Thelma, wed in

1942. In 1936, they moved to Encinitas

simultaneously, Dad from Quebec, Canada,

Mom from Colorado with a practical nursing

degree, joining her brother and his wife, Ralph

and Martha Boggs, the first home economics

teacher at San Dieguito. Enlisting in the Army,

dad was deployed to England. Discharged in

1946, Elaine Verna was born 1947, Carolyn

Jean, 1950, and Kenneth Eugene, 1957.

We had several family members in the area;

Jim and Teresa Meyers (Meyers' Tires and Terry's

Knits), Joan and Kenny Bunyard (Bunyard

Masonry), Bob and Anne Roy, Joe and Jeannette

Reisner, and many cousins! Sundays brought

BBQ's, badminton, and picnics.

Roy's Market opened October 1953, the post

office in 1956, and laundromat in 1966. Dad had

one employee; Elaine and Carolyn helped after

school. Goods were sold on credit and

occasionally he would burn outstanding

customer's credit slips. The sisters would fill

orders and dad made deliveries to shut-ins and

the elderly. He left Christmas trees out on

Christmas Eve for those who could not afford one.

An inventor, dad motorized skates, dressing

up as the Man from Mars, complete with ray

gun and smoking jet helmet, for the Encinitas

Christmas parade.

Through the 1950s and '60s Mom was a

homemaker and community activist. Alongside

neighbor Josephine Vargas, they helped Doug

Hall start the first Boys & Girls Club.

Retiring in 1970, they both enjoyed golf,

travel and the Encinitas Elks Club. Mom was

crowned 1973 "Elkinenas of the Year." Dad died

in 1988; Mom in 2010.

Phoebe and Highway 101 remains a vibrant

corner property and continues to be a major

hub of Leucadia life. The property is still owned

by the family, Elaine and John Terrell and Ken

and Elyse Roy.

G

Above: Gerard Roy in Roy's Market.

Below: Thelma and Gerard Roy.

S h a r i n g t h e H e r i t a g e F 1 8 3
---
TRIBUTE TO

DR. TAKEO

SUGIMOTO

Takeo Sugimoto's parents were born in Japan.

In 1925, they migrated to the United States and

began working as vegetable farmers on land

they leased in Encinitas.

The family had been working towards

qualifying to be able to purchase land for their

farming operations. Due to the United States

Oriental Exclusion Act, they were prohibited

from owning land when they originally arrived

in this country.

The family was taken away to the internment

camps a few weeks before Tak's older brother

would have turned twenty-one. When he

reached that age, the family would have qualified

under the Act to be able to buy their own

property to farm, instead of having to lease land.

When Tak was only fourteen, his dad was

separated from Tak, his mom, and his siblings,

when the family was relocated to an internment

camp with the euphemistic name of "The

Colorado River Project" in Arizona.

The family never saw Sajiro Sugimoto again. He

died of tuberculosis while Tak and his other family

members were living separately in detention.

Once the Sugimoto family's internment

ended at the end of World War II, the family

returned to Leucadia.

By that point in time, it is believed at least the

area youngsters began to fully appreciate the

crushing reality of the horrible impact of the

mass internment of Japanese families at the

beginning of the war.

Tak returned home in time to graduate from

San Dieguito High School with his former

classmates. It was reported that when Tak went up

on stage to receive his diploma from the principal,

his classmates gave him a standing ovation.

There was another stroke of good fortune for the

Sugimoto family upon their return. They started off

their new life in Leucadia with nothing but the

truck that they had left in the care of Paul Ecke, Sr.

That treasured possession, which Paul Sr.

had sheltered and protected during their

absence, became critical in the family's being

able to make a living. As Tak acknowledged:

"If it hadn't been for that truck, I don't know

how we would've found work."

Tak went on to become a very successful

pharmacist and businessman. Ironically, first he

spent two years in the U.S. Army after the war

serving in Japan with the American occupation

forces! He later joined the National Guard and

served in Korea.

After completing his military service, he

married his beautiful wife Ruth of sixty-four

years, with whom he raised five children,

earned his degree of Doctor of Pharmacy at the

University of Southern California.

Following graduation, Tak worked for an

independent pharmacist for a number of years.

Then he decided to come back to our area to

open his own pharmacy in La Costa.

He had never lost touch with the Ecke family.

As a matter of fact, prior to making the lifechanging

determination to move here and open

his own pharmacy, he decided to obtain the

advice of Paul Ecke, Sr.

As Tak put it, first he "had to talk with Mr.

Ecke to get his wise counsel and offer to his

opinion relative to this momentous move."

Fortunately, Ecke told Tak that it was a good

decision in light of the fact that the pharmacy

business was an expanding field.

Tak died on May 20, 2019. He was ninetyone

years old.

1 8 4 F E N C I N I T A S - O u r H i s t o r y a n d P e o p l e
---
WEIDNERS

GARDENS/

THE EVELYN

WEIDNER

FAMILY

Weidners Gardens on Normandy Road in

Leucadia has been brightening the Encinitas

landscape since 1973. Weidner, pronounced

WIDE-ner, as Evelyn says, "there are no weeds

in Weidner," and you won't find any at Weidners

Gardens either.

For Evelyn Weidner, gardening has been a

lifetime avocation. She was literally born into

the nursery business. Her parents always had a

nursery—first in Three Rivers and then in North

Long Beach, California.

"I've always loved the business," said Evelyn.

"After school, I would head over to the nursery

to work. I would help customers and being an

attractive 16-year-old girl, they loved me."

She married Bob Weidner, who owned a

wholesale foliage plant business. They eventually

came to Encinitas at the recommendation of Paul

Ecke Sr. and Paul Ecke Jr.

"They said, 'you've got to come down here.

Where else would you go?" said Evelyn.

Following that advice, they bought the land

where Weidners Gardens currently stands.

"My husband knew that I loved begonias,"

said Evelyn. "He came home one day and asked

me if I'd like a big patch of begonias."

That patch was 25,000 plants because he

wanted it to be a flower show.

Now that flower show has grown to include

thousands of fuchsias, succulents and poinsettias,

including the famous Ecke Poinsettias. The annual

"Behind the Scenes Poinsettia Tours" attract

hundreds of visitors.

Bob Weidner passed away in 1988 and Evelyn

and daughter Mary ran the nursery until selling

the business in 2014. It is now in the capable

hands of production grower, Oliver Storm, and

wholesale sales manager, Kalim Owen. Now

semi-retired, Evelyn still writes the nursery

newsletter and can often be found greeting

customers and giving out gardening advice.

"Wherever we go, it seems we run into people

who are customers of ours," said Evelyn. "They

are still coming to Weidners for great plants and

good gardening advice. It's good to know we are

still helping to make their gardens a success."

Since then, in her semi-retirement Evelyn

continues to stay a very active member of the

Encinitas community. She has written a gardening

column in the Encinitas Advocate and Coast

Newspapers for years, as well as being a board

member of the Heritage Ranch Museum and an

active member of the Encinitas Rotary Club.

G

Weidners Gardens in Encinitas.

S h a r i n g t h e H e r i t a g e F 1 8 5
---
G

A modern downtown Encinitas in

2021 from D Street looking south to

Swami's and Cardiff-By-the-Sea.

PHOTO BY KYLE THOMAS PHOTOGRAPHY.

1 8 6 F E N C I N I T A S - O u r H i s t o r y a n d P e o p l e
---
BUILDING A GREATER ENCINITAS

E n c i n i t a s ' e n g i n e e r s , r e a l t o r s , a n d u t i l i t i e s

p r o v i d e t h e e c o n o m i c f o u n d a t i o n o f t h e c i t y

San Dieguito Engineering ...............................................................1 8 8

Olivenhain Municipal Water District ................................................1 9 0

COMPASS/Steele Realty Group ........................................................1 9 2

S h a r i n g t h e H e r i t a g e F 1 8 7
---
SAN DIEGUITO

ENGINEERING

G

Above: Cindy Jamieson and Joe

Campbell.

Right: Laurie Simon.

Below, left: (left to right) Ivan Fox,

Daphne Munson, Susan Fox, Barry

Munson and Gordon McElroy.

Below, right: (left to right) Trudy

Campbell, Jim Laret, Steve and

Ellie Dillemuth.

Due in large part to the synergy between

its leadership and employees, San Dieguito

Engineering has become a premiere land

development company and public works

consultant, surviving and even thriving in a

post-Great Recession business climate. With the

ability to change its business model to meet

contemporary land development needs, SDE

has become an award-winning woman-owned

small business, with recognition in both the

public and private sectors.

Founded in Rancho Santa Fe in 1974 by John

Fox and John Hawkins, San Dieguito Engineering

originally undertook civil and soils engineering

projects. David Newton joined the firm to manage

the soils and geotechnical services. John Hawkins

left the firm, and Steven Dillemuth took over his

ownership position in 1977. In the early 80s,

James Laret took an ownership position. In the

mid-80s Gordon McElroy took an ownership

position and managed the surveying services, and

1 8 8 F E N C I N I T A S - O u r H i s t o r y a n d P e o p l e
---
Wayne Pasco joined the firm as a project engineer.

Ivan Fox (no relation to John Fox) signed on as

General Manager.

SDE performed work for a number of notable

properties during the 1980s, including the

Farms, Del Mar Country Club and The Bridges

at Rancho Santa Fe. In 1989, Ernest Grabbe

joined the firm, and James Laret left to establish

Laret Engineering. That same year, Ivan Fox left

to start Fox Engineering but would come back

and, with Laurie Simon, purchase the shares of

John Fox and Steven Dillemuth in 1991.

By the early 1990s, SDE had long since secured

its exceptional reputation. However, its leadership

recognized that the company couldn't rest on its

laurels and adopted the unofficial motto, "Stay alive

until 1995." And indeed they would, by striving for

client satisfaction, aiming to have "repeat clients

repeatedly." Noteworthy projects during the 1990s

included Rancho Valencia Resort, Encinitas'

Wildflower Estates, Palma de la Reina Mixed Use

Property, various sewer and water main extensions,

The Bridges at Rancho Santa Fe, and single family

grading plans and subdivisions. In 1994, Barry

Munson joined the company as a partner, and in

1999, Steve Crosby and Andrew Karydes, to

eventually replace Ivan Fox and Gordon McElroy.

Hired as a project engineer in 2000, current

President and CEO Annie Aguilar assumed her

leadership role in 2011. Under her guidance,

SDE has garnered many awards, including

Women-Owned Small Business of the Year from

the Small Business Administration (SBA) in

2014, a designation as one of the Top Women-

Owned Businesses from the San Diego Business

Journal in 2016, and in 2019, the American

Public Works Association's Project of the Year

for its work on the San Diego County Water

Authority Pipeline 3 relining from Lake Murray

to the Sweetwater Reservoir, as well as ENR's

Best Project for BioLegend Campus Extension.

Once again in 2020, SDE was presented the SBA

Minority Business Champion of the Year Award.

In 2000, Ivan spearheaded the creation of a

subsidiary, AirX Utility Surveyors (which became its

own entity in 2006), for the purpose of cataloging

existing utilities via Subsurface Utility Engineering

(SUE). This service incorporates geophysics in the

mapping of existing underground utilities, aiding in

relocation design, quality assessment, and the

transmission of data to utility stakeholders. SUE is

considered a best practice to avoid construction

costs for land development projects and public

agencies nationwide. SDE has implemented SUE

on several large-scale projects, such as the San

Diego Airport Terminal 2 landside expansion in

2009, Sempra/Energy/SDG&E's Pipeline Safety

Enhancement Plan in 2013, and utility mapping for

Scripps Health campuses in 2017.

Patricia Urquiza joined the company as

Accounting Manager in 2003 and would

eventually become CFO in 2016. Andrew Karydes

signed on to the firm in 1999, becoming a partner

in 2002. In 2004, Karydes assumed the role of

Vice President and Secretary. As of this

publication, the company, which employs 17

individuals, is based in Solana Beach and takes in

an annual revenue of 2.8 million dollars. SDE will

continue to grow and deliver top quality results for

private development projects and public work

agencies in the greater San Diego area.

G

Above: The SDE Team, c. 2019.

Below: SANDAG's MCTC Mid Coast

Corridor Project

S h a r i n g t h e H e r i t a g e F 1 8 9
---
OLIVENHAIN

MUNICIPAL

WATER

DISTRICT

G

Right: The first Board of Directors of

Olivenhain Municipal Water District

were present at opening ceremonies in

1959 when the first water trickled

into Olivenhain. (Left to right) Otto

Berk, Howard G. Golem, Alwin

Wiegand, James B. Wood, and Clarke

R. Thomas.

Below: Crews construct Wanket

Reservoir in 1975. The reservoir

brought an additional three million

gallons of potable water storage

capacity to OMWD's service area.

In the mid-nineteenth century, the

Olivenhain area was the site of a stagecoach

station along the Seeley-Wright Stagecoach

Line. The station was located in present-day

Stagecoach Park, a mid-way point between the

San Diego and San Luis Rey Missions.

The historic route which ran along El Camino

Real was propagated with olive trees by Spanish

missionaries. Though the trees were not cultivated,

their presence prompted a program enticing

settlers to move to the area. Advertisements

promised a climate where anything could grow,

especially olive trees. Originally referred to as

Olivenheim, which translates in German to "home

of the olive," and later changed to Olivenhain

meaning "olive grove," the prospect of farming

attracted German settlers.

By 1884, Colony Olivenhain was established.

However, with a semi-arid local climate receiving

an average rainfall of only ten inches annually,

lack of water hampered development of the area.

In 1959, as Southern California wholesale

water agencies developed infrastructure that

brought imported water from the Colorado

River to San Diego County, several ranchers

banded together to secure access to that water

supply—Olivenhain Municipal Water District

was established.

The availability of a reliable water supply

allowed agriculture in the area to thrive. New

crops such as flowers and citrus trees were

grown, and domestic growth accelerated in

addition to agriculture.

1 9 0 F E N C I N I T A S - O u r H i s t o r y a n d P e o p l e
---
Early OMWD board meetings were held in

the Olivenhain Town Meeting Hall. OMWD's

first vice president, Howard G. Golem,

reminisced, "I remember the one light bulb

dangling from the ceiling in that small room.

We didn't have running water, but we did

have bats." Shortly after, in 1961, a district office

was constructed at the site of OMWD's presentday

headquarters.

OMWD's service area continued to rapidly

develop in the ensuing decades. To ensure water

availability and quality, OMWD initiated the

Olivenhain Water Storage Project. OWSP

consisted of a water treatment plant and a joint

venture with San Diego County Water Authority

to build Olivenhain Dam and Reservoir.

In 2002, OMWD unveiled its David C.

McCollom Water Treatment Plant which today

is capable of producing up to 34 million gallons

per day of high-quality drinking water. The

facility uses ultrafiltration technology which

provides a physical barrier to waterborne health

threats while minimizing chemical use. At the

time of its construction, the plant was the

largest of its kind in the US. Not only does

this facility reduce OMWD's purchase costs

for water, it also generates enough

hydroelectricity to cover approximately fifty

percent of its energy demands.

To secure land for the OWSP, OMWD

developed Elfin Forest Recreational Reserve in

partnership with San Diego County Water

Authority and US Department of the Interior's

Bureau of Land Management. The 784-acre

reserve opened in 1992 and is managed by

OMWD. EFRR offers recreational opportunities

for hiking, biking, and equestrian use, as well as

educational programs for community members

and local schools.

In 1998, OMWD added wastewater

treatment to its list of services by annexing

sanitation districts serving 4S Ranch and

Rancho Cielo. To meet the long-term needs of

the growing neighborhoods, OMWD upgraded

the existing wastewater treatment plant and the

4S Ranch Water Reclamation Facility was born.

It began producing recycled water in 2003,

adding an important drought-resilient water

supply to OMWD's portfolio. OMWD continues

to expand recycled water availability throughout

its service area, and is also exploring additional

local, sustainable water supplies such as

brackish groundwater desalination.

In its first year of operation, Olivenhain

Municipal Water District sold just twelve acrefeet

of water. Today, it treats and delivers

approximately 18,000 acre feet of drinking

water annually to 86,000 residents. Over sixty

years, OMWD has come a long way, and

delivering a safe and reliable water supply has

remained OMWD's utmost priority. It is

committed to making investments that enhance

the quality of life in our community for the

decades ahead.

G

Above: OMWD continues to develop

local and sustainable sources of water

supply including increasing the

availability of recycled water

throughout its service area.

Below: OMWD's David C. McCollom

Water Treatment Plant in front of

Olivenhain Dam. The facility

produces up to 34 million gallons of

potable water every day using

advanced ultrafiltration technology.

S h a r i n g t h e H e r i t a g e F 1 9 1
---
COMPASS/

STEELE

REALTY

GROUP

Betty and Cody Steele have nearly 60 years of

experience in Real Estate. This mother/son broker

team bring many talents to the table. What really

defines a good real estate agent? Some of the

qualities this duo excel at are agreeable and patient

personalities, local knowledge, changing real estate

trends, the differing needs of a buyer versus a

seller, and most importantly prioritizing a client's

satisfaction ahead of a commission. When you

have loyal clients for over 40 years and you are

selling or buying properties for their children and

neighbors, they have given you the best

advertising which is word of mouth.

Betty has been a fixture in the North County

lifestyle since her move from Texas in 1969. An

avid surfer for 50 years she has a deep love for

the ocean. It is in Betty's DNA to give back to

this area that has given so much to her and her

family. She cofounded the 1st chapter of the San

Diego Surfrider Foundation, was President of

Solana Beach/Del Mar Rotary, was President of

local networking group, helped bring back the

charity event Cardiff Surf Classic and the Green

Beach Fair & is actively involved with Cardiff

101 Main Street.

Betty's abundant energy also includes world

travel: Patagonia, Maldives, Mentawai islands,

Costa Rica and Iceland to name just a few.

The other half of the team is Cody Steele

with 19 years in the family real estate business.

Born and raised in Solana Beach, he purchased

the house he grew up in from his parents. A

natural athlete he had a successful career in

professional surfing while also going to college

with studies in sociology, graphic arts and

marketing all of which were put to good

use in real estate. Cody is married with 5

children. He has carried on the tradition of

coaching youth sports in Solana Beach. Of

course, his family loves the beach and surfing,

it is not unusual to see his tribe show up in the

Seaside parking lot.

Sincere service for your Real Estate needs is

the foundation of the COMPASS/Steele Realty

Group, DRE 01344459.

1 9 2 F E N C I N I T A S - O u r H i s t o r y a n d P e o p l e
---
G

PHOTO BY NEAL GLASGOW PHOTOGRAPHY.

S h a r i n g t h e H e r i t a g e F 1 9 3
---
G

Switchfoot performed their annual

concert after the BRO-AM charitable

fundraiser surf competition in June of

2018 drawing more than 10,000 to

Moonlight Beach.

PHOTO COURTESY OF DAPHNE FLETCHER.

1 9 4 F E N C I N I T A S - O u r H i s t o r y a n d P e o p l e
---
LOCAL LEGENDS

I c o n i c r e s i d e n t s o f E n c i n i t a s

w h o s e n a m e s w i l l n o t b e f o r g o t t e n

The Eagles & Jack Tempchin, Songwriter ..........................................1 9 6

Joe Walsh ....................................................................................1 9 8

Eddie Vedder ................................................................................1 9 9

Paramahansa Yogananda ................................................................2 0 0

Richard Dreyfuss ..........................................................................2 0 0

Ravi Shankar ...............................................................................2 0 1

Tom DeLonge ................................................................................2 0 2

Tony Hawk ...................................................................................2 0 3

Rob Machado ................................................................................2 0 4

Switchfoot and the BRO-AM ............................................................2 0 5

Johnny Rock .................................................................................2 0 6

Cloris Leachman ...........................................................................2 0 7

Hugh Martin ................................................................................2 0 7

S h a r i n g t h e H e r i t a g e F 1 9 5
---
THE EAGLES

&

JACK TEMPCHIN,

SONGWRITER

G

Top: House on Neptune Drive in

Leucadia where the Eagle's lived and

wrote songs in the early 1970s

IMAGE COURTESY OF KYLE THOMAS

PHOTOGRAPHY.

Bottom: Rock band The Eagles

performs at a concert of their

world tour in Taipei, Taiwan,

26 February 2011.

CHINAIMAGES.DEPOSITPHOTOS_244310134

The Eagles forged their place at the forefront of

mainstream rock music in the 1970s with a

laidback but deceptively regimented sound that

netted them hundreds of millions in record sales,

with enduring smashes like Their Greatest Hits and

Hotel California. Notably, the founding bandmates

(Glenn Frey, Don Henley, Randy Meisner, and

Bernie Leadon) spent some of their early days

together in Encinitas, where they would lay the

groundwork for a legendary career.

They gathered at a home on Neptune Drive,

situated on the cliffs of Leucadia. A plaque nearby

1 9 6 F E N C I N I T A S - O u r H i s t o r y a n d P e o p l e
---
eads, "The Eagles lived and recorded their music

here in the early 1970s." It is a direct, unpoetic

statement, but when the subject is one of the

most successful bands of all time, a band whose

reputation precedes them by far, there is little else

to say. The Eagles spent time in this house and on

the beaches below, co-writing songs with

musician Jack Tempchin, including "Already

Gone" and "Somebody." But Tempchin, who has

long resided in Encinitas, is perhaps best known

for providing the Eagles with one of their most

enduring hits, "Peaceful Easy Feeling."

In 1980, the group disbanded and went their

separate ways. Joe Walsh, Don Hendley and

Glen Frey all had very successful solo carrers.

In 1994, they formally reunited for the "Hell

Freezes Over" tour. Frey commented at their first

live performance, "For the record, we never broke

up. We just took a fourteen year vacation."

The Eagles have been nominated for eighteen

Grammy Awards, which resulted in six wins

since 1973, including Record of the Year for

"Hotel California" in 1978.. They were inducted

into the Rock and Roll Hall of Fame in 1988,

and into the Vocal Group Hall of Fame in 2001.

Sadly, on January 18, 2016, founding band

member, Glenn Frey, from Detroit, Michigan,

passed away at the age of 67 from complications

of rheumatoid arthritis and pneumonia. Frey

wrote or co-wrote (often with drummer Don

Henley) many of the group's songs and sang the

lead vocals on a number of Eagles hits including

"Take It Easy", "Peaceful Easy Feeling", "Already

Gone", "Tequila Sunrise", "Lyin' Eyes", "New Kid in

Town", "Heartache Tonight" and "How Long".

The current members of The Eagles are Don

Henley on lead and backing vocals, drums,

percussion, rhythm guitar; Joe Walsh on lead

and rhythm guitars, backing and lead vocals,

keyboards; Timothy B. Schmit on bass guitar,

backing and lead vocals, harmonica; Deacon

Frey on rhythm and lead guitars, lead and

backing vocals; and Vince Gill on rhythm and

lead guitars, backing and lead vocals.

G

Above: Jack Tempchin with Dean

Smith (on bass) at Cardiff-by-the-

Sea's 100th birthday celebration at

Glen Park. July 2, 2011.

IMAGE COURTESY OF KYLE THOMAS

PHOTOGRAPHY.

Below: House on Neptune Drive in

Leucadia where the Eagle's lived and

wrote songs in the early 1970s

PHOTO COURTESY OF DAPHNE FLETCHER.

S h a r i n g t h e H e r i t a g e F 1 9 7
---
JOE WALSH

Though not a founding member of the

Eagles, guitarist Joe Walsh has long since proven

himself an integral piece of the band's legacy.

Aside from touring with the Eagles, Walsh has,

in recent years, continued to release albums as a

solo artist, including 2012's Analog Man. He was

inducted, as part of the Eagles, into the Rock &

Roll Hall of Fame in 1998.

Walsh lived with his fourth wife, Denise

Driscoll, and their two sons in Encinitas

between 1995 and 2001. In an interview with

the San Diego Union-Tribune, Walsh praised the

gift of anonymity that came with living in a

town as serene as Encinitas. He returns the favor

by giving back to the Encinitas community. In

2007, he played a show at the Belly Up Tavern

to benefit the Grauer School, a local preparatory

school. And, according to Walsh in a 2012

interview for the San Diego Reader, the rocker,

who became a Buddhist later in life, once

sheltered exiled Tibetan monks from the Gaden

Shartse monastery at his Encinitas home.

The home in question is the polar opposite of

the asceticism favored by monks: a 5,635 square

foot horse ranch in the Olivenhain neighborhood

that now belongs to his ex-wife Denise Driscoll

(Joe and his wife Margorie Bach currently reside in

Los Angeles). But despite this extravagance, Walsh

often preferred to experience life in the slow lane

during his time in Encinitas. In an interview with

the San Diego Union-Tribune, Walsh mentioned that

he took Amtrak from Encinitas to Los Angeles for

recording sessions with the Eagles. Walsh may be

known for his over-the-top performance style, but

he prizes the "peaceful, easy" moments found in a

place like Encinitas.

G

Joe Walsh of The Eagles performs at

a concert of their world tour in

Taipei, Taiwan, 26 February 2011.

CHINAIMAGES.DEPOSITPHOTOS_244310134.

1 9 8 F E N C I N I T A S - O u r H i s t o r y a n d P e o p l e
---
Eddie Vedder has served as Pearl Jam's

frontman since 1990. His debut solo release was

the 2007 soundtrack album for the film Into the

Wild for which Vedder won a Golden Globe for

the song "Guaranteed." In 2012, Vedder's

sophomore solo album, Ukulele Songs, received a

Grammy nomination for Best Folk Album. Vedder

was inducted into the Rock and Roll Hall of Fame

as a member of Pearl Jam on April 7, 2017.

The San Diego Reader tells his history of the

area in the December 6, 2012 issue of the

magazine, "Eddie Vedder was eight when he

moved to San Diego with his family, including

three younger half-brothers, in 1973. While

residing in Encinitas, he lived in a two-story

house with a piano that he began practicing

on, and his mother gave him a guitar for his

twelfth birthday.

Living on his own at the age of fifteen

and working nights at an Encinitas drug store,

he attended San Dieguito High School until

his senior year (1982), performing in school

plays like Butterflies Are Free, Outward Bound,

and Bye Bye Birdie. After a devastating breakup

with his girlfriend, he quit school and moved

to Chicago, where his mother and brothers

had relocated."

The February 22, 2016 issue of The San

Diego Union Tribune goes on to say that in

2016, Eddie returned for a surprise visit and

performed at the San Dieguito High School

Alumni Variety Show. "Vedder has been a longtime

supporter of the school and of his former

SDA drama teacher Clayton E. Liggett, for

whom a theater at the school's performing arts

center is named. Vedder was instrumental in

making that happen. In 2005, the musician

wrote a letter to Encinitas school officials in

which he attributed his personal and

professional success to the teacher."

EDDIE VEDDER

G

Bottom. left: The legendary band

known throughout the world as

Pearl Jam.

IMAGES COURTESY OF PEARL JAM.

S h a r i n g t h e H e r i t a g e F 1 9 9
---
G

PARAMAHANSA

YOGANANDA

PHOTOS COURTESY OF THE SELF REALIZATION

FELLOWSHIP

Paramahansa Yogananda, author of the

modern spiritual classic Autobiography of a Yogi

and widely regarded as the father of Yoga in the

West, contributed in far-reaching ways to a

greater awareness and appreciation in the West

of the spiritual wisdom of the East. Arriving in

America from his native India in 1920 as a

delegate to an International Congress of

Religious Liberals, he established Self-

Realization Fellowship that same year to

disseminate worldwide his teachings on India's

ancient philosophy of Yoga and its timehonored

science of meditation.

Autobiography of a Yogi, Yogananda's life story,

was published in 1946 and expanded by him in

subsequent editions. Recognized from the

beginning as a landmark work in its field, the

book has been honored as one of the 100 best

spiritual books of the 20 th century, and remains

one of the most important, and most readable,

works on Yoga and Eastern spiritual thought.

The City of Encinitas named a park and beach

in honor of Yogananda, called Swami's, as he was

affectionately known. The park adjoins the SRF

Retreat center, where he enjoyed spending time.

He was born on January 5, 1893 in

Gorakhpur, India, and passed away on March

7, 1952 in Los Angelos, California.

G

RICHARD

DREYFUSS

Richard Dreyfuss' star on the

Hollywood Walk of Fame.

DEPOSITPHOTOS 29285901

COPYRIGHT: SAINANIRITU

Richard Dreyfuss, a mainstay of American

cinema known for his roles in classic films such as

American Graffiti, Jaws, Close Encounters of the Third

Kind, and Mr. Holland's Opus. In 1977, he became

the youngest man to win the Best Actor Oscar for

the role of Elliot Garfield in The Goodbye Girl. Now

in his seventies, Dreyfuss remains active today.

Dreyfuss heads the Encinitas-based Dreyfuss

Civics Initiative, a nonprofit which aims to prioritize

civics education in the American public school

system. In support for the program, Dreyfuss makes

occasional public appearances, by which he

proclaims the need for students to learn civic virtue

as a means to better the nation. To bolster his own

understanding of civics, Dreyfuss even attended

Oxford University as a guest scholar. His ongoing

efforts earned him a Peacemakers Award from the

National Conflict Resolution Center in 2016.

In 2008, he and his wife, Svetlana Erokhin,

bought a nearly 5,000 square foot property in the

Olivenhain community in Encinitas with the

intent to upgrade the 1970s home with the latest

water and energy saving technology. San Diego Gas

& Electric selected the property as a case study for

its Advanced Home program, which offers

incentives to homeowners looking to make their

properties more sustainable. In an interview with

the San Diego Union Tribune, Dreyfuss stated his

motivation for renovating the home stemmed less

from environmental concern and more from an

awareness of the United States' dependence on

foreign oil. Clearly, Dreyfuss stands by his civic

responsibility, to the extent that he has quite

literally brought it home with him.

2 0 0 F E N C I N I T A S - O u r H i s t o r y a n d P e o p l e
---
Of Ravi Shankar, George Harrison stated that

he is the "Godfather of World Music," and Cal

Arts cites that he is "Musician to the World."

Shankar first gained international recognition

when he popularized Indian sitar music through his

work with the Beatles and violinist and conductor

Yehudi Menuhin, beginning in the mid-1960s.

Encinitas has always been a magical place that

has attracted magical people, so it should be of

no surprise that Shankar first found his way to

Encinitas in the 1930s where he met the Self

Realization Fellowship founder, Parmahansa

Yogananda and that he also gave his first U.S.

concert at the SRF Encinitas retreat in 1957.

Shankar toured extensively, spending time in

London, Paris, New York, but in 1992 while

visiting friends in Encinitas, Ravi and his wife

Sukanya fell in love with and purchased their

home on Via Del Cerrito.

It was here that they raised their daughter

Anoushka, who attended the San Dieguito

Academy where she was an honor student and

crowned homecoming queen. Anoushka began

studying music with her father at age seven and

has since been nominated for seven Grammy

awards in the World Music category.

"It's one of the most peaceful homes," says

Sukanya, "with the vibration of him (Ravi) still

surrounding that house. He lived, breathed music

there. He practiced every day. He taught so many

people. He had such beautiful compositions that

were born there in that house."

"So many famous people came, played and

practiced," recounts Sukanya. "George Harrison

came and stayed there many times. Sting was there

and Herbie Hancock came and spent many musical

hours as well as Phillip Glass. The house just

resonated with music and there was Anoushka and

Norah (Jones) of course. We had so many house

concerts with famous Indian musicians and dancers

in the drawing-room with sometimes 100 people."

"He lived and breathed music to the very

end," recalls Sukanya. "He wrote an opera right

in the hospital at Scripps Encinitas."

Ravi dedicated and named the opera for his

wife; Sukanya.

Ravi passed on December 11, 2012.

The opera, Sukanya, premiered in London

in 2017.

"He gave me that as a parting gift," said

Sukanya softly.

G

RAVI SHANKAR

Top, left: Ravi Shankar and his

daughter Anoushka Shankar.

DEPOSITPHOTOS 17517071

COPYRIGHT: S_BUKLEY

HOUSE PHOTO COURTESY OF SUKANYA SHANKAR.

Bottom: Ravi at his Encinitas home

with local and international musicians.

COURTESY OF SETH PANDURANGA BLUMBERG

S h a r i n g t h e H e r i t a g e F 2 0 1
---
TOM DELONGE

G

Above: Tom Delonge Blink 182

DEPOSITPHOTOS 134322300

COPYRIGHT: YAKUB88

Tom DeLonge rose to stardom as the vocalist

and guitarist in the pop-punk band Blink-182,

which formed in Poway in 1992. During a

hiatus from the group in 2005, DeLonge cofounded

the band Angels and Airwaves, with

whom he still performs. He split with Blink-182

in 2015. In recent years, DeLonge, who has

authored several books about UFOs, has

focused much of his attention on the

development of To the Stars Academy,

established in Encinitas in 2017.

Per the Academy's website, "To the Stars

Academy of Arts and Science (TTSA) specializes in

creating, acquiring and commercializing sciencefocused

intellectual property within the

technology and entertainment verticals."

DeLonge's team at TTSA is comprised of

strategists, some of whom are ex-military officials.

In 2020, the group achieved a breakthrough of

sorts when the Pentagon confirmed the

authenticity of U.S. Navy fighter jet footage, shared

on TTSA's website and depicting UAP

("unidentified aerial phenomena" or UFOs).

TTSA's Science and Technology Division

amasses materials concerning UAP. Information

gleaned from this work is made accessible to the

public via TTSA's Entertainment Division, which

produces content across media, including, books,

films, and television. Among this creative output

is the History Channel series "Unidentified:

Inside America's UFO Investigation," which

DeLonge executive produces.

In a 2019 interview with the New York

Times, DeLonge spoke on his long abiding

fascination with UFOs: "I started becoming very

fascinated in the idea of what else is there

besides working a 9-to-5 job and coming from a

broken family. For some reason I just thought

science fiction was just fascinating. My brother

and I were so into the whole 'Star Wars' thing,

obviously, in the early '80s. It just kind of led to

me thinking a little bit broader." No doubt

DeLonge will continue this forward-thinking

approach with TTSA's future endeavors.

2 0 2 F E N C I N I T A S - O u r H i s t o r y a n d P e o p l e
---
Tony Hawk could have cemented his legacy

solely by being the first skateboarder to

complete the astonishing 900 trick (two and

half turns in mid-air). He still gets on his board

outside the competition circuit, but he

acknowledges the aging process and its impact

on his beloved sport: in 2021 he posted a video

on social media in which he completed what

he called his "last ever ollie 540" (one and half

turns). Beyond the skatepark, the Encinitas

resident with lifelong ties to San Diego County

has gone on to work tirelessly in business

and philanthropy.

Today, the enormously popular Tony Hawk's

Pro Skater video game series first released by

Activision in 1999 (the same year he pulled off the

legendary 900), has grown into a billion-dollar

franchise. Other lucrative Hawk brands include

Birdhouse Skateboards and Hawk Clothing. His

most notable and largest philanthropic effort is

the Skatepark Project, formerly known as the

Tony Hawk Foundation, which has allocated

upwards of $10 million to the development of

more than 600 skateparks nationwide, crucially in

underserved communities.

The Coronavirus pandemic prompted Hawk

to offer a portion of the proceeds from

autographed photos to Direct Relief, an

organization that outfits frontline healthcare

workers with personal protective equipment. He

has also agreed to participate in Vans' "Foot the

Bill" program, which directs proceeds from

custom shoe collection sales to certain local

businesses that have struggled to stay afloat

during the pandemic. In an interview with

KFMB-TV, Hawk explained why he chose to

support Witt's Carlsbad Pipelines: "Witt's was

my very first skate shop sponsor back in 1984,

[19] 85? Witt's has been a staple of this area for

a long time—always really supportive. I always

try to send people there when they're in town.

He's just trying to keep his doors open through

all of this and this is the least I could do." The

shop's owner, Witt Rowlett, designed Hawk's

shoe for the initiative, and it features an old

photograph of the skateboarder in action at Del

Mar Skate Ranch. Additionally, Hawk has

offered his time for a private performance or

skate lesson as part of the ALL IN Challenge, a

campaign benefitting several charities, including

Meals on Wheels and No Kid Hungry. For

Hawk, fame and success are means by which to

give back, both at home and abroad.

G

TONY HAWK

Above and Below: Playa del Carmen,

Cancun, Riviera Maya, Quintana Roo

Mexico, October 21st, 2017,

Skateboarding In Paradise Woodward

Riviera Maya Grand Opening

DEPOSITPHOTOS 389196348

COPYRIGHT: ARTUROVEREAPHOTO.GMAIL.COM

DEPOSITPHOTOS 389195166

COPYRIGHT: ARTUROVEREAPHOTO.GMAIL.COM

S h a r i n g t h e H e r i t a g e F 2 0 3
---
ROB MACHADO

G

Top, left: Rob Machado (back, left),

Christian Glawgow (back, right), and

Jesse Billiauer (front), taken at the Rob

Machado Surf Classic 2002-2003.

They came together to support Jesse

and his re-entry into the surfing world.

PHOTO COURTESY OF NEIL GLASGOW.

Top, right: Rob Machado catching a

wave at local Encinitas surf break.

PHOTO COURTESY OF. TODD GLASER

PHOTOGRAPHY.

Below: Rob Machado.

PHOTO COURTESY OF TODD GLASER

PHOTOGRAPHY.

Machado attended San Dieguito High School.

He describes himself in interviews, vlogs and

social media as a free surfer. He was largely active

in the competitive surfing scene from 1993

to 2000.

Machado has won the Hawaii's Pipeline

Masters (Triple Crown of Surfing), and the U.S.

Open of Surfing,[11] the largest surfing event

held on the U.S. mainland.

Machado hosts and participates in an annual

event held at his home reef called the Rob

Machado Surf Classic and Beach Fair, which is

an amateur competition for the locals of all ages,

and it includes demo sessions with Machado

and other pros.

Machado portrayed "himself" in the 2007

animated picture, Surf's Up. Machado also

starred in his own feature film released in the late

90s titled "Drifting". Additionally, Rob wrote and

starred in the 2009 film, The Drifter.

Machado is a 2011 inductee into the Surfing

Walk of Fame in Huntington Beach, California

in the surf champion category.

Machado formed the Rob Machado

Foundation, an organization focused on

environmental causes. The Rob Machado

Foundation was founded upon the fundamental

belief that our planet needs to be taken care of,

and there's no better place to start than with our

local communities and our children. What

started out in the early days as the introduction

of gardening programs at local schools—

encouraging children to connect with the land

they live on and the food they eat—has evolved

into a water filling station program across a

growing network of schools and public places

that helps deliver clean, filtered water while

encouraging reusables over single-use plastic

water bottles. While this is the core focus of our

foundation, we supplement our efforts to keep

plastic and other trash out of our waterways

with trash and recycling solutions at beaches,

schools, surf events and local beach clean ups.

We believe our youth are the stewards of our

planet. We believe communities can come

together to impact change. And we believe the

future starts here.

2 0 4 F E N C I N I T A S - O u r H i s t o r y a n d P e o p l e
---
SWITCHFOOT

BRO-AM

FOUNDATION

G

PHOTOS COURTESY OF SWITCHFOOT BRO-AM

FOUNDATION.

In 2005, after traveling the world, Grammy

Award-winning rock band Switchfoot dreamed

up an idea to give back to their hometown,

Encinitas, California, that supported them as

young surfers and musicians.

Founding band members Jon Foreman

(vocals, guitar) and Tim Foreman (bass)grew up

surfing at D Street and attending San Dieguito

Academy. Together with drummer Chad Butler

they cut their musical teeth playing shows at

local venues like La Paloma Theater and The

Belly Up. Inspired by the support they had

received, Switchfoot created BRO-AM to invest

in local kids who need a hand up. Seventeen

years later, their idea has grown into two iconic

annual San Diego summer events—the BRO-AM

Benefit Party and the BRO-AM Beach Fest—

with more than 17,000 attendees from all over

the world.

The Switchfoot BRO-AM Foundation is

dedicated to giving back to the San Diego

community by heightening the profile of and

providing grants to nonprofit organizations that

provide services to homeless, at-risk, and

disadvantaged youth, with a special focus on

programs related to music, art and surfing. The

annual events have already raised almost 2.5

million dollars impacting local kids in need. Get

involved at www.broam.org and learn more

about the band atwww.switchfoot.com.

S h a r i n g t h e H e r i t a g e F 2 0 5
---
JOHNNY ROCK

Tate Sanderson aka. Johnny Rock, "if you knew

him growing up, you never saw him without a

guitar or with a haircut." Graduation day from

Sunset High school he rolled out of town

Hollywood bound. A dream, a guitar and a lot of

ambition tossed him onto the highway of life,

touring the USA, Mexico and over in Japan. MTVthere

was Tate on Head-bangers Ball in rock group

"Dirty Looks" on Sony/Rockworld Records. The

video "One Bad Leg" was filmed in Encinitas and

Del Mar. Watch this video and more Tate projects

at www.youtube.com/c/jarprstudios

Tate has played, performed and recorded with

musicians from bands including Iron Butterfly,

Tesla, Fishbone, Green Jello, Black Flag, The

Motels, Beebs Money and many more. He got his

first free guitar from Dean Guitars in 1994, still in

love with this endorsement and now have many

including: Encinitas Surfboards, Sabine, Carvin,

Orange Amps, Jim Dunlop, Anvil of Hope,

Alesmith Brewing Co. and Trust Me Vodka.

Best seller now "Hotdog On A Stick Song"

Johnny Rock Band. Tate is currently cast on

GREENJELLOVISION every Saturday in

Hollywood and performing nationally with

Johnny Rock Band with tons of music and videos

out online, a book out "Johnny Rock Tales From

The Road" available on Amazon, and side projects

G2 Cowboys, Tate Kid Easy, Magic Dogs, Green

Jello, and he teaches music to students with

special needs at his music school/studio Music

Music at 230 W. F Street in Encinitas.

2 0 6 F E N C I N I T A S - O u r H i s t o r y a n d P e o p l e
---
In January 2021, Cloris Leachman, 94, died of

natural causes at her home in Encinitas. She left

behind an astounding legacy as a prolific

performer, highly accomplished in both comedic

and dramatic roles. Leachman's decades-long

career spanned theater, film, and television.

Early in her career, Leachman was a finalist in

the 1946 Miss America Pageant before acting in

several Broadway productions, such as As You Like

It, alongside Katharine Hepburn, and South

Pacific. She soon transitioned to film and television

work, starring in a number of classic shows,

including The Twilight Zone and Gunsmoke. She

starred in the 1955 film noir Kiss Me Deadly and

would win a Best Supporting Actress Oscar in

1971 for her role in The Last Picture Show. Other

memorable film credits include Daisy Miller, Butch

Cassidy and the Sundance Kid; and the Mel

Brooks comedies Young Frankenstein, High

Anxiety, and History of the World: Part 1.

She landed dozens of TV credits, one of the

best known being the role of Phyllis Lindstrom

on The Mary Tyler Moore Show from 1970 to

1975 and then on the spin-off Phyllis from 1975

to 1977. During her TV career, she netted 22

Primetime Emmy nominations, the most of any

actress, and with eight wins tied with Julia Louis-

Dreyfuss for the most Primetime Emmy wins

by any performer. Her later film and TV

work often cast her as

grandmother characters,

including Grandma Ida in

Malcolm in the Middle and

Maw Maw in Raising Hope.

In addition to her acting

career, Cloris Leachman was

a longtime backer of animal

rights issues, and received

a Lifetime Achievement

Award from PETA in 2017.

Leachman was married to

producer George Englund

for 26 years until their

divorce in 1979. They had

five children: a daughter

named Dinah, and four sons,

Adam, George, Morgan,

and Bryan.

CLORIS

LEACHMAN

Louis. Martin lived in Encinitas since the 1970s.

He was nominated, with his colleague Ralph

Blane, for two Academy Awards for Best Song

(for "The Trolley Song" and "Pass That Peace

Pipe"). Martin was also nominated for four Tony

Awards. He recounted his storied career in a

memoir entitled Hugh Martin: The Boy Next

Door. Though he was devoted to his work,

Martin maintained close ties with his family.

G

HUGH MARTIN

Above: Cloris Leachman.

DEPOSITPHOTOS 17428663

COPYRIGHT: S_BUKLEY

Left: An original sheet music

autographed by Hugh Martin.

IMAGE COURTESY OF S. BOSS.

In 2011, Hugh Martin died of natural causes

at his Encinitas home, aged 96. Following his

service in the U.S. Army during World War II,

Martin had a long career in show business as a

composer, playwright, musician, performer, and

instructor. His best known pieces, "Have

Yourself a Merry Little Christmas" and "Trolley

Song," featured in the 1944 film Meet Me in St.

Bottom, right: Ida Lou Coley poses

with Hugh Martin. Ms. Coley was

instrumental in preserving

Cottonwood Creek as a historical

landmark in 1991. Mr. Martin, who

lived his last years in Encinitas, was

best known for writing "Have Yourself

a Merry Little Christmas" and many

more Broadway musicals.

S h a r i n g t h e H e r i t a g e F 2 0 7
---
INDEX

– # –

101 Artist Colony ......................................................134

– A –

Artist Danny Salzhandler ..........................................160

Artist Kevin Anderson ................................................158

– B –

Bumann Ranch ..........................................................176

– C –

Candice Gerlach, CPA ................................................150

Cardiff 101 Main Street Association ............................142

Cardiff Kook ..............................................................135

Cardiff-by-the-Sea Branch Library ..............................126

Cloris Leachman ........................................................207

COMPASS/Steele Realty Group ..................................192

– D –

Danny Salzhandler ....................................................160

Dr. Kent Pollock, Chiropractor ....................................131

– E –

Eddie Vedder ............................................................199

Encinitas 101 Mainstreet Association ..........................140

Encinitas Café ..........................................................151

Encinitas Chamber of Commerce ................................138

Encinitas Historical Society ........................................116

Encinitas Preservation Society ....................................143

Encinitas Rotary Club ................................................118

Encinitas Surfboards ..................................................156

Encinitas Union Elementary School District ................112

– F –

Fred Caldwell Antiques ..............................................156

Friends of Cardiff-by-the-Sea Library..........................127

– G –

Gaspar Doctors of Physical Therapy............................134

– H –

Hansen's Surfboards ..................................................155

Herman Cook VW ......................................................162

HPN/LedgeMedia ......................................................161

Hugh Martin..............................................................207

– J –

Joe Walsh and VetsAid ................................................198

Johnny Rock ..............................................................206

– K –

Kyle Thomas Photography ..........................................159

– L –

Leucadia 101 Main St. Association (L101) ..................141

– N –

Neal Glasgow Photography ........................................157

North Coast Family Medical Group ............................122

– O –

Olivenhain Municipal Water District ..........................190

Olivenhain Town Council ............................................115

– P –

Paramahansa Yogananda ............................................200

PsyTek Lab ................................................................148

– R –

Rancho Auto Body ......................................................153

Ravi Shankar ............................................................201

Richard Dreyfuss........................................................200

Rob Machado ............................................................204

– S –

San Diego Botanic Gardens ........................................120

San Dieguito Art Guild ..............................................132

San Dieguito Engineering............................................188

San Dieguito Heritage Ranch Museum ........................128

Seaside Market ..........................................................146

Self Realization Fellowship ........................................124

Soulscape Gifts & Bookstore ......................................154

Sunshine Gardens, Inc. ..............................................152

Surfing Madonna Organization ..................................133

Switch Foot and the BRO-AM ....................................205

– T –

The Cardiff Mercantile/The Guild................................144

The Charley Marvin Family ......................................174

The Corner Frame Shop Tribute to Morgan Mallory ....163

The Danforth Building ................................................182

The Eagles & Jack Tempchin, Songwriter ....................196

The Ecke Family ........................................................166

The Heritage Tree ......................................................130

The Legacy of The McNeil House ................................181

The Roy Family ........................................................183

The Sougias Family Charlie's Foreign Car Service ........170

Tom DeLonge ............................................................202

Tony Hawk ................................................................203

Tribute to Dr. Takeo Sugimoto ....................................184

Tribute to Edgar Engert ..............................................180

Tribute to Maggie Houlihan ........................................178

– W –

Weidners Garden/ The Evelyn Weidner Family ............185

2 0 8 F E N C I N I T A S - O u r H i s t o r y a n d P e o p l e
---
ABOUT THE AUTHORS

Carolyn Roy Cope is a second generation local, born in Encinitas in 1950. Her mother, Thelma

M. Boggs, was originally from Burlington, Colorado and her father, Gerard E. Roy, immigrated from

Quebec, Canada. Both arrived in Encinitas about the same time c.1938.

Carolyn attended all local schools, focusing on journalism, sports and acting. She worked at her

family's grocery store, Roy's Market, every day after school. She wrote for her schools' newspapers in

middle school, high school, and college. She had a column in the local Coast News for many years

called "Cope's Corner". Carolyn has served on the boards of many local organizations in Encinitas:

Sister City, Cardiff-by-the-Sea Chamber, San Dieguito Heritage Museum, Arts Commission, Coastal

Community Foundation, E-101 Mainstreet, Encinitas Arts Culture and Ecology Alliance and

Encinitas Preservation Association. She is currently the President of the Encinitas Historical Society.

She is still an active member of the Rotary Club of Encinitas, serving over 20 years. Carolyn is also

the well-known voice announcing at the annual Holiday Parade. "I like facts, dates and places. That

is why I presented the historical section of this book chronologically."

Born in Whittier, California in 1953, Jim Filanc moved with his family to Encinitas in 1965. A lifelong

lover of the outdoors, Jim participated in the Boy Scouts where he earned the rank of Eagle Scout. A 1972

graduate from San Dieguito High School, Jim went on to earn a BS of Finance from San Diego State University

in 1976. He has had a varied career working construction. As an avid off-road enthusiast, he raced in the

Baja 1000 twice, finishing the second time with his co-captains Malcolm Smith and JN Roberts. He produced a

2008 feature length motion picture called "Full Circle—The Legend Lives On," starring himself along with

Smith and Roberts. The movie reunites Smith and Roberts 40 years after their inaugural motorcycle victory

in the first Baja 1000 in 1967. He has raised over $100,000 for various charities. Jim is also a

musician/songwriter/recording artist, having provided guitar tracks on several released albums. Currently, Jim is

President/CEO of his firm, Intelligent Cities Associates, LLC, helping clients plan their "Smart City" future.

Finally, for more than 20 years Jim has teamed with Encinitas local, Luis Ortiz, to light up the Encinitas Heritage

Tree at Moonlight Beach, emceeing recent tree lighting ceremonies presenting local choirs and singing groups to

celebrate the holiday season.

Garth Murphy is a poet, songwriter, journalist and author. His historical novel, The Indian Lover, set in the 1840s

of San Diego, explored the cultural clashes of Native American people, the Spanish Colonists Californios and the tidal

wave of new American immigrants. The book explores the encompassing height of the Mexican Rancho era, the

Mexican-American war of 1846, the international Gold Rush of 1848-49 and the US statehood of California in 1850.

Researching with archaeologist James Moriarity made this effort to describe pre-Columbian Encinitas possible.

Mr. Murphy's own role in Encinitas history includes pioneering local surf culture, surf research, developing

surfboard wax and the flexible lifeguard rescue buoy. He continues restoration of the 1887 Derby House, built by Miles

Kellogg for Amos Derby an early railroad man. He is also instrumental in working with the State of California on the

Marine Life Protection Act Initiative. During that time he help design and install a network of marine reserves between

Point Conception and the Mexican border. This includes Swamis State Marine Protected Area that runs from Seaside

bluff to Moonlight Beach plus San Elijo Lagoon and encompasses three miles off shore. He was also a founding member

of The Encinitas Arts Culture and Ecology Alliance and the Pacific View Academy of Arts project in alliance with the

City of Encinitas. Mr. Murphy is a long standing member of the Encinitas Historical Society.

S h a r i n g t h e H e r i t a g e F 2 0 9
---
ABOUT THE COVER

K E V I N

A N D E R S O N

Kevin Anderson is fascinated with imagery, art, and color. Since his childhood,

this fascination has developed into an obsession that went from coloring books

and comics, to more refined attempts at art in High School. He studied further

into college, and after earning a degree in Fine Art, he began his career as a

professional artist. He paints large murals on buildings, as well as commissions on

canvas, and outdoor scenes on location. He is always painting and drawing,

dreaming of making a significant contribution to the art world, and hopes his

artwork keeps developing towards that end.

P I P E S

R A M P

G

The cover painting is showing the

Cardiff beach known to local surfers

as "Pipes Ramp" looking north

towards Swami's Point.

2 1 0 F E N C I N I T A S - O u r H i s t o r y a n d P e o p l e
---
ABOUT THE CONTRIBUTING PHOTOGRAPHERS

D A P H N E

F L E T C H E R

Daphne Fletcher, publisher, writer, editor, founder and CEO of Ledge Media,

and President of HPN Books, is also an avid travel photographer and has

contributed photography to more than a dozen coffee table books she has

published. Daphne made a home for herself in Leucadia after falling in love with

Encinitas while working on this book. She has become very active in the

community serving on the boards of directors for both the Encinitas Rotary Club

and the Mainstreet organization Leucadia 101.

K Y L E T H O M A S P H O T O G R A P H Y

Kyle Thomas is a Multimedia Specialist. He is a fourth-generation San Diegan,

and a professional journalist and photographer who loves to bring history to the

San Diego County public through writing, photography, and videography. He has

been a regular contributor of stories and pictures to Encinitas Magazine since it's

inception. Kyle grew up in Clairemont, moved to Del Mar at age fifteen, and then

to Encinitas shortly thereafter, where he attended San Dieguito High School

graduating with the class of 1975.

N E A L G L A S G O W P H O T O G R A P H Y

Neal Glasgow is a Cardiff/Encinitas native who is continuing his exploration in

art through photography. He graduated from San Dieguito High School. Over his

career as both an artist and an art educator, he has focused on a variety of creative

pathways, subject matter, and techniques. He returned to his alma mater to teach

art and science for sixteen years.

G

PHOTO COURTESY OF PEG GLASGOW.

S h a r i n g t h e H e r i t a g e F 2 1 1
---
For more information about the following publications or about publishing your own book,

please visit www.ledgemedia.net or www.hpnbooks.com.

Albemarle & Charlottesville:

An Illustrated History of the First 150 Years

Bakersfield: It's the People, And a Whole Lot More

Black Gold: The Story of Texas Oil & Gas

Black Gold in California

Carter County, Oklahoma: Then and Now

Cheyenne: A Sesquicentennial History

Coastal Visions: Images of Galveston County

Davis County: On the Move

Escondido: A Pictoral History of the Hidden Valley

Fort Myers - City of Palms: A Contemporary Portrait

Garland: A Contemporary History

Historic Abilene: An Illustrated History

Historic Alamance County: An Illustrated History

Historic Albany: City & County

Historic Albuquerque: An Illustrated History

Historic Alexandria: An Illustrated History

Historic Amarillo: An Illustrated History

Historic Anchorage: An Illustrated History

Historic Austin: An Illustrated History

Historic Baldwin County: A Bicentennial History

Historic Baton Rouge: An Illustrated History

Historic Beaufort County: An Illustrated History

Historic Beaumont: An Illustrated History

Historic Bexar County: An Illustrated History

Historic Birmingham: An Illustrated History

Historic Brazoria County: An Illustrated History

Historic Brownsville: An Illustrated History

Historic Charlotte:

An Illustrated History of Charlotte and Mecklenburg County

Historic Chautauqua County: An Illustrated History

Historic Cheyenne: A History of the Magic City

Historic Clayton County: An Illustrated History

Historic Comal County: An Illustrated History

Historic Corpus Christi: An Illustrated History

Historic DeKalb County: An Illustrated History

Historic Denton County: An Illustrated History

Historic Edmond: An Illustrated History

Historic El Paso: An Illustrated History

Historic Erie County: An Illustrated History

Historic Fayette County: An Illustrated History

Historic Fairbanks: An Illustrated History

Historic Gainesville & Hall County: An Illustrated History

Historic Gregg County: An Illustrated History

Historic Hampton Roads: Where America Began

Historic Hancock County: An Illustrated History

Historic Henry County: An Illustrated History

Historic Hood County: An Illustrated History

Historic Houston: An Illustrated History

Historic Hunt County: An Illustrated History

Historic Illinois: An Illustrated History

Historic Kern County:

An Illustrated History of Bakersfield and Kern County

Historic Lafayette: An Illustrated History of Lafayette & Lafayette Parish

Historic Laredo: An Illustrated History of Laredo & Webb County

Historic Lee County: The Story of Fort Myers & Lee County

Historic Louisiana: An Illustrated History

Historic Mansfield: A Bicentennial History

Historic Midland: An Illustrated History

Historic Mobile: An Illustrated History of the Mobile Bay Region

Historic Montgomery County:

An Illustrated History of Montgomery County, Texas

Historic Ocala: The Story of Ocala & Marion County

Historic Oklahoma: An Illustrated History

Historic Oklahoma County: An Illustrated History

Historic Omaha: An Illustrated History of Omaha and Douglas County

Historic Orange County: An Illustrated History

Historic Osceola County: An Illustrated History

Historic Ouachita Parish: An Illustrated History

Historic Paris and Lamar County: An Illustrated History

Historic Pasadena: An Illustrated History

Historic Passaic County: An Illustrated History

Historic Pennsylvania An Illustrated History

Historic Philadelphia: An Illustrated History

Historic Prescott: An Illustrated History of Prescott & Yavapai County

Historic Richardson: An Illustrated History

Historic Rio Grande Valley: An Illustrated History

Historic Rogers County: An Illustrated History

Historic San Marcos: An Illustrated History

Historic Santa Barbara: An Illustrated History

Historic Santa Maria Valley

Historic Scottsdale: A Life from the Land

Historic Shelby County: An Illustrated History

Historic Shreveport-Bossier:

An Illustrated History of Shreveport & Bossier City

Historic South Carolina: An Illustrated History

Historic Smith County: An Illustrated History

Historic Temple: An Illustrated History

Historic Texarkana: An Illustrated History

Historic Texas: An Illustrated History

Historic Victoria: An Illustrated History

Historic Tulsa: An Illustrated History

Historic Wake County: An Illustrated History

Historic Warren County: An Illustrated History

Historic Williamson County: An Illustrated History

Historic Wilmington & The Lower Cape Fear: An Illustrated History

Historic York County: An Illustrated History

Iron, Wood & Water: An Illustrated History of Lake Oswego

Jefferson Parish: Rich Heritage, Promising Future

More Than a River: Decatur-Morgan County

Loudoun County, Virginia: Preserving Tradition, Embracing Innovation

Miami's Historic Neighborhoods: A History of Community

Old Orange County Courthouse: A Centennial History

Planes, Trains & Heroes

Plano: An Illustrated Chronicle

The New Frontier: A Contemporary History of Fort Worth & Tarrant County

Rich With Opportunity: Images of Beaumont and Jefferson County

Salt Lake City: Livability in the 21st Century

San Antonio, City Exceptional

The San Gabriel Valley: A 21st Century Portrait

Southwest Louisiana: A Treasure Revealed

The Spirit of Collin County

Terrebonne Parish: Stories of the Good Earth

Tyler: A Natural Beauty

Utah Valley: Heart of Utah

Valley Places, Valley Faces

Water, Rails & Oil: Historic Mid & South Jefferson County

Working Underwater: The History of the Commercial Diving Industry

2 1 2 F E N C I N I T A S - O u r H i s t o r y a n d P e o p l e