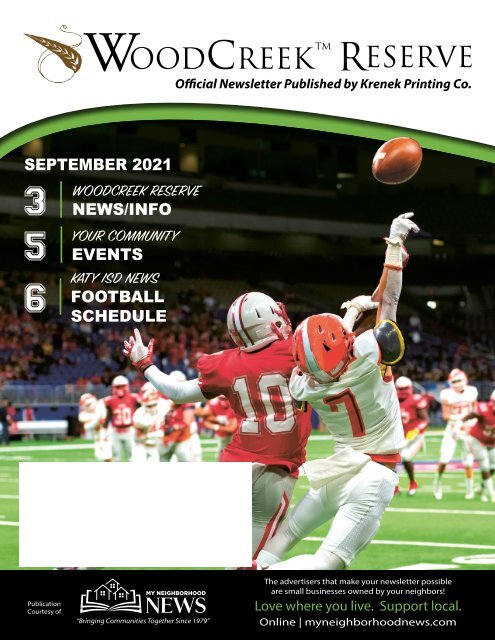 You also want an ePaper? Increase the reach of your titles
YUMPU automatically turns print PDFs into web optimized ePapers that Google loves.
Official Newsletter Published by Krenek Printing Co.

SEPTEMBER 2021

3

5

6

WOODCREEK RESERVE

NEWS/INFO

YOUR COMMUNITY

EVENTS

KATY ISD NEWS

FOOTBALL

SCHEDULE

The advertisers that make your newsletter possible

are small businesses owned by your neighbors!

Love where you live. Support local.

Publication

Courtesy of

"Bringing Communities Together Since 1979"

Woodcreek Reserve | September 2021 Online | myneighborhoodnews.com 1
---
Call our experts for all of your electrical & generator needs!

• Panel Upgrade / Replacement

• Ceiling Fan Installation

• Smoke Detectors

• Troubleshooting

• Generators

• Indoor/Outdoor Lighting

• Surge Protection

!

• Flat Screen TV Installation

• Recessed Lighting

• Code Compliance

Residential & Commercial Service • Family Owned & Operated • Licensed & Insured

24-Hour Emergency ! Service

*5-Year Warranty, Satisfaction Guaranteed

713 -467-1125 | wiredes.com

generatorsbywired.com

s a v e $25 OFF

YOUR NEXT SERVICE

CALL IN SEPTEMBER!

Not to be combined with any other discount or

offer. Not valid on generator maintenance.

Expires 10/1/21

Master #100394 TECL # 22809

Woodcreek Reserve Important Numbers

Jill Evans

Crest Management

17171 Park Row #310, Houston, TX 77084

281- 579-0761 Fax: 281-579-7062

Jill.Evans@crest-management.com

Questions concerning pool & tennis courts access, grounds

maintenance, pest control spraying, Association dues, ect.,

should be directed to Crest Management.

IMPORTANT NUMBERS

Emergencies - Fire/Ambulance 911

City of Katy Police (Non-emergency) 281-391-4848

Fort Bend Co. Sheriff's Dept. (Non-emergency) 281-341-4665

City of Katy – Fire/Ambulance 281-391-3500

Katy Fire Dept 281-391-3500

Memorial Hermann Katy Hospital 281-644-7000

Texas Wildlife Rehabilitation 713-941-8972

City of Katy 281-391-4800

Reliant Energy 713-207-7777

Street Light Repair 713-207-2222

Texas Pride through city of Katy 713-849-0400

www.texaspridedisposal.com/cityofkatyhtml

Billing Dept. UB@cityofkaty.com 281-391-4800

Comcast Cable 713-341-1000

Katy Family YMCA 281-392-5055

To report gas leaks 713-659-3552

SCHOOLS

KISD Administration 281-396-6000

WoodCreek Elementary School 281-234-0100

WoodCreek Junior High 281-234-0800

Katy High School 281-237-6700

LIBRARY

Katy Library 281-391-3509

Cinco Ranch 281-395-1311

NEWSLETTER: Krenek Printing Co. 281-463-8649

www.krenekprinting.com

To submit non-profit articles: news@krenekprinting.com

Business Ad info:

ads@krenekprinting.com

2

September 2021 | Woodcreek Reserve
---
POOL

Any homeowner needing an access card should contact Sharon

Vetrone at Crest Management - 281-946-4616 or sharon.vetrone@crestmanagement.com.

The pool is open Tuesday-Sunday year around from

10 AM-10 PM, except in freezing weather conditions. The Woodcreek

Reserve pool is unguarded.

BOARD MEETINGS

Should you desire to receive notice of your community Board meetings,

go to www.crest-management.com, click on "communities," then click on

the link to your community and you may register there.

SCOOP YOUR PET'S POOP

Please remember to be respectful of your neighbors' yards and the

community grounds. When you take your pet for a walk, come prepared

with a scooper and a recycled grocery bag or anything else. If your pet

poops during your walk, please scoop and trash.

VOLUNTEERS NEEDED!

We need residents to help and get involved with the new community

newsletter! We welcome your suggestions, recommendations, and

information. Contact Liz Trapolino at 281- 945-4645 or Liz.Trapolino@

crest-management.com.

HOME IMPROVEMENT REQUEST'S

If you are planning to make improvements to your property, such as

build a pool, paint your house or any other exterior modifications, please

submit an HIR (Home Improvement Request) to Crest Management

Company. You may contact Crest Management at 281-579-0761 or

kristie.miller@crest-management.com (email). Send your HIR along with

all the necessary information to Crest Management Company. After your

request is received, you will receive an approval or denial letter. Please do

not begin a project until you have received approval.

A.A.A.

Tree Services

& Landscaping

925 South Mason Rd. P.M.B. 239

Katy, TX 77450

281-798-5224

a.a.a.landscaping.2005@gmail.com

• Tree Removal

• Tree Trimming

• Palm Tree Trimming

• Stump Removal

• Lots Cleaned Up

• Landscaping Designs

15% OFF

Any Service

With this ad.

Fence

Installation

Special

• Flagstone & Paver Patios

• Sod Replacement

• Sprinklers Repair

• Fence Installation & Repair

• Mulch

• Monthly Packages

• Drainage System

STREETLIGHT NOT WORKING?

If you happen to notice streetlights that may not be burning or the pole

is leaning, you can contact CenterPoint Energy directly at their customer

service department at 713-207-2222. The information you will need prior

to contacting them is the actual pole number (a six-digit number that

is located on the pole itself) and the address nearest to that particular

pole. You can also report on the web @ http://cnp.centerpointenergy.

com/outage.

TEENAGE JOB SEEKERS

If you are between 12 and 18 and would like to be added to the

teenage job seeker's list, please fill out the form on our website (www.

krenekprinting.com, click submissions and choose Jobseekers) with your

name, birthdate (mo. & yr.), phone number, year you will graduate and

the name of your newsletter/subdivision.

Check the list of jobs you want on your form. Please make sure your email

is correct, we send emails in the summer to make sure all the info is still

good and that you want to stay on the list. If we do not hear back from

you after 3 tries, we will remove you from the list until we do. Must have

parent(s) permission.

CODE KEY:

B - BABYSITTING, CPR - CPR CERT., FAC - FIRST AID CERT., RCC - RED

CROSS CERT., SS - SAFE SITTER, SL - SWIM LESSONS, PP - PET/PLANT

SITTER, P - PET CARE ONLY, H - HOUSE CARE, L - LAWN CARE, C- CAR

CARE/DETAILING, T - TUTORING

DISCLAIMER

Neither the subdivision, nor Krenek Printing is responsible for those listed

on the Teenage Job Seeker List. Please ask for and check out references

if you do not personally know those listed. This is just a list of teenagers

from the subdivision who wish to find part time jobs. Responsibility for

any work done by these teenagers is between those seeking helpers and

the teens and their parents.

TEENAGE JOB SEEKERS NOT AVAILABLE ONLINE

MPL#40046

Low Price Guarantee

Licensed and Insured

Follow me on Angie's List

VICTORY PAINTING

& WOOD ROT REPLACEMENT

PROMPT - RELIABLE - AFFORDABLE - SINCE 1993

Interior & Exterior Painting • Storm Damage Repair

Siding Replacement • Custom Woodwork

Extensive References • Free Estimates

Will Meet or Beat Competitor's Prices • Satisfaction Guaranteed

www.VictoryPaintingTx.com • VicNewman@Mail.com

281-853-4575

For all of your plumbing needs, call...

'

$15 OFF*

info@petersplumbingtx.com

Sewer Camera Inspection and Drain Cleaning

Garbage Disposal and Faucet • Water Heater • Repipe

Sewer Repair • Pipe Repair • Toilet Installation

*Cannot be combined with any other offers

ONE CALL DOES IT ALL!

Woodcreek Reserve | September 2021 3
---
Providing Compassionate Care to the Companions in Your Life

NOW Offering

Laser Therapy

• Dr. Cynthia Aswad • Dr. Sadie Bowling • Dr. Michelle Hessell

• Dr. Bryan Ping • Dr. David Thurmond • Dr. Jessica Rivera

M-F 7am-6pm

Sat 8am-12pm

Dr. Michelle Now Seeing Pocket Pets

(by appointment only)

"We work as unto

the Lord"

RESIDENTIAL &

COMMERCIAL

GEYER ROOFING

Specializing in

Re-Roofing

Ron Geyer

713-462-3898

Family Owned & Operated

5910 FM 1463 (Next to CVS) • Katy, TX. 77494

FRE E

HEALTHY

NEW PET EXAM

With coupon. One coupon per family.

Not valid with any other offer. Exp. 9/30/21

www.thewellpetcenter.com

281-394-2355

info@thewellpetcenter.com

15% OFF

Canine/Feline Dental Cleaning

Packages & Free Dental Exams

Valid 9/1/21-9/30/21

Can be used on multiple pets within the same family.

Flewellen Way

FM 359

WellPet

Center

Shell

CVS

★

McDonalds

FM 1463

S. Fry Road

Wendy's

FM 1093

REMODELING

• Kitchens • Bathrooms • Windows / Doors • Floors • Hardi Siding

• Rooms Additions • Complete Renovations • Patio Covers

Rob Geyer

281-477-3456

FM 359

DO YOU HAVE HOT OR COLD ROOMS?

ALLERGIES? HUMIDITY ISSUES?

• Annual

Maintenance

Programs

281-394-0028

$25 off

any

repair

Expires 9/30/21

• Serving area

since 1994

Free estimate or 2 nd opinion

IdealAirServices.com

WARREN SLOAN

713-464-4442

1400 W. Sam Houston Pkwy N. #130

HOUSTON

warrensloan@allstate.com

License TACLB 24777E and Insured

AIR QUALITY TESTED

WITH TUNE-UP

• All repairs

guaranteed

0% Interest

financing available

Expires 9/30/21 WAC Expires 9/30/21

PROTECT YOUR WORLD

Insurance and discounts subject to terms, conditions and availability. Allstate Vehicle and Property Insurance Co., Allstate Fire and Casualty

InsuranceCo..LifeinsuranceandannuitiesissuedbyLincolnBenefitLife Company,Lincoln,NE,AllstateLife Insurance Company,Northbrook,

IL, and American Heritage Life Insurance Company, Jacksonville, FL. In New York, Allstate Life Insurance Company of New York, Hauppauge,

NY. Northbrook, IL. © 2010 Allstate Insurance Co.

87872

• Interior & Exterior Painting • Wood Replacement

• HARDIPLANK ® Replacement • Interior Carpentry

• Sheetrock Repair

• Sheetrock Insulation

• Interior & Exterior Door

• Cabinet Painting

Replacements

• Pressure Washing

• Stucco Repair

• Fence Replacement • Wallpaper removal and texturing

• Custom Staining

• Crown Moldings

NO MONEY UP FRONT

30 Years Experience • References Available

COMMERCIAL/RESIDENTIAL

- FREE ESTIMATES-

BashansPainting@yahoo.com

www.BashansPainting.com

$30 OFF

Any Repair

with this ad

Cannot be combined

with any other offer.

* FULLY INSURED *

281-347-6702 or

281-731-3383 Cell

We accept all major credit cards

Family Owned

& Operated

Over 30 years

of experience

• Toilets • Re-pipes • Remodels • Pipe Leaks • Water Heaters • Drain Services

• Fixture Replacement • Gas Tests & Gas Lines • Sewer Camera Inspections

• Sewer Repair & Replacement • Water lines & Water Main Yard Leaks • and much more

www.PolsgrovePlumbing.com

J. Russ Polsgrove RMPL#38482 281-802-5233

4

September 2021 | Woodcreek Reserve
---
Things to do

IN YOUR COMMUNITY

SEPT. 11

SEPT. 25

OCT. 2

CY-FAIR

WOMEN'S CLUB

SHOP 'TIL YOU DROP

SEPTEMBER 11 TH , 9 AM-5 PM

Save the date in-person event: Cy-fair Women's Club

presents their annual fundraiser "Shop 'til you drop."

The Berry Center - 8877 Barker Cypress Road, www.

cyfairwomensclub.org.

2021 WALK TO END

ALZHEIMER'S

The Alzheimer's Association is inviting Katy/West

Houston residents to join the fight to end Alzheimer's

by participating in the Alzheimer's Association Walk to

End Alzheimer's® on Saturday, September 25, 2021

at 8:30 AM at La Centerra Shopping Mall in Katy, Texas.

Registration will begin at 7 AM. Ceremony will be at 8

AM.

The Alzheimer's Association Walk to End Alzheimer's is

moving forward with plans to host the event in person

this fall. The health and safety of participants, volunteers

and staff remain the Association's top priorities while

continuing to monitor the pandemic and make decisions

about event details in local communities. While planning

to gather in person, the Alzheimer's Association will

continue to offer options to participate in Walk to End

Alzheimer's online and in neighborhoods across the

country.

To register and receive the latest updates on this year's

Walk to End Alzheimer's, visit: alz.org/walk.

9TH ANNUAL

FALL FESTIVAL

& CRAFT SHOW

OCTOBER 2, 2021, 9 AM TILL 3 PM

5373 Franz Road, Katy, Texas 77449

Free Admission!!!! Shopping, Children's Activities,

Petting Zoo and food! Bring the entire family and

friends for a fun filled day! Vendors contact Mary @

saintpaulschurch@charter.net.

OCT. 9-10

BAYOU CITY

ART FESTIVAL DOWNTOWN

SATURDAY & SUNDAY, OCTOBER 9-10, 2021

The Art Colony Association, Inc. (ACA), the producer of Bayou City Art Festival, will

welcome artists, patrons and supporters back for Houston's signature art event. The inperson

festival, Bayou City Art Festival Downtown, will be held in Downtown Houston,

along Allen Parkway and Sam Houston Park, on Saturday and Sunday, October 9-10,

2021, 10 AM-6 PM. Bayou City Art Festival will spotlight the festival's featured artist

McKenzie Fisk, a painter from Los Angeles, as it transforms the streets of Downtown

into artistic avenues bursting with colors and culture. As one of the top art festivals in

the country, the weekend event will provide patrons with the opportunity to personally

meet artists, view original works and purchase artwork from 19 art disciplines including

world-class paintings, prints, jewelry, sculptures and more. The festival will feature

live music, food trucks and beverage stations throughout the festival along with two

entertainment stages and art installations. Guests will enjoy Houston's skyline views while

enjoying the festival's wine garden, craft beer garden and Art Bar. In the Active Imagination

Zone, the festival's nonprofit partners will host hands-on art activities for all ages.

A portion of the proceeds from Bayou City Art Festival Downtown will benefit the

festival's nonprofit partners including Artists For Artists, Fresh Arts, Houston SPCA,

Warriors In Art, Orange Show For Visionary Art and The Museum of Fine Arts, Houston.

Online early bird tickets will soon be available at www.bayoucityartfestival.com for

$15 for adults; $5 for children 6-12; and children five and under are free. Adult tickets

purchased after September 24, 2021, are $18. Online pre-purchased tickets are required

to enter the festival. Tickets will not be sold at the gate and can only be purchased online.

OCT. 16

OCT. 23

PICK-A-DILLY CRAFT FAIR

OCTOBER 16 TH , 9 AM-4 PM

The Pick-A-Dilly Craft Fair comes just in time for Halloween, Thanksgiving and Christmas

for all your holiday needs! Join us on October 16 th from 9 AM-4 PM at St. Peter's UMC,

20775 Kingsland Blvd., Katy, TX 77450. Find gifts for loved ones or something special

for yourself! Proceeds from Pick-a-dilly Craft Fair and the Silent Auction will benefit

St. Peter's United Methodist Church Missions, which partners with many non-profit

organizations in the Katy community. We hope to see you there!

GINGERBREAD VILLAGE HOLIDAY

MARKET DATE SET!

October 23, 2021 is the date for St. Elizabeth Ann Seton's ladies auxiliary's 28 th annual

holiday market. Please save the date for getting a head start on your Christmas

shopping! If you are interested in becoming a vendor at this fun event, please email:

gingerbreadvillage@yahoo.com for more information and an application!

Woodcreek Reserve | September 2021 5
---
KISD NEWS

6

KATY INDEPENDENT SCHOOL DISTRICT

WWW.KATYISD.ORG

DATES TO REMEMBER

September 6 th : Holiday - Students and Staff

September 24 th : Professional Learning Day - Student Holiday

September 27 th : 2 nd Secondary Grading Cycle Begins

KATY ISD SAVES OVER $4M BY IMPLEMENTING

ENERGY SAVING STRATEGIES

Twenty-four Katy Independent School District campuses have earned the Energy Star

Certification by the U.S. Environmental Protection Agency and have saved the District

over $4 million to date due to their efforts. Since 2019, Katy ISD has partnered with

Cenergistic, a Texas-based company that helps school districts conserve energy through

strategies that include fine-tuning air conditioning (AC) run times, identifying unused

AC/lighting schedules, overnight equipment checks, updating technology and other

protocols. "Through approved bond projects, the Katy ISD Operations Division has

been able to install new equipment that is both energy-efficient and more reliable for

campuses and District facilities," said Chief Operations Officer Ted Vierling. "Small changes

such as upgrading lighting from old technology to light-emitting diode (LED) to larger

adjustments such as replacing boilers and chillers have improved efficiency for both

energy and water consumption," added Vierling. Over the past three years, Katy ISD has

committed to making energy conservation a priority due to the rising cost of electricity,

gas and water. Every dollar saved on these utilities amounts to greater funding that can

be redirected to classrooms, teachers and students. Looking to sustain conservation

efforts now and well into the future, all new Katy ISD facilities are built with energyefficient

components such as LED lighting, automatic shut-off switches for classroom

lighting, upgraded control systems and utilization of natural light whenever practical.

The following campuses have been awarded the Energy Star Certification:

Elementary Campuses:, Alexander Elementary, Bear Creek Elementary, Cimarron

Elementary, Creech Elementary, Davidson Elementary, Fielder Elementary, Golbow

Elementary, Griffin Elementary, Hayes Elementary, Jenks Elementary, Leonard Elementary,

McRoberts Elementary, Randolph Elementary, Shafer Elementary, Sundown Elementary,

Williams Elementary, Wilson Elementary, Wolfe Elementary, Wolman Elementary

Junior High Campuses: McDonald Junior High, McMeans Junior High, Memorial

Parkway Junior High, Tays Junior High

High School Campuses: Tompkins High School

Rhodes Stadium

KATY ISD SMART RESTART AND

SPEAKUP CAMPAIGNS RECOGNIZED

BY STATE AND NATIONAL

ORGANIZATIONS

The National School Public Relations Association (NSPRA)

recently recognized the Katy Independent School District

Communication Department with a Golden Achievement

Award for its exemplary work on the District's Smart Restart -

Return to School campaign, which was executed during the

COVID-19 pandemic. The campaign focused on educating

and engaging students, parents, staff and community

members on the return to school plan, safety protocols

and evolving initiatives impacted by the pandemic. Also

this year, the Texas School Public Relations Association

(TSPRA) awarded the Communications Department with

a Gold Star Award, the highest school public relations

honor in the state, for the District's SpeakUp Safe Schools

campaign - a multi-level marketing and communication

initiative designed to build awareness around safety

topics; encourage the use of the SpeakUp anonymous

reporting app; emphasize student ownership of safety

protocols; educate parents; and reinforce drug and alcohol

awareness. Print and promotional materials included

posters, public service announcements (PSA) videos and

website and social media messaging. Additionally, a Best of

Category Award was earned for the Department's scripting,

editing and filming of the PSA video titled "Vaping, It's Up

to You," which was part of the campaign.

"Clear, concise and timely messaging for our school

community has always been a key component to our

District's outreach efforts," said Dr. Andrea Grooms, Chief

Communications Officer. "While our Communications

team is small, their responsibilities are immense and their

outcomes, far-reaching. They are an extremely talented

and dedicated group of professionals - always prioritizing

the informational needs of Katy ISD families and staff, no

matter the time or circumstances," added Grooms. The Katy

ISD Communication Department was recognized during

the annual TSPRA and NSPRA conventions this year.

DONATUTORS

Donatutors is a nonprofit tutoring organization that

donates 100% of our proceeds to charity. All of our

tutors are straight-A students at Seven Lakes High

school and we offer a multitude of courses like creative

writing, computer science, biology, public speaking,

ICTW writing and many different math courses too. We

charge $20 per class, but the first one is free! For more

information, check out donatutors.com or email us at

donatutors@gmail.com. What's even cooler is that this

summer Donatutors was able to raise $1,283 which

we used 70% to give to a Houston based charity called

NAMI and 30% to buy a bunch of masks and canned

food for donation. Please check us out!

September 2021 | Woodcreek Reserve
---
KISD VARSITY FOOTBALL SCHEDULE

DEC APPROVED

2021 KISD Varsity Football Schedule 7/7/21

Week 1

Clear Springs Cy Springs Conroe College Park Cy Lakes Memorial Magnolia

Barbers Hill

Waco LaVega

Aug. Legacy Home C-F FCU Away Moorehead Away Wood Forest Away Rhodes Home Rhodes Home Legacy Home Barber Hill Away Waco LaVega Away

26-28 Fri Aug 27 6 pm Sat Aug 28 6 pm Fri Aug 27 7 pm Fri Aug 27 7 pm Sat Aug 28 7 pm Fri Aug 27 7 pm Sat Aug 28 6 pm Fri Aug 27 7:30 pm Fri Aug 27 7:30 pm

Parent Night

Week 2

Cy Woods George Ranch Cy Lakes Aldine Davis Paetow Klein Clear Springs Morton Ranch

Danbury

Sept. Rhodes Home Traylor Away C-F FCU Away Legacy Home Legacy Away Klein Memorial Away Challenger Away Legacy Home Rhodes Home

2-4 Sat Sept 4 7 pm Sat Sept 4 6 pm Thurs Sept 2 6:30 pm Sat Sept 4 6 pm Fri Sept 3 6 pm Thurs Sept 2 7 pm Fri Sept 3 7 pm Fri Sept 3 6 pm Fri Sept 3 7 pm

Parent Night

JH Night

Week 3

Dickinson Cy Fair Nimitz Brazoswood Hastings Aldine Davis Klein Collins

Foster

L.C.M.

Sept. Sam Vantanza Away Pridgeon Away Thorne Stadium Away Legacy Home Legacy Home Rhodes Home Legacy Home Traylor Away Rhodes Home

9-11 Fri Sept 10 7 pm Sat Sept 11 6 pm Thurs Sept 9 6 pm Fri Sept 10 6 pm Thurs Sept 9 6 pm Fri Sept 10 7 pm Sat Sept 11 6 pm Fri Sept 10 7 pm Thurs Sept 9 7 pm

Parent Night

JH Night

Week 4

The Woodlands Klein Cain OPEN Clear Falls Lake Creek Heights Clear Creek Kempner

Davenport - Comal

Sept. Rhodes Home Rhodes Home CCISD Veterans Away Legacy Home Delmar Away Legacy Home Legacy Home DHS

Away

16-18 Thurs Sept 16 7 pm Fri Sept 17 7 pm Fri Sept 17 7 pm Thurs Sept 16 6 pm Thurs Sept 16 7 pm Fri Sept 17 6 pm Sat Sept 18 6 pm Fri Sept 17 7:30 pm

Parent Night Homecoming Homecoming

Week 5

Seven Lakes Morton Ranch College Park Tompkins Taylor Katy Cinco Ranch

OPEN

Lake Belton

Sept. Legacy Away Rhodes Away Legacy Home Rhodes Away Rhodes Home Legacy Home Rhodes Home LBHS Away

23-25 Thurs Sept 23 6 pm Fri Sept 24 7 pm Fri Sept 24 6 pm Thurs Sept 23 7 pm Fri Sept 24 7 pm Thurs Sept 23 6 pm Thurs Sept 23 7 pm Fri Sept 24 7 pm

Homecoming

Week 6

Tompkins Seven Lakes Cinco Ranch Mayde Creek OPEN Taylor Katy Milby

Hitchcock

Sept/Oct Legacy Home Legacy Home Rhodes Away Rhodes Home Legacy Away Legacy Away Butler Away Rhodes Home

30-2 Fri Oct 1 6 pm Thurs Sept 30 6 pm Thurs Sept 30 7 pm Thurs Sept 30 7 pm Thurs Sept 30 6 pm Fri Oct 1 6 pm Thurs Sept 30 7 pm Fri Oct 1 7 pm

B-O-A

Week 7

Homecoming

Mayde Creek Tompkins Katy OPEN Seven Lakes Morton Ranch Taylor

Wisdom

Oct. Rhodes Away Legacy Away Rhodes Home Legacy Away Legacy Home Legacy Home Rhodes Home

7-9 Fri Oct 8 7 pm Thurs Oct 7 6 pm Fri Oct 8 7 pm Fri Oct 8 6 pm Fri Oct 8 6 pm Thurs Oct 7 6 pm Thurs Oct 7 7 pm

Katy MF

Week 8

Cinco Ranch Mayde Creek Taylor Katy Tompkins

Homecoming

OPEN

JH Night

Morton Ranch

Homecoming

Terry

Lake Belton

Oct. Legacy Home Rhodes Home Rhodes Away Legacy Away Legacy Home Legacy Away Traylor Away Rhodes Home

14-16 Sat Oct 16 11 am Fri Oct 15 7 pm Fri Oct 15 7 pm Sat Oct 16 11am Fri Oct 15 6 pm Fri Oct 15 6 pm Fri Oct 15 7 pm Sat Oct 16 Noon

JH Night

Homecoming

Week 9

OPEN Cinco Ranch Morton Ranch Taylor Mayde Creek Tompkins Seven Lakes

Hightower

Oct. Legacy Away Legacy Home Legacy Home Legacy Away Rhodes Away Rhodes Home Rhodes Home

21-23 Fri Oct 22 6 pm Thurs Oct 21 6 pm Fri Oct 22 6 pm Thurs Oct 21 6 pm Fri Oct 22 7 pm Fri Oct 22 7 pm Thurs Oct 21 7 pm

5A Area Band

Week 10

Taylor

JH Night

Katy

JH Night

Seven Lakes

Homecoming

Morton Ranch Cinco Ranch Mayde Creek

Parent Night

OPEN Manvel

Pieper

Oct. Legacy Away Legacy Home Legacy Home Rhodes Away Rhodes Home Legacy Away Freedom Away Neutral

28-30 Thurs Oct 28 6 pm Thurs Oct 28 6 pm Fri Oct 29 6 pm Fri Oct 29 7 pm Fri Oct 29 7 pm Fri Oct 29 6 pm Fri Oct 29 7 pm Fri Oct 29 7 pm

6A Area Band

Week 11

Morton Ranch OPEN Tompkins Seven Lakes Katy

JH Night

Cinco Ranch

Mayde Creek

Angleton

Davenport

Nov. Legacy Away Rhodes Home Rhodes Home Legacy Home Rhodes Away Rhodes Away Legacy Home Legacy Home

4-6 Fri Nov 5 6 pm Thurs Nov 4 7 pm Fri Nov 5 7 pm Fri Nov 5 6 pm Fri Nov 5 7 pm Thurs Nov 4 7 pm Thurs Nov 4 6 pm Sat Nov 6 Noon

H-O-H

Katy James E. Taylor Mayde Creek Cinco Ranch Morton Ranch Seven Lakes

Parent Night

FALL CLEANUP SPECIAL

20% Off Entire House or Roof Cleaning

Parent Night

Tompkins

Paetow

Jordan

OPEN

TBD

Free Estimates & Demos

support@k-mpw.com

SERVICES OFFERED:

Roof Cleaning - No Pressure Damage Free

Power Washing - Low Pressure Damage Free

Pressure Washing - High Pressure

Marcus Raif - Owner / Operator

Exterior House Cleaning Specialists

Woodcreek Reserve | September 2021 7
---
Katy Sports

OPPORTUNITIES

HCYA HOMESCHOOL BASKETBALL

REGISTRATION IS NOW OPEN

FOR THE 2021-2022 SEASON

HYCA (Homeschool Christian Youth Association) is now accepting

registrations through October 9 th for the 2021-2022 season. The

organization has been in existence for 25 years and our coaching staff has

over 30 years of experience with HCYA. We have teams to accommodate

boys ages 8 through the High School Varsity Level. We compete against

public schools, private schools and homeschool organizations. We

practice at Katy Hustle gym located at 23441 Clay Road.

Visit our website at www.hcyawarriors.com or contact David Kennedy

281-677-7199.

8

FALL/WINTER

NFL FLAG FOOTBALL & CHEER

Ages: 3-16 (as of 9/1/21)

Cost: $85-100

7-8wk Season (Nov-Jan, breaks over holiday weeks)

www.myLWSports.com

ALBION HURRICANES FC SOCCER

AHFC offers JHSL (a recreational program for 5 - 10 year olds) at our Cy-Fair

and Central locations and offers additional training at Katy Friday Night

Academy and New Territory Thursday Night Academy. All information

regarding Junior Hurricanes can be found at www.albionhurricanes.org/

Default.aspx?tabid=1004260/

Want to join a competitive program? AHFC is a full service soccer club

exposing its teams to the highest level of competition in its pursuit to

provide the best soccer schooling for its players. AHFC also wants to

encourage players that do not aspire to play at the next level to love this

beautiful game or possibly coach at some level in the future. Learn more

about AHFC: www.albionhurricanes.org/Default.aspx?tabid=304474.

WEST HOUSTON RUGBY CLUB

West Houston Rugby Club offers excellent opportunities for players of

all ages from minis to adults to participate in one of America's fastest

growing sports. Our coaches are fully accredited with USA Rugby and

include former European premiership players. We are a not for profit

club with a mission to provide outstanding club management, a fun

social environment and the feeling of a rugby family. Registration is now

open at www.westhoustonrugby.com. Enquiries may be sent to info@

westhoustonrugby.com. Come and join the fastest growing club in

Houston!

KATY AREA RUNNING CLUB

The Katy Area Running Club is a 501(c)3 non-profit corporation which

exists to serve people living in and around Katy, Texas who have

an interest in running. We are a community of people of all ages,

backgrounds, heritages and abilities who share a common interest -

running! Our focus is on group runs, having fun, socializing and sharing

our knowledge and experience with our members and the public. We

welcome all who are interested in joining us. We have a full calendar of

runs, events and socials. We hold group runs every Saturday morning at

the Sergeant Hatch Sports Park off the south I-10 feeder road just east

of Barker Cypress Rd. On Tuesdays (5 AM and 6:30 PM) we meet at one

of the KISD junior high tracks for speedwork and on Thursday (6:30 PM)

we meet at Crosspoint Community Church for tempo runs of various

distances and paces. To find out more and to join our club, visit www.

KatyAreaRunningClub.com.

TRACK HOUSTON YOUTH TRACK CLUB

Track Houston Youth Track Club has one of the largest and successful

youth track and field club training programs in the nation. Our program

has developed national champions in AAU, USATF, New Balance

and Adidas. Our Track and Field athletes have been selected for and

competed on youth international teams - Team USA and Team Trinidad.

We have multiple practice sites in the Greater Houston area including

Katy and Cypress. Visit www.trackhouston.com for Cross Country signups

in August, Speed Camps in October, Indoor Track and Field in November

and Track and Field in January. Track Houston is a registered 501 (c) (3)

organization.

KATY CANOE & KAYAK CLUB (KC/KC)

Established March of 2014 (Over 200 Members). Never paddled before,

that's okay too! We don't own a store, don't purchase anything yet! Join

our meetings and we can answer your questions and/or assist you in

trying out new gear and equipment. KC/KC is a non-profit organization

with major Sponsors. Must be at least 21 years of age to join. LIFE VEST/

PFD IS A MUST!!!! We meet every 3 rd Wednesday of each month at

24638 Kingsland Blvd., Katy TX 77494 (Manta Ray Enterprises, Inc.), 7-9

PM. For more information, call Philip at 713-826-5705 or 281-782-7252.

"Remember-Think Safe, Paddle Safe"

WOMEN'S FLAT TRACK ROLLER DERBY

Southwest Houston's own brand new women's flat track roller derby

team is now forming. This isn't the old school roller derby you've seen in

the past. We train derby athletes to compete according to the rules and

guidelines set forth by WFTDA, the Women's Flat Track Derby Association.

We are actively recruiting skaters, referees and volunteers. Skaters must

be female and 18 or older. Referees and volunteers must be 18 or older.

Email us at yellowrosederbygirls@yahoo.com for more information. You

can also find us at www.yellowrosederbygirls.com and on Facebook. Join

up now to become an integral part in founding and building our league.

September 2021 | Woodcreek Reserve
---
NETBALL CLUBS

Katy Swifts Netball Club invites people to come and learn about netball

and have some fun playing a great team sport. Open to everyone from

eight years and up including adults. Contact katynetball@netballamerica

for further information. Houston Shooting Stars welcomes ladies, men and

youth to join in, play and learn netball, Tuesday nights at The British School

of Houston. Contact houstonnetball@netballamerica.com for further

information. You can also "like" the Texas Netball Association on Facebook

to see regular announcements about netball in the Lonestar State! Also visit

netballamerica.com for general information about netball in America.

VOLLEYBALL

Please contact Dean at volleyballkaty@yahoo.com if you are interested in

playing volleyball. You must be at least 18 years old and be able to play at

intermediate level. We play at different locations in and around Katy area.

KATY RUGBY CLUB

Want to learn the newest Olympic Sport - Rugby? All ages welcome -

boys & girls, Training every Sunday 2-4 PM at Cinco Ranch High School,

For more information, please visit www.katyrugbyclub.com.

KATY CAVALIER LACROSSE CLUB

The Katy Cavalier Lacrosse Club invites you to come and see what Lacrosse

is all about. Join us as we continue to bring one of the fastest growing

team sports in the United States to the youth of Katy. Katy Cavalier

Lacrosse Club offers lacrosse for boys and girls from Kindergarten thru

High School. No experience needed. For more information visit our

website, www.katycavalierlacrosse.org. Did you play Lacrosse in college,

coached lacrosse or just love the sport? We are looking for Coaches for

boys and girls. Please contact us for more information if you would like to

volunteer and be a part of the Katy Cavalier Lacrosse Club, 281-942-8822.

WESTSIDE GOLF LEAGUE

Westside Golf League is actively encouraging new members. We invite

you to join us every Tuesday morning at Cinco Ranch Golf Club. Our

purpose is to allow ladies of all levels to meet new friends and have fun

while improving golfing skills. For more information, contact the Pro

Shop at Cinco Ranch, 281-395-4653.

QUICK OMELETTE FOR

SPORTS NIGHT

INGREDIENTS FOR ONE OMELETTE

2 tsp extra virgin olive oil

2 eggs

1/2 avocado, diced

25g Greek fetta, crumbled

1 tsp chopped fresh dill, plus extra to serve

2 tsp lime juice

Step 1: Heat oil in a small 18cm (base) non-stick frying pan over

medium-high heat.

Step 2: Whisk eggs with 1 tablespoon water in a small jug until

well combined. Season with salt and pepper. Pour mixture into

prepared pan. Cook for 2 minutes or until egg is almost set.

Step 3: Top one half of omelette with avocado, fetta and dill.

Drizzle with lime juice. Fold omelette over to enclose filling.

Transfer to a serving plate. Serve sprinkled with extra dill.

Call Anytime!

MKT-5894K-A

832-890-8449

info@tonysplumbingtx.com

www.tonysplumbingtx.com

Always there

for you!

Water Heaters • Drain Problems • Faucet Installation & Repair

Gas Test • Water Leaks & Much More

35+ Years Experience

MPL#40815

Low Price Guarantee

Licensed & Insured

HEATING • AIR CONDITIONING

$45 OFF

TACLB019260E

Lee Snowden Jr, AAMS®

Financial Advisor

1526 Katy Gap Rd Suite 402

Katy, TX 77494-6512

281-394-0162

myACandHEAT.com

ANY REPAIR

Cannot be combined with any other offer.

Must redeem coupon at time of service. Expires 9/30/2021

edwardjones.com

LOU'S PAINTING, Ltd.

• Interior - Exterior

• Power Washing

• Sheetrock & Texture

• HardiPlank ® Replacement

• Minor Repairs

Your home is an expensive investment!

Painting beautifies &

preserves that investment!

Free Estimates

O 281-492-2643 C 281-844-4338

"Doing business from the same location since 1978"

281-492-3450

Up to $1200 00 Rebates

on a New Qualifying

Home Comfort System

Expires 9/30/2021

FREE ESTIMATES on New Equipment

GUTTERS

SEAMLESS ALUMINUM GUTTERS

• Sales • Repairs • Cleanouts

NOW OFFERING FINANCING!

Ask us for more details!

281-492-1991

www.kustomgutters.com

Joni & Jimmy Rechner

Owners &

Katy Residents

Family owned &

operated for

over 45 years!

FREE Estimates • Lowest Price Guaranteed • LIFETIME LABOR WARRANTY

Same-Day Service

Woodcreek Reserve | September 2021 9
---
Boards

and

Bowls

Kids are back in school! Sports have started! Need quick and easy meals? Try these!

Meats:

Salami, prosciutto, or other deli meat

Sliced summer sausage

Sliced or cubed pepperoni

Beef jerky sticks

Cheeses:

Sliced cheeses

Cubed cheeses

Hard cheeses

Spreadable cheeses

String cheese or other cheese sticks

Mini Baby Bell cheeses

KID FRIENDLY CHARCUTERIE BOARD

Fruits:

Grapes (these are SO simple)

Cherries

Whole berries

Apple and pear slices (dip in Sprite to keep them from turning

brown)

Pomegranate seeds

Dried fruit — craisins, raisins, apricots, dates, etc.

NOTE: super juicy fruits like melons, stone fruits, and

pineapples don't work well — also, I never include

bananas.

Veggies:

Cherry tomatoes

Baby carrots and sugar snap peas

Sliced cucumbers and peppers

Any other raw veggie you like, cut into bite-size chunks

Pickles (or any pickled veggie)

Olives

Crackers, Nuts, Seeds, Bread:

Wheat Thins, Ritz, Saltines, Club, or any crackers you have

Tortilla chips

Pretzels (we love the long rods)

Pub mixes (like Chex Mix)

Veggie Straws, Goldfish, Cheese-Its

Crusty bread or breadsticks

Small sandwich chunks — depending on how hungry

we are

Mixed nuts

Pistachios

Sunflower and pumpkin seeds

Dips:

Hummus or ranch for the veggies

Fruit dip or yogurt for the fruit

Guacamole and salsa for chips and crackers

Jams and jellies to spread on crackers

Spinach, artichoke, and cheese spread for bread and crackers

Other:

Anything else your family enjoys that is easy to eat with your

hands!

ANDREADEKKER.COM

10

September 2021 | Woodcreek Reserve
---
FRIED CHICKEN

DINNER IN A BOWL

BHG.COM

Photo Credit: Jason Donnelly

Ingredients

4 cups shredded cabbage*

1 cup shredded carrots (2 medium)*

¼ cup thinly sliced green onions (2)

½ cup mayonnaise

2 tablespoons sugar

1 tablespoon lemon juice

¼ teaspoon salt

¼ teaspoon ground white pepper

6 purchased or homemade corn muffins

¼ cup butter, melted

14 ounces frozen cooked, breaded chicken breast fillets,

prepared according to package directions

1 15.5-22 ounce can barbecue beans

1 ½ cups chopped green, yellow, and/or red tomatoes (2

large)

¾ cup bottled ranch salad dressing

* If desired, substitute 5 cups packaged shredded cabbage with

carrot (coleslaw mix) for cabbage and carrots.

Directions

Step 1: For slaw, in a large bowl combine cabbage, carrots,

and green onions; toss to mix. In a small bowl stir together

mayonnaise, sugar, lemon juice, salt, and pepper. Add dressing

to cabbage mixture, tossing to combine. Cover and chill for 2

hours, stirring occasionally.

Step 2: Meanwhile, preheat oven to 375°F. Cut corn muffins into

1-inch cubes. Place cubes in a large shallow baking pan; drizzle

with melted butter, tossing to coat. Bake for 16 to 18 minutes or

until crisp, stirring twice. Set aside.

Step 3: Transfer slaw mixture to an 8- to 10-cup clear glass bowl.

Cut chicken into strips. Arrange chicken strips evenly over slaw.

Spoon beans over chicken pieces, spreading evenly. Sprinkle

corn muffin cubes over beans. Top with tomatoes. If desired,

cover and chill for up to 6 hours.

Step 4: Just before serving, spoon dressing over all.

Together, we protect our

most valuable resource:

WATER.

Learn more and get involved at:

Your Neighborhood Plumber

Aaron's

Up-front Pricing

nfbwa.com

$25 OFF

With this Ad

Since 1974

LIC. 17773

Complete Plumbing & Drain Service

We Welcome Your Questions • Open 7 Days a Week

281-444-2000 www.aarons-plumbing.com

Woodcreek Reserve | September 2021 11
---
THERE'S A

BETTER APPROACH

TO CANCER CARE in West Houston & Katy

At Houston Methodist Cancer Center, we treat every aspect of your

cancer. Leading oncologists work with our specialists across disciplines

to minimize cancer's effects on major organs. One comprehensive

team — dedicated to your individual care — uses the latest research,

treatments and technology to stop your cancer. From infusion and

clinical trials to surgery and reconstruction, our innovative care is

available in West Houston and Katy.

That's the difference between practicing medicine and leading it.

The Woodlands

Willowbrook

West Houston-Katy

Baytown

Texas Medical Center

Clear Lake

Sugar Land

832.522.5522

houstonmethodist.org/cancer-west

12

September 2021 | Woodcreek Reserve