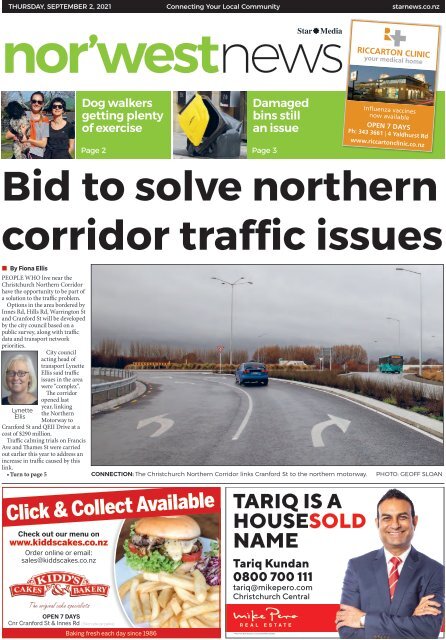 Nor'West News: September 02, 2021
You also want an ePaper? Increase the reach of your titles
YUMPU automatically turns print PDFs into web optimized ePapers that Google loves.
THURSDAY, SEPTEMBER 2, 2021

Connecting Your Local Community

starnews.co.nz

Dog walkers

getting plenty

of exercise

Damaged

bins still

an issue

Influenza vaccines

now available

OPEN 7 DAYS

Ph: 343 3661 | 4 Yaldhurst Rd

Page 2 Page 3

www.riccartonclinic.co.nz

Bid to solve northern

corridor traffic issues

• By Fiona Ellis

PEOPLE WHO live near the

Christchurch Northern Corridor

have the opportunity to be part of

a solution to the traffic problem.

Options in the area bordered by

Innes Rd, Hills Rd, Warrington St

and Cranford St will be developed

by the city council based on a

public survey, along with traffic

data and transport network

priorities.

City council

acting head of

transport Lynette

Ellis said traffic

issues in the area

were "complex".

The corridor

opened last

Lynette

Ellis

year, linking

the Northern

Motorway to

Cranford St and QEII Drive at a

cost of $290 million.

Traffic calming trials on Francis

Ave and Thames St were carried

out earlier this year to address an

increase in traffic caused by this

link.

• Turn to page 5

CONNECTION: The Christchurch Northern Corridor links Cranford St to the northern motorway.

Click & Collect Available

Check out our menu on

www.kiddscakes.co.nz

Order online or email:

sales@kiddscakes.co.nz

TARIQ IS A

HOUSESOLD

NAME

Tariq Kundan

0800 700 111

tariq@mikepero.com

Christchurch Central

PHOTO: GEOFF SLOAN

OPEN 7 DAYS

Cnr Cranford St & Innes Rd (34 on site car parks)

Baking fresh each day since 1986

Mike Pero Real Estate Ltd Licensed REAA (2008)
---
2 Thursday September 2 2021

Latest Canterbury news at starnews.co.nz

NOR'WEST NEWS

Dog owners hit the parks and pavements

throughout the city with their best friends

last week, making the most of the latewinter

sunshine and the extra time that

many found they had under the Covid-19

alert level 4 lockdown. Reporter Fiona Ellis

and photographer Geoff Sloan were there

with their cameras.

How have you and your pets been spending

time during lockdown? Send your photos to

fiona.ellis@starmedia.kiwi

Lottie, Stella, 16, and Lulu get some fresh air

with owner Mike Pero in Burnside Park.

Robyn is teaching eight-month-old Millie

how to play fetch in Avonhead.

Avonhead's Elise (left) and Deb Batt with

Figgy.

Ronald and Dumpling go for a stroll in Avonhead Park.

Still open and

here for you

during lockdown

For more information come and visit us at the

pharmacy, we would love to assist you!

Bishopdale Pharmacy

Father's Day

Remember

this Sunday

We are open

for phone / email

ordering for

collection

Follow us on facebook

Pharmacy Owners: Anna, Amanda & Maria

37 Bishopdale Court, Bishopdale Village Mall | Phone 03 359 8302

PLENTY OF FREE PARKING www.bishopdalepharmacy.co.nz

Monday - Friday 8.30am - 6pm Saturday 9.30am - 4pm

Ph: 03 359 8207 E: bishopdalepostshop@gmail.com

Bishopdale Village Mall Plenty of free parking!

Sensational service, absolutely tremendous.

We so appreciate how accommodating and considerate

Cam and his team have been.

You have made a stressful process easy! Thank you!

- Stewart Family -

Phone or text 027 555 7079

REINZ Salesperson of the Year across all brands in NZ

cameron.bailey@harcourts.co.nz

No.1 Harcourts Canterbury 2012-2021

No.1 Harcourts New Zealand 2017-2021

www.cameronbailey.harcourts.co.nz No.1 Harcourts International 2017-2021

Licensed Sales Consultant REAA 2008
---
NOR'WEST NEWS Latest Canterbury news at starnews.co.nz

Thursday September 2 2021 3

Leaking water top ticket concern,

damaged bins close second

• By Fiona Ellis

DEALING WITH leaky water

supplies and damaged bins,

as well as issues relating to

residential property files, are

the top three concerns for the

Fendalton-Waimairi-

Harewood Community Board

area.

A ticket report has revealed

a breakdown of issues that

residents have contacted the city

council about between June 19

and July 18.

In that time, 1639 tickets, or

jobs, were completed within an

average of 3.2 days.

Issues fell in a range of

categories, including transport,

wheelie bins, graffiti, and three

waters council assets.

Leaky water supplies came

out on top with 167 tickets,

while damaged bins was second

with 159 tickets and residential

property files third with 158

tickets.

Phone, email and walk-ins

were the most common way

residents chose to contact the

council, at 55 per cent.

ISSUES: Leaking water supplies and damaged bins most concern residents in the

Fendalton-Waimairi-Harewood Community Board area.

Meanwhile, 31 per cent

used Hybris Online and the

remaining 14 per cent used Snap

Send Solve. At the conclusion of

the report last month, 429 tickets

were still open, or not completed.

Number of tickets

(issues) reported in the

Fendalton-Waimairi-

Harewood Community

Board area between June

19 and July 18:

1 Leak (water supply) –

167

2 Damaged bins – 159

3 Residential property

files – 158

4 Bin not collected – 125

5 Residential LIM – 90

6 Missing bins – 79

7 Road asset (footpath,

road, furniture) – 66

8 Litter (road) - 60

9 Tree (road) – 54

10 Graffiti – 35

Nikila was a fantastic

agent who I felt went

above and beyond. She

was very supportive

and helpful throughout

the campaign, kept us

updated, and checked in

regularly to see how we

were doing.

We achieved a great result

on auction day. I honestly

can't recommend Nikila

highly enough!!

- Lisa -

Call me to discuss

how my 17+ years of

industry experience

can assist with

getting YOU great

results!

P 03 352 0352

M 027 517 5645

nikila.creagh@harcourts.co.nz

Harcourts gold Redwood

280 Main North Road

www.harcourtsgold.co.nz

LICENSED SALES CONSULTANT REAA 2008
---
4 Thursday September 2 2021

Latest Canterbury news at starnews.co.nz

NOR'WEST NEWS

Attack raises safety concerns at park

• By Fiona Ellis

A RACIALLY motivated attack

on two Japanese teenagers

opposite Bishopdale Park on

May 31 has led Ilam MP Sarah

Pallett to raise the issue of

increasing safety in the area.

Two youths have since been

referred to Youth Aid in relation

to the incident, police confirmed.

Pallett spoke about the issue

during the

public forum

segment at a

recet Fendal-

ton-Waimairi-

Harewood

Community

Sarah Pallett

Board meeting.

She had spoken

with the victims, a 14-yearold

boy and his 17-year-old sister,

who were out running when they

were attacked at about 5pm.

There had been no CCTV footage

of the attacker, which made it

difficult for police to find them,

she said.

"One of the things I thought

that we could potentially achieve

together . . . is to look at what we

could do with regard to either

putting cameras there or increasing

the lighting because it's very

poor."

People, especially women,

would not feel safe exercising

in the park or near it on

dark winter evenings, she

said.

Reporting on the attack at

the time, The Star wrote the

attackers tried to trip up the

14-year-old and then placed him

in a headlock before punching

his left eye.

The sister was also kicked in

the chin as she fell while trying

to protect her brother.

The victims' mother, Naomi

Suzuki, said she was concerned

lack of security cameras would

mean the attackers would not be

identified.

Board chairwoman Bridget

Williams said the board's

Community Safety Initiative

would investigate the safety

AREA OF CONCERN: The

attack on two teenagers

opposite Bishopdale

Park earlier this year

has left Ilam MP Sarah

Pallett questioning safety

conditions in the area.

concerns of Bishopdale

residents starting with a

survey to be carried out later in

the year.

"Bishopdale's been put on the

list."

It would be interesting to see

what public feedback would

come from that, she said.

Christchurch North Community

Patrol chairman Sam

Hall said the

park was not

an area of

Bridget

Williams

specific concern to the patrol,

although they frequently drove

past it.

He hoped the patrol presence

was a deterrent to potential

wrong-doers.

"You never know what you've

prevented."

BECAUSE YOUR

FEET MATTER

Belfast School students are

hoping to visit Parliament but

need a little help to get there. I'm

hosting a breakfast for local

businesses and residents to raise

money for the school so that

students will be able to have their

Wellington trip. Tickets will cover

the cost of breakfast and include a

$20 donation to Belfast School. If

this sounds like something you'd

be keen to support, please get in

touch with my offices, and I will

also be advertising the event

through the school.

My petition calling for the 70mkh

speed limit on Marshland Road to

be reinstated will be presented in

October to the Christchurch City

Council. After council lowered the

speed limit, a regular user of the

route approached me to help

gauge public support for a

petition. I conducted a poll and

within the first 24 hours realised

this was a significant issue.

Neither the accident stats nor

public feedback supported the

change – this was merely the

cheap solution. We launched an

online petition calling for the

70kmh limit to be reinstated. The

petition will be presented to the

urban transport committee and I

will be asking whether the council

has been let down by a lack of

Government funding. You can still

sign the petition at

https://www.national.org.nz/reins

tate-speed-limit-on-marshlandroad

It was great to connect with our

University of Canterbury students

during their recent RE-O-Week

and to see how engaged they are

with issues on the ground. I'm

looking forward to speaking next

week at UC's Political Science

Society as part of the panel of

political figures.

• General Foot Care

• Biomechanical

• Orthotics

• Ingrown Toenails

• ACC Registered

• Diabetic Foot Care

45 Merrin Street, Avonhead Ph: 03 357 0155

E: info@footmatterspodiatry.co.nz

Book Online! No referral required.

40 years

combined

experience
---
NOR'WEST NEWS Latest Canterbury news at starnews.co.nz

Thursday September 2 2021 5

Protector of environment earns teen artist award

• From page 1

"They had a larger impact on the

surrounding streets than anticipated."

An area-wide solution was needed,

Ellis said.

"All options are currently on the

table and range from the installation

of passive traffic calming measures

[such as] chicanes to restricting

movements along specific streets.

"We won't know what the options

are until we have finished the survey

and undertaken some design work,"

she said.

The downstream effects of the

corridor had prompted 95 residents

from the area to contact the council

since the corridor opened, including

15 residents from Flockton St and

Francis Ave.

The survey was made with this

feedback in mind, Ellis said.

THE WAREWARE is primarily

a carnivorous creature, naturally

aggressive and fiercely protective

of biodiversity.

It spits a boiling

concoction of what

resembles local hot

springs, water scalding

potential polluters and

those who seek to harm

its territory.

St Margaret's College

year 13 student Molly

Campbell has won the

New Zealand Ultimate

Concept Artist Award for this

intimidating creation.

The Weta Workshop and Massey

University-sponsored "earth

guardians" character design competition

aims at promoting careers

in film, game, and television.

Young concept designers are

Molly

Campbell

Speed and safety are the two main issues

The survey will be open until

August 31.

St Albans Residents Association's

Emma Twaddell said this was a

chance for people to share their

concerns with the council.

"I'd encourage people to fill it out,"

Twaddell said.

As a community activator, she

heard many stories from the residents

of the area about the impact of the

charged with creating a character

to defend the earth, using nature

and the elements to inspire their

work.

"I'm really happy that

I had a chance to design

something and work out

of my comfort zone," Campbell

said.

"Art has always permeated

all aspects of my life. I

just love to create."

She planned to continue

her creative path by studying

fine arts, either at Canterbury

University or Massey.

Rebekah Tisch, art director at

Weta Workshop, said selecting a

winner was a challenge.

"While our primary interest

was in the images of the creature

designs: the story, depth of thinking

and creativity shown in the

northern corridor.

"I haven't heard many positives.

"Speed is the big one, and safety.

Those are the two main issues."

• HAVE YOUR SAY: email

fiona.ellis@starmedia.kiwi to

share your thoughts on how

the Christchurch Northern

Corridor has impacted traffic

for residents.

written descriptions was what

helped us come to the ultimate

decision.

"Molly's design and description

of the wareware guardian was

nuanced, considered, and showed

bold design decision making."

The wareware was a great mix

of terrifying and attractive, with

plenty of interesting details, she

said.

"I thoroughly enjoyed the idea,

that within the design, we can

find elements of extinct fauna. I

also love that this creature is both

protecting nature as well as protecting

the memory of the past."

Massey University introduced

the Earth Guardians Character

Design competition last year,

and the top prize also went to

a Cantabrian, Burnside High

School's Madeline Head.

Emma

Twaddell

IT'S CLOSER

than you think!

Only 5 MINUTES to NORTHWOOD

& 20 MINUTES to the CITY CENTRE

At The Sterling, Kaiapoi, we are challenging the status quo by

building our later living village in the heart of the intergenerational

community of Silverstream, nestled within the wider Kaiapoi township.

Enjoy a relaxed retirement lifestyle in a quiet and idyllic environment,

while gaining easy access to the attractions of Northwood, the City

Centre, and all surrounding areas, thanks to the new motorway.

Find out more by calling Michelle now I 027 299 6879

SALES

OFFICE

11AM – 3PM

Mon – Sun

Airport

5MIN

NORTHWOOD

Northlands

Shopping Centre

10

20

MIN

7

MIN

5MIN

MIN

CITY CENTRE

15

2

MIN

MIN

VISIT us

Cnr Silverstream Blvd

& Island Rd, Kaiapoi

TALK to us

0508 783 754

hello@thesterling.co.nz

LEARN more

thesterling.co.nz

Images are artist impressions and subject to change
---
6 Thursday September 2 2021

Latest Canterbury news at starnews.co.nz

NOR'WEST NEWS

IT'S TIME TO

Spring

into action

CALL 0800 YELLOW

Thinking about selling? Get in touch today and let us get you SOLD!

What's on in your community:

Lions Club

of Christchurch Host

Are you looking for new challenges?

Want to make a difference in your community?

Then we may be just what you are looking for.

The Lions Club of Christchurch Host is looking

for new members - just like you.

SOLD

By Ray White Bishopdale & Strowan

5 Richards Avenue 1/57 Waratah Street

2/4 Kirsten Place

5/33 Fairfield Avenue 209 Westminster Street

16C Kirk Road

We meet twice a month over a meal at Papanui RSA.

If you would like to join us to meet our members,

please contact Marion (386 1581) or Miles (351 8342)

so we can order your meal.

124A Lyttelton Street

2/555 Cranford street

40 Hoani Street

If you're part of a local community group and you need help

getting your word out, get in touch with us today to see how

you can advertise here for free.

4 Skerten Avenue 74 Palatine Terrace

11 Swynford Place

Ray White BS

Bishopdale & Strowan

0800 YELLOW (0800 935 569)

5/333 Harewood Road, Bishopdale | 55 Blighs Road, Strowan

rwbishopdale.co.nz | rwstrowan.co.nz

Inline Realty Limited (Licensed REAA 2008)

Proudly owned by

Karen Ellis

021 519 275

Barry Ellis

021 519 274
---
NOR'WEST NEWS Latest Canterbury news at starnews.co.nz

Thursday September 2 2021 7

New kit for men's

netball team

KAIAWA SPORTS netball

teams can step onto the

court with confidence this

season after receiving a

grant to buy all the gear

they need, including

training and match balls,

bibs, spot markers, gear

bags.

Kaiawa Sports started

less than a year ago as a

netball team for adult men.

Club administrator

Nikki Schwass applied for

the ANZ netball grant because

as a brand new club

they had "nothing."

Schwass was thrilled to

receive the grant.

"It means we can get

good quality gear out to all

of our teams . . . it means

we can spread the love

across the club," she said.

Welcoming 2021 meant

bringing in their first

women's team alongside

their men's and mixed

team.

Led by Naze Silbery the

players have achieved new

heights in men's netball,

with their eyes on climbing

TEAM: Kaiawa Sports netball players (from left)

Lachlan Crosbie, Amosa Faitaua-Nanai, Kruze

Tangira, Naze Silbery, and Michael Mundy are

pleased with the club's gear grant. ​

the ranks.

Their men's A team

played the curtain-raiser

match at the Tactix ANZ

Premiership home game

on July 25 where they narrowly

missed the win.

Said Schwass: "The level

we want to attain for our

men is really high. We're

creating an environment

where we can develop

national representatives for

men's netball."

Low Supply

& High Demand!

Now is a fantastic time to sell.

Want to know what your home might be

worth in the current market?

Freephone direct to Cathy and Ian to

arrange a time to talk about your home.

0800 888 426

cathy.falconer@mikepero.com

The club drew a lot of the

Māori and Pacific Island

talent from the region with

the club boasting players

across the A, B and C

Christchurch representative

teams.

"It's given an

opportunity to a lot of men

who have never thought

of playing netball in their

lives. Naze brings a lot of

guys from touch over to

netball too," said Schwass.

"EDDY", a much adored 10 month

old Tabby was rushed to McMaster

& Heap vets on a Sunday, after

alerting his owners that something

was up when he hopped on their

bed early one morning and started

moaning loudly. One of the owners

had worked as a nurse for us, so she

didn't waste time in getting Eddy

seen. Steve Heap was called in when

it was clear there was a severe injury

to Eddy's right eye.

When Steve saw Eddy, he identified

a ruptured right eye with a large

piece of lens protruding through

the cornea. This would have been

excruciatingly painful. A penetrating

eye injury was suspected but the

cause was not initially apparent. He

was immediately anaesthetised,

placed on intravenous fluids and

given pain medications. Steve

became suspicious of a slug pellet

injury due to the unusual corneal

injury and the fact the lens had

totally exploded! Steve hadn't seen

anything like this in 30 years of

Ophthalmology practice.

McMaster & Heap

Veterinary practice

Sad case of animal abuse

The lens material was removed by

a machine that performs cataract

surgery - A Phacoemulsification

Machine. The eye was irrigated and

the corneal wound sutured carefully.

Then the eye was reinflated. X-rays

performed identified the slug pellet

and Steve realised he'd been shot

through the eye. The bullet was

lodged in a downward angle, and it

blew out the animal's lens, meaning

Eddy would have been looking

directly at the offender at close

range.

Suffice to say Eddy is recuperating

excellently being cared for round the

clock by his dedicated owners. Steve

thinks the surgical eye is comfortable

and Eddy is back to his crazed, manic

antics. He won't see in the eye but

we are hoping he gets to keep his

eye. Once his eye is stable and he's

recovered , a second surgery would

be advised to remove the slug pellet

that sits very close to his cervical

spine.

Dr Michele McMaster

Mike Pero Real Estate Ltd Licensed REAA (2008)

Ian & Cathy Falconer

Brand and Territory Owners - Bishopdale

027 660 1920 • 027 849 0404

Open 7 days

Cnr Hoon Hay & Coppell place

phone 338 2534, Fax 339 8624

e. mcmasterandheap@yahoo.co.nz

www.mcmasterheap.co.nz

McMaster & Heap
---
8 Thursday September 2 2021

Latest Canterbury news at starnews.co.nz

NOR'WEST NEWS

Bowling club merger sees rare

parcel of land come up for sale

THE FORMER site of the

St Albans Bowling Club in

Merivale is up for sale.

The 5107 sq m land at

5 Donald Pl, just off St Albans

St, is for sale by deadline private

treaty, closing tomorrow.

Investment sales specialist

Courtney Doig, of Colliers, said

there are few such parcels of land

in Merivale.

"There is a real lack of

large-scale development sites

remaining in this tightly

held Merivale position. The

Residential Medium Density

zoning makes it ripe for a variety

of uses and we've seen how much

demand there is for well-located

bare land in Christchurch.

"This is a dress circle

location and presents a unique

opportunity to acquire a

significant land holding

representing a blank canvas

for the seasoned developer or

occupier," he said.

The merger of the Elmwood

Park and St Albans bowling

clubs has prompted the sale.

The two clubs joined forces

in 2018 and have been using

both facilities since then, but

now they will be solely based on

Tania Bostock

Ben Reid

Elmwood's nearby Heaton St

site.

"There are a multitude of

development options available

including a large scale residential

multi dwelling, pre-school,

healthcare facility or boutique

retirement village," Doig said.

The site, with a 60m frontage

onto Donald Pl, is located within

200m of Merivale Mall and

3.5km from the city.

St Albans Bowling Club was

established at Donald Place in

1902. Its pavilion was rebuilt

during the 1968 Wahine storm.

Dwindling numbers prompted

the merger with Elmwood Park,

with the combined membership

now standing at 140.

President Peter Smith said that

while the sale marks the end

of an era, members are excited

about having all facilities located

on site and the amenity a new

pavilion will bring.

—NZ Herald

BOWLED: The 5107 sq m

land at Donald Pl, just off

St Albans St, is for sale by

deadline private treaty

closing tomorrow. ​

MISCELLANY

Tania

28

Bostock

August

– Ben

- 22

Reid

September

– Hamish

2021

Southcott

Hamish

Little River Gallery

August 28 – September 22

Main Rd, Little River | 03 325 1944 | art@littlerivergallery.com

Hamish Southcott and Tania Bostock first exhibited

together at Little River Gallery in 2014 and since have

had a number of duo shows. Ben Reid joins them in

'Miscellany' after a five year exhibiting hiatus at Little

River Gallery.

Hamish Southcott seeks to create well-crafted,

beautiful pieces of art that highlight the inherent

beauty of reclaimed materials. Recently his works

explore the human influence on New Zealand's rich

and diverse natural landscape.

Tania Bostock is drawn to texture and contrast. Her

process consists of straightening and perfecting, then

pushing the paint in a freer, less controlled manner

working in multiple layers on bold geometric shapes.

Ben Reid is a Canterbury based printmaker

whose interest lies in the fragile relationship that

New Zealanders have with the natural world.

The complexities are beautifully explored in the

technically challenging medium of print.

Tania Bostock

Ben Reid

Hamish Southcott

MISCELLANY

28 August - 22 September 2021

Main Rd, Little River | 03 325 1944 | art@littlerivergallery.com | littlerivergallery.com
---
NOR'WEST NEWS Latest Canterbury news at starnews.co.nz

Thursday September 2 2021 9

ADVERTISEMENT

Ngaio Marsh resident Lobina (middle) with

her daughters Yvonne (left) and Jackie.

LOBINA IS PART OF A WONDERFUL

COMMUNITY AT NGAIO MARSH

Yvonne and Jackie lovingly say their

Mum Lobina, aged 93, is a sweetie – and

that she fits right in with everyone at

Ngaio Marsh Retirement Village.

Yvonne says her Mum really enjoys the

location of the resthome, within the village

centre, where there is a real mixture of

friendly people around her.

Lobina and her family (her sons, John, Jeffrey

and Thomas, also live in Christchurch)

enjoy the many spaces the village has to

offer including the gardens, the village centre

atrium and the dining room.

"The people are lovely here…everyone

mixes together. It's really very nice,"

Yvonne says. "Plus, the food is excellent.

The food is really, really good."

Lobina completely agrees.

From her ground level room Lobina enjoys

views of the village's beautiful gardens,

including a tree that holds a bird feeder,

which her family has kept stocked with

fresh bird seed.

Lobina came to New Zealand in the mid-

1950s. As part of an immigration assistance

scheme Lobina was able to get an assisted

passage on the Dutch ship SS Waterman.

She met and married Hubert and then

brought up their family of five. At least one of

her children visit her at the village most days

– often around the time of a midday meal or

in the early evening. Jackie loves sitting on

the bed with Lobina for some music, a chat,

and a giggle.

Their traditions of getting together for a

meal date back to Lobina and Hubert having

been a close part of the New Zealand Dutch

community. Upon her arrival, as part of

the assisted passage scheme, Lobina was

employed as a seamstress with a Canterbury

clothing company. Hubert, who passed away

in 1985, worked selling fish in Christchurch

suburbs from P Feron and Sons Seafoods.

Later he bought and maintained rental

properties around Christchurch.

Lobina, Yvonne and Jackie talk fondly

about the long-time family home in

Eversleigh Street, St Albans. Lobina later

lived for a considerable time in Beckenham

with her second husband Ton, who passed

away in 2008, before moving in with her

daughter Jackie and her partner Michael.

When Jackie and Michael took a trip to

Bali, Lobina went to Ngaio Marsh village for

respite care.

She found the care was wonderful, so at the

right moment when a room became available

Lobina moved to the village in July 2019, and

she has never looked back.

Yvonne and Jackie say they love sitting

with their Mum and talking about old

times. Lobina wrote a considerable family

history, in her native Dutch language.

Her five children were brought up bilingual

and love that they can read her memories

back to her.

When they pop into Ngaio Marsh, Jackie

and Yvonne often touch base with staff and

residents they have got to know during their

frequent visits. Jackie says, for example,

one of the young caregivers enquired

about the dance class she attends and

ended up coming along to enjoy one of the

social classes.

Ngaio Marsh Retirement Village has a truly

wonderful community.

CARE WHEN YOU NEED IT

Ngaio Marsh village has got you covered with a range of

living and care options. We're dedicated to caring for you

now and into your future; from the extra support of a

serviced apartment to resthome and hospital care.

NGAIO MARSH RETIREMENT VILLAGE

95 Grants Road, Papanui, 352 5140

rymanhealthcare.co.nz
---
10

Thursday September 2 2021

NUMBER ONE SUPPLIER

TO THE NZ JET BOATING

COMMUNITY FOR OVER

50 YEARS

Latest Canterbury news at starnews.co.nz

Construction set to start

NOR'WEST NEWS

• Part Boats & Hulls

• Turn Key Packages

• New Jet Units

• Custom Fabrication

• Expert Advice

SERVICING

Peter Tonkin

03 962 0505

peter.tonkin@hamiltonjet.nz

The souTh island lifesTyle magazine

July 2021

i'm yoUrs | JUly 2021

June 2021

Wood works

old becomes New

iN arrowtowN

i'm yourS | June 2021

Plenty to see here

Start your engineS

in tauranga

The souTh island lifesTyle magazine

I'm YOURS

The PeoPle, The Places,

The Trends

• Spare Parts Retailer

• Jet Unit Refurbishment

• Engine Tune-Ups

• Insurance Repairs

• Impellor Reconditioning

Wild & free

a chef's JoUrNey from

loNdoN to dUNediN

the people. the places. the treNds.

The perfect pour

a canDle company

with no DiviDe

Kid friendly

recipe help for the

school holidays

the people. the placeS. the trenDS.

Major developments

the family act

Shaping communitieS

stylemagazine.co.nz | @StyleChristchurch

Fall in love

soon on prosthetic facility

CONSTRUCTION is scheduled to

start soon on a new $4.3 million

state-of-the-art co-location facility

for prosthetics, orthotics and

rehabilitation in Christchurch.

Sited opposite Burwood

Hospital, the facility will replace

Peke Waihanga – Artificial Limb

Service's existing centre.

It will include a location

space for Burwood Hospital

to carry out rehabilitation and

orthotics.

The build is expected to be

completed next year.

Peke Waihanga chief executive

Sean Gray said the design

team had worked alongside experts

to design an accessible, healthy and

safe environment for staff, patients

and their families.

Said Mark Bruce of the

Amputees Federation: "Having

attended the centre for the

last 36 years, I am thrilled

that a new building is finally under

way after it and the

staff have gone through many trials

and tribulations. I am positive that

the exciting

design and form of the new facility

will provide a superb environment

for amputees and staff alike."

before

with your favourite

furniture all over again!

• Recover your chairs and couches

and save money!

• Excellent range of fabrics

• Quality workmanship guaranteed

• Free quotes available

• Over 30 years experience

Somerfield Upholstery welcome you to email a

photo for a quote online: somerfielduph@gmail.com

after

Somerfield Upholstery Ltd

FURNITURE RECOVERY SPECIALIST

6/47 Sonter Road, Wigram | Ph 021 251 6200 | 349 0456

17 Whareora Terrace, Cashmere

Character, Charm and Views

All three combine in this beautiful home set in a

picturesque garden with stunning views from the highly

sought-after mid slopes of Cashmere. Our owners know

it's time to pass on this beautiful classic Cashmere home

for another family to enjoy.

Tastefully renovated, yet retaining the essential heart of

yesteryear, you can enjoy having a modern kitchen and

bathrooms along with the charm of the past.

Grenadier Real Estate Ltd MREINZ Licensed Agent REAA 2008

GRENADIER

4 2 2 2

Auction 2 Sep 2021 (Unless Sold Prior)

(98 Moorhouse Avenue, Christchurch)

View harcourts.co.nz/BE193717

Debbie Pettigrew

M 027 777 0411

SAVE UP TO $10,000

ACROSS THE LEXUS

HYBRID RANGE *

ALL NEW LEXUS VEHICLES COME WITH A 4-YEAR

UNLIMITED-KILOMETRE WARRANTY AND A 4-YEAR

FULL-MAINTENANCE SERVICE PACKAGE *

This is the hybrid with two power sources – petrol and

electric - working in unison to deliver on-demand power

and performance. It's self-charging hybrid electric engine

captures energy from driving and never needs to be plugged

in. While it's hybrid technology has been proven over a

combined 149 billion kilometres. It's not just a Lexus, this is

Lexus Electrified.

*Offer valid across the new Lexus hybrid range. Advertised maximum savings

are based on RX 450h Limited at Recommended Retail Pricing (RRP), plus On

Road Costs (ORC). Not valid in conjunction with any other offer. Offer valid

until 30 September 2021 or while stocks last. For full terms, conditions, and

warranty & servicing information, speak to our team or visit our website.

www.lexusofchristchurch.co.nz | 227 Montreal Street, Christchurch
---
NOR'WEST NEWS Latest Canterbury news at starnews.co.nz

Thursday September 2 2021 11

We need your

help now more

than ever.

Multiple Sclerosis and Parkinson's

Canterbury provides support and

services to thousands of Cantabrians

affected by these two debilitating

diseases, in order to help them

maintain health and wellbeing

throughout their journey.

Our Annual Street Appeal is

NOW ONLINE to maintain

the vital, fundraising lifeline

which supports our work.

Please support us by

donating at:

ms-pd.org.nz

Proudly supported by
---
12 Thursday September 2 2021

Latest Canterbury news at starnews.co.nz

Warming casseroles

to fend off winter

With a week or

two of winter

still with us, this

tangy tomato and

lamb casserole

would be a

welcome dish on

a cold day

Lamb and tomato

casserole

Serves 3

Ingredients

3 lamb leg fillet or shoulder

chops (browned)

2 tbsp olive oil

1 large onion

1 400gm tomatoes (any

flavour)

1 lamb Oxo cube

Cracked pepper to taste

1 teaspoon sugar

1 heaped teaspoon

oregano

40gm tasty cheese

55gm breadcrumbs

(wholemeal is best)

27gm butter (melted)

Directions

Line ovenproof dish with

2 thicknesses of non-stick

tin foil.

Place browned leg fillets/

chops into dish, put onions

over top of meat, then pour

tomatoes/Oxo cube/peppercorns/sugar/oregano

over onions, then

cover with cheese/breadcrumbs/butter.

Bake, uncovered, at 140

deg C for 2½ hours.

Steak stew

Ingredients

2 tablespoons olive oil

Stews and casseroles make a hearty mid-winter

meal.

1kg sirloin steak, diced

Salt and freshly ground

black pepper, to taste

1 medium onion, diced

2 large carrots, peeled and

diced

2 celery ribs, diced

3 cloves garlic, minced

250gm mushrooms,

halved

3 tablespoons all-purpose

flour

2 tablespoons tomato

paste

1/2 cup dry red wine

2 1/2 cups beef stock

4 sprigs fresh thyme

2 bay leaves

1 large potato, peeled and

cut in 1cm chunks

2 tablespoons chopped

fresh parsley leaves

Directions

Heat olive oil in a large

fry pan on medium heat.

Season steak with 1 teaspoon

salt and 1/2 teaspoon

pepper.

Working in batches, add

steak to the fry pan and

cook, stirring occasionally,

until evenly browned, about

6-8min; set aside.

Add onion, carrots and

celery. Cook, stirring occasionally,

until tender, about

3-4min.

Add garlic and mushrooms,

and cook, stirring

occasionally, until tender

and browned, about

3-4min.

Whisk in flour and

tomato paste until lightly

browned, about 1 minute.

Stir in wine, scraping any

browned bits from the bottom

of the fry pan.

Stir in beef stock, thyme,

bay leaves and steak. Bring

to a boil; reduce heat and

simmer until beef is very

tender, about 30min.

Stir in potato; simmer

until potatoes are just tender

and stew has thickened,

about 20min.

Remove and discard

thyme sprigs and bay

leaves. Stir in parsley;

season with salt and pepper,

to taste.

HOME & HEATING

Keep cosy with

RD Petroleum

this winter

RD Petroleum (RDP) is a familiar sight

for farm and rural residents around the

Canterbury region, however now days urban

residents also enjoy the same excellent

customer service for which RDP is known for

in rural communities, through their home

heating diesel.

RDP began its home heating diesel delivery

service to the lower South Island's main urban

centres of Christchurch, Timaru, Dunedin

and Invercargill a number of years ago.

Customer demand has continued to increase

year upon year, and RDP has responded

with specialised improvements to its delivery

equipment.

The trucks that deliver RDP's home heating

diesel in each urban centre are drawn from

the company's extensive vehicle fleet. This

NOR'WEST NEWS

means they have the latest communication

and GPS tracking technology on board, so

the operations team always know where they

are and how far away they are from their next

delivery stop.

RDP's home heating diesel trucks come

equipped with a specially-designed hose,

through which the diesel is pumped from

the truck into house tanks. The length of

the hose allows the trucks to access tanks

without having to enter the property, avoiding

damaging the driveway. RDP is the place to

go if you require diesel conveniently delivered

to your home and as a loyal RDP customer

you're offered discounted pricing and can

become eligible for value-added benefits.

For all enquiries please phone

0800 44 00 14, or visit the RDP website at

https://www.rdp.co.nz/home-heating or

signup at apply.rdp.co.nz/home-heating

When: Friday 24th September 2021

Doors Open 7pm for a 7.30pm start

Venue: Tait Technology Centre

245 Wooldridge Road, Harewood

$25 per person

Ticket price include ONE bingo card to get you

started, with snacks & nibbles also provided.

Contact one of the Pioneers of Canterbury

Masters Team members NOW to get your

ticket. Limited numbers!

Phone: Noelene 027 295 1555

Loads of

raffles,

chocolate

wheel & prize

balloons
---
NOR'WEST NEWS Latest Canterbury news at starnews.co.nz

Thursday September 2 2021 13

HOME & HEATING

Get the balance

right this winter

Enviro Master has been helping

Cantabrians get the balance right when it

comes to choosing the perfect heat pump or

air conditioning system for their home or

office since 2002.

Their team of expert sales people, qualified

electricians, heating and refrigeration

engineers, help to supply and install

Christchurch's widest range of heat pumps,

and because they have no affiliation with any

one brand, you can be assured their advice

on the benefits and differences between each

product is unbiased.

They will recommend the most energyefficient

and cost-effective system for your

individual situation, and will have you

regulating the heat in your home or office in

no time.

Nowadays, customers are often wanting

whole home solutions to be able to maintain

even temperatures throughout the home both

in Winter and Summer. This can be achieved

by using ducted systems or multi systems

and Enviro Master are experts in designing,

installing and commissioning these systems.

Help is currently available with a

government subsidy covering 80 per cent of

the cost of a new heat pump up to $3000.

The subsidy is part of the Warmer Kiwi

Homes initiative and is available to Home

owner/occupiers with a Community Services

Card, a SuperGold combo card or who live in

a low-income area as determined by deciles

8-10 on the New Zealand Deprivation Index.

The applicant's home must also have been

built before 2008, have insulation up to code

(insulation subsidies also available) and have

no fixed heating in a living area, such as an

existing operational heat pump or fireplace.

With new regulations now in place for

Landlords to provide heating in rentals, it's

time to ensure you are meeting the new

standards.

Inadequate heating and ventilation can

lead to mould growth and dampness in your

property, leading to costlier maintenance

and an unhealthy living environment.

Providing a fixed heater with a higher heat

output and lower running costs, like a heat

pump, will enable your tenants to heat the

area effectively. Enviro Master are well

experienced with the Tenancy Services

software to ensure that you are meeting your

requirements.

To ensure you choose the right system

for your home or business, one of Enviro

Master's experts will visit to assess your

individual situation, offer advice and

answer any questions you may have. This

consultation is at no cost to the customer

and is always provided before a heat pump is

installed.

Anyone wondering about their eligibility

for a subsidised heat pump are welcome to

get in touch for details and help with the

application process. To find out more, call

Enviro Master on (03) 366 0525 or visit

their website www.enviromaster.co.nz

The facts about home ventilation

Balanced Pressure

vs Positive Pressure

Under the New Zealand Building Code,

all buildings, including residential, need

to be suitably ventilated, either with

opening windows or forced ventilation.

Clause G4.1 states: "The objective of this

provision is to safeguard people from

illness or loss of amenity due to lack of

fresh air." There are many benefits to

forced, or mechanical, ventilation over

opening windows, including warmth,

security, reduction of outside noises and

reduction of condensation.

Traditional domestic ventilation systems

are 'positive pressure'. They bring air in

from outside via the roof space and force

the stale air out through gaps around

windows and doors. The incoming air

from these systems

has to be heated

or cooled to keep

the house warm in

winter or cool in

summer.

The Smooth-

Air HEX390 is a

'balanced pressure'

system. It extracts

air from the house

and at the same

time brings in

fresh air. These

two streams of air

pass through a heat

exchanger, which

warms incoming air in winter and cools in

summer if air conditioning is being used.

This means that up to 80% of the energy

which would be wasted using a traditional

positive pressure system is recovered,

resulting in significant energy savings and

therefore lower heating or cooling costs.

Until recently, balanced pressure

ventilation systems have been considerably

more expensive than traditional positive

pressure systems. However, with Smooth-

Air's unique manufacturing capabilities, a

HEX390 balanced pressure system can be

installed for a similar price as a traditional

positive pressure system.

You can contact Smooth-Air on sales@

smooth-air.co.nz or 0800 SMOOTH.

HEAT PUMP

SALE NOW ON!

Amazin' spring Specials!!

80%

SubSidy

Warmer KiWi HomeS

Programme

*Eligibility criteria apply

• We will offer you the best quality brands and

option of heat pump for your home/business

• Providing Heat Pump solutions for over 19 years to Cantabrians

• We personally guarantee all our products & installs for 5 years

(providing annual maintenance has been completed)

Phone us today for your free consultation & quote

41A SHAKESPEARE RD, WALTHAM

PHONE 03 366 0525

www.enviromaster.co.nz

"A local team for local people"

ATTACK RISING DAMP

Smooth-Air

Ventilation Equipment Suppliers

totrade

retail

The most efficient way

to ventilate your home

HEX 390

For Healthy Indoor Air

Heat is transferred to the

incoming filtered fresh air

Made in New Zealand,for New Zealand conditions

Fresh air

from outside

&

Exhaust air

to outside

Warm, stale

air from house

Warm fresh air

to house

Substantial energy savings

over traditional domestic

ventilation systems.

T. 03 376 4608 E info@foamconcrete.nz

W. www.foamconcrete.nz

0800 SMOOTH

(0800 766 684)

sales@smooth-air.co.nz

264 Annex Rd

Riccarton

Christchurch

03 343 6184

Monday - Friday

7.30am - 5pm

www.smooth-air.co.nz
---
14

Thursday September 2 2021

Latest Canterbury news at starnews.co.nz

NOR'WEST NEWS

152,504 reasons

to advertise with us!

2021 ABC average issue circulation — Star Max vs Press

200,000

The Star

Max *

152,504

circulation

100,000

The Press *

The latest NZ Audit Bureau of

Circulations report is out and

it shows that The Star Max

provides you more circulation

than any other newspaper in

New Zealand.

0

30,256

circulation

Grow more customers, sales and profits for your business,

Call us now for a free advertising consultancy.

Here's what our customers have to say:

We advertise Affordable Furniture specials

in The Star every week and are extremely

pleased with the results.

We find that the large circulation and

readership, really works for reaching our

target market and growing our customers.

We get people coming in with our ad and

asking about the specials we advertise.

We have been benefiting from the

Christchurch Star and Community papers

for 20 years and see no end to it.

Andrew Idour – Managing Director,

Affordable Furniture

After 4 years advertising in the Bay

Harbour News, I decided to widen

my audience by using the Star.

I am very happy with new ad

placement.

My husband Tim was in the shop

today and 2 ladies had come in

to check us out because they had

seen the ad!!! Oh yes they did buy

some goodies!!

Rose Lindley – Mumma Bear

We have advertised with The Star

over the years.

Advertising in The Star we feel we

get more response and feedback

than any other marketing.

We are lucky to have such a great

free paper in the community.

Thanks team Star.

Mark Glanville FDANZ CERT

– Manager and Funeral Director

Phone 03 379 7100

Email shane@starmedia.kiwi

Office Level 1/359 Lincoln Road, Addington

*Source: 2021 ABC Audit Report — Star Max vs Press ANP average total circulation each issue

*Star Max — The Star, Bay Harbour News, Selwyn Times, North Canterbury News
---
NOR'WEST NEWS Latest Canterbury news at starnews.co.nz

Thursday September 2 2021 15

Classifieds Contact us today Phone our local team 03 379 1100

Real Estate

HOME WANTED 3-4

bedrooms. Looking in Nor

West areas, Beckenham

or Somerfield. Prefer

permanent material brick

and post 1990 build. Don't

mind if it needs some TLC

- anything considered.

Cashed up buyer. Phone

021 372 479

Wanted To Buy

AAA Buying goods

quality furniture, beds,

stoves, washing machines,

fridge freezers. Same day

service. Selwyn Dealers.

Phone 980 5812 or 027

313 8156

TOOLS Garden,

garage, woodworking,

mechanical, engineering,

sawbenches, lathes, cash

buyer, ph 355-2045

Trades & Services

ROOF

PAINTING 24/7

Rope & harness

a speciality,

no scaffolding

required,

30 years of

breathtaking

experience.

FREE QUOTES

20% OFF other

roof quotes

Exterior staining,

exterior painting,

water blasting.

Moss and mould

treatment $300.

Phone Kevin

027 561 4629

BETTER

lAWNMOWING

Better job. Better

price. Better ring Grant

0277402508

BETTER

lAWNMOWING

Better job. Better

price. Better ring Grant

0277402508

BRICKlAYER

George Lockyer. Over

40 years bricklaying

experience. UK trained.

Insurance work, EQC

Trades & Services

FURNITURE

EXCLUSIVE. STYLISH.

HANDCRAFTED.

Solid timber furniture

A fantastic range

of traditional and

contemporary

furniture designs.

We can also help you

with any custom made

furniture requirements.

19 Elgin St, Sydenham. Ph: (03) 366 9219

www.gavincoxfurniture.co.nz

BuIldER

New builds, alterations,

decks, fencing. 30 yrs in

the trade has given me

ability to build to a high

standard. Free quotes. Ph

Brent 027 241 7471

CARPET lAYING

Exp. Repairs, uplifting,

relaying, restretching.

Phone John on 0800

003181, 027 240 7416

jflattery@xtra.co.nz

PAINTER, QuAlIfIEd

local professional, int/

Ext,roofs,wallpaper, call

or text Corban 027 846

5035

STuMP GRINdING

Best price guarantee Tony

0275 588 895

TIlING

Flooring - Splashbacks -

Wall incl tile removal, reg

master tiler, ph Dave 027

334 4125

repairs. Heritage GuTTER ClEANING VHS VIdEO TAPES

brickwork & stonework Gutter cleaning special & all camera tapes

263

a speciality. No job too from

x

$99 plus gst

180

for a converted to DVD or

small. Governers Bay. whole house clean"". USB. Video taping

Home 329 9344. Cell Free Quotes, call Morgan special occasions, www.

027 684 4046. E mail Thomas today 022 375 grahamsvideo.co.nz ph 03

georgelockyer@xtra.co.nz 8506

338-1655

Trades & Services

PLUMBER

NEED A PLUMBER

Call us now for fast friendly service.

Get your problems sorted out

quick smart - on time!!

Phone for a

FREE

quote now.

Phone 03 377 1280 | Mobile 021 898 380

Painters and Decorators Ltd

Canterbury Owned and Operated

A husband and wife team

Specializing in:

• Roof Painting

• Interior/exterior

residential

• Small commercial

painting

PAINTERS

Noel 027-411-3596

kemp.painters@gmail.com

kemp painters and decorators

We offer

free quotes

Quality not

Quantity

ADVERTISE YOUR BUSINESS HERE

Phone for further details

(03) 379 1100

Need To Get Fit Fast?

Tone Up or Body Build, Get A Total Body Workout

One Machine...

That Does it All

Easy Storage

Easily Folds Away

Effective Workout

Fun, low impact workouts.

For All Ages

Personalised Settings For

Beginners and Advanced

Includes

Pilates Kit

& DVDs

Up to

50 % Off

Off

*

*Call for Terms

& Conditions

Call Now! 0800 665 665
---
16 Thursday September 2 2021

Latest Canterbury news at starnews.co.nz

NOR'WEST NEWS

Daffodil Day

To make a donation, please visit

www.daffodilday.org.nz

Proudly supported by

and the below businesses

Trees for

CanTerbury

COMPENSATIONADVISORYSERVICES Ltd

LIFELINKS

Jewellery & Giftware

TRUE GRIT

87 Manchester St

03 377 7889

www.truegrit.co.nz

WARREN AGENCIES

79 Wrights Road

03 338 0171

www.warrenagencies.co.nz

VENLUREE

99 Sawyers Arms Rd, Papanui

03 365 4666

www.venluree.co.nz

TREES FOR CANTERBURY

42 Charlesworth St, Chch

03 982 1028

www.treesforcanterbury.org.nz

LIFELINKS

PO Box 2379, Chch

0800 866 877

www.lifelinks.co.nz

THE ELMWOOD TRADING CO

1 Normans Rd, Chch

03 355 5345

www.theelmwood.co.nz

PIERSONS REFRIGERATION

& AIR CONDITIONING

8 Marylands Place, Chch

03 338 6200

www.piersons.co.nz

HANMER SPRINGS

THERMAL POOLS & SPA

0800 4 HANMER

www.hanmersprings.co.nz/

experiences

MUSGROVES

MUSGROVES

3 Musgrove Close, Wigram

03 322 7922

www.musgroves.co.nz

CAS'n'OVA

PRODUCTIONS

021 462 744

www.casnova.co.nz

NEW BRIGHTON

KAIAPOI CLUB & MSA

113 Raven Quay, Kaiapoi

03 327 7884

www.kaiapoiclub.co.nz

FRESHCHOICE

www.freshchoice.co.nz

SUPERVALUE

www.supervalue.co.nz

SNAP FITNESS

NEW BRIGHTON

185 Bower Avenue

021 612 556

www.snapfitness.com/NZ

ASPIRING KITCHENS

+ MORE

0800 202 171

www.aspiringkitchens.co.nz

NEW BRIGHTON CLUB

202 Marine Parade

03 388 8210

www.newbrightonclub.co.nz

AFFORDABLE

CONCRETE & PAVING LTD

0508 873 7483

www.affordableconcrete.co.nz

MENZ MEDICAL

912 Colombo St, Chch.

03 981 8181

www.menzmedical.com

SAVE MART

Battersea St, Cranford St,

Shands Rd

PAPER PLUS

NEW BRIGHTON

72 Brighton Mall

03 388 1809

www.paperplus.co.nz

03 349 5050

Ilam

Watchmakers

PETER RAY HOMES 03 348 1994 www.peterrayhomes.co.nz

TALL POPPY REAL ESTATE

Debi Pratt, Business Owner

Christchurch North

021 480 155

BETTER DENTURE

6 Brynley Street, Hornby

03 349 5050

www.betterdenture.co.nz

ILAM WATCHMAKERS

207 Waimairi Road, Ilam

03 357 1002

www.ilam-watchmakers.co.nz

THANK YOU FOR YOUR CONTINUED SUPPORT
---
NOR'WEST NEWS Latest Canterbury news at starnews.co.nz

Thursday September 2 2021 17

Think new friends

in every neighbour.

Summerset at Avonhead

03 357 3202 | summerset.co.nz/avonhead

For the latest information on visiting our villages please call the village,

or visit summerset.co.nz/covid-19

SUM3330_FCW
---
18 Thursday September 2 2021

Latest Canterbury news at starnews.co.nz

NOR'WEST NEWS

Brand-new

serviced

apartments

available now!

Summerset at Avonhead have a stunning range of brand-new serviced

apartments available now!*

Nestled in the beautiful suburb of Avonhead, our newest Christchurch

village offers relaxed retirement living with easy access to

supermarkets and shopping centres.

Our serviced apartments are some of the largest available in the

market, offering light and spacious open plan living, a kitchenette

and separate double bedroom with a large ensuite.

Located in the heart of the village, our serviced apartments are

designed to create the perfect balance between independence

and services to support your needs.

Free from the hassles of upkeep and ongoing maintenance,

our homes are all about stress-free living, where time is yours to live

the life you choose.

If you'd like to find out more about our serviced apartments, get in

touch with Anne today on 03 357 3202 or visit summerset.co.nz

*Licence to occupy.

Get in touch today!

Summerset at Avonhead

120 Hawthornden Road, Avonhead

Call Anne on 03 357 3202 or visit

summerset.co.nz to find out more

For the latest information on visiting our villages please call the village, or visit summerset.co.nz/covid-19
---
NOR'WEST NEWS Latest Canterbury news at starnews.co.nz

Thursday September 2 2021 19

Love the Summerset life

Love the Choice

At Summerset, you'll find a wide range of homes specifically

designed for the over 70s. Choose from one of our stylish, modern,

purpose-built homes, then make it your own. All our homes are

designed with accessibility as a priority.

Love the Community

At Summerset, you can continue to live the life you choose

with the added peace of mind of living in a warm and friendly

community where you'll feel completely at home.

As a Summerset resident, you'll enjoy all the benefits of being part

of a thriving community, including easy access to village facilities,

events, activities and community spaces. And there's support on

hand should you need it in the future.

Love the Confidence

At a Summerset village you can live fully independently or, should

you need it, you can receive support and care in your own home

or apartment, or in our fully certified care centre. So, if your needs

change, you can be confident you'll get the support you need

without having to leave the village.*

As a Summerset resident, you'll have access to

a range of community facilities, including:

*Subject to availability.

Divine Café

Exercise room

Communal vegetable

gardens

Residents' bar

All-weather bowling green

Residents' workshop

Hair and beauty salon

Swimming pool and spa pool

Regular visits from

health practitioners

For your free information pack visit summerset.co.nz

For the latest information on visiting our villages please call the village, or visit summerset.co.nz/covid-19

SUM3330_FCW
---
20 Thursday September 2 2021

Latest Canterbury news at starnews.co.nz

NOR'WEST NEWS

Love the Community

When you move into a Summerset retirement village, you're not just moving

house – you're joining a vibrant and welcoming community where you'll feel

completely at home.

Summerset homes are warm, modern, and designed with everything you

could need for the perfect retirement lifestyle. And there's no need to worry

about maintenance and upkeep. We take care of the little things, so you can

continue to live the life you choose.

When it comes to activities and events, there's always something happening

to keep our residents involved and entertained, and you can choose to do

as much or as little as you like.

So, what are you waiting for? Enjoy the peace of mind of living in a warm

and friendly community at Summerset at Avonhead.

We have a range of homes to choose from and we're sure there's an option

that's right for you*. To find out more about our available homes get in touch

with Anne today on 03 357 3202 or visit summerset.co.nz

Get in touch

today!

Summerset at Avonhead

120 Hawthornden Road, Avonhead

Call Anne on 03 357 3202 or visit

summerset.co.nz to find out more

*Licence to occupy.

Don't miss your chance to join this vibrant community!

For the latest information on visiting our villages please call the village, or visit summerset.co.nz/covid-19

SUM3330_FCW